New Age Islam News Bureau
19 Nov 2016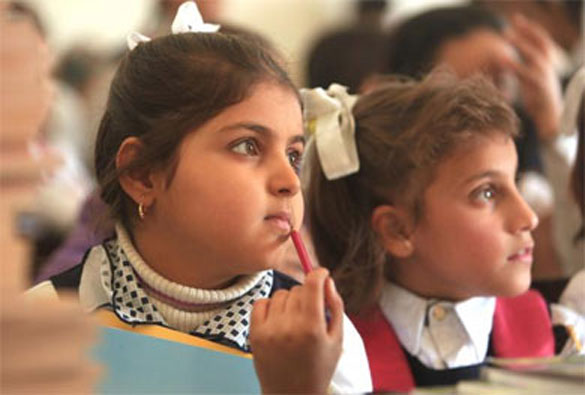 Students attend classes after the city was recaptured from the Islamic State militants in Qayyara, Iraq, November 17, 2016. REUTERS/Ari Jalal/File Photo
-------
• Iraqi Children Dump Islamic State's Books of Violence
• Iraqi Forces Retake Mosul Southern Front, Kill 950 Takfiris
• Sri Lanka Says 32 'Elite' Muslims Have Joined IS In Syria
• Pakistan: Islamic Parties Preventing School Curricula Revision
Arab World
• Iraqi Children Dump Islamic State's Books of Violence
• Iraqi Forces Retake Mosul Southern Front, Kill 950 Takfiris
• Iraqi Troops Face Entrenched ISIS in Eastern Mosul
• Over 20 Dead in Heavy Clashes in Yemen
• 15 Terrorists Killed, Wounded in Syrian Army Shelling in Southwestern Damascus
• Syrian Army Ready to Start Fresh Operation to Liberate Key Town South of Aleppo
• Iraqi volunteer forces retake more areas in Nineveh from Daesh
• Syrian Army Starts Long-Awaited Operation from 3 Flanks in Aleppo
• Syria: Gov't Forces Continue to Beat Terrorists Back in Southern part of Aleppo City
• Terrorists Suffer Heavy Casualties in Syrian Army, Air Force Attacks in Aleppo
• Nusra Centres in South-western Damascus Targeted Badly in Syrian Army Attack
• Watchdog probing over 20 reports of alleged Syria chemical attacks
• Sisi: don't 'jump to conclusions' on Trump
--------
South Asia
• Sri Lanka Says 32 'Elite' Muslims Have Joined IS In Syria
• Top ISIS leader among 7 killed in US airstrike in Afghanistan
• Afghanistan Facing a "Thinly Disguised Declared War": Permanent Representative to UN
• Myanmar rejects reports army killed fleeing Rohingya
• Russia express concern regarding growing ISIS influence in Afghanistan
• Afghan Air Force likely to get Blackhawk helicopters from US
--------
Pakistan
• Pakistan: Islamic Parties Preventing School Curricula Revision
• Govt Proscribes Jammat-ul Ahrar, Lashkar-e-Jhangvi AlAlami
• Pakistani, Palestinian Youths Urged To Join Hands to Promote Muslim Unity
• Pakistan helping in secret talks with Afghan Taliban
• Pakistan 'war on terror' has cost $118 bn: state bank
• Bodies of 10 Karachi airport attackers to be exhumed for DNA tests
• Smooth working of Pak-Turk schools to be ensured
• IS commander gunned down in Murree
• Two Baloch 'separatists' killed in Dera Bugti
--------
India
• NIA Raids Zakir Naik's Islamic Research Foundation Premises
• Kidney Has No Religious Labels: Sushma Swaraj's Response to Muslim Man Offering His Kidney
• Maulana Rabey Hasani Nadwi unanimously re-elected AIMPLB president for 6th time
--------
Mideast
• More Academics, Mayors Detained As Turkish Purges Enter Fifth Month
• Turkish tank shelling kills at least 5 Syrians, wounds dozens near Aleppo
• Arab coalition declares 48-hour Yemen truce
• Trump's CIA pick supports domestic surveillance, opposes Iran deal
• Israeli army kills Gazan in border clashes
• Three dead, 13 trapped in Turkey mine collapse
• Turkish Nato officers ask for asylum
• Gaza man shot dead in protest near border with Israel
• Turkey in talks with Russia on air defence system
--------
Europe
• European Union Orders British Press NOT to Report when Terrorists are Muslims
• Islamic State has 60-80 operatives in Europe, says Dutch expert
• Islamic Cultural Centre of Ireland celebrates 20th anniversary
• Is French secularism feeding Islamophobia?
--------
Southeast Asia
• Governor Ahok Blasphemy Probe, Protests Prompt Worshippers Gather In Jakarta to Pray For Peace
• Thousands march in Malaysian capital calling for PM Najib to step down
• Thousands of Indonesians rally against racial, religious intolerance
• Jokowi should meet with FPI to tone down protests: Lawmaker
• Indonesian Intelligence Denies Leaking Reports From Security Meeting
--------
Africa
• Far From Mosul, ISIS close To Defeat in Libya's Sirte
• Nigeria officials raze Muslim group's buildings
• Senegal: Millions of Muslims gather for pilgrimage
• US condemns Nigerian army attack on Shia Muslims
• Boko Haram claims three bomb attacks in Maiduguri
--------
North America
• Pakistan 'Can And Must' Take Action against Terror; India a 'Key Partner': US
• Trump Appoints an Islamophobe, an Alleged Racist and a Defender of Torture to Key Posts
• Democratic lawmakers slam suggestion of database for Muslims in the US
• South-Asian rights group discontinue ties with US airlines
• US Jewish rights leader vows to register as a Muslim
• Muslim Americans Speak of Escalating Worries
• Trump taps anti-Muslims for CIA, national security, justice slots
• Is Donald Trump's victory emboldening hate-mongers in Canada?
Compiled by New Age Islam News Bureau
URL: https://www.newageislam.com/islamic-world-news/new-age-islam-news-bureau/iraqi-children-dump-islamic-state-s-books-of-violence/d/109144
--------
Iraqi Children Dump Islamic State's Books of Violence
November 18, 2016
QAYYARA: The school walls have a fresh coat of paint and classrooms are crammed, but it will take longer to undo the damage done to thousands of Iraqi children who lived under Islamic State for more than two years.
Although the school term began officially in September, only this week have pupils in the northern town of Qayyara been re-issued with standard Iraqi textbooks, which the militants replaced with their own in an attempt to brainwash a generation.
Islamic State was driven from the town three months ago in the early stages of a campaign to recapture the city of Mosul, which lies about 60 km (40 miles) to north and is now under assault by Iraqi security forces backed by a US-led coalition.
As Islamic State's self-proclaimed caliphate is eroded, a clearer picture is emerging of the group's project and the enduring mark left on those who lived through it.
"We are happy to be back at school," said eight-year-old Iman, who like most of her classmates stopped attending classes after Islamic State took control. "They wanted us to come but we didn't want to because we don't know how to study in their language, the language of violence."
When the militants overran the area in the summer of 2014, they allowed schools to run as normal, local people said. But later they banned subjects they considered un-Islamic such as geography, history and civic education, and used boys' schools as a recruiting ground.
The following school year, beginning in 2015, Islamic State imposed an entirely new curriculum to inculcate children with their ideology. Maths exercises were expressed in terms of weapons and ammunition: "one bullet plus two bullets equals how many bullets?".
At that point, most parents stopped sending their children to school, and many pupils who were old enough to make up their minds left voluntarily.
As a result, most children have been set back by two grades, and since some teachers have been displaced by the violence, there is only one teacher for roughly every 80 pupils at the girls' school in Qayyara.
"They have forgotten their lessons... Now we are reminding them," said their teacher Maha Nadhem Kadhem, pacing around the classroom, in which four girls are squeezed onto each bench made for two. "We don't want them to be illiterate and ignorant."
The headmistress, who asked to remain unnamed, said Islamic State's vice squad known as the Hisba had made regular visits to the school to ensure compliance with the group's strict dress code for women and girls.
Others such as Farouq Mahjoub, the assistant headmaster of a secondary school for boys in Qayyara, said he had been threatened with death unless he turned up to work, even though no pupils came to class by the end.
"The biggest impact is on children," said Mahjoub, whose school was hit by an airstrike several months ago. "Children are malleable; you can change their opinion and beliefs quickly."
Mahjoub said children behaved more aggressively than before, and that the games they play now are violent, estimating it would take no less than five years to reverse the damage, even if a plan to rehabilitate them was put into effect.
Missing from the classroom in the girls' school are dozens of pupils whose male relatives were associated with Islamic State and are no longer welcome in Qayyara. Mahjoub said around 10 of his own students had joined the militants.
Behind the school are the remains of a car bomb that has yet to be removed and the sky is dark with smoke from oil wells the militants set ablaze, making it hard to breathe and turning sheep black.
On a nearby street, a group of boys coughing from the smoke described what they had seen under Islamic State, including the bodies of its opponents strung up in public places as an example to others.
Dancing and singing the same Iraqi patriotic songs blaring from passing military convoys, 11-year-old Thamer paused to describe how a local Islamic State member called Abu Suleiman had been lynched after Iraqi forces recaptured the town.
The man's brain and heart spilled out of his body, said Thamer in a high-pitched voice: "They took revenge on him," he said. "It was right. We were happy."
http://nation.com.pk/international/18-Nov-2016/iraqi-children-dump-islamic-state-s-books-of-violence
--------
Iraqi Forces Retake Mosul Southern Front, Kill 950 Takfiris
Nov 19, 2016
In their latest push to liberate Mosul, Iraqi forces say they have won back full control of the city's southern front, killing over 950 members of the Takfiri Daesh terrorist group.
Federal police chief General Shaker Jodat said late Friday troops had purged 1,850 square kilometers of Mosul's southern front of Daesh militants and freed more than 10,000 families, the al-Sumaria news website reported.
The Iraqi soldiers destroyed 25 car bombs, 83 motorbike bombs, 92 explosive belts and some vehicles equipped with weapons and missiles during their advances in the area, Jodat said.
He further noted that police forces had confiscated 36 mortar shells containing chemicals.
Meanwhile, Iraq's War Media Cell reported that Hashd al-Sha'abi forces had detained seven Daesh elements in the eastern province of Diyala.
Sadiq al-Husseini, the chairman of the security committee in Diyala provincial council, said that the arrests had been made in three different operations across the region.
New mass grave found
Meanwhile, Iraqi forces have found a mass grave containing the remains of suspected victims of Daesh executions in a village recently retaken from the Takfiri terrorists near Mosul.
A team of AFP journalists visited the site behind a small sand-covered hill outside the village of Tall ad-Dhahab about 10 km south of Mosul on Friday, the news agency said.
Iraqi Lieutenant Yahya Jumma said locals believe that some 40 people may be buried at the ground.
"The majority of the victims were members of the security forces, army and police," he said, adding the terrorists brought them by pickup trucks.
"There were around 40 people according to eyewitnesses who saw them," he said.
The visiting journalists reported meter-high mounds at the entrance to the shallow pit and an overpowering stench with bone fragments scattered around the area. They said scraps of clothing and several bullet casings could be seen at the site.
Iraqi forces have discovered a number of Daesh mass graves in the country's liberated districts, among them the one found last week near the agricultural college of the town of Hammam al-Alil, south of Mosul.
Authorities are conducting an investigation at the site with Human Rights Watch estimating that the graveyard could contain some 300 bodies.
Hashd al-Sha'abi cuts Mosul-Raqqah supply route
Hashd al-Sha'abi forces on Friday said that they were set to cut the road to Syria that has been used by Daesh as a supply route over the past two years.
"We are now in the process of cutting the main supply road between Mosul and Raqqah, which runs behind the [Tal Afar] airport," commander Shiekh Abu Karra Abadi told the Middle East Eye news portal.
"It was crucial for us to clear all this area to the west and cut the road so the Iraqi army can clear Mosul of Daesh without them being able to flee," he added.
The volunteer forces wrested control of Tal Afar airport in western Mosul late on Wednesday.
Abadi said Daesh elements had retreated, some into Tal Afar city and some to Mosul. He hundreds of the militants had put up resistance to defend the supply route to Syria.
Secretary General of Iraq's Badr Organization Hadi al-Ameri also said the Iraqi soldiers were in control of the area south-west of Mosul and would continue advancing until closing the Iraq-Syria border.
Gains across Nineveh province
Also on Friday, Iraqi fighters from pro-government Popular Mobilization Units liberated more areas in the embattled province of Nineveh, with Mosul as its capital.
The commander of Nineveh Liberation Operation, Lieutenant General Abdul Amir Yarallah, said that soldiers from the 9th Division of Special Forces have wrested full control of Tal Waei village south of Mosul, Arabic-language al-Forat news agency reported.
The development came shortly after security forces recaptured the village of Omarkan, located north of the ancient Assyrian city of Nimrud and slightly over 30 kilometers south of Mosul.
Since October 17, the Iraqi army, volunteer Shia and Sunni fighters as well as Kurdish Peshmerga forces have been conducting an offensive to recapture Mosul.
The city fell to Daesh in 2014, the year the terror outfit began its campaign of death and destruction in northern and western Iraq.
Since the beginning of the Mosul battle, the 140,000-strong Hashd al-Sha'abi forces have liberated over 1,300 square kilometers of territory from the grip of terrorists, including more than 60 villages.
http://www.presstv.ir/Detail/2016/11/19/494216/Iraq-Mosul-Daesh-Yahya-Jumma
--------
Sri Lanka says 32 'elite' Muslims have joined IS in Syria
November 19, 2016
Thirty-two Sri Lankan Muslims from "well-educated and elite" families have joined Islamic State in Syria, the justice minister told parliament on Friday, promising that the government would clamp down on extremists.
The statement by minister Wijeyadasa Rajapakshe was condemned by representatives of the Muslim minority, who complained of racism.
"All these (Muslims) are not from ordinary families. These people are from the families which are considered as well-educated and elite," Rajapakshe said, adding
that the government was aware of some foreigners coming to Sri Lanka to spread what he called Islamic extremism.
"There is a greater fear among the public about ISIS," he said, using another name for Islamic State. "If somebody tries to spread extremism in this country, we will not allow for that from today. The law of this country is no different to Buddhist monks or ordinary people."
The Muslim Council of Sri Lanka (MCSL), an umbrella body that includes most Muslim organisations in the country, expressed concern, saying Rajapakshe's statement came at a "very opportune time to certain extremist elements bent on tarnishing the image" of Sri Lankan Muslims.
"The Muslim community is seriously alarmed about the re-emergence of the racist campaign that was carried out by extremist Buddhist monks since the end of the war in 2009," the MCSL said in a statement.
"We urge Wijeyadasa Rajapakshe to provide the evidence and take immediate action against anyone who may have violated the laws of the land, irrespective of ethnicity or religion."
More than 70 percent of Sri Lanka's 20 million people are Buddhists, about 13 percent are Hindu, while Muslims make up around 10 percent.
President Maithripala Sirisena has been criticised for failing to curb religious hate speech by both Muslims and Buddhists. Some Sinhala Buddhist groups have threatened Muslims and their businesses on social media, while attacks on mosques and Muslim-owned properties have continued under the Sirisena administration.
Muslim leaders warned the government in 2014 of possible Islamic radicalisation and Muslims turning to foreign Islamic groups for support, attributing this to attacks by Buddhist hardliners.
Sri Lanka's 26-year civil war ended in 2009 with the military defeating the predominantly Hindu Liberation Tigers of Tamil Eelam (LTTE), who fought for a separate state in the island's north and east.
http://indianexpress.com/article/world/world-news/sri-lanka-says-32-elite-muslims-have-joined-is-in-syria-4383449/
--------
Pakistan: Islamic parties preventing school curricula revision
18/11/2016
Pakistan's Islamic parties are preventing the revision of school curricula and are spreading hatred and stereotypes against religious minorities, particularly in Khyber Pakhtunkhwa province, this according to a study carried out by the National Commission for Justice and Peace (NCJP) of the Catholic Bishops' Conference of Pakistan.
The research, which covers the last five years, found that Islamic religious parties have become a pressure group strong enough to prevent education authorities from revising school programmes for fear of retaliation and protests.
The study notes that Urdu-language history, social studies and Islamic studies are full of biased ideas about minorities.
In the province of Khyber Pakhtunkhwa, hateful content is ten per cent higher than in other provinces. The responsibility for this lies mostly with the Ministry of Education, which is led by a member of Pakistan Tehreek-e-Insaf.
Although the party portrays itself as liberal, it has failed to set priorities and show political will according to the NCJP. In fact, the provincial government itself is afraid of the opposition and backlash from religious parties.
School material tends to promote a sense of deprivation and an inferiority complex among minority students, increasing school dropout. Texts with hateful content also promote the radicalisation of young people, who end up embracing extremism.
"Khyber Pakhtunkhwa education is in the hands of the extreme right," said Aila Gill, an activist and NCJP researcher.
By contrast, changes have been implemented in other provinces, like Punjab and Sindh. For example, in one textbook, "there is a chapter dedicated to Abdul Sattar Edhi;" a humanitarian described as Pakistan's Mother Teresa who died last July; in another, there are "short stories about terrorism and anti-terrorism".
NCJP has been determined to focus on the issue of biased curriculum & reforms in education policy since 2006 when the education policy was framed and then approved in September 2009.
The Commission is deeply concerned on the issue of religious biases in education system of Pakistan. The whole arrangement of curriculum in textbooks is visibly discriminatory against religious minorities which is contradictory to Article 20, 22 and 25 of the Constitution of Pakistan 1973, hampering religious freedom and equality of citizens.
While the campaign has achieved some success, the commission continues to work with government and other stakeholders with an aim to build a more tolerant and peaceful Nation.
Although "the provinces are still reluctant to remove existing biases, they have at least included new material, like a chapter on the role played by women in the development of the country in the Pakistan movement."
In these provinces, "Governments have also added a section devoted to the social status of women and their role as citizens, presenting prominent figures like (Nobel laureate) Malala Yousafzai."
Amelia Tariq, a Christian student at Punjab University, said that when she was a child she "was mocked by students from the Muslim majority, who questioned my identity. Belonging to a minority makes you feel isolated ".
In her view, it is the government's responsibility "to eliminate discriminatory elements from textbooks and ensure the protection of minority students. Programmes should promote harmony, tolerance, unity and nationalism, as the Fathers of the Nation did." http://en.radiovaticana.va/news/2016/11/18/pak_islamic_parties_preventing_school_curricula_revision/1273272
--------
Arab World
Iraqi troops face entrenched ISIS in eastern Mosul
19 November 2016
A senior military commander says Iraqi troops are facing stiff resistance from ISIS militants as they push deeper into eastern Mosul.
Maj. Gen. Sami al-Aridi of the Iraqi special forces says his troops moved early Saturday morning into the Muharabeen and Ulama neighborhoods after fully liberating the adjacent Tahrir neighborhood on Friday.
Al-Aridi said ISIS militants are fighting back with snipers, rocket-propelled grenades and mortar rounds.
Thick black columns of smoke were seen billowing from the two areas.
The offensive to retake ISIS-held Mosul, which was launched on Oct. 17, is the biggest military operation in Iraq since American troops left in 2011. If successful, the retaking of Mosul would be the strongest blow dealt to IS' self-styled caliphate stretching into Syria.
https://english.alarabiya.net/en/News/middle-east/2016/11/19/Iraqi-troops-face-stiff-resistance-from-ISIS-in-eastern-Mosul.html
--------
Over 20 Dead in Heavy Clashes in Yemen
November 19, 2016
ADEN: More than 20 people have been killed in intense fighting between rebels and loyalists on the outskirts of Yemen's third city Taez, military and medical sources said on Friday.
The clashes have eliminated hope of the warring parties abiding by a truce announced by US Secretary of State John Kerry that was to have taken effect on Thursday.
Loyalist military sources told AFP that 13 rebels and eight pro-government forces were killed over the past 24 hours, while the rebels reported dozens of casualties in shelling of a local market.
Two civilians were also killed and 16 wounded when rebels fired Katyusha rockets into a residential area of Taez, they said.
For its part, rebel-controlled sabanews.net website reported that pro-government forces fired artillery rounds into areas east of the city.
A rocket hit a market selling the mild narcotic leaf qat, popular among Yemenis, killing 24 people and wounding 27 on Thursday, sabanews.net said.
It cited the health chief of Taez province, Watheq Faqih, as saying that the toll could rise as rescue workers had not been able to gather the body parts of all the dead because of artillery fire on Friday.
The medical charity Doctors without Borders (MSF) said emergency rooms it supports or manages in Taez province had received a total of 21 dead and 76 wounded.
Among those killed was a watchman who worked at the MSF trauma centre in Taez.
He was killed while "off duty when a blast hit a local market in the neighbourhood", said Djoen Besselink, who heads the MSF mission in Yemen.
Full report at:
http://nation.com.pk/international/19-Nov-2016/over-20-dead-in-heavy-clashes-in-yemen
--------
15 Terrorists Killed, Wounded in Syrian Army Shelling in Southwestern Damascus
Nov 18, 2016
The army's artillery units shelled Fatah al-Sham terrorists' gatherings in Beit Jen Farm in Southwestern Damascus province, killing and injuring 15 terrorists.
The army shelling prevented terrorists from fortifying their positions in the region.
Reports said earlier today that the army soldiers targeted the concentration centers of Fatah al-Sham Front in Western Ghouta, killing or wounding a number of militants and destroying their weapons.
Full report at:
http://en.farsnews.com/newstext.aspx?nn=13950828000679
--------
Syrian Army Ready to Start Fresh Operation to Liberate Key Town South of Aleppo
Nov 19, 2016
"After liberation of the Air Defense Battalion and its nearby hills, Housing Project 1070 and al-Hikmah School, the Syrian army, Hezbollah and al-Nujaba continued their operations and scored some victories against terrorists and have now deployed their fighters in the Southern part of Aleppo to start jointly a fresh round of offensives to liberate Khan Touman, while the Syrian Air Force has intensified strikes on terrorists' positions in the town," the sources disclosed.
Warplanes also targeted a long convoy of terrorists' vehicles along the Damascus-Aleppo highway near ICARDA farms.
Fighter jets also carried out several combat flights over Jeish al-Fatah's movements from Saraqib in Idlib to Khan Touman in Aleppo, inflicting major losses on the militants.
The Syrian Army troops and Air Force also targeted the positions of Fatah al-Sham Front (previously known as the al-Nusra Front) and Nouralddeen al-Zinki in different parts of Aleppo city on Friday, inflicting major casualties on the militants.
Full report at:
http://en.farsnews.com/newstext.aspx?nn=13950829000230
--------
Iraqi volunteer forces retake more areas in Nineveh from Daesh
Nov 18, 2016
Iraqi fighters from pro-government Popular Mobilization Units have reportedly liberated more areas in the embattled northern province of Nineveh as they are joined by government forces in arduous battles to drive the Takfiri Daesh militants out of the conflict-ridden Arab country.
The commander of Nineveh Liberation Operation, Lieutenant General Abdul Amir Yarallah, said on Friday that soldiers from the 9th Division of Special Forces have wrested full control of Tal Waei village south of Mosul, situated 400 kilometers north of the capital Baghdad, Arabic-language al-Forat news agency reported.
It came shortly after Iraqi security forces recaptured the village of Omarkan, which lies north of the ancient Assyrian city of Nimrud and slightly over 30 kilometers south of Mosul.
Separately, the media bureau of Popular Mobilization Units, commonly known by the Arabic name Hashed al-Sha'abi, has released photographs which show a network of tunnels burrowed deep into the earth close to a former Iraqi Air Force base in the city of Tal Afar, located 63 kilometers west of Mosul.
Beds can be seen along the tunnel network with rudimentary wiring delivering electricity. The tunnels were apparently used by Daesh members to bring in weapons and supplies for fellow militants occupying the area.
Yusif al-Kallabi, a spokesman for Popular Mobilization Units, told public broadcaster al-Iraqiya on Wednesday that volunteer fighters had liberated Tal Afar airport, dealing a significant blow to Daesh in the campaign to recapture Mosul, situated 400 kilometers north of the capital Baghdad.
Full report at:
http://www.presstv.ir/Detail/2016/11/18/494165/Iraqi-volunteer-forces-operations-Nineveh-Daesh-tunnels-Tal-Afar-airport
--------
Syrian Army Starts Long-Awaited Operation from 3 Flanks in Aleppo
Nov 19, 2016
Syrian government forces used the Southern side of Tal (hill) Seifan in the first flank to attack the positions of Nouralddeen al-Zinki terrorists.
Army forces also stormed militants' defense lines via the second flank in Ba'abadin neighborhood towards Ba'eidin square.
The army soldiers and their popular allies also moved through the Southern side of Tal Ba'abadin towards the Youth Housing Complex and Agricultural School and from South of Manasher Brij neighborhood towards Northeast of Hananou neighborhood to form the third flank of the government troops' large-scale operation against terrorists in Aleppo.
Simultaneous with pro-government forces' offensives from three flanks, army's artillery units shelled heavily terrorists' positions in the region. Heavy shelling has forced the terrorists to retreat from their positions in some regions.
Reports said resistance forces in the first flank have already captured Ba'eidin square that connects the three neighborhoods of Ba'eidin, al-Heidariyeh and Ein Tal and overlooks the entire surrounding area.
Full report at:
http://en.farsnews.com/newstext.aspx?nn=13950829000190
--------
Syria: Gov't Forces Continue to Beat Terrorists Back in Southern part of Aleppo City
Nov 19, 2016
Pro-government forces stormed terrorists' positions in Sheikh Saeed district, inflicting major casualties on the militants.
The Army soldiers and their allies attacked Jeish al-Fatah's defense lines and pushed the militants back from their positions in the Northwestern flank of Sheikh Saeed, killing or wounding a number of terrorists after hours of clashes.
The government forces also stormed terrorists' centers Southwest of Sheikh Saeed, gaining more ground in this flank.
Army soldiers have now deployed troops at Sheikh Saeed Bridge as heavy fighting is underway in the area now.
Army's missile units have been shelling terrorist positions in al-Rashedeen neighborhood, while other army troops and their allies have been fighting against militants to take back al-Rashedeen 4 and 5. Reports said their artillery attacks has driven a number of terrorists out of al-Rashedeen 4 and 5.
Syrian fighter jets also pounded terrorist centers in al-Rashedeen 4 and 5.
Army soldiers also targeted terrorists' defense lines in Aqareb neighborhood in Southwestern Aleppo.
Full report at:
http://en.farsnews.com/newstext.aspx?nn=13950829000320
--------
Terrorists Suffer Heavy Casualties in Syrian Army, Air Force Attacks in Aleppo
Nov 18, 2016
Syrian fighter jets targeted the positions of Fatah al-Sham Front and Nouralddeen al-Zinki in the districts of Old Aleppo, Bostan al-Pasha, Sheikh Saeed and al-Sukri, leaving a large number of militants dead or wounded.
Army soldiers for their part targeted Jeish al-Fatah's gatherings and positions in the villages of al-Mansoureh and Khawabi al-Assal and the neighborhoods of al-Rashedeen 4 and 5 quarters in the Western and Southern parts of Aleppo.
A number of terrorists were killed and their vehicles were destroyed in the army attacks.
The army also destroyed one of the main positions of Jeish al-Fatah after targeting their sites in Khan al-Assal town, about 12 km Southwest of Aleppo city.
Reports said earlier today that Russian fighter jets pounded a base of Fatah al-Sham Front in the Western countryside of Aleppo, claiming the lives of 53 militants, including their senior commanders.
Full report at:
http://en.farsnews.com/newstext.aspx?nn=13950828000628
--------
Nusra Centres in South-western Damascus Targeted Badly in Syrian Army Attack
Nov 18, 2016
Army soldiers targeted Fatah al-Sham positions on Western side of Bir (well) al-Afa'ei in Khan al-Sheih region, inflicting major losses on the terrorist group.
In relevant developments in the province on Thursday, the Syrian army repelled a massive attack of the terrorists to break the siege of the town of Khan al-Sheih in Southwestern Damascus.
The terrorist groups attacked the Syrian army's military bases from several flanks in Khan al-Sheih, but they were forced by the army to retreat after fierce clashes with the government troops and sustaining a large number of casualties.
Full report at:
http://en.farsnews.com/newstext.aspx?nn=13950828000350
--------
Watchdog probing over 20 reports of alleged Syria chemical attacks
November 18, 2016
THE HAGUE: The global watchdog tasked with destroying chemical weapons is probing more than 20 reports of the alleged use of toxic arms in Syria since August, its chief told AFP Friday.
And Ahmet Uzumcu revealed that experts with his Organisation for the Prohibition of Chemical Weapons believed the so-called Islamic State group may have itself manufactured mustard gas used in Syria and Iraq, in an "extremely worrying" development.
Uzumcu was speaking exclusively to AFP only hours after the UN Security Council extended the mandate for another year of a special joint UN and OPCW panel to allow them to investigate more reported chemical attacks in Syria.
He said since August 1 there had been a number of allegations, by both the Syrian regime and the opposition rebels, of the "use of chlorine and unidentified agents in Aleppo and in northern parts of Syria" such as Idlib.
The OPCW is already "collecting information and analysing" it, the OPCW director general said, to see if the allegations "are credible or not in order to deepen our investigation".
"The number (of allegations) is quite high. I counted more than 20," said Uzumcu, revealing that even on Thursday the Syrian authorities had sent to the OPCW fresh reports of chemical weapons use against them.
The panel set up by the UN, known as the Joint Investigative Mechanism, has already established during its year-long investigation that Syrian government forces carried out three chlorine gas attacks on villages in 2014 and 2015.
It was the first time that an international probe pointed the finger of blame at President Bashar al-Assad's forces, after years of denial from Damascus. The findings prompted an unprecedented public condemnation from the OPCW's policy making body last week.
Full report at:
http://nation.com.pk/international/18-Nov-2016/watchdog-probing-over-20-reports-of-alleged-syria-chemical-attacks
--------
Sisi: don't 'jump to conclusions' on Trump
19 November 2016
Egypt's President Abdel-Fattah el-Sisi has praised US President-elect Donald J. Trump, saying that his inflammatory statements from the campaign trail do not necessarily reflect the actions he will take as president.
Sisi, in an interview with Portuguese news agency LUSA released on Saturday, said, "let's not jump into conclusions or worry" about future US actions or policies in the Middle East. The army chief-turned-president was interviewed prior to his upcoming Nov. 21 visit to Portugal.
Sisi was among the very first foreign leaders to congratulate Trump's on his presidential victory.
"We have to distinguish between the rhetoric that takes place within presidential campaigns and the real and actual administration of a country after the inauguration," he said. "There will be a chance for more thorough readings."
Sisi's remarks echoed sentiments that have been circulating on local and regional media, with columnists speculating that Trump campaign rhetoric - such as his call for a ban on Muslims entering the US - will be watered down.
Trump and Sisi have already shown a certain bond. Trump said there was "good chemistry" when they met on the sidelines of the UN General Assembly in September. Sisi said Trump would "without a doubt" make a strong leader.
Sisi, who was elected in 2014 after leading the military ouster of Islamist President Mohammed Mursi, has painted himself as a regional leader in the fight against Islamic militancy - a stance that echoes Trump's priorities.
The prospect of warmer relations with Trump comes after years of comparative chill between Sisi and outgoing US President Barack Obama.
After the ouster of Mursi and the subsequent lethal crackdown on Islamist supporters, the Obama administration voiced criticism and briefly suspended part of the Egypt's robust American aid package.
Full report at:
https://english.alarabiya.net/en/News/middle-east/2016/11/19/Sisi-don-t-jump-to-conclusions-on-Trump.html
--------
South Asia
Top ISIS leader among 7 killed in US airstrike in Afghanistan
Nov 19 2016
A top leader of the loyalists of the Islamic State Iraq and Syria (ISIS) terrorist group was killed in a US drone strike in eastern Nangarhar province of Afghanistan.
The provincial police commandment said the top ISIS leader Mullah Bozorg was killed along with his 7 fighters in the drone strike.
The security officials further added that the airstrike was carried out late on Friday in Kot district, targeting the militants in Lagharjoi area.
According to the officials, several weapons, ammunition, and explosives belonging to the loyalists of the terror group were also destroyed in the raid.
The loyalists o the terror group have not commented regarding the report so far.
Both the Afghan and US forces conducted regular strikes against the loyalists of the terror group in this province.
The increased raids, usually involving drone strikes, by the US forces followed a broader role granted by the Obama administration earlier this year.
The broader role was granted amid concerns that the loyalists of the terror group are attempting to expand foothold in the country and turn the eastern Nangarhar province into a regional operational hub for its fighters.
The deputy house speaker in the Afghan parliament, Haji Zahir Qadir, earlier warned that the loyalists of the terror group will become successful in establishing the Khurasan Caliphate if they managed to take control of Tora Bora mountainous terrain located close to Pacher Agam district.
http://www.khaama.com/top-isis-leader-among-7-killed-in-us-airstrike-in-afghanistan-02310
--------
Afghanistan Facing a "Thinly Disguised Declared War": Permanent Representative to UN
Nov 19 2016
The Afghan Ambassador and Permanent Representative to United Nations Mahmoud Saikal has said Afghanistan is facing a "thinly disguised declared".
He was speaking during the 47th meeting of the UN General Assembly Plenary seventy-first session where the assembly adopted a resolution supporting Afghanistan's efforts as speaker vowed to help conflict-affected nation achieve untapped potential.
The Afghan Ambassador said Afghanistan had made significant strides, with almost all United Nations Member States having been involved in some way in its reconstruction since 2001.
Saikal further added that that the Afghan Government would continue to focus on strengthening State institutions, developing self-reliance and crafting social services, he said "it is imperative that we consolidate the gains as Afghanistan completes its Millennium Development Goals and embarks on the Sustainable Development Goals".
However, he said Afghanistan continued to face threats from violent extremism and terrorism, with 2016 being one of the bloodiest. Afghanistan was facing a "thinly disguised declared war" whereby a neighbouring State, contrary to the United Nations Charter and the principle of good neighbourly relations, had used the Taliban — including the Haqqani Network, Al-Qaida, Islamic State of Iraq and the Levant (ISIL/Da'esh) and others — to orchestrate and conduct attacks aimed at overrunning provincial capitals and stoking the flames of disunity.
"Those who seek solace from the intention of keeping Afghanistan bleeding must remember that such actions would bleed them too and warrant international isolation," he said, adding that the export of foreign terrorist fighters, including Da'esh, in parts of Afghanistan remained a serious concern.
Full report at:
http://www.khaama.com/afghanistan-facing-a-thinly-disguised-declared-war-saikal-02308
--------
Myanmar rejects reports army killed fleeing Rohingya
November 19, 2016
Myanmar's government on Friday rejected accusations by minority Rohingya Muslims that the military has killed residents fleeing the conflict in the northwest of the country, in which at least 86 people have been killed so far and up to 30,000 displaced.
Hundreds of Rohingya are trying to escape the military crackdown after a recent escalation in violence in Rakhine State, residents have told Reuters, adding that some of them have been gunned down while attempting to cross the river that marks the frontier with Bangladesh.
The information taskforce on Rakhine, formed this week by the office of de facto Myanmar leader and Nobel Peace Prize winner Aung San Suu Kyi, has rejected the allegations against the military, known as the "Tatmadaw" in the Burmese language.
"Regarding those incidents, after asking the Tatmadaw and border guard troops in those regions, it is known that the information is absolutely not true," said the State Counsellor Office Information Committee in a Facebook post.
The office added that the military and the border guard troops had not conducted operations near the border and were only engaged in an "area clearance operation" in the "inner part" of the state.
Soldiers have poured into the north of Rakhine along Myanmar's frontier with Bangladesh, responding to attacks by alleged Muslim militants on border posts on Oct. 9.
They have locked down the district, where the vast majority of residents are Rohingya, shutting out aid workers and independent observers.
A senior Bangladeshi official said its border guard force on Friday turned back 82 Rohingya Muslims, including women and children, attempting to leave Myanmar. This came after two boats with 86 people were pushed back on Tuesday.
Lieutenant Colonel Anwarul Azim, commanding officer of the Border Guard Bangladesh (BGB) in the Cox's Bazar sector said those turned away had been provided with food and medicines.
The United Nations stressed the border should be kept open.
"It is essential that the border is kept open for people fleeing violence at the moment," said the U.N. refugee agency spokesman, Adrian Edwards, at a briefing in Geneva on Friday.
CALLS FOR INVESTIGATION
Sixty-nine suspected insurgents and 17 members of the security forces have been killed, according to official reports, since the violence began last month.
Residents and rights advocates have accused security forces of summary executions, rape and setting fire to homes. The government and army have rejected the accusations.
The UN envoy on human rights in Myanmar, Yanghee Lee, criticized Suu Kyi's handling of the crisis and renewed her appeal to investigate the allegations of abuses.
Full report at:
http://www.thedailystar.net/world/myanmar-rejects-reports-army-killed-fleeing-rohingya-1317163
--------
Russia express concern regarding growing ISIS influence in Afghanistan
By KHAAMA PRESS - Sat Nov 19 2016
Amid concerns that the loyalists of the Islamic State of Iraq and Syria (ISIS) terrorist group are attempting to expand foothold in the country, the Russian Envoy to United Nations has emphasized a need to prevent foreign terrorist fighters from spilling into Afghanistan.
Speaking during the 47th meeting of the UN General Assembly Plenary seventy-first session, the Russian envoy, Vladimir K. Safronkov said "Taliban. Indeed, the broad use of the term "violent extremism" did not accurately reflect the situation on the ground. "We can only call these scourges what they are: terrorism."
Pointing to a drop in drug seizures, he said Afghan-produced opium remained a serious threat, with over 40 per cent of terrorist revenue stemming from narcotics trafficking.
Full report at:
http://www.khaama.com/russia-express-concern-regarding-growing-isis-influence-in-afghanistan-02311
--------
Afghan Air Force likely to get Blackhawk helicopters from US
Nov 19 2016
The Afghan Air Force (AAF) is expecting to receive the state-of-the art Blackhawk helicopters manufactured by Sikorsky as US plans to stop buying Russian helicopters.
According to reports, the Department of Defense (DoD) is seeking to end its reliance on Russian-made helicopters to support the Afghan National Defense and Security Forces (ANDSF) and plans to transition to Connecticut-made Black Hawk helicopters.
The decision was made following efforts by U.S. Senator Richard Blumenthal (D-CT), U.S. Senator Chris Murphy (D-CT), and U.S. Representative Rosa DeLauro (D-CT).
"This long overdue step—which I repeatedly advocated— will rightly provide the Afghan military with American helicopters from Sikorsky rather than lesser quality Russian products," Blumenthal said. "It's good news for Connecticut's economy and jobs, and equally good for our national security. Millions of American dollars should never have gone to Russia for Mi-17 helicopters instead of Sikorsky Blackhawks—a travesty that will now be stopped."
"I'll never understand why the U.S. government sent taxpayer money to Russia for helicopters in Afghanistan while Russia was supporting the Assad regime in Syria and invading eastern Ukraine. When the Pentagon buys helicopters, they should be made in America," said Murphy. "I've been working with Rep. DeLauro since my days in the House, and then with Senator Blumenthal in the Senate, to end this misguided policy. I'm glad to say that after years of fighting, we will be buying Connecticut-made Sikorsky Black Hawks for the Afghan Air Force and ending their reliance on Russian-supplied helicopters."
"In the face of Russia's attempts to undermine our foreign policy goals in the Middle East and its continuing aggression in Ukraine, it is time that the United States end its reliance on Russian made helicopters for operations in Afghanistan. With the United States' leadership role in the region, we must prioritize American manufacturers and our hardworking men and women at home," said DeLauro. "Today's announcement is great news for Connecticut's defense industry and I will continue to work with leadership at the Department of Defense to bring these contracts—and jobs—back home to Sikorsky and Connecticut."
For more than a decade, the DoD has supplied the ANDSF with Russian-made Mi-17 helicopters, but ongoing sanctions resulting from Russian aggression have beleaguered the program and halted the flow of aircraft, parts, and supplies. The DoD has announced its intention to replace the Mi-17 helicopters with upgraded UH-60A Black Hawk helicopters as part of the supplemental funding to support Overseas Contingency Operations recently submitted to Congress. It includes funding to procure and modernize 53 of a planned 159 UH-60A Black Hawks from the U.S. Army. The Army would divest UH-60As to make room for new UH-60Ms made in Stratford, Connecticut.
Full report at:
http://www.khaama.com/afghan-air-force-likely-to-get-blackhawk-helicopters-from-us-02309
--------
Pakistan
Govt proscribes Jammat-ul Ahrar, Lashkar-e-Jhangvi AlAlami
Nov 19, 2016
The federal government has proscribed two more militant outfits Lashkar-e-Jhangvi AlAlami and Jammat-ul-Ahrar for their involvement in terrorist activities across the country.
The move came after both the militant organisations took responsibility of series of suicide attacks on sectarian grounds in Baluchistan and Punjab.
As to reports, the notification of ban was issued on November 11.
Referring to a revised list of banned organisations available on the website of the National Counter Terrorism Authority (Nacta), a senior official in Sindh's security establishment said: "The two organisations were added to the banned outfits' list on Nov 11."
The updated list on Nacta website shows a total of 63 outfits that have been proscribed by the federal government.
"The latest addition came after series of investigations led to the fact that the two militant groups were actively involved in the terrorism activities mostly on sectarian grounds. Karachi has also witnessed a recent surge in attacks on sectarian grounds executed mostly by the Lashkar-i-Jhangvi Al Alami."
The federal government took the final decision after feedback from different security, intelligence, investigation and law enforcement agencies and the same was forwarded to the Sindh police and its Counter Terrorism Department (CTD) mainly after the Oct 29 killing of five persons, including three brothers, outside a Nazimabad house where a Muharram majlis for women was in progress.
"Similarly, if you go through the recent history of the Jamaat-ul-Ahrar, they claimed the attack on the Civil Hospital Quetta that killed more than 70 people, including many lawyers," the official said. "One of the curious things you would find in their jobs is that they are mostly active in the southern part of the country, posing a fresh challenge to the law enforcement agencies of Balochistan and Sindh."
Full report at:
http://www.pakistantoday.com.pk/2016/11/19/national/govt-proscribes-jammat-ul-ahrar-lashkar-e-jhangvi-alalami/
--------
Pakistani, Palestinian youths urged to join hands to promote Muslim unity
November 19, 2016
Zubair Qureshi
Islamabad—Student leaders from all over Pakistan participated in the oath-taking ceremony of State Youth Parliament (SYP) held at Aiwan-e-Iqbal here Friday.
Palestinian Ambassador Walid Abu Ali was the chief guest on the occasion. While congratulating the youth representatives, he said that youth were asset of a country. He hoped the representatives of the youth would carry forward the message of Islam and work to support the cause of Islam and Muslims. He greeted the cabinet of State Youth Parliament on this occasion. He said that Pakistan and Palestinian youth should join hands to promote the unity among Muslims of the world.
Grandson of Dr Allama Muhammad Iqbal, Munib Iqbal administered oath to the members of SYP. After the oath-taking, while addressing the participants, he said teachings of Allama Iqbal serve us with a good lesson and reminds us of our lost treasure of values and traditions.
Full report at:
http://pakobserver.net/pakistani-palestinian-youths-urged-to-join-hands-to-promote-muslim-unity/
--------
Pakistan helping in secret talks with Afghan Taliban
By Siddique Sajid
19-Nov-16
ISLAMABAD: The ministry of foreign affairs admitted on Friday in a report presented in the Senate that Pakistan was helping in talks with Afghan Taliban but the policy was to keep it secret, and the Afghan government took the right decision to contact Gulbadin Hikmat Yar.
This report has been prepared jointly by defence and foreign affairs committees of the upper house and tabled by their chairmen, Mushahid Hussain Syed and Senator Nuzhat Sadiq.
The report includes the suspension of talks with the Afghan Taliban after the death of Mullah Munsor, the situation on the eastern and western borders and preparation of armed forces.
The defence secretary told the parliamentary bodies that the Pak-Afghan border was 2611 kilometers long and we were facing problems to stop terrorists and drug smugglers due to the porous border. In August, 86 border violations were made from Afghanistan and two army personals embraced shahdat due to rocket attacks from Afghanistan in October. Both Afghanistan and Pakistan agreed to hold a flag meeting every month to check border violations.
Full report at:
http://dailytimes.com.pk/pakistan/19-Nov-16/pakistan-helping-in-secret-talks-with-afghan-taliban
--------
Pakistan 'war on terror' has cost $118 bn: state bank
Nov 19, 2016
Pakistan's "war on terror" has cost the developing country a whopping $118 billion so far, a new central bank report has said, an amount equivalent to well over one third of its gross domestic product.
The central State Bank of Pakistan (SBP) released its annual report on Thursday showing extremist violence cost the country $118.3 billion in direct and indirect losses from 2002 to 2016.
"Both economic growth and social sector development have been severely hampered by terrorism related incidents," the bank said in the report.
Pakistan became a pivotal US ally in the battle against extremism after the September 11, 2001 attacks spurred the US invasion of neighbouring Afghanistan.
A Coalition Support Fund (CSF) was approved by the US to support Pakistan in the war, with an annual release of around $1 billion since 2002. By last year Pakistan had received a total of $14 billion under the CSF.
Full report at:
http://www.pakistantoday.com.pk/2016/11/18/national/pakistan-war-on-terror-has-cost-118-bn-state-bank/
--------
Bodies of 10 Karachi airport attackers to be exhumed for DNA tests
ISHAQ TANOLI
Nov 19, 2016
KARACHI: A medical team, under the supervision of a judicial officer, will exhume the bodies of 10 attackers of Karachi airport attack case on Nov 22 for identification.
The four-member medical team will collect samples for DNA tests to establish the identity of the killed assailants.
A judicial magistrate (Malir) had directed the health authorities to constitute a medical board since police moved court for the exhumation of the bodies for DNA testing.
Around 10 heavily armed militants stormed Karachi airport in June 2014 and were killed by army commandos and personnel of other security forces during an operation lasting about five hours. They were buried at an Edhi-run cemetery after their identity remained unknown.
A police surgeon in a compliance report placed before the judicial magistrate on Friday said that the medical board headed by Prof Farhat Hussain Mirza, chairman of the forensic medicine department of the Jinnah Sindh Medical University, had been constituted.
The medical board will exhume the bodies to obtain samples for DNA testing in the presence of a judicial magistrate on Nov 22 at the Edhi graveyard located in the Mochko police station limits, the report added.
Around 25 people, including personnel of the Airport Security Force, police and Rangers, were killed in the audacious gun-and-explosive attack. Three men are facing trial before an anti-terrorism court for allegedly providing logistic support, funds and weapons to the attackers.
The CTD claimed to have arrested Ishaq, alias Bobby, and Mohammad Asim, alias Ahmed alias Capri, belonging to the banned Lashkar-i-Jhangvi, recently for their alleged involvement in many targeted killing cases, including the murder of renowned Qawwal Amjad Sabri and personnel of the army and police.
A CTD official also said that Bobby's brother-in-law Ehtesham and his friend Majid, with eight other militants, were killed by law enforcement personnel during the deadly airport attack.
Meanwhile, the administrative judge of the anti-terrorism courts remanded on Friday both the suspected militants in police custody in three more cases, including the murder of seven policemen guarding polio workers.
Police produced Ishaq Bobby and Asim Capri, who have already been in police custody in explosive and illicit weapon cases, before the court to seek their remand in more cases pertaining to the killing of seven policemen in Orangi Town in April this year, murder of two traffic policemen near Ayesha Manzil in May and a triple murder in Zaman Town last year.
The administrative judge handed them over to police on physical remand till Nov 22.
MPA gets bail in 'anti-state' CDs case
An anti-terrorism court granted on Friday bail to a provincial lawmaker of the Muttahida Qaumi Movement in a case related to alleged distribution of CDs of 'anti-state' speeches.
MPA Shiraz Waheed was arrested in August for allegedly circulating CDs, which contained speeches and statements to wage war or attempt or abet to wage war against the country, among the people in Ahsanabad.
Full report at:
http://www.dawn.com/news/1297213/bodies-of-10-karachi-airport-attackers-to-be-exhumed-for-dna-tests
--------
Smooth working of Pak-Turk schools to be ensured
November 19, 2016
ISLAMABAD - The government on Friday maintained that it will ensure smooth functioning of the Pak-Turk schools, future of which was thrown into doubt following the expulsion of dozens of Turkish teachers.
During the weekly media briefing, Foreign Office Spokesman Nafees Zakaria said there had been some speculative reports with regard to Turkish employees of the Pak-Turk schools.
"It is emphasised that all actions being taken by the government of Pakistan on the matter are in accordance with our national law and consistent with the actions taken against the parent organisation by the government of Turkey. The organisation was registered under the 'Charities Act' in the Republic of Turkey. After the organisation was banned in the country of origin, its branches abroad have ceased to exist," he explained.
He said that the government was fully conscious of the importance of continued smooth functioning of the schools in which thousands of Pakistani students are enrolled.
"We would like to reassure that appropriate arrangements are being made to ensure the uninterrupted running of these educational institutions, keeping in view the interest of the students as well as the employees," the spokesman said.
Responding to a question, the FO spokesman said India's aggressive posture was a threat to regional and global peace as he slammed New Delhi's 'double speak' over the use of nuclear weapons.
He said the statement of Indian Defence Minister Manohar Parrikar on 'why India cannot use nuclear weapons first' was a "manifestation of India's double speak and a threat to region's peace and security."
He said such a statement by a high-profile official of the Indian government was enough to heighten the tensions further.
This week, Parrikar questioned India's 'no first use policy' on nuclear weapons but then said that "this is my thinking" and the nuclear doctrine "has not changed" under any government.
Parrikar said: "Why a lot of people say that India has no first use policy. Why should I bound myself to a… I should say I am a responsible nuclear power and I will not use it irresponsibly. This is my thinking. Some of them may immediately tomorrow flash that Parrikar says that nuclear doctrine has changed. It has not changed in any government policy but my concept, I am also an individual. And as an individual, I get a feeling sometimes why do I say that I am not going to use it first. I am not saying that you have to use it first just because you don't decide that you don't use it first. The hoax can be called off."
A spokesperson for the Indian defence ministry later clarified that the minister had confirmed that this was his personal opinion.
Zakaria said India's claim of 'no first use of nuclear weapons' could not substitute to the restraint measures as proposed in Pakistan's standing offer of 'Strategic Restraint Regime'.
"Pakistan has long maintained that India's ambiguous of 'no first use' declaration is not verifiable and amounts to nothing," he said.
The spokesman said that Pakistan had time and again cautioned the international community of "Indian tendency towards adventurism".
He said in this backdrop, signing nuclear deals by some countries was a matter of concern as "it had only reinforced arrogance and belligerence to the Indian conduct in the region and beyond."
Zakaria urged India to end cross-border skirmishes and respect the 2003 ceasefire agreement to avoid the situation from deteriorating further.
He said India's show of power at the borders highlighted double standards of its government. He reiterated Pakistan would continue to support Kashmir's freedom movement morally on every international platform.
He referred to Hurriyat leaders Syed Ali Geelani, Mirwaiz Umar Farooq and Yasin Malik's statements which said that the people of Kashmir had won a moral victory by refusing to yield and submit to oppression.
He said Pakistan had decided to attend the "Heart of Asia" to be held in Amritsar next month. "On Afghanistan, Pakistan's position has been very clear all along. We encourage all initiatives that are aimed at bringing peace and stability in Afghanistan. The rationale behind it is that peace in Afghanistan will have a direct bearing on peace and security in the entire region. We also have a very special and close relationship with the people of Afghanistan. Since Heart of Asia is about Afghanistan, therefore, Pakistan has decided to attend the conference. Adviser Sartaj Aziz has already announced in this regard," he elaborated.
He said Pakistan had extended an invitation to Afghan Chief Executive Dr Abdullah Abdullah to visit Islamabad in the near future.
Full report at:
http://nation.com.pk/national/19-Nov-2016/smooth-working-of-pak-turk-schools-to-be-ensured
--------
IS commander gunned down in Murree
November 19, 2016
RAWALPINDI - An alleged commander of Islamic State of Iraq and Syria (ISIS), a terrorist organisation, has been killed during a gun battle with Counter Terrorism Department (CTD) at Saanj, a remote hilly area of Union Council Bann, New Murree, sources disclosed to The Nation yesterday.
CTD also recovered a huge cache of arms and ammunition and explosives from the house of alleged Daesh Pakistan Commander Ahsan Satti. However, his brother Imran Satti managed to escape from the scene, the sources said. The fleeing terrorist is said to be Daesh commander of Islamabad, source said.
A corporal of CTD namely Rizwan was also injured after in the operation.
According to sources, a team of CTD Rawalpindi, headed by SP CTD Haroon Rashid, raided the house of Ahsan Satti. However, seeing the raiding party, the terrorists present in the house hurled a hand-grenade injuring a personnel of CTD.
Full report at:
http://nation.com.pk/national/19-Nov-2016/is-commander-gunned-down-in-murree
--------
Two Baloch 'separatists' killed in Dera Bugti
November 18, 2016
DERA BUGTI: Two alleged militants belonging to the banned Baloch Republican Army were killed in a Frontier Corps-led military offensive here on Friday.
A spokesperson of the paramilitary force said that FC personnel conducted an armed offensive against alleged militants in Dere Bugti, an area in Balochistan.
The alleged militants resisted the attempts of the security to thwart their nefarious designs which led to an exchange of fire from both sides, added the spokesperson.
In the ensuing crossfire, the paramilitary force killed two alleged militants and recovered a huge cache of arms and ammunition while others managed to escape.
Full report at:
http://nation.com.pk/national/18-Nov-2016/two-baloch-separatists-killed-in-dera-bugti
--------
India
NIA raids Zakir Naik's Islamic Research Foundation premises
Nov 19, 2016
MUMBAI: The National Investigation Agency (NIA) on Saturday conducted raids at 10 premises of controversial preacher Zakir Naik's Islamic Research Foundation+ (IRF) in Mumbai.
The NIA had registered a case against Zakir Naik+ and others on Friday under 10,13,18 of UAPA and section 153A of IPC.
The searches began on Saturday morning with the help of local police after a case was registered by the NIA's Mumbai branch on Friday night under 153-A of IPC (promoting enmity between different groups on grounds of religion...and doing acts prejudicial to maintenance of harmony) and various sections of Unlawful Activities (Prevention) Act.
The action by the National Investigation Agency (NIA) came barely a few days after the Union Cabinet declared IRF as a banned organisation under UAPA.
IRF came under the scanner of various security agencies after one of the terrorists involved in the Dhaka cafe attack had allegedly posted on social media that they had been inspired by Naik's speeches.
Some of the youths from Mumbai suburbs, who had left their home to join Islamic State earlier this year, were also allegedly inspired by the preacher.
The speeches of Naik, who is currently out of the country apparently to evade arrest, are banned in the UK and Canada as well as in Malaysia.
The home ministry found the NGO was allegedly having dubious links with Peace TV, an international Islamic channel, accused of propagating terrorism.
According to the home ministry, Naik, who heads the IRF, has allegedly made many provocative speeches and engaged in terror propaganda.
Maharashtra Police has also registered criminal cases against Naik for his alleged involvement in radicalisation of youths and luring them into terror activities.
Naik also transferred IRF's foreign funds to Peace TV for making "objectionable" programmes. Most of the programmes, which were made in India, contained alleged hate speeches of Naik, who had reportedly "urged all Muslims to be terrorists" through Peace TV.
An educational trust run by Naik has already been prevented from receiving foreign funds and agencies are looking into their activities.
http://timesofindia.indiatimes.com/india/NIA-raids-Zakir-Naiks-Islamic-Research-Foundation-premises/articleshow/55506921.cms
--------
Kidney has no religious labels: Sushma Swaraj's response to muslim man offering his kidney
Nov 18, 2016
NEW DELHI: Ever since Sushma Swaraj was hospitalised in New Delhi's AIIMS due to renal failure, scores of people from across the country have offered their kidneys to the external affairs minister.
Amid such generous offers, a muslim man offered his kidney to Swaraj, a minister who is widely loved on social media for her timely interventions and help to people in need. Mujib Ansari offered his kidney to Swaraj through a tweet, while adding that he is a muslim and a supporter of BSP in Uttar Pradesh.
And Swaraj's response to his help was as sweet as the offer.
"Thank you very much brothers. I am sure, kidney has no religious labels," Swaraj tweeted.
Not only Mujib, a few other Muslim men have also offered to help her by donating their kidney to her. Nyamath Ali Shaik, a muslim, also offered his kidney to Swaraj saying he was ready to donate his kidney, if need be. Another Twitter follower Jaan Shah also said he was ready to offer his kidney to her.
Full report at:
http://timesofindia.indiatimes.com/india/Kidney-has-no-religious-labels-Sushma-Swarajs-response-to-muslim-man-offering-her-kidney/articleshow/55502703.cms
--------
Maulana Rabey Hasani Nadwi unanimously re-elected AIMPLB president for 6th time
November 19, 2016
Kolkata, (Pervez Bari): Once again the noted Muslim cleric of national and international repute Maulana Syed Mohammad Rabey Hasani Nadwi was unanimously re-elected president of the All India Muslim Personal Law Board, (AIMPLB), an apex body of Muslims. on Friday in its 25th annual conference which is being held here in Kolkata. There was no change in the position of other office-bearers as all were also unanimously re-electedIt is for the sixth time that Maulana Rabey, Rector of the Nadwatul Ulema, a famous Islamic university in Uttar Pradesh capital Lucknow, will head the AIMPLB, which was formed four decades ago to protect the "Shariah" or the Islamic laws. This will be his fourth consecutive term. He was first elected in April 2002 following the death of Qazi Mujahid-ul-Islam Qasmi in Hyderabad.Maulana Rabey later picked his team for the sixth term wherein he nominated his old panel which included Maulana Syed Wali Rahmani as general secretary of AIMPLB, Maulana Khalid Saifullah Rahmani & Maulana Mohammad Fazlur Rahim Mujaddidi as secretaries and other office-bearers of the outgoing team. A 40-member executive body was unanimously elected wherein all the members who had completed their three year term were re-elected. Five new members of the executive committee were also elected in place of those who had passed away in last three years. They are: Maulana Khalilur-Rahman Sajjad Nomani, Maulana Syed Mahmood Asad Madani, Mohammad Umrain Mahfooz Rahmani, E. Abubacker and Adv. Abdul Qadeer.Later, Maulana Rabey will nominate 10 members to the Executive Committee of AIMPLB to make it 50-member body. There was no contest for any post and also for the executive body.
Full report at:
http://www.siasat.com/news/maulana-rabey-hasani-nadwi-unanimously-re-elected-aimplb-president-6th-time-1068667/
--------
Mideast
More academics, mayors detained as Turkish purges enter fifth month
November 19, 2016
ISTANBUL - Turkish police detained more than 70 academics at an Istanbul university, NATO said Turkish soldiers had sought asylum and more pro-Kurdish mayors were arrested on Friday as a crackdown after July's failed coup entered its fifth month.
Some 110,000 people have been sacked or suspended in the civil service, army, judiciary and other institutions and 36,000 people jailed pending trial in the investigation of the abortive July 15 putsch, in which more than 240 people were killed. Western allies, in particular in Europe, have voiced concern at the breadth of the purges under President Tayyip Erdogan. Some European politicians have called for a freezing of Turkey's EU membership talks, while a senior UN official on Friday described the measures as "draconian" and "unjustified". Erdogan has repeatedly rejected such criticism, saying Turkey is determined to root out its enemies at home and abroad, and could reintroduce the death penalty. He has accused Western nations of siding with the coup plotters and harbouring terrorists.
Istanbul prosecutors issued detention warrants for 103 teaching staff accused of "membership of an armed terror group" under an investigation into the city's Yildiz Technical University, one of the most prestigious education establishments so far affected, the state-run Anadolu agency said.
Police detained 73 of them in dawn raids, searching their homes and offices before taking them to hospital for routine health checks and then to the city's police headquarters. Some were said to have been users of a smart-phone messaging app called ByLock, Anadolu said. The Turkish authorities say the app was used by followers of US-based cleric Fethullah Gulen, blamed for masterminding the failed coup attempt.
Gulen denies involvement in the putsch.
Thousands of soldiers have been dismissed from the Turkish armed forces since the coup. NATO Secretary-General Jens Stoltenberg said on Friday some members of the military who were posted to NATO in Europe had requested asylum. Speaking at a conference in Brussels, Stoltenberg stressed that Turkey remained a crucial NATO ally and that he condemned the July 15 putsch, but said Ankara must respect the rule of law. "Some Turkish officers working in NATO command structures... have requested asylum in the countries where they are working," he said. "As always, this is an issue that is going to be assessed and decided by the different NATO allies."
Dozens of journalists in Turkey have also been jailed pending trial in the crackdown. UN Special Rapporteur on freedom of expression David Kaye voiced "deep concern" about widespread measures being used to erode free speech. "Across the board, the government is imposing draconian measures that limit freedom of expression," Kaye said after a one-week official mission to Turkey. He acknowledged the national security concerns faced by the government, but said: "The unjustified attacks on lawyers, judges, journalists, artists, academics and activists undermine security and generate polarization and long-term instability." On Thursday, authorities dismissed 203 prosecutors and judges over links to what the government calls the "Gulenist Terror Group".
Parallel to the purges targeting alleged Gulen followers, authorities have been cracking down on politicians they accuse of ties to the Kurdistan Workers Party (PKK), designated a terrorist group by Turkey, the United States and the European Union.
A court on Friday sent the mayor of the southeastern city of Van, Bekir Kaya, to jail pending trial on a charge of aiding the PKK, a day after he was detained by police at the municipality building, party sources said.
Ankara has appointed administrators to run 34 municipalities, including the one in Van, to replace elected mayors from Kaya's pro-Kurdish Democratic Regions' Party (DBP).
Police on Friday detained another DBP mayor, Halis Coskun, who ran the council in the Malazgirt district of Mus province in eastern Turkey, the party sources said.
http://nation.com.pk/international/19-Nov-2016/more-academics-mayors-detained-as-turkish-purges-enter-fifth-month
--------
Turkish tank shelling kills at least 5 Syrians, wounds dozens near Aleppo
Nov 18, 2016
At least five civilians have been killed and some 43 others sustained injuries after Turkish troops opened artillery and tank fire on the outskirts of the embattled Syrian city of Aleppo.
The Turkish army launched the deadly attack against al-Bab city, located some 40 kilometers northeast of Aleppo, Bizaah town, some three kilometers east of al-Bab, and Saflaniyeh village on Friday, Lebanon's Arabic-language al-Ahed news website reported.
It added that at least 12 of the wounded were in critical condition.
The Turkish forces are currently supporting the foreign-backed Free Syrian Army (FSA) militants in their advance towards al-Bab and their planned offensive against Aleppo's industrial area, which is under the control of the Syrian army.
Over the past four years, Aleppo has been divided between government forces in the west and terrorists in the east, making it a frontline battleground. Backed by Russian air cover, the Syrian army launched operations to reunite the divided northwestern city in September.
On August 24, Turkish special forces, tanks and jets backed by warplanes from the US-led coalition launched their first coordinated offensive in Syria. On the same day, Damascus slammed the intervention as a breach of its sovereignty.
Turkey claimed the incursion was meant to engage both Daesh terrorists in the Syrian-Turkish border area and Kurdish fighters, who were themselves fighting Daesh.
Ankara, however, has long been criticized for refusing to seriously fight Takfiri terrorists. The country also stands accused of allowing potential militants to use its territory for travel and shipment of arms into Syria, and buying smuggled oil from terrorists.
In another development, Daesh militants killed Naser Hajjar, the administrative manager of Aleppo University Hospital in a mortar attack on Friday.
Elsewhere in the country, the Takfiris abducted at least 30 Syrian citizens, who were trying to move from Rakban refugee camp, located in the Jordan-Syria border area, to al-Dhamir town near the capital Damascus.
Full report at:
http://www.presstv.ir/Detail/2016/11/18/494195/Turkey-Syria-Aleppo-OPCW-alBab-Daesh
--------
Arab coalition declares 48-hour Yemen truce
Nov 19, 2016
A Saudi-led coalition supporting Yemen's government against Iran-backed rebels declared a 48-hour ceasefire to begin in Yemen Saturday, it said in a statement on the kingdom's SPA news agency website.
"It has been decided to begin a 48-hour ceasefire from 12:00 noon in Yemen's timing on Saturday," the coalition statement said, adding that the truce could be renewed if the Houthi rebels and their allies abide by the deal and allow aid deliveries to besieged cities.
The coalition announcement followed a request for a ceasefire by Yemen's President Abedrabbo Mansour Hadi - himself based in Riyadh - to Saudi King Salman, the statement said.
"Coalition forces will abide by the ceasefire," it said, but warned that should the rebels or troops loyal to former president Ali Abdullah Saleh make any military moves in the area the coalition would respond.
The naval and air "blockade" will also remain in place and surveillance jets will continue to fly over Yemen, it added.
The coalition has been militarily supporting forces loyal to Hadi's government since March 2015.
Full report at:
http://www.dawn.com/news/1297320/arab-coalition-declares-48-hour-yemen-truce
--------
Trump's CIA pick supports domestic surveillance, opposes Iran deal
November 19, 2016
Representative Mike Pompeo, President-elect Donald Trump's surprise choice to head the CIA, supports the U.S. government's sweeping collection of Americans' communications data and wants to scrap the nuclear deal with Iran.
The retired Army officer, West Point and Harvard Law School graduate also has defended the CIA's use of interrogation techniques that are widely condemned as torture.
The Kansas Republican has criticized Democratic presidential candidate Hillary Clinton's use of a private email server as secretary of state and her handling of the 2012 attacks on U.S. posts in Benghazi, Libya.
A member of the House of Representatives Intelligence Committee, Pompeo, 52, was first elected in the 2010 Tea Party wave from the congressional district centered on his hometown of Wichita. Members of both parties regard him as intelligent, collegial and capable, with a keen grasp of national security issues.
"Mike is very bright and hard-working, and will devote himself to helping the agency develop the best possible intelligence for policy makers," said Adam Schiff, the top Democrat on the House intelligence committee. "While we have had our share of strong differences - principally on the politicization of the tragedy in Benghazi - I know that he is someone who is willing to listen and engage."
Pompeo "is a serious guy who studies issues carefully," said former National Security Agency and CIA director Michael Hayden.
Some civil liberties and human rights advocates, however, expressed concern over Pompeo's selection because he opposes closing the Guantanamo Bay detention center.
They also criticized his support for the National Security Agency's now-defunct bulk communications metadata collection and other surveillance programs.
"These positions and others merit serious public scrutiny through a confirmation process," said Anthony Romero, the executive director of the American Civil Liberties Union.
In a January op-ed in the Wall Street Journal he co-authored, Pompeo called for a "fundamental upgrade to America's surveillance capabilities," including resuming bulk collection of domestic phone metadata, the numbers and time stamps of calls, but not their content.
The program, which a federal appeals court and two governmental review panels found to be illegal and ineffective, should be expanded to include "publicly available financial and lifestyle information into a comprehensive, searchable database", and that "legal and bureaucratic impediments to surveillance should be removed," he wrote.
He also called for the death penalty for Edward Snowden, the NSA contractor who disclosed the existence of the metadata program and other top-secret surveillance programs.
Pompeo stands a good chance of being confirmed by the Republican-controlled Senate. Announcement of his nomination was warmly greeted by Senator Richard Burr, the chairman of the Senate Intelligence Committee, which will conduct his confirmation hearing.
ATTACKING CLINTON
Pompeo has been at the forefront of attacks in Congress on Clinton, accusing her of "criminality" for storing emails containing classified information on her private server.
He served on the Republican-led House committee that investigated the attacks by Islamist extremists on U.S. diplomatic and CIA posts in Benghazi that killed four Americans.
While the panel found no wrongdoing by the administration, Pompeo and another member appended to the final report a commentary accusing Clinton and other officials of failing to protect the posts and to respond appropriately to the attacks.
Democrats accused Pompeo of using inaccurate information to exaggerate alleged failures by Clinton on Benghazi.Some of Pompeo's positions also are at odds with the assessments of the intelligence officers and analysts Trump wants him to command.
Full report at:
http://nation.com.pk/international/19-Nov-2016/trump-s-cia-pick-supports-domestic-surveillance-opposes-iran-deal
--------
Israeli army kills Gazan in border clashes
November 19, 2016
GAZA CITY: Israeli troops shot dead a young Palestinian during clashes along the Gaza border on Friday, the health ministry in the Palestinian enclave said.
"Mohammed Abu Saada, 26, died after being shot in the chest by Israeli soldiers in clashes east of the Al-Bureij camp," ministry spokesman Ashraf al-Qudra said in a statement. The Israeli army said that "during a violent riot adjacent to the security fence in the central Gaza Strip, dozens of rioters breached the buffer zone, approached and damaged the security fence and attempted to infiltrate Israel".
"Forces fired shots in order to distance and disperse rioters," a military spokeswoman told AFP.
Full report at:
Others were shot dead during protests and clashes, while some died in Israeli air strikes in Gaza.
http://nation.com.pk/international/19-Nov-2016/israeli-army-kills-gazan-in-border-clashes
--------
Three dead, 13 trapped in Turkey mine collapse
November 19, 2016
SIRVAN, Turkey : Turkish rescue workers were on Friday battling to save 13 miners trapped after the collapse of a copper mine already confirmed to have left at least three dead.
The governor's office in the southeastern Siirt province where the mine is located said two of three bodies recovered after the accident late Thursday had already been identified.
"Work began again at dawn to save 13 more workers," it said, adding that salvage services from across the region and rescue dogs were at the scene.
An AFP photographer at the scene said that dozens of family members of the trapped miners were surrounding the mine in a desperate wait for news.
Elderly women in white headscarves in the mainly-Kurdish region put their hands to their heads in grief and embraced each other.
Smoke rose from the mine area as the relatives lit fires to keep warm on a sunny but freezing day in the mountainous region.
Full report at:
http://nation.com.pk/international/19-Nov-2016/three-dead-13-trapped-in-turkey-mine-collapse
--------
Turkish Nato officers ask for asylum
November 19, 2016
BRUSSELS - A number of Turkish officers serving in NATO command posts have asked for asylum since a failed military coup in July, alliance head Jens Stoltenberg said Friday.
Stoltenberg also said he would travel to Istanbul on Sunday, having been there in September when he sought to reassure Ankara of NATO's continued support.
"Some Turkish officers working in NATO command structures ... have requested asylum in the countries where they are working," Stoltenberg told a security conference in Brussels.
"We have seen a number of changeovers in the NATO command structure where Turkish personnel has been changed," the NATO chief said.
Stoltenberg said the NATO countries concerned would make their own asylum decisions rather than the alliance headquarters in Brussels. "We would be wrong if we started to go into that kind of legal issue; that's for the judicial system" of the countries concerned, he said.
Stoltenberg did not name the countries or say how many Turkish officers were involved.
Jonathan Eyal, an analyst with the London-based think tank Royal United Services Institute, told AFP the development could create more tensions with Turkey.
Turkish President Recep Tayyip Erdogan has accused western powers of failing to show enough support and rejected their charges that he is violating human rights with his massive post-coup crackdown.
Turkey declared a state of emergency following the July 15 coup, arresting tens of thousands in a crackdown which critics say has gone well beyond the alleged plotters to include anyone daring to criticise Erdogan.
Eyal warned the NATO chain of command could be undermined in the long term as Turkey may struggle to fill the slots with officers who may be chosen for their loyalty rather than their competence.
Full report at:
Its membership has traditionally been a cornerstone of Turkish foreign policy.
http://nation.com.pk/international/19-Nov-2016/turkish-nato-officers-ask-for-asylum
--------
Gaza man shot dead in protest near border with Israel
18 November 2016
Israeli troops shot and killed a 26-year-old Palestinian during a rock-throwing protest near the Gaza-Israel border on Friday, a Palestinian health official said.
An Israeli military spokeswoman said troops had fired shots to disperse Palestinians trying to breach the Gaza border fence and authorities were investigating reports that one person had been killed.
The Gaza health officials said Mohammad Abu Seada was killed by Israeli gunfire and that two others were wounded. Dozens of protesters hurl rocks at Israeli soldiers every Friday along the border with Gaza.
At least 227 Palestinians have been killed in violence in the occupied West Bank and the Gaza Strip since October 2015. Israel says 154 of them were assailants. Others died during clashes and protests.
Full report at:
https://english.alarabiya.net/en/News/middle-east/2016/11/18/Gaza-man-shot-dead-in-protest-near-border-with-Israel.html
--------
Turkey in talks with Russia on air defence system
18 November 2016
Turkey is in talks with Russia on the potential purchase of S-400 air missile defense systems, Turkish Defense Minister Fikri Isik said on Friday, adding that Ankara was also in touch with other countries on missile defense.
Full report at:
https://english.alarabiya.net/en/News/middle-east/2016/11/18/Turkey-in-talks-with-Russia-on-air-defense-system.html
--------
Europe
European Union Orders British Press NOT to Report when Terrorists are Muslims
By Yves Mamou
November 18, 2016
According the European Commission against Racism and Intolerance (ECRI) -- part of the Council of Europe -- the British press is to blame for increasing hate speech and racist violence. On October 4, 2016, the ECRI released a report dedicated only to Britain. The report said:
some traditional media, particularly tabloids... are responsible for most of the offensive, discriminatory and provocative terminology. The Sun, for instance, published an article in April 2015 entitled "Rescue boats? I'd use gunships to stop migrants", in which the columnist likened migrants to "cockroaches"...
The Sun newspaper has also published inflammatory anti-Muslim headlines, such as its front page of 23 November 2015 which read "1 in 5 Brit Muslims' sympathy for jihadis", along with a picture of a masked terrorist wielding a knife...
The ECRI report establishes a direct causal link between some tough headlines in British tabloids and the security of the Muslims in the UK. In other words, the British press is allegedly inciting readers to commit "Islamophobic" acts against Muslims.
ECRI considers that, in light of the fact that Muslims are increasingly under the spotlight as a result of recent ISIS-related terrorist acts around the world, fueling prejudice against Muslims shows a reckless disregard, not only for the dignity of the great majority of Muslims in the United Kingdom, but also for their safety.
ECRI is basing its report on a recent study from Matthew Feldman, Professor at Teesside University. This study compiled anti-Muslim incidents before and after terrorist's attacks.
In the seven days prior to the Charlie Hebdo massacre in Paris, where 12 people were killed, there were 12 reported (anti Muslim) incidents, but in the seven days following, there were 45. This pattern was similar in relation to the terror attacks in Sydney, in December and Copenhagen, in February.
So, according to the ECRI and scholars of Teesside University, when Muslim jihadists murder people and the press reports that killers are Muslims, the press, and not Islamists, is encouraging "Islamophobic incidents" in Britain. According to ECRI Chair Christian Ahlund, "It is no coincidence that racist violence is on the rise in the UK at the same time as we see worrying examples of intolerance and hate speech in the newspapers, online and even among politicians."
For the ECRI, the biggest problem is:
"... where the media stress the Muslim background of perpetrators of terrorist acts, and devote significant coverage to it, the violent backlash against Muslims is likely to be greater than in cases where the perpetrators' motivation is downplayed or rejected in favour of alternative explanations."
The report does not explain what could be "alternative explanations." But we can find examples in French press: when a Muslim attacks a soldier and tries to take his gun, he is not an Islamist terrorist, but a "lunatic." Such attacks by "lunatics" are very common in France.
The French press downplays attacks by deciding not to name Muslim perpetrators: incriminating a "Mohamed" could, in the minds of French journalists, incite retaliations against Muslims. In another example, Muslim gangs cannot be connected to any form of violence, so they become "youths." In France, Muslim terrorists are never Muslim terrorists, but "lunatics", "maniacs" and "youths."
But that is France. In Britain, tabloids are not so polite, and they understand perfectly the intentions of the ECRI report: to ban the word "Muslim" when it is associated with "violence or terrorism."
The ECRI Report Marks a U-Turn in Free Speech
This is the moment where hate speech laws become a greater threat to democracy and freedom of speech than the hate speech itself. Prohibiting journalists from naming "Islamic terrorism," and encouraging them to hide the association of Muslims with terrorism, is an attempt to misrepresent the truth in the same way the former Soviet Union censored the truth. Taking advantage of some real racist articles in tabloids -- not many, because not many are quoted in the report -- to attack freedom of the press and freedom of speech is not anti-hate speech; it is submission.
The proof of submission lies in ECRI's recommendations to the British government:
"establish an independent press regulator";
"rigorous training for journalists to ensure better compliance with ethical standards";
"review the provisions on incitement to hatred with a view to making them more effective and usable";
"establish a real dialogue with Muslims in order to combat Islamophobia. They should consult them on all policies which could affect Muslims";
amending the Editor's Code of Practice to ensure that members of groups can submit complaints as victims against biased or prejudicial reporting concerning their community"
By following these recommendations, the British government would place Muslim organizations in a kind of monopoly position: they would become the only source of information about themselves. It is the perfect totalitarian information order. If a breach of that kind would open in the future, no doubt all the lobbies would rush into the breach: political parties, Protestants, Catholics, Jews, multinationals, everyone.
The British government did not fall into the trap, and firmly rebuffed ECRI's demands. It told the European council body:
"The Government is committed to a free and open press and does not interfere with what the press does and does not publish, as long as the press abides by the law."
In Great Britain, and in all countries of European Union, anti-hate laws already exist. Created to guard against the kind of xenophobic and anti-Semitic propaganda that gave rise to the Holocaust, national hate speech laws have increasingly been invoked to criminalize speech that is merely deemed insulting to one's race, ethnicity, religion, or nationality.
These laws have also been invoked often by Islamists to sue against anti-Islamist speech (cartoons of Muhammad, blasphemy against Islam, etc.) as manifestations of "racism" -- fortunately with little success. Most court cases that Islamists have initiated have failed because Islam is not a race.
Agnes Callamard, expert on human rights, writes in reference to the United Nations Charter:
"ARTICLE 19 recognises that reasonable restrictions on freedom of expression may be necessary or legitimate to prevent advocacy of hatred based on nationality, race, religion that constitutes incitement to discrimination, hostility or violence. The organisation does not extend such legitimate restrictions to offensive and blasphemous expressions."
It is disturbing to wonder how long the EU will strongly engage its experts and influence to cut through existing legal obstacles, in a quest to criminalize any type of criticism of Islam, and to submit to the values of jihad.
Yves Mamou, based in France, worked for two decades as a journalist for Le Monde.
https://www.gatestoneinstitute.org/9190/media-censorship-muslims-terrorists
--------
Islamic State has 60-80 operatives in Europe, says Dutch expert
November 19, 2016
Intelligence experts estimate that the Islamic State extremist group has between 60 and 80 operatives planted in Europe to carry out attacks, the Dutch counterterrorism coordinator said Friday. Dick Schoof said in an interview with The Associated Press that would-be fighters are also heeding messages from the militant group "asking them not to come to Syria and Iraq, but to prepare attacks in Europe."
One result is that over the last six months the number of "foreign terrorist fighters" hasn't grown, he said, but the fact that they're not traveling "does not mean that the potential threat of those who would have traveled is diminished." Schoof said military operations to oust the Islamic State from its self-declared caliphate in Syria and Iraq are scattering the extremist group's fighters and supporters.
This will probably lead to a gradual increase of refugees that will pose a danger to the national security of the Netherlands and other European countries, he said. Schoof said even though the Netherlands hasn't been hit by a major attack by Islamic extremists such as those in Belgium and France, "the chance of attack in the Netherlands is real."
"We have seen 294 terrorist fighters go overseas in Iraq and Syria and there are still 190 over there," he said. "And what happened in France and Brussels and Germany could happen to us."
There are probably between 4,000 and 5,000 European "foreign terrorist fighters" in Iraq and Syria, Schoof said. While the number from the Netherlands, a nation of 17 million people, may seem low, he said, "whether there's 190 or 350, I think the number is big enough to worry."
Schoof said the Netherlands' program to deal with the threat balances "repression and prevention" and relies on strong cooperation between local and national authorities.
On the "repression" side, he said, fighters returning from Syria or Iraq are taken into custody, and courts have recently handed down six-year prison sentences in several cases. The government also takes away passports, freezes assets, and has beefed up security measures and the police force, he said.
On the prevention side, Schoof said, there's a lot of family support, with local authorities deciding the best interventions and providing education and psychological help if needed _ but there also could be arrests.
Full report at:
http://indianexpress.com/article/world/world-news/islamic-state-has-60-80-operatives-in-europe-says-dutch-expert-4383923/
--------
Islamic Cultural Centre of Ireland celebrates 20th anniversary
Nov 19, 2016
Looking around the Islamic Cultural Centre in Clonskeagh in Dublin on Monday evening, Mirza Al-Sayegh cast his mind back two decades with obvious satisfaction.
The vice-president of the Al Maktoum Foundation, he was in expansive mood at the centre's 20th-anniversary celebrations, attended by Muslims and non-Muslims.
The genesis of the centre came in 1990, eight years after Sheikh Hamdan bin Rashid Al Maktoum of the United Arab Emirates had established his family's first stud farm at Maynooth.
"We [and others] sat together to talk about establishing such a place. Authorities in Dublin and Maynooth were so co-operative and so helpful, leaving no stone unturned in making this place a reality, " he said.
Back then, Ireland's Muslim population was small. The 1991 census put it at just 3,875 people. Today, Minister of State David Stanton said, "the real figure is likely to be in the region of 55,000 to 70,000".
The Clonskeagh centre was opened by then president Mary Robinson in November 1996 – the event attracted particular coverage because Yussuf Islam, formerly known as singer Cat Stevens, came.
Recalling a later visit by President Mary McAleese, Mirza Al-Sayegh said she had become curious about " a big frame written in Arabic" as she was given a tour of the building. The frame told the story of a Christian king who, he explained, "1,425 years ago protected and gave sanctuary to a delegation sent from Mecca by the Prophet.
"I said to her, 'After 1,425 years you come here to protect our Muslim community in this area. You see history repeats itself.' As a token of appreciation we gave that frame to her to be taken home," he recalled.
Full report at:
http://www.irishtimes.com/news/social-affairs/religion-and-beliefs/islamic-cultural-centre-of-ireland-celebrates-20th-anniversary-1.2873728
--------
Is French secularism feeding Islamophobia?
18 Nov 2016
In this week's UpFront we speak to the French Ambassador to the United States, Gerard Araud, who defends France's security crackdown and the country's foreign policy.
And in the Arena, we debate whether France's secular laws have a double standard when it comes to one religion in particular.
Headliner - Does France's foreign policy make it a target?
France has been in a state of emergency since the bloody Paris attacks that left 130 dead last November.
Critics say the emergency powers are being abused, but the French government claims they are necessary to help protect the country from attacks.
Mehdi Hasan questions Gerard Araud on the effectiveness of the emergency laws, pointing out that the Nice attack happened with the state of emergency in place.
Araud is also asked whether France's foreign policy of intervention in the Middle East and North Africa made the country more vulnerable to attacks.
"Most of the French Muslims are from Arab origin, which means that they are very sensitive to what is happening in the Middle East," says Araud.
When asked about President Hollande's comment that "there is a problem with Islam", Araud clarifies that it was a question of integration.
"We are facing a challenge how to accommodate our Muslim citizens in a society which was basically built on Christian or Judeo-Christian roots."
In this week's Headliner, Araud defends France's foreign policy and the continued state of emergency.
Full report at:
http://www.aljazeera.com/programmes/upfront/2016/11/french-secularism-feeding-islamophobia-161118104858447.html
--------
Southeast Asia
Governor Ahok blasphemy probe, protests prompt worshippers gather in Jakarta to pray for peace
Nov 19, 2016
Tens of thousands of worshippers have gathered at mosques, churches and temples in Jakarta and at the national monument to pray for unity and peace, as tensions simmer over blasphemy charges against the Christian and ethnic Chinese governor.
It comes a fortnight after more than 100,000 protestors led by hard-line Muslim groups took to the streets to demand the Governor Basuki Tjahaja Purnama, better known as Ahok, be arrested and jailed for comments he made about the Koran.
Dubbed the 4/11 rally, the crowd turned violent after dark attempting to break through police lines in north Jakarta, near the Governor's home.
Shops were looted and cars destroyed.
Catholic priest Christopher Kristiono Puspo led a congregation at the city's main Cathedral on Friday morning.
"The request came from the military chief for us to perform a mass, to pray together," he told the ABC.
"The content of the sermon was about gratitude for the peace that we've had and because of the protest that made us fear we wanted to express gratitude and restate that we are all one nation and one language."
At the city's grand Istiqlal moque across the road and the nearby Monus, Jakarta's national monument, Muslims also gathered to pray amid a large military and police presence.
President shows important sign of unity
The Indonesian President, who cancelled his visit to Australia because of the violent protest, has spent the past fortnight trying to calm tensions.
President Joko Widodo met his former presidential candidate rival, Prabowo Subianto, at the Presidential Palace in an important sign of unity.
The meeting was broadcast live on national Indonesian TV with the men talking of the importance of maintaining diversity in Indonesia saying they did not want the nation to fall apart because of political differences.
Governor Ahok was this week named as a suspect by police and will appear court to answer the blasphemy allegations against him.
The offence carries a maximum five years in prison.
Governor to face court, high-profile electoral opposition
In an exclusive interview with the ABC aired this week he welcomed a day in court.
"I need to go to court to prove this is political and law," Ahok told 730.
"It is not easy, you send more than 100,000 people, most of them, if you look at the news, they said they got the money 500,000 Rupiah."
Full report at:
http://www.abc.net.au/news/2016-11-18/worshippers-gather-to-pray-for-peace-in-jakarta/8038848
--------
Thousands march in Malaysian capital calling for PM Najib to step down
November 19, 2016
Thousands of anti-government protesters marched in Malaysia's capital on Saturday demanding the resignation of Prime Minister Najib Razak over his alleged involvement in a multi-billion dollar misappropriation scandal.
Clad in yellow shirts and unfazed by arrests of activists and opposition leaders just hours before the rally, protesters marched from various spots towards the heart of Kuala Lumpur amid tight security.
The mood among those gathered was festive, with drums and vuvuzelas heard along with speeches, songs and chants by participants calling for a clean Malaysia and people power.
The demonstration is unlikely to shake Najib, who has denied wrongdoing and weathered the crisis, consolidating power by cracking down on dissenters and curbing media groups and activists.
The head of pro-democracy group Bersih - the organizers of Saturday's rally - was arrested on Friday, along with several other supporters of the demonstration, including opposition leaders and student activists.
Police have said the Bersih rally is illegal.
"We are not here to bring down the country. We love this country! We are not here to tear down the government, we're here to strengthen it," Bersih deputy chair Shahrul Aman Shaari told the crowds gathered at the National Mosque.
Another Bersih leader Hishamuddin Rais was arrested on Saturday at the protest area, with police also issuing warnings to other participants. State news agency Bernama said about 7,000 policemen will be on duty near the protest area.
"Our country is being governed by clowns and crooks. So I'm here to protest against our prime minister," said artist Fahmi Reza, holding a poster of a clown-faced Najib.
In a speech uploaded on his website on Friday, Najib said the protesters were "a tool of the opposition".
"Their movement is deceitful. It is clear that these street protests are in fact the opposition disguised as an independent NGO working to unseat a democratically elected government," said Najib, who is in Peru to attend the Asia-Pacific Economic Cooperation (APEC) summit.
Azalina Othman Said, a minister in the Prime Minister's Department, on Saturday said it was unlawful for any party to try to unseat a democratically-elected government via street protests.
TENSIONS
Fears of clashes between Bersih and a pro-Najib group called Red Shirts mounted this week after the latter threatened to target Bersih supporters.
The Red Shirts also rallied on Saturday, marching from the headquarters of the ruling United Malays National Organisation (UMNO) party towards Dataran Merdeka, or Independence Square, where the Bersih rally is expected to converge. The Red Shirts' rally has also been declared illegal.
Full report at:
http://nation.com.pk/international/19-Nov-2016/thousands-march-in-malaysian-capital-calling-for-pm-najib-to-step-down
--------
Thousands of Indonesians rally against racial, religious intolerance
Nov 19, 2016
Thousands of Indonesians held a peaceful rally on Saturday to promote unity, saying they were worried by signs of growing racial and religious intolerance in the world's largest Muslim-majority country.
Dressed in red and white shirts, the colors of the Indonesian flag, religious leaders, members of human rights groups, lawmakers and others marched along a central Jakarta street.
Some held posters with the national motto "Bhinneka Tunggal Ika", which means unity in diversity, while others performed traditional dances.
"This is about diversity, but also about unity. We have to separate politics from ethnicity, religion, and race," said 25-year old Iwan Saputra. "I want Indonesia to stay united."
Concerns about rising hardline Islamic sentiment in the country of 250 million people have grown since police decided on Wednesday to investigate a blasphemy complaint by Muslim groups against the Christian governor of Jakarta.
Full report at:
http://www.reuters.com/article/us-indonesia-politics-rally-idUSKBN13E078
--------
Jokowi should meet with FPI to tone down protests: Lawmaker
November 19, 2016
House of Representatives Deputy Speaker Fahri Hamzah has suggested President Joko "Jokowi" Widodo meet leaders of Islamic organizations, including Habib Rizieq of the Islam Defenders Front (FPI) who previously arranged a Nov. 4 mass demonstration, to ease tensions.
"If Pak Jokowi can be friends with Pak Prabowo, why not with them [FPI]?" said the controversial lawmaker on Friday, referring to Gerindra Party chairperson Prabowo Subianto, who lost the 2014 presidential race to Jokowi.
Jokowi has recently met with Prabowo twice, with the latest meeting taking place at the Presidential Palace on Thursday. This has been seen as a move by Jokowi to secure Prabowo's support amid mounting protests against his presidency over allegations the President has not been impartial in his response to the blasphemy case impacting non-active Jakarta Governor Basuki "Ahok" Tjahaja Purnama.
Full report at:
http://www.thejakartapost.com/news/2016/11/19/jokowi-should-meet-with-fpi-to-tone-down-protests-lawmaker.html
--------
Indonesian Intelligence Denies Leaking Reports From Security Meeting
Nov 19, 2016
Jakarta. Indonesia's state intelligence agency BIN has dismissed the veracity of reports claiming to contain the results of its recent meeting in Jakarta, where it discussed "the current national situation and condition." The reports had gone viral on social media.
There have been security concerns in the world's largest Muslim-majority country recently after a blasphemy case was launched by Islamic hardliners against Jakarta's Christian and ethnic-Chinese governor Basuki "Ahok" Tjahaja Purnama.
"Some people are still euphoric over Ahok being named a suspect in the blasphemy case, it is possible certain parties are trying to take advantage of the situation to spread false reports," the agency's spokesman Sundawan Salya said in a statement released on Thursday (17/11).
"All information from BIN must come from the Deputy VI, in charge of communication and information. Reports or information not coming from the Deputy VI are not authorized by BIN. People should not take these irresponsible reports on social media seriously," Sundawan said.
Full report at:
http://jakartaglobe.id/news/indonesian-intelligence-denies-leaking-reports-security-meeting/
--------
Africa
Far from Mosul, ISIS close to defeat in Libya's Sirte
18 November 2016
After six months of heavy fighting, Libyan forces have advanced so deep into the strategic city of Sirte that they can pick out the Tunisian and Egyptian accents of their ISIS enemies as they trade insults over the frontline.
Victory is imminent on this remote front of the war against ISIS, with the last few militants staging a last stand in a small area of just one square kilometer (0.4 square mile), US and Libyan officials say.
But the battle has been long and hard, and holds lessons for US backed forces trying to force ISIS out of the much larger Iraqi city of Mosul more than 2,500 km (1,500 miles) away.
'We faced unbelievable resistance. They won't leave their posts even when houses are collapsing on them,' said Osama Issa, a 37-year-old businessman fighting with Libyan forces in Ghiza, the last neighborhood of Sirte that ISIS holds.
'They know they will die anyway so they fight well.'
Defeat in Sirte will damage ISIS's ability to show it is expanding globally and deprive it of a foothold outside Iraq and Syria. Losing it and Mosul in quick succession would dent its morale and possibly its ability to recruit followers.
But the militants in Sirte have inflicted heavy losses on the Libyan fighters -- at least 660 have been killed and 3,000 wounded -- and held out longer than expected.
They have proved their skills in guerrilla warfare, shown the vulnerability of advancing forces that lack expertise in urban warfare and highlighted the limited effectiveness of air strikes when frontlines are so close.
The battle has also underlined the importance of trapping fighters during battle because many have escaped from Sirte -- a Libyan commander put the number at 400 -- and are now staging attacks behind frontlines with increasingly sophisticated bombs.
Growing rivalry between the various factions in the Libyan forces also serves as a warning to the diverse groups fighting ISIS in Mosul: the end of the battle may bring political chaos and the risk of new military conflicts.
https://english.alarabiya.net/en/News/north-africa/2016/11/18/Far-from-Mosul-ISIS-close-to-defeat-in-Libya-s-Sirte.html
--------
Nigeria officials raze Muslim group's buildings
Nov 19, 2016
Nigerian authorities have razed buildings belonging to the Islamic Movement in Nigeria (IMN) as a government crackdown on the Muslim group gains force.
IMN officials said the government forces razed several buildings, which included schools, hospitals, and religious seminaries, in the cities of Zaria and Saminaka in the northern state of Kaduna.
Officials with the Muslim group also said that the latest demolitions took place without prior notification to the group, which they said had done nothing to provoke the government to take such drastic measures against it.
The demolition of IMN buildings comes after the brutal killing of some 100 members of the group, who had gathered on Monday to take part in a religious ceremony ahead of the upcoming Arba'een mourning rituals.
Arba'een marks 40 days after the martyrdom anniversary of Imam Hussein (PBUH), the grandson of Prophet Muhammad (PBUH).
Many more were also injured when government forces fired live rounds and tear gas at Shia mourners taking part in a peaceful march in the northern city of Kano.
IMN and its supporters have been the victims of a government crackdown since last year.
In December 2015, Nigerian forces raided the house of the IMN's leader, Sheikh Ibrahim Zakzaky, in Zaria.
Full report at:
http://www.presstv.ir/Detail/2016/11/19/494236/Nigeria-Islamic-Movement-IMN-demolitions
--------
Senegal: Millions of Muslims gather for pilgrimage
18.11.2016
By Alpha Kamara
DAKAR, Senegal
Millions from across West Africa are now gathering in Senegal for this year's Grand Magal pilgrimage in Touba, the holy city for the Mouride Muslim order.
Five million are expected through this weekend for West Africa's largest Muslim gathering. Senegal's President Macky Sall is also attending and will pray for peace and unity.
Sheik Amadou Bamba founded the Mouride Muslim order in 1883, and the central city of Touba also serves as the location of sub-Saharan Africa's largest mosque, which the order built.
Bamba fought French colonialism through preaching non-violence and was forced into exile in Gabon before returning to the city.
Serigne Djigal, a lecturer at Touba's Chiekh Amadou Bamba University and a pilgrimage organizer, said this year's pilgrimage is sending a special message to all Muslims on the importance of peace and non-violence.
Full report at:
http://aa.com.tr/en/africa/senegal-millions-of-muslims-gather-for-pilgrimage/688567
--------
US condemns Nigerian army attack on Shia Muslims
Nov 18, 2016
The United States has expressed concern over a recent attack by Nigerian forces on a Muslim procession that led to the death of scores of people.
In a statement published on Friday, US State Department spokesman John Kirby condemned the deadly assault perpetrated by the Nigerian government forces earlier this week, calling the carnage a "disproportionate response" of the police in the violence.
Nearly 100 members of the Islamic Movement in Nigeria (IMN) were killed on Monday, after the country's forces fired live rounds and tear gas canisters at mourners during a peaceful march held ahead of the upcoming Arba'een mourning rituals, which mark 40 days after the martyrdom anniversary of Imam Hussein (PBUH), the third Shia Imam and the grandson of the Prophet Muhammad (PBUH).
Fierce clashes broke out when police tried to disperse thousands of people, including women and children, who were marching from Kano to Kaduna for the mourning rituals.
According to the IMN, a combined team of security and Kaduna State government personnel demolished the Fudiyya Islamic School at Zaria, which offers nursery, primary and secondary education.
The government forces also attacked the Husainiyya in Saminaka which was under construction, without any prior notice or court order, the IMN added.
It said that the state government was planning to clampdown on IMN members in the state and kill as many as possible.
"The United States is deeply concerned by the deaths of dozens of Nigerians during clashes between individuals participating in a Shia procession and the Nigerian Police Force in Kano State," Kirby said in the statement.
He also called for "calm and restraint on all sides" and said anyone responsible for violating the law should be held accountable.
Last month, the government in Nigeria's Kaduna state declared the IMN as an "unlawful society", claiming that its processions were a danger to peace, and said anyone convicted of being a member of the movement could be incarcerated for up to seven years.
At least 20 people were killed and several others injured on October 12, when Nigerian forces opened fire on Muslim mourners commemorating Ashura, the martyrdom anniversary of Imam Hussein (PUBH).
Supporters of the IMN have been subjected to heavy-handed crackdown since last year, when the army attacked a religious ceremony in their stronghold city of Zaria in the north, claiming the lives of hundreds of people.
Full report at:
http://www.presstv.ir/Detail/2016/11/18/494152/US-John-Kirby-Nigerian-forces-Muslim-procession-Arbaeen
--------
Boko Haram claims three bomb attacks in Maiduguri
Nov 18, 2016
Six people have been killed in three bomb attacks in the northeastern Nigerian state of Borno.
The bombings were carried out in Maiduguri, Borno's capital, on Friday.
One of the explosions rocked Jiddari area near a mobile police post, Borno state police commissioner Damian Chukwu told reporters in Maiduguri.
The official added that two other bombings were carried out "along Maiduguri-Gamboru road."
The Boko Haram Takfiri terrorists have claimed responsibility for the bombings.
Police said four assailants and two civilian defense fighters were killed in the bombings. One of the attackers was arrested.
Maiduguri has been the epicenter of Boko Haram's seven-year insurgency.
Borno has taken the brunt of Boko Haram's acts of terror, which started in 2009.
The group has recently regained momentum after it was nearly obliterated months ago by a joint military force made up of Nigerian government forces and troops from neighboring countries.
Full report at:
The group started its campaign with the aim of toppling the central government in Nigeria.
http://www.presstv.ir/Detail/2016/11/18/494139/Boko-Haram-Maiduguri-Borno
--------
North America
Pakistan 'can and must' take action against terror; India a 'key partner': US
Nov 19, 2016
Pakistan "can and must" take more effective action against terror groups operating from its soil as no state should allow its territory to be used to launch attacks into another, the White House said.
"While recognising the sacrifices of the people and the security forces of Pakistan in fighting some militant and terrorist networks -- a fight which we support -- President Barack Obama has emphasised that Pakistan "can and must" also take more effective action against terrorist groups operating from its soil," a senior White House official said on Friday.
"The President has made it very clear that no state should allow its territory to be used by terrorists to launch attacks into another state, and we will continue to engage on this issue," he said in response to the 'We the People' online petition that was signed by a record 665,769 people.
The petition asked the Obama administration to declare Pakistan as a 'State Sponsor of Terrorism', according to a bill introduced in the US House of Representatives by two Congressmen Ted Poe and Dana Rohrabacher.
"Since the bill cited by the petition remains in draft, we will not comment on it here," he added.
The State Department has also refused to comment on the bill.
Read |?White House petition on Pakistan alive, but not active
"I am not going to get into a discussion about that. We routinely discuss with our Pakistani counterparts the importance for continued focus and energy on the counter- terrorism efforts and the terrorism threat, particularly along that spine between the two countries.
"Our focus on this and the focus that we want to see Pakistan expend on it, that is not going to change," State Department Spokesman John Kirby said.
The State Department, he said, has seen comments made by the incoming administration on counter-terrorism.
"I have seen some comments that they have made about a counter-terrorism focus. That is for them to address.
"Nothing changes about our focus on the importance of regional, collaborative and effective counter-terrorism operations and to our interest in seeing all the countries in the region likewise expend a great deal of energy and effort and leadership on that. I just cannot speculate about the future and I would not do that," Kirby added.
Full report at:
http://www.hindustantimes.com/india-news/pakistan-can-and-must-take-action-against-terror-india-a-key-partner-us/story-pe7khX93u1h9CU8JieGF1K.html
--------
Trump appoints an Islamophobe, an alleged racist and a defender of torture to key posts
Nov. 18, 2016
By DANIEL DALE
WASHINGTON—President-elect Donald Trump has made five major appointments so far. Four of his picks, including the three announced on Friday, have demeaned Muslims or African-Americans.
The selections are in line with Trump's campaign rhetoric, which was openly bigoted against Muslims and frequently insulting to the black community. To the dismay and apprehension of minority groups, they are an early signal that the unorthodox Republican is not planning to attempt a post-election pivot to some kind of inclusive moderation.
Trump's choices make it more likely that Muslims will face intrusions on their civil liberties, as Trump has promised. They suggest that Trump intends to follow through on his crackdown on illegal immigration.
They likely mean the death of a bipartisan effort to reform the criminal justice system, which was never certain to pass. They likely mean the abandonment of the aggressive efforts of the Obama-era justice department to investigate police racism and other civil rights abuses. And they may help Trump execute his pledge to bring back torture as an interrogation tool against terrorists.
They were greeted with alarm by Muslim and black leaders.
"Unfortunately, after stating in his acceptance speech that he wanted to unite America, President-elect Trump's initial appointments indicate that he's headed in exactly the opposite direction," said Ibrahim Hooper, spokesman for the Council on American-Islamic Relations. "Whenever you have ideological extremists in positions of power, I think you're going to see that extremism expressed in policy."
He added: "Buckle up. We're in for a bumpy ride."
The man Trump picked last week as his chief strategist, Stephen Bannon, was the chief executive of a website he called "the platform for the alt-right," a white supremacist movement, and that led an anti-Muslim smear campaign against the founder of Chobani yogurt.
Full report at:
https://www.thestar.com/news/world/2016/11/18/trump-picks-sessions-for-attorney-general-pompeo-flynn-for-tops-jobs.html
--------
Democratic lawmakers slam suggestion of database for Muslims in the US
PTI, Washington | Updated: Nov 19, 2016
Top Democratic lawmakers and rights bodies have slammed President-elect Donald Trump's reported plan to reinstate a database of immigrants from Muslim-majority countries.
National Security Entry-Exit Registration System (NSEERS) is a post-9/11 program that required travellers to the US from specified Muslim-majority countries to immediately register with the federal government or face deportation.
"Reinstating failed programs that target Arabs and Muslims in our country is exactly what ISIS was cheering on election night when America, a beacon of freedom in the world, gives in to fear and begins chipping away at civil rights. Our enemies are emboldened and their ranks swell with new recruits," senator Dick Durbin said, referring to the Islamic State.
"Back in 2002, I called for this program to be terminated because there were serious doubts it would help combat terrorism. Terrorism experts have since concluded that this program wasted precious homeland security funds and alienated Arab- and Muslim Americans. Failed programs like this are the exact wrong approach to combating terrorism, and I will fight to ensure it never returns," Durbin said.
The Congressional Progressive Caucus (CPC) co-chairs Raul M Grijalva and Keith Ellison, Congressional Asian Pacific American Caucus chair Judy Chu, CPC vice chair Congressman Mike Honda, and CPC vice chair Mark Takano slammed Trump surrogate, Carl Higbie, for suggesting that Japanese American internment camps could serve as a precedent for the creation of a Muslim registry.
Full report at:
http://www.hindustantimes.com/world-news/democratic-lawmakers-slam-suggestion-of-database-for-muslims-in-the-us/story-YD1eBUx14PEW1u7GNAq7eJ.html
--------
South-Asian rights group discontinue ties with US airlines
November 19, 2016
Washington: An influential South-Asian rights group has terminated its ties with a major US airlines alleging that it was carrying out racial and religious profiling of Muslims, Arab and South-Asian passengers on its flights.
"Southwest (Airlines) employees have been racially profiling Muslim, Arab, and South Asian passengers in the last year, including at least five well-publicised incidents," South-Asian Americans Leading Together (SAALT) said yesterday.
"One well-covered incident involved kicking a University of California Berkley student off a flight in April 2016 for saying 'Inshallah' to his father on the phone," it said.
"Because the airline has treated our communities like second-class citizens, we have terminated our relationship with Southwest," SAALT said, adding that as a result of this termination it has lost USD 10,000 in grant money from the airlines.
SAALT and our partners sent multiple communications to Southwest, including to CEO Gary Kelly, over the last year expressing our concerns.
Full report at:
http://www.asianage.com/business/companies/191116/south-asian-rights-group-terminates-its-ties-with-us-airlines.html
--------
US Jewish rights leader vows to register as a Muslim
November 19, 2016
New York: The Jewish director of the Anti-Defamation League (ADL), which campaigns against anti-Semitism and other bigotry, said Friday that he would register as a Muslim if Donald Trump establishes a database of Muslims in America.
"The day they create a registry for Muslims is the day that I register as a Muslim because of my Jewish faith, because of my commitment to our core American values, because I want this country to be as great as it always has been," Jonathan Greenblatt told AFP.
During his campaign, President-elect Trump variously called for banning all Muslim visitors to the United States, subjecting those in the country to loyalty tests and even for some to be deported.
Asked on MSNBC in November last year whether the White House should institute a database system to track Muslims in the country, Trump replied, "Oh, I would certainly implement that, absolutely."
Trump campaign attempted to walk back his pledge on Thursday, saying in a statement that the president-elect "never advocated" a registry.
However, at least two prominent Trump supporters raised the prospect again this week, including one who cited World War II-era Japanese-American internment camps as a precedent.
"We've done it based on race, we've done it based on religion, we've done it based on region," Carl Higbie, who during the campaign was spokesman for a pro-Trump "super PAC" fundraising group, said on Fox News.
"As a Jewish community, we know what happens with litmus tests," Greenblatt said. "We can remember. We have painful memories of when we ourselves were identified, registered and tagged."
Full report at:
http://www.siasat.com/news/us-jewish-rights-leader-vows-register-muslim-1068551/
--------
Muslim Americans Speak of Escalating Worries
By RICHARD PÉREZ-PEÑA and LAURIE GOODSTEIN
NOV. 18, 2016
Muslim Americans, already alarmed by the election of Donald J. Trump, said Friday that Mr. Trump's choices for crucial posts heightened their fears of discrimination, violence, deportation and even detention.
Many said they worried that a more hostile America could prompt more Muslims to join forces with terrorists.
During the presidential campaign, Mr. Trump said "Islam hates us," endorsed the idea of a government registry of Muslims and proposed suspending immigration by Muslims or people from some Muslim-majority countries. In interviews on Friday, many Muslims said that they were not sure before the election how seriously to take such talk, hoping that it was more political hyperbole than policy, but that the personnel moves of the last few days had confirmed their worst fears.
At the Dream Cafe, a hookah bar in the Astoria neighborhood of Queens, Sara Khan, 17, whose parents are from Pakistan, expressed particular concern about her family's ability to remain in the United States. "What are we going to do if he tries to kick us out?" she asked of Mr. Trump.
"People from all over the world come here to find freedom," she said, but now she wonders what that freedom means if "one man can take it away."
Mr. Trump has offered the post of national security adviser to Michael T. Flynn, a retired Army general who has written that "fear of Muslims is rational," has said that "Islam is a political ideology" and is "like a malignant cancer." For director of central intelligence, Mr. Trump has tapped Representative Mike Pompeo of Kansas, who has said that "most Islamic leaders across America" were complicit in terrorist attacks for not speaking out more forcefully.
He has asked Senator Jeff Sessions of Alabama, who has endorsed a Muslim immigration ban, to be attorney general, and has named Stephen K. Bannon, whom critics have denounced as a white nationalist, as senior White House strategist. And some Trump supporters have cited the internment of Japanese-Americans during World War II as a possible precedent.
"I did not take Trump's statements seriously enough, and I did not take these white nationalists as seriously as I should have," said Zareena Grewal, an associate professor of American studies and religious studies at Yale. "That these people have moved from the fringe of American politics to the very center should frighten everybody."
Hanan Hassan, a native of Iraq who works at a refugee center in Phoenix, mostly with people from Syria, said her mood and that of her clients had changed drastically.
"Some of us are scared of being sent back," she said. "Our children are having issues at school."
Ms. Hassan, 37, who said her parents and her brother were killed by a car bomb in Baghdad, said, "We left home because it was not safe there," but now the United States feels unsafe.
Some voiced worries about a Muslim registry, and the prospect of being tracked and investigated by the government, noting that a registry for noncitizens from some Arab countries, in effect from 2002 to 2011, resulted in few leads on terrorism, but many deportations. Others shrugged off the prospect, saying that they assumed they were under surveillance already.
And people were still unsure how seriously to take the even more troubling idea — not raised by anyone with a formal role on the Trump team — of internment.
Full report at:
http://www.nytimes.com/2016/11/19/us/muslim-americans-speak-of-escalating-worries.html
--------
Trump taps anti-Muslims for CIA, national security, justice slots
November 19, 2016
New York - President-elect Donald Trump Friday tapped arch-conservative Alabama Senator Jeff Sessions to be attorney general and hawkish congressman Mike Pompeo, a strident opponent of the Iran nuclear deal, as his CIA director.
The incoming commander in chief also appointed retired lieutenant general Michael Flynn, who believes Islamist militancy an existential threat, for the post of national security adviser.
ABC-News, quoting sources, reported Friday that the controversial general has accepted Trump's offer,
He is a Democrat who was critical of Hillary Clinton, Trump's Democratic presidential rival, during the election campaign. His name was suggested as a possible running mate to Trump before the selection of Mike Pence.
In numerous speeches and interviews before the election, and in a book published in August, General Flynn laid out a view of the world that sees the United States as facing a singular, overarching threat that can be described in only one way: "radical Islamic terrorism."
Flynn was fired from his post as head of the Defence Intelligence Agency by President Obama in 2014.
Trump and General Flynn both see themselves as brash outsiders who hustled their way to the big time. They both post on Twitter often about their own successes, and they have both at times crossed the line into outright Islamophobia.
They also both exhibit a loose relationship with facts: General Flynn, for instance, has claimed that Shariah, or Islamic law, is spreading in the United State. His dubious assertions are so common that when he ran the Defense Intelligence Agency, subordinates came up with a name for the phenomenon: They called them "Flynn facts."
The news about his appointment came as Trump made his most direct foray into foreign policy since the election, meeting with Japan's prime minister Shinz? Abe .
Flynn has advised Trump on national security issues for months. As national security adviser, he would work in the White House and have frequent access to the president. The post does not require Senate confirmation.
U.S. Congressman Adam Schiff, a Democrat, ranking member of the House Permanent Select Committee on Intelligence, expressed gratitude for Flynn's contributions to national security, but also expressed concern at the reported job offer.
"I am deeply concerned about his views on Russia, which over the last twelve months have demonstrated the same fondness for the autocratic and belligerent Kremlin which animate President-elect Trump's praise of Vladimir Putin," Schiff said in a statement. "The incoming President would be better served by someone with a healthy skepticism about Russian intentions, and willing to be guided by the unequivocal intelligence we have of Russian's malignant policies towards the U.S. and our allies."
"Gen Flynn has also made inflammatory remarks regarding Islam, and not always distinguished between a faith practiced by millions of Americans and important allies around the world, and the perversion of that faith by the likes of ISIS and Al Qaeda," he said. "These statements only feed jihadi propaganda by reinforcing their false narrative that the West is at war with all of Islam."
Flynn's appointment does not need approval from the senate.
But that of Sessions as attorney general does, and he's got baggage: racially charged comments he made in the 1980s and which once cost him a chance for a job for life as a federal judge.
Back in 1986 Sessions said that a prominent white lawyer was a "disgrace to his race" for defending African-Americans. Sessions acknowledged saying this in testimony to the US Senate at the time, but he insisted he did not mean it.
Full report at:
http://nation.com.pk/international/19-Nov-2016/trump-taps-anti-muslims-for-cia-national-security-justice-slots
--------
Is Donald Trump's victory emboldening hate-mongers in Canada?
Nov. 18, 2016
Since Donald Trump's election to the U.S. presidency, civil-rights groups have documented an upsurge in hate crimes across America, many of them explicitly motivated by the Republican's attacks on Muslims and Mexican immigrants.
Some fear that Canada has now caught the same contagion. Hateful graffiti and racist harassment from the Pacific coast to Southern Ontario has sparked anxiety among ethnic and religious minorities that Mr. Trump may have emboldened Canadian bigots to act more freely and more violently.
Not all of the incidents, ranging from swastikas spray-painted on houses of worship in Ottawa to anti-Asian flyers distributed in a Vancouver suburb, have a direct connection to Trump supporters. But some members of targeted groups, along with local politicians, believe that the New York real estate developer's presidential campaign has created a climate conducive to acts of hatred.
"The rise of Trump and Brexit and the alt-right have given credibility, even in its falseness, to people with certain viewpoints," said Adil Dhalla, executive director of the Centre for Social Innovation in Toronto, and a Muslim man. "I'm not surprised, but I'm still really sad."
During his run for president, Mr. Trump proposed a temporary ban on Muslim immigration to curb terrorism, claimed Mexican "rapists" were pouring into the country, and said that African Americans have "no education."
In the past 10 days, minority groups in the country have been on the receiving end of an apparent spike in abusive speech, according to the Southern Poverty Law Center, which has documented more than 400 instances of "hateful intimidation and harassment." On Friday, U.S. Attorney-General Loretta Lynch – the first black woman to hold the post – alluded to the phenomenon and said that some of the incidents were being investigated by federal prosecutors. She also noted that hate crimes against Muslim Americans spiked 67 per cent last year.
In Canada, some of the most shocking incidents of hate have been concentrated in Ottawa, where a handful of religious facilities, including a mosque, a synagogue and a church with a black pastor, have been spray-painted with swastikas and racial slurs. The Congregation Machzikei Hadas, a modern Orthodox synagogue in the capital, was defaced with Nazi slogans and emblems on Wednesday or Thursday morning, leaving its congregants shaken.
"There is a feeling that people need reassurance here," said Rabbi Michael Goldstein. "We have increased our security protocol."
Anti-Semitic and anti-immigrant graffiti has marred Toronto in recent days, too. An elementary school in the suburban neighbourhood of Etobicoke saw the phrase "It's the Jews," scrawled in the schoolyard early this week. In a statement, the Toronto District School Board said that "in times like this, it is important that we remain focused on our commitment to fairness, equity and inclusion in our schools and communities."
On Monday evening, an avowed Trump supporter was filmed yelling at a young black man on a Toronto streetcar, telling him to "go back to your fucking country." Witnesses said the aggressor shouted "Go Trump" after being told he was racist.
Full report at:
http://www.theglobeandmail.com/news/national/is-donald-trumps-victory-emboldening-hate-mongers-in-canada/article32941905/
--------
URL: https://www.newageislam.com/islamic-world-news/new-age-islam-news-bureau/iraqi-children-dump-islamic-state-s-books-of-violence/d/109144
New Age Islam, Islam Online, Islamic Website, African Muslim News, Arab World News, South Asia News, Indian Muslim News, World Muslim News, Womens in Islam, Islamic Feminism, Arab Women, Womens In Arab, Islamphobia in America, Muslim Women in West, Islam Women and Feminism, Moderate Islam, Moderate Muslims, Progressive Islam, Progressive Muslims, Liberal Islam