New Age Islam News Bureau
22 Jan 2018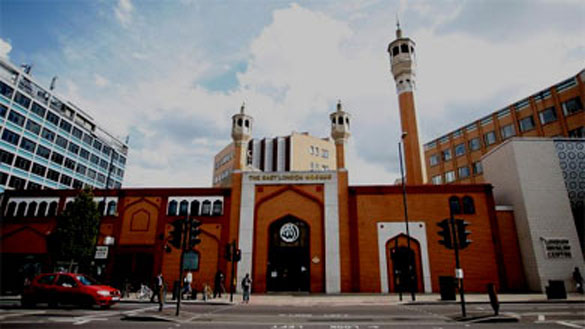 The East London Mosque boosted donations by £10,000 after installing contactless terminals
MARY TURNER/THE TIMES
----
• Iraq's Islamists Dump Religion for Upcoming Elections
• Former US Ambassador Hussain Haqqani Booked Over Hate Speeches
• Indian Parents Give Thumbs Up To Islamic Education in Schools
• Muslims Urged To Spend Zakat Charitable Giving In the UK
• Al-Qaeda's Historian Mustafa Hamed Resumes Digital Activity in Tehran
Arab World
• Iraq's Islamists Dump Religion for Upcoming Elections
• Extremist Corpses Poison Life in Iraq's Mosul
• Kurds Still Adamant to Russian Offer after Turkish Invasion
• Booby-Trapped Blast Kills 3 SDF Commanders in Northern Syria
• Ten killed in Turkish attack on Kurdish-held Syrian region
• Iran continues to back Houthis, Saudi FM tells OIC
• 25,000 FSA fighters 'support Turkish force in Syria'
• Syria army says captured key military airport
--------
Pakistan
• Former US Ambassador Hussain Haqqani Booked Over Hate Speeches
• Pakistan Awaits Afghan 'Fatwa' Against TTP, Affiliates
• Pakistan Asks Trump to 'Apologise' Over Tweet
• Pakistan Won't Allow Direct Access To Hafiz Saeed, Entities
• If Attacks on Pakistanis Continue To Be Orchestrated From Afghan Soil, Then • Pakistan Has Every Right to Intervene In Afghanistan
• Two terrorists shot dead in DG Khan Operation: ISPR
• 14 foreigners among 18 dead in Taliban attack on Kabul hotel
--------
India
• Indian Parents Give Thumbs Up To Islamic Education in Schools
• NIA to File another Report in 'Love Jihad' Case Next Week
• Kabul Hotel Attack Shows Need To Deal With Issue of Safe Havens to Terrorists: India
• Jammu and Kashmir: Pakistan shelling continues, border villages on edge
• Village in Didi's Bengal Rolls out the Red Carpet for Rohingyas
--------
Europe
• Muslims Urged To Spend Zakat Charitable Giving In the UK
• French FM: Security Council to discuss Syria on Monday
• Man charged in France for planning terror attack
• Russia 'concerned' about Turkey's military operation in Syria, calls for restraint
• Germany stops arms exports to Yemen combatants
--------
Mideast
• Al-Qaeda's Historian Mustafa Hamed Resumes Digital Activity in Tehran
• UN Appeals for Nearly $3b to Save Millions in Yemen
• New image of Osama bin Laden's spokesman and son-In-law in Iran revealed
• Erdogan vows Turkish troops will crush YPG Kurdish militants in northern Syria
• Turkish troops enter Syria in operation against Kurdish militia
• Iran Asks Immediate Halt to Turkey's Attacks in Afrin
• Recognition of Palestine is 'a way to respond' to Trump's move on al-Quds
• Iran: Turkey operation must not harm Syria's sovereignty
--------
South Asia
• Heavy Clashes Continue Between Taliban and ISIS in North of Afghanistan
• Several Killed In A Deadly Clash In Balkh Province Of Afghanistan
• Taliban and their supporters attempting to avenge recent losses: Abdullah
• Diplomats for safe and dignified Rohingya return
• Dhaka to ink deal with UNHCR on Rohingya repatriation
• Ghani urges UNSC for actions against supporters of terrorists after Kabul attack
--------
North America
• Pentagon: Turkey's Afrin Operation Will Not Affect Ties
• US Vice President Pence Arrives in Israel to Discuss Trump's Al-Quds Decision
• Quebec City Muslims alarmed by increasingly public displays of racism one year after mosque shooting
--------
Southeast Asia
• Up To Allah Who Becomes PM, Hadi Tells Mahathir
• Malaysia's Parti Islam Aims High, Saying It Wants To Win Control of Parliament
• Wife of Missing Perlis Activist Names Mufti Asri, Shahidan Kassim
• Rohingya refugees: Guarantee citizen rights, security before repatriation
• Hindu temple demolition: Johor Sultan steps in as peacemaker, offers relocation aid
--------
Africa
• African Migrants Tortured, Auctioned By Human Traffickers in Libya
• Four US, Canadian captives freed in Nigeria
• African Union's Thabo Mbeki intervenes in Sudan unrest
• Somalia president fires mayor of Mogadishu
--------
Australia
• Australia's Muslims being demonised, Islamic council leader says
Compiled by New Age Islam News Bureau
URL: https://www.newageislam.com/islamic-world-news/iraq-islamists-dump-religion-upcoming/d/114021
--------
Iraq's Islamists dump religion for upcoming elections
Ali Mamouri
January 21, 2018
With elections scheduled for May, political parties in Iraq are busy forming alliances and gearing up for the campaign. Of note, slogans promoting political Islam are remarkably scarce. For this election cycle, all the political parties, including Islamists parties, have chosen to focus on civic life in their effort to get voters' attention and gain their confidence.
Out of more than 200 Islamist parties registered with the Independent Electoral Commission, only some 10 have names explicitly invoking Islam, such as the Islamic Dawa Party, the Islamic Virtue Party, the Islamic Supreme Council of Iraq, the Iraqi Islamic Party, the Iraqi Organization of Islamic Action and the Kurdistan Islamic Group.
This development evinces the clear overall decline in Islamic movements in Iraq, both Shiite and Sunni, compared with previous elections, in which Islamist parties accounted for more than half of the registered groups. Also noteworthy is that many Islamist parties are competing this time under non-religious names and slogans and emphasizing secular themes. The most popular themes are calls for reform and promoting the civil state.
Indicative of this trend, parliament Speaker Saleem al-Jubouri, leader of the Islamic Party, the Iraqi branch of the Muslim Brotherhood, has decided to form an alliance with Iraqi Vice President Ayad Allawi as the Civil Assembly for Reform, while the Sadrist movement intends to run as the Alliance of Revolutionaries for Reform, allied with the Iraqi Communist Party.
Meanwhile Sadrist leaders have also indicated that they will join forces with a number of civil currents under secular banners. This is not entirely new territory for the Sadrists, as in 2015 they formed an alliance with secular currents, including the communists, to hold large demonstrations against corruption and sectarianism in the government.
The Shiite Islamist parties close to factions in the Popular Mobilization Units (PMU), among them Asaib Ahl al-Haq and the Badr Organization, have decided to highlight their victory against the Islamic State (IS) in their choice of banners and slogans — branding themselves the Alliance of Victory — rather than calling for Islamic rule as in past elections.
Since taking office in 2014, Prime Minister Haider al-Abadi, a member of the Islamic Dawa Party, one of the most prominent movements of Shiite political Islam, has taken a secular approach to governing. He has not called for a single religious project in his proposals submitted to the parliament or through executive actions. Instead, he has focused on bringing professionals and technocrats into the government, all the while limiting the influence of armed Islamist groups.
Abadi's government has also not supported proposed religious-driven legislation, such as prohibiting the sale and consumption of alcohol and the Jaafari Personal Status Law, which called for the application of Islamic law in family matters. Even the Shiite authorities, most importantly Grand Ayatollah Ali al-Sistani, stood against it before parliament rejected it.
Many Iraqis blame political Islam for the tragedies and corruption plaguing their country, as the Islamists have held the reins of power since 2005.
In this regard, Wassim Sizif, a social activist and blogger, wrote on Facebook, "All the Iraqi militias that killed the innocents [in sectarian violence] came from under Muhammad Baqir al-Sadr's cloak," he wrote, referring to one of the founders of Shiite political Islam in Iraq and Iran. Sadr, in his book "Islam Leads Life" (1979), contemplated the idea of a velayat-e-faqih and provided a draft of an Islamic constitution to the revolutionaries who toppled the shah of Iran. The document became a source for the drafting of the Islamic Republic of Iran's current constitution, which indeed proclaims the rule of jurists, that is, velayat-e-faqih, and the primacy of Sharia law.
After the overthrow of President Saddam Hussein in 2003, Iran became a source of inspiration for Shiite Muslim parties in Iraq, some of which sought to implement the Iranian project in Iraq. The failure of the Shiite parties in favor of velayat-e-faqih in Iraq — the Badr Organization, Asaib Ahl al-Haq, the Islamic Supreme Council of Iraq and parts of the Islamic Dawa Party — in addition to the large numbers of Iraqis who took part in popular demonstrations against the government have put Iraqi Islamists in a difficult spot. Thus they have had to change their political discourse and pull back from pushing for the establishment of religious rule.
Sizif told Al-Monitor, "Shiite political Islam in Iraq is the loyal child of the velayat-e-faqih in Iran, and despite its failure to accomplish anything in development, the economy and security, it has excellent political experience in reincarnation [to remain in power]."
Sizif is critical of secular parties allying with Islamists like the Sadrist movement and PMU-affiliated parties. "It is an early suicide for the civil political movement, which could have been a very troublesome opposition to the Islamists in Iraq," he said. "However, it seems that the civil movement believes that power is the only way to achieve change."
Although eliminating Shiite political Islam from power in Iraq seems an impossibility in the near future — because of its influence in state institutions, its military presence in the form of the PMU and ongoing support from Iran — the decline in its popularity while in power and how strongly it is condemned by the religious establishment in Najaf suggest that it is unlikely to succeed in establishing an Iraqi velayat-e-faqih.
https://www.al-monitor.com/pulse/originals/2018/01/iraq-political-islam-secular-civil-movement.html
--------
Former US Ambassador Hussain Haqqani Booked Over Hate Speeches
Abdul Sami Paracha
January 22, 2018
KOHAT: Former ambassador to the US Hussain Haqqani was nominated in FIRs lodged by three people in two police stations of Kohat on Sunday for delivering hate speeches and writing books and articles against armed forces and the sovereignty of Pakistan.
The three FIRs were registered in Cantonment and Bilitang police stations by Momin, Muhammad Asghar and Shamsul Haq.
The Bilitang police said that Mr Asghar stated in the FIR that Mr Haqqani was a "mentor of the Memogate scandal" and had issued visas to CIA and Indian agents while serving as Pakistani ambassador to the US.
Mr Asghar further alleged that Mr Haqqani maligned Pakistan in the books he wrote which proved that he was a traitor.
The sections of the Pakistan Penal Code applied by police in the FIRs are 120B (hatching a criminal conspiracy) and 121A (waging a war against Pakistan).
The complainants said that the former ambassador had caused irreparable loss to the country and defamed it.
A police official said that under due procedure, Mr Haqqani should surrender himself to them or he would be declared an absconder.
Mr Haqqani was criticised by parliament for his column in The Washington Post in which he had written that he had helped the US forces in eliminating Osama bin Laden when the government and the Inter-Services Intelligence had been kept in the dark about the secret operation.
http://www.dawn.com/news/1384429/ex-envoy-booked-over-hate-speeches?preview
--------
Indian Parents Give Thumbs Up To Islamic Education in Schools
Syed Mohammed
JANUARY 21, 2018
City sees spurt in government-recognised schools that offer courses in Islam tailor-made for students
The neighbourhoods of Mehdipatnam and Toli Chowki are connected to IT Hub by means of the Old Mumbai highway. While the area is now a hub of commercial activity, over five years or so it has witnessed a spurt in government-recognised schools that offer courses in Islam tailor-made for students.
Educationalists say that there are broadly two reasons that have given rise to the trend. The first being several parents of nuclear families having little or no time or expertise to impart religious education. The second is that with both forms of education under one roof, it has proved to be more convenient. Alongside the prescribed subjects, an SSC school has several classes a week earmarked for Islamic education.
Parents say they chose the schools as Islamic education came as an incentive with it. Mohammed Munawer Ali is the parent of three children who are studying in one such school at Toli Chowki. His son, the eldest, is in class VII and his daughters are studying in classes IV and I.
For Mr. Ali, while excellence in education remains non-negotiable, an Islamic course in school is more convenient as all forms of instruction are under one roof. "While academics is the focus, Islamic education is a value addition which helps children when then grow up as they can stay connected to the community. What is taught are manners and how to respect each other as Prophet Muhammad did," he says.
Mr. Ali is only one of the thousands of parents in the city who have their children studying in such schools. While some schools like those associated with Urwah Educational Trust follow an in-house Islamic syllabus, others have begun to follow a curriculum that the Muslim Educational Social and Cultural Organisation (MESCO) has designed. The course, ALEEF, touches upon Quran recitation, basic knowledge of Islam and the life of Prophet Muhammad. "This is like moral science class that used to exist," says Fakhruddin Mohammed, secretary of MESCO. "Education and moral science complement each other. The case is the same with Islamic curriculum. With both parents with jobs in nuclear families, there is hardly any time to teach this to children," he adds.
But there are some who differ with the parents' opinion claiming that religion should be kept out of school campuses. Activist Ali Asghar says, "Teaching any one religion could lead to self-imposed segregation. This means that schools will attract students of one particular community. Diversity is essential and this leads to all-round development of a child."
http://www.thehindu.com/todays-paper/tp-national/tp-telangana/parents-give-thumbs-up-to-islamic-education-in-schools/article22484202.ece
--------
Muslims urged to spend zakat charitable giving in the UK
January 22 2018
Hundreds of millions of pounds donated by Muslims each year as part of their religious duty should be spent in the UK rather than on overseas aid, mosque leaders have been told.
One of the five central tenets of Islam is zakat. It calls on Muslims to donate 2.5 per cent of their wealth to help the needy. Iqbal Nasim, chief executive of the National Zakat Foundation, said British Muslims gave up to £300 million in zakat each year. He said that more than 98 per cent was donated for overseas aid but Islam taught that zakat should support the donor's local community.
The first big conference in Britain for mosques to share expertise on how to improve governance, outreach and security was held in…
https://www.thetimes.co.uk/article/muslims-urged-to-spend-zakat-charitable-giving-in-the-uk-7772c9lm8
--------
Al-Qaeda's historian Mustafa Hamed resumes digital activity in Tehran
21 January 2018
Al-Qaeda's most prominent historian and Afghan-Arab, strategist Mustafa Hamed, aka Abu al-Walid al-Masri, emerged from Tehran to resume his activity in lecturing radical groups via his website Mafa.
Abu al-Walid, Osama bin Laden's and Ayman al-Zawahiri's friend, willingly left Qatar in 2016 and went to Tehran to live there with his children.
Abu al-Walid, who was Al-Jazeera's correspondent in Kandahar between 1998 and 2001, commented on resuming Mafa's activity and explained that the website was established 2009 to publish six books about jihad.
"I resumed Mafa's activity after returning to Iran because I have plenty to say about public matters. My opinions can only be voiced on Mafa as it's not under the control of international powers which globalized people's economies," he said, adding that Iran's "atmosphere for freedom" allows him to publish on Mafa.
Abu al-Walid reiterated that Iran allowed al-Qaeda members and their families to enter Iran following the September 11, 2001 attacks and offered to help some of them.
Ties between Iran, al-Qaeda
"Of course there are relations between Iran and al-Qaeda. They were imposed by the circumstances of America's war on Afghanistan. However, they were random and were not planned. Before the war, al-Qaeda ignored the fact that Iran is a large neighbor while the Arabs' situation in Afghanistan was bad due to international siege and the Islamic emirate suffered from internal conflicts. All this called for good neighborly relations and cooperation with Iran to resolve misunderstandings. Al-Qaeda could have been a mediator but it was based on the Salafist approach that was hostile to Shiites. If it hadn't been for Bin Laden's moderate character, al-Qaeda would have resembled ISIS," he added.
He noted that relations eventually developed between the Islamist radicals and Tehran.
"A Salafist jihadist category began to understand facts and put things in order. It was very late but better late than never."
Abu al-Walid also defended Iran and its policies and said Israel and the US aim to pressure it to serve Zionist interests.
He also defended Iran's support to Lebanon's Hezbollah and the Yemeni Houthi Movement and said it was "a humanitarian, Islamic and security matter."
Background
Born in Egypt, he graduated from the engineering faculty in 1969 from Alexandria University and worked as a journalist during the 1970's.
He met Mawlawi Jalaluddin Haqqani, a leader of a fighting group in Afghanistan in 1979, and he later worked with him from 1992 until 1980. In 1988, he met Bin Laden and they remained friends until the latter was killed in 2011.
Earlier in 1986, he had also met Ayman al-Zawahiri in Peshawar. In 1993, he went to Khost and lived in al-Qaeda camps and also supervised a training program for fighters in Uzbekistan. In 1996, he went to Sudan and stayed there for few a months but he later left Khartoum with Bin Laden and other al-Qaeda commanders and went to Jalalabad.
He met Taliban leader Muallah Mohammed Omar in Kandahar several times and he was among the first Arabs to pledge allegiance to him as commander of the faithful in 1997.
https://english.alarabiya.net/en/News/middle-east/2018/01/21/Al-Qaeda-s-historian-Mustafa-Hamed-resumes-digital-activity-in-Tehran.html
--------
Arab World
Extremist corpses poison life in Iraq's Mosul
22 January 2018
MOSUL, Iraq: For three years, extremists made life in Iraq's Mosul impossible. Now, six months after their defeat, even their corpses are polluting everyone's existence as no one wants to move them.
The rare few who dare to venture into Mosul's historic center do so with their nose and mouth firmly covered with masks or scarves to keep out the stench.
Amid the rubble-strewn alleys overlooking the River Tigris, unburied human remains are rotting.
They are the bodies of Daesh extremists, residents and the civil defense say, pointing to their Afghan robes, long beards, and sometimes even suicide belts.
Here and there, on a wall or on a road sign, are scribbled the words "Cemetery for the people of Daesh."
The extremists seized second city Mosul in July 2014, imposing their rigid interpretation of Islam on inhabitants and dispensing brutal punishments for those who did not obey.
Iraqi forces declared victory against Daesh in the city in July 2017, after months of fighting that killed hundreds of civilians and caused tens of thousands to flee.
But six months on, the putrefying bodies of extremists killed in the battle are preventing some residents from returning home.
Othman Ahmad, an unemployed 35-year-old, said he would not go back to living in the Old City with his wife and two children as long as the corpses remained.
"We're scared with all these bodies and this awful smell," he told AFP, in an alley not far from his former home, now barely recognizable after the destruction.
Not far off, Abu Shaker, 60, said he was terrified the bodies might lead to "germs and epidemics."
But civil defense teams say it is not their job to remove the corpses of Daesh militants.
Their mission, which ended on January 10, was to extract the bodies of civilians from the rubble so their families could bury them.
For months on end, during and after the battle, they retrieved the remains of men, women and children and carried them away in black body bags.
There is no official death toll for civilians killed in the battle for Mosul, but the United Nations and a monitoring group have said hundreds were killed.
Extracting the bodies was gruelling work, as rescue teams could not enter the Old City's narrow alleyways with their vehicles or heavy equipment.
"To dig, we'd use light tools and our bare hands, so getting bodies out took a lot of effort and time," the civil defense's Lt. Col. Rabie Ibrahim said.
Whenever they were alerted, his colleagues said, civil defense members dashed out to search the ruins, tackling the mounds of broken concrete that now covers the Old City.
To avoid having to bury unidentified bodies, they only searched in the company of relatives able to identify those they had lost.
As for the bodies of Iraqi and foreign extremists, it is the city council's responsibility.
"We have already brought 450 out of the rubble, but there are hundreds more," city council head of services Abdel Sattar Al-Habbu said.
Those bodies have been thrown into mass graves, without any rites.
Removing them is slow, he said, because the extremists stole and destroyed most of their equipment.
And some bodies still carry undetonated explosives that the security forces did not defuse.
But time is pressing, said Hossam Eddine Al-Abar, of the Mosul region's provincial council.
"The bodies have to be moved before it rains and the Tigris rises, taking with it the bodies rotting on its banks," he said.
If the river became contaminated, it would be impossible to treat its water as filtering and purifying stations around the city have been destroyed, either by the extremists or in the battle to retake the city.
A doctor, who asked to remain anonymous, said no case of contaminated water had been reported so far.
But the rotting bodies "pollute the air and water and could soon cause diseases," he said.
Ahmad Ibrahim, a gastroenterologist, said the river's entire ecosystem could soon be contaminated if nothing was done.
"These diseases can develop now, or they can appear in coming years," he said.
http://www.arabnews.com/node/1230796/middle-east
--------
Kurds Still Adamant to Russian Offer after Turkish Invasion
Jan 21, 2018
Aldar Khalil, a senior member of the Kurdish movement of 'Democratic Society', said that the Kurdish fighters in Afrin have turned down Russia's proposal to deliver the regions under their control to Damascus, adding that they still insist on keeping the regions.
This is while the Turkish army has intensified air and ground attacks against the Kurds in Afrin in Aleppo province.
"Russia raised this demand but we will not deliver control of our territories to them and will defend all regions under our control," Khalil said.
The Turkish aggression started after Kurdish militants changed their earlier decision over surrendering their territories on the Western side of the Tishrin Dam on the Euphrates River to the Syrian government after the US offered its all-out support to the Kurds to train and equip a 30,000-strong army.
The Kurdish-led Syrian Democratic Forces (SDF) had in April handed over several villages to the Syrian Army troops in Northern Aleppo under the monitoring of the Russian forces.
The SDF gave control of the villages of Kabashin, Borj Heidar and Fafrin Southeast of the town of Afrin and the villages of Zaof al-Kabir, Borj Qas and Bashmereh in the Nubl region to the Syrian army at the time.
Also, media reports said in early March that several villages controlled by the Kurdish forces in Northeastern Aleppo were handed over to the Syrian Army troops following a Russian-brokered agreement with Damascus.
The Arabic language desk of Sputnik quoted a source in March as saying that the Manbij Military Council delivered control of six villages to the Syrian army troops.
Sputnik added that the villages were in contact line with forces of the Turkey-led Euphrates Shield Operation in Manbij.
But the Kurds stopped delivering control of their regions to the Syrian government for unknown reasons.
Full report at:
http://en.farsnews.com/newstext.aspx?nn=13961101001474
--------
Booby-Trapped Blast Kills 3 SDF Commanders in Northern Syria
Jan 21, 2018
The sources said that three senior SDF commanders, including Head of the SDF military court Marwan nom de guerre Abu Shourab, were killed in a booby-trapped explosion in Manbij in Northeastern Aleppo.
The sources said that a fresh wave of tension and insecurity has covered Majbij, especially after the Turkish Army pointed to Manbij as one of the objectives of its military operation in Northern Syria.
Local sources in Northwestern Hasaka reported last week that the SDF asked tribal leaders in the province to mediate and assist them to end popular protests in the town of Manbij in Northeastern Aleppo.
The sources reported that SDF Commander Shahin Shilo asked Hamid al-Sheikh Shahazah, one of the senior tribal leaders in the town of Ra'as al-Ein to travel to Manbij along with a delegation of regional elites.
The sources further said that Shilo asked Sheikh Shahazah to mediate between the SDF and tribal people in Manbij to restore calm again in the town.
Full report at:
http://en.farsnews.com/newstext.aspx?nn=13961101001223
--------
Ten killed in Turkish attack on Kurdish-held Syrian region
21 January 2018
Turkish attacks in the Afrin region of northern Syria killed ten people on Saturday, mostly civilians, a spokesman for the Kurdish militia which controls the area said.
"Seven civilians were killed, including a child, as well as two female fighters and one male fighter," said Birusk Hasakeh, spokesman for the Kurdish People's Protection Units (YPG) in Afrin, adding that the child was an eight-year-old boy.
The YPG's political branch, the Democratic Union Party (PYD), said earlier on Saturday that 25 civilians had been wounded in the Turkish bombing.
Ankara also said were casualties but were all Kurdish militants.
Afrin, a hilly region that falls in Syria's northern Aleppo province, is home to more than a million people including displaced families.
Turkey and allied Syrian rebels on Saturday began an air and ground operation, dubbed operation "Olive Branch", aimed at ousting the YPG from the Kurdish-majority pocket.
The launch came despite warnings that the operation could be militarily tough against an already battle-hardened foe and complicate relations with both Washington and Moscow.
Full report at:
https://english.alarabiya.net/en/News/middle-east/2018/01/21/Ten-killed-in-Turkish-attack-on-Kurdish-held-Syrian-region.html
--------
Iran continues to back Houthis, Saudi FM tells OIC
22 January 2018
JEDDAH: The Iranian regime continues to smuggle weapons and rockets to the Houthi militias in Yemen with the aim of attacking the Kingdom, its people and vital interests, said Saudi Foreign Minister Adel Al-Jubeir.
He was addressing an emergency meeting of the Council of Foreign Ministers (CFM) of the Organization of Islamic Cooperation (OIC) in Jeddah on Sunday.
The meeting reviewed the overall situation of Yemen, Iran's destabilizing role in the country and Houthi militia aggressive actions against Saudi Arabia.
"The Kingdom has so far provided $10.2 billion worth of humanitarian assistance to Yemen," said Al-Jubeir.
OIC Secretary-General Yousef Al-Othaimeen condemned the actions of the Houthi militia and its refusal to respond positively to the UN and regional efforts to resolve the crisis in Yemen through peaceful means.
Al-Othaimeen expressed solidarity with Saudi Arabia and backed all the actions taken by the Kingdom to protect its land.
The OIC chief categorically said: "We must stand against all those who support terrorist militias."
He also deplored the Houthis' ongoing violation of human rights in Yemen, the killings of former Yemeni president and senior politicians.
Maha Akeel, head of the OIC's information department, told Arab News: "OIC condemns Iran's violation of the CFM resolution adopted at the Makkah Conference in November 2016 and relevant UN Security Council resolutions, by continuing to provide militias with arms, particularly Iranian-made ballistic missiles."
The OIC official said Iran should abandon its divisive policies and must stop supporting terrorist groups in the region.
On the sidelines of the ministerial meeting, another meeting was held to discuss political, security and humanitarian developments in Yemen. Chaired by the OIC chief, the meeting condemned the Houthis' military actions along the Yemeni-Saudi border, bombing of facilities and citizens inside Saudi territory, and the launching of ballistic missiles against Saudi Arabia, an act considered as blatant aggression against Saudi territory and a threat to regional peace and stability.
Al-Othaimeen said the OIC was closely monitoring the situation in Yemen. The final communiqué of the meeting reiterated OIC's strong commitment to stand with Yemen's unity, sovereignty, political independence and territorial integrity.
The meeting rejected foreign interference in Yemen's internal affairs. It praised the role played by the Arab coalition countries and all Arab and Islamic countries in supporting the legitimate leadership in Yemen and the Yemeni people as well as supporting the peaceful solution and the reconstruction of Yemen.
It also urged the OIC member states to intensify and coordinate their efforts to reach a political solution to the Yemeni crisis and to provide more humanitarian and development assistance.
Full report at:
http://www.arabnews.com/node/1230711/saudi-arabia
--------
25,000 FSA fighters 'support Turkish force in Syria'
22 January 2018
AMMAN: Around 25,000 Free Syrian Army (FSA) fighters are joining the Turkish military operation in northern Syria with the goal of recapturing Arab towns and villages seized by the YPG Kurdish militia almost two years ago, an opposition commander said on Sunday.
Major Yasser Abdul Rahim, who is also the commander of Failaq Al-Sham, a main FSA opposition group in the operations room of the campaign, said the fighters did not seek to enter the mainly Kurdish city of Afrin but encircle it and expel the YPG (people's protection units).
"We have no interest in entering the city only the military targets inside the city and the villages around it. We aim to encircle the city and ensure the militias are evicted. We won't fight in the city as we have no problem with civilians," he said.
A leading goal of the military operation was to recapture Tel Rifaat, a town southeast of Afrin, and a string of Arab villages the YPG captured from rebels in February 2016, driving out tens of thousands of inhabitants, Abdul Rahim said.
"The task of the Free Syrian Army is first to regain 16 Arab towns and villages occupied by the foreign militias (YPG) with the help of the Russian air force," Abdul Rahim told Reuters in a phone interview from inside Syria.
The fighting forced at least 150,000 residents of these villages to flee to Azaz. They are sheltering in camps at the Turkish border and rebels say they have not been allowed to go back to their homes.
The mainly Arab fighters accuse the Syrian Kurdish militia of forcibly displacing Arabs from the villages in what they say is a deliberate policy of ethnic cleansing. The YPG denies these allegations.
Tel Rifaat and nearby areas including the Menigh air base fell to the YPG as the rebels were trying to fend off a major assault by Syrian regime forces backed by the Russian air force and Iranian-backed militias.
It was a prelude to the rebels' defeat in eastern Aleppo — their biggest single setback of the civil war.
Turkish troops have targeted these YPG-held Arab villages in artillery and aerial attacks on the US-backed Kurdish militia it aims to sweep from its border, the fighters said.
The capture of Tel Rifaat and the villages would allow the rebels to create a territorial link from a Turkish protected northern border strip stretching from Azaz and Jarablus on the western banks of the Euphrates to mainly rebel-held Idlib province further southwest.
Currently tens of thousands of civilians living in this de facto Turkish-backed buffer zone have to pass through Kurdish YPG-controlled border crossings, where residents and traders say they pay hefty taxes to move further south to Idlib province, the only province that is nearly fully under opposition control.
The fighters taking part in the assault are mainly the same factions that took part in the Turkey-backed operation launched in 2016 to drive Daesh from the border and to prevent further expansion of YPG influence.
Abdul Rahim, an army defector, also said reinforcements and weapons were moving to the YPG from the mainly-Arab populated city of Manbij, south of rebel controlled Jarablus and west of the Euphrates, across government controlled territory. "Their convoys are moving from Manbij to Afrin ...they are passing through regime territory," Abdul Rahim said.
Full report at:
http://www.arabnews.com/node/1230736/middle-east
--------
Syria army says captured key military airport
January 22, 2018
DAMASCUS : Syria 's army on Sunday announced it had captured the vital Abu Duhur military airport in the country's northwest, more than two years after losing it to rebels and jihadists. "After a string of special operations, units from our armed forces in coordination with allied fighters succeeded in their military operation and took control of the Abu Duhur military airport in Idlib province," the army said in a statement. "Engineering units are now dismantling and clearing mines, explosives, and bombs planted by terrorists in the area," he said. An alliance of jihadists and rebels overran the vast majority of Idlib province in 2015, seizing Abu Duhur in September of that year. Syrian troops had been advancing on the northwest province of Idlib, and Abu Duhur in particular, as part of a fierce offensive launched in late December with Russian backing. Regime loyalists have seized dozens of towns and villages as part of the assault, but the air base's capture marks the first military installation Syrian troops have managed to retake in Idlib.
Moscow on Sunday confirmed that allied troops were now in control of Abu Duhur.
With its capture, the Syrian army said, troops could now secure a key route leading from the neighbouring province of Aleppo south to the capital Damascus. Syria 's uprising erupted in 2011 with protests against the rule of President Bashar al-Assad, but a government crackdown paved the way for a full-blown civil war.
Full report at:
https://nation.com.pk/22-Jan-2018/syria-army-says-captured-key-military-airport
--------
Pakistan
Pakistan Awaits Afghan 'Fatwa' Against TTP, Affiliates
By Kamran Yousaf
January 22, 2018
ISLAMABAD: In October last year, Army chief General Qamar Javed Bajwa travelled to Kabul as part of efforts to improve strained ties between Pakistan and Afghanistan. One of the decisions, according to Kabul, reached during the visit was that Pakistan would seek a 'fatwa' or religious decree from its religious scholars against suicide bombings inside Afghanistan.
Pakistan officially never acknowledged if the army chief made any such commitment. However, now a senior official, who was privy to the outcome of Gen Qamar's visit to Kabul, confirmed the development.
What is significant, though, is the revelation by the official that the Afghan government was just telling 'half-truth.'
The official, who requested not to be named because of the sensitivity of the subject, told The Express Tribune that it was a 'mutual commitment', meaning that both the sides would seek fatwa from their respective religious scholars against suicide bombings.
1,800 Pakistani religious scholars declare suicide bombings 'haram' in new fatwa
Therefore, it was not just Pakistan but also Afghanistan, which agreed to obtain a 'fatwa' from its religious scholars, declaring suicide attacks being perpetrated by outlawed Tehreek-e-Taliban Pakistan (TTP) and its affiliates inside Pakistan as un-Islamic.
"But, we have yet to see any effort by the Afghan government to honour its commitment," the official said while pointing out that Pakistan had already made good on its promise by securing a religious decree recently from around 1,800 scholars against the suicide bombings.
Afghanistan, however, is not convinced with Pakistan's move, insisting that Pakistani fatwa should have explicitly mentioned Afghanistan.
President Ashraf Ghani said the Pakistani fatwa should have included the entire Muslim world including Afghanistan.
Foreign Minister Khawaja Asif, however, clarified that the suicide bombing was un-Islamic "whether it takes place on the moon or in any part of the world" in an effort to dispel the impression the move was not sufficient enough to cover Afghanistan.
Giving rare insight into the recent high-level discussions between the two neighbors, the Pakistani official revealed how Afghanistan dragged its feet on certain commitments.
To substantiate his claims, the official cited the firsthand account of a meeting between Afghan President Ghani and his delegation with the army chief last October.
During the meeting, the official said, the Afghan president spoke highly of Pakistan calling Afghanistan and Pakistan as "inseparable brothers".
On Ghani's encouraging remarks, the army chief requested the Afghan president to make this part of a joint statement in order to send a positive message. The Afghan president instantly agreed.
But the moment, the high-powered talks concluded between the two sides, Ghani was surrounded by his aides and others to question how he could make such a commitment with Pakistan.
"And the rest was history. His (Ghani) positive sentiments were never allowed to reflect in a joint statement," the official said in order to explain that how certain elements within the Afghan government were running the show in Kabul.
Security report calls TTP 'still a potent threat'
"Of course, those were the same elements who never wanted any improvement in the relationship between the two countries," the official lamented.
But the story did not just end there.
According to the official, the Afghan government was also reluctant to respond positively to a Pakistan proposal, envisaging establishment of different working groups not only to remove trust deficit but also enter into a cooperative relationship.
The different working groups covered the entire gamut of relationship — including security, military, intelligence, political and economic between the two estranged neighbors.
"The dithering on part of Afghanistan is incomprehensible," regretted the official.
https://tribune.com.pk/story/1614575/1-pakistan-awaits-afghan-fatwa-ttp-affiliates/
--------
Pakistan asks Trump to 'apologise' over tweet
JANUARY 21, 2018
ISLAMABAD/BHAKKAR: Prime Minister Shahid Khaqan Abbasi Saturday said US President Donald Trump should retract his tweet about Pakistan and tender an apology.
Speaking in a talk show, he said that after the US leadership's tweet, the government of Pakistan had responded to it very strongly. On different forums, such tweets were declared as foolish, he added.
To another question, the prime minister said Pakistan Tehreek-e-Insaf Chairman Imran Khan should tender an apology for his disparaging remarks against parliament. He said the constitution enshrined the right to expression and nobody could be deprived of this right but whatever Imran Khan said about parliament was incorrect.
The prime minister said that on the other hand, former prime minister Nawaz Sharif had expressed his opinion about a judicial verdict, which was his constitutional right, but he never abused any institution. He said the democratic system had evolved in other countries, and it was still growing in Pakistan in which different institutions had their specific roles and rights. If the democratic process in Pakistan had continued, certain things would not have surfaced, he said. "Nawaz Sharif never spoke of unconstitutional things. Under the constitution, the right to association had been the fundamental right," he added.
He said the courts had the discretion to decide a case. The verdict against the former prime minister was implemented but the people did not accept it and neither would history, he added.
There were different judicial cases, in which verdicts had not been accepted, he said, and referred to Zulfikar Ali Bhutto's case. Three judges in Bhutto's case had conceded that they announced the judgement under pressure.
He said the right to appeal had not been granted in Panama case, however, the verdict in the instant case would not become a precedent and the debate over it would continue.
About Zainab's case, the prime minister said they were cognizant of the pain and anger felt by the people in Kasur but there was no law in the country that could permit public hanging.
No one had the right to exceed the law and constitution, he said, adding that parliament was the only forum, which could legislate.
About criticism against the government, the prime minister said it was not a new thing as the executive had always been a punching bag of opponents.
Zainab's case was a painful incident, but unfortunately the politicians had politicised a criminal issue, he regretted.
He said he was satisfied with the Punjab government's progress to investigate the case. The efforts were underway to nab the culprit and the government was hopeful to bring the criminal to justice.
He said in the developed countries like the US and UK, people involved in such criminal cases had also evaded their arrests for decades despite efforts and availability of resources.
The prime minister said the police force had to deal with a host of issues as well, like dharna, law and order and so on. Provincial issues had always prompted provincial governments' response which was clearly defined by the Constitution and the federal government had nothing to do with it, he added.
About change in Balochistan government, he said in politics, grievances often cropped up but there was democratic mechanism to address them at the provincial or the central levels.
He said he did not deny the democratic right of the elected members of the provincial assembly but what they did, would have negative impacts.
About privatisation of national carrier Pakistan International Airlines, the prime minister said this process had been underway since 2002. Rs450 billion PIA losses were the whopping one, he said.
He said it was his responsibility to resolve the issue in which the rights of the employees should be protected. If his government could not complete the process, the next government would continue the process as the country could not afford such losses, he said.
To a question about Indian threats, the prime minister said the indigenous struggle for freedom in the Indian occupied Kashmir had baffled India and it was trying to divert world attention from its gross human rights violations.
He said dialogue process with the neighbouring country was not possible till resolution of the core issues, adding the dialogue should be based on sincerity and not under any duress.
About the repatriation of Afghan refugees, the prime minister said Pakistan had hosted three million refugees and only bore the brunt of the Afghan issue. The world and Afghanistan must appreciate it, he stressed.
He reiterated that Pakistan could not be blamed for attacks inside Afghanistan. The rehabilitation of Afghanistan refugees was linked with the issues inside Afghanistan which should be resolved earnestly.
"The fencing of Pak-Afghan border will continue. War is no solution to Afghan issue. The issue can be resolved through dialogue and Afghan owned and Afghan led process. Pakistan and other countries can act as facilitators," he added.
Meanwhile, Shahid Khaqan Abbasi challenged the opposition parties to move a no-confidence motion in the National Assembly and dissolve their respective provincial assemblies and face the masses' decision in next elections. "They threatened to dissolve provincial assemblies to impede Senate elections. I have a clear message for those who curse the Parliament to dare dissolve assemblies, if anyone can. The people will give their response in election of July 2018. This politics of falsehood, conspiracy and curse will be buried forever," he remarked addressing the launching ceremony of Prime Minister's Health Insurance Card here. Minister for Health Saira Afzal Tarar and Punjab Health Minister Khawaja Salman Rafique and parliamentarians from the area were also present on the occasion.
Those who had staged circus at the Mall Road of Lahore would come to know what the politics is as they would approach masses after dissolving the provincial assemblies. People have not voted them to dissolve assemblies but for resolving national and public issues, he added.
He assured the gathering that the PML-N's government would complete its term.
"I challenge those cursers to move a no-confidence motion in the National Assembly. Those who desire to dissolve assembly should first go there before making any such attempt," he said addressing a charged gathering holding party flags.
Full report at:
https://dailytimes.com.pk/185639/pakistan-asks-trump-apologise-tweet/
--------
Pakistan won't allow direct access to Hafiz Saeed, entities
January 22, 2018
ISLAMABAD - Pakistan will not allow the United Nations Security Council's sanctions monitoring committee any direct access to Jamaatud Dawa chief Hafiz Muhammad Saeed or his entities this week, diplomatic sources said.
Senior officials at the foreign ministry told The Nation that the UNSC team's visit was not designed to 'press Pakistan'.
The UNSC team, one official said, will visit Pakistan to discuss 'official information' on issues relating to the banned outfits and implementation of the UN sanctions. "They will not seek access to the JuD or Hafiz Saeed and if they do that, we will not allow it. We have been in talks and this visit was scheduled," he said.
Another official said the team will hold meetings with Pakistani officials on the list of the sanctioned outfits. "We have been implementing the UN sanctions, so there is no panic. We are ready to answer their questions. We have been preparing," he said.
The two-day visit by the UNSC team starts on January 26. The UNSC sanctions list includes the names of JuD, Al-Qaeda, Tehreek-e-Taliban Pakistan , Lashkar-e-Jhangvi, Falah-e-Insaniyat Foundation, Lashkar-e-Taiba and other organisations and individuals.
The UNSC monitoring committee oversees the sanctions measures imposed by the Security Council under the rules. The member countries are required to freeze without delay the funds and other financial assets or economic resources of designated individuals and entities.
The members are also required to prevent the entry into or transit through their territories by designated individuals. "All states are required to prevent the direct or indirect supply, sale and transfer from their territories or by their nationals outside their territories, or using their flag vessels or aircraft, of arms and related material of all types, spare parts, and technical advice, assistance, or training related to military activities, to designated individuals and entities," under the UN rules.
The committee, according to the UN website is mandated to "oversee the implementation of the sanctions measures, designate individuals and entities who meet the listing criteria set out in the relevant resolutions, consider and decide upon notifications and requests for exemptions from the sanctions measures, consider and decide upon requests to remove a name from the Daesh and Al-Qaeda sanctions list, conduct periodic and specialised reviews of the entries on the Daesh and Al-Qaeda sanctions list, examine the reports presented by the monitoring team, report annually to the Security Council on the implementation of the sanction measures and conduct outreach activities." The committee was initially established in pursuant to resolution 1267 (1999), which imposed a limited air embargo and assets freeze on the Taliban.
Last week, Pakistan banned companies and individuals from making donations to the JuD, the FIF and other organizations on the UNSC sanctions list. The Securities and Exchange Commission of Pakistan said that all companies had been prohibited from "donating cash to the entities and individuals listed under the United Nations Security Council sanctions committee's consolidated list."
The UNSC team's visit comes after the United States pressed Pakistan to prosecute the JuD chief "to the fullest extent of the law" as Washington regards him a "terrorist."
Hafiz Saeed has been blamed for masterminding attacks in Held Kashmir and the 2008 Mumbai carnage that killed 166 people. The JuD chief denies the allegations saying he was only engaged in charity works. The White House has already warned that there would be repercussions unless Islamabad takes action to detain and charge Saeed.
The JuD chief was released on the order of the Lahore High Court last year. The court rejected the government's request seeking a further extension in his house arrest as there was not "sufficient evidence" to keep him under custody.
The United States Department of the Treasury designated Saeed as a specially designated global terrorist in May 2008. The JuD chief was also individually designated a terrorist by the United Nations under UNSC R1267 in December 2008 following the November 2008 Mumbai attack in which six American citizens were killed.
Full report at:
https://nation.com.pk/22-Jan-2018/pakistan-won-t-allow-direct-access-to-hafiz-saeed-entities
--------
If Attacks On Pakistanis Continue To Be Orchestrated From Afghan Soil, Then Pakistan Has Every Right To Intervene In Afghanistan
By Saad Ur Rehman
Jan 21, 2018
In a recent interview, Afghan president Ashraf Ghani said, "Afghan army cannot survive six months without the help of United States of America."
The statement shows the disastrous situation of Afghanistan. It also bolsters Pakistan's stance about Afghan army's inability in thwarting cross-border attacks from its soil.
Pakistan has started fencing its side of the border and has deployed 2 lac soldiers on its Western frontier along with Afghanistan.
Pakistan Army has eliminated all sanctuaries and strongholds of terrorists in Federally Administered Tribal Areas (FATA).
The border on the Afghan side is porous.There is no border patrolling and surveillance mechanisms.
Pakistan Army is singlehandedly fighting terrorism in the region. Meanwhile, Afghan Army's inability has created a vacuum for terrorist groups like Islamic State of Iraq and Levant (ISIL) to emerge.
According to reports, ISIL after its defeat in Iraq and Syria are now turning their focus towards Afghanistan. ISIL has claimed most of the recent devastating attacks in Afghanistan.
Amid the changing regional scenario, every regional state is following its own interests. Russia does not want the presence of Islamic jihadists in its periphery.
Moscow paid a huge price for its war against Chechen and Arab jihadists in post-Cold War era. It is still facing low-level Islamic insurgency in Caucasian region.
Russia is closely watching developments in Afghanistan primarily regarding the increasing influence of ISIL.
Moscow believes that fragile law and order situation in Afghanistan is a threat to its territorial integrity and does not affect the United States, as Washington has no geographic affiliation with Afghanistan.
On the other hand, China too like Russia is concerned about the rise of ISIL. In addition to that Beijing believes that fragile situation in Afghanistan will provide safe haven to its Uighur militants which are a serious threat to its sovereignty.
Moreover, Chinese strongman Xi Jinping's signature One Belt One Road (OBOR), which will connect Western China to the Middle East, Europe, and North Africa through a network of land routes, is facing threat in the form of the American presence in Afghanistan.
Beijing believes that America is following the Cold War era policy of containment against it. Afghanistan's location in China's proximity makes it the vital part of Beijing's foreign policy.
Iran being the stronghold of Shiite sect of Islam wants its proxies in Afghanistan to expand and increase their influence. Tehran's objectives are to minimize the American and Sunni groups influence in Afghanistan.
According to some reports, Iran is also supporting extremist groups inside Pakistan.
Pakistan desires peace in Afghanistan more than any other nation in the region due to the shared long border. The deteriorating law and order situation in Afghanistan badly affects Pakistan.
Islamabad should project its sacrifices in the war on terror in a more proactive manner in the international arena.
Article 51 of United Nations charter states that "Nothing in the present Charter shall impair the inherent right of individual or collective self-defense if an armed attack occurs against a Member of the United Nations until the Security Council has taken measures necessary to maintain international peace and security. Measures taken by Members in the exercise of this right of self-defense shall be immediately reported to the Security Council and shall not in any way affect the authority and responsibility of the Security Council under the present Charter to take at any time such action as it deems necessary in order to maintain or restore international peace and security".
According to Article 51 of the United Nations charter, a member state can intervene in another state for self-defense. If attacks on Pakistani soldiers and civilians continued from the Afghan soil than Pakistan has the right to intervene in Afghanistan and eradicate all anti-Pakistan elements.
If the influence of ISIL keeps on increasing and Afghan forces failed in countering the group than Pakistan has the right to launch surgical strikes inside Afghanistan and eradicate safe heavens of ISIL.
Full report at:
http://blogs.dunyanews.tv/19691/
--------
Two terrorists shot dead in DG Khan operation: ISPR
JANUARY 22, 2018
RAWALPINDI: Para-military troops gunned down two terrorists in an intelligence-based operation carried out in DG Khan on Sunday, the Inter-Services Public Relations (ISPR) said.
The military's media wing said the Rangers personnel carried out an operation on a tip-off and information provided by intelligence agencies about terrorists holed up in their hideouts in DG Khan. The ISPR said the killed terrorists were linked with a proscribed organisation and involved in attacks on security forces and kidnappings. A day earlier, Frontier Corps Balochistan conducted intelligence-based operations (IBOs) in Dera Bugti, Kohlu, and Dera Murad Jamali, according to the army's media wing. Arms and ammunition, including sub machine and light machine guns, rockets, mortar bombs, grenades, detonators, explosive and communication equipment were recovered during the operation.
https://dailytimes.com.pk/186273/two-terrorists-shot-dead-dg-khan-operation-ispr/
--------
14 foreigners among 18 dead in Taliban attack on Kabul hotel
January 22, 2018
KABUL - Gunmen stormed a luxury hotel in Kabul and killed at least 18 people, most of them foreigners , sparking a 12-hour battle with Afghan forces backed by Norwegian troops that left terrified guests scrambling to escape.
Several Ukrainians were among those killed in the Taliban-claimed assault on the six-storey Intercontinental Hotel in the Afghan capital, Ukrainian foreign ministry official Vasyl Kyrylych confirmed to AFP, adding that more information would be released Monday.
Afghan interior ministry spokesman Najib Danish said 14 foreigners were among the dead , but did not specify their nationalities, in comments to Afghanistan's Tolo News hours after the overnight attack that ended Sunday.
Terrified hotel guests climbed down bedsheets tied to balconies to escape the gunmen rampaging through the hilltop hotel overlooking the Afghan capital. One lost his grip and fell in Tolo News television footage, which also showed black smoke and flames billowing from the hotel.
Special forces were lowered by helicopters during the night onto the roof of the landmark 1960s building. Afghan security forces killed all six attackers, the interior ministry said.
They were aided by Norwegian troops, Norwegian military officials told public broadcaster NRK. Norway has helped train Afghan elite forces since 2007. "I want to say this explicitly and frankly and precisely... in total 14 foreigners and four Afghans were martyred in the attack on the hotel," Danish said on Tolo, adding that more than 160 people had been rescued during the attack.
Afghan officials have been known to understate death tolls in high-profile attacks.
Danish also said preliminary information showed the attackers may have already been inside the hotel before launching the assault, but gave no further details and warned an investigation had to be carried out.
But he did say that among the dead were 11 people from Afghan airline Kam Air. The airline's CEO, Captain Samad Usman Samadi, earlier said 42 of its personnel had been at the hotel during the attack - at least 16 of whom were still missing. "We fear for their lives," he told AFP.
The Taliban claimed responsibility for the assault via email. The attack followed security warnings in recent days to avoid hotels and other locations frequented by foreigners in war-torn Kabul . "We are hiding in our rooms. I beg the security forces to rescue us as soon as possible before they reach and kill us," one guest, who did not want to be named, told AFP by telephone during the siege. His phone has been switched off since then.
Officials said four gunmen burst into the hotel, which is not part of the global InterContinental chain, on Saturday night, opening fire and taking dozens of people hostage. Afghan Telecom regional director Aziz Tayeb, who was one of dozens of people at the hotel attending an IT conference, said he saw the attackers enter.
"Everything became chaotic in a moment. I hid behind a pillar and I saw people who were enjoying themselves a second ago screaming and fleeing like crazy, and some of them falling down, hit by bullets," Tayeb told AFP.
Local resident Abdul Sattar said he had spoken by phone to friends who are hotel staff and had been trapped inside.
"Suddenly (militants) attacked the dinner gathering... (then) they broke into the rooms, took some people hostage and they opened fire on some of them," he told AFP. Rahimi said the attackers were armed with light weapons and rocket-propelled grenades when they stormed the hotel.
Security in Kabul has been ramped up since May 31 when a massive truck bomb killed some 150 people and wounded around 400 - mostly civilians. But the resurgent Taliban and Islamic State are both scaling up their assaults on the city. The attack on the Intercontinental was just one of several bloody assaults Sunday.
In a village in the northern province of Balkh, Taliban militants went from house to house in the middle of the night, pulling police from their homes and shooting them dead .
At least 18 officers were killed, deputy police chief Abdul Raziq Qaderi told AFP.
In Herat in the west at least eight civilians were killed when a car hit a Taliban-planted roadside mine, officials there said.
The last major attack on a high-end hotel in Kabul was in March 2014 when four teenage gunmen raided the Serena, killing nine people including AFP journalist Sardar Ahmad.
In 2011 a suicide attack claimed by the Taliban killed 21 people at the Intercontinental including 10 civilians.
Danish said authorities were probing how the attackers got past the hotel's security, which was taken over by a private company three weeks ago. "We will investigate it," he said.
Full report at:
https://nation.com.pk/22-Jan-2018/14-foreigners-among-18-dead-in-taliban-attack-on-kabul-hotel
--------
India
NIA to file another report in 'love jihad' case next week
Vijaita Singh
JANUARY 20, 2018
The National Investigation Agency (NIA) will file another status report in the Kerala 'love jihad' case when it comes up for hearing in the Supreme Court next week.
The report is likely to include the statement of Shafin Jahan, the husband of Akhila alias Hadiya, that they met through a matrimonial website. Hadiya's father has alleged that his daughter was forced to convert to Islam and marry the Muslim man, and the case is being heard by the Supreme Court after the Kerala High Court annulled the marriage.
This will be the third detailed report that is likely to be filed by the NIA, when the case comes up for hearing on January 23.
'Converted on her own'
"She has told the court and given us a statement that she converted of her own free will. Our role is to investigate the role of the people who were instrumental in the conversion," said a senior government official.
The NIA said it had examined six persons, who said none of them were enticed by monetary benefits to convert to Islam. The agency said there were other methods used to convert them to Islam, which included religious propaganda.
The agency said the SC had to decide about the Popular Front of India (PFI), the organisation that was common to all the conversions.
89 cases under scanner
The Kerala police had handed over a list of 89 cases to the NIA, where families or individuals had alleged that they were forced to convert to Islam. Of these, around 30 pertained to Hindu men and women and the rest were from other religions.
The NIA said it had examined Sainaba, an activist of the Social Democratic Party of India, the political arm of the PFI and would question her again.
Ms. Hadiya was produced in the Supreme Court in November, which directed that she be freed from the custody of her parents and allowed to complete her homoeopathy internship at a college in Salem.
http://www.thehindu.com/todays-paper/tp-national/tp-andhrapradesh/nia-to-file-another-report-in-love-jihad-case-next-week/article22476640.ece
--------
Kabul hotel attack shows need to deal with issue of safe havens to terrorists: India
Jan 21, 2018
NEW DELHI: India on Sunday strongly condemned the attack on a luxury hotel in Kabul, saying reports about the assault being carried out by Haqqani Network terrorists underlines the need to effectively deal with the issue of safe havens to terrorists in "our shared neighbourhood".
An assault on the Intercontinental Hotel in the Afghan capital killed at least 18 people, including 14 foreigners, and pinned security forces down for more than 13 hours before the last attacker was killed today.
India strongly condemns the terrorist attack on the Intercontinental Hotel in Kabul, the external affairs ministry said.
"We express our sincere condolences to the families of those killed in this heinous attack and wish speedy recovery to the injured," the ministry said in a statement.
The reports about the attack having being carried out by terrorists of the internationally proscribed Haqqani Network are a matter of serious concern and bring to fore once again the need to effectively deal with "safe havens and sanctuaries that these terrorists find in our shared neighbourhood", the statement said.
India also commended the professionalism and bravery of the Afghan National Defence and Security Forces in saving the lives of hundreds of civilians from this gruesome attack.
Full report at:
https://timesofindia.indiatimes.com/india/kabul-hotel-attack-shows-need-to-deal-with-issue-of-safe-havens-to-terrorists-india/articleshow/62595806.cms
--------
Jammu and Kashmir: Pakistan shelling continues, border villages on edge
January 22, 2018
One person died after Pakistani troops resumed mortar shelling and small-arms fire after a 24-hour lull along the international border in the Kanachak and Pargwal sectors in Jammu, besides the Line of Control in the Nowshera area of Rajouri district on Sunday evening.
Two brothers, Ram Dass and Gopal Dass, suffered splinter injuries during the mortar shelling in Kanachak around 9.30 pm. Both were rushed to the hospital where Gopal died.
BSF sources confirmed shelling in Ganjansoo, Golepattan, New Kanachak, Old Kanachak and Pargwal sectors, saying a few mortar shells were fired from across the border. In the morning, a few shells were also fired by Pakistani Rangers in the Arnia area.
Pakistani troops also restarted mortar shelling in Nowshera around 5 pm and in two hours, its intensity increased in Jhangar, Laam, Kalsiyan and Kalal areas. The Indian troops were retaliating and the exchange of fire between the two sides were on till reports last came in.
The death toll in Saturday's exchange of fire along the border has risen to five as one more soldier succumbed to injuries in hospital. He has been identified as Signalman Chandan Kumar Rai, 25, of Nadesar village in Uttar Pradesh's Chandauli district. He is survived by his father Satya Prakash Rai.
The number of people killed on the Indian side this month has risen to 13 including three armymen, three BSF personnel and seven civilians. The toll is almost as high as number of causalities on the Indian side in the entire of 2017, when nearly a dozen people including security personnel were killed on the entire border from Kathua to Poonch district.
Full report at:
http://indianexpress.com/article/india/jammu-and-kashmir-pakistan-shelling-continues-border-villages-on-edge-5033972/
--------
Village in Didi's Bengal rolls out the red carpet for Rohingyas
21st January 2018
HARDAH (WEST BENGAL): The Central government may consider Rohingyas a security threat, but the much persecuted stateless people are being welcomed in West Bengal. Over 40 voluntary organisations in the state are working towards settling UNHCR-registered Rohingyas in the state's first Rohingya settlement in Hardah village in South 24 Parganas district.
After settling 29 people, including 11 children, in eight tin houses in the colony, these organisations are demanding citizenship for the 40,000 UNCHR-registered Rohingyas in India.
"I have written a letter to Chief Minister Mamata Banerjee requesting citizenship for Rohingyas as she is sympathetic towards them. We have plans to make houses for at least 5,000 families in Hardah. Many villagers have agreed to give their lands for the cause. We urge Rohingyas from Bangladesh, Jammu and Hyderabad to come to our village if they are feel unsafe at their present locations," said Desh Bachao Samajik Committee president Hosen Gazi, who gave his land for the colony.
The move gains significance in the wake of Centre dubbing Rohingyas a "national security threat" and mooting the deportation of those who have entered India illegally.
The Desh Bachao Committee is leading the 40-odd organisations in garnering support for the Rohingyas. They have already organised over four dozen meetings throughout the district in this regard. "We are not sympathetic to them just because they are Muslims. We have plans to settle 140 Hindu Rohingyas, too, in our village," Gazi said.
He said he had informed the administration about the move. Intelligence Bureau sleuths visited the colony several times to check for the UNHCR cards and left satisfied, he claimed.
Several Rohingyas in the camp said their families in Bangladesh were trying to collect money to pay touts and slip into India. "My father is still in Bangladesh. As soon as we gather enough money, I will bring them to India. The police harass us in the camps there," said 27-year-old Md Shahidul Islam who, like other Rohingyas, works as a construction labourer in the village.
"I hope our children will go to school and get good education in India," said his wife Momena Akhtar. However, Gazi is wary of sending the Rohingya children to Islamic seminaries fearing backlash from Hindutva groups. "We want them to learn Hindi, English and Bengali first. They can learn Arabic later," he said.
Full report at:
http://www.newindianexpress.com/thesundaystandard/2018/jan/21/village-in-didis-bengal-rolls-out-the-red-carpet-for-rohingyas-1759819.html
--------
Europe
French FM: Security Council to discuss Syria on Monday
21 January 2018
The United Nations Security Council will hold talks about the situation in Syria on Monday, French Foreign minister Jean-Yves Le Drian said on his Twitter feed on Sunday.
He added that France would press for humanitarian access.
Le Drian said earlier on Sunday that France had called for an emergency meeting of the Security Council over Syria following a Turkish incursion into northern Syria's Afrin province.
He also condemned indiscriminate bombing by the Syrian regime in Idlib province and asked for immediate access for humanitarian aid to eastern Ghouta, where 400,000 citizens face a critical situation.
https://english.alarabiya.net/en/News/world/2018/01/21/Security-Council-to-discuss-Syria-on-Monday.html
--------
Man charged in France for planning terror attack
21 January 2018
French authorities on Saturday charged a 33-year-old man, who had pledged allegiance to ISIS in a video, with planning a terror attack, judicial sources said.
The man, who was not known to police, was arrested near the southern city of Nimes on Tuesday. Bomb making materials were found in his house but there was no indication of the targets he was planning to attack, they said.
"This is the first attack foiled this year," a source close to the investigation told AFP.
The man was charged with "associating with terrorist criminals" and placed in custody.
"The investigation started when police saw on social media and attempt by a man in the Nimes region with extremist leanings trying to procure a weapon," the source close to the investigation said.
The raid on the man's house yielded a tube filled with powder which could likely be used as an explosive, different powders and a device to start a fire, the source said.
Several videos taken last year were seized including one in which the man pledges allegiance to self-proclaimed ISIS "caliph" Abu Bakr al-Baghdadi with the organization's black flag in the background.
Full report at:
https://english.alarabiya.net/en/News/world/2018/01/21/Man-charged-in-France-for-planning-terror-attack.html
--------
Russia 'concerned' about Turkey's military operation in Syria, calls for restraint
Jan 20, 2018
Russia has voiced concern about a Turkish military operation in Syria's Kurdish-controlled Afrin region, calling on the sides to exercise restraint.
"Moscow is concerned at this news. We call on the opposing parties to show restraint," the Russian Foreign Ministry said in a statement on Saturday.
The statement came shortly after Ankara launched a new air and ground operation around the area of Afrin in northern Syria to oust the Kurdish People's Protection Units (YPG), which Ankara views as a terror organization and the Syrian branch of the outlawed Kurdish Workers' Party (PKK).
The ministry also said that Russian troops were withdrawing from Afrin "to prevent potential provocation and exclude the threat to the life and wellbeing of Russian military."
It added that Moscow was sticking to its position on solving the Syrian crisis based on safeguarding the Arab country's territorial integrity and respecting its sovereignty.
Following a partial December withdrawal of its troops from Syria after the collapse of the Daesh Takfiri terrorist group, "the main objective of Russian forces remaining in the country is to ensure respect of the truce in de-escalation zones," the ministry said.
Russian jets have been conducting air raids against Daesh and other terror outfits inside Syria at the Damascus government's request since September 2015.
The airstrikes have helped Syrian forces advance against anti-Damascus militants, who have been wreaking havoc in the Arab country since 2011.
Turkey, Iran and Russia are the guarantors of a countrywide ceasefire in Syria. The three have been mediating a peace process since January 2016 among Syria's warring sides in Astana, Kazakhstan.
As part of the Astana format, four de-escalation zones have been established across Syria amid ongoing political efforts to find a peaceful solution to the conflict.
The zones have helped reduce fighting significantly, while giving Turkey a breath to beef up security along its southern borders.
Russia to demand at UN that Turkey halt military bid
Meanwhile, a member of the upper house of the Russian parliament's security committee said Saturday that Moscow would support Syria diplomatically and would demand at the United Nations that Turkey stop its military operation in Afrin.
"It is not only Syria that will demand this operation to stop. Russia will support this demand as well and will provide Syria with diplomatic assistance," Russia's RIA Novosti news agency quoted Franz Klintsevich as saying.
Also on Saturday, the Russian Interfax news agency cited Defense Ministry as saying that the country's military operational group and military police had been relocated from Afrin.
In a statement on Saturday, the Turkish military confirmed it had started an operation in Afrin, saying this was to provide safety for Turkey's border and to "eliminate terrorists ... and save friends and brothers, the people of the region, from their cruelty."
Earlier on Saturday, the military said it hit shelters and hideouts used by the YPG and other Kurdish militants, saying the militants had fired on Turkish positions inside Turkey.
However, the so-called Syrian Democratic Forces (SDF), of which the YPG is a major component, accused Turkey on Saturday of using cross-border shelling as a false pretext to launch an offensive in Syria.
Turkish Prime Minister Binali Yildirim said on Saturday that Turkish "armed forces have started an air campaign in order to destroy elements" of the YPG militants in Syria, adding that eight F-16 aircraft were involved in the aerial sortie.
Meanwhile, Turkish army said in a statement that the airstrikes had struck 108 targets belonging to Kurdish militants, but it did not say whether the targets were all in Syria's Afrin's province.
A Reuters cameraman at the border with Syria earlier reported seeing warplanes fly overheard and carrying out strikes on the Syrian side.
Reports from Kurdish sources said that Turkish fighter jets had carried out 11 raids on the villages of Ain Dikneh, Mariamin, Tal Rif'at, Kafr Jannah, Maranaz and villages in the vicinity of Afrin in the northern countryside of Aleppo.
The YPG said a number of people had been wounded in the air strikes.
Meanwhile, an unnamed Turkish official said that the so-called Free Syrian Army (FSA) militant group was also providing assistance to the Turkish military's operation in Afrin.
Hours after the military launched an operation in Afrin, Turkish Foreign Minister Mevlut Cavusoglu said that Turkey's armed forces were striking targets in Syria by land and air.
Cavusoglu said the military was targeting terrorists only. He said Turkey had informed the actors involved in Syria about the developments in the Afrin region, adding that Ankara expected its allies to not side with terrorist organizations.
In a phone interview with Turkish broadcaster NTV, Cavusoglu also said Ankara had sent a written statement to the Syrian government.
Full report at:
http://www.presstv.com/Detail/2018/01/20/549599/Russia-Turkey-Syria-Afrin
--------
Germany stops arms exports to Yemen combatants
20 Jan 2018
Germany will stop all arms exports to countries involved in the ongoing war in Yemen, a government spokesperson has announced.
The decision, announced on Friday by a spokesperson for German Chancellor Angela Merkel, comes as political parties including Merkel's Christian Democratic Union (CDU) and the Social Democratic Party (SPD) continue to hold talks about forming a coalition government following the German federal election last September.
Germany "isn't taking any arms exports decisions right now that aren't in line with the results of the preliminary talks", Steffan Seibert, a spokesperson for Merkel, said in a post on Twitter.
The move is expected to affect Germany's weapons sales to Saudi Arabia, which totalled almost 450 million euro ($550m) in the third fiscal quarter of 2017, according to German broadcaster Deutsche Welle.
Saudi Arabia has been at war in Yemen since March 2015, when a coalition led by the oil-rich kingdom launched a campaign of aerial bombardment aimed at countering Houthi rebels, who are widely believed to be backed by Iran, and reinstating the government of President Abd-Rabbu Mansour Hadi.
Amnesty Gulf, a branch of the Amnesty International rights group, praised Germany's decision and called on other countries to do the same.
"Good news! Germany halts arms exports to parties to the conflict in #Yemen. [The] US, UK, France and all other states selling arms to the #Saudi-led coalition must halt arms sales now!," the organisation said Friday in a post on Twitter.
The UK has licensed more than 4.6 billion pounds ($6.3bn) worth of arms to Saudi Arabia since the war in Yemen began, according to the UK-based Campaign Against Arms Trade (CAAT).
A recent UN report on human rights abuses related to foreign intervention in Yemen documented a number of civilian casualties inflicted by Saudi-led coalition bombing.
The panel examined 10 air attacks in 2017 that killed 157 people and found that the targets included a migrant boat, a motel and five residential buildings, according to a copy of the report seen by Al Jazeera.
According to the Geneva-based SAM Organisation for Rights and Liberties, some 450 civilians were killed in Yemen during December 2017.
The killings were part of 1,937 violations committed throughout the country during December, including physical assaults, violation to press freedom, torture and arbitrary detention, a January 17 report by the organisation said.
The violations were perpetrated by "Houthis militia, Arab Coalition air force, military formations and groups loyal to the legitimate government", the report said.
The group condemned "all crimes included in this report which are considered as gross violations of the international humanitarian law and human rights law".
Full report at:
http://www.aljazeera.com/news/2018/01/germany-stops-arms-exports-yemen-combatants-180120073801880.html
--------
Mideast
UN appeals for nearly $3b to save millions in Yemen
January 22, 2018
SANAA : The United Nations on Sunday made what it said was a record appeal for aid to Yemen, calling for nearly $3 billion in humanitarian relief for the war-torn country.
The $2.96 billion will be used to respond to an ever-broadening crisis in Yemen, where war, looming famine and cholera have killed thousands and put millions of lives at risk. The appeal, made on behalf of UN agencies and humanitarian partners, came as 11.3 million people "urgently require assistance to survive", UN aid agency OCHA said in a statement.
"A generation of children is growing up in suffering and deprivation," OCHA said. "Nearly two million children are out of school, 1.8 million children under the age of five are acutely malnourished, including 400,000 who suffer from severe acute malnutrition and are 10 times more likely to die if they do not receive medical treatment." More than 9,200 people have been killed in Yemen since 2015.
, when a Saudi-led military coalition intervened to back the country's internationally-recognised government against Iran-backed rebels.
Another nearly 2,200 Yemenis have died of cholera amid deteriorating hygiene and sanitation conditions, the World Health Organisation says. Over the past year, the United Nations' efforts to address what it has described as the world's worst humanitarian crisis have been hampered by a crippling blockade of rebel-held ports by the Saudi-led coalition.
More than three-quarters of Yemen's population -- 22.2 million people -- are now dependent on some form of assistance in Yemen, the United Nations says.
Some 8.4 million Yemenis are also at risk of famine, according to OCHA. In 2017, international donors provided $1.65 billion of the $2.34 billion requested by the United Nations and humanitarian partners in Yemen.
https://nation.com.pk/22-Jan-2018/un-appeals-for-nearly-3b-to-save-millions-in-yemen
--------
New image of Osama bin Laden's spokesman and son-In-law in Iran revealed
21 January 2018
A new photo has been released of Osama bin Laden's son in law and al-Qaeda spokesman in Iran. The photo has emerged as part of the Abbottabad documents.
The image of the 52-year-old Kuwait-born Sulaiman Abu Ghaith taken north of Tehran showed him in a completely different form his normal appearance in al-Qaeda's media publications.
The image taken in 2009 showed Abu Ghaith in a family outing organized by Iranian officials during the period al-Qaeda were establishing their presence in Iran.
The picture was described as taken during "a family trip in the tourist areas north of Tehran organized by the prison administration."
Apart from Abu Ghaith, the trip is likely to have included his wife Fatima bin Laden and their children, along with her brothers Hamza, Othman, Mohammed and Saad, who were all living in the same house.
Abu Ghaith who also appeared in images during Hamza bin Laden's marriage in Iran in 2005 was born in Kuwait in 1956 and worked as a teacher of jurisprudence and sharia in Kuwait before joining al-Qaeda.
Abu Ghaith was close to Khalid Sheikh Mohammed, the coordinator of the September 11 attacks, and who is currently being tried in the United States.
In 1994, Abu Ghaith traveled to Bosnia Herzegovina to fight where he stayed for two months before returning to Kuwait.
His travels to Bosnia and Afghanistan continued, prompting the Kuwaiti Awqaf Ministry to dismiss him. He then settled with his wife and six children in Afghanistan.
Following the September 11 attacks in New York, Abu Ghaith appeared in a video as an al-Qaeda spokesman, threatening similar attacks and prompting the Kuwaiti government to withdraw his nationality.
The US incursion into Afghanistan and the defeat of the Taliban regime and al-Qaeda there forced Abu Ghaith to escape with his family in 2001.
The bin Laden family and several leaders of al-Qaeda relocated to Iran, which hosted them for more than 10 years.
In 2013, the Turkish security services arrested Abu Ghaith after they received reports from the CIA about the arrival of his son to a hotel in the capital Ankara.
The Turkish security forces released him after 33 days of detention in Ankara as he did not have a criminal or terrorist-related record in Turkey.
He was found to have entered Turkey with an Iranian passport. Abu Ghaith was deported by the Turkish authorities to Jordan but was arrested directly by the CIA.
Full report at:
https://english.alarabiya.net/en/News/gulf/2018/01/21/New-image-of-Osama-Bin-Laden-s-spokesman-and-son-In-law-in-Iran-revealed.html
--------
Erdogan vows Turkish troops will crush YPG Kurdish militants in northern Syria
Jan 21, 2018
Turkish President Recep Tayyip Erdogan has vowed that his troops would crush the US-backed Kurdish People's Protection Units (YPG) militia in Syria, saying the militant group could not rely on Washington's support to defeat the Anatolian country.
The Turkish leader made the remarks during a speech he delivered at a congress of his ruling the Justice and Development Party (AK Party) in the northwestern city of Bursa on Sunday, alleging that some of Turkey's allies had provided 2,000 plane shipments and 5,000 truckloads of weapons to the Kurdish militia, a comment that appeared aimed at the US.
Erdogan's comments came a day after his country launched the so-called military Operation Olive Branch in a bid to eliminate the US-backed YPG, which Ankara views as a terror organization and the Syrian branch of the outlawed Kurdistan Workers Party (PKK). The latter has been fighting for an autonomous region inside Turkey since 1984.
The operation was launched days after Washington said it would work with the Kurdish militants to set up a 30,000-strong border force near Turkish soil, a move that infuriated Ankara.
The YPG, which is operating under the larger US-backed Kurdish-dominated Syrian Democratic Forces (SDF) militia coalition, is purportedly fighting against terrorists without obtaining any official authorization from Damascus, which calls the forces "traitors" to the Syrian nation.
"God willing, this operation will be finished in a very short time," Erdogan further said in his televised speech, adding, "We will continue on this path like this, with determination, with belief. We will not take a step back."
In late October last year and days after the SDF forces allegedly pushed Daesh terrorists out of the Syrian city of Raqqah, used to be Daesh's de facto capital for a couple of years, the Syrian foreign ministry said that the city was still regarded by Damascus as a "an occupied city" and "cannot be considered liberated until the entry of the Syrian army."
"Now I see how the PYD/PKK/YPG terror organizations run away. As I said, they will run away, (and) together with our soldiers, we will chase them away," Erdogan promised. The Kurdistan Democratic Union Party (PYD) is considered as the YPG's political wing.
Elsewhere in his remarks, the Turkish leader warned those who opposed Turkey's military intervention in Syria of paying a "heavy price" for holding protest rallies, after the country's pro-Kurdish opposition Peoples' Democratic Party (HDP) called on people to take to the streets to express their dissent against Ankara's military move.
"Some HDP representatives are calling on my Kurdish citizens to get out into the squares. Until now, not many people have come out. But let me say this here... Do not even think about it! There will be a heavy price to pay by those who respond to this call," Erdogan added.
Ankara also often accuses the HDP of being a political front for the PKK militant group, claims which the party firmly rejects.
"You will not be able to have a free hand. Hey HDP... hey PKK, wherever you come out, know this: our security forces will be breathing down your neck," Erdogan vowed.
Premier: Turkey seeks 30 km-deep "safe zone" in Syria's Afrin
Earlier in the day, Turkish media quoted Turkey's Prime Minister Binali Yildirim as saying that the military forces had entered the northwestern Syrian city of Afrin from the Turkish village of Gulbaba at 0805 GMT on Sunday, the second day of the campaign, adding that troops also managed to hit over 150 Kurdish militant targets so far. However, the YPG dismissed Yildirim's claim, saying Turkish forces had tried to enter Afrin, but were forced back.
The Turkish premier was also quoted as saying that the Turkish army aims to create a 30-kilometrer safe zone in Afrin.
Yildirim noted that Turkey's economy would not be affected by the operation in Syria's Afrin, adding that the economy would continue to grow strongly.
Cavusoglu: Opposing Turkey's Syria ops, siding with terrorists
Meanwhile, Turkish Foreign Minister Mevlut Cavusoglu accused those opposing the so-called operation in Syria of siding with "terrorists", threatening them of being treated accordingly.
The Turkish top diplomat, who was on an official trip to neighboring Iraq, further said in a press conference that Ankara expected France to support Turkey's operation, after Paris urged Ankara to end its military operation in Syria.
25,000 FSA forces help Turkey in Afrin operations
In another development on Sunday, Major Yasser Abdul Rahim, a commander of the Turkish-backed Free Syrian Army (FSA) anti-Damascus militia, announced that some 25,000 FSA members were joining the Turkish military operation in Syria with the goal of recapturing Arab towns and villages seized by the YPG forces.
He noted that the FSA forces would not seek to enter the YPG-held Afrin but encircle the northern city and expel the Kurdish militia.
Operation Olive Branch in the Afrin region is Turkey's second major military intervention in Syria during an unprecedented foreign-backed militancy that broke out in the Arab country in 2011.
In August 2016, Turkey began a unilateral military intervention in northern Syria, code-named Operation Euphrates Shield, sending tanks and warplanes across the border. Ankara claimed that its military campaign was aimed at pushing Daesh from Turkey's border with Syria and stopping the advance of Kurdish forces, who were themselves fighting Daesh.
Ankara terminated its military campaign in northern Syria in March 2017, but at the time did not rule out the possibility of yet another act of military offensive inside the Arab country.
Turkish air raids kill 8 people in Afrin on Sunday
Meanwhile, the so-called Syrian Observatory for Human Rights reported that Turkish air raids had killed eight civilians in Syria's Afrin on Sunday.
Birusk Hasakeh, a YPG spokesman in Afrin, also said, "Eight civilians were killed in missile strikes on a chicken farm where they were living," blaming Turkish warplanes for fatalities.
On Saturday, Hasakeh had told AFP that Turkish bombardment killed 10 people, including seven civilians.
Turkish police arrests protesters against Syria operations
Meanwhile, media reports say Turkish police clashed with demonstrators in Ankara and Istanbul hours after Erdogan warned Kurds in Turkey not to stage protest rallies against Turkey's military operation in Syria.
The Dogan news agency said police detained 12 demonstrators in Istanbul who were protesting the offensive.
Full report at:
http://www.presstv.com/Detail/2018/01/21/549705/Turkey-Syria-Erdogan-YPG
--------
Turkish troops enter Syria in operation against Kurdish militia
January 21, 2018
HASSA, Turkey: Turkish ground troops entered Syria on Sunday to push an offensive against Kurdish militia as rocket fire hit a border town in apparent retaliation.
Turkey on Saturday launched operation "Olive Branch" seeking to oust from the Afrin region of northern Syria the Peoples' Protection Units (YPG) which Ankara considers a terror group.
But the campaign risks further increasing tensions with Turkey's NATO ally the United States -- which has supported the YPG in the fight against Islamic State jihadists -- and also needs at least the tacit support of Russia to succeed.
Prime Minister Binali Yildirim said troops crossed into the YPG-controlled region in Syria at 0805 GMT, the Dogan news agency reported.
Turkish artillery and war planes pounded YPG sites around Afrin and total of 153 targets, including YPG refuges and weapons stores have now been hit, according to the army.
The state-run Anadolu news agency said the Turkish troops, whose number was not specified, were advancing alongside forces from the pro-Ankara rebel Free Syrian Army (FSA) and were already five kilometres (three miles) inside Syria.
An AFP correspondent on the southwestern edge of the Afrin region saw a warplane bombing the western outskirts of the area early on Sunday.
A small unit from a Turkish-backed rebel group was manning a monitoring point on a hilltop overlooking several Kurdish-controlled villages below.
- 'No need to worry' -
The operation is Turkey's second major incursion into Syria during the seven-year civil war after the August 2016-March 2017 Euphrates Shield campaign in an area to the east of Afrin against both the YPG and IS.
The army said IS was also being targeted in this operation although it no longer has any major presence in the Afrin area.
President Recep Tayyip Erdogan had repeatedly vowed that Turkey would root out the "nests of terror" in Syria of the YPG, which Ankara accuses of being the Syrian offshoot of the Kurdistan Workers' Party (PKK).
The PKK, which has waged a rebellion in the Turkish southeast for more than three decades, is regarded as a terror group not just by Ankara and but also its Western allies.
Afrin is an enclave of YPG control, cut off from the longer strip of northern Syria that the group controls to the east extending to the Iraqi border. Turkey wants the YPG to retreat east of the Euphrates River.
Yildirim was quoted as saying that the Turkish forces aimed to create a security zone some 30 kilometres (18 miles) deep inside Syria.
The YPG said that after the first strikes on Saturday 10 people were killed, including seven civilians. The Turkish army said there were casualties but insisted they were all members either of the YPG or the PKK.
A YPG spokesman claimed that the Turkish forces had sought to enter Afrin "but we blocked the attack".
In a sign of the risks to Turkey, four rockets fired by the YPG hit the border town of Kilis early Sunday, damaging one building and lightly wounding a woman.
"No one lost their life," Kilis governor Mehmet Tekinarslan said, quoted by Dogan. "They can fire one rocket at us and we will fire 100 back. There is no need to worry."
- 'Russian green light?' -
Turkey risks entering a diplomatic minefield with its action in Syria and the foreign ministry lost no time in inviting the ambassadors of all major powers to be briefed on the offensive.
The ministry said it had even informed Damascus through its Istanbul consulate. But the Syrian regime, which is at odds with Turkey, strongly denied this, denouncing the operation as a "brutal Turkish aggression".
There was no immediate comment from the United States on the offensive but ahead of its launch a senior State Department official had raised concerns it risked being harmful for security in the region.
But even more crucial is the attitude of Russia, which has a military presence in the area and is also working with Turkey on a drive to end the civil war.
The Russian foreign ministry voiced concern and urged Turkey to show restraint. And the defence ministry said its troops were withdrawing from the Afrin area to ensure their security and prevent any "provocation".
Timur Akhmetov, Ankara-based researcher at the Russian International Affairs Council, told AFP that Russia appeared to have given the "green light" to the operation but made clear it should not lead to destabilisation elsewhere.
Full report at:
https://nation.com.pk/21-Jan-2018/turkish-troops-enter-syria-in-operation-against-kurdish-militia
--------
Iran Asks Immediate Halt to Turkey's Attacks in Afrin
Jan 21, 2018
"The Islamic Republic of Iran is following up the current developments in the town of Afrin in Syria closely and with concern and hopes that the operations will immediately end to prevent further deepening and spread of crisis at the Turkish-Syrian bordering areas," Foreign Ministry Spokesman Bahram Qassemi said on Sunday.
"Continued crisis in Afrin can strengthen the Takfiri-terrorist groups in Northern Syria again and will ignite again the fire of war and destruction in the country," he added.
Qassemi underlined the necessity for respecting Syria's territorial integrity and national sovereignty, calling on all sides, specially the Turkish government, to remain committed to the objective of the political settlement of the crisis in Syria, specially through the Astana process.
He also warned of the illegal and provocative meddling by the trans-regional states, including Washington, and the Israeli regime in Syria, adding that while the US forces and their allied Takfiri-terrorist groups continue their illegitimate presence in Syria, the crisis will not end in the country.
Ankara has launched a new air and ground operation around the area of Afrin in Syria to oust the Kurdish People's Protection Units (YPG), which Ankara views as a terror organization and the Syrian branch of the outlawed Kurdish Workers' Party (PKK).
Ankara opened a new front in Syria's nearly seven-year-old war on Saturday, launching airstrikes against Kurdish fighters in Afrin in Aleppo province.
According to reports, Turkish tanks are supporting the Free Syrian Army's ground offensive on Kurdish positions in Syria's Afrin region, as operation "Olive Branch" has started.
The Syrian government has condemned the "brutal Turkish aggression" against the Kurdish-controlled enclave of Afrin, rejecting Ankara's claim about having informed Damascus of the operation.
The Damascus government had also made clear to Ankara that it considers Turkey's military presence on its territory as a violation of its sovereignty, and warned that it will shoot down Turkish bombers in Syrian airspace.
Washington also continues providing Kurdish fighters with more military hardware in Syria despite US President Donald Trump's promise to his Turkish counterpart to halt arms shipment to the Kurdish fighters.
Ankara said late November 2017 that US President Donald Trump told Tukey's President Recep Tayyip Erdogan that he had issued instructions that weapons should not be provided to Kurdish fighters in Syria.
Full report at:
http://en.farsnews.com/newstext.aspx?nn=13961101001651
--------
Recognition of Palestine is 'a way to respond' to Trump's move on al-Quds
Jan 22, 2018
Palestinian President Mahmoud Abbas will call on the EU to officially recognize the state of Palestine during a Monday meeting with the bloc.
According to Palestinian Foreign Minister Riad al-Malki on Sunday, Abbas will tell the EU that the official recognition should be taken "as a way to respond" to US President Donald Trump's move to announce Jerusalem al-Quds as the Israeli capital.
He will also "reiterate his commitment to the peace process" in the Middle East.
Last week, Abbas said that Trump's so-called Middle East peace efforts are the "slap of the century" after his recognition of Jerusalem al-Quds as Israel's capital.
"Since Trump's decision has altered the rules of the game, he (Abbas) expects the European foreign ministers to come forward and collectively recognize the state of Palestine as a way to respond back to Trump's decision," added Malki.
"If the Europeans want to be a player then they have to be fair in their treatment of both parties and this should start with the recognition of the state of Palestine," he added.
Abbas is set to meet EU diplomatic chief Federica Mogherini and the bloc's 28 foreign ministers later on Monday.
Full report at:
http://www.presstv.com/Detail/2018/01/22/549732/palestine-eu-trump-abbas-state
--------
Iran: Turkey operation must not harm Syria's sovereignty
Jan 21, 2018
Chief of Staff of the Iranian Armed Forces Major General Mohammad Baqeri says Turkish military operations in Syria's northwestern region of Afrin must not harm the Arab country's territorial integrity, independence and national sovereignty.
In a telephone conversation with Turkish Chief of General Staff Hulusi Akar on Sunday, Baqeri said Turkey must give assurances that it does not covet any part of the Syrian soil.
Turkey launched "Operation Olive Branch," a new air and ground operation targeting the Afrin region, on Friday to oust the Kurdish People's Protection Units (YPG), which Ankara views as a terror organization and the Syrian branch of the outlawed Kurdistan Workers' Party (PKK).
The senior Iranian commander emphasized that such moves should not pave the way for the enemies of the Syrian nation and the Muslim world, particularly the United States and its allies, to exploit the situation to achieve their own goals.
"These military measures should not harm tripartite political negotiations and the Astana [peace] talks, which have so far managed to produce success," Baqeri said.
Turkey, Iran and Russia are the guarantors of a countrywide ceasefire in Syria. The three have been mediating a peace process since January 2016 among Syria's warring sides in Astana, Kazakhstan.
As part of the Astana format, four de-escalation zones have been established across Syria amid ongoing political efforts to find a peaceful solution to the conflict in the country.
The zones have helped reduce fighting significantly, while giving Turkey a breath to beef up security along its southern borders.
The Turkish chief of general staff, for his part, said his country's army carried out the military assault in Afrin in line with its right to legitimate defense.
Akar added that Turkey respected Syria's territorial integrity and would remain committed to agreements reached with Iran and Russia.
Earlier in the day, Iranian Foreign Ministry Spokesman Bahram Qassemi said Tehran was closely monitoring Turkish military assault on Syria's Afrin, calling for the swift cessation of the operation in the Arab country to prevent the escalation of crisis in Turkey-Syria border areas.
"The continuation of the crisis in Afrin may lead to restrengthening of Takfiri-terrorist groups in Syria's northern areas and once again fan the flames of war and destruction in this country," he added.
The Turkish General Staff said in a statement that Turkish warplanes and artillery units had hit 153 positions of the Kurdish People's Protection Units (YPG) militants so far.
Full report at:
http://www.presstv.com/Detail/2018/01/21/549713/Baqeri-Akar-Afrin-Syria
--------
South Asia
Heavy clashes continue between Taliban and ISIS in North of Afghanistan
Jan 21 2018
Heavy clashes continue between the Taliban insurgents and militants affiliated with the Islamic State of Iraq and Syria (ISIS) terrorist group in Jawzjan province in North of Afghanistan.
The local officials are saying that the clashes started three days back and as a result both sides have suffered casualties.
Provincial governor's spokesman Mohammad Reza Ghafoori confirmed that a group of Taliban insurgents on Saturday launched a coordinated attack on ISIS hideouts in Qosh Tapa district.
He said at least ten ISIS militants were killed during the clashes and another militant was arrested alive by the Taliban insurgents.
According to Ghafoori, the Taliban militants launched the attack to avenge the killing of their comrades by ISIS insurgents.
Ghafoori also added that there are fears that the violence between the sides will further intensify as clashes continue since the last three days.
The anti-government armed militant groups including the ISIS insurgents have not commented regarding the report so far.
The security situation in Jawzjan province has started to deteriorate sharply during the recent years with the rampant insurgency led by the Taliban.
The loyalists of the Islamic State of Iraq and Syria (ISIS) terrorist group have started their operations in some districts of the province as they attempt to expand their foothold in the north.
https://www.khaama.com/heavy-clashes-continue-between-taliban-and-isis-in-north-of-afghanistan-04313
--------
Several killed in a deadly clash in Balkh province of Afghanistan
Jan 21 2018
Several people were killed in a deadly clash in northern Balkh province of Afghanistan as the Taliban claim that security personnel were killed in an operation of the Red Unit of the group.
However, the local officials are saying that a member of the Afghan Local Police (ALP) forces and 16 public uprising forces were killed during the clashes in Sholgar district.
On the other hand, a security source in Mazar-e-Sharif city said preliminary reports indicate the attack was carried out by a militant who had infiltrated among the uprising and local police forces.
The source further added that the victims were apparently poisoned before the militants stormed their check post and killed at least 17 people.
The Taliban group spokesman Zabiullah Mujahid however claims that a group of the Special Forces of their Red Unit stormed the check post and killed at least 18 policemen.
This comes as seven militants were killed and five others were wounded during the clashes that took place in the vicinity Salbaroon, Khwajah Roshnayi, and Samochak villages during the similar clashes in Chahar Bolak district last week.
Balkh is among the relatively calm provinces in North of Afghanistan where fewer insurgency related incidents have been reported since the fall of the Taliban regime and during the recent years.
Full report at:
https://www.khaama.com/several-killed-in-a-deadly-clash-in-balkh-province-of-afghanistan-04310
--------
Taliban and their supporters attempting to avenge recent losses: Abdullah
Jan 21 2018
The Chief Executive of the government of national unity Abdullah Abdullah slammed the Taliban group and supporters for the heinous Kabul Hotel attack.
Abdullah in a statement said the Taliban group has been hardly suppressed in the battlefield by the national defense and security forces and their supporters are under immense international pressure.
According to Abdullah, the terror groups and their supporters carry out indiscriminate attacks targeting the civilians in a bid to avenge their recent losses and international pressures.
group of insurgents launched a coordinated attack on Kabul Intercontinental Hotel late on Saturday night, sparking clashes that continued for almost 15 hours.
Taliban spokesman Zabiullah Mujahid in a statement claimed that the attack was carried out by a group of at least five insurgents who stormed into the hotel and managed to resist the security forces for almost 14 hours.
Mujahid also claimed that several people were killed in the attack including the foreigners, accusing all the victims of the attack as invaders.
Full report at:
https://www.khaama.com/taliban-and-their-supporters-attempting-to-avenge-recent-losses-abdullah-04311
--------
Diplomats for safe and dignified Rohingya return
January 21, 2018
Diplomats stationed in Dhaka today laid emphasis on "safe, voluntary and dignified" return of Rohingyas from Bangladesh to Myanmar to make their return sustainable.
They also laid emphasis on creating environment with necessary development in Rakhine state of Myanmar so that Rohingyas feel safe and confident to return to the country.
The diplomats also assured of continuing support to Bangladesh to facilitate the repatriation process.
Talking to reporters, Indian High Commissioner in Dhaka Harsh Vardhan Shringla said it is necessary to have sustainable development in Rakhine state in order to create an environment for safe and sustainable of return of Rohingyas.
"It's timely briefing," he said assuring of their support to facilitate the process.
British High Commissioner Alison Blake said the return should be "safe, voluntary and dignified" so that it becomes sustainable.
US Ambassador in Dhaka Marcia Bernicat also laid emphasis on safe return of Rohingyas.
She assured of US support to Bangladesh to complete the process.
Earlier, Foreign Minister AH Mahmood Ali briefed diplomats stationed in Dhaka on Rohingya issue as Bangladesh and Myanmar are set to start repatriation process at the ground level.
The Foreign Minister started briefing Western and non-Muslim countries' diplomats from 4:00pm while he is briefing diplomats from Muslim majority countries from 5:30pm at State Guest House Padma in the city.
Foreign Secretary M Shahidul Haque is also attending the briefing.
Earlier yesterday, Minister Ali laid emphasis on continuing international pressure on Myanmar to resolve the Rohingya crisis.
"It (pressure) needs to continue until repatriation is completed."
He also said the Rohingya repatriation process will not be hampered due to the upcoming national election.
"Why, I don't see any reason," he said terming the progress made so far on Rohingya repatriation a big success for the government and Prime Minister Sheikh Hasina.
The foreign minister said the repatriation is an ongoing process and all people should help government take it forward successfully.
On January 16, Bangladesh and Myanmar signed a document on 'Physical Arrangement' which will facilitate return of Rohingyas to their homeland from Bangladesh.
The 'Physical Arrangement' stipulates that the repatriation will be completed preferably within two years from the commencement of repatriation.
The United Nations has reiterated its call for voluntary repatriation of Rohingyas from Bangladesh saying Rohingyas need to feel that the situation is safe enough for them.
"It's up for people to choose to go home. No one should choose for them. Any repatriation of Rohingyas back to Myanmar needs to be voluntary," said spokesman for the UN Secretary-General Stephane Dujarric in a regular briefing at the UN Headquarters.
He said Rohingyas, now living in Bangladesh, need to be able to go to the homes from which they came. "I think they need to feel that the situation is safe enough."
There have been demonstrations on Friday in camps by Rohingyas protesting against plans to repatriate them back into Myanmar.
On the other hand, Myanmar authorities toured Maungtaw, Rakhine State on Friday and inspected the construction of houses to be used for repatriation of returnees from Bangladesh.
The delegation headed by Rakhine state Chief Minister U Nyi Pu visited the Hla Phoe Khaung, Ngakhuya and Taung Pyo Letwe camps and insisted on completion of the finishing touches on buildings, medical clinics and sanitation infrastructures, according to The Global New Light of Myanmar.
Full report at:
http://www.thedailystar.net/rohingya-crisis/rohingya-refugees-repatriation-to-myanmar-bangladesh-fm-foreign-minister-ah-mahmood-ali-brief-diplomats-today-1522948
--------
Dhaka to ink deal with UNHCR on Rohingya repatriation
January 21, 2018
Bangladesh-based diplomats are for safe, voluntary Rohingya return.
Bangladesh will sign an agreement with the UNHCR, the UN Refugee Agency, to carry out the repatriation process as the international community reiterated its call for "safe, voluntary and dignified" return of Rohingyas from Bangladesh to Myanmar to make their return sustainable, reports UNB.
"They [the UNHCR] gave a draft memorandum of understanding (MoU). We are working on it and we will sign it once it is finalized," Foreign Minister AH Mahmood Ali told reporters after briefing diplomats at state guest house Padma on Sunday evening.
Myanmar, however, does not want UNHCR's involvement right now, but wants the involvement of the International Committee of the Red Cross (ICRC).
The foreign minister said Myanmar had agreed to involve the UNHCR when necessary, but not now.
He briefed the Western and non-Muslim countries' diplomats and diplomats from Muslim majority countries separately. Foreign Secretary M Shahidul Haque also attended the briefing.
When his attention was drawn over diplomats' call for voluntary repatriation, Mahmood said Bangladesh also favoured "voluntary" return and this was mentioned in the three documents so far signed with Myanmar over Rohingya repatriation.
The foreign minister said Myanmar involved China, Japan and India for the development of Rakhine state, and he was likely to pay a visit to see the progress.
Asked whether Rohingyas are willing to go back, he said: "We cannot send them forcibly."
Diplomats for safe Rohingya return
Earlier, diplomats stationed in Dhaka laid emphasis on creating an environment with necessary development in Rakhine state so Rohingyas felt safe and confident to return to Myanmar.
The diplomats also assured of continuing support to Bangladesh to facilitate the repatriation process.
Talking to reporters, Indian High Commissioner in Dhaka Harsh Vardhan Shringla said it was necessary to have sustainable development in Rakhine state in order to create an environment for safe and sustainable return of the Rohingyas.
"We always believe that there should be sustainable development in the Rakhine state in order to create an environment so that they feel safe to go back home," Shringla said, emphasizing social and economic development there with better livelihood for the Rohingyas.
He said India was facilitating the repatriation process as they want to see restoration of normalcy in the Rakhine state. "In fact, our effort is to help by doing something on the ground."
The Indian high commissioner said all parties would have to work to create the condition that is necessary.
British High Commissioner Alison Blake said the return should be "safe, voluntary and dignified" so it becomes sustainable.
"We are with your government," said US Ambassador in Dhaka Marcia Bernicat, laying emphasis on safe return of Rohingyas.
Sharing her experience, she said Rohingyas are not willing to go back to their homeland and that is the key challenge.
She also emphasized the need for ensuring development in the Rakhine state so Rohingyas feel safe to return.
She assured of US support to Bangladesh to complete the process.
On January 16, Bangladesh and Myanmar signed a document on physical arrangement which will facilitate the return of Rohingays to their homeland from Bangladesh.
The United Nations has reiterated its call for voluntary repatriation of Rohingyas from Bangladesh, saying Rohingyas need to feel that the situation across the border is safe enough for them.
Rohingyas protest repatriation process
Meanwhile, dozens of refugees were seen holding banners opposing their repatriation as United Nations special rapporteur Yanghee Lee visited refugee camps yesterday and the day before, reports Reuters.
The refugees refuse to go back unless their safety can be guaranteed and Myanmar grants their demands to be given citizenship and inclusion in a list of recognized ethnic minorities.
Full report at:
https://www.dhakatribune.com/bangladesh/foreign-affairs/2018/01/21/dhaka-deal-unhcr-rohingya-repatriation/
--------
Ghani urges UNSC for actions against supporters of terrorists after Kabul attack
Jan 21 2018
The Afghan President Mohammad Ashraf Ghani urged to step up fight against the terrorist groups without any distinction and in line with the consensus achieved during the visit of the United Nations Security Council members in Kabul.
President Ghani in reaction to the coordinated attack on Intercontinental Hotel in Kabul said the members of the UN Security Council during visit to Kabul agreed to increase pressures on supporters of the terror groups.
He said strict measures are needed to counter-terrorism without any distinction and in line with the UNSC consensus considering the Kabul attack and other terrorist attacks.
President Ghani reiterated that the people of the region will not be safe until the terror groups and their safe havens are not eliminated.
This comes as a group of insurgents launched a coordinated attack on Kabul Intercontinental Hotel late on Saturday night, sparking clashes that continued for almost 15 hours.
Taliban spokesman Zabiullah Mujahid in a statement claimed that the attack was carried out by a group of at least five insurgents who stormed into the hotel and managed to resist the security forces for almost 14 hours.
Mujahid also claimed that several people were killed in the attack including the foreigners, accusing all the victims of the attack as invaders.
Full report at:
https://www.khaama.com/ghani-urges-unsc-for-actions-against-supporters-of-terrorists-after-kabul-attack-04312
--------
North America
Pentagon: Turkey's Afrin operation will not affect ties
20 January 2018
The U.S. Defense Department on Friday dismissed comments that a Turkish military operation against the PYD/PKK-held city of Afrin in northern Syria would throw diplomatic relations between Ankara and Washington into chaos.
"One action does not typically result in chaos or a breakdown. We have regular communication with our ally Turkey," Pentagon spokesman Eric Pahon said adding he would not even pass judgement on such extreme remarks.
Pahon's comments follow remarks by some unnamed American officials to CNN that a military operation by Turkey in Afrin could undermine the fight against ISIL, spark a regional clash and throw diplomatic relations between the U.S. and its NATO ally into chaos.
"We talk about these things. That is [part of] being allies. Allies do not always see eye to eye, but they are willing to work together," Pahon reiterated.
"In Afrin in particular, we do not have people operating in Afrin, so that does not directly affect what we are doing. We would like to see everybody maintain their focus on our main goal -- the defeat of ISIS," said Pahon.
http://www.worldbulletin.net/america-canada/198029/us-concerned-about-situation-in-afrin-state-dept
--------
US Vice President Pence arrives in Israel to discuss Trump's al-Quds decision
Jan 21, 2018
Hailed by Israeli Prime Minister Benjamin Netanyahu as a "great friend," US Vice President Mike Pence has arrived in Tel Aviv as part of a Middle East tour revolving around Washington's recognition of Jerusalem al-Quds as the capital of Israel.
Pence landed at Tel Aviv's Ben-Gurion Airport on Sunday, marking the highest-level visit by a US official to the region since President Donald Trump's decision in early December to move the American diplomatic mission from Tel Aviv.
He refused to talk to reporters after a welcome ceremony by Israel's tourism minister and headed directly to Jerusalem al-Quds.
Earlier in the day, Netanyahu said during a cabinet meeting that he was looking forward to discussing regional issues with Pence.
"Anyone who truly wants to fulfill those goals knows there is no substitute to the United States' leadership," Netanyahu said.
Trump's al-Quds shift was a break from decades of US policy that left the holy city's status to be decided in Israeli-Palestinian negotiations.
Palestinians are hopeful that the eastern part of the city would eventually serve as the capital of a future independent state.
Trump's declaration drew condemnation from world leaders and even Washington's closest allies in Arab nations and triggered demonstrations in the occupied Palestinian territories, Iran, Turkey, Egypt, Jordan, Tunisia, Algeria, Iraq, Morocco and other Muslim countries.
In an apparent snub, Palestinian President Mahmoud Abbas, who has called Trump's declaration a "slap in the face," left for an overseas trip before Pence's arrival.
Abbas has questioned Washington's ability to act as an honest broker in any future talks with Israel.
Jordanian king's 'frank discussion'
Pence's firm defense of Trump's decision has specifically caused uneasiness among Arab leaders.
The frustration became evident earlier on Sunday, when he made a short stop in Jordan and met with King Abdullah II.
Abdullah told Pence that the Trump administration needed to "rebuild trust and confidence" in a two-state solution.
"Today we have a major challenge to overcome, especially with some of the rising frustrations," he said
Pence told reporters that he had a "frank discussion" with the monarch but said the issue was nothing more than a "disagreement" between friends.
"What we agreed on was the need for all parties to come back to the table," Pence said. "I hope I impressed upon King Abdullah our earnest desire to restart the peace process."
The vice president then headed to a US military base near the Jordan-Syria border to discuss the ongoing political chaos in Washington over a government shutdown.
Full report at:
http://www.presstv.com/Detail/2018/01/21/549718/Us-Pence-Israel-Palestine-Quds
--------
Quebec City Muslims alarmed by increasingly public displays of racism one year after mosque shooting
Jan 21, 2018
Rachid Raffa is tired and bitter.
It's been 43 years since he chose to settle in Quebec City after leaving Algeria. But as his encounters with racism become more commonplace, he's come to feel less at home.
"When I came to this country in 1975 I got off at the wrong airport," the 68-year-old said during a recent lunch break from his job at the provincial Ministry of Transport.
"I should have landed elsewhere in Canada."
Raffa has been an active member of Quebec City's Muslim community for decades. In the 1990s, he was president of the Islamic Cultural Centre, which later opened a mosque in the suburb of Sainte-Foy. He still prays there regularly.
More recently, he's watched with disgust as mosques around the city are increasingly targeted by vandalism.
Anti-Muslim tracts were plastered over three prayer spaces in 2014. Some had their windows smashed the following year.
Raffa's sense of dread deepened when, in June 2016, a pig's head was dumped outside the Islamic Cultural Centre with the words 'Bonne Appétit' [sic] in a card.
"My bus goes by the mosque and I often told my wife 'May God protect this place.' But it happened," he said.
On Jan. 29, 2017, moments after Sunday evening prayer ended, a gunman entered the nondescript building in Sainte-Foy.
Six men were killed that night, five others were injured. Seventeen children were left without fathers and the entire city was shaken to its core.
The response to the tragedy was swift. Thousands gathered the next day in the cold, holding candles and walking in silence, to honour the victims.
In the days that followed, politicians denounced all forms of hate speech and promised to safeguard the rights of all citizens.
But the light that emerged during the city's darkest hour faded quickly.
CBC News spoke to dozens of community members in the weeks leading up to the one-year anniversary of the shooting. They described having to negotiate casual racism, outright Islamophobia and persistent fears for their safety.
Several who agreed to speak on the record refused to appear on camera or have their picture taken. They were concerned they would be targeted afterwards.
The social harmony promised by Quebec's leaders after the shooting has failed to materialize.
In its place are acrimonious political debates over identity and religious accommodation, a surge in activity of far-right groups and a spike in the number of reported hate crimes.
"Everything that touches Muslims has become explosive. And we are fed up. I am fed up," said Raffa.
"I am completely overwhelmed that this tragedy has led to the rise of racist rhetoric in the public sphere, to the complete indifference of Quebec's elite."
A climate of fear
Shortly after the shooting, Quebec City's Muslim community resumed its long-standing effort to acquire a burial ground in or around the city.
The city's first mosque dates from the late 1970s. But families had to travel to Laval, 260 kilometres away, to bury their dead.
They thought they had found a suitable location for the cemetery in Saint-Apollinaire, a town only 40 kilometres outside Quebec City. Even the local mayor was on board.
But a citizens group arose in opposition, and the cemetery project was quashed by a slim majority in a referendum.
19 voters quash Muslim-run cemetery in Saint-Apollinaire
The outcome puzzled many in the Muslim community, including Raffa.
"Find me one piece of evidence of integration that is more convincing than my desire to be buried here," he asked.
Quebec City Mayor Régis Labeaume eventually stepped in and secured city land for the Muslim cemetery. Community leaders expressed joy and relief.
"It's a historic day," said Mohamed Labidi, president of the Sainte-Foy mosque, which is also known as the Quebec City Islamic Cultural Centre.
Thirty six hours later, Labidi's car was torched while parked outside his home.
Police arrested two suspects. They don't believe either of them was aware of Labidi's role, but allege one of them published Islamophobic messages on social media.
For Labidi's daughter, Sana, that the attack was random simply made things worse.
"I think that is quite telling," she said. "He wasn't targeting anybody, he was just targeting Muslims."
The weeks that followed were difficult for Sana Labidi. She no longer felt safe walking alone at night in the city where she grew up, a city that has one of the lowest crime rates in Canada.
Quebec City police revealed last month, however, that the number of reported hate incidents targeting Muslims doubled in 2017, going from 21 to 42.
The year prior, there were 7.1 reported hate incidents per 100,000 residents in the city. The national average is 3.9 per 100,000.
"It's probably one of the safest cities to live in if you're not Muslim. But if you are, you just have to be careful," said Sana Labidi.
"People [aren't afraid] anymore of being a racist. They have a smokescreen they can hide behind."
That smokescreen, she explained, are the arguments used by far-right groups who denounce immigration policies or religious freedoms while claiming to defend women's rights and Quebec culture.
Islamophobia goes public
Many young Muslims in Quebec City are accustomed to hearing, and ignoring, racist comments. But there is a sense that something has changed over the past decade, and for the worse.
Quebec politics has become dominated by debates about religious symbols and secular values. In these debates — such as whether face coverings should prevent someone from accessing public services — much of the public's scrutiny lands on Muslims.
The insecurity felt by many of Quebec City's roughly 10,000 Muslims is made worse by the growing number of far-right groups active in the area.
La Meute — whose members circulate Islamophobic comments online — has held three demonstrations in Quebec City since the shooting, each attracting several hundred people.
"I used to walk around the park with my friend who wears the veil and there wasn't any problem," said Khadija Zahid, who works at the Environment Ministry.
Now, she doesn't feel at ease going out with her daughter if she sees that La Meute's members have taken to the streets.
Zahid, who also wears hijab, immigrated to Quebec from Morocco in 2007, and always felt she had a place here.
But she's become unsettled by the growing number of safety precautions she has to take as a Muslim living in Quebec City.
She now requires a magnetic pass to enter the Islamic Cultural Centre, one of several security measures the mosque implemented after the shooting.
"A mosque should be open to everyone," Zahid said. "Even non-Muslims are welcome. But this chip, it's scary. It means there could be another [attack]."
Sophia LaaBabsi, who owns a daycare in the suburb of Beauport, said her parents urge her to remain inconspicuous in public. They don't want her answering her cell phone in Arabic.
"Right now, we have to be careful. It's the worst feeling I've ever [felt]."
Resistance through understanding
But despite widespread concerns about their safety, many in the Muslim community refuse to be passive victims.
"I said: 'No, we are not entering in a civil war right here. That cannot happen in Quebec,'" LaaBabsi said, her voice rising above the din in her daycare.
The 22-year-old grew up in Quebec City. Her Moroccan parents chose to live here, a city they considered a safe haven, after falling in love in Montreal.
As she witnessed anti-Muslim racism becoming more prevalent, LaaBabsi decided to do something.
In March 2017, she created an event called Apprenons à nous connaître (Getting to know each other), which brought together non-Muslims and Muslims to discuss Islam.
Close to 200 people showed up to listen to guest speakers and chat over traditional Moroccan dishes.
LaaBabsi said even those who arrived with preconceived ideas left with bags of food, eagerly awaiting the next event.
"People who are Islamophobic, who are xenophobic in any way, it's because they are ignorant. So we just tried to educate people," she added.
The Islamic Cultural Centre, site of last year's deadly shooting, has also made efforts to break down cultural barriers.
"Once you get to know people everything changes," said Brian Semple, a fifth generation Scottish-Quebecer who converted to Islam in 2003.
Semple's friend, Azzeddine Soufiane, was the among the six men killed last year. Once Semple got over the shock of Soufiane's death, he pledged not to avoid the mosque, but rather to use it as a place of dialogue.
Semple is often called on to welcome English-speaking groups who visit the Sainte-Foy mosque, a regular occurrence since the attack.
"That's what we try to do now: get people to come and meet us. Not everyone is interested, and I can understand that, but to build bridges is very important."
The veil as a conversation starter
Zaïd Mellouki, 20, considers himself a perfect candidate to educate others about Islam, even though he's not a practicing Muslim.
Mellouki moved to Quebec City from Morocco at the age of four. Unlike other members of the Muslim community, he doesn't feel the shooting altered his sense of belonging.
"I know everything about my Moroccan culture. But at the end of the day I am a Quebecer. And people treat me that way," he said.
By embodying both cultures, he is able answer the questions that come up when people discover, despite his Québécois accent, that he is Moroccan.
"All the stereotypes just come in: 'Oh you're from Morocco, you must like couscous. Oh you're from Morocco, you must have seen a lot of camels,'" he said.
But much of the ignorance he faces comes from older people, Mellouki observed. He feels the evenings he's spent with people his own age, discussing why women wear the veil, have led to more understanding.
Zahid, for her part, has seen the hijab become an obstacle for many women looking for work in Quebec, from doctors to engineers.
As the only Muslim in her office at Quebec's Environment Ministry, she believes she can do more to change perceptions than any government by simply interacting with her co-workers.
"Now there are 80 people who have a positive image of a Muslim woman," she said of her office.
Full report at:
http://www.cbc.ca/news/canada/montreal/quebec-city-mosque-shooting-public-racism-1.4495692
--------
Southeast Asia
Up to Allah who becomes PM, Hadi tells Mahathir
January 21, 2018
TEMERLOH: "Allah will decide who becomes prime minister post-GE14," said PAS president Abdul Hadi Awang,
Speaking at a party function here last night, he said: "We are not greedy to become leaders… but want Islam to lead, save the country and save humanity. This is the core of our cause."
The gathering, which saw a turnout of about 12,000 party faithful, was to activate the party machinery for the 14th general election, which has to be called by August this year.
Also present were PAS spiritual leader Hashim Jasin, PAS deputy president Tuan Ibrahim Tuan Man and Pahang PAS commissioner Rosli Jabar
He was referring to the challenge by PPBM chairman Dr Mahathir Mohamad asking PAS to state its choice for PM ahead of GE14.
The former prime minister is now leading an opposition pact comprising his party, DAP, PKR and Amanah.
PAS, which is also in the opposition, has decided to go it alone, which means that there will likely be a lot of three-cornered fights in GE14.
http://www.freemalaysiatoday.com/category/nation/2018/01/21/up-to-allah-who-becomes-pm-hadi-tells-mahathir/
--------
Malaysia's Parti Islam aims high, saying it wants to win control of parliament
JAN 21, 2018
SHAH ALAM - Malaysia's Islamist party PAS, whose best electoral performance was winning 27 parliament seats in 1999 at the height of Reformasi anger, said it aims to win a simple majority of 112 seats at the upcoming polls.
The ambitious declaration by PAS president Abdul Hadi Awang on Sunday (Jan 21) is an apparent hardening of its go-alone stance after abandoning the other big opposition parties in 2015.
Parti Islam SeMalaysia (PAS) has 13 seats in Parliament today.
It had previously said it was hoping to win 40 seats and become kingmaker in the tussle between the ruling Barisan Nasional coalition and the opposition alliance Pakatan Harapan (PH).
And Datuk Seri Abdul Hadi on Sunday dismissed suggestions that PAS has an electoral pact with Prime Minister Najib Razak's Umno party. He says the two parties only work together on Islamic matters such as the Rohingyas of Myanmar or the Palestine issue.
Mr Hadi said PAS will contest in more than 130 federal Parliament seats, as head of the Gagasan Sejahtera (Group of Harmony) alliance with the smaller opposition groups.
"We are aiming for more than 130 parliamentary seats so that we can win with a simple majority," Mr Hadi told reporters after a party function in Shah Alam, the capital of Selangor state.
"We either want to form the government, or we want to join the government that is formed," he added, as quoted by The Malaysian Insight news site.
A party or coalition must win a minimum 112 seats to control the 222-ward parliament in South-east Asia's third biggest economy.
PAS has huge obstacles in achieving its ambitious plans.
The Barisan Nasional (BN) coalition led by Datuk Seri Najib's Umno, has won all the 13 general elections since independence.
BN has 132 seats in Parliament and PAS just 13.
The four-party PH opposition alliance has 71.
Two of the remaining Parliament seats are in the hands of opposition Parti Warisan Sabah, and four held by independent MPs.
The Gagasan Sejahtera members include Parti Ikatan Bangsa Malaysia, Barisan Jemaah Islamiah SeMalaysia, Parti Cinta Malaysia and Parti Harapan Malaysia. None of them has any seat in the federal or state legislatures.
PAS won the most number of parliament seats in 1999 when Malay-voter anger was at its peak against the government following the 1998 sacking of then-deputy prime minister Anwar Ibrahim. It won 27 seats.
Full report at:
http://www.straitstimes.com/asia/se-asia/malaysias-parti-islam-aims-high-saying-it-wants-to-win-control-of-parliament
--------
Wife of missing Perlis activist names mufti Asri, Shahidan Kassim
Sheith Khidhir Bin Abu Bakar
January 22, 2018
KUALA LUMPUR: The wife of missing Perlis activist Amri Che Mat today named minister Shahidan Kassim and the Perlis Islamic Religious Affairs Department (MAIP) as among those she suspects were involved in her husband's dissappearance.
Norhayati Ariffin also told the Human Rights Commission of Malaysia's (Suhakam) inquiry into her husband's disappearance that Perlis mufti Mohd Asri Zainul Abidin was part of a team of some 20 officers from the police and MAIP, who had arrived outside her house to question her husband about his Perlis Hope organisation.
"My husband had helped build houses for the poor near Shahidan Kassim's house in Arau, after which Shahidan had harshly criticised Perlis Hope on Facebook," she said.
She said Asri had accused Perlis Hope, a non-governmental organisation, of engaging in terrorist activities.
She said when her house was surrounded "sometime in 2015", a policeman screamed at her daughter asking where her parents were.
"When I came out, a police officer had called me forward and introduced me to Dr Maza (Asri) who asked permission to enter the house but I wouldn't allow it as my husband was out," she told the inquiry today.
She said in the ruckuss, a policeman had entered her house without permission.
"They were asking me about my husband's activities."
Norhayati claimed the Kangar police department had told her her husband's case had been referred to Bukit Aman but when she asked Bukit Aman police, they said they were not handling the case.
Since then, she has not received any new updates from the police.
Norhayati said Perlis Hope had nothing to do with religion or politics, adding that Shahidan and Asri could be unhappy because the group's works made it seem as though they were not doing their job.
"When it is an NGO that helps the poor, it may make some leaders feel uncomfortable."
Suhakam is continuing its inquiry into Amri's disappearance, as well as that of Pastor Joshua Hilmy and his wife Ruth.
Amri, who co-founded Perlis Hope, has been missing since Nov 24, 2016.
Norhayati had said that five vehicles had blocked Amri's car before he was whisked away, just 550 metres from their home in Bukit Chabang, Perlis.
Joshua and his wife, Ruth, meanwhile, were last seen on Nov 30, 2016. A police report was lodged in Klang but the case was referred to the Petaling Jaya police as the complainant said the missing persons lived in Kampung Tunku.
The inquiry had also incuded the case of Pastor Raymond Koh, who has been missing since February last year after he was abducted by some 10 men in Petaling Jaya.
Full report at:
http://www.freemalaysiatoday.com/category/nation/2018/01/22/wife-of-missing-perlis-activists-suspects-mufti-asri-shahidan-kassim/
--------
Rohingya refugees: Guarantee citizen rights, security before repatriation
January 20, 2018
KUALA LUMPUR: The agreement between Myanmar and Bangladesh to repatriate Rohingya refugees back to their homeland must clarify the issue of citizenship and guarantees of security before it can proceed.
Former OIC Special Envoy for Myanmar Syed Hamid Albar said this was crucial to ensure the Rohingyas would be treated equally as citizens of Myanmar and for them to feel certain that their protection will be assured.
"Details and clarification of the agreement are a prerequisite because, at the moment, there are too many loopholes and uncertainty. At least, have the United Nations, and other peacekeepers there to supervise and protect them.
"If the current situation remains, I would advise the refugees not to go back to Myanmar and they should reject the proposal," he told the media after opening a special conference on the Rohingyas by the Malaysian Rohingya Council (MRM) here today.
Recently, it was reported that Bangladesh and Myanmar had agreed to the return of Rohingya refugees within two years, with the process to start on Jan 23.
At the moment, there are about 700,000 Rohingya refugees in Bangladesh.
Syed Hamid, who is also a former foreign minister, said the settlement of refugees at temporary camps, which was stated under the agreement was also questionable.
"Why do they have to settle on a settlement that is equivalent to a prison camp where they cannot move freely in their own homeland, plus the camps must have proper sanitation and sewerage. No details have been disclosed about the condition of the camps," he said.
Meanwhile, a member of the MRM National Advisory Council, General (Rtd) Mohd Azumi Mohamed, said if the Myanmar government was sincere in tackling the Rohingya issue, it should implement the proposal raised by former UN chief Kofi Annan.
Full report at:
http://www.freemalaysiatoday.com/category/nation/2018/01/20/rohingya-refugees-guarantee-citizen-rights-security-before-repatriation/
--------
Hindu temple demolition: Johor Sultan steps in as peacemaker, offers relocation aid
January 21, 2018
KUALA LUMPUR, Jan 21 — The Johor Sultan today stepped in to help resolve the issue of devotees upset with the controversial demolition of an 80-year-old Hindu temple built illegally on private land.
According to Sultan Ibrahim Sultan Iskandar's official Facebook page, the state ruler met a few representatives of the temple's owner — Dewa Shree Sivasakthi Shree Sinnakaruppar Devotees Association — at the Istana Bukit Pelangi this morning.
According to the statement on the page, Sultan Ibrahim said he would "personally ensure a new site is made available expeditiously by the State Government for the rebuilding of the temple."
The Tunku Temenggong of Johor, Tunku Idris Iskandar Sultan Ibrahim, was also present at the meeting, while Johor state exco member R. Vidyananthan had accompanied the temple association's representatives.
Both Sultan Ibrahim and Tunku Idris Iskandar offered cash handouts of RM100,000 and RM70,000 respectively to the temple committee to facilitate the relocation, the statement said.
The Johor ruler also urged all parties involved to work towards an amicable resolution to the unfortunate incident and said there was no need to blow the matter out of proportion, the statement added.
In a news report today, Vidyanathan had told The Star's online portal that the Johor government has agreed to allocate 0.4 hectares of land located 1.5km away from where the temple was previously.
He reportedly said the Johor government has done everything possible to resolve the matter and expressed hope that everyone would calm down and not speculate.
On January 18, Johor Mentri Besar Datuk Seri Mohamed Khaled Nordin had said state records showed that the Hindu temple was built without permission of the owner of a plot of private land, and that it was seen as land encroachment.
He said the state government had previously offered its own land as a replacement for the Hindu temple but that it was turned down by the temple management.
He said the landowner had since 2015 issued notices and warnings to the temple management which did not give its co-operation, adding that the landowner then obtained a court order on July 31, 2017 on the land.
Full report at:
http://www.themalaymailonline.com/malaysia/article/hindu-temple-demolition-johor-sultan-steps-in-as-peacemaker-offers-relocati#eHEeacCLj9ZfcXXr.97
--------
Africa
African migrants tortured, auctioned by human traffickers in Libya
21 January 2018
A video showing migrants being tortured by human traffickers in Libya went viral on social media following a report by CNN showing footage of migrants being sold as slaves there.
The last two scenes of the video shows migrants being subjected to unprecedented torture and brutality.
A migrant who was completely stripped of his clothes cries out in pain as the trafficker burns a plastic bottle and drips hot plastic on his body. The migrants body shows several scars and burns. Another stands on his head using insulting language telling him to look up at the camera.
The second video shows an armed man asking a number of half-naked migrants to show their faces to the camera after they were obviously beaten as the scars and bruises show on their bodies. Some are not moving at all and appear to be dead.
The time and exact place where this happened is still unknown. However, the armed man wearing winter clothes and his accent give an idea.
Thousands of migrants pass through Libya hoping to reach Europe, but they are caught by traffickers and put up for sale as slaves in auctions. Most have sold their life savings to go on this journey.
A recent clampdown by the Libyan coastguard has decreased the number of boats making it to the country, leaving smugglers shorthanded, according to CNN. This is how the slavery trade there became popular.
Libya is one of the most popular countries in which human smuggling networks operate through a wide desert border with African countries. When migrants reach its north coast, they are smuggled across the sea in boats known as death boats.
https://english.alarabiya.net/en/News/middle-east/2018/01/21/WATCH-African-migrants-tortured-auctioned-by-human-traffickers-in-Libya.html
--------
Four US, Canadian captives freed in Nigeria
January 22, 2018
LAGOS : Two American and two Canadians who were kidnapped in an ambush by gunmen in northern Nigeria this week were freed on Saturday, police said. Nigerian security forces had launched a manhunt after the four were seized on Tuesday evening in the state of Kaduna by kidnappers who shot dead two of their police escorts.
"They have been rescued thanks to the efforts of the police," Kaduna state police spokesman Muktar Aliyu said, adding that they comprised three men and one woman. "All of them are in a good condition of health" and are now in the care of their embassies, he said. Aliyu said they were rescued at about 5 am (0400 GMT) in the same area where they were kidnapped, but declined to give further information, saying it was "classified information". "I cannot confirm if there have been negotiations or a ransom paid," Aliyu added. One person suspected of links to the kidnapping -- the latest abduction targeting foreigners in Nigeria -- has been arrested, he said.
The four North Americans -- whose identities have not been disclosed -- were on private business in Kaduna when they were snatched on the road from the town of Kafanchan to the capital Abuja.
Full report at:
https://nation.com.pk/22-Jan-2018/four-us-canadian-captives-freed-in-nigeria
--------
African Union's Thabo Mbeki intervenes in Sudan unrest
21 January 2018
KHARTOUM - Former South African President Thabo Mbeki has called on leaders of the Sudanese opposition to meet with African Union mediators to hold consultations in the Ethiopian capital Addis Ababa on the current protests in Khartoum.
Mbeki has long been involved in Sudan as an AU meditator and headed the African Union's high-level implementation panel which helped ensure a peaceful solution to Sudan's conflict.
In February, he is also holding a round of negotiations between the Sudan People's Liberation Movement's armed wing led by Abdul Aziz al-Helu and the government in Addis Ababa under the mandate of the African Peace and Security Council.
Mbeki sent two letters to the heads of the Umma National Party, Sadiq al-Mahdi, and the Sudanese Congress Party, Omar al-Dukir, to hold consultations in Addis Ababa. Mahdi and Dukir represent, the Sudan Appeal Alliance, a coalition of opposition parties in Sudan that have been leading protests since January 6 against the latest rounds of subsidy cuts and basic commodity price increases implemented by the government.
Bread prices have more than doubled after a jump in the cost of flour due to dwindling wheat supplies, after the government decided to stop importing grain and allow private companies to do so.
On Tuesday, Wednesday and Thursday hundreds of protesters poured into the streets near a presidential palace in central Khartoum after the opposition alliance called for anti-government rallies.
Police fired tear gas and hit protesters with batons as they tried to break up the protests and arrested leading opposition political figures throughout the month.
A leading source in the Alliance told Al Arabiya English that the invitation was received by the leaders on Friday.
Failed talks
The Sudan Appeal Alliance, which includes the military and civilian opposition factions, signed a roadmap agreement with the government in March 2016 under the auspices of mediator Mbeki, but the negotiation process collapsed on Aug. 16, 2016.
Since then, Sudanese parties have been blaming the failure of the dialogue as the reason to find a comprehensive political solution to the conflict in Sudan.
The source said the leadership of the alliance have not yet taken a decision so far.
The spokesman for the opposition Sudan Appeal Alliance, Mohamed Farouk, said that the civil opposition supports the negotiations aimed at stopping the war and achieving peace.
He stressed that peace in South Kordofan and Blue Nile states are the main demand. However, he said that the civil opposition forces will continue to protest the high prices and policies of the government.
He told Al Arabiya English: "We will not accept any invitation from the mediator under the current circumstances."
The leader of the Sudanese Baath party, a member of the leadership office of the opposition alliance, criticized Mbeki's calls for consultation, while most of its leaders are in detention for organizing the protests over price increase, which he claimed were peaceful.
"What the Mbeki does has called for is not solving the problem and is not at the right time," he said.
The Sudanese protests' timeline
At the beginning of the New Year, the government announced its 2018 budget, which included measures to avoid deep economic crisis, the most prominent of these measures was devaluating the pound against the US dollar in customs transactions from 6.9 to 18 pounds, and removing the subsidies on basic commodities, including wheat, which resulted in doubling the price of bread immediately.
As a result, protests broke out in Khartoum and some cities.
- On January 6, protests broke out in the border town of El Geneina in western Darfur, which were attacked by police using tear gas and bullets, resulting in the death of a school student, while six others were injured. Protests have also erupted in the city of Damazin, capital of the Blue Nile state.
- On January 16, the Communist Party marched to the state headquarters in Khartoum to hand over a statement protesting against the price increase. Police turned on the protesters using batons and tear gas and arrested dozens of the party supporters and protestors.
- On January 17, the opposition coalition organized a protest in Omdurman city (one of the three capital cities). The police raided the crowd using tear gas, arrested dozens of demonstrators and journalists ( including Reuters' bureau chief and director of the French Press Agency office). On the same day, the security services arrested the Secretary of the Communist Party.
- On January 18, the opposition coalition called for a protest in the revolution suburb north of Omdurman, to commemorate the 33rd anniversary of the execution of political thinker Mahmoud Taha and protest against the price increase. The police prevented the activists from holding the event and arrested potential participants.
- On January 19, hundreds of demonstrators marched out of Omdurman mosques to protest price increases. Police again attacked the crowd using gas bombs and batons and arrested dozens of those who were praying.
Who and what are the Sudan Appeal Alliance
- The "Sudan Appeal Alliance" was established in December 2014 to unite the Sudanese opposition forces, both civil and military, to resolve the Sudanese crisis completely, with the participation of all parties.
- When the alliance was established it included the National Umma Party, the Sudanese Communist Party, the Arab Socialist Ba'ath Party, the Sudanese Congress Party, the Sudanese Ba'ath Party, the Sudanese National Alliance Party and the Sudanese Civil Society Initiative, as well as the Sudan People's Liberation Movement (SPLM) north, Darfur's three armed movements which is a Sudanese liberation movement of Minni Arko Minnawi wing and the Sudan Liberation Movement Abdul Wahid Nour wing and Sudan Justice and Equality Movement.
- Under the auspices of African mediator Thabo Mbeki in August 2016, the alliance signed a roadmap to have a plan with the Sudanese government to reach peace, a cessation of war and a comprehensive solution to the political conflict in Sudan.
- Some parties separated from the alliance due to the signing of this roadmap. These parties are the Sudanese Communist Party, the Arab Baath Socialist Party and the Nasserite Party. However, the coalition has maintained coherence and continued the efforts in cooperation with the government.
Full report at:
https://english.alarabiya.net/en/News/middle-east/2018/01/21/EXCLUSIVE-AU-s-Thabo-Mbeki-intervenes-in-Sudan-unrest.html
--------
Somalia president fires mayor of Mogadishu
21 January 2018
Somalia's president fired the mayor of the capital Mogadishu on Sunday, in an apparent bid to defuse moves towards greater autonomy for the city.
Osman replaces Thabit Abdi Mohamed who has served just nine months in office.
Immediately after the mayor's firing, government security forces were deployed across Mogadishu to forestall any potential protest against the move.
Earlier, Mohamed's supporters in the city council had nominated him to head an autonomous Banadir administration, hoping to secure for the city and surrounding area equal status to Somalia's six regional states, which have their own presidents and enjoy a greater degree of autonomy.
The central government is opposed to any such efforts.
Full report at:
http://www.worldbulletin.net/africa/198060/dr-congo-blocks-internet-ahead-of-banned-protests
--------
Australia
Australia's Muslims being demonised, Islamic council leader says
January 22, 2018
Muslims are just the latest group to be demonised in Australian society in a practice that dates back to the earliest days of European settlement, according to the head of Australia's peak Muslim body.
Australian Federation of Islamic Councils (AFIC) president Rateb Jneid says there can be no doubt anti-Islam sentiment in the country is growing.
"Australia has a history of isolating groups from the mainstream and there is no question that it is Muslims that are currently the focus of this practice," Dr Jneid told AAP.
"There has been a clear trajectory of increasing negative stereotyping and discrimination of Muslims in this country for nearly two decades."
Dr Jneid said the current climate left Muslims in Australia feeling ostracised and fearful.
He said Australian society needed to recognise its own struggles with discrimination before anything could be done to reverse the situation.
"Until such time as we are prepared to acknowledge the racism that underpinned the very creation of this country we will not be able to properly address the ongoing issues faced by other minority groups including Muslims," he said.
"Secondly, this is a leadership issue. There will be no significant change on these issues until such time as our political leaders step up, call out this behaviour for what it is and denounce it as something which is not part of what Australia stands for."
A 2017 report into Islamophobia in Australia by Charles Sturt University concluded there was a "disturbing amount" of the practice at institutional and personal levels in Australia.
The report also features statistics from the Islamophobia Register which showed external events such as "global and national terrorist attacks, sieges, legislation targeting Australian Muslims and protests" coincided with an increase in reports of incidents.
Dr Jneid is not surprised by those findings and says the rise of far-right political parties such as Pauline Hanson's One Nation and the Australian Liberty Alliance showed anti-Islam sentiment was not an underground issue.
"We have politicians attending far-right and Islamophobic rallies, openly expressing views that clearly raise fear, anxiety and distrust of Muslim Australians," he said.
"Almost every day there is a negative story of Muslims in one of the national media platforms.
"For all the cries of political correctness supposedly stopping people expressing themselves, there seems to be no shortage of individuals in the public domain who are openly and repeatedly demonising Muslims."
https://www.sbs.com.au/news/australia-s-muslims-being-demonised-islamic-council-leader-says
--------
URL: https://www.newageislam.com/islamic-world-news/iraq-islamists-dump-religion-upcoming/d/114021
New Age Islam, Islam Online, Islamic Website, African Muslim News, Arab World News, South Asia News, Indian Muslim News, World Muslim News, Women in Islam, Islamic Feminism, Arab Women, Women In Arab, Islamophobia in America, Muslim Women in West, Islam Women and Feminism