New Age Islam News Bureau
28 Jun 2014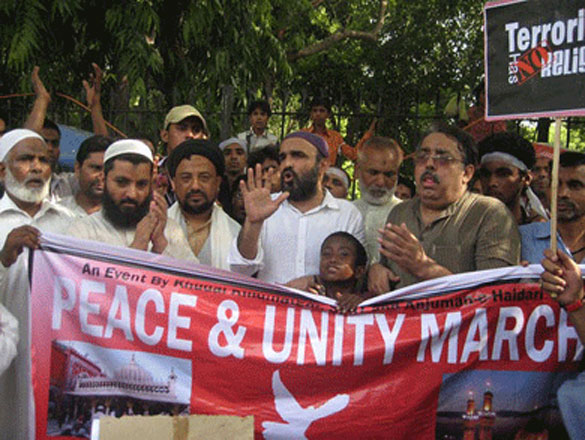 Photo: Khudai Khidmatgar organises peace march on Shia-Sunni unity in Delhi
----------
Arab World
• Iraq Helicopters Continue Assault on ISIL-Held Tikrit; 190 Captives Killed
• Young Saudis Embrace Internet Satire, Reject Wahhabism
• 5 ISIL Terrorists Killed in Fallujah
• Judgment Day on Mars? NASA expert snubs claim
• Syrian Soldiers Target Militants' Concentration Centres in Several Areas
• Turkey's Ties with ISIL Continue to Arouse Suspicions
• Zionist Entity May Intervene if ISIL Advances to Jordan: Report
• Egypt's Sisi visits Sudan after Africa 'terrorism' warning
• Egypt arrests 15 ISIS militants in Sinai
Australia
• Hizb ut-Tahrir: Australia and the US Should Be Labelled Terrorists for Their Middle Eastern 'Invasions'
• Bishop confirms terrorism video probe
Pakistan
• Pakistani jets kill 17 in anti-militant offensive
• I will fight against the army if it tries to take over: Tahirul Qadri
• Jamiat Ulema-e-Islam-Fazl opposes use of force in NWA
• Pak-US ties on positive trajectory: Jilani
• Army enjoys nation's full support: Pak President
• PTI's demand for thumb impression might bear no fruit
• 'Baloch students will take up arms if denied rights'
• We need laws against torture to protect citizens, say human rights activists
• Pakistan's Sindhi nationalists reject refugee influx
Africa
• Nigeria army kills 50 Boko Haram rebels in Borno raid
• At least 45 people killed in new violence in CAR: UN
• Blast in northern Nigeria kills 10: police
• My Silence on Abducted Chibok School Girls Not Weakness, Says Jonathan
• The jihadist threat to Abia State
• Central African Republic factions take step towards peace
Europe
• Muslims Protest Perfume Logo Based On Sufi Symbol
• 'How I helped kill Al Qaeda's terrorist mastermind 'the Sheikh': story of an MI5 spy
• Notorious Saudi Cleric Visited Mosque Where Terror Brothers Worshipped
• Azerbaijanis fighting in Syria are arrested
• Russia to seek ban on oil export from terrorist groups controlling Iraqi and Syrian territories
• Ramadan: Over 20-hour-a-day fast for Muslims in Britain and Russia
• UNESCO needs more money to restore Timbuktu's cultural treasures
• UN Experts Trace Recent Seized Arms to Iran, Violating Embargo
• Turkish citizens arrested in Greek capital on suspicion of 'terrorism'
North America
• Businesses Feel Impact of Ramadan; Muslim Scholars Offer Spiritual Advice
• US drones over Baghdad as Iraq battles for Tikrit
• Texas man pleads guilty to attempt to join ISIL via Turkey
• Obama, Kerry greets Muslims on Ramadan
• Armed drones guard US interests in Iraq: Pentagon
Mideast
• Turkish President, army furious over report about '40 Gülenist generals'
• Families say 163 Turkish citizens have joined ISIL
• Imam Khamenei Warns of Attempts to Ignite Sectarian War in Region
• Israel may enter Jordan if ISIL advance
• Zionist Airstrike Claims Two Palestinian Martyrs in Gaza
South Asia
• Afghan army confiscate 10 suicide bombing vests, 40 IEDs during operations
• 10 policemen killed in a suspected Taliban militants attack in Uruzgan
• Sri Lanka arrests looters behind religious riots
• Iraq chaos shows need to revive Panchsheel, says former Chinese leader
• More than 1,200 Chinese evacuated from north Iraq
Southeast Asia
• Dr M to Jihadists: Islam Propagates Reconciliation, Not Murder Or Suicide
• More than 100 Malaysians still fighting in Syria and Iraq, say intelligence officers
• Lift the ban on 'Allah', Sarawak Christian leader urges Putrajaya
India
• Khudai Khidmatgar organises peace march on Shia-Sunni unity in Delhi
• More Indians held captive in Iraq, report says
Compiled by New Age Islam News Bureau
URL: https://www.newageislam.com/islamic-world-news/new-age-islam-news-bureau/iraq-helicopters-continue-assault-on-isil-held-tikrit;-190-captives-killed/d/97797
------------
Arab World
Iraq helicopters continue assault on ISIL-held Tikrit; 190 captives killed
Reuters | Baghdad | June 28, 2014
Iraqi helicopters fired on a university campus in Tikrit to dislodge insurgents who overran the city in an onslaught that has given them control of most majority Sunni regions and brought them close to Baghdad.
Tikrit, the hometown of former dictator Saddam Hussein, fell a fortnight ago to Sunnis led by fighters from the Islamic State in Iraq and the Levant (ISIL), which split from al-Qaeda.
A rights group said analysis of photographs and satellite imagery "strongly indicate" that ISIL staged mass executions in Tikrit after seizing it on June 11 early in offensive.
ISIL killed as many as 190 men in at least two locations over three days, Human Rights Watch said. Numbers may be much higher but the difficulty of locating bodies and getting to the area had prevented a full investigation, it added.
Iraqi forces launched an airborne assault on Tikrit on Thursday, flying commandos into a stadium in helicopters, at least one of which crashed after coming under fire from insurgents.
"My family and I left early this morning. We could hear gunfire and helicopters are striking the area," said Farhan Ibrahim Tamimi, a professor at the university who fled Tikrit for a nearby town.
Iraq's million-strong army, trained and equipped by the United States, largely evaporated in the north after the Sunni Muslim fighters led by ISIL launched their assault with the capture of the north's biggest city Mosul on June 10.
ISIL emerged after Abu Bakr al-Baghdadi, the leader a group then called the Islamic State in Iraq, defied the al-Qaeda leadership by moving into neighbouring Syria more than a year ago to join the civil war against President Bashar al-Assad.
The group is now fighting in both Iraq and Syria, seeking to erase the frontiers and create an Islamic caliphate stretching from the Mediterranean Sea to Iraq.
In Washington, President Barack Obama asked the US Congress Thursday to approve $500 million to train and equip moderate Syrian rebels, who have been largely upstaged by the more effective ISIL forces.
In Iraq, the fighters have been halted about an hour's drive north of Baghdad and on its western outskirts. However, they have pressed on with their advances in areas including the religiously mixed Diyala province and are consolidating their gains in northwestern Iraq.
Militants took control of six villages populated by the country's Shia Shabak minority southeast of Mosul after clashing with Kurdish "peshmerga" forces who secure the area, according to a lawmaker and Shabak leader.
http://indianexpress.com/article/world/middle-east-africa/iraq-helicopters-continue-assault-on-isil-held-tikrit-190-captives-killed/
------------
Young Saudis Embrace Internet Satire, Reject Wahhabism
28 June, 2014
JEDDAH, Saudi Arabia — UTURN Entertainment, which produces YouTube videos lampooning Saudi society, had an unusual visitor about a year ago: Prince Miteb bin Abdullah, head of the Saudi National Guard.
"He was like, 'Yeah, you guys are doing a great job, everyone can see that, keep up the good work!'" recalled Ali Attas, 24, a director at UTURN.
There could be no higher endorsement for UTURN. Prince Miteb, after all, is a son of Saudi Arabia's reigning king. His brief visit also was an implicit recognition that comedy, once suppressed by the ascetic, dour version of Islam dominant in the kingdom, is now out of the closet.
Young Saudis are overwhelmingly devout and observant Muslims. But they no longer feel, as did many of their parents that they should minimize or avoid recreational activities, such as listening to music, acting onstage or telling jokes to an audience out of fear that they will be distracted from their religious duties. This shift away from public austerity is part of a new understanding among Saudi youth of what Islam means for daily living.
"Islam will never forbid you from laughing, or talking about things that happen in your everyday life," said Ahmad AlKashakri, UTURN's marketing director.
Saudis of course have always had a sense of humour. But starting in the 1980s, the very conservative Saudi approach to Islam known as Wahhabism began exerting greater control on the kingdom's public sphere. It urged Saudis not to get interested in anything that might divert them from thinking about and worshipping God. For example, it taught that music is forbidden and that women should be covered from head to toe to fingertips.
Just four years ago, a senior cleric who told a Saudi newspaper that there "is no clear text or ruling in Islam that singing and music are prohibited" had to retract his words after receiving harsh criticism from his peers.
This austere religious stance made for humourless public life and very limited entertainment possibilities. Comedy was missing in action on state-run television. Books on non-religious topics were censored. Drama clubs at universities were shut down. Even today, the kingdom has no movie theatres.
Satellite television, and later the Internet, changed all that. Now, a generation of young Saudis raised with the Internet is using it for entertainment, social commentary and comedy.
"The things we used to do before behind closed doors now we can do it in front of a camera and it goes on YouTube," said Abdullah Mando, 28, one of UTURN's founders.
Saudis are one of the most wired populations in the world, and spend more time per capita watching YouTube than any other national population. They also are among the top users of Facebook and Twitter — the latter displaying large doses of Saudi sarcasm and irony.
An upshot of all this online exposure is a growing openness among many Saudis.
"We're becoming more open in all aspects of life, not only religiously," said Mando. "It's because of the way that the world has changed. It's really forced us to question our identity [and] one of them is religion."
Mando, who founded UTURN in 2010 with two friends, views this as valuable.
"I think today our faith is kind of stronger, because it's challenged," he explained. "For the first time now we question why we do these things. So if you're a person who fasts, or prays, you're more likely doing it because you believe in it more than because everybody else does it. If you don't do it, it's because you don't believe in it anymore."
UTURN's Jeddah offices, located in a nondescript office building, feature floor-to-ceiling windows that look out over rooftops in this seaport town. Men are dressed in casual, Western-style clothes, though female employees wear the enveloping black robe and cover their hair. Brainstorming for new material is done while slouching on comfy sofas.
The name of the company, Mando wrote in an email, was chosen because it "represents the return, hopefully to something great. Most Arabs are proud of their history, so returning to it, to us, is a good thing."
Mando said he and UTURN's other founders all have studied outside the kingdom, adding that "a lot of the kids who work here are people who studied abroad at a certain point in their life."
The popularity of the company's comedic creations, as well as those of several other YouTube video production companies, signals that religiously dictated solemnity has dropped a peg.
Some of the best-known shows are "La Yekthar" ("Keep a Lid on It"), produced by Fahad AlButairi of Telfaz11, another production house, and "Al Tayer" ("On the Fly"), in which UTURN's Omar Hussein portrays a fake newscaster. Another UTURN show, Eysh Elly ("What Is"), directed by Attas, satirizes Arab online videos. One episode in 2013 had more than 5 million views.
These shows have made fun of Saudi officials, the media, government regulations and the national air carrier. They have mocked people's manners during prayer time in mosques, the ban on female drivers, the morals police, and a judge who defended himself against graft charges by saying he was possessed by the devil.
Satirizing religion directly, however, is still a red line. But because many mores and social habits zapped by Saudi humorists are intertwined with religiosity, they often convey an implicit critique of Wahhabi austerity.
For example, the now famous "No Woman, No Drive" video by Telfaz11 starts with Hisham Fageeh telling viewers that he'll perform his version of Bob Marley's "No Woman, No Cry" song "with words relevant to my culture but without musical instruments." The parody of the ban on female drivers has had more than 11 million views.
UTURN director Attas said he and his colleagues don't spend time worrying about whether their humour is too provocative. "We don't have a limit that says, 'Okay you cannot say that.' Every time we do something we will just test it to see the reaction of the people. And based on that, we will do the next step," he said.
If the reaction is negative, "we don't take the video down, but in the next video we'll be more careful of what we're gonna say because now we know if we say that [again] it will be really bad for us."
Recently, a Saudi official told the Associated Press that the government is thinking about regulating Saudi-produced YouTube content so its creators are "aware of the boundaries of society and [do] not exceed those boundaries."
UTURN is "not too concerned about limitations," Mando wrote in an email. "We believe there is always room for creativity and storytelling no matter how small the canvas is, but we would rather know where the canvas ends so we don't paint on the wall."
In any event, he added, UTURN "is known for being extremely respectful [of] Saudi laws and traditions."
If such regulation does come to pass, it is not likely to be very effective. Young Saudis are adept at getting around online censorship. And their aspirations are different from those of previous generations, as was evident from a sentence scrawled on a window in UTURN's office.
"When your dreams conflict with your freedom," it said, "it's the right time to wake up."
Murphy's recent trip to Saudi Arabia was supported by a grant from the Pulitzer Centre on Crisis Reporting. She is the author of A Kingdom's Future: Saudi Arabia Through the Eyes of Its Twentysomethings.
http://www.globalpost.com/dispatches/globalpost-blogs/belief/young-saudis-embrace-internet-satire-Islam
------------
5 ISIL Terrorists Killed in Fallujah
28 June, 2014
The Iraqi security forces managed to kill 5 elements of the Islamic State of Iraq and the Levant terrorist group in Fallujah on Saturday.
Security source stated to IraqiNews.com, "The Joint Operations forces killed 5 ISIL terrorists and destroyed 3 vehicles for them in al-Jamiya area."
http://english.farsnews.com/newstext.aspx?nn=13930407001029
------------
Judgment Day on Mars? NASA Expert Snubs Claim
Jun 28, 2014
An Egyptian NASA scientist has not only dismissed but also ridiculed claims by an astronomer nicknamed "Nostradamus of the Arabs" that Judgment Day has occurred on planet Mars, and Earth is next.
"From where did he bring his nonsense?" the Egyptian-American scientist Farouq al-Baz, who worked with NASA to assist in the planning of scientific exploration of the moon, told the Cairo-based CBC Extra channel on Thursday.
"What has been said is not logical, and has nothing to do with science. Scientists do not delve in what is considered be occult," Baz told the entertainment channel.
"Nostradamus of the Arabs" Ahmed Shaheen, who is reportedly a member of the American Union for Astronomers, told Emirati news website 24 that "since six years NASA has recorded the sunrise of the sun from the west, making it a judgment day."
Some Muslims believe that one of the major signs of Judgment Day is that the sunrise will not come from the east but from the west.
Shaheen said "creatures on Mars knew about this, and they fled to other planets such as earth in the form of the white race in the Scandinavian countries."
Al-Baz meanwhile urged Shaheen to travel to Mars to see for himself if Judgment Day had happened.
Shaheen, who describes himself as a legal researcher and member of the international organization Amnesty International, wrote that there will be an "upcoming surprise that NASA wouldn't be able to explain or dismiss" on his official Twitter account.
He said the "surprise is a discussion with one of the real space aliens." The astronomer also accused Baz of having similar agendas as NASA, whom he vowed to unveil.
NASA, which stands for The National Aeronautics and Space Administration, is a U.S. agency responsible for the country's civilian space program and for aeronautics and aerospace research.
http://english.alarabiya.net/en/variety/2014/06/27/Judgment-day-on-Mars-NASA-scientist-snubs-claim-.html
-----
Syrian Soldiers Target Militants' Concentration Centers in Several Areas
28 June, 2014
Army units on Saturday carried out several operations against militants' hideouts and concentration centers, killing scores of terrorists and injuring many others in several areas around Syria.
Army units killed a number of militants and destroyed their weapons in Bani Zaid, al-Haidariyeh, Old Aleppo, al-Oeijeh, al-Mansoura, Hanano, Maskana, Tal Sosin, Andan, al-Sbeiha, Kafar Dael, Kafar Kar, Kafar Khasher, al-Smeririeh, Babis and the industrial city in the countryside, the state news agency reported.
In Qunaitera, an army unit destroyed several vehicles with all militants inside in the villages of Ain al-Tina, al-Alia, Tal al-Mahes, Tal al-Jabia, al-Sawwaia and al-Hajja.
Army units targeted militants' concentration centers in the villages of Haurata, Om Sharshouh, al-Tiba in Homs countryside, killing many militants and injuring others.
http://english.farsnews.com/newstext.aspx?nn=13930407000713
------------
Turkey's Ties with ISIL Continue to Arouse Suspicions
Jun 28, 2014
DIYARBAKIR, TURKEY — Islamic State of Iraq and the Levant militants continue to score victories across Iraq. For neighbour Turkey, there is growing concern over ISIL's growing power, particularly in its predominantly Kurdish southeast, which borders Iraq and Syria.
In Diyarbakir, as in the rest of Turkey's predominantly Kurdish southeast, many Kurds are religious.
That, analysts say, and decades of economic underdevelopment and conflict, with the Kurds fighting for minority rights, have helped make the region a fertile recruiting ground for organizations like ISIL.
Young Kurds
Already more than dozen young Kurds from Turkey have died fighting for ISIL in neighbouring Iraqi and Syria, according to Muammer Akar, a Diyarbakir city counsellor and prominent member of Turkey's ruling AK Party.
Full report at:
http://www.voanews.com/content/turkey-ties-with-isil-arouse-suspicions/1946718.html
--------------
Zionist Entity May Intervene if ISIL Advances to Jordan: Report
Jun 28, 2014
The Zionist entity has said that it would be willing to take military action in neighboring Jordan to protect it from attacks by the so-called 'Islamic State of Iraq and the Levant terrorist group, dubbed as ISIL, which has been sweeping across northern parts of Iraq and Syria in a violent bid to create its unilaterally-declared own state.
A US Senator told the Daily Beast "Jordan could not repel a full assault from ISIL on its own at this point," adding that Jordan "will ask Israel and the United States for as much help as they can get."
"But behind the scenes, Israeli diplomats have told their American counterparts that Israel would be prepared to take military action to save the Hashemite Kingdom," the website reported.
Full report at:
http://www.almanar.com.lb/english/adetails.php?eid=158750&cid=31&fromval=1&frid=31&seccatid=91&s1=1
-----------
Egypt's Sisi visits Sudan after Africa 'terrorism' warning
28 June, 2014
Egyptian President Abdel Fattah al-Sisi landed in Islamist neighbour Sudan on Friday for a lightning visit, which an analyst said would attempt to shore up a regional alliance against Islamic "terrorism".
An AFP photographer at Khartoum airport confirmed the Egyptian leader's plane had touched down and said Sisi, wearing a dark suit and sunglasses, left about two hours later.
The official SUNA news agency said Sisi was "on a short visit" for talks with President Omar al-Bashir.
"The two presidents held talks at the Guest House on bilateral relations and issues of mutual concern," SUNA said.
About 300 Islamists protested the visit outside a downtown Khartoum mosque, a witness said.
Sisi arrived a day after he told the African Union summit in Equatorial Guinea the continent must reinforce cooperation to face a "plague" of cross-border terrorist groups.
Full report at:
http://www.hurriyetdailynews.com/egypts-sisi-visits-sudan-after-africa-terrorism-warning.aspx?pageID=238&nID=68406&NewsCatID=357
------------
Egypt arrests 15 ISIS militants in Sinai
28 June, 2014
Egyptian special forces tracked and arrested a terrorist cell which had used tunnels to cross from Gaza into the Sinai Peninsula, Ma'ariv reported on Saturday. The 15 militants arrested belong to the Islamic State of Iraq and Syria (ISIS).
Further interrogation of the cell by Egyptian forces revealed that the group's intent was to relay messages and set up terrorist cells for the ISIS in Egypt, to fight the Egyptian government.
For its part, the Gaza Interior Ministry rejected the claims by Egyptian security sources that the militants crossed into Sinai from Gaza.
Full report at:
http://www.jpost.com/Middle-East/ISIS-terror-cell-arrested-in-Sinai-360847
---------
Australia
Hizb ut-Tahrir: Australia and the US Should Be Labelled Terrorists for Their Middle Eastern 'Invasions'
28 June, 2014
AUSTRALIA and the US should be labelled terrorists for their Middle Eastern "invasions", and pre-teen girls could "morally'' be married off to adult men, according to reviled radical Islamic group Hizb ut-Tahrir.
The former claim was lobbed a day after the Sydney-based group's chief propagandist Uthman Badar was stopped from delivering a provoking sermon at an Opera House arts festival that asked whether honour killings were "morally justified".
In an attempt to deflect from the outrage caused by the sermon topic, set to be preached at the Festival of Dangerous Ideas event, group spokesman Mr Badar said any violence stemming from the Islamic community, such as honour killings, paled into insignificance in light of the atrocities orchestrated by the US and its allies.
The group also came under fire for an article on its website that suggested the practise of adult men taking child brides could be deemed "morally acceptable" if there was no coercion and the girl was mature. It was a statement in direct response to the charging in January of a 26-year-old Muslim man who married a 12-year-old girl.
While refusing outright to answer questions as to whether his Islamic group believed in the barbaric practise of honour killing - murdering a female if they brought "dishonour" to their family - Mr Badar said "all peoples are willing to justify violence to prevent those (red) lines being crossed".
Full report at:
http://www.dailytelegraph.com.au/news/radical-islamic-group-hizb-uttahrir-says-australia-and-the-us-should-be-labelled-terrorists-for-their-middle-eastern-invasions/story-fni0cx4q-1226965416737?nk=3d187df4482dfb872e0862b7382c4432
----------
Bishop confirms terrorism video probe
28 June, 2014
Australian authorities are investigating a radical Perth preacher who allegedly praised militants responsible for beheadings and mass killings in Iraq.
Junaid Thorne is said to have made comments supporting the Islamic State of Iraq and the Levant (ISIL) in a series of online videos.
Foreign Minister Julie Bishop says it is a crime to support or promote terrorism and those who do so face severe penalties including 25 years in jail.
"I can confirm these matters are under investigation," she told reporters in Melbourne on Saturday.
Full report at:
http://www.dailymail.co.uk/wires/aap/article-2673048/Bishop-confirms-terrorism-video-probe.html#ixzz35yFQcVf9
------------
Pakistan
Pakistani jets kill 17 in anti-militant offensive
28 June, 2014
Pakistani jets killed 17 militants in the latest raid on rebel hideouts in the country's restive northwest, officials said on Saturday.
The planes bombarded hideouts in the Dargamandi and Chashma Gaon areas of North Waziristan late Friday, as aid agencies geared up relief efforts for refugees fleeing the military operation.
Nearly half a million people have fled the offensive in North Waziristan which is aimed at wiping out longstanding militant strongholds in the area, which borders Afghanistan.
Tens of thousands of families have fled to the town of Bannu, close to North Waziristan, while hundreds more have moved further afield to the towns of Lakki Marwat, Karak and Dera Ismail Khan since the offensive began in mid-June.
"Jet fighters bombarded militant hideouts, killing 17 rebels and destroying their six compounds," a senior security official told AFP.
Full report at:
http://english.ahram.org.eg/NewsContent/2/9/104952/World/International/Pakistani-jets-kill--in-antimilitant-offensive.aspx
------------
I will fight against the army if it tries to take over: Tahirul Qadri
June 27, 2014
LAHORE: Tahirul Qadri, who has been vowing to bring down the country's government, has denied widespread speculation he is backed by the powerful military.
Qadri flew into Pakistan this week from his home in Canada, calling for revolution following months of tension between the government and the military.
The military launched an offensive this month against Taliban insurgents after lengthy government-backed peace talks failed and the Taliban attacked the country's busiest airport.
Qadri's arrival prompted fevered speculation in a coup-prone country where conspiracy theories are a national pastime. Many insinuated he had military backing, which the cleric-turned-political activist emphatically denies.
"I will fight against the Pakistan army if it tries to take over," Qadri told Reuters in an interview, but stopped short of giving details of how he would do this.
"I am against military rule. My destination is true democracy," he added, speaking in the sitting-room of his heavily guarded home on Thursday night, surrounded by aides and pictures of Muslim holy sites.
Full report at:
http://tribune.com.pk/story/727927/i-will-fight-against-the-army-if-it-tries-to-take-over-qadri/
------------
Jamiat Ulama-e-Islam-Fazl opposes use of force in NWA
June 28, 2014
PESHAWAR - Jamiat Ulama-e-Islam-Fazl (JUI-F) Khyber Pakhtunkhwa has strongly opposed the ongoing military operation in North Waziristan Agency and urged to peacefully resolve the issue as use of force is not a solution rather it will create further instability in the country.
Addressing a news conference at the Peshawar Press Club, the newly elected JUI-F Khyber Pakhtunkhwa Ameer Maulana Gul Naseeb Khan said that his party had always opposed military action in tribal areas, as it multiplied miseries of innocent tribal people instead to bring positive results.
Full report at:
http://www.nation.com.pk/national/28-Jun-2014/jui-f-opposes-use-of-force-in-nwa
------------
Pak-US ties on positive trajectory: Jilani
June 28, 2014
NEW YORK - Pakistan's relations with the United States are on positive trajectory and the two countries are working cooperatively in wide-ranging areas, especially in economic, trade and energy sectors, Pak Ambassador to US Jalil Abbas Jilani has said.
Speaking at the Carnegie Council, a think-tank, and, later, at a meeting with Pakistani journalists based in New York, he said that in line with Prime Minister Nawaz Sharif's vision for economic prosperity, Pakistan is also working with India and Afghanistan towards regional peace and stability.
"Our relations with the United States are in a very positive direction," Jilani told reporters as he wrapped his first visit to New York on Friday after taking over as Pakistan's ambassador some five months ago. He said he had had intensive meetings with top US officials, Congressional leaders and opinion makers and would continue his interaction with American leaders to apprise them of Pakistan's position on key issues and its concerns.
Full report at:
http://www.nation.com.pk/national/28-Jun-2014/pak-us-ties-on-positive-trajectory-jilani
------------
Army enjoys nation's full support: Pak President
June 28, 2014
ISLAMABAD - President Mamnoon Hussain Friday said the valiant armed forces and operation 'Zarb-e-Azb' have full support of the entire nation that stands united in the struggle to rid the country of terrorism.
Mamnoon said he greatly values the sacrifices being made by the people of the tribal areas, particularly the people of North Waziristan, who have been displaced as a result of the operation. He added every effort would be made to facilitate the affected families.
On the occasion of despatching two medical mobile health units for IDPs, provided by Shaheed Zulfikar Ali Bhutto Medical University and PIMS, the president said the government was cognizant of the difficulties being faced by the people in IDPs' camps and every possible effort was being made to alleviate their sufferings.
Full report at:
http://www.nation.com.pk/islamabad/28-Jun-2014/army-enjoys-nation-s-full-support-mamnoon
------------
PTI's demand for thumb impression might bear no fruit
June 28, 2014
ISLAMABAD - The demand of PTI Chief Imran Khan to get thumb verification of polled votes in four Punjab-based NA constituencies in last year's general elections would not bear fruit for being illegal and unconstitutional.
Background discussions and interviews with parliamentarians as well as constitutional experts suggest that no other constitutional authority including the higher judiciary, the Chief Executive and even the Election Commission of Pakistan can interfere into the working of the Election Tribunals.
Sources are of the view that Imran Khan should trust the lawful Election Tribunals and wait for their verdicts, as no pressure tactic would work to disrupt the proceedings of the election tribunals.
Full report at:
http://www.nation.com.pk/editors-picks/28-Jun-2014/pti-s-demand-for-thumb-impression-might-bear-no-fruit
------------
'Baloch students will take up arms if denied rights'
28 June, 2014
LAHORE: Lateef Jauhar has lost too much weight and his skin its glow. But even then, he is stable and his body has begun to accept food again.
Jauhar went on a 40-day hunger strike outside the Karachi Press Club after his party leader Zahid Baloch was kidnapped by unidentified people. Even until now the whereabouts of Zahid are not known. This Baloch, who is now regarded as one of the heroes of his student party -- the Baloch Student's Organisation-Azad (BSO-A), readily sat down to die for a cause, but ultimately survived to tell his tale.
Invited by the Awami Workers Party (AWP), Jauhar had an hour-long talk with his audience, mostly comprising AWP party members, press and others belonging to the civil society.
His struggle was a terrible experience, he said. So sick did he become that he had to be put on a drip while on hunger strike. He was accompanied by many other BSO-A students and leaders, and other Baloch who live in Karachi and even interior Sindh and Balochistan. But nothing deterred him from going back.
Full report at:
http://www.dawn.com/news/1115655/baloch-students-will-take-up-arms-if-denied-rights
------------
We need laws against torture to protect citizens, say human rights activists
June 28, 2014
Human rights activists, politicians, lawyers and journalists agreed that such laws are the only way to protect the citizens from exploitation at the hands of state agencies. They were speaking at a seminar, 'Enact Laws Against Torture' at Karachi Press Club to mark the international Anti-Torture Day on Thursday.
The seminar was jointly organised by the Asian Human Rights Commission (AHRC), Pakistan Institute of Labour Education and Research (Piler), Human Rights Commission of Pakistan (HRCP), Sindh High Court Bar Association, Karachi Press Club, Karachi Bar Association (KBA) and the Pakistan Fisherfolk Forum (PFF).
Hassan Athar of AHRC said they are working in Asian countries to enact laws against torture. In Pakistan, a bill was prepared in 2012 but it has yet to be presented in the National Assembly, he pointed out. Some of the speakers were confused about what constitutes torture and kept lashing out at feudal lords for perpetuating violence. It was clarified then that the seminar only deals with torture against citizens by state agencies.
Full report at:
http://tribune.com.pk/story/728063/marking-the-day-we-need-laws-against-torture-to-protect-citizens-say-human-rights-activists/
------------
Pakistan's Sindhi nationalists reject refugee influx
World Bulletin / News Desk
Jun 28, 2014
With the conflict between Pakistan's army and Taliban groups raging on in the country's northwestern North Waziristan tribal region, those displaced continue to flow into other parts of the country. Many have arrived in the country's highly-populated southern Sindh province, but their arrival has raised concerns amongst nationalists about changes to the demography, in a province where migrants are common.
The Pakistan Peoples' Party, who run the provincial government, have responded to those worries with an unannounced ban on arrivals with the Pashtun ethnicity prevalent in North Waziristan. The tight security at the province's entry points has not completely stifled the entry migrants, with 6,000 managing to slip in the port city of Karachi, according to local media.
Full report at:
http://www.worldbulletin.net/headlines/139643/pakistans-sindhi-nationalists-reject-refugee-influx
---------------
Africa
Nigeria army kills 50 Boko Haram rebels in Borno raid
World Bulletin / News Desk
Jun 28, 2014
The Nigerian army said on Friday that it had killed at least 50 militants during a raid on one of their makeshift camps in the country's northeastern Borno State.
According to a statement posted on the website of Nigeria's defense headquarters, the raid on the camp in Miyanti and Bulungu also left two soldiers dead and five wounded.
"A fuel dump used for storing fuel and vehicles, including Toyota Hilux trucks and seven motorcycles, was destroyed in the raid," the statement read.
Nigerian troops also seized 15 rifles, 11 machine guns and quantities of ammunition.
In a separate encounter on the Nigeria-Niger border, the Multinational Joint Task Force – composed of troops from Nigeria, Cameroon, Niger and Chad and tasked with reining in the deadly Boko Haram insurgency – stormed a suspected militant hideout near Duguri, according to the statement.
Full report at:
http://www.worldbulletin.net/todays-news/139639/nigeria-army-kills-50-boko-haram-rebels-in-borno-raid
----------
At least 45 people killed in new violence in CAR: UN
Jun 28, 2014
The UN Refugee Agency ( UNHCR) said that at least 45 people have been killed this week and scores wounded in new violence and reprisal attacks in and around Bambari in the Central African Republic (CAR), UN spokesman Stephane Dujarric told reporters here Friday.
"The violence also resulted in thousands more people fleeing to displacement sites around the town," Dujarric said at a daily news briefing here.
The violence began early on Monday when armed elements attacked a camp just south of Bambari housing Muslims from the Peul ethnic group.
The attack prompted retaliation inside Bambari against other armed elements and the civilian population. Those fleeing the violence have sought shelter in displacement sites around the town, which lies some 380 kilometers northeast of the capital Bangui.
"People urgently need better protection, shelter, water and sanitation, as well as food and other items," he said, quoting UNHCR. "The agency is sending in non-food items, mainly tarpaulins. "
Full report at:
http://news.xinhuanet.com/english/africa/2014-06/28/c_133444037.htm
----------
Blast in northern Nigeria kills 10: police
28 June, 2014
KANO: An explosion in the red light district of northern Nigeria's Bauchi city has killed 10 people and injured 14 others, police said Saturday.
The cause of the late Friday blast was not immediately clear, but Boko Haram have attacked Bauchi repeatedly during their five-year uprising aimed at creating a strict Islamic state in the north.
Bauchi state police spokesman Mohammed Haruna said the targeted building in the Bayan Gari neighbourhood on the outskirts of the city was widely known as a brothel.
"Ten people were confirmed dead, while 14 others sustained various degrees of injury," Haruna said, adding that the explosion went off at roughly 10:00 pm.
Full report at:
http://www.dawn.com/news/1115717/blast-in-northern-nigeria-kills-10-police
------------
My Silence On Abducted Chibok School Girls Not Weakness, Says Jonathan
28 June, 2014
PRESIDENT Goodluck Jonathan has defended his seeming silence on the abduction on April 14 of 219 female students of Government Secondary School (GSS) Chibok in Borno State that has sparked global outrage, saying it was deliberate to give the security agencies ample opportunities to carry out their duties
In an Op-ed published on Thursday in the Washington Post, which has gone viral in the social media, the President, however, expressed dismay that his silence on efforts by security operatives to rescue the girls was being misconstrued by critics as weakness and inaction.
Entitled "Nothing is more important than bringing home Nigeria's missing girls", the President noted that his silence was deliberate so as not to compromise details of ongoing security operations, adding that his administration had not spared any resources in efforts to bring back the girls alive and would not until they are safe with their families.
Full report at:
http://ngrguardiannews.com/news/national-news/168330-my-silence-on-abducted-chibok-school-girls-not-weakness-says-jonathan
----------
The jihadist threat to Abia State
28 June, 2014
THE recent arrest of over 486 suspected Boko Haram insurgents, travelling in a convoy of 35 vehicles, in the wee hours of the night, by vigilant soldiers of the Nigerian Army, 144 Battalion, Asa, Abia has evoked laughable sabre rattling from some law makers and spokespersons of the far North. First information report, according to the base commander Lieutenant Rasheed Omolori indicated that, soldiers on their routine patrol at Aro Ngwa and Imo gate along Enugu-Port Harcourt expressway intercepted the flotilla of Hummer buses, with male occupants, within the age bracket of 16-24. Two of these buses escaped to some unknown destination. It is instructive to note the statement released by Major General Chris Olukolade of Defence Headquarters that a terror kingpin on the wanted list of felons was detected amongst these suspects. As we speak, the remaining detainees are undergoing interrogation and screening processing.
Full report at:
http://ngrguardiannews.com/opinion/columnist/168146-torti-the-jihadist-threat-to-abia-state
------------
Central African Republic factions take step towards peace
Jun 28, 2014
The two main factions in the Central African Republic's intercommunal conflict have taken a tentative step towards ending violence that has killed thousands and forced more than a million people to flee their homes.
The mainly Muslim ex-rebel Seleka coalition and the Christian militias known as anti-balaka set up a joint committee of six members each on Thursday to prepare for peace talks under the auspices of conflict-resolution group PARETO.
The committee represents a second step after the two sides held an initial meeting this month, according to Béni Kouyaté, vice-coordinator of PARETO.
Few concrete details of the talks have emerged but both sides told Reuters they were optimistic they could lead to something substantial.
Full report at:
http://www.worldbulletin.net/headlines/139626/central-african-republic-factions-take-step-towards-peace
----------
Europe
Muslims Protest Perfume Logo Based On Sufi Symbol
World Bulletin / News Desk
Jun 28, 2014
A sultry ad for a perfume created by Roberto Cavalli has touched a raw nerve with Muslim mystics, who claim the Italian design house has inappropriately used a symbol sacred to practitioners of their mystical faith.
Commercials for the scent Just Cavalli, featuring the scantily clad daughter of rock star Mick Jagger, have provoked demonstrations outside stores in cities as far flung as San Francisco and Beverly Hills in California and Dusseldorf, Germany. More protests are planned this weekend in Chicago and London.
Followers of the M.T.O Shahmaghsoudi School of Islamic Sufism, which counts some 500,000 adherents worldwide, say the logo of the Just Cavalli line resembles a trademarked sacred emblem and they want it removed.
The logo in question is a stylized "H" lying on its side. Sufis say it is based on their centuries-old upright symbol of an Arabic word that spells "Allah" and represents peace and harmony.
"To use something that means so much to us for corporate profit cheapens our sacred symbol," said one of the campaign organizers, Nasim Bahadorani, a doctoral student and ethnic Iranian born in San Diego. "It's disrespectful, offensive and degrading."
Full report at:
http://www.worldbulletin.net/todays-news/139662/muslims-protest-perfume-logo-based-on-sufi-symbol
------------
'How I helped kill Al Qaeda's terrorist mastermind 'the Sheikh': story of an MI5 spy
Jun 28, 2014
To his extremist 'brothers' he was a white Muslim convert eager to commit atrocities. In truth, as he reveals in a gripping new book, Morten Storm was an MI5 spy. Here, in our second extract, how he tracked down a top target.
The sheikh, as everyone called him, was an impressive man — tall in his tribal white robes, a sword on his hip, a scholar and a philosopher with natural authority. American-born but of Arab origin, he had fled the U.S. in the aftermath of 9/11, worried he was being targeted by the FBI.
Now, in hiding in the desolate 'Empty Quarter' of Yemen, a favourite training ground for Islamic militants dreaming of holy war, he was the spiritual guide of jihad and one of Al Qaeda's key figures – every bit as influential and charismatic as Osama Bin Laden himself.
It was there in Yemen that in 2009 I travelled to see the Sheikh — real name Anwar al-Awlaki — whom I had known already for several years.
Full report at:
http://www.dailymail.co.uk/news/article-2665385/How-I-helped-kill-Al-Qaedas-terrorist-mastermind-The-target-The-worlds-wanted-man-The-dangers-Immense-This-nerve-shredding-story-MI5-spy-posing-fellow-fanatic.html#ixzz35wIfBSd2
-----------
Notorious Saudi Cleric Visited Mosque Where Terror Brothers Worshipped
Jun 28, 2014
A notorious Saudi cleric preached at a mosque accused of radicalising three young Britons fighting in Syria.
Mohammed al-Arifi, who has called for holy war to overthrow Bashar al-Assad's regime, spoke at Cardiff's Al Manar centre.
The trio – two brothers and a friend – attended the mosque before leaving their homes to join the civil war.
Although banned from entering Switzerland because of his extremist views, al-Arifi has visited the UK several times. A Sunni Muslim, he has been accused of stirring up tensions with the rival Shia sect, reportedly calling it evil and accusing adherents of kidnapping, cooking and skinning children.
Full report at:
http://www.dailymail.co.uk/news/article-2665307/Did-Saudi-preacher-groom-jihadi-Britons.html#ixzz35wIOIJy4
-----------
Azerbaijanis fighting in Syria are arrested
Jun 28, 2014
Alleged members of the Wahhabi sect in Azerbaijan Ruslan Abdullayev and Sabuhi Jafarov have been detained as a result of operations carried out by employees of Zardab Police Office. Azerbaijani Press Agency reports about this.
It was noted that Jafarov is accused of illegal possession of weapons. A hand grenade was seized from his house.
According to the source, the Police also said that Jafarov fought in Syria for a long time and came back in February of this year.
Zardab Police Office didn't inform about Abdullayev's detention.
Abdullayev's brother Ramiz Abdullayev also took part in the fighting in Syria. He is said to be an active member of the Islamic State in Iraq and the Levant (ISIL).
It is reported that Abdullayev's detention is related to his brother.
http://www.times.am/?p=43638&l=am
-----------
Russia to seek ban on oil export from terrorist groups controlling Iraqi and Syrian territories
28 June, 2014
Russia to circulate a draft statement in UN Security Council aimed at preventing terrorist groups in control of large swaths of land in Syria and Iraq from selling oil to finance their activities, Russia's Foreign Minister Sergei Lavrov said Friday.
"As for the sales of Iraqi oil, Syrian oil from the territories seized by the opposition, these territories are dominated by extremists, including some areas in certain countries that are controlled by outright terrorist groups. So any oil exports from these regions run a serious risk of de facto financing terrorism," Lavrov said.
Lavrov reminded that UN Security Council earlier criminalized exports of Libyan crude from terrorist-held areas and authorized UN countries to intercept vessels suspected of carrying illegally-seized oil and return them to the Libyan government.
Full report at:
http://voiceofrussia.com/news/2014_06_27/Russia-to-seek-ban-on-oil-export-from-terrorist-groups-held-Iraqi-and-Syrian-territories-3757/
------------
Ramadan: Over 20-hour-a-day fast for Muslims in Britain and Russia
Written by Ashraf Ul Hassan | New Delhi | June 28, 2014
As Muslims prepare to welcome the Ramadan, the fasting month, some people around the world will have to bear long fasting hours as compared to their counterparts in other parts of the globe.
According to the Islamic tenants, a Muslim has to abstain from consuming any edible item between dawn to dusk till the Sun sets.
Muslims living in Northern Hemisphere such as Sweden, Denmark and Finland, have to fast for more than 20 hours a day. Muslims in Ice land, where time difference between sun set and sun rise is only three hours during the summers, will have to fast for 21 hours in the first week of the Ramadan.
Full report at:
http://indianexpress.com/article/india/india-others/ramadan-over-20-hour-a-day-fast-for-muslim-in-britain-and-russia/
------------
UNESCO needs more money to restore Timbuktu's cultural treasures
28 June 2014
UNESCO is more than two-thirds short of the $11 million needed to fulfill its promise to help restore Timbuktu's storied mausoleums and other Malian cultural treasures destroyed by Islamic radicals two years ago, the U.N. cultural agency said Friday.
Three months after announcing the project, UNESCO has raised only $3 million, said Lazare Eloundou, the head of UNESCO's office in Mali. That figure that has not changed since April.
The director of UNESCO's New York office, Vibeke Jensen, said raising $8 million may not seem difficult, but it competes with appeals for help on horrific humanitarian crises such as those in Iraq and Syria.
"It shouldn't be a big issue. I mean, $8 million. But competition is very hard. You see what is happing in Iraq, in Syria," she said at a news conference.
Full report at:
http://english.alarabiya.net/en/life-style/travel-and-tourism/2014/06/28/UNESCO-needs-more-money-to-restore-Timbuktu-s-cultural-treasures.html
-----------
UN Experts Trace Recent Seized Arms to Iran, Violating Embargo
28 June, 2014
A UN expert panel has concluded that a shipment of rockets and other weapons that was seized by Israel came from Iran and represents a violation of the UN arms embargo on Tehran, according to a confidential report obtained by Reuters on Friday.
The finding comes just days ahead of the next round of negotiations in Vienna between Iran and six world powers aimed at securing a deal that would gradually lift international sanctions on Tehran — including the arms embargo — in exchange for curbs on the controversial Iranian nuclear program.
Despite Israel's public statements that the seized arms were destined for Gaza — an allegation that Gaza's governing Islamist militant group Hamas dismissed as a fabrication — the experts said the weapons were being sent to Sudan.
Full report at:
http://www.thejakartaglobe.com/international/un-experts-trace-recent-seized-arms-iran-violating-embargo/
------------
Turkish citizens arrested in Greek capital on suspicion of 'terrorism'
28 June, 2014
Three Turkish citizens have been arrested in Athens on suspicion of belonging to a "terrorist" group, Greek authorities said on Saturday.
Two women and a man were detained in a police operation at three different locations in the center of Athens on Friday.
Greek media said all three are believed to be Kurdish members of the Revolutionary People's Liberation Front (DHKP-C), a Turkish radical Marxist organization considered a terrorist group by the EU, Turkey and the United States.
The youngest of the three, a 24-year-old woman, was wanted by Greek authorities as part of an investigation into the interception of an inflatable boat laden with ammunition near the shores of Chios, a Greek island near the Turkish coast, in July 2013, police said in a statement. She was also the subject of an Interpol international arrest warrant.
Full report at:
http://voiceofrussia.com/news/2014_06_28/Turkish-citizens-arrested-in-Greek-capital-on-suspicion-of-terrorism-7390/
------------
North America
Businesses Feel Impact of Ramadan; Muslim Scholars Offer Spiritual Advice
Jun 28, 2014
DETROIT—When the Islamic holy month of Ramadan arrives, daily life is altered in Muslim communities around the world. Practicing Muslims refrain from consuming food and drinks from sunrise to sunset. The dietary, cultural and political changes leave a great impact on the community during that month. Locally, Ramadan affects business, especially the food and entertainment industries.
For some Muslims across the world, Ramadan starts Saturday, June 28, while others will begin observing the holy month on Sunday, June 29.
The reason for the discrepancy in the start of the month is because Ramadan is the ninth month of the Islamic lunar calendar; the beginning of each Islamic month is marked by the sighting of the waxing crescent moon following the new moon.
Sheikh Mohammad Mal Allah, a scholar at the Islamic Institute of Knowledge in Dearborn, said the sighting of the crescent moon is sometimes not confirmed by all Muslims, which is why they may begin the fast at different times.
Full report at:
http://www.arabamericannews.com/news/news/id_9016/Businesses-feel-impact-of-Ramadan;-Muslim-scholars-offer-spiritual-advice.html
------------
US drones over Baghdad as Iraq battles for Tikrit
28 June, 2014
BAGHDAD: The US military has started flying armed drones over Baghdad to defend American troops and diplomats as Iraqi forces took their fight against Sunni insurgents to the strategic militant-held city of Tikrit.
Iraq's top Shia cleric urged the country's leaders to unite, after Prime Minister Nuri al-Maliki conceded political measures are needed to defeat the offensive that has killed more than 1,000 people and overrun major parts of five provinces.
In further fallout, the president of Iraq's autonomous Kurdish region said there was no going back on his ethnic group's self-rule in disputed territory, including the divided northern oil city Kirkuk, now defended against the militants by Kurdish Peshmerga fighters.
International agencies also raised alarm bells over the humanitarian consequences of the fighting, with up to 10,000 people having fled a northern Christian town in recent days and 1.2 million displaced by unrest in Iraq this year.
Full report at:
http://www.dawn.com/news/1115695/us-drones-over-baghdad-as-iraq-battles-for-tikrit
------------
Texas man pleads guilty to attempt to join ISIL via Turkey
28 June, 2014
A Texas man pleaded guilty on Friday of attempting to provide support and resources to a Middle Eastern foreign terrorist organization as part of a federal undercover operation, U.S. prosecutors said.
Michael Wolfe, 23, admitted that "he planned to travel to the Middle East to provide his services to a foreign terrorist organization, namely, the Islamic State of Iraq and Levant al-Sham/Syria (ISIS) and to engage in violent jihad in Syria," federal prosecutors said in a statement.
He faces up to 15 years in prison for his attempted involvement with the group, also known as Islamic State in Iraq and the Levant, or ISIL. No date has been set for a sentencing hearing, the U.S. Attorney's Office for the Western District of Texas said.
Full report at:
http://www.hurriyetdailynews.com/texas-man-pleads-guilty-to-attempt-to-join-isil-via-turkey-.aspx?pageID=238&nID=68402&NewsCatID=359
------------
Obama, Kerry greets Muslims on Ramadan
Press Trust of India | Boston | June 28, 2014
US President Barack Obama has greeted Muslims across the world on the occasion of the holy month of Ramadan, describing it as the time for self-reflection and devotion through prayer and fasting.
"A time for self-reflection and devotion through prayer and fasting, Ramadan is also an occasion when Muslims around the world reaffirm their commitment to helping the less fortunate, including those struggling because of economic hardship and inequality," Obama said in a statement yesterday.
Lauding the role of Muslim organisations in America for their efforts at social empowerment, Obama said: "Here in the US, we are grateful to the many Muslim American organizations, individuals, and businesses that are devoted to creating opportunity for all by working to reduce income inequality and poverty, not only through their charitable efforts, but also through their initiatives to empower students, workers and families with the education, skills and health care they deserve."
Full report at:
http://indianexpress.com/article/world/americas/obama-kerry-greets-muslims-on-ramadan/
------------
Armed drones guard US interests in Iraq: Pentagon
28 June, 2014
The U.S. has armed drones flying over Baghdad to protect U.S. troops that recently arrived to assess Iraq's deteriorating security, the Pentagon said.
The military for more than a week has been flying manned and unmanned aircraft over Iraq, averaging a few dozen sorties daily for reconnaissance. The decision to arm some of the drones follows the deployment to Baghdad of troops who will advise and assist Iraqi counterterrorism forces.
"The reason that some of those aircraft are armed is primarily for force protection reasons now that we have introduced into the country some military advisers whose objective will be to operate outside the confines of the embassy," the Defence Department's press secretary, Navy Rear Adm. John Kirby, told a Pentagon press conference on Friday.
Full report at:
http://www.thehindu.com/news/international/world/armed-drones-guard-us-interests-in-iraq-pentagon/article6157587.ece
------------
Mideast
Turkish President, army furious over report about '40 Gülenist generals'
28 June, 2014
An article published by a pro-government newspaper claiming that the Gülenists almost seized control of the Turkish army has infuriated President Abdullah Gül and the Turkish Armed Forces (TSK) with the latter arguing the move was aiming at tarnishing "institutional identity" of the military.
The first reaction to daily Akşam's article that appeared on the headline of the newspaper on June 27 came from President Gül who issued a brief statement later in the day. The story was arguing that pro-Gülen officers took control of the TSK's top decision-making bodies and that 40 high-ranking generals were under direct influence of what the government calls the "parallel state."
U.S-based Islamic cleric Fethullah Gülen is the leader of the movement, which is the ruling Justice and Development Party's (AKP) ally-turned-nemesis.
Full report at:
http://www.hurriyetdailynews.com/turkish-president-army-furious-over-report-about-40-gulenist-generals.aspx?pageID=238&nID=68408&NewsCatID=338
------------
Families say 163 Turkish citizens have joined ISIL
28 June, 2014
The families of 163 Turkish citizens have recently applied to the security forces, reporting that their relatives have joined the Islamic State in Iraq and the Levant (ISIL) to fight in Syria.
According to the latest Turkish intelligence reports, there are currently around 600-700 Turks in ISIL. Reports claiming that around 3,000 Turkish citizens have joined ISIL militias have been rejected by the Turkish government.
Those reported missing by their families joined the battle after training in ISIL camps on the Syrian side, reports stated.
Full report at:
http://www.hurriyetdailynews.com/families-say-163-turkish-citizens-have-joined-isil--.aspx?pageID=238&nID=68372&NewsCatID=341
------------
Imam Khamenei Warns of Attempts to Ignite Sectarian War in Region
Jun 28, 2014
Supreme Leader of the Islamic Revolution Ayatollah Sayyed Ali Khamenei warned on Saturday that enemies were focusing on triggering civil wars in the region to undermine the wave of Islamic Awakening. Imam Khamenei
"Today, the enemy is investing in civil wars in the region and pins hope on a Shia-Sunni war to relieve itself of the concern of Islamic Awakening," his eminence said.
Sayyed Khamenei stressed that a remaining bunch of culprits affiliated to Saddam regime alongside a group of ignorant people were currently indulging in crimes in Iraq.
The Supreme Leader underlined that what was going on now was not a war between the Sunnis and the Shiites but a war between terrorism and anti-terrorism, according to IRNA.
Full report at:
http://www.almanar.com.lb/english/adetails.php?eid=158728&cid=19&fromval=1&frid=19&seccatid=32&s1=1
-----------
Israel may enter Jordan if ISIL advance
World Bulletin / News Desk
Jun 28, 2014
Israel has said that it would be willing to take military action in neighboring Jordan to protect it from attacks by the Islamic State of Iraq and the Levant (ISIL), which has been sweeping across northern parts of Iraq and Syria in a bid to create its own state.
A US Senator told the Daily Beast "Jordan could not repel a full assault from ISIL on its own at this point," adding that Jordan "will ask Israel and the United States for as much help as they can get."
Thomas Sanderson, co-director for transnational threats at the Center for Strategic and International Studies, was also quoted as saying "I think Israel and the United States would identify a substantial threat to Jordan as a threat to themselves and would offer all appropriate assets to the Jordanians."
Full report at:
http://www.worldbulletin.net/headlines/139652/israel-may-enter-jordan-if-isil-advance
-----------
Zionist Airstrike Claims Two Palestinian Martyrs in Gaza
Jun 28, 2014
An Israeli air strike targeting a car in the Gaza Strip claimed two Palestinian martyrs Friday, medics said, hours after a bomb exploded near troops manning the Israeli security fence.
Palestinian medical sources said the raids struck near the home of Ismail Haniya, former Hamas prime minister who stepped down June 2 when Gaza and the West Bank set up a unity government.
Six Palestinians were injured on Friday morning after Israeli tanks fired into the southern Gaza Strip from the border, according to Maan news agency.
http://www.almanar.com.lb/english/adetails.php?fromval=1&cid=23&frid=23&eid=158651
-----------
South Asia
Afghan army confiscate 10 suicide bombing vests, 40 IEDs during operations
Jun 28 2014
Afghan national army (ANA) soldiers confiscated ten suicide bombing vests along with 40 improvised explosive devices (IEDs) during military operations.
The ministry of defense of Afghanistan (MoD), following a statement, said Afghan soldiers also discovred and seized 100 kgs of explosives during the operations.
The statement further added that the operations were operations conducted in Paktia, Paktika, Logar, Kandahar and Helmand provinces.
At least 20 militants were also killed, 25 others were injured and various types of weapons and ammunition were confiscated during the operations, MoD said.
The statement by MoD also added that two Afghan national army (ANA) soldiers were martyred following different incidents.
The anti-government armed militants have not commented regarding the reports so far.
http://www.khaama.com/afghan-army-confiscate-10-suicide-bombing-vests-40-ieds-during-operations-6301
------------
10 policemen killed in a suspected Taliban militants attack in Uruzgan
Jun 28 2014
At least ten policemen were killed following Taliban militants attack in southern Uruzgan province of Afghanistan.
Local government officials said the attack will possibly have insider links as a local official is believed to have link in the attack.
The officials further added that the official was previously serving with the government and had invited the policemen to meet a group of insurgents who were believed to join peace process.
Provincial governor, Amaullah Temori also confirmed that the incident took place in Gezab district, leaving 10 Afghan Local Police (ALP) men dead.
Mr. Temori further added that an investigation has been launched in this regard.
The Taliban militants group has not commented regarding the report so far.
Uruzgan is among the volatile provinces in southern Afghanistan where anti-government armed militants are actively operating in its various districts and frequently carry out insurgency activities.
http://www.khaama.com/10-policemen-killed-in-a-suspected-insider-attack-in-uruzgan-6299
------------
Sri Lanka arrests looters behind religious riots
June 28, 2014
COLOMBO: Sri Lanka's police arrested key suspects involved in fuelling religious riots and looting, an official said Saturday as minority Muslims expressed fears of more unrest ahead of Ramazan.
Police said a total of eight people directly linked to the June 15 anti Muslim riots were arrested this week and recovered gems and jewellery looted from two shops that were targeted during the violence.
"With the help of CCTV footage and the recently established (police) intelligence network we arrested the suspects along with the stolen goods," senior superintendent Athula Weerasinghe said.
Full report at:
http://tribune.com.pk/story/728272/sri-lanka-arrests-looters-behind-religious-riots/
------------
Iraq chaos shows need to revive Panchsheel, says former Chinese leader
ANANTH KRISHNAN
Jun 28 2014
As India and China mark the sixtieth anniversary of their "Panchsheel" or "five principles of peaceful coexistence" agreement on Saturday, a senior Chinese leader has pointed to the United States-led invasion of Iraq and the recent chaos in the war-torn country as underlining the need for renewing the six decades-old idea.
Speaking a day ahead of the anniversary, which will be marked here by Vice-President Hamid Ansari and Chinese President Xi Jinping, Dai Bingguo, the top Chinese diplomat over the past decade, said in an apparent reference to the U.S. that "hegemonism was staging a comeback" and referred to the war in Iraq as "a lesson" for emerging countries.
Mr. Dai, who retired as State Councillor last year and was the Special Representative on the border talks with India for a decade starting in 2003, also sought to assure China's neighbours who are concerned about an increasingly assertive posture from Beijing in the region that his government would not "stray from its commitment" to following the "Panchsheel" mode of diplomacy.
Full report at:
http://www.thehindu.com/news/international/iraq-chaos-shows-need-to-revive-panchsheel-says-former-chinese-leader/article6155702.ece
------------
More than 1,200 Chinese evacuated from north Iraq
Associated Press | Beijing | June 28, 2014
State media say more than 1,200 Chinese workers who had been trapped in the embattled northern Iraqi city of Samarra have been evacuated to Baghdad.
The official Xinhua news agency said the Chinese arrived safely at a Baghdad hotel, with the Iraqi military providing security.
Saturday's report said that China Machinery Engineering Corporation employed the workers at a power plant construction site in Samarra, near where security forces are battling militants from the Islamic State of Iraq and the Levant.
The report didn't specify who evacuated the workers but said 45 were transported by helicopter on Wednesday, with the rest arriving in two separate groups by bus over the next two days. More than 10,000 Chinese are in Iraq, many of them employees with Chinese firms.
http://indianexpress.com/article/world/asia/more-than-1200-chinese-evacuated-from-north-iraq/
------------
Southeast Asia
Dr M To Jihadists: Islam Propagates Reconciliation, Not Murder Or Suicide
28 June, 2014
KUALA LUMPUR, June 28 — The Quran tells Muslims to reconcile two enemies to achieve peace, not to kill over mere differences in political ideologies, Tun Dr Mahathir Mohamad said, amid growing unease over the alleged involvement of Malaysian militants in the ongoing armed conflict in Syria.
The former prime minister pointed out that those who have been killed in the conflict had not attacked Malaysia or its people, or caused any unrest in the country.
The many who have been killed include children, elderly people, women and even the physically challenged, he said.
"Many are unarmed girls who are not even soldiers," he wrote in a blog posting.
"We are not in any state of insecurity due to attacks by Muslims who do not share our aspirations," Dr Mahathir said, adding that he had tried searching the Al-Quran for instructions telling Muslims to commit suicide or kill others in the name of Islam.
"The Al-Quran tells us to reconcile two Muslims who are enemies. Only if one party rejects peace can a third party side with the party in favour of achieving peace.
Full report at:
http://www.themalaymailonline.com/malaysia/article/dr-m-to-jihadists-islam-propagates-reconciliation-not-murder-or-suicide#sthash.rsznyLmv.dpuf
------------
More than 100 Malaysians still fighting in Syria and Iraq, say intelligence officers
28 June, 2014
More than 100 Malaysian radicals are in the Middle East fighting for the Islamic State in Iraq and the Levant (Isil), police revealed today.
The number is based on intelligence reports which Special Branch had received, a senior police officer from Bukit Aman told The Malaysian Insider.
Speaking on condition of anonymity, the officer said an accurate figure was difficult to estimate as there were many different routes to troubled Middle East countries.
On Tuesday, Wisma Putra released a statement saying 15 Malaysians had been killed in Syria while allegedly fighting for Isil, a splinter group of al-Qaeda seeking to set up an Islamic caliphate encompassing both Iraq and Syria.
Putrajaya is still waiting for confirmation on the "dead Malaysians" as it was difficult to ascertain the identities of the victims because of a lack of documentation.
"Those who have been detected travelling to Syria and Iraq to wage jihad come from different walks of life," the police officer told The Malaysian Insider.
Full report at:
http://www.themalaysianinsider.com/malaysia/article/more-than-100-malaysians-still-fighting-in-syria-and-iraq-say-intelligence#sthash.F9mBr37I.dpuf
------------
Lift the ban on 'Allah', Sarawak Christian leader urges Putrajaya
28 June, 2014
The fact that three out of a seven-man Federal Court bench gave dissenting judgments on the recent "Allah" case is an indication there are cogent grounds for the decision to be reviewed by another panel of the apex court, said a Christian leader from Sarawak.
Archbishop John Ha of the Roman Catholic Archdiocese of Kuching also said given Putrajaya's immediate statement to assure Christians that the ban was limited to the Catholic weekly, Herald, and that the 10-point solution still stood, shows that the Federal government had the power to lift the ban on the use of the word Allah Herald.
Expressing his disappointment and concern over the Federal Court's decision not to grant leave to the Catholic church in the Herald case, Ha said he took consolation that the decision was not unanimous.
Full report at:
http://www.themalaysianinsider.com/malaysia/article/lift-the-ban-on-allah-sarawak-catholic-leader-urges-putrajaya#sthash.sWqsoNJb.dpuf
---------
India
Khudai Khidmatgar organises peace march on Shia-Sunni unity in Delhi
Jun 28, 2014
New Delhi: Khudai Khidmatgar and Haidri Foundation today organized a peace-march from the Dargah of Hazrat Nizamuddin for Shia Shrine Dargah Shahe Mardah at Jorbagh in the national capital. The march began with a dua for peace and unity between Shia and Sunni Muslims.
Delhi Police, however, stopped the march at Neela Gumbad. So the particiapnts sat there and held a meeting before dispersing.
Khudai Khidmatgar leader Faisal Khan said that the unity between Shia and Sunnis is urgent need of the hour and we should united fight against sectarianism.
Maulana Fateh Nadvi said that Islam never supports violence in the name jihad.
Shaia Alim Maula Qasim Saheb said that vested interests are trying to create rift between Shia and Sunnis across the globe and we need to fight them together.
http://twocircles.net/2014jun27/khudai_khidmatgar_organises_peace_march_shiasunni_unity.html?utm_source=feedburner&utm_medium=email&utm_campaign=Feed%3A+Twocirclesnet-IndianMuslim+%28TwoCircles.net+-+Indian+Muslim+News%29#.U666-JRdU4U
------------
More Indians held captive in Iraq, report says
Yudhvir Rana & Vibhor Mohan,TNN | Jun 28, 2014
AMRITSAR: More reports are emerging of Indians in Iraq being held at their workplace against their will. The latest instance coming to light is in Karbala where, according to UK-based NGO Justice Upheld, 231 young Indian men are being held captive at their workplaces by Iraqi nationals whose identity is not yet clear.
On being tipped off and given a number in Iraq, TOI called up one Manpreet Singh, a youth stuck in Karbala, who said, "We are given dates and some rice to eat once or twice a day but not allowed to step out of the company premises. A few days ago an armed man came at night and asked us to hand over our passports to him but we refused."
"We don't know the men who have taken control of the company. The original management has disappeared," Manpreet added. His co-worker Sunil, who is from Hoshiarpur, said, "I don't think they are terrorists but they are keeping an eye on us."
Vicky, who belongs to Jalandhar, said, "We see armed security personnel moving around in vehicles but don't know who they are. We have told our captors that don't pay us, we will ask our families in India to arrange for our tickets but they are not willing to let us go."
Full report at:
http://timesofindia.indiatimes.com/india/More-Indians-held-captive-in-Iraq-report-says/articleshow/37358639.cms
------------
URL: https://www.newageislam.com/islamic-world-news/new-age-islam-news-bureau/iraq-helicopters-continue-assault-on-isil-held-tikrit;-190-captives-killed/d/97797