New Age Islam News Bureau
22 Dec 2014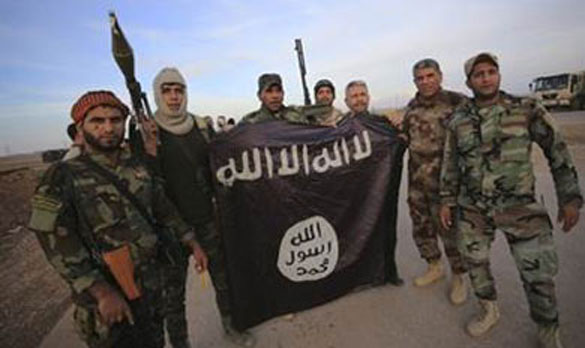 Iraqi Shi'ite fighters pose with captured ISIS flag, Reuters
---------------
Mideast
• Iran's IRGC 'Massacring' Iraqi Sunnis It 'Saves' from ISIS
• Palestinian Cleric Says Husbands Must Know Password for Wives' Facebook Accounts
• 'Dozens of Houthis killed' in central Yemen
• Yemeni Revolutionaries Retake District from Al-Qaeda
• Iranian Envoy: Terrorist Groups No Way Linked to Islam
• Gaza rockets are response to EU decision to remove Hamas from terror blacklist
Arab World
• Iraqi Army Kills Over 30 Isil Terrorists in Anbar
• 20 Jihadists Killed In Failed East Syria Airport Attack
• Egyptian Court Lifts Ban on Granting Citizenship to Palestinians
• Egypt army kills 14 militants, arrests 45 in North Sinai
• Iraqi Soldiers Attack ISIL Targets in Tikrit, Kill 15
• ISIS Holds 'Surprise' Public Amputation for Convicted Thief
• Iraqi Kurds, Yazidis fight ISIL for strategic town of Sinjar
• Defected Syrian Gen. Tlass says Assad 'sold Syria to Iran'
• Iraq TV show makes 'terrorists' confront victims
• GCC, Arab League commend King Abdullah for cementing Arab unity
Pakistan
• Liberal-Religious Bonhomie over Peshawar Carnage Dissipates
• Lal Masjid Protesters Receive 'Threats from Taliban'
• Peshawar school slaughter suspect nailed in Kamalia
• Pakistan plans to execute 500 terror convicts in coming weeks: Official
• Terrorists hiding in cities, villages will be hunted down: PM Nawaz
• PTI condemns TTP, other terrorist groups
• PM directs AG to abolish stay order against death penalties
• Lal Masjid cleric: Quashed cases can be revived, say police
• Afghan intelligence agency backing TTP chief: Rehman Malik
South Asia
• 28 Militants Killed In Afghanistan
• Taliban join peace process in Badakhshan
• Verdict in Qaisar's case Tuesday
India
• UN Panel Chief Calls Hafiz Saeed 'Sahib', India Seeks Clarification
• Mehdi had two more Twitter, 3 email accounts, say police
• Spy agencies failed to prevent 26/11: report
• Mumbai 26/11 attack: LeT tech expert Zarrar Shah used Google Earth to locate targets, says report
• Will raise Hindu population of country from 82 to 100 per cent: Pravin Togadia
North America
• US May Not Target Mullah Omar after This Year
• US Mulls Putting N. Korea on List of Terrorism Sponsors
• Israel acknowledges upside of diplomacy with Iran, Obama says
• Obama signs Coalition Support Fund extending assistance to Pakistan
Southeast Asia
• Malaysia ISIS Recruits 'Take Out Loans' To Fund Trip
• Umno Dares Pakatan-Led Selangor to Lift Ban on 'Allah' For Non-Muslims
• Fate of Three Alleged Islamic State Supporters to Be Decided Today
• Selangor PAS pressures PKR to support Hudud as leaders are Muslim
Africa
• Somalia Turns To KSA in War against Terror
• Exit poll: Ex-regime official is Tunisia's new president
• Rival Libya govt urges foreigners to return to Tripoli
Europe
• Sacking of Islamophobic Television Presenter Provokes Free-Speech Row in France
• Home-grown jihadis: On Syrian border, Belgian father tracks his wayward son
• First Western journalist given access to ISIS 'caliphate' returns
Compiled by New Age Islam News Bureau
URL: https://www.newageislam.com/islamic-world-news/new-age-islam-news-bureau/iran's-irgc--massacring--iraqi-sunnis-it--saves--from-isis/d/100628
-----------
Mideast
Iran's IRGC 'Massacring' Iraqi Sunnis It 'Saves' From ISIS
Dec 22, 2014
Iraq's Grand Mufti accuses IRGC, Iraqi government, Shiite militias of genocide and rape of Sunnis they 'liberated' from ISIS.
In an explosive TV interview aired last week, Iraq's Grand Mufti Rafi Al-Rifa'i, the highest Sunni authority in the country, accused the Iranian Revolutionary Guard Corps (IRGC), the Iraqi government, and Iraqi Shiite militias of mass genocidal killings and rape of Sunni men and women from Iraqi towns and villages "liberated" from ISIS (Islamic State).
Mufti Al-Rifa'i posed the unanswerable question, "Why should we fight ISIS? So the Iranian IRGC can take over? The same Iranian IRGC that is running operations in Iraq?"
Mufti Al-Rifa'i is the religious leader of roughly eight million Sunni Muslims who live in the western parts of Iraq. Overall, about 22 million Sunni Muslims live in eastern Syria and Western Iraq. They are the current target of ISIS – and also, it turns out, of the Iranian IRGC.
The Iranian Revolutionary Guard Corps is the key Iranian governmental army. Unlike the regular Iranian Army or "artesh," which is tasked with the military duties of defending Iran's borders and maintaining internal order – according to the Iranian constitution, the Iran Revolutionary Guard or "pasdaran" is empowered to carry out special forces, military intelligence, and overseas military/intelligence operations.
The IRGC is officially recognized as a direct component of the Iranian military under Article 150 of the Iranian Constitution. Therefore, its actions and possible war-crimes are the direct actions and direct responsibility of the Iranian government itself.
In a tragic retelling, the Sunni Mufti Al-Rifa'i described that when the Iraqi Sunni town Jurf al-Sakhar was "liberated," the men are immediately separated from the women and children after which "nobody knows what happened to the men," intimating that they were immediately mass-murdered.
To top things off, the women and children were not allowed to return to their homes and left "without a roof over their heads." He added, "Orchards were bulldozed, and houses and (Sunni) mosques were burned down." Ominously, the cleric added that "This has happened in each and every (Sunni) city" that has been "liberated" by the Iraqi government.
He bitterly related that the Iraqi government renamed the Sunni city of Jurf al-Sakhar "Jurf Al-Nasr" ("Nasr" means "victory") after retaking it, but from his description, the battle was more like a Shi'ite genocidal massacre of Sunni civilian men, women, and children.
Al-Rifa'i went to the heart of the matter – the American policy of targeting only the Sunni ISIS – when he asked: "Am I supposed to fight against ISIS, so (Shi'ite) militias can come in an rape our (Sunni) women?"
The Mufti stated: "If the Iraqi government wants all Iraqis to stand as one, they must act justly. Whoever talks about the slaughter by ISIS should also talk about the slaughtering (of Sunnis) by the (Shi'ite) militias. Islam is a compassionate religion. We are not stupid enough to start an internal (Sunni) fight only so that the (Shi'ite) militias come and slaughter us."
The mufti's testimony shows that in trying to put down the terrorism of ISIS, the Obama policy of attacking only Sunni terrorists is allowing Iranian terrorists to commit genocide against the Sunni Arabs in Iraq and Syria.
http://middleeast.gotnewswire.com/news/iran%E2%80%99s-irgc-massacring-iraqi-sunnis-it-saves-from-isis
-----------
Palestinian Cleric Says Husbands Must Know Password for Wives' Facebook Accounts
Dec 22, 2014
Muslim women who wish to maintain an account on social media must grant access to those accounts to their husbands, a Palestinian cleric told worshipers at Al-Aqsa Mosque in Jerusalem.
Sheikh Khaled al-Maghrabi made the remarks as part of a sermon that was documented and translated by the Middle East Media Research Institute, an organization that monitors speeches and news reports from the region.
http://www.jpost.com/Middle-East/WATCH-Palestinian-cleric-says-husbands-must-know-password-for-wives-Facebook-accounts-385381
-----------
'Dozens of Houthis killed' in central Yemen
Dec 22, 2014
Dozens of Houthi rebels have been killed in central Yemen in a suspected revenge attack after at least 40 people from a rival tribe were kidnapped by the Shia group, sources told Al Jazeera.
At least 42 Houthis were killed by Sunni tribesman in Arhab on Sunday, a local source said.
The Houthis, who have been pushing for control of Arhab, an area some 30km northeast of Sanaa, have used heavy weaponry, including tanks and artillery to shell homes and neighbourhoods, in fighting that has left dozens dead.
The rebels were previously based in the northern highlands, where Yemen's Zaidi Shia minority is concentrated, but they have made significant advances in provinces south of Sanaa since seizing the capital in September.
Establishing themselves as Yemen's new powerbrokers, the Houthis have been expanding their territory in western and central Yemen, and have been accused of trying to settle old scores as they wage battles with opposing tribes.
http://www.aljazeera.com/news/middleeast/2014/12/houthis-killed-central-yemen-20141221223329179385.html
------------
Yemeni Revolutionaries Retake District from Al-Qaeda
Dec 22, 2014
Yemeni revolutionaries managed to retake the Arhab district near the capital Sana'a from al-Qaeda-linked militants, a report said.
The fighters of the Houthi Movement on Sunday took full control of the Arhab region, which was previously under the control of militants loyal to Yemen's al-Qaeda-linked Islah party, press tv reported.
Battles also raged on Saturday in the village of Darb Obaid after the revolutionary fighters raided the house of tribal leader Yehia Taqi Markoub.
Markoub, accused by the Houthis of possessing weapons and cooperating with the al-Qaeda terrorist group, managed to escape to another safe location without being harmed.
Over the past months, al-Qaeda militants have frequently carried out attacks on Yemen's security forces and have been also locked in deadly battles with the Houthi fighters.
Yemen's central government has so far failed to confront the terrorist threat. Houthi fighters, however, have intervened to fill the vacuum and have driven al-Qaeda militants out of many areas in the country.
The movement also played a major role in the ouster of Yemen's former dictator Ali Abdullah Saleh in 2012.
http://english.farsnews.com/newstext.aspx?nn=13931001000366
-----------
Iranian Envoy: Terrorist Groups No Way Linked to Islam
Dec 22, 2014
Caretaker of the Iranian Mission at the United Nations Gholam Hossein Dehqani underlined that the terrorist groups which defame Islam for their crimes don't have any relations with the divine religion.
"The terrorist groups like al-Qaeda, Boko Haram, al-Nusrah Front and the like are not at all related to Islam and have grown with the supports and assistances that they have received," Dehqani said, addressing the UN Security Council in New York on Sunday.
He underscored the necessity for the international community to pay attention to the root causes of terrorism, and said, "Unfortunately, we are witnessing that certain sides are using terrorism as an instrument, attempting to use the terrorist groups to meet their shortsighted interests."
Dehqani said that the first effective step to fight the ominous phenomenon of terrorism is stopping the financial and spiritual supports for these terrorist groups.
In relevant remarks in November, Supreme Leader of the Islamic Revolution Ayatollah Seyed Ali Khamenei warned that the bullying powers were using every method and tool to spread Islamophobia among the world people.
"The world expansionist and bullying powers are highly concerned about the attraction of Islam's freedom message and the danger posed to their interests and have used all instruments, specially art tools, to intimidate the entire world people from Islam," Ayatollah Khamenei said, addressing Iranian Army cadets in Tehran.
He underlined that creation of armed groups under the name of Islam and Islamic State to massacre innocent people was another instance of enemies' methods to promote Islamophobia.
"The message of the real Islam for humanity is the message of tranquility, honor and life along with security and safety, and ill-wishers do not want the nations to become familiar with this message," Ayatollah Khamenei said.
Many Iranian officials have warned on different occasions that the western powers are trying to spread Islamophobia throughout the world.
"Big and Western powers who are after their own interests in the region and seek to get their claws on the resources of Muslim countries, particularly in the oil and gas sectors, have always followed two ominous goals, namely to deepen divisions among Muslims and to spread Islamophobia in the world," President Rouhani said, addressing the 27th International Islamic Unity Conference in Tehran in January.
The Iranian president reiterated the importance of improving the notion of "dialog and interaction" in the Muslim world, particularly in Syria, Lebanon, Egypt, Iraq, Afghanistan, Bahrain and Libya.
"The Iranian government and nation have made it clear to the world that they are after moderation by adopting a policy of balance and prudence," Rouhani said.
http://english.farsnews.com/newstext.aspx?nn=13931001000259
-----------
Gaza rockets are response to EU decision to remove Hamas from terror blacklist
Dec 22, 2014
Friday's mortar attack from Gaza was the terrorist organizations' answer to the EU High Court of Justice's decision last week to take Hamas off the EU's list of terrorist organizations, Foreign Minister Avigdor Liberman said Monday.
Liberman, speaking before a meeting with visiting South Korean Foreign Minister Yun Byung-se, said that South Korea understands better than most Israel's challenges and the meaning of having a threatening and menacing neighbor.
"Just last Friday a rocket was fired from Gaza into communities in the south," Liberman said. "That was the response of the terrorist organizations in Gaza to the court decision in Europe to take Hamas off the terror list. As South Korea knows from its challenges, in the struggle against terrorism it is forbidden to send a message of weakness, and it is forbidden to give any concessions to terrorism."
Liberman said that this was as true regarding the nuclear armament and threats from North Korea, as it was true of the nuclear march and threats of Iran, and of the rockets from Hamas.
Last week the EU's court decided that the evidence it was presented in the early 2002's to put Hamas on its terror list did not meet its standards. The upshot of the ruling is that the EU has another three months to present evidence that will meet the court's standards. The EU political echelon has made clear it has every intention to do so, and will not remove Hamas from its terror list.
http://www.jpost.com/Israel-News/Politics-And-Diplomacy/Liberman-to-South-Korean-colleague-Seoul-understands-better-than-most-what-Israel-faces-385385
-----------
Arab World
Iraqi Army Kills over 30 ISIL Terrorists in Anbar
Dec 22, 2014
The Iraqi army made a big push against the ISIL Takfiri group in the Western Anbar province, leaving more than 30 terrorists dead.
The army soldiers stormed the hideouts of the militants in the area of Jazera Baghdadi and claimed the lives of dozens of the ISIL militants including two top commanders.
The crisis in Iraq escalated after the ISIL militants took control of Mosul in a lightning advance on June 10, which was followed by the fall of Tikrit, located 140 kilometers (87 miles) Northwest of the capital, Baghdad.
Soldiers of the Iraqi army and Peshmarga have been engaged in heavy fighting with the militants on different fronts and have so far been able to push them back in several areas.
http://english.farsnews.com/newstext.aspx?nn=13931001000169
-----------
20 jihadists killed in failed east Syria airport attack
Dec 22, 2014
Beirut (AFP) - At least 20 Islamist State (IS) group members were killed in the second failed jihadist bid in a month to take over an air base in eastern Syria, a monitoring group said Sunday.
"The IS tried, starting late Saturday, to storm the air base. A total of 20 jihadists were killed in the attack, as well as two regime soldiers," said the Syrian Observatory for Human Rights.
Nineteen of the IS members were Syrian, while one was Moroccan.
They were killed in fighting and heavy army shelling.
"The withdrawing jihadists seized and took with them several anti-aircraft missiles," said Observatory director Rami Abdel Rahman.
The attack was the second recent attempt by IS to take over the Deir Ezzor military air base, one of the last remaining regime positions in the eastern province.
Deir Ezzor is located on the border with Iraq, where IS also controls large swathes of territory.
The IS group emerged in Syria's conflict in the spring of 2013. Since then it has declared a "caliphate" straddling Syria and Iraq.
Activists say it rules the people under its control through a reign of terror.
http://news.yahoo.com/20-jihadists-killed-failed-east-syria-airport-attack-224225496.html
-----------
Egyptian court lifts ban on granting citizenship to Palestinians
22 Dec, 2014
A Cairo court has overturned a decision by Egypt's interior ministry to suspend the granting of Egyptian citizenship to Palestinians born to Egyptian mothers, a judicial source said.
The administrative court on Sunday said the country's constitution enshrines the right to Egyptian nationality to sons of Egyptian mothers, binding the ministry – which is in charge of citizenship affairs – to do so in the case of Palestinians, the source added.
Until recently, Egypt, like most Arab countries, had refused to grant Palestinians Egyptian nationality pursuant to an Arab League resolution dating back to 1959 which aimed to "preserve the Palestinian identity."
Following the 2011 revolution, demands by Egyptian mothers married to Palestinians that their children be entitled to the nationality prompted Egypt to successfully plead the case with the Arab League.
Full report at:
http://english.ahram.org.eg/NewsContent/1/64/118513/Egypt/Politics-/Egyptian-court-lifts-ban-on-granting-citizenship-t.aspx
----------
Egypt army kills 14 militants, arrests 45 in North Sinai
Dec 22, 2014
Egypt's army killed 14 alleged militants and arrested 45 others during raids in North Sinai between 18 and 20 December, an army spokesperson has said.
Fourteen alleged militants were killed in the crossfire while they were attempting to monitor and attack army checkpoints in the region, the army said.
During the same period the army said it arrested 45 alleged militants, including five on the wanted list, and 40 other suspects.
Five militant hideouts were destroyed in the raids.
In separate news, a security source told Aswat Masrya that security forces had arrested 56 alleged members of militant group Ansar Beit Al-Maqdis during a raid in the South Rafah and Sheikh Zuweid areas of North Sinai on Sunday.
Earlier in November, Ansar Beit Al-Maqdis, Egypt's deadliest militant group operating in Sinai, Full report at:
http://english.ahram.org.eg/NewsContent/1/64/118557/Egypt/Politics-/Egypt-army-kills--militants,-arrests--in-North-Sin.aspx
-----------
Iraqi Soldiers Attack ISIL Targets in Tikrit, Kill 15
Dec 22, 2014
Iraqi troops attacked ISIL positions in the Northern city of Tikrit and Killed 15 terrorists, using light weapons.
The army troops staged a successful operation in Salahuddin province on Sunday, and managed to claim the lives of scores of the ISIL terrorists in the area of Hamra, North of Tikrit.
The crisis in Iraq escalated after the ISIL militants took control of Mosul in a lightning advance on June 10, which was followed by the fall of Tikrit, located 140 kilometers (87 miles) Northwest of the capital, Baghdad.
Soldiers of the Iraqi army and Peshmarga have been engaged in heavy fighting with the militants on different fronts and have so far been able to push them back in several areas.
http://english.farsnews.com/newstext.aspx?nn=13931001000487
-----------
ISIS Holds 'Surprise' Public Amputation for Convicted Thief
Dec 22, 2014
The Islamic State (IS), which has firmly established itself as the ruling entity in a large portion of Syria and Iraq, has recently begun instituting Shari'a Islamic law as the law of the land – in its full and literal sense.
According to classic Islamic law, a thief must have his right hand cut off – and last Friday, that is exactly what IS representatives did in the town of Al-Bab in northern Syria, near Aleppo. In a "surprise" event, members of the congregation of the town's main mosque (attendance at services is mandatory) were directed to the town square, where a large platform had been erected.
Full report at:
http://www.israelnationalnews.com/News/News.aspx/188932#.VJiCRsBxo
-----------
Iraqi Kurds, Yazidis fight ISIL for strategic town of Sinjar
Dec 22, 2014
Kurdish and Yazidi fighters battled to take the strategic northern Iraqi town of Sinjar back from
Islamic State in Iraq and the Levant (ISIL) on Dec. 21 after breaking a months-long siege of the mountain above it.
Seizing the town would restore the majority of territory Iraq's Kurds lost in the jihadist group's surprise August offensive.
It would also give a huge strategic victory to both the Iraqi Kurds and the central government in Baghdad, as the Kurdish fighters could then cut the highway from Syria to Mosul, a vital supply line for ISIL.
Backed by U.S. warplanes, Iraqi Kurdish and Yazidi fighters, also joined by Kurdish guerrillas from Syria and Turkey, pushed into Sinjar from the western border post of Rabia and from Sinjar mountain to the north, to which Iraqi Kurdish fighters opened a corridor on Dec. 18.
The Iraqi Kurdish region's president, Masoud Barzani, visited Sinjar mountain and vowed that all of the town of Sinjar would be retaken.
Full report at:
http://www.hurriyetdailynews.com/iraqi-kurds-yazidis-fight-isil-for-strategic-town-of-sinjar.aspx?pageID=238&nID=75902&NewsCatID=352
-----------
Defected Syrian Gen. Tlass says Assad 'sold Syria to Iran'
Dec 22, 2014
A senior Syrian army general who defected in 2012 said in a recent interview that President Bashar al-Assad had sold out Syria to Iran and opted to use repression and violence as a means of snuffing out dissent right from the start of the uprising against his rule in 2011.
"Bashar never opted at any time for serious and credible reforms, but instead chose to destroy the country rather than lose power," former Syrian army Gen. Manaf Tlass told the Wall Street Journal in an article published on Friday.
"He sold Syria to the Iranians," Tlass, who lives in France now, said.
The article looked into the July 18, 2012, bombing in Damascus that killed four senior Syrian officials, including Assad's brother-in-law, Assef Shawkat, just weeks after Tlass defected.
The article said new revelations about the bombing pointed to a "startling theory" that it may have been an inside job in order to silence regime voices that had been open to accommodating with the opposition at the time.
Full report at:
http://english.alarabiya.net/en/News/middle-east/2014/12/21/Defected-Syrian-Gen-Tlass-says-Assad-sold-Syria-to-Iran-.html
-----------
Iraq TV show makes 'terrorists' confront victims
Dec 22, 2014
Haider Ali Motar was convicted of terrorism charges about a month ago for helping to carry out a string of Baghdad car bombings on behalf of the Islamic State in Iraq and the Levant (ISIL). Now, the 21-year old is a reluctant cast member in a popular reality TV show.
"In the Grip of the Law" brings convicted terrorists face-to-face with victims in surreal encounters and celebrates the country's beleaguered security forces. The show, produced by state-run Iraqiyya TV, is among dozens of programs, cartoons and musical public service announcements aimed at shoring up support for the troops after their humiliating defeat last summer at the hands of ISIL, which now controls about a third of the country.
On a chilly, overcast day last week, the crew arrived at the scene of one of the attacks for which Motar was convicted, with a heavily armed escort in eight military pick-up trucks and Humvees. Passing cars clogged the road to watch the drama unfold, but were quickly shooed away by soldiers.
Full report at:
http://www.hurriyetdailynews.com/iraq-tv-show-makes-terrorists-confront-victims.aspx?pageID=238&nID=75903&NewsCatID=352
-----------
GCC, Arab League commend King Abdullah for cementing Arab unity
Dec 22, 2014
Qatar has pledged its "full support" to Egypt, an official statement said, ending more than a year of regional isolation over its support for Cairo's ousted Islamist president.
"The security of Egypt is important for the security of Qatar... the two countries are linked by deep and fraternal ties," said a statement from the office of the Qatari Emir Sheikh Tamim bin Hamad Al-Thani.
The statement came a day after Egyptian President Abdel Fattah El-Sisi met in Cairo with a Qatari envoy.
After the meeting with Sheikh Mohamed bin Abdel Rahman Al-Thani, El-Sissi's office issued a statement saying: "Egypt looks forward to a new era that ends past disagreements."
In its statement Sunday, Qatar thanked Saudi Arabia for its mediation in a diplomatic crisis that had seen several Gulf states pull their ambassadors from Doha.
Full report at:
http://www.arabnews.com/featured/news/678121
----------
Pakistan
Liberal-Religious Bonhomie over Peshawar Carnage Dissipates
22 Dec, 2014
ISLAMABAD: A day after they surprised the city by jointly condemning the Peshawar carnage, the liberal and religious elements returned to their old confrontation centred on Lal Masjid and its chief cleric, Maulana Abdul Aziz on Sunday.
There appeared little let up in their narratives, though the civil society elements decided to take to a legal course.
"We have to adopt some legal way along with our peaceful protest to remove the Maulana," said Jibran Nasir speaking for the campaigners. He demanded that sections of the Anti-Terrorism Act be added to the FIR registered against the chief cleric of Lal Masjid for inciting sectarian hatred and violence.
"It is a defining moment and the movement can change the fate of Pakistan," he said, appealing to the people to gather in number at Aabpara police station on Monday at 5pm for that purpose.
Full report at:
http://www.dawn.com/news/1152410/liberal-religious-bonhomie-over-peshawar-carnage-dissipates
-----------
Lal Masjid protesters receive 'threats from Taliban'
December 22, 2014
Political activist Muhammad Jibran Nasir, who has been spearheading protests against controversial Lal Masjid cleric, Maulana Abdul Aziz, has been threatened by Tehreek-e-Taliban Pakistan Jamaat Ahrar (TTP-JA) spokesperson Ehsanullah Ehsan for his movement.
Talking to The Express Tribune, Jibran Nasir said that he had received a call, allegedly from the spokesperson of TTP faction, Ehsanullah Ehsan. Nasir went on to add that he had recorded the conversation and verified the voice of the caller with the help of media contacts who were familiar with Ehsan's voice.
Nasir, however, made it clear that he would not back down from their planned protests today (Monday) outside the Lal Masjid. "We are not afraid. We are not backing out," Nasir told The Express Tribune.
"We are here to save our mosques. Our mosques should preach love and peace. They must present the right spirit of Islam," Nasir said, adding that he had a detailed debate with the TTP spokesperson on Islam before the spokesperson made his threats.
You can hear the recording made by Nasir of the conversation below:
Further, Jibran said that the mobile number being used by the caller originated from Afghanistan.
Full report at:
http://tribune.com.pk/story/810608/lal-masjid-protesters-receive-threats-from-taliban/
-----------
Peshawar school slaughter suspect nailed in Kamalia
22 Dec, 2014
KAMALIA - Pakistan's security agencies late on Sunday night picked up a suspect for his alleged involvement in Peshawar army school massacre.
Alleged terrorist/facilitator, Mohammad Arshad, landed in the hands of agents after a raid on a house located in Mohallah Khursheed Abad here. A laptop, a couple of mobile phones, maps, etc were seized by the intelligence agencies' personnel after a thorough search of the suspect's quarter. Later, Arshad, who faces the charges of facilitating the schoolchildren slaughter, was taken away to an unknown location for interrogation.
It is noteworthy that Arshad's brother-in-law, who goes by the name of Mohammad Ashfaq, is also suspected to be one of the dozens of accomplices in Peshawar attack. Not long ago, when police went after him for his having more than just hand in Islamabad Marriot Hotel attack, Ashfaq, escaped to Afghanistan along with his wife. The fugitive terrorist was said to be actively operating from across the Pakistan-Afghanistan border.
http://www.dailytimes.com.pk/national/22-Dec-2014/peshawar-school-slaughter-suspect-nailed-in-kamalia
-----------
Pakistan plans to execute 500 terror convicts in coming weeks: Official
AFP | Dec 22, 2014
ISLAMABAD: Pakistan plans to execute around 500 militants in coming weeks, officials said on Monday, after the government lifted a moratorium on the death penalty in terror cases following a Taliban school massacre.
Six militants have been hanged since Friday amid rising public anger over Tuesday's slaughter in the northwestern city of Peshawar, which left 149 people dead including 133 children.
After the deadliest terror attack in Pakistani history, Prime Minister Nawaz Sharif ended the six-year moratorium on the death penalty, reinstating it for terrorism-related cases.
"Interior ministry has finalized the cases of 500 convicts who have exhausted all the appeals, their mercy petitions have been turned down by the president and their executions will take place in coming weeks," a senior government official told AFP on condition of anonymity.
A second official confirmed the information. Of the six hanged so far, five were involved in a failed attempt to assassinate the then-military ruler Pervez Musharraf in 2003, while one was involved in a 2009 attack on army headquarters.
Full report at:
http://timesofindia.indiatimes.com/world/pakistan/Pakistan-plans-to-execute-500-terror-convicts-in-coming-weeks-Official/articleshow/45603601.cms
-----------
Terrorists hiding in cities, villages will be hunted down: PM Nawaz
22 Dec, 2014
ISLAMABAD: Prime Minister Nawaz Sharif on Monday chaired a high-level meeting on counter-terrorism which decided to crush rising terrorism in the country with full force.
The meeting reviewed all existing anti-terror laws and decided to bring necessary amendments in order to toughen these laws.
PM's Special Assistant Khawaja Zaheer and Law Secretary Barrister Zafarullah briefed the meeting with regards to the existing anti-terror laws and pending cases before various courts.
The meeting also considered a proposal relating to establishment of special military courts for conducting speedy trials of terrorists.
Speaking at the meeting, the premier said one Zarb-i-Azb operation is ongoing in North Waziristan and the other operation would be carried out across the country against terrorists who are hiding in cities and villages.
Full report at:
http://www.dawn.com/news/1152454/terrorists-hiding-in-cities-villages-will-be-hunted-down-pm-nawaz
----------
PTI condemns TTP, other terrorist groups
22 Dec, 2014
ISLAMABAD: In an apparent attempt to shed its generally-perceived pro-Taliban image, the Pakistan Tehreek-i-Insaf (PTI) "condemned the TTP and all other terror groups" on Sunday and extended its "total support" to the armed forces and law-enforcement agencies combating terrorism.
"The PTI condemns the banned Tehreek-i-Taliban Pakistan (TTP) and all other terror groups that have unleashed their brutality on the people of Pakistan," the party's information secretary Dr Shireen Mazari told reporters after a meeting of its core committee.
According to sources, PTI chairman Imran Khan expressed his satisfaction over the progress made in the talks with the government on the issue of alleged rigging in last year's general elections and gave a go-ahead to members of the negotiating team to strike a deal after settling some minor and technical issues.
Full report at:
http://www.dawn.com/news/1152436/pti-condemns-ttp-other-terrorist-groups
-----------
PM directs AG to abolish stay order against death penalties
22 Dec, 2014
ISLAMABAD: Prime Minister Nawaz Sharif on Monday directed Attorney General Salman Aslam Butt and the legal to take steps to vacate stay orders against death penalties issued to terrorists.
The Rawalpindi bench of the Lahore High Court (LHC) suspended the death sentences of five terrorists who were to be executed at the Kot Lakhpat Jail.
The lawyer for the convicts had filed a case against civilians being sentenced by a military court. The lawyer argued that his clients were not allowed a lawyer or provided court documents.
The LHC suspended the death sentences of Ahsan Azeem, Asif Idrees, Aamir Nadeem, Kamran Aslam and Umar Yousaf. The LHC has also summoned details of all the prisoners.
The prime minister has taken notice of the suspension and according to his spokesman has directed the attorney general to take legal steps for abolishing stay orders against the death penalty and revaluate pending terrorism cases.
The prime minister said no concessions can be provided to those who kill soldiers, citizens and innocent children.
http://www.thenews.com.pk/article-169431-PM-directs-AG-to-abolish-stay-order-against-death-penalties
-----------
Lal Masjid cleric: Quashed cases can be revived, say police
December 22, 2014
ISLAMABAD: The government can revive quashed cases against Lal Masjid chief cleric Maulana Abdul Aziz by incorporating new evidence in the 'challan', as he is still believed to have a soft corner for the outlawed Tehreek-e-Taliban Pakistan (TTP) and Islamic State (IS), a senior police officer told The Express Tribune.
According to Section 2f (c) of the Protection of Pakistan Act 2014, a case can be registered against the cleric for his support of terrorist groups, the official said.
Applying 'innocent until proven guilty' adage of the criminal jurisprudence, the previous government of the Pakistan Peoples Party had quashed all cases against Maulana Abdul Aziz.
Full report at:
http://tribune.com.pk/story/810475/lal-masjid-cleric-quashed-cases-can-be-revived-say-police/
-----------
Afghan intelligence agency backing TTP chief: Rehman Malik
22 Dec, 2014
ISLAMABAD: Former interior minister and Pakistan People's Party leader, Rehman Malik says Afghan intelligence agency is supporting Tehreek-e-Taliban Pakistan Chief Mullah Fazlullah.
In an interview, he said the fugitive TTP chief found refuge in Afghanistan whenever he wanted. "I have repeatedly been saying a foreign hand is involved in terrorist activities in Pakistan," said Malik.
He said that he had also briefed the Senate that the Afghan intelligence agency was backing militant commander Faqir Muhammad and TTP chief Mullah Fazlullah.
He said nobody was ready to accept his claim about presence of Punjabi Taliban but it was good to see that the Punjab government was now taking action against terrorists.
http://www.thenews.com.pk/article-169409-Afghan-intelligence-agency-backing-TTP-chief:-Rehman-Malik-
---------
South Asia
28 militants killed in Afghanistan
Dec 22, 2014
At least 28 militants have been killed in Afghanistan, the defence ministry said on Monday.
"The Afghan army carried out several clean-up operations in Helmand, Paktika and Kunar provinces for the past one day, killing 28 Taliban militants, including an insurgent local commander," Xinhua reported citing a defence ministry statement.
It said that five soldiers also lost their lives as a result of the heavy weapons firing and bomb attacks by militants.
The Taliban-led violence continues in Afghanistan. Security forces have pressed on to clear militants, and they are set to take the full security responsibilities of the war-torn country from the NATO-led troops by the end of this month.
http://www.thehindu.com/news/international/28-militants-killed-in-afghanistan/article6715677.ece
-----------
Taliban join peace process in Badakhshan
Dec 22, 2014
Officials of northeastern Badakhshan province say a group of 20 insurgents who were actively involved in anti-government activities as well as targeting foreigners joined peace process through the National Solidarity Program.
Lal Mohammad Ahmadzai, spokesman for Badakhan police say these guys were mainly operating in the Wardoj district but now they promised to live in peace and continue ordinary life.
Ahmadzai added they also handed over their weapons to the government representatives and reunited with the community after spending long time in the mountains.
Badakhshan was comparatively one of the safe provinces in Afghanistan but recently insecurity is in some parts of the province.
http://www.khaama.com/insurgents-join-peace-process-in-badakhshan-2590
-----------
Verdict in Qaisar's case Tuesday
Ahmed Zayeef
Dec 22, 2014
The war crimes tribunal is set to pronounce its verdict on Tuesday in the case against former state minister of Jatiya Party Syed Mohammad Qaisar for his crimes against humanity in the 1971 Liberation War.
The International Crimes Tribunal 2 fixed the date on Monday morning.
Qaisar was indicted on February 2 on 16 charges of crimes against humanity which he had allegedly committed in Habiganj and Brahmanbaria.
The charges are based on 16 incidents, in which more than 150 unarmed people were killed and two women raped.
Qaisar, now 73, formed a group named "Qaisar Bahini" with 500 to 700 men, who committed crimes against humanity in Habiganj and Brahmanbaria during the War of Independence, according to prosecution.
Qaisar had fled to London after Bangladesh's independence in 1971 and returned in 1975. In 1979, he took part in the national election as an independent candidate and was elected lawmaker. He then joined the BNP under the leadership of Ziaur Rahman.
During the regime of military dictator HM Ershad, Qaisar joined the Jatiya Party and became the state minister for agriculture.
http://www.dhakatribune.com/bangladesh/2014/dec/22/verdict-qaisars-case-tuesday#sthash.BUvQX2hj.dpuf
-----------
India
UN Panel Chief Calls Hafiz Saeed 'Sahib', India Seeks Clarification
By: Express News Service | New Delhi
December 22, 2014
India will seek a clarification to a UN Security Council panel calling 26/11 Mumbai terror attacks mastermind and JuD chief Hafiz Saeed as 'sahib'.
It is learnt that the government will seek the clarification on the usage in the communication by Gary Quilan, the Chair of UN Security Council Committee, on December 17.
Quinlan made the reference to Saeed in the communication on information regarding banned terror organisation Lashkar-e-Taiba.
The United Nations had declared JuD a terrorist organisation in December 2008 as also Saeed who was also individually designated by the UN under UNSCR 1267 in December 2008. The resolution entails freezing of funds and other financial assets or economic resources of designated individuals and entities and prevents their entry into or transit through their territories.
The United States had slapped a USD 10 million bounty on Saeed, the founder of LeT, and his brother-in-law in April 2003.
http://indianexpress.com/article/india/india-others/un-panel-chief-calls-saeed-sahib-india-seeks-clarification/#sthash.BKy6qu7L.dpuf
-----------
Mumbai 26/11 attack: LeT tech expert Zarrar Shah used Google Earth to locate targets, says report
Dec 22, 2014
The Mumbai terror attacks in November 2008 could have been averted had the intelligence agencies in India, Britain and the United States managed to join the strands of information gathered through high-tech surveillance and other tools. This has come to light in a report in The New York Times which quotes American and Indian officials and classified documents disclosed by Edward J. Snowden, the former National Security Agency contractor.
The report says Zarrar Shah, a 30-year-old computer expert of the Lashkar-e-Taiba which is responsible for carrying out the attack, used Google Earth to show militants the routes to their targets in the city. "He set up an Internet phone system to disguise his location by routing his calls through New Jersey. Shortly before an assault that would kill 166 people, including six Americans, Shah searched online for a Jewish hostel and two luxury hotels, all sites of the eventual carnage," the report said.
Full report at:
http://indianexpress.com/article/india/india-others/mumbai-attack-lashkar-tech-expert-zarrar-shah-used-google-earth-to-locate-2611-targets-says-report/
------------
Spy agencies failed to prevent 26/11: report
Dec 22, 2014
The 26/11 Mumbai attacks happened as a result of one of the "most devastating near-misses in the history of spycraft" in which the United States, British and Indian spy agencies failed to pull together all the strands gathered by their high-tech surveillance to thwart the assault on India's financial capital, according to an investigative report said.
A detailed report by the New York Times, ProPublica and the PBS series Frontline titled 'In 2008 Mumbai Killings, Piles of Spy Data, but an Uncompleted Puzzle' said "that hidden history of the Mumbai attacks reveals the vulnerability as well as the strengths of computer surveillance and intercepts as a counter-terrorism weapon."
"hidden history of the Mumbai attacks reveals the vulnerability as well as the strengths of computer surveillance and intercepts as a counter-terrorism weapon"
"What happened next may rank among the most devastating near-misses in the history of spycraft. The intelligence agencies of the three nations did not pull together all the strands gathered by their high-tech surveillance and other tools, which might have allowed them to disrupt a terror strike so scarring that it is often called India's 9/11," said the lengthy report.
Full report at:
http://www.thehindu.com/news/deadly-nearmisses-in-spycraft-history-resulted-in-2611/article6715736.ece
------------
Mehdi had two more Twitter, 3 email accounts, say police
Rajiv Kalkod,TNN | Dec 22, 2014
BENGALURU: Police believe that the role of Mehdi Masroor Biswas, arrested for operating a pro-ISIS Twitter handle, went beyond mere tweeting and re-tweeting messages.
Investigations reveal the 24-year-old propagandist of the global terror outfit had two other Twitter accounts, besides the two that landed him in trouble. He was initially believed to have Twitter handles @ShamiWitness and @ElSaltador. Mehdi, however, claimed to have forgotten the passwords to the other two Twitter accounts, sources privy to the investigation said.
Full report at:
http://timesofindia.indiatimes.com/india/Mehdi-had-two-more-Twitter-3-email-accounts-say-police/articleshow/45597840.cms
-----------
Will raise Hindu population of country from 82 to 100 per cent: Pravin Togadia
Dec 22, 2014
Asserting that the whole world was once inhabited by Hindus, VHP leader Pravin Togadia Sunday declared that the right-wing organisation will ensure that the population of Hindus in the country increases from 82 per cent to 100 per cent.
Addressing a convention organised in Bhopal as part of the golden jubilee year celebrations of the VHP, Togadia alleged that conversions to Christianity and Islam, by force or by offering allurements, had made Hindus feel unsafe.
"We want to protect Hindus today and 1,000 years from now. We won't let their population decline from 82 per cent to 42 per cent because then their property and women will not remain safe.''
Speakers before Togadia made the gathering of thousands to resolve to stop conversion and to bring back to Hindu fold those who have converted. Togadia and other speakers echoed the sentiments of RSS chief Mohan Bhagwat.
Full report at:
http://indianexpress.com/article/india/india-others/will-raise-hindu-population-of-country-to-100-says-togadia/99/#sthash.AVfDZfaA.dpuf
--------
North America
US may not target Mullah Omar after this year
22 Dec, 2014
WASHINGTON: The United States has said that after Jan 2, US forces in Afghanistan will not target Mullah Omar and other Taliban leaders unless they posed a direct threat to the US.
"Being a member of the Taliban doesn't mean that the United States is going to prosecute operations against you for that reason alone," Pentagon spokesman Rear Admiral John Kirby told a recent news briefing in Washington.
But he also drew a line between combatant and non-combatant Taliban, saying that those who continued to fight would not be spared.
"We've also concurred that a member of the Taliban who undertakes missions against us or our Afghan partners — by that act alone, renders himself vulnerable and liable to US action," Rear Admiral Kirby said.
In his year-end news conference on Friday, President Barack Obama assured the American nation that he would fulfil his pledge to end the US-led war in Afghanistan by the end of 2014.
"And in less than two weeks, after more than 13 years, our combat mission in Afghanistan will be over," he said.
Full report at:
http://www.dawn.com/news/1152382/us-may-not-target-mullah-omar-after-this-year
--------
US mulls putting N. Korea on list of terrorism sponsors
22 Dec, 2014
HONOLULU: The United States is reviewing whether to put North Korea back onto its list of state sponsors of terrorism, President Barack Obama said as the US decides how to respond to the cyberattack on Sony Pictures Entertainment that law enforcement has blamed on the communist nation.
Obama described the hacking case as a "very costly, very expensive" example of cybervandalism, but did not call it an act of war.
In trying to fashion a proportionate response, the president said the US would examine the facts to determine whether North Korea should find itself back on the terrorism sponsors list. "We're going to review those through a process that's already in place," Obama told CNN's "State of the Union" in an interview.
"I'll wait to review what the findings are. "North Korea spent two decades on the list until the Bush administration removed it in 2008 during nuclear negotiations. Some lawmakers have called for the designation to be restored following the hack that led Sony to cancel the release of a big-budget film that North Korea found offensive.
Full report at:
http://www.dawn.com/news/1152312/us-mulls-putting-n-korea-on-list-of-terrorism-sponsors
----------
Israel acknowledges upside of diplomacy with Iran, Obama says
Dec 22, 2014
WASHINGTON – The government of Israel believes that talks with Iran over its nuclear program has frozen the long-standing crisis, US President Barack Obama said over the weekend, classifying Prime Minister Benjamin Netanyahu as one of his many critics.
"Critics of our policy, like the Netanyahu government in Israel... their intelligence folks have acknowledged" that the Joint Plan of Action – an interim deal agreed upon by Iran and world powers last year – has paused Iran's progress toward a nuclear weapons capability, the president said.
Hitting back against "some in the foreign policy establishment" for a shoot-first mentality, Obama said he has demonstrated a consistent focus on diplomacy over provocation and force in his policies toward Iran, Cuba and Russia.
Full report at:
http://www.jpost.com/Middle-East/Israel-acknowledges-upside-of-diplomacy-with-Iran-Obama-says-385318
----------
Obama signs Coalition Support Fund extending assistance to Pakistan
22 Dec, 2014
ISLAMABAD: US President Barack Obama on Sunday signed a bill into law providing an extension to the Coalition Support Fund for Pakistan for another year, Radio Pakistan reported.
Earlier, BBC Urdu had reported, the American Congress' decision to include in its final budget recommendations a one-year plan to extend the financial support given to Pakistan to fight militancy in the region — but with certain new demands.
In its budget of $521 billion, the US government extended the validity of financial assistance by one year, but also imposed some new terms and demands.
It was reported that the assistance extended to Pakistan under coalition support fund will not exceed $1 billion.
Full report at:
http://tribune.com.pk/story/810179/obama-signs-coalition-support-fund-extending-assistance-to-pakistan/
----------
Southeast Asia
Malaysia ISIS recruits 'take out loans' to fund trip
Dec 22, 2014
Malaysian supporters of the Islamic State of Iraq and Syria (ISIS) have applied and received bank loans to finance their trip to join the militant group, Malaysia's New Straits Times reported.
At least five of the ISIS supporters barred from travelling had sold all their belongings and took out loans, some as large as $30,000, the paper quoted police reports as saying.
Malaysia's Special Branch's Counter-Terrorism Division said it would instruct banks to inhibit loans from those believed to have ties with ISIS.
Security sources told the English-language daily that the five held had been following the lead of fellow ISIS members in Syria and Iraq who had also taken out loans to finance their militancy.
"Some of them subscribed to the idea that even if they do come back to Malaysia, they would be arrested and settling the loan would be the least of their problems," one of the sources told the New Strait Times.
Full report at:
http://english.alarabiya.net/en/News/middle-east/2014/12/21/Malaysian-ISIS-take-out-bank-loans-to-finance-their-trip.html
-----------
Umno Dares Pakatan-Led Selangor to Lift Ban on 'Allah' For Non-Muslims
Dec 22, 2014
The Pakatan Rakyat (PR) Selangor government should amend state Islamic enactments that prohibit the use of the word "Allah" by non-Muslims in the state to prove that it supports equal rights for all races, Umno's Datuk Seri Nazri Aziz said today.
"Now they hold two-thirds majority (in the state) so I would like to ask, since the 'Allah' issue is a very big issue, why is the word not allowed to be used in Selangor?
"So DAP should tell Azmin to amend the enactment. Get him to amend it. He is a liberal, is he not?" Nazri, who is also Culture and Tourism minister, said.
The Selangor Non-Islamic Religions (Control of Propagation Among Muslims) Enactment 1988 bans non-Muslims from using 35 Arabic words and phrases, including "Allah", the Arabic word for God, which has been at the centre of a major religious dispute between Muslims and Christians here.
Full report at:
http://www.themalaysianinsider.com/malaysia/article/nazri-dares-pakatan-led-selangor-to-lift-ban-on-allah-for-non-muslims#sthash.ux5ftsIY.dpuf
-----------
Fate of Three Alleged Islamic State Supporters to Be Decided Today
Dec 22, 2014
Jakarta. Anti-terror investigators of the National Police on Monday were scheduled to meet with prosecutors to decide on the fate of three alleged Islamic State supporters.
The three men, along with nine women and children, were detained in Malaysia last week, from where they wanted to depart for Syria. Their seven-day detainment ends on Monday. The law requires investigators to either name them suspects or let them go.
"So today we will decide whether we will name them as suspects and then continue to detain them, or let them go," a Densus 88 investigator told the Jakarta Globe on Monday, on condition of anonymity.
The source also revealed the names of the three: Harfan Amsurajajar, Muchlis H. Zainal Abidi and Muhamad Sibghotulloh.
Full report at:
http://thejakartaglobe.beritasatu.com/news/fate-three-alleged-islamic-state-supporters-decided-today/
-----------
Selangor PAS pressures PKR to support hudud as leaders are Muslim
Dec 22, 2014
PKR must support the PAS-led Kelantan state government's bid to implement the Islamic criminal law, hudud, in the state, since its top leaders are Muslim, Selangor PAS said today.
Selangor PAS information chief Zaidy Abdul Taalib said PKR should not follow DAP's anti-hudud stance as the majority of DAP leaders were non-Muslim.
"We cannot force the non-Muslims. But for the Muslims, it is compulsory for us to accept it.
"We must believe in it, we have our faith. If we reject it, we are committing a sin.
"So from the perspective of being Muslims, PKR cannot reject it. They must support it," he told reporters at an event at the Forest Research Institute of Malaysia (FRIM) in Gombak, Selangor, today.
Full report at:
http://www.themalaysianinsider.com/malaysia/article/selangor-pas-pressures-pkr-to-support-hudud-as-leaders-are-muslim#sthash.5tBvYn4s.dpuf
-----------
Africa
Somalia turns to KSA in war against terror
Dec 22, 2014
As a country working hard to counter terrorism, Saudi Arabia has an important experience to share with the world. Somalia has been suffering from the influence of terror groups and has subsequently turned to Saudi Arabia for help. One Somali official recently noted that his country has signed a contract with a Saudi company to help release 40 percent of the country's population from the hands of terror groups.
Ambassador Abdul Razak Said Abdi, the permanent representative of the permanent delegation of the Republic of Somalia at the Organization of Islamic Cooperation, said that his country now has serious security and political concerns. Abdi said that the country believes that education can be a strong method for combatting terrorism, and for generating job opportunities for Somali youth to relieve the unemployment problem that often drives many of them to join extremist cells.
Full report at:
http://www.arabnews.com/saudi-arabia/news/678071
---------
Exit poll: Ex-regime official is Tunisia's new president
Dec 22, 2014
Tunisian polling firms have declared Beji Caid Essebsi, an 88-year-old official from previous regimes, as the winner of Sunday's presidential runoff, cementing his dominance over a country where his party already controls Parliament.
The runoff election marks the culmination of a 4-year-long rocky transition to democracy after Tunisians overthrew dictator Zine El Abidine Ben Ali in 2011, kicking off pro-democracy uprisings around the region in what became known as the Arab Spring.
Only in Tunisia, however, has the transition to democracy remained on track, with elections for a permanent parliament held in October and the first round of presidential elections a month later.
The Sigma Conseil company's exit polls, which have consistently come close to matching official results released later, gave Essebsi 55.5 percent of the vote and his opponent Moncef Marzouki, the outgoing interim president, 44.5 percent. Other polling companies gave between 52 and 54 percent to Essebsi.
Full report at:
http://english.ahram.org.eg/NewsContent/2/8/118551/World/Region/Exit-poll-Exregime-official-is-Tunisias-new-presid.aspx
-----------
Rival Libya govt urges foreigners to return to Tripoli
Dec 22, 2014
Libya's Islamist-backed rival government called for diplomats and foreign firms to return to Tripoli, pledging to protect them despite an attack on the empty home of the Swiss ambassador.
"We call on diplomatic missions and foreign firms to return to Tripoli," the government of self-declared prime minister Omar al-Hassi said in a statement.
"Foreigners who reside in Libya enjoy the same protection the state offers to its citizens," it said.
On Friday gunmen broke into the residence of the Swiss ambassador in Tripoli and looted the uninhabited house, before chased away by security forces.
Three years after dictator Muammar Gaddafi was toppled and killed in a NATO-backed revolt, Libya is awash with weapons and powerful militias, and run by rival governments and parliaments.
Full report at:
http://english.ahram.org.eg/NewsContent/2/8/118526/World/Region/Rival-Libya-govt-urges-foreigners-to-return-to-Tri.aspx
-----------
Europe
Sacking of Islamophobic television presenter provokes free-speech row in France
Dec 22, 2014
France has been split down the middle by the sacking of the nation's favourite – and at the same time most detested – hard-right, Islamophobe misogynist.
Eric Zemmour was dismissed by the 24-hour news channel i-Télé after telling – or seeming to tell – an Italian journalist that France's estimated five million Muslims should be "deported" to avoid "chaos and civil war".
The channel's decision was approved by anti-racist groups and some left-wing politicians. It was lambasted by senior figures on the right of French politics – who adore Zemmour – but also by some on the left – who detest him – on the basis of his right to free speech.
With the radio station RTL also under pressure to dismiss Zemmour from his twice-weekly commentary slot, the fate of the provocative journalist and author has become the hottest issue in French politics. Zemmour, 56, a Jew of Algerian origin, could therefore be said to have disproved his own pet theory.
His book Le Suicide Français has sold 250,000 copies in the past three months. It claims that France's core identity has been destroyed by immigration, feminism, homosexuality, Europe, free trade and excessive, unnecessary guilt about the persecution of Jews in the Second World War.
Full report at:
http://www.independent.co.uk/news/world/europe/sacking-of-islamophobic-television-presenter-provokes-freespeech-row-in-france-9939085.html
-----------
Homegrown jihadis: On Syrian border, Belgian father tracks his wayward son
Dec 22, 2014
Europe's anguish over the rise of homegrown jihadis – young Muslims and Muslim converts who flock to the banner of foreign extremist groups, especially the Islamic State – was on private display here this past week.
Dimitri Bontinck, a burly Belgian ex-soldier who became known as the jihadist hunter after retrieving his own son from Syria, is back on the Turkish border. His mission this time is to establish contact between a distraught father and his son, who like others before him was drawn to a faraway war zone by the idea of jihad.
Both Mr. Bontinck and the father know that the chances of securing the son's return to Belgium are slim.
"The biggest obstacle is the fear of what is going to happen later," says Bontinck, sitting in a coffee shop overlooking the Karasu River that flows onto Syria, his next stop.
"They don't want to return to stay in jail," Bontinck says. "They live in nice villas with swimming pools. They are having the good life, why should they return to be in jail? I don't Full report at:
http://news.yahoo.com/homegrown-jihadis-syrian-border-belgian-father-tracks-wayward-130000272.html
-----------
First Western journalist given access to ISIS 'caliphate' returns
Dec 22, 2014
The first-ever Western journalist to be given access to the Islamic State of Iraq and Syria's (ISIS) self-declared "caliphate" has returned home.
After months of negotiations with the militants on internet telephony provider Skype, German journalist Jürgen Todenhöfer, 74, began his journey to ISIS-held territory through Turkey to the Iraq's second largest city of Mosul, which ISIS conquered in June.
Todenhöfer - who is planning to publish a summary entitled "10 days in the Islamic State" on Monday - claimed that the group is "much stronger and much more dangerous" than the West realizes.
During his time spent in ISIS-held territory, Todenhofer described to German news website Der Tz an atmosphere of "almost ecstatic enthusiasm that I have never encountered in any other warzone," with "hundreds of willing [foreign] fighters" arriving every day.
Todenhöfer said that it would be difficult for the U.S.-led coalition to defeat the militants with airstrikes, due to conditions on the ground. ISIS fighters are so spread out around the territory they hold, that the airstrikes "would have to reduce the whole of Mosul to ruins," to succeed.
Full report at:
http://english.alarabiya.net/en/media/print/2014/12/21/First-Western-journalist-given-access-to-ISIS-caliphate-returns.html
---------
URL: https://www.newageislam.com/islamic-world-news/new-age-islam-news-bureau/iran's-irgc--massacring--iraqi-sunnis-it--saves--from-isis/d/100628