New Age Islam News Bureau
8 Jan 2018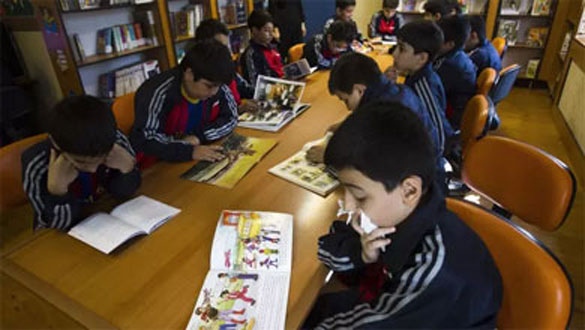 School pupils in Iran. Some teachers expressed doubt that a ban on teaching English could be implemented © Reuters
---
• Iran Bans English in Primary Schools to Block 'Cultural Invasion'
• Security Report Claims IS Footprint 'On Rise' In Pakistan
• Muslim 'Reformers' Hiding Real Issues: Gen. Secy, AISJU
• Perak Bans 2 Preachers, Cites Wahhabism among Reasons
• Arab League to Lobby UN to Recognise Palestinian State
Mideast
• Iran Bans English in Primary Schools to Block 'Cultural Invasion'
• Turkey Reopens Iconic 'Iron Church' After Revamp
• Turkish TV airs Egypt intelligence tapes on Jerusalem
• Houthi militia commander, fighters surrender to Yemeni army
• Yemenis firing own missiles at Saudi Arabia: Iran's IRGC
--------
Pakistan
• Security Report Claims IS Footprint 'On Rise' In Pakistan
• Pakistan Cautions US about Consequences of Anti-Taliban Offensive
• Shahbaz, Sana Woo Pirs, Clerics As MPC Deadline Expires
• US Playing Politics over Religious Freedom in Pakistan, Minorities Say
• Khattak's Presence at Difa-i-Pakistan Council Rally Stirs Controversy
• Pakistan, Iran agree on sustainable border security
• Two 'terrorists' gunned down in Quetta
--------
India
• Muslim 'Reformers' Hiding Real Issues: Gen. Secy, AISJU
• Muslims Welcome UP Government's Directive to Curb Noise Emanating from Places of Worship
• 'Do Your Parents Make Bombs?': Muslim Students Become Targets Of Prejudice, Hate In Delhi Schools
• Pakistan Reluctant To Act against Taliban, HQN amid US Pressures
• Sushil Modi Pitches for Law to End Polygamy among Muslims
• Islamic Jurists Call J&K Waqf's Property Insurance Move Un-Islamic
• How Gurdwara Is Keeping This Mughal-Era Mosque Alive
• Change Public Opinion on Sharia Law: Muslim Board to Community Leaders
• Why Indians, some Pakistanis came together in US to protest outside Pak embassy
• Uttar Pradesh Govt Restricts Use of Loudspeakers at Religious, Public Places
--------
Southeast Asia
• Perak Bans 2 Preachers, Cites Wahhabism among Reasons
• Malaysian PM: King Salman Center for International Peace Will Correct Terrorist Slurs On Islam
• Indonesian activists, church attack palm plantation bill
• Malaysia honoured with invitation to Al-Azhar World Conference on Jerusalem
• Marketing morality a winning strategy for Indonesian hardline groups
--------
Arab World
• Arab League to Lobby UN to Recognise Palestinian State
• Car Bombing Leaves over 20 People Dead in Syria's Idlib
• Saudi Arabia charges royals arrested for protesting austerity
• Syrian Army Dispatches More Troops, Equipment to Eastern Damascus
• At least 18 killed in explosion in Syria's Idlib
• Egypt refutes NYT report on tacit acceptance of Jerusalem move
• Russian airbase in Syria's Latakia attacked second time this week
• Syrian troops break militant siege on army base in Eastern Ghouta
--------
Europe
• Trump, Macron Agree That Iran Protests Are 'Sign of Regime's Failure'
• EU to Invite Iran's Zarif for Talks over Recent Riots
• Turkish, German foreign ministers pledge to mend strained relations
• French Police Faked Records in Cover-Up After ISIS Jihadists Killed Priest in Church
• UK: A Sit-In In front Of the US Embassy and a Speech Festival in Rejection to Trump's Decision On Jerusalem
--------
South Asia
• Key ISIS Leaders among 20 Killed In Laghman Airstrike
• 17 Militants Killed, Wounded In Uruzgan Airstrikes
• Taliban leader in charge of finances and logistics killed in Helmand
• Myanmar set to close Rohingya camp near Sittwe
• How the Bangladeshi Succession Law Jeopardizes Family Planning
• Interior minister visits Balkh amid rising tensions over provincial leadership
--------
Africa
• Nigeria Flying Citizens from Libya amid 'Endemic' Abuse
• Two Migrants Dead, 290 Rescued Off Libya Coast
• Jordan agrees to send aid to stranded Syrians
• Italy's coast guard says eight migrants died at sea
• Nigerian forces attack protesters calling for top Shia cleric's release
• Libya-Tunisia crossing resumes work after clashes
--------
North America
• Trump Is Right to Bully America's Enemies
• US, Israel slammed over Jerusalem decision
• The puzzling case of a former Taliban hostage charged with sex assault
• Unlike US, Iran could assist Turkey's war on terror
Compiled by New Age Islam News Bureau
URL: https://www.newageislam.com/islamic-world-news/iran-bans-english-primary-schools/d/113859
--------
Iran Bans English in Primary Schools to Block 'Cultural Invasion'
By REUTERS
JAN. 7, 2018
DUBAI — Iran has banned the teaching of English in primary schools, a senior education official said, after Islamic leaders warned that early learning of the language opened the way to a Western "cultural invasion."
"Teaching English in government and nongovernment primary schools in the official curriculum is against laws and regulations," Mehdi Navid-Adham, the head of the state-run High Education Council, told state television late on Saturday.
"This is because the assumption is that, in primary education, the groundwork for the Iranian culture of the students is laid," Mr. Navid-Adham said, adding that noncurriculum English classes might also be blocked.
The teaching of English usually starts in middle school in Iran, around the ages of 12 to 14, but some primary schools below that age also have English classes.
Some children also attend private language institutes after their school day. And many children from more privileged families who attend nongovernment schools receive English tuition from day care through high school.
Iran's Islamic leaders have often warned about the dangers of a "cultural invasion," and the supreme leader, Ayatollah Ali Khamenei, voiced outrage in 2016 over the "teaching of the English language spreading to nursery schools."
Ayatollah Khamenei, who has the final say in all state matters, said in that speech to teachers, "That does not mean opposition to learning a foreign language, but (this is the) promotion of a foreign culture in the country and among children, young adults and youths."
"Western thinkers have time and again said that instead of colonialist expansionism ... the best and the least costly way would have been inculcation of thought and culture to the younger generation of countries," Ayatollah Khamenei said, according to the text of the speech posted on Leader.ir, a website run by his office.
While there was no mention of the announcement being linked to recent protests against the clerical establishment and government, Iran's Revolutionary Guards have blamed foreign enemies for fomenting the unrest.
Iranian officials said at least 21 people were killed and more than 1,000 arrested during the protests that spread to more than 80 cities and rural towns, as thousands of young and working-class Iranians expressed their anger at graft, unemployment and a deepening gap between rich and poor.
https://www.nytimes.com/2018/01/07/world/middleeast/iran-english-schools.html?mtrref=www.google.co.in&gwh=709A84DE7DA5AD05D3A49809FA7B2E87&gwt=pay
--------
Security Report Claims IS Footprint 'On Rise' In Pakistan
Jan 8, 2018
ISLAMABAD: Militant group Islamic State (IS) is continually on the rise in Sindh and Balochistan, as claimed in a security report, 'Pakistan Security Report 2017', released by Pakistan Institute for Peace Studies (PIPS), on Sunday.
The report also claims that despite a 16 per cent decline in terrorist attacks last year, Tehreek-i-Taliban Pakistan (TTP) and its associated groups remained the strongest threat, followed by Balochistan Liberation Army and Balochistan Liberation Front.
The report said that such realities required concerted efforts and a revision of the National Action Plan. According to the report, militant, nationalist/insurgent and violent sectarian groups carried out 370 terrorist attacks in 64 districts of the country in 2017. 815 people died and around 1,736 were injured due to these attacks. There was, however, a decrease of 16 per cent in such attacks over the previous year whereas the number of people killed decreased by a 10 per cent.
As many as 213, or 58 per cent of these attacks were executed by the TTP, its splinter groups, mainly Jamaatul Ahrar, and other militant groups. 186 people were killed in these attacks.
National insurgent groups, mostly in Balochistan, were responsible for around 138 attacks, or 37 per cent of the total, killing 140 people. As many as 19 terrorist attacks were sectarian-related, in which 71 people were killed and 97 injured.
As compared to the figures of 2016, across the border attacks in the country increased by a daunting 131 per cent, according to the report. 188 lives were lost and around 348 people were injured as a result of these attacks.
Security forces and law enforcement agencies killed a total of 524 militants in 2017 — compared to 809 in 2016.
National Security Adviser (r) Lt Gen Nasser Khan Janjua, in the report, reveals that a 'national security policy' has been documented and circulated internally in the government.
Another interview with the National Coordinator of National Counter Terrorism Authority (NACTA) Ihsan Ghani revealed that a new NISP policy, as well as a counter-extremism policy, will be announced this year.
https://www.pakistantoday.com.pk/2018/01/08/security-report-claims-is-footprint-on-rise-in-pakistan/
--------
Muslim 'Reformers' Hiding Real Issues: Gen. Secy, AISJU
JANUARY 07, 2018
Says Mujahids are turning puppets in the hands of Islam's foes
Kanthapuram A.P. Aboobacker Musliyar, general secretary, All-India Sunni Jamiyyathul Ulema, has indirectly criticised leaders of the Mujahid movement, claiming they are "puppets in the hands of the enemies of Islam."
He was delivering the convocation address at the ruby jubilee conference of Jamia Markaz at Karanthoor near here on Sunday.
Mr. Kanthapuram said the "self-declared Muslim reformers" had also hidden the real issues that the community faced. "The self-appointed reformers who act in the name of Islam and Muslims never make any efforts to safeguard the Muslim life, but make themselves busy in the process of contributing baseless arguments to the larger propaganda against Islam that is often motivated with political appeals," Mr. Kanthapuram said.
The Sunni leader said that Islam had its own internal mechanisms and methods for religious revival such as the Shariat law. One of the biggest threats the Shariat faced was not from outside, but from within the community. "The misuse of the Shariat by Muslims provides outside forces enough space to intervene in the internal matters of Islam," he pointed out.
Ready to support
Speaking on the call for a unification of Sunni groups, Mr. Kanthapuram said they were ready to support any move that would bring the Sunni factions together.
"The concept of Muslim unity is often exploited by political parties to handle the setbacks they face in political battles. Why those who blame Islamic scholars for the factionalism among Muslims do not take steps to bring together Muslim political parties into a single platform? This shows their hypocrisy," he said.
Mr. Kanthapuram made his stand clear on the reported boycott of the Markaz conference by a section of political parties, saying they might have misunderstood that the meeting was meant for politicians. "The structure of our institution does not allow for any intervention from political parties," he said.
The Sunni leader criticised the Union government's efforts to pass the triple talaq Bill saying it looked like a systematic move to categorise Muslims as a criminal community. Sheikh Hamdan Musallam Al-Masruee, chairman, Emirates Red Crescent, inaugurated the event.
http://www.thehindu.com/news/national/kerala/muslim-reformers-hidingreal-issues-kanthapuram/article22391668.ece
--------
Perak bans 2 preachers, cites Wahhabism among reasons
Minderjeet Kaur
January 8, 2018
PETALING JAYA: Perak has banned two Muslim preachers who are at loggerheads with each other from delivering their religious lectures in the state.
The two are controversial religious officer Zamihan Mat Zin and Muhamad Rozaimi Ramle, a popular preacher seen close to Perlis mufti, Asri Zainul Abidin.
Perak mufti Harussani Zakaria said the duo were banned because the contents of their talks were not in line with the Shafi Islam as practised by a majority of Muslims in Malaysia, besides being influenced by Wahhabism, the puritan strand of Islam followed in Saudi Arabia.
"If they give speeches, they can be arrested," Harussani told FMT.
In a letter dated Jan 5, 2018, Harussani said the decision was made last November following a meeting with state Islamic officials.
Zamihan and Rozaimi are already banned from giving religious lectures in Selangor.
Rozaimi is a lecturer at Universiti Pendidikan Sultan Idris (UPSI), and is part of the Perlis fatwa committee.
Zamihan, who leads the Sunnah Wal Jamaah Organisation (Aswaja), last year courted controversy for questioning the Johor sultan's criticism of a Muslim-only launderette.
http://www.freemalaysiatoday.com/?p=859635
--------
Arab League to lobby UN to recognise Palestinian state
January 07, 2018
AMMAN: Arab states will soon embark on a diplomatic drive to persuade the United Nations to recognise a Palestinian state with East Jerusalem as its capital on territory captured by Israel in the 1967 war, Jordan's Foreign Minister Ayman Safadi said.
Six Arab foreign ministers met in Amman on Saturday to follow up on earlier decisions taken by the Arab League to counter US President Donald Trump's move in December to recognise Jerusalem as Israel's capital, a decision that overturned decades of US policy on the Middle East.
A committee made up of Egypt, Morocco, Saudi Arabia, the United Arab Emirates, the Palestinians and headed by Jordan was set up after an emergency meeting of the Arab League in Cairo shortly after Trump's decision that called on Washington to abandon its decision.
The Arab League said at the time the move would spur violence throughout the region and described Trump's announcement as a "dangerous violation of international law" which had no legal impact.
Safadi said the ministers would recommend a series of moves to a full ministerial meeting of the Arab League due later this month.
"We will confront the decision by seeking a (UN) resolution, an international one, to recognise a Palestinian state on 1967 borders with Jerusalem as its capital," said Safadi.
He did not elaborate on the timing of the diplomatic moves nor say whether he was referring to a UN Security Council or General Assembly resolution.
Arab League Secretary-General Ahmed Aboul Gheit said the ministerial meeting would also discuss Washington's role in future Arab-Israeli peacemaking that members states said was now jeopardised by what they see as US bias towards Israel.
"We want to lessen any losses on the Palestinian side and lessen the Israeli gains," Aboul Gheit added.
Arab states would also discuss whether to convene an extraordinary summit of their leaders or wait until a scheduled summit in the Saudi capital Riyadh at the end of March, he added.
Trump's recognition of Jerusalem has infuriated the Arab world and upset Western allies, who say it is a blow to peace efforts and risks sparking more violence in the region.
Palestinians claim East Jerusalem as the capital of a future state. Israel regards Jerusalem as its eternal and indivisible capital.
Most countries consider East Jerusalem, which Israel annexed after capturing it from Jordan in a 1967 war, to be occupied territory, and say the status of the city should be decided at future Israeli-Palestinian talks.
On Dec. 18, the United States blocked a United Nations Security Council call for Trump's declaration on Jerusalem to be withdrawn.
Three days later, more than 120 countries defied Trump and voted in favour of a United Nations General Assembly resolution calling for the United States to drop its recognition of Jerusalem as Israel's capital.
In 2012, the UN General Assembly overwhelmingly approved the de facto recognition of the sovereign state of Palestine in a resolution that said the status of Jerusalem should be resolved through negotiations.
https://nation.com.pk/07-Jan-2018/arab-league-to-lobby-un-to-recognise-palestinian-state
--------
Mideast
Turkey reopens iconic 'Iron Church' after revamp
January 08, 2018
ISTANBUL - The leaders of Turkey and Bulgaria on Sunday reopened the Bulgarian St Stephen's Church in Istanbul after seven years of restoration, a gesture of harmony in an often turbulent relationship between the two neighbours.
The Bulgarian Orthodox church in Balat, a historic Istanbul neighbourhood on the shores of the Golden Horn traditionally home to Christians and Jews, was built in 1898 after its original wooden structure was destroyed in a fire.
Made out of cast iron, the iconic ornate building has been dubbed the "Iron Church". For President Recep Tayyip Erdogan, who hosted Bulgaria's conservative Prime Minister Boyko Borisov, the ceremony was a riposte to charges that Turkey 's Islamic-rooted government does not do enough to protect the rights of Christian minorities and their heritage.
"Istanbul has shown once again to the entire world that it is a city where different religions and cultures peacefully co-exist," Erdogan said. He said it was the "states' responsibility to safeguard freedom of worship for all people regardless of their faith or ethnic origins."
In an appeal to minorities in Turkey , Erdogan said: "You are free to practise your religion and you are under our protection."
'NORMALISE TURKEY-EU TIES'
Bulgaria, which holds the rotating EU presidency for the next six months, shares a 270-kilometre (165-mile) border with Turkey . Speaking during the ceremony, Borisov said: "Today, I am sure, the whole of Europe and the Balkans will see how the ethnic tolerance is an example to follow in one Christian and in one Muslim country."
"The symbolism of this day is a symbolism towards Europe. Turkey is the biggest neighbour of the EU, with the biggest army in Europe," he said in his first visit abroad only days after Bulgaria took over the EU presidency. "We must make in 2018 the relations between the EU and Turkey such as they were several years ago, to normalise them."
Turkey is home to more than 200,000 ethnic Turks with Bulgarian passports who left Bulgaria during the communist era. Bulgaria, meanwhile, is home to a 700,000-strong ethnic Turkish minority, a legacy of the Ottoman empire.
'SOURCE OF INSPIRATION'
The reopening of the 120-year-old church is also seen as a sign of appeasement after a spat erupted ahead of Bulgarian elections last March, and a Turkish referendum on expanding Erdogan's power.
Sofia had accused Ankara of meddling in its polls, summoning Turkey 's ambassador and recalling its own envoy from Turkey for consultations. Meanwhile, the main party representing the Turkish minority in Bulgaria had denounced Turkey 's April vote on granting Erdogan sweeping powers as "madness".
But in a show of cooperation, Bulgaria and Turkey co-funded St Stephen's restoration, one of the world's oldest prefabricated cast iron churches. It cost over 15 million lira (3.3 million euros, $4 million).
The iron elements were produced in Austria in the 19th century and shipped to Istanbul via the Danube and the Black Sea. Vasil Liaze, president of a foundation overseeing the church, told Turkish media the church had been restored under so-called rules of reciprocity.
This means Sofia has given the green light for the Cuma (Friday) Mosque in Bulgaria's second city of Plovdiv to be restored in return. Erdogan said he hoped that the church's reopening would be "source of inspiration" for future cooperation with Bulgaria. Erdogan's government insists it has passed reforms to improve minorities' rights including legislation allowing minority groups to buy and renovate their properties.
In June 2014, when prime minister, Erdogan said the government had returned to minority foundations confiscated assets worth over $2 billion. But opponents say Erdogan's ruling Justice and Development Party have done little to expand minority rights and showed intolerance for dissenting voices.
https://nation.com.pk/08-Jan-2018/turkey-reopens-iconic-iron-church-after-revamp
--------
Turkish TV airs Egypt intelligence tapes on Jerusalem
Jan 8, 2018
A Turkey-based TV station has released audio recordings it said were of an Egyptian intelligence officer asking influential hosts in Egypt to persuade their viewers to accept a US decision to recognise Jerusalem as Israel's capital.
The recordings in Arabic, aired by the Mekameleen TV network late on Sunday, were first reported on by the New York Times and appeared to contradict Egypt's public condemnation of the US move.
Mekameleen TV is an Istanbul-based free-to-air satellite television channel, run mostly by exiled Egyptians.
The State Information Service in Cairo refuted the Times' January 6 report in a statement, saying its positions "are conveyed by the president, the foreign minister and in official statements".
Egypt's stance on Jerusalem remains unchanged, the statement said, adding that the Times does not provide evidence that the official named in its report, Captain Ashraf el-Kholi, was an officer with the country's intelligence service.
Egypt was among one of the first countries to criticise the decision by US President Donald Trump, which prompted widespread international condemnation and deadly protests in the occupied Palestinian territories.
Cairo also submitted a resolution rejecting the move to the UN Security Council, but it was vetoed by the US.
However, in the recordings released by Mekameleen, el-Kholi can be heard telling one of the hosts that he was calling to lay out "the stance of Egypt's national security apparatus and what it stands to benefit from in this matter of announcing Jerusalem to be the capital of Israel".
"We like all our Arab brothers are denouncing this matter," el-Kholi continued. "After that, this thing will become a reality.
"Palestinians can't resist, and we don't want to go to war. We have enough on our plate as you know."
That call appeared to be with Saeed Hassaseen, a TV host and member of parliament, who the Times said backed out of an interview on the issue.
El-Kholi called the reaction to Trump's decision "dangerous" and said it could strengthen Hamas, the group that controls the Gaza Strip.
Egypt has long accused Hamas of supporting groups fighting its security forces in the Sinai peninsula, a region that borders Gaza and Israel.
"An Intifada [uprising] would not serve Egypt's national security interests because an Intifada would revive the Islamists and Hamas," el-Kholi said.
The other calls were with Mofid Fawzy, who denied speaking to el-Kholi, and with Egyptian singer and actress Youssra. Host Azmi Megahed, the fourth person el-Kholi spoke with, confirmed the conversation to the Times.
In his call with Megahed, el-Kholi suggested that the Palestinians should be happy with the occupied West Bank city of Ramallah, home to the Palestinian Authority.
"How is Jerusalem different from Ramallah, really?" el-Kholi said.
Full report at:
https://www.aljazeera.com/news/2018/01/turkish-tv-airs-egypt-intelligence-tapes-jerusalem-180108070054482.html
--------
Houthi militia commander, fighters surrender to Yemeni army
6 January 2018
Military sources in Hays district, south of al-Hodeidah governorate, said Houthi commander Ibrahim Aathabo, who is stationed at the western coast, and 50 other fighters surrendered to the National Army and Popular Resistance forces on Saturday.
Aathabo and the fighters surrendered after fierce battles with the army in Hays.
Aathabo was a gang leader and was sentenced to death, but Houthis released him in exchange of fighting for them.
Meanwhile, other sources reported that Yemeni army forces captured two prominent Houthi leaders, Fayez Omar Ali Abdo al-Qadam and al-'Uzzi Mohammed Ibrahim al-Shajaf, when they arrived with reinforcements from al-Mahwit to militias stationed at the west coast front.
Full report at:
https://english.alarabiya.net/en/News/gulf/2018/01/06/Houthi-militia-commander-fighters-surrender-to-Yemeni-army.html
--------
Yemenis firing own missiles at Saudi Arabia: Iran's IRGC
Jan 7, 2018
The chief commander of Iran's Islamic Revolution Guards Corps (IRGC) has dismissed the allegations leveled by the US and its allies about the Islamic Republic's provision of missiles to Yemeni forces.
"Missiles fired at Saudi Arabia belong to Yemen which have been overhauled and their range have been increased," Major General Mohammad Ali Jafari said on Sunday.
He added that there is no possibility at all that the Islamic Republic could transfer missiles to Yemen.
He said the US and its puppets have so far spread many lies and leveled many allegations against Iran.
"How is it possible to send weapons, specially missiles, to a country which is fully under siege and there is even no possibility to send medical aid and foodstuff?" the IRGC commander asked.
US Ambassador to the United Nations Nikki Haley on December 14 appeared in a staged show in front of a large and charred tube that she claimed was "concrete evidence" that Iran was providing missiles to Yemeni forces fighting against Saudi Arabia's war of aggression on their country.
Responding to Haley's allegation, Iran's UN mission categorically dismissed as "unfounded" her claim that a missile fired at Saudi Arabia from Yemen was supplied by the Islamic Republic.
In a statement released following Haley's allegations, the mission said, "These accusations seek also to cover up for the Saudi war crimes in Yemen, with the US complicity, and divert international and regional attention from the stalemate war of aggression against the Yemenis that has so far killed more than 10,000 civilians, displaced three million, crippled Yemen's infrastructure and health system and pushed the country to the brink of the largest famine the world has seen for decades, as the UN has warned."
Iran's defense minister also announced that the Islamic Republic would file a complaint with the United Nations over Haley's claim that missile debris allegedly retrieved in Saudi Arabia was of Iranian origin.
Brigadier General Amir Hatami added that Iranian military technicians were investigating the US administration's allegations and were preparing a complaint to be filed with the UN.
"The enemies of the Islamic Republic can make whatever claim, but once the [Iranian] complaint is filed, a part of the missiles [presented] will have to be handed over to Iran so we can present a final conclusion after inspections," Hatami noted.
On December 16, Iranian Foreign Minister Mohammad Javad Zarif dismissed as "baseless" the US allegation that Tehran supplies missiles to Yemen, saying it was an attempt by Washington to whitewash its war crimes in the Middle East.
Zarif said such claims aimed to deflect attention from US complicity in the crimes committed in the Middle East, particularly in Yemen, and from US President Donald Trump's "very dangerous move" to recognize Jerusalem al-Quds as Israel's "capital."
On December 14, Abdel-Malek al-Ejri, a senior official of Yemen's Houthi Ansarullah movement, said that Yemen had been firing missiles at Saudi Arabia during the course of the kingdom's military aggression against Yemen since it began in 2015.
"After three years of war, America suddenly finds evidence that Iran supports the Houthis," he wrote in a message on his Twitter account.
"America did not find any evidence in all the missiles fired from Yemen until now. The story is clear. They want to give Arabs a story to divert their attention from Jerusalem al-Quds. Instead of being angry at Israel, they wave the Iranian bogey," the official added, referring to Washington's push to move its diplomatic mission in Israel from Tel Aviv to the occupied city of Jerusalem al-Quds.
Even the United Nations refuted US missile claims against Iran with UN Secretary-General Antonio Guterres saying in a confidential report obtained by AFP that the world body's team, which visited Riyadh to scrutinize the alleged evidence, had not yet established a link between them and the Islamic Republic.
A Saudi Arabian-led coalition launched a war against Yemen in 2015 and has ever since been indiscriminately hitting targets in the country. Yemeni Houthi fighters have been firing missiles in retaliatory attacks against Saudi targets every now and then.
Full report at:
http://www.presstv.com/Detail/2018/01/07/548134/IRGC-Yemen-missile-Iran-Mohammad-Ali-Jafari
--------
Pakistan
Pakistan cautions US about consequences of anti-Taliban offensive
Anwar Iqbal
January 08, 2018
WASHINGTON: Pakistan is believed to have told US interlocutors that a major military offensive against the Taliban from both sides of the Afghan border, if ending in failure, will have negative consequences for the entire region.
Diplomatic sources, who spoke to Dawn, believe that the key element in the new US strategy for Afghanistan is to launch a two-pronged military offensive that inflicts a military defeat on the Taliban and forces them to join the Afghan reconciliation process on Kabul's conditions.
Pakistanis do not disagree with the basic thrust of the Ameri­can argument but they have one major worry: What if it fails?
"We've been working with Pakistan, on the South Asia Strategy… and it's how do we work together to take out the terrorists," said US Secretary of Defence James Mattis while explaining the new strategy, which he said at this weekend news briefing was a strategy for entire South Asia.
Asked if he believed the civilian government was capable of assisting US counterterrorism efforts in the region, Mr Mattis said: "I would say the Pakistan government is capable of doing what we're trying to do together, yes. Absolutely."
Mr Mattis said that the US was engaged in an ongoing dialogue with the Pakistanis to "hammer this out … now that we've created the strategy, then you have to execute it."
Secretary Mattis and State Rex Tillerson are the two cabinet level officials of the Trump administration who recently visited Pakistan to explain this strategy to senior civilian and military leaders, including Army Chief Gen Qamar Javed Bajwa.
Mr Mattis said that senior US generals were maintaining regular communication with their Pakistani counterparts and on Thursday Gen Joseph Votel, who heads the US Central Command, spoke to Gen Bajwa as Washington announced the decision to suspend security assistance to Pakistan.
Asked if the US administration had studied the possible impact of this decision on its Afghan strategy, Mr Mattis said: "It's all integrated into the strategy."
"We'll fight them," the secretary said, when asked about his strategy for combating terrorists, including those from the militant group Islamic State of Iraq and Syria (ISIS).
The remarks strengthen the speculation often heard at Washington's diplomatic and political circles: President Donald Trump wants to be remembered as the US leader won the Afghan war and he wants to do it in his first term to increase his chances of winning the second.
Pakistani officials, who have interacted with US officials on this issue, say that they too have the same ambition: ridding the region, particularly Afghanistan, of militants.
They argue that no other country has suffered more at the hands of militants than Pakistan and no other country has been more successful in fighting them back either.
Secretary Mattis acknowledged both points at his weekend briefing at the Pentagon but also urged Islamabad to cooperate with the US in defeating the Afghan Taliban, including the Haqqani Network which, he says, has safe havens inside Pakistan and uses them to recuperate and re-launch attacks into Afghanistan.
"Pakistan has lost more troops total than all of Nato coalition combined in the fight against them. But we've had disagreements, strong disagreements on some issues, and we're working those," he said. He also acknowledged that the United States was holding private talks with Pakistan on how to win this war.
While Pakistanis reject the US charge that they have allowed the Haqqani Network to maintain safe havens, they appear more eager to understand the US plan to defeat the Taliban.
But they fear that a major military offensive, without engaging some Taliban factions in direct talks first, could be counter-productive. The Taliban might outlive this offensive too, and deal with it "lying low in their mountain fastness, as they did with previous offensives," as one interlocutor said.
And in the process Pakistan will lose whatever influence it has. With all lines of communication closed, the Taliban will become even more dangerous, particularly for Pakistan, which has always faced the blowback of previous adventures in Afghanistan, whether launched by the Russians or Americans.
They remind their interlocutors that Pakistan is still coping with the consequences of Britain's Afghan adventures. Those adventures led to the creation of a buffer zone — Fata, which later became the source of many troubles.
The Trump administration, however, does not seem much interested in the Pakistani argument, at least for now. But it would if the Taliban outlive the proposed offensive as well.
https://www.dawn.com/news/1381550/pakistan-cautions-us-about-consequences-of-anti-taliban-offensive
--------
Shahbaz, Sana woo pirs, clerics as MPC deadline expires
January 08, 2018
LAHORE: Punjab Chief Minister Shahbaz Sharif and Law Minister Rana Sanaullah gave a fig to the demand for their resignations in connection with the Model Town tragedy as the January 7 deadline set for the purpose by the multi-party conference organised by the Pakistan Awami Tehreek (PAT) expired on Sunday.
The two leaders rather spoke at a conference of spiritual leaders (caretakers of shrines) here on Sunday, apparently as a counter strategy against the likely anti-government campaigns of the PAT and Pir Hameeddudin Sialvi on the Khatme Nabuwat issue.
On the other hand, a meeting of PAT central core committee held under Dr Tahirul Qadri discussed various options available for its protest strategy.
In the light of the discussions, the PAT chief began making telephonic contacts with members of the steering committee the MPC had formed on Dec 30, sharing with them the outcome of the party meeting.
Some of the members will also call on Dr Qadri before the steering committee meeting scheduled for Monday (today) to finalise the strategy to be adopted by the body, an insider says.
The steering committee comprises representatives of the Pakistan People's Party, PTI, Awami Muslim League, Majlis Wahdatul Muslimeen, Pak Sarzameen Party and Muslim Conference. PAT Secretary General Khurram Nawaz Gandapur will be the coordinator and Lateef Khosa legal adviser of the body.
Pir Sialvi, on the other hand, will be leading a sit-in outside the shrine of Data Sahib (Hazrat Ali Hajveri) at Bhati Chowk here from Jan 9 (Tuesday) as the provincial government decides to give him a "free hand" for the protest.
The chief minister told the conference of spiritual leaders that the country was at a critical juncture and could not afford any chaos.
"Disputes, internal divisions and differences are harmful for the country's prestige and integrity," he said, urging the audience to play their role for building a consensus [on various issues] in the country.
He said no one could claim to be a Muslim without having faith in the finality of the prophet hood of the Holy Prophet (PBUH).
Chiding the proponents of what he called 'sit-in politics', he said spreading chaos, either intentionally or unintentionally, was like serving the purpose of terrorists and enemies of the nation.
Rana Sanaullah also reaffirmed at the moot his faith in Khatame Nabuwat and said the PML-N leadership and government were playing their part to protect this belief.
Full report at:
https://www.dawn.com/news/1381527/shahbaz-sana-woo-pirs-clerics-as-mpc-deadline-expires
--------
US playing politics over religious freedom in Pakistan, minorities say
BY RABIA MALIK
Jan 8, 2018
Ahmadiyya community's spokesperson says Pakistan needs to put its own house in order
Prof Kalyan says US move will isolate minorities instead of making their lives better
Jibran Nasir calls move to place Pakistan on the list a 'pressure tactic'
Bishop Alexander Malik demands representatives of minorities to consult communities before speaking at international forums
LAHORE: Members of the minority communities and human rights activists have condemned the United States move of placing Pakistan on the Special Watch List for "severe violations" of religious freedom, calling the designation a "joke" in the backdrop of current political scenario.
Pakistan on Thursday was placed on the Special Watch List, making it the only country to be put under the newly-formed list.
US Secretary of State Rex Tillerson announced re-designation of 10 countries as 'Countries of Particular Concern' (CPC). "The secretary also placed Pakistan on a Special Watch List for severe violations of religious freedom," State Department Spokesperson Heather Nauert said.
The countries are designated on the recommendation of the US Commission on International Religious Freedom (USCIRF) in line with the International Religious Freedom Act (IRFA). IRFA requires the US government to designate as CPC any country whose government engages in, or tolerates, particularly severe religious freedom violations that are systematic, ongoing, and egregious.
The List is for countries that engage in or tolerate severe violations of religious freedom but may not rise to the level of the CPC. It is being seen as a step below designating it as CPC, which would have automatically kicked in economic and political sanctions.
Pakistan, notably, is the first ever country to be placed on this list, which is a new category created by the Frank R Wolf International Religious Freedom Act of 2016.
Talking to Pakistan Today, Jibran Nasir, a human rights activist, said that the move to place Pakistan on the list is a "pressure tactic".
"The USCIRF has been making the same recommendation since 2002 but the US decided to place Pakistan in the list only now when the relation between the two countries has taken a bitter turn."
"The US wants to coerce Pakistan into doing what it wants; the move is political and undermines all the efforts we have made so far to make the country somewhat religiously tolerant," he added.
The designation will do nothing for minorities in the country; in fact, Pakistan has garnered sympathy from around the globe.
"Turkey, Russia, China and Japan are expressing solidarity with Pakistan, US has made a joke of the human rights issue," said the activist.
It is pertinent to mention here that the report, this year too, recommended placing Pakistan in countries of particular interest along with Burma, China, Eritrea, Iran, North Korea, Saudi Arabia, Sudan, Tajikistan, Turkmenistan, Uzbekistan, Central African Republic, Nigeria, Russia, Syria, and Vietnam.
The report stated: "At least 40 individuals have been sentenced to death, or are serving life sentences for blasphemy, including two Christians who received death sentences in June 2016. During the year, an Ahmadi and a Shia Muslim were convicted and imprisoned for five years, and four Ahmadis were charged under the anti-Ahmadiyya provisions. Religious minority communities, including Christians, Hindus, Ahmadis, and Shia Muslims, also experience religiously motivated and sectarian violence from both terrorist organisations and individuals within [the] society; the government's longstanding failure to prevent or prosecute such violence has created a deep-rooted climate of impunity that has emboldened extremist actors."
The report went on to say that the constitutional provisions and legislation, such as the blasphemy and anti-Ahmadiyya laws, continue to result in prosecutions and imprisonments in Pakistan.
Jammat-e-Ahmadiyya's Spokesman Saleemuddin blamed the discriminatory legislation in the country for the reason to be placed on the list, saying, "It is our government's job to provide protection to us and if it had done its job from the beginning, we wouldn't be facing humiliation at international forums."
The spokesman asserted that instead of pointing fingers at others, Pakistan needs to put its own house in order first. "There is no doubt that religious freedom is being curbed in the country besides the usurping of fundamental human rights," he said in reply to a question.
Commenting on Prime Minister Shahid Khaqan Abbasi's address in Ghotki, Sindh on Saturday, Saleemuddin lamented: "The prime minister says that people from every religious community are in parliament, but I haven't seen any Ahmedi lawmaker as of yet."
Speaking to Hindu community's representatives, the premier had expressed discontent at Pakistan's inclusion in the US's list, saying Pakistan had always stood for the protection of religious freedom of all minorities.
Professor Kalyan Singh, a notable member of the Sikh community, voiced the same concern as Saleemuddin, saying that the problem is internal and must be solved internally. He said such action will isolate Pakistani minorities even more and will act as a tool of propaganda for the rival forces.
Backing Kalyan's opinion, MNA Asia Nasir said that Pakistan was being treated unfairly in this regard.
"I have noticed that Pakistan has to face extraordinary criticism for little things; however, many countries, particularly the Arab, get a free pass."
However, the move is not surprising as the USCIRF has backed up their stance using the discrimination against minorities prevalent in the curriculum, forced conversions etc. Recommending designation of Pakistan as a CPC, it stated: "Provincial textbooks with discriminatory content against minorities remain a significant concern. Reports also continue of forced conversions and marriages of Hindu and Christian girls and women, although the Pakistani government took some positive steps on this issue and made other encouraging gestures toward religious minorities."
Dr Ramesh Kumar Vankwani, a member of the National Assembly, said there are laws regarding religious freedom in the country, but they are not being implemented in spirit due to some hurdles.
In the case of the forced conversions' act, there is always a 'cleric' sitting in the session, who objects to the act or adds something to it.
Commenting on revising the curriculum, he said, "We still haven't revised course curriculum in Khyber Pakhtunkhwa (KP), despite passing the law."
Professor Kalyan Singh too questioned the textbooks' curriculum saying that the syllabus contains nothing but seeds of potential hatred towards minorities, as it depicts Hindus, Sikhs, and other minorities of the country in a 'particular way'.
The minority representatives Pakistan Today talked to lamented the fact that there was no actual representation of minorities in the legislative assemblies of the country.
Dr Vankwani said, "We [Hindus] don't have actual representation in the assemblies as there are 'black sheep' in our midst too."
The same concern was echoed by Bishop Alexander John Malik who demanded that the communities should be aware of what their representatives are saying about their conditions in the United Nations and other international forums.
Kalyan Singh, pleading to the international forums not to use religion as a political tool, said that there is a difference between political and religious freedom. "We do have religious freedom here, but not the political freedom."
However, Diep Saeeda, a member of civil society, welcomed the US move of placing Pakistan in the watch list.
"I have heard disturbing accounts from members of various religious communities. A Hindu woman in Sindh once asked me: 'Why has there never been a case of Hindu man converting to Islam? Why are only girls becoming Muslims?'" she recalled.
"Placing Pakistan in the list is justified, this might put some pressure on the government [to take serious measure] to improve minorities' situation," she concluded.
ACTIONS US CAN TAKE:
The US can take following actions against the countries engaging in religious persecution:
A private or a public demarche;
A private or public condemnation;
The delay or cancellation of scientific or cultural exchanges;
The denial, delay, or cancellation of working, official or state visits;
The withdrawing, limitation, or suspension of some forms of US aid;
Direction to public and private international institutions to deny assistance;
Full report at:
https://www.pakistantoday.com.pk/2018/01/07/us-playing-politics-over-religious-freedom-in-pakistan-minorities-say/
--------
Khattak's presence at Difa-i-Pakistan Council rally stirs controversy
January 08, 2018
PESHAWAR: After an electoral alliance between Maulana Samiul Haq's Jamiat Ulema-i-Islam (JUI-S) and the Pakistan Tehreek Insaf (PTI), Khyber Pakhtunkhwa Chief Minister Pervez Khattak went a step further to appease religious groups, including some hardcore elements, by attending a public meeting of the Difa-i-Pakistan Council (DPC) here on Sunday.
The council's 'Tahaffuz Baitul Muqaddas Conference' was also addressed by Jamaatud Dawa (JuD) chief Hafiz Muhammad Saeed, who carries a bounty of $10 million announced by the United States for his suspected involvement in terrorist activities, via telephone.
The PTI has not joined the DPC — a conglomerate of 40 political and sectarian groups including JuD ­— but it recently entered into an electoral alliance with the JUI-S.
JuD's senior leader Prof Hafiz Abdur Rehman Makki was present on the stage in the absence of Hafiz Saeed who, according to the organisers, was stopped by the Punjab government from attending the conference. The participants chanted slogans against the Punjab government.
The participation of Chief Minister Khattak in the conference stirred controversy in the political circles.
Awami National Party's information secretary Zahid Khan said that Mr Khattak's participation in the moot showed that the PTI had formally joined the DPC. "Imran Khan was strong critic of the DPC, but his party's chief minister shared the stage with leaders of extremist groups," he added.
When contacted, KP Edu­cation Minister Muhammad Atif Khan said: "I can't comment on it, but it's clear that the PTI is not a member of the DPC."
The KP government's spokesman, Shah Farman, was not available for his comment on the matter.
In his address at the conference, Chief Minister Khattak said his government had focused on the social sector, including education and health, during its four-year tenure and also continued its efforts to serve Islam.
He said the KP government had made a chapter relating to the finality of Prophethood of Muhammad (peace be upon him) compulsory in text books as well as recitation and translation of the Holy Quran till grade 12 to produce good Muslims.
Mr Khattak said the KP government had provided the solar system to mosques and fixed honorarium for prominent prayer leaders. He criticised liberal forces for interfering in religious matters.
Addressing the conference, Maulana Samiul Haq, who is also chairman of the DPC, said US President Donald Trump had declared "war against Pakistan" by issuing threatening statements. He warned that the United States could take action against Pakistan and called for national unity. He said the government would be responsible if America attacked Pakistan.
The Maulana said Pakistan had lost over 5,000 military officers and soldiers in the so-called war on terror and suffered socially and economically. He said that transportation of equipment and goods meant for Nato forces in Afghanistan had badly damaged the country's road infrastructure.
"America should not consider Pakistan a piece of cake. Its forces had suffered defeat in Afghanistan and Pakistan will be the worst graveyard for Americans," warned Samiul Haq, who is referred to as "Father of Taliban".
He said Jihad was compulsory for every Muslim in the current situation, adding that the DPC was formed to counter Christian and Jewish lobbies. He said Hafiz Saeed had been put under house arrest because he was a staunch supporter of the people of India-held Kashmir.
In his telephonic address, Hafiz Saeed said the US, India and their allies were trying to create problems for Pakistan, adding that the Americans, after their defeat in Afghanistan, could never succeed against Pakistan. He said India would never become a supper power.
The conference called upon the Muslim rulers to avoid dealing in the US dollar and introduce an "Islamic currency". It was decided that the DPC would launch a countrywide movement to foil nefarious designs of Christian and Jewish lobbies against Pakistan. The council will hold multiparty conferences in Faisalabad on Jan 12 and in Lahore on Jan 13 against the US threats to Pakistan.
Full report at:
https://www.dawn.com/news/1381541/khattaks-presence-at-difa-i-pakistan-council-rally-stirs-controversy
--------
Pakistan, Iran agree on sustainable border security
Jan 8, 2018
TEHRAN: Pakistan and Iran have stressed the need for safeguarding sustainable security at the borders, joint actions in fighting narcotics transit, human and weapon trafficking between the two countries.
The understanding came at a meeting between Pakistan's National Security Advisor Nasser Khan Janjua and Secretary of Iran's Supreme National Security Council Ali Shamkhani in Tehran.
Speaking on the occasion, Nasir Khan Janjua said that Muslims need to be alert against foreign conspiracies designed to increase the fray between them.
He said Pakistan will continue its economic and security cooperation with Iran.
Full report at:
https://www.pakistantoday.com.pk/2018/01/08/pakistan-iran-agree-on-sustainable-border-security/
--------
Two 'terrorists' gunned down in Quetta
JANUARY 8, 2018
QUETTA: Two terrorists belonging to a banned extremist outfit were shot dead in Nawa Killi near Quetta, Balochistan late on Saturday.
Police said they were attempting to arrest the accomplices of an arrested suspect, who, himself, was in the vehicle with the authorities in order to help in identifying the suspects.
"However, the suspect's accomplices opened fire in a bid to help their detained friend escape. In the resulting exchange, one of the attackers, as well as the under-arrest suspect, were killed. Two terrorists, however, escaped from the scene," security officials said.
Full report at:
https://dailytimes.com.pk/176269/two-terrorists-gunned-quetta/
--------
India
Muslims Welcome UP Government's Directive to Curb Noise Emanating from Places of Worship
Indian Muslims for Secular Democracy (IMSD) welcomes the Allahabad High Court- prompted move by the Uttar Pradesh government to control noise pollution in the state. IMSD believes the use of loudspeakers in religious places and elsewhere during religious occasions is not an issue of faith. Often it is simply a matter of competitive religiosity between and within religions.
IMSD supports the UP government's directions to the district authorities on Sunday to stop unauthorized use of loudspeakers and public address systems, and to regulate the decibel level while granting permission.
We call upon the state administration to enforce the directives strictly and impartially, irrespective of whether it is a temple, mosque, gurudwara or church.
IMSD applauds the Muslims from Mallapuram (Kerala) who in June this year proactively decided to curb noise pollution. A group of 17 mosques from the Vazhakkad locality came to an agreement whereby only the biggest mosque in the area -- Valiya Juma Masjid -- would use loudspeakers to give out the call to prayer five times a day. The other 16 mosques, it was agreed, would say the azaan without loudspeakers.
IMSD also compliments the group of Muslims from South Mumbai who have voluntarily reduced the decibel level of the loud speakers atop the local mosque in order not to disturb the neighbourhood.
In 2014, Muslims from Navi Mumbai welcomed the Bombay High Court's order directing the police to remove the unauthorized loudspeakers from 45 out of the 49 mosques in the area.
IMSD appeals to people of all religions to voluntarily remove loudspeakers from their places of worship or at least cut down the decibel level as a mark of good citizenship and environmental care.
We appeal to Muslims, in particular, to take a lead in this matter and emulate the good practice of their co-religionists from Mallapuram, Mumbai and Navi Mumbai.
Javed Anand (Mumbai), Convener, IMSD, (+919870402556)
Mohammad Jawad (Chennai), Co-convener, IMSD, (+919840087114)
Yousuf Saeed (Delhi), Co-ordinator, IMSD (Delhi),
(+919821052413)
--------
'Do Your Parents Make Bombs?': Muslim Students Become Targets Of Prejudice, Hate In Delhi Schools
Jan 07, 2018
A day after a bomb blast in Europe, a teacher at a popular Noida school read out headlines to her Class 6 students. A student loudly called out the name of the only Muslim boy in class. "Saad*! Yeh kya kar diya tumne?," he asked. The teacher heard the alleged exchange, but did not say a single word.
In the last two decades, frequent terror attacks by terrorists who were Muslims and America's wars in West Asia have fuelled a global backlash against ordinary Muslims. Closer home, religious clashes, the Ramjanambhoomi-Babri Masjid feud, Mumbai riots, several terror attacks, and divisive politics have strengthened biases against the community.
Schools have not remained untouched by this rhetoric, despite textbooks stressing on India's unity in diversity. But even as adults find it tough to wrestle with Islamophobia, how do you raise a Muslim child in this environment?
Writer Nazia Erum's new book, Mothering a Muslim, explores this dilemma of growing up as a religious minority in India, where children as young as five find themselves targeted for their identity.
Nazia set out to write the book after her daughter Myra was born in 2014, when India was in the middle of what she says was a high-decibel, polarised election campaign. She was looking for some reassurance from other mothers like her.
But when she started collecting testimonies, a pattern started emerging.
"Baghdadi, Pakistani, Bangladeshi, Osama, ISIS. Being asked, do your parents make bombs…will your father kill me with a gun?" were just some of the taunts Muslim children faced at school, according to the book.
"This is not about kids – the children only mirror what we have done to ourselves. This is not even about Muslim kids – it's about all kids. This behaviour is not harmful only for the tormented, but also for the tormentor," says Nazia.
Being bullied for one's religion is not a phenomenon limited to Delhi schools. American schools have been grappling with the problem on an aggravated scale.
A March 2017 poll by US-based Institute for Social Policy and Understanding cites 42% of Muslim respondents saying their kids were bullied because of religion, either through insults or physical assault. One in four parents said the bullying involved teachers or school administration.
In October 2017, the Council on American Islamic Relations' report on school bullying found that incidents of harassment were on the rise. Thirty-six per cent respondents said they had their hijabs tugged, while 57% said their peers posted offensive remarks about their religion online. Advocates linked the rise in bullying incidents to Donald Trump's full-throttle election campaign, in which the US president made several remarks equating all Muslims with terrorists. To Fox News in December 2015, discussing his 'ban on Muslims', Trump referred to them as "a sick people".
If cases of religion bullying are not isolated, then what really is happening within schools in Indian cities?
The genesis of hate
Ayesha*(17), shifted to one of central Delhi's renowned schools in Class 9 in 2015. She was in-charge of decorating a school board on the 1965 Indo-Pak war and was cutting a Pakistani flag, when a classmate strolled up to her and said, "Oh, cutting the flag of your country?"
"I didn't understand at first... So I asked him why he said it. He told me, you know why," says the teenager, now in Class 11.
The upset teenager talked to her mother, 50-year-old business consultant Nazreen*, who despite being distraught, tried to reassure Ayesha that while what was said to her was unacceptable, such things would soon pass.
"Of course, I was concerned. I grew up in the 70s and 80s in eastern India, before attending college in Delhi. I was never made to feel that this is not my country, or that I don't belong here," she said.
Was such bullying unheard of before or did it pass under the radar?
Janaki Rajan, a professor at Jamia Millia Islamia, who has been working with school children for over 30 years now, said an anti-Muslim sentiment had been "simmering" since Partition. "The generation that saw the brutality of the communal violence at the time is still alive. They may have passed it on to next generation," she says.
Nazreen said such incidents rise when communal tensions flare up. In the aftermath of the 1992 Mumbai riots, her niece, who was four at the time, was burned with sparklers by a neighbour's child of the same age.
Parents Hindustan Times spoke to cite several reasons for the rise in such bullying — children exposed to sensationalised 24X7 news, unfiltered videos and posts on social media and the profusion of popular culture with West Asian terrorists as villains.
According to Annie Koshi, the principal of St Mary's School in Safdarjung Enclave, children are only reflecting what they see and hear "perfectly respectable adults" do and say in society.
"The news today is about skirmishes on the India-Pakistan borders, about cow vigilantes, about Triple Talaq. The predominant narrative is that the Muslim is the other, and that if you are Muslim, you must be Pakistani," she said. "We get to hear of such incidents in our school too, but then it is up to us to build an alternative narrative," she said.
Rajan said endemic discrimination and bullying was almost commonplace now.
"At (a private school in Delhi), I was told that when a teacher got stuck on what the flag of Pakistan looks like, she turned to the Muslim child in class for confirmation... And we can't expect teachers to do much either, as they may also have similar prejudices and biases," she explained.
Speak up, discuss
Schools do take action when such incidents come to light. However, not many students come forward with complaints.
At Sahil's* convent school in South Delhi, 'mulla' or 'terrorist' is casually hurled during lunch breaks or on the playground. But most children never complain. "Snitching is looked down upon," explains the Class 12 student. "Besides, it's just words. Sometimes we sort it out among ourselves with a fight."
Saad didn't want to approach the school, said his mother, Azaad*, who runs a non-profit organisation. Azaad explained to her son that while Muslims have been involved in terror attacks, Islam doesn't condone violence.
But when one of his friends repeatedly called him 'Baghdadi', Azaad spoke to the other child's mother. "I spoke to the kid's mother, who countered with how my son had called her son 'motu.' Is calling someone Baghdadi the same as calling someone fat?" .
Muslim mothers say they experience another fear too. What if a remark escalates into a physical fight or something worse? Azaad sees off her older son, a first-year law student at a Noida university, with the same 'hidayat', or advice every morning: "Don't discuss politics or religion."
This act of self-censorship extends to other areas as well. For Nazia, it meant giving Myra a name that would "unburden" her from her Muslim identity.
What can schools do to build a more inclusive environment?
"Whenever such incidents happen, you need to speak about it, dissect it and see where the child got it from. We need to have discussions with children about these issues to get them to think critically about it. If you let it go, the thought puts down its roots, and then takes over," said Koshi, who added that teachers need to be trained and sensitised too.
Annie Namala, the director of the Centre for Social Equity and Inclusion, who has served as a member of the National Advisory Council during the implementation of the Right to Education law in 2010, stresses the need for teacher training. Without training, even those who wish to make a difference will not have the tools and techniques to address the issue, she said.
The other hope is the kids themselves.
When Ayesha told her friends about the incident, some of them confronted the boy. They debated the incident among themselves and the boy apologised.
Sahil too says he hasn't heard offensive slurs like 'mulla' or 'terrorist' since he came into senior school.
Full report at:
http://www.hindustantimes.com/delhi-news/do-your-parents-make-bombs-muslim-students-become-targets-of-prejudice-hate-in-delhi-schools/story-p3gudmfekJLh6V230NbWtM.html
--------
Pakistan reluctant to act against Taliban, HQN amid US pressures
Jan 07 2018
Pakistan seems to be reluctant to act against the leadership councils of the Taliban and Haqqani network which the Afghan and US officials believe are based in the key cities of Pakistan.
The foreign minister of Pakistan Khwajah Asif has told the Wall Street Journal that Islamabad would not allow the Afghan war to be fought on Pakistan's soil.
"We have relative calm in Pakistan at the moment," Asif said. "But if we go against these people [Afghan insurgents], then the war will again be fought on our soil, which will suit the Americans," he added.
This comes as pressures on the rise on Islamabad to act against the Afghan Taliban, Haqqani network, and other terrorists having safe havens in Pakistan.
The US President Donald Trump last week criticized Pakistan in strong words for harboring the terrorist groups despite receiving billions in aid to support the counter-terrorism efforts in Afghanistan.
"The United States has foolishly given Pakistan more than 33 billion dollars in aid over the last 15 years, and they have given us nothing but lies & deceit, thinking of our leaders as fools. They give safe haven to the terrorists we hunt in Afghanistan, with little help. No more!" Trump said in a Twitter post on Monday.
The U.S. Ambassador to the United Nations Nikki Haley told reporters on Tuesday that "The administration is withholding $255 million in assistance to Pakistan. There are clear reasons for this. Pakistan has played a double game for years."
Full report at:
https://www.khaama.com/pakistan-reluctant-to-act-against-taliban-hqn-amid-us-pressures-04212
--------
Sushil Modi Pitches for Law to End Polygamy among Muslims
Jan 8, 2018
PATNA: Pitching for reforms in marriage laws of Muslim community in the country, deputy CM Sushil Kumar Modi (SuMo) on Sunday appealed to PM Narendra Modi to also bring new bills and make law for the abolition of polygamy and 'nikah halala' in the Muslim society for greater gender parity.
"I appeal to PM Modi to bring bills that become law to finally abolish the practice of polygamy and 'nikah halala' from the Muslim society," SuMo said, adding the "progressive sections among the Muslims should come forward in support of the reforms in their marriage laws to end polygamy and 'nikah halala'."
SuMo said country's first PM Jawaharlal Nehru had called the changes he had brought in the Hindu marriage code through the Hindu Marriage Act as his greatest achievement. Nehru had also said the time was not ripe then for reforming the marriage laws of Muslims, SuMo said, adding: "The time is ripe for bringing out these changes."
Speaking at a function organized by the party to felicitate health minister and former state BJP president Mangal Pandey for successfully organizing the party campaign in the Himachal Pradesh state assembly elections, SuMo came hard on the Congress on Shah Bano case, saying: "My personal view is that late PM Gandhi committed a sin by making constitutional amendment to overturn the Supreme Court order for alimony to Muslim women. This he did under the influence of the Muslim clerics."
Among others who addressed the function were party's state president Nityanand Rai, Rajya Sabha member and former Union minister Dr C P Thakur, road construction department minister Nand Kishore Yadav, cooperative department minister Rana Randhir Singh, former minister Sukhda Pandey and the party's Digha (Patna) MLA Sanjeev Kumar Chaurasia. For his part, Pandey recalled his experiences from the Himachal Pradesh elections.
Referring to the Congress's stand on the triple 'talaq' bill in the Rajya, SuMo said, "The Congress seemed to somehow support the bill in the Lok Sabha, but it completely changed its tack in the Rajya Sabha. The Congress is ambiguous on the matter and its stand is unclear."
He said the Congress, its president Rahul Gandhi and former president Sonia Gandhi have an opportunity to wash clean the sin committed by former PM Rajiv Gandhi. The party should support the triple 'talaq' Bill."
He said the Centre has increased the quota for the haj pilgrims from India from 1.36 lakh in 2014 to 1.70 lakh, and has also facilitated the journey for Muslim women to Mecca alone.
Full report at:
https://timesofindia.indiatimes.com/city/patna/sumo-pitches-for-law-to-end-polygamy-among-muslims/articleshow/62405991.cms
--------
Islamic Jurists Call J&K Waqf's Property Insurance Move Un-Islamic
By Mudassir Kuloo
Jan 08, 2018
Srinagar, Jan 07: Islamic jurists have opposed the Jammu and Kashmir Muslim Wakf Board's decision to insure its properties, by terming it as an "un-Islamic" practice.
The Wakf Board has issued a notification wherein it invited tenders from insurance companies for covering its properties against all risks.
The estimated cost of Wakf properties for which the tenders have been invited has been put at Rs 84, 94, 00,000. The tenders have been invited for insurance cover against all risks of the 168 Wakf properties.
Terming insuring properties as "un-Islamic" Mufti Nasir ul Islam, J&K's deputy grand Mufti, said that Wakf Board should refrain from this "illegal" practice.
"As per the present system in Kashmir, there is interest involved in insurance. So that Wakf should refrain from this practice," Islam told The Kashmir Monitor.
Deputy grand Mufti said that Wakf should look for other alternatives instead insuring its properties.
"Alternatives should be where there is no interest involved," he added.
Mufti Zia ul Haq said insuring a religious place is "un-Islamic".
"It is the responsibility of the government to protect the religious places. If any untoward incident happens, people should build it from their own money," he said.
Asked whether Wakf could insure other property, he said, "Some jurists allow insuring property under some conditions but that they don't fulfil here too."
Mufti Ahmad Sayeed Shah said that it was a "complicated" issue and the Wakaf Board should look into all aspects. "Before insuring any property, we have to look under what circumstances and on what conditions they decided to insure," he said.
Moulana Abid Malik said that all kinds of insurance are "prohibited" in Islam.
"People are permitted to insure properties under some circumstances like insuring a car where there is no other option left," he said. However, he said that insuring religious places was totally prohibited in Islam.
"Wakf Board should refrain from this un-Islamic practice," Malik said. He cautioned people from insuring their properties, saying it has been prohibited in Islam.
An official from the Wakf Board said 168 properties including shrines would be covered under insurance cover in the first phase. "The rest properties will be covered in the second phase," he said.
He said Wakf Board had no other option rather than to insure its property in the backdrop a lot of its property was gutted in fire or partially damaged due to fire.
"The state does not function as per Sharia law, then why shall we pin-point only this issue? Insurance is for the safety of Wakf property," he added.
Full report at:
https://kashmirmonitor.in/Details/140599/islamic-jurists-call-wakfs-property-insurance-move-un-islamic
--------
How gurdwara is keeping this Mughal-era mosque alive
By Man Aman Singh Chhina , Jagdeep Singh Deep
January 8, 2018
It is known as Chittian Masjidan, the white mosque, a possible reference to its two domes, now in disrepair but which still retain remnants of a brighter past. While the domes may be out of reach, the mosque's guardian ensures that at least the rest of the structure lives up to its reputation, periodically giving it a whitewash.
But what really makes this Mughal-era mosque at Mahadian village, near the historic city of Sirhind in Punjab, is that its guardian is the granthi of the neighbouring gurdwara.
Despite harbouring a painful and tragic chapter in Sikh history, the mosque and the gurdwara appear to have made peace with their violent past. The gurdwara, the Mastgarh Sahib Chittian, had been functioning inside the mosque for nearly a hundred years, and is only now being shifted to its own premises beside the masjid.
It was the qazi of this mosque, so the story goes, who issued a fatwa for the death of the two sons of Guru Gobind Singh in 1705. The mosque is less than a kilometre from the spot where the two — Zorawar Singh and Fateh Singh — were walled in by the Nawab of Sirhind, Wazir Khan, for refusing to embrace Islam. That event is now observed as Jor Mela, with Sikhs congregating at the spot every year.
Jeet Singh, the granthi, says he cleans the mosque twice a day because it is his "duty". "Very few worshippers have turned up, but we have never stopped anyone. Muslim worshippers feel happy that we are taking care of the old mosque," says Singh, who lives at the dera with his family including children, wife and father-in-law.
Professor Rashid Rasheed, who teaches Punjabi at Mata Gujri College in Fatehgarh Sahib, says the Chittian Masjidan gurdwara is an example of communal harmony that can be followed across the country. "I have visited the mosque and have found that Muslims are free to offer prayers there. It is an example that should be followed everywhere to keep the social fabric of our country intact," he says.
Prof Subash Parihar, a Faridkot-based historian and author of 'History and Architectural remains of Sirhind', says the mosque most likely dates back to the period of Mughal emperor Shah Jahan and was built between 1628-1658.
After repeated coats of whitewash, there is no sign of the glazed tile work, typical of Mughal-era mosques. And no one really knows how or why it survived the fury of Sikh fighters, who reclaimed the city in 1710 after routing Wazir Khan's forces and killing him in the battle of Chappar Chiri.
Full report at:
http://indianexpress.com/article/india/how-gurdwara-is-keeping-this-mughal-era-mosque-alive-5015532/
--------
Change public opinion on Sharia law: Muslim board to community leaders
Jan 08, 2018
Musab Qazi
As the Central government seeks to penalise Muslim men practising instant triple talaq — divorcing by uttering the word 'talaq' thrice at one go — the All India Muslim Personal Law Board (AIMPLB) wants community leaders to try and change the public perception of Sharia law as being detrimental to women.
At a consultative meeting in the city to discuss Muslim Women (Protection of Rights on Marriage) Bill, 2017, on Sunday, the board asked the community leaders to "open communication channels" to change opinion on issues related to Muslim personal law.
The board believes, the move will help in dissuading the government from seeking to pass the bill in its current form.
"The government's objective in introducing the bill is polarisation, not empowering Muslim women. Don't make this a Hindu-Muslim issue," said Maulana Khalilur Rahman Sajjad Naumani, a member of AIMPLB.
The board is also hoping to make instant triple talaq obsolete by preventing Muslim men from practising it. "A massive campaign is needed against instant triple talaq," said Maulana Naumani.
Members of the board also pushed for resolving matrimonial disputes through mediation, instead of approaching courts and police.
They advocated establishing and making use of counselling centres, helplines and darul qazas (Sharia courts) to resolve civil matters among Muslims.
The community leaders said that the triple talaq bill has many ambiguities that need to be removed. "In many cases, it's the women who want immediate end of a marriage through triple talaq," said Mubin Solkar, a city-based lawyer.
He also said that penalising husbands for triple talaq will jeopardise marriage.
Full report at:
http://www.hindustantimes.com/mumbai-news/change-public-opinion-on-sharia-law-muslim-board-to-community-leaders/story-nXWY29DbiH3woPauuzv9BL.html
--------
Why Indians, Some Pakistanis Came Together In US to Protest outside Pak Embassy
Jan 8, 2018
NEW DELHI: Even brutally cold conditions couldn't keep away Indian-Americans and some Pakistanis who came together today in Washington DC to protest outside the Pakistani embassy with symbolic shoes, reported ANI.
What united these two seemingly disparate groups to protest against Pakistan under the slogan 'ChappalChorPakistan'+, or 'shoe-stealing Pakistan'?
The Indian-Americans were protesting Islamabad's treatment of the family members of Kulbhushan Jadhav, who's on death row in Pakistan. Authorities there humiliated and intimidated Jadhav's wife and mother on their Christmas day visit+ with him. They even confiscated the footwear of Jadhav's wife claiming, variously, that it had a camera and a chip in it.
The protesting Pakistanis, who are exiles from the restive Balochistan province of their country, were protesting the same issue, to draw attention to how Balochis are treated in their country. Baloch exiles, and even those Balochis still living in Pakistan, have for long alleged the Pakistani state's brutal treatment of them - forced 'disappearances' and rapes being the gravest of charges against both the government and the Pakistani army.
"(Like) When they stole the chappal of a woman who was in distress, I hope they use these also," said one protestor, pointing to the used shoes 'donated' to Islamabad that were lined up outside the Pakistan embassy, reported ANI.
"I want to say one thing- Pakistan ka matlab kya? Amreeka (America) se dollar la, Hindustan ke joote kha!", the protester added.
That means: "What does Pakistan stand for? Take dollars from America and face the wrath of India."
Protestors slammed the behaviour of Pakistani officials toward Jadhav's wife and his mother and said it showed the "narrowmindedness" of the country.
"Pakistan's narrow-mindedness was exposed with how they treated Kulbhushan Jadhav's mother and wife. What policy makers and people here need to understand is that Pakistan as a whole is also being run with the same narrow-minded mentality," said another protester, seeking to draw the attention of US policymakers.
Meanwhile, the US, which considers Pakistan a 'major non-NATO ally', has in the last week taken firm action against Pakistan, not on the Jadhav issue, but for what it says is Pakistan's inaction on terror and its provision of safe havens for terrorists.
Full report at:
https://timesofindia.indiatimes.com/india/why-indians-some-pakistanis-came-together-in-us-to-protest-outside-pak-embassy/articleshow/62410225.cms
--------
Uttar Pradesh govt restricts use of loudspeakers at religious, public places
By Manish Sahu
January 8, 2018
The Uttar Pradesh government has banned the unauthorised use of loudspeakers and public address systems at religious and public places across the state. Setting January 15 as the deadline for obtaining permission, the government has warned that all such loudspeakers will be removed by January 20.
The move comes after the Lucknow bench of the Allahabad High Court, on December 20, asked the state government whether written permission was obtained from the concerned authorities before loudspeakers or public address systems were installed at religious places like mosques, temples, churches and gurdwaras.
In a 10-page order dated January 4, addressed to all district magistrates, senior superintendents of police and superintendents of police, State Principal Secretary (Home) Arvind Kumar has asked them to form teams, comprising revenue and police officials in their respective districts, to identify religious and public places where unauthorised loudspeakers and public address systems are being used.
"The direction also requires managers of religious and public places to obtain permission for putting up loudspeakers or any public address system before January 15. If they fail to do so, they will face action under the Noise Pollution (Regulation and Control) Rules, 2000," said UP's Secretary (Home) Bhagwan Swaroop.
The government has also directed action against the concerned authorities (government officials) who fail to ensure compliance.
Swaroop said each district will be categorised into industrial, commercial, residential and silence zones. Each area has separate maximum limits for permissible sound levels.
The loudspeakers installed in public places cannot have sound level more than 10 decibels above ambient noise level at the periphery of a public place and 5 decibels above ambient noise level at the periphery of a private place, according to officials.
All district officials have also been asked to ensure that the Noise Pollution (Regulation and Control) Rules, 2000 are followed during all processions and marriage functions. The district magistrates have been told to give information on the action taken in case the rules are flouted.
"We have directed all district magistrates, senior superintendents of police and superintendents of police to file the report by January 22," said Swaroop.
On December 20, while hearing a PIL filed by advocate Moti Lal Yadav, a divisional bench of Justices Vikram Nath and Abdul Moin asked whether written permission had been obtained for all loudspeakers installed at religious structures and other public places. The court also asked what action had been taken for removal of loudspeakers if permission had not been obtained, and how many loudspeakers and public address systems had been dismantled and removed from religious structures and other buildings.
The court had directed the Principal Secretary (Home) and Chairman, State Pollution Control Board, to file separate personal affidavits within six weeks explaining the steps taken to enforce the Noise Pollution (Regulation and Control) Rules, 2000. The court said if the affidavits were not filed within this time, both officials would have to appear in person before the court.
Full report at:
http://indianexpress.com/article/india/up-yogi-adityanath-govt-issues-directives-on-use-of-loudspeakers-5015137/
--------
Southeast Asia
Malaysian PM: King Salman Center for International Peace Will Correct Terrorist Slurs On Islam
8 January 2018
JEDDAH: The King Salman Center for International Peace in Malaysia aims to correct international misconceptions about Islam and combat the malicious rhetoric spread by Daesh and other terrorist organizations, Malaysian Prime Minister Mohammed Najib Tun Abdul Razzaq has said.
Addressing the Putrajaya International Security Dialogue 2018, themed "Wisdom and Moderation in Countering Terrorism," the Malaysian PM added: "The role of religious institutions does not only include the dissemination of beliefs, but also combating terrorism and extremism."
He called upon the leaders of the Islamic world to develop a plan for spreading the teachings of Islam and promoting moderation globally in laws and practices.
Malaysia's PM also called on religious scholars and institutions to engage more and innovate methods for combating extremist ideologies and distorted rhetoric about religious obligations.
The event was attended by more than 1,000 representatives from 20 countries.
The secretary-general of the Muslim World League (MWL), Mohammed Al-Issa, said: "The values of moderation in Islam are far from all concepts of extremism — whether the extremism Islam is falsely accused of, or counter-extremism seen in Islamophobia, which have resulted in conflicts, violence, and terrorism.
"Counter-extremism incessantly brings the barbarity of religious extremism to attention in order to convince others of its anti-Islam theory and then pass its claims on," he continued. "Scholars carry the great responsibility of bringing the truth to light."
He added: "MWL's latest statistics show that 1.8 billion Muslims in the Islamic world are moderate Muslims while only one person out of every 200,000 is an extremist, and this is a rather small number, yet troubling and controversial."
Al-Issa explained that eliminating terrorism does not just mean fighting terrorist organizations at a military level — which is essential, but also completely eliminating extremist ideologies because "extremism was not born from a political body nor a military force, but from an ideology."
The MWL has recently organized several forums to promote cultural communication between the Islamic world and a number of countries, civilizations, and cultures, the first of which was the "Civilizational Communication between the United States of America and the Islamic World" conference in New York last September. The United Nations participated in this event, which brought together more than 450 international representatives.
The league has also contributed to raising the awareness of Muslim minorities targeted by extremist organizations. The MWL met the leaders of these minorities across the world and invited them in Makkah to unite in an annual forum to promote moderate Islam.
Full report at:
http://www.arabnews.com/node/1220971/world
--------
Indonesian activists, church attack palm plantation bill
January 8, 2018
Indonesian activists and church people have reacted angrily to a draft bill set to go before legislators aimed at regulating the palm oil industry, saying it panders to large scale palm companies and fails to protect people's rights and the environment.
The bill is scheduled to be discussed in the Indonesian parliament and likely be passed into law later this year.
The legislation has been drawn up to regulate the industry, especially large firms, which have come in for some heavy criticism from rights and environmental groups, as well as the Catholic Church over alleged environmental destruction and the marginalization of poor and indigenous people.
Palm oil plantations in Indonesia cover more than 12 million hectares, of which 7 million are company owned, and the rest by the government and small farmers.
Critics of the industry say the proposed law is seriously flawed and will fail to give the protections it is supposed to provide.
Inda Fatinaware, executive director of environmental group, Sawit Watch, said many articles in the draft overlap and will give more room for companies to violate other laws including deforestation.
"It does not care about the welfare of farmers and workers, and has the potential to exacerbate social conflict," she told ucanews.com on Jan.4.
"It also does not aim to overcome land conflicts, which often occur between indigenous people and companies," she said.
Mansuetus Darto, director of the Palm Oil Farmers Union, said small farmers object to the draft, as it mitigates sanctions on corporations that violate laws.
According to existing Indonesian criminal law, environmental destruction and neglecting the rights of employees carries a five-year prison term and a fine of US$380,000.
But the draft allows a sentence of 16 months in prison and an $11,000 fine.
"We fear the proposed law will be abused by big companies to establish palm oil plantation in peatlands," he said.
"It [the draft bill] should be rejected because it does not help small farmers," he added.
Sacred Heart Father Anselmus Amo, who heads Merauke Archdiocese's Justice, Peace and Integrity of Creation Commission said Indonesia does not need special law for the palm oil industry because it already has a plantation law.
Father Amo, who campaigns for Papuan farmers effected by big business, also said the proposed law will only benefit large scale investors, not local people.
"I'm afraid it will provide more opportunities for large scale plantations in Papua," he said.
Antonius Sido, 46, a farmer in North Kalimantan province, said if the draft is passed, more small farmers would fall victim to land annexation.
"I disagree with the draft because we will lose our land and be more exposed to flooding because of deforestation," he told ucanews.com.
Some legislators, however, are trying to allay concerns.
Hamdhani, who sits on a parliamentary committee overseeing agriculture, told reporters recently the rights of both farmers and palm oil companies would be taken into consideration during the bill's reading and article could be amended, without providing further details.
He said palm oil is a big industry and about 30 million people work in the sector. In 2016, it contributed about US$20 billion to the national Gross Domestic Product.
Full report at:
https://www.ucanews.com/news/indonesian-activists-church-attack-palm-plantation-bill/81182
--------
Malaysia honoured with invitation to Al-Azhar World Conference on Jerusalem
7 January 2018
PUTRAJAYA: Malaysia continues to be held in high regard by other Islamic countries in the world for its assistance and views on matters related to the Muslim world.
In the latest development, the country's leading Mufti, Datuk Dr Zulkifli Mohamad Al-Bakri (pix) has been extended a special invitation to represent the country at the Al-Azhar World Conference To Support The Cause of Jerusalem where discussions are expected to be held and a resolution found towards objecting the US action of recognising Jerusalem as the capital of Israel.
The conference, jointly organised by the Islamic institution, Al-Azhar As-Syarif, ?and Majlis Hukamak Muslimin (Muslim Council of Elders) will be held on Jan 17 and 18 at the Al-Azhar Convention Centre in Cairo, Egypt.
Zulkifli, who is also Federal Territories Mufti, has been invited to express his views at the meet, where Muslim thinkers from all over the world are expected to congregate.
Al-Azhar As-Syarif is the foremost Islamic knowledge centre in the world and plays the role of safeguarding the heritage of Islam while promoting peace, harmony, the concept of wasatiyyah and research as well as propagating the real message of Islam to communities worldwide.
Al-Azhar world conference
Among the bodies under the patronage of the Institute of Al-Azhar are the Al-Azhar Supreme Council, Al-Azhar Ulama Council, Al-Azhar Research and Studies Centre, Al-Azhar University dan Maahad Al-Azhar.
In an interview with Bernama recently, Zulkifli said, Al-Azhar has been always concerned with issues affecting Muslims particularly in defending Jerusalem, which is the third holiest city for the people of the faith.
"In the invitation letter, we were also informed of the current situation of Jerusalem, which has greatly affected the Muslim world, following the acknowledgement of the city as the capital of Israel by the United States.
"Against this development, the world needs a formula from Islamic thinkers and ulamas, with Al-Azhar taking a lead on this matter that Palestine is facing right now," he said.
The meeting is expected to produce a single voice of unity and partnership among the participants to come up with the best solution for the Palestine issue, he said.
It will be a highly significant conference in the efforts to defend Jerusalem against the Zionist Israel, apart from getting all Muslims to come together to object to the US action.
The conference is also expected to see the participation of international organisations and peace lovers from all over the world.
Among the main agenda to be discussed will be the identity of Arab and its role towards Jerusalem, the revival of global awareness on the ownership of the city as well as the responsibility of the Muslim community towards the cause.
"God-willing, I will attend the event to show support for Al-Azhar As-Syarif and the good work done so far and the continued efforts being taken by various parties to return Jerusalem to the Palestinians," he said.
Ulamas fighting the Jerusalem cause
Meanwhile, Al-Azhar in a statement on its website said the conference is expected to produce a resolution on the issue of the citizens of Palestine and acknowledge the rights of the Palestinian people in their efforts to establish an independent and sovereign state.
The conference will also call on all Islamic learning centres to enter in their curriculum the history of the fight of the Ulamas in defending Jerusalem as a holy city of the Muslims.
In the statement, Al-Azhar said it will also upgrade the curriculam of schools under its wings to bring about early awareness to students on the history and sanctity of the Palestine land.
History has proven that there have been long-drawn disputes by many parties over Jerusalem from earlier times, especially Muslims and Jews due to the sacredness accorded to the land in the scriptures of all the Abrahamic religions.
Zulkifli said the Muslim ulamas have always defended Jerusalem as it housed the Al-Aqsa Mosque, one of the three most holiest sites for Muslims besides the Great Mosque of Mecca and the Nabawi Mosque.
"For example, Al-Azhar ulamas like Sheikh Gad al-Haq Ali Gad al-Haq, Syeikh Ali Tantawi and Syeikh Ahmed Mohamed Al-Tayyeb always played a major role in the issue of Jerusalem, to the point where Maulana Abul Hasan Ali Al-Nadawi wrote about how important Palestine was in the life of the Muslims and how it was even considered as the core of their hearts."
Zulkifli also cited the story of Ottomon ruler Sultan Abdul Hamid II, who had rejected an offer from Theodor Herzl to buy the Palestine land and how in fact he had lost his life defending the city.
Full report at:
http://www.thesundaily.my/news/2018/01/07/malaysia-honoured-invitation-al-azhar-world-conference-jerusalem
--------
Marketing morality a winning strategy for Indonesian hardline groups
07 Jan 2018
JAKARTA: The first anniversary of the largest religiously-driven mass demonstration in Indonesia has just been celebrated by some of the organisations that were its driving force.
Millions of Muslims descended upon Jakarta in December 2016 and joined with large numbers of the city's residents in a rally called the Action to Defend Islam. The demonstrators demanded that then governor of Jakarta Basuki Tjahaja Purnama (better known as Ahok) be stripped of his governorship and put on trial for blaspheming against Islam.
Ahok, who is now in prison, controversially commented on a Quranic verse that suggests Muslims should not appoint a non-Muslim leader. Ahok himself is a Christian and ethnically Chinese.
This makes him part of a social group seen by many in Indonesia to have unfairly benefited from colonial-era policies that concentrated wealth in their hands.
LET DOWN BY MODERNITY
The Ahok case shows a link between expressions of Muslim solidarity and resentment of existing socio-economic conditions.
Such resentment is not exclusively held by poor Muslims — many Indonesians, especially the young and educated middle class who have aspirations of upward social mobility, feel let down by the promises of modernity and development instilled through educational and other institutions.
For them, Ahok's controversial programme of urban redevelopment involving mass evictions arguably accentuated the already strong sense of precarious existence that permeates through Indonesian society.
Indonesians' responses to their socio-economic circumstances are increasingly articulated through language of religious morality, which reflects growing levels of piety within Indonesian society and enables the sort of religious solidarity seen in the 2016 protests.
This connection between socio-economic grievances and strength of religious sentiment has facilitated the emergence of a "market of morality" - A space through which religious symbols are consumed and reproduced as an expression of grievance against an unjust status quo.
In Indonesia, religious morality potentially provides a rich cultural resource pool for competing elites to exploit, including in many of the 171 local elections due to take place across the archipelago in 2018. The narrative of oppression, used so well against Ahok, is often employed to rally mass mobilisations of support.
This narrative is one that emphasises the struggles of a virtuous but marginalised majority that forms an ummah (community of believers). The ummah is contrasted against greedy business elites (typically the ethnic Chinese minority) who are in turn backed by corrupt and powerful political figures.
SOCIAL INJUSTICE?
A survey of 600 people who participated in the Action to Defend Islam rally sheds some light on the link between perceptions of social injustice, adherence to Islamic morality and political action among Indonesians.
Reflecting the youthful nature of the protests, 60 per cent of respondents were in their 20s, 18 per cent were in their 30s and only 14 per cent were over 40 years old.
A slight majority (51 per cent) had completed tertiary education while secondary education was the highest attained by 47 per cent of respondents.
Full report at:
https://www.channelnewsasia.com/news/asiapacific/commentary-marketing-morality-a-winning-strategy-for-indonesian-9835046
--------
Arab World
Car bombing leaves over 20 people dead in Syria's Idlib
Jan 7, 2018
Nearly two dozen people have been killed and scores of others injured when a powerful explosion ripped through a residential area in Syria's northwestern city of Idlib, where Syrian army forces, supported by allied fighters from popular defense groups, continue to gain ground against foreign-sponsored Takfiri terrorists.
Lebanon-based Arabic-language al-Mayadeen news network, citing local source, reported that an explosive-laden car went off in front of al-Miri supermarket in the 30th Street of the city, located roughly 300 kilometers (186 miles) north of the capital, Damascus, on Sunday evening, leaving more than 20 people dead and many others injured.
The sources added that the explosion targeted a building housing militants from the Caucasian Front, blaming members of the Takfiri Hayat Tahrir al-Sham (HTS) terrorist alliance for the act of terror.
The Caucasian Front militants are heavily present in Idlib. Most of them live with their facilities in buildings on the 30th Street.
The development came on the same day that Syrian government troops and their allies could liberate the town of Sinjar in the Maarrat al-Nu'man district of Idlib province after HTS terrorists were defeated.
The source added that Syrian army soldiers and their allies could also retake the towns of Mutawasita, Khiara, and Kafrya al-Ma'ara.
Sinjar would serve as a key launching pad for further military operations in Idlib province.
The town is only 14 kilometers from the key Abu al-Duhur Air Base, whose recapture would enable the Syrian army to regain the upper hand in carrying out airstrikes against militant positions in Idlib.
http://www.presstv.com/Detail/2018/01/07/548171/Car-bombing-leaves-over-20-people-dead-in-Syrias-Idlib
--------
Saudi Arabia charges royals arrested for protesting austerity
Jan 8, 2018
Saudi Arabia has charged 11 princes, who were arrested recently for protesting the government's hiking of domestic gas prices and introducing value-added tax (VAT).
"A group of 11 princes staged a sit in at the historic Qasr Al-Hokm palace [in Riyadh] on Thursday...objecting a recent royal order that halted payments by the state to members of the royal family to cover their electricity and water utility bills," Attorney General Saud al-Mojeb said on Sunday, recounting the entire incident.
"Despite being informed that their demands are not lawful, the 11 princes refused to leave the area, disrupting public peace and order," he remarked in a statement issued by the Information Ministry.
The 11 princes have been charged on "a number of counts" and are being held at the maximum security al-Ha'ir prison, south of the capital, according to the statement.
The royals were also demanding compensation for a death sentence issued against one of their cousins, convicted of murder and executed in 2016.
However, a well-known Saudi online activist, who goes by the nickname of @mujtahidd on Twitter, said at the time of the arrests that the princes had been nabbed for protesting the apprehension of many of their kinsmen on the crown prince's orders late last year.
Crown Prince Mohammed bin Salman started arresting hundreds of fellow princes and businessmen late last year in what has been portrayed as an "anti-corruption campaign."
The royals have been asked to fork out hefty ransoms reaching billions of dollars in some cases.
The money is thought to be needed to finance Salman's ambitious Vision 2030, which seeks to decrease the kingdom's dependence on oil.
The kingdom has also doubled gasoline prices and introduced a five-percent VAT on most goods and services to take care of its budget deficit.
On Sunday, London-based Al-Quds Al-Arabi said Saudi Arabians were taking to social networking services to vent their anger at the measures.
Full report at:
http://www.presstv.com/Detail/2018/01/08/548195/Saudi-Arabia-princes-arrest
--------
Syrian Army Dispatches More Troops, Equipment to Eastern Damascus
Jan 07, 2018
The sources said that the army has sent a large number of forces known as the Arab National Guard and military equipment to Harasta region in Eastern Damascus.
The sources said that the fresh forces will join their comrades' campaign against terrorists in the Vehicles Management Center.
Relevant reports said on Saturday that the army men, backed up by the army's artillery unit and Air Force, attacked the terrorists near the Vehicles Management Center in Harasta region, taking control over several buildings near the Police Anti-Crime Office in Southwestern Harasta near the town of Arbin.
Full report at:
http://en.farsnews.com/newstext.aspx?nn=13961017000747
--------
At least 18 killed in explosion in Syria's Idlib
7 January 2018
At least 18 people were killed and tens more injured, including civilians, in an explosion in Syria's northwestern city of Idlib, a war monitor reported on Sunday.
The Syrian Observatory for Human Rights said the explosion targeted the headquarters of a minor rebel faction in Idlib. It was not immediately clear what the nature of the attack was.
Ambulances and rescue teams rushed to the explosion site and efforts are under way to pull out the bodies and rescue the injured trapped under the rubble of the targeted building and neighboring houses, the monitor added.
Idlib province is a stronghold of rebels in Syria and is situated on the border with Turkey, one of the main backers of rebellion against President Bashar al-Assad.
The Syrian army and its allies launched an offensive in October to recapture the provinces of Idlib and Hama, and it has since been making swift advances.
The main rebel force in Idlib is Tahrir al-Sham, spearheaded by the former al-Qaeda affiliate in Syria previously called Nusra Front.
Full report at:
https://english.alarabiya.net/en/News/middle-east/2018/01/07/At-least-18-killed-in-explosion-in-Syria-s-Idlib.html
--------
Egypt refutes NYT report on tacit acceptance of Jerusalem move
7 January 2018
Egypt's State Information Service refuted the New York Times' report by David Kirkpatrick which claimed that tapes he acquired reveal Egypt's tacit acceptance of Donald Trump's Jerusalem move.
The NYT report said an Egyptian intelligence officer named Ashraf al-Kholi contacted hosts of "influential talk shows" in the country to tell them that instead of denouncing the move, they should convince viewers to accept it.
SIS said the report named four figures as presenters of "influential talk shows" who are Mofid Fawzy, Saeed Hassaseen, Yousra and Azmi Megahed.
"Fawzy has not hosted any television shows for years while Hassaseen stopped hosting his show weeks before Jerusalem's developments and he's currently not hosting any shows," SIS said in a statement, adding that Hassaseen denied that anyone contacted him regarding Jerusalem and confirmed that he does not know anyone named Ashraf al-Kholi.
"David Kirkpatrick stayed for a long time in Egypt in the past and he should know by now that Yousra is one of the most famous actresses in Egypt and the Arab world and has nothing to do with any television programs," it also said.
In a phone call with SIS, Yousra said she does not know anyone named Ashraf al-Kholi and never discussed Jerusalem with anyone. She also said that she has not made any statements about politics to the media and was not even in Egypt when developments regarding Jerusalem happened.
Actress Yousra to take legal action
Yousra added that she will resort to the judiciary for involving her in these alleged leaks which harm her reputation as a renowned actress.
As for Megahed, he also denied knowing anyone called Ashraf al-Kholi.
SIS noted that the NYT said Kholi is an intelligence officer but failed to provide any evidence that he is one. It added that Egypt's stance on international affairs must not be concluded via alleged leaks of an unknown figure as they are voiced by the president, minister of foreign affairs and other officials.
It added that all the entities concerned have announced their clear position on Jerusalem and acted upon it at the UN and other international organizations, despite threats by the US representative at the UN to cut aid to Egypt.
Full report at:
https://english.alarabiya.net/en/News/middle-east/2018/01/07/Egypt-refutes-NYT-report-on-tacit-acceptance-of-Jerusalem-move.html
--------
Russian airbase in Syria's Latakia attacked second time this week
7 January 2018
The Khmeimim military airport, which hosts the biggest Russian airbase in Syria, was attacked for a second time in a row this week by a drone believed to belong to a faction in the countryside of Latakia, the Syrian Observatory for Human Rights said.
They added that forces working in the airport shot down the attacking plane. No information was released on the extent of damage and human losses caused by the attack.
17 killed in eastern Ghouta bombing
The Observatory said at least 17 people were killed and 35 injured on Sunday in a Russian and Syrian air raid on several towns in the eastern Damascus suburb of Ghouta.
They added that another 12 people including two children were killed in a raid on Hamouriyah city late December, while two others were killed in Madira and another three in Arbin.
Full report at:
https://english.alarabiya.net/en/News/middle-east/2018/01/07/Warplanes-bombard-Khmeimim-Russian-air-base-in-Syria.html
--------
Syrian troops break militant siege on army base in Eastern Ghouta
Jan 8, 2018
Syrian government forces have managed to break a siege imposed by the foreign-backed Takfiri militants on a strategic army base in Eastern Ghouta near the capital, Damascus.
The advance comes just a handful of days after the army's elite forces launched a major operation to break the siege by Ahrar al-Sham terrorists on the Military Vehicles Administration base in the town of Harasta in Eastern Ghouta.
At least 200 Syrian troops were believed to be trapped within the premises since the militants stormed the base in November. On December 31, the Takfiri militants reportedly widened their control of the base.
The so-called Syrian Observatory for Human Rights, a pro-opposition monitoring group, said on Sunday that the Syrian troops had "opened a loophole" that led them into the base.
The state-run al-Ikhbariya TV said that fierce clashes were going on inside and around the base late at night, while the army troops fought their way to retake control of the compound's buildings.
"Fighting is underway to expand the route that was opened into the base ... and the army will press on with its offensive beyond liberating the base," the TV channel's reporter said. He also expected the battle for the base to end in the coming few hours. In November, the Takfiri militants stormed the base from which the army troops were delivering heavy blows to the terrorists in Eastern Ghouta, the militants' last stronghold around Damascus.
Syria has been gripped by foreign-backed militancy since March 2011. The Syrian government says the Israeli regime and its Western and regional allies are aiding Takfiri terrorist groups wreaking havoc in the country.
Full report at:
http://www.presstv.com/Detail/2018/01/08/548191/Syria-siege-army-base-Harasta
--------
Europe
Trump, Macron agree that Iran protests are 'sign of regime's failure'
8 January 2018
US President Donald Trump and French President Emmanuel Macron spoke on Saturday, the White House said on Sunday, and Trump provided Macron with an update on developments on the Korean Peninsula and the two discussed demonstrations in Iran.
The White House said the conversation was intended "to underscore" US, South Korean and international resolve to achieve the complete denuclearization of North Korea.
"The Presidents also agreed that the widespread demonstrations in Iran were a sign of the Iranian regime's failure to serve its people's needs by instead diverting the nation's wealth to fund terrorism and militancy abroad," the White House said in a statement.
https://english.alarabiya.net/en/News/middle-east/2018/01/08/Trump-Macron-agree-that-Iran-protests-are-sign-of-regime-s-failure-.html
--------
EU to invite Iran's Zarif for talks over recent riots
Jan 7, 2018
The European Union has announced that it will invite Iranian Foreign Minister Mohammad Javad Zarif for talks over the recent riots in country.
"Together with the EU's Foreign Policy Chief Federica Mogherini, we agreed to invite the Iranian foreign minister, if possible next week," said Germany's Foreign Minister Sigmar Gabriel during a televised broadcast on ZDF.
While noting that Germany supports freedom of demonstration, Gabriel stressed that Berlin will not follow the lead of US President Donald Trump, who vowed to support protesters in Iran.
Germany and France have "warned against attempts at instrumentalizing the domestic conflicts in Iran," he added.
On Friday, the UN Security Council finally gave into a US push for a meeting on the latest events inside Iran which resulted in the council's veto wielders and Washington's own allies using the debate to criticize the White House for involving the council in Iran's domestic affairs.
Last week, some Iranian towns and cities were hit by scattered riots, which followed a series of peaceful demonstrations over economic issues.
However, Iranian law enforcement forces, backed by locals, intervened in time and ended the violence, which saw vandals and armed elements launch attacks on public property, mosques and police stations. Over a dozen people died amid the violence.
Iran frees 70 people charged with inciting unrest
Meanwhile, Tehran Prosecutor Abbas Jafari Dolatabadi has announced that 70 people charged with inciting unrest have been freed on bail.
He added that more people will be freed over the next few days, but the main plotters of the riots will be dealt with severely.
Full report at:
http://www.presstv.com/Detail/2018/01/07/548175/eu-iran-protests-gabriel
--------
Turkish, German foreign ministers pledge to mend strained relations
Jan 6, 2018
The German and Turkish foreign ministers have agreed to devote all efforts to mend Ankara-Berlin ties that have turned sour following the 2016 failed putsch in Turkey.
During their meeting in an imperial palace in the German central city of Goslar on Saturday, German Foreign Minister Sigmar Gabriel pointed to the historic links between the two countries, saying, "We have both made it our business to do everything we can to overcome the difficulties there have been in German-Turkish relations and to find more common ground in the future by remembering everything that binds us together."
Turkish Foreign Minister Mevlut Cavusoglu, for his part, said the two NATO allies believed they could iron out their differences through dialogue, noting that Berlin and Ankara shared views on a variety of issues in the Middle East and were cooperating on issues such as refugees.
"There is benefit in pushing our disagreements aside and continuing on our path. We should focus on issues that serve as win-win for our countries, like the [EU's] Customs Union," he said.
Ties between Turkey and Germany soured over a host of issues after the July 2016 coup attempt against the government in Ankara, with Berlin critical of Ankara's post-coup crackdown and the arrest of German citizens in Turkey.
Turkey, which remains in a state of emergency since the coup, has been engaged in suppressing the media and opposition groups suspected to have played a role in the failed coup.
In the post-coup crackdown, Turkey has suspended or dismissed more than 150,000 judges, policemen, teachers, and civil servants and arrested over 55,000 others.
Turkey has accused Germany of harboring "terrorist" organizations opposed to Turkish President Recep Tayyip Erdogan.
The two countries have also clashed over Germany's alleged support for Kurdish opponents of the Turkish government and its opposition to a controversial referendum in Turkey in April 2017, which gave Erdogan new sweeping powers. German authorities at the time prevented some pro-Erdogan campaigns in the country, a move that infuriated the Turkish president.
One of the disputes between Ankara and Berlin revolves around Turkey's arrest of several Germans. The German government believes Turkey has detained seven Germans, four of whom have dual nationalities, for political reasons.
Germany-Turkey economic cooperation has also been hit as a result of the tense political relations.
Germany is Turkey's biggest trade partner, but in the first nine months of 2017, the European country's exports to Turkey dropped by 5.9 percent.
Full report at:
http://www.presstv.com/Detail/2018/01/06/548040/Turkey-Germany-relations
--------
French Police Faked Records in Cover-Up After ISIS Jihadists Killed Priest in Church
Jan 7, 2018
French intelligence agents allegedly changed the date in a document in an attempt to remove evidence about their blunders that allowed Islamic State supporters to kill French priest Rev. Jacques Hamel inside his parish in 2016.
French prosecutors have opened a criminal inquiry into the allegation that the agents post-dated a document as a cover-up, according to The Times, which quoted French news website Médiapart as saying the agents were more concerned about their careers than tracing terrorists.
The inquiry will be conducted by the "police of the police," Inspection Generale de la Police Nationale, according to Sputnik News, which also said a lawyer representing some of the attack survivors has reportedly asked to declassify all the documents related to the case.
On July 26, 2016, Islamic State jihadists Adel Kermiche and Abdel-Malik Petitjean stormed the church in Saint-Étienne-du-Rouvray in Normandy and slit the throat of the 85-year-old priest. The two were shot dead by police as they left.
Five days before the killing, an agent from the Paris Police Prefecture Intelligence Unit stumbled upon a message in the encrypted channel Telegram in which someone boasted that "I haven't been uncovered."
The sender of the message, with the username @Jayyed, was later identified as Kermiche, who also posted a video on the channel saying he had given lessons in a mosque in the town in Normandy advising his followers to "go into a church and take out everyone."
The agent informed senior officials about Kermiche, advising they inform the General Direction of Interior Security, the French chief intelligence agency. This information was not sent.
After the church incident, the agent was asked to post-date his notes and erase the browser history on his computer. However, the document with the original date on it wasn't deleted from one of the computer files.
The slaying of the priest shook all of France, including many in the Muslim community.
Hamel's church had donated land to Muslims to build a mosque, a senior Catholic cleric said days after the priest was murdered.
Full report at:
https://www.christianpost.com/news/french-police-faked-records-cover-up-isis-jihadists-killed-priest-church-212816/
--------
UK: A sit-in in front of the US embassy and a speech festival in rejection to Trump's decision on Jerusalem
January 7, 2018
British Muslim activists have called for solidarity with Palestinians against United States' decision to recognise Jerusalem as the capital of the Israel.
Activists from The Palestinian Forum in Britain (PFB), the Pakistani community, and the Birmingham mosques committee in Britain gathered for demonstrations outside the US embassy in London on Sunday.
The protestors condemned the US policy which biased to the Israeli occupation and they expressed their solidarity with the Palestinian people and the Palestinian detainees' families.
Read More: Israel supports gradual funding cut to UN agency for Palestinians
In his statements during the protest, Hafiz Al Karmi, Chairman of the PFB, said that the distinguished presence of non-Arab Muslims at the protests Britain affirms the universality of the Palestinian cause and the importance of Jerusalem to all Muslims in the world.
Al Karmi stressed that the Palestinians, mainly, the Arabs, the Muslims, and the free people of the world will not succumb to Trump's decision as they did not give up before to the Balfour Declaration.
Al Karmi also said that: "The Arab and Islamic people have affirmed that they are vigilant, and that they are not too weak to defend Muslims' right." He added that Jerusalem is one of God's revelations on earth that is important to Muslims from all over the world.
Full report at:
https://www.middleeastmonitor.com/20180107-uk-a-sit-in-in-front-of-the-us-embassy-and-a-speech-festival-in-rejection-to-trumps-decision-on-jerusalem/
--------
South Asia
Key ISIS leaders among 20 killed in Laghman airstrike
Jan 06 2018
At least twenty militants affiliated with the Islamic State of Iraq and Syria (ISIS) terrorist group were killed in an airstrike in eastern Laghman province of Afghanistan.
The 201st Silab Corps of the Afghan army in a statement said the airstrike was carried out on Friday in the vicinity of Alingar district.
The statement further added that a compound belonging to the terror group was hit during the airstrike in Noor Lam area of the district.
According to the Silab Corps, two key ISIS leaders identified as Mawlavi Turab and Musa Khan were also among those killed.
The local residents and other people did not suffer any casualties during the airstrikes, the statement added.
The anti-government armed militant groups including the ISIS militants have not commented regarding the report so far.
Laghman is among the relatively calm provinces in East of Afghanistan but the anti-government armed militants are attempting to expand their insurgency activities in this province lately.
The local officials said last week that two senior commanders of the anti-government armed militants identified as Abdul Rahman Muslima and Tor Gul were killed along with another member of the group identified as Jalaluddin during the clashes with the Afghan forces in the same district
https://www.khaama.com/key-isis-leaders-among-20-killed-in-laghman-airstrike-04202
--------
17 militants killed, wounded in Uruzgan airstrikes
Jan 07 2018
At least seventeen anti-government armed militants were killed or wounded during the latest airstrikes conducted in southern Uruzgan province of Afghanistan.
The ministry of defense of Afghanistan said the new airstrikes were carried out in the vicinity of Tarinkot city, the provincial capital of Uruzgan.
A statement by MoD said at least ten militants were killed, seven were wounded, and some of their weapons and ammunition were destroyed during the airstrike.
The anti-government armed militant groups including the Taliban insurgents have not commented regarding the report so far.
Uruzgan is among the restive provinces in southern parts of the country where the Taliban insurgents and militants belonging to the other insurgent groups are actively operating in its various districts and often carry out insurgency activities, including coordinated attacks.
At least eight Taliban insurgents were killed in a series of airstrikes carried out on the Taliban hideouts in this province nearly a week ago.
According to the local officials, the airstrikes were carried in the vicinity of Tarinkot city, the provincial capital of Uruzgan during the ongoing counter-terrorism operations.
Full report at:
https://www.khaama.com/17-militants-killed-wounded-in-uruzgan-airstrikes-04211
--------
Taliban leader in charge of finances and logistics killed in Helmand
Jan 06 2018
A key Taliban leader who was in charge of financial deals and providing logistics for the militants was killed in an airstrike in southern Helmand province of Afghanistan.
According to a statement released by Helmand governor's office, the Taliban leader was killed in an airstrike conducted in Nade-e-Ali district of Helmand but no further details were given regarding his identity.
The statement further added that the Taliban leader was in contact with the group's leadership in Quetta and was arranging weapons and other military kits for the insurgents.
In another operation conducted in Garamser district of Helmand, at least ten insurgents were killed and two more insurgents identified as Mullah Fazil and Abdul Raziq from Mullah Naeem group were detained while one of their vehicles was destroyed.
The Helmand governor office also added that eight insurgents were killed, 6 others were wounded, and 2 PKM machine gun, 3 Ak-47s, and one vehicle were destroyed during an airstrike conducted in Greshk district.
The Afghan security forces also discovered and defused 22 improvised explosive devices during the operations, the statement added.
Full report at:
https://www.khaama.com/talibans-finance-and-logistics-chief-killed-in-helmand-airstrike-04205
--------
Myanmar set to close Rohingya camp near Sittwe
January 5, 2018
Myanmar authorities have moved to close a camp for internally displaced Rohingya refugees who were forced to flee their homes in the 2012 communal violence in religiously divided Rakhine State.
Win Myat Aye, Myanmar's Minister for Social Welfare, Relief and Resettlement, and senior officials from Rakhine State recently held a meeting with committee members from Thetkaepyin camp to discuss closing the camp and resettling refugees in an appropriate place.
"Rakhine State IDP (internally displaced people) camps set up in 2012 were meant to be temporary camps but have been in existence for more than five years now," Win Myat Aye was quoted as saying by the Global New Light of Myanmar newspaper on Jan. 3.
The report added that Nyi Pu, a Rakhine State minister, met with committee members from Thetkaepyin camp and discussed the camp, requirements to resettle camp inhabitants and matters relating to freedom of movement.
Abdul Marche, a committee member of the camp near Sittwe, said authorities explained about closing the camp and resettlement with new houses.
He said many people in the camps wanted to return to their homes rather than resettling in new places.
"We explained to the government's ministers about our wish to return to our original homes as people fear there will be no job opportunities at new resettlement places and that they may lose humanitarian assistance from WFP and other NGOs," said Marche, who took refuge at the camp in 2012 after his house was burned down.
Thetkaepyin camp has taken in more than 6,000 people from 1,000 households since violence erupted between Rakhine Buddhists and Rohingya Muslims in Rakhine that left more than 200 dead and displaced more than 140,000.
Around 5,000 Rohingya are from Nazi village near Sittwe and the other 1,000 are from villages such as Aungmingalar and Yapa Taung.
Kyaw Hla Aung, a Rohingya resident at the camp, said the government's plan has no transparency and no rule of law because it plans to resettle people in new places instead their original land.
"Why don't we, Rohingya, get a right to return to our homes? We feel that we are discriminated against as the government plans to resettle us in new places by segregation from Rakhine communities," Kyaw Hla Aung, a former INGO worker, told ucanews.com.
Furuk, the leader of Dar Paing IDP camp near Sittwe, said refugees had not been informed about the closure of their camp but really wanted to return to their homes.
"We have taken refuge at the camp for more than five years and yearn to go back to our homes so that we may not need humanitarian assistance and will work ourselves for daily survival," said Furuk, who has been displaced since 2012.
The Kofi Annan-led Advisory Commission on Rakhine recommended that the government take concrete steps to end enforced segregation of Rakhine Buddhists and Rohingya Muslims, closing down all IDP camps and providing unfettered humanitarian access through the state.
State Counselor Aung San Suu Kyi established the independent commission in September 2016 to help social and economic development and peaceful coexistence and reconciliation in Rakhine.
The government closed down three IDP camps that housed ethnic Rakhine, Kaman Muslims and Rohingya in April 2017.
The Myanmar government regards the Rohingya as Bengalis. By not recognizing the term "Rohingya," the government has implied that they are illegal immigrants from neighboring Bangladesh despite vast numbers of them having lived in Myanmar for decades.
The US Department of State on Jan. 4 announced that the Secretary of State had redesignated Myanmar, Iran, China and North Korea as "countries of particular concern."
Full report at:
https://www.ucanews.com/news/myanmar-set-to-close-rohingya-camp-near-sittwe/81184
--------
How the Bangladeshi succession law jeopardizes family planning
January 07, 2018
'The equality of men and women is now well established in the society, and it is also a part of our constitution'
Bipul Chandra Biswas is a BCS General Education Cadre, who lives in Farmgate area of Dhaka. He has two children: a girl and a boy with an eight-year age difference.
"If only my first son was a boy, I would not have to take another child. My relatives kept recommending that I would need a son to help me look after my property in the future. Thanks to the Almighty, I had a son," Bipul told the Dhaka Tribune.
Another city dweller, Mansur Ahmed, is a father of three daughters. He works at a private firm and lives in Azimpur. He did not have a child for 12 years, following the birth of his first daughter.
However, his relatives pressured him into having two more children, with the sole aim of having a son that could look after his property.
"My relatives are still pressuring me, but I do not want to have any more children. The laws of succession do not favour girls," he added.
Mina Rani (not her real name) is a school teacher. She was pressured by her husband to have four children, and all of them were girls. Mina's husband wanted yet another child, so she was forced to leave her husband.
Mina's husband is now married to another woman, in the hope of having a son.
Addressing the issue, Bipul said: "Women are facing a lot of pressure from husbands and in-laws for having more children in hopes of a son. The succession act favours sons over daughters for property distribution. This law should be amended."
Commenting on the issue, Advocate Jyotirmoy Barua said: "In many countries, the succession act is a reflection of religious guidelines, and Bangladesh is no different. The Muslim succession law was slightly amended during the Ayub Khan era.
"Similarly, Hindu succession act is being used to distribute property of Hindu, Buddhist and Christian families. Despite major differences among their religious ideologies, the same succession law is being used," he added.
In the Hindu religion, women face complication over succession of property. Under the religious guidelines, a Hindu woman cannot inherit property from their father and husband, but can inherit a portion of her mother's property.
A Hindu woman can take possession of her husband's property after his death, but under general laws, she cannot sell or transfer the property to anyone.
A Hindu widow will need special permission from a court to sell her husband's property, usually for reasons such as bearing funeral costs and raising her children.
"The Muslim succession law, called Faraiz, is also quite complicated. A Muslim woman only receives one-eighth of their father's property, while a son receives half of the property divided in eight portions," Barua said.
He stated that many humanitarian and human rights organizations have been demanding amendment of the existing succession laws for decades, but the clerics are against any changes.
"The equality of men and women is now well established in the society, and it is also a part of our constitution. However, we have to ensure gender equality in many sectors of the state," added Barua.
Speaking on the matter, Advocate Salma Ali, executive director of Bangladesh National Women Lawyers´ Association (BNWLA), said: "Women do not get equal share of their father's property, but men do. In case of only two daughters, two-third of the property will go to other relatives, unless their father fails to make special arrangements.
"Whenever we attend a meeting of Committee on the Elimination of Discrimination against Women (CEDAW), we call upon the government to approve CEDAW Provisions 2 and 16-1. The government has yet to respond," she added.
Mentioning that Muslim women get a portion of their father's property, but Hindu women get nothing, Salma said: "Many concerned parents, in an attempt to ensure equal distribution, distribute their property among their children before passing away.
"If more and more parents start to use the method, the government will be forced to amend the succession act."
Full report at:
https://www.dhakatribune.com/bangladesh/law-rights/2018/01/07/bangladeshi-succession-law-jeopardizes-family-planning/
--------
Interior minister visits Balkh amid rising tensions over provincial leadership
Jan 08 2018
The minister of interior Wais Ahmad Barmak on Sunday arrived to northern Balkh province amid rising tensions between the Jamiat-e-Islami chief executive Ata Mohammad Noor and the central government over the provincial government leadership.
Noor statement said he discussed the ongoign situation, security of the northenr provinces, particularly the recent upheavals in Balkh, with the minister of interior.
No further details were given regarding the meeting with the ministry of interior and the unity government yet to comment regarding Mr. Barmak's unannounced visit to Balkh.
This comes as a deadlock still persist between him and the government over the Balkh government leadership.q
The Afghan government announced nearly three weeks ago that the resignation of Ata Mohammad Noor from the Balkh government has been approved by President Mohammad Ashraf Ghani.
Noor admitted that he submitted his resignation but he had several demands before stepping down and none of them has been met by the government while his resignation has been approved.
Full report at:
https://www.khaama.com/interior-minister-visits-balkh-amid-rising-tensions-over-provincial-leadership-04214
--------
Africa
Nigeria flying citizens from Libya amid 'endemic' abuse
Jan 8, 2018
Nigeria is flying out thousands of its citizens from Libya who face grave abuses such as rape and slavery as they attempt to reach Europe through the war-torn North African nation.
Large numbers of Nigerians have been trapped in Libya where they were trying to cross to Italy by sea, but were stopped by local armed factions and the Libyan coastguard.
Nigerian officials on a fact-finding mission to Libya expressed shock at what they saw and heard from victims.
"They talked about various abuse - systematic, endemic, and exploitation of all kinds," said Nigeria's Foreign Affairs Minister Geoffrey Onyeama. "There were obviously interests that wanted to keep as many of them there as possible because they were commodities."
Al Jazeera's Ahmed Idris, reporting from the Libyan capital Tripoli, said Nigerians there told of abuses such as slavery, rape, imprisonment, and torture.
"These happened either in the hands of the authorities or people-smugglers," Idris said.
"The journey back home for them is a mixed bag. A lot of them are happy that they are free at last, but disappointed that many lost so much in this country and they are going back with nothing."
Thousands to be evacuated
Citizens of Nigeria, the most-populated country on the African continent, have been the largest group of migrants travelling to Libya to try and cross the Mediterranean Sea to Europe.
Nigeria's government said the rescue flights will continue for as long as necessary, estimating that about 5,500 people would be flown back to their country.
"If I'll die, I want to die in my country. I have suffered so much in the last few months after I left my great country of Nigeria," a migrant waiting to fly back home told Al Jazeera, warning others not to make the same mistake he made.
Another said he wanted to go to Italy when he reached Libya. "But now in this situation, I want to go back to my country."
The UN's International Organization for Migration said 171,635 migrants and refugees entered Europe by sea during 2017, with nearly 70 percent arriving in Italy. The remainder were divided among Greece, Cyprus and Spain.
This compared with 363,504 arrivals during the same period in 2016, according to the agency.
https://www.aljazeera.com/news/2018/01/nigeria-flying-citizens-libya-endemic-abuse-180107185305101.html
--------
Two migrants dead, 290 rescued off Libya coast
January 08, 2018
TRIPOLI - Two women were found dead and 290 migrants rescued from two boats off the coast of Libya on Sunday, the navy said. The migrants were rescued off the coast of Garabulli, 50 kilometres (30 miles) east of Tripoli, then taken to the capital, naval officer Meftah al-Zlitni said.
He did not give further details on how the women had died. They had left Libya Saturday evening on a makeshift craft with 140 other migrants from various African countries, but their motor broke down a few hours later. "We stayed put from six o'clock in the morning" until the navy arrived, said Baba Koni, a Malian who was on board the boat. He said the motor had become waterlogged and cut out. Zlitni said 150 migrants were on a second boat that had been about to sink when the patrol arrived.
Since the 2011 fall and killing of longtime dictator Moamer Kadhafi, Libya has become a key launch pad for migrants making desperate bids to reach Europe, often on unseaworthy vessels.
Last year, 3,116 people died attempting the crossing, according to the International Organization for Migration.
That has continued into the new year, with at least 25 people drowning on Saturday off Libya 's coast in the sinking of a boat carrying as many as 150 migrants , rescue groups said. There was however a sharp drop in arrivals in Italy during in the second half of 2017 following efforts by Rome to discourage migrants from attempting the crossing.
Full report at:
https://nation.com.pk/08-Jan-2018/two-migrants-dead-290-rescued-off-libya-coast
--------
Jordan agrees to send aid to stranded Syrians
January 08, 2018
AMMAN - Jordan on Sunday said it had agreed to a UN request to deliver humanitarian aid to tens of thousands of Syrians stranded near a border crossing between the two countries. Foreign ministry spokesman Mohammed al-Kayed said, however, it will be a "one-off" operation to send "humanitarian aid across the Rukban border crossing" towards a desert area where the Syrians are struck.
He said it was in response to a request by the United Nations and that the aid would be lifted across the border using special equipment. Kayed did not elaborate on the kind of humanitarian aid that would be sent to the Syrians or when they were expected to receive it, nor did he say how many Syrians are stranded in the desert. According to UN estimates based on satellite images, between 45,000 and 50,000 Syrians have been stuck for months on the Syrian side of the frontier near the Rukban border crossing. Conditions are worsening for them as winter grips the region -- which Jordan declared a "closed military zone" after a 2016 IS suicide attack killed seven Jordanian soldiers.
In October, Jordanian Foreign Minister Ayman Safadi had insisted that aid to those stranded near Rukban should come from Syria itself after the UN said deliveries were difficult to make because of the war. The UN refugee agency says it has registered more than 650,000 Syrian refugees in Jordan since the conflict in Syria began in March 2011 with anti-government protests.
Full report at:
https://nation.com.pk/08-Jan-2018/jordan-agrees-to-send-aid-to-stranded-syrians
--------
Italy's coast guard says eight migrants died at sea
6 January 2018
The Italian coast guard recovered the bodies of eight people as it rescued a further 84 from a dinghy that ran into trouble off Libya's coast, it said on Saturday.
It said an aircraft on patrol for a European mission against migrant smuggling in the Mediterranean spotted the rubber boat that was in difficulty Saturday morning. Italian navy and coast guard vessels were involved in the rescue.|
Full report at:
https://english.alarabiya.net/en/News/north-africa/2018/01/06/Italy-s-coast-guard-says-eight-migrants-died-at-sea.html
--------
Nigerian forces attack protesters calling for top Shia cleric's release
Jan 7, 2018
Nigerian government forces have attacked protesters calling for the release of the leader of the Islamic Movement of Nigeria (IMN), Sheikh Ibrahim Zakzaky, killing at least one person.
The protester was killed on Sunday in the northwestern state of Kaduna amid widespread demonstrations which were held in over 50 separate locations.
The demonstrators were calling on Nigerian President Muhammadu Buhari to release the Shia cleric.
Earlier in the day, the IMN called on Buhari to release Zakzaky (seen below) so he could seek medical attention for a stroke that he had recently suffered.
"From a rare visit to our leader Sheikh Ibraheem Zakzaky, it has been confirmed to us that his health has suffered a severe knock in the past two days, such that he is critically ill and in urgent need of the best medical attention possible," said a statement released by the IMN. "It seems those holding our leader captive, are just waiting for time to kill him."
Zakzaky lost his left eye sight in the raid, which was carried out by the Nigerian army on his residence in the northern town of Zaria back in December 2015.
During the raid, Zakzaky's wife sustained serious wounds too and more than 300 of his followers and three of his sons were killed. Zakzaky, his wife, and a large number of the cleric's followers have since been in custody.
The clergyman is said to have been charged with "criminal conspiracy and inciting public disturbances."
Full report at:
http://www.presstv.com/Detail/2018/01/07/548181/nigeria-zakzaky-imn-protest
--------
Libya-Tunisia crossing resumes work after clashes
07 January 2018
Work was resumed at the Ras Ajdir border crossing between Libya and Tunisia on Saturday, one day after deadly clashes left two people dead.
Two Libyans were killed on Friday in clashes between armed groups loyal to Libya's UN-backed unity government and Libyan border officials in the town of Ras Ajdir on the Tunisian border.
"Work on both directions at the terminal is back to normal," Hafez bin Sassi, the municipal chief of Libya's western Zuwara city said.
He said presidential guards and allied forces have repelled the attackers.
"The crossing is now under the control of the interior ministry of the unity government," he said.
Full report at:
http://www.worldbulletin.net/africa/197581/sudan-closes-border-with-eritrea
--------
North America
Trump is right to bully America's enemies
By Gary Abernathy
January 7, 2018
In recent years, anti-bullying campaigns have become standard fare in high school and college. Our society has decided, rightly, that bullies should no longer be tolerated because their hurtful attacks can lead to lifelong scars and even, in extreme cases, suicide by the victims.
Likewise, Donald Trump, as both a candidate and president, has been accused of being a bully, his critics attacking him for his bluster and insensitivity.
It seems the only bullies who remain off limits — in the eyes of media critics, numerous politicians and many other Americans — are rogue-nation dictators and terrorist organizations. We should treat those bullies with kid gloves, many say.
The latest example of this appeasing belief came in the first week of the new year, when North Korean leader Kim Jong Un boasted, "I have a nuclear button on the desk in my office. All of the mainland United States is within the range of our nuclear strike."
For several decades, and with various White House occupants, the U.S. response to such provocations has been one that could generously be called "restraint" but more accurately called "spinelessness."
Instead, Trump tweeted, "North Korean Leader Kim Jong Un just stated that the 'Nuclear Button is on his desk at all times.' Will someone from his depleted and food starved regime please inform him that I too have a Nuclear Button, but it is a much bigger & more powerful one than his, and my Button works!"
A typical round of outrage ensued, directed not at the North Korean dictator but at the president of the United States. How dare he respond in such a careless, juvenile and irresponsible way?
"Spoken like a petulant ten year old," Eliot A. Cohen, former counselor to Condoleezza Rice, wrote on Twitter, summing up the general reaction from many. "But one with nuclear weapons — for real — at his disposal. How responsible people around him, or supporting him, can dismiss this or laugh it off is beyond me."
In fact, how to successfully deal with threats from abroad has been beyond many past administrations. It has long appeared to be U.S. policy to live in fear of upsetting our enemies.
Trump's approach — one for which millions of Americans have longed — is to treat them like the sniveling bullies they are. From his description of Kim as "Little Rocket Man" to his retorts to the dictator's nuclear threats, Trump refuses to feign respect. Trump has been admirably consistent in his approach to America's enemies, and his critics just as reliable in expressing their alarm. During the 2016 campaign, Hillary Clinton and many others claimed that Trump's blunt rhetoric on Islamist extremism was helping the terrorist Islamic State recruit new members.
In May 2016, Clinton echoed what many others had said and would continue to claim: "I said months ago, what Donald Trump said is going to be used to recruit terrorists by ISIS. . . . Now just recently we have absolute evidence, yes it is. They're taking his words, out of his mouth, denigrating Muslims and putting them into propaganda videos. Why are we making the world more dangerous for Americans?"
In other words, don't make Islamic State leaders mad. Don't insult them — they'll hate us even more!
The terrorists may have used Trump's words as a recruitment tool — and yes, he could have done better differentiating between the Muslim religion and Islamist terrorism — but in recent months, according to multiple accounts, the Islamic State has been effectively vanquished in its former strongholds in Iraq and Syria. The claim that Trump's rhetoric would make the group stronger was off base.
While many accuse the president of engaging in playground taunts, Trump speaks to rogue dictators and terrorists in the language they understand. He demonstrates a stark shift in U.S. policy from one of fear and appeasement to treating such bullies in the fashion they deserve — with contempt and derision.
Trump's critics will wonder why the president seems to take a softer approach with Russian President Vladimir Putin, but Putin does not claim his goal is to obliterate the U.S. militarily or via terrorist attacks. The response the United States has employed for years with those who do — and the one preferred by Trump's critics — led to a far-reaching Islamic State, a North Korea that is armed with long-range missiles and a more dangerous world overall. A radically different response has been long overdue.
We claim to want our children to understand that bullies should not be tolerated or respected. That philosophy should not include an exemption for dictators and terrorists.
https://www.washingtonpost.com/opinions/trump-is-right-to-bully-americas-enemies/2018/01/07/39a5de8e-f25f-11e7-b390-a36dc3fa2842_story.html?utm_term=.392f60bd78a6
--------
US, Israel slammed over Jerusalem decision
By Asad Zia
January 8, 2018
PESHAWAR: Speakers at Tahafuz-e-Baitul Muqadas Conference warned the United State and Israel not to hurt the feelings of the Ummah, reverse their decision on Jerusalem or risk facing dire consequences.
The conference, organised by the Difa-e-Pakistan Council (DPC), was also attended by Khyber Pakhtunkhwa Chief Minister Pervez Khattak and leaders of various political and religious parties.
Chief Minister Pervez Khattak appreciated the role of religious parties for organizing the huge gathering and highlighted the provincial government's efforts for promoting Islam.
The government, he said, had introduced Quran and its translation compulsory in schools in addition to fixing Rs10,000 salary for mosque clerics.
He also elaborated upon the government's contribution in setting up solar power systems besides eliminating dowry and proscribing usury.
Chief of Awami Muslim League (AML) Sheikh Rasheed Ahmed criticised policies of US President Trump and said that he should revise all anti-Muslim policies.
"We do not need to sacrifice our lives, but we can kill enemies," Rasheed said.
Accusing the Sharif family of corruption, he said that he (Sharif) was a traitor and the country's biggest enemy by virtue of his friendship with Indian Prime Minister Narendra Modi.
According to JI's provincial chief Prof Ibrahim, Ummah's unity was very crucial against enemies of Islam.
Hafiz Saeed, who spoke to the audience via telephone, accused the federal government of barring him from attending the conference.
According to him, Pakistan's enemies were eyeing its nuclear assets and the entire nation should forge unity to thwart the nefarious designs of enemies of Islam.
The United States, he said, failed in Afghanistan despite having all the power at its disposal to respond against plots hatched by its enemies.
"This is an opportune moment to free Pakistan from the slavery of the US," he said.
He praised the people of Khyber Pakhtunkhwa for rendering sacrifices for the country and said that India would never succeed in its nefarious designs.
Chief of his own faction of the Jamiat Ulema-e-Islam (JUI-S) Maulana Samiul Haq said that the US could launch an attack on Pakistan and the people should be prepared in advance.
"We were invited by former president General (retired) Pervez Musharraf before the US attack on Afghanistan (At that time) we had suggested to stay away from fights of other people and not to join (the attack) mounted by the US against Afghanistan," he said.
Pakistani people, he said, still suffered in the wake of those wrong policies. He said that he had always suggested not to strike a friendship with the US and now when the US was demanding the country to repay $35 billion, everyone was criticising it.
He said US was stuck in a mire in Afghanistan and was destined to be defeated there. He said that all leaders who wanted to associate with the US should be hanged.
Samiul Haq said that he was against making Pakistan a secular and liberal country.
Full report at:
https://tribune.com.pk/story/1603005/1-us-israel-slammed-jerusalem-decision/
--------
The puzzling case of a former Taliban hostage charged with sex assault
By Isabel Vincent
January 6, 2018
Canadian Joshua Boyle and his American-born wife Caitlan Coleman got the red carpet treatment when they were flown home after Pakistani security forces rescued them from the clutches of the Taliban in October.
President Trump used the news to herald a new "positive moment in our country's relationship with Pakistan."
Reporters clambered for interviews with the former hostages.
Agents began "serious" negotiations to make a Hollywood film of their incredible story.
And the family was invited to meet the Canadian prime minister.
The couple and their three young children, all of whom were born in captivity in Pakistan and Afghanistan, visited Justin Trudeau last month, and tweeted pictures on their Twitter page of their children climbing the furniture in Trudeau's office.
"Today was a wonderful experience for my family, and Ma'idah Grace Makepeace seemed truly enamored," wrote Boyle in a caption under a family photo in which Trudeau holds his infant daughter on his lap.
There are several photographs which show Boyle's two toddler boys and a hijab-clad Coleman, 31, sitting next to the Canadian leader and Boyle himself, sporting a half beard, a crisp burgundy shirt and black slacks deep in discussion with Trudeau.
Boyle, 34, told his Twitter followers that he spoke to Trudeau about the Haqqani network, a group of radical Muslim militants who raped his wife, forced her to miscarry one of their children and imprisoned them in a series of decrepit safe houses for five years.
But less than two weeks after that meeting, Boyle is now back in captivity — this time sporting a bright orange T-shirt as he addressed a Canadian courtroom from an Ottawa-area detention center, where he has been held since his Jan. 1 arrest.
Since their rescue, Boyle, the son of a federal tax judge who once flirted with radical Islam, has become even more of an enigma — adept at dodging tough questions.
"There are a lot of holes in his story," said Phil Gurski, an Ottawa-based security consultant who used to work for the Canadian Security Intelligence Service, the country's national intelligence agency. "Why were they in Afghanistan in the first place? There are legitimate questions that need to be answered."
In October 2012, Boyle and his heavily pregnant wife embarked on a backpacking trip through Ghazni province, one of the most dangerous places in Afghanistan and the stronghold of the Haqqani network, a radical Jihadist group tied to both al Qaeda and the Taliban.
On Oct. 8, they sent their families a message telling them they were in an "unsafe" area of Afghanistan, and then disappeared.
As they arrived in Ghazni, the Taliban had closed dozens of schools and were targeting teachers for death.
"At minimum he has to be the stupidest guy on the planet but clearly there is a track record of being sympathetic to violent jihadists in Canada," Gurski told The Post.
Boyle's own father-in-law, Jim Coleman, has also had serious questions about Boyle.
"Taking your pregnant wife to a very dangerous place…is unconscionable," said Coleman in an interview with ABC News last year.
But Boyle was obsessed — fascinated with radical Islam and gripped by a keen sense of adventure.
Boyle, who grew up in a devout Christian family, became interested in radical Islam while still a student at the University of Waterloo. He claims to have edited every Wikipedia entry on radical Islam. Most of his Wikipedia efforts were focused on Omar Khadr, a Canadian and the youngest detainee at Guantanamo. In 2008, Boyle offered to work as a spokesman for the Khadr family, spending much of his time trying to free Omar from detention.
Before marrying Coleman in 2011, Boyle was married to Omar's outspoken sister, Zaynab Khadr. Their father, Ahmed Said Khadr, was one of Osama Bin Laden's most trusted lieutenants. Omar was released in 2012 after a decade at Guantanamo and awarded millions by the Canadian government last year after a 2010 Canadian Supreme Court ruling said the country's intelligence officials obtained evidence from him under torture.
The marriage to Zaynab, who once praised the 9/11 attacks, was shortlived, and the two were divorced after just a year.
Boyle met Coleman, a home-schooled Catholic girl from Stewartstown, Penn., on a Star Wars chat group when they were still in their twenties. They had a brief romantic relationship before Boyle's marriage to Zaynab and married soon after Boyle's divorce, according to published reports.
Shortly after they married, the couple traveled through Central America, spending four months backpacking in Guatemala. They claimed that they wanted to help the poor and downtrodden. Their current Twitter page describes them as "Joshua and Caitlan Boyle; freelance do-gooders, hostages extraordinaire, lovers of fine cheese."
"They saw themselves as helpers of the poor all over the world," said Denise Bukowski, a Toronto-based literary agent who told The Post she had been in talks with Boyle to represent him in a book and film deal before he was arrested earlier this month.
"He was very keen on making a film about his life," she said, adding that she has corresponded with Boyle for weeks to discuss his future prospects. "But now, after the charges, I'm not sure what's going to happen."
After Central America, the couple flew to Russia, making their way to Kazakhstan, Tajikistan and Kyrgyzstan, according to family members. No one is really sure just why they ended up in one of the most dangerous parts of Afghanistan.
In Bishkek, the Kyrgyzstan capital, they met up with a British cyclist who was also traveling the world.
"I hadn't thought seriously about traveling to Afghanistan until I started talking to Josh," wrote Richard Cronin on his blog in the fall of 2012 after meeting the couple at a hostel in the city.
"He was planning to travel there with his wife Caitlan very shortly. Over the course of a conversation that ran long into the night, he planted in my head a strong desire to go. We started talking about Lawrence of Arabia and the explorer Richard Burton. He asked me if I admired these explorers. Of course I did. 'Wouldn't you like to be like one of them?'"
Although Boyle assured Cronin that most of the country was relatively safe, Cronin soon turned back after crossing the border, according to his blog posts.
But Boyle and his wife, who was seven months pregnant by the time they crossed into Afghanistan, headed to the most dangerous region in the south where the Taliban and its affiliated terrorist groups often worked with the shady backing of Pakistani intelligence forces.
Although the circumstances of their capture by members of the Haqqani network in October 2012 remain murky, the group appears never to have demanded a ransom for their release, said Gurski, the Canadian security consultant.
The group also denied that its members raped Coleman or forced her to have a miscarriage. Coleman had told reporters after her release that their captors dosed her food with heavy amounts of estrogen in order to bring about the miscarriage of what would have been the couple's fourth child, a girl they christened Martyr.
But Boyle claims that members of the group raped his wife in retaliation for his refusal to join them. He also said that he helped deliver his children by flashlight and in secret while they were in captivity.
There is no way to corroborate Boyle's stories. He speaks authoritatively and can be controlling. In an interview with Maclean's magazine, a Canadian weekly, a reporter noted that he refused to leave the room while his wife was speaking with a reporter. "Check with me before you say any of that on the recording," Macleans reported that Boyle told her.
After videos emerged of the family in captivity in 2013 and in 2016, the Coleman family worked quietly through diplomatic and military channels to secure their daughter's freedom. They seemed amazed that after the family was rescued, Boyle refused to allow American doctors to examine his children or board an American military airplane, demanding to be flown to Canada on a commercial airline instead.
At some point, Boyle appears to have converted to Islam, although he refuses to say for sure. He has referred to himself and his wife, who since being released from their captivity has continued to wear a hijab, as "pilgrims" to Afghanistan who were only ever interested in helping the poor.
"The stupidity and evil of the Haqqani Network's kidnapping of a pilgrim and his heavily pregnant wife engaged in helping ordinary villagers in Taliban-controlled regions of Afghanistan was eclipsed only by the stupidity and evil of authorizing the murder of my infant daughter," said Boyle after landing in Canada last year. "I certainly do not intend to allow a brutal and sacrilegious gang of criminal miscreants to dictate the future direction of my family, nor to weaken my family's commitment to do the right thing no matter the cost. In the final analysis, it is the intentions of our actions, not their consequences, on which we all shall eventually be judged."
But on Monday, Boyle is going to be judged in a Canadian criminal court where he will be seeking bail.
Boyle is facing 15 criminal charges, including two counts of sexual assault and one count of forcibly administering a "noxious substance" — the anti-depressant Trazodone. He is also charged with one count of public mischief in misleading a police officer into believing "that someone was suicidal and missing, causing the officer to start an investigation, and thereby diverting suspicion away from Boyle."
There are few details of the alleged offences, but court documents suggest there are two alleged victims whose identities are protected by a sweeping publication ban. There is online speculation that one of the victims is his own wife, but no authorities are confirming it and Boyle's attorney quoted a section of the Canadian Criminal Code in a statement that prohibits the publication of "any information tending to identify any alleged victim or witness."
For her part, Coleman was quick to defend her husband.
"I can't speak about the specific charges, but I can say that ultimately it is the strain and trauma he was forced to endure for so many years and the effects that that had on his mental state that is most culpable for this," she told The Toronto Star in a written statement last week.
On that, and just about everything else, Boyle has been silent, preferring to cast himself as a persecuted, misunderstood and even noble victim of circumstance.
In fact, days before he was arrested in Ottawa where he and his family now live, he quoted Oscar Wilde on his Twitter page, where the handle is @BoylesVsWorld.
Full report at:
https://nypost.com/2018/01/06/the-puzzling-case-of-a-former-taliban-hostage-charged-with-sex-assault/
--------
Unlike US, Iran could assist Turkey's war on terror
Burhanettin Duran
Jan 8, 2018
Following last week's Friday prayers, hundreds of thousands of people in Iran took to the streets to voice their support for the regime and chant against Israel and the United States. This state of mobilization shows that the strategy to broker regime change through street protests won't have an effect on Iran. Even if Tehran manages to crush the uprising, it is important to note that Iran's social fault lines have been activated due to increased interaction between domestic politics and foreign policy.
The domestic issues are quite clear: The nuclear deal failed to facilitate much-anticipated recovery. The Revolutionary Guards are corrupt and have controversial influence over foreign policy and the economy. The lower classes are getting poorer. The government has been unable to implement reforms and the ruling elites are divided by internal rivalry. Meanwhile, the middle classes are sick of the regime's ideologically-charged rhetoric and there is a general demand for liberalization. At the same time, Iran's expansionist regional policy came with a heavy price tag and the various ethnic groups remain unsettled.
Perhaps more important is the fact that Iran has foreign enemies that are determined to exploit its domestic vulnerabilities – the United States, Israel, Saudi Arabia, the United Arab Emirates and others.
Those countries haven't been open about their desire to broker "regime change" in Iran. Instead, they have been talking about containing Tehran's regional expansionism. Even the Trump administration, which is determined to target Iranian interests in the Middle East, has been reluctant to discuss regime change. As Kılıç Buğra Kanat posits, the neo-cons within the administration prefer to use instruments, which would lead to regime change, without identifying their ultimate goal.
Meanwhile, the realists stick to "containment." How the plan will be implemented, however, remains unclear. Keeping in mind Washington's failures in Iraq and Afghanistan, the American people will be reluctant to support the administration's plans to "promote democracy" and engage in "nation-building." To be clear, the U.S. lacks the financial resources and the necessary military footprint in the Middle East to accomplish their goal. Nor does it seem possible for Washington to form a Western coalition, provided that the European Union is determined to uphold the nuclear deal and opposes any steps that could destabilize Iran. As such, the only alternative is for the United States to exploit the ambitions of regional players with limited means.
Iran's enemies consider the country an "exporter of terrorism" and "a dangerous power that destabilizes the region." In a recent interview with Voice of America, U.S. Vice President Mike Pence identified Iran as "the leading state sponsor of terrorism in the world." In contrast with former President Barack Obama's "deafening silence" during the 2009 protests, he added, U.S. President Donald Trump provided the kind of support to the Iranian people that Ronald Reagan did with his "evil empire" speech.
"My hope is that the people who are taking in the streets embrace a free and democratic future," Mr. Pence said.
Notwithstanding this discourse of "liberalization," the Trump administration will primarily impose economic sanctions on Iran. At the same time, there has been talk about eliminating Tehran's proxies in the Middle East and decapitating the Shiite militias. According to media reports, there were plans in place for the assassination of Qassem Soleimani by the United States and Israel and it's only reasonable to assume that the CIA's anti-Iran director has been working on more black ops. Finally, mounting pressure on the Revolutionary Guards, accompanied by a campaign to tell the Iranian people that the regime is an unbearable burden, could be an option.
Full report at:
https://www.dailysabah.com/columns/duran-burhanettin/2018/01/08/unlike-us-iran-could-assist-turkeys-war-on-terror
--------
URL: https://www.newageislam.com/islamic-world-news/iran-bans-english-primary-schools/d/113859
New Age Islam, Islam Online, Islamic Website, African Muslim News, Arab World News, South Asia News, Indian Muslim News, World Muslim News, Women in Islam, Islamic Feminism, Arab Women, Women In Arab, Islamophobia in America, Muslim Women in West, Islam Women and Feminism