19 November 2022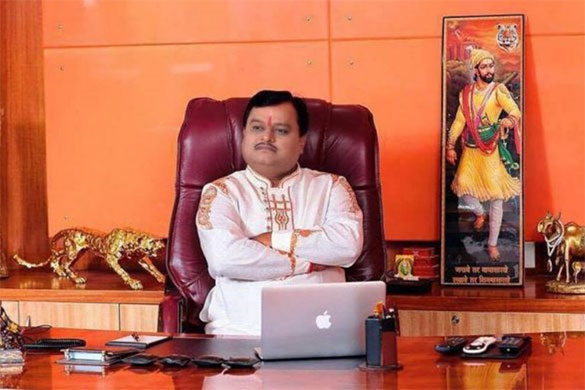 Sudarshan News editor-in-chief Suresh Chavhan
---------
• Interfaith Wedding Function Cancelled After Suresh Chavhanke Links It With Shraddha Walkar Murder, Calls It 'Jihad'
• Peshawar Admin's Plan To Demolish Major Mosque Stirs Controversy
• Protestors Burn Down Old Home Of Iran's Regime Founder Ayatollah Khomeini, Now A Museum, In Khomein
• King Mohammed Vi Of Morocco, The Muslim World League Has Launched The First Travelling • Museum Of Artifacts From The Museum Of The Life Of The Prophet In Rabat
• Iran 'Spreading Bloodshed' From Middle East To Kyiv – Uk Foreign Secretary
India
• Aamir Khan gets abused by Islamist trolls after his daughter gets engaged to a Hindu
• India: Guwahati High Court slams police for demolishing homes of several Muslims in Assam
• Modi's focus on Pasmanda Muslims finds resonance in BJP's MCD list
• MP: Muslim man arrested for 'forcing' Hindu wife to embrace Islam
• Muslim women artists make floral garlands offered to Lord Hanuman in Ayodhya
• Cops Access Oct 18 CCTV Footage of Aaftab Discarding Body Parts, His Security Upped in Jail Amid Threats
-----
Pakistan
• People demand action against terrorists at Lakki peace rally
• JIT inspects Wazirabad attack scene again
• Two militants, passer-by killed in Waziristan blast
-----
Mideast
• Palestinians unimpressed with Azerbaijan decision to open embassy in Tel Aviv
• Iranians protest at funeral for child killed in shooting
• Israeli airstrikes on Syria kill 4 soldiers, injure 1
• Greek, Israeli defense ministers stress importance of ties
-----
Arab World
• Qatar's beer ban won't affect fans in pricey private suites
• Saudi human rights official meets students of diplomacy
• Children offered world of discovery in Riyadh with a festival celebrating their future and identity
• Rockets target US-led forces in northeast Syria
• Thailand offers to be Saudi Arabia's 'gateway' to Asian markets
• Saudi Arabia's KFUPM hosts conference on information systems
• Saudi Arabia's humanitarian outreach via KSRelief continues in Africa, Pakistan and Arab World
-----
Europe
• Sweden amends constitution to boost anti-terror law as demanded by Türkiye
• Turkish, Ukrainian leaders discuss war, grain deal, POWs swap
-----
North America
• 'Credible' Iranian death threats against individuals in Canada being investigated: Canadian intelligence
-----
Southeast Asia
• Malaysia in 'uncharted territory' as voters head to polls in tight election race
• Malaysia votes in general election, Anwar Ibrahim expected to lead tight race
------
Africa
• Somalia: UN arms embargo impedes efforts to rebuild army, counter Al Shabab
• Angry protesters try to storm French Embassy in Burkina Faso
• 'Have a heart and do math': Ghana girl delivers strong message at COP27
Compiled by New Age Islam News Bureau
URL: https://newageislam.com/islamic-world-news/interfaith-wedding-suresh-chavhanke-jihad/d/128440
--------
Interfaith Wedding Function Cancelled After Suresh Chavhanke Links It With Shraddha Walkar Murder, Calls It 'Jihad'
19 NOV 2022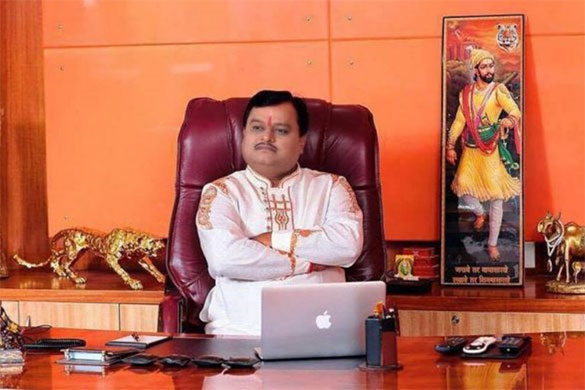 Sudarshan News editor-in-chief Suresh Chavhanke
-------------
An interfaith wedding function in Maharashtra's Vasai was cancelled after Suresh Chavhanke of Sudarshan News linked it to Delhi's Shraddha Walkar murder case and called it 'jihad', according to reports.
Chavhanke also used the hashtag "Act Of Terrorism" in the tweet sharing the invitation of the interfaith wedding reception in Vasai. Linking it to Shraddha's murder in Delhi, he termed it "Love Jihad".
"In our Aaftab's Vasai, now 'Imran and Divya' is going to happen. The invitation is public. After Aaftab of the same place chopped Shraddha in 35 pieces in the heart-wrenching crime, how is this going to happen? #LoveJihad_ActOfTerrorism #LoveJihad #Shraddha," said Chavhanke on Twitter in Hindi.
Love Jihad is a term right-wing Hindu organisations often use to refer to their belief that Muslim men marry or enter into relationships with non-Muslim women —mainly Hindu women— with the only intention of converting them to Islam.
Shraddha, 26, was allegedly killed by her live-in partner Aaftab Poonawalla, who is reportedly a native of Maharashtra's Vasai. The two met in Maharashtra on a dating platform and began a relationship. After Shraddha's family reportedly objected to their relationship, the two moved to Delhi. They moved to their South Delhi's Mehrauli home in May and, within days, they had an argument over marriage. Within days of the argument, Aaftab allegedly killed Shraddha and chopped her body into 35 parts and disposed off the parts in Delhi's forests.
The reception in Vasai tweeted by Chavhanke was scheduled for Sunday, but the families cancelled it after they got disturbed over details being made public, reported Newslaundry.
"They were receiving calls all day and seemed disturbed. They cancelled the function at my venue and I returned their deposit. It was because of the function invite that was leaked to the public," Newslaundry reported the venue's manager as saying.
The Times of India reported that the family of the bride was being harassed and was being asked to give a fridge as a wedding gift. It was a reference to the fridge allegedly used by Aaftab to store the chopped body parts of Shraddha so they don't decompose before being disposed off.
"The invitation card went viral on social media platforms with trolls asking the bride's father to gift her a refrigerator...The couple and their families were reportedly flooded with calls that scared them," reported ToI.
The report added that no police complaint was filed.
Since Aaftab and Shraddha were from different faiths, some quarters have raised the Love Jihad angle in the murder case.
This is not the first time that Chavhanke has been in the news for objectionable comments on Muslims. Earlier, he ran a program on 'UPSC Jihad', which was based on the alleged conspiracy to ensure entry of Muslims in government services through the Union Public Services Commission (UPSC) examinations. Recently, he also called Maulana Abul Kalam Azad a "jihadi" and said he was not an Indian.
"How was a person who was not of India made Indian Education Minister and given Bharat Ratna? How was he made? The country fell to a joint conspiracy of jihadis and British. How can we have National Education Day on the name of a hunter? The decision of the previous [Congress-led UPA] government should be changed," said Chavhanke on Twitter in Hindi.
In a separate tweet, Chavhanke said, "Dear Education Minister, nation wants to know the exact role of the first educational minister in the conspiracy to destroy the nationalist interpretation of history in our country. Please stop celebrating his birthday as National Education Day. We have more eligible rishi, munis, and gurus."
https://www.outlookindia.com/national/interfaith-wedding-function-cancelled-after-suresh-chavhanke-links-it-with-shraddha-walkar-murder-calls-it-jihad-news-238538
-----
Peshawar admin's plan to demolish major mosque stirs controversy
November 19, 2022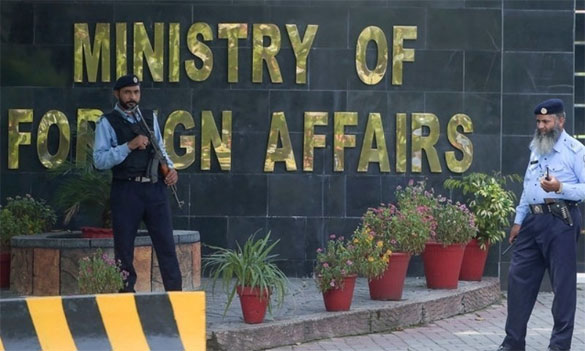 PESHAWAR: The district administration's plan to demolish the SpeenJumat, a major mosque in the provincial capital, over 'dilapidated condition' has stirred up controversy.
Residents of the University Road, where the mosque stands next to the Khyber Teaching Hospital, including clerics, have announced that they will resist the proposed move insisting it is meant to put up a shopping plaza.
However, deputy commissioner Shafiullah Khan rejected the assertion as 'rumour' and said that the mosque would be reconstructed in line with the Islamic law.
He told reporters here that the administration was working to address the "concerns" of the residents about the mosque demolition plan.
"People should not listen to rumours," he said.
The DC said that the mosque building was in really bad shape and could collapse anytime.
Without naming names, he accused vested interests of creating hurdles to the mosque's reconstruction.
He asked the people not to fall for rumours and said that the mosque was constructed in 1966 and didn't fall among "protected buildings".
Mr Shah also said that the district administration had issued a notice to the mosque's management for the demolition of the dilapidated structure.
He said that the mosque to be rebuilt would have three floors with a parking space.
Earlier in a video message, the deputy commissioner said that the administration was going to seal the SpeenJumat due to its bad condition.
"We got the [mosque's] building checked through the engineers of the Peshawar Development Authority and communication and works department, who declared the structure ramshackle," he said.
Mr Shah said that 60 seminarians stayed in the mosque, so the administration had made arrangements for their lodging in a private building.
He said that some people falsely claimed that the mosque was built on the property owned by them.
"This [mosque] land was acquired for the University Town in 1956 and later reserved for the construction of the mosque, which was notified by the then auqaf administrator," he said.
The deputy commissioner said that outer portion of the mosque appeared to be an encroachment on the government's land and that its demarcation had confirmed it.
He said the addition of 40 feet at that point would widen the artery ensuring smooth flow of vehicular traffic.
On the other hand, head of the SpeenJumat Protection Committee and senior Jamiat Ulema-i-Islam-Fazl leader Maulana Amanullah Haqqani told Dawn that a large number of local residents gathered at the mosque after Friday prayers and rejected the district administration's plan for the mosque's demolition.
He said that the participants agreed that they would protect the mosque and won't allow anyone to "touch" it.
The cleric said that the University Road was the widest near the SpeenJumat.
"We are not sure why the district administration has turned a blind eye to all other points choking traffic from Gora Qabristan to SpeenJumaat and planned to widen the road, where it is the widest," he said.
Mr Haqqani accused the deputy commissioner of planning to pull down the mosque to construct a shopping plaza and said that Islam didn't allow such a move.
He also rejected the administration's claim about the acquisition of the mosque's land and said that land was donated by the father of former provincial governor Arbab Sikandar Khan Khalil and his uncle.
"The DC should show us the documents of [mosque] land acquisition," he said.
The committee head also said the residents won't hold talks with the commissioner of Peshawar division due to his "bad attitude" towards the local elders.
https://www.dawn.com/news/1721713/peshawar-admins-plan-to-demolish-major-mosque-stirs-controversy
------
Protestors burn down old home of Iran's regime founder Ayatollah Khomeini, now a museum,inKhomein
ARAB NEWS
November 18, 2022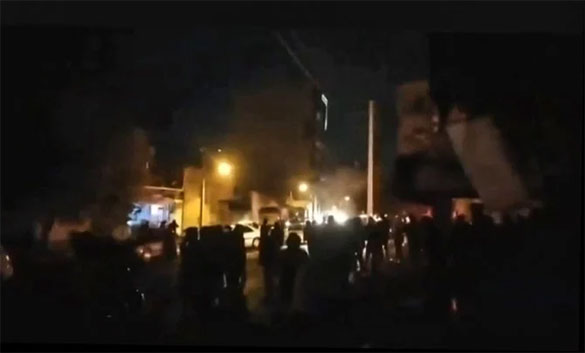 The old home of the regime's founder Ayatollah Khomeini was set on fire as protestors chanted slogans demanding the end of the regime. (AFP)
-----------
TEHRAN: Iranian protestors have burned down the old home of the regime's founder Ayatollah Khomeini as demonstrations continued despite fierce crackdown, social media footage showed.
Online videos captured protestors attacking the leader's old home, which had turned into a museum in a tribute to the architect of the Iranian Revolution that created the Islamic Republic in 1979.
Protestors in Khomein, the former leader's birthplace and where the museum is located, chanted slogans that demanded the end of the repressive regime as footage showed the property on fire.
Demonstrations in Iran have entered their third month as hundreds of mourners poured onto the streets this week to mark the anniversary of "Bloody November," when hundreds were killed in 2019 protests over a hike in fuel prices.
Worldwide protests were sparked by the September death of 22-year-old Mahsa Amini after she was detained by the morality police for violating Iran's strict Hijab rules.
Over 300 people have been killed and thousands more detained, according to rights groups. The regime has imposed five death sentences this week, vowing fierce action against what it called 'rioters'.
https://www.arabnews.com/node/2201936/middle-east
----
King Mohammed VI of Morocco, the Muslim World League has launched the first travelling museum of artifacts from the Museum of the Life of the Prophet in Rabat
ARAB NEWS
November 18, 2022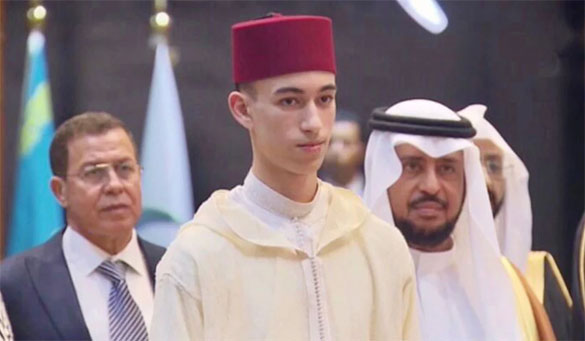 RABAT: Under the patronage of King Mohammed VI of Morocco, the Muslim World League has launched the first travelling museum of artifacts from the Museum of the Life of the Prophet in Rabat.
The inauguration was attended by Moroccan Crown Prince Al-Hassan bin Mohammad VI; the deputy secretary-general of the MWL, Abdulrahman Al-Zaid; director-general of ISESCO Salem Mohammad Al-Malek; secretary-general of the Muhammadiyah Association of Scholars in Morocco Dr. Ahmad Al-Abadi; and the secretary of the board of directors of the International Exhibition and Museum of the Life of the Prophet and Islamic Civilization, Sheikh Nasser Al-Zahrani.
The Museum of the Life of the Prophet and Islamic Civilization opened in Madinah in 2021 and provides an introduction to the life of Prophet Muhammad. The Muslim World League plans to inaugurate traveling museums in various countries, ensuring they are equipped with the same cutting-edge technology as the original museum in Madinah, including virtual reality and 3D imaging to reconstruct many of the Prophet's personal possessions.
https://www.arabnews.com/node/2202301/saudi-arabia
-----
Iran 'spreading bloodshed' from Middle East to Kyiv – UK foreign secretary
AFP
November 19, 2022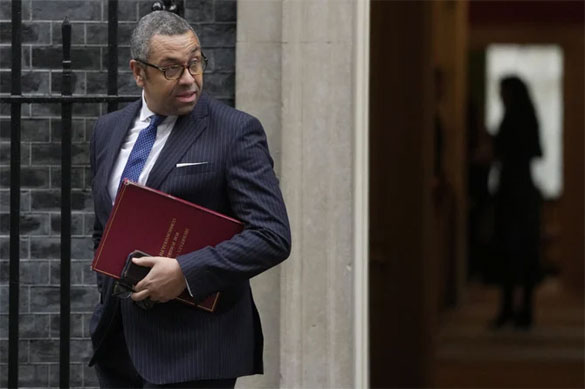 British foreign secretary James Cleverly said that 'Iran's rulers are spreading bloodshed and destruction across the region and as far away as Kyiv.' (AP)
------------
MANAMA: Britain's foreign minister on Saturday hit out at Iran for "spreading bloodshed" and vowed to work with allies to counter Tehran as he addressed leaders in Bahrain.
Ukraine and its Western allies have accused Iran of supplying Russia with drones that they say Moscow has used in recent weeks to carry out attacks in Ukraine.
Earlier this month, Tehran admitted it had sent drones, but insisted they were supplied before Russia's invasion.
"Iranian-supplied weapons threaten the entire region," British foreign secretary James Cleverly told the annual Manama Dialogue conference in Bahrain.
"The regime has resorted to selling Russia the armed drones that are killing civilians in Ukraine."
Cleverly spoke a day after European Commission President Ursula von der Leyen also warned in Bahrain that Iran's "weapons proliferation" is a threat to Europe.
The growing criticism comes as Iran grapples with mass protests — the biggest in years — following the death in September of 22-year-old Mahsa Amini, who was arrested by Iran's notorious morality police for an alleged breach of its strict dress code for women.
"As their people demonstrate against decades of oppression, Iran's rulers are spreading bloodshed and destruction across the region and as far away as Kyiv," Cleverly said.
"Britain is determined to work alongside our friends to counter the Iranian threat."
On Monday, the EU hit more than 30 senior Iranian officials and organizations with sanctions over Tehran's crackdown on protesters and the supply of drones to Russia.
In his address, Cleverly also slammed Russian President Vladimir Putin for threatening global security.
"No country is immune from the turmoil he has brought to world markets or the damage he has caused to global food security," he said.
"Putin's war is inflicting yet more suffering on Syrians and Yemenis, who were already enduring the privations of humanitarian emergency, and ordinary Lebanese, caught up in economic crisis."
https://www.arabnews.com/node/2202481/middle-east
-----
India
Aamir Khan gets abused by Islamist trolls after his daughter gets engaged to a Hindu
November 19, 2022
Islamist trolls had a field day abusing Aamir Khan after images of his Daugther Ira Khan got engaged to her long-time boyfriend Nupur Shikhare a Hindu.
Ira and Nupur got engaged in Mumbai and the event was attend by both ex-wives of Aamir Khan, Reena Dutta and Kiran Rao. The event was also attended by Fatima Sana Sheikh who is rumoured to be Aamir'sbew romantic interest.
Once the engagement concluded images of the couple surfaced on the social media. Aamir was abused for allowing his Muslim daughter to get engaged to a Hindu man.
"Aamir G*andu change your Muslim name," wrote one Masab Khan. Another wrote in Urdu that interfaith engagement between the two was the consequence of his adulterous behaviour.
One Mohammad Arshad Raza said that Aamir Khan forgot the rules of Islamic faith after acting in the movie Ghajini. Indian Muslims are Muslims by name... They even marry kafirs said one Atif Cheema.
"Let you face the wrath of Allah, mother f*cker," wrote one Mushtaq while another Nadeem said only this engagement between a Muslim and non-Muslim was left to see. Others wrote that the engagement amounted to Sanghi Jihad while others said that it was a case of reverse love-Jihad.
To be sure both Ira and Nupur are consenting adults and the Indian Constitution permits mutually consenting adults to get married. Only marriages for the sake of conversions or forced conversions are not allowed.
https://www.oneindia.com/india/aamir-khan-gets-abused-by-islamist-trolls-after-his-daughter-gets-engaged-to-a-hindu-3489636.html?story=3
------
India: Guwahati High Court slams police for demolishing homes of several Muslims in Assam
November 19, 2022
In India, the Guwahati High Court has slammed the Indian police for demolishing the homes of several Muslims in Assam.
The police along with the administration of Nagaon district had demolished the homes of Muslims in May this year on the fake allegations of setting the Batadraba Police Station on fire.
Chief Justice RM Chhaya in his remarks said using excavators and bulldozers to demolish houses "in the guise of investigation" was not provided in any criminal law. He said, it seems nobody in this country is safe.
https://www.radio.gov.pk/19-11-2022/india-guwahati-high-court-slams-police-for-demolishing-homes-of-several-muslims-in-assam
------
Modi's focus on Pasmanda Muslims finds resonance in BJP's MCD list
November 19, 2022
A step forward for the community is how Pasmanda Muslims, fielded by the BJP for the upcoming MCD polls, see their nomination by the party. A total of four Pasmanda Muslims, including three women, have been fielded. A total of 250 seats are being contested this time.
Atif Rasheed, in-charge of the BJP's minority morcha, said, "This is the first time all Muslim candidates BJP is fielding are from the OBC community. Like the PM has also said, the Pasmanda community is backward financially and educationally. It is a welcome decision to field three women from this community. The AAP and Congress only see Pasmanda Muslims as a vote bank, while the BJP is giving them a shot at leadership. In areas where Pasmanda Muslims are in a majority, these parties have not fielded candidates from the community."
Five Muslim candidates contested the MCD polls last time, and of them, two tickets were given to Pasmanda Muslims, he said.
Pasmanda Muslims are a backward, marginalised section of Muslims that the BJP has been trying to reach out to. At the BJP's national executive conclave in Hyderabad earlier this year, Prime Minister Narendra Modi had asked leaders to reach out to downtrodden sections of communities other than Hindus. The party had also organised a meeting of Pasmanda Muslims in Lucknow in October, a conference that was touted as the first of its kind.
In Northeast Delhi's Chauhan Bangar, where BJP has fielded Saba Gazi (32), a law graduate from the Pasmanda Muslim community, "90% of the population belongs to the Pasmanda Muslim community", as per Rasheed. Similarly, in the other three wards as well, they are in a majority, he said.
The three other Pasmanda Muslim candidates are Irfan Malik (50), who is contesting from ChandniChowk'sChandni Mahal; Samina Raza (47) from Quresh Nagar; and Shabnam Malik from Northeast Delhi's Mustafabad.
Raza is contesting the polls for the first time. "Modi ji ne ekdabi hui awazkoujagarkiyahain (Modi ji has awakened a suppressed voice)… Pasmanda Muslims. This is a backward community," she said. She is a mandal vice-president of the Mahila Morcha and is involved with social work. "There is a gap between the Muslim community and BJP, I've been working to try and fill it… to tell Muslims that BJP is not against the community," she said. Raza said the area she is contesting from has a garbage issue: "There is no cleanliness, roads are broken. There is a parking issue as well. These are issues that I would like to focus on."
Irfan Malik, a scrap dealer, said, "The PM has said Pasmanda Muslims are to be uplifted… we are right at the bottom with little means… We work for daily wages and are not very educated. The PM has now focussed on us… The BJP has taken a step forward for us and made an effort towards upliftment of this community. The other parties treat us like use-and-throw commodities."
Gazi said she intended to practise law, but agreed to contest the polls after a push from her family. On four Pasmanda Muslims being fielded this time, she said, "Representation is a must. Parivaarvad should end and other people should be given an opportunity…" On the area she is contesting from, she said, "In every corner, there is garbage. Compared to other areas, there's little development here."
https://indianexpress.com/article/cities/delhi/modis-focus-on-pasmanda-muslims-finds-resonance-in-bjps-mcd-list-8276858/
-----
MP: Muslim man arrested for 'forcing' Hindu wife to embrace Islam
PTI
19 November, 2022
Indore, Nov 18 (PTI) A 32-year-old Muslim man was arrested on Friday for allegedly forcing his Hindu wife to embrace Islam in Indore city of Madhya Pradesh, police said.
The man, a fourth-year student of homeopathy, has been charged with employing force and fraud to change religion, thereby violating provisions of the Madhya Pradesh Freedom of Religion Act, 2021, Khajrana police station officer Dinesh Verma said.
The wife of the accused, in her complaint, stated that she became friendly with the man while working in a private hospital and she was "trapped" into marrying him in 2015.
The complainant stated that her husband's attitude towards her changed three years after marriage when she gave birth to a girl. Thereafter, he forced her to change her religion, Verma said, quoting the complaint.
The woman also accused her husband of harassing her for dowry, the police officer said, adding further investigation was on. PTI HWP LAL RSY RSY
https://theprint.in/india/mp-muslim-man-arrested-for-forcing-hindu-wife-to-embrace-islam/1224521
------
Muslim women artists make floral garlands offered to Lord Hanuman in Ayodhya
ANI
19 November, 2022
Ayodhya (Uttar Pradesh) [India], November 19 (ANI): Weaving bonds of harmony, Muslim women artists in Ayodhya make garlands of flowers offered to Lord Hanuman in Siddha Peeth Hanuman Garhi temple.
"Muslim women in Ayodhya make garlands of flowers. These garlands are offered to Shri Hanuman ji Maharaj ji sitting in Siddha Peeth Hanuman Garhi temple. Ayodhya was identified with Lord Ram and was known by the name of Ram Janmabhoomi Temple and Babri Masjid. But even today Hindus and Muslims of Ayodhya live together in harmony," said Husna Bano, a woman making garlands.
Another woman said that garlands are made in every house and all the family members are engaged in weaving and making the garlands.
"KotiGhat, a locality in Ayodhya is also like this. There are about 12 houses where Muslim women make garlands offering to God, which falls just behind Ram Janmabhoomi. Garlands are made in every house and all the family members are engaged in weaving and making the garlands," said Sakina Bano.
The women living right behind Ram Janmabhoomi temple said that they have been doing this work for generations, and all the family members are engaged in doing this work.
Another woman said that there is no discrimination of any kind between Hindus and Muslims who make garlands.
"The gardener gives us flowers and we make garlands out of it. We make a living out of this. There is no discrimination of any kind between us Hindus and Muslims who make garlands, it is offered to Hanumanji," said Shahida Bano. (ANI)
This report is auto-generated from ANI news service. ThePrint holds no responsibility for its content.
https://theprint.in/india/muslim-women-artists-make-floral-garlands-offered-to-lord-hanuman-in-ayodhya/1224882/
-----
Cops Access Oct 18 CCTV Footage of Aaftab Discarding Body Parts, His Security Upped in Jail Amid Threats
NOVEMBER 19, 2022
Delhi-Mehrauli Murder Case Updates: Amid calls from across the sections of society demanding capital punishment for Aaftab Amin Poonawala- who allegedly killed his live-in partner Shraddha Walkar and sawed her body into 35 pieces- the Delhi police is taking extra precautions to keep him safe.
To ensure his safety, cops are reportedly continuously changing Poonawala's location and keeping him at different police stations and other locations in South Delhi. They are also taking extra safety measures when the murder accused is taken out on streets or in forests to assist the investigating team in the collection of evidence like Walkar's dismembered body, the murder weapon, victim's belongings among other things, Hindustan Times reported quoting police sources.
During the night, some policemen are being also deployed outside Poonawala's lock-ups with directions to remain vigilant and keep a watch on his activities in custody, the report said.
According to the police, Poonawala allegedly strangled his live-in partner Walkar (27) on May 18 and sawed her body into 35 pieces which he kept in a 300-litre fridge for almost three weeks at his residence in South Delhi's Mehrauli before dumping them across the city over several days past midnight. The saw was allegedly bought from a shop on the Mehrauli-Gurgaon Road, police sources said.
HERE ARE KEY DEVELOPMENTS IN SHRADDHA WALKER MURDER CASE:
•A team of Delhi Police is in Maharashtra and recorded the statement of Walkar's close friend LaxmanNadar, in her hometown of Vasai. It was Nadar who alerted Walkar's father Vikas in September that his daughter's phone had been switched off for two months, following which the father filed a missing person's complaint at the Manikpur police station in Vasai.
•Cops will also record the statements of local police officials who had recorded the missing person complaint lodged by Walkar's father and questioned Poonawala, who is now accused of murdering her. Both Walker and Poonawala used to live in Vasai earlier.
•Poonawala's family members left their Vasai flat 15 days ago when the heinous murder came to light. Poonawala, yet to be arrested then, had visited Vasai to help his family with the shifting, the police official said. His relatives too would be questioned, the official added.
•Police got a big breakthrough in the Shraddha Walkar murder case. Sources privy to the investigation told CNN News18 that accused Poonawala was captured in CCTV trying to dispose of his live-in partner's body parts. "Aaftab was caught throwing some pieces of the dead body on CCTV on October 18. On that day, Aaftab made three rounds to dispose of Shraddha's head, torso and hands," sources said.
•There have been calls- both online and offline- and from some religious organisations, demanding capital punishment for Poonawala. People have taken out protest marches both in Delhi and Maharashtra asking police to take the strictest action against the accused. On Thursday, a group of lawyers created a ruckus created at the Saket court where Poonawala was going to be produced for extending his remand.
•As per sources, Delhi police have intelligence inputs that Poonawala may be attacked by a mob or some fringe groups as part of their communal propaganda. After receiving the intelligence, police personnel were added to the group that accompanied Poonawala and the investigating team during the search operation, and other legal procedures such as his medical check-ups in the government hospital.
•Police is likely to take Poonawala to Himachal Pradesh and Uttarakhand, where the couple stayed for some time, to establish the sequence of events leading to her brutal murder. Walkar and Poonawala reportedly wanted a "break" from their fights and went to backpack across Himachal and Uttarakhand in April after leaving their homes in Mumbai.
•Delhi Police teams have been to Mumbai, Gurgaon, Himachal Pradesh and Uttarakhand in connection with the investigation of the murder case. After leaving Mumbai, Walkar and Poonawala travelled to several locations which are being visited by police to ascertain whether something had happened on those trips to trigger the murder.
•The cops are trying to establish the hitherto missing motive for such a gruesome murder. One of the angle police is probing is that Walkar wanted to end her relationship with her live-in partner but wasn't being allowed to do so. Her chat with friends indicates in this direction.
•Poonawala has also told cops that he was under the influence of drugs on the day of the murder. As per sources, Poonawala used to smoked cannabis and had done so on the day of the murder. Another motive for the murder could be that Walkar regularly upbraided him for cannabis consumption and perhaps she did the same on the day she was killed, sources said.
•Investigators privy to the probe said accused Poonawala's phone will be sent for forensic examination to identify the people he was in touch with after killing Walkar and retrieve deleted data.
•The police have so far recovered bones. Prima facie, they resemble human bones, it said.
•As per police sources, Poonawala burnt Walkar's face after allegedly murdering her and chopping the body into pieces to rule out the possibility of identification. They said the accused told police that he searched for information on how to conceal evidence on the internet. Earlier reports claimed Aaftab was also "inspired" by crime shows, especially Dexter.
•On Friday, a team probing the murder also visited the office of a private firm in Gurugram where Poonawala used to work. He was accompanying the police team, an official said.
•Following a search, the police were seen carrying a plastic bag containing items recovered from the bushes in the vicinity of the office. However, the officials did not reveal the contents of the bag. The accused worked at the firm after shifting from Mumbai with Walkar.
•Delhi police also released its first statement in the case yesterday and said blood samples of Shraddha's father and brother have been collected for DNA matching with skeletal remains recovered till now.
•In a statement, police also said in view of the "deceptive nature" of responses provided by the accused, an application for conducting his narco-analysis test was made and it has been approved by the court.
•Police have been directed by a Delhi court to complete the narco analysis test of Aaftab Amin Poonawala within five days.
•CNN-News18 has learnt that Shraddha had consulted the Mumbai doctor — who was close to her call centre- about her depression as well as her live-in partner's anger issues and violent streak, over the phone in February 2021 after she was referred by a social worker. Shraddha told him she feared "he (Aaftab) might harm her or himself or both of them".
•While the doctor asked Shraddha to visit the hospital since a phone consultation or diagnosis would be difficult, she refused citing the Covid-19 threat. The doctor also said the hospital was then a designated Covid-19 facility and he had told Shraddha about the need for a psychiatric evaluation and psychological tests for the couplehttps://www.news18.com/news/india/delhi-mehrauli-murder-case-updates-aaftab-poonawala-shraddha-walkar-delhi-police-mumbai-vasai-narco-test-love-jihad-drugs-6418453.html
https://www.news18.com/news/india/delhi-mehrauli-murder-case-updates-aaftab-poonawala-shraddha-walkar-delhi-police-mumbai-vasai-narco-test-love-jihad-drugs-6418453.html
-----
Pakistan
People demand action against terrorists at Lakki peace rally
November 19, 2022
LAKKI MARWAT: A peace rally was staged in LakkiMarwat city here on Friday two days after six policemen were martyred in a militant attack in Kurrup Par area on Wednesday.
The rally appeared from Shaheed Aabid Ali Chowk on the Tajazai-Lakki Road and converged at Qazi Ishfaq Chowk.
Local welfare organisations organised the rally, wherein the participants carried national and white flags and raised slogans, demanding restoration of peace and harmony in the district. Political and social activists and people from different walks of life participated.
The speakers said Marwat tribesmen were peace loving and condemned terrorism in all its forms and manifestations. They said they won't allow miscreants to destroy peace.
They condemned the killing of policemen and asked the government to bring the perpetrators of the terror attack to justice.
"The government should revisit its anti-terror policies keeping in view the recent surge in terrorism incidents in the province," said Malik Riaz, a local ANP leader.
The participants vowed not to let the 'hard-earned' peace go waste.
Separately, employees of Water and Sanitation Services Company (WSSC) demonstrated in Bannu on Friday against nonpayment of salaries.
The protesters passed through bazaars and converged at the press club.
The protesters claimed Bannu had topped the ranking of most clean and beautiful cities, but some elements couldn't digest the feat and caused removal of then chief executive officer Syed Tauqeer Hussain Shah.
The protesters said they had been without salaries for last three months, besides around 80 fixed and daily wagers had lost jobs. They demanded payment of salaries and regularisation of fixed-pay employees.
SHOT DEAD: Assailants killed member of a nomad family and took away a married woman with them in MelaMandrakhel village of Lakki on Thursday night.
Police said the attackers were also nomads and belonged to Bhakkar district of Punjab.
A complainant, Amir, 25, told the police he along with his wife and father, Mohammad Aslam, 45, were asleep in tents when the attackers, including Ghaffar, Abdullah, Ashraf, Azam, Liaqat, Leeq, Asad and a woman, attacked them over dispute.
He said the attackers shot dead his father and took away his wife with them.
The police registered a case against the attackers.
https://www.dawn.com/news/1721710/people-demand-action-against-terrorists-at-lakki-peace-rally
-----
JIT inspects Wazirabad attack scene again
November 19, 2022
LAHORE: The Joint Investigation Team (JIT) formed to probe into the gun attack on former premier Imran Khan at Wazirabad on Friday and inspected the crime scene, got briefings from the local police and sought call record of the prime suspect arrested from the spot.
It was second visit of the JIT members, headed by Capital City Police Officer (CCPO) Ghulam Mahmood Dogar, to Wazirabad to investigate the case.
An official said the team inspected the spot from where the shooter fired at the former prime minister to check the distance from the target. They also inspected the nearby buildings and checked the security measures Wazirabad police had taken when Mr Khan was attacked, he said.
Senior police officers from Wazirabad and Gujrat were also present during the JIT's visit and they briefed the members on the details of the incident, the weapon used by the suspect, the eyewitnesses accounts and other relevant information, he said.
The official said the JIT took the custody of the suspect after the court granted his 12-day physical remand. He said the JIT had asked the agencies concerned to provide it the CDR of the mobile phone of the suspect.
https://www.dawn.com/news/1721808/jit-inspects-wazirabad-attack-scene-again
-------
Two militants, passer-by killed in Waziristan blast
Dilawar Wazir
November 19, 2022
UPPER WAZIRISTAN: Two combatants of a local militant outfit and one passerby were killed in a bomb blast in Chagmalai area of Upper Waziristan tribal district on Friday.
Witnesses said that the explosion occurred in front of a market after Friday prayers.
Two people, who had affiliation with Fareed Shekari group, a militant outfit in the Mehsud tribe-dominated area, died on the spot.
Sources said that the two combatants had been identified as Shah Gulzar and Mustafa. A wounded person succumbed to injuries while being shifted to a hospital.
Another critically injured person was referred to a hospital in Dera Ismail Khan.
The police said that investigations had been started to ascertain the nature of the blast. Some reports suggested that it was a suicide attack. No group claimed responsibility for the blast.
https://www.dawn.com/news/1721712/two-militants-passer-by-killed-in-waziristan-blast
------
Mideast
Palestinians unimpressed with Azerbaijan decision to open embassy in Tel Aviv
MOHAMMED NAJIB
November 18, 2022
RAMALLAH: Azerbaijan's decision on Friday to open an embassy in Tel Aviv sparked astonishment and condemnation among Palestinians.
Azerbaijan shares a long border with Iran and is a major buyer of Israeli weapons systems. It is now set to become the first country with a Shiite majority and government to have a mission in Israel.
While some former Palestinian diplomats and political analysts sought to play down the move at a time of intense diplomatic struggles between Palestinians and Israel, others saw it as a victory for Israeli diplomacy.
Senior Arab intelligence officers told Arab News that increased cooperation between the security services of Azerbaijan and Israel in recent years meant that Israeli personnel now had free operability in areas close to the Azerbaijan-Iran border.
The Palestinian Authority's Social Development Minister Ahmed Majdalani told Arab News that Azerbaijan would not have taken the decision to open the embassy without consulting Turkish President Recep Tayyip Erdogan, considering "Azerbaijan is a Turkish protectorate."
He said he was surprised by the decision as Azerbaijan is the current chair of the Islamic summit, which has in the past been against such a move.
"Unfortunately, Azerbaijan's decision comes at a time when the Israeli right wing is taking power in Israel, which is considered a reward for the Israeli extreme right for its attacks against the Palestinians and Islamic sanctities," he said.
"We express our astonishment and condemnation of this uncalculated political step that harms the Palestinians."
Israel's outgoing Prime Minister YairLapid said he welcomed Azerbaijan's decision, adding that the country was an essential partner of Israel and home to one of the largest Jewish communities in the Muslim world.
Lapid said the move reflected the depth of Israeli-Azerbaijani relations and was a result of the Israeli government's efforts to build solid diplomatic bridges with the Muslim world.
"I want to thank President IlhamAliyev and congratulate the Azeri people who will now be represented for the first time in the state of Israel," he said.
Former Palestinian Foreign Minister Nasser Al-Kidwa told Arab News that he saw the opening of the embassy as an act of gratitude to Israel for providing drones, reconnaissance equipment and other military technology that helped it turn the tide in its conflict with Armenia.
But he also played down the move, and said: "I do not think that such a step will have an impact on Palestinian diplomacy, especially since countries such as the UAE and Bahrain — more important than Azerbaijan — have opened embassies in Israel before."
Israeli political analyst Yoni Ben Menachem told Arab News that Azerbaijan played a vital role in Israel's conflict with Iran, pointing to the use of Azerbaijani bases for launching Israeli drone strikes inside Iran and for hosting Mossad personnel.
Its security cooperation with Azerbaijan could even provide Israel with a springboard to strike Iranian nuclear facilities, he said.
Palestinian political analyst Ghassan Al-Khatib agreed that Azerbaijan's decision to open an embassy in Tel Aviv was linked to the security cooperation between the two countries, but said it came "at the expense of international principles, obligations and laws."
"Opening an embassy … will not change the political reality. Israel is still an occupying state and Jerusalem is still an occupied city," he said.
https://www.arabnews.com/node/2202256/middle-east
------
Iranians protest at funeral for child killed in shooting
AP
November 18, 2022
DUBAI: A large anti-government protest erupted in Iran on Friday at the funeral of a child killed in a shooting that his mother blamed on security forces. It's the latest in a wave of demonstrations that have flared across the country over the past two months.
Videos circulating on social media showed hundreds of protesters at the funeral for 9-year-old Kian Pirfalak in the southwestern city of Izeh. Protests also erupted in the eastern city of Zahedan, which has seen the deadliest violence since the nationwide demonstrations began.
The protests first erupted after the Sept. 16 death of a 22-year-old woman who was being held by the country's morality police. They rapidly escalated into calls for the overthrow of Iran's ruling clerics and an end to the theocracy established after the 1979 Islamic Revolution.
Authorities have heavily restricted media access and periodically shut down the Internet as they struggle to contain the biggest challenge to their leadership in more than a decade, making it difficult to confirm details of unrest in different parts of the country.
State-run media in Iran reported that seven people were killed and several wounded, including security forces, in a shooting in Izeh on Wednesday. Authorities blamed the attack on "terrorists" without providing further details.
Among the victims was Pirfalak. His mother, ZeinabMolaei, said security forces stopped the family in their car and told them to drive away for their own safety because of a nearby protest. When they turned around, the security forces opened fire on the vehicle, she said, according to the semiofficial Fars news agency.
State media had initially said a young girl was killed, but later amended those reports. Fars said 11 people have been arrested in connection to the shooting in Izeh, which Iranian officials say is under investigation.
Dozens of protesters had gathered in different parts of Izeh around the time of the attack, chanting anti-government slogans and hurling rocks at police, who fired tear gas to disperse them, state-run media reported at the time. Protesters also torched a Shiite religious seminary in Izeh.
Violence has erupted around some of the protests as security forces have clamped down on dissent. Iran has also seen a number of recent attacks blamed on separatists and religious extremists, including a shooting at a major Shiite shrine last month that killed over a dozen people and was claimed by the Daesh group.
An intelligence officer from Iran's Revolutionary Guard was killed Friday during a violent demonstration in Sahneh, in a Kurdish area in western Iran, the semiofficial Tasnim news agency reported. It identified the deceased as Col. Nader Beirami and said the assailants were arrested.
Iranian officials have sought to link the attacks to the protests and blame all the unrest on hostile foreign actors, without providing evidence. The protesters say they are fed up after decades of repression by a clerical establishment that they view as corrupt and dictatorial.
At least 388 people have been killed and more than 16,000 arrested, according to Human Rights Activists in Iran, a group monitoring the unrest. It says at least 53 members of the security forces have been killed.
Rights groups accuse security forces of firing live ammunition and bird shot at demonstrators, and of beating them with batons, violence captured in numerous videos circulated online.
https://www.arabnews.com/node/2202196/middle-east
-----
Israeli airstrikes on Syria kill 4 soldiers, injure 1
REUTERS
November 19, 2022
Syrian air defenses countered the attack, which came from the Mediterranean Sea side and also caused material damage
DAMASCUS: Four Syrian soldiers were killed and one wounded in Israeli "air aggression" on some posts in the coastal and central regions of Syria on Saturday morning, Syrian state news agency SANA reported.
Syrian air defenses countered the attack, which came from the Mediterranean Sea side and also caused material damage, the agency said.
https://www.arabnews.com/node/2202456/middle-east
------
Greek, Israeli defense ministers stress importance of ties
AP
November 19, 2022
ATHENS: The defense ministers of Israel and Greece have stressed the importance of maintaining strong alliances to tackle global and regional threats, citing challenges such as the war in Ukraine and ongoing tension in the eastern Mediterranean.
"The world is changing," Israeli Defense Minister Benny Gantz said after meeting in Athens with his Greek counterpart, Nikolas Panagiotopoulos.
"The implications of the war in Ukraine bleed through national borders. The politics of extremism and terrorism impacts countries across the globe."
He cited Iran's nuclear program and the use of Iranian drones by Russian forces in Ukraine as evidence that the Tehran regime's alleged aggression "continues to be a grave threat to the region and to the world."
"It is clear the global threats we see today are simply the seeds for the challenges that will develop and grow in the future, impacting national security, food supplies, immigration, energy resources," Gantz said.
Last month, Gantz visited Ankara, becoming the first top Israeli defense official in more than a decade to do so, and signaling a possible resumption of defense ties with Turkiye.
Israel and Turkiye were once close regional allies, but relations became increasingly strained under Turkish President Recep Tayyip Erdogan, who is an outspoken critic of Israel's policies toward Palestinians.
Greece has traditionally maintained good relations with both Israel and Arab nations in the Middle East, and has been seeking to strengthen alliances amid heightened tension with Turkiye.
"In the face of global shifts, it is our duty to ensure our alliances ... remain strong and constant," Gantz said in Athens, adding that it was in the common interest of Greece and Israel to ensure stability in the eastern Mediterranean and the Middle East.
Greece and Turkiye, both NATO members, have been at odds for decades over a series of issues, but relations have deteriorated significantly in recent years, particularly over sea boundaries in the eastern Mediterranean.
High-ranking Turkish officials, including Erdogan, have made thinly veiled threats of invasion.
"Aggressive revisionism is the greatest challenge we have to face in our region and poses a serious risk for the rules-based international order," Panagiotopoulos, the Greek defense minister, said, citing in particular Russia's invasion of Ukraine.
During their meeting on Friday, Panagiotopoulos said he and Gantz reaffirmed "our common goal and desire to expand (the) strategic defense partnership between Greece and Israel."
The two countries regularly conduct joint military exercises and training, and Greece recently launched operations at a new international pilot training center created in partnership with Israel.
"We are determined to maintain this ever-increasing momentum and also to enrich our defense industrial cooperation," Panagiotopoulos said.
https://www.arabnews.com/node/2202351/middle-east
-----
Arab World
Qatar's beer ban won't affect fans in pricey private suites
By: Bloomberg
November 19, 2022
Fans who've shelled out thousands of dollars for private hospitality suites will be unaffected by Qatar's move to ban beer sales within stadium grounds.
The tightening of rules on where ticket-holders can drink beer brings another level of inequality to the games. The decision will likely result in moving concession stands serving alcohol even further away from the stadiums.
But high-end hospitality suites — often purchased by corporations, royals and billionaires — will still be able to serve alcohol to guests during the match. Match Hospitality AG has packages starting at $950, offering wine and beer. At the top-level Pearl Suite, $34,300 gets a fan access for 10 matches — including a semifinal and the final.
The suite features guest appearances from celebrities, a six-course "gastronomic showcase," Champagne, premium spirits, preferential parking and other services, according to a spokeswoman for Match Hospitality, which organizes the packages.
https://indianexpress.com/article/world/qatar-beer-ban-wont-affect-fans-in-pricey-private-suites-8277023/
-----
Saudi human rights official meets students of diplomacy
November 18, 2022
RIYADH: The Saudi vice president of the Human Rights Commission, Abdulaziz bin Abdullah Al-Khayyal, met with students from the Prince Saud Al-Faisal Institute for Diplomatic Studies and its director general, Dr. Adel Al-Amrani, at the commission's headquarters in Riyadh.
Al-Khayyal highlighted the support provided by the Saudi leadership to the commission in helping it to achieve its goals in partnership with the Ministry of Foreign Affairs.
The students also learned about the role of the commission, its work with relevant human rights organizations, key documents and agreements such as the Universal Declaration of Human Rights, the functions of UN human rights bodies and mechanisms, and international conventions joined by Saudi Arabia.
https://www.arabnews.com/node/2202291/saudi-arabia
-----
Children offered world of discovery in Riyadh with a festival celebrating their future and identity
SPA
November 18, 2022
RIYADH: Children are being offered a new world of discovery in Riyadh with a festival celebrating their future and identity.
The Ministry of Culture's three-day "Culture Kids" event will be held in Granada's Arena in Riyadh to coincide with International Children's Day on Nov. 20.
The festival includes "interactive and educational activities" over two main areas. The first offers discovery and awareness activities for children aged 4 to 12 with music, a labyrinth, fashion, crafts and Saudi cuisine.
The second offers "experiences and knowledge" activities, with multiple areas aimed at training motor skills, encouraging healthy habits and training the senses.
It will also provide them with the opportunity to learn about three topics: Our world is green, creativity and LEGO world.
The world of creativity will focus on Arabic calligraphy and teaching children different fonts with a Saudi expert, in addition to teaching to draw Saudi Arabia's most famous and important landmarks.
https://www.arabnews.com/node/2202311/saudi-arabia
----
Rockets target US-led forces in northeast Syria
AP
November 18, 2022
BEIRUT: The US military said a rocket attack targeted international coalition forces in northeast Syria, without causing any casualties.
The US-led anti-Daesh coalition maintains bases in areas controlled by Syria's Kurdish forces, including at Al-Omar, the country's largest oil field.
"Rockets targeted coalition forces" at the Green Village base at Al-Omar, which is close to the Iraqi border, the US Central Command said in a statement.
There was no damage to the base or casualties, but such attacks "undermine the hard-won security and stability" of the region, said the statement.
"US forces in northeastern Syria are investigating the incident," it added.
The UK-based Syrian Observatory for Human Rights reported "four rockets were fired from a pro-Iranian militia base in the Mayadine region," close to the coalition forces.
"Both parties put their forces on alert" after the attack, added the Observatory.
Pro-Iranian militias hold significant influence in Syria's border area with Iraq, an important crossing point for weapons, fighters and goods.
On Nov. 9, a convoy of weapons and fuel destined for pro-Iranian militias in Syria was targeted in an airstrike near the Iraqi border, killing at least 14 people, according to the Observatory.
The US and its coalition allies denied carrying out the attack, while Israel, which regularly conducts operations against Syrian and pro-Iranian forces in the country, declined to comment.
https://www.arabnews.com/node/2202341/middle-east
-----
Thailand offers to be Saudi Arabia's 'gateway' to Asian markets
NATALIA LASKOWSKA
November 18, 2022
BANGKOK: Thailand wants to be Saudi Arabia's "gateway" to Asian markets, a top trade negotiations official said on Friday following Crown Prince Mohammed bin Salman's arrival in Bangkok as a special guest of the Thai government.
The Saudi leader's one-day Thailand trip is a historic moment in Riyadh-Bangkok ties, which stalled in the 1980s and were restored only earlier this year when Prime Minister Prayuth Chan-ocha visited Saudi Arabia at the crown prince's invitation.
Thailand's Prime Minister Prayut Chan-o-cha receives Saudi Crown Prince Mohammed bin Salman, who is on an official visit to Thailand. (SPA)
Many agreements and official exchanges have since followed. The volume of trade between the two countries has significantly increased, and more is on the agenda, as regaining access to Saudi Arabia has for many years been a priority for Thailand.
"Since the normalization of the diplomatic relationship in January, the value of trade, the growth, is around 50 percent plus," AuramonSupthaweethum, director general of the Department of Trade Negotiations, told Arab News at the Asia-Pacific Economic Cooperation summit in Bangkok.
The trade department under Thailand's Ministry of Commerce plays a key role in organizing the country's trade talks with the Saudi side. Thai authorities also hope they will allow for an increased presence in the Middle East.
"Saudi Arabia can be a gateway for Thailand to the entire Middle East," Supthaweethum said, adding that Thailand could offer the same in the context of the Association of Southeast Asian Nations.
Hopes are high for the newly restored relations, which have been further boosted by the fact that the crown prince's visit coincided with the APEC summit, during which he held a series of meetings with the heads of state from the 21 economies of the Pacific Rim.
"I see it as very positive. The prime minister and crown prince of Saudi Arabia is visiting Thailand at this important time," Supthaweethum said. He said there was also potential for private sector engagement as numerous business representatives were part of the Saudi delegation.
The restored relationship gives Thai exporters and investors greater access to opportunities in the Gulf and beyond.
"This is a big, big issue for Thailand. Saudi Arabia is a critical partner in the Middle East," ThitinanPongsudhirak, director of the Bangkok-based Institute of Security and International Studies, told Arab News.
"That is a gateway for Thailand to reenter Middle East markets. Without the Saudi Arabia relationship, a lot of doors were closed. Now, more doors will be opened."
https://www.arabnews.com/node/2202251/saudi-arabia
-----
Saudi Arabia's KFUPM hosts conference on information systems
ARAB NEWS
November 18, 2022
DHAHRAN: Under the patronage of King Fahd University of Petroleum and Minerals President Mohammed Al-Saggaf, the Interdisciplinary Research Center for Finance and Digital Economy and the KFUPM Business School is hosting MENACIS 2022, the conference's fifth edition.
Held from Nov. 16-19 under the theme "Socially Responsible Information Systems for Sustainable Societies," the conference is providing a global platform for the presentation of innovative research in the field of information systems, aiming to promote a more sustainable future for all societies.
The conference welcomes scholars, practitioners and research students from various academic disciplines from up to 40 countries around the world. It discusses different topics that contribute to serving society, such as cybersecurity, artificial intelligence, fintech, digital transformation, information systems and more.
The conference program includes parallel sessions, keynote and author presentations, and social events with the effective participation of international scholars from the US, UK and France. It also includes an exhibition, workshops and other activities that aim to highlight the role of information systems in serving society.
The event comes within the framework of KFUPM's strategic transformation and is aligned with the Kingdom's Vision 2030, which aims to propel the Saudi economy toward transformation into a diversified knowledge economy.
https://www.arabnews.com/node/2202306/saudi-arabia
-----
Saudi Arabia's humanitarian outreach via KSRelief continues in Africa, Pakistan and Arab World
ARAB NEWS
November 18, 2022
RIYADH: Saudi Arabia's humanitarian outreach through the King Salman Humanitarian Aid and Relief Center (KSRelief) continues with the distribution of food, medicine and winter clothing to needy people.
In Somalia, KSRelief gave out 700 food baskets for 4,200 individuals in the state of Galmudug who have been displaced by drought. The African country has been hit by the worst drought in 40 years, causing famine and displacement among people who have to leave their communities in search for food.
In Sudan, the Saudi aid group distributed 265 food baskets to a similar number of families living in Khartoum as part of its initiative to bridge the food gap for needy families.
Meanwhile, in Pakistan, various medicines and medical devices were delivered to the Diabetes Association in Karachi to help alleviate the health conditions of 4,160 individuals.
The latest KSRelief aid package includes devices for examining blood samples, 7,890 different types of insulin pens for patients, and 1,620 units of different medicines for diabetics.
KSRelief also equipped a diabetic foot examination clinic with two examination beds, a sterilization device for surgical instruments, a doppler device for examining blood vessels, and another for examining nerves, in addition to delivering 318 different surgical tools for examination and treatment of the diabetic foot.
Meanwhile, an additional 1,319 Syrian and Palestinian refugees being hosted in Jordan, as well as needy families from the host country, are assured of a warmer winter with the distribution of 1,319 vouchers in Zarqa and Jerash, which would allow them to purchase winter clothing of their choice from approved stores.
The undertaking is part of the Kanaf in Jordan 2022 Project being implemented by the KSRelief in cooperation with the Jordanian Hashemite Charity Organization.
https://www.arabnews.com/node/2201916/saudi-arabia
-----
Europe
Sweden amends constitution to boost anti-terror law as demanded by Türkiye
18 November 2022
The Swedish parliament has voted in favour of a constitutional amendment to alter its anti-terror law, a key demand from Türkiye to approve Stockholm's NATO membership bid.
The Riksdag adopted the legislative changes with 278 votes in the country's 349-seat parliament on Wednesday, making it possible for the new law to "limit freedom of association when it comes to groups that engage in or support terrorism".
Changes will make it possible to propose and decide on laws that prohibit terror groups or involve participation in a terror group's criminal offence.
The Left Party and the Green Party opposed the bill.
The amendment paves the way for easier criminal proceedings against members of the PKK/YPG terror organisation or other terror groups.
It will also ensure that those who publish information that harms Sweden's relationship with other states or international organisations can be investigated by the Swedish Intelligence Agency which can eventually lead to four years in prison.
The amendment will take effect on January 1.
Türkiye's objection
During a visit to Ankara last week, Sweden's new Prime Minister Ulf Kristersson described the constitutional amendment as a "big step".
"Sweden will take big steps by the end of the year and early next year that will give Swedish legal authorities more muscles to fight terrorism", he said at a joint press conference with Turkish President Recep Tayyip Erdogan.
In Sweden, a constitutional amendment must be approved by two separate parliaments, with a general election held in between.
The first vote passed under Sweden's previous left-wing government in April, before Sweden's formal decision to apply for NATO membership in mid-May.
Finland and Sweden formally applied to join NATO in June, a decision spurred by Russia's attack against Ukraine.
However, Türkiye, a NATO member for over 70 years, voiced objections to their membership bids, criticising the two countries for tolerating and even supporting terrorist groups.
The three countries signed a trilateral memorandum of understanding at NATO's June summit in Madrid, which stipulates that Finland and Sweden will not provide support to the internationally recognised terror group PKK and its affiliates or the Fetullah Terrorist Organization (FETO), the group behind the 2016 public-defeated coup in Türkiye.
https://www.trtworld.com/europe/sweden-amends-constitution-to-boost-anti-terror-law-as-demanded-by-t%C3%BCrkiye-62618
-----
Turkish, Ukrainian leaders discuss war, grain deal, POWs swap
November 18, 2022
Turkish, Ukrainian leaders discuss ongoing conflict, grain deal
The Turkish and Ukrainian presidents spoke over the phone and discussed the developments in the ongoing conflict between Moscow and Kiev and the Türkiye-brokered grain deal.
According to the Turkish presidency, Recep Tayyip Erdogan thanked his Ukrainian counterpart VolodymyrZelenskyy for his "constructive attitude" toward the extension of the landmark grain deal.
Noting the positive experiences gained from the grain agreement and the prisoner exchange, Erdogan said it would benefit everyone to extend this understanding to the negotiation avenue, particularly the ceasefire.
Kremlin: West could help organise Russia-Ukraine peace talks
The West could help organise stable Russian-Ukrainian peace talks, the Kremlin said.
"Communication with the West could also be a guiding, reinforcing, and strengthening element of such communication (Russian-Ukrainian peace talks), because the directives that come from there are very scrupulously implemented by Kiev," spokesperson Dmitry Peskov said at a press briefing in Moscow.
Commenting on remarks by Italian politician Silvio Berlusconi, who suggested "luring" Russia's President Vladimir Putin to a meeting with his Ukrainian counterpart VolodymyrZelenskyy, Peskov recommended that Zelenskyy first be "lured."
Poland says will not allow Russian delegation at OSCE talks
Poland will not allow a Russian delegation to attend a meeting of the world's largest regional security body next month, the country's foreign ministry said.
Spokesperson Lukasz Jasina replied in the affirmative when asked by AFP news agency whether Moscow was being refused access to the December meeting of the Organization for Security and Co-operation (OSCE), of which Russia is a member.
Ukraine is also a member of the body.
https://www.trtworld.com/europe/live-blog-turkish-ukrainian-leaders-discuss-war-grain-deal-pows-swap-62655
----
North America
'Credible' Iranian death threats against individuals in Canada being investigated: Canadian intelligence
ARAB NEWS
November 19, 2022
RIYADH: The Canadian intelligence service said on Friday that it is investigating death threats from Iran against individuals inside Canada, according to the agency.
"CSIS is actively investigating several threats to life emanating from the Islamic Republic of Iran based on credible intelligence," said Eric Balsam, spokesman for the Canadian Security Intelligence Service.
"Ultimately, these hostile activities and foreign interference undermine the security of Canada and Canadians, as well as our democratic values and sovereignty."
It is the first time the service has confirmed that multiple investigations described as "lethal threats to Canadians and people located in Canada" were coming from Iran, CBC News reported.
On Wednesday, Canada sanctioned Iran for the fifth time this year, targeting individuals responsible for human rights abuses and entities supporting the supply of drones to Russia for its war in Ukraine. The sanctioned company, Shahed Aviation, produces drones that have been used against civilians and infrastructure in Ukraine, said Canada's foreign ministry. The US also imposed sanctions on the company on Tuesday.
UK intelligence said this week that there had been at least ten threats by Iran to harm or kidnap British or UK-based individuals since the start of the year.
Ken McCallum, director general of MI5, the UK's domestic security agency, said that Iran's "aggressive intelligence services" were projecting a threat to the UK.
"The current wave of protests in Iran is asking fundamental questions of the totalitarian regime," McCallum said. "This could signal profound change, but the trajectory is uncertain."
The British foreign secretary, James Cleverly, summoned the Iranian charge d'affaires last week after journalists working in the UK "were subject to immediate threats to life from Iran."
The regime in Iran has been cracking down violently against citizens after protests erupted in the country following the death of 22-year-old Mahsa Amini at the hands of religious police in September. At least 360 people have died, including more than 50 children, as a result of demonstrations against the country's rulers.
During a Mid East trip this weekend, Cleverly is expected to highlight Iran's danger to the region and beyond.
"Iranian-supplied weapons threaten the entire region. Today Iran's nuclear program is more advanced than ever before, and the regime has resorted to selling Russia the armed drones that are killing civilians in Ukraine," he is expected to say at a security conference in Bahrain on Saturday.
Iran has plotted high-profile assassinations, but without success. The US revealed in August that John Bolton and Mike Pompeo, both senior officials under the Donald Trump administration, had been targets of the regime.
Saudi State Minister Adel Al-Jubeir was also in the crosshairs of Iranian spies, who planned to kill him at a Washington DC restaurant while he was serving as the Kingdom's ambassador to the US. Iran's $1.5 million contract to kill him was traced by US authorities, and Iranian US dual national Mansour Arbabsiar was arrested.
US Special Envoy for Iran Robert Malley told CBC, in an interview to be aired on Sunday: "We know there's been active plotting against Americans, former and current officials. And that's something that we have been absolutely resolute in saying, that regardless of any differences that we may have among Americans, one thing where we stand together is in defending any American — official, non-official, in uniform, out of uniform."
(With input from AFP)
https://www.arabnews.com/node/2202421/middle-east
-----
Southeast Asia
Malaysia in 'uncharted territory' as voters head to polls in tight election race
NOR ARLENE TAN
November 18, 2022
KUALA LUMPUR: Malaysian voters are casting their ballots on Saturday for the country's 15th general election, in a closely contested race that sees the Southeast Asian nation heading toward what has been described as uncharted territory.
Three main coalitions are vying to form a government: The opposition alliance PakatanHarapan led by Malaysia's opposition leader Anwar Ibrahim, Barisan Nasional led by the long-ruling Malay nationalist UMNO party, and the Perikatan Nasional alliance led by former premier Muhyiddin Yassin.
Around 21 million Malaysians are eligible to vote in this week's election, including nearly 6 million who will be voting for the first time.
Voting is not compulsory, and turnout has varied in the past. In the last 2018 polls, 82.3 percent out of nearly 15 million voters cast their ballots, making it one of the highest in the country's history.
This year's general election appears set to be Malaysia's tightest since independence in 1957, with opinion polls predicting a hung parliament where no party or coalition is expected to get the simple majority in the 222-seat parliament required to form a government.
"We are in uncharted territory, for the first time we are seeing three equally strong national coalitions contesting," AdibZalkapli, a director at consulting firm Bower Group Asia, told Arab News.
Malaysia has had three prime ministers since the previous election in 2018, during which time the country also saw two major opposing coalitions splinter and two administrations collapse.
Economic outlook is a top issue for Malaysian voters this time around, as the country grapples with a rising cost-of-living crisis, a weakening currency, and growing poverty.
Two-time former Prime Minister Mahathir Mohamad, who is 97, made headlines when he announced his return to the election race, and he now heads a new ethnic Malay alliance and is seeking to gain enough seats to be a powerbroker.
Experts say negotiations are likely to play a major role in forming the next Malaysian government.
"This is the new normal in Malaysian politics, no more dominant party or coalition, the government will have to be formed by consultation," Zalkapli added.
Following several years of political instability, this election is likely to add concerns in the private sector, Tricia Yeoh, chief executive officer of the Institute for Democracy and Economic Affairs in Kuala Lumpur, told Arab News.
"I believe that the different coalitions will have to negotiate with each other to be able to form the government," she said.
With a delay expected for the electoral outcome due to a hung parliament, the situation "may be unnerving for international investors and the business community," Yeoh said.
"The challenge remains to be that of voter turnout. It is still unpredictable as to how high the voter turnout is going to be," she added.
Some 6 million who would be voting for the first time after the government lowered the minimum voting age to 18 from 21 are also likely to disrupt expectations for the race.
Malaysia's political parties have taken to social media to reach the younger generation in their campaigns, increasing their presence across various platforms from TikTok to YouTube, after Prime Minister Ismail Sabri Yaakob, who leads Barisan Nasional, dissolved parliament and announced snap elections a little over a month ago.
"We are seeing politicians using social media a bit more systematically, they have learned to be more practical and articulate their issues better," Adrian Pereira, a social worker and voter from the state of Selangor, told Arab News.
But the constant political wrangling in Malaysian politics has exhausted voters, with lower-than-average turnout of two local elections held in the past year.
Though Sidney Chan, a young videographer based in Kuala Lumpur, will be among those who vote on Saturday, he was less than interested about the election outcome.
"Personally, I no longer care who wins, if the country needs to go through a complete downfall, then it needs to before it could rebuild itself," Chan told Arab News.
"It's all just noise and a waste of screen time as I scroll past my news feed."
https://www.arabnews.com/node/2202246/world
------
Malaysia votes in general election, Anwar Ibrahim expected to lead tight race
Nov 19, 2022
Reuters |
Malaysians were voting on Saturday in a general election that may fail to end the recent phase of political instability in the Southeast Asian nation as polls have predicted no clear winner.
Longtime opposition leader Anwar Ibrahim's coalition is forecast to take the most parliamentary seats but fail to seize the majority needed to form a government as he faces off against blocs led by Prime Minister Ismail Sabri Yaakob and former premier Muhyiddin Yassin.
Without a clear winner, political uncertainty could persist as Malaysia faces slowing economic growth and rising inflation.
It has had three prime ministers in as many years, including Mahathir Mohamed, who ruled Malaysia for more than two decades during two stints in power, and aged 97 has roused himself for one last fight though he is not considered a leading contender.
If Anwar should clinch the top job, it would cap a remarkable journey for a politician who in 25 years has gone from heir apparent to the premiership to a political prisoner convicted of sodomy to the country's leading opposition figure.
"Right now, I think things are looking good and we are cautiously confident," Anwar told reporters after casting his vote in the state of Penang.
Ismail said his coalition was targeting a simple majority, but would be open to working with others if it failed to do so. His incumbent administration includes Muhyiddin's alliance, though they are contesting the election separately.
Malaysia's 21.1 million eligible voters, including 6 million new ones, will choose 222 lawmakers for the lower house of parliament.
The top issues are the economic outlook and rising inflation, along with corruption as several leaders from the incumbent Barisan Nasional coalition face graft accusations. Malaysians are also frustrated with the political instability that they think has taken politicians' focus off economic development.
"I hope there's a change in the government," Ismat Abdul Rauf, a 64-year-old retiree, told Reuters. "There are many issues that need to be addressed - the economy, the wealth of the country, the people who did wrongdoing who are not being prosecuted."
https://www.hindustantimes.com/world-news/malaysia-votes-in-general-election-anwar-ibrahim-expected-to-lead-tight-race-101668836232069.html
-----
Africa
Somalia: UN arms embargo impedes efforts to rebuild army, counter Al Shabab
19 November 2022
Somalia has expressed that the United Nations Security Council's army embargo extension impedes the nation's efforts to rebuild its national army and security forces to counter terror threats.
The government in Somalia urged the UN on Friday to "seriously consider" the Africa Union Peace and Security Communique in July that called for the urgent lifting of the embargo.
The Security Council resolution was approved by a vote of 11-0 on Thursday, with Russia, China, Gabon and Ghana abstaining in support of the call by Mogadishu, backed by the African Union, to lift the arms embargo.
The British-drafted resolution does modify the arms embargo to reflect the government's progress in improving its management of weapons and ammunition, but keeps in place the codified arms embargo, a ban on the sale or transfer of key components of improvised explosive devices that Al Shabab has used, a ban on the import and export of Somali charcoal that was a key money-earner, and travel bans and asset freezes on individuals threatening peace and associated with Al Shabab, including by financing or facilitating its activities.
'Double standards'
The Somali permanent representative to the UN, AbukarDahir Osman, described the extension as "unjust and unfair double standards ... preventing the government of Somalia to legally obtain military lethal equipment to rebuild its national army."
He warned that the arms embargo, which is the longest UN sanctions regime, is hindering efforts to rebuild the country's security forces to counter Al Shabab.
The army used "a major portion" of its armaments during engagements with Al Shabab in the last four months, Osman said, and as a result of the arms embargo renewal, "our hands are tied in the fight against the ruthless enemy at this most critical time."
Osman said victims of Somalia's terrorist groups are asking why lifting the arms embargo is a threat to international peace and security while other countries are being armed to defend their territory and people.
Somalia has been battling the Al Qaeda-affiliated terror group, Al Shabab, which has increased attacks since new President Hassan Sheikh Mohamud announced a total war against the group, including efforts to shut down its financial network.
Growing insecurity
Abdi Isack, an independent analyst based in Mogadishu, told Türkiye's state-run Anadolu Agency that if the embargo is not lifted, the government may not be able to liberate the country from terrorists because both sides have similar weapons.
"The government should continue the military reform and make a clear roadmap and address the international concerns in order for the government to ensure that the embargo be lifted and get the military equipment needed to defeat the terrorists," he said.
Somalia has been plagued by insecurity for years, with Al Shabab being one of the main threats. The UN has warned of growing instability in the country, with reports earlier this year detailing attacks by Al Shabab and pro-Daesh groups.
The Security Council imposed the arms embargo on Somalia in 1992 to cut the flow of weapons to feuding clan-based warlords who toppled dictator Mohamed Siad Barre the previous year, plunging the country into civil war.
Somalia established a functioning transitional government in 2012 and has been working to rebuild stability in the face of terrorist attacks and one of the worst droughts the country has experienced that has brought thousands to the brink of famine.
There were at least 651 killed and 867 injured in terror attacks in Somalia in 2018. That was followed by 591 killed and 868 injured in 2019, according to the UN in Somalia.
https://www.trtworld.com/africa/somalia-un-arms-embargo-impedes-efforts-to-rebuild-army-counter-al-shabab-62697
-----
Angry protesters try to storm French Embassy in Burkina Faso
19 November 2022
Protesters have attempted to storm the French embassy in Burkina Faso's capital Ouagadougou, demanding the expulsion of the French ambassador.
The protesters rallied at the municipal stadium on Friday morning before heading to the French embassy, where they were dispersed by police tear gas, according to the local daily Le Faso.
"Police fired tear gas after negotiations with the protesters asking them to leave the scene peacefully failed. But the protesters responded by stoning the embassy," it said.
The protesters later reportedly headed toward Kamboinse, about 30 kilometres north of the capital, where a French military base is located.
Video footage showed the protesters, some riding on motorcycles, blowing whistles and vuvuzelas shouting slogans such as "down with France."
'Move over'
The protesters, mainly youth, accuse France of being responsible for Burkina Faso's problems, including insecurity.
They also want the military to sever the security partnership with France in favour of Russia.
"We don't want anything more to do with France," said Salif Belem, who was holding a Russian flag.
"Our country is regularly attacked by terrorists. If their (the French) presence doesn't get results, they should move over for other partners."
There was no immediate comment from the French embassy. But in a statement on previous demonstrations following the September coup, the embassy "firmly denied" any French involvement in the events in Burkina Faso.
France maintains a military presence in Burkina Faso, with a contingent of special forces based in Kamboinsin.
"For a long time, we have said that we no longer want France in our country. It is France that is responsible for our misfortunes. We have protested before but they are still here. But today is the last day..." Le Faso quoted a protester as saying.
Last month, anti-French protesters waving Russian flags demonstrated in the capital.
After the January coup which deposed elected President Roch Marc Christian Kabore, angry soldiers led by Captain Ibrahim Traore last month ousted Lieutenant Colonel Paul-Henri SandaogoDamiba in a second coup in eight months.
https://www.trtworld.com/africa/angry-protesters-try-to-storm-french-embassy-in-burkina-faso-62695
----
'Have a heart and do math': Ghana girl delivers strong message at COP27
19 November 2022
NakeeyatDramani Sam, 10, discusses sufferings in her country due to floods and asks rich nations, which have contributed most to climate crisis, to compensate developing countries for the damage.
"I put a simple question on the table," says Dramani Sam. "When can you pay us back? Because payment is overdue." (AP)
Ten-year-old NakeeyatDramani Sam has spoken during a plenary session with hundreds of delegates at the UN climate negotiations in Egypt with a soft voice and direct message cut through the dryness, a reminder to negotiators and everybody listening that decisions made at climate talks can have a direct impact on people.
Talking about suffering in Ghana due to flooding, she held up a sign on Friday that said, "Payment Overdue."
"I put a simple question on the table," she said. "When can you pay us back? Because payment is overdue."
Sam's speech didn't bother with the machinations of negotiations but rather had the kind of frankness and freshness that comes naturally to children.
She told the attendees that she had met with US Climate Envoy John Kerry earlier this week. Kerry had been nice, she said, and the meeting got her thinking about the future.
Her next sentence had humour in it, though she certainly didn't mean that.
"By the time I'm his age, God willing, it will be the end of this century," she said, implicitly saying, as kids often do about adults, that Kerry was old. Kerry is 78.
Shortly after that came a powerful and direct message.
Talking about how scientists say the world has less than a decade left to continue polluting at today's rates before the effects of global warming get much worse, Sam said: "Have a heart and do the math. It's an emergency."
When Sam finished speaking, she received a standing ovation.
"I also call for action that every child must plant a tree," she said, standing with her mother and aunt.
Children were the best people to deliver such messages, and she said this because they would be around to suffer the consequences of a warming planet.
"We are the future leaders, so when we talk people listen," she said. "I don't know about the adults because I'm not at their age."
'Loss and damage' haggle
Many developing nations insist that rich countries, which have contributed most to the climate crisis because of high greenhouse emissions, compensate them for the damage.
In climate negotiations, the issue is called "loss and damage." It's a topic that produces a wide range of opinions and nuanced battle lines.
Developed nations like the United States have resisted such calls for compensation, not wanting to be on the hook for what could be an open-ended liability.
China, also a high-carbon emitting country, supports the idea of rich nations contributing to such payments but doesn't want to pay.
On Thursday, the European Union put forward a proposal to create a fund for loss and damage.
While the proposal gave negotiators something specific to chew on, it also likely deepened divisions.
https://www.trtworld.com/life/have-a-heart-and-do-math-ghana-girl-delivers-strong-message-at-cop27-62688
-----
URL: https://newageislam.com/islamic-world-news/interfaith-wedding-suresh-chavhanke-jihad/d/128440
New Age Islam, Islam Online, Islamic Website, African Muslim News, Arab World News, South Asia News, Indian Muslim News, World Muslim News, Women in Islam, Islamic Feminism, Arab Women, Women In Arab, Islamophobia in America, Muslim Women in West, Islam Women and Feminism