New Age Islam News Bureau
11 Jan 2018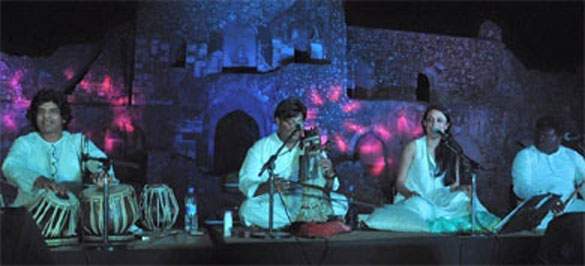 The Sufi Gospel Project performs at an event. (facebook.com/SonamKalraAndTheSufiGospelProject//File)
----
• Inter-Religious Music Ensemble the Gospel Sufi Project To Perform In Jakarta
• New Fatwas Issued At Ulema Conference Allows Newborns to Receive Azaan before Bath: Report
• Greece Scraps Compulsory Shariah for Muslim Minority
• Surrender or Be Shot In the Face, Senior US Soldier Tells ISIS
• Social, Religious Leaders Oppose Visit of Israeli PM to India
Southeast Asia
• Inter-Religious Music Ensemble the Gospel Sufi Project To Perform In Jakarta
• Bad Governance A Boon to IS, Says Scholar
• Myanmar lifts worker ban to Malaysia
• Indonesian Ulema Council Says It'll Remain Neutral In 2018 Elections, Asks Other Islamic Groups to Do Same
--------
Pakistan
• New Fatwas Issued At Ulema Conference Allows Newborns to Receive Azaan before Bath: Report
• Pakistan Tehrik-e-Insaf, Main Opposition Party Allies With 'Taliban Seminary'
• JuD rubbishes BBC report about Hafiz Saeed
• JI chief terms Kasur incident worst example of human degradation
• Pakistan briefs foreign envoys in Islamabad on counter-terrorism efforts
• Pakistan reportedly mulls toll tax hike on NATO containers amid Trump rift
--------
Europe
• Greece Scraps Compulsory Shariah for Muslim Minority
• Islamic State Retreats Online To 'Virtual Caliphate'
• Amid Restrictions for Foreign Imams, Turkey, France Mull Solution
• Lawyer in terror case accuses German police of bias
--------
North America
• Surrender or Be Shot In the Face, Senior US Soldier Tells ISIS
• US War on Terror in 76 Countries Cost $6.5 Trillion
• Globe editorial: While Quebec Muslims mourn, politicians play word games
• Study suggests Trump's "Muslim ban" actually improved attitudes toward Muslims
--------
India
• Social, Religious Leaders Oppose Visit of Israeli PM to India
• Religion a Personal Business, Do Not Mobilise People on Its Basis: Dalai Lama
• AMU Panel Initiates Probe Against Kashmiri Scholar Who 'Joined Hizbul'
• J&K should become a bridge of peace between India and Pakistan: CM Mehbooba Mufti
• 18 years later, 'LeT operative' accused in Red Fort terror attack case arrested
--------
South Asia
• Myanmar Military Admits To Murder of 10 Rohingya Muslims
• IS Cells Operate In Kabul under Noses of US, Afghan Forces
• Tabligh Jamaat demo near Dhaka airport creates traffic nightmare
• Myanmar cops charge Reuters reporters with breaching law
• Perpetrator of deadly Herat city bombing arrested by Afghan intelligence
• 15 ISIS and Taliban group members join peace in East of Afghanistan
--------
Arab World
• Syrian Forces Liberate 23 Towns, Villages from Terrorists in Idlib
• UN Raises Alarm over Human Rights Situation in UAE
• Army troops find Israeli spying device in southern Lebanon
• Arab FMs to Meet In February on Trump's Jerusalem Move
• Al-Nusra Elite Forces Killed in Clashes with Syrian Army in Southeastern Idlib
• Italian police take computer of Cambridge tutor in Egypt murder case
• Mosul's old heart in ruins 6 months after liberation
--------
Mideast
• Houthi Militias Loot Currency Exchange Offices in Yemen's Sanaa
• Turkey, US Relations May Deteriorate 'If Washington Doesn't Fix Mistakes'
• Trump urged by top advisers to waive Iran sanctions
• 2 Saudi officers killed in retaliatory sniper attack by Yemeni fighters
• New Yemeni missile system used to target Saudi-led warplanes: Report
• 113 detainees killed by Houthi torture: Human rights report
--------
Africa
• Why the Sartorial Choices of Salafi Clerics Sparked a Debate on Morality in Nigeria
• Head of powerful Muslim brotherhood dies in Senegal
• 200 arrested, dozens hurt in fresh Tunisia unrest
• UN says Boko Haram attacks' toll has decreased in Niger
Compiled by New Age Islam News Bureau
URL: https://www.newageislam.com/islamic-world-news/inter-religious-music-ensemble-gospel/d/113899
--------
Inter-religious music ensemble The Gospel Sufi Project to perform in Jakarta
January 11, 2018
Indian inter-religious ensemble The Gospel Sufi Project, with its unique blend of religiously diverse musicians whose compositions draw from the musical traditions of various religions, is set to perform in Jakarta on Jan. 12 from 6:30 to 8 p.m. at the Gandhi Memorial Intercontinental School Jakarta (GMIS Jakarta) auditorium in Kemayoran, Central Jakarta.
The ensemble is fronted by Sikh vocalist Sonam Kalra, who is backed by a Christian guitarist and keyboardist, Muslim sarangi and tabla players as well as a Hindu flautist and percussionist.
During the concert, visitors can expect to listen to some unusual juxtaposition of hymns and religious songs from different religious traditions, like for instance John Newton's famous church hymn "Amazing Grace" intertwined with the words of Sufi icon Amir Khusrau. They will also listen to the melodies of Sufi poet Bulleh Shah interspersed with Christian texts in English and Gaelic.
According to Kalra, the project is an effort to blend all the voices of faith, through the use of song, music and the spoken word. She added that she had found a musical parallel between traditional Western gospel music with Indian classical sounds.
"Indian spiritual texts are also enriched by elements of Western poetry […]. No matter what the language of the lyrics is, or the ethnicity of the sounds, there is but one language, the language of faith," she said in a press release. (kes)
http://www.thejakartapost.com/life/2018/01/11/inter-religious-music-ensemble-the-gospel-sufi-project-to-perform-in-jakarta.html
--------
New Fatwas Issued At Ulema Conference Allows Newborns to Receive Azaan before Bath: Report
Jan 11 2018
ISLAMABAD: A new fatwa issued by the religious scholars at a National Ulema Conference has allowed newborn babies to receive the azaan before they have been bathed.
The religious verdict was passed keeping in mind the death of 200,000 newborns last year due to pneumonia due to the misconception that the azaan can only be recited in their ears after they have been bathed.
Speaking at the conference, Dr Atif Butt from the International Islamic University Islamabad (IIUI) said, "There are three main reasons for their deaths including diarrhea, malaria, and pneumonia. Just like mountaineers have to acclimatise themselves before starting their climb, babies also need to acclimatise to the environment after birth."
He explained that babies need about six hours to acclimatise and that giving them a bath so soon after birth disturbs their body temperature.
Dr Butt further added, "It is not mentioned anywhere in Shariah that babies need to be given a bath just after birth. We need to save their lives by removing these misconceptions."
IIUI President Dr Ahmed Yousif Al-Deriweesh also spoke at the conference and placed emphasis on the fact that the Islamic Shariah Law focuses first and foremost on saving and protecting human life and that awareness should be spread about this misconception surrounding the bathing of infants as soon as they are born because it is harmful for them.
Scholars from all schools of thought unanimously agreed to this and then passed a resolution with the decree that there is no harm in not bathing newborns due to medical reasons before the azaan is recited in their ears.
https://www.pakistantoday.com.pk/2018/01/11/new-fatwas-allows-newborns-to-receive-azaan-before-bath-report/
--------
Greece Scraps Compulsory Shariah for Muslim Minority
By NIKI KITSANTONIS
JAN. 10, 2018
ATHENS — Greece has passed a law to limit the powers of Islamic courts in a northern region that is home to about 100,000 Muslims, restricting the application of religious law in the country and giving Muslims the option to take civil cases to Greek courts.
Lawmakers from all Greek parties except the far-right Golden Dawn voted on Tuesday in favor of the law, which Prime Minister Alexis Tsipras described as a "historic step" that "broadens and deepens equality before the law to all Greeks."
The legislation was passed a month after the European Court of Human Rights examined an appeal filed by a Muslim woman in Komotini, Greece, of a case involving the application of Shariah, the Islamic legal code, over an inheritance dispute. A ruling in that case is expected this year.
Shariah has been applied in the northern region, Thrace, for nearly a century, the result of international treaties signed after World War I and the collapse of the Ottoman Empire, which led to population movements between Greece and Turkey, and affecting the rights of minorities. The treaties stipulated that Islamic law and custom would apply to the thousands of Muslims in Greece.
Although many Muslims in Thrace are Turkish-speaking, the Greek authorities object to the term "Turkish minority" — a phrase Ankara frequently uses — amid growing concerns that Turkey has territorial designs in the region, chiefly over islands in the Aegean.
Thrace is the only place in Greece where the Islamic courts operate, and Muslims who live there were required to take family disputes — including divorce, child custody and inheritance matters — to Islamic clerics known as muftis who, rights groups claim, often discriminate against women. The new law gives them the option of going to a Greek court instead.
In the case of Hatijah Molla Salli, the 67-year-old woman locked in a property dispute with relatives of her deceased husband, the Greek Supreme Court ruled in 2013 that only a mufti could resolve a case relating to Muslim inheritance rights.
Mr. Tsipras said in a statement on Tuesday that the new law not only "respects the special characteristics" of the country's Muslim population but also redresses past injustices against people who were previously excluded from "the regime of legal guarantees and personal freedoms that should be enjoyed by all Greek citizens."
In a landmark visit to Greece last month, the first by a Turkish head of state in 65 years, President Recep Tayyip Erdogan of Turkey visited Thrace and urged the Greek authorities to drop "ideological fixations" and to expand the rights of Muslims there.
https://www.nytimes.com/2018/01/10/world/europe/greece-shariah-law.html?mtrref=www.google.co.in&gwh=B0E572E99AACDC524870E48C99751C22&gwt=pay
--------
Surrender or be shot in the face, senior US soldier tells ISIS
11 January 2018
US troops and their allies will shoot ISIS militants in the face, beat them to death with shovels or drop bombs on them if they don't surrender, the US military's most senior enlisted member has said.
In an eyebrow-raising set of postings on social media Tuesday, Command Sergeant Major John Troxell warned that ISIS members who refuse to quit will be dispatched with "extreme prejudice," including via a small shovel known as an entrenching tool.
"If they surrender, we will safeguard them to their detainee facility cell, provide them chow, a cot and due process," Troxell wrote on Facebook.
"HOWEVER, if they choose not to surrender, then we will kill them with extreme prejudice, whether that be through security force assistance, by dropping bombs on them, shooting them in the face, or beating them to death with our entrenching tools," he added.
Diagram on Facebook
The post featured a photo of a US soldier holding a shovel and, in case anyone was in any doubt about to slay a man with a small spade, Troxell posted a diagram on Facebook on Wednesday explaining exactly how to do so.
Troxell's chest-thumping remarks quickly attracted a slew of commentary, mostly supportive. One detractor said on Twitter the message was "bad optics." "No, that's exactly the message that soldier(s) need and love to hear," another user responded.
Troxell's blunt language comes amid a toughening of rhetoric against IS under President Donald Trump and Defense Secretary Jim Mattis.
Where then-President Barack Obama said "we will degrade and ultimately destroy" IS, Mattis has espoused a campaign of "annihilation."
https://english.alarabiya.net/en/News/middle-east/2018/01/11/Surrender-or-be-shot-in-the-face-senior-US-soldier-tells-ISIS.html
--------
Social, religious leaders oppose visit of Israeli PM to India
Jan 11 2018
The "core committee on Palestine" comprising prominent social, religious and political leaders today decided to oppose visit of Israeli PM Benjamin Netanyahu to India. His visit is scheduled from Ahmedad on January 14.
The Core Committee on Palestine was constituted in a consultative meeting of Jamiat Ulama-i-Hind on 20 December 2017 which was attended by number of prominent parliamentarians, leaders of Muslim organizations, intellectuals and Arab diplomats and ambassadors, Jamiat Ulama-i-Hind said in a statement.
It said that today's Core Committee meeting on Palestine took place in India Islamic Culture Centre. It was backed by largest Indian Muslim Organization, Jamiat Ulama-i-Hind.
On this occasion, the participants while throwing light on India's historically held position about Palestine felt it necessary to express solidarity with people of Palestine and to protest visit of Prime Minister of a country whose "hands are stained with blood of innocent Palestinians."
The meeting decided to effectively highlight and protect India's reputation for supporting the oppressed people all over the world.
Jamiat Ulama-i-Hind National General Secretary Maulana Mahmood Madani who is key member of this Core Committee maintained that as being Indians, "it matters us that how much our changing foreign policy is going to impact reputation of our country."
However, the meeting appreciated India's voting in the favour of Palestine in UN and decided to send appreciation letter to Prime Minister of India, Foreign Affairs Minister and NSA.
The meeting expressed satisfaction over the fact the government of India finally paid heed to concerns of its peace loving citizens.
This meeting was attended by Maulana Mahmood Madani, General Secretary, Jamiat Ulama-i-Hind, Sirajuddin Quraishi, Chairman India Islamic Cultural Center New Delhi, John Dayal, All India Christian Council, Harcharan Singh Josh, Ashok Bharti, Naved Hamid and Maulana Niaz Farooqi. DCM, Embassy of Palestine, Dr. Wael A. A. Batrekhi also attended as special invitee.
http://www.greaterkashmir.com/news/india/social-religious-leaders-oppose-visit-of-israeli-pm-to-india/271893.html
--------
Southeast Asia
Bad governance a boon to IS, says scholar
Soo Wern Jun
January 11, 2018
KUALA LUMPUR: A US-based scholar has warned of a likely increase in Islamic State (IS) activities in Muslim countries that are badly governed.
Ebrahim Moosa, a professor of Islamic Studies at Notre Dame University in South Bend, Indiana, spoke of the recent collapse of the IS caliphate in the Middle East and said it would be a mistake to assume that it had caused the terror group to give up its struggle.
In a public lecture at Nottingham University here, he said the terror threat could get worse in countries where people were disaffected because of poor governance.
"We do not have responsible governance in the majority of Muslim countries," he said.
"In most Muslims societies – in Somalia, Egypt, Algeria, Yemen, Syria, Iraq, Kurdistan and Afghanistan – you are talking about millions of people who are miserable.
"All you need is 10,000 coming out and creating havoc on a global basis. When they get to be 15,000, it will be further trouble and when they get 50,000 foot soldiers, it can possibly be an apocalypse."
He said IS militants were desperate to keep their struggle alive.
"They think they have a strategy and their strategy is to intimidate supporters of the West. They want to hit as hard as possible so that they can take over and set up their caliphate."
Ebrahim spoke of the likelihood of IS recruiting fighters among innocents affected by Western military attacks on suspected terrorist positions in such countries as Afghanistan.
"Many of those killed in drone attacks are innocent people and their children have memories of these killings," he said. "In Afghanistan, their children have memories, in Pakistan their children have memories. These children are ready to join the IS army. "And none of us are doing work with those who have suffered, telling them there is a better chance. They need to be told not to enter that cycle of violence because it can benefit neither them nor their community."
Ebrahim advocated the re-education of Muslims as a measure against the spread of terrorism.
"The way to go forward and develop an authentic understanding of Islam is to make sure we invest in institutions to re-educate Muslims," he said. "We need to educate them with contemporary literacy in Islam so that they feel comfortable in the world they are living in.
"We must engage them with knowledge that they find meaningful and ensure that they don't feel their Islam is inferior to any other version of Islam."
He said the kind of education he was advocating should aim to eliminate from the minds of Muslims the idea that they were living in a world in which it was hard to live as good Muslims because their governments were not shariah-compliant.
"They feel guilty for taking their salary from such a government. At some point, they want to cleanse the money by going for two hajs and 10 umrahs, thinking they can do better, when this money should go to the poor.
"All these kinds of cookie ideas constitute religion for them because there is no good literacy. What we need to do is to advance a new literacy."
http://www.freemalaysiatoday.com/category/nation/2018/01/11/bad-governance-a-boon-to-is-says-scholar/
--------
Myanmar lifts worker ban to Malaysia
11 JAN 2018
Myanmar lifted its year-long ban on sending workers to Malaysia, paving the way for the resumption of deployment of labourers as early as next month to the predominantly Islamic Southeast Asian neighbor, the Ministry of Labour Immigration and Population said Wednesday.
"We will be sending workers again when we scrutinise the employment request letters according to the procedures of law," Labour, Migration and Immigration Union Minister U Thein Swe said. "We hope we can start sending workers next month."
He instructed ministry officials at a meeting held last weekend that the ministry needs to closely handle and supervise the agencies, sending workers to Malaysia according to laws.
The ministry asked agencies that are sending workers to Malaysia to take full responsibility for the workers they deploy, to help the workers in sending their remittances legally and to reduce the service fees they charge workers.
The Myanmar Oversea Employment Agencies Federations (MOEAF) promised to meet all the three requests of the Mininistry of Labour, Migration and Immigration.
He said that lifting of the worker ban can eradicate the problem of illegally sending workers to Malaysia, noting that some agencies send workers to Malaysia using only tourist visas.
Employment agencies and employers from Malaysia have been waiting for the workers' ban to be lifted in Myanmar, as they have to employ the services of other foreign workers during the ban, according to U Kyaw Htin Kyaw, who also owns an agency that sends labour to Malaysia.
He said Malaysian employers like Myanmar workers more because they are hardworking and learn quickly on the job.
Myanmar banned sending workers to Malaysia since on December 6, 2016 because of the political tensions between two governments concerning issues related to the Muslim minority residents in northern Rakhine State.
The problem in northern Rakhine escalated in August last year following the simultaneous raids conducted by the Arakan Rohingya Salvation Army (ARSA) on government security outposts that resulted in clashes, which killed hundreds of people and forced over 650,000 mostly Muslim residents to flee to neighbouring Bangladesh.
The ban on sending workers to Malaysia was triggered by attacks against Myanmar workers by unknown suspects, apparently in retaliation to the alleged abuses perpetrated by Myanmar forces against the Muslim minority in northern Rakhine.
During one of these attacks five Myanmar workers were killed and many more were injured.
Malaysian-based Myanmar migrant activists advised workers who want to work in Malaysia to instead choose another country because Malaysia does not pay well nowadays and there is no employment security.
Full report at:
https://www.mmtimes.com/news/myanmar-lifts-worker-ban-malaysia.html
--------
Indonesian Ulema Council says it'll remain neutral in 2018 elections, asks other Islamic groups to do same
By Coconuts Jakarta
Jan. 11, 2018
There has been a great deal of concern about the increasing politicization of Islam in Indonesia, especially ahead of this year's regional elections. After the the blasphemy charges against former Jakarta Governor Basuki "Ahok" Tjahaja Purnama were successfully politicized through massive demonstrations that eventually led to his defeat in the election and imprisonment, many observers have expressed concerns that religious-based attacks would be used with increasing frequency to achieve similar political goals in future elections.
The Indonesian Ulema Council (MUI), the country's highest Muslim clerical body, says that they do not want their institution used by any politician to gain support in the upcoming 2018 regional elections while also asking that other Islamic organizations remain neutral and not voice their support for any particular candidates.
"When it comes to matters of [political] support, then MUI appeals to the public not use MUI or any other Islamic mass organization," said MUI deputy secretary general Nadjamuddin Ramli to CNN Indonesia yesterday.
Many argued that it was MUI who legitimized the religious-based attacks on Ahok by releasing a fatwa declaring him guilty of blasphemy, which led to the formation of an alliance of hardline Islamic groups called 'The National Movement to Safeguard the Indonesian Ulema Council's Fatwa'. MUI eventually distanced themselves from the hardliner groups organizing the anti-Ahok protests and recommended that their followers not join the demonstrations (to little evident effect).
Nadjamuddin said they want the next elections to run in peacefully without anybody using MUI's name, especially in their campaigns. He also called on other Islamic groups to not get involved in politics.
"Islamic organizations are not political parties, the vision and mission of Islamic organizations is to empower their members," Nadjamuddin said.
Full report at:
https://coconuts.co/jakarta/news/indonesian-ulema-council-says-itll-remain-neutral-2018-elections-asks-islamic-groups/
--------
Pakistan
Pakistan Tehrik-E-Insaf, Main Opposition Party Allies With 'Taliban Seminary'
By KUNWAR KHULDUNE SHAHID
JANUARY 11, 2018
In a significant move bound to raise international concerns, Pakistan's leading opposition party, Pakistan Tehrik-e-Insaf (PTI), is formulating a joint electoral strategy with Jamiat Ulema-e-Islam Sami (JUI-S), insiders in both parties have told Asia Times. General elections are just a few months away.
JUI-S is the political wing of the Darul Uloom Haqqania seminary, renowned for being the alma mater of Taliban leaders of past and present. It is led by Sami-ul-Haq, the Islamist cleric known fondly as the 'Father of the Taliban.'
In November, PTI chief Imran Khan met with Sami-ul-Haq to discuss a potential alliance in Khyber Pakhtunkhwala (KP) province. The two have been in touch throughout the past month and a half, sources confirm.
"Imran Khan has ensured that the PTI's rallying cry will be the implementation of Sharia law," a PTI member told Asia Times. "We want to create an Islamic welfare state, and that is what the JUI-S wants as well."
JUI-S Secretary General Abdur Rauf Farooqi confirmed that the creation of an Islamic state is a "joint agenda" of the PTI and his party.
"It is our mission to support jihad and Islamist freedom movements, and also to clarify misconceptions about jihad," he told Asia Times.
"While we continue to support the struggle overseas, it is important to implement a truly Islamic system in Pakistan as well. And in PTI we have a willing partner that has already taken steps towards Islamization in KP."
PTI currently allies itself with the Islamist Jamaat-e-Islami (JI) in KP, and the two have collaborated to revise educational curricula in the province. "The removal of secular references and the Islamization of syllabuses, and overturning secular references and mentions of non-Muslims [instituted by a previous coalition government that included the secularist Awami National Party (ANP)] government was one of the first demands of the JI before joining us," confirms another PTI leader.
In June 2016, the PTI-led KP government gave a Rs 300 million (US$2.7 million) grant to Darul Uloom Haqqania, prompting criticism from many quarters. Imran Khan later claimed the grant was in exchange for reform within its madrassa. However, sources inform Asia Times that the funds have gone on upgrading a high school affiliated with the controversial seminary and not the madrassa itself.
"[That spin] is how the JUI-S is protecting against a potential crackdown," says a KP government official. "But considering that the PTI chief Imran Khan himself came out and justified the money actually going to Darul Uloom Haqqania, we all know where it is actually going."
JUI-S Spokesman Yousaf Shah insists the KP government has spent money on many educational institutions and questions why there is such alarm about funds for the "Haqqania school."
"Darul Uloom Haqqania does not need any funding, and all conspiracies against us should stop," Shah says. "It is a centre of excellence in Islamic studies where many Taliban (students of Islam) have graduated from."
Shah adds that the JUI-S will continue to support the Taliban's struggle.
"The Afghan Taliban are fighting foreign US occupation, and every Muslim should support their struggle. The next step is proper Islamization of Pakistan and eradication of secular forces," he says. "In this regard, we have an ideological alliance with the PTI as well, in addition to the political cooperation."
While PTI has admitted to the new political alliance, its leaders maintain the ideological commonalities are a "matter of interpretation."
"We both agree that Pakistan should be an Islamic welfare state, but the JUI-S has their own interpretation and we have ours," PTI spokesperson Fawad Chaudhry told Asia Times.
JUI-S insiders maintain, however, that the meeting between Sami-ul-Haq and Imran Khan establishes thorough Islamization as a common agenda of both the parties.
"The changes made in the KP curricula are something we would want for the rest of the country as well," says Yousaf Shah. "We would want Pakistan's ideology to be in line with Darul Uloom Haqqania."
http://www.atimes.com/article/pakistans-main-opposition-party-allies-taliban-seminary/
--------
JuD rubbishes BBC report about Hafiz Saeed
Jan 11 2018
LAHORE: Jamaatud Dawa (JuD) spokesman Yahya Mujahid Wednesday expressed concern over British Broadcasting Corporation's (BBC) report in which the broadcaster accused Hafiz Muhammad Saeed of fanning jihadist sentiments in Glasgow before 9/11, by terming it a bundle of lies.
He said, "Talks about Hafiz Muhammad Saeed are based on tampered information which is regrettable. Facts have been deliberately distorted under an organised conspiracy." In his statement, he said that the JuD chief taught at an engineering university for 25 years and also headed an Islamic Studies department.
BBC had mentioned in its report that Saeed had been invited in the capacity of an educationist belonging to the University of Engineering and Technology (UET), Lahore, and as an Islamic scholar by the British Muslim Organisation. He visited the United Kingdom (UK) with the permission of UET's administration.
The spokesman further said, "Hafiz Saeed's visit was purely educational in purpose. It is unfortunate how the Indian and Western media is unleashing baseless propaganda against Islam and Muslims. BBC has tried to contribute to this vicious campaign by referring to Hafiz Saeed's educational visits in the 90s as controversial."
Full report at:
https://www.pakistantoday.com.pk/2018/01/10/jud-rubbishes-bbc-report-about-hafiz-saeed/
--------
JI chief terms Kasur incident worst example of human degradation
Jan 11 2018
LAHORE: Jamaat-e-Islami (JI) chief Senator Sirajul Haq on Wednesday strongly condemned the brutal murder of a seven-year-old abducted girl in Kasur and termed it the worst example of human degradation.
In a statement here, the JI chief said that such shameful incidents were taking place in and around Kasur since long but the rulers seemed to be totally blind. The government was not mindful of its responsibility to protect the life, honour and property of the masses, as their concern is to remain in power only.
He said that the persons involved in the criminal assault and murder of the minor girl were beasts and not human beings, asking the law enforcers to nab the culprit and give him exemplary punishment.
Full report at:
https://www.pakistantoday.com.pk/2018/01/10/ji-chief-terms-kasur-incident-worst-example-of-human-degradation/
--------
Pakistan briefs foreign envoys in Islamabad on counter-terrorism efforts
Jan 11 2018
ISLAMABAD: Ambassadors and heads of missions of resident missions in Islamabad were briefed on Wednesday on Pakistan's achievements and challenges in counter-terrorism efforts and combating violent extremism, unprecedented escalations of Indian ceasefire violations at the LoC and the Working Boundary and the gross atrocities in Indian-held Kashmir (IHK).
The briefings were given by the foreign minister, foreign secretary, chief of general staff (CGS), director general military operations (DGMO) and director general military intelligence (DGMI) in the Ministry of Foreign Affairs.
Welcoming the participants, the foreign minister stated that the briefing had been arranged to inform the diplomatic corps about the massive counter-terrorism efforts that Pakistan had undertaken in the last 16 years and more so in the last four years. They were provided details about the success of Operation Zarb-e-Azb and Radd-ul-Fassad which had eliminated the presence of terrorists in Pakistan.
They were also briefed about the terrorist threat emanating from the safe havens and sanctuaries in Afghanistan, which is resulting in loss of human lives and damage to infrastructure in Pakistan.
Details were also provided on how Indian belligerence and unhelpful posturing is distracting Pakistan's counterterrorism efforts, and how an active RAW-NDS nexus is verifiably working to undermine Pakistan's internal stability. Ambassadors were shown evidence of an Indian campaign of unprecedented ceasefire violations, provocations and insinuations, including terrorism, in the form of IED attacks against innocent civilians on Pakistan's side of the LoC and the WB.
These Indian activities constitute an unfortunate "new normal" aimed at destabilising the entire region.
The members of the diplomatic corps condoled over the loss of human lives in the terrorist attack in Quetta on Tuesday. The chief of general staff thanked them and informed the diplomatic corps that Tuesday's terrorist attack had been traced back to Afghanistan.
The comprehensive and detailed briefing by the civil and military leadership was appreciated by members of the diplomatic corps.
Furthermore, Foreign Office (FO) Spokesman Dr Muhammad Faisal underlined the need for bridging the gap between Pakistan and United States to achieve targets together.
Seeking a common solution, for reducing the gap that emerged after the US President Donald Trump's tweet, would be imperative for both the countries to move forward, he said while talking to a news channel.
China, Turkey and other countries had also given statements in favour of Pakistan for playing role in the war against terrorism, he said. Pakistan held good relations with these countries, he added.
Commenting on the matter of Indian spy Kulbhushan Jadhav, he said that Jadhav had confessed to his crime and involvement in the subversive and terrorist incidents. Many other people who had links with Indian espionage were also arrested, he added.
"We have highlighted this issue at all available international forum," he said. To a question regarding repatriation of Afghan refugees, he said that the international community, including the US, should play role in the repatriation of refugees from Pakistan.
Full report at:
https://www.pakistantoday.com.pk/2018/01/10/pakistan-briefs-foreign-envoys-in-islamabad-on-counter-terrorism-efforts/
--------
Pakistan reportedly mulls toll tax hike on NATO containers amid Trump rift
Jan 10, 2018
Pakistan mulls increasing the toll tax of containers carrying military hardware and weapons for NATO troops in Afghanistan, amid a rift between Islamabad and Washington over the so-called war on terror, local reports say.
Pakistani authorities will likely put in place a 100 to 150 percent raise in the tax.
The Pakistani Ministry of Communication is said to present a revision of the toll tax rate on NATO containers to the prime minister for approval.
The government in Islamabad charges $2,500 per NATO container. The trucks use national highways from the southern port city of Karachi to Torkham and Chaman crossings on the Pakistani-Afghan border.
Islamabad is also mulling charging aeronautical fee to NATO for using Pakistan's airspace. NATO used Pakistan's airspace over 350 times per month when the Afghan war was at its peak.
In 2011, Pakistan stopped NATO supplies for several months after an aircraft of the Western military alliance killed over two dozen Pakistani soldiers in an area close to the Afghan border.
Tensions arose in relations between the United States and Pakistan following accusations by US President Donald Trump that Pakistan was harboring "terrorists." Senior civilian and military officials in Islamabad have vehemently denied the charge. Last week, Trump said in his first tweet of 2018 that Washington had "foolishly given Pakistan more than $33 billion in aid over the last 15 years." The United States is also withholding $255 million in aid from Pakistan against the backdrop of the souring ties.
On Tuesday, Richard Olson, a former American ambassador to Pakistan, said the Trump administration's attempt at "humiliating and penalizing" Pakistan for failing to take decisive action against militants is unlikely to work.
Olson, who also served as the special representative for Afghanistan and Pakistan, made the warning in an article published in The New York Times where he assessed the impact of the decision to withhold security assistance to Pakistan.
The harsh truth, Olson added, was that American leverage over Pakistan has been declining. "And as United States aid levels have diminished – reflecting bipartisan unhappiness with Pakistani policy – aid from the Chinese has increased," he argued, referring to China's investment of $62 billion in Pakistani infrastructure under the China-Pakistan Economic Corridor (CPEC). "Its magnitude and its transformation of parts of Pakistan dwarf anything the United States has ever undertaken."
"Pakistan, like most countries, reacts very badly to public attempts to force its hand. It is likely to respond by showing how it can truly undercut our position in Afghanistan," Olson said. "For the past 16 years our military efforts in landlocked Afghanistan have been dependent on transit through and especially overflight of Pakistani territory."
Full report at:
http://www.presstv.com/Detail/2018/01/10/548498/Pakistan-tax-hike-NATO-containers
--------
Europe
Islamic State retreats online to 'virtual caliphate'
January 11, 2018
On the brink of defeat in Iraq and Syria, the Islamic State group has been taking refuge in its "virtual caliphate" -- but even online, experts say it is in decline.
Back in 2015, when the jihadists held territory the size of Italy, they also commanded a huge digital presence, flooding the web with slick propaganda lionizing their fighters and romanticising life under their rule.
Today, with many of the top IS leaders either dead or on the run, what remains of the group's once-sophisticated propaganda machine is also a shadow of its former self.
Their media centers destroyed, remaining propagandists find themselves struggling to maintain an internet connection while battling surveillance from international intelligence services.
The extremist group is less and less vocal on the web, largely leaving supporters whom it cannot control to speak in its name.
"It's almost as if someone has pressed the mute button on the Islamic State," said Charlie Winter, a researcher at King's College London who has been studying IS communications for years.
Between November 8 and 9 the group even went completely silent for a full 24 hours in what Winter said was an "unprecedented" break from social media.
In 2015, when IS was ruling over roughly seven million people in Iraq and Syria, its propagandists produced "content from 38 different media offices from West Africa to Afghanistan", Winter said.
But by December, more than three-quarters of these outlets had been "almost totally silenced," he added.
Albert Ford, a researcher at US think-tank New America who has studied the exodus of foreign fighters to join IS, also said the group's media output was "falling off considerably".
"Fewer places to get information, fewer ways to upload it," he said.
- Pushed to the 'dark web' -
Back in March as Iraqi forces were ousting IS from their long-held bastion Mosul, an AFP journalist was able to pick through the wreckage of what was once a radical media center.
Between the burnt walls of the villa in an upscale part of the city were the remains of computers, printers and broadcasting equipment.
In the months before and since, the US-led military coalition fighting IS has repeatedly announced the deaths of senior IS communications officers, usually in air strikes.
Among them was the top strategist and spokesman Abu Mohamed al-Adnani, killed in a US strike in northern Syria in August 2016.
These days IS propagandists mostly use the web to encourage supporters to launch attacks on their own initiative, with the much-weakened group unable to play a direct hand in organizing them.
These calls are often issued via the "deep web", a heavily encrypted part of the internet which is almost impossible to regulate, or the Telegram app.
Winter said he had seen a trend emerging of posts seeking to cultivate a sense of nostalgia among supporters for the height of the group's power.
By portraying events three years ago a "golden age" stolen by "the enemies of Islam", IS is hoping to convince new recruits that such times could come again if they join the cause, Winter said.
Bruce Hoffman, a terrorism specialist at Georgetown University in Washington, said the principal danger of IS now lies in what he calls "enabled attackers".
A recruit such as this would have "no previous ties to terrorist organizations," Hoffman said.
"But he is furnished very specific targeting instructions and intelligence in order to better facilitate and ensure the success of his attack."
Such wannabe jihadists need to look no further than the internet for abundant advice that has been available online for years -- and will merely pop up again after any attempt to remove it.
http://www.thejakartapost.com/news/2018/01/11/islamic-state-retreats-online-to-virtual-caliphate.html
--------
Amid restrictions for foreign imams, Turkey, France mull solution
11 Jan 2018
France's reluctance to allow imams for its Muslim Turkish-French community in the country may change, a senior representative of the community has said.
Ahmet Oğraş, who heads the French Council of the Muslim Faith, said that obstacles to bringing in imams from Turkey, Algeria and Morocco to serve their respective communities in France hinder access to religious services both for Turkish Muslims and Muslims from other countries living in France. Speaking to Anadolu Agency (AA), Oğraş said President Recep Tayyip Erdoğan, who was in Paris last week for talks with French President Emmanuel Macron, also discussed this issue with French officials. A solution to this imam shortage might be reopening a theology school in Strasbourg, which opened in 2012, but was later closed. Oğraş said Erdoğan and Macron would work to reopen the school run by Istanbul University to train imams. "Every year, France decreases the number of Turkish imams allowed to work in France by five. Their excuse is lack of French language skills, but they should not underestimate the importance of conveying correct religious knowledge to the community," he said.
Oğraş added that at a New Year meeting between Macron and representatives of religious communities in France, the French president said that the country grants religious freedoms to all faiths and the government is working on amendments to a law on secularism.
Turkey and France signed a declaration of will in 2010 about the status of religious officials, increasing the number of officials that can be appointed to France by Turkey's state-run Presidency of Religious Affairs (DİB) to 151 from 121. The declaration has also regulated training of French citizens of Turkish origin in Turkey as imams to gradually decrease the number of Turkish imams Ankara sends to France.
Full report at:
https://www.dailysabah.com/turkey/2018/01/11/amid-restrictions-for-foreign-imams-turkey-france-mull-solution
--------
Lawyer in terror case accuses German police of bias
10 January 2018
A lawyer in a case against far-right terrorist group the National Socialist Underground (NSU) on Tuesday accused German police of targeting the victim's family instead of focusing on the real perpetrators.
During the hearing, Seda Basay, the lawyer for NSU victim Enver Simsek's family, said the police did not take into account the possibility of a xenophobic attack for many years or witnesses' statements.
Basay said the police monitored the phone calls of Simsek's family for around a year and searched their home.
She added that although it was revealed that Enver Simsek was killed by an NSU cell, the family learned this information from the media rather than from the police.
Enver Simsek, who was found lying on a roadside in Nuremberg with several bullets in his body on Sept. 9, 2000, was the first victim of the NSU. Altogether, 10 people were murdered by the far-right terror cell, most of which were from immigrant communities.
Between 2000 and 2007, the neo-Nazi group killed eight Turkish immigrants, a Greek citizen and a German policewoman and carried out bombings and robberies in 12 different German cities.
Recent investigations have revealed severe failures of intelligence and the failure of police units in the eastern state of Thuringia to disrupt the group.
The NSU is believed to have been founded by three far-right extremists -- Uwe Mundlos, Uwe Bohnhardt and Beate Zschaepe -- who lived in Thuringia in the early 1990s.
The German public first learned about the existence of the NSU on Nov. 4, 2011, when two members of the group -- Mundlos and Bohnhardt -- reportedly died in a murder-suicide following an unsuccessful bank robbery.
Until 2011, Germany's police and intelligence service ruled out any far-right motive for the murders and instead treated immigrant families as suspects.
Zschaepe is currently standing trial for her alleged role in the murders. So far, she has denied any role and tried to lay the blame on her two male accomplices.
Recent revelations have shown that German domestic intelligence agency BfV and its local branches had dozens of informants who had contacts with NSU suspects in the past.
Full report at:
http://www.worldbulletin.net/europe/197693/lawyer-in-terror-case-accuses-german-police-of-bias
--------
North America
US War on Terror in 76 Countries Cost $6.5 Trillion
10 January, 2018
A US study published earlier this week revealed that the United States' war on terrorism has cost $6.5 trillion, reported The National magazine based on report by the Watson Institute for International and Public Affairs at Brown University.
The ongoing war on terror began in October 2001, a month after the September 11 attacks in the US.
US President Donald Trump revealed in one of his tweets that his country has spent 7 trillion dollars on the Middle East alone.
Estimates predict that US loans to fund the war will result in an 8 trillion dollar debt by 2025.
The number of countries involved in the war has reached 76 or 39 percent of the countries in the world. The tally also lists regions where US forces are deployed on the ground, such as Yemen, Somalia, Libya, Iraq and Afghanistan. It also lists where American advisors are training local forces on counter-terrorism methods.
Experts said there are currently no real discussions in the United States on the cost of the war due to the nature of the conflict that lacks no stable fronts or boundaries.
A map presented by the study of the 76 countries linked to the war raised questions over the effectiveness of Washington's approach on the conflict. They explained that the approach has turned many major cities into rubble and forced the displacement of millions of people, which has destabilized many host countries.
The map also showed the extent in which terrorist groups have spread across the world, turning the conflict against extremists into a worldwide phenomenon. The conflict stretches from as far as Southeast Asia, the Philippines, passes through the Middle East and reaches North Africa and Niger in the west of the continent.
The National said that the ongoing US war on Afghanistan is the longest in American history and it is predicted to go on even longer, especially under Trump's administration. The current president had unveiled a national defense strategy two months ago in which he agreed to send more troops to Kabul and increase airstrikes against terrorist groups, including the Taliban.
The magazine said that the situation in Afghanistan indicates that the war will continue for a long time and it will extend beyond the country's borders. A US Secretary of Defense report spoke of some 20 terrorist and radical groups operating in Afghanistan and Pakistan.
The National traced back the beginnings of the war on terror. It said that the US initially launched the war by attacking Afghanistan in order to eliminate Taliban, which had great control over the country. The beginning of the war seemed promising and American forces were able to make advances in Kabul. The Taliban had incurred enough defeats that its fighters had asked US troops to allow them to lay down their arms and return to their homes.
This initial success led senior officials in the administration of then President George W. Bush to raise their expectations and ambitions. Bush and his Vice President Donald Rumsfeld then believed that there was a need to extend this success in countering terrorism to 60 other countries.
At the time, Washington saw the war on terror as being restricted to one country at a time. It then began preparing for extending this war, setting Iraq as its next target.
The war led to the toppling of Iraqi leader Saddam Hussein, but the National said that the US had not only intended for his ouster, but it had also set its sights on the country's oil wealth.
A British official, who was close to the Bush administration at the time, was quoted by the magazine as saying: "Everyone wants to go to Baghdad, but real men want to go to Tehran."
He implied that the US invasion of Iraq was not really aimed at combating terrorism, but its real target was Iraq's oil and Washington should have shifted its attention to Iran, which had transformed into an extremist state after the 1978 Khomeini revolution.
https://aawsat.com/english/home/article/1139006/us-war-terror-76-countries-cost-65-trillion
--------
Globe editorial: While Quebec Muslims mourn, politicians play word games
11 Jan 2018
Linguists call it semantic change, whereby a word evolves to represent something other than its original meaning. An obvious example from our current political discourse is "Islamophobia."
It's a noun, and not an especially inventive one, defined by the Oxford English Dictionary as "dislike of or prejudice against Islam or Muslims, especially as a political force."
Sounds straightforward enough, until someone asks the Coalition Avenir Québec, currently leading the polls ahead of next fall's Quebec provincial election, or the Parti Québécois, to use the word and denounce what it stands for.
A group of 70 mostly Muslim associations has petitioned the federal government to designate Jan. 29, the first anniversary of the terror attack on a Quebec City mosque that claimed six innocents and wounded 19 more, a national day of commemoration and action against Islamophobia.
The CAQ won't hear of the latter bit. The party voiced its opposition, saying "[the attack] is the intolerable act of a single individual and not that of an entire society. Quebecers are open and welcoming, they are not Islamophobic."
That's a curious thing to say, because it rebuts a charge no one involved in the memorial effort is levelling.
PQ MNA Agnès Maltais, meanwhile, believes the term Islamophobia is "loaded, disputed even," and that it is preferable to speak of anti-Muslim sentiment or, ideally, religious intolerance in general.
This rhetorical tip-toeing around the "I" word is telling. It recalls the low-grade hysteria provoked last February by an anodyne, non-binding Parliamentary motion that also mentioned Islamophobia, and which was bitterly opposed by a federal Conservative Party in the throes of a leadership contest that featured a large dollop of identity politics – something the CAQ and PQ are well known to traffic in.
The problem with this dickering is that the mosque attack, even if it was carried out by a single deranged person, wasn't aimed at religion in general. It was the wanton slaughter of Canadian Muslims, in a place that defined them as such.
It was inspired by a prejudice against a specific religion – Islam – a prejudice which in Quebec has been inflamed by a history of political gamesmanship targeting the beliefs and practices of non-Christian religious minorities.
This goes back to 2007 and the Bouchard Taylor commission on the reasonable accommodation of religious practices in a secular province, and continues on through the debate over the unregretted Quebec Charter of Values during the 2014 general election and the passage, last fall, of a bill banning face coverings on people giving and receiving government services, bus rides included.
The fact Quebec politicians are unwilling to use the word "Islamophobia" speaks to their refusal to accept that their populist rhetoric and targeted legislative volleys actually hurt Muslims, and, in the case of the face-covering law, may well violate their constitutional rights.
They, and others in Canada, prefer to make the argument, enunciated by Ms. Maltais, that the word has become too loaded. They contend that its current use is designed to conflate legitimate criticism of radical Islamic terrorism, or of cultural practices that violate Canadian law, with outright bigotry, and thereby silence people of good intention.
There is no question that efforts to paint any and all criticism of Islam as "Islamophobia" are unacceptable. But mainstream politicians who fuss about the word are helping, wittingly or not, far-right anti-immigration groups that purposely muddy the distinction between Islam and radical Islamism in order to foment hate.
In Quebec, that means catering to fringe groups, such as La Meute, which are probably delighted by the CAQ and the PQ position. These groups are Islamophobic in every sense of the word, and they are happy not to be called out.
The fact is that Islamophobia – in the only sense of the word that matters – exists in Quebec, as it does in Canada at large. To admit so will never prevent anyone from legitimately criticizing Islamic extremism, or arm the word with the power to silence. But to cowardly tiptoe around semantics when anti-Muslim hate crimes have mushroomed is a terrible failing. According to Statistics Canada, crimes targeting Muslims in Canada increased 253 per cent between 2012 and 2015 – a statistic that doesn't include the massacre of last year.
Full report at:
https://www.theglobeandmail.com/opinion/editorials/globe-editorial-while-quebec-muslims-mourn-politicians-play-word-games/article37567598/
--------
Study suggests Trump's "Muslim ban" actually improved attitudes toward Muslims
Jan 10, 2018
When President Donald Trump announced his "Muslim ban" barring visitors and would-be refugees alike from six majority-Muslim countries early last year, critics worried it might prompt an additional wave of Islamophobia across the United States, intensifying the anti-Islamic sentiments that had been a cornerstone of Trump's campaign.
Vox's Zack Beauchamp called it a ploy to "turn ... Islamophobia into the official guiding light of American immigration policy," legitimizing and codifying the xenophobia and racism Trump had harnessed to win the presidency. And in many respects, Trump's strategy has been effective. The ban — and the Trump presidency overall — has heralded a new wave of Islamophobic incidents in America. According to the Council on American Islamic Relations, 2017 was potentially one of the worst years in America for Muslims, with anti-Islamic violence and hate speech exceeding the year immediately following the 9/11 attacks.
But a study published this week in the journal Political Behavior suggests that Trump's Muslim ban may have had an unexpected upside, according to political scientists Loren Collingwood, Nazita Lajevardi, and Kassra A.R. Oskooii of the University of California Riverside, Michigan State University, and the University of Delaware, respectively.
The authors found that the national discourse about the Muslim ban — and a general sense from liberal and mainstream media that the policy was at odds with "American values" — prompted some respondents to shift their attitudes, ultimately causing many Americans who had previously supported or been neutral on the issue of Trump's Muslim ban to come down against it.
The team surveyed 423 people in early 2017, right before and then about a week after Trump signed the executive order. The study's authors concluded that the media backlash to the ban and the national conversation it prompted caused many participants to reevaluate their views. More than 30 percent of participants said they felt more negatively about the ban a week after its announcement than they did in the days leading up to it.
This is striking in part because, according to the study's authors, sudden significant shifts in public opinion tend to be rare. Second, those whose views shifted most radically were those who cited their identity as Americans as a major part of their self-conception overall. This suggests that public debate that centered on the Muslim ban being "un-American," or otherwise counter to American values of openness and hospitality toward foreigners, had contributed to this shift. Write the study's authors:
In the hours and days after the executive order was signed we also demonstrated that the information environment — which overwhelmingly focused on the ban above other news events and executive orders — painted the ban, to some degree, as inherently un-American. Challenges to the ban were numerous, with protesters, media commentators, and elites repeatedly and openly critiquing it as fundamentally incompatible with core American values.
In other words, when challenged by what the paper's authors describe as a media atmosphere focusing on what it "means" to be American, respondents generally found that "Americanness" meant inclusivity, not isolation.
Full report at:
https://www.vox.com/identities/2018/1/10/16869424/trump-muslim-ban-patriotism
--------
India
Religion a personal business, do not mobilise people on its basis: Dalai Lama
January 11, 2018
Religion is a personal matter and one must not mobilise or create groups of individuals along religious lines, Tibetan spiritual leader Dalai Lama said here on Wednesday. He was speaking at the second edition of the National Teachers' Congress at MIT College, where he talked about India's potential to become a world leader capable of combining ancient wisdom with modern science.
"Religion is personal business. Whatever religion one follows, it is a personal matter. We should not mobilise or create groups and tag anybody as we Buddhists, we Muslims or we Hindus…" he said in a message to the Maratha and Dalit communities of Maharashtra, recently involved in violence during the 200th anniversary celebrations of the Battle of Bhima Koregaon.
"I am a student of ancient Indian knowledge, so wherever I go or during my meeting with scientists, I find many among the audience showing genuine interest in my explanations… all of this has come from India. An eighth-century Tibetan emperor once invited top masters from the Nalanda University. We have preserved the Nalanda tradition for over 1,000 years even as Indians have forgotten it. Now, India must pay more attention and through rigorous study must revive its past," Dalai Lama said.
"India's religious tolerance is remarkable and it is wonderful for people across faiths, who mostly arrived from the Middle East in the form of Christianity or Islam… and I have full faith that despite being a young yet complicated nation, religious tolerance is possible," he said.
http://indianexpress.com/article/india/do-not-mobilise-people-on-religion-its-a-personal-business-dalai-lama-5018962/
--------
AMU panel initiates probe against Kashmiri scholar who 'joined Hizbul'
January 11, 2018
A two-member committee formed by Aligarh Muslim University V-C Professor Tariq Mansoor has initiated an inquiry into the conduct and activities of Kashmiri research scholar Mannan Bashir Wani, who was expelled on Monday after he appeared in a photograph on social media with a message claiming he has joined militant organisation Hizbul Mujahideen.
AMU Public Relations Officer (PRO) Omar S Peerzada on Wednesday said that after Wani's expulsion, the V-C set up an inquiry committee chaired by Professor Sayeedul Hasan Arif, who is provost of Hadi Hasan Hall, and Professor Kamlesh Chandra, who is provost of the Non-Resident Student's Hall (NRSC) as a member.
Peerzada further said that the committee has been asked to prepare a report on Wani's activities and submit a report within a week. Officiating Dean of Students' Welfare (DSW) Professor Mohammad Saghir Khan, in a statement, said that provosts and wardens are making frequent rounds in the hostels till late hours.
"Students will only be allowed to enter halls after producing valid ID cards. No vehicle will be allowed to enter premises of the halls as students and staff have been asked to park their vehicles at designated places. All provosts are ensuring that only legal residents stay in the hall rooms and all CCTV cameras are in working condition. Students have also been asked to refrain from interacting with unauthorised persons," Khan's statement said.
The Aligarh police had sealed Mannan's room in AMU's Habib Hall on Monday after seizing some documents.
Full report at:
http://indianexpress.com/article/india/amu-panel-initiates-probe-against-kashmiri-scholar-who-joined-hizbul-5019717/
--------
J&K should become a bridge of peace between India and Pakistan: CM Mehbooba Mufti
Jan 10, 2018
NEW DELHI: Jammu and Kashmir Chief Minister Mehbooba Mufti today said that Jammu and Kashmir had signed its future (with India) and the only thing now possible was that the state becomes a bridge of peace between India and Pakistan.
"Pakistan has to understand that the state has written its future and the only thing now possible is that the state can become a peace bridge instead of a bone of contention between the two countries," she asserted while addressing the state assembly.
Mehbooba said that the state's development will be hindered if it did not show faith in the Indian constitution.
"If we don't believe in the constitution of Jammu and Kashmir, if we don't believe in the country's Constitution, then what do we believe in? Then what are you going to get? Where will you get anything from?"
"Ours is the most empowered assembly in the country. The Goods and Services Tax (GST) was implemented in the entire nation at once, except Jammu and Kashmir, where it was implemented only after a proper debate in this assembly", she added.
Mufti further stated that she wants to put it on record that whatever the people of Jammu and Kashmir would get, they would get it only from India and nowhere else.
Mufti's statement comes days after she, in an open plea, requested Prime Minister Narendra Modi and Pakistan to bury the hatchet and become friends for the sake of the locals and jawans on the border.
"I request Pakistanis across the border and my country's Prime Minister to help the people of Jammu and Kashmir come out of this mess and protect our jawans by finding solutions, holding dialogues and becoming friends", had said Mufti, while addressing a rally in Kashmir's Anantnag district on Sunday.
The CM also spoke in favour of a political resolution of the Kashmir issue but cautioned that it should not be allowed to be hijacked and turned into a "religious issue".
"A political issue should not be hijacked and made a religious issue because we can address a political issue and can find a way out unlike the religious issue," the chief minister said in her reply to the motion of thanks on the Governor's address in the state Assembly here.
We don't want to interfere in the foreign policy of our country, but the country has to think and understand, like (former Prime Minister) Vajpayee had, that Jammu and Kashmir is the biggest sufferer because of the animosity between the two countries, she said in a 49-minute address.
The chief minister said that Prime Minister Narendra Modi had gone to Pakistan but did not get a good response.
Describing the appointment of the Centre's special representative as a major step, she said those who do not want to talk cannot be forced to have dialogue.
"We have to keep the humanity angle in mind while seeking a solution to Jammu and Kashmir and we have to play a bigger role. Sharma was given cabinet secretary status, which is the highest position in the bureaucracy of the country," she said.
"Several months have passed since his appointment but they (separatists) are not coming forward for talks even as bloodshed is continuing. When someone is not ready to talk what will one do," she said.
You can take a horse to a stream but cannot force it to drink, she added.
Mufti said that an all-party parliamentary delegation visited the state in 2016 in the midst of the unrest triggered by the killing of Hizbul Mujahideen militant Burhan Wani but the separatists did not open their doors to them.
"They (parliamentarians) were not weak. They are towering leaders and came to the doors (of separatists) because they had concern for the people of Jammu and Kashmir. But the doors were not opened," she said.
She said her government would continue its efforts to seek a political solution to the problem and cannot sit idle.
Responding to the former chief minister Omar Abdullah's remarks that there was no clarity on Sharma mandate, she said the appointment order clearly states that the "Government of India representative is to initiate and carry forward the dialogue with elected representatives, various organisations and concerned individuals in the state of Jammu and Kashmir".
Home Minister Rajnath Singh had also made it clear that he would talk to everyone, she said.
Praising Vajpayee for not succumbing to the provocations and initiating steps including boarding a bus to Lahore, she said it was during his tenure that ceasefire came into effect along the borders in Jammu and Kashmir, cross-border routes were opened for trade and travel and Hizbul Mujahideen were brought to the table despite massacre of seven boys in Rajouri, parliament attack and Kargil war.
Full report at:
https://timesofindia.indiatimes.com/india/jk-should-become-a-bridge-of-peace-between-india-and-pakistan-cm-mehbooba-mufti/articleshow/62449094.cms
--------
18 years later, 'LeT operative' accused in Red Fort terror attack case arrested
By Alok Singh
January 11, 2018
Bilal Ahmad Kawa, an alleged Lashkar-e-Toiba (LeT) operative and an accused in the 2000 Red Fort terror attack, was arrested from Indira Gandhi International Airport (IGIA) on Wednesday evening. Police said the bank account of the 37-year-old was allegedly used in the transaction of hawala money for terror operations at Red Fort as well as in Kashmir.
On December 22, 2000, three Indian Army personnel were killed in indiscriminate firing at Red Fort. While at least 11 people — including mastermind Mohammad Arif from Pakistan's Abbottabad — have been convicted in the case, Kawa was absconding.
DCP (Special Cell) P S Kushwaha said the arrest was made by a joint team of Gujarat Anti-Terror Squad and Delhi Police's Special Cell. Police sources said the Gujarat ATS received a tip-off that Kawa would be on a flight to Delhi. On the basis of the information, the joint team nabbed him from the airport just after he landed.
During interrogation, Kawa reportedly told police that over the last 18 years, he changed his location frequently but had been living in Kashmir for the time being. Sources said he was on his way to meet his brother in Delhi.
Kushwaha, however, said they are yet to verify his claims.
During investigation into the 2000 attack, Delhi Police had found that Rs 29.5 lakh was allegedly transferred to Kawa's bank account.
Investigation had also revealed that Arif had deposited the money — allegedly used in funding the Red Fort attack and was also sent to Kashmir for militancy — in his account.
Full report at:
http://indianexpress.com/article/india/18-years-on-let-operative-bilal-kawa-accused-in-red-fort-terror-attack-case-arrested-5019684/
--------
South Asia
Myanmar Military Admits To Murder of 10 Rohingya Muslims
11 Jan '18
Myanmar's military has admitted that its soldiers murdered 10 captured Rohingya who it claims were "terrorists" during insurgent attacks at the beginning of September, after local Buddhist villagers had forced the men into a grave they had dug.
"Villagers and members of the security forces have confessed that they committed murder," the military said in a statement.
It was a rare admission of wrongdoing by the Myanmar military during its operations in the western state of Rakhine.
The army launched a sweeping counteroffensive in the north of the state in response to Rohingya militant attacks on 25 August, triggering an exodus of more than 650,000 Rohingya Muslim villagers.
The United Nations has condemned the army's campaign as ethnic cleansing. Myanmar denies that, saying its forces were carrying out legitimate counterinsurgency operations.
The military announced on 18 December that a mass grave containing 10 bodies had been found at the coastal village of Inn Din, about 50km (30 miles) north of the state capital Sittwe. The army appointed a senior officer to investigate.
The military said on Wednesday its investigation had found that members of the security forces had killed the 10 and that action would be taken against them.
Security forces had been conducting a "clearance operation" in the area on 1 September when "200 Bengali terrorists attacked using sticks and swords", the military said in a statement posted on the Facebook page of its commander-in-chief, Senior General Min Aung Hlaing.
The military refers to members of the Rohingya Muslim minority as "Bengalis", a term the Rohingya reject as implying they are illegal migrants from Bangladesh.
Ten of the attackers were captured after the security forces drove the rest off by firing into the air, according to the statement on Facebook, which the military often uses to make announcements.
The captives should have been handed over to the police, in line with procedures, but the militants were attacking "continuously" and had destroyed two military vehicles with explosives, it said.
"It was found that there were no conditions to transfer the 10 Bengali terrorists to the police station and so it was decided to kill them," the military said, referring to the findings of the investigating team.
Angry ethnic Rakhine Buddhist villagers, who had lost relatives in militant attacks, wanted to kill the captives, and stabbed them after forcing them into a grave on the outskirts of the village. Then members of the security forces shot them dead, the military said.
"Action will be taken against the villagers … and the security force members who violated the rules of engagement according to the law," the statement said.
Action would also be taken against those who had failed to report the incident to their seniors, and those responsible for supervising the operation, it added.
The military investigation was led by Lt Gen Aye Win. The same officer had been in charge of a wider probe into the conduct of troops in the conflict that concluded in a report in November that no atrocities had taken place.
https://www.theguardian.com/world/2018/jan/11/myanmar-military-admits-murder-rohingya-muslims
--------
IS cells operate in Kabul under noses of US, Afghan forces
January 11, 2018
Allison JACKSON, Usman SHARIFI - Middle-class Afghans turned jihadists have assisted the Islamic State group's expansion from its stronghold in Afghanistan's restive east to Kabul , analysts say, helping to make the capital one of the deadliest places in the country.
IS has claimed nearly 20 attacks across Kabul in 18 months, with cells including students, professors and shopkeepers evading Afghan and US security forces to bring carnage to the highly fortified city.
It is an alarming development for Kabul 's war-weary civilians and beleaguered security forces, who are already struggling to beat back the resurgent Taliban, as well as for the US counter-terrorism mission in Afghanistan.
"This is not just a group that has a rural bastion in eastern Afghanistan - it is staging high-casualty, high-visibility attacks in the nation's capital and I think that's something to be worried about," said analyst Michael Kugelman of the Wilson Center in Washington.
The Islamic State-Khorasan Province (IS-K), the Middle East group's affiliate in Afghanistan and Pakistan, emerged in the region in 2014, largely made up of disaffected fighters from the Taliban and other jihadist groups in Afghanistan, Pakistan and Central Asia.
It claimed its first attack in Kabul in the summer of 2016. Since then group has struck at security forces and minorities with increasing frequency, helped by its growing network in the capital.
There is no shortage of recruits, analysts say. IS has successfully tapped a rich vein of extremism in Afghanistan that has existed for decades and crosses socio-economic groups - fanned by growing internet access among urban youth.
"We are talking about a generation which has been desensitised to different types of violence and violent extremism," said Borhan Osman, a senior analyst with the International Crisis Group.
"It should not come as a surprise that some of the youth inculcated in the ideology of jihadism embrace the next version of jihadism, the most violent one."
Members and supporters of IS cells in Kabul hide in the open, living with their families and going to classes or work every day, Osman said.
The militants meet at night to discuss jihad, or holy war, and plot attacks on targets in the city they know well - well enough to adapt to changes, such as tightened security in the wake of a massive truck bomb in May that killed around 150 people.
"It's an adaptive structure reacting to the counter-measures," a Western diplomat told AFP. "From May to December what we have seen is different types of attacks, smaller attacks that are getting through."
An Afghan security source previously told AFP that "20 or more" IS-K cells were operating in the city.
- 'Hunt them down' -
Osman, an expert on militant networks in Afghanistan, said it was difficult to know how many IS-K fighters there were in Kabul . But their ranks were constantly being replenished by recruitment efforts on social media as well as in universities, schools and mosques.
"You can't say they are all poor - a number of them come from middle-class Kabuli families. Some are university educated. Some have a high school education," he said, adding that most have some religious education as well.
An Afghan security source agreed. "The new wave of extremists is not an uneducated farmer. It is mainly people with a good level of education," he told AFP on condition of anonymity.
While the Taliban remains by far the biggest threat to Afghanistan's security forces and government, IS-K has dominated headlines in recent months with attacks in Kabul , including three last month alone which killed dozens of people.
Afghan and Western sources told AFP the Taliban-affiliated Haqqani network, which was blamed for last year's truck bomb, was involved in at least some of the Kabul attacks claimed by IS.
Some of the assaults have come within metres of embassies and NATO's Resolute Support mission, a disconcerting reply to vows by the head of US Forces-Afghanistan General John Nicholson to "hunt them down" until they are "annihilated".
Last year the US dropped the so-called Mother of All Bombs, the largest non-nuclear weapon ever used in combat, on IS strongholds in Nangarhar. That has been followed by intense aerial bombing by Afghan and US forces.
But analysts point out that the strategy has failed to destroy IS - and may have even pushed more militants into Kabul , where using that sort of overwhelming firepower is not an option.
- New IS base? -
The group's resilience has raised fears that Afghanistan could become a new base for IS fighters fleeing the battlefields of Syria and Iraq, where the group has lost swathes of territory.
But the exact nature of links between IS in Afghanistan and the Middle East remains unclear.
The Afghan government claims there is no connection. Analysts told AFP there is communication, and many of the claims for the Kabul attacks come via IS's propaganda arm, Amaq.
AFP reported last month that French and Algerian fighters, some arriving from Syria, had joined IS in northern Afghanistan where the group has established new bases.
Regardless of links, the goals of IS in the Middle East and in Afghanistan appear to be aligned: stirring up sectarian violence.
"The real game is to provoke a lot of Sunni hatred towards Shias (Shiites)," Vanda Felbab-Brown, a senior fellow at the Brookings Institution, told AFP.
She said she was "waiting" for an attack on a major Sunni mosque, whether by a frustrated Shiite or by IS pretending to be Shiites in order to inflame Sunni anger.
But, its success in the capital aside, IS will struggle to turn Afghanistan into a new sectarian front, predicts Kugelman, who points out that most cleavages in Afghanistan are ethnic and not sectarian.
Full report at:
https://nation.com.pk/11-Jan-2018/is-cells-operate-in-kabul-under-noses-of-us-afghan-forces
--------
Tabligh Jamaat demo near Dhaka airport creates traffic nightmare
January 10, 2018
Netizens took the social media networks to storm, raising objections over allowing the members of the non-political Islamic movement to stage demonstrations on one of the busiest roads in the city, creating acute public suffering.
An unscheduled demonstration by hundreds of members of the Islamic movement named Tabligh Jamaat and some Qawmi madrassa Alems [clerics] brought the traffic on Airport Road in Dhaka to a standstill on Wednesday.
The demonstrators positioned themselves near the airport bus stand around 10am yesterday, chanting slogans against the arrival of a preacher from the Indian chapter of the movement, Maulana Muhammad Saad Kandhalvi, who came to join the Biswa Ijtema scheduled to kick off tomorrow in Tongi.
According to witnesses, the main message of the slogans was that the Bangladesh authorities should not allow the beleaguered preacher to enter the country.
Airport police station OC Noor Azam Siddiqui said the protesters were holding their peaceful program opposite the airport intersection.
Later, the demonstrators blocked the Airport Road, causing immense traffic congestion on Dhaka-Mymensingh highway and different connecting roads in the capital.
Many passengers were seen getting off buses and starting to walk to their destinations as buses remained stranded for hours on highways. The traffic tailback later extended to the National University.
Residents of Uttara suffered the most from the traffic congestion, as the gridlock spread to all the roads and arteries in the residential area, said Monir Hossain Ontu, a commuter who was bound for Motijheel from Uttara.
Netizens took the social media networks by storm, raising objections over allowing the members of the non-political Islamic movement to stage demonstrations on one of the busiest roads in the city, creating acute public suffering.
Sarowar Alam, a private job holder, wrote: "An issue which can be solved in a room created havoc for us today on the roads. If they [protesters] wanted, they could have organized protest rallies at any ground in the city."
Some of the protesters said Tabligh Jamaat members in India and Bangladesh have been opposing the visit of Maulana Saad Kandhalvi as Darul Uloom Deoband, the movement's central seminary, has been maintaining a state of non-cooperation with him.
Maulana Saad Kandhalvi, however, is also a religious leader known for making controversial statements which have caused uproar in India on several occasions.
Despite the protest, Saad Kandhalvi reached the local Tabligh headquarters without hindrance.
Dhaka Metropolitan Police (DMP) Ramna Zone Deputy Commissioner Maruf Hossain Sarder said: "Maulana Saad reached Kakrail's Tabligh Shura Office around 3:45pm."
Customs and Armed Police Battalion officials from Hazrat Shahjalal International Airport said he arrived at the airport around 12:30pm by Thai Airways and left the airport around 2:45pm for Kakrail after completing all formalities.
Darul Uloom Deoband issued a fatwa (decree) against Kandhalvi in December 2016, accusing him of "misinterpreting Islamic shariah and insulting prophets and messengers of the Almighty."
According to sources, the demonstrators are under orders from Hefazat-e-Islam Bangladesh leader Shah Ahmed Shafi, who is a follower of Deoband school of thought and does not want the Indian preacher and his followers to attend this year's Ijtema.
However, sources also said Tabligh's Shura [executive] members Syed Wasiful Islam, Mohammad Khan Shahabuddin Nasim, Professor Yunus Shikder and Maulana Mosharraf Hossain are in favour of Saad's visit to Bangladesh.
Three of the top seven leaders of Bangladesh Tabligh Jamaat – Maulana Muhammad Jubayer, Maulana Rabiul Haque and Maulana Omar Faruq – have protested Saad's visit, the sources said.
"A meeting was held on January 7 in Jamiya Islamia Darul Ulum Madaniya Madrasa in Jatrabari, Dhaka in presence of 21 people, including Tabligh's Shura [executive] members and a visiting delegation from India, where everyone present voiced their opinion against Maulana Saad's visit during Ijtema. They agreed that his visit will create conflict within the Tabligh," said a demonstrator named Shahriar.
According to a Dhaka Tribune special report on November 15 last year, the leadership of Bangladesh chapter Tabligh Jamaat has been at odds since last year over Maulana Saad Kandhalvi's visit.
Full report at:
https://www.dhakatribune.com/bangladesh/dhaka/2018/01/10/tabligh-jamaat-airport-road-indian-preacher/
--------
Myanmar cops charge Reuters reporters with breaching law
January 11, 2018
Two Reuters journalists were formally charged by police in a Myanmar court yesterday with breaching a colonial-era secrecy law that carries up to 14 years in jail, provoking a barrage of calls for their immediate release.
Myanmar nationals Wa Lone, 31, and Kyaw Soe Oo, 27, were arrested a month ago under the Official Secrets Act after they were allegedly given classified documents by two policemen over dinner.
The pair had been reporting on the military campaign in the northern state of Rakhine that has forced some 655,000 Rohingya Muslims to flee over the border to Bangladesh since August.
The UN and US have condemned the violence as ethnic cleansing.
The issue is incendiary inside Myanmar, where authorities deny wrongdoing and say the army was cracking down on militants from the Muslim minority.
A district judge said police charged the pair under a section of the Official Secrets Act which punishes anyone who "obtains, collects, records or publishes... any official document or information" which could be "useful to an enemy".
The pair will return to court on January 23 for legal arguments, when the bench will decide whether to accept the case under Myanmar's arcane legal system.
There were emotional scenes in the Yangon courthouse, with family members in tears and the reporters making desperate pleas before being led back into detention after they were denied bail.
"Please tell the people to protect our journalists!" Kyaw Soe Oo shouted to the court.
His colleague Wa Lone said his wife was pregnant, adding: "I'm trying to be strong."
Their families have suggested the pair were set up, saying the arrests took place immediately after leaving the restaurant where they dined with the two policemen.
The officers are also under arrest but did not appear in court on yesterday.
The case against the Reuters journalists has shocked Myanmar's embattled press corps.
Reporters covering yesterday's proceedings wore black in protest against their arrest and carried banners proclaiming "Journalism is not a crime".
Reuters said it was "extremely disappointed" that the authorities were seeking to prosecute.
"We view this as a wholly unwarranted, blatant attack on press freedom," said Reuters Editor-in-Chief Stephen J. Adler.
'TRAVESTY OF JUSTICE'
The US Embassy in Myanmar led reaction to the court decision, expressing disappointment and calling for the "immediate release" of the reporters.
"For democracy to succeed and flourish, journalists must be able to do their jobs," the embassy statement added.
Reporters Without Borders said the two reporters were being used as "scapegoats" to intimidate journalists, as rights groups condemned their continued detention.
"These charges are a travesty of justice and should be dropped," said Phil Robertson, deputy Asia director of Human Rights Watch.
The case has cast a spotlight on Myanmar's troubled transition to democracy after nearly five decades of military rule.
It touches both on shrinking press freedom and the Rohingya crisis, two issues that have raised questions about the country's ability to shake off the legacy of junta rule.
Much of the Buddhist-majority population supports the army in what it calls a justified campaign against Rohingya militants, after their attacks on border guard police killed about a dozen people last August.
The military has severely restricted access to Rakhine to reporters, aid groups and observers.
Several legal cases against journalists have disappointed those hoping the civilian government of Aung San Suu Kyi would usher in a new era of freedom.
Her administration shares power with an army that still controls all security policy and other key levers of government.
Full report at:
http://www.thedailystar.net/backpage/myanmar-cops-charge-reuters-reporters-breaching-law-1518082
--------
Perpetrator of deadly Herat city bombing arrested by Afghan intelligence
Jan 11 2018
The Afghan intelligence operatives have arrested the main perpetrator involved behind a deadly explosion in Herat city in West of Afghanistan that left nearly fifteen people dead or wounded.
The local officials said Wednesday that a suspect was arrested during an operation of the Afghan intelligence operatives from Herat city in connection to the incident.
The officials further added that the explosion in the city took place on Saturday of last week in Jabraeel town.
According to the officials, at least four people including a woman were killed and eleven others including women and children were wounded in the explosion.
The anti-government armed militant groups including the Taliban insurgents have not commented regarding the incident so far.
Herat is among the relatively calm provinces in West of Afghanistan but the anti-government armed militants often carry out insurgency activities in some of its remote districts as well as the central Herat city.
The Taliban insurgents are active in some remote districts of the province bordering some of the restive provinces in the West and South of Afghanistan.
Full report at:
https://www.khaama.com/perpetrator-of-deadly-herat-city-bombing-arrested-by-afghan-intelligence-04241
--------
15 ISIS and Taliban group members join peace in East of Afghanistan
Jan 10 2018
At least fifteen militants affiliated with the ISIS and Taliban groups joined peace process in eastern Nangarhar province of Afghanistan.
According to the local government officials, at least two local leaders of the militants are also among those who reconciled with the government.
The Nangarhar governor's spokesman Ataullah Khogyani told reporters that the Taliban and ISIS groups joined peace process due to the efforts of the Afghan intelligence operatives.
Khogyani further added that a group of 8 ISIS militants led by commander Abdul Manan and a group of 7 Taliban insurgents led by commander Faridullah laid down their arms and joined peace process.
He said the militants were previously conducting insurgency activities in Khogyani, Pacher Agam, and Chaparhar districts of Nangarhar.
According to Khogyani, the militants have also handed over a rocket along with 15 different types of weapons to thhe security forces.
Khogyani said the reconciled militants have promised that they will not join the militants ranks again.
The provincial governor's spokesman also added that 166 militants including 44 ISIS insurgents have so far joined peace process in Nangarhar due to the efforts of the intelligence operatives.
Full report at:
https://www.khaama.com/15-isis-and-taliban-group-members-join-peace-in-east-of-afghanistan-04238
--------
Arab World
Syrian forces liberate 23 towns, villages from terrorists in Idlib
Jan 11, 2018
Syrian forces have regained control of 30 villages and towns from foreign-backed militants in the country's provinces of Idlib, Hama and Aleppo.
Syria's official news agency SANA on Wednesday reported that 23 villages were liberated following extensive operations against the members of the Jabhat Fateh al-Sham terrorist group in Idlib's southeastern countryside.
A large number of terrorists were also killed during the operations in which a large amount of their equipment and weapons were also destroyed.
Syrian forces are currently engaged in demining the regions surrounding the villages.
Meanwhile, Syrian troops also reached the gates of a key airbase in the province held by the terrorists since 2015.
Recapturing the Abu al-Zuhour Airbase would enable the Syrian army to regain the upper hand in carrying out airstrikes against militant positions in Idlib.
Government troops, backed by allied forces, also retook at least eight villages in Aleppo province and two villages in Hama province.
Over the past weeks, the army has recaptured some 60 villages during operations aimed at removing the remnants of terror groups throughout the country.
Syria has been gripped by foreign-backed militancy since March 2011. The Syrian government says the Israeli regime and its Western and regional allies are aiding Takfiri terrorist groups wreaking havoc in the country.
http://www.presstv.com/Detail/2018/01/11/548521/syria-gains-terrorists-idlib
--------
UN raises alarm over human rights situation in UAE
Jan 11, 2018
The UN Human Rights Office has revealed several human rights violations in the United Arab Emirates (UAE), censuring Abu Dhabi in a report over its crackdown on activists, vague "anti-terror" law and censorship.
The Office of the High Commissioner for Human Rights (OHCHR) released a report on Wednesday, raising the alarm over the human rights situation in the UAE.
The document is expected to be presented later this month at the 29th session of the Human Rights Council, in which the records of the UAE and Israel, among others, are to be scrutinized.
The procedure, known as the Universal Periodic Review (UPR), is a tool that the UNHRC uses to assess the records of all 193 UN member states, every four years.
In the report, the UN body voiced concern over the UAE's 2014 counter-terrorism law under which anyone over the age of 16 found to "undermine national unity or social peace" can be sentenced to death.
The OHCHR's report slammed the UAE over its crackdown on human rights activists and government critics, including Osama al-Najjar, who was sentenced to three years in prison over his tweets, and Ahmed Mansoor, who has been held since March 2017 over charges of using social media to "publish false information that harms national unity."
According to human rights groups, Mansoor is being held in solitary confinement without access to a lawyer or calls to his family.
The report said Mansoor's imprisonment "is in contrast with the UAE's international human rights obligations and the Emirati constitution."
It said that Abu Dhabi has failed to establish a national human rights institution which would be tasked with monitoring and protecting human rights, one of the recommendations at the 2013 review.
Civil society groups are expected to submit later this month at the Palace of Nations in Geneva documents detailing rights abuses in the UAE.
Earlier in July 2017, the UAE accused Alkarama Foundation, a Geneva-based organization which provides pro-bono legal assistance to victims of human rights violations, of having "connections to terrorism."
The organization had sought consultative status with the UN Economic and Social Council (ECOSOC), allowing it to speak on behalf of clients at reviews of the country's human rights records at the UN.
However, Alkarama's application was rejected after a draft resolution spearheaded by the UAE and backed by Algeria, India and the United States was passed at an ECOSOC meeting in July.
At a UPR pre-session in Geneva last month, the UAE's representative to the UN refused to directly address criticisms made by civil society groups - including Alkarama - on the human rights situation in the country.
Joe Odell, a spokesperson for the International Campaign for Freedom in the United Arab Emirates, which participated in the UPR pre-session and has filed a submission, told the Middle East eye news portal that the UNHRC report was a "damning indictment" of the UAE's recent human rights record.
"In recent years, state repression in the UAE has been significantly ramped up with practices of arbitrary detention, torture and enforced disappearances becoming increasingly commonplace," Odell said. "The Emirati authorities have continued to violate the basic rights of those within its borders with apparent impunity."
"This latest report further underlines the needs for reforms in the country whereby political, civil and legislative processes are brought in line with international human rights legislation," he said.
Full report at:
http://www.presstv.com/Detail/2018/01/11/548538/UN-UAE-Rights-Violations
--------
Army troops find Israeli spying device in southern Lebanon
Jan 10, 2018
Lebanese government forces have found and dismantled an Israeli spying device in the country's southern province of Nabatieh.
Lebanon's state-run National News Agency reported on Wednesday that the device was discovered on the outskirts of Zawtar al-Gharbiyeh (Western Zawtar) town, which lies just north of the Litani River.
On October 31, 2017, Lebanese security forces busted an espionage cell in the country, whose members were collecting sensitive information and passing it to the Israeli spy agency Mossad.
Speaking in an exclusive interview with Lebanon-based Arabic-language al-Mayadeen television news network, General Director of the General Security Directorate Major General Abbas Ibrahim stated that the cell, run by a Syrian national identified as Paul George Khoury, was dismantled last July.
Fighters from the Lebanese Hezbollah resistance movement found an Israeli spying device on the outskirts of Barouk village in the Chouf district of Mount Lebanon, located 52 kilometers southeast of Beirut, on August 13.
The Israeli military then remotely detonated the spy device to prevent the de-codification and interpretation of its recorded data.
However, Hezbollah fighters could recover some parts of the exploded device, including its transmission receiver base and batteries.
The Lebanese army soldiers and Hezbollah fighters have on occasions dismantled Israeli surveillance devices planted near the country's border regions with the occupied territories.
Full report at:
http://www.presstv.com/Detail/2018/01/10/548459/Lebanese-army-Israeli-spying-device-in-southern-Lebanon
--------
Arab FMs to meet in February on Trump's Jerusalem move
January 11, 2018
CAIRO - Arab foreign ministers will meet early next month to discuss steps against US President Donald Trump 's recognition of Jerusalem as Israel's capital, the Arab League said Wednesday.
The meeting of the League's Council will be held on February 1 in Cairo, its general secretariat said in a memo obtained by AFP.
Trump 's decision in December to relocate the US embassy to Jerusalem from Tel Aviv sparked deadly clashes in Palestinian territories and was rejected in a non-binding UN General Assembly resolution. Jordan said on Saturday that the League would seek international recognition of the Palestinian state with east Jerusalem as its capital following the US move. In a resolution after an emergency meeting in December, Arab foreign ministers urged the US to rescind its decision and said Washington had "withdrawn itself as a sponsor and broker" of the Israeli-Palestinian peace process.
Israel occupied east Jerusalem and the West Bank in the 1967 Six-Day War and later annexed east Jerusalem in a move never recognised by the international community.
The city's status is among the most contentious issues in the Israeli-Palestinian conflict.
Israel claims all of Jerusalem as its united capital, while the Palestinians see the eastern sector as the capital of their future state.
Full report at:
https://nation.com.pk/11-Jan-2018/arab-fms-to-meet-in-february-on-trump-s-jerusalem-move
--------
Al-Nusra Elite Forces Killed in Clashes with Syrian Army in Southeastern Idlib
Jan 10, 2018
The sources said that nine members of the elite units of Al-Nusra have been killed and two dozen more have been injured in the army attack near Abu al-Dhohour airbase.
The sources said also that the artillery and missile units opened heavy fire at Al-Nusra movements and positions at Abu al-Dhohour military airport and it nearby regions.
Field sources confirmed earlier today that the army men captured the villages of al-Adeliyeh, Tal al-Aowja, Rasm al-Ward and Marijab Jamlan after heavy fighting with Al-Nusra gunmen and their militant allies.
Full report at:
http://en.farsnews.com/newstext.aspx?nn=13961020000801
--------
Italian police take computer of Cambridge tutor in Egypt murder case
11 January 2018
Italian magistrates investigating the murder of a graduate student in Cairo two years ago have seized the computer and cell phone of his Cambridge University tutor, the prosecutors' office in Rome said on Wednesday.
Giulio Regeni was tortured and killed while carrying out research in Egypt. Italian magistrates have worked with their Egyptian counterparts to try to solve the crime, but have often expressed frustration over the slow pace of the investigation.
While there is no suggestion that Regeni's tutor, Maha Abdelrahman, was involved in his death, investigators have pushed for months to question her about why he had chosen his research subject and whether she had put him in harm's way.
Abdelrahman finally agreed to talk to the Italian magistrates in Cambridge on Tuesday, prosecutors said. On Wednesday, the team from Rome, backed up by British authorities, visited her home and office, taking a computer, a hard disk, a USB key, a phone and some unspecified documents.
"(This) will be useful to bring definitive clarity, in an unequivocal and objective way, to the role of the tutor in consideration of the investigation," the prosecutors said in a statement.
Cambridge university did not immediately respond to requests for a comment. Abdelrahman, who is Egyptian, has never spoken publicly about the death of her student and took a leave of absence in the wake of his killing.
Reuters could not immediately reach Abdelrahman.
A senior legal source in Rome said Abdelrahman had told magistrates that Regeni had picked his own research subject. He said she had shed no new light on the case and added that this was "disappointing".
Regeni had been looking into Egypt's independent unions for his thesis and attracted the suspicion of the Cairo government before his disappearance, sources told Reuters in 2016.
Full report at:
https://english.alarabiya.net/en/News/middle-east/2018/01/11/Italian-police-take-computer-of-Cambridge-tutor-in-Egypt-murder-case.html
--------
Mosul's old heart in ruins 6 months after liberation
10 January 2018
MOSUL: Along the waterfront of the Euphrates River in Iraq's war-torn Mosul, gaping holes in hotel walls reveal little but enormous heaps of rubble.
Six months since Iraqi forces seized the country's second city from Daesh, human remains still rot in front of the Al-Nuri Mosque.
The building, denuded of its iconic minaret and largely reduced to ruins by the fighting, was the site of the only known public appearance by Daesh leader Abu Bakr Al-Baghdadi following the group's declaration of a "caliphate" in 2014.
Mosul residents have gone from euphoria at the city's "liberation" after three years of terrorist rule to uncertainty.
The few souls who venture into the debris-strewn alleyways say their future is precarious.
Iraq forces defeated Daesh in Mosul in July 2017 after months of intense urban battles that reduced the historic Old City to ruins.
Pounded by international coalition airstrikes and constant shellfire by insurgents, most of Mosul's residents fled.
Some never made it out.
Asma Mohammed's father and husband were killed in an airstrike then hurriedly buried, like several of their neighbors, in improvised cemeteries on a vacant strip of land.
Mohammed said the strike missed its target, hitting civilians rather than terrorists occupying the nearby buildings.
Iraqi authorities "say they need to investigate before issuing death certificates," she said, sitting in her modest Old City house, itself damaged during the violence.
She is one of many Mosul residents who count family members among those killed in airstrikes.
The US-led coalition has admitted to killing 817 civilians over three years of battling the group.
But according to sources in Mosul, some 2,000 civilians were killed in coalition airstrikes and fighting in the city alone.
Since her parents died, Asma and her two children have survived day-to-day on donations from friends and neighbors.
When she thinks of the future, she begins to cry.
Only one other family has returned to this part of the Old City — that of Ansam Anwar, 30, who headed back just days ago with her husband and their five children.
In small whitewashed rooms around the inner courtyard of their house, the cold is biting. The utilities have been cut off and electricity meters torn from the walls.
Ansam's husband, a laborer, has yet to find work in the largely deserted Old City.
"There is still no water or electricity, my children are still deprived of school. Even the smell of rotting bodies continues to suffocate us," Ansam said as she moves away dust and debris covering the ground.
The alley outside is partially blocked by wooden furniture.
Further down the street, Abu Qutayba Al-Attar, 59, walks through the once crowded alleys of the historic market, a traditional kuffiyeh scarf around his head and a long robe reaching his feet.
His father's shop, where he spent his days "from the age of six onwards," was destroyed in the carnage.
After the fighting reached his neighborhood a year ago, he said he remained "shut up at home in a state of depression."
But now he has started working to rebuild the shop at his own expense.
Now that "security has returned," the economy must follow, he insisted.
Sitting at a historic trading crossroads close to Syria and Turkey, Mosul has long thumbed its nose at authorities in Baghdad.
But traders say working with the authorities is essential to ensure that Daesh does not return.
"Now, we must cooperate with the security forces that have liberated us and inform on anyone who seems suspicious, rather than remain passive," one said.
After their invasion of Iraq in 2003, American forces took huge losses in Mosul and the surrounding region, from which many of former dictator Saddam Hussein's army officers originated.
Even before Daesh launched its lightning takeover of a third of Iraq's territory and large parts of Syria in 2014, extremist groups had taken control in some areas, placing them off limits to Iraqi forces.
"For the time being, the residents are cooperating completely and informing us when they see strangers in their neighborhoods," said a police officer, who asked to remain anonymous.
"We hope that will continue — if not, everything could change and a new Daesh could emerge."
Mozhar Abdel Qader, a 48-year-old trader, cautioned against celebrating too quickly. The conditions that allowed Daesh to recruit en masse in Mosul still exist, he said.
"There is unemployment, injustice. People don't have enough to eat. So when you give them $100 to plant a bomb, they do it," the father of five told AFP.
He said he regularly returns to examine his house in the Old City, riddled with bullets and shells.
Full report at:
http://www.arabnews.com/node/1223016/middle-east
--------
Mideast
Houthi militias loot currency exchange offices in Yemen's Sanaa
10 January 2018
Sanaa – Houthi militias have stormed currency exchange offices in Sanaa on Tuesday and looted large sums of money, sources have confirmed.
According to eyewitnesses, Houthi gunmen who arrived in five armored vehicles stormed al-Kuraimi exchange office in central Sanaa a while before operating hours ended, disabled surveillance cameras and looted all the money there as well as computers and electronic devices. They also assaulted the employees.
Eyewitnesses added that Houthis brought huge bags on their way out, and it is believed that they contained the money looted, which is estimated in the millions.
The Houthis also stormed al-Sayfi and Soueid exchange offices in Sanaa and looted them and shut them down.
Some banking sources said the Houthis justified their move by claiming they seek to protect the Yemeni rial.
However, sources have voiced surprise at how looting money can protect the currency from deteriorating. They added that the Houthis looted the money for financial reasons that will not be resolved by confiscating funds and raiding exchange offices.
Meanwhile, Houthi militias have kidnapped merchants in Ibb after they refused to pay for "war effort." A local source said those kidnapped include three gold traders. They were identified as Mohammed al-Sanaa, Khalil al-Qudaimi and Abdulmalik Abu al-Rijal.
https://english.alarabiya.net/en/News/middle-east/2018/01/10/Houthi-militias-loot-currency-exchange-offices-in-Yemen-s-Sanaa.html
--------
Turkey, US relations may deteriorate 'if Washington doesn't fix mistakes'
10 January 2018
Turkish Foreign Minister Mevlut Cavusoglu said on Wednesday that relations with the United States were harmed by Washington's refusal to extradite cleric Fetullah Gulen and its provision of arms to the Kurdish militant YPG.
Speaking to the state-run Anadolu Agency, Cavusoglu said that ties between the NATO allies could be harmed further if Washington does not correct its mistakes.
Ankara has been infuriated with Washington over its refusal to extradite Gulen, whom Turkey blames for a 2016 coup attempt, and U.S. support for the YPG, which it sees as an extension of the outlawed Kurdistan Workers Party (PKK) waging an insurgency against the Turkish state.
https://english.alarabiya.net/en/News/middle-east/2018/01/10/Turkey-US-relations-may-deteriorate-if-Washington-doesn-t-fix-mistakes-.html
--------
Trump urged by top advisers to waive Iran sanctions
11 January 2018
Donald Trumpis being urged by some top advisers not to bring back US economic sanctions on Iran this week, a move by the president that would effectively end a 2015 deal to limit Tehran's nuclear ambitions.
Two senior administration official told Reuters on Wednesday that Trump's top advisers were recommending that he not re-impose sanctions on Iran that were lifted under the agreement between Iran, the United States and other world powers.
But Trump, who has previously vowed to scrap the nuclear pact, is privately expressing reluctance to heed the advisers, the officials said. The US Congress requires the president to decide periodically whether to certify Iran's compliance with the deal and issue a waiver to allow US sanctions on Iran to remain suspended. The next deadline is Friday.
Trump will seek to make a final decision on the sanctions during a meeting with national security aides on Thursday, the senior officials said. If Trump did waive the sanctions, one official said, the administration would nevertheless impose new, targeted measure on Iranian businesses and people. A third US official said Trump was expected by some officials to renew the sanctions waivers but stressed that no final decision had been made.
Trump has gnashed his teeth at having to waive the sanctions again, believing his predecessor, Democratic President Barack Obama, negotiated a bad deal for the United States in agreeing to the accord, known as the Joint Comprehensive Plan of Action (JCPOA).
Hailed by Obama as key to stopping Iran from building a nuclear bomb, the deal lifted economic sanctions in exchange for Tehran limiting its nuclear ambitions. It was also signed by China, France, Russia, Britain, Germany and the European Union.
Iran says its nuclear program is only for peaceful purposes. It has said it will stick to the accord as long as the other signatories respect it, but will "shred" the deal if Washington pulls out. Trump in October chose not to certify that Tehran is complying with the deal and warned he might ultimately terminate it. He accused Iran of "not living up to the spirit" of the nuclear agreement even though the International Atomic Energy Agency says Tehran is in fact in compliance.
Violation of deal
The first official said a decision not to waive the sanctions would leave the United States in violation of the agreement. "You either waive the sanctions or you don't and if you don't you're in breach of the JCPOA," the official said.
Congressional hardliners on Iran like Republican Senators Marco Rubio and Tom Cotton have called for the reimposition of sanctions, an end to the nuclear deal and the new sanctions on Iran. But some liberal Democrats who support the deal want to pass legislation that would make it harder for Trump to pull Washington out without congressional consent.
Trump and his top advisers have been negotiating with US lawmakers on Capitol Hill to try to change sanctions legislation so that he does not face a deadline on whether to recertify Iranian compliance with the nuclear deal every 90 days. Senate Foreign Relations Committee Chairman Bob Corker has been working on amending a US law to include "trigger points" that if crossed by Iran would automatically bring back US sanctions.
The trigger points would address strengthening nuclear inspections, Iran's ballistic missile program and eliminate the deal's "sunset clauses" under which some of the restrictions on Iran's nuclear program expire over time. Corker told Reuters that if Trump does not listen to his team, and pulls the United States out, there is no point in pursuing the legislation.
Full report at:
https://english.alarabiya.net/en/News/gulf/2018/01/11/Trump-urged-by-top-advisers-to-waive-Iran-sanctions.html
--------
2 Saudi officers killed in retaliatory sniper attack by Yemeni fighters
Jan 10, 2018
Two Saudi soldiers have been killed in a retaliatory attack by Yemeni fighters in Saudi Arabia's southern province of Najran.
Yemen's al-Masirah TV said Wednesday that Yemeni snipers targeted Saudi military positions in al-Shabakah region. Two Saudi servicemen were killed in the attack, said the TV channel, which is close to Yemen's Houthi Ansarullah movement.
It said Yemeni fighters also launched a shelling attack on Saudi positions in al-Makhrugh region in the same province. A number of Saudi soldiers were injured.
Yemenis also managed to capture al-Dhaba'a military post in the same province. Reports said Saudis suffered casualties in the clashes that came before the takeover.
The attacks on Saudi military positions are part of a broader bid by Ansarullah to avenge more than two years of Saudi Arabia's deadly air and ground operations against Yemen.
Dozens of Saudi soldiers and officers have been killed in retaliatory cross-border shelling and sniper attacks by Yemenis over the past two years. Ansarullah has also targeted sensitive military positions deep inside Saudi Arabia with its missiles.
Many Saudi officers along with servicemen from other Arab countries allied to Saudi Arabia have been killed while battling the Houthis inside Yemen.
On Wednesday, at least 10 people were killed and one was injured after Saudi warplanes dropped bombs on a popular outdoor market in Kitaf wa al-Boqe'e district in the northern province of Sa'ada.
Full report at:
http://www.presstv.com/Detail/2018/01/10/548506/Yemen-sniper-Saudi-soldiers
--------
New Yemeni missile system used to target Saudi-led warplanes: Report
Jan 10, 2018
A new report has revealed that Yemeni air force and air defense units used a new domestically-designed and-produced missile system to shield residential areas in the country's capital and the northwestern provinces of Sana'a and Sa'ada against airstrikes by Saudi military aircraft.
Yemen's Arabic-language al-Masirah television network reported that Yemeni air defense forces, backed by fighters from allied Popular Committees, employed the system to intercept and target a twin-engine, all-weather tactical F-15 fighter jet belonging to the Royal Saudi Air Force in the skies over Sana'a early on January 8.
The development came only hours after Yemeni air defense forces used another battery of the same missile defense system to shoot down a twin-engine and multirole Panavia Tornado combat aircraft as it was flying in the skies over Kitaf wa al-Boqe'e district in Sa'ada province.
At least 13,600 people have been killed since the onset of Saudi Arabia's military campaign against Yemen in 2015. Much of the Arabian Peninsula country's infrastructure, including hospitals, schools and factories, has been reduced to rubble due to the war.
Nearly dozen civilians killed as Saudi jets hit outdoor market
Meanwhile, nearly a dozen civilians have lost their lives when Saudi fighter jets carried out an airstrike in Yemen's Sa'ada province.
Local source, speaking on condition of anonymity, said the military aircraft bombarded a popular outdoor market in the Kitaf wa al-Boqe'e district of the province on Wednesday evening, leaving 10 people killed and one person injured.
The Saudi-led war has also triggered deadly epidemics of infectious diseases, especially diphtheria and cholera, across Yemen.
According to the World Health Organization's latest tally, the cholera outbreak has killed 2,167 people since the end of April and is suspected to have infected 841,906.
WHO has also warned that at least 471 people in Yemen have contracted diphtheria, a bacterial disease that has been killing one in 10 Yemenis since the outbreak started in the war-torn country in mid-August last year.
The UN agency's spokesman, Tarik Jasarevic, made the disturbing announcement last Thursday, adding that the west-central province of Ibb and the western province of Hudaydah were the hardest hit by diphtheria, which is easily spread between people through direct physical contact or the air.
On November 26, the United Nations children's agency (UNICEF) said that more than 11 million children in Yemen were in acute need of aid, stressing that it was estimated that every 10 minutes a child died of a preventable disease there.
Additionally, the UN has described the current level of hunger in Yemen as "unprecedented," emphasizing that 17 million people are now food insecure in the country.
Full report at:
http://www.presstv.com/Detail/2018/01/10/548475/Yemen-missile-system-Saudi-warplanes
--------
113 detainees killed by Houthi torture: Human rights report
MOHAMMED AL-SULAMI
11 January 2018
THE HAGUE: At least 113 people have been tortured to death in detention centers in Yemen run by the Houthis since the coup began, according to a human rights report.
The Netherlands-based foundation for human rights in the Arab world, Rights Radar (RR), announced on Tuesday that 113 detainees had been killed in Houthi centers since Sept. 21, 2014 and said some cases may qualify as war crimes.
RR said that it had investigated 113 killings under torture in illegal detention centers run by the Houthis in the capital Sanaa and other cities under Houthi control, along with the deaths of civilian detainees in prisons run by Yemeni forces loyal to the UAE in the governorates of Aden and Hadramout in southern Yemen.
Responding to the report, Yemeni Human Rights Minister Mohammed Askar told Arab News that the figures in the report were only estimates, and that the real figures were much higher.
Askar said that the number of cases of abduction and arbitrary detention in 2017 reached 1,930, including 400 forced-absence cases, which made last year the highest for the number of abductions.
He said that there had been more than 18,000 abductions since the beginning of the coup.
Askar said that the Yemeni government had documented arbitrary detention cases against members of the General People's Congress after the assassination of Ali Abdullah Saleh, and confirmed the presence of hundreds of detention centers full of men and women who were tortured by Houthi militias, including leaders and members of the General People's Congress and the Republican Guards.
Askar said that there were a large number of torture victims of these militias in Sanaa, Taiz, Hajjah and Dhamar, noting that Dhamar houses the biggest detention center in Yemen.
He said that the Yemeni government had sent a letter to the UN High Commissioner for Human Rights, which included initial figures of detainees, and noted that the government would publish a detailed report about the main violations against leaders and members of General People's Congress and the Republican Guards.
Askar said that the Houthi militias were criminal groups who practiced state terrorism and did not respect human rights international norms, and that the Yemeni government had issued many reports about the number of people detained by them.
The RR report said that sources from human rights NGOs estimated the number of people inside Houthi detentions at 7,000, distributed over 643 illegal prisons across Yemen. Most of these detainees belong to the Yemeni Islah Party. Their number recently grew with new detainees, members of the General People's Congress (GPC) of former President Ali Abdullah Saleh after the Houthi militants assassinated Saleh on Dec. 4, 2017 and started to arrest GPC supporters in Sanaa city.
International relations officer for Rights Radar, Gerard van der Kroon, said "the cases of murder under torture are serious violations of human rights that should be qualified as war crimes leading to individual criminal responsibility under the international criminal law and that should not go unpunished."
He said RR strongly condemned the frequent torture-related deaths in Houthi detention centers as serious violations of human rights that the international community should no longer tolerate.
Van der Kroon called on the international community, and the UN in particular, to take deterrent measures against the perpetrators and to hold them accountable for those who were victims of the weakness of the failing Yemeni state authorities who were not able to defend the safety of their population and guarantee compliance to the laws of war by the warring parties.
Full report at:
http://www.arabnews.com/node/1223146/middle-east
--------
Africa
Why the sartorial choices of Salafi clerics sparked a debate on morality in Nigeria
11 Jan 2018
Moses E. Ochonu
The innocuous photos of two Nigerian Islamic clerics shopping and relaxing in London sparked a fierce debate on social media platforms in northern Nigeria in early December 2017. The photos were quite unremarkable. One showed the two men sitting on a park bench; another showed them in a clothing store wearing cowboy hats. In both, they were dressed in suits. And they were wearing gloves and scarves to protect themselves from London's cold, wet weather.
The pictures caused a fierce online debate about piety, hypocrisy, morality, the sartorial prescriptions of Islam, and the tyranny of religious authorities in Muslim-majority northern Nigeria. The violent Islamist group, Boko Haram, is active in the region, which has become a hotbed of extremism.
So, why were these ordinary images so controversial? Why did they spark heated debates among educated northern Nigerian Muslim men and women?
The answer is simple. The two men are Salafi clerics, members of a clerical order that has come to wield outsized influence over Muslims in northern Nigeria. The clerics act as enforcers of an increasingly puritan Islamic order. They are uncompromising in defining what is moral and permissible and what is haram or sacreligious. They often equate Muslims' engagements with modernity and Western ways of life with immorality and sinful innovation or bid'ah.
This leaves them open to charges of hypocrisy when they appear to make choices seen as contradicting their teachings. And this is what happened in London. The two clerics were wearing what in northern Nigeria is considered western dress. This touched off debates between two camps of young Muslims: those who resent the growing intrusion of the clerics into their lives and are eager to criticise their adventures in a Western city, and those who continue to look on the religious figures as revered exemplars of piety.
Wahhabism and the roots of Salafi Puritanism
The Islamic sect to which the two clerics belong heightened the controversy. Sheikh Kabiru Gombe and his mentor, Sheikh Bala Lau, are prominent clerics of the Izala sect, the most visible face of a growing community of Nigerian Salafism, a branch of Sunni Islam which holds to a strict, uncompromising doctrine.
Leaders of the sect are gaining popularity and displacing mainstream Sufi clerics in the region. They accuse traditional Sufi Muslims of hobnobbing with modernity and failing to practice Islam in its pure form. Sufis are vulnerable to these accusations because their creed focuses on individual mystical paths to God rather than on outward, political and authoritarian expressions of piety.
This difference has led to an increasingly intense contest between the two sides. The photographs of the two clerics catapulted the contest onto social media, blogs and web forums.
The personalities and profiles of the two clerics contributed to the intensity of the debates.
Sheikh Gombe is known in the region for his ultra-radical Salafi theological positions and pronouncements. He has made his voice heard in local and foreign settings, capturing the imagination of some young Muslims in northern Nigeria. He presents an argument that being a pure Muslim means eschewing association with Western modernity. He is against modern and Western institutions such as secular film making, mixed gender socialisation and goods such as Western clothes. All, he argues, can pollute the piety of Muslims.
In my ongoing research on the historical roots of Boko Haram in northern Nigeria I call the rise of this branch of Islam the Salafi Islamic wave. Tracing its roots, I have found that it began with the slow but well-funded arrival of Wahhabism in northern Nigeria in the 1980s and 1990s. Wahhabism is the puritan strain of Sunni Islam birthed in Saudi Arabia by Muhammad ibn Abd al-Wahhab.
The Wahhabi-Salafi's most dominant organisational umbrella was – and still is – the Izala sect, which was founded in 1978 in Jos, Nigeria, by followers of the late Sheikh Abubakar Gumi.
At the time Gumi was travelling throughout the Muslim world and spending time in Saudi Arabia as a member of both the Supreme Council of the Islamic University in Medina and the Legal Committee of the Muslim World League. He returned to Nigeria in 1986 and was recognised as the spiritual leader of the Izala anti-Sufi reform movement. The movement's following expanded dramatically under him.
The Izala group set up schools and the best graduates were sent – on generous Saudi Arabian scholarships – to the University of Medina to study Islam under a Wahhabi curriculum with a tinge of ultra-radical Salafism. They returned in the 1990s and inaugurated a new Salafi era in northern Nigerian Islam.
In the 2000s, Medina-trained Salafi clerics, backed by Saudi money and patronage, succeeded in upstaging the old Izala clerical order through a mix of youthful charisma, theological novelty and populism. They began entrenching their strict moral code conforming, according to them, to the Islamic Sharia law.
Beyond photos and suits
Western culture and lifestyle dominate popular culture in Nigeria. For many young Muslims in northern Nigeria, Salafism's prescriptions and prohibitions are suffocating, particularly for those who want a more pragmatic engagement with a Western lifestyle. Many believe they can pursue these lifestyle choices and still practice their religion.
But Salafi clerics and their followers see no acceptable compromise. They are increasingly making themselves custodians of public morality. They routinely condemn conduct that they associate with decadent, permissive western modernity. For example, they dictate what northern Nigerian Muslims can and can't wear.
The debate around the two clerics was therefore not a trivial conversation about the dress and the recreational choices of two Salafi clerics. The photos were loaded with symbolism and contradictions. Participants in the online debate used the opportunity to criticise – or excuse – the perceived tyranny and hypocrisy of a powerful Salafi establishment. And to express personal anxieties and fears.
The debate about modernity, Islam, and morality has migrated to online platforms because the internet is relatively anonymous. This has given both sides greater freedom to express their views. The debate encapsulates the ongoing ideological struggle in northern Nigerian Islam between those who live and defend a modern lifestyle, and those suspicious of Western modernity and the unmediated influence of Western education and culture.
https://mg.co.za/article/2018-01-11-why-the-sartorial-choices-of-salafi-clerics-sparked-a-debate-on-morality-in-nigeria
--------
Head of powerful Muslim brotherhood dies in Senegal
10th January 2018
Dakar, Jan 10 (AFP) The head of the influential Mouride brotherhood of Muslims in West Africa has died, Senegalese media reported today.
Around 95 per cent of Senegal's population is Muslim and most men join Sufi brotherhoods that combine Islam with distinctive local beliefs.
Serigne Sidy Moctar Mbacke, who was 92 or 93 when he passed away yesterday, was the grandson of the founder of the brotherhood, Cheikh Ahmadou Bamba Mbacke, and became its seventh caliph in 2010.
He was buried overnight in the holy city of Touba and will be succeeded by another grandson of Bamba, Serigne Mountakha Bassirou Mbacke, the official APS news agency reported.
Full report at:
http://www.newindianexpress.com/pti-news/2018/jan/10/head-of-powerful-muslim-brotherhood-dies-in-senegal-1750008.html
--------
200 arrested, dozens hurt in fresh Tunisia unrest
10 January 2018
More than 200 people were arrested and dozens hurt during clashes in several parts of Tunisia, the interior ministry said Wednesday, after a second night of unrest driven by anger over austerity measures.
Ministry spokesman Khalifa Chibani told local radio that 49 police officers were wounded during clashes across the country and that 206 "troublemakers" were arrested.
Properties were damaged, he said, including a branch of the Carrefour supermarket chain in the suburbs of Tunis that was looted.
Police and army forces were deployed in several cities during the night, including in Tebourba 30 kilometres (20 miles) west of the capital Tunis, where hundreds of young people took to the streets after the funeral of a man in his 40s who died in unrest on Monday night.
Police have insisted they did not kill the man. The results of an autopsy have not been made public.
Unrest was also reported in the southern city of Gafsa, in Kasserine in central Tunisia and in Sidi Bouzid, the cradle of the protests that sparked the 2011 Arab Spring uprisings.
Tunisia has seen several days of demonstrations after activists and politicians denounced hikes in value-added tax and social contributions introduced at the start of the year as a tough new budget was implemented.
Protests are common in the North African state in the month of January, when Tunisians mark the anniversary of the 2011 revolt that unseated dictator Zine El Abidine Ben Ali.
Full report at:
https://english.alarabiya.net/en/News/north-africa/2018/01/10/200-arrested-dozens-hurt-in-fresh-Tunisia-unrest.html
--------
UN says Boko Haram attacks' toll has decreased in Niger
Jan 10, 2018
The UN Office for the Coordination of Humanitarian Affairs (OCHA) says the toll of attacks carried out by the Boko Haram Takfiri terrorists has fallen in Niger.
A total of 141 civilians in Niger were killed, kidnapped or wounded by the terrorist group in 2017, showing a sharp decrease compared to 2016, the OCHA said on Wednesday.
In a new report, the OCHA stated that there were 227 victims of Boko Haram attacks in 2016 as well as 214 casualties in 2015.
The Diffa administrative region in Niger, located in the southeast of the country on the border with Nigeria and Chad, witnessed the most instances of violence.
The Gueskerou district was attacked most, while Kabalewa district had the highest number of casualties, according to the report.
The OCHA report did not give specifics about the number of civilian and military casualties in these attacks.
Boko Haram, which first started its attacks in northeastern Nigeria in 2009, expanded its sphere of terror into neighboring Niger in 2015 after the Nigerian army launched a crackdown against the terrorist group in that year.
The group also operates in other neighboring countries including Chad and Cameroon.
In total, Boko Haram attacks in affected areas of Nigeria, Niger, Chad and Cameroon have left more than 20,000 people dead and 2.6 million more displaced.
These countries, in response, have launched major offensives against the two Boko Haram factions and their leaders.
Joint troops stationed in Borno state in northeastern Nigeria are targeting Abubakar Shekau in the Sambisa Forest, and Mamman Nur on and around Lake Chad.
Full report at:
http://www.presstv.com/Detail/2018/01/10/548514/UN-Niger-Boko-Haram
--------
URL: https://www.newageislam.com/islamic-world-news/inter-religious-music-ensemble-gospel/d/113899
New Age Islam, Islam Online, Islamic Website, African Muslim News, Arab World News, South Asia News, Indian Muslim News, World Muslim News, Women in Islam, Islamic Feminism, Arab Women, Women In Arab, Islamophobia in America, Muslim Women in West, Islam Women and Feminism