New Age Islam News Bureau
2 Aug 2013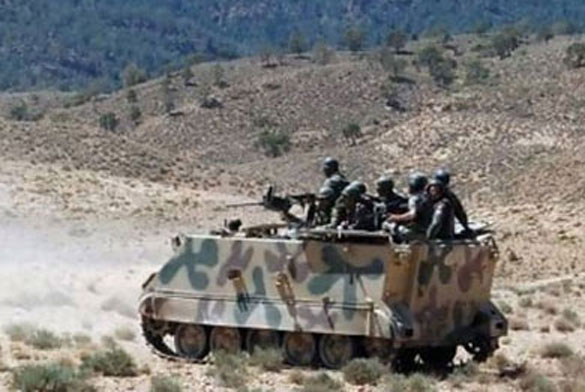 The Tunisian army launched an assault against fugitive Islamist militants in the Mount Chaambi area, near the border with Algeria. (Photo: AFP)
-----------
Arab World
• Influential Salafist cleric warns of cycle of bloodshed in Egypt
• Iraq's Baha'is Continue to Face Persecution, Social Exclusion
• 12 jihadists killed in north Syria: NGO
• Egypt offers safe exit to Islamists if they end sit-ins
• Islamist Mursi's supporters urge mass rallies amid fears of violence
• Jordan seizes 'large amount of weapons' near Syria border
• Qusayr, symbol of Syrian war, slowly comes back to life
• Kurdish Struggle Blurs Syria's Battle Lines
• Morsi loyalists slam Kerry's comments on Egypt coup
Pakistan
• Orders for hanging of two Lashkar-i-Jhangvi men issued
• Human rights: 'Abuse of blasphemy laws must be stopped'
• We will promote trade, business with India: Pakistan PM Sharif
• Imran contempt case: SC orders PTI chief to resubmit explanation
• Zardari asks US to prepare 'Marshall Plan' for Pakistan
• Punjab Assembly demands protection of Muslim holy places in Syria
•
4 Taliban commanders, 1 sectarian terrorist, criminals among escaped prisoners
• Shia leader, son killed in Rahim Yar Khan
• Ready to go to jail, but won't apologise: Imran
• Imran tells Kerry drones helping terrorists
• Missing person case: Missing persons issue will not be resolved through task force, says CJ
• Pakistan proposes dates to India for Composite Dialogue
Africa
• Boko Haram spiritual leader Shekau Shot, Deposed
• Tunisia launches 'huge' anti-Islamist operation
• Tunisian union gives government one week to step down
• Nigeria: Death toll in blasts in Christian area 27
India
• Vice President to represent India at swearing-in of Iranian President
• Ramadan meal in India's Kashmir turns into communal harmony
• Vegetarian meal at Iftar in Chennai serves interfaith dialogue
• 12 infiltrators killed in Kupwara
• Antony reviews security situation in J&K, Northeastern states
• 'Nai Ki Mandi' in Agra jubilant over Mamnoon Hussain's election as Pakistan president
Mideast
• Iran's president-elect calls Israel a 'wound' on Muslim world
• Khamenei issues new fatwa against "deviant and misleading" Iran's Baha'I
• Hamas warns of a 'humanitarian crisis' if Rafah crossing to Gaza is not re-opened
• Israeli plan to relocate 40,000 Bedouin sparks protest
• Israel charges Orthodox Jew with spying for Iran
• Iran hands over 59 Pakistani deportees
• Iran Assails House Sanctions Bill, Saying It Will Complicate Nuclear Dispute
Southeast Asia
• Government Seeks 'Enlightenment' for Displaced Shiites before Returning to Sunni Sampang
• Military operation in Aceh was 'gross human rights violation'
• Banners supporting HM at Seri Pristana bad for non-Muslim students
• Indonesia Moves Islamic Solidarity Games — Again
• Eid ul Fitr sermon to warn Muslims against 'enemies of Islam'
South Asia
• Wary of US' 'Asia pivot' strategy, China keeps eye on Kerry's Pakistan visit
• Three Hizb-ut Tahrir men arrested
• Hackers of Bangladesh, Indonesia engage in cyber-war
• Jamaat-Shibir men go on rampage over HC verdict
• Police ordered to investigate Nasheed administration over SAARC Summit, alcohol
• China reiterates opposition to US sanctions on Iran
Europe
• Norway mass killer wants to go back to school
• France holds Kazakh oligarch Ablyazov wanted in Ukraine
• Germany's Helmut Kohl 'wanted half of Turks sent back'
• UNICEF urges govts to speak out on violence against children
North America
• Obama, Yemen leader to meet on Gitmo after drone strike
• Kerry says Egyptian army intervened to save democracy
• US 'extremely disappointed' with Russia over Snowden asylum
• US Embassies, Consulates In The 'Muslim World' To Be Closed On Aug. 4 Over Security Warning
Compiled by New Age Islam News Bureau
URL: https://www.newageislam.com/islamic-world-news/new-age-islam-news-bureau/influential-salafist-cleric-warns-of-cycle-of-bloodshed-in-egypt/d/12871
------------
Arab World
Influential Salafist cleric warns of cycle of bloodshed in Egypt
August 02, 2013
An influential ultra-conservative Egyptian cleric on Thursday has warned that using violence to break up sit-in protests by supporters of the ousted president Mohamed Morsi will lead to more bloodshed.
The emotional address by a tearful Mohamed Haasan comes hours after the Egyptian authorities offered thousands of pro-Morsi protesters "safe passage and protection" to end the demonstrations in Cairo's Nasr City and in Giza, near the Cairo University.
Haasan warned the military that a bloody confrontation would plunge it into conflict with the country's Islamists.
The military ousted the Islamist president Mohamed Morsi on 3 July after days of mass protests by millions of Egyptians demanding that he step down. Morsi's supporters have been staging marathon sit-in protests at two locations in Cairo.
Haasan's 15 minutes appeal was aired Thursday by Al-azeera.
http://english.ahram.org.eg/NewsContent/1/64/77981/Egypt/Politics-/Influential-Salafist-cleric-warns-of-cycle-of-bloo.aspx
------------
Iraq's Baha'is Continue to Face Persecution, Social Exclusion
By: Ali Mamouri
02/08/2013
Iraq is one of the main starting points of the Baha'i religion. Baha'u'llah, the founder of the religion, spent 10 years in Iraq, where he announced his religious call. This occurred in the Radwan garden in Baghdad, which is said to be on the banks of the Tigris River in what is currently Baghdad Medical City. The Baha'i religion was preceded by a heavy presence of the followers of Bab (another central figure to the Baha'i religion) in Iraq, most notably Tahirih Qurratu l-`Ayn, the most prominent female figure among them.
Ever since its establishment, the Baha'i religion has been facing pressure and persecution in the Middle East at large, and in Iraq in particular. Many of its followers have been killed and its holy sites destroyed. Baha'is have been subjected to investigations and persecution during different periods. A number of provocative writings have been produced against Baha'is, supporting violence against them. They have been accused of a variety of charges, ranging from undermining religion to preaching atheism, pornography and being the fruit of colonialism and Zionism, and the list goes on.
There are no official statistics on Baha'is in Iraq, and their exact number remains unknown due to adherents' fear of revealing their identities. Al-Monitor's correspondent met with a number of Baha'is in Baghdad and Sulaimaniyah in the Iraqi Kurdistan Region. However, none of those interviewed gave statistics on their numbers, due to their dispersion as a result of the intense fear of being oppressed by both the authorities and ordinary citizens. However, Baha'is in Sulaimaniyah feel safer and have greater stability than their brothers in Baghdad, although they abstain from openly practicing their faith for the above-mentioned reasons.
During the royal era, however, Baha'is managed to officially declare their identity. The Iraqi Baha'i community was founded in 1931, the first central Baha'i forum was established in 1936 in the al-Sa'doun region and they have possessed a cemetery in the New Baghdad district since 1952 known as the "eternal garden." The Iraqi government registered the Baha'i religion in the 1957 census.
Restrictions on Baha'is started to gradually spread following the fall of the monarchy, until the repression reached its peak during the reign of the Baath regime. The regime issued a set of decisions against Baha'is in 1970, and published them in the Official Gazette of Iraq. Under these decisions, the Baha'i religion was officially banned and Baha'is were deprived of all their property and forbidden from registering their religion in civil records. Furthermore, they were ordered to delete references to the Baha'i faith from existing records and replace them with one of the three officially recognized Abrahamic religions. Subsequently, a large number of adherents were imprisoned and many Baha'i political and religious followers were sentenced to death in the late 1970s.
The above risks led Baha'is to either completely close themselves off or emigrate from Iraq. Despite the openness that followed the fall of deposed president Saddam Hussein's regime in 2003, Baha'is in Iraq are still hiding, living in fear of declaring their social identity and preferring not to practice their religion in public.
One Baha'i woman told Al-Monitor that after being released from the "prison" of Hussein's regime, she felt that she had moved from a small prison to a societal one, harsher and more violent than the former. Life in "prison," she felt, used to protect her from the culture of exclusion toward Baha'is prevailing in Iraqi society.
Saad Salloum, a specialist on Iraqi minorities, told Al-Monitor that the regime change in 2003 in no way changed the situation for Baha'is. The Baha'i religion is still officially banned and Baha'is are still not allowed to list their religion on civil records. They have not regained their confiscated property and the decisions issued against them have not been abolished.
Despite all of the violence and exclusion practiced against Baha'is, there have been a recent set of legal and religious developments that serve the interests of Baha'is and improve their social status, even if legal progress is slow. According to Statement No. 42 published in issue 4224 of Iraqi Facts on Dec. 26, 2011, Iraqi Culture Minister Saadoun al-Dulaimi issued a decree whereby the house that was inhabited by Baha'u'llah when he was in Baghdad is now deemed a heritage site. It is worth noting that the location has turned into a Shiite ceremonial hall known as "Sheikh Bashar," currently located in the Al-Tala'eh neighborhood of Baghdad.
However, Salloum said that the place had been torn down in an attempt to discourage the Baha'is, who were not deterred and show willingness to rebuild it if offered the chance.
At the religious level, fatwas were issued by Shiite scholars in Qom and Najaf, offering a different perspective on the Baha'i religion and including a level of tolerance toward it. Chief among these is the Baha'i-related fatwa issued by Ayatollah Hossein Ali Montazeri in 2009. This fatwa calls for respecting their rights as citizens, despite the religious differences between them and Muslims.
A study entitled "A Historical Glimpse at Iraq's Religious Minorities: History and Beliefs" was published by Jawad al-Khoei, a professor at the Najaf Shiite seminary. This study includes a scientific and neutral vision toward all Iraqi religions — including the Baha'is — reflecting greater openness at the level of the religious elites. Also, Iranian journalist Mohammad Nourizadi, who opposes the absolute authority of velayat-e faqih (rule of Islamic jurists), visited the house of a Baha'i family to offer them an official apology for the political and societal persecution and violence that they suffered through the years at the hands of the Muslim majority. This step was positively received, and some Iraqi Facebook pages called for a similar act to be carried out on the Iraqi side.
Iraq's Baha'is hope to be officially recognized, protected at the legal and security levels and allowed to assert their identity, practice their religious rituals and retrieve their property, especially of that of symbolic and religious value.
Ali Mamouri is a researcher and writer who specializes in religion. He is a former teacher in Iranian universities and seminaries in Iran and Iraq. He has published several articles related to religious affairs in the two countries and societal transformations and sectarianism in the Middle East.
http://www.al-monitor.com/pulse/originals/2013/08/iraq-bahais-persecution-religious-minority.html#ixzz2arVnxXdA
-------
12 jihadists killed in north Syria: NGO
2 Aug 2013
Fresh clashes between Kurdish fighters and jihadists erupted in the majority Kurdish province of Hasakeh in northern Syria early on Friday, a monitoring group said.
At least 12 members of the Islamic State of Iraq and the Levant (ISIS) were killed, said the Syrian Observatory for Human Rights, which added that 22 Kurdish fighters have been killed over the past few days.
Reports of the latest Kurdish-jihadist violence emerged a day after at least 31 civilians, among them five women and four children, were killed in army shelling and an assault in the northwestern province of Idlib.
Meanwhile, Kurdish activists said there was heavy fighting in villages between Cel Agha and Gerke Lage as radical Islamists shelled Ras al-Ain.
"There was fierce shelling of Ras al-Ain at dawn today (Friday)," said Syrian Kurd activist Havidar, who also reported Islamists and Kurds fighting on the edges of the town.
Kurds expelled jihadist groups from Ras al-Ain in mid-July. Clashes have raged ever since in areas that are home to sizeable Kurdish populations.
The fate of some 200 Kurds taken hostage by jihadists on Wednesday remains unknown, the Observatory's Rami Abdel Rahman told AFP.
Elsewhere on Friday, forces loyal to President Bashar al-Assad again shelled the rebel-held area of Jouret al-Shiyah in the central city of Homs, said the Observatory.
The bombardment comes five days after the key rebel neighbourhood of Khaldiyeh fell out of rebel control and into army hands.
Assad's regime is pressing an offensive aimed at taking back remaining rebel areas in Homs, Syria's third city and dubbed by activists as "the capital of the revolution".
Meanwhile, the air force staged several air strikes on rebel areas across Syria, including two on Al-Harra in the southern province of Daraa, where rebels have made significant progress in recent weeks, said the Observatory.
Friday's violence comes a day after at least 185 people were killed across Syria, the Britain-based watchdog said.
Among them were at least 24 civilians killed in and around the town of Ariha, whose main souk (market) was shelled by regime forces on Thursday, according to the Observatory.
Another seven civilians died in a subsequent army assault on a village near Ariha.
The Observatory also said that at least 43 people were killed in a massive explosion in an ammunitions depot in Homs on Thursday. The blast was apparently triggered by rebel rocket fire.
Most of those killed were members of the regime's paramilitary National Defence Force, said the Observatory, without elaborating.
More than 100,000 people have been killed in Syria's raging war, the United Nations says.
http://english.ahram.org.eg/NewsContent/2/8/78028/World/Region/-jihadists-killed-in-north-Syria-NGO.aspx
---------
Egypt offers safe exit to Islamists if they end sit-ins
Saumya Pant, TNN | Aug 2, 2013
CAIRO: Egypt's interim government on Thursday urged supporters of deposed president Mohamed Morsi to return to their homes and end the sit-ins in Cairo, assuring them a safe exit if they do so peacefully.
The military-backed government had on Wednesday ordered the country's security forces to break up protest encampments outside Rabaa al-Adawiya mosque in Cairo's district of Nasr City and Nahda Square near the main campus of Cairo University.
The appeal was made by interior ministry spokesman Hany Abdel Latif on state television.
The pro-Morsi supporters have been camping at these two places since July 3, when the Islamist president was deposed in a militarybacked coup.
Wednesday's threat had raised the possibility of violence. More than 200 have lost their lives in the clashes following Morsi's ouster.
Latif said if protesters left the sites peacefully, they would be guaranteed a safe exit. No deadline was set.
"There is no specified date. We will continue to study the situation on the ground," Latif said.
Mohamed Beltagy, the general secretary of the Freedom and Justice Party, the Muslim Brotherhood's political arm, said, "They are making excuses to justify a massacre."
"We don't believe that they are honest and don't trust them. They removed a legitimate president in a bloody coup. Do you think they are honest about the safe passage?" said Wafaa Hefny, a member the wing. The Brotherhood said it would not budge from its demand of Morsi's re-instatement.
Meanwhile, the Egyptian government is taking extreme measures to keep Mohammed Morsi hidden.
The military also has reportedly moved Morsi at least three times.
http://timesofindia.indiatimes.com/world/middle-east/Egypt-offers-safe-exit-to-Islamists-if-they-end-sit-ins/articleshow/21543859.cms
--------
Islamist Mursi's supporters urge mass rallies amid fears of violence
2 August 2013
Islamist supporters of Egypt's ousted President Mohammad Mursi called for mass rallies on Friday, raising fears of renewed violence as the government threatened to use force to break up their sit-ins in Cairo.
The call came as U.S. Secretary of State John Kerry lent support to the military-led overthrow of Mursi, saying the move had been requested by millions.
Kerry's comments are the closest Washington has come to publicly embracing the July 3 coup that toppled Mursi.
"The military was asked to intervene by millions and millions of people, all of whom were afraid of a descendance into chaos, into violence," Kerry told Pakistan's Geo television:
"And the military did not take over, to the best of our judgment -- so far. To run the country, there's a civilian government. In effect, they were restoring democracy," he added.
Allaa Mostafa, a spokeswoman for the pro-Mursi Anti Coup Alliance, told AFP that demonstrators would "continue our sit-ins and our peaceful protests" against what she termed a "coup d'etat."
The government had warned Mursi's supporters on Thursday to abandon their Cairo protest camps, promising them a safe exit if they gave up without a fight.
The call by Interior Ministry spokesman Hany AbdelLatif followed the government's declaration on Wednesday it was ready to take action to end two weeks of sit-in protests by thousands of Mursi supporters at two sites, according to Reuters.
European Union envoy Bernardino Leon, who has been trying to defuse political tensions on a trip to Cairo, said the EU would not easily accept the use of violence to break up the protest camp and that such action would have to be explained to the international community, Al-Hayat television station reported.
It quoted him as saying efforts should be made to reach apolitical solution by reaching out to moderates on both sides.
Following the ouster of Mursi on July 3, several leaders of the Muslim Brotherhood its allied Islamist groups were arrested and charged with inciting violence.
http://english.alarabiya.net/en/News/middle-east/2013/08/02/Mursi-s-supporters-urge-mass-rallies-amid-fears-of-violence.html
------------
Jordan seizes 'large amount of weapons' near Syria border
2 August 2013
A large amount of weapons and ammunition were seized in the northern border near Syria, the Jordanian Armed Forces said in an official statement aired on the country's official TV Thursday.
"Border guards on the northern frontier – near border city of Al-Ramtha – confiscated large quantities of weapons, ammunition and drugs," the statement said.
The Jordanian Armed Forces, meanwhile, didn't give further details on the type of weapons that were confiscated.
The people attempting to smuggle these weapons were also arrested but their identities were kept anonymous as well.
Full report at:
http://english.alarabiya.net/en/News/middle-east/2013/08/02/State-TV-Jordan-seizes-large-amount-of-weapons-near-Syria-border-.html
------------
Qusayr, symbol of Syrian war, slowly comes back to life
2 August 2013
On the central reservation down the main road in the former rebel bastion of Qusayr in central Syria, three men are clearing weeds, planting palm trees and pruning oleander bushes.
Behind them, a blue metal sign with white lettering for the "Savings Bank -- Qusayr branch" is riddled with bullet holes, and in front stands what is left of a statue of President Bashar al-Assad's brother Bassel who died in a car crash.
Full report at:
http://english.alarabiya.net/en/perspective/features/2013/08/02/Qusayr-symbol-of-Syrian-war-slowly-comes-back-to-life.html
------------
Kurdish Struggle Blurs Syria's Battle Lines
By BEN HUBBARD and an EMPLOYEE
August 02, 2013
BEIRUT, Lebanon — Street names in Syria's far northeastern corner have been changed from Arabic to Kurdish, schools openly teach the Kurdish language, and the country's most powerful Kurdish militia flies its flag from checkpoints on main roads.
Across northeastern Syria, the Kurds, the country's largest ethnic minority, have taken advantage of the vacuum left by the civil war to push for the autonomy long denied them by the government of President Bashar al-Assad.
Their struggle does not fit neatly into the war between Mr. Assad's government and the rebels seeking his ouster, and different parts of the scattered Kurdish population have allied at times with forces on either side.
Full report at:
http://www.nytimes.com/2013/08/02/world/middleeast/syria.html
------------
Morsi loyalists slam Kerry's comments on Egypt coup
AFP | Aug 2, 2013
CAIRO: Supporters of Egypt's ousted president Mohamed Morsi on Friday slammed US secretary of state John Kerry after he said the military was "restoring democracy" by deposing the Islamist leader.
"Is it the job of the army to restore democracy?" asked Gehad al-Haddad, a spokesman for Morsi's Muslim Brotherhood in a statement.
"Does secretary Kerry accept defence secretary (Chuck) Hagel to step in and remove (US President Barack) Obama if large protests take place in America?
"Will the US army freeze the constitution and dismantle Congress and (the) Senate? Can they appoint a president that they solely choose?"
Full report at:
http://timesofindia.indiatimes.com/world/middle-east/Morsi-loyalists-slam-Kerrys-comments-on-Egypt-coup/articleshow/21551010.cms
------------
Pakistan
Orders for hanging of two Lashkar-i-Jhangvi men issued
ISHAQ TANOLI
August 02, 2013
KARACHI, Aug 1: An anti-terrorism court has issued black warrants for the execution of two activists of the banned Lashkar-i-Jhangvi in a doctor's murder case, it emerged on Thursday.
Attaullah alias Qasim and Mohammad Azam alias Sharif were sentenced to death by an anti-terrorism court in July 2004 after finding them guilty of killing Dr Ali Raza Peerani on sectarian grounds in June 2001 in Soldier Bazaar.
The court directed the jail authorities at the central prison in Sukkar to hang Attaullah and Azam, one on Aug 20 and the other on Aug 21.
Earlier, the jail authorities informed the ATC-III that the last stay order issued by the president in the case had expired on June 30 and since then they had not received any further order to delay the execution and asked the court to issue fresh back warrants for the convicts.
Full report at:
http://dawn.com/news/1033468/orders-for-hanging-of-two-lj-men-issued
------------
Human rights: 'Abuse of blasphemy laws must be stopped'
August 02, 2013
FAISALABAD: Violence against vulnerable groups must be stopped for social harmony and peaceful coexistence, said human rights' activists at a seminar organised by the Association of Women for Awareness and Motivation (AWAM) here at the Unity Hall on Thursday.
The meeting was arranged to establish a network of human rights' defenders for preventing violations against rights to expression, association, assembly and thought as well as to warn the minority groups about attacks against them.
Full report at:
http://tribune.com.pk/story/585265/human-rights-abuse-of-blasphemy-laws-must-be-stopped/
------------
We will promote trade, business with India: Pakistan PM Sharif
August 02, 2013
Relations between India and Pakistan should be like that of two neighbours, with the focus being on trade and business, Prime Minister Nawaz Sharif said on Thursday.
Sharif made the remarks while interacting with reporters during a rare visit to Karachi, Pakistan's financial hub.
Asked by a journalist about the state of ties with India, he said relations "should be like how relations are between two neighbours."
"We will promote trade, investment and business," he said. Pakistan wants to maintain good ties with India but it will also endeavour to resolve long-standing issues, including the Kashmir dispute, he said.
Full report at:
http://www.hindustantimes.com/world-news/pakistan/We-will-promote-trade-business-with-India-Pakistan-PM-Sharif/Article1-1101929.aspx
------------
Imran contempt case: SC orders PTI chief to resubmit explanation
August 02, 2013
ISLAMABAD: The Supreme Court of Pakistan on Friday ordered Imran Khan to resubmit his reply before August 28 in a case pertaining to the contempt of court notice issued to the Pakistan Tehrik-i-Insaaf (PTI) chief and adjourned the hearing to the said date.
Pakistan's top court had issued a notice to the PTI chief over his "critical and derogatory" remarks against the judiciary and judges of the apex court. It said that Mr Khan apparently had tried to incite hatred against the apex court in one of his interactions with the media.
A three-judge bench, headed by Chief Justice Iftikhar Muhammad Chaudhry, was hearing the case today.
Full report at:
http://dawn.com/news/1033600/imran-contempt-case-sc-orders-pti-chief-to-resubmit-explanation
------------
Zardari asks US to prepare 'Marshall Plan' for Pakistan
August 02, 2013
ISLAMABAD: President Asif Ali Zardari on Thursday called upon the international community, especially the United States, to step forward and prepare a 'Marshall Plan' for Pakistan for strategic economic stability and advancement of the country's development agenda.
The president said that the people of Pakistan have suffered greatly as a result of the ongoing fight against militancy and terrorism and there was need for the international community to give its people the peace dividend by way of massive economic assistance, energy development and greater market access. The president said this during his one-on-one and delegation-level meetings with US Secretary of State John Kerry at the Presidency on Thursday. Spokesperson to the president, Senator Farhatullah Babar, while briefing about the meetings, said that Secretary Kerry congratulated the president on the peaceful and democratic transfer of civilian power in the country and appreciated his overseeing various phases of the smooth transition.
Full report at:
http://www.dailytimes.com.pk/default.asp?page=2013\08\02\story_2-8-2013_pg1_4
------------
Punjab Assembly demands protection of Muslim holy places in Syria
August 02, 2013
LAHORE: Punjab Assembly on Thursday unanimously passed a resolution, asking federal government to demand Syria to ensure security of Muslim's holy places in their country.
The resolution with similar content was presented by the different political parties during a session held here at assembly chamber under the chair of deputy speaker Sher Ali Gorchani.
The resolution was read out by the Law Minister Rana Sanaullah and it was later passed with consensus.
Full report at:
http://www.dailytimes.com.pk/default.asp?page=2013\08\02\story_2-8-2013_pg13_5
--------
4 Taliban commanders, 1 sectarian terrorist, criminals among escaped prisoners
August 02, 2013
PESHAWAR: The more than 30 known militants who escaped from the Central Prison Dera Ismail Khan on Monday night as a result of the jailbreak included those involved in terrorist attacks, sectarian violence and kidnappings for ransom, a senior government official said.
Mushtaq Jadoon, commissioner, Dera Ismail Khan, told The News that these 30-35 prisoners were dangerous as they were captured for taking part in acts of terrorism and heinous crimes. "Some of them were criminals involved in kidnappings for ransom," he added.
Full report at:
http://www.thenews.com.pk/Todays-News-7-193819-4-Taliban-commanders-1-sectarian-terro
---------
Shia leader, son killed in Rahim Yar Khan
August 2, 2013
BAHAWALPUR: The Shia Council's Divisional President Sheikh Manzoor Hussain and his younger son Haider Ali were killed as a result of firing in Rahim Yar Khan on Friday.
Hussain was leaving his house in Umar Block, Abbasia Town, Rahim Yar Khan with his son for participating in a rally led by Haidri Trust on 'Youm-e-Quds' when six riders on two motorcycles started firing on them just as they were about to enter their car.
Full report at:
http://tribune.com.pk/story/585541/shia-leader-son-assassinated-in-rahim-yar-khan/
---------
Ready to go to jail, but won't apologise: Imran
August 02, 2013
ISLAMABAD - Adamant that he will never apologise come what may, Imran Khan, who heads Pakistan Tehreek-e-Insaf, would face a three-judge bench in a contempt case in Supreme Court on Friday (today).
"I am ready to go to jail, but I will not apologise," was the remark a defiant cricketer-turned-politician made on Thursday as he braced himself for a Friday showdown with the apex court.
Full report at:
http://www.nation.com.pk/pakistan-news-newspaper-daily-english-online/national/02-Aug-2013/ready-to-go-to-jail-but-won-t-apologise-imran
---------
Imran tells Kerry drones helping terrorists
August 02, 2013
ISLAMABAD - Pakistan Tahreek Insaf (PTI) Chairman Imran Khan had a one-on-one meeting with US Secretary of State John Kerry this afternoon in Islamabad where he told his party's viewpoint on drone attacks in Pakistan, war on terrorism and the US withdrawal from Afghanistan.
Full report at:
http://www.nation.com.pk/pakistan-news-newspaper-daily-english-online/editors-picks/02-Aug-2013/imran-tells-kerry-drones-helping-terrorists
---------
Missing person case: Missing persons issue will not be resolved through task force, says CJ
August 02, 2013
Chief Justice (CJ) Iftikhar Muhammad Chaudhry has remarked severe punishment be awarded to the accused persons but all the family members be not subjected to injustice.
He further remarked " we had earlier decided that the undercover persons will not be brought to fore. But the patience has now run out and we will not care for any one. We have heard too much stories.
Full report at:
http://www.nation.com.pk/pakistan-news-newspaper-daily-english-online/islamabad/02-Aug-2013/missing-person-case-missing-persons-issue-will-not-be-resolved-through-task-force-says-cj
---------
Pakistan proposes dates to India for Composite Dialogue
August 02, 2013
Pakistan has proposed dates to India for resumption of composite dialogue for resolution of outstanding issues.
Briefing media persons here in Islamabad on Friday' Foreign Office Spokesperson Aizaz Ahmad Chaudhry said dates have been proposed for two of eight elements of composite dialogue. One relates to the Wullar Barrage and the other to Sir Creek.
Full report at:
http://www.nation.com.pk/pakistan-news-newspaper-daily-english-online/national/02-Aug-2013/pakistan-proposes-dates-to-india-for-composite-dialogue
--------
Africa
Boko Haram spiritual leader Shekau Shot, Deposed
BY BY UDUMA KALU WITH AGENCY REPORTS, 2 AUGUST 2013
Borno — Sheikh Abubakar Shekau, leader of the violent Islamic sect, Boko Haram, has reportedly been shot and deposed by members of his own sect, Boko Haram. A new leader, Abu Zamira Mohammed, who is the sect's leader negotiating with the federal government has been appointed new leader by the group's Shura Council.
The group also said that its ceasefire declaration is working, pointing out that there has not been any suicide bombing since the declaration. It noted its condemnation of the Yobe massacre where 40 students were killed, adding that some politicians now commit murder and ascribe it to Boko Haram Shekau On the Kano blasts last Monday, which led to the death of about 45 people, the group blamed it on federal government's tardiness in responding to the ceasefire agreement.
Full report at:
http://allafrica.com/stories/201308020218.html?viewall=1
------------
Tunisia launches 'huge' anti-Islamist operation
2 August 2013
The Tunisian army launched a "huge" land and air operation against Islamist militants hiding in remote mountains near the Algerian border, the armed forces spokesman announced on Friday, AFP reported.
"A huge operation, with ground and air units, was launched at dawn," he told Mosaique FM radio.
The spokesman said the assault was mounted after clashes on Thursday night between soldiers and "a terrorist group", referring to fugitive Islamist militants.
The move comes after a week of violence in the country. Eight Tunisian soldiers were found dead on Monday in Mount Chaambi, an area near the border with Algeria, after an ambush by Islamic militants.
Full report at:
http://english.alarabiya.net/en/News/middle-east/2013/08/02/Tunisia-launches-huge-anti-Islamist-operation.html
------------
Tunisian union gives government one week to step down
2 August 2013
Tunisia's powerful union federation said on Friday that the embattled Islamist-led government had one week to reach a deal for creating a new technocrat government, otherwise it will be "forced to consider" other options.
The 600,000-strong Tunisian General Labor Union (UGTT) has been trying to mediate between the ruling Ennahda party and the secular opposition, which is demanding the government's ouster as well as the dissolution of a transitional Constituent Assembly that is only weeks away from completing the country's new draft constitution.
Full report at:
http://english.alarabiya.net/en/News/middle-east/2013/08/02/Tunisian-union-gives-government-one-week-to-step-down.html
------------
Nigeria: Death toll in blasts in Christian area 27
The Associated Press
August 02, 2013
A Christian leader says he carried three bodies from this week's multiple blasts in the northern Nigerian city of Kano to a military hospital, raising the toll to at least 27 dead.
Tobias Itika of the Christian group Ohaeneze said Friday the three were not counted in a toll from two other hospitals. He said other victims were treated at an orthopedic hospital but he did not have an exact figure. Two other hospitals reported treating 20 wounded.
Full report at:
http://www.durangoherald.com/article/20130802/API/1308020593/Nigeria:-Death-toll-in-blasts-in-Christian-area-27
------------
India
Vice President to represent India at swearing-in of Iranian President
TNN | Aug 2, 2013
NEW DELHI: Vice President Hamid Ansari will represent India at the swearing-in ceremony of new Iranian President Hasan Rouhani on August 4, government confirmed on Thursday.
Rouhani, who won a landslide victory in the June 14 presidential election, will be sworn in on August 4. He succeeds President Mahmoud Ahmadinejad.
Iran has sent invitations to several world leaders to attend Rouhani's inauguration. In a message to PM Manmohan Singh, Rouhani had said earlier that expansion of all-out relations with India will be a foreign policy priority for the next Iranian administration.
http://timesofindia.indiatimes.com/india/Hamid-Ansari-to-represent-India-at-swearing-in-of-Iranian-President/articleshow/21542286.cms
------------
Ramadan meal in India's Kashmir turns into communal harmony
2 August 2013
Muslims in northern India's Jammu and Kashmir state invited guests from various communities for an Iftar dinner - the evening meal at which Muslims break their daily Ramadan fast, setting an example of promoting communal amity.
Kashmiris are well known for their hospitality and communal harmony all over the world and the holy month of Ramadan accentuates these traits.
Among many traditions followed in the state one of the oldest traditions has been holding Iftar dinners (fast-breaking meal) jointly with various communities, which is being revived after it was lost during insurgency since decades.
Full report at:
http://english.alarabiya.net/en/special-reports/ramadan-2013/2013/08/02/Ramadan-meal-in-India-s-Kashmir-turns-into-communal-harmony-.html
------------
Vegetarian meal at Iftar in Chennai serves interfaith dialogue
C D S Mani, TNN | Aug 2, 2013
CHENNAI: The first inter-faith vegetarian Iftar party was hosted in the city on Thursday to honour the sentiments of people of other faiths, who do not consume meat.
It was organised by the Islamic Welfare Association, Government Madrasa-I-Azam mosque and Home for Poor Boys. Dr Syed M M Ameen, who is the president of all three organizations, said while he had organized nine inter-faith Iftars earlier, this was the first vegetarian iftar party. "We wanted to honour those who are strictly vegetarian," he said, but admitted he "found it hard to convince people of our own faith as we are accustomed to consume more non-vegetarian food during these Ramzan festival days". Food items served included vegetable Biryani, Brinjal chutney, iddyappam kurma, vegetable porridge and ghee-based sweets.
Full report at:
http://timesofindia.indiatimes.com/city/chennai/Veg-meal-at-iftar-serves-interfaith-dialogue/articleshow/21542743.cms
------------
12 infiltrators killed in Kupwara
M Saleem Pandit, TNN | Aug 2, 2013
SRINAGAR: The Indian Army in a five day long counter-infiltration operation has killed a dozen militants along the Line of Control (LoC) in north Kashmir's Kupwara district.
The counter-infiltration operation was launched following the intelligence inputs and suspicious movement noticed along the LoC in Kupwara. According to sources, there has been a fresh spurt in the infiltration attempts by the militants from the Pakistani side of the LoC.
Full report at:
http://timesofindia.indiatimes.com/india/12-infiltrators-killed-in-Kupwara/articleshow/21552360.cms
---------
Antony reviews security situation in J&K, Northeastern states
Aug 01 2013
New Delhi : Defence Minister A K Antony on Thursday reviewed the security situation in and around the country with the National Security Advisor and the three service chiefs.
During the meeting, the three service chiefs briefed the Defence Minister about the prevailing security situation in the region and the measures taken by the Army to tackle terrorism in Jammu and Kashmir and the northeastern areas, ministry officials said.
Full report at:
http://www.indianexpress.com/news/antony-reviews-security-situation-in-j-k-northeastern-states/1149902/
---------
'Nai Ki Mandi' in Agra jubilant over Mamnoon Hussain's election as Pakistan president
Archana Khare Ghose, TNN | Aug 1, 2013
NEW DELHI: Haji Nizamuddin, an 88-year-old resident of 'Nai Ki Mandi' in Agra and a distant relative of the new president of Pakistan Mamnoon Hussain, didn't live to see the day he was so eager about. He passed away on July 29, just a day before Hussain was elected the 12th president of Pakistan. The news would have been sweeter for him because he lived and passed away in the house where Hussain was born in 1940. Hussain's family had migrated to Pakistan in 1947.
Full report at:
http://timesofindia.indiatimes.com/india/Nai-Ki-Mandi-in-Agra-jubilant-over-Mamnoon-Hussains-election-as-Pakistan-president/articleshow/21532153.cms
--------
Mideast
Iran's president-elect calls Israel a 'wound' on Muslim world
August 02, 2013
Iran's president-elect, cleric Hassan Rouhani, on Friday called Israel a "wound" that must be removed, Iranian media reported, two days ahead of his inauguration.
"The Zionist regime is a wound that has sat on the body of the Muslim world for years and needs to be removed," Iran's student news agency quoted Rouhani as saying at the annual Qods Day rally in support of Palestinian rights.
http://www.reuters.com/article/2013/08/02/us-iran-israel-idUSBRE9710GN20130802
--------
Khamenei issues new fatwa against "deviant and misleading" Iran's Baha'I
August 02, 2013
Iran's supreme leader is urging Iranians to avoid all dealings with members of the banned Bahai sect in a possible prelude to further crackdowns on the minority.
Iran already bans the Bahai, a religion founded in the 1860s by a Persian nobleman considered a prophet by followers. Muslims consider Muhammad the final prophet.
The fatwa, or religious edict, by Supreme Leader Ayatollah Ali Khamenei is his latest against the group. It supports similar Fatwas in the past by other clerics.
Full report at:
http://english.alarabiya.net/en/News/middle-east/2013/08/01/Top-Iran-leader-issues-edict-on-Bahai-faith.html
------------
Hamas warns of a 'humanitarian crisis' if Rafah crossing to Gaza is not re-opened
August 02, 2013
The Hamas Foreign Ministry on Thursday warned of a possible humanitarian crisis in the Gaza Strip caused by "the closure of the Rafah crossing." The Ministry called for the reopening of the crossing to all goods and passengers travelling to the Strip, reported Al-Ahram Arabic news website.
Full report at:
http://english.ahram.org.eg/NewsContent/2/8/77971/World/Region/Hamas-warns-of-a-humanitarian-crisis-if-Rafah-cros.aspx
------------
Israeli plan to relocate 40,000 Bedouin sparks protest
2013-08-02
NEGEV DESERT (Israel), Aug 1: Hundreds of people protested in the Negev desert of southern Israel on Thursday against Israeli plans to resettle up to 40,000 Bedouin and demolish 40 villages in the region.
Israeli Arabs and Jews gathered at a highway junction near the town of Beersheba, holding up slogans demanding the government "drop" the plans, as horse-mounted police in riot gear looked on.
"We're fighting against the Prawer plan. It's like another Nakba (catastrophe) for us," said 24-year-old Etedal Suleiman, resident of a nearby Bedouin village, in historical reference to 760,000 Palestinians fleeing their homes after Israel's creation in 1948.
Full report at:
http://dawn.com/news/1033545/israeli-plan-to-relocate-40000-bedouin-sparks-protest
------------
Israel charges Orthodox Jew with spying for Iran
2013-08-02
JERUSALEM, Aug 1: Israel charged on Thursday an ultra-Orthodox Jew with spying for Iran, the Jewish state's internal security service said.
The man belonged to Neturei Karta, an ultra-Orthodox group opposed to the existence of the state of Israel, and he is suspected by Shin Bet internal security of having contacted Iran's embassy in Berlin in 2011 to offer intelligence.
Full report at:
http://dawn.com/news/1033546/israel-charges-orthodox-jew-with-spying-for-iran
------------
Iran hands over 59 Pakistani deportees
August 02, 2013
QUETTA: Iranian security forces handed over 59 Pakistani nationals to the Levies force on Pak-Iran border in Taftan area of Chagai district on Thursday Levies forces said that these Pakistani workers were apprehended in Iran because they were living there without valid travelling documents. After completing the initial investigation, the Levies force handed over these deportees to the Federal Investigation Agency (FIA) for further interrogation.
http://www.dailytimes.com.pk/default.asp?page=2013\08\02\story_2-8-2013_pg7_8
------------
Iran Assails House Sanctions Bill, Saying It Will Complicate Nuclear Dispute
By THOMAS ERDBRINK and RICK GLADSTONE
August 02, 2013
TEHRAN — Iran reacted angrily on Thursday to the overwhelming approval of harsh legislation on sanctions by the House of Representatives, saying the action would further complicate stalled negotiations aimed at resolving the protracted dispute over the Iranian nuclear energy program.
A Foreign Ministry spokesman said passage of the measure on Wednesday evening, four days before the inauguration of a new Iranian president who has expressed his intent to improve relations with the United States, "simply indicates that neoconservative unilateralism dominates multilateral sovereignty in the American administration."
Full report at:
http://www.nytimes.com/2013/08/02/world/middleeast/iran-assails-house-sanctions-bill-saying-it-will-complicate-nuclear-dispute.html?partner=rss&emc=rss
------------
Southeast Asia
Government Seeks 'Enlightenment' for Displaced Shiites Before Returning to Sunni Sampang
August 02, 2013
Surabaya. The government says it is nearing a solution to repatriate Shiite Muslim families driven from their homes by Sunni hard-liners in Sampang district on Madura Island, following a meeting late on Thursday between the president and local clerics.
Suryadharma Ali, the minister for religious affairs, said on Friday that the meeting in Surabaya, hosted by the East Java governor, was positive and that reconciliation between the two groups was in sight.
However, he stressed that any meaningful peace would only be obtained with the "enlightenment" of the around 200 Shiites currently living in tenement blocks in Sidoarjo, on the East Java mainland — a term largely understood to mean conversion to mainstream Sunni Islam, but which Suryadharma and other government officials have doggedly refused to clarify.
Full report at:
http://www.thejakartaglobe.com/news/government-seeks-enlightenment-for-displaced-shiites-before-returning-to-sunni-sampang/
------------
Military operation in Aceh was 'gross human rights violation'
August 02 2013
The National Commission on Human Rights (Komnas HAM) declared that the military operation in Aceh, which lasted from 1989 until a peace deal was signed in 2005, could be categorized as a gross human rights violation and that the Indonesian Military (TNI) was responsible for the atrocities.
Following a tense meeting where Komnas HAM chairperson Siti Noor Laila, deputy chairperson Siane Indriani and Yanto Bachriadi challenged the findings from the commission's investigative team, which was led by the rights body commissioner Otto Nur Abdullah, the commission made the announcement on Thursday.
Full report at:
http://www.thejakartapost.com/news/2013/08/02/military-operation-aceh-was-gross-human-rights-violation.html
------------
Banners supporting HM at Seri Pristana bad for non-Muslim students, says MCA
August 02, 2013
MCA has today condemned the public support rallied for SK Seri Pristana headmaster.
Its national organising secretary Tan Chin Meng said that this were irresponsible and unethical acts because it targets the students.
According to Free Malaysia Today, Tan said this in response to reports of banners being hung outside the gates of the school in Sungai Buloh, to show support for Mohamad Nasir Mohd Nor.
The online portal said Tan had in a statement said this act was daunting and constrains the non-Malay students.
Full report at:
http://www.themalaysianinsider.com/malaysia/article/banners-supporting-hm-at-seri-pristana-bad-for-non-muslim-students-says-mca
------------
Indonesia Moves Islamic Solidarity Games — Again
August 02, 2013
Indonesia has moved the venue for the Islamic Solidarity Games for a second time, an official said Thursday, this time to a city that co-hosted the ill-fated 2011 Southeast Asian Games.
It is the latest twist in the country's efforts to host the games, which have been delayed by months and hit by a strike of construction workers.
The event, which brings together athletes from member countries of the Organization of the Islamic Conference, was originally scheduled to be held in April at Pekanbaru on Sumatra island.
Full report at:
http://www.thejakartaglobe.com/sports/indonesia-moves-islamic-solidarity-games-again/
------------
Eid ul Fitr sermon to warn Muslims against 'enemies of Islam'
Aug 02 2013
KUALA LUMPUR, Aug 2 — An official sermon planned for the Eid ul Fitr celebration next week has warned Muslims nationwide against a conspiracy by "enemies of Islam" to manipulate them through ideas like secularism, pluralism, socialism, feminism, and positivism.
The sermon, to be read out to Muslims on the first day of Hari Raya Eid ul Fitr next week, suggested that such "colonial" ideas were being used to incite challenges against Islam's position in the Constitution and open debate about Syariah law.
Full report at:
http://www.themalaymailonline.com/malaysia/article/Eid ul Fitr-sermon-to-warn-muslims-against-enemies-of-islam#sthash.5lab5iSU.dpuf
---------
South Asia
Wary of US' 'Asia pivot' strategy, China keeps eye on Kerry's Pakistan visit
August 02, 2013
BEIJING: Wary of US's "Asia pivot" strategy, China kept an eye on secretary of state John Kerry's first visit to Pakistan as the state media noted that the Obama administration has adopted a "milder" approach on issues like terrorism and drone strikes to improve bilateral ties.
"Washington is quickening its steps to implement its "pivot to Asia" and "return to South Asia strategies", an article in the state-run Global Times said on Thursday.
"Pakistan, the second largest country after India in South Asia, is an important neighbour and strategic partner of China. Thus the future development of US-Pakistani ties is worthy of our close attention," it said.
Full report at:
http://timesofindia.indiatimes.com/world/china/Wary-of-US-Asia-pivot-strategy-China-keeps-eye-on-Kerrys-Pakistan-visit/articleshow/21530536.cms?
------------
Three Hizb-ut Tahrir men arrested
August 02, 2013
Rapid Action Battalion (Rab) personnel arrested three alleged operatives of banned Islamist outfit Hizb-ut Tahrir in Dhanmondi of the capital early yesterday.
The arrestees are students of different universities including Dhaka University, said Md Aslam Shahjada, a senior assistant superintendent of police and acting operation officer of Rab-2.
A large number of leaflets and books on the organisation, seven cellphones and a laptop were seized from their possession, the Rab official added.
Full report at:
http://www.thedailystar.net/beta2/news/three-hizb-ut-tahrir-men-arrested/
------------
Hackers of Bangladesh, Indonesia engage in cyber-war
August 02, 2013
Hundreds of websites in Bangladesh and Indonesia were attacked and brought down after a cyber-war erupted between hackers of the two countries, said a London-based online tech publication.
It was unclear which side started the cyber-war and when.
A group called Bangladesh Grey Hat Hackers claimed to have hacked around 900 Indonesian sites, said the July 30 report of The Register. On the group's Facebook page, a hacker under the name "Rotating Rotor" wrote an open letter to Indonesia that day.
Full report at:
http://www.thedailystar.net/beta2/news/hackers-of-bangladesh-indonesia-engage-in-cyber-war/
------------
Jamaat-Shibir men go on rampage over HC verdict
August 02, 2013
The activists of Jamaat-e-Islami and Islami Chhatra Shibir yesterday brought out protest marches and vandalised around a dozen vehicles across the country shortly after the High Court declared the party's registration with the Election Commission illegal.
In Dhaka, around 70 activists brought out a sudden procession and vandalised a private car and a bus near Kamalapur Railway Station, said witnesses.
Full report at:
http://www.thedailystar.net/beta2/news/jamaat-shibir-men-go-on-rampage-over-hc-verdict/
------------
Police ordered to investigate Nasheed administration over SAARC Summit, alcohol
By JJ Robinson | August 1st, 2013
President Mohamed Waheed has ordered police to investigate budget overruns on the 2010 SAARC Summit during the previous administration of Mohamed Nasheed.
The President told a rally last night that he had "used my rights as president" to compel police to investigate the matter, according to local media.
The Auditor General released a special audit report last week on the Summit, alleging several financial discrepancies including an overspend of more than MVR 430 million (US$27.9 million) on the event's allocated budget.
Full report at:
http://minivannews.com/politics/police-ordered-to-investigate-nasheed-administration-over-saarc-summit-alcohol-61846
------------
China reiterates opposition to US sanctions on Iran
August 02, 2013
China, Iran's largest trading partner and top oil customer, repeated its opposition on Friday to tougher US sanctions on Iran after the House of Representatives approved a bill aimed at halting Iran's oil exports.
The bill seeks to cut Iran's oil exports by a further one million barrels per day to near zero over a year, an attempt to reduce the flow of funds to Tehran's disputed nuclear programme. The legislation provides for heavy penalties for buyers who do not find alternative supplies.
"China has long advocated resolution through dialogue and negotiations and opposes unilateral sanctions from one nation based on its domestic laws," the Ministry of Foreign Affairs said in a faxed statement to Reuters.
Full report at:
http://english.ahram.org.eg/NewsContent/2/8/78014/World/Region/China-reiterates-opposition-to-US-sanctions-on-Ira.aspx
------------
Europe
Norway mass killer wants to go back to school
August 02, 2013
STOCKHOLM: Convicted mass killer Anders Behring Breivik has applied for admission to the University of Oslo, testing the limits of Norway's commitment to rehabilitate criminals rather than punish them.
The right-wing extremist, who killed 77 people in bomb and gun attacks two years ago, wants to study political science, and prison and university officials say he could conduct self-studies in his cell if admitted to the school.
Full report at:
http://timesofindia.indiatimes.com/world/europe/Norway-mass-killer-wants-to-go-back-to-school/articleshow/21533292.cms
------------
France holds Kazakh oligarch Ablyazov wanted in Ukraine
August 02, 2013
A Kazakh oligarch and dissident, Mukhtar Ablyazov, is being kept in custody in France after Ukraine issued a warrant for his arrest.
His family have expressed fear that Ukraine may hand him over to Kazakhstan if he is expelled from France.
He once headed BTA Bank in Kazakhstan but fled in 2009 amid accusations he embezzled billions, which he denies.
BTA Bank says it tipped off France about his location. He was detained at a house near Cannes on Wednesday.
In a statement sent to BBC News, BTA Bank said it had "provided information about Mr Ablyazov's whereabouts to French authorities, who acted promptly to arrest him based on the Interpol 'Red Notice' issued by Ukraine relating to criminal proceedings on the frauds committed on the bank".
Full report at:
http://www.bbc.co.uk/news/world-europe-23540680
------------
Germany's Helmut Kohl 'wanted half of Turks sent back'
August 02, 2013
Former Chancellor Helmut Kohl wanted to halve the number of Turks living in West Germany in the early 1980s, British official papers cited by a German magazine reveal.
He discussed the idea with then UK PM Margaret Thatcher at a meeting in Bonn in 1982, Spiegel Online reported.
Mr Kohl said that Turks "did not integrate well", minutes of the meeting said.
He told Mrs Thatcher he wanted their numbers cut by half within four years.
Spiegel Online said the minutes were marked "secret" but have now been released as the period of confidentiality has ended.
Full report at:
http://www.bbc.co.uk/news/world-europe-23544311
------------
Unicef urges govts to speak out on violence against children
2013-08-01
UNITED NATIONS, July 31: The United Nations International Children Emergency Fund has called on ordinary citizens, lawmakers and governments to speak out more forcefully to fight violence against children, saying it is all too often unseen, unheard and underreported.
The initiative builds on growing popular outrage that erupted following horrific attacks against children, such as the shooting of Malala Yousafzai in Pakistan, the fatal shooting of 26 pupils and teachers in Newtown, Connecticut, in December 2012 and gang rapes of girls in India and in South Africa in 2013.
Full report at:
http://dawn.com/news/1033383/unicef-urges-govts-to-speak-out-on-violence-against-children
------------
North America
Obama, Yemen leader to meet on Gitmo after drone strike
2 August 2013
President Barack Obama was to welcome his Yemeni counterpart to the White House Thursday against a backdrop of drone strikes and the unresolved fate of Yemeni prisoners at Guantanamo.
The meeting with President Abdrabuh Mansur Hadi comes hours after a deadly U.S. drone strike in Yemen, where Washington has been deeply involved in a campaign against Al-Qaeda in the Arabian Peninsula (AQAP).
The White House has been vague about whether any announcements would be made following the Oval Office bilateral, scheduled to begin at 1945 GMT and expected to conclude with remarks to reporters.
Full report at:
http://english.alarabiya.net/en/News/middle-east/2013/08/02/Obama-Yemen-leader-to-meet-on-Gitmo-after-drone-strike.html
------------
Kerry says Egyptian army intervened to save democracy
August 02, 2013
U.S. Secretary of State John Kerry said Thursday the Egyptian army, which deposed President Mohammed Mursi, had intervened at the request of millions to protect democracy and had restored it.
Kerry made the remarks in a interview in Pakistan where he earlier congratulated the new government on an historic transition of democratic power in a country long dominated by the military.
He was asked by Geo television why the United States had not taken a clear position on military intervention against Mursi's democratically elected government.
Full report at:
http://english.alarabiya.net/en/News/middle-east/2013/08/01/Kerry-says-Egyptian-army-intervened-to-save-democracy-.html
------------
US 'extremely disappointed' with Russia over Snowden asylum
August 02, 2013
Expressing "extreme disappointment" on Russia's decision to give temporary asylum to Edward Snowden, the U.S. has said that it is evaluating its ties with the country now.
"We are extremely disappointed that the Russian government would take this step despite our very clear and lawful requests in public and in private to have Snowden expelled to the U.S. to face the charges against him," said White House Press Secretary Jay Carney.
Mr. Snowden, an ex-CIA contractor, has leaked National Security Agency's secret telephone and Internet surveillance programme.
Full report at:
http://www.thehindu.com/news/international/world/us-extremely-disappointed-with-russia-over-snowden-asylum/article4981075.ece
------------
US Embassies, Consulates In Countries In The 'Muslim World' To Be Closed On Aug. 4 Over Security Warning
By Amrutha Gayathri
on August 02 2013
The U.S. will shut down some of its embassies and consulates on Aug. 4 as a precautionary measure over security considerations, according to the State Department, which did not disclose further details, including the reason behind the closure, or the list of nations where U.S. diplomatic missions would be affected.
"The Department of State has instructed certain U.S. embassies and consulates to remain closed or to suspend operations on Sunday, August 4th," Marie Harf, a spokesperson at the State Department said in a press briefing on Thursday, adding that "an abundance of caution and care for our employees and others who may be visiting our installations... indicates we should institute these precautionary steps."
Full report at:
http://www.ibtimes.com/us-embassies-consulates-countries-muslim-world-be-closed-aug-4-over-security-warning-1369403
-------
URL: https://www.newageislam.com/islamic-world-news/new-age-islam-news-bureau/influential-salafist-cleric-warns-of-cycle-of-bloodshed-in-egypt/d/12871