New Age Islam News Bureau
25 Dec 2019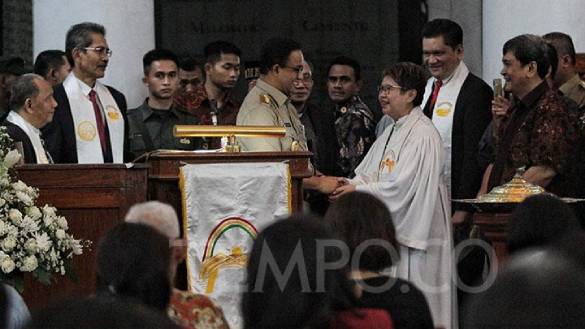 TEMPO.CO, Jakarta - The Indonesian Ulemas Council (MUI) Vice Chairman Zainut Tauhid Saadi tendered a clarification that the council had never issued a fatwa, or edict, on Muslims wishing Merry Christmas to Christians.
--------------
• Indonesian Ulema Council Says No Fatwa Issued on Muslims Conveying Christmas Greetings
• Nahdlatul Ulama Extends Christmas, New Year Greetings to Christians Globally
• As A Persecuted Muslim Bangladeshi Seeking Refuge, I Wasn't Welcome in India
• Pakistani Muslim Woman Gets Indian Citizenship in Kashmir, Thanks Govt
• President Stresses upon Proactive Role of Mosques, Ulema in Resolution of Social Challenges
• ISI-ISIS Sponsored Suicide Bombings Will Target Indian Missions In Afghanistan
• Organization of Islamic Cooperation Is a Unified Voice for the Islamic World: Saudi Cabinet
• Government in Iran Spends Over $24.5 Million per Day On Suppressing Dissent
• Miyetti Allah Seeks Prayers, Unity among Christians, Muslims
------
Southeast Asia
• Thailand charges two soldiers in killing of Muslim civilians
• May 13 may recur as long as Dong Zong still around, Muslim students' group warns
• Malaysia eyes opportunity to send Islamic banking graduates to work abroad
------
India
• Muslims Have 150 Countries to Live, Hindus Have One: Gujarat CM
• Bengal BJP Vice-President: Why Leave Out Persecuted Muslims?
• Shia Scholars and Clerics Call For CAA, NRC Boycott
• Will not allow a detention camp to be set up in Maharashtra, CM tells Muslims
• Government approves update of national population register, says no link to NRC
• 72 paramilitary companies to be pulled out of Jammu and Kashmir
• Student expelled for reminding India of Germany's past
• Aligarh Muslim University students seek answers from police over use of 'excessive force'
------
Pakistan
• Pakistan Rejects 'Unilateral and Arbitrary' US Designation for Religious Freedom Violations
• 2020 to be year of uplift, new jobs, end to poverty: PM
• KP police reviewing terror watch list
• Bill on Muslim family laws deferred over reservations in KP
• Quaid-e-Azam liberates the Muslims of Sub-continent by establishing Pakistan: Masood Khan
• Nation celebrates Quaid's 143rd birth anniversary with traditional enthusiasm
• Govt strikes over 800,000 names off BISP database
• Punjab govt sets up body to decide about Nawaz stay
------
South Asia
• India's NRC, CAA Global Issue: Dhaka University Professor Emeritus
• 15 Taliban militants killed, weapons caches destroyed in Special Forces raids and airstrikes
• 15 Afghan soldiers killed in a Taliban ambush in Northern Balkh province
• Two killed in 'gunfights'
• Ministers in AL Committee: Presidium asks Hasina to decide
• Nur files complaint against DU BCL president, secy
• 'Nearly 5.5 lakh Bangladeshi migrants deported in 10yrs'
• Demolish structures at ecologically critical Jhilanja area in Cox's Bazar: HC
• Afghan Special Forces kill Taliban's shadow district chief during a raid in Herat
------
Arab World
• Helping the people of Yemen - at the Mashid Al Jannah mosque
• Saudi Arabia vows to fight graft to ensure growth
• Polio vaccine edict for Pakistani, Afghan visitors to Saudi Arabia
• 'Roads of Arabia' exhibition visitors in Rome get a sliver of Arabian history
• Saudi Film 'Irtidad' Shortlisted At International Festival
------
Mideast
• Newly-Excavated Site Yields Pre-Historic To Islamic-Era Relics In Iran
• Ayatollah Ramazani urges Muslim states to demand guarantees on Sheikh Zakzaky health
• UN Adopts Resolution Condemning Iran's Human Rights Violations
• Iran: Experts alarmed at alleged mistreatment of detained protesters
• U.S. Imposes Sanctions On Two Iranian Judges For 'Oppression'
• Doctors In Iran Condemn Violent Suppression Of Protests, Failed Policies
• Mothers of Iran Protest Victims Call for "Minute of Silence," UN Fact-Finding Committee
• "They Told Us to Say He Had Died in an Accident," Says Mother of Man Slain in Shiraz Protests
------
Africa
• Republic Senator Urges Muslims to Celebrate With Christians
• We're Not Bothered about Ranking by United States –Muslim Group
• Ethiopian Muslims protest after several mosques burned
• Dasuki will be released today, Insha Allah —Counsel
• Senegal, a Muslim Country that Can't Get Enough Christmas
• Christmas: Bola Tinubu sends message to Christians, Muslims
------
Europe
• European Parliament Resolution on the Violent Crackdown on The Recent Protests In Iran
• 35 civilians killed in double Burkina Faso attack
• Pope Francis ushers in Christmas with message of 'unconditional love'
------
North America
• Christmas of Grief Nearly Five Years after Arizona Woman's Death In Islamic State Captivity
• Trump says North Korea may be planning nice 'Christmas gift'
• Merrily on high: US astronauts help track Santa's delivery route
• Trumps attend music-filled church service on Christmas Eve
Compiled By New Age Islam News Bureau
URL: https://www.newageislam.com/islamic-world-news/indonesian-ulema-council-says-no/d/120623
------
Indonesian Ulema Council Says No Fatwa Issued on Muslims Conveying Christmas Greetings
25 December 2019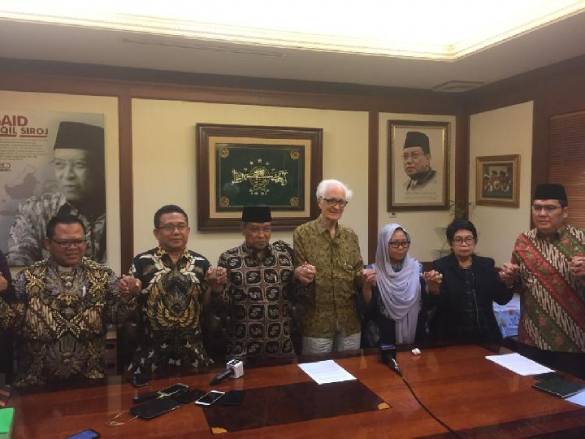 TEMPO.CO, Jakarta - The Indonesian Muslim Organization of Nahdlatul Ulama conveyed Christmas and New Year greetings to Christians worldwide, particularly those residing in Indonesia.
---------
TEMPO.CO, Jakarta - The Indonesian Ulema Council (MUI) Vice Chairman Zainut Tauhid Saadi tendered a clarification that the council had never issued a fatwa, or edict, on Muslims wishing Merry Christmas to Christians.
Hence, the MUI has left the matter to Muslims themselves to follow their own ulemas' opinions according to their belief, stated Zainut Tauhid Saadi in a press statement released on Tuesday.
Saadi affirmed that the ulemas are in disagreement over the issue, with some of them prohibiting while others allowing Muslims to congratulate Christians on the occasion of Christmas.
The MUI respects the opinion of the ulemas banning Muslims from wishing Merry Christmas to Christians in accordance with the Islamic teachings. The opinion is based on the rationale that wishing Christians Merry Christmas is part of their religious belief, he remarked.
Similarly, MUI also respects the view of ulemas stating that congratulating Christians on the occasion of Christmas is not prohibited based on grounds that wishing Merry Christmas to Christians is not part of their religious belief but is only to show respect based on friendship, neighborhood, and inter-human relationship, he stated.
The MUI calls on Muslims nationwide to exercise prudence in responding to differing opinions and to not make it a polemic that may dampen harmonious relations with fellow Muslims or adherents of other faiths, the MUI vice chairman emphasized.
https://en.tempo.co/read/1287649/mui-says-no-fatwa-issued-on-muslims-conveying-christmas-greetings
------
Nahdlatul Ulama Extends Christmas, New Year Greetings to Christians Globally
25 December 2019
TEMPO.CO, Jakarta - The Indonesian Muslim Organization of Nahdlatul Ulama conveyed Christmas and New Year greetings to Christians worldwide, particularly those residing in Indonesia.
"Merry Christmas and Happy New Year of 2020," General Secretary of the Executive Board of Nahdlatul Ulama (PBNU) HA Helmy Faishal Zaini remarked in Jakarta, Tuesday.
Zaini reiterated the message of upholding national unity as a big civilized nation as Indonesians always need to prioritize "ukhuwwah insaniyyah," or human brotherhood.
Long time back before the Republic of Indonesia existed, it had upheld noble values within its various races, religions, as well as social classes, as those in Indonesia, since the former era, could live in harmony and peace, and also be friendly to one another, he stated.
"Let us put forward the principle of respect for each other and unite to realize a safe, peaceful, prosperous, and fair society in Indonesia," Zaini noted.
This Christmas event could be the time for Indonesia to self-reflect as one nation as well as to be compassionate to other people.
"I wish this Christmas would be peaceful and bring peace during this time. Amen," he added.
https://en.tempo.co/read/1287642/pbnu-extends-christmas-new-year-greetings-to-christians-globally
------
As A Persecuted Muslim Bangladeshi Seeking Refuge, I Wasn't Welcome In India
I am a displaced Bangladeshi and Muslim gay man. I am a survivor of religious violence. And I fled to India in 2016. I would like to tell the Bharatiya Janata Party and its president, Amit Shah, that I exist. Their construction of all Muslims as hegemonic oppressors is outrageous and demonises India's own dispossessed people. I have experienced this first hand in 2016, but this year BJP has gone a step further. In the form of passing the Citizenship Amendment Act, the BJP has set out to reduce Muslims into a monolith entity erasing their class, caste, sexuality, gender, and ethnic complexities in order to achieve their fascist fantasy of transforming India into a Hindutva nation.
Despite being born a Sunni, the majority Muslim sect in Bangladesh, I was forced to make an overnight decision to leave Bangladesh in fear of state persecution and third-party violence in 2016. My "crime" was my involvement and editorial role with an LGBT magazine entitled Roopbaan. In Bangladesh, homosexuality is a criminal offence under the Penal Code Sec 377 (similar to the law that had been recently struck down in India) and heteropatriarch members of the society largely stigmatise it.
The situation escalated in 2016 when machete-wielding "Islamic" attackers killed dozens of bloggers, writers, political activists, and members of the atheist community. Amidst online and offline intimidation against frontline LGBT activists, I chose to temporarily relocate to India in April 2016 after the police detained some of our volunteers and a fellow organizer.
A gay friend in Kolkata generously hosted me. Needless to say, Kolkata is known for sheltering Bengladeshi intellectuals and political leaders during the War of Liberation in 1971. On day four, while I was strolling through College Street's second-hand book market, my then-partner called me and informed me that Xulhaz Mannan, the publisher of Roopbaan, had been attacked in his apartment. By the time my Indian friends shoved a hysterical me inside a yellow cab, I received a second call that Xulhaz Mannan and another gay activist friend, Mahbub Tonoy, had been hacked to death together.
Exploring options
Later, Al-Qaeda of Indian Subcontinent claimed responsibility for hacking the two of them inside Xulhaz's protected apartment in front of his 70-plus-year-old mother. Their crime? Promoting "homosexuality" in Bangladesh. I still remember numerous messages I received on Facebook from people who initially thought I had been killed, too. My mother, who had no idea about my sexuality, was completely shocked as she believed I compromised the safety of my entire family, for hosting the publication in our family home.
After the initial shock of loss, my Indian friends, many of whom I had just met, started helping me to explore options of citizenship and asylum in India. We found out Muslim citizens of Pakistan and Bangladesh are not entitled to any kind of legal protection there. We also learned about black market citizenship, where a person could forge Indian Aadhaar card (unique identification number of Indian citizens) with a completely new name, title, and religion in exchange of money.
My visa was expiring soon, and the tourist visa type for Bangladeshi passport holders was non-renewable from India aside from those who have serious medical conditions. We discovered that if I converted my tourist visa to a student visa, I would be able to stay in India for a few more months. After managing to get an admission offer, I was able to submit a full application package to the Indian Immigration Office, requesting a change in my visa type. It came as a relief when it was approved but in the long run asylum in India wasn't possible and chances of getting citizenship were bleak. Despite having a strong support system, I eventually left India and traveled to a completely new country.
Amit Shah has long argued that non-Muslims (mostly Hindus) are at risk in Muslim-majority countries, highlighting the Citizenship Amendment Act as a platform for refuge and fast-tracked citizenship for illegal immigrants from neighboring Bangladesh, Pakistan, and Afghanistan. But for people fleeing from these majority-Muslim countries, Muslims are not eligible for this protection.
To understand the law's political context better, we have to look at India's north-eastern state of Assam. The BJP is testing the National Register of Citizens to identify illegal immigrants in Assam, publishing a list that will strip citizenship from 1.9 million people. BJP's long-term agenda is to implement NRC nationwide. The Citizenship Amendment Act will safeguard non-Muslim (mostly Hindu) illegal immigrants from deportation while stripping citizenship from "illegal" Muslim immigrants.
It appears that BJP's passion for saving religious minorities from neighboring countries stems from getting rid of its own. At the most basic level, this law destroys the secular fabric of the Indian Constitution by making religious identity as a basis for citizenship. The law further delegitimises Muslim citizenship. It is not only catering to an existing anti-Muslim sentiment, but setting minorities against minorities. Indigenous communities in Sikkim and north-eastern states are protesting against the Citizenship Amendment Act and the National Register of Citizens, as historically their lands have been used to rehabilitate Hindu refugees and undocumented immigrants.
Oppression is complex and systemic, and we cannot address it with simple solutions. My story is one of hundreds of uniquely complicated migration narratives of Muslims coming to India from neighboring countries. While I used my class capital to maneuver an immigration emergency, my religious status in Bangladesh did not erase other parts of my identity nor did it provide unconditional protection.
As I was watching a viral video of Jamia Millia Islamia students Ladeeda Farzana, Ayesha Renna, and Chanda Yadav at confronting and rescuing their friend from handkerchief-wrapped police officers and an unidentified attacker with a baton and helmet, I saw an uncanny resemblance with a 2018 mass student protest in Dhaka. In that video, armed police and pro-government goons injured scores of school going teenagers.
In recent years, there is an unimaginable and violent subjugation of dissent in Bangladesh. The BJP's identical tactics of controlling mass protest and dissent shows an alarming pattern of rising political authoritarianism in this region. While writing this piece, to my horror I came to know that my friend who housed me in Kolkata was brutally assaulted by a group of eight men shouting Jai Shri Ram (Hindu nationalist chant). He was attending a peace rally organised by Feminists in Resistance. The police banned public gatherings in parts of India and at least 17 people have been killed in BJP-ruled Uttar Pradesh. We must resist this saffron terrorism.
Rasel Ahmed is a community-based filmmaker, queer archivist, and exiled founding editor of the first Bangladeshi LGBT magazine Roopbaan.
https://scroll.in/article/947811/first-person-as-a-persecuted-muslim-bangladeshi-seeking-refuge-i-wasn-t-welcome-in-india
------
Pakistani Muslim woman gets Indian citizenship in Kashmir, thanks govt
December 24, 2019
Sunil Bhat
Amidst the political storm over the Citizenship Amendment Act (CAA), which enables members of persecuted religious minorities to get Indian citizenship, a Pakistani Muslim woman has been granted citizenship in Kashmir's Poonch district.
Khatija Praveen who originally belonged to Atak in Pakistan's Punjab province was given a certificate of registration by District Development Commissioner of Poonch, Rahul Yadav, on Monday.
The Pakistani woman married Indian citizen Mohammad Taj in 1983 and had applied for Indian citizenship years later.
"Khatija Praveen had applied for Indian citizenship. She has been given Indian citizenship on the basis of her marriage to an Indian citizen under section 5(1)(c) of the Citizenship Act, 1955," said Rahul Yadav, District Development Commissioner, Poonch district.
Meanwhile, Khatija Praveen and her husband have expressed their gratitude to the government. "I got married to Mohammad Taj in 1983 and applied for Indian citizenship in 2000. I'm very happy that I have been given Indian citizenship. I would like to thank the government for approving my citizenship", said Khatija Praveen.
Khatija Praveen has got Indian citizenship at a time when nationwide protests are being witnessed over the Citizenship Amendment Act (CAA).
Under the new law, members of the persecuted minorities belonging to Hindu, Sikh, Buddhist, Jain, Christian and Parsi religions from Pakistan, Afghanistan and Bangladesh (who entered India before December 31, 2014) will be given Indian citizenship.
Critics of the Modi government termed the new law as discriminatory against the Muslims.
Defending the new law, the government said that Muslims haven't been covered in the CAA because they are not minorities in Pakistan, Bangladesh and Afghanistan.
However, the government has said that even Muslims from the three neighbouring Islamic countries can also apply for citizenship but under the existing provisions of Citizenship Act.
https://www.indiatoday.in/india/story/caa-nrc-won-t-even-spare-hindus-warns-prakash-ambedkar-1631305-2019-12-25
------
President stresses upon proactive role of mosques, Ulema in resolution of social challenges
December 24, 2019
ISLAMABAD, Dec 24 (APP):President Dr Arif Alvi Tuesday said the role of mosques and Ulema was pivotal in addressing the social issues by sensitizing the masses and spreading public awareness.
A comprehensive policy framework in that regard must be developed through collaboration of ministries of religious affairs, health, education, climate change and the Council of Islamic Ideology (CII), he added.
The president was chairing a meeting attended by Minister of Religious Affairs Pir Noor ul Haq Qadri, Special Assistant to the Prime Minister on Health Dr Zafar Mirza and CII Chairman Dr Qibla Ayaz, a press release said.
The meeting was briefed about the steps being taken by their respective ministries/departments to address the social challenges.
The president said for addressing the issues, relevant Islamic teachings on the important social matters must be disseminated in an effective manner to motivate the people to fulfill their responsibilities and obligations.
Islam, he said, had laid great emphasis on the social issues such as Taharat (purity), inheritance rights of women, and conservation of environment and water, therefore, the mosques could provide a vital platform to address those issues in a more effective way.
There was a dire need to start training courses for Ulema and religious speakers to keep them abreast about the challenges, he added.
https://www.app.com.pk/president-stresses-upon-proactive-role-of-mosques-ulema-in-resolution-of-social-challenges/
------
ISI-ISIS Sponsored Suicide Bombings Will Target Indian Missions In Afghanistan
Wednesday, 25 Dec 2019
An Intelligence Bureau report has said that there is a plot that has been hatched to bomb the Indian missions in Afghanistan, OneIndia reported on Wednesday.
The report further states that the ISI has tasked the Lashkar-e-Tayiba and the Islamic State in Afghanistan to carry out the bombings. The ISIS in Afghanistan has a large number of Indians. Most of the Indians who are part of the ISIS Khorasan in Afghanistan are from Kerala.
The report says that the attacks are being coordinated in Pakistan and are being overseen by one Saifullah who is a native of Lahore. The report also says that the attacks would be in the nature of a suicide bombing and 5 persons have been trained for the operation, OneIndia reported.
Back in February 2010, an Indian guest house in Kabul downtown was stormed by explosions and militants gun shots, which killed 18 people including 9 Indian nationals.
Afghan security sources had said Lashkar-e-Taiba, the Pakistan-based militant group behind the 2008 Mumbai attacks, carried out the suicide bomb raid which killed many Indian nationals.
Saeed Ansari, spokesman for Afghanistan's Directorate of National Security, had said the militants who attacked the Indian guesthouse were speaking Urdu, Pakistan's official language.
"We are very close to the exact proof and evidence that the attack on the Indian guesthouse … is not the work of the Afghan Taliban but this attack was carried out by Lashkar-e-Taiba network," Ansari said.
India and Pakistan are in conflicts since the second India-Pakistan war in 1965 over the status of the state of Jammu and Kashmir.
https://www.khaama.com/isi-isis-sponsored-suicide-bombings-will-target-indian-missions-in-afghanistan-98764/
------
Organization of Islamic Cooperation Is A Unified Voice For The Islamic World: Saudi Cabinet
December 24, 2019
RIYADH — Saudi Arabia's Council of Ministers, chaired by Custodian of the Two Holy Mosques King Salman, on Tuesday stressed the role that the Organization of Islamic Cooperation (OIC) plays as a unified voice for the Islamic World.
King Salman also stressed the OIC's efforts to strengthen joint Islamic action since its foundation in 1969, according to the Saudi Press Agency (SPA).
The Cabinet said that the Kingdom is honored to house and support the organization's headquarters alongside its member states in order to ensure the interests of the people of the Islamic nation are achieved.
Saudi Arabia is determined to continue its economic reforms to ensure that the Vision 2030 goals are achieved, the Cabinet stated during the meeting, according to SPA.
King Salman directed all ministers and officials to commit to implementing development and social programs that are included in the plan.
The Cabinet also reviewed the final communique of the 40th Gulf Cooperation Council (GCC) Summit held in Riyadh on Dec. 10, and praised the six-nation alliance's desire to ensure cohesion and interdependence, enhance strategic partnerships, achieve economic unity and implement all the decisions and agreements that were made during the meeting.
King Salman also discussed with the Cabinet the contents of phone conversations he had with US President Donald Trump, Bahraini King Hamad Bin Isa Al-Khalifa, Malaysian Prime Minister Mahathir Mohamad, and President of the European Commission Ersula von der Leyen.
He also briefed the Council on the message he sent to Egyptian President Abdel Fattah El-Sisi.
http://saudigazette.com.sa/article/585645/SAUDI-ARABIA/OIC-is-a-unified-voice-for-the-Islamic-world-Saudi-Cabinet
------
Government In Iran Spends Over $24.5 Million Per Day On Suppressing Dissent
December 20, 2019
Youhanna Najdi
Widespread protests in in over 100 Iranian cities in November were met with the Islamic Republic's usual reaction, which is violent suppression. This time it was even more violent.
"Suppression" is the most frequently used keyword in Iran as it is how the government deals with any gathering, protest, and movement by any Iranian group may be it students, workers, teachers, women and people from all other walks of life.
In November, security forces used unprecedented violence against protesters, shooting hundreds directly in the head or heart.
Aware of the depth of its inefficiency and economic crisis, the Islamic Republic's security forces have prepared themselves for the inevitable protests everyone knows can erupt at any given time.
A glance at the network of suppression in Iran reveals that they have always been funded with hefty budgets regardless of the country's economic problems and mindless of whether a so-called reformist or a hardliner is in charge.
Generally suppressive institutions within the Islamic Republic can be divided into two categories. The first group specialize in suppressing dissent on the streets. It organizes the suppression machine and provides the human resources for it.
The second group usually has a different function, but when the need arises, it join hands with the first group and plays an important role in the crackdown. The state TV is one of those in the second group. It broadcasts fabricated news and "confessions," and fake documentaries and acts as the media arm of the suppression machine.
Another such body is the Supreme National Security Council (SNSC) which makes decisions about the most sensitive security issues. In one particular example, according to the Rouhani administration's spokesman Ali Rabiei, it was the SNSC that banned releasing casualty figures after the protests in November. The SNSC is headed by President Hassan Rouhani, who, next to Supreme Leader Ali Khamenei is one of the main elements who orders the suppression and massacre of the protesters.
Nevertheless, the most important part of the suppression machine that practically carries out violent suppression is the first group which is consisting of four pillars: The Intelligence Ministry, The Police, The IRGC and the Basij militia.
Although these four military intelligence and policing institutions have various functions for which they receive regular budgets, they spend the lion's share of their budget on suppressing domestic dissent.
The following table show the funds these four institutions received from President Hassan Rouhani's government in the Iranian year 1398 (March 2019 – March 2020), as well as the year 1393 which was the first year of budgeting under the Rouhani administration and the next year (1399).:
The table shows that the Intelligence Ministry, The Police, The IRGC and the Basij militia have received a total of 370,718 billion rials [$9 billion] at the government rate of 42,000 rials per US dollar] in the current year 1398, ending March 20, 2020.
However, the $9 billion dollar is not the only money at the disposal of these entities. They all have considerable business empires, with monopoly powers, which generate unreported and unaudited cash. The $9 billion figure can be characterized as the government's assistance to these security entities – not their total budget.
The biggest business empire belongs to the Revolutionary Guards, which is itself a creditor to the government to the tune of an accumulated $9.5 billion debt.
The highlight of the table is to show how government appropriations for the security entities have grown. They received a budget of 130,532 billion rials [$3.1 billion] in the first year of Rouhani's presidency which was supported by Iranian reformists. This shows that the money these four institutions received from the government grew by more than 240,000 billion rials [$5.7 billion] in six years of Rouhani's presidency.
Special forces during a drill in Iran, 2019.
This massive allocations in the current year and proposed for the next budget cycle for security organizations come amid an economic crisis marked by a sharp drop in Iran's oil exports to 213,000 barrel per day according to Kepler Energy website.
At the same time, Iran's education, welfare and government services sectors have been suffering from serious budget deficits in recent years. Just as an alarming example, it is worth mentioning that the fire brigade in Kerman does not have enough budget to purchase a ladder.
Another point to consider is that the figures reflect "official" allocations. Apart from business incomes of security entities, they have also secret appropriations. The real figures which are much higher are not known as these are kept secret.
These expenditures may curb the protests in the short run, but as we have seen in other despotic regimes, dissent will be alive like fire under the ashes.
https://en.radiofarda.com/a/government-in-iran-spends-over-24-5-million-per-day-on-suppressing-dissent-/30336410.html
------
Miyetti Allah Seeks Prayers, Unity among Christians, Muslims
25 December 2019
By Osiberoha Osibe (Awka) and Inemesit Akpan-Nsoh (Uyo)
• EARCOM wants Nigerians to shun social vices
The Miyetti Allah Cattle Breeders Association (MACBAN) in the South East zone led by Alhaji Siddikki Gidado has enjoined Christians to use the Christmas and New Year celebrations to seek unity with their Muslim counterparts.
In his Christmas Message, issued in Awka, Anambra State yesterday, Gidado noted that Jesus Christ, who is well recognised in the Koran as Isa-Al-Masih (Jesus the Messiah) is regarded as a great prophet, like Mohammed, founder of the Islamic faith.
Gidado, who observed that among the pillars of Islam are the belief in oneness of God, in all the prophets, of God, angels and last day urged Christian organisations to emulate Jesus (Isa) by praying Nigeria out of the many challenges facing it, including kidnapping, armed robbery, insurgency, rape, ethnicity and religious intolerance.
She gave the charge while speaking with reporters on the significance of Christmas in Uyo, adding that the Yuletide was not the season to engage in crime and social vices such as rape, robbery, cultism, violence, drug abuse, prostitution, fraudulent business, excessive drinking and other excesses.
She stressed that the essence of Christmas was all bout showing love as shown by God in giving the world His only son, noting that Jesus Christ came to spread peace, goodwill, reconcile the world with God and save mankind from sin.
Thompson, therefore, urged Christians to reflect on the imageof the humble, symbolic and divine birth of Jesus in the manger and demonstrate love and forgiveness towards one another, stressing that, the birth of Jesus Christ symbolises hope, compassion, salvation, reconciliation, forgiveness and peace.
https://guardian.ng/news/miyetti-allah-seeks-prayers-unity-among-christians-muslims/
------
Southeast Asia
Thailand charges two soldiers in killing of Muslim civilians
25 December 2019
Thailand has charged two soldiers with murder in the shooting of three Muslim men foraging on a mountain in the south, police said Wednesday, a rare push for justice that one rights group called "unprecedented."
The announcement comes after the military expressed regret last week over the killing of the unarmed civilians and said it was a case of mistaken identity in the insurgency-scarred region.
The Buddhist-majority state has been locked in a simmering conflict with Malay-Muslim militants in Thailand's south for 15 years with rebels fighting for more autonomy.
More than 7,000 people have been killed, most of them civilians from both faiths.
Cases are rarely investigated but the police chief in the southern province of Narathiwat said two soldiers turned themselves into authorities on Monday after the shooting.
They were both charged with murder but released on bail as an investigation is carried out, Major General Narin Boosaman told AFP.
"We will look at both sides for information so everyone will be treated fairly," he said.
A heavy military presence blankets the southern border area, marked by tit-for-tat attacks on checkpoints by shadowy rebel groups and lethal raids in the hunt for suspects.
The bodies of the three men were retrieved from mountainous terrain that is also believed to be an insurgent hideout because of its thick forest cover.
A sign now warns villagers about foraging there because authorities may "misunderstand", according to Human Rights Watch.
The group said the case was unprecedented in a region rife with impunity.
"Now there is a little bit of hope for justice, but it's still a long way to go," said HRW's senior Thailand researcher Sunai Phasuk.
"We don't even know how many soldiers were even involved in the shooting."
The charges come months after a separate high-profile case involving Abdulloh Esormusor, a Muslim man who was detained by the military and fell into a coma after being interrogated at a detention centre in the south.
More than a month later he died in August, sparking outcry and heaping scrutiny on military actions in a conflict that rarely makes headlines.
https://www.dailymail.co.uk/wires/afp/article-7825987/Thailand-charges-two-soldiers-killing-Muslim-civilians.html
------
May 13 may recur as long as Dong Zong still around, Muslim students' group warns
Tuesday, 24 Dec 2019
KUALA LUMPUR, Dec 24 — The Malaysian Muslim Students Coalition (Gamis) has warned today that the bloody riots of May 13, 1969 may return as long as Chinese educationist group Dong Zong still exists.
In a statement, its president Saifullah Baiduri urged the Home Ministry and police to ban the Chinese group, accusing it of opposing nationalistic government policies that work towards unity.
"Dong Zong is an organisation that becomes a pus within the nation's unity, and sows anti-nationalistic doctrines among the Chinese community," he said.
"As long as this organisation is still in power, the authorities seem to be allowing the black history of May 13, 1969 to recur," he added.
This referred to the race riots which occurred from May 13 to July 31, 1969, which claimed the lives of 196 people even though certain quarters estimated the number to be higher.
It is reported that the tragedy, which occurred after the country's third general election, had also left 6,000 people homeless and at least 211 vehicles and 753 buildings damaged or destroyed by fire.
Saifullah also called for all students regardless of race and religion to speak against Dong Zong until the organisation is banned.
"Gamis strongly states that Dong Zong's racist act clearly violates Article 152 of the Federal Constitution and that its implications will create chaos and create racial tension," he said.
Article 152 states that "the national language shall be the Malay language".
The statement came after Dong Jiao Zong insisted that it go ahead with its closed-door Chinese Organisation Congress this Saturday with the aim of convincing the government to rescind its decision on teaching the Jawi script in vernacular schools.
Gamis' remark today is similar to a leader from Islamist party PAS, who earlier this week urged the police to step in and stop the Chinese Organisation Congress from going ahead to avoid a repeat of the 2017 riots at the Sri Maha Mariamman Hindu temple in Subang Jaya.
Kuala Nerus MP Datuk Mohd Khairuddin Aman Razali had also called on the Ministry of Home Affairs to deregister the Dong Jiao Zong Chinese education group under the Societies Act 1966.
Dong Jiao Zong's congress is set to be followed by another one on Sunday by a group called Gabungan Seni Khat Action Team, which also opposes the teaching of jawi script in vernacular schools.
In August, the Education Ministry confirmed that it would still introduce khat calligraphy as part of the Bahasa Melayu Year Four subject next year as scheduled.
https://www.malaymail.com/news/malaysia/2019/12/24/may-13-may-recur-as-long-as-dong-zong-still-around-muslim-students-group-wa/1822037
------
Malaysia eyes opportunity to send Islamic banking graduates to work abroad
25/12/2019
KUALA LUMPUR, Dec 25 -- Malaysia is looking for opportunities to send local Islamic banking graduates to work abroad, according to deputy finance minister Datuk Amiruddin Hamzah.
Looking at the country's achievement after being crowned as the global leader in Islamic banking, he said Malaysia is capable of leveraging the talent in a nation that could generate huge employment opportunities.
"We are seen as a pioneer in Islamic banking and we want to maintain that position. This sector is able to offer the best career opportunities and many of our graduates are in Islamic banking.
"This 'takaful' ïs not only for usage in the country, we are planning to export the talent to be used in other countries," he said this when appearing as a guest on the 'Bicara Naratif'' on the Finance Ministry achievements in 2019 programme, which was aired live on Berita RTM Facebook page last night.
Elaborating further, Amiruddin said the Islamic banking sector is expanding rapidly at the world stage and even less Muslim countries are fighting to become a global hub in the field.
"For example in London (United Kingdom), we know they are financial hub conventional but they also see this opportunity and act to be an Islamic financial hub (after) looking at the potentials (it has)," said Amiruddin, who has been given the mandate to head the Special Committee on Islamic Finance (JKKI).
Last August, the Ministry of Finance announced the establishment of the JKKI to promote and encourage the development of Islamic Finance, in addition, it is aimed at firming up the direction for promoting Malaysia as a global leader in Islamic finance, especially in the Sukuk market.
Meanwhile, Amiruddin also stressed that the Pakatan Harapan government had never promised that they would fulfill all the promises outlined in the manifesto during the 14th General Election (GE14) at once in the short term.
" What we (PH) can do quickly, we do. For example, our promise to abolish the GST (then goods and services tax) was one of the strongest complaints among the people that resulted in the rising cost of living.
"That's what we do and we implemented it quickly without spending money. But, after GST is abolished, the government's revenue falls short," he said, adding that the government is looking for alternative income sources to replace it.
Furthermore, he also explained on issues related to tolls were not easy to abolish because the government had to pay for the investment made by the concessionaires.
"When we abolish (tolls), we need to pay compensation and so on, so it involves financial implications that we need to review it more thoroughly.
"However, our desire and commitment were to reduce in toll rates but not to eliminate it. We are looking into the matter most likely, Insya Allah (God Willing) after these studies are completed," he said.
In another development, Amiruddin said Sabah and Sarawak were not sidelined by the Federal government as special attention was given to both states in the 2020 Budget.
"We will continue with the projects related to water supply, to ensure electricity supply reaches the interior.
"We also provided a special budget to repair dilapidated schools in Sabah and Sarawak to ensure the children can study in a more comfortable and conducive environment," he said.
Amiruddin added these aspects had been given attention by the government as both Sabah and Sarawak have been among the states with the biggest spending component.
http://www.bernama.com/en/business/news.php?id=1802443
------
India
Muslims have 150 countries to live, Hindus have one: Gujarat CM Vijay Rupani
December 25, 2019
Leading a rally in support of the Citizenship (Amendment) Act (CAA) at Ahmedabad's Sabarmati Ashram, Gujarat Chief Minister Vijay Rupani on Tuesday said while Muslims have 150 countries where they can go to, "for Hindus there is only one country – Bharat".
The BJP on Tuesday took out 62 rallies in different cities of Gujarat in support of the new citizenship law. While Rupani led a rally in Ahmedabad, Deputy Chief Minister Nitin Patel led one in Mehsana, among many such pro-CAA marches.
Addressing a huge crowd, Rupani said, "Muslims in India were happy and their population rose from 9 per cent to 14 per cent…because of the secular Constitution they live a dignified life in India."
He said the percentage of Hindus in Pakistan reduced from 22 to 3 because "they are tortured, raped, their properties destroyed. They returned to India long ago, but they can't avail of benefits because they are not (Indian) citizens… In Bangladesh, Hindus constitute just 2 per cent of the population, while in Afghanistan, the number of Hindus and Sikhs are around 500, (down) from over 2 lakh earlier….
"Muslims have 150 countries where they can live, but for Hindus there is only one country, and that is Bharat."
Blaming the Opposition for protests against the CAA, the Gujarat CM said, "The Congress and its allies are creating unrest in the country by misleading people, rioting and destroying public property. I want to ask the Congress: how is the CAA against what Mahatma Gandhi said when the country was being divided… that Hindus from these three countries, if they wish to come back…"
Acknowledging that the BJP's 2019 Lok Sabha election promise also included the NRC, Rupani said, "At the time of elections, the BJP had announced that if we form the government, then we will remove Article 370, we will pave the path for the temple at Ram Janmabhoomi, we will abolish triple talaq, implement CAA to grant citizenship to our refugees, implement the NRC, and send back infiltrators. The people democratically brought the BJP and its allies to power."
With CAA, he told the crowd, "not a single Muslim in India will lose citizenship".
https://indianexpress.com/article/india/muslims-have-150-countries-to-live-hindus-have-one-gujarat-cm-vijay-rupani-6183560/
------
Bengal BJP Vice-President: Why Leave Out Persecuted Muslims?
Dec 25, 2019
Kolkata: Bengal BJP vice-president Chandra Kumar Bose has taken to Twitter to question why Muslims who are being persecuted are being left out of CAA's ambit.
"If Muslims are not being persecuted in their home country they would not come, so there's no harm in including them. However, this is not entirely true — what about Baluch who live in Pakistan & Afghanistan? What about Ahmadiyya in Pakistan?" Bose tweeted.
In another tweet, he said: "Don't equate India or compare it with any other nation — as it's a nation Open to all religions and communities."
Bose further said: "If #CAA2019 is not related to any religion why are we stating — Hindu, Sikh, Boudha, Christians, Parsis & Jains only! Why not include #Muslims as well? Let's be transparent."
https://timesofindia.indiatimes.com/city/kolkata/bose-why-leave-out-persecuted-muslims/articleshow/72961606.cms
------
Shia scholars and clerics call for CAA, NRC boycott
Dec 25, 2019
Mumbai: A group of senior Shia scholars and clerics have called for a boycott of the Citizenship Amendment Act (CAA) and the proposed National Register of Citizens (NRC). Addressing mediapersons at Mumbai Press Club on Tuesday, clerics and community leaders said CAA was discriminatory, divisive and against the spirit of the Constitution and all Indians would be put to great hardship if it is clubbed with NRC.
"Prime Minister Narendra Modi should live up to his slogan of sabka saath, sabka vikas, sabka vishwas. The government took an oath in the name of the Constitution. It should not abdicate its constitutional duty of treating all citizens equally. We will not accept CAA which fails to uphold the Constitution," said Shia cleric, Imam Maulana Syed Ahmed Ali Abidi.
Maulana Syed Hasnain Kararwi, imam of Masjid-e-Iranian or Mughal Masjid in Dongri, said protests across the country showed the overwhelming majority is against the Act and the government should recall it. Major Javed Jafri (retd), who was injured in the '71 Indo-Pak war, said, "Instead of bringing a derailed economy on track, the government is wasting resources on an exercise that is denting India's image."
https://timesofindia.indiatimes.com/city/mumbai/shia-scholars-and-clerics-call-for-caa-nrc-boycott/articleshow/72960380.cms
------
Will not allow a detention camp to be set up in Maharashtra, CM tells Muslims
Dec 25, 2019
Chief minister Uddhav Thackeray has assured Muslims that he will not allow detention camps to be set up in the state under the National Register of Citizens (NRC), even as he maintained silence on implementation of the Citizenship Amendment Act (CAA) or NRC.
His clarification came amid reports that the Maharashtra government was building a detention centre in Navi Mumbai under the NRC. "Detention camps are for foreign nationals who have served their sentence, so that they can go ahead with their deportation process. However, we will not allow any detention camps in the state," Thackeray told a delegation of Muslim community on him on Monday.
The earlier government in August 2019 had asked the City and Industrial Development Corporation, development authority of Navi Mumbai, to make available space to build a detention centre at Nerul in Navi Mumbai. A senior home department official said the centre was planned according to the directives from the Central government and meant for foreign nationals who are awaiting deportation to their countries. The capacity of the detention centre could be less than 50, he added. In the same communication, the state government had told the CIdco that it was looking for three acres of land for a permanent detention center.
Meanwhile, Thackeray also assured the delegation that his government will ensure that there is no injustice against the community in light of the recent controversy over the NRC and the CAA. However, unlike many of his counterparts in other states, he did not say that NRC would not be implemented in Maharashtra. This is despite both his allies, the Congress and the Nationalist Congress Party (NCP), opposing it. Thackeray had earlier told the media that he would wait for the Supreme Court's decision on a bunch of petitions challenging the CAA-NRC. "Thackeray is well aware that he lacks administrative experience and is being very cautious. He does not want to give any ammunition to the opposition parties through his statements," said political analyst Hemant Desai. He, however, said ultimately Thackeray will have to pay heed to his allies and junk the NRC as both NCP chief Sharad Pawar and state Congress chief Balasaheb Thorat have opposed the implementation of the NRC in the state. Besides, Thackeray himself has been critical of the BJP on the NRC-CAA issue, saying its crackdown on Jamia Islamia Millia University was akin to the 1919 Jallianwala Baug massacre. The Congress, meanwhile, accused Prime Minister Narendra Modi of misleading the nation on the issue of detention centres. Congress spokesperson Sachin Sawant said Modi's claim that there were no detention centres was false as the Central Government had sent a draft on detention centres to the states in early 2019.
https://www.hindustantimes.com/mumbai-news/nmmc-school-students-to-carry-lighter-bags-from-next-year/story-Nnlk32YxGVbp8pmFX9fOVI.html
------
Government approves update of national population register, says no link to NRC
Dec 25, 2019
NEW DELHI: The Union Cabinet on Tuesday cleared a scheme for updating the National Population Register (NPR) at a cost of Rs 3,900 crore. The exercise will involve gathering information for the first time regarding date and place of birth of a usual resident's mother and father, as well as his/her identity details like Aadhaar number, passport number, driving licence number and voter ID.
A usual resident is described as someone who has been living in a place for six months or intends to spend the next six months at the same place.
Sharing one's Aadhaar/passport, driving licence and voter ID details will be voluntary. The information for both census and NPR will be collected by the same enumerator, either through an app or by manually filling up a form.
Graph lead
All fields are to be recorded as declared by the respondent — or self-certification, as stated by I&B minister Prakash Javadekar — and no proof or supporting documents shall be sought. No biometrics will be collected, though they may be sourced from UIDAI.
PAN dropped from papers needed for NPR
While the plan was to collect PAN as well, it has been dropped from the list of identification fields for NPR following reluctance by respondents in sharing details during the pre-test conducted from August 12 to September 30.
The announcement came amid protests against the Citizenship (Amendment) Act and fears over the government's intent to draw up a National Register of Citizens (NRC). While PM Narendra Modi had asserted on Sunday that no plan had been made yet to prepare NRC, the decision to update NPR was attacked by opposition parties as the first move to draw a national registry of citizens.
The government justified the need for NPR to implement welfare schemes.
The Census will, also for the first time, have fields like access to internet, number of household members availing banking services, mobile number, smartphones, DTH/cable TV connection, ownership of a house other than rented accommodation, bottled water availability, and type of latrine.
The details of mother and father's date and place of birth — to be accepted at face value and for which no documentary proof need be furnished — are seen as crucial, especially for those born after 1987, as these might, at a later date, help establish the respondent's Indian citizenship on the basis of either of the parents being an Indian citizen at the time of his/her birth. However, Javadekar said providing the information was also voluntary. "If someone does not remember, it is not required," he said.
However, as and when a decision is taken to publish the National Register of Indian Citizens (NRIC) provided for under Citizenship Rules of 2003, this piece of information will become crucial and shall be open to verification and can be objected to if inaccurate. As of now, however, no rules for NRIC have been prepared.
Sources in the home ministry said there was no proposal at present to follow up NPR — to be done with the "houselisting" phase of Census 2021 due between April and September 2020 — with an all-India NRC. "There is no link between NPR and NRC," home minister Amit Shah clarified on Tuesday in an interview to ANI.
NPR will be conducted across the country, with all states/UTs, including West Bengal and Kerala that recently claimed they have put the process "on hold". Unlike Census, where information collected must be kept confidential and can only be put out as collated data, state-wise and district-wise NPR details can be shared with central and state government agencies.
"It is a crucial input in designing social welfare and entitlement schemes and improving the delivery mechanism. The socio-economic caste census is based on NPR data. Besides, by linking NPR with registration of birth and death, real-time population register will be available, leading to register-based census in the future," a home ministry official said.
The Cabinet also approved around Rs 8,700 crore for Census 2021.
https://timesofindia.indiatimes.com/india/government-approves-update-of-national-population-register-says-no-link-to-nrc/articleshow/72961540.cms
------
72 paramilitary companies to be pulled out of Jammu and Kashmir
Dec 24, 2019
NEW DELHI: The Centre has decided to pull out over 7,000 Central para-military troops from Jammu and Kashmir on account of the improvement in law and order situation there and also because the troops were on short-term deployment, sources told TOI on Tuesday.
Of the nearly 7,200 troops de-inducted from Jammu and Kashmir , 2,400 are from the CRPF and 1,200 each from BSF SSB, CISF and ITBP. They were all deployed in the state in view of the government's decision to abrogate Article 370 in the erstwhile state on August 5 this year.
Earlier too, some troops were withdrawn from Jammu and Kashmir for the Jharkhand assembly polls.
While sources indicated that the withdrawal of the Central troops was due as they were on short-term deployment, the decision assumes significance as it comes on a day when a high-level review on situation in UT of Jammu and Kashmir was held in the home ministry.
The review was attended by national security advisor Ajit Doval, Jammu and Kashmir LG GC Murmu, home secretary Ajay Kumar Bhalla, senior security adviser in MHA K Vijay Kumar, Army chief, CRPF DG and IB chief, among others. Home minister Amit Shah chaired the meeting, which was spread over several hours, for some time, as did minister of state for home G Kishan Reddy.
Kumar is scheduled to travel to the UT of Jammu and Kashmir soon to take stock of the situation.
https://timesofindia.indiatimes.com/india/72-paramilitary-companies-to-be-pulled-out-of-jammu-and-kashmir/articleshow/72960035.cms
------
Student expelled for reminding India of Germany's past
December 25, 2019
NEW DELHI: A German student, who participated in protests against India's controversial Citizenship Amendment Act in Chennai, was asked to leave on Monday by the Bureau of Immigration officials.
According to a report in the Hindu, Jakob Lindenthal, a student from the Technical University of Dresden on an exchange programme at the Indian Institute of Technology, Madras, was informed that he had been in violation of visa regulations.
At anti-CAA protests in the campus, Lindenthal held a placard that said: "1933-1945. We have been there." The reference to the Nazi regime in Germany accompanied another placard that read: "No Democracy without dissent".
Speaking to the News Minute, during the protests Lindenthal had said, "The Indian constitution is a secular one and what the ruling government is doing is a clear form of discrimination. I am from Germany and I am aware of what happens when this form of discrimination is taken too far."
Lindenthal, who hails from south Germany, was summoned to the BOI office in Chennai on Monday and questioned on a range of topics, including his views on Indian politics and the anti-CAA protests. After the inquiry, he was informed that he would have to leave the country immediately and reapply for a visa if he wanted to visit again.
Though the German Consulate offered to give him contacts of lawyers for help, feeling unsafe, he decided to leave, sources at IIT told the Hindu.
Lindenthal had been in India since July and his programme was to end by May 2020. He still had a semester to go as part of his exchange programme.
Speaking to the Indian Express, Lindenthal said he had received "oral directions" to leave India from the Foreigners Regional Registration Office in (FRRO) in Chennai.
"After I reached Chennai this morning, my course coordinator advised me to meet immigration officials immediately. When I reached there, they cited some administrative issues related to my residential permit in India. After I resolved their queries and it was clear that there were no issues regarding my residential permit, they started asking me about my politics and hobbies. It was an extensive casual conversation.
They asked about CAA and my participation in anti-CAA protests," he told the Indian Express.
Lindenthal said that he was also asked about his proximity to Chinta Bar, a student collective at the IIT, which had organised the protest.
"I distanced myself from all such groups, I explained. At one point, the officer, referring to my decision to take part in protests, said I was uninformed, that I should not have attended protests when I didn't know what I was protesting about. I disagreed. I replied that it was all about basic human rights of people [...] The conversation was not aggressive, I was moderate in my answers and explained my views," Lindenthal told the Indian Express.
"I do love the IIT-M campus, I love India but I am concerned about illiberal extremes in the country […] In Germany, nobody is ever evicted for participating in a legal demonstration," Lindenthal said.
In a statement, Chinta Bar said that it extended solidarity and gratitude to Lindenthal "for being part of struggle to protect the rights of people in this country and his concern for humanity".
https://www.dawn.com/news/1524238/student-expelled-for-reminding-india-of-germanys-past
------
Aligarh Muslim University students seek answers from police over use of 'excessive force'
Sidharth Ravi
DECEMBER 25, 2019
'Stun grenades', 'rubber bullets' and 'tear gas shells' have all become part of common parlance among students of Aligarh Muslim University, which reportedly witnessed a violent crackdown by police on December 15, leaving several severely injured and at least one with his hand amputated.
While most students have since left the campus, those residing in Aligarh, some of whom continue to stage protest against the Citizenship (Amendment) Act, demanded answers from the police over the use of "excessive force" and from the administration for letting it happen.
"Why was it so brutal?" asked Tuba who is in the final year of graduation and has been protesting against the CAA on the campus. Even if the police were needed to disperse the crowd, "Why did they cross the line? Why were they given permission to do so?" she said, holding the administration accountable.
Following rumours that some students had been killed during a police crackdown at Jamia Milla Islamia on the evening of December 15, students reportedly began gathering at the university's Baki Bae gate in response. Since Section 144 had been declared in Aligarh, students were not allowed to assemble outside the campus. Following an altercation with the police and the Rapid Action Force (RAF) stationed to stop the students from going out, authorities reportedly launched a lathi charge along with several rounds of tear gas shells.
"There was white smoke everywhere. Some Kashmiri students brought out some salt and water to help protect us from it but it didn't really help me," said Nadim, a 19-year-old BA first year student who was hit on the head with a tear gas shell and suffered heavy blood loss. Others such as Mohamed Aasim, also a BA first year student, said that he was hit by a rubber bullet and a few students showed pictures of the same.
"They used rubber bullets used in Naxal areas," claimed Nadeem Usmail, a former student union leader present on the campus on the night of the crackdown. "Some students are said to have ran into a guest house near the gate and locked themselves up in the bathroom. Here, they were reportedly threatened and beaten up by police," Naddem added.
Others injured in the crackdown are said to have been hurt by stun grenades. Nasir, who was admitted to the nearby Jawaharlal Nehru Health Centre, reportedly tried to throw back a stun grenade and was hurt when it burst in his hand. Mohammed Tariq, a PhD student, was near the site of the protest but was unable to recall what exactly happened. Doctors had to amputate the fingers of the right hand to stop an infection from spreading.
After the initial bout of lathi charge, students had retreated to a second roundabout inside the campus and many of them sat in protest, asking the police to leave the campus, those present said. "Everything was going on respectfully but the police provoked the students, making all sorts of communal, vulgar comments" said Arib Ahmed, a second year student, echoing testimonies of others.
The police launched an attack again, with stone pelting having taken place between the two parties here. Police are said to have chased the students here, even entering Morrison court hall, a hostel where tear gas shells were fired into. "A climate of fear has definitely set in," said Mohamed Asim, an Msc student. "Parents used to send us here thinking nothing would happen inside the campus but that's changed now," he said.
University officials, however, pointed out that this wasn't the first time violent protests had taken place or the first time police were let into the campus. In a statement, the university's PRO highlighted various instances in the past when students were even killed in police firing and otherwise, when university buildings were set on fire. In this context, officials argued that allowing the police in was necessary to ensure the situation did not escalate. At the same time, the university has appointed a fact-finding inquiry to be headed by a retired high court judge V.K. Gupta, which will look into police excesses as well as establish the chain of events that took place and submit its report in three months.
https://www.thehindu.com/news/national/aligarh-muslim-university-students-seek-answers-from-police-over-use-of-excessive-force/article30394436.ece
------
Pakistan
Pakistan rejects 'unilateral and arbitrary' US designation for religious freedom violations
Naveed Siddiqui
December 24, 2019
Pakistan on Tuesday rejected its listing by the United States as a violator of religious freedoms, saying the "unilateral and arbitrary designation" is not only detached from the ground realities of Pakistan but also raises questions about the credibility and transparency of the entire exercise.
The Foreign Office in a strongly worded statement also questioned the "conspicuous omission" of India from the list, saying it reflected the "subjectivity and bias" of the US State Department's designations.
The US had last week retained Pakistan among the countries that tolerate religious discrimination. The determination, made on December 18, includes Myanmar, China, Erit­r­­ea, Iran, North Korea, Pakistan, Saudi Arabia, Tajikistan and Turkm­enistan among the states that have been re-designated as "Countries of Particular Concern (CPC)".
The State Department makes these designations under the International Religious Freedom Act of 1998 and countries on the CPC list are classified as "having engaged in or tolerated systematic, ongoing, [and] egregious violations of religious freedom".
Countries in this category can face further actions, including economic sanctions, by Washington.
The FO spokesperson said Pakistan's designation is reflective of "selective targeting of countries, and thus unlikely to be helpful to the professed cause of advancing religious freedom".
"Pakistan is a multi-religious and pluralistic country where people of all faiths enjoy religious freedom under constitutional protections," the press release said, adding that all branches of the government — the executive, legislature and the judiciary — have made concerted efforts to ensure that all citizens of Pakistan can practice their religion freely.
"The higher judiciary of the country has given landmark judgements directing on ensuring the sanctity and security of places of worship of minorities."
According to the FO, Pakistan has also engaged with the international community, including the US, to develop a better understanding of religious freedom issues and earlier this year, Senator Samuel Brownback, the US Ambassador-at-Large for International Religious Freedom, was welcomed in Pakistan for dialogue to advance the mutual objectives of religious freedom globally. "It is regrettable that this constructive engagement has been overlooked," the statement said.
It added that the subjectivity and bias of the exercise are further illustrated by the omission of India, "the biggest violator of religious freedom".
"The US Congress has held two hearings and more than 70 US legislators have publicly expressed concerns over India's treatment of Kashmiris and prolonged suppression of their fundamental rights in the Indian-occupied Jammu and Kashmir," the spokesperson said, noting that the UN High Commissioner for Human Rights in Geneva, the UN Secretary General, and several European parliaments have expressed similar concerns.
"In today's India, people belonging to minority communities are being lynched, persecuted and killed with impunity. The National Register of Citizens (NRC) and the recently adopted Citizenship Amendment Act (CAA) are the latest examples of the Indian government's actions to discriminate against people and evidently pave the way towards cleansing of society on the basis of religion."
The press release stated that challenges to religious freedom are a global concern and "only cooperative efforts can help address them".
It highlighted that Pakistan for its part has also raised concerns over the growing trend of Islamophobia in many Western countries, including the US.
"Working together in an environment of trust and understanding is the best way forward in realising the objective of promoting and protecting religious freedom," the FO concluded.
https://www.dawn.com/news/1524141/pakistan-rejects-unilateral-and-arbitrary-us-designation-for-religious-freedom-violations
------
2020 to be year of uplift, new jobs, end to poverty: PM
December 25, 2019
ISLAMABAD: Amid prevailing economic crisis and inflation, Prime Minister Imran Khan on Tuesday showed a 'ray of hope' to the nation by saying that 2020 will be the year of progress, development, alleviation of poverty and creation of jobs for the people.
"2019 was the year of difficulties as we had to overcome a huge deficit, but 2020 will be the year of economic stability and development and progress for Pakistan," he said while addressing the launching ceremony of the Pakistan Post's initiative for delivery of remittances by overseas Pakistanis through 500 designated post offices in various cities.
"2020 will be the year of progress and stability in which on the one hand people will get jobs and, on the other, poverty will be eliminated through Ehsas programme," he added.
Terming the previous system of the country a remnant of British rule in the subcontinent, the prime minister said his vision of Naya [new] Pakistan was based upon discarding the old mindset and patronising merit system which in the past had badly hampered the functioning of all government departments. "The mindset of our officer is still that do not facilitate complainants and treat them rudely. But in Naya Pakistan we are trying to change this mindset," he said.
Premier praises overseas Pakistanis' contribution to the economy
The prime minister said that the establishment of the state of Madina also had taken time (and it happened) after the Holy Prophet (Peace be upon him) changed the mindset of the people.
Referring to the functioning of the Pakistan Post, he said that due to recent introduction of merit, it had turned into a profit-making entity.
"The West shifted from monarchy to democracy, but our countries went to the opposite side," he observed and cited the progress of China due to introduction of merit system there under the leadership of President Xi Jinping and Premier Li Keqiang who had worked tirelessly for many decades.
Prime Minister Khan said that efforts were being made by his government to make the merit system prevail and counted recent drastic measures to make the PIA a profit-making organisation and curbing the losses of Rs100 billion in power sector.
Prime Minister Khan said that a scheme was on the anvil to give some sort of prizes or special cards, including the health cards, to the families of overseas Pakistani labourers to motivate them to send remittances through legal channels.
He appreciated overseas Pakistanis' contribution towards the national economy and said that his government would take measures to facilitate them. "In the past, the embassies and missions did not look into their issues, but I have given special instructions and now special attention is being paid to their problems," he added.
"Overseas Pakistanis will be given facilities and extra steps should be taken to resolve their issues. If they send remittances through legal channels, they should be given the incentives like Rs700,000 health cover, etc," he said.
The prime minister expressed the confidence that the Pakistan Post initiative would be helpful for those working in hard conditions abroad as a total of 500 centers would be functioning to facilitate them.
Minister for Communica­tions and Postal Services Murad Saeed gave an overview of the steps taken to make the Pakistan Post fully functional and profitable with the launch of various initiatives.
Communications Secre­tary Jawad Rafiq Malik in his welcome remarks briefed the participants about various achievements of the Pakistan Post during the last one and half years.
Under the Pakistan Remittance Initiative, launched on Tuesday, remittance beneficiaries by using the National Bank of Pakistan portal could collect their payments free of any charge from 500 post office locations.
https://www.dawn.com/news/1524282/2020-to-be-year-of-uplift-new-jobs-end-to-poverty-pm
------
KP police reviewing terror watch list
December 25, 2019
PESHAWAR: Inspector General of Police, Khyber Pakhtunkhwa, Dr Mohammad Naeem Khan on Tuesday said his department was reviewing the Fourth Schedule of the Anti-Terrorism Act and would complete the exercise in two weeks.
"We are rationalising Schedule-IV as it has some unwanted names but doesn't have those, which should be there," he told reporters at the central police office here.
The police chief said the department had developed proper criteria for putting names on the terror watch list.
He said the Fourth Schedule, which had around the names of 3,700 people, including Afghan nationals, would be rationalised in two weeks.
Dr Naseem said all district police officers would conduct review meetings in their respective areas, while the list would carry only the names allowed by Section 11(EE) of the Anti-Terrorism Act, 1997.
IGP says revised Fourth Schedule will be in place in two weeks
Section 11 of the law provides for keeping the names of individuals with terrorist and sectarian connections on a list called Fourth Schedule.
Dr Naeem said the police had killed 21 high-profile terrorists associated with the Bali Khiara group in Dera Ismail Khan district during the last one year in a well-coordinated operation.
He said the Khiara group had been active in the areas bordering Punjab since terrorist Bali Khiara took over its reins for five years after the elimination of his predecessor in a US drone strike.
He said the group carried out 28 terrorist attacks last year but the ongoing crackdown carried out by security forces and police had almost halved the number.
He said Bali Khiara was on the run but the police would capture him soon.
Dr Naeem said land grabbing had become a big menace in the province, so the police had launched a major crackdown on it as well as usury and peddling of ice drug.
He said the police had identified 1,895 usurers, ice peddlers and land grabbers before compiling their criminal records for action.
The IGP said 995 of those outlaws had so far been detained and 905 challaned.
He said the police had launched a special crackdown on drugs in Lakki Marwat district for more than a month arresting nearly half of the major dealers, while the rest were on the run.
Dr Naeem said the process of merging the Khasadar and Levies personnel with KP police was going ahead smoothly.
He said the absorption of 29,000 Levies and Khasadar personnel was a big challenge and to ensure it happens transparently, the KP police first set up a scrutiny committee headed by the DPOs at district level, which checked all relevant records.
The IGP said the lists provided by districts were further vetted by another committee set up at the central police office and they were later placed before the home department.
He said after clearance, the refined lists would be placed before the cabinet for approval.
Dr Naseem said efforts were under way to turn the police in merged districts into a citizen oriented professional force and had prepared a detailed training plan for it.
He said in addition to the communication equipment, IED jammers, armoured personnel carriers had to be procured for the police, while the counter terrorism department, bomb disposal unit and special branch had to be extended to the merged districts.
He said the dispute resolution committees would become functional in the merged tribal districts within a month.
He said under the Prime Minister's Digital Pakistan initiative, the provincial police department was set to launch 'e-ticketing and roaming eye' initiatives to ensure the smooth flow of traffic in Peshawar.
https://www.dawn.com/news/1524271/kp-police-reviewing-terror-watch-list
------
Bill on Muslim family laws deferred over reservations in KP
December 25, 2019
PESHAWAR: The government deferred a bill related to Muslim family laws during consideration stage in the Khyber Pakhtunkhwa Assembly on Tuesday after religious parties expressed reservations about the amended draft of the proposed law.
The Muslim Family Laws (Amendment) Bill, 2019, was in the consideration stage when lawmaker of Muttahida Majlis-i-Amal (MMA) Inayatullah Khan raised objections to the amended draft claiming certain clauses of the bill are in conflict with the teachings of the Holy Quran and Sunnah.
He demanded that the bill be referred to the Council of Islamic Ideology for opinion.
Speaker Mushtaq Ahmad Ghani chaired the proceedings.
Other MPAs of the religio-political alliance supported the member.
Local government minister Shahram Tarakai, who moved a resolution for the passage of the bill, said the draft was cleared by the council ahead of its introduction in the assembly.
He said the amended bill was exclusively applicable to all Muslims belonging to the Shia school of thought (Fiqah-i-Jafria).
However, the MMA lawmakers kept demanding the sending of the bill to the CII.
The minister agreed with the MMA members and deferred the passage of the bill.
He said the draft bill would be sent back to the council.
According to the amended bill, if a Muslim man from Ahl-i-Tashih dies issueless, his widow will receive one-fourth share from his estate and if the deceased has left more than one widows, the widows will receive an equal share from one-fourth share of the estate.
In case of dispute, with reference to sub-section (2), arising due to differences of opinion, the parties or any of the parties may have recourse to a court of competent jurisdiction or by approaching the Mujtahid-i-Alam.
The assembly passed the Khyber Pakhtunkhwa Journalist Welfare Endowment Fund (Amendment) Bill, 2019.
Earlier, the opposition protested the arrest of Pakistan Muslim League-Nawaz leader Ahsan Iqbal.
Lawmakers of the joint opposition displayed placards in front of the speaker's dais.
On a point of order, Opposition Leader Akram Khan Durrani said after the National Accountability Bureau, the government was using the Federal Investigation Agency to blackmail its political rivals.
He said the arrest of PML-N leader Ahsan Iqbal by the NAB was illegal and he (Iqbal) had been arrested to pressure politicians to change political loyalties.
Mr Durrani said the government was bent on destroying the FIA.
He said the agency had summoned three PML-N leaders, while the NAB had summoned PPP chairman Bilawal Bhutto Zardari.
MPAs Sardar Hussain Babak, Sardar Yousaf and Sher Azam Wazir also condemned the arrest of the PML-N leader.
They also criticised the administration of Rawalpindi for not allowing the PPP to hold a public meeting in the city on Dec 27.
MPA of North Waziristan tribal district Mir Kalam drew the house's attention towards a volatile situation in the merged tribal districts, especially in his hometown.
He said the security forces had conducted hundreds of operations against militants in the erstwhile Fata but peace hadn't been restored.
The lawmaker said displaced people had yet to return to their homes in North Waziristan tribal district.
He said the Bakakhel Camp for displaced people in Bannu subdivision had apparently been declared a 'no go area' for outsiders.
Mr Kalam said senior politicians and elected representatives were not allowed to visit the camp.
He claimed that thousands of people, who fled North Waziristan area after the launch of a military operation in June 2014, continued to live in Afghanistan due to the prevailing uncertainty in own area.
https://www.dawn.com/news/1524264/bill-on-muslim-family-laws-deferred-over-reservations-in-kp
------
Quaid-e-Azam liberates the Muslims of Sub-continent by establishing Pakistan: Masood Khan
December 24, 2019
MUZAFFARABAD, Dec 24 (APP):The President of Azad Jammu and Kashmir (AJ&K) Sardar Muhammad Masood Khan has said that founder of Pakistan Quaid-e-Azam Muhammad Ali Jinnah after hectic democratic and lawful struggle against the British empire and Hindu leadership of Indian National congress liberated the Muslims of Sub-continent by establishing a separate homeland.
Quaid made the dream true envisage by the great philosopher and poet of the East Dr. Allama Muhammad Iqbal who had given the concept of Pakistan when addressing at AIlabad in 1932.
The AJK President said in his message on the 144 birth anniversary of Quaid-e-Azam Muhammad Ali Jinnah issued here.
Masood observed that it was the dynamic leadership and legacy of Quaid-e-Azam who was well aware of the political dodges of English Empire and the cunning Hindu Congress leadership who were bent upon to keep the Muslims of the Sub-continent under the shackles of slavery and force them to remain socially, politically and economically backward he added.
He said that Quaid-e-Azam faced numerous difficulties and went through severe trials but his visionary and dynamic leadership stood firm against all odds and finally succeeded in achieving the destination in shape of Pakistan.
https://www.app.com.pk/quaid-e-azam-liberates-the-muslims-of-sub-continent-by-establishing-pakistan-masood-khan/
------
Nation celebrates Quaid's 143rd birth anniversary with traditional enthusiasm
December 25, 2019
The 143rd birth anniversary of the nation's founder Quaid-i-Azam Mohammad Ali Jinnah is being observed today with traditional zeal and enthusiasm across the country.
The day started with a change of guards ceremony at Jinnah's mausoleum in Karachi. The national flag was been hoisted at all government and private buildings and special events have been planned for the day in order to shine a light on Jinnah's life and legacy, Radio Pakistan reported.
Sindh Chief Minister Murad Ali Shah and Governor Imran Ismail also visited Jinnah's mausoleum on the occasion.
Jinnah 'vindicated again'
In his message on the occasion, President Arif Alvi termed Jinnah as a "visionary man who envisaged a separate identity, needs and political direction of the Muslims of the subcontinent".
"The acumen of his foresight and vision can be witnessed even today with the prevailing conditions in India and occupied Kashmir," said the president and urged the nation to "stand united and re-affirm our faith in his teachings".
Prime Minister Imran Khan, in his message for the nation, said that the "best way to pay homage to the Quaid on his birth anniversary is to adhere to his principles of Unity, Faith and Discipline".
Both the president and the prime minister said that the Indian government's move to strip occupied Kashmir's special status and its actions have "again vindicated the conviction of the great Quaid".
Leader of the Opposition in the National Assembly Shehbaz Sharif also echoed similar sentiments, saying that "events taking place across the border have reaffirmed [Jinnah's] vision, political wisdom and far-sightedness".
"We can't thank the Quaid enough for his gift that is Pakistan," he tweeted.
Sindh Chief Minister Shah, while speaking to media outside Jinnah's mausoleum, said that it is imperative to remember that the first principle of Jinnah's teachings was 'Unity'. He was answering a question pertaining to coordination between Sindh government and Centre.
The chief minister told reporters about the recent Council of Common Interests meeting, which was chaired by Prime Minister Imran and attended by provincial chief ministers, and said that there had been "positive developments".
He also vowed to ensure that minorities' rights are protected in light of the founder's teachings and wished the Christian community a happy and safe Christmas.
Foreign Minister Shah Mahmood Qureshi paid tribute to the nation's founder and added that Jinnah was a "leader, who believed in law and justice".
"A man of great vision who foresaw the importance of two separate nations," Qureshi tweeted. "72 years later Quaid's worst critics concede that he was right."
Human Rights Minister Shireen Mazari noted that the nation had a "long way to go to realise the vision" of Jinnah.
"Our founder Quaid-i-Azam Mohammad Ali Jinnah & his vision for Pakistan — We have a long way to go to realise his vision but we must strive to achieve it," Mazari said in a tweet.
Inter-Services Public Relations Director General Maj Gen Asif Ghafoor also tweeted on the occasion and said: "Happy Birthday Father of the Nation, Quaid-i-Azam Muhammad Ali Jinnah. Can't thank you enough for having got us Pakistan. Those who opposed then are realising now. For them it's beginning afresh now."
https://www.dawn.com/news/1524305/nation-celebrates-quaids-143rd-birth-anniversary-with-traditional-enthusiasm
------
Govt strikes over 800,000 names off BISP database
Syed Irfan Raza
December 25, 2019
ISLAMABAD: The federal government on Tuesday gave approval to the remo­val of 820,165 names from the Benazir Income Support Programme (BISP) database, describing the beneficiaries as "undeserving".
The decision was taken at a cabinet meeting after Spe­cial Assistant to the Prime Minister on Social Welfare and Poverty Allevi­ation Dr Sania Nishtar informed it that the database of the BISP was being revised to exclude "undeserving" persons, Special Assistant to the Prime Minister on Information Dr Firdous Ashiq Awan said while addressing a post-cabinet meeting press conference.
The changes in the BISP database were made in the wake of reservations expre­ssed by some cabinet members in the previous meetings that the supporters of opposition parties, especially those bac­king the Pak­is­tan Peo­ples Party (PPP), were benefiting from the programme while those belonging to the ruling Pakistan Tehreek-i-Insaf were being ignored.
Launched in July 2008, the BISP is the country's largest single social safety net programme with around 5.4 million beneficiaries, according to the 2016 data.
Dr Nishtar apprised the cabinet that in view of some complaints and need to update the BISP data, the survey was being reviewed with the help of the National Database and Registration Authority.
Cabinet throws out Maryam's plea for foreign travel; announces package for families living along LoC
She said during the review, some aspects were being looked into. For example, she added, it was being ascertained whether the family of a beneficiary had any motorcycle or car or whether a spouse was a government employee. The cabinet was further told that those who had over 12 acres of land also did not fall in the category of "deserving" people. After the exclusion of 820,165 people, really deserving people would be included in the programme, she added.
"If we look into these aspects, then it comes to the fore that 820,165 people should not come in the purview of BISP," Dr Awan said.
The cabinet in its Tuesday meeting also decided to bar Pakistan Muslim League-Nawaz (PML-N) Vice President Maryam Nawaz from travelling abroad by rejecting her request on the recommendation of cabinet's subcommittee that deals with the Exit Control List (ECL).
Talking to the media, Dr Awan said: "Today recommendations of the subcommittee were placed before the cabinet suggesting that the VIP lady [Maryam Nawaz], who had laundered politically made assets abroad, not to leave the country."
In all, the PM's aide said, 24 cases regarding the ECL were brought before the cabinet through an interior ministry summary. It was decided to remove eight names from the no-fly list, reject the request for the removal of one name from the list and place four names on the ECL, she said, adding that eight cases were deferred. However, she did not disclose the fate of the remaining three cases.
Dr Awan said the cabinet unanimously rejected the request to remove the VIP's name from the ECL. She explained that the cabinet endorsed the subcommittee's recommendation that everyone should be treated according to law.
Earlier, ruling Pakistan Tehreek-i-Insaf leader and legal expert Babar Awan had said the rules concerning placement of name of persons on ECL did not allow the government to entertain the PML-N vice president's application to remove her name from the no-fly list. Similarly responding to a question about the application Ms Nawaz had filed before the Lahore High Court (LHC) to seek removal of her name from the ECL, federal Minister for Water Resources Faisal Vawda in a TV show had said the government would challenge court's decision if the judiciary allowed her to go abroad and visit her ailing father in London.
PML-N's reaction
In a statement issued on Sunday, PML-N Information Secretary Marriyum Aurangzeb said the government decision to bar the daughter of ex-prime minister from travelling abroad was not a surprise move considering that the PTI regime was always desperately looking for opportunities to victimise and persecute the leadership of the opposition party. "The decision of the subcommittee has no logical reason for keeping Maryam on the ECL, as the government has failed to prove any allegation against her in 16 months," she claimed. Ms Nawaz had to file a plea before the court also, because the PML-N was aware of the 'prejudice and vengeful mindset' of the ruling PTI, she said.
Compensation package
According to the PM's aide, the cabinet announced a compensation package for the people who often fall victim to indiscriminate Indian firing and shelling from across the LoC. "More than 79,992 houses remain under target of Indian firing and shelling and the government has decided to provide relief under Benazir Income Support Programme to 13,982 families living on the LoC," she said.
Under the PTI government's flagship programme, Ehsas, Dr Awan said ration would be supplied to the families living along the LoC. Besides, she said, the government would provide monetary assistance of Rs5,000 to each married woman of 33,498 families along the border on a quarterly basis. This would require a sum of Rs670 million for the year 2019-20, she added.
She also announced that the amount of stipend had been increased from Rs5,000 to Rs5,500 under the Ehsas Kifalat programme.
Tax laws, appointments
According to her, the cabinet meeting also approved proposed amendments to tax laws including Income Tax Ordinance-2001, Tax Act 1990, Customs Act-1960 and Federal Excise Act-2005.
In a separate decision, the cabinet approved appointment of retired Rear Admiral Zakaur Rehman as general manager of Karachi Port Trust (KPT), reformation of National Power Parks Management Company [NPPMC] board, appointment of members of the National Commission of Human Rights, Irfan Bukhari as ECO Exim Bank, Hamid Haroon as senior member of Federal Land Commission and Farrukh Iqbal as CEO of First Women Bank Limited.
https://www.dawn.com/news/1524212/govt-strikes-over-800000-names-off-bisp-database
------
Punjab govt sets up body to decide about Nawaz stay
December 25, 2019
LAHORE: The Punjab government has constituted a four-member committee to decide the request of former prime minister Nawaz Sharif who sought to prolong his stay abroad for his medical treatment, claiming his condition to be 'very critical'.
Mr Sharif has written to the Punjab home secretary seeking extension in his stay abroad for his medical treatment (not limited to a specific period) following the end of his four-week permission for the purpose.
The provincial government constituted a four-member committee headed by Law Minister Mohammad Basharat Raja to look into the matter, a source told Dawn.
Mr Basharat was not available for a comment.
The ex-premier had left for London over a month ago after the Pakistan Tehreek-i-Insaf government gave him a one-time permission to travel abroad for medical treatment during his bail period of four weeks without the condition of submitting indemnity bonds. The Islamabad High Court had directed Mr Sharif to seek Punjab government's permission for further relief if required.
Ex-PM writes to home secretary seeking to prolong his stay abroad for medical treatment
It declared that until the provincial government decided the matter, the bail would remain in effect and the court order would cease to exist if the government decided against extending the bail period.
Pakistan Muslim League-Nawaz President Shahbaz Sharif had submitted an undertaking in the Lahore High Court (LHC) promising return of his elder brother Nawaz Sharif within four weeks or as and when "certified by the doctors that he has regained his health and is fit to return to Pakistan".
He had also undertaken to provide periodical reports of the doctors, duly certified by Pakistan's embassy in London, to the registrar of the LHC. The undertaking includes a clause that states that the Pakistan High Commission will have the right to meet Nawaz's doctors to 'verify or confirm about his health', if at any stage the federal government has credible information that the former premier was living abroad despite being fit to travel.
Citing his past record to face the process of law and justice, the ex-PM, in his undertaking, had also pledged to return within four weeks or as soon as he was declared healthy and fit to travel back. "I also do hereby bind myself to the undertaking given by my brother Shahbaz Sharif."
The interior ministry's notification had also mentioned the LHC judgement about the travel permission. The LHC had allowed his stay in any other country for four weeks for medical treatment, observing that the duration could be extended based on his medical reports.
Mr Nawaz, who was diagnosed with an immune system disorder, had been advised by doctors to go abroad for medical treatment. His personal physician Dr Adnan had recently told the media that he had been diagnosed with a complicated coronary disease and would undergo further scans before doctors began treatment.
In a tweet a few days ago, Dr Adnan said: "Former PM #NawazSharif underwent comprehensive Cardiovascular evaluation & investigations at Royal Brompton & Harefield Hospital, London. He's diagnosed with complicated Coronary Artery/Ischemic Heart Disease with significant disease burden. Cardiac Perfusion Scans scheduled."
https://www.dawn.com/news/1524280/punjab-govt-sets-up-body-to-decide-about-nawaz-stay
------
South Asia
India's NRC, CAA Global Issue: Dhaka University Professor Emeritus
December 24, 2019
Dhaka University Professor Emeritus Serajul Islam Choudhury today criticised Bangladesh government's stance regarding India's NRC (National Register of Citizens) and Citizenship Amendment Act (CAA).
"The terming by our government of NRC and CAA India's internal issues, is objectionable," the professor said adding that these are global issues.
"If the neighbour's house catches fire, ours will too at some point," he said during a programme at the Dhaka Reporters' Unity.
Claiming that India is facing severe economic crisis, the professor said that the country created the issue deliberately in order to divert local and global attention from the economic crisis.
There has been a rise of fascism around the world and the worst people in the society are becoming rulers, he said adding, "only criticising the situation won't do, we have to strengthen protests against fascism and capitalism."
Bangladesh already has 12 lakh Rohingyas; moreover, in Assam 19 lakh have been rejected by NRC he mentions adding that Bangladesh will not be able to take responsibility of so many people, said Gonoshasthaya Kendra founder Dr Zafrullah Chowdhury, who also talked at the programme titled "Effect of NRC and CAA on South Asia and Bangladesh in Global Context".
https://www.thedailystar.net/country/news/indias-nrc-caa-global-issue-dr-serajul-islam-1844557
------
15 Taliban militants killed, weapons caches destroyed in Special Forces raids and airstrikes
Wednesday, 25 Dec 2019
The Afghan Special Forces and Air Forces conducted a series of operations in the past 24 hours killing at least 15 Taliban militants in 8 provinces.
The military officials said Wednesday that the Special Forces killed 2 Taliban militants and destroyed a small cache of weapons in Gulran district of Herat province.
The officials further added that the Special Forces arrested a Taliban militant and destroyed a small cache of weapons in Sayid Karam district of Paktiya province.
The Special Forces destroyed another small cache of weapons belonging to ISIS Khurasan during an operation in Achin district of Nangarhar, the officials said, adding that two separate airstrikes killed 7 Taliban militants and destroyed a weapons cache in Gelan and Andar districts of Ghazni.
The security forces also conducted airstrikes in Sayidabad and Nerkh districts of Wardak, Ishkamish district of Takhar, Sangin district of Helmand and Shah Joy district of Zabul which killed 6 militants, wounded another Taliban fighter an destroyed a cache of weapons, the officials said.
The Taliban group has not commented regarding the operations so far.
https://www.khaama.com/15-taliban-militants-killed-weapons-caches-destroyed-in-special-forces-raids-and-airstrikes-04432/
------
15 Afghan soldiers killed in a Taliban ambush in Northern Balkh province
Tuesday, 24 Dec 2019
Taliban have ambushed an Afghan military check-point in Dawlatabad district of northern Balkhi province, killing at least security members, officials said on Tuesday.
Mohammad Yousuf, the district governor of Dawlatabad where the incident took place have spoken to Reuters confirming dozens of Taliban insurgents targeted a checkpoint manned jointly by Afghan soldiers and intelligence agents, killing 15.
The Afghanistan Ministry of Interior Affairs released a statement, confirming the Taliban attack on an Afghan security check-point in Dawlatabad district of Balkh. MOI has confirmed death of only 7 Afghan soldiers in this attack, apparently did not want to disclose the exact figures of casualties sustained in Taliban attack.
On the other hand, Taliban has announced killing of 20 Afghan security forces, injuring 6 and detaining another 4 of them alive.
"We attacked an enemy military base in Dawlatabad district of Balkh province last night. As a result of this operation we killed 20 soldiers including commander Latif, injured 6 of them and have detained 4 soldiers alive," a Taliban spokesperson, Zabihullah Mujahid tweeted.
This comes as the U.S peace envoy, Zalmay Khalilzad restarted negotiations with Taliban few weeks back focusing on violence reduction, ceasefire and intra-Afghan talks.
The talks were interrupted following a Taliban attack on Bagram airfield, destroying a health facility nearby the Bagram military base.
But, recently sources close to Taliban had said a Taliban delegation have travelled to Pakistan to consult with their leaders and senior members on the 'ceasefire'.
Sources also said that the US peace envoy for Afghanistan, Zalmay Khalilzad, is in Qatar and waiting for the Taliban's agreement over a reduction of violence and a ceasefire to pave the way for the signing of the agreement.
https://www.khaama.com/at-least-15-afghan-soldiers-have-been-killed-in-a-taliban-ambush-in-northern-balkh-province-9008/
------
Two killed in 'gunfights'
December 25, 2019
Two suspected criminals were killed in "gunfights" with members of Rapid Action Battalion in Cox's Bazar and Pabna early yesterday.
The dead are suspected drug peddler Rubel, 22, of Teknaf upazila in Cox's Bazar, and suspected robber Amin Sheikh, 40, of Pabna Sadar upazila, said Rab.
Mirza Shahed Mahtab, company commander of Rab-15 in Teknaf, and Aminul Kabir Tarafder, commanding officer of Rab-12 in Pabna, talked to journalists after the "gunfights".
According to the officials, members of the elite force conducted raids in the two districts on information.
In both the cases, "criminals" opened fire on Rab members first, forcing them to retaliate.
During the "gunfights", both the "criminals" sustained bullet injuries and died.
In Cox's bazar, Rab members rushed Rubel to Cox's Bazar General Hospital where doctors declared him dead. In Pabna, Amin died on the spot of the "gunfight".
The bodies were sent to morgues for autopsies.
Rab in Cox's Bazar recovered 10,000 yaba pills, one locally made gun and three bullets while Rab in Pabna recovered one pistol and two sharp weapons from the scene.
Two cases were filed with Teknaf Police Station and Pabna Sadar Police Station in connection with the "gunfights".
Our correspondents in Cox's Bazar and Pabna contributed to this report
https://www.thedailystar.net/backpage/news/two-killed-gunfights-1844818
------
Ministers in AL Committee: Presidium asks Hasina to decide
December 25, 2019
The newly-constituted Awami League presidium, the highest policy-making body of the party, yesterday left it to AL President Sheikh Hasina to decide whether seven ministers would be included in the 81-member central executive committee.
The seven, among the 12 ministers who were in the previous committee, do not feature in the partially-formed Awami League Central Working Committee, which was announced during the AL's triannual council held between December 20-21.
Party insiders, at the time, said they viewed the move as an effort to separate the party from the government, although four ministers were selected in the central committee.
Presidium members yesterday discussed the issue of the seven minister's at their first meeting held at the Gono Bhaban in the capital yesterday night with Hasina in the chair, said sources.
The members gave Hasina the responsibility to take the decision in this regard.
The seven ministers of the Hasina-led 47-member cabinet, who were not named in the committee yet, are Housing and Public Works Minister SM Rezaul Karim, its former legal affairs secretary; Commerce Minister Tipu Munshi, former finance secretary of the party; three former organising secretaries in the previous committee: State Minister for Shipping Khalid Mahmud Chowdhury, Deputy Minister for Water Resources AKM Enamul Haque Shamim and Deputy Minister for Education Mohibul Hasan Chowdhury; State Minister for Religious Affairs Sheikh Muhammad Abdullah, former religious affair secretary; and State Minister for Women and Children Affairs Fazilatun Nessa Indira, former women affairs secretary.
Four ministers -- Obaidul Quader, road transport and bridges minister; Adbur Razzaque, agriculture minister, Dipu Moni, education minister; and Hasan Mahmud, information minister -- were elected in the central executive committee.
Hasina was elected AL president for the ninth consecutive time, while Quader was elected her deputy for his second term.
After the meeting, Quader told reporters at Gono Bhaban gate that the full committee would be announced on Thursday.
Following the council, AL elected 42 office bearers in the 81-member central working committee, while names of the other 11 office bearers and 28 members are yet to announced.
https://www.thedailystar.net/backpage/news/ministers-al-committee-presidium-asks-hasina-decide-1844962
------
Nur files complaint against DU BCL president, secy
December 24, 2019
Ducsu Vice President Nurul Haque Nur today lodged a complaint with police against Dhaka University unit BCL president, general secretary and 35 others for attempting to kill him on Sunday.
Apart from BCL President Sonjit Chandra Das, General Secretary Saddam Hosasin, the names of Moncho leaders-- Aminul Islam Bulbul, Al Mamun, Yeasir Arafat Turjo and ASM Sonet -- were also mentioned in the complaint among others.
Besides, other 40 to 50 unnamed people were also made accused in the complaint filed with Shahbag Police Station.
Ducsu Social Service Affairs Secretary Akhtar Hossain lodged the complaint on behalf of Nur as the Ducsu VP is now undergoing treatment at hospital, said Abul Hasan, officer-in-charge of the police station.
In the complaint, Nur stated that Muktijuddho Moncho leaders Aminul Islam Bulbul, Al Mamun, Yeasir Arafat Turjo and ASM Sonet came to his Ducsu room along with their supporters on Sunday around 12:00noon and swooped on them with sticks and then left the place.
Minutes after the attack, a group of BCL men led by BCL DU unit President Sonjit Chandra Das and General Secretary Saddam Hosasin entered my room with lethal weapons and carried out another attack shutting off the lights of my room with an aim to kill me, Nur stated.
Nur and 30 of his supporters were injured in the attack, the complaint reads.
Abul Hasan, officer-in-charge of Shahbagh Police Station said they received the complaint.
He said the complaint will be merged with the case filed by a sub-inspector of the police station in connection with the incident.
On Sunday, activists of a faction of Muktijuddho Moncho, mostly comprised of Chhatra League men, beat up and injured Nur, storming into his office at the Dhaka University Central Students' Union (Ducsu) building.
At least 27 of Nur's supporters were injured in the attack.
Of the injured, Tuhin Farabi was kept at the intensive care unit of Dhaka Medical College Hospital. Nur and several others are undergoing treatment at the same hospital.
https://www.thedailystar.net/country/news/nur-files-complaint-against-du-bcl-president-secy-1844584
------
'Nearly 5.5 lakh Bangladeshi migrants deported in 10yrs'
December 24, 2019
Nearly 5.5 lakh Bangladeshi migrant workers were deported by different countries in the last 10 years, Shariful Hasan, head of Brac Migration Programme, said at a workshop today.
Almost all of these migrant workers had become undocumented in the destination countries and travel pass was required for their return, Shariful said.
He said the data was prepared based on statistics maintained by Prabashi Kalyan Desk, set at airports by Wage Earners Welfare Board, and other government agencies as accurate data on the country's returning migrant workers are not available.
Shariful said in most cases migrant workers returned because their visas expired, due to lack of job opportunities, physical and mental torture, physically unfit and sick, closure or bankruptcy of companies, and failure of their adaptation in a new environment.
"If we want to make their reintegration sustainable in the society then we have to focus on their mental health and the skills that they have accumulated," he said.
Brac Migration Programme and International Organisation for Migration (IOM) Bangladesh organised the workshop as part of a project called "Prottasha" at Brac Centre Inn in the capital.
Hotline for migrant workers launched
The government has inaugurated a hotline service for the migrant workers of the country for their safety and benefit.
From now on the returnee and potential migrant workers will be able to get information on reintegration, referral support by dialing + 08000102030 (toll free) and + 09610102030 (Long Code), speakers said at the workshop of a joint project in Dhaka.
IOM, in partnership with Brac, is implementing the project titled 'Bangladesh: Sustainable Reintegration and improved Migration Governance- Prottasha'.
Led by the government, the project is funded by the European Union (EU).
The initiative will enable the returnee migrants, their families, community people, relevant stakeholders and potential migrants to avail 16 hours (7:00am - 11:00pm everyday) daily toll-free service.
Speaking at the programme, Shariful Hasan, head of Brac's Migration Programme, said after ending the project, the Brac will continue the hotline service.
https://www.thedailystar.net/country/news/hotline-migrant-workers-launched-1844539
------
Demolish structures at ecologically critical Jhilanja area in Cox's Bazar: HC
December 24, 2019
Underscoring the need for formulating a policy to preserve ecological balance and protect natural resources of the country, the Supreme Court has directed the government to cancel all the leases of plots at Jhilanja Mouza, an "ecologically critical area" in Cox's Bazar, and to demolish the structures built in the area.
In the full text of a verdict, the apex court also ordered the authorities concerned of the government not to grant any lease further within Jhilanja Mouza or any area which has been classified as ecologically critical area (ECA).
The SC, however, asked the authorities to compensate the leaseholders for cancellation of the leases of lands and for the demolition of the structures.
"We, therefore, direct that all leases within Jhilanja Mouza granted after April 19, 1999 be cancelled in the same way as those of the writ-petitioners and any constructions made thereon be demolished. Of course, the leaseholders shall be compensated for their loss due to such cancellation/demolition. We further direct that henceforth no lease shall be granted within Jhilanja Mouza or any area which has been classified as ecologically critical area," the top court said in the full text of the verdict which was released recently.
A seven-member bench of the Appellate Division of the SC headed by Chief Justice Syed Mahmud Hossain delivered a short verdict on December 9 last year after dismissing five separate review petitions and leave to appeal petitions filed by some leaseholders against its 2015 verdict.
The SC in its 2015 verdict upheld a High Court judgement that on July 22, 2010 (HC) had declared valid a government decision cancelling lease of 55 plots in Jhilanja Mouza in Cox's Bazar.
In the full text of the verdict, the apex court bench said, "We finally re-iterate that the petitioners shall be fully compensated for their loss due to the cancellation of their leases, in accordance with the decision of the High Court Division".
The apex court said there is no ambiguity about the notification issued on April 19, 1999, by which, among others, the Sea Beach from Cox's Bazar to Teknaf, including Jhilanja Mouza, was included in the ECA and that was done to protect the natural and ecological balance of the areas in question.
"However, we hope that in the days and years to come the government will adhere to the policy of preservation of the ecological balance and protection of the natural resources of our country not only for our future generations but also to ensure the protection of the environment from degradation and the harmful effects of climate change. Certainly, this much we owe to our progeny."
It would indeed be a travesty of justice if the petitioners having been deprived of their business opportunities, the plots are leased out to others for the purpose of construction and commercial development," the SC said in the full text of verdict.
Contacted, Attorney General Mahbubey Alam told The Daily Star today that the SC verdict will play an important role to help to preserve and protect the environment.
All the leases of plots in Jhilanja Mouza granted April 19, 1999 must be cancelled and the structures constructed thereon in the same area must be demolished in line with the SC directive, he added.
On July 22, 2010, the HC declared valid a government decision cancelling lease of 55 plots in an "ecologically critical area" in Cox's Bazar. The HC delivered the verdict through rejecting 39 writ petitions challenging the legality of the government decision.
The previous Awami League government on April 19, 1999, declared Jhilanja Mouza on the seashore an ECA.
But the BNP-Jamaat alliance government in 2005 leased out 59 plots measuring around 73 acres in the Mouza, ignoring the April 19, 1999 gazette notification in this regard.
Of the lessees, only four followed the terms of the lease, and some sold away their plots and others are building structures on those defying the lease terms.
The AL-led government on January 12, 2010, cancelled lease of 55 plots. Owners of plots filed 39 writ petitions with the HC in the same month.
https://www.thedailystar.net/country/news/demolish-structures-ecologically-critical-area-coxs-bazar-hc-1844587
------
Afghan Special Forces kill Taliban's shadow district chief during a raid in Herat
Wednesday, 25 Dec 2019
The Afghan Special Forces killed the shadow district chief of Taliban for Shindand district of Herat province during an operation in Keshk-e Kohna district.
According to a statement released by Special Operations Corps, the Special Forces conducted the raid in Aab Barek Village of Keshk-e Kohna district of Herat.
The statement further added that the Special Forces targeted the compound of Abdul Rauf alias Mukhlis, the shadow district of Taliban for Shindand district of Herat.
The Special Forces killed Rauf alias Khalis during the raid together with one of his bodyguards and confiscated an Ak-47 rifle, a motorcycle, two sets of mobile phones and some other kits during the raid, the statement added.
The Taliban group has not commented regarding the operation so far.
Herat is among the relatively calm provinces in West of Afghanistan but the security situation in some of its districts has deteriorated during the recent years.
Taliban militants are active in some remote districts of the province and often conduct terrorist related activities.
Meanwhile, the Afghan forces routinely conduct counter-terrorism operations against the anti-government armed groups in this province.
https://www.khaama.com/afghan-special-forces-kill-talibans-shadow-district-chief-during-a-raid-in-herat-04433/
------
Arab World
Helping the people of Yemen - at the Mashid Al Jannah mosque
24th December
A food and medicine appeal for the people of Yemen is being run at the Masjid Al Jannah mosque in Stoke Road, Slough from tomorrow (Wednesday, Christmas Day) until Sunday.
It is being run in partnership with Forgotten Women - the non-profit making organisation that aims to help women avoid the poverty trap by helping them run their own businesses.
Bring tinned food, baby care products and medical equipment to the mosque's car park in Bristol Way any time until 9pm Wednesday to Saturday and until 7.30pm on Sunday.
https://www.windsorobserver.co.uk/news/18121384.helping-people-yemen---mashid-al-jannah-mosque/
------
Saudi Arabia vows to fight graft to ensure growth
December 25, 2019
RIYADH: In its weekly session on Tuesday, the Saudi Cabinet vowed to crack down on financial and administrative corruption to achieve the goals of the Kingdom's Vision 2030.
The Cabinet meeting, chaired by King Salman at Al-Yamamah Palace in Riyadh, commended the state budget for the fiscal year 1441/1442 H corresponding to the year 2020. The ministers said the budget showed the Kingdom's determination to continue socioeconomic reforms and enhance the ongoing development process.
The king ordered all ministers and officials to commit to the Kingdom's development and social programs envisaged in the budget.
King Salman briefed the Cabinet about his talks with different heads of states and key foreign officials.
The ministers also reviewed the outcome of the 40th session of the Supreme Council of the Gulf Cooperation Council (GCC) particularly the importance of the member states' role in ensuring the stability and security of the region in the face of current challenges.
The Cabinet welcomed the final communique of the GCC summit citing the GCC leaders' keenness on ensuring cohesion, interdependence and unity, for the welfare of the region and its people.
In a statement issued to the Saudi Press Agency, Media Minister Turki Al-Shabanah said the ministers commended the formation of the Control and Anti-Corruption Authority to fight financial and administrative corruption.
Earlier in December, a royal order was issued incorporating the Control and Investigation Authority and the Mabahith to the National Anti-Corruption Authority and altering its name to Control and Anti-Corruption Authority.
The Cabinet also hailed the signing of an agreement to set up the Unified Military Command Headquarters of the GCC in Riyadh. This reflects the determination to establish security and defense cooperation and coordination to preserve Gulf stability.
The ministers also reviewed the G20 meetings held under the presidency of the Kingdom.
Al-Shabanah said the Cabinet also reviewed regional and international developments.
The ministers congratulated Abdelmadjid Tebboune on his election as Algerian president, he added.
The Cabinet stressed the role being played by the Organization of Islamic Cooperation (OIC) and its relentless endeavors to strengthen the joint Islamic action.
Describing it as a unified voice for the Islamic nation, the ministers said it was an honor for the Kingdom to host the OIC headquarters.
https://www.arabnews.com/node/1603766/saudi-arabia
------
Polio vaccine edict for Pakistani, Afghan visitors to Saudi Arabia
FATIMA MUHAMMAD
December 25, 2019
JEDDAH: Visitors to Saudi Arabia from Pakistan and Afghanistan will need to be vaccinated against polio at least 12 months before their arrival under a new Health Ministry edict.
Vaccination has been made mandatory because of the prevalence of the polio virus in both countries, the ministry told Arab News on Tuesday.
Saudi health authorities are taking strict measures to prevent the virus spreading in the Kingdom, with health monitoring centers ensuring visitors have been inoculated against the disease at least a year before arrival.
The centers will also give all pilgrims booster doses of the polio vaccine depending on their country of origin.
Wild poliovirus mainly affects children under five. One in 200 cases develops into irreversible paralysis while 5-10 percent die from respiratory failure.
Global efforts have expanded the capacity of most countries to tackle infectious diseases by building effective surveillance and immunization systems.
https://www.arabnews.com/node/1603751/saudi-arabia
------
'Roads of Arabia' exhibition visitors in Rome get a sliver of Arabian history
December 25, 2019
RIYADH: The international exhibition titled "The Roads of Arabia Masterpieces of Antiquities in Saudi Arabia Across the Ages" is drawing large crowds at the National Roman Museum in Rome, Italy.
The exhibition has many things to offer to history lovers and people who are keen to learn more about Arab civilization and Saudi culture. The exhibits on display include more than 460 rare artifacts, some dating back more than a million years and to the various civilizations that once thrived in the Arabian Peninsula since the beginning of time.
These are original pieces collected from various regions of Saudi Arabia during national and international excavation missions led by Saudi archeologists. The history of these artifacts date back to the Stone Age through the period of slaves (the 5th millennium B.C.) then the period of Dilmun, the era of early Arab kingdoms, the Islamic era until the period of the establishment the modern Saudi state.
The exhibits related to the Saudi heritage include different aspects of social, cultural, economic and other life through 42 heritage pieces, some of which are the possessions of the founder, King Abdul Aziz. The exhibition also includes an old Saudi flag, a mashhal, and a copy of the Qur'an used by King Abdul Aziz, in addition to the king's falcon hunting tools, which include a hand glove and a falcon's headcover, etc. The exhibition also presents a number of Saudi heritage pieces dating back to the 19th century, including incense burners, rifles, old Saudi coins, a traditional window shelf, traditional daggers for ceremonies, jewelry, necklaces, a bowl of ornate kohl, silver anklets, a powder gun holder, coffee beans cooler, a smooth stone pest, pen holder, inkwell, wooden pen and mold casting, a lead smelter, traditional belt, cannonball, ornate stone carpentry, Arabic coffee pot, and more.
The exhibition also focuses on the impact of ancient trade routes that traversed the Arabian Peninsula, allowing for a vibrant exchange of both trade and ideas. With the advent of Islam, Hajj routes also played a major role in communication and exchanging knowledge with different civilizations of the world.
Since July 13, 2010, the exhibition has been staged in 16 international cities, showcasing outstanding masterpieces of exceptional value for the first time outside the Kingdom.
The exhibition highlights the Kingdom's role in world civilizations and heritage, its Islamic status as the country where the Two Holy Mosques are located, and its position as a bridge and hub of cultural interaction between East and West.
The exhibition was held for the first time at the Louvre Museum in Paris, then at the "La Caixa Fundacion" Barcelona, the Hermitage Museum in St. Petersburg, and the Pergamon Museum in Berlin.
https://www.arabnews.com/node/1603736/saudi-arabia
------
Saudi film 'Irtidad' shortlisted at international festival
December 25, 2019
DHAHRAN: The new Saudi movie "Irtidad" — funded by the King Abdul Aziz Center for World Culture (Ithra) — has been shortlisted for screening at the 42nd Clermont-Ferrand International Short Film Festival, which will take place from Jan. 31 to Feb. 8 in France. The film has been selected from 9,000 submissions and 80 nominees.
The head of performing arts at Ithra, Majed Z. Samman, said the film was presented as part of the Saudi Film Days contest, which is one of the center's initiatives for developing local cinema.
He said: "The center supports the cinema industry in the Kingdom by recognizing invaluable talents and encouraging them to be part of the world stage."
The film, which was directed by Mohamed Al-Hamoud, explores the local culture of the southern regions in the Kingdom. Al-Hamoud said that the movie follows young newlyweds who find themselves outside their comfort zone as they go on a short trip to a remote village in the rural areas of Saudi Arabia.
He explained that the story explores the cultural shock from experiencing new worlds.
The film begins by introducing the couple and revealing their contrasting backgrounds. The wife was raised in Jeddah, a bustling city in sharp contrast to the husband's upbringing in a remote village in Jazan. His humble family wished to dazzle the wife with a traditional dinner party, so the villagers would get to know her. The husband tries to persuade his family to simplify the party for fear of culturally shocking his wife.
Al-Hamoud said that the film was titled "Irtidad," which means recoil in English, "because its events revolve around the culture shock or the first recoiling that occurs when exploring a new and different world. The exposure caused by the environment, the places and the new faces portrays the initial test for their emerging relationship."
"Irtidad" has been shown at three international festivals: The Kolkata International Film Festival in India, the Tallinn Black Nights Film Festival in Estonia and the Lublin Film Festival in Poland. All of these events focus on celebrations of heritage from around the world.
The director said that the film's showcasing of Saudi culture led to the nomination at the Clermont-Ferrand festival, which is one of the world's most prestigious short film festivals.
https://www.arabnews.com/node/1603721/saudi-arabia
------
Mideast
Newly-excavated site yields pre-historic to Islamic-era relics in Iran
December 24, 2019
TEHRAN – A team of Iranian archaeologists and researchers has recently unearthed pre-historic to Islamic-era relics and fragments of objects from a piece of land, which is speculated to be once a historical cemetery, in Asiabsar village, northern Mazandaran province.
Affiliated with the Research Institute for Cultural Heritage and Tourism, the team has dug 16 trenches inside and outside of a piece of land whose landlords accidentally found historical objects while preparing parts of the land for housing construction, IRNA reported on Tuesday.
Of the trenches, nine yielded both architectural and transportable pottery pieces, complete or fragmented earthenware, glass pieces, iron and bronze objects, stone blades and spindles.
Moreover, the researchers have found architectural and portable objects that date from various Islamic eras such as the Ilkhanate times (1256–1335/1353), Safavid-era (1501–1736), and Qajar epoch (1789 to 1925).
An extensive scientific research is needed to fully explore the site that is nicknamed by the team as "a cemetery for various civilizations," the report said.
Soaked in a vibrant history, Mazandaran (also known as Tabarestan) was a cradle of civilization since the beginning of the first millennium BC. According to Britannica Encyclopedia, it was almost overrun in about 720 CE by the Arab raiders.
Its insecure eastern and southeastern borders were crossed by Mongol invaders in the 13th and 14th centuries. Cossacks attacked the region in 1668 but were repulsed. It was ceded to the Russian Empire by a treaty in 1723, but the Russians were never secure in their occupation. The area was restored to Iran under the Qajar dynasty. The northern section of the region consists of a lowland alongside the Caspian and an upland along the northern slopes of the Alborz Mountains.
https://www.tehrantimes.com/news/443381/Newly-excavated-site-yields-pre-historic-to-Islamic-era-relics
------
Ayatollah Ramazani urges Muslim states to demand guarantees on Sheikh Zakzaky health
December 24, 2019
AhlulBayt News Agency (ABNA): The Secretary General of the World Ahl-ul-Bayt (AS) Assembly urged Muslim countries to demand that Nigeria's government ensure the safety and health of senior Shia cleric Sheikh Ibrahim al-Zakzaky.
Speaking at a forum in Tehran on Tuesday marking the 4th anniversary of the Zaria Massacre in Nigeria, Ayatollah Reza Ramazani said Islamic countries should use their social and political capacities and demand ensuring Sheikh Zakzaky's health.
The Organization of Islamic Cooperation (OIC) should also act in this respect, he said.
Ayatollah Ramazani noted that Sheikh Zakzkay's health is in critical conditions and he should receive treatment immediately.
In December 2015, the Nigerian army raided Sheikh Zakzaky's residence and nearby buildings in the northern city of Zaria.
The top cleric, who is in his mid-sixties, lost his left eyesight in the raid. More than 340 people, including the Sheikh's sons, were also killed at the hands of the Nigerian army.
Sheikh Zakzaky and his wife as well as a large number of his supporters were arrested following the raid.
The Sheikh was charged just in April 2018 with murder, culpable homicide, unlawful assembly, disruption of public peace and other accusations. He has pleaded not guilty.
In 2016, Nigeria's federal high court ordered his unconditional release from jail following a trial, but the government has so far refused to set him free although his health has been deteriorating in detention.
https://en.abna24.com/news//ayatollah-ramazani-urges-muslim-states-to-demand-guarantees-on-sheikh-zakzaky-health_996165.html
------
UN Adopts Resolution Condemning Iran's Human Rights Violations
December 19, 2019
Members of the UN General Assembly voted on resolution on Iran human rights. FILE PHOTO.
The United Nations General Assembly (UNGA) passed a resolution December 18 calling on Iran to end its ongoing human rights violations.
The resolution passed with a vote of 81 to 30 and 70 abstentions. The draft resolution proposed by Canada had been approved by the Third Committee of the General Assembly on November 14.
The resolution has called on Iran to release persons detained solely for taking part in peaceful protests or the exercise of their human rights and fundamental freedoms.
Iran harshly cracked down on protesters in November. According to Amnesty International at least 304 protesters, including 18 children, were killed by security forces during the protests against a three-fold hike in the price of gasoline.
Despite the Iranian security forces' many violations of human rights in the recent protests, Iran's Foreign Ministry Spokesman Abbas Mousavi today condemned the UNGA resolution and said "it is based on selective approaches, is partial, confrontational, and meant to serve political objectives".
In a petition published on December 9, Amnesty International and civil society organizations urged the UN member countries to publicly condemn the grave human rights violations by the Iranian authorities who have not even announced the death toll of the recent protests.
Even Iranian lawmakers have harshly criticized the country's officials for "shedding the blood of the youth" and calling the protests "enemy conspiracies".
The resolution also urges Iran to end violations against ethnic, linguistic and other minorities and their defenders, all forms of discrimination and other human rights violations against women, and discrimination on the basis of thought, conscience, religion or belief.
The UNGA resolution has expressed serious concern about persecution, arbitrary arrests, and incitement to hatred against religious minorities, including Christians, Gonabadi Dervishes, Jews, Sufi Muslims, Sunni Muslims, Yarsanis, Zoroastrians and members of the Baha'i faith.
A number of Gonabadi Dervishes are currently on hunger strike in prison in protest to the limitations imposed on the leader of their community. Four of the Dervishes on hunger strike had to be transferred to hospital yesterday as their health seriously deteriorated.
The resolution mentions economic restrictions, such as the closure or confiscation of businesses and properties, the cancellation of licenses and the denial of employment, including government or military positions, restrictions on access to education, and other human rights violations against persons belonging to religious minorities.
Referring to dual nationals and foreigners imprisoned in Iran the resolution urged Iran to cease the widespread and systematic use of arbitrary arrests and detention, including targeting dual and foreign nationals and to release those who have been arbitrarily detained.
Some of the dual nationals arrested in Iran have even been forced to make self-incriminating confessions. During the November protests Iran security forces said they had arrested several dual nationals in Karaj.
Iran must abolish public executions and the imposition of the death penalty against minors, to address the poor conditions of prisons, to end the practice of deliberately denying prisoners access to adequate medical treatment, and to put an end to the house arrest of leading opposition figures from the 2009 presidential elections despite serious concerns about their health, the statement said.
Recalling its previous resolutions on the situation of human rights in Iran the current resolution notes that the number of drug-related executions "significantly" dropped in 2018 but expresses "serious concern at alarmingly high frequency of the imposition and carrying-out of the death penalty" including executions undertaken against persons on the basis of "forced confessions".
The United Nations High Commissioner for Human Rights Michelle Bachelet on December 6 expressed alarm for Iran's lack of transparency about casualties of the November protests and said the picture emerging from Iran is "extremely disturbing."
Currently Javaid Rehman a British-Pakistani legal scholar, is the special rapporteur on the situation of human rights in the Islamic Republic of Iran. Iran often accuses the Special Rapporteurs appointed by the UN of being biased against Iran.
https://en.radiofarda.com/a/un-adopts-resolution-condemning-iran-human-rights-violations/30333824.html
------
Iran: Experts alarmed at alleged mistreatment of detained protesters
GENEVA (20 December 2019) – UN human rights experts* today called on the Iranian au-thorities to release all individuals arbitrarily detained and mistreated during recent protests, and expressed concerns over the hundreds of people who have been killed.
"We are shocked at reports of the ill-treatment of those detained during the protests that took place in November 2019, and deeply disturbed that the reported use of excessive force by the Iranian security forces led to an untold number of casualties, including deaths," the experts said.
"Reports suggest that detainees are being tortured or are suffering other forms of ill-treatment, sometimes to extract forced confessions. Some are also reportedly being denied medical treatment, including for injuries caused by the security forces' use of excessive force, and are being held in overcrowded detention centres. Some are being held incommunicado or sub-jected to enforced disappearances."
Up to 200,000 people took part in protests after the Iranian Government announced a new fuel policy. Official sources state that at least 7,000 protesters were arrested, thousands of whom are still in detention.
The experts also fear that detainees will be denied the right to a fair trial because of Iran's failure to adhere to due process standards, especially for those who have voiced opposition to the Government.
"Senior officials have said that protesters will face severe punishment," the experts said. "We have already seen Iranian state television broadcast so-called 'confessions', despite claims that these are being obtained under duress. Many detainees are also reportedly being denied the right to a lawyer of their choosing.
"We urge the Government and the judiciary to ensure that all those accused of crimes go through court proceedings that adhere to international fair trial standards, including the pre-sumption of innocence."
According to credible sources, at least 304 people, including 12 children, are confirmed to have died, with unconfirmed reports indicating that the total could be more than 400. The number of deaths appears to be particularly high in some provinces with large ethnic minority populations, the experts added.
"Reports and footage indicate that Iranian security forces not only fired live ammunition at unarmed protesters, but also aimed at their heads and vital organs," the experts said.
"Targeting these parts of the body shows that the security forces were aiming to kill or at least cause serious injury. The Governor of Quds City has herself admitted publicly that she or-dered security forces to shoot protesters who entered the governor's building.
"We are extremely disturbed that the Iranian authorities would use such tactics against peace-ful protesters exercising their rights to freedom of expression, association and assembly, in breach of international standards on the use of force."
While noting that the internet shutdown had eased, the experts said they were still concerned about ongoing suppression of the right to freedom of expression.
"Most disturbingly, the families of individuals killed by security forces have allegedly been threatened not to speak out. Iranian journalists have been ordered not to criticise the govern-ment response, while the relatives of journalists working for Farsi-language news outlets abroad are being pressured in an effort to silence their reporting."
The experts echoed the call by the UN High Commissioner for Human Rights, Michelle Bachelet, for the Government to hold prompt, independent and impartial investigations into all allegations of human rights violations, including the deaths of protesters.
The UN experts have previously raised their concerns with the government and will continue to seek to engage in dialogue on these issues and monitor the situation.
ENDS
(*)The UN experts: Mr. Javaid Rehman, Special Rapporteur on the situation of human rights in the Islamic Republic of Iran; Mr. Clement Nyaletsossi Voule, Special Rapporteur on the right to peaceful assembly and association; Mr. David Kaye, Special Rapporteur on the pro-motion and protection of the right to freedom of opinion and expression; Ms Agnes Callamard, Special Rapporteur on extrajudicial, summary or arbitrary executions; Mr. Nils Melzer, Special Rapporteur on torture and other cruel, inhuman or degrading treatment or pu-nishment; Mr. Michel Forst, Special Rapporteur on the situation of human rights defenders; Mr Diego García-Sayán, Special Rapporteur on the independence of judges and lawyers; members of the UN Working Group on Arbitrary Detention - Mr. José Antonio Guevara Bermúdez (Chair), Ms. Leigh Toomey (Vice-Chair on Communications), Ms. Elina Steinerte (Vice-Chair on Follow-up), Mr. Seong-Phil Hong and Mr. Sètondji Adjovi; and the Working Group on Enforced or Involuntary Disappearances, comprising Mr. Luciano Hazan (Chair-Rapporteur), Mr. Tae-Ung Baik (Vice-Chair), Ms Houria Es-Slami, Mr. Bernard Duhaime and Mr. Henrikas Mickevicius.
The Special Rapporteurs and Working Groups are part of what is known as the Special Pro-cedures of the Human Rights Council. Special Procedures, the largest body of independent experts in the UN Human Rights system, is the general name of the Council's independent fact-finding and monitoring mechanisms that address either specific country situations or thematic issues in all parts of the world. Special Procedures experts work on a voluntary basis; they are not UN staff and do not receive a salary for their work. They are independent from any government or organization and serve in their individual capacity.
https://www.ohchr.org/en/NewsEvents/Pages/DisplayNews.aspx?NewsID=25449&LangID=E
------
U.S. Imposes Sanctions On Two Iranian Judges For 'Oppression'
December 19, 2019
Iranian Judge Mohammad Moghisseh (L) and Abolghassem Salavati. FILE photos
WASHINGTON, Dec 19 (Reuters) -
The United States has imposed sanctions on two Iranian judges whom it accuses of having punished Iranian citizens and dual nationals for exercising their freedoms of speech and assembly, the U.S. Treasury said on Thursday.
The judges, Abolghassem Salavati and Mohammad Moghisseh, "oversaw the Iranian regime's miscarriage of justice in show trials in which journalists, attorneys, political activists, and members of Iran's ethnic and religious minority groups were penalized for exercising their freedom of expression and assembly and sentenced to lengthy prison terms, lashes, and even execution," the Treasury said in a statement.
The sanctions would freeze all property of the two men under U.S. jurisdiction and generally bar U.S. persons from dealing with them.
In addition, foreign banks that knowingly helped the men carry out significant transactions and persons who provided certain support to them could lose access to the U.S. financial system or see their property under U.S. jurisdiction frozen.
"The United States will not be a bystander to ongoing oppression and injustice in Iran," Treasury Secretary Steven Mnuchin said in a statement.
"This administration is targeting those in the regime who seek to censor protesters, persecute religious minorities, and silence the Iranian people."
https://en.radiofarda.com/a/u-s-imposes-sanctions-on-two-iranian-judges-for-oppression-/30334404.html
------
Doctors In Iran Condemn Violent Suppression Of Protests, Failed Policies
December 16, 2019
Anti-government protests of November 2019 in Iran. FILE PHOTO
In a statement released today 150 Iranian Doctors condemned the security forces' harsh suppression of popular protests in November.The statement also says the regime is responsible for "Iranophobia both in the region and internationally".
"Regular and disguised military, law enforcement and security forces opened fire on the people and used the destruction and rioting of a few opportunists as an excuse to attribute the rightful protest of the people to foreign [powers]," the statement said.
"Our country with God-given abundant resources should have enjoyed a much better situation than it does now. Unfortunately, our statesmen with costly and fruitless adventurism have repeatedly pushed the country to the brink of the abyss."
The group blames Iran's situation to "mismanagement", which has contributed to the crisis.
The signatories of the statement have criticized the rulers of the country "who do not seem to ever take a lesson" from their "costly adventurism". They allege that the regime has had to consent to "negotiations and make a lot of concessions to buy time" while the main issue is Iranophobia emanating from adventurism that leads to "domestic instability and creation of enemies abroad".
The 150 doctors who have signed the statement have said that Iranian people want peace and stability and warned the regime that anger caused by unemployment, poverty and drug addiction boiling is brewing in the Iranian society.
They have also demanded the release of innocent protesters arrested since November 15 and punishment for those responsible for killing protesters.
https://en.radiofarda.com/a/doctors-in-iran-condemn-violent-suppression-of-protests-failed-policies/30328590.html
------
Mothers of Iran Protest Victims Call for "Minute of Silence," UN Fact-Finding Committee
December 18, 2019
Sixteen mothers whose children were killed amid violent state crackdowns on street protests have called for Iranians to observe a minute of silence for the victims on December 26, 2019.
"We, the mothers, will not remain silent," they said in a statement published on December 17, 2019, that also called on Iranian authorities to allow the UN to visit the country to establish a fact-finding committee on rights violations that were committed while major street demonstrations ravaged the country in November 2019.
"We, the mothers of grief-stricken families who have lost our children in the path of freedom and justice during the past 40 years, call on the noble and freedom-hearted people of Iran to observe a minute of silence on December 26… to pay respect to those who fell victim in the month of November."
At least 304 people were killed in Iran between November 15-18, 2019, after protests in response to a sudden gasoline price hike erupted in dozens of cities throughout the country, according to Amnesty International. Thousands were also injured and arrested, including children as young as 15.
"For how long will all these arrests, tortures and crimes go on? We are determined to seek justice!" said the mothers' statement translated from Persian into English by the Center for Human Rights in Iran (CHRI). Following is an excerpt of the statement:
Our children in Iran, who came to the streets to seek freedom and a better life as human beings, were killed by state forces. In mid-November 2019, the people, fed up with oppression, poverty, discrimination and injustice, came to the streets in various cities to protest. To silence their voices, the state responded by firing direct bullets and cutting off the connection to the world through the internet.
Unfortunately, hundreds of people, including more than 10 children, were killed in these protests while several thousand were arrested and are currently being tortured. Even children under the age of 18 have not been shown mercy.
We will honor the memory of our loved ones in any way possible and condemn these crimes. We call on the UN Special Rapporteur on human rights in Iran to visit the country and establish a fact-finding committee with the victims' families in order to investigate the extent of this tragedy, and find the exact number of those killed, injured and detained as well as identify those responsible for these crimes.
We believe these atrocities are blatant examples of crimes against humanity and those directly responsible should be held accountable in an open international trial in order to prevent such crimes from being repeated.
The statement was signed by 16 mothers of recent and past victims of state violence including Nahid Shirpisheh, the mother of 27-year-old Pouya Bakhtiari, who was killed by a bullet during a protest in Karaj on November 16, and Shahnaz Akmali, who has been seeking justice for her son Mostafa Karim Beigi, killed in Tehran during a 2009 protest.
Akmali was summoned to Evin Prison earlier this month to serve a one-year prison sentence for her peaceful activism. "When I was being interrogated, they told me to forget I ever had a son," she tweeted on December 5, 2019, with a copy of the summons. "I said I can't forget… "Today I have sons and daughters throughout Iran."
Manouchehr Bakhtiari, Pouya Bakhriari's father, supported the call by posting a photo of himself with his son on Instagram and encouraging people to observe the minute of silence on December 26.
https://www.iranhumanrights.org/2019/12/mothers-of-iran-protest-victims-call-for-minute-of-silence-un-fact-finding-committee/
------
"They Told Us to Say He Had Died in an Accident," Says Mother of Man Slain in Shiraz Protests
December 20, 2019
The mother of Alireza Anjavi, who died after being shot in the forehead on November 16, 2019, as the authorities repressed protests in the city of Shiraz, Fars Province informed the Center for Human Rights in Iran (CHRI) that the authorities told her that her son had been detained and would soon be freed before calling her to identify his body in the morgue.
Anjavi's family was also pressured to falsely say he had died in an accident when they were retrieving his body, according to his mother, Noushin Mahmoudi.
Following is a transcript of Mahmoudi's statements to CHRI.
My son had an architectural supply store in front of the Islamic Azad University on Sadra St. On November 16 we had no idea there was a protest going on or else we wouldn't have let him go out.
When he got to his store, he called us and said he's coming back home. Our house is on Mowlana St. and along the way there were some protests. We could hear bullet sounds and machine-gun fire from our house. We could also see smoke and fire.
I called Alireza again and told him to come home as soon as possible. But after that he didn't answer his phone… I didn't think they had killed him. I thought maybe he had been arrested. I looked for him for a week with the help of relatives and acquaintances.
Police detectives told me he had been arrested with a group of people who had become emotional and joined the protest but he was well and would be freed at the end of the week. I waited but Alireza didn't come home.
On November 23 I got a call from the detectives who asked me to come over and show some identification papers. They asked me what clothes Alireza had been wearing. Then they told me to go to the Medical Examiner's Office, but I didn't go. I thought maybe the authorities were looking for a missing person. But that evening my brother-in-law showed me a photo and said it was my [dead] son.
On November 25 we got a call [from the Medical Examiner's Office] telling us to come and take his body. When I got there, I saw he had been shot in the forehead.
We wanted to bury him in the Darolrahmeh Cemetery in Shiraz, where his father and brothers were laid to rest. But the authorities didn't allow it and said we had to bury him in the outskirts of the city in the Golzar Deynakan or Qasre Qomsheh cemeteries.
We had no choice other than to accept the order and buried him in Golzar Deynakan. They delivered the body and told us to bury him the same day without making any trouble. They didn't ask for any money but insisted that we shouldn't make a lot of noise at the funeral and not to bring too many people.
The agents carried out all the procedures and dug the grave and didn't let anyone see the body. They also prayed for him and recited from the Quran.
When we went to pick up my son's body, they told us to say he had died in an accident after leaving the house. But the death certificate said he had died from being struck by a bullet. Then the detectives called and asked us to come and file a complaint. They knew my son was innocent and hadn't done anything. They said we could get legal counsel from the Foundation of Martyrs and Veterans Affairs to follow up on the case because Alireza's father had been a veteran and was martyred many years ago.
I will not forgive my son's killers. Blood money means nothing to me. I want the person responsible to be punished for what he did.
Alireza was a very good son. Everyone loved him. He was my only living son. I had two other sons who died from physical disabilities. Alireza was my whole life. I want to catch his killer.
According to Amnesty International, at least 304 people were killed in Iran between November 15-18, 2019, after protests in response to a sudden gasoline price hike erupted in dozens of cities throughout the country. Thousands were also injured and arrested, including children as young as 15.
https://www.iranhumanrights.org/2019/12/anjavi-they-told-us-to-say-he-had-died-in-an-accident-says-mother-of-man-slain-in-shiraz-protests/
------
Africa
Republic Senator Urges Muslims To Celebrate With Christians
25 December 2019
Chairman, Board of Trustees (BoT) of the Peoples Democratic Party (PDP), Walid Jibrin, has urged Muslims to join Christians to celebrate the birth of Jesus Christ.
In his Christmas message, the Second Republic senator felicitated with Christians and enjoined Muslims to visit their Christian counterparts, since Muslims too believe in the birth of Jesus.
"If Muslims believe how Jesus was born, then there should be peaceful coexistence between Christians and Muslims.
"Christians and Muslims must unite because what unites us is more than what divides us. We must continue to live in peace," he stated.
Arewa Consultative Forum (ACF) also felicitated with Nigerians, especially Christians, as they celebrate.
https://guardian.ng/news/jibrin-urges-muslims-to-celebrate-with-christians/
------
We're Not Bothered About Ranking By United States –Muslim Group
DEC 24, 2019
President of Muslim Rights Concern, Ishaq Akintola, has said the organisation was not bothered about the ranking of the United States about Nigeria.
Akintola said this in a statement reacting to the ranking of Nigeria as a religiously biased country.
He accused the United States Government of working with the Christian Association of Nigeria to create tension in the country.
He said, "We are not bothered by the US latest ranking of Nigeria as religiously biased. Has the US ever seen anything good about our country?
"Some foreign powers are always eager to discredit developing nations. It is a game mastered by imperialists. We can see the signs.
"America should do some introspection. Those who claim to be the champion of democracy in the world cannot in good conscience beat their chests and say 'We have been fair to all'.
"America complains to Nigeria that Christians are being killed even when it is well known that Muslims are the greatest victims of the killings.
"America invited former CAN President to address Congress a few years ago but no Muslim leader has ever been invited to the same platform. Yet America has been using the lies told before Congress to judge our country. Is this fair?
"Muslims of Southern Nigeria have been complaining of persecution for decades but America turned deaf ears.
"America pretends nothing is happening to Nigerian Muslims even when the Muslim girl child is locked out of school over an ordinary headscarf which is even allowed in US schools.
"CAN has only manifested its naivety in modern international politics. The US has thrown religious persecution as a bait. Unfortunately CAN has swallowed it.
"Our message to CAN is this, allow America to set fire to your country and we can assure you that it is not the Muslims alone who will face turmoil.
"Whether to avoid foreign interference in your country and live in peace with your Muslim neighbours while you watch your children and grandchildren play peacefully in the garden or to open the doors wide for an army of occupation which will bring general pandemonium, the choice is yours."
http://saharareporters.com/2019/12/24/we%E2%80%99re-not-bothered-about-ranking-united-states-%E2%80%93muslim-group
------
Ethiopian Muslims protest after several mosques burned
ADDIS ABABA, Ethiopia (AP) — Several thousand Muslims across Ethiopia in recent days have protested the burning of four mosques in the Amhara region. The Dec. 20 attacks in Motta town also targeted Muslim-owned businesses. Muslims have called for the perpetrators to be brought to justice.
Prime Minister Abiy Ahmed has called the attacks "attempts by extremists to break down our rich history of religious tolerance and coexistence." Recent ethnic-based unrest in some parts of the country has at times taken religious form.
Prominent Muslim scholar Kamil Shemsu on Tuesday told The Associated Press there are "political actors who want to pit one religious group against another" and blamed the negative role of activists and videos circulated online.
Amhara regional officials said they have arrested 15 suspects in connection with the attacks. Police commander Jemal Mekonnen told state media the attacks appeared to be triggered by news of a fire that broke out in an Orthodox church a few days earlier.
Regional officials were criticized for their slow response and their inability to stop similar attacks.
Many communities across Ethiopia have seen demonstrations including the capital, Addis Ababa.
https://apnews.com/2eb29661e51bada9921a5a5020a2994b
------
Dasuki will be released today, Insha Allah —Counsel
December 24, 2019
Ade Adesomoju, Abuja
The immediate-past National Security Adviser, Sambo Dasuki, has yet to be released from the custody of the Department of State Services, as of 7pm on Tuesday.
Confirming the development to The PUNCH, the ex-NSA's lead counsel, Mr. Ahmed Raji (SAN), however, expressed strong hope that his client would be released shortly.
"His release is being processed. He will be released today (Tuesday), Insha Allah," the senior lawyer told our correspondent.
The Attorney-General of the Federation and Minister of Justice, Mr. Abubakar Malami, had earlier on Tuesday said he had directed the DSS to comply with the court order granting bail to Dasuki and the publisher of SaharaReporters, Omoyele Sowore.
While Sowore has been released, Dasuki is still being expected to be released from custody as of the time of filing this report at about 7.05pm on Tuesday.
https://punchng.com/dasuki-will-be-released-today-insha-allah-counsel/
------
Senegal, a Muslim Country that Can't Get Enough Christmas
By Annika Hammerschlag
December 24, 2019
DAKAR - Senegal, home to the largest mosque in West Africa and with a 95 percent Muslim population, is widely recognized for its strict adherence to Islam. And yet each year at Christmas, streets and city squares are aglow with holiday lights and storefronts filled with tinsel and Christmas trees. So, how do Senegalese people reconcile their devotion to Islam with their love of the Christian holiday?
Street vendors carrying skull caps and prayer beads weave in and out traffic in Dakar's busy Sandaga Market.
It's a typical weekday in this Muslim majority country, where taxi drivers often pull over to pray on the sidewalk and mosques can be found just about everywhere even on the beach.
But in December, Senegal's vendors also peddle shimmering tinsel, metal ornaments, and plastic Christmas trees.
Ndiaga Gueye sells Christmas trees for between $20 to 50, depending on the size. He said he typically sells two per day.
"It's mostly Muslims who buy the trees, because Senegal is a secular country," he said. "Everyone is the same. Christians participate in Muslim holidays and Muslims do the same during Christian holidays. But, it's mostly Muslims who buy the [Christmas] trees."
This time of year, Christmas decorations light up Dakar's city squares and storefronts.
At La Parisienne bakery, snowflakes are glued to the windows and nutcrackers adorn countertops.
Business director Abibou Dadh said his customers love the decorations. "Senegal's Christians also celebrate Muslim holidays such as Eid al-Adha, the Festival of the Sacrifice, known as Tabaski," he said.
"These days Christians celebrate Tabaski and our Christian brothers accompany us by celebrating it with us," he said. "So it is normal for us Muslims to try to accompany Christians, to celebrate Christmas with them. We are a united people. We are all the same. There is no difference. Certainly each respects the other in his difference and in his religion."
At restaurant Patisseries des Ambassades, the servers wear Santa Claus hats and aprons.
Outside, Abdou Diop is dressed in a Santa Claus suit and sitting on a sleigh. Behind him a horse-drawn cart rolls along the street.
It's 80 degrees and sunny, but Diop said the heavy costume and beard don't bother him. When he was little, he said his parents would take him to sit on Santa's lap — a fond memory.
He said, it demonstrates the social inclusion that's so prevalent in their country. They're united, they're one. When Muslims celebrate their holidays, the Christians participate, and vice versa. It shows the social cohesion and the strength of Senegal.
While Muslim Senegal's Christmas is limited to the commercial and secular, it is still a celebration of the Christian holiday and the unity of this West African nation.
https://www.voanews.com/africa/senegal-muslim-country-cant-get-enough-christmas
------
Christmas: Bola Tinubu sends message to Christians, Muslims
December 24, 2019
By John Owen Nwachukwu
The National Leader of the All Progressives Congress, APC, Bola Ahmed Tinubu, has called on both Christians and Muslims to obey the teachings of Jesus Christ.
Tinubu stated this in his Christmas message he signed and made available to DAILY POST to mark the birth of Jesus Christ.
The former Lagos State Governor called on Nigerians to celebrate this Christmas by showing love for their brother as well as extending compassion to a needing stranger.
He added, "On this Christmas Day, people across Nigeria will celebrate the birth of Jesus Christ.
"While celebrating this holy day, all of us, whether Christian or of another faith, must also devote this time to reflect on the lessons of peace, truth, kindness and compassion that described the life and teachings of Jesus.
"He taught that we came into existence to live for a purpose greater than ourselves. He taught that we are to love one another despite any difference between us. That we must eschew hate
"He loved and gave his life to better and save mankind. No matter the faith one may profess, what Jesus taught is universal, for all peoples and for all times. To follow him is to seek the best of our humanity.
"This season is an opportunity for all of us to be thankful for God's blessings in our lives and to ask for His help that the light of progress and good may forever shine upon, and sustain, our precious nation.
"As we mark this day, let us do so in a way that comports with the spirit of Jesus. Our economy is growing and distributing prosperity and a good livelihood to many. Yet, among us are also those in want. Our nation is strengthening making communities more secure.
"Yet, among us are those still weak and put upon. Our nation is reforming in ways that give new opportunities to our people. Yet, among us are still those who have been forgotten and feel left behind.
"In the spirit of this day, we must extend ourselves to those who are poor, weak, and feel left behind so that they may not lose hope on this day of eternal hope.
"May the ways and teachings of Jesus guide us to make for a better Nigeria. May we celebrate this day by showing love for our brother as well as extending compassion to a needing stranger. In this way, we best honour and respect this day.
"Merry Christmas and the best to you all and to Nigeria."
https://dailypost.ng/2019/12/24/christmas-bola-tinubu-sends-message-to-christians-muslims/
------
Europe
European Parliament resolution on the violent crackdown on the recent protests in Iran
(2019/2993(RSP))
The European Parliament,
– having regard to its previous resolutions on Iran, including its most recent of 19 September 2019 on Iran, notably the situation of women's rights defenders and imprisoned EU dual nationals ,
– having regard to the Council conclusions of 4 February 2019 on Iran,
– having regard to the declaration of 8 December 2019 by the Vice-President of the Commission / High Representative of the Union for Foreign Affairs and Security Policy (VP/HR), Josep Borrell Fontelles, on behalf of the EU on the recent protests in Iran,
– having regard to the statement by the Spokesperson of the European External Action Service (EEAS) of 21 November 2019 on the developments in Iran,
– having regard to the Council decision of 12 April 2018 to extend its restrictive measures for a further 12 months in response to serious human rights violations in Iran,
– having regard to the EU Guidelines on Human Rights Defenders,
– having regard to the respective EU Guidelines on the death penalty and on torture and other cruel, inhuman or degrading treatment or punishment, and the EU Human Rights Guidelines on freedom of expression online and offline,
– having regard to its resolution of 25 October 2016 on the EU strategy towards Iran after the nuclear agreement ,
– having regard to UN General Assembly resolution 73/181 of 17 December 2018 on the situation of human rights in the Islamic Republic of Iran,
– having regard to the report of the UN Special Rapporteur on the situation of human rights in the Islamic Republic of Iran of 30 January 2019,
– having regard to the Universal Declaration of Human Rights of 1948,
– having regard to the International Covenant on Civil and Political Rights (ICCPR) of 1966, to which Iran is a party,
– having regard to Rule 132(2) and (4) of its Rules of Procedure,
A. whereas tens of thousands of people from all over Iran and representing all segments of society have exercised their fundamental right to freedom of assembly and expressed their economic grievances over the increase in fuel prices of at least 50 % in the largest scale unrest in 40 years;
B. whereas despite repeated international calls for restraint, the Iranian security forces used disproportionate means and force against protesters; whereas according to civil society reports, Iranian security forces opened fire on unarmed protesters who did not pose any imminent risk, and allegedly shot to kill;
C. whereas according to Amnesty International, at least 304 people have been killed, including children, with many more wounded, and whereas thousands of protesters, as well as journalists, human rights defenders and students, have been arrested; whereas the Iranian authorities have not announced the official death toll and have refused to release the bodies of the victims to their families;
D. whereas on 16 November the Iranian authorities implemented a five-day-long near-total shutdown of Internet communications, cutting almost all means of online communication for people inside Iran and preventing any flow of information in relation to the brutal crackdown; whereas shutting down internet communications is a violation of the fundamental right to access information, constituting a disproportionate limitation to freedom of expression, and has become an ongoing modus operandi for the authorities;
E. whereas its resolution of 25 October 2016 on the EU strategy towards Iran after the nuclear agreement stresses the importance of upholding the EU human rights guidelines, including on human rights defenders, in the context of EU-Iran relations;
F. whereas human rights defenders, journalists, lawyers and online activists in Iran continue to face harassment, arbitrary arrest, detention and prosecution for their work; whereas the Iranian Ministry of Intelligence and other forces have initiated a severe clampdown on civil society; whereas 77 members of the reformist opposition, mostly belonging to the Participation Front Party, issued an open statement condemning the excessive use of force in quelling the protests; whereas some of them were brought before the judiciary in Iran for 'spreading propaganda against the Islamic Republic', and two were arrested, namely Mohammad Kianoosh Rad and Mehdi Mahmoudian;
G. whereas Iranian courts regularly fail to ensure fair trials, with the denial of access to legal counsel and denial of visits by representatives from consulates, the UN or humanitarian organisations, and permit the use of confessions obtained under torture as evidence; whereas there are no independent mechanisms for ensuring accountability within the judiciary, and serious concerns remain over the politicisation of judges, particularly those presiding over Revolutionary Courts;
1. Extends its condolences to the families of the victims; wishes a speedy recovery to those injured;
2. Deplores the widespread and disproportionate use of force by Iran against non-violent protesters who were merely exercising their rights to freedom of expression, association and peaceful assembly; stresses that such actions are unacceptable, urges the Iranian authorities to announce the total number of deaths and detainees, conduct a prompt, impartial, independent and transparent investigation into allegations of excessive use of force, including direct targeting of protestors by security forces, and hold all perpetrators of violence accountable;
3. Demands that all protestors, human rights defenders and journalists currently held under arrest in Iran for exercising their legitimate rights to freedom of expression and assembly are freed unconditionally; moreover, demands that the authorities inform all families of the location of their detained relatives, and calls for granting unhindered access for lawyers and international observers to all those detained during the protests and for providing identity of the detainees the international community; reiterates the Parliament's previous calls for the release of Nazanin Zaghari-Ratcliffe and many others who have been unlawfully detained;
4. Strongly condemns Iran's decision to shut down internet access to global networks, which prevented communication and the free flow of information for Iranian citizens; underscores that such actions are a clear violation of the freedom of speech; urges the Iranian authorities to lift all online based communications and services blockages;
5. Stresses that fundamental rights such as freedom of expression and assembly must always be respected and calls on the Iranian authorities to live up to their international obligations, including under the ICCPR;
6. Calls on the United Nations, particularly its Human Rights Council, to trigger without delay a comprehensive investigation on the events that have taken place in recent weeks, led by the UN Special Rapporteur on the situation of human rights in Iran, with the aim of shedding light into the allegations of grave human rights violations in the country since protests begun, and calling on Iran to give full and unrestricted access to those conducting this inquiry;
7. Calls for the EU, including the VP/HR, to continue raising human rights concerns with the Iranian authorities in bilateral and multilateral forums, in particular in the context of the EU-Iran high-level political dialogue;
8. Reiterates its full support for Sakharov Prize laureates Nasrin Sotoudeh and Jafar Panahi; deplores the fact that Nasrin Sotoudeh is still imprisoned, serving a sentence of 33 years and 148 lashes, and insists on her immediate and unconditional release; calls on the Iranian authorities to lift the travel ban which has been placed on Jafar Panahi since 2010;
9. Instructs its President to forward this resolution to the Council, the Commission, the European External Action Service, the Vice-President of the Commission / High Representative of the Union for Foreign Affairs and Security Policy, the governments and parliaments of the Member States, the Supreme Leader of the Islamic Republic of Iran, the President of the Islamic Republic of Iran, and the Members of the Iranian Majlis.
------
35 civilians killed in double Burkina Faso attack
Dec 25, 2019
OUAGADOUGOU: A militant attack in northern Burkina Faso on Tuesday killed 35 civilians, almost all of them women, the president said, one of the deadliest assaults in nearly five years of jihadist violence in the West African country.
Seven soldiers and 80 jihadists were also killed in the double attack on a military base and Arbinda town in Soum province, the army said.
Burkina Faso, bordering Mali and Niger, has seen regular jihadist attacks which have left hundreds dead since the start of 2015 when militant violence began to spread across the Sahel region.
"A large group of terrorists simultaneously attacked the military base and the civilian population in Arbinda," the army chief of staff said in a statement.
"This barbaric attack resulted in the deaths of 35 civilian victims, most of them women," President Roch Marc Christian Kabore added on Twitter, praising the "bravery and commitment" of the defence and security forces.
Communications minister and government spokesman Remis Dandjinou later said 31 of the civilian victims were women, adding around twenty soldiers were injured.
The president has declared 48-hours of national mourning.
The morning raid was carried out dozens of jihadists on motorbikes and lasted several hours before armed forces backed by the air force drove the militants back, the army said.
No group immediately claimed responsibility for the attack, but jihadist violence in Burkina Faso has been blamed on militants linked to both Al Qaeda and Islamic State groups.
Leaders of the G5 Sahel nations held summit talks in Niger earlier this month, calling for closer cooperation and international support in the battle against the Islamist threat.
Militant violence has spread across the vast Sahel region, especially in Burkina Faso and Niger, having started when armed Islamists revolted in northern Mali in 2012.
The Sahel region of Africa lies to the south of the Sahara Desert and stretches across the breadth of the African continent.
The G5 group is made up of Chad, Burkina Faso, Mali, Mauritania and Niger, whose impoverished armies have the support of French forces as well as the UN in Mali.
In Burkina Faso, more than 700 people have been killed and around 560,000 internally displaced, according to the United Nations.
Attacks have targeted mostly the north and east of the country, though the capital Ouagadougou has been hit three times.
Prior to Tuesday's attack, Burkina security forces said they had killed around a hundred jihadists in several operations since November.
An ambush on a convoy transporting employees of a Canadian mining company in November killed 37 people.
Attacks have intensified this year as the under-equipped, poorly trained Burkina Faso army struggles to contain the Islamist militancy.
https://timesofindia.indiatimes.com/world/rest-of-world/35-civilians-killed-in-double-burkina-faso-attack/articleshow/72962619.cms
------
Pope Francis ushers in Christmas with message of 'unconditional love'
Dec 25, 2019
VATICAN CITY: Pope Francis ushered in Christmas on Wednesday for the world's 1.3 billion Catholics with a message of unconditional love, saying "God continues to love us all, even the worst of us".
"You may have mistaken ideas, you may have made a complete mess of things, but the Lord continues to love you," the pontiff told crowds gathered at the Vatican for his Christmas Eve midnight mass.
The Argentinian also emphasized "unconditional" love, in a year that has seen the Pope move to combat silence surrounding paedophilia in the Roman Catholic church, which has been rocked by thousands of reports of sexual abuse by priests around the world and accusations of cover-ups by senior clergy.
Earlier this month, he removed a Pontifical secrecy rule, which critics said prevented priests and victims from reporting abuse, and in May passed a landmark measure to oblige those who know about sex abuse to report it to their superiors.
Francis will at noon on Wednesday give the traditional Christmas Day mass -- his seventh -- addressed to the world in front of St Peter's Square.
Meanwhile, thousands of Palestinians and foreigners converged in the biblical town of Bethlehem, revered by Christians as the birthplace of Jesus, in the Israeli-occupied West Bank.
A few hundred worshippers gathered in the church on the site of Jesus's birth for midnight mass, attended by Palestinian president Mahmud Abbas. Hundreds more gathered outside, watching on screens in the crisp air.
But fewer Christians from the Gaza Strip were in attendance than in previous years, as Israel had granted permits to just around 300 of the some 900 people who applied, said Wadie Abunassar, an adviser to Church leaders in the Holy Land.
At midnight bells rang out throughout the town, Archbishop Pierbattista Pizzaballa, the most senior Roman Catholic official in the Middle East, led hymns and said prayers. "At Christmas all the world looks to us, to Bethlehem," he said.
"Special greetings to our brothers and sisters in Gaza, with whom I celebrated Christmas two days ago," he added.
Pizzaballa, who had to cross Israel's separation barrier to get from Jerusalem to Bethlehem, said after his arrival that it was a difficult time but there was reason for hope.
"We see in this period the weakness of politics, enormous economic problems, unemployment, problems in families," he said.
"On the other side, when I visit families, parishes, communities, I see a lot of commitment... for the future. Christmas is for us to celebrate the hope." Earlier on Christmas Eve, a few thousand people watched in the winter sun as Palestinian scouts paraded in front of a giant Christmas tree.
"The church is beautiful and it puts what we know in the Bible (in) place," said Laneda, an American tourist visiting the site. "Everything is just very meaningful." French Catholics endured a sad moment as Notre-Dame Cathedral in Paris was unable to hold Christmas Eve Mass for the first time since 1803 -- after a fire ravaged its structure in April.
In the Philippines, a majority Catholic country, typhoon Phanfone brought a wet and miserable Christmas Day to millions, many of them stranded at shuttered ports or evacuation centres.
https://timesofindia.indiatimes.com/world/europe/pope-francis-ushers-in-christmas-with-message-of-unconditional-love/articleshow/72963856.cms
------
North America
Christmas of grief nearly five years after Arizona woman's death in Islamic State captivity
By LAURA KING, NABIH BULOS
DEC. 24, 2019
PRESCOTT, Ariz. — At Christmastime five years ago, Carl and Marsha Mueller did what they always did when their 26-year-old daughter Kayla was out in the world somewhere: They laid a place for her at the holiday table.
Outside their home in Prescott, Ariz., the mountain air was winter chill, but inside, the lights glowed warm. The tree was trimmed with ornaments, many of them depicting owls, Kayla's favorite.
The Muellers didn't know it then, but the 2014 holiday season would be the last Christmas they could harbor any real hope that their daughter — a laughing little girl who grew into a compassionate young woman, one whose humanitarian interests took her from India to Israel — was still alive.
Today, Carl and Marsha Mueller, both of them 67 and retired — he from the auto-body shop he owned; she from nursing — remain consumed with the search for answers. Seated side by side on their sofa, they recount a years-long odyssey of sorrow and confusion, one that has taken them from their Arizona hometown to as far away as Iraqi Kurdistan.
On that Christmas, though, they had no idea of the ordeal that would lie ahead. Kayla, who traveled to southern Turkey to work with Syrian refugees, had been taken captive 16 months earlier, in Aleppo, Syria, after leaving a medical compound run by the humanitarian group Doctors Without Borders.
Soon after, her family learned she was being held by Islamic State, the brutal fundamentalist group that would go on to impose a medieval reign of terror over large swaths of Syria and Iraq.
By the late summer of 2014, her captors had killed several of her fellow U.S. hostages — horrific beheadings staged against a bleak desert backdrop, with videos gleefully posted online by the group. But Kayla, whose plight was then a closely held secret, was still alive, and her parents said in the early winter of that year, U.S. authorities told them there was no intelligence suggesting she had been harmed in captivity.
The Muellers would find out only later, they said, the degree to which their daughter was being brutalized during that period. Some of the worst abuse came directly at the hands of Abu Bakr Baghdadi, Islamic State's self-proclaimed caliph, who died in a U.S. raid in October.
Less than two months after that Christmas five years ago, the Muellers learned — via an Islamic State-linked Twitter account, with later confirmation from U.S. officials — that Kayla was dead. The group said she was killed in a Jordanian airstrike, a story her parents now doubt.
They still do not know exactly how their daughter died, or whether there might even be some infinitesimal hope of her survival. But they say that with the help of former FBI agent Ali Soufan, who now runs a private security group, new information has continued to emerge. That includes indications that Baghdadi, in whose household she was held for a time, may have personally ordered Kayla's death.
The Muellers still hope they will someday have final proof of her fate. That their daughter's remains will eventually be recovered and repatriated. That there will be a graveside at which to grieve.
There can never be closure for them, not in any real sense. What they have learned of Kayla's time in captivity would be unbearably painful for any parent to contemplate. When her father says the word "raped," his voice sounds like fabric tearing.
Yet they revisit these events, even speak of them to strangers, because they believe it helps keep their daughter's memory alive. And through it all, they have held one abiding wish — although its meaning has changed over time.
"We just want to bring Kayla home," Marsha Mueller said.
--
The Syrian city of Raqqa, on the banks of the Euphrates, is where the nascent Islamic State group first displayed the audacious scope of its ambition. In 2013, in the self-declared capital of what the group would come to call its caliphate, the militants began setting up a judicial system based on their harsh interpretation of Islamic law, fashioned a working bureaucracy and commandeered infrastructure to create a quasi-state, while looking outward to expand their territory.
When Kayla was taken in Aleppo in August 2013, just days before her 25th birthday, large tracts of Syria's north had already fallen to rebels fighting against the rule of President Bashar Assad. Dozens of factions, including extremist groups, competed for weapons and for sources of revenue — including foreign captives they could ransom back to their home countries.
It's unclear which militants seized her, but her capture coincided with Islamic State's push into the shadowlands of eastern Syria. By the spring of 2014 she, together with other Western hostages, was being held by the group in a derelict oil refinery south of Raqqa, according to subsequent witness accounts.
By late May of that year, the Muellers were in direct contact with Islamic State by email. The family wanted proof of life; the militants replied by telling them to pose personal questions to which only Kayla would know the correct response.
One of the queries her parents came up with was the missing word in an aphorism that she used to repeat to her little niece. The phrase in question was "Music is…" and the right answer came back: "Everywhere." They knew then that she was still alive.
The militants, who by then were successfully extracting ransoms for some European hostages, threatened Kayla with death and demanded a multi-million-dollar payoff. U.S. government policy at the time, since eased, left families of hostages held overseas vulnerable to prosecution if they made a payment to a terror group.
Around that same time, the late spring of 2014, the U.S. Joint Special Operations Command sought permission from the Obama administration to carry out a raid inside Syria to try to free the hostages. Carl Mueller remains deeply embittered by the fact that the rescue attempt did not take place until July, missing the captives by days, and that the family was not told of the operation until afterward, when word of it filtered out in news reports.
"That's the way they treated us," he said, his voice rising in anger.
Both the Muellers called that part of a pattern of misinformation and arms-length treatment by the Obama administration, which said at the time it was doing all it could for the hostages.
On Aug. 14, 2014, after little more than a year in captivity, Kayla turned 26. Five days later, a grisly video, apparently shot outside Raqqa and circulated online, showing the beheading of journalist James Foley by a knife-wielding militant dubbed Jihadi John. Other executions of captive Americans followed: journalist Steven Sotloff and aid worker Peter Kassig, also known as Abdul-Rahman Kassig.
In despair, the Muellers in September addressed a video appeal directly to Islamic State's leader, Baghdadi. "I am coming to you with a mother's heart, for the love of her daughter," Marsha Mueller told him.
It was to no avail. In February 2015, three days after the militants carried out yet another gruesome execution in Raqqa — this time, of a captured Jordanian fighter pilot who was burned alive in a cage — Islamic State said Kayla had been killed in a Jordanian airstrike.
Her body was never recovered, but U.S. officials confirmed her death on Feb. 10, 2015. President Obama conveyed "deepest condolences" and vowed to bring those responsible for her captivity, and ultimately her death, to justice.
--
The U.S. raid that resulted in the death of Baghdadi, announced by President Trump on Oct. 27 of this year, brought the Muellers some measure of comfort. They were touched that the military operation was dedicated to Kayla, and a lengthy personal phone call from Trump moved them to tears, they said.
But frustration lingers, as do mysteries. The Islamic State leader blew himself up as U.S. special forces closed in; had he instead been captured, Marsha Muelller said wistfully, he might have revealed something.
Still, there are living witnesses to the months immediately preceding Kayla's death, and Soufan, the former FBI agent who has become a close family friend, is actively pursuing leads.
One harrowing new piece of the puzzle came from an interview conducted by him with Nisreen Assad Ibrahim Bahar, known as Umm Sayyaf, the widow of senior Baghdadi associate Abu Sayyaf. She said her late husband told her that Baghdadi himself ordered Kayla killed, perhaps because her knowledge represented a security threat to the group. U.S. authorities charged Umm Sayyaf in 2016 in connection with Kayla's death, and said she was aware that Baghdadi repeatedly raped her.
The Muellers have met, also, with women and girls who were held alongside their daughter at one point or another, accounts they describe as both a bane and a balm. The ex-captives, including two Yazidi girls and two Western women who worked for Doctors Without Borders, told wrenching stories of suffering, but also described Kayla's quiet determination to comfort fellow prisoners.
"Even I never knew she was so strong," her mother said.
The couple finds something akin to consolation at a playground in Prescott that opened in 2016, dedicated to Kayla's memory. On a cold sunny morning last week, they took visitors there, pointing out the zipline, the special swing designed to safely cradle disabled children.
Carl Mueller often comes alone, his wife said. She likes to visit with Kayla's niece, who is now nearly 8. Occasionally, Marsha Mueller said, she slips and calls the little girl by her daughter's name.
"Kayla saw people as precious, and saw life as precious," she said. "That's what we hope people will remember about her. That's who she was."
King reported from Prescott, Ariz., and Bulos from Amman, Jordan.
https://www.latimes.com/world-nation/story/2019-12-24/grief-unsolved-mysteries-arizona-woman-death-islamic-state-captivity
------
Trump says North Korea may be planning nice 'Christmas gift'
Dec 25, 2019
PALM BEACH: President Donald Trump has said that North Korean leader Kim Jong Un may be planning to give him "a nice present" such as a "beautiful vase" for Christmas rather than a missile launch.
The president was asked what he will do if North Korea does conduct a long-range missile test.
The North has threatened to take unspecified action if sanctions are not eased by the end of the year, and speculation has centered on the possibility of a new missile test, possibly of an intercontinental ballistic missile capable of delivering a nuclear warhead.
The North has said that its "Christmas gift" to the United States will depend on Washington's actions.
Trump, who is in Florida for the holidays, had just finished thanking service members from each branch of the military via satellite when he was asked about North Korea. He opted for a wait-and-see approach.
"Maybe it's a present where he sends me a beautiful vase as opposed to a missile test," Trump said on Tuesday. "I may get a nice present from him. You don't know. You never know." Nuclear talks between the US and North Korea have been stalled since a February summit between Trump and Kim fell apart.
A new satellite image of a factory where North Korea makes military equipment used to launch long-range missiles shows the construction of a new structure.
In New York, UN spokesman Stephane Dujarric was asked whether Secretary-General Antonio Guterres had a message for Kim on Christmas Eve regarding a "Christmas gift."
"Our message is to the leadership of the Democratic People's Republic of Korea to work for peace and stability on the Korean Peninsula and to resume working level talks with the United States. Diplomatic engagement is the only pathway to sustainable peace and complete denuclearisation and verifiable denuclearisation of the Korean Peninsula," Dujarric said.
https://timesofindia.indiatimes.com/world/us/trump-says-north-korea-may-be-planning-nice-christmas-gift/articleshow/72963979.cms
------
Merrily on high: US astronauts help track Santa's delivery route
Dec 25, 2019
WASHINGTON:For decades, the Canadian and American defense agency NORAD has provided updates on Santa Claus's international gift delivery route, but this year, for the first time, US astronauts lent a hand.
"We have obtained visual confirmation that Santa is currently travelling south over India," Andrew Morgan said via a video link as he floated at zero gravity in the International Space Station (ISS).
The North American Aerospace Defense Command (NORAD) said that the ISS was travelling at 17,000 miles (27,000 kilometers) an hour, 250 miles above Earth -- providing "a great vantage point to spot Santa on his annual journey around the world."
"NORAD appreciates the support of Colonel Morgan and the ISS team," it added.
The agency reported that Santa and his reindeer were near Managua, Nicaragua at 0505 GMT Wednesday and had delivered more than 5.7 billion gifts after hours of giving.
They took off from the North Pole at 0930 GMT Tuesday.
NORAD has been tracking Santa since 1955 when a girl dialled a misprinted phone number from a department store advertisement in the local newspaper, believing she was calling Santa.
The number rang into the Air Defense Command Operation Center, where an officer was quick to realise the mistake and assured her he was Santa.
Each year since, NORAD has reported Santa's location to millions across the globe, with noradsanta.org this year live-tracking his present-filled red sleigh pulled by nine reindeer.
Today, 1,500 volunteers help the military answer calls and emails from children.
US first lady Melania Trump joined the effort, listening to several children from across the United States tick off items on their Christmas lists.
She reminded them to put out milk and cookies for Santa.
The US Department of Agriculture said that "Mr S Nicholas Claus" and his reindeer had been granted a special movement permit to enter the country and were "fit for landing on rooftops."
https://timesofindia.indiatimes.com/world/us/merrily-on-high-us-astronauts-help-track-santas-delivery-route/articleshow/72964104.cms
------
Trumps attend music-filled church service on Christmas Eve
Dec 25, 2019
PALM BEACH:President Donald Trump and first lady Melania Trump attended a music-filled Christmas Eve service at a Southern Baptist Convention-affiliated church before celebrating the holiday with dinner in the ballroom of his private club.
The pastor of Family Church in West Palm Beach, Florida, Jimmy Scroggins, and his family greeted the Trumps as they arrived moments into a "Candlelight Christmas Celebration."
The Trumps received applause and cheers while taking reserved seats in the church's third pew. Brief sermons and readings by clergy were interlaced between traditional Christmas songs, as theatrical smoke billowed and fake snow descended from the rafters.
Attending Family Church was a change of pace for the Trumps, who had attended holiday services in the past at Bethesda-by-the-Sea, the Episcopal Church in Palm Beach at which they were married in 2005.
The Trumps then returned to his private club, where they were greeted by applause as they entered for Christmas Eve dinner. Trump, less than a week after being impeached by the House, did not respond when asked by a reporter if he prayed for House Speaker Nancy Pelosi at church, but he said, "We're going to have a great year." Trump was seen briefly speaking attorney Alan Dershowitz, a prominent Trump defender on cable news, who was dining in the ballroom. The Harvard Law School professor emeritus has been the subject of discussions about joining the president's impeachment legal team.
Trump earlier called military service members stationed across the world to share greetings ahead of the Christmas holiday.
Speaking Tuesday by video conference from his private club in Florida, where is he is on a more than two-week vacation, Trump said, "I want to wish you an amazing Christmas." The group included Marines in Afghanistan, an Army unit in Kuwait, a Navy ship in the Gulf of Aden, an Air Force base in Missouri and a Coast Guard station in Alaska.
Trump praised the armed forces for their efforts this year to eliminate the last of the Islamic State group's territorial caliphate and for killing IS leader Abu Bakr al-Baghdadi. He also touted economic successes at home and a pay raise for troops kicking in in the new year.
"You make it possible for us to do what we have to do," Trump said, thanking them for their service.
Trump briefly fielded questions from troops, including an invitation to attend the homecoming of the USS Forrest Sherman when the destroyer returns next year to its home port of Norfolk, Virginia.
Trump was asked what he'd bought Mrs Trump for Christmas. A "beautiful card," he said, and admitted that he was "still working on a Christmas present." "You made me think. I'm going to have to start working on that real fast," he said.
On Tuesday evening, the first lady answered calls from children across the country as part of North American Aerospace Defense Command's Operation NORAD Tracks Santa program. Press secretary Stephanie Grisham said Mrs. Trump spoke with several children and heard items on their Christmas lists.
Grisham said Mrs. Trump "reminded the kids to put milk and cookies out for Santa, and wished each child and their families a very merry Christmas." The president has been largely out of the spotlight since delivering a speech to conservative students in nearby West Palm Beach on Saturday, spending his days golfing on his private course and greeting the well-heeled members of his clubs.
https://timesofindia.indiatimes.com/world/us/trumps-attend-music-filled-church-service-on-christmas-eve/articleshow/72963483.cms
------
URL: https://www.newageislam.com/islamic-world-news/indonesian-ulema-council-says-no/d/120623
New Age Islam, Islam Online, Islamic Website, African Muslim News, Arab World News, South Asia News, Indian Muslim News, World Muslim News, Women in Islam, Islamic Feminism, Arab Women, Women In Arab, Islamophobia in America, Muslim Women in West, Islam Women and Feminism