New Age Islam News Bureau
20 Jun 2017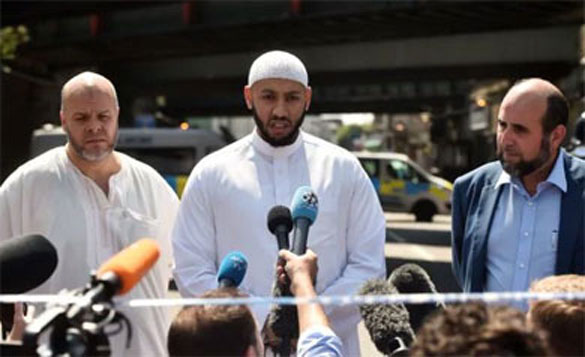 Mohammed Mahmud speaks to journalists about the van that was driven at muslims in Finsbury Park, North London CREDIT: HANNAH MCKAY/REUTERS
----
• Indonesian Ulema Council Chairman: Indonesia Not a State of Darul Islam
• UNHCR Wins Nod to Use Islamic Alms to Aid Middle East Refugees
• 'Calm Down': London Attacker Who Wanted To 'Kill All Muslims' Was Saved By Imam
• Tripura Governor Digs Up A Hindu-Muslim Civil War Quote From Past
• Iran's Missile Killed At Least 50 Daesh Terrorists: Reports
Southeast Asia
• Indonesian Ulema Council Chairman: Indonesia Not a State of Darul Islam
• Najib: Umno Champions Islam, That's Why PAS Likes Us
• 6 killed in southern Thailand bombing
• Philippines, Malaysia and Indonesia launch joint patrols to counter IS
• Philippines Launches Offensive in Marawi, With Aim to End Battle by Weekend
• Indonesia Deploys Sukhoi Jets to Prevent Possible Militant Infiltration
--------
Arab World
• UNHCR Wins Nod to Use Islamic Alms to Aid Middle East Refugees
• ISIL's Senior Commander, 360 Terrorists Killed in IRGC Missile Strikes in Deir Ezzur
• Qatar accuses Arab nations of 'publicity stunt' on terrorism allegations
• Militants in Tens of Other Towns Join Peace Agreement with Syrian Gov't
• Russia suspends coordination with US after downing of Syrian jet
• SDF Holding Pilot of Downed Syrian Fighter Jet
• Syrian Army Deploys at Gates of ISIL's Last Stronghold in Eastern Homs
• Terrorist Group Declares Defection from Tahrir Al-Sham
• Syrian Army Captures another Strategic Region Near Damascus
• Syrian Soldiers Inch Closer to ISIL's Key Base in Western Reqqa
• Iraq warns Mosul civilians, tells ISIS 'surrender or die'
• Fresh Syria talks set for July 10 in Astana
• EU mulls deploying 'security mission' to Iraq after Mosul liberation
--------
Europe
• 'Calm Down': London Attacker Who Wanted To 'Kill All Muslims' Was Saved By Imam
• Terrorist Assaults on Muslims on Rise Across Europe
• Finsbury Park suspect named as Cardiff resident Darren Osborne
• Muslims targeted by violence in wake of IS-claimed attacks
• Car ploughs into police van in Paris Champs-Elysees 'attack'
• Greece, Turkey discuss tensions over Aegean flyovers
• Muslim Welfare House is 'much more' than a mosque
--------
India
• Tripura Governor Digs Up A Hindu-Muslim Civil War Quote From Past
• BJP's Presidential Candidate Once Said 'Islam and Christianity Are Alien to the Nation'
• Celebrating Brotherhood: Pune's Muslims Hold Iftar Party for Warkaris
• Issue fatwas against those who unfurl Pakistani flags in India: RSS leader
• BRICS Summit: Don't differentiate between good and bad terrorists, says VK Singh
--------
Mideast
• Iran's Missile Killed At Least 50 Daesh Terrorists: Reports
• Yemeni Army Controls Mountain Summit between Al-Jawf and Amran
• KSA captures three Iranian Revolutionary Guards
• Turkish troops arrive in Qatar for joint war games amid Gulf tensions – media
• Iran official denies Saudi claim about arresting IRGC members
• Two Israeli soldiers take own lives in occupied territories
--------
South Asia
• Eight Dead as Gunmen Ambush Convoy near Largest US Base in Afghanistan
• Militants Planning Suicide Attack on Afghan Parliament with Some MPs Support
• Bangladesh cardinal defends rights of Rohingya refugees
• Bangladesh mission yet to confirm London mosque attack victim's identity
• ISIS loses two top foreign supporters in East of Afghanistan
• Clash among protesters and police in Kabul, casualties feared
--------
Africa
• S Sudan Has World's Fastest Growing Displaced Population, Warns UN
• Suicide Bombers Kill 16 in NE Nigeria
• Gambia: Penny Appeal Presents Ramadan Packages to Needy Muslim, Religious Leaders
• Kenya: Muslims Not Targeted in Anti-Terror War, Says CS
• Central African Republic: Church Shelters Muslims Fleeing Anti-Balaka
--------
North America
• Trump Hardening Line toward Pakistan after Afghan War Review
• US Urges Bigger Chinese Role to Combat Global Terrorism
• Bush-era officials can't be sued for post-9/11 abuses: US Supreme Court
• White House says it retains right to self-defense in Syria
• Denouncing intolerance of all forms in Canada
• Quebec man found guilty of attempting to leave Canada to join Islamic State
• Muslim teen's murder not hate crime, US police says
--------
Pakistan
• Lahore High Court Restores Christian Divorce Law
• NCIDE Holds an Iftar Party For Muslim Children
• 2 Navy sailors gunned down in Gwadar shooting
• 23 'militants' arrested in Rangers-CTD operation
• Bishop condemns London attack on Muslims
Compiled by New Age Islam News Bureau
URL: https://www.newageislam.com/islamic-world-news/indonesian-ulema-council-chairman-indonesia/d/111611
--------
Indonesian Ulema Council Chairman: Indonesia Not a State of Darul Islam
19 June 2017
JAKARTA, NETRALNEWS.COM – KH Maaruf Amin, Chairman of the Indonesian Ulema Council (MUI), stresses that Indonesia is not a state of darul Islam, but a country born on the agreement of all elements of the nation.
"The state of Indonesia is a darul suluh or peace area, darul ahdi or area of agreement. Indonesia is not a darul Islam, not an Islamic country, "said Maaruf Amin while delivering a lecture at an iftar or break fasting event of thousands of Indonesian Military (TNI) soldiers with the President and Vice President of RI at TNI Headquarters in Cilangkap on Monday (6/19).
Maaruf Amin reminded that in the past, scholars' sincerity accepted the abolition of seven words in the Jakarta Charter which reads "With the Obligation to Perform Islamic Shari'a for its Adherents".
With the abolition of the seven words of the Jakarta Charter, Indonesia became united and conducive state within the frame of Pancasila.
He emphasized Indonesia's state of agreement among all religions, in which Muslims with non-Muslims pledged to live peacefully, to love and care for each other, and to help each other.
"With Pancasila we can unite," he said.
Currently, Maaruf Amin says, it is unfortunate that there are intolerant radical groups that have no national and state commitment.
The group according to him, just think the flow is right.
Therefore, Maaruf Amin invites all elements of the nation to be able to maintain the unity of this nation.
"With unity alone is still difficult for us to achieve prosperity, especially if we are not united," he said.
http://www.en.netralnews.com/news/currentnews/read/7257/mui.chairman.indonesia.not.a.state.of.darul.islam
--------
UNHCR wins nod to use Islamic alms to aid Middle East refugees
June 20, 2017
The United Nations, short of funds to support millions of displaced people in the Middle East, has begun a scheme that would let Muslims make donations from the alms they typically pay state bodies for the benefit of the poor.
Muslims around the world are expected to pay "zakat", typically 2.5 percent of any savings accumulated over the year, generally via state institutions that collect funds for aid to impoverished citizens.
The U.N. High Commission for Refugees said it had obtained religious rulings from top Muslim clerics in Egypt, Morocco and Yemen as well as a senior Islamic scholar in Saudi Arabia, that it hoped would persuade wealthy Muslims, especially in oil-rich Gulf countries, to donate their alms directly for relief work.
"It is an innovation in our efforts to raise funding," said Muhammed Abu Asaker, a UNHCR Middle East spokesman.
The UNHCR posted the rulings on its webpage that appeals for zakat contributions to aid programs.
The amount of zakat money distributed each year in Muslim countries ranges from $20 billion to $30 billion, experts say.
The United Nations has projected it will need a total of $8 billion this year to provide life-saving assistance to millions of Syrians inside their shattered homeland and to refugees and their host communities in neighboring countries.
UNHCR has also called for $2.1 billion to provide food, and medicine for Yemen, where 12 million people are at risk of famine and cholera brought on by two years of civil war.
Millions of Syrians, Iraqis and Yemenis have been displaced by years of civil war, sometimes to neighboring countries, straining the hosts' resources as well as United Nations and other non-governmental humanitarian agencies.
UNHCR said it will use some of the additional funds it expects from the alms project to help some 30,000 of the most vulnerable Syrian refugee families in Jordan, with around $180 in monthly cash support for each family.
"The needs of these people increase daily and because the crises are ongoing, for example, the Syrian crisis is entering its 7th year," Abu Asaker said.
"So anything these people had is not completely gone and they need continuous support. So this requires us as an organization to search for creative ways that go in parallel with governmental support, which has become insufficient given the rising number in refugees and IDPs (internally displaced people)."
Zakat payments can be a matter of personal choice in many Muslim countries, though it is a religious obligation under Islamic law. Governments in some countries deduct payments from savings accounts on a pre-determined day. The funds tend to be used to help those in poverty, in debt or refugees.
http://nation.com.pk/international/20-Jun-2017/unhcr-wins-nod-to-use-islamic-alms-to-aid-middle-east-refugees
--------
'Calm down': London attacker who wanted to 'kill all Muslims' was saved by imam
Jun 20, 2017
Worshippers leaving a London mosque early Monday were helping an elderly man who had collapsed when a van deliberately rammed them, driven by an attacker who shouted: "I want to kill all Muslims", witnesses said.
Shortly after midnight, the van swerved towards people who had just left prayers at the Finsbury Park Mosque and the Muslim Welfare House in north London and were assisting their stricken fellow worshipper.
The man who collapsed was pronounced dead at the scene and 10 people were injured, with eight taken to hospital.
But the driver, pinned to the ground and facing a mob beating, was saved by the Welfare House imam who ordered infuriated younger men to stand back.
"He just drove at people," witness Abdiqadir Warra told AFP of the attacker. "Some of them he took a few metres.
"The old man was also on the ground, and I see some people were also injured. Some of them were very bad."
Another witness Mohammed Abdullah told Sky News television: "He actually went on top of the people, he actually ran them over. And then all I can just see is people getting hit."
'I'm restraining him'
Locals pounced on the driver and two or three men pinned him down, then others waded in, trying to punch and kick him.
Imam Mohammed Mahmoud then stepped in and, according to onlookers, saved the driver's life by ordering angry bystanders to stand away.
"I'm restraining him," one man shouted. "Don't touch him! Don't touch him!", eyewitness video footage showed.
"Look what's happened!" shouted another.
"Calm down," someone says as the driver reels on the ground.
"He had been restrained by about three people. The injured and the deceased brother were being tended to," Mahmoud told reporters.
"We found a group of people quickly started to collect around the assailant. Some tried to hit and punch and kick him.
"By God's grace we managed to surround him and protect him from any harm."
A police van drove by, and the driver was dragged up to his feet.
When the suspect was being led away into the police van, he seemed dazed and bewildered.
"Why did you do that? What did they do to you?" someone shouted in an angry voice.
There were furious shouts as he was put into the police van, with one man wading in with a kick.
"The driver of the van said, 'I did my bit'," said MWH chief executive Toufik Kacimi.
"He did what he did deliberately to hit and kill as many Muslims as possible."
Khalid Amin told BBC television that when people seized the driver, "he was shouting: 'All Muslims, I want to kill all Muslims'."
Witness Abdul Rahman, who told the BBC he struck the driver and helped subdue him, also claimed the man had said he wanted to "kill all Muslims".
Police confirmed that a 47-year-old man had now been arrested on terror grounds.
'People were screaming'
Meanwhile one man was thought to be trapped under the suspect's van and a dozen or so men tried to lift it up.
A video clip taken by a female witness and seen by AFP shows the white rental van and one man laying on the side of the road with his head propped up. A man said the wounded victim was pulled from under the van.
Another clip shows a man administering heart massage to a man on the ground, another person lying face down on the street, and a third sitting up with fellow worshippers holding what looked like a towel or a top to his head, with many worried-looking people close by.
Zahra Musa, 43, who filmed the second clip, told AFP that people were leaving the mosque for a food break when the incident happened.
Another witness, who gave his name as Athman, told AFP: "People were screaming: 'It's a terrorist attack, it's an attack, this guy attacked us', and I had to run back and tried to save people who were still alive and giving water, helping the police.
"While he was in the police van he was waving for victory, he was very happy."
May condemns
British Prime Minister Theresa May vowed to fight extremism in all its forms. May condemned the assault as "sickening", saying Britain's determination to fight "terrorism, extremism and hatred... must be the same, whoever is responsible".
Londoners bearing flowers and messages of solidarity gathered Monday at the spot where the man ploughed the van into worshippers.
Among the roughly 100 people at the vigil, some carried signs reading "United Against All Terror".
"One of the things that all these terrorists share is a perverse ideology that wants to fuel division and divide our communities. We're not going to let them," said Mayor Sadiq Khan, speaking after prayers at the Muslim Welfare House on Monday evening.
http://www.hindustantimes.com/world-news/calm-down-london-attacker-who-wanted-to-kill-all-muslims-outside-mosque-was-saved-by-imam/story-Tyf4hnNEqnQKembrSijBJL.html
--------
Tripura Governor digs up a Hindu-Muslim civil war quote from past
by Samudra Gupta Kashyap
June 20, 2017
Courting controversy again, Tripura Governor Tathagata Roy tweeted what he called a 1946 diary entry made by Syama Prasad Mookerjee, who later founded the Bharatiya Jana Sangh, which stated that "the Hindu-Muslim problem won't be solved without a Civil War". This drew sharp reactions on Twitter and several exchanges later, Roy put out another tweet, saying "couple of dozen dimwits" trolled him for "advocating a civil war", and that "I was quoting, not advocating".
At 12.23 am June 18, Roy took to Twitter: "Syama Prasad Mookerjee wrote in his diary on 10/1/1946: "The Hindu-Muslim problem won't b solved without a Civil War". So much like Lincoln!" This was followed by sharp exchanges with some accusing him of instigating communal violence, others calling for his sacking and arrest.
Nineteen hours later, Roy tweeted: "Instantly couple of dozen dimwits began trolling that I was advocating a civil war. None stopped to ponder that I was QUOTING, not ADVOCATING." He continued: "I was quoting a diary of 70 years back, pre-partition India. And it was prophetic. Because Jinnah unleashed that civil war 7 months later. And Jinnah won that civil war and got his Pakistan. That is ALSO something Dr Mookerjee predicted."
Earlier, while engaging the Twitterati, Roy posted a photograph of a banner attributed to "Shyampur Masjid Committee and the residents" and wrote "See this notice. It says "All music forbidden. Violators will call forth penalties." Not ISIS. Not Taliban, not Saudi. But West Bengal, India".
The Governor did not respond to phone calls, email or text messages from The Indian Express for comment. This is not the first time that Roy has made controversial remarks on Twitter. In August 2015, in one of his tweets, he described people who had attended Mumbai blast convict Yakub Memon's funeral as "potential terrorists" and said "they ought to be kept under surveillance."
In September 2015, replying to a tweet, he said: "Whatever gave you the notion I am secular? I am a Hindu. My state, India, however is secular since 1976." His Twitter handle then identified him as "Governor", "but still a proud Swayamsevak". As of today, Roy identifies him as "Civil Engineer, Swayamsevak, Professor, Politician, Writer, Lawyer, Hindu. Now Governor of Tripura. Love travel, music; hate hypocrisy and double standards."
http://indianexpress.com/article/india/meanwhile-tripura-governor-tathagata-roy-digs-up-a-hindu-muslim-civil-war-quote-from-past-4712481/
--------
Iran's missile killed at least 50 Daesh terrorists: Reports
Jun 20, 2017
At least 50 Daesh terrorists, including several high-ranking commanders, were killed when one of Iran's missiles hit their headquarters in Syria's Dayr al-Zawr.
Iran's Islamic Revolution Guards Corps (IRGC) fired six medium-range ground-to-ground ballistic missiles at Daesh bases in Syria's Dayr al-Zawr on Sunday in retaliation for twin terrorist attacks in the Iranian capital Tehran, which killed 17 people and injured over 50 others.
According to reports, one of the missiles directly hit a Daesh command center in the city of al-Mayadin in Dayr al-Zawr.
Six Libyan Daesh commanders were killed in the attack; two of whom have been identified as Abu Asim al-Libyai and Abdel Kader al-frani, better known as Abu Harith.
On June 7, gunmen mounted almost simultaneous assaults on Iran's Parliament and the Mausoleum of the late Founder of the Islamic Republic Imam Khomeini.
The Daesh Takfiri terrorist group claimed responsibility for the assaults. Iran has arrested dozens of terrorists since the Tehran attacks.
http://217.218.67.231/Detail/2017/06/20/525868/iran-syria-daesh-killed
--------
Southeast Asia
Najib: Umno champions Islam, that's why PAS likes us
19 Jun 2017
The principles and struggles of Umno, which champions the dignity of Muslims and Islam all this while, make the party likeable to PAS, says Prime Minister Najib Abdul Razak.
He said this was because, PAS which was bullied by DAP in the opposition pact prior to this, had seen Umno from the aspect of welfare and administration which profited Muslims greatly.
"Regardless, we have our differences of opinions, the government under Umno has its principle of struggle and they (PAS) see our struggle as leaning toward the importance of Muslim dignity.
"PAS has had enough of DAP, it was bullied when it was with DAP, so much so it gave up and ran away," he said.
He said this in his speech at the state-level Prime Minister breaking-the-fast with the people programme and the national-level launching of the Kampung Fasa 8 (JLJK8) street lights at Pering Mosque, Jitra today.
Also present was the prime minister's wife Rosmah Mansor.
Najib also rapped the opposition pact which is seen as not having a consensus when making a decision on who will be prime minister if the pact wins.
"There is this person who voluntarily offers himself (as prime minister). According to our system, which party garners the biggest win forms the government. If our party only has one seat how to be prime minister," he said.
Focus on rural development
In the meantime, Najib said the government would continue to help the people requiring aid other than focusing on rural development via a more systematic distribution of the nation's revenue.
He said this could be realised if the country continued to achieve good economic growth, for example, when Malaysia's economy grew by 5.6 percent during the first quarter of this year, which was among the best in the world.
"But, indeed, this is our task..when there is a need, when there is a shortage, we add. For example, we channel RM490 million in 1Malaysia People's Aid (BR1M) in Kedah last year..we don't know this year's figure yet but maybe RM500 million involving more than 600,000 families benefiting," he said.
Earlier Najib launched the national level LJK8 involving 122,133 units which incurred an allocation of RM100 million.
A total of RM6.1 million was allocated by the government for the installation of 8,093 LJK8 in 15 Parliamentary areas in Kedah including 69 in the Jerlun parliamentary constituency.
LJK (Lampu Jalan Kampung) was one of the projects under the Rural Electricity Supply Programme which is implemented by the Rural and Regional Development Ministry since 2003 with Tenaga Nasional Berhad (TNB) as the implementing agency.
Najib also handed over Aidilfitri contributions to 1,225 local residents, broke-the-fast and performed the Maghrib prayers at the mosque.
Menteri Besar Ahmad Bashah Md Hanipah, Education Minister Mahdzir Khalid, Defence Ministry deputy minister and Kubang Pasu Member of Parliament Mohd Johari Baharum were also present.
https://www.malaysiakini.com/news/386149
--------
6 killed in southern Thailand bombing
June 20, 2017
A bomb planted in a dirt road has killed six soldiers in southern Thailand, in what apparently was an attack by Muslim separatists in an insurgency that has cost more than 6,500 lives since 2004.
Police Major Pompetch Chotiklang said the explosion Monday in Pattani province also wounded four other soldiers and blew the truck they were travelling in into pieces, with parts of it landing 100 meters (yards) away.
The separatists are mostly active in Thailand's three southernmost provinces of Pattani, Narathiwat and Yala, the only ones with Muslim majorities in the Buddhist-dominated country.
Full report at:
http://nation.com.pk/international/19-Jun-2017/6-killed-in-southern-thailand-bombing
--------
Philippines, Malaysia and Indonesia launch joint patrols to counter IS
Jun 19, 2017
Southeast Asian neighbours Indonesia, Malaysia and the Philippines launched coordinated maritime patrols on Monday to intensify their fight against Islamic militants who have laid siege to a southern Philippine city.
Defense ministers and military chiefs from the three countries launched the patrols in the Indonesian city of Tarakan in northern Borneo, just across the border from Sabah, Malaysia.
Indonesia's military chief, Gen Gatot Nurmantyo, said Maritime Command Centres were also opened in the cities of Tawau in Malaysia and Bongao in the Philippines.
The information and intelligence-sharing centres establish designated sea lanes for ships in the seas along the countries' borders to prevent Islamic State-aligned militants in the southern Philippines from fleeing to neighbouring nations.
The conflict in the Philippine city of Marawi has raised fears that the Islamic State's violent ideology is gaining a foothold in the country's restive south, where Muslim separatists have fought for greater autonomy for decades.
Nurmantyo said the idea of the trilateral maritime patrols was initiated by the countries last year to maintain stability in the region in the face of threats such as piracy, kidnapping, terrorism and other crimes in regional waters.
"This trilateral cooperation is needed to anticipate infiltration possibility of IS-aligned militants from Marawi disguised as refugees," Nurmantyo said in a speech.
Patrols aimed at tightening security for porous borders
Philippine military spokesman Brig Gen Restituto Padilla said the coordinated patrols aim to tighten protection along porous borders and prevent abductions at high seas. They will also help prevent the movement of fugitives seeking haven in a different country or planning to provide assistance to jihadists, he said.
He said immigration procedures should also be strengthened since they are the first line of defence in blocking militants who come in through the countries' airports.
"The enemy we face right now is a different breed, and with the presence of foreign fighters in the area - a matter that we are trying to validate and prove based on whatever we recover from the field - is part of that continuing concern," he told reporters in the Philippines. He was referring to the reported presence in Marawi of foreign fighters, who he said bring a kind of terrorism seen in the Middle East but not practiced by local militants.
Thousands of troops and police are struggling to end the 28-day siege by Muslim militants aligned with the Islamic State. Officials said the fighting has left at least 26 civilians, 257 militants and 62 security forces dead.
Monday's opening ceremony of the joint patrols was held on board an Indonesian warship and was attended by security officials from Singapore and Brunei, who acted as observers.
Authorities in Indonesia, the world's most populous Muslim-majority nation, have carried out a sustained crackdown on militants since bombings on Bali in 2002 by al-Qaida-affiliated radicals that killed 202 people.
Full report at:
http://www.hindustantimes.com/world-news/philippines-malaysia-and-indonesia-launch-joint-patrols-to-counter-is/story-BdmXKeBrIW4Z5RIXUTPbQL.html
--------
Philippines Launches Offensive in Marawi, With Aim to End Battle by Weekend
June 20, 2017
Marawi City, Philippines. Philippine aircraft bombed rebel positions and ground troops launched a renewed push against Islamist militants holed up in a southern city on Tuesday (20/06), with the aim was to wrap up the fighting before the weekend Eid festival, a spokesman said.
The offensive came amid worry that rebel reinforcements could arrive after Eid al-Fitr, which marks the end of the Muslim holy month of Ramadan.
Fighting in Marawi City has entered a fifth week, and nearly 350 people have been killed, according to an official count. Fleeing residents have said they have seen scores of bodies in the debris of homes destroyed in bombing and cross-fire.
"We are aiming to clear Marawi by the end of Ramadan," said military spokesman Brigadier-General Restituto Padilla, as army and police commanders met in nearby Cagayan de Oro city to reassess strategy and operations against the militants, who claim allegiance to Islamic State.
"We cannot definitely say when we could end this because we are fighting door to door and there are booby traps which pose danger to our troops."
The seizure of Marawi has alarmed Southeast Asian nations which fear Islamic State – on a backfoot in Iraq and Syria – is trying to set up a stronghold in the southern Philippines that could threaten the whole region.
Padilla said the military aimed to prevent the conflict from escalating after Ramadan ends.
"We are closely watching certain groups and we hope they will not join the fight," Padilla said.
Some Muslim residents of Marawi said other groups could join the fighting after Ramadan.
"As devout Muslims, we are forbidden to fight during Ramadan so afterwards, there may be new groups coming in," said Faisal Amir, who has stayed on in the city despite the battle.
Fighting was intense early on Tuesday as security forces made a push to drive the militants, entrenched in Marawi's commercial district, south towards a lake on the edge of the city.
Planes flew overhead, dropping bombs while on the ground, automatic gunfire was sustained with occasional blasts from bombs and artillery. Armored vehicles fired volleys of shells while the militants responded with gunfire and rocket-propelled grenades.
An army corporal near the front line told Reuters soldiers were tagging houses and buildings that had been cleared.
"We still have to clear more than 1,000 structures," he said, adding infantry units were left behind at "cleared" areas to prevent militants from recapturing ground they have lost.
Full report at:
http://jakartaglobe.id/international/philippines-launches-offensive-marawi-aim-end-battle-weekend/
--------
Indonesia Deploys Sukhoi Jets to Prevent Possible Militant Infiltration
June 20, 2017
Jakarta. The Indonesian Air Force deployed three Sukhoi fighter jets to the Tarakan air base in North Kalimantan, as part of efforts to prevent Islamic State-aligned Maute militants from crossing into the country from the Southern Philippines.
Maute group militants are currently fighting Philippine government forces in Marawi City on the southern island of Mindanao – a battle that has been waging now for over three weeks.
Mindanao, the largest of Philippine's most southern islands, can be reached by boat from North Maluku's Morotai Island in just over five hours.
Tarakan base commander Col. Didik Krisyanto said the three Sukhoi jets arrived on Friday (16/06) and are expected to stay for a month.
"The militants might flee the Philippines and cross the border into Indonesia," Didik said.
The Indonesian Navy has also been closely watching the Indonesia-Philippine sea border from its outpost, according to Col. Setiyo Widodo, currently the commander at the Tahuna-Sangihe naval base in north Sulawesi.
Although the navy conducts daily sea patrols, the escalating security situation in the Philippines demands more comprehensive measures, Setiyo said.
"The navy has been in coordination with the army and police in Sangihe to guarantee the district's security [...] We've informed the people to report any suspicious activities or persons to the authorities in the area," Setiyo said.
Full report at:
http://jakartaglobe.id/news/indonesia-deploys-sukhoi-jets-prevent-possible-militant-infiltration/
--------
Arab World
ISIL's Senior Commander, 360 Terrorists Killed in IRGC Missile Strikes in Deir Ezzur
Jun 19, 2017
According to the sources, Sa'ad al-Husseini, nom de guerre Abu Sa'ad, a senior Saudi commander of ISIL was killed in the Sunday evening airstrikes.
Also, early reports confirmed that the missile attacks have inflicted heavy damage on ISIL and killed at least 360 terrorists.
The Islamic Revolution Guards Corps launched 6 missile strikes at ISIL centers in Syria's Deir Ezzur in retaliation for the June 7 twin terrorist attacks in Tehran, the IRGC said in a statement issued on Sunday, adding that the mid-range missiles were fired from bases in Western Iran.
"The Takfiri terrorists' command center, concentration points and logistical centers used for assembling cars for suicide attacks in Deir Ezzur region in Eastern Syria came under attack by the IRGC moments ago in a move to punish the terrorists for the twin attacks on the Iranian parliament and the holy shrine of the late founder of the Islamic Republic, Imam Khomeini, on June 7," the statement issued by the IRGC Public Relations Office said.
"A number of mid-range ground-to-ground missiles fired from the IRGC Aerospace Force bases in Kermanshah and Kurdistan provinces targeted the Takfiri terrorists in this operation and struck them with lethal and crushing blows," the statement said.
The statement further added that according to intel and reports, "a large number of Takfiri terrorists have been killed and their equipment, systems and weapons have been destroyed" in the operation.
The IRGC cautioned that the missile strikes were just a warning to deter any further action by the terrorists. "The IRGC warns the Takfiri terrorists and their regional and trans-regional supporters that they would be engulfed by its revolutionary wrath and flames of the fire of its revenge in case they repeat any such devilish and dirty move in future."
An hour later, the IRGC put the number of the missiles at 6, and said that they flew through Iraq's airspace.
Three unknown assailants fired several rounds at the guards protecting the parliament building in Tehran on June 7. The assailants opened their way into the parliament's administrative building while shooting at the guards and civilians.
A similar attack took place at the holy shrine of the late founder of the Islamic Republic, Imam Khomeini, parallel with the parliament attack.
A sum of 18 people, including a parliament guard, were killed and 52 others were wounded in the twin attacks claimed by the ISIL.
http://en.farsnews.com/newstext.aspx?nn=13960329001178
--------
Qatar accuses Arab nations of 'publicity stunt' on terrorism allegations
June 20, 2017
Qatar hit out on Monday at four Arab nations for cutting diplomatic ties and transport links over Doha's alleged support for terrorism, accusing them of a "publicity stunt" aimed solely at attacking its image and reputation.
Saudi Arabia, the United Arab Emirates, Bahrain and Egypt cut ties with Qatar on June 5 in the worst diplomatic crisis in the region in years.
"The blockade has been ongoing for two weeks and the blockading nations have offered no formula for resolving the crisis," Sheikh Saif Bin Ahmed al-Thani, Director of Qatar's Government Communications Office, said in a statement.
"It is unfortunate that our neighbors have chosen to invest their time and resources in a baseless propaganda campaign... The blockading nations are using terrorism as a publicity stunt."
Full report at:
ttp://nation.com.pk/international/19-Jun-2017/qatar-accuses-arab-nations-of-publicity-stunt-on-terrorism-allegations
--------
Militants in Tens of Other Towns Join Peace Agreement with Syrian Gov't
Jun 19, 2017
Representatives of militants in 88 towns of Aleppo and Hama provinces have ended fight against the Syrian Army troops and joined the peace process in the last 24 hours, the Russian ministry said in a statement on Monday.
The total number of regions, cities, towns and villages that have thus far joined the peace plan stands at 1,717 now, it added.
Early this month, the Russian Reconciliation Center for Syria had announced that a sum of 1,500 towns, townships and villages joined the peace plan in war-hit Syria.
"The number of populated localities that have joined the reconciliation process in Syria has increased to 1,500," the Russian Reconciliation Center for Syria said.
Full report at:
http://en.farsnews.com/newstext.aspx?nn=13960329001464
--------
Russia suspends coordination with US after downing of Syrian jet
19 June 2017
Russia's defense ministry says it is suspending coordination with the United States in Syria over so-called "de-confliction zones" after the Americans downed a Syrian government fighter jet.
The United States and Russia, which has been providing an air cover for Syria's President Bashar Assad since 2015 in his offensive against the ISIS, have a standing agreement that should prevent in-the-air incidents involving US and Russia jets engaged in operations in Syria.
The Russian defense ministry said in a statement on Monday that it was suspending the deal after the US military confirmed that it downed a Syrian Air Force fighter jet on Sunday after it dropped bombs near US partner forces.
Full report at:
https://english.alarabiya.net/en/News/middle-east/2017/06/19/Russia-suspends-coordination-with-US-in-Syria.html
--------
SDF Holding Pilot of Downed Syrian Fighter Jet
Jun 19, 2017
The SDF forces have found the pilot of the Syrian warplane that was shot down in Raqqa on Sunday, social media activists said today.
They said that the SDF is most likely to hand over the pilot to the Syrian troops after negotiating with the Syrian army.
The report has not yet been confirmed by official source in the Syrian government or the SDF.
On Sunday, a Syrian fighter plane engaged in operations against the ISIL in Raqqah was downed by the US-led coalition warplanes.
The Syrian army's general command stressed that the "flagrant aggression" highlights the US's true stance against terrorism.
"The attack stresses coordination between the US and Daesh, and it reveals the evil intentions of the US in administrating terrorism and investing it to pass the US-Zionist project in the region," it added. "This comes at a time when the Syrian army and its allies were making clear advances in fighting the ISIL terrorist group."
Meantime, the first clash between the Syrian army troops and the predominantly Kurdish-led Syrian democratic Forces occurred North of the city of Rasafeh after a Syrian air force fighter jet was shot down by the US-led coalition warplanes West of Raqqa.
The Syrian army and SDF forces reportedly engaged in fierce clashes North of al-Rasafeh city and in areas surrounding Shavihayan and Jaydeen villages.
Full report at:
http://en.farsnews.com/newstext.aspx?nn=13960329001355
--------
Syrian Army Deploys at Gates of ISIL's Last Stronghold in Eastern Homs
Jun 19, 2017
The army units managed to fully recapture the protected area of Talileh (Mahmieh al-Talileh) East of the ancient city of Palmyra (Tadmur).
Meantime, a military source reiterated that the Syrian soldiers also seized control of the Third power plant in Eastern Palmyra after reinforcing their military positions in Mahmieh al-Talileh region.
The source also underlined that the Third Power Plant is the starting point for Syria's military operations towards al-Sukhnah region.
"The Syrian troops will pave their way to enter Deir Ezzur and break the siege of the city and its airport," he added.
In a relevant development on Sunday, the Syrian army, supported by the air force, continued military operations against the ISIL in Eastern Homs and advanced towards the strategic city of al-Sukhnah after regaining control over several points.
The army forces continued clashes with terrorists after seizing back Arak energy field and retook control of Ba'ar al-Hafneh and Arak dam in the outskirts of Palmyra.
Meantime, the Syrian air force pounded ISIL's positions and moves in the Eastern parts of Arak region, areas near the third station and Western Tayebeh in Palmyra region, destroying several command centers, cars and military equipment.
Also, a military source reported that the Syrian soldiers have taken back control of al-Sukhnah-al-Tabaqah road after stabilizing their position in the entire region of Wahhab in Southern Raqqa.
A military source reported on Friday that the army troops continued to advance against ISIL in Eastern Homs, taking control over more strategic positions and inflicting heavy casualties on the terrorists.
The source said that the army men engaged in a tough battle with ISIL along the road that connects Palmyra city to the town of al-Sukhnah and imposed control over Syriatel towers and MTN tower, adding that fierce clashes are underway between the army soldiers and militants in areas surrounding Ba'ar al-Hafneh and the third station.
In the meantime, the army exchanged fire with terrorists in the town of Aqrab in al-Houleh region, al-Ta'ouneh and Qamas regions.
Full report at:
http://en.farsnews.com/newstext.aspx?nn=13960329001042
--------
Terrorist Group Declares Defection from Tahrir Al-Sham
Jun 19, 2017
The Ajnad al-Sham terrorist group that had previously broken away from Ahrar al-Sham and allied with Tahrir al-Sham Hay'at, declared defection from the latter and once again voiced its allegiance to Ahrar al-Sham.
Commander of Ajnad al-Sham, Abu Al-Bara Ta'oum in a statement once again voiced his group's alliance to Ahrar al-Sham and its commander Abu Ammar.
In early March, the Al-Nusra-led Tahrir al-Sham Hay'at and Ahrar al-Sham were forced to exercise compromise under a deal after several-week long infighting inflicted large casualties on both rival terrorist groups.
The most important paragraphs of the agreement signed by the two terrorist groups include the two sides' retreat from areas of contention, start of a ceasefire and removal of the military outposts erected by both groups in Idlib and Western Aleppo province during their clashes.
Also, the agreement that also envisages an immediate prisoners swap rules that Tahrir al-Sham Hay'at militants retreat from al-Mastoumeh military base and give back all weapons seized from Ahrar al-Sham.
Yet, Abdullah Muhammad al-Muhaysini, the religious leader (Mufti) of the Jeish al-Fatah coalition of terrorist groups, who has recently joined Tahrir al-Sham Hay'at, strongly undermined the deal by dismissing its efficiency, writing on his twitter page that Ahrar al-Sham's merger in the rival coalition will be the only possible way to resolve the differences between the two sides.
Late in January, al-Nusra Front and several militant groups declared forming a new coalition under the name of Tahrir al-Sham Hay'at to narrow down widening rifts amongst their commanders and members.
The al-Nusra Front, Nouralddeen al-Zinki Movement, Jeish al-Sonah, Jabhat Ansaraldeen and Liwa al-Haq announced that they would act under a united coalition named the Tahrir al-Sham Hay'at.
The five merged terrorist groups act under the command of Abu Jaber Hashem al-Sheikh, who was one of the commanders of Ahrar al-Sham. The new coalition led by al-Sheikh is now fighting against Ahrar al-Sham, a rival terrorist group operating mainly in Northwestern Syria.
Al-Sheikh resigned from his post in Ahrar al-Sham after he was appointed as the commander of Tahrir al-Sham Hay'at.
A number of Ahrar al-Sham's commanders, including the groups' spokesman Abu Yusuf al-Mohajer, Hesam Salameh and Abu al-Fatah al-Farqali Mesri also joined the new coalition.
Terrorist groups' websites claimed that Al-Nusra Commander Abu Mohammad al-Joulani will be the top commander of Tahrir al-Sham Hay'at.
Ahrar al-Sham rejected its affiliation to the new coalition, but websites close to the terrorist groups have disclosed that Ahrar al-Sham, Faylaq al-Sham, Jeish al-Izzah, Turkistani party and Liwa al-Tamkin will soon start a new front called Tahrir al-Syria Front.
Full report at:
http://en.farsnews.com/newstext.aspx?nn=13960329001289
--------
Syrian Army Captures Another Strategic Region Near Damascus
Jun 19, 2017
The army soldiers could drive the terrorists back from al-Rabiyeh hill after clashes with the militants in Southeastern Damascus.
During the operations, a number of terrorists were killed and wounded.
The Syrian army sent hundreds of reinforcements to Damascus province last week as security sources disclosed that the government troops are preparing for sensitive and massive military operations near the capital city.
"The Syrian army intends to kick off a large-scale military operation soon to recapture Jobar district from terrorists," a security source said.
The source went on to say that Damascus is in the final stage of preparations to dispatch troops and military equipment to the vital front while the missile and artillery units of the Syrian army are continuously targeting the terrorists' defense lines in the region.
"Jobar is highly important for the Damascus government because by recapturing this region, the terrorists will no longer be able to hit the capital city with their rockets and mortar shells.
Full report at:
http://en.farsnews.com/newstext.aspx?nn=13960329001571
--------
Syrian Soldiers Inch Closer to ISIL's Key Base in Western Reqqa
Jun 19, 2017
The army troops managed to liberate Al-Aysawi village in fierce clashes with ISIL militants, and then launched an attack on Jaydeen which resulted in recapturing the strategic village near the key town of Resafa.
The Syrian Army continued its military operations in Raqqa's Western countryside, hitting several points that still are under ISIL's control.
Before recapturing Al-Aysawi and Jaydeen, the Syrian Army had stormed al-Karadi to capture the village, and finally forced the Takfiri terrorists to retreat from another village in the province.
A military source said that the airstrikes by the US-led coalition fighter jets on the Syrian army will not disrupt its anti-ISIL operations in Raqqa, adding that the Syrian army forces are now able to move towards the strategic town of Rasafeh from two directions in view of their advances in other areas.
The source also said that several ISIL terrorists have fled Rasafeh due to the massive number of the army soldiers that are readying for an imminent operation to recapture the town, adding that there is a high chance for regaining control of the town without facing much resistance from the terrorists.
In a relevant development on Sunday, the Syrian army troops took control of the towns of Banr al-Jaeq, Banr Mousa al-Hendi and Bahr Abu Hamat after fierce clashes with the ISIL terrorists in Western Raqqa.
The gov't forces also managed to recapture the towns of Mazafeh Awijan Bu Khamis, Banr al-Sadran, Akhu Hadleh, Haj Mofazi, Banr al-Adad, Banr Abu al-Sanabel, Banr al-Amaleh and Rajm al-Amaleh hill West of the strategic city of al-Rasafeh.
Also on Sunday, Damascus announced in a statement that the US-led coalition has shot down one of its fighter jets during a mission in Raqqa countryside.
According to the statement, the warplane was carrying out operations against ISIL in the countryside of Raqqa when it was targeted, leading to a crash and the loss of the pilot, who is currently missing.
The Syrian army backed by the country's air force continued its military operation in the Western part of Raqqa, after capturing ISIL's last bastion in Eastern Aleppo and has captured several districts in recent days.
As Washington claims that it fights against the ISIL group, US warships fired 59 Tomahawk cruise missiles from two warships in the Mediterranean Sea at the Shayrat airfield in Homs province on April 7, following a chemical weapons incident in Idlib province which the Western countries blamed on the Damascus government.
The Syrian government has fiercely denied using or even possessing chemical weapons since the country's compliance with the Chemical Weapons Convention was certified by international observers in 2013, as the world is still waiting for the US and its allies to provide any proof for its claims of Bashar al-Assad government involvement in the alleged chemical attack.
Also on May 18, the US-led coalition struck pro-Bashar Assad forces near al-Tanf in the area of an established de-confliction zone. The coalition air raids occurred near al-Tanf, where US' and British special operations forces have been training militants near the border with Iraq and Jordan.
On June 6, the Pentagon announced the coalition conducted a new strike on pro-Syrian government forces as they entered the de-confliction zone with Russia and posed threat to its personnel. The force comprised of a tank, artillery, anti-aircraft weapons, armed technical vehicles and more than 60 soldiers. At least two Syrian servicemen were killed and more than 15 injured as a result of the attack.
Full report at:
http://en.farsnews.com/newstext.aspx?nn=13960329000505
--------
Iraq warns Mosul civilians, tells ISIS 'surrender or die'
19 June 2017
Iraqi authorities have dropped leaflets over Mosul warning civilians to stay inside and are telling jihadists to "surrender or die" after launching an assault to retake the Old City.
Iraqi forces launched an assault on Sunday to recapture the Old City, the last district of Mosul still held by ISIS after a months-long offensive.
Commanders say the jihadists are putting up fierce resistance and there are concerns for the more than 100,000 civilians believed to remain inside the Old City.
Late on Sunday, Iraqi forces dropped nearly 500,000 leaflets over the city, warning that they "have started attacking from all directions".
The leaflets calls on civilians to "stay away from open spaces and... to exploit any opportunity that arises during the fighting" to escape.
Iraqi forces have also stationed Humvees by the Grand Mosque on the eastern side of Mosul, which faces the Old City and is mounted with speakers.
The loudspeakers have been blaring messages to civilians, saying Iraqi forces "are about to end your suffering".
Messages were also being broadcast to IS fighters, telling them: "You have only this choice: surrender or die".
The push into Mosul's Old City -- a densely populated warren of narrow alleyways on the western side of Iraq's second city -- marks the culmination of a months-long campaign by Iraqi forces to retake ISIS's last major urban stronghold in the country.
Full report at:
https://english.alarabiya.net/en/News/middle-east/2017/06/19/Iraq-warns-Mosul-civilians-tells-ISIS-surrender-or-die-.html
--------
Fresh Syria talks set for July 10 in Astana
19 June 2017
Russian Foreign Minister Sergei Lavrov announced Monday that the next round of Syria peace talks in Kazakhstan's capital Astana will be held on July 10.
The meeting is set to coincide with a fresh round of UN-sponsored Syria peace talks that will also begin in Geneva the same day.
"The latest meeting of participants will take place in Astana on July 10," Lavrov said at a news conference in Beijing, quoted on the foreign ministry website.
He said UN Syria envoy Staffan de Mistura -- who announced the date for the Geneva round on Saturday -- will take part in the Russian-backed talks.
It was not immediately clear whether the talks in Geneva and Astana would be held simultaneously or at different times.
"The subject is currently being discussed," a spokesman for De Mistura told AFP in Geneva.
Russian foreign ministry spokeswoman Maria Zakharova simply confirmed to AFP that the date of July 10 had been agreed.
A new round of Astana talks had been scheduled for June but was then indefinitely postponed as key players wrangled over the future of fragile safe zones agreed for Syria in May.
Russia and Iran, which back President Bashar al-Assad's forces in the war, and Turkey, a supporter of rebel forces, signed an agreement on May 4 on setting up four safe zones.
Lavrov on Monday said the de-escalation zones "are one of the possible options to move forward together".
Moscow has spearheaded the Astana talks since the start of the year as it tries to turn its game-changing military intervention on the ground into a negotiated settlement.
The tetchy negotiations -- seen as a complement to the broader UN-backed talks in Geneva -- have involved armed rebels and government officials and have focused mainly on military issues.
The last Geneva talks ended on May 19 after four days without making any real progress.
Full report at:
https://english.alarabiya.net/en/News/middle-east/2017/06/19/Fresh-Syria-talks-set-for-July-10-in-Astana-.html
--------
EU mulls deploying 'security mission' to Iraq after Mosul liberation
Jun 20, 2017
The European Union is set to consider moving new security personnel into Iraq with the declared aim of helping protect stability in the country after the expected liberation of Mosul Daesh terrorists.
Foreign ministers of the 28 nation bloc agreed to consider sending the so-called EU Security Sector Reform Advice and Assist Team to Iraq during a meeting in Luxembourg on Monday after a formal request by the Iraqi government.
According to a statement released after the meeting, the mission would not participate in the actual combat but would train Iraqi forces, which would help to maintain order after purging Mosul, the former stronghold of Daesh in Iraq, of the terrorists.
"I hope this can be put in place rapidly enough, hopefully in the coming months, so we can provide all our advice and assistance to the Iraqi authorities," EU foreign policy chief Federica Mogherini said at a press conference.
According to French diplomats, an EU mission could build up Iraqi counter-terrorism forces, train police, establish functioning justice and interior ministries and give strategic security advice to the Baghdad government.
Another EU diplomat described the move as a duty of the block, stressing its importance in avoiding even greater flows of refugees to Europe.
Iraqi army soldiers and volunteer fighters from the Popular Mobilization Units, commonly known by their Arabic name, Hashd al-Sha'abi, have made sweeping gains against the Takfiri elements since launching the Mosul operation on October 17, 2016.
The Iraqi forces took control of eastern Mosul in January after 100 days of fighting, and launched the battle in the west on February 19.
Iraqi forces are now pushing into Mosul's Old City as the Mosul battle has entered a final phase.
Full report at:
http://217.218.67.231/Detail/2017/06/20/525884/EU-security-mission-Iraq
--------
Europe
Terrorist assaults on Muslims on rise across Europe
Ozan Ceyhun
June 20, 2017
Unfortunately, Muslims in Europe are anxious ahead of Eid al-Fitr due to increasing terrorist attacks targeting Muslims across Europe. They are concerned about their security of life and property in the EU countries where they have been living for decades. Their mosques and organizations are targeted by far-right and racist terrorist groups. Meanwhile, the PKK terrorist organization has also increased its assaults, targeting mosques and Muslim organizations in Europe.
So far, such assaults have not resulted in casualties since they were mostly done at night, but no one should find solace in that. People might have been in the buildings during the attacks and arsons. Far-right and racist groups and the PKK take courage from their previous attacks after they found out that Muslims are not being protected adequately. This is not a good sign. The police departments in cities in the EU must attach special importance to protecting Muslim organizations and increase security measures.
Here is the latest bitter incident that happened:
Muslims were targeted yesterday by yet another terrorist attack in London. Although London police and some media outlets initially tried to report the attack as a traffic accident, it was revealed that a racist terrorist ran over a group of Muslims who were on their way home from the mosque. The assailant drove into the Muslim group of pedestrians who had just left the Finsbury Park Mosque in North London.
Those who witnessed the incident said that the assailant shouted, "I'm going to kill all Muslims," while driving toward the worshipers.
The EU must immediately put an end to this hypocrisy. No matter whether the assailant is Muslim or Christian, it is a terrorist attack in which people were killed. All of the attacks are the result of the same twisted anti-humanist mindset. Efforts to justify attacks on Muslims in some way hurt Muslims at least as much as the attacks themselves.
Moreover, the latest attack is not the first to target Muslims in Europe. Over the past months, there has been a big leap in the amount of attacks on Muslims across Europe, with each attack spurs a new one.
For instance, Muslims in Germany have requested the recognition of anti-Muslim crimes in a separate category for a long time. Thanks to this recognition, which was the first step to prevent the increasing assaults on mosques, the data required to record the details of attacks in police statistics began to be provided. Germany has taken an exemplary step on the issue even though it came a bit late.
Other European countries must follow Germany's example. The data reveals the legitimacy of our concerns: Within the first three months of this year, 208 assaults and insults targeting Muslims have been recorded in Germany, which is one of the leading EU countries with strict police measures. Two people were injured in those attacks. Also, in the same period, there were 15 attacks on mosques. Given that the number of mosque attacks in Germany was 27 throughout 2016, these 15 attacks only in the first three months of 2017 show that there is an alarming increase in assaults.
Likewise, 36 anti-Islam demonstrations took place in Germany in 2016, while the number of such demonstrations organized in the first quarter of 2017 is 32. This increase is a serious warning that must alarm all democratically minded people.
In addition, assaults on Muslims do not solely consist of terrorist attacks. Muslim Europeans are subjected to various kinds of threats, including provocations on the internet, threatening letters, insulting women who wear headscarves on the streets, damaging buildings that belong to Muslims and drawing Nazi symbols on their walls.
The situation is similar in Austria, Belgium, France, the Netherlands, Sweden, Denmark and Switzerland. Muslim Europeans have increasing concerns about their lives and property. I feel the need to point out this bitter truth ahead of Eid al-Fitr, which will be celebrated in the shadow of such atrocities.
Full report at:
https://www.dailysabah.com/columns/ozan-ceyhun/2017/06/20/terrorist-assaults-on-muslims-on-rise-across-europe
--------
Finsbury Park suspect named as Cardiff resident Darren Osborne
19 June 2017
The suspect in the Finsbury Park mosque attack has been named as Darren Osborne, a 47-year old married father of four living in a Cardiff suburb who recently voiced a hatred of Muslims.
According to witnesses, Osborne shouted, "I want to kill all Muslims" as he drove a van into a crowd of worshippers in north London in the small hours of Monday morning. One person died and 11 were injured; Osborne survived the attack and was arrested on suspicion of commission, preparation or instigation of terrorism including murder and attempted murder.
Camera phone footage showed him being captured by worshippers, who attacked him as he screamed, "Kill me." When he was eventually arrested and loaded into the back of a police van in handcuffs, he waved to the gathered crowd.
On Monday, neighbours in Pentwyn said that over the weekend, Osborne had called a 12-year-old Muslim neighbour an "inbred" and had been thrown out of a local pub for getting drunk, "cursing Muslims and saying he would do some damage".
Neighbours in the Cardiff suburb where he had lived for several years described him as "aggressive" and "strange". They said it was unclear what he did for work. Some said he was jobless, but bought and sold cars.
Osborne was brought up in Weston-super-Mare, where members of his family still live. People who said they knew him in Weston when he lived there described him as "a fighter" who would "flip" when he drank too much.
Police on Monday were searching his home, a modern redbrick terrace, close to Cardiff golf club in the north-east of the city suburbs. It has a Dogs Trust charity sticker in the front window and a wheelbarrow and child's toy in the front garden.
There was no immediate evidence that Osborne was an active member of a far right organisation. He was not known to the security services, according to Ben Wallace, the security minister. "What I can say on this case is, this individual, so far as we know at the moment, was not known to us, but we are aware of a rise in the far right," said Wallace.
"This was quite clearly an attack on Muslims who looked like they were probably Muslims and they were coming from a prayer meeting," said the Met police commissioner, Cressida Dick. "We treat this as a terrorist attack and we in the Met are as shocked as anybody in this local community or across the country at what has happened."
Osborne's Muslim neighbour in Cardiff, Khadijh Sherazi, said she had never had any problems with him or his family until this weekend. Her son, Nadeem, 12, said: "I was on my bike and he just came up to me and said, 'Inbred.' Just out there [on the road]. It was just a normal voice."
His sister, Nadia, 10, said she and her grandmother also heard Osborne in his garden using the same word. "All of a sudden we heard him say, 'Inbred.' I said to my nan: 'Did you hear that?' She said it was probably to his dogs."
Osborne also appears to have a Twitter account, which he has never used to send his own tweets, instead monitoring 32 other users, including Paul Golding and Jayda Fransen, the leaders of the far right party Britain First. Its mission statement states: "We will restore Christianity as the bedrock and foundation of our national life as it has been for the last one thousand years."
Osborne was born in Singapore and his mother, sister and nephew live in Weston-super-Mare. His mother, Christine Osborne, 72, told the Guardian: "I'm sorry, I'm not talking to reporters. He is my son, if that's what you want to know. You should talk to his partner, Sarah, the mother of his four children."
Later, in a telephone interview with ITV News, she described him as a "complex" person, but said: "That's all I can say. It's a terrible, terrible shock."
Sarah Andrews, 42, works as a pub chef. The couple are believed to have separated in recent months. Neighbours said he would often shout at her and his children in the street. "He always seemed an aggressive and strange person," said pharmacist Rebecca Carpenter. "He never caused us any real problems, but we could often hear him shouting from the other side of the street."
Regulars at the Hollybush pub close to his home told how he became very drunk on Saturday night. One said: "He got chucked out as he was so drunk. He was cursing Muslims and saying he would do some damage."
Pauline Tibbs, 48, said: "The police have been back and forward here all day. It's a terrible shock. I've seen him walking in the street but never spoken to him. He seemed normal enough."
The Met police said in a statement: "At this stage in the investigation, it is believed that the suspect acted alone, but we are of course investigating all the circumstances leading up to the attack."
Several far right groups are active in south Wales. They include the South Wales National Front. Its leader, Adam Lloyd, denied any connection to the attacker. "The man in question is not known to any of us here in South Wales National Front, and to our knowledge is not and never has been a member," he said. "Although we will never condone or accept this kind of violent attacks here in SWNF, anyone with a right mind can see this is not a terrorist attack but a revenge attack."
Osborne hired the vehicle used in the attack from Pontyclun Van Hire, a company based on an industrial estate close to the M4, 12 miles west of Cardiff. It said in a statement: "We at Pontyclun Van Hire are shocked and saddened by the incident that took place at Finsbury Park last night. We are cooperating fully with the Metropolitan police investigation and our thoughts are with those who have been injured in this cowardly attack." It said it was assisting the police "in any way we can".
The hire company opens seven days a week, which means the van used in the attack could have been picked up just hours earlier.
Edward Gardiner, who lives in a street near Osborne, said he saw a man sleeping in a van matching the description of the one used in the Finsbury Park attack late on Saturday night. He claimed he went to speak to the man and smelled alcohol on his breath. Gardiner said he had reported it to the police. He said: "I saw a van with this man lying across the three seats. I went to give him a shake. He just grunted, but his breath smelled of alcohol. I reported it to the police. I don't know what happened. Then I saw the van and the man's picture today."
Full report at:
https://www.theguardian.com/uk-news/2017/jun/19/finsbury-park-attack-suspect-named-as-cardiff-resident-darren-osborne
--------
Muslims targeted by violence in wake of IS-claimed attacks
Jun 20, 2017
LONDON (AP) - The attack on Muslim worshippers outside a London mosque on Monday follows a rising wave of violence and harassment directed against Muslims across Britain and around the world.
This month alone, a Muslim woman wearing a head scarf told police in Lancashire her car was struck by a bag of vomit. Worshippers at the Omar Faruque mosque in Cambridge found strips of ham attached to their vehicles. Several Muslim families have reported receiving letters warning, "You are no longer welcome in this country." Scores say they have been spat on.
Across Britain, Muslims say they are being targeted by a wave of animosity and violence simply because of the way they dress and worship, and because they share a religion hijacked by bloodthirsty extremists like the Islamic State group, which was quick to claim responsibility for recent attacks in Britain and elsewhere. In Monday's attack, a man plowed a van into a crowd of worshippers, injuring at least nine people - a tactic used in the recent attacks on Westminster and London bridges.
London's Police Commissioner, Cressida Dick, said Monday's assault outside two mosques during the holy month of Ramadan was clearly "an attack on Muslims."
"We are easy targets because of the way we dress and when we pray," said Hassan Ali, a 34-year-old resident of Finsbury Park, a north London neighborhood that is home to a large Muslim population and where the attack occurred. "But every time there is an attack here or elsewhere, we are blamed. When we are attacked, people look away."
Since the wave of IS-inspired terror attacks in Britain, there has been a five-fold increase of hate crimes against Muslims. Tensions have also been running high since Britain's decision to leave the European Union, a vote that was largely driven by anti-immigrant rhetoric - a message that was further reinforced by some of Britain's right-leaning tabloids and spread by populist European politicians promising to stem immigration and tackle terrorism associated with IS.
"I feel unsafe," said Emma Salem, a 15-year-old Muslim who lives in the neighborhood targeted on Monday.
Such attacks against Muslims have been on a worldwide increase. In January, a white nationalist opened fire on an Islamic cultural center in Quebec City, Canada, killing six people and wounding nearly 20. In the same month, the Islamic Center of Lake Travis in Austin, Texas, was destroyed by a fire in what authorities called a hate crime and another mosque was burned to the ground. Last year, nearly 100 mosques were attacked in Germany and dozens across Europe have been targeted by arsonists this year.
Stirring tension plays an important part in Islamic State and al-Qaida propaganda, as well as propaganda by right-leaning political groups.
Brendan Cox, the widower of the slain British parliamentarian Jo Cox, said both the far-right and Islamic extremists are propelled by polarization.
"Far-right fascists and Islamic terrorists are driven by the same hatred of difference, same ideology of supremacy & use of same tactics," he wrote on Twitter.
The Islamic State group and al-Qaida have targeted Muslims living in the West, repeatedly saying they will never be fully accepted members in a society of "unbelievers."
The idea has been to sow mistrust and drive both sides to the extremes. In the case of IS, the propaganda has gone even further, warning Muslims that if they failed to either join the fight in defense of the extremists' self-declared caliphate in Iraq and Syria or carry out attacks in their home countries, they themselves were complicit in a system of oppression against Muslims.
Islamic State supporters used Monday's attack to fuel more tensions by noting that the attacker, identified as 47-year-old Darren Osborne, was not shot to death, unlike the London Bridge attackers. "Muslims. you need to wake up, the war is starting now in your own streets," the message went on, according to the SITE Intelligence Group.
"Muslims are repeatedly being used as a political football and pieces in a propaganda campaign," said Mohammed Shafiq, head of the Ramadhan Foundation. "The rampant rise in Islamophobia has been perpetuated by right-wing newspapers and outlets. This has led to an atmosphere where it is acceptable to harass and ostracize Muslims. The Muslim community is constantly demonized."
Residents of Finsbury Park said they were angry that the police seemed slow to call Monday's incident a "terror attack." They also expressed frustration that attacks on the Muslim community have received little coverage or sympathy.
"There has been an outpouring of sympathy for all the recent terror attacks but hardly a whisper on this attack," said 23-year-old Ali Habib, who described how the white van swerve into a crowd of worshippers gathered outside a mosque following evening prayers. "People are both scared and angry. Parents are scared to send their children to evening prayers."
Full report at:
http://hudsonvalley.news12.com/story/35698219/muslims-targeted-by-violence-in-wake-of-is-claimed-attacks
--------
Car ploughs into police van in Paris Champs-Elysees 'attack'
June 20, 2017
Paris - A car loaded with gas canisters rammed into a police van on the Champs-Elysees avenue in Paris on Monday, leaving the driver dead in what the interior minister said was an attempted attack.
Police sources told AFP that a Kalashnikov rifle, handguns and gas bottles were found in the white Renault Megane.
Video showed orange smoke pouring from the car after the impact as the vehicle sat in the middle of the prestigious avenue which is lined with shops and cinemas.
The police and the army have consistently been attacked by extremists in France. "Security forces have been targeted in France once again," Interior Minister Gerard Collomb said, calling the incident an "attempted attack". The weapons and explosives found in the vehicle "could potentially blow this car up," he added. Interior ministry spokesman Pierre-Henry Brandet said bomb disposal experts were on the scene to "ensure the vehicle poses no further danger."
Later, the doors of the car and the bonnet were open as it was searched. No police or bystanders were injured in the incident near the Grand Palais exhibition hall. "People were running every which way," said a 51-year-old bystander who gave his name only as Alexandre. "Some shouted at me to get away."
Anti-terrorism prosecutors have opened an investigation. Police closed two of the Metro stations on the Champs-Elysees, but two hours after the attack tourists were back taking selfies of the Arc de Triomphe and visiting shops.
Collomb said the attack "shows once again that the threat (of an attack) remains extremely high in France".
The incident came just two months after a policeman was shot and killed on the avenue, days before the first round of France's presidential election. After that attack, a note praising the Islamic State group was found next to the body of the gunman, Karim Cheurfi, and weapons including a shotgun and knives were found in his car. On June 7, a hammer-wielding Algerian man was shot and wounded by police after he struck an officer on the head in front of Notre Dame cathedral in Paris, shouting it was in revenge "for Syria". He had pledged allegiance to the Islamic State group in a video found at his home.
The attack Monday was the latest of a string in France and Britain. Earlier Monday, a van ploughed into a crowd of Muslims near a London mosque, injuring 10 people. It was the second terror attack this month in the British capital.
Two weeks ago militants used a van and knives to crush and stab to death eight people enjoying a night out around London Bridge. Three of the victims were French.
In May, a suicide bomber killed 22 people, including children, at a concert by US singer Ariana Grande in Manchester.
France remains under a state of emergency imposed after the November 2015 attacks in Paris, when Islamic State militants slaughtered 130 people in a night of carnage at venues across the city.
Previous major attacks targeted the paris offices of the Charlie Hebdo satirical magazine in January 2015.
A senior police officer and his girlfriend were both killed by a radicalised man at their home in the Paris suburbs a year ago. And in July last year, a radicalised Tunisian man knocked down and killed 86 people as he rammed a truck through a crowd watching Bastille Day fireworks in the Riviera city of Nice.
On Wednesday, the French government is to unveil a new anti-terrorism law, designed to allow the state of emergency to be lifted.
Full report at:
http://nation.com.pk/international/20-Jun-2017/car-ploughs-into-police-van-in-paris-champs-elysees-attack
--------
Greece, Turkey discuss tensions over Aegean flyovers
Jun 19, 2017
Greece's prime minister has told his Turkish counterpart that airspace violations over the Aegean must stop as they increase the risk of a military accident in the sea between the two uneasy neighbors and NATO allies.
Greek Prime Minister Alexis Tsipras said he and Turkish counterpart Binali Yildirim, who was on a one-day visit to Greece, agreed to maintain open channels of communication between them in an effort to reduce potential military tensions arising from airspace violations.
The two countries have come close to war three times in the past half-century. The most recent time was in 1996, over who owns a couple of uninhabited islets in the eastern Aegean Sea.
Greece and Turkey stand far apart on many fronts, including Aegean boundaries, undersea exploration rights and the war-divided island of Cyprus, which is split between Greek-Cypriot and Turkish-Cypriot communities.
Athens also says Turkish fighter jets frequently infringe the airspace under its civil aviation control, and often violate its national airspace. Both air forces have lost planes and personnel in accidents during fierce simulated dogfights over the Aegean in which the pilots, although often flying armed aircraft, refrain from using their weaponry.
"I stressed to Mr. Yildirim that this situation isn't helping at all, and that these infringements cannot continue," Tsipras said during joint statements to the media after the two men met for talks. "(They) increase the risk of an accident, which I honestly believe is the last thing either side wants."
Yildirim said Greece also engaged in violations and flyovers in the Aegean Sea.
"Of course these are not one-sided. The violations are mutual," Yildirim said. "Of course, the point is that the tension should not escalate. Our quick and direct contact will help to resolve tensions at an early phase.
"Another source of tension between the two neighbors recently has been the fate of eight Turkish servicemen who sought asylum in Greece following last year's failed coup in Turkey. Ankara says the helicopter crewmen had participated in the coup, an accusation the men deny.
Greece's high court has refused to extradite the eight, who claimed they would not face a fair trial in Turkey amid a widespread post-coup-attempt crackdown that has seen about 50,000 people arrested and more than 100,000 suspended from their jobs.
Asked about Greece's refusal to extradite the servicemen, Tsipras noted that his country's judicial system was independent of its political system.
Full report at:
http://217.218.67.231/Detail/2017/06/19/525848/Greece-Turkey-tensions-aviation-Binali-Yildirim-Alexis-Tsipras-Cyprus
--------
Muslim Welfare House is 'much more' than a mosque
19 June 2017
The Muslim Welfare House, a clutch of buildings behind tall iron gates on Seven Sisters Road, is the headquarters of a network of community centres serving Muslims in England and Wales. A registered charity, it has 13 employees on its books and had an income in 2016 of £856,000. It offers educational classes, such as skills training and language lessons, youth activities, lectures and religious services.
The north London premises is also a mosque, with more than 2,000 Muslims regularly attending Friday prayers. Up to 800 can squeeze into the main prayer hall, another 1,000 into the youth centre, and there is a separate women's prayer space.
"The services provided here are much more than a mosque can offer," Toufik Kacimi, the CEO of the charity, said in an interview earlier this year. "We have services for children, for youth, services for women – different needs are all tackled with different programmes. It's not like a mosque, where you pray and go home."
The largest part of the complex, a building alongside the train tracks that run north from Kings Cross, is a set of classrooms. "Every three months we have different courses," said Kacimi, 48. "We had a mindfulness course for the ladies, and when that finished, we had a parenting for life course." The latter covered issues such as healthy eating and good behaviour.
"We have a lot of people who don't know how to educate their children, how to support them with their homework, " he said. The centre also offers after school clubs attended by about 350 children until 8.30pm every school day.
Kacimi said: "We do a lot of work tackling youth employment, youth engagement, domestic violence, gun culture, substance misuse."
The centre attracts people from diverse backgrounds. "We have Somalis, Albanians, Bengalis, Indians, Algerians – you name it."
The centre submitted plans to the council to demolish the premises and build a 10-storey complex on the site, but the proposal was rejected. "We are going to apply again with new plans. We're trying to create a better place with better services that fulfils the needs of the community instead of a horrible, ugly-looking building as it is now," said Kacimi.
He said that hate crime was "a growing issue affecting our community", and that the centre encouraged its users to report incidents to the authorities. "There are a lot of ladies coming here, and when they use public transport, they are sometimes affected by hate crimes. We have conferences, we bring the police, we bring the council, we bring Transport for London.
"It is our job to educate people and tell them: 'You're not in Africa, you're not in Saudi, you need to speak to the police, you need tell them what happened if you are a victim of domestic violence or a victim of hate crime. It is our role to do all of that."
The Finsbury Park mosque is less than 200 metres way, on a sidestreet separated from the Muslim Welfare House by railway lines and the busy thoroughfare of Seven Sisters Road. The five-storey mosque, also a registered charity, was opened by Prince Charles in 1994.
It gained notoriety as a centre for radicalisation when Abu Hamza al-Masri was its imam and weapons training sessions were held in the mosque. It was closed after a police raid in 2003, and Abu Hamza was jailed for inciting murder and racial hatred.
Two years later, the mosque reopened under new management, led by chair Mohammed Kozbar, and is now regarded as a model of community relations and outward-looking, moderate Islam. It has strong links with the local community and other faith organisations, and regularly opens its doors to non-Muslims.
The mosque's purpose is to present "the true teachings of Islam as a religion of tolerance, cooperation and peaceful harmony amongst all people who lead a life of balance, justice and mutual respect".
Full report at:
https://www.theguardian.com/uk-news/2017/jun/19/muslim-welfare-house-much-more-than-mosque
--------
India
BJP's Presidential Candidate Once Said 'Islam And Christianity Are Alien To The Nation'
Betwa Sharma
19/06/2017
The Bharatiya Janata Party's presidential candidate Ram Nath Kovind has opposed reservation in government for backward sections of religious minorities in India, and described Islam and Christianity as "alien to the nation."
In 2009, the Ranganath Misra commission had recommended 10 percent reservation for Muslims and five percent for other minorities in government jobs and favored Scheduled Caste status for Dalits in all religions.
Speaking at a press conference in New Delhi in 2010, Kovind, who hails from the Dalit community, said, "No, that is not possible," and called for scrapping the Ranganath Misra commission report.
An IANS report carried Kovind's remarks which he made in his capacity as the national spokesperson for the BJP. "Including Muslims and Christians in the Scheduled Castes category will be unconstitutional," he said.
Kovind, presently the governor of Bihar, is a two-term member of the Rajya Sabha. The BJP president Amit Shah today announced that the 71-year-old leader is the party's candidate to become the 14th president of India. He served as the chief of the BJP's Scheduled Caste Morcha from 1998 to 2002.
By choosing Kovind, political analysts believe, the BJP hopes to continue to bolster its credentials in the Dalit community.
On Twitter, Prime Minister Narendra Modi said, "I am sure Shri Ram Nath Kovind will make an exceptional President & continue to be a strong voice for the poor, downtrodden & marginalised." West Bengal Chief Minister Mamata Banerjee asked, "In order to support someone, we must know the person. Who is this candidate?"
Back in 2010, when asked how Sikh Dalits had quota privilege but not Muslims and Christians, Kovind said, "Islam and Christianity are alien to the nation."
Presently, quota privilege is extended to Hindu, Sikh and Buddhist Dalits. India has long been grappling with the question of extending reservation to Dalit Christians and Muslims under the category of Scheduled Caste.
The Constitution (SC) Order, 1950, reads "Notwithstanding anything contained in Para 2, no person who professes a religion different from the Hindu, or the Sikh or the Buddhist religion shall be deemed to be a member of a SC."
Earlier this year, Union Minister for Social Justice and Empowerment Thawar Chand Gehlot said that the Modi government would not agree to the Ranganath Mishra Commission recommendations, arguing that it would "weaken the Hindu religion." "Granting Scheduled Caste status to those belonging to minority communities will encourage conversion and weaken the Hindu religion. There is also no such provision in the Constitution," he said.
Making his case against quotas for Muslims and Christians in 2010, Kovind had argued that Dalit Christians and Muslims get better education in convent schools.
Full report at:
http://www.huffingtonpost.in/2017/06/19/bjps-presidential-candidate-once-said-islam-and-christianity-a_a_22489388/
--------
Celebrating Brotherhood: Pune's Muslims Hold Iftar Party for Warkaris
Jun 19, 2017
The palkhis of Sant Tukaram Maharaj and Sant Dnyaneshwar Maharaj made their way into the city on Sunday. There were very few people out on the streets to greet the palkhis due to the India-Pakistan cricket match but the fervour and enthusiasum of the warkaris was enough to arouse the interest of many.
A group of volunteers from the Muslim Awakaf Welfare Trust, near Darwalala Pul in Rasta Peth, were ready to welcome the warkaris for their stay in the city. "For the last four years, Ramadan and wari fall together in the same month," explains Mustaq Patel, member of the trust. He along with his friends organise an iftar party to break their fast with the warkaris.
"Fasting during Ramadan is one of the five pillars of Islam and is intended to teach a person discipline. It helps us reconnect with spirituality," said Patel. It also teaches us to help others, he added.
"An iftar is a meal which is keenly looked forward to and is very joyful. This joy is elevated when shared with others. Having a 'one dish iftar party' with friends so that we can share the reward of feeding others brings a different kind of satisfaction," explains Amaanat Shaikh, a resident of NIBM road who also helps in organising the Iftar.
Around 400 warkaris made their way to the Samarth Vyayam Mandir grounds where their Muslim brothers organised that iftar party. The table was laden with dry fruits, sheerkurma (sweet), and snacks. "We understand that many of the warkaris also hold a fast and we are happy to break our fast with them," adds Munaf Sheikh. They have a strictly vegetarian policy to keep the faith of the warkaris.
Mohan Maharaj Daware Guruji hails from Dehu gaon and leads his dindi of 250 warkaris. "We have been camping on this ground since the last 30 years and every time, our Muslim brothers have helped us in getting fresh water and food. But since the last four years, we have been breaking out fast together. It feels good to sit with them and share the happiness of celebrating both the festivals together."
Full report at:
http://www.hindustantimes.com/pune-news/celebrating-brotherhood-pune-s-muslims-hold-iftar-party-for-warkaris/story-AAHnscUxPPws4BuoLAgpWL.html
--------
Issue fatwas against those who unfurl Pakistani flags in India: RSS leader
Jun 19, 2017
RSS leader and patron of its Muslim wing, Indresh Kumar on Monday urged Muslim religious heads to issue fatwas (Islamic legal pronouncement) against those who raise the Pakistani flag on Indian soil.
Kumar, who is the patron of the Muslim Rashtriya Manch (MRM), an RSS affiliate, also called upon residents of Muslim localities that are dubbed as "mini-Pakistan" to protest against this categorisation.
"Even after 70 years of Independence why are Muslim mohallas (areas) described as mini-Pakistan? If the places are mini-Pakistan then those staying there are Pakistani. Why are there no protests or complaints against this allegation? Why don't Muslim religious leaders issue fatwas against this allegation?" he asked.
Speaking at an iftaar hosted by the MRM, which had political leaders, diplomats and religious heads in attendance, Kumar said there should be no place in India where the Pakistani flag is unfurled including in "Kashmir".
"If the Pakistani flag is unfurled even in Kashmir, should we not from political and religious platforms announce that it is un-Islamic? And those who do so are anti-Islam and enemies of the country," he said.
Read more: RSS-affiliate MRM to keep Pakistan out of its international iftar event on Monday
The MRM, which is leading the campaign against the practice of triple talaq and cow slaughter, has been persuading Muslims to lend support to the RSS's demand for the construction of a Ram Temple in Ayodhya.
It also wants Muslims to opt for a uniform civil code, instead of favouring the Sharia (Islamic Law).
"I have asked many intellectual and religious heads why they want to follow the Sharia instead of what is written in the Quran, but no one has an answer. They acknowledge the opposition to triple talaq as interference with Sharia not Quran," Kumar said.
Sharing the stage with Kumar was Manipur governor Najma Heptullah and firebrand BJP MP Shakshi Maharaj who was booked for hurting religious sentiments after he blamed Muslims for the exponential population growth in India.
Full report at:
http://www.hindustantimes.com/india-news/issue-fatwas-against-those-who-unfurl-pakistani-flags-in-india-rss-leader/story-j3g8W0MzHcmOj4lRvQSIQN.html
--------
BRICS Summit: Don't differentiate between good and bad terrorists, says VK Singh
June 20, 2017
Terrorism and climate change were among the top agendas discussed in Beijing on Monday at a meeting of foreign ministers from Brazil, Russia, India, China and South Africa ahead of the BRICS summit in China's Xiamen in September this year. Minister of State for External Affairs Gen (retd) V K Singh said India had urged the BRICS nations at the inaugural meeting of foreign ministers to "not differentiate between good and bad terrorists", in a seemingly veiled reference to China blocking India's efforts to bring about a UN ban on Jaish-e-Mohammed leader Masood Azhar.
"I pointed out that terrorism remains one of the most potent global menaces. We did bring out that it threatens global peace and terrorists cannot be differentiated by calling them good or bad. They are terrorists and they are criminals and we need to have a concerted action both in the region and internationally to curb their activities," he said.
A joint statement later in the day deplored continued terror attacks, including those in the BRICS countries, and reaffirmed solidarity and resolve in the fight against terrorism.
"They (foreign ministers) call upon the international community to establish a genuinely broad international counter-terrorism measured and the support the United Nations' central coordinating role in the international counter-terrorism cooperation. They recall the responsibility of all States to prevent financing of terror networks and terrorist actions from their territories," the statement said.
The BRICS nations called for the expedited adoption of the Comprehensive Convention on International Terrorism in the UN General Assembly.
Full report at:
http://indianexpress.com/article/india/brics-summit-dont-differentiate-between-good-bad-terrorists-says-vk-singh-4712531/
--------
Mideast
Yemeni army controls mountain summit between al-Jawf and Amran
19 June 2017
The Yemeni army took control of Jabal Ham, the border between the provinces of al-Jawf and Amran, where the soldiers of the Sixth Military Region are clashing to control the ruling areas.
The militias were entrenched at the foot of Mount Ham after the National Army took control of its summit, causing the Houthi's to suffer setbacks.
The commander of the 122nd Brigade said in an exclusive interview that the militias are killing the injured elements so as not to care for them.
The Battle of al-Jawf can be described as a battle for control of the summits and ruling point.
https://english.alarabiya.net/en/News/gulf/2017/06/19/Yemeni-army-controls-mountain-summit-between-al-Jawf-and-Amran.html
--------
KSA captures three Iranian Revolutionary Guards
June 20, 2017
DUBAI - The Saudi navy has captured three members of Iran's Revolutionary Guard Corps (IRGC) from a boat seized last week as it approached the kingdom's offshore Marjan oilfield, the Saudi information ministry said on Monday.
Relations between the two countries are at their worst in years, with each accusing the other of subverting regional security and support opposite sides in conflicts in Syria, Yemen and Iraq.
"This was one of three vessels which were intercepted by Saudi forces. It was captured with the three men on board, the other two escaped," a statement from the ministry's centre for international communications said.
"The three captured members of the Iranian Revolutionary Guard are now being questioned by Saudi authorities," it said, citing a Saudi official.
Revolutionary Guards kill leader of militant group
The leader of a Sunni Muslim militant group was killed by the Revolutionary Guards in southeast Iran during operations in recent days, the Islamic Republic News Agency (IRNA) reported on Monday.
Three members of the Ansar al-Furqan group, which has attacked security forces and civilians, according to Iranian officials, were also killed by Iranian forces in the southeast region of the country last week, state media said.
Jalil Qanbar-Zahi, leader of Ansar al-Furqan, had been pursued by Iranian security forces for 25 years and was killed by the Guards near the city of Qasr Qand, IRNA reported.
Iranian security forces have carried out a string of raids and arrests after a complex terror attack last week targeted the Iranian parliament in Tehran and the shrine of the founder of the Islamic Republic, Ayatollah Ruhollah Khomeini, south of the capital, leaving 18 dead.
Islamic State claimed responsibility for that attack.
On Sunday night, the Guards fired half a dozen missiles from western Iran at Islamic State targets in eastern Syria in what Guards commanders said was a message the perpetrators of the Tehran attack and their supporters, state media said.
Iran's restive Sistan and Baluchestan province, in the southeast of the country on the borders with Pakistan and Afghanistan, is home to the Baluch minority and is a hotbed of militant activity against the government of the Islamic Republic.
The province, one of Iran's most impoverished, is also part of a well-known drug trafficking route.
Qanbar-Zahi was wanted for an attack on a Shi'ite religious ceremony in the city of Chabahar, planning suicide attacks and killing police officers among other crimes, according to IRNA.
During the operations which led to Qanbar-Zahi's death, the Revolutionary Guards found a car bomb containing 600 kilograms of explosives, 15 suicide bombs, 700 kilograms of explosive material and tens of thousands of bullets, IRNA reported.
Full report at:
http://nation.com.pk/international/20-Jun-2017/ksa-captures-three-iranian-revolutionary-guards
--------
Turkish troops arrive in Qatar for joint war games amid Gulf tensions – media
19 Jun, 2017
The first batch of Turkish troops have arrived in Qatar for a 'long-planned' Turkish-Qatari military drill, local media reported citing a Qatari Defense Ministry statement. The move comes amid tensions between Doha and its Arab neighbors.
The group has held their first training at Tariq bin Ziyad military base on Sunday, the Qatari Defense Ministry said according to Al Jazeera and the Gulf Times.
However, Reuters reported that the Turkish troops taking part in the drills are not newly-arrived, as "no new Turkish military unit had been sent to Qatar" according to its unnamed military sources. The news agency added that Tariq bin Ziyad military base currently houses about 90 Turkish soldiers.
The drills are aimed at developing a joint plan in order to fight extremism and terrorism, as well as peacekeeping operations before and after military operation, according to Qatari daily newspaper, the Peninsula.
The drills come after on June 9 Turkish President Recep Tayyip Erdogan ratified deals on deploying Turkish troops in Qatar and training the Gulf nation's gendarmerie. Turkey's parliament had approved both deals on June 7.
"Turkish troops are coming to Qatar for the sake of the securıty of the entire region," Qatari Foreign Minister Mohammed bin Abdulrahman al-Thani told the press on Thursday, as cited by Turkish media.
Erdogan had earlier criticized the nations – including Saudi Arabia, the United Arab Emirates (UAE), Bahrain, Egypt, Yemen, the Maldives, and one of Libya's three rival governments – which had broken diplomatic relations with Qatar over its alleged support of terrorism.
Qatar denied all the allegations and called the move a "campaign of incitement based on lies."
The Turkish President has been trying to mediate the diplomatic dispute, saying that dialogue is necessary to resolve the problems between the Gulf States.
Full report at:
https://www.rt.com/news/393063-turkey-qatar-joint-drills/
--------
Iran official denies Saudi claim about arresting IRGC members
Jun 20, 2017
An official with the Iranian Interior Ministry has denied a claim by Saudi Arabia that Riyadh has arrested three members of Iran's Islamic Revolution Guards Corps (IRGC).
Majid Aqa-Babaei, the ministry's director general for border affairs, told the Young Journalists Club on Monday, that, "Saudi Arabia's claim about the arrest of Iranian military forces is not true."
Earlier in the day, Saudi Arabia's information ministry said in a statement that Saudi forces had captured and were questioning "three IRGC members, who were intending to carry out an attack on a major offshore oilfield in the Persian Gulf," according to an Associated Press report.
"The three were onboard [sic] a boat carrying a large number of explosives headed toward the Marjan oil field, located off the kingdom's eastern shores between Saudi Arabia and Iran," the report read.
Aqa-Babaei had on Saturday said that the Saudi coastguard had opened fire on Iranian fishing boats in the waters south of Iran, killing one fisherman.
Saudi Arabia, too, had reported the incident soon after it happened but had not made the claims about arrests and explosives. It offered a changed narrative, however, with the information ministry statement, which came some two days after the initial narrative.
In his Monday remarks, Aqa-Babaei referred to the new allegation about the arrests and said, "This issue has to do with the same two fishing boats" that had been shot at.
He said the Iranians in question were "simply fishermen" and had no types of weapons whatsoever.
In a separate interview with the Iranian Labour News Agency (ILNA) on Monday, Aqa-Babaei confirmed that three Iranians — all known fishermen from the southern Iranian city of Bushehr — had been taken into custody by the Saudi coastguard.
Riyadh has severed its diplomatic ties with Tehran. Therefore, Iran's Foreign Ministry has been following up on the issue through indirect diplomatic channels.
Observers say Saudi rulers have interpreted US President Donald Trump's recent visit to Riyadh as some kind of a green light to pursue their policies more aggressively.
The killing of the Iranian fisherman and the arrest of the other three came following that trip and also after Saudi Arabia led a group of its vassal states in cutting ties with Qatar. While the Saudi-led bloc of countries have accused Doha of sponsoring terrorism, most observers say the severance of ties and an accompanying economic war on Qatar have to do with the fact that Doha pursues its relations with Iran more independently of Riyadh.
Full report at:
http://217.218.67.231/Detail/2017/06/20/525886/Iran-AqaBabaei-Saudi-Arabia-IRGC
--------
Two Israeli soldiers take own lives in occupied territories
Jun 19, 2017
Two Israeli soldiers stationed at a military barracks in the southern part of the occupied territories and an intelligence unit have separately committed suicide, Israeli and Palestinian media outlets say.
One of the soldiers was a member of Unit 8200, which is an Israeli spy service unit responsible for collecting signal intelligence (SIGINT) and code decryption. He killed himself on Sunday morning, Arabic-language Ma'an news agency reported.
The other one topped himself at Tsalim military base in the desert Negev region in the afternoon.
On February 16, an Israeli soldier stationed at the border between the occupied territories and the besieged Gaza Strip committed suicide by shooting himself in the head.
The Israeli military announced earlier this year that suicide was the main cause of death among Israeli soldiers, and that 15 troopers - all of them male - had taken their own lives last year.
The army added that four soldiers were killed in the course of military operations, nine in on-base accidents, seven in off-duty car accidents and six died from illness or other medical reasons.
Another 43 soldiers were seriously hurt during the course of 2016.
Full report at:
http://217.218.67.231/Detail/2017/06/19/525840/Israeli-soldiers-commit-suicide-Unit-8200-military-base-Negev
--------
South Asia
Eight dead as gunmen ambush convoy near largest US base in Afghanistan
AFP 20 June 2017
Afghan Taliban gunmen have killed eight Afghan guards working at the largest American base in Afghanistan, officials said Tuesday, as the US appears set to boost its troop presence in the country.
The guards were ambushed near Bagram base north of Kabul as they were driving home in a convoy late Monday, said district governor Abdul Shakoor Quddusi.
"They were all local residents serving as guards at Bagram," he said, adding that two other guards were wounded.
The Afghan Taliban claimed responsibility for the attack, which came as the insurgents intensify their nationwide spring offensive against Western and government targets.
Washington is soon expected to announce an increase in the US military deployment to bolster Afghan forces, who are struggling to contain the insurgency. American military commanders in Afghanistan have requested thousands of extra boots on the ground.
US troops in Afghanistan now number about 8,400, and there are another 5,000 from NATO allies, a far cry from the US presence of more than 100,000 six years ago. They mainly serve as trainers and advisers.
Bagram, around 50 kilometres north of Kabul, houses the largest contingent of US soldiers in the country.
The assault comes after seven American soldiers were wounded Saturday when an Afghan soldier opened fire at them inside a northern military base, the second "insider" attack in a week.
Analysts say such attacks are expected to increase this year as US troops engage with the Afghan military to double the size of its special forces, considered to be effective in the fight against insurgents.
The Afghan conflict is the longest in American history, with US-led forces at war since the Taliban regime was ousted in 2001.
https://www.dawn.com/news/1340691
--------
Militants planning suicide attack on Afghan parliament with some MPs support
Jun 20 2017
The anti-government armed militants are planning to carry out a suicide attack on the parliament building with the support of some lawmakers.
The issue was shared by certain lawmakers in the Lower House of the Parliament, Wolesi Jirga, during the general session of the parliament on Monday.
An MP Nilofar Ibrahimi said they have been informed regarding the possible attack by the security sources.
She said the intelligence reports shared with the parliament indicates that two lawmakers are attempting to assist in bring the suicide bombers to the parliament building.
According to MP Ibrahimi, the two lawmakers either belonging to the Lower House or Upper House of the Parliament.
The Speaker of the Lower House of Parliament Abdul Rauf Ibrahimi also said he has been informed regarding the plan allegedly involving lawmakers.
He said the issue has been shared with the security institutions to take steps in a bid to foil the attack plan.
Full report at:
http://www.khaama.com/militants-planning-suicide-attack-on-afghan-parliament-with-some-mps-support-02982
--------
Bangladesh cardinal defends rights of Rohingya refugees
June 20, 2017
Rohingya Muslims in Myanmar are considered to be among the world's most persecuted peoples, subject to what the UN calls "crimes against humanity," and hundreds of thousands are now refugees in neighboring Bangladesh, where Cardinal Patrick D'Rozario is defending their right to "dignity."
Cardinal Patrick D'Rozario of Bangladesh, where Pope Francis is expected to visit later this year and where Rohingya Muslim refugees from Myanmar have to date received a decidedly uneven reception, said on World Refugee Day that these new arrivals are "human beings who have a right to dwell in their own traditional way."
"They have a right to live where they have been living, but now they are refugees," said D'Rozario, made his country's first-ever cardinal by Pope Francis in November 2016.
The Rohingya are a Muslim minority in largely Buddhist Myanmar, also known as Burma, who have been fleeing in the face of rising levels of persecution, including rapes and extra-judicial killings.
A UN report in February described their situation as a possible "genocide" and a set of "crimes against humanity" in Myanmar, where the Rohingya are officially categorized as Bengali "interlopers" despite the fact they've lived in Rakhine for generations. They're subject to what the UN also called a "campaign of terror," and enjoy no citizenship rights - in effect, they're stateless.
Often the Rohingya try to reach neighboring Bangladesh, which has an official policy of trying to make them unwelcome. Despite that ambivalence, as of early 2017 the United Nations estimated some 300,000 to 500,000 Rohingya were living in Bangladesh.
D'Rozario credited his country with being "receptive" and "providing emergency aid," but told Crux that "international pressure is required for a long-term solution."
"It is also the responsibility of neighboring places to seek a permanent solution to this refugee crisis," he said.
D'Rozario acknowledged the efforts of Catholic groups in Bangladesh to assist the Rohingya, including Caritas, the international umbrella group for Catholic charitable organizations.
"The Rohingyas are being denied the right to habitation, they are living in desperate conditions, [and] they are frustrated," D'Rozario said. "Refugees have a right to live with dignity and security."
Pope Francis has spoken out repeatedly about the plight of the Rohingya. He did so for the first time in August 2015, during a session with youth in Rome.
"Let's think of those brothers of ours of the Rohingya," he said. "They were chased from one country and from another and from another. When they arrived at a port or a beach, they gave them a bit of water or a bit to eat and were then chased out to the sea.
"This is a conflict that has not resolved, and this is war, this is called violence, this is called killing!" he said.
One month later, he brought the Rohingya up again in an interview with Portuguese radio."Further away from Europe there is another phenomenon which hurt me deeply: the Rohingya, who are expelled from their country, get into boats and leave," he said.
"They reach a port or a beach, and they are fed and given water and then sent out to sea again, and not taken in. There is a lack of capacity for welcoming humanity."
Francis came at the subject again in February, saying on the Church's International Day of Prayer and Awareness against Human Trafficking that "they have been suffering, they are being tortured and killed, simply because they uphold their Muslim faith.
"I would like to pray today with you in a special way for our brothers and sisters Rohingya," the pontiff said.
Full report at:
https://cruxnow.com/global-church/2017/06/20/bangladesh-cardinal-defends-rights-rohingya-refugees/
--------
Bangladesh mission yet to confirm London mosque attack victim's identity
Jun 19, 2017
Press minister at the Bangladesh High Commission in London Nadeem Qadir has said they are yet to confirm whether the man killed in the terror attack in front of a London mosque is from Bangladesh or not.
"We'll update you as soon as we have the details," he told news agency UNB.
A vehicle struck pedestrians near a mosque in north London early Monday morning, killing one man, said to be a Bangladeshi, and injuring 10 in what police are investigating as a terrorist incident.
The Telegraph online in its report claimed the victim was an 'elderly Bangladeshi man' who had just left the Muslim Welfare Mosque on Seven Sisters Road.
Police said the 48-year-old man who was driving the car has been arrested and taken to a hospital as a precaution. He will be given a mental health evaluation, reports AP from London.
The crash occurred at a time when the multiethnic neighbourhood was crowded with Muslims leaving the Finsbury Park mosque after Ramadan prayers.
London police said the driver was detained by the crowd until police arrived.
The crash occurred shortly after midnight when police received reports of a collision between a van and pedestrians. Police said eight of the injured were hospitalised; the other two had minor injuries and were treated at the scene.
Witnesses reported seeing police give emergency heart massage to at least one of the injured.
The Muslim Council tweeted that worshippers had been struck and said its prayers were with the victims.
London police closed the area to normal traffic. A helicopter circled above the area as a large cordon was established to keep motorists and pedestrians away.
Witnesses told Sky News and other British media that the van seemed to have veered and hit people intentionally.
Mohammed Shafiq of the Ramadhan Foundation, a Muslim organisation, said that based on eyewitness reports it seems to be a 'deliberate attack against innocent Muslims'.
The Finsbury Park mosque was associated with extremist ideology for several years after the 9/11 attacks in the United States but was shut down and reorganised. It has not been associated with radical views for more than a decade.
Full report at:
http://en.prothom-alo.com/international/news/151577/Bangladesh-mission-yet-to-confirm-London-mosque
--------
ISIS loses two top foreign supporters in East of Afghanistan
Jun 19 2017
The Islamic State of Iraq and Syria (ISIS) terrorist group's offshoot in Afghanistan, ISIS Khurasan, has lost two of its top foreign supporters in eastern Nangarahr province.
The 201st Silab Corps of the Afghan National Army (ANA) forces in the East said at least eleven insurgents of the terror group were killed during the counter-terrorism operations in the past 24 hours.
A statement by the 201st Silab Corps said two key foreign supporters of the terror group and one of their commanders were killed during the operations, Silab Four (7).
The statement further added that the ISIS local leader killed during the operations has been identified as Qari Abdul Wahid.
The operations were conducted with the support of the close air support and artillery units, the 201st Silab Corps added.
Nangarhar is among the relatively calm provinces in East of Afghanistan but certain remote districts of it have witnessed growing insurgency mainly led by Taliban and ISIS during the recent years.
A major plan of the Islamic State of Iraq and the Levant (ISIL) to establish the Khurasan province in Afghanistan has been foiled by the Afghan security forces, the acting Minister of Defense Tariq Shah Bahrami said Saturday.
Bahrami further added that the Afghan security forces have launched 12 large operations so far and dozens of medium and large operations while hundreds of airstrikes have been conducted on the hideouts of the terror group.
Full report at:
http://www.khaama.com/isis-loses-two-top-foreign-supporters-in-east-of-afghanistan-02975
--------
Clash among protesters and police in Kabul, casualties feared
Jun 20 2017
A clash broke out between the protesters and security forces in the early hours of Tuesday morning amid reports some protesters were killed or wounded during the clash.
The incident took place around 1 am local time after the security forces attempted to clear a tent set up by the protesters day ago.
The clash reportedly started after the protesters prevented the security forces to clear their tent and started hurling stones and resisting the security personnel through other means.
The protesters are claiming that one of them was killed and five others were wounded during the clash with the security forces.
The tents in Kabul were set up after the protests in Kabul turned violent earlier this month and several people were killed or wounded during the clashes.
The protests turned violent as the rally participants were attempting to get close to the presidential palace as they were demanding the resigning of the government leaders and security officials in the aftermath of the deadly bombings in Kabul city.
President Ghani earlier had said the blocking of the roads and causing disturbance to the public are not acceptable as he called for immediate clearing of the routes blocked by the protesters who have set up camps.
He made the remarks during a meeting with the administrative delegation of the Afghan parliament's Lower House, Wolesi Jirga.
Full report at:
http://www.khaama.com/clash-among-protesters-and-police-in-kabul-casualties-feared-02980
--------
Africa
S Sudan has world's fastest growing displaced population, warns UN
Jun 19, 2017
The United Nations has called for urgent international help to reach out to those affected by war in South Sudan, saying the world's youngest nation has the fastest growing number of displaced people.
In remarks published on Monday, UN High Commissioner for Refugees Filippo Grandi regretted that the world had almost kept silent on the plight of more than four million people who had fled their homes in South Sudan since war began four years ago, saying the international community needed to do more to stop the increasing number of displacement in the country.
"Wherever you look there are dead ends," Grandi said, adding, "The international neglect that you see here is matched nowhere else in the world."
The UNHCR -- the UN refugee agency-- and other organizations campaigning for refugees say that around two million of those displaced in South Sudan have fled to neighboring countries, making the situation more complicated. They say two million people have also been internally displaced since a new wave of fighting broke out in South Sudan two years ago.
Grandi on Sunday visited a camp for internally-displaced people (IDP) in the town of Bentiu. The camp, home to some 120,000 people, is South Sudan's largest for IDPs and the second biggest camp for displaced people in the country after the capital Juba.
The senior UN official said he was shocked by the dire situation of refugees in South Sudan and that more and more people were affected by violence.
"I was hoping South Sudan wouldn't need UNHCR anymore ... Unfortunately our services are still required," said Grandi, adding that South Sudanese "authorities have a greater responsibility to provide security."
South Sudan plunged into civil war in 2013 when President Salva Kiir fired his deputy Riek Machar.
Machar went on to lead rebel forces fighting Kiir. The civil war continues to this day and has divided the country along ethnic lines in the country of some 12 million people.
South Sudanese refugees fleeing to neighboring countries have mostly taken shelter in Uganda, Kenya, Ethiopia and Sudan.
http://217.218.67.231/Detail/2017/06/19/525808/South-Sudan-displaced-population
--------
Suicide bombers kill 16 in NE Nigeria
June 20, 2017
MAIDUGURI: At least 16 people were killed in suicide bomb attacks near a camp for those made homeless by Boko Haram violence in northeast Nigeria, emergency services said on Monday.
The National Emergency Management Agency (NEMA) said the attacks took place at about 8:45 pm (1945 GMT) on Sunday close to the Dalori camp at Kofa village, near the Borno state capital Maiduguri.
NEMA northeast region spokesperson Abdulkadir Ibrahim said two female suicide bombers tried to get into the camp but were thwarted by security personnel.
"Two other female suicide bombers also detonated their explosives at the adjoining Dalori Kofa village, where they killed 16 people," he added in a statement.
Earlier tolls given by local people said at least 12 or 13 people had been killed but Abdulkadir said three of those injured and taken to hospital had since died.
"The 16 does not include the bombers," he told AFP.
Dalori is about 10 kilometres (six miles) southeast of Maiduguri and is one of the largest camps for internally displaced people (IDP) in the remote region.
Boko Haram has previously tried to target the camp: at least 85 people were killed in January last year when insurgents rampaged through communities near Dalori.
Residents were shot and their homes burned down while female suicide bombers blew themselves up among the crowds of people fleeing the violence.
The latest attack is the most deadly in Nigeria since June 8, when 11 people were killed in a rare combined gun and suicide attack in the Jiddari Polo area of Maiduguri.
Boko Haram has repeatedly targeted the strategic city, particularly its outlying communities, IDP camps and the city's university.
The bombings and sporadic hit-and-run attacks underline the threat still posed by the jihadists, despite claims from the authorities they are a spent force.
Gunmen killed eight members of a civilian militia force assisting the military on June 11 in the Konduga area, which is on the same road as the Dalori camp.
Full report at:
http://nation.com.pk/international/19-Jun-2017/suicide-bombers-kill-16-in-ne-nigeria
--------
Gambia: Penny Appeal Presents Ramadan Packages to Needy Muslim, Religious Leaders
19 JUNE 2017
By Abdoulie Nyockeh
"Feed our world is a programme under penny appeal which is a Muslim charity operating in The Gambia."
The Muslim charity over the weekend distributed food aids to the needy and religious leaders as well as mosque heads in the country.
Penny appeal Gambia office is affiliated to Penny Appeal International based in the United Kingdom.
The food items that included rice, sugar and oil were distributed in two fold; small package which included 180 bags of 25kgs, 5kg of sugar and 5litre gallon of oil while the big packages included 18 bags of 50kg of rice, 50kg of sugar and 20 litre gallons of oil.
Speaking at the presentation ceremony, Lamin Jobe, head of admin and finance at Penny Appeal Gambia office, praised the Almighty Allah for giving them the ability and resources to support the needy Muslims.
Mr Jobe gave a brief background of Penny Appeal, saying the Muslim charity with its headquarters in the UK operates in 36 countries all over the world. The Gambia is the main office responsible for affairs of all the West African countries, he said.
Mr Jobe also stated that Penny Appeal has been operating since 2014.
He spoke at length of the significance attached to the holy month of Ramadan, saying it is a month of sacrifice and sharing, helping needy people as well as reaching out to others who are less privileged.
Mr Jobe emphasized that Penny Appeal is out to give support to needy Muslims and in doing so, they provide rice, sugar and oil as well as 'Ataya' to needy Muslims during the holy month of Ramadan.
He advised the lucky beneficiaries to make the best use of the food aid as others are also in need of it.
Full report at:
http://allafrica.com/stories/201706191146.html
--------
Kenya: Muslims Not Targeted in Anti-Terror War, Says CS
18 JUNE 2017
By Collins Omulo
Sports Cabinet Secretary Hassan Wario has refuted claims that Muslims in Kenya have been unduly targeted in the war against crime and terror by the government.
Dr Wario has instead said that contrary to perceptions, Kenyan Muslims were fully integrated in the Jubilee administration.
"Our Constitution is clear that there is no State religion. It is therefore counter to logic to imagine that the government which impartially serves all should harangue an individual because of religion," said Dr Wario.
He was speaking on Saturday night at Hotel InterContinental in Nairobi during a Ramadan IFTAR (breaking of fast) dinner hosted by the Islamic Relief Kenya (IRK), an NGO involved in humanitarian operations in North Eastern and the Coastal region.
STRONGLY REPRESENTED
The CS cited the growth of Islamic banking in Kenya as well as the inter-faith dialogue and tolerance being practiced by Muslims as signs that the government had the interest of Muslims at heart.
"I wish to assure you that the voice of Islam is strongly represented in the government. We have several Cabinet Secretaries of Muslim persuasion, Principal Secretaries, and indeed we are fairly present at all levels of government," he said.
He called on religious leaders to pray for peaceful General Election in August and dissuaded them from being used to cause discord among their followers while also commending IRK's partnership and readiness to reach out to needy populations through programmes in emergency, stabilisation and long-term development.
PILLARS OF ISLAM
NGO's Coordination Board boss Fazul Mahammad, while also speaking at the same event, announced that the government would consider granting IRK semi-diplomatic status to boost its operations in the country.
"This will accord IRK limited diplomatic privileges such as unimpeded access by the organization's personnel to operation areas and tax concessions on import items meant for charity work," said Mr Mahammad.
Full report at:
http://allafrica.com/stories/201706190629.html
--------
Central African Republic: Church Shelters Muslims Fleeing Anti-Balaka
17 JUNE 2017
Bangui — At least 1,500 people, mostly Muslim civilians, currently stuck in a Catholic church in the country's southeast, are growing increasingly desperate, a priest has told Al Jazeera.
The displaced people took refuge in the cathedral in the town of Bangassou after fleeing deadly violence in mid-May.
"The situation is not safe enough to leave, and so they cannot move from here," said Father Alain Blaise Bissialo, the priest at the church.
"There are men who walk around town with guns."
The crisis in Bangassou began between May 13-17 when Anti-balaka, a vigilante militia made up of mostly Christians, launched a series of attacks on Muslims in Tokoyo, a largely Muslim district of Bangassou.
Thousands flocked to a nearby mosque to seek refuge.
Yet, the mosque was subsequently attacked too, culminating in the killing of the local imam.
In an attempt to save civilians at the mosque, the Catholic bishop sent trucks to Tokoyo to transport as many civilians as possible back to the church for their safety.
"At last count, 150 people were killed during the violence since mid-May, but this number could rise," Antoinne Mbao Bogo, president of the local branch of the Red Cross, told Al Jazeera on Friday.
Alidou Djibril, a displaced person at the church, said there was a shortage of food and clothes.
"It's hard for us, we have to stay in the same place, we cannot move, and we are fasting," he said.
Djibril said they only received food one week after arriving at the church, adding that the Anti-balaka were not allowing traders to bring food to them.
According to the United Nations, most of Bangassou's 35,000 residents fled, some to sites for internally displaced people and others across into neighbouring Democratic Republic of Congo.
MINUSCA, the UN's mission in the Central African Republic (CAR), said the security situation in Bangassou has calmed significantly, adding, however, that it was still not safe for the displaced to return home.
"Despite the MINUSCA patrols, the area is not safe enough and their homes and businesses have been destroyed, and so many have nowhere to go," Vladimir Montiero, MINUSCA spokesperson, told Al Jazeera from Bangui.
"It is not safe for them to leave the church."
Bob Libenge, acting president of the local branch of the Red Cross, told Al Jazeera that some people were sleeping inside the church and the rest were outside, on mats, within the complex.
Food and sanitation
Meanwhile, a number of nongovernmental organisations have come forward to assist with food and sanitation.
There has been an escalation of violence across central and southeastern parts of the CAR over the past two months, with armed groups clashing in Bria, Alindou and Bakouma in particular.
Earlier in the week, MINUSCA warned the Popular Front for Renaissance of Central African (FPRC), a group associated with the Seleka, to not attack Bangassou.
Sources at the UN say that MINUSCA is concerned that there would be revenge attacks on the Christian civilian population if the group entered the city.
CAR has been beset with violence since Muslim-led Seleka fighters unseated the country's president in a coup in 2013.
Following a spate of abuses by the Seleka, a vigilante militia called the Anti-balaka, made up of Christians and animists embarked on a series of revenge attacks on the Muslim community.
While the CAR has no history of sectarian conflict, armed groups have increasingly manipulated religious fault lines to expand their influence.
In 2016, CAR held a successful general election. But a year later, President Faustin-Archange Touadera's government wields little influence outside his capital.
At least 14 groups, including different incarnations of the Seleka, rule the countryside, monitoring roads, collecting taxes and policing the population.
Full report at:
http://allafrica.com/stories/201706190253.html
--------
North America
Trump hardening line toward Pakistan after Afghan war review
June 20, 2017
President Donald Trump's administration appears ready to harden its approach toward Pakistan to crack down on Pakistan-based militants launching attacks in neighboring Afghanistan, U.S. officials tell Reuters.
Potential Trump administration responses being discussed include expanding U.S. drone strikes, redirecting or withholding some aid to Pakistan and perhaps eventually downgrading Pakistan's status as a major non-NATO ally, the officials said, speaking on condition of anonymity.
Some U.S. officials, however, are skeptical of the prospects for success, arguing that years of previous U.S. efforts to curb Pakistan's support for militant groups have failed, and that already strengthening U.S. ties to India, Pakistan's arch-enemy, undermine chances of a breakthrough with Islamabad.
U.S. officials say they seek greater cooperation with Pakistan, not a rupture in ties, once the administration finishes a regional review of the strategy guiding the 16-year-old war in Afghanistan.
Precise actions have yet to be decided.
The White House and Pentagon declined to comment on the review before its completion. Pakistan's embassy in Washington did not immediately respond to a request for comment.
"The United States and Pakistan continue to partner on a range of national security issues," Pentagon spokesman Adam Stump said.
But the discussions alone suggest a shift toward a more assertive approach to address safe havens in Pakistan that have been blamed for in part helping turn Afghanistan's war into an intractable conflict.
Experts on America's longest war argue that militant safe havens in Pakistan have allowed Taliban-linked insurgents a place to plot deadly strikes in Afghanistan and regroup after ground offensives.
Although long mindful of Pakistan, the Trump administration in recent weeks has put more emphasis on the relationship with Islamabad in discussions as it hammers out a the regional strategy to be presented to Trump by mid-July, nearly six months after he took office, one official said.
"We've never really fully articulated what our strategy towards Pakistan is. The strategy will more clearly say what we want from Pakistan specifically," the U.S. official said, speaking on condition of anonymity.
Other U.S. officials warn of divisions within the government about the right approach and question whether any mix of carrots and sticks can get Islamabad to change its behavior. At the end of the day, Washington needs a partner, even if an imperfect one, in nuclear-armed Pakistan, they say.
The United States is again poised to deploy thousands more troops in Afghanistan, an acknowledgment that U.S.-backed forces are not winning and Taliban militants are resurgent.
Without more pressure on militants within Pakistan who target Afghanistan, experts say additional U.S. troop deployments will fail to meet their ultimate objective: to pressure the Taliban to eventually negotiate peace.
"I believe there will be a much harder U.S. line on Pakistan going forward than there has been in the past," Hamdullah Mohib, the Afghan ambassador to the United States, told Reuters, without citing specific measures under review.
Kabul has long been critical of Pakistan's role in Afghanistan.
Pakistan fiercely denies allowing any militants safe haven on its territory. It bristles at U.S. claims that Pakistan's spy agency, the Inter-Services Intelligence (ISI) directorate, has ties to Haqqani network militants blamed for some of the deadliest attacks in Afghanistan.
"What Pakistan says is that we are already doing a lot and that our plate is already full," a senior Pakistani government source told Reuters, speaking on condition of anonymity.
The source doubted the Trump administration would press too hard, saying: "They don't want to push Pakistan to abandon their war against terrorism."
Pakistani officials point towards the toll militancy has taken on the country. Since 2003, almost 22,000 civilians and nearly 7,000 Pakistani security forces have been killed as a result of militancy, according to the South Asia Terrorism Portal, which tracks violence.
Experts say Pakistan's policy towards Afghanistan is also driven in part by fears that India will gain influence in Afghanistan.
IS PAKISTAN AN ALLY?
Nuclear-armed Pakistan won the status as a major non-NATO ally in 2004 from the George Bush administration, in what was at the time seen in part as recognition of its importance in the U.S. battle against al Qaeda and Taliban insurgents.
The status is mainly symbolic, allowing limited benefits such as giving Pakistan faster access to surplus U.S. military hardware.
Some U.S. officials and experts on the region scoff at the title.
"Pakistan is not an ally. It's not North Korea or Iran. But it's not an ally," said Bruce Riedel, a Pakistan expert at the Brookings Institution.
But yanking the title would be seen by Pakistan as a major blow.
"The Pakistanis would take that very seriously because it would be a slap at their honor," said a former U.S. official, speaking on condition of anonymity.
Lisa Curtis, senior director for South and Central Asia at the National Security Council, co-authored a report with Husain Haqqani, Pakistan's former ambassador to Washington, in which they recommended the Trump administration warn Pakistan the status could be revoked in six months.
"Thinking of Pakistan as an ally will continue to create problems for the next administration as it did for the last one," said the February report.
It was unclear how seriously the Trump administration was considering the proposal.
The growing danger to Afghanistan from suspected Pakistan-based militants was underscored by a devastating May 31 truck bomb that killed more than 80 people and wounded 460 in Afghanistan's capital, Kabul.
Afghanistan's main intelligence agency said the attack - one of the deadliest in memory in Kabul - had been carried out by the Haqqani network with assistance from Pakistan, a charge Islamabad denies.
Washington believes the strikes appeared to be the work of the Haqqani network, U.S. officials told Reuters.
U.S. frustration over the Haqqani's presence in Pakistan has been building for years. The United States designated the Haqqani network as a terrorist organization in 2012. U.S. Navy Admiral Mike Mullen, then the top U.S. military officer, told Congress in 2011 that the Haqqani network was a "veritable arm" of the ISI.
The potential U.S. pivot to a more assertive approach would be sharply different than the approach taken at the start of the Obama administration, when U.S. officials sought to court Pakistani leaders, including Army chief General Ashfaq Kayani.
David Sedney, who served as Obama's deputy assistant secretary of defense for Afghanistan, Pakistan and Central Asia from 2009 to 2013, said the attempt to turn Islamabad into a strategic partner was a "disaster."
"It didn't affect Pakistan's behavior one bit. In fact, I would argue it made Pakistan's behavior worse," Sedney said.
MORE DRONES, CASH CUT-OFF
Pakistan has received more than $33 billion in U.S. assistance since 2002, including more than $14 billion in so-called Coalition Support Funds (CSF), a U.S. Defense Department program to reimburse allies that have incurred costs in supporting counter-insurgency operations.
It is an important form of foreign currency for the nuclear-armed country and one that is getting particularly close scrutiny during the Trump administration review.
Last year, the Pentagon decided not to pay Pakistan $300 million in CSF funding after then-U.S. Secretary of Defense Ash Carter declined to sign authorization that Pakistan was taking adequate action against the Haqqani network.
U.S. officials said the Trump administration was discussing withholding at least some assistance to Pakistan.
Curtis' report also singled out the aid as a target.
But U.S. aid cuts could cede even more influence to China, which already has committed nearly $60 billion in investments in Pakistan.
Another option under review is broadening a drone campaign to penetrate deeper into Pakistan to target Haqqani fighters and other militants blamed for attacks in Afghanistan, U.S. officials and a Pakistan expert said.
"Now the Americans (will be) saying, you aren't taking out our enemies, so therefore we are taking them out ourselves," the Pakistan expert, who declined to be identified, said.
Pakistan's army chief of staff last week criticized "unilateral actions" such as drone strikes as "counterproductive and against (the) spirit of ongoing cooperation and intelligence sharing being diligently undertaken by Pakistan".
http://nation.com.pk/international/20-Jun-2017/trump-hardening-line-toward-pakistan-after-afghan-war-review
--------
US Urges Bigger Chinese Role to Combat Global Terrorism
June 20, 2017
Washington. The United States wants China to become more involved in supporting the global fight against terrorism and efforts to defeat Islamic State, including in Iraq, a senior US official said on Monday (19/06) ahead of high-level security talks with Beijing.
Susan Thornton, the US acting assistant secretary of state for East Asia, said that China has taken only a limited role in counter-terrorism efforts, although it appeared to be becoming more interested.
"We would like to see them step up and take more responsibility," Thornton told reporters as Washington and China's diplomatic and defense chiefs prepared for a meeting in the US capital on Wednesday.
"They have a lot of interests, for example in Iraq, and we think they should be doing to more to contribute to the efforts of the international coalition to defeat ISIS [Islamic State]" she said.
Thornton said Beijing, which is not a member of the 68-member coalition, was increasingly affected by terrorism, as was seen by the recent killing of two Chinese nationals in Pakistan.
Beijing has sent out "early feelers" about getting more involved, Thornton said.
"We'd like to have a good discussion with them about what more we think they can do, certainly in the way of providing resources to governments that are battling against terrorism and trying to help with capacity-building for governments and security forces in various places," she added.
Wednesday's talks will involve US Secretary of State Rex Tillerson, Secretary of Defense Jim Mattis as well as China's top diplomat, State Councilor Yang Jiechi, and General Fang Fenghui, chief of state of the People's Liberation Army.
The State Department says they will focus on ways to step up pressure on North Korea to give up its nuclear and missile programs, but also cover areas such as counter-terrorism and territorial rivalries in the strategic South China Sea.
The United States has been at odds with China over the latter's building and fortifying of islands in the disputed waterway.
Thornton said now that there were moves towards agreeing a code of conduct over the South China Sea, Washington would like to see a freeze on all such construction activity.
Full report at:
http://jakartaglobe.id/international/us-urges-bigger-chinese-role-combat-global-terrorism/
--------
Bush-era officials can't be sued for post-9/11 abuses: US Supreme Court
Jun 20, 2017
The US Supreme Court ruled Monday that senior officials from president George W Bush's administration cannot be held responsible for abuses against Muslim immigrants and others held in the frantic response to the September 11, 2001 attacks.
The 4-2 decision marked a victory for ex-attorney general John Ashcroft and former FBI director Robert Mueller, who have claimed along with other Bush era officials that they have immunity from prosecution.
With the court's ruling—which saw two justices recuse themselves and another skip the vote—Ashcroft and Mueller also avoided being held personally liable.
The court was not making a decision on the prisoners' treatment but rather as to whether the Bush officials should be granted legal protection from lawsuits and damages related to detention policies.
"The risk of personal damages liability is more likely to cause an official to second-guess difficult but necessary decisions concerning national-security policy," Justice Anthony Kennedy wrote in his majority opinion.
If the court had held the officials liable, he added, "high officers who face personal liability for damages might refrain from taking urgent and lawful action in a time of crisis."
After the deadly airliner attacks on New York and Washington, authorities arrested and detained more than 750 people on immigration charges, sometimes based on a simple tip to police.
The six plaintiffs were among non-US citizens living in the United States who were held without bail until cleared in the Brooklyn borough of New York.
Five of the men, all of Arab or South Asian descent, were Muslim. They said they were targeted because they were Muslim or Arab, and for no reasonable cause.
The group also complained of harsh detention conditions, held for 23 hours a day in small, constantly lit cells with little opportunity for exercise or recreation and no access to basic hygiene products such as soap or a toothbrush.
They said they were often strip-searched, largely barred from communications with the outside world and subjected to "physical and verbal abuse" by guards, who they said slammed detainees into walls, twisted their limbs, broke their bones and called them terrorists.
Some were held in these conditions for up to eight months after 9/11. They were deported from the United States after their release.
"If the facts alleged in the complaint are true, then what happened to respondents in the days following September 11 was tragic," the court's ruling read. "Nothing in this opinion should be read to condone the treatment to which they contend they were subjected."
It left open the possibility for the men to challenge their detention conditions by proving their case against the prison warden.
Allowing 'rampant' discrimination?
Justices Stephen Breyer and Ruth Bader Ginsburg, of the court's liberal wing, dissented.
"History tells us of far too many instances where the executive or legislative branch took actions during time of war that, on later examination, turned out unnecessarily and unreasonably to have deprived American citizens of basic constitutional rights," Breyer warned in the dissent he penned.
"In wartime as well as in peacetime, it is important, in a civilized society, that the judicial branch of the nation's government stand ready to afford a remedy for the most flagrant and patently unjustified, unconstitutional abuses of official power," he added, citing previous court decisions.
Rachel Meeropol, a lawyer for the Center for Constitutional Rights who represented the detainees, said she was "very disappointed" with the ruling.
Full report at:
http://www.hindustantimes.com/world-news/bush-era-officials-can-t-be-sued-for-post-9-11-abuses-us-supreme-court/story-r6q34TXfWi9jfyIb5Gk8mO.html
--------
White House says it retains right to self-defense in Syria
20 June 2017
The White House said on Monday that coalition forces fighting ISIS militants in Syria retained the right to self-defense as Russia warned it viewed any planes flying in its area of operations as potential targets.
Tensions escalated on Sunday as the US military brought down a Syrian military jet near Raqqa for bombing near US-allied forces on the ground, the first time Washington had carried out such an action in the multi-pronged civil war.
It was also the first time the US Air Force had shot down a manned aircraft since May 1999.
In a move that will fan tensions between Washington and Moscow, Russia made clear it was changing its military posture in response to the US downing of the jet.
Russia, a staunch ally of Syrian President Bashar al-Assad, said it would treat US-led coalition aircraft flying west of the Euphrates River in Syria as potential targets and track them with missile systems and military aircraft. It stopped short of saying it would shoot them down.
The Russian Defence Ministry said it was also immediately scrapping a Syrian air safety agreement with Washington designed to avoid collisions and dangerous incidents.
Moscow accused Washington of failing to honor the pact by not informing it of the decision to shoot down the Syrian plane despite Russian aircraft being airborne at the same time.
Washington hit back, saying it would "do what we can to protect our interests."
"The escalation of hostilities among the many factions that are operating in this region doesn't help anybody. And the Syrian regime and others in the regime need to understand that we will retain the right of self-defense, of coalition forces aligned against ISIS," White House spokesman Sean Spicer said.
The US military said it was repositioning its aircraft over Syria to ensure the safety of American air crews targeting ISIS.
The White House also said it would work to keep lines of communication open with Russia amid the new tensions. The chairman of the Joint Chiefs of Staff said the United States was working to restore a "deconfliction" communications line with Russia meant to avoid an accidental clash over Syria.
Marine General Joseph Dunford said there were still communications between a US air operations center in Qatar and Russian forces on the ground in Syria, adding: "We'll work diplomatically and military in the coming hours to re-establish deconfliction."
The US Central Command had issued a statement saying the downed Syrian military jet had been dropping bombs near US-backed SDF forces, which are seeking to oust ISIS from the city of Raqqa.
It said the shooting down of the plane was "collective self-defense" and the coalition had contacted Russian counterparts by telephone via an established "de-confliction line to de-escalate the situation and stop the firing.
Full report at:
https://english.alarabiya.net/en/News/middle-east/2017/06/20/White-House-says-it-reserves-right-to-self-defense-in-Syria-Moscow-warns-Washington.html
--------
Denouncing intolerance of all forms in Canada
JUNE 19, 2017
A cycle of violence is ramping up in the West. Radical Islam has spurred jihadist violence. And misguided responses to it have resulted in assaults against innocent Muslims.
All of these incidents are wrong. They need to be roundly denounced.
We also need to talk about why they are happening and seriously address the problem.
On Sunday evening, a man drove his van into congregants in front of a mosque in London. And on Monday, a suspected jihadist tried to ram his vehicle into police in Paris.
These stories should be shocking, surprising and make us angry. But they've become almost commonplace.
This shouldn't be the case. We should be outraged whenever a jihadist strikes and whenever an innocent Muslim is assaulted.
Canadians like to pretend this is an issue that only happens elsewhere -- in Europe or in the United States. We wish that was true. Tragically, it is not.
It's been a couple of years since the attacks in Saint-Jean-Sur-Richelieu and on Parliament Hill. Other attacks since have been thwarted by law enforcement, like the VIA Rail plot and the Strathroy incident.
But other problematic incidents, large and small, have happened in recent months.
Six people were killed and others injured following a shooting at a mosque in Montreal.
Several radical imams in Canada have called for the deaths of Jews.
Recently, a cab driver in Toronto made a serious threat to our columnist Tarek Fatah.
A woman east of Toronto was charged after harassing an innocent Muslim women on the street.
The threat of radical Islam is real. Violence towards regular Muslims is also real.
But how do we address these challenges? Increasingly, they are not isolated incidents. They are signs of a deeper problem.
As our Canada 150 celebrations near, people across this country are talking about Canadian culture and values.
Full report at:
We need to address the cycle of violence before it worsens.
http://www.torontosun.com/2017/06/19/denouncing-intolerance-of-all-forms-in-canada
--------
Quebec man found guilty of attempting to leave Canada to join Islamic State
Jun. 19, 2017
A Quebec man was found guilty Monday of attempting to leave the country to participate in activities of a terrorist group — becoming just one of a few Canadians convicted of a charge that carries a maximum 10-year sentence.
In handing down his ruling, Quebec court Judge Serge Delisle said Ismael Habib's version of events lacked credibility.
"Did Ismael Habib intend to participate in or knowingly contribute to a terrorist activity?," Delisle wrote in a 15-page judgment. "The entirety of the evidence demonstrates the answer is yes."
The Crown accused Habib of attempting to leave Canada with a plan to join Islamic State in Syria.
The case presented by prosecutors demonstrated that Habib, 29, told an undercover RCMP officer twice on camera and recordings during an elaborate sting operation in February 2016 he wanted to travel to Syria to join Islamic State.
He told an RCMP agent acting as the boss of a phoney passport ring that religious beliefs were behind his decision to leave for Syria to join ISIL: that he wanted to live in a Muslim majority country that practised Sharia law.
Habib said he was prepared to do everything except commit an act of terror on Canadian soil.
His lawyer argued the confessions obtained through a Mr. Big sting operation were unlawful — an argument Delisle rejected.
The judge picked apart the defence's position that authorities coerced a confession out of his client and that he was desperately trying to reunite with his wife and children somewhere in the Middle East after being denied a passport.
"There is no doubt in the present case that the intention to leave Canada is implicitly conceded elsewhere (in the evidence) by the accused," Delisle ruled.
"The court concludes that even though he wanted to join his wife and children ... his goal was to go and fight with IS."
There is relatively little jurisprudence related to the charge as it was only added to the Criminal Code in 2013, federal prosecutor Lyne Decarie told reporters.
"The Crown is of course satisfied because we were asking that he be found guilty and we didn't think his version was credible," she said.
Habib is the first adult in Canada to be convicted after going to trial on the charge, but there are two other cases involving the charge — one of an Ontario man who pleaded guilty and another of a Montreal teen convicted following a trial in youth court. Defence lawyer Charles Montpetit believes there is room for clemency for Habib, considering he "wasn't necessarily a man who was motivated to do bad things here in Canada."
Montpetit says he isn't ruling out an appeal.
Habib was found guilty in May of the other charge he was facing in the indictment: giving false information to obtain a passport.
That charge carries a maximum sentence of two years in jail.
Sentencing arguments have been scheduled for Aug. 17.
Full report at:
https://www.theglobeandmail.com/news/national/quebec-man-found-guilty-of-attempting-to-leave-canada-to-join-islamic-state/article35363857/
--------
Muslim teen's murder not hate crime, US police says
20 June 2017
Police in this northern Virginia suburb of Washington DC, said Monday they will not investigate the murder of a Muslim teen as a hate crime.
Fairfax County Police believe road rage led to the fatal encounter this past weekend and are expected to brief the media later Monday.
The announcement follows the murder of a 17-year-old who was identified by officials as Nabra, without disclosing a last name.
Nabra was walking with friends early Sunday after leaving the All Dulles Area Muslim Society (ADAMS) Center mosque when they were confronted by a man in a car who got into a dispute with the girls, exited his vehicle and to assaulted the victim, police said in a statement.
Amid the chaos her friends could not locate her and police said they were called to assist.
Nabra went missing for 11 hours after the confrontation and a body was found around 3 p.m. local time (1700GMT) in a pond roughly two miles (3.2 kilometers) away.
Police identified the suspect as Darwin A. Martinez Torres, 22, of Sterling. He was taken into custody after police spotted a car "driving suspiciously" in the area.
Martinez Torres has been charged with murder.
The chief medical examiner will conduct an autopsy to determine the cause of death and confirm the identity of the victim, although police said they believe the corpse to be that of the missing girl.
Police have yet to officially identify the victim while they await the examiner to positively identify the body.
"We are devastated and heartbroken as our community undergoes and processes this traumatic event," the ADAMS Center mosque said in a statement. "It is a time for us to come together to pray and care for our youth."
Virginia Lt. Gov. Ralph Northam called the killing a "tragedy" inconsistent with the current Muslim holy month.
"Ramadan should be a season of peace. Instead, we mourn alongside our Muslim neighbors," he wrote on Twitter.
Area residents showed an outpouring of support for the Muslim community Monday by leaving flowers at the ADAMS Center in the wake of the tragedy.
Mark Lemmons, a 58-year-old resident of nearby Herndon, said he was warmly welcomed by the community when he delivered flowers for Nabra's family.
Full report at:
http://www.worldbulletin.net/america-canada/190985/muslim-teens-murder-not-hate-crime-us-police-says
--------
Pakistan
Lahore High Court Restores Christian Divorce Law
June 20, 2017
LAHORE - The Lahore High Court on Monday restored Section 7 of Christian Divorce Act, 1869, enabling Christian couples to part their ways with reasonable way by approaching the court of law if they consider that their marriages are not workable.
The LHC set aside provision of Christian Divorce Act, 1869 which required Christian couples to use allegation of adultery against women to seek dissolution of marriage.
Through the order, Chief Justice Syed Mansoor Ali Shah held that now Christians would be able to part their ways in a dignifies way without accusing each other of adultery.
Former military dictator Ziaul Haq had suspended Section 7 of the said Act, leaving no reason for Christian men to divorce their wives except levelling allegations of adultery.
Amin Masih had moved the court through his counsel Sheraz Zaka, challenging the disgraceful law and sought restoration of Section 7 of Christian Divorce Act 1869. The petitioner submitted that restoration of the suspended Section would enable the Christians to part their ways with dignity and without charging each other of adultery.
After restoration of the said Act, the petitioner said, the principles of Courts of England would apply to the family/divorce issues of Christians. And there would also be other just and reasonable grounds available for them to seek divorce after restoration of the said Act, he added. Currently, Christians had only one ground under Section 10 of the Act according to which allegations of adultery were required for them to part ways. Such legal binding was against the dignity of the law, held the petitioner. The petitioner's counsel contended that in UK, the Christian couples had reasons to seek divorce under Matrimonial Causes Act but it was not available to them in Pakistan if their marriages were not workable.
The counsel further argued that the Constitution of Pakistan guaranteed protection of minorities but Section 10 of the said Act had made their lives miserable. He requested the court to restore the suspended Section.
LHC takes up plea against judges' summer vacations
The Lahore High Court Monday issued notices to all bar associations of Punjab in a petition seeking directions to abolish judges' summer vacations and to increase court working time for eight hours a day.
Justice Shahid Karim passed the order on petition moved by Lawyers Foundation. The petitioner's counsel argued that summer vacations for judges were initially started by British rulers and the reason was that the British judges were not able to bear scorching summer heat of subcontinent. The counsel said the judges at that time used to go back to their home towns. But the judges of the region had no such issue while modern electronic gadgets were of great help to beat the heat. The counsel held that now long summer vacations of judges were causing delay in dispensation of justice. He said the institution of cases had also increased before the LHC and in such situation, long summer vacations were not affordable.
The litigants also suffer due to these vacations, he added.
The counsel pleaded the court that working court time should be fixed for eight hours because it would be helpful in early disposal of cases. He prayed the court to abolish summer vacations of judges and increase court working hours up to eight hours.
Student stab case
The LHC on Monday dismissed Intra Court Appeal of a lawyer's son challenging administrative order of the chief justice regarding day to day proceeding of his trial in a stabbing case.
A division bench passed the order after the suspect challenged single bench decision. Previously, a single bench of Justice Sayyed Mazahar Ali Akbar Naqvi dismissed his constitutional petition holding that the day to day trial would not deprive the accused of his any legal right.
The judge had observed that it also would be in favour of the accused; the day to day proceedings would be of great help to prove his innocence within days.
Shah Hussain, son of a lawyer, faces charges of attacking her class fellow Khadija Siddiqui with a knife at Davis Road. The suspect attacked her 23 times.
In his appeal, the suspect had submitted that it was a case of an ordinary nature and there was no urgency to conduct trial on day to day basis. He asked to declare the chief justice's administrative order as illegal.
Chief Justice Syed Mansoor Ali Shah had earlier sought a report from Lahore district & sessions judge about progress in this attempt to murder case of a law student. After submission of report, the CJ ordered judicial magistrate Mubashir Hussain Awan to hold trial proceedings on a day-to-day basis and conclude it within 30 days.
The Civil Lines Police had booked him on charges of attempted murder of Khadija Siddique.
http://nation.com.pk/lahore/20-Jun-2017/lhc-restores-christian-divorce-law
--------
NCIDE holds an Iftar Party for Muslim Children
June 20, 2017
Lahore: June 19, 2017. (Sunil John) National Commission for Interreligious Dialogue and Ecumenism (Catholic Bishops Conference - Pakistan) organized an Aftar (Breaking of Fast) for the Muslim Children residing at an Islamic Seminary Bait-ul-Quran Institute, Lahore Cantt. A good number of Christian children were also present to show solidarity with the Muslim Children. The party was presided over by Fr. Francis Nadeem OFM Cap, the Executive Secretary NCIDE, whereas Mr. Anwaar-ullah-Khan was the chief guest of the ceremony.
The Principal of Bait-ul-Quran Institute, Lahore Cantt; Moulana Sayyed Mufti Ashiq Hussain cited the initiative of NCIDE to bring closer the Christian and Muslim children through this practical activity to promote Peace and harmony in Pakistan.
Fr. Francis Nadeem read out the message of the Pontifical Council for Inter-religious Dialogue (Vatican City) issued for Muslim Brethren in the month of Ramadan and Eid ul Fitr. He distributed the copies of this message among the participants and expressed his prayers for the blessing during this holy month for the Muslims.
The chief guest of the ceremony, Mr.Anwaar ullah Khan appreciated this programme and said that the practical programs of this nature will bring together the Muslim and Christian children in the near future and will have a positive impact.
Full report at:
http://www.pakistanchristianpost.com/detail.php?hnewsid=6514
--------
2 Navy sailors gunned down in Gwadar shooting
Syed Ali Shah
June 20, 2017
Two Navy sailors were martyred and at least three others were wounded when their vehicle was attacked in the Jiwani area of Gwadar district, Balochistan on Monday.
The sailors were transporting iftar items during a routine run from Jiwani city when their vehicle was ambushed by four assailants on two motorbikes, a senior local administration official told DawnNews.
The assailants opened fire on the vehicle indiscriminately, leaving one man martyred and five wounded, he said.
A spokesman for the Navy, however, said that three personnel had been injured.
The five wounded were shifted to Karachi for medical treatment. One of the wounded succumbed to his injuries, bringing the death toll to two, the official added.
Security was tightened after the incident and a search operation was launched in the area to apprehend those involved in the attack.
Balochistan Chief Minister Sanaullah Zehri condemned the incident and directed the levies and police to submit a report regarding the attack.
"We will not bow down before the terrorists," Zehri said in his condemnation statement.
There has been no immediate claim of responsibility for the attack.
Security challenges facing Balochistan and CPEC
The shooting incident occurs after Pakistan and China have inked agreements aimed at boosting cooperation in various sectors between the two countries.
China is also developing the warm water Gwadar port, a prominent feature of the China–Pakistan Economic Corridor (CPEC) plan. The CPEC project — with an investment of $57 billion and the Gwadar port as its lynchpin — is billed to be a 'game-changer' and manifestation of a strategic partnership between Pakistan and China.
Though the road where the labourers were working was not a specific CPEC-funded project, it was a part of a network of connecting roads that are part of the corridor ─ a common target for separatists militants who view construction projects as a means to take over their land.
The need to tighten security in Balochistan has grown over the years as separatist militants continue to wage their campaign against the central government for decades, demanding a greater share of the gas-rich region's resources.
In May, at least 10 labourers were killed in Balochistan's Gwadar district when unidentified assailants opened fire at the construction site where they were working, Levies sources said.
Full report at:
https://www.dawn.com/news/1340491/2-navy-sailors-gunned-down-in-gwadar-shooting
--------
23 'militants' arrested in Rangers-CTD operation
June 20, 2017
LAHORE: Pakistan Rangers (Punjab) and the Counter-Terrorism Department (CTD) of police on Monday claimed to have arrested 23 members of banned outfits in joint operations in various areas of the province.
Officials of the law enforcement agencies also recovered a huge quantity of illegal weapons, ammunition and bulletproof jackets from their possession. The suspects were allegedly involved in facilitating terrorists.
According to a news release, Pakistan Rangers (Punjab) and CTD jointly carried out operations in tehsils Kharian and Sarai Alamgir of Gujrat district. The agencies searched houses in both tehsils and arrested 20 suspects said to be involved in facilitating terrorists. They also recovered a huge cache of arms, ammunition and bulletproof jackets. The suspects were later shifted to undisclosed locations for interrogation.
The joint operations were part of Operation Raddul Fasaad, which was launched on Feb 22 after a string of terrorist attacks across the country.
Also on Monday, the CTD arrested three members of the banned Tehreek-i-Taliban Pakistan (TTP) from Bahawalpur whom they claimed were plotting an attack in the city on Eid day.
They also recovered explosives and suicide jackets from their possession.
A CTD spokesman claimed that acting on a tip-off that the TTP was planning to attack a sensitive installation in Bahawalpur, a local CTD team conducted a raid at around 1:30pm at a house near Quaid Colony and arrested three suspects belonging to the TTP.
He said the suspected terrorists were identified as Gohar Ali, Muhammad Yousaf and Zamurad Khan, adding they also recovered 3kg of explosives, ball bearings, two suicide jackets, electronic circuit, timed devices and power plug batteries from their possession.
Full report at:
https://www.dawn.com/news/1340599/23-militants-arrested-in-rangers-ctd-operation
--------
Bishop condemns London attack on Muslims
June 20, 2017
LAHORE - The attack on Muslim worshippers in London is most deplorable act and such terrorist attacks happening in an advanced society like England are shocking, Bishop of Lahore (Emeritus) Alexander John Malik said in a statement on Monday.
He condemned the wagon attack on Muslim worshippers nearby Finsbury Park Mosque in north London, urging the British law enforcement agencies to provide protection to the Muslims.
http://nation.com.pk/lahore/20-Jun-2017/bishop-condemns-london-attack-on-muslims
--------
URL: https://www.newageislam.com/islamic-world-news/indonesian-ulema-council-chairman-indonesia/d/111611
New Age Islam, Islam Online, Islamic Website, African Muslim News, Arab World News, South Asia News, Indian Muslim News, World Muslim News, Women in Islam, Islamic Feminism, Arab Women, Women In Arab, Islamophobia in America, Muslim Women in West, Islam Women and Feminism