New Age Islam News Bureau
30 May 2017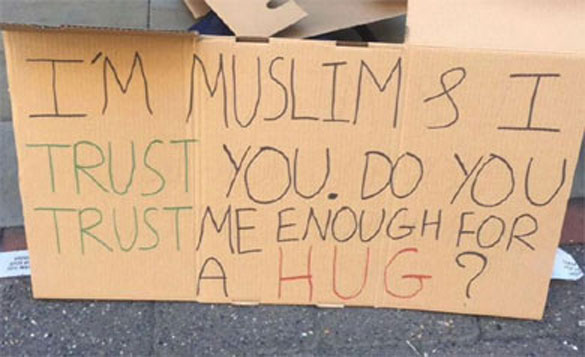 Dozens of strangers responded to his appeal Life of Bako / YouTube
---
• Indonesian Islamist Leader Named Suspect in Porn Case
• PKR: Islam Doesn't Bar Non-Muslims from Ramadan Events
• Islamic Ummah Will Keep Suffering Aggression Due To Western Policies: Rehman Malik
• Kashmiri Youth Who Wanted To Join Islamic State' Deported From Turkey
• Manchester Surgeon: 'The Families Understand This Attack Does Not Represent Muslims'
• Car Bombs Kill 23 in Central Baghdad, Hit Ramadan Crowds
• Facebook 'Ban' Of Anti-Muslim Slur Sparks Myanmar Outcry
Southeast Asia
• Indonesian Islamist Leader Named Suspect in Porn Case
• PKR: Islam Doesn't Bar Non-Muslims from Ramadan Events
• World's Largest Muslim Youth Organization Slams Saudis, Islamic Supremacy
• Christians caught up in Philippines' urban battle with Islamists
• PAS 'Disgusted' At DAP Leaders Breaking Fast With Muslims
• Indonesia: Ties that bind in the face of sectarian strife
--------
Pakistan
• Islamic Ummah Will Keep Suffering Aggression Due To Western Policies: Rehman Malik
• Pakistan Rethinking Position on Saudi-Led Military Alliance after Recent Humiliation at US-Arab-Islamic Summit
• 40pc decline in US visas for Pakistanis
• Banned outfits in Pakistan operate openly on Facebook
• Jadhav involved in terrorism, several arrests made on tip-off: FO
• JI, PTI likely to join hands in next polls
--------
India
• Kashmiri Youth Who Wanted To Join Islamic State' Deported From Turkey
• Home Minister Urges Youths Not To Fall Prey to Terror Designs
• India, Pakistan set to enter SCO amid differences over terrorism
• Cattle Trade for Slaughter Ban: India Spoils Ramadan Flavor in Arab, Muslim Countries
• Terror funding: 3 Kashmiri separatists questioned by NIA
• Now, Saddam joins race for Hizbul commander
• NIA opposes Areeb Majeed's plea: 'If given bail, he may abscond'
--------
Europe
• Manchester Surgeon: 'The Families Understand This Attack Does Not Represent Muslims'
• Blindfolded Muslim Gives Free Hugs in Manchester in Trust Experiment after Terror Attack
• MI5 launches internal probe into Manchester attack
• Macron, Putin hold 'frank' talks on Syria, Ukraine
• Saudi deputy crown prince to discuss Syrian conflict with Putin in Moscow visit
• Police hunt for suitcase Abedi had on the day of Manchester attack
• Manchester attack: Muslim community holds 'peace walk'
--------
Arab World
• Car Bombs Kill 23 in Central Baghdad, Hit Ramadan Crowds
• Iraq: Islamic State Suicide Bomber Kills Eight at Baghdad Ice Cream Shop
• Daesh Attack Kills 17, Wounds 40 in Syria's Dayr Al-Zawr
• Qatar reportedly gave $500 mln to Popular Mobilization militias in Iraq
• Civilians lack food, water, medicine as Mosul battle mounts: UN
• Aleppo: Terrorists on Run as Syrian Soldiers Continue to March on ISIL's Last Stronghold
• Russian Armed Forces Continue to Back up Syrian Army in War on ISIL
• Several Terrorists Killed in Fresh Clashes between Rival Groups in Syria's Idlib
• Syrian Army Scores More Victories against Terrorists in Eastern Damascus
• Coalition forces drop warning leaflets addressing Syrian regime forces
• Chemical weapons a 'red line' in Syria, France's Macron says
• Al Wefaq leader blasts Bahraini regime over burial of slain activists
--------
South Asia
• Facebook 'Ban' Of Anti-Muslim Slur Sparks Myanmar Outcry
• 'OIC Is Totally Incapable Of Tackling the Problem of Sectarian Divide'
• NSC Reacts at Zubair Massoud's Remarks about ISIS Plans in Afghanistan
• Gunmen kill district governor, son in eastern Afghanistan
• Australia promises 30 more troops for NATO's Afghanistan mission
• 214 militants killed in past three weeks in Nangarhar: Gen. Rahimi
--------
Africa
• Haftar Accuses Qatar of Supporting Terrorism in Libya
• Cameroon: Exhibition to Communicate Islamic Values
• Tunisia security forces kill IS fugitive
• Kenya: Uhuru Kenyatta Sends Message of Goodwill to Muslims
--------
Mideast
• Palestinian Courts Ban Divorce during Ramzan
• Israel regime threat to Middle East nations, humanity: Larijani
• Yemeni army storms into the Republican Palace in Taiz
• Israeli PM Netanyahu wishes Muslims 'Ramadan Kareem'
• Iran president urges enhanced relations with Azerbaijan
--------
North America
• Senator Mccain Says Putin Bigger Threat than ISIS
• Trump Misses Opportunity to Reassure U.S. Muslims After Portland Attack
• Five things to know about new Conservative leader Andrew Scheer's policies
Compiled by New Age Islam News Bureau
URL: https://www.newageislam.com/islamic-world-news/indonesian-islamist-leader-named-suspect/d/111344
--------
Indonesian Islamist leader named suspect in porn case
30 May 2017
JAKARTA: A Indonesian Islamist leader who helped organise mass protests against Jakarta's Christian governor has been named a suspect in a pornography case, police said Tuesday, as authorities seek to rein in hardliners.
Rizieq Shihab, leader of notorious radical group the Islamic Defenders Front (FPI), was Monday named a suspect for allegedly exchanging pornographic messages with a woman.
Shihab, who is also being investigated by police over a separate defamation case, is currently out of the country after travelling to Saudi Arabia on pilgrimage and has failed to return despite repeated summons from the police for questioning.
Analysts said it was the latest evidence the government of President Joko Widodo was seeking to clamp down on radicals in the world's most populous Muslim-majority country as fears mount they are growing increasingly influential.
Shihab was a key figure in organising a series of mass rallies last year against Jakarta governor Basuki Tjahaja Purnama, an ally of Widodo, over allegations he insulted the Koran while campaigning for re-election.
The controversy led to Purnama's downfall -- he lost the election and was jailed for blasphemy for two years this month over the claims -- and stoked concerns about rising religious intolerance in a country traditionally regarded as a bastion of tolerant Islam.
The FPI was long viewed as a marginal organisation whose extreme views did not reflect those of most Indonesians, and was known for raiding bars during Ramadan, but gained national prominence due to the protests.
Jakarta police spokesman Argo Yuwono confirmed Shihab had been named a suspect for allegedly breaking Indonesia's tough anti-pornography laws by exchanging graphic messages and nude pictures with the woman.
Naming someone a suspect is a step in the Indonesian legal system which means authorities believe they have enough evidence to consider filing charges, and such cases normally go to court.
Shihab, who has been jailed twice before, could face up to five years in prison if found guilty.
"We will issue an arrest warrant and check his house and work with immigration to determine his whereabouts," Argo said.
Shihab's lawyer Sugito Amto Prawiro denied the cleric had broken the anti-porn laws and said he was the "victim of a cruel act".
The woman who received the messages has also been named a suspect in the case. -AFP
http://www.thestar.com.my/news/regional/2017/05/30/indonesian-islamist-leader-named-suspect-in-porn-case/
--------
PKR: Islam doesn't bar non-Muslims from Ramadan events
Predeep Nambiar
May 29, 2017
GEORGE TOWN: Barring non-Muslims from joining Ramadan buka puasa (break of fast) events is against Islamic teachings, PKR secretary-general Saifuddin Nasution Ismail said today.
Those who wanted such a ban had made Islam look "ugly", he added in referring to Jaringan Muslimin Pulau Pinang, which held a protest against Penang Chief Minister Lim Guan Eng last week, saying he should not attend buka puasa events unless he converted to Islam first.
Saifuddin, who is the strategic adviser to Lim, said the group's call went against the teachings of Islam as the religion welcomed all to break fast together regardless of their faith.
"Islamic teachings are simple, but it is easily confused by its followers who are too obsessed with a particular matter.
"Islam has the tenets of wajib (compulsory), sunat (pious deed), haram (forbidden), makruf (good deed) and harus (permitted by the religion). Fasting is wajib for Muslims.
"Non-Muslims like the CM do not need to fast while it is wajib for Muslims. Breaking of fast with our brethren who are non-Muslims is harus, regardless if you fast or not.
"The actions by this group gives an ugly face to the understanding of Islam, as per the teachings of the Holy Quran and the Prophet," Saifuddin said at a press conference in Komtar today.
Former Perak menteri besar Mohammad Nizar Jamaluddin, who was also present, said it was surprising the protesters had nothing to say when PAS members broke fast with Lim at a mosque in Penanti before the last election.
"I remember six years ago during the Penanti by-election, Lim attended a buka puasa event with the PAS ulama. Funny how they did not think it was haram then.
"World leaders also break fast with others. Look at former US president Barack Obama, Singapore PM and others who opened their doors to hold breaking of fast events during Ramadan.
"I would like to congratulate the chief minister as it is a good way to assimilate the people of Penang as one by attending buka puasa events," he said.
Nizar, who is also Amanah's Changkat Jering assemblyman, is on a visit to Penang and called on Lim earlier.
Last week, Jaringan chairman Mohd Hafiz Noordin accused Lim and his state executive council of interfering in the issuance of fatwas (religious decrees for Muslims), and told Lim not to join buka puasa gatherings during Ramadan.
Hafiz said that if the DAP secretary-general wanted to break fast with Muslims during Ramadan, he should convert to Islam first.
"We do not want a kafir (non-believer) from DAP to lead the state. We want Guan Eng not to attend buka puasa functions.
"You don't need to buka puasa because you are anti-Islam. If you want to buka puasa, then please masuk Islam (covert)," he said when addressing some 50 protesters outside the Simpang Enam mosque at Macalister Road after Friday prayers last week.
http://www.freemalaysiatoday.com/category/nation/2017/05/29/pkr-islam-doesnt-bar-non-muslims-from-ramadan-events/
--------
Islamic Ummah will keep suffering aggression due to Western policies: Rehman Malik
May 30, 2017
Senator Rehman Malik says that the Islamic Ummah would keep suffering aggression due to the Western policies.
In his latest Tweets he has highlighted the reasons for Ummah's suffering,
Recently U.S President Donald Trump paid a visit to Saudi Arabia where he spoke against terrorism and Iran in Arab-Islamic-American Summit.
http://nation.com.pk/national/30-May-2017/ummah-will-keep-suffering-aggression-due-to-western-policies-rehman-malik
--------
Kashmiri youth who wanted to join Islamic State' deported from Turkey
May 30, 2017
A Kashmiri youth, who was allegedly trying to join the Islamic State (IS), has been deported from Turkey. The youth has been identified as Afshan Pervaz, 21, a resident of Khanyar in the Old City area of Srinagar. According to police sources, Pervaz had told his family that he wanted to go to Iran for higher education. A PTI report quoted sources as saying that he had booked a seat on a flight to Tehran on March 23.
Confirming that the youth had been deported, Director General of Police S P Vaid said, "He went to Iran, from where he moved to Turkey". The PTI report said Pervaz was deported from Turkey's capital of Ankara on May 25. The youth apparently sent a message to his family, telling them that he was facing some "problems", according to the report. When the police and other security agencies were informed about this, a probe was launched to locate him.
Citing sources, the report said the security agencies then got in touch with their Iranian counterparts, who found out that Pervaz was travelling to Ankara. The authorities in Ankara were contacted and he was picked up while he was travelling in a bus in the Turkish capital. He was sent to India on May 25 by a Turkish Airlines flight, the report said.
Earlier, a youth from Jawahar Nagar in Srinagar was reported to have joined the IS in 2013. Adil Fayaz Vaid went to the University of Queensland, Australia, in 2010, from where he did his MBA. Vaid is suspected to have got in touch with some Syria-based groups, and then joined the IS. Another youth from Ganderbal, Azhar ul Islam, was earlier deported from UAE for being an alleged IS sympathiser. His family has denied the charge.
http://indianexpress.com/article/india/kashmiri-youth-who-wanted-to-join-is-deported-from-turkey-4680149/
--------
Manchester surgeon: 'The families understand this attack does not represent Muslims'
29 May 2017
Mohamed Ismail Aly, 44, is a consultant burns and plastic surgeon at the Royal Manchester children's hospital
I got the call at about midnight [on Monday 22 May] – it woke me up. It was the hospital switchboard informing me that there had been a major incident and I had to come in. They didn't say what had happened but I checked on the BBC website and saw that something had happened at the arena.
On the way to the hospital, I was listening to the local radio and they didn't seem to know quite what had happened. Some people were suggesting that one of the speakers had blown at the arena.
I operated on my first patient at around 1am on Tuesday morning. When I saw my first patient, it was very clear we were dealing with injuries from a bomb.
Many of the medical staff had never seen anything like it before. The children had horrific, life-threatening injuries you would normally only see in war zones.
I had previous experience dealing with British soldiers returning from Afghanistan when I worked at Broomfield hospital in Chelmsford, Essex, which is a receiving centre for the armed forces.
Last year I also worked a lot on gunshot wounds at the University of Texas hospital in Galveston, which provided me with the experience to deal with this type of incident.
In our job, we have to figure out the most likely scenario. I thought it was probably a terrorist attack, with the perpetrator likely to be identified as a Muslim.
It is not simply a misinterpretation of Islam but exactly the opposite of what our religion teaches. There is nothing in Islam that endorses such actions. Islam sanctifies human life. Unfortunately, the Muslim community as a whole has to deal with the consequences.
Most of my first patients were unconscious when they were brought in. We didn't know the names of about half of them. They were all given a number when they were brought into accident and emergency before being sent up for surgery.
As doctors, we are taught to relate to our patients and communicate with them as much as possible, but in the early hours of Tuesday morning we had a string of young patients under general anaesthetic, and we didn't even know their names.
Many had no family with them, and so we had to go ahead with life-saving operations without parental consent which is allowed in an incident classed as an emergency by law in the UK.
I am 100% certain that some of the patients would have died if they hadn't been brought in so quickly by paramedics. Many lives were saved by their quick response.
We saw all sorts of horrific injuries, some caused by bolts and other shrapnel, as well as burns. Many of the children have already undergone multiple procedures and will continue to be in my care for many months ahead. All elective surgery has been cancelled since the attack and that will continue into this week.
I'm from Egypt but trained in Britain. At least six of the other surgical consultants at the children's hospital are also Muslims, plus many other doctors and nurses.
Manchester has great ethnic diversity so the hospital staff reflects that. I did wonder if some of the families of our patients might be a bit apprehensive but that wasn't the case. You could sense from the families and talking to them that this is not part of their thinking. They understand that this attack does not represent the Muslim community.
It saddened me to hear that a Muslim medic, Naveed Yasin, was racially abused after operating on bomb victims at Salford Royal hospital.
Instead, what I have been struck by is the positive outlook demonstrated by my patients and their families. They say: "Yes, my child is seriously injured, but they are going to be fine."
It is typical of optimistic attitudes in this part of the world, a belief that things will be OK. It's not about looking back at what happened but how we can move forwards in a positive and cohesive way.
https://www.theguardian.com/uk-news/2017/may/29/manchester-surgeon-the-families-understand-this-attack-does-not-represent-muslims
--------
Car Bombs Kill 23 in Central Baghdad, Hit Ramadan Crowds
30 May 2017 BY PAKISTANTODAY
Two car bombs killed at least 20 people in Baghdad and wounded about 80 others early on Tuesday, security sources said, one targeting the late-night crowds typical of the Muslim holy month of Ramadan who shop and eat ahead of the next day's fast.
Islamic State, the Sunni hardline group that controls parts of Iraq and Syria, claimed both attacks in statements on its Amaq news agency.
A car packed with explosives blew up near a popular ice cream shop in the commercial Karrada district, killing at least 13 people and wounding 40 just after midnight (2100 GMT/5 p.m. ET on Monday).
A few hours later, a second bombing killed ten people and wounded 44 more near a government office in Karkh district.
During Ramadan many Muslims stay up until the early hours, going out to spend time with their families, shop and eat before dawn breaks and the next day's fast begins.
Karrada was hit by a massive truck bomb in July 2016 that killed at least 324 people, the deadliest attack in Iraq since the U.S.-led invasion of the country in 2003.
Islamic State has been retreating in Iraq since the end of 2015 in the face of U.S.-backed government forces and Iranian-backed Shi'ite paramilitary groups.
It is now besieged in an enclave in the northern city of Mosul, which it has used as its de facto capital in Iraq. Islamic State declared from Mosul a "caliphate" over parts of Syria and Iraq in 2014.
https://www.pakistantoday.com.pk/2017/05/30/car-bombs-kill-23-in-central-baghdad-hit-ramadan-crowds/
--------
Facebook 'ban' of anti-Muslim slur sparks Myanmar outcry
May 29, 2017
Myanmar netizens were in uproar today after Facebook seemingly banned people from posting the word "kalar," often used as a slur against Muslims, at a time of rising Islamophobia in the country. Facebook is under global pressure to clamp down on hate speech, violent threats or deliberately misleading information on their platform — with efforts showing varying degrees of success.
Dozens of users in Myanmar reported being temporarily barred from the site recently after posting the controversial term kalar, which is frequently used as an insult for the country's embattled Muslim minority. Some users said they were even blocked after writing other words that include the same sound in the Burmese alphabet, highlighting the difficulties Facebook has monitoring millions of posts in multiple languages.
Aung Kaung Myat said he had been prevented from liking, posting and sharing content on the site for 24 hours last week for writing about the apparent ban, as had many of his friends. "It is ridiculous," he said. "I became a victim of it myself when I wrote: 'Facebook is deleting the posts that include the word kalar'."
Yarzar Soe-Oo said he was barred on Friday after posting a jokey quip about eating Indian bean soup ("kalar pal hin") while sitting in a chair ("kalar htaing"). Facebook did not reply to emailed requests for comment while a spokesman for the Myanmar government said it had not pushed for a ban. Kalar is a deeply controversial term in Myanmar, where it is used to refer to foreigners in general but most commonly to describe people of Indian origin and anything relating to their culture.
Over the years it has also been turned into a derogatory slur by Buddhist nationalists against Muslims. Two angry Facebook users have responded to the apparentban by creating an event called "We own Kalar" in protest.
By early afternoon some 1,400 people had said they were interested in attending the gathering, scheduled for Wednesday in Yangon.
"Even though no action is taken against fake accounts which share hate speech and spew abuse… action is taken over (words we use every day)," said the organisers. "We own the word as we have been using it for decades and over the centuries."
The push comes as Myanmar's government has been seeking to clamp down on hate speech after a spike in anti-Muslim actions by Buddhist hardliners.
http://indianexpress.com/article/world/facebook-ban-of-anti-muslim-slur-sparks-myanmar-outcry-4678968/
--------
Southeast Asia
World's largest Muslim youth organization slams Saudis, Islamic supremacy
May 30, 2017
May 29, 2017 (American Thinker) — The political and religious leaders of Indonesia stand out among Muslim nations in attacks on Islamic radicalism and terrorism. We hear little about their hatred of Islamic hate and violence from our media, because it doesn't fit the politically correct narrative that any criticism of the Religion of Peace is Islamophobic. The Muslim Indonesians have plenty of harsh words for the ugly extremism of modern Islam, the Islam promoted around the world by Saudi and Qatar oil money, and based, they admit, on "classic Islamic law."
While Trump was in Riyadh, trying to enlist our frenemy, the Saudis, to take responsibility for the radical jihadism they themselves spawned, across the world in Indonesia, there was an international meeting of 300 Muslim scholars to address the same issue.
"President Trump called for honesty in Riyadh. Indeed, let us be honest," one speaker declared at the event, put on by the 5-million-member Indonesian Muslim "youth movement" Gerakan Pemuda Ansor, according to a press release.
It is false and counterproductive to claim that the actions of al-Qaeda, ISIS, Boko Haram and other such groups have nothing to do with Islam, or merely represent a perversion of Islamic teachings. They are, in fact, outgrowths of Wahhabism and other fundamentalist streams of Sunni Islam.
The two-day event concluded with an official declaration, calling for a campaign "to transform Muslims' understanding of their religious obligations, and the very nature of Islamic orthodoxy." This is some of what it said:
For more than fifty years, Saudi Arabia has systematically propagated a supremacist, ultraconservative interpretation of Islam among Sunni Muslim populations worldwide. The Wahhabi/ultraconservative view of Islam ... by Saudi Arabia and Qatar ... al-Qaeda and ISIS – is intricately wedded to those elements of classical Islamic law that foster sectarian hatred and violence. Wahhabism is ... characterized by antipathy – at times violent – towards Christians, Jews, Hindus, Buddhists and Sunni Muslims who do not share the Wahhabis' rigid and authoritarian view of Islam[.] ... [Legitimate] Saudi opposition to Iran[ian], ISIS and al-Qaeda [supremacism] does not and should not absolve it from responsibility for promoting the very ideology that underlies and animates Sunni extremism and terror.
Muslims face a choice between starkly different visions of the future. Will they strive to recreate the ... Caliphate – and thus seek to restore Islamic supremacy – as reflected in ... orthodox, authoritative Islam? Or will they strive to develop a new religious sensibility that reflects the actual circumstances of our modern civilization, and contributes to the emergence of a truly just and harmonious world order, founded upon respect for the equal dignity and rights of every human being?
President Obama's policy of promoting Iranian nuclear might and hegemony in the Middle East (motivated by our former president's anti-colonialist spite toward America) has further destabilized that already violent region. This presents us with opportunities, as well as the more obvious dangers. The Saudis are open to change because they are terrified of both Iran and ISIS. The monster of jihadism they have unleashed upon the world, along with the Shiite mullahs, has become a danger to themselves.
President Trump's Riyadh trip was a brilliant and practical effort to seize upon this fear and use it for our benefit. He is enlisting the Saudis to cut off funding for ISIS and al-Qaeda, Hezb'allah and Hamas, and to monitor jihadis on the internet.
At the same time, we have work to do here at home to counter the widespread jihadi presence in America. If we are serious about protecting American lives, we must drive out the jihadis from American mosques and communities. That means taking on their Wahhabi financing. (See my post earlier this week, "Drive them out: Time to deport known American jihadis.") Saudi Prince Talal, a senior member of their monarchy, pledged $32 billion – that's "billion" – to Islamize America.
The picture of Saudi activities in the United States is not a pretty one. Freedom House's Muslim volunteers went to 15 prominent mosques from New York to San Diego and collected more than 200 books and other publications disseminated by Saudi Arabia (some 90% in Arabic) in mosque libraries, publication racks, and bookstores.
What they found can only be described as horrifying. These writings - each and every one of them sponsored by the kingdom - espouse an anti-Christian, anti-Semitic, misogynist, jihadist, and supremacist outlook. For example, they:
Reject Christianity as a valid faith: Any Muslim who believes "that churches are houses of God and that God is worshiped therein is an infidel."
Insist that Islamic law be applied: On a range of issues, from women (who must be veiled) to apostates from Islam ("should be killed"), the Saudi publications insist on full enforcement of Shariah in America.
See non-Muslims as the enemy: "Be dissociated from the infidels, hate them for their religion, leave them, never rely on them for support, do not admire them, and always oppose them in every way according to Islamic law."
See America as hostile territory: "It is forbidden for a Muslim to become a citizen of a country governed by infidels because this is a means of acquiescing to their infidelity and accepting all their erroneous ways."
Prepare for war against America: "To be true Muslims, we must prepare and be ready for jihad in Allah's way. It is the duty of the citizen and the government."
The report's authors correctly find that the publications under review "pose a grave threat to non-Muslims and to the Muslim community itself." The materials instill a doctrine of religious hatred inimical to American culture and serve to produce new recruits to the enemy forces in the war on terrorism.
To provide just one example of the latter: Adam Yahiye Gadahn, thought to be the masked person in a 2004 videotape threatening that American streets would "run with blood," became a jihadi in the course of spending time at the Islamic Society of Orange County, a Saudi-funded institution.
President Trump would be wise to heed the advice of Indonesia's Islamic reformers: the violence against Christians and Jews and non-Muslim nations is being actively promoted by Wahhabi imams in every country on the globe – including America. Eighty percent of the mosques in America are Saudi-funded.
It's fine to create a pragmatic alliance with the Saudis to advance our interests in the Middle East, just as FDR and Churchill allied with Stalin in WWII. The Saudis are not our friends, any more than was Stalinist Russia. Saudi citizens, including the royal family, are actively working to subvert our constitution and our culture throughout America.
There is something simple we can do to drive jihadis our of our mosques and communities, and Freedom Caucus member Representative David Brat of Virginia proposed it last summer: no Saudi money for American mosques. It is time to resurrect and push that bill.
https://www.lifesitenews.com/opinion/worlds-largest-muslim-youth-organization-slams-saudis-islamic-supremacy
--------
Christians caught up in Philippines' urban battle with Islamists
May 30, 2017
Bishop Edwin Dela Pena was sipping coffee after dinner in a southern Philippines coastal town last Tuesday when he received a phone call: it was from one of his diocese priests, who sounded panicky and distressed.
Father Teresito "Chito" Sugarno, the vicar general of Marawi City, had been taken hostage by Islamist militants along with about a dozen of his parishioners.
"He was only given a few lines to deliver, and it was simply echoing the demands of the kidnappers - for the troops to withdraw," said Dela Pena. If the demand was not met, he was told, "something bad would happen".
There has been no further word from the group of Christians since they were caught up in a ferocious battle that has raged between Islamist insurgents and Philippines soldiers in Marawi for the past week.
As many as 180,000 people, about 90 percent of the population, have fled the usually bustling lakeside town nestled in lush tropical hills that, almost overnight last week, became a theater of urban warfare.
Philippines President Rodrigo Duterte declared martial law across Mindanao - the country's southernmost island and an area the size of South Korea - as troops outside Marawi closed in on Isnilon Hapilon, who was proclaimed "emir" of Southeast Asia last year after he pledged allegiance to Islamic State.
Mindanao has long been a hotbed of local insurgencies and separatist movements: but now, Islamist fighters from Malaysia, Indonesia and other countries have converged in Mindanao, stoking fears that it could become a regional stronghold of Islamic State.
More than 90 percent of the Philippines' 100 million people are Christian, but here Muslims are in the majority. In 1980 Marawi proclaimed itself an "Islamic City" and it is the only city in the country with that designation.
For the small Christian community of Marawi, however, life in the city had until recently been peaceful and prosperous.
"We don't consider ourselves Muslims or Christians, we are just friends," said Dela Pena, who has lived for 17 years in Marawi but was out of town when the violence broke out.
That peace was shattered some months ago, he said, after the army bombed an encampment of Islamist groups some 50 km (30 miles) away.
"They said they pulverized the whole camp, but these people simply transferred their base of operation from the jungle to the urban center, to the city, Marawi," he told Reuters in an interview from Iligan City, 37 km (23 miles) from Marawi.
"They came in trickles, a few people at a time. They have relatives there. They lived, they recruited," he said, adding that authorities appear to have missed the looming threat.
CATHEDRAL ATTACKED AND TORCHED
Chaos was unleashed upon Marawi when troops searching for Hapilon were ambushed by heavily armed militants.
More than 200 local and foreign fighters from the Maute group and others allied to Islamic State fanned out across the city, seizing the main hospital and prison before attacking the Cathedral of Maria Auxiliadora.
Inside, nearby residents told Dela Pena, Father Teresito and a group of worshippers were decorating the church for a holy day to celebrate the life of Mary, a sacred figure in both Christianity and Islam.
Full report at:
http://nation.com.pk/international/29-May-2017/christians-caught-up-in-philippines-urban-battle-with-islamists
--------
PAS 'disgusted' at DAP leaders breaking fast with Muslims
May 29, 2017
PETALING JAYA: PAS today is no longer the way it was before when the Islamist party was the proponent of the dakwah concept that calls for Muslims to approach others with the view of spreading the knowledge of Islam.
This was what Islamic scholar and PKR Youth leader Wan Ji Wan Hussin told Malaysiakini, in response to a Facebook post by Gombak PAS chief Salehhuddin Nasir.
Salehhuddin yesterday said he was disgusted at the sight of DAP leaders breaking fast with Muslims.
"At other times, they hold alcohol parties and masturbation fests. To the Muslims, Allah has said 'for you is your religion, for me is my religion'.
"Sorry, I don't need the views of the Sufist here. DAP is the enemy of Islam. Amanah and PKR are DAP's lackeys," he wrote in the post.
Wan Ji, speaking to Malaysiakini, said Salehhuddin through his writing has displayed how PAS' approach towards the non-Muslims has changed.
"Before, the PAS president said non-Muslims have the right to reject hudud and they are not compelled to follow Islamic teachings.
"Today, there are PAS leaders who accuse Muslims of being anti-Islam for disagreeing with PAS," he said, as quoted by the portal.
But he added that those who disagree with the party are not in fact against Islam as PAS is "just an organisation" that is not a representative of Islam.
Amanah Youth vice-chief Shazni Munir Mohd Ithnin, on the other hand, told the portal that such remarks should be forgiven, especially as it is the month of Ramadan.
He also said that grassroots PAS leaders felt it is okay to make such statements as no action has been taken against others who have done the same.
"No action was taken against the mid-level leaders who said those who oppose the amendments to the Syariah Court (Criminal Jurisdiction) Act (Act 355) should be buried in a jirat (Northern Malay slang for Chinese cemetery). This makes it worse."
Shazni was referring to a recent viral video where a PAS member in Kedah said those against the proposed amendments to Act 355 should be buried in a jirat.
Full report at:
http://www.freemalaysiatoday.com/category/nation/2017/05/29/pas-disgusted-at-dap-leaders-breaking-fast-with-muslims/
--------
Indonesia: Ties that bind in the face of sectarian strife
May 30, 2017
Indonesia faces the challenge of political Islam that threatens to rent its long-cherished unity in diversity
It is easy to be pessimistic about Indonesia. It is an improbable nation. A gigantic, sprawling and diverse archipelagic state punctuated with multiple fault lines, chief of which are race, language and religion. Hundreds of ethnicities and identities speaking hundreds of languages and spiced up with a multitude of religious beliefs.
So it is perfectly understandable that the amber lights have been flashing in the wake of the recent Jakarta gubernatorial election. It was bitter, divisive and toxic. Religion and race were at the forefront, driven by an extremist vigilante group, FPI (Islamic Defenders Front). The incumbent Basuki Tjahaja Purnama, known by his nickname Ahok, is a Chinese Christian who lost to his Muslim opponent by 58 per cent to 42 per cent. It was a worse-than-expected defeat. A district court subsequently convicted Ahok of blasphemy over comments he made about the Quran on the campaign trail and sentenced him to two years in jail.
Is this a harbinger of rising religious intolerance? Will political stability in Indonesia, which has been anchored in a pluralistic and moderate Muslim polity, be upended by newly emboldened extremist forces igniting the primordial issues of race and religion? Will these unleash centrifugal forces that will tear the country apart on ethnic, religious and geographic lines?
Sectarian strife is not new in Indonesia. The country has been convulsed by it as in the anti-communist conflagration of 1965 and the collapse of Suharto's New Order regime in 1998 where Chinese Indonesians were opportunistically targeted by indigenous Indonesians.
Indonesia faces the challenge of political Islam that threatens to rent its long-cherished unity in diversity
It is easy to be pessimistic about Indonesia. It is an improbable nation. A gigantic, sprawling and diverse archipelagic state punctuated with multiple fault lines, chief of which are race, language and religion. Hundreds of ethnicities and identities speaking hundreds of languages and spiced up with a multitude of religious beliefs.
So it is perfectly understandable that the amber lights have been flashing in the wake of the recent Jakarta gubernatorial election. It was bitter, divisive and toxic. Religion and race were at the forefront, driven by an extremist vigilante group, FPI (Islamic Defenders Front). The incumbent Basuki Tjahaja Purnama, known by his nickname Ahok, is a Chinese Christian who lost to his Muslim opponent by 58 per cent to 42 per cent. It was a worse-than-expected defeat. A district court subsequently convicted Ahok of blasphemy over comments he made about the Quran on the campaign trail and sentenced him to two years in jail.
Is this a harbinger of rising religious intolerance? Will political stability in Indonesia, which has been anchored in a pluralistic and moderate Muslim polity, be upended by newly emboldened extremist forces igniting the primordial issues of race and religion? Will these unleash centrifugal forces that will tear the country apart on ethnic, religious and geographic lines?
Sectarian strife is not new in Indonesia. The country has been convulsed by it as in the anti-communist conflagration of 1965 and the collapse of Suharto's New Order regime in 1998 where Chinese Indonesians were opportunistically targeted by indigenous Indonesians.
Together as Indonesians they rose, fought and struggled against their Dutch colonial masters to gain their freedom and independence. This powerful founding myth has created a deep sense of Indonesian identity. It is the principal glue that holds the nation together.
UNITY IN DIVERSITY
Yes, Papua remains a challenge but in the main, there have been few large-scale regional separatist movements. And after East Timor, it is doubtful if any Indonesian leader would accept the secession of any further part of Indonesia. Even Aceh which has long fought for its independence has remained part of Indonesia, settling instead for enhanced regional autonomy.
"Unity in Diversity" is the mantra of all Indonesian leaders. This is not just lip service but from the time of independence, Indonesian leaders have sought to give life to it. The predominant Javanese, who constitute 60 per cent of the population but occupy only 7 per cent of Indonesia's land mass, realised at the outset that they could not hold this diverse country together without including others in the corridors of power.
Thus, Sukarno who was Javanese had as his vice-president Mohammad Hatta from Sumatra. President Joko Widodo is Javanese but Vice-President Jusuf Kalla is Buginese from South Sulawesi. His first presidential chief of staff Luhut Pandjaitan is a Protestant from Sumatra. Under Suharto, head of the armed forces Benny Moerdani was subsequently Defence and Security Minister. He was a Catholic.
These are not anomalies but cut across all levels of the national government, bureaucracy and security agencies.
In more recent times, political inclusiveness got a huge boost when former president Habibie announced and fast forwarded a decentralisation programme where power and resources were devolved to hundreds of local districts.
Suharto's immediate successor felt that loosening the reins of government from Jakarta was the only way to deal with the threat of disintegration to Indonesia.
Prior to this, under Suharto, provincial and district governments were headed by mainly Javanese officials. This caused widespread local resentments. By empowering local communities with greater say on their own affairs, decentralisation has paradoxically strengthened the ties between the centre and the periphery as elite interests had been effectively accommodated and local identities given room to flourish.
Consequently, no group feels excluded in the political process as avenues of political participation have widened with elections held at the presidential, parliamentary, provincial and district levels.
Indonesians get seven chances to stand for political office and vote in every five-year electoral cycle. The odds therefore of Indonesia bursting apart on ethnic and geographic grounds are low.
THE CHALLENGE OF POLITICAL ISLAM
Political Islam, however, poses a more complex challenge to the unity and stability of Indonesia. Traditionally, Indonesian Islam has been moderate and syncretic. The majority of Indonesian Muslims are characterised as "abangans", tolerant Muslims who have fused Islam with Buddhism, Hinduism and animistic beliefs.
But globalisation has heightened the impact of external influences, particularly from the Middle East. A greater religiosity is now evident in Indonesia.
To date, this has not manifested itself electorally as Islamic parties remain a minority in the Indonesian Parliament. National political surveys show the majority voting for a political party based on secular issues such as social welfare, anti-corruption and good governance rather than on religious ones such as adopting syariah laws.
More importantly, there is a national consensus on the paramount need to safeguard the unity of Indonesia. This was the founding compact at the nation's birth - a secular instead of an Islamic state - so as to ensure the unity of Indonesia rather than risk the secession of provinces with Christian and Hindu majorities.
Full report at:
http://www.straitstimes.com/opinion/indonesia-ties-that-bind-in-the-face-of-sectarian-strife
--------
Pakistan
Pakistan rethinking position on Saudi-led military alliance after recent humiliation at US-Arab-Islamic Summit
Hamza Ameer
May 29, 2017
The recently concluded Arab-American Islamic Summit in Saudi Arabia resulted in political criticism and embarrassment for Pakistan, whose premier Nawaz Sharif was sidelined from major presence. After the humiliation, Pakistan is reconsidering its position on the Saudi-backed 41-nation Islamic military alliance.
Nawaz Sharif was scheduled to deliver a speech at the summit, which was brushed aside by the Saudi leadership, who were pleasing US President Donald Trump through honorary awards and glorified celebrations followed by a long speech. Trump did not mention Pakistan's name among the ally countries playing vital role in the fight against terrorism. It came as a bolt from the blue for Pakistan because the country has been an ally to the US on the fight against terrorism for over 13 years. Pakistan has also sacrificed thousands of its soldiers and civilians in the ongoing scuffle against terror groups operating on its soil.
WHY IS PAKISTAN RECONSIDERING ON THE POSITION?
Pakistan has also been a recipient of the Coalition Support Fund (CSF) by the US as part of the support it inherits as an ally.
But the prime issue that was witnessed during the summit, which was initially called Islamic Military Alliance against Terrorism (IMAT), was the deliberate push towards countering and declaring Iran as a terror state and using IMAT to operate against Iran in the region.
As Pakistan shares its border with Iran and has maintained bilateral relations, which have been on edgy roads with incidents of cross-border infiltration, it realises that it cannot afford to be part of IMAT with alliance member Muslim countries continue to gather focus on an expected offensive against Iran.
Pakistan is still in the process of finalising its terms of reference (TORs) before taking a final call on becoming part of the IMAT. But after the recent cold-shoulder treatment it received at the summit, Pakistan is reconsidering its position.
WHAT PAKISTAN IS TAKING IRAN'S SIDE AGAINST IMAT
The increased tension on the borders has hampered Pakistan and Iran's relations in the recent times. Iran has been accusing Pakistan of not acting against anti-Shia terror groups, which have been on a killing spree is Shia Muslims inside Pakistan and have been involved in cross-border terror attacks in Iran.
KULBHUSHAN CASE AND IRAN-PAKISTAN SCUFFLE
The case of Kulbashan Yadhav, who is on death-row on charges of spying and espionage in Pakistan, sentenced by the military courts has also been major point of contention between the two countries.
Pakistan maintains that Yadhav was carrying a fake Iranian passport with a Muslim name, when he was arrested from Pakistan's Balochistan province, a claim that has been rejected by India. India claims that Pakistan abducted Yadhav through a cross-border infiltration into Iran, capturing Yadhav from inside Iran's territory.
Iran has already asked Pakistan to give them consular access to Yadhav, echoing the repeated requests from India to Pakistan for the same.
Iran has also said that it will do everything in its power to target terrorists on either sides of the border with Pakistan.
Recently, Iran has been shelling areas inside Pakistan's territorial border, which has further tangled the already irked relations between the two countries.
http://indiatoday.intoday.in/story/pakistan-saudi-led-military-alliance-us-arab-islamic-summit-iran/1/966008.html
--------
40pc decline in US visas for Pakistanis
Waseem Abbasi
May 29 2017
WASHINGTON: Despite not being on the list of President Trump's "Muslim ban" countries, Pakistan is experiencing a significant decrease in a number of non-immigrant US visas issued to its nationals under the new administration.
An analysis of newly released official figures shows non-immigrant visas granted to Pakistanis are down by 40 percent in March and April this year compared to the 2016 monthly average.
The State Department data shows that Pakistanis were issued 3,925 non-immigrant visas in April and 3,973 visas in March this year under the Trump administration. The data shows that Obama administration last year issued a total of 78,637 non-immigrant visas to Pakistanis with a monthly average of 6,553, 40% higher than the current average.
Before March this year, the State Department did not release monthly breakdowns of visas and only annual figures were available. So this correspondent compared the March and April 2017 figures with monthly averages for 2016. Even in 2015, monthly average remained 6,179 as a total of 74,150 Pakistanis had been granted visas.
When contacted by The News, a spokesperson for the State Department said: "Visa demand is cyclical, not uniform throughout the year, and affected by various factors at the local and international level. Visa issuance numbers tend to increase during peak travel seasons, such as during the summer and the winter holidays, though there may be different trends in the country, nationality, or visa category level," the spokesperson said.
Interestingly, the number of non-immigrant visas has increased for India by 28% in March and April this year as compared to the monthly average of 2016. The state Department data shows Indian nationals received 87,049 visas in April and 97,925 visas in March. Last year, people from India received 72,082 non-immigrant visas each month on average with an annual total of 864,987 visas.
Pakistan is not the only Muslim country experiencing a decline in non-immigrant US visas. A similar analysis of 50 Muslim-majority countries reveals that the number of visas issued to their nationals has also declined by 20% in April as compared to their monthly country average last year.
Six countries targeted by Trump's March 6 travel ban — Iran, Syria, Sudan, Somalia, Libya and Yemen experienced 55% decline in non-immigrant visas compared with last year's monthly average.
The State Department data does not show how many people had been rejected non-immigrant visas from Pakistan and other Muslim countries in March and April so it is hard to guess whether the decline in number is caused by rejection of visas or it shows a lack of interest among nationals of these countries in visiting the United States under the new administration.
Full report at:
https://www.geo.tv/latest/143812-40pc-decline-in-us-visas-for-pakistanis
--------
Banned outfits in Pakistan operate openly on Facebook
May 30, 2017
They exist in plain sight, just one search and one click away from any of Pakistan's 25 million Facebook users.
An investigation carried out by Dawn across the month of April 2017 has revealed that 41 of Pakistan's 64 banned outfits are present on Facebook in the form of hundreds of pages, groups and individual user profiles.
Their network, both interconnected and public, is a mix of Sunni and Shia sectarian or terror outfits, global terror organisations operating in Pakistan, and separatists in Balochistan and Sindh.
For the purpose of this investigation, the names of all banned outfits – including acronyms and small variations in spelling – were searched on Facebook to find pages, groups, and user profiles that publicly 'liked' a banned outfit.
The biggest outfits on the social network, in order of size, are Ahle Sunnat Wal Jamaat (ASWJ) with 200 pages and groups, Jeay Sindh Muttahida Mahaz (JSMM) with 160, Sipah-i-Sahaba (SSP) with 148, Balochistan Students Organisation Azad (BSO-A) with 54 and Sipah-e-Muhammad with 45.
Other banned outfits which exist on Facebook at a smaller scale include Lashkar-e-Jhangvi (LeJ), Tehreek-e-Taliban Pakistan (TTP), Tehreek-e-Taliban Swat, Tehrik-e-Nifaz-e-Shariat-e-Mohammadi, Jamat-ul-Ahrar, 313 Brigade, multiple Shia outfits and a host of Baloch separatist organisations.
A closer look at activity
An examination of some user profiles linked to these banned outfits indicates open support of sectarian and extremist ideology. A few of these profiles have also publicly 'liked' pages and groups related to weapons use and training.
While some of the Facebook pages and groups claim to be 'official' representatives of the outfits, others appear to be managed by members and supporters in ideological agreement.
The content shared on their forums is varied. Although there are occasional posts in the form of text or status updates, the more common updates feature photos, videos and memes shared to explain and elaborate on the outfit's ideology; provide updates on recent or ongoing events and on-ground activity; and encourage private contact and recruitment of motivated Facebook users.
In general, the Facebook updates are in Urdu or Roman Urdu rather than English, suggesting the content is primarily for local consumption. A very small number are in Sindhi or Balochi, also indicating a niche target audience.
Open spread of ideology
Invariably, most of the Facebook pages and groups glorify existing leaders or those killed in the past while some banned outfits also campaign for the release of their activists or leaders.
In their Facebook updates, all banned outfits place blame on the state, or, in the case of outfits focused on Kashmir, on India. In rare cases, pages and groups linked to these banned outfits share graphic content depicting acts of violence — including photos and videos of bodies.
The more organised outfits appear to have 'official' media cells sharing press releases and religious sermons or political speeches as both audio and video. Such pages and groups also share links from websites, blogs or Twitter accounts that appear to be run by members of these outfits. The content in general includes anti-state propaganda or hate speech directed at religious minorities and other members of society.
Local footprint
Of the pages, groups and users investigated for the purpose of this story, a majority appeared to be based in larger urban centers such as Karachi, Lahore, Peshawar and Quetta. Those users that had publicly listed the educational institutions they had attended are mostly based in large, government-run universities, particularly in Sindh and Balochistan.
Many banned outfits have pages and groups with their names followed by district names, inviting users to join based on locality e.g. in the case of Baloch separatists, divisions include Gwadar, Kharan, Mastung, Panjgur etc.
Others, such as sectarian outfits, are organised down to localities e.g. North Nazimabad in Karachi, or even by-election constituency e.g. NA-68. Furthermore, others are organised using terms such as 'student wing' or 'youth wing'.
Tip of the iceberg
At all times, members and supporters of these banned outfits operating on Facebook have the option to shift communication from public to private.
Any user linked to, or interested in a proscribed organisation can befriend and chat with like-minded users, message those operating the pages and groups or click the provided links to websites and blogs. To establish contact off Facebook, all they would need to do is use the publicly listed email addresses or local phone numbers provided by some outfits.
The findings of this investigation are just the tip of the iceberg however, as a far larger number of pages and groups could exist without publicly using the name of the banned organisation in order to operate in secret. Unlike the profiles examined, most Facebook users would also not leave their list of pages and groups public – unless they feel they can use the social network with impunity.
Facebook's militancy problem
Delete, block or hand over information to authorities — these are Facebook's primary responses in the event that the social network is used for terror or criminal activity.
Although the company has acknowledged working with Pakistan in multiple cases, due to a lack of real transparency the nature of the cases is unknown, as is the process by which the requests and exchange of information is made. It is entirely possible that these requests are related to politics, blasphemy, sexual harassment etc. rather than on investigating banned outfits.
Details of Pakistan's requests to Facebook provided in its 'Government Requests Reports' from 2013 to 2016 show a sharp upward trend from 2015 onwards, reaching a high of 1,002 requests in July-December, 2016. The percentage to which Facebook complied with the requests to some extent has been between 64% to 68% since 2015.
As stated in its policies, Facebook "may access, preserve and share your information in response to a legal request (like a search warrant, court order or subpoena) if we have a good faith belief that the law requires us to do so."
It also does not allow any organisations engaged in terrorist activity, or organised criminal activity to have a presence on Facebook.
More controversially, the company also removes user accounts and content "that expresses support for groups that are involved in the violent or criminal behavior mentioned above. Supporting or praising leaders of those same organisations, or condoning their violent activities, is not allowed."
This specific policy led to many user accounts being blocked or deleted in 2016 for criticising India following the killing of Kashmir's young 'freedom fighter' Burhan Wani and the resulting violent protests and crackdown by India's security forces.
The Kashmir conflict is just one example of the quagmire Facebook faces as it tries to govern 1.9 billion users. Preventing the social network from being misused by militants and terrorists spread across all the continents, and also distinguishing those outfits from legitimate freedom movements is a task that Facebook CEO and founder Mark Zuckerberg has admitted to being beyond the company's capacity.
In a note shared on Facebook, Zuckerberg said, "In the last year, the complexity of the issues we've seen has outstripped our existing processes for governing the community...We've seen this in misclassifying hate speech in political debates in both directions — taking down accounts and content that should be left up and leaving up content that was hateful and should be taken down. Both the number of issues and their cultural importance has increased recently."
Profiles: The big 3 on Facebook
Formerly known as the SSP, the ASWJ was banned 10 years after its predecessor, on February 15, 2012. They are known to spread anti-Shia sentiment across Pakistan, and often attack minority groups.
Full report at:
https://www.dawn.com/news/1335561/banned-outfits-in-pakistan-operate-openly-on-facebook
--------
Jadhav involved in terrorism, several arrests made on tip-off: FO
May 29, 2017
Foreign Office spokesperson Nafees Zakaria said Monday that several arrests were made over Indian spy and death row inmate Kulbhushan Jadhav's tip-off.
In a statement, Zakaria said that Jadhav disclosed key information regarding recent wave of terrorism in Pakistan and several arrests were made in this regard.
He reiterated Islamabad's proven stance of India being the sponsor of terror in Pakistan.
Jadhav was detained on March 3, 2016 in Balochistan soon after which military released a confessional video of the spy in which he confessed to working to destabilise Pakistan with focus on China-Pakistan Economic Corridor (CPEC).
India recently took the issue to the International Court of Justice (ICJ) seeking provisional stay to his execution.
Full report at:
http://nation.com.pk/national/29-May-2017/jadhav-involved-in-terrorism-several-arrests-made-on-tip-off-fo
--------
JI, PTI likely to join hands in next polls
May 30, 2017
LAHORE - The possibility of electoral alliance between Jamaat-e-Islami and Pakistan Tehreek-e-Insaaf in KP and Punjab cannot be ruled out in next general election, a senior JI leader told The Nation on Monday.
Both the parties have held discussions at different level for the purpose in recent past and a meeting of senior leaders in this regard is also expected in near future.
The JI leader, who requested not to be named, said both parties are likely to make seat adjustment in various districts of Punjab and KP besides the joint contest likely at some Karachi seats.
The JI and the PTI will make seat adjustment at around 20 constituencies of National Assembly in Punjab, KP and Karachi and at 35 to 40 seats in provincial assemblies in three provinces.
Both the parties, which are allies in KP government, had not made seat adjustment in 2013 election, although they did not fought election jointly despite the JI's approach to Imran Khan for the alliance.
JI spokesperson Ameerul Azeem is of the view that Jamaat can enter into the electoral alliance with any likeminded party in next election. About alliance with PTI, he said it was too early to predict about electoral alliance with any party. Jamaat-e-Islami is one the oldest Islamist party in the country with the ideology of Pan-Islam. It is also considered the most organised religio-political force in Pakistan.
In past, the party made alliances with different right wing parties including the PML-N and JUI-F, the powerful Deobandi organisation, but could not produce impressive results.
Full report at:
http://nation.com.pk/lahore/30-May-2017/ji-pti-likely-to-join-hands-in-next-polls
--------
India
Home Minister Urges Youths Not To Fall Prey to Terror Designs
May 30, 2017
Union Home Minister Rajnath Singh Monday exhorted the youth not to fall prey to terror designs and imbibe and abide by values which would help them win in any situation. He said this while addressing the students at the 30th Convocation of Kurukshetra University. The Home Minister also cautioned the youth against falling prey to terror designs of global fundamentalist forces.
Differentiating between the youths working in IT giant Infosys and terror outfit al-Qaeda, Rajnath quoted Thomas L Friedman, who has, in his book 'The World is Flat', compared Infosys with al-Qaeda. "Friedman says that Infosys has a global network, and so does al-Qaeda. The youth are in Infosys as well as al-Qaeda. The difference lies only in their thinking. One believes in creative thinking while the other believes in destructive thinking," he said. Rajnath also said that there was no need to depend on US observatories for predicting solar and lunar eclipse as the information can be provided by a priest in any Indian village.
"Around two or two-and-a half years ago media wrote how advanced the technology in US. I said come and see in India. There is no need to go to a scientist. In our villages, any priest can open the Panchnag and tell about solar and lunar eclipses 100 years before and after." Around 2,000 students were conferred with the Masters, M.Phil and Ph.D degrees at the Convocation. Rajnath Singh was conferred with Doctor of Science (Honoris Causa) in science, while Haryana Chief Minister Manohar Lal Khattar was conferred with and Doctor of Literature (Honoris Causa) in social science.
http://indianexpress.com/article/india/convocation-of-kurukshetra-varsity-rajnath-singh-urges-youths-not-to-fall-prey-to-terror-designs-4680232/
--------
India, Pakistan set to enter SCO amid differences over terrorism
Saibal Dasgupta
May 29, 2017
BEIJING: India and Pakistan will formally join the Shanghai Cooperation Organisation (SCO) at a formal ceremony in Beijing on June 15. The two countries will join China, Russia, and Central Asian countries in the club which aims to develop both trade and military relationship between countries in China's neighborhood.
The flag-raising ceremony, which will see India's entry into the China sponsored club, comes soon after India emerged as the only major country to boycott China's much-touted Belt and Road Forum, which was attended by representatives from over 70 countries including Britain, Germany, and the United States in mid-May.
An important question is whether SCO will provide China and Russia an opportunity to mediate in the differences between India and Pakistan. This is significant because New Delhi refuses to permit external influence in its bilateral dealings with Islamabad. India also feels that China has acted against its interests when New Delhi tried to persuade the United Nations to censure Pakistan-based terrorists including Masood Azhar.
SCO has held joint military exercises and worked on trade agreements among member countries. But the entry of India and Pakistan, which have serious differences among themselves, is expected to change the nature of business it conducts, analysts said.
The entry of the two South Asian countries will make the SCO the world's largest regional cooperative organization representing the biggest section of global population, Chinese foreign minister Wang Yi recently said. But the SCO was faced with both opportunities and challenges at the same time, he said.
Full report at:
http://timesofindia.indiatimes.com/india/india-pakistan-set-to-enter-sco-amid-differences-over-terrorism/articleshow/58899385.cms
--------
Cattle Trade for Slaughter Ban: India Spoils Ramadan Flavor in Arab, Muslim Countries
By Ahmed Siddiqui
May 29, 2017
The Government of India issued an 'extraordinary' notification on Tuesday, restricting the sale of cattle for slaughter in animal markets and imposing rules that put a majority of the country's animal markets in danger. Sources say the meat industry relies on animal markets for 90% of its supply. Sheep and goat are not included in this ban.
The cattle for slaughter ban will have a direct bearing on meat exporting units. The slaughter of cow was banned in most of the Indian states after the Hindu extremist Bharatiya Janata Party (BJP took power in New Delhi.
Now, cow's distant cousin the water buffalo and the camel slaughter are banned. The new rules are not a blanket ban on cattle trade or their slaughter, and license breeding remains legal. But the new move will drastically reduce supplies to the country's Rs 1-lakh crore meat and allied industries which sources about 90% of their requirements from animal markets. (One U. S $ = 64.50 Indian Rupees).
The worst hit by the cattle trade for slaughter ban will be the mostly Muslim meat and leather traders in India. The cattle traders and common Muslims have been targets of lynching by Hindu extremist assertive cow vigilante groups since 2014. The Indian administration continues to look the other way.
Farmers across India will also be hit because they will be deprived of a traditional source of income from selling non-milch and ageing cattle. The timing of the ban is significant as the aim seems to be to deprive the 14.4 % Muslims out of a total 1.2 b population of the affordable meat daily requirement during the holy month of Ramadan.
Muslim and Arab countries like Malaysia, the U. A. E, Egypt, Saudi Arabia and Oman will be deprived of their meat supplies. Other countries which will be hit by shortage of Indian meat will be Vietnam and Thailand. The Qureshi community in India is knocking at the doors of the judiciary to strike down the ban on trade in cattle slaughter.
India has 58% of the world's buffalo population. Apart from Ramadan, the ban has come at the worst time as India will be hosting an International Exhibition on Meat Products, Processing and Packaging Technologies, Livestock Sector and Allied Industries.
The exhibition will be held in the southern Indian city – Bengaluru. Not just the Indian Muslims but also some of the Arabs will also have to go without the delicious Indian beef in this Ramadan but for all time, if the Indian courts does not consign the government order to the dustbin.
Full report at:
https://www.moroccoworldnews.com/2017/05/218050/cattle-trade-for-slaughter-ban-india-spoils-ramadan-flavor-in-arab-muslim-countries/
--------
Terror funding: 3 Kashmiri separatists questioned by NIA
May 30, 2017
NEW DELHI: The National Investigation Agency on Monday questioned three separatist leaders Farooq Ahmad Dar alias Bitta Karate, Naeem Khan and Javed Ahmed Baba alias Gazi in Delhi in connection with its "Pak terror funding" probe.
According to top sources in the agency, Naeem Khan particularly has been bragging about the funding, which he claimed the separatists get to fuel civil unrest in the valley. During its probe into the funding, sources said, NIA is also probing separatists' links with Hizbul Mujahideen.
The agency soon plans to question senior hardline Hurriyat leader Syed Ali Shah Geelani in the matter.
Officials said that Dar, Ahmed and Khan were asked to bring certain bank and property documents, besides other papers, by the NIA team on Monday. They were earlier questioned by NIA for four consecutive days last week.
Khan has already been suspended from the Geelani-led Hurriyat Conference.
The agency has registered a preliminary enquiry the separatist leaders including Syed Ali Shah Geelani, Khan, Dar, Baba and others for allegedly receiving funds from Lashkar-e-Taiba chief Hafiz Saeed, other Pakistan-based terror outfits and Pakistani agencies and other "subversive activities". The agency PE says that the funds were allegedly received by Hurriyat leaders for carrying out stone pelting, burning down schools and other government buildings, attacking security forces and damaging public property.
Full report at:
http://timesofindia.indiatimes.com/india/terror-funding-3-kashmiri-separatists-questioned-by-nia/articleshow/58903135.cms
--------
Now, Saddam joins race for Hizbul commander
May 30, 2017
M Saleem Pandit
SRINAGAR: Former Lashkar-e-Taiba terrorist who joined Hizbul Mujahideen in 2015, Saddam Padder, tossed in his balaclava for the post of new commander of the outfit, signifying a tussle for authority with Riyaz Naikoo, who, a day earlier, had emerged as the likely successor to Zakir Musa.
The exit of Zakir, unseated as Hizb chief for calling for an ISIS-style jihad in Kashmir, and the killing of Sabzar Bhat last week, has created a vacuum in the newly constituted Hizbul module in south Kashmir.
Naikoo, 29, who has favoured the return of Pandits to the valley, may have spoken himself out of the job to lead Hizb, sources said, and added that Padder will make full use of the opportunity to take over as the new commander.
Padder, 25, was a contender for Hizb commander earlier as well, but Zakir Musa beat him to it, sources said. Padder, who belongs to Heff village in Shopian, gave up studies after Class 12 to help his father in his orchard, sources said. He joined militancy five years ago, and was part of the Lashkar module until 2014 along with Abbas Sheikh, Rahul Amin Dar, Wasim Shah and Farooq Bijran.
Around 200 militants are currently operating in south Kashmir. In Pulwama district, 21 are affiliated with Hizbul Mujahideen, police said. Another eight are with Pakistani Lashkar commander Abu Dujana. Naikoo was also part of Dujana's group before he joined Hizb's ranks under Burhan Wani.
Like Naikoo, Padder too was part of Wani's group. Other members included Zakir Bhat, Parvez Dar, Mohammad Salleh Akhoon of Arampora Awantipora and Aqib Bhat and Sabzar Bhat of Tral. This Hizbul module operated between Tral, Awantipora and Panthachowk in south Kashmir.
Full report at:
http://timesofindia.indiatimes.com/india/now-saddam-joins-race-for-hizbul-commander/articleshow/58902435.cms
--------
NIA opposes Areeb Majeed's plea: 'If given bail, he may abscond'
May 30, 2017
THE NATIONAL Investigation Agency (NIA) has opposed the bail plea filed by Kalyan youth Areeb Majeed, claiming there was sufficient evidence to prove he committed terrorist activities. Majeed had filed for bail for the third time last week, claiming a change in circumstance after the special NIA court dropped a charge against him in February. While the court had rejected Majeed's discharge plea, it had ruled that he could not be tried for being a member of a terrorist organisation under Section 20 of the Unlawful Activities (Prevention) Act.
In its reply filed Monday, the NIA said it had filed a criminal appeal before the Bombay High Court against the dropping of the charge, which was still pending. It claimed that, therefore, there was no change in circumstance for granting bail to Majeed. On Majeed's submission that the evidence against him was fraudulently retrieved by the NIA, the agency said the trial would prove that the claim was "false and baseless".
Full report at:
http://indianexpress.com/article/india/nia-opposes-areeb-majeeds-plea-if-given-bail-he-may-abscond-4680139/
--------
Europe
Blindfolded Muslim gives free hugs in Manchester in trust experiment after terror attack
Rachael Revesz
May 30, 2017
A Muslim man spent hours giving "free hugs" on a busy street in Manchester after the deadly explosion which killed 22 people at an Ariana Grande concert.
Baktash Noori decided to show small acts of kindness in the wake of the largest terrorist attack in the UK since 2005, to show that he and thousands of other Muslims were reeling from the atrocity.
He held a sign that read, "I'm Muslim and I trust you. Do you trust me enough for a hug?" and has spent the last few days standing alone on Market Street, wearing a blindfold, arms open.
Mr Noori, a video blogger, has filmed the experience while waiting for passersby.
Mancunians responded willingly to his appeal, having vowed after the attack not to be divided by hate.
"The first 30 seconds were nerve racking, but once I got that first hug with a lovely comment from that gentleman in my video, it made me feel a whole lot better," he told Manchester Evening News.
"With every hug, the comments I received were amazing, some were getting all teary and it's not hard to tell by a person's hug and tone of voice how much better their and my day became because of this.
"I did not expect so many people to come and hug me, let alone give me such positive comments, but it was the best thing I've ever done."
He posted his video on YouTube under the name "Life of Bako" and it has been viewed more than 33,000 times.
In the 14-minute video, after standing with his arms out and several people walking past, one man backtracked and threw himself into Mr Noori's arms.
"Good man," he told Mr Noori. "You're not alone, kid, and don't think you're outside."
Dozens of people then approached him.
Another man told him, "We're all the same whatever we are."
Another woman spotted his sign and ran over to him, calling out, "Of course I trust you."
Mr Noori wrote: "Making this video has been a great experience, the warmth and love I felt from each hug was truly wonderful."
By the end of the day, the video showed more than a dozen people waiting for a hug, with the queue stretching down the street.
The emotional video was posted to combat anti-Muslim prejudice.
Muslim leaders raised funds, Muslim taxi drivers gave concert-goers free lifts home after the explosion and Muslim surgeons and nurses worked overtime to save the victims.
After the attack there was a spike in hate crimes, including a suspected arson attack against a mosque in Oldham.
Police have arrested 11 people aged between 18 and 44 years, including the brother of bomber Salman Abedi.
http://www.independent.co.uk/news/uk/home-news/blindfolded-muslim-manchester-free-hugs-terrorist-attack-kindness-strangers-baktash-noori-a7761696.html
--------
MI5 launches internal probe into Manchester attack
May 30, 2017
MANCHESTER - Britain's MI5 intelligence service has launched an internal probe into whether vital clues were missed ahead of the Manchester attack, as the city marked on Monday a week since the carnage that claimed 22 lives.
Manchester City Council called a vigil in the centre of the northwest English city at 2131 GMT - the exact moment that 22-year-old Salman Abedi detonated his bomb outside a pop concert by teen idol Ariana Grande in one of Europe's biggest indoor arenas. The names of the victims, including six children, were read out in front of the city's town hall earlier on Monday in front of hundreds of people at an annual religious ceremony.
A nearby square that has been the focus of remembrance was packed with floral tributes and heart-shaped balloons, as well as runners' bibs left by participants in a half-marathon on Sunday.
"You tried to destroy us but you've brought us closer together," read one message of defiance.
Investigators meanwhile pushed ahead with their probe of the attack, which was claimed by the Islamic State group.
Authorities arrested a 23-year-old man in the southern coastal town of Shoreham-by-Sea, more than 400 kilometres (250 miles) from Manchester.
That brings the total number of people now detained on UK soil to 14, all of them men, while Abedi's father and brother have been held in Libya, where officials said the two brothers were IS militants.
MI5 are also looking at decisions taken in the case of Abedi, who used to be on a terror watchlist but was no longer on it at the time of the attack, and whether warnings about his behaviour were ignored amid mounting criticism of the security services. "There is a lot of information coming out at the moment about what happened, how this occurred, what people might or might not have known," interior minister Amber Rudd told Sky News.
"It is right that MI5 take a look to find out what the facts are," she said, adding: "We shouldn't rush to make any conclusions at this stage".
Two people who knew Abedi made separate calls to an anti-terrorism hotline to warn the police about his extremist views, British media have reported.
The Mail on Sunday also cited a source saying US federal agents had been investigating Abedi since the middle of 2016 and had flagged up concerns to MI5.
The BBC reported that Abedi had taken part in the armed uprising against Libyan dictator Moamer Kadhafi's regime as a teenager during school holidays.
British investigators have released pictures of Abedi taken from CCTV shortly on the night of the massacre, appealing to the public for help in tracing his movements in the days before.
Abedi could be seen wearing jeans and trainers, a black bodywarmer and a baseball cap, with the straps of the backpack believed to contain the bomb visible on his shoulders.
The police statement said one of the last places he went to before the attack at the Manchester Arena venue was a city centre flat, where they believe he may have finished assembling the device.
None of the men arrested have been charged with a crime yet and police have up to 14 days in which to do so under special anti-terrorism laws.
Britain's Prime Minister Theresa May on Saturday lowered the terror threat level, which had been hiked in the immediate aftermath of Monday's attack.
Operation Temperer, which involved the highly unusual deployment of armed troops on Britain's streets, will also be wound down on Monday night.
In another sign of a lowering of security tensions, Victoria Station in Manchester, a major transport hub which was next to the blast site and has been shut since the tragedy, is due to reopen on Tuesday.
Investigators said they have a 1,000-strong team working on the probe and have significant details on Abedi's associates and movements, his finances, and how the bomb was built.
But cuts in police force numbers made while May was interior minister have become a focus for the campaign ahead of a general election on June 8 and polls have shown her strong lead against the Labour Party's Jeremy Corbyn shrinking in recent days.
From 2009 to 2016, the number of police officers fell by almost 20,000, or around 14 percent.
Full report at:
http://nation.com.pk/international/30-May-2017/mi5-launches-internal-probe-into-manchester-attack
--------
Macron, Putin hold 'frank' talks on Syria, Ukraine
May 30, 2017
VERSAILLES, France - France's President Emmanuel Macron and his Russian counterpart Vladimir Putin on Monday vowed to improve the strained relations between their countries, while admitting to disagreements during talks at Versailles palace described by Macron as "extremely frank".
Their first meeting since Macron took office provided another test of the Frenchman's diplomatic skills after his memorable first encounter last week with US President Donald Trump that Macron sealed with a vice-like handshake. This time the handshake was warmer but the tone guarded after an hour of talks on the 300th anniversary of a visit to Versailles by tsar Peter the Great.
Putin admitted to some differences of opinion in the talks which covered issues including the conflicts in Syria and Ukraine, but insisted that Franco-Russian ties withstood "all points of friction". "We disagree on a number of things but at least we discussed them," Macron said.
"Our absolute priority is the fight against terrorism and the eradication of terrorist groups and Daesh in particular," he said, using an alternate name for the Islamic State group that has claimed several deadly attacks in France.
The newly elected French leader called for a stronger partnership with Russia on Syria, one of the sticking points in relations between the West and Moscow which backs the regime of President Bashar al-Assad.
Macron advocated "a democratic transition that preserves the Syrian state", warning that "failed states" in the Middle East were a threat to the West.
But in an apparent warning to Assad and Russia, he said the use of chemical weapons in Syria would be a "red line" for his presidency and would draw an "immediate response" from France.
The pair discussed the Western sanctions imposed on Russia over its military involvement in Ukraine as well as allegations of Russian meddling in France's election campaign.
Putin declared that the sanctions were "in no way" helping to end the fighting between government forces and Kremlin-backed rebels in Ukraine's east.
The Russian strongman, who hosted Macron's far-right rival Marine Le Pen for talks during the election race, also shrugged off allegations that Russian hackers infiltrated Macron's campaign.
"Maybe they were Russian hackers, maybe they were not," he said, dismissing the claims as unsubstantiated.
Macron, for his part, expressed anger at reports by pro-Kremlin media during the election questioning his sexuality and links to high finance.
He took aim at the Russia Today broadcaster and Sputnik agency, calling them "organs of influence and propaganda".
Putin's visit comes after the 39-year-old French centrist made a successful debut on the world stage last week, holding his own against Trump at a NATO summit in Brussels and at a G7 summit in Italy.
Ahead of the visit, Macron told a French weekly that he was not "bothered" by leaders who "think in terms of power dynamics".
He said he would make "not a single concession" to Russia on the long-running conflict in Ukraine, with he and his G7 counterparts saying they were prepared to strengthen sanctions against Moscow.
Since the start of the war in Ukraine in 2014, Russia has flexed its muscles with a series of war games involving tens of thousands of troops in areas bordering NATO Baltic states.
Macron said he, Putin and the leaders of Germany and Ukraine would meet soon for talks, "which will allow us to make a complete evaluation of the situation".
Western powers charge Russia with failing to honour its commitments under the Minsk accords framework for ending the violence in Ukraine.
France helped spearhead the sanctions, which have seriously dented EU-Russia trade.
Putin moved quickly after the French election to try to smooth things over, congratulating Macron and urging him to work to overcome their countries' "mutual distrust".
Monday's visit comes seven months after Putin cancelled a trip to Paris amid a row over Syria with Macron's predecessor Francois Hollande, who had said Russia's bombing of Aleppo could amount to war crimes.
Full report at:
http://nation.com.pk/international/30-May-2017/macron-putin-hold-frank-talks-on-syria-ukraine
--------
Saudi deputy crown prince to discuss Syrian conflict with Putin in Moscow visit
30 May 2017
Saudi Arabia's Deputy Crown Prince Mohammed bin Salman will discuss the Syrian conflict with Russian President Vladimir Putin in Moscow on Tuesday.
During the visit, four cooperation agreements are expected to be inked between Saudi Arabia and Russia amid discussions on bilateral ties.
Prince Mohammed's trip to Moscow comes just over a week after Saudi Arabia hosted US President Donald Trump in Riyadh.
Full report at:
https://english.alarabiya.net/en/News/middle-east/2017/05/30/Saudi-deputy-crown-prince-to-discuss-Syria-with-Putin-in-Moscow-visit.html
--------
Police hunt for suitcase Abedi had on the day of Manchester attack
30 May 2017
Britain's MI5 has begun an internal review of how it handled intelligence on Manchester suicide bomber Salman Abedi, who was known to the authorities but not under active investigation, a source told Reuters on Monday.
Interior minister Amber Rudd said the review was the "right first step" for the intelligence agency to take in the wake of the May 22 bombing that killed 22 people at a pop concert by US singer Ariana Grande.
MI5 is subject to scrutiny by a committee of parliament, and it is highly unusual for British authorities to make public that the security service is conducting its own internal investigation into possible lapses.
"The review will look at what was known about Abedi, what decisions were made about the intelligence and what, if anything, could have been done differently," the source said, speaking on condition of anonymity.
Also read: Ariana Grande to hold concert in Manchester for bombing victims
"This is a review that would seek to answer whether there are lessons to be learned from how the Security Service handled the intelligence on Abedi." The source told Reuters that Abedi was not among the 3,000 people currently under active investigation by MI5, although he was one of around 20,000 people known to the agency, whose focus is on countering terrorism and espionage.
The BBC said MI5 was alerted at least three times to the "extremist views" of Abedi, a 22-year-old who grew up in Manchester in a family of immigrants from Libya. It was not possible to confirm that report.
"This is an ongoing investigation so I'm not going to be drawn into comments on the actual man who committed this crime," Rudd told BBC television, declining to say what was known about Abedi and when.
Looming election
Last week's attack, the deadliest in Britain since 2005, was claimed by ISIS. On Monday, police made a 16th arrest as part of the case and were undertaking searches at a location in Manchester and a second address north of the city.
Officers also released a close circuit television image of Abedi holding a blue suitcase on the day of the attack and asked members of the public to come forward with information as they focused on his movements between May 18 and May 22.
"We have no reason to believe the case and its contents contain anything dangerous, but would ask people to be cautious," Detective Chief Superintendent Russ Jackson from the North West Counter Terrorism Unit said in a statement.
Also read: Muslim man comforts elderly Jewish woman at Manchester memorial
Britons head to the polls in 10 days' time to elect a new government, with security and police cuts having risen to the top of the political agenda since the bombing last Monday.
Prime Minister Theresa May's Conservatives have seen their poll lead cut in the wake of the attack and after a U-turn over their social care plans for the elderly.
Full report at:
https://english.alarabiya.net/en/News/world/2017/05/30/Police-hunt-for-suitcase-Abedi-had-in-days-before-Manchester-attack.html
--------
Manchester attack: Muslim community holds 'peace walk'
29 May 2017
Hundreds of people joined a peace walk in Manchester to pay their respects to those killed or injured in Monday's arena attack.
The organiser, Manchester businessman Sajjad Haider, said nearly 200 marchers turned out to "show solidarity with the families of those who died".
While organised by the city's Islamic community, people of all faiths and none were warmly welcomed, he said.
The march from Grosvenor Square set off at 17:30 BST on Sunday.
Mr Haider said: "The community have strong feelings about this and wanted a sharing of love with the victims.
"We feel the same upset and anger."
One woman who attended the walk, which ended in St Peter's Square, said: "We need to be more open in regards to condemning it."
A man said he joined to walk to "show we're suffering as well as everybody else in Manchester and throughout the world".
Mr Haider said people held red roses as a symbol of peace and banners with different messages on them along the walk.
"We are pleased with how it went."
Mr Haider, an estate agent and prominent member of Manchester's Shia community, added: "The main thing is to show solidarity with the families of those who died and to give a strong message against terrorism, and a clear message that [the people who committed this act] are evil animals."
'A gathering of imams took place at 15:00 in St Ann's Square, where thousands have gathered over the last few days to leave flowers, balloons and other messages of support for the victims and their families.
Hundreds of people turned out for a vigil at Heaton Moor Park on Sunday evening for Martyn Hett, one of 22 killed in Monday's attack.
Balloons were released in the square on Saturday by the family of Georgina Callander.
Full report at:
http://www.bbc.com/news/uk-england-manchester-40076591
--------
Arab World
Iraq: Islamic State suicide bomber kills eight at Baghdad ice cream shop
May 30, 2017
A suicide bomber detonated an explosives-rigged vehicle at a popular Baghdad ice cream shop, killing at least eight people, security officials said on Tuesday.
The overnight attack in the Karrada district in central Baghdad also wounded at least 30 people, officials said.
The Islamic State group-linked Amaq propaganda agency said the suicide bomber targeted a "gathering of Shiites."
IS considers members of Iraq's Shia Muslims to be heretics and frequently carries out attacks against them.
The bomber struck just days after the start of the holy Muslim fasting month of Ramadan, during which Iraqis often stay out late shopping or socialising after breaking their daily fast.
Images and footage posted on social media showed the devastating impact of the blast, which ripped through the crowded area around Al-Faqma ice cream shop, scattering rubble across the street.
One photo showed cups of ice cream scattered on the blood-stained ground following the attack.
Brett McGurk, the envoy to the US-led anti-IS coalition, condemned the attack and expressed solidarity with Iraq.
"ISIS terrorists tonight in Baghdad target children & families enjoying time together at an ice cream shop. We stand w/Iraq against this evil," McGurk said on Twitter, using an alternate acronym for IS.
IS overran large areas north and west of Baghdad in 2014, but Iraqi forces backed by US-led air strikes have since regained much of the territory they lost and are now fighting to retake the last jihadist-held areas in second city Mosul.
But defeats on the battlefield have not prevented IS from carrying out deadly attacks targeting civilians, including a bombing in the Karrada area last year that killed more than 300 people.
http://www.hindustantimes.com/world-news/iraq-islamic-state-suicide-bomber-kills-eight-at-baghdad-ice-cream-shop/story-gVCngwXr1aGqHVKCE4KSWM.html
--------
Daesh attack kills 17, wounds 40 in Syria's Dayr al-Zawr
May 30, 2017
At least 17 people have been killed and 40 more wounded in a Daesh terrorist attack on Syria's eastern province of Dayr al-Zawr.
According to the so-called Syrian Observatory for Human Rights on Monday, three children were among those killed in the mortar attack which targeted the town of al-Joura in the province.
"The shelling hit just before families were gathering to break the Ramadan fast," said the UK-based monitoring group's director Rami Abdel Rahman.
Local sources said that at least six shells fell on the city during the attack which also wounded at least 40 people.
"Some of them are in critical condition, but the health situation in the neighborhood is deteriorating because of the lack of staff, medicine, and medical equipment," added a local activist.
Meanwhile, the Syrian capital's governor has announced that the district of Barzeh has been returned to the control of the government after militant's there agreed to leave in accordance with an evacuation deal.
According to the Observatory, the last bus load of militants left the area on Monday. The convoy was headed for the northwestern province of Idlib.
It added that around 450 militants along with their families were permitted to leave the city.
Full report at:
http://www.presstv.ir/Detail/2017/05/30/523618/syria-daesh-shelling-barzeh
--------
Qatar reportedly gave $500 mln to Popular Mobilization militias in Iraq
29 May 2017
Iraqi sources confirmed to Saudi newspaper Okaz that Qatar's foreign minister met with his counterpart in Baghdad last week, and asked him to transfer half a billion dollars, intended as ransom money for the release of kidnapped Qataris, as a gift from Doha to support popular mobilization militias.
In early April, Doha sent its ambassador in Baghdad to try to secure the release of 24 Qatari nationals who were kidnapped by Iraqi militias.
Three days later, an aircraft carrying an adviser of the Qatari Emir and Doha's foreign minister Sheikh Mohammed bin Abdulrahman Al-Thani when airport staff were surprised by 23 bags containing nearly half a billion dollars.
"When the plane arrived, we promised to provide the Qatari delegation with protection. We were surprised to find many bags in the plane's cargo containing hundreds of thousands of dollars. We did not want to make a big issue out of it so we said we'd secure the money until later discussions," Iraqi Prime Minister Haider al-Abadi told reporters.
For its part, Qatar tried to justify its actions, where the Foreign Minister Sheikh Mohammed bin Abdulrahman Al-Thani told reporters that the funds entered Iraq with Baghdad's knowledge, and asked them to provide assistance for the release of the kidnapped Qataris.
Full report at:
https://english.alarabiya.net/en/News/gulf/2017/05/29/Qatar-reportedly-gave-500-mln-to-Popular-Mobilization-militias-in-Iraq.html
--------
Civilians lack food, water, medicine as Mosul battle mounts: UN
29 May 2017
Tens of thousands of civilians in parts of Mosul held by ISIS are struggling to get food, water and medicine, the United Nations said, days into a new push by US-backed Iraqi government troops to take the northern city.
Up to 200,000 people still live behind ISIS lines in Mosul's Old City and three other districts, UN Humanitarian Coordinator Lise Grande told Reuters late on Sunday.
She spoke a day after Iraq's army said it had launched a new offensive to take the militant zones on the western side of the Tigris river.
Progress has been slow, an Iraqi government adviser told Reuters, also late on Sunday. "The fighting is extremely intense ... the presence of civilians means we have to be very cautious," he said, speaking on condition of anonymity.
People who had managed to get out of the militant areas "report a dramatic situation including lack of food, limited water and severe shortages of medicines," Grande said by phone.
"We know that there have been health facilities in these areas, but we don't know whether they are still functioning."
Government forces have been dropping leaflets over the districts telling families to flee - but many have remained fearing getting caught in the cross-fire.
"We have been informed by authorities that the evacuation is not compulsory ... If civilians decide to stay ... they will be protected by Iraqi security forces," said Grande.
"People who choose to flee will be directed to safe routes. The location of these will change depending on which areas are under attack and dynamics on the battlefield," she added.
The latest Iraqi government push is part of a broader offensive in Mosul, now in its eighth month. It has taken longer than planned as the militants are dug in among civilians, retaliating with suicide car and motorbike bombs, booby traps, snipers and mortar fire.
Its prime target is the medieval Grand al-Nuri mosque with its landmark leaning minaret in Mosul's Old City, where ISIS's black flag has been flying since mid-2014.
The fall of Mosul would, in effect, mark the end of the Iraqi half of the "caliphate" declared nearly three years ago by ISIS leader Abu Bakr al-Baghdadi in a speech at the mosque.
Full report at:
https://english.alarabiya.net/en/News/middle-east/2017/05/29/Civilians-lack-food-water-medicine-as-Mosul-battle-mounts-UN.html
--------
Aleppo: Terrorists on Run as Syrian Soldiers Continue to March on ISIL's Last Stronghold
May 29, 2017
The army soldiers engaged in fierce clashes with ISIL and managed to drive them out of the villages of al-Shohada, Khazaref, al-Mezeh, al-Waseteh, Dowar Ahamad Yasin, Teshrin 1 Farm, Khan al-Sha'ar, Khirbet Soudeh and al-Hamrawi.
In the meantime, the Syrian state new agency reported that over 2,000 ISIL fighters have been killed or wounded in the fresh round of the army operation in Eastern Aleppo that has thus far resulted in the liberation of over 23 regions.
The agency added that 11 senior commanders and emirs, including ISIL Commander Abu Yaqoub Turkistani, Australian Abu Yusouf , ISIL's Mufti (religious leader) in Maskana Ahmad al-Othman, ISIL Commander Abu Ayoub from Chechnya and Saudi national Abdul Rahman Menqas, are among the killed ISIL terrorists in the East Aleppo operation.
The agency further added that 115 military vehicles, 7 tanks, 6 BMP vehicles, 4 operation rooms, 14 command posts and five bomb-laden vehicles of the ISIL have also been destroyed in the operations.
Reports said earlier today that the army units engaged in a tough battle with ISIL near Maskana and managed to take control over the villages of Ein Albu Maneh, al-Fasayeh, al-Qahera, al-Ja'abat and the 1st Farm, killing and wounding a number of terrorists.
The army soldiers also pushed ISIL back from the sugar factory region.
Full report at:
http://en.farsnews.com/newstext.aspx?nn=13960308001458
--------
Russian Armed Forces Continue to Back up Syrian Army in War on ISIL
May 29, 2017
The sources confirmed that the Russian forces help Damascus troops in the fight against ISIL as the Syrian army is advancing against the terrorist group in Aleppo, Homs and Deir Ezzur provinces.
They added that the Syrian army troops have recaptured tens of towns and villages in Eastern Aleppo in the course of their fresh round of military operation as pro-government forces are trying to drive ISIL out ot Aleppo province, advancing toward Raqqa.
In the meantime, the army soldiers are also showing stunning success in clearing a huge ISIL pocket South of Palmyra in the Eastern part of Homs province.
The Syrian pro-government troops also began to advance Eastwards from Palmyra city on the road to Deir Ezzur city and the Damascus forces are now deployed at Arak oilfield which puts them almost halfway from Palmyra to Sukhnah—the first major stop on the way to Deir Ezzur.
According to Russian Insider, the Russian-trained "5th Corps" of the Syrian Army is leading the military operation, and Russian forces are involved as well—not just in the air, but on the ground as well.
Military sources disclosed on Friday that the Syrian army Special Forces and the Russian marines were getting ready to carry out a large-scale joint operation in Hama province to hit ISIL's defense lines East of the town of al-Salamiyah.
Full report at:
http://en.farsnews.com/newstext.aspx?nn=13960308001239
--------
Several Terrorists Killed in Fresh Clashes between Rival Groups in Syria's Idlib
May 29, 2017
The sources reported that six militants of Tahrir al-Sham Hay'at were killed after the rival terrorists from Ahrar al-Sham raided their positions in the village of Filoun.
A number of terrorists were also injured in the infighting.
Websites affiliated to the terrorist groups disclosed on Sunday that a fresh round of clashes started between two main rival groups in Idlib province in Northwestern Syria.
The sources said that Tahrir al-Sham Hay'at (the Levant Liberation Board) stormed one of the positions of Faylaq al-Sham in the town of Ma'ara Shourin on the pretext that the targeted region was an unflaged land between the territories ruled by the two sides.
The sources said that all forces of Faylaq al-Sham and Tahrir al-Sham in the region went on alert after the clashes.
Full report at:
http://en.farsnews.com/newstext.aspx?nn=13960308001530
--------
Syrian Army Scores More Victories against Terrorists in Eastern Damascus
May 29, 2017
The Syrian pro-government forces continued their military operation in Eastern Damascus, hitting the FSA positions in the village of al-Aliyaniyah, managing to break-through the defense lines of the militants and capturing al-Aliyaniyah village and its nearby lands.
The FSA forces lost a number of forces in the army attack.
The army forces had previously restored security to the Damascus-Palmyra highway and had significantly advanced against terrorists along the Damascus-Baghdad highway.
Local sources said on Sunday that the terrorist groups in Eastern Ghouta shelled the Syrian Army's strongholds near Dhahiyeh al-Assad district, violating de-escalation zones agreement.
Full report at:
http://en.farsnews.com/newstext.aspx?nn=13960308000990
--------
Coalition forces drop warning leaflets addressing Syrian regime forces
29 May 2017
In the first incident of its kind, the international coalition fighting ISIS has dropped leaflets onto areas controlled by Syrian regime forces Badia, demanding they leave the border crossing with Iraq as soon as possible.
The warning comes just days after a coalition aircraft targeted a military convoy of Syrian regime forces who were attempting to approach the crossing.
According to activists, coalition forces dropped warning leaflets asking Syrian President Bashar al-Assad's forcers to move away from Zaza crossing checkpoint, which is about 55 km from al-Tanf border crossing.
Full report at:
https://english.alarabiya.net/en/News/middle-east/2017/05/29/Coalition-forces-drop-warning-leaflets-addressing-Syrian-regime-forces.html
--------
Chemical weapons a 'red line' in Syria, France's Macron says
29 May 2017
The use of chemical weapons in Syria is a red line for France and would result in reprisals, Emmanuel Macron said on Monday during his first meeting as president of France with his Russian counterpart Vladimir Putin.
"Any use of chemical weapons would results in reprisals and an immediate riposte, at least where France is concerned," Macron said at a joint news conference with Putin in which he added that his aim was the fight against terrorism in the country. He said he wanted to work with Putin to that end.
The two countries back different sides in the Syrian conflict, with Putin behind President Bashar al-Assad and Macron part of a western coalition that supports rebel groups and has accused Assad of using chemical weapons in the past.
Full report at:
https://english.alarabiya.net/en/News/middle-east/2017/05/29/Chemical-weapons-a-red-line-in-Syria-France-s-Macron-says.html
--------
Al Wefaq leader blasts Bahraini regime over burial of slain activists
May 29, 2017
A senior leader of the Bahraini al Wefaq party has strongly denounced the Al Khalifah regime authorities for not returning the bodies of slain activists who were killed by Bahraini forces during a recent attack on the home of Sheikh Isa Qassim, the spiritual leader of Bahrain's Shia majority.
Sheikh Hasan al-Dehi, the deputy head of al Wefaq, issued a statement on Monday, denouncing the Manama regime's refusal to return the bodies as a violation of all existing "religious and human values."
The families of the activists killed by Bahraini security forces had earlier called on the Al Khalifah regime to return the bodies of their loved ones.
The families of slain activists have criticized the authorities for depriving them of bidding farewell to their loved ones after officials buried the bodies without their permission.
A Bahraini Interior Ministry official said the five were buried on Friday after having contacted the families to attend funeral services, only to change their minds later.
The statement by al Wefaq also termed the killing of activists as "premeditated murder."
The Bahrain regime forces "murdered and executed" the activists after accusing them of violating the rule of law, the al Wefaq leader stressed.
On May 23, Bahraini forces raided the village of Diraz, which has been under a military siege for almost a year, and stormed the home of Sheikh Isa Qassim, the spiritual leader of Bahrain's Shia majority.
Regime forces killed at least five demonstrators, wounded dozens and arrested over 280 people during the crackdown.
Elsewhere in the statement, Dehi stressed that the Manama regime had failed to curb the popular uprising during the bloody attack on protesters who had convened in al-Fida Square in the native village of Sheikh Qassim.
He concluded by saying that the activists at al-Fida Square had defended their "esteem, dignity and religious values."
The fresh wave of anti-regime protests broke out on May 21, when a Bahraini court convicted Sheikh Qassim of illegal collection of funds and money laundering. The cleric was sentenced to one year in jail and ordered to pay $265,266 in fines.
Last year, the cleric was also stripped of his citizenship, which sparked repeated sit-ins outside his residence in Diraz.
The Bahraini Interior Ministry earlier warned the protesters against holding more rallies, but the stern warning has failed to end anti-government marches across the kingdom.
The Diraz raid has drawn angry reactions from prominent human rights groups, with Amnesty International calling for an independent investigation into Manama's use of "excessive force."
Full report at:
http://www.presstv.ir/Detail/2017/05/29/523606/Bahrain-Sheikh-Hasan-alDehi--Shia-Muslims
--------
South Asia
'OIC is totally incapable of tackling the problem of sectarian divide'
May 29, 2017
In spite of all the criticism of the OIC, former Bangladesh state minister for Foreign Affairs holds out a hope that Bangladesh will be key in revamping the organisation.
The Organisation of Islamic Cooperation (OIC) has been receiving much criticism from various quarters recently for its inability to tackle the myriad issues in the Muslim countries.
Although the international organisation, founded in 1969 and comprised of 57 member states, claims to be the "collective voice of the Muslim world" and aims to "safeguard and protect the interests of the Muslim world in the spirit of promoting international peace and harmony", the popular view seems to be that the OIC has failed to proactively provide that support amid all the crises being faced by Muslim communities worldwide.
In a recent interview with the Dhaka Tribune, Ambassador Muhammad Zamir, head of the political division of Organisation of Islamic Cooperation (OIC) Secretariat in Jeddah from 1991 to 1995, said OIC was not competent enough to tackle the problem of sectarian divide.
"OIC becomes inactive due to sectarianism, mainly the Shia-Sunni conflict. OIC, really, has no answer to that issue," he explained.
International relations expert Prof Delwar Hossain shared this view and took the explanation further during a different interview with the Dhaka Tribune, saying: "OIC failed to cope with globalisation. I think the OIC has lost its relevance now. It should be re-organised with the present global context in mind."
"After 9/11, the USA expanded its dominion in the middle-east. Thus, it became more complicated for the OIC to achieve its goals: politically, diplomatically and strategically. Dissonance within the OIC member countries, created due to sub-regional alliances being formed, is another major reason for its failure," he said.
The OIC failed to unite the Muslim Ummah due to sectarian divisions in Islam, Arabic Islam and non-Arabic Islam conflict, Iraq-Iran war and so forth, the expert explained, adding that currently, the OIC has turned into merely a diplomatic forum where the head of the governments of the OIC member countries meet formally.
Delwar further said that in a bid to settle the problems of the Muslim community, the OIC should be more proactive in initiating dialogue.
Abul Hasan Chowdhury, the former state minister for Foreign Affairs, concurred with the popular opinion, pointing out that in spite of the suffering of the global Muslim community caused by religious extremism and the resultant Islamophobia, the OIC has been largely inactive.
"The OIC member countries should take up a strong stance against the unfortunate violence that is being perpetrated by groups and individuals in the name of our religion; a religion which actually stands for peace, for harmony, for brotherhood and for understanding among mankind," he opined.
However, he did hold out the hope that though the pace of the OIC was slow, it would eventually be able to pull together and take action.
"We cannot lose heart. We hope that Bangladesh will take steps toward revamping the OIC," said Abul Hasan.
According to Ambassador Zamir, Bangladesh, which was formally admitted to the OIC during the organisation's Second Summit in 1974, has played an important role in tackling some of the major crises faced by the Muslim world, particularly the Iraq-Iran war, the Palestine situation, the Afghan crisis and the Bosnian issue.
Abul Hasan echoed Zamir, adding: "As the third largest Muslim populated country among the OIC members, Bangladesh is naturally expected to play a very dynamic role."
After attaining independence in 1971, Bangladesh had to fight diplomatically to remove misconceptions in the Arab world in order to integrate with the Islamic world and the OIC, the highest body of the Islamic Ummah.
Ambassador Zamir said: "In 1971, the OIC was heavily influenced by Pakistani propaganda against Bangladesh and failed to function properly in terms of looking after the Muslim community's best interest."
Pakistan used leftist elements in politics, secular and socialist ideology and Indo-Soviet inclination to campaigning against Bangladesh in the Arab and other Muslim states, he explained.
Full report at:
http://www.dhakatribune.com/bangladesh/foreign-affairs/2017/05/29/oic-incapable-tackling-sectarian-divide/
--------
Gunmen kill district governor, son in eastern Afghanistan
May 30, 2017
Gunmen have killed a district governor and his son in Afghanistan's eastern Paktika province.
Abdul Raouf Massoud, a provincial police official, said the attack took place Sunday in the district of Shakhil Abad when Ajmal Khan was fired on in front of his house and both he and his son were killed.
Police said it was not clear who was behind the attack and no one immediately claimed responsibility.
Full report at:
http://nation.com.pk/international/30-May-2017/gunmen-kill-district-governor-son-in-eastern-afghanistan
--------
Australia promises 30 more troops for NATO's Afghanistan mission
May 30, 2017
Australia will send an additional 30 troops to join the NATO-led training and assistance mission in Afghanistan, bringing its total deployment there to 300, Defense Minister Marise Payne said on Monday.
NATO requested more troops last month as US President Donald Trump considers whether to expand the operation by several thousand, 16 years into the seemingly intractable war against the Taliban and other Islamist militants.
Australia is not a member of NATO but is a staunch US ally and has had troops in Afghanistan since 2002.
"These additional (Australian Defence Force) members will allow Australia to commit additional advisers to further develop the long-term capabilities of the Afghan security forces, as part of our current train, advise and assist mission," Payne told a Senate committee.
In February, US General John Nicholson, the commander of NATO's Resolute Support mission, requested several thousand more international troops to break a stalemate against the Taliban, the remnants of al Qaeda, Islamic State and other Islamist groups.
Trump's administration is yet to respond to the request but has increased bombing missions in Afghanistan.
The NATO force currently stands at about 15,000 troops, including about 8,400 US military personnel.
Full report at:
http://nation.com.pk/international/29-May-2017/australia-promises-30-more-troops-for-nato-s-afghanistan-mission
--------
214 militants killed in past three weeks in Nangarhar: Gen. Rahimi
May 29 2017
At least 214 militants were killed during the counter-terrorism operations in the past three weeks in various parts of eastern Nangarhar province, the local security officials said Monday.
Provincial police chief Gen. Abdul Rahman Rahimi told reporters that 61 militants were also wounded and 84 others including criminal suspects were detained during the period.
Gen. Rahimi further added that 43 various types of weapons, 11440 rounds of ammunition, and 8 vehicles were confiscated by the security forces.
He said the security forces also confiscated 12 Improvised Explosive Devices (IEDs) and some others were detonated without causing any damage or casualties to the civilians or security personnel.
According to Gen. Rahimi, the Afghan forces also confiscated 119 rounds of heavy weapons ammunition, 12800 meters of explosives belt, and 6470 kgs of ammonium nitrate.
He also added that a suicide bomber was detained during an operation from Jalalabad city before he manage to carry out an attack in a busy part of the city.
The militants were killed, injured, detained, and explosives were seized during 27 various clearance and targeted operations, Gen. Rahimi added.
Full report at:
http://www.khaama.com/214-militants-killed-in-past-three-weeks-in-nangarhar-gen-rahimi-02819
--------
Africa
Haftar accuses Qatar of supporting terrorism in Libya
29 May 2017
Head of the Libyan National Army Khalifa Haftar directly accused Qatar and other countries he did not name of supporting terrorist groups in Libya by financing mercenaries and extremist groups.
Haftar said in a statement issued Sunday evening that the army is monitoring "the Chadian, Sudanese and African communities in general and the Arab countries in the Libyan arena that entered as a result of the lack of control over the border, which was supported through regional countries and countries supporting terrorism."
He added that some of these people received "money from the Qatar as well as from other countries and terrorist groups inside Libya," stressing that "the armed forces are monitoring them, and the consequences these mercenaries suffer at the hands of the security services will be grave."
The commander-in-chief of the army also strictly prohibited foreigners carrying weapons inside Libya, even if they call for the assistance of the Libyan people, stressing "any foreigner carrying arms in Libya will be arrested and punished collectively or individually."
https://english.alarabiya.net/en/News/north-africa/2017/05/29/Haftar-accuses-Qatar-of-supporting-terrorism-in-Libya.html
--------
Cameroon: Exhibition to Communicate Islamic Values
29 MAY 2017
By Christopher Jator
Muslims from across the country gathered in Douala to prepare for professionalisation and self-employment.
The fourth Cameroon Muslim Exhibition (CAMEX), which is a platform of exchange and reflection on Islam and its values for a smooth beginning of the blessed month of Ramadan, took place in Douala May 22-28. At the Akwa Salle des fetes where exhibitions of agro-industrial, art and culture products, as well as social action, fashion parade and services took place, on the sideline were conferences, roundtable discussions, beauty care, free medical consultations and screening on HIV/AIDS and high blood pressure, among other things. Jointly organised by the Cameroon Muslim Women Association (CAMWA), the African Development Foundation (ADF), the Cameroon Muslim Student Union (CAMSU) and the Social and Economic Development Programme of the Cameroon Muslim community (PDSE) the goal of the exhibition was to communicate the values of Islam under the theme: "Professionalisation and Self-employment" and to enable investors and traders take advantage of the business opportunity before and during the Halal to promote their products and services. "We have through partnerships brought companies to showcase and sell their worth at reduced rates so as to enable every Muslim have access to basic necessities," President of the CAMEX Organising Committee, Aminatou Saher Kalkaba, highlighted one of their objectives. Besides this, she said, we want to make use of the exhibition to present the Muslim faith based on love, generosity, religious tolerance, citizenship, social justice, entrepreneurship, professionalism... as a meeting point for diverse cultures. Separate spaces were allocated for women and children as innovations marking year 2017 edition.
Full report at:
http://allafrica.com/stories/201705290926.html
--------
Tunisia security forces kill IS fugitive
May 30, 2017
TUNIS : Tunisian security forces have killed a leader of the Islamic State group who was plotting attacks during the Muslim fasting month of Ramadan, authorities said on Monday.
The interior ministry did not identify the suspect, but said he was a leading member of IS and "dangerous" and was killed in an operation Sunday night by the National Guard near the Algerian border.
Eleven arrest warrants had been issued for the suspect in connection with "terrorist operations", the ministry said.
Judiciary spokesman Sofiene Sliti told Shems FM radio the suspect was a Tunisian known as Houssem Tlithi, born in 1997. The interior ministry said the suspect had been on the run since 2014 and hiding in the Mount Salloum region, a militant stronghold.
During Sunday night's operation, another militant was wounded and weapons seized, including a Kalashnikov assault rifle and material used to make explosive belts.
The interior ministry said they were to be used for "terrorist" attacks during Ramadan, a holy month which started Saturday and during which believers abstain from eating and drinking from dawn to dusk.
Full report at:
http://nation.com.pk/international/30-May-2017/tunisia-security-forces-kill-is-fugitive
--------
Kenya: Uhuru Kenyatta Sends Message of Goodwill to Muslims
28 MAY 2017
By Nation Team
President Uhuru Kenyatta has sent a goodwill message to Muslim faithful in Kenya during the Holy Month of Ramadhan which began on Saturday.
President Kenyatta assured Muslims that Kenyans of goodwill stand with them at this time of sacrifice and purification.
"Our Muslim brothers and sisters are instructed in the Koran to fast for the sake of righteousness," said the President in his message.
President Kenyatta went on: "May the Almighty God accept your sacrifices, Ramadhan Kareem."
The Council of Governors chairman Josephat Nanok also wished all Muslims a blessed holy month.
SYMBOLISES PEACE
"The month symbolises peace, humility and sacrifice. May this Ramadhan bring you prosperity. Happy Ramadhan," said Mr Nanok.
Muslims started observing the Holy Month of Ramadhan after the new crescent was sighted across the country on Friday evening.
Chief Kadhi Ahmed Muhdhar released an official communication to the faithful immediately the moon was sighted.
"I'm happy that East African Muslims are starting to fast together and I hope we'll break the fast and celebrate Idd ul Fitr together," he said.
LUNAR CYCLE
The holy season lasts 29 or 30 days, depending on the lunar cycle.
This year's holy month of Ramadhan comes at a time the country is grappling with skyrocketing prices of essential commodities, food shortages due to drought and rising political temperatures ahead of the August 8 elections.
Food shops in Mombasa and other Muslim dominated coastal towns are stocking up on supplies in readiness for the fasting month.
Traders regard the month as a season of business boom with prices usually expected to soar due to increased demand, but residents are concerned with deliberate increases in food prices.
"We urge our Muslim brothers and sisters in business to understand that this is not a month to make a killing but rather to consider the wellbeing of the less privileged in the society," said a Mombasa resident, Omar Ali.
VISIT CHEQUES
Markets and open spaces on the main Digo Road near the Mackinnon Market will burst with various special foodstuffs required to break the fast.
Muslims are expected to frequently visit mosques for prayers especially at night.
At the Coast, regional coordinator Nelson Marwa assured residents of tight security during the month of Ramadhan.
Mr Marwa said stringent measures have been put in place during this month and ahead of the General Election.
CARRY OUT PATROLS
He warned criminals not to take advantage of the Ramadhan month.
Full report at:
Reporting by Ouma Wanzala, Galgalo Bocha, Abdulrahman Sheriff and Mohamed Ahmed
http://allafrica.com/stories/201705290148.html
--------
Mideast
Palestinian courts ban divorce during Ramzan
May 30, 2017
The head of Palestinian Islamic courts on Sunday told judges not to grant divorces over Ramzan, fearing the month-long fast could spark rash words that would be regretted later.
Judge Mahmud Habash said he based his ruling on "the experience of previous years" when he found that the dawn-to-dusk fast and ban on cigarettes, which began on Saturday, tended to lead to frayed tempers and sharp tongues.
"Some, because they have not eaten and not smoked, create problems" in their marriages, he said in a statement, and they can make "quick and ill-considered decisions".
According to the Palestinian Authority, 50,000 weddings were celebrated in the occupied West Bank and the Gaza Strip in 2015, but more than 8,000 divorces were also registered.
Endemic unemployment and poverty are said to be major contributing factors.
There is no civil marriage or divorce in the Palestinian territories, where only religious courts have those powers.
http://nation.com.pk/international/29-May-2017/palestinian-judges-bans-divorce-in-ramazan
--------
Israel regime threat to Middle East nations, humanity: Larijani
May 29, 2017
Iranian Parliament Speaker Ali Larijani says the "aggressive and racist" nature of the Israeli regime has always been and will remain a source of threat to the nations in the Middle East and humanity in general.
In a message on Monday, Larijani offered his congratulations to Secretary General of the Lebanese Hezbollah resistance movement, Sayyed Hassan Nasrallah, on the 17th anniversary of the liberation of southern Lebanon from the Israeli occupation.
He said resistance was the only way to liberate Palestine from the Israeli occupation.
"The multiple victories of the Islamic resistance [movement] against the Zionist regime (Israel) clearly demonstrate that the lofty aspirations of the Muslim Ummah for the liberation of the occupied Palestinian territories can be achieved only through harmony, solidarity and resistance," Larijani added.
The top Iranian parliamentarian expressed confidence that unity and solidarity among different Lebanese groups would shape a "bright future" for people in Lebanon and the Islamic resistance movement.
The Israeli regime first invaded Lebanon in 1978 and later escalated the military operation into a full-scale offensive in 1982.
During the 22-year entanglement with Lebanon, the Israeli military took heavy blows from Lebanese resistance fighters and reportedly lost some 900 of its soldiers.
Following the 1982 offensive, known as the First Lebanon War, Tel Aviv refused to leave southern Lebanon and kept its military presence there in defiance of the UN Security Council Resolution 425 that called on the regime to immediately withdraw.
However, the Zionist enemy eventually buckled under the resistance put up by Hezbollah fighters and pulled out its forces from the occupied areas overnight on May 24, 2000, in what observers call a humiliating defeat for the regime in Tel Aviv and a glorious victory for Hezbollah.
Hezbollah's victory also served as a source of inspiration for the Palestinians, who launched their second anti-Israel uprising, known as al-Aqsa Intifada, in the occupied territories only four months after Tel Aviv's withdrawal from southern Lebanon.
Addressing the Lebanese nation from the southern city of Hermel on Thursday, Nasrallah said when southern Lebanon was occupied by Israel, no country in the world except Iran and Syria helped end the occupation.
Full report at:
http://www.presstv.ir/Detail/2017/05/29/523568/Iran-Lebanon-Israel-Hezbollah-Ali-Larijani-Sayyed-Hassan-Nasrallah
--------
Yemeni army storms into the Republican Palace in Taiz
29 May 2017
Yemen's national armed forces have stormed into the Republican Palace in Taiz on Monday and we able to capture most of the area from the western side.
Forces from Yemen's legitimate government launched a new offensive on the Houthi militia-held Republican Palace in Taiz city on Friday and heavy clashes to retake the strategic location have since been ongoing.
Yemeni civilian sources have confirmed that at least 18 militias were killed in the fierce clashes since armed forces retook key strategic areas near the Republican Palace in Taiz in recent days.
The commander of Taiz front, Major General Khalid Fadel, confirmed that armed forces were only a few meters away from fully capturing the Republican Palace on Friday.
Full report at:
https://english.alarabiya.net/en/News/gulf/2017/05/29/Yemeni-army-storms-into-the-Republican-Palace-in-Taiz.html
--------
Israeli PM Netanyahu wishes Muslims 'Ramadan Kareem'
May 30, 2017
Israeli Prime Minister Benjamin Netanyahu wished Muslim citizens "mutual respect and peace" for Ramadan.
As the month-long celebration of fasting and prayer began, Mr Netanyahu took to social media to address the Muslim community.
"I wish #Ramadan Kareem to Israel's Muslim citizens and Muslims around the world, hoping for much needed brotherhood, mutual respect & peace," he wrote on Twitter.
Israeli Prime Minister Benjamin Netanyahu wished Muslim citizens "mutual respect and peace" for Ramadan.
As the month-long celebration of fasting and prayer began, Mr Netanyahu took to social media to address the Muslim community.
"I wish #Ramadan Kareem to Israel's Muslim citizens and Muslims around the world, hoping for much needed brotherhood, mutual respect & peace," he wrote on Twitter.
The Foreign Ministry shows there are nearly 1.5 million Muslims in Israel, equivalent to 16.9 per cent of the population.
Major General Yoav Mordechai, of the Israeli defence agency COGAT, said goodwill gestures from the Israeli government at the start of Ramadan include access for 100 Gaza residents to attend prayers at a mosque in Jerusalem every Friday in the month, and extended West Bank crossing times.
According to the same department, Israel was due to issue up to 200,000 permits for those visiting the country during the month.
The nation reached a deal with Palestinian authorities and the Red Cross to allow prisoners a second family visit per month, ending the hunger strike of hundreds of Palestinian prisoners.
According to Israel's prison service, more than 1,500 prisoners went on hunger strike and 834 of them ended their fast at the weekend.
Mr Netanyahu also met with US President Donald Trump this month after Mr Trump attempted to woo Muslim leaders, negotiating arms deals and telling them he was not in Riyadh "to lecture".
Mr Trump spoke tough words about the "reckless pursuit of conflict and terror" by Iran, which would appease Israel, but did not mention Saudi Arabia's human rights violations in Yemen.
Full report at:
http://www.independent.co.uk/news/world/benjamin-netanyahu-ramadan-kareem-israel-palestine-muslims-greetings-west-bank-mosque-a7760071.html
--------
Iran president urges enhanced relations with Azerbaijan
May 29, 2017
Iranian President Hassan Rouhani says the Islamic Republic and Azerbaijan enjoy very good potential for developing relations in various fields.
In a telephone conversation with Azerbaijan's President Ilham Aliyev on Monday, Rouhani added that the firm determination of the Iranian and Azeri governments and deep commonalities between the two nations had laid the groundwork for strengthening mutual relations in all fields.
He emphasized that no obstacle could hinder the expansion of political, economic, trade and cultural cooperation between the two countries, saying that the speedy implementation of agreements could further increase the level of bilateral and regional relations.
The Iranian president also called for collective efforts to fight terrorism and extremism and foster unity among Muslim countries, stressing the importance of eliminating the ideological roots of extremism in Muslim states.
Azerbaijan determined to bolster broad-based ties with Iran
The Azeri president, for his part, said relations between Tehran and Baku had always been expanding, but the past four years had been a remarkable period for both countries.
He urged the two countries' officials to implement all agreements previously signed, saying that a railway contract would also be inked between Tehran and Baku in the near future.
Aliyev further stressed the importance of enhancing bilateral cooperation on regional developments, particularly the regional stability and security as well as the joint fight against violence, extremism and terrorism.
Full report at:
http://www.presstv.ir/Detail/2017/05/29/523601/Iran-Azerbaijan-Hassan-Rouhani-Ilham-Aliyev
--------
North America
Senator McCain says Putin bigger threat than ISIS
May 30, 2017
U.S. Senator John McCain said Russian President Vladimir Putin is a bigger threat to global security than ISIS, and warned that the Senate would push for sanctions against Moscow for its alleged interference in the U.S. election.
McCain, a leading foreign policy voice in the U.S. Congress, was speaking in an interview in Australia, where he has held security talks on his way to a defense summit in Singapore.
"I think he (Putin) is the premier and most important threat, more so than ISIS," McCain said in an interview on Australian Broadcasting Corp television.
He said while there was no evidence the Russians succeeded in changing the U.S. election outcome, they were still trying to change elections, including the recent French vote.
"I view the Russians as the far greatest challenge that we have," said McCain, who is chairman of the U.S. Senate Armed Services Committee.
"So we need to have increased sanctions and hopefully when we come back from our recess, the Senate will move forward with sanctions on Russia and enact other penalties for Russian behavior."
http://nation.com.pk/international/30-May-2017/senator-mccain-says-putin-bigger-threat-than-isis
--------
Trump misses opportunity to reassure U.S. Muslims after Portland attack
By NAHAL TOOSI
05/29/2017
Fresh off a visit to Saudi Arabia, where he spoke in conciliatory tones about Islam and urged religious unity in the fight against terrorism, President Donald Trump has squandered two major opportunities to fix his broken relationship with Muslims living in America.
The president first sent out a statement about the Muslim holy month of Ramadan that insulted many Muslims by focusing extensively on terrorism. Then he failed to quickly condemn the stabbing deaths of two men in Portland, Oregon, who stood up to a man haranguing a teenager believed to be Muslim.
Trump's comments, or slowness to say anything, alarmed the U.S. Muslim community, which has felt under siege since his improbable rise on the 2016 campaign trail. The developments also fueled concerns that Trump is unwilling to denounce white nationalists who have seized upon his presidency to promote their worldview.
"The president contextualizes Muslims as foreigners and as national security threats, and it seems his hostility toward American Muslims is promoting this narrative of hate that led to the stabbings in Oregon," said Robert McCaw, a top official with the Council on American-Islamic Relations. "Trump needs to make it clear once and for all that American Muslims are equal citizens and that they also need protection."
White House officials did not respond to requests for comment Monday.
Trump, back home after a swing through the Middle East and Europe, was active on Twitter over the weekend, but it wasn't until Monday morning that the Republican president tweeted that about Friday's killings in Portland. And that was through his official White House account, which is thought to be handled by an aide, not the personal one Trump that often uses himself and which has far more followers.
"The violent attacks in Portland on Friday are unacceptable. The victims were standing up to hate and intolerance. Our prayers are w/ them," read the tweet on the @POTUS Twitter account.
According to various reports, three men intervened in Portland on Friday when they saw a man on a train making racist and otherwise intimidating comments to two young women, one of whom was wearing a headscarf. The suspect, Jeremy Joseph Christian, is alleged to have turned on the defenders with a knife, killing two and wounding the third. Christian is reported to have a history of Nazi and white nationalist sympathies.
As Portland grieved, Muslim activists and many of their allies took to social media to vent their frustration over Trump's long silence. Some noted that Monday was Memorial Day, and that one of the men killed was an Army veteran. Many accused Trump of failing to acknowledge any kind of violence other than the Islamist kind, even as reports indicate that white nationalist activity is growing under Trump.
"Call me crazy but had a Muslim killed two white Christians in Portland I suspect our president would have said something," commentator Peter Beinart wrote on Twitter.
Veteran TV anchor Dan Rather took to Facebook to urge Trump to speak up.
"This 'extremism' may be of a different type than gets most of your attention, or even the attention in the press. But that doesn't make it any less serious, or deadly. And this kind of 'extremism' is on the rise, especially in the wake of your political ascendency," Rather wrote.
Trump's hesitation to talk about Portland reminded many of his muted response to an attack on a mosque in Canada that left six people dead early on in his presidency. The White House said Trump offered condolences to Canada's prime minister, but the president issued no statement of his own on the attack, nor did he speak publicly of it.
White nationalists and others often affiliated with the so-called "alt-right" have championed Trump since he began running for office. His campaign-era call for the U.S. to bar Muslims from entry resonated with many in that crowd, as did his attempt once in office to impose a travel ban on people from several majority-Muslim countries.
Trump has taken some steps in recent weeks to counter claims that he hates Muslims, not least because of his apparent recognition that, on the international front, the United States needs the cooperation of Muslim-majority countries in the global fight against terrorism. His visit to Saudi Arabia, where he met with the leaders of many Muslim-majority countries, was considered an overall success. His speech in particular struck conciliatory tones.
But Trump has largely kept his distance from Muslims who live in the United States. The White House, for instance, has yet to say if the president will hold an event to mark Ramadan, something Trump's recent predecessors have done. Secretary of State Rex Tillerson is also reported to have declined to host a Ramadan event, breaking with some two decades of tradition at the State Department.
Both men issued statements congratulating the world's Muslims as they began observing Ramadan last week. Trump's words, however, sparked criticism in the Muslim community because they focused more on fighting terrorism than the traditions normally associated with Ramadan, such as giving to charity.
Full report at:
http://www.politico.com/story/2017/05/29/trump-portland-response-islamophobia-238920
--------
Five things to know about new Conservative leader Andrew Scheer's policies
May 29, 2017
Well known on Parliament Hill after four years as Speaker of the House of Commons during Stephen Harper's majority government, those outside the national capital may know little about new Conservative leader Andrew Scheer.
Here are five things to know about his policy positions:
Fiscal policy
Scheer promises to balance the books within two years of a Conservative election win in 2019. Current projections suggest the deficit will be $15.8 billion in 2021-22. "Our work will be cut out for us," said Conservative MP Mark Strahl. Scheer has yet to say how he'll do it.
Scheer has also vowed to remove HST/GST from home heating bills, lower business taxes and introduce a tax credit for parents who kids go to private school or are home-schooled — boutique credits that prompt comparisons to predecessor Stephen Harper.
Energy and the Environment
Scheer promises to repeal the Liberal carbon tax plan — he calls it a "cash grab" — and allow provinces to decide their own carbon-price fate. He believes Canadian carbon-capture or clean-coal technology helping bigger emitters like China will have a larger impact on global emissions.
He wants gas pumps adorned with the flags of the countries that produced the oil, so Canadians can choose "Canadian-sourced, ethically produced oil." He also supports the Energy East pipeline, saying Canada's dependence on foreign oil is a result of a lack of west-to-east pipeline capacity. "Ethical oil," a term coined by right-wing activist Ezra Levant, generally refers to oil produced in countries without widespread human rights abuses.
Freedom of Speech
Scheer has complained about universities and "radical groups" on campus refusing to let everyone have their say. He cited University of Toronto professor Jordan Peterson, who draws vocal protests for his controversial opposition to non-gender specific pronouns at the request of transgender or non-binary people.
Scheer has vowed to deny funding and research money to universities that don't allow full freedom of speech, where people like Peterson are shouted down and students fear to speak out about issues like abortion, will receive no federal funding, including lucrative research grants.
'Radical Islamic Terrorism'
"Radical Islamic terrorism is a threat to all Canadians," Scheer said Monday as he promised to recommit Canadian fighters to the battle against the Islamic State of Iraq and the Levant.
The former Conservative government sent six CF-18s to join the anti-ISIL effort in 2014; Prime Minister Justin Trudeau pulled the plug on the planes last year.
"Radical Islam" as a term originated in the U..S. in 1979 to describe the policies of Iran's Ayotollah Khomeini. It became synonymous with terrorism during the 1984 presidential election and by 2016, had become a term separating the Republicans and Democrats.
Donald Trump the candidate accused both Hillary Clinton and President Barack Obama of failing to grasp the link between Islam and terrorism. Obama said terrorists like the term, because it links violence and Islam in the minds of both Muslims and non-Muslims alike.
Interestingly, Trump himself avoided the term during a recent trip to the Middle East, even when a terrorist struck a concert in Manchester, killing 22 people. He even noted Muslims are the majority of terrorist victims.
Social issues
Conventional wisdom suggests social conservatives played a key role in Scheer's narrow win Saturday, flocking to the eventual winner after Pierre Lemieux and later Brad Trost dropped out of the running.
Full report at:
http://www.cbc.ca/news/politics/scheer-five-things-policies-1.4137120
--------
URL: https://www.newageislam.com/islamic-world-news/indonesian-islamist-leader-named-suspect/d/111344
New Age Islam, Islam Online, Islamic Website, African Muslim News, Arab World News, South Asia News, Indian Muslim News, World Muslim News, Women in Islam, Islamic Feminism, Arab Women, Women In Arab, Islamophobia in America, Muslim Women in West, Islam Women and Feminism