New Age Islam News Bureau
19 Apr 2019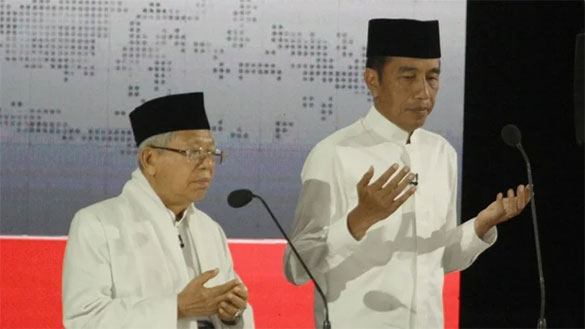 © Getty Images
-----
• Indonesian Elections Highlight the Rise of Political Islam
• Military Veterans Keep Pakistan Churches Safe during Easter
• Saudi Arabia Torturing Detained Rohingya Muslims On Hunger Strike: Report
• Half of Internet Hate Crimes Target Muslims in Sweden
• WHO Says Over 200 Killed In Fighting Over Libyan Capital
• 'No Pakistani Soldier or Civilian Died In Balakot Air Strike': Indian External Affairs Minister
• 24 Taliban Militants Killed In Special Forces Raids and Airstrikes
Southeast Asia
• Indonesian Elections Highlight the Rise of Political Islam
• Islam Exists Outside Of Kelantan Too, Lawyer Tells PAS
• Malaysian inquiry probes trafficking camps, migrant graves
• Indonesian leader points to reelection victory as rival rejects results
--------
Pakistan
• Military Veterans Keep Pakistan Churches Safe during Easter
• 14 People, Including Nine Navy Men, Shot Dead In Balochistan
• NA body concerned over violence against Hazaras; calls it a constitutional violation
• FO hopes India will reconvene meeting on Kartarpur
• IHC summons records of NAB cases in which Zardari was acquitted
• PML-N likely to hamper standing committees if Hamza denied PAC post
--------
Arab World
• Saudi Arabia Torturing Detained Rohingya Muslims On Hunger Strike: Report
• 'Cities Destroyed By Terrorism' Exhibition Opens At National Museum in Riyadh
• Tahrir Al-Sham Ruins Key Bridge in Hama to Prevent Syrian Army's Advance
• Army shelling kills seven in Syria's Idlib
• UN chides EU for refusing to take back its members of Daesh
• Russia warns of false flag chemical attack in Syria's Idlib
• Lebanon FM lodges complaint against Saudi online newspaper over fake news
• Despite denials, Israeli delegation attends Bahrain conference: Report
--------
Europe
• Half of Internet Hate Crimes Target Muslims in Sweden
• Iraq Frees Frenchman Who Entered Syria to 'Support Yazidis'
• Turkish defense chief speaks with French counterpart
--------
Africa
• WHO Says Over 200 Killed In Fighting Over Libyan Capital
• Protesters Converge On Sudan Defence Ministry Sit-In to Demand Civilian Rule
• UN envoy warns of 'widening conflagration' amid Haftar's push to seize Tripoli
• Diplomats: US, Russia say cannot support a UN call for Libya truce
• Mali's prime minister steps down as anger mounts over massacre
• Pro-Haftar forces lose strategic airport: Tripoli gov't
--------
India
• 'No Pakistani Soldier or Civilian Died In Balakot Air Strike': Indian External Affairs Minister
• Kerala Chief Electoral Officer for Action against BJP State Chief for Anti-Islam Remarks
--------
South Asia
• 24 Taliban Militants Killed In Special Forces Raids and Airstrikes
• Easter passes in celebrations and silence in Bangladesh
• Prominent Taliban leader Mullah Azizullah arrested in Farah province
• Putin, Rahmon discuss situation in Central Asia, threats emerging from Afghanistan
• Suicide bomber blown up by own explosives in Faryab province
--------
Mideast
• Erdogan slams Western media outlets over negative coverage of Turkish economy
• Israeli forces shoot, critically injure Palestinian student in West Bank
• Turkey freezes assets of senior Houthi militia leaders
• Israeli settler runs over, kills female Palestinian teacher in occupied West Bank
--------
North America
• US Envoy 'Disappointed' By Collapse Of Inter-Afghan Peace Meeting
• US man arrested after anti-Muslim rant in Texas store
• US says supports transition in Sudan led by civilians
• Trump spoke with Abu Dhabi crown prince on Thursday: White House
Compiled by New Age Islam News Bureau
URL: https://www.newageislam.com/islamic-world-news/indonesian-elections-highlight-rise-political/d/118368
--------
Indonesian Elections Highlight The Rise Of Political Islam
04/18/19
Indonesia's popular President Joko Widodo (Jokowi) appears to have won a second five-year term in office this week. But in a sign of the growing role of political Islam in the world's most populous Muslim nation, Indonesia's next vice president will be the conservative cleric Ma'ruf Amin.
Initial legislative election results show that Islamist parties have secured a similar share of the vote as the last election, defying predictions that they would lose ground.
Jokowi's re-election averts what would have been a worse outcome for Indonesia's young democracy, a victory for Prabowo Subianto, a former army general who had promised to welcome back home the leader of an extremist group calling for Sharia law from his self-imposed exile in Saudi Arabia.
Still, the Jokowi-Amin ticket highlights a trend of Islamisation of politics in which mainstream politicians increasingly wear their religions on their sleeves and seek to promote Islamic goals, taking some of the oxygen away from explicitly Islamist parties.
As vice president, Amin is likely to focus on increasing support for Muslim social groups and Islamic schools and mosques, as well as on accelerating the development of Islamic finance.
Identity politics has long been a feature of Indonesia's political landscape, most notably during the anti-ethnic Chinese riots of the late 1990s.
But its focus has largely shifted to religion from race following decades of funding for conservative schools provided by Saudi Arabia and the efforts of domestic Islamic groups to tap into growing concerns over inequality.
So the situation in Indonesia has parallels to identity-based populism elsewhere in the world but with a distinctive religious dimension.
"Indigenous" Indonesians are overwhelmingly Muslims and vice versa, but the change in how people identify themselves is changing the country's secular democracy. While its young institutions are not under severe threat, they have been weakened by the Islamization of politics, as well as by some backward steps in the democratic process.
Social policies and dynamics are also affected. According to the Pew Research Center, 93 percent of Indonesians believe religion plays a very important role in their lives, one of the highest levels in the world.
Many Muslim women in Indonesia feel more social pressure to wear the jilbab than in the past, though some claim it is more of a fashion trend. LGBT rights have come under greater threat.
Rising Muslim populism also feeds economic nationalism and shapes the environment for business and investment in other ways, most notably through the upcoming implementation of a 2014 law that requires mandatory halal labeling for many products.
The focus of government spending is also affected — both in terms of increased public funding for religious causes, as well as through greater political emphasis on tackling the inequality concerns that feed identity politics. This has made improving health care, in particular, a priority for Jokowi.
In addition to the efforts to promote a greater role for Islam in the political process, there have been instances of whipping up Muslim sentiment in order to achieve political (not religious) goals, such as during the divisive Jakarta gubernatorial election of 2017.
Ethnically Chinese and Christian Governor Basuki Tjahaja Purnama was voted out of office and then charged with blasphemy by his political opponents following mass demonstrations led by hardline Islamists.
Amin was one the leading clerics calling for action against Ahok, which should make him an effective shield for Jokowi against identity politics-driven attacks.
Still, the trend of the Islamization of politics is likely to recede only if authorities succeed in tackling the underlying inequality that feeds identity politics, and if Saudi Arabia adopts a different approach to promoting religion overseas under a new leadership. Neither is likely to occur in the near term.
https://thehill.com/opinion/finance/439525-indonesian-elections-highlight-the-rise-of-political-islam
--------
Military veterans keep Pakistan churches safe during Easter
April 18, 2019
Religious extremists in the Islamic Republic of Pakistan have effectively declared war on Easter, but retired Brigadier Samson Simon Sharaf is ready for battle as he oversees security operations for 36 churches.
The churches belong to different denominations and are spread across Pakistan in its key cities.
Sharaf, a devout Catholic, works in concert with state security personnel to provide free security for parishioners at this sensitive time via the Veterans of Pakistan (VOP), an organization of retired armed services personnel who run private security companies.
The initiative came into being following an attack in 2013 on a 130-year-old church in Peshawar, the capital of Khyber Paktunkhwa province.
At least 85 people were killed and more than 140 wounded when two suicide bombers blew themselves up at the historic church immediately after Sunday service in what has been described as one of the deadliest attacks on the beleaguered religious minority in Pakistan.
"Christians are a bigger target for terrorists than Hindus. Religious terrorist groups receive financial support from neighboring India, which, being a Hindu-majority country, tends to spare temples in Pakistan," said Sharaf, 64.
"We are paying a high price to fight them," added the devout Catholic, who served in Pakistan's army for 33 years.
Sharaf, the VOP's main media liaison officer, also designed the standard operating procedure for any staff who are deployed on Sundays and religious feasts.
He works with local police to help organize the provision of vehicles, guards, commandos and snipers at various churches for the safety of parishioners.
"Our major clients are banks, which are closed on Sundays," Sharaf said. "However, VOP staff are on duty at churches despite this usually being their day off. This is our commitment to the well-being of our community. Despite that, we still make sure we have sufficient manpower available to cover Sunday Mass at scores of major churches."
It costs the group about 2 lakh (US$1,400) a month to protect the churches.
In recognition of his efforts for the country, Sharaf won the Sitara-i-Imtiaz (Star of Excellence) award in 2005.
He said one of the biggest challenges his network faces nowadays in safeguarding Christians across the country is a lack of cooperation from bishops.
"The original plan was to guard 100 churches but most of them chose not to accept our offer. Many bishops didn't [take the security threat] seriously. They didn't even reply to my emails," he said.
"Church authorities have yet to [officially] acknowledge us. They never so much as offer tea to our staff, or even provide a simple courtesy like preparing dinner for our (VOP) executives.
"One bishop even tried to blame our team [for bringing stolen weapons inside a cathedral] after VOP guards recovered a pistol from someone who was living on the church premises."
Easter ambush
Churches in Pakistan have been on high alert over Easter, Christmas and New Year ever since a suicide bombing in 2016 struck Lahore's crowded Gulshan-e-Iqbal Park that Easter. The attack yielded 72 casualties, mostly women and children.
The country's security and intelligence agencies foiled another major terrorist attack planned for Easter the following year in the same city when they captured Noreen Leghari, a sophomore medical student in Hyderabad, during a military raid on an Islamic State cell in Lahore on April 15.
A few days later, the military released a video clip during which the 19-year-old confessed she had agreed to blow herself up at a church in Lahore this Easter as Islamic State continues its bloody campaign to persecute Christians.
However, her sudden release left Pakistan's Christian community shocked.
Sadly, planned attacks of this nature are not isolated.
In 2018, four members of a Catholic family were killed in a militant attack in Quetta, the capital of restive Balochistan province, a day after the minority community celebrated Easter.
Some 20 people died, including eight Shia Hazaras, while 48 people were injured when a powerful bomb ripped through a vegetable market on April 12.
Islamic State claimed responsibility for the blast and released a photograph of the bomber along with his name, saying the attack targeted Shia Muslims.
That same evening, two people were killed and at least 10 injured in a motorcycle bomb blast in Chaman, 97 kilometers northwest of Quetta.
Churches issue IDs
In Karachi Archdiocese, some churches have already issued identity cards and car stickers to community members as part of increased security measures for Good Friday and Easter.
The Pakistan Churches Security Council (PCSC), a body of Christian activists tasked with protecting churches by making them more self-reliant, has chalked up a plan to form a community-based security force with the assistance of local district administrations.
The PCSC has been training volunteers from each neighborhood at a church level since March.
In Lahore, parishioners have been asked to cooperate with church security teams. A team of 12 young volunteers, trained by local police in combat skills, has been deployed to check on worshippers at the Sacred Heart Cathedral of Lahore.
Punjab, home to most of Pakistan's Christians, has over 2,000 churches.
In Quetta, Bethel Memorial Methodist Church, the apostolic vicariate of Balochistan province, has built barracks for about 30 Frontier Corps personnel to be stationed as church guards.
The army has been providing round-the-clock security at the church, where nine people died after armed militants and suicide bombers stormed the building in December 2017.
Impoverished Balochistan is Pakistan's largest province. Islamist militants and separatists have ramped up their attacks on Christians, Shia Hazaras and security forces in recent years.
Sharaf, who also serves as a member of a core committee of the Pakistan Tehreek-e-Insaf government, said the government is not discriminatory and supports moves to guard all religions.
"The army protects places of worship for religious minorities that are designated as military areas," he said.
"The system does not work against us. Prime Minister Imran Khan does not discriminate on the basis of religion. More mosques and shrines have been attacked in our country than churches."
Archbishop Joseph Arshad of Islamabad-Rawalpindi Diocese in Pakistan's Northern Province said he appreciated the efforts of the VOP.
"Security risks are always the biggest challenge when it comes to big religious events," he said.
"We are encouraged by the fact the VOP is a joint venture by one Catholic and three Muslim officers. This kind of collaborative care and protection is priceless. Respecting and safeguarding Pakistan's religious minorities means we are protecting our country herself."
https://www.ucanews.com/news/military-veterans-keep-pakistan-churches-safe-during-easter/84966
--------
Saudi Arabia torturing detained Rohingya Muslims on hunger strike: Report
Apr 18, 2019
Saudi Arabia is torturing hundreds of Rohingya detainees to force them to end a hunger strike they have staged to oppose their indefinite detention or potential deportation from the Persian Gulf Arab kingdom, a report says.
According to a report by the Middle East Eye on Wednesday, some 650 male members of the Rohingya Muslim minority began a hunger strike in the Shumaisi detention center in the western Saudi port city of Jeddah on Saturday, the third such strike in recent months.
Most of them have been in detention without trial or charge since 2012, with some of them having developed mental health conditions due to their prolonged detention.
Saudi authorities accuse most of the Rohingya people of having provided fake documentation in a bid to enter the Arab country for work and also to flee the harsh conditions they faced back in Myanmar, their country of origin.
Myanmar has for decades refused to offer the Rohingya passports. Many of the Rohingya locked up in the Shumaisi detention center entered Saudi Arabia with Bangladeshi passports, while others came with documents from different South Asian countries, including Bhutan, India, Pakistan, and Nepal.
'They are trying to make it as difficult as possible'
Saudi authorities reportedly intend to deport the Rohingya detainees to those countries, even if they have never been there before. It was not clear whether the countries would take them, and what conditions await the Rohingya if they did.
The prison authorities have taken away all the blankets and bedding from the center since Monday and begun "mentally torturing" the detainees, they told the Middle East Eye through phones reportedly smuggled into the center.
"The air conditioning is on 24/7, and now they have taken away our pillows and bed sheets," said one of them, adding, "We are sitting on our metal bed frames feeling light-headed and weak from not eating."
"They are trying to make things as uncomfortable as possible to stop," he added.
Videos posted online by activists purportedly showed bare bed frames at Shumaisi, corroborating the accounts made to the Middle East Eye.
The report also said other detainees were forced to stay in "hot rooms," where they were told by Saudi security officers that they would be taken out if they ended their hunger strike.
"They have put us in a room that is just so hot and telling us to end our hunger strike," said another detainee, adding, "I don't know how long we can last. It is unbearably hot, but we have no other choice."
The detainees want to be freed from detention and also not to be deported. Nay San Lwin, a Rohingya activist with the Free Rohingya Coalition, strongly called on Riyadh to release the detainees.
"This is the third time that 650 Rohingya detainees have gone on hunger strike to demand their freedom," he said.
According to Lwin, Saudi Arabia has hosted more than 300,000 Rohingya refugees for decades, but none of these refugees have come with Myanmarese passports "because citizenship was taken away from the Rohingya in 1982."
The UN Refugee Agency (UNHCR) has already expressed its deep concerns regarding the living condition of detained Rohingyas in Saudi Arabia.
Back home in Myanmar, the Rohingya faced horrific state-sponsored violence. Thousands of Rohingya Muslims were killed, injured, arbitrarily arrested, or raped by Myanmar soldiers and Buddhist mobs mainly between November 2016 and August 2017, when many of the surviving members of the community started fleeing to Bangladesh en masse.
The Rohingya, who have lived in Myanmar for generations, are denied citizenship and are branded illegal immigrants from Bangladesh, which likewise denies them citizenship but which has granted them refuge on humanitarian grounds.
https://www.presstv.com/Detail/2019/04/18/593717/Saudi-Arabia-Rohingya-hunger-strike-torture-Shumaisi
--------
Half of internet hate crimes target Muslims in Sweden
Atila Altuntas
18.04.2019
STOCKHOLM
Half of the hate crimes in the internet were committed against Muslims in Sweden in 2017-2018, according to the head of online hate speech monitoring group.
Manager at Online Hate Speech Monitor Tomas Aberg said police reports showed rates of hate crimes committed over the internet doubling during this period, and tripling in northern cities.
"50 percent of these crimes are committed against Muslims, 22% against asylum seekers and 21% against African descents," he said on Swedish state TV channel SVT .
The number of such crimes has increased in recent years amid greater use of social media, Aberg said, adding that these crimes posed a threat to democracy.
He noted that hate crimes were generally committed by people over the age of 50, saying that 83% of the perpetrators were men, while 17% were women.
He said 459 people received various sentences for hate crimes last year.
https://www.aa.com.tr/en/europe/half-of-internet-hate-crimes-target-muslims-in-sweden/1457252
--------
WHO says over 200 killed in fighting over Libyan capital
19 April 2019
The fighting between Libya's rival factions for control of the country's capital this month killed 205 people so far, the World Health Organization said, announcing it would deploy medical specialists, including surgeons, to treat the wounded.
UN spokesman Stephane Dujarric said that "the number of civilian casualties, and attacks on civilian property and infrastructure, are worryingly on the rise."
The clashes, which erupted earlier in April, have threatened to ignite a civil war on the scale of the 2011 uprising that toppled and killed Muammar Gaddafi.
The fighting has also forced the UN to indefinitely postpone reconciliation talks planned for mid-April that were meant to try to find a way to pull Libya out of the chaos that followed Gaddafi's ouster.
WHO said on Wednesday it would send medical staff to treat the wounded, whose number has reached 913. It wasn't clear how many among the dead are civilians.
Fighting over Tripoli is pitting the self-styled Libyan National Army based in the country's east, which is led by commander Khalifa Haftar, against Tripoli's UN-recognized government.
The UN says that more than 25,000 people have been displaced in the clashes.
https://english.alarabiya.net/en/News/north-africa/2019/04/19/WHO-says-over-200-killed-in-fighting-over-Libyan-capital.html
--------
'No Pakistani Soldier or Civilian Died In Balakot Air Strike': Indian External Affairs Minister
Apr 19, 2019
No Pakistani soldier or civilian died in the air strike on a terror camp at Balakot in Pakistan in February, External Affairs Minister Sushma Swaraj said Thursday.
Addressing women BJP workers here, she said Indian military was given a "free hand" in the operation but was clearly told that no Pakistani civilian should be killed and also there be "not even a scratch" on the Pakistani army.
"Our armed forces were told to target only Jaish-e- Mohammed which was behind the Pulwama terror attack and they did just that - destroyed their camp and returned," the senior BJP leader said.
The IAF had struck a Jaish-e-Mohammad terror training camp in Pakistan on February 26, in response to the February 14 Pulwama attack in which 40 CRPF personnel were killed.
Swaraj said the air strike was carried out in self- defence. "When we carried out the air strike, we had told the international community that we took the step only in self- defence," she said.
She said the entire international community supported India over the air strike.
Lauding Prime Minister Narendra Modi, Swaraj said he has emerged as a top international leader who sets the agenda for the world.
On the 2008 Mumbai terror attack, Swaraj said the then Congress-led UPA government had failed to take along other countries to isolate Pakistan despite the fact that 40 persons belonging to 14 countries were also killed in the strike.
Pakistan had objected to the invitation extended to India for a meet of the Organisation of Islamic Cooperation (OIC) in Abu Dhabi last month, but the host county UAE snubbed Islamabad, she said.
https://www.hindustantimes.com/india-news/no-pakistani-soldier-or-civilian-died-in-balakot-air-strike-sushma-swaraj/story-uehLWmWC7KNAzs6YSyIHTO.html
--------
24 Taliban militants killed in Special Forces raids and airstrikes
18 Apr 2019
At least 24 Taliban militants were killed during the operations of the Afghan Special Forces and airstrikes which were conducted in various provinces of the country in the past 24 hours.
According to informed military sources, one Taliban fighter was killed and three others were wounded during an operation of the Special Forces in Nahr-e-Saraj district of Helmand.
The Afghan Special Forces conducted a similar operation in Uruzgan province and destroyed 5 complete IEDs and 10 IED chargers.
At least 5 Taliban fighters were killed during the Special Forces operations in Ghazni province, the sources said, adding that the Afghan Special Forces conducted a raid in northern Parwan province during the same period and confiscated a small weapons cache.
The sources also added that the Afghan Special Forces conducted a clearance operation near Farah City and arrested 8 Taliban fighters while airstrikes were also carried out in the province which left 10 militants dead.
The Afghan Special Forces conducted an operation in Balkh province and detained 2 Taliban fighters, the sources said.
https://www.khaama.com/24-taliban-militants-killed-in-special-forces-raids-and-airstrikes-03750/
--------
Southeast Asia
Islam exists outside of Kelantan too, lawyer tells PAS
19 April 2019
By JULIA CHAN
KUALA LUMPUR, April 19 — Hitting back at those who have criticised her outspoken views on wearing the hijab, lawyer Latheefa Koya said that they should learn how Islam is practiced all over the world — and not just in Kelantan.
The Lawyers for Liberty executive director said that their understanding of the hijab is not accurate and they should refrain from making comments on others.
"To those who have a narrow view on the meaning of the hijab and intimate parts, please come out of your bubble and learn how Islam is being practiced all over the world. Islam does not just exist in Kelantan.
"Your understanding of the hijab is not necessarily right. Don't be arrogant in telling someone to repent without basis," she said on her Twitter last night.
She was believed to be replying to PAS Youth deputy chief Ahmad Fadhli Shaari who has said her views were dangerous and unbecoming of a Muslim woman.
Latheefa said it was their narrow mindedness and extremist thinking that has caused Islamophobia.
"I suggest politicians who have all this while used Islam for their political gain to repent first.
"It is your narrow and extremist behaviour that has caused Islam a bad name," she said in another Tweet.
Latheefa had recently come to the defence of three women panellists who are being probed by the Selangor Islamic Religious Department (Jais) for their part in a forum about dehijabing and said it takes more than a piece of cloth on the head to reflect good behaviour.
She said that forcefully imposing the hijab on women was not the way of Islam and that women should have a choice whether to wear it or not.
https://www.malaymail.com/news/malaysia/2019/04/19/islam-exists-outside-of-kelantan-too-lawyer-tells-pas/1744831
--------
Malaysian inquiry probes trafficking camps, migrant graves
April 18, 2019
A Malaysian inquiry into the 2015 discovery of suspected human-trafficking camps and graves in the jungle heard Thursday police found one of the sites months before authorities publicly revealed their existence.
The public inquiry, which began this week, is examining the conduct of law enforcement agencies with regard to the discovery of almost 150 graves and dozens of camps near the Thai border.
Malaysian authorities announced in May 2015 they had uncovered the sites in the north of the country, about a month after neighbouring Thailand said it had found bodies of Rohingya from Myanmar and Bangladeshis at a makeshift camp over the border.
The discovery prompted Thai authorities to crack down on traditional sea routes for illegal migrants coming to the country, triggering a crisis as people-smugglers dumped hundreds of refugees off the coasts of other countries and fled.
On Thursday the Malaysian inquiry heard from M. Joeking, a senior police official charged with guarding the border in part of northern Malaysian, who said authorities found a camp in January 2015.
After hearing from a colleague about the camp in the jungle, he sent officers to raid the site in northern Perlis state where they discovered wooden cages and lookout posts, as well as graves and a stretcher to carry dead bodies.
His testimony confirmed long-held suspicions that authorities knew about the camps -- where Rohingya and Bangladeshis were held in appalling conditions after arriving by sea -- for months before going public.
Razali Ismail, one of the officials overseeing the inquiry, suggested the raid was a failure as many migrants fled and police rescued only 38 of them.
But Joeking responded: "We managed to save 38 people.... We saved lives and halted the operations of a syndicate."
The establishment of the inquiry was announced in January, several months after a corruption-plagued regime was ejected from power by a reformist alliance.
Full report at:
https://www.thejakartapost.com/seasia/2019/04/18/malaysian-inquiry-probes-trafficking-camps-migrant-graves.html
--------
Indonesian leader points to reelection victory as rival rejects results
April 18, 2019
JAKARTA: Indonesia's Joko Widodo said Thursday his reelection as head of the world's third-biggest democracy was all but assured, calling for calm as his firebrand ex-general rival insisted he had in fact won the nation's top job.
Widodo, 57, said he had received phone calls from world leaders to congratulate him on his country's biggest-ever election, but added he would await the final results before formally declaring victory.
He cited a series of so-called "quick counts" by pollsters, which are based on samples, that showed him as much as 11% points ahead of Prabowo Subianto.
Quick counts have been reliable indicators in past elections.
But "we still have to wait for the numbers from the KPU (General Elections Commission)", Widodo told a crush of reporters.
"Let's continue to work and maintain our unity and harmony as a nation," he added.
However, Subianto insisted that he and running mate Sandiaga Uno, a wealthy financier, had prevailed, citing voter fraud but without supplying concrete evidence.
"Sandiaga Uno and I are declaring victory as the president and vice president," he told cheering supporters in Jakarta, ending his speech with shouts of "Allahu Akbar" (God is Greatest)" and "Merdeka" (freedom).
The retired general – who had close ties to the Suharto dictatorship, which collapsed in 1998 – earlier warned he would challenge the results in court if he lost, and stage street protests.
Some supporters of Subianto called for a march near Jakarta's biggest mosque after prayers on Friday, Islam's holy day.
The 67-year-old, who has long had his eye on the country's top job, lost to Widodo in 2014 and then mounted an unsuccessful legal challenge to that election.
'Smooth and safe'
The competing claims came as authorities warned against unrest over Wednesday's "smooth and safe" polls, and warned of arrests.
"If there are any illegal or unconstitutional actions that threaten public stability and security, (authorities) will take firm action," National Police Chief Tito Karnavian said Thursday.
"We won't tolerate it.
"I urge everyone against mass demonstrations, whether it's to celebrate or to express dissatisfaction" at the results, Karnavian added.
This year's campaign was punctuated by bitter mudslinging and a slew of fake news online – much of it directed at the presidential contenders.
Authorities said Thursday they had seen a spike in false reports and hoaxes, with some calling for chaos in the streets and for Indonesians to commit violence in response to the results.
However, the capital Jakarta was quiet Thursday after as many as 190 million voters in the Muslim-majority country cast ballots in the one-day poll – which featured a record 245,000 candidates –to elect a new president, parliamentarians and local legislators.
Online, Subianto was pilloried by social media users who poked fun at his repudiation of the unofficial results and for kissing the ground as he declared himself president.
"We honestly feel sorry for Prabowo, not because he's lost the election (again) but because he is surrounded by people who made him a zombie who can't differentiate between reality and illusion," said one Twitter user with 165,000 followers.
National newspapers called for reconciliation, with top-selling Kompas saying "Let's Unite", while Tempo declared it "One More Time" for Widodo.
Full report at:
https://www.freemalaysiatoday.com/category/highlight/2019/04/18/indonesian-leader-points-to-reelection-victory-as-rival-rejects-results/
--------
Pakistan
14 People, Including Nine Navy Men, Shot Dead In Balochistan
Apr 19, 2019
QUETTA: At least 14 people were killed in an ambush on several buses travelling between Karachi and Gwadar in the remote Ormara area of Balochistan province on Thursday.
According to reports, the unidentified assailants intercepted the buses in Buzi Top area on the Coastal Highway around midnight and offloaded 16 of the three dozen people, after checking their identity cards.
The attack took place as the bus was travelling on the Makran coastal highway between the port city of Karachi and the Gwadar port in the southwest, local official Jehangir Dashti told The Associated Press.
Dashti said the passengers targeted in the attack were killed after the assailants checked their identity cards but he could not confirm if all the slain were Punjabis.
The travellers were removed from the buses and taken to a second location, where they were shot dead, early on Thursday morning, said Balochistan Information Minister Zahoor Buledi.
"They identified non-Baloch by checking their identity cards and employee cards," said Buledi. "They took them to the nearby mountains and shot them dead after tying their hands."
"Dozens of gunmen" were involved in the attack and fled the scene afterward, Dashti said.
"In this tragic incident, 14 passengers were forced off the bus, they were lined up in a nearby open area and killed by the terrorists," he said.
The Pakistani Navy said its sailors and officers who were travelling to work were also among the slain men. One was a member of the country's coast guard.
Intelligence officials told AP, who spoke on condition of anonymity because they were not authorised to talk to the media, nine employees of the Navy were among the dead.
The bodies were shifted to Ormara Hospital for medico-legal formalities.
Security forces from the nearby town of Buzi Top were dispatched and had reached the area, about 600 kilometers (375 miles) from the provincial capital, Quetta, he added.
BRAS TAKES CREDIT:
The Baloch Raaji Aajoi Sangar (BRAS), an alliance of armed ethnic Baloch separatist groups, claimed responsibility for the attack in an emailed statement released on Thursday.
"Those who were targeted carried [identification] cards of the Pakistan Navy and Coast Guards, and they were only killed after they were identified," said Baloch Khan, a BRAS spokesperson.
The Baloch Raji Ajoi Sangar (BRAS), an alliance of three Balochi separatist organisations, including the Baloch Liberation Army, Balochistan Liberation Front and Baloch Republican Guard.
However, Buledi told AlJazeera that the government could not immediately confirm whether those killed were members of the security forces.
Home Minister Zia Langove told AFP that a full-scale investigation had been launched into the attack and to track down the gunmen, who had fled the scene.
"Such incidents are intolerable and we will not spare the terrorists who carried out this dastardly attack," he said.
CONDEMNATIONS:
Prime Minister Imran Khan strongly condemned the dastardly act of terrorism took place in Buzi Top area of Balochistan at Makran Coastal Highway targeting innocent people.
The prime minister sought solicited report into the incident, a PM Office statement said.
He directed the authorities concerned to make every possible effort to identify and bring the perpetrators of the barbaric act to justice.
The prime minister also expressed his sympathies with the bereaved families of the victims.
Pakistan People's Party (PPP) Chairman Bilawal Bhutto Zardari also condemned the incident and said that the government has failed to control the terrorists from executing their terror bids across the country.
In his statement, Bilawal slashed the PTI government and said that the terror attack once again claimed lives of innocents inside Balochistan's territory.
He demanded the government to bring the masterminds behind these terror attack under the grip of the law.
https://www.pakistantoday.com.pk/2019/04/18/navy-personnel-among-14-shot-dead-after-being-offloaded-from-bus-on-makran-coastal-highway/
--------
NA body concerned over violence against Hazaras; calls it a constitutional violation
APRIL 19, 2019
Members of National Assembly Standing Committee on Human Rights, on Thursday, expressed concern over the recent violations of human rights including police brutality in Karachi as well as terrorist attacks on Hazara Community in Quetta and on the paramilitary personnel on Makran Coastal Highway.
The committee took cognizance and expressed their apprehension over the persecution against a journalist, Shahzaib Jillani, by the law enforcement agencies.
Panellists tagged these incidents as a violation of fundamental rights, protected under the Constitution of the Islamic Republic of Pakistan.
Bilawal Bhutto Zardari chaired the meeting held in parliament house.
The Committee started with the recitation from the Holy Quran and offered Fateha for the victims and martyrs of the recent terrorist attacks in Quetta and Makran.
Human Rights Ministry appraised the committee about its working and performance, with a particular focus on its proactive approach; dealing with the review of the existing legislative framework; compliance of international obligations by harmonising domestic laws and coordination with the provincial governments.
The ministry also briefed regarding its initiative of Benazir Shelter Home in Islamabad while talking about its problems regarding resources and funds available to outreach the victims of human rights violation.
The Committee undertook discussion and decided to defer " The ICT Rights of Persons with Disability Bill, 2018? moved by the ministry and " The National Commission on the Status of Women (Amendment) Bill, 2018? moved by a member of National Assembly, Aliya Kamran, till its next meeting for further deliberations. Former senator, Farhatullah Babar, was also recommended to be requested to attend the meetings as a special invitee.
Full report at:
https://dailytimes.com.pk/378334/na-body-concerned-over-violence-against-hazaras-calls-it-a-constitutional-violation/
--------
FO hopes India will reconvene meeting on Kartarpur
April 19, 2019
ISLAMABAD: The Foreign Office on Thursday expressed the hope that India would agree to reconvene a meeting of the two countries on Kartarpur corridor agreement so that an accord could be finalised at the earliest.
"We are keen to hold the meeting to finalise the draft agreement at the earliest … We hope India will agree to hold a meeting, at the earliest," FO spokesman Dr Muhammad Faisal said at the weekly media briefing.
India had forced the postponement of the last meeting on Kartarpur agreement scheduled for April 2 at Wagah by refusing to attend the second round of talks on the pretext of its reservations over the appointment of `controversial' figures in Kartarpur committee by Pakistan and differences on logistical elements of the agreement.
India had then said that the talks could be scheduled again "at an appropriate time after receiving Pakistan's response".
At the first round of talks held at Attari, India had demanded that the minimum number of pilgrims crossing the corridor to visit the shrine in Pakistan be raised to 5,000 and on special days like Gurpurab and Baisakhi 10,000 pilgrims should be allowed. Moreover, Indians wanted the corridor to remain open throughout the year without any closed days. It was also demanded by the Indian side that pilgrims intending to visit the shrine on foot should also be allowed to do so and there should not be any documentation requirements for the pilgrims.
Pakistan had then regretted Indian decision saying New Delhi did not wait for its (Pakistani) response and that it (Pakistan) had been trying to find consensus on the issue.
Dr Faisal told the media briefing that the next meeting, whenever held, would specifically "discuss differences related to proposals of both countries for operationalising the corridor and to align positions to build convergence".
The corridor, which would provide visa-free access to Indian Sikh pilgrims to Kartarpur Gurdwara, is planned to become operational in November on the occasion of 550th birth anniversary of Guru Nanak Dev Ji.
The Evacuee Trust Board of Pakistan, the spokesman said, was launching a special coin and postal stamp to commemorate the 550th birth anniversary of Baba Guru Nanak.
In reply to a question about the latest round of technical level talks on Kartarpur Corridor held on April 16, to which Pakistan had agreed despite the negotiations on the agreement having been put in limbo by India, Dr Faisal said Pakistan agreed to the talks out of its commitment to operationalise the corridor.
"The talks were conducted in a cordial environment and they had focused on various technical issues including hydrology. Both sides agreed to share the technical design/parameters for passage of flood water at the earliest," he said.
Commenting on the Quetta Hazarganji attack and the killing of bus passengers on the Makran Coastal Highway in Ormara, Balo­chistan, the spokesman pointed to the arrest of Indian spy Kulbhu­shan Jadhav from the province suggesting that foreign involvement could not be ruled out.
"Investigations into the tragic incidents are under way and we are closely monitoring the situation. If we find any involvement from the Indian side, we will definitely raise the issue with India and take appropriate measures," he said.
Dr Faisal asserted that if the foreign involvement was found, Pakistan "will expose it vociferously, as it has done in the past, and take appropriate counter measures as well".
The spokesman feared that increased hostilities in Afghanistan could undermine the progress made towards the peace and reconciliation process.
He was responding to a question about the spring offensive announced by the Taliban, while at the same time holding talks with the US and moving towards the intra-Afghan dialogue.
"Since the direct talks between the US and Taliban began, chances of peace in Afghanistan have become brighter. Pakistan believes that all sides must give peace a chance and continue the dialogue, which is the only way to bring peace and stability in Afghanistan," the spokesman further said.
About the upcoming intra-Afghan meeting in Doha from April 19 -21, he said: "We hope that the intra-Afghan dialogue will lead to peace in Afghanistan."
He described the meeting as "a positive development" and expressed the hope that these talks would lead to durable peace and stability in Afghanistan.
Full report at:
https://www.dawn.com/news/1477066/fo-hopes-india-will-reconvene-meeting-on-kartarpur
--------
IHC summons records of NAB cases in which Zardari was acquitted
Malik Asad
April 19, 2019
ISLAMABAD: The Islam­abad High Court (IHC) on Thursday summoned records relating to trial proceedings in the ARY Gold and Ursus Tractors references of the National Accountability Bureau (NAB) against former president Asif Ali Zardari.
The IHC division bench comprising Chief Justice Athar Minallah and Justice Miangul Hassan Aurangzeb took up the identical app­eals filed by NAB against the acquittal of Mr Zardari in the two references.
At the outset of the proceedings, NAB's additional prosecutor general Jahan­zeb Bharwana informed the court that despite its earlier order of April 21, 2016, which had summoned the records from the accountability court, the registrar's office had not obtained them yet.
"I have checked from the relevant branch of the IHC, but the records have yet to be procured," he said,
Justice Minallah asked him to inform the court of the allegations and explain why NAB had challenged the acquittal.
Mr Bharwana replied that the case against Mr Zardari was registered by the Ehtesab Commission and after promulgation of the National Accountability Ordinance in 1999 it was transferred to the Ehtesab Bench of the accountability court.
He said that in 2007 the then government introduced the National Reconciliation Ordinance (NRO) and NAB withdrew the cases from the accountability courts. But in 2009 the Supreme Court declared the NRO as void ab initio and the cases were revived.
At the time, Mr Zardari was holding the office of president of Pakistan and was enjoying presidential immunity; therefore the accountability court proceeded against the other accused in the ARY and Ursus references and acquitted them. After Mr Zardari completed his term as president, NAB proceeded against him as well.
In 2011, the trial court acquitted former commerce secretary retired Brigadier Aslam Hayat Qureshi, then principal secretary to the president Salman Farooqi, ARY Gold company's owner Haji Abdul Razzaq, Haji Abdul Rauf and Jan Mohammad but issued permanent arrest warrants for former federal finance secretary Javed Talat and director of Swiss company SGS Jens Schlegelmich in the ARY Gold reference.
In this reference, the late Benazir Bhutto was the main accused along with Mr Zardari but her name was quashed after her assassination on December 27, 2007.
According to the reference, then prime minister Bhutto, Mr Zardari, retired Brigadier Qureshi and Mr Farooqi allegedly allowed the owner of ARY Gold, Haji Abdul Razzaq, to import gold and silver without duties between 1995 and 1997, inflicting hefty loss to the national exchequer.
After the 2013 general elections, Mr Zardari was tried in these references and was acquitted in the subsequent year.
The Ursus Tractors reference pertained to alleged misappropriation in the purchase of 5,900 Russian and Polish tractors, at a cost of Rs150,000 each, for the Awami Tractor Scheme. Mr Zardari was one of the main accused along with Ms Bhutto; however, her name was later removed from the reference.
The court acquitted the co-accused in the case, Nawab Yousuf Talpur, a former agriculture minister who is currently a Pakistan Peoples Party lawmaker.
The tractors purchase deal allegedly caused a loss of Rs268.3 million to the Agriculture Development Bank of Pakistan and Rs1.67 billion to the State Bank of Pakistan.
Full report at:
https://www.dawn.com/news/1477070/ihc-summons-records-of-nab-cases-in-which-zardari-was-acquitted
--------
PML-N likely to hamper standing committees if Hamza denied PAC post
Zulqernain Tahir
April 19, 2019
LAHORE: As the Punjab government sticks to its plan of not appointing Leader of the Opposition in the Punjab Assembly Hamza Shahbaz the Public Accounts Committee chairman, the Pakistan Muslim League-Nawaz (PML-N) has decided to hamper the working of the standing committees.
The PML-N is wary of possible arrest of Mr Hamza by the National Accountability Bureau (NAB) if the Lahore High Court does not extend his pre-arrest bail on April 25 in cases related to money laundering and assets beyond means, Ramazan Sugar Mills, Punjab Saaf Pani Company.
In case Mr Hamza is made the PAC chairman he can stay out of NAB custody (if arrested) like his father, Leader of the Opposition in the National Assembly Shahbaz Sharif, did by holding the (PAC) meetings. Otherwise, Mr Hamza will be at the mercy of Speaker Pervaiz Elahi's production order.
The PML-N is mulling various options, including resigning from the standing committees of the Punjab Assembly to pressurise the provincial government and holding demonstrations outside the offices of the chief minister and law minister.
"Law Minister Basharat Raja had given his word to us to make the opposition leader PAC chairman. But after Prime Minister Imran Khan asked Chief Minister Usman Buzdar not to do so, the Punjab government backtracked," Punjab PML-N spokesman MPA Malik Mohammad Ahmed told Dawn on Thursday.
"We have decided to use all available options, including resignations from standing committees and holding sit-ins outside the chief minister and law minister offices to press the government to accept our just demand," he said, adding that in the previous Shahbaz Sharif's tenure the PML-N had made then opposition leader PTI's Mahmoodur Rashid PAC chairman.
"Now the PTI government should follow the tradition," he demanded.
In the first phase, Mr Ahmed said, the PML-N lawmakers in the Punjab Assembly and NA would not let the standing committees function.
"We will not let the Punjab government set an uncalled-for precedent in order to please PM Khan," he said and added that the Pakistan Peoples Party had also asked the government to hand over the PAC chairmanship to the opposition leader.
The PML-N parliamentary party is holding a meeting on Saturday to finalise its strategy in this regard," Mr Ahmed said.
Law Minister Basharat Raja could not be contacted for his comment on the issue.
PM Khan during his visit to Lahore last Sunday had appreciated CM Buzdar for not making a suspect (Hamza) PAC chairman and also regretted his decision to make another suspect (Shahbaz Sharif) NA PAC chairman 'on the advice of someone'.
Full report at:
https://www.dawn.com/news/1477063/pml-n-likely-to-hamper-standing-committees-if-hamza-denied-pac-post
--------
Arab World
'Cities Destroyed by Terrorism' exhibition opens at National Museum in Riyadh
April 18, 2019
RIYADH: A major exhibition using virtual reality technology to recreate historic cities wrecked by terror groups has opened in the Saudi capital.
Iraqi Prime Minister Adel Abdul-Mahdi on Wednesday inaugurated the "Cities Destroyed by Terrorism" expo being staged at the National Museum in Riyadh.
Organized by the Saudi Ministry of Culture in collaboration with the Arab World Institute in Paris, visitors will be taken on virtual tours of cultural and archaeological sites ruined or under threat of damage by extremist organizations.
The event's organizers aim to raise public awareness of the importance of preserving the Arab region's heritage and protecting it from potential threats.
Abdul-Mahdi, who on Wednesday held talks with King Salman on relations between the two countries, launched the expo – open daily from 4 p.m. until 10 p.m. through May 18 - in the presence of officials, ministers, diplomats and intellectuals.
The Ministry of Culture has classified "cultural and archaeological sites" and the preservation of ancient monuments as key areas for future support and development.
The exhibition includes photos, videos and exhibits relating to famous cities such as Mosul and Nineveh in Iraq, and Aleppo and Palmyra in Syria, all of which have fallen victim to the forces of extremism and terrorism in recent years.
Using visual displays and the latest technology, the exhibition seeks to accurately simulate for visitors what destroyed cities looked like and, in the process, promote a message of tolerance.
French startup Iconem were tasked with mapping the sites. The event's organizers aim to raise public awareness of the importance of preserving the Arab region's heritage and protecting it from potential threats.
"It was very dangerous for them, but it was quite important to get the images of the sites before and after the destruction," said Aurelie Clemente-Ruiz, the curator of the exhibit last year.
"The exhibition is like a memory for this site (Mosul), architecture, heritage of the entire world. It's not only (about) the Arab world but it's really the heritage for everyone and it's very important to understand that. It's part of our own history that was destroyed in this conflict."
Abdul Mahdi later signed a number of memorandums of understanding (MoUs) between Iraq and the Kingdom, and briefly joined discussions between his country's oil ministry and the Kingdom's minister of commerce and investment, Dr. Majid bin Abdullah Al-Qassabi, before leaving Riyadh for an official visit to Jeddah.
http://www.arabnews.com/node/1484451/saudi-arabia
--------
Tahrir Al-Sham Ruins Key Bridge in Hama to Prevent Syrian Army's Advance
Apr 18, 2019
Local sources in Northwestern Hama reported on Wednesday that Tahrir al-Sham terrorists detonated al-Tuwaineh bridge in Sahl al-Qab which linked the region to the army-controlled areas.
They added that the terrorists are preparing for the Syrian army's possible operations in Idlib province, noting that they wanted to prevent the army troops' advance in the region.
The sources also said that Tahrir al-Sham is fearful of public support for the Syrian army and has evacuated the town of Eastern Halban near Ma'arat al-No'eman and the village of al-Sayadah in the Eastern parts of Jorjanaz region in contact lines with the Syrian army.
Now the Syrian army's military operations in the demilitarized zone in Northern Syria has grown more likely than ever given the militant groups' refusal to leave the region and their continued attacks against safe zones and army's military points.
In a relevant development on Wednesday, the Syrian Army heavily pounded Tahrir al-Sham terrorists' military positions and movements in Northern Hama and Southern Idlib, destroying their arms and ammunition depots.
The Syrian Army offensives came in response to Tahrir al-Sham's attacks on the villages of al-Jaydeh, al-Aziziyeh, al-Rasif and al-Karim in Northern and Northwestern Hama.
The Damascus Army's missile and artillery units attacked the terrorists' military positions and movements near the towns of Shar-e Naz, al-Hawiz, al-Shariyeh, al-Maziq Castle in Northern Hama.
Meantime, a battlefield source said that during the attacks, several key military positions of the terrorists, including arms and ammunition caches as well as their military equipment were destroyed and a number of militants were killed.
Full report at:
http://en.farsnews.com/newstext.aspx?nn=13980129000675
--------
Army shelling kills seven in Syria's Idlib
18 April 2019
Regime shelling killed seven civilians in Syria's militant-controlled Idlib region on Thursday, in the latest violence to threaten a seven-month-old truce, a war monitor said.
Rocket fire targeted a village and an adjacent camp for the internally displaced in Idlib's southeastern countryside, according to the Britain-based Syrian Observatory for Human Rights.
Two women and three children were among the seven civilians killed, the monitor said. Another 30 people were wounded, it said. Russia and Turkey in September inked a buffer zone deal to prevent a massive regime offensive on the Idlib region, near the Turkish border.
But the region of some three million people has come under increasing bombardment since former al-Qaeda affiliate Hayat Tahrir al-Sham took full control of it in January. The UN has expressed concern over escalating violence, warning that the flare-up is threatening aid deliveries to some 2.7 million people in need.
Full report at:
https://english.alarabiya.net/en/News/middle-east/2019/04/18/Saudi-Arabia-UAE-send-emergency-aid-to-Iran-s-flood-affected-areas.html
--------
UN chides EU for refusing to take back its members of Daesh
Apr 18, 2019
A UN official has called on countries to take responsibility for their nationals, including thousands of children of Daesh fighters, who are stuck at a camp controlled by US-backed militants in northeast Syria.
Panos Moumtzis said on Thursday that home nations must take responsibility for repatriating children of their citizens who fought along the ranks of Daesh and other terrorist groups.
"There is a prime responsibility of states vis-a-vis their own nationals," Noumtzis, who is the UN regional coordinator for Syria, told a Geneva news briefing.
"All member states have to do all measures possible to make sure the protection, the prosecution, the repatriation the rehabilitation and the reintegration of these women and children in compliance with their obligations under international law."
The remarks come as several governments have been grappling with the problem of what to do with captured fighters from their country, the women who married them and their children.
Children's plight at the al-Hol camp in northeast Syria is also a dilemma for several Western nations, whose citizens fought along the ranks of Daesh and other foreign-backed terrorist groups.
Britain revoked the citizenship of a teenager who left at 15 to join Daesh in Syria, while Austria and Switzerland have said they will not help bring home adults who joined Daesh.
But Moumtzis said states had a legal responsibility, especially for children, many of whom were born in Daesh camps.
"The right to nationality is really very important under the Universal Declaration of Human Rights," he said, stressing that "really nobody should be rendered stateless."
"These children do have a father and a mother, (who) have a nationality, and therefore a solution has to be found."
The UN official said the situation is further complicated because most states lack the capacity to offer consular services or access their nationals in the area.
"There has to be a concerted effort, this is not about blaming or 'naming and shaming', but it's really about being practical and finding a way forward that would find a solution."
According to the UN children's agency UNICEF, about 3,000 foreign children from 43 countries are housed at the al-Hol camp alone, which has taken in most of the people fleeing territories once held by Daesh.
The children are among 10,000 non-Syrian and non-Iraqi nationals kept in a "restricted" section of the sprawling, Kurdish-run camp where 75,000 people live in total.
The latest UN figures show some 211 children were among at least 260 people who have died of malnutrition or disease en route to the camp since December,
Full report at:
https://www.presstv.com/Detail/2019/04/18/593758/Syria--alHol-camp-UN-Europe-Britain-US-Panos-Moumtzis
--------
Russia warns of false flag chemical attack in Syria's Idlib
Apr 18, 2019
Russia has once again warned that al-Qaeda-inspired terrorists and the Western-backed White Helmets "aid" group are gearing up for a false flag chemical attack in Syria's Idlib Province, the last major militant stronghold in the Arab state.
Maria Zakharova, the Russian Foreign Ministry spokeswoman, said Thursday that terrorists with the Jabhat Fatah al-Sham, better known as al-Nusra Front, "along with the White Helmets, are preparing for further provocations aimed at accusing the legitimate government in Syria of using poisonous substances."
Idlib, located in northwestern Syria, remains the only large area in the hands of anti-Damascus militants after government forces -- backed by Iran and Russia -- managed to undo militant gains across the country and bring back almost all of Syrian soil under government control.
Around 90,000 militants are estimated to be holed up in Idlib, which has a population of some three million.
Last September, Russia and Turkey, a backer of a number of militant groups in Syria, inked a buffer zone agreement in Idlib, which put on hold a massive government liberation operation in the region, situated near the Turkish border.
However, a few months later, the so-called Hayat Tahrir al-Sham -- a Takfiri militant alliance dominated by al-Nusra Front terrorists -- swept through towns and villages in Idlib Province.
Moscow has, on numerous occasions, warned of a false flag chemical attack in Idlib, which would give the US and its allies a pretext to launch a military attack against Syrian government positions.
Russia views the so-called White Helmets as a branch of Jabhat Fateh al-Sham operating under the guise of an aid group.
The Russia-based Study of Democracy Foundation Maxim Grigoriev submitted a report to the UN last December, offering evidence of the White Helmets being engaged in organ trafficking, terrorist logistics support and looting in Syria.
Over the past years, Western governments and their allies have repeatedly pointed the finger at Damascus whenever an apparent chemical attack takes place in the country.
In April 2018, the United States, Britain and France carried out a string of missile airstrikes against Syria over a suspected chemical attack against the Syrian town of Douma.
Syria surrendered its stockpiles of chemical weapons in 2013 and has constantly rejected such claims, which have usually surfaced when foreign-backed militants are about to take stinging blows on the battleground against government forces.
Many observers say Idlib is where the foreign-sponsored militancy in Syria will come to an end.
Iran, Russia and Turkey -- which have been mediating a diplomatic process on Syria since early 2017 -- are set to discuss the Idlib deal during a fresh round of talks on April 25-26 in Kazakhstan.
Delegations from Syria and armed opposition groups are also expected to participate, according to the Kazakh Foreign Ministry.
Full report at:
https://www.presstv.com/Detail/2019/04/18/593755/Russia-Idlib-Syria-Chemical
--------
Lebanon FM lodges complaint against Saudi online newspaper over fake news
Apr 18, 2019
Lebanese Foreign Minister Gebran Bassil has filed a complaint against a Saudi Arabic-language online newspaper after it falsely claimed that he had held a clandestine meeting with a high-ranking Israeli official in the Russian capital city of Moscow.
Bassil lodged the complaint with the General Prosecutor's Office on Thursday against the owner of London-based Elaph news portal, and brought charges of defamation and slander against the defendant.
The report "greatly damaged the reputation of the plaintiff in addition to his political and social status as it accused him of contacting and communicating with the Israeli enemy," the complaint read.
Meanwhile, sources at the Lebanese Foreign Ministry have categorically denied the report, describing it as "fabricated."
Antoine Constantine, a senior communication advisor to the Lebanese foreign minister, also told Beirut-based Arabic-language al-Mayadeen television news network that "the report of the alleged meeting between Bassil and an Israeli official is outrageously funny."
"The report is aimed at undermining the Lebanese government's position, which defends national rights and Bassil's efforts to weather (US President Donald) Trump's decisions. We will begin to take legal actions against the publishers of the report, who are part of malicious campaigns against Lebanon," Constantine pointed out.
In late October 2018, Trump's administration imposed a new round of sanctions on the Lebanese Hezbollah resistance movement, targeting individuals and international organizations that do business with the group.
Trump signed the sanctions legislation – known as the Hezbollah International Financing Prevention Amendments Act 2018 – against the resistance group.
"Over the past year, we have levied the highest sanctions ever imposed on Hezbollah – in a single year, by far. Just a few moments ago, I signed legislation imposing even more hard-hitting sanctions on Hezbollah to further starve them of their funds. And they are starving for them," Trump said during an event in Washington, DC, that marked the 35th anniversary of an attack on US marine barracks in the Lebanese capital of Beirut.
This is not the first time that Lebanon has filed a complaint against measures taken by US' regional allies to target the country.
Late last year, Lebanon lodged a complaint with the United Nations against Israel's hacking into the country's telephone network.
Lebanese Ambassador to the UN Amal Mudallali, in a letter sent to the UN Security Council, said that Beirut condemned in the strongest possible terms the political and diplomatic campaign being waged by the Israeli regime.
"That campaign is being accompanied by a number of extremely serious acts, of which the most recent is that Israel has breached the Lebanese communications grid by hacking into the telephone network and sending recorded messages to peaceable civilian inhabitants of the southern part of the village of Kfar Killa warning them of imminent explosions to take place on Lebanese territory that might put their lives at risk," the letter said.
Full report at:
https://www.presstv.com/Detail/2019/04/18/593744/Lebanon-FM-lodges-compliant-against-Saudi-online-newspaper-over-fake-news
--------
Europe
Iraq frees Frenchman who entered Syria to 'support Yazidis'
April 18, 2019
An Iraqi court said on Thursday it had released a French national who spent two months in detention after being transferred from war-ravaged Syria as it found no proof he fought there.
Instead, the Baghdad court said, their interrogations had found the unnamed Frenchman travelled to Syria "in support of the Yazidi cause".
In February, the US-led coalition fighting ISIS handed to Iraqi authorities 13 French nationals caught in ISIS's dwindling "caliphate" in east Syria.
All 13 were thought to be members of ISIS's feared contingent of foreign fighters, and Iraqi President Barham Saleh pledged they would be tried "according to Iraqi law".
But as Iraqi prosecutors began investigating, "terrorism" cases were only prepared against 12 nationals.
On Thursday, the Karkh Special Investigations Court for Terrorism Issues in Baghdad announced it "let go one of the 13 accused French nationals due to a lack of evidence".
After months of investigations, the court said: "There was no proof of his involvement in any military activities, and his entry [to Syria] was in support of the Yazidi cause".
During ISIS's rampage across northern Iraq in 2014, it slaughtered thousands of members of the Yazidi community and seized its women and girls as sex slaves.
The atrocities prompted the US-led coalition to begin a military intervention against ISIS in Iraq, which it then expanded into Syria by backing a Kurdish-led fighting force.
That force, the Syrian Democratic Forces, attracted hundreds of foreign fighters who wanted to join the fight against ISIS.
The court found that the French national entered Syria "legally," but did not say which border crossing he used or what exactly he was doing there.
It also remains unclear why the SDF or the US-led coalition handed him over to Iraqi authorities along with suspected militants if he had been supporting Yazidis, which would have put him on the other side of the front line against ISIS.
With the collapse of ISIS's self-styled "caliphate" last month, dozens of kidnapped Yazidi women and children have been freed.
https://www.thenational.ae/world/mena/iraq-frees-frenchman-who-entered-syria-to-support-yazidis-1.850960
--------
Turkish defense chief speaks with French counterpart
Hamdi Celikbas
19.04.2019
Turkish Defense Minister Hulusi Akar spoke by phone Thursday with his French counterpart Florence Parly, Turkey's Ministry of National Defense said in a statement.
They discussed cooperation between their countries' defense industries.
Akar also expressed his sorrow over the massive fire Monday at Notre Dame Cathedral in Paris.
The iconic landmark was severely damaged by the fire before it was extinguished following an eight-and-a-half-hour effort by 500 firemen.
Full report at:
https://www.aa.com.tr/en/europe/turkish-defense-chief-speaks-with-french-counterpart/1457318
--------
Africa
Protesters Converge On Sudan Defence Ministry Sit-In to Demand Civilian Rule
18 April 2019
Tens of thousands of people headed to a sit-in outside Sudan's defense ministry on Thursday to demand that a transitional military council hand power to civilians, a witness said.
Protesters chanted "Freedom and revolution are the choice of the people" and "Civilian rule, civilian rule."
Every road leading to the protest site was full of people as throngs of demonstrators converged outside the complex in central Khartoum.
"It's extremely difficult to move closer to the protest site as there are hundreds and hundreds of people everywhere on roads leading to the complex," a witness said.
The sit-in outside the army headquarters has been the epicentre of the protests for almost two weeks, but numbers had dwindled there in the days since Bashir was toppled.
Thursday's rally was not convened by protest organizers who campaigned for four months against Bashir's iron-fisted rule, but was a result of widespread calls by activists and individual demonstrators on social media networks.
It comes after an opposition coalition called this week on the military to establish a civilian-led ruling council with military representation, as well as a civilian government.
The council has said it is ready to meet some of the protesters demands, including fighting corruption, but has indicated that it would not hand over power to them.
The Khartoum sit-in was the culmination of 16 weeks of protests triggered by a worsening economic crisis in Sudan, leading to the ouster and arrest of Bashir after three decades in power.
https://english.alarabiya.net/en/News/middle-east/2019/04/18/Protesters-converge-on-Sudan-defense-ministry-sit-in-to-demand-civilian-rule.html
--------
UN envoy warns of 'widening conflagration' amid Haftar's push to seize Tripoli
Apr 18, 2019
The UN envoy to Libya has warned of a "a widening conflagration" in the North African country amid a Saudi-backed push by strongman Khalifa Haftar to seize the capital Tripoli.
Ghassan Salame said Thursday international divisions have emboldened Haftar, the leader of the so-called Libyan National Army (LNA), to launch his offensive to oust the government in Tripoli.
Libya has been divided between two rival governments - the House of Representatives based in the eastern city of Tobruk and the Government of National Accord (GNA) headed by Fayez al-Serraj in Tripoli.
Haftar, who is presumably loyal to the government in the east, commenced his deadly campaign on April 4 to conquer Tripoli, in a move rebuked by UN chief Antonio Guterres and the UN Security Council.
Salame, the head of the UN Support Mission in Libya, said the fighting south of Tripoli between Haftar's forces and those of the GNA have reached a "deadlock".
"After the very first successes of the Libyan National Army two weeks ago, we are witnessing a military deadlock," he said.
On Wednesday, the Security Council was divided on how to defuse the crisis after fresh talks on a draft resolution demanding a truce in Tripoli failed to yield an agreement.
During the council's session, Germany which holds the council presidency proposed the draft resolution but Russia and South Africa opposed it, arguing that Haftar's offensive is unlikely to produce a humanitarian crisis.
The council was due to meet Thursday to hear a briefing on the situation on the ground and consult on the way forward, according to AFP.
The 75-year-old Haftar who enjoys the loyalty of a group of armed militia and backing from Saudi Arabia, the United Arab Emirates and Egypt has taken upon himself to protect the government in Tobruk.
Armed forces and militia loyal to the GNA have been fighting back.
According to the World Health Organization (WHO) on Thursday, the fighting has so far killed at least 205 people and wounded more than 900 others.
On Wednesday, the International Organization for Migration (IOM) reported that more than 25,000 people have been displaced by the clashes.
Libya has been the scene of increasing violence since 2011, when former dictator Muammar Gaddafi was toppled from power after an uprising and a NATO military intervention.
His ouster created a huge power vacuum, leading to chaos and the emergence of numerous militant outfits, including the Daesh terrorist group.
WHO: Death toll from Libya's Tripoli clashes exceeds 200
In a related development on Thursday, the World Health Organization said at least 205 people have been so far killed and more than 900 others wounded in the battle for control of the Libyan capital, Tripoli.
Reporting at least 205 people dead and 913 wounded, WHO added that its medical and surgical teams were deployed to field hospitals near the front lines.
Full report at:
https://www.presstv.com/Detail/2019/04/18/593754/Libya-UN-Haftar-LNA-GNA-UNSC-Germany-Russia
--------
Diplomats: US, Russia say cannot support a UN call for Libya truce
19 April 2019
The United States and Russia both said on Thursday they could not support a United Nations Security Council resolution calling for a ceasefire in Libya at this time, diplomats said, as mortar bombs crashed down on a suburb of the Libyan capital, Tripoli.
Russia objects to the British-drafted resolution blaming eastern Libyan commander Khalifa Haftar for the latest flare-up in violence when his Libyan National Army (LNA) advanced to the outskirts of Tripoli earlier this month, diplomats said.
The United States gave no reason for its position on the draft resolution, which would also call on countries with influence over the warring parties to ensure compliance and for unconditional humanitarian aid access in Libya. The United States' UN mission declined to comment and the Russian UN mission did not immediately respond to a request for comment.
A resolution needs nine votes in favor and no vetoes by the United States, Britain, France, Russia or China – the so-called permanent five – to pass. It was not immediately clear if Britain would persist with negotiations on a draft next week.
The United States and Russia made their positions clear during a closed-door council briefing by UN Libya envoy Ghassan Salame, who diplomats said appealed for a ceasefire, warning that weapons were pouring into the country and it was heading toward a serious humanitarian situation.
The US reluctance to support Security Council action is in contrast to Washington's earlier public opposition to Haftar's offensive, which began while UN Secretary-General Antonio Guterres was visiting Tripoli.
Some UN diplomats have suggested the United States might be trying to buy time as President Donald Trump's administration works out how to deal with the latest developments in Libya.
"I think there is a range of views in Washington on the policy side and they haven't reconciled them and they're not entirely certain where the president is on it," said a senior UN diplomat, speaking on condition of anonymity.
"The American system is trying to evaluate all the scenarios and work out which one is in America's best interest and just hasn't done that yet," the diplomat said.
Concern
Haftar's forces predicted victory within days, but Prime Minister Fayez al-Serraj's government has bogged them down in southern suburbs with help from armed groups from various western Libyan factions.
A united Security Council informally expressed concern on April 5, calling on all forces to de-escalate and halt military activity and specifically calling out the LNA.
In the following days, the council was unable, however, to issue a more formal statement, diplomats said, as Russia objected to a reference to the LNA, while the United States said it could not agree to a text that did not mention Haftar's forces.
US Secretary of State Mike Pompeo then said in a statement on April 7 that "we have made clear that we oppose the military offensive by Khalifa Haftar's forces and urge the immediate halt to these military operations against the Libyan capital."
Full report at:
https://english.alarabiya.net/en/News/north-africa/2019/04/19/WHO-says-over-200-killed-in-fighting-over-Libyan-capital.html
--------
Mali's prime minister steps down as anger mounts over massacre
April 19, 2019
BAMAKO: Mali's prime minister resigned along with his entire government on Thursday following criticism over their handling of an upsurge of violence in the center of the country and a massacre last month that left 160 people dead.
A statement from President Ibrahim Boubacar Keita's office said he had accepted Soumeylou Boubeye Maiga's resignation, along with those of his ministers, two weeks after mass protests erupted over the rising tide of violence.
Lawmakers from both ruling and opposition parties had submitted a motion of no confidence against the government on Wednesday, blaming Maiga and his administration for failing to clamp down on the unrest.
"A prime minister will be named very soon and a new government will be put in place after consultations with all political forces" from both the ruling and opposition sides, the statement from Keita's office said.
The president had on Tuesday said in a televised address that he had "heard the anger," without explicitly naming the prime minister.
The government had come under mounting pressure over its handling of violence in the restive Mopti region and especially a massacre on March 23 in which 160 people were killed in the village of Ogossagou near the border with Burkina Faso.
Members of the Dogon ethnic group — a hunting and farming community with a long history of tension with the nomadic Fulani people over access to land — were accused of being behind the mass killing.
Tens of thousands of people took to the streets of Bamako on April 5 to protest against the upsurge of violence, accusing the government of not doing enough to stop it.
The protest was called by Muslim religious leaders, organizations representing the Fulani herding community, opposition parties and civil society groups.
Mali has been struggling to restore stability since Islamist extremists linked to Al-Qaeda took control of the country's vast desert north in early 2012.
While the jihadists were largely driven out in a French-led military operation that began in January 2013, huge areas are still in the grip of lawlessness, despite a 2015 peace agreement with some armed groups that sought to definitively stamp out the Islamist threat.
Since then, militants have shifted from the north toward the more densely populated center of the country, where they have sharpened ancient rivalries and ethnic conflicts that date back years.
Jihadist attacks have also spread to Burkina Faso, Chad and Niger, forcing tens of thousands of people from their homes.
Full report at:
http://www.arabnews.com/node/1484771/world
--------
Pro-Haftar forces lose strategic airport: Tripoli gov't
Mahmoud Barakat
18.04.2019
TRIPOLI
Libya's UN-recognized Government of National Accord (GNA) on Thursday claimed to have wrested the strategic Tamanhint airbase from forces loyal to renegade military commander Khalifa Haftar.
On its official Facebook page, the GNA's Southern Protection Force said it had taken control of the airbase, which is located some 30 kilometers (roughly 19 miles) east of the city of Sabha.
The reported gain comes amid an ongoing counteroffensive by pro-GNA forces aimed at stopping Haftar's attempt to lay siege to Tripoli, where the GNA is headquartered.
A pro-Haftar source, however, denied that pro-GNA forces had captured the airbase.
"We have not lost control of the airbase," the source told Anadolu Agency on condition of anonymity due to the issue's sensitivity.
The source went on to say that Thursday's attack on the airbase by pro-GNA forces -- involving 15 armored vehicles -- had been repulsed.
"Fifteen armored vehicles aren't enough to capture a fortified position like Tamanhint," he said.
Held by pro-Haftar forces since May 2017, the Tamanhint airbase sits on the highway linking Sabha to Libya's central Jaffra region.
After two weeks of intermittent fighting near Tripoli that has left scores dead, Haftar's forces -- affiliated with a rival government based in eastern Libya -- have so far failed to capture the capital.
Libya has remained beset by turmoil since long-serving leader Muammar Gaddafi was ousted and killed in a bloody NATO-backed uprising in 2011.
Full report at:
https://www.aa.com.tr/en/africa/pro-haftar-forces-lose-strategic-airport-tripoli-govt/1456857
--------
India
Kerala Chief Electoral Officer for Action against BJP State Chief for Anti-Islam Remarks
19 April 2019
Kerala Chief Electoral Officer has recommended "appropriate action" against BJP State chief PS Sreedharan Pillai for allegedly making anti-Islam remarks during an election campaign meeting in Attingal Lok Sabha constituency on April 14.
In his report to the Election Commission, Kerala Chief Electoral Officer (CEO) Teeka Ram Meena said Pillai made the remarks while countering the comments of Congress president Rahul Gandhi, CPI(M) general secretary Sitaram Yechury and Chief Minister Pinarayi Vijayan on the number of people killed during the Balakot air strike.
"Our Rahul Gandhi, Yechury, Pinarayi and all are saying that, after getting there... The dead bodies... Which caste, which religion... If they are Islam then there will be a few signs... If only you remove the dresses only then it can be found out... So after doing all that, we should come back is what they say," Pillai had said, according to Meena's report to the poll body.
Pillai made these remarks during the poll campaign meeting organised for BJP candidate Sobha Surendran.
The CEO, in his report dated April 16, said no permission was taken for the BJP meeting and a complaint has been registered in the Attingal police station in Thiruvananthapuram district.
"It appears prima facie a case of violation of Section 123(3A) and Section 125 of the Representations of People Act, 1951. Accordingly, appropriate action may be taken in the matter," Meena said in his report sent to Deputy Election Commissioner Sudeep Jain.
On Wednesday, the CEO had informed the High Court that strong action would be taken against Pillai in the case.
A petition seeking a directive to the Election Commission to take action against Pillai was filed by CPI(M) leader V Sivankutty.
Full report at:
https://www.dailypioneer.com/2019/india/ceo-for-action-against-pillai-for-anti-islam-remarks.html
--------
South Asia
Easter passes in celebrations and silence in Bangladesh
April 18, 2019
Like many Christian university students in Bangladesh, Maria Marandy, an ethnic Mahali Catholic from northern Dinajpur Diocese, faces a tough choice at Easter: respect the academic calendar or skip classes to reunite with family.
"Easter is a time for spiritual renewal, and family and community reunions, so I never want to miss it. But that happened twice because I had exams knocking at the door, which was sad," Marandy, who studies philosophy at Dhaka University, told ucanews.com.
She left her family to move to the capital in 2014 and says she often has to spend Holy Week alone as Christmas is the only Christian festival recognized as a public holiday in Bangladesh.
In contrast to Christmas, when many people join Christian friends and neighbors at seasonal feasts, and Christmas lights brighten up churches, shops and hotels, Easter passes quietly in most parts of the country.
However, it takes on a special meaning for Marandy's predominantly Christian ethnic group, which is concentrated in the north of the country.
Easter Sunday is a day of forgiveness, family reunions, cultural feasts and reconciliation for Mahali Christians, she said.
"After Sunday Mass, all of the villagers gather in one place, where they seek forgiveness for the wrongs they have done to each other over the year, and reconcile. Then they eat together and enjoy cultural shows," Marandy added.
"Like Jesus, Mahalis also rise from their old selves on Easter Sunday, so the feast has more significance to us than Christmas."
Traditions rekindled, faith renewed
Sagar Sonjib Corraya, a 42-year-old Bengali Catholic, has been living in the capital since 1993. He hails from the Bhawal region of Dhaka Archdiocese, one of the country's oldest Catholic strongholds.
Corraya feeds his family by working for the Dhaka-based Weekly Pratibeshi, the only Catholic magazine that enjoys nationwide distribution.
For him, Easter is a time to renew his faith and celebrate time-honored cultural traditions with his kin in Gazipur district of central Bangladesh.
"Ever since I was a child, I've enjoyed our traditional way of observing Easter — attending a liturgy for four days and reuniting with relatives after a long absence," he said.
"We commemorate how Jesus died and then rose from the dead three days later to free us of our sins. This is the foundation of our faith."
Catholics in Bhawal's eight parishes eat a special platter of parched rice, molasses, sweets, custard and bananas on Easter Sunday — a centuries-old tradition that is believed to have migrated over from Hinduism.
In the 16th and 17th centuries, European missionaries evangelized in various parts of present-day Bangladesh and the Indian state of West Bengal. Most of the early converts were lower-caste Hindus.
"This Easter platter is very unique and we are proud to keep alive this age-old tradition passed down from our forefathers," Corraya said.
Silent night, holy night
In Muslim-majority Bangladesh, Christians account for less than half a percent of its population of 160 million people.
Most of the country's 600,000 Christians are Catholics concentrated in eight dioceses.
Despite their small numbers, Christians are highly regarded by people of other faiths due to their contributions to education, health care and social development.
For years, Christian groups have urged the government to list Easter Sunday as a national holiday, but to no avail.
However, the campaign experienced something of a breakthrough this year as the Education Ministry declared it a holiday, bringing cheers from Christian students and their parents.
Speculating on the rationale behind the reversal, observers note how the Islamic feast of Shab-e-Barat (Night of Emancipation) falls on April 21 this year. Such proximity made it impossible for officials to ignore the Christian holiday, they contend
"I hope the government will realize one day that Easter Sunday is major religious feast for Christians and give it its due," said Bishop Gervas Rozario of Rajshahi.
For years, Protestants organized a popular Sunrise Liturgy on Easter Sunday in front of the nation's parliament, an event that drew crowds of thousands.
However, the government withdrew its permission for the program in 2016 citing "security concerns" amid a spike in Islamic militancy, according to William Proloy Samadder, the secretary of Bangladesh Baptist Church.
The liturgy now takes place not on center stage but in the wings — at a small playground in central Dhaka, with a significantly reduced attendance.
"It was a beautiful public display of Christian devotion to God, but we can't do it anymore due to the restrictions," Samadder said. "We still participate in other events, though, to show our fraternity with our brothers and sisters."
The other programs include a pre-dawn, open-air Mass and a common meal organized by another Protestant group in the teeming capital.
https://www.ucanews.com/news/easter-passes-in-celebrations-and-silence-in-bangladesh/84999
--------
Prominent Taliban leader Mullah Azizullah arrested in Farah province
18 Apr 2019
A prominent leader of the Taliban group identified as Mullah Azizullah has been arrested in western Farah province of Afghanistan, the Ministry of Interior announced Wednesday.
A spokesman for the Interior Ministry Nasrat Rahimi said the Taliban leader Mullah Azizullah alias Zekriya was arrested during an operation in Farah.
Rahimi further added that Mullah Azizullah is a prominent leader of the Taliban group who was involved in major destrutive activities in Helmand, Badghis, Herat, Nimroz, and Farah province.
The anti-government armed militants including Taliban have not commented regarding the arrest of Mullah Azizullah so far.
Full report at:
https://www.khaama.com/prominent-taliban-leader-mullah-azizullah-arrested-in-farah-province-03747/
--------
Putin, Rahmon discuss situation in Central Asia, threats emerging from Afghanistan
18 Apr 2019
The Russian President Valdimir Putin has held talks regarding the security threats emerging from Afghanistan during a meeting with the President of Tajikistan Emomali Rahmon, it has been reported.
"We thoroughly discussed the security situation in Central Asia, including threats and challenges coming from Afghanistan," Putin was quoted as saying in a report by Russia's TASS News Agency.
In his turn, the President of Tajikistan, Emomali Rahmon said "Tajikistan is a buffer zone preventing the spread of security threats coming from that region."
Rahmon further added that Dushanbe called for resolving Afghanistan's problems peacefully.
"Tajikistan is interested in a stable and prospering Afghanistan," the Tajik leader emphasized.
This comes as the growing instability in the northern provinces of Afghanistan has sparked concerns among the officials of Central Asian countries having borders with Afghanistan.
The Russian and Tajikistan forces launched joint military exercises close to the border with Afghanistan in mid-July last year.
Full report at:
https://www.khaama.com/putin-rahmon-discuss-situation-in-central-asia-threats-emerging-from-afghanistan-03748/
--------
Suicide bomber blown up by own explosives in Faryab province
17 Apr 2019
A would-be suicide bomber was killed in an explosion triggered by the explosives strapped to his body in northern Faryab province of Afghanistan, officials in the Ministry of Interior said.
Interior Ministry spokesperson Nasrat Rahimi said the incident took place on the main highway going towards Qaisar district.
Rahimi further added that the slain would-suicide bomber has been identified as Mullah Idrees who was looking to carry out a suicide attack in Faryab province but was killed an explosion triggered by own explosives.
The anti-government armed militants including Taliban have not commented regarding the incident so far.
This comes as Taliban have intensified attacks in northern Faryab province during the recent days, specifically after announcing its spring offensive last Friday.
Full report at:
https://www.khaama.com/suicide-bomber-blown-up-by-own-explosives-in-faryab-province-03741/
--------
Mideast
Erdogan slams Western media outlets over negative coverage of Turkish economy
Apr 18, 2019
The Turkish president has lashed out at Western media outlets for launching a "smear campaign" aimed at painting a gloomy picture of Turkey's economy, which is in the throes of currency fluctuations, vowing that his country will stand firm in the face of such attacks.
Speaking at a business forum on Thursday, Recep Tayyip Erdogan singled out the Financial Times (FT), a day after the London-based international business daily questioned the Turkish central bank's management of foreign currency reserves.
The newspaper had reported that Turkey's central bank had "bolstered its foreign currency reserves with billions of dollars of short-term borrowed money," sparking fears among observers and investors that the country -- one of the Middle East's largest economies -- may not be capable of defending itself in the event of a currency crisis.
The Turkish national currency, lira, weakened around two percent against the US dollar in the aftermath of that report.
"There is a smear campaign against us. Some Western media outlets are in efforts to describe our economy as collapsed, finished," Turkey's Hurriyet Daily News quoted Erdogan as saying.
Erdogan insisted that the economy "is standing strong" despite the media campaign, adding, "Whatever you do, whichever headlines you put on your papers, Turkey will stand tall and continue its path. We are now used to this media, these rag papers."
"The dose of such attacks against us rises as we speak out more powerfully over global injustice. Hey, Financial Times, have you ever acknowledged the fact that Turkey hosts more than 4 million Syrians?"
The FT report said Turkey's foreign reserves were much lower than the $28.1 billion officially reported in April if the short-term borrowing was stripped out of the calculation. In reaction, the Turkish central bank acknowledged short-term operations may impact reserve figures, but said its accounting was in compliance with international standards.
Last month, the lira lost nearly six percent of its value in a single day amid investor concerns over foreign reserves as well as worries that the Ankara government had resorted to unorthodox ways to shore up the currency before the March 31 elections.
Turkey went into recession at the end of last year, according to the Turkish Statistical Institute, after two successive quarters of falling economic growth were recorded -- which is how recession is defined.
The Turkish currency first took a nosedive last August, when the US imposed sanctions on Ankara and heavy tariffs on imports from Turkey amid a political dispute between the two NATO allies.
The trade row led to a 30-percent slide in the lira's value, prompting the central bank to raise interest rates, a policy which helped the currency regain some of its values.
Turkey's economy woes are blamed as one of the main reasons behind the major losses suffered by Erdogan's ruling Justice and Development Party (AKP) in March 31 local elections despite an overall victory.
The AKP, for the first time in years, lost mayoral seats in the political center, Ankara, the third-largest city of Izmir and, above all, Istanbul, which is Erdogan's home city and the country's economic heartland.
https://www.presstv.com/Detail/2019/04/18/593743/Erdogan-Turkey-Economy-Financial-Times
--------
Israeli forces shoot, critically injure Palestinian student in West Bank
Apr 18, 2019
Israeli military forces have shot and critically injured a Palestinian student after skirmishes broke out between a group of young protesters and Israeli soldiers in the central part of the occupied West Bank.
Local Palestinian sources, requesting not to be named, said clashes broke out on Thursday afternoon following the funeral procession of 42-year-old Palestinian teacher Fatima Suleiman, whom a settler had run over and killed in the Khirbat al-Dayr district of the town of Tuqu', located 12 kilometers southeast of Bethlehem, earlier in the day.
Israeli forces used live rounds, rubber-coated bullets as well as tear gas bombs to disperse the protesting Palestinian students.
Israeli forces detained one of the students, and opened fire at him from point-blank range as he attempted to flee, critically injuring him in the thigh, the sources noted.
Israeli forces then prevented Tuqu' residents from helping the student, and did not allow Palestinian paramedics to reach him to provide first aid.
The occupied Palestinian territories have witnessed new tensions ever since US President Donald Trump announced his decision on December 6, 2017 to recognize Jerusalem al-Quds as Israel's capital and relocate the US embassy in Israel from Tel Aviv to the occupied city.
On December 21, 2017, the United Nations General Assembly overwhelmingly voted in favor of a resolution that called on the US to withdraw its controversial recognition of Jerusalem al-Quds as Israeli "capital."
In an attempt to prevent the passing of the resolution, Trump threatened reprisals against countries that backed the measure, which had earlier faced a US veto at the UN Security Council.
Full report at:
https://www.presstv.com/Detail/2019/04/18/593750/Israeli-forces-shoot-critically-injure-Palestinian-student-in-West-Bank
--------
Turkey freezes assets of senior Houthi militia leaders
April 18, 2019
ANKARA: Turkey has frozen the assets of three senior Houthi leaders in line with UN Security Council sanctions, the country's official gazette said Thursday.
The decision is valid until Feb. 26, 2020, and affects Abdulmalek Al-Houthi, Abd Al-Khaliq Al-Houthi and Abdullah Yahya Al-Hakim.
The Iran-backed Houthi leadership and former Yemeni President Ali Abdullah Saleh were sanctioned and blacklisted by the UN in 2014 for obstructing peace, security and stability in the country.
Ankara temporarily froze the assets of Saleh and his son in Turkish banks and other financial institutions, including safes, about two years ago. It has extended the duration of this freeze.
Saleh amassed between $32 billion and $60 billion through corruption and stashed assets in at least 20 countries during his 33 years in power, according to a UN report.
Experts are divided about Ankara's real intention.
Selim Sazak, an analyst and doctoral researcher at Brown University, said Ankara should have carried out these actions years ago.
"I think this is an effort to remove one of the problems in the relationship while Ankara is trying to negotiate a face-saving solution for the S-400s, while ensuring some arrangement in northern Syria that would perhaps permit Turkish troops into YPG-controlled territory," he told Arab News.
Sazak said a senior minister was in the US capital last week to meet officials and that the decision to freeze assets might be connected to that visit.
"It is known that the US Treasury hasn't been happy about Turkey's inaction on Yemen sanctions. I would be surprised if it didn't come up in the diplomatic meetings. So, they're probably patching up that rift."
For others, the move would contribute to the further isolation of the Houthis by blocking financial resources.
Oubai Shahbandar, a Turkey-based defense analyst, said the sanctions were an important message to the Houthis.
"Until they renounce terrorism and accept a peace process with the Yemeni government, the Houthis will continue to be viewed as pariahs by the international community. This latest measure adds more pressure as Houthi resources dry up," he told Arab News.
Earlier, the UN Security Council expressed "grave concern" that agreements reached four months ago between the warring parties in Yemen had not been carried out and called for their implementation "without delay."
The warring parties could start withdrawing forces from Hodeidah within weeks, a move needed to pave the way for political negotiations to end the war, the UN special envoy said on Thursday.
Full report at:
http://www.arabnews.com/node/1484361/middle-east
--------
Israeli settler runs over, kills female Palestinian teacher in occupied West Bank
Apr 18, 2019
A female Palestinian teacher has lost her life after an Israeli settler ran her over in the central part of the occupied West Bank.
Palestinian sources said the 42-year-old victim, identified as Fatima Suleiman, was fatally struck in the Khirbat al-Dayr district of the town of Tuqu', located 12 kilometers southeast of Bethlehem, on Thursday morning, Arabic-language Shehab news agency reported.
There have been a series of "hit-and-run" incidents targeting Palestinians in different parts of the West Bank over recent months, with most of them going uninvestigated by Israeli authorities. Some of such events have resulted in fatalities.
Muhammad Awad, head of the Palestine Red Crescent Society (PRCS), told Palestinian Arabic-language Ma'an news agency that a 20-year-old man, identified as Hamza Shihadeh Najajra, had been struck on Route 60 near Gush Etzion settlement, which lies directly south of Jerusalem al-Quds and Bethlehem in the West Bank, on April 8.
Awad added that Najajra, a resident of Nahalin village, had been critically injured in the head and taken to a hospital in Jerusalem al-Quds to receive medical treatment.
On November 22 last year, an Israeli army vehicle ran over a young Palestinian man in the West Bank, inflicting injuries on him.
The incident occurred as the 21-year-old victim, identified as Rashed Abu Aram, was attempting to cross a road in al-Khalil (Hebron).
Two Palestinian workers, identified as Oqab Raji Mahmoud Abed al-Hafith and Ameer Hayel Raji, were struck near the village of Kafr Laqif, located 22 kilometers southwest of Nablus, on October 14, 2018. They were transferred to a nearby hospital to receive medical treatment.
Full report at:
https://www.presstv.com/Detail/2019/04/18/593733/Israeli-settler-runs-over-kills-female-Palestinian-teacher-in-occupied-West-Bank
--------
North America
US envoy 'disappointed' by collapse of inter-Afghan peace meeting
April 19, 2019
KABUL: The US envoy for peace in Afghanistan expressed disappointment on Friday after the collapse of a planned meeting between the Taliban and a group of Afghan politicians in Qatar that exposed some of the deep divisions hampering efforts to end the war.
A 250-strong delegation of Afghan politicians and civil society figures had been due to meet Taliban officials in Doha at the weekend. The event was abruptly canceled on Thursday amid arguments over the size and status of the group, which included some government officials attending in a personal capacity.
"I'm disappointed Qatar's intra-Afghan initiative has been delayed," Zalmay Khalilzad, the US special representative for Afghan reconciliation, said on Twitter. "I urge all sides to seize the moment and put things back on track by agreeing to a participant list that speaks for all Afghans."
The collapse of the meeting before it had even started, described as a "fiasco" by one senior Western official, laid bare the tensions that have hampered moves toward opening formal peace negotiations.
Khalilzad, a veteran Afghan-born diplomat, has held a series of meetings with Taliban representatives but the insurgents have so far refused to talk to the Western-backed government in Kabul, which they dismiss as a "puppet" regime.
The Doha meeting was intended to prepare the ground for possible future talks by building familiarity among Taliban officials and representatives of the Afghan state created after the US-led campaign that toppled the Taliban government in 2001. A similar encounter was held in Moscow in February.
President Ashraf Ghani's office blamed Qatari authorities for the cancelation, saying they had authorized a list of participants that differed from the one proposed by Kabul, "which meant disrespect for the national will of the Afghans."
"This act is not acceptable for the people of Afghanistan," it said in a statement on Friday.
Sultan Barakat, director of the Center for Conflict and Humanitarian Studies in Qatar, which had been facilitating the meeting, said there was no disagreement about the agenda.
"Rather, there is insufficient agreement around participation and representation to enable the conference to be a success," he tweeted.
Preparations had already been undermined by disagreements on the government side about who should attend, as well as by suspicions among rival politicians ahead of presidential elections scheduled for September.
The Taliban derided the agreed list of 250 participants as a "wedding party." Some senior opposition figures who had been included refused to attend.
The Taliban also objected to Ghani's comments to a meeting of delegates that they would be representing the Afghan nation and the Afghan government, a statement that went against the insurgents' refusal to deal with the Kabul administration.
http://www.arabnews.com/node/1484816/world
--------
US man arrested after anti-Muslim rant in Texas store
Umar Farooq
18.04.2019
WASHINGTON
A man in the state of Texas was arrested after entering a store and going on a racist tirade, verbally attacking a Muslim worker by calling him a "f***ing Arab."
When the man, who was identified as Joey Christian, walked up to the counter and confronted an employee and asked him what his name was, the employee said his name was "Mo".
"What the f*** kind of name is that?" Christian asked in response. "What is your actual real name? Mo what?"
"It's Mohammad," the employee said.
Christian, 38, then proceeded to walk away from the counter, appearing visually frustrated and saying "F***ing Arab. Goddamn f***ing Arabs."
A woman that was recording the encounter Tuesday confronted the man, to which he responded, "You know what? I really don't give a f*** what some b***h has to say."
"I really don't give a sh*t about some goddamn Arab that I've been killing their goddamn kind for f***ing six months," Christian said. "Actually two years. Six months in the last country I was in."
"People like this are the reason our country's going what it's going to," Christian went on. "Because I've been killing his kind for longer than you've probably been alive."
"His kind, I've been killing for almost 20 years," he added.
The end of the video shows Christian walking outside and being confronted by a police officer.
He was arrested for public intoxication, abusive language and disorderly conduct, according to a Friendswood Police report.
"Shoutout to the lady that recorded this, called the cops on this man and got him arrested," the employee said on Twitter.
Full report at:
https://www.aa.com.tr/en/americas/us-man-arrested-after-anti-muslim-rant-in-texas-store/1457257
--------
US says supports transition in Sudan led by civilians
18 April 2019
The United States supports a democratic and peaceful transition in Sudan led by civilians who represent all Sudanese, the State Department said on Thursday, as protesters in Khartoum kept up demands that the country's military hand over power to civilians.
State Department spokeswoman Morgan Ortagus said Sudan remained labeled by the US as a state sponsor of terrorism, and emphasized that Washington's policies toward Sudan would be based on "our assessment of events on the ground and the actions of transitional authorities."
Full report at:
https://english.alarabiya.net/en/News/middle-east/2019/04/18/US-says-supports-transition-in-Sudan-led-by-civilians.html
--------
Trump spoke with Abu Dhabi crown prince on Thursday: White House
April 19, 2019
WASHINGTON: US President Donald Trump spoke by phone on Thursday with Abu Dhabi Crown Prince Mohammed bin Zayed Al-Nahyan of the United Arab Emirates, the White House said in a statement.
The two leaders discussed Washington's "continued support for the United Arab Emirates' national defense, strengthening alliances in the region, and the impact of the Administration's crippling sanctions on Iran," the statement said.
Full report at:
http://www.arabnews.com/node/1484796/middle-east
--------
URL: https://www.newageislam.com/islamic-world-news/indonesian-elections-highlight-rise-political/d/118368
New Age Islam, Islam Online, Islamic Website, African Muslim News, Arab World News, South Asia News, Indian Muslim News, World Muslim News, Women in Islam, Islamic Feminism, Arab Women, Women In Arab, Islamophobia in America, Muslim Women in West, Islam Women and Feminism