New Age Islam News Bureau
20 October 2020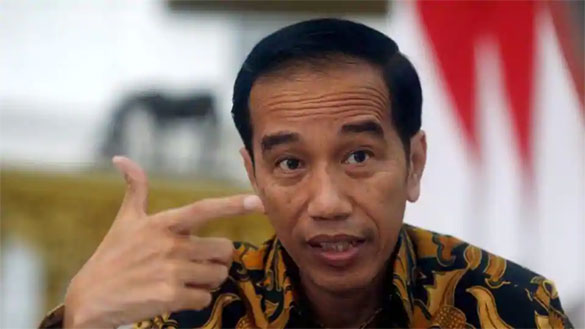 Indonesia's President Joko Widodo gestures during an interview with Reuters in Jakarta, Indonesia. REUTERS/Beawiharta/File Photo(REUTERS)
-----
• Democratic, Islamic Values Aligned In Indonesia, Webinar Hears
• Jama Masjid, Delhi, Is Not Going To Issue Fatwa against Tanishq as Several Twitter and Facebook Users Have Claimed
• Pakistan's Army Has Started Training Terror Groups In The Use Of Explosive-Laden Drones To Carry Out Attacks On Targets In Jammu And Kashmir
• Afghan-Taliban Peace Delegations Discuss Disputed Issues
• Trump Predicts More Israel Deals, Calls UAE's Mohamed Bin Zayed A 'Respected Warrior'
• Saudi Arabia Restructures Supreme Court, Religious, Advisory Bodies
• US, Western Intelligence Services behind Creation of Takfiri Terrorist Groups: Houthi
Southeast Asia
• Indonesia Will Not Rush Coronavirus Vaccines amid Halal Concerns
• Democratic, Islamic Values Aligned In Indonesia, Webinar Hears
• Take responsibility for your remarks on Nur Sajat, Harakah tells Mujahid after sued for defamation
• Johor police to raid Hizbut Tahrir centres
--------
India
• Jama Masjid, Delhi, Is Not Going To Issue Fatwa against Tanishq as Several Twitter and Facebook Users Have Claimed
• Court Acquits Twenty Foreign Tablighi Jamaat Delegates Booked For Violating Covid-Related Norms
• Police officer shot dead by terrorists in J&K's Anantnag
• Not worried about ED questioning, struggle for restoration of Article 370 will continue: Farooq Abdullah
• Encounter breaks out in Melhora area of Jammu and Kashmir's Shopian, one terrorist killed
--------
Pakistan
• Pakistan's Army Has Started Training Terror Groups In The Use Of Explosive-Laden Drones To • Carry Out Attacks On Targets In Jammu And Kashmir
• Govt, Opposition Trade Charges for Making Army Controversial
• Pakistan Prime Minister Imran fears 2nd Covid-19 wave in coming months
• Pakistan braces for fresh protests with Imran Khan under pressure
• After Maryam Nawaz's anti-military speech, her husband is arrested, released
• Will visit Quaid's mausoleum every Oct 18 and raise slogans for the mother of the nation: Safdar
• IHC rejects plea for publication of proclamation against Nawaz in UK papers
• PDM leaders totally neglected Karachi at power show, say MQM-P, PSP
--------
South Asia
• Afghan-Taliban Peace Delegations Discuss Disputed Issues
• Turkish President Erdogan to Visit Bangladesh for Mujib Borsho Celebrations Next Year
• Myanmar's Rohingya Crisis Exposes ASEAN Weaknesses: Report
• Civilian Vast Majority of Victims in Ghor Bombing
--------
North America
• Trump Predicts More Israel Deals, Calls UAE's Mohamed Bin Zayed A 'Respected Warrior'
• US Condemns ISIS Call to Attack Saudi Arabia: Official
• Admiral In Charge Of Bin Laden Raid Endorses Biden In Stinging Trump Rebuke
• High stakes for Muslim immigrants in US election results
--------
Arab World
• Saudi Arabia Restructures Supreme Court, Religious, Advisory Bodies
• Bahraini People Stage Rallies to Protest at Official Normalization of Ties with Israel
• European legislators want downgrade of EU presence at G20 Saudi-hosted summit
• Turkish forces, allied militants shell town in northeastern Syria
--------
Mideast
• US, Western Intelligence Services behind Creation of Takfiri Terrorist Groups: Houthi
• Speaker: Iran Expects Islamic States to Defy US Sanctions
• Iran Mulling Arms Exports to Increase Revenues
• Abdullah Abdullah Stresses Importance of Iran's Support for Peace Talks in Afghanistan
• Rouhani: Trump Seeking to Exploit Afghan Peace Talks for Election Purposes
• Palestinian hunger-striking inmate may die any moment: Report
• Turkish Cypriots elect Erdogan's candidate amid east Med tensions
--------
Africa
• Trump Says Sudan Will Be Removed From State Sponsors of Terrorism List
• Sudan, ICC explore options for ousted Omar al-Bashir to face Darfur trial
• Protesters block Lagos airport as Nigeria protests spread
• UN hosts Libyan military leaders in hopes of end to conflict
--------
Europe
• Samuel Paty Murder: French Police Raid Dozens of Islamist Groups
• French imam pays tribute to teacher slain in gruesome Paris beheading
Compiled by New Age Islam News Bureau
URL: https://www.newageislam.com/islamic-world-news/indonesia-rush-coronavirus-vaccines-amid/d/123208
--------
Indonesia will not rush coronavirus vaccines amid halal concerns
October 19, 2020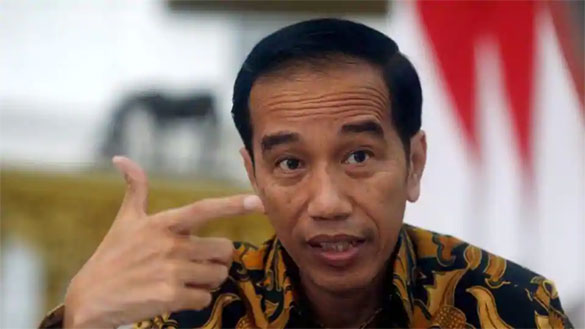 Indonesia's President Joko Widodo gestures during an interview with Reuters in Jakarta, Indonesia. REUTERS/Beawiharta/File Photo(REUTERS)
-----
JAKARTA: The president of the world's largest Muslim-majority nation, Joko Widodo, called on Monday for Indonesia not to rush the rollout of vaccines, citing concerns over public awareness about whether they were halal.
With more than 365,000 coronavirus cases and 12,000 deaths, Indonesia has struggled to get its outbreak under control and the government has been racing to secure a supply of vaccines while still under development, drawing criticism from some epidemiologists for seeking a "silver bullet" solution before full vaccine efficacy and safety is known.
Senior ministers have indicated that emergency vaccine authorisation could be granted as early as November.
But the president, better known by his moniker "Jokowi", signalled a more cautionary approach, warning against haste and urging clear public messaging about whether vaccines were halal, or permissible under Islam.
"I ask that this vaccine is not rushed because it's so complex," Jokowi said ahead of a closed meeting.
"I want to ensure there is good preparation. On public communication, especially in relation to halal and haram, the price, and quality."
Indonesia has previously pledged to vaccinate more than 100 million people next year, but Jokowi on Monday said that scale of inoculation in an archipelagic nation of 270 million would be uniquely challenging.
Controversy over whether vaccines adhere to Islamic principles has stymied public health responses before in Indonesia, including in 2018, when the Indonesian Ulema Council issued a fatwa declaring a measles vaccine was haram, or forbidden under Islam.
Indonesia has secured 50 million doses from China's Sinovac by March next year and 100 million from AstraZeneca by next April, in addition to other deals.
Vaccines from Sinovac as well as China's Sinopharm and CanSino Biologics for 9.1 million people will be available this year, with health workers prioritised, said Achmad Yurianto, a senior health ministry official.
Indonesia's rush to secure supplies of unproven vaccines has generated concern among epidemiologists, some of which argue it should instead focus on testing and contact tracing until a safe and effective vaccine is available.
"Many countries think a vaccine will be their silver bullet to deal with the pandemic," said Dicky Budiman, an Indonesian epidemiologist from Australia's Griffith University.
"But unfortunately, the history of pandemics, the literature, does not support that."
https://www.freemalaysiatoday.com/category/world/2020/10/19/indonesia-will-not-rush-coronavirus-vaccines-amid-halal-concerns/
--------
Democratic, Islamic values aligned in Indonesia, webinar hears
Marchio Irfan Gorbiano
October 19, 2020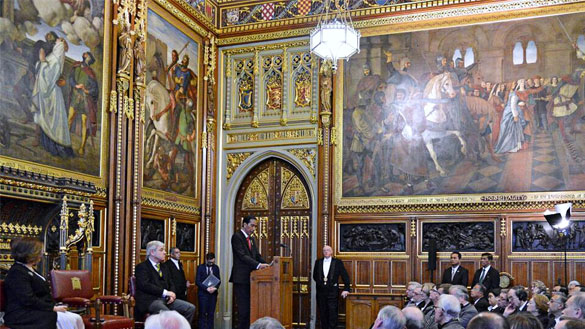 President Joko "Jokowi"Widodo discusses moderate Islam and democracy, two of Indonesia's assets in its fight against terrorism, during his work visit to the United Kingdom in 2016. (Courtesy of the Presidential Office/-)
-----
Democratic and Islamic values are intrinsically aligned in Muslim-majority Indonesia, experts and activists have said, amid growing concerns about a rise in religious conservatism that seeks to undermine the country's democratic institutions. Muhammadiyah secretary-general Abdul Mu'ti said during a webinar over the weekend that he viewed democracy not only as a political system but also as a system of values, in which "prosperities" could be built upon. To wit, he identified three core values of democracy – emancipation, meritocracy and pluralism – and said they were aligned with Islamic values. "Emancipation puts emphasis on egalitarianism and humanism, while meritocracy also allows democracy to give room to appreciate achievements and ensure fairness [among people], and pluralism guarantees mutual responsibility, coexistence and collaboration," said Abdul. "I can say that democratic values can implicitly be found in the teachings of Islam and are part of the reason why a good Muslim will also support a true democracy." The statement from Abdul, who is part of the country's second largest Muslim grassroots group, comes against the backdrop of rising religious conservatism in Indonesia, a phenomenon that many analysts have noted appeared after the large-scale rallies of the 212 Movement in 2016. Read also: Pancasila, democracy vs 'khilafah': Challenge for Indonesia The government, meanwhile, banned Hizbut Tahrir Indonesia (HTI), an Islamist organization seeking to establish a caliphate in the country, in 2017, deeming its values contradictory to the 1945 Constitution and its presence a threat to public order. The move, however, also prompted concern among human rights activists about threats to freedom of association and expression. Last year, a joint-decree signed by 11 ministries and state bodies was also issued to regulate the kind of content that civil servants are allowed to post on social media. The decree stipulates that civil servants must not express opinions containing "hate speech" against the state ideology Pancasila, the 1945 Constitution, the national motto Bhinneka Tunggal Ika (Unity in Diversity), or the government itself. The policy was issued amid growing concerns that many civil servants have been exposed to religious extremism. Read also: It takes no edict. Surge in piety gives rise to sharia-inclined society in Indonesia According to a 2019 survey conducted by Jakarta-based pollster Alvara institute, 16.9 percent of 1,567 respondents in the survey believed that an Islamic caliphate was the "right" mode of government for Indonesia. A committee member for the Indonesian Anti-Slander Society (Mafindo), Anita Wahid, said there was a growing narrative of advocating for the "purity" of Islam that justified discrimination against other groups based on a strict interpretation of religious texts. "By using religious [texts] as a point of reference that pits Islam against democracy, it's as if Islam is not aligned with democracy. We have to respond with a counternarrative that highlights democratic and just values in Islam," Anita said during the same webinar hosted by the AE Priyono Democracy Forum. Meanwhile, women's rights activist Lies Marcoes Natsir said the current wave of growing religious conservatism could be viewed as a result of measures taken by the New Order regime in the past to suppress such groups, which resulted in a lack of opportunities for dialogue. Read also: Govt consults Muslim organizations regarding enactment of jobs law amid protests "The New Order pressured them in such a way that we never got to discuss [...] why they rejected birth control or agreed with child marriage," Lies said. "After [the reform era], we only became aware that [religious conservative groups] had surfaced and were challenging ideas that we previously thought were settled, like gender and reproductive rights." Islamic scholar Budhy Munawar Rachman pointed out that previous works of Muslim intellectuals such as the late Nurcholish "Cak Nur" Madjid and late president Abdurrahman "Gus Dur" Wahid had paved the way for an interpretation of Islam that had inherently democratic values. "We are thankful that we already have Islamic arguments in favor of democracy so it became something that is inherent in our [religion]," said Budhy. "The works of Cak Nur and Gus Dur have helped society, particularly in the post-reform era, to be accepting of democracy.
https://www.thejakartapost.com/news/2020/10/19/democratic-islamic-values-aligned-in-indonesia-webinar-hears.html
--------
Jama Masjid, Delhi, Is Not Going To Issue Fatwa against Tanishq as Several Twitter and Facebook Users Have Claimed
19TH OCTOBER 2020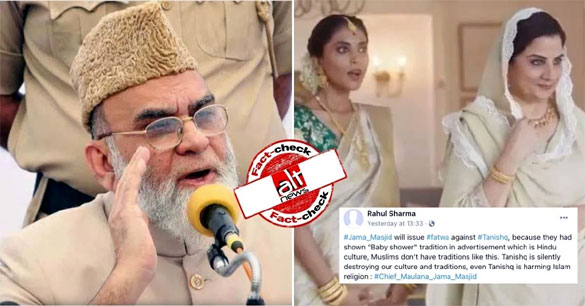 Several Twitter and Facebook users have claimed that Ahmed Bukhari, Shahi Imam at New Delhi's Jama Masjid, will issue a fatwa against Tanishq for "destroying Islamic culture" because there is no baby shower ritual in Islam. This claim has been shared with a picture of Bukhari and a still from the ad.
Facebook user Rahul Sharma posted the claim on October 16. It has been shared about 600 times. (archived link)
Some Twitter users who believed Sharma's post to be authentic shared its screenshot. The handle @theanuragkts posted the screenshot and wrote, "Jama Masjid is going to issue a fatwa against Tanishq Jewellery, how pathetic these close-minded Bigots are? I can't breathe now." The tweet was later taken down but an archived link can be accessed here.
Similarly, @RajiIndustani wrote, "Hahaha – where are secular liber****00s" followed by the viral text. (archived link)
Jewellery brand Tanishq released an ad on October 9 that showed a baby shower ritual in an inter-faith marriage. The ad sparked massive outrage among Hindutva groups who accused Tanishq of promoting 'love jihad', a right-wing conspiracy theory that most marriages between Muslim men and Hindu woman are a tactic to convert Hindu women to Islam. Despite Tanishq removing the ad, goons threatened its stores in Gujarat and Indore.
False claim
Alt News couldn't find news reports stating Jama Masjid will issue a fatwa against Tanishq. It is improbable that a controversial update on an issue that has garnered media and public attention the past few weeks will go unnoticed.
Alt News spoke with Syed Shaban Bukhari, Vice Shahi Imam at Jama Masjid, New Delhi. "No such fatwa has been issued by Jama Masjid, New Delhi," he said.
Prior to the circulation of false claims, Bukhari had shared his thoughts on the advertisement. "I find this ad extremely beautiful. The division is in the minds of few extremists. We as #Muslim's have "REALLY" good #Hindu friends and we all love each other and when you talk about safety, yes #Hindu's are super safe in our houses. Tanishq well done for spreading love," he wrote on a Facebook post.
The claim that Delhi's Jama Masjid will issue a fatwa against Tanishq for airing the controversial ad is yet another piece of misinformation on the topic. Jama Masjid was also targeted earlier in July when Republic TV claimed that the mosque had not been paying electricity bills. False news about fatwa also keeps cropping up every now and then.
https://www.altnews.in/no-delhis-jama-masjid-is-not-going-to-issue-fatwa-against-tanishq/
--------
Pakistan's Army Has Started Training Terror Groups In The Use Of Explosive-Laden Drones To Carry Out Attacks On Targets In Jammu And Kashmir
Shishir Gupta
Oct 20, 2020
Pakistan's Army has started training terror groups in the use of explosive-laden drones to carry out attacks on targets in Jammu and Kashmir, a move inspired by Islamic State fighters who have used commercially available drones or quadcopters to target forces in Iraq and Syria for years.
According to intelligence inputs reviewed by Hindustan Times, Pakistan's Inter-Services Intelligence had come up with the idea of replicating the IS successes in use of cheap drones to carry out small bomb attacks and not just carry out surveillance or capture live feed for attacks to be used for propaganda. The ISI laid out its plan first at a meeting with senior Lashkar-e-Tayyiba and Jaish-e-Mohammed commanders in Punjab province's Taxila in April this year. There was a follow-up meeting the next month at the brigade headquarters in Kotli district of Pakistan-occupied Kashmir.
Of the options that were explored at these meetings were the use of quadcopters that could have a range of three km and could carry up to 5 kg explosives. The drones were rigged to carry and drop small quantities of munition on enemy targets.
Islamic State fighters had almost perfected the tactic on the battleground, prompting the United States and drone manufacturers to spend millions of dollars on research and tweaks in the drone technology to stop what some called, the 'killer bees'.
Don Rassler, who studied the drones and their impact at the United States Military Academy's center on combating terror, found that the IS innovation had inspired many copycat versions. He counted the Iraqi security forces as one of the first to deploy them to attack adversaries. By 2017, the IS' innovation inspired a gang in Mexico caught with firearms and a drone carrying explosives.
Pakistan's ISI is going to be another. The Border Security Force has already spotted a spike in the number of drones in the air across the International Border with Pakistan.
A senior Indian counter-terror official said the BSF and the army had been told to stay prepared to neutralise the little flying machines that could be used to target security camps and posts near the border.
But it is unlikely that if drones fly in from across the border, it would remain one-way traffic.
"If Pakistan starts it, there could be retaliatory attacks in equal measure, with or without the drones," said the official, adding that New Delhi was likely to authorise similar cross-border attacks using drones in the first instance. "The (security) forces have started work on it after the inputs about the Pakistani plan first came in," he said.
Pakistani agencies and its instruments - arms and narco-traffickers - have used drones in Punjab and Jammu and Kashmir but this has been mostly used to beat the floodlit fence to smuggle drugs, weapons, explosives and fake Indian currency.
https://www.hindustantimes.com/india-news/pak-isi-finds-its-inspiration-in-isis-tactics-preps-to-rain-drone-bombs-in-j-k/story-Ay93NVBdV3H7SqBHYi7LKJ.html
--------
Afghan-Taliban Peace Delegations Discuss Disputed Issues
By Mohammad Haroon Alim
20 Oct 2020
A meeting was held in Doha on Monday night with members of the Afghan government and Taliban delegation and contact groups, but as with previous meetings, it was inconclusive.
Nader Naderi, a member of the Afghan government's delegation, wrote on Twitter that the meeting discussed issues of mutual interest and decided to continue such meetings to end the dispute.
at least 38 days have passed since the start of the Intra-Afghan talks in Doha, but so far, the Afghan government and the Taliban have not been able to agree on a preliminary approach to the main dialogues.
According to some Afghan government sources, the escalation of violence by the Taliban in various parts of Afghanistan has cast a shadow over the Doha talks.
Sources indicate that the Taliban's use of the Doha Accord as a basis for Intra-Afghan talks was something the government is never prepared to accept, but the Taliban still insists on it.
The contact groups are reported to be reduced to three members at each side, on Afghan side there were Seven contact groups while taliban had five members.
https://www.khaama.com/afghan-taliban-peace-delegations-discuss-disputed-issues-87687/
--------
Trump predicts more Israel deals, calls UAE's Mohamed bin Zayed a 'respected warrior'
Emily Judd
19 October 2020
US President Donald Trump said on Sunday that countries in the Middle East are "lined up" to normalize relations with Israel and called Abu Dhabi Crown Prince Sheikh Mohamed bin Zayed Al Nahyan a "respected warrior."
Trump, the Crown Prince, and Israel's Prime Minister Benjamin Netanyahu announced the UAE and Israel would normalize relations on August 13. Less than one month later, Trump announced a second Gulf state, Bahrain, would also establish ties with Israel.
"We signed [with] the United Arab Emirates - [Sheikh] Mohammed, one of the most respected warriors in the Middle East – and Bahrain. And we have other countries lined up," Trump said during a rally in Nevada on Sunday.
The Abu Dhabi Crown Prince is the Deputy Supreme Commander of the UAE Armed Forces.
White House Chief of Staff Mark Meadows said last month that five more countries were seriously considering setting up ties with Israel, and that three were located in the Middle East.
Trump predicts Iran will come calling
Trump predicted that Iran will be the first phone call he receives should he be re-elected as US president next month.
"[Iran's] economy is a disaster….and I don't want that to happen, I want them to be a great country. But they can't have nuclear weapons, it's that simple," said Trump.
"I think the first call we'll get will be from them," he said.
The Trump administration, which withdrew in 2018 from the Obama-era Iran nuclear deal, has imposed a maximum pressure campaign against the Iranian regime by increasing targeted sanctions, and killed top Iranian military commander Qassem Soleimani.
Soleimani was killed in a US airstrike ordered by Trump at Baghdad's international airport on January 3.
"We killed the number one terrorist and mass murderer anywhere in the world of American troops…Soleimani is dead," Trump said at the rally.
A representative of Iran's Supreme Leader Ali Khamenei said last month that Trump will be a target of the Iranian military "for the rest of his life" because of his involvement in the killing of Soleimani.
https://english.alarabiya.net/en/News/world/2020/10/19/Trump-predicts-more-Israel-deals-calls-UAE-s-Mohamed-bin-Zayed-a-respected-warrior-
--------
Saudi Arabia restructures Supreme Court, religious, advisory bodies
19 October 2020
Saudi Arabia's King Salman has issued a raft of royal decrees, restructuring the country's supreme court as well as its highest religious and advisory authorities.
On Sunday, the monarch appointed a new Supreme Court chief, Khaled bin Abdullah al-Luhaidan. The tribunal serves as the last authority, with which the country's legal decisions have to be cleared.
These include decisions taken by the so-called Saudi Specialized Criminal Court that implements its "terrorism"-related cases. Many high-profile international right bodies say the cases are mostly built against dissidents and critics of the royal family.
The king also ordered "reformation" of the Council of Senior Scholars, the kingdom's top religious body, by appointing 20 people to the council.
The council advances Wahhabismn, Saudi Arabia's dominant radical ideology. It is headed by grand mufti Sheikh Abdulaziz al-Sheikh, who has secured notoriety for his numerous controversial rulings.
The king, meanwhile, appointed 150 members to Shura Council, the top Saudi consultative body, which is due to start a new term this week, for a renewable period of four years.
He also picked a new speaker and two deputies for the council and in a rare move, one of the deputies was chosen a woman.
Saudi Arabia's Crown Prince Mohammed bin Salman, who is the country's heir to the throne and de facto ruler, has been trying to paint a picture of strong societal presence by women in the kingdom.
The move, supposed to appeal the West, has seen him reportedly lifting a driving ban on woman and relaxing the kingdom's high-handed male guardianship laws.
His tenure has, however, also witnessed jailing of hundreds of activists, including woman, many of whom are still behind bars, something that has prompted critics to denounce the "reforms" as only cosmetic.
https://www.presstv.com/Detail/2020/10/19/636720/Saudi-Arabia-King-Salman-decrees-Supreme-Court-religious-advisory-bodies
--------
US, Western intelligence services behind creation of Takfiri terrorist groups: Houthi
19 October 2020
The leader of Yemen's Houthi Ansarullah movement has held the United States and Western intelligence services responsible for the creation of Takfiri terrorist groups, saying France's external intelligence agency plays a significant role in this regard.
"Takfiris are supported by the US, France and Western countries. They are the parties that have stood by Takfiris to target Muslims as they massacre them. The United States and its allies in Syria, Yemen, and other countries are supporting Takfiris, because they are using the extremists to tarnish the image of Islam. Western intelligence agencies, including the one in France, are involved in monitoring and supporting them," Abdul-Malik al-Houthi said at a televised speech broadcast live from the Yemeni capital of Sana'a on Monday evening.
Houthi also warned that distortion and misinterpretation of Islamic teachings have created a deep rift among Muslims and posed serious problems to them.
"Enemies have used such deviation to insult the Holy Qur'an and Islam. There is no mercy or sympathy whatsoever in the Western civilization. They trample on [the rights of] human societies, deprive people of their freedom, plunder their wealth and occupy their lands, and then lecture others on human rights," he highlighted.
The Ansarullah chief then questioned Western states' respect for human rights in Yemen, Palestine and other Arab and Muslim countries, saying US President Donald "Trump is proud that he is ready to give Arab lands to the [Israeli] enemy and expropriate them as he did in the Syrian Golan Heights. What sort of civilization is this?"
Houthi went on to say that insulting Islam is allowed while criticizing Zionists is prohibited in France and whoever does so will be brought to trial.
"In the West, on the other hand, you are allowed to insult Islam and prophets, become atheists and insult God. But you are not permitted to insult Zionists and stand up to them," the Yemeni Ansarullah leader pointed out.
"In the world, there is a blatant and insulting attack on the Prophet [Muhammad (PBUH)], Islam and Muslims, and the campaign seeks to target our faith with the goal of cultural dominance," Houthi noted.
The Ansarullah leader stressed that efforts are being made to turn Muslim nations into subordinates of the US, Western states and the Israeli regime.
"Plots aimed at enslaving and distancing us from our religious teachings and identity must not be accepted at all," he said.
Houthi then denounced French President Emmanuel Macron's recent anti-Islam remarks as a form of hostility toward the Muslim world.
"France and the West are insulting Islam and the Prophet Muhammad (PBUH). At the same time, they are caring for Zionists and don't stand any insults directed at them," he said.
The Ansarullah leader finally held arrogant powers, led by the US and the Israeli regime, accountable for the sufferings of nations worldwide.
https://www.presstv.com/Detail/2020/10/19/636766/US-Western-intelligence-services-behind-creation-of-Takfiri-terror-networks-Houthi
--------
Southeast Asia
Take responsibility for your remarks on Nur Sajat, Harakah tells Mujahid after sued for defamation
19 Oct 2020
BY R. LOHESWAR
KUALA LUMPUR, Oct 19 — PAS's party newspaper Harakah has hit back at former religious affairs minister Datuk Seri Mujahid Yusof Rawa, telling him to take responsibility for his statement regarding cosmetics entrepreneur Nur Sajat instead of suing over it.
In their statement of defence provided to the media by their lawyers, the defendants, Harakah reporter Aziz Muda; its editor-in-chief Wan Nordin Wan Yaacob; and its online portal harakahdaily.net operator Galeri Media Serbanika Sdn Bhd said they had no malicious intent when publishing scathing articles in February that Mujahid said made him look bad in the public eye.
They said they were only carrying out their duties as media practitioners and that Mujahid should not be offended by the criticisms hurled at him by the public in connection with the Nur Sajat's trip to Mecca to perform the minor pilgrimage of "umrah" in female attire.
"The defendants asserted that they were under political, moral and social obligations to disseminate the different views of the people pertaining to the issue as it also involved the concepts of 'rahmatan lil alamin' and 'amar maaruf nahi mungkar'," the statement said.
It was referring to two concepts in Islam, "mercy to all mankind" and "promoting good and preventing evil", respectively.
Mujahid is suing Harakah for articles released on harakahdaily.net on February 7 titled "Sajat: Mujahid dan K'jaan PH patut dipersalahkan" (Sajat: Mujahid and the PH government are to blame).and another one titled "Keterlanjuran Sajat kesilapan Mujahid dan kerajaan PH" (Sajat's overbearing ways is Mujahid and the PH government's fault) published on Harakah newspaper dated between February 10 and 13.
The Parti Amanah Negara vice-president claimed that the articles in question were defamatory and malicious in order to tarnish his dignity, credibility and reputation at the material time as a minister in the Prime Minister's Department, among others.
The Parit Buntar MP said that the articles implied he was the man responsible for Nur Sajat wearing a telekung, a type of attire worn by Muslim women during prayer, during the pilgrimage.
Apart from claiming general damages, Mujahid wanted Harakah to publish an apology, remove said articles from publication, and make sure these sort of reporting does not happen to him again.
The defendant's lawyer, Yusfarizal Yussof, said the statement of defence was sent in on September 28 while Mujahid's lawyer Noorazmir Zakaria said the next case management was set for October 23 via e-review and that the plaintiff had also responded to the defendants' statement of defence last Friday.
Nur Sajat was criticised on social media after photos and videos of her performing the pilgrimage went viral.
Muslims who complained mostly took issue with her wearing women's clothes during the pilgrimage and performing the rituals as a woman among female pilgrims, as they accused her of not being a woman.
Mujahid had then requested for the Malaysian Communications and Multimedia Commission to take prompt action following the uploading of numerous photos and video of her "umrah" by Nur Sajat.
Nur Sajat continues to be hounded by authorities and some in the public over her gender identity.
https://www.malaymail.com/news/malaysia/2020/10/19/take-responsibility-for-your-remarks-on-nur-sajat-harakah-tells-mujahid-aft/1914310
--------
Johor police to raid Hizbut Tahrir centres
October 18, 2020
JOHOR BAHRU: Police will raid Hizbut Tahrir Malaysia (HTM) centres in the state soon, said Johor police chief Datuk Ayob Khan Mydin Pitchay.
He said the police would work closely with the Johor Islamic Religious Department (JAINJ) for this purpose and has identified 45 out of 80 HTM followers in the state and their leader, Sallahuddin Mashkuri.
"Although it is not under police authority to take action, I will make sure JAINJ will take stern action and no more warnings will be given. We will raid HTM centres in Skudai. Just wait and see," he told reporters after the monthly assembly at the Johor Contingent Police Headquarters here, today.
He was commenting on a statement uploaded on HTM's official website yesterday which claimed that the state Islamic Religious Affairs Committee chairman Tosrin Jarvanthi and the Johor Police Chief had slandered HTM as contradicting Islam.
Ayob Khan said there was no issue of slander as his statement was made based on the state fatwa which was issued with consent from the Sultan of Johor, Sultan Ibrahim Almarhum Sultan Iskandar.
Meanwhile, Ayob Khan said action would be taken on senior police officers in the state who have been covering up any misconduct by their subordinates.
He said information from the Integrity and Standard Compliance Department (JIPS) revealed that there have been many misconducts in district police headquarters for the last few months.
He added that 21 cases involving policemen and officers had been brought to court since he began his duty as the state police chief on Feb 24.
"Five were on drug offences, six criminal cases, seven were Malaysian Anti-Corruption Commission (MACC) cases, one misconduct and two traffic offences," he said. -- BERNAMA
https://www.nst.com.my/news/nation/2020/10/633298/johor-police-raid-hizbut-tahrir-centres
--------
India
Court Acquits Twenty Foreign Tablighi Jamaat Delegates Booked For Violating Covid-Related Norms
Oct 20, 2020
MUMBAI: A magistrate's court here on Monday acquitted 20 foreign Tablighi Jamaat delegates who had been booked for violating Covid-related norms and assembling in a mosque, reports Rebecca Samervel.
In two separate judgments, the Indonesian and Kyrgyz Republic nationals were found not guilty for the single charge under the Bombay Police Act, which through a promulgated order prohibits any assembly of people for preservation of public order.
The delegates, who had come to India to attend the Tablighi congregation in Delhi's Nizamuddin Markaz —it was perceived to be a Covid-spreader event — can return to their home countries after being stranded in Mumbai for over seven months.
Referring to the evidence of two witnesses — cops who probed the cases — the court said neither had an occasion to see the accused together in the form of an assembly.
"The prosecution witnesses admitted they have not seen accused persons contravening any directions or order issued by the authority. The witnesses were also not found in a position to tell where and how the accused persons were residing at the time of the alleged offence," metropolitan magistrate RR Khan said. "Admittedly the accused persons are foreigners; therefore, they aren't acquainted with local language and the law of the state," it said.
https://timesofindia.indiatimes.com/india/court-acquits-20-tablighi-foreign-members-stuck-for-7-months/articleshow/78759152.cms
--------
Police officer shot dead by terrorists in J&K's Anantnag
Oct 19, 2020
SRINAGAR: Terrorists on Monday shot dead a police officer while he was returning home after offering prayers at a mosque in Anantnag district of Jammu and Kashmir, police said.
The incident took place in Bijbehara area of the district, a police official said.
Inspector Mohammad Ashraf Bhat was rushed to Bijbehara sub-district hospital, where doctors declared him brought dead, he said.
Bhat was presently posted at Police Training Centre in Lethpora in Pulwama district.
https://timesofindia.indiatimes.com/india/police-officer-shot-dead-by-terrorists-in-jks-anantnag/articleshow/78755789.cms
--------
Not worried about ED questioning, struggle for restoration of Article 370 will continue: Farooq Abdullah
Oct 19, 2020
NEW DELHI: National Conference president Farooq Abdullah, who was on Monday grilled for over 6 hours by the Enforcement Directorate in connection with a multi-crore scam in the Jammu and Kashmir Cricket Association, said he was not worried about the questioning and added that the struggle for restoration of Article 370 will continue.
"Our struggle (for Article 370) will go on whether Farooq Abdullah is alive or Farooq Abdullah is dead. Our resolve has not changed and our resolve will not change even If I were to be hanged," Abdullah told reporters emerging from the ED office.
"The courts would decide on the merits of the case. I am not worried. Why are you worried? The only regret I have is that I could not have my lunch as I had not brought it along," the former chief minister said.
With the ED summons coming a day after the formation of the People's Alliance led by Farooq Abdullah was announced, mainstream political parties accused the Centre of "political vendetta" against the former chief minister.
Omar Abdullah, son of Farooq Abdullah said that the NC will be responding to ED summons.
"The party will be responding to this ED summons shortly. This is nothing less than political vendetta coming days after the formation of the People's Alliance for Gupkar Declaration. To set the record straight no raids are being conducted at Dr Sahib's residence," tweeted Omar Abdullah.
In a joint statement, several NC leaders from the Kashmir valley, the Jammu region and the Union Territory of Ladakh condemned the "undue witch-hunt" and intimidation of Abdullah, saying the "motive" behind the summons is to deter him from representing the aspirations of the people of Jammu and Kashmir.
They said the incumbent ruling dispensation in New Delhi is employing the government machinery and malevolent tactics to subdue Abdullah's effort in forging unity among different mainstream political parties of Jammu and Kashmir.
"This government is doing everything it can to silence the combined voice of the people of Jammu and Kashmir, which Dr Sahib (Abdullah) has been able to forge. The tactics are being employed across the board in the country to stifle the voices of dissent by using all spiteful measures, the party will not duck due to such tactics," the statement said.
The NC said the timing of the summons is very clear as the previous summons was issued just before August 5 last year, when the BJP-led Centre abrogated Article 370 of the Constitution, and this summons comes within days of the formation of the People's Alliance for Gupkar Declaration, of which Abdullah has taken a lead.
The leaders condemned the treatment meted out to Abdullah, an octogenarian, the seniormost politician of Jammu and Kashmir and the Member of Parliament from Srinagar.
"Such tactics will only make us more resolute towards achieving our goal peacefully and constitutionally. The measure also reveals the jitters the present ruling dispensation is going through in the wake of the growing consensus among all mainstream political parties on the People's Alliance for Gupkar Declaration, headed by Dr Farooq Abdullah," they said.
People's Democratic Party (PDP) president Mehbooba Mufti said the ED summons displays the extent of the Government of India's nervousness about mainstream parties in Jammu and Kashmir fighting as one unit.
"ED's sudden summon to Farooq sahab displays the extent of GOIs nervousness about mainstream parties in J&K fighting as one unit. Also reeks of political vendetta & wont in the least blunt our collective resolve to fight for our rights," she said in a tweet.
People's Conference leader Sajad Lone said the summons reeks of vendetta and will have an opposite impact to what the BJP wants to achieve.
"What a sorry state of affairs. Dr Farooq sahib summoned by ED. Reeks of vendetta. Contrary to what they want to coercively achieve this will certainly have the opposite impact," he said in a tweet.
https://timesofindia.indiatimes.com/india/not-worried-about-ed-questioning-struggle-for-article-370-will-continue-farooq-abdullah/articleshow/78754994.cms
--------
Encounter breaks out in Melhora area of Jammu and Kashmir's Shopian, one terrorist killed
Edited by Arpan Rai
Oct 19, 2020
One terrorist was killed after an encounter broke out in Melhora area of Jammu and Kashmir's Shopian on Monday evening.
Police and security forces are carrying out the operation, Kashmir Zone Police informed.
https://www.hindustantimes.com/india-news/breaking-encounter-breaks-out-in-melhora-area-of-jammu-and-kashmir-s-shopian-one-terrorist-killed/story-IEwFlzLeQxSGOPxFfJkn7J.html
--------
Pakistan
Govt, opposition trade charges for making army controversial
Amir Wasim
20 Oct 2020
ISLAMABAD: Prevailing political heat in the country entered the Senate on Monday when lawmakers from both sides of the aisle, during an intense debate on the current situation after the opposition's launching of the anti-government campaign, held an indirect debate on the alleged political role of the army and blamed each other for making the institution controversial in the country.
The upper house of parliament which met after a two-day recess could not take up even a single item on the 48-point agenda due to furious speeches made by opposition and treasury members one after the other for more than two hours after opposition leader Raja Zafarul Haq raised the issue of the arrest of retired Captain Muhammad Safdar, the spouse of PML-N vice president Maryam Nawaz, from a Karachi hotel late in the night and vehemently condemned it.
Senate Chairman Sadiq Sanjrani was seen struggling in running the house smoothly and the proceedings were disrupted on several occasions when members interrupted each other and indulged in heated exchange of arguments without having the floor.
Alleging that the FIR against Captain Safdar had been registered by the police at the behest of the federal government and without the knowledge of the Sindh government after the kidnapping of the provincial police chief, Jamiat Ulema-i-Islam (JUI-F) Senator Maulana Attaur Rehman called for referring the matter to a house committee for investigation.
Furious speeches in Senate made over Safdar's arrest
The JUI-F senator alleged that the ruling Pakistan Tehreek-i-Insaf (PTI) was itself dragging the army into politics by claiming that it had the complete backing of the institution.
Referring to the last week's speech of Prime Minister Imran Khan at the Tiger Force Convention, the JUI-F senator said Mr Khan had levelled allegations against the army chief by stating that PML-N's Kha­waja Asif had won his National Assembly seat from Sialkot after making a telephone call to Gen Qamar Javed Bajwa.
Maulana Attaur Rehman, who is the brother of JUI-F chief Maulana Fazlur Rehman, said that all civil institutions were currently being headed by people from the armed forces.
Jamaat-i-Islami (JI) chief Sirajul Haq said he found no difference in the speeches made by PML-N leader Nawaz Sharif at the Gujranwala public meeting and by Prime Minister Imran Khan at the Tiger Force Convention.
He expressed his surprise over complete silence by Khawaja Asif as well as the army chief after the prime minister's statement that the former had won the election with the latter's support.
Hitting back at the opposition a day after its first power show in Gujranwala, Prime Minister Khan had declared that he would get "tougher" with them and vowed to bring Nawaz Sharif back to the country and send him behind bars.
He had also announced that production orders would no more be issued for detained leaders to allow them to attend the sessions of parliament.
The prime minister had revealed that PML-N's Khawaja Asif made a telephone call to the army chief on the night of the election and sought his help in winning the election.
Pakhtunkhwa Milli Awami Party Senator Usman Kakar said that the Constitution barred government employees, whether army generals or civil bureaucrats, from taking part in politics.
Earlier, parliamentary leader of the Pakistan Peoples Party (PPP) in the Senate Sherry Rehman condemned the arrest of PML-N leader retired Captain Safdar in Karachi, saying that slogans of democracy should not frighten anyone.
After the first opposition's public meeting, she said, the nation saw "the Tiger Farce (Force) circus and the second jalsa was such a blow to the government that it started giving threats and making arrests".
PPP's Raza Rabbani said that previously Balochs, Pashtoons and Sindhis were used to be declared traitors, but now the elite of Punjab was being dubbed traitors which was a dangerous sign.
PML-N parliamentary leader Mushahidullah Khan said that Nawaz Sharif had not talked against the army. Instead, he said, it was the PTI which was hiding behind the army due to its failures. He said there were at least 21 speeches of Prime Minister Khan in which he had talked against the army.
Mr Khan also asked the chair to give a ruling over the prime minister's remarks that no production orders would be issued in future, saying that he had interfered in the powers of the chairman and the speaker and action should be taken against him.
PTI's Faisal Javed said that those parties were now talking about democracy which themselves had come into power with the help of army generals.
Treasury Senator Anwarul Haq Kakar of the Balochistan Awami Party said that the opposition was not threatening institutions, but in fact "it is sending them a message".
In his winding up speech, Minister of State for Parliamentary Affairs Ali Muhammad Khan admitted that "civil-military imbalance" had been an issue in the country. The minister said that discussion could be held on the political role of the army, but regretted that Nawaz Sharif in his speech had raised questions over "professional capabilities of the armed forces" and held them responsible for the East Pakistan tragedy.
NA session: Earlier, National Assembly Speaker Asad Qaiser adjourned the sitting of the lower house within minutes without taking up any agenda item when PPP's Ghulam Mustafa pointed out lack of quorum.
https://www.dawn.com/news/1585996/govt-opposition-trade-charges-for-making-army-controversial
--------
Pakistan Prime Minister Imran fears 2nd Covid-19 wave in coming months
Oct 20, 2020
ISLAMABAD: Pakistan Prime Minister Imran Khan has expressed fears over a second Covid-19 wave in the country in the coming months due to a resurgence of new cases in some parts of the country.
"I fear there might be another spike of coronavirus in cities where the rate of pollution increases in October and November," Dawn news quoted the premier as saying on Monday at an event.
Fears of a second wave have surfaced after health officials warned of cases rising in Punjab province, especially Lahore, while there was also an increase in Karachi's Covid-19 positivity rate.
Although measures taken by the government during the pandemic were acknowledged internationally, Khan said that there was still a need to observe precautions to combat an expected second wave.
"I fear that in these two months, October and November, cities like Faisalabad, Lahore, Karachi, Peshawar and Gujranwala where there is more pollution, there might be a second spike in coronavirus cases.
"The cases are rising gradually and we hope that they don't increase quickly; we are monitoring it," he said, adding that "pollution becomes stagnant in the atmosphere", leading to the spread of diseases.
Khan's remarks come a week after Minister for Planning and Development Asad Umar had announced that the country's Covid-19 positivity rate was 2.37 per cent, the highest in over 50 days, due to a recent spike in the number of fresh cases, Dawn news reported.
According to Umar, the rate was "extremely high" in Muzaffarabad, "remained high" in Karachi, and is "rising" in Lahore and Islamabad.
Pakistan has so reported a total of 323,452 confirmed coronavirus cases and 6,659 deaths.
https://timesofindia.indiatimes.com/world/pakistan/pakistan-prime-minister-imran-fears-2nd-covid-19-wave-in-coming-months/articleshow/78761176.cms
--------
Pakistan braces for fresh protests with Imran Khan under pressure
Oct 20, 2020
ISLAMABAD: Pakistan is bracing for more protests after an alliance of opposition parties kicked off a series of rallies calling for the resignation of Prime Minister Imran Khan.
Khan's administration is facing its biggest political challenge yet as it tries to manage a backlash over soaring food prices. Pakistan is importing sugar, tomatoes and the most wheat in a decade to stabilize prices after the South Asian nation witnessed its first economic contraction in about seven decades following a coronavirus lockdown.
At the same time, the government's crackdown on opposition groups and the media has intensified. In an unprecedented move, two former prime ministers, Shahid Khaqan Abbasi and Nawaz Sharif, have been charged with treason for criticizing the military.
Pakistan's powerful military commanders are also facing unusual criticism from opposition parties who have accused them of meddling in politics and toppling governments, intensifying the pressure on Khan's pro-army administration.
Sharif accused army chief General Qamar Javed Bajwa and General Faiz Hameed, the head of the country's spy agency, of conspiring to topple his previous government to help bring Khan to power. His claim -- made in a speech from London at a rally in Gujranwala on Friday -- set the tone for the 11-party opposition movement's series of rallies that aim to oust Khan from power within three months.
The army has always been criticized for its outsize role in politics and governance, but "this is the first time its top leadership has been named for ousting elected governments," said Naeem Ahmed, the chairman of international relations department at the University of Karachi.
The opposition parties are "feeling insecure after a third political force emerged on the political horizon and formed a government with the clear support of the military establishment," he said.
Khan 'worried'
Analysts have long seen army support as critical for Khan's party, which holds just 46% of the seats in parliament and relies on smaller coalition partners to stay afloat. A survey by Gallup Pakistan last month found 47% hold Khan's government responsible for destroying the economy, while 41% disagreed. A majority of 51% agreed the army should stay out of politics, while 40% said it has a role in politics and overall management of the country, the survey found.
Khan's "body language" shows he is worried, according to Shaista Tabassum, a political analyst from Karachi.
"Nawaz Sharif has gone for a head on collision with the establishment," the former chairwoman of the department of international relations at the University of Karachi, said on the phone, referring to the army. "The opposition alliance is building a momentum around their common agenda of ousting Imran Khan. The establishment is very intelligent and it will not stand behind a government which is fast losing popularity."
The army, which has directly ruled Pakistan for about half of its existence since 1947, took a more active role in policy making beyond foreign and national security issues after Bajwa met top business leaders privately to find ways to boost the economy. The military has been instrumental in getting rival political parties to coordinate during the pandemic while former and current officers are running key government programs including China's Belt and Road projects in Pakistan and Khan's main economic stimulus housing program.
While the military has not responded to the opposition's criticism, Khan vowed to defend the army, while accusing Sharif of following a "pro-India agenda."
Sharif had his seven-year imprisonment in a corruption case suspended by the Islamabad High Court almost a year ago to seek medical treatment in London. He was disqualified by the Supreme Court in 2017 for not declaring his assets, a verdict that Sharif says was handed out under army chief Bajwa's pressure.
"Nawaz Sharif has crossed the point of no return," said Burzine Waghmar, a member of the Centre for the Study of Pakistan at SOAS University of London. "I do not think Khan-Bajwa will buckle under pressure despite the growing dissatisfaction across the country. For now they both will have to rough it out."
https://timesofindia.indiatimes.com/world/pakistan/pakistan-braces-for-fresh-protests-with-imran-khan-under-pressure/articleshow/78761091.cms
--------
After Maryam Nawaz's anti-military speech, her husband is arrested, released
Oct 19, 2020
ISLAMABAD: Hours after former Pakistan prime minister Nawaz Sharif's daughter, Maryam Nawaz, took the military establishment head on at a rally of opposition parties in Karachi, police personnel barged into her hotel room in the port city in the early hours of Monday and arrested her husband, Capt Muhammad Safdar (Retd).
He was released on bail later in the day. "I was in the room, sleeping, when they (police) barged in and arrested Safdar," Maryam posted on Twitter.
An FIR was registered against Safdar for raising slogans at Muhammad Ali Jinnah's mausoleum in Karachi.
A day earlier Maryam, along with Pakistan Muslim League-Nawaz (PML-N) leaders and workers, had entered the Jinnah mausoleum to offer fateha (prayers) and lay a floral wreath on his grave. As soon as it ended, Safdar and the PML-N workers started chanting the slogan "Vote ko izzat do (Honour the vote)", which was against the mausoleum's protocol.
The complainant, Waqas Ahmed, alleged that the PML-N leaders, along with 200 of their followers, reached Jinnah's grave where Safdar jumped over the grill surrounding it. The complainant claimed that he tried to stop him from doing so but Safdar "got out of control" and started threatening him and others that he would kill them. He alleged that Safdar later damaged government property before leaving the site.
The PML-N and other opposition leaders claimed that Safdar's arrest was a "sting operation by the state" carried out to damage the Pakistan Democratic Movement (PDM), an alliance of 11 opposition parties formed to oust the Imran Khan-led government.
Addressing a press conference along with Maryam and other opposition leaders, Maulana Fazlur Rehman, the Jamiat Ulema-i-Islam (F) chief and PDM president, said this arrest was "done through a conspiracy to create differences between the PML-N and Pakistan Peoples Party (PPP)" but the government failed to create a rift between the opposition parties.
Rehman claimed that the Sindh police chief, after he refused to take any action against Safdar, was "kidnapped", "kept hostage for four hours" and made to register the FIR.
Defending the slogans being raised at Jinnah's mausoleum, Maryam said: "We all know who (a reference to the military establishment) hates the "Vote ko izzat do (Honour the vote)" slogan. We all know who these namaloom afraad (unidentified people) (a veiled reference to the ISI) are."
https://timesofindia.indiatimes.com/world/pakistan/after-maryam-nawazs-anti-military-speech-her-husband-is-arrested-released/articleshow/78756081.cms
--------
Will visit Quaid's mausoleum every Oct 18 and raise slogans for the mother of the nation: Safdar
20 Oct 2020
Striking an unapologetic tone, PML-N leader Mohammad Safdar on Tuesday said that he will visit Quaid-i-Azam Mohammad Ali Jinnah's mausoleum on October 18 — the date of his visit that landed him in trouble — every year and raise the slogan "long live the mother of the nation".
Speaking to the media in Lahore, he said that he wanted to send a message to those that had called Fatima Jinnah a traitor by raising Madar-i-Millat (mother of the nation) slogans during his visit to the mausoleum. "What was wrong with that?"
Safdar's comments come a day after he was arrested in Karachi on charges of violating the sanctity of Jinnah's mausoleum during his Sunday visit and hurling murder threats at some individuals.
According to the FIR registered on the complaint of Waqas Ahmed Khan, Safdar was arrested on charges of violating the sanctity of the mausoleum of the founder of Pakistan, damaging official property and allegedly threatening the complainant with dire consequences. Around 200 other people were also booked in the case lodged at the Brigade police station.
The day-long episode, with several turns and twists, came to a close with a court granting the PML-N leader bail and the disclosure at a press conference in the evening that the complainant in the case was wanted in a terrorism case.
PDM leaders alleged that the move was an attempt by the federal government and its agencies, which "kidnapped the provincial police chief and forced him into signing the arrest order".
The government, however, denied the claim with Maritime Affairs Minister Ali Zaidi calling it a "nonsense narrative".
Read: Ali Zaidi refutes reports Sindh IGP was kidnapped, forced to register FIR against Safdar
Speaking to the media today, Safdar stated that his conduct at the mausoleum was similar to that of a child seeking solace in the comfort provided by his parents.
"When children are in pain, they go to their mother and father. When they are attacked in the streets, children go to their mother and tell her [about the incident]. I also went to the mother of the nation [and] said to her that the ones who stole your elections, the same people have stolen ours.
"If appealing to your mother is a crime then we will continue to do this. If saying zindabad to your mother is a crime then we will continue to do so."
Lashing out at the government, he said: "You incompetent fools, will you teach me how to visit a shrine? People learn this kind of etiquette from us," he said, adding that his family has a long history of being caretakers of various shrines.
"A state above the state filed an FIR against me and [struck] during the cover provided by the night." The PML-N leader said that he was not worried when the police broke down his door.
"I said that my family is inside, I am coming. I am performing ablution [as] it time for prayers, give me ten minutes," Safdar said, adding that he was ready to go through the ordeal as Nawaz's message of respecting the sanctity of the vote was "loud and clear".
"[But] I am concerned about where the inspector general of a province disappeared to for three hours," he said, asking who were the people behind this FIR.
He stated that FIRs and other obstacles would not be able to stop the 'respect the vote' movement.
Maryam defends husband
Defending her husband for the slogans raised, Maryam Nawaz asked what was wrong in that gesture. "What is wrong with repeating Quaid-i-Azam's stance at his mausoleum? What is wrong with Madar-i-Millat slogans? No one chanted slogans for Nawaz Sharif or myself. We all know who hates the vote ko izzat do (honour the vote) slogan. We all know who these namaloom afraad (unidentified persons) are."
The PML vice president said the so-called murder threats by her husband to any individual at the Mazar-i-Quaid was a 'ridiculous' charge at a crowded place where one couldn't hear the other person's voice amid so much hustle bustle.
To strengthen her arguments, she came up with details of the complainant of the newly registered FIR against her husband.
She said: "The complainant Waqas Ahmed Khan is already an absconder of terrorism court who was booked [in terrorism case] in 2019 by the Site Superhighway police."
The infamous visit
The same day the PDM staged their second rally in Karachi, Maryam and Safdar had visited the Quaid's mausoleum. After praying for the deceased, PML-N workers who were standing outside the iron grill in the same hall, had shouted slogans in favour of the PML-N vice president.
Safdar had signalled them, apparently to stop them from raising that particular slogan at the grave of Quaid-i-Azam, and had started chanting vote ko izzat do slogan.
While Maryam and other party leaders stayed silent, Safdar kept on chanting another slogan, 'long live the mother of the nation', and the crowd had responded. The scene had lasted a couple of minutes. However, the incident drew criticism from all quarters as government ministers and citizens condemned the PML-N leaders conduct at the mausoleum.
https://www.dawn.com/news/1586060/will-visit-quaids-mausoleum-every-oct-18-and-raise-slogans-for-the-mother-of-the-nation-safdar
--------
IHC rejects plea for publication of proclamation against Nawaz in UK papers
Malik Asad
20 Oct 2020
ISLAMABAD: The Islamabad High Court on Monday dismissed a petition filed by the federal government seeking publication of proclamation against former prime minister Nawaz Sharif in two newspapers in the United Kingdom.
An IHC division bench comprising Justice Aamer Farooq and Justice Mohsin Akhtar Kayani heard the petition.
Additional Attorney General Tariq Mehmood Khokhar submitted a compliance report relating to publication of proclamation issued in Al-Azizia and Avenfield properties references against Mr Sharif in Dawn and Jang newspapers. He argued that since Mr Sharif is in England, the proclamation may be published in The Guardian and Daily Telegraph.
Registrar office asks foreign secretary to display proclamation in vicinity of Nawaz's residence in London
The high court turned down the request with an observation that since the legal requirements of issuance of proclamation had been fulfilled, there was no need to publish the same in British newspapers.
Meanwhile, the IHC registrar office wrote a letter to the foreign secretary, asking him to execute/display the proclamation in the vicinity of Mr Sharif's residence in London through the Pakistani High Commission in the UK. According to the letter, the proclamation "shall be read out some conspicuous place of the town in which Mian Mohammad Nawaz Sharif ordinarily resides in the UK. One copy shall be affixed at some conspicuous part of the residence in which Mian Mohammad Nawaz Sharif ordinarily resides in the UK".
It said a copy "shall be affixed at some conspicuous part of this court-house" and another copy "shall be produced before this court on the next date of hearing i.e. November 24, 2020, with reports received on the proclamation, proceedings conducted and for statement regarding the subject matter".
It may be mentioned that accountability court judge Mohammad Bashir had days before the general elections in July 2018 convicted Nawaz Sharif in the Avenfield properties reference and sentenced him to 10 years in prison. His daughter Maryam Nawaz was sentenced to seven years in prison for abetment and his son-in-law retired Captain Mohammad Safdar to one year.
In December 2018, accountability court judge Arshad Malik convicted Nawaz Sharif in Al-Azizia Steel Mills reference and sentenced him to seven years in prison. Judge Malik was later dismissed from service over misconduct.
The IHC granted bail to Mr Sharif, Maryam Nawaz and Capt Safdar in September. Nawaz Sharif, after his conviction in the Al-Azizia reference, was sent to jail but released for eight weeks on medical grounds. The bail-granting order lapsed while the former premier was in London.
The IHC had in September fixed the appeals against conviction of Mr Sharif in Al-Azizia and Avenfield references. Initially, the appeals were fixed for Sept 9, but the registrar office later changed the hearing date to Sept 1.
The IHC bench rejected Mr Sharif's applications seeking hearing in absentia and issued his non-bailable arrest warrants. The court then issued his proclamation giving the former premier final opportunity to join the proceeding before confiscating his properties.
However, the accountability court of Islamabad has already confiscated movable and immovable properties of Nawaz Sharif because of his absconsion in Toshakhana reference.
https://www.dawn.com/news/1585982/ihc-rejects-plea-for-publication-of-proclamation-against-nawaz-in-uk-papers
--------
PDM leaders totally neglected Karachi at power show, say MQM-P, PSP
Azfar-ul-Ashfaque
20 Oct 2020
KARACHI: A day after the Pakistan Democratic Movement staged a successful anti-government show at Karachi's Bagh-i-Jinnah, the Muttahida Qaumi Movement-Pakistan (MQM-P) and Pak Sarzameen Party (PSP) slammed the 11-party opposition alliance for what they called neglecting the plight of Karachi's citizens over the around 13 years of rule by the Pakistan Peoples Party (PPP), which hosted the event.
Both the parties held separate press conferences at their respective headquarters situated in Karachi's East district. However, the PSP took a step forward in its criticism and announced holding of its own 'power show' on Nov 8 at the same venue where the PDM held its public meeting.
Another common feature of both the press conferences was their criticism against a senior figure of the PDM who, they said, spoke against the country's national language during his speech.
PSP rally at Bagh-i-Jinnah on Nov 8
"We will alone demonstrate people's power on Nov 8 at the same venue where PDM's 11 parties held their public meeting to show the world if we can change Karachi then we can also transform Pakistan," said Mr Kamal while addressing a press conference at PSP's Pakistan House headquarters here on Monday.
Both parties flay the alliance over remarks against Urdu
Lashing out at the PDM for not talking about the problems of Karachi and its residents during their Sunday show, he said that the opposition alliance's platform was used to malign the armed forces and security institutions.
He said that on the other hand, Prime Minister Imran Khan was also defaming state institutions by repeatedly claiming that the government and the establishment were on the same page. He said this mantra gave rise to an impression as if the establishment was responsible for price hike, poverty and unemployment.
"Prime Minister Imran Khan must stop defaming the armed forces and state institutions to hide his sheer incompetence," he said.
Rejecting Pakistan Muslim League-Nawaz's slogan, Vote ko izzat do slogan, he said the ongoing power struggle between the government and opposition had nothing to do with the well-being of a common man.
He said it seemed the opposition and the government had taken the people of Karachi for granted. He said that the people of Karachi and the whole country had rejected the blame game between the government and the opposition.
He said that the PDM meeting was hosted by the ruling Pakistan Peoples Party (PPP), which had been in power in Sindh for the past 12 years. In the last six months, more than 100,000 people had been bitten by stray dogs and there was no vaccine for dog-bite victims anywhere in the province, he added.
The doors of employment are already closed to the youth of Karachi and the city's population has been reduced in the census.
"Today, the PPP acts as the champion of democracy but it's the same party which has deprived the people of Sindh of their basic human rights," he said.
Mr Kamal also condemned what he called an attempt to ridicule Urdu language at the PDM rally, and appealed to Maulana Fazlur Rehman, the president of the alliance, to take notice of it.
MQM-P reaction to PDM meeting
The Muttahida Qaumi Movement-Pakistan (MQM-P) on Monday criticised leaders of the PDM for not raising their voice for the people of Karachi.
The party also slammed an opposition leader for making a statement against Urdu language and Quaid-i-Azam Mohammad Ali Jinnah's decision to make Urdu as the national language.
Senior PDM leader Mehmood Khan Achakzai in his speech during Sunday's public meeting had said "though Urdu is lingua franca, it's not our language".
Speaking at a press conference at MQM-P's temporary headquarters in Bahadurabad, senior party leader Faisal Subzwari said that the silence of all opposition parties against the anti-Urdu statement seemed to suggest that it was the collective narrative of the opposition.
"Rejecting Urdu as the national language and that too from a place located under the shadow of Quaid's mazar is a matter of serious concern," he said, adding: "The leadership of opposition should have demonstrated responsibility."
He said that the MQM-P believed that holding public meetings and rallies was the right of every political party, but "unfortunately leaders of the opposition alliance say nothing for the people of Karachi except giving racist and biased statements".
Mr Subzwari said that the previous government of the PML-N had introduced metro services in major cities of Pakistan, but the PPP despite ruling over Sindh for the past 13 years did not bring even 13 buses in Karachi.
He questioned as to why the combined opposition remained silent over the policies of "biased" Sindh government.
He said that everyone was talking about a Pashtun belt in Balochistan, creation of Hazara and Seraiki provinces in Punjab but as to why the opposition maintained a criminal silence on the issue of a province for the people of urban Sindh.
Speaking at the press conference, senior leader Khawaja Izharul Hasan said that creating new and smaller provinces was necessary for a strong Pakistan and to end corruption.
He said that neither the host nor the guests of the Sunday public meeting belonged to Karachi.
Khawaja Izhar said the people of Karachi were asking the question that what was the objective of PDM's public meeting.
He said the Quaid-i-Azam had said that whoever talked against the national language was an enemy of Pakistan. He demanded registration of a case against PDM leaders for rejecting the philosophy of Quaid-i-Azam.
https://www.dawn.com/news/1585935/pdm-leaders-totally-neglected-karachi-at-power-show-say-mqm-p-psp
--------
South Asia
Turkish President Erdogan to visit Bangladesh for Mujib Borsho celebrations next year
October 19th, 2020
If the Developing-8 Summit takes place physically in Dhaka, Erdogan is expected to visit much earlier to join the summit
Turkish President Recep Tayyip Erdogan has expressed wishes to visit Bangladesh in March next year to celebrate the birth centenary of Bangabandhu, if the Covid-19 situation improves.
Foreign Minister Dr AK Abdul Momen revealed the matter at the cabinet meeting on Monday after recently visiting the Turkish foreign minister.
Prime Minister Sheikh Hasina chaired the meeting virtually from her official residence Ganabhaban, while other ministers and secretaries participated from the Secretariat.
After the meeting, Cabinet Secretary Khandker Anwarul Islam, while talking to the reporters, said that the foreign minister recently visited Turkey and briefed the cabinet about his recent visit.
On September 14, Prime Minister Sheikh Hasina virtually inaugurated the newly-constructed Bangladesh Chancery Complex in Ankara, Turkey.
Foreign Minister Dr AK Abdul Momen was present there with his Turkish counterpart Mevlut Cavusoglu at the inaugural ceremony.
Momen also met with Turkey's President Erdogan on that visit.
2020/10/gdn-leaderboard-728-x-90-1602933350585.gif
The cabinet secretary quoting the foreign minister said that Erdogan wanted to visit Bangladesh to celebrate the birth centenary of Bangabandhu if the Covid-19 situation improves.
While talking to Dhaka Tribune on Monday afternoon, Foreign Minister AK Momen said that the Turkish president gladly accepted our prime minister's invitation to visit Bangladesh.
"Recep Tayyip Erdogan said, 'I would love to come to Bangladesh'," told Momen.
Responding to a question, Momen also said that the Turkish president wants to visit Bangladesh on March 17, 2021, on the occasion of the birthday of Bangabandhu Sheikh Mujibur Rahman. "He is very excited to visit Bangladesh."
The foreign minister also said that Bangladesh is a member of D-8. This year's D-8 summit is expected to be held in Dhaka. If this summit takes place physically, then Erdogan may come to Bangladesh even earlier, to join the summit. "If the Covid-19 situation remains unchanged then the summit will be held virtually."
The D-8 Organization for Economic Cooperation, also known as Developing-8, is an organization for developing cooperation among the following countries: Bangladesh, Egypt, Nigeria, Indonesia, Iran, Malaysia, Pakistan, and Turkey.
Foreign Minister Momen added that before the visit of the Turkish president, their foreign minister will visit Bangladesh. "Hopefully he [Cavusoglu] will come to Dhaka soon."
https://www.dhakatribune.com/bangladesh/foreign-affairs/2020/10/19/turkish-president-erdogan-to-visit-bangladesh-for-mujib-borsho-celebrations-next-year
--------
Myanmar's Rohingya crisis exposes ASEAN weaknesses: Report
20 Oct 2020
The Association of Southeast Asian Nations (ASEAN) has failed to respond effectively to the Rohingya crisis in Myanmar thanks to a lack of leadership and the 10-member organisation's inability to grasp the scale of the human rights abuses, a report from a group of regional lawmakers said on Tuesday.
ASEAN Parliamentarians for Human Rights said ASEAN had been hampered by its own institutional structure, which allowed member state Myanmar the space to "set the parameters of ASEAN's engagement".
It noted a lack of leadership within the ASEAN Secretariat in Jakarta, and among member states themselves.
"Caught between respect for its key principles of consensus and non-interference on the one hand, and (an) international and domestic outcry on the other, the regional bloc has struggled to respond to the crisis and articulate a clear vision and strategy that would help end the cycle of violence and displacement," the group said in the report, which examined the reasons for ASEAN's weak response to the crisis.
Some 750,000 mostly Muslim Rohingya fled Myanmar for neighbouring Bangladesh in the face of a brutal military crackdown that is now the subject of a genocide investigation at the United Nations' top court. While those who fled now live in sprawling refugee camps, those left behind in Rakhine are in camps for displaced people that rights groups have described as "open prisons".
Critical issues ignored
Myanmar does not recognise the Rohingya as citizens, even though the minority group has lived in the country for generations.
"ASEAN has chosen to look at it from a humanitarian point of view, which is Myanmar's approach," Charles Santiago, a Malaysian MP who chairs the APHR board, told a press conference to release the report, noting that the organisation had not addressed key concerns including citizenship, religious rights and land issues. "ASEAN literally got cornered. The critical issues were ignored."
The report noted that while ASEAN's approach had enabled it to maintain a dialogue with the Myanmar authorities, it had failed to acknowledge the gravity and scale of the human rights crisis in the western state and the Myanmar authorities' role in creating it.
The situation there has deteriorated since the Rohingya exodus, with more people forced from their homes as a result of the escalating conflict between the Myanmar military and the Arakan Army, an ethnic Rakhine armed group.
The government has now said that the November election will not take place in many parts of the state because it is no longer safe. International media are not allowed to visit the area.
"How can we talk about Rohingya refugees returning to Rakhine State, when that area remains an active war zone?" said Santiago. "ASEAN's reluctance to adopt a holistic approach to Rakhine State, that addresses all aspects of the crisis, risks making the regional group at best counterproductive and at worst actively contributing to human rights abuses."
Regional issue
ASEAN delegations visited the Bangladesh refugee camps in 2019, where they promoted the controversial National Verification Card (NVC) that Rohingya people see as a tool of persecution. The organisation and its member states are also providing financial aid and assistance in Rakhine for infrastructure projects, including schools and hospitals.
"Until ASEAN and other international actors acknowledge the situation that led the Rohingya to flee in the first place, there's no hope of peace for any of the people who call Rakhine State home," said Laetitia van den Assum, a former member of the Advisory Commission on Rakhine State.
The continuing crisis has also prompted Rohingya to risk their lives crossing the ocean in an attempt to reach safety. With the COVID-19 pandemic, countries including Malaysia – the most common destination for the Rohingya – have closed borders and some boats have drifted at sea for months before being able to land.
Last month, villagers in the Indonesian province of Aceh took matters into their own hands and brought ashore nearly 300 Rohingya refugees, including women and children.
"ASEAN has an obligation to serve and protect the people of the region, and has the potential to play a positive role in resolving the situation," the report said. "However, it must examine and address its own weaknesses. Failure to do so will not only harm the bloc's credibility and legitimacy, but will likely cause further harm and suffering to the Rohingya and others who call Rakhine State, and indeed the ASEAN region, home."
The report noted the ASEAN Secretariat declined to be interviewed for the report, while other bodies failed to respond to APHR's requests for interviews and information. Only the Myanmar government responded to its requests for information, it said.
https://www.aljazeera.com/news/2020/10/20/myanmars-rohingya-crisis-exposes-asean-weaknesses-report
--------
Civilian Vast Majority of Victims in Ghor Bombing
By Mohammad Arif Sheva
20 Oct 2020
GHOR, Afghanistan – Local residents and civilians are a vast majority of the victims who were hit during a car bombing in Firozkoh, capital city of Ghor province, on Sunday, according to figures provided by security officials.
The blast that was initially reported to have occurred near the provincial police HQ, was later confirmed to have rocked area close to the local department of martyr and women affairs; the blast left at least 16 dead and wounded further 151 people.
All the 15 victims are civilians, including children and people with disabilities, who were gathered at the scene in normal routine.
Meanwhile, at least 120 of the all injured during the blast are also civilians, marking a vast majority of people being affected during the blow.
"There was a class for people with special abilities (near the blast scene). At least 22 of them were in the class. 18 of them have been wounded. Two of them are in critical condition," said Gul Ahmad Rustami, head of the martyrs and disabled office, as TOLOnews quoted.
While the Taliban continue to shed bloods of innocent people throughout the country, locals and familis of the victims question the government for their inabilities to protect its citizen from harm by any terrorist group.
"How long should we live like this? How long will the Taliban continue the bloodshed?" asked Hazrat Gul, a wounded resident of Ghor, as reported.
"Five of my sons have been wounded. I lost two of my brothers in this blast. I don't have the money for their treatment," said Wali Mohammad, father of the wounded persons and a Ghor resident.
No group or individual has immediately claimed responsibility for the attack.
https://www.khaama.com/civilian-vast-majority-of-victims-in-ghor-bombing-34534/
--------
North America
US condemns ISIS call to attack Saudi Arabia: Official
Emily Judd
19 October 2020
The United States condemns recent calls by ISIS to target individuals and infrastructure in Saudi Arabia, US State Department Spokesperson Morgan Ortagus told Al Arabiya English on Monday.
On Sunday, an ISIS spokesman called on the extremist group's supporters to target westerners, oil pipelines, and economic infrastructure in Saudi Arabia.
"We condemn any such calls by ISIS to target infrastructure or individuals in the Kingdom of Saudi Arabia, and will continue to work in partnership with Saudi Arabia and the Global Coalition to defeat ISIS's dark and desperate aims," State Department Spokesperson Morgan Ortagus said.
ISIS spokesman Abu Hamza al-Muhajir said in a speech released Sunday that Saudi Arabia supported "normalization with Israel" by opening its airspace for Israeli flights to neighboring Gulf states and called on ISIS supporters to target the Kingdom.
The extremist specifically mentioned "hitting and destroying oil pipelines, factories and facilities."
The threats come as two Gulf states – the United Arab Emirates and Bahrain – establish full diplomatic ties with Israel.
Saudi Arabia, home to Islam's holiest sites and is the world's largest oil exporter, has stressed the need to step up efforts to reach a lasting and sustainable peace agreement among the Palestinians and the Israelis.
Saudi Arabian Foreign Minister Prince Faisal bin Farhan said last month that Saudi Arabia's stance on the Palestinian cause is "firm" and "will not change" by allowing the flights flying from all countries over its airspace to the UAE.
https://english.alarabiya.net/en/News/world/2020/10/19/US-condemns-ISIS-call-to-target-individuals-infrastructure-in-Saudi-Arabia-Official
--------
Admiral In Charge Of Bin Laden Raid Endorses Biden In Stinging Trump Rebuke
20/10/2020
By Ed Mazza
etired four-star Adm. William McRaven, who led the U.S. Special Operations Command from 2011 to 2014, endorsed former Vice President Joe Biden in an editorial published on Monday by The Wall Street Journal.
"This week I went to the polls in Texas," wrote McRaven, who oversaw the raid that led to the 2011 death of terrorist leader Osama bin Laden. "Truth be told, I am a pro-life, pro-Second Amendment, small-government, strong-defense and a national-anthem-standing conservative."
He added:
"But, I also believe that black lives matter, that the Dreamers deserve a path to citizenship, that diversity and inclusion are essential to our national success, that education is the great equalizer, that climate change is real and that the First Amendment is the cornerstone of our democracy. Most important, I believe that America must lead in the world with courage, conviction and a sense of honor and humility."
Although McRaven didn't mention President Donald Trump by name, he delivered a cutting summary of what this presidency has done to the nation's standing in the world.
"They have seen us tear up our treaties, leave our allies on the battlefield and cozy up to despots and dictators," McRaven wrote. "They have seen our incompetence in handling the pandemic and the wildfires. They have seen us struggle with social injustice."
America, he said, is no longer looked to for leadership, but that could change if Biden is elected.
Read McRaven's full editorial here.
McRaven has been a persistent critic throughout the Trump presidency. In 2018, he called Trump's attacks on the media "the greatest threat to our democracy in my lifetime." And last year, McRaven said the nation was under attack "not from without, but from within."
https://www.huffingtonpost.in/entry/william-mcraven-biden-endorsement_n_5f8e5343c5b6dc2d17f9c736?ri18n=true
--------
High stakes for Muslim immigrants in US election results
19/10/2020
WASHINGTON--As the US readies for a contentious presidential election next month, the stakes are especially high for Muslim immigrants impacted by President Donald Trump's travel ban.
Thousands of Muslim immigrants who have been kept out of the country or separated from their loved ones are hoping to seen an end to the divisive ban — something Democratic contender Joe Biden has promised to accomplish his first day in office.
Iranian-born Afshin Raghebi, who was blocked from reentering the US in 2018 while completing his permanent residency process, hopes to be reunited with his wife.
"I felt like my country had divorced me from my husband," Afshin's wife Pamela told the Associated Press.
The couple is one of thousands to have had their lives uprooted by the Trump-era policy that experts say has caused damage that cannot be undone.
"We're talking about relationships broken up, marriages ended, we're talking about people who were sponsored by Americans to come to the United States and those sponsors are no longer around to sponsor them," Cato Institute immigration analyst David Bier told AP.
According to the Cato institute, more than 15,000 spouses and adopted minor children of US citizens were impacted by the ban as of 2019, a figure that is likely to have significantly grown.
In response, there is a growing chorus of rights activists and pressure groups calling for an end to discriminatory travel policies. They are hopeful that the "NO BAN Act," which passed the House this summer and would make discriminatory bans illegal, will be passed into law.
Pamela Raghebi, for her part, is calling for Americans to embrace their country's identity as a nation of immigrants and make their voice heard in the polls.
"Go vote, vote, vote! We have to have a new government," she said.
Since taking office in 2016, Trump has taken a hard line on immigration, ramping up deportations, enacting unprecedented restrictions on foreign entry and often demonising migrants for crime and violence. His administration has also pursued a policy of "family separation" at the US-Mexico border, breaking up parents slated for deportation with their children, and attempted to revoke the student visas of some 1 million foreign students enrolled in US institutions when their classes moved online because of the coronavirus pandemic.
Trump's immigration policies have been especially hard on Muslim and Arab immigrants. In 2017, the president introduced a sweeping travel ban on seven predominately Muslim countries that was criticised as discriminatory and xenophobic. A federal court blocked the initial ban, but in 2018 the Supreme Court upheld an amended version that has since been expanded to other countries.
Biden has pledged to reverse many of Trump's immigration policies if elected, promoting a more inclusive vision of a country that values and affords equal rights to immigrants.
"Immigration is essential to who we are as a nation, our core values, and our aspirations for our future," says Biden in his campaign platform. "Under a Biden Administration, we will never turn our backs on who we are or that which makes us uniquely and proudly American. The United States deserves an immigration policy that reflects our highest values as a nation."
https://thearabweekly.com/high-stakes-muslim-immigrants-us-election-results
--------
Arab World
Bahraini People Stage Rallies to Protest at Official Normalization of Ties with Israel
Oct 19, 2020
People across Bahrain poured into the streets on Sunday night to protest at the peace agreement and the visit by an American-Israeli delegation to the country to declare official ties between Tel Aviv and Manama.
Due to the tightened suppressive measures adopted by the Bahraini government after the massive 2011 protest rallies, the demonstrations are held with participation of fewer number of people.
Israel and Bahrain on Sunday agreed to establish formal diplomatic relations. The US-brokered agreement capped a one-day visit by a high-level delegation of American and Israeli officials to Bahrain.
On Saturday, Bahrain's main opposition group, the al-Wefaq National Islamic Society, in a statement called on the UN and other international organizations to pressure the al-Khalifa regime to ask the Bahraini people's view about normalization of relations with Israel.
Al-Wefaq, Bahrain's largest opposition group, condemned the government's decisions which contradict the country's constitution, the Bahraini public opinion's views and national values, and stressed that the Bahraini nation should be allowed to state its own view.
"If the tools of suppression did not exist, the world would witness that 95% of the Bahraini people would voice their opposition to agreement and normalization of ties with the Zionists," it added.
Meantime, polls and reports show an overwhelming majority of Arab nations are critical of normalization with Israel.
A recent poll conducted by the Arab Center for Research and Policy Studies in Doha showed that an overall 88% of the Arab world population in 13 key nations strongly reject recognition of Israel, revealing that the number stands at as high as 99% in some states.
The poll indicated that Algeria with 99%, Lebanon with 94%, Tunisia and Jordan with 93% rank as the first four nations standing strongly against normalization of ties with the Zionist regime.
The result showed that the nations viewed Israel as the primary threat their country was facing.
When asked whether they would "support or oppose diplomatic recognition of Israel by your country" only respondents in Saudi Arabia and Sudan came in at less than 80 percent for "oppose".
The survey also shows a strong opposition to Israel among the Perian Gulf Arab staes where 90% of people in both Qatar and Kuwait are against a recognition of Israel. In Saudi Arabia 65% have voiced opposition to Israel, while 29% more have reserved an answer.
In Sudan, an Arab African nation that is under much pressure by the US to recognize Israel, 79% have rejected any recognition of Israel, while just 13% of respondents have agreed to normalization.
Even in the two countries that already recognize Israel – Jordan and Egypt – opposition was very high, at 93 percent and 85 percent, respectively.
The survey results shows that respondents opposing a recognition of Israel are driven by different reasons, including the racist policies of the Zionist regime and continued occupation of the Palestinian lands.
The 2019-2020 Arab Opinion Index was based on face-to-face interviews conducted with 28,000 individual respondents across 13 Arab countries, including Jordan, Palestine, Lebanon, Egypt and Mauritania, between November 2019 and September 2020.
Thousands of people in the Arab states have so far staged rallies, denouncing the recent agreement between the UEA and Bahrain and Israel to normalize ties.
https://en.farsnews.ir/newstext.aspx?nn=13990728000222
--------
European legislators want downgrade of EU presence at G20 Saudi-hosted summit
19 October 2020
Dozens of lawmakers of the European Parliament have called on the European Union (EU) to downgrade its presence at the next month's G20 summit in Saudi Arabia's capital of Riyadh over human rights concerns, a document says.
Sixty-five European legislators, in a joint letter, asked Brussels on Monday to downgrade its attendance in the 2020 G20 Riyadh summit, which is set for November 21 and 22 and will be held virtually due to fears over the spreading coronavirus, a joint letter by the lawmakers seen by AFP said.
The letter came after a wide-ranging resolution passed earlier this month that also called for the downgrade to "avoid legitimizing impunity for human rights violations" in Saudi Arabia, which assumed the G20 Presidency late last year.
"We should not legitimize a government committing egregious human rights violations as host of one of the most important summit meetings in the world," said the letter.
The letter called on Commission President Ursula von der Leyen and the president of the European Council, Charles Michel, not to participate in the virtual summit.
"We ask you to re-evaluate your participation in this year's G20 summit and consider not attending, but instead downgrading the level of the European Union participation to a senior official level."
The Arab kingdom is particularly under fire for the full-fledged war on Yemen that since March 2015, according to some estimates, has killed 100,000 people.
Despite the flamboyant efforts made by Saudi Crown Prince Mohammad bin Salman, the country's de facto ruler, to apparently bring about social reforms to the highly-conservative kingdom, his international reputation was badly tarnished by the gruesome assassination of well-known Saudi journalist and dissident Jamal Khashoggi at the Saudi consulate in Istanbul back in October 2018.
Turkish officials say his body was dismembered by the killers and his remains are yet to be found. In the aftermath of Khashoggi's killing, a CIA report said that the Saudi crown prince had ordered the assassination of the journalist, who was an outspoken critic of bin Salman.
The European lawmakers further demanded that the EU refrain from establishing closer economic relations with Saudi Arabia.
"Our strong view is that unless Saudi Arabia makes progress on (human rights) the EU should not consider formalizing deeper relations on trade, investment or foreign affairs with the kingdom," the letter added.
The European Parliament's resolution listed human rights issues such as the incarceration of women's rights campaigners, including Loujain al-Hathloul as well as other activists, journalists, and bloggers.
As a full member of the G20, the European bloc is a significant economic power at the table along with three of its member states - Germany, France, and Italy.
https://www.presstv.com/Detail/2020/10/19/636765/EU-Saudi-G20
--------
Turkish forces, allied militants shell town in northeastern Syria
19 October 2020
Turkish forces and allied Takfiri militants have reportedly shelled residential areas in the countryside of Syria's northeastern province of Raqqah.
Syria's official news agency SANA reported on Monday that the shelling took place in Ain Issa, which lies near the border with Turkey.
In recent months, the militants, who have maintained heavy presence in vicinity of the border areas with Turkey, have launched frequent attacks on Syrian infrastructure, residential areas and agricultural land.
Raqqah is one of the regions with militant-controlled areas where security conditions have been jeopardized in the recent past.
In September, the United Nations urged Turkey to launch an immediate and independent investigation into war crimes and other violations of international law committed in northern Syria – a region mainly under the control of Turkish forces and allied militant groups.
Michelle Bachelet, the UN High Commissioner for Human Rights, said that the situation in those areas of Syria was grim, with violence and criminality rife.
On October 9, 2019, Turkish forces and Ankara-backed militants launched a long-threatened cross-border invasion of northeastern Syria in a declared attempt to push Kurdish militants affiliated with the so-called People's Protection Units (YPG) away from border areas.
Ankara views the YPG, which is supported by the White House, as a 'terrorist' organization tied to the Kurdistan Workers' Party (PKK).
In a separate incident, the Kurdish-led militants of the Syrian Democratic Forces (SDF), which enjoy Washington's support, kidnapped civilians in Raqqah and Dayr al-Zawr countryside apparently for forced recruitment.
Local sources told SANA on Monday that houses were raided in the town of Tabqah.
To the north of Raqqah City, militants kidnapped three civilians in Sakir village.
The White House has long been providing the SDF with arms and militants. Washington says they are a key partner in the purported fight against the Daesh Takfiri terrorist group.
https://www.presstv.com/Detail/2020/10/19/636747/Syria-Raqqah
--------
Mideast
Speaker: Iran Expects Islamic States to Defy US Sanctions
Oct 19, 2020
"Under the current conditions that all countries are entangled with the crisis of coronavirus epidemic, the US regime has imposed cruel and illegal sanctions against the Iranian nation and we expect the friendly and Islamic countries not to abide by these sanctions," Qalibaf said on Monday.
He also underlined the necessity for strengthening unity among the Islamic countries, and said, "Iran and Malaysia as two important Muslim world states should increase cooperation to consolidate unity among the Muslim countries and distance from discord."
Harun, for his part, blasted the US sanctions against Iran as illegal, and said, "Malaysia still has its own positions on sanctions and we do not recognize the illegal sanctions which are not based on the UN resolutions."
The coronavirus COVID-19 is affecting approximately all countries and territories around the world. The virus was first reported in the central Chinese city of Wuhan late last year. It has so far killed more than 1.1 million people and infected over 40.3 million others globally.
The Iranian foreign ministry has declared that despite Washington's claims of cooperation to transfer drugs to Iran via the new Swiss-launched payment mechanism, the US is troubling the process amid the coronavirus outbreak in the country.
Former Iranian Foreign Ministry Spokesman Seyed Abbas Mousavi saidAlthough US claims that medicines and medical equipment are not under sanctions, they have practically blocked the transfer of Iran's financial resources in other countries into the Swiss Humanitarian Trade Arrangement (SHTA).
The Iranian health ministry announced on Monday that 4,251 new cases of coronavirus infection have been identified across the country during the past 24 hours, adding that 337 patients have passed away during the same period.
"4,251 new patients infected with COVID-19 have been identified in the country based on confirmed diagnosis criteria during the past 24 hours," Iranian Health Ministry Spokeswoman Sima Sadat Lari said on Monday, and added, "1,948 patients have been hospitalized during the same time span."
She added that the total number of COVID-19 patients has increased to 534,631.
"Unfortunately, 337 patients have lost their lives in the past 24 hours, increasing the number of the dead to 30,712," the spokeswoman noted.
Lari expressed satisfaction that 431,360 coronavirus patients have recovered or been discharged from hospitals so far.
The spokeswoman further said that 4,771 cases infected with COVID-19 are in critical conditions.
She went on to say that 4,540,455 coronavirus diagnosis tests have so far been conducted across the country.
Lari warned that 30 provinces are still in red condition or the status of alert.
https://en.farsnews.ir/newstext.aspx?nn=13990728000842
--------
Iran Mulling Arms Exports to Increase Revenues
Oct 19, 2020
"Although arms bans against Iran were cruel and although the US and Europe will not abide by their removal, the government should correctly plan and use the international gaps as well as the needs of many world states to the advanced Iran-made weapons to gain new foreign currency revenues," Rezayee said on Monday.
In relevant remarks earlier today, Iranian Foreign Ministry Spokesman Saeed Khatibzadeh blasted US Secretary of State Mike Pompeo for his threat to impose sanctions on arms traders with Tehran even after the UN arms ban against Iran ended on Sunday, saying that Washington fears Iran's return to the weapons market.
"Pompeo's comments indicate that the unilateral sanctions have not succeeded," Khatibzadeh told reporters in a press conference in Tehran on Monday.
"They fear Iran's return to the vast arms technology market and exports. Iran produces 90% of its defense needs domestically. Iran enjoys exports potential more than [its need to] purchase," he added.
Khatibzadeh pointed out that Iran has neither changed its defense policy nor development of its missile program nor its regional goals in the past 5 years that it has been under the UN arms trade restrictions, and added that the UN Security Council's arms embargos against Iran have expired and ended on October 18, despite the US continued pressures.
The Iranian Foreign Ministry announced in a statement on Sunday that the UN Security Council's arms restrictions against Tehran have all been terminated in defiance of the United States' efforts.
"As of today [October 18, 2020], all restrictions on the transfer of arms, related activities and financial services to and from the Islamic Republic of Iran, and all prohibitions regarding the entry into or transit through territories of the United Nations Member States previously imposed on a number of Iranian citizens and military officials, are all automatically terminated," a statement by the Foreign Ministry said.
The longstanding UN ban on the sale of arms from/to Iran is terminated under the terms of the UN Security Council Resolution 2231 that blessed the 2015 nuclear deal between the Islamic Republic and world powers.
"As of today, the Islamic Republic may procure any necessary arms and equipment from any source without any legal restrictions, and solely based on its defensive needs, and may also export defensive armaments based on its own policies," the Foreign Ministry added.
The statement made it clear that "the lifting of arms restrictions and the travel ban were designed to be automatic with no other action required."
The Foreign Ministry said October 18 is "a momentous day for the international community," praising the world for standing with Tehran "in defiance of the US regime's efforts."
The administration of US President Donald Trump suffered an embarrassing loss on August 14 as it failed to renew the Iranian arms embargo through a resolution at the United Nations Security Council (UNSC).
Russia and China voted against the motion and the remaining 11 council members, including France, Germany and the UK, abstained.
Following the humiliating failure, the United States vowed to use its "secondary" sanctions to block any arms trades with Tehran after the expiry of the UN ban.
Moscow said in September that it was ready to boost its military cooperation with Tehran, while Beijing has also spoken of its willingness to sell arms to Iran after October 18.
However, Khatibzadeh tweeted a few hours before the Sunday announcement that Iran meets 90 percent of its defense needs, and does not need to be dependent on other countries when it comes to arms supplies.
It was also stipulated in the Sunday statement that "unconventional arms, weapons of mass destruction and a buying spree of conventional arms have no place in Iran's defense doctrine."
Shortly after the announcement, Iranian Foreign Minister Mohammad Javad Zarif tweeted that the international community had "protected" the nuclear deal and Oct. 18 marked the "normalization of Iran's cooperation with the world."
"Today's normalization of Iran's defense cooperation with the world is a win for the cause of multilateralism and peace and security in our region," Zarif said.
Iran's Ambassador to the United Nations Majid Takht-Ravanchi also hailed the UN Security Council for rejecting all the US efforts to prevent the expiry of the arms embargo.
"As of today, Iran's arms trade needs no prior consent from the UNSC," he tweeted.
https://en.farsnews.ir/newstext.aspx?nn=13990728000734
--------
Abdullah Abdullah Stresses Importance of Iran's Support for Peace Talks in Afghanistan
Oct 19, 2020
"Iran's support for the peace process, led and managed by Afghanistan, is important," Abdullah told reporters in a press conference at Afghanistan's embassy in Tehran on Sunday night.
He added that during his meetings in Tehran, the high-ranking Iranian officials have stressed success of efforts in establishing sustainable peace under the leadership of the Afghans.
Abdullah also said that further expansion of ties between Iran and Afghanistan will benefit the two countries and the region.
He added that during his talks with the Iranian officials, they have also discussed issues related to the Afghan refugees living in Iran.
Abdullah arrived in Tehran on Sunday for a three-day stay and meeting with a host of officials, including President Hassan Rouhani and Foreign Minister Mohammad Javad Zarif.
Before this trip, Abdullah also visited Pakistan and India where he discussed the Afghan peace process with those countries' senior officials.
His trip comes amid ongoing peace negotiations between delegates from the Islamic Republic of Afghanistan and the Taliban.
Zarif in a meeting with Abdullah on Sunday underscored his country's support for peace talks and process led by the Afghans.
During the meeting in Tehran, Zarif reiterated Iran's support for the Afghan government and the peace process led and managed by the Afghans and agreements of participants in intra-Afghan talks.
He also appreciated Abdullah for his partnership in the political process of Afghanistan, stressing Iran's support for Taliban's partnership in the political structure of the country.
Abdullah, for his part, elaborated on the latest developments in Afghanistan and the intra-Afghan talks.
Iranian Foreign Ministry Spokesman Saeed Khatibzadeh wrote in a tweet on Sunday that "independent, developed and with peace and stability Afghanistan has always been the desire of Iran".
"We will do our best to help the genuine Afghan-Afghan dialogue," he said.
Abdullah also on Sunday held a meeting with Iranian Parliament Speaker Mohammad Baqer Qalibaf.
During the meeting, Qalibaf and Abdullah conferred on bilateral ties between the two neighboring states as well as the latest developments in Afghanistan and the peace talks.
https://en.farsnews.ir/newstext.aspx?nn=13990728000354
--------
Rouhani: Trump Seeking to Exploit Afghan Peace Talks for Election Purposes
Oct 19, 2020
Rouhani made the remarks on Monday in a meeting with the Head of Afghanistan's High Council for National Reconciliation (HCNR) Abdullah Abdullah, who is in Tehran to hold talks with senior Iranian officials during an official three-day visit.
He said that the US intervention as an aggressive country in Afghanistan was not in line with the will of this country, adding, "The US government, which has failed several times in its regional and global policies, seeks its own political and electoral goals in the country."
The Iranian president added that Tehran supports the Intra-Afghan peace talks as the key to solve crisis in the country.
"Sustainable peace, stability and security in Afghanistan as a neighbor and brother country is of special importance for the Islamic Republic of Iran," he added.
Abdullah, for his part, lauded Iran's supports for the efforts to establish enduring peace and security in Afghanistan and said, "The Islamic Republic of Iran is a good friend and neighbor of Afghanistan."
He thanked Iran for hosting Afghan refugees for over 4 decades and said, "During my visit to Tehran, I had good meetings with the officials of the Islamic Republic and I will take the message of Iranian support to Kabul and pursue the agreements between the two countries."
The Afghan top official expressed hope that with Iran's support, he will witness the conclusion of the Afghan peace talks and the establishment of lasting security and peace in his country.
In relevant remarks Abdullah told reporters in a press conference at Afghanistan's embassy in Tehran on Sunday night, "Iran's support for the peace process, led and managed by Afghanistan, is important."
He added that during his meetings in Tehran, the high-ranking Iranian officials have stressed success of efforts in establishing sustainable peace under the leadership of the Afghans.
Abdullah also said that further expansion of ties between Iran and Afghanistan will benefit the two countries and the region.
He added that during his talks with the Iranian officials, they have also discussed issues related to the Afghan refugees living in Iran.
Abdullah arrived in Tehran on Sunday for a three-day stay and meeting with a host of officials, including President Hassan Rouhani and Foreign Minister Mohammad Javad Zarif.
Before this trip, Abdullah also visited Pakistan and India where he discussed the Afghan peace process with those countries' senior officials.
His trip comes amid ongoing peace negotiations between delegates from the Islamic Republic of Afghanistan and the Taliban.
https://en.farsnews.ir/newstext.aspx?nn=13990728000815
--------
Palestinian hunger-striking inmate may die any moment: Report
19 October 2020
An official report has warned that the death of Palestinian prisoner Maher al-Akhras, who has been on hunger strike for 85 days, is imminent and could take place at any moment.
The media office of the Islamic Jihad's Muhjat al-Quds Foundation for Prisoners raised the alarm in a statement on Monday, saying that the 49-year-old Akhras is continuing his open hunger strike in protest at his administrative detention for the 85th day.
The office added that the Palestinian prisoner, who is currently in the Israeli Kaplan hospital, is in a very serious health condition.
The open hunger strike refers to the detainee's refusal to eat all kinds and forms of food with the exception of water and salt.
Physicians have already warned of damage to several organs of the Palestinian prisoner's body, such as the kidneys, liver, and heart, adding that the inmate's senses of hearing and speaking have also been affected negatively.
Akhras was detained on July 27, and was held under the administrative detention, with no charge. This has led him to start a hunger strike in an attempt to seek justice against the unfair detention.
The Commission of Palestinian Detainees and Ex-Detainees has said Akhras would only end his strike if he was released immediately.
Akhras' wife has also announced a hunger strike and sit-in outside the hospital in support of her husband, calling for his immediate release.
Hundreds of Palestinian prisoners are under administrative detention, in which Israel keeps the detainees for up to six months, a period which can be extended an infinite number of times. Women and minors are among these detainees.
Palestinian detainees have continuously resorted to open-ended hunger strikes in an attempt to express their outrage at the detention. Palestinians hold Israeli authorities fully responsible for any deterioration of the circumstances in jails.
More than 7,000 Palestinians are reportedly held in Israeli jails.
https://www.presstv.com/Detail/2020/10/19/636774/Palestinian-prisoner-Akhras
--------
Turkish Cypriots elect Erdogan's candidate amid east Med tensions
October 20, 2020
NICOSIA: Turkish Cypriots in breakaway northern Cyprus on Sunday narrowly elected right-wing nationalist Ersin Tatar, backed by Ankara, in a run-off poll, at a time of heightened tensions in the eastern Mediterranean.
Tatar, 60, clinched his surprise victory in a second round of presidential elections, winning 51.7 percent of the vote, official results showed.
He edged out incumbent Turkish Cypriot leader Mustafa Akinci, 72, a supporter of reunification with the Greek Cypriot south of the divided island, leaving attempts to relaunch long-stalled UN-brokered talks hanging in the balance.
Tatar is an advocate of a two-state solution and held the post of premier in the self-proclaimed Turkish Republic of Northern Cyprus (TRNC), recognized only by Ankara.
He controversially received the open backing of Turkey's President Recep Tayyip Erdogan during the election campaign.
In a victory speech to hundreds of cheering and Turkish flag-waving supporters, Tatar thanked Turkey's head of state and said: "We deserve our sovereignty — we are the voice of Turkish Cypriots.
"We are fighting to exist within the Turkish Republic of Northern Cyprus, therefore our neighbors in the south and the world community should respect our fight for freedom."
There was no immediate official reaction from the Greek Cypriot government or ruling party in the south of the island, which is a European Union member state, although opposition parties were quick to lament the outcome.
Erdogan was swift to celebrate the victory, which followed a high 67-percent turnout at the polls.
"I congratulate Ersin Tatar who has been elected president ... Turkey will continue to provide all types of efforts to protect the rights of the Turkish Cypriot people," he wrote on Twitter.
In a telephone call the same night, Erdogan said he was confident the two leaders would maintain close cooperation in all areas, "starting with the hydrocarbon linked activities in the eastern Mediterranean," his office said.
Under Erdogan, Turkey has become an increasingly assertive regional power that is now engaged in a bitter dispute with Greece and Cyprus over oil and gas reserves in eastern Mediterranean waters.
The European Union has deplored Turkey's drilling for hydrocarbons in disputed waters and warned Ankara against further "provocations," while multiple countries have staged military drills in the region in recent months.
The second-round ballot was triggered after Tatar won 32 percent of the vote on Oct. 11 ahead of Akinci, who garnered just under 30 percent.
Akinci was tipped to secure a second term, having won the backing of Tufan Erhurman, a fellow social democrat who came third last time around.
After his defeat, Akinci, who had accused Ankara of meddling in the polls, thanked his supporters and said: "You know what happened ... I am not going to do politics on this."
The TRNC, with a population of about 300,000, was established after the north was occupied by Turkey in 1974 in reaction to a coup that aimed to annex Cyprus to Greece.
Earlier in October, Turkish troops angered the Republic of Cyprus by reopening public access to the fenced-off seaside ghost town of Varosha for the first time since Turkish forces invaded the north.
The reopening was announced jointly by Erdogan and Tatar at a meeting in Ankara just days before the first round of polling.
It drew EU and UN criticism and sparked demonstrations in the Republic of Cyprus, which exercises its authority over the island's south, separated from the TRNC by a UN-patrolled buffer zone.
On the eve of Sunday's vote, Greek Cypriot demonstrators massed at a checkpoint along the so-called "Green Line," holding signs that read "Cyprus is Greek," in protest at the reopening of nearby Varosha to the Turkish Cypriots.
Turkey has repeatedly said it seeks to defend Turkish and Turkish Cypriots' rights in the eastern Mediterranean.
Akinci's relationship with Ankara had come under strain, especially after he described the prospect of the north's annexation by Turkey as "horrible" in February.
When Akinci took office in 2015, he was hailed as the leader best placed to revive peace talks.
But hopes were dashed in July 2017 after UN-mediated negotiations collapsed in Switzerland, notably over Greek Cypriot demands for the withdrawal of the tens of thousands of Turkish soldiers still stationed in the TRNC.
https://www.arabnews.com/node/1751416/middle-east
--------
Africa
Trump says Sudan will be removed from state sponsors of terrorism list
Joseph Haboush
19 October 2020
US President Donald Trump said Monday that an agreement was reached with Sudan and Khartoum would be lifted from the US list of state sponsors of terrorism after it paid $335 million to American victims of terrorism.
"GREAT news! New government of Sudan, which is making great progress, agreed to pay $335 MILLION to U.S. terror victims and families," Trump tweeted.
For all the latest headlines, follow our Google News channel online or via the app.
"Once deposited, I will lift Sudan from the State Sponsors of Terrorism list. At long last, JUSTICE for the American people and BIG step for Sudan!"
Sudanese PM Abdalla Hamdok thanked Trump and said his country was looking forward to the US president notifying Congress of the decision, "which has cost Sudan too much."
"As we're about to get rid of the heaviest legacy of Sudan's previous, defunct regime, I should reiterate that we are peace-loving people and have never supported terrorism," Hamdok said.
In May, the US Supreme Court dealt a legal setback to Sudan, ruling that the African nation could not avoid punitive damages in lawsuits accusing it of complicity in the 1998 al-Qaeda bombings of US embassies in Kenya and Tanzania that killed 224 people.
Twelve Americans were killed by the Aug. 7, 1998, truck bombs that detonated outside the embassies in Nairobi, Kenya and Dar es Salaam, Tanzania. The lawsuits involve 567 people, mostly non-US citizens who were employees of the US government and their relatives.
On October 12, 2000, USS Cole came to the harbor of Aden, Yemen, for a routine fuel stop. A small craft approached the port side of the destroyer, and an explosion occurred, killing 17 and injuring 39 and putting a 40-by-40 foot gash in the port side of the ship.
The attack was claimed by al-Qaeda, in an early success for the terror group and its founder Osama bin Laden.
A US court then ruled that Sudan, where the two bombers were trained, was responsible for the attack – a claim Khartoum always denied.
In 1993, Washington listed Sudan in its terrorism blacklist for its alleged support of extremist groups. Bin Laden used to reside in Sudan from 1992 to 1996.
https://english.alarabiya.net/en/News/middle-east/2020/10/19/Trump-says-Sudan-will-be-removed-from-state-sponsors-of-terrorism-list
--------
Sudan, ICC explore options for ousted Omar al-Bashir to face Darfur trial
19 October 2020
Sudan said Monday that talks with the International Criminal Court have covered options ranging from a handover to forming a hybrid court to try ousted president Omar al-Bashir over the Darfur conflict.
The options have been discussed during a visit to Khartoum since Saturday by ICC prosecutor Fatou Bensouda aimed at putting to trial those accused in the conflict that cost hundreds of thousands of lives.
Al-Bashir, 76, has been wanted by the ICC for nearly a decade over charges of genocide, war crimes and crimes against humanity in the ravaged region of western Sudan.
For all the latest headlines, follow our Google News channel online or via the app.
"We discussed several options and suggestions relating to ICC cases and we are looking forward to reaching a common vision," Justice Minister Nasreddin Abdelbary told a news conference.
"These options include handing (them) over, appearance (before the court), forming a hybrid court or a special court following consultations with state institutions and families of the victims," he said.
An ICC delegation headed by Bensouda is due to stay until Wednesday and has been meeting senior Sudanese officials.
Two other suspects, Ahmed Haroun, an ex-governor of South Kordofan state, and Abdelrahim Mohamed Hussein, an ex-defense minister, also face ICC charges of war crimes and crimes against humanity. Both are in custody in Sudan.
A fifth man wanted by the ICC, rebel leader Abdallah Banda, remains at large.
Al-Bashir, who ruled Sudan for 30 years, was ousted in April 2019 by the military following months of mass street protests against his rule.
His tenure was marred by multiple conflicts including in Darfur, South Kordofan and the Blue Nile states.
Darfur was the scene of a bitter conflict that broke out in 2003 between African minority rebels, complaining of the region's marginalization, and government forces.
The United Nations estimates the fighting killed 300,000 people and displaced 2.5 million others.
Militia leader Kushayb, a top commander of the government-backed Janjaweed forces accused of carrying out some of the worst atrocities in Darfur, surrendered to the ICC in June, and he is now also in custody.
He faces trial on 53 counts of war crimes and crimes against humanity.
Since his ouster, al-Bashir has been jailed in Khartoum's intensive security Kober prison.
Last December, he was convicted of corruption and faces a second trial in Khartoum over the 1989 Islamist-backed coup that brought him to power.
If convicted, al-Bashir and 27 other co-accused – including former top officials – could face the death penalty.
https://english.alarabiya.net/en/News/middle-east/2020/10/19/Sudan-ICC-explore-options-for-ousted-Omar-al-Bashir-to-face-Darfur-trial
--------
Protesters block Lagos airport as Nigeria protests spread
20 October 2020
Nigerian protesters paralysed Africa's biggest city Lagos on Monday, blocking the airport as widespread demonstrations sparked by police brutality spiralled.
The wave of demonstrations began some 10 days ago when crowds took to the streets over abuses by the police's loathed Special Anti-Robbery Squad (SARS).
https://www.presstv.com/Detail/2020/10/20/636786/Protesters-block-Lagos-airport-as-Nigeria-protests-spread
--------
UN hosts Libyan military leaders in hopes of end to conflict
October 20, 2020
GENEVA: Military leaders from Libya's warring sides met on Monday in Geneva in hopes of a UN-brokered breakthrough that could pave the way for a "complete and permanent cease-fire" in the conflict-ridden North African country.
The meeting that began on Monday marks the fourth round of talks involving the Joint Military Commission under the watch of the head of the United Nations support mission for Libya, former US State Department official Stephanie Williams.
UN organizers say the round is expected to run through Saturday, and Williams' mission "hopes that the two delegations will reach a solution to all outstanding issues in order to achieve a complete and permanent cease-fire across Libya."
The meetings make up the security aspect of three-track talks, also involving political and economic tracks, that are aimed to lift Libya out of its grueling conflict that has ground on nearly ever since the fall of Muammar Qaddafi in 2011.
Speaking at the start of the talks, Williams told the two sides that their success in these talks would have a positive effect on the political and economic tracks of the ongoing UN-brokered talks aiming at ending years-long Libya conflict.
Williams, who met on Friday with Russian Foreign Minister Sergey Lavrov in Moscow, said encouraging separate meetings were held with the two delegations in the past two days.
The Geneva-based military talks came ahead of an upcoming political forum in Tunisia in November.
That forum aims to "generate consensus on a unified governance framework and arrangements that will lead to the holding of national elections," the UN mission said.
Last month, the two sides reached preliminary agreements to exchange prisoners and open up air and land transit across the country's divided territory.
This breakthrough also accompanied with the resumption of oil production.
Fighting has died down amid international pressure on both sides to avert an attack on the strategic city of Sirte, the gateway to Libya's major oil export terminals.
https://www.arabnews.com/node/1751411/middle-east
--------
Europe
Samuel Paty murder: French police raid dozens of Islamist groups
19 Oct 2020
French police have raided dozens of Islamist groups and suspected extremists amid growing pressure on the government to clamp down on religious fundamentalism three days after a teacher was beheaded outside his school.
The interior minister, Gérald Darmanin, said on Monday that the swoops on Islamists – including individuals who expressed support for the attack – should send the message that "enemies of the republic cannot expect a minute's respite" and more police operations would follow.
Darmanin said about 80 investigations were under way into radical preachers and suspected extremists accused of spreading online hate, and authorities were urgently assessing about 50 associations in the Muslim community, "some of which will certainly be dissolved".
Police sources told French media that authorities were preparing to deport 213 foreigners who were on a government watchlist and suspected of holding extreme religious beliefs, including about 150 serving jail sentences.
Darmanin said a fatwa appeared to have been issued against Samuel Paty, a 47-year-old teacher of history and geography who was decapitated on Friday outside his secondary school in Conflans-Sainte-Honorine, about 20 miles north-west of Paris.
As part of a class discussion on freedom of expression this month, Paty had shown pupils a series of cartoons and caricatures including two of the prophet Muhammad published by Charlie Hebdo, the satirical magazine that was the target of a 2015 attack in which Islamist gunmen killed 12 people.
Police shot dead Paty's attacker, an 18-year-old of Chechen origin named as Abdullakh Anzorov. A photo of the teacher's decapitated head was posted to Twitter from Anzorov's mobile phone, along with the message: "I have executed one of the dogs from hell who dared to put Muhammad down."
Among the organisations being investigated by authorities is the high-profile Anti-Islamophobia Collective, which Darmanin said appeared to be "clearly implicated" in the attack because the father of a child at the school had repeated its name in a video posted online calling for Paty's dismissal.
The pupil's father and Abdelhakim Sefrioui, a well-known Islamist radical with links to the organisation who routinely uses social media and local campaigns to pressure the government over alleged Islamophobia, are among 11 people who have so far been arrested in connection with the murder.
The French president, Emmanuel Macron, has announced a national tribute for the dead teacher to be held on Wednesday, and on Monday he received the teacher's family at the Élysée Palace, expressing his condolences and assuring them of his support.
At an emergency cabinet meeting on Sunday, Macron announced a series of anti-Islamist measures including concerted steps against "the structures, associations and people close to radical groups … who spread hate and can encourage attacks". Macron reportedly told ministers: "Fear is about to change sides. Islamists must not be allowed sleep soundly in our country."
France's chief public prosecutors were summoned on Monday to an urgent meeting with the justice minister, Éric Dupond-Moretti, to discuss "additional measures necessitated by the situation", while security at France's schools is to be increased when classes return after the half-term break.
Marlène Schiappa, a junior interior minister, summoned social media bosses for an urgent discussion of the role social networks played in the attack in Conflans and in previous atrocities. Gabriel Attal, a government spokesman, said: "Those who participated in the public lynching of this teacher on social media are in some way also responsible for what happened."
A day after tens of thousands of people took part in dozens of rallies in towns and cities across to France to support free speech and honour Paty, Macron is under pressure to come up with an effective response to the latest in a series of Islamist terror attacks that have rocked France since the Charlie Hebdo massacre.
More than 240 people have died from Islamist violence since that attack, prompting opposition politicians – particularly on the right – to accuse the government of waging a battle of words rather than taking decisive action.
Bruno Retailleau, the parliamentary leader of the centre-right Les Républicains party, said Macron was "fighting a battle of vocabulary, even while a part of the country is defying the fundamental values of the French republic".
The leader of the far-right National Rally, Marine Le Pen, laid a wreath outside Paty's school on Monday. She called for "wartime legislation" to combat the terror threat and demanded an "immediate" moratorium on immigration and the expulsion of all foreigners on terror watchlists.
https://www.theguardian.com/world/2020/oct/19/samuel-paty-french-police-raid-dozens-of-islamist-groups
--------
French imam pays tribute to teacher slain in gruesome Paris beheading
19 October 2020
"We ask for your forgiveness," says Hassen Chalghoumi, the imam of the Paris suburb of Drancy, as he pays tribute in front of the college of the beheaded history and geography teacher in Conflans-Sainte-Honorine.
French police on Monday launched a series of raids targeting extremist networks three days after the beheading of a history teacher who had shown his pupils a cartoon of the Prophet Mohammed.
For all the latest headlines follow our Google News channel online or via the app.
The operation came a day after tens of thousands of people took part in rallies countrywide to honor history teacher Samuel Paty and defend freedom of expression, including the right to show cartoons regarded by many Muslims as insulting.
Gerald Darmanin said "dozens" of individuals were being probed for suspected radicalization.
While they were "not necessarily linked" to Paty's killing, the government aimed to send a message that there would be "not a minute's respite for enemies of the Republic," he added.
Darmanin said the government would also tighten the noose on NGOs with suspected links to Islamist networks, including the Anti-Islamophobia Collective.
The collective, which gathers data on anti-Muslim attacks, on Monday accused the minister of slander.
https://english.alarabiya.net/en/features/2020/10/20/Watch-French-imam-pays-tribute-to-teacher-slain-in-gruesome-Paris-beheading
--------
URL: https://www.newageislam.com/islamic-world-news/indonesia-rush-coronavirus-vaccines-amid/d/123208
New Age Islam, Islam Online, Islamic Website, African Muslim News, Arab World News, South Asia News, Indian Muslim News, World Muslim News, Women in Islam, Islamic Feminism, Arab Women, Women In Arab, Islamophobia in America, Muslim Women in West, Islam Women and Feminism