New Age Islam News Bureau
31 Dec 2018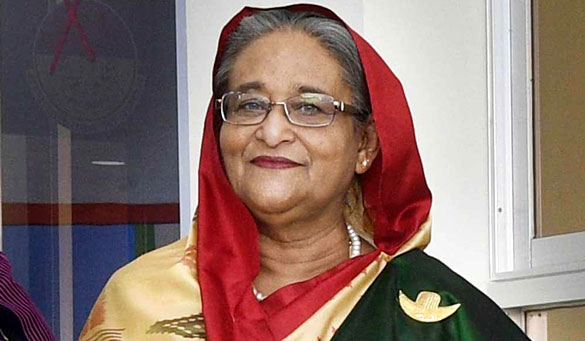 Leadership in Bangladesh has alternated between Sheikh Hasina and Khaleda Zia for three decades.
-----
• Indonesia's Interfaith Figures Call For Fight against 'Religious Exclusivism'
• Al-Azhar Fatwa Global Centre: Greeting Christians on Their Festivals Is In Line With Islamic Objectives
• Passing Triple Talaq Bill Political Move by the Govt against Muslim Men, Claim Muslim Clerics and Social Activists
• Landslide Win for Sheikh Hasina in Bangladesh, Opposition Seeks New Vote
• Paigham-e-Pakistan a Timely Step to End Extremism, Terrorism: Moot
• Turkish Revelation: No Proof Of 'Tell The Boss, Deed Is Done' In Khashoggi Case
Southeast Asia
• Indonesia's Interfaith Figures Call For Fight against 'Religious Exclusivism'
• In Indonesia, Calls for Quran Test for Presidential Hopefuls Draw Ire
• Aceh advises Muslims not to celebrate New Year
--------
Arab World
• Al-Azhar Fatwa Global Centre: Greeting Christians on Their Festivals Is In Line With Islamic Objectives
• Iraqi Sunni Authority Slams Grand Mufti's Christmas Fatwa As 'Reckless'
• Syrian Army Pounds Terrorists' Movements in Demilitarized Zone in Northern Hama
• UAE's Gargash criticizes Iraq for meddling in Bahrain's internal affairs
• Iraq hints at bigger role in Syria after US withdrawal
• Ahead of Coptic Christmas, Egypt creates body to fight 'sectarian incidents'
• Children of Russian ISIS militants return home from Iraq, says Russia
• Assad allows Iraqi jets to hit Daesh militant redoubts in Syria anytime: Report
• Tourists throng Egypt pyramids after bombing, but future clouded
• Syria's Assad authorizes Iraqi forces to strike Daesh in Syria
--------
India
• Passing Triple Talaq Bill Political Move by the Govt against Muslim Men, Claim Muslim Clerics and Social Activists
• Bulandshahr Violence Attempt to Instil Fear among Muslims, Claim Human Rights Bodies
• New IS Module: NIA Conducts Fresh Raids In Delhi, 5 Suspects Arrested
• Congress Holds Meeting with Muslim Intellectuals
• Triple Talaq Bill: It's not good for govt to interfere in religious practices, says Lok Sabha deputy speaker Thambi Durai
• Badruddin Ajmal's Faux Pas in Triple Talaq Debate: Muslim Sectarian Divide Reaches Parliament
• Mehbooba Mufti meets terrorist's sister, warns Governor, police to mend their ways
• J-K: Indian Army foils Pakistani BAT action, kills 2 attackers
• J&K: Suspected terrorists loot 4 rifles from residence of former MLC
--------
South Asia
• Landslide Win for Sheikh Hasina in Bangladesh, Opposition Seeks New Vote
• BNP Facing Muslim League's Fate after Election Debacle: Inu
• Election Violence Kills At Least 17, Mostly From Awami League
• Taliban refuse talks with Kabul in KSA
• Top ISIS-K leader Qari Riaz killed in coalition airstrike in Nangarhar
--------
Pakistan
• Paigham-e-Pakistan a Timely Step to End Extremism, Terrorism: Moot
• Judiciary Duty-Bound to Protect Fundamental Rights Of Citizens
• Pakistan procuring 600 tanks to strengthen capability along border with India: Intelligent sources
• PPP warns PTI against 'committing robbery on Sindh govt'
• President Alvi urged to find 'lasting solution' for missing persons
• Fencing at Pak-Afghan border: A success story of Pakistan's security forces
• Won't let India steal Pakistan's water: CJP
• Pakistan army chief sees better military ties with Iran
--------
Mideast
• Turkish Revelation: No Proof Of 'Tell The Boss, Deed Is Done' In Khashoggi Case
• Israel Protests Image Of Jordanian Minister Stepping On Flag
• Yemen's Hodeidah residents desperate for port to reopen
• Iran, Syria hold talks on long-term economic cooperation
• Iran takes part in Syria's reconstruction projects
• 30 Daesh suspects arrested in Ankara
--------
Africa
• 15 suspected militants killed in joint French-Niger operation
• Jordanian lawmakers demand restoration of full Syria relations
• Sudan's Bashir tells police to rein in force against protesters
--------
North America
• Top Republican Says Trump Vows To 'Destroy' IS Before Leaving Syria
• Trump Agreed To Re-Evaluate Syria Evacuation: Graham
• US military admits killing more civilians in Syria, Iraq
• Despite full-throated defence at the time, Kelly backtracks on Trump's Muslim ban
• Donald Trump slowing down planned withdrawal from Syria says senator
• Yemeni mother who fought Trump travel ban says goodbye to son
--------
Europe
• Putin, In New Year Letter to Trump, Says Moscow Is Open for Dialogue
• Mosque in Western Germany Vandalized With Racist Slurs
• Denmark Handshake Enforces European Values on Muslims
• Australian government's strategy of vilifying Muslims can be used against all of us
• French police brace for New Year's Eve unrest
Compiled by New Age Islam News Bureau
URL: https://www.newageislam.com/islamic-world-news/indonesia-interfaith-figures-call-fight/d/117320
--------
Indonesia's interfaith figures call for fight against 'religious exclusivism'
Dec 31, 2018
JAKARTA (THE JAKARTA POST/ASIA NEWS NETWORK) - A number of Indonesian religious, cultural and interfaith figures have formulated a document called the Jakarta Treatise in response to the rising tide of religious conservatism sweeping the country.
The treatise, which consists of five points, was produced at the end of a two-day discussion last Friday and Saturday (Dec 28 and 29) in North Jakarta.
Among those who attended the event were former Constitutional Court chief justice Mahfud MD, Catholic priests Benny Susetyo and Franz Magnis Suseno, communications researcher Savic Ali from Indonesia's largest Muslim organisation Nahdlatul Ulama, Liberal Islam Network (JIL) coordinator Ulil Abshar Abdalla and activist Alissa Wahid.
The first point of the treatise said that while conservatism on its own was not necessarily a problem, it could become a "serious threat" if it morphed into "religious exclusivism and extremism" and became a "tool for political interests".
There are concerns that the religion card will be used in Indonesia's presidential and legislative elections on April 17.
The treatise said exclusivism and extremism could lead to more groups advocating for religious ideologies to become part of the state's ideology.
The treatise also suggested five strategies to address these challenges, calling on the government to take a more active role in bolstering religious moderation.
"Religion needs to be returned to its role as a spiritual and moral guide and not just be focused on the ritual and formal aspects, especially those that are exclusive in nature, in both public and governmental spheres," the treatise said.
The document also urged the government to revise the controversial Blasphemy Law that resulted in the conviction of former Jakarta governor Basuki "Ahok" Tjahaja Purnama and has been used as justification for suppressing minority religions such as Ahmadiyah and Shi'ite Islam.
The treatise was submitted to Religious Affairs Minister Lukman Hakim Saifuddin, who released an official response last Saturday, largely agreeing with the points in the document.
"In the context of national and communal life in Indonesia, religion is believed to be a source of important values that cannot be separated from daily life," Mr Lukman said in the statement.
"However, contemporary religious life shows a tendency to reduce the noble values of religion and limit them to external aspects such legal and political formalism, while ignoring the moral and spiritual aspects of religion."
Mr Lukman said he also agreed that "ultra-conservatism" in the form of religious exclusivism and extremism contradicted religious values.
https://www.straitstimes.com/asia/se-asia/indonesia-interfaith-figures-call-for-fight-against-religious-exclusivism
--------
Al-Azhar Fatwa Global Centre: Greeting Christians on Their Festivals Is In Line With Islamic Objectives
31 December 2018
Al-Azhar Center for e-Fatwa issued a statement in which it addressed the ruling of congratulating the Christians on their festivals. The Center said, "Islam teaches its followers values of coexistence, tolerance and respect. These are the values that are not incompatible with one's religious glorification and adherence. The more a Muslim understands Islam, the more he respects others.
The center added saying that congratulating Christians on their festivals is a part of al-Ihsan [excellence in faith] and al-bir [righteousness] towards them, as it is included in the chapter of good speech and gentle communication. Allah Almighty ordered these rulings for all people without any distinction, especially with the people of the book [ahle-kitab] whose right has been enshrined in the Surah Mumtahina, as "Allah does not forbid you from those who do not fight you because of religion and do not expel you from your homes - from being righteous toward them and acting justly toward them. Indeed, Allah loves those who act justly" (60:8). He Almighty also said in the Surah Baqarah, "And speak to people good [words]" (2:83)
The Centre also said, "Permissibility of congratulating the Christians on their festivals is in line with the purposes [Maqasid] of Islamic religion, as it highlights its eminence and moderation [Wasatiyah]. This ruling will purify the spirit of brotherhood in the country and preserve the national cohesion. The neighbor will reach his neighbor and the friend will participate with his friend in the pleasant events.
--------
Passing Triple Talaq Bill Political Move by the Govt against Muslim Men, Claim Muslim Clerics and Social Activists
Siraj Qureshi
December 28, 2018
The passing of Triple Talaq Bill in the Lok Sabha has not gone down well among the Muslim clerics and social activists who believe that the bill will bring no transformation in the Muslim society as changes come from awareness, not new laws. Merely the fear of law cannot end the crime.
They believe that the move of passing the Triple Talaq Bill is politically motivated by a Hindu government to penalise Muslim men.
Talking to India Today on this issue, Mufti Mudassar Ali Khan Qadri said that since Muslim marriages are governed by Islamic law, there was no reason why someone would deviate from the Islamic law in terms of divorce, when everything pertaining to Talaq, Triple Talaq and the conditions under which it is valid or invalid, is all written clearly in the Quran and Hadith.
Qadri said that the Muslim community did not tolerate interference by the Supreme Court in the Islamic law in the Shahbano case and the then Prime Minister Rajiv Gandhi had to bring a bill in the parliament nullifying the SC orders.
Similarly, even in this case, the bill will have to either withhold in the Rajya Sabha or the upcoming government will remove the objectionable parts from it through another amendment.
Quresh Welfare Society's General Secretary Mohd Arif said that the bill that has been passed by the BJP in Lok Sabha is against the interests of Muslim women as it has been prepared without consulting the Muslim community or the clerics.
He said that the Muslim community was not taken into confidence and for the first time in the history of independent India, a majority Hindu government passed a law that affects only the Muslim men without consulting the Muslims at all.
Collectorate Bar Council's former secretary and senior advocate Amir Ahmed said that it will be very difficult for the Muslim women to get justice despite this bill as this law will have to be strictly implemented.
He said that even the Muslim women will not accept this law as the government showed too much haste in bringing this bill in the parliament and did not do much homework.
Bhartiya Muslim Vikas Parishad Chairman Sami Aghai said that it would have been better if the government had sent this bill to the Joint Parliamentary Committee instead of directly tabling it in the Lok Sabha.
He said that the government's focus is on the 2019 election alone and before the elections, it wants to polarise the female Muslim voters in its favour through this bill.
Hindustani Biradari Secretary Gyas Qureshi said that the Islamic law is clearly written in Quran and Hadith and every aspect of married life is governed by the Shariyat.
If the Shariyat is strictly followed, there was no reason to bring another law to supersede the Islamic law. It remains to be seen whether this Triple Talaq Bill remains a political stunt or it does bring some transformation in the Muslim society.
Social activist Mohd Yaseen said that the BJP does everything with a political angle and the Triple Talaq Bill's timing is also based on politics. This is probably the last session of the current Lok Sabha and PM Modi has no hopes of returning to power unless a miracle turn of events propels him to the high throne again.
Yaseen also said that to achieve that miracle, Modi is trying to woo the Muslim female voters through this bill, but there is a high possibility that this bill will get stuck in the Rajya Sabha and will not see the light of the day in the current government's tenure.
https://www.indiatoday.in/india/story/passing-triple-talaq-bill-political-move-by-hindu-govt-against-muslim-men-claim-muslim-clerics-1419273-2018-12-28
--------
Landslide Win for Sheikh Hasina in Bangladesh, Opposition Seeks New Vote
December 31, 2018
DHAKA: Bangladesh Prime Minister Sheikh Hasina has secured a fourth term with a landslide victory in polls the opposition slammed as "farcical" over claims of vote-rigging, and clashes between rival supporters that killed at least 17 people.
Hasina's ruling Awami League party and its allies won 288 seats in the 300-seat parliament, with the main opposition securing only six seats, Election Commission secretary Helal Uddin Ahmed said.
Hasina's government had mounted a crackdown on the opposition, an alliance led by the Bangladesh National Party, which urged the country's election commission to void the results.
"We are demanding that a fresh election is held under a neutral government as early as possible," Kamal Hossain, who heads the alliance, told reporters.
Deadly violence and bitter rivalry that marred the election campaign spilled over into voting day, even as authorities imposed tight security with 600,000 troops, police and other security forces deployed across the country.
Thirteen people were killed in clashes between Awami League and BNP supporters, police said, while three men were shot by police who said they were protecting polling booths.
An auxiliary police member was also killed by armed opposition activists, according to officials.
Hasina, 71, has been lauded for boosting economic growth in the poor South Asian nation during her decade in power and for welcoming Rohingya refugees fleeing a military crackdown in neighbouring Myanmar.
But critics accuse her of authoritarianism and crippling the opposition -- including arch-rival and BNP leader Khaleda Zia who is serving 17 years in prison on graft charges.
The opposition alliance on Sunday accused Hasina's party of using stuffed ballot boxes and other illegal means to fix the result.
BNP spokesman Syed Moazzem Hossain Alal told reporters there were "irregularities" in 221 of the 300 seats contested.
"Voters are not allowed to enter booths. Especially women voters are being forced to vote for the boat," Alal said, referring to the Awami League symbol.
'We'll Cast Your Vote'
Bangladesh election commission spokesman S.M. Asaduzzaman told AFP the body had "received a few allegations of irregularities" and was investigating.
Hasina did not immediately respond to the accusations but said in the run-up to the vote that it would be free and fair.
Voting in the capital Dhaka was largely peaceful as convoys of soldiers and paramilitary forces were on the streets where most traffic was banned.
However, voters in provincial areas reported intimidation.
One voter, Atiar Rahman, said he was beaten by ruling party activists in the central district of Narayanganj.
"They told me not to bother, 'We'll cast your vote on your behalf'," he told AFP.
The opposition said the unrest was stirred up to deter voters, and presiding officers reported a low turnout across the country.
Sunday's deaths brought to 21 the official police toll for election violence since the ballot was announced on November 8.
Police said they acted "in self-defence" when they fired on opposition supporters who stormed a polling booth, killing one. A man was also shot by police after he tried to steal a ballot box.
Free And Fair?
Experts say Hasina's victory will be sullied by accusations that she hamstrung opponents.
The opposition claims more than 15,000 of its activists were detained during the campaign, crushing its ability to mobilise support.
Seventeen opposition candidates were arrested over what they said were trumped-up charges while another 17 were disqualified from running by courts, which Hasina's opponents say are government controlled.
Human Rights Watch and other international groups said the crackdown created a climate of fear which could prevent opposition supporters from casting ballots.
The United States raised concerns about the credibility of the election while the United Nations called for greater efforts to make the vote fair.
The leadership of Bangladesh has alternated between Hasina and Zia, allies-turned-foes, over the last three decades.
Hasina's victory secures her third consecutive term in office, and her fourth overall.
A daughter of Bangladesh's first president Sheikh Mujibur Rahman, Hasina was gifted victory in the 2014 election when the BNP boycotted the vote claiming it was not free and fair.
Rights groups have since accused her administration of stifling freedom of speech by toughening a draconian anti-press law and the enforced disappearance of dissenters.
Hasina rejects accusations of authoritarianism but analysts say she feared young voters would support the BNP.
Her government was criticised this year for its heavy handling of weeks of major student protests that brought Dhaka to a standstill.
https://www.ndtv.com/world-news/sheikh-hasinas-party-wins-bangladesh-election-reports-news-agency-afp-quoting-local-reports-1970219
--------
Paigham-e-Pakistan a Timely Step To End Extremism, Terrorism: Moot
DECEMBER 31, 2018
LAHORE: Speakers at a ceremony here on Sunday said Paigham-e-Pakistan, a national counter-terrorism narrative launched earlier this year, will prove instrumental in eradicating extremism and terrorism from the country and help reform people who have lost their path due to negative propaganda by aberrant elements.
The 'Paigham-e-Pakistan Conference' organized by Tehreek-e-Wahdat-e-Islami Pakistan here at Gaddafi Stadium was attended by a large number of intellectuals, academicians, ulema, civil society members and students.
Tehreek-e-Wahdat-e-Islami Pakistan Chairman Malik Pervez Akbar Saqi presided over the event. Those who attended and spoke on the occasion included religious scholars Amjad Hussain Chishti of Jamiat Ulema Pakistan-Niazi, Allama Muhammad Khan Laghari of Jamiat Ulema Pakistan-Noorani, Qazi Abdul Ghafar Qadri of Markazi Jammat Ahl-e-Sunnat, Pir Syed Habib Irfani of Darbar Sundar Sharif, Pir Moeen Mehbob Koreeja of Darbar Baba Fareed, Allama Ziaul Mustafa Haqqani of Muslim Front Pakistan, Mufti Shabbir Anjum of Aalmi Jammat Ahl-e-Sunnat, Pir Nazim Shah of Pakistan People's Party, Pir Syed Ziaullah Shah of Jammat Ahl-e-Hadith, Allama Abdul Khabir Azad of Badshahi Mosque, Allama Shakil-ur-Rehman of Inter-Faith Consultation Commission, Iftikhar Hussain Naqvi from Council of Islamic Ideology, Father Francis Nadeem, Bhagat Lal Khokhar and Manohar Chandan of National Inter-Faith Dialogue Commission, and Darbar Nankana Sahib former president Bishen Singh.
In their speeches, the speakers rejected the politics of chaos in the name of Islam and urged the people belonging to all segments of society to play their role for progress, prosperity and stability of the country by forging unity, harmony, tolerance and brotherhood. They stressed the need to reconstruct an inclusive Islamic society in Pakistan with an aim to empower and promote the social, economic and political inclusion of all irrespective of their age, sex, race, ethnicity, origin, religion and economic status.
The speakers maintained that the role of teachers and ulema is of vital importance in character building of students at educational institutions and madaris to achieve lasting peace and tranquillity through elimination of extremism, sectarianism and terrorism from the society. They said Pakistan was facing multiple political, ethnic, social, religious and sectarian conflicts at present, which require immediate attention and prompt redressal, adding that peace and conflict resolution were vital preconditions for a sustainable economic growth, democracy and development.
They speakers said the young people hold tremendous potential, and, if given a chance, can help build more equitable societies and actively counter violence and extremism, adding that solution to violent extremism and other threats to safety and stability of the country can be found in working with the young people and tapping into their talents and potentials to reform and rebuild the society. They were of the view that empowerment of women was vital to rein in the forces of terrorism and violent extremism, adding that the women can play a vital role in educating young people to value peace and not destruction.
They said the roots of extremism and militancy lie in intolerance and in not appreciating different points of views, which foster sectarianism by eliminating moderation, adding that it was imperative that religious scholars, intellectuals and all institutions of the state must be vigilant and apart from individual efforts, should collectively work with mutual consensus to safeguard the nation against divisiveness.
The speakers also termed the gathering a unique and joyous occasion that would help bring about inter-sect and interfaith harmony in the country. They also stressed the need for concerted moves to foster tolerance and solidarity among all sects and religions in Pakistan since it was extremely necessary under the circumstances prevailing in the country.
https://dailytimes.com.pk/339060/paigham-e-pakistan-a-timely-step-to-end-extremism-terrorism-moot/
--------
Turkish Revelation: No Proof Of 'Tell The Boss, Deed Is Done' In Khashoggi Case
30 December 2018
"Tell the boss the deed is done."
These words – reported by The New York Times and then the rest of the world, linked the entire Khashoggi affair to Saudi Crown Prince Mohammed bin Salman.
International entities froze ties (before resuming contacts), sweeping statements were made, and the US Congress at least briefly considered punitive measures against Saudi Arabia.
A new book has now revealed, there is no evidence on that matter, which was dealt with as a smoking gun in the case. The newly released book – Diplomatic Atrocity: The Dark Secrets of the Khashoggi Murder is written by Ferhat Ünlü, Abdurrahman Şimşek and Nazif Karaman, from Turkey's Sabah newspaper.
The book presents itself as a reliable source for those who are interested in the issue, while revealing brand new details.
'Less mysterious'
As per the details revealed in the book, one of the darkest cases in recent history, the murder of Jamal Khashoggi, is becoming "less mysterious thanks to new findings" that reveal the identities of two more members of the hit squad and more voice recordings.
Some of the most striking new details are the revelation of new audio recordings that give information about both before and after the murder.
The book analyzes the 7.5-minute-long voice recording of the last moments of Khashoggi that Ankara claimed it shared with several countries and intelligence agencies. However, there is no official confirmation on that and even states like France and leader like US president have denied.
It denies the claim that was all over the media but is actually false. According to the book, there is no evidence of the claim related to "Mutreb's call to someone from the consulate saying "tell the boss the deed is done."
The book says " Another claim that was all over the media but is actually false is Mutreb's call to someone from the consulate saying "tell the boss the deed is done." According to the book, there is no evidence on that matter. The New York Times reported in November that Mutreb called a superior and told him to "tell your boss," with media reports suggesting it was MBS, to confirm that the "mission was carried out" and "the deed is done.""
Other major claims
The Dark Secrets of the Khashoggi Murder sets the record straight on several other claims that haven't been substantiated.
The book addresses the tricky issue of the Turkish government breaching international laws, by spying on international missions working inside its territories.
Daily Sabah claims that the book seeks to counter reports implying that the information were unlawfully achieved and Turkey was deliberately listening to the building.
It added that the recordings were automatically saved, meaning that Turkey did not deliberately listen to the consulate and save the records. " However many experts all over the world question these claims, asserting that Turkish government must be accountable over breaching the spying.
Phone traffic between Istanbul and Riyadh
According to the book, there are also the recordings of the phone traffic between Istanbul and Riyadh, starting from Sept.28.
It says there is also no evidence on how Khashoggi's body disappeared, including any findings on dissolving the body through acid.
The new revelation confirms proofs that the case was an attempt to change US policy against Saudi Arabia and in favor of the Muslim Brotherhood, which Qatar supports in spite of its status as a terrorist organization with most other Gulf countries.
US security expert Jim Hanson added that Turkey had control of the narrative after the killing as the only primary source for the media, with Qatar backing up their tales.
During a Security Studies Group research for a report on the "information operation" led by Qatar and Turkey, after Khshoggi's death, the organization heard from reliable sources familiar with the investigation that documents showing wire transfers from Qatar were found in his apartment in Turkey.
They were immediately put out of reach by Turkish security services, so they did not show the collusion between Khashoggi, Qatar, and Turkey prior to his death.
The organization has published as well a new, unredacted set of findings about the case. (You can read them here).
The Dark Secrets of the Khashoggi Murder, confirms Security Studies Group conclusion that Khashoggi was acting as a foreign agent for the interests of Qatar and Turkey.
The book says according to Omer Abdulaziz, a close friend of Khashoggi and an activist based in Canada who gave an exclusive interview to the writers, the journalist was more than a critique of the Saudi government. He was actually working on a joint project named the "army of the bees" with Abdulaziz himself.
The findings according to Hanson are damning to Qatar, Turkey, and the Washington Post. The findings suggest that Khashoggi have been operating in violation of the Foreign Agents Registration Act by doing this on behalf of Qatar.
This is the same law that caused both Gen. Michael Flynn and Paul Manafort legal jeopardy by not filing their attempts to influence the U.S. government on behalf of a foreign entity, according to the group.
https://english.alarabiya.net/en/News/world/2018/12/30/TURKISH-REVELATION-No-evidence-of-tell-the-boss-deed-is-done-in-Khashoggi-case.html
--------
Southeast Asia
In Indonesia, Calls for Quran Test for Presidential Hopefuls Draw Ire
December 30, 2018
A recent call for a Quran test in Aceh province for Indonesian presidential candidates is facing strong criticism by Muslim scholars, who say the move would undermine racial unity.
On Saturday, the Council of Preachers Association in Aceh sent an invitation to both presidential candidates in the April 2019 vote — incumbent Joko Widodo and opponent Prabowo Subianto — to attend a Quran recitation test in the capital of Aceh province on January 15. The chairman of that council, Marsyuddin Ishak, told VOA that the test is important to reveal the true image of the presidential candidates as well as continue a tradition in their province, the only one that implement the Sharia-law in Indonesia.
Quran recitation is a requirement to compete in local elections in Aceh.
" Our leaders in here — the governor, the member of parliament and other councils — are all tested to read the Quran. The next president will be our leader too, so we want to know their capability in reading Quran as our local leaders in here," said Marsyuddin.
However, former president of Syarif Hidayatullah State Islamic University in Jakarta, Dr. Komaruddin Hidayat, told VOA that the test is unnecessary and exaggerates the importance of religion.
"I really regret it. Our lives must be based on a constitution. Understanding and learning more about our religion is important, but it doesn't mean that we fail our live if we can't read the Quran," he said.
"Religion never became the standard to graduate from school or to get a job. I give you another example : if we want to test an airplane pilot, we test his knowledge on the airplane not about his ability to read the Quran. The same case with the presidential election."
He adds that it's better if any test was based on the candidates' sensitivity to people of different religions and how will he fight for the rights of minorities.
Dr. Rumadi Ahmad, an official with the country's largest Muslim organization Nahdlatul Ulama, told VOA that the Quran recitation test is a clear example of politicizing religion.
"This is an exaggeration of religion in politics. We don't have to use the capability to read the Quran as an issue in the coming election. This is a clear tendency to politicize religion. It's dangerous and will arouse hatred among people of various races and religions in the country," said Rumadi.
The invitation that was sent to both presidential candidates asks them to read Al-Fatiha (the first surah in Quran) and then another surah that will be determined by the organizer.
According to Marsyuddin Ishak, Joko Widodo's team has replied to the invitation by saying that they will consider it and discuss it further. Prabowo has not replied.
https://www.voanews.com/a/criticism-after-calls-for-quran-test-for-indonesian-presidential-candidates/4721720.html
--------
Aceh advises Muslims not to celebrate New Year
December 31, 2018
Officials and religious leaders in Aceh have called on Muslims in the province not to celebrate the New Year for religious reasons.
Aceh acting governor Nova Iriansyah explained in a circular that, "When marking the New Year, [it is recommended] that people not hold any festivities such as fireworks, trumpet-blowing, vehicle racing or any other celebration not in accordance with sharia, our customs and culture," Nova said as quoted by Antara on Sunday.
Cleric Mursalin Basyah echoed the message in a sermon on Sunday before thousands of Muslims at Al Faizin Mosque in Lampeuneurut, Aceh Besar, Aceh,
"Islam firmly prohibits people from individually or in a group celebrating the New Year [in the Gregorian calendar]. We have to inform all generations of Muslims of this," said Mursalin as quoted by Antara.
Other regions, meanwhile, have recommended that people not celebrate the New Year on the streets, to avoid accidents, traffic jams and to respect those in mourning due to disasters.
They issued a circular advising people to ring in the New Year with religious activities with family.
North Maluku Governor Abdul Gani Kasuba asked residents to pass the last day of 2018 with religious activities. Abdul said the residents should not light fireworks but instead pray for other regions hit by disasters.
Ternate municipality administration in North Maluku, meanwhile, held an all-night praying event on Sunday to pray for the New Year.
Sambas regency administration in West Kalimantan and Makassar municipality in South Sulawesi have also made a similar call.
The head of the Indonesian National Youth Committee (KNPI) in Sambas, Nugra Iranta Denashurya, said he supported the circular, especially because Indonesia was in mourning after earthquakes and a tsunami.
Kubu Raya regency in the same province issued a similar circular on Dec. 27. Kubu Raya administration spokesperson Elfiana Wardani urged residents not to light fireworks.
"We urge residents not to conduct street convoys or parades to avoid traffic jams, reduce traffic accidents and juvenile delinquency," she said as quoted by tribunnews.com.
She said the administration had ordered all local leaders, public figures and religious leaders to remind the public not to engage in "unproductive" activities. The regent suggested that Muslims pray in mosques, she said.
South Lampung regency, which was hit by the Dec. 22 tsunami, made the same call to residents, saying they should ring in the New Year with religious activities instead of partying.
The acting regent, Nanang Ermanto, issued a circular stating that there should be no street convoys, Antara reported.
Full report at:
https://www.thejakartapost.com/news/2018/12/31/aceh-advises-muslims-not-to-celebrate-new-year.html
--------
Arab World
Iraqi Sunni authority slams Grand Mufti's Christmas fatwa as 'reckless'
30 December 2018
The head of Iraq's Sunni Endowment authority on Saturday condemned recent remarks from the country's mufti, who said it was impermissible for Muslims to join Christmas or New Year's Eve celebrations.
Dr. Abdul latif al-Heymem labeled the statements as "offensive, irrational and unacceptable."
"These statements do not represent the Iraqi Sunni Endowment authority, which works towards establishing national unity," he said, noting the deep historical roots Christians have in Iraq "through their Chaldean-Assyrian ancestors."
Sheikh Abdul-Mahdi al-Sumaidaie, a prominent Sunni religious figure and the mufti of Iraq, said on Friday that it is haram (forbidden) for Muslims to participate in New Year celebrations.
"Do not join Christians in Christmas celebrations, because this means that you believe in their doctrine," Sumaidaie said in his Friday sermon at a Baghdad mosque.
Al-Heymem said "such reckless and irrational statements take us back to the hatred, incitement, sedition and rejection of other religions. It does not represent the joint the co-existence among Iraqis of all doctrines, nationalities and sects - whether Arabs, Kurds and Turkmen.
"Christians don't prevent us from celebrating the Prophet Mohammed's birthday, so why should Christmas celebrations be forbidden?" he added.
https://english.alarabiya.net/en/News/middle-east/2018/12/30/Iraqi-Sunni-authority-slams-Christmas-New-Year-s-Eve-fatwa-as-reckless-.html
--------
Syrian Army Pounds Terrorists' Movements in Demilitarized Zone in Northern Hama
Dec 30, 2018
The army's artillery units, deployed near the town of Tal Bazam in Northern Hama, pounded the movements of Tahrir al-Sham and its allies in the demilitarized zone in the town of Morek and managed to preempt their offensive.
Tahrir al-Sham and its allied terrorists suffered heavy casualties and their military hardware sustained major damage in the artillery attack.
In the meantime, the artillery attack spreaded to other positions of the terrorists in al-Zakat, Ma'arkabah, al-Latamina and Kafr Zita in Northern Hama as well.
Other artillery units, meanwhile, shelled terrorists' strongholds near the small town of al-Sarmaniyah in Western al-Ghaab Plain, inflicting major losses on the militants.
The terrorists' refusal to implement the Sochi Agreement to establish a demilitarized zone is pushing the army to initiate its long-waited assault on militants in Idlib that had been put on hold due to the Sochi Agreement.
Colonel Mar'ei Hamdan, a Syrian military expert, was quoted by the Arabic-language website of Sputnik news agency as saying last month that Tahrir al-Sham Hay'at (the Levant Liberation Board or the Al-Nusra Front) is in control of nearly 70% of towns and villages in Idlib province and makes provocative moves against the Syrian army, adding that the army's commitment to decrease tensions is not lasting forever.
He added that the Syrian army has so far repelled all attacks by terrorists against its positions and inflicted heavy damages on them, noting that the army is now necessitated to come out of the defensive mood to retake control of Idlib.
Hamdan said that Tahrir al-Sham will resort to a full-scale military operation against the Syrian and Russian armies soon, after rejecting the Sochi agreement last October, which leaves no room for ceasefire or disarmament anymore, and underlined that the Syrian army's battle against Tahrir al-Sham is inevitable.
Meantime, the Turkey-backed Ahrar al-Sham and National Liberation Front (NLF) terrorist groups has also dismissed the Russian-Turkish Sochi agreement and is preparing for military operations against the army in Northern Syria, calling for a coalition with Tahrir al-Sham.
Tahrir al-Sham and other allied terrorist groups have not left the demilitarized zone two months after the Sochi agreement and have instead reinvigorated their strongholds and targeted the army positions every day.
Full report at:
http://en.farsnews.com/newstext.aspx?nn=13971009000678
--------
UAE's Gargash criticizes Iraq for meddling in Bahrain's internal affairs
30 December 2018
UAE Minister of State for Foreign Affairs Anwar Gargash has criticized the setting up of an office by the Bahraini opposition group, the February 14 movement, known also as Coalition Youth of 14 February Revolution, in the Iraqi capital Baghdad.
In a tweet on Saturday, Gargash called Iraq's move an interference in Bahrain's internal affairs.
In the tweet, the UAE minister denounced the opening of the office saying this move sets a "serious precedent in interfering in internal affairs. We stand with Bahrain in its rejection of the legitimacy of the Coalition, which sought through violence to undermine its security. The rule of respecting sovereignty and refusing to meddlle in internal affairs is essential" among Arab nations.
Last Monday Bahrain's Foreign Ministry summoned the deputy charge d'affaires of the embassy of Iraq to denounce a statement by former Iraqi Prime Minister Nuri al-Maliki which Bahrain said is a clear violation and interference in the country's internal affairs.
Full report at:
https://english.alarabiya.net/en/News/gulf/2018/12/30/UAE-s-Gargash-accuses-Iraq-of-meddling-in-Bahrain-affairs.html
--------
Iraq hints at bigger role in Syria after US withdrawal
31 December 2018
Iraq's prime minister said on Sunday that top security officials from Baghdad had met Syrian President Bashar al-Assad in Damascus, and hinted at a bigger Iraqi role fighting ISIS extremist group as US troops withdraw from Syria.
"This issue has a lot of complications," Adel Abdul Madhi told reporters, referring to US President Donald Trump's surprise announcement this month that he will withdraw US forces from Iraq's neighbor.
"If any negative development takes place in Syria it will affect us. We have a 600 km (400 mile) border with Syria and Daesh (ISIS extremist group) is there," Abdul Mahdi said.
The premier said the Iraqi delegation had visited Damascus to "gain the initiative, not just deal with the consequences" of any future ISIS activity emboldened by the US withdrawal. Iraqi news websites said the visit took place on Saturday.
Abdul Mahdi said Iraq sought to move beyond its current arrangement with Syria - under which it launches air strikes against ISIS militants in Syrian territory - but did not got into more details.
"There are groups operating in Syria, and Iraq is the best way to deal with this," he said, responding to a question about the possibility of increased involvement of Iraqi forces in Syria.
Iraqi Shi'ite Muslim paramilitary groups backed by Iran already operate inside Syrian territory against the ISIS.
Abdul Mahdi has previously said that about 2,000 ISIS fighters are operating near the border in Syria and trying to cross into Iraq.
Full report at:
https://english.alarabiya.net/en/News/middle-east/2018/12/31/Iraq-hints-at-bigger-role-in-Syria-after-US-withdrawal.html
--------
Ahead of Coptic Christmas, Egypt creates body to fight 'sectarian incidents'
30 December 2018
Egypt's president has ordered the creation of a committee to tackle "sectarian incidents", the official gazette said Sunday.
The decision by President Abdel Fattah al-Sisi follows a string of extremist attacks targeting the country's Coptic Christian minority.
The body is to be headed by Sisi's security and counterterrorism advisor, the gazette said.
That position is currently held by Egypt's ex-Interior Minister Magdy Abdel Ghaffar.
The new committee, tasked with "developing a general strategy to prevent and confront sectarian incidents", will include representatives from security and intelligence agencies as well as the country's top anti-corruption body.
Sisi's decision takes effect Monday, ahead of Egypt's Coptic Christmas celebrations on January 7.
Egypt's Christians make up roughly 10 percent of the country's mostly Muslim population.
They have long complained of discrimination, and sectarian violence intermittently erupts, especially in rural areas in the country's south.
The embattled Christian minority has been targeted by a series of deadly attacks over the past two years, most claimed by ISIS extremist group.
Full report at:
https://english.alarabiya.net/en/News/middle-east/2018/12/30/Ahead-of-Coptic-Christmas-Egypt-creates-body-to-fight-sectarian-incidents-.html
--------
Children of Russian ISIS militants return home from Iraq, says Russia
30 December 2018
Thirty Russian children whose mothers are in Iraqi prison for belonging to the ISIS extremist group left Baghdad on Sunday to return home, a Russian diplomatic source said.
The fathers of the children, young boys and girls between the ages of three and 10, are believed to have been killed in combat during Iraq's three-year war against the extremists, the source said.
Chechen leader Ramzan Kadyrov said earlier this week that he expected the children to arrive in Moscow on Sunday.
He said 24 of them were from Dagestan, and another three were from Chechnya.
Several thousand Russians travelled to join the extremists in their once sprawling "caliphate" straddling Syria and Iraq, according to estimates from the Russian security services.
Some took their families with them.
Since last year, around 100 women and children - mostly from Russia's Muslim-majority Caucasus - have returned under a program championed by Kadyrov.
But in mid-November, Chechen activist Kheda Saratova accused Russia's FSB security service of blocking attempts to bring back the remaining widows and children of Russian ISIS militants.
"According to our organization, there are over 2,000 of them left in Syria and Iraq," Saratova, who is on Kadyrov's human rights council, said at the time.
Meanwhile on Sunday Iraqi Prime Minister Adel Abdel Mahdi held talks in Baghdad with Anna Kuznetsova, the Russian president's envoy for the rights of children.
During the meeting, Abdel Mahdi said a "distinction should be made between humanitarian issues and terrorist crimes", according to a statement from his office.
"These children are also victims," he added.
More than 300 people, including around 100 foreigners, have been sentenced to death and many others to life imprisonment in Iraq for joining ISIS, the Sunni extremist group which at its peak controlled nearly a third of the country.
Full report at:
https://english.alarabiya.net/en/features/2018/12/30/Children-of-Russian-ISIS-militants-return-home-from-Iraq-says-Russia.html
--------
Assad allows Iraqi jets to hit Daesh militant redoubts in Syria anytime: Report
Dec 30, 2018
Syrian President Bashar al-Assad has reportedly allowed Iraqi fighter jets to conduct airstrikes against the positions of the Daesh Takfiri terrorist group in the war-ravaged country without waiting to be granted formal authorization for the assaults.
A high-ranking Iraqi official, speaking on condition of anonymity, told Russia's RT Arabic television news network that Iraqi warplanes will be able to enter the Syrian airspace and bombard Daesh sites under Assad's directives.
The Iraqi official, however, highlighted that the Syrian president has demanded the Baghdad government to inform Syrian authorities before launching any aerial raid.
On December 12, the media bureau of Iraq's Joint Operations Command (JOC) said in a statement that Iraqi military aircraft had carried out two separate airstrikes against members of the Daesh Takfiri terrorist group in Syria's eastern province of Dayr al-Zawr.
The statement noted that the fighter jets targeted a meeting of Daesh Takfiris in al-Susah town, which lies in Abu Kamal district of the province, leaving 30 terrorists dead.
Another air raid destroyed a militant hideout in the same Syrian town, killing 14 Daesh terrorists.
Iraqi authorities have on occasions stated that they work closely with the Syrian government to monitor and target terrorist targets based on the efforts of intelligence and information departments of the security coordination committee formed between Baghdad, Damascus, Tehran and Moscow years ago, as well as coordination with the so-called US-led anti-Daesh coalition.
Full report at:
https://www.presstv.com/Detail/2018/12/30/584387/Assad-allows-Iraqi-jets-to-hit-Daesh-militant-redoubts-in-Syria-anytime-Official
--------
Tourists throng Egypt pyramids after bombing, but future clouded
December 30, 2018
GIZA: Crowds of tourists stared in awe at the towering pyramids of Giza near Cairo on Saturday undaunted by a nearby bomb attack a day earlier that killed holidaymakers from Vietnam.
A roadside bombing ripped through a tourist bus killing three tourists and an Egyptian guide on Friday, as it traveled near the world-famous attraction.
The attack comes as Egypt's vital tourism sector has begun to recover after years of instability and militant violence that scared visitors away.
"I think terrorism can strike anywhere in the world," Somand Yang from South Korea told AFP.
"You have to be careful but it is also like luck." Security forces guarded the entrance to the sprawling site and Yang, 32, said she had no qualms about visiting.
"Lightning never strikes twice in the same place. So I figured it will be even safer today," she said.
Excited holidaymakers rode camels and queued to enter a tomb as they snapped pictures of the Great Pyramid, the only surviving structure of the seven wonders of the ancient world.
Hawkers followed the tourists, doggedly trying to sell trinkets and souvenirs. Despite the steady flow of visitors, Egyptians working at the site said they were shaken by the attack — and concerned that it could hit their livelihoods.
"I knew the guide who died yesterday," said Dalia Sadaka, as she accompanied a group of sightseers.
"I completely broke down yesterday, but I had to get to work in the morning," she said, pointing to her visibly swollen eyes.
Earlier hit hard by a string of bloody attacks and unrest, visitor numbers to Egypt have more recently staged a partial recovery.
In October 2015, a bomb claimed by a local affiliate of Daesh killed all 224 people on board a passenger jet carrying Russian tourists over the Sinai peninsula.
That incident dealt a severe blow to Egypt's tourism industry, which was still reeling from the turmoil set off by the 2011 uprising that forced veteran leader Hosni Mubarak from power.
The official statistics agency says arrivals reached 8.2 million in 2017, up from 5.3 million the year before.
But that figure was still far short of the record influx in 2010 when over 14 million came.
"I fear yesterday's incident may have an impact on our source of income," said an elderly man who offers camel rides, declining to give his name.
Full report at:
http://www.arabnews.com/node/1427936/middle-east
--------
Syria's Assad authorizes Iraqi forces to strike Daesh in Syria
December 30, 2018
DAMASCUS: Syrian President Bashar Assad authorized Iraqi forces on Sunday to attack the Daesh group inside Syria without waiting for permission from authorities in Damascus, the state news agency SANA said, as the two allies coordinate their fight against extremists ahead of a planned US withdrawal from Syria.
The announcement highlights the close relations between the two neighboring Arab countries that are both allied with Iran. Daesh once controlled large parts of both countries when it declared a caliphate in 2014.
Iraqi warplanes and artillery have in the past pounded IS positions inside Syria after getting the green light from Syrian authorities.
The extremists have been defeated in Iraq but still hold a small area in Syria close to the Iraqi border.
On Saturday Assad received a letter from Iraq's Prime Minister Abdul-Mahdi calling for both countries' coordination in "fighting terrorism."
President Donald Trump announced earlier this month that the US will withdraw all of its 2,000 forces in Syria. The main US-backed Kurdish-led Syrian Democratic Forces has expressed concerns that the US plans to pull out could lead to the revival of Daesh saying that the extremists have not been defeated yet in Syria.
In Washington, Senator Lindsey Graham, R-S.C., said he is going to encourage Trump to sit down with generals and reconsider pulling troops from Syria.
"Slow this down, make sure that we get it right, make sure Daesh never comes back," Graham said on CNN using a different acronym to refer to Daesh. "Don't turn Syria over to the Iranians. That's a nightmare for Israel."
Graham said that it's possible for the US to reduce its footprint in Afghanistan, Iraq and Syria, and that he supports the goal of having allies "do more and pay more." But he added that he also sees the US military playing a role in all three countries for "a while to come."
"I want to fight the war in the enemy's backyard, not ours," Graham said.
Graham has been a confidant of Trump's, but it's unclear how much Trump will listen to him on Syria. Still, Graham said he's generally pleased with Trump's foreign policy initiatives.
"All I ask him to do is to make sure we don't fumble the ball inside the 10-yard line, sit down with the generals," Graham said.
In Tehran, Iran and Syria signed Sunday a long-term strategic and economic agreement as the war winds down in Syria where Iran and Russia were the main backers of Assad's government since the crisis began nearly eight years ago.
Syria's SANA news agency quoted Syrian Minister of Economy and Foreign Trade Mohammed Samer Al-Khalil, who signed the agreement, as saying that the deal includes "full cooperation on the financial and banking levels." He added that this would allow Iranian companies to be present through investments in Syria.
The Syrian government has gained control of large parts of the country with the help of Iran and Russia and some Arab countries, including the oil-rich United Arab Emirates, have reopened their embassies in Damascus.
The Syrian government estimates reconstruction of the war-torn country will cost some $200 billion dollars and last 15 years.
Al-Khalil said that "priority in the reconstruction of Syria will be given to Iranian public and private companies," according to SANA's report.
Full report at:
http://www.arabnews.com/node/1427906/middle-east
--------
India
Bulandshahr violence attempt to instil fear among Muslims, claim human rights bodies
30th December 2018
NEW DELHI: The recent Bulandshahr violence that claimed the lives of a policeman and a 20-year-old man was a "targeted attempt" to "instill fear" in the Muslim community, an umbrella organisation of human rights bodies claimed Sunday and demanded a Supreme Court-monitored probe into it.
Inspector Subodh Kumar Singh and civilian Sumit Kumar of Chingrawathi village were killed on December 3 in the mob violence that broke out in Bulandshahr's Siyana area after cattle carcasses were found strewn outside a village.
The incident happened when the election process in five states -- Madhya Pradesh, Rajasthan, Chhattisgarh, Mizoram, Telangana -- was underway.
"Hindutvawadi forces masterminded" the incident to "polarise" the voters because of the "ongoing elections in five states", the organisation claimed, whose members visited Bulandshahr and presented a "fact-finding" committee's report here, and demanded a new law to check hate crimes.
The National Confederation of Human Rights Organisation (NCHRO) sought an immediate ban on all groups and 'senas' which use weapons "in the name of cow protection".
Addressing the media at the Press Club here, members of the NCHRO claimed that the violence was a "planted incident" to create unrest in the area and elsewhere "in the name of cow".
"The mob, at the instigation of local Bajrang Dal and BJP Yuva Morcha leaders Yogesh Raj and Shikhar Agrawal, gathered at the Chingrawathi police post and burnt down many vehicles, staged a shootout and pelted stones on the police force," it said in a statement.
The "fact-finding" team member Manoj Singh, of the All India People's Forum, claimed the way a purported video of the inspector's killing was shot "clearly indicates" the mob received political protection.
"In a peaceful area like Bulandshahr, the December 3 incident was a targeted attempt by Sangh-BJP organisations to instill fear in the Muslim community," said Singh.
He claimed that small skirmishes between local groups were used as an excuse to start communal clashes.
"There are clear signs of political conspiracies at play to discourage honest members of the administration, like Inspector Subodh, through intimidation and fear of life," he said.
He said there were also no signs of cow slaughtering at the fields outside Mahaw village, where the carcasses were found on December 3 morning, "which makes it clear that the mob violence... was executed through meticulous planning".
The NCHRO also highlighted that several innocent people, including two minors, were put behind bars while the key suspect, Bajrang Dal local leader Yogesh Raj, was still at large.
"A law should be made to contain mob violence and an immediate ban on all organisations and 'senas' which use weapons and have led the country to a civil war-like situation in the name of cow protection," the NCHRO said.
"Also another law be made and strictly implemented to ensure a state government's responsibility to check hate crimes and elements spreading hate crimes," it said.
The Home Ministry should review it on regular basis and share details in every parliamentary session on what steps it has taken to check riots and hate crimes, said Singh.
Another team member, Ansar Indori, claimed that the incident was a "planned affair".
"The occurrence of such a big incident in the presence of the administration proves that it was planned affair. Police presence deterred the violence from spreading further.
The murder of a police officer at the hands of the mob occurred as he was executing his duties," Indori, an advocate by profession, told reporters.
Meanwhile, Sarfuddin, a resident of Nayabans village, who was initially arrested by the police following a complaint by Raj, told reporters that he would move court against his arrest.
He was arrested under Indian penal Code sections 358 (assault or criminal force on grave provocation) and 295 (injuring or defiling place of worship with intent to insult the religion of any class) but released after 16 days.
"I was put in jail for 16 days when I had done nothing. I am the president of the village's mosque committee and I was named under a conspiracy," he said.
Sarfuddin, who runs a clothes shop in Siyana town, also alleged that he was being threatened by a leader of a local right wing group who was opposed to the loud speaker being installed on the mosque in 2017.
Seven people -- two children aged 11 and 12, a non-existent man, a man living in Faridabad for over a decade, besides Sarfuddin -- were named in the FIR for cow slaughter on a complaint by Raj.
The police recently arrested three men who were not named in the FIR for their role in the alleged cow slaughter on December 3.
http://www.newindianexpress.com/nation/2018/dec/30/bulandshahr-violence-attempt-to-instil-fear-among-muslims-claim-human-rights-bodies-1918497.html
--------
New IS Module: NIA Conducts Fresh Raids In Delhi, 5 Suspects Arrested
31 DECEMBER 2018
The National Investigation (NIA) carried out searches at several places in Delhi and questioned few people in connection with its probe into the new Islamic State module of Harkat-ul-Harb-e-Islam, officials said.
A senior NIA official said that the agency had carried out searches at few places in east Delhi's Jafarabad area on Sunday.
The official said that the agency had also questioned few suspects.
The counter-terror probe agency's action comes four days after it arrested 10 people including the group head Mufti Mohammad Suhail as they were allegedly planning terror attacks targeting some political personalities and security establishments as well as crowded places in Delhi and the national capital region (NCR).
Earlier NIA had raided 17 places in Delhi and Uttar Pradesh and had nabbed 10 people. The investigative agency had termed Amroha mosque's maulvi as the head of this extremist group. Mufti Sohail is a resident of Amroha, UP and was staying in Delhi's Zaffrabad.
As per NIA, this group was preparing for a terror attack. The group named Haqat-Ul-Herb-e-Islam was inspired by ISIS. Now, the probe agency has done a fresh raid after a tip-off from suspected terrorist Mufti Sohail.
What all has been seized?
After last arrest the NIA had recovered a country-made rocket launcher, 12 pistols, 112 alarm clocks, 100 mobile phones, 135 SIM cards, many laptops and various electronic gadgets, besides recovering 150 rounds of ammunition during the searches.
The NIA had also seized 25 kg of explosive material, such as potassium nitrate, ammonium nitrate, sulphur, sugar material paste, mobile phone circuits, batteries, 51 pipes, remote control car triggering switch, wireless digital doorbell for remote switch, steel containers, electric wires, knife, sword, IS-related literature and Rs 7.5 lakh in cash.
Besides Suhail, the NIA arrested Saeed, 28, Raees Ahmed, Saqib Iftekar, 26 and Mohammad Irshad from Amroha.
Full report at:
https://www.outlookindia.com/website/story/india-news-new-is-module-nia-conducts-fresh-raids-in-delhi-5-suspects-arrested/322649
--------
Congress Holds Meeting with Muslim Intellectuals
Dec 31, 2018
New Delhi: According to a report published in Inquilab Urdu Daily, Congress convened a meeting with Muslim intellectuals.
Invitations have been sent by Mr. Afzal Ayubi, Advocate of Supreme Court to 60-70 Muslim intellectuals. The invitees include Justice Sohail Ajaz Siddiqui, former Chairman of Minorities Educational institutions, Mr. Kamal Farooqui, Former Chairman of Minorities Commission, New Delhi, Mr. Mohammed Adeeb, Former MP, Dr. Zafar Mahmood, Mr. Ilyas Malik, Mr. Rizwan Qaisar, Ms. Arifa Khanam and others.
In his invitation, Mr. Ayubi wrote that the suggestions of Muslim intellectuals will help formulate election manifesto of Congress for 2019 election.
It may be mentioned that earlier, Congress-led UPA Govt. had appointed Sachar Committee in order to implement the development of the Muslims as a result of it, Congress got 22 Lok Sabha seats in UP.
Many recommendations of Sachar Committee could not be implemented till 2014. Due to the objections raised by BJP that Congress is resorting to appeasement of the Muslims, Congress was terrified.
Full report at:
https://www.siasat.com/news/congress-holds-meeting-muslim-intellectuals-1451502/
--------
Triple Talaq Bill: It's not good for govt to interfere in religious practices, says Lok Sabha deputy speaker Thambi Durai
Dec 30, 2018
CHENNAI: Stating that it was the duty of the AIADMK to protect the rights of the minorities, Lok Sabha deputy speaker M Thambi Durai on Sunday said his party would oppose the Triple Talaq Bill in Rajya Sabha.
"It is not right for the government to interfere in religious practices. It is our party's stand to protect the rights of the minorities. Hence, we will stoutly oppose the Bill that will harm our Muslim brothers," Thambi Durai told reporters at the Chennai airport on the BJP government's move to pass the Triple Talaq Bill.
The party's MP A Anwhar Raajhaa spoke vehemently against the Bill in the Lok Sabha on Thursday, creating ripples within his party. He said that the Bill was against the Muslim community and the AIADMK would oppose it.
The party leadership, however, was divided over the rather strong extempore speech of Raajhaa on the Bill. While a section of the MPs and other functionaries who were against an alliance with BJP for the forthcoming general elections welcomed his views and strong words, another section, who were for a BJP tie-up, were not too happy.
Full report at:
https://timesofindia.indiatimes.com/india/triple-talaq-bill-its-not-good-for-govt-to-interfere-in-religious-practices-says-lok-sabha-deputy-speaker-thambi-durai/articleshow/67314097.cms
--------
Badruddin Ajmal's Faux Pas in Triple Talaq Debate: Muslim Sectarian Divide Reaches Parliament
Dec 30, 2018
Badruddin Ajmal, a Member of Parliament from Assam and president of All India United Democratic Front (AIUDF), stirred up a hornets' nest in the Islamic society by calling Salafis 'terrorists' in Lok Sabha. Debating the Triple Talaq Bill on Thursday, visibly unprepared Badruddin Ajmal, an adherent of Hanafi school of thoughts, said: "You have mentioned Salafi sect, this ideology has been held responsible for promoting terrorism. We don't follow this sect."
After facing flak, Ajmal issued an apology calling the remarks a 'slip of the tongue', 'unintentional' and 'far from truth'. He also wrote to the Lok Sabha secretariat to expunge the controversial parts of his speech from the Parliament's record. However, the damage was done. His remarks reignited the fire of sectarian divide within the Muslim community and widened the existing rift between the two largely followed branches of Islam.
What pains Salafis and those who are trying to unite the community is very fact that the regrettable statement came from a person who is sent to the Parliament with a hope that he would represent the entire community. Badruddin Ajmal, a high-profile member of Darul Uloom Deoband, Asia's largest Islamic seminary, not only humiliated Salafis in Lok Sabha, but also let down Hanafis who had expected him to present a strong case against the Triple Talaq Bill. Badruddin Ajmal Asked on Pre-Election Alliance Ahead of 2019, Replies: 'Go Dogs…Will Smash Your Head'.
During the debate, Ajmal admitted he came unprepared and looked distracted. Despite being a student of Darul Uloom Deoband, he failed to answer a question about Quran posed by BJP MP Meenakshi Lekhi and went on giving unrelatable examples in his desperate attempt to make a pitch against the Bill. He disappointed Muslims, especially Hanafis, who expected compelling arguments against the Bill from him. Adding to woes, he ended up giving fodder to anti-Muslim powers to malign the community over terrorism.
On one hand, the ruling dispensation is hell-bent on suppressing Muslims by unleashing a spree of attacks on their constitutional rights, and smears the community by pushing misinformation, Badruddin Ajmal, on the other hand, acted as an ignorant Muslim who ended up becoming a pawn in the hands of Islamophobes. After social media, where vile and offensive things are being said by Muslims about other Muslims, the sectarian divide has reached the Parliament. Assam: Woman Alleges Rape by AIUDF MLA Nizam Uddin Choudhury, Legislator Terms Allegation as False.
At a time when a national party, driven by hate and bias against Muslim, is leaving no stone unturned to take political advantage of the sectarian divide within Islam, we, Muslims are also contributing to this bigotry by either blaming each other for our problems or by turning a blind eye to growing sectarianism. The sects within the Muslim community have disagreements over Islamic laws and theology since centuries.
Full report at:
https://www.latestly.com/india/badruddin-ajmals-faux-pas-in-triple-talaq-debate-muslim-sectarian-divide-reaches-parliament-564470.html
--------
Mehbooba Mufti meets terrorist's sister, warns Governor, police to mend their ways
Dec 31, 2018
Pulwama: Former Jammu and Kashmir Chief Minister Mehbooba Mufti on Sunday visited Rubina of Petipora Pulwama, sister of a terrorist, who was allegedly thrashed by policemen in Jammu.
After meeting Rubina, Mufti said that this is an unfortunate incident and should not occur again.
"It is an unfortunate incident that a militant's sister has been assaulted by the police. If the Governor has a problem with the terrorists, then he should fight with them. Why should their families and sisters be involved? I warn the Governor and the police that if such a thing reoccurs, then it will not be good for them," she said.
She also said, "How did male police personnel touch a girl? Why were there no woman personnel? Family members of terrorists should not pay for this. This is my last warning to the Governor."
On Friday, Mufti took to Twitter to assert that declaration of suspects as terrorists is premature.
Full report at:
https://www.siasat.com/news/mehbooba-mufti-meets-terrorists-sister-warns-governor-police-mend-their-ways-1451542/
--------
J-K: Indian Army foils Pakistani BAT action, kills 2 attackers
Dec 31, 2018
Baramulla : The Indian Army has foiled an attempt by Pakistani Border Action Team (BAT) to carry out an attack across the Line of Control (LoC) in Naugam sector of Kashmir, killing two suspected Pakistani soldiers.
According to statement issued by the Indian Army, a large cache of warlike stores has also been recovered. From the recovery, it was estimated that they intended to carry out a gruesome attack on the Indian Army forward post in Naugam sector.
The attackers, who were dressed in Indian Army and BSF fatigues for deception, were provided cover fire by the Pakistani Army post as they tried to sneak into the Indian side, the statement said.
BAT is a small unit generally comprising Pakistani Army personnel and terrorists who sneak across the LoC or Internationsl Border to carry out an attack on an Indian post.
"The intruders attempted to move by exploiting the thick jungles close to LoC and were assisted by heavy covering fire of high calibre weapons such as Mortars and Rocket Launchers from the Pakistani posts," the statement said.
"The movement was nonetheless detected by the vigilant Indian Army troops deployed along the LoC. The fire-fight initiated by Pakistan was given strong retaliation by Indian Army and the exchange of fire continued the whole night," it added.
Prolonged search operations in thick jungles and difficult terrain conditions were conducted by the army personnel, after which elimination of two likely Pakistani soldiers was confirmed.
The search operations are still underway in the Sector to sanitise the area.
It was also reported that a few other intruders managed to escape across the LoC, taking advantage of the Pakistani firing and adverse weather and visibility conditions.
Army authorities applauded the courage and perseverance of the alert troops.
"The Indian Army's resolve to keep a strict vigil along the LoC and defeat all such nefarious designs of Pakistan will continue to remain firm and consistent," the statement read.
Full report at:
https://www.siasat.com/news/j-k-indian-army-foils-pakistani-bat-action-kills-2-attackers-1451528/
--------
J&K: Suspected terrorists loot 4 rifles from residence of former MLC
Dec 30, 2018
NEW DELHI: Suspected terrorists on Sunday looted four AK rifles from the residence of former Congress MLC Muzaffar Parray in Srinagar's Jawahar Nagar area, police said.
A case has been filed and an alert has been sounded in Srinagar.
Three policemen from the security wing and one from district police Sopore attached with the former legislator have been summoned for questioning.
This is the second such incident in Srinagar in the recent months. In September this year, a special police officer (SPO) had decamped with seven rifles and a licensed pistol from the residence of a PDP leader in the same locality.
Full report at:
https://timesofindia.indiatimes.com/india/jk-terrorists-loot-4-rifles-from-residence-of-former-mlc/articleshow/67311680.cms
--------
South Asia
BNP Facing Muslim League's Fate after Election Debacle: Inu
31 Dec 2018
The information minister referred to the 1970 elections on Sunday night during a bdnews24.com live broadcast moderated by Editor-in-Chief Toufique Imrose Khalidi on the developments, results and analysis of the election.
"The Muslim League had lost control of its workers at the grassroots level despite being the largest party in the '70 elections. The workers had ditched the party and sided with the nationalist struggle. That's how the Muslim League era came to an end," Inu said.
"In this election as well, the BNP and Jamaat-e-Islami alliance did politics of violence and sold election nominations in exchange for money. It suffered lack of confidence of the workers. As a result, they lost control of the workers on the ground. BNP-Jamaat workers switched sides and worked together with the Grand Alliance (led by Awami League)," he remarked.
The Awami League is set to form the government for a third straight term after winning a landslide victory in Sunday's parliamentary elections.
The BNP and its allies managed only six seats while the Awami League secured 203 in the 300-seat parliament, according to results for 235 seats published until 3:30am.
The ruling party's key ally the Jatiya Party has won 22, which raises the possibilities of the party remaining as the main opposition in parliament.
"NO HIFAZAT TIE"
Inu, the president of the Jatiya Samajtantrik Dal or JaSoD, was a staunch critic of the Awami League's ties ahead of the polls with the Hifazat-e Islam, a group that drew global attention after rampaging through Dhaka's commercial hub Motijheel following a sit-in against government policies, especially on religion, education and women, and atheist bloggers in May, 2013.
After the win in the election, Inu said, "Prime Minister Sheikh Hasina has not bowed to the Hifazat's demands even after its movement. We have forged neither any friendship nor any political alliance with the Hifazat."
"What happened happened for the sake of the Qawmi madrasas. I think it was a correct decision to bring the Qawmi madrasas to the mainstream," Inu said, referring to the government recognition of the highest Qawmi madrasa degree.
"It'll take time, but the Qawmi madrasas will no longer be in the dark. They will play a positive role in the continued stability in Bangladesh," he added.
He also said his party wants a ban on the Jamaat-e-Islami like the one on the Nazis in Germany. The Jamaat opposed Bangladesh's independence during the Liberation War in 1971 and recently had five of its top leaders hanged for committing crimes against humanity committed in collaboration with the Pakistan Army during the war.
He said the extinction of the Jamaat in Bangladesh is a "matter of time now as the Hasina administration will adopt a secular policy in the future".
On being asked, the minister said the Grand Alliance government led by the Awamio League will prioritise elimination of inequalities and corruption and, establishment of good governance.
https://bdnews24.com/11thparliamentaryelection/2018/12/31/bnp-facing-muslim-leagues-fate-after-election-debacle-inu
--------
Election violence kills at least 17, mostly from Awami League
31 Dec 2018
Several more are injured, but their total figure is yet to be confirmed.
Awami League
* 40-year-old Jubo League leader Md Liakat Hossain is hacked to death outside a voting centre at Gazipur's Harinal around 1:30pm.
* Ajijul Haque, an assistant secretary of the Jubo League at Paikol Union, is hacked to death while handing slips to voters outside a polling centre at Bogura's Kahalu Upazila around 12pm.
* 40-year-old Modasser Ali, an Awami League activist, is beaten dead in violence at Pachandar Union at Rajshahi.
* Awami League activist Mirajul Islam stabbed to death in clashes with BNP supporters who had allegedly tried to take control of a voting centre at Rajshahi.
* 17-year-old Awami League activist shot dead in clashes as 'unknown miscreants' attack Grand Alliance candidate Moktadir Chowdhury at Rajghar of Brahmanbaria Sadar.
* 23-year-old Jubo League activist Md Abdullah hacked to death in "clashes between Awami League and BNP supporters" at Toitong of Cox's Bazar's Pekua Upazila at around 11am.
* Jubo League activist Dwin Mohammad was killed in an attack by alleged BNP activists at Patia's Guronkhain on Saturday night.
* Md Basir Uddin, Jubo League's general secretary at Ghagra Union, is killed at Rangamati's Kawkhali in a clash with BNP supporters around 6:30am Sunday.
* 55-year-old Hossain Ali, an Awami League activist and poll volunteer, is stabbed to death by his nephew during an argument about the election at Natore's Noldanga.
BNP-Oikya Jote
* 62-year-old Tojammel Haque, a publications secretary for BNP at Lalmonirhat's Rajpur Union, dies after being injured in back-to-back clashes at Paglarhat Government Primary School.
* 85-year-old Shamsur Rahman, a polling agent of the BNP, is beaten to death by Awami League supporters while on his way to voting centre at Jashore's Abhaynagar.
* 18-year-old BNP activist Sadek killed in clashes with Awami League activists over attempt to take control of voting centre at Chittagong's Patia.
* 35-year-old Mujibur Rahman is shot dead as police open fire on supporters of BNP-LDP candidate Redwan Ahad who tried to storm a voting centre at Cumilla's Chandina around 11am.
* 50-year-old Bachchu Miah dies as rivals clash at Cumilla's Langolkot.
* Chhatra Dal leader Ali Ahmad Sayem shot dead while trying to snatch away ballots amid a clash at Sylhet's Balaganj on Sunday afternoon.
Jatiya Party
* 45-year-old Ahmad Kabir, a Jatiya Party activist, killed in fighting among supporters of Jamaat, Jatiya Party and police personnel on Saturday night.
Security forces
Full report at:
https://bdnews24.com/11thparliamentaryelection/2018/12/30/election-violence-kills-at-least-12-mostly-from-awami-league
--------
Taliban refuse talks with Kabul in KSA
DECEMBER 31, 2018
The Taliban have rejected Kabul's offer of talks next month in Saudi Arabia where they will meet US officials to further peace efforts, a Taliban leader said on Sunday.
Representatives from the Taliban, the United States and regional countries met this month in the United Arab Emirates for talks to end the 17-year war in Afghanistan.
But the Taliban have refused to hold formal talks with the Western-backed Afghan government.
"We will meet the US officials in Saudi Arabia in January next year and we will start our talks that remained incomplete in Abu Dhabi," said a member of the Taliban's Leadership Council. "However, we have made it clear to all the stakeholders that we will not talk to the Afghan government."
Taliban spokesman Zabihullah Mujahid also said the leaders of the group would not talk to the Afghan government.
The Taliban have insisted on first reaching an agreement with the United States, which the group sees as the main force in Afghanistan since US-led forces toppled the Taliban government in 2001.
Diplomatic efforts to resolve the conflict have intensified after Taliban representatives started meeting US envoy Zalmay Khalilzad this year. Officials from the warring sides have met at least three times to discuss the withdrawal of international forces and a ceasefire in 2019.
But the United States has insisted that any final settlement must be led by the Afghans.
According to data from the NATO-led Resolute Support mission published in November, the government of President Ashraf Ghani has control or influence over 65 percent of the population but only 55.5 percent of Afghanistan's 407 districts, less than at any time since 2001. The Taliban say they control 70 percent of the country.
A close aide to Ghani said the government would keep trying to establish a direct line of diplomatic communication with the Taliban.
"Talks should be Afghan-led and Afghan-owned," the aide said on condition of anonymity. "It is important that the Taliban acknowledge this fact."
Meanwhile, a Pentagon report has hinted at a favourable political settlement in Afghanistan despite challenges on multiple fronts, according to a media report on Sunday.
The US Defence Department report released this week cited the effects of a recent military escalation coupled with diplomatic initiatives.
"The current military situation inside of Afghanistan remains at an impasse. The introduction of additional advisers and enablers in 2018 stabilized the situation, slowing the momentum of a Taliban march that had capitalized on US drawdowns between 2011 and 2016," the report said.
"Diplomatic, religious, military and social pressures, enabled by the conditions-based strategy, and buoyed by increased international engagement, have forced the Taliban senior leadership to debate whether to enter negotiations with the Afghan government," the report added.
In August 2017, US President Donald Trump announced his administration's strategy on Afghanistan and put forth a case for staying the course and not allowing the country "to become a haven for terrorists who would once again pose a threat to US security". "I share the American people's frustration. I also share their frustration over a foreign policy that has spent too much time, energy, money and most importantly lives, trying to rebuild countries in our own image," President Trump said at the time, promising to end nation-building and focus instead on US interests.
Full report at:
https://dailytimes.com.pk/339138/taliban-refuse-talks-with-kabul-in-ksa/
--------
Top ISIS-K leader Qari Riaz killed in coalition airstrike in Nangarhar
31 Dec 2018
A top leader of the Islamic State of Iraq and Syria Khurasan (ISIS-K) has been killed in a coalition forces airstrike in eastern Nangarhar province of Afghanistan.
The 201st Silab Corps of the Afghan Military in the East said the ISIS-K leader Qari Riaz was killed in Chaparhar district on Friday.
According to a statement released by 201st Silab Corps, Qari Riaz was responsible for planning and coordinating major attacks in the country.
The statement further added that the killing of Qari Riaz will result into the failure of ISIS-K destructive activities and attacks which normally claimed that the lives of the ordinary civilians.
This comes as another senior ISIS-K leader Amir Aziz Azam who was in charge of the media activities of the terror group was killed few days earlier in a similar airstrike.
Nangarhar has been among the relatively calm provinces in the East but the ISIS-K and Taliban militants have been attempting to expand their foothold in this province during the recent years.
Full report at:
https://www.khaama.com/top-isis-k-leader-qari-riaz-killed-in-coalition-airstrike-in-nangarhar-03029/
--------
Pakistan
Judiciary duty-bound to protect fundamental rights of citizens
DECEMBER 30, 2018
Chief Justice Mian Saqib Nisar Saturday emphasized that it is the responsibility of the judiciary to protect fundamental rights of the citizens.
"How far I succeeded in fulfilling the promises I made as chief justice, I leave it to the nation to judge," the top judge said at the convocation ceremony of Services Institute of Medical Sciences (SIMS)."I made all-out efforts to resolve public issues. My intention was based on honesty," he said. "This is a test whose results will come after my retirement," he added.
The chief justice said it is not the duty of the judiciary to run hospitals, nor was it his job to visit those. "However, it is our responsibility to intervene wherever mistakes are committed. It's our duty to protect fundamental rights of the people," he said.
Defending the apex court's judicial activism, the chief justice explained that the judiciary is the guardian of the fundamental rights of the people of Pakistan by the law and thus duty-bound to ensure that the rights of the people are protected. He also discussed the areas the top court paid special attention to during his time in the office, which is set to conclude in January 2019.
Referring to his suo motu notices regarding sky-high fees charged by private medical colleges and lack of facilities at several hospitals, the chief justice said that he was trying to end the exploitation of people. He said it was his 'judicial duty' to lay down a criterion for medical colleges to ensure that they don't exploit students and parents. "Did I exceed my jurisdiction by laying down criteria [which ensures] that tertiary hospitals have enough number of doctors, staff and drugs, in order to discharge the obligation of the guardianship [imposed upon the judiciary]?" he asked.
The chief justice narrated his observations during his visits to hospitals across all four provinces and regretted that medical facilities in the country were not satisfactory. He also talked about female doctors who abandon practice after getting their degrees. "If you sit at home and become housewives [after receiving medical education], you violate the oath that you swore today, which is to help the miserable."
He said that the constitution had ended the quota system where women were allotted lesser seats than men, so that admissions are given on the basis of merit. It is detrimental to the society, he said, when female doctors abandon their profession. He urged female students to convince their families to facilitate them so they can serve as doctors and repay the resources provided to them by the State.
Recalling incidents from his childhood, the chief justice said, "When I was eight years old, I used to take my mother to the doctor in a horse carriage and we used to spend hours at the clinic. My mother taught my brother and me to serve humanity and prayed to God to protect us from all difficulties." "Those who suffer greatly understand the pain of others," he said. "I began my mission with my mother's teachings in mind," he continued. "My love for the country is not one-sided by two-sided," he added.
The chief justice called for greater focus on education and stated that the secret of the development of any country lies in education. He lamented that every newborn in the country is in debt, while every citizen is under aRs126,000 debt. "Our resources are fast depleting while the country's population is increasing," he said.
https://dailytimes.com.pk/338768/judiciary-duty-bound-to-protect-fundamental-rights-of-citizens/
--------
Pakistan procuring 600 tanks to strengthen capability along border with India: Intelligent sources
Dec 30, 2018
NEW DELHI: At a time when modernisation of the Army's armored corp is moving at a "snail's pace", Pakistan has drawn up an ambitious plan to procure close to 600 battle tanks including T-90 tanks from Russia, primarily to bolster its combat prowess along the border with India, military and intelligence sources said Sunday.
Most of the tanks Pakistan was procuring will be able to hit targets at a range of 3 to 4 km and they are set to deploy some of the tanks along the Line of Control in Jammu and Kashmir, the sources told PTI.
Apart from battle tanks, Pakistan Army is also procuring 245 150mm SP Mike-10 guns from Italy out of which it has already received 120 guns.
The sources said Pakistan was eyeing to buy from Russia a batch of T-90 battle tanks- the mainstays of the armoured regiments of the Indian Army, and that the move reflects Islamabad's intent to forge a deeper defence engagement with Moscow which has been India's largest and most trusted defence supplier post Independence.
Pakistan has been holding joint military drills with Russia in the last couple of years besides going for defence purchases from it, triggering some concerns in New Delhi.
The sources said as part of the mega plan to significantly revamp its armoured fleet by 2025, Pakistan has decided to procure at least 360 battle tanks globally besides producing 220 tanks indigenously with help from China.
Pakistan Army's move to enhance its armoured corps comes at a time when the Line of Actual control in Jammu and Kashmir has witnessed growing hostilities in the last one year. The Indian Army has been strongly retaliating to every unprovoked firing by Pakistani side.
But, when the Indian Army is focused on counter-terror operations, the Pakistan Army was fast reducing its gap with Indian forces in fighting a conventional war, the intelligence sources said.
Military sources said modernisation of the Indian Army's armoured regiments were moving at a "snail's pace" due to procedural delays and the issue is being examined at a very high level of the government.
The Indian Army had drawn up a mega plan to modernise its infantry and armoured corps. However almost all the procurement projects including the Rs 60,000 crore Futuristic Infantry Combat Vehicle (FICV) programme are stuck due to a variety of reasons.
At present, India's armoured regiments, comprising mainly T-90, T-72 and Arjuna tanks, have much more superiority over Pakistan, but sources said Islamabad was seriously planning to bridge the gap at the earliest.
As against around 67 armoured regiments of Indian Army, the number of similar regiments in Pakistan Army is around 51, the sources said.
At present, over 70 per cent of the tanks in Pakistan's armoury have the capability to operate during night which, they said, was a matter of concern.
Besides eyeing to procure T-90 tanks, Pakistan Army is also in the process of inducting Chinese VT-4 tanks as well as Oplod-P tanks from Ukrain, the sources said. Trials for both Oplod and VT-4 tanks have already been conducted by the Pakistan Army.
At present, Pakistan is learnt to have around 17 units of Chinese origin T-59 and T69 tanks, which comprise 30 per cent of its total tank strength, the sources said.
It also has 12 regiments of Al-Zarar tanks, which makes 20 per cent of the tank fleet while Ukrain origin T-80-UD and T-85-UD as well as upgraded version of T-59 tanks comprise the rest 50 per cent tank fleet, they said.
"The Pakistan Army is carrying out modernisation of its armoured regiments in a calibrated and time-bound manner which is not the case in India," said an expert, who wished not to be named.
He said it was a matter of concern the way Pakistan was modernising its tank fleet.
Full report at:
https://timesofindia.indiatimes.com/world/pakistan/pakistan-procuring-600-tanks-to-strengthen-capability-along-border-with-india-intelligence-sources/articleshow/67310701.cms
--------
PPP warns PTI against 'committing robbery on Sindh govt'
December 31, 2018
HYDERABAD: Pakistan Peoples Party-Parliamentarians (PPP-P) information secretary MNA Dr Nafisa Shah has accused Prime Minister Imran Khan of trying to thrust one-party rule upon the country observing that the democratic dispensation is slowly moving towards authoritarianism.
She also accused the ruling Pakistan Tehreek-i-Insaf (PTI) of undermining institutions. She posed a question as to why the FIA was calling for shelving the Asghar Khan case probe.
She claimed that the opposition was being decapitated and judicial activism, born out of reinstatement of [former chief justice of Pakistan] Iftikhar Mohammad Chaudhry-led judiciary, was continuing.
Ms Shah was addressing a press conference at the local club on Sunday. PPP information secretary Aajiz Dhamra also spoke. The party's divisional and district level leaders including Ali Nawaz Shah Rizvi, Dost Ali Jaisar, Aftab Khanzada and Ahsan Abro were also present.
She said PPP chairman Bilawal-Bhutto Zardari in his Dec 27 speech [in Garhi Khuda Bakhsh Bhutto] presented a dangerous scenario, and added that the country was slowly moving towards a dictatorship. She noted that a list of 172 names was issued following the party chief's speech and these names were put on the exit control list. This was done even before the joint investigation team's report could be taken up by the Supreme Court.
Nafisa Shah said that the FIA was endeavouring to implicate the PPP leadership [in money laundering and fake accounts cases] whereas it expressed its inability to investigate the 25 years old Asghar Khan case. She termed the moves starting on Dec 27 "political engineering".
"The day the list was issued, the stock market crashed; the national kitty is left with $7bn to $9bn, which is not sufficient even for two-three months," she said.
'Federation is being harmed'
"The PTI government is harming the federation; if robbery is committed on the Sindh government, this will weaken the federation," the senior PPP leader warned alluding to speculations about imposition of governor's rule on the province.
She said if the opposition leadership was paralysed, it would undermine democracy. "When­ever the country headed towards dictatorship, PPP got alert," she said.
Ms Shah reminded the prime minister that PPP faced all dictators, General Ayub Khan, General Ziaul Haq and Gen Musharraf whereas Imran Khan hardly attended parliament sessions on two to three occasions. "It is a government where the prime minister spends time in addressing people through television instead of turning up at parliament," she said.
Nafisa Shah condemned federal ministers' statements intimidating the Sindh chief minister by asking him to resign though the entire JIT report was a "pack of conjectures". It is yet to go through legal scrutiny; it claims that out of 850 given a call up notice, around 750 were heard; it doesn't reflect statements of the present and former Sindh chief ministers whose names are now on the ECL. She pointed out that collusion between institutions and the [federal] government was too apparent as [adviser to the PM on accountability] Shahzad Akbar referred to the JIT report as if he read it repeatedly or he himself wrote it.
Judicial commission
Ms Shah also termed the Supreme Court-mandated judicial commission on water and sanitation in Sindh "a parallel structure of governance" which, she alleged was acting beyond its mandate. "We want each institution to work within its constitutional limits. Supremacy of democracy must remain intact but currently everyone including the media and civil society were getting affected, she said.
Full report at:
https://www.dawn.com/news/1454504/ppp-warns-pti-against-committing-robbery-on-sindh-govt
--------
President Alvi urged to find 'lasting solution' for missing persons
December 31, 2018
KARACHI: Civil society representatives have urged President Arif Alvi to set up a task force to find a 'workable' solution of human rights and labour rights.
They also called for establishing a commission for rights of the minorities in the light of a Supreme Court's recent decision.
A delegation that called on President Alvi on Saturday at the Sindh Governor House also raised issues of missing persons, curbs on media freedoms and retrenchment of employees in media houses.
The delegation also presented a memorandum of the issues being faced by the rights activists.
"Civil society and labour rights activists from all provinces of Pakistan have urged the president to ensure provision of fundamental human rights including labour rights to all citizens ensured under the Constitution," rights activist Karamat Ali told a press conference here at the Karachi Press Club on Sunday.
Besides Mr Ali of Pakistan Institute of Labour Education and Research (Piler), Mohammad Tahseen, executive director of the South Asia Partnership Pakistan (SAP) Lahore,;Ali Palh, coordinator, Sindh Human Rights Defender Network, Hyderabad; Bushra Arain, president of the Lady Health Workers Association, Lahore; Liaqat Ali Sahi, general secretary of the State Bank Democratic Worker Union (CBA), Karachi; Rashida Dohat, director of the Omar Asghar Khan Foundation, Islamabad; Nasir Aziz, secretary general of the National trade Union federation, Karachi addressed the press conference.
Mr Ali said that the president heard the delegation members very patiently and assured that their grievances would be addressed.
Enforced disappearance no solution to terrorism
The civil society's memorandum highlighted the violation of freedom of association, freedom of press, right to free trial, minorities, women and children rights.
"We have proposed to set up a task force comprising senior government officials, experts from private sector and civil society representatives to find a workable solution," he said.
The civil society raised the issue of missing persons.
"We have urged the government to find a lasting solution for the problem. Enforced disappearances are no solution to the issue of terrorism or anti-state activities. Those involved in any criminal cases must be brought to courts and dealt in accordance to the law," Mr Ali said.
"The actions by the state and non-state actors in recent years have resulted in curbs on freedom of expression and freedom of media. A recent raid on the KPC by plain-clothes armed men is one example of harassment of journalists," he said, adding: "Retrenchments of media people, drastic reduction in government ads to newspapers and TV channels, unannounced sanctions against some media houses, surveillance and harassment of those using social media as a platform of expression are other examples of increased hindrances in the way of the right to expression."
"As civil society, we believe that it is important to put in place appropriate mechanisms to ensure the freedom of expression and free media in accordance to the Constitution and international best practices," he said.
Regarding minorities rights, Mr Ali said that the president was requested to take practical measures to ensure implementation of the Supreme Court's landmark decision regarding minorities' rights. "We have requested to establish the Minority Rights Commission, which is the centre point of the Supreme Court decision."
He said that the government was urged to consider the guidelines issued by the National Commission for Human Rights for adoption at all levels and take necessary measures including required legislation for recognition and protection of human rights defenders.
'Social security for all'
Regarding labour issues, Mr Ali said: "We have requested the president to ask the federal government to conduct an immediate review of all laws concerning to labour and human rights to bring them in conformity with the international commitments and constitutional provisions. This may follow by making appropriate institutional arrangements to implement these laws and policies. Civil society should be consulted in all such processes."
The Piler official said trade unions had already shrunk to the lowest ebb in Pakistan. "Of the 65 million labourers, only about one per cent are unionised. This is an alarming situation both for a society and democracy. There might be multiple factors for this drastic decline of trade unions. Restrictive laws are a major hurdle in exercise of the right to association and collective bargaining."
He said it was also important that the legislation and policy making process be expedited in provinces in accordance to the provisions of the Constitution and the International Labour Organisation's conventions ratified by Pakistan.
"We have requested the president to intervene and ask the federal government to take appropriate measures to universalise social security for all citizens. First step may be to combine all the labour welfare institutions and universalise social security coverage for all workers.
He said a large number of rural population was landless and shelterless. While the government had already started housing programme for shelterless and underprivileged, "we believe that land reforms are essential to end poverty and marginalisation", he said.
Full report at:
https://www.dawn.com/news/1454509/president-alvi-urged-to-find-lasting-solution-for-missing-persons
--------
Fencing at Pak-Afghan border: A success story of Pakistan's security forces
Dec 31, 2018
ISLAMABAD: The year 2018 has been a complete success story of Pakistan's security forces as through the ongoing countrywide Operation Raddul Fasaad they have not only been able to cleanse the society of the menace of terrorism to a great extent but have also broken the myth that fencing at the 2,611-kilometre long and zigzag Pak-Afghan border is unmanageable.
A delegation of journalists visited the Torkham Border the other day to get a firsthand knowledge as to how successful the RUF had been in wiping out terrorists, their sympathisers and abettors since its launch on February 22, 2017.
The visit was also aimed at viewing the arduous undertaking to fence 1,403-kilometre perilous Pak-Afghan border in Khyber Pakhtunkhwa (KP), since its installation began on April 27, 2017.
Running on some of the most inhospitable rugged terrains, the fencing has been divided into three phases on the basis of urgency – priority one, priority two and priority three.
"The fencing of the first phase (priority one area), that covers 539 kilometres, has been completed as per schedule (at the end of December 2018)," an official associated with the project told the journalists.
He said that around 233 forts had also been built on the 1,403 kilometre-long border, while work on 140 more forts was underway. "Fencing of the Pak-Afghan border is a reality now. The first phase has been completed, while the next two phases – priority two (379km) and priority three (485km) will be completed in two years.
"The Torkham Border is no longer a free-for-all crossing-point. The illegal border crossing has come to an end as only individuals with authentic documents are able to cross it now," he added.
The fence is a dual wire trellis, 11 feet high from Pakistan side and 13 feet high from Afghanistan side, with a six feet gap between them, which is filled with razor wire. It is tech-meshed with a state-of-the-art surveillance system, closed-circuit television (CCTV) cameras, drone cameras and other gadgets for effective day and night monitoring of the border.
Sharing the details of the impact of fencing and close computerised monitoring system, the official revealed that since its start, around 1,900 Afghans had been arrested and deported, while 600 Pakistanis were also stopped from entering Afghanistan.
However, as a goodwill gesture, he said that emergency patients were allowed to enter Pakistan for treatment without documents. "Similarly, as there is a water shortage on the other side of the border we allow them to take water to their check posts from our side," he said.
"Moreover, special cards have been issued to around 200 Afghan students, who come to Pakistan in a school near the Torkham Border in the morning and then move back to their homes at afternoon on daily basis," he added.
He said that cross-border infiltration, illegal trade and smuggling were becoming impossible now. "The figure of individuals crossing the Torkham Border on valid travelling documents has increased. Around 12,000 people cross the border legally, besides 1,200 trucks, carrying goods cross it on daily basis. This has turned Torkham one of the world's busiest crossing points," the official claimed.
Full report at:
https://www.pakistantoday.com.pk/2018/12/30/fencing-at-pak-afghan-border-a-success-story-of-pakistans-security-forces/
--------
Won't let India steal Pakistan's water: CJP
DECEMBER 31, 2018
Chief Justice of Pakistan Saqib Nisar Sunday asked why India was stealing Pakistan's water, saying that it won't be allowed to do so.
The CJP was hearing a petition in the Lahore Supreme Court registry related to river Ravi and Abbasia Link Canal.
During the hearing, the CJP asked whether the Punjab government knew about the situation and what steps could be taken in this regard.
He said that it won't be allowed that water was being stolen from Abbasia Link Canal.
The top judge ordered that an operation should be conducted along with police so that no one could be deprived of the resource.
Full report at:
https://dailytimes.com.pk/339163/wont-let-india-steal-pakistans-water-cjp/
--------
Pakistan army chief sees better military ties with Iran
Dec 30, 2018
Pakistan's Chief of Army Staff General Qamar Javed Bajwa says his country's cooperation with Iran has strengthened and will continue to enhance regional security.
"The situation will improve in the future," Bajwa told Balochistan Chief Minister Jam Kamal Khan in the army's general headquarters in the western Pakistani city of Rawalpindi on Saturday.
"I am positive that security and military cooperation with Iran will improve the situation on the common border," he added.
Over the past years, the border area has witnessed several attacks targeting the countries' security forces, with the Iranian border guards paying the highest toll.
Most recently, six Pakistani soldiers were killed when a paramilitary convoy came under attack by gunmen during a routine patrol in the mountainous district of Kech.
Earlier this year, 12 Iranian border guards were abducted near the town of Mirjaveh in Iran's Sistan and Baluchestan province and taken into Pakistan in April. Five of the guards have been released last month, but the rest remain in captivity, despite Pakistan's repeated promises to have them freed.
In the deadliest incident, 11 Iranian border guards were killed in an ambush claimed by the Jaish ul-Adl terrorist group near Mirjaveh in April 2017, with the assailants fleeing into Pakistan after the attack.
Iran says it reserves the right to pursue such attackers back into neighboring countries. It announced full preparedness for joint anti-terror operations with Pakistan after terrorists killed the Pakistani troops recently.
Bajwa said maintaining the province's security was the focus of the Pakistani army, adding that the country's progress was linked to peace, stability, and progress in Balochistan.
Full report at:
https://www.presstv.com/Detail/2018/12/30/584366/Iran-Pakistan-regional-security-Bajwa-Balochistan
--------
Mideast
Israel protests image of Jordanian minister stepping on flag
30 December 2018
Israel's Foreign Ministry says its embassy in Jordan has filed a strong condemnation with the kingdom over a picture of a Jordanian government minister stepping on an image of the Israeli flag.
The ministry said Sunday it took the incident extremely seriously and had also summoned Jordan's acting ambassador to Israel to convey its objection.
A photo published on the Jordanian website Jfranews showed Minister of State for Media Affairs and Communications, government spokesperson Jumana Ghuneimat stepping on a large image of the Israeli flag. Footprints were also printed on the flag, which Israel said was displayed at a gathering of Jordan's engineering union.
Israel and Jordan signed a peace agreement in 1994, but relations have often been frosty amid differences over Israeli policies in Jerusalem.
https://english.alarabiya.net/en/News/middle-east/2018/12/30/Israel-protests-image-of-Jordanian-minister-stepping-on-flag.html
--------
Yemen's Hodeidah residents desperate for port to reopen
31 December 2018
Residents of the Red Sea port of Hodeidah on Sunday lamented the state of their city, which is under the Houthi militias' control, and expressed hope that the roads and the harbor will be reopened.
Yemen's Houthi militias said on Saturday they handed over control of the Hodeidah port to the coast guard under the Sweden agreement, but the government denied this, saying it was a ploy by them to maintain control.
The United Nations on Sunday also cast doubt on the Houthi claims to have withdrawn from the port, saying such steps can only be credible if all other parties can verify them.
Stephane Dujarric, spokesman for the UN secretary-general, said the militias also failed to honor an agreement to open a "humanitarian" corridor between Hodeidah and the capital, Sanaa, to deliver assistance.
Resident Khaled al-Zubaidi said Hodeida had become "a city of ghosts."
The confidence-building measures agreed in Sweden this month, which include an exchange of prisoners, could pave the way for a political settlement of Yemen's 4-year-old war, which pits the Iran-aligned Houthis against the legitimate government.
Full report at:
https://english.alarabiya.net/en/News/gulf/2018/12/31/Yemen-s-Hodeidah-residents-desperate-for-port-to-reopen.html
--------
Iran, Syria hold talks on long-term economic cooperation
Dec 30, 2018
Iran and Syria have held a session of their joint ministerial economic committee, exchanging views on a long-term strategic cooperation agreement.
The meeting, chaired by Syrian Minister of Economy and Foreign Trade Mohammad Samer al-Khalil and Iranian Minister of Roads and Urban Development Mohammad Eslami, convened in Tehran on Saturday.
They discussed the means of developing investment cooperation between the two countries and agreed on a long-term strategic economic cooperation deal, media reports said.
Eslami expressed hope that the agreement would be finalized. Khalil said both sides are determined to enhance their economic ties, including investment, trade, banking, and financial relations.
"We count on Iranian companies to play a major role in reconstruction in Syria," he added.
Syrian President Bashar Assad estimates that his country needs $250 billion to $400 billion to rebuild after years of an all-out foreign-sponsored militancy, according to Russian media.
Iranian officials have repeatedly voiced the Islamic Republic's readiness to help Syria with the reconstruction of the war-ravaged country.
In early October, Iran signed an agreement to build a 540-megawatt (MW) gas fired power plant in Syria's coastal city of Latakia.
At the request of Damascus, Iran has also been providing military advisory assistance to the Syrian government forces in its fight against foreign-backed Takfiri terrorists.
The US said this month it was no longer seeking to topple President Assad but reiterated that it would not fund reconstruction unless the government is "fundamentally different."
Secretary of State Mike Pompeo said in October that the US would not provide "one single dollar" for Syria's reconstruction.
President Assad has already made it clear that the West "won't be part of reconstruction in Syria, because very simply we won't allow them to be part of it, whether they come with money or not."
Full report at:
https://www.presstv.com/Detail/2018/12/30/584360/Iran-Syria-economy
--------
Iran takes part in Syria's reconstruction projects
Dec 31, 2018
Syria's Minister of Economy and Foreign Trade has led a delegation to the Iranian capital to discuss ways how to improve bilateral ties. The talks mainly focused on Iran's potential to have a greater share in the reconstruction of Syria. Yusef Jalali reports.
https://www.presstv.com/Detail/2018/12/31/584435/Iran-takes-part-in-Syrias-reconstruction-projects
--------
30 Daesh suspects arrested in Ankara
December 30, 2018
ANKARA: Turkish security forces on Sunday arrested 30 Daesh-linked suspects, all foreign nationals, in the capital Ankara.
The operation's timing is significant ahead of New Year's Eve celebrations, as the suspects were allegedly plotting terror attacks.
Meanwhile, authorities in Istanbul have stepped up security precautions in busy parts of the city, including the iconic Taksim Square, where celebratory gatherings have been banned.
As of Dec. 21, police had conducted more than 1.5 million identity checks in Istanbul, arresting more than 4,000 people on various charges.
A Daesh-linked lone gunman attacked a nightclub in Istanbul on Jan. 1, 2016, killing many foreigners (including Saudis) as well as Turks.
In another development, Australia has stripped a fighter held in Turkey of his citizenship due to his ties to Daesh.
The US announcement of its planned withdrawal from Syria has put Turkey, which Washington expects to wipe out the remnants of Daesh in Syria, at the forefront of the terror group's potential targets.
Major operation
The Turkish military is preparing another major operation against terror groups, including Daesh, in Syria.
Erol Bural, a former military officer and a terrorism expert at the 21st Century Turkey Institute, said the threat from Daesh has not been eliminated completely.
"Among European countries, Turkey has been hit hardest by Daesh attacks. The terror group decides on its acts in line with regional dynamics," Bural told Arab News.
Experts say the nightclub attack was a turning point in terms of increased security precautions by Turkish authorities against potential attacks by Daesh militants ahead of New Year's Eve celebrations.
Full report at:
http://www.arabnews.com/node/1427926/middle-east
--------
Africa
15 suspected militants killed in joint French-Niger operation
Dec 30, 2018
Some 15 suspected militants have been killed near the Niger-Mali border by a joint Franco-Nigerien task force, the French military high command said.
"On the night of December 27 (...) an air raid mounted by fighters and Tiger attack helicopters struck" militants gathered near Tongo Tongo, in southwestern Niger, the high command said in a tweet overnight Saturday to Sunday.
Tongo Tongo was the site of an ambush on October 4, 2017 where militants killed five Nigerien and four US Special Forces' soldiers.
Nigerien and French soldiers, backed by helicopters, took control of several key positions in the area before mounting a 48-hour sweep.
Overall, about 15 militants were "put out of action", a term generally used by the military to say they were killed.
During the sweep, "some 20 motorbikes were recovered, along with 26 weapons, including machine guns, and ammunition, the high command said.
French Defense Minister Florence Parly praised the operation in a tweet as "an example of a successful joint operation in western Niger".
"The strengthening of the G5 Sahel armies is continuing," she added, referring to the regional force consisting of troops from Niger, Mali, Chad, Burkina Faso and Mauritania which has been set up to fight militants.
France, the former colonial ruler, has deployed a 4,500-member 'Barkhane' force in the region to conduct counter-terrorism operations.
https://www.presstv.com/Detail/2018/12/30/584395/Niger-Mali-France-militants-border-Florence-Parly-counterterrorism
--------
Jordanian lawmakers demand restoration of full Syria relations
Dec 30, 2018
Jordanian legislators have reportedly called on the Amman government to restore full diplomatic relations with neighboring Syria amid promising signs that the incumbent Damascus government led by President Bashar al-Assad is being admitted back into the Arab world.
During a parliamentary session on Sunday to study the government's 2019 budget, the lawmakers asked for the improvement of Jordan-Syria ties to the level prior to the outbreak of foreign-sponsored Syrian conflict, stressing that the relations are beneficial to both nations, Arabic-language Rai al-Youm newspaper reported.
Parliamentarian Khalil Attia called for the turn of the Jordanian ambassador to Damascus and promotion of relations with Syria.
Lawmakers Khalid al-Fanatseh and Faisal al-Awar also highlighted that stronger Amman-Damascus ties will serve the interests of both countries.
Jordanian King Abdullah II recently hoped for the improvement of security situation in Syria and Iraq.
"God willing, our relations with Syria will return to the level as it was before. The situation is significantly improving in Iraq as well. We are always in contact with them to open markets for our products," he told a group of Jordanian journalists.
On December 28, Chargé d'Affaires of the Syrian Embassy in Amman, Ayman Aloush, called on Jordan to raise the level of its diplomatic representation in Damascus.
"We hope that the Jordanian Embassy in Syria will be fully staffed. So far, the staffers are administrative personnel, who have been given the title of diplomat during work," Aloush told the Arabic service of Russia's Sputnik news agency.
He then stressed the Syrian government's eagerness to restore normal relations with Jordan, saying it is a "popular will anchored in geography and history."
A Syrian government source, requesting anonymity, said on Friday that Kuwait's diplomatic mission in the Syrian capital will resume its activities within the next 10 to 14 days, Syria's pro-government al-Masdar news agency reported.
Under pressure from other members of the Persian Gulf Cooperation Council, Kuwait withdrew its diplomats from Syria in February 2012, after tensions rose in the region over the foreign-backed crisis in Syria. A month later the Syrian embassy in Kuwait was also closed.
The development came on the same day that Bahrain's Foreign Ministry announced in a statement that work at the kingdom's embassy "in the Syrian Arab Republic is going on whilst the Embassy of the Syrian Arab Republic to the Kingdom of Bahrain is carrying out its duties and flights connecting the two countries are operational without interruption."
On Thursday, the United Arab Emirates officially reopened its embassy in Damascus.
The Emirati Ministry of Foreign Affairs and International Cooperation said the reopening of its embassy "reaffirms the keenness of the United Arab Emirates to restore relations between the two friendly countries to their normal course."
Mauritania's Arabic-language el-Jewahir daily newspaper, citing informed sources, reported on Friday that President Mohamed Ould Abdel Aziz is going to pay an official visit to Syria early next year.
On December 16, Sudanese President Omar al-Bashir became the first Arab League leader to visit Damascus.
Syria's official news agency SANA said Bashir was greeted by his Syrian counterpart Bashar al-Assad upon arrival at Damascus International Airport, before they both headed to the presidential palace.
The two leaders discussed bilateral ties and the "situations and crises faced by many Arab countries," the Syrian presidency said in a statement.
SANA quoted the Sudanese leader as saying during the meeting that he hoped Syria will recover its important role in the region as soon as possible.
He also affirmed Khartoum's readiness to provide all it can to support Syria's territorial integrity.
Full report at:
https://www.presstv.com/Detail/2018/12/30/584407/Jordanian-lawmakers-demand-restoration-of-full-Syria-relations
--------
Sudan's Bashir tells police to rein in force against protesters
30 December 2018
Sudan's President Omar al-Bashir on Sunday told police to abstain from using excessive force against anti-government demonstrators as the UN called for a probe into deaths during the violent protests.
At least 19 people have been killed since December 19 during protests sparked by Khartoum's decision to hike the price of bread, according to the government.
Rights group Amnesty International says 37 people have died.
On Sunday, Bashir met top police officers in Khartoum and instructed them to refrain from using excessive force against demonstrators.
"We want to maintain security and we want the police to do that by using less force," Bashir, dressed in a blue police uniform, said.
Protesters have rallied after the government raised the price of a loaf of bread from one Sudanese pound to three (from about two to six US cents).
Sudan is facing an acute foreign exchange crisis and soaring inflation despite Washington lifting an economic embargo in October 2017.
Inflation is running at 70 percent and the Sudanese pound has plunged in value, while shortages of bread and fuel have regularly hit several cities.
"We admit that we have economic problems... but they can't be solved by destructions, lootings, and thefts," Bashir said, referring to buildings and ruling offices torched by protesters in several cities during the demonstrations.
"We don't want our country to go the way other countries in the region have gone," he said.
Full report at:
https://english.alarabiya.net/en/News/middle-east/2018/12/30/Sudan-s-Bashir-tells-police-to-rein-in-force-against-protesters.html
--------
North America
Top Republican says Trump vows to 'destroy' IS before leaving Syria
Dec 31, 2018
WASHINGTON: A senior Republican senator said Sunday that President Donald Trump had promised to stay in Syria to finish the job of destroying the Islamic State group — just days after announcing he would be withdrawing troops immediately.
"The president understands the need to finish the job," Graham told reporters outside the White House after what he described as a two-hour lunch meeting.
"He told me some things I didn't know that made me feel a lot better about where we're headed in Syria," the South Carolina lawmaker said.
"I think the president is committed to making sure when we leave Syria that ISIS is completely defeated and we are inside the 10-yard line," he said, using an alternative name for the Islamic State group.
When Trump tweeted on December 19 that "we have defeated ISIS in Syria," several military and security experts said he was overstating the case, and warned against a hasty withdrawal.
Graham said Trump was "thinking long and hard about Syria and how to withdraw the forces" after ensuring that ISIS is destroyed, that US-allied Kurdish forces are protected and that "Iran doesn't become the big winner of our leaving."
Graham, who as a member of the Armed Services committee has frequently visited US troops in combat zones, was once a frequent critic of Trump but, reversing course, now frequently defends him and seems to have gained privileged access to the president's ear.
The senator's remarks after the White House meeting were considerably modulated from his tone earlier in the day, when he told ABC television's "This Week" that "if we leave (Syria) now, the Kurds will get slaughtered."
"I'm going to ask the president to do something that President Obama would never do: reconsider," he said.
Graham said he knew Trump was "frustrated" by his limited options in Syria.
"The president is reconsidering how we would do this," Graham said.
"I get it. We're not the policemen of the world here."
He added: "I'm going to ask him to sit down with his generals and reconsider how to do this. Slow it down. Make sure we get it right."
Kellyanne Conway, a close Trump advisor, seemed to hint that the president might be rethinking his withdrawal plans.
"In Iraq he had a closed-door meeting and he said watch what happens ... Watch what happens because he's got plans and I won't get ahead of his announcement, but he did want me to convey that," she said on "Fox News Sunday."
Trump's abrupt decision on Syria stunned regional players, US politicians of both parties and military leaders, who expressed surprise that such a major decision would be announced after apparently so little advance consultation, against the advice of his national security advisors — and on Twitter.
US Defense Secretary Jim Mattis resigned following the announcement, which came on the same day that US officials said Trump was also planning a significant drawdown in Afghanistan, with some reports suggesting as many as half of the 14,000 troops could leave.
Graham warned at the time that a reduction now of US forces in war-torn Afghanistan risked "paving the way toward a second 9/11."
Another prominent critic of the move was retired US army general Stanley McChrystal, the former commander of US and international forces in Afghanistan.
On Sunday, he told ABC that the dual drawdowns could seriously weaken US influence in the region.
"We have a tumultuous regime or region (in Syria) that now has a Russian presence which had been out for about 30 years," he said.
"Iran has increased influence across the region now. If you pull American influence out, you're likely to have greater instability."
Similarly, he said, Trump's planned drawdown in Afghanistan could seriously undercut American leverage there.
"Just when we were starting to sit down with the Taliban, just as we were starting to begin negotiations, he basically traded away the biggest leverage point we have," McChrystal added.
https://timesofindia.indiatimes.com/world/us/top-republican-says-trump-vows-to-destroy-is-before-leaving-syria/articleshow/67317749.cms
--------
Trump Agreed To Re-Evaluate Syria Evacuation: Graham
Dec 31, 2018
US President Donald Trump has agreed to reevaluate his decision to immediately leave Syria, says Republican Senator Lindsey Graham, noting that the 30-day evacuation plan is now in a "pause situation."
Graham made the remarks after a meeting with Trump and General Joseph Dunford, Chairman of the Joint Chiefs of Staff on Sunday, where they discussed Trump's surprising announcement.
"After discussions with the president and Dunford, I never felt better about where we are headed. I think we're slowing things down in a smart way," the South Carolina Republican, who is a close ally of Trump, told reporters at the White House.
"But the goal has always been the same. To be able to leave Syria and make sure ISIS never comes back," he added, using another acronym for Daesh.
"I think we're in a pause situation where we are reevaluating what's the best way to achieve the president's objective of having people pay more and do more," he said, probably referring to Trump's assurances to some generals that he was willing to extend the deadline.
In an unexpected change of policy, Trump announced earlier this month that he was going to return the troops back home because the Daesh terrorist group was already defeated and there was no reason for the US to extend military presence in Syria.
The US has reportedly stationed about 2,000 soldiers in 18 bases across Syria since 2015. The Pentagon says the withdrawal would take between two and three months.
The decision was met with criticism from both Democrats and Republicans, prompting Defense Secretary James Mattis to resign. The decision also led Brett McGurk, the US special envoy to the so-called anti-Daesh coalition in Syria and Iraq, to quit.
But Trump doubled down on his policy by also announcing that he would cut in half the roughly 14,000 US forces in Afghanistan.
Graham, a staunch ally of the president, said the pause did not mean that Trump had backtracked.
"He has not reversed his decision," the senator said. "The pause is to assess the effects of the conditions on the ground."
Earlier this month, Graham warned that a US troops drawdown in the Middle East could pave the way for "a second 9/11."
Full report at:
https://www.presstv.com/Detail/2018/12/31/584447/US-Trump-Syria-evacuation-pause-Graham
--------
US military admits killing more civilians in Syria, Iraq
Dec 31, 2018
The US military has issued a report, admitting killing additional civilians since it started its military campaign in Iraq and Syria in 2014.
The report released on Sunday shows that over 1,100 civilians were inadvertently killed in airstrikes over the last four years, marking an increase of 15 people since November.
War monitoring groups, however, estimate that the raids have killed thousands of civilians.
"The Coalition conducted a total of 31,406 strikes between August 2014 and end of November 2018. During this period, based on information available, CJTF-OIR assesses at least 1,139 civilians have been unintentionally killed by Coalition strikes since the start of Operation Inherent Resolve," said the report.
The report comes as the US has reportedly evacuated a military base in Syria, the first step towards delivering on President Donald Trump's recent pledge to pull American forces out of the war-torn Arab country.
Some 50 American soldiers had already left the base and traveled to a base in Iraq, along with their armored vehicles and other equipment, according to local residents of al-Malikiya, in the northeastern province of Hasakeh.
The US and its allies have been bombarding what they call Daesh positions inside Syria since September 2014 without any authorization from the Damascus government or a UN mandate.
The strikes have on many occasions resulted in civilian casualties and failed to fulfill their declared aim of countering terrorism.
Full report at:
https://www.presstv.com/Detail/2018/12/31/584441/US-Syria-Iraq-military-mission-
--------
Despite full-throated defense at the time, Kelly backtracks on Trump's Muslim ban
Dec 31, 2018
Outgoing White House chief of staff John Kelly says he was surprised by US President Donald Trump's so-called Muslim ban despite his full-throated defense in the early days of the administration.
"I had very little opportunity to look at them," before the orders were announced, Kelly acknowledged in an interview with the Los Angeles Times.
Trump issued an executive order shortly after taking office in January 2017 to suspend the entire US refugee program for 120 days and bar travelers from seven Muslim-majority countries from entering the United States.
"Obviously, it brought down a greater deal of thunder on the president." said Kelly, referencing nationwide protests held to decry Trump's crackdown.
He noted that former Attorney General Jeff Sessions's decision to impose a "zero tolerance" immigration policy at the border was equally surprising to him.
Sessions's measure resulted in separation of children from their parents.
"What happened was Jeff Sessions, he was the one that instituted the zero-tolerance process on the border that resulted in both people being detained and the family separation," Kelly said. "He surprised us."
The Trump administration has been under criticism over its "zero tolerance" towards immigration.
Since campaigning for the 2016 presidential election, Trump has been accused of stoking racial, ethnic and religious tensions lurking within America.
Kelly also acknowledged that being Trump's chief of staff for 17 months has been a "bone-crushing hard job."
"I'm guarded by the Secret Service. I can't even go get a beer," he said.
Trump said earlier this month that Kelly would leave at the end of the year.
Full report at:
https://www.presstv.com/Detail/2018/12/31/584429/Despite-fullthroated-defense-at-the-time-Kelly-backtracks-on-Trumps-Muslim-ban
--------
Donald Trump slowing down planned withdrawal from Syria says senator
December 31, 2018
US President Donald Trump has ordered a slowdown to the withdrawal of forces in Syria, Republican Senator Lindsay Graham said on Sunday.
"I think we're in a pause situation," the South Carolina Republican said outside the White House after his lunch with the president.
Mr Trump announced earlier this month that he was ordering the withdrawal of all roughly 2,000 troops from war-torn Syria, with aides expecting it to take place swiftly. The president had declared victory over the ISIS in Syria, though pockets of fighting remain.
Mr Graham had been an outspoken critic of Mr Trump's policy, which had drawn bipartisan criticism. The announcement also had shocked lawmakers and American allies, including Kurds who have fought alongside the US against ISIS and face an expected assault by Turkey.
"I think we're slowing things down in a smart way," Mr Graham said, adding that Trump was very aware of the plight of the Kurds.
Critics had contended that the US withdrawal would embolden Iran and Russia, which have supported the government of Syrian president Bashar Al Assad.
Full report at:
https://www.thenational.ae/world/the-americas/donald-trump-slowing-down-planned-withdrawal-from-syria-says-senator-1.807890
--------
Yemeni mother who fought Trump travel ban says goodbye to son
December 30, 2018
Members of the Islamic community in central California gathered around the body of Abdullah Hassan on Saturday to say goodbye to the two-year-old.
The child, wrapped in white cloth and laid in a casket, died on Friday in Oakland in the presence of his Yemeni mother, who successfully fought the Trump administration travel ban to be with her son.
The father, 22-year-old Ali Hassan, relocated with Abdullah in the fall to get treatment for a genetic brain disorder that was affecting his son. Abdullah's mother, 21-year-old Shaima Swileh was separated from them due to travel restrictions issued by President Donald Trump. The boy had been on life support when his mother arrived last week.
"We are heartbroken. We had to say goodbye to our baby, the light of our lives," the young father, a US citizen, said in a statement.
Mr Hassan and his wife moved to Egypt after marrying in war-torn Yemen in 2016. Ms Swileh is not an American citizen and remained in Egypt as she fought for a visa for over a year so the family could move to the United States.
Citizens from Yemen and four other mostly Muslim countries, along with North Korea and Venezuela, are restricted from coming to the US under Mr Trump's travel ban.
When the boy's health worsened, the father went ahead to California in October to get their son help. As the couple fought for a waiver, doctors put Abdullah on life support.
"My wife is calling me every day wanting to kiss and hold her son for the one last time," said Mr Hassan, choking up at a news conference earlier this month.
He started losing hope and was considering pulling his son off life support to end his suffering. But then a hospital social worker reached out to the Council on American-Islamic Relations, which sued on December 16, said Basim Elkarra, executive director of the group in Sacramento.
The State Department granted Ms Swileh a waiver the next day. She was pictured cradling her son in the hospital 10 days ago.
Full report at:
https://www.thenational.ae/world/the-americas/yemeni-mother-who-fought-trump-travel-ban-says-goodbye-to-son-1.807688
--------
Europe
Putin, in New Year letter to Trump, says Moscow is open for dialogue
30 December 2018
Russian President Vladimir Putin, in a New Year letter to his US counterpart Donald Trump, said on Sunday that Moscow was ready for dialogue on a "wide-ranging agenda", the Kremlin said.
At the end of November, Trump abruptly cancelled a planned meeting with Putin on the sidelines of a G20 summit in Argentina, citing tensions about Russian forces opening fire on Ukrainian navy boats and then seizing them.
"Vladimir Putin stressed that the (Russia - United States) relations are the most important factor for providing strategic stability and international security," a Kremlin statement said.
"He confirmed that Russia is open for dialogue with the USA on the most wide-ranging agenda."
In a separate letter to Syrian President Bashar al-Assad, Putin pledged continuation of aid to the Syrian government and people in the "fight against terrorism, in defense of state sovereignty and territorial integrity".
Putin also sent New Year greetings to other world leaders including prime ministers Theresa May of Britain and Shinzo Abe of Japan, as well as Chinese President Xi Jinping.
Putin wished "well-being and prosperity to the British people", the Kremlin said.
Russia's embassy in London said on Friday Moscow and London had agreed to return some staff to their respective embassies after they expelled dozens of diplomats early this year.
Britain expelled 23 Russian diplomats over accusations the Kremlin was behind a nerve toxin attack in March on former double agent Sergei Skripal and his daughter in the English city of Salisbury.
Russia, which denies any involvement in the poisoning, sent home the same number of British embassy workers in retaliation.
https://english.alarabiya.net/en/News/world/2018/12/30/Putin-in-New-Year-letter-to-Trump-says-Moscow-is-open-for-dialogue.html
--------
Mosque in western Germany vandalized with racist slurs
30.12.2018
By Mesut Zeyrek
COLOGNE, Germany
An under-construction mosque in western Germany's Duisburg city was attacked by unidentified assailants who defaced the building with racist slogans, according to a mosque official on Sunday.
The attackers painted star of David -- which is the symbol of Judaism -- on the wall of Mevlana mosque, affiliated with the Turkish-Islamic Community National View (IGMG), head of the mosque foundation Hulusi Yuksel told Anadolu Agency.
Yuksel said they informed local security authorities about the attack as police launched an investigation into the case of vandalism.
"We don't know who made the attack," Yuksel said adding that the construction of the mosque has been ongoing for one and a half year.
There is no serious anti-Turkish or anti-Islamic hostility in the area except minor reactions against the mosque construction, according to Yuksel.
Germany, a country of over 81 million people, has the second-largest Muslim population in Western Europe after France. Among the country's nearly 4.7 million Muslims, 3 million are of Turkish origin.
Full report at:
https://www.aa.com.tr/en/europe/mosque-in-western-germany-vandalized-with-racist-slurs/1352539
--------
Denmark Handshake Enforces European Values on Muslims
Dec 31, 2018
Starting January 1, Denmark will require anyone applying for citizenship to shake hands with the officiating dignitary at the naturalization ceremony. Those who refuse will not be granted citizenship.
It may surprise you that this law is extremely controversial. Some Muslims refuse on religious grounds to shake hands with members of the opposite sex. The law was set up with this in mind—aiming to excluded these Muslims from Danish citizenship.
Opponents of the new law were quick to criticize it as awkward and useless. "It's absurd that the immigration minister thinks this is an important thing to spend time on. Shaking hands does not show if you are integrated or not," said Kasper Ejsing Olesen, the mayor of the Danish town of Kerteminde.
Though many people oppose the new law, many others find it justified.
Martin Henriksen, a Danish politician and a spokesman on immigration for the Danish People's Party, agrees with Denmark's new handshake policy. "If you arrive in Denmark, where it's custom to shake hands when you greet, if you don't do it, it's disrespectful," he said. "If one can't do something that simple and straightforward, there's no reason to become a Danish citizen."
The handshake policy is not the only law designed to cause Muslims to conform to European norms. In May, Denmark passed a law forbidding Muslim women from wearing the niqab in public. The law officially came into effect on August 1, and it follows similar laws passed in France, Germany, Austria, Belgium and Bulgaria. These nations partially or completely ban the niqab, a veil covering the entire head and face, except the eyes, and the burka, which covers the body in addition to the head and face.
At least one Muslim woman in Denmark has been fined for wearing a niqab in public. A fight broke out at a shopping center after another woman confronted her and tried to remove her niqab. When police arrived, the Muslim woman refused to remove her veil, choosing instead to leave the building.
The fight is evidence that not all Danes are on board with permitting mass migration: Some see it as a threat to their national identity. A poll in September found that 52 percent of Danes disagree with the new handshake law, but this means that almost half the population either supports it or does not see it as a significant issue.
A similar law exists in France, where an Algerian woman was denied citizenship after refusing to shake hands with a man. She appealed to the top French administrative court, which rendered its decision in April: Refusing the handshake means refusing French values.
Similar incidents have also been reported in Switzerland. Two Muslim schoolboys, sons of a Syrian imam, refused to follow the Swiss tradition of shaking hands with their female teachers after each class. The boys were granted an exemption, which prompted outrage in the local community.
Amidst the moral battles over Denmark's handshake policy and public wearing of veils, one fact is clear: Europeans are facing an identity crisis. Look at history and you will find that these moral, cultural questions fit into a much larger and older controversy: the culture clash between Islam and Catholicism, the traditional religion of Europe. The rising influence of Islam in Europe is causing many Europeans to start pushing back.
The influx of migrants is leading a new generation of leaders to assert their Catholic identity. They are emphasizing the symbols that set Catholic Europe apart from the influx of migrants. The German state of Bavaria now mandates that the cross be displayed on all public buildings. Other countries have banned people from wearing Islamic head coverings inside all public buildings.
Rogers Brubaker, a sociologist at the University of California–Los Angeles, described the trend well in the Atlantic magazine in 2017, writing that it is a push for "a secularized Christianity as culture."
"It's a matter of belonging rather than believing," he wrote. Brubaker described it as a Christianity that says, "We are Christians, precisely because they are Muslims. Otherwise, we are not Christian in any substantive sense."
But this heightened sense of difference between the two groups is leading to a clash. Some on both sides want such a clash. To some, passing laws against migrants emphasizes their own Christianity. Meanwhile many radical Islamists openly declare that they are in a war against Christianity—and are openly targeting the pope in Rome.
The influx of migrants into Europe is provoking a Christian backlash against Islam. The Bible forecasts that this backlash will grow stronger.
Daniel 11:40 describes a clash between a "king of the north" and a "king of the south." This refers to a clash between a European conglomerate, led by Germany, and radical Islam, led by Iran. Other prophecies tell us that this European power will be ruled by a church. This same chapter says that this European power will respond after having been "pushed" by radical Islam.
Full report at:
https://www.thetrumpet.com/18331-denmark-handshake-enforces-european-values-on-muslims
--------
Australian government's strategy of vilifying Muslims can be used against all of us
Joumanah El Matrah
31 Dec 2018
While 2018 was not a story about counter-terrorism laws, they brought an uncomfortable focus to a government that accepts no limits to its power to cleave and quarter society at will. The final days of parliament did not institutionalise protections, instead institutionalising fear.
The government used these final days to bully, harass, intimidate and politicise any opposition to an encryption bill allowing security agencies access to our encrypted private messages. While it attacked those who opposed the bill or sought greater consideration of its impact, it also proposed amendments to extend the powers and conditions under the Australian Citizenship Amendment (Allegiance to Australia) Act 2015 to strip dual nationals of their Australian citizenship. It was yet additional evidence of an Australian government with already considerable and unprecedented power in this arena, intending to give itself more.
Terrorism may indeed be an exceptional set of crimes which require an exceptional set of laws and powers, but this government is not prepared to explain, after almost 80 counter terrorism laws, why more are still required.
In 2011, Professor Kent Roach of the University of Toronto, in his comparative study of antiterrorism laws across the US, UK, Canada and Australia, described the Australian government response to terrorism as one of "legislative activism" – in part because Australia's response exceeded that of Canada, the UK and the US, but also because "Australia's hyper-legislation strained the ability of the parliamentary opposition and civil society to keep up, let alone provide effective opposition to, the relentless legislative output."
Since 2001, our failure to mount any meaningful resistance to the unforgiving legislative agenda of the government as it gave itself and its security services unprecedented powers has rested on the belief that those laws would only apply to Muslims. But this view misunderstands both the threat of terrorism and the threat of the laws themselves and what our parliament has become.
It is hard to miss that fear and control are increasingly the defining feature of our government and crossbench.
In the litany of abuses and the raging white noise emanating from parliament about Muslims, commencing with Liberal senator Jim Molan's sharing of Britain First's anti-Muslim video, to Pauline Hanson's numerous stop Muslim migration efforts and her wearing of the burqa in parliament buffoonery, to Fraser Anning's maiden speech, to the government's vote on it's OK to be white – it has all seemed that a particular type of racialised madness has taken hold of both our houses of parliament.
The vilification of Muslims and racial politicalisation of minorities as a political strategy has not remained within the confines of federal parliament, it also became a key feature of the Victorian state election, barely concealed in the rhetoric of African gangs violence and white people hiding in their homes for fear of gangs. Throughout all of this, migration has been presented as a consistent and constant threat to our way of life. This is a picture of us as a nation under attack from strangers within and at our borders.
Having tested the limits of its power to vilify and marginalise Muslims, the government has been slowly moving to everyone else.
A case in point is the government's decision to force us to vote on marriage equality, something it knew already had our broad support, and as 2018 ends, we are told that the rights of religious groups must be protected from LGBTI children attending religious schools. The halls of power, both religious and political, have now pitted themselves against children.
After the Bourke street attack, prime minister Scott Morrison called on Muslims to do more – in fact he held Muslims partially responsible by suggesting that they were not doing enough. As an experienced minister, he would know that the role of Muslims in preventing terrorism is limited and that communities were already active in that space. Since 2001, Muslim leaders, activists and professionals have acquired a certain political acumen and, even in the face of irrationality and farce that is now a constant feature of our parliament's approach to Muslims, community actors have nonetheless persevered in their work. Most of them understood that Morrison's message was not to Muslims but about them, and most of them will continue to work with government, because they see their efforts to ensure social cohesion as a moral imperative, not as a service to the government.
The cost for the Muslim community of constantly trying to placate people's anger and fear by justifying itself is increasingly apparent. It is rare, especially for Victorian Muslims, to turn their back on a meeting with government. This is a sign not of anger, but of a community that has no hope in the political system.
Full report at:
https://www.theguardian.com/commentisfree/2018/dec/31/the-governments-strategy-of-vilifying-muslims-can-be-used-against-all-of-us
--------
French police brace for New Year's Eve unrest
31 December 2018
France is deploying more than 147,000 security forces nationwide to gird for New Year's Eve unrest as yellow vest protesters prepare to join the public revelry.
The Interior Ministry said in a statement issued Sunday that the heavy security measures are needed because of a "high terrorist threat" and concerns about "non-declared protests."
Police in Paris say they will put a security perimeter around the Champs-Elysees, the site of an annual New Year's Eve light show and celebration. Anti-government protesters angry over taxes and President Emmanuel Macron's pro-business policies are planning to be on the famed avenue.
The Interior Ministry says extra security across France will focus on popular gathering places, public transportation, roads and shopping areas.
Previous New Year's Eves in France have produced burned cars and other disorder.
https://english.alarabiya.net/en/News/world/2018/12/31/French-police-brace-for-New-Year-s-Eve-unrest.html
--------
URL: https://www.newageislam.com/islamic-world-news/indonesia-interfaith-figures-call-fight/d/117320
New Age Islam, Islam Online, Islamic Website, African Muslim News, Arab World News, South Asia News, Indian Muslim News, World Muslim News, Women in Islam, Islamic Feminism, Arab Women, Women In Arab, Islamophobia in America, Muslim Women in West, Islam Women and Feminism