New Age Islam News Bureau
31 Jan 2019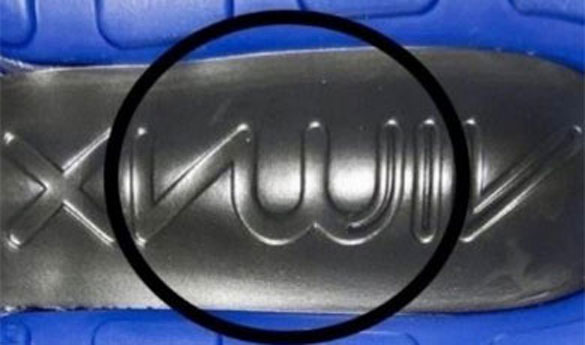 Nike is being asked to recall the sneakers, with Muslims saying they have "insulted Islam". SCREENGRAB: CHANGE.ORG
-----
• Indonesia: Muslims Demand Nike Recall Sneakers with Design That Resembles Arabic Word for 'Allah'
• Catholic-Muslim Dialogue at Heart of Pope's Abu Dhabi Trip, Archbishop Says
Hedging Radical Islam
• 'Teachings of Saints Can Bring Peace In Society' Speakers At Series Of Conferences And Seminars in Pakistan
• US Lawmakers Nominate Jailed Uighur Scholar for Nobel Peace Prize
• Indian Government's Plea on Un-Disputed Land Nothing but Political Gimmick and Poll Stunt: Muslim Leaders
• Turkish Judge Blocks Websites of Self-Proclaimed Prophet Over Complaint By Top Islamic Body
• Holiday Announced For Pope Francis' Mass in Abu Dhabi
Southeast Asia
• Indonesia: Muslims Demand Nike Recall Sneakers with Design That Resembles Arabic Word for 'Allah'
• Malaysian Startup Launches Sharia-Compliant Mobile Browser
• DAP Man Says Appointment to Yadim Shows Party Is Not Anti-Islam
• Palestine NGO appreciates Malaysia's stand on Israel
• Padang stall accused of secretly selling pork satay to Muslims
--------
Arab World
• Catholic-Muslim Dialogue at Heart of Pope's Abu Dhabi Trip, Archbishop Says
Hedging Radical Islam
• Saudi's Anti-Corruption Probe Ends With Dozens Detained; State Coffers $107bn Richer
• Saudi Arabia Is Leading a Push to Keep Young People On The Right Path — And Save Them From Straying On To The Wrong One
• More Civilians Killed in US Airstrikes on Residential Areas in Deir Ezzur
• Raqqa: Over 50 More Corpses of Victims of US Airstrikes, ISIL's Crimes Discovered
• Several ISIL Commanders, Close to Abu Bakr Al-Baghdadi Killed in Iraq's Air Raids near Syria Border
• King of Spain visits Iraq, first in 40 years
• Arab coalition to use 'calibrated force' in Yemen to drive Houthis out of Hodeidah
--------
Pakistan
• 'Teachings of Saints Can Bring Peace In Society' Speakers At Series Of Conferences And Seminars in Pakistan
• Video Shows Chinese Man Being Converted to Islam by Pakistan PM Imran Khan's Minister
• Council of Islamic Ideology Validates Hajj Subsidy Payment
• Qatar Plans to Recruit 100,000 Pakistanis, Says Consul General
• Rahat Fateh Ali Khan denies being served a notice by Indian authorities
• Pakistan protests summoning of high commissioner to Delhi over Qureshi-Mirwaiz phone call
• Court turns down Imran's plea to return defamation suit against him
• Pakistan faced 18 suicide attacks in 2018: PICSS report
--------
North America
• US Lawmakers Nominate Jailed Uighur Scholar for Nobel Peace Prize
• Militant Safe Havens in Pakistan Threat to Neighbours: US Report
• South Asia Challenges To Grow In 2019 Due To India, Afghanistan Elections: US
• US lawmakers working to end Trump support for Saudi war on Yemen
• Trump vows ISIL 'will soon be destroyed,' pushing back on CIA report
• FIU Students and Faculty Praise Muslim Centre after First Year
• Muslim death row inmate claims Alabama denied imam access to execution
--------
India
• Indian Government's Plea on Un-Disputed Land Nothing but Political Gimmick and Poll Stunt: Muslim Leaders
• Divorce Rates among Muslims Low Compared To Other: IUML
• Aggrieved a Bihar's Block Development Officer Threatens to Convert to Islam
• Hindu Religious Leaders to Lay Bricks for Ram Temple on February 21
• Order Justifying Nominating Only Muslims as Head of Minorities' Panel Withdrawn
• 'No Muslim Should Enter Our Village,' Read Letters after R-Day Communal Clash
• Pakistan envoy gets night summons after S M Qureshi dials Mirwaiz Umar Farooq
• Hindu-Muslim unity is an exercise contemporary Indian politicians must do more to achieve
• After Anti-Muslim Comments Against Airtel Representative, Woman Now Targets Vodafone
--------
Mideast
• Turkish Judge Blocks Websites of Self-Proclaimed Prophet Over Complaint By Top Islamic Body
• Iran facing the toughest economic situation in 40 years: Rouhani
• Turkey issues dozens of arrest warrants for military pilots
• Palestinians say Israel removing witnesses by ejecting Hebron monitors
• UN: Arab coalition frees, returns seven Houthi prisoners
• Iran cautions Europe against US attempts to form alliance against Tehran
• UN slams 'extremely violent attack' on Palestinians
--------
Europe
• Holiday Announced For Pope Francis' Mass in Abu Dhabi
• Turkish-Islamic community to hold protests over Uyghurs
• Christian persecution inquiry not anti-Muslim, says head
• UK deliberately hushing WWI massacre of Iranians: Analyst
• German police nab 3 Iraqis over suspected terror plot
• EU launches INSTEX to bypass US sanctions against Iran
--------
South Asia
• Taliban Say They Are Not Looking To Rule Afghanistan Alone
• Kabul Control Slips In Afghanistan Amid US Talks With Taliban
• Taliban, US committees to prepare strategy for troop withdrawal, curbing terror
• Iraq trafficking case reveals fake Bangladeshi passport link
• Nearly 20 Taliban, ISIS-K militants killed during the operations of Afghan, Coalition Forces
• Qatar pledges to host further talks in support of Afghan peace process
--------
Africa
• Boko Haram: NRC laments fate of 30,000 Nigerians seeking refuge across border with Cameroon Republic
• Sudanese opposition leader's daughter detained
• Sudan's President Omar Al Bashir reopens borders with Eritrea
• Briton in Somali prison survives beheading attempt by ISIS loyalists
Compiled by New Age Islam News Bureau
URL: https://www.newageislam.com/islamic-world-news/indonesia-muslims-demand-nike-recall/d/117609
--------
Indonesia: Muslims Demand Nike Recall Sneakers with Design That Resembles Arabic Word for 'Allah'
January 30, 2019
Muslims have lambasted Nike for selling a brand of Air Max sneakers with a design on its sole that resembles the Arabic word for "Allah".
The sports giant is being asked to recall the sneakers, with Muslims saying they have "insulted Islam".
The outrage began when Muslim customer Saiga Noreen noticed what she believed was the Arabic word for Allah on the shoe. She immediately launched an online petition, demanding that the company remove the popular shoe from its worldwide market.
Noreen accused Nike of having a disrespectful attitude toward Islam, stating in the petition's description: "It is outrageous and appalling of Nike to allow the name of God on a shoe. This is disrespectful and extremely offensive to Muslims and insulting to Islam."
"Nike has produced the Nike Air Max 270 shoe with the script logo on the sole resembling the word Allah in Arabic, which will surely be trampled, kicked and become soiled with mud or even filth," Noreen wrote. She urged all Muslims and everyone who agreed with her to sign the petition.
Currently, almost 12,500 people have signed the petition, with a goal of 15,000 signatures.
Other supporters took to Twitter to express their outrage over Nike's allegedly blasphemous product.
"Why is Nike selling trainers that clearly have "Allah" written in #Arabic. Remove shoes from sales. Disgusting and appalling," tweeted one angry supporter, with an image directing people to support Noreen's petition.
Nike denied allegations it intentionally insulted the Muslim community, saying the logo was a "stylized representation of Nike's Air Max trademark" and had no religious significance, as reported by RT.
"It is intended to reflect the Air Max brand only. Any other perceived meaning or representation is unintentional," a Nike representative said. (geo/kes)
https://www.thejakartapost.com/life/2019/01/30/muslims-demand-nike-recall-sneakers-with-design-that-resembles-arabic-word-for-allah.html
--------
Catholic-Muslim dialogue at heart of pope's Abu Dhabi trip, archbishop says
January 30, 2019
Nirmala Carvalho
Mumbai, Jan 30, 2019: Pope Francis will "encourage the Catholics throughout the world to continue to put into practice the teachings of the Church regarding dialogue with Muslims" when he visits the United Arab Emirates, according to one expert on interreligious dialogue.
Francis will be the first pope to visit the Arabian Peninsula on his Feb. 3-5 visit to Abu Dhabi, the capital of UAE.
During his trip, the pontiff will meet with the international Muslim Council of Elders, participate in an interreligious meeting and celebrate Mass for the local Catholic population, mainly foreign workers.
Archbishop Felix Anthony Machado of Vasai, India, served as the Under-Secretary of the Pontifical Council for Interreligious Dialogue at the Vatican from 1999-2008. He will be in Abu Dhabi for the pope's visit.
"This group of the World Muslim Elders Council has prepared the Pope's visit and they would like that the leaders of all religions sit and reflect on how there could be peace among religions and reflect that peace in the world at large," Machado told Crux.
"Such initiative has come from Sunni Muslims whose leader is the Grand Imam of Al Azaar Mosque in Cairo, Egypt. He will be leading this interreligious group and seek the pope's support and counsel; because Pope Francis himself is personally committed to building peace in society and the world," the archbishop continued.
Machado said there were "conservative and politicized voices" critical of the pope for making a trip to an area without a native Catholic population.
"It is not just where Catholics are that the Church must go. We must go to such places where there are no Catholics, precisely to explore the possibilities for the future," he said. "Pope Francis is the one who said that the Church must not be self-centered but must look outside of herself. That is what he is doing."
Islam is the official religion of the United Arab Emirates, and it is illegal to proselytize the Muslim population. However, Christians make up nearly 13 percent of the residents of the country, and are served by at least 31 churches.
There are nearly a million Catholics in the United Arab Emirates, mostly from the Philippines, India, and South America.
"I have witnessed the faith of the Catholic workers in UAE and other gulf countries. Mainly, our Indian population is giving strong witness to Catholic faith there," Machado said, adding the immigrant community has "made the Catholic Church's presence very valuable and relevant there."
The archbishop also gave credit to the government of the country for allowing Christians and other minority faiths to build houses of worship, unlike in neighboring Saudi Arabia.
According to the U.S. State Department 2017 International Religious Freedom Report, individuals belonging to non-Islamic faiths, including Christianity, Hinduism, Sikhism, Buddhism, and Judaism, said they could worship and practice without government interference within designated compounds or buildings, or in private facilities or homes. The government, however, did not allow non-Muslims to worship, preach, or conduct prayers in public.
Since UAE only allows citizens, or companies run by citizens, to own land, it is difficult for churches to be constructed: They are usually built on land owned by the royal family, and leased to the church.
Machado told Crux this arrangement should "be admired in the given context."
"The human rights are not accepted everywhere in the same way, and the Church cannot wait until the human rights are accepted universally. The Church must move on how she finds the situation in particular contexts like Gulf countries and not wait for the perfect situation to come," the archbishop said. "The Church lives in the present, not in the past or future."
He said that is why the pontiff's visit to the UAE is so significant.
"I have heard from some Catholics who are from Vasai and who live and work in UAE and they are excited that Pope Francis is visiting them. They feel remembered and active and important part of the Church. Therefore, even if Pope Francis is seen by our people who are heavy burdened and those who labor day and night in the Gulf, they will be very strengthened in their faith," Machado said.
"It is important for Pope Francis to visit these 'peripheries' as he himself says."
But he said the interreligious aspect of the trip cannot be overshadowed.
"For me, winning over the trust of Muslims is also very important in this world. There are many good Muslims who love peace but they want some support from outside," he said.
"The pope is a help to them also and that is his ministry, for he is not only for Catholic people. As the Second Vatican Council says, the Church is a servant for everyone in the world and the Church must fulfill her prophetic mission. The pope is doing that," said the archbishop.
http://mattersindia.com/2019/01/catholic-muslim-dialogue-at-heart-of-popes-abu-dhabi-trip-archbishop-says/
--------
Hedging Radical Islam
by Ronald Sandee
January 30, 2019
The Qataris are masters of hedging. We see Doha's caution most clearly in the face of the Saudi and Emirati-led blockade, to which Qatari leaders have responded by both focusing on better relations with Iran and Turkey, while simultaneously investing lots of time and money to keep close relations with the United States.
Hedging is not only confined to Qatar's geo-political plays; it also guides Doha's relationships and influence with Muslim communities abroad, Islamist movements, and terrorist groups.
Qatar is only one of two countries in the world that subscribes to the Wahhabi current within Islam. Doha does not, however, only support Wahhabi Muslims; it is also a prominent backer of Muslim Brotherhood networks and other Salafi movements around the world.
For these various strains of Islamism, Qatar provides the patronage of a state-controlled charity. The Muslim Brotherhood is served by Qatar Charity, while the Salafists have the Sheikh Eid al-Thani Charitable Association, also known as the Eid Charity.
Both Qatar Charity and the Eid Charity are very active across Asia, Africa and Europe. For its European operations, Qatar Charity set up its own organization in London in March 2012.[1] Qatar Charity UK (QCUK) listed its first board members as Yousef al-Kuwari, the CEO of the Qatar Charity in Doha, along with the American-educated Yousef al-Hammadi, an executive at Qatari Diar – part of the Qatar Sovereign Wealth Fund structure.
After establishing an office in London, the Qatar Charity quickly expanded its activities to other parts of Europe, including France, Belgium and Italy. It began to support Muslim Brotherhood organizations in Europe that were members of the Federation of Islamic Organisations in Europe (FIOE), the Muslim Brotherhood umbrella organization.[2] Recently, Qatar Charity UK also started operations in the United States, where it is funding the building of the Memphis Islamic Centre in Tennessee, which is led by the prominent American Salafi cleric Yasir Qadhi.[3]
As QCUK embraced larger projects – particularly the financing of the building of Islamic Centers in European countries -- scrutiny of its activities grew. Consequently, boardmembers were replaced, possibly to give the organization less of a Qatari feel. Its name was even changed in 2017 to Nectar Trust Ltd.[4]
The parent organization in Doha works closely with the spiritual leader of the Muslim Brotherhood, Sheikh Youssef al-Qaradawi, and his various Doha-based organizations. The Qatar Charity also works with outspoken critics of the Saudi government. The Saudi Islamist cleric and scholar Salman al-Awda, for example, not only served as a member of Qaradawi's International Union of Muslim Scholars (IUMS) but was also appointed to manage a prominent Qatar Charity project.[5]
The more Salafi-minded Eid Charity, meanwhile, has mostly been active in Asia and Africa, but recently there has been a noticeable uptick in its activities in Europe. The charity was founded by Abd al-Rahman al-Nuaimi, who in 2013 was designated as a Specially Designated Global Terrorist (SDGT) for funding al-Qaeda in both Iraq and Syria.[6]
In Europe, the Eid Charity cooperates closely with Salafi organizations in Sweden, Germany, the Netherlands and Kosovo; and in recent years, it has started its own projects in Kosovo, Albania, Germany and the Netherlands – spreading its radical, Islamist message throughout Europe.[7]
Abd al-Rahman al-Nuaimi is also the secretary-general of the Global Anti Aggression Campaign (GAAC). GAAC was established in response to the 2003 Iraq War. This coalition of clerics, businessmen, scholars and jihadis called on Muslims to 'resist' the Unites States and the West. According to the 225 persons who signed the founding declaration, a defensive jihad was now permitted:
The Muslim Ummah has been subjected to vicious aggression at the hands of the forces of tyranny and oppression, especially the Zionists and the American administration led by right-wing extremists, that are working to expand their control over nations and peoples, loot their resources, to destroy their will, and to change their educational curricula and social systems.[8]
Another section calls on Muslims "to repel the aggression of our enemies with all possible legitimate means."
In 2005, another GAAC conference was held and attended by the world's leading Islamist figures. Muslim Brotherhood and Salafi scholars, activists and jihadis discussed strategies, financing and facilitation for extremists in Iraq, Syria and Gaza.
Qatar funds and coordinates the activities of GAAC, while Turkey now offers Istanbul as a venue for the annual Islamist convention.[9] In fact, Yasin Aktay, a personal advisor to Turkish President Erdogan, is the point man for GAAC and the Muslim Brotherhood.
The February 2016 conference organized by GAAC in Istanbul was titled the International Conference in Support of al-Aqsa. It drew a large crowd of Salafi activists, including jihadists. Pictures from the conference show that Ahmed Rifa'i Taha and Mohamed al-Islambouli were present and official participants. Ahmed Rifa'i Taha was one of the original signatories of the 1998 statement by the "World Islamic Front for Jihad Against Jews and Crusaders," in which Osama bin Laden declared war on the West.[10] Mohamed al-Islambouli, meanwhile, is a longtime associate of Bin Laden and al-Qaeda and is a seasoned Egyptian jihadi.
Other participants with longstanding jihadi credentials included Wagdi Ghoneim, an anti-Semitic preacher tied to Bin Laden; and the cleric Hassan bin Ali Al-Sharif al-Kettani, a leader in the Moroccan Salafi-jihadist movement and a trustee of GAAC who was imprisoned in connection with the 2003 Casablanca bombings, before being pardoned in 2011.
Soon after the 2016 GAAC conference, newly-uncovered information about al-Islambouli and Taha indicated that both had become deeply involved in jihadi operations in Idlib province in Syria. Both Taha and al-Islambouli assumed operational leadership positions in the Khorassan Group, which is linked directly to Al Qaeda.[11] Just before Rifa'i Taha was hit and killed by a drone attack on April 5, 2016, it was reported that he and al-Islambouli were working to unite the two jihadist groups, Ahrar al-Sham and al-Nusra.[12] Both al-Nusra and Ahrar al-Sham, along with individuals closely associated with both organizations, were reported to have received large donations from Qatari individuals.[13]
Al-Qaeda operatives have also directly enjoyed support from prominent Qatari figures. There is evidence that a former Qatari minister of the interior invited the leading Al Qaeda operative Khalid Sheikh Mohammed (KSM) in the mid-1990s to move from Bosnia, where KSM was fighting, to come live in Qatar.[14] KSM accepted this offer, moved to Qatar and lived there a couple of years before he was tipped off by the Qataris that the Americans were seeking his arrest. KSM left the country on a Qatari passport to Pakistan.[15]
Today, the family of Osama bin Laden live in Qatar. The 'Bin Laden Villa' in Doha houses most of the women and children of the deceased al-Qaeda founder.
Exerting influence over Muslim communities in the West, meanwhile, is a key element of Qatari soft power. Recently in London, members of the Muslim Brotherhood held pro-Qatar rallies in front of the Qatari embassy in protest of the Saudi-led blockade. As Qatar is a serious funder of the Muslim Brotherhood in continental Europe too, we can expect more support for Qatar from nonviolent Western Islamist movements as the boycott perseveres.
On the other end of the spectrum, Qatar will keep funding and supporting violent Islamist causes as well. Hamas is still being supported and funded by Qatar, as are militias in Syria linked to the Muslim Brotherhood and even al-Qaeda. In Libya, Qatar is still involved in supporting certain armed groups, and it is also now becoming more active in Somalia.
Qatar's objectives have long been to further Qatar's influence abroad, from supporting non-violent Islamists in the West, to jihadists in the East.
https://www.meforum.org/57691/hedging-radical-islam
--------
'Teachings of Saints Can Bring Peace In Society' Speakers At Series Of Conferences And Seminars in Pakistan
January 31, 2019
ISLAMABAD: Speakers at a string of events have stressed the need to promote the teachings of Sufi saints in order to tackle the growing challenges of violence, extremism and terrorism and promote peace, harmony and brotherhood in the society. The series of conferences and seminars held from Jan 28 to Jan 30 at different colleges and universities aimed at highlighting the Sufi message of peace, since the saints conveyed to the people the message of Holy Quran and Sunnah in very simple words.
In this connection, the first event titled 'Message of Peace and Sufi Poetry' was organized by the Government College University, Lahore, on Monday, in collaboration with University of Gujrat and Higher Education Commission, Islamabad.
Another seminar titled 'Role of Women in Countering Violent Extremism and Promoting Peace in Pakistan' was organized by the University of Lahore (UoL), also on Monday, in collaboration with the Council of Islamic Ideology (CII) and International Islamic University Islamabad (IIUI). UoL Chairman Dr Awais Rauf chaired the session. Punjab Minister or Women Development Ashifa Riaz Fatyana was chief guest on the occasion. CII Chairman Dr Qibla Ayaz and others spoke on the occasion.
Another seminar titled 'Paigham-e-Pakistan and Message of Peace in Sufi Poetry' was organised by the University of Management Technology (UMT), Lahore, on Tuesday. The event was organized by the UMT Department of Islamic Studies in collaboration with the Department of Islamic Studies, University of Gujrat, and the Higher Education Commission, Islamabad.
A conference titled 'Message of Peace in Sufi Poetry' was held on Wednesday at Government Islamia College, Kasur. An interactive session titled 'Peace Building and Role of Civil Society in Development of National Counter-Terrorism Narrative' was held at the Pakistan Institute of Management, Lahore, in collaboration with Bashar, Aitcheson College Lahore and Islamic Research Institute (IRI) Islamabad.A large number of politicians, faculty members and students from different universities of the country, intellectuals, academicians, lawyers and civil society members attended the events.
The speakers maintained that Pakistan was an outcome of the benefaction of Sufi saints, adding that the teachings of the saints should be followed to protect solidarity of the country. They said the social contract of Pakistan and its cultural foundations blended with the characteristics of Sufism tend to accommodate the dissenting thoughts and opposing beliefs, adding that the main strength of revered Sufis was their passion for interfaith harmony, readiness to engage in dialogue and hold followers of other religions in high esteem. Saints and Sufis have always propagated love and brotherhood and there is no place for terrorism, extremism, intolerance and narrow mindedness in Islam, they asserted.
On the role of women in peacebuilding, the speakers said women are not only one of the key drivers of change of mindsets but also act as agents of conflict prevention and peacemaking, adding that the contribution of women to the culture of peace is also important because they represent almost half of the global population.
They stressed the need to adopt an inclusive approach to negate the narratives of extremism, hate and terrorism and promote peace, harmony and respect for others in the society.On the role of civil society in peacebuilding, the speakers said civil society plays an important role in reducing violence and in facilitating the conditions necessary for building a sustainable peace.
They said Pakistan has a vibrant civil society which can play a very effective role in promoting civil freedoms and democracy, human rights, rule of law, peace and reconciliation, stability and humanitarian relief and reconstruction.
https://www.thenews.com.pk/print/425770-teachings-of-saints-can-bring-peace-in-society
--------
US lawmakers nominate jailed Uighur scholar for Nobel peace prize
January 31, 2019
US lawmakers on both sides of the political aisle said Wednesday they have nominated jailed Uighur scholar Ilham Tohti -- sentenced to life in prison for "separatism" -- for the Nobel peace prize.
Senators Marco Rubio, a Republican, and Bernie Sanders, an independent who caucuses with Democrats, both signed the nomination letter, which came from the bipartisan Congressional-Executive Commission on China.
"We believe there is no one more deserving of the Committee's recognition in 2019 than Professor Tohti, who embodies the peaceful struggle for peace and human rights in China," the lawmakers wrote to the president of the Nobel Peace Prize Committee, Berit Reiss-Andersen, and its other members Tuesday.
Tohti, 49, was sentenced to life in prison in September 2014 over comments he made in class, in interviews and on a website he ran that were critical of official policies directed at China's mainly Muslim Uighur minority in the restive far-west Xinjiang region.
The region has seen a security crackdown in recent years. Beijing says it faces a terror threat, but rights groups say restrictions on Islam and the Uighur language have fuelled violence.
Currently, up to one million Uighurs and members of other mostly Muslim minority groups are held in extrajudicial detention in camps in Xinjiang, according to a group of experts cited by the United Nations.
Beijing says the centers help people drawn to extremism to steer clear of terrorism, and allow them to be reintegrated into society.
"This nomination could not be more timely as the Chinese government and Communist Party continue to perpetrate gross human rights violations with over a million Uighurs and other ethnic minority Muslims detained in 'political reeducation' camps," Rubio said in a statement Wednesday.
"Ilham Tohti's peaceful efforts to promote understanding and ethnic harmony between Uighurs and Han Chinese merits recognition by the Committee."
https://www.thejakartapost.com/news/2019/01/31/us-lawmakers-nominate-jailed-uighur-scholar-for-nobel-peace-prize.html
--------
Indian Government's Plea on Un-Disputed Land Nothing but Political Gimmick and Poll Stunt: Muslim Leaders
Jan 30, 2019
Lucknow: The Centre on Tuesday moved Supreme Court asking that it lift the status quo on non-disputed land around the disputed site and hand over the surplus to the original owners.
Muslim parties and community leaders are stunned over the move. Reacting strongly over this, they have declared it a political gimmick and poll stunt and an attempt to appease disgruntled saints.
Convener Babri Masjid Action Committee Zafaryab Jilani expressed anger and wondered how the government of a secular country can support one of the parties on such a sensitive issue.
Meanwhile, chief priest of Ram Lalla idol which was surreptitiously planted in a tent after demolishing Babri Masjid also said that Ram temple cannot be constructed till the dispute is resolved.
Imam of Eidgah Maulana Khalid Rasheed Farangi Mahal said BJP has become jittery fearing its defeat hence it is resorting to political gimmicks and such poll stunts.
https://www.siasat.com/news/centres-plea-un-disputed-land-nothing-political-gimmick-and-poll-stunt-muslim-leaders-1461895/
--------
Turkish judge blocks websites of self-proclaimed prophet over complaint by top Islamic body
January 29 2019
A Turkish magistrate has blocked access to five websites owned by a self-proclaimed prophet over a complaint filed by the country's top Islamic body, the state-run Anadolu Agency reported Jan. 29.
Iskender Evrenesoglu had declared himself a prophet and "mahdi."
According to popular Muslim belief, mahdi is a spiritual and temporal leader who will rule before the end of the world and restore religion and justice.
Turkey's Religious Affairs Directorate (Diyanet) had demanded the authorities to block access to Evrenesoglu's websites, which were publishing commentaries on Quranic and Islamic matters.
According to Anadolu Agency's report, the 3rd Criminal Magistrate of Peace in Ankara issued an order to block access to five websites, citing Diyanet's conclusion that they were "harmful, considering the basic qualities of Islam."
A presidential decree recently equipped the Diyanet with the authority to review and destroy unlicensed commentaries of Quran if they were deemed against Islam.
Evrenesoglu had claimed that he received a revelation as a prophet of Allah, which he compiled as a book named "the Lights of Prophecy."
It is the second "mahdi" that drew the ire of Turkish authorities in recent months. Televangelist Adnan Oktar and dozens of his followers were arrested in July.
http://www.hurriyetdailynews.com/turkish-judge-blocks-websites-of-self-proclaimed-prophet-over-complaint-by-top-islamic-body-140864
--------
Holiday announced for Pope Francis' mass in Abu Dhabi
January 30, 2019
The planned appearance of Pope Francis in Abu Dhabi is huge news.
More than 140,000 people are expected to make the trip to Zayed Sports City on Tuesday, February 5 for a papal mass with the head of the Catholic church.
Now, the UAE government has announced that private sector workers with tickets to the mass will be given a holiday.
The Ministry of Human Resources and Emiratisation says: "The holiday for permit holders underlines the UAE's commitment to acceptance and open-mindedness during the Year of Tolerance, and its ongoing dedication to facilitating interfaith dialogue."
Pope Francis will arrive in the UAE on February 3 and visit the Presidential Palace the following day to meet HH Sheikh Mohamed bin Zayed, Crown Prince of Abu Dhabi and Deputy Supreme Commander of the Armed Forces.
He will then meet with leaders of other faiths in the capital before heading to the Founder's Memorial.
On Tuesday he will visit St. Joseph's Cathedral in Abu Dhabi before the public mass at Zayed Sports City.
There will be free transport for people to get to the mass, with some people's journey's starting at 11pm the previous day.
No vehicles will be allowed on Abu Dhabi island on Tuesday, so those with tickets will have to get specially organised buses from dedicated pick-up points.
Tens of thousands of people are also expected to tune into the mass at www.uaepapalvisit.org.
http://mattersindia.com/2019/01/holiday-announced-for-pope-francis-mass-in-abu-dhabi/
--------
Southeast Asia
Malaysian Startup Launches Sharia-compliant Mobile Browser
January 30, 2019
New Delhi: A Malaysia-based startup has come up with a new mobile browser facility that seeks to deliver a user-friendly web experience for Muslims in particular. The Halal browser, known as 'SalamWeb', is designed to offer Sharia-compliant browsing experience in terms of messaging, provision of news amid offering a host of other features.
The mobile web browser seeks to grab the attention of users in Malaysia and Indonesia. Website salamweb.com says, "We believe in a connected community of like-minded people, Muslims of all colours, races and nationalities, coming together to become one, a digital Ummah." Similar to the site, the mobile app version contains many Muslim-specific functions, including the Qibla Compass which helps one perform ritual namaaz/prayers at the right time and an option where users get related quotes on a daily basis. Yet another feature of the app is the "SalamProtect" feature. The website states, "SalamProtect is an advanced content filter that flags material that's better to avoid. It's controlled and customised by you and designed to help the whole Muslim community find enjoyable content. Stay focused on what matters most and turn off what doesn't."
Besides, users of the SalamWeb would contribute to a Muslim charity everytime they browse, chat or read the news. The mobile app can be downloaded on Google Play. It is also available on the Apple App Store.
The website added, "We are the world's first Shariah certified web browser and digital ecosystem endorsed by Amanie Shariah Supervisory Board. In conformity with Malaysia Digital Economy Corporation's (MDEC) Islamic Digital Economy Mi'yar."
https://www.india.com/technology/malaysian-startup-salam-web-launches-muslim-friendly-mobile-browser-in-line-with-islamic-values-3549854/
--------
DAP man says appointment to Yadim shows party is not anti-Islam
Nor Athirah Mohd Hanapiah
January 30, 2019
PUTRAJAYA: Paloh assemblyman Sheikh Umar Bagharib Ali has brushed aside criticism that he is not qualified as a DAP member to be appointed to the board of Yayasan Dakwah Islamiah Malaysia (Yadim).
He said his appointment should be seen in a positive manner.
Sheikh Umar noted that from one perspective, his appointment should serve to debunk the lies that DAP was an anti-Islam party, as claimed by detractors.
It would also show the people that DAP had members with credentials to speak on Islam, he added.
"I think this is a good and positive development. I am not that great a person, but I feel that I will be able to contribute in some way to the development of dakwah, through Yadim."
After receiving his appointment letter here today, Sheikh Umar, who is the sole DAP representative in the agency, said that those criticising his appointment were politically motivated.
He said the argument being made was that he was unqualified merely because he is a member of DAP, which has been deemed "anti-Islam" by certain politically-motivated groups.
He said "slanderous remarks" were being made by those who hated DAP.
"If DAP is a party that contradicts the Federal Constitution, it can be banned. But this did not happen under the past Barisan Nasional (BN) administration."
He said it was not that DAP was anti-Islam, just that some groups were trying to give DAP a bad name. "BN is playing a shallow political game," he added.
Umno Youth chief Asyraf Wajdi Dusuki had yesterday questioned the decision of Minister in the Prime Minister's Department Mujahid Yusof Rawa to appoint Sheikh Umar as a Yadim board member.
Asyraf said Yadim should remain as a dakwah body that played its role in propagating Islam.
"DAP is a party that has never wanted to recognise Islam as the religion of the country. In fact, they have consistently wanted Malaysia to be a secular country.
"It appears that such Islamic institutions are being ripped apart by the DAP-dominated Pakatan Harapan (PH)."
Mujahid denied as baseless allegations that the appointments of the 12 board members were political in nature.
"They were chosen based on merit. Coincidentally, they are from certain political parties. We chose them to lead Yadim because of their experience," he told reporters here today.
Full report at:
https://www.freemalaysiatoday.com/category/nation/2019/01/30/dap-man-says-appointment-to-yadim-shows-party-is-not-anti-islam/
--------
Palestine NGO appreciates Malaysia's stand on Israel
30 JAN 2019
KUALA LUMPUR: The Palestinian Cultural Organisation Malaysia (PCOM) Tuesday conveyed its appreciation to the Malaysian Government for its strong pro-Palestine stand in banning Israeli athletes from entering Malaysia.
According to a PCOM statement, its delegation led by chairman Muslim Imran met Youth and Sports Deputy Minister Steven Sim at his office in Putrajaya yesterday to express appreciation as well as discuss means of cooperation between the two sides.
The statement said the deputy minister in his welcoming speech emphasised that the Palestinian struggle was a humanitarian struggle for justice and freedom which all Malaysians, regardless of their background should support.
He also called for more communication between the peoples and institutions of the two nations in their best interest.
Prime Minister Tun Dr Mahathir Mohamad said on Jan 10 that the government maintained its stand of prohibiting Israeli athletes from competing in the 2019 World Para Swimming Championships in Kuching, Sarawak from July 29 to Aug 4.
Full report at:
https://www.thesundaily.my/local/palestine-ngo-appreciates-malaysia-s-stand-on-israel-FA460887
--------
Padang stall accused of secretly selling pork satay to Muslims
January 30, 2019
The owners of a satay restaurant in Padang, West Sumatra, are under investigation following reports that they have been secretly serving Muslim customers pork satay.
Officials from the Padang Trade Agency have conducted an inspection and confirmed that the satay restaurant had been using pork without notifying their customers.
"We arrested the sellers for allegedly selling satay made from pork," agency head Endrizal said on Tuesday as quoted by antaranews.com.
The agency has confiscated hundred pieces of satay and 2 kilograms of frozen pork from the sellers as evidence.
The sellers, identified as Devi and Bustami, claimed they did not know they were selling pork, saying they had obtained what they thought was beef from Kusti Gani.
She had purchased 10 kilograms of pork from Kusti at Rp 95,000 per kilogram (US$6).
"I didn't know that it was pork. As first, [Kusti] offered the meat to me and was willing to directly deliver it to me. I thought that made things easier so I accepted," she claimed.
The agency said the three would be taken to the police to face prosecution.
Full report at:
https://www.thejakartapost.com/news/2019/01/30/padang-stall-accused-of-secretly-selling-pork-satay-to-muslims.html
--------
Arab World
Saudi's anti-corruption probe ends with dozens detained; state coffers $107bn richer
January 31, 2019
Saudi Arabia announced on Wednesday the end of a high-profile anti-corruption probe that boosted the state coffers by more than $100 billion and has left dozens detained.
The crackdown on graft launched in 2017 saw hundreds of elite princes, ministers and businessmen held at the luxury Ritz-Carlton hotel in the Saudi capital Riyadh.
Many were detained for weeks in the upmarket hotel, but most were released after agreeing significant financial settlements.
The corruption investigation concluded Wednesday with the approval of King Salman, according to a statement released by the official Saudi Press Agency.
"The public prosecutor has refused to settle the cases of 56 individuals due to already existing criminal charges against them," the statement said.
An additional eight people have seen their cases referred to the public prosecutor after they refused to reach settlements.
"Settlements were reached with 87 individuals after their confession to the charges against them," SPA said.
During the probe more than 400 billion Saudi riyal ($107 billion) were recovered by the state "in the form of real estate, companies, cash, and other assets".
The figure matches that announced a year ago by the attorney general, who at the time said 56 suspects remained in custody.
Saudi's anti-graft sweep led by Crown Prince Mohammed bin Salman has been labelled by some critics as a shakedown and power grab, but authorities have insisted the purge targeted endemic corruption.
https://www.dawn.com/news/1460989/saudis-anti-corruption-probe-ends-with-dozens-detained-state-coffers-107bn-richer
--------
Saudi Arabia Is Leading a Push to Keep Young People On The Right Path — And Save Them From Straying On To The Wrong One
By CALINE MALEK
January 31, 2019
DUBAI: Scientist or terrorist? The choice might seem extreme, but young Arabs are being urged to get involved in fields such as science and technology as part of a push to empower youth in the region and protect them from the risk of recruitment by terrorist groups.
"Space is just one example of a sector in the UAE that has actively empowered youth," said Sarah Al-Amiri, UAE minister for advanced sciences, at a recent conference on youth and sustainable peace organized by the Trends Research and Advisory think tank in Abu Dhabi and Women in International Security (WIIS), based in Washington, DC.
"We do see a global cry for youth engagement, but active participation is necessary today. Empowering youth to undertake monumental shifts is the key to engaging them."
Access to all levels of education with reduced cost, or none at all, is a global mandate that all Arab countries need to take on, she said.
"The future is being built for them, and they should be designers of the future, with ownership of it."
Saudi Arabia has also been leading efforts to deliver change, with 92 percent of young Saudis in last year's Arab Youth Survey expressing a positive view of the outcome of Saudi Crown Prince Mohammed bin Salman's Vision 2030.
Moreover, around 60 percent of citizens in the Kingdom are under the age of 30 and almost two-thirds are considered youth.
The GCC youth population will reach an expected 65 million by 2030.
"Youth is a very important part of our population," said Dr Ahmed Al-Hamli, president and founder of Trends Research and Advisory.
"We are in a race with the world and youth is the backbone of progress. We aim to empower youth in combating all the challenges and meeting gender equality throughout the world."
In order to do that, youth need peaceful surroundings, access to education and job opportunities.
"Youth and children are the most vulnerable category in the world because of crises, conflicts and sectarian differences," Al-Hamli said. "It's increasing and has become the most dangerous period in the 21st century so far. We believe we can together generate initiatives that lead the youth, focus on them and empower them to serve humanity as a whole."
WIIS also caters to young people, with specific programs on international peace and security that target graduate students or the next generation of scholars, experts, practitioners and policymakers.
"We hope to expand these programs in the Gulf in the future," said Dr Chantal de Jonge Oudraat, president of WIIS. "But there is a lack of data and research (on youth contributions), and we need more of it."
De Jonge Oudraat spoke of the millions of young men and women aged between 10 and 24 who need to have a voice when it comes to peace and security, and the 480 million young men and women who live in fragile and conflict-affected states or areas who need to be represented and participate in peace-building efforts.
The Youth Peace and Security Agenda, launched in December 2015 by the UN Security Council, recognizes the importance of involving youth in conflict prevention. "The issue of young people is an issue of importance, not only for national governments, but the international community at large," de Jonge Oudraat said.
"Forty-two percent of the world population is below 24, and in Africa and the Middle East, young people are in the majority. In some countries, the percentages are as high as 60 to 70 percent, so the magnitude of the youth population has major national and international social, economic and political ramifications."
She said that many young people around the world feel frustrated, often excluded and marginalized, which makes them more susceptible to terrorist recruitment. "We're here to advance all that because it's not only right thing to do, but it's also the smart thing to do," she said.
"If we want to live in a prosperous, more peaceful world, all members of society require respect, consideration and should be able to participate in public life."
Earlier in October, the UN launched its youth strategy to change the perception surrounding young people.
"For a long time, people would say youth are troublemakers," said Achaleke Leke, coordinator of the Commonwealth Youth Ambassador Network, who helped develop the strategy. "But if we are a high percentage, then it means there will be no economic development or peace.
"Those who turn to violence are trapped in a space by the failure of governments, and we need to support young people in this process, invest in them and make them see each other as peers to sustain peace within communities."
According to Aqeel Ahmed, policy officer for the Scottish government and member of the Scottish Youth Parliament, the best ideas often come from youth who are the farthest away from the system.
"We need to see governments treat youth as agents of change, and we need a clear leadership from our governments," he said. "Youth who are engaged inspire others to get involved as well."
Countries such as Saudi Arabia and the UAE are seen as key to paving the way forward for the region. According to the Misk Foundation, around 1.9 million Saudis will enter the Kingdom's workforce over the next 10 years, increasing its size by more than a third.
"Our country is rich in its natural resources; we are not dependent solely on oil for our energy needs," Crown Prince Mohammed bin Salman said as part of his Vision 2030.
"Gold, phosphate, uranium and many other valuable minerals are found beneath our lands, but our real wealth lies in the ambition of our people and the potential of our younger generation. They are our nation's pride and the architects of our future," he said.
Younger generations are embracing the change. "Many reforms are happening across the country," Nouf Al-Mansour, a 29-year-old entrepreneur from Jeddah, told Arab News.
Full report at:
http://www.arabnews.com/node/1444716/middle-east
--------
More Civilians Killed in US Airstrikes on Residential Areas in Deir Ezzur
Jan 30, 2019
"The US-led fighter jets targeted and hit a group of civilians who were trying to escape from the ISIL-controlled region in the town of Baghouz in Southeastern Deir Ezzur," local sources in Eastern Syria were quoted as saying on Wednesday.
The sources noted that the entire eight members of a Syrian family, three women and five children, were killed in the US airstrikes and many more were wounded.
They also said that the death toll will probably rise given the deteriorating conditions of those injured.
The sources noted that most of the vehicles in the convoy were destroyed in the air raid.
In a relevant air raid earlier this month, the US-led airstrikes killed at least 31 civilians in the village of al-Baghouz Foqani.
"The number of civilians killed in the US airstrikes on people's houses in the village of al-Baghouz Foqani has reached 31 so far," the Arabic-language al-Watan newspaper quoted local sources as saying.
The daily noted that the victims belonged to three families who came under the US air raids as they were fleeing the ISIL-controlled areas in the region.
In early January, the Syrian government called on the United Nations Security Council to put an end to airstrikes being carried out by the US-led coalition purportedly fighting the Daesh (ISIL) Takfiri terrorist group, saying the aerial assaults are targeting civilian and critical infrastructure in the Arab country.
The Syrian Ministry of Foreign Affairs and Expatriates, in two separate letters addressed to UN Secretary General Antonio Guterres and the rotating president of the Security Council, Francisco Antonio Cortorreal, on Saturday, censured the latest US-led coalition strikes against al-Baghuz al-Tahtani village in the eastern province of Dayr al-Zawr, saying the US-led warplanes had targeted dozens of families, who were fleeing from areas controlled by Daesh.
The ministry then condemned in the strongest terms the US-led coalition's continued attacks against Syrian people and the conflict-plagued country's critical infrastructure, energy facilities and public and private property.
Full report at:
http://en.farsnews.com/newstext.aspx?nn=13971110000898
--------
Raqqa: Over 50 More Corpses of Victims of US Airstrikes, ISIL's Crimes Discovered
Jan 30, 2019
Media activists said the corpses of four civilians were retrieved from the debris of buildings ruined in US airstrikes last year in al-Sokna district of Raqqa city.
Moreover, four dead bodies of civilians were recovered from the buildings destroyed in US air assaults in al-Bayatareh in Raqqa city, the activists added.
They also said that the corpses of about 50 people, including women and children, were discovered from a mass grave in al-Fakhikheh South of Raqqa city.
This is while the ISIL had taken control over several villages and al-Tabaqa military airport in Southwestern Raqqa in 2014.
In a relevant development on Tuesday, the Syrian Army discovered a mass grave containing the dead bodies of victims killed by the ISIL terrorist group in a military airport in Raqqa province.
The sources said that the mass grave contained 11 dead bodies of the Syrian army troops.
"The bodies belonged to the Syrian Army troops of Al-Tabaqa military airport who had been executed by the ISIL near the village of Jab al-Ghol in Southern al-Tabaqa in Southwestern Raqqa," a security source said.
In a relevant development earlier this month, the dead bodies of over 800 civilians killed in the US-led coalition airstrikes and ISIL attacks were found in a mass grave in Raqqa.
The media activists disclosed that the new mass grave has been discovered in the village of al-Fakhikheh.
They underlined that between 600 to 800 corpses have been retrieved from the mass grave, and said that the newly-discovered mass grave was the 14th of its kind found in Raqqa City and its outskirts.
This is while Raqqa's civilian team also discovered more bodies of civilians, who were killed in the US-led coalition's airstrikes on Raqqa City, from under the debris of the destroyed buildings in districts of al-Tosayeh, Nazleh Shahadeh and al-Haramieh in Raqqa City.
Full report at:
http://en.farsnews.com/newstext.aspx?nn=13971110000856
--------
Several ISIL Commanders, Close to Abu Bakr Al-Baghdadi Killed in Iraq's Air Raids near Syria Border
Jan 30, 2019
"The Iraqi air force fighter jets raided the ISIL's military positions in the city of al-Ratabeh in Western al-Anbar (near Syria borders), killing several terrorists, including five ISIL commanders," the Arabic-language Maloumeh news website quoted an informed source as saying on Wednesday.
The source reiterated that the killed militants were among senior ISIL commanders and very close to Abu Bakr al-Baghdadi.
In a relevant development in early December, the Syrian Democratic Forces (SDF) claimed that they captured the deputy of ISIL's commander, Abu Bakr Al-Baghdadi, during an operation in the Eastern region of the Euphrates Valley.
Full report at:
http://en.farsnews.com/newstext.aspx?nn=13971110000747
--------
King of Spain visits Iraq, first in 40 years
30 January 2019
Spain's King Felipe VI arrived in Iraq on Wednesday in the first visit there by a Spanish monarch in four decades, a diplomat told AFP.
The king, whose country is part of an international coalition battling the ISIS, visited Spanish special forces and was set to hold talks later in the day with President Barham Saleh.
Iraq in 2017 declared victory over ISIS following a bruising months-long campaign backed by the coalition, which continues to carry out operations against the extremists.
https://english.alarabiya.net/en/News/middle-east/2019/01/30/King-of-Spain-visits-Iraq-first-in-40-years.html
--------
Arab coalition to use 'calibrated force' in Yemen to drive Houthis out of Hodeidah
January 30, 2019
DUBAI: The Arab coalition is prepared to use "calibrated force" to push the Iranian-backed Houthi militia to withdraw from Yemen's Hodeidah port city under a UN-sponsored deal, the UAE's minister for foreign affairs said on Wednesday.
The Arab coalition, which includes the UAE and Saudi Arabia, said on Wednesday it had targeted several Houthi military camps.
The Houthis have failed to pull troops from the country's main port under a month-old truce, reviving the threat of an all-out assault on Hodeidah.
The Houthis control Hodeidah while Yemeni government factions backed by the coalition trying to restore the internationally recognized government are massed on its outskirts.
Gargash said the coalition struck 10 Houthi training camps outside Hodeidah governorate on Wednesday.
"The Coalition is prepared to use more calibrated force to prod Houthi compliance with Stockholm Agreement," he tweeted.
"To preserve cease-fire & any hope for political process, UN and international community must press Houthis to stop violations, facilitate aid convoys, and move forward on withdrawal from Hodaida city & ports as agreed," he added.
UN envoy Martin Griffiths has been shuttling between the parties to rescue the deal, the first major diplomatic breakthrough of the nearly four-year-old war that has killed tens of thousands of people and pushed Yemen to the verge of starvation.
Gargash tweeted: "Houthi militia hinder the mission of observers and are preventing relief ships from entering the port."
Full report at:
http://www.arabnews.com/node/1444656/middle-east
--------
Pakistan
Video shows Chinese man being converted to Islam by Pakistan PM Imran Khan's minister
Jan 29, 2019
The video of a Chinese national being converted to Islam by Pakistan Tehreek-e-Insaf (PTI) minister Amjad Ali has taken the internet by storm in the country. PTI is the ruling party of Pakistan to which Prime Minister Imran Khan belongs.
The Chinese man, who now goes by the name of Abdullah, can be seen reciting the 'Kalima' after Ali in the video, which has been released by PTI's media cell in Khyber-Pakhtunkhwa.
"Congratulations, you are a Muslim. Your name is Abdullah," Ali, who is Khyber-Pakhtunkhwa's minister for mines and minerals, tells Abdullah in the video after the recitation.
Ali first met the Chinese national in Guangzhou, when he had gone to visit the tomb of Sa'ad bin Abi Waqas, according to The Express Tribune. "He captured a few pictures with us and later we started talking. He was impressed and immediately asked us to convert him to Islam," the PTI minister remarked.
Following the meeting, Abdullah reportedly travelled to Pakistan to learn the teachings of Islam.
https://www.hindustantimes.com/world-news/video-shows-chinese-man-being-converted-to-islam-by-pakistan-pm-imran-khan-s-minister/story-1o2jNOhgWNXz3FvfShkQqN.html
--------
Council of Islamic Ideology validates hajj subsidy payment
January 31, 2019
ISLAMABAD -Council of Islamic Ideology (CII) declared, on Wednesday, that the government could subsidize the sacred religious ceremony of Hajj in any shape without any discrimination.
Talking to media, after the conclusion of the two-day meeting of the council's 214th sitting, Chairman Dr Qibla Ayaz said the council was of the view that there was no harm in facilitating the hujjaj, Radio Pakistan reported.
The Bill was forwarded by Ministry of Religious Affairs and Interfaith Harmony for the council's opinion on the issue.
The subsidy could be offered in transport fares, food, accommodations. Non-Muslim countries also facilitate the Hajj journey of their Muslim citizens, he added.
However, he said that the Hajj subsidy could not be paid from Zakat accounts.
"According to Sharia, the subsidy should be provided across the board and on equal basis. The government should provide the facility to the poor and rich sans any discrimination whether they are performing Hajj on government quota or through private tour operators," the chairman added.
He said the meeting reviewed the preliminary recommendations of a committee constituted to prepare an outline for devising ultimate features of Riyasat-e-Madina.
The meeting was of the view that the committee comprising Dr Farkhanda Zia, Allama Arif Wahidi, Khurshid Nadeem and Dr Anwar would prepare a draft and forward it to CII. The recommendations of the committee will be sent to the federal government.
The council has recommended to the government to make effective laws and strict existing laws to provide a right to inheritance to women as depriving women from the right to inheritance is contrary to the provision of Sharia.
The council has also decided to cooperate with the Ministry of Human Rights in empowering women.
He said the council has also discussed Charities Act 2018 of Punjab (to donate charities). The council is of the view that certain clauses of the Act were against Sharia and needs further improvements.
A committee led by Justice Manzoor Gilani has been assigned to prepare improvement recommendations and the alternate draft.
The council expressed its dismay and indignation over the last day's gory incident of Loralai, Balochistan and offered Fateha for the martyred police officials, who had sacrificed their lives for the nation and country.
The council also strongly condemned Sahiwal incident and stressed ensuring the protection of lives and properties of the people.
Full report at:
https://en.dailypakistan.com.pk/pakistan/council-of-islamic-ideology-validates-hajj-subsidy-payment/
--------
Qatar plans to recruit 100,000 Pakistanis, says consul general
Gohar Ali Khan
January 31, 2019
MATIARI: Consul General (CG) of Qatar in Karachi Mishal M. Al Ansari has said that his country is going to recruit 100,000 Pakistanis by issuing work visa in all sectors and fields soon.
He said Qatar had opened its visa centres in Karachi and Islamabad one month ago for workers and professionals.
Calling for strengthening bilateral relations between his country and Pakistan, he said: "We are looking for partnership in the agriculture industry. We have a desert country; we want to promote our agriculture industry through modern technology."
He was talking to media persons at the residence of Sindh Cham­ber of Agriculture (SCA) presi­dent Qabool Mohammad Khatian in village Arif Khatian, Matiari district, on Wednesday.
He said Qatar had already around 150,000 Pakistanis working in all fields. He said that relations between the two states were strong and they would improve.
"We are working on bolstering bilateral relations and looking forward to taking advantage of Pakistan's offers and vice versa," he said, adding that he had come here for the first time to see agriculturalists and farming areas , especially mango orchards, as he loved sweet mangoes of Sindh. He said Qatar already was importing vegetables and fruit from Pakistan and those imports would increase.
He said the China-Pakistan Eco­no­mic Corridor (CPEC) would bene­fit Pakistan and it was a good project for the country. He also visited mango farms in Matiari and was eager to ensure more imports of mango in the forthcoming season.
Welcoming the Qatari official, Mr Khatian said that the CG came to the interior of Sindh for the first time to support growers of the province.
SCA senior vice president Nabi Bux Sathio urged the CG and his government to provide a special window to Sindh growers who could directly export their fruits and agricultural produce to Qatar.
He also urged him to provide facilities to the skilled, educated and technically-sound youths for getting employment in Qatar as Sindh had plenty of manpower.
He said the SCA would coordinate and ask the ministry of overseas Pakistanis for giving due share of manpower exports to Qatar.
"Qatar wants to import its maximum requirement of mangoes, including special varieties — Sindhri, Chausa and others. The CG of Qatar [has invited] mango growers to visit Qatar and sell their produce directly as any Pakistani can obtain visa on arrival at any Qatar international airport," SCA general secretary Zahid Hussain Bhurgari briefed media about the CG's meeting with the SCA office-bearers earlier at village Arif Khatian, Matiari. Growers from all over the province attended it.
Full report at:
https://www.dawn.com/news/1460800/qatar-plans-to-recruit-100000-pakistanis-says-consul-general
--------
Rahat Fateh Ali Khan denies being served a notice by Indian authorities
Jan 30, 2019
ISLAMABAD: The Pakistani singer Rahat Fateh Ali Khan denied on Wednesday having received a show-cause notice issued by the Indian government in a case related to alleged foreign exchange violation amounting to 20 million Indian rupees.
The Indian Enforcement Directorate had initiated a probe against Khan and his associates in 2014 after the Directorate of Revenue Intelligence intercepted the singer and his manager Marrouf Ali Khan at the Indira Gandhi International Airport, New Delhi, in 2011 carrying $124,000 and other forex instruments.
Citing officials, the Indian media reported on Wednesday that Khan has to respond within 45 days to the notice, which was issued under the Foreign Exchange Management Act (FEMA), following the completion of probe in the case.
Rahat's manager, Aamir Hasan however said they "have no information of this show cause notice as of yet."
The singer's office also issued a statement adding: "Interestingly our lawyers in India are also known to the relevant authorities and as of now they have not received any notice either."
Full report at:
https://timesofindia.indiatimes.com/world/pakistan/rahat-fateh-ali-khan-denies-being-served-a-notice-by-indian-authorities/articleshow/67758783.cms
--------
Pakistan protests summoning of high commissioner to Delhi over Qureshi-Mirwaiz phone call
Naveed Siddiqui
January 31, 2019
In a tit-for-tat move, Pakistan summoned India's high commissioner on Thursday, a day after Delhi had summoned Islamabad's representative in India to lodge a protest over Foreign Minister Shah Mahmood Qureshi's telephone call to Kashmiri leader Mirwaiz Umar Farooq.
Qureshi on Tuesday had apprised the All Parties Hurriyat Conference (APHC) leader of Pakistan's efforts to highlight the Kashmir issue at all international forums and to expose brutalities committed by Indian security forces in the occupied territory. He was of the view that India should permit a Commission of Inquiry to visit Indian Occupied Kashmir.
Farooq had appreciated the Pakistani government's efforts and asserted that Indian atrocities would never be able to suppress the will of the people of Indian Occupied Kashmir. He had added that Kashmiris would continue to raise their voices against Indian repression and black laws.
The foreign minister had informed the APHC chairman of upcoming events being organised in London at the House of Commons and an exhibition being held in the British capital on Feb 4 and 5. Farooq had said that although he wished to attend, his and his contemporaries' passports had been confiscated by the Indian government to prevent them from travelling abroad.
Foreign Office Spokesperson Dr Muhammad Faisal during a weekly briefing on Thursday said that India had summoned Pakistan's high commissioner to New Delhi on Wednesday night to lodge a protest over Qureshi's telephone call to Farooq.
Pakistan rejected India's objections to the telephone call and reaffirmed its support for the Kashmiri struggle for self determination.
In response, Foreign Secretary Tehmina Janjua summoned India's high commissioner to the Foreign Office this morning to lodge a protest over the summoning of Pakistan's high commissioner to Delhi yesterday.
The FO spokesman said Pakistan rejects Indian insinuations that equated the Kashmiri struggle for self-determination to terrorism.
"Kashmir is a disputed territory. The Indian government's move to summon the Pakistani high commissioner is an attempt to influence the upcoming elections," the FO said, adding: "If you wish to contest your elections, don't involve us in them."
Foreign Secretary Janjua made it clear to the Indian diplomat that Pakistan would continue to extend support to the people of Kashmir.
The FO spokesperson explained that Pakistani leadership has always communicated with Kashmiri leadership, and that Qureshi's phone call was not anything new, Radio Pakistan reported.
In a statement, the FO reiterated that Kashmir is an outstanding dispute between India and Pakistan.
Full report at:
https://www.dawn.com/news/1460993/pakistan-protests-summoning-of-high-commissioner-to-delhi-over-qureshi-mirwaiz-phone-call
--------
Court turns down Imran's plea to return defamation suit against him
January 31, 2019
PESHAWAR: A local court on Wednesday rejected an application of Prime Minister Imran Khan's lawyer for returning a defamation lawsuit against his client contending that the court doesn't have the jurisdiction on the matter.
Additional district and sessions judge Shah Waliullah Hamid Hashmi pronounced that the court had the jurisdiction to decide the lawsuit under the Defamation Ordinance, 2002.
The court fixed Feb 15 for next hearing asking the defendant (Imran Khan) to file response to the lawsuit of former MPA Fauzia Bibi within a fortnight.
Babar Awan, lawyer for the prime minister, had filed the application under Order 7 Rule 10 of Code of Civil Procedure saying the news conference addressed by his client in this respect was held in Islamabad and not in Khyber Pakhtunkhwa and therefore, the court can't hear the petition.
Syed Gufranullah Shah, lawyer for the plaintiff, had requested the court to dismiss the premier's application insisting that the court has jurisdiction to hold hearing into the case.
Fauzia Bibi, who was elected on reserved seats for women on the PTI's ticket, had filed the lawsuit for the recovery of damages to the tune of Rs500 million from Mr Imran for defaming her by levelling 'baseless' allegations of horse trading in the Senate election.
The lawsuit was filed in June last year under the Defamation Ordinance 2002. The only defendant in the suit is PTI's chief Imran Khan, who subsequently became Prime Minister of Pakistan.
Mr Babar Awan had contended that the news conference was addressed in Islamabad, whereas the committee constituted for taking action against the plaintiff was also constituted there.
He had added that as the cause of action arose there, it was not in the jurisdiction of the present court to deal with the case.
Mr Awan had cited several superior court judgments in support of his contentions and requested the court to return the lawsuit.
Syed Ghufranullah Shah had contended that his client was member of the Khyber Pakhtunkhwa Assembly and the statement of Mr Imran was related to her stint as member of the assembly.
He added that the allegations against his client were leveled in connection of the Senate elections for which she had cast vote in the KP Assembly.
The lawyer said the Defamation Ordinance, 2002, was a special law, which had an overriding effect over other laws.
He said under that law, Peshawar's district court was the relevant forum for hearing the defamation suit.
The lawyer said in the Senate polls held on March 3, 2018, his client had followed the party leadership's orders to vote for its nominees for Senate's general and reserved seats meant for women and technocrats.
Full report at:
https://www.dawn.com/news/1460964/court-turns-down-imrans-plea-to-return-defamation-suit-against-him
--------
Pakistan faced 18 suicide attacks in 2018: PICSS report
Jan 31, 2019
ISLAMABAD: Suicide attacks became a major tool of militants fighting against the Pakistani state in 2018 as an overall decline in suicide attacks compared with 2017 as the year witnessed a total of 18 attacks.
A study by an Islamabad-based independent think tank, Pakistan Institute for Conflict and Security Studies (PICSS), shows that suicide attacks caused 46 per cent of overall deaths in 2018 while 48 per cent of the total number of people injured in militant attacks was caused by the suicide attacks.
Another striking aspect revealed in PICSS Annual Security Journal is that the ratio of death in per suicide attack that increased from 13 to 15 in 2018 as compared with 2017.
According to the report, 267 people were killed in these attacks including, 205 civilians, 20 militants, and 42 security forces personnel, while 460 including 384 civilians and 76 security forces were injured.
Most casualties occurred in a suicide attack in Balochistan killed 181 people, including 174 civilians, 6 security forces personnel, one militant, and injured 256 civilians.
The province of Balochistan was hit by eleven suicide attacks last year, in which 212 people were killed, including 24 security forces personnel,12 militants, and 176 civilians, while 332 were injured which includes 49 security forces personnel and 283 civilians.
In Khyber-Pakhtunkhwa (KP), four suicide attacks caused 38 deaths, in which 12 security forces personnel, four militants, and 22 civilians died while 91 were injured in which there were 70 civilians and 21 security forces personnel.
Full report at:
https://www.pakistantoday.com.pk/2019/01/30/__trashed-3/
--------
North America
Militant safe havens in Pakistan threat to neighbours: US report
JANUARY 31, 2019
United States Director of National Intelligence Daniel Coats highlighted threats and challenges for South Asia in 2019, predicting that militant groups in Pakistan will continue to take advantage of their "safe havens" to plan and conduct attacks in neighbouring countries and beyond.
While presenting a non-classified threat assessment report before the Senate Select Committee on Intelligence, Coats outlined significant global threats that the US will face during the year. The report comes at a time when Pakistan is aiding talks between the US and the Afghan Taliban so that a political solution can be found, to what has now become a 17-year long war.
The intelligence director predicted that in 2019, "militant groups in Pakistan will continue to take advantage of their safe haven there to plan and conduct attacks in neighbouring countries and possibly beyond." The repeated accusation has been categorically denied by Islamabad's civilian and military leadership.
It goes on to allege that Pakistan continues to provide safe havens to terrorists "to plan and conduct attacks in India and Afghanistan, including against US interests", while also accusing Islamabad of "using some groups as policy tools and confronting only the militant groups that directly threaten Pakistan".
The report further claims that Pakistan's "narrow approach to counter-terrorism cooperation […] almost certainly will frustrate US counter-terrorism efforts against the Taliban."
It predicts that neither the Taliban nor Kabul will be able to gain a strategic military advantage in the Afghan war in 2019 "if coalition support remains at current levels".
The report notes that the Taliban has stepped up large scale attacks although Afghan forces "generally have secured cities and other government strongholds".
"Afghan security suffers from a large number of forces being tied down in defensive missions, mobility shortfalls, and a lack of reliable forces to hold recaptured territory," the report adds.
Last month, the US had welcomed Pakistan's role to promote a negotiated solution to the war in neighboring Afghanistan. The acknowledgement came a day after Prime Minister Imran Khan announced his country has arranged another round of Washington's peace talks with the Afghan Taliban.
INDO-PAK TIES AND CHINA:
Coats believes that India is likely to face an increase in communal violence during 2019 elections while its ties with Pakistan and China will remain tense.
The report speculates that strained ties between Pakistan and India will persist "at least through May 2019, the deadline for the Indian election, and probably beyond".
It attributes this supposition to cross-border terrorism, firing across the Line of Control, divisive national elections in India, and Islamabad's perception of its position with the US relative to India.
"Continued terrorist attacks and cross-border firing in Kashmir have hardened each country's position and reduced their political will to seek rapprochement," the report says, adding: "Political manoeuvring resulting from the Indian national elections probably will further constrain near-term opportunities for improving ties."
The Indian elections are also expected to play their part in stoking communal violence within the country which "could alienate Indian Muslims and allow Islamist terrorist groups in India to expand their influence," the report warns.
The US report also expects relations between India and China to remain intense "despite efforts on both sides to manage tensions since the border standoff in 2017, elevating the risk of unintentional escalation".
Although Chinese and Indian leadership held an informal summit in April 2018 to defuse tensions and normalise relations, border issues were not addressed, the report notes. "Misperceptions of military movements or construction might result in tensions escalating into armed conflict."
PAKISTAN'S NUCLEAR PROGRAMME:
Coats in his remarks before the Senate committee had said: "We remain concerned about Pakistan's continued development control of nuclear weapons," but did not express any concern about India's nuclear programme, although the report notes that India had, in 2018, conducted its first deployment of a nuclear-powered submarine armed with nuclear missiles.
The 2019 report mentions that "Pakistan continues to develop new types of nuclear weapons, including short-range tactical weapons, sea-based cruise missiles, air-launched cruise missiles, and longer range ballistic missiles."
A 2016 Harvard Kennedy report on prevention of nuclear terrorism states that India's nuclear security measures "may be weaker than those of Pakistan". However, the risk of theft across the border "appears to be moderate", while in Pakistan it "appears to be high".
The overall threat from weapons of mass destruction is expected to continue growing in 2019, according to the US threat report, which claims that Pakistan and India's growing nuclear arsenals "increase the risk of a nuclear security incident in South Asia". It adds that new types of nuclear weapons "will introduce new risks for escalation dynamics and security in the region".
https://www.pakistantoday.com.pk/2019/01/30/militant-safe-havens-in-pakistan-threat-to-neighbours-us-report/
--------
South Asia challenges to grow in 2019 due to India, Afghanistan elections: US
JANUARY 31, 2019
United States Director of National Intelligence Daniel Coats has painted a bleak picture for South Asia in 2019 citing elections in Afghanistan and India, large-scale Taliban attacks and what he called Pakistan's recalcitrance in dealing with militant groups.
In a threat assessment report outlining significant global security threats facing the US presented during a public testimony before the Senate Select Committee on Intelligence, Coats stated that Pakistan has pursued its extended nuclear arsenal, continued to support the Taliban, Haqqani network and other terrorist organizations and has limited its cooperation with Washington in the fight against terrorism by forging ties with China – factors the US believes to be threatening to their interests in Afghanistan.
The director in his report predicted that in the coming year, militant groups in Pakistan will continue to take advantage of their safe havens there to plan and conduct attacks in neighbouring countries and possibly beyond. The report also accused Islamabad of 'using some groups as policy tools and confronting only the militant groups that directly threaten Pakistan'. It claimed that Pakistan's "narrow approach to counter-terrorism cooperation […] almost certainly will frustrate US counter-terrorism efforts against the Taliban".
"Pakistani military leaders continue to walk a delicate line, ongoing Pakistani military operations against the Taliban and associated groups probably reflected the desire to appear more proactive and more responsive to our request for more actions against these groups, however actions taken thus far reflect a significant escalation of pressure against these groups," Coats said in the report. "Afghan national security forces face a steady performance, but with coalition support, probably they will maintain control of most of the major population centers. Complicating the Afghanistan situation, however, is our assessment that Pakistan-based military groups continue to take advantage of their safe havens to conduct attacks in India, in Afghanistan including the US interests there," it added.
The report speculates that strained relations between Pakistan and India will persist "at least through May 2019, the deadline for the Indian election, and probably beyond".
It attributes this supposition to cross-border terrorism, firing across the Line of Control, divisive national elections in India, and Islamabad's perception of its position with the US relative to India. "Continued terrorist attacks and cross-border firing in Kashmir have hardened each country's position and reduced their political will to seek rapprochement," the report said, adding, "Political manoeuvring resulting from the Indian national elections probably will further constrain near-term opportunities for improving ties."
"The Indian elections are also expected to play their part in stoking communal violence within the country which could alienate Indian Muslims and allow Muslim terrorist groups in India to expand their influence," the report warned.
Furthermore, the US expects relations between India and China to remain tense "despite efforts on both sides to manage tensions since the border standoff in 2017, elevating the risk of unintentional escalation". "Although Chinese and Indian leadership held an informal summit in April 2018 to defuse tensions and normalise relations, border issues were not addressed," the report noted. "Misperceptions of military movements or construction might result in tensions escalating into armed conflict," it added.
Pakistan's nuclear programme also got a glaring mention in Coats remarks, who said, "We remain concerned about Pakistan's continued development control of nuclear weapons." The report mentioned that "Pakistan continues to develop new types of nuclear weapons, including short-range tactical weapons, sea-based cruise missiles, air-launched cruise missiles, and longer range ballistic missiles."
However, there was no mention of India's nuclear assets or the country's nuclear programme except for a brief mention of the nuclear-powered ballistic missile submarine, INS Arihant, launched last year.
Full report at:
https://dailytimes.com.pk/349712/south-asia-challenges-to-grow-in-2019-due-to-india-afghanistan-elections-us/
--------
US lawmakers working to end Trump support for Saudi war on YEmen
Jan 31, 2019
American lawmakers are making stated efforts to end US President Donald Trump's support for Saudi Arabia's war on impoverished Yemen.
"When Yemenis see 'Made in USA' on the bombs that are killing them, it tells them the United States of America is responsible for this war," Senator Bernie Sanders, a Vermont independent, told reporters at a Capitol Hill press conference on Wednesday.
The lawmakers seek to end US involvement in the war on Yemen, incessantly pounded by the Saudi military, Republican and Democratic senators and representatives said.
A war powers resolution had previously passed the Senate by 56-41 in December but had to be reintroduced to the Democratic controlled House of Representatives to go forward,
"That decision has never been debated and discussed and voted on and approved by Congress," said Republican Senator Mike Lee, one of the measure's sponsors.
The US president would have to resort to a veto if he is forced to end support for the Saudis.
"The preference is to start this in the House, get a big vote in the House and then bring it over to the Senate," Senator Chris Murphy, a Connecticut Democrat who has been a critic of the US role in Yemen, told Al Jazeera.
The brutal murder of Saudi critic Jamal Khashoggi in the kingdom's consulate in Istanbul has also served as a boost to the lawmakers resolve to take on the Saudi royal family, which has a very close connection with Trump.
Full report at:
https://www.presstv.com/Detail/2019/01/31/587252/US-Congress-to-end-Trump-support-for-Yemen-war
--------
Trump vows ISIL 'will soon be destroyed,' pushing back on CIA report
Jan 30, 2019
US President Donald Trump says the Daesh terrorists "will soon be destroyed," pushing back on intelligence chiefs' warning that the militants could regroup in Syria.
In a series of early morning tweets on Wednesday, the president took credit for the United States' alleged fight against the ISIL terrorists a day after the country's top intelligence officials testified in front of US Congress and presented a report analyzing the ISIL threats in Syria, from which Trump wants to withdraw.
"When I became President, ISIS was out of control in Syria & running rampant. Since then tremendous progress made, especially over last 5 weeks. Caliphate will soon be destroyed, unthinkable two years ago," Trump said, referencing the Takfiri militants.
Daesh 'to continue for some time'
Last year, Trump claimed victory over ISIL, a announcing that the US would begin a military withdrawal from the Muslim country.
"The group will exploit any reduction in [counterterrorism] pressure to strengthen its clandestine presence and accelerate rebuilding key capabilities, such as media production and external operations," read the report. "ISIS very likely will continue to pursue external attacks from Iraq and Syria against regional and Western adversaries, including the United States."
US Director of National Intelligence Dan Coats, who was among those testifying on Tuesday, asserted that the militant group "will continue to be a threat to the United States, and we're going to have to continue to keep our eyes on that … as the realization that this terrorism threat is going to continue for some time."
Full report at:
https://www.presstv.com/Detail/2019/01/30/587211/Trump-vows-ISIL-will-soon-be-destroyed-pushing-back-on-CIA-report
--------
FIU Students and Faculty Praise Muslim Centre after First Year
By SAM TURKEN
Jan 31, 2019
Last March, Florida International University President Mark Rosenberg spoke onstage at a gathering for the Coalition of South Florida Muslim Organizations. He said that in a time of divisions, FIU must do more to promote discourse and relationship-building between people of different religions and cultures.
"If you give me a pile of stones, my responsibility and the responsibility of my colleagues at FIU with those stones is to build a bridge," he said. "Now more than ever, we need those bridges."
Nearly a year since its founding, FIU faculty and students say the university's Islamic studies center is serving as such a unifier.
With more than 100 students in its certificate program, the Mohsin and Fauzi Jaffer Center for Muslim Studies seeks to promote a greater understanding of the world's Muslim community. And students say it highlights the similarities of cultures and religions that are often thought to be at odds.
"The people of this world share one planet," said Mohsin Jaffer, a Muslim physician and the center's namesake who donated $2 million toward its founding. "We have to live with each other and understand each other. Because when you don't understand another person, you fear them."
Administrators say the center—housed within the Steven J. Green School of International and Public Affairs—over the past year has held more than two dozen events and discussions to increase awareness about Muslim-related issues. Courses focus on the Muslim diaspora, instability in parts of the Middle East and South Asia and misconceptions about Islamic identity.
As the center now celebrates its one-year anniversary, it will expand course offerings and move into a soon-to-be constructed campus building. And in a period of continuing tension between Israeli Jews and Palestinian Muslims, the center is planning a conference to highlight the historical connections between the two religions.
Jaffer said a key to the center's success is its location in South Florida, where it can interact with people of different ethnicities and religions.
The Miami area "is a springboard to Latin America and also we have a lot interaction with Europe," he said. "If he we have a robust program here, we can have interaction and exchange with professors and students from all over the world."
Jaffer and the Muslim center's director, Mohiaddin Mesbahi, added the center seeks to address Islamophobia and misconceptions about Muslims that have hardened since the Sept. 11, 2001 attacks. Educating non-Muslims about Islam in an objective manner can help dismantle such negative perceptions, Mesbahi said.
For Lana Shehadeh, the center's focus on Islamophobia is especially meaningful. A Muslim graduate student at FIU who wears a hijab, Shehadeh has grown accustomed to stares and comments about her head scarf. Still, she doesn't want her two daughters to share such experiences. FIU's Muslim center, she said, can help ensure that.
Full report at:
http://www.wlrn.org/post/fiu-students-and-faculty-praise-muslim-center-after-first-year
--------
Muslim death row inmate claims Alabama denied imam access to execution
Jan. 29, 2019
A Muslim death row inmate claims Alabama prison officials denied his request to have an imam present in his execution chamber instead of a Christian prison chaplain.
Domineque Ray this week filed a stay of execution to 'allow him to continue his challenge to the forced presence of a Christian chaplain in the execution chamber," according to court documents. Ray is slated to be executed on Feb. 7.
Ray met with Holman prison Warden Cynthia Stewart last week to request religious accommodations related to his execution, according to court documents. Ray first asked that a Muslim spiritual leader, an imam, take the place of Holman's Christian prison chaplain in the execution chamber.
When Stewart denied that, Ray asked that no chaplain be present, which Stewart also denied, court documents state.
Alabama Department of Corrections officials must respond to Ray's religious accommodation requests at a court hearing on Thursday, a federal judge ordered Tuesday.
Alabama prison officials said that execution protocol dictates outside witnesses cannot be inside the execution chamber, and the prison chaplain is present "regardless of the chaplain's spiritual belief or that of the inmate."
"The Alabama Department of Corrections follows a protocol that only allows approved correctional officials, that includes the prison's chaplain, to be inside the chamber where executions are lawfully carried out," ADOC spokesperson Bob Horton said in an emailed statement. "The inmate's spiritual adviser may visit the inmate beforehand and witness the execution from a designated witness room that has a two-way window."
But Ray's lawyers say a Christian prison chaplain displacing an inmate's preferred spiritual adviser at "the door of the execution" chamber violates his religious rights.
"Mr. Ray's suit goes to the heart of one of the most cherished of all rights, the right to freedom of religion," federal defender John Palombi said. "Neither Mr. Ray's right to practice his religion nor his right to be free from having a different religion forced on him ends at the door to the execution chamber. We hope that the Commissioner will not force someone of a different religion on him and deny him the right to have his spiritual adviser with him at the moment of his death should occur."
Ray was sentenced to death in the 1995 fatal stabbing of 15-year-old Tiffany Harville of Selma. He had previously been sentenced to life for a 1994 slaying of two teen brothers, the Associated Press reports.
Ray last week also met with the Holman chaplain and reiterated his accommodation requests, but the chaplain told him it would be against ADOC policy. Ray was not provided with a copy of the policy, the complaint states.
Ray's lawyers have cited both the Religious Freedom Restoration Act and the Religious Land Use and Institutionalized Persons Act.
"The state has made a policy decision that a chaplain be in the room, and it violates the free exercise of his religion to not have his spiritual adviser in the room," Palombi said. "In addition, it violates the establishment clause in that the state is making a preference for one religion."
Federal Judge W. Keith Watkins on Thursday will ask ADOC to show why the presence of a Christian chaplain "does not substantially burden" Ray's exercise of religion, how it furthers a "compelling governmental interest" and a number of other questions.
Watkins also directed ADOC to provide information about the Holman chaplain, including verifying his religious background, in addition to providing information on chaplain presence in the last 30 years of Alabama executions.
If Alabama executed a prisoner in the past three decades without a chaplain present in the death chamber, prison officials must explain the circumstances.
Watkins ordered Ray's attorneys to authenticate when he "adopted or converted to the Muslim faith."
Ray met with his imam on Jan. 25 and has another visit scheduled for Jan. 30, court documents state. Alabama death row inmates are provided access to spiritual advisers of their choice, Palombi said, who can witness executions from a room adjacent to the execution chamber. But once an inmate is in the death chamber, the only contact with a religious leader would be with the chaplain provided by the prison.
"There is no compelling governmental interest in preventing a condemned inmate from having his or her spiritual adviser — who has been approved to have a contact visit with the condemned inmate in the death watch cell steps away from the execution and moments before the execution begins — from taking the place of the prison chaplain in the execution chamber," the complaint states. "Being deprived of the physical presence of a spiritual adviser, when that spiritual adviser is otherwise available, in the moments before death imposes a substantial burden on the free exercise of Mr. Ray's religious beliefs."
On Wednesday, ADOC Commissioner Jeff Dunn said he's not aware of a chaplain issue in his his four years at the department. Dunn was questioned about the issue after presenting the department's budget proposals to the the state Legislature.
The commissioner said any interaction an inmate could have with a chaplain in the execution chamber would be voluntary.
Full report at:
https://www.montgomeryadvertiser.com/story/news/crime/2019/01/29/muslim-death-row-inmate-alabama-denied-access-imam/2715195002/
--------
India
Divorce Rates Among Muslims Low Compared To Other: IUML
Jan 30, 2019
Kozhikode: Indian Union Muslim League state general secretary KPA Majeed said the divorce rates in the Muslim community is significantly less when compared to other communities.
Opening the symposium on the topic 'Triple Talaq Bill for whom?' organised by Vanitha League at Kozhikode Town Hall on Tuesday, January 29, he hailed the Muslim community which has least number of divorce cases.
Responding to government and court interventions into Muslim personal laws like tripe talaq, Majeed alleged that BJP-led NDA government is making deliberate efforts to hurt Muslims.
"Where is triple talaq happening? Triple talaq is not reported in Kerala. Religious scholars in Muslim community will decide on changes or amendments in the Shariat Law or Personal Law," said Majeed adding, "But the central government is taking such actions as part of implementing Uniform Civil Code."
The government says it is for the betterment of Muslim women, he added allegeing it to be turning a blind eye towards the hardships faced by thousands of Muslim women and children who have been displaced due to the communal riots in North India, like Gujarat, Muzaffarnagar and issues of Rohingya refugees.
"According to reports, only 23% of those displaced in communal riots in Gujarat have returned to their homes. Also, women were most affected due to communal violence in Muzaffarnagar and the government has not taken any steps to protect or rehabilitate the victims," he added. as per reports published in Times Of India.
https://www.siasat.com/news/divorce-rates-among-muslims-low-compared-other-iuml-1461840/
--------
Aggrieved a Bihar's Block Development Officer Threatens to Convert to Islam
30th January 2019
PATNA: Too upset by the lingering casteism in the bureaucracy and politics in Bihar's districts, a block development officer (BDO) placed under suspension has threatened to convert to Islam unless the state government reinstates him to his post by February 7.
The plight of Manoj Kumar Agrawal, the suspended BDO of Ramgarh Chowk block in Lakhiserai district, appears to have been caused by the continuous one-upmanship games that caste groups and political parties engage in for supremacy.
"Being a Hindu and having to work for the government under such toxic conditions now means honesty will invariably make one the victim of caste politics," said Agrawal, a Bihar Rural Service (BRS) officer who started work as BDO in 2013, to this newspaper.
The officer, who belongs to the Hindu caste of Bania (traders) and is the son of a well-known freedom fighter from Begusarai, has written to Bihar's rural development department secretary Arvind Kumar saying he would convert to Islam unless he is reinstated in his job.
"If it does not happen (reinstatement), I will renounce Hinduism, which is full of casteist feelings and deep contradictions and convert to Islam," he wrote in his letter. The suspension order, he said, was issued without he being given an opportunity to present his case.
Agrawal was placed under suspension on charge of abusing his position, availing himself of personal gains, working contrary to the rules framed for people's representatives, disobeying departmental orders and misinforming senior officials.
According to people familiar with the case, Agrawal's hasty suspension was the result of the smouldering tensions between two ministers from the area – Rajiv Ranjan Singh alias Lalan Singh of JD(U) and Vijay Kumar Sinha of ally BJP – and that between local politicians from the upper-caste Bhumihar and the OBC Kurmi communities.
"Ever since Agrawal joined as BDO in Ramgarh Chowk in June 2018 following Sinha's recommendation, he was considered a 'Bhajpayi adhikari' (BJP-backed officer) and was not liked by Lalan Singh's supporters. The BDO's strictness with corrupt and inefficient panchayat secretaries was resisted by Lalan's supporters," said a senior official familiar with the episode.
Sources said rural development minister Shravan Kumar of JD(U) ordered Agrawal's suspension despite Sinha meeting him to say that the BDO has been an honest, hardworking official.
Agrawal had requested the district magistrate to transfer two panchayat secretaries who were allegedly taking 12 per cent commission from development funds. While both were transferred, they did not hand over charge and material such as cashbooks, cheque-books and registers to their successors. When Agrawal kept reminding them, the duo allegedly asked local JD(U) leaders to lobby for his suspension from service.
Full report at:
http://www.newindianexpress.com/nation/2019/jan/30/aggrieved-bihar-babu-threatens-to-convert-to-islam-1932074.html
--------
Hindu Religious Leaders to Lay Bricks for Ram Temple on February 21
By Lalmani Verma
January 31, 2019
A congregation of sants at the Kumbh Mela in Prayagraj on Wednesday passed a resolution to perform "ishtika nyas vidhi (ritual of brick laying)" on February 21 to build the Ram temple in Ayodhya, a day after the BJP-led government moved the Supreme Court with a petition to return "excess/superfluous land" acquired in Ayodhya to its original owners.
In a two-page 'param-dharmadesh', or resolution, passed at the religious congregation, Shankaracharya Swami Shree Swaroopanand Saraswati of Dwarka said time has come to make "supreme sacrifice" for Ram Janmabhoomi.
"We are ready to go to jail or face bullets for this cause," he stated.
The resolution was passed on the concluding session of the three-day 'Paramdharmasansad 1008', presided over by Swaroopanand Saraswati of Dwarka. Representatives of different akharas and hundreds of sants attended the meet.
The VHP is scheduled to start a two-day religious congregation at the Kumbh on Thursday. Besides top VHP functionaries, prominent saints, including Ram Janmabhoomi Nyas's head Nritya Gopal Das and a senior RSS functionary, will be present.
The resolution stated, "The legislature, the executive and the judiciary exist for the people but their recent decisions show they believe themselves to be sovereign. In such a situation, to open the eyes and ears of these three branches, we are forced to launch a Savinay Avagya Andolan (civil disobedience movement)…. On February 21, we will perform the ritual of brick laying (for Ram temple)."
It also stated that if any of three branches create a hurdle, it will be the responsibility of every Hindu to reach Ayodhya and lay four bricks each — until the court delivers its judgment in the case. "That savinay avagya andolan will continue until Ram Janmabhoomi is handed over to Hindus to build the temple," the resolution reads.
It also stated that it "hurts" that even a government with majority in Lok Sabha, which showed its "strength by passing a reservation-related Bill in only two days in both Houses", refuses to do anything for Ram Janmabhoomi.
Full report at:
https://indianexpress.com/article/india/religious-leaders-to-lay-bricks-for-ram-temple-on-february-21-5562054/
--------
Order justifying nominating only Muslims as head of minorities' panel withdrawn
JANUARY 31, 2019
HC disposes PIL as govt. to consider afresh issue of not appointing members of other minorities as chairperson
The State government on Wednesday told the High Court of Karnataka that it has withdrawn an order passed on July 14, 2017, justifying the precedent of appointing only a member of the Muslim community as chairperson of the Karnataka State Minorities Commission on the basis that the population of Muslims in the State is highest among the six minority communities.
The government placed before the court a copy of the order, passed on January 28, withdrawing the order passed by the Secretary, Department of Minorities Welfare, Haj and Wakfs in July 2017 while disposing of a representation given by petitioner, Vinod B., a resident of Shivamogga. The order of January 28 states that the matter of appointment to the post of chairperson will be considered afresh.
Following this, a Division Bench comprising Justice Ravi Malimath and Justice B.M. Shyam Prasad closed the PIL petition, filed by Mr. Vinod, who had questioned the legality of the July 2017 order.
"It is also a fact that the population of Muslims in Karnataka is the highest among the minority communities and hence it has been a precedent that the appointment of chairperson was made from among the Muslim community from the inception of the KSMC. Further as per 2011 census, the percentage of Muslim population in Karnataka is 12.91% compared to Christian (1.87%), Jain (0.72%), Sikh (0.05%), Buddhist (0.72%), and Parsis (0.1%)," the then secretary had stated in his order.
Full report at:
https://www.thehindu.com/news/national/karnataka/order-justifying-nominating-only-muslims-as-head-of-minorities-panel-withdrawn/article26133018.ece
--------
'No Muslim Should Enter Our Village,' Read Letters after R-Day Communal Clash
By Safoora
Jan 30, 2019
RAIGARH: Muslim vendors were being turned away from the villages in eastern MP's Rajgarh district following a clash between groups of different communities at a Republic Day event.
"No Muslim vendor should enter Limboda village. If they do, we should not be held responsible. No Muslim should enter our village," are lines are from one of the "many letters" received by local police, as per reports published in The Indian Express.
According to media reports, a communal clash was triggered by "provocative remarks" in an item based on the Hindi movie "Gadar" during a R-Day event that was organised by the local body in which students from both private and government schools in the area assembled.
Some of the children injured in the clash and prohibitory orders under CrPC Section 144 were clamped in Khujner, which was a BJP stronghold for the last two decades.
Fifteen people from both sides, including a BJP corporator were booked after cross-complaints were lodged.
Following a memorandum submitted Monday by BJP leaders, a case has been registered and sedition charges imposed after six men identified as Samad Khan, Sakir Khan, Abrar Khan, Zakir Khan, Imtiaz Khan and Shameer Khan
Later, Sameer Khan got bail.
There is still a tense atmosphere in the village. People of Bhilkhedi village say, "Muslims should not come to our village, we do not promise their security. Our children are scared of the incident that day and are also refusing to go to school."
A leader Aziz Maula says, "Muslims are being implicated, despite the claims of having the weapons of Muslims, neither did anybody present any evidence nor videos and photos. Our children also joined the program and the rest of the We have got such reports that Muslim vendors are being sent back from many villages."
Full report at:
https://www.siasat.com/news/no-muslim-should-enter-our-village-read-letters-after-r-day-communal-clash-1461749/
--------
Pakistan envoy gets night summons after S M Qureshi dials Mirwaiz Umar Farooq
Jan 31, 2019
NEW DELHI: Foreign secretary Vijay Gokhale summoned Pakistan high commissioner Sohail Mahmood on Wednesday night and registered a strong protest over Pakistan foreign minister SM Qureshi's phone conversation with Hurriyat leader Mirwaiz Umar Farooq. Mahmood was summoned around 10.30pm and cautioned that such behaviour would have implications.
Gokhale accused Pakistan of encouraging individuals associated with terrorism and anti-India activities.
"The foreign secretary conveyed the Government of India's condemnation in the strongest terms of this latest brazen attempt by Pakistan to subvert India's unity and to violate our sovereignty and territorial integrity, by none other than the Pakistan foreign minister," said the government.
Full report at:
https://timesofindia.indiatimes.com/india/pakistan-envoy-gets-night-summons-after-s-m-qureshi-dials-mirwaiz-umar-farooq/articleshow/67765168.cms
--------
Hindu-Muslim unity is an exercise contemporary Indian politicians must do more to achieve
Jan 30, 2019
Mahatma Gandhi was shot dead this day, in the heart of Delhi, in 1948. Any tribute to the father of nation can only be riddled with clichés, but remembering him, and what he meant to India, is an essential exercise, which, as his most recent biographer Ramchandra Guha put it, every generation needs to do. Gandhi's life, and his death, still hold lessons for contemporary India.
The first of these lessons is not that he helped make India free. It is the manner in which he shaped the freedom movement. Two features marked Gandhi's politics: faith in people, and thus the investment in making Congress a mass based organisation and democratising it; and non violence. If Gandhi could do this against a repressive colonial regime, there is no reason why dissident political movements should not be able to do so today. Any group having any grievances with the Indian state must demonstrate their democratic character and must remain non violent. And the state must respond to such movements. Kashmiri separatists, Maoists, and insurgents in the northeast would do well to remember this.
But Gandhi was a multi-dimensional man. Even while fighting for freedom, he had other concerns, and among them, was caste. Gandhi's views on caste evolved and there remains a strong Ambedkarite tradition, which sees him as an apologist for Brahmanism. This is frankly not true. The fact is that, besides BR Ambedkar, no leader of the national movement in that period did as much to reform Hindu society, battle against untouchability, change upper caste attitudes, and commit himself to the cause of social justice as Gandhi, who at the same time had to take all communities along for the larger cause of freedom. Caste discrimination remains an entrenched reality even today. And only a combination of Gandhi and Ambedkar's ideas can battle it.
Full report at:
https://www.hindustantimes.com/editorials/hindu-muslim-unity-is-an-exercise-contemporary-indian-politicians-must-do-more-to-achieve/story-N4M7ao5Sn8RcOug5WFficN.html
--------
After Anti-Muslim Comments Against Airtel Representative, Woman Now Targets Vodafone
JANUARY 31, 2019
Delhi Waqf Board revived after years of remaining defunct for political gains, says BJP leader Vijay Goel
The Delhi government's decision to hike the salaries of Muslim clerics, with Lok Sabha elections around the corner, was an attempt to appease and "mislead" the community, Minister of State and former Delhi BJP president Vijay Goel alleged here on Wednesday.
He also said that the party would drag the issue to the court.
At a dharna organised at Jantar Mantar here, Mr. Goel, BJP secretary R.P. Singh and MP Ramesh Bidhuri said the step was aimed at seeking "votes in exchange" for salary hikes for Imams and Moazzins from ?10,000 to ?18,000 and from ?9,000 to ?16,000 per month respectively.
"AAP is wooing Muslim voters by hiking salaries in exchange of votes. For political gains, the Delhi Waqf Board too has been revived after years of remaining defunct and was also reconstituted so that Imams and Moazzins can be gathered under one roof," Mr. Goel alleged.
Mr. Singh, on his part, accused AAP leaders of "offering bribes to voters" during a recent Delhi Waqf Board meeting, while Mr. Bidhuri accused AAP national convener Arvind Kejriwal of backing the 'Tukde-Tukde Gang'.
'Neglecting Hindu voters'
Mr. Goel said that Mr. Kejriwal, while seeking to appease Muslim voters only, was also "neglecting the sentiments of Hindu voters".
Full report at:
https://www.thehindu.com/news/cities/Delhi/hike-in-muslim-clerics-salary-an-attempt-to-woo-muslim-voters/article26132967.ece
--------
Mideast
Iran facing the toughest economic situation in 40 years: Rouhani
30 January 2019
Iran's president said on Wednesday the country was facing its toughest economic situation in 40 years, and the United States, not the government, was to blame.
US President Donald Trump last year pulled out of an international nuclear deal with Iran and re-imposed sanctions.
Workers, including truck drivers, farmers and merchants, have since launched sporadic protests against economic hardships, which have occasionally led to confrontations with security forces.
"Today the country is facing the biggest pressure and economic sanctions in the past 40 years," Hassan Rouhani said, according to the presidential website.
"Today our problems are primarily because of pressure from America and its followers. And the dutiful government and Islamic system should not be blamed," he added.
Rouhani spoke at a ceremony at the shrine of the founder of the Islamic Republic, Ayatollah Ruhollah Khomeini - part of a series of events leading up to the 40th anniversary of the February 11th revolution.
Iran's rial currency has fluctuated in value in recent months, making it difficult for ordinary people to make ends meet.
https://english.alarabiya.net/en/News/middle-east/2019/01/30/President-Rouhani-Iran-facing-the-toughest-economic-situation-in-40-years.html
--------
Turkey issues dozens of arrest warrants for military pilots
30 January 2019
Turkish authorities on Wednesday issued arrest warrants for 63 suspects, most of them military pilots, allegedly linked to a 2016 failed coup attempt, the Ankara chief prosecutor's office said.
The roundup is part of an investigation carried out by the prosecutor into the "Fethullah Terror Organization" or FETO, an acronym authorities use for the group allegedly behind the failed putsch.
Forty-six of the 63 suspects are helicopter pilots on active military duty, the office said. Two are former pilots and the remaining 15 are civilians working for the movement, it added.
Police raids to catch the suspects were underway.
Turkey accuses the US-based Muslim preacher Fethullah Gulen and his movement of ordering the attempted coup, which he strongly denies.
Tens of thousands of people have been arrested in the crackdown that followed the putsch in a bid to eradicate the Gulen movement's influence in Turkey.
In recent weeks, the number of raids has increased with almost daily reports of arrests across the country.
Full report at:
https://english.alarabiya.net/en/News/middle-east/2019/01/30/Turkey-issues-dozens-of-arrest-warrants-for-military-pilots--1306.html
--------
Palestinians say Israel removing witnesses by ejecting Hebron monitors
30 January 2019
Palestinians in Hebron accused Israel on Tuesday of trying to rid the flashpoint city of witnesses to its actions in the occupied West Bank by ejecting a foreign observer force that helps safeguard residents.
Israeli Prime Minister Benjamin Netanyahu said on Monday that he will not renew the mandate of the Temporary International Presence in Hebron (TIPH), accusing the observers of unspecified anti-Israel activity.
Norway, which has headed the multi-country observer mission for the past 22 years, said "the one-sided Israeli decision can mean that the implementation of an important part of the Oslo accords is discontinued".
"The situation in Hebron is unstable and characterized by conflict," Foreign Minister Ine Eriksen Soereide said in a statement to Reuters, adding that the end of the observer mission was therefore "worrying".
Hebron, a Palestinian city of 200,000 people, is home to a community of around 1,000 Israeli settlers who are heavily guarded by a large Israeli military presence.
The TIPH was set up after a Jewish settler killed 29 Palestinians at a Hebron shrine holy to both Muslims and Jews in 1994. The city has also seen stabbing and shooting attacks against settlers and Israeli soldiers by Palestinians.
Since Israel partially withdrew from Hebron in 1998 under interim peace deals with the self-rule Palestinian Authority, the TIPH has monitored "breaches of the agreements (and) violations of international humanitarian law and international human rights law," the force's website says.
'TIPH presence helpful'
"The settlers' attacks will increase," said Aref Jaber, a Palestinian resident of Hebron. TIPH's presence was particularly helpful to schoolchildren, he added, because they patrol the city "in the morning and the afternoon, when they go to and return from school."
The United Nations said it regretted Israel's decision.
"While the TIPH is not a United Nations body its role in contributing positively to defusing tensions in such a sensitive area has been widely recognised," UN spokesman Stephane Dujarric said.
TIPH draws staff from Norway, Italy, Sweden, Switzerland and Turkey. The TIPH website says it has 64 international staff in the city. An Israeli official said its mandate ends on Jan. 31.
Settler leaders welcomed news of the force's upcoming departure. They have accused the TIPH of harassing settlers and agitating against them.
Yishai Fleisher, a spokesman for the Hebron Jewish community, said the TIPH observers "created an atmosphere of conflict, not a congenial atmosphere of peace."
Jews and Palestinians, he said, have inhabited the city for centuries: "We know each other and I'm sure we'll find a way to get along without Norwegian help," Fleisher said.
Israel's Deputy Foreign Minister Tzipi Hotovely said in November that the TIPH were pro-Palestinian, "ignore Palestinian terrorism and harm IDF (Israel Defence Forces) soldiers by documenting their daily security activity".
Peace talks between the Israelis and Palestinians collapsed in 2014. Most world powers consider Israel's settlements in the West Bank, territory captured by Israel in a 1967 war, to be illegal. Israel disputes this, citing biblical, historical and political ties to the land.
Full report at:
https://english.alarabiya.net/en/News/middle-east/2019/01/30/Palestinians-say-Israel-removing-witnesses-by-ejecting-Hebron-monitors-.html
--------
UN: Arab coalition frees, returns seven Houthi prisoners
31 January 2019
Saudi Arabia released seven prisoners it was holding from Yemen's Houthi militias, who were flown to Sanaa on Wednesday by the Red Cross, the day after a Saudi prisoner freed by the Houthis arrived in Riyadh.
The swap comes as Yemen's warring parties are still hammering out details of a larger prisoner exchange that they agreed last month as a confidence-building gesture at the first major peace talks of the nearly four-year-old war.
The UN special envoy to Yemen, Martin Griffiths, welcomed the release and said he hoped it would encourage the rapid implementation of the larger prisoner swap.
"The [special envoy] is very encouraged by this positive spirit from the two parties," his office said on Twitter.
The International Committee of the Red Cross, which provided the planes for both the freed Saudi and the seven freed Yemenis, said in a statement it had acted as a neutral intermediary and was not involved in negotiations over the releases.
Full report at:
https://english.alarabiya.net/en/News/gulf/2019/01/31/UN-Arab-coalition-frees-returns-seven-Houthi-prisoners.html
--------
Iran cautions Europe against US attempts to form alliance against Tehran
Jan 31, 2019
In Bulgaria, a senior Iranian diplomat cautions Europe against stepped-up attempts by the US to set up a coalition against Tehran, amid Washington's plans to host an Iran-focused confab in Poland.
Iranian Deputy Foreign Minister for Political Affairs Abbas Araqchi made the remarks in a meeting with Bulgarian Member of the European Parliament Angel Dzhambazki in Sofia on Wednesday.
"Having failed to achieve its anti-Iran objectives on the United Nations' stage, the US is now seeking to form a new coalition against Iran outside the UN's framework," said the official, warning, "The European countries should be vigilant in this regard."
In an attempt to exert pressure on Iran, US Secretary of State Mike Pompeo announced earlier this month that a so-called Middle East security conference would be held in the Polish capital, Warsaw, on February 13-14, with Iran high on the agenda.
Tehran condemned the confab as a "circus" and summoned Poland's envoy to protest the European country's plan to host the event.
The summit, however, got a cold welcome among European states. EU foreign policy chief Federica Mogherini has said she will not attend, while ministers from several European Union countries will likely skip the summit, the Wall Street Journal quoted officials as saying last month.
Pompeo's announcement came amid European efforts to save a 2015 multilateral nuclear deal with Iran – which Washington unilaterally abandoned last May.
After leaving the deal, known as the Joint Comprehensive Plan of Action (JCPOA), Washington unleashed the "toughest ever" sanctions against Iran. It has also been seeking to dissuade its European allies from protecting the JCPOA and paving the way for European firms to bypass the American sanctions and maintaining their business ties with Iran.
Last September, US President Donald Trump chaired a UN Security Council meeting, where he called on other countries to comply with the US bans on Tehran or face "severe consequences."
The call, however, fell on deaf ears, with that session turning into a rebuke of Washington, itself, for abandoning the JCPOA.
The European parties to the deal are currently trying to launch the so-called Special Purpose Vehicle (SPV), a payment mechanism meant to circumvent the US sanctions.
Elsewhere in his remarks, Araqchi appreciated Europe's "political support" for the JCPOA, adding, however, that Iran expects the continent to take "practical measures" to save the JCPOA, which is "at stake" due to US policies.
Dzhambazki, for his part, underlined the need for keeping up support for the Iran nuclear agreement, which he said serves Europe's interests.
He described Iran as a stable country in the restive Middle East region.
Additionally on Wednesday, Araqchi held talks with Vice President of the Bulgarian National Assembly Emil Hristov, Foreign Minister Ekaterina Zakharieva and Deputy Foreign Minister Georg Georgiev.
Full report at:
https://www.presstv.com/Detail/2019/01/31/587257/Europe-Iran-Bulgaria
--------
UN slams 'extremely violent attack' on Palestinians
Jan 30, 2019
The United Nations (UN) has again slammed the latest killing of a Palestinian in the occupied West Bank by armed Israeli settlers, expressing deep concern about the "extremely violent attack."
"We are deeply concerned about the protracted and extremely violent attack on Palestinians in the West Bank village of al-Mughayer last Saturday (26 January), during which a 38-year-old Palestinian father of four, Hamdi Taleb Na'asan, was shot in the back and killed," said a Tuesday statement by the spokesman for the UN High Commissioner for Human Rights (UNCHR), Rupert Colville.
According to the statement, monitoring by the UNCHR's local staff suggested the killing was perpetrated by a group of 30 Israeli settlers from the nearby Adei Ad outpost following an attack on Palestinian farmers working on their fields.
The statement said that the settlers "descended on the village itself where they used live ammunition to shoot at the villagers and their houses." It said the aggression "led to six villagers being shot with live ammunition, leaving three of them in a serious condition."
Israeli forces criticized for backing settlers
The statement further criticized Israeli regime forces for what appeared to be their deliberately late response to the violent attack on the Palestinian villagers by settlers and action in support of the settlers.
"Although Israeli security forces were stationed near the village and were immediately alerted to the attack, it took some two hours before they intervened," said the UN statement, citing witnesses who spoke to the UNCHR's staff visiting the village on Monday. "When Israeli security forces did finally intervene, the main focus of their action appears to have been to disperse the Palestinian villagers using teargas."
The statement further reported that a total number of 20 Palestinian villagers were injured as a result of the attack by the settlers and the later intervention of Israeli regime forces.
On Sunday, another UN official expressed "shock" at the "terror" carried out by Israeli settlers in al-Mughayer.
The Tuesday statement also underlined that the latest violence occurred "in the context of a surge in settler violence in the West Bank," adding that it had reached its highest levels since 2015.
The UNCHR further emphasized that Israel regime, "as the occupying power, is obliged under international humanitarian law to protect the Palestinian population from such attacks," adding, "Those responsible for settler violence must be brought to account."
The international body also called on the Tel Aviv regime to "ensure there is a full investigation" into the killing of Na'asan as well as the injuries inflicted on others in the West Bank village, and that the probe would be "independent, transparent and effective."
This is while the Israeli regime rarely allows any objective probe of its persisting atrocities against the Palestinian population in the occupied territories.
Settler violence on Palestinians up by 175% since 2016
Full report at:
https://www.presstv.com/Detail/2019/01/30/587183/Palestine-alMughayer-Israeli-settlers-UNHCR
--------
Europe
Turkish-Islamic community to hold protests over Uyghurs
31.01.2019
The Islamic Community National View (IGMG), one of Germany's largest Muslim-Turkish associations, is planning to stage protests next month against China's treatment of Uyghurs, its chairman said Wednesday.
IGMG will hold protests on Feb. 2 in 20 cities in 13 countries by reading a statement in front of Chinese embassies and consulates, said Kemal Ergun.
The group will protest against China's policies affecting Uyghurs living in the Xinjiang Uyghur Autonomous Region -- also referred to as East Turkestan -- and express solidarity with them, said Ergun.
In a written statement, he said China is violating international human rights law by forcing Uyghurs to leave their religion and culture, separating families in training camps.
"The international community must take action against China's oppression. Human rights cannot be sacrificed for the sake of economic relations," said Ergun, expressing disappointment over the international community's silence over the issue.
At a meeting last August in Geneva, the UN Committee on the Elimination of Racial Discrimination said Uyghurs in the Xinjiang Uyghur Autonomous Region accused of having "strong religious views" and "politically incorrect" ideas were jailed or detained in political "re-education camps".
The UN body's representatives said up to 3 million people have been detained without trial.
Human Rights Watch previously announced that the Chinese government was conducting a mass, systematic campaign of human rights violations against Turkic Muslims in Xinjiang.
https://www.aa.com.tr/en/europe/turkish-islamic-community-to-hold-protests-over-uyghurs/1379537
--------
Christian persecution inquiry not anti-Muslim, says head
January 30, 2019
A UK government-commissioned inquiry into global Christian persecution will not provide ammunition for the Islamophobic far-right to attack Muslims, the head of the investigation said on Wednesday.
Bishop Philip Mounstephen said his investigation into how British government can greater help more than 200 million Christians who are subject to harassment and threats would not be limited to Muslim countries.
The government wants the bishop to identify ways that the government can harness the UK's diplomatic network – the third largest behind the US and China – to relieve the pressure on oppressed Christian minorities.
"This is not a stalking horse for the Islamophobic far-right," said the bishop at the launch of his inquiry in London. He said the findings of his inquiry would not give the resurgent right-wing a "stick to beat" Muslims.
"If Christians are being persecuted, then you can bet your bottom dollar that other minorities are as well," he said.
Eighty per cent of all people suffering from religious persecution in the world are Christian, according to the UK government. It highlighted anti-Christian activity in India, where a nationalist Hindu government is in power, and in China.
But five countries from the Middle East – Afghanistan, Libya, Yemen, Iran and Syria – are among 11 nations where the levels of persecution against Christians are described as extreme, according to a report this month by Christian charity Open Doors.
Foreign Secretary Jeremy Hunt has cited the dwindling numbers of Christians in the Middle East as the reason to act to protect the religion, saying it had fallen from 20 per cent of the population of the region a century ago to five per cent today.
He said on Wednesday that the UK had been wary of acting in the past in part because of embarrassment over the "misguided imperialism" of Christian missionaries during the height of British Empire in the nineteenth century. He said he was seeking to build a coalition of like-minded nations to promote the cause of persecuted Christians.
The inquiry was launched after criticisms of the UK's leadership in response the Rohingya crisis in Myanmar, prompting scepticism about the government's ability to protect other minority groups.
Full report at:
https://www.thenational.ae/world/europe/christian-persecution-inquiry-not-anti-muslim-says-head-1.819884
--------
UK deliberately hushing WWI massacre of Iranians: Analyst
Jan 30, 2019
A political analyst from London believes it has been a deliberate policy of the British government and the mainstream media in the West to keep silent about the massacre of millions of Iranians during the First World War.
Rodney Shakespeare said in an interview with the Press TV that Britain has always tried to depict the mass killing of Jews by the Nazi Germany in the Second World War as the most notorious tragedy of the last century, adding that other incidents such as the massacre of the Iranians has always been hushed.
"Yes there was the mass killing of Jews, but a greater number ... probably about eight to 10 million, was the killing of Iranians by the British in the two years 1917 to 1919, and the figure ... is more than the roughly six million Jews killed by the Nazis," he said.
"That Iranian devastation is not mentioned today ... and whilst there are continuing remainders of one mass killing, that of Jews, there is silence about the other, the killing of Iranians," he added.
Shakespeare said it is a policy of the British Foreign Office and the Zionist-controlled media to uphold that "disgraceful silence" about the mass killing of the Iranians during the First World War.
"It is disgraceful that knowledge of something only one hundred years ago, because that's what we are talking about, is deliberately suppressed," he said.
The expert said Western powers like Britain are still involved in mass murder of civilians in various parts of the world or continue to keep silent about such incidents despite their consistent propaganda on human rights
He said the mass exodus and killing of Muslims in Myanmar and Yemen were two clear examples of such hypocrite policy.
Full report at:
https://www.presstv.com/Detail/2019/01/30/587230/UK-mass-killing-Iranians-WWI-expert-view
--------
German police nab 3 Iraqis over suspected terror plot
Jan 30, 2019
Police in Germany have arrested three Iraqi citizens suspected of planning to carry out an attack in the European country, according to a federal prosecutor's office.
Police authorities identified the detained suspects only as 23-year-olds Shahin F. and Hersh F. and 36-year-old Rauf S.
Police said that they had all been taken into custody in a pre-dawn raid by a police SWAT team in an area near Germany's border with Denmark called Dithmarschen.
According to an official statement, the three were apparently in the early stages of planning an attack and had neither begun to build a functioning bomb nor decided on a target.
The two younger suspects are accused of plotting a bomb attack and violating weapons laws, while the older is alleged to have assisted them. Shahin F. and Hersch F. allegedly decided to "carry out an attack" in late 2018.
Authorities also said that there were indications the suspects sympathized with the Daesh terrorist group, though a direct link to the outfit or other groups remained under investigation.
In December last year, the statement added, Shahin F. downloaded "various instructions" on how to build a bomb, and then ordered a detonator from a contact person in the United Kingdom. Its delivery, however, was blocked by British law enforcement agencies.
Moreover, the statement said that the younger suspects also carried out tests using explosive powder from New Year's fireworks and asked Rauf S. to purchase a firearm.
Rauf is also accused of contacting a man identified as Walid Khaled Y.Y. — who had already been under investigation — to procure the gun. He allegedly offered them a Russian semi-automatic Makarov 9mm pistol, but it was considered too expensive and eventually not purchased.
Furthermore, Shahin F. also started taking driving lessons in preparation for the possibility of using a vehicle for their planned attack, prosecutors said.
It was unclear when the suspects originally came to Germany. A spokeswoman for the federal prosecutor, Kerstin Wacker, refused to elaborate beyond the written statement offered to the press.
Full report at:
https://www.presstv.com/Detail/2019/01/30/587199/Germany-three-Iraqis-terrorist-attack-plot
--------
EU launches INSTEX to bypass US sanctions against Iran
31.01.2019
By Ayhan Simsek
BERLIN
EU's major powers have set up a new mechanism, INSTEX, to continue trade with Iran in defiance of U.S. sanctions, local media reported on Thursday.
The INSTEX, short for "Instrument in Support of Trade Exchanges", will be based in Paris and managed by a German banking expert, Germany's public broadcaster NDR reported.
EU heavyweights Germany, France and the U.K. would try to keep the landmark Iran nuclear deal alive, with offering European firms an alternative payments channel, the report said.
The three countries, which are all signatories to the nuclear agreement, will appoint officials to the supervisory board of the INSTEX, and the mechanism will also be open to the participation of other EU member states, according to the report.
Despite U.S. President Donald Trump's decision last year to leave a 2015 nuclear deal with Tehran, Germany, France and the U.K. insisted that the agreement was the most effective way to prevent Iran from developing nuclear technology for military purposes.
World powers including the U.S., Russia and China, had agreed in 2015 to lift economic sanctions imposed on Iran in return for the latter agreeing to limit its nuclear activity to peaceful and civilian purposes.
Full report at:
https://www.aa.com.tr/en/economy/eu-launches-instex-to-bypass-us-sanctions-against-iran/1379921
--------
South Asia
Taliban say they are not looking to rule Afghanistan alone
January 31, 2019
The Taliban said on Wednesday they are not seeking a "monopoly on power" in a future administration in Afghanistan but are looking for ways to co-exist with Afghan institutions — the most conciliatory statement to date from the militants.
The statement came amid intensified United States-led efforts to resolve the long-running Afghanistan war. US envoy Zalmay Khalilzad reported this week that there had been "agreements in principle" toward a framework for peace with the Taliban, who now control almost half of the country and carry out near-daily attacks, mainly targeting Afghan security forces and government officials.
Suhail Shaheen, a spokesman based in Qatar where the Taliban have a political office, said that once US forces withdraw from Afghanistan, the Taliban want to live with other Afghans, "tolerate one another and start life like brothers". Shaheen's statement was provided in an exclusive audio message to The Associated Press.
"After the end of the occupation, Afghans should forget their past and tolerate one another and start life like brothers. After the withdrawal, we are not seeking a monopoly on power," Shaheen said.
"We believe in an inclusive Afghan world, where all Afghans can see themselves in it," he added.
He also said the Taliban envision a reformed police and local police forces, without offering specifics. Afghanistan's local police forces have been widely criticised as deeply corrupt and intimidating of the local population.
Shaheen said another round of talks with Khalilzad is planned for February 25 in Doha.
Khalilzad, who held talks with the Taliban for six days last week in Qatar, said during a visit to Kabul on Monday that much more remains to be done but that there has been significant progress toward an agreement with the insurgents.
Read more: US envoy Khalilzad confirms 'draft framework' with Taliban: NYT
In turn, Afghan President Ashraf Ghani assured Afghans that no deals would be made without the Kabul government's awareness and full participation.
US troops invaded Afghanistan in November 2001 in response to the September 11 attacks and ousted the Taliban, who had harboured Al Qaeda and its leader, Osama bin Laden.
The Taliban, who had ruled Afghanistan since 1996, had imposed a harsh form of Sharia law.
Shaheen also said the US and the Taliban will establish joint technical teams to work out details of a future US troop withdrawal from Afghanistan as well as ways of preventing Afghanistan from again becoming a haven for terrorist groups such as Al Qaeda. Khalilzad, who was appointed last September, has stepped up efforts to find a negotiated end to Afghanistan's protracted war that will allow an eventual withdrawal of US forces and bring to an end America's longest military engagement that has already cost Washington about $1 trillion.
President Donald Trump has also expressed frustration with the continued US involvement in Afghanistan, lending a greater urgency to an early settlement.
Despite intense negotiations with Khalilzad, the Taliban have refused to negotiate directly with Kabul and often refer to the Afghan government as puppets of the US. Khalilzad has also pressed Ghani's government, which is deeply divided, to cobble together a strong negotiating team.
Atta-ul Rahman Salim, deputy head of the Afghan High Peace Council which comprises top Afghan clerics and other prominent figures, said the only way to peace is through direct talks with the government.
"If the Taliban really want to join the peace process, the best and easy way to start is with direct peace talks with the Afghan government," he said, adding that "there is a big difference between what you say and what you do".
Despite the Taliban insurgents' refusal to negotiate with Kabul, Shaheen's message appeared directed at a wide array of stakeholders in Afghanistan — possibly even Ghani's government — who could work together to hasten US troop pullout.
"The withdrawal of all foreign forces from Afghanistan is a shared responsibility and a pride for all Afghans," Shaheen said.
https://www.dawn.com/news/1460795/taliban-say-they-are-not-looking-to-rule-afghanistan-alone
--------
Kabul control slips in Afghanistan amid US talks with Taliban
January 31, 2019
WASHINGTON: The Kabul government is steadily losing its grip over parts of Afghanistan even as American forces intensify their air campaign against insurgent groups, a US government watchdog said Thursday.
The latest grim assessment of Afghanistan's security situation comes as the US pursues talks with the Taliban and urgently seeks a way out of the 17-year war.
Numbers provided by Resolute Support, the US-led NATO mission in Afghanistan, show that as of October 31, only 63.5 percent of Afghans are living in areas controlled or influenced by the Kabul government -- down from 65.2 percent the previous quarter.
According to the US Special Inspector General for Afghanistan Reconstruction (SIGAR), which compiled the data, the decrease came as Kabul's control or influence over Afghan districts dropped.
SIGAR said just 53.8 percent of Afghanistan's 407 districts are in government hands, and experts on Afghanistan say the number is lower still.
Instead of looking at population metrics, the Pentagon in a response to SIGAR said it is more important to "focus on the principal goal of the strategy of concluding the war in Afghanistan on terms favorable to Afghanistan and the United States."
Officials pointed to ongoing talks between the Taliban and US special envoy Zalmay Khalilzad, who this week said he had sealed the outlines of a peace deal.
Highlighting the ongoing security crisis, SIGAR said the US has dramatically increased air strikes, dropping 6,823 bombs in the first 11 months of 2018.
The "figure was already 56 percent higher than the total number of munitions released in 2017 (4,361), and is more than five times the total in 2016," SIGAR said in its report.
Meanwhile, the strength of Afghan security forces has continued to dwindle, and currently stands at 308,693 personnel. That means only 87.7 percent of positions are filled, the lowest level since January 2015.
Afghan forces have suffered staggering losses since they assumed responsibility for their country's security four years ago.
President Ashraf Ghani last week said 45,000 security forces have been killed since he took office in September 2014.
NATO combat forces pulled out at the end of that year, and observers say the losses may not be sustainable.
Officials say President Donald Trump has decided to pull half of America's forces from Afghanistan. The Pentagon insisted the numbers in SIGAR's report do not necessarily reflect poorly on his strategy to find an end to the conflict.
"Measures of population control are not indicative of effectiveness of the South Asia strategy or of progress toward security and stability in Afghanistan," the Pentagon said, according to SIGAR.
Khalilzad has provided few specifics about a potential deal with the Taliban, but the militants are believed to have promised not to provide shelter again to foreign extremists.
However, the Taliban have so far refused another key US demand -- that they talk to the internationally recognized government in Kabul, which the insurgents view as American "puppets."
Ghani has warned against rushing into a deal, citing violence following the Soviet withdrawal in 1989.
Acting Defense Secretary Patrick Shanahan said Tuesday that he saw "some very encouraging possibilities" in Khalilzad's negotiations.
"But we need to give them time and space," Shanahan said.
Ryan Crocker, a former US ambassador to multiple nations including Afghanistan, said in an opinion piece in The Washington Post that US negotiations with the Taliban are akin to "surrender."
Full report at:
http://www.arabnews.com/node/1444776/world
--------
Taliban, US committees to prepare strategy for troop withdrawal, curbing terror
Tahir Khan
Jan 31, 2019
JANUARY 31, 2019The United States and Afghan Taliban have decided to form two technical committees to prepare recommendations for the withdrawal of foreign forces and to prevent Afghanistan from being used against other countries, Taliban political spokesman Suhail Shaheen said on Wednesday.
Shaheen told Daily Times from Qatar that the committees are expected to start working from next week and will present their reports during the next round of talks to be held on Feb 25.
The Taliban and the US officials held wide-ranging talks in Qatar on Jan 21-26 and both sides reported progress in the talks. US envoy on Afghan reconciliation Zalmay Khalilzad led an 11-member delegation in the talks while Taliban's eight-member team was headed by Sher Abbas Stankezai.
"The US has agreed with our demand to withdraw all troops and we have committed to ensure that Afghan soil will not be used in future against the US and other countries," the Taliban spokesman said. "We did not accept the US calls for ceasefire and negotiations with the Kabul administration. The US suggested ceasefire during the withdrawal. We have told them that we will not talk to Kabul administration until foreign troops stay in Afghanistan," he said.
Meanwhile, the Taliban on Wednesday released more parts of a video interview of head of Taliban political office Sher Abbas Stanekzai, who says the UN, OIC, major powers and regional and neighbouring countries will be present as guarantors when the Taliban and the US sign agreements on the withdrawal of troops and Taliban will give commitment to stop using Afghan soil against others. "We have convinced the US that issues related to the US will be discussed with them and those related to Afghanistan's internal issues will be discussed with Afghans and tribes at an appropriate time," Stanekzai said.
"US has concerns that Afghanistan was used against them in the past and they want to ensure Afghan soil is not used against them in future. They want no one should act against the US and if it is ensured then they are ready to withdraw all foreign troops whether American or NATO forces. We have told them that even a single foreign soldier is not acceptable on Afghan soil," the Taliban chief negotiator said. "We told them that Jihad will continue even if a single soldier stays in Afghanistan. They assured us that they would withdraw all forces.
The US side also assured us that they neither want permanent presence of troops nor military bases. They told us that they want withdrawal of forces if they are satisfied that the Afghan soil will not be used against them," he said. Taliban do not talk to the Kabul administration as it is an 'illegal government, which has been imposed through force by the US, he said, adding that President Ashraf Ghani can neither decide to keep the foreign troops nor ask them to leave as he has no powers and it is only "up to the US to decide whether or not to stay'. "So how can we talk to a powerless person?" he asked.
Stanekzai said the Taliban officials have made it clear that all US soldiers, their military advisers, trainers, intelligence agents and non-combatant force will leave, and even those who they say protect the US embassy in Kabul. "Protection of US embassy is the responsibility of the future Afghan government. But if they want to keep some guards inside the embassy, then US will have to discuss it with the Afghan government," he maintained.
Full report at:
https://dailytimes.com.pk/349725/taliban-us-committees-to-prepare-strategy-for-troop-withdrawal-curbing-terror/
--------
Iraq trafficking case reveals fake Bangladeshi passport link
Jan 31, 2019
HYDERABAD: A Bangladeshi fake passport link has surfaced in the Telangana-Iraq human smuggling racket, pointing to the existence of a multinational illegal agent network comprising two from Nizamabad (one of them living in Erbil), an Iraqi and a Bangladeshi.
Fourteen migrant workers who returned from Erbil to Hyderabad via Delhi on Wednesday revealed that an Iraqi agent, Amir, and a Bangladeshi agent identified as Rana linked to Vijay Acharya of Argul in Nizamabad district provided them fake Bangladeshi passports to reach Baghdad from Erbil to avoid being caught at the security check posts.
'Agents got us fake passports' Gannoji Krishnaker, a resident of Nagepur, told TOI that they had set out for Erbil via Dubai on August 17 last year on Indian passports with one month Iraqi visit visa. On being told that they had a chance of getting jobs in Baghdad if they had Bangladeshi passports with Muslim names, they agreed to travel with fake documents.
"At Erbil, we were received by agent Vijay Acharya. After staying for 15 days in Erbil, Vijay along with the Bangladeshi Rana got us fake Bangladeshi passports... On the fake passports, they removed existing photos and replaced them with ours. We then travelled by taxi from Erbil to Baghdad. We had to pass through 20 security check posts, where we were checked and the driver told the authorities that we are from Bangladesh. We were put up in a hotel in Baghdad. Even after one month, we were not given any work. As we were starving, we used all the money we brought from India and hired a taxi and travelled back to Erbil in the night," Krishnaker said.
Pulla Sayanna alias Swamy, a resident of Koratpally Dichpally, said, "We were promised jobs in a company with a salary of ?
25,000. As our Iraqi visa expired, Amir collected ?10,000 each which we got through Western Union from home and said he will extend the visa. But he disappeared."
Among the rescued were three of a family — Chatur Singh, Banoth Vinod and Korra Ravinder of Makloor. "We ate a sandwich or bread a day and we had rationed the food so that no one starves. Suddenly, one day this month we were told that police are going to raid our room in Erbil which led us to run on the roofs from one building to other. We were caught by a patrolling team which took us to the police station where we were released after being assured that we will be sent back to India," Singh said.
Full report at:
https://timesofindia.indiatimes.com/city/hyderabad/iraq-trafficking-case-reveals-fake-bangladeshi-passport-link/articleshow/67765660.cms
--------
Nearly 20 Taliban, ISIS-K militants killed during the operations of Afghan, Coalition Forces
30 Jan 2019
Nearly twenty militants affiliated with the Taliban and ISIS Khurasan (ISIS-K) groups have been killed during separate operations of the Afghan and Coalition Forces in the past 24 hours.
According to the informed military sources, the coalition forces carried out two air strikes in Dowlatabad district of Faryab province killing 8 Taliban fighters.
The sources further added that the Afghan Special Forces conducted a raid in Darah-ye Pech district of Kunar province leaving 2 ISIS-K fighters dead.
The Afghan Special Forces also conducted a clearance operation in Sangin district of Helamdn killing 4 Taliban fighters and destroying 10 pounds of black tar heroin.
According to the military sources, the Afghan Special Forces conducted an operation in Chahar Bolak district of Balkh province in response to reports that the Taliban had captured 14 supply trucks, resulting into the killing of 4 militants while 7 supply trucks were discovered and some of the detained drivers were rescued.
https://www.khaama.com/nearly-20-taliban-isis-k-militants-killed-during-the-operations-of-afghan-coalition-forces-03205/
--------
Qatar pledges to host further talks in support of Afghan peace process
30 Jan 2019
Qatar has pledged to host further talks in support of the reconciliation process in Afghanistan, days after comprehensive, six-days talks ended between the United States and Taliban in Doha.
The Office of High Peace Council of Afghanistan in a statement said the Special Envoy of the Foreign Ministry of Qatar Mutlaq bin Majed Al-Qahtani met with the Afghan High Peace Council Chief Karim Khalili in Kabul on Tuesday during which he reaffirmed his country's interest to further support peace process in Afghanistan.
The statement further added that Mr. Al-Qahtani reassured that Doha is prepared to host further talks in sequence of the previous talks in support of Afghan reconciliation process.
In his turn, Mr. Khalili said the Afghan side wants progress in peace process which is led and owned by Afghans, emphasizing that this is one of the desires of the Afghan nation.
He also expressed hopes that peace efforts in Doha would pave the way lead to realization of the desires of Afghan nation, according to the statement by Afghan High Peace Council.
This comes as efforts are underway to revive direct peace talks between the Afghan government and Taliban group leaders to end the ongoing violence in the country.
Full report at:
https://www.khaama.com/qatar-pledges-to-host-further-talks-in-support-of-afghan-peace-process-03207/
--------
Africa
Boko Haram: NRC laments fate of 30,000 Nigerians seeking refuge across border with Cameroon Republic
January 30, 2019
By Maina Maina
Country Director of Norwegian Refugee Council (NRC) in Nigeria, Eric Batonon, has urged Cameroon to comply with international and tripartite agreements to accommodate 30,000 people that fled Rann in northern Borno, Northeast Nigeria following attacks by Boko Haram insurgents.
The NRC in a statement released Wednesday in Maiduguri, disclosed that; "The Norwegian Refugee Council is alarmed by the massive displacement of 30,000 people from the Nigerian town of Rann into Cameroon.
"This is less than one week after 9,000 Nigerians fled a deadly attack in the town."
Batonon said, the Nigerian refugees who had crossed into Cameroon, were forced to return.
According to him, the Cameroon should keep its borders open, as it is crucial that the Nigerian and Cameroonian authorities offer assistance to those fleeing the violence.
The humanitarian assistance, he explained was in compliance with international agreements and the tripartite agreement signed between the two countries and the UNHCR.
"The women, men, and children fleeing are not opportunists; they are civilians fleeing for their lives,
"Since November 2018, there has been a steep surge in displacement in northeast Nigeria, triggered by a spike in attacks. More than 100,000 people have been forced to flee, many for the second time.
"This is creating vast humanitarian needs and stretching the capacity of already congested camps and sites across the region.
"However, by denying assistance and protection to those fleeing, needs are exacerbated and affected communities will continue to rely on humanitarian assistance.
"The humanitarian community launched a plan this week to assist 2.5 million people displaced across the Lake Chad Basin.
"The Norwegian Refugee Council calls for donor countries to step up their support to countries in the region hosting a large number of refugees and displaced people," Batonon said.
http://dailypost.ng/2019/01/30/boko-haram-nrc-laments-fate-30000-nigerians-seeking-refuge-across-border-cameroon-republic/
--------
Sudanese opposition leader's daughter detained
30 January 2019
Sudanese security forces detained the daughter of Sudanese opposition leader Sadiq al-Mahdi on Wednesday, her family said, as anti-government protests spread to the capital's main university.
Two security vehicles arrived at Mariam Sadiq al-Mahdi's home in Khartoum in the morning and took her away, her sister Rabah told Reuters, a day after Sudan's security chief ordered the release of dozens of detained protesters.
There was no immediate comment from the government.
Mariam is deputy head of the opposition Umma Party headed by her father - who is Sudan's last democratically elected prime minister and was overthrown by President Omar al-Bashir in a coup in 1989.
She has supported a wave of protests that have shaken cities across Sudan since December 19. Demonstrators, frustrated with bread and fuel shortages and other economic hardships, have called for the end of Bashir's three-decade rule.
Rights groups say at least 45 people have been killed. The government puts the death count at 30.
Around 250 professors from the University of Khartoum protested on campus on Wednesday, demanding a new transitional administration to replace the current one.
About 510 of the university's professors signed a memo calling for the creation of a "sovereign body" to form a new government and oversee a four-year transitional period.
The university educated many of Sudan's leading politicians and has been the scene of protests and unrest throughout the country's tempestuous history.
"The University of Khartoum's role as an academic institution is to find solutions for the peaceful transfer of power," Montasser al-Tayeb, one of the professors, told reporters.
Sadiq al-Mahdi returned to Sudan last month from nearly a year in self-imposed exile and called for a democratic transition before thousands of supporters.
Full report at:
https://english.alarabiya.net/en/News/middle-east/2019/01/30/Sudanese-opposition-leader-s-daughter-detained.html
--------
Sudan's President Omar Al Bashir reopens borders with Eritrea
January 31, 2019
The Sudanese-Eritrean border will be reopened, Sudan's embattled president Omar Al Bashir announced on Thursday.
Speaking to supporters Mr Bashir said that the border, which has been closed since January 6, 2018, will reopen after more than a year.
"I announce here, from Kassala, that we are opening the border with Eritrea because they are our brothers and our people. Politics will not divide us," he said in televised remarks before scores of supporters in the town of Kassala, capital of the remote state of the same name.
It was unclear at the time why the border with Eritrea was closed, but relations in the Horn of Africa region are warming up following a historic reconciliation between Ethiopia and Eritrea.
Full report at:
https://www.thenational.ae/world/africa/sudan-s-president-omar-al-bashir-reopens-borders-with-eritrea-1.820141
--------
Briton in Somali prison survives beheading attempt by ISIS loyalists
January 31, 2019
A British security contractor who was training African troops in Somalia has survived an attempted beheading by inmates loyal to ISIS at a prison in Mogadishu.
Antony Cox was working in Somalia for the American security company Bancroft Global Development but was imprisoned last week after Somali authorities discovered tear gas canisters in his bag ahead of departure from the country.
Inside Mogadishu Central Prison, he was held alongside some of the country's most dangerous extremists. Two men subsequently tried to cut his throat with razor blades attached with makeshift handles.
The 48-year-old suffered a slash to the neck that was not thought to be life-threatening as the attack was stopped before it could go further. As one of the suspects tried to cut deeper into his neck, prison authorities intervened.
"As one of the suspects was about to cut his [Mr Cox's] neck, we managed to stop him. He sustained a very minor cut. He is doing well," Abdikarim Ali Afra, the deputy governor of the prison, told the BBC's Somali service.
He was working in the country to train soldiers in their battle against Al Shabab, the insurgent Al Qaeda affiliate that regularly attacks civilian and military targets.
It is not known why he was held in Somalia's most feared prison facility and not another compound for his safety.
Before his arrest, Mr Cox was set to travel on an Ethiopian Airlines flight to Addis Ababa from the Somali capital. He did not disclose the canisters and was charged with endangering the public.
Airport security at Mogadishu airport has been heightened since an explosion blew a hole in the side of a passenger jet in 2016 after a bomb was smuggled onto the aircraft through security at the terminal.
Full report at:
https://www.thenational.ae/world/africa/briton-in-somali-prison-survives-beheading-attempt-by-isis-loyalists-1.820113
--------
URL: https://www.newageislam.com/islamic-world-news/indonesia-muslims-demand-nike-recall/d/117609
New Age Islam, Islam Online, Islamic Website, African Muslim News, Arab World News, South Asia News, Indian Muslim News, World Muslim News, Women in Islam, Islamic Feminism, Arab Women, Women In Arab, Islamophobia in America, Muslim Women in West, Islam Women and Feminism