New Age Islam News Bureau
21 Apr 2019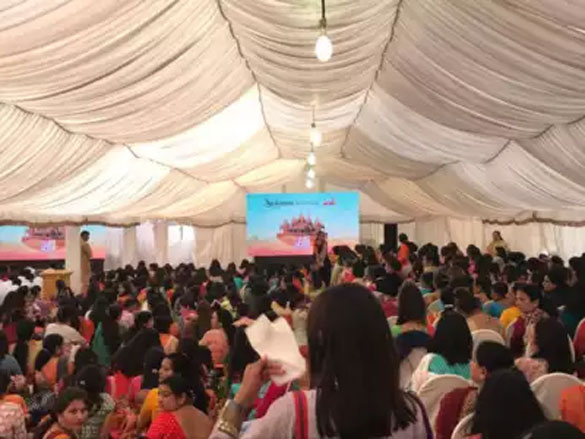 • Indians Rejoice As Foundation Stone Laid For First Hindu Temple in Abu Dhabi
• Muslims of France Reflect On Their Future, As Annual Event Gets Underway
• PTI Ministers Are Aiders and Abettors of Terrorists: Bilawal
• Ilhan Omar: Somali Americans Vow To Stand Up To Trump Attacks
• Thunder Corps Confirm 45 Militants Have Been Killed, Wounded In Army, Air Force Operations
• OIC Body Urges Muslim Countries To Promote Culture Of Reading
India
• Indians Rejoice As Foundation Stone Laid For First Hindu Temple in Abu Dhabi
• Indian foreign secretary VijayGokhale to raise Masood Azhar's listing during China visit
• 'Muslims in India need education, capacity building'
• Will keep working to eliminate terrorism, fanaticism: Mohan Bhagwat
• ISIS case: NIA conducts searches in Hyd, Wardha; four suspects being questioned
--------
Europe
• Muslims of France Reflect On Their Future, As Annual Event Gets Underway
• Kosovo brings back Daesh militants, family members from Syria
• Syrian Turkmens slam Macron meeting YPG/PKK terrorists
--------
Pakistan
• PTI Ministers Are Aiders and Abettors of Terrorists: Bilawal
• Go Home Or Face Islamabad Lockdown, Fazl Tells PTI
• Families of Iran terror victims write to Pakistan's Khan
• Pakistan asks Iran to act on militants behind Baluchistan killings
• Mosque vandalised by unknown suspect in Karachi's Steel Town area
• Jamaat seeks judicial probe into Hayatabad encounter
• Pakistan to construct fence around Iranian border: FM Qureshi
--------
North America
• Ilhan Omar: Somali Americans Vow To Stand Up To Trump Attacks
• Americans say Muslims face most intolerance in US
• Turkey, US accelerate works to boost trade: Minister
--------
South Asia
• Thunder Corps Confirm 45 Militants Have Been Killed, Wounded In Army, Air Force Operations
• Afghan communications ministry attacked, seven killed
• Afghanistan President and PM greet Muslims on Shab-e-Barat
• 23 Taliban militants killed in latest operations of Afghan Special Forces
• 10 militants killed, wounded in Afghan Air Force airstrike in Ghazni province
• 3 Taliban commanders and their 10 fighters killed in Nuristan province
• Taliban rejects involvement in today's attack on telecommunications ministry in Kabul
--------
Arab World
• OIC Body Urges Muslim Countries To Promote Culture Of Reading
• Foreign-Backed Terrorists Kill Over 60 Soldiers East Of Syria: Report
• Extremist attack kills 13 regime fighters in north Syria
• "We will continue war on terrorism," says Iraqi Speaker al-Halbusi at summit
• US Sends 800 Truckload of Military Equipment to SDF in Eastern Syria
• Commander: US Spies Stationed at Iraqi Borders to Watch Hashd al-Shaabi
• Syrian Army Destroys Tahrir Al-Sham's Centers in Idlib
• Syrian president, Russian deputy PM discuss post-war economic revival
• Syrian president calls for progress in stalled talks on Idlib buffer zone
• Muslim World League chief elected as president of LIU in Cairo
--------
Mideast
• Syria Rejects Media Reports on Clashes between Russian, Iranian Military Men
• Yemeni Commander Defects Saudi Coalition
• Israeli forces shoot, injure Palestinian man over alleged stabbing attack
• Erdogan's AKP lodges second call for rerun of Istanbul election
--------
Africa
• Anti-Haftar Forces Launch Counter-Attack near Tripoli
• Libyans Accuse France Of Backing Tripoli Assault
• Sudanese authorities arrest members of Bashir's party
• Sudan protest continues, civil ruling body to be unveiled
• Sudan's ousted president investigated on suspicion of money laundering
• $7 million cash hoard found in home of Sudan's ousted leader Omar Al-Bashir
• Sudan protest leaders to meet with military rulers
--------
Southeast Asia
• Malaysia's Defence Minister Says Defence Spending Diverted To Bail Out Tabung Haji, Felda
• Perak MB: No need for motion on troubled theme park
• PAS: 'Failed' cabinet cannot carry out Dr M's vision
Compiled by New Age Islam News Bureau
URL: https://www.newageislam.com/islamic-world-news/indians-rejoice-foundation-stone-laid/d/118380
--------
Indians rejoice as foundation stone laid for first Hindu temple in Abu Dhabi
Apr 20, 2019
DUBAI: Thousands of Indians on Saturday rejoiced and participated in the foundation stone laying ceremony of the first Hindu temple in UAE's capital Abu Dhabi.
Mahant Swami Maharaj, spiritual head of the Bochasanwasi Shri AksharPurushottam Swaminarayan Sanstha (BAPS), which is constructing the temple, presided over the four-hour ceremony following which sanctified bricks were placed at the main pooja sthal (place of worship).
Indian Ambassador to UAE Navdeep Suri read out Prime Minister Narendra Modi's statement on the occasion, congratulating the Gulf nation for this initiative.
"On behalf of 130 crore Indians, it is my privilege to convey our greetings to my dear friend and the Crown Prince of Abu Dhabi, His Highness Sheikh Mohammed bin Zayed Al Nahyan," Suri quoted Prime Minister Modi as saying.
"When complete, this temple will symbolise the universal human values and spiritual ethos that form a shared heritage of both India and the UAE," he said.
Suri said that the temple embodies the timeless Vedic values of Vasudev Kutumbakam, the whole world is one family.
"I am sure this temple will be a source of inspiration for the 33 lakh Indians residing in the UAE as well as of people from all other cultures," Suri quoted Prime Minister Modi as saying.
The plan to build the temple in Abu Dhabi was approved by the Abu Dhabi government during Modi's first visit to the country in 2015.
Priti Vaishnav, education and development expert, termed the temple as a well-deserved recognition of a thriving Indian community in the UAE.
"This will also serve as a great venue for tourism from all over the world as these temples spearheaded by BAPS are amazing pieces of architecture as well as famous for their larger than life manifestation," Vaishnav said.
The temple will be a cultural complex with art gallery, halls, library and gym.
It will comprise of seven towers representing the seven emirates in the UAE and come up on a 14-acre piece of land at Abu Mureikhah, close to the Abu Dhabi-Dubai highway.
The stones for the temple will be carved by temple artisans in India and assembled in the UAE.
Bindu Suresh Chettur, prominent Indian lawyer, said this is a welcome development for the 3.3 million Indians living in the UAE and that it will help enhance people-to-people contact.
"This country has always been a role model when it comes to giving respect to everyone. This step will further boost the relations between the two countries. Also, the BAPS temple architecture is very unique so it will add to the long list of marvellous architectures in the UAE," Chettur said.
Sajeev Purushothaman, spokesperson of the NRI cell of Bharatiya Janata Party, said, "It's very significant and symbolic in this year of tolerance (being marked in the UAE). This temple is not just a place of worship, it is a place for human development and harmony to be created among communities."
"Just after the Pope's visit (to the UAE), we have BAPS spiritual guru poojya mahant Maharaj Ji and being NRI, we are proud of this temple and request all NRIs to be a part of the making," he added.
Sheikh Nahyan Mabarak Al Nahyan received Swami Maharaj and his delegation of Hindu priests at Al Maktoum International Airport on Thursday.
While interacting with Sheikh Nahyan, Swami Maharaj prayed for the good health and the prosperity of the rulers and people of the UAE.
Swami Maharaj is the Spiritual Head of over 1,200 temples and 4,200 centers of spirituality worldwide. He guides the BAPS' social, spiritual, cultural, educational, health, disaster relief and other activities.
He is the sixth and present spiritual guru of the BAPS Swaminarayan Sanstha.
https://timesofindia.indiatimes.com/india/indians-rejoice-as-foundation-stone-laid-for-first-hindu-temple-in-abu-dhabi/articleshow/68966982.cms
--------
Muslims of France reflect on their future, as annual event gets underway
20 April 2019
Nearly 200,000 people are expected to visit the Bourget this weekend, where the annual Gathering of France's Muslims is taking place. The 36th edition, organised by 'Rencontre Annuelle des Musulmans de France' (RAMF) carries the slogan "Muslims: their future is in the making".
It's the biggest event of its kind in France, and in Europe. Each year it aims to better reflect contemporary society. That means bringing together men and women of different ages and nationalities, with different political and religious leanings.
"The future of Muslims in this country must be thought out carefully and built upon a solid base of living in harmony and the values of fraternity and solidarity," RAMF says.
They are hoping the debate will be put back on the agenda at a national level.
French President Emmanuel Macron said at the start of his mandate that the government would look at how Islam fits into French culture and way of life.
In 2003, the Interior Ministry under former President François Hollande, created an association to represent Muslims in their dealings with the state. But many felt that the lack of consultation within the Muslim community undermined its authenticity.
This year, a ceremony was held on Saturday dedicated to the victims of terror attacks in particular in New Zealand and Canada.
Tourism, Donation, Clothing
Among the stands dedicated to learning Arabic, or getting financial help or donating to different causes, there are activities aimed at keeping the children happy while their parents look around.
Women visitors can find out about gym classes, buy clothes or discover a range of Victoria's Secret lingerie.
There are several stands for tourism agencies, some dedicated to organizing the Hadj, the annual pilgrimage to Mecca.
There is even a stand dedicated to ecology.
Last year, one of the stands caused a bit of an uproar. It was called "Free Tariq Ramadan", referring to the Muslim scholar accused of sexually assaulting several women. He launched a court case in February to clear his name.
https://uk.news.yahoo.com/muslims-france-reflect-future-annual-151317220.html?guccounter=1&guce_referrer=aHR0cHM6Ly93d3cuZ29vZ2xlLmNvbS8&guce_referrer_sig=AQAAAJYjfqVQYpjy32HkxJ0B7rJD-PMUurSyQI9hCZ-vz9yteI9uZew9SoS9q4ioAu5Ce-WdeggFIqm6IHKNeSU9hLWxZhitqELIwud6yfPbKmo5Qq7RdFaDhmNj_TTLrrLfM9LRLI56dGzraC5-YZvs7du_XvkSbfnKJX8TZOuZcauX
--------
PTI ministers are aiders and abettors of terrorists: Bilawal
APRIL 21, 2019
Pakistan People's Party (PPP) Chairman Bilawal Bhutto Zardari on Saturday accused the Pakistan Tehreek-e-Insaf (PTI) cabinet members of being aiders and abettors of terrorist groups.
Addressing a ceremony after inaugurating a bone marrow transplantation unit at the Dow University of Health Sciences, Karachi, the PPP leader said questions will be asked from the government about the ministers known for their contacts with the terrorist outfits. "I don't have any personal enmity with any of the cabinet members. We want the system to keep going but if such people are given positions, then questions will definitely be asked," he said, alleging that the PTI contested the last general election on the backing of the defunct organisations. "We have to defeat extremism to save the future of our coming generations," he added.
Bilawal said if the government wanted to go to the International Monitory Fund (IMF) for a bailout package, it should have gone for it immediately after taking the charge. "The government is directionless and lacks any economic strategy," he lamented.
Bilawal said the incompetent PTI government has appointed Dr Hafeez Shaikh, who he said had already been rejected by his party, as advisor to the prime minister on finance. "Though it's a prerogative of the prime minister to appoint or change anyone as per his choice, the manner Asad Umar has been removed as finance minister is a matter of insult and also a proof of incompetence of the incumbent government," he said. "I have already said that they (PTI) don't have competency to run the country's affairs," he said. "The real 'Naya Pakistan' is instead being built in Sindh and Thar where public service installations like hospitals and schools are being established," he added.
Bilawal said a conspiracy is being hatched to roll back the 18th Amendment in order to transfer all powers back to the centre, adding that all such plans will be foiled with full force. "Zulfikar Ali Bhutto is the architect of Pakistan's constitution … they (PTI) should change themselves instead of changing the system," he added.
Bilawal said the federal government has provided 50 percent less funds to Sindh province. He said he will snatch province's rights from the federation, and directed the party leaders to serve the masses even with lesser money from the Centre. "There should be a new NFC award for the provinces," he suggested.
"We have a weak health infrastructure in the province which has to be made strong," he said in response to a question, adding that establishment of kidney, liver and bone marrow centres in public-sector hospitals in the province is a huge success. "Construction of a hospital in Gumbat and improvement and establishment of cyberknife at Jinnah Hospital Karachi are also big successes of the PPP," he added.
https://dailytimes.com.pk/379143/pti-ministers-are-aiders-and-abettors-of-terrorists-bilawal/
--------
Ilhan Omar: Somali Americans vow to stand up to Trump attacks
21 Apr 2019
As she stood in a crowd of protesters, helping hold a long "Stand with Ilhan" sign outside the trucking company in Burnsville where Donald Trump was about to speak, Habon Abdulle could not help but be swept up in the contradictory emotions of the moment.
As a hijab-wearing Muslim woman who speaks with a slight Somali accent, and as executive director of Women Organizing Women (Wow) Network, a not-for-profit group dedicated to training and supporting East African immigrants who run for office, Abdulle had more than a passing familiarity with the some of the views reflected in signs and chants among a crowd of Trump supporters lined up across the street.
There was the idea that Muslims were as a whole responsible for 9/11, and that the congresswoman Ilhan Omar and her supporters were affiliated with terrorist groups. There was another oldie-but-goodie: that the city of Minneapolis, like many urban centers dealing with an affordable housing shortage driven by an influx of new residents, is filled with crime-ridden "no go" zones governed by sharia law, where police supposedly fear to tread.
Abdulle was still a little surprised to see such arguments expressed so brazenly, out in the open, just as she had been a few days earlier when Trump retweeted a video meant to show Omar did not respect the tragedy of 9/11.
"There are conversations in my community," Abdulle told the Guardian. "We thought we passed the collective blaming, the 'punish the whole for the actions of a few'. Those were things that we experienced right after the 9/11 attack. And many of us actually thought we were done with that. But lately, it actually feels that it's back. It's really weird, like: what's going on?"
She also saw reasons for optimism. A young Muslim woman walked in front of the pro-Omar group, wearing a black hijab and a keffiyeh scarf, holding a bullhorn and leading a chant. Abdulle watched as the crowd responded, many white and older Minnesotans included. That, she thought, was something she could work with.
"If we don't stand up for ourselves," she asked, "who will? We have to stand up for ourselves and they felt someone who looks like them was attacked. And we were all of us out there saying, 'No.' We are not going to accept. We have rights. It isn't fair that someone always has to other us. So, we went there because that was the right place to be that day."
In the same moment, from the other side of the street, a tall man with a gray scraggly beard could be overheard cracking a joke.
"Hey, is that Omar? They all look the same to me."
He might have been on to something, but not in the way he intended. The young Muslim women in the crowd did see themselves in Omar. That was why they were out in force.
"I came here to support my sister Ilhan," the keffiyeh-wearing woman, Asma Mohammed, 26, told the Guardian. "She's been under attack and she's been facing death threats consistently, but even more so after Trump tweeted things about her that make her seem like she was sympathizing with terrorists."
Mohammed said Omar was more than just a political figure: "She is my sister, as Minnesotans; she is my sister as another woman of faith; as another woman who wears a hijab and faces that kind of hate on the daily."
Such a mix of outrage, disappointment and incredulousness, along with a growing sense of empowerment, was common among activists the Guardian spoke to in Minneapolis in the week after Trump's tweet.
Omar's office was quieter than usual, declining media requests and not issuing statements, leaving Trump to deal with the fallout from the Mueller report without his favorite new foil to spar with.
But if there is one thing Trump has been consistent about in his political career, it has been the targeting of migrants and Muslims in moves meant to appeal to his base. Many observers believe he will redouble such efforts as 2020 draws near.
Omar and Trump have become intrinsically linked, and not just on Trump's terms. Omar was elected to the House of Representatives in November as part of an anti-Trump blue wave that included Alexandria Ocasio-Cortez of New York and Rashida Tlaib of Michigan. Before that, she made national news when she became the first Somali American in statewide office, on the night Trump was elected president. Her victory party at a Marriott in downtown Minneapolis was a rollercoaster, tears and dancing underscored by a sense of girding for a fight.
"It's going to be very tough," Omar said then. "We have to figure out how to organize the community to prepare for what's to come. We have to amplify our voices of love against the rhetoric of hate."
That fight has now come, though in a more direct way than many supporters thought possible. As Trump uses Omar to galvanize his base, he will inevitably rally hers. Last Monday's rival protests outside Trump's Tax Day event signalled such battles to come. "Omar really needs to go," said Melody Black, a Trump supporter from Red Wing, Minnesota, as a man behind her held a "Making America Great Again" sign.
"She's anti-American. She's anti-Jews. She's anti-Minnesotan. And everyone knew that the Muslims took down those buildings in New York. All of us watched it. And now they're saying that we're racist because we say it. But it's the truth.
"Omar came from Somalia and her father taught her exactly how to do what she's doing – including getting into government. They're trying to take over our government, the Muslims are."
Omar has indeed inspired other Muslim women to enter politics.
"Many women within the Somali community who never thought to run for office changed their mind," Abdulle said. The Minnesota state house now has its second female Somali American legislator, Hodan Hassan.
Across the street from Black, Nausheena Hussain, a 42-year-old in a dark purple headscarf who directs a female-led Muslim not-for-profit organization, took her turn leading a round of chants. She said Trump's attacks on Omar had encouraged others.
"What I'm hearing, specially my community, is that she cannot be alone," Hussain said. "They are asking everybody to run for office that has those same progressive values, so she is not bearing the brunt of the responsibility by herself.
"And so I feel like 2020, you are going to see more people of color running for office, more Muslims or Muslim women, because not only do we not want her to be the only one there, but we have seen that she's able to fight and still get things done. More people need to back her up and to be part of that."
Abdulle welcomed such words.
"That's how we are going to end the polarization," she said. "That's how we're going to end the hatred. That's how we're going to end the narrative that we are not American.
"I'm going to repeat the whole day long: we are American."
https://www.theguardian.com/us-news/2019/apr/21/ilhan-omar-somali-americans-trump
--------
Thunder Corps confirm 45 militants have been killed, wounded in Army, Air Force operations
20 Apr 2019
The 203rd Thunder Corps of the Afghan Military has confirmed that 45 militants have been killed during the latest operations of the Afghan Army and Afghan Air Force in Maidan Wardak, Ghazni, and Khost provinces.
According to a statement released by 203rd Thunder Corps, a senior Taliban leader identified as Mawlavi Habibullah was killed along with 4 other militants during an operation of the Afghan Special Forces which was conducted in Sadmara area of Nerkh district in Maidan Wardak province.
The statement further added that 16 militants were killed in an airstrike of the Afghan Air Force in Geru district of Ghazni, 10 others were killed and 2 more were wounded in a similar raid in Aab Band district while 4 others were killed and 5 more wounded in Noghi area located in the provincial capital of Ghazni.
The statement also added that 2 militants were killed during a clearance operation of Afghan army in Nadir Shah Kot district of Khost province.
https://www.khaama.com/thunder-corps-confirm-45-militants-have-been-killed-wounded-in-army-air-force-operations-03766/
--------
OIC body urges Muslim countries to promote culture of reading
April 20, 2019
RABAT, Morocco: Muslim countries must do more to promote books and reading, the Saudi Press Agency reported one of the world's largest Islamic organizations as saying.
The Islamic Educational, Scientific and Cultural Organization (ISESCO), which was founded by the Organization of Islamic Cooperation 40 years ago, called on Muslim countries to improve the publishing industry, provide copyright protection, and preserve manuscripts by digitizing them so that current and future generations could benefit from them.
It made the comments ahead of World Book and Copyright Day, a UN event celebrated on April 23.
ISESCO said that knowledge and science in Muslim communities soared when printing was discovered, adding that paper books would remain a pillar of culture and a driver for development because civilization was founded on the discovery of writing.
"The media through which knowledge and sciences were transferred have varied with the advent of the information and communications technology revolution," ISESCO said. "The world now has digital as well as paper books and, in spite of this great leap achieved by humanity to disseminate knowledge and sciences, there is a critical shortage of reading rates, and a large segment of people lack access to books and intermediate technologies. In addition, certain categories of people, such as the visually impaired, do not benefit from a large number of publications."
The ISESCO statement mentioned statistics that showed an increase in the proportion of published books compared with previous years, which were characterized by a decline in the sector. ISESCO said the functions of paper and digital books were evenly divided.
But the popularity of books and reading could not hide the difficulties and risks facing the written word, it added. Manuscripts faced destruction and theft in some areas of armed conflict and this phenomenon threatened Islamic culture and history, said ISESCO.
The body said that technology could be used to combat book piracy through practical measures such as standardizing legislation, closing legal loopholes and raising awareness about the dangers of piracy.
ISESCO called on member states to give attention to books and reading as well as people with special needs to help them access books.
Environment protection
Separately, ISESCO and the General Authority of Meteorology and Environmental Protection (PME) had a meeting on Friday in Rabat, Morocco, to discuss the Saudi Arabia Award for Environmental Management in the Islamic World (KSAAEM).
The meeting, held at ISESCO headquarters, was presided over by PME President Khalil bin Musleh Al-Thaqafi and ISESCO Director General, Abdul Aziz Othman Al-Twaijri.
The meeting hailed the support of King Salman and Crown Prince Mohammed bin Salman for the efforts of the PME and ISESCO in the field of environmental protection in the Islamic world, including raising awareness about the importance of protecting the environment and encouraging scientific research through KSAAEM.
The two sides highlighted their coordination, consultation and cooperation to achieve common goals. Mohammed Hussein Al-Qahtani, PME's director general of media and public relations, commended the efforts made in this area and the results, and said there was a need to develop the award's media plan to expand its outreach.
Dr. Abdelamajid Tribak, from ISESCO's Directorate of Science and Technology, gave a presentation on the activities of KSAAEM's General Secretariat.
He said the number of nominees had risen this year compared to the previous year, with 200 entrants from 40 Islamic and non-Islamic countries.
http://www.arabnews.com/node/1485436/middle-east
--------
India
Indian foreign secretary VijayGokhale to raise Masood Azhar's listing during China visit
Apr 20, 2019
India's foreign secretary Vijay Gokhale will hold talks with top Chinese officials, including foreign minister Wang Yi, next week on key issues such as coordinating the positions of the two sides at international forums and the listing of Jaish-e-Mohammed chief Masood Azhar as a global terrorist.
Officials who spoke on condition of anonymity described Gokhale's two-day visit to Beijing beginning on Sunday as part of regular diplomatic consultations. However, he is visiting days ahead of the second Belt and Road Forum (BRF), which India will skip because of concerns over territorial sovereignty related to the China-Pakistan Economic Corridor (CPEC).
Gokhale, who earlier served as the envoy to Beijing, will have a series of meetings on April 22, including with vice foreign minister Kong Xuanyou and state councillor and foreign minister Wang Yi.
Indian officials sought to play down the significance of the timing of the visit, saying the trip had been scheduled quite some time back.
"The foreign secretary visits other countries as part of our regular consultations. He was recently in Washington and Moscow. He will be visiting Berlin after Beijing," said an official who asked not to be identified.
In addition to talks aimed at maintaining momentum in bilateral ties in the wake of last year's informal summit between Prime Minister Narendra Modi and President Xi Jinping at Wuhan, Gokhale is expected to discuss coordinating India and China's positions on key global issues at forums such as the G20 Summit to be held in Tokyo in June, people familiar with developments said.
Xi is expected to meet the Indian Prime Minister on the sidelines of the G20 Summit. The Chinese side is also keenly looking forward to the second informal summit, which will be held in India some time after the general elections.
Beijing is currently preparing to host the three-day Belt and Road Forum from April 25, which will be attended by nearly 40 heads of state and government. India and Bhutan are among the countries that will not attend the forum. New Delhi had also boycotted the first edition of the forum in 2017.
India has repeatedly expressed concerns about the Belt and Road Initiative (BRI), largely because of CPEC, which passes through Pakistan-occupied Kashmir, and the uneven playing field created by China for Xi's flagship connectivity project.
For Beijing, India's snub is a diplomatic irritant. Briefing the media on the forum on Friday, foreign minister Wang had said: "One of our differences is how to look at the BRI. The Indian side has its concerns. We understand that and that is why we have stated clearly on many occasions that the BRI, including the CPEC, is only an economic initiative and does not target any third country and they have nothing to do with the sovereign and territorial disputes left from history between any two countries."
China's repeated blocking of efforts to designate Masood Azhar a global terrorist at the UN's Islamic State and al-Qaeda Sanctions Committee too has emerged as an irritant in ties. Gokhale is expected to convey India's concerns on this issue to Kong.
Also read: China asks US to act 'cautiously' after its push to ban Masood Azhar at UN
Kong has played an important role in bilateral consultations in recent years, and had visited Pakistan in March in the aftermath of tensions following the Pulwama suicide attack that killed 40 Indian troops.
In December, Kong had visited India to review diplomatic ties in the wake of the Wuhan summit.
Incidentally, India has sent one of its frontline warships, INS Kolkata, to join the 70th anniversary of the People's Liberation Army Navy at Qingdao in east China.
Hu Shisheng, a Beijing-based South Asia expert, said there are several issues for the two sides to discuss.
"I thought of the second BRF summit. Maybe, the Indian side wants to reduce China's misconceptions. Although New Delhi is reluctant to send official delegations to the second BRF, the cooperation between the two countries on regional integration and governance can still be pushed forward," said Hu, director of the Institute of South and Southeast Asian and Oceania Studies at the China Institutes of Contemporary International Relations.
Azhar will be discussed too, Hu said.
"That's another possibility because the technical block will end by May. Discussions could also include how to coordinate positions during the G20 Summit in Tokyo," he said.
https://www.hindustantimes.com/india-news/indian-foreign-secretary-to-raise-masood-azhar-s-listing-during-china-visit/story-UNrJOsnQ3ktrbhnFdwxE6J.html
--------
'Muslims in India need education, capacity building'
Riyaz ul Khaliq
20.04.2019
Muslims in India should bridge the gap between the person they elect to public office and their community by focusing on education and capacity building of their youth, said an academic.
Speaking to Anadolu Agency in Istanbul on the sidelines of a conference, Varsha Basheer, an expert on religious pluralism at the University of Kerala, said the distance between a lawmaker and a common man in India is so wide that if he "thinks of bridging that divide, he cannot".
India is currently holding general elections to vote for the new prime minister and members of the parliament. The multi-phased polls which started on April 11 will end on May 19.
The main contest is between right-wing Prime Minister Narendra Modi and Rahul Gandhi, a fresh face of the oldest political dynasty of India.
She said there were wide divisions in the Indian Muslim community, owing largely to their conservative traditional practices, which has alienated and ghettoized them.
Quoting an example from a 2005 official report on the state of Muslims in India, she said "the Sachar Committee report shows us how dismal their status is on all counts."
Its findings showed a dismal image of living, educational and economic status of Muslims living in India.
Basheer said the Muslim community leadership should be able to negotiate with the government, hold politicians accountable and remind them of their promises.
"So that kind of community leadership and that kind of community negotiation happening with the policy makers is the only way Muslims can bring about some kind of pressure on the government," she said.
"Only crying and making Dua won't do… that is half of it… Then Allah says you have to work on it."
Basheer said that education and capacity building play a major role in the process.
"Indian Muslims need to allocate funds on developing capacity of their youth who can make policy changes and present demands of the community to their public representatives."
Indian elections
Commenting on the ongoing general elections, Basheer said that the Indian Muslim has already seen five years of right-wing Bharatiya Janata Party (BJP) rule and "what it brought forth; brutal lynching [of Muslims] throughout their strongholds".
"From what the BJP is saying right now, what they have put in their manifesto, the kind of sloganeering they are using in the [election] campaigns, there is a clear message [in it]," she said.
According to Human Rights Watch, India has witnessed increase in communal rhetoric since 2014 spurring violent vigilante campaign against beef consumption.
Data recorded by online Factchecker on lynching in India shows 46 people were killed since 2012 in the incidents which pre-dominantly targeted Muslims.
Cows are considered sacred in the Hindu religion and since Modi came to power in 2014 there has been a rise in attacks on Muslim cattle owners by Hindu nationalists, with several self-styled cow protection groups emerging in the country.
Basheer said the economy was in tatters and the BJP was not focusing on the issue.
"All they promise is that they will clamp down on Muslims. If this is not an open call to divide the society on communal lines, what is it? They are trying to define 'who an Indian is'," she added.
On the other hand, she said, the Indian National Congress, a secular party founded by independence leaders of the country, has come up with an election manifesto that promises an "equal footing to all the poor and destitute in the country and that gives hope".
Full report at:
https://www.aa.com.tr/en/asia-pacific/muslims-in-india-need-education-capacity-building/1458203
--------
Will keep working to eliminate terrorism, fanaticism: Mohan Bhagwat
Apr 20, 2019
NAGPUR: Rashtriya Swayamsevak Sangh (RSS) chief Mohan Bhagwat has said that the organisation will continue to work for elimination of antinational forces such as terrorism and fanaticism.
Bhagwat took to Twitter on Saturday to pay a tribute to RSS leader Chandrakant Sharma who died after being attacked by terrorists in Jammu and Kashmir's Kishtwar district on April 9.
In a message on the RSS' Twitter account, Bhagwat said Sharma's death was very painful, but his sacrifice also inspires the Sangh.
"In this time of sorrow, we resolve not to let go in vain the sacrifice committed by late Chandrakant-ji, (we)will work with more speed to remove anti-national forces such as terrorists and fundamentalists ("kattar-panthi") from this land," said Bhagwat.
Full report at:
https://timesofindia.indiatimes.com/india/will-keep-working-to-eliminate-terrorism-fanaticism-mohan-bhagwat/articleshow/68969754.cms
--------
ISIS case: NIA conducts searches in Hyd, Wardha; four suspects being questioned
Apr 20, 2019
HYDERABAD: The National Investigation Agency on Saturday conducted searches at three places here and Wardha of Maharashtra in connection with an ISIS module case, and picked up four suspects for questioning, the agency said.
As part of the investigations into the 2016 Abu Dhabi module case, based on reliable information, NIA carried out searches and seized several digital devices and other documents from the houses of the four suspects, whose questioning is going on, the agency said in a release.
The National Investigation Agency is probing a case since 2016 where it is alleged that the members of Islamic State of Iraq and Syria (ISIS) were involved in a conspiracy to identify, motivate, radicalise, recruit and train Indian Muslim youth on behalf of the proscribed outfit to carry out terror activities, according to the release.
In January 2016, the NIA had registered a case against three accused Sheikh Azhar-ul-Islam, Adnan Hassan and Mohammed Farhan Shaikh and they were arrested on arrival to Delhi from Abu Dhabi.
The digital devices seized included 13 mobile phones, 11 SIM cards, one iPad, two laptops, one external hard disk, six pen drives, six SD Cards and three walkie talkie sets, it said.
In August 2018, the NIA had arrested two alleged ISIS sympathisers--Mohammed Abdullah Basith and Mohd Abdul Qhadeer from Hyderabad as part of its larger probe into Indian youngsters being radicalised to carry out terror strikes on behalf of the banned international outfit.
On February 7 this year, the NIA had filed a supplementary chargesheet against two accused in connection with its probe in the Abu Dhabi module case and the fresh raids were being carried out in connection with this module based on "fresh inputs", official sources said.
Full report at:
https://timesofindia.indiatimes.com/india/isis-case-nia-conducts-searches-in-hyd-wardha-four-suspects-being-questioned/articleshow/68968487.cms
--------
Europe
Kosovo brings back Daesh militants, family members from Syria
Apr 20, 2019
Kosovo has repatriated 110 of its citizens from Syria, including women and their children as well as militants who had gone to the war-torn Arab country to join the ranks of foreign-sponsored terrorist groups there.
"Today in the early hours of the morning an important and sensitive operation was organized in which the government of Kosovo, with the help of the United States of America, has returned 110 of its citizens who were in war zones in Syria," Kosovan Justice Minister Abelard Tahiri said at a press conference on Saturday.
Tahiri did not elaborate on Washington's role in the repatriation, but a plane with a US flag on its tail was seen in the cargo area of Pristina Adem Jashari International Airport as the operation was in process.
"We will not stop before bringing every citizen of the Republic of Kosovo back to their country and anyone that has committed any crime or was part of these terrorist organizations will face justice. I will say one more thing: as the government of the Republic of Kosovo, we cannot allow for our citizens to be a threat to the West and to our allies," the justice minister noted.
After several hours at the airport, the group was transported under police escort to an army barracks just outside the capital.
Health services director Naser Ramadani said "women and children have suffered serious trauma."
Authorities said among the returnees were four men suspected of having fought for Daesh, 32 women as well as 74 children. Nine of the children were not accompanied by a parent.
Chief prosecutor Aleksander Lumezi told reporters that the four men suspects had been immediately arrested, and charged upon arrival in Pristina with participating in a foreign conflict. He stressed that indictments against them will soon follow.
Police chief Rashit Qalaj said authorities believed that 30 Kosovar militants, 49 women and 8 children still remained in conflict zones in Syria.
Some 300 Kosovars joined terrorist groups in Syria and Iraq, according to the southeastern European country's interior ministry and around 70 have been killed while an estimated 120 have returned home. Most of the returnees have been arrested and charged with terrorism upon their arrival.
Kosovo, whose population of 1.8 million is 90 percent Muslim, is reportedly one of the European countries with a high number of militants in Iraq and Syria.
https://www.presstv.com/Detail/2019/04/20/593915/Kosovo-brings-back-Daesh-militants-family-members-from-Syria
--------
Syrian Turkmens slam Macron meeting YPG/PKK terrorists
Adham Kako
20.04.2019
The Syrian Turkmen Assembly (STA) on Saturday denounced the meeting between French President Emmanuel Macron and a delegation of the so-called SDF, led by the Syrian branch of the PKK terror group.
"Macron's receiving of a delegation of SDF has once again showed that the West, led by the U.S., Israel and France, is the supporter of PYD/YPG/SDF terror groups in the international arena," STS said in a statement.
Recalling the ongoing crimes of terror group YPG/PKK against the civilians in areas under their control, STA strongly condemned Macron for his support to "the separatist terror group."
French president on Friday hosted a delegation of the so-called Syrian Democratic Forces (SDF), which is closely affiliated with the YPG/PKK terrorist group.
In its more than 30-year terror campaign against Turkey, the PKK -- listed as a terrorist organization by Turkey, the U.S. and the EU -- has been responsible for the deaths of nearly 40,000 people, including women and children.
Full report at:
https://www.aa.com.tr/en/europe/syrian-turkmens-slam-macron-meeting-ypg-pkk-terrorists/1458535
--------
Pakistan
Go home or face Islamabad lockdown, Fazl tells PTI
APRIL 21, 2019
Jamiat Ulema-e-Islam-Fazl (JUI-F) chief Maulana Fazlur Rehman on Saturday warned that his party will lock down the federal capital if the Pakistan Tehreek-e-Insaf (PTI) government did not step down, a private TV channel reported.
"We demand that fresh elections should be held in the country," the JUI-F chief told reporters after a meeting of the Muttahida Majlis-e-Amal (MMA), an alliance of religious parties.
Fazl, who is also the president of the MMA, said all opposition parties are on the same page on holding fresh elections. He said the country is stuck in economic and political crises for the last eight months. "The country is being run by a few selected technocrats … the elected minister [Asad Umar] failed to present the annual budget," he maintained. "Now an International Monetary Fund (IMF) budget will be presented instead of that of the government," he added.
The JUI-F leader claimed that people have lost billions of rupees in the stock market during the last eight months because of the government's poor economic policies. He also demanded an inquiry into the Bus Rapid Transit (BRT) project in Peshawar. "The project which was estimated to cost Rs 30 billion has now touched Rs 100 billion," he noted. "The National Accountability Bureau (NAB) has been rounding up politicians belonging to the opposition parties, while the minister and officials responsible for the BRT fiasco are roaming free," he lamented.
Fazl pointed out that the PTI does not have its own ministers and has instead chosen people who were part of the Pakistan People's Party (PPP) government. "The current government lacks the ability to pull the country out of the prevailing crises," he added.
The JUI-F chief noted that the presidential form of government is a symbol of dictatorship and such measures should be avoided.
https://dailytimes.com.pk/379140/go-home-or-face-islamabad-lockdown-fazl-tells-pti/
--------
Families of Iran terror victims write to Pakistan's Khan
Apr 21, 2019
An Iranian organization representing the families of Iranian victims of terrorism has pleaded with Pakistani Prime Minister Imran Khan to enact stricter security measures on Pakistan's border with Iran to prevent Pakistani-based terrorists from attempting attacks on Iranian territory.
The Habilian Association made the plea in an open letter addressed to Prime Minister Khan on Saturday, on the eve of his planned visit to the Islamic Republic. The Pakistani premier is slated to arrive in Iran on a two-day visit, starting in the holy city of Mashhad.
The letter cited the martyrdom of scores of Iranian border guards at the hands of the terrorists over the past several years.
"Abusing the current situation and the lack of serious border control, terrorist groups enter Iran from time to time, perpetrating sabotage and [acts of] terror before freely returning to the other side," it read. "These actions have been continually going on for several years, and, unfortunately, no serious action has been taken on the part of Islamabad to prevent them."
The organization said that the continued captivity of some Iranian security forces at the hands of terrorists inside Pakistan was a testament to how the terror groups were acting freely.
Some 27 Iranian military officers were killed in the most recent terrorist attack in the southwestern Sistan and Baluchistan Province — which borders Pakistan — in February.
Last October, the terrorists kidnapped 12 Iranian forces on the common border, and are still keeping some of them. Another attack took place in April 2017, when 10 Iranian border guards were killed by terrorists.
The so-called Jaish ul-Adl terrorist group, which is based in Pakistan and has links to al-Qaeda, has claimed responsibility for those attacks.
Also on Saturday, Pakistani Foreign Minister Shah Mahmood Qureshi told reporters that Pakistan had taken steps to ensure stability along the Iranian border as part of a project dubbed "Border of Peace."
He said the two countries had started setting up joint border centers while agreeing to synchronize border patrolling exercises and carry out heli-surveillance to prevent incidents like those in the past that have affected security in the region.
The Habilian Association also condoled with Pakistan over the deaths of 14 navy personnel in an attack in a remote area of the country's southwest.
Full report at:
https://www.presstv.com/Detail/2019/04/21/593946/Iran-terror-victims-open-letter-Pakistan-border-security-Imran-Khan
--------
Pakistan asks Iran to act on militants behind Baluchistan killings
Apr 20, 2019
ISLAMABAD: The Baloch insurgents who killed 14 people along Pakistan's coast this week are based in neighbouring Iran, Pakistan's foreign minister said on Saturday, heightening tensions ahead of Prime Minister Imran Khan's trip to Tehran on Sunday.
Relations between Iran and Pakistan have been strained in recent months, with both sides accusing each other of not doing enough to stamp out militants allegedly sheltering across the border.
A new umbrella group representing various insurgent outfits operating in Pakistan's southwestern Baluchistan province bordering Iran claimed responsibility for the attack on Thursday, when 14 passengers were killed after being kidnapped from buses on southwestern Pakistan.
The militants checked the identity cards of passengers, singled out some of them, and then kidnapped and killed them. The Baloch Raji Aajoi Saangar (BRAS) umbrella group said it targeted Pakistani navy and Coast Guard officials travelling on buses.
Pakistani Foreign Minister Shah Mahmood Qureshi said his country was angry about the attack and called for Iran to take action against BRAS militants.
"The training camps and logistical camps of this new alliance...are inside the Iranian border region," Qureshi told reporters in Islamabad.
Qureshi said he spoke to his Iranian counterpart, Mohammad Javad Zarif, and conveyed to him the "anger of Pakistani nation".
Iranian officials could not be reached for comment. Iran's state news agency IRNA confirmed the two men spoke.
"Iran's foreign minister condemned the recent terrorist attack on Pakistan's military and security forces, and expressed sympathy for the Pakistani government and people," IRNA reported.
Pakistani premier Imran Khan is due to arrive in Tehran on Sunday for a two-day visit.
Relations between Pakistan and Iran have been strained in recent months after a suicide bomber killed 27 members of Iran's elite Revolutionary Guards in mid-February in a southeastern region, with Iranian officials saying the attackers were based inside Pakistan.
The Sunni group Jaish al Adl (Army of Justice), which says it seeks greater rights and better living conditions for the ethnic Baloch minority, claimed responsibility for that attack.
Iran's Shi'ite Muslim authorities say militant groups operate from safe havens in Pakistan and have repeatedly called on the neighbouring country to crack down on them.
Ethnic Baloch people straddle the porous and lengthy Iran-Pakistan border, with many insurgent groups crisscrossing the border to the annoyance of authorities.
Qureshi said Pakistan has decide to fence the border, just as it has started fencing its frontier with Afghanistan.
Full report at:
https://timesofindia.indiatimes.com/world/pakistan/pakistan-asks-iran-to-act-on-militants-behind-baluchistan-killings/articleshow/68969377.cms
--------
Mosque vandalised by unknown suspect in Karachi's Steel Town area
Imtiaz Ali
April 20, 2019
An unknown suspect defiled holy books, religious symbols and the inscribed names of revered personalities in a mosque located in Karachi's Steel Town area, police said on Saturday.
Steel Town SHO Farrukh Shaharyar said that an unknown suspect broke the door of the Hazrat Salman Farsi mosque, managed by the Shia community, early Friday morning.
The suspect defiled the names of the family of the Holy Prophet (peace be upon him) inscribed and placed inside the mosque within a frame. He also knocked over and damaged cabinets and shelves where religious books, including the Holy Quran, had been kept, damaged the ceremonial seat of the khateeb (sermon deliverer) and removed a wall clock.
When the muezzin arrived to give the call for the Fajr prayer on Friday morning, he saw that the place had been broken into and informed the police.
Senior police officers, including Malir in charge senior superintendent of police, Farrukh Raza, subsequently visited the mosque.
SHO Shaharyar said the mosque is being run by the Steel Mills administration and its muezzin, khateeb and others are also employees of the Mills.
A case was registered by the police on the complaint of the khateeb, Maulana Hasan Raza, under Section 295 (injuring or defiling place of worship, with intent to insult the religion of any class), 295-A (deliberate and malicious acts intended to outrage religious feelings of any class by insulting its religion or religious beliefs),and 295-B (defiling, etc. of Holy Quran) of the Pakistan Penal Code along with Section 7 of the Anti Terrorism Act, 1997.
SHO Shaharyar said that an investigation has been launched and that the police are treating it as a terror case as well.
"Terror charges were invoked because the police believe the suspect through these acts had tried to trigger violence," he said, adding that nothing was reported stolen from the mosque.
Full report at:
https://www.dawn.com/news/1477348/mosque-vandalised-by-unknown-suspect-in-karachis-steel-town-area
--------
Jamaat seeks judicial probe into Hayatabad encounter
April 21, 2019
PESHAWAR: The Jamaat-i-Islami has expressed reservations about the recent encounter of police with 'terrorists' in Hayatabad and demanded a judicial probe into it.
JI Khyber district chief Shah Faisal Afridi told a presser here on Saturday that there were doubts about the nature of the Hayatabad Township operation and therefore, it should be properly investigated by an impartial judicial commission.
He said the five people were killed in the Hayatabad operation and four of them belonged to Qamarkhel and one to Kokikhel tribe of Khyber district.
"We will raise this issue in and outside parliament," he said.
Mr Afridi resented the killing of tribesmen from Khyber tribal district claiming that there was no evidence of the involvement of the slain people in any kind of terrorist activity in their areas and therefore, the encounter had caused unrest among residents.
He said the killing of 'innocent' people in the encounter was a sheer injustice meted out to the residents of Khyber district, who along with other tribal people would raise voice against it.
The JI leader said Amjad, who was killed in the encounter, served in the provincial food inspection team, while Tariq and Saeed belonged to Qamarkhel tribe and their uncle was a government employee.
He claimed that a resident, Saeed, had been missing since the encounter took place.
Mr Afridi demanded his immediate release.
He said most of the people killed by the police
The JI leader said if the government didn't order judicial probe into the killings, the people would believe that the province's police killed innocent people in encounters.
He declared the encounter the state-sponsored terrorism and said a judicial commission should be formed without delay to look into it.
Full report at:
https://www.dawn.com/news/1477439/jamaat-seeks-judicial-probe-into-hayatabad-encounter
--------
Pakistan to construct fence around Iranian border: FM Qureshi
April 21, 2019
ISLAMABAD: In an important development Pakistan on Saturday decided to construct a fence on the border linking with Iran and also decided to conduct aerial monitoring of the frontiers.
In a press briefing FM, Shah Mehmood Qureshi blamed that the terrorists behind the April 18 incident of the killing of 14 people in Balochistan's Ormara came from Iran.
"As much as 20 terrorists backed by Iran-based militant organization clad in camouflage uniform of the Frontier Corps entered Pakistan from Iran and conducted an attack ", he added.
"I had said I won't make a statement until we get certified information. I didn't want to make a rash statement like India did in the wake of Pulawama incident," the foreign minister said.
He confirmed that the target of the attack was personnel of Pakistan's armed forces and as much as 10 Pakistan Navy officials embraced martyrdom in the process. He also confirmed the death of three officials of Pakistan Air Force and one from the Pakistan Coast Guards.
FM also told the press that a Baloch separatist organization has claimed the responsibility of the attack which was provided assistance from Iran.
He also lambasted India over its alleged involvement in recent terror attacks and said that we will never claim anything hastily without any solid evidence.
Qureshi said terrorists' training camps in the border areas have been traced and expressed the hope that Iranian authorities will take action against such elements.
He recalled Pakistan's security force had fully cooperated with Iran in ensuring recovery of the Iranian border guards who were abducted from the border areas last year in October.
"Pakistan and Iran enjoy long-standing ties. We have forensic evidence which we can share with Iranian officials," he said.
Full report at:
https://www.pakistantoday.com.pk/2019/04/20/pakistan-to-construct-fence-around-iranian-border-fm-qureshi/
--------
North America
Americans say Muslims face most intolerance in US
Umar Farooq
17.04.2019
WASHINGTON
Eight in ten Americans believe Muslims face more discrimination than any other group in the U.S., according to a poll by the Pew Research Center.
Eighty-two percent of respondents said Muslims face discrimination. Eighty percent of those surveyed said blacks faced some discrimination.
Pew released the figures Monday after U.S. President Donald Trump tweeted a video that attacked Muslim congresswoman Ilhan Omar from Minnesota.
The video was of a speech delivered by Omar in which she discussed how Muslim Americans came to be seen as second-class citizens after the Sept. 11, 2001, terror attacks. The president's tweet mixed in footage from the attacks with parts of the speech.
Omar is one of the first Muslim lawmakers to be elected to Congress, alongside Michigan's Rashida Tlaib, and has faced a flurry of attacks since she began in office this year.
The Muslim congresswoman said she has faced more death threats since the president posted the tweet, sparking criticism that Trump is condoning harmful attacks against the country's own elected officials.
The survey was conducted prior to the president's tweet.
Ninety-two percent of Democrats said there is discrimination against Muslims in America, with 75% saying there is a lot of discrimination, according to the poll. While less Republican respondents said the same, 69%, a large majority, agreed.
The percentage of people that think Jews face "a lot" of discrimination nearly doubled since 2016, rising from 13% to 24%, with 64% of respondents saying there is some discrimination against the group, according to Pew.
Race played a large factor in predicting how much discrimination a respondent thought was happening. Seventy-three percent of black respondents said there is "a lot" of discrimination against blacks and 63% of Hispanics said the same about discrimination against Hispanics.
However, among whites, it was partisanship that was the biggest factor in deciding how they answered.
Among white Democrats and Democrat-leaning respondents, around two-thirds said there is discrimination against blacks, while only 16% of white Republicans and Republican-leaning respondents said the same.
The survey was conducted between March 20 and 25 and surveyed 1,503 adults.
https://www.aa.com.tr/en/americas/americans-say-muslims-face-most-intolerance-in-us/1455214
--------
Turkey, US accelerate works to boost trade: Minister
Merve Ozlem Cakir
20.04.2019
Turkish and U.S. trade ministries is establishing a working group to achieve bilateral trade volume target, the country's trade minister said.
In February, Turkish President Recep Tayyip Erdogan and U.S. President Donald Trump agreed to further enhance economic relations, setting a goal of $75 billion in bilateral trade.
"We are working on […] export booster activities especially in high technology products," Ruhsar Pekcan, Turkey's Trade Minister, told Anadolu Agency following her visit to the U.S.
Pekcan attended a three-day business event in Washington earlier this week.
She was accompanied by Treasury and Finance Minister Berat Albayrak, National Defense Minister Hulusi Akar and Energy and Natural Resources Deputy Minister Alparslan Bayraktar.
Stating that Turkey aims to set up new free-trade zones specialized in R&D, and high technology and high added-value activities, Pekcan said she invited American companies to invest in those areas.
"These zones can be used by Turkish-American joint ventures. We are ready to support those who invest in free zones," she said.
Pekcan added that Tukey and the U.S. reached a mutual understanding on conducting joint works in the field of digital economy.
Full report at:
https://www.aa.com.tr/en/americas/turkey-us-accelerate-works-to-boost-trade-minister/1458239
--------
South Asia
Afghan communications ministry attacked, seven killed
APRIL 21, 2019
At least seven people were killed in an attack on the Afghan communications ministry in central Kabul on Saturday, breaking months of relative calm in the capital and underlining the continued security threats despite efforts to open peace talks with the Taliban.
The attack began shortly before midday when a suicide bomb was detonated at the entrance to the multi-storey building housing the ministry in a busy commercial area of the city, followed up by gunfire which could be heard over a mile away.
Among the dead were four civilians and three police officers, while another eight civilians were wounded, a government official said.
"We saw a gunman trying to break open an office door and as we were running out, he was trying to shoot us and he started shouting 'I will kill everyone here'," said Syeda Rashid, an office administrator in the ministry who escaped with several of her colleagues. She said at least six women had been wounded.
Television images showed people fleeing after gunfire and explosions began near the 18-storey government tower.
The area around the building was sealed off by police as at least three attackers battled security forces for several hours before the attack was finally suppressed in the late afternoon, Interior Ministry spokesman Nasrat Rahimi said.
The interior ministry said in a statement that more than 2,800 employees of the Ministry of Communications and Information Technology and the Ministry of Information and Culture were evacuated during the clearance operation.
Several young children and staff at a childcare centre for ministry employees were also evacuated.
"We were having lunch when we heard the explosion," said Rabia, who worked at the childcare centre. "We grabbed the children together into the safe room and just waited till the security forces arrived," she said.
The blast, which security officials said appeared to have been caused by a suicide bomber, was also close to the heavily fortified Serena Hotel, one of the very few Kabul hotels still used by foreign visitors.
The operation marked a return to the kind of complex attacks in an urban centre that have killed hundreds of people in Kabul and other Afghan cities over recent years.
There was no claim of responsibility but the Taliban issued a statement denying any involvement. Many such attacks have been claimed by the radical Islamic State group.
Prior to Saturday's attack, Kabul had been relatively calm as U.S. officials have held a series of meetings with representatives from the Taliban to try to agree the basis for a peace settlement and an end to more than 17 years of war.
While heavy fighting has carried on across Afghanistan and Taliban militants have announced their now customary spring offensive, it had been months since the last major attack on civilian targets in the capital.
The attack, just days after a planned meeting between Taliban officials and Afghan politicians and civil society representatives in Qatar was cancelled, underlined the hurdles facing efforts to reach a peace settlement.
Officials have said they hope to hold a meeting soon but no date has been set.
https://dailytimes.com.pk/379107/afghan-communications-ministry-attacked-seven-killed/
--------
Afghanistan President and PM greet Muslims on Shab-e-Barat
April 20th, 2019
The president and the premier both wished mercy, progress, and welfare for the whole mankind
President Abdul Hamid and Prime Minister Sheikh Hasina on Saturday greeted all Muslims in Bangladesh and across the world on the occasion of the holy Shab-e-Barat, to be observed on Sunday.
The president and the premier both wished mercy, progress, and welfare for the whole mankind, reports BSS.
In his message, President Abdul Hamid said the holy Shab-e-Barat is a magnificent and blissful night for the Muslims. The night is imminent, like in the previous years, heralding the advent of the holy month of Ramadan and fortune.
"Along with mercy and blessings of the almighty Allah, we will pray for continued progress and welfare of the country and greater unity of the Muslim community on the holy night of Shab-e-Barat," he said.
Prime Minister Sheikh Hasina, in her message, said the night of fortune brings mercy and blessings of Almighty Allah for the whole mankind.
He (Allah) shows his greatness of forgiving and fulfilling honest desires, she added.
The premier urged all to devote themselves to human welfare and nation-building imbued with the teachings of Shab-e-Barat.
Sheikh Hasina also called upon all to establish the spirit of Islam at personal, social and national levels shunning the religious prejudice and narrowness.
Full report at:
https://www.dhakatribune.com/bangladesh/nation/2019/04/20/president-and-pm-greeted-muslims-on-shab-e-barat
--------
23 Taliban militants killed in latest operations of Afghan Special Forces
20 Apr 2019
At least 23 Taliban militants were killed during the latest operations of the Afghan Special Forces in south-eastern Ghazni, north-western Badghis, and southern Helmand provinces.
Informed military sources said Friday that the Afghan Special Forces conducted a raid in Gelan district of Ghazni province killing 9 Taliban fighters, wounding 1 and detaining another militant.
The sources further added that the Afghan Special Forces conducted a similar raid in Bala Murghab district of Badghis province which left 9 Taliban fighters dead and 8 others wounded. The ground force also destroyed 9 IEDs.
"Afghan Special Forces conducted an operation in Nahr-e Saraj district of Helmand province killing 5 Taliban fighters and destroying over 300 pounds of heroin," the sources added.
Full report at:
https://www.khaama.com/23-taliban-militants-killed-in-latest-operations-of-afghan-special-forces-03760/
--------
10 militants killed, wounded in Afghan Air Force airstrike in Ghazni province
21 Apr 2019
At least ten militants were killed or wounded an airstrike of the Afghan Air Force in southeastern Ghazni province, the Afghan military said Sunday.
According to a statement released by 203rd Thunder Corps, the Afghan Air Force carried out an airstrike targeting armed terrorists in Panah area of Geru district.
The statement further added that seven militants were killed and three others were wounded during the same airstrike.
The anti-government armed militants including Taliban have not commented regarding the airstrike so far.
Full report at:
https://www.khaama.com/10-militants-killed-wounded-in-afghan-air-force-airstrike-in-ghazni-province-03768/
--------
3 Taliban commanders and their 10 fighters killed in Nuristan province
21 Apr 2019
Three commanders of the Taliban group and their ten fighters were killed during the artillery and airstrikes which were carried out in response to a coordinated attack by Taliban on security outposts in Nurgeram district.
The 201st Silab Corps of the Afghan Military in a statement said Talian militants launched attacks on security outposts in Kanda Labog area of Nurgeram district on Friday which were repulsed by security and defense forces.
The statement further added that the security and defense forces also carried out artillery and airstrikes against Taliban positions in response to the attacks which left 13 militants dead including their three commanders.
The Taliban commanders killed during the operations have been identified as Janat Gul, Haji Gul, and Zabiullah, the 201st Silab Corps said, adding that 5 militants were also wounded during the same operations.
Full report at:
https://www.khaama.com/3-taliban-commanders-and-their-10-fighters-killed-in-nuristan-province-03767/
--------
Taliban rejects involvement in today's attack on telecommunications ministry in Kabul
20 Apr 2019
The Taliban group has rejected the involvement of the group in today's coordinated attack on the ministry of telecommunications and information technology in Kabul.
Taliban group spokesman Zabiullah Mujahid has said in a statement that today's attack in Kabul has nothing to do with the fighters of the group.
No individual or group has so far claimed responsibility for the attack.
The Ministry of Interior has confirmed that the attack on the ministry of telecommunications and information technology ended later today after all four assailants were shot dead by security forces.
Full report at:
https://www.khaama.com/taliban-rejects-involvement-in-todays-attack-on-telecommunications-ministry-in-kabul-03765/
--------
Arab World
Foreign-backed terrorists kill over 60 soldiers east of Syria: Report
Apr 20, 2019
Foreign-backed terrorists have reportedly killed more than 60 Syrian soldiers in the eastern parts of the Arab country over the past 48 hours.
The so-called Syrian Observatory for Human Rights said Statuary that Takfiri Daesh terrorists had killed some 35 soldiers in government-held parts of central and eastern Syria since Thursday.
This included some 27 troops, among them four Syrian army officers, who were killed in the desert east of the central province of Homs as well as eight others who died in the eastern province of Dayr al-Zawr, the group said.
The Britain-based monitoring group described the attack as the deadliest against Syrian government forces in recent months.
It also said that terrorists associated with Jabhat Fateh al-Sham, formerly known as the Nusra Front, attacked Syrian forces outside the northwestern region of Idlib on Saturday, killing 26 of them.
Daesh, which once held large swaths of land in Syria and Iraq, has now been completely defeated in both Arab countries and has lost almost all of its occupied territories.
The terror group holds a tiny pocket of territory in the vast Syrian Desert, known as Badia, near the Iraq border. The terrorists use unpopulated areas of Badia as their hideouts to carry out hit-and-run attacks on Syrian troops.
https://www.presstv.com/Detail/2019/04/20/593893/Syria-Daesh-Homs-Badia
--------
Extremist attack kills 13 regime fighters in north Syria
20 April 2019
An attack on Saturday by extremists linked to Syria's former al-Qaeda affiliate killed 13 regime fighters on the outskirts of the northern city of Aleppo, a war monitor said.
A faction linked to Hayat Tahrir al-Sham "early on Saturday attacked checkpoints and positions of regime forces on the western outskirts of Aleppo city," the Syrian Observatory for Human Rights said.
Heavy fighting and shelling broke out between both sides, so far "killing at least 13 regime troops and allies fighters," the Britain-based monitoring group said.
The ongoing clashes have also taken the lives of at least eight members of the Abu Bakr al-Sadeeq Army faction, Observatory chief Rami Abdel Rahman added.
Extremist factions control the countryside to the west of Aleppo, which is part of the broader Idlib region under administrative control of HTS.
That region is in theory protected from a massive regime military offensive by a deal inked in September by government ally Russia and rebel backer Turkey.
Full report at:
https://english.alarabiya.net/en/News/middle-east/2019/04/20/Extremist-attack-kills-13-regime-fighters-in-north-Syria.html
--------
"We will continue war on terrorism," says Iraqi Speaker al-Halbusi at summit
20 April 2019
The one-day summit bringing together parliament heads from neighboring countries of Iraq began on Saturday in the capital Baghdad.
In his opening remarks, Iraq's parliament speaker Mohammed al-Halbusi said: "We will continue the war on terrorism with the help of regional and international powers."
"Iraq's relations are solid with neighboring countries and we rely on their development," al-Halbusi added.
Iraq is hosting senior officials from neighboring countries, as it carves out a role as a mediator in the region.
An Iraqi parliamentary spokesman told AFP on Friday that parliament heads from Turkey, Saudi Arabia, Jordan, Syria, and Kuwait will be attending the summit.
Iran will be represented by a "senior official," the spokesman said.
On Thursday night, Syria's parliament chief Hammudeh Sabbagh, had landed in Baghdad with a large delegation.
Full report at:
https://english.alarabiya.net/en/News/middle-east/2019/04/20/-We-will-continue-war-on-terrorism-says-Iraqi-Speaker-al-Halbusi-at-summit.html
--------
US Sends 800 Truckload of Military Equipment to SDF in Eastern Syria
Apr 20, 2019
The London-based Syrian Observatory for Human Rights (SOHR) reported on Saturday that the US-led coalition has sent new military convoys, including tens of trucks carrying military aid and logistical equipment, from Iraqi Kurdistan region to areas occupied by the SDF in Eastern Euphrates.
It added that over 810 trucks, carrying military and logistic equipment of the US-led coalition have arrived in Eastern Euphrates.
Last month, Washington-backed Kurdish fighters in Syria declared their final victory over the ISIL terrorist group, ending bloody battle against the group that once held territory spanning a third of Syria and Iraq.
The US Defense Department also announced that the Islamic State no longer holds any territory in Syria, according to former White House Spokeswoman Sarah Sanders.
In December 2018, US President Donald Trump declared the ISIL terrorist group defeated in Syria and announced American troop pullout from the country but gave no timeline. The surprise announcement resulted in the resignation of Secretary of Defense James Mattis, US anti-IS coalition envoy Brett McGurk and Pentagon Chief of staff Rear Admiral Kevin Sweeney who disapproved of the American president's decision.
But, Trump confirmed that 400 US soldiers will remain in the war-torn country indefinitely.
Full report at:
http://en.farsnews.com/newstext.aspx?nn=13980131000599
--------
Commander: US Spies Stationed at Iraqi Borders to Watch Hashd al-Shaabi
Apr 20, 2019
Hashem al-Moussavi was quoted by the Arabic-language al-Ma'aloumeh news website as saying that the US intelligence agents have been deployed at the common Iraqi-Syrian borders to spy on Hashd al-Shaabi and Iraqi border guards to supply the ISIL with intelligence.
He added that al-Tanf base in Syria has now turned into the ISIL's operations room to target Hashd al-Shaabi and border guards and take control of certain regions in Iraq.
Moussavi said that the terrorist groups in Syria are led by a number of high-ranking US military officials in al-Tanf base, noting that thousands of ISIL militants are being trained at the base to implement Washington's plots.
Relevant reports also said earlier this month that the US military men stationed in occupied bases in al-Anbar province used the ISIL terrorists in disguise of ordinary people to target the Iraqi forces in desert areas of the region.
Head of Badr Organization's Office in al-Anbar Qusai al-Anbari was quoted by al-Ma'aloumeh as saying last Saturday that the US forces deployed in Ein al-Assad and al-Habaniyeh bases in al-Anbar deserts in Western Iraq were using a new method to attack the Iraqi security forces.
He added that they disguise the ISIL terrorists as shepherds and tribesmen to launch on against the Iraqi security forces, Hashd al-Shaabi and civilians in al-Anbar desert.
Full report at:
http://en.farsnews.com/newstext.aspx?nn=13980131000463
--------
Syrian Army Destroys Tahrir Al-Sham's Centers in Idlib
Apr 20, 2019
The Syrian Army's missile and artillery units heavily pounded the positions and movements of Tahrir al-Sham terrorists in Jorjnaz, Talmanes, Tahtayeh and Um Jalal towns in Southeastern Idlib.
The Syrian Army attacks came in response to the terrorists' continued attack on safe zones and military points from the demilitarized zone.
"The Syrian Army troops destroyed several centers of the terrorists and their military vehicles as well as killing all militants inside them," a battlefield source in Idlib said.
In a relevant development earlier this week, the Syrian Army pounded and destroyed the military positions and convoys of the terrorists in Southern Idlib.
The Syrian Army's missile units fired at least 40 missiles at military convoys of Tahrir al-Sham's elite terrorists in Khan Sheikhoun city in Southern Idlib, the Arabic-language service of the Russian Sputnik news agency quoted a military source as saying.
Full report at:
http://en.farsnews.com/newstext.aspx?nn=13980131000371
--------
Syrian president, Russian deputy PM discuss post-war economic revival
Apr 20, 2019
Syrian President Bashar al-Assad and Russian Deputy Prime Minister Yuri Borisov have discussed a constitutional committee meant to draft the Arab country's new constitution as well as Moscow's efforts to revive the war-ravaged nation's economy.
During a meeting in the Syrian capital Damascus on Saturday, President Assad and Borisov exchanged views about ways to improve bilateral cooperation in all fields at different levels and the agreements signed between the two countries in the energy, industry, and trade sectors, the Syrian Arab News Agency SANA reported.
It added that the two sides also reviewed feasible mechanisms to overcome all the obstacles facing the implementation of the agreements, including the West's sanctions on Syria, and to promote cooperation in new sectors in a way that would serve the interests of the two nations.
Borisov, who is also the chairman of the Joint Syrian-Russian Committee for Trade, Economy, Science and Technology Cooperation, briefed President Assad on the implementation of the agreements and the obstacles hindering their fulfillment.
He expressed his country's intention to further support Syria against terrorism until the menace is totally eliminated and security and stability are fully restored to Syria.
Moscow is determined to play a role in Syria's reconstruction process and to support it in difficult circumstances caused by the economic and terror wars against the country, the Russian envoy pointed out.
"After our meeting in December, we proceeded within the [framework of the] reached agreements and so far expect no breakdowns of planned actions. I am convinced that all our efforts aimed at Syria's economic revival will be successful," Borisov said.
Back in December, Borisov's office said that the diplomat had discussed industrial, medical, and energy cooperation with President Assad in Damascus.
"The range of questions discussed with the Syrian leader included political affairs, Russia's participation in Syria's postwar reconstruction and restoration of life to normal, and cooperation in industry, medicine, energy and other branches of the economy," Borisov's office said.
Syria has been gripped by foreign-backed militancy since March 2011. The Syrian government says the Israeli regime and its Western and regional allies are aiding Takfiri terrorist groups wreaking havoc in the country.
Syria FM, Russia deputy PM discuss economic ties
Meanwhile, the Russian deputy prime minister and Syrian Foreign Minister Walid al-Muallem also discussed the promotion of bilateral cooperation in different sectors.
They stressed the importance of enhancing economic cooperation in line with political and military ties until reaching a strategic partnership in a way that would benefit the two nations' common interests.
During a meeting with the Russian president's special envoy Alexander Lavrentiev in Damascus earlier on Saturday, President Assad called for progress in stalled talks on a so-called buffer zone around militant-held Idlib province in the country's northwest.
The Syrian president also stressed his government's determination to eliminate terrorist groups that are holed up in Idlib and attack civilians in neighboring areas.
Full report at:
https://www.presstv.com/Detail/2019/04/20/593900/Assad-Borisov-Syria-Russia-Damascus-reconstruction
--------
Syrian president calls for progress in stalled talks on Idlib buffer zone
Apr 20, 2019
Syrian President Bashar al-Assad has called for progress in stalled talks on a so-called buffer zone around militant-held Idlib province in the country's northwest.
Assad made the remarks in a meeting with the Russian president's special envoy Alexander Lavrentiev in Damascus.
The Syrian president also stressed his government's determination to eliminate terrorist groups which are holed up in Idlib and attack civilians in neighboring areas.
He also called for the removal of any "obstacles" blocking the full implementation of the deal, the presidency wrote on Facebook.
Turkey and Russia brokered a deal in September 2018 to create a demilitarized zone in Idlib that would be evacuated of all heavy weapons and militants.
Assad's meeting with the Russian diplomat came ahead of fresh Syria talks aimed at ending the conflict in the war-torn country. The new round of Syria negotiations are scheduled to be held on April 25 and 26 in Kazakhstan's capital, Astana.
The Syrian president's call for progress in talks and elimination of terrorist groups holed up in Idlib comes as the situation in the militant-held province is being described as "dangerous".
"The situation in the Syrian province [of Idlib] is very dangerous, and the Nusra Front terrorist group – which is not part of a de-escalation zone – is controlling a majority of the province's regions," Iranian Foreign Minister Mohammad Javad Zarif warned last month.
Russia has also warned that al-Qaeda-inspired terrorists and the Western-backed White Helmets "aid" group are gearing up for a false flag chemical attack in Idlib, the last major militant stronghold in the Arab state.
Maria Zakharova, the Russian Foreign Ministry spokeswoman, said Thursday that terrorists with the Jabhat Fatah al-Sham, better known as al-Nusra Front, "along with the White Helmets, are preparing for further provocations aimed at accusing the legitimate government in Syria of using poisonous substances."
Full report at:
https://www.presstv.com/Detail/2019/04/20/593852/Assad-syria-idlib-lavrentiev-russia
--------
Muslim World League chief elected as president of LIU in Cairo
April 20, 2019
CAIRO: The League of Islamic Universities (LIU) elected Dr. Mohammed bin Abdul Karim Al-Issa, secretary-general of the Muslim World League (MWL), as president at its 11th General Conference.
He received congratulations and warm wishes from prominent Islamic and political figures from throughout the Islamic world.
The conference discussed the amendment of some articles of LIU's statutes and its working regulations, and approved the minutes of the last session held at Alexandria University last year.
LIU was established in 1969 and includes the largest universities from around the world.
The organization's operations focus on supporting scientific research in the field of Islamic studies, achieving convergence and integration among Islamic universities by monitoring their curricula.
Full report at:
http://www.arabnews.com/node/1485466/saudi-arabia
--------
Mideast
Syria Rejects Media Reports on Clashes between Russian, Iranian Military Men
Apr 20, 2019
"General Command of the army and armed forces categorically refutes those reports circulated on the websites and newspapers and it asserts that the news are baseless and untrue," the source was quoted as saying by SANA news agency on Saturday.
The army command called upon different mass media to seek accuracy and be responsible for broadcasting news and avoid battlefield reports unless those issued by a military source, the source added.
Iranian and Russian militaries have been assisting Syria in fighting against the terrorist groups upon official demand of the Syrian government since the first days of war.
Iran has played a military advisory role in the war-torn Arab states.
Some Israeli websites had earlier claimed clashes between Iranian and Russian forces in Western Homs.
In relevant remarks in January, Iran's First Vice President Eshaq Jahangiri reassured that Tehran would keep supporting Damascus in the reconstruction phase after the war.
Jahangiri said that Iran was honored to be spearheading the anti-terror campaign in the region while felicitating the Syrian government and nation for their achievements in the fight against terrorism.
Iran's vice president expressed hope that terrorists would be completely eliminated in the Middle East and said, "The international community and the Europeans should know that if it were not for the sacrifices of the Syrian government and people as well as the country's allies, ISIL terrorists would establish a government in the region and would turn into a big and insolvable problem for global security."
The Iranian vice president further said that regional and global security was closely intertwined, emphasizing that the promotion of security in the region led to enhanced international security.
Jahangiri added that Iran would stand by the Syrian government and nation in the reconstruction plans of the war-stricken country, saying, "Syria has entered a new phase and efforts should be made toward the country's reconstruction."
He noted that Iran was among the countries in the region and across the world that enjoy high capabilities to build power plants and pledged to help Syria in this regard.
http://en.farsnews.com/newstext.aspx?nn=13980131000889
--------
Yemeni Commander Defects Saudi Coalition
Apr 20, 2019
Another Yemeni commander hired by the Saudi coalition defected the Saudi side and joined the Yemeni army and Ansarullah popular forces on Friday morning.
Some sources are recounting that the number of defections among Yemeni militias hired by the Saudi coalition is increasing.
A security official told a Yemeni news agency on Friday that Colonel Ahmad al-Mojnehi who commanded a military police unit in al-Jawf Governorate of Yemen has officially announced his separation from the Saudi coalition and expressed allegiance with Yemeni army and Ansarullah popular forces.
The same source added that Colonel al-Mojnehi, along with two caravans of the forces under his command, entered Sana'a early on Friday and was pardoned based on the framework set for welcoming defectors.
"Fighting the aggressors' plots against Yemen" has been the main motivation for the colonel and his forces, according to the Yemeni ministry of interior.
"The Yemeni militias hired by the Saudi coalition are regularly targeted with insults by Saudi and Emirati officers, and are living a very miserable life of dishonor," Colonel al-Mojnehi told the Yemeni ministry of interior.
Saudi Arabia and its allies, including the United Arab Emirates, Morocco, and Sudan, launched a brutal war against Yemen in March 2015 in an attempt to reinstall Yemen's former president Abd Rabbuh Mansur Hadi.
The aggression initially consisted of a bombing campaign but was later coupled with a naval blockade and the deployment of ground forces to Yemen. Around 20,000 people have died since the war began, says Yemen's Health Ministry.
The Saudi-led war has also taken a heavy toll on the country's infrastructure, destroying hospitals, schools, and factories. The United Nations (UN) has said that a record 22.2 million Yemenis are in dire need of food, including 8.4 million threatened by severe hunger.
Despite Riyadh's claims that it is bombing the positions of the Ansarullah fighters, Saudi bombers are flattening residential areas and civilian infrastructures.
Full report at:
http://en.farsnews.com/newstext.aspx?nn=13980131000819
--------
Israeli forces shoot, injure Palestinian man over alleged stabbing attack
Apr 20, 2019
Israeli military forces have shot and critically injured a Palestinian man in the northern part of the West Bank as tensions continue in the occupied Palestinian territories as part of the aftermath of US President Donald Trump's recognition of Jerusalem al-Quds as Israel's capital and the relocation of the US embassy to the occupied city.
Israeli media outlets alleged that the unidentified 20-year-old Palestinian sought to stab an officer at the Tapuah Junction south of Nablus, located approximately 49 kilometers north of Jerusalem al-Quds, on Saturday morning.
In response, one officer blocked the man's way with a car, as a result of which he pulled out a knife and attempted to open the vehicle's door. The officer shot the suspect, incapacitating him.
No Israeli troops were injured in the attempted attack.
The Palestinian man from Sanniriyah town, located 36 kilometers southwest of Nablus, was taken to Beilinson Hospital in the city of Petah Tikva for treatment.
On December 21, 2017, the United Nations General Assembly overwhelmingly voted in favor of a resolution that called on the United States to withdraw its controversial recognition of Jerusalem al-Quds as Israeli "capital."
In an attempt to prevent the passing of the resolution, Trump threatened reprisals against countries that backed the measure, which had earlier faced a US veto at the UN Security Council.
Full report at:
https://www.presstv.com/Detail/2019/04/20/593890/Israeli-forces-shoot-injure-Palestinian-man-over-alleged-stabbing-attempt
--------
Erdogan's AKP lodges second call for rerun of Istanbul election
21 April 2019
Turkey's ruling AK Party submitted a second petition to cancel and re-run Istanbul elections it lost three weeks ago, citing thousands of ballots cast by people it said were ineligible to vote due to previous government decrees, state-run Anadolu news agency said on Saturday.
Based on initial results and a series of recounts, the main opposition Republican People's Party (CHP) won the mayoralty in Turkey's largest city, in a defeat for President Tayyip Erdogan who began his political career there and served as its mayor in the 1990s.
The new CHP mayor Ekrem Imamoglu took office on Wednesday, despite a formal request submitted a day earlier by the AK Party (AKP) to annul and repeat the mayoral elections over what it said were irregularities.
Erdogan had said his AKP would keep up its challenge, and on Saturday it filed an additional petition to the High Election Board because of some 14,000 votes cast by those it said were ineligible due to the decrees, according to broadcaster NTV.
Full report at:
https://english.alarabiya.net/en/News/middle-east/2019/04/21/Erdogan-s-AKP-lodges-second-call-for-rerun-of-Istanbul-election.html
--------
Africa
Anti-Haftar forces launch counter-attack near Tripoli
20 April 2019
Forces loyal to Libya's unity government said on Saturday they have launched a counter-attack against Khalifa Haftar's fighters just south of the capital Tripoli.
"We have launched a new phase of attack. Orders were given early this morning to advance and gain ground," said Mustafa al-Mejii, a spokesman for the military operation of the Government of National Accord (GNA).
Haftar launched an offensive on April 4 against Tripoli, where the UN-recognized GNA is based.
https://english.alarabiya.net/en/News/north-africa/2019/04/20/Anti-Haftar-forces-launch-counter-attack-near-Tripoli.html
--------
Libyans accuse France of backing Tripoli assault
20 April 2019
Hundreds of "yellow vest" protesters on Friday demonstrated in Tripoli against an offensive by military commander Khalifa Haftar on the Libyan capital and accused France of backing him.
Wearing the trademark yellow vests of French anti-government demonstrators, they were among thousands of Libyans who flooded a central Tripoli square to rally in support of the internationally-recognized Government of National Accord (GNA).
"We are surprised by France's conduct in the face of the Tripoli attack," read a sign held up by the demonstrators.
"Other countries must stop interfering in Libyan affairs," Haifa Ferjani, a 23-year-old protester said.
"France says it is a friend but secretly backs those attacking our city and our homes," added the young woman.
The French embassy in Libya on Friday tweeted - in Arabic - that Paris was "opposed to the attack" on Tripoli and urged all parties to abide by a ceasefire and engage in peace negotiations.
Friday's rally came days after a smaller protest brought out dozens of "yellow jacket" demonstrators who on Tuesday also demanded the GNA sever ties with countries that "back aggression" on Tripoli.
It also comes a day after UN envoy Ghassan Salame warned of "a widening conflagration" in other parts of the North African country.
Full report at:
https://english.alarabiya.net/en/News/north-africa/2019/04/19/Libyan-army-killed-14-armed-terrorists-who-attacked-Tamanhant-base-Army-spokesperson.html
--------
Sudanese authorities arrest members of Bashir's party
21 April 2019
Sudanese authorities have arrested several top members of the former ruling party of ousted President Omar al-Bashir, in a move that could bolster military rulers who are under mounting pressure by protesters to hand power to civilians.
In another part of a widening crackdown designed to remove remnants of Bashir's rule, the transitional military council (TMC) said it will retire all eight of the officers ranked lieutenant general in the National Intelligence and Security Service.
Opposition groups had demanded that the security agencies be restructured.
Sudan's public prosecutor has begun investigating Bashir on charges of money laundering and possession of large sums of foreign currency without legal grounds, a judicial source said earlier on Saturday.
Suitcases loaded with cash
The source said military intelligence officers who searched Bashir's home found suitcases loaded with more than $351,000 and six million euros, as well as five million Sudanese pounds.
"The chief public prosecutor ... ordered the (former) president detained and quickly questioned in preparation to put him on trial," the judicial source told Reuters.
"The public prosecution will question the former president in Kobar prison," the source said. Bashir has not been questioned yet, the source added.
Two of his brothers were also detained on allegations of corruption, the source said.
Relatives could not immediately be reached on Saturday for comment about the investigation.
Separately, a source in Bashir's National Congress Party said authorities arrested the acting party head Ahmed Haroun, former first vice president Ali Osman Taha, former Bashir aide Awad al-Jaz, the secretary general of the Islamic movement Al-Zubair Ahmed Hassan and former parliament speaker Ahmed Ibrahim al-Taher.
The source also said parliament speaker Ibrahim Ahmed Omar and presidential aide Nafie Ali Nafie were under house arrest.
High security prison
Bashir, who is also being sought by the International Criminal Court (ICC) over allegations of genocide in Sudan's western Darfur region, was ousted on April 11 by the military following months of protests against his rule and had been held at a presidential residence.
His family said this week that the former president had been moved to the high-security Kobar prison in Khartoum.
Hassan Bashir, a professor of political science at the University of Neelain, said the measures against Bashir are intended as a message to other figures associated with his rule that they are not above the law.
"The trial is a step that the military council wants to take to satisfy the protesters by presenting al-Bashir for trial," he said.
Bashir survived several armed rebellions, economic crises, and attempts by the West to turn him into a pariah during his 30-year rule before he was toppled in a military coup.
Full report at:
https://english.alarabiya.net/en/News/middle-east/2019/04/21/Sudanese-authorities-arrest-members-of-Bashir-s-party.html
--------
Sudan protest continues, civil ruling body to be unveiled
Apr 20, 2019
Sudanese protest leaders on Friday announced plans to unveil a civilian body to take over from the ruling military council as huge crowds demonstrated outside army headquarters.
The military council, which took power after ousting long-time leader Omar al-Bashir on April 11, has so far resisted calls from protesters to quickly make way for a civilian administration.
The Sudanese Professionals Association, which has been spearheading the protests, said in a statement that it would name members of the council at a news conference at 1700 GMT on Sunday outside the army complex, to which foreign diplomats are also invited.
"We are demanding that this civilian council, which will have representatives of the army, replace the military council," Ahmed al-Rabia, a leader of the umbrella group of unions for doctors, engineers and teachers, told AFP.
Friday marked four months to the day when first protest was triggered in response to a government decision to triple the price of bread.
The protests soon escalated into widespread rallies demanding Bashir's departure.
Access roads were packed, with crowds flocking to the huge square outside army headquarters to offer the weekly Muslim prayers.
"This government should be a representative of all the people and their aspirations," said prominent cleric Sheikh Matter Younis as he addressed thousands of protesters. "It should include all Sudanese people and shouldn't exclude anyone."
Braving scorching heat, protesters kept on chanting, dancing and singing to rhythmic African and Arabic tunes.
Women handed out traditional Sudanese sweet and sour juice to protesters, encouraging them to press on with their demonstration.
"We will keep distributing juice for free even if we are losing money," said Neserine Hassan, 28.
Protester Yasser Dahab said all who had committed crimes against the Sudanese people be put on trial.
He said he wanted to see a civilian council with a prime minister and a government led by technocrats.
"This government can then prepare for free elections in two years with participation from all parties," Dahab told AFP.
"The military should stay away from political life."
Later as the evening set in, more people flocked to the site to spend the night.
Calls for Bashir to face justice also came from the country's war-torn Darfur.
"He is a criminal," said Hawwa Yousef, who lives in a camp in the region after fleeing from her village in 2004 when it was attacked.
Bashir is wanted by the International Criminal Court over the conflict that the UN says killed 300,000 people, but the military has resisted sending the detained ex-leader to The Hague.
Activists on Thursday mobilized huge crowds through social media to keep up the pressure on the military council, now led by General Abdel Fattah al-Burhan, to cede power.
"I won't leave until Burhan transfers power to a civilian government," said Wali Aldeen, who has camped outside the complex since the day Bashir fell.
Following Bashir's ouster, demonstrations targeted General Awad Ibn Ouf, the first head of the military council, seen by protestors as a tool of the old regime.
Ibn Ouf stepped down in less than 24 hours and was replaced by Burhan, who so far has appeased protesters by lifting a night-time curfew and vowing to "uproot" Bashir's circle.
The United States on Thursday praised orders by Sudan's new military leader to free political prisoners and end the curfew.
It also dispatched Makila James, a deputy assistant secretary of state, on a mission to Khartoum this weekend.
The United States will "calibrate our policies based on our assessment of events", State Department spokeswoman Morgan Ortagus said, but added talks on delisting Sudan as a state sponsor of terrorism remained suspended.
She welcomed the release of political prisoners but urged the military to "show restraint, avoid conflict and remain committed to the protection of the Sudanese people."
A senior US official, speaking on condition of anonymity, said Washington's short-term goal was to "get the military folks out of center-stage" and "back to being responsible for security, nothing else".
Full report at:
https://www.presstv.com/Detail/2019/04/20/593932/Sudan-protest-continues-civil-ruling-body-to-be-unveiled
--------
Sudan's ousted president investigated on suspicion of money laundering
Apr 20, 2019
Sudan's deposed President Omar al-Bashir is under investigation over the possession of "large sums of cash" without legal grounds, and on suspicion of money laundering.
A judicial source told Reuters on Saturday that the public prosecutor had begun investigating Bashir after "large sums of cash" was found at his home.
The source said that military intelligence had searched Bashir's home and found suitcases loaded with more than $351,000 and six million euros ($6.75 million), as well as five million Sudanese pounds ($104,837).
"The chief public prosecutor... ordered the [former] president detained and quickly questioned in preparation to put him on trial," the judicial source said.
"The public prosecution will question the former president in Kobar prison" in the capital Khartoum, where he had been transferred after his ouster, the source said.
Bashir was ousted by the military on April 11 after four months of protests against his policies. Since then, he had been under house arrest in the presidential residence inside the compound that also houses the defense ministry.
Sources from Bashir's family said on Wednesday that the deposed president had been moved to the high-security Kobar prison in Khartoum. He is said to be in solitary confinement.
Bashir, who took power through a military coup in 1989, is also wanted by the International Criminal Court (ICC) over his alleged role in genocide in the Darfur region, which he denies.
Kober prison, located on the east bank of the Blue Nile in a northern district of the capital, held thousands of political detainees under Bashir's 30-year rule and is Sudan's most notorious jail.
Full report at:
https://www.presstv.com/Detail/2019/04/20/593904/Sudan-Bashir-investigation-money-laundering
--------
$7 million cash hoard found in home of Sudan's ousted leader Omar Al-Bashir
April 21, 2019
CAIRO: Sudan's deposed leader Omar Al-Bashir faces trial for money laundering after a hoard of cash was found in his home in Khartoum.
Military intelligence officers who searched the former president's house found suitcases containing 6 million euros, more than $351,000 in US bills, and 5 million Sudanese pounds — a total of more than $7 million.
He faces charges of money laundering and possession of large sums of foreign currency without legal grounds, a judicial source said.
"The chief public prosecutor ... ordered the former president detained and quickly questioned in preparation to put him on trial," the source said. "The public prosecution will question him in Kobar prison."
Bashir was ousted by the military on April 11 after months of protests demanding an end to corruption.
The country's transitional military council last week ordered the central bank to review financial transfers since April 1 and to seize "suspect" funds.
It also ordered the "suspension of the transfer of ownership of any shares until further notice and for any large or suspect transfers of shares or companies to be reported."
A delegation from the Alliance for Freedom and Change, the umbrella group for protesters, held talks with the military council on Saturday about handing over power to a civilian administration.
If the military rulers refused to hand over power, the protest leaders will announce a "sovereign civilian council" on Sunday, said Ahmed Al-Rabia, a leading member of the Sudanese Professionals Association, the group that launched the initial protests.
"If they are willing to negotiate, then there is a chance that tomorrow's announcement could be postponed," he said. "What we want from them is a timetable to hand over power, so things don't drag."
Army chiefs had held two rounds of talks with the protest leaders since Bashir was removed, he said. "During these talks we've felt that the military council has no desire to hand over power."
Officials from the African Union also held talks on Saturday with the military council.
Gen. Omar Zain Al-Abidin, head of the council's political committee, said the military council's job was to provide a climate for political forces to rule Sudan in a peaceful and democratic way. They discussed how the African Union could help in the transition.
Full report at:
http://www.arabnews.com/node/1485506/middle-east
--------
Sudan protest leaders to meet with military rulers
20 April 2019
A Sudanese activist says leaders of the protest movement are expected to hold talks with the military council.
Ahmed Rabie, a leader at the Sudanese Professionals Association which is behind the protests, tells The Associated Press that the meeting is the third that they have with the new rulers since the military ousted President Omar al-Bashir earlier this month.
Rabie says they want to speed up the transition of power to a civilian government that would rule for four years.
Sudan's military ousted al-Bashir following four months of street protests against his rule, then appointed a military council it says will rule for no more than two years while elections are organized.
Full report at:
https://english.alarabiya.net/en/News/middle-east/2019/04/20/Sudan-protest-leaders-meet-with-military-rulers.html
--------
Southeast Asia
Malaysia's Defence Minister says defence spending diverted to bail out Tabung Haji, Felda
APR 20, 2019
KUALA LUMPUR - Malaysia is putting its defence spending on the back-burner as the government is channelling more than RM20 billion (S$6.56 billion) to bail out two key Malay institutions, Defence Minister Mohamad Sabu said on Friday (April 19).
The Pakatan Harapan government is pumping money into Muslim pilgrimage fund Tabung Haji and landowners under the government's Felda scheme, after discovering financial discrepancies.
Mr Mohamad, in a media group interview, said a major portion of his ministry's budget had to be diverted to save the two "Malay institutions", Malay Mail online news quoted him as saying.
"It depends on need and most importantly, financial ability, because now a lot of our money is used to save the Malay institutions which have been destroyed: Tabung Haji and Felda," he said.
Media reports in November said the Malaysian government in announcing its Budget for 2019 allocated RM15.3 billion for the Defence Ministry, RM100 million less than the previous year.
"So the Pakatan Harapan (PH) government is being attacked by those saying that (the government) don't care about the Bumiputera and Malay issues and all that," he said. "However, what happened now, is that RM24 billion is used to save these collapsed Malay institutions."
Mr Mohamad was referring to the slip in support for PH by ethnic Malays in the months after the May general election last year, with complaints over cost of living and concerns over how the 11-month old government is handling issues on Malays and Islam.
The government had announced that RM26.2 billion were being channelled to rejunevate Tabung Haji and Felda.
The Mahathir Mohamad administration last December created a special purpose vehicle to take over property and equity assets of Tabung Haji bought for nearly RM20 billion that are now worth RM9 billion less.
This has left Tabung Haji, a giant organisation that helps Malaysian Muslims save to perform their pilgrimages in Mecca, with a clean slate to continue.
The SPV will nurse these impaired assets to enhance their values and possibly sell them off later.
Earlier this month (April), the government said it was injecting RM6.2 billion into the Federal Land Development Authority (Felda), to revive the agency, which owns a 33.6 per cent stake in listed FGV Holdings.
The cash injection will be used to repay Felda debts, improve operations, and with RM2.7 billion used to financially assist Malay settlers.
Most of the Felda land settlers are Malays with oil palm plantations on their holdings. They number more than 1.2 million voters and are spread across 53 of the country's 222 federal parliamentary wards.
https://www.straitstimes.com/asia/se-asia/malaysias-defence-minister-says-defence-spending-diverted-to-bail-out-tabung-haji-felda
--------
Perak MB: No need for motion on troubled theme park
21 April 2019
By Sylvia Looi
IPOH, Apr 21 — Datuk Seri Ahmad Faizal Azumu said today that he saw no need for a state assembly motion to press his administration into financially resuscitating the Movie Animation Park Studios (MAPS).
The Perak mentri besar from PPBM said his Pakatan Harapan allies in PKR and Amanah shared the view.
"(By tabling the motion) to force the government is not right as the state has taken stern action like conducting internal audits and appointing an outside company to conduct a forensic audit.
"I have also lodged a report with the Malaysian Anti-Corruption Commission urging them to investigate whether there was any misappropriation in management of MAPS," he said, adding that there was also healthy debate among the assemblymen regarding the issue in the current state assembly sitting.
Ahmad Faizal was speaking to reporters after a ground-breaking ceremony for the Pusat Pengajian Islam At-Taiyyibin at Tanah Hitam, Chemor here today.
He was asked to comment on a reports that a motion to propose that the state government step in to help the Movie Animation Park Studios (MAPS) rebuild its finance, which is expected to be tabled on the last day of the Perak state legislative assembly sitting on Tuesday.
Keranji assemblyman Chong Zhemin from DAP said if his motion is allowed by the Speaker, he would want it debated the same day.
Ahmad Faizal said the state has already taken steps to address the situation in MAPS.
"The latest is MAPS opening its doors for free and visitors pay per ride. This has given a positive response to MAPS as it has created ample income to pay its employers salaries. The park management also has its own plans," he said, adding that there would be more announcements soon.
Asked if the state would close down the theme park, Ahmad Faizal said it would be a waste to do so.
"The park employs a lot of locals. If it is closed down, the park would be destroyed and the losses would be even more. At this point, we are trying to sustain MAPS. The state also chips in by having events there so that it can get some earnings," he added.
Full report at:
https://www.malaymail.com/news/malaysia/2019/04/21/perak-mb-no-need-for-motion-on-troubled-theme-park/1745371
--------
PAS: 'Failed' cabinet cannot carry out Dr M's vision
April 21, 2019
The current cabinet lineup is incapable of carrying out Prime Minister Dr Mahathir Mohamad's vision and goals for the country, according to PAS.
"To me, the Pakatan Harapan government has been a failure over the past year. They have let down the voters who gave them the trust and mandate," PAS vice-president Mohd Amar Nik Abdullah was quoted as saying by Utusan Malaysia.
"Mahathir has high ambitions and vision, but it cannot be translated into action by his cabinet. Almost half of the cabinet can be considered a failure."
Amar, who spoke to reporters after a joint ceramah with Umno in Sanglang last night, described the Harapan government as "clueless," and claimed that it was merely recycling the previous BN administration's ideas and policies.
He said this was as ineffectual as changing clothes on the same body, reported Utusan.
During the ceramah, Amar (below) also said that a PAS-Umno unity government could govern the country better than Harapan.
This is as both PAS and Umno have their respective strengths which, when combined, would translate into "extraordinary might."
"Umno has the experience of governing and developing the country for 60 years and the party has strength in numbers.
"Although PAS has no experience in running the country, it has led states like Kelantan and Terengganu, and always champions Islam.
"When these two are united, we can develop Malaysia better than the 'New Malaysia' preached by Harapan," he said.
Amar added that PAS' previous opposition to Umno was to make the latter realise the importance of prioritising Islam in administering the country.
"In fact, (former PAS spiritual leader) Nik Abdul Aziz Nik Mat had said that if Umno can accept Islam, they can rule (the country) for as long as they wish, and PAS was willing to be the opposition.
"Today, we are extending our hand to Umno for Islam's sake. This is the best moment for both parties to reflect on their past mistakes."
Full report at:
https://www.malaysiakini.com/news/473077
--------
URL: https://www.newageislam.com/islamic-world-news/indians-rejoice-foundation-stone-laid/d/118380
New Age Islam, Islam Online, Islamic Website, African Muslim News, Arab World News, South Asia News, Indian Muslim News, World Muslim News, Women in Islam, Islamic Feminism, Arab Women, Women In Arab, Islamophobia in America, Muslim Women in West, Islam Women and Feminism