New Age Islam News Bureau
8 Sept 2014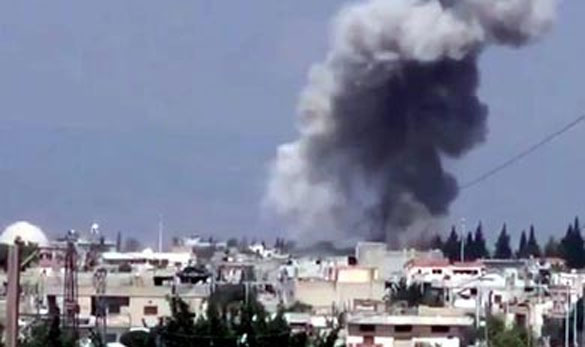 Photo: Syrian Air Strikes on ISIL Positions Kill 60 Civilians
---------
India
• Conference by Muslim Students Organization:" Sufism: As A Counter To Terrorism"
• Afghan Sikhs say getting citizenship is a difficult task
Arab World
• Arab League Says 'Attack on One Is Attack on All'
• Syrian Air Strikes on ISIL Positions Kill 60 Civilians
• Suicide Bombers, Gunmen Kill 18 in Iraq Town
• Iraqi Forces Kill 22 ISIL Terrorists in Northern Hilla
• Kurdistan War Focuses Spotlight on Islamic Parties
• Top Saudi cleric urges Muslims to fight IS jihadists
• Anti-protest law activists begin hunger strike at Egypt's Council for Human Rights HQ
• Militant Groups Get United to Fight Rival Jaish Al-Islam
• Saudi king awarded honorary doctorate from Egypt's Al-Azhar
South Asia
• 35 Taliban militants killed in Afghan operations, MoI says
• Former Jatiya Party lawmaker: Properties of Hindus war booty, belong to Muslims
• Explosion in Ctg Madrasa: Court accepts charges against Izharul
• NATO drone strike leaves 3 militants dead in Kunar province
Pakistan
• Pakistan Ulema Council Campaigns For Interfaith and Inter-Sectarian Harmony
• All Pakistan Muslim League Targets Govt for Implicating Army in Issues
• Drones in Capital's Skies Alarm Security Agencies
• Karachi: three terrorists killed in alleged police encounter
• Pakistan shrine attack kills three including army officer
• PTI workers asked to continue sit-in for two more weeks
• Two militants killed in Bara
• Marchers hampering national prosperity, creating chaos: PM
• Imran Khan's allegations not presented to government committee: Rashid
Europe
• Jihadists Want To Create 'House of Blood': Zeid Ra'ad Al Hussein UN Rights Chief
• Atheist Ireland invites Muslim schools in Ireland to be inclusive
• West widens contacts with Syria's Kurds but suspicion remains
• UN-funded African troops raped vulnerable Somalis: HRW
• Argentinian Figures, Groups Sue Israel for War Crimes in Gaza
• Identity of masked executioner to be revealed as FBI prepares to arrest 12 of his British associates
Australia
• Sold! ISIS Flag Goes On Auction in Australia
• Australian Foreign Minister Says Wiping Out ISIL 'Impossible'
North America
• Al-Qaida Suspects Were Brought To the 'Point Of Death during CIA Torture'
• NY cardinal urges Muslim leaders to tackle extremists
• Obama to outline strategy as US expands Iraq strikes
• Islamic State fighters using US arms: study
• US Defence Secretary in talks with Turkish officials against ISIL
Mideast
• Several Afghan, Pakistani Nationals Seeking to Join ISIL Arrested in Iran
• Iran's Internet censorship and gender segregation not working: Rouhani
• Strategic Affairs Minister: Abbas is offering us 'collective suicide'
• Abbas trying to 'destroy' unity deal: Hamas
• Jerusalem Palestinians riot after teen shot by police dies
• Israeli politicians praise Sisi plan to give Palestinians land for a state in Sinai
• Netanyahu to West: Nip Islamic extremism in the bud, or you'll find it at your doorstep
• Iceland's tiny Turkish community eager to promote culture
Africa
• Most of Borno under Boko Haram, says official
• No Saudi ban for Nigerians going on Haj
• Sudan denies supporting Libyan warring factions
• Tunisia's main Islamist party to stay out of presidential election
Southeast Asia
• Indonesian Muslims 'role models' for Islamic community
• Malaysian family of four, including teenagers, fighting for Isis in Middle East, say sources
Compiled by New Age Islam News Bureau
URL: https://www.newageislam.com/islamic-world-news/new-age-islam-news-bureau/indian-shias-announce-bounty-worth-r-5-crore-on-isis-chief-ibrahim-abu-bakr-baghdadi,-hafiz-saeed,-mullah-umar,-aiman-al-zawahiri/d/98965
---------
India
Indian Shias Announce Bounty Worth R 5 Crore On ISIS Chief Ibrahim Abu-Bakr Baghdadi, Hafiz Saeed, Mullah Umar, Aiman Al-Zawahiri
Lucknow: All India Shia Hussaini Fund (AISHF) has announced bounty worth Rs 5 crore for beheading some prominent terrorists.
The list includes ISIS chief Abu Bakr Baghdadi, Jamaat-u-Dawa chief Hafiz Saeed, Taliban chief Mullah Umar and Al-Qaeda's Al-Zawahiri.
The Hussaini fund has even released a poster for the same in Lucknow in Uttar Pradesh. The organisation claims that these outfits are responsible for spreading terrorism in Iraq, Pakistan, Afghanistan and India.
AISHF says they have beheaded several women and children and killed men. ISIS has also devastated the religious places other than mosques.
The chief of AISHF Hasan Mehdi said that Mullah Umar is threatening a peaceful country by releasing horrific videos which is not tolerable. He said that we should stand up against the organisations which spread terrorism in name of Islam.
Mehandi said that these terror outfits are slaining non-Muslims and non-Sunni people which is unacceptable. The posters have been put up all over Lucknow. They will soon be seen in most Shia dominated population regions.
http://daily.bhaskar.com/news/NAT-TOP-rs-5-crore-bounty-announced-on-isis-chief-baghdadi-hafiz-saeed-more-terrorists-4737944-NOR.html
--------------
No Evidence of Al-Qaeda's Presence in India
Sep 8, 2014
Amid a country-wide alert in India over an al-Qaeda threat, a top US counter-terrorism expert has said there is no evidence of the terror outfit's presence in the country.
"The idea that Ayman al-Zawahiri is going to open a branch of al-Qaeda in India is just crazy. Yes, there are some Jihadi elements in India, but there's no evidence that al-Qaeda has a presence in the country," Peter Bergen, known for his insight into operations of al-Qaeda in South Asia, told CNN yesterday.
Bergen, who has authored several books on counter terrorism, was responding to questions about the last week's announcement by Zawahiri about creating a separate wing of al-Qaeda in the Indian subcontinent.
"It's an attempt by Zawahiri to have people like us discuss him, because he's been out of the limelight for so long, it's all been about ISIS in Iraq and Syria and al-Qaeda is very conscious that they're yesterday's story," he said.
"And if you look at the tape that they showed of Zawahiri, it's so boring. It's him talking in a monologue that goes on for more than half an hour.
Full report at:
http://indianexpress.com/article/world/americas/no-evidence-of-al-qaedas-presence-in-india-us-expert/#sthash.qKqy6OwG.dpuf
---------
Conference by Muslim Students Organization:" Sufism: As A Counter To Terrorism"
Jaipur: 7th Sep 2014
A Conference titled," Sufism: as a counter to Terrorism" was held today on Sunday at Pink city Press Club, Jaipur which was organised by Muslim Students organization (MSO) of India. The Conference was presided by Sufi Scholar Prof. Syed Liaqat H Chishti Moini (Gaddi Nasheen Dargah Ajmer & MSO Patron). Mufti Abdus Sattar Razvi (Head Mufti Jaipur) offered the Prayer in the end. While main Speakers were Mr. Arif Muhammad Khan (Former union Cabinet Minister) and Shri Acharya Maharaaj Pramod Krishnam Ji (President, Bhartiya Sant Samaaj) and ETV Head Jagdish Chandra speaking in Seminar
Mr. Panchsheel Jain & Mr. Murshid Ahmed, activist and social workers were awarded "Sufi Sammaan 2014" by MSO.
The well attended assembly also unanimously passed the following resolution which is called Sufi Resolution
Sufism:-
The ideology of Sufism is actual counter to Terrorism and Extremism. Sufism is above the barriers of religion, caste creed or regions. It teaches and preaches Love the Humanity. The message of Peace and communal Harmony are backbone of the ideology of Sufism. The bond of brother hood and communal harmony in the society was formed due the tireless efforts of the Sufi Saint, their disciples, their followers and leaders of Bhakti movements. India was and is strong from within due this bond of love and peace.
Terrorism teaches hate and violence while Sufism teaches Love and nonviolence. Majority of Indian Muslims and Non-Muslims love and respect Sufism and Sufi teachings.
India learnt these messages from great Sufi personalities like Hazrat Khawaja Ghraib Nawaz (R.A), Hazrat Nizamuddin Aulia, Delhi Sabir Pak Kaliyari, Roorkee, Sarkar Waris Pak Deva Shareef Lucknow, Shah Barkatullah, Marehra Etah, Hazrat Gesu Daraz Banda Nawaz South, and Imam Ahmed Raza Qadri Bareilly among others.
Terrorism has actually targeted these peace loving people and their Sufi Institutions every Where in the world. Thousands of leading Sufis, Sufi scholars have given their lives in fighting with terrorism all over the World. Several hundred of Sufi Dargahs have been destroyed by these terrorists but despite it, the Sufism is still most powerful ideology standing in front of extremism, radicalization or terrorism.
Full report at:
http://kohram.in/conference-sufism-as-a-counter-to-terrorism-held-at-jaipur-by-mso-of-india/#sthash.UtPYhMFN.Nxu9HMWc.dpuf
------------
Afghan Sikhs say getting citizenship is a difficult task
Sep 8, 2014
A majority of Hindu-Sikh refugees from Afghanistan say that they have not been able to get Indian citizenship despite spending close to two decades here. As per norms, however, they are eligible for Indian citizenship once they spend seven years in the country. The fake passport racket by Afghan refugees in India has highlighted this fact too. Over the years, a large number of Hindu-Sikh have migrated from war-ravaged Afghanistan, where they have lived for ages, and have been living in various localities of Delhi.
"All of us have Afghan documents as identity proofs and after spending the specified time limit we applied for Indian citizenship which the government could have provided after proper investigation but till date, majority of us have not been issued citizenship," said one such migrant Guldeep Singh, a relative of one the Afghan refugees arrested in the fake passport case.
Full report at:
http://indianexpress.com/article/india/punjab-and-haryana/afghan-sikhs-say-getting-citizenship-is-a-difficult-task/#sthash.IKMpiCTm.dpuf
---------
Arab World
Arab League Says 'Attack on One Is Attack on All'
World Bulletin / News Desk
Sep 8, 2014
Arab foreign ministers have agreed to activate joint defence agreements to combat the menace of extremist groups, including the self-styled 'Islamic State.'
"The most important outcome of the meeting is the resolution on protecting Arab national security," Arab League chief Nabil al-Arabi told a news conference Sunday night, reading out the communiqué of a meeting that spanned for 10 hours at the pan-Arab body's Cairo headquarters.
"Arab countries have decided to consider any military aggression on any member states as an attack on all Arab states, and agreed to activate joint defence agreements," he said.
Al-Arabi asserted, however, that the foreign ministers had not taken any military decisions "but the door remains open for that."
He said the top diplomats discussed all threats to Arab national security.
"They agreed to stand up against all terrorist and extremist groups, including the Islamic State in Iraq and the Levant (ISIL), and combat their affiliations and terrorist activities in the region," he added.
In their communiqué, the ministers called for boosting cooperation among Arab League member states to combat terror and the menace of the Islamic State.
The Islamic State, formerly known as ISIL, had recently managed to capture large swathes of Iraq and Syria, triggering an international outcry.
The U.S. has conducted a total of 143 airstrikes against sites held by the militant group across Iraq since early last month.
Under the cover of U.S. aerial support, the Kurdish "Peshmerga" fighters and Iraqi government troops have made slow but steady advancements in IS-held areas.
Israeli occupation
Arab foreign ministers meeting in the Egyptian capital, Cairo, on Sunday expressed backing for a plan by Palestinian Authority President Mahmoud Abbas to get a United Nations approval on a blueprint for ending the Israeli occupation of Palestinian territories, a well-informed diplomatic source said.
The source, who asked not to be named, told Anadolu Agency that the final communiqué of the meeting of Arab foreign ministers in Cairo calls for finding a drastic solution to the Palestinian problem and ending the Israeli occupation of Palestinian territories, describing this occupation as the heart of the conflict.
The communiqué also calls on the United States and the international Quartet to put pressure on Israel to abide by its commitments and also usher in the necessary conditions for serious talks that can result in ending the Israeli occupation at the end of the day, the source added.
On Sunday, Abbas, the source said, briefed Arab foreign ministers attending the meeting at the headquarters of the Arab League about his plan to get United Nations approval on a blueprint to end Israel's occupation of Palestinian territories in the light of a specific timetable.
He added that the blueprint makes it necessary for the United States and Israel to recognize a Palestinian state within the 1967 borders, one that has East Jerusalem as its capital. It also includes a timetable for ending the Israeli occupation of Palestinian territories.
The foreign ministers attending the meeting also called for holding an international conference on the Palestinian cause, an occasion during which all aspects of this cause would be explained.
Since its establishment, Israel has continued to misappropriate Palestinian land in the West Bank – on which it continues to build numerous Jewish-only settlements – in breach of international law.
The roots of the current conflict date back to 1917, when the British government, in the now-famous "Balfour Declaration," called for "the establishment in Palestine of a national home for the Jewish people."
Jewish immigration rose considerably under the British administration of Palestine, which was consolidated by a League of Nations "mandate" in 1922.
In 1948, with the end of the mandate, a new state – Israel – was declared inside historical Palestine.
As a result, some 700,000 Palestinians fled their homes, or were forcibly expelled, while hundreds of Palestinian villages and towns were razed to the ground by Jewish forces.
The Palestinian Diaspora has since become one of the largest in the world. Palestinian refugees are currently spread across Jordan, Lebanon, Syria and other countries, while many have settled in refugee camps in the Palestinian West Bank and Gaza Strip.
On May 15 of each year, Palestinians still commemorate the mass expulsion in 1948, which they refer to as the "Nakba" or "catastrophe."
Palestinians demand the establishment of an independent Palestinian state in the Gaza Strip and West Bank, with East Jerusalem – currently occupied by Israel – as its capital.
For many Palestinians, the right to return to their homes in historical Palestine – a right enshrined in U.N. General Assembly Resolution 194 – remains a key demand.
http://www.worldbulletin.net/headlines/143925/arabs-league-says-attack-on-one-is-attack-on-all
----------
Syrian air strikes on ISIL positions kill 60 civilians
World Bulletin/News Desk
Sep 8, 2014
Syrian government warplanes killed at least 60 civilians including a dozen children in two days of air strikes on ISIL-held territory at the weekend, activists said on Monday.
President Bashar al-Assad's military has stepped up an aerial campaign over the last three months against ISIL that controls about a third of Syria's territory, much of it desert in the north and east.
The air strikes have hit a number of ISIL targets but have also killed many civilians in territory under the group's control.
The death toll included 41 killed during air strikes on Saturday that hit a bakery run by ISIL in their stronghold of Raqqa city in the north, the Britain-based Syrian Observatory for Human Rights said.
Another 19 civilians were killed in the eastern Deir al-Zor province, which borders Iraq and, like Raqqa province, is almost entirely controlled by ISIL militants.
The Observatory, which monitors violence in Syria through a network of sources on both sides, did not say how many militants were killed in the strikes, but in an earlier report it said at least 15 had been killed in the Raqqa strikes.
One Raqqa-based activist told Reuters the dead from the bombardment included eight members of one family, that of Khaled al-Haj Omar, and four from another family whose remains have not been found. The youngest was 7-year-old Ibrahim al-Abed, he said. Among the women killed were Ayesha Hassan, 60, and 18-year-old Zeina al-Ahmad, the activist said.
Confrontations between ISIL militants and Assad's forces have escalated sharply since the fighters made lightning advances against Iraqi government forces in June.
Since then ISIL has killed hundreds of Syrian government forces and seized three military bases in Raqqa province.
Syria's air force has bombed the group's positions, even as U.S. warplanes strike the group on the other side of the border in Iraq.
More than 190,000 people have been killed in Syria's conflict since it started more than three years ago, according to the United Nations. The daily death toll from shelling, gun battles, air strikes and executions regularly rises to more than 200 per day.
http://www.worldbulletin.net/headlines/143969/syrian-air-strikes-on-isil-positions-kill-60-civilians
-----------
Suicide bombers, gunmen kill 18 in Iraq town
8 September 2014
Militants, including two suicide bombers, attacked a town north of Baghdad that has resisted jihadists, killing 18 people on Monday, police and a doctor said.
A first suicide bomber blew up a vehicle packed with explosives to breach a barrier in a southern neighborhood of Dhuluiyah, which the second bomber then penetrated, the sources said.
Security forces and allied tribesmen then clashed with the militants in the Jubur neighborhood.
Dhuluiyah was previously overrun by militants but local tribes drove them out, and Jubur has put up fierce resistance to renewed attempts by the militants to take the town.
More than 50 people were wounded in Monday's violence, the sources said.
There was no immediate claim for the attack, but suicide bombings are almost exclusively carried out by Sunni extremist groups, including the militant Islamic State.
http://english.alarabiya.net/en/News/middle-east/2014/09/08/Suicide-bombers-gunmen-kill-18-in-Iraq-town.html
---------
Iraqi Forces Kill 22 ISIL Terrorists in Northern Hilla
Sep 8, 2014
Iraqi security forces killed 22 terrorists of the Islamic State of Iraq and the Levant (ISIL) group in Northern Hilla in Babil province.
"The security forces clashed with the ISIL terrorists in Fadhiliya area of Jurf al-Sakhar district of Northern Hilla, killing 22 of them including four leaders," a security source said.
http://english.farsnews.com/newstext.aspx?nn=13930617001290
---------
Kurdistan War Focuses Spotlight on Islamic Parties
Sep 8, 2014
ERBIL, Kurdistan Region – The war against Islamic State militants in Iraq has placed the Kurdistan Region's three Islamic political parties under the spotlight, with academics and intellectuals questioning their agendas.
The Islamic State (IS/formerly ISIS), which controls most of Iraq's Sunni heartland since the fall of Mosul in June, dominated a seminar in Sulaimani Friday titled "Kurdistan: Political Islam."
On the sidelines of the event, Kurdistan's main Islamic groups were criticized by some attendees for "not publicly condemning the acts of the IS."
"The Islamic parties here have shown that they don't want to condemn the Islamic State," Fuad Majeed Misri, a Kurdish writer, said at the seminar, organized by the Writers Union.
"Neither in writing, nor verbally nor in a statement did they condemn the Islamic state," claimed Misri. "They only tried to find excuses for what the group does."
Meanwhile, others thought it was unfair to put Kurdish Islamic parties in the same category as the radical IS.
"Kurdish Islamic parties are Islamic-nationalist, but the IS is a neo-fundamentalist group that employs terrorism as its main mechanism of work," said Adil Baxawan, a veteran writer and scholar on political Islam.
"Kurdish Islamic parties try to adjust and use the democratic process in their politics," said Baxawan. "Therefore it's very important to separate them from the likes of the IS."
The Islamic Union (Yekgirtu), Islamic League (Komal) and the Islamic Movement (IMK) are the Kurdistan Region's three main Islamic groups and are part of the government and parliament in Erbil.
Members of the three Islamic parties or their supporters were not present in large numbers at the conference.
But Omar Muhammad, a senior member of the Islamic Union described the IS as "a violent and terrorist group." He said that Islamic history has seen many such groups "which seek out certain texts and interpretations to justify their violent actions."
Ali Bapir, the leader of Komal which has been the main target of criticism for not standing against the IS, urged in a statement last month for Kurds to unite against IS attacks.
"I urge all parties in Kurdistan to get united and defend this land," he said.
"I tell the IS, 'reassess your actions,'" said Bapir. "What you do is extremism, and extremism will not last long."
Full report at:
http://rudaw.net/english/kurdistan/08092014
---------
Top Saudi cleric urges Muslims to fight IS jihadists
Sep 8, 2014
Saudi Arabia's top cleric has urged Muslims to confront the "oppressive" Islamic State jihadist group if it fights Muslims after seizing swathes of Iraq and Syria, media reports said Sunday.
"This group is aggressive and oppressive. It sheds blood," Al-Eqtisadiah daily quoted Grand Mufti Sheikh Abdul Aziz al-Sheikh as saying.
"If they fight Muslims, then Muslims must fight them to rid people and religion of their evil and harm," he said in a response to a request from an Iraqi for a fatwa or edict on fighting IS.
"They have been killing ever since they began their fight. Their killing is filled with mutilations and hideousness that distort (the image of) Muslims," Sheikh said.
His remarks come as the United States seeks to build a broad-based international coalition to fight the Islamic State, which has carved out a stronghold in large areas of Syria and Iraq.
The United States last month launched air strikes against the militant group in Iraq, in support of government forces and allied tribesmen, as well as Kurdish peshmerga fighters in the north.
Full report at:
http://english.ahram.org.eg/NewsContent/2/8/110165/World/Region/Top-Saudi-cleric-urges-Muslims-to-fight-IS-jihadis.aspx
---------
Anti-protest law activists begin hunger strike at Egypt's Council for Human Rights HQ
Sep 8, 2014
Six activists being retried for breaching Egypt's protest law have started an open-ended sit-in and hunger strike inside the National Council for Human Rights (NCHR) in downtown Cairo.
The six men were among 25 defendants sentenced on 11 June to 15 years in jail for breaking a controversial law that bans protests without police authorisation, the toughest sentences against pro-democracy activists since the 2011 uprising. They were released pending a probe into the case and are now facing a retrial due to the sentences being handed out in absentia.
Only three of the 25 defendants, including prominent activist and blogger Alaa Abdel-Fattah--an icon of the 2011 revolt that toppled longtime autocrat Hosni Mubarak--have been detained in the case.
The men began their action at the NCHR to protest against "indiscriminate arrests" and "politically motivated sentences," Mamdouh Gamal, one of the activists, told Al-Ahram Arabic news website.
Full report at:
http://english.ahram.org.eg/NewsContent/1/64/110190/Egypt/Politics-/Antiprotest-law-activists-begin-hunger-strike-at-E.aspx
---------
Militant Groups Get United to Fight Rival Jeish Al-Islam
Sep 8, 2014
Several militant groups in Syria have formed an alliance against Jaish Al-Islam terrorist group headed by Zahran Aloush, sources said.
The differences among the terrorist groups are widening as the army inflicted heavy blows on the militants in Mleiha town in Eastern Ghouta, forcing them to blame each other for the defeats, the sources said.
Aloush has lost his popularity among different militant groups after his group Jeish al-Islam withdrew from Mleiha town.
Elsewhere in Syria, Damascus Countryside Governor Hussein Makhlouf denied reports that militants have penetrated Jaramana and al-Dweila.
Speaking from the town of Jaramana, Hussein Makhlouf said that the town is safe and stable and bustling with locals, adding that the victories achieved by the Syrian army near Jaramana prompted some to try to spread malicious rumors.
"The truth is, life in Jaramana, al-Kashkoul, and al-Kabbas area is proceeding in a perfectly normal manner," he affirmed.
Full report at:
http://english.farsnews.com/newstext.aspx?nn=13930617000318
-----------
Saudi king awarded honorary doctorate from Egypt's Al-Azhar
8 September 2014
Egypt's Al-Azhar mosque, considered the world's leading center for Arabic literature and Islamic learning, awarded on Monday Saudi King Abdullah bin Abdulaziz an honorary doctorate.
Saudi Foreign Minister Prince Saud Al Faisal, who inaugurated the new Saudi embassy in Cairo earlier it the day, received the award on behalf of the Saudi king at a ceremony in the Egyptian capital.
Last week, the Saudi state news agency said the award came "in recognition of his [the king's] services to Islam and Muslims in the world.
The Grand Imam of Al-Azhar University Sheikh Ahmad Mohammad Al-Tayyeb said the honor reflects "true feelings of the members of Al-Azhar's Supreme Council to the well-known positions of the Custodian of the Two Holy Mosques toward Islam and Muslims everywhere well as the positions of the Kingdom of Saudi Arabia toward Egypt and its people."
The top Muslim institute granted the king another honorary doctorate earlier in July for his efforts in serving Muslims and the "Ummah," Egypt's official Middle East News Agency (MENA) reported.
http://english.alarabiya.net/en/News/middle-east/2014/09/08/Saudi-king-awarded-honorary-doctorate-from-Egypt-s-Al-Azhar.html
---------
South Asia
35 Taliban militants killed in Afghan operations, MoI says
Sep 8, 2014
At least 35 Taliban militants were killed and 6 others were injured following military operations by Afghan national security forces in various provinces of the country.
The Ministry of Interior (MoI) following a statement said, Afghan National Police conducted several anti-terrorism joint operations with Afghan National Army and NDS to clean some of the areas from terrorists and enemies of peace and stability of Afghanistan.
The statement further added that the operations were conducted in Kunar, Baghlan, Kunduz, Kandahar, Maidan Wardak, Ghazni, Khost, Helmand and Nimroz provinces, as a result 35 armed Taliban members were killed, six wounded and six others were arrested by Afghan National Security Forces.
Also, during these operations, Afghan National Police discovered and confiscated light and heavy rounds ammunition, the statement said.
Afghan National Police discovered and defused seven different types of IEDs placed by enemies of Afghanistan for destructive activities in Chahar Dara district of Kunduz province.
The anti-government armed militant groups have not commented regarding the report so far.
http://www.khaama.com/35-taliban-militants-killed-in-afghan-operations-moi-says-8605
---------
Former Jatiya Party lawmaker: Properties of Hindus war booty, belong to Muslims
Sep 8, 2014
A prosecution witness yesterday said war crimes accused Abdul Jabbar, during the Liberation War, termed freedom fighters, supporters of the Awami League and the war, and Hindus enemies of Pakistan and vowed to destroy them.
Former Jatiya Party lawmaker Jabbar, a fugitive, gave instructions to kill two freedom fighters and 23 Hindus, forcefully converted more than 150 people of the Hindu community to Islam and looted about 360 houses in Phuljhuri village, said Shoebur Rahman Golder, 75, the first prosecution witness in the case against Jabbar.
The three-member International Crimes Tribunal-1 chaired by Justice M Enayetur Rahim recorded deposition of the witness after hearing opening statement placed by prosecutor Mohammad Zahid Imam.
"Wealth and properties of Hindus are war booty, and therefore it belongs to Muslims. If Hindus want to reside in the country, they will have to be Muslims," the witness quoted Jabbar as saying at a rally, who used to address collaborators of Pakistani invading army at different rallies in Pirojpur.
Full report at:
http://www.thedailystar.net/city/properties-of-hindus-war-booty-belong-to-muslims-40687
---------
Explosion in Ctg Madrasa: Court accepts charges against Izharul
Sep 8, 2014
A Chittagong court yesterday took cognizance of a charge sheet against Hefajat-e Islam Nayeb-e-Ameer Mufti Izharul Islam Chowdhury and four others in a case filed over an explosion at a Chittagong madrasa in 2013 killing three people last year.
The court also fixed September 15 for hearing on charge framing, said court sources.
Md Shah Alam, sub-inspector of Khulshi Police Station and investigation officer of the case, submitted the charge sheet on June 11.
The other accused are Izharul's son Harun Bin Izhar, Md Zunaid, Md Ishaque and Habibur Rahman.
On October 7, 2013, the explosion took place in a room of a dormitory at Al Jamiatul Ulum Al Islamia Madrasa run by Izharul in the city's Lalkhan Bazar.
Following the incident, police recovered four grenades and a huge amount of bomb making materials from the madrasa.
http://www.thedailystar.net/city/court-accepts-charges-against-izharul-40691
---------
NATO drone strike leaves 3 militants dead in Kunar province
Sep 8, 2014
At least 3 militants were killed following a drone strike by NATO-led coalition security forces in eastern Kunar province of Afghanistan.
Local security officials said the airstrike was carried out on Monday morning in Marwara district. The identities of those killed in today's drone strike have not been ascertained so far.
The anti-government armed militant groups have not commented regarding the report so far.
At least three Pakistani militants were killed following a drone strike in the same province earlier this month.
Kunar is among the volatile provinces in eastern Afghanistan where anti-government armed militant groups including Pakistani militants are actively operating.
The foreign militants including fighters of the Pakistani Taliban group are usually crossing border into Afghanistan and launch attacks on check posts of the Afghan national security forces in Kunar.
At least 6 members of the Pakistani Taliban group – Tehrik-e-Taliban Pakistan (TTP) including their commander were also killed following a drone strike in Dangam district of Kunar province late last month.
http://www.khaama.com/nato-drone-strike-leaves-3-militants-dead-in-kunar-province-8611
----------
Pakistan
Pakistan Ulema Council campaigns for inter-faith and inter-sectarian harmony
Sep 8, 2014
In order to mitigate tensions, which were created between different religions after 9/11, peace-loving movements, religious leaders, journalists and analysts around the globe are striving to promote inter-faith and inter-sectarian harmony. The only way to ensure the success of this campaign is by identifying and addressing the factors that threaten world peace.
Pakistan Ulema Council [PUC], in order to spread the message of peace throughout the world, has launched a campaign to promote inter-faith and inter-sectarian harmony. Against the backdrop of this campaign, the Inter-Faith Harmony Council International [IFHCI] has been established. The main goals of this organization are as follows:
To strive for world peace and inter-faith and inter-sectarian harmony, and to put an end to hatred and pave the way for dialogue between the followers and leaders of different religions and sects
The IFHCI will send delegations of all religions to hold dialogue to diffuse the situation in countries where tensions exist between different faiths. It will also organize different events at public level to promote love and end hatred
Full report at:
http://www.dailytimes.com.pk/national/08-Sep-2014/puc-campaigns-for-inter-faith-and-inter-sectarian-harmony
---------
All Pakistan Muslim League targets govt for implicating army in issues
Sep 8, 2014
ISLAMABAD - All Pakistan Muslim League (APML) leadership has criticised the rulers for implicating Armed Forces in the ongoing political tussle in the country and advised them to decide the political matters in a political fashion.
In a joint statement issued here on Sunday, party chief Pervez Musharraf, General Secretary Dr. Amjid and SVP Gen. (retd) Rashid Qureshi termed it unfortunate and grilled the rulers for confusing the situation by dragging Army in the political imbroglio to cover up their political failure to resolve the issue.
They said that the political parties sitting in the Parliament were busy settling their personal scores against each other and were least bothered to resolve the issue at an
urgent basis.
They said that the ruling PML-N was not doing any service to democracy or Parliament but they were busy saving the chair of Premier Sharif and that was the reason they were even not ready to listen to the genuine demands of the protesters.
Full report at:
http://www.nation.com.pk/islamabad/08-Sep-2014/apml-targets-govt-for-implicating-army-in-issues
---------
Drones in capital's skies alarm security agencies
Sep 8, 2014
Last month, the capital administration barred media from using Unmanned Aerial Vehicles (UAVs), commonly known as camera drones, for the collection of aerial footage, saying that such detailed visuals of sensitive areas could be exploited by terrorists intending to target key buildings.
But despite the ban, TV channels have been using drones to cover the joint sit-ins of the Pakistan Tehreek-i-Insaf (PTI) and Pakistan Awami Tehreek (PAT).
These camera drones were first used by the media during a PTI rally in Islamabad on May 11 this year. Shortly thereafter, intelligence and security agencies expressed alarm over the use of UAVs and declared them a risk as there was no way to distinguish a 'friendly' UAV from one that might possibly be used for a terrorist attack.
Security agencies' fears are not unfounded. In September of last year, when two men with suspected links to militant groups were arrested from Khayaban-i-Kashmir, law enforcement personnel recovered four remote-controlled planes and a large quantity of explosives and ammunition from their possession.
Police suspect the men were planning to rig the plane with explosives and fly it into their intended target. Such an attack would be virtually impossible to protect against, while putting the attackers at minimal risk.
Full report at:
http://www.dawn.com/news/1130553/drones-in-capitals-skies-alarm-security-agencies
---------
Karachi: three terrorists killed in alleged police encounter
Sep 8, 2014
KARACHI: Police claimed to have killed three terrorists of banned outfit in Site area of Karachi, Geo News reported.
SSP West Irfan Baloch said the terrorists were killed in a police encounter. Police recovered three pistols and machine guns from their possession.
According to police, the accused were involved in extortion, robbery and killings of police personnel.
They were also involved in the murder of ASI SSU Hamid Khattak.
http://www.thenews.com.pk/article-159098-Karachi:-three-terrorists-killed-in-alleged-police-encounter
----------
Pakistan shrine attack kills three including army officer
Sep 8, 2014
Gunmen killed three people including a senior army officer in an attack on a Sufi shrine in central Pakistan, officials said Monday, in the latest deadly sectarian violence to hit the country.
The incident happened in the town of Sargodha, 250 kilometres (155 miles) south of the capital Islamabad, late Saturday but was not immediately reported.
"Gunmen stormed the shrine of a Sufi saint on the outskirts of Sargodha town on Saturday night and opened indiscriminate fire, killing a senior officer of the military and two others," Muhammmad Farooq, a local police official, told AFP.
He named the officer as Fazal Noor Subhani, a serving brigadier.
"A religious gathering was going on in the shrine and around 35 people were present there during the time of the attack," he said.
Full report at:
http://english.ahram.org.eg/NewsContent/2/9/110199/World/International/Pakistan-shrine-attack-kills-three-including-army-.aspx
---------
PTI workers asked to continue sit-in for two more weeks
Sep 8, 2014
ISLAMABAD: The PTI chairman, Imran Khan, on Sunday dashed the hopes of most of the party workers by instructing them to prepare for continuing the sit-in for another two weeks.
A senior leader of the PTI told Dawn that the party chairman was still hopeful that Prime Minister Nawaz Sharif would resign. He asked the party leaders to bring people to the sit-in for two weeks.
A meeting of the PTI Punjab chapter was held at the Khyber Pakhtunkhwa House to discuss the fate of the sit-in after the devastating floods in the country.
He said most of the participants of the meeting were hopeful that the party chairman would ask them to wrap up the sit-in in about two or three days.
"The meeting apparently was called to boost the morale of the party workers and supporters as Imran Khan said the government's position would become weak with each passing day and it would accept the demand of the prime minister's resignation," he said.
However, MPAs from Punjab did not attend the meeting fearing that the party chairman would reprimand them in front of other participants.
Full report at:
http://www.dawn.com/news/1130558/pti-workers-asked-to-continue-sit-in-for-two-more-weeks
---------
Two militants killed in Bara
Sep 8, 2014
LANDI KOTAL: Two suspected militants were killed and three others injured during a clash with peace volunteers in Bara on Sunday, sources said.
Local people said Akka­khel peace committee members challenged the activists of a banned militant group when they tried to force their entry into Mantalab area.
An exchange of fire took place between the two sides which left two suspected militants dead and three others injured. The wounded were taken to a local hospital.
The Akkakhel peace committee has long been resisting militants' entry into their area and has suffered a number of casualties in gun-battles.
http://www.dawn.com/news/1130588/two-militants-killed-in-bara
---------
Marchers hampering national prosperity, creating chaos: PM
Sep 8, 2014
SIALKOT: Prime Minister Nawaz Sharif on Sunday asked the nation "to take notice of those elements who are staging sit-ins and creating hurdles in the path of national progress and prosperity".
Talking to people gathered during his visit to flood-affected areas of Sialkot, the prime minister said that the Chinese president's visit was significant for the progress of the country. The Chinese president was bringing with him a mega project of prosperity for the people of Pakistan, including programmes to end power load shedding within next three to four years and construction of roads, he said and regretted that unfortunately the visit was postponed which has affected such projects. However, he resolved that his government would do whatever it could for the nation's progress and prosperity.
Full report at:
http://www.dailytimes.com.pk/national/08-Sep-2014/marchers-hampering-national-prosperity-creating-chaos-pm
---------
Imran Khan's allegations not presented to government committee: Rashid
September 08, 2014
Islamabad- Information Minister Pervaiz Rashid has said the allegations of poll rigging repeated by PTI chief should be placed on table of dialogue.
He said in an interview that the allegations Imran Khan had been leveling in his speeches for the last 14 months were not tabled before the government's dialogue committee. The minister said Imran's demands presented during the dialogue related to the procedural work of the Election Commission and the government cannot interfere in the matters of Election Tribunals. He said if Imran Khan is not satisfied with the working pace of Election Tribunals, he can move his suggestions to the Parliament for a way forward. Rashid said the government had formed a parliamentary committee for electoral reforms while a judicial commission was announced by the Prime Minister to probe the allegations of rigging in 2013 elections, even before the long march. He said Imran Khan's civil disobedience has even been rejected by the people of Khyber Pakhtunkhwa where his party is in power.
http://www.nation.com.pk/national/08-Sep-2014/imran-khan-s-allegations-not-presented-to-government-committee-rashid
---------
Europe
Jihadists Want To Create 'House Of Blood': Zeid Ra'ad Al Hussein UN Rights Chief
Sep 8, 2014
The jihadist militants who have seized large swaths of Iraq and Syria are intent upon creating "a house of blood", the UN's new human rights chief said Sept. 8.
In his maiden address to the UN Human Rights Council, Zeid Ra'ad Al Hussein lashed out at the militant group calling itself the Islamic State, which has carved out a stronghold and declared a "caliphate" in an area straddling the border of the two conflict-torn nations.
"The Takfiris (extremists) who recently murdered (US journalist) James Foley and hundreds of other defenceless victims in Iraq and Syria, do they believe they are acting courageously, barbarically slaughtering captives?" the Jordanian prince told the opening of the council's 27th session in Geneva.
The massacres, beheadings, rape and torture attributed to IS militants "reveal only what a Takfiri state would look like, should this movement actually try to govern in the future," said Zaid, the first Muslim and Arab to serve as UN High Commissioner of Human Rights.
"It would be a harsh, mean-spirited house of blood, where no shade would be offered, nor shelter given to any non-Takfiri in their midst," warned the career diplomat.
He urged the world to make halting the "increasingly conjoined conflicts in Iraq and Syria" an "immediate and urgent priority."
Full report at:
http://www.hurriyetdailynews.com/jihadists-want-to-create-house-of-blood-new-un-rights-chief.aspx?pageID=238&nID=71430&NewsCatID=352
---------
Atheist Ireland invites Muslim schools in Ireland to be inclusive
Sep 8, 2014
The Atheist Ireland group has welcomed calls by Dr Ali Selim of the Islamic Cultural Centre in Dublin for a "revolution of inclusivity" in Irish schools and "an upheaval in Irish educational perspectives".
It also invited " the two publicly funded national schools under the patronage of the Islamic Foundation of Ireland to lead the way by including the children of atheists and secularists in their schools."
Dr Selim , who is also a lecturer at Trinity College Dublin and the Mater Dei Institute, made the calls in a new book to be published next Thursday.
Islam and Education in Ireland will be launched by Dr Andrew McGrady, director of the Mater Dei Institute, in Trinity College's Long Hub Room at 6pm on Thursday.
In a statement Atheist Ireland pointed out that the Muslim schools to which it referrred were part of the national education system and, given Dr Selim's calls for upheaval and inclusivity, it said " we are anxious to understand how these schools will accommodate the children of atheists and secularists and lead the way in removing religious discrimination in the education system."
Full report at:
http://www.irishtimes.com/news/social-affairs/religion-and-beliefs/atheist-ireland-invites-muslim-schools-in-ireland-to-be-inclusive-1.1920757
---------
West widens contacts with Syria's Kurds but suspicion remains
Sep 8, 2014
The fight against ISIL could at last win Syria's Kurds the Western help they have sought, but they must first clarify their relationship to President Bashar al-Assad and reassure Turkey that they won't cause trouble on its border.
The United States has entered the war against ISIL fighters in Iraq with air strikes, but is still trying to decide a strategy for fighting the group on the other side of the frontier in Syria.
In Iraq, Kurds are one of the main Western allies against ISIL. But in Syria, where Kurdish militia have carved out a swathe of northern territory and repeatedly battled against ISIL during a three-and-a-half year civil war, Kurds have yet to win the West's acceptance as partners.
The main Kurdish political party in Syria, the PYD, and its armed wing, the YPG, say they are obvious allies for Western states as the only force with a proven track record of combating ISIL there. The Kurds are dismissive of the moderate Syrian opposition that has been backed by the West but outgunned by radical groups.
Full report at:
http://www.worldbulletin.net/todays-news/143959/west-widens-contacts-with-syrias-kurds-but-suspicion-remains
----------
UN-funded African troops raped vulnerable Somalis: HRW
Sep 8, 2014
Internationally-funded African Union troops in war-torn and impoverished Somalia have raped women and traded food aid for sex, Human Rights Watch said in a damning report on Sept. 8.
"Some of the women who were raped said that the soldiers gave them food or money afterwards in an apparent attempt to frame the assault as transactional sex," the HRW report said.
There was no immediate reaction from the AU force, AMISOM, a 22,000-strong force with soldiers from six nations, which has been fighting alongside government troops against the Al-Qaeda-linked Shebab insurgents since 2007.
The vulnerable women largely came from basic camps in the capital Mogadishu, after fleeing rural Somalia during a devastating famine in 2011.
Full report at:
http://www.hurriyetdailynews.com/un-funded-african-troops-raped-vulnerable-somalis-hrw.aspx?pageID=238&nID=71426&NewsCatID=357
---------
Argentinian Figures, Groups Sue Israel for War Crimes in Gaza
Sep 8, 2014
A lawsuit was filed against Israel by actors, activists, politicians and pro-Palestinian solidarity groups in Argentina, a statement released by the Palestinian embassy in Buenos Aires said.
The case was brought before the federal court of justice in the city of Cordoba on Saturday, PIC reported.
The case was named "Lawsuit against the Authorities of Israel for Committing Crimes against Humanity and Genocide against the Palestinian people in the Gaza Strip. "
Journalist Serkhio Ortiz, head of the Argentinean committee of honoring the missing and victims, actor Juan Jose-Tutu, and singer and actress Mara Santosho, were among the people who signed the case.
The signatories called in their lawsuit for issuing an international arrest warrant against Israeli figures through the Interpol and forcing Israel to compensate for the human and material losses that it had caused during its war on Gaza.
http://english.farsnews.com/newstext.aspx?nn=13930617001066
----------
Identity of masked executioner to be revealed as FBI prepares to arrest 12 of his British associates
Sep 8, 2014
Anti-terror police are set to arrest up to 12 British associates of Islamic State executioner Jihadi John, it has been reported.
British and American authorities say they know the identity of the hostage killer - and are set to reveal it within days.
The executioner is one of four British jihadis known as the 'Beatles' holding hostages in Syria.
Sources told the Mirror that anti-terror experts from the UK and U.S. know the identity of three of them and are tracking down the group.
An FBI team flown into Britian last month is now closing in on 12 suspects in the UK, who are believed to have provided money, contacts and helped Jihadi John travel to Syria.
An American source told the paper the 'hardened terrorists' include several from the West Midlands who are already known to UK security services.
They said : 'We are 99.9% certain now as to who 'John' is but investigators have had to tread softly in charting and approaching his wider network in the UK.
Full report at:
http://www.dailymail.co.uk/news/article-2747431/FBI-teams-ready-arrest-12-British-associates-Jihadi-John-Identity-masked-executioner-revealed-days.html#ixzz3CjROPyoD
-----------
Australia
Sold! ISIS Flag Goes On Auction in Australia
8 September 2014
Muslim leaders in Sydney have defended their auctioning of a flag associated with the Islamic State of Iraq and Syria, local media reported late Sunday, in a development that could lead to the item's banning.
Australia's The Daily Telegraph said on Sunday footage was being shared among Australian youth of the flag in front of families and young children in Sydney.
The video shows the black and white flag that has come to be associated with the Islamist militant group being auctioned being auctioned in front of families and young children the Markaz Imam Ahmad (MIQ) mosque in Liverpool, Sydney.
The flag was auctioned at more than $2,000.
In an editorial article, the paper described the auctioning of the flag as a "deeply worrying development."
However, the paper quoted Markaz Imam Ahmad (MIA) mosque spokesman Mohamed Rima as saying there was nothing sinister about the public auction.
Full report at:
http://english.alarabiya.net/en/variety/2014/09/08/Sold-ISIS-flag-goes-on-auction-in-Australia.html
---------
Australian Foreign Minister Says Wiping Out ISIL 'Impossible'
Sep 8, 2014
Australian Foreign Minister Julie Bishop does not believe in a complete elimination of the Islamic State of Iraq and the Levant (ISIL) terrorist group, reports said Monday.
"I think that's impossible … Have we destroyed Al-Qaeda?" Bishop was quoted as saying by the Sydney Morning Herald, RIA Novosti reported.
Bishop noted that the ISIL is an ideology as well as a military force, and is therefore impossible to stamp out.
NATO's initial goal was to stop the group from spreading beyond Syria and Iraq and prevent it from carrying out mass killings and potential genocide, Bishop said.
The Australian minister stated that US President Barack Obama was "absolutely correct" to speak of destroying ISIL' activities on the ground, but warned against claiming to be able to carry out a full destruction, the newspaper wrote.
Full report at:
http://english.farsnews.com/newstext.aspx?nn=13930617001026
---------
North America
Al-Qaida Suspects Were Brought To the 'Point Of Death during CIA Torture'
Ian Johnston, The Independent | Sep 8, 2014
At least two al-Qaida suspects were brought to the "point of death" during "real torture" by CIA officials following the 9/11 attacks, a security source have claimed.
The insider said Khalid Sheikh Mohammed, allegedly the mastermind of the 9/11 attacks on the World Trade Centre and Pentagon, and at least one other person were not simply water boarded, which is designed to simulate the sensation of drowning.
"They weren't just pouring water over their heads or over a cloth," the source told The Daily Telegraph.
"They were holding them under water until the point of death, with a doctor present to make sure they did not go too far. This was real torture."
The US Senate is planning to publish a 3,600-page document, dubbed the Torture Report, spelling out what happened to al-Qaida suspects in US custody. Another source said the report would "deeply shock" people in the US.
Full report at:
http://timesofindia.indiatimes.com/world/us/Al-Qaida-suspects-were-brought-to-the-point-of-death-during-CIA-torture/articleshow/42018623.cms
---------
NY cardinal urges Muslim leaders to tackle extremists
Sep 8, 2014
THE CATHOLIC Archbishop of New York has urged moderate Muslim leaders speaking out against Islamic State extremism to look at the stance bishops in Ireland took during the Troubles.
Cardinal Timothy Dolan said key influential Muslim figures often express their views on extremist groups such as Islamic State privately but they now need to be encouraged to express those views publicly.
In Mullingar, Co Westmeath, where the Irish-American prelate was guest of honour for the 75th anniversary celebrations of the consecration of Christ the King Cathedral, he said that when there was an IRA atrocity the Irish bishops were "extraordinarily brave in saying the IRA do not represent us, and that is what we need our Islamic leaders to say today".
Cardinal Dolan, whom 'Time' magazine named as one of the '100 Most Influential People in the World' in 2012, told the Irish Independent: "We do not believe that these extremists and fanatics who are literally beheading people speak for Islam any more than the radical IRA did for Catholicism."
Full report at:
http://www.independent.ie/irish-news/ny-cardinal-urges-muslim-leaders-to-tackle-extremists-30569272.html#sthash.aQupcE36.dpuf
---------
Obama to outline strategy as US expands Iraq strikes
Sep 8, 2014
U.S. President Barack Obama has announced he will unveil a strategy to defeat Islamic State as the U.S. expanded its air campaign against the jihadists, and Arab states vowed to take all "necessary measures" to confront the threat.
In another critical step in the battle against IS, the sharply divided Iraqi parliament will vote on a new government on Sept. 8. Premier-designate Haidar al-Abadi is hoping to bring some stability to Iraq's fractious politics at a time when it is struggling to combat the threat from IS militants who have seized control of swathes of the country.
The United States stepped up its month-long air campaign against IS on Sept. 7, striking targets around the strategic Haditha dam on the Euphrates River.
Iraqi forces sought to capitalise on the air strikes, which have largely been limited to the north since they began on August 8, attacking jihadists in the area and retaking the town of Barwana.
Full report at:
http://www.hurriyetdailynews.com/obama-to-outline-strategy-as-us-expands-iraq-strikes.aspx?pageID=238&nID=71422&NewsCatID=359
---------
Islamic State fighters using US arms: study
Sep 8, 2014
LONDON: Islamic State fighters appear to be using captured US military issue arms and weapons supplied to moderate rebels in Syria by Saudi Arabia, according to a report published on Monday.
The study by the London-based small-arms research organisation Conflict Armament Research documented weapons seized by Kurdish forces from militants in Iraq and Syria over a 10-day period in July.
The report said the militants disposed of "significant quantities" of US-made small arms including M16 assault rifles and included photos showing the markings "Property of US Govt".
It also found that anti-tank rockets used by IS in Syria were "identical to M79 rockets transferred by Saudi Arabia to forces operating under the Free Syrian Army umbrella in 2013". The rockets were made in the then Yugoslavia in the 1980s.
Islamic State is believed to have seized large quantities of weapons from Syrian military installations it has captured, as well as arms supplied by the United States to the Iraqi army after it swept through northern Iraq in recent weeks.
http://www.thenews.com.pk/article-159130-Islamic-State-fighters-using-US-arms:-study
---------
US Defense Secretary Chuck Hagel in talks with Turkish officials against ISIL
Sep 8, 2014
U.S. Secretary of Defense Chuck Hagel has begun talks with Turkish officials over the common threat posed by extremist jihadists in Iraq and Syria as Washington suggested the formation of a coalition to destroy the Islamic State of Iraq and the Levant (ISIL).
Hagel met with Turkey's top soldier, Chief of General Staff Gen. Necdet Özel, at the military headquarters early Sept. 8 before his scheduled meetings with President Recep Tayyip Erdogan and Prime Minister Ahmet Davutoglu.
Hagel's visit comes at a crucial moment as U.S. President Barack Obama will announce Washington's strategy against ISIL on Sept. 10. Obama called on Sunni countries, like Turkey, Jordan and Saudi Arabia, to participate in the international community's efforts to dislodge the jihadists. Obama's call followed his suggestion for the formation of a core group in the fight against ISIL that includes Turkey, along with other Western powers.
Hagel was expected to repeat Obama's call to Turkish officials and discuss ways to deepen cooperation.
http://www.hurriyetdailynews.com/us-defense-secretary-chuck-hagel-in-talks-with-turkish-officials-against-isil.aspx?pageID=238&nID=71439&NewsCatID=510
----------
Mideast
Several Afghan, Pakistani Nationals Seeking to Join ISIL Arrested in Iran
Sep 8, 2014
Iranian Interior Minister Abdolreza Rahmani Fazli announced on Monday that the country has detained a number of Afghan and Pakistani nationals on their way to join the terrorist Islamic State of Iraq and the Levant (ISIL).
Speaking to reporters in Tehran on the sidelines of a forum of deputy governors, Rahmani Fazli rejected media reports that the ISIL is recruiting forces in Iran, and said Iran is well aware of the the terrorist group's plans for Iran and other regional countries.
"The group has extensive plans and based on our documents, they planned to make an aggression against our country and other countries, but Iran is so powerful that such a small group cannot make any aggression against it," he said.
"Of course, in certain cases, there have been some Afghans and Pakistanis who intended to pass through the Islamic Republic of Iran's borders (to join the ISIL), but we have prevented their entrance or transit through our borders and have made some arrests in this regard as well," he added.
Full report at:
http://english.farsnews.com/newstext.aspx?nn=13930617000870
----------
Iran's Internet censorship and gender segregation not working: Rouhani
September 08, 2014
TEHRAN: President Hassan Rouhani re-entered Iran's feverish debate on Internet censorship and gender segregation Sunday, saying neither policy was in the country's interest.
Rouhani was elected last year having pledged to be more moderate on social issues after his conservative predecessor Mahmoud Ahmadinejad's eight-year tenure, but he has encountered resistance.
Iran has a policy of filtering online content, which leaves popular websites such as Facebook, Twitter and YouTube inaccessible without the use of illegal software.
Iranian authorities are also often accused of deliberately slowing down the Internet to make many websites harder to access.
The decision of Rouhani's government to approve faster 3G mobile Internet licences for two Iranian companies last month was seen as a first step toward making Internet access easier. But he went further Sunday and said filtering was counter-productive.
"Some people think we can fix these problems by building walls, but when you create filters, they create proxies," Rouhani said, referring to proxy servers in other countries used by Iranians to circumvent national regulations.
Full report at:
http://www.nation.com.pk/international/08-Sep-2014/iran-s-internet-censorship-not-working-rouhani
---------
Strategic Affairs Minister: Abbas is offering us 'collective suicide'
Sep 8, 2014
PA President Mahmoud Abbas is offering Israel a recipe for collective suicide, Strategic Affairs Minister Yuval Steinitz said on Monday.
Speaking at a conference held by the International Institute for Counter-Terrorism in Herzliya, Steinitz said, "Every examination of what happened in Gaza, and every look at what is happening around Israel, leads to the conclusion that the demand for Israel to withdraw to the 1967 lines, without holding on the Jordan Valley, without defensible borders, without security control, and without the demilitarisation of Gaza... is a recipe for collective suicide."
Stressing that "we all want a diplomatic process and peace," the cabinet minister said, "We must be careful, for despite our desire for peace, we are talking about our existence. We must look at what is happening in the Palestinian arena, not just in the context of Israel and the Palestinians, but as part of the wider regional development in the Middle East."
Terror organizations are spreading throughout the Middle East, Steinitz said, noting developments in Libya, the Sinai Peninsula, Syria, Iraq, Lebanon, Yemen, and several other arenas.
Full report at:
http://www.jpost.com/Arab-Israeli-Conflict/Steinitz-Abbas-is-offering-us-collective-suicide-374753
---------
Abbas trying to 'destroy' unity deal: Hamas
Sep 8, 2014
Hamas on Monday accused Palestinian president Mahmud Abbas of trying to sabotage a fragile reconciliation agreement after he accused them of running "a shadow government" in Gaza.
In a sharply worded attack on Hamas, Abbas on Saturday threatened to break off the unity agreement over the group's de facto control of the Gaza Strip.
But Abbas's words sparked an angry response from Hamas, with spokesman Fawzi Barhum accusing him in turn of trying "to destroy the reconciliation and play into the hands of the Americans and the Israelis."
Hamas forcibly took over the Gaza Strip in 2007, ousting forces loyal to Abbas and sparking a bitter and bloody split with his Fatah movement, which continued for years until the two sides signed a reconciliation deal in April.
Full report at:
http://english.ahram.org.eg/NewsContent/2/8/110204/World/Region/Abbas-trying-to-destroy-unity-deal-Hamas.aspx
---------
Jerusalem Palestinians riot after teen shot by police dies
Sep 8, 2014
A Palestinian teenager died on Sept. 7 from injuries sustained when he was shot last week by Israeli border police in occupied east Jerusalem, his family and a hospital said.
Mohammed Sinokrot, 16, was wounded by gunfire in the Wadi Joz neighbourhood where he lived, on August 31. News of his death sparked widespread clashes near his home and throughout the Israeli-annexed east of the city, late into Sept. 7 night.
Police said masked Palestinians threw stones and firecrackers at officers in Wadi Joz and the Issawiya and A-Tur districts of east Jerusalem and stoned civilian traffic.
They also threw petrol bombs at a petrol station on the edge of the east Jerusalem Israeli settlement of French Hill, setting a pump on fire.
Police said they responded to the unrest with unspecified "riot dispersal" weapons. No serious injuries were reported on either side.
Police said Sinokrot was shot in the leg with a sponge grenade - intended to be a non-lethal form of crowd control - while rioting, but his family said he was shot in the head on his way to the mosque.
Full report at:
http://www.hurriyetdailynews.com/jerusalem-palestinians-riot-after-teen-shot-by-police-dies.aspx?pageID=238&nID=71425&NewsCatID=352
---------
Israeli politicians praise Sisi plan to give Palestinians land for a state in Sinai
Sep 8, 2014
Israeli politicians responded enthusiastically Monday to reports that Egyptian President Abdel Fattah al-Sisi was willing to give Palestinians land in Sinai adjacent to Gaza for a state.
Science and Technology Minister Yaakov Peri, a former Shin Bet chief, said he's surprised by Sisi's generosity, calling the proposal "worth discussing seriously."
On Monday, Army Radio reported that Sisi had offered Palestinian Authority President Mahmoud Abbas 1,600 square kilometers in Sinai to expand the Gaza Strip to five times its current size. According to the plan, the territory would serve as a Palestinian state under the complete control of the PA.
The new territory, composed of Gaza together with the extra land in Sinai, would be a demilitarized state that would serve as a home to which Palestinian refugees could return.
In addition to the "Greater Gaza State," the cities currently in the Palestinian Authority in the West Bank would be under the autonomous rule of the PA. In exchange, Abbas would give up claims to a state within the pre-1967 lines.
Full report at:
http://www.jpost.com/Arab-Israeli-Conflict/Israeli-politicians-praise-Sisi-plan-to-give-Palestinians-land-for-a-state-in-Sinai-374745
---------
Netanyahu to West: Nip Islamic extremism in the bud, or you'll find it at your doorstep
Sep 8, 2014
Prime Minister Binyamin Netanyahu warned Monday that the extremism represented by groups such as the Islamic State is a threat to the entire world, not just the Middle East.
Speaking during a meeting with visiting Norwegian Foreign Minister Børge Brende, Netanyahu said that those who do not "nip it in the bud" immediately, will find the Islamic extremism seen today in the Middle East "at their doorsteps tomorrow."
Netanyahu told Brende that there is "a growing awareness in the international community of the threat posed by Islamist terror and radicalism. Groups like ISIS, Hamas, al Nusra, al-Qaida, al Shabaab, Hezbollah supported by Iran, they form a clear and present danger to our civilization, to our way of life, our values."
Brende, who was visiting Israel after having attended the weekend's NATO summitt in Wales, discussed the international coalition-building process currently taking place to combat the growing threat of the Islamic State, formerly known as ISIS.
"[I send] condolences from Norway on what has taken place in difficult times for Israel this summer. I just came from the NATO summit in Wales to Israel and also there was a lot of discussion of to join forces now against extremism, especially now with the growing ISIS and challenge in Syria and Iraq."
Full report at:
http://www.jpost.com/Israel-News/Politics-And-Diplomacy/Netanyahu-to-West-Nip-Islamic-extremism-in-the-bud-or-youll-find-it-at-your-doorstep-374751
---------
Iceland's tiny Turkish community eager to promote culture
Sep 8, 2014
Turks have little trouble finding fellow countrymen wherever they travel, and the volcanic island just below the Arctic Ocean is no exception.
Iceland has a Turkish community of around 50 people, who have come together and founded an association to introduce Turkish culture both to their children and Icelanders.
"The idea was to do something for our children to learn about Turkish culture and traditions," Çetin Çaglar Çetin, the chairman of the Iceland Turkish Culture Association (Tyrknesk-íslenska menningarfélagið). "A get together for April 23 National Sovereignty and Children's Day, and we had five kids at that event. In this year's event, we had more than 25, including local kids."
Çetin came to the island eight years ago after marrying Ingigerdur Einarsdottir and they have two children, 7-year-old daughter Julia Esma and 5-year-old son Einar Ozan. Marriage is the reason why most of the Turks have moved to Iceland, and raising bicultural, bilingual kids has been a challenge for all.
"We often organize book-reading sessions and read Turkish books to our children to improve their language skills," said Çetin, who added that there are around 20 children in Iceland who are younger than 10 and have at least one Turkish parent.
Full report at:
http://www.hurriyetdailynews.com/icelands-tiny-turkish-community-eager-to-promote-culture-.aspx?pageID=238&nID=71420&NewsCatID=351
---------
Africa
Most of Borno under Boko Haram, says official
World Bulletin / News Desk
Sep 8, 2014
The local government in Nigeria's restive northern state of Borno state conceded late Sunday that Boko Haram fighters were in control and urged concerted efforts to undo the damage.
"At this very moment most parts of Borno state are being occupied by Boko Haram insurgents," Baba Jiddah, the state government's secretary, told reporters in the federal capital Abuja.
"Government presence and administration is minimal or nonexistent across many parts of the state with economic, commercial and social services totally subdued," he said.
"Schools and clinics remain closed," added the official.
The official said the situation in Borno is too grim to allow for any politicking.
"Most settlements in the affected areas have either been deserted or access to them is practically impossible; thus majority of the political stakeholders cannot in real fact reach their constituencies," he added.
"The threat of insecurity affects everybody irrespective of political differences," asserted Jiddah. "The enabling environment for politics and electioneering campaign is simply not obtainable at present in Borno state."
Full report at:
http://www.worldbulletin.net/headlines/143931/most-of-borno-under-boko-haram-says-official
---------
No Saudi ban for Nigerians going on haj
World Bulletin/News Desk
Sep 8, 2014
Saudi Arabia, which has barred pilgrims from Sierra Leone, Liberia and Guinea from the haj due to Ebola concerns, will allow Nigerians to attend, an official was reported on Monday as saying, suggesting the smaller outbreak there was less worrying.
Guinea, Liberia and Sierra Leone have been worst hit by an outbreak of the disease in West Africa, with a combined death toll in those three countries since March of 2,097, as at Sept. 5, the World Health Organization (WHO) says.
A further eight people have died in Nigeria, out of 23 cases, and there has been one confirmed case in Senegal.
There are no approved Ebola vaccines or treatments.
Saudi Arabia said in April it would not issue visas for the 2014 haj to pilgrims from Sierra Leone, Liberia and Guinea due to the Ebola outbreak in those countries.
Millions travel to Mecca each year for the haj pilgrimage that all Muslims must perform at least once in their lifetime, if they are able. This year's will take place in October.
The Arab News daily quoted Mohammed Al-Khasheem, deputy health minister for planning and development, as saying there was no need to worry about Nigerians coming on pilgrimage.
Full report at:
http://www.worldbulletin.net/todays-news/143968/no-saudi-ban-for-nigerians-going-on-haj-arab-news
---------
Tunisia's main Islamist party to stay out of presidential election
Sep 8, 2014
Tunisia's main Islamist party, Ennahda, said on Sunday it would not contest a presidential election in November, in the interest of ensuring an inclusive government for all Tunisians.
Ennahda is one of the two front-runners to win next month's parliamentary election and provide the next prime minister, but opposition groups say its dominance of the last government almost derailed Tunisia's transition to democracy following its revolution of 2011.
The president makes senior military and foreign policy appointments as well as nominating the prime minister, and ceding the post to an outside candidate on Nov. 23 sends a signal that Ennahda will avoid making the same mistakes if it wins the parliamentary election.
"We want to send a positive message to the Tunisian people and politicians ... We do not want to dominate all contests, especially since Ennahda will feature strongly in the parliamentary election next month," party spokesman Zied Ladhari told Reuters.
Ennahda won the first free election after the overthrow of autocratic president Zine El-Abidine Ben Ali in 2011, but was accused by the opposition of seeking to entrench itself in power, disregarding the interests of a large secular urban population and being lenient toward radical Islamists.
Full report at:
http://english.alarabiya.net/en/News/middle-east/2014/09/07/Tunisia-s-main-Islamist-party-to-stay-out-of-presidential-election.html
---------
Sudan denies supporting Libyan warring factions
Sep 8, 2014
Sudan has denied supporting any of the warring militias in Libya after forces there seized a Sudanese airplane loaded with ammunition.
A statement Saturday from Libya's government, recently empanelled by the country's newly elected parliament, accused Sudan of supporting "terrorist groups" in Libya with weapons from the aircraft. They said the move "breached its national sovereignty."
"We call on the Sudanese authorities to stop interfering in the political affairs of Libya and not to have bias toward any of the conflicting parties," the statement published on the Cabinet's official Facebook page said.
Alsawarmi Saad, a spokesman of the Sudanese armed forces, told local television channel al-Shorouk on Saturday night that the plane was meant to supply joint Libyan-Sudanese forces operating on the country's shared border.
Libya is witnessing the worst bout of violence since its 2011 civil war saw longtime dictator Muammar Ghaddafi ousted and killed. Rival groups backed by heavily armed militias fight for political power.
http://english.ahram.org.eg/NewsContent/2/8/110187/World/Region/Sudan-denies-supporting-Libyan-warring-factions.aspx
---------
Southeast Asia
Indonesian Muslims 'role models' for Islamic community
Sep 8, 2014
oreign Deputy Minister Dino Patti Djalal says Muslims in Indonesia should realize that they are role models for Muslims across the globe.
"I think Muslims [in the country] must realize they are role models for the [Islamic] world because they have different colors," he said in Ponorogo, East Java on Thursday evening, on the sidelines of a ministry event, as quoted by Antara news agency.
He defined Indonesian Muslims' "different colors" as values that they held, such as moderation, progressivism and brilliance.
Based on his observations, he said some Muslims from other countries had lost their Muslim identity, which saw them easily provoked, creating conflicts in their countries.
"They need role models to follow and Muslims in Indonesia can become the reference," he added.
Full report at:
http://www.thejakartapost.com/news/2014/09/05/indonesian-muslims-role-models-islamic-community.html
----------
Malaysian family of four, including teenagers, fighting for Isis in Middle East, say sources
Sep 8, 2014
A family of four is believed to be among 30 Malaysians fighting in the Middle East alongside the Islamic State of Iraq and Syria (Isis) forces, which has carved out a reputation for brutal treatment of their enemies and hostages.
Sources said the four were believed to be the first Malaysian family fighting in the ongoing civil war in Syria, and were among the hundreds of foreigners who signed up with Isis which had been condemned by most Muslim countries including Malaysia.
The Malaysian Insider understands that the family comprises the parents, their 18-year-old daughter and 14-year-old son.
"The family has been influenced to fight alongside their fellow 'brothers' and 'sisters' in the holy crusade currently being waged in Iraq and Syria.
"Authorities received information about the family's activities in November last year following a series of operations conducted by the police," a source told The Malaysian Insider in Kuala Lumpur.
Full report at:
http://www.themalaysianinsider.com/malaysia/article/malaysian-family-of-four-including-teenagers-fighting-for-isis-in-middle-ea#sthash.eGeXKE1H.dpuf
----------
URL: https://www.newageislam.com/islamic-world-news/new-age-islam-news-bureau/indian-shias-announce-bounty-worth-r-5-crore-on-isis-chief-ibrahim-abu-bakr-baghdadi,-hafiz-saeed,-mullah-umar,-aiman-al-zawahiri/d/98965