New Age Islam News Bureau
2 March 2019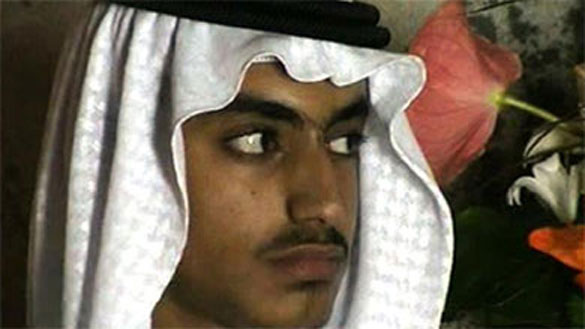 Hamza bin Laden is described as an "emerging leader" within al-Qaeda [CIA handout via AP]
------
• Indian Qazis in Darul Qaza to Now Get Lessons in Indian Constitution
• Islam Means Peace, None of Allah's Names Mean Violence: External Affairs Minister at OIC
• Muslims in India Microcosm of Its Diversity, Not Influenced By Extremist Ideology: External Affairs Minister
• Jamaat-e-Islami Ban: 77-Year-Old Islamic Organisation Accused Of Terror Links • Has Been Politically Active In J&K
• Handover Of Pilot To India: Ulema Council Lauds PM's Decision
• Global Perception Hardens on Pakistan As Terrorist State
• Taliban Revive Harsh Rule in a Remote Afghan Province
• Saudi Arabia Strips Bin Laden's Son Hamza of Citizenship
• UN Rejects US Move to Recognize Golan Annexation by Israel
• Malaysian NGOs Protest Offensive Post against Islam
India
• Qazis in Darul Qaza to Now Get Lessons in Indian Constitution
• Islam Means Peace, None of Allah's Names Mean Violence: External Affairs Minister at OIC
• Muslims in India Microcosm of Its Diversity, Not Influenced By Extremist Ideology: External Affairs Minister
• Jamaat-e-Islami Ban: 77-Year-Old Islamic Organisation Accused Of Terror Links Has Been Politically Active In J&K
• Ban on Jamaat in J&K to rein in over-ground workers, curb stone-pelting
• Military has proof of hit on Balakot Jaish camp; up to govt to release it
• Osama's friend Masood Azhar a global threat
• Jamaat property worth Rs 4.5K cr under lens after crackdown
• Pakistan repatriates Abhinandan, large crowd outside Attari celebrate his return
• Indo-Pak conflict: Muslim intellectuals meet Rajnath Singh
• Wing Commander Abhinandan Varthaman returns, IAF says happy he's back
• Jaish's Al Badr recruits terrorists as Imran talks peace
--------
Pakistan
• Handover Of Pilot To India: Ulema Council Lauds PM's Decision
• Global Perception Hardens on Pakistan As Terrorist State
• Jaish chief in Pakistan, admits foreign minister Qureshi
• Indian misadventure turned into embarrassment, says Fazl
• Downing of IAF jets encouraged US mediation
• PPP questions 'haste' in decision to free Indian pilot
• India seeking to become an OIC observer and gradually force its way in: FM Qureshi
• Maulana Samiul Haq's secretary arrested on murder charges
• SC acquits death row convict accused of training suicide bombers
--------
South Asia
• Taliban Revive Harsh Rule in a Remote Afghan Province
• At least 20 soldiers killed in Taliban attack on Afghan-US base
• Taliban militants suffer heavy casualties in Kandahar airstrikes
• Taliban attack repulse attack on an army base in Helmand
• 34 Rohingya women, children found stranded on Malaysia beach
• Four killed in Taliban attack on US-Afghan base in Helmand
• UN says Bangladesh must take in Rohingya Muslims
--------
Arab World
• Saudi Arabia Strips Bin Laden's Son Hamza of Citizenship
• 84 civilians die fleeing final Daesh enclave in Syria's Dayr al-Zawr: UN
• Organization of Islamic Cooperation foreign ministers call for tougher strategy on terrorism
• Chlorine used in 2018 attack on Syria's Douma: Chemical weapons watchdog
• US-backed SDF expects 'fierce battle' in final ISIS enclave
• US, Turkey know Daesh leader's whereabouts: Syria
• Hezbollah: UK terrorist designation 'insult' to Lebanon
• Saudi Arabia strips Osama bin Laden's son of citizenship
--------
Europe
• UN Rejects US Move to Recognize Golan Annexation by Israel
• Reformer advises Muslims to embrace Western values
• Belgium students mock Islam dressed as suicide bombers
• Lebanon's Hezbollah slams British ban, says it shows US 'obedience'
• Germany mulling over extending Saudi arms ban
• Rohingya need peace and security to go home: UK panel
--------
Southeast Asia
• Malaysian NGOs Protest Offensive Post against Islam
• NU Calls for End to Word 'Infidels' To Describe Non-Muslims
• PAS denies paying Sarawak Report editor to settle libel suit
• Police Name Former Laskar Jihad Leader a Suspect in Religiously Charged Assault Case in Papua
--------
Mideast
• Israeli Soldiers Mercilessly Beat Up Disabled Palestinian Man In His Bed
• Yemeni government calls on Iran to stop supporting of Houthis
• Egypt's Al-Azhar slams Israeli violations in Jerusalem
• Israeli attorney-general plans to charge Netanyahu in corruption cases
• Israeli forces injure 17 Palestinians in Gaza
--------
Africa
• US military says airstrike in central Somalia kills 26 al-Shabab extremists
• Sudan's Bashir hands party leadership to new deputy
• Gunfire rages in Mogadishu as hotel bomb kills nearly 30
• US airstrike in Somalia kills 26 al-Shabaab fighters
• Somalia: Many killed in al-Shabab attack in Mogadishu
• 30,000 Nigerians displaced by Boko Haram return from Cameroon
• UNHCR Says 30,000 Nigerians Return to Town Targeted By Boko Haram
• How Nigerian soldiers, Boko Haram destroyed Maiduguri homes on election day
--------
North America
• US Renews Designation Of PKK As Terrorist Organisation
• US military plans to exit Afghanistan within five years: New York Times
• US keeps PKK's status as foreign terror organization
• US delegation in Turkey to discuss Syria pullout
Compiled by New Age Islam News Bureau
URL: https://www.newageislam.com/islamic-world-news/indian-qazis-darul-qaza-now/d/117904
--------
Indian Qazis in Darul Qaza to Now Get Lessons in Indian Constitution
Qazi Faraz Ahmad
March 2, 2019
Lucknow: In a first, the members of All India Muslim Personal Law Board's (AIMPLB) have decided that qazis appointed at Darul Qaza (Shariat courts) will now be given lessons in the Indian constitution.
On Thursday, the third and final day of Darul Qaza conference organised by AIMPLB, the highest decision making body on Muslim affairs, in Aishbagh Eidgah, it was decided that apart from Islamic knowledge, the qazis will learn about the various articles related to Muslim community in the constitution. They also decided that that the words 'adaalat' and 'court' will no longer be used to refer to Darul Qaza.
"The qazis appointed in the Darul Qaza will now be trained in the knowledge of articles of Indian constitution which deal with the Muslim community. Darul Qaza has nothing to do with the judicial system of the country. These are places where issues that are not sub-judice are resolved by mediation. The complainants are not bound by the decision of the Darul-Qaza and are free to go to a court if not satisfied. However, the number of cases going to court after mediation at Darul Qaza is quite low," said said senior advocate and AIMPLB secretary Zafaryab Jilani.
"Also, Darul Qaza should be referred as just that in all languages and terms such as Islamic Court or Sharia Court should not be used as they give out a wrong message to the world. These words make it seem like Muslims have a parallel judicial system of their own, which is not correct," Jilani added.
There are 19 Darul Qaza in Uttar Pradesh, 33 in Maharashtra, four in Rajasthan, two in Madhya Pradesh, two in Delhi and one each in Goa, Punjab and Karnataka. Most cases that are brought here constitute of family and domestic issues.
AIMPLB member Khalid Rasheed Farangi Mahali said that some people have been trying to defame these Shariat courts. "The Darul Qaza have been working inside the constitutional framework. Although there are some forces which have been defaming them and spreading misconceptions. The truth is that most issues that are brought to Darul Qaza are solved without hassle," he said.
https://www.news18.com/news/india/qazis-in-darul-qaza-to-now-get-lessons-in-indian-constitution-2052991.html
--------
Islam Means Peace, None of Allah's Names Mean Violence: External Affairs Minister at OIC
March 1, 2019
In a major diplomatic achievement, India for the first time addressed the OIC meeting on Friday here, and asserted that the war against terrorism, which was destabilising regions and putting the world at great peril, was not against any religion.
India's participation came despite strong demand by Pakistan to rescind the invitation to External Affairs Minister Sushma Swaraj to address the grouping of the Organisation of Islamic Cooperation (OIC) which was turned down by the host UAE, resulting in Pakistan's Foreign Minister Shah Mehmood Qureshi boycotting the plenary.
"Terrorism and extremism bear different names and labels. It uses diverse causes. But in each case, it is driven by distortion of religion, and a misguided belief in its power to succeed. The fight against terrorism is not a confrontation against any religion," Swaraj, who is the first Indian minister to address the meeting of the 57 Islamic countries, said.
Fakhruddin Ali Ahmed, a senior minister in Indira Gandhi's cabinet who later became President, was invited to attend the Rabat conference in 1969 and then disinvited at Pakistan's instance after he arrived in the Moroccan capital.
Since then, India has been excluded from all OIC deliberations.
Sawaraj during her address read a verse from the Holy Koran which says 'La Ikrah fiddeen' -- Let there be no compulsion in religion.
"Just as Islam literally means peace, none of the 99 names of Allah mean violence. Similarly, every religion in the world stands for peace, compassion and brotherhood," she said.
"I carry the greetings of my Prime Minister Narendra Modiji and 1.3 billion Indians, including more than 185 million Muslim brothers and sisters. Our Muslims brothers and sisters are a microcosm of the diversity of India itself," the minister said and asserted that "very few" Muslims in India have fallen prey to the poisonous propaganda of radical and extremist ideologies.
During her nearly 17-minute speech, she did not mention Pakistan.
Her remarks came amid heightened tension between India and Pakistan following the killing of 40 CRPF personnel in Kashmir's Pulwama district by the Pakistan-based Jaish-e-Mohammed. Pakistan, a member of the OIC, had written a letter to the grouping demanding the withdrawal of the invitation to the plenary after New Delhi's counter-terror operations in Pakistan on February 26.
Swaraj said she is a representative of a land, that has been for ages a fountain of knowledge, a beacon of peace, a source of faiths and traditions, and home to religions from the world – and now, one of the major economies of the world.
"They have diverse culinary tastes, myriad choices of traditional attire, and they maintain strong cultural and linguistic heritage of the regions they loved and have lived for generations. They practice their respective beliefs and live in harmony with each other and with their non-Muslim brethren," Swaraj said.
https://www.business-standard.com/article/pti-stories/terrorism-is-caused-by-distortion-of-religion-and-misguided-belief-swaraj-tells-oic-119030100429_1.html
--------
Muslims in India Microcosm of Its Diversity, Not Influenced By Extremist Ideology: External Affairs Minister
March 1, 2019
External Affairs Minister Sushma Swaraj on Friday told the Organisation of Islamic Cooperation (OIC) conference that Muslims in India were a microcosm of its diversity and very few of them have fallen prey to the poisonous propaganda of radical and extremist ideologies.
Addressing the plenary of the conference as a "Guest of Honour", a first for India, she referred to India' strong bonds with several member countries of the OIC including Bangladesh, Maldives and Afghanistan which are in its neighbourhood.
Swaraj expressed gratitude to Saudi Arabia, Bangladesh and others friends for their strong support for hearing India's voice in this forum.
She also referred to Iran, saying the mutual partnership was vital for stability and prosperity in the region.
The minister said she was honoured to join her colleagues from nations that represent a great religion and ancient civilisations.
She said she was carrying greetings of Prime Minister Narendra Modi and 1.3 billion Indians, including more than 185 million Muslim brothers and sisters, and was representative of a land that has been for ages a fountain of knowledge, a beacon of peace, a source of faiths and traditions and home to religions from the world.
"Our Muslims brothers and sisters are a microcosm of the diversity of India. They speak Tamil and Telugu, Malayalam and Marathi, Bangla and Bhojpuri or any of the numerous languages of India.
"They have diverse culinary tastes, myriad choices of traditional attire, and they maintain strong cultural and linguistic heritage of the regions they loved and have lived for generations."
She said Muslims in India practice their respective beliefs and live in harmony with each other and with their non-Muslim brethren.
"It is this appreciation of diversity and co-existence, that has ensured that very few Muslims in India have fallen prey to poisonous propaganda of radical and extremist ideologies."
She said 2019 was a very special year as OIC is celebrating its Golden Jubilee, United Arab Emirates is celebrating Year of Tolerance and India is celebrating the 150th birth anniversary of Mahatma Gandhi, a global symbol of Truth and Non-violence.
"It is, therefore, a matter of pride for me,and for India, to be invited in this special year, to be your Guest of Honour, and to be extended a hand of friendship."
She expressed her deep appreciation to UAE Foreign Minister Sheikh Abdullah Bin Zayed for his sagacious leadership and for his invitation.
Swaraj said that in the past four years, few relationships have seen as much engagement as India's relationship with UAE and indeed, with the entire Gulf and West Asia Region. "It is a return of history."
She said OIC has a key role in shaping the world with countries coming together on the foundation of a common faith as also a shared desire for a better future for their people.
She said India has forged deep bonds of friendship and close partnerships with many members of OIC.
"As India's economy has grown and become more integrated with the world, these partnerships have become stronger. We have excellent political ties, marked by warmth, respect and goodwill. With many, we have expanding defence and security cooperation."
"Our economic engagement is robust and growing rapidly. Our digital partnerships are shaping the course of our future. And, our ties have the warm glow of deepening human and cultural links."
She said countries to India's east including Brunei, Indonesia, and Malaysia were important pillars of India's Act East Policy and ties with Afghanistan, Bangladesh and Maldives were forged in shared struggles, warmth and commitment to the security and prosperity of people and the region.
She said in Central Asia, India was rebuilding its relationship along new routes of possibilities.
"We do this, especially with and through Iran, a country, with which we not only share civilizational and cultural links, but a partnership, that is vital for stability and prosperity in our region."
The minister said India's solidarity with the aspirations of the Palestinian people has remained unwavering.
She referred to the close partnership with Egypt, India and Iraq standing together in our triumphs and trials and support for Jordan's efforts "in strengthening the voices of moderation and building bridges of understanding between faiths".
She said India has been working with countries like Tunisia, Morocco and Algeria with a shared desire for a more inclusive world.
"With Turkey, a nation, with which, we have many strands of connected history, we are imparting new momentum to our ties. Our many friends from Africa are here," she said.
The minister said the Gulf region was India's largest market, supplier of energy and source of remittances.
"More than 8 million Indians living in the region, are the 8 million vibrant threads of this partnership," she said, adding that the relationship has vastly expanded in the past five years.
"It is an indispensable strategic and security partnership, and a natural economic partnership of immense value to our nations and for our shared region," she said.
https://www.business-standard.com/article/news-ians/sushma-says-muslims-in-india-microcosm-of-its-diversity-not-influenced-by-extremist-ideology-119030100968_1.html
--------
Jamaat-e-Islami ban: 77-year-old Islamic organisation accused of terror links has been politically active in J&K
Mar 01, 2019
The Indian government on Thursday banned the Jamaat-e-Islami Jammu and Kashmir organisation for five years under the anti-terror law on grounds that it was "in close touch" with militant outfits and is expected to "escalate secessionist movement" in the state.
A notification, banning the group under the Unlawful Activities (Prevention) Act, was issued by the Ministry of Home Affairs after a high-level meeting on security, chaired by Prime Minister Narendra Modi. The notification said the Centre is of the opinion that the Islamic organisation operating in Jammu and Kashmir is "in close touch with militant outfits" and is supporting extremism and militancy in the state and elsewhere. It said the outfit claims "secession of a part of the Indian territory from the union" and supports terrorist and separatist groups fighting for this purpose.
The notification, which came a few days after the Jammu and Kashmir Police arrested around 100 cadres of the group in the state, said that the organisation has been indulging in activities intended to disrupt the territorial integrity of India.
During the intervening night of 22 and 23 February, the police had carried out a crackdown on Jamaat-e-Islami cadres and arrested 100 members across the Valley, including its chief Abdul Hamid Fayaz and advocate Zahid Ali, who is also the group's spokesperson. The action in the aftermath of the 14 February terrorist attack in Pulwama, in which 40 CRPF personnel were killed.
There have been allegations in the past that the group was a political outfit of banned terror organisation Hizbul Mujahideen, but the group has denied this claim. According to a report by Scroll, the Jamaat distanced itself from the Mujahideen in 1997.
The Centre is also of the opinion that the group is "involved in anti-national and subversive activities in the country intended to cause disaffection".
While banning it under the anti-terror law, the Centre reasoned that the group was intending to escalate its subversive activities, including an attempt to carve out an Islamic state out of the Union of India by destabilising the government established by law.
The outfit, which was formed in 1942 as a chapter of the Jamaat-e-Islami Hind and separated in 1953 due to differences over political ideology with the parent body, was banned in 1990. The previous ban lapsed in 1995 and wasn't invoked again. It was founded during British India in 1941 by Abul Ala Maududi, an Islamic theologian and socio-political philosopher. Along with the Muslim Brotherhood, ('Ikhwan al-Muslimin', founded in 1928 Egypt), JeI was a first of its kind organisation to develop "an ideology based on the modern revolutionary conception of Islam."
Maududi strongly believed that Islam is essential for politics and soon JeI became the first organisation to develop "an ideology based on the modern revolutionary concept of Islam." The Islamist theologist believed secularism, nationalism, and socialism to be products of western imperialism and thought it necessary to establish sharia (Islamic Law).
A constitution for the Kashmir branch was drafted a year later and an 'amir' (president) was elected. The new 'amir', Sa'aduddin Tarbali, began preaching the Jamaat ideology, creating its base first in Shopian, Moneycontrol reported.
However, following the partition of India in 1947, JeI split into separate independent organisations in India and Pakistan — Jamaat-e-Islami Pakistan and Jamaat-e-Islami Hind — respectively. Some reports also state that following Partition, the group branched out in various places across Afghanistan, Bangladesh, South Africa, Mauritius and the UK, and most of these branches found an identity of their own.
Moreover, after the independence of Bangladesh in 1971, Bangladesh banned the Jamaat-e-Islami Pakistan as it had collaborated with the Pakistan army. But, it got a new lease of life under the name of Jamaat-e-Islami Bangladesh, which later joined mainstream politics in the country, reports said.
In 1990, when militancy erupted in the Valley, the Hizbul Mujahideen called itself the military wing of JeI. While hundreds of its activists were killed by the counter-insurgent force Ikhwan in the mid-90s, JeI distanced itself from militancy in 1997, said The Indian Express' report.
The party, which had a pro-Pakistan leaning during the Plebiscite Front days and during the eruption of militancy, pitches itself as a socio-religious organisation working mainly in the field of education and awareness about Islam. It was also an influential founder member of the undivided Hurriyat Conference from its inception in 1993 till 2003 when the amalgam suffered a vertical split led by Syed Ali Shah Geelani over alleged proxy participation in 2002 Assembly polls by some leaders of the People's Conference led by Sajjad Gani Lone. Thereafter, the Jamaat withdrew from the Hurriyat and decided to focus on its social work while maintaining its separatist stand on the Kashmir issue.
The cadre-based party has a powerful 'Majlis-e-Shoora' (an advisory council) which takes decisions on important issues through consensus. The second tier of the organisation consists of 'Rukn-e-Jamaat' (pillar of Jamaat), who in turn elect the 'Majlis-e-Shoora'. The number of 'Rukn-e-Jamaat' can vary from 100 to 300 but for getting into this elite group, one has to fulfil certain criteria which can take a decade at least.
Brush with politics
During Tarbali's tenure, several schools were built and charitable trusts formed, alongside an expansion the activities of the group, which then made a silent foray into the political arena.
The group participated in the 1971 general elections, hoping to get a larger platform to propagate their ideology and a means to implement them through legislation. However, it couldn't win a single seat. It again contested Assembly elections in 1972, this time with the hopes "to challenge the notion that politics and religion are separate" and won five seats.
Jamaat's popularity grew manifold after it played the anti-sheikh card when Sheikh Abdullah signed an accord with Indira Gandhi in 1975, dropping his demand of right to self-determination for Kashmiris. At this time Jamaat was the only major organisation talking about the right to self-determination of Kashmiris. Shortly after, Emergency was declared and Jamaat became a banned outfit for the first time.
Jamaat contested its last elections in Jammu and Kashmir in 1987 in alliance with few other religious organisations like the Muslim United Front in 1987. It has a separate Kerala chapter as well.
Alleged terror link
After allegations of mass rigging in the 1987 polls, MUF activists were arrested for staging protests. Among those arrested was Mohammad Yousuf Shah, who was the group's then Srinagar head. He later joined Hizbul Mujahideen as its supreme commander and came to be known by his alias Syed Salahuddin, Moneycontrol reported.
By 1990s, when many Kashmiri youths were taking arms training in Pakistan, Jamaat also allegedly begun supporting the insurgency. In the same year, Ahsan Dar, founder and chief commander of Hizbul Mujahideen, dubbed the outfit a "sword arm of Jamaat". In 1997, Jamaat claimed they have no ties with the Hizbul and that it never backed the insurgency.
The Falah-e-Aam Trust was created in 1988 to run JEI schools following its ban. The products of these schools were targetted by their Pakistan masters, exfiltrated to Pakistan, trained in arms and ammunition, and infiltrated back to carry on their subversive activity, the Terrorism Research and Analysis Consortium (TRAC) reported.
During 1988-89, the Jamaat supported militancy only indirectly, but it got directly involved when, under the influence of Pakistan's secret service, ISI, it accepted the Hizbul Mujahideen (HM) formed in 1989 as its militant wing. The Hizbul Mujahideen assumed ascendancy among other major groups and mercilessly slaughtered the innocents until the emergence of counter-insurgency groups in the Valley in the later half of 1994 and their targetted attacks on JEI/HUM activists, the TRAC website mentions.
Arrests of Jamaat leaders
Despite all claims, security agencies believe that "the structure of Jamaat is used in Kashmir for pro-Pakistan and militant activities". According to the report, K Rajendra, ex-DGP, Jammu and Kashmir Police, had said: "They are the root cause of the problem in Kashmir." According to a News18 report, there is a belief that most terrorists are influenced by Jamaat's ideology and their leaders are responsible for instigating the masses.
Jamaat-e-Islami Pakistan is a political party there, presently headed by Siraj Ul Haq (Ameer), who is also a member of the Pakistan Senate. His speech in the National Assembly on the recent tension enthralled Pakistani media and audiences.
Group calls crackdown 'political vengeance'
Meanwhile, the organisation has termed the government's crackdown as "absolute political vengeance".
A statement released by the group after the arrests of several of its members said: "The state government while misusing its power is trying to appease BJP and other communal forces and have unleashed atmosphere of terror across the valley wherein hundreds of young and old having religious tilt have detained under baseless grounds. The repressive policy adopted by the state authority clearly smells bad and thus are trying to choke every peaceful political exercise in and around."
"Jama'at vehemently condemned the arrest spree by police and terms it undemocratic and gross violation of human rights," it read.
Terms it a murder of democracy, the organisation has appealed to the Human Rights Groups, the United Nations Organization and OIC to intervene into the grave situation prevailing in the state of Jammu and Kashmir and use their influence to stop the lawlessness at the hands of forces.
https://www.firstpost.com/india/jamaat-e-islami-ban-77-year-old-islamic-organisation-accused-of-terror-links-has-been-politically-active-in-jk-6178831.html
--------
Handover of pilot to India: Ulema council lauds PM's decision
March 2, 2019
ISLAMABAD: Pakistan Ulema Council lauds the decision of Prime Minister Imran khan to handover detainee Indian Pilot Abhi Nanden to Indian authorities as goodwill gesture and to ensure peace and stability in the region.
On the call of Pakistan Ulema Council, 'Solidarity and Defense Day' was observed in all over Pakistan and clerics, Ulemas and religious scholars while addressing the Friday congregations lauded the services of Pak-Force for peace and stability in the country.
The religious scholars and clerics also announced to stay united with Pak-Force in face of any threat and aggression from India.
Pakistan Ulema Council Chairman Hafiz Muhammad Tahir Mehmood Ashrafi, while addressing a press conference after Friday prayers at Jamia Masjid Marhaba, Kurri Road, Rawalpindi stated that Pak-Force successfully retaliated Indian aggression and foiled the dreams of Indian supremacy in the region once and forever.
"The entire nation is united to support and endorse Pak-Security Forces," said Hafiz Tahir Ashrafi, adding that government of Pakistan has got moral victory against India by handing over detainee Indian Air force Pilot Abhi Nanden to Indian authorities at Wagah border here on Friday. He said Prime Minister Imran Khan has given an explicit message to the entire world that Pakistan aims peace and stability in the region without compromising on its security.
Pakistan Ulema Council Chairman Hafiz Muhammad Tahir Mehmood Ashrafi also announced that 4th International Message of Islam Conference for eradication of terrorism, extremism and sectarian violence that was scheduled to be held in aegis of Pakistan Ulema Council on 3rd March 2019 at Convention Center Islamabad has been extended owing to prevailing scenario in the country and now will be held now on 14th April, 2019 at Convention Center Islamabad.
Earlier, addressing the press conference, Hafiz Tahir Ashrafi flanked by Maulana Nauman Hashir, Maulana Tahir Aqeel, Maulana Abubakar Sabri, Maulana Mumtaz Rabbani and Maulana Daud Khan, Maulana Naib Khan stated that hundreds and thousands of clerics and Ulemas Mashaykh of Pakistan Ulema Council and Wafaq ul Masajid Pakistan are ready to become volunteers for Pak-Force in face of any emergency situation. "The political, religious and military sections of Pakistan want peace and stability in the region but any aggression on part of India towards Pakistan will not be tolerated," he said. Hafiz Tahir Ashrafi also lauded the decision of the government of Pakistan for not attending OIC Foreign Ministerial level meeting in protest for inviting Indian Foreign Minister Sushma Suraj at the said Islamic forum.
Hafiz Tahir Ashrafi also demanded of the leadership of Muslim Ummah to take notice on this decision of OIC for inviting the Indian Foreign Minister Sushma swaraj. Responding to a query, Hafiz Tahir Ashrafi welcome the endeavours on part of Saudi Arabia to ensure talks between Pakistan and India adding that Pakistan has never negated possibility of peace negotiations in the region. Pakistan aims at diffusing tension in the region, said Tahir Ashrafi adding that without resolving Kashmir dispute, peace can't prevail in the region. Replying to another query, Hafiz Tahir Ashrafi demanded of Ulemas and clerics of India to protest against the war hysteria of Indian Prime Minister Narendra Modi. People of India should play their effective role against war hysteria of Prime Minister Narendra Modi who aims at winning support of Hindu extremists by coining Pak-India tension ahead of elections in India.
Hafiz Tahir Ashrafi also announced that 4th International Message of Islam Conference has been extended which will be held now on 14th April 2019 as it was getting problematic due to suspension of flight operations in Pakistan. President Shariah Court Palestine, Imam e Kaba and leadership from all over Muslim world were scheduled to arrive in Pakistan, which is not possible due to prevailing scenario in Pakistan as flight operations of different International airlines have been cancelled in Pakistan.
https://www.thenews.com.pk/print/438779-handover-of-pilot-to-india-ulema-council-lauds-pm-s-decision
--------
Global perception hardens on Pakistan as terrorist state
Mar 1, 2019
WASHINGTON: Global outlook and perception of Pakistan have hardened in course of the latest flashpoint between India and Pakistan - which has been defused for the moment.
Broad reactions and pronouncements from across the world show that Pakistan was seen as the serial provocateur who triggered yet another face-off and India was recognized as the victim who was reacting in self-defense to the aggravation.
It was the Trump White House that first laid down the line on this, making it clear soon after the Pulwama suicide bombing (and even before India's attack on a terrorist camp inside Pakistan) that New Delhi had the right to self-defence, virtually greenlighting an Indian response.
Washington later described India's attack on the terrorist camp as counter-terrorist action, setting the tone against any perception that New Delhi was the aggressor. Separately, France and Russia took the same line.
Even China, all too familiar with terror groups within Pakistan, did not challenge the description.
Although the Pakistani government was not directly implicated in the Pulwama attack, the forbearance of successive Pakistani establishments towards terror groups, and its military's nurturing of what it regards at its "strategic assets," irked policy makers in Washington to repeatedly speak of Pakistan's supportive ecosystem for terror groups.
The Pakistani coddling of terror groups came into glaring focus on Friday when the country's Foreign Minister Shah Mehmood Qureshi publicly glossed over the presence of Masood Azhar, leader of the Jaish-e-Mohammed, who has bragged about terrorist attacks on India, including the Pulwama bombing.
"Masood Azhar is in Pakistan, he is very unwell, he's unwell to the extent that he can't leave house because he is really unwell," Qureshi purred on CNN about a globally designated terrorist, adding, "If they have evidence share with us so that we can convince the people and the judiciary."
The foreign minister, who incidentally was visiting India during 26/11 attack and hurried back even as it transpired that the Pakistani intelligence agency ISI planned and executed the attack with its LeT jihadi assets, was called out for his brazen defence since Azhar was sprung from an Indian prison after the Kandahar hijacking in a prisoner-for-hostages swap. That would make Pakistan officially a violator of international norms and treaty.
All this has hardened the attitude of policy makers and legislators in the U.S where Pakistan hardly has any friends or defenders left.
After Pakistan's Prime Minister Imran Khan warned of "miscalculation" by India that could lead the two dies down a slippery slope of war, Eliot Engel, Chairman of the U.S House Foreign Affairs committee, responded: "To avoid the kind of miscalculation Pakistani Prime Minister Imran Khan rightly fears, Pakistani leaders must take demonstrable action against Jaish-e-Mohammed and the terrorist infrastructure on Pakistan's soil."
"We affirm India's right to self-defence in response to attacks planned and executed by Pakistani-based terrorist groups designated by the United States and United Nations. We share your position that Pakistan must do more to combat these antiIndia extremist groups that destabilise the region and urge you to use your authority to pursue a peaceful resolution to this conflict before it grows," added Senators Jerry Moran from Kansas and Jeanne Shaheen from New Hampshire.
In Pakistan though, there did not appear to be the slightest change in attitude.
Pakistan reserves the right to respond to any aggression displayed against it as a matter of self-defence, the country Army Chief Qamar Javed Bajwa was quoted as telling the the military chiefs and ambassadors of major western powers and China even after being called out for being the aggressor and the burden of self-defense hoisted on India.
https://timesofindia.indiatimes.com/world/pakistan/global-perception-hardens-on-pakistan-as-terrorist-state/articleshow/68225246.cms
--------
Taliban Revive Harsh Rule In A Remote Afghan Province
March 01, 2019
The Taliban never managed to capture the mountainous northeastern province of Badakhshan when they swept Afghanistan in the 1990s.
Today, they control large parts of the remote region bordering Tajikistan, Pakistan, and China, and the hard-line Islamist movement has revived its harsh rule there. Now billing themselves as the Islamic Emirate of Afghanistan, formal name of the Taliban, the movement still focuses on curtailing individual freedoms, imposing gender segregation, strict rules, and punishments in the name of Islamic Shari'a law.
As the United States attempts to negotiate peace with the Taliban, many Afghans see the insurgents' worldview as largely unchanged after a quarter-century of fighting.
Minagul Osmani, a 24-year-old Afghan woman, first fled Taliban rule when the insurgents overran her village in Badakhshan's Warduj district in 2015.
Now living in neighboring Baharak district, she told Radio Free Afghanistan that the Taliban's first major change was to impose harsh rules for women. "They do not allow women to step outside without a male guardian," she said.
Compared with the Afghan government, Osmani noted, the Taliban are unable to provide key services. "They closed the school and health clinic," she said. "After the elders intervened, they reopened the school, but the clinic remains closed, which really affects pregnant women and mothers with young children."
A farmer living in Warduj says he has seen the Taliban dole out harsh Islamic punishments. The Taliban follow a strict criminal code called Hudood, which ordains punishments such as amputating limbs for theft, stoning for adultery, and lashes for alcohol consumption.
"I have seen people stoned to death, hands amputated, and people flogged," he told Radio Free Afghanistan, requesting his name be withheld due to possible Taliban reprisals. "Women are flogged if they go out without male guardians."
The farmer says he has been beaten by the Taliban many times. He says the arrival of the Taliban has increased poverty in the region, where most people depend on subsistence farming and animal husbandry.
"There is a shortage of food, and people can often be seen begging at mosques," he said. "Despite this, Taliban fighters often force people to feed them."
He says he longs for a return to government control.
"It was much easier to talk to government officials. They sometimes listened," he said. "The Taliban only expect us only to obey."
In an apparent effort to appeal to more Afghans, the Taliban have tried to show flexibility on some of their harshest policies, stating that the movement is not seeking a monopoly over power and is open to compromise.
The movement recently announced it is "committed to all rights of women." But the commitment comes with some major caveats.
"Islam and then Afghan tradition [are] two major values of the Afghan Mujahid nation, so Islamic Emirate is also committed to all rights of women within this framework," the February 5 Taliban statement noted. "The policy of the Islamic Emirate is to protect the rights of women in a way that neither their legitimate rights are violated, nor their human dignity and Afghan values are threatened."
A closer reading reveals that the primary aim is still to create a state and society that the movement considers Islamic, which is why it wants to replace the current Afghan Constitution, which incorporates international human rights conventions.
"Islamic Emirate of Afghanistan considers it necessary that constitution must be based on principles of Islamic religion, national interests, historical achievements and social justice," the Taliban statement said. "It should be committed to human dignity, national values and human rights, and could guarantee territorial integrity of the country and all rights of all the citizens."
Ashley Jackson, a research associate with the Overseas Development Institute in London, has studied Taliban governance in rural Afghan regions.
She told RFE/RL's Gandhara website that the Taliban leadership has learned from the movement's mistakes and the challenges it faced while in government. She says there's a sense of continuity despite the Taliban embracing some pragmatism while fighting a complicated insurgency since losing power in late 2001.
"The degree to which their fighters on the ground have changed in outlook and ideology is questionable," she said. "At their core, they remain a highly conservative, rural-based movement that is seeking to restore a pure form of Islamic government -- which entails many familiar elements from the 1990s."
According to the Afghan Analyst Network (AAN), some Badakhshan clerics and locals have been part of the Taliban since the 1990s. Apart from one major battle in 1998, control of Jamiat-e Islami, a predominantly Tajik Islamist party, was never challenged in Badakhshan.
With the help of local Tajik commanders, most of whom were educated at Pakistani religious schools, the Taliban ramped up its recruitment drive in 2004. In 2012, they increased military activities and the recruitment of graduates from madrasahs in Afghanistan and Pakistan. Many fighters hail from strategically located Warduj, and the region provides the bulk of local Taliban leaders and cadres in Badakhshan, according to AAN.
After overrunning Warduj in October 2015, the Taliban took over neighboring Baharak. Out of the 28 Badakhshan districts, they have also sporadically controlled or made incursions into Yumgan, Jurm, Raghistan, and Kohistan. While the government reclaimed several lost territories, the Taliban still control Warduj and Yumgan, although the violence has turned Badakhshan into a contested territory.
Mohammad Daulat Khawar, district governor of Warduj, operates out of Baharak. He says the 1,300 families who fled the Taliban's capture of Warduj now live in dire conditions in Baharak.
Khawar told Radio Free Afghanistan that some of the 19 schools in Warduj have reopened after two years. The eight girls' schools in the district are allowed to offer elementary and middle grades.
"Overall, the standard of living has taken a turn for the worse," he said. "They have lost services, projects, and any prospects of work. Poverty is rampant."
Mawlawi Abdul Wahab Majdi, 38, a former teacher at Warduj's women's teacher-training college, says the college remains shut since the Taliban takeover. He says its more than 100 female students have been deprived of their education.
However, he sees some change in the Taliban's behavior.
"The first two years after they took over was a reign of terror," he noted. "But since last year they have changed and are now more cautious in their dealings with people."
Rahmuddin, 49, who goes by one name only, hopes to return to Warduj with his 12 family members if peace returns. He supports the ongoing efforts to make peace with the Taliban but expects protection.
"We support a peace where the rights of all people are protected," he told Radio Free Afghanistan. "Otherwise our misery will not end, and there will be no peace."
https://gandhara.rferl.org/a/Afghanistan-taliban-revive-harsh-rule-in-a-remote-province/29797733.html
--------
Saudi Arabia strips Bin Laden's son Hamza of citizenship
1 March 2019
Saudi Arabia's Interior Ministry announced that a Royal Decree has been issued granting approval of stripping the Saudi nationality from the son of late al-Qaeda leader Osama bin Laden, Hamza, according to Okaz newspaper.
On Thursday, the United States had offered a $1 million reward for information on Hamza bin Laden, seeing him as an emerging face of extremism.
Hamza bin Laden is believed to have spent years with his mother in Iran, where it is thought his wedding took place, and is suspected to still be living there.
Hamza bin Laden is believed to have been born in 1989, the year of the Soviet withdrawal from Afghanistan.
The 15th of Osama bin Laden's 20 children and a son of his third wife, Hamza has been groomed to follow in his father's footsteps since childhood.
Hamza bin Laden began appearing in militant videos and recordings in 2015 as an al-Qaeda spokesman.
He has threatened attacks against the US to avenge the 2011 killing of his father - who was living in hiding in the Pakistani garrison town of Abbottabad - by US special forces.
"Since at least August 2015, he has released audio and video messages on the Internet calling on his followers to launch attacks against the United States and its Western allies," the US State Department said in a statement on Thursday.
Video released by the CIA in 2017 that was seized during the Abbottabad raid shows Hamza bin Laden with a trimmed mustache but no beard, at his wedding.
A United Nations report published last year noted that Hamza bin Laden "continued to emerge as a leadership figure in al-Qaeda."
"Al-Qaeda's leadership demonstrates strategic patience and its regional affiliates exercise good tactical judgment, embedding themselves in local issues and becoming players," the UN report warned. "While there is as yet little evidence of a re-emerging direct global threat from al-Qaeda, improved leadership and enhanced communication will probably increase the threat over time."
https://english.alarabiya.net/en/News/gulf/2019/03/01/Saudi-Arabia-strips-Bin-Laden-son-Hamza-of-citizenship.html
--------
UN rejects US move to recognize Golan annexation by Israel
Mar 1, 2019
UN Special Envoy for Syria Geir O. Pedersen has underlined Syria's sovereignty over the Golan Heights, rejecting a US congressional motion to recognize Israel's annexation of the occupied territory.
"Obviously the Security Council is very clear that the Golan is Syrian territory, and the first aspect of [Resolution] 2254 is of course the territorial integrity of Syria," Pedersen told reporters at a Security Council briefing on Syria held on Thursday in New York.
He made the comments in response to a question regarding a bill introduced by Republican members of the US congress which seeks to recognize Syria's Golan Heights as Israeli territory.
The measure, brought by Senators Ted Cruz and Tom Cotton as well as Representative Mike Gallagher, cites concerns about what the lawmakers call a "threat" posed by Iran.
"The United States has been committed for over 40 years to ensuring Israel's security from attacks emanating from across the Golan Heights," the bill's sponsors said Wednesday.
Israeli officials have long pushed for US recognition of the Tel Aviv regime's sovereignty claims over the territory, which was seized from Syria in 1967.
Israeli Prime Minister Benjamin Netanyahu openly discussed the issue with both US President Donald Trump and Vice President Mike Pence during his visit to the White House in 2017, urging them to recognize Israel's sovereignty.
Netanyahu has stepped up his efforts over the past years, using the presence of Iranian military advisers and Lebanese resistance movement Hezbollah's fighters in Syria as a scare tactic to convince US leaders.
This comes as the United Nations has time and again stressed Syria's sovereignty over the occupied heights. Back in December 2018, the majority of the United Nations General Assembly adopted a resolution urging the Israeli regime to withdraw from the entirety of the Syrian Golan Heights.
The resolution, titled The Syrian Golan, was adopted by a record vote of 99 in favor, 10 against and 66 abstentions. It declared that the Israeli controversial move to extend its laws, jurisdiction and administration on the occupied mountainous plateau is null and void and called on Tel Aviv to leave the strategically-important territory.
Later in the month, the General Assembly overwhelmingly voted in favor of a resolution on the permanent sovereignty of Syria over natural resources of the Golan Heights.
The resolution reaffirmed the inalienable rights of the Syrians in the occupied Syrian Golan to sovereign over its natural resources, including land, water and energy.
Earlier this week, UN chief Antonio Guterres unveiled a report which accused Israel of burying radioactive nuclear waste in the Golan Heights.
Guterres submitted the report - which is based on Syria's charges against Israel - to the UN Human Rights Council (UNHRC) at the panel's 40th session, which opened in Geneva Monday and will run through March 22.
"The Syrian Arab Republic noted that Israel continued to bury nuclear waste with radioactive content in 20 different areas populated by Syrian citizens of the occupied Syrian Golan, particularly in the vicinity of al-Sheikh Mountain," the report says.
'Syria to deal with foreign military presence'
At the United Nations, Syria's Permanent Representative Bashar al-Ja'afari told a Security Council session that US, French, British and Turkish forces must end their illegal presence in the Arab country.
Ja'afari said hit out at hostile US statements about keeping part of its troops on the Syrian territory, saying "Syria will deal with any foreign military presence, without its acceptance, as an aggression."
The White House announced last Thursday that around 400 American troops would remain in Syria on a "peacekeeping" mission despite President Donald Trump's pledge to fully withdraw from the country.
https://www.presstv.com/Detail/2019/03/01/589839/Pedersen-UN-Syria-Golan-heights-territory
--------
Malaysian NGOs protest offensive post against Islam
01.03.2019
Malaysian NGOs protested a Chinese offensive statements against Prophet Muhammad on Friday.
Members of six nonprofits carrying banners gathered in front of Masjid Negara Mosque in Kuala Lumpur to protest Wai Foo Sing, 68, who was arrested for posting a cartoon image on social media last month.
Protester Kamarulzaman Muhammad said "some irresponsible people" act offensively, and added: "We arranged the protest to show our love of Prophet Muhammad."
Wai faces two charges of uploading the image and intention to annoy another on Facebook.
If found guilty, Wai will face five years in prison and more than $12,000 (MYR50000) fine.
https://www.aa.com.tr/en/asia-pacific/-malaysian-ngos-protest-offensive-post-against-islam/1406750
--------
India
Ban on Jamaat in J&K to rein in over-ground workers, curb stone-pelting
Mar 2, 2019
NEW DELHI: The ban on Jamaat-e-Islami J&K is expected to rein in overground workers (OGWs) network of terrorist outfits, particularly Hizbul Mujahideen, in south Kashmir, apart from applying brakes on extreme radicalisation and recruitment of locals for terror-related activities, according to the central security establishment.
Recent inputs from the ground suggested that the line between active cadres of the Jamaat and terror operatives/facilitators in J&K had blurred to such an extent that it became inevitable to ban Jamaat-e-Islami with immediate effect. Sources put the number of such cadres at around 2,000, though the overall Jamaat following in south Kashmir is described as large enough to cover one-third of its population.
Sources in the home ministry said JeI (J&K), the parent of both Hizbul Mujahideen and Hurriyat, is primarily responsible for propagation of separatist and radical ideology in the Valley, apart from providing all kind of support to Hizbul Mujahideen, its terror offspring, in terms of recruits, funding, ferrying of arms, providing shelter, logistics etc.
With the banning of Jamaat, its top leaders and cadres detained a few days back in J&K will now be formally arrested. "The Jamaat has always maintained a pro-Pakistan stance and gets its funding from Pakistan chapter of the Jamaat-e-Islami patronised by ISI, or 'zakaat' collected from within J&K in name of religious activities but diverted for anti-India and subversive activities," said an officer.
The strong presence of Hizbul in the area of influence of JeI (J&K) — terror hotbeds of Pulwama, Shopian and Kulgam — is a clear reflection of its separatist and radical ideology, said an officer.
The assessment here is that banning the Jamaat in J&K will go a long way in curbing mobilisation of locals for stone-pelting protests, including at encounter sites. Given the close ties between some Hurriyat separatists and JeI, the banning of the latter will weaken the separatists' space, said a home ministry official.
With Hurriyat reflecting Jamaat's pro-Pakistan stance, there is a debate within the security establishment on whether Hurriyat should be banned as well, particularly Tehreek-e-Hurriyat headed by S A S Geelani. "However, there are pros and cons of the same. A ban may leave no Kashmiri representatives to consult were the government to want talks for a political solution. On the other hand, with Hurriyat leadership showing little interest in talks and involved in terror funding instead, there is some merit in slapping a ban on them," said an officer.
https://timesofindia.indiatimes.com/india/ban-on-jamaat-in-jk-to-rein-in-over-ground-workers-curb-stone-pelting/articleshow/68228656.cms
--------
Military has proof of hit on Balakot Jaish camp; up to govt to release it
Mar 2, 2019
NEW DELHI: The Indian defence establishment on Friday said it had synthetic aperture radar (SAR) pictures to buttress its contention of having effectively hit the Jaish-e-Mohammed's terror training facility at Balakot in Khyber-Pakhtunkhwa province of Pakistan in the February 26 air strikes.
This came after a few independent satellite imagery experts raised doubts whether the Mirage-2000 fighters had actually managed to hit the terror facility on the 'Jaba Top' hillock. They claimed that while there was little evidence of damage to the facility in the satellite pictures, craters caused by bombs were visible in open areas around 150 to 200 metres from the barracks/buildings.
Indian defence officials, however, rejected these reports. "The SAR films clearly show before and after pictures of the intended targets being hit+ . Its up to the government whether it wants to release them or not. Pakistan, of course, has also worked swiftly to repair the damage to the site," an official said.
Officials refused to specify the platform used to capture the SAR pictures. The Mirage-2000s, which had fired long-range Spice-2000 precision-guided bombs and AGM-142 (Popeye-2) missiles after crossing the Line of Control, have electro-optical sensors but they could not have captured the imagery because it was cloudy during the pre-dawn strikes. The Sukhoi-30MKIs, which accompanied the Mirage-2000s for 'air defence', do have SARs for high-resolution ground mapping with the capability to penetrate clouds.
Though the sprawling Balakot facility had over 300 terrorists at the time of the air strikes, as per intelligence, it is impossible to estimate the exact number of casualties. Describing the operation as a "non-military pre-emptive action", foreign secretary Vijay Gokhale on that day had said "a very large number of JeM terrorists, trainers, senior commanders and groups of jihadis, who were being trained for fidayeen action, were eliminated".
On Thursday, IAF assistant chief of air staff (space and operations) R G K Kapoor had said, "There is fairly credible evidence with us which proves that there was damage to the camp. We hit the intended targets and caused the damage that was intended.
"However, it will be premature to say what is the number of casualties we have been able to inflict on those camps and the number of deaths. Whatever we intended to destroy, we have got the results. Now it is up to the government and higher leadership as to when and how to give the evidence or not."
Full report at:
https://timesofindia.indiatimes.com/india/military-has-proof-of-hit-on-jaish-up-to-govt-to-release-it/articleshow/68226792.cms
--------
Osama's friend Masood Azhar a global threat
Mar 2, 2019
NEW DELHI: Jaish-e-Mohammad chief Masood Azhar, a known associate of Al Qaida founder Osama bin Laden, had helped the latter flee from Tora Bora caves in Afghanistan where he was cornered after the 9/11 attacks in 2011, at a time the Pakistan army had cordoned off one side of the vast cave network.
According to Indian intelligence sources, Jaish planned two major attacks in India in the immediate aftermath of the 9/11 attacks in the US planned and executed by al Qaida. First, on October 1, 2001, some three weeks after 9/11, Jaish bombed the J&K assembly complex, killing 35 persons.
Two months later, on December 13, 2001, Jaish fidayeen carried out an audacious attack on India's Parliament, which claimed nine lives.
A top intelligence official told TOI that the two attacks heightened hostilities between India and Pakistan, leading to a war-like situation and provided the Pakistan army a "pretext" to withdraw much of its forces from its western border, which were cordoning the Tora Bora caves. This assisted Osama's escape to Pakistan.
As a result, it took the US forces 10 additional years to get hold of Osama. He was killed by US Navy Seals on May 2, 2011, in a compound in Abbotabad, Pakistan.
"This is the nature of Jaish's capability, and demonstrates that it is an organisation that does not just impact India, but feeds on pan-Islamism and has been a major threat to global peace and security," an intelligence functionary told TOI.
Recent inputs suggest that Azhar is suffering from renal failure and requires regular dialysis at the Army hospital in Rawalpindi.
Azhar, who founded Jaish soon after his release from an Indian prison as part of the IC-814 swap deal in 1999, reportedly worked closely with Osama in the 90s. As the top motivator of Harkat-ul-Ansar, he was used for jihadi indoctrination across various African countries.
After Azhar was freed in 1999, he was greeted in Kandahar by Mullah Mansoor, a senior representative of Taliban chief Mullah Omar. Mansoor later replaced Omar and was killed in a drone strike in 2016. On the night of Azhar's release, Osama is known to have hosted a banquet for him.
Azhar is known to many as the Pakistani cleric who brought jihad into religious discourse in UK mosques. He reportedly made contact with people who helped provide training and logistical support for terror plots of 7/7 and 21/7 attacks in London and the attempt in 2006 to smuggle liquid bomb-making substances on to transatlantic airlines.
Full report at:
https://timesofindia.indiatimes.com/india/osamas-friend-masood-azhar-a-global-threat/articleshow/68226738.cms
--------
Jamaat property worth Rs 4.5K cr under lens after crackdown
Mar 1, 2019
SRINAGAR: The Jammu and Kashmir government on Friday empowered the inspector generals and district magistrates to detain and arrest the functionaries of Jamaat-e-Islami (JeI), the controversial socio-religious organisation that was declared unlawful by the Centre a day ago.
The order was sent to all 22 districts of Jammu and Kashmir. More than 350 enrolled members of JeI were arrested on Friday. The order has led to a crackdown on JeI's functionaries operating 400 schools, 350 mosques and 1000 seminaries across the state.
Government officials said in some districts, these physical assets run into several hundreds of crores of rupees. However, their attachment would not be immediate.
"The district magistrate would get an inventory made by the police. Then depending on investigation another inventory would be made to ascertain whether the properties are legal or illegal. The total estimated properties could be well over Rs 4,500 crore. So far the order entails the arrest under the Unlawful Activities (Prevention) Act, 1967," said a top government official.
Government sources said they will also deliberate if the JeI members can be booked under Public Safety Act (PSA) or Section 151 CrPC (arrest to prevent the commission of cognizable offences).
"We will also have to verify if their functionary was already out on bail and can be booked again and the grounds and evidence needed to arrest him," said a top police officer.
JeM, which for long has been advocating Kashmir's secession from India and its integration with Pakistan, has built its assets with the help of donations received from people in the state and abroad.
The state administration refused to divulge any details about their bank deposits or bank accounts yet.
Full report at:
https://timesofindia.indiatimes.com/india/jamaat-property-worth-rs-4-5k-cr-under-lens-after-crackdown/articleshow/68224665.cms
--------
Pakistan repatriates Abhinandan, large crowd outside Attari celebrate his return
Mar 1, 2019
ISLAMABAD/ATTARI: IAF pilot Wing Commander Abhinandan Varthaman, captured by Pakistanis on Wednesday after his MiG21 crashed across the Line of Control in Pakistan-occupied Kashmir, was repatriated to India from the Wagah-Attari border on Friday night.
The pilot, who was expected to be released by Pakistan on Friday afternoon, crossed over to India only around 9.20 pm as huge crowds waited outside the Attari ICP to welcome him despite cold and rain.
Pakistan foreign minister Shah Mehmood Qureshi had on Friday morning said Abhinandan would be handed over to Indian officials at the Wagah-Attari border in the afternoon. "As the prime minister (Imran Khan) has said, as a peace gesture and to deescalate matters, the Indian pilot will be released. So today (Friday), this afternoon, he will be released at Wagah," Qureshi said, raising expectations in India of an early handover.
The handover, however, took hours and Abhinandan finally crossed over to the Indian side after 9 pm. Dressed in a blue coat and white shirt, he was escorted to the Zero Line by the air attaché at the Indian high commission in Islamabad, Group Captain Joy Thomas Kurien and a Pakistan foreign ministry lady official. Senior Border Security Force officers welcomed him at the Zero Line on the Indian side.
The handover at Wagah was telecast live on Pakistani television channels, but the media in India was kept away and not allowed inside the ICP Attari. The Pakistan foreign office issued a statement titled "Return of Indian POW Wing Commander Abhinandan Varthaman" after the handover that described it as a "gesture of peace" and said Abhinandan "while in captivity, was treated with dignity and in line with international law."
Abhinandan was immediately whisked away by the IAF from Attari — a huge convoy of senior IAF officers and those from Army, BSF, Punjab Police and Amritsar district administration that included ambulances had arrived at Attari around 4 pm.
Air Vice Marshal R G K Kapoor told the media assembled outside the Attari ICP gates that Abhinandan would first be taken for a detailed medical check-up. "This is mandatory as he had ejected from his plane and must have caused great stress to his body," he said, adding: "IAF is happy to have him back."
Amritsar DC Shivdular Singh Dhillon, who briefed the media gathered outside Attari ICP through the day, said Pakistan had not given any explanation for the delay in the handover and India had not sought one. When asked how Abhinandan had reacted after stepping back on the Indian soil, Dhillon said he was smiling and said, "It is good to be in back in my country".
He confirmed Abhinandan's parents were not at Attari to receive him.
Large groups of people, waving tricolours and dancing to the beat of drums, had to return disappointed as they could not even catch a glimpse of the pilot.
Full report at:
https://timesofindia.indiatimes.com/india/pakistan-repatriates-abhinandan-large-crowds-outside-attari-celebrate-his-return/articleshow/68224576.cms
--------
Indo-Pak conflict: Muslim intellectuals meet Rajnath Singh
Mar 01, 2019
New Delhi: Amidst Indo-Pak conflict following the terrorist attack in Pulwama, Jammu and Kashmir, a high-level delegation of noted intellectuals and Muslim leaders called on home minister Rajnath Singh. The delegation expressed their concern over the attacks and war-like situation. They said if the attacks are not stopped any innocent citizens may lose their lives.
The delegation members also discussed internal situation of the country and said the situation has become such that anyone can take law into his own hands and target whoever he wishes. It is harmful to the society, religion and country as a whole.
The delegation included, Dr MJ Khan, Maulana Asghar Ali, Imam Mehdi Salfi, journalist Qamer Agha, journalist Shahid Siddiqui, former IAS Siraj Husain, Zakat Foundation of India chief Dr Zafar Mahmood, Dr Idris Quraishi, Maulana Sajid Rasheedi, Maulana Furqan Madani, Maulana Tauqeer Raza, Maulana Asghar, M J Khan, Maulana Mohammed Arif Qasmi, Badruddin khan, Khalid Ansari and Mufti Merajul Haq.
https://www.siasat.com/news/indo-pak-conflict-muslim-intellectuals-meet-rajnath-singh-1472783/
--------
Wing Commander Abhinandan Varthaman returns, IAF says happy he's back
by Kamaldeep Singh Brar
March 2, 2019
Ending an anxious wait that saw day turn to night, Wing Commander Abhinandan Varthaman, the IAF pilot who was captured two days ago by the Pakistan Army after his MiG-21 Bison was shot down as he chased PAF intruders, returned home Friday night via the Wagah-Attari border crossing.
Attired in civilian clothes, he walked across the Zero Line at 9.20 pm as the Pakistan Rangers handed him over to the BSF. Group Captain J T Kurien, Air Advisor in the Indian High Commission, and Fareeha Bugti, Director (India) in the Pakistan Foreign Office, had accompanied him to the crossing. He was whisked away by IAF personnel, and the hundreds who had gathered there to welcome him failed to catch a glimpse.
Abhinadan Varthaman returns: 'Recording of IAF pilot's video before release led to delay'
Air Vice Marshal R G K Kapoor, reading from a prepared statement, told reporters: "Wing Commander Abhinandan has just been handed over to us as per standing operating procedure of Indian Air Force. We will now take him for a detailed medical check-up. This check-up is mandated particularly because the officer has had to eject from an aeroplane which would have put his entire body under great stress. IAF is happy to have Abhinandan back."
Amritsar Deputy Commissioner Shivdular Singh Dhillon told reporters that the pilot said he was happy to be back in his country. The repatriation triggered celebrations across the country where people had waited hours, glued to TV sets to watch the return home.
Prime Minister Narendra Modi, in a tweet, said: "Welcome Home Wing Commander Abhinandan! The nation is proud of your exemplary courage. Our armed forces are an inspiration for 130 crore Indians. Vande Mataram!".
Defence Minister Nirmala Sitharaman also tweeted "Jai Hind… Proud of you Wing Commander #AbhinandanVarthaman. The entire nation appreciates your valour and grit. You held your calm in the face of adversity. You are an inspiration to our youth. Salute. Vande Mataram."
Leaders of several political parties, including Congress president Rahul Gandhi and West Bengal Chief Minister Mamata Banerjee, welcomed him home.
Amritsar had been planning a hero's welcome ever since Thursday when Pakistan Prime Minister Imran Khan told his country's lawmakers that the pilot would be returned to India as a "gesture of peace" following the sharp escalation of tensions between the two countries.
Hundreds gathered at the border crossing, waving the Tricolour, raising slogans, singing and dancing to the beat of dhols. Media personnel were stopped almost a kilometre from the Zero Line. Tourists who had come to witness the daily retreat ceremony were later told to vacate the galleries. Around 2.30 pm, Deputy Commissioner Dhillon said: "The ceremony had been cancelled as smooth release of Abhinandan is top priority for us."
Full report at:
https://indianexpress.com/article/india/wing-commander-abhinandan-varthaman-returns-iaf-says-happy-hes-back-5607617/
--------
Jaish's Al Badr recruits terrorists as Imran talks peace
Mar 2, 2019
SRINAGAR: Even as India lobbies with the international community to get Masood Azhar designated as a global terrorist at the UN, another terror outfit, Al Badr, on Thursday conducted its recruitment drive in Khyber Pakhtunkhwa (KPK), the Pakistani province where Indian Air Force (IAF) had bombed Jaish-e-Mohammad's training camp.
Operational in Kashmir since 1998, Al Badr incidentally shares a close relationship with Jamaat-e-Islami, the religio-political organisation which was banned by Centre on Thursday.
One of the sister organizations of JeM, Al Badr has gone in a frantic mode to accommodate Azhar's old cadres and recruit new ones in Dir district of KPK, 400 km from Jaish's Balakot training facility that was destroyed on Tuesday.
The recruitment drive went on even as Pakistan premier Imran Khan announced on Thursday in parliament that IAF Wing Commander Abhinandan Varthaman would be released as a "gesture of peace" towards India.
A video exclusively accessed by TOI showed three armed terrorists of Al Badr inviting people to Dir Chowk to join the outfit in support of the Pakistan army. The video was shot and released on Wednesday and a local source in KPK confirmed that the recruitment drive was conducted on Thursday in Dir.
In the video, an Al Badr spokesperson, flanked by two others, is seen speaking in Pashto, the native language of KPK. Indian intelligence officials who translated the speech said the spokesperson praised the Pakistani army for "giving a befitting reply" to Indian strikes in Balakot by capturing an Indian pilot. "Pakistan army and Mujahideen are one," says the Al Badr spokesperson.
The spokesperson also claimed that its "mujahideen were hanging out in the mountains of Kashmir and ready to launch terror attacks on India".
Intelligence officials said the Al Badr recruitment drive indicated that Pakistani army and ISI were exercising the old ploy of changing the nomenclature of terror groups ahead of any crackdown on the Jaish by the international community.
Azhar, for example, was a member of Harakat-ul-Mujahideen before he set up JeM. In 2001, when the US State Department was considering declaring JeM a global terrorist outfit, the group renamed itself Tehrik-ul-Furqan and transferred its funds from its bank accounts to little known cadres to nullify any freeze on its assets. Two years later, the group divided itself in two subgroups— Jamaat ul-Furqan (JUF) and Khuddam ul-Islam (KUI).
"Harkat ul Jihad al Islami, Harkat ul Ansar, Harkat ul Mujahideen, JeM, Al Badr— all these groups are one and the same, ideology and agenda wise. They keep changing their names as and when there is a financial or legal crackdown," a police officer in Srinagar said.
The group was one of the several terror J&K groups which attended Osama bin Laden's conference in Khost, Afghanistan, in February 1998.
Sources said Al Badr is headed by Bahkt Zameen Khan whose deputy goes by the name of Zahid Bhai. The commanders for launching terrorists and communication are Irfan and Abu Mawai, respectively. The group exerts massive influence in KPK, sources in Pakistan said.
Full report at:
https://timesofindia.indiatimes.com/world/pakistan/jaishs-al-badr-recruits-terrorists-as-imran-talks-peace/articleshow/68226879.cms
--------
Pakistan
Jaish chief in Pakistan, admits foreign minister Qureshi
Mar 2, 2019
NEW DELHI: Terrorist organisation Jaish-e-Mohammed chief Masood Azhar is very unwell and in Pakistan, said a fumbling Pakistan foreign minister Mehmood Qureshi, when questioned on TV about Islamabad's delay in arresting the terror mastermind.
"Is the chief of JeM Masood Azhar present in Pakistan? And if so, will you go after him?" asked CNN's Christian Amanpour during a 10-minute television interview with Qureshi on Thursday, to which the minister replied in the affirmative.
"He is in Pakistan, according to my information. He is very unwell. He is unwell to the extent that he cannot leave his house because he is really unwell. That's the information I have," an otherwise articulate and composed Qureshi fumbled, while evading the second part of the question about Azhar's arrest.
Times View
The world has known for almost 20 years that JeM boss Masood Azhar is in Pakistan. And if official confirmation was indeed needed, it's come from no less than Pakistan's foreign minister, S M Qureshi. Even if we were to set aside, for a moment, the mountain of evidence establishing Jaish's role in multiple terror attacks against India, there can be no walking away from the fact that the Pak-headquartered organisation has itself brazenly claimed credit for the Pulwama bombing -- and it has since been condemned by name by the UN Security Council. All Pakistan needs is the will to bring Azhar to book. The real question is, will his terror sponsors in the 'deep state' allow it? The ball is in Imran Khan's court.
When further pressed by Amanpour about why Pakistan has not arrested Azhar, "ill or not ill", he said they want "solid, inalienable evidence" to convince the "people and the independent judiciary of Pakistan" of their actions.
Asked if Pakistan will "welcome" the move of putting Azhar's name on the international terrorist list+ to de-escalate tensions between the two nations, he said, "We will be open to any step that leads to de-escalation. And if they have good solid evidence, please sit and talk. Please initiate a dialogue and we will show reasonableness."
Allaying fears of a war, Qureshi said an armed conflict will be "mutual suicide" for both countries. He added that Pakistan PM Imran Khan has written to the Indian PM saying "let the two foreign ministers meet on the sidelines in New York so that they can chart a way forward."
The minister also "thanked" United States President Donald Trump and US secretary of state Mike Pompeo for "taking interest to de-escalate" tensions between the two countries.
https://timesofindia.indiatimes.com/india/jaish-chief-in-pakistan-admits-foreign-minister-qureshi/articleshow/68226171.cms
--------
Indian misadventure turned into embarrassment, says Fazl
March 2, 2019
SUKKUR: The Jamiat-e-Ulema-e-Islam (F) chief Maulana Fazl-ur-Rehman on Friday said Modi is suffering from "war hysteria" and is unable to fathom Pakistan's strength.
Talking to the media persons, he advised the Indian prime minister to learn from the failure of the US in Afghanistan. He said the Indian misadventure has turned into a sheer embarrassment for them with the loss of two jets and the capture of one of their pilots by Pakistan. He said despite serious political differences with the ruling party, we are united against any aggression against the country.
The JUI-F said the Muslims never believe in aggression but they are duty bound to repel aggression strongly. The veteran politician said Pakistan armed forces are fully capable to defend the motherland against any aggression. He categorically denied the presence of Jaish-e-Muhammad (JeM) in Pakistan and also refused any link with any such organisation
Full report at:
https://www.thenews.com.pk/print/438513-indian-misadventure-turned-into-embarrassment-says-fazl
--------
Downing of IAF jets encouraged US mediation
March 02, 2019
WASHINGTON: The downing of two Indian Air Force (IAF) fighter jets this week persuaded the United States to re-engage Pakistan for ending a dangerous confrontation between South Asia's two nuclear-armed states, said a former White House official.
"After the Pakistani military shot down two Indian Air Force planes and captured an Indian pilot, the United States walked back its rhetoric of self-defence," said Shamila N. Chaudhary, who was director for Afghanistan and Pakistan at the White House National Security Cou­ncil under President Barack Obama.
She was referring to a recent statement by US National Security Adviser John Bolton who said after the Feb 14 suicide attack in Pulwama that the United States "support(s) India's right to self-defence".
In a piece she wrote for a congressional newspaper, The Hill, she noted that after Pakistan brought down the IAF planes US Secretary of State Mike Pompeo urged both countries "to exercise restraint, and avoid escalation at any cost".
Later, several US lawmakers backed Mr Pompeo's appeal to India and Pakistan to defuse the situation. "Pakistan's repatriation of Wing Commander Abhinandan to India is a good first step toward enabling meaningful dialogue to resolve this conflict," said Congressman Eliot L. Engel, chairman of the House Committee on Foreign Affairs.
Senator Bob Menendez, the top Democrat on the Senate Foreign Relations Committee, called upon the Trump administration to play an active role to "promote peace and stability in South Asia" following the flare-up in tensions between India and Pakistan.
He reminded the present administration that "past Republican and Democratic administrations have played constructive roles at the highest levels to promote peace and stability in South Asia".
Congressman Engel said that to avoid the kind of miscalculation Prime Minister Imran Khan "rightly fears, Pakistani leaders must take demonstrable action against Jaish-e-Mohammad...."
Underlining the threat of further escalation, Senator Menendez said: "I urge Islamabad and New Delhi to immediately engage in dialogue to de-escalate the tensions."
On Thursday, Secretary Pompeo told journalists that he "spent a good deal of time" talking to Pakistani and Indian leaders, "encouraging each co­u­ntry to not take any action that would escalate and create increased risk".
Various US media outlets reported on Friday that Washington was maintaining regular contacts with both Islamabad and New Delhi and the US military was backing these peace efforts. However, Alyssa Ayres, a former US deputy assistant secretary of state for South Asia, told the National Public Radio that the United States did not have the same influence that it did during the Kargil crisis, when Pakistan was still a close ally.
"I don't think the United States has the type of clout it might've had 35 years ago. But you have seen a consensus among the powers around the world all echoing each other to create that kind of echo chamber about the kind of actions Pakistan should take," she said.
Full report at:
https://www.dawn.com/news/1467092/downing-of-iaf-jets-encouraged-us-mediation
--------
PPP questions 'haste' in decision to free Indian pilot
Iftikhar A. Khan
March 02, 2019
ISLAMABAD: The Pakistan Peoples' Party (PPP) on Friday questioned the 'haste' in the decision to release the captured Indian pilot and asked if any terms had been decided behind the scenes for it.
Taking part in the discussion in the Senate on the tension between Pakistan and India, PPP parliamentary leader in the house Sherry Rehman said it had to be seen what message was coming from the other side. "Has India agreed to hold talks?" she asked.
Ms Rehman said she was not opposed to the release of the Indian pilot, but sought to know what Pakistan had asked for in return. She said social media suggested they (India) had given no quarter. "If we have not asked for anything, it is an immature diplomatic move".
She pointed out that India had violated Pakis­tan's airspace twice and as such it was an aggressor.
She said the United States was an ally of India and asking Pakistan to take action against terrorists. She said Pakistan had gain­ed a moral high ground but the Indian media's attitude appeared to be childish.
Senator Rehman said that Indian response to the release of the pilot was inappropriate. "Indian Prime Minister Narendra Modi is not attending repeated telephone calls of PM Imran Khan," she said, asking how the decision to release the pilot had been taken overnight. "And what India gave in response to that gesture…India should at least give a response to the PM's calls."
Taking part in the debate, former chairman of the Senate Mian Raza Rabbani, referred to an article published in an international newspaper suggesting that Israel had a role to play in the heightened tension between India and Pakistan. He said the military and economic nexus of India was growing.
Besides the Indian prime minister's campaign to win the elections, the US wanted to make India regional policeman in an attempt to contain China, Senator Rabbani said.
"The Pulwama incident should not be seen in isolation," he said. "It is true that Modi's election campaign is behind this escalation, but there are other factors as well."
Describing the factors, he said that Indian intelligence agency — Research and Analysis Wing — had aided and abetted incidents of terrorism in Pakistan and then came India's increasing violations of the Line of Control. "Then India avoided participating in the Saarc conference saying it cannot come in the shadow of terrorism," Mr Rabbani said.
India had been propagating that Pakistan had terrorists' havens, talking about violation of the Indus Waters Treaty and making efforts to get Pakistan placed on the blacklist of the Financial Action Task Force, he said. "And then it [India] says it can talk only on terrorism and not on Kashmir issue."
"By seeing all these developments in juxtaposition, the lukewarm response of the US and other countries and the new strategic shift in Pakistan's foreign policy, this all would have to be seen whether international forces are bent upon getting the supremacy of India accepted to some extent to make it policeman of the region," he said.
Mr Rabbani said it had to be seen if attempts were being made to strengthen Indian dream of becoming a regional policeman and force Pakistan to "do more".
Another PPP Senator, Rehman Malik, said that Prime Minister Imran Khan had played a good card by taking the decision to release the Indian pilot. "We have shown courtesy," he said.
Modi should have also shown courtesy of attending PM Khan's phone call, he said and termed the gesture undiplomatic.
Mr Malik said the drama of the Pulwama attack had been staged by India under a well thought-out plan. He said there was a need to finalise a policy on Pakis­tan's response in case aggression was imposed on it.
Talking about his ordeal, Pakistan Muslim League-Nawaz (PML-N) Senator Kamran Michael, who was arrested by the National Accountability Bureau (NAB) on Feb 8 in connection with a corruption case, said he was detained without any concrete evidence against him. "When NAB produced me before the court to get physical remand, the court refused to accept the bureau's request and termed me a 'so-called accused'." He said the court even remarked that the judicial remand could not be given in a reference that had already been filed. He said he was arrested in a corruption reference that did not even include his name.
"Don't give NAB the free hand to arrest lawmakers," he said and requested the chair to refer his matter to the Senate's law committee for a hearing.
PML-N Senator Javed Abbasi said the anti-corruption watch dog was not above the parliament and it should inform the house about the allegations against Mr Michael. NAB should be questioned why it arrested the senator — a formal federal minister — and the matter should be referred to the committee, he said.
Another party colleague of Mr Michael, Senator Saleem Zia, said neither the lawmaker's name was included in any case nor was he part of any investigation.
Maritime Affairs Minister Ali Zaidi told the session that 550 million gallons chemical-infested polluted water was flowing into the sea in Karachi every day.
In addition, up to 7,000 tonnes of solid waste was being thrown in the ocean on a daily basis, he added.
He said only a single water treatment plant having the capacity of 70m gallons per day was working in Karachi and more treatment plants should be installed on the sites where water fell into the sea.
"You cannot even dip a finger in the water where people used to swim in the past," Mr Zaidi said. He warned that if the situation persisted, foreign vessels would refuse to come to Karachi port.
Full report at:
https://www.dawn.com/news/1467095/ppp-questions-haste-in-decision-to-free-indian-pilot
--------
India seeking to become an OIC observer and gradually force its way in: FM Qureshi
March 02, 2019
Foreign Minister Shah Mahmood Qureshi on Friday said India wants to use the Organisation of Islamic Cooperation (OIC) platform to further its own agenda which it will do by way of first becoming an observer and then gradually forcing its way in to exert more influence on member nations.
The foreign minister said this while responding to a question put forth by the host on DawnNewsTV talk show, News Wise.
Qureshi was asked: "Don't you think that after repeatedly telling India that Pakistan wants to sit down for talks, then to boycott the OIC meeting because India will be present, doesn't it seem as if we are contradicting our own stand?"
"Not at all ... We are ready to sit down with India. But India wants to use the OIC [platform] to further its own agenda. They were looking for a way to become an observer and then gradually force their way in," the minister responded.
He said New Delhi's stance has been that based on a sizable Muslim population in India, it should be given OIC membership.
"They tried [to get membership] in 1993, 1984, 2004 which Pakistan has always been blocking and today too no mention was made regarding the observer status. Pakistan remained successful in that regard," he noted.
Asked about the opposition's criticism of his move to boycott the OIC session in Abu Dhabi, Qureshi said the opposition parties had unanimously agreed upon the decision.
"The opposition is a signatory. We have taken this move after taking into account the parliament and opposition's opinion on the matter," he said, adding that many members of the PML-N and PPP were present who expressed their approval.
He then proceeded to name them: "Khursheed Shah, Raza Rabbani and many others all of whom held the unanimous view that Pakistan should not join in."
Full report at:
https://www.dawn.com/news/1467003/india-seeking-to-become-an-oic-observer-and-gradually-force-its-way-in-fm-qureshi
--------
Maulana Samiul Haq's secretary arrested on murder charges
Mohammad Asghar
March 02, 2019
RAWALPINDI: The police arrested Syed Ahmed Shah, the secretary of late Jamiat-i-Ulema Islam Sami (JUI-S) leader Maulana Samiul Haq on murder charges and sought his physical remand for interrogation on Friday.
A senior police official told Dawn that the arrest came about after the police investigating team examined Syed Ahmed Shah's first and last statements, which were conflicting.
"In his earlier statement, Ahmed Shah had claimed he had locked the main gate from outside when he left Maulana Sami alone at home to fetch drinking water from a filtration plant and later, he said he had not locked the gate when he left," a police official close to the investigation said.
He said Syed Ahmed Shah has been arrested by the police in the murder case and that a four-day physical remand has been obtained from the local court of law.
He said Ahmed Shah had been in police custody before and that he was released after investigation later. He has now formally been arrested after getting permission from the family of Maulana Samiul Haq.
JUI-S leader Maulana Samiul Haq was killed in his Safari Villa in Bahria Town on Nov 2 last year when Ahmed Shah had allegedly gone to get water from a nearby filtration plant.
Considered a key witness in the case, Syed Ahmed Shah was allowed to participate in the late senator's funeral but he went missing soon after. He was picked up for investigation a couple of weeks later but was allowed to go.
Though the police investigation into the murder of the JUI-S leader was inconclusive, an interim challan had been submitted by the police in the court of an additional session judge after a month.
The police was to submit the interim challan within a fortnight of the murder.
The interim challan contained statements of Maulana Sami's secretary and an investigation report on more than 20 other individuals, mobile phone records of the slain JUI-S leader, the preliminary statement of Ahmed Shah and the police investigation report.
The police were still waiting for a DNA report of the samples taken from the body of the deceased and the blood found elsewhere in the crime scene. However, the investigation team had already received the maulana's mobile phone data.
The police had also made an attempt to exhume the body for a post-mortem but the concerned court of law and the family of the deceased had refused to allow the police to do so.
The request was made to the additional session judge by the Rawalpindi police's Homicide Unit which was forwarded to a court in Nowshera which rejected it.
Full report at:
https://www.dawn.com/news/1467069/maulana-samiul-haqs-secretary-arrested-on-murder-charges
--------
SC acquits death row convict accused of training suicide bombers
Mar 2, 2019
ISLAMABAD: The Supreme Court (SC) on Friday acquitted a 52-time death sentence convict Sufi Baba, who was allegedly involved in brain-washing of youngsters for suicide attacks, giving him benefit of doubt.
A three-member bench of the apex court, headed by Chief Justice Asif Saeed Khan Khosa, heard the case.
During the course of proceedings, the additional prosecutor of Punjab apprised the court that the accused did train suicide bombers for an attack on Sakhi Sarwar shrine.
He said that the accused also recorded his confessional statement in this regard.
The chief justice questioned Sufi Baba sent other people to heaven but why he never wished to visit heaven. It is strange that no evidence existed against a person who did train suicide bombers as child became a victim himself, he added.
He observed that Police did not provide any evidence against the accused and added that he was not present at the time of suicide attack.
The chief justice remarked that the prosecution also failed to prove the allegations leveled against accused and acquitted him giving the benefit of doubt.
It may be mentioned that accused Bahram alias Sufi Muhammad was accused of training suicide bombers for the attack on Sakhi Sarwar shrine in which 52 people were martyred and 73 injured.
Full report at:
https://www.pakistantoday.com.pk/2019/03/01/sc-acquits-death-row-convict-accused-of-training-suicide-bombers/
--------
South Asia
At least 20 soldiers killed in Taliban attack on Afghan-US base
March 01, 2019
KABUL: At least 20 soldiers are believed to have been killed and others injured during a Taliban attack on a key Afghan-US military base in Helmand province on Friday.
The pre-dawn assault on the Shorab compound came during a pause in peace talks between Taliban and US officials in the Qatari capital Doha.
Militants, armed with rocket-propelled grenades, engaged in a heavy firefight with Afghan forces at the base where US troops are also stationed.
Officials in Helmand later claimed that all nine of the assailants who had taken part in the raid were killed, and there were no reports of any US military casualties.
The Shorab attack is the first major one to be conducted by the Taliban since the group began direct peace talks with US diplomats in a bid to bring an end to the long-running conflict in Afghanistan.
It came as Taliban and US negotiators — led by Washington's special envoy for Afghanistan reconciliation, Zalmay Khalilzad — took a break from their latest round of discussions in Doha, which both sides have described as positive.
Ahead of the talks, the Taliban had said that the focus of the meeting was the total withdrawal of US troops from Afghanistan, with the insurgents guaranteeing that Afghan soil would never again be used against US interests or any other nation.
Citing US and European officials with knowledge about the progress of the Doha talks, The New York Times reported that the US was looking at keeping its troops in Afghanistan for up to five years, with the Taliban agreeing to join a provisional government.
However, Taliban spokesman Zabihullah Mujahid said the report was propaganda by the "anti-peace crowd" with Afghans "inching closer toward peace."
In a statement Mujahid said: "No talks have been held in the meetings regarding an interim government and elections, nor has the US side proposed anything regarding staying in Afghanistan for four or five years."
On the Shorab assault, another Taliban spokesman, Qari Mohammad Yousuf Ahmadi, said the attackers had caused serious damage to a fleet of helicopters inside the base.
But Helmand governorate officials denied Ahmadi's account, adding that nine assailants had taken part in the attack and all of them had been killed.
Despite the peace talks, fighting has continued to take place in Afghanistan between the Taliban and US-backed Afghan forces.
Former Afghan diplomat Ahmad Saeedi said the Shorab attack and previous military pushes were normal attempts to try and gain an upper hand in negotiations.
"Whenever peace talks reach an important stage, the warring sides try to have military gains so they can bargain at the peace table from a position of strength," Saeedi told Arab News.
http://www.arabnews.com/node/1459981/world
--------
Taliban militants suffer heavy casualties in Kandahar airstrikes
01 Mar 2019
The Taliban militants have suffered heavy casualties during the airstrikes of the Afghan Air Force in southern Kandahar province.
According to the informed military sources, the airstrikes were carried out in the vicinity of Shahwali Kot district, leaving at least 22 militants dead or wounded.
"The Afghan Air Force conducted air strikes in Shah Wali Kot district of Kandahar killing 18 Taliban fighters and wounding 4 others," the sources added.
The sources further added that the Taliban fighters attacked a 209th Corps checkpoint in Sancharak district of Sar-e-Pul province. "Reinforcements and the assistance of self-defense air strikes killed 6 Taliban fighters and wounded one other."
The anti-government armed militant groups including Taliban have not commented regarding the casualties inflicted on their militants.
https://www.khaama.com/taliban-militants-suffer-heavy-casualties-in-kandahar-airstrikes-03399/
--------
Taliban attack repulse attack on an army base in Helmand
01 Mar 2019
A group of Taliban militants and suicide bombers launched a coordinated attack on an army base in southern Helmand province of Afghanistan earlier today.
According to reports, the attack was launched on 215th Maiwand Corps headquarters.
The media office of the provincial government has announced that the attack was immediately repulsed by the security forces leaving at least 3 suicide bombers and 6 other militants dead.
According to a statement released by provincial government media office, a clearance operation is underway to ensure assailants are not left in the area.
Full report at:
https://www.khaama.com/taliban-militants-suicide-bombers-attack-army-base-in-helmand-province-03397/
--------
34 Rohingya women, children found stranded on Malaysia beach
1 March 2019
More than 30 Muslim Rohingya women and children were found stranded along a beach in Malaysia's northernmost state early on Friday, and are believed to have been dropped off by human traffickers, authorities said.
A police official in Kangar, the capital of northern Perlis state, said villagers found the 34 people, including nine children, weak, hungry and covered in mud as they made their way through the muddy coast.
The official, who declined to be identified due to the sensitivity of the issue, said the group was believed to have come from Thailand. He said they have been fed and handed over to immigration officials.
Nur Aziah Mohamad Shariff, an official with the National Security Council, said it is aware of the illegal entry and is investigating.
Trafficked into Thailand from Bangladesh
A Myanmar welfare group said the group is believed to have been trafficked into Thailand from Bangladesh, before heading to Malaysia, whose dominant Malay Muslim population makes it a sympathetic destination.
Zafar Ahmad Ghani, who heads the Myanmar Ethnic Rohingya Human Rights Organization of Malaysia, said he obtained information that many more Rohingya are being tricked by traffickers into leaving Bangladesh after being warned they may face death if repatriated to Myanmar.
Pictures and videos obtained by members of the group showed a long rope placed across the muddy shore at low tide to help the Rohingya walk through the mud.
More than 700,000 ethnic Rohingya have fled from Myanmar to Bangladesh since August 2017, when a group of militants attacked security forces, triggering a massive retaliation by Myanmar's army. The exodus came after hundreds of thousands of other Rohingya escaped previous bouts of violence and persecution.
Chris Lewa, founder of the Arakan Project which works to improve conditions for Rohingya, said the women and children may be part of a large group that sailed from Bangladesh in two boats in mid-February. She said the total number of passengers was unclear, with estimates of about 150, and that it was unclear what happened to the others.
She said the Arakan Project spoke to a Rohingya man who landed in northern Malaysia in late February on a boat that had arrived undetected with 85 aboard.
Lewa said it was unclear why the women and children were stranded, and that the two boats were the only ones they knew had sailed from Bangladesh this year.
Most people in Buddhist-majority Myanmar don't accept Rohingya Muslims as a native ethnic group. They are, instead, viewed as having migrated illegally from Bangladesh, though generations of Rohingya have lived in Myanmar.
Nearly all have been denied citizenship since 1982 and lack access to education and hospitals.
The UN General Assembly approved a resolution in December condemning "gross human rights violations and abuses" against Myanmar's Rohingya.
Full report at:
https://english.alarabiya.net/en/News/world/2019/03/01/34-Rohingya-women-children-found-stranded-on-Malaysia-beach.html
--------
Four killed in Taliban attack on US-Afghan base in Helmand
1 March 2019
A Taliban attack on a US-Afghan base was repelled in southeast Afghanistan, officials said Friday, as fighting continues in the war-torn country amid a pause in ongoing peace talks between the insurgents and American negotiators in Doha.
The militants launched the pre-dawn assault on Shorab military base in Helmand province - where an unspecified number of US troops are also stationed - engaging in heavy firefights with Afghan forces.
"Right now, the Afghan commando forces are carrying out a clean-up operation in the area," said Omar Zwak, a spokesman for the provincial governor.
Provincial and defense officials said at least four attackers were killed in the skirmish.
US forces spokesman Colonel Dave Butler also confirmed the incident, tweeting: "The attack was repelled by the brave Afghan Security Forces."
Butler later added that reports indicated "Taliban fighters were initially able to gain access to the Afghan base but were stopped by Afghan forces."
The Taliban control or contest more than half of Helmand's districts and regularly deliver heavy blows to Afghan forces, who have been struggling to hold off insurgents across Afghanistan since taking the lead from NATO forces in late 2014.
The assault on Shorab comes as US and Taliban negotiators in Doha have temporarily halted peace talks, which are set to restart over the weekend.
US special envoy Zalmay Khalilzad called the latest meetings in the months-long diplomatic push "productive", saying the two sides "will take the next two days for internal deliberations, with plans to regroup on Saturday."
Heavy snowfall across large swathes of Afghanistan has led to a sharp reduction in violence this winter, but warmer weather in the country's south will likely lead to an increase in bloodshed with the arrival of the spring fighting season.
Analysts have warned that the Taliban are likely to ramp up attacks this spring as they attempt to maintain momentum on the battlefield and leverage at the negotiating table.
Afghan forces, however, claim to be taking the fight to the insurgents, with the Ministry of Defense saying more than 100 "terrorists" have been killed in recent days in various operations across the country.
Full report at:
https://english.alarabiya.net/en/News/world/2019/03/01/Taliban-attacks-US-Afghan-base-in-Helmand-.html
--------
UN says Bangladesh must take in Rohingya Muslims
Mar 2, 2019
The United Nations has called on the government of Bangladesh not to close the border to Rohingya Muslims fleeing war in Myanmar, after Dhaka declared that it would no longer take in Myanmar's Rohingya.
Bangladesh's Foreign Secretary Shahidul Haque told the Security Council on Thursday that the refugee crisis had gone from "bad to worse"
Bedeplored the fact that none of the hundreds of thousands of Rohingya sheltering in his country had returned home.
"Bangladesh has been amazingly generous in the support they have given the Rohingya refugees," said UN spokesman Stephane Dujarric, adding that it is important that people fleeing conflict are able to find safe haven wherever they go.
Under a deal reached with Bangladesh, Myanmar agreed to take back some of the refugees, but the UN insists that the safety of the Rohingya be a condition for their return.
Haque told a council meeting on Myanmar that "Bangladesh would no longer be in a position to accommodate more people from Myanmar," suggesting that his government was ready to close the border to refugees.
The Bangladeshi government also urged the UN Security Council to take action on the issue.
Last month, Bangladesh summoned Myanmar's ambassador to protest against a new influx of refugees fleeing clashes in the restive Rakhine state.
Around 740,000 Muslim Rohingya are living in camps in Bangladesh after they were driven out of Myanmar's northern Rakhine state during a military campaign in 2017 that the United Nations has described as ethnic cleansing.
Thousands of Rohingya Muslims were killed, and others only survived by fleeing to Bangladesh. The country was already home to 300,000 refugees who had fled earlier violence in Rakhine.
Now Myanmar's Buddhists, who constitute the majority in the country, are in conflict with the military they backed to drive out the Rohingya just 18 months ago.
The Arakan Army (AA), a Buddhist rebel group calling for greater autonomy for Rakhine, conducted raids on police border posts on January 4. Thirteen people were killed by the rebel group. The army says 13 militants have been killed in retaliatory attacks while the UN says the violence left at least 5,200 people displaced.
The clashes have added a new, complex dimension to the troubles in Rakhine.
Rakhine has been the scene of communal violence since 2012. Many Muslims have been killed while tens of thousands have been forced to flee as a result of attacks by Buddhists. The refugees largely live in camps in dire conditions.
Full report at:
https://www.presstv.com/Detail/2019/03/02/589928/Bangladesh-Rohingya-refugees-Myanmar-UN-Muslims
--------
Arab World
84 civilians die fleeing final Daesh enclave in Syria's Dayr al-Zawr: UN
Mar 1, 2019
The United Nations says at least 84 people, two-thirds of them young children, have lost their lives since December while fleeing the Takfiri Daesh terrorist group's last enclave in the eastern Syrian province of Dayr al-Zawr to Hol refugee camp in the neighboring province of Hasakah.
Jens Laerke, spokesman of the UN Office for the Coordination of Humanitarian Affairs (OCHA), told a news briefing in the Swiss city of Geneva on Friday that the world body is "gravely concerned" about the plight of thousands of civilians escaping from the last vestige of Daesh's territorial rule at the besieged village of Baghouz near the Iraqi border.
Laerke added that Hol camp now holds at least 45,000 people, including 13,000 civilians who fled Dayr al-Zawr last week.
"Many of them have arrived exhausted, hungry and sick," he said, adding that nine out of 10 were women and children.
"It's a very long, a very tiring journey to this camp, so far [we] have reports of more than 84 deaths on that road, on that stretch of territory. Two-thirds of those who have died are children under five years of age," Laerke said.
The senior UN official went on to say that some 175 children have been hospitalized due to severe malnutrition, citing reports from UN agencies and aid groups on the ground.
Meanwhile, the US-backed and Kurdish-led Syrian Democratic Forces (SDF) expect a fierce battle with Daesh terrorists in Baghouz.
Mustafa Bali, the head of the SDF media office, told Reuters on Friday that Daesh militants were still holed up in the eastern Syrian village, and that the extremists were making their last stand there.
Bali noted that there were still civilians in the enclave, and the SDF would evacuate another large group of civilians on Friday.
"We won't storm the village and declare it liberated unless we have completely confirmed the departure of civilians. We expect a fierce battle," he said.
President Donald Trump asserted on Thursday that US-backed forces in Syria had retaken 100 percent of the territory once held by Daesh.
"We just took over, you know, you kept hearing it was 90 percent, 92 percent, the caliphate in Syria. Now it's 100 percent we just took over, 100 percent caliphate," Trump told American troops stationed in Alaska.
Daesh terrorists, who launched a terror campaign of bloodshed and destruction against people in Syria and neighboring Iraq in 2014, have been defeated and eradicated from most regions in Syria.
The victories have been scored thanks to successful military operations by Syrian government forces and allied fighters from popular defense groups, who are being offered guidelines by Iranian and Russian military advisors.
https://www.presstv.com/Detail/2019/03/01/589885/Syria-civilians-Daesh-Dayr-Zawr-UN
--------
Organization of Islamic Cooperation foreign ministers call for tougher strategy on terrorism
March 02, 2019
JEDDAH: The 46th session of the Organization of Islamic Cooperation's (OIC) Council of Foreign Ministers (CFM) began in Abu Dhabi on Friday.
The CFM, running from March 1-2, under the title "50 Years of Islamic Cooperation: Road Map for Prosperity and Development," saw the presidency pass from Bangladesh to the UAE, and was chaired by its foreign affairs minister, Abdullah bin Zayed Al-Nahyan. In an opening address to his fellow delegates, Al-Nahyan commended Saudi Arabia's King Salman, and the OIC's secretary-general, Dr. Yousef Al-Othaimeen, for their efforts in promoting cooperation between the organization's member states.
He called for the establishment of a preventative strategy to deal with terrorism and extremist ideology in the region. "We reiterate UAE's support for the right of the Palestinian people to establish their independent state and to exercise self-determination," said Al-Nahyan.
Al-Othaimeen thanked the UAE for its hospitality and warm reception, and expressed his delight at the progress it was making in all sectors, from business and finance to culture and sport, in becoming one of the world's most prominent nations.
He too expressed his gratitude and appreciation to King Salman's government, highlighting its role in promoting the OIC internationally, giving it greater clout to meet its aims and grow in influence over the past 50 years.
"The secretariat, thanks to member states' constant support, made the organization's voice heard all over the world and achieved a qualitative leap in its activities. It went from organizing conferences to interacting with regional and international organizations, governments and civil society institutions around the globe," he said.
Full report at:
"The OIC is deeply concerned with Iraq's stability, security and prosperity," he said.
http://www.arabnews.com/node/1460026/saudi-arabia
--------
Chlorine used in 2018 attack on Syria's Douma: Chemical weapons watchdog
1 March 2019
Chlorine was used in an attack on the Syrian town of Douma in April 2018, although there was no evidence of nerve agent, the world's chemical weapons watchdog said Friday in a final report on the incident.
The Organization for the Prohibition of Chemical Weapons said there were "reasonable grounds that the use of a toxic chemical as a weapon has taken place on 7 April 2018. This toxic chemical contained reactive chlorine."
The long-awaited findings confirmed an interim report released in July on the attack, which medics said killed about 40 people when a cylinder containing poison gas landed on the roof of a housing block.
The report does not place blame because it was not in the OPCW's remit at the time, although the watchdog has since been given powers to investigate responsibility for all chemical attacks in Syria back to 2014.
A team of OPCW inspectors took more than 100 samples from some seven sites in Douma when they gained access to the town several weeks after the attack.
The team also interviewed witnesses and carried out a series of tests including toxicological and ballistic analysis, said the watchdog based in The Hague.
Russia, which backs the regime of Syrian President Bashar al-Assad, swiftly rejected the OPCW report, saying that it was "staged" by Syrian rescue volunteers known as the White Helmets.
Full report at:
https://english.alarabiya.net/en/News/middle-east/2019/03/01/Chlorine-used-in-attack-in-Syria-s-Douma-in-2018-Chemical-weapons-watchdog.html
--------
US-backed SDF expects 'fierce battle' in final ISIS enclave
1 March 2019
The US-backed Syrian Democratic Forces (SDF) expect a "fierce battle" with ISIS militants who are still holed up in the group's last enclave in eastern Syria, Mustafa Bali, the head of the SDF media office, told Reuters on Friday.
US President Donald Trump said on Thursday that the SDF had retaken 100 percent of the territory once held by ISIS.
But Bali said ISIS militants were still holed up in Baghouz, a village on the Iraqi border, and had not surrendered. "We won't storm the village and declare it liberated unless we have completely confirmed the departure of civilians."
https://english.alarabiya.net/en/News/middle-east/2019/03/01/US-backed-SDF-expects-fierce-battle-in-final-ISIS-enclave.html
--------
US, Turkey know Daesh leader's whereabouts: Syria
Mar 2, 2019
Syria's UN ambassador has complained about the Western countries' collusion with Daesh, saying the US and Turkey know the whereabouts of the Takfiri terrorist group's ringleader, Ibrahim al-Samarrai, aka Abu Bakr al-Baghdadi.
In an interview with Lebanon-based al-Mayadeen television channel on Friday, Bashar al-Ja'afari said that terrorism is used as a tool by its sponsors and financiers.
He also accused the US-led coalition, which is bombarding what it calls Daesh positions, of transferring Daesh elements.
"Algerian authorities arrested hundreds of terrorists on its borders with Nigeria, and after interrogating the terrorists it was revealed that they had come from Aleppo's countryside, wondering who transported these terrorists from Syria to the Algerian-Nigerian borders," Ja'afari said. "Americans and Turks know where Abu Bakr al-Baghdadi is."
The Syrian envoy further denounced a recent deal clinched between the US and Daesh, under which Washington received "tens of tons of gold" in exchange for allowing terrorists out of Syria's Dayr al-Zawr Province.
Daesh started its campaign of terror in Iraq and Syria in 2014, occupying territory in the two Arab countries and establishing a self-proclaimed "caliphate." The Iraqi and Syrian armies — both receiving advisory military help from Iran — galvanized to retake Daesh-held territory.
The Takfiri outfit was gradually stripped of all the land it had occupied, but Daesh remnants are now believed to be hiding in the Iraqi-Syrian border region.
Ja'afari said that the Western states are working "to prolong the crisis in Syria" and that the administration of US President Donald Trump is seeking to keep up "investing in terrorism" in Syria and Iraq in order to pursue its agenda in the region.
He also hailed relations between Syria, Iran and Russia as "excellent," noting that talks about a rift between the trio is just "media propaganda."
"What is the interest of the Arabs in creating hostility with an important country like Iran? What is the interest of the Persian Gulf states in a war that Arabs and Iranians are fueling and Israel is watching?" he asked.
Ja'afari stressed that relations with Iran and Russia serve Syria's interests and that Damascus would not "compromise" with anyone regarding its ties with Tehran.
Syria slams UK's blacklisting of Hezbollah
Separately on Friday, Syria strongly denounced a decision by the UK government to put the Lebanese Hezbollah resistance movement on its list of terrorist organizations.
A source at the Syrian Foreign Ministry said that the move confirms Britain's "deep-seated historical hostility against the Arab nation, as Britain is the godfather of fragmenting the Arab nation."
The UK, he added, has "a dark history of enslaving people and usurping their rights," harbors extremists and has been a main partner in all forms of aggression against the Arab nation.
Full report at:
https://www.presstv.com/Detail/2019/03/02/589934/Syria-Daesh-Abu-Bakr-Baghdadi
--------
Hezbollah: UK terrorist designation 'insult' to Lebanon
Mar 1, 2019
Lebanon's Hezbollah has issued a statement "strongly rejecting" a British decision to consider the resistance movement a terrorist organization.
"Hezbollah strongly rejects the condemned British decision to include Hezbollah on what is called the 'terrorist organizations list,' and stresses that Hezbollah is a resistance movement against Israeli occupation," read the Friday statement.
The statement stressed that nothing would stop Hezbollah from defending the country's independence and freedom from "Israeli greed" in Lebanon's "land, resources and territorial waters."
The party added that the move showed "servile obedience" to the United States, Lebanon's Daily Star newspaper reported.
"The British government, in this decision, insulted the sentiments and the free will of the Lebanese people, who consider Hezbollah such a political and popular force that they granted it big representation in Parliament and Cabinet," read the statement.
UK Home Secretary Sajid Javid said on Monday that the government will designate the entire Hezbollah organization as a terrorist entity as of Friday subject to the approval of the parliament.
The UK had previously blacklisted Hezbollah's military apparatus as a "terrorist group".
Javid, an extreme right-wing politician of the Pakistani origin, said the UK government was no longer able to maintain a distinction between Hezbollah's political and military activities and thus will include the group's political unit in its blacklist.
The UK's Labour Party has voiced its official objection to the move.
Full report at:
https://www.presstv.com/Detail/2019/03/01/589879/Hezbollah-condemns-terrorist-designation-by-Britain
--------
Saudi Arabia strips Osama bin Laden's son of citizenship
March 01, 2019
RIYADH: Saudi Arabia has stripped citizenship from Hamza bin Laden, the son of dead Al-Qaeda leader Osama bin Laden. Bin Laden, who is thought to be about 30, had his citizenship removed on Feb. 22, the official gazette Umm Al-Qura said on Friday.
The US State Department offered a reward of up to $1 million on Thursday for information leading "to the identification or location in any country" of bin Laden, who it described as a key Al-Qaeda leader.
"Since at least August 2015, he has released audio and video messages on the internet calling on his followers to launch attacks against the United States and its Western allies," the department said.
Osama bin Laden was killed by US special forces who raided his compound in Pakistan in 2011. Hamza was thought to be under house arrest in Iran at the time, and documents recovered from the compound suggested attempts to reunite him with his father.
Hamza was introduced by the new Al-Qaeda leader Ayman Al-Zawahiri in an audio message in 2015. He has called for acts of terrorism in Western capitals and threatened to take revenge against the US for his father's killing, the State Department said in 2017 when it designated him as a global terrorist.
He also threatened to target Americans abroad and urged Saudi tribes to unite with Yemen's Al-Qaeda in the Arabian Peninsula to fight against Saudi Arabia, it said.
Full report at:
http://www.arabnews.com/node/1459896/saudi-arabia
--------
Europe
Reformer advises Muslims to embrace Western values
ANGELA SHANAHAN
MARCH 2, 2019
"The only way to counter radicalisation is to inoculate Muslims against the separatism of political Islam." These are the words of Zuhdi Jasser, words that could get him killed in some parts of the Middle East.
Jasser, the controversial founder of the American Islamic Forum for Democracy, visits Australia this month for a series of talks and meetings with Australian Muslim groups. He will also meet Jewish leaders and some secular Christian leaders.
Jasser is something of an anomaly in the Islamic world. Born in the US to a Syrian family that fled the Assad regime, he is a practising Muslim who served in the US Navy for 11 years as a doctor and was deployed to the Middle East.
However, at a time when Islam (and religion in general) is on the nose, he is a brave reformist, a civil libertarian and a passionate Amer­i­can patriot.
"If I had started this organisation in the Middle East, I would probably be dead by now," he says.
Jasser makes no bones about the core teachings in Islam that need reformation. Basically, it is the idea of political jihad. "This is a big issue ­because a quarter of the world's population is Muslim."
Jasser points out that after every terror threat or attack since 9/11, there have only been two ­responses from imams, and both have been "unacceptable".
The first response is to apologise: "We don't know where al-Qa'ida came from … It has nothing to do with Islam." These apologies continue in the face of the development of Islamic State and its terrorists.
The second response is dialogue: "They did not want to come to terms with the fact that the root cause is jihadi ideology, no matter what the group. The root cause is a fundamental antagonism towards Western secular democracy, the idea of the separation of mosque and state."
Consequently, his work is not to fight against terrorism. "Our mission is not to counter terrorism because we believe terrorism is a symptom. ISIS is a symptom (of that ideology)."
But he believes that the conversation has now changed.
"When ISIS came into being, many Muslims began to realise that those that want to put ­relig­ious law into governance of the state, a theocracy, or a quasi-theocracy like Egypt or Turkey, it is not going to benefit them as Muslims. Democracy, the American constitution and the rule of law are actually the best protection for Muslims and other religions."
Although Jasser's family were political refugees, they, like most immigrants, sought to better their economic situation and wholeheartedly embraced what he calls "Americanism", which he defines as "a social contract of constitutionalism and individual rights of all under God".
He speaks frequently to schoolchildren and college students, whom he encourages to read French political theorist Alexis de Tocqueville. And he thinks the imams should read him too. As a doctor, he can see that ­Islamic radicalism is not solely, as it has been characterised by some armchair experts, a problem of anti-modernisation. Rather it is a problem of lack of political modernisation, hamstrung by ancient apologetics. He explains: "Muslims can be totally modern in science and technology, but com­pletely in a different world politically."
Jasser talks about being anti-establishment. "Ninety per cent of Muslim leadership is steeped in 13th-century interpretation of our laws. The Christians solved this hundreds of years ago, when the religious establishment was ­pushed out of the political secular spectrum." This revisionism is ­ongoing in the Christian world.
But in the Islamic world things will get better only after they get worse, and he points to Iran. "They will never go back to the­ocracy. They went through a per­iod of learning after the Shah when they had a theocracy. They won't vote for that again."
He says young Muslims need to understand the social contract about being American or Australian, that under democracy and constitutionalism you are in fact safer if you embrace Western democracy.
He also points out to students that while they complain about intolerance or the status of refugees, or perceptions about women or whatever, they have a right to complain in the West — try doing so in the Middle East. "I tell them, it is easy to complain, but you can only do this in the Western world. All these points of controversy like the role of women are important because, at the end of the day, that is what democracy and the rule of law is about."
Where does this put Islam as a voice in the democratic public square? After all, Christian churches are always saying they have this right. In the US there is a more definite view of the separation of church, mosque and state. So, does he think Islam has a place in the public square?
"Yes, absolutely. That is why we encourage our students to read de Tocqueville. It is not freedom from religion but freedom of ­religion. The reason that Europe has so much of a problem is ­­the ­alternative 'imposition' of secularism, as in France, where even expression of symbols of personal religion is forbidden.
"If you push it underground you 'feed the radicals'.
"However, a free and democratic religious atmosphere provides a 'laboratory' where you can be critical and open about certain elements of religious dogma. But you cannot give the sharia courts status … and we have to make people understand that the cover of religious freedom is not an excuse to oppress their own community."
https://www.theaustralian.com.au/news/inquirer/reformer-advises-muslims-to-embrace-western-values/news-story/f185592917953f236e520e90dc99eda8
--------
Belgium students mock Islam dressed as suicide bombers
01.03.2019
A group of high school students here mocked Islam when they wore headscarves and suicide belts while imitating the movement of Islamic prayer.
Senior students traditionally celebrate graduation ceremonies 100 days before the end of school year, Mahinur Ozdemir, an independent member of parliament from Brussels Regional Parliament, told Anadolu Agency.
"However, it is scandalous that these students chose the theme as 'Islam and Saudi Arabia' and imitated prayer moves wearing headscarves and bombed belts, therefore relating Muslims with terrorism."
Principal Jan de Gendt of the College Paters Jozefieten, the Catholic school in Ghent where the students attend, defended their actions and said it is an event for entertainment and does not aim to provoke or upset anyone.
Ozdemir said the principal's remarks normalizes such events and that leads to Islamophobia.
"Is it free to wear headscarves for entertainment, while it is forbidden to wear it at schools?" Ozdemir asked.
It is intolerable that students wear traditional Arab clothes and relate Islam and Muslims with terrorism and violence, said Coskun Beyazgul, the head of religious affairs in Belgium.
Full report at:
https://www.aa.com.tr/en/europe/belgium-students-mock-islam-dressed-as-suicide-bombers/1406789
--------
Lebanon's Hezbollah slams British ban, says it shows US 'obedience'
1 March 2019
The Lebanese group Hezbollah condemned on Friday the British government's decision to list it as a terrorist organization, saying the move showed "servile obedience" to the United States.
The heavily armed Shiite group, which is backed by Iran, said in a statement it was a "resistance movement against Israeli occupation" and described the British move as an "insult to the feelings, sympathies and will of the Lebanese people that consider Hezbollah a major political and popular force".
"Hezbollah sees in this decision servile obedience to the US administration, revealing that the British government is but a mere a follower in service of its American master," the statement added.
Britain said on Monday it planned to ban all wings of Hezbollah due to its destabilizing influence in the Middle East, having previously proscribed its external security unit and its military wing. Hezbollah is already deemed a terrorist organization by Washington.
Long the most powerful group in Lebanon, Hezbollah's clout has expanded at home and in the region.
The group controls three of 30 ministries in the government led by Western-backed Prime Minister Saad al-Hariri, the largest number ever. It does not acknowledge having separate political and military wings.
Hezbollah and political allies that view its arsenal as an asset to Lebanon won more than 70 of parliament's 128 seats in an election last year, a major blow to Lebanese parties that oppose its possession of weapons like the Christian Lebanese Forces which enjoys close ties to US-allied Gulf states.
Hezbollah, founded in 1982 by Iran's Revolutionary Guards, has also seen its regional influence expand with fighters in various Middle East conflicts including neighboring Syria.
Military aid
The British ban means anyone who is a member of Hezbollah or invites support will be committing a criminal offence with a potential jail sentence of up to 10 years.
The move may raise questions for London's relationship with Lebanon, which includes military and security aid.
Following the decision, Hariri said he hoped the decision should not harm bilateral ties, telling reporters: "We consider that this matter pertains to Britain, not Lebanon."
Foreign Secretary Jeremy Hunt reiterated Britain's support for "a stable and prosperous Lebanon" and said the listing would "not change our ongoing commitment to Lebanon..."
Lebanese Foreign Minister Gebran Bassil, a political ally of Hezbollah, said the British move would not have a negative impact on Lebanon and that Britain had informed Lebanon of its commitment to bilateral ties.
But he also defended the group, whose arsenal has been a focal point of political division for years in Lebanon.
Full report at:
https://english.alarabiya.net/en/News/middle-east/2019/03/01/Lebanon-s-Hezbollah-slams-British-move-says-it-shows-US-obedience-.html
--------
Germany mulling over extending Saudi arms ban
01.03.2019
BERLIN
Social Democrats on Friday renewed their demand for extending Germany's arms export ban to Saudi Arabia beyond the March 9 deadline.
Martin Schulz, a senior lawmaker from Social Democratic Party (SPD), has sharply criticized human rights situation in Saudi Arabia and Riyadh's involvement in the Yemen conflict.
"As long as this state [Saudi Arabia] tramples human rights underfoot and wages a war in Yemen, there is nothing to change in our arms exports ban," he told German weekly Der Spiegel.
Chancellor Angela Merkel's Christian Democrats and their coalition partner SPD decided last October to stop all arms exports to the Kingdom following the the killing of Saudi journalist Jamal Khashoggi at his consulate in Istanbul.
However, Germany's decision was criticized by the U.K. and France, which claimed that Berlin's arms exports ban also had negative impact on their defense companies, due to various joint projects involving German firms.
Last month, British Foreign Secretary Jeremy Hunt asked for exemption for such projects, to enable British companies to fulfill their contracts with Saudi Arabia.
Several Christian Democrat politicians this week spoke against renewing the ban, and argued for a compromise solution that would address expectations of the U.K. and France.
On Friday, Merkel's spokesman Steffen Seibert told a news conference in Berlin that talks were still underway among coalition partners on the issue of extending arms export ban to Saudi Arabia.
Full report at:
https://www.aa.com.tr/en/europe/germany-mulling-over-extending-saudi-arms-ban-/1406655
--------
Rohingya need peace and security to go home: UK panel
01.03.2019
LONDON
Stressing the need for peace and security, a U.K. panel discussed the future of the persecuted Rohingya people in Bangladesh refugee camps after a stalled repatriation plan that would have allowed them to return to their homes in Myanmar.
"The Rohingya people who have been kicked out of their homes want to return to their homeland, they don't want to remain trapped in a foreign land and they want to return back to peace and security," said Abdullah Faliq, the CEO of the Justice For Rohingya Minority group, which organized Thursday's event.
"Unless these two items, peace and security, are guaranteed, no one will return, this is why repatriation failed," he added.
The panel of academics and activists also discussed the use of social media in Myanmar and how it aided the spread of anti-Rohingya and Islamophobic sentiments, the use of rape by Myanmar's army as a tactic against the Rohingya, and what steps should come next to ensure the international community are aware of the genocide taking place.
"If the situation remains as it is, the refugees who are born and raised in the camps, what will they become?" asked Faliq. "One of the fears is that some will turn to extremism and means of desperation and that is something we don't need right now, which is why JFRM is lobbying the government to help the Rohingya return home."
He compared the Rohingya to Palestinian refugees who still have keys to their homes after being forced out more than 60 years ago. However, Faliq said that he has hope this won't be the case with the Rohingya -- that through lobbying and campaigning, the Rohingya people will be able to return safely to their homes.
Ronan Lee, a former Australian MP, told the panel the importance of social media in Myanmar and how its mass dissemination of anti-Rohingya and ethno-nationalist rhetoric fueled Islamophobia among the public. Lee also alleged the government and the military are at the forefront of an anti-Rohingya social media campaign meant to turn public opinion against a people labelled as the world's most oppressed ethnic group.
"Facebook and other messaging apps played a role in the violence in 2017" which drove out hundreds of thousands of Rohingya, Lee said, referring to the massacres of Rohingya in Myanmar's Rakhine state.
"You have people using Internet tools in Myanmar to spread discord, to spread anti-Muslim sentiment and particularly anti-Rohingya sentiment."
The event also screened a short film "Mother, Daughter, Sister" on the horrific sexual violence committed by Myanmar's military against the Rohingya women. Survivors described in shocking detail how soldiers brutally tortured and raped them before burning down their homes and forcing them to flee, leaving them separated from their families, with many never seen again.
The panel also included Htike Hitke, a Rohingya humanitarian activist, Kyaw Win, founder of the Myanmar Human Rights Network, and Kim Knappett, joint president of the National Education Union, which trained teachers in Myanmar.
Persecuted people
The Rohingya, described by the UN as the world's most persecuted people, have faced heightened fears of attack since dozens were killed in communal violence in 2012.
According to Amnesty International, more than 750,000 Rohingya refugees, mostly women and children, have fled Myanmar and crossed into Bangladesh after
Myanmar forces launched a crackdown on the minority Muslim community in August 2017.
Since Aug. 25, 2017, nearly 24,000 Rohingya Muslims have been killed by Myanmar's state forces, according to a report by the Ontario International Development Agency (OIDA).
More than 34,000 Rohingya were also thrown into fires, while over 114,000 others were beaten, said the OIDA report, titled "Forced Migration of Rohingya: The Untold Experience."
Some 18,000 Rohingya women and girls were raped by Myanmar's army and police and over 115,000 Rohingya homes were burned down and 113,000 others vandalized, it added.
The UN has also documented mass gang rapes, killings -- including of infants and young children -- brutal beatings and disappearances committed by Myanmar state forces.
Full report at:
https://www.aa.com.tr/en/asia-pacific/rohingya-need-peace-and-security-to-go-home-uk-panel/1406479
--------
Southeast Asia
NU calls for end to word 'infidels' to describe non-Muslims
March 1, 2019
Clerics from Islamic mass organization Nahdlatul Ulama have urged Muslims to refrain from using the word kafir (infidels) to describe non-Muslims.
"The word 'kafir' hurts some non-Muslims and is perceived to be theologically violent," cleric Abdul Moqsith Ghazali said at the Bahtsul Masail forum during the NU's clerics national meeting in Banjar, West Java, on Thursday as quoted by NU's official website, nu.or.id.
As an alternative, Moqsith and other clerics agreed to use the word muwathinun (citizen), to demonstrate that Muslims and non-Muslims have equal status as citizens in a country.
"Labeling fellow Indonesian citizens who participate in constructing the nation as 'kafir' seems unwise," he continued, saying that some groups still disputed the citizenship status of non-Muslim Indonesians.
Moqsith, who was the meeting's chairman, said the NU's standpoint on the usage of the word kafir would not be included in the meeting's official recommendation, as such recommendations usually pertained to government policy.
The labeling of people or groups as kafir has been an issue in recent years, with conservative Muslim groups using the word to denounce groups they consider heretical such as Shia and Ahmadiyah adherents.
The word was also prominent during the 2017 Jakarta gubernatorial campaign, when many groups urged Muslims to not vote for then-governor Basuki "Ahok" Tjahaja Purnama, an ethnic Chinese Christian, with the slogan "tolak pemimpin kafir" (reject infidel leaders). (kmt)
https://www.thejakartapost.com/news/2019/03/01/nu-calls-for-end-to-word-infidels-to-describe-non-muslims.html
--------
PAS denies paying Sarawak Report editor to settle libel suit
01 Mar 2019
KUALA LUMPUR: Parti Islam Se-Malaysia (PAS) on Friday (Mar 1) denied making a payment of more than RM1.4 million (US$343,000) to Sarawak Report's editor Clare Rewcastle-Brown, in order to settle a defamation suit filed by the party's president against the British investigative journalist.
This came after Ms Rewcastle-Brown's lawyer said he received a cheque of more than RM1.4 million on behalf of his client as an out-of-court settlement for the suit filed by PAS president Abdul Hadi Awang.
PAS information chief Nasrudin Hassan Tantawi said on Friday that the bank account number on the cheque purportedly used to pay Ms Rewcastle-Brown was fake.
"Yesterday, photo of a cheque and an account number was made viral to defame PAS, with a new tune of RM1.4 million. There were friends who checked the account number which was made viral by transferring RM5 and RM1, and the account was proven to be non-existent," he was quoted as saying by Malay Mail.
However, Mr Rafizi Ramli, the vice-president of Parti Keadilan Rakyat said he successfully transferred RM10 to the Bank Islam account number that was stated in the settlement agreement.
"This proves that the account that was noted in the agreement exists, and so too the RM1.4 million," he was quoted as saying by The Malaysian Insight.
PAS has been adamant that it did not have to pay Sarawak Report as part of a settlement agreement.
Mr Abdul Hadi had filed a defamation suit over a 2016 report alleging that PAS had received RM90 million from the United Malays National Organisation (UMNO) before the May 2018 general election.
She filed a counterclaim and Mr Abdul Hadi opted for an out-of-court settlement.
On Thursday, Ms Rewcastle-Brown posted on the whistleblower blog a cheque for RM1,422,980 as well as an excerpt of a letter of undertaking to affirm that the sum has been paid.
She also noted that the Sarawak Report had agreed to Mr Abdul Hadi's condition that both parties should keep the payment confidential.
"Ever since the closing of the case, however, PAS has sought to spin and deceive over the matter," she wrote.
"Now (Abdul) Hadi's representatives in PAS have repeatedly broken the obligation imposed on (Abdul) Hadi to keep confidentiality about the terms of the settlement, by not only speaking about those terms but also misleading Malaysians by stating that no payment was made to Sarawak Report in settlement of the claim."
PAS secretary-general Takiyuddin Hassan stated that Mr Abdul Hadi did not breach any confidentiality agreement.
Full report at:
https://www.channelnewsasia.com/news/asia/pas-denies-payment-sarawak-report-defamation-libel-11302596
--------
Police Name Former Laskar Jihad Leader a Suspect in Religiously Charged Assault Case in Papua
MARCH 01, 2019
Jakarta. Police have named firebrand cleric Ja'far Umar Thalib, former commander of the disbanded Islamist militant organization Laskar Jihad, a suspect in a case of assault in Jayapura, Papua.
Ja'far, who is at the forefront of spreading a puritanical form of Islam in Indonesia, has a long history of involvement in sectarian conflict.
According to media reports, the Jayapura chapter of the Indonesian Ulema Council (MUI) had raised concern over the past three years that the actions of Ja'far and his followers could harm the delicate religious harmony in Indonesia's easternmost province. On Wednesday, these concerns materialized. Police said Ja'far – who runs the Ihya As-Sunnah Islamic boarding school in Keerom district, 30 kilometers south of Jayapura – allegedly incited his followers to attack the house of Jayapura resident Henock Niki.
Niki was reportedly confronted at around 5:30 a.m. by several sword-wielding people dressed in white. The pretext for the alleged attack was that he played his music too loud and that it disrupted the morning prayers at a nearby mosque.
"The perpetrators then severed the cables of the victim's speakers. They told him that the loud music was disturbing worshipers in the mosque," National Police spokesman Brig. Gen. Dedi Prasetyo told reporters in Jakarta on Friday.
However, according to Dedi, the homeowner told his alleged attackers that the morning prayer was at 4:15 a.m., which should have been over by that time. They subsequently fled south in a minibus.
The incident sparked tension among Jayapura residents on Wednesday but police were quick to diffuse the situation before it could escalate. They named seven suspects in the case on Thursday, including Ja'far, who, unlike his co-accused, was not detained over health concerns.
Ja'far is a former student of the Islamic and Arabic College of Indonesia (Lipia), a Saudi-backed university in Jakarta that teaches Salafism, a revivalist movement that demands that its followers return to the practices of the Prophet Muhammad and the early generations of Muslims, which it considers the purest form of Islam.
He continued his studies in Yemen, which further strengthened his hardline views. In 2001, Ja'far led Laskar Jihad to help defend Muslims in Ambon during a violent sectarian conflict on the islands. He disbanded the group after the conflict over concerns that politicians may use it for their own gain.
He later established the Ahl Sunnah Wal Jama'ah Communication Forum (FKASWJ) to ensure that Laskar Jihad's former members remain in touch.
However, Ja'far has been involved in many disputes with Salafists participating in Indonesian politics, according to a report by NU Online, the publication wing of Nahdlatul Ulama, the country's largest Islamic organization.
Full report at:
https://jakartaglobe.id/context/police-name-former-laskar-jihad-leader-a-suspect-in-religiously-charged-assault-case-in-papua
--------
Mideast
Israeli soldiers mercilessly beat up disabled Palestinian man in his bed
Mar 1, 2019
Israeli soldiers have violently beaten up a blind and paralyzed Palestinian man in front of his wife and children with no apparent reason in the West Bank town of Dawha, Haaretz reports.
Munzer Mizhar, a 47-year-old retired medical technician, was beaten with what he felt were brass knuckles by Israeli forces who had stormed his house, early in the morning on February 20, the paper reported.
The Israeli forces allegedly broke the door and stormed the house after failing to apprehend a targeted individual living a floor above the Mizhar family.
The family explained that the beating lasted about five minutes, despite desperate attempts to notify the soldiers of Mizhar's dire health situation.
The soldiers refused to give any explanation for the ordeal and eventually left the house after forcing the family's four sons to get on their knees with faces pressed to the floor.
The victim, who suffered severe bleeding in the face along with wounds in both shoulders and hands, was taken to hospital for treatment. Mizhar currently has pains in his jaw and has difficulty eating food, further complicating his health condition.
Mizhar previously had his toes amputated and had lost his eyesight due to severe diabetes. He can barely move and needs dialysis treatment three times a week due to kidney failure.
The attack also severely traumatized Mizhar's family, especially his wife, Iman, who was at his side at the time of the assault.
Asked about probable motives for the attack by Haartez, the victim's sister, Maysoun said, "They beat us all. The occupation beats us all. We are under occupation. This isn't the first time they beat someone for no reason, and it's not the last. What's new about it is that this time they beat a blind person."
The Israeli military later published a statement downplaying the incident, claiming that Mizhar was injured after reacting "disruptively" to an operation that sought to "apprehend a wanted individual".
B'Tselem human rights group researcher Musa Abu Hashhash, however, described the incident as "the most shocking case I've ever documented."
Israeli occupation forces commonly harass Palestinians in the occupied West Bank.
Palestinians report being frequently brutalized, intimidated and forced through "cattle pen" checkpoints under the occupation.
Last month, Israeli forces brutally assaulted a handcuffed and blindfolded Palestinian while forcing his son to watch the ordeal. The incident prompted a leading Israeli news anchor to slam the Tel Aviv regime for turning troops into "human animals."
The occupied territories have witnessed new tensions since US President Donald Trump announced Washington's recognition of the occupied Jerusalem al-Quds as Israel's "capital" on December 6, 2017.
The announcement triggered demonstrations in the occupied Palestinian territories and elsewhere in the world.
In one of the latest developments last week, Palestinian worshipers managed to gain access to the Israeli-restricted Bab al-Rahma area of the al-Aqsa Mosque in Jerusalem al-Quds for the first time after 16 years.
The event unfolded after a public call to action was made by Palestinian clerics. Israel responded by banning a number of clerics from entering the city for one week.
https://www.presstv.com/Detail/2019/03/01/589843/Israeli-soldiers-beat-disabled-Palestinian-man
--------
Yemeni government calls on Iran to stop supporting of Houthis
March 02, 2019
Yemen's Foreign Minister has called on Iran to abide by the principles of the Organization of Islamic Cooperation (OIC) and to stop supporting the Houthi militia, who have been at war with the Yemeni government since 2014.
Khalid Al-Yamani urged the Iranian regime to stop funding the militia and to stop providing the group with weapons, in his address to the 46th Ministerial Conference of the OIC in Abu Dhabi.
He said Iran must stop destabilizing the region by supporting armed groups, and respect the principles of international law.
Al-Yamani said the Houthis were stalling the implementation of the Stockholm agreement, and refused to withdraw from Hodeidah in order to open a humanitarian corridor.
This has hindered the work of the United Nations, he stressed, who brokered the agreement between the warring sides in Sweden in December last year.
Full report at:
http://www.arabnews.com/node/1460146/middle-east
--------
Egypt's Al-Azhar slams Israeli violations in Jerusalem
Jeyhun Aliyev
02.03.2019
Egypt's Al-Azhar, the highest seat of learning in the Sunni Islamic world, condemned a series of violations by Israel, including detention of Palestinians and raids on Al-Aqsa Mosque in Jerusalem.
In a statement on Friday, Al-Azhar said it supports Palestinians in Jerusalem against the arbitrary practices of Israel -- such as the closure of Al-Aqsa doors -- adding that these violations cannot be accepted.
The statement also called for urgent action -- including political and legal steps -- against Israel's violations and support for the Palestinian people to establish an independent state.
Tension has mounted in Jerusalem since last week when Israeli police shut the Al-Aqsa mosque compound's Al-Rahma Gate, preventing Palestinian worshippers from entering the site and sparking angry demonstrations.
For Muslims, Al-Aqsa represents the world's third holiest site. Jews, for their part, refer to the area as the "Temple Mount," claiming it was the site of two Jewish temples in ancient times.
Israel occupied East Jerusalem, in which the Al-Aqsa is located, during the 1967 Arab-Israeli War. It annexed the entire city in 1980 in a move never recognized by the international community.
Full report at:
https://www.aa.com.tr/en/africa/egypts-al-azhar-slams-israeli-violations-in-jerusalem/1406984
--------
Israeli attorney-general plans to charge Netanyahu in corruption cases
1 March 2019
Israel's attorney-general announced on Thursday he intends to indict Prime Minister Benjamin Netanyahu on corruption charges, a decision coming just six weeks before a closely contested national election.
It was the first time a serving Israeli prime minister has been put on official notice of planned prosecution, and deepened uncertainty over how Netanyahu, a veteran right-wing leader, will fare against a coalition of upstart centrist rivals.
An actual filing of the charges of bribery, fraud and breach of trust would depend on the outcome of a required hearing, the Justice Ministry said. That could take months to complete.
At that hearing - which could take place after the April 9 election - Netanyahu can try to persuade the attorney-general, Avichai Mandelblit, not to indict him. His voice brimming with indignation as he addressed the nation during prime-time TV news, Netanyahu dismissed the three criminal cases as a political "witch-hunt" designed to oust him.
"I intend to serve you and the country as prime minister for many more years. But it's up to you," he said, referring to his hopes of winning a fourth consecutive term in April. "It's not up to the civil servants. It's not up to the television studios. It's not up to the pundits and journalists."
Netanyahu is suspected of wrongfully accepting $264,000-worth of gifts, which prosecutors said included cigars and champagne, from tycoons and dispensing favors in alleged bids for improved coverage by an Israeli newspaper and a website. He could face up to 10 years in prison if convicted of bribery and a maximum 3-year term for fraud and breach of trust.
Israel's shekel weakened against the dollar on the news. It was trading at 3.63 per dollar at 1620 GMT, from 3.6240 before the announcement and down 0.4 percent versus the US currency from Wednesday.
Opinion polls show a tight race for Netanyahu's Likud party, with sharp gains for a centre-left alliance led by Benny Gantz, a former armed forces chief who has pledged clean government.
'A GREAT PRIME MINISTER'
At the hearing with Mandelblit, the 69-year-old Netanyahu can cite the public interest in arguing against an indictment.
In his statement on Thursday, the prime minister touted what he has achieved for the country: noting the strong economy and ties with world powers that he has cultivated over the last decade. "This is not to be taken for granted," he said.
Netanyahu would be under no legal requirement to resign, even if indicted. But if he were re-elected it would likely be to lead a coalition, as he does now, and if he were indicted, public pressure could buckle the necessary alliances.
Already, Gantz said in a statement on Thursday evening he would not join Netanyahu in any future coalition government, given the possible corruption indictment.
US President Donald Trump, asked at a news conference earlier on Thursday about Netanyahu's legal troubles, voiced support for the Israeli leader. Trump and Netanyahu have been in lockstep over policy towards Iran and the Palestinians.
"Well, I just think he has been a great prime minister," said Trump.
Full report at:
https://english.alarabiya.net/en/News/middle-east/2019/03/01/Israeli-attorney-general-plans-to-charge-Netanyahu-in-corruption-cases-.html
--------
Israeli forces injure 17 Palestinians in Gaza
Mar 1, 2019
Israeli forces have opened fire at anti-occupation protesters gathering on the edge of the besieged Gaza Strip, leaving 17 people injured.
Palestinian media outlets cited the Gazan Health Ministry as saying that 17 Palestinians had been shot and injured east of Gaza on Friday.
The ministry said that teargas canisters fired by the Israeli forces directly hit a journalist and three paramedics during the Friday rallies.
The Israeli attack on the Palestinian protesters came a day after a United Nations Human Rights Council-mandated investigation found that the regime's forces may have perpetrated "war crimes" or "crimes against humanity" in the campaign against the Palestinians in Gaza.
The Palestinian resistance movement of Hamas has said Israel must be held fully accountable for the crimes it has committed in the besieged enclave.
Tensions have been running high in Gaza since March 30, when the protests started. Palestinian protesters demand the right to return for those driven out of their homeland by Israeli aggression. They also demand a halt to Israel's inhumane blockade of the Gaza Strip.
The clashes in Gaza reached their peak on May 14, the eve of the 70th anniversary of Nakba Day, or the Day of Catastrophe, which coincided this year with Washington's relocation of its embassy from Tel Aviv to the occupied Jerusalem al-Quds.
Full report at:
https://www.presstv.com/Detail/2019/03/01/589910/Israel-Palestinians-Gaza-right-of-return-protests
--------
Africa
US military says airstrike in central Somalia kills 26 al-Shabab extremists
1 March 2019
The United States military says it has killed 26 fighters from al-Shabab extremist group with an airstrike in central Somalia, after a pair of strikes earlier this week killed 55.
The US Africa Command says the attack occurred Thursday in the Hiran region, where the others took place.
The airstrike was announced shortly after Somali authorities said a deadly overnight siege by al-Shabab had ended in the capital, Mogadishu, with all attackers killed.
The US has dramatically increased airstrikes against the al-Qaida-linked al-Shabab, Africa's deadliest extremist group, since President Donald Trump took office.
The US has carried out 24 strikes this year.
Authorities and experts acknowledge that it will take more than airstrikes to defeat the extremist group, which holds large parts of rural central and southern Somalia.
https://english.alarabiya.net/en/News/middle-east/2019/03/01/US-military-says-airstrike-in-central-Somalia-kills-26-al-Shabab-extremists.html
--------
Sudan's Bashir hands party leadership to new deputy
1 March 2019
Sudanese President Omar al-Bashir has handed leadership of the country's ruling party to his newly appointed deputy, the party said late Thursday, weeks into protests against Bashir's rule.
Demonstrations and deadly clashes have rocked Bashir's iron-fisted rule since December, and last week he imposed a year-long state of emergency to quell the protests.
"President Omar al-Bashir has transferred his authority as chief of the party to Ahmed Harun," the ruling National Congress Party said in a statement. "Harun will serve as the acting chief of NCP until the party's next general convention, where a new president of the party will be elected."
Bashir appointed Harun, wanted by the Hague-based International Criminal Court for alleged war crimes in the conflict in Darfur, as his deputy party chief last week as part of top level changes in his administration in the face of ongoing protests.
Bashir himself is wanted by the ICC for alleged genocide and war crimes in Darfur, charges he denies. The NCP has an overwhelming majority in parliament, and according to its charter, the chief of the party becomes its candidate in presidential elections. The next presidential election in Sudan is scheduled in 2020. The NCP was formed a few years after Bashir swept to power in an Islamist-backed coup in 1989, with him as party chief ever since.
But protestors have staged regular demonstrations across Sudan since December, accusing the administration of mismanaging the economy and calling on Bashir to step down. He declared a year-long state of emergency across the country last week after an initial crackdown failed to suppress the protests.
Bashir also dissolved the federal and provincial governments, appointing 16 army officers and two from the feared National Intelligence and Security Service as governors of the country's 18 provinces. Bashir also ordered the creation of special emergency courts to investigate violations during the state of emergency.
On Thursday, eight protesters were sentenced to jail by emergency courts in Khartoum for participating in unauthorized rallies earlier in the day, the first such punishments handed down since the courts were established.
Full report at:
https://english.alarabiya.net/en/News/middle-east/2019/03/01/Sudan-s-Bashir-hands-party-leadership-to-new-deputy-.html
--------
Gunfire rages in Mogadishu as hotel bomb kills nearly 30
Mar 1, 2019
Heavy gunfire rang out across central Mogadishu on Friday as Somali troops battled to dislodge insurgents holed up next to a hotel they bombed the previous evening, and as the death toll stemming from that attack neared 30.
Al Shabaab fighters set off two bombs outside the Hotel Maka al-Mukarama before retreating to an adjacent building, from where they fired on soldiers who tried to enter. At least two soldiers were carried away from the hotel on Friday morning.
The attack - the latest in a series of high-profile assaults in East Africa by al-Shabaab - came after US forces in Somalia stepped up airstrikes against the extremist group.
"The militants are still fighting from inside a civilian house adjacent to the hotel... (They) are fighting back with grenades and Kalashnikov (rifles)," police officer Major Musa Ali told Reuters.
He said 29 people, mostly civilians, had died in the attack and its aftermath, and 80 had been wounded. Many civilians had been rescued but the death toll could rise, he added.
Al-Shabaab's military spokesman said the group was still in control of the Hotel Maka al-Mukarama, which is used by government officials and located on a street lined with hotels, shops and restaurants.
"The government tried three times to enter the building but we repulsed them," said Abdiasis Abu Musab.
Somalia has been convulsed by lawlessness and violence since 1991, and al-Shabaab is fighting to dislodge a Western-backed government protected by African Union-mandated peacekeepers.
The group has also carried out deadly attacks in neighboring countries contributing to the African Union force, including one on a hotel and office complex in Kenya in January that killed 21 people.
Under President Donald Trump, Washington has stepped up attacks against the group, and US Africa Command announced six airstrikes it says have killed 52 militants since February 23.
In northern Somalia, a splinter group of former al-Shabaab fighters who have pledged allegiance to Daesh is also battling the insurgency.
Full report at:
https://www.presstv.com/Detail/2019/03/01/589859/Somalia-Bomb-Death-Toll
--------
US airstrike in Somalia kills 26 al-Shabaab fighters
Umar Farooq
02.03.2019
The U.S. said Friday it had killed 26 al-Shabaab fighters in an airstrike conducted in Somalia, adding to a mounting death toll since the U.S. began ramping up airstrikes in the region.
The airstrike was the 24th conducted by U.S. forces this year.
U.S. Africa Command (AFRICOM) said in a statement that the strike was conducted Thursday in Somalia's central Hiran region, the same area it conducted two other strikes earlier in the week, killing a total of 45 fighters.
"This action is demonstrative of the Federal Government of Somalia's commitment to dismantling al-Shabaab's network with U.S. assistance," said AFRICOM's deputy director of intelligence Gen. Gregory Hadfield.
"Precision airstrikes such as this one maintain pressure on al-Shabaab and disrupt its planning cycle and degrade its ability to mass forces and coordinate attacks against the Somali people."
The announcement comes a day after three deadly car bombings took the lives of at least 20 people in the capital Mogadishu in attacks the al-Qaeda affiliated al-Shabaab took responsibility for.
Although the U.S. has been stepping up airstrikes in Somalia to push al-Shabaab forces out of major urban areas, the group still carries out deadly attacks.
Full report at:
https://www.aa.com.tr/en/africa/us-airstrike-in-somalia-kills-26-al-shabaab-fighters/1406975
--------
Somalia: Many killed in al-Shabab attack in Mogadishu
1 Mar 2019
A gun battle continues to rage in Mogadishu between Somali soldiers and al-Shabab fighters, who carried out a daring raid and suicide attack on Thursday night that killed as many as 29 people.
Heavy gunfire was heard across the Somali capital through the night on Thursday, and it continued as Friday dawned.
At least 80 others were injured in the attack on Thursday near Hotel Maka al-Mukarama and a judge's residence on a busy street in Mogadishu, according to a police commander.
In an interview with Reuters news agency, police officer Major Musa Ali placed the death toll at 29.
AFP news agency, however, said the fatalities were at least 10, quoting Abdirahman Ali, a Somali national security officer.
Al-Shabab's military spokesman said they still control the hotel.
"The government tried three times to enter the building but we repulsed them. We still control the hotel," Abdiasis Abu Musab, al-Shabab's military spokesman, told Reuters.
Many victims of Thursday's attack suffered horrific injuries and hospitals were said to be struggling to cope with causalities.
Some of the wounded lost limbs, Sadiya Yusuf, a nurse at Daru Shifa, one of the hospitals treating victims, told AP news agency.
Frequent target
The Maka al-Mukarama hotel is frequently patronised by government officials, and al-Shabab has targeted it multiple times in past attacks that have killed scores of people.
Reuters witnesses saw frantic residents in the city searching for missing relatives through the night, making countless phone calls to find out if anyone had seen their family members.
"I have been running to and fro from blast scene to hospitals since yesterday evening in search of my husband and brother who were selling a shop at the place where the blast took place. I have just seen them in hospital, they are in critical conditions. My husband lost his stomach and my brother suffered severe wounds to both arms," Halima Omar, a mother of three children told Reuters.
Somalia has been convulsed by lawlessness and violence since 1991 but has stabilised somewhat in recent years.
The armed group has been fighting to dislodge a Western-backed government protected by African Union-mandated peacekeepers.
The US has dramatically increased air attacks against al-Shabab since President Donald Trump took office.
The US military command for the African continent reportedly carried out 50 raids in Somalia in 2018.
This year, the US raids targeting al-Shabab fighters have been coming more frequently.
Full report at:
https://www.aljazeera.com/news/2019/03/somalia-death-toll-al-shabab-attack-mogadishu-rises-190301070517452.html
--------
30,000 Nigerians displaced by Boko Haram return from Cameroon
Mar 2, 2019
An estimated 30,000 Nigerians have returned since Tuesday from Cameroon to the flashpoint town of Rann, which has been targeted repeatedly by Boko Haram militants this year, the U.N. refugee agency said in an emailed comment to Reuters on Thursday.
The men, women and children were among 40,000 civilians who fled Rann and sought refuge in the Cameroonian village of Goura.
A United Nations humanitarian report said 5,000 remained in Goura and were expected to make the 8-km (5-mile) trip to Rann on foot on Friday.
The other 5,000 had reportedly travelled to Maiduguri, the capital of Nigeria's Borno state, or to other unknown locations, the U.N. report said.
The Rann residents who decided to return did so after being visited by Nigerian officials who encouraged them to go, and gave assurances that security would be restored in the area, the UNHCR statement said.
"They have responded to this appeal and many have opted to take the return journey home," UNHCR said.
"We have also advocated with the authorities to guarantee admission and protection of those seeking asylum and government support so that humanitarian organisations can deliver assistance."
On Wednesday, the aid agency Medecins Sans Frontieres (MSF) said Cameroonian and Nigerian authorities had ordered the 40,000 refugees to return to northeast Nigeria.
Earlier this month the militant group Boko Haram killed at least 60 people in Rann after it was abandoned by the military, Amnesty International and security sources said.
That attack came two weeks after Boko Haram overran the town, driving out Nigerian soldiers and signalling the group's re-emergence as a force capable of capturing army bases.
Full report at:
http://www.africanews.com/2019/03/02/30000-nigerians-displaced-by-boko-haram-return-from-cameroon/
--------
UNHCR Says 30,000 Nigerians Return to Town Targeted By Boko Haram
February 28, 2019
GENEVA —
An estimated 30,000 Nigerians have returned since Tuesday from Cameroon to the flashpoint town of Rann, which has been targeted repeatedly by Boko Haram militants this year, the U.N. refugee agency said in an emailed comment to Reuters on Thursday.
The men, women and children were among 40,000 civilians who fled Rann and sought refuge in the Cameroonian village of Goura.
A United Nations humanitarian report said 5,000 remained in Goura and were expected to make the 8-km (5-mile) trip to Rann on foot on Friday.
The other 5,000 had reportedly traveled to Maiduguri, the capital of Nigeria's Borno state, or to other unknown locations, the U.N. report said.
The Rann residents who decided to return did so after being visited by Nigerian officials who encouraged them to go, and gave assurances that security would be restored in the area, the UNHCR statement said.
"They have responded to this appeal and many have opted to take the return journey home," UNHCR said.
"We have also advocated with the authorities to guarantee admission and protection of those seeking asylum and government support so that humanitarian organizations can deliver assistance."
On Wednesday, the aid agency Medecins Sans Frontieres (MSF) said Cameroonian and Nigerian authorities had ordered the 40,000 refugees to return to northeast Nigeria.
Earlier this month the militant group Boko Haram killed at least 60 people in Rann after it was abandoned by the military, Amnesty International and security sources said.
That attack came two weeks after Boko Haram overran the town, driving out Nigerian soldiers and signaling the group's re-emergence as a force capable of capturing army bases.
Full report at:
https://www.voanews.com/a/unhcr-says-around-30-000-nigerians-return-to-town-targeted-by-boko-haram/4808941.html
--------
How Nigerian soldiers, Boko Haram destroyed Maiduguri homes on election day
February 28, 2019
Abdulkareem Haruna
In the morning of the Nigerian Election Day, residents of Maiduguri, Borno State, woke up to thunderous sounds of explosions as Nigerian soldiers exchanged fire with Boko Haram fighters attempting to invade the city.
More than a dozen deafening explosions echoed over the city as residents cringed inside their homes.
No one knew the direction from which the sounds were coming. It was not yet dawn, everywhere was dark and no one would risk going out to find out what was happening.
But many people knew there was an attack the previous night on a suburb of Maiduguri called Zabarmari in Jere local government and it was confirmed that Boko Haram was responsible.
But as the explosions were happening on election day, the police quickly came up with a statement denying there was an attack.
The police said what was being heard was "friendly firing" by security forces on a show of force exercise.
The statement issued by Edet Okon, the police public relations officer, read; "Owing to the sound of heavy gunfire heard this morning around Maiduguri Metropolis, the Commissioner of Police Borno State, CP Damian Chukwu, wishes to inform members of the public that there's no attack on any part of Maiduguri and hence no threat to public peace and order.
"The gunfire was not targeted at members of the public but was for security purpose.
"The CP, therefore, calls on all qualified voters in the state to come out en masse to vote for candidates of their choice."
Okowa Campaign AD
However, later in the day, as people went out to cast their votes in various polling units designated by the Independent National Electoral Commission (INEC), facts concerning the explosions began to emerge, and it became obvious that the security forces were not saying the truth.
There was indeed an attack by Boko Haram, and what the security forces were doing in the earlier part of the day was not a friendly firing but repelling the attack.
As voters met at the polling units, those who came very close to the attacks began to give accounts of what they saw or experienced. It became clearer that the multiple explosions were not of the usual Boko Haram suicide bombs, but from bombs mechanically fired from a distance over and into the city.
It was indeed a day Maiduguri residents witnessed the rain of rocket-propelled grenades (RPG).
As the news began to spread around the city, the police had to come up with another statement which contradicted an earlier one issued by the PPRO.
This time around, the police confirmed that the explosions had to do with Boko Haram attempting to attack key military formations in Maiduguri.
"Police have confirmed that at about 0520hrs, suspected Boko Haram terrorists operating from the outskirts of Maiduguri town, fired sporadic artillery shots into Maiduguri, ostensibly targeted at strategic locations, especially security facilities, to disrupt ongoing electioneering activities in Borno State.
"Some of the missiles were said to have strayed into vulnerable locations like Teacher's Village IDP Camp. However, no casualties so far, but two expended shells of mortar bombs were recovered at Teacher's village IDP Camp, near the HQ of 7Div Garrison."
"More details are yet to be accessed, but the election processes are not being hindered."
The Ignored Casualties of Zajeri
While the Nigeria security operatives continued to deny any form of casualties in respect of the attack on Maiduguri, the residents of Zajeri, a crowded suburb of the city had different testimonies about the attack.
It was not certain from which side it came, but a particular RPG fired from a distance landed on a residential compound filled with women and children and left the entire place in rubbles.
PREMIUM TIMES visited the heartland of Zajeri, where 95 percent of the residents are poor.
According to the witnesses, who are mostly victims, the warhead landed on their house at about 5.20 a.m; when the residents were either up or out for prayers.
One of the victims in the compound where the RPG landed, Hadiza Muhammed, said she was still in bed when the missile landed on their house.
"All I could recall was that there was a loud explosion and I became deafened," said Mrs Muhammed, who is in her early 50s.
"I was still in bed; everywhere was dark and filled with thick dust. I could not stand up because my legs were shaking, so I started crawling and groping in the dark for the two orphaned grandchildren living with me. I could not see clearly but I heard one of them calling out for me, until we bumped into each other and I picked them up."
Mrs. Hadiza said she still felt pains on her head and was having difficulty sleeping because of "the fear another attack might come."
Another victim was Amina Ali, a mother of two who is in her mid-20s.
She said she was performing ablution within the compound for her morning prayers when she heard a whistling sound.
"The sound was coming with speed, then suddenly, I was blinded by lighting," she said.
"Within a short while, everywhere was filled with thick dust. I was pushed by the vibration to the ground; so I crawled to find my two children who were crying inside the room.
"My husband ran back from the mosque and I heard him shouting my name because he could not see me. When we finally found ourselves, we ran to a corner of the house and ducked while we continue to hear sounds of shootings like it was coming from all over the place.
"My husband was injured by shrapnel. I could not sleep well since then. The entire house has been blown apart."
Aisha Muhammed, 28, was the luckiest. The RPG landed on a small stall at the gate of the compound demolished the shop and levelled her room.
But for the fact that she had passed the night with her parents in the next neighborhood, she would have been dead.
She said she was woken up by neighbours who called to inform her that her house was bombed.
"I ran back only to find my room in rubbles," she said.
"The entire walls have fallen as well. They said it was caused by a bullet; and I still cannot understand what kind of bullet will do such a thing to a building. But my joy is that I was not in when that happened because it occurred at the time I used to be fast asleep.
"Now I have been rendered homeless in my matrimonial home, so I have to pack few of the things that did not spoil and return to my mother's."
The women want the government to come to their aid, especially in getting their homes rebuilt.
"We want government to come to our aid, since we have nothing left here," one of the women, Hadiza said.
The RPG did not only destroy the home of Hadiza and her neigbours', it also shook most of the houses around them.
A cleric, Sayyinna Abacha, in his mid-70s said he had performed his morning prayer when he heard a sound like that of a jet.
He said it was followed by an explosion as something landed in the compound behind his.
He said the impact of the explosion pulled down a makeshift apartment where some Almajiris used to sleep.
"Some of the children sustained injuries like cuts from zinc roofing sheets but none had any fracture," said the cleric.
It was the first time the terrorists would fire RPGs on Maiduguri.
This has left many citizens worried especially with the insurgents now having the capacity to deploy a shoulder-fire anti-tank weapon system from a distance into the city.
Experts said RPGs are usually fired to neutralise an enemy battle tank; hence its use in a civilian location is the most barbaric act of warfare.
The Boko Haram/ISWAP had claimed credit for the attack. In an online post, the group claimed it fired "10 missiles" targeting military locations and the airport.
An AFP report quoted an undisclosed military source saying "one soldier was killed and 20 were injured."
Full report at:
https://www.premiumtimesng.com/regional/nnorth-east/316820-how-nigerian-soldiers-boko-haram-destroyed-maiduguri-homes-on-election-day.html
--------
North America
US renews designation of PKK as terrorist organisation
Joyce Karam
March 2, 2019
In an apparent effort to gain concessions from Turkey on the issues of arms sales and creating an internationally-monitored safe zone in Syria, the Trump administration renewed on Friday the designation of the Kurdistan Workers' Party (PKK) as a terrorist organisation.
The US State Department issued a statement announcing that it "has reviewed and maintained the Foreign Terrorist Organisation (FTO) designation of the PKK". The militant group was first designated in October 1997 and the US has offered financial rewards for information on three of its leaders.
"The United States maintains a strong commitment to our partnership with our NATO ally Turkey, including fighting PKK fundraising operations in Europe and elsewhere", the statement read. While the move reiterates a longstanding US position on the PKK, its timing comes as a US inter-agency delegation is visiting Ankara and negotiating a range of issues between the two NATO allies including Syria, the sale of Patriot missiles, trade and counter terrorism.
The meetings were the second this month between Washington and Ankara. The talks began on Wednesday and were due to conclude Friday, but it is unclear if they reached a breakthrough.
Turkish foreign minister Mevlut Cavusoglu confirmed that the discussions entailed the sale of a US Patriot missile defence system to Ankara. "The United States said they could sell Patriots, and the delegations are negotiating," Mr Cavusoglu said on Friday, Turkish news agency Anadolu reported. However, issues relating to the time frame of delivering the $3.5 billion and Turkey's purchase of S-400 missiles from Russia are complicating the talks, and remain unresolved.
US officials have insisted that if Ankara goes ahead with its purchase from Russia, then the Patriots deal will be withdrawn. "The S-400 will be delivered towards the end of this year in autumn. We bought S-400s because we could not purchase Patriots," Mr Cavusoglu was quoted as saying.
Nicholas Heras, a senior fellow at the Centre for New American Security, said the US-Turkish talks involve a number of trade-offs between the two states.
"The US is trying to gather enough carrots [incentives] to put into a basket to satisfy Turkish President Recep Tayip Erdogan's desire to show that he has strong national security chops, and re-designating the PKK is an easy carrot for Washington," said Mr Heras.
The harder part, "will be whether the US can offer Mr Erdogan enough carrots that he will accept the US argument that the Syrian Democratic Force (SDF) needs to maintain its power and presence in northern and eastern Syria" Mr Heras added. For that purpose, the "the US might actually need to eliminate the PKK leadership in Wadi Qandil" in Iraq.
US special representative for Syria James Jeffrey is with the delegation visiting Turkey. Washington is now seeking to leave around 400 of the 2000 US troops currently in Syria according to Bloomberg, seemingly abandoning the idea of a full withdrawal.
The US has also objected to a Turkish-controlled safe zone in Northern Syria and is instead offering to bring together an international force with the help of NATO and the Europeans to deploy in Syria. The size of such force is still being negotiated, and Turkey could participate with a small number, but it would a majority of other forces to range around 2000 troops.
https://www.thenational.ae/world/the-americas/us-renews-designation-of-pkk-as-terrorist-organisation-1.831999
--------
US military plans to exit Afghanistan within five years: New York Times
Mar 1, 2019
The US Defense Department is offering a new plan that would see all American troops exit Afghanistan within the next three to five years and end the 17-year-old conflict in the war-torn country, according to US media.
The Pentagon plan is being offered in peace negotiations that could result in the Afghan government sharing power with the Taliban militant group, The New York Times reported Thursday, citing former American and European officials.
The plan would also require the departure of NATO forces in Afghanistan at the same time, after having little success in stabilizing the country since their invasion in 2001, the newspaper reported.
The proposal calls for cutting by half the 14,000 American troops currently in Afghanistan in the coming months. It would task the remaining 8,600 international troops from NATO and non-NATO nations with training the Afghan military.
However, the Taliban is reportedly deeply opposed to the proposal for American troops remaining in Afghanistan for up to five years.US officials also warned that President Donald Trump could upend the new plan at any time.
Trump has long expressed skepticism of enduring American wars overseas.
On Monday, US diplomats met with the Taliban in Qatar in the highest-level negotiations yet, including the attendance of General Austin Miller, the commander of the international forces in Afghanistan.
The negotiations between the US and the Taliban are aimed at ending the 17-year war in Afghanistan.
The Afghan government has not been a part of the negotiations because of Taliban reluctance to talk to President Ashraf Ghani or his envoys.
The US invaded Afghanistan in October 2001 and overthrew a Taliban regime in power at the time. But US forces have remained bogged down there through the presidencies of George W. Bush, Barack Obama, and now Donald Trump.
James Stavridis, a retired American admiral and former top NATO commander who is now with the Carlyle Group private equity firm, said empowering the Afghan military is more important than an enduring international troop presence for Afghanistan's security.
Full report at:
https://www.presstv.com/Detail/2019/03/01/589869/US-Pentagon-troops-withdraw-Afghanistan
--------
US keeps PKK's status as foreign terror organization
01.03.2019
Umar Farooq
WASHINGTON
The U.S. on Friday said it is maintaining the PKK's status as a foreign terrorist organization and Washington will continue to help Turkey fight the PKK's operations.
"The United States maintains a strong commitment to our partnership with our NATO ally Turkey, including fighting PKK fundraising operations in Europe and elsewhere," the department said in a statement.
In addition to notifying to the U.S. public and the international community that the PKK remains a terrorist organization by Washington, the State Department has also designated the PKK as a Specially Designated Global Terrorist since 2001.
The State Department first designated the PKK as a terrorist organization in 1997, and through this designation the PKK is denied access to the U.S. financial system.
The U.S. has worked with Turkey to counter terrorist threats from the PKK, according the department. The designation helps U.S. agencies and governments in law enforcement activities in relation to the PKK and anyone deemed a member of the terrorist organization.
In its more than 30-year terror campaign against Turkey, the PKK -- listed as a terrorist organization by Turkey, the U.S. and the EU -- has been responsible for the death of some 40,000 people.
Full report at:
https://www.aa.com.tr/en/americas/us-keeps-pkks-status-as-foreign-terror-organization/1406930
--------
US delegation in Turkey to discuss Syria pullout
Selen Temizer
01.03.2019
Turkey's capital Ankara is hosting the second meeting of a bilateral Turkish-U.S. group to coordinate the American troop withdrawal from Syria, a diplomatic source said Friday.
The Turkey-U.S. Joint Working Group, following its first meeting on Feb. 6 in the U.S., met Thursday for a gathering set to end today, said the source, who spoke on condition of anonymity due to restrictions on speaking to the media.
The U.S. pullout from Manbij, Syria and the area east of the Euphrates River -- where Turkey has promised a counter-terrorist operation -- topped the meeting.
The U.S. currently has more than 2,000 troops deployed in Syria, but announced last December that they were leaving, revised this week to say some 200-400 would stay.
The group meeting in Ankara is operating as a sub-unit of the Syria Working Group established in February 2018 between Turkey and the U.S.
After the meeting, neither side is expected to comment, but its contacts will continue in the days to come, according to participants at the meeting.
Getting weapons back from YPG/PKK
One of Turkey's top concerns is that U.S., while withdrawing, takes back the weapons and ammunition it gave to the terrorist YPG/PKK, as it pledged.
In its more than 30-year terror campaign against Turkey, the PKK -- listed as a terrorist organization by Turkey, the U.S. and the EU -- has been responsible for the death of some 40,000 people. The YPG is the group's Syrian branch.
The U.S. allied itself with the PKK/YPG to fight Daesh in Syria, but Turkey argued that using one terror group to fight another makes no sense.
Turkey also does not want former U.S. bases to fall into the hands of the terrorists after the withdrawal, saying they should either be destroyed or handed over to the Turkish army.
During negotiations in Ankara and Washington, Turkish officials said that if the U.S. troop withdrawal happens before a mutual agreement is reached in line with Turkey's security concerns, Ankara would reserve its right to self-defense.
Since Washington declared the pullout in mid-December, Turkey has been warning of the power vacuum that the withdrawal could create in the region.
- Power vacuum
Once the U.S. pulls out from the field, Assad regime forces, Iran, and even Russian military police could enter the area unless an agreement with Ankara is reached beforehand.
Joseph Votel, head of the U.S. Central Command (CENTCOM), said on Feb. 11 that the pullout is likely to begin within weeks and that he expects no increase in U.S. troops in Iraq.
But other officials said the pullout is expected to be completed by summer based on the situation on the ground.
On Feb. 13, acting U.S. Secretary of Defense Patrick Shanahan said Washington will establish a multinational observer force to take its place in northeastern Syria.
A Turkish official, speaking anonymously due to restrictions on talking to the media, pointed out that Turkey is still a member of the U.S.-led coalition to fight Daesh.
The official said the U.S. intention to give Turkey a symbolic place in the coalition observer force is meant to prevent it from having a powerful military presence in northeastern Syria.
Full report at:
https://www.aa.com.tr/en/americas/us-delegation-in-turkey-to-discuss-syria-pullout/1406777
--------
URL: https://www.newageislam.com/islamic-world-news/indian-qazis-darul-qaza-now/d/117904
New Age Islam, Islam Online, Islamic Website, African Muslim News, Arab World News, South Asia News, Indian Muslim News, World Muslim News, Women in Islam, Islamic Feminism, Arab Women, Women In Arab, Islamophobia in America, Muslim Women in West, Islam Women and Feminism