New Age Islam News Bureau
13 Nov 2017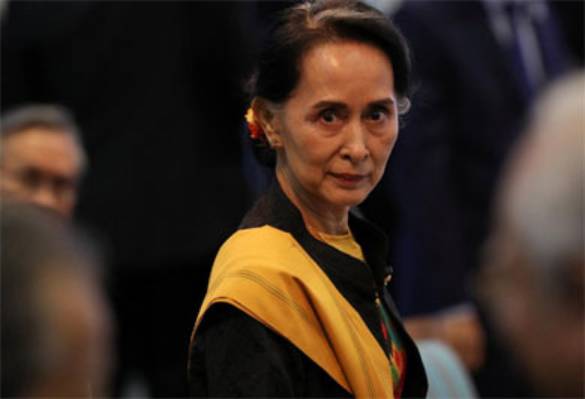 Myanmar State Counselor Aung San Suu Kyi attends the opening session of the 31st ASEAN Summit in Manila, Philippines, November 13, 2017. REUTERS/Athit Perawongmetha
------
• Indian Muslims Less Radical, So No Islamic State Threat, Says Home Minister
• Lean On Central Asian Saint's Teachings To Counter Extremism: Uzbek President
• Pakistani Shia Cleric Warns Of Dangers Posed By Baha'is And Ahmadis
• Bangladesh's Islamic State Rohingya Recruiter Foxes Sleuths, Pulls Off Disappearing Act
• US Drone Strike In Somalia Kills 81 Al-Shabaab Militants
India
• Indian Muslims Less Radical, So No Islamic State Threat, Says Home Minister
• Muslims Of Goa Still Await 'Promised Land'for Quabristan
• Rajasthan: Muslim Man Ferrying Cows Dead In Alwar, Police Probe Vigilantes
• Kashmiri youth visiting Pakistan used as terror conduits: Government agency
--------
Europe
• Lean On Central Asian Saint's Teachings To Counter Extremism: Uzbek President
• Pope Francis: Despite Naysayers, There's Hope For A Nuke-Free World
• Chechen families of ISIS militants in Syria handed over to Russia
• Putin, Trump meet briefly, agree to maintain contact in Syria
• Prince Charles blamed 'European Jews' for Mideast crisis: Leaks
• Iran rejects Macron's call for talks on missile issue
--------
Pakistan
• Pakistani Shia Cleric Warns Of Dangers Posed By Baha'is And Ahmadis
• Hizbul Ahrar Takes Birth As Internal Rifts Tear Jamaatul Ahrar Apart
• ISIS Might Have One Last Escape Route: Pakistan
• Religions Not Responsible For Terrorism: Speakers
• Pakistani Cleric's Supporters Block an Entrance to Islamabad
• Pakistani Taliban splinter group splits further over tactics
• Local ANP leaders hired Taliban militants to assassinate Parveen Rehman, suspect tells JIT
• JI calls for accountability over Paradise Papers
--------
South Asia
• Bangladesh's Islamic State Rohingya Recruiter Foxes Sleuths, Pulls Off Disappearing Act
• ASEAN Summit Draft Statement Skips Over Rohingya Crisis
• Taliban and ISIS militants suffer heavy casualties in latest airstrikes
• Thakurpara Muslims rushed to the aid of Hindu neighbours
• Indian Army Will Train Bangladeshi Forces To Combat Terror
• Defense minister rejects Hekmatyar's alleged remarks regarding ethnic war
• Trump allows US troops to jointly conduct operations with Afghan force
--------
Africa
• US Drone Strike In Somalia Kills 81 Al-Shabaab Militants
• 28 Bodies Recovered After Clashes Near Libya Capital
• Attacks In CAR Capital Leave 7 Dead, Over 20 Injured
• Arab states spent $130bn to destroy Syria, Libya, Yemen: Algerian PM
• 81 al-Shabaab militants killed in Somalia
• Group calls for designation of IMN as terrorist organisation
--------
Southeast Asia
• Senseless To Give Saudi Arabia Land To Combat Terrorism, Says Muslim Scholar
• 'Outrage Over Laundrette, But None Over Tudung Ban?'
• G25: 'Extremist' Zamihan may lead militants down wrong path
• Analyst: As caliphate plans fail, Malaysian IS fighters set to return
--------
Arab World
• Al-Qaeda-Affiliated Group Jund Al-Islām Vows To Eliminate IS In Sinai
• At Least 50 Dead In Artillery Fire, Russian Strikes In Syria
• New mass graves found in Iraq could contain up to 400 bodies
• Human rights group accuses Syrian regime of crimes against humanity
• Syrian Air Force Bombs Terrorists' Movements in Aleppo Province
• Iraqi Forces Impose Control over Most Important Border-Crossing with Syria
• Arab Media: French President Not Allowed by Saudi Crown Prince to Meet Hariri
• Syria: SDF Plundering People's Possessions in Northeastern Deir Ezzur
• Syria calls on UN to halt US coalition deadly airstrikes
• US setting up new military base in western Iraq: Report
--------
Mideast
• Turkey Denies Report Of Plan To Kidnap Cleric Gulen From US
• US, Israel Furious About Big Anti-Terror Achievements In Middle East: Rouhani
• Israel signals free hand in Syria as US, Russia expand truce
• UAE minister: Iranian missiles fired at Saudi a 'dangerous escalation'
• Yemeni pro-govt forces regain control of strategic locations in Taiz
• Houthis threaten to target Saudi-led coalition's warships, oil tankers
• Israel warns Gaza fighters against revenge attack over tunnel demolition
--------
North America
• Canadians To March 'Against Hate And Racism' In Quebec
• Trump's Plan For Dealing With Domestic Terror Is Missing In Action
• Fewer foreign students are coming to US: Survey
Compiled by New Age Islam News Bureau
URL: https://www.newageislam.com/islamic-world-news/indian-muslims-less-radical-so/d/113208
--------
Indian Muslims Less Radical, So No Islamic State Threat, Says Home Minister
November 12, 2017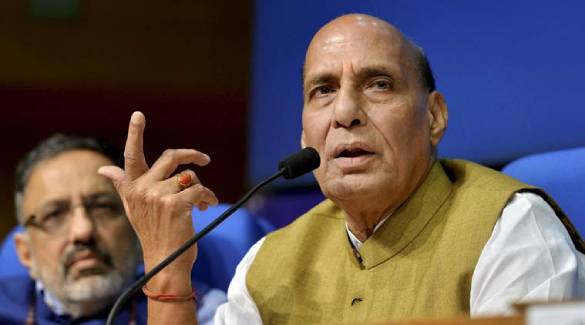 Home Minister Rajnath Singh (PTI Photo/File)
---------
Union Home Minister Rajnath Singh said in Lucknow on Saturday that India has no threat from the militant organisation Islamic State because Muslims in India are less radical when compared to those across the world.
According to a press communique released from Press Information Bureau, Government of India, the minister, in an event organised by a media organisation in Lucknow, said: "Bharat ke Musalmano mein duniya ke Musalmano ki tulna mein kam kattarta hai…. Isliye Bharat ko ISIS jaise aatanki sangathan ka khatra nahin hai (Muslims in India, when compared to Muslims elsewhere, are less radical…. We do not face the threat of the ISIS because of this)."
He added that Pakistan promotes terrorism but there was noticeable decline in terror incidents in Kashmir and the Centre was concerned about the rehabilitation of Kashmiri Pandits. Regarding Maoism, he said there was decline in "naxalwad". He said their activities were limited to five to seven districts.
http://indianexpress.com/article/india/rajnath-singh-indian-muslims-less-radical-so-no-islamic-state-threat/
--------
Lean on Central Asian saint's teachings to counter extremism: Uzbek President
Nov 13, 2017
Even as India is planning to host a high-level international conference on countering radicalization, Central Asian country Uzbekistan President Shavkat Mirziyoyev on Sunday proposed to establish the Imam Bukhari International Research Center in Samarkand—after the name of ninth century saint and scholar to provide effective intellectual tools to contest extremism and misinterpreting religious texts.
Addressing a security conference on Central Asia under the auspices of the United Nations, which was also attended by an Indian delegation led by Minister of State for External Affairs General (rtd) V K Singh, President Mirziyoyev said his country was also establishing the Center for Islamic Civilization in the historic city of Tashkent.
In the Indian context, a Centre in the name of Saint scholar Muhammad ibn Ismail al-Bukhari holds significance as most of religious texts and curricula in Indian madrasas originate from his scholarly works. Commonly referred to as Imam Bukhari, he authored the hadith collection known as Sahih al-Bukhari, regarded by Sunni Muslims as one of the most authentic collections. After Quran Hadith is an important source of Islamic teachings, based on the record of the traditions or sayings of the Prophet Muhammad. According the Uzbek President, the main goal is to turn Central Asia into a stable and economically developed region by joint efforts. "We must eliminate the roots that feed the conflict potential. We are looking for reasonable compromises in resolving issues on borders, water use, transport and trade." He also linked stability and development in the region to the peace in Afghanistan, stressing to counter extremist ideology and educating young people about its pitfalls.
According to the President, one of the most effective tools for countering extremism is education, especially educating young people, explaining them the humanistic essence of Islam and the true values of Islamic culture. "In this regard, we decided to establish the Imam Bukhari International Research Center in Samarkand and the Center for Islamic Civilization in Tashkent," Mirziyoyev said.
India's former envoy in Russia and also an expert on Central Asian affairs, Ashok Mukherji, believed that the Central Asia's rich and tolerant Islamic heritage can play a major role in the reconstruction of its national identities as well as relations with India. "This heritage is symbolized by the acknowledged theological eminence of Central Asia's Imam Bukhari in compiling the Hadith or sayings of the Prophet, as well as the scientific and humanitarian contributions of Central Asian Islamic scholars such as Al-Beruni, Al-Farabi, the astronomer-king Ulugh Beg, and Sufi Islamic saints such as Ahmed Yasevi and Nakhsbandi," he said, adding that all these scholars have intrinsic links with India and part of its heritage. He maintained that this heritage, which has taken root since ancient times, is one of the great opportunities and challenges of the new Silk Road.
http://www.dnaindia.com/india/report-lean-on-central-asian-saint-s-teachings-to-counter-extremism-uzbek-president-2559635
--------
Pakistani Shia Cleric Warns Of Dangers Posed By Baha'is And Ahmadis
November 12, 2017
Pakistan's Shia leader has warned the public and the government of the dangers posed by Bahais and Ahmadis. Allama Iqbal Bahishti urged the public and authorities to be watchful of the 'heretic' Baha'is & Ahmadis.
Allam Iqbal Bahishti is the provincial secretary-general of Majlis Wahdat-e-Muslimeen (MWM), which is Pakistan's largest Shiite political organization. He made the comments while speaking to members of the press on November 11.
Bahishti said:
The Islamic world was split into two groups, Sunnis, and Shiites but the colonial powers very cleverly planned the foundation of four fraudulent religions, for two of which they chose the Arab world and for the other two they chose the non-Arab [Persian] world. Then from these regions, prominent personalities were selected to lead those faiths.
Bahishti claimed that the Wahabi, Bah'ai and Ahmadiyya faith were the product of colonial conspiracy against the Islamic world. He claimed:
Thes superpowers conspired against Islam in the 18th century and laid the foundation of fraudulent and heretic faiths.From these four faiths, Wahabism quickly gained popularity and so did Qadianiat [Ahmadiyya]. However, the heretic faiths failed to gain any ground in the Shia world and the reason for this was the countermeasures by the Shia community.
He described Bahai and other faiths as heretics and said the colonial powers are scared of Islam and hence use these individuals to gain their objectives and the biggest obstacle that they face is Islam.
He further added that even though the public was aware of the dangers posed by Ahmadis, the Shia Muslims need to do more to raise awareness about the dangers posed by Baha'is in the country.
In Pakistan, there is a great deal of awareness of against Qadiyaniyat [Ahmadis]. After defeat in Iran, the Bahais directed their focus towards South Asia and Europe. The ideological center of the Bahais is in the city of Haifa which is located in the Zionist state of Israel. Bahis are more dangerous than the last three heretic faiths.
The Bahais have dozens of small centers from the Northern areas to Karachi in the south. It is very important that the public, as well as authorities including the interior ministry and the religious department, should be made aware of the danger of these beliefs.
The MWM follows Ayatollah, the supreme leader of Shias based in Iran. The Shia regime of Iran has long persecuted its Baha'i citizens, the Iranian Baha'is have long faced systematic persecution and suffered widespread discrimination in the country since the 1979 revolution, solely for believing in a faith that is not officially recognized by the Iranian Constitution.
Similarly, the Ahmadiyya Muslims have also faced severe persecution at the hands of Pakistani authorities. In 1974 Pakistan amended its constitution to declare the Ahmadi 'non-Muslim'. Majority of Sunnis and Shiites consider the Ahmadis apostates due to which they are a target of sectarian attacks. Many Ahmadis continue to serve prison terms of the blasphemy including the crime of keeping copies of the Quran.
https://www.rabwah.net/pakistani-shia-cleric-warns-dangers-posed-bahais-ahmadis/
--------
Bangladesh's Islamic State Rohingya Recruiter Foxes Sleuths, Pulls Off Disappearing Act
12th November 2017
NEW DELHI: Bangladesh's Islamic State (IS) leader Muhammad Saifullah Ozaki alias Sheikh Abu Ibrahim al-Hanif slipped through the Indian intelligence traps because of sloppy tricks of a fledgling spy that compromised a complex covert operation.
Top sources revealed Saifullah, a former teacher in a Japanese university, is the main recruiter of Rohingya youths in India. The Bangladesh based recruiter had planned raising several battle-hardened terror modules in India to brainwash the vulnerable refugee population. But, the months-long operation ended one sweltering September morning when most wanted IS leader was tipped off by his agent operating in Delhi about security agencies classified set-up.
Sources said Saifullah, who was not averse to coming here vanished in thin air, was warned by Samiun Rahman, an al-Qaeda operative later arrested by the Special Cell of Delhi Police on September 17.
"Samiun's digital activities were under constant monitoring since he had landed in Delhi in July. He was in regular touch with Saifullah in Bangladesh, who was monitoring Rohingya's recruitment drive. The plan was to net him if he lands here," sources said.
The Intelligence reports about Saifullah in the past were fragmentary and often contradictory. Some reports had suggested that he was operating from Syria while a report in April this year indicated Saifullah had returned to Bangladesh in January 2017.
The elusive ISIS terrorist had picked up Samiun, an al-Qaeda member for his operational talents and the experience earned in the terror fields of Syria and Iraq. Samiun, sources said, has strange capability for changing identities and appearances. After Samiun reached Delhi disguised as Shumon in July, his messaging apps and phones were put under constant surveillance. The details gleaned from his coded conversations led the officers to Saifullah and few other terror modules operating in India.
According to Intelligence sources, Samiun had informed Saifullah that India could be used as a launch pad for Rohingya's recruitment drive. The plan that emerged from the discussion within the intelligence and Delhi Police establishments was based on messages between Saifullah and Samiun to open another window of terror in the country. In the first week of September, Samiun booked an air ticket for a European country with a return date for Delhi in early October.
The Intelligence gathered from his email communications that was kept under monitoring suggested that al-Qaeda recruit had already made forays in Rohingya community settled in the outskirts of Delhi, West Bengal, Assam and Jammu with potent propaganda tool to radicalization vulnerable population. Samiun had recced some of these parts of the country inhabited by refugees for spotting talent.
"A conscious decision was taken not to pick him up. He was allowed to roam free though he was put under constant surveillance and shadowed everywhere by highly skilled intelligence operatives from Delhi Police Special Cell. But, somehow around September 10-11 he got a whiff of surveillance and there was evidence of shift in his routine. On the following day Samiun preponed the departure and sent some coded message to Saifullah advising him to hold his future India plans. We moved quickly and arrested him but lost the most prized catch," sources further added.
Even more worrying for agencies, Intelligence operatives reported is the growing presence of IS recruiters linked to Saifullah in India. The assessment gathered from Samiun's interrogation suggests the name of suspected Rohingya recruiters and a senior officer confirmed there would be more arrests soon.
Rohingya Muslims in India
According to various aid agencies, about 40,000 Rohingya Muslims are living in India since fleeing their homeland of Myanmar in the wake of violence. Terming them illegal immigrants, the Centre has categorically said it seeks to deport all the Rohingyas.
http://www.newindianexpress.com/nation/2017/nov/12/islamic-state-rohingya-recruiter-foxes-sleuths-pulls-off-disappearing-act-1698902.html
--------
US Drone Strike In Somalia Kills 81 Al-Shabaab Militants
11 November 2017
The United States military said on Saturday it has carried out a new drone strike against the al-Shabab extremist group in Somalia, killing "several" militants.
A statement by the US Africa Command said the strike was carried out Friday night in Lower Shabelle region, about 32 kilometers north of the capital, Mogadishu. It came a day after another strike in the Bay Region, about 100 miles west of Mogadishu.
Friday's airstrike was the 23rd the US military has carried out this year against the al-Qaida-linked al-Shabab and the far smaller ISIS group in Somalia. The Trump administration earlier this year approved expanded military operations against militants in the Horn of Africa nation.
The latest US drone strike was carried out in coordination with Somalia's government, the US statement said.
Militants' camp destroyed
Separately, Somalia's Information Minister Abdirahman Osman on Saturday said 81 al-Shabab fighters were killed in an operation by Somali security forces in Jilib district, with the militants' camp there destroyed.
Al-Shabab, the deadliest Islamic militant group in Africa, has been blamed for the massive truck bombing in Mogadishu last month that killed more than 350 people. It was Somalia's worst-ever attack and one of the world's deadliest in years.
Earlier this month, the US carried out its first airstrike against ISIS fighters in Somalia, targeting a small but growing cell that emerged in the northern Puntland region just two years ago. Many of the fighters split off from al-Shabab.
While Somalia's president has vowed a "state of war" in response to last month's attack, concern is growing about the gradual security handover that has begun from a 22,000-strong African Union force to Somali national forces.
The AU this week announced the beginning of its withdrawal from the long-chaotic and still heavily fractured nation, saying it will cut 1,000 troops by the end of the year. The AU pullout is set to be complete by the end of 2020.
https://english.alarabiya.net/en/News/north-africa/2017/11/11/US-drone-strike-in-Somalia-kills-several-al-Shabab-militants.html
--------
India
Muslims Of Goa Still Await 'Promised Land'for Quabristan
Nov 13, 2017
Margao: Back in 2011, a two-member team of the National Commission for Minorities (NCM) made important recommendations to the state government after a visit to two kabrastan sites. "It is recommended that since both sites (the existing kabrastan at Pajifond, and the proposed site at Sonsoddo) are on rocky inclines, patently unsuitable for burial grounds, the landscaping, facilitation for rock-chipping, repair/maintenance and other inputs should come from the government and not be neglected as it has been thus far. And for this a responsible contact official must be named at the soonest. This would be the way to take care of the disgruntled half of the community that feels done out of the original Promised Land".
The original 'Promised Land' referred to by the NCM in its recommendation is the 99,500 sq m plot of land at Aquem, which was notified for acquisition, based on the resolution adopted by the legislative assembly in 1999.
While there has been no conceivable development on the kabrastan issue over six years after the NCM's recommendation, the saga of the kabrastan imbroglio dates back to July 1999 when Digambar Kamat, then power minister in Luizinho Faleiro's Congress government moved the resolution for acquisition of the land .
Ironically, 18 years later, the minority community in Kamat's constituency is yet to get the promised piece of land to bury its dead.
The need for a new site for a kabrastan arose as the existing burial ground at Pajifond, Margao, that has been serving the needs of the community for well over a century, is now left with no space to dig more graves. Moreover, as the Pajifond kabrastan is located on a steep and rocky hillock, it becomes "excruciatingly" difficult for many to get to the graveyard to pay homage to the departed souls.
Sources said that apart from the Pajifond kabrastan, there are not more than five small burial grounds at places like Quepem, Cuncolim, Shiroda, Vasco and Betul in South Goa.
Opposition by locals to allow land in their villages for a kabrastan had turned all attempts by the government to identify places for the purpose into nought, before the MMC acquired 31,000 sq m land at Sonsoddo in May 2011. Though the construction work was sanctioned by the state government in November 2011 at an estimated cost of Rs 2 crore, the work, for various reasons, never took off.
This, when the MMC had already signed an agreement for management and maintenance of the kabrastan with Sunni Jamaat-ul-Muslameen in December 2011.
Two months ago, the issue was hotly debated in Borda, Margao where the parishioners were divided over support for a kabrastan. Following strong opposition from parishioners for a kabrastan near a Catholic cemetery, Fr Vincent Leitao, chaplain of St Joaquim's Chapel, Borda, appealed to them "to refrain from such unchristian like attitudes and behaviour and to live by the tenets of Jesus Christ, who always upheld love, peace and respect for the other's rights".
In the latest development, town and country planning minister Vijai Sardesai announced on September 17 that the agreement would be rescinded.
Abdul Matin Daud Carol, who has been leading the Muslim community in its struggle for a kabrastan, feels that the agreement has no meaning when the kabrastan is yet to be constructed. "The government is giving false hopes. I am now considering moving the appropriate forum seeking justice," Carol told TOI.
https://timesofindia.indiatimes.com/city/goa/muslims-still-await-promised-land/articleshow/61620749.cms
--------
Rajasthan: Muslim Man Ferrying Cows Dead In Alwar, Police Probe Vigilantes
By Mohammad Hamza Khan
November 13, 2017
The Alwar police is investigating an alleged case of cow vigilantism and cow smuggling after a deserted pickup with bovines was found in the district Friday morning, while a body, said to be of one of the three persons who were inside the pickup, was found by the railway tracks about 15 kilometres from the pickup, police said Sunday.
"Not much is clear at this moment. A vehicle belonging to cattle smugglers was found abandoned at about 6 am on Friday under the jurisdiction of Alwar's Govindgarh police station," Alwar SP Rahul Prakash said.
An FIR was lodged under The Rajasthan Bovine Animal (Prohibition of Slaughter and Regulation of Temporary Migration or Export) Act, against the alleged cow smugglers on Friday and the vehicle sent to Forensic Science Laboratory (FSL), the SP said.
Circle Officer, Alwar South, Anil Beniwal said that "the pickup had three cows and three calves – one of the cows was dead. The front two tyres were missing and both rear tyres were punctured. Later, a dead body was also found about 15 kilometres away in Ramgarh area by the railway tracks. His relatives identified him as Umar, aged about 35 years, and hailing from Bharatpur."
The SP said that "The motive cannot be ascertained at this point, the two incidents could be related or not; it is a part of investigation whether he was in the vehicle or not." He said that Umar's relatives had initially declined a post-mortem until the assaulters were caught. "We are sending his body to Jaipur for a post-mortem and will proceed accordingly," the SP said.
Alwar's Meo Panchayat chief Sher Mohammad alleged that the cow vigilantes killed Umar and then threw his body at the railway tracks to make it look like an accident. As per the CO, a second FIR was lodged Sunday under IPC section 302 (murder) and 201 (causing disappearance of evidence of offence) following a complaint by Umar's family members.
According to Umar's relatives, there were two others with him at the time of assault. Shaukat, sarpanch of Ghatmika village in Bharatpur's Pahadi panchayat samiti, said that "there were Tahir and Javed with Umar at the time of the assault. All three hail from our village."
Umar's uncle Ilyas told The Indian Express that "Javed was the only one who managed to escape. He recounted to me that they were attacked by gunmen. He said he barely managed to escape and that he doesn't know about the fate of the other two." CO Beniwal, however, said that "prima facie, no bullet marks were found on the pickup or on the body."
Ilyas said, "So we inquired about Umar and came to know that a body had been found by Alwar police. Tahir, meanwhile, sustained injuries and is being treated at a hospital in Haryana."
The SP too said that "he (Tahir) is said to be admitted in a hospital Haryana, we are still in the process of locating him and taking his statement.
Full report at:
http://indianexpress.com/article/india/rajasthan-muslim-man-allegedly-killed-by-cow-vigilantes-in-alwar-investigation-on-4934166/
--------
Kashmiri youth visiting Pakistan used as terror conduits: Government agency
Nov 13, 2017
NEW DELHI: Kashmiri youth visiting Pakistan are being imparted training in cybercommunication and used as conduits for conveying specific instructions, a multi-agency body constituted by the government to probe terrorism and smuggling of drugs across the Indo-Pak border found.
Kashmiri youth, who are either studying in Punjab or involved in some business there, are being encouraged to visit Pakistan on valid visa documents, said a report agency that has members from the Punjab police, Border Security Force and the Army.
ET has exclusive access to the report. It was underlined that a particular pattern with the Kashmiri youth visiting Pakistan was observed from the data of 2016. The frequent overstaying of visa period by Kashmiri youth was pointed out and it was observed that the database and details of Indians who have either under stayed or over stayed the visa period should be closely monitored and shared with all the concerned agencies.
In one such case, a resident of Kulgam was found carrying specific instructions from Saifullah Ghazi, a terrorist active in Rawalpindi, the report recorded.The youth was provided money to purchase a mobile phone and install BBM app in order to receive further instructions from his handlers in Pakistan which he was supposed to convey to his commander in Kulgam, the report said. The report expressed concern over the trend for it was done at the behest of Jaishe-e-Mohammed Chief Masood Azhar.
The role of Azhar's younger brother Talha Al-Saif has also come to light. It might be mentioned here that a petition pertaining to drugs and cross border terrorism is pending adjudication in the Punjab and Haryana High Court. The agency has learnt about the involvement of banned Pakistani terrorist outfit Jamaat-ud-Dawa (JuD), which the report said, has increased its training activities all across Pak and PoK particularly after Eid. Over the period of two months, three to four reports of infiltration from Gurdaspur and Amritsar area have been received. The Indian intelligence agencies were informed that JeM student wing, Al-Murabitun (AM) organised a second annual congregation for Jihai indoctrination titled "Islamic and Training Convention" at Balakot from July 28 to 30 which was addressed by Talha Al-Saif.
Besides, JeM inducted a batch of 12-13 students at Markaz Usman-o-Ali, Bahawalpur from July 10 to 21 in which 70 students from Peshawar, Manshera and Balakot in Khyber Pakhtunkhwa participated. Another JeM centre in Karachi was scheduled to conduct a Daura-e-Tarbiya course from July 21to 27.
In view of Eid on September 1, Al-Rehmat trust had sought donations in form of money and animal hides for meeting the costs of JeM in conducting activities including invitation of Islam, Jihad, education, relief and welfare activities and for taking care of dependants of militants killed in action.
Referring to the "Nafil Qurbani" campaign run by JeM to raise funds, JeM leader Talha Al Saif emphasised on the urgency as in the past many years the number of dependants of militants killed in action had increased. In another case, two Kashmiri youths of Pulwana district with B.tech degrees from a local college of Amritsar, Satyam College of Engineering and Technology, were found carrying instructions from official Whatsapp numbers of JuD.
Both were carrying Rs 78,000 including five signed cheques of Jammu &Kashmir Bank each worth Rs 10,000 provided to them by an unknown persons in Pakistan who has been handling an account of J & K bank.
Full report at:
https://economictimes.indiatimes.com/news/defence/kashmiri-youth-visiting-pakistan-used-as-terror-conduits-government-agency/articleshow/61620328.cms
--------
Europe
Pope Francis: Despite naysayers, there's hope for a nuke-free world
By Hannah Brockhaus
Vatican City, Nov 10, 2017 / 05:18 am (CNA/EWTN News).- In a key speech on the global effort to eradicate nuclear arms, Pope Francis called the weapons immoral and said they should be made illegal in war, but he also voiced hope that despite pessimism, things are moving in the right direction.
In a Nov. 10 audience with participants in a Vatican symposium on nuclear disarmament, the Pope said "a healthy realism continues to shine a light of hope on our unruly world," particularly on the nuclear front.
Pointing to the international treaty passed at the United Nations in July, Francis said this is a concrete sign that progress is being made in the effort to eliminate nuclear arms, and called the treaty "a historic vote," in which the majority of the international community "determined that nuclear weapons are not only immoral, but must also be considered an illegal means of warfare."
The employment of nuclear devices, whether intentionally or through accidental detonation, he said, would cause "catastrophic humanitarian and environmental effects."
Organized by the Pontifical Council for Integral Human Development, the Nov. 10-11 symposium is the first global gathering on this topic since the approval of the Treaty on the Prohibition of Nuclear Weapons at the United Nations July 7.
Until the treaty, nuclear weapons were the only weapons of mass destruction not explicitly banned by any international document. As the Pope pointed out in his speech, chemical weapons, biological weapons, anti-human mines and cluster bombs had all been explicitly prohibited in previous international conventions.
He praised the treaty as also being largely the result of humanitarian initiatives sponsored by the collaboration of civil society, states, international organizations, churches, academies and experts.
Ultimately, to achieve a world without nuclear weapons requires a change of heart, not just laws, he said, saying we must renew our focus on the integral development of the human person as an "indissoluble unity of soul and body, of contemplation and action."
This approach gives hope that it's possible, the Pope said, adding that the perspective goes contrary to our own pessimism and the criticisms of those who see the effort to totally eliminate weapons of mass destruction as "idealistic."
Quoting St. John XXIII's 1963 encyclical "Pacem in Terris," Francis said, "unless this process of disarmament be thoroughgoing and complete, and reach men's very souls, it is impossible to stop the arms race, or to reduce armaments, or – and this is the main thing – ultimately to abolish them entirely."
Reiterating the many statements he's made on the topic, Pope Francis said the escalation of the arms race and the expense it requires means money is taken away from what should be the real priorities: "the fight against poverty, the promotion of peace and the undertaking of educational, ecological and healthcare projects."
As a permanent observer to the United Nations, the Holy See has played an integral role in the negotiations of the treaty banning nuclear weapons. This role has included casting a procedural vote on the treaty earlier this year, which is a right the Holy See doesn't have for every issue, further underlining the their concern regarding nuclear weapons.
During talks on nuclear weapons at the U.N. headquarters in New York, Pope Francis said the treaty, which was still being negotiated at the time, was inspired by "ethical and moral arguments," and was an "exercise in hope."
On that occasion, he voiced his hope that the treaty would be "a decisive step along the road towards a world without nuclear weapons." And while this is "a significantly complex and long-term goal, it is not beyond our reach."
https://www.catholicnewsagency.com/news/pope-francis-despite-naysayers-theres-hope-for-a-nuke-free-world-13179?utm_source=CNA&utm_medium=email&utm_campaign=daily_newsletter
--------
Chechen families of ISIS militants in Syria handed over to Russia
13 November 2017
The Kurdish authorities in northern Syria Sunday handed over to Russia Chechen women and children found in Raqqa city which was retaken in October from militants, an AFP correspondent said.
Kurdish and Arab fighters of the US-backed Syrian Democratic Forces alliance announced on October 17 they had regained full control of Raqqa, the de facto capital of the ISIS group in northern Syria.
After its explosive rise in 2014 and conquest of vast swathes of territory in Syria and Iraq, ISIS established a "caliphate" that attracted thousands of foreign fighters, including from Chechnya.
"We are officially handing over ISIS families to the Russian state," Nuri Mahmud, spokesperson for the Kurdish People's Protection Units (YPG) in the SDF, told reporters in Qamishli in the northeast province of Hasakeh.
Abdel Karim Amr, an official with the autonomous Kurdish authorities in the area, told AFP: "We have handed over Russian citizens whose hands were not tainted by the blood of Syrians."
Full report at:
https://english.alarabiya.net/en/News/middle-east/2017/11/13/Chechen-families-of-ISIS-militants-in-Syria-handed-over-to-Russia-.html
--------
Putin, Trump meet briefly, agree to maintain contact in Syria
Nov 11, 2017
Russian President Vladimir Putin and his American counterpart, Donald Trump, have agreed during a brief meeting to maintain military communications in Syria.
The Kremlin said on Saturday that the two leaders had approved a joint statement during a brief meeting on the sidelines of the Asia-Pacific Economic Cooperation (APEC) leaders' summit in the Vietnamese city of Da Nang.
Putin and Trump agreed "to maintain the existing military communication channels to ensure the security of US and Russian armed forces, as well as to prevent dangerous incidents involving the forces of allies fighting the Daesh terror group," according to the text of the statement, as published on the Kremlin's website.
They stressed that there was no military solution to the Syrian crisis — which began in 2011 — and confirmed their commitment to Syria's sovereignty, independence, and territorial integrity.
The Russian and US presidents also called on all parties to the Syrian conflict to play an active role in the United Nations (UN)-brokered peace talks in the Swiss city of Geneva.
The statement had been prepared by Russian Foreign Minister Sergei Lavrov and US State Secretary Rex Tillerson earlier on Saturday, Russia's Sputnik news agency reported.
There had been speculation on whether the two presidents would meet in Vietnam. While no official meeting had been scheduled, both sides had pointed to the likelihood of a brief meeting.
Moscow and Washington support opposing sides in the Syrian conflict. Russia assists the Syrian government and has been carrying out an aerial bombardment campaign against terrorist positions in Syria. The US backs anti-Damascus militants and is also involved in military operations against purported Daesh targets.
The US and Russian militaries set up a communication hotline to avoid mid-air collisions and other potential accidents in Syria.
Full report at:
http://www.presstv.com/Detail/2017/11/11/541787/Russia-Putin-US-Trump-Syria-military-communication
--------
Prince Charles blamed 'European Jews' for Mideast crisis: Leaks
Nov 12, 2017
A leaked correspondence of Prince Charles dating back to over three decades ago shows that the heir apparent to the British throne had blamed the chaos in the Middle East region on the influx of European Jews to the occupied territories.
The British Daily Mail newspaper revealed on Sunday that Prince Charles had made an assessment of the Israeli-Palestinian conflict in a letter to his close friend Laurens van der Post in November 1986.
The British royal penned down the letter after official visits to Saudi Arabia, Bahrain and Qatar.
Prince Charles wrote that during his "fascinating" Persian Gulf tour, he had "learned a lot about the Middle East and Arab outlook."
"Also I now begin to understand better their (Arabs') point of view about Israel. Never realized they see it as a US colony," he wrote, adding, "I now appreciate that … it is the influx of foreign, European Jews (especially from Poland, they say) which has helped to cause great problems."
Prince Charles also expressed hope that a US president would "have the courage to stand up and take on the Jewish lobby."
Stephen Pollard, an editor of the Jewish Chronicle weekly, criticized the prince's use of the term "Jewish lobby" and claimed that his views were "the absolute classic Arab explanation of the problems in the Middle East."
A spokeswoman for Prince Charles said the letter was not reflective of "the Prince's own views about Arab-Israeli issues but represented the opinions of some of those he met during his visit" an that he was "sharing the arguments ... with a long-standing friend in an attempt to improve his understanding" of the issue.
Britain contributed to the creation of the Israeli entity on Palestinian territories.
In a document issued in November 1917 by the then British foreign secretary, Arthur Balfour said the UK government "views with favor the establishment in Palestine" of Israel.
It set the stage for Nakba Day (the Day of Catastrophe) in 1948, when hundreds of thousands of Palestinians fled or were expelled from their homes by Israel.
Earlier this year, Prince Charles was invited to visit Israel to mark the Balfour Declaration centenary.
The UK Foreign Office nixed the visit "to avoid upsetting Arab nations in the region who regularly host UK Royals."
Full report at:
http://www.presstv.com/Detail/2017/11/12/541904/Britain-Prince-Charles-Israel-Plaestine
--------
Iran rejects Macron's call for talks on missile issue
Nov. 13, 2017
Iran has rejected French President Emmanuel Macron's call for talks on Tehran's ballistic missiles programme, saying the nuclear deal it signed with world powers in 2015 was "not negotiable".
Macron, during a visit to Dubai on Thursday, said he was "very concerned" by Tehran's missile programme after Saudi Arabia claimed it intercepted a missile fired from Yemen last month.
Referring to the Saudi claim, the French president had raised the prospect of possible sanctions with regard to those activities.
Iran's Foreign Ministry Spokesman Bahram Qassemi said its missile programme was defensive and unrelated to the landmark nuclear deal that put a cap on Iran's nuclear activity in exchange for sanctions relief.
"France is fully aware of our country's firm position that Iran's defence affairs are not negotiable," said Qassemi, ruling out the possibility of any talks.
Obama's successor, Donald Trump, decertified the deal last month and slapped sanctions on Iran's powerful Revolutionary Guard Corps. The fate of the deal has fallen on the US Congress, which has 60 days to reimpose nuclear sanctions.
"We have told French officials repeatedly that the nuclear deal is not negotiable and other issues will not be allowed to be added to it," Qassemi said, according to a statement on the ministry's website on Sunday.
France has been trying to save the nuclear deal which Iran signed with six world powers - Britain, China, Germany, France, Russia and the United States.
Last month, Macron told Iranian President Hassan Rouhani in a phone call that France remained committed to the deal but stressed on the necessity to have a dialogue with Iran on other strategic issues, including Tehran's ballistic missile programme, a proposal ruled out by Iran.
The US says the missile fired at Saudi Arabia was supplied by Iran. Washington has also called for the UN to hold Tehran accountable for violating two UN Security Council resolutions.
Saudi Arabia and its allies also accuse Iran of supplying weapons to the Houthi rebels, saying the arms were not present in Yemen before conflict broke out in 2015.
Full report at:
http://www.aljazeera.com/news/2017/11/iran-rejects-macron-call-talks-missile-issue-171112073725228.html
--------
Pakistan
Hizbul Ahrar takes birth as internal rifts tear Jamaatul Ahrar apart
BY SHAMIM SHAHID
Nov 13, 2017
PESHAWAR: Jamaatul Ahrar (JA), a splinter group of banned Tehreek-e-Taliban Pakistan (TTP), is showing signs of internal rifts after its active commanders and fighters announced the establishment of Hizbul Ahrar, with Omar Khurasani as its head.
Mukkaram Khan, famously known as Omar Khurasani, belongs to Mohmand Agency of Khyber Pakhtunkhwa province. Through his first video message released to media on Sunday, Khurasani claimed that Jamaatul Ahrar was involved in anti-Islamic acts committed in the name of jihad, thus compelling them to start their own group.
In this respect, he particularly mentioned terrorist attacks against National Database and Registration Authority (NADRA) office in Mardan, attack on security forces at Wahga border, attacks in Gulshan-e-Iqbal Park Lahore, which claimed the lives of many Christians, and other such attacks carried out around the country.
He said that these terrorist attacks had cost the lives of innocent people, including women and children. In the video Khurasani recalled that the Tehreek-e-Taliban Pakistan Jamataul Ahraar (TTPJA) had claimed responsibility for all these deadly attacks.
Khurasani claimed that he had made attempts to bring reforms in the militant group, but failed to achieve any success. He said that it led him take part ways with the JA and create his own group. He accused Khalid Khurasani of attacking him one week back, in which he was also injured.
He claimed that a number of leading commanders have also announced disassociation from the TTPJA, and now they were a part of Hizbul Ahrar. Some important names in the newly created group included, Hizbul Ahrar Military Wing chief Jihadyar Mehsud, Financial Commission head Commander Muslimyar, Political Commission chief Haji Rashid, Mohmand Agency Commander Imran Aurakzai, and Qari Ismael Afridi of Khyber Agency. Khurasani named Aziz Yousafzai as the spokesman for the new militant group.
Through this video message, Khurasani claimed that he and his comrades were determined to continue their 'jihad' for the supremacy of Islam and against the United States and its allies. He further claimed that they would not indulge in acts that injured or killed innocent people.
It merits mention here that the TTPJA had been mired with crisis since the past couple of months, after its active spokesperson and confidential aide, namely Qari Ihsanullah Ihsan, surrendered to the government.
Qari Ihsan is now in custody of security forces, but he was allowed to talk to some private news channels soon after his surrender. This move had sent a wave of concern and uncertainty among the parents of students killed in the deadly attack on Army Public School Peshawar on December 16, 2014, who demanded that no airtime should be provided to terrorists, especially under the government's watch.
Qari Ihsan, during his statement to news channel, had claimed that the banned TTPJA were involved in over a 100 terrorist acts that mostly occurred in Khyber Pakhtunkhwa.
The parents of APS victims and other civil society organisations have been demanding a trail of Qari Ihsan in a military court, in the same manner as other terrorists who have been executed according to the National Action Plan.
https://www.pakistantoday.com.pk/2017/11/13/hizbul-ahrar-takes-birth-as-internal-rifts-tear-jamaatul-ahrar-apart/
--------
ISIS Might Have One Last Escape Route: Pakistan
By Kunwar Khuldune Shahid
November 07, 2017
The fall of its de facto Syrian capital Raqqa last month signaled the death of the Islamic State (ISIS) in the Middle East. On Friday, Syrian troops retook Deir ez-Zor, the last major city with an ISIS presence, just as Iraqi forces took over the crossing in al-Qaim, near the group's final urban stronghold.
As the group flees the Middle East, it has two obvious destinations: Central and South Asia. Central Asia has accounted for upwards of 5,000 ISIS troops, and South Asia has 40 percent of the global Muslim population – and indeed an entire dedicated ISIS faction – making the region the natural destination for fleeing militants.
The greatest lifeline for ISIS might come from the jihadists that form the large chunk of ISIS Khorasan: the leaderless factions of the Pakistani Taliban.
Enjoying this article? Click here to subscribe for full access. Just $5 a month.
On October 19, a statement attributed to the Jamaat-ul-Ahrar (JA), a Taliban faction that has pledged allegiance to ISIS, said that the group's Umar Khalid Khorasani has succumbed to injuries following a U.S. drone strike. A day later the group's Telegram account denied the claims. Since there weren't any images, audio or video footage in the denial, this appears to be a classic Taliban tactic of denying a leader's demise long after they've been killed.
This is how Mullah Omar was "kept alive" for over two years and how Tehrik-e-Taliban Pakistan (TTP) chief Fazlullah might still be posthumously leading his group – another Taliban faction only confirmed their leader's death from last year after news broke of Khorasani being killed.
Therefore, there's more than a fair chance that both the TTP and JA might be leaderless – and aimless – as things stand, and perhaps as desperate for some breathing space as their fellow jihadists in the Levant.
JA in particular has collaborated with ISIS – at least on paper – on many terror attacks over the past two and a half years. This year's deadliest attack in Pakistan, when a Sufi shrine was bombed in Sehwan leading 88 dead, was jointly claimed by ISIS and Jamaat-ul-Ahrar, with the Khorasan faction taking responsibility for August's attack on the military truck in Quetta.
From ISIS Khorasan's formal announcement in January 2015, which had been preceded by ISIS graffiti and literature popping up across Pakistan, jihadist factions as diverse as Lashkar-e-Jhangvi (LeJ) – which is dedicated primarily to the extermination of the Shia – and Jamaat-ud-Dawa – which claims to focus on Kashmir jihad – have overlapped with ISIS in Pakistan.
Furthermore, considering that the Pakistan is now formalizing the mainstreaming of many of these jihadists by making them bona fide political players in the country, and the fact that the state continues to encourage jihad among sections of the population, the lure of the ISIS caliphate alone can sustain the group in the country, even with limited operational presence.
The UN Humanitarian Response Plan Mid-Year Review reports the doubling of "attacks attributable to the Islamic State of Khorasan (from 128 to 237)" in Afghanistan, with the group expanding its presence to seven provinces in the first half of this year. This rise has corresponded with the group's depletion of resources in Iraq and Syria.
Even so, while Islamic State's functional presence remains mostly in Afghanistan, where they are rivaled for supremacy by the Afghan Taliban – despite recent ISIS ascendancy – it is Pakistan where a bulging vacuum for a jihadist umbrella remains.
Full report at:
https://thediplomat.com/2017/11/isis-might-have-one-last-escape-route-pakistan/
--------
Religions not responsible for terrorism: Speakers
November 13, 2017
LAHORE - Leading figures belonging to five religions have unanimously rejected as mere propaganda the assertion that religions are responsible for acts of terrorism in the world.
The participants of a two-day conference on "Religious Pluralism and World Peace", which concluded on Sunday, recommended holding of dialogue among the followers of all religions to iron out misunderstandings and chalk out a strategy for world peace.
Dr. Rohan Gunaratna, an expert in terrorism from Singapore, Dr. Paul Rohan from University of Jafna, Sri-Lanka, Dr. Adrian Feldmann of Australia, Dr. Andre Wehrli-Allenbach of Switzerland, Dr. David James Bamber and Dr. Cedric Aimal Edwin were among the international speakers at the conference organized by Minhaj University in collaboration with Punjab Higher Education Commission. Scholars of various religions including Christianity, Buddhism, Sikhism, Hinduism and Islam sat together to talk about the present challenges of the world –the main purpose for which the conference was organized.
Reading out declaration in the conference, Minhaj University's Deputy Chairman Dr. Hussain Mohayyuddin said that no form of terrorism and violence had anything to do with world religions and it must be condemned at all levels. He said misuse of religion and its misunderstanding by general discussions must be stopped, suggesting that it should only be limited to the competent scholars with concept of religious doctrine, beliefs and practices.
The declaration said that a council should be made comprising representatives of all world religions to work with the government in order to implement peace and counterterrorism efforts while religious preachers, writers and scholars from different schools of thought should develop a code of conduct to deal with all forms of condemnable speeches. It also resolved that it must be admitted as supreme factor that the founders of all religions are sacred and revered and their sanctity must be guarded and protected at any cost.
It left a message for the entire world community, particularly for all religions to make a declaration to condemn the oppression of the minorities, Rohingya community in Myanmar (Burma) and to declare crusade against violence enforced for any minority in the name of religion.
The massive gathering at the conference highly lauded and gave standing ovation to this historical declaration and pledged that they all would act as peace agent for the implementation of this declaration by using their platforms in every manner.
Earlier, during a discussion, Dr. Rohan Gunarahna, a known expert in terrorism from Singapore presented his research paper. He said that there were six known civilizations of the world and three of which including Mohenjo-daro, Harappa and Gandhara belonged to Pakistan. This region of the world had already been a centre of peaceful people, he said. "Still today, I'm quite sure that DNA of peace love belongs to this region," said Mr. Gunarahna.
Arguing on his point that world peace has strong relation with religions , Dr. Gunarahna said that there were a number of factors which could help bring change in this regard.
The first factor, he said, a fair education of religion must be provided to its followers, so that no one could dare to use them for their particular purposes by molding their religious beliefs and thoughts. The second factor is the role of a teacher who could save his students from extreme thoughts, the third factor is the role of the governments which could lead the peoples to a positive direction through economic and social reforms and the fourth and the most important factors are the political parties which could save the societies from possible divisions.
Spiritualism, cultural activities and sports could keep the masses away from such ideas and thoughts which eventually lead them towards committing extreme steps and deeds. "The prisoners must not be treated with hate," Mr Gunarahna suggested saying that "plans should be made to bring them to normal life and active role in the society."
He further said, "Religious scholars must visit prisons to teach the convicts." Answering a question that how extreme and negative attitude could be controlled in a society, he replied that "Rumi's literature is the solution of this menace."
Another speaker Dr Adrian Feldmann said that peace comes with the peace of mind. He stressed upon resolving all those issues that were affecting one's mind leading him to have extreme thoughts and acts in a society. Dr Naeem Mushtaq said Islam is a religion of love and peace while a true follower of any religion could not commit any act of violence or terrorism.
Full report at:
http://nation.com.pk/13-Nov-2017/religions-not-responsible-for-terrorism-speakers
--------
Pakistani Cleric's Supporters Block an Entrance to Islamabad
By SALMAN MASOOD
NOV. 12, 2017
ISLAMABAD, Pakistan — Thousands of supporters of a firebrand Pakistani cleric, many armed with sticks and iron rods, have blocked a main entrance to Islamabad since last week, demanding the resignation of the country's law minister and a strict adherence to blasphemy laws.
Led by Khadim Hussain Rizvi of the Tehreek-e-Labaik Pakistan party, at least 3,000 protesters were staging a sit-in on one of the main highways leading to the capital.
Officials say they suspect some of the protesters are carrying more serious weapons, and there is concern the standoff might turn violent. In response, the government has blocked several other roads to stop the protesters from moving to important government buildings.
Crippling, hourslong traffic jams have resulted. Long lines of vehicles could be seen for much of the past week and on Sunday on the roads leading to Islamabad from the suburbs and neighboring Rawalpindi. Several schools near the protest site remained closed. Shipping containers barricading the main streets are a ubiquitous sight.
"Hectic efforts and negotiations are on to resolve the issue," said Kamran Cheema, the assistant commissioner of Islamabad.
"We will lay our lives, but we will not step down from our demands," Mr. Rizvi, the cleric, said from atop a stage set up on a cargo truck as his supporters chanted "Labaik Ya Rasool Allah, Labaik" (I am here, Prophet of God, I am here).
The sit-in underscores the difficulties the government faces in dealing with right-wing extremist groups. The governing political party, Pakistan Muslim League-Nawaz, is already reeling from the fallout over the disqualification in July of its leader Nawaz Sharif, as prime minister, over a corruption investigation.
Any violent confrontation with hard-line clerics would further exacerbate a tumultuous political situation.
The latest controversy erupted last month, when the government introduced changes to electoral laws. A change in the wording of an oath for lawmakers that dealt with a declaration of Prophet Muhammad as God's final prophet quickly set off a furor among opposition parties, especially the religious groups.
They protested that the change amounted to blasphemy.
Blasphemy is a particularly combustible issue in Pakistan, often leading to violent riots and vigilante justice. Critics and rights groups say the blasphemy laws are used to persecute religious minorities, especially the Ahmadis, who are considered non-Muslims, according to the country's Constitution.
The government quickly reversed the change to the oath, but the damage had been done. It remains unclear what prompted the alteration of the electoral oath. Officials initially said the change had been the result of a "clerical error."
The law minister, Zahid Hamid, is now in the center of the storm. Religious leaders have accused him of blasphemy and of being an Ahmadi. Mr. Hamid has denied both accusations, and in a video message last week, emphatically stated that he believed that Muhammad was God's final prophet.
But the protesters are calling for Mr. Hamid to be fired — a demand unacceptable to the government.
Mr. Rizvi, a virtual unknown few years ago, belongs to the Barelvi sect and has built his reputation as a staunch defender of the country's blasphemy laws. In the process he has amassed considerable political muscle. His sermons are often laced with invectives and profanities aimed at religious minorities and opponents.
In September, Mr. Rizvi's party entered the political fray and — to the surprise of many observers — won more than 7,000 votes, or 6 percent, in a by-election in Lahore, in eastern Pakistan, for the seat vacated by the ouster of Prime Minister Nawaz Sharif.
The relatively strong showing seems to have further emboldened Mr. Rizvi, as he used the electoral oath controversy to charge toward the capital. The ease with which the protesters were able to gather near Islamabad has drawn attention.
"Any violence will work to the advantage of the right wing, and they know it," Dawn, a leading newspaper, said in a Sunday editorial. " The government must not give in to them."
The protesters have threatened to lay siege to the airport in Islamabad, a railway station in Rawalpindi and several other government buildings if their demands are not met.
Full report at:
https://www.nytimes.com/2017/11/12/world/asia/pakistan-protests-khadim-hussain-rizvi.html?mtrref=www.google.co.in&gwh=C760B9D7343A732277145DDDDA9816D1&gwt=pay
--------
Pakistani Taliban splinter group splits further over tactics
November 12, 2017
PESHAWAR, Pakistan — A splinter group of the Pakistani Taliban has been further split into two groups in an apparent blow to Jihadis operating against Pakistani forces to enforce Islamic law, known as Sharia.
A video statement Sunday said the Hizbul Ahrar group, formed in Nangarhar province of Afghanistan a day earlier, will be headed by the militant commander Mukarram Khan. Khan had earlier served as an important commander and spokesman for the Jamaat-ul-Ahrar group.
The statement said Khan left Jamaat-ul-Ahrar over differences with its chief over attacks against innocent minority Christians, killing civilians, extortion, kidnapping for ransom and other acts he deemed un-Islamic.
Full report at:
https://www.washingtonpost.com/world/asia_pacific/pakistani-taliban-splinter-group-splits-further-over-tactics/2017/11/12/7ea2978c-c7b9-11e7-b506-8a10ed11ecf5_story.html?utm_term=.14d4ee7a60b4
--------
Local ANP leaders hired Taliban militants to assassinate Parveen Rehman, suspect tells JIT
Imtiaz Ali
November 12, 2017
A suspect, who was arrested last month, reportedly confessed to his involvement in the assassination of prominent social activist Parveen Rehman and informed the Joint Interrogation Team (JIT) that local leaders of Awami National Party had hired Taliban militants to assassinate Rehman, it emerged on Sunday.
The police had arrested Amjad Hussain from Manghopir area on October 24 in connection with the murder of Rehman and registered a case against him under charges of 7-ATA (Anti-Terrorism Act of 1997.)
Renowned social worker Rehman was the director of Orangi Pilot Project, her office was located at Qasba Mor in Sector-5A, Orangi Town. She was gunned down in March 2013.
A JIT was constituted following the arrest of Hussain, which recently completed its findings and has submitted a report to the Sindh home department.
The accused told the JIT members that he and Raheem Swati — the prime suspect in the case — lived in front of the OPP office.
"Awami National Party (ANP) leaders Ayaz Swati and Raheem Swati had tried to obtain a designated area to construct a Karate centre, but despite repeated requests, Rehman refused to provide the land to them inside the OPP compound," sources quoted the accused as saying before the JIT.
The suspect told the JIT that Rehman termed the local leaders as "ANP's Qabza Mafia", which they considered as an "insult" to them and their party.
Know more: Perween Rahman's murder: the great cover-up
The arrested suspect told the JIT members that in January 2013 a meeting was convened at Raheem Swati's residence in which he [Amjad Hussain], Ayaz Swati and Ahmed alias Pappu were present.
Hussain said they planned the assassination of Parveen Rehman "out of rage and as an act of revenge."
"Raheem Swati, using Ayaz's phone, called a local commander of Tehreek-i-Taliban Pakistan (TTP) Moosa and Mehfoozullah alias Bhaloo, who both agreed to assassinate Rehman for money. They were assured of payment after completion of the task," the confessional statement read.
Ayaz and Raheem directed Pappu to remain in touch with Moosa and Bhaloo. Subsequently, Hussain, Raheem and Ayaz started monitoring the routine of Parveen Rehman and intimated Moosa and Bhaloo.
"On March 13, 2013, Moosa, Bhaloo and Pappu targeted Parveen Rehman in front of Pakhtoon Market at 07:30pm," the suspect confessed.
The accused Hussain informed the JIT members that at that time, he and Ayaz were "present at their [the killers] back for support." He further disclosed that on the same evening, Moosa intimated Raheem Swati that they had completed their task, "now you have to pay."
The accused further said that he and Ayaz went to Raheem's house and told him about the details of the job done by Pappu Kashmiri, Moosa and Bhaloo.
"During initial investigation by police, he (Amjad Husain) and other people of the vicinity recorded their statements to misguide the police," a source said.
The accused revealed that Raheem Swati told him that owing to the non-payment of money, Moosa called Raheem Swati after a couple of days to pay Rs4 million but he could not manage. Therefore, Moosa and his accomplices attacked Raheem Swati's home with grenades.
The accused said that because of this attack, Swati got scared and escaped to his native town.
Parveen Rehman, a media-shy social worker who devoted her life to the development of the impoverished neighbourhoods across the country, was gunned down near her office in Orangi Town on March 13, 2013.
The very next day, police killed a Taliban operative named Qari Bilal in an encounter and claimed he was the murderer, resulting in a closure of the case.
Full report at:
https://www.dawn.com/news/1370071/local-anp-leaders-hired-taliban-militants-to-assassinate-parveen-rehman-suspect-tells-jit
--------
JI calls for accountability over Paradise Papers
November 13, 2017
BAHAWALPUR: Jamaaat-i -Islami Secretary General Liaqat Baloch has demanded the accountability of all those exposed in Paradise Papers in addition to Panama Papers.
Addressing a workers' convention here on Sunday, he said the accountability should not be confined to Nawaz Sharif's family members only but its scope should be widened against all those also who had plundered country's wealth and resources.
He said the 'exhausted cartridges' had also surrounded PTI chief Imran and they had also cheated the common people.
Mr Baloch condemned the change in the Khatm-i-Naboowat laws and said it was a planned conspiracy. He said civil-military tension had caused damage to Pakistan's repute in whole of the world. He criticised the Muttahida Qaumi Movement which swept the Karachi polls and created lawlessness there although earlier the Karachi belonged to the JI.
The JI leader announced his support for the demand of the locals for the restoration of the Bahawalpur province.
The convention was also addressed by JI Punjab emir Mian Maqsood Ahmed and MPA Dr Syed Waseem Akhtar.
Later, Liaqat Baloch led a rally up to Shahdara Chowk to press for the demand of the provincial status for Bahawalpur.
SUSPENDED: District Police Officer Mustansar Feroze suspended the Civil Lines station house officer (SHO) from service for dereliction of duty.
SHO Imran Siddiqui had failed to comply with a court order and was suspended by the DPO. The court ordered the DPO to register a case against the suspended SHO under Police Order 2000.
An applicant, Asif Raza Chughtai, of Nishat Colony, who was allegedly deprived of his mobile phone and cash in August but the police did not register his case. He moved the court for the registration of the case by the police.
Additional District and Sessions Judge (ADSJ) Syed Jahangir Ali ordered the Civil Lines police on Aug 10, 2017 to register Asif's FIR. But, the complainant told the judge on Nov 11 that his FIR was registered by SHO Siddiqui. At this, the ADSJ ordered the police to register a case against the SHO.
Full report at:
https://www.dawn.com/news/1370137/ji-calls-for-accountability-over-paradise-papers
--------
South Asia
ASEAN summit draft statement skips over Rohingya crisis
November 13, 2017
A draft of the statement to be issued after a Southeast Asian summit makes no mention of the exodus of Rohingya Muslims from Myanmar's Rakhine state following a military crackdown that has been described by the United Nations as ethnic cleansing.
One paragraph of the communique, seen by Reuters today, mentions the importance of humanitarian relief provided for victims of natural disasters in Vietnam and a recent urban battle with Islamist militants in the Philippines, as well as "affected communities" in northern Rakhine state.
The statement was drawn up by the Philippines, current chair of the 10-member Association of Southeast Asian Nations (ASEAN) - which includes Myanmar - whose leaders met for a plenary session in Manila today.
The draft did not give any details of the situation in northern Rakhine state or use the term Rohingya for the persecuted Muslim minority, which Myanmar leader Aung San Suu Kyi has asked foreign leaders not to use.
The government in mostly-Buddhist Myanmar regards the Rohingya as illegal migrants from Bangladesh and does not recognise the term.
Well over 600,000 Rohingya have fled to Bangladesh to find shelter in refugee camps after military clearance operations were launched in response to attacks by Rohingya militants on security posts on August 25.
The plight of the Rohingya has brought outrage from around the world and there have been calls for democracy champion Suu Kyi to be stripped of the Nobel peace prize she won in 1991 because she has not condemned the Myanmar military's actions.
In September, UN Secretary-General Antonio Guterres said the situation in Rakhine was best described as ethnic cleansing.
Some members of ASEAN, particularly Muslim-majority Malaysia, have voiced concern. However, in keeping with ASEAN's principle of non-interference in the internal affairs of one another, the issue appears to have been put aside at the summit.
Suu Kyi, who did not mention the crisis in a pre-summit speech after arriving in Manila on Sunday, criticised ASEAN's principle of non-interference in 1999 when she was fighting for democracy in a country then ruled by a military junta.
"This policy of non-interference is just an excuse for not helping," she wrote in an opinion column in the Thai daily the Nation at the time. "In this day and age, you cannot avoid interference in the matters of other countries.
http://www.thedailystar.net/rohingya-crisis/association-of-southeast-asian-nations-asean-summit-draft-statement-skips-over-myanmar-military-persecution-rohingya-muslims-1490533
--------
Taliban and ISIS militants suffer heavy casualties in latest airstrikes
Nov 12 2017
The Taliban and ISIS militants suffered heavy casualties in latest airstrikes conducted in various provinces of the country, the Ministry of Defense (MoD) said.
According to a statement by MoD, the airstrikes were carried out in the past 24 hours as part of the ongoing counter-terrorism and clearance operations.
The statement further added at least two ISIS militants were killed and their hideout was destroyed in an airstrike conducted in Achin district of Nangarhar.
At least 8 militants were killed in another airstrike conducted in Tagab district in northeastern Kapisa province of Afghanistan.
According to MoD, the security forces also conducted an airstrike in Shindand district of Herat province, leaving at least 5 militants dead and 7 others wounded.
In the meantime, the Ministry of Defense says at least four militants including a local leader of the group were killed in an airstrike conducted in Dasht-e-Archi district of Kunduz.
The anti-government armed militant groups including the Taliban militants have not commented regarding the report so far.
The Afghan national defense and security forces have stepped up counter-terrorism operations to suppress the insurgency activities of the militant groups.
Full report at:
http://www.khaama.com/taliban-and-isis-militants-suffer-heavy-casualties-in-latest-airstrikes-03828
--------
Thakurpara Muslims rushed to the aid of Hindu neighbours
November 13, 2017
'But when the attack started, rest of the Hindu families, including men, women and children, fled the village and took shelter in either neighbouring Horkolli or Bontapara, both Hindu-majority villages'
Even a week ago, the Hindu community of Thakurpara village in Rangpur would never have imagined that the Muslims of their neighbourhood would launch a violent attack on them over a post from a sketchy Facebook profile.
But a little after Jumma prayers last Friday, the Hindu families, both shocked and surprised, had to flee their homes running for their dear lives right as the attack unfolded before their eyes.
Pashuram Chandra Roy, who lived in the village's Sadar upazila section, has lost everything in the attack on his home. He claimed that the attackers stole some Tk30,000 and a sack of rice while burning his cow to death, before vandalising and setting his house on fire.
Under the circumstances, he said, he does not know how he will survive with his five-member family.
He told the Dhaka Tribune that it was around 2:30pm on Friday when he saw a big crowd of Muslims heading towards Paglapeer, a neighbouring village. "All of a sudden they started shouting and then I heard them launching the arson attack."
"Seeing this many people coming towards my home, I panicked and started running south from my house. After a while, I was heading towards a bamboo clump to hide inside it when someone pushed me from behind and I fell. I got so scared seeing hundreds of people coming from behind, all I could do were close my eyes and wait for the worst to come."
Pashuram continued: "Suddenly someone pulled my hand and took me inside the bamboo clump, saving my life. When I opened my eyes, to my surprise, I saw a Muslim man who lives in Horkolli village. I could not recall his name, but remembered that he was a relative of Shamsul of our village."
He said the man kept him safe until the chaos dialled down.
Shamsul's name came up again when this correspondent talked to another victim, Manik Chandra Roy.
Manik said tension at Thakurpara had running high few days before the attack. "Some villagers had sent their families to their relatives' homes and some others stayed back. Most of them were men, protecting their homes and belongings."
"But when the attack started, rest of the Hindu families, including men, women and children, fled the village and took shelter in either neighbouring Horkolli or Bontapara, both Hindu-majority villages."
He said the attackers had taken many of their cows when they were chased by the law enforcers. "But Shamsul, his relative Aynal Haque and his nephew saved most of our cows. They had also sheltered a number of Hindu villagers during the attack."
Aynal told the Dhaka Tribune that he had heard about a human chain protest scheduled after the Jumma prayers. But he did not go and decided to come home. "It seemed pointless to me and, fortunately, my decision helped me save my Hindu neighbours."
He said he and at least 10 other Muslim villagers got together and started chasing away those who were stealing cows in the midst of the chaos. "We had managed to recover 16 cows during that time."
Aynal also said that the Muslim women of the village had also given shelter to many Hindu women in their houses.
Full report at:
http://www.dhakatribune.com/bangladesh/nation/2017/11/13/thakurpara-muslims-rushed-aid-hindu-neighbours/
--------
Indian Army Will Train Bangladeshi Forces To Combat Terror
Nov 13, 2017
The Army will be training Bangladeshi forces in the first of its kind counter-terror and insurgency exercise to be held at the Danapur Cantonment near Patna, amid growing radicalisation and emerging terrorist groups in the neighbouring country that have a direct bearing on India's security.
The training is aimed at carrying out operations against terrorists and insurgents on the lines of those in Kashmir and India's northeast.
Starting Monday, the Army will hold the exercise with a Bangladeshi contingent till December 17. The joint exercise will have mutual benefits as both countries are facing similar threats including those from certain groups operating on both sides of the border.
Indian intelligence agencies have warned in the past about a growing collaboration between Jamat-Ul-Mujahideen Bangladesh (JMB) and Islamic State to establish a Bangladeshi Caliphate and also target India. There have been warnings that JMB cadres active along the India-Bangladesh border could set up bases in eastern Indian states.
JMB is a banned terror outfit in India that has cadres active here. It was responsible for the bomb blasts in Burdwan in 2014, a small town in West Bengal close to the Bangladesh border.
"The shared threat to both countries and adding another facet to strategic cooperation prompted the two countries to state a training capsule prepared by the Indian Army based on our experiences in Kashmir and North East," said Army sources.
During the training, state-of-the art weapons and equipment for close-quarter battle, surveillance and tracking, explosives, IED detectors and communication equipment will be used. The Bangladesh team will train, plan and execute a series of well-developed operations for neutralising these threats.
There will also be discussions to share counter-terror operation experiences that will be mutually beneficial.
The training event will be attended by five officers and 25 other ranks of the Bangladesh Army. The Indian Army will be represented by five officers, eight Junior Commissioned Officers and 15 other jawans.
"This training capsule is one of the major training events and defence cooperation endeavours between the two Armies and will be first of its kind being organized for the Bangladesh Army at Danapur Cantonment," sources in the Army said.
The Indian Army Training team will be headed by Colonel DD Swain, an experienced counter-insurgency expert having commanded a Rashtriya Rifles Battalion in Jammu and Kashmir and operated in insurgency-affected areas of Assam and Manipur for a number of years.
The Indian Army will also get an opportunity to absorb lessons from the series of highly successful counter terror operation carried out by the security forces of Bangladesh.
Full report at:
http://www.dnaindia.com/india/report-army-will-train-b-desh-forces-to-combat-terror-2559571
--------
Defense minister rejects Hekmatyar's alleged remarks regarding ethnic war
Nov 12 2017
The acting minister of defense Gen. Tariq Shah Bahrami rejected the alleged remarks by the leader of Hezb-e-Islami Gulbuddin Hekmatyar regarding the ethnic war.
Speaking to reporters in Kabul, Gen. Bahrami said the ongoing war in the country is being waged for the defense of the country and against the terrorist groups.
He insisted that the conflict certainly has not links with the ethnic violence and war.
This comes as reports emerged few days earlier quoting Hekmatyar as saying that the ongoing conflict in the country has links with the ethnic violence.
However, the party in a statement said the remarks of Hekmatyar have been amended and wrongly reported by the media outlets.
The statement further added that Hekmatyar in his speech at the central council meeting of the party had pointed out towards the conflict in Ghor province and had stated that the war in the province is between the two ethnic groups.
Hekmatyar had also added that the more than two thousand families were forced to flee the area in Teyora district belonging to a specific ethnic group led by a local elder loyal to Hezb-e-Islami, according to Hezb-e-Islami statement.
Full report at:
http://www.khaama.com/defense-minister-rejects-hekmatyars-alleged-remarks-regarding-ethnic-war-03829
--------
Trump allows US troops to jointly conduct operations with Afghan force
Nov 12 2017
The administration of President Donald Trump has allowed the US troops to accompany and jointly conduct operations with the Afghan security forces, it has been reported.
According to the Pentagon officials, hundreds of US troops will accompany the Afghan forces during the counter-terrorism operations, mainly to coordinate air and artillery strikes.
"Hundreds of American troops will accompany Afghan forces on combat missions, where they will be able to directly request bombing raids and artillery fire for their Afghan partners," the Pentagon officials have told Foreign Policy.
This comes as the NATO defense ministers also agreed last week to increase the number of the NATO forces in Afghanistan.
The latest commitment by the NATO members comes as Washington announced its new policy for Afghanistan and South Asia few months earlier.
Announcing the new US strategy in the month of August, President Trump said the consequences of a rapid exit are both predictable and unacceptable.
The US and NATO forces concluded their combat mission in Afghanistan at the end of 2014 by fully handing over the security responsibilities to the Afghan security and launching the new train, advise, and assist mission or the Resolute Support mission.
Full report at:
http://www.khaama.com/trump-allows-us-troops-to-jointly-conduct-operations-with-afghan-force-03827
--------
Africa
28 bodies recovered after clashes near Libya capital
Nov 12, 2017
A recent round of armed clashes between rival Libyan factions have left nearly 30 people dead as a local human rights group recovers bodies bearing gunshot wounds and signs of torture at the site of the confrontation near the capital Tripoli.
Libya's National Commission for Human Rights (NCHR) said Sunday that locals had found 28 bodies near a road in the town of Alhira, 60 kilometers (37 miles) southwest of the capital Tripoli.
Ahmad Hamza, from the NCHR, said the victims were from the groups opposed to the government-aligned coalition forces. He said the victims had been arrested before they were tortured and killed.
"According to the fact-finding, monitoring and documentation section of NCHR, there are signs of torture and they (the victims) were shot in the chest and head," said Hamza, adding that families of the victims were not allowed to receive the bodies for "reasons that are not known".
The recovery of bodies comes a week after forces aligned with Libya's internationally-recognized government launched an operation against the rival armed groups in the Wershafana, an area largely cut off from the capital for several years and a major hub for militancy and criminal activity.
One of the major groups contributing to the coalition attacks, which is based in the town of Zintan southwest of Tripoli, had said that the operation was meant to put an end to "murder, kidnapping and acts of barbarism" in Wershafana. The military council of Zintan, however, has yet to comment on the discovery of bodies in the region.
Local authorities say around 500 families were displaced by the recent bout of violence although some 100 families have returned to their homes in recent days.
Libya has been mired in a devastating conflict since the fall of the former dictator Muammar Gaddafi in 2011. The country is effectively divided between forces loyal to Tripoli's UN-backed government, who are aligned with North African countries to the west of Libya, and those forces who rule territories in east of the country and enjoy massive support from Persian Gulf Arab countries and are supported diplomatically by Egypt.
http://www.presstv.com/Detail/2017/11/12/541971/Libya-Wershafana-clashes-Tripoli
--------
Attacks in CAR capital leave 7 dead, over 20 injured
Nov 12, 2017
Four people were killed and over 20 wounded when grenades were thrown into a concert in the capital of the chronically unstable Central African Republic, while revenge attacks later left another three people dead, the UN peacekeeping force and a local official said Sunday.
In the first serious incident of violence in Bangui this year, the assault late Saturday saw two unidentified attackers hurl grenades at a cafe called "On the Crossroads of Peace" during a performance, said Herve Verhoosel, spokesman for the UN peacekeeping force MINUSCA.
CAR's minister for public security, Henri Wanzet, told state radio that four people had died in the attack and around 20 were injured. An official probe has been opened, Wanzet said.
The cafe is located near the PK5 majority Muslim district of Bangui, once a Muslim rebel bastion, and now home to several armed groups.
Even though relative peace has been restored in Central Africa following the civil war that erupted in 2013, inter-communal tensions remain.
Among those injured in Saturday's attack were several musicians from the group that was performing, Verhoosel said.
A doctor at the hospital where the injured were rushed for treatment said 21 people had been admitted.
Seven others were taken to another health center, a local official with Doctors Without Borders (MSF) medical charity said.
A local public figure said three people were killed later in the night in revenge attacks -- two of whom had their throats cut and one who was beaten to death.
'Innocents'
"They were two motorcycle-taxi drivers and a young man who was walking in the neighborhood," the man, who asked not to be identified, told AFP. "They are innocents".
He appealed for calm in the neighborhood where sporadic gunfire could be heard and armed members of "self-defense" groups patrolled. An armored car carrying MINUSCA troops was stationed at the entrance to PK5.
An AFP correspondent saw three bodies taken to the morgue from a local mosque.
A witness who did not give his name said the attackers at the cafe had launched four grenades.
In a video posted on his Facebook page, the concert's singer Ozaguin -- dubbed the king of Central African rumba -- confirmed six of his fellow musicians had been injured.
He said he was surprised that he was not himself injured by grenade fragments.
"Ozaguin came to perform here to ensure that all Central Africans -- Muslims and Christians -- can find some social cohesion," the cafe's owner, Issiakou Guymba, told AFP.
"An unidentified group came on a motorcycle-taxi, they threw one or some grenades in the middle of the crowd," he said.
"It makes us lose hope, when people come to cause panic like that among the population."
Mired in poverty but rich in diamonds and other minerals, CAR has been battered by a conflict between rival militias that began after then-president Francois Bozize was overthrown in 2013.
Under a UN mandate, the former colonial power France intervened to push out the Muslim Seleka rebels who had taken over, and the UN launched a peacekeeping mission in 2014.
But the country remains chronically prone to violence, with armed groups controlling most of the country.
Full report at:
http://www.presstv.com/Detail/2017/11/12/541968/CAR-UN-peacekeepers-MINUSCA-violence-Seleka-tensions
--------
Arab states spent $130bn to destroy Syria, Libya, Yemen: Algerian PM
Nov 12, 2017
Algerian Prime Minister Ahmed Ouyahia says some regional Arab states have spent $130 billion to obliterate Syria, Libya and Yemen.
Ouyahia made the remarks on Saturday at a time when much of the Middle East and North Africa is in turmoil, grappling with different crises, ranging from terrorism and insecurity to political uncertainty and foreign interference.
Algeria maintains that regional states should settle their differences through dialog and that foreign meddling is to their detriment.
Syria has been gripped by foreign-sponsored militancy since 2011. Takfirism, which is a trademark of many terrorist groups operating in Syria, is largely influenced by Wahhabism, the radical ideology dominating Saudi Arabia.
Libya has further been struggling with violence and political uncertainty since the country's former ruler Muammar Gaddafi was deposed in 2011 and later killed in the wake of a US-led NATO military intervention. Daesh has been taking advantage of the chaos in Libya to increase its presence there.
Yemen has also witnessed a deadly Saudi war since March 2015 which has led to a humanitarian crisis.
Last Month, Qatar's former deputy prime minister Abdullah bin Hamad al-Attiyah said the United Arab Emirates had planned a military invasion of Qatar with thousands of US-trained mercenaries.
The UAE plan for the military action was prepared before the ongoing Qatar rift, but it was never carried out as Washington did not give the green light to it, he noted.
Full report at:
http://www.presstv.com/Detail/2017/11/12/541919/Algeria-Syria-Libya-Yemen
--------
81 al-Shabaab militants killed in Somalia
12 November 2017
At least 81 al-Shabaab militants were killed in Jilib province in two new security operations, said Information Minister Abdurahman Osman on Sunday.
He told state run SONNA news agency that, Somalian forces and international partners conducted the two different operations.
"Some 81 militants were killed, a number of vehicles and heavy weapons destroyed." Osman said.
Also Africa Command (AFRICOM) said the midnight air strike on Friday near Mogadishu's Shabel region killed a wide range of al-Shabaab militants.
Full report at:
http://www.worldbulletin.net/africa/195842/kenyans-dominate-39th-vodafone-istanbul-marathon
--------
Group calls for designation of IMN as terrorist organisation
NOVEMBER 12, 2017
The Coalition Of Civil Society Organizations For Transparency and Good Governance (COCSOTGG), has called on the Presidency and the Attorney General of the Federation to designate the Islamic Movement in Nigeria, (IMN) a terrorists group before it's too late. The group said if care was not taken to curb the situation, IMN might snowball into another disaster in the country.
COCSOTGG was reacting to the recent clash between police and some members of the Islamic movement who had gone to the unity fountain to protest the detention of their leader, El Zakzaky over acts of terrorism. The national president of COCSOTGG, Patriot Sabo Ode said it is a direct threat and danger to the peace-loving and law abiding citizens for the group to continue operating in Nigeria. According to him, "We deserve to live and survive in our country, free of molestations or phobia of violence in whatever guise." Ode said if the AGF fails to initiate the necessary action now, the IMN sect could re-enact what it described as "the regime of bomb attacks in Abuja or elsewhere in Nigeria." The statement reads thus: "We are neither the least nor the most concerned about the security of our dear nation, Nigeria. But when we see national security drifting dangerously and fired with impunity by some violent sects, the dire consequences stare us in the face and, we are thus, prompted to voice out, as time has dictated at the moment. "We fanatically believe it is our collective responsibility as people of a united federation called Nigeria to work towards those things that perch peace in our hearts and minds, neighborhood or anywhere in the country, than violence. "So, our unadulterated convictions points to the natural understanding that violence solves no problem; but peace and dialogue are universal antidotes and, indisputably, the keys which prosper nations around the world. We reiterate that the extent or magnitude of bravado does not post any useful results to any of the parties in a rivalry. "Therefore, COCSOTGG was prompted into speaking to the Nigerian public again, because Nigerians appear to be very complacent with what we consider to be a thorough misbehavior, affront and assault on our dear nation, with the siege on Abuja in numbers, exceeding 10, 000 by Shiites members (IMN). Their leader, Shiek Ibrahim El-Zakzaky has taught them everything, except the rule of law or subordination to lawfully constituted authority and government of the Federal Republic of Nigeria (FRN). "We are not interested in scratching the bruises of old wounds and the damage to Nigeria, wrought on us by the IMN sect in the last 40 years, operating illegally and unregistered in Northern Nigeria. Even their fellow Muslims oppose them vehemently, faulting their style of public worship in lengthy processions, with assorted weapons, as strange, alien and unacceptable. "We have observed that members of the Islamic Movement in Nigeria, who though claim some religious activity, but are unfortunately, always combat-ready and striking any ideologically unaligned persons with awesome unprovoked violence and murder. And also, both leaders and adherents boldly profess allegiance to the Islamic Republic of Iran (IRI) and affiliation with ISIS, as their mentors and sponsors of this bizarre version of Islamism in Nigeria. Iran is the most notorious terrorists' nation in the world, which has "proudly" defied even the United Nations on promotion of terrorism. "Emboldened by this background, IMN sect members breach laws of the Nigerian federation with impunity and dares everybody, with a confounding recklessness or ruthlessness. From their Spiritual Head Sheik, El-Zakzaky to incensed aficionados, they all hunger to test their intolerable tempestuousness on the Nigerian public anytime, anywhere, so courageously. "We are not just worried, but concerned that members of the Islamic Movement in Nigeria have consistently and persistently shown disregard to the laws of our country. What is of utmost concern to them is how to clandestinely impose another version of terrorism, garbed in the fake coats of Islam on the rest of us. "May we remind Nigerians that Boko Haram terrorism started, to paraphrase, President Muhammadu Buhari on his inaugural day speech to Nigerians, as "small fires, now causing large fires." None of us is oblivious of the pains and sorrows inflicted on us by Boko Haram terrorists, because we allowed it blossomed, unchecked in celebration of some faulty and indiscernible liberties of democracy. "Displaying their familiar tradition in the week, just ended, IMN sect members again assailed Abuja in incredible thousands. Some media reports pegged the number as much as 10,000 sect members. Now, it's rare to even have a presidential political rally in Abuja, boasting of this astounding crowd organized by IMN terrorists . How did anybody mobilize terrorists in such astonishing numbers into Abuja for a protest? Something must be amiss somewhere and some people delight in it. "It is the same siege they laid on Zaria City in Kaduna state. It is the same unlawful siege on Kano, Yobe or other states in the North. No one noticed the potential danger at the budding stage. And the Shiites sect expanded to what it is now, extending to Abuja, after Kaduna state Governor, Mallam Nasir el-Rufai outlawed the sect at the state level. "In Abuja on their so-called "peaceful" protests, the IMN sect members did not only hurl insults and held the sovereignty of the Federal Republic of Nigeria to ransom and in contempt, but stoned the Police, the only civil security agency mandated by law to supervise their lawful protests.
Full report at:
https://www.vanguardngr.com/2017/11/group-calls-designation-imn-terrorist-organisation/
--------
Southeast Asia
Senseless to give Saudi Arabia land to combat terrorism, says Muslim scholar
13 Nov 2017
PUTRAJAYA's decision to allot land to Saudi Arabia to combat terrorism makes little sense, said prominent Muslim scholar and reformist Dr Ahmad Farouk Musa
This, he said, was because research has revealed that Saudi Arabia was the biggest state sponsor of terrorism in the world today.
Farouk, who heads the think tank Islamic Rennaisance Front, said Saudi Arabia's track record in combating terrorism is wanting.
"To me personally, this action by the government made little sense, if there is any at all.
"Researchers have pointed out that Saudi Arabia is without doubt, the biggest state sponsor of terrorism in the world today. And the Saudi ideology remains the source of most radical Islamic extremism," Farouk said.
"My question is, why is the government doing this? Is this somehow a quid pro quo?He was commenting on a video clip of controversial preacher Zamihan Mat Zin calling Prime Minister Najib Razak "unintelligent" for giving a 16ha piece of land to Saudi Arabia.
In the undated video on YouTube, Zamihan said Putrajaya's decision in July to allot land in the administrative capital for the King Salman Centre for International Peace to combat terrorism was unrealistic.
"I think what he said has a grain of truth in it," Farouk told The Malaysian Insight.
In July, Najib announced that construction of the King Salman Centre for International Peace (KSCIP) on a 16ha or 40 acres of land in Putrajaya.
KSCIP currently operates from Kuala Lumpur, and the government has been given two years to build the new centre, which is a brainchild of King Salman. It is aimed at deflecting the influence of extremism and terrorist activities, as well as promoting universal peace.
Najib said the decision was made after a discussion with the assistants to Saudi King Salman Abdulaziz Al-Saud and Crown Prince Mohammed Salman who visited Malaysia in July.
"The proposal to give land to Saudi to fight terrorism is not realistic," said Zamihan, who is banned from speaking at mosques and surau in Selangor after he criticised the sultan of Johor in a sermon.
"And it is okay if Saudi doesn't come to Malaysia to counter terrorism. We already have the police, the Home Ministry, Prisons Department and other security institutions like the National Security Council," he said.
Farouk said people should be reminded also that 15 of the 19 hijackers in the September 11 attacks on the US were not only from Saudi Arabia but received funding from individuals linked to the Saudi government.
"We should not forget about the 28 pages of a long-classified US report that was released by the Congress in July 2016 which clearly proved that the 9/11 hijackers were not only supported by individuals connected to the Saudi government but by the government itself.
"The Saudi acts of terrorism did not stop with 9/11. They continue until today with the merciless bombardment of the Yemenis, including civilians.
"And look at how they have been funding hate preachers all over the Muslim world. Look, for example, at the fugitive Zakir Naik who is widely believed to be harboured by our government.
"This same preacher once commented in 2008: 'If he (Osama Bin Laden) is terrorising America the terrorist, the biggest terrorist, I am with him'"
"I personally do not think that the Saudis know the meaning of moderation. This is a country where a female robot has more rights than the Saudi women themselves," he said.
Farouk was recently investigated by the Federal Territories Islamic Religious Department (Jawi) for breaching Section 43 of the Shariah Offences (Federal Territories Act) 1997.
The probe was prompted by a forum on apostasy in Islam organised by the IRF that featured renowned Turkish author Mustafa Akyol. Mustafa was held by Jawi for giving a talk on religion without accreditation but he was released after questioning. – November 13, 2017.
https://www.themalaysianinsight.com/s/22602/
--------
'Outrage over laundrette, but none over tudung ban?'
12 Nov 2017
PAS information chief Nasrudin Hassan has lamented what he described as double standards after a female hotel worker was denied the right to wear a headscarf.
Nasrudin pointed out the level of outrage from every level of society when a "Muslims-only" laundrette was highlighted in the media was seemingly absent in the case of the hotel worker.
"Everyone became emotional (over the laundrette) without first referring to religious teachings and Islamic guidelines.
"Recently, a Muslim woman working as a frontline staff was denied the right to wear the headscarf, on the grounds that it is the policy of the international hotel industry.
"Unfortunately, there was no appropriate defence from the public for the woman who only wanted to practice her religion, nor was there major condemnation against the hotel which denied her right to cover up while on duty," he said in a statement today.
He said this was a case of double standards and a reflection of Islamophobia.
Nasrudin also recalled that he had seen Muslim hotel workers being allowed to wear headscarves when visiting non-Muslim countries.
"How can it happen in Malaysia where Islam is the religion of the federation?
"Muslims themselves are not free to practice Islam in their own country," he said.
Nasrudin said covering up is considered a fundamental obligation for Muslims, and that the ban enforced by certain hotels challenged Muslim sensitivities.
He was responding to a statement from the Malaysian Association of Hotels issued yesterday, in which it defended the policy of one of its members that prohibited frontline staff from wearing headscarves.
The association claimed it was a standard operating procedure for international hotels.
Nasrudin said he will seek a meeting with the association to restore the rights of Muslim women.
Meanwhile, Perlis Mufti Mohd Asri Zainul Abidin backed action against any companies that discriminated against women who wear headscarves.
Full report at:
https://www.malaysiakini.com/news/401676
--------
G25: 'Extremist' Zamihan may lead militants down wrong path
13 NOVEMBER, 2017
KUALA LUMPUR — Malaysia's Group of 25 (G25) expressed concern on Monday (Nov 13) that preacher Zamihan Mat Zin, a civil servant in charge of rehabilitating militant detainees, may influence terrorists to advocate for an Islamic state in Malaysia.
The group of retired senior civil servants also said Mr Zamihan's employment was disrespectful towards the Johor and Selangor Sultans, who had both criticised the Home Ministry officer over his remarks defending a Muslim-only laundromat in Johor.
"We hope that the Ministry is not employing Zamihan in the belief that it takes a thief to catch a thief," G25 said in a statement.
"With his background, there is a risk that Zamihan may influence the detainees into the wrong path."
"Instead of rehabilitating them to understand the multicultural diversity of the country and the need for Malaysians to show tolerance for our differences, commitment to 'Wasatiyyah' (the middle path/ moderation), and to respect the Federal Constitution, the rule of law and the Rukun Negara, he may use religion to advocate for an Islamic state in Malaysia," it added.
National newswire Bernama quoted Home Minister Ahmad Zahid Hamidi as saying last Thursday that the government still required Mr Zamihan's expertise, claiming the preacher was successful in rehabilitating Islamic State (IS) detainees.
G25 said the continued employment of Mr Zamihan contradicted the government's claim that Malaysia was a model for moderation in Islam.
The pro-moderation group also pointed out that the 17-hour detention of US-based Turkish academic Mustafa Akyol by religious authorities over a forum gave the impression that Malaysia was an unsafe place for scholars to talk publicly about Islam.
Full report at:
http://www.todayonline.com/world/g25-extremist-zamihan-may-lead-militants-down-wrong-path
--------
Analyst: As caliphate plans fail, Malaysian IS fighters set to return
Zam Yusa
November 13, 2017
PETALING JAYA: Malaysians may try to go to other conflict zones to continue fighting for the Islamic State (IS) as the militant group loses ground in Iraq and Syria, a security analyst has said.
With the latest losses suffered by IS, the group has been reportedly driven from 96% of the territory it once held in the two nations, crushing its goal of establishing a "caliphate" in the region.
Militants from the group have surrendered or run away, with the Malaysian police saying some 53 Malaysians, including women and children, still stuck in Iraq and Syria.
"Some of the Malaysian militants may try to go to other conflict zones," said Elina Noor, who is foreign policy and security studies director with the Institute of Strategic and International Studies.
"Others may still try to stay on and fight in Syria. Some may try to return and carry out violence closer to home."
IS is said to be still actively operating in countries such as Afghanistan and Egypt while further away from the Middle East, cells have been operating in Indonesia and southern Philippines.
Another country most recently described by the United Nations to be an alternative destination for non-Middle Eastern fighters from the militant group is Somalia.
IS' faction in Somalia has grown significantly over the past year, carrying out attacks in Puntland and receiving some funding from Syria and Iraq, a report by UN sanctions monitors said last Friday.
The report said the IS faction, which was estimated in 2016 "to number not more than a few dozen, has grown significantly in strength" and may "consist of as many as 200 fighters".
The UN report raised concerns that the Bari region could become a potential haven for foreign IS fighters as the extremists are driven out of their strongholds in Syria and Iraq.
The IS group in Somalia "presents more natural appeal to foreign terrorist fighters than Al-Shabaab", whose aim is to establish a state government by Islamic law, it added.
Al-Shabaab, another Islamist militant group, is affiliated with IS' global rival Al-Qaeda.
Some foreign fighters fleeing Syria and Iraq were reported to have been separated from their families, who are now housed in refugee camps.
But there are also militants who flee with their families to regroup somewhere else.
Malaysia's Inspector-General of Police Mohamad Fuzi Harun had earlier told FMT that the passports of Malaysians involved in IS activities in Iraq and Syria had been revoked by the government.
"All countries surrounding Iraq and Syria are cooperating with us," he said. "If they cross the borders and get caught, we'll know it from our security counterparts in those countries."
Authorities also said the Malaysian government will accept Malaysians who want to return home from terror activities overseas but they will have to face the law and undergo rehabilitation to deradicalise them.
"The Malaysian security agencies have been monitoring these Malaysian fighters and I believe they are prepared to manage eventualities.
Full report at:
http://www.freemalaysiatoday.com/category/nation/2017/11/13/analyst-as-caliphate-plans-fail-malaysian-is-fighters-set-to-return/
--------
Arab World
Al-Qaeda-Affiliated Group Jund Al-Islām Vows To Eliminate IS In Sinai
Taha Sakr
November 12, 2017
A little-known militant group called Jund al-Islām, inspired by Al-Qaeda ideology, declared on Saturday that it carried out a military attack against the Islamic State's Egyptian branch Sinai Province, describing the group as 'Kharijites,' or apostates.
Through a voice statement, Jund al-Islām explained that the Sinai Province is violating Islamic Sharia law because it targets civilians and brands them as apostates.
The obscure group said that a number of its militants engaged in military confrontations with an armored vehicle belonging to the Sinai Province. The attack's aim had been to arrest some members of the Sinai Province in order to investigate them for crimes they have committed against civilians.
Jund al-Islām caught Egyptian media attention in 2013 when it claimed responsibility for the bombings that targeted the facilities of the Egyptian Military Intelligence located in the North Sinai city of Rafah.
At that time, the group was emerging as a militant organization that subscribed to the ideology of Al-Qaeda, which is contrary to that of IS.
Disputes erupted between Jund al-Islām and the Ansar Bayt al-Maqdis group, currently known as Sinai Province, when the latter pledged allegiance to IS and its leader Abu Bakr al-Baghdadi in November 2014.
Jund al-Islām objects to the excessive killings conducted by IS and the Sinai Province against civilians. Instead, the group prioritizes the targeting of military officers.
Through the voice statement released by the group, it called on members of the Sinai Province to surrender themselves and repent on the crimes they have committed against their fellow Muslims.
"The group of Jund al-Islām will do its best to eliminate the presence of the apostate group of Sinai Province. We are now calling the seduced members of Sinai Province to leave the group and stop killing Muslims," the voice statement said.
The Sinai Province group has committed numerous violent acts against civilians in North Sinai, including brutal killings of Coptic Christians. In response to the persecution, Copts in North Sinai abandoned the Peninsula in February in an unprecedented exodus.
On Thursday, five truck drivers were killed after a number of militants opened fire against them while they were passing al-Hasna-Baghdad road at a checkpoint located in Central Sinai.
The militants, who are believed to be members of Sinai Province set up the checkpoint on the road between villages of the al-Hasna-Baghdad where the five drivers were passing with trucks that were transferring oil, according to local journalist who preferred to be anonymous.
http://www.egyptindependent.com/al-qaeda-affiliated-group-jund-al-islam-vows-eliminate-sinai/
--------
At least 50 dead in artillery fire, Russian strikes in Syria
12 November 2017
Dozens of civilians have died in artillery fire and Russian bombardment of two displacement camps and surrounding territory in eastern Syria, a monitor said Sunday in a new toll.
The Syrian Observatory for Human Rights said ongoing heavy bombardment in the Deir Ezzor province had killed 50 civilians, including 20 children, since late Friday night.
The new toll was nearly double the Britain-based monitor's count on Saturday of 26 dead.
The bombardment has targeted territory along the Euphrates River, as well as villages and displacement camps full of people fleeing fighting in the Syrian border town of Albu Kamal.
Russian-backed Syrian regime forces and allied militia seized Albu Kamal from ISIS on Thursday but the extemists retook it late Saturday.
On Sunday, Russian air strikes on two river crossings along the Euphrates killed 11 civilians, according to Observatory chief Rami Abdel Rahman.
"Five civilians, including two children, were killed in the strikes on Al-Soussa crossing about five kilometers east of Albu Kamal," Abdel Rahman told AFP.
"Six civilians were killed in raids on another river crossing 20 kilometers north of the town," he added.
The toll from earlier artillery fire and air strikes on two displacement camps and surrounding villages rose to 39 after 13 civilians succumbed to their wounds, the Observatory said on Sunday.
Albu Kamal is the last significant Syrian town ISIS controls. Losing it would cap the group's reversion to an underground guerrilla organization with no urban base.
ISIS rose to prominence in the chaos of Syria's conflict, which broke out in 2011 with protests against President Bashar al-Assad.
Full report at:
https://english.alarabiya.net/en/News/middle-east/2017/11/12/At-least-50-dead-in-artillery-fire-Russian-strikes-in-Syria-New-toll-.html
--------
New mass graves found in Iraq could contain up to 400 bodies
12 November 2017
Iraqi security forces have found mass graves in an area recently retaken from ISIS that could contain up to 400 bodies, an Iraqi official said Monday.
The bodies of civilians and security forces were found in an abandoned base near Hawija, a northern town retaken in early October, Kirkuk governor Rakan Saed said. He didn't say when authorities will start exhuming the bodies from the mass graves.
Khalaf Luhaibi, a local shepherd who led troops to the site, said ISIS used to bring captives to the area and shoot them dead or pour oil over them and light them on fire. The area was strewn with torn clothing and what appeared to be human bones and skulls.
Iraqi forces have driven ISIS from nearly all the territory it once controlled. Authorities have already uncovered several mass graves in other newly liberated areas.
US-backed Iraqi forces have driven the extremists from nearly all the territory they once controlled, with some fighting still underway near the western border with Syria.
On Saturday, Iraq's Prime Minister announced an operation to capture a patch of territory on the western edge of the country near the border with Syria. Hours later, Iraqi Defense Ministry announced capturing Romana area, saying the troops will head to nearby town of Rawa.
Full report at:
https://english.alarabiya.net/en/News/middle-east/2017/11/12/New-mass-graves-found-in-Iraq-could-contain-up-to-400-bodies.html
--------
Human rights group accuses Syrian regime of crimes against humanity
13 November 2017
The Syrian regime's sieges of its population ahead of reaching "reconciliation" agreements with the opposition amount to crimes and against humanity and war crimes, Amnesty International said Monday.
In a report titled "We leave or we die", Amnesty analysed four local accords which the rights body said were preceded by unlawful sieges and bombardment aimed at forcing civilians to leave their homes.
"The sieges, unlawful killings and forced displacement by government forces are part of a systematic as well as widespread attack on the civilian population, therefore constituting crimes against humanity," the report said.
Brokered between August 2016 and March 2017, the agreements came after prolonged sieges during which both the Syrian government and opposition forces indiscriminately attacked civilians.
"The Syrian government and, to a lesser degree, armed opposition groups have enforced sieges on densely populated areas, depriving civilians of food, medicine and other basic necessities in violation of international humanitarian law," Amnesty said.
Such actions by the Syrian regime in Daraya, Madaya, eastern Aleppo city, and the al-Waer neighbourhood in Homs city amounted to war crimes.
The same tactics were also found to have been used by opposition groups which besieged Kefraya and Foua, also carrying out war crimes through their indiscriminate attacks on civilians.
In eastern Aleppo city, Amnesty documented 10 attacks between July and December, 2016, during which the regime allegedly targeted neighbourhoods "far away from the front lines and with no apparent military objectives in the vicinity".
The report also documented a total of eight attacks carried out by opposition forces in western and northern Aleppo city, between August and November last year, during which weapons described as "hell cannons" were used against civilians.
The human rights organisation said it conducted the research using videos and satellite imagery alongside interviews with 134 people, including residents and UN officials, between April and September this year.
Amnesty appealed to the international community to refer the situation in Syria to the International Criminal Court and demand unhindered access to the country for those investigating rights abuses.
Full report at:
https://english.alarabiya.net/en/News/middle-east/2017/11/13/Human-rights-group-accuses-Syrian-regime-of-crimes-against-humanity-.html
--------
Syrian Air Force Bombs Terrorists' Movements in Aleppo Province
Nov 12, 2017
The warplanes pounded repeatedly the Al-Nusra's movements and strongholds in the villages of Ramleh and Rasm al-Kabareh Southwest of the town of Khanasser in Southeastern Aleppo.
A military vehicle of the Al-Nusra was destroyed and a number of militants were killed or wounded in the airstrikes.
Relevant reports said on Wednesday that the army forces drove Al-Nusra Front out of vast regions in Northern Hama and managed to restore security to a long chunk of the road connecting the town of Ithriya in Hama to the town of Khanasser in Aleppo.
The source said that the army men operating in Northern Hama stormed the Al-Nusra positions in an area stretching for about 30 km Northward along the road to Aleppo, and prevailed over the terrorists.
The source further said that the army men captured a vast region North of the towns of Ithriya and Sheikh Hilal.
The army units continued their operation to liberate the regions near the town of al-Rahjan to restore security to the key road of Hama-Aleppo, the source said, adding that the army captured several regions and villages in Northern Hama and restored security to the road connecting East of al-Sa'an to Ithriya in an area 15 km in depth.
Full report at:
http://en.farsnews.com/newstext.aspx?nn=13960821001246
--------
Iraqi Forces Impose Control over Most Important Border-Crossing with Syria
Nov 12, 2017
The Arabic-language website of the AMN reported that Hashd al-Shaabi fighters took full control over al-Qa'em-Albu Kamal border-crossing.
The AMN further said that the Iraqi forces are now capable of preventing ISIL from fleeing Syria's Deir Ezzur for the Iraqi province of Anbar following the capture of the border passageway.
Earlier reports said that Iraqi forces launched an offensive to capture one of the last remaining areas under ISIL control in the country.
Iraqi forces seized several villages from the ISIL militants on Saturday in an operation to retake Rawa, the operation's commander said, Al-Jazeera reported.
Full report at:
http://en.farsnews.com/newstext.aspx?nn=13960821001173
--------
Arab Media: French President Not Allowed by Saudi Crown Prince to Meet Hariri
Nov 12, 2017
Informed sources in the French foreign ministry were quoted by the Arabic-language al-Mayadeen news channel as saying that the Saudi crown prince has rejected Macron's demand to meet Hariri in Riyadh.
They added that Paris doesn't consider Hariri as a resigned prime minister and believes that even if he has resigned, he should be free to go anywhere he likes.
The report added that the diplomats who accompanied Macron during his Riyadh visit on Thursday described the events which happened to Hariri in Saudi Arabia as a Hollywood movie.
They said that France will pursue efforts to soothe the Hariri crisis by the next Thursday visit by French Foreign Minister Jean-Yves Le Drian to Riyadh.
Macron held hastily scheduled talks in Riyadh on Thursday with bin Salman.
Macron, who flew in from a visit to the United Arab Emirates, had earlier declined to discuss a wave of high-level arrests for corruption in Saudi Arabia, but said it was vital to work with the kingdom for the stability of the region.
The first face-to-face talks between the two officials focused on regional questions, in particular Yemen and Lebanon, and "ensuring the preservation of stability in the region", the French presidency said in a statement after the meeting.
Full report at:
http://en.farsnews.com/newstext.aspx?nn=13960821000953
--------
Syria: SDF Plundering People's Possessions in Northeastern Deir Ezzur
Nov 12, 2017
The sources reported that the SDF has cut off the road and forces the people willing to get back home in the village of Abu al-Nitel in Northeastern Deir Ezzur to stay back.
The sources went on to say that the SDF has seized the villagers' houses, turning them into command posts or using them to house its own members.
Relevant reports said on Friday that the army troops and US-backed Syrian Democratic Forces (SDF) were racing along the Western and Eastern banks of the Euphrates River in an effort to capture the last oilfields under ISIL control in Deir Ezzur province.
The SDF and the army both scored important advances in Deir Ezzur, seizing ISIL's two largest strongholds in Deir Ezzur.
The army liberated the town of Albu Kamal and the SDF captured the town of Merkadah.
The army and SDF would attempt to capture the remaining oilfields occupied by the terrorists in the Euphrates River Valley.
Among the oilfields still under ISIL control is the Al-Khishmah Fields South of the SDF controlled Al-'Umar Oilfields.
Full report at:
http://en.farsnews.com/newstext.aspx?nn=13960821000865
--------
Syria calls on UN to halt US coalition deadly airstrikes
Nov 13, 2017
Syria has called on the UN to halt the US led-coalition's attacks on civilians after over a dozen people are killed in separate airstrikes across the country.
In a letter sent to the UN Secretary General António Guterres and the Security Council chairman on Sunday, the Syrian Foreign and Expatriates Ministry voiced its severe condemnation of the coalition's actions against civilians.
In the letter, Syria slammed the many parties who claim to care for the rule of law and human rights but turn a blind eye to the atrocities committed by the coalition in the provinces of Raqqah and Dayr al-Zawr.
It also called on the UNSC to "shoulder its main responsibility of preserving international peace and security and take immediate action to stop the brutal crimes committed by the illegal coalition against the innocent civilians and prevent more crimes from happening."
According to Syria's official news agency SANA on Sunday, at least 10 civilians lost their lives when US-led military aircraft bombarded al-Duwaiji village in the Tal Shaer district of Dayr al-Zawr Province near the border with Iraq.
At least six people also lost their lives when a residential area of al-Da'ij village in the Hasakah Province was hit by US-led fighter jets.
The US-led coalition has been conducting airstrikes against what are said to be Daesh targets inside Syria since September 2014 without any authorization from the Damascus government or a UN mandate.
Full report at:
http://www.presstv.com/Detail/2017/11/13/541988/syria-unsc-us-coalition-civilians
--------
US setting up new military base in western Iraq: Report
Nov 12, 2017
A recent report has revealed that several hundred US Marines are currently building a new American base in Iraq's western province of Anbar as government forces, supported by allied fighters from Popular Mobilization Units, are driving the extremists out of their last redoubt in the country.
Arabic-language Baghdad News website, citing a report published by Israeli military intelligence website, DEBKAfile, said the military site was being constructed about 20 kilometers (12.42 miles) from the recently liberated town of al-Qa'im.
The report added that the US Marines were tasked with purging the Euphrates Valley, which straddles the Iraqi-Syrian border, from the last remnants of Daesh Takfiri terrorist group.
Iraqi Prime Minister Haider al-Abadi visited al-Qa'im and the nearby Husaybah border crossing in far western Iraq on November 5, and raised the Iraqi flag at the border crossing.
On Saturday, Iraq's state-run al-Iraqiya television network reported that security forces had managed to fully recapture Rumana subdistrict in Anbar province from Daesh.
Iraqi army soldiers, supported by pro-government fighters from the Popular Mobilization Units, launched a major operation early in the day to retake the town of Rawah, located about 300 kilometers northwest of the capital Baghdad.
The Office of the United Nations High Commissioner for Human Rights (OHCHR), in a statement released on November 8, announced that Daesh had taken about 2,500 families, equivalent to some 10,000 individuals, hostage in Rawah.
The OHCHR also appealed to the Iraqi government and security forces involved in the Rawah liberation operation to open safe exit routes for civilians to frustrate terrorist schemes aimed at using ordinary people as human shields.
Full report at:
http://www.presstv.com/Detail/2017/11/12/541955/US-setting-up-new-military-base-in-western-Iraq-Report
--------
Mideast
Turkey denies report of plan to kidnap cleric Gulen from US
November 13, 2017
Turkey has dismissed as "utterly false, ludicrous and groundless" a report that Turkish officials may have discussed paying millions of dollars to have a U.S.-based Muslim cleric kidnapped.
The Wall Street Journal reported Friday that Special Counsel Robert Mueller was investigating an alleged plot involving former U.S. National Security Adviser Michael Flynn and his son to hand Fethullah Gulen over to Ankara for as much as $15 million.
Turkey blames the cleric and his supporters for a July 2016 military coup attempt that killed 250 people. Gulen , who lives in Pennsylvania, has denied being behind it.
The Turkish Embassy in Washington reiterated demands late Saturday for the United States to extradite Gulen so he can stand trial. The embassy in a statement rejected "all allegations that Turkey would resort to means external to the rule of law" to get Gulen back on Turkish soil.
Flynn's lawyers also have disputed the Journal report that Mueller was looking into a meeting where Flynn allegedly discussed a plan that would pay him and his son "to forcibly remove" Gulen .
Flynn, a retired lieutenant general, did lobbying work for Turkey last year.
"Out of respect for the process of the various investigations regarding the 2016 campaign, we have intentionally avoided responding to every rumor or allegation," the lawyers said in a statement.
"But today's news cycle has brought allegations about General Flynn, ranging from kidnapping to bribery, that are so outrageous and prejudicial that we are making an exception to our usual rule: they are false," they said. .
Michael Flynn Jr.'s attorney declined to comment on the allegations.
Gulen has been living in the U.S. for nearly two decades. He is a former ally of Turkish President Recep Tayyip Erdogan until their 2013 public falling-out led the government to declare Gulen's network a terror group.
Nearly 50,000 people are behind bars in Turkey and more than 100,000 civil servants have been dismissed from their jobs for alleged links to the cleric's network in the government's crackdown after the failed coup.
Also behind bars in Turkey for alleged links to Gulen is U.S. pastor Andrew Brunson, who has lived in Turkey for over 20 years. Erdogan said in September the U.S. was pressing Turkey to return a "cleric" while refusing to hand over another "cleric."
The Turkish Embassy said the Turkish people find Gulen's continued refuge in the U.S. "perplexing and deeply frustrating."
Complicating relations further is the case of a Turkish-Iranian businessman on trial in the U.S. for evading U.S. sanctions on Iran. A former Turkish economy minister and an executive of a state-owned Turkish bank have also been indicted.
In a meeting last week, Turkish Prime Minister Binali Yildirim and U.S. Vice President Michael Pence discussed the cases among other sources of strain, including the U.S. backing of Syrian Kurdish militants in the war against the Islamic State group.
Turkey has been infuriated by the U.S. support for a group it considers an extension of the outlawed Kurdistan Workers' Party or PKK, which has waged an insurgency within Turkey for more than 30 years.
http://nation.com.pk/13-Nov-2017/turkey-denies-report-of-plan-to-kidnap-cleric-gulen-from-us
--------
US, Israel furious about big anti-terror achievements in Middle East: Rouhani
Nov 11, 2017
Iranian President Hassan Rouhani has commended the "very big achievements" made by regional nations in confrontation with terrorists, saying the US and Israeli regime are irked by these gains.
Speaking to reporters after a meeting of the heads of the three branches of the Iranian government on Saturday, Rouhani said the days of the terrorists in the Middle East region are numbered.
"Today, the people of Iraq, Syria and Lebanon, backed by their armies and friendly countries, particularly the Islamic Republic of Iran, have managed to almost entirely get rid of such a problem (terrorism)," the Iranian president said.
He added that certain powers also sought to partition countries in the region and redraw geographical borders, but failed to achieve their objectives.
"We are witnessing major achievements in the region, and the US, the Zionist regime (Israel) and their cronies are dismayed and enraged by these gains," Rouhani pointed out.
He said the situation shows the plots against regional countries have been thwarted, urging people to remain vigilant against new conspiracies.
Full report at:
http://www.presstv.com/Detail/2017/11/11/541829/Iran-US-Israel-Syria-Iraq-President-Hassan-Rouhani-terrorists
--------
Israel signals free hand in Syria as US, Russia expand truce
November 12, 2017
Israel signaled on Sunday that it would keep up military strikes across its frontier with Syria to prevent any encroachment by Iranian-allied forces, even as the United States and Russia try to build up a ceasefire in the area.
US President Donald Trump and Russian President Vladimir Putin on Saturday affirmed joint efforts to stabilize Syria as its civil war wanes, including with the expansion of a July 7 truce in the southwestern triangle bordering Israel and Jordan.
A US State Department official said Russia had agreed "to work with the Syrian regime to remove Iranian-backed forces a defined distance" from the Golan Heights frontier with Israel , which captured the plateau in the 1967 Middle East war.
Moscow did not immediately provide details on the deal.
Israel has been lobbying both big powers to deny Iran, Lebanon's Hezbollah and other Shi'ite militias any permanent bases in Syria , and to keep them away from the Golan, as they gain ground while helping Damascus beat back Sunni-led rebels.
In televised remarks opening Israel's weekly cabinet meeting on Sunday, Prime Minister Benjamin Netanyahu did not speak about the new US-Russian arrangement for Syria .
His regional cooperation minister, Tzachi Hanegbi, sounded circumspect about the deal, telling reporters that it "does not meet Israel's unequivocal demand the there will not be developments that bring the forces of Hezbollah or Iran to the Israel-Syria border in the north".
"RED LINES"
"There's reflection here of the understanding that Israel has set red lines, and will stand firm on this," Hanegbi said.
That was an allusion to Israeli military strikes in Syria , carried out against suspected Hezbollah or Iranian arms depots or in retaliation for attacks from the Syrian-held Golan.
In the latest incident, the Israeli military said it shot down a spy drone on Saturday as it overflew the Golan. Israeli Defense Minister Avigdor Lieberman blamed the drone on the Syrian government. Damascus did not immediately respond.
Repeating Israel's warnings to Iran and Hezbollah, Lieberman said: "We will not allow the Shi'ite axis to establish Syria as its forefront base".
Russia , which has a long-term military garrison in Syria , has said it wants foreign forces to quit the country eventually.
The US State Department official, who briefed reporters on condition of anonymity on Saturday, said that goal could be served by Russia's pledge to remove Iranian-linked fighters from the truce zone in southwestern Syria .
Full report at:
http://nation.com.pk/12-Nov-2017/israel-signals-free-hand-in-syria-as-us-russia-expand-truce
--------
UAE minister: Iranian missiles fired at Saudi a 'dangerous escalation'
13 November 2017
Speaking at the Abu Dhabi Strategic Debate on Sunday, the UAE Minister of State for Foreign Affairs Dr. Anwar Gargash described Iranian-made missiles fired from Yemen at the Saudi capital earlier this month as a "dangerous escalation."
Gargash said that the UAE will not stand idle amid the rising threats. He also stressed that the UAE will continue to stand with the Saudi-led Arab coalition to restore legitimacy in Yemen.
The minister noted that the emergence of a new Hezbollah in Yemen, now among Houthi militia, cannot be ignored.
Full report at:
https://english.alarabiya.net/en/News/gulf/2017/11/13/UAE-minister-Iranian-missiles-fired-at-Saudi-is-a-dangerous-escalation-.html
--------
Yemeni pro-govt forces regain control of strategic locations in Taiz
13 November 2017
Yemeni military sources said late Sunday that the national army has diffused a Houthi militia attack north of Mawza district and east of Yakhtul in west Taiz.
Meanwhile, the national army also attacked militia sites in Hayfan district, south-east of Taiz, where they were able to regain control over Ash Shuayb mountains and a number of strategic sites in Al Abus.
The Yemeni army also gained control over numerous strategic sites in Tur Al Baha, north-west of Lahij – south of the Yemeni capital.
The Houthi militia and fighters allied to the ousted Yemeni President Ali Abdullah Saleh responded to these defeats by randomly air raiding nearby villages in the district.
https://english.alarabiya.net/en/News/gulf/2017/11/13/Yemeni-forces-take-control-over-strategic-locations-in-Taiz.html
--------
Houthis repeat threat to target international shipping lines, oil tankers
12 November 2017
Iranian-backed Houthi militias reiterated threats to target international shipping lines and oil ships in the Red Sea.
"We will take measures we have not taken before and we can target oil ships. We can do anything," Mohammed Ali al-Houthi, the chief of the so-called supreme revolutionary committee, said on Facebook.
Mohammed al-Houthi, who is on Saudi Arabia's terror list, said they will carry out these threats if the Saudi-led coalition and legitimate forces liberate the city and port of Hodeidah, west of Yemen.
"In this case we can target oil tankers. We can do anything," he said, adding that it was the Houthis' "legitimate right" to do so.
He also threatened that giant oil facilities in Saudi Arabia will be among the major targets of their "capable missiles," in reference to ballistic missiles smuggled from Iran.
Full report at:
https://english.alarabiya.net/en/News/gulf/2017/11/12/Houthis-repeat-threat-to-target-international-shipping-lines-oil-tankers.html
--------
Israel warns Gaza fighters against revenge attack over tunnel demolition
Nov 12, 2017
A high-ranking Israeli military commander has warned Palestinian resistance fighters against carrying out an attack in revenge for Israel's destruction of a tunnel stretching from the besieged Gaza Strip into the heart of occupied territories last month.
Major General Yoav Mordechai, the head of an Israeli ministry unit responsible for activities in the Palestinian lands, said in an Arabic-language video published on late Saturday that Israel "destroyed a … tunnel" on October 30, which resulted in the death of fourteen fighters from al-Quds Brigades, which is the military wing of the Islamic Jihad movement, and the Ezzedeen al-Qassam Brigades, the military wing of the Hamas resistance movement.
"We're aware of the plot that Palestinian Islamic Jihad is concocting against Israel. They are playing with fire at the expense of residents of the Gaza Strip, Palestinian reconciliation efforts and the stability of the entire region," Mordechai alleged.
He added, "Just to be clear, Israel will respond forcefully and resolutely to any Islamic Jihad reaction whatsoever — not just against Jihad, but also against Hamas."
The senior Israeli military official also addressed the Damascus-based Islamic Jihad leadership, calling on Ramadan Shalah and Ziad Nakhaleh to "take control over the situation," as they are the ones "who will be held accountable" for any attack.
The Israeli military says it is withholding the bodies of five Palestinian resistance fighters killed in the demolition of the tunnel.
"We are indeed in possession of those bodies … All were killed or died inside Israeli territory, not in the Gaza Strip," Israel's military spokesman Jonathan Conricus told AFP on November 5.
Israeli media outlets say the Gaza resistance fighters' bodies would most likely be retained as bargaining chips to retrieve the remains of two Israeli soldiers killed in the 2014 Gaza war.
Israeli officials claim that three settlers, who are all said to be mentally unstable, are also believed to have entered the Gaza Strip, and are being held by Hamas.
Tunnels are the only lifeline for Palestinians living under the Israeli siege and Egypt has so far destroyed hundreds of them.
Israel and the Egyptian military have launched a campaign to destroy the tunnels, preventing the people in Gaza from bringing most of their basic goods like construction materials, food, and fuel into the coastal enclave.
The Gaza Strip has been under an Israeli siege since June 2007. The blockade has caused a decline in the standards of living as well as unprecedented levels of unemployment and unrelenting poverty.
Full report at:
http://www.presstv.com/Detail/2017/11/12/541933/Israel-warns-Gaza-fighters-against-revenge-attack-over-tunnel-demolition
--------
North America
Canadians to march 'against hate and racism' in Quebec
by Jillian Kestler-D'Amours
Nov. 13, 2017
Safa Chebbi is hopeful.
Despite what she describes as a rise in hate-filled and racist rhetoric in Quebec, the community organiser says conscientious, anti-racist voices will drown out far-right groups in the Canadian province.
"There's a segment of the population that is conscious of the gravity of the situation," Chebbi told Al Jazeera.
On Sunday afternoon, a "Large Demonstration Against Hate and Racism", will wind through parts of downtown Montreal, Quebec's largest city.
More than 160 community organisations across Quebec have signed on in support of the rally, which organisers say also aims to denounce the rise of far-right groups in the French-speaking province.
"They are increasingly in the streets and really normalising intolerance in the public space," Chebbi, a spokesperson for the march, said.
Several far-right groups operate in the province, including Canada's first branch of the European anti-immigration group PEGIDA.
"They have succeeded in really legitimising their existence, even though it's based on hatred," Chebbi said.
That's why it's critical for Quebecers opposed to racism to have their voices heard, she said.
Signatories in support of the demonstration include the Quebec Women's Federation, the Confederation of National Trade Unions (CSN), university student unions, and a range of local community groups.
Demonstrators from cities across Quebec, including Sherbrooke, Gatineau, Drummondville and Quebec City, will also be bussed into Montreal to take part in Sunday's rally, Chebbi said.
"The fight is not going to end today. We will continue," she said.
'Toxic climate'
The march also aims to counter a "toxic climate" in Quebec that organisers say has been brewing for years.
In 2013, a Quebec government led by the sovereigntist Parti Quebecois party tabled legislation to adopt what became known as a Quebec Charter of Values.
The bill, which was never voted into law, sought to outlaw all religious symbols in the public sector, including teachers, doctors and day-care workers.
Muslim women who wear headscarves, Jewish men who wear yarmulkes, and Sikh men who wear turbans, would have been affected.
The legislation followed a long-standing and often heated debate in the province over what is known as "reasonable accommodation", or how best to integrate new immigrants into Quebec society.
Social anxiety
In recent months, the arrival of thousands of asylum seekers at the Canada-US border has re-ignited those feelings of anger among segments of the Quebec population, which believe the government is giving too much to new immigrants at their expense.
Far-right groups have formed, and support for their anti-immigration and often anti-Muslim rhetoric seems to be growing.
Storm Alliance, a far-right group in the province that says it wants to "preserve and protect Canadian values", recently organised anti-immigration protests at the border.
According to local media, the group said they were protesting "in the face of the scourge of illegal immigration".
A similar protest was organised in Quebec City by La Meute (which can be loosely translated as "The Wolfpack"), one of the most vocal far-right groups in Quebec.
The group's spokesman recently objected to being labelled "racist", telling Radio-Canada: "La Meute is a citizens group for political pressure, so we don't attack people."
He added that the group doesn't want to "intimidate people. We're attacking political positions and decisions taken by politicians."
But many rights groups disagree, and anti-racist protesters largely outnumbered the far-right members at both protests.
Chedly Belkhodja, principal of the School of Community and Public Affairs at Concordia University in Montreal, told Al Jazeera that while these groups have always been around, they have recently gained visibility.
The groups have reacted to immigrants coming across the border from the US, Belkhodja said, "but [there is] also a general sense that for some, Quebec is maybe welcoming too many immigrants and too many Muslims".
Debates are often polarised in Quebec, Belkhodja said, and understanding the province's history is key to understanding the far-right movements today.
The Catholic Church also wielded tremendous power in Quebec until the 1960s, when a "Quiet Revolution" pushed for the government to take control back from the church in key areas, including healthcare and education.
For decades, Quebec's francophone majority was also blocked from holding positions of power in major industries across the province. The positions instead went to Anglophones, who were a minority, and long-standing social anxieties persist.
"This whole story is the narrative in the [background], and it is used by some groups to say, 'Oh we have to be careful and vigilant against losing our achievements,'" Belkhodja said.
"It's the Trump effect," he said, referring to US President Donald Trump.
"It's everywhere, this notion of social anxiety. A society that is more reacting on anxiety is not always rational."
Opposition to Bill 62
Against this backdrop, Quebec's current Liberal government passed a bill last month that obliges people to give and receive public services with their faces uncovered, including on public transit and in hospitals and schools.
While the government justified Bill 62 as a necessary measure to protect "secularism" in Quebec, it has been condemned as an affront to the rights of Muslim women who wear a full-face veil.
A constitutional challenge to the law was filed in a Quebec court last week.
The legislation comes less than a year after six Muslim men were shot and killed as they prayed at a mosque in Quebec City, the provincial capital. The deadly attack was condemned as an "act of terrorism" targeting Muslims.
The suspected gunman, Alexandre Bissonnette, was known for harassing local, pro-immigration activists online. He also reportedly espoused support for French politician Marine Le Pen and other far-right leaders on social media.
The Liberals also recently cancelled a commission to investigate systemic racism in Quebec, after opposition parties and popular media condemned the probe as an exercise that would put Quebec on trial and paint all Quebecers as racist.
Instead, the government is organising a one-day forum in December on immigrant unemployment.
'Not the Quebec we want'
Haroun Bouazzi, co-president of AMAL-Quebec, a group that works on issues of secularism and citizenship and is among the march's signatories, said Bill 62 and the cancellation of the systemic racism consultations have created an "unhealthy" climate.
"That's not the Quebec we want," Bouazzi told Al Jazeera.
He said the march sends the message that Quebecers are able and want to talk about racism, discrimination and how to build a more equal society.
"We think it's very important to stop saying that Quebecers are not able to confront one of their societal demons, which is racism," he said.
Bouazzi added that if the government wants to have a sincere dialogue with racialised minorities about their needs, the focus should not be on "pieces of fabric", like Bill 62, "but it's the fight against discrimination".
"We spent 10 years with debates about minorities and not with minorities," he said.
"It's important to re-centre the debate where it should be, which is around how we're all going to be equal."
http://www.aljazeera.com/news/2017/11/canadians-march-hate-racism-quebec-171112170623609.html
--------
Trump's plan for dealing with domestic terror is missing in action
By Josh Rogin Global
Nov 12, 2017
In the wake of the Oct. 31 terrorist attack in New York City, it's clear that time has run out for the Trump administration to develop, articulate and implement a real strategy to deal with domestic radicalization. Due to politics, bureaucratic wrangling and a lack of resources, the United States is falling behind in combating the fastest-growing part of the terrorist threat.
After Sayfullo Saipov killed eight people in his massacre in Lower Manhattan, President Trump blamed weak immigration policies. But all the evidence suggests that the Uzbek-born Uber driver was radicalized after he entered the United States. During Trump's campaign and presidential transition, his team railed against the Obama administration's "countering violent extremism [CVE]" policies and promised to radically change the U.S. approach. But almost one year later, a plan is still missing in action.
Former officials and experts say the Trump administration is dismantling parts of the Obama-era initiative, especially those that involve working with Muslim groups, without anything to replace them.
"The attack on the West Side Highway is evidence of the current threat environment in which we live," former homeland security secretary Jeh Johnson told me. "It's critical that the U.S. government engage those communities in the homeland from which terrorist organizations may seek to recruit. I'm concerned that these efforts are atrophying."
While he was Homeland Security secretary, John F. Kelly initiated a full review of counter-radicalization policies. He shifted some of the $10 million worth of grants under the DHS Office of Community Partnerships from community engagement toward law enforcement. The Trump administration's 2018 budget doesn't fund the grant program at all. Kelly also cut the OCP office staff and downgraded its authority.
The leader of that office, George Selim, quit in July after clashing with Trump political appointees, including Katharine Gorka, wife of former White House official Sebastian Gorka, who has waged a rhetorical jihad against "countering violent extremism." Selim was tarred by the far right as an "Obama administration holdover known for engaging fringe Islamic radicals," even though he was a conservative Republican viewed skeptically by Muslim groups.
Another conservative Republican, Rep. Michael McCaul (Tex.), was attacked by the far right for supporting CVE programs when his name was floated to lead DHS. On the left, CVE also faces criticism from civil liberties groups that see the effort as targeting young Muslims who have never committed crimes.
"There are no built-in advocates in the United States for CVE," said Seamus Hughes, deputy director of the Program on Extremism at George Washington University. "As a result, we are five years behind Europe on this."
Trump is entitled to set his own priorities, a former Trump administration DHS official said, but not having a strategy is unacceptable. The Obama administration was slow to organize on the issue, but the Trump team no longer has the luxury of time.
Almost one year in, "there's been zero articulation of policy, zero demonstration of resources on these issues, and there's no leader on this issue," the official said.
Two current DHS officials disputed that account. They said that a new strategy on countering radicalization was in the works. Meanwhile, DHS is committed to increasing, not decreasing, efforts in the space.
"The last administration was focused on strategy documents, we're focused on action," one DHS official said.
Their first step was to rebrand CVE as "terrorism prevention." In September, acting DHS secretary Elaine Duke laid out that vision, testifying to Congress that programs must be risk-based, intelligence-driven, proven effective and focused on front-line actors. Congressional officials called that reasonable but lamented the lack of details and visible implementation.
Absent federal leadership, local communities are moving forward. Dealing with terrorist recruits who have been prosecuted but will be released is a huge concern. Last week, a federal judge in Minnesota released a Somali man, Abdullahi Yusuf, who tried to join the Islamic State. Yusuf participated in the nation's first pretrial jihadi rehabilitation program.
There's no silver bullet for stopping people from becoming terrorists, but there's a clear need to drastically increase federal support for education and for tools that help communities spot the signs of radicalization and report them to authorities. The FBI can't surveil every suspect forever. There must be a plan to intervene with potential militants before they are fully indoctrinated. And there must be a system for helping those who are prosecuted but will eventually get out of jail.
Full report at:
https://www.washingtonpost.com/opinions/global-opinions/trumps-plan-for-dealing-with-domestic-terror-is-missing-in-action/2017/11/12/d8f7eb2c-c65d-11e7-afe9-4f60b5a6c4a0_story.html?utm_term=.953417db6313
--------
Fewer foreign students are coming to US: Survey
Nov. 13, 2017
NEW YORK (NYTIMES) - The first new college class since the election of Donald Trump has arrived on campus, and new numbers confirm what the higher education industry had feared: Fewer foreign students are coming to the United States.
The number of newly arriving international students declined an average 7 per cent in fall 2017, with 45 per cent of campuses reporting drops in new international enrollment, according to a survey of nearly 500 campuses across the country by the Institute of International Education.
Experts cited an uncertain social and political climate in the United States as part of the reason for the decline in enrollment.
"It's a mix of factors," said Rajika Bhandari, head of research for the institute, which collects data on international students in cooperation with the State Department.
"Concerns around the travel ban had a lot to do with concerns around personal safety based on a few incidents involving international students, and a generalized concern about whether they're safe."
Another reason for the decline is increasing competition from countries like Canada, Britain and Australia, said Allan E. Goodman, president of the institute.
The figures released Monday (Nov 13) also included final numbers for 2016-2017, which show robust international enrollment, with a record 1.08 million international students in the United States, an increase of 85 per cent from a decade earlier.
Much of the record was driven by 175,000 students who have remained in the United States after completing their degrees, in internship-type programs known as "optional practical training."
The 2016-2017 figures, though, revealed that first-time international students dropped 3 per cent, indicating that the decline had begun before Trump took office.
The drop in new students signals potential financial difficulties for some small universities that have come to rely on money from foreign students, who provide an infusion of US$39 billion (S$53 billion) into the US economy each year.
Particularly hard hit are campuses in the Midwest, according to the institute.
At the University of Iowa, overall international enrollment this fall was 3,564, down from 4,100 in 2015.
Downing Thomas, the university's dean of international programs, said that some other schools in the Big Ten are also experiencing declines, and none are seeing the rapid increases of the recent past.
While Iowa primarily lost Chinese students, the University of Central Missouri experienced a sharp decline this year in students from India, said Mike Godard, vice provost for enrollment management.
In the fall of 2016, the Warrensburg, Missouri, university had 2,638 international students. This fall it has 944.
Godard said fewer students came from India partly because of a currency crisis in the country, but also because of concerns about the Trump administration's travel ban affecting Muslim countries. India was not on that list, but Godard said many of the university's Indian students were from Muslim areas of the country and were concerned about the ban.
"Although India wasn't listed as one of the countries, certainly feeling welcome and safe and all those things is important," he said. "It would be naive to say that wasn't a contributing factor."
Prospective students from India - interviewed shortly after last year's presidential election - have expressed fears about the racial climate in the United States, concerns that might have been heightened after the shooting death in February of an Indian engineer in a suburban Kansas City bar.
A breakdown of declines by country was not yet available for fall 2017.
Full report at:
http://www.straitstimes.com/world/united-states/fewer-foreign-students-are-coming-to-us-survey
--------
URL: https://www.newageislam.com/islamic-world-news/indian-muslims-less-radical-so/d/113208
New Age Islam, Islam Online, Islamic Website, African Muslim News, Arab World News, South Asia News, Indian Muslim News, World Muslim News, Women in Islam, Islamic Feminism, Arab Women, Women In Arab, Islamophobia in America, Muslim Women in West, Islam Women and Feminism