New Age Islam News Bureau
11 Oct 2019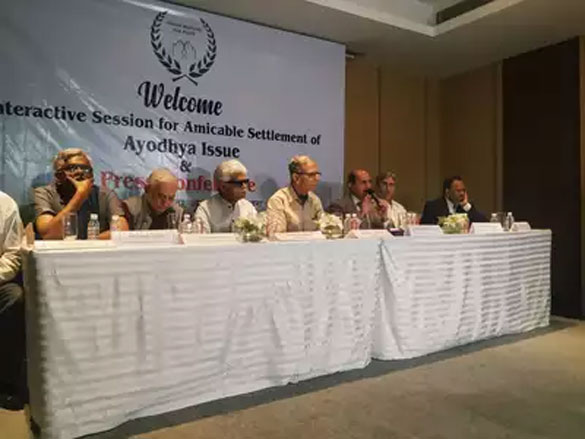 • Mumbai: A Masjid Launches The Initiative Masjid Parichay, To Promote Religious Harmony
• Every Pakistani Has Freedom To Profess Faith Of Choice, SC Rules
• How Al-Qaida Outpaced ISIS In Bangladesh By Tuning Into Youth Anger & Conservatism
• Muslims In This Country Need To Step Forward In Breaking The Racism Fort, Says Anwar
• US Pullback Could Boost Islamic State Group Revival In Syria
• Houthis Recruited 30,000 Child Soldiers, Says Yemeni Minister
• The Enemy Within: How a Member of French Intelligence Turned to Terror
• Trump Says Mediating Between Turkey And The Kurds Is One Of Three US Options
• US Warns Of Sanctions If South Sudan Rivals Fail At Unity Government
India
• 'Indian Muslims For Peace', A Group Of Muslim Intellectuals Said That, As A 'Goodwill Gesture' Majority Of Muslims Are Ready To Hand Over The Disputed 2.77 Acres Of Land In Ayodhya To The Government
• Mumbai: A Masjid Launches The Initiative Masjid Parichay, To Promote Religious Harmony
• How Deoband orator became Al-Qaeda's Maulana Asim Umar
• Maulana Salman Nadwi heckled at Nadwatul Ulama
• Delegation Of Sufi Spiritual Leaders To Visit Jammu And Kashmir On The Initiative Of Spiritual Head Of Ajmer Dargah
• Pakistan Army spokesperson defends Rajnath Singh over Shastra Puja row
• Hindutva Extremists Blame Muslim Community For RSS Member's Family Murder
• Pakistan invites Manmohan Singh for Kartarpur corridor opening, but does not reveal date
• Terrorist violence in J&K up 80% in 2018 over previous year
• Question remains about whether Kashmir issue will figure at Modi-Xi summit
• Four Kashmir leaders set free on 'good behaviour' bonds
• India criticises Turkey's military action in Syria, calls for restraint
• J&K: Pakistan violates ceasefire at LoC in Naushera sector
--------
Pakistan
• Every Pakistani Has Freedom To Profess Faith Of Choice, SC Rules
• Pakistan Arrests Top Four Leaders of JuD/LeT Ahead Of FATF Meeting
• Pakistan arrests four aides of alleged mastermind of Mumbai terror attacks
• Altaf Hussain charged by UK police with terrorism offence over 2016 speech
• 'Opening Of Kartarpur Corridor Is A Religious Overture … Pakistan Won't Allow Anyone To Use It For Political Reasons'
• Pakistan ready with compliance report for FATF meeting
• ECP discards PTI pleas for secrecy in foreign funding case
• PM calls out international media for 'ignoring dire human rights crisis' in occupied Kashmir
• PML-N files plea in ECP to know foreign funding details of PTI
--------
South Asia
• How Al-Qaida Outpaced ISIS In Bangladesh By Tuning Into Youth Anger & Conservatism
• Airstrikes kill 80 Taliban militants in Ghazni and Paktiya: Thunder Corps
• U.S. Airstrikes Against Taliban Drug Labs Killed 30 Afghan Civilians, U.N. Report Says
• Ally of Al Qaeda Killed in Afghanistan Raid, Officials Say, but Taliban Deny It
• Five-year-old boy among 30 Rohingya arrested for travelling in Myanmar
• NATO training Afghan forces to enable them fight international terrorism: Stoltenberg
--------
Southeast Asia
• Muslims In This Country Need To Step Forward In Breaking The Racism Fort, Says Anwar
• Islamists hint that Mahathir is a better Muslim than Anwar
• Kit Siang sees fading hopes for Malaysia while Mahathir rejects Islamists offer
• Security Minister Wiranto Stabbed by Islamic State Sympathizer
• Malaysian police detain supporters of Tamil Eelam terrorists
--------
Arab World
• US Pullback Could Boost Islamic State Group Revival In Syria
• Iraq's Uprising An Open Crisis With No Known Path Forward
• Air raid kills two Islamic State militants in Iraq's Diyala
• 12 IS militants killed in 2 attacks in Iraq
• STL Asks Lebanese Public for Info on Accused from Hezbollah
• Hezbollah threatens Europe with Syrian refugees
• US Criticizes Lebanese Government for Tolerating Hezbollah
• 1000s of ISIL Inmates May Escape from Jails Amid Turkish Assault on Syria
• UN chief expresses 'deep concern' over Turkish offensive in Syria
• Human Rights Watch, rights group condemn Bahrain's denial of medical care to prisoners
• Saudi Arabia to execute dozens of dissidents, warns Europe-based rights organization
--------
Mideast
• Houthis Recruited 30,000 Child Soldiers, Says Yemeni Minister
• Turkish Troops, Ankara-Backed Militants Seize Several Villages, Encircle Two Major Kurdish-Held Towns
• 6 People Killed in Kurdish Attacks on Turkish Border Towns, Ankara Forces Kill 9 Civilians in Syria
• MP: Kurds Should Set UP Joint Operations Room with Syrian Army
• More than 60,000 displaced by Turkey assault on Syria: Monitor
• £1m charity cash for group linked to Iran
• US House Republicans to seek sanctions on Turkey over Kurd offensive
• US talking with Saudi Arabia regarding Turkish offensive against Kurdish forces
• Turkish police investigate Kurdish leaders, fire water cannon at protesters
• Turkish offensive will not go beyond 30 km into Syria: FM
• NATO ally Norway suspends new arms exports to Turkey
• Erdogan threatens EU with refugee influx if criticizes Syria operation
• Russia calls for dialogue between Syrian and Turkish governments
• Prison holding ISIS fighters shelled by Turkey, say Kurdish-led authorities
• 17 civilians killed by Turkish shelling in northeastern Syria
• Iran calls on Turkey to 'immediately' end offensive in northern Syria
• Prolonged Saudi war to make Yemen world's poorest country: UN
• First Turkish soldier killed during Syria operation: defense ministry
--------
Europe
• The Enemy Within: How a Member of French Intelligence Turned to Terror
• 'West failed to address Turkey's concerns over Syria'
• Erdogan threatens to open the gates to Europe as he lashes at critics
• German Man Arrested After Failed Attack on Synagogue
• Muslims Across Europe Face 'New Kind Of Terror' Rooted In White Supremacist Ideology: Report
• Emmanuel Macron vows to wage 'unrelenting' war on terror after Paris police killings
• Synagogue Attack Sparks Concern About Far-Right Extremism in Germany
• Assailant Live-Streamed Attempted Attack on German Synagogue
• Brussels conference discusses terrorism challenges in South Asia, Europe
• In Turkey, NATO chief to meet president, top diplomat
--------
North America
• Trump Says Mediating Between Turkey And The Kurds Is One Of Three US Options
• House Repulicans call for sanctions against Turkey
• US will not endorse Turkey's Syria operation: officials
• Turkey's bet on Trump for Syria operation backfires in Congress
--------
Africa
• US Warns Of Sanctions If South Sudan Rivals Fail At Unity Government
• Troops kill one terrorist, arrest 66, rescue 12 Kidnap victims across Nigeria
• Five Boko Haram terrorists surrender to troops – Army
• Two senior al-Shabab leaders surrender to Somali forces
• Al Qaeda affiliate claims deadly attack on Malian army
• 4 killed, 5 injured in blast on outskirts of Mogadishu
• Sudan ruling council appoints 2 to top judicial posts
• Gunmen kidnap pastor, school principal in Nigeria
Compiled by New Age Islam News Bureau
URL: https://www.newageislam.com/islamic-world-news/indian-muslims-peace-group-muslim/d/119971
--------
'Indian Muslims For Peace', A Group Of Muslim Intellectuals Said That, As A 'Goodwill Gesture' Majority Of Muslims Are Ready To Hand Over The Disputed 2.77 Acres Of Land In Ayodhya To The Government
Oct 10, 2019
LUCKNOW: A group of Muslim intellectuals under the banner of "Indian Muslims for Peace" on Thursday said that, as a "goodwill gesture" majority of Muslims are ready to hand over the disputed 2.77 acres of land in Ayodhya to the Indian government.
The forum which admitted it had no stake in the Ram Janmbhoomi-Babri Masjid dispute and that it had not involved any other litigant of the case in its discussions except the UP Sunni Central Waqf Board, will now submit its resolution to the Ayodhya mediation panel.
Addressing a press conference in Lucknow with former Aligarh Muslim University (AMU) vice chancellor, general Zameeruddin Shah, as its chief guest, the group said that, the Supreme Court (SC) should give a clear verdict in the matter. It also said that for communal harmony of the country, Muslims should give up claim to the land where Babri Masjid once stood.
"In our collective wisdom, the disputed land owned by Muslims of India may be handed over by the Supreme Court of India to the government of India as a goodwill gesture for attaining communal harmony and long lasting peace in the country," read the resolution.
"We have no stake in the matter, but we hope that as a pressure group of Muslims, the Muslim litigants at the helm of the dispute, will see sense in our proposal and accept it as a whole. I was not part of this group, but only got involved when the Sunni Waqf board invited me to be so," Zameeruddin Shah told TOI on the sidelines of the presser.
"For the past one and a half years attempts are being made to resolve this matter through mediation. This is our last attempt to end the matter in the name of peace and communal harmony. This is why the intelligentsia of the community including doctors, academia, lawyers, army men, bureaucrats and journalists have come together," said former IAS Anis Ansari, while addressing the media.
While the forum said the land should be handed over to Indian government, as custodian of the land ever since after Babar's rule and because it is already the custodian of 67 acres of surrounding land, it also raised four points of Muslim interest, as riders to the proposal.
These included that the status of no other Muslim or any other place of worship will be disturbed as of August 15, 1947. While this is already provided for under the Places of Worship (Special Provisions) Act of 1991, the forum asked for the three month punishment under the Act to be extended to a minimum three years and a maximum of a life sentence.
The forum also said that mosques and mausoleums protected under ASI should be made open for religious activities and worship. And lastly that the criminal conspiracy case for demolition of Babri Masjid should be expedited and victims of riots brought to justice at the earliest.
"We agree that without participation of litigants and out of court settlement is nothing. Even then, there are a majority of Muslims who want reconciliation. The SC hearing can go on, we have no qualms, but it is better to find a way among ourselves so that no harm is brought to the secular fabric of the country," added Ansari.
"Even if the judgment is in the mosque's favour, there is no way a mosque can be built at the site where there is a functional temple already. Forcing something will only lead to clashes and riots. So this is not out of fear or abject surrender, but for country's peace we are offering a solution," said Kausar Usman.
https://timesofindia.indiatimes.com/india/we-should-hand-over-ayodhya-disputed-land-as-goodwill-gesture-muslim-intellectuals/articleshow/71527380.cms
--------
Mumbai: A masjid launches the initiative Masjid Parichay, to promote religious harmony
October 10, 2019
A Muslim religious group from Mumbai, Jamat-e-Islami Hind, has taken a step forward to promote secularism and bust myths about Islam among non-muslims.
The religious group has named the initiative as 'Masjid Parichay' (Introduction to the Mosque), the initiative is focused on having dialogues on Islam and through dialogue eradicating the stereotypes, myths and misconceptions surrounding Islam and its followers.
The Millet Welfare Association mosque at the Mira Road reportedly invited people from different faiths on 6th October to the masjid for the Masjid Parichay event. The 'parichay' was held in association with a student wing of Jamat-e-Islami Hind, Students Islamic Organisation (SIO).
Iqbal Mahadik, the Millet Welfare Association trustee, said that the mosque had been planning the initiative for some time. He said, "And to make this a reality, SIO helped us invite non-Muslims guests," said Mahadik.
An attendee of the event, Jivajirao Patil said, "It's a wonderful feeling. Today, I come to know that everyone can visit the mosque. No one enjoys a special status as a poor can occupy his place in the first row if he comes early, while the richest man in the world may stand in the last line if he comes last,"
IH volunteer, Dr Parvez Mandviwala, has said that the unfounded fears have created a lot of misconceptions among non-Muslims. The JIH has been organizing similar visits to the local mosques since months. The events are conducted to consciously get rid of Islamophobia and break the stereotypes and misconceptions around Muslims and Islam.
The visitors were asked to witness 'wudu' (ablution rituals) and were informed about the importance of wudu before standing in submission towards Allah (God). The visitors also had the chance to witness the Azaan (call to prayers) in the evening. The Imam at the mosque delivered a short sermon on humanity, unity and equality for the guests. In the end, copies of the Quran and the Hadith (teachings of Prophet Muhammad) were handed out to the guests.
https://www.freepressjournal.in/india/mumbai-a-masjid-launches-the-initiative-masjid-parichay-to-promote-religious-harmony
--------
Every Pakistani has freedom to profess faith of choice, SC rules
Oct 11, 2019
LAHORE: The Supreme Court (SC) on Thursday stated that the constitution guarantees an individual the freedom to hold and profess the faith of his choice, adding that all citizens are equal before the law and are entitled to equal protection no matter what religion they adhere to while acquitting a blasphemy accused after 19 years of imprisonment.
According to the details, a sessions court had sentenced Hassan to death for offences under Sections 295-A, 295-C & 298-A of the Pakistan Penal Code, 1860 in July 2002. A high court in September 2010 had retained the penalty.
The convict later appealed in the SC which granted leave to his plea in 2013. After the passage of six years, the court resumed hearing of the case.
The order said a criminal charge is to be essentially settled on positive proof alone and not on perceptional or optical paradigms. "The same is required in the present case; nonetheless, [such positive proof is] hopelessly out of sight."
The court noted that it would be grievously unsafe to maintain conviction without the potential risk of error. "Therefore, by extending the benefit of the doubt, the criminal appeal is allowed; the impugned judgment is set aside; the appellant is acquitted of the charges and shall be released forthwith, if not required in any other case. The office shall ensure destruction of entire derogatory material and copies thereof, at all tiers"
The complainant, Ismail Qureshi, had received a series of letters containing blasphemous content. In one such letter, the alleged sender had established his identity by attaching a copy of the National Identity card of the accused Wajeeh-ul-Hassan, who was later arrested.
The court wondered why Wajeeh who consistently hid over a long period of time, finally dispatched a copy of his ID so as to voluntarily rope himself in a case that might well cost him his neck.
"There appears no earthly reason for his choice; if at all, it is assumed that he was on a suicidal course, he could have simply mentioned his identity in the letters or could come forward, as according to the prosecution, he presented himself on 21-5-2001," it noted.
The order said it is well settled that a weak piece of evidence cannot corroborate another weak piece of evidence. "Absconsion cannot be viewed as proof of the crime. People stay away from the law for a variety of reasons not necessarily compatible with the hypothesis of guilt; to avoid the impending wrath of opponents in hostile environments, more often than not compel even the innocent into recusal of safety"
The court said it cannot dismiss the appellant's plea of being a faithful Muslim nor can possibly take exception, in the absence of evidence to the contrary to his acclaimed unflinching conviction in the injunctions of his faith.
https://www.pakistantoday.com.pk/2019/10/10/every-pakistani-has-freedom-to-express-religious-views-sc/
--------
How al-Qaida outpaced ISIS in Bangladesh by tuning into youth anger & conservatism
JOSEPH ALLCHIN
10 October, 2019
Analysis of the connections developed by the two most prominent new strains of Islamist terror—ISIS and Al-Qaeda—is vital.
ISIS followers and their support base from rump-JMB [Jamaat-ul-Mujahideen Bangladesh] went for the more spectacular, headline-grabbing style of attack. Their connections were more international than regional, as they came from or had travelled to Europe, Canada, Australia, Japan, Malaysia and Syria. They chose their victims randomly, rather than targeting specific individuals for perceived crimes, and pursued a millenarian or fate-driven style of attack. There have seldom been times when Bangladesh has received as much media attention as the twenty-four hours following the attack on the Holey restaurant. In this sense, the attack was a success. It was successful as well in that it was choreographed with a view to creating a spectacle for the news media. It was one of the first attacks that ISIS claimed responsibility for while it was still under way. Furthermore, the terrorists disseminated shocking images from inside the restaurant while the attack was in process. This caused uproar, condemnation and a massive government crackdown.
Al-Qaeda, on the other hand, took a very different approach. The Al-Qaeda in the Indian Subcontinent (AQIS) subdivision, which emerged in 2014, was seen by many as a response to the growing global prominence of ISIS. In many ways, in Bangladesh, AQIS has been a roaring success. The group has never achieved 24-hour television coverage, but its successes have lasted. Like in the parable of the tortoise and the hare, AQIS has slowly but surely outpaced ISIS, by being in tune and reactive to domestic conservative sentiment and youth anger.
AQIS has a stronger local or regional vision. As a predominantly Pakistan-based entity, it puts regional imperatives front and centre. Its attacks are deliberate and targeted. While the choice of targets undoubtedly reflects the whims of well-heeled members within the network, the victims have also been eminently polarising figures. They tapped into widely held beliefs that had been laid down through decades of Cold War-inspired governance, pedagogy and resurgent Arab-inspired religious orthodoxy. Atheists and secular liberal bloggers challenged the self-styled personification of piety adopted by the Jamaat war criminals. By targeting these political dissidents, the attackers acted in concert—philosophically, politically and emotionally—with those on a broad sweep of Bangladesh's political right.
The right had a major national newspaper to produce propaganda for them in the form of Amar Desh, which was to the BNP what Breitbart was for US President Trump around the time of his 2016 electoral victory. AQIS worked alongside, if not always in full agreement with, vast networks of madrassas belonging to the Hefazat movement, which both of the country's main political parties tried to co-opt or use. AQIS's targeting of LGBTQ+ activists played into a conservative ideology, as did the accusations levelled at these victims of being foreign agents. Crucially, these attacks forced government ministers to kowtow to the killers, both in terms of policy and public statements. AQIS's statements did not just tap into public angst over issues relating to lifestyle or 'deviant' Muslims. By 2018, the group had issued public statements on the Rohingya refugees and the August student protests, which erupted after two students were killed on the road by reckless drivers. All of these themes, from the far-fetched linkages of homosexuality to America, to the more grounded complaints about the brutal treatment of the Rohingya, feed a sense of Muslim persecution and the need for order in a chaotic, immoral world.
It would be wrong to try to make sense of terror in Bangladesh only through comparison and analogy. But it would be even more erroneous to suggest that Bangladesh's experiences are aberrations and not linked to or symptomatic of more widely held psychological phenomena. Modern Bangladesh in many ways provides textbook breeding grounds for 'ressentiment'. It is a young political entity, now only four and a half decades old, and many of the terms of its constitution are not upheld. Promises of equality and justice go unmet, while corruption and inequality flourish.
https://theprint.in/pageturner/excerpt/how-al-qaeda-outpaced-isis-in-bangladesh-by-tuning-into-youth-anger-conservatism/303642/
--------
Muslims In This Country Need To Step Forward In Breaking The Racism Fort, Says Anwar
10 Oct 2019
SHAH ALAM, Oct 10 — The Muslims in this country need to step forward in breaking the racism fort to foster a country that is fair and impartial.
PKR president Datuk Seri Anwar Ibrahim said Muslims in this country needed to be aware that the true strength of Islam was in its capability to break the racism wall which was restrictive to unite people of diverse nationality and religion.
"Islam eliminates the principle of racism which is narrow and stresses the spirit of humanity," he said when delivering a speech at the National Seminar on Living Together in Diversity: Fostering a Peaceful Race and Culture here today.
Also present was Selangor Mentri Besar Amirudin Shari.
The Port Dickson Member of Parliament also parried the impression that Muslims could not appoint non-Muslims as leaders or befriend them.
Highlighting the history of the hejira of Prophet Muhammad from Mecca to Medina, Anwar said during the hegira there was a person who was not a Muslim who helped the Prophet Muhammad in the journey.
''If Islam forbids Muslims from being close to non-Muslims, how could the Messenger of Allah have accepted the help of a non-Muslim in among the greatest events of the Muslim community so that it was raised as the date for the beginning of the Islamic year," he said.
In the seminar, Anwar also dismissed the perception that he was a liberal person and did not have a Malay soul.
He said he was a person with a Malay soul but adhered to the principle of helping people regardless of race or religion. — Bernama
https://www.malaymail.com/news/malaysia/2019/10/10/use-islam-to-demolish-racism-says-anwar/1799152
--------
US pullback could boost Islamic State group revival in Syria
By SARAH EL DEEB
October 8, 2019
BEIRUT (AP) — The American pullback from parts of northeastern Syria could help breathe new life into the Islamic State group if fighting erupts between the Kurds and Turkey.
Syrian Kurdish authorities are already struggling to guard IS fighters captured during the long U.S.-backed campaign against the militants and to keep a lid on IS supporters and family members thronging displacement camps. Their hold will suffer even more if they are fighting Turkey.
The White House has said Turkey will take over responsibility for the thousands of imprisoned fighters. But it is not clear how that will happen, if it all, given that the Kurdish forces are Turkey's nemesis.
Turkey is sending troops along the border in preparation for an offensive against the Syrian Kurds. Ankara has said it wants to impose a zone of control potentially 30 kilometers (19 miles) deep that would stretch the length of the border. The Kurdish-led Syrian Democratic Forces have vowed to fight back.
Here is a look at what is at stake and why IS stands to gain.
MILITANTS IN DETENTION
Angered by the sudden pullback of U.S. troops, Kurdish officials sounded the alarm that, to fight any Turkish assault, they will have to divert their forces away from guarding IS prisoners. That raises security concerns at a time when the Islamic State group's leader, Abu Bakr al-Baghdadi, has called on followers to do all they can to free captured fighters held in jails and families living in camps. 
Kurdish authorities run more than two dozen detention facilities, scattered around northeastern Syria, holding about 10,000 IS fighters. Among the detainees are some 2,000 foreigners, including about 800 Europeans.
Most of the facilities are unidentified and unmarked, some of them set up in abandoned or repurposed buildings; others are mobile "pop-up prisons." Some are reportedly close to the border, which may make them vulnerable to being hit in clashes or bombardment.
Guarding those facilities has long been a strain on the Kurdish-led Syrian Democratic Forces as it juggles multiple tasks in the volatile area. The U.S-led coalition has said the force doesn't have the capacity to detain thousands of fighters on its own — and the coalition may be helping to hold some of the most high-level militants.
Handling the prisons while defending against Turkish troops will be even more difficult.
"How will I even protect these facilities?" Abdulkarim Omar, a senior Kurdish official, said. "The Turkish attack is an existential threat. (The Kurdish) forces will be busy with fending it off."
At least two prison facilities, including a former government prison, are located in Qamishli and Hassakeh, where Syrian government forces maintain a presence, even though the cities are largely administered by the Kurdish-led group.
Turkish-backed Syrian fighters who will likely join any Turkish offensive may have links or sympathies with the local IS detainees. The Rojava Information Center, a pro-SDF research group based in the Kurdish-held areas, said it has documented at least 40 former IS fighters now in the Turkish-backed forces. Foreign fighters who joined IS originally found their way to Syria through Turkey, and it was widely believed Turkish authorities turned a blind eye at the time.
FAMILIES IN DISPLACEMENT
An outbreak of fighting would also likely mean laxer control over the three Kurdish-run camps holding IS families and die-hard supporters that are potential engines for recruitment for the group. The Kurdish-led forces have already been struggling to secure them and provide humanitarian aid in the often chaotic camps.
The camps are farther away from the border and outside the safe zone Turkey wants to create, so it is not clear how Turkey would take control of them. It is highly unlikely the Syrian Democratic Forces would coordinate with Ankara to hand them over.
The largest, al-Hol, houses nearly 70,000 people, including over 11,000 foreign women and children from 40 different countries. Two smaller camps, Roj and Ain Eissa, house just over 2,000 foreign women and children.
The camps are rife with IS support. Al-Hol has been called the cradle for a new militancy, and the coalition has said IS is actively recruiting new members there. Some of the foreign women have organized an IS-style religious police to impose their own rules, often using violence, and children are often radicalized in the camps.
SLEEPER CELLS
Despite its territorial defeat, IS has maintained an insurgency in Iraq and Syria, carrying out suicide bombings, assassinations and ambushes. Some reports suggest 14,000 to 18,000 IS members remain in Syria and Iraq, including 3,000 foreigners, but a recent report by the inspector general of the Department of Defense said figures from experts greatly vary.
IS militants have carried out 80 to 90 attacks in Kurdish-held areas of Syria. In August alone, IS militants claimed 78 attacks, according to the Rojava Information Center, including the assassination of Kurdish fighters and explosive devices planted near patrols. The group has also been reviving financial networks through extortion, "taxing" the local population or collecting ransoms from kidnapping.
IS could also easily exploit tension between Kurdish-led forces and Arab tribes, for instance, over control of the resources in the oil-rich east, to recruit new members.
Dareen Khalifa, a Syria analyst with the Brussels-based International Crisis group, said a Turkish operation against the Kurdish forces would destabilize the northeast, create a new wave of displaced and refugees near the border and divert the local Kurdish forces from fighting the remnants of IS — "potentially enabling them to regain their potency and expand to other areas."
https://www.apnews.com/387fffaf1be64632abcb32a5dc26c0e6
--------
Houthis recruited 30,000 child soldiers, says Yemeni minister
Joyce Karam
Oct 9, 2019
The Houthi rebels in Yemen have recruited at least 30,000 child soldiers to bolster their ranks in the country's five-year war, a senior Yemeni official said on Tuesday, warning of the dire consequences the issue could have on the country's future.
"There is at least 30,000 child recruits with the Houthis today," Mohamad Askar , the Yemeni minister for Human rights told The National in an interview. He also estimated 320 women detainees held by the rebel group. His numbers are based on human intelligence and reports by witnesses who fled the Houthi-controlled areas.
Mr Askar said he is emphasising the child soldiers issue in his meetings with the Americans "because they [US Government] has to understand its severity…there is a new generation of terrorists in Yemen while the US is only focused on ISIS and Al-Qaeda."
"One form of extremism emboldens another," he added.
When asked about child soldiers that his government is accused of recruiting, he pushed back by saying that the numbers pale in comparison to those of the Houthis.
"Al Qaeda recruits children, some government groups also recruit children but these numbers are in the few hundreds," Mr Askar said. "We are talking about 30,000 children with the Houthis, while the Yemeni government signed a UN action plan to end child recruitment."
An investigation by the Associated Press last year found "the Houthis have inducted 18,000 child soldiers into their rebel army since the beginning of the war in 2014." This was acknowledged by a senior Houthi military official to AP. But with losses on the Western coast of Yemen, and the war in its sixth year, the Houthis have now almost doubled that number, Mr Askar argued.
The other two issues he highlighted in his talks with US officials and non-governmental organisations were landmines and the detainees. The US government is trying to put pressure on all parties in Yemen to enforce confidence-building measures that would see movement on these issues.
But Mr Askar said "there is a wrong message and signal coming from Washington, and the pressure is seen on one side only: the government."
"The Houthis feel emboldened by the rhetoric from US congress," he said.
Still, Mr Askar said his government wants a political solution, and is not planning for a military campaign to takeover the capital, Sanaa. "Sanaa has to be restored with reconciliation," he said.
When addressing Iran's role, Mr Askar made sure to make a distinction between the Houthis and the Lebanese armed group Hezbollah. "Hezbollah is Iran's baby with his Secretary General assuming both political and religious roles…In Yemen, we have Zaydis who are ideologically different…and where the sectarianism is not as deep." He said the Houthis' convergence with Iran is about funding and political interests.
Mr Askar called the Yemen war the "biggest humanitarian crisis" in today's world and warned of many sides benefiting from the war economy and corruption. He voiced concern that if the war drags on, and "if we don't achieve real peace and resolving Yemen's issues including the Southern issue, then we may go to fragmentation…and it won't stop at Yemen." He voiced some sense of optimism about the negotiations, both with Southerners and potentially with the Houthis.
A senior US official told The National that Washington is already talking to the Houthis, and there are efforts by Washington to start talks between Saudi Arabia and the Yemeni group.
A US spokesperson said "our goal in Yemen remains consistent: to work with our international partners to bring peace, prosperity, and security to a unified Yemen".
Stephen Seche, a former US ambassador to Yemen and the executive vice president of the Arab Gulf States Institute in Washington, saw the conflict at a critical juncture between continued war or capitalising on opportunity for peace.
"The drawdown of UAE forces from Yemen earlier this year revealed deep fissures among ostensible coalition partners in south Yemen and, at the same time, emboldened Houthi rebels to increase military pressure on Saudi Arabia," Mr Seche said.
"These developments, combined with heightened concerns in the region regarding the threat posed by Iran, have altered the strategic calculations of all parties to the conflict, and delivered an opportunity for a negotiated end to the war."
A Saudi-led Arab Coalition, which includes the UAE, has been supporting the legitimate government of Yemeni President Abdrabu Mansour Hadi since the Houthis took the capital Sanaa in 2015.
Mr Seche said the ball is now with "the leadership in Saudi Arabia and that of the Houthi rebels to demonstrate maturity and genuine concern for the well-being of the civilian population of Yemen."
"We must all be deeply concerned about the future of Yemen if the parties fail to seize this opportunity for peace," Mr Seche warned.
https://www.thenational.ae/world/mena/houthis-recruited-30-000-child-soldiers-says-yemeni-minister-1.921267
--------
The Enemy Within: How a Member of French Intelligence Turned to Terror
Oct. 10, 2019
PARIS—As police intelligence agents in Paris tracked Islamist radicals over the summer, one of their longtime colleagues was quietly embracing a more extreme version of his Muslim faith.
While away from the office, Mickaël Harpon, a 45-year-old convert to Islam, had begun dressing in more religious garb and established ties with followers of Salafism, a fundamentalist strain of Islam, according to prosecutors. At work, he appeared to avoid physical contact with women, colleagues would later tell prosecutors.
https://www.wsj.com/articles/the-enemy-within-how-a-member-of-french-intelligence-turned-to-terror-11570699800
--------
Trump says mediating between Turkey and the Kurds is one of three US options
11 October 2019
US President Donald Trump said on Thursday mediating a deal between Turkey and the Kurds is one of three options available to the United States after Turkey's offensive in northeast Syria.
"We have one of three choices: Send in thousands of troops and win Militarily, hit Turkey very hard Financially and with Sanctions, or mediate a deal between Turkey and the Kurds!" Trump said in a Twitter post.
https://english.alarabiya.net/en/News/middle-east/2019/10/11/Trump-says-mediating-between-Turkey-and-the-Kurds-is-one-of-three-US-options.html
--------
US warns of sanctions if South Sudan rivals fail at unity government
10 October 2019
The United States will consider sanctions on leaders in South Sudan if they fail to form a unity government for the troubled young nation by their self-imposed deadline of November 12, a US official said Thursday.
South Sudan's President Salva Kiir and rebel leader Riek Machar agreed in a rare meeting last month to work together and help bring an end to unrest that has killed some 380,000 people and left more than six million people in dire need of food aid.
Bryan Hunt, the State Department's office director for Sudan and South Sudan, warned that Western powers would not accept another delay in the deadline, which was already extended by six months.
"We're not prepared to continue to hear arguments for why more time must be given. We think it's past time, frankly, for the leadership to sit together and begin to find ways to move this country forward," he said.
"Our view is that if the government is not formed by November 12, we're going to need to re-evaluate the relationship between the United States and South Sudan," he told reporters at the US Institute of Peace.
Asked what measures could be taken, Hunt said options included sanctions targeting South Sudan's elite or restrictions on their travel to the United States.
He said the United States was not considering cutting off its $1 billion in annual assistance as it is largely humanitarian, supporting food and other basic needs among ordinary people.
"I don't think we should make them pawns or victims in a game of putting pressure on the South Sudanese government, however tempting that at times may be," he said.
But Hunt and his counterpart from Britain -- which along with Norway make up a troika that leads policy towards South Sudan -- voiced hope the leaders would meet the deadline.
The enmity between Kiir and Machar, who lives in exile in Khartoum, plunged South Sudan into war in 2013, just two years after its hard-fought independence.
More than four million South Sudanese – almost a third of the population – have fled their homes.
https://english.alarabiya.net/en/News/world/2019/10/10/US-warns-of-sanctions-if-South-Sudan-rivals-fail-at-unity-government.html
--------
India
How Deoband orator became Al-Qaeda's Maulana Asim Umar
by Safoora
October 10, 2019
SAMBHAL: He left home in 1998 after his father refused to give him money to go to Saudi Arabia.
Almost 20 years later, local intelligence officials informed Asim Umar"s family of his death in an US-Afghan joint operation in southern Afghanistan on Tuesday.
Umar, head of Al-Qaeda in Indian Subcontinent (AQIS), was born Sana-ul-Haq in Deep Sarai locality of Sambhal district in the mid-seventies. The family is not sure of his exact date of birth.
NDS Afghanistan
@NDSAfghanistan
1/2: BREAKING: #NDS can now confirm the death of Asim Omar, leader of #Al_Qaeda in the #Indian Subcontinent (AQIS), in a joint US-Afghan raid on a Taliban compound in Musa Qala district of Helmand province on Sep. 23.
View image on TwitterView image on Twitter
704
17:15 - 8 Oct 2019
Twitter Ads information and privacy
412 people are talking about this
Studied At Deoband
According to family sources, who do not wish to be named, Sana-ul-Haq, known as Shanno in the family, did his graduation from the renowned Islamic seminary Darul-Uloom Deoband, but the seminary categorically denies having any student by that name.
"We have thoroughly checked our records and did not find any alumnus by the name of Sana-ul-Haq," said Ashraf Usmani, spokesperson, Darul Uloom.
NDS Afghanistan
@NDSAfghanistan
2/2: Omar, a #Pakistani citizen, was #killed along with six other AQIS members, most of them Pakistani. Among them was Raihan, Omar's courier to Ayman #Al_Zawahiri. They had been embedded inside the Taliban compound in the #Taliban stronghold of Musa Qala.
View image on Twitter
158
17:16 - 8 Oct 2019
Twitter Ads information and privacy
110 people are talking about this
Apparently, the seminary does not wish to have any connection with a terrorist.
Family Background
Sana-ul-Haq, incidentally, has an impressive family background. His grandfather was a village pradhan and his grand uncle was a freedom fighter. His great grandfather was a district magistrate under the British rule.
Brother Rizwan told local reporters that Sana-ul-Haq left for his studies in Deoband in 1993 and kept visiting them for the next five years thereafter.
"We lost all contact with him after 1998. In 2009, intelligence officials came to our house and informed us that Shanno was working for Tehreek-e-Taliban Pakistan and Al-Qaeda," he said.
The family does not know how he came into contact with terror outfits. "We knew all his friends and many of them are still in touch with us," said a family friend.
Following this, Sana-ul-Haq"s father promptly published advertisements in newspapers, disowning him. Sana-ul-Haq by then, had taken on a new identity and a new name, Maulana Asim Umar.
In Afghanistan
According to intelligence officials, Shanno a.k.a. Asim Umar is said to have travelled to Afghanistan, where he met Al-Qaeda chief Osama-bin-Laden and later joined Harkat-ul-Jihad-al-Islami (HuJi), a Pakistan based militant organisation which has branches in the Indian sub-continent.
For a short period before this, he is believed to have taught at a madarsa in Karachi, where he translated Jihadi literature from Pashto into Urdu.
In the years that followed Umar became a propagandist for terror outfits and authored four books on Jihad.
In April 2014, months before he was named leader of AQIS, Al-Qaeda identified Umar as the head of its Sharia committee in Pakistan.
Global Terrorist
In July 2018, United States designated Asim Umar as a global terrorist.
According to reports, on 23 September, Afghan officials claimed that Asim Umar was killed in a joint US-Afghan military raid in Helmand province of Afghanistan. However, the United States and Al-Qaeda have not confirmed his death.
"For us, he died the day we were told that he has turned a militant. The family has suffered enough because of him. Our father died a sad man in 2017. Our brothers have been picked up innumerable times for questioning and we feel we are under surveillance all the time," said another family member, who requested anonymity.
Senior police officials, meanwhile, said the case was being handled by Central intelligence agencies and they were not in a position to make any disclosures.
https://www.siasat.com/how-deoband-orator-became-al-qaedas-maulana-asim-umar-1655164/
--------
Maulana Salman Nadwi heckled at Nadwatul Ulama
By Rasia Hashmi
October 11, 2019
Lucknow: Maulana Salman Husaini Nadwi who was leading the protest march against the transfer of the faculty member Maulvi Tauheed Alam, was reportedly heckled at Darul Uloom Nadwatul Ulama on Thursday afternoon.
Maulvi Tauheed Alam was transferred to another seminary at Bulaki Adda area of Lucknow. He was handed out the order on Thursday.
Maulana Salman Nadwi marched into the office of Nadwa principal to protest the transfer.
Citing the transfer of Maulvi Alam as routine, public relations officer, Nadwa, Mohammad Faizan Nagrami Nadwi, said Maulana Salman Nadwi along with his son Yusuf and a group of students from outside the seminary reached the principal's office and created ruckus.
TOI quoted Maulavi Alam as saying, "I don't know the reason of my transfer. But, I could have been targeted for accompanying Maulana Salman Nadwi at a few of his programmes and being supportive of him. The atmosphere was being vitiated by the anti-Nadwi lobby."
https://www.siasat.com/maulana-salman-nadwi-heckled-nadwatul-ulama-1656040/
--------
Delegation Of Sufi Spiritual Leaders To Visit Jammu And Kashmir On The Initiative Of Spiritual Head Of Ajmer Dargah
10th October 2019
JAIPUR: A delegation of Sufi leaders and spiritual heads of various shrines across the country will visit Jammu and Kashmir between October 12 and 14 to meet the locals and assess the ground situation there.
The spiritual head of Ajmer dargah, Zainul Abedin Ali Khan, has taken the initiative to send the delegation comprising 18 members that will be led by his son Nasiruddin Chisty.
"Kashmir has been a sufferer of false propaganda which is executed against India from across the border.
I felt the necessity that we should interact with Kashmiri people, particularly youths, and work for prosperity in Jammu and Kashmir, therefore, the decision to send a delegation to J&K was taken," the Ajmer dargah Deewan said in Ajmer on Thursday.
"We would like to act as a bridge between the Kashmiri (people) and prosperity," he added.
He said that the Union government and other authorities have been informed about the visit of the delegation, which will leave New Delhi on October 12.
The delegation members are from Rajasthan, (Ajmer, Jaipur and Jhunjhjunu), Hyderabad, New Delhi, Uttar Pradesh, Karnataka, Gujarat and Bihar.
Chisty said that the delegation members will be interacting mainly with youngsters in Jammu and Kashmir and will assess the ground reality.
Full report at:
http://www.newindianexpress.com/nation/2019/oct/10/delegation-of-muslim-spiritual-leaders-to-visit-jammu-and-kashmir-2045691.html
--------
Pakistan Army spokesperson defends Rajnath Singh over Shastra Puja row
Oct 11, 2019
In an unusual departure from his relentless attacks against the Indian government, Pakistan Army spokesperson Asif Ghafoor on Thursday defended Indian Defence Minister Rajnath Singh who has been facing heat for performing 'Shastra Puja' after receiving the first Rafale fighter jet in France, saying, "Nothing wrong in Rafale Puja as it goes by the religion."
"Nothing wrong in #RafalePuja as it goes by the religion and that must be respected. Please, remember....it's not the machine alone which matters but competence, passion & resolve of the men handling that machine. Proud of our PAF Shaheens," tweeted Asif Ghafoor on Thursday.
The remarks come at a time when tensions between the two South Asian neighbours are at an all-time high. Indian action to revoke the special status of Jammu and Kashmir did not go down well with Pakistan.
Singh on October 8, received the first of the 36 French-built Rafale fighter jet in the French port city of Bordeaux and performed 'Shastra Puja' (worship of weapons) on the auspicious occasion of Vijayadashami.
He emblazoned the Rafale aircraft with an 'Om' and laid flowers, coconut and lemons to ward off evil eye.
Full report at:
https://www.hindustantimes.com/india-news/pakistan-army-spokesperson-defends-rajnath-singh-over-shastra-puja-row/story-x3rM0EOPDHmRycxgnO843N.html
--------
Hindutva extremists blame Muslim community for RSS member's family murder
October 10, 2019
(Karachi) Hindutva extremists have blamed the local Muslim population for the murder of RSS member's family in West Bengal's Murshidabad area.
RSS Swayamsevak member 35-year-old Bandhu Parakash Pal, his 30-year-old wife Beauty Mandal Pal and their eight-year-old son Bandu Angan Pal were hacked to death in their home on Thursday.
Local police said the exact motive of the murder was yet to be ascertained.
While accusing the Muslim community of its involvement in the incident, the Hindutva extremists living in Murshidabad said that the murder incident was an attempt to compel Hindu nationals to flee from the area. They claimed RSS Swayamsevak was targeted to instill fear among the Hindus.
They believe that Bandhu Prakash's association with the RSS is the reason for the murder.
Taking cognizance of the incident, the Chairperson of National Commission for Women (NCW) Rekha Sharma criticized the state authorities for not doing anything to stop such incidents.
She said that a letter has been written to the West Bengal Chief Minister Mamata Banerjee and the head of police services in this regard.
Modi's government has a history of stoking tensions between Hindus and Muslims, with its political rule now focused on Hindutva.
Full report at:
https://www.brecorder.com/2019/10/10/529517/rss-member-family-hacked-to-death-in-west-bengal-incident-aims-to-instigate-hatred-between-muslim-hindu-communities/
--------
Pakistan invites Manmohan Singh for Kartarpur corridor opening, but does not reveal date
Oct 10, 2019
ISLAMABAD/ AMRITSAR: Pakistan on Thursday extended formal invitation to former Prime Minister Manmohan Singh to attend the opening ceremony of the Kartarpur corridor even though it said the date for the event has not been finalized yet.
Foreign Office spokesperson Dr Muhammad Faisal told mediapersons at the weekly press briefing: "We have extended a formal invitation to former Prime Minister of India Mr Manmohan Singh to attend the opening ceremony of Kartarpur corridor. Decisions on other invitations are yet to be taken and we will update you in due course."
Though Dr Faisal said the date for the opening of the corridor has not been finalized, he assured that the project will be completed in time as committed by Pakistan prime minister Imran Khan.
Last month, a Pakistani official heading the project had announced that the corridor will be opened on November 9, three days ahead of the 550th birth anniversary of Guru Nanak. The corridor will connect Gurdwara Darbar Sahib in Pakistan's Narowal district with Dera Baba Nanak in India's Gurdaspur district.
A visit to Dera Baba Nanak revealed that both India and Pakistan have installed gates on their respective sides to regulate movement of pilgrims. On the Indian side, access road to the International Border from the upcoming integrated check post (ICP) at Dera Baba Nanak is yet to be completed. The Land Port Authority of India (LPAI), which is constructing the ICP, is working round-the-clock to meet its deadline.
Pakistan Evacuee Trust Property Board chairman Amir Ahmad said his country would complete its part of the Kartarpur corridor on schedule. "The progress is going as per plan and timelines are being met. All the previous construction plans are being followed up and they are being taken to their logical end," said Amir.
Full report at:
https://timesofindia.indiatimes.com/india/pakistan-invites-manmohan-singh-for-kartarpur-corridor-opening-but-does-not-reveal-the-date/articleshow/71529722.cms
--------
Terrorist violence in J&K up 80% in 2018 over previous year
Oct 11, 2019
NEW DELHI: Incidents of terrorist violence and terrorists killed in Jammu & Kashmir rose by 80% and 21% respectively in 2018 as compared to 2017, even as net cross-border infiltration into the state clocked a 5% increase in the corresponding period, according to the home ministry's annual report for 2018-19.
Importantly, the report put the infiltration attempts by terrorists into J&K in the first three months of this year at 23, of which seven were successful. This is the quarter during which Indian forces carried out air strikes on terror camps in Balakot. Sources said most infiltration cases related to the period before the air strikes.
As many as 328 cross-border infiltration attempts were reported in J&K in 2018, of which 143 were successful. In 2017, 419 infiltration attempts were reported, though net infiltration was put at 136.
As per data of terrorist violence in J&K in the first quarter of this year, there were 116 incidents, in which 59 security force personnel, nine civilians and 62 terrorists were killed. In 2018, there were 614 incidents (up from 342 in 2017), 91 security personnel were martyred (up from 80), 39 civilians killed (down from 40) and 257 terrorists neutralised (up from 213).
The report said since the advent of militancy in J&K in 1990 until March 31, 2019, 14,024 civilians and 5,273 security force personnel were killed. On security clearances, the report said the ministry had disposed of 5,490 proposals between May 2014 and March 2019.
Regarding Left-wing extremism (LWE), it said "resolute implementation of the national policy and action plan by the government" had led to significant decline in LWE violence as well as the geographical spread of LWE in the last five years. There was an overall 26.7% reduction in violent incidents (1,136 to 833) and 39.5% reduction (397 to 240) in LWE-related deaths since 2013-end.
Chhattisgarh (with 392 incidents and 153 deaths) and Jharkhand (205 incidents and 43 deaths) together accounted for 71.7% of violent incidents and 81.7% of the deaths.
Commenting on the geographical spread of LWE, the report said Maoist violence was reported from 251 police stations in 60 districts spread across eight states, as compared to 330 police stations in 76 districts spread over 10 states in 2013. "The arc of violence has been considerably restricted with just 30 districts accounting for 89% of LWE violence," the report said.
Full report at:
https://timesofindia.indiatimes.com/india/terrorist-violence-in-jk-up-80-in-2018-over-previous-year/articleshow/71531909.cms
--------
Question remains about whether Kashmir issue will figure at Modi-Xi summit
Oct 10, 2019
BEIJING: With Chinese President Xi Jinping due to arrive for an informal summit with Prime Minister Narendra Modi in Chennai on Friday, it is not clear whether the leaders would confront the major issue of Kashmir or choose to skip it.
The two countries have diametrically opposite views on Kashmir, and a discussion on it would result in a deadlock during the summit. The two sides will have to decide if they want to skip or soft-peddle the issue when several other matters, including trade and investment exchanges, remain to be discussed. China is particularly keen to get India on board in its public opposition to trade actions taken by US President Donald Trump which have shaken up the Chinese economy.
The Chinese foreign ministry refused on Thursday to discuss the Kashmir issue other than saying that China's stand on it is consistent. "China's position on the Kashmir issue is consistent and clear," ministry spokesman Geng Shuang said during the regular briefing.
The careful statement comes a day after the Chinese president supported Pakistan's claims about Kashmir. Xi was clearly trying to send a signal to India that there was no change in his approach to Kashmir since he took a pro-Pakistan stance and asked his envoys to raise the issue at the UN Security Council.
Spruced up and fortified, TN port town Mamallapuram awaits Xi, Modi
"China thinks Pakistan will come under severe pressure from India if the Kashmir issue is taken off the shelf. It wants to keep the kettle boiling," a Western diplomat told TOI on condition of anonymity.
Modi-Xi Jinping meet (4)
An informal summit allows leaders to conduct meetings without the need to sign agreements and show results. But official spokespersons from both countries may brief the media during and after the meetings.
Modi-Xi summit in Mamallapuram: 5,000 students to welcome China leader
The government recently allowed the Chinese firm Huawei Technologies to demonstrate its 5G technology during the upcoming India Mobile Congress between October 14 and 16.
This is a major concession for the Chinese government which has been actively lobbying with different countries to accept Huawei's technology in the face of the US decision to resist it.
China is still worried that India may not allow Huawei technology even after the demonstrations.
"Regarding Huawei, it has been conducting business in India, making contributions to the local community and economy which have been seen by all," Geng said at the briefing, adding, "On the 5G network, we believe the Indian side will make an independent and objective decision and provide a fair, just and non-discriminatory environment for Chinese companies."
Full report at:
https://timesofindia.indiatimes.com/india/question-remains-about-whether-kashmir-issue-will-figure-at-modi-xi-summit/articleshow/71529817.cms
--------
Four Kashmir leaders set free on 'good behaviour' bonds
Oct 10, 2019
SRINAGAR: Four more middle-rung leaders of mainstream political parties in J&K were on Thursday released from detention after the administration got them to sign bonds promising to "maintain peace and good behaviour".
Former PDP MLAs Noor Mohammed, Abid Ansari and Yawar Mir and ex-Congress district president Shoaib Lone comprise the second set of political functionaries in the Valley to be freed from detention or house arrest since J&K lost its special status with the nullification of Articles 370 and 35A on August 5.
Last month, the administration had released People's Conference leader Molvi Imran Ansari, Syed Mohammad Akhoon of NC, Mohammad Amin of Congress and Khurshid Alam of PDP on health grounds. The latest development coincides with curbs on tourism in J&K being officially lifted with effect from Thursday.
Noor, Abid and Yawar are former MLAs from Batamaloo, Zadibal and Rafiabad constituencies respectively. Shoaib Lone had contested the North Kashmir seat on a Congress ticket in the last assembly elections but lost. He subsequently resigned as district president of the party.
While the four of them have been finally allowed to walk free from the makeshift detention centre at Centaur Hotel along Dal Lake, scores of politicians, separatist leaders and activists remain under detention or house arrest. The list includes former CMs Farooq and Omar Abdullah and Mehbooba Mufti.
Full report at:
https://timesofindia.indiatimes.com/india/four-detained-jk-leaders-freed-after-signing-bonds/articleshow/71529625.cms
--------
India criticises Turkey's military action in Syria, calls for restraint
Oct 10, 2019
NEW DELHI: India, in a rare move, weighed in on unfolding events in the Middle East openly criticising Turkey's military action+ against Syria.
Calling upon Turkey to "exercise restraint and respect the sovereignty and territorial integrity of Syria" a sternly worded statement by the MEA spokesperson said, "Turkey's actions can undermine stability in the region and the fight against terrorism. Its action also has the potential for causing humanitarian and civilian distress."
India does not normally call out specific countries and definitely not in the complex theatre that is the Middle East. Turkey has launched attacks against the US-allied Kurdish fighters in north-east Syria. Turkey could because the US abandoned the Kurds who had fought with them against groups like ISIS after a conversation between US president Donald Trump and Erdogan.
Using air and ground weapons, Turkey has pushed further into Syria on the second day of its offensive. Describing Turkey's military offensive as "unilateral", the MEA said India was "deeply concerned". "We urge the peaceful settlement of all issues through dialogue and discussion."
Turkey's relations with India have nosedived after Turkey stood with Pakistan on the Kashmir issue after India's August 5 decision. In yet another statement earlier this week, MEA spokesperson chided Turkey for its statements on Kashmir. "We deeply regret that since August 6, there have been repeated statements by the Turkish government on a matter completely internal to India. These statements are factually incorrect, biased and unwarranted. We call upon Turkish government to get a proper understanding of the situation before making any further comments."
Full report at:
https://timesofindia.indiatimes.com/india/india-criticises-turkeys-military-action-in-syria-calls-for-restraint/articleshow/71524160.cms
--------
J&K: Pakistan violates ceasefire at LoC in Naushera sector
Sunil Bhat
October 11, 2019
Pakistan on Friday violated the ceasefire at the Line of Control (LoC) in Naushera sector of the Rajouri district in Jammu and Kashmir.
Pakistani forces allegedly initiated unprovoked firing and shelling at the LoC. One Army jawan was injured in Pakistani firing at the LoC in Naushera.
Director-General of Police (DGP) Dilbagh Singh, Jammu and Kashmir, has said Pakistan attempts to push a number of infiltrators during the ceasefire violations. He also said that many ceasefire violations have been taking place in several areas of J&K.
Full report at:
https://www.indiatoday.in/india/story/j-k-pakistan-violates-ceasefire-loc-naushera-1608142-2019-10-11
--------
Pakistan
Pakistan arrests top four leaders of JuD/LeT ahead of FATF meeting
Oct 10, 2019
LAHORE: Pakistan's law enforcement agencies on Thursday arrested the "top four leaders" of the banned LeT/JuD on charges of terrorism financing, a move that authorities say would put the "entire core leadership" of these outfits on trial.
The top four leaders of Lashkar-e-Taiba /Jamaat-ud-Dawah (JuD) arrested on Thursday have been identified as Professor Zafar Iqbal, Yahya Aziz, Muhammad Ashraf and Abdul Salam.
The development comes ahead of the Financial Action Task Force's crucial plenary meeting scheduled to be held in Paris from October 12 to October 15.
Pakistan was placed on the grey list by the Paris-based watchdog in June last year and was given a plan of action to complete it by October 2019, or face the risk of being placed on the black list with Iran and North Korea.
A spokesman for the Counter Terrorism Department (CTD) said that there had been an "important progress" in the National Action Plan (NAP) as the main leaders of proscribed organisation JuD/LeT have been arrested by the CTD Punjab in offences of terrorism financing.
"JuD/LeT chief Hafiz Saeed is already in prison facing trial for commission of offences of terrorism financing. Now the entire core leadership of the JuD/LeT will be on trial," the CTD said.
It further said the CTD Punjab has been investigating offences of terrorism financing wherein these accused had built assets using the funds raised through terrorism financing.
"The suspects further used these assets to raise more funds for terrorism financing. Donors of several assets/properties are also under investigation for providing some of these assets to the suspects and their proscribed organisations namely JuD/LeT," it said.
"The suspects had formed trusts, like Al-Anfaal Trust, which acted as front entities of these organisations. The assets/properties have already been frozen by the government," it said, adding the suspects will be produced before the trial court on Friday. The CTD had arrested Saeed on July 17. He is detained at the Kot Lakhpat jail in Lahore.
The CTD said investigation was launched into financing matters of proscribed organisations - JuD and LeT - in connection with the implementation of UN Sanctions against these Designated Entities & Persons as directed by the NSC (National Security Committee) in its meeting on January 1, 2019 chaired by Prime Minister Imran Khan for implementing the NAP.
The US Department of the Treasury has designated Saeed as a Specially Designated Global Terrorist. The US, since 2012, has been offering a $10 million reward for information that brings Saeed to justice.
Saeed-led JuD is believed to be the front organisation for the LeT which is responsible for carrying out the 2008 Mumbai attacks that killed 166 people.
https://timesofindia.indiatimes.com/world/pakistan/pakistan-arrests-top-four-leaders-of-jud/let-ahead-of-fatf-meeting/articleshow/71524712.cms
--------
Pakistan arrests four aides of alleged mastermind of Mumbai terror attacks
October 10, 2019
LAHORE: Pakistani authorities on Thursday arrested four aides of extremist leader Hafiz Saeed, the suspected mastermind of a four-day militant attack on the Indian city of Mumbai in 2008, on terrorism financing charges, counter-terrorism police said.
Saeed, arrested on the same charges, has been on judicial remand since July, a move welcomed by U.S. President Donald Trump who wants Pakistan to do more to crack down on militancy.
But Saeed's arrest came just ahead of a visit to Washington by Prime Minister Imran Khan and was seen by rival India as a ploy to smooth the way before a meeting with Trump.
Thursday's arrests come ahead of a meeting next week of the Financial Action Task Force, a global watchdog, which will review progress made by Pakistan on controlling terror financing and money laundering.
Pakistan, included on a so-called grey list compiled by the FATF, has been under increasing pressure to stop the financing of militant groups.
The four aides will appear before a trial court on Friday, police said in a statement.
Saeed, designated a terrorist by the United States and the United Nations, is the founder of Lashkar-e-Taiba, or Army of the Pure, the militant group blamed by the United States and India for the Mumbai attacks, which killed more than 160 people.
The United States has offered a $10 million reward for information leading to Saeed's conviction.
Full report at:
https://www.arabnews.com/node/1567031/world
--------
Altaf Hussain charged by UK police with terrorism offence over 2016 speech
Atika Rehman
October 10, 2019
Muttahida Qaumi Movement (MQM) founder Altaf Hussain was on Thursday charged with a terrorism offence in a case related to his incendiary speech relayed from the United Kingdom to his followers in Pakistan on August 22, 2016.
The MQM founder, 66, was taken into police custody and later produced before the Westminster Magistrates' Court, where he was granted conditional bail.
The conditions of his bail include a bar on him to broadcast any speeches and remaining at his residence for a restricted amount of time each night. He also cannot apply for a travel document and his passport will remain in police custody.
After Hussain appeared before judge Emma Arbuthnot, the charge against him was read out. He pleaded not guilty.
The Crown Prosecution Service (CPS) asked for Hussain to be granted conditional bail. The conditions sought included a restriction on Hussain not to broadcast any message, either video or audio, via social media, radio, TV, or internet to people in the UK or overseas concerning this case or comment on the political situation in Pakistan.
The court then entered into a recess as the lawyers for the prosecution and Hussain discussed the bail conditions further. He was subsequently granted bail.
The next hearing of the case will be held at the Central Criminal Court on November 1.
Some MQM supporters had arrived at the court ahead of Hussain's appearance.
Charged with 'encouraging terrorism'
Hussain, who had earlier today appeared at a London police station after his bail expired, was charged by detectives from the Met Police's Counter Terrorism Command.
"Altaf Hussain [...], of Abbey View, Mill Hill, NW7, was charged under section 1(2) of the Terrorism Act (TACT) 2006 with encouraging terrorism," the Met Police said in a statement on its website.
The charge as stated by the UK police is that Hussain "On 22 August 2016 published a speech to crowds gathered in Karachi, Pakistan which were likely to be understood by some or all of the members of the public to whom they were published as a direct or indirect encouragement to them to the commission, preparation or instigation of acts of terrorism and at the time he published them, intended them to be so encouraged, or was reckless as to whether they would be so encouraged."
The Met Police said: "Hussain was previously arrested on 11 June on suspicion of intentionally encouraging or assisting offences contrary to Section 44 of the Serious Crime Act 2007. He was released on bail and subsequently charged as above."
According to section 1(2) of the Terrorism Act 2006:
A person commits an offence if—
(a) he publishes a statement to which this section applies or causes another to publish such a statement; and
(b) at the time he publishes it or causes it to be published, he—
(i) intends members of the public to be directly or indirectly encouraged or otherwise induced by the statement to commit, prepare or instigate acts of terrorism or Convention offences; or
(ii) is reckless as to whether members of the public will be directly or indirectly encouraged or otherwise induced by the statement to commit, prepare or instigate such acts or offences.
Under section 1(7) of the same act, a person found guilty of an offence under this section shall be liable—
(a) on conviction on indictment, to imprisonment for a term not exceeding [15 years] or to a fine, or to both;
(b) on summary conviction in England and Wales, to imprisonment for a term not exceeding 12 months or to a fine not exceeding the statutory maximum, or to both;
(c) on summary conviction in Scotland or Northern Ireland, to imprisonment for a term not exceeding 6 months or to a fine not exceeding the statutory maximum, or to both.
'Very serious offence'
Commenting on the development, Toby Cadman, a London-based lawyer who advises the Government of Pakistan on MQM-related cases, said the Met Police's decision to charge Hussain was a "testament to the cooperation between the United Kingdom and Pakistan. This is what happens when two states work together in such a serious case."
Speaking to reporters, he explained that the MQM founder was charged with "encouraging terrorism", which is a "very serious offence". He said Hussain will be presented before a magistrate, who will make a decision about either remanding him in custody or bailing him to the Central Criminal Court where he will stand trial.
Cadman said Hussain was charged after the Crown Prosecution Service advised the Met Police that there is sufficient evidence to charge him.
Arrest and appearances
Earlier on Thursday, Hussain had reached the Metropolitan Police Southwark Police Station, accompanied by a handful of London-based supporters.
This was his third appearance at the station in connection with the case.
On September 12, the MQM chief was grilled for five hours at the same police station in connection with the case. He was released with an extension in his bail.
The MQM founder was arrested by the Met Police on June 11 as part of the investigation into his alleged hate speeches. However, he was released on bail a day later by the British authorities without filing charges relating to the probe.
Hussain had been arrested on suspicion of intentionally encouraging or assisting offences contrary to Section 44 (intentionally encouraging or assisting an offence) of the Serious Crime Act, 2007.
The investigation that led to his arrest in June was led by the Met's counterterrorism command, a statement released at the time said.
The Met said the inquiry was "focused on a speech broadcast in August 2016 by an individual associated with the MQM movement in Pakistan as well as other speeches previously broadcast by the same person".
Full report at:
https://www.dawn.com/news/1510088/altaf-hussain-charged-by-uk-police-with-terrorism-offence-over-2016-speech
--------
'Opening of Kartarpur corridor is a religious overture … Pakistan won't allow anyone to use it for political reasons'
October 11, 2019
The 550th birth anniversary of Guru Nanak Dev and the opening of the Kartarpur corridor is a significant occasion for devotees in India and across the world. The preparations in the Punjab province of Pakistan, where the main gurdwaras associated with Guru Nanak are situated – Kartarpur Sahib, Nankana Sahib, and Panja Sahib – are being overseen by the governor of the province, Chaudhry Muhammad Sarwar. With the bilateral dialogue between the two countries suspended over the Kashmir issue, he tells Yudhvir Rana that the occasion could help sink differences between the countries.
Why didn't Pakistan consider opening all gurdwaras to devotees instead of giving access to just Kartarpur Sahib?
The first step was to give access to Gurdwara Darbar Sahib in Kartarpur Sahib. As a Muslim, if I am 4 km from Medina and I can only look at the holiest of holy places through a pair of binoculars and cannot visit, imagine how I would feel.
The Sikhs have waited for 70 years for this corridor to materialise and we are happy to open it for the faithful. Pakistan is spending Rs 15 billon (Pakistani rupees) on the project, including construction of new roads and bridges, and this is happening at a time when the Indo-Pak relations are very tense. But we have always maintained that we will not jeopardise the corridor project.
Gurdwara Darbar Sahib initially was on 4 acres of land and we expanded it to 42 acres. Recently, we also included 62 acres, cultivated by Baba Nanak, to the complex. Pakistan will not use even a single inch of Baba Nanak's land for commercial purposes. And the $20 service fee doesn't meet even a fraction of the expenses incurred by the Pakistan government to provide facilities to the yatris.
There is apprehension that Sikh separatists could misuse the occasion of Baba Nanak's 550th birth anniversary and opening of the Kartarpur corridor to boost their agenda.
We are morally supporting people of Kashmir, but Pakistan has no intention of interfering in what is going on in India. I want to assure everyone that Pakistan will not use or allow anyone to use the religious occasion for any negativity or political reasons. Opening of the Kartarpur corridor is purely a religious overture.
We believe and realise that people-to-people relations between Pakistanis and Indians are very strong. People of any religion – Hindu, Sikh, Christian or others – who visit Pakistan for pilgrimage, business or for holidays, receive a warm welcome from people here and so is the case with the Pakistanis visiting India.
Baba Nanak's birth anniversary and the opening of the corridor, which I call peace corridor, will help people of both the nations to come closer. They will go back with the message of peace, compassion and respect and, in the long run, it will bring the two neighbours together.
Will there be any kind of visa relaxation for the Sikh community?
Conceding to the demand of the international Sikh community, barring those from India, Pakistan will issue 45-day multiple entry visas. Now, a Sikh permanent resident of the United States, Canada, or any country apart from India can visit Pakistan, go to India and come back again, not once but several times within a period of 45 days. This was one of the major demands of the international Sikh community. The facility has been made available to non-resident Indian Sikhs, who are permanent residents of other countries. We will contemplate issuing multiple entry visas to Indian Sikhs in future if there is any demand.
Will Pakistan open rest of the historical gurdwaras and temples for Indians to visit?
I have instructed all regional commissioners to make a list of all the gurdwaras and Hindu temples and prepare a report on what kind of repairs are required. Once the report is received, we will repair, renovate and preserve all these religious places.
Full report at:
https://timesofindia.indiatimes.com/blogs/the-interviews-blog/opening-of-kartarpur-corridor-is-a-religious-overture-pakistan-wont-allow-anyone-to-use-it-for-political-reasons/
--------
Pakistan ready with compliance report for FATF meeting
Oct 10, 2019
ISLAMABAD: Pakistan has prepared its compliance report for the FATF's crucial plenary meeting scheduled to be held in Paris from October 12 to October 15 during which the global anti-money laundering watchdog will give its decision on the country's 'grey list' status, according to a media report.
Pakistan was placed on the grey list by the Paris-based watchdog in June last year and was given a plan of action to complete it by October 2019, or face the risk of being placed on the black list with Iran and North Korea.
The forthcoming review of its performance will determine if it stays on the grey list or moved on the black list or given a clean chit.
According to a report released by the Asia Pacific Group (APG) on Saturday, chances are high that Pakistan will be retained on the 'grey list' as the country has complied with just one the 40 recommendations set by the global anti-money laundering watchdog at the time of the country's inclusion in the list.
The Pakistani delegation, led by minister for economic affairs division Hammad Azhar, is scheduled to leave for France on October 13 as Pakistan's case will be taken up on October 14 and 15, the Dawn reported.
The Pakistani authorities have insisted that they made a lot of progress during the past year.
According to the Pakistani daily, a report finalised by the Securities and Exchange Commission of Pakistan (SECP) has said that the comprehensive guideline developed by the Commission has helped financial institutions to generate 219 Suspicious Transactions Reports (STRs) in one year, as compared to 13 STRs in eight years.
To align itself with the FATF's standards and its 40 recommendations, the Commission developed a set of regulations in June 2018.
The SECP has conducted 167 inspections, focusing on AML/CFT (Anti-Money Laundering/Combating Financing of Terrorism) compliance in the cases of 72 securities brokers, 27 non-banking financial companies, 13 insurance companies and 55 high risk non-profit organisations, it said.
The SECP report has said that apart from penalties imposed for non-compliances with the said regulations, the financial institutions have also undertaken remedial measures to ensure effective compliance with the regulations.
It said automated screening software has been deployed by many financial institutions to screen the proscribed persons and the regulated entities now also have access to the Go AML system of the State Bank of Pakistan's (SBP) Financial Monitoring Unit (FMU) for online filing of STRs.
According to the report, the SECP has made transition from one-size-fits-all to a risk-based approach to implement a consolidated AML/CFT regulatory framework in its regulated financial sector.
Further to effectively identify assess and understand the Money Laundering/Terror Financing (ML/TF) risks that Pakistan faces, a National ML/TF Risk Assessment has been undertaken in 2019 to assess ML/TF vulnerabilities that are inherent within the financial sector including banking, NBFCs, brokers and insurance.
The SECP has said that the FMU is collaborating with stakeholders - including ministries, law enforcement agencies, SBP and SECP - to implement the control mechanism to check potential abuse by money launderers and terrorist financiers.
The report has said that continuous awareness campaigns and efforts have resulted in improvement in compliance level by the regulated entities.
However, the APG in its much-awaited 228-page 'Mutual Evaluation Report' said that out of FATF's 40 recommendations on curbing money laundering and combating the financing of terrorism, Pakistan was fully compliant only on one. It was largely compliant on nine, partially compliant on 26 and non-compliant on four recommendations.
Full report at:
https://timesofindia.indiatimes.com/world/pakistan/pakistan-ready-with-compliance-report-for-fatf-meeting/articleshow/71517392.cms
--------
ECP discards PTI pleas for secrecy in foreign funding case
October 10, 2019
ISLAMABAD: A three-member bench of Election Commission of Pakistan (ECP) headed by Sardar Mohammad Raza Thursday rejected four applications filed by Pakistan Tehreek-e-Insaf (PTI) requesting secrecy during the investigation of its foreign funding case.
The ECP bench directed the scrutiny committee to carry on its work and instructed PTI representatives to appear before the committee on October 14.
A scrutiny committee was constituted in March 2018 to complete the audit of PTI's funding sources in one month. Later on, its mandate was extended for an indefinite period.
During the last hearing on October 1, the bench had reserved its verdict on PTI's applications after listening to the arguments of various parties to the case.
Speaking to media after the verdict, former PTI member and petitioner Akbar S Babar remarked that the process of the investigation of PTI's funding would reach its logical conclusion, and added that there had been more than two dozen meetings of the scrutiny committee.
He noted that the funding case would divulge facts to the people and clarified that he did not have any personal vendetta against Premier Imran Khan.
Akbar S Babar had filed the foreign funding case in 2014, alleging that nearly $3 million in illegal foreign funds were collected through two offshore companies and that money was sent through illegal 'hundi' channels from the Middle East to accounts of 'PTI employees'. He had also alleged that the foreign accounts that used to collect funds were concealed from the annual audit reports submitted to the ECP.
Meanwhile, Pakistan Muslim League-Nawaz (PML-N) has decided to file a new case of party funding against the PTI.
The PML-N sought the details of accounts of PTI from 2014 to 2018 from the ECP and filed an application for the purpose.
PML-N's Mohsin Shahnawaz Ranjha said that Nawaz league would not become a party to Aksbar S Babar and will file a separate case against the PTI.
Foreign funding case
Disgruntled founding member of PTI Akbar S Babar had filed the foreign funding case before the ECP in 2014 after he developed differences with PTI Chairman Imran Khan over alleged internal corruption and abuse of laws governing political funding.
For over a year, the proceedings of the case were delayed in the ECP as the PTI had filed a writ petition in October 2015 in the Islamabad High Court seeking to restrain ECP from scrutinising its accounts.
Full report at:
https://tribune.com.pk/story/2076374/1-ecp-rejects-pti-petitions-foreign-funding-case/
--------
PM calls out international media for 'ignoring dire human rights crisis' in occupied Kashmir
October 11, 2019
Prime Minister Imran Khan on Friday called out the international media for continuing to give "headline coverage" to the ongoing Hong Kong protests but "ignoring the dire human rights crisis" in occupied Jammu & Kashmir.
"I am puzzled as to how international media continues to give headline coverage to Hong Kong protests but ignores the dire human rights crisis in IOJK — an internationally recognised disputed territory illegally annexed by India with 900,000 troops imposing a siege on 8 million Kashmiris [contd] for over 2 months, with a complete blackout of communications, thousands imprisoned — including [the] entire spectrum of political leadership plus children — and a growing humanitarian crisis," the premier wrote on Twitter.
"In IOJK, 100,000 Kashmiris have been killed over 30 years fighting for their right to self-determination as committed to them by the international community through UN Security Council resolutions," he added.
In pictures: 60 days on, occupied Kashmir remains under siege
Prime Minister Imran will participate in formation of a human chain today to show solidarity with the people of occupied Kashmir who have been facing curfew for over two months.
Full report at:
https://www.dawn.com/news/1510260/pm-calls-out-international-media-for-ignoring-dire-human-rights-crisis-in-occupied-kashmir
--------
PML-N files plea in ECP to know foreign funding details of PTI
Oct 11, 2019
ISLAMABAD: The Pakistan Muslim League-Nawaz (PML-N) has filed a plea in the Election Commission of Pakistan (ECP) to know assets of the ruling Pakistan Tehreek-e-Insaf (PTI).
The PML-N filing the application in the ECP has asked to provide PTI's assets from year 2014 to 2018.
Talking to media after filing the plea in the ECP, PML-N leader Mohsin Shahnawaz Ranjha said that the party wanted to expose a real thief in front of masses.
He also demanded to bring in public alleged foreign funding to the PTI and the scrutiny committee action against it so that people could know that the people who talked to change are the real thief.
Ranjha said that where from the PTI got foreign funding and what was the purpose of it while he claimed that Imran Khan had staged protest sit-in in front of the parliament on instruction of powers which hampered investment in the China-Pakistan Economic Corridor.
Full report at:
https://www.pakistantoday.com.pk/2019/10/10/pml-n-files-plea-in-ecp-to-know-foreign-funding-details-of-pti/
--------
South Asia
Airstrikes kill 80 Taliban militants in Ghazni and Paktiya: Thunder Corps
10 Oct 2019
A series of airstrikes killed at least 80 Taliban militants in South-eastern Ghazni and Paktiya provinces, the Afghan military said.
According to a statement released by 203rd Thunder Corps, the security forces conducted the airstrikes in Aab Band district of Ghazni and Khoshamand district of Paktiya.
The statement further added that the airstrikes killed at least 80 militants and wounded 6 others.
The 203rd Thunder Corps also added that the airstrikes also destroyed 2 vehicles, 2 tents and a container used by militants.
Furthermore, the security forces killed 1 militant and wounded 4 others during a clash in Andar district of Ghazni province, the 203rd Thunder Corps added.
https://www.khaama.com/airstrikes-kill-80-taliban-militants-in-ghazni-and-paktiya-thunder-corps-04209/
--------
U.S. airstrikes against Taliban drug labs killed 30 Afghan civilians, U.N. report says
By Sayed Salahuddin and Susannah George
October 9, 2019
KABUL — U.S. airstrikes in May on suspected Taliban drug facilities killed 30 civilians, the United Nations said Wednesday in a detailed report on the incident. The U.S. military disputed the claims, arguing that all those killed in the strikes were combatants.
The strikes targeted drug labs run by the Taliban that produce methamphetamine.
The U.S. military said the workers in those labs are legitimate targets because the "personnel in the labs were members of the Taliban," according to a statement released by the media office of U.S. forces in Afghanistan on Wednesday.
The U.S.-led mission in Afghanistan "disputes the findings, legal analysis, and methodology" of the U.N. report, according to the statement, and questions "their reliance on sources with conflicted motives or limited knowledge . . . and their narrow definition of legally targetable combatants."
The United Nations said under international law "facilities that contribute economically or financially to the war effort . . . are considered civilian objectives." The U.N. report determined strikes on more than 60 sites killed 30 civilians and wounded five. The strikes were carried out in Afghanistan's western Farah and Nimruz provinces.
The dispute surrounding the drug lab strikes reflects the difficulty of separating civilians from combatants as Afghan government troops battle an insurgency with support from U.S. forces.
The Taliban vowed massive attacks on election day. Here's how Afghanistan avoided them.
The United States "is fighting in a complex environment against those who intentionally kill and hide behind civilians, as well as use dishonest claims of noncombatant casualties as propaganda weapons," read the statement from U.S. forces in Afghanistan.
The Taliban said the U.N. report "proved that Americans are engaged in heavy war crimes," according to a statement released to the media Wednesday.
The large number of civilians killed during operations against militants has stoked anger across Afghanistan.
In April, the United Nations found that during the first quarter of 2019, forces allied with the Afghan government were responsible for more civilian deaths than the Taliban and other insurgents.
That shift comes as U.S. and Afghan government forces have stepped up ground and air offensives targeting the Taliban and sources of the group's income. The increased pressure came as both the United States and the Taliban attempted to pressure the other into a peace deal.
The U.N. report on the drug lab strikes said the casualty numbers should be taken as a minimum because the organization investigated allegations of more than 100 civilian casualties.
Those determined killed and wounded in the report were subjected to multiple verification methods. U.N. investigators conducted site visits as part of the investigation.
The U.S. military said that before the strikes were carried out, U.S. forces observed the sites for "scores of hours," providing "the degrees of certainty required at the time of the precision strikes to assess forces were only striking legal targets and avoiding noncombatant casualties and collateral damage."
The United States has tried for years to curb the Taliban's multimillion-dollar drug trade.
U.S.-funded efforts to combat narcotics in Afghanistan came under severe criticism from a U.S. government watchdog in a report last year that said opium production and drug addiction is rapidly escalating despite efforts costing more than $8 billion since 2002.
Full report at:
https://www.washingtonpost.com/world/asia_pacific/un-report-details-dozens-of-civilian-deaths-in-airstrikes-against-taliban-drug-labs/2019/10/09/647990ee-ea68-11e9-9306-47cb0324fd44_story.html
--------
Ally of Al Qaeda Killed in Afghanistan Raid, Officials Say, but Taliban Deny It
By Thomas Gibbons-Neff
Oct. 8, 2019
KABUL — American and Afghan commandos killed the head of an affiliate of Al Qaeda in a southern Afghanistan raid last month, according to a statement released Tuesday by Afghanistan's intelligence agency.
The Taliban denied the assertion, calling it propaganda by "officials of the stooge Kabul administration."
The intelligence agency's statement followed weeks of rumors that the militant, Asim Umar, had been killed in the Sept. 23 raid, which was said to have left dozens of civilians dead.
The raid, in the Musa Qala district of Helmand Province, also killed a Pakistani who had close ties to Mr. Umar, the leader of Al Qaeda in the Indian Subcontinent since 2014, and to Ayman al-Zawahri, the current head of Qaeda's main branch, the statement said. He was identified only as Raihan.
The presence of the commander of a Qaeda-linked group in a Taliban-controlled district in Afghanistan's violent south underscored the ties between the Taliban and associates of the militants who carried out the Sept. 11 attacks 18 years ago.
It also cast doubt on the Taliban's pledge, during recent peace negotiations with the United States, to prevent Afghanistan from reverting to a safe haven for violent extremists.
In its statement denying that a Qaeda leader had been killed in the raid, the Taliban said the "truth of the matter remains that the said operation in Musa Kala district only caused heavy civilian losses."
Little is known about Mr. Umar. Pakistani counterterrorism officials say he masterminded a plan to hijack a Pakistani navy frigate in Karachi in 2014. Ten paramilitary members were killed, and 15 were wounded.
Pakistani officials said the death of Mr. Umar was a major blow to Al Qaeda in the Indian Subcontinent. He not only recruited a significant number of trained militants, but also compelled a number of local militants to pledge allegiance to his affiliate, the officials said.
"Because of his previous affiliation with various local militant outfits operating in the region, he managed to influence networks of Afghan and Pakistani Taliban, Jihadi groups operating in Kashmir and smaller groups operating in other South Asian countries," said Raja Umar Khattab, a Karachi-based counterterrorism police official.
A senior Afghan security official said Mr. Umar had managed to build a network of about 1,500 militants across the region, with recruits drawn from South Asia, Iran and Central Asia. Mr. Umar had close ties to the Taliban's leadership council in Quetta, Pakistan, and his militants provided training to Taliban in Afghanistan and were involved in fighting in the Afghan provinces of Helmand and Nimroz.
Col. Sonny Leggett, a spokesman for the American-led military mission in Afghanistan, confirmed the deaths of the Qaeda members and that "several foreigners associated with Al Qaeda were detained, including multiple persons from Pakistan and one from Bangladesh."
After the raid, details from the scene were murky; accounts from Taliban-controlled areas are sometimes contradictory. Military officials in Washington said that some civilians had most likely been killed. Government officials in Helmand Province said up to 40 civilians might have died, including members of a wedding party.
A statement from the American-led mission said that the raid was under investigation.
"Because of heavy fighting, we did conduct targeted precision strikes against barricaded terrorists firing on Afghan and U.S. forces," the statement said. "We assess the majority of those killed in the fighting died from Al Qaeda weapons or in the explosion of the terrorists' explosives caches or suicide vests."
Full report at:
https://www.nytimes.com/2019/10/08/world/asia/al-qaeda-taliban-afghanistan-raid.html
--------
Five-year-old boy among 30 Rohingya arrested for travelling in Myanmar
Vidhi Doshi
10 Oct 2019
Myanmar faces calls to release 30 Rohingya men, women and children arrested in September while trying to travel from Rakhine state to the city of Yangon.
A total of 21 Rohingya face up to two years in jail under Myanmar's Residents of Burma Registration Act, which stipulates that citizens must be in possession of "registration cards" to prove their identity.
The act has been used against Myanmar's Rohingya Muslim minority, who are denied citizenship of the country and are officially stateless.
Nine children travelling as part of the group were sent to juvenile detention centres. A five-year-old boy's fate is yet to be decided, activists said.
Authorities told Radio Free Asia that the Rohingya, having left villages in Rakhine state where they reportedly faced violence and ethnic cleansing, were attempting to reach Malaysia.
They allegedly paid traffickers between 500,000 and 700,000 kyats (£270-£380) to transport them to Yangon, where they hoped to find work or passage out of Myanmar.
"It's a cruel irony that these Rohingya will be trading what was effectively confinement to open-air detention in Rakhinestate for confinement in a state prison in Pathein," said Brad Adams, executive director at Human Rights Watch (HRW).
The Rohingya have faced waves of persecution in Myanmar. In 2017, amid alleged mass slaughter and arson attacks in their villages, more than 700,000 Rohingya fled to neighbouring Bangladesh, settling in refugee camps near the border.
Within Myanmar, Rohingya are prohibited from travelling outside certain areas without official permission. Myanmar considers Rohingya people illegal Bangladeshi immigrants and denies them access to basic services and rights.
Phil Robertson, deputy director of HRW's Asia division, said many Rohingya remaining in Rakhine state live in virtual imprisonment, with daily life subject to multiple restrictions such as limited access to money and jobs, constant monitoring by police and violent vigilantism. "It's like apartheid," he said. "It's a horrific situation that has gone unnoticed by the world."
Human rights organisations have warned repeatedly that ongoing negotiations between Bangladesh and Myanmar about returning Rohingya refugees could lead to further persecution, especially because Myanmar continues to deny Rohingya Muslims citizenship.
Adam said the imprisonment of Rohingya trying to leave the country "stands as a clear marker to the United Nations and foreign governments encouraging the return of Rohingya refugees from Bangladesh that Myanmar has no interest in granting its Rohingya population fundamental freedoms".
The jailed Rohingya said that they had initially set out as a group of 44 from Sittwe, the capital of Rakhine state, where they lived in townships. But their group shrunk after authorities stopped them at a jetty.
The decision to jail them came after a one-day trial at which the Rohingya were denied legal representation, said HRW.
Tin Hlaing, a Muslim from Thae Chaung village, who according to Radio Free Asia had tried to stop the group from travelling, said the families of the imprisoned group were "gravely concerned" about their safety.
Full report at:
https://www.theguardian.com/global-development/2019/oct/10/five-year-old-boy-among-30-rohingya-arrested-for-travelling-in-myanmar
--------
NATO training Afghan forces to enable them fight international terrorism: Stoltenberg
10 Oct 2019
The NATO Secretary General Jens Stoltenberg said the alliance trains the Afghan forces to enable them fight the international terrorism.
He made the remarks during a joint press conference with the Giuseppe Conte, the President of the Council of Ministers of Italy.
Calling Italy as one of the top force-contributing nations in Afghanistan, Stoltenberg said "Every time I meet Italian troops in Herat, I am impressed by their professionalism and their strong commitment."
Stoltenberg further added "Our mission trains Afghan forces, so they can fight international terrorism and create the conditions for peace."
In other parts of his speech, Stoltenberg hailed the contribution of Italy in Iraq, Kosovo, Latvia and Romania.
Furthermore, he said he had an excellent discussion on preparations for the meeting of NATO leaders in London in December.
Full report at:
https://www.khaama.com/nato-training-afghan-forces-to-enable-them-fight-international-terrorism-stoltenberg-04208/
--------
Southeast Asia
Islamists hint that Mahathir is a better Muslim than Anwar
ctober 10, 2019
In a direct attack on Prime Minister-in-waiting Anwar Ibrahim, the Islamists from PAS hinted that Prime Minister Tun Dr Mahathir Mohamad is a 'better' Muslim than the 'reformasi' leader.
Thus in the current political context in Malaysia, PAS finds it logical to give its support to Dr Mahathir instead of Anwar, who is seen as being closer to non-Malays.
But the party veiled its non-Malay sentiment with a statement that pins its support for Dr Mahathir because of his 'leniency' towards Islam.
It divides the Pakatan Harapan government into two distinct groups, one that is pro-Islam and another which is anti-Islam and anti-Malay. It also divides the Pakatan Harapan regime into two, the 'better Muslims' fighting for the Malays for Islam and the 'not so good' Muslims aligned to non-Malays. Anwar is thus labelled as a 'lesser' Muslim political leader.
"So, in this context, right now, the two groups in the PH Government are not clashes between Muslims and non-Muslims, it's a clash between Muslims.
"So, in this context, we see that Dr Mahathir's and his team's views are more lenient and better towards Islam than that of Anwar Ibrahim's team against Islam and also against the Malays," the PAS information chief, Kamaruzaman Mohamad said to the HarakahDaily, the organ of the Islamists.
Kamaruzaman said in the current context, with the number of seats available in Parliament after the victory of the PH in the last general elections in May last year, Dr Mahathir is seen as more tolerant towards the Malays and Islam than the group headed by Anwar Ibrahim.
Thus, the Islamists are more committed to supporting Dr Mahathir in ensuring that the government makes and implements policies that benefit the country.
But he says supporting Dr M and supporting the government are two different things.
This means the Islamists will support any initiative that benefits the people and the country and that Dr Mahathir should be given more time to govern the country and is against any change in Prime Minister or Cabinet members.
He said a Cabinet reshuffle will lead to clashes and will have a devastating effect on the people. -/TISG
http://theindependent.sg/islamists-hint-that-mahathir-is-a-better-muslim-than-anwar/
--------
Kit Siang sees fading hopes for Malaysia while Mahathir rejects Islamists offer
October 10, 2019
Prime Minister Tun Dr Mahathir Mohamad rejected an offer to dump the Chinese-led Democratic Action Party and the less-Malay Justice Party of Anwar Ibrahim to form a government with the Umno and the Islamists PAS.
But Dr Mahathir's move did not console veteran politician Lim Kit Siang who sees fading hopes for a Malaysian golden age.
Yesterday, the Malaysian Prime Minister declined an invitation to form a new government with Umno and the Islamists from PAS on the basis the country is multiracial.
Dr Mahathir says any government formed must comprise different races and not just representatives of a single race.
On Monday, Umno deputy president Mohamad Hasan invited Dr Mahathir to form a unity government if the latter was serious about the welfare of the Malays and Islam.
But on Sunday, an Umno member gave Dr Mahathir 10 reasons why he should dump both Lim Kit Siang's party and the party of Anwar Ibrahim, the PM-to-be.
The Umno's invitation to Dr Mahathir comes on the sideline of the controversial Malay Dignity Congress officiated by Mahathir not as the PM of Malaysia but as a 'Malay' leader.
Harapan and opposition Malay leaders attended the congress but Anwar Ibrahim did not attend despite a late invitation sent to him.
Lim lauded Mahathir's rejection of the invitation from Umno to form a unity government with Umno and PAS.
Nevertheless, Lim Kit Siang says he had hoped the Malay Dignity Congress in Shah Alam over the weekend would lead the way for a different Malaysia, with a confluence of four great civilisations.
But instead, he sees it as a failed initiative that will continue with the clashing of races in the country.
"These hopes were misplaced," he writes, adding that the only good thing that came out of it is the congress did not bring the collapse of the Pakatan Harapan government.
"Those who hoped the congress would help dismantle the Pakatan Harapan government were also left disappointed," he says.
Lim also questioned the aim of the congress which he says was tarnished with fake news and hate speech.
"How can any restoration of dignity for any race or nation be based on lies, fake news and hate speech?
"Malaysians, regardless of race or religion, must look to the challenges of the future instead of being misled by a misleading image of a past based on fake news and hate speeches," Lim says.
He urged Malaysians to remain united and not lose hope though.
He also says in 1978, Malaysia's per capita GDP was more than 10 times of China but today China with a population of 1.4 billion, has nearly caught up with Malaysia as the 2018 IMF ranking of nations based on per capita GDP.
Malaysia is placed 63rd and China 67th in the ranking. "Shouldn't this be one of the top agendas of the Malay Dignity Congress as to why Malaysia has lost out in the race for economic development?
"Losing out not only to China but to other countries including India, Bangladesh, Indonesia, Thailand, Vietnam, not to mention Singapore, Hong Kong, S Korea and Taiwan. What future is in store for Malaysia if Malaysians are not prepared to pull ourselves up by our bootstraps?
Full report at:
http://theindependent.sg/kit-siang-sees-fading-hopes-for-malaysia-while-mahathir-rejects-islamists-offer/
--------
Security Minister Wiranto Stabbed by Islamic State Sympathizer
BY TELLY NATHALIA & DIANA MARISKA
OCTOBER 10, 2019
Jakarta. Chief Security Minister Wiranto received a stab wound to his abdomen after he was attacked by two unidentified individuals, one of them an Islamic State sympathizer, in Pandeglang, a district in Banten, on Thursday when he was on an official visit to the area, police said.
A video showed the attackers moving past security officers and officials who were greeting Wiranto as he came out of his car.
The attackers stabbed Wiranto in the stomach and a local police officer in the back.
"During a visit to Pandeglang, Minister Wiranto was attacked. The subdistrict police chief and the minister were wounded," National Police spokesman Brig. Gen. Dedi Prasetyo told Kompas TV.
A man and a woman were arrested at the site of the attack and they are now being questioned by the Banten Police.
"The man has been influenced by the radical ideology of IS [Islamic State]," Dedi said.
Wiranto has been flown to the Army hospital in Central Jakarta by helicopter.
Dedi said police anti-terror unit Detachment 88 will be investigating the attack. The motivation behind the attack is still unknown.
Full report at:
https://jakartaglobe.id/context/security-minister-wiranto-stabbed-by-islamic-state-sympathizer
--------
Malaysian police detain supporters of Tamil Eelam terrorists
October 11, 2019
KUALA LUMPUR: Malaysian police have detained seven people including two politicians for suspected terror links with Sri Lanka's defunct Liberation Tigers of Tamil Eelam (LTTE).
Ayob Khan Mydin Pitchay, the federal police's Special Branch Counter-Terrorism Division (E8) principal assistant director, told a press conference that the arrests were made after a series of operations on Thursday across several states in Malaysia and in Kuala Lumpur.
"(They) are suspected of engaging in activities that promote, support, incite, encourage and raise funds, as well as possess LTTE items," Ayob Khan said, adding that the investigation of the suspects had begun in November last year.
Among the suspects were two local politicians from the Democratic Action Party (DAP) — the Malacca exco member, G. Saminathan, and Seremban Jaya assembly person, P. Gunasekaran. DAP is part of the ruling coalition party, Pakatan Harapan.
Both politicians allegedly attended a pro-LTTE annual event called "LTTE Martyr's Ceremony" in Malacca on Nov. 28.
Ayob Khan said: "(G. Saminathan's) involvement was the same as (P. Gunasekaran) … The suspects were giving a speech to support LTTE, and also distributed items related to LTTE to the public."
Another three suspects who were detained had a record of attempting an attack against the Sri Lankan high commissioner in Kuala Lumpur in 2015.
They were subsequently arrested and fined $2,500. One of them had conducted secret meetings to recruit and spread LTTE propaganda.
However, some, including Malaysian politician Charles Santiago, questioned the government's move to arrest the two DAP politicians. He claimed to be "baffled" about the terror-link claim as the LTTE was already defunct and inactive, local media reported.
Last Friday, a pro-LTTE video surfaced on social media of a Malaysian man of Indian ethnicity warning the Malaysian police not to stop LTTE activities in the country.
"I love LTTE … is there any law that can stop us? Definitely no," he said.
As Southeast Asia becomes a growing hub for international terrorists, the Malaysian Counter-Terrorism Unit has increasingly been taking on the threat. Since 2009, the Malaysian authorities have detained 25 suspects involved in the LTTE.
Meanwhile, Malaysian police have captured 284 suspects from Indonesia's Jemaah Islamiyah (JI) since 2011, 512 Daesh suspects since 2013, as well as one suspect from the Sikh Babbar Khalsa group in 2019.
"According to police sources, in recent years there was an effort by certain quarters outside of Sri Lanka to 're-activate' LTTE worldwide," Ayob Khan said. "We do not want Malaysia to be the hub for LTTE reactivation."
The LTTE is widely considered to be a terrorist organization and has been banned in 32 countries including India, the EU and the US.
Full report at:
https://www.arabnews.com/node/1567211/world
--------
Arab World
Iraq's uprising an open crisis with no known path forward
By ZEINA KARAM and QASSIM ABDUL-ZAHRA
October 9, 2019
BAGHDAD (AP) — Iraq has been plunged into a new cycle of instability that potentially could be the most dangerous this conflict-scarred nation has faced, barely two years after declaring victory over the Islamic State group in a war that left much of the country in ruins and displaced tens of thousands.
The latest bloody confrontations have killed more than 100 people in less than seven days. But this time, the clashes do not pit security forces against Islamic extremists, the country's Sunnis against Shiites, or insurgents against occupation forces.
Instead, Iraqi security forces have been shooting at young Iraqis demanding jobs, electricity and clean water — and an end to corruption.
It's still unclear why the government chose to exercise such a heavy-handed response to a few hundred unarmed demonstrators who first congregated last week on social media to hold a protest. But analysts say the violence has pushed Iraq toward a dangerous trajectory from which it might be difficult to pull back.
As the spontaneous protests — with no apparent political leadership emerging — continued to clash with security forces in Iraq cities and towns, the government appeared unapologetic and failed to offer solutions to entrenched problems, raising fears that yet another Arab nation will be mired in a long-term crisis without a path forward.
"The use of force coupled with cosmetic concessions will work to temporarily ease pressure but will not end the crisis," wrote Ayham Kamel, Middle East and North Africa head at Eurasia Group. "This cycle of protests could be contained, but the political system will continue to lose legitimacy."
In their demands for better services and an end to corruption, the protesters are no different from those who rioted in the southern city of Basra over chronic power cuts and water pollution last summer. Or in 2016, when angry demonstrators scaled the walls in Baghdad's highly secured Green Zone and stormed Iraq's parliament, shouting "thieves!"
But unlike in 2016 when the protests were led by populist Shiite cleric Muqtada al-Sadr, today's protests have not been co-opted by any political party. Most are young men in their twenties. They do not have a clear list of demands or a program, nor do they have a spokesman to speak on their behalf. Some are teenagers or fresh university graduates unable to find jobs in a corruption-plagued country that sits on some of the world's biggest oil reserves.
Their movement — if it can be called that — has no clear contours, nor any quick solutions. The protesters say they are fed up with the entire post-2003 political class which profiteers on kickbacks, nepotism and corruption while ordinary Iraqis drink polluted water and endure massive unemployment.
And most strikingly, the protests are predominantly Shiite demonstrations against a Shiite-led government.
Prime Minister Adel Abdul-Mahdi has promised to address protesters' demands. But the 77-year-old premier began his tenure last year facing a raft of accumulated challenges, including high unemployment, widespread corruption, dilapidated public services and poor security, and he has told protesters there is no "magic solution for all that."
The crisis erupted on Oct. 1 after protesters who had organized on social media staged a demonstration calling for their rights. They were met with water cannons, tear gas and bullets. The demonstrations were partially triggered by anger over the abrupt removal of a top Shiite military who led battles against Islamic State militants and was largely seen as a non-corrupt, respected general. But the protesters carried a long list of grievances.
The protests come at a critical moment for Iraq, which had been caught in the middle of escalating tensions between the United States and the regional Shiite power Iran — both allies of the Baghdad government. Iraq's weak prime minister has struggled to remain neutral amid those tensions.
Adding to the nervousness, mysterious airstrikes blamed on Israel had for weeks targeted military bases and ammunitions depot in Iraq belonging to Iran-backed militias, which vowed revenge against Americans troops stationed here.
The protests, when they started, quickly spread from Baghdad to the Shiite heartland in the south, including the flashpoint city of Basra. The government imposed a round-the-clock curfew and shut down the internet for days, in a desperate attempt to quell the protests.
Interior Ministry spokesman Maj. Gen. Saad Maan said Sunday that at least 104 people have been killed and more than 6,000 wounded in the unrest. He said eight members of the security forces were among those killed and 51 public buildings and eight political party headquarters had been torched by protesters.
The massive crackdown appears to have succeeded in whittling down the number of protesters for now, although sporadic clashes between demonstrators and security forces continue on a smaller scale, including an hours-long gunbattle Monday night near the volatile Baghdad neighborhood of Sadr City.
But among Iraqis and country observers, there is consensus that a dam has been broken and that with so many killed, the protest movement is likely to return, and become better organized next time — whenever that may be.
In a country awash with weapons, there are concerns the violence would lead some protesters to arm themselves, similar to what happened in Syria. There is also worry that some of the hard-line militias loyal to Iran could enter the fray and exploit the chaos.
Muqtada al-Sadr, Iraq's influential cleric who has a popular Shiite support base and the largest number of seats in parliament, has called on the government to resign because of the large number of people killed. He also suspended his bloc's participation in the government until it comes up with a reform program.
If al-Sadr joins the protest movement, it will give it much more momentum and potentially lead to even more violence.
Ali Al-Ghoraifi, an Iraqi blogger, said the government may have succeeded in putting a lid on the situation for the time being.
"But it will be like a coal ready to ignite at any time and place," he wrote in a post. "And when it does, it will burn everyone."
https://apnews.com/60bed815ea6d4c1fb1dd9d71be6b6c88
--------
Air raid kills two Islamic State militants in Iraq's Diyala
by Mohammed Ebraheem
Oct 9, 2019
Diyala (IraqiNews.com) – Two members of the Islamic State militant group were killed Wednesday in an air raid on a terrorist hotbed in the eastern province of Diyala, a security committee said.
"A series of airstrikes targeted several hotbeds of the Islamic State militant group in al-Maita area on the provincial border with Salahuddin, leaving two IS dead," Sadiq al-Husseini, head of the security committee of Diyala provincial council, told Baghdad Today.
The air raid was based on intelligence information, he added.
In January 2015, Iraqi forces announced liberation of Diyala province from Islamic State extremist militants who proclaimed an "Islamic Caliphate" in Iraq and Syria in 2014.
Full report at:
https://www.iraqinews.com/iraq-war/air-raid-kills-two-islamic-state-militants-in-iraqs-diyala/
--------
12 IS militants killed in 2 attacks in Iraq
2019-10-10
BAGHDAD, Oct. 9 (Xinhua) -- A total of 12 Islamic State (IS) militants were killed Wednesday in a raid and an airstrike in the Iraqi provinces of Salahudin and Diyala, security sources said.
In the central province of Salahudin, an army force raided a house used as an IS hideout at a village in northwest of the provincial capital Tikrit, some 170 km north of Baghdad, said a statement by Abdul Muhsin Hatem, commander of Salahudin operations.
During the raid, the house which appeared to be booby-trapped was detonated, killing an army officer, and after searching the destroyed house, the troops discovered a bunker where 10 IS militants were hiding, sparking a heavy clash that resulted in the killing of all the militants, the statement said.
In Iraq's eastern province of Diyala, the Iraqi aircraft conducted an airstrike, based on intelligence reports, on an IS position in a rugged area located near the provincial border with neighboring Salahudin province, destroying the position and killing two IS militants inside, Sadiq al-Husseini, head of the security committee of Diyala's provincial council, told Xinhua.
The Iraqi forces are continuing security operations in different areas in central Iraq to track the extremist IS militants and destroy their locations.
The security situation in Iraq was improved after Iraqi security forces fully defeated the extremist IS militants across the country late in 2017.
Full report at:
http://www.xinhuanet.com/english/2019-10/10/c_138459207.htm
--------
STL Asks Lebanese Public for Info on Accused from Hezbollah
9 October, 2019
The Special Tribunal for Lebanon (STL) has invited the Lebanese public to submit any information on the whereabouts of Hezbollah member Salim Ayyash to the court through an audio-visual and audio public service announcement, and as a poster with info on the accused in the assassination of former Prime Minister Rafik Hariri.
"In compliance with the President's Order pursuant to Rule 76 (E) to effect service in the Prosecutor v Salim Jamil Ayyash case by procedures of public advertisement, and following the efforts undertaken by the Lebanese authorities to effect service, the Special Tribunal for Lebanon (STL) is releasing an audio-visual and audio public service announcement as well as a poster with the biographical information of Mr. Salim Jamil Ayyash, accused in the Connected Case STL-18-10," The Hague-based court said in a press release on Tuesday.
"This is part of the STL public advertisement campaign to inform the accused of the need to appear before the Tribunal and to invite the public to submit any information on the whereabouts of the accused to the STL. The poster and messages list the charges against Mr. Ayyash and phone numbers at which the public can contact the STL in case they have any information about his whereabouts."
The Connected Case STL-18-10 relates to the attacks against Marwan Hamade, Georges Hawi and Elias El-Murr between 2004 and 2005.
"The Prosecutor alleges that Ayyash participated in the conspiracy aimed at committing a terrorist act; in the alternative to conspiracy of committing a terrorist act, criminal association; committing a terrorist act; intentional homicide with premeditation of Messrs Ghazi Abou-Karroum, Georges Hawi and Khaled Moura; and attempted intentional homicide with premeditation of Messrs Marwan Hamade and El-Murr as well as 17 other persons," said the press release.
The public advertisement campaign follows STL President Ivana Hrdlickova's finding that reasonable attempts have been made by the Lebanese authorities to effect personal service on the accused in this case, and those efforts have been unsuccessful to date.
Full report at:
https://aawsat.com/english/home/article/1937686/stl-asks-lebanese-public-info-accused-hezbollah
--------
Hezbollah threatens Europe with Syrian refugees
by Georgi Aza
10 October 2019
BEIRUT: In an attempt to draw European support for Lebanon as it grapples with financial unease, Hezbollah MP Mohammad Raed threatened the bloc with the sensitive issue of Syrian refugees.
"All we have to do is wave the card of Syrian refugees and all the European countries will kneel before us," Raed said Tuesday, mirroring the comments of Turkish President Recep Erdogan who threatened to reopen the route for refugees and migrants into Europe if he does not receive adequate international support.
Lebanon has been reeling under the burden of a protracted Syrian refugee crisis since 2011, which reached 1.5 million displaced persons at its climax, straining the country's deteriorating infrastructure and further aggravating an already weakened economy.
Lebanon currently has the highest concentration of refugees per capita in the world - 1 million amid a Lebanese population of nearly 5 million according to estimates.
"They [Europe] could not receive 10,000 refugees and yet they want us to take in 1.5 million," Raed said.
Lebanon is facing an austerity plagued year as it deals with soaring public debt, estimated at around 150 percent of GDP, coupled with a massive budget deficit and high unemployment.
Demonstrations have increased in recent weeks, as disgruntled citizens vent their frustrations with the government.
Throughout the year, Foreign Minister Gebran Bassil has led the campaign calling for the return of refugees, often using nationalist language, while rallying international assistance for Lebanon.
The government has also intervened, shutting down shops owned by or employing Syrians without permits and ordering the demolition of anything in refugee camps that could be a permanent home.
Full report at:
https://en.annahar.com/article/1045737-hezbollah-threatens-europe-with-syrian-refugees
--------
US Criticizes Lebanese Government for Tolerating Hezbollah
9 October, 2019
The United States is unhappy with the Lebanese government for tolerating Hezbollah, a western diplomatic source told Asharq Al-Awsat on Tuesday.
"The situation has not changed. There are still two armies in Lebanon, one of them being illegitimate and taking orders from abroad," the diplomat, who was not identified, said.
He warned that there could be a large confrontation with Israel if Hezbollah received a certain order from abroad or some of its members decided to turn rogue.
The diplomat lashed out at Lebanese leaders for tolerating the status-quo and having a state within a state, in a direct threat to Lebanon's national interests and its stability and security.
The first step towards finding a solution to the situation, the source explained, comes by admitting the problem's existence.
He said that the latest US sanctions are not against Shiite banks or figures, but they specifically target Hezbollah and its members, and everyone who supports the party.
"Sanctions could be imposed on any individual who offers support to Hezbollah, regardless of his political, sectarian or religious background," he said.
Asked whether the sanctions would affect the Lebanese government, the source admitted that certain parties in Washington are supporting such an idea.
"The US is currently sending signals to the government and to the Lebanese people that things could head to the worst," he said.
In July, Washington imposed sanctions on two Lebanese deputies, Amin Sherri and Mohammed Raad, members of Hezbollah's Loyalty to the Resistance Bloc.
"Lebanese officials should realize that Hezbollah is not a political organization but an integrated armed group, present inside the government," the diplomat said.
He added that the US wants the best of relations with Lebanon. "However, if things do not change, there would be a wider range of sanctions."
Full report at:
https://aawsat.com/english/home/article/1937786/us-criticizes-lebanese-government-tolerating-hezbollah
--------
1000s of ISIL Inmates May Escape from Jails Amid Turkish Assault on Syria
Oct 10, 2019
The Turkish Army and affiliated Syrian militants kicked off an offensive against Kurdish fighter on Wednesday with massive air and artillery strikes, followed by a land invasion dubbed 'Operation Peace Spring'.
US officials confirmed to CNN that some of Washington-allied Kurdish forces had already left their posts at various jails holding ISIL prisoners and headed North before the Turkish military operation began.
The CNN reported that officials have long warned of the vulnerability of the "pop-up prisons" housing some 11,000 to 12,000 ISIL militants captured on the battlefield, 2,000 of whom are foreigners not from Iraq or Syria.
The officials emphasized that the security of the facilities is very much in question and a "huge concern" as Kurdish personnel head to the front lines.
Later on Wednesday, the Kurdish militias claimed that a prison holding ISIL detainees was hit in a Turkish airstrikes.
Amid growing concerns over the escape of those prisoners, US President Donald Trump said Wednesday some of the most dangerous ISIL inmates had been moved to "other areas where it's secure".
Hours later, The Washington Post reported that The US military is taking custody of several dozen high-value ISIL detainees, including two British men accused of involvement in the militant group's summary executions of American and other Western hostages.
The roughly 40 individuals being taken into US custody, all considered important ISIL figures, previously had been held in a constellation of small prisons in Northeast Syria run by Kurdish forces who have been the Pentagon's primary partner against the terror group in Syria.
A top Kurdish official stated on Thursday that Turkish attacks weaken the ability of security forces in Northeast Syria to guard prisons holding ISIL detainees.
Badran Jia Kurd told Reuters that this may lead to the escape of militants and that the number of prison guards is reduced as fighting with Ankara intensifies.
Trump has for several times threatened to set prisoners from Europe who joined the terror group in Syria and Iraq free at the EU's borders if they refuse to take back the captives.
Full report at:
https://en.farsnews.com/newstext.aspx?nn=13980718000438
--------
UN chief expresses 'deep concern' over Turkish offensive in Syria
11 October 2019
UN Secretary General Antonio Guterres on Thursday expressed "deep concern" and called for a "de-escalation" of the spiraling violence in Syria, a day after Turkey launched an offensive in Kurdish-controlled areas.
"I want to express my deep concern about the escalation of conflicts we are witnessing in eastern Syria," Antonio Guterres told a press conference in Copenhagen.
"At the present moment what we must do is to make sure that we have a de-escalation and of course I'm worried," Guterres said.
He said any solution to the conflict must "respect the sovereignty of the territory and the unity of Syria."
His remarks came as the five European members of the UN Security Council – France, Germany, Britain, Belgium, and Poland – called on Ankara to halt its "unilateral" military operation against Syrian Kurdish forces.
The Turkish military, supported by Syrian proxies, began its offensive in northeastern Syria on Wednesday, shortly after the US withdrew its troops from the area – a move which effectively saw America abandon its Kurdish allies in the fight against ISIS.
Turkey says its operation is aimed at pushing back Syrian Kurdish forces, which it considers "terrorists", and establishing a "safe zone" for the return of Syrian refugees.
Full report at:
https://english.alarabiya.net/en/News/middle-east/2019/10/11/UN-chief-expresses-deep-concern-over-Turkish-offensive-in-Syria.html
--------
Human Rights Watch, rights group condemn Bahrain's denial of medical care to prisoners
Oct 10, 2019
Human Rights Watch and the UK-based Bahrain Institute for Rights and Democracy (BIRD) have censured Bahraini officials for failing to provide adequate medical care to jailed political activists, as the ruling Al Khalifah regime presses ahead with its clampdown on human rights activists and pro-democracy campaigners in the kingdom.
Two detained human rights defenders, as well as the family members of four jailed opposition activists, told HRW and BIRD that prison authorities are arbitrarily denying the inmates urgent medical care, refusing to refer them to specialists, failing to disclose their medical examination results, and withholding medication as a form of punishment.
The family of 57-year-old Abduljalil al-Singace, an academic who was a spokesman for the dissolved Haq Movement for Liberty and Democracy, said his health has deteriorated significantly in detention.
Singace's daughter said that he saw the prison doctor on August 28, for the first time since 2017.
Earlier requests for medical attention for neck and back pain that his family said resulted from torture had been denied.
Moreover, prison officials did not authorize white blood cell checkups he needs as a result of complications he suffered due to a prolonged hunger strike in 2015.
On August 28, the prison doctor recommended that Singace should see a heart specialist in Bahrain Defense Forces (BDF) Hospital. Prison authorities told him on the day of the appointment that they would not take him there as he had refused to put on the prison uniform or wear shackles.
Meanwhile, the son of Hassan Mushaima, the head of al-Haq, who was sentenced to life in prison on June 22, 2011 for his peaceful political activities, said that the last screening for his father recovering from lymphoma occurred in August 2018, following his 46-day hunger strike in London.
The imprisoned Bahraini activist did not receive the results until April 2019. Prison authorities promised to conduct another screening in August, but have not done it yet, Mushaima's family said.
Mushaima, 71, requires screening tests every six months.
His son said that authorities routinely denied his father specialized medical care for his chronic illnesses, namely diabetes, high blood pressure and gout.
Prison authorities insist on shackling Mushaima during transfers to hospital appointments, but he has refused to do so, considering it humiliating and unnecessary, his son said.
"It is outrageous that Bahraini authorities are denying detainees medical care that they urgently need, in some cases putting their lives in danger," Joe Stork, deputy Middle East director at Human Rights Watch, said.
He added, "Many of these people should not have been imprisoned in the first place, and arbitrary denial of medical care may amount to extrajudicial punishment."
Thousands of anti-regime protesters have held demonstrations in Bahrain on an almost daily basis ever since a popular uprising began in the country in mid-February 2011.
They are demanding that the Al Khalifah regime relinquish power and allow a just system representing all Bahrainis to be established. Manama has gone to great lengths to clamp down on any sign of dissent. On March 14, 2011, troops from Saudi Arabia and the United Arab Emirates were deployed to assist Bahrain in its crackdown.
Full report at:
https://www.presstv.com/Detail/2019/10/10/608361/Human-Rights-Watch-condemns-Bahrains-denial-of-medical-care-to-prisoners
--------
Saudi Arabia to execute dozens of dissidents, warns Europe-based rights organization
Oct 10, 2019
A Europe-based organization seeking to promote human rights in Saudi Arabia says the kingdom continues to violate human rights and freedom of religion, warning that Saudi officials plan to execute dozens of imprisoned political dissidents.
The European Saudi Organization for Human Rights (ESOHR) said on Thursday that the Riyadh regime has been withholding the bodies of 83 dissidents killed by Saudi forces since 2016, and has refused to hand them over to their families. There are a number of minors among the detained bodies, Arabic-language Mirat al-Jazeera news website reported.
The ESOHR further noted that Saudi officials resort to the policy of collective punishment, without paying any attention to the right to life.
Instead of relying on fair trials, Saudi authorities depend on a politicized judiciary that uses torture, intimidation and harassment of detainees as a credible way to level fabricated accusations against defendants and extract coerced confessions, the rights organization said.
The ESOHR went on to say that death sentences against a large number of activists and dissidents are upheld on the basis of confessions extracted under duress, and that Saudi authorities are making use of various methods of torture without paying any attention to the magnitude of prisoner abuse.
"For the first time, Saudi Arabia has set a new record in its history of executions. The authorities have carried out 159 executions since the beginning of the current year up until September 28, thus registering a new record. The number of executions may exceed 200 by the end of the year if it continues at the same rate," it said.
The ESOHR highlighted that executions have been carried out at an increasing rate ever since King Salman bin Abdulaziz Al Saud succeeded to throne on January 23, 2015.
"A total of 147 executions were carried out in 2018, while 146 executions were ordered the previous year. In 2016, 154 people were put to death. A total of 157 were executed in the preceding year as well," the rights organization said.
The ESOHR underscored that 39 dissidents are currently facing capital punishment, adding that many of the death penalty appeals are based on written statements after torture, coercion and deception.
Full report at:
https://www.presstv.com/Detail/2019/10/10/608342/Saudi-Arabia-moving-to-execute-dozens-of-dissidents-as-crackdown-persists
--------
Mideast
Turkish Troops, Ankara-Backed Militants Seize Several Villages, Encircle Two Major Kurdish-Held Towns
Oct 10, 2019
Youssef Hamoud stated that Ras al Ain and Tel Abyad were now surrounded after the Turkish Army aided by Ankara-backed fighters seized several villages around the the two towns.
The two towns are among the prime objectives of the Turkish military campaign against Kurdish fighters.
Turkish army forces began ground operations in Northeastern Syria, and crossed into the country's territories on the Eastern bank of the Euphrates River, hours after kicking off a major military operation against Kurdish militias in the war-torn country on Wednesday.
On Wednesday, eight civilians were killed and 20 others were wounded in Ankara military operation in Syria. The Turkish Army also targeted service facilities and infrastructure , such as dams and electricity and water plants, according to SANA.
The news agency also reported that the Turkish Army continued its aggression on Syrian territory, targeting several towns and villages in the countryside of Hasaka and Raqqa provinces, hitting infrastructure, vital facilities, and residential neighborhoods, while a number of civilians killed and injured and caused massive material damage.
Allouk water station in Ras al-Ayn city went out of service due to a second Turkish assault on the electrical cables of the station. Turkish military aircraft had eearlier destroyed a power line supplying electricity to the Allouk water management facility, as well as a dam North of Al-Malikiyah.
Turkey had launched two operations in Northern Syria. The first offensive dubbed "Euphrates Shield" began in August 2016 to stop the advance of Kurdish militants. Then in January 2018, Turkish military forces launched another cross-border military operation inside Syria, code-named "Operation Olive Branch", with the declared aim of eliminating militants of the People's Protection Units (YPG) from Northern Syria, particularly the Afrin region.
Ankara views the YPG as the Syria branch of the Kurdistan Workers' Party (PKK) militant group, which has been seeking an autonomous Kurdish region in Turkey since 1984.
Damascus has reiterated that Turkey and US military presence in Syria is illegal and any foreign troop in Syria is regarded as an occupying force and the Syrian government has the right to take all the needed measures to confront it.
https://en.farsnews.com/newstext.aspx?nn=13980718000847
--------
6 People Killed in Kurdish Attacks on Turkish Border Towns, Ankara Forces Kill 9 Civilians in Syria
Oct 10, 2019
Three people were killed and 45 others wounded as shells hit the border towns of Akcakale and Ceylanpinar in Turkey, Sanliurfa governor's office said in a statement.
Separately, three people were killed and more than 20 people wounded as shells hit the border town of Nusaybin, Mardin governor's office added.
The Kurdish-led Syrian Democratic Forces (SDF) announced on Thursday that Turkish airstrikes and shelling had killed nine civilians in Northeast Syria since the start of Ankara's offensive on Wednesday.
On Thursday, President Recep Tayyip Erdogan stated as many as 109 militants have been killed since the beginning of Turkey's military operation in Syria's North.
The Turkish Army and affiliated Syrian militants kicked off an offensive against Kurdish fighter on Wednesday with massive air and artillery strikes, followed by a land invasion dubbed 'Operation Peace Spring'.
Turkey had launched two operations in Northern Syria. The first offensive dubbed "Euphrates Shield" began in August 2016 to stop the advance of Kurdish militants. Then in January 2018, Turkish military forces launched another cross-border military operation inside Syria, code-named "Operation Olive Branch", with the declared aim of eliminating militants of the People's Protection Units (YPG) from Northern Syria, particularly the Afrin region.
Ankara views the YPG as the Syria branch of the Kurdistan Workers' Party (PKK) militant group, which has been seeking an autonomous Kurdish region in Turkey since 1984.
Full report at:
https://en.farsnews.com/newstext.aspx?nn=13980718000825
--------
MP: Kurds Should Set UP Joint Operations Room with Syrian Army
Oct 10, 2019
Omar Ousi was quoted by the Arabic-language al-Watan newspaper as saying on Thursday that the Kurds should immediately coordinate with the Syrian government.
He added that the Kurdish militants should pave the ground for the presence of the Syrian army at the bordering areas with Turkey and hoist the Syrian flags in all villages and towns of al-Jazeera region and Eastern Euphrates.
"The Syrian government and army will defend the territories and citizens of all regions in the country," Ousi said.
Turkish President Recep Tayyip Erdogan said on Wednesday that his country's military forces and the Turkish-backed militants of the so-called Free Syrian Army (FSA) had launched a long-threatened offensive in northeastern Syria against Kurdish militants from the People's Protection Units (YPG) to push them away from border areas.
"Operation Peace Spring will neutralize terror threats against Turkey and lead to the establishment of a safe zone, facilitating the return of Syrian refugees to their homes," Erdogan wrote in a post published on his official Twitter page.
Syria's state-run television reported that the Turkish army launched the operation in the country's North by carrying out an airstrike on the city of Ras al-Ayn in the northeastern province of al-Hasakah.
European countries expressed outrage at Ankara's military operation against the Kurdish militias in Northern Syria as Washington continued silence over the massive air and ground assault the United States' long-time ally in the so-called anti-terror campaign against the Islamic States of Iraq and Levant (ISIL or ISIS) in the Arab country.
The United Nations, the European Union and other world powers had expressed alarm over the Turkish plan, warning that any military action could exacerbate the suffering of Syrians already beleaguered by eight years of conflict.
European Commission President Jean-Claude Juncker urged Turkey to halt its military operation and warned the European Union would not help finance the creation of any "safe zone" in Northeastern Syria.
"I call on Turkey as well as on the other actors to act with restraint and to stop operations already, as we are speaking, underway," Juncker told EU legislators.
The EU is paying Turkey more than $6bln to help the country cope with millions of Syrian refugees hosted on its territory in exchange for stopping migrants leaving for Europe. However, Ankara is seeking more money amid concerns that thousands of Syrians could soon cross its border.
Berlin strongly criticized the Turkish offensive in Syria, saying that by launching a military operation, Ankara is risking to destabilize the situation in the region.
Turkey "is willingly risking further destabilizing the region and a resurgence of IS [known as ISIL or ISIS]" by attacking Northeastern Syria, German Foreign Minister Heiko Maas stated.
"Syria needs stability and a political process... however, the Turkish offensive now threatens to cause a new humanitarian disaster," Maas announced in a statement, adding that Berlin would "urge Turkey to end its offensive and to pursue its security interests peacefully".
Paris, for its part, strongly condemned the Turkey's move, calling a UN Security Council meeting with Britain and Germany.
France's European Affairs Minister said on Wednesday that France, Britain and Germany had called for the United Nations Security Council to meet to discuss the Turkish offensive in Northern Syria.
Speaking to the parliamentary foreign affairs committee Amelie de Montchalin stated that the three countries were also finalizing a joint statement to "strongly condemn" the Turkish offensive, but added that a separate EU statement had yet to be agreed because some countries had not signed up to it.
Belgian Ambassador to the United Nations Marc Pecsteen de Buytswerve told reporters that the United Kingdom, France, Germany, Poland and Belgium will request the UN Security Council to convene a meeting on Thursday morning to discuss the Turkish military operation in the North of Syria.
"The EU5 [France, Germany, the United Kingdom, Poland and Belgium] will ask the meeting probably tomorrow morning," Buytswerve noted on Wednesday.
NATO Secretary-General Jens Stoltenberg also noted that the bloc has been notified of the Turkish operation, stating that Ankara does have "legitimate security concerns".
"I am ensured that any action it may take in Northern Syria is proportionate and measured," he said after meeting Italian Prime Minister Giuseppe Conte, adding, "It is important to avoid actions that may further destabilize region, escalate tensions and cause more human suffering."
Full report at:
https://en.farsnews.com/newstext.aspx?nn=13980718000322
--------
More than 60,000 displaced by Turkey assault on Syria: Monitor
10 October 2019
Turkey's military offensive on northeastern Syria has displaced more than 60,000 people in less than a day, a war monitor said Thursday.
"Since Wednesday, more than 60,000 people fled border areas," the Syrian Observatory for Human Rights said, adding that most of the displaced travelled east towards the city of Hasakeh.
Rami Abdel Rahman, the head of the Britain-based monitor, said the biggest displacement was from the border areas of Ras al-Ain, Tal Abyad and Derbasiyeh.
The Turkish military, supported by Syrian proxies, launched an offensive against Kurdish-controlled areas in northeastern Syria on Wednesday, despite widespread international warnings.
After an initial phase of air strikes and artillery fire, troops moved across the border and attacked some of the key towns in the area.
Ankara aims to create a buffer about 30 kilometers deep in Syria territory in which to send back some of the 3.6 million Syrians who found refuge on Turkish soil since the start of the war in Syria in 2011.
Humanitarian organisations warned that this latest episode in the deadly eight-year-old conflict could once again have disastrous consequences on civilian populations.
"An estimated 450,000 people live within five kilometers of the Syria-Turkey border and are at risk if all sides do not exercise maximum restraint and priorities the protection of civilians," a joint statement said.
The text signed by 14 humanitarian organisations warned that large numbers of civilians could soon be cut off from the vital aid they had been receiving.
"The life-saving humanitarian response will be threatened if instability forces aid agencies to suspend or relocate their programing and staff, as is already happening," said the statement.
Among the organisations that signed the appeal were several of the largest aid providers in the area, including the Norwegian Refugee Council and Mercy Corps.
In a separate statement, the Save The Children charity warned of "an impending humanitarian disaster."
It emphasized the risks facing the children among the latest wave of displacement, which includes thousands of people who had already been uprooted multiple times since the start of the war.
"With winter around the corner, they will face additional challenges as they search for shelter," Save The Children said.
Full report at:
https://english.alarabiya.net/en/News/middle-east/2019/10/10/More-than-60-000-displaced-by-turkey-assault-on-Syria-Monitor-.html
--------
£1m charity cash for group linked to Iran
10 OCTOBER 2019
Ahuman rights organisation has received more than £1 million in charity cash despite being run by self-declared Islamist revolutionaries closely aligned to Iran who say that the West is "the enemy" and Britain a "Stasi state".
According to an investigation by The Times newspaper the Islamic Human Rights Commission (IHRC), which is supported by Jeremy Corbyn, speak of "apartheid London", label anti-terrorism laws a "war on Muslims" and condemn English as a "colonial language that will always subjugate you".
The London-based group, given £1.2 million since 2013 by a charity that received £250,000 from the taxpayer via Gift Aid, claims to fight for the oppressed "whosoever they are and whomsoever oppresses them".
No affiliation to Iran is mentioned on the website of IHRC, which was founded in London in 1997 and says it fights for global human rights.
IHRC has condemned more than 50 countries for alleged mistreatment of Muslims. Its targets are Britain, the United States, Israel and Islamic nations such as Saudi Arabia and Egypt that have poor relations with Iran.
It has however been accused of hypocracy by a leading Iranian campaigner who said the group acted as a propaganda tool for Tehran. The group has no history of offering support to women's rights activists or religion minorities in Iran.
In an interview before he became the Labour Party leader, Mr Corbyn said that IHRC "represents all that's best in Islam concerning the rights of individuals to free expression".
IHRC is primarily funded by the British charity IHRC Trust, which runs out of the same London address.
The Charity Commission recently concluded a two-year investigation into the relationship between IHRC and its trust but did not order any changes.
Emma Fox, of the Henry Jackson Society, which published a report on IHRC this year, said that "cheerleading for Iran's ayatollahs" was not a charitable objective. She added: "Gift aid is supposed to support well-meaning endeavours. It undermines public confidence when taxpayers see their money [supporting] such organisations."
Full report at:
https://www.telegraph.co.uk/news/2019/10/10/1m-charity-cash-group-linked-iran/
--------
US House Republicans to seek sanctions on Turkey over Kurd offensive
11 October 2019
Twenty-nine of President Donald Trump's fellow Republicans in the US House of Representatives announced on Thursday they would introduce legislation to impose sanctions against Turkey, underscoring lawmakers' unhappiness about its assault on Kurdish forces in Syria.
A day after Republicans and Democrats announced similar legislation in the Senate, the lawmakers - including Republican Leader Kevin McCarthy, Republican Whip Steve Scalise and other party leaders - said they wanted a strong response to Ankara's aggression.
"President (Recep Tayyip) Erdogan and his regime must face serious consequences for mercilessly attacking our Kurdish allies in northern Syria," Republican Representative Liz Cheney, chairwoman of the House Republican Conference, said in a statement.
It was not immediately clear how the legislation would fare in the House of Representatives, which is controlled by Democrats.
On Sunday, Trump abruptly shifted policy and said he was withdrawing US forces from northeastern Syria, clearing the way for Turkey to launch an assault across the border.
Turkey began the offensive quickly, pounding Kurdish militias, who recently were fighting alongside US forces against ISIS, on Wednesday and Thursday, killing dozens and forcing many thousands of people to flee.
In a rare break from Trump, some of his fellow Republicans have sharply criticized the president's decision.
Full report at:
https://english.alarabiya.net/en/News/middle-east/2019/10/11/US-House-Republicans-to-seek-sanctions-on-Turkey-over-Kurd-offensive.html
--------
US talking with Saudi Arabia regarding Turkish offensive against Kurdish forces
11 October 2019
The United States is talking with its allies in Saudi Arabia regarding Turkey's military offensive against Kurdish forces in northern Syria, a senior US State Department official said.
Turkey's assault on Syrian Kurdish forces has not breached a red line declared by President Donald Trump who demanded a "humane" offensive, the US official added on Thursday.
Asked to define what action would go beyond Trump's vague warning, the US official said it would include "ethnic cleansing... indiscriminate artillery, air and other fires directed at civilian populations."
Full report at:
https://english.alarabiya.net/en/News/middle-east/2019/10/11/US-talking-with-Saudi-Arabia-regarding-Turkish-offensive-against-Kurdish-forces.html
--------
Turkish police investigate Kurdish leaders, fire water cannon at protesters
10 October 2019
Turkish police have launched criminal investigations into Kurdish lawmakers and detained scores of people, accusing them of criticizing the military's incursion into Syria on social media, state media reported.
Police also fired water cannon and detained dozens of activists in the mainly Kurdish southeastern city of Diyarbakir on Thursday at a protest against the cross-border assault.
Turkey pounded the Kurdish YPG militia in northeast Syria for a second day on Thursday, forcing tens of thousands of people to flee and killing dozens. Ankara deems the YPG a terrorist group over its links to militants who have waged an insurgency in Turkey.
Police in riot gear fired water cannon and then detained protesters at a rally in front of the pro-Kurdish People's Democratic Party (HDP) headquarters in Diyarbakir, the biggest city in the southeast. A HDP party official said police detained 25 members there, including its Diyarbakir provincial leader.
Earlier on Thursday, authorities began investigating HDP leaders and detained 21 people for criticising the military offensive online, state-owned Anadolu news agency said.
While most of Turkey's opposition parties have backed the operation, the HDP has called for the offensive to stop, describing it as an "invasion attempt".
HDP co-leader Sezai Temelli said on Wednesday the operation was an attempt by the government to drum up support amid declining public backing. Prosecutors launched an investigation against him and HDP's other co-leader, Pervin Buldan, over their remarks about the offensive, Anadolu said.
It said Temelli and Buldan were accused of "carrying out propaganda for a terrorist organisation" and "openly insulting Turkey's government". Three other HDP lawmakers were being investigated over similar charges, the news agency said.
The government accuses the HDP of ties to the Kurdistan Workers Party (PKK) militant group and thousands of its members have been prosecuted for the same reason, including its leaders.
Full report at:
https://english.alarabiya.net/en/News/middle-east/2019/10/10/Turkish-police-investigate-Kurdish-leaders-fire-water-cannon-at-protesters.html
--------
Turkish offensive will not go beyond 30 km into Syria: FM
10 October 2019
Turkey's incursion will not go further than 30 km into northeast Syria, Foreign Minister Mevlut Cavusoglu said on Thursday, as Turkish forces pressed on against Kurdish fighters on the second day of the operation.
Speaking to broadcaster CNN Turk, Cavusoglu said that the security threat which Turkey says it faces from the presence of Kurdish fighters on its border would be eliminated if the area was cleared of militants.
"When we go 30 km deep in the safe zone, terror there will be removed," he said.
Cavusoglu also said Turkey had the right to use air space over Syria as part of its campaign.
"We have the right to use that air space," he said. "That air space does not belong to the United States. It has no right to control that air space."
Cavusoglu also warned on Thursday that Turkey would retaliate if the United States imposed sanctions over its military incursion into northeast Syria, which is targeting Kurdish fighters backed by Washington.
Full report at:
https://english.alarabiya.net/en/News/middle-east/2019/10/10/Turkish-offensive-will-not-go-beyond-30-km-into-Syria-FM.html
--------
NATO ally Norway suspends new arms exports to Turkey
10 October 2019
Norway, a NATO ally of Turkey, announced Thursday it was suspending all new arms exports to the country after Ankara launched a military offensive against Kurdish forces in northern Syria.
"Given that the situation is complex and changing quickly, the foreign ministry as a precautionary measure will not handle any new demands for exports of defense material or material for multiple uses... to Turkey," Norwegian Foreign Minister Ine Eriksen Soreide said in an email sent to AFP.
She added that the ministry would also review all licenses for arms exportation that have already been issued.
Full report at:
https://english.alarabiya.net/en/News/middle-east/2019/10/10/NATO-ally-Norway-suspends-new-arms-exports-to-Turkey.html
--------
Erdogan threatens EU with refugee influx if criticizes Syria operation
10 October 2019
Turkish President Recep Tayyip Erdogan warned the EU on Thursday that Ankara would allow millions of refugees to head to Europe if the bloc criticized Turkey's military offensive in Syria.
"Hey EU, wake up. I say it again: if you try to frame our operation there as an invasion, our task is simple: we will open the doors and send 3.6 million migrants to you," Erdogan said in a speech to his party.
Turkey launched an operation into Syrian territory on Wednesday, aimed at combating Kurdish militants tied to insurgents in its own territory.
Erdogan said 109 "terrorists" had been killed so far in the operation, which would soon cover ground from Manbij in northern Syria to the Iraqi border some 350 kilometers east.
"God willing, we will crush these snakes' heads quickly," he said.
"What we are trying to do is prevent the establishment of a terrorist state on our southern border. This cannot happen,"
Turkey currently hosts 3.6 million refugees from the eight-year conflict in Syria - the highest number in the world.
Under a 2016 agreement with the EU, Turkey agreed to prevent refugees from leaving towards Europe in exchange for six billion euros and visa-free travel for its citizens, but has frequently criticized the lack of assistance from Brussels.
"You have never been sincere," Erdogan said, addressing the EU.
"Now they say they will withhold three billion euros from us. Have you ever kept any promise you gave us so far? No."
One aim of the military operation is to establish a "safe zone" in which at least one million Syrian refugees can be repatriated, after the long-term presence of refugees became an increasingly political liability.
"For those who want to return to their country but don't have a home left anymore, we plan to build settlements for one million people, with international financing," Erdogan said.
Full report at:
https://english.alarabiya.net/en/News/middle-east/2019/10/10/Erdogan-threatens-EU-with-refugee-influx-if-criticizes-Syria-operation-.html
--------
Prison holding ISIS fighters shelled by Turkey, say Kurdish-led authorities
10 October 2019
The Syrian Kurdish-led authorities accused Turkey of shelling a prison holding ISIS militants of more than 60 nationalities, saying it was "a clear attempt" to help them escape.
There was no immediate comment from Turkey.
The shelling on Wednesday night targeted part of Chirkin prison in the city of Qamishli, the Kurdish-led authorities said in a statement.
"These attacks on prisons holding ISIS terrorists will lead to a catastrophe the consequences of which the world may not be able to handle later on," the statement said.
The statement did not give further details.
The US previously announced on Wednesday that two British militants believed to be part of an ISIS cell that beheaded hostages and was known as "The Beatles" have been moved out of a detention center in Syria and are in American custody.
The international community has voiced fears that ISIS fighters will be released from prisons during the ongoing Turkish military operation against northeastern Syria, which is controlled by the Kurdish-led Syrian Democratic Forces (SDF).
The assault began days after US President Donald Trump pulled American troops out of northeastern Syria, prompting accusations that he had abandoned the SDF, whose fighters fought with Washington against ISIS.
Full report at:
https://english.alarabiya.net/en/News/middle-east/2019/10/10/Prison-holding-ISIS-fighters-shelled-by-Turkey-say-Kurdish-led-authorities.html
--------
17 civilians killed by Turkish shelling in northeastern Syria
10 October 2019
At least seventeen civilians have been killed after Turkish forces shelled towns and cities in northeastern Syria, an Al Arabiya correspondent said.
Three civilians were killed on Thursday when Turkish forces bombarded a convoy of vehicles taking residents of the northern city of Raqqa to a border town, the Syrian Democratic Forces said.
The Kurdish Hawar news agency said the Thursday's attack on the road leading to the border town of Tal Abyad killed three people and wounded several others.
Turkish troops have been bombarding the town of Tal Abyad since the start of their ground offensive against Kurdish forces on Wednesday.
Turkey's military offensive on northeastern Syria has displaced more than 60,000 people in less than a day, a war monitor said Thursday.
The Syrian Observatory for Human Rights said large number of residents from the border areas of Ras al-Ain, Tal Abyad and Derbasiyeh had fled their homes, mostly east towards the city of Hasakeh.
Turkish forces on Thursday also targeted SDF positions in Ain Issa in the city of Ar Raqqah, the Syrian regime's media sources reported.
The Syrian Observatory for Human Rights said that Turkey's forces took control on Thursday of a village east of the Syrian border town of Tel Abyad.
Full report at:
https://english.alarabiya.net/en/News/middle-east/2019/10/10/Turkish-forces-target-SDF-positions-in-Ain-Issa-district.html
--------
Iran calls on Turkey to 'immediately' end offensive in northern Syria
Oct 10, 2019
Iran has called on Turkey to "immediately" end its military operation in northeastern Syria and withdraw its forces from the Arab country's territory.
In a Statement on Thursday, the Iranian Foreign Ministry expressed concern over Turkey's military offensive which has put civilian lives at risk.
The statement stressed that "the dire humanitarian situation and the dangers posed to civilians in the conflict area" necessitate "the immediate cessation of attacks and the withdrawal of Turkish troops from Syria."
While understanding Turkey's security concerns, the statement said, Iran does not consider military action as a mean to address the woes, expressing Tehran's opposition to the offensive which would bring about "widespread human and material damage".
The statement further read that the current chaotic situation in the region is the result of "interference of extra-regional" countries, the US in particular.
It expressed the Islamic Republic's readiness to play the role of a mediator to deescalate tensions between Turkey and Syria. The ministry underscored "peaceful measures and respecting Syria's sovereignty and territorial integrity" as the sole way to ease tensions.
In a post on its Twitter account early Thursday, the Turkish Defense Ministry said the troops participating in Operation Peace Spring were advancing east of the Euphrates River following a ground offensive.
Full report at:
https://www.presstv.com/Detail/2019/10/10/608323/Iran-Foreign-Ministry-Turkey-Syria-Kurds
--------
Prolonged Saudi war to make Yemen world's poorest country: UN
Oct 10, 2019
A new UN report projects that Yemen is on course to become the world's poorest country if Saudi Arabia's aggression against the impoverished nation continues.
Poverty in Yemen has jumped from 47 percent of the population in 2014 to a projected 75 percent by the end of 2019 because of the war, the United Nations Development Program (UNDP) said in the report.
"If fighting continues through 2022, Yemen will rank the poorest country in the world, with 79 percent of the population living under the poverty line and 65 percent classified as extremely poor," the report said.
Separately, UNDP Yemen's resident representative, Auke Lootsma, said in a statement that "the ongoing crisis is threatening to make Yemen's population the poorest in the world -- a title the already suffering country cannot afford."
"Not only has the war made Yemen the largest humanitarian crisis in the world, it has plunged it into a harrowing development crisis too," he added.
Last month, a report produced for UNDP by the Pardee Center for International Futures at the University of Denver said that in the absence of the Saudi aggression Yemen could have made progress toward achieving the global anti-poverty framework agreed in 2015 with a target date of 2030.
"The war has already made Yemen the largest humanitarian disaster in the world, and now threatens to make its population the poorest in the world," said UNDP Administrator Achim Steiner at the time.
"UNDP's work with support from international partners and as part of the UN's overall engagement is focused on helping Yemenis keep institutions and businesses running to ensure they have the solid footing needed to recover when peace returns."
In recent months, United Nations agencies, NGOs, and international partners have been seeking to expand urgent humanitarian and development work across Yemen to save lives, meet humanitarian needs, and support resilience in the country as UN-backed peace talks continue.
The Houthi Ansarullah movement, which has been defending the country against the Saudi-led invasion for four years, has recently offered to halt its retaliatory attacks if the kingdom ends its bombing campaign against Yemen.
Saudi Arabia and a number of its regional allies launched a devastating campaign against Yemen in March 2015, with the goal of bringing the government of former president Abd Rabbuh Manour Hadi back to power and crushing the Houthi Ansarullah movement.
The US-based Armed Conflict Location and Event Data Project (ACLED), a nonprofit conflict-research organization, estimates that the war has claimed more than 91,000 lives over the past four and a half years.
Full report at:
https://www.presstv.com/Detail/2019/10/10/608349/Yemen-Houthis-Saudi-Arabia-United-Nations-Development-Program-UNDP-Auke-Lootsma
--------
First Turkish soldier killed during Syria operation: defense ministry
October 11, 2019
AKÇAKALE, Turkey: Turkey Friday reported the first death of one of its soldiers in its operation in northern Syria, during clashes with a Kurdish militia following a day of heavy shelling on both sides.
Three more soldiers were injured in the "operation region," the defense ministry said in a statement after the clashes on Thursday, without giving further detail.
https://www.arabnews.com/node/1567256/middle-east
--------
Europe
'West failed to address Turkey's concerns over Syria'
Ayhan Şimşek
10.10.2019
BERLIN
Former German Foreign Minister Sigmar Gabriel has sharply criticized the U.S. for providing support to groups in northern Syria linked to the PKK terrorist organization despite repeated warnings from its NATO ally Turkey and consequently creating a deep rift between Washington and Ankara.
"The mistakes already began under the Obama administration," Gabriel said in an exclusive interview with the Bild daily.
"The then U.S. President [Barack Obama] wanted to withdraw the U.S. troops and decided to cooperate with the YPG in order to fill the vacuum. Of course he knew that, despite the denials, the Syrian branch of the PKK would gain control over territories in northeastern Syria," he added.
Gabriel, a prominent Social Democrat politician who served as foreign minister from 2017 to 2018, recalled that Turkey had long viewed the PKK's Syrian affiliate the YPG as a major security threat.
"It must have been clear to all that Turkey would never allow the formation of a PKK state on its Syrian border. Turkey will never let the PKK/YPG fill the current power vacuum," he stressed.
The PKK, which is listed as a terrorist organization by Turkey, the U.S. and the European Union, waged a terror campaign against Turkey for more than 30 years and has been responsible for the deaths of nearly 40,000 people.
Germany's former top diplomat also criticized the European countries for closing their eyes to Syria's bloody civil war for too long and turning down Turkey's proposals to create a no-fly zone in Syria to protect the civilian population.
"That failed because of the vetoes by many European countries, including Germany. Looking back, it was probably a mistake," he said.
https://www.aa.com.tr/en/europe/west-failed-to-address-turkey-s-concerns-over-syria/1608082
--------
Erdogan threatens to open the gates to Europe as he lashes at critics
Damien McElroy
Oct 10, 2019
Turkish President Recep Tayyip Erdogan warned EU critics of his military offensive in Syria that he would "open the gates" to Europe for 3.6 million refugees in his country.
Mr Erdogan told activists from his ruling AK Party that the EU was wrong to calls the operation an invasion.
"Hey, EU, wake up," he said. "I say it again, if you try to frame our operation there as an invasion, our task is simple. We will open the gates and send 3.6 million migrants to you."
The offensive has been criticised by European states who do not accept Turkey's claims that it is acting in self-defence.
European officials have said any attempts by Turkey to resettle millions who have fled the conflict in Syria could fall foul of international laws against coercion.
"They are not honest, they just make up words," Mr Erdogan said. "We, however, take action and that is the difference between us."
The Turkish operation began on Wednesday evening, days after US troops were withdrawn from the north Syrian border regions.
The decision caused uproar in US Congress and among American allies as an abandonment of Syrian Kurds.
Ankara regards the Syrian Kurdish YPG militia as terrorists because of ties to the PKK group that has waged a decades-long insurgency in Turkey.
Kurdish representatives have condemned Washington's decision after years of fighting alongside American troops to defeat ISIS.
Federica Mogherini, the EU High Representative for Foreign Affairs, said the bloc urged Mr Erdogan to think again.
"The EU calls upon Turkey to cease the unilateral military action," Ms Mogherini said.
"Renewed armed hostilities in the north-east will further undermine the stability of the whole region, exacerbate civilian suffering and provoke further displacements."
French Foreign Minister Jean-Yves Le Drian said the offensive "must stop", as the Europeans prepared for an emergency UN Security Council meeting on Thursday.
"It calls into question the security and humanitarian efforts of the coalition against [ISIS] and risks undermining Europeans' security," Mr Le Drian said.
Dominic Raab, the British Foreign Secretary, said he had "serious concerns" about Turkey's offensive.
"This risks destabilising the region, exacerbating humanitarian suffering and undermining the progress made against ISIS, which should be our collective focus," he said.
European officials say there has been an sharp rise in the number of arrivals, to more than 3,000 a month, from Turkey in recent months as tension with Mr Erdogan grew.
Full report at:
https://www.thenational.ae/world/europe/erdogan-threatens-to-open-the-gates-to-europe-as-he-lashes-at-critics-1.921869
--------
German Man Arrested After Failed Attack on Synagogue
Oct. 9, 2019
BERLIN—A German man suspected of killing two people near a synagogue in the country's east and streaming the assault online was arrested on Wednesday after what authorities said appeared to be an anti-Semitic attack by a far-right extremist.
Witnesses said they saw the suspect, armed with two guns and wearing a helmet with a camera on top, try and fail to gain access to a synagogue in the city of Halle, where some 60 worshipers, including 10 U.S. nationals, had gathered to celebrate Yom Kippur, the holiest day on the Jewish...
https://www.wsj.com/articles/two-killed-in-shooting-in-eastern-germany-11570621267
--------
Muslims across Europe face 'new kind of terror' rooted in white supremacist ideology: Report
Callum Paton
Oct 9, 2019
In Europe the Muslim community is facing a "new kind of terror" which is rooted in anti-Muslim racism and white supremacist ideology, a report funded in part by the EU has said.
According to the European Islamophobia Report, nationalist, populist and far-right movements have increased their influence across the European continent and, where they have achieved power, they have undermined the rights of minorities in general, singling out Muslims in particular.
The policies and rhetoric of governments, of the kinds seen in 2018 in Italy, Austria, Hungary and Poland, has eventually led to violence against Muslims, the report outlines.
"Finally, the xenophobic and anti-Islam climate fostered by far-right governments paves the way for physical and terror attacks against Muslims or people who might be taken to be Muslim," it said.
Even where they have not come into power, as is the case in the majority of European counties, far-right movements have imposed what the report describes as a "nativist ideology" coupled with an "Islamophobia agenda" on national debate. This leads to Islamophobia entering the mainstream.
"Centrist parties do not manage to counter far-right discourse and often even fall into their trap by adopting their xenophobic approaches on security, immigration, and diversity issues," the report said.
The individual country reports gathered by the initiative paint a stark picture. In Austria Islamophobic incidents rose by 74 per cent over the course of 2018, with the government policy towards politically organised Islamic groups reportedly legitimising anti-Islamist sentiment.
In France, the report described how counter terror policy had led to the militarisation of the police. The counter terror policy in general in the country, the report said, was "jeopardising the fundamental rights" of Muslims in France.
In Italy the report observed the country was becoming "increasingly intolerant towards Muslims and migrants" as instances of hate speech on social media nearly triple from 2017 to 2018.
The report, also looked at the complicated way far-right and Islamophobia had morphed online as well as the instances of Islamophobic terror attacks and extremely violent attacks targeting Muslims.
These included the attack of three Arab students by over ten men at the Katowice Central Rail Station in Poland and the attack in the UK on the Al-Majlis Al-Hussain Islamic Centre in September when three worshippers were injured by a car deliberately driven into pedestrians.
Ultimately the report said there was an "urgent need to counter anti-Muslim racism". It called on the European Parliament to adopt a resolution on combating Islamophobia recommending a similar strategy to the one that had been used to combat anti-Semitism.
Full report at:
https://www.thenational.ae/world/europe/muslims-across-europe-face-new-kind-of-terror-rooted-in-white-supremacist-ideology-report-1.921508
--------
Emmanuel Macron vows to wage 'unrelenting' war on terror after Paris police killings
Claire Corkery
Oct 8, 2019
France's President Emmanuel Macron has vowed to wage "an unrelenting fight" against Islamic extremists at a memorial to honour four Paris police staff who were murdered by their colleague last week.
Mickael Harpon, a computer expert who worked in the Paris police headquarters' intelligence-gathering department, stabbed to death three police officers and an administrative worker before being shot dead by police.
Prosecutors said initial investigations had shown that the 45-year-old Muslim convert, who was born on the French island of Martinique, had been radicalised and was in contact with a hardline Salafist iman in the months prior to the deadly rampage.
"We will wage an unrelenting fight in the face of Islamist terrorism," Mr Macron vowed at a ceremony on Tuesday.
He said that it was "inconceivable and unacceptable" that Harpon, who had worked for the police since 2003, had carried out the killings "in the very place where we pursue terrorists and criminals".
Mr Macron said he wanted to build a "society of vigilance" in France, which has seen several extremist attacks in recent years.
Pressure has mounted on the French government to explain how a radicalised individual could have been able to work in the police with access to classified data within the Paris police's intelligence division.
Interior Minister Christophe Castaner, who is facing calls to resign from opposition MPs, acknowledged there had been "failings".
The killer had previously "justified" a deadly attack on satirical magazine Charlie Hebdo in front of colleagues but no written report was made.
Mr Castaner posthumously bestowed the Legion of Honour, France's highest award, on the four victims. The trainee police officer who killed the assailant will also receive the award.
The memorial came on the same day that media reports said a USB stick found at the home of Harpon contained extremist propaganda.
Full report at:
https://www.thenational.ae/world/europe/emmanuel-macron-vows-to-wage-unrelenting-war-on-terror-after-paris-police-killings-1.921008
--------
Synagogue Attack Sparks Concern About Far-Right Extremism in Germany
By Bertrand Benoit
Oct. 9, 2019
BERLIN—Authorities suspect Wednesday's attack on a synagogue in the east German city of Halle was fueled by far-right extremism, a threat German authorities have been warning about for months.
Germany's domestic intelligence service said in its annual report in June that the arrival of nearly two million asylum seekers since 2015, in particular, had emboldened far-right extremists motivated by racism, anti-Semitism, revisionist theories and anti-democratic values.
https://www.wsj.com/articles/synagogue-attack-sparks-concern-about-far-right-extremism-in-germany-11570659978
--------
Assailant Live-Streamed Attempted Attack on German Synagogue
By Melissa Eddy, Rick Gladstone and Tiffany Hsu
Oct. 10, 2019
BERLIN — A heavily armed gunman with a live-streaming head camera tried to storm a synagogue in eastern Germany on Wednesday as congregants observed the holiest day in Judaism. Foiled by a locked door, he killed two people outside and wounded two others in an anti-Semitic spree that smacked of far-right terrorism.
Hours later the police announced the arrest of a suspect in the assault in the city of Halle, one of the most brazen in a string of recent attacks aimed at Jews in Germany. Police officials declined to confirm if the suspect was the gunman or whether he had any accomplices.
The methodology of the assailant bore a striking resemblance to the rampage by a far-right extremist against two mosques in Christchurch, New Zealand, more than six months ago, in which he broadcast his killings live on social media. Fifty-one people died in that attack.
Like the Christchurch killer, the Halle assailant recorded himself, in a 35-minute video of shooting, mayhem and hateful language. In accented English, he identified himself as Anon, denied the Holocaust, denounced feminists and immigrants, then declared: "The root of all these problems is the Jew."
He then drove to Halle's Humboldt Street synagogue, showing the arsenal of weapons in his car. While trying unsuccessfully to enter the synagogue, which was locked, he fired at a woman passing by who had spoken to him, hitting her in the back. She crumpled and he shot her several more times, the video showed.
After other failed attempts to enter the synagogue, including shooting at the door, he drove to a kebab shop and started shooting. Two men cowered behind a beverage machine, and he fired at them, the footage showed. He then shot at a pedestrian, drove his car closer to the kebab shop, shot at some other pedestrians, re-entered and shot the body of one victim several times. He returned to his car, shot over the roof, and drove off.
2 mi.3 km.
"Watching the video was beyond disturbing, but extremely characteristic of this new wave of far-right terror," said Rita Katz, head of the SITE Intelligence Group, which tracks hate groups online.
The Halle attack was a "reminder how connected a far-right attack in Germany is to one in New Zealand, Pittsburgh, California or elsewhere," Ms. Katz said. "They aren't isolated events. They're continuations of each other."
A total of 51 congregants, including 10 young American visitors, were in the Halle synagogue during the assault, committed on Yom Kippur, the most solemn religious day for Jews. Officials said none were believed hurt.
"Based on the information that we have at this point, we must assume that at the least, this was an anti-Semitic attack," said Horst Seehofer, Germany's interior minister.
Chancellor Angela Merkel of Germany expressed her condolences to the families of the victims and her solidarity with Jews around the world. She also took part in a vigil outside Berlin's New Synagogue.
The assailant uploaded his video to Twitch, a live-streaming platform owned by Amazon that has struggled with moderating the real-time content that floods in from millions of active broadcasters. Alerted to the broadcast, Twitch scrambled to remove it and issue an apology, but not before right-wing sites had archived it. Some exalted the killer as a hero.
Megan Squire, a computer science professor at Elon University who studies online extremism, wrote in a post on Twitter that footage of the attack flowed through the messaging platform Telegram within 30 minutes of the shootings, reaching more than 15,000 accounts.
"We are shocked and saddened by the tragedy that took place in Germany today, and our deepest condolences go out to all those affected," Twitch said in a statement. "Twitch has a zero-tolerance policy against hateful conduct, and any act of violence is taken extremely seriously."
Amazon is a signatory of Christchurch Call, a pledge from online service providers including Facebook, YouTube and Twitter to prevent users from uploading violent content involving terrorists and extremists.
The police said earlier that at least two and possibly three gunmen had opened fire near the synagogue, but Mr. Seehofer spoke only of one.
Parts of Halle, the birthplace of Handel, were locked down by the police for hours in a search for an assailant or assailants. By late evening restrictions in the city were lifted, the train station reopened and traffic returned to normal.
"Our city was shaken by a terrible attack today," said Bernd Wiegand, the mayor of Halle. "Two people lost their lives and two others are being treated in the hospital for their injuries."
Germany's foreign minister, Heiko Maas, deplored the assault on Twitter, saying, "We all must act against anti-Semitism in our country."
Recent weeks have been punctuated by a number of small attacks on Jews in Germany, where anti-Semitism is an especially sensitive legacy of the Nazi era. This year, Mr. Seehofer condemned a jump in anti-Semitic attacks, ranging from vandalism to targeting individuals wearing visible emblems of their faith. After Wednesday's shooting, police reinforcements were sent to synagogues across the country.
Germany's federal prosecutor took over the investigation "on suspicion of murder under special circumstance," said Dirk Hackler, a spokesman for the prosecutor's office, but he declined to elaborate.
The last time the federal prosecutor made such a move was after the killing of Walter Lübcke, a pro-refugee district representative and member of Ms. Merkel's conservative party who was slain in June.
A witness to the shooting in Halle told the broadcaster MDR that he had seen a gunman dressed in military gear and armed with several weapons firing at the synagogue. Other news outlets reported that a hand grenade had been thrown into a Jewish cemetery nearby.
Prayers for Yom Kippur began at 9:30 a.m. Wednesday and had been scheduled to continue until 8:30 p.m. It is the most solemn day in the Jewish calendar, and services brought many people to the temple.
Max Privorozki, a leader of the Jewish community in Halle, told The Jewish Forum for Democracy that despite repeated requests for the police to provide security at the synagogue, there was no one outside when the attacker tried to force his way in. It took 10 minutes for the police to respond, he added, when he called for help.
Police officials in Halle could not confirm whether there had been a security detail outside the synagogue, as is common in many of Germany's larger cities.
"The attacker fired several times at the door and threw petrol bombs, firecrackers or other explosives to try to force his way in," Mr. Privorozki was quoted by Der Spiegel as saying. "But the door stayed shut — God protected us."
Attacks by White Extremists Are Growing. So Are Their Connections.
A New York Times analysis identified more than 350 white extremist attacks in Europe, North America and Australia since 2011. Perpetrators of the deadliest attacks engaged with extremist content online.
Immediately after the shooting, television footage showed police officers wearing helmets and carrying automatic weapons as they patrolled streets around the synagogue that had been sealed off with red-and-white tape. Other officers used a ladder to climb over a high brick wall surrounding the cemetery.
Anti-Semitic crime and hate crimes targeting foreigners have both increased almost 20 percent in Germany over the past year, according to official figures published in May. The data included a wide range of offenses, including assault, insults, graffiti, hateful postings online and the use of Nazi symbols.
Many Jewish institutions in Germany, including synagogues, schools and other cultural centers, are guarded by the local police. In Berlin, which has the country's largest Jewish population, the police have also provided security to cafes, restaurants and shops that are owned and frequented by Jews.
Earlier this year, the country's top official for efforts against anti-Semitism warned that Jews should not wear their skullcaps everywhere in public.
Halle, with a population of 230,000, is 100 miles southwest of Berlin and is the largest city in the eastern state of Saxony-Anhalt. It boasts Gothic and Renaissance architecture, but today is a regional seat of trade and commerce.
As news of Wednesday's shooting spread, condemnation and concern flowed in from across Europe. In Brussels, the president of the European Parliament, David Sassoli, expressed his condolences and called for a moment of silence for the victims. The Anti-Defamation League in New York called the attack "heartbreaking" and "devastating," and thanked those in law enforcement for keeping "our houses of worship and communal institutions safe and secure on this day and every day, in the U.S. and around the world."
The United Nations secretary general, António Guterres, said in a statement that he regarded the events in Halle as "yet another tragic demonstration of anti-Semitism — perpetrated on the holy day of Yom Kippur — which needs to be fought with the utmost determination."
Full report at:
https://www.nytimes.com/2019/10/09/world/europe/germany-shooting-halle-synagogue.html?searchResultPosition=5
--------
Brussels conference discusses terrorism challenges in South Asia, Europe
Manasi Gopalakrishnan
09.10.2019
A Bangladeshi diaspora group, European Bangladesh Forum (EBF), last week organized an international conference in Brussels to discuss the security challenges and threats faced by South Asian nations on account of violent extremism, and the role governments and civil society can play to counter them.
Members attending the meeting stressed the need for more concerted efforts to tackle terrorism-related threats in the world. In a globalized world, they said, terror threats were not limited to South Asia; other regions like Europe and North America were also equally affected.
Immigration has been a hot topic in Europe over the past several years. In 2015, Germany allowed nearly 900,000 refugees and asylum-seekers to enter the country under Chancellor Angela Merkel's open-door policy. Many of them were fleeing war and extreme poverty in the Middle East, Asia and Africa.
Tackling discrimination
The number of asylum-seekers entering Europe has drastically dropped since then. Still, euroskeptic and right-wing groups have seized on the crisis, claiming it undermines the social fabric of the continent and managing to improve their electoral prospects.
The 28-nation EU has not yet found compromise or reached an agreement on a system of distribution for rescued asylum-seekers.
Addressing the issue of immigration, Brando Benifei, a member of the European Parliament, underlined the integration problems faced even by second- and third-generation immigrant families in Europe.
He explained how some of these families in Italy were unable to integrate into mainstream society and how extremist groups attracted them toward terrorism. "Under these circumstances, initiatives have to be adopted to stand beside the young people to increase their sense of respectful belonging," he said.
Niels van den Berge, a Dutch politician, said during the meeting that vulnerable groups needed to be brought into the mainstream so that they could discuss their issues openly with other members of society. "It will not bring any solution, if the vulnerable and threatening groups are kept and left behind in seclusion," he said, adding that efforts have to be made to bring them back into the mainstream.
Participants said immigrants face a number of problems, including a lack of self-esteem, insufficient qualifications, mistrust, cultural differences and deeply-rooted prejudices, hurting their social and economic well-being.
Immigrants are also more prone to discrimination in the labor and housing markets as well as in official dealings.
Calling for mutual respect
Debarati Guha, the head of DW's Asia Service, also participated in the event. Addressing the gathering, she mentioned the rise of Hindu fundamentalism in India.
The country's ruling Bharatiya Janata Party (BJP) promotes Hindu nationalism and in the past few years, India has witnessed several instances of right-wing lynchings where Muslims were targeted for eating beef or failing to recite Hindu slogans when instructed.
Critics say the ruling party's Hindu nationalism has aggravated religious tensions in the country.
And the BJP's victory in this year's general election was largely seen as a referendum on Modi's Hindu nationalist politics.
And any form of dissent and disagreement with Modi's government or with the idea of Hindu nationalism has often been attacked as being "anti-national."
Full report at:
https://www.dw.com/en/brussels-conference-discusses-terrorism-challenges-in-south-asia-europe/a-50761172
--------
In Turkey, NATO chief to meet president, top diplomat
Fahri Aksüt
10.10.2019
The visit by NATO's chief to Turkey will include meetings with the president and foreign minister, Turkey's Foreign Ministry said on Thursday.
Secretary General Jens Stoltenberg will visit Turkey on Friday in order to have an exchange of views on a number of issues on the alliance's agenda.
A ministry statement said that Stoltenberg will have a bilateral meeting with Foreign Minister Mevlut Cavusoglu and will also be received by President Recep Tayyip Erdogan.
Stoltenberg's visit was scheduled before Turkey's current counter-terrorist operation in northeastern Syria.
Turkey on Wednesday announced the launch of Operation Peace Spring east of the Euphrates River in northern Syria to secure its borders by eliminating terror elements and to ensure the safe return of Syrian refugees and Syria's territorial integrity.
Full report at:
https://www.aa.com.tr/en/europe/in-turkey-nato-chief-to-meet-president-top-diplomat/1608319
--------
North America
House Repulicans call for sanctions against Turkey
Oct 11, 2019
Republican lawmakers in both chambers of the US Congress have announced plans to impose sanctions against Turkey over its military offensive against the Kurds.
Both Turkey and the Kurds in northern Syria are US allies; however, the two sides express deep animosity towards one another.
To make the situation between the two Washington allies worse, US President Donald Trump green-lighted Turkey's long-due demand for a military offensive against Kurds in northern Syria.
Republican US Senator Lindsey Graham blasted Trump on Wednesday for his decision to turn his back on the Kurds.
Graham described Trump's decision as granting Turkey US' permission to invade northern Syria and potentially wipe out US-backed Kurdish fighters.
Meanwhile, the US Republican top representative Liz Cheney warned Turkey on Thursday that Ankara should refrain form the attack on the Kurds, saying such an attacs would have serious consequences.
"President (Recep Tayyip) Erdogan and his regime must face serious consequences for mercilessly attacking our Kurdish allies in northern Syria," said Cheney, who is chairperson of the House Republican Conference.
In a similar move, the Iranian Foreign Ministry called on Turkey to "immediately" stop its military campaign in northeastern Syria.
"The dire humanitarian situation and the dangers posed to civilians in the conflict area" call for "the immediate cessation of attacks and the withdrawal of Turkish troops from Syria," the Iranian Foreign Ministry said in a statement on Saturday.
Iran, while realizing Turkey's security concerns, urged mildness in northern Syria,
The foreign ministry condemned Turkey's military campaign in Syria as a deadly offensive that would bring about "widespread human and material damage".
Tehran has voiced readiness to play the role of a mediator to de-escalate tensions between Turkey and Syria, it said.
The ministry insisted that "peaceful measures and respecting Syria's sovereignty and territorial integrity" were the sole way to de-escalation of tensions.
https://www.presstv.com/Detail/2019/10/11/608384/US-Turkey-Syria-Sanctons
--------
US will not endorse Turkey's Syria operation: officials
11.10.2019
Turkey has legitimate security concerns over its southern border, but the U.S. will not endorse its military operation in northern Syria, senior State Department officials said Friday.
"First of all, the United States will not endorse this invasion; it will not give it any kind of political cover or in any way think that it is a good idea. It endangers our allies in the fight against terror, the SDF, most of whom are from the region," said one of the officials in a statement on the situation in Syria.
The U.S. will not give any military support to the operation, the official added.
"If Turkey acts in a way that is disproportionate, inhumane, or otherwise goes beyond the lines that the President has in his own mind, the United States is willing to impose significant costs," the official stressed.
The statement underlined that Turkey has legitimate security concerns, since it has been suffering from terrorist attacks by the PKK.
"So Turkey has legitimate security concerns, which the President has repeatedly indicated, but the people of northeast Syria, including the Kurdish population, have their own concerns, and we have a very important set of security interests in northeast Syria," the official said.
Highlighting that the U.S. needs a partner on the ground, it said that partner has been the SDF, a major component of which has been the YPG, which is the Syrian offshoot of the PKK.
"That, of course, is the problem for Turkey, which has been suffering horrific terrorist attacks from the PKK for now 35 years, since 1984," the official added.
Referring to the detainees in the prisons which are the under control of the SDF, the official said Turkey will assume responsibility for the detainees if they take over an area where there are such detention facilities.
It added that the detainee issue is "obviously a concern" of President Donald Trump.
Operation Peace Spring
Turkey on Wednesday launched Operation Peace Spring east of the Euphrates River in northern Syria to secure its borders and Syria's territorial integrity by eliminating terrorist elements and to ensure the safe return of Syrian refugees.
Turkey has said the PKK terrorist group and its extension the YPG/PYD constitute the biggest threat to Syria's future, jeopardizing the country's territorial integrity and unitary structure.
Ankara has also stressed that supporting terrorists under the pretext of fighting Daesh is unacceptable.
Turkey has a 911-kilometer (566-mile) border with Syria and has long decried the threat from terrorists east of the Euphrates River and the formation of a "terrorist corridor" there.
Turkey plans to resettle 2 million Syrians in a 30-km (19-mile) wide proposed safe zone in Syria stretching from the Euphrates River to the Iraqi border, including Manbij. However, the presence of terror groups such as the PKK, PYD and YPG risk its formation.
Turkey has freed an area of 4,000 square km (1,544 square miles) in Syria from terrorist groups in two separate cross-border operations.
Since 2016, Turkey has conducted two major military operations in northwestern Syria -- Operation Euphrates Shield and Operation Olive Branch -- to eradicate threats from Daesh and the YPG, which is the Syrian branch of the PKK terrorist group.
The two operations were in line with the country's right to self-defense borne out of international law, UN Security Council resolutions, especially no. 1624 (2005), 2170 (2014) and 2178 (2014), and under the right to self-defense under Article 51 of the UN Charter while being respectful of Syria's territorial integrity.
During Operation Euphrates Shield, Turkish forces neutralized 3,060 Daesh terrorists.
Turkey has suffered greatly from Daesh attacks inside the country.
More than 300 people have been killed in attacks claimed by Daesh in Turkey, where the terrorist group has targeted civilians in suicide bombings and armed attacks in recent years.
Full report at:
https://www.aa.com.tr/en/americas/us-will-not-endorse-turkey-s-syria-operation-officials/1609661
--------
Turkey's bet on Trump for Syria operation backfires in Congress
Joyce Karam
Oct 10, 2019
Only forty-five minutes after Turkey announced its incursion into north-east Syria, US senators introduced a harsh sanctions bill against Ankara that will be put to a vote next week.
The move was yet another reflection of rising anger in Washington at Turkey's action and a rebuke of US President Donald Trump, who has emerged as a lone voice in offering support for the Turkish operation.
On Wednesday afternoon, Republican senator Lindsey Graham and Democrat Chris Van Hollen introduced a forceful sanctions bill targeting the assets of Turkish President Recep Tayyip Erdogan and his top officials, and banning transactions with the Turkish military.
The bill goes even further in including anyone who supports sectors of Turkey's oil and energy industry that back its military.
It's language is reserved for countries that have severe diplomatic problems with Washington, such as Iran, Russia and Venezuela.
Lindsey Graham
✔
@LindseyGrahamSC
I am pleased to have reached a bipartisan agreement with Senator @ChrisVanHollen on severe sanctions against Turkey for their invasion of Syria.
While the Administration refuses to act against Turkey, I expect strong bipartisan support.
View image on TwitterView image on Twitter
14.1K
2:15 AM - Oct 10, 2019
Twitter Ads info and privacy
18.7K people are talking about this
Mr Graham and Mr Van Hollen are expecting an initial vote on their bill next week when Congress returns from recess.
While Mr Trump would probably veto such a bill, that could be overriden with support from two thirds of the Senate, or 66 votes.
Speaking to Axios after proposing the bill, Mr Graham said he believed he wouldl have enough votes to defeat a veto.
"Who the hell supports Erdogan over the Kurds?" he said.
Republican and Democratic legislators were united in condemning Turkey's incursion into Syria.
Democratic candidates seeking the nomination to run for the presidency, including Bernie Sanders and Elizabeth Warren, have opposed the operation and Mr Trump's approach.
Bernie Sanders
✔
@SenSanders
I condemn Trump's reckless decision to abandon our Kurdish allies to their fate at the hands of Turkish President Erodogan.
The President of the United States should not make significant national security decisions impulsively, by tweet, after a single phone call. https://twitter.com/nytpolitics/status/1182024952939270144 …
NYT Politics
✔
@nytpolitics
Turkey launched airstrikes and fired artillery across its border into northeastern Syria to open a military operation aimed at flushing out an American-backed militia https://nyti.ms/2OA3RVE
10.3K
3:51 AM - Oct 10, 2019
Twitter Ads info and privacy
3,155 people are talking about this
Libertarian Rand Paul was the only senator to come out publicly in support of Mr Trump's withdrawal intentions from Syria, but not of the Turkish operation.
A senior administration official has contradicted Mr Trump about the withdrawal, saying this week that "this is not the beginning of a pullout" of an estimated 2,000 US troops from Syria.
Fox News reported on Wednesday that US commanders in Syria were surprised by Mr Trump's decision.
Jennifer Griffin
✔
@JenGriffinFNC
Replying to @JenGriffinFNC
Troops on the ground in Syria and their commanders were "surprised" by the decision Sunday night.
Of the President's decision: "He doesn't understand the problem. He doesn't understand the repercussions of this. Erdogan is an Islamist, not a level headed actor."
22.5K
3:32 AM - Oct 10, 2019
Twitter Ads info and privacy
7,529 people are talking about this
Aaron Stein, director at the Foreign Policy Research Institute, told The National: "We have a dual Turkey policy problem.
"We have Donald Trump, who is close to Mr Erdogan, and a US bureaucracy that is not. It creates a sense of incoherence."
Mr Stein expected the sanctions bill to receive majority and bipartisan support, but he said Mr Graham "has a Trump problem".
The Senator, who has been regarded as Mr Trump's "whisperer" in the past two years, is parting ways with the president over the issue.
"He [Graham] will need a partner to implement in the executive," Mr Stein said.
So far, Mr Trump has delayed sanctions on Turkey for buying the S-400 Russian missile defence system under an act passed in 2017, with overwhelming bipartisan majority, to try to stop significant transactions with Russia.
The Pentagon punished Ankara last July for the purchase by expelling it from the F-35 jets consortium and halting its sales.
Nicholas Danforth, a senior visiting fellow at the German Marshall Fund, saw a larger problem for US-Turkey relations that could be further fuelled by the close association with Mr Trump.
"Turkey may end up bearing the brunt of Washington's outrage over Mr Trump's withdrawal decision," Mr Danforth told The National.
"The coming weeks will test Turkey's strategy of putting its faith in Trump and ignoring rising anger in the US Congress."
Full report at:
https://www.thenational.ae/world/the-americas/turkey-s-bet-on-trump-for-syria-operation-backfires-in-congress-1.921935
--------
Africa
Troops kill one terrorist, arrest 66, rescue 12 Kidnap victims across Nigeria
October 9, 2019
By Maina Maina
The Nigerian Army on Wednesday revealed that troops in separate operations across the country,
between the 1st and 8th of October 2019, have made 66 arrests and rescued 12 persons from kidnapers as well as killed 1 bandit.
A statement by Aminu Iliyasu
Colonel, Nigerian Army Operations Media Coordinator, said troops of the Nigerian Army operating in various theatres of operations across the country have continued to record significant achievements against terrorists.
According to the statement, during the period under review, troops intensified their operations nationwide to deny criminal elements freedom of action, leading to a safer and more conducive environment especially with the approach of the 2019 festivities. The statement read, "In the NE Theatre, as troops of Operation LAFIYA DOLE intensify the bombardment of identified Boko Haram criminals locations and blockade of the criminals' crossing points and escape routes, more criminal insurgents are giving up their indignant acts of criminality and surrendering to troops.
"This sobriety is further exacerbated by hunger resulting from the blockade of their supply routes, arrest of their Logistics suppliers and collaborators as well as incessant artillery bombardments of their criminal hideouts.
"Accordingly, 5 marauding Boko Haram criminals surrendered to troops of 3 Battalion in Gamboru Ngala and Dikwa respectively.
"During preliminary interrogation, the surrendered insurgents revealed that hunger and unending bombardments of their hideouts left them with no choice than to escape from them. They also disclosed that they belong to the Al-Barnawi faction. The surrendered insurgents include Ramat Mohammed, Alhaji Brazil, Bukar Gambo, Waziri Bukar and Bashuna Musa. The suspects are currently undergoing further interrogation.
"In another development, troops of 115 Task Force Battalion's Quick Response Group, in conjunction with an Explosive Ordnance Disposal Team deployed at Askira, while acting on a credible information, mobilized to the area and safely detonated an Improvised Explosive Device planted along Rumirgo – Askira road. This has made the route to be safer for commuters.
"In Katsina State, troops arrested one suspected bandits' logistic supplier at Irigi along Nigeria/Niger border.
"In another development, troops of 1 Division Garrison rescued 12 kidnapped passengers of a named Teile Bus in the general area of Jumbo Farm within Chikun LGA of Kaduna State.
"Furthermore, troops arrested one suspected bandit named Garba YA'U in Yuna Village of Kagarko LGA of Kaduna State and recovered one Dane Gun from him.
"Troop further conducted cordon and search operations at the same village and recovered a metal box, bow and arrow, a locally made rifle and cutlasses from another suspected bandit's resident.
"Additionally, troops arrested 2 motorcycle snatchers at Gazara Village of Makarfi LGA of Kaduna State.
"Preliminary investigation revealed that the suspects are specialised in snatching and selling of stolen motorcycles to bandits.
"Additionally, in a separate operation conducted by troops, 4 impostors dressed in military and police uniforms with one Dane Gun were arrested at Atanda Village in Jema'a LGA of Kaduna State.
"In ZAMFARA State, troops neutralised one bandit and recovered 3 x AK 47 Rifles and 13 magazines.
"Similarly, in Plateau State, troops arrested 5 suspected criminals at Utan area in Jos North LGA of Plateau State and recovered one locally fabricated pistol, mobile phone and some quality of substances believed to be Cannabis Sativa.
"Also, following the failed attack on troops deployed at Barkin Ladi LGA of Plateau State, troops exploited the general area and arrested 6 suspects with one AK 47 Rifle and 21 rounds of 7.62mm Special ammunition.
"Furthermore, in Taraba State, troops intercepted 5 Jukun youths at the outskirt of Donga Town in Donga LGA and recovered 4 rounds of 7.62mm Special ammunition.
"Subsequently, troops conducted raid operations at Gana Militia Camp in Gbise area of Katsina Ala LGA of Benue State and recovered two G3 Rifles, one AK 47 Rifle, one Tavor Rifle and 2 locally made Rifles.
"Other items recovered were 4 motorcycles, 52 rounds of 7.62mm Special, one generator, one camouflage T-shirt, one combat belt and a Peugeot Saloon car suspected to be used for conveying kidnapped victim.
"Additionally, in a swift operation in the Federal Capital Territory, troops operating in conjunction with other Security Agencies and environmental agency personnel raided JABI Park and arrested 8 suspected drug peddlers. The troops also recovered 3 sacks of a substance suspected to be Cannabis Sativa from the scene.
"In ABIA State, troops arrested 27 IPOB members including 4 females led by their spiritual leader, Pa MICHEAL Madumere at Ngwa in Isisioma Ngwa LGA. During the encounter, one of the IPOB members named Mr Oliver Onyebunache armed with one AK 47 Rifle and 2 magazines containing 8 rounds of 7.62 mm Special ammunition was shot at his right leg while trying to shoot at the troops.
"In the Niger Delta region, troops continue to thwart illegal oil bunkering and illegal refining activities within the region.
"During the period under review, troops arrested 2 suspects and destroyed one Cotonou boat, 80,000 litres of substances suspected to be stolen crude oil, 11 Illegal Refineries, 9 Storage Tanks with stolen crude oil, 5,700 litres of suspected illegally refined petroleum product, 3 Pumping machines, one motor cycle, 7 Boilers, 4 Ovens, 4 Coolers, 8 Receivers, 3 Saver pits, 7 Wheel barrows, 3 Shovels and
several makeshift accommodation.
"Troops also recovered 2 DAF trucks with Reg No YOBE XA 349 FUN and YOBE 21 XA GDM conveying bags containing crude oil, a truck with Reg No LAGOS XR 510 GGE loaded with stolen crude oil, one pumping machine and one Motorola radio.
"In the light of the above, the Chief of Army Staff, Lt Gen Tukur Yusuf Buratai, wishes to thank patriotic Nigerians for availing the Nigerian Army with useful information that led to the successes recorded and further enjoins them to continue to relentlessly support the Nigerian Army in order to effectively rid the society of the myriads of security challenges being confronted in our nation. All abiding citizens are equally requested to go about their legitimate business endeavours without fear of molestation. "
https://dailypost.ng/2019/10/09/troops-kill-one-terrorist-arrest-66-rescue-12-kidnap-victims-across-nigeria/
--------
Five Boko Haram terrorists surrender to troops – Army
October 9, 2019
The Nigerian Army has announced the surrender of five Boko Haram terrorists to troops of 3 Battalion stationed in Gamboru Ngala and Dikwa Local Government Areas of Borno.
The Nigerian Army Operations Media Coordinator, Aminu Iliyasu, disclosed this in a statement on Thursday in Abuja.
Mr Iliyasu, a colonel, said that during preliminary interrogation, the surrendered insurgents revealed that hunger and unending bombardments of their hideouts left them with no choice than to escape from their group.
He added that they also disclosed that they belonged to the Al-Barnawi faction.
Mr Iliyasu gave the names of the surrendered insurgents as Ramat Mohammed, Alhaji Brazil, Bukar Gambo, Waziri Bukar, and Bashuna Musa, adding that they were currently undergoing further interrogation.
"In the NE Theatre, as troops of Operation LAFIYA DOLE intensify the bombardment of identified Boko Haram criminals locations and blockade of the criminals' crossing points and escape routes, more criminal insurgents are giving up their indignant acts of criminality and surrendering to troops.
Full report at:
https://www.premiumtimesng.com/news/top-news/356859-five-boko-haram-terrorists-surrender-to-troops-army.html
--------
Two senior al-Shabab leaders surrender to Somali forces
2019-10-09
MOGADISHU, Oct. 9 (Xinhua) -- Two senior members of the al-Shabab militant group on Wednesday surrendered to Somali government forces in the southern region of Gedo, a military official said.
Abdi Hakim Mohamed Omar, commander of Unit 10 of the 43rd Division of Somali National Army (SNA) said the two al-Shabab militants - Guuliye Hareed Mohamed and Abdullahi Nasiri Ali - handed themselves over to the government forces in Garbaharey town following the recent operations in the region against the militants.
"The two militants contacted our forces and informed they were going to give themselves up and they were ready to leave the militant group and the forces cooperated with them," the commander said.
He added the government is committed to welcoming those who are quitting al-Shabab militants.
The two former al-Shabab leaders who also spoke to journalists asked Somali people to forgive them for their past actions.
"I regret my previous deeds in al-Shabab as I joined the militant group when I was misguided as a child and I beg my people to pardon me," said Ali, calling on the other remaining cells in al-Shabab to follow suit.
Full report at:
http://www.xinhuanet.com/english/2019-10/09/c_138459018.htm
--------
Al Qaeda affiliate claims deadly attack on Malian army
OCTOBER 8, 2019
BAMAKO (Reuters) - Al Qaeda's West Africa affiliate on Tuesday claimed responsibility for coordinated, deadly attacks last week on two army bases in central Mali, it said in a statement.
Thirty-eight soldiers were killed and dozens others went missing during attacks on bases in Boulkessi and Mondoro, in some of the worst violence seen against the army this year.
The attack underscored the reach and sophistication of jihadist groups operating in central Mali, which has slipped from government control despite the presence of the French army and other international forces.
From their stronghold in Mali, groups with al Qaeda and Islamic State links have been able to fan out across the Sahel, destabilizing parts of Niger and Burkina Faso.
Jama'a Nusrat ul-Islam wa al-Muslimin said in the statement published by the Site Intelligence Group that it had kidnapped two soldiers, including a colonel in charge of the Boulkessi base, and seized, among other things, five vehicles, 76 machine guns, two mortar shells and ammunition.
It put the Malian army death toll at 85.
Full report at:
https://www.reuters.com/article/us-mali-security/al-qaeda-affiliate-claims-deadly-attack-on-malian-army-idUSKBN1WN20N
--------
4 killed, 5 injured in blast on outskirts of Mogadishu
2019-10-09
MOGADISHU, Oct. 9 (Xinhua) -- At least four people were killed on Tuesday night and five others injured in a roadside bomb blast along the road linking Mogadishu to Afgoye in the Lower Shabelle region, an official said on Wednesday.
A police officer who declined to be named told Xinhua that a bomb planted along the road exploded as a vehicle carrying soldiers was passing by.
"The soldiers were coming back from an operation of deactivating mines on the same road when the blast happened. Four people died in the blast and five others got injured," the official said, adding that among the dead were two soldiers.
An eyewitness said the blast was huge. "The incident happened at night and we heard a big blast. People said it was targeted a military car using the road. There were casualties, but we have no further details," Abdi Kadiye, an eyewitness told Xinhua.
The blast came amid intense operations by government forces defusing landmines which the militants planted along the road from Afgooye to Mogadishu.
Full report at:
http://www.xinhuanet.com/english/2019-10/09/c_138458451.htm
--------
Sudan ruling council appoints 2 to top judicial posts
October 10, 2019
CAIRO: Sudan's transitional government has appointed a new chief of the judiciary and new public prosecutor after several weeks of pressure from pro-democracy activists.
Mohamed Al-Fakki Soliman, spokesman of the joint civilian-military Sovereign Council, said Thursday that Justice Neamat Abdullah Mohamed Kheir, a veteran female judge, was named chief of the judiciary and that Taj Al-Ser Ali Al-Hebr was appointed the country's public prosecutor.
Soliman said the new appointees will soon examine "corruption cases and crimes" committed under the rule of longtime dictator Omar Al-Bashir, who was removed from power by the military in April after several months of sweeping protests. Amid international pressure, a power-sharing agreement between pro-democracy protesters and the generals was signed.
Full report at:
https://www.arabnews.com/node/1566956/middle-east
--------
Gunmen kidnap pastor, school principal in Nigeria
Olarewaju Kola
10.10.2019
MAIGUDURI, Nigeria
Gunmen have abducted a pastor and a school principal in two separate incidents in northeastern Nigeria, a police officer said on Thursday.
Police Commissioner Bola Longe, said the cleric identified as Pastor John Elga was abducted by gunmen, on Wednesday from his residence in Lafia town, the capital city of Nasarawa province.
"The way our men are combing the bushes, we will soon rescue Pastor John Elga from his abductors," the police chief told journalists.
He assured that the police would do everything to halt the activities of kidnappers and other criminal elements.
Also, in northwest Kaduna province, a group of 20 gunmen, stormed a school early Thursday and kidnapped the school principal Maji, a local resident told Anadolu Agency.
"About 20 gunmen stormed Government Technical Secondary School at Maraban Kajuru in Kaduna province and kidnapped the principal," Aliyu Bawa, a Kaduna resident said.
The police said they are still collating information about the incident. The kidnaping incidents have occurred just a week after, six female students were abducted in a school in the same area.
Full report at:
https://www.aa.com.tr/en/africa/gunmen-kidnap-pastor-school-principal-in-nigeria/1609003
--------
URL: https://www.newageislam.com/islamic-world-news/indian-muslims-peace-group-muslim/d/119971
New Age Islam, Islam Online, Islamic Website, African Muslim News, Arab World News, South Asia News, Indian Muslim News, World Muslim News, Women in Islam, Islamic Feminism, Arab Women, Women In Arab, Islamophobia in America, Muslim Women in West, Islam Women and Feminism