New Age Islam News Bureau
27 Nov 2013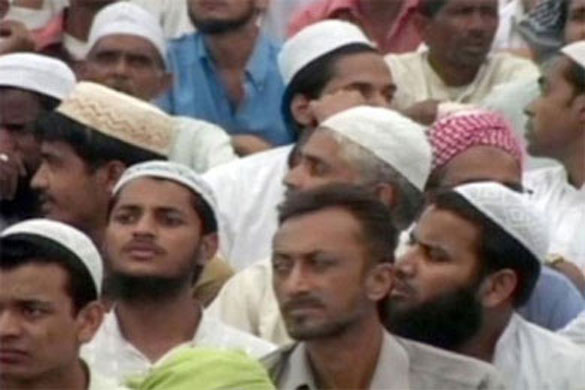 Muslim voters in India told to reject all political parties
--------------
India
• Muslim Voters Told By All India Tanzeem Ulema-e-Islami to Reject All Political Parties
• Pakistan wishes to reopen Mumbai consulate
• Lashkar-e-Taiba posters in Jammu & Kashmir's Pulwama
------------
Africa
• Angolan Official Denies Islam Ban, but Muslims Say Mosque Closings Persist
• Gunmen kill 37 in central Nigeria attack
• France sends in troops to Central African Republic to stop 'another Rwanda'
• Angolan embassy in US says 'Islam ban' reports erroneous
------------
Arab World
• Egypt and Turkey Pare Diplomatic Ties over Ankara's Backing of Muslim Brotherhood
• Syria says it won't give up power in peace talks
• New rebel alliance wants Syria as 'Islamic state'
• Egypt draft constitution deflates hopes for change
• Toll from spate of Iraq attacks rises to 46 dead
• Assad: Jumblatt unwelcome for role in bloodshed
• Egypt police disperse first unauthorised Cairo protest
• Arab Idol, Mohammed Assaf, hopes to inspire Palestinian refugees
------------
Mideast
• Turkey, Iran to become backbone of regional stability: Turkish FM
• Tehran confirms US release of $8b of frozen assets
• Iran's ex-president: Problems of Islamic world can be solved by Iran-Saudi Arabia cooperation
• Yemeni MP killed, shots fired at U.N. envoy's convoy - security sources
• Obama seeks to delay new sanctions against Iran
------------
South Asia
• Taliban kill six literacy workers in Afghanistan -officials
• Bombs detonated, rail lines removed in Bangladesh over poll date
• US warns Karzai it may leave no troops in Afghanistan
• Political protests in Bangladesh turn violent
------------
Pakistan
• Raheel Sharif to succeed Ashfaq Parvez Kayani as Army Chief of Pakistan
• Islamabad releases 3 senior Taliban prisoners
• West must stop killings in name terror war, says Dr Qadri
• Taliban attacks feared in Nowshera, Bara
• Pakistan begins work on civil nuclear power plant
• PPP welcomes Iran accord with West
------------
Europe
• British Teacher Coerces Kids to Join in Muslim Workshop
• France to Send 1,000 Troops to Central African Republic
• French 'Planned to Assassinate' British Muslim Extremist
• First Eurozone Islamic Bank Planned For Luxembourg
-----------
Southeast Asia
• PAS's political partners are the 'true enemies of Islam', columnist says
• Malaysia calls Singapore envoy over spying report
• UN Passes Anti-Spying Resolution
------------
North America
• Obama defends Iran nuclear deal
• Court issues verdicts against 34 for attacking American Consulate
Compiled by New Age Islam News Bureau
URL: https://newageislam.com/islamic-world-news/indian-muslim-voters-told-barailwi/d/34619
------------
India
Muslim Voters Told By All India Tanzeem Ulema-e-Islami to Reject All Political Parties
25th November 2013
Muslim religious leaders Monday told Muslim voters to reject all political parties in the ongoing assembly elections, accusing politicians of using the community as a vote bank.
"We appeal to Muslims not to vote for the so-called secular parties and exercise the 'NOTA' option to express their anger and anguish against all political groups," Mufti Ishtiaq Hussain Qadri told a gathering of over 1,000 religious heads of Islamic institutions here.
He was addressing a meeting held under the banner of the All India Tanzeem Ulema-e-Islami of Bareillvi sect.
Manan Raza Khan, Shah Farhat Ahmed Jamali of Rampur, Darul Uloom rector Raipur Maulana Akhbar Ali Farooq and a large number of religious scholars from Uttar Pradesh, Delhi, Rajasthan, Bihar and West Bengal attended it.
Mufti Istiaq said Muslims remained socially, economically and educationally backward despite decades of Congress rule.
The Bharatiya Janata Party too pursued a policy of alienating Muslims, he said.
So there was no other choice for Muslims -- India's largest minority -- but to opt for NOTA (None of the Above) in the electronic voting machines or ballot papers, rejecting all candidates in the fray.
According to the Mufti, this would send out a message that no one can take minorities for granted.
He said NOTA was the "best weapon" in the hands of minorities. "We must utilise it."
Maulana Mazhar Ali Qadri said minorities had suffered enormously even under Congress rule.
"Muslims are not going to lose anything by exercising the NOTA option. It will be a loss to the so-called secular parties who always exploit Muslims for their political objectives.
"Minorities are remembered only at the time of elections."
The meeting criticized the Uttar Pradesh government for allegedly doing nothing to extend relief to Muslim victims of the Muzaffarnagar communal riots of September.
More than 50,000 people were still in relief camps, the participants at the meeting said.
Uttar Pradesh's ruling Samajwadi Party, which claimed to be a protector of minorities, had "miserably failed to curb communal forces" in the state, the speakers said.
http://newindianexpress.com/nation/Muslim-voters-told-to-reject-all-political-parties/2013/11/25/article1910644.ece
------------
Pakistan wishes to reopen Mumbai consulate
Nov 27, 2013
ISLAMABAD: On the 5th anniversary of 26/11 and one year after hanging of death of lone Ajmal Kasab, Pakistan's foreign secretary Jalil Abbas Jilani said that the dialogue on fighting terrorism should be candid, sober, discreet and sincere. Speaking to a delegation of journalists associated with Mumbai Press Club on Friday Jilani said that his country would make all efforts to find the perpetrators of the 26/11 tragedy and punish them.
"The judicial commission has just returned from Mumbai after interviewing a cross section of officials and witnesses. Our country will not let the perpetrators of the heinous crime go unpunished once their crime is proved," said Jilani who refused to give any time frame for such action as he said "the matter was subjudice."
Calling the Mumbai terror attack a huge tragedy, the senior diplomat said Pakistan had felt a great degree of remorse over the loss of so many innocent lives.
When asked why Pakistan had initially denied the involvement of Pakistani nationals in the terror attack, Jilani said that, instead of launching a scathing attack on Pakistan, the media should have first questioned Pakistani foreign minister who was then in New Delhi.
He said that jingoistic approach of the media often makes the chances of peaceful dialogues difficult. One of the ways to ease the visa restrictions and facilitate travel of people from one country to the other, said Jilani, would be to open Pak consulate of in Mumbai and Indian consulate in Karachi. "Why not to have consulate in Karachi? We had almost finalized a place in Mumbai for the consulate and then it didn't happen," said Jilani who also spoke on length about the need to have sustained between the journalists of two countries.
Arriving on November 23, the 14-member Mumbai Press club delegation has visited Karachi where the Karachi Press Club was its host, Islamabad and will leave for Lahore on November 27. The two press clubs are passing a joint resolution requesting the two countries to remove the restrictions of allowing just two journalists from each country to work in the other.
"Right now only two Indian journalists are stationed in Islamabad and similarly two Pakistani journalists work in New Delhi. This restriction should be removed as we need to cover the two countries widely," suggested Mumbai Press club's president Gurbir Singh.
http://timesofindia.indiatimes.com/india/Pakistan-wishes-to-reopen-Mumbai-consulate/articleshow/26435800.cms
------------
Lashkar-e-Taiba posters in Jammu & Kashmir's Pulwama
Nov 27, 2013
NEW DELHI: In another round of issuing threats to the locals of Jammu & Kashmir, posters have been plastered all over Pulwama district. In this new threat, panches of the district have been warned.
According to Times Now, residents of the district are in fear of the action that the dreaded organization Lashkar-e-Taiba will take.
Further details are awaited.
http://timesofindia.indiatimes.com/india/Lashkar-e-Taiba-posters-in-Jammu-Kashmirs-Pulwama/articleshow/26447724.cms
------------
Africa
Angolan Official Denies Islam Ban, But Muslims Say Mosque Closings Persist
By Connor Adams Sheets
November 26 2013
The controversy over reports that the southwest African nation of Angola had banned Islam and begun to demolish mosques took a new turn Tuesday when Manuel Fernando, director of the Angolan Ministry of Culture's National Institute for Religious Affairs, denied both reported measures.
"There is no war in Angola against Islam or any other religion," Fernando told Agence France-Presse. "There is no official position that targets the destruction or closure of places of worship, whichever they are."
But the Angolan magazine Exame Angola reports that a mosque in Huambo was closed recently "under express orders of the police authorities of the province of Huambo." That came from a member of the mosque in question, which Exame reports is the 60th to be closed in Angola. All quotes from Exame referenced in this article have been translated from Portuguese.
And prominent Angolan Muslim leader David Ja maintains that the government has been engaging in "political persecution" and "religious intolerance," AFP reports, rejecting the denial by Fernando that Angola has been targeting Muslim groups.
"A mosque was closed last week in Huambo [in the south] and we have been subjected to pressure this week regarding a mosque in Luanda [the capital]," he said.
Ja reportedly also told Exame Angola that the "Islamic community is outraged by the closing of their places of worship."
Egypt's Grand Mufti Shaqi Allam has decried the reports of anti-Muslim persecution out by the Angolan government, calling them "a provocation not only to Angolan Muslims but to more than 1.5 billion Muslims all over the world," according to AFP.
Fernando's comments appear to represent the first public attempt by a government official based in Angola to refute the explosive claims, which first emerged in several African news outlets over the weekend and then spread to media around the world, including International Business Times.
And they came on the heels of similarly dismissive statements made to IBTimes on Monday by two officials at the Angolan Embassy in Washington, who did not want to be identified discussing the sensitive matter.
"The Republic of Angola … it's a country that does not interfere in religion," an official at the embassy said via phone Monday afternoon. "We have a lot of religions there. It is freedom of religion. We have Catholic, Protestants, Baptists, Muslims and evangelical people."
Another official confirmed Monday that the embassy did not have knowledge of an Angolan ban on Islam or a plot by the government to destroy mosques.
"At the moment, we don't have any information about that," the second official said via telephone Monday. "We're reading about it just like you on the Internet. We don't have any notice that what you're reading on the Internet is true."
The reports of mosques being dismantled have come under scrutiny, as a quick Google Images search shows that a photograph published by numerous news outlets this month that supposedly depicts the minaret of an Angolan mosque being dismantled in October 2012 had been published at least as far back as Jan. 23, 2008, when the Housing & Land Rights Network used it to illustrate an article about the demolition of Bedouin homes in Israel.
On Friday, the weekly Beninese newspaper La Nouvelle Tribune published an article quoting "several" Angolan officials, including Minister of Culture Rosa Cruz, who reportedly offered the following remarks, which are translated from the French: "The process of legalization of Islam has not been approved by the Ministry of Justice and Human Rights. Their mosques would be closed until further notice."
And the website OnIslam.net cited African news agency Agence Ecofin reporting, "According to several Angolan newspapers, Angola has become the first country in the world to ban Islam and Muslims, taking first measures by destroying mosques in the country."
The reports set off a massive surge of interest, as they spread across the world and eventually went viral, causing alarm among Muslims and jubilation by Islamophobes.
As of 2008, Angola had a population of approximately 16 million people, of whom an estimated 55 percent were Catholic, 25 percent belonged to African Christian denominations, 10 percent followed major Protestant traditions, and 5 percent belonged to Brazilian Evangelical churches, while only 80,000 to 90,000 Angolans were Muslim, according to the U.S. State Department.
http://www.ibtimes.com/angolan-official-denies-islam-ban-muslims-say-mosque-closings-persist-1487416
------------
Gunmen kill 37 in central Nigeria attack
2013-11-26
LAGOS: Gunmen in central Nigeria's Plateau state killed 37 people in a pre-dawn raid Tuesday, the military said, the latest unrest to hit the area gripped by a decade-long sectarian conflict.
"At about 2:00 am (0100 GMT) unknown gunmen carried out an attack" in four villages, said area military spokesman Salisu Mustapha.
"The attackers killed... 13 persons in Katu Kapang, eight in Daron, nine in Tul and seven others in Rawuru."
Plateau falls in Nigeria's so-called Middle Belt, on the dividing line between the mainly Christian south and predominantly Muslim north.
Mostly Muslim herdsmen from the Fulani-Hausa ethnic group have been blamed for scores of attacks on mainly Christian agriculturalists from the Berom ethnic community.
Fulani leaders say the Berom politicians who control the state have systemically suppressed the rights of herdsmen, denying them access to desperately needed grazing land.
It was not clear who carried out the latest attack which hit the Barkin Ladi area, a hotspot in the protracted conflict.
Boko Haram Islamists, waging a brutal four-year insurgency in the north, have also attacked Plateau, but there was no immediate indication that the banned insurgent group was behind the latest violence.
Mustapha said "the gunmen fled on sighting the arrival of the troops" and that the situation was now "under control".
Analysts say the conflict in Plateau has been intensified by provisions in Nigeria's constitution that give enhanced rights to so-called indigenous people.
The Berom and linked ethnic groups are the state's indigenes, giving them better access to education, land and political office.
Violence in Plateau "has led to ethnic cleansing that recalls the Balkans", former US ambassador to Nigeria John Campbell wrote in July in The Atlantic magazine.
"Formerly mixed villages or neighbourhoods (in the capital Jos) now consist of only one ethnic group. If an outsider is detected, he risks being killed on the spot," added Campbell, now with the Council on Foreign Relations (CFR).
The CFR, which tracks violence in northern and central Nigeria, counted "785 sectarian related deaths in Plateau state" between May 29, 2011 and June 30, 2013.
"These estimates are very conservative," Campbell wrote.
"Victims are predominantly women, children and the elderly men are able to run off. Killings sometimes occur among close neighbours," he continued.
Several peace processes in Plateau have mostly failed to stop the violence, with deep mistrust persisting between the state's politicians and the security forces.
Berom leaders have accused the military of supporting and at times co-operating with the Fulani but such allegations have not been proven.
http://www.dawn.com/news/1058729/gunmen-kill-37-in-central-nigeria-attack
------------
France sends in troops to Central African Republic to stop 'another Rwanda'
26 November 2013
France is to send 1,000 soldiers to the Central African Republic to try to contain a conflict which threatens to explode into a vicious Muslim-Christian civil war.
The deployment – the second French intervention in Africa this year – is likely to win UN Security Council approval in the next few days. The French Defence Minister, Jean-Yves le Drian, spoke of a "short mission to allow calm and stability to return" after the overthrow of the President eight months ago.
"The Central African Republic is in a state of collapse and we cannot allow a country to fall apart like that, with the risk of violence, massacres and humanitarian chaos, " Mr Le Drian said.
Both sides have accused each other of atrocities since a Muslim rebel alliance overthrew a Christian president in March. There have been reports of massacres, rape and the conscription of child soldiers by the rebel forces.
Over a million people, in a country of 4.4 million, are facing famine. An estimated 400,000 people have been forced from their homes and 68,000 have fled to neighbouring countries.
The UN Deputy Secretary-General Jan Eliasson told the Security Council on Monday that the CAR was becoming a "breeding ground for extremists and armed groups" and could descend into a full-scale civil war between Muslim and Christian communities. UN officials have warned of the "potential for another Rwanda".
Mr Eliasson suggested that the deployment of a UN peacekeeping force of up to 9,000 troops might now be inevitable. The new French force will join the 400 French soldiers on the ground in a six-month "bridging operation" before a large peacekeeping operation by the African Union begins next month.
A draft UN Security Council resolution is expected to call on the Secretary General Ban Ki-moon to prepare plans for a possible UN intervention within three months.
French interventions in Africa have a tendency to last longer than initially announced, such as that in Mali in January. Mr Le Drian rejected any comparisons between the operations. "In Mali there was an attack by jihadists who wanted to transform Mali into a terrorist state," he said. "This is a collapse of a country with a potential for religious conflict. France has international responsibilities."
Full report at:
http://www.independent.co.uk/news/world/europe/france-sends-in-troops-to-central-african-republic-to-stop-another-rwanda-as-conflict-threatens-to-explode-into-muslimchristan-war-8965307.html
------------
Angolan embassy in US says 'Islam ban' reports erroneous
November 26, 2013
Washington/Jeddah: Angolan diplomats in the United States have rejected reports that it has banned Islam - but not before the widely reported news that it had done so sent shock waves among the Muslims around the world.
The International Business Times quoted a spokesperson from the Angolan embassy in Washington DC, who said Angola is "a country that does not interfere in religion".
The official, who did not want to be identified while discussing the sensitive matter, said that there is no such ban, and that the reports are erroneous.
"The Republic of Angola … it's a country that does not interfere in religion," the official said via telephone Monday afternoon. "We have a lot of religions there. It is freedom of religion. We have Catholic, Protestants, Baptists, Muslims and evangelical people."
A second official at the Angolan Embassy in the U.S. reiterated that the diplomatic seat has not been made aware of any ban on Islam in the country.
"At the moment we don't have any information about that," the official told International Business Times via phone on Monday. "We're reading about it just like you on the Internet. We don't have any notice that what you're reading on the Internet is true."
The officials at the Angolan Embassy in Washington also could not attest to the veracity of the comments attributed to officials in Angola seemingly affirming the Islam ban.
News of Angola's supposed ban on Islam originated in the African press, which went so far as to quote the nation's president and minister of culture offering statements that suggested the premise of the reports was accurate.
Full report at:
http://www.ummid.com/news/2013/November/26.11.2013/muslim-world-shock-by-angola-ban.html
------------
Arab World
Egypt and Turkey Pare Diplomatic Ties over Ankara's Backing Of Muslim Brotherhood
November 26, 2013
CAIRO // Locked in a crackdown on the Muslim Brotherhood since President Mohammed Morsi's ouster, Egypt has launched a diplomatic offensive against the movement's foreign backers armed with funds from its old foes.
In their first salvo soon after Mr Morsi was toppled, the military-installed rulers took aim at Qatar – the only Gulf monarchy that openly supported the Brotherhood – by closing the Egyptian channel of Al Jazeera television.
The authorities also detained some journalists working in Cairo for the Doha-based network. In addition, officials said Cairo was willing to return to Qatar funds given to Egypt during the Morsi presidency.
But the main confrontation for the new authorities is a diplomatic one that has developed with Turkey.
On Sunday, Cairo expelled Ankara's ambassador after Turkish Prime Minister Recep Tayyip Erdogan condemned the repression of Morsi's supporters.
The tussle began soon after Egyptian security forces broke up two camps of Morsi supporters on August 14 in Cairo, in what was the bloodiest episode in Egypt's modern history.
A day later both Cairo and Ankara recalled their respective ambassadors, but while Ankara later sent its envoy back to Egypt, Cairo's ambassador to Turkey stayed at home.
On Sunday, the two countries went a step further by reducing their diplomatic ties to the level of charges d'affaires.
Karim Bitar, a Paris-based analyst, said the row stems from "increasing Egyptian nationalism and bitter regional setbacks for Turkey, including in Syria, which has seen it lose influence" in the region.
For Shadi Hamid, research director at the Brookings Doha Center, "Egypt's ruling military leaders are clearly not tolerating any backing to the Muslim Brotherhood, either inside the country or outside".
"Gulf countries like Saudi Arabia, Kuwait and the UAE have provided billions in aid to Egypt which is giving it the degree of latitude" in its diplomatic tactics which has even seen Cairo returning part of Qatari funds, he said.
Saudi Arabia and Kuwait announced they would give US$9 billion (Dh33 billion) to Egypt just days after Morsi's ouster on July 3.
They even promised to make up for any shortage of military assistance Cairo normally gets from the United States.
In October, Washington suspended its annual US$1.3bn (Dh4.7bn) military aid to Cairo amid repeated criticisms of Egypt's deadly crackdown on Islamists. US officials, however, have refused to term Morsi's ouster as a "coup".
The UAE, which strongly backs Egypt's new rulers, also announced it would provide Cairo with US$4.9 bn (Dh17.9bn).
Mr Hamid, the Brookings analyst, said Cairo's public position on the United States or Europe was purely "rhetoric", with both Washington and Brussels "unwilling to push for any confrontation with Egypt".
"They don't have that political will," he said.
Mr Bitar said many countries had already accepted what has happened in Egypt.
"Most other countries, apart from traditional supporters of the Muslim Brotherhood like Turkey and Qatar, have taken note of the new Egyptian situation and acknowledged the coup in the name of realism and due to their basic hostility towards political Islam," he said.
Washington too is slowly stepping back from its earlier stance, with US secretary of state John Kerry recently accusing the Brotherhood of "stealing the revolution" of 2011 that ousted long-time ruler Hosni Mubarak.
Full report at:
http://www.thenational.ae/world/middle-east/egypt-and-turkey-pare-diplomatic-ties-over-ankaras-backing-of-muslim-brotherhood
------------
Syria says it won't give up power in peace talks
November 27, 2013
DAMASCUS, Syria — The Syrian government said Wednesday it will participate in U.N.-sponsored peace talks aimed at ending the country's civil war, but insisted that it is not going to the conference to hand over power.
The United Nations on Monday announced that the long-delayed peace talks will begin Jan. 22 in Geneva. The meeting, which would be the first face-to-face talks between President Bashar Assad's government and its opponents since the Syrian war began, has raised hopes that a resolution to a conflict that activists say has killed more than 120,000 people could be within reach.
But huge hurdles remain, including a decision on the full list of participants. The main Western-backed Syrian opposition group has said it is ready to attend, but wants the government to establish humanitarian corridors and release political prisoners as a confidence-building measure before it makes a final decision.
In a statement Wednesday, Syria's Foreign Ministry confirmed the government will attend, saying Assad will send an official delegation to the Geneva conference. The ministry stressed that the representatives "will be going to Geneva not to hand over power to anyone" but to meet with those "who support a political solution for Syria's future."
The Syrian opposition and its Western supporters insist that Assad cannot be part of a transitional government.
In a jab at Britain and France, the Foreign Ministry said that if Paris and London "insist on holding fast to these illusions" that there is no place for Assad in a transitional period, then "there is no need for them to attend Geneva 2."
"Our people will not allow anyone to steal their right to decide their future and leadership and the main goal of the Geneva conference is to fulfill the interests of the Syrian people alone, and not those who shed their blood," the statement said.
Previous attempts to bring Syria's government and opposition to the negotiating table have failed. The disputes have centered on who should represent the two sides, whether Iran, Saudi Arabia and other regional powers should be at the table, and — above all — whether Assad will remain in office in the future.
Syrian officials say Assad will not surrender power and may even run again in elections due in mid-2014.
Full report at:
http://www.washingtonpost.com/world/middle_east/syria-say-it-wont-relinquish-power-in-peace-talks/2013/11/27/d0a9e77e-574c-11e3-bdbf-097ab2a3dc2b_story.html
----------
New rebel alliance wants Syria as 'Islamic state'
November/27/2013
A newly formed rebel alliance said Nov. 26 it wants to replace Syria's regime with an "Islamic state," but insisted it would protect minorities and not create an "oppressive, authoritarian system."
The covenant of the Islamic Front, Syria's largest armed opposition grouping with tens of thousands of fighters battling to oust President Bashar al-Assad, spells out its intention to play a role in politics and society as well as on the battlefield.
But the authors of the document did not provide a clear vision of a post-Assad Syria, perhaps fearing that delving into details would splinter the alliance of seven key Islamist groups announced on Friday, which hopes to unify the fractured opposition.
Syria's uprising began as a series of peaceful pro-democracy protests in March 2011, but a brutal regime crackdown ignited a full-blown civil war in which hardline Islamist groups have taken on an increasingly prominent role.
Under the subheading "democracies and parliaments," the Islamic Front says representative government "is based on the notion that the people have the right through institutions to (determine) legislation, whereas in Islam God is the sovereign." But it adds: "This does not mean that we want an oppressive, authoritarian system," saying Syria should be ruled through a Shura, or Islamic consultative council.
hile hardline jihadists such as Al-Qaeda reject democracy outright, moderate Islamists have long argued that democracy and religion are compatible so long as Islamic law is respected.
Extremist groups across the Muslim world have tried to impose an extreme form of Islamic law, including the maiming and killing of those convicted by self-styled Islamic courts, but such interpretations have been rejected by mainstream Muslim authorities. The Islamic Front rejects secularism, which it defines as "dividing religion from life and society, and reducing it Full report at:
http://www.hurriyetdailynews.com/new-rebel-alliance-wants-syria-as-islamic-state.aspx?pageID=238&nID=58597&NewsCatID=352
------------
Egypt draft constitution deflates hopes for change
2013-11-26
AFP_CAIRO: Egypt's new constitution is still in the drafting stage but has already disappointed rights groups and activists who had hoped it would curb the military's wide-ranging powers and privileges.
They have particularly objected to a provision which would allow military trials for civilians accused of "harming" the armed forces, which they fear could be interpreted expansively to target protesters, journalists and dissidents.
The passing of the revised constitution through a referendum is the first milestone of a road map to elected rule offered by Egypt's military-installed authorities, who took office after the ouster of Islamist president Mohamed Morsi on July 3.
The army toppled Morsi after millions of Egyptians called for his resignation, citing among their chief grievances a 2012 constitutional decree that gave Egypt's first democratically elected leader extraordinary powers, which he later rescinded.
Under Morsi, a new constitution was hastily drafted by a 100-member panel dominated by Islamists and boycotted by liberals, and was approved in a December 2012 popular referendum by a more than 60 per cent margin.
The military-installed authorities quickly suspended the constitution after his overthrow and appointed a 50-member panel to draft a new one.
The panel includes just two Islamists and no one from Morsi's Muslim Brotherhood movement, which has been the target of a sweeping crackdown in recent months that has seen hundreds of protesters killed by security forces.
"Where has the revolution gone? It has not (been) transferred into the document," Joerg Fedtke, professor at Tulane University Law School in the US city of New Orleans, said.
"The paradigm has not changed since 1971" — the year when Egypt adopted an earlier constitution which undergirded decades of autocratic rule by President Anwar Sadat and his successor Hosni Mubarak, who was toppled by a popular uprising in February 2011.
Military retains vast powers
The revised text keeps the military's budget beyond any civilian scrutiny and also stipulates that members of the military be tried only in military courts, even in cases not related to their service, according to Heba Morayef, the Human Rights Watch representative in Egypt.
"The revised constitution also says that members of general intelligence services should also be tried by military" tribunals, said Morayef, calling it "an extension of the immunity" given to law enforcement agencies in a country with a long history of torture and police brutality.
The end of such proceedings is the most divisive issue among members of the 50-member constitutional panel.
Full report at:
http://www.thefrontierpost.com/article/44737/Egypt-draft-constitution-deflates-hopes-for-change/
------------
Toll from spate of Iraq attacks rises to 46 dead
2013-11-26
BAGHDAD: A spate of Iraq attacks, including twin bombings at a market and the assassination of a former MP, killed at least 46 people, officials said Tuesday.
The shootings and bombings on Monday marked the latest in a sharp rise in violence that has seen more than 500 people killed already this month, fuelling fears Iraq is on the brink of plunging back into the brutal Sunni-Shiite sectarian war that plagued it years ago.
France, meanwhile, offered to help combat the bloodshed, which comes just months before landmark general elections, after Iraq appealed for international help in combating militancy.
Monday's attacks struck in Baghdad and predominantly Sunni Arab areas north of the capital that have borne the brunt of the worsening unrest, with nearly 6,000 people killed so far this year.
The deadliest assault was on a market in the Sadriyah neighbourhood of central Baghdad, where an evening roadside bomb followed by a suicide attack killed at least 23 people as Iraqis gathered at restaurants and cafes and to shop.
The market had been closed off entirely to vehicle traffic after a massive car bomb in April 2007 killed 140 people, during the peak of Iraq's bloody sectarian conflict.
Elsewhere in the capital, a series of attacks killed eight people.
In the northern city of Mosul, nine were killed in violence, while attacks in Baquba and near Balad left five more dead.
In an attack south of the capital, meanwhile, a former lawmaker was gunned down.
Jamal Mohsen, a Sunni Arab former MP from the predominantly Shiite Muslim city of Nasiriyah, was shot dead inside his house on the outskirts of the city.
Diplomats, analysts and rights groups say the government is not doing enough to address the root causes of the unrest, particularly disquiet among Sunnis over alleged mistreatment at the hands of the Shiite-led authorities.
Full report at:
http://www.dawn.com/news/1058709/toll-from-spate-of-iraq-attacks-rises-to-46-dead
------------
Assad: Jumblatt unwelcome for role in bloodshed
November 27, 2013
BEIRUT: President Bashar Assad is quoted in a report published Wednesday saying that Druze leader Walid Jumblatt is not welcome in the Damascus presidential palace due to his role in the Syrian bloodshed.
In response to a question on efforts to restore ties with several Arab and Lebanese politicians, including Jumblatt, Assad told his visitors that the "doors of [Damascus'] Muhajireen Palace are not open to those who participated in the Syrian bloodshed," the local daily Al-Akhbar reported.
"Even if someone is trying to repent for [his] mistakes, he can visit Damascus, not more," Assad said in a clear reference to Jumblatt.
In response to a question specifically concerning Jumblatt, Assad said: "He cannot enter Muhajireen Palace, but perhaps his son, Timor, can."
Full report at:
http://www.dailystar.com.lb/News/Lebanon-News/2013/Nov-27/239063-assad-jumblatt-unwelcome-for-role-in-bloodshed.ashx#axzz2ljiARuk3
------------
Egypt police disperse first unauthorised Cairo protest
November 27, 2013
CAIRO: Egyptian police used water cannon on Tuesday to disperse the first unauthorised protest staged in Cairo since the adoption of a law that regulates demonstrations.
Protesters were demanding the prosecution of those responsible for the deaths of demonstrators in November 2011 when opponents of the then military junta clashed with police in the capital.
On Sunday, interim president Adly Mansour passed a law that allows security forces to gradually step up force while dispersing protests.
It allows security forces to first issue verbal warnings to protesters, then use water cannon, tear gas and, finally, birdshot while breaking up demonstrations.
The law also stipulates that protest organisers have to give three days' notice before holding any demonstrations.
"The law must be repealed," said Ahmed Maher, founder of the April 6 movement that spearheaded the 2011 revolt that toppled former autocratic president Hosni Mubarak.
"The interior ministry does not want any protests," he said, adding that "even under Mubarak we could hold protests".
Full report at:
http://www.nation.com.pk/pakistan-news-newspaper-daily-english-online/international/27-Nov-2013/egypt-police-disperse-first-unauthorised-cairo-protest
------------
Arab Idol, Mohammed Assaf, hopes to inspire Palestinian refugees
November 27 2013,
This year's "Arab Idol" winner Mohammed Assaf, who grew up in a Palestinian refugee camp in Gaza, says he wants to give hope to the nearly 5 million Palestinian refugees and tell them nothing is impossible.
The 24-year-old singer told a news conference Tuesday that as the first Arab goodwill ambassador for youth for the U.N. agency for Palestinian refugees he feels "the load of responsibility" for speaking on behalf of young Palestinians.
"I want to do something ... for the cause of my country, for the cause of my people," he said, "and I want to make them feel there is hope, no matter how hard the conditions of life and the obstacles."
Full report at:
http://www.thejakartapost.com/news/2013/11/27/arab-idol-hopes-inspire-palestinian-refugees.html
------------
Mideast
Turkey, Iran to become backbone of regional stability: Turkish FM
November/27/2013
A growing partnership between Turkey and Iran will enhance the region's stability, Turkish Foreign Minister Ahmet Davutoğlu said in Tehran, where he is attending the Economic Cooperation Organization 21st ministers' meeting, on Nov. 26.
"In my point of view, when Turkey and Iran join hands, this will not only benefit both countries, but also become the backbone of regional stability," Davutoğlu said, pointing to the potential of further cooperation in energy.
"Turkey's annual energy demand is $60 billion. Turkey is a corridor country, Iran is a producer country. If we fuse both potentials, Turkey could become the corridor of energy provider Iran," Davutoğlu said. He also added that closer ties would also have a major impact on the sectarian divide in the Middle East.
"At a place and time where some try to instigate sectarian conflicts, the dialogue between Iran and Turkey is the most important dialogue in the region," Davutoğlu said.
"It's now time for cooperation. The dialogue between two regional powers such as Turkey and Iran who share an historic relationship will not only enable our region to gain stability, but also prevent the negative effects of conflicts."
Full report at:
http://www.hurriyetdailynews.com/turkey-iran-to-become-backbone-of-regional-stability-davutoglu.aspx?pageID=238&nID=58596&NewsCatID=352
------------
Tehran confirms US release of $8b of frozen assets
November 27, 2013
TEHRAN/ SANFRANSISO - Iranian Government spokesman Mohammad Baqer Nobakht confirmed the release of $8bln of Iran's blocked assets by the US administration.
Speaking to reporters in Tehran, Nobakht pointed to the recently signed nuclear agreement between Iran and the six major world powers in Geneva on Sunday, and confirmed reports about the release of $8bln of Iran's assets by the US administration.
He stressed that the agreement will ease the anti-Iran sanctions, which will have significant impacts on the Iranian economy. On Sunday, former head of Iran's Chamber of Commerce Alinaqi Khamoushi announced that the US released some $8bln of Iran's frozen assets on Sunday morning.
The first step agreement was reached in Geneva on November 24 after four days of intensive talks between representatives of Iran and the Group 5+1 (US, Britain, Russia, Franc, China and Germany).
Meanwhile, US President Barack Obama defended his administration's Iran policy on Monday but said "huge challenges" remained to successfully implement a landmark deal on Tehran's nuclear ambitions.
Obama has come under fierce criticism from Republican rivals at home and key allies abroad, such as Israel, for pursuing a diplomatic solution to the Iran question.
Israel decried the breakthrough agreement reached in Geneva on Sunday — under which Tehran agreed to curb its nuclear program in return for an easing of sanctions — as a "historic mistake."
Obama, however, insisted that the US policy of diplomacy twinned with sanctions had been more productive than rhetoric, stating that "tough talk" alone would not guarantee US security.
"For the first time in a decade, we've halted the progress on Iran's nuclear program," Obama said. "Key parts of the program will be rolled back."
Obama said diplomacy would continue over the coming months in a bit to settle "once and for all" the "threat of Iran's nuclear program."
"Huge challenges remain, but we cannot close the door on diplomacy, and we cannot rule out peaceful solutions to the world's problems," Obama said.
"We cannot commit ourselves to an endless cycle of violence, and tough talk and bluster may be the easy thing to do politically, but it's not the right thing for our security."
Earlier Monday, France said the European Union could begin lifting sanctions on Iran next month as world powers set about implementing the deal with Tehran while seeking to placate a furious Israel.
In a radio interview, French Foreign Minister Laurent Fabius said EU foreign ministers were to meet next month to discuss lifting some sanctions as part of the deal, a move he said could take place "in December."
One senior Western diplomat, who refused to be named, told AFP the focus in the coming weeks would be "swift implementation".
Israeli Prime Minister Benjamin Netanyahu on Monday decided to send his national security advisor to Washington for talks on Iran after warning the deal will convince Tehran it has a free hand to achieve a breakout nuclear capability.
Obama has repeatedly tried to reassure Netanyahu, calling him on Sunday to discuss the issue.
The Geneva deal came just days after Iran's supreme leader described Israel as a "rabid dog" that was "doomed to collapse".
Tehran has a long history of belligerent statements towards the Jewish state, and Israel — the Middle East's sole if undeclared nuclear power — has repeatedly warned that a nuclear Iran would pose an existential threat.
'Israel's security at heart'
Speaking in Jerusalem, the EU ambassador-designate to Israel, Lars Faaborg-Andersen, told a crowd of diplomats and the country's intelligence minister that the 28-member bloc had "Israel's security at heart."
The so-called P5+1 world powers that negotiated the accord with Iran — the United States, France, Britain, Russia, China and Germany — say it is a key first step that wards off the threat of military escalation in the volatile Middle East.
Under the deal, which lasts for six months while a more long-lasting solution is negotiated, Tehran will limit uranium enrichment to low levels used only for civilian energy purposes.
It will also neutralize its existing stockpile of uranium enriched to 20 percent, which is close to weapons-grade and therefore an area of top concern.
In return, the Islamic state will get some $7 billion in sanctions relief in access to frozen funds and in its petrochemical, gold and precious metals and auto sectors.
But the raft of international sanctions that have hobbled the Iranian economy remain untouched.
Full report at:
http://www.nation.com.pk/pakistan-news-newspaper-daily-english-online/international/27-Nov-2013/tehran-confirms-us-release-of-8b-of-frozen-assets
------------
Iran's ex-president: Problems of Islamic world can be solved by Iran-Saudi Arabia cooperation
Nov. 27, 2013
By Umid Niayesh, Saeed Isayev - Trend: Problems of Islamic world can be resolved by a comprehensive plan based on the fundamentals of Iran and Saudi Arabia cooperation, Chairman of Iran's Expediency Council, Iran's former president Ayatollah Akbar Hashemi Rafsanjani said during his meeting with Lebanese Parliament Speaker Nabih Berri on Nov. 27, Mehr news agency reported.
Responding to Berri`s request to talk with Saudi ruler Abdullah bin Abdel Aziz, Rafsanjani recalled his visit to Saudi Arabia a few years ago, as well as his talks with bin Abdel Aziz, regarding establishment of joint commissions on disputed issues.
Speaking of Iran and Saudi Arabia's important position among Islamic countries, Lebanese Speaker said that Islamic world expects Rafanjani to play, once again, a historic role in bringing Muslim communities together.
Rafsanjani in turn criticized extremism in Islamic world.
Rafsanjani is one of the few Iranian political figures who has enjoyed good relations with Saudi leaders.
Full report at:
http://en.trend.az/regions/iran/2215636.html
------------
Yemeni MP killed, shots fired at U.N. envoy's convoy - security sources
BY ADEL AL-KHADER
Nov 22, 2013
Attackers on a motorbike shot dead a Yemeni parliament member in Sanaa and a gunman opened fire on a convoy carrying the United Nations' envoy to Yemen without causing any injuries or damage, in two separate incidents on Friday, security sources said.
Jamal Benomar's office swiftly denied the report, saying there was no gunfire directed at the motorcade.
The attacks underscore the fragility of Yemen, a U.S. ally grappling with a host of challenges, including from al Qaeda militants, southern separatists and Shi'ite Houthi rebels in the north, as it pursues reconciliation talks aimed at restoring stability to the country.
A security source said parliament member, Abdul Karim Jedban, who is also a delegate to the reconciliation conference, was killed in a drive-by shooting by two men on a motorbike as he left a mosque in Sanaa.
Jedban, a member of Yemen's Shi'ite Muslim community, had previously been elected as an MP representing former President Ali Abdullah Saleh's General People's Congress party before he switched and joined the Houthi movement which controls the northern Saada province, Yemeni sources said.
It was not immediately clear who was behind the attack. But the Houthi group had been fighting against Sunni Muslim Salafis in northern Yemen. The Houthis accuse the Salafis of in the town of Damaj of recruiting thousands of foreign fighters and preparing to attack them.
In the second incident, a security source said that a civilian fired at least four shots from an AK 47 at Benomar's motorcade while returning to his hotel in the Yemeni capital.
The source, who declined to be identified, said the bullets whizzed over the white armoured car guarded by several Yemeni military vehicles.
Benomar's office said any gunfire in the area was not directed at the motorcade itself.
The U.N. envoy, who has played a key role in promoting the power transfer deal that saw Saleh step down in 2011 after months of protests against his 33 years in office, has been trying to push forward the reconciliation talks with the aim of facilitating elections due in 2014.
Full report at:
http://uk.reuters.com/article/2013/11/22/uk-yemen-attack-idUKBRE9AL0RM20131122
------------
Obama seeks to delay new sanctions against Iran
ANWAR IQBAL
2013-11-27
WASHINGTON, Nov 26: The Obama administration is urging Congress to hold off for another six months their plan to introduce new sanctions against Iran, US officials said on Tuesday.
As his aides reached out to senior congressional leaders for delaying the sanctions, President Barack Obama told his nation that now was the time to pursue diplomacy over conflict.
"Huge challenges remain. But we cannot close the door on diplomacy, and we cannot rule out peaceful solutions to the world's problems," Mr Obama said in a speech in San Francisco.
The US and five other world powers signed a deal with Iran this weekend, which seeks to cap Tehran's nuclear capabilities in return for relaxation of US-led sanctions, which had crippled the Iranian economy.
"Now that's the right thing to do. That's good for the United States. It's good for our allies. It's good for Israel," said Mr Obama while responding to criticism that his deal with Iran had jeopardised the security of America's closest ally in the region, Israel.
On Tuesday, the US media reported that Mr Obama had sent his senior aides to congressional leaders with a message that bringing new sanctions at this stage would hurt the deal concluded in Geneva.
The aides are believed to have told the lawmakers to delay the sanctions for six months so that they could hammer out a long-term agreement with Iran for ending its pursuit of nuclear weapons.
The present deal is an interim arrangement and both sides are required to conclude a permanent solution by late 2014.
In a bid to allay lawmakers' fear that the deal would allow Iran to secretly pursue its nuclear ambitions, Mr Obama said he had gone into negotiations with Iran "clear-eyed".
Mr Obama recalled that when he came into office, "there was a lot of bluster about Iran" but no real plan to curb its nuclear programme.
Full report at:
http://www.dawn.com/news/1058790/obama-seeks-to-delay-new-sanctions-against-iran
------------
South Asia
Taliban kill six literacy workers in Afghanistan -officials
MAZAR-I-SHARIF
Nov 27, 2013
Taliban militants gunned down and killed six people in Afghanistan working on a government-backed literacy project in the northern province of Faryab, officials said on Wednesday.
The insurgent group is stepping up attacks on state workers ahead of presidential elections due in April 2014, fanning security concerns as foreign troops prepare to withdraw from the country by the end of next year.
"They were travelling this morning to observe a literacy project when the Taliban stopped their car and shot them," said provincial police chief Nabi Jan Mullahkhil.
The victims worked for a French aid group involved in the project, and just one of the seven workers gunned down survived, the Ministry of Rural Rehabilitation and Development said.
The drawdown of international troops from Afghanistan is well underway after more than 12 years of war since the United States invaded and the Taliban were ousted from power.
Afghan President Hamid Karzai is negotiating a bilateral security agreement with the United States that could help shape a post-war mission in the country but has so far held off on signing the pact.
Full report at:
http://in.reuters.com/article/2013/11/27/afghanistan-taliban-idINL5N0JC24D20131127
------------
Bombs detonated, rail lines removed in Bangladesh over poll date
2013-11-26
DHAKA: Bangladeshi opposition supporters detonated scores of homemade bombs and removed railway tracks to disrupt train services on Tuesday as a planned nation-wide-protest against upcoming elections turned violent, witnesses and police said.
According to police, at least three people have died since late Monday in violence pitting opposition activists against government supporters and police.
In all, 33 people have been killed in the last month of protest violence.
The Bangladesh Nationalist Party (BNP) and its Islamist allies called the new 48-hour action after the election commission announced the January 5 vote date, defying the threat of a boycott by the 18-party opposition alliance.
The opposition immediately demanded a suspension of the date, saying they would not take part in any polls with current Prime Minister Sheikh Hasina still in power.
They want her to resign and make way for a vote under a neutral caretaker government.
Violence erupted across the country Monday night immediately after Chief Elections Commissioner Kazi Rakibuddin Ahmad announced the plans that elections would be held on Jan 5 and urged parties to take part in the contest for the 300-seat parliament.
Homemade bombs exploded in Dhaka and elsewhere and railway tracks were removed in several places, witnesses said.
On Tuesday at the start of the blockade, a train was derailed at Gouripur, some 100 kilometre (60 miles) north of the capital Dhaka, after opposition supporters allegedly removed sleepers from the tracks, police said.
"No one is injured. But it disrupted train communication between Dhaka and Mymensingh. We suspect the sleepers were removed by the opposition supporters," Mymensingh police chief Moinul Haq told AFP.
Police said the train link between Dhaka and the port city of Chittagong had also been snapped since Monday midnight after opposition activists removed sleepers and tracks and tried to torch a railway bridge near the eastern town of Imambari.
"We're trying to establish the link as soon as possible," local police chief Mohammad Moniruzzaman told AFP.
Security has been tight in the capital with police and paramilitary border guards out in force, police spokesman Masudur Rahman told AFP. Inter-region bus services were suspended, stranding thousands of passengers.
Hasina has rejected calls for a caretaker government, and instead formed a multi-party interim cabinet last week which is largely composed of her allies.
She asked the BNP to join the cabinet but her invitation was bluntly refused by the opposition.
Full report at:
http://www.dawn.com/news/1058699/bombs-detonated-rail-lines-removed-in-bangladesh-over-poll-date
------------
US warns Karzai it may leave no troops in Afghanistan
November 27, 2013
KABUL - US national security advisor Susan Rice told Afghan President Hamid Karzai Monday that a delay in signing a troubled security deal risked the US pulling troops out of the country completely next year.
The US said that Karzai had called for "new conditions" for signing the bilateral security agreement (BSA) to allow US forces to remain in the country after 2014.
The president held talks with Rice in Kabul after he hedged on when he would accept the deal despite a "loya jirga" assembly of Afghan tribal elders and politicians on Sunday urging him to sign it promptly. "Without a prompt signature, the US would have no choice but to initiate planning for a post-2014 future in which there would be no US or NATO troop presence in Afghanistan," Rice told Karzai, according to a White House statement Monday.
"Ambassador Rice stressed... that deferring the signature of the agreement until after next year's elections is not viable" when she met with Karzai at the end of a three-day trip to Kabul, it added. Washington was ready to sign the deal in the coming days following the loya jirga's decision, the statement said. But "in response, President Karzai outlined new conditions for signing the agreement and indicated he is not prepared to sign the BSA promptly".
Karzai stressed his demands for "no operations by foreign forces in residential areas, a sincere start of a peace process (with Taliban insurgents), and the holding of transparent elections," his office said after Monday's late-night meeting. At the tribal assembly last week in Kabul, Karzai exasperated Washington by saying he wanted to delay signing the deal until after April's presidential election, when he is due to step down.
The BSA will permit some US soldiers to remain after the end of 2014 when most of NATO's 75,000 US-led troops pull out.
"We believe it's untenable and impractical to wait until January to have this thing concluded," Pentagon spokesman Colonel Steve Warren told reporters Monday.
"We want it closed. The American government wants it. The Afghan people want it, so Karzai needs to sign."
Supporters say the BSA is vital because the Afghan government remains fragile despite 12 years of war against the Taliban.
Rice's trip to Afghanistan was planned before the latest setback for the BSA, but National Security Council spokesman Patrick Ventrell told AFP that Monday's talks were at Karzai's request.
Karzai's office added that he asked Rice for his demands to be passed on to President Barack Obama. Karzai said on Sunday he would "continue bargaining" on the BSA, which was hammered out after months of difficult negotiations with Washington. The Taliban, who before the assembly had threatened to target delegates if they backed the BSA, condemned the pact.
The "illegal and insignificant pact of slavery with America will neither benefit the American invaders nor criminal slaves", they said in a statement referring to the jirga members. After four days of discussions, jirga delegates- who were convened by Karzai to vote on the BSA issue - said that he should sign before the end of 2013.
Karzai last week also appeared to toughen his stance on US military raids on Afghan homes, a sensitive topic that threatened to derail the negotiations.
"If the US goes into Afghan homes one more time, there will be no agreement," he said.
Kate Clark, senior analyst with the Afghan Analysts Network, said Karzai may be genuinely concerned about what could happen once the Americans had the BSA.
"As Karzai said on the first day of the jirga, there is no trust between them. He does not believe their assurances," she wrote on the AAN website.
"He wants to hold on to some form of leverage, as, in his mind, this is the only way to force the US to refrain from stomping over Afghan sovereignty."
Full report at:
http://www.nation.com.pk/pakistan-news-newspaper-daily-english-online/international/27-Nov-2013/us-warns-karzai-it-may-leave-no-troops-in-afghanistan
------------
Political protests in Bangladesh turn violent
26 Nov 2013
Bangladesh's opposition blocked roads, railways and waterways to protest government plans to hold a general election on January 5, the latest turn in a violent political crisis that has paralysed the country.
The opposition, led by former Prime Minister Khaleda Zia, is demanding that the government, led by Prime Minister Sheikh Hasina, resign so that a neutral caretaker administration can oversee the polls.
Hasina denies opposition claims that she might rig the elections if she stays in office.
After the Election Commission announced the election date, the opposition called a 48-hour transport strike starting on Tuesday.
According to police, at least seven people have died since late Monday in violence between opposition activists and government supporters and police.
In all, 37 people have been killed in the last month of protests.
The troubles could lead to economic difficulties for the country.
Norwegian telecom giant Telenor ASA has invested more than $2.5bn in Bangladesh since its subsidiary, the country's largest mobile phone company Grameenphone, started operations in 1997.
Jon Fredrik Baksaas, president and group chief executive of Telenor ASA, said it was worried about injecting more money.
"We are very concerned about the political situation," he said.
He said foreign investment would be hard hit if the situation does not improve.
"If it hits the telecom sector, it (will) also hit other sectors," he said.
Overshadowing advancements
The violence threatens to overshadow some advances Bangladesh has made in recent years, including higher enrolment in primary education, gender parity in primary and secondary education, and reduced child and maternity mortality.
Full report at:
http://www.aljazeera.com/news/asia/2013/11/political-protests-bangladesh-turn-violent-20131126215913569588.html
------------
Pakistan
Raheel Sharif to succeed Ashfaq Parvez Kayani as Army Chief of Pakistan
Nov 27 2013
Islamabad: Lieutenant-General Rashad Mahmood has been appointed as Pakistan's new Chairman Joint Chief of Staff Committee, while Lieutenant-General Raheel Sharif has become the new Army Chief.
Both senior military officials met Prime Minister Nawaz Sharif earlier today where the premier conveyed them the decision. The two meetings were viewed as immensely significant as they came a day before General Kayani's retirement from his post of army chief.
On November 28, the two would be promoted to the rank of four stars general and at 12 pm on Nov 29, Raheel Sharif will take charge as the army chief in a change of command ceremony. Mahmood is likely to assume office after the Nov 29 ceremony.
The selection implies that frontrunner and the senior most military officer Lt Gen Haroon Aslam, currently serving as Chief of Logistic Staff, was ignored for the elevation.
The suspense over the successor to Pakistan Army's powerful chief Gen Ashfaq Parvez Kayani had mounted till the last moment with no names being announced even though the incumbent was to retire on Friday.
Both men have a difficult job on their hands of commanding the Army while international forces start pullout from neighbouring Afghanistan and of handling the stop-start operation/negotiation game between the Pakistani Taliban and the Nawaz Sharif government.
Other areas of concern are the Pakistan government's diplomatic dance with India, the US, China and the Gulf States, as well as the local security-centric initiatives, like energy efficiency and stabilising Balochistan, the Express Tribune had reported.
Even though various names and theories were floated, officials close to Prime Minister Nawaz Sharif, who will host a farewell dinner for Kayani on Wednesday night, say the premier was said to be holding the crucial card close to his heart.
In a surprise move, 61-year-old Kayani had scotched speculation of a possible extension by issuing a statement on October 6 saying, "My tenure ends on 29th November 2013. On that day I will retire."
Kayani was hand-picked by former military ruler Gen Pervez Musharraf as the army chief in 2007. He was given an unprecedented three-year extension by then premier Yousuf Raza Gilani in 2010.
The selection of the chief of the Pakistani army, often described as the state within the state, has not been an easy task for the civilian government and especially for the once bitten, twice shy Sharif.
This would be the fourth time he would be choosing an Army Chief.
He picked up Abdul Waheed Kakar as the Army chief in 1993 but the General soon ditched him and played a key role in Sharif's resignation. Kakar had superseded at least four senior
Full report at:
http://www.indianexpress.com/news/raheel-sharif-to-succeed-ashfaq-parvez-kayani-as-army-chief-of-pakistan/1200154/
------------
Islamabad releases 3 senior Taliban prisoners
November 27, 2013
ISLAMABAD - The Pakistani government released three senior Taliban prisoners Tuesday in an attempt to jumpstart stuttering peace talks with the Afghan government, the latest in a wave of detainees freed to help negotiations, said Pakistani and Taliban officials.
The prisoners released included Mullah Abdul Ahad Jahangirwal, a former adviser to Taliban leader Mullah Omar; Mullah Abdul Manan, a former Taliban governor in the Afghan province of Helmand; and Mullah Younus, a former military commander, said two Pakistani government officials and a member of the Taliban.
Pakistan also quietly released nearly a dozen lower-ranking Taliban prisoners in October, said an Afghan official. All the officials spoke on condition of anonymity because they were not authorized to talk to journalists.
The release comes less than a week after an Afghan delegation tasked with holding peace talks with the Taliban visited Pakistan to meet with the group's former deputy leader, Mullah Abdul Ghani Baradar.
The former No. 2 was released by Pakistan in September after years in detention. Some officials hope he can help jumpstart the peace process, while others have their doubts. Pakistan has now released around four dozen Taliban prisoners over the last year in an attempt to help peace talks.
But there is no sign that the releases have helped peace negotiations, and some of the prisoners are believed to have returned to the fight against the Afghan government.
Some of the releases ended up causing friction with Kabul and Washington, which both claimed that Pakistan was not monitoring the whereabouts and activities of all the former inmates.
Full report at:
http://www.nation.com.pk/pakistan-news-newspaper-daily-english-online/national/27-Nov-2013/islamabad-releases-3-senior-taliban-prisoners
------------
West must stop killings in name terror war, says Dr Qadri
November 27, 2013
LAHORE - Pakistan Awami Tehrik chief Dr Tahir-ul-Qadri has asked the Western world to put an end to killing of innocent people in the name of war against terrorism. He said that if any organisation or group was indulging in terrorism and militancy in the name of Islam in any part of the world, it was an individual act, which had nothing to do with Islam.
Our Staff Reporter
He said that terrorism in the name of the great faith represented negation of Islamic teachings and shared values of humanity.
According to a press release issued here on Tuesday, Dr Qadri expressed these views while addressing participants at the global peace and unity festival at Excel Centre in London. The festival was attended by renowned religious scholars, opinion makers, community leaders and politicians from across the world. Renowned Qura and Naat Khawans of international standing took part in the event.
Full report at:
http://www.nation.com.pk/pakistan-news-newspaper-daily-english-online/lahore/27-Nov-2013/west-must-stop-killings-in-name-terror-war-says-dr-qadri
------------
Taliban attacks feared in Nowshera, Bara
SUHAIL KAKAKHEL
2013-11-27
NOWSHERA, Nov 26: The outlawed Tehreek-i-Taliban Pakistan is likely to target government installations and public places in Nowshera district and Khyber Agency to avenge killing of its chief Hakeemullah Mehsud, who was killed in US drone attack in Miramshah, according to sources.
Quoting a written letter titled 'Threat Alert 1123', official sources said that a little known Tariq Geedar group in collaboration with Tauheedul Jihad would try to carry out terrorist acts against unidentified targets in Nowshera and Bara to avenge the killing of TTP chief Hakeemullah Mehsud.
The secret letter circulated to offices of different government departments in Nowshera suggested elaborate security arrangements. The letter said that intelligence agencies got information that five suicide bombers were sent by TTP from North Waziristan Agency to Nala Mandikas area of Khyber Agency.
As violence surges, Iraq executes 11 'terror' convicts
November 27, 2013
BAGHDAD: Iraq announced on Tuesday the execution of 11 more convicted "terrorists" amid surging violence that has fuelled fears the country is slipping back into all-out sectarian war just months before elections.
The latest executions bring to 162 the number of those put to death so far this year and as violence this month killed more than 500 people while authorities grapple with the worst bloodshed since 2008.
Officials have voiced concern over a resurgent Al-Qaeda emboldened by the civil war in neighbouring Syria and have appealed for help from Washington in combatting militancy, with France and Turkey also offering assistance.
"Eleven terrorists, all Iraqi men, were executed on Sunday, November 24," a justice ministry official said, speaking on condition of anonymity.
"They were executed after being convicted by the courts of carrying out terrorist attacks."
A post later uploaded to the ministry's Facebook page, confirmed as authentic by the official, listed the men by their initials along with the crimes they were convicted of having carried out.
Full report at:
http://www.dailytimes.com.pk/default.asp?page=2013\11\27\story_27-11-2013_pg14_8
------------
Pakistan begins work on civil nuclear power plant
November 27, 2013
Pakistan has broken ground on what will be the country's largest civil nuclear power plant, which is being built with help from China.
Pakistani Prime Minister Nawaz Sharif performed the ground breaking ceremony in the southern city of Karachi on Tuesday. He said the plant will take 72 months to complete and will produce 2,200 megawatts of electricity.
Full report at:
http://www.thehindu.com/news/international/south-asia/pakistan-begins-work-on-civil-nuclear-power-plant/article5397098.ece
------------
PPP welcomes Iran accord with West
November 27, 2013
ISLAMABAD: Former president Asif Ali Zardari has welcomed as 'pragmatic and wise' the agreement between Iran and the western countries easing a long festering standoff that had the potential to threaten peace in the region.
Full report at:
http://www.dailytimes.com.pk/default.asp?page=2013\11\27\story_27-11-2013_pg7_9
------------
Europe
British Teacher Coerces Kids to Join in Muslim Workshop
M. Catharine Evans
November 25, 2013
A Staffordshire primary school in England tried to force 8 and 11 year-olds to attend an "Explore Islam" workshop by intimidating their parents. The Head Teacher of Littleton Green Community School sent a letter home threatening to brand the children as 'racist' if they opted out.
Here's the letter sent home by Mrs. Lynn Small:
Dear Parent/Carer,
As part of the National Religious Education Curriculum together with the multicultural community in which we live, it is a statutory requirement for Primary School aged children to experience and learn about different cultures.
The workshop is at Staffordshire University and will give your child the opportunity to explore other religions.
Children will be looking at religious artefacts similar to those that would be on display in a museum. They will not be partaking in any religious practices.
Refusal to allow your child to attend this trip will result in a Racial Discrimination note being attached to your child's education record, which will remain on this file throughout their school career.
As such our expectations are that all children in years 4 and 6 attend school on Wednesday 27th November to take part in this trip.
All absences on this day will be investigated for their credibility and will only be sanctioned with a GP sick note.
If you would like to discuss this further please contact our R.E Coordinator, Mrs Edmonds.
"All absences... will be investigated?" Is this Great Britain or North Korea? And since when is Islam a race?
Many parents were fuming after reading their kids would be officially labeled "racists" on their permanent records if they missed the trip. Mrs. Small had to issue a follow-up letter without the threats to calm the waters.
'A revised letter sent out on Thursday apologised for 'inaccuracies' and told parents: 'On reflection, disregard a section from the earlier letter.'
Headmistress Lynn Small said: 'We are a mainly Christian school, but we have to cover at least one other religion as part of the National Curriculum. This visit is part of that.
'They would not be taking part in any religious practices. We have had similar workshops on a variety of religions in the past, including one on Islam, with no problems at all and the children have absolutely loved it.
'We have pupils and teachers who belong to the Islam faith and it is right for the children to understand and appreciate their faith as well as their own.'
Apology aside, the teacher's convert-or-die approach in the first letter reflects Islam's true ideology. Has Small read the Q'uran? The book issues death warnings to "disbelievers" who dare to visit the mosques of Allah. This is not exactly a belief system that invites "understanding and appreciation." If the Christian school's pupils and teachers of the Muslim faith are prohibited from going to Christianity workshops or worship services, are they subject to the same intimidation and threats as non-Muslims?
Full report at:
http://www.americanthinker.com/blog/2013/11/british_teacher_coerces_kids_to_join_in_muslim_workshop.html
------------
France to Send 1,000 Troops to Central African Republic
By Trevor Cooper
Nov. 26, 2013
France is to send 1,000 troops to the Central African Republic where violence has been escalating since rebel groups united to overthrow the president in March. It will be the second military intervention by France in one of its former colonies this year.
French Defense Minister Jean-Yves Le Drian said France had to uphold its "international responsibilities". He told Europe 1 radio, "The Central African Republic is in collapse and we cannot let a country fall apart like that. There is the violence, massacres and humanitarian chaos that follow a collapse." Le Drian said the mission would last about six months.
Full report at:
http://world.time.com/2013/11/26/france-to-send-1000-troops-to-central-african-republic/
---------
French 'Planned to Assassinate' British Muslim Extremist
11-26-2013
French intelligence services planned to assassinate a leading Islamist cleric in Britain and disguise their operation as a neo-Nazi attack, according to an explosive report by anti-extremism group Hope Not Hate.
The plan to kill the infamous hook-handed hate-preacher Abu Hamza al Masri, was the result of growing frustration by French security services over the inaction of British authorities in the face of the growing threat of Islamist terrorism. Specifically, the French suspected Abu Hamza of having links to the terrorists responsible for the 1995 Paris Metro bombings.
The "Gateway To Terror" report alleges that French officials were so "fed up" with the lack of action by their British counterparts that they sought to "take matters into their own hands". They often referred to the British capital as "Londonistan", due to the apparent impunity with which al Qaeda and other Islamist networks were able to operate there.
In the aftermath of a deadly 1999 London nail-bombing campaign by a neo-Nazi terrorist, France's Direction Generale de la Securite Exterieure hatched the plan, in which they would disguise their operation as a neo-Nazi hit.
"The plan was to impersonate the British Nazi group Combat 18 and then allow them to take the blame," said the author of the report, Hope Not Hate's Nick Lowles, according to the Express.
"In the aftermath of the London nail bombings, the French considered sending death threats in the style of Combat 18 and then killing him with the same type of weaponry that the group was thought to possess," he explained.
Full report at:
http://www.aina.org/news/20131126104217.htm
------------
First Eurozone Islamic Bank Planned For Luxembourg
By Neil Churchill
Nov. 26, 2013
The Eurozone is to get its first Islamic bank after a consortium of Gulf businessmen and a UAE royal family announced an agreement to set up a new lender headquartered in Luxembourg.
Eurisbank will have a start-up capital of 60 million euros and is set to have branches in Paris, Brussels, The Netherlands and Frankfurt. The bank will offer services in retail, corporate and private banking.
The consortium – which also includes an unnamed bank – plans to launch the new lender in the fourth quarter of 2014.
Deloitte's feasibility study of the bank demonstrated high return on investment, taking advantage of being the first Islamic lender to be based in the Eurozone.
The investors and Deloitte have concluded a meeting with the CSSF – Luxemburg's Supervisory Authority – which has welcomed the idea and gave directions to prepare the documents required to obtain a banking license.
"As the worldwide Islamic finance industry moves from niche to critical mass while Europe is becoming an attractive and promising market that is not yet served by Shari'ah-compliant banking services, considerable potential exists for the expansion of Islamic Finance," said Marco Lichtfous, partner in Deloitte Luxembourg.
"The global market for Islamic financial services is estimated at USD 1.8 trillion, and by opening new markets the numbers are set to grow significantly in the years ahead," he added.
Full report at:
http://gulfbusiness.com/2013/11/first-eurozone-islamic-bank-planned-for-luxembourg/#.UpR509K-rXA
------------
Southeast Asia
PAS's political partners are the 'true enemies of Islam', columnist says
November 25, 2013
KUALA LUMPUR, Nov 25 — PAS's political partners are "enemies of Islam" and are slyly using the Islamist party to merely win political control, controversial columnist Ridhuan Tee Abdullah has said. In his column in Sinar Harian, Ridhuan Tee said he had repeatedly warned PAS to be wary of the political parties that he termed collectively as "ultra kiasu", appearing to allude to PAS's allies in the opposition pact Pakatan Rakyat — the secular-based DAP and urban-centric PKR. The local academic said that PAS's allies were allegedly more trusting of Umno's apparently more open stance towards Islam in comparison to PAS's more orthodox Islamist credentials.
"Ultra kiasu only wants PAS's votes to rule a few states where their numbers are quite big, like Penang, Selangor and Perak, and not impossibly, Malacca and Negri Sembilan after this. "Ultra kiasu knows it will not win without PAS's support. To fulfil that evil ambition, the ultra kiasu is forced to co-operate bermuka-muka (two-facedly) with PAS. Although its political goals are very different: one wants Islam, another is very much against Islam," the senior lecturer at the National Defence University wrote in an opinion piece titled "Ultra kiasu musuh Islam sebenar" (Ultra kiasu the true enemies of Islam). Ridhuan Tee slammed the utlra kiasu which he claimed was proven to be "anti-Islam" and against anything related to the religion, saying that they purportedly support lesbian, gay, bisexual, transgender (LGBT) despite a ban by their religions. He accused PAS's partners of cunningly maintaining their stand against Islam while working with the party, later claiming that the ultra kiasu has shifted its strategy from merely controlling the economy to grabbing both economical and political power. "Look at the way the ultra kiasu adapts itself. Last time, it did not talk to PAS at all, because PAS wants an Islamic country. The ultra kiasu knows, without PAS's support it cannot rule certain states. Therefore, the ultra kiasu changed its strategy but are still firm about its stand against Islam.
Full report at:
http://www.themalaymailonline.com/malaysia/article/pass-political-partners-are-the-true-enemies-of-islam-columnist-says
------------
Malaysia calls Singapore envoy over spying report
November 27, 2013
KUALA LUMPUR: Malaysia summoned the high commissioner from neighbouring Singapore on Tuesday over a media report that said the city-state helped facilitate US-Australian surveillance in the region.
Foreign Minister Anifah Aman had already summoned the heads of the US and Australian missions earlier in November in protest over reports that a vast US-led surveillance network included a listening post in America's Malaysian embassy.
Malaysia is "extremely concerned" about the Singapore report, foreign minister Anifah Aman said in a statement.
Full report at:
http://www.dailytimes.com.pk/default.asp?page=2013\11\27\story_27-11-2013_pg4_6
------------
UN Passes Anti-Spying Resolution
November 27, 2013
United Nations. A UN rights committee on Tuesday passed a "right to privacy" resolution pressed by Germany and Brazil, which have led international outrage over reports of US spying on their leaders.
The resolution says that surveillance and data interception by governments and companies "may violate or abuse human rights."
Fifty-five countries, including France, Russia and North Korea, co-sponsored the text which did not name any target but made lightly veiled references to spying which has put the US National Security Agency at the center of global controversy.
Brazil and Germany launched the initiative after reports leaked by former US intelligence operative Edward Snowden that the NSA had listened in to the mobile phone of German Chancellor Angela Merkel and the office communications of Brazil's President Dilma Rousseff.
Germany's UN ambassador Peter Wittig said it was the first time a UN body has taken a stand on "online" human rights and the resolution sent an important "political message."
The resolution "emphasizes that unlawful and arbitrary surveillance and the interception of communications are highly intrusive acts that violate the right to privacy and may also violate the freedom of expression," Wittig told the UN General Assembly's human rights committee.
"Human rights should prevail irrespective of the medium and therefore need to be protected both offline and online," added Brazil's UN envoy Antonio Patriota. "States should refrain from and be held accountable for any act that violate these rights, including the right to privacy."
The United States and key allies Britain, Australia, Canada and New Zealand — who together make up the so-called "Five-Eyes" intelligence group — joined a consensus vote passing the resolution after language suggesting that foreign spying would be a rights violation was weakened.
The resolution said the UN committee is "deeply concerned at the negative impact" that surveillance and interception of communications "including extraterritorial surveillance" can have on human rights.
Full report at:
http://www.thejakartaglobe.com/international/un-passes-anti-spying-resolution/
------------
North America
Obama defends Iran nuclear deal
26 Nov 2013
President Barack Obama has staunchly defended the newly brokered nuclear deal with Iran by saying its critics' tough talk was good for politics but not for US security.
Top Republicans - as well as US ally Israel - have criticised Obama for agreeing to the deal, which the United States and its partners say may ultimately prevent Tehran from obtaining a nuclear bomb.
Under the interim deal, Iran will accept restrictions on its nuclear programme in exchange for limited relief from economic sanctions that have gradually crippled its economy and slashed its oil exports.
"Huge challenges remain, but we cannot close the door on diplomacy, and we cannot rule out peaceful solutions to the world's problems. We cannot commit ourselves to an endless cycle of conflict," Obama said to critics of the deal.
"Tough talk and bluster may be the easy thing to do politically, but it's not the right thing for our security."
Sunday's agreement, hammered out in marathon talks between six major powers and Iran in Geneva, aims to buy time to negotiate a comprehensive deal that the Obama administration hopes will lay to rest international concerns about Iran's nuclear programme.
Israel, however, has argued that a partial deal is a bad deal and that easing sanctions, even temporarily, decreases the leverage that the US and others have over Iran.
Having lost its battle to stop the international deal reached this week on Iran's nuclear programme, Israeli officials are already picking up the pieces and planning a fight to shape a final agreement that negotiators hope to reach in six months.
Israeli officials have said the final deal must go beyond freezing Iran's programme and roll back the achievements they say has made the Islamic Republic a threshold weapons state.
Prime Minister Binyamin Netanyahu, who believes Iran is determined to produce a nuclear bomb, harshly condemned Sunday's agreement between Iran and six world powers as a "historic mistake" and said Israel was not bound by the deal.
Obama, who has long been criticised for his desire to engage with US foes, took heat as a presidential candidate in 2008 for saying he would talk to Iran, which has not had diplomatic relations with Washington for more than three decades.
On Monday, however, he alluded to those foreign policy goals during remarks that were otherwise focused on immigration reform.
Election pledges
Full report at:
http://www.aljazeera.com/news/americas/2013/11/obama-defends-iran-nuclear-deal-2013112614223814207.html
------------
Court issues verdicts against 34 for attacking American Consulate
27 November 2013
A Specialized Criminal Court in Riyadh on Tuesday issued preliminary verdicts against 15 defendants, who were part of a 55-member terror cell that carried out an attack on the US Consulate in Jeddah, killing five people.
The convicts were sentenced to jail ranging between 10 months to 15 years considering the extent of their participation in the crime. Defendant No. 52 will be deported after serving nine years in jail. The remaining 14 will not be allowed to leave the Kingdom.
On Monday, the court convicted 19 people, part of the same cell. Their prison sentences varied between one to 21 years, with travel bans equaling their sentences.
Accused 21, 22, 23 and 24 were jailed for 16, 15, 20 and 21 years respectively. Accused number 22 was also fined SR2,000.
Accused 25 and 26 were jailed for 13 and 15 years from the date of their arrest and prevented from traveling for the same period.
Accused 27 was jailed for 19 years and prevented from traveling for 30 years, while accused 28 was jailed for 15 years and prevented from traveling for the same period.
Accused 29, 30 and 31 were jailed for 12, 14 and 14 years respectively, with travel bans equaling their sentences.
Accused 32 was jailed for six years from the day of his arrest and prevented from traveling for 10 years. Convict 33 and 34 were jailed for 18 and 10 years respectively with equal travel bans.
Full report at:
http://www.arabnews.com/news/483771
------------
URL: https://newageislam.com/islamic-world-news/indian-muslim-voters-told-barailwi/d/34619