New Age Islam News Bureau
17 Jan 2019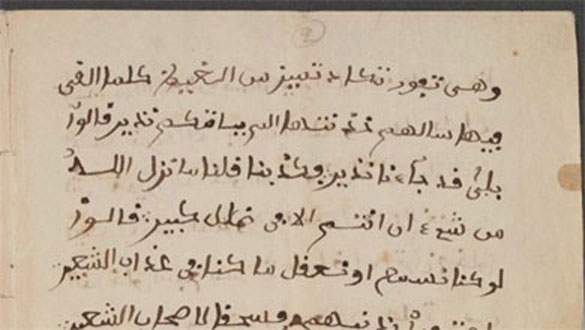 The life of Omar Ibn Said, a Fullah Slave in Fayetteville, North Carolina
-----
• Indian Muslim Scholars, Doctors Endorse Measles Rubella (MR) Vaccination
• SC Holds Jirgas Violative of Pakistan's World Commitments
• US Library of Congress Puts American Muslim Slave Autobiography Online
• UK Government Fighting To Keep Details of Counter-Extremism Radio Shows Secret
• Nairobi Attack Survivor's Escape from Al Shabab Militants: We Were Focused On Getting Out Alive
• Bangladesh's Awami League Criticizes Islamic Leader over Comments on Girls' Education
• Saudi Students Facing Charges in Oregon Disappear
India
• Indian Muslim Scholars, Doctors Endorse Measles Rubella (MR) Vaccination
• Over 20 militants appear to offer gun salute to Zeenat ul Islam in Shopian
• ISIS-inspired modules: NIA conducts fresh raids in UP, Punjab
• Applications of 88 Who Fled Bangladesh Due To Religious Persecution Still Pending
--------
Pakistan
• SC Holds Jirgas Violative of Pakistan's World Commitments
• Pakistan International Airlines to Stop Playing Soft Music during Flights
• Pakistan presses Afghan Taliban to meet US envoy in Islamabad
• Unwanted Afghan refugees pin hopes on PM Imran Khan
• PM Imran promises support for reopening MQM's legitimate offices
• LEAs told to ensure strict vigilance of Afghan DPs
• Pathways for the Pakistan Church in 2019
• Pakistan frees another senior Taliban leader
--------
North America
• US Library of Congress Puts American Muslim Slave Autobiography Online
• Florida Official under Fire for Saying Rashida Tlaib Might 'Blow Up' US Capitol
• IS-claimed suicide attack kills four Americans in north Syria
• Trump assures his party about sticking to his Syria, Afghanistan policy
• Jailed Press TV anchor's children subpoenaed to testify
• US' Pence claims Daesh defeated hours after attack
--------
Europe
• UK Government Fighting To Keep Details of Counter-Extremism Radio Shows Secret
• North Syria must be under regime control, says Russia's Lavrov
• Germany urges more efforts for peace in Yemen
• European Union envoy: We greatly value Turkish-EU ties
--------
Africa
• Nairobi Attack Survivor's Escape from Al Shabab Militants: We Were Focused On Getting Out Alive
• Kenya: Muslim Clerics Join Other Religious Leaders to Condemn Terror Attack
• Kenya: Why Al-Shabaab Targets Kenya, and What Can Be Done to Stop Attacks
• Nationwide strike paralyzes Tunisia as 670,000 public servants demand pay rise
• Kenyan forces kill militants who stormed Nairobi hotel
• Sudan protests rumble on as Bashir remains defiant
• Death toll in Nairobi attack climbs to 21, plus 5 attackers
• Nairobi attack shows Al Shabab still powerful despite US efforts
--------
South Asia
• Bangladesh's Awami League Criticizes Islamic Leader over Comments on Girls' Education
• Bangladesh Parliament to have first transgender MP
• Rohingya Exodus from India to Bangladesh Hits 1,300
• Special Forces video shows Taliban militants blown into pieces in an airstrike
• Terrorist leader Abul Talha and his fighters killed in Faryab operations
• Top Taliban commander among 4 militants killed in Pakistan
• Taliban to quit peace talks if US troops are not pulled out of Afghanistan
--------
Arab World
• Saudi Students Facing Charges in Oregon Disappear
• Anbar Official Accuses US Forces of Opening Safe Corridors for ISIL
• Official: Kurds Not to Accept Turkish-Controlled Safe Zone in Syria
• Daesh Syria attack kills at least 16, including US soldiers
• Several US Soldiers Killed, Wounded in Suicide Blast in Manbij
• Report: Thousands of Iraqi Troops Preparing for Joint Anti-ISIL Military Operations with Syrian Army
• Report: Terrorists Preparing for Chemical Attack in Idlib Province
• Commander: US Spying for ISIL on Hashd Al-Sha'abi Along Iraq-Syria Borders
• Four US soldiers dead, three injured in ISIS-claimed suicide bombing in Manbij
• Russia, Kurdish militants reject US-proposed 'security zone' under Turkish control
--------
Southeast Asia
• Actions of Misguided Individuals Should Not Tar Good Name of Malay/Muslim Community: Ministers
• Islamic Teacher Placed On Restriction Order for Extremist Teachings
• International Paralympic Committee says upset with Malaysia's ban on Israeli swimmers
• Kit Siang: Cameron Highlands win is Najib's chance to return as PM
• Jokowi, Prabowo to square off in first debate
--------
Mideast
• Iranian Embassy in Beirut Slams US As 'ISIS Incubator'
• Turkey-backed fighters await 'zero hour' to attack Syria's Manbij
• Arab Coalition, Yemeni army kill 23 Houthis in Taiz
• Abbas raps Israeli occupation as Palestine takes over G77 chairmanship
• Report: Turkey to control buffer zone spanning 460 km in Syria's north
• UN Security Council approves up to 75 truce monitors to Yemen's Hodeidah
• Houthi landmines kill, injure dozens of children in Yemen's Mocha
• Yemeni forces strike military base in southwestern Saudi Arabia
Compiled by New Age Islam News Bureau
URL: https://www.newageislam.com/islamic-world-news/indian-muslim-scholars-doctors-endorse/d/117488
--------
Indian Muslim Scholars, Doctors Endorse Measles Rubella (MR) Vaccination
by Rasia Hashmi
Jan 16, 2019
New Delhi: Much excitement is witnessed among minorities regarding ambitious nationwide measles-rubella vaccination drive. Muslim scholars and intellectuals have urged Muslims not to Believe rumours about the vaccination and said taking care of one's health is obligatory.
Noted cleric Dr Mufti Mukarram Ahmed said the vaccination is for good health hence everyone should go for the vaccination.
Secretary Madrasa Babul Uloom Maulana Dawood Zafar Ameeni also dispelled rumours and urged parents to vaccinate their children.
Saudi royal doctor Dr Hanif said Measles Rubella (MR) Vaccination drive is run by the government in collaboration with UNICEF hence people should avail the opportunity.
Assistant Prof of Medical college of Dr Nair Hospital in Mumbai, Dr Mohammed Abbas said this is compulsory, we should go for it. Immunisation for the diseases is compulsory for children aged between 9 months and 15 years.
https://www.siasat.com/news/muslim-scholars-doctors-endorse-measles-rubella-mr-vaccination-1457001/
--------
SC holds jirgas violative of Pakistan's world commitments
January 17, 2019
ISLAMABAD: The Supreme Court on Wednesday held the system of jirgas and panchayats in violation of Pakistan's international commitments under the Universal Declaration of Human Rights (UDHR), International Covenant on Civil and Political Rights (ICCPR) and Convention on the Elimination of all Forms of Discrimination against Women (CEDAW).
These commitments placed a responsibility on Pakistan to ensure that everyone had access to courts or tribunals and is treated equally before the law, a verdict authored by Chief Justice Mian Saqib Nisar said.
The decision came on a petition moved by the National Commission on Status of Women (NCSW) as well as the government of the Khyber Pakhtunkhwa (KP).
The genesis of the issue raised in the case lies in the reality that in today's age, informal custom-driven parallel legal systems in the form of 'council of elders' or 'kangaroo courts' exist in tribal areas, particularly in the north of KP and in some rural areas of KP, Punjab, Sindh and Balochistan.
The NCSW, through its petition, had sought a declaration from the Supreme Court on the legality of jirgas/panchayats prevalent in the country, thereby challenging their operation as adjudicating bodies awarding judgements, executing punishments and deciding family, civil, criminal and other disputes.
A key question arising from the petition was whether to the extent that these informal village or tribal gatherings acted as courts in the form of jirgas or panchayats, they were illegal under the law in place read with international commitments made by Pakistan under various treaties/conventions.
In response, the verdict held that the manner in which jirgas or panchayats functioned in the country was violative of Articles 4, 8, 10-A, 25 and 175(3) of the Constitution and explained that this practice of parallel judicial system did not fall under the constitution or any other law, because this system attempted to adjudicate on civil or criminal matters.
But jirgas or panchayats could operate within the permissible limits of the law to the extent of arbitration, mediation, negotiation or reconciliation forums between parties involved in a civil dispute who willingly consented to the same, the judgment said.
The verdict also declared as illegal and against the spirit of the constitution any order, decision or a directive issued by any such individual or group of persons, since no individual or persons in the name of a jirga/panchayat or under any other name could assume the jurisdiction of a civil or criminal court without any lawful authority.
The judgment also provided guidelines by holding that the law-enforcement agencies all over Pakistan were duty-bound to be vigilant and ensure that if any crime had gone unreported, they of their own accord filed FIR(s) with regard to the same and initiated the process of investigation, the verdict said.
If as a consequence of any illegal decision, order, directive or inducement of such self-appointed adjudicatory bodies any crime was committed, the offender as well as the individual or group of persons involved in aiding such jirga/panchayat shall be jointly held responsible for the offence and must be proceeded against in accordance with the law, the judgement said.
Moreover the police must ensure compliance with standard operating procedures (SOPs) which should be introduced by them within two months from the date of announcement of this judgement which should be circulated throughout the country with a compliance report to be submitted to the Supreme Court at the end of the two-month period.
The judgement also highlighted that after the 25th Amendment, there was no rationale on which the people of Fata could be distinguished from the people of the rest of the province of KP and thus the application of Fata Interim Regulation to one part of KP while the rest of the province enjoyed the protection of the provincial laws was absolutely unjustified, grossly discriminatory and in contravention of the fundamental right to equal protection.
On grounds of discrimination which cannot be justified under any reasonable classification and the law, the Fata Interim Regulation is declared as ultra vires on the touchstone of Articles 4, 8, 25, 175 and 203 of the Constitution.
The judgement also asked the KP government to develop infrastructure for taking steps in six months from the date of announcement of this judgement for a uniform system of courts of ordinary jurisdiction in KP, mandating the local law-enforcement agencies to ensure that the rule of law was observed by reducing jirgas/panchayats to arbitration forums which might be approached voluntarily by local residents to the extent of civil disputes only.
https://www.dawn.com/news/1458038/sc-holds-jirgas-violative-of-pakistans-world-commitments
--------
US Library of Congress puts American Muslim slave autobiography online
January 16, 2019
The United States Library of Congress is putting online the only known surviving narrative written in Arabic by a slave. The story belongs to Omar Ibn Said, a man who was captured in West Africa and brought to the US as a slave in 1831.
According to the organisation, his writings are the only known extant autobiography of a slave written in Arabic in the US.
"The significance of this lies in the fact that such a biography was not edited by Said's owner, as those of other slaves written in English were, and is therefore more candid and more authentic," says Mary-Jane Deeb, chief of the African and Middle Eastern Division at the Library of Congress.
"It also reveals that many Africans who were brought to the United States as slaves were followers of Islam, an Abrahamic and monotheistic faith. Such documentation counteracts prior assumptions of African life and culture," she added.
In his autobiography, Ibn Said describes himself as a wealthy and highly educated man who was eventually sold into slavery. He was also a member of the Fula ethnic group, according to the Library of Congress. The Fula are the largest ethnic group across the Sahel and West Africa, numbering some 40-50 million people today.
As for the condition of the manuscript, some of the pages proved to be weak and vulnerable from being passed around from various owners and libraries.
In an effort to preserve Ibn Said's words, conservators mended and reinforced fragile pages.
Ibn Said's entire manuscript is now available online through the US Library of Congress website.
In addition to posting the digital copy of his text online, the Library is planning to host a special programme to discuss the significance of Ibn Said's words to coincide with African American History Month in February.
https://www.thenational.ae/world/the-americas/us-library-of-congress-puts-american-muslim-slave-autobiography-online-1.814110
--------
UK government fighting to keep details of counter-extremism radio shows secret
16 January 2019
The British government is attempting to prevent publication of material that would show how counter-extremism propaganda is being channelled covertly through radio dramas broadcast in the UK.
Lawyers for the government are resisting an attempt to force disclosure of documents that would expose the role the Home Office's secretive Research, Information and Communications Unit (RICU) has played in the creation and production of supposedly independent radio shows.
RICU, part of the Office for Security and Counter-Terrorism (OSCT) within the Home Office, is known to have been producing and disseminating communications for around a decade as part of the British government's controversial Prevent strategy. The unit goes to great lengths to obscure the extent of its operations.
Government lawyers are arguing that any disclosure - under the UK's Freedom of Information Act - that revealed details of RICU's secret involvement in radio drama would jeopardise national security.
"The relevant information clearly concerns matters which have the potential to expose the United Kingdom and its citizens to a national security threat," they said in a submission to the Information Tribunal, the court that is set to rule on an appeal in the case.
'Operational blueprint'
The lawyers also say that although the request centres on a 20-part drama that was broadcast in 2010 by a small community radio station in the north west of England, the "operational blueprint" that was employed at that time is similar to campaign processes being used by the Home Office today.
The Home Office claims it wants to conceal the identities of individuals and organisations involved in the project, so that others are not deterred in the future from assisting RICU.
The unit's communications campaigns are generally disseminated through third-party organisations, including civil society groups and media agencies, in order to conceal the British government's involvement.
At stake following this information request, however, may be the secrecy that obscures the extent and manner in which the Prevent programme is covertly financing and directing the arts more widely in Britain.
In 2016, the Guardian newspaper exposed RICU's unacknowledged role in the filming of a documentary about Muslim athletes competing at the 2012 London Olympics, which was broadcast on Al Jazeera and the Islam Channel.
RICU's work has also included the door-to-door leafleting of 760,000 homes; the creation of a number of websites that appeared to be the work of Muslim civil society groups; and the establishment of what appeared to be a charitable campaign for Syria.
In addition, a communications company under contract to RICU had set up a separate public relations company, which persuaded journalists to take an interest in the press releases of the civil society groups backed by the government without disclosing that the government was behind the campaigns.
Documents that were leaked at that time showed that the communications were aimed at "Prevent audiences", which were defined as British Muslims, particularly males aged 15 to 39.
The documents also showed that RICU privately stated that it retained editorial control over any material disseminated through third-party organisations, and that its aim was to "effect attitudinal and behavioural change".
Last year, Middle East Eye reported that RICU was modelled on a British Cold War propaganda unit called the Information Research Department, which produced books, newspaper articles and - with the CIA - covertly funded a literary magazine called Encounter.
While the extent of RICU's involvement in the arts remains largely hidden, a number of former and serving government officials have confirmed that the arts have been receiving direction and funding as part of the Prevent programme.
"This has been going on for some time," said one person with knowledge of the programme.
'Well-meaning propaganda'
The radio drama at the centre of the Freedom of Information battle was called Divided We Fall, and was broadcast by Preston FM, a community station in Lancashire that has since been relaunched under a different name.
The drama sought to draw parallels between the radicalisation of a young Muslim Asian boy and a young white ex-soldier who had returned from serving in Afghanistan.
Although a press release issued at the time referred to Home Office funding, no mention was made of the involvement of the OSCT or RICU, nor was there any reference in it to Prevent.
The Freedom of Information request has been made by Faisal Qureshi, a Manchester-based film researcher, who argues that the secrecy surrounding RICU's operations is counter-productive, and that the lack of public scrutiny of covert government funding of the arts may result in the money being misused.
"Despite it being broadcast and produced nearly 10 years ago, the Home Office is attempting to suppress all information about this programme, claiming it to be for reasons of national security," Qureshi said.
"The use of drama in tackling radicalisation is an area that has not been sufficiently examined and it's of interest for researchers to assess how effective a tool it has been."
Qureshi made his request more than two years ago, during which time the Home Office disclosed some material, but continues to withhold the more sensitive information.
The request is not being supported by the Information Commissioner's Office (ICO), which oversees the UK Freedom of Information Act.
In submissions to the Information Tribunal during Qureshi's appeal, the ICO said that it accepts "that there is a strong public interest in transparency about Home Office involvement in dramatic programmes not broadcast under the Home Office's banner: the Commissioner recognises that some may deem such programmes – however justified and well meaning – as propaganda".
It added, though, that these concerns were outweighted by the need for an effective counter-terrorism strategy that helps stop people being "drawn into terrorism or extremism".
Much of this week's two-day appeal hearing was held in private, with the press and the public excluded.
In submissions to the hearing, the Home Office said the radio drama was a key part of the Prevent programme, which forms part of the government's counter-terrorism strategy.
Sarah Moore, a RICU official, told the hearing that the question of whether to acknowledge Home Office involvement in similar projects was addressed on a case-by-case basis.
She added that she believed the messages being communicated would be less credible if the government was known to be behind them.
The tribunal's decision is expected to be handed down in a few weeks' time.
https://www.middleeasteye.net/news/prevent-radio-drama-arts-funding-1931026507
--------
Nairobi Attack Survivor's Escape from Al Shabab Militants: We Were Focused On Getting Out Alive
January 16, 2019
As an explosion and gunfire rang out in Nairobi's leafy suburb of Westlands on Tuesday afternoon, hundreds of terrified office workers barricaded themselves inside or fled for their lives on foot.
"We have no idea what is happening. Gunshots are coming from multiple directions," said Simon Crump, an employee at a public relations company who was hiding with two of his colleagues.
The Australian was among a first wave of people evacuated from the office buildings surrounding the DusitD2 hotel, after sustained gunfire. When the attack began, he and his colleagues barricaded themselves inside a spare room.
They waited for about two and a half hours for help to arrive.
"We were focused on getting out of there alive, being acutely aware that there were active shooters throughout the compound that we could potentially come under fire from," he told the ABC's The World Today programme.
Mr Crump said he thought the Australian High Commission had come under attack.
"I've got a good view of the high commission from my window, and once I realised it wasn't an attack on the embassy, I realised it potentially was a more serious incident than I was anticipating," he said.
When soldiers finally reached the group, they instructed them to put their phones away and put their hands in the air.
"When the security personnel arrived there was a lot of commotion," Mr Crump said. "One of the biggest fears you have in such a situation is whether the people who are banging at the door are the people who are going to get you out of such a situation, or whether they are the people who are going to hurt you."
The group was eventually led to safety.
"It's a traumatic time, it's a very stressful time … you are wondering whether you should be messaging your loved ones to say, 'Thank you, it's been swell, please forgive me and I love you', or, 'Please be calm and we will be out shortly'."
Security forces worked throughout the night to get people to safety and secure the compound, which includes a 101-room hotel, spa, restaurant and office buildings, after the attack claimed by Al Shabab militants on Tuesday afternoon.
Attackers were 'very confident'
One survivor rescued from the building told a local television station the attackers were "very confident; they were people who knew what they were doing".
At least one suicide bomber blew himself up at the hotel while gunmen sprayed fire before engaging security forces and holing themselves up at the premises.
Surveillance video showed three attackers dressed in black running across the car park at 3.30pm local time (4.30pm UAE), shortly followed by a fourth.
At least two of the men were wearing green scarves in the close-up footage. One appeared to be wearing a green belt with grenades on it.
'A flash of lights and a loud bang'
Kenya is a base for hundreds of diplomats, aid workers, businessmen and others operating around East Africa.
"I just started hearing gunshots, and then started seeing people running away raising their hands up and some were entering the bank to hide for their lives," a woman working in a bank in the complex said, adding she heard two explosions.
John Maingi said there had been "a flash of lights and a loud bang" at the Secret Garden restaurant where he works.
"When I peeped outside I saw a human leg which has been cut off. We hid in the room and then some police officers rescued us," he said.
Reuben Kimani, a barista who was rescued after several hours trapped inside the hotel, said he recognised one of the attackers as a client.
"I knew one of them because he had a big scar on one of his hands," he said. "I saw them. They shot six of my friends, four didn't die but two succumbed."
Geoffrey Otieno, who works at a beauty salon in the complex, said he heard a loud bang from something thrown inside the building, then saw shattered glass.
"We hid until we were rescued," he said.
'Men with scarves on their head and bandoliers of bullets'
The compound targeted contained offices of various international companies, in an echo of a deadly 2013 assault on a Nairobi shopping centre in the same neighbourhood.
"The main door of the hotel was blown open and there was a human arm in the street," said Serge Medic, the Swiss owner of a security company who ran to the scene to help when he heard of the attack from his taxi driver.
Mr Medic, who was armed, entered the building with a policeman and two soldiers, he said, but they came under fire and retreated. An unexploded grenade lay in the lobby, he said.
"One man said he saw two armed men with scarves on their head and bandoliers of bullets," Mr Medic told Reuters, as gunfire echoed in the background.
As the siege stretched into its second day on Wednesday, it was revealed that 14 people did not make it out of the hotel complex alive, with 11 Kenyans, a Briton and an American reported among the dead.
By mid-morning Kenya's president Uhuru Kenyatta said that security forces had killed all four militants who stormed the complex. More than 700 people had been taken to safety, he said.
"I can confirm that... the security operation at Dusit complex is over and all the terrorists eliminated," Mr Kenyatta said in a televised address to the nation.
https://www.thenational.ae/world/africa/nairobi-attack-survivor-s-escape-from-al-shabab-militants-we-were-focused-on-getting-out-alive-1.814016
--------
Bangladesh's Awami League Criticizes Islamic Leader Over Comments on Girls' Education
2019-01-16
A senior official with Bangladesh's ruling party on Wednesday joined rights activists and educators in condemning comments made by the chief of an influential but conservative Islamic group, who recently suggested that girls should not be schooled beyond nine or 10 years old.
Shah Ahmed Shafi, a cleric who heads the Hefazat-e-Islam group, called on his followers last week to declare that they would not send their daughters to school past the fourth or fifth grades. The 99-year-old heads an organization that honored Prime Minister Sheikh Hasina in early November as she prepared to lead her Awami League party to a landslide victory in the Dec. 30 general election.
Faruk Khan, an Awami League presidium member, denounced Ahmed Shafi's comments about girls.
"Bangladesh Awami League promotes women's empowerment. Our leader, Sheikh Hasina, would never compromise with women's empowerment. He should refrain from making such offensive comments in future," Khan told BenarNews.
Rashed Khan Menon, president of Awami League's political ally, the Workers Party of Bangladesh, echoed that sentiment.
"Ahmed Shafi cannot be supported under any circumstances. What he said was against the constitution. Bangladesh has become a middle-income country due to active participation of women at all levels."
"As an organization, Hefazat is hardline," he added. "They want to push the country and the society back. They want to see women trapped within four walls."
Hasina, whose government has held power for the past decade, has been criticized as an autocrat by human rights and free speech advocates but praised in other quarters for leading Bangladesh on a path of economic growth. During that time, the country has also made greater strides in educational opportunities for girls and women.
Hasina is the daughter of Bangladesh's assassinated founding father, who led an independence movement that brought about the creation of the secular-based nation after a war with Pakistan in 1971.
"[H]is comments are against Bangladesh's constitution and all rules and norms. Our constitution guarantees education for all," Rasheda K. Chowdhury, executive director of Campaign for Popular Education, a local NGO, told BenarNews, referring to the Hefazat leader's remarks.
"He cannot force people not to send girls to schools and colleges. No sensible people can accept his idea."
Chowdhury said women were engines of the nation's growth and change.
"Bangladesh is one of leading countries in terms of women's empowerment in South Asia and the world. Our women are not at the backstage. They cannot be pushed into four walls," she said.
Bangladesh has had a woman as prime minister for more than half of its 48-year-history.
It has made progress in educating girls in recent years.
"With nearly 6.4 million girls in secondary school in 2015, Bangladesh is among the few countries to achieve gender parity in school enrollment, and have more girls than boys in the secondary schools," Shilpa Banerji wrote in a blog for The World Bank in 2017.
Women comprise more than 80 percent of garment workers, the industry that forms the backbone of Bangladeshi exports and its current transition out of least-developed-country status.
"Ahmed Shafi is wicked. He wanted to obstruct the advancement of women by giving the wrong interpretation of Islam. Women took our country forward. They have been successful everywhere – education, sports, ready-made garments (RMG) industry, politics and so forth," Nazma Aktar, chief of the Sommilito Garments Sramik Federation, told BenarNews.
"Islam never obstructs women's education," she added. "We should not give his statement so much importance. Rather we should focus on girls getting more education."
'Do not let girls study'
While addressing an annual religious gathering in Chittagong last week, Ahmed Shafi administered an oath to his devotees where they promised to not send their daughters to schools and colleges.
"Do not let girls study at schools and colleges. At best, you can allow them to study up to fourth or fifth grade. If you let them study any more... You have seen in the newspapers that... If you educate your girl up to ninth, tenth, MA, BA levels then that girl will not remain yours.
"If you educate your girls, other men will snatch them away," he said.
Afterward, as criticism over his remarks began to pour in, Ahmed Shafi sent a clarification to reporters. He claimed he had told parents that they should not compromise in efforts to seclude girls for educational purposes, pointing out that most schools were coeducational.
In Bangladesh, 51 percent of students at primary schools are girls, according to official figures. At the secondary education level, the rate increases to 54 percent and drops to 48 percent at the high secondary level.
Warming up to Hasina
On Nov. 4, 2018, less than two months before the election, Hefazat honored Hasina for recognizing the educational degrees issued by madrassas, or Islamic boarding schools.
The event where Ahmed Shafi's group presented a plaque to the prime minister, was another instance in which Hasina, despite leading the secular Awami League, was seen as seeking to strengthen ties with Islamic hardliners.
In April 2017, Hasina caused consternation among many Bangladeshis when she made concessions to Hefazat-e-Islami despite fears that growing Islamization was eclipsing secular traditions of Bengali culture.
Meeting then with Hefazat leaders at her residence, Hasina announced that her government would recognize degrees from thousands of unregulated Qwami madrassas, including those run by Hefazat. She also agreed to changes in public school textbooks to make them more Muslim-friendly, as demanded by Hefazat.
"I follow religious guidelines, but I do not mix politics with religion," Hasina said at the time in response to criticisms of her actions. "Recognition of the Qwami madrassa certificate will bring jobs to lakhs [hundreds of thousands] of students. There is no politics in it."
https://www.benarnews.org/english/news/bengali/statement-backlash-01162019164233.html
--------
Saudi students facing charges in Oregon disappear
16.01.2019
By Umar Farooq
WASHINGTON
Saudi Arabia is believed to have helped a number of its citizens in the U.S. state of Oregon escape after being involved in criminal activities, in some cases helping them get away with murder, according to a report.
Abdulaziz al Duways, a student at Western Oregon University, was arrested in December 2014 and accused of raping a classmate after giving her marijuana and alcohol. His bail was set at $500,000, and his passport was turned over to the lawyer representing him.
The Saudi consulate in Los Angeles posted bail a few days later, and al Duways disappeared, The Oregonian newspaper reported Monday.
The case preceded a similar one, involving Portland Community College student Abdulrahman Sameer Noorah, who had similarly disappeared after being charged in 2016 with the deadly hit-and-run of a 15-year-old girl. The law enforcement authorities told The Oregonian that the government of Saudi Arabia helped Noorah escape.
A total of five cases involving Saudi nationals escaping potential imprisonment were reported, and the cases have strikingly similar characteristics.
All of the cases involved young Saudi citizens studying at a university or college, and in four of the most recent cases the same defense lawyer, Ginger Mooney, was used. In four of the cases, the Saudi government posted the bail of the suspect, and all the individuals disappeared before facing charges or jail time.
"This is even more evidence that the Saudi government has acted to help its citizens escape justice for crimes committed in Oregon," Senator Ron Wyden told The Oregonian.
The newspaper reported the five cases add to a list of illicit activities conducted by Saudi Arabia. The list is headlined by the murder of journalist Jamal Khashoggi, who was killed Oct. 2 in the Saudi Consulate in Istanbul.
After initially denying any knowledge of Khashoggi's whereabouts, Saudi Arabia eventually blamed his grisly slaying on a botched rendition operation being carried out by rogue agents.
His body has yet to be found amid reports it was dismembered and chemically dissolved.
Riyadh has indicted 11 people tied to Khashoggi's killing and is seeking the death penalty for five suspects. But critics have suggested the individuals are merely taking the fall for Crown Prince Mohammad bin Salman's operation after an unexpected international outcry.
Wyden wrote a letter to Secretary of State Mike Pompeo and Acting Attorney General Matthew Whitaker last month, demanding answers for the disappearance of Noorah.
"These are shocking claims in any event, but with the barbaric murder of U.S. resident Jamal Khashoggi, they suggest a brazen pattern of disregard for the law and abuse of diplomatic privileges," Wyden wrote in the letter obtained by The Oregonian.
"If they are accurate, they would require significant restrictions on Saudi Arabia's diplomatic privileges and call into question the future of America's bilateral relationship with the Saudis," he added.
https://www.aa.com.tr/en/americas/saudi-students-facing-charges-in-oregon-disappear/1366718
--------
India
Over 20 militants appear to offer gun salute to Zeenat ul Islam in Shopian
By The Kashmir Walla
16 Jan 2019
Srinagar: People were in panic after hearing massive gunfire on Wednesday in Sugan area of South Kashmir's Shopian district.
A group of at least 20 armed militants appeared in Sugan on the Chauhram of Al Badr militant commander Zeenat ul Islam, who was killed on Saturday, and offered gun salute to the slain commander, locals told The Kashmiriyat.
As per eyewitnesses, militants fired several aerial rounds as a mark of respect to Zeenat ul Islam.
People from various villages and town were seen visiting the families of the militants on Wednesday.
Mr. Islam and his associate Shakeel Ahmed Dar were both killed in a gunfight with the government forces on Saturday in South Kashmir's Kulgam district.
The incident of militants' appearance or the firing was not confirmed by the police officials.
https://thekashmirwalla.com/2019/01/over-20-militants-appear-to-offer-gun-salute-to-zeenat-ul-islam-in-shopian/
--------
ISIS-inspired modules: NIA conducts fresh raids in UP, Punjab
Jan 17, 2019
NEW DELHI: The National Investigation Agency (NIA) on Thursday conducted fresh searches at seven places in western Uttar Pradesh and Punjab in connection with the presence of the suspected ISIS modules in the region.
On December 26, NIA had busted an Islamic State-inspired group resulting in the arrest of 10 men.
The agency said the terrorist group were planning suicide attacks and serial blasts targeting politicians and government installations in Delhi and other parts of north India.
The accused were arrested after raids in Delhi and Uttar Pradesh — at six places in Amroha, two in Lucknow, two in Hapur and two in Meerut.
The NIA had seized a locally-made rocket launcher, material for suicide vests and 112 alarm clocks to be used as timers during its searches. It had also recovered 25 kg of explosive materials, during the raids. The NIA had also seized steel containers, electric wires, 91 mobile phones, 134 SIM cards, three laptop computers, a knife, a sword and ISIS-related literature.
Full report at:
https://timesofindia.indiatimes.com/india/isis-inspired-modules-nia-conducts-fresh-raids-in-up-punjab/articleshow/67566761.cms
--------
Applications of 88 who fled Bangladesh due to religious persecution still pending
Rahul Tripathi
January 17, 2019
Applications of as many as 88 individuals, who fled from Bangladesh due to religious persecution and sought Indian citizenship, are pending with the Home Ministry, according to records available with the MHA till September 2018.
Sources confirmed that more than 3,400 applications for request for grant of citizenship from nationals of Pakistan, Bangladesh and Afghanistan are pending with the state and Union government. Among these applications, around 2,600 are from Pakistan and 700 from Afghanistan. The sources clarified that the Centre does not maintain religion-wise data.
With the government introducing the 2016 Citizenship Amendment Bill in Parliament, the issue of grant of citizenship to six persecuted minority communities — Hindus, Jains, Sikhs, Parsis, Christians and Buddhists — from Pakistan, Afghanistan and Bangladesh, who came to India before 2014, has led to massive protests in Assam and other parts of the Northeast. Following the protests — which were supported by All Assam Students' Union (AASU) and North East Students' Organisation (NESO) — Union Home Minister Rajnath Singh had said, "Assam has borne the disproportionate burden of migration due to religious persecution in our neighbouring countries and Assam should not bear this burden alone."
The Bill, however, will pave the way for thousands of migrants who came before December 31, 2014, to be eligible for Indian citizenship, which is against the Assam Accord signed in 1985. The online records available with the MHA show that as many as 605 people were granted Indian citizenship in 2015, 1,106 in 2016 and 816 in 2017.
"The online application for citizenship started in 2011 and prior to that the applications were processed offline. There are very few offline cases prior to 2010 which are pending with the MHA and state government," a ministry official explained.
Ministry sources told The Indian Express that more than 10,000 individuals have been granted long term visa (LTV) in 2018 alone, out of 14,000 who had applied.
MHA officials said that 11,000 LTVs were issued in the last four years for persecuted minorities from Pakistan, but the data on those granted LTVs from Bangladesh and staying in Assam are still being collated. MHA had earlier relaxed norms for those staying on LTV, allowing them to buy property, open bank accounts and obtain PAN as well as Aadhaar cards.
The Centre has also empowered district magistrates and state home secretaries of seven states — Gujarat, Madhya Pradesh, Maharashtra, Rajasthan, Uttar Pradesh, Chhattisgarh and Delhi — to grant citizenship to Hindu minorities. The border districts in these states have a large number of persecuted minorities, said officials.
Full report at:
https://indianexpress.com/article/india/applications-of-88-who-fled-bangladesh-due-to-religious-persecution-still-pending-5542110/
--------
Pakistan
Pakistan International Airlines to stop playing soft music during flights
January 16, 2019
Pakistan International Airlines (PIA), the national flag carrier of Pakistan, will stop playing soft music or muzak during flights. Pakistani news channel ARY News reported that the airline's Chief Operating Officer Air Marshal Arshad Malik has ordered that the music be replaced by Qaseeda Burda Shareef (religious praise for the prophet of Islam).
It's not clear whether the decision has been influenced by the Wahhabi Islam's sense of piety. Hardline Islamists consider music as haraam (sinful) and denounce music as a vice that leads people astray.
What is clear is that decision is part of PIA's revamp plan. In deep debt and suffering recurring losses, PIA has been asked to shape up and soon after taking over Pakistan Prime Minister Imran Khan had asked the PIA chairman to submit a detailed plan to revive the ailing airline. At the time, PIA's total losses had ballooned to over Rs 400 billion.
PIA has been in news recently for negative reasons. Its staffers have been caught smuggling drugs to the UK. Nearly 200 of its officers were dispatched home for being in the job after submitting bogus certificates. This included at least seven flying officers who were not even graduates, five of them had not even gone to college.
Last year, a pilot and a crew member were engaged in a public brawl over smuggling. The flight from Lahore to London took off 3 hours past departure time because the pilot refused to allow a crew member to fly, openly accusing the latter of smuggling.
A flight steward of PIA was caught by the French police in Paris for smuggling heroin. That staffer is in French prison after being sentenced for 2 years in jail.
In 2017, Pakistan's own law enforcement arrested 14 PIA employees for drug-running.
https://www.indiatoday.in/india/story/pakistan-international-airlines-to-stop-playing-soft-music-during-flights-1432362-2019-01-16
--------
Pakistan presses Afghan Taliban to meet US envoy in Islamabad
Ismail Khan
January 17, 2019
PESHAWAR: Pakistan is believed to be making serious efforts to arrange a meeting between the US special representative for Afghanistan and Afghan Taliban leaders in Islamabad to help break the deadlock and speed up the Afghan peace process, sources said.
Foreign Office spokesman Dr Mohammad Faisal said he had no knowledge of the meeting between US special representative Zalmay Khalilzad and Afghan Taliban representatives but the sources said Pakistan had conveyed to the Taliban leadership its desire to convene a meeting in Islamabad this week to push forward the peace agenda.
The Taliban did not announce its agreement to sit down with Mr Khalilzad though sources said chances of talks between the two adversaries were high. Mr Khalilzad's visit to Islamabad was delayed and rescheduled to allow the Taliban leadership to consult each other and come up with a firm response, the sources added.
This comes in the backdrop of media reports about the arrest of a senior Taliban figure and his subsequent release and raids and arrests of some Taliban commanders to put pressure on the group to return to the negotiating table and also to get them to meet the Afghan government representatives.
This signals a paradigm shift in Pakistan's policy long accused of protecting and facilitating the Afghan Taliban. Pakistan says it supports an Afghan-owned and Afghan-led peace process.
The Taliban have so far refused to meet representatives of the Afghan government, dubbing them as puppets of foreign occupying powers.
Islamabad has taken Kabul into confidence about its efforts to expedite the peace process. President Ashraf Ghani's Special Envoy Mohammad Omer Daudzai during his visit to Pakistan last week also seemed satisfied with the endeavours.
Efforts by Riyadh to hold an Afghan peace conference in Saudi Arabia fizzled out after the Taliban declined to attend it, describing the two-day International Conference of Ulema for Peace and Security in Afghanistan in July last year as "a meeting arranged with US orders". The seven-point declaration issued at the end of the conference said suicide attacks targeting innocent people and intense killings among Muslims were all acts prohibited by Allah and His Messenger.
A subsequent meeting between the US Special Envoy and Taliban representatives in Qatar was also called off after Taliban demanded withdrawal of travel restrictions on their key leaders.
Pakistan had earlier arranged an ice-breaking meeting between representatives of the Afghan Taliban and Afghan government in Murree in July 2015, but things took a dramatic turn after Kabul accused Islamabad of trying to cover up the news about the death of the Taliban movement founder Mullah Mohammad Omar.
Full report at:
https://www.dawn.com/news/1458059/pakistan-presses-afghan-taliban-to-meet-us-envoy-in-islamabad
--------
Unwanted Afghan refugees pin hopes on PM Imran Khan
January 17, 2019
PESHAWAR: Shahzad Alam has proposed marriage to several women and been rejected each time for the same reason, he says: their discovery that he is not the Pakistani shoe shop owner they thought he was, but an Afghan refugee.
His romantic future could be given a boost by Prime Minister Imran Khan, who has ignited a national debate with a controversial vow to grant citizenship to Afghan refugees born in Pakistan -- potentially creating more than a million new citizens.
Pakistan is one of the largest refugee-hosting nations in the world, home to an estimated 2.4 million registered and undocumented people who have fled Afghanistan, some as far back as the Soviet invasion of 1979.
But many Pakistanis view them with suspicion, accusing them of spurring militancy and criminality, and calling for them to be sent home.
Under Pakistan´s constitution, anyone born in the country after 1951 has the right to citizenship. But feeling against the refugees is so strong that no leader has dared take moves to implement the policy -- Khan´s promise is the first time any Pakistani premier has made such a vow.
Refugees greeted his words joyfully. Twitter users joked that Khan could now win elections in Afghanistan. "May God bless Imran Khan," Alam told AFP.
But the announcement has also prompted a national outcry, with columnists claiming he had opened a "Pandora´s Box". Heads of Pakistan´s main opposition parties quickly condemned it.
As the debate continues in the country´s newspapers and on social media, salesman Alam´s life remains in limbo.
Alam speaks with a Pakistani accent, dresses in Pakistani fashions, and has lived all his life in the northwestern city of Peshawar where he was born after his parents fled Afghanistan in 1979.
Although he says women have asked him to propose marriage in the past, the relationship would always "end the moment we introduce ourselves as Afghan".
Pandora´s box?
The United Nations says there are 1.4 million Afghans registered as refugees in Pakistan, and estimates that some 74 percent were born there.
Many live in camps, while others have created lives for themselves in Pakistan´s cities, marrying and raising children, opening shops and supporting themselves.
In one Peshawar bazaar, thousands of Afghans could be seen running hundreds of shops bursting with local and Chinese goods, fresh fruits, and vegetables -- visible signs of their economic contributions.
"I feel like I am in my own village, my own country," said Ashiqullah Jan, a 43-year-old refugee.
But their status has always been temporary, with deadlines set for them to leave Pakistan repeatedly pushed back as the conflict in Afghanistan worsens.
Many analysts predict security will continue to deteriorate in 2019 despite a renewed push for peace talks.
In 2016 a wave of forced repatriations from Pakistan to Afghanistan sparked fears of a humanitarian crisis. The decision by Khan is a significant departure from such policies.
"When you are born in America, you get the American passport... so why not here? How cruel it is for them," he said when announcing the measure last September.
Much of the outcry prompted by his words has been centred on security fears. Pakistan has fought a long and bloody war with militancy, with the army often blaming extremists based in Afghanistan and claiming insurgents hide in refugee camps.
Khan has reiterated his support for the measure, but faced with the outcry has not yet formally taken it to parliament.
Analyst Rahimullah Yusufzai warned that even if the prime minister -- who has developed a reputation for U-turns since coming to power last July -- does push the policy through, implementing it will take time.
"It won´t be easy to give them citizenship or to develop a consensus on the issue in parliament or in the country," he said.
´I do not want to leave´
The United Nations refugee agency UNHCR has welcomed the move.
"So many of the young Afghan refugees were born here and they only know Pakistan," country representative Ruvendrini Menikdiwela told AFP.
Most Pakistanis who spoke to AFP in the bazaars of Peshawar, whose proximity to the Afghan border has made it a centre for refugees, remained staunchly opposed.
The government should send the refugees home "as soon as possible", 42-year-old Rehman Gul told AFP.
Azeem Khan, a fresh produce seller, was one of the few Pakistanis supporting the move -- but his stance sparked a heated argument among his customers.
Refugee Khayesta Khan, one of the customers, told AFP there was "nothing left" in Afghanistan but "the Taliban and Daesh (Islamic State) and bombs".
Full report at:
https://www.thenews.com.pk/latest/420209-unwanted-afghan-refugees-pin-hopes-on-pakistans-imran-khan
--------
PM Imran promises support for reopening MQM's legitimate offices
January 16, 2019
ISLAMABAD: Prime Minister Imran Khan has assured Muttahida Qaumi Movement Pakistan (MQM-P) for recovery of its missing workers besides reopening of their legitimate offices in Karachi, Hyderabad and Mirpurkhas.
Members of the National Assembly belonging to MQM-P called on PM Imran Khan here at the PM Office on Wednesday.
Sources said MQM delegation put demand before PM Imran for reopening their legitimate offices and early recovery of their missing workers.
Besides the Minister for Information Technology Khalid Maqbool Siddiqui, Minister for Law and Justice Dr Farogh Naseem and MNA Syed Ameen-ul-Haq, the meeting was also attended by Minister for Finance Asad Umar, Special Assistant to PM Naeem-ul-Haq and MNA Malik Muhmmad Amir Dogar.
During the meeting, the matters relating to civic problem faced by the people of Sindh province as well as the big cities including Karachi and Hyderabad were discussed.
The coalition matters between MQM and Pakistan Tehreek-e-Insaf were also discussed during the meeting.
The Prime Minister said that the federal government was cognizant of the problems faced by the people of Sindh province and would play its role in addressing these issues.
In order to further improve coordination between the two political parties regarding development projects at provincial level, the meeting decided to constitute a committee under Governor Sindh Imran Ismail.
The Prime Minister would perform the ground-breaking of Hyderabad University next month, it was revealed during the meeting.
Full report at:
https://www.thenews.com.pk/latest/419866-pm-imran-promises-support-for-reopening-mqms-legitimate-offices
--------
LEAs told to ensure strict vigilance of Afghan DPs
Mohammad Asghar
January 17, 2019
RAWALPINDI: Express­ing concern over the presence of a large number of Afghans living in Pakistan, the government has directed the law enforcement agencies to ensure strict vigilance and security till the repatriation process is completed.
The issue of Afghans living in Pakistan and their repatriation was discussed at a meeting held in Islamabad recently. Senior officials of the federal government and intelligence agencies attended the meeting.
The meeting was informed that the presence of a large number of Afghans (registered and unregistered) in Pakistan was a point of concern for law enforcement agencies. The officials were of the view that although the number of unregistered refugees was collated by the police through FIRs registered, there was a need to chalk out a comprehensive strategy at the national level for their repatriation.
It was also pointed out that majority of the Afghan settlers were not willing to return and so a clear-cut policy might be devised for their early repatriation. The law enforcement agencies officials said that there was an urgent need to develop a mechanism for re-verification of Afghan refugees through biometric systems as 32 per cent of them were living in camps but the remaining 68pc were living outside camps.
The intelligence officials said that there were many unregistered Afghans who had settled in Pakistan and obtained Pakistani identity documents using illegal means. They suggested that till completion of the repatriation, the security around the refugees must be ensured to avoid any untoward incident.
The meeting asked the Ministry of States and Frontier Regions to share data of the total number of Afghans living in Pakistan and directed law enforcement agencies to ensure strict vigilance and security till the completion of the process.
Meanwhile, the Punjab government recently chalked out standard operating procedures (SOPs) for the security of foreigners, especially Chinese.
It was observed by the law enforcement agencies that foreigners were visiting sensitive locations without acquiring no objection certificate (NOC) from intelligence agencies concerned and provincial and district governments.
The fresh guideline was given to all divisional police chiefs and commissioners and suggested that all foreigners shall report their dep­arture and arrival details.
Full report at:
https://www.dawn.com/news/1458028/leas-told-to-ensure-strict-vigilance-of-afghan-dps
--------
Pathways for the Pakistan Church in 2019
January 17, 2019
The New Year is here and while it is always encouraging to see Pakistani bishops making resolutions, revisiting some old ones might be a good idea.
Please don't get me wrong. I truly believe that it is time of year when the world should look forward to a new beginning.
Bishop Joseph Arshad of Islamabad-Rawalpindi rightly announced "the Year of Peace and Hope" on Dec. 1, during the inauguration ceremony of the new year in the Cathedral of St. Joseph of Rawalpindi.
Similarly, when Archbishop Sebastian Francis Shaw of Lahore announced that 2019 will be the Year of Dialogue in his archdiocese, he also talked about focusing on Muslim-Christian dialogue. For the vulnerable religious minorities, this is the key to survival amid rising religious fundamentalism in the country.
Cardinal Joseph Coutts is also very clear about it.
"Pakistan is becoming more Islamic in a subtle way. Taliban, the so-called Islamic state and Al Qaeda reject democracy as a western idea. They reject democratically elected governments and are struggling for a theocratic state; a caliphate," Cardinal Coutts told me.
"We are treated not as equals but as protected citizens. Most of our problems are faith based."
But while the New Year period is a great time to set new goals, it is also a time to look back. Did we really stick to the promises made in years bygone?
Lay leadership
The biggest change in the aftermath of the Second Vatican Council was an explosion of lay participation in evangelization and catechesis.
The closure of the council in 1965 opened windows of opportunities for laity in Pakistan and church commissions started hiring them for top positions. Caritas Pakistan was established in that same year as an expression of concern of local Catholics for justice, peace and development. It should also be noted that all prominent human rights defenders in the Islamic republic are Catholics.
However, the Caritas diocesan unit in Lahore has not had a lay Executive Secretary in at least a decade. Priests heading this charity over these years were already very busy with other jobs. The executives included a vicar general, bishop's secretary, cathedral rectors etc.
There are other examples.
Maktaba-e-Anaveem Pakistan or Theological Institute for Laity has been led by its founding Father Emmanuel Asi since 1989. Despite its dedicated name, he is finding it hard to discover a lay successor.
The institute, based in a village of Punjab province, has published more than 200 books in Urdu, the national language, for both Catholics and Protestants plus visiting Muslim scholars. More power to the 70-year-old theologian who is also the executive secretary of the Catholic Bible Commission but more lay researchers and Biblical scholars could help him in his work.
Promoting and trusting lay staff can help overburdened priests, encourage laity and continue their formation in the faith. Well-informed lay leadership can also help in filling any gaps created from shortage of priests.
Media
As a rule, it's easier to keep just one resolution rather than several but it would be unfair to skip the most common demand by people everywhere I go; namely the wish for a 24-hour Catholic satellite channel.
In the New Year Mass of 2018, Lahore Archdiocese launched a fundraising campaign to elevate its cable based Catholic TV to satellite. Launched in 2009, the channel airs programs on catechism, family fellowship, youth, children, hymns, Bible quizzes, career counseling, bible-themed movies as well as live homilies on television and social media.
It is presently being viewed in more than 20,000 Christian homes in Lahore Archdiocese and some villages of Punjab and Sindh province. Despite its major popularity, the channel nearly closed last year, according to Father Morris Jalal, the founder and Executive Director of Catholic TV.
"In October, we were notified that the bishop could no longer finance the channel. As we started packing up the equipment, a group of worried priests from all the eight diocesan districts agreed to pay and save the channel at a joint meeting," Father Jalal told me.
Electronic media in Islamic Republic has been ignoring Christians and other religious minorities for decades. At Christmas, Catholics and Protestants get 30 minutes each on the Pakistani television network. At Easter, this drops to 15 minutes.
Perhaps revisiting last year's resolution might be a good idea. Pentecostal Church has already taken the lead by launching Isaac TV, Pakistan's first Christian satellite broadcaster in 2012. A vibrant media can become a powerful platform to improve the lives of Christians.
The church in Pakistan has served the nation through its public welfare services including health and education. However, it cannot do that by itself and the church needs laypeople who 'dare to dream' as Pope Francis puts it.
Full report at:
https://www.ucanews.com/news/pathways-for-the-pakistan-church-in-2019/84280
--------
Pakistan frees another senior Taliban leader
Tahir Khan
JANUARY 16, 2019
Pakistan on Tuesday released a senior Afghan Taliban leader who was taken into custody from Peshawar a few days ago, Taliban sources said.
Hafiz Mohibullah is the member of a Taliban political commission and has taken part in several rounds of peace talks. Taliban officials said they do not know as to why he was arrested at a time when Taliban and the US were engaged in talks to find out a political solution to the Afghan conflict.
Meanwhile, Afghan Taliban warned on Tuesday that they would be forced to stall all talks and negotiations if US refused to discuss withdrawal of foreign forces from Afghanistan. A Taliban statement said the US is 'backing away' from the agenda and is unilaterally adding new subjects besides using pressure tactics.
The warning came days after Zalmay Khalilzad, US special representative for Afghanistan reconciliation, cancelled his meeting with Taliban in Qatar. Khalilzad is now seeking cooperation from Pakistan and other stakeholders to exert pressure on Taliban to join the intra-Afghan dialogue and it will be the main item on agenda of his talks with Pakistani officials, which will start on Wednesday in Islamabad.
"As the US agreed during Doha meeting in the month of November 2018 about discussing the withdrawal of foreign forces from Afghanistan and preventing Afghanistan from being used against other countries in the upcoming meeting, she now is backing away from that agenda and is unilaterally adding new subjects," the Taliban statement said. "Hence the Islamic Emirate warns US if the current state of affairs continues and US sustains her insincerity, then the Islamic Emirate will be forced to stall all talks and negotiations," it added.
Full report at:
https://dailytimes.com.pk/344615/pakistan-frees-another-senior-taliban-leader/
--------
North America
Florida official under fire for saying Rashida Tlaib might 'blow up' US Capitol
January 16, 2019
An official from Florida is facing increasing criticism for calling the first Muslim Congresswoman a "danger" who might "blow up" the US Capitol.
Annabelle Lima-Taub, a city commissioner in south Florida, signed an online petition on a crowdsourced site known as "We The People" to have Rashida Tlaib removed from office and left a scathing message with it.
"Proudly signed," Ms Lima-Taub wrote, according to a screen grab of the post. "A Hamas-loving anti-Semite has NO place in government! She is a danger and [I] would not put it past her to become a martyr and blow up Capitol Hill." She later deleted the post after a local newspaper asked her about it.
The petition garnered more than 100,000 signatures, which requires that the White House respond to it.
Ms Tlaib, who is also the first Palestinian-American to enter Congress, has gained notoriety for criticising US President Donald Trump. She said last month that she wanted to "impeach that motherf-----".
Ms Tlaib lashed out at the official on Twitter. "This sort of hateful anti-Muslim rhetoric doesn't happen in a vacuum — this President embraced it and Republicans have happily gone along with it," she wrote.
The Council on American-Islamic Relations (CAIR), America's top Muslim body, called for Ms Lima-Taub to step down.
"CAIR-Florida strongly condemns the disgraceful racist and Islamophobic statements published by Commissioner Annabelle Lima-Taub," Wilfredo Ruiz, the CAIR Florida chapter 's communication director, said in a statement. "Her un-American, xenophobic statements establish that she is unfit to hold the Commissioner's seat."
Her colleagues on the commission at Hallandale Beach, a community of around 40,000, criticised her remarks.
"Commissioner Lima-Taub's behavior is indefensible and a black eye for Hallandale Beach," said Michele Lazarow, another Hallandale commissioner, according to the Florida-based Sun Sentinel newspaper.
Ms Lima-Taub was born in Israel but grew up in New York, according to her biography on the community's website.
https://www.thenational.ae/world/the-americas/florida-official-under-fire-for-saying-rashida-tlaib-might-blow-up-us-capitol-1.814251
--------
IS-claimed suicide attack kills four Americans in north Syria
January 17, 2019
QAMISHLI: A suicide attack killed four US personnel in northern Syria on Wednesday, causing the United States to suffer its worst combat losses in the war-torn country since 2014 as it prepares to withdraw. Among the four who died were two soldiers and two civilians.
The bombing claimed by the IS group comes after US President Donald Trump's shock announcement last month that he was ordering a full troop withdrawal from Syria because the jihadists had been "largely defeated".
The US-led coalition fighting IS said "US service members were killed during an explosion while conducting a routine patrol in Syria" on Wednesday, without giving a death toll.
The Syrian Observatory for Human Rights said two Americans soldiers, nine Syrian civilians, and five US-backed fighters were killed in the attack on a restaurant in the northern city of Manbij near the Turkish border.
According to Pentagon statistics, Wednesday's blast was the deadliest attack for US coalition forces in Syria since they deployed in 2014.
The Britain-based Observatory, which relies on a network of sources in Syria, said it was the first such suicide attack in the city in 10 months.
Speaking at a gathering in Washington of US ambassadors, Vice President Mike Pence did not comment on the attack and just said that the United States would ensure the defeat of IS, also known as ISIS.
"We'll stay in the region and we'll stay in the fight to ensure that ISIS does not rear its ugly head again," he said.
The bombing comes as Syrian Kurds present in areas around Manbij reject any Turkish presence in a planned "safe zone" to include Kurdish-held areas along the frontier.
Turkey has repeatedly threatened to attack Washington's Syrian Kurdish allies who Ankara views as "terrorists" on its southern flank.
Washington, which has relied heavily on the Kurds in its campaign against IS in Syria, has sought guarantees for their safety after Trump's pullout announcement.
On Tuesday, Turkey's President Recep Tayyip Erdogan said Ankara would set up a "security zone" in northern Syria following a suggestion by Trump.
But senior Kurdish political leader Aldar Khalil said any Turkish deployment in Kurdish-held areas was "unacceptable".
He said the Kurds would accept the deployment of UN forces along a separation line between Kurdish fighters and Turkish troops.
But "other choices are unacceptable as they infringe on the sovereignty of Syria and the sovereignty of our autonomous region," Khalil said.
Ankara has welcomed Washington's planned withdrawal of some 2,000 US troops from Syria, but the future of Kurdish fighters has poisoned relations between the Nato allies.
Full report at:
https://www.dawn.com/news/1458051/is-claimed-suicide-attack-kills-four-americans-in-north-syria
--------
Trump assures his party about sticking to his Syria, Afghanistan policy
Jan 17, 2019
US President Donald Trump has reassured the GOP that he would stick to his plans for troop pullout from Syria and Afghanistan.
Trump made the comment among a group of Republican senators at the White House Wednesday evening.
Trump's decision to pull out of Syria and reduce forces in Afghanistan has been met with some opposition.
Kentucky Republican Senator Rand Paul, a libertarian conservative, is among those supporting the president.
"I really am proud of the president for making an argument that really no president in recent history has made and that is that we've been at war too long in too many places and he's really going to make a difference," Paul said after meeting with Trump. "Not only is he following through with his Syria policy, I really do think there will be changes in Afghanistan as well… If you look at the polling data for the American people, I think the American people are with the president and they're tired, frankly, of both parties who are unwilling to stand up and say enough is enough."
In regard to Afghanistan Paul asserted that, "We're not going to stay forever. The Afghans will need to step up. The Afghans will need to begin fighting their own wars and taking care of their country… It's not that we'll do nothing. I think the president still will help them. I think we'll still actually probably be there longer than I would like to be."
The American senator further noted that the Unite States needs "to learn" how to brand the War on Afghans a victory.
"But the president, I think, is willing to acknowledge that America's longest war needs to come to a close and that we need to learn how to declare victory," he added.
Top Trump officials, including National security adviser John Bolton, have contradicted their boss.
Full report at:
https://www.presstv.com/Detail/2019/01/17/585999/Trump-assures-his-party-about-sticking-to-his-Syria-Afghanistan-policy
--------
Jailed Press TV anchor's children subpoenaed to testify
Jan 16, 2019
Press TV anchor Marzieh Hashemi's son, Hossein, has told Press TV's website he and his siblings have received subpoenas to appear before the grand jury in Washington, D.C.
This is a transcription of what Hossein Hashemi said:
My name is Hossein Hashemi. I am the eldest son of Marzieh Hashemi, also known as Melanie Franklin. I just want to give an update from where we stand. Currently, the information that is available to us is that she has been detained as a material witness. There aren't any charges against her. The officials have let us know that much in regard to her case. However, she is being detained in a Washington DC facility. It is a prison system. She has an inmate number and she is being held in a cell.
So, we have been very curious as to how someone who does not have any charges against them can be held in the circumstances. We were able to speak with her. My sister spoke with her last night. This is over 48 hours since she was detained, since she was apprehended that we made contact with her. Up until that time, we had very little information even about the fact that there were no charges and so forth.
She seemed OK. She was upset about the kind of treatment that she was receiving as a person who [faces] charges would be treated.
She had only eaten pretzels because her dietary restrictions limited her from the kinds of food that the prison facility would offer.
She is also upset about the fact that her hijab was removed during processing and later on she was only able to cover her hair with a T-shirt apparently.
So, these are the issues that she was upset about it.
I think from our perspective obviously we want more clear answers. The fact that she has not been charged has made it difficult for us to know what kind of lawyers to pursue and what route forward we should go with, because lawyers have specialties and the fact that she hasn't been charged makes it difficult ... we have hard time understanding how someone who is not charged can be held in a facility like that.
I think it is important to know that she is an American citizen and she is a journalist. She is somebody who does documentaries on Black Lives Matters and is critical of a lot of the domestic policies of the United States government, the school-to-prison sort of pipeline and the white community and also the wars abroad and the regime change policies that the United States enforces all the time and puts major budgets behind.
She is critical of all these things and that is all plays into it. We don't know whether those are the reasons for her apprehension, but it is difficult to not become sort of conspiratorial about what is going on with a person as high-profile as my mother.
Full report at:
https://www.presstv.com/Detail/2019/01/16/585991/US-Press-TV-Journalist
--------
US' Pence claims Daesh defeated hours after attack
16.01.2019
By Michael Hernandez
WASHINGTON
U.S. Vice President Mike Pence claimed Wednesday the Daesh terrorist group has been finally defeated just after it claimed an attack that took the lives of a yet determined number of service members and civilians in Manbij, Syria.
"The caliphate has crumbled and ISIS has been defeated," Pence declared at a State Department gathering of more than 180 ambassadors, using another name for Daesh.
The U.S.-led anti-Daesh coalition said the number of American soldiers who were "killed during an explosion while conducting a routine patrol" remains unknown.
Initial reports suggested the attack, reported to be a suicide bombing, claimed the lives of four American service members.
President Donald Trump abruptly announced in December that all U.S. troops would be exiting Syria.
The pullout decision came during a phone call with Turkish President Recep Tayyip Erdogan in which the two leaders agreed on the need for more effective coordination over the civil war-ravished country.
But it has resulted in significant pushback within his administration and on Capitol Hill. Secretary of Defense James Mattis resigned his post shortly after the announcement was made public, and Trump's closest legislative allies have warned against following through with the policy.
Speaking during a committee hearing, Senator Lindsey Graham reiterated his long-standing concerns adding "you had set in motion enthusiasm by the enemy we are fighting.
"I would hope the president would look long and hard of where he is headed in Syria," said Graham.
Full report at:
https://www.aa.com.tr/en/americas/us-pence-claims-daesh-defeated-hours-after-attack/1366794
--------
Europe
North Syria must be under regime control, says Russia's Lavrov
16 January 2019
Russian Foreign Minister Sergei Lavrov said on Wednesday that Syria's regime must take control of the country's north, after calls from the US to set up a Turkish-controlled "security zone" in the area.
"We are convinced that the best and only solution is the transfer of these territories under the control of the Syrian government, and of Syrian security forces and administrative structures," Lavrov told reporters.
https://english.alarabiya.net/en/News/world/2019/01/16/Russia-s-Lavrov-North-Syria-must-be-under-regime-control.html
--------
Germany urges more efforts for peace in Yemen
16.01.2019
By Ayhan Simsek
BERLIN
Germany urged the international community on Wednesday to step up efforts to end the war in Yemen.
"Yemen will face a humanitarian catastrophe if we do not succeed in ending the war," Foreign Minister Heiko Maas said at an international conference in Berlin.
The conference hosted by the German Foreign Ministry brought together senior officials from 17 countries, including key actors and major donor countries.
UN Special Envoy for Yemen Martin Griffiths and Resident Coordinator of the UN in Yemen Lise Grande also attended.
On Dec. 13, Yemeni peace talks in Sweden concluded with a cease-fire deal in the coastal Al-Hudaydah province.
However, the warring parties have failed to withdraw from the province amid accusations of truce violations, and fighting continued in other parts of the country.
Full report at:
https://www.aa.com.tr/en/europe/germany-urges-more-efforts-for-peace-in-yemen/1366691
--------
European Union envoy: We greatly value Turkish-EU ties
16.01.2019
The European Union greatly values its ties with Turkey, said a top EU official in Ankara on Wednesday.
"We place great importance on Turkish-EU relations," said Eva Horelova, head of the political section of the European Union Delegation to Turkey.
Meeting with Hakan Cavusoglu, the head of Turkish Parliament's Human Rights Commission, in the capital Ankara, Horelova called Turkey a key country for the EU.
Turkey applied for EU membership in 1987 and its accession talks began in 2005.
Full report at:
https://www.aa.com.tr/en/europe/european-union-envoy-we-greatly-value-turkish-eu-ties/1366444
--------
Africa
Kenya: Muslim Clerics Join Other Religious Leaders to Condemn Terror Attack
16 JANUARY 2019
By Jemimah Mueni
Nairobi — Muslim leaders have joined other clerics to condemn Tuesday's terror attack that claimed 14 lives.
The leaders called upon Kenyans to put aside their religious differences and support security agencies in the war on terror.
Addressing journalists at Jamia Mosque on Wednesday, Supreme Council of Kenya Muslims (SUPKEM) Vice Chair Al-Hajj Hassan said there is no religion that supports the killing of innocent people and that terrorism has nothing to do with religion.
He dismissed claims that terrorists are Muslims saying that they also lost their Muslim brothers in the attack and called upon the people of Kenya to stay calm and shun attempts to divide the country along religious and ethnic lines.
"The so-called acts of terrorism are acts of criminality and has nothing to do with religion. If it was about religion, we could not have bombs blowing up in Somalia where almost 99 per cent of people there are Muslims; there is nothing religious about terrorism this is an act of crime," he said.
The clerics have also set up a counselling and blood donation center at Chiromo where those in need will be assisted.
President Uhuru Kenyatta and NASA leader Raila Odinga led other leaders in condemning the incident as they called upon Kenyans to be each other's keeper.
https://allafrica.com/stories/201901170030.html
--------
Kenya: Why Al-Shabaab Targets Kenya, and What Can Be Done to Stop Attacks
16 JANUARY 2019
By Brendon J. Cannon, Khalifa University and Martin Plaut, School of Advanced Study
Al-Shabaab has claimed responsibility for the terror attack in Nairobi in which at least 14 people were killed and scores injured. The question the terror attack raises is why the group continues to target Kenya. The Conversation Africa's Moina Spooner and Julius Maina spoke to Brendon Cannon and Martin Plaut.
What is Al-Shabaab?
Brendon Cannon: Al-Shabaab is an Islamist terror group formed in Somalia in the first decade of this century. Its original leadership was affiliated with Al-Qaeda, having trained and fought in Afghanistan.
Al-Shabaab was originally dedicated to removing foreign influence from Somalia and bringing a strict form of Islamic governance to the country. At the height of its power, around 2008-2010, it controlled the capital, Mogadishu, and a sizeable territory south and west of the capital, including the ports of Merca and Kismayo.
Initially, al-Shabaab was a fairly hierarchical organisation and one, that despite ideological and tactical differences, was largely consolidated under Ahmed Abdi Godane aka Mukhtar Abu Zubair, the leader of the group when it attacked Westgate in 2013.
After his death in 2014, al-Shabaab has reportedly fragmented. This may partially explain the atomised group's twin focus of attacks on both Somalia and Kenya. That is, Kenyan fighters trained by and loosely affiliated with al-Shabaab appear to be responsible for at least some of the attacks perpetrated in Kenya, particularly in the country's northeast.
What's its motive for attacking Kenya?
Brendon Cannon: The group began attacking targets outside Somalia in 2007. Its first attack on Kenyan soil was in 2008. The Kenyan government responded with force. In 2011, to "protect national security", the country's defence forces entered southern Somalia to create a buffer zone between al-Shabaab held territories and Kenya. In the process, the Kenyan forces captured the port of Kismayo and quickly joined troops from the African Union Mission in Somalia in battling al-Shabaab.
Al-Shabaab publicly states its attacks are in retaliation to the Kenya Defence Force's incursion in Somalia. It also justifies them for nebulous reasons associated with international jihad.
But it's also motivated to attack Kenya because of the benefits vis-à-vis recruitment and fundraising that are a partial byproduct of international press coverage. That is, front page news of the group's attacks in Kenya inadvertently provides an outlet for al-Shabaab to showcase its attacks with few filters and to exploit such media stories in its own propaganda. The results of the deadly carnage often serve as prime recruiting tools in terms of foot soldiers and funding.
It also launches attacks because it can. The group has been able to exploit the absence of a strong government in Somalia and the 682 kilometre long porous border between it and Kenya for a number of years.
Since 2011 the group has lost territory in Somalia. Nevertheless, it continues to maintain the capabilities and is intent on inflicting significant damage in Somalia and Kenya. The attacks in Somalia have typically been small-scale, targeting the military and police. There have been some large incidents. For example in 2017 at least 300 people were killed when a truck packed with explosives detonated in the centre of Mogadishu.
Martin Plaut: The Kenyan invasion of Somalia in 2011 was undertaken for understandable reasons. But the decision to go ahead was taken against the advice of its international friends - including the US and its neighbour Ethiopia. The Kenyan army has attempted to establish Jubaland, partitioning the regions of Gedo, Lower Juba and Middle Juba from the rest of Somalia. It has met with little success.
This attempt to prevent al-Shabaab from establishing itself on the Kenyan border has become a mission too far, posing questions about how long it can be sustained and at what cost.
Why Kenya more than other frontline states?
Brendon Cannon: As highlighted in one of my recent articles, Kenya is attacked far more than Ethiopia or other eastern African states. This is because of highly rational reasons that are based on cost-benefit analyses and the presence of ample opportunities.
Kenya has high international visibility and its relatively free and independent media widely publicises terrorist attacks. Another factor is that Kenya has developed a lucrative tourist sector which provides soft targets.
Additional advantages are that there are a high number of Kenyan-born fighters within the group's ranks that possess local knowledge. This has helped al-Shabaab perform attacks and maintain terror cells in Kenya. An expanding democratic space and high levels of corruption also mean that the group is able to exploit the country's governance weaknesses when it comes to security.
All these variables help al-Shabaab plan and execute terrorist acts while fulfilling the group's quest to survive by maintaining relevance.
What is your assessment of Kenya's immediate response?
Brendon Cannon: Reports on the latest incident are still fragmented. But, it seems that in terms of security there has been some progress since the Garissa University attack in 2015 and the attack on the Westgate Mall in 2013.
The response of Kenyan security forces, particularly the General Service Unit - a paramilitary wing in the National Police Service of Kenya - seem to have been timely and relatively effective.
The sad truth is that coordinated attacks - replete with suicide bombers, as well as heavily armed and motivated terrorists against relatively soft targets - are extremely difficult to thwart. No matter how professional and robust the security.
Martin Plaut: As Murithi Mutiga, of the International Crisis Group, has pointed out, previous attacks have seen Kenyan reprisals against its Muslim population. The authorities responded with blanket arrests of Muslims and indiscriminate crackdowns aimed at ethnic Somalis. This inflamed tensions and made matters worse. It's vitally important that this mistake isn't repeated. Only by uniting can Kenyans defeat the threat posed by these terrorist attacks.
What can Kenya do to address this menace?
Brendon Cannon: As terrible as this attack is, it's worth noting that major commercial areas and tourist hubs have largely avoided attacks by al-Shabaab since 2013 -- until yesterday. This is all the more surprising because elements within al-Shabaab remain motivated and possess the capabilities to continue attacking Kenya.
I question the rationale of some politicians who advocate the Kenyan Defence Force's withdrawal from Somalia as a way for Kenya to avoid attacks. After all, al-Shabaab attacked Kenya multiple times prior to 2011 when the KDF entered Somalia.
Moving forward, Kenya must attempt to tighten border control mechanisms, broadcast state power throughout the entire Kenyan landmass and re-energise its fight against al-Shabaab in Somalia: a fight that has slowed significantly since 2015.
This is a Herculean task and one that Kenya's government and security professionals, given the nature and type of threat, should be commended for doing quite well since 2013.
Martin Plaut: Kenyans need to be patient and tolerant - to build links between their communities and to face the threat together. At the same time there needs to be a serious reassessment of Kenya's role inside Somalia. There is little indication that al-Shabaab can be defeated by outside powers, even if it can be weakened.
Full report at:
https://allafrica.com/stories/201901170032.html
--------
Nationwide strike paralyzes Tunisia as 670,000 public servants demand pay rise
17 January 2019
Tunisia's biggest union, UGTT, started a nationwide strike on Thursday affecting the country's airports, schools and state media to protest against the government's refusal to raise the salaries of 670,000 public servants.
Tunisia is under pressure from the International Monetary Fund to freeze public sector wages as part of reforms to help reduce the country's budget deficit. International lenders have threatened to stop financing the economy, which has been in crisis since the toppling of President Zine al-Abidine Ben Ali in 2011.
The one-day strike will hit airports, ports, schools, hospitals, state media and government offices, but Prime Minister Youssef Chahed said the state will provide minimum services in vital sectors including aviation, ports, buses and trains.
Tunisia's state-owned airline Tunisair expects major disruptions to its flight schedule due to the strike and urged customers to change bookings, it said, adding that at least 16 flights will be postponed. Chahed said the strike will be very expensive but the government could not raise wages disproportionately to the state's ability to afford it.
Sami Tahri, Deputy Secretary-General of the UGTT, said the government had come under the dictates of the IMF and had chosen the difficult solution of confrontation with public servants. Government and union sources told Reuters that the government had proposed spending about $400 million on pay rises whereas the UGTT had asked for about $850 million.
Tunisia struck a deal with the IMF in December 2016 for a loan program worth around $2.8 billion to overhaul its ailing economy with steps to cut chronic deficits and trim bloated public services, but progress has been slow. Tunisia's economy has been in crisis since the toppling of autocrat Zine al-Abidine Ben Ali threw it into turmoil, with unemployment and inflation shooting up.
Full report at:
https://english.alarabiya.net/en/News/north-africa/2019/01/17/Standstill-expected-as-Tunisia-braces-for-nationwide-strike-.html
--------
Kenyan forces kill militants who stormed Nairobi hotel
16 January 2019
Kenya's president said early on Wednesday that security forces had killed all four militants who stormed an upscale hotel complex in Nairobi the previous day, in an attack that killed at least 14 people.
Uhuru Kenyatta said 14 civilians were confirmed dead and over 700 others had been safely evacuated.
The attack on the dusitD2 hotel began shortly after 3PM on Tuesday with an explosion in the parking lot and then a suicide bomb blast in the foyer, police said.
Eleven Kenyans, an American and a Briton were among the casualties, morgue staff said. Two victims had not been identified.
Families who had gone to the Chiromo morgue seeking loved ones were told they could not view the bodies until a forensic investigation had been performed, provoking grief and anger.
Somali militant Islamist group al Shabaab claimed responsibility for the attack.
At least two groups of people had still been trapped inside as dawn broke, and gunfire continued to ring out around the complex in Riverside Drive.
Full report at:
https://english.alarabiya.net/en/News/world/2019/01/16/Workers-in-Kenya-capital-still-trapped-after-militant-attack.html
--------
Sudan protests rumble on as Bashir remains defiant
January 17, 2019
KHARTOUM: One month after protests erupted across Sudan against rising bread prices, anti-government demonstrations have turned into daily rallies against a defiant President Omar al-Bashir who has rejected calls to resign.
Protest organisers have called for a march on the presidential palace in the capital Khartoum on Thursday, along with simultaneous demonstrations in several other cities.
Authorities say at least 24 people have died since the protests first broke out on December 19 after a government decision to triple the price of bread.
Rights group Human Rights Watch has put the death toll at 40, including children and medical staff.
The protests have escalated into nationwide anti-government demonstrations that experts say pose the biggest challenge to Bashir since he took power in an Islamist-backed coup in 1989.
"I have been demonstrating and will continue to demonstrate until this regime is overthrown," vowed Adel Ibrahim, 28, who has participated in demonstrations in Khartoum.
"We are protesting to save our future and the future of our homeland."
Protests initially broke out in the eastern town of Atbara, which has a history of anti-government sentiment, and within days spread to other provinces and then to Khartoum.
Cities like Port Sudan, Gadaref, Kassala and agricultural regions that previously backed Bashir saw protests calling for him to step down, while the western region of Darfur too witnessed rallies against the 75-year-old veteran leader.
Using social media networks to mobilise crowds, most protesters have marched chanting "Peace, freedom, justice", while some have even adopted the 2011 Arab Spring slogan -- "the people want the fall of the regime".
Crowds of demonstrators, whistling and clapping, have braved volleys of tear gas whenever they have taken to the streets, witnesses said.
"There's a momentum now and people are coming out daily," said prominent Sudanese columnist Faisal Mohamed Salih.
"Even the authorities are astonished."
Although the unrest was triggered by the cut in a vital bread subsidy, Sudan has faced a mounting economic crisis in the past year, including an acute shortage of foreign currency.
Repeated shortages of food and fuel have been reported across cities, including in Khartoum, while the cost of food and medicine has more than doubled.
Officials have blamed Washington for Sudan's economic woes.
The US imposed a trade embargo on Khartoum in 1997 that was lifted only in October 2017. It restricted Sudan from conducting international business and financial transactions.
But critics of Bashir say his government's mismanagement of key sectors and its huge spending on fighting ethnic minority rebellions in Darfur and in areas near the South Sudan border has been stoking economic trouble for years.
"If this regime continues like this, we will soon lose our country, which is why we have to fight," said Ibrahim, who has been looking for a job for years.
An umbrella group of unions of doctors, teachers and engineers calling itself the Sudanese Professionals' Association has spearheaded the campaign, calling this week the "Week of Uprising".
"Protesters don't even know the organisers by names, but they still trust them," said Salih.
Sudanese authorities led by the feared National Intelligence and Security Service (NISS) have cracked down on protesters, drawing international criticism.
More than 1,000 people, including protesters, activists, opposition leaders and journalists have been arrested so far, rights groups say.
Bashir has remained steadfast in rejecting calls for him to resign.
"Demonstrations will not change the government," he told a rally in Darfur on Monday as supporters chanted "Stay, stay".
"There's only one road to power and that is through the ballot box. The Sudanese people will decide in 2020 who will govern them," said Bashir, who is planning to run for the presidency for the third time in elections to be held next year.
Two uprisings in Sudan in 1964 and 1985 saw regimes change within days, but experts say this time protesters have a long road ahead.
"At the moment, Bashir appears to have the majority of the security services on his side," said Willow Berridge, a lecturer at Britain's Newcastle University.
Bashir's ruling National Congress Party has dismissed the demonstrations.
"There are some gatherings, but they are isolated and not big," party spokesman Ibrahim al-Siddiq told AFP.
The International Crisis Group think-tank said Bashir might well weather the unrest.
Full report at:
http://www.arabnews.com/node/1436851/world
--------
Death toll in Nairobi attack climbs to 21, plus 5 attackers
January 16, 2019
NAIROBI, Kenya: The death toll from an extremist attack on a luxury hotel and shopping complex in Nairobi climbed to 21, plus the five militants killed, police said Wednesday in the aftermath of the brazen overnight siege by Al-Shabab gunmen. Two people accused of facilitating the attack were arrested.
The number of those killed at the DusitD2 complex rose with the discovery of six more bodies at the scene and the death of a wounded police officer, said Joseph Boinnet, inspector-general of Kenyan police. Twenty-eight people were hurt and taken to the hospital, he said.
In a televised address to the nation earlier in the day, President Uhuru Kenyatta announced that the all-night operation by security forces to retake the complex was over and that all of the extremists had been killed.
"We will seek out every person that was involved in the funding, planning and execution of this heinous act," he vowed.
In an attack that demonstrated Al-Shabab's continued ability to strike Kenya's capital despite setbacks on the battlefield, extremists stormed the place with guns and explosives. Security camera footage released to local media showed a suicide bomber blowing himself up in a grassy area in the complex, the flash visible along with smoke billowing from the spot where he had been standing.
Of the civilian victims, 16 were Kenyan, one was British, one was American and three were of African descent but their nationalities were not yet identified, police said.
Al-Shabab, which is based in neighboring Somalia and allied with Al-Qaeda, claimed responsibility. The Islamic extremist group also carried out the 2013 attack at Nairobi's nearby Westgate Mall that killed 67 people, and an assault on Kenya's Garissa University in 2015 that claimed 147 lives, mostly students.
While US airstrikes and African Union forces in Somalia have degraded the group's ability to operate, it is still capable of carrying out spectacular acts of violence in retaliation for the Kenyan military's campaign against it.
The bloodshed in Kenya's capital appeared designed to inflict maximum damage to the country's image of stability and its tourism industry, an important source of revenue.
The government said late Tuesday that buildings were secure. However, gunfire continued into Wednesday morning, and dozens of trapped people were rescued overnight. Several loud booms were heard Wednesday as teams sought to clear the complex of booby traps and other explosives.
Kenyatta's announcement that the security operation was complete came about 20 hours after the first reports of the attack.
The Kenyan Red Cross said about 50 people were unaccounted for. But many of those were believed not to have been in the complex during the attack.
Ken Njoroge, CEO of a company in the DustiD2 complex that offers mobile banking services, said he was unable to locate several employees. "It's very difficult for the families because the passage of time only makes the problem bigger," he said.
The American killed in the attack was identified as Jason Spindler, co-founder and managing director of San Francisco-based I-DEV International. Spindler's father, Joseph, said his son worked with international companies to form business partnerships in Kenya that would boost local economies.
The Houston-raised Spindler had a brush with tragedy on 9/11: He was employed by a financial firm at the World Trade Center at the time of the 2001 terrorist attack but was running late that morning and was emerging from the subway when the first tower fell, according to his father. He became covered in dust and debris as he tried to help others, the elder Spindler said.
In the Nairobi attack, a man who gave only his first name, Davis, described how he had escaped with colleagues by fleeing down a fire escape.
Full report at:
http://www.arabnews.com/node/1436501/world
--------
Nairobi attack shows Al Shabab still powerful despite US efforts
January 16, 2019
Shortly after gunmen launched an attack on an upmarket Nairobi hotel on Tuesday afternoon, the SITE intelligence group picked up a claim of responsibility from the Al Shabab militant group.
In the coming hours, the east African militant group, whose name means "The Youth" in Arabic and is an abbreviation of the Mujahideen Youth Movement, issued updates on the ongoing attack, calling the location "one of the most opulent areas of the Kenyan capital… where offices of international representatives are present," according to SITE, which monitors extremist groups.
Tuesday's attack, in which 14 people were killed, illustrates that Al Shabab remains powerful, despite ongoing counter-terrorism efforts by the United States and Horn of Africa nations.
Al Shabab, which is based in Somalia but has become known for carrying out brutal attacks in neighbouring Kenya, remains Al Qaeda's most active affiliate, says Rita Katz, the Director of SITE Intelligence Group. The group consistently claims the largest number of attacks and suicide operations, maintains a large area of territory, and is focused on expanding into neighbouring countries, she tweeted on Tuesday.
The group was founded as the militant wing of the Islamic Courts Union, a group of hard-line Sharia courts in southern Somalia that controlled Mogadishu in 2006 and challenged the Transitional Federal Parliament for control of the country.
After Ethiopian forces drove the ICU from the Somali capital in late 2006, Al Shabab continued fighting the United Nations-backed Federal Parliament independently. The group gained notoriety for gruesome suicide attacks while advocating a severe doctrine that saw the group stoning to death women accused of adultery and amputating the hands of thieves.
While initially receiving support from sectors of the Somali public fed up with two decades of insecurity, these acts repelled many. Al Shabab were driven from the Somali capital by African Union troops in 2011 and out of the port city of Kismayo the next year.
A 2012 video showed then Al Shabab leader Ahmed Abdi Godane pledging allegiance to Al Qaeda leader Ayman Al Zawahiri. Al Shabab debated joining ISIS in 2014 but eventually only a small splinter faction pledged its loyalty to its leader Abu Bakr Al Baghdadi.
After Godane was killed in a US drone strike in the same year, Al Shabaab has been led by Ahmad Umar, who is believed to command between 7,000 and 9,000 fighters. The group raises funds from a highly developed system of extortion that rivals the Somali government's tax system, collecting levies from charcoal exports, agricultural products, and goods in transport via a network of checkpoints on roads across southern and central Somalia.
In March 2017, President Donald Trump expanded military action against Al Shabab, which saw the US increase airstrikes on Somalia. At least 40 strikes were carried out in 2018 and 35 the year before. The Bureau of Investigative Journalism estimates over 400 people were killed in these strikes, a higher number than the previous 10 years combined.
Some 500 US troops are now deployed on an "advise and assist" mission in Somalia. The death of an American soldier in Somalia in May 2017 was the first since the disastrous 1993 Black Hawk down incident in which 18 US soldiers died. But so far the increased military action against Al Shabab has failed to dent the group's effectiveness.
Full report at:
https://www.thenational.ae/world/africa/nairobi-attack-shows-al-shabab-still-powerful-despite-us-efforts-1.814187
--------
South Asia
Bangladesh Parliament to have first transgender MP
January 16, 2019
Bangladesh Parliament is going to have its first transgender MP from the reserve quotas for the women. As per the existing provisions, 50 seats are reserved in the parliament for women. This time, ruling Awami League will nominate to 43 seats, the Jatiya Party will seat four, BNP will seat one, and independent coalitions will seat two. A source close to Awami League said, since the transgender community got official recognition in Bangladesh couple of years back, this time the ruling party is willing to allow at least one MP from the transgender community. This decision of the ruling party will receive global appreciation as well it will brighten the image of Bangladesh as a secularist country.
For many decades, transgender community in South Asia has been facing numerous forms of neglect. Bangladeshi transgender community is locally known as hijra, constitutes around half a million out of 160 million total population.
LGBT rights in Bangladesh:
Despite the fact of rejecting radical Islam, state machinery in Bangladesh and the existing laws still are hostile towards the LGBT. Section 377 of the Bangladesh Penal Code forbids anal or oral sex, regardless of the gender and sexual orientation of the participants. This section says, "Whoever voluntarily has carnal intercourse against the order of nature with any man, woman or animal shall be punished with imprisonment for life, or with imprisonment of either description for a term which may extend to ten years, and shall also be liable to fine".
Penetration is sufficient to constitute the carnal intercourse necessary to the offense described in this section.
The ambit of Section 377 extends to any sexual union involving penile insertion. Thus, even consensual heterosexual acts such as fellatio and anal penetration may be punishable under this law.
In 2009 and 2013, the Bangladeshi Parliament refused to overturn Section 377.
Bangladesh society doesn't recognize same-sex relationship, consensual romantic relationship and marriage between two opposite genders is supported though social conservatism is an impediment in this context also (society is less supportive) as culturally society is based on 'marriage arranged by guardian' system.
On 23 July 2013, a lesbian couple was arrested for marrying in secret. Shibronty Roy Puja, a 16-year-old Hindu, and Sanjida Akter, 21-year-old Muslim, fled their town for Dhaka, the capital, and got married in a Hindu ceremony. They were then arrested and threatened with life imprisonment. Similarly, another lesbian couple was arrested in October 2013 for their relationship. One member of the couple was described as having short hair and identified as the husband. The police had them take sex identification tests, and the doctors stated they were both females. The case was filed under Section 209, which is about unsocial activities.
Although public display of affection between friends of the same sex in Bangladesh is commonly approved and does not raise any controversies, there appears to be a strong objection towards homosexuality as such. This hostile attitude results from religious tradition of the country, with Islam being professed by approximately 90 percent of the population, and mentality of Bangladeshi society. There appears to be an intense social pressure to marry someone of the opposite sex, grounded in patriarchal model of the society. Non-family members, including police and religious fundamentalist groups, have been known to blackmail, harass and even physically attack LGBT people. These "morality minders" are not sanctioned by the government, but they take advantage of the absence of civil rights and hate crime laws for sexual and gender minorities.
In 2003, Dr. Gary Dowsett, an Australian professor, published a report titled A Review of Knowledge About the Sexual Networks and Behaviours of Men Who Have Sex with Men in Asia as part of a study on how the AIDS pandemic is impacting the nation. The bulk of the report focused on male prostitution, but it did generate some public discussion about LGBT issues, with Indian movies and water poisoning through arsenic being blamed for making homosexuality more common. In reply, some people criticized these negative viewpoints as being unsound scientifically and based on prejudice.
In 2011, a research-based engagement with a school of public health at a university in Bangladesh had aimed to raise public debate on sexuality and rights in a very sensitive political context. By bringing together stakeholders, including members of sexual minorities, academics, service providers, media, policy makers and advocacy organizations, the research engagement worked to bring visibility to hidden and stigmatized sexuality and rights issues. Critical steps towards visibility for sexual minorities include creating safe spaces for meeting, developing learning materials for university students and engaging with legal rights groups.
https://www.weeklyblitz.net/news/bangladesh-parliament-to-have-first-transgender-mp/
--------
Rohingya Exodus from India to Bangladesh Hits 1,300
January 16, 2019
At least 1,300 Rohingya Muslims have crossed into Bangladesh from India since the start of the year, an official said Wednesday, as fears of deportation to Myanmar spark an exodus.
New Delhi has faced sharp criticism for turning members of the persecuted minority over to Myanmar in recent weeks, despite the army there being accused of atrocities against the Rohingya.
The United Nations and rights groups accused India of disregarding international law and returning the Rohingya to possible danger in Buddhist-majority Myanmar.
India, which is not a signatory to the U.N. Refugee Convention, arrested 230 Rohingya in 2018 — the most in years as Hindu hardliners called for the displaced Muslims to be deported en masse.
The round-ups in India, and fear of deportation to Myanmar, have driven even more of the stateless Muslims into Bangladesh, where a million Rohingya live in giant refugee camps in the country's southeast.
Nayana Bose, a spokeswoman for the Inter Sector Coordination Group (ISCG), which includes U.N. agencies and other foreign humanitarian organizations, said the pace of new arrivals had escalated since January 3.
"Some 1,300 individuals from 300 families have arrived from India to Bangladesh until today," she told AFP.
The new arrivals were being housed in a U.N. transit center, she added.
UNHCR spokesman Firas Al-Khateeb said the U.N. refugee agency was "aware of the situation".
Those crossing the border in recent weeks have been detained by police and sent to Cox's Bazar, a southern district home to the world's largest refugee camps.
Why This Matters
Some 40,000 Rohingya have been living in India. Police said those who arrived were living in India for years.
Rohingya for decades have faced persecution and pogroms in Myanmar, which refuses to recognize them as citizens and falsely labels them "Bengali" illegal immigrants.
They were concentrated in Rakhine state, the epicenter of a brutal Myanmar army offensive in August 2017 that U.N. investigators described as genocidal in intent.
At least 720,000 Rohingya fled the bloody crackdown and entered Bangladesh to join some 300,000 already living in the camps.
Amnesty International, among other rights groups, has blasted India for forcibly repatriating the Rohingya to Myanmar when persecution in Rakhine is ongoing.
Dozens of Rohingya were also deported from Saudi Arabia to Bangladesh last week. They were arrested for illegally using Bangladeshi passports to travel to the kingdom.
More on the Subject
The fate of nearly four million people in the Indian state of Assam came into question on July 30, when the National Register of Citizens, a government-maintained list of citizens in the state, was updated.
The register lists people who have valid documents to prove that they had entered India by March 24, 1971, a day before neighboring Bangladesh declared independence, a phenomenon preceded by a massive number of Bangladeshis fleeing for life and taking shelter in safe havens in India.
Anyone who sought refuge after that cut-off date is not entitled to Indian citizenship. During the turbulent days of 1971, the Indian forces were understood to have supported the liberation of Bangladesh, then known as East Pakistan, from its parent country Pakistan.
The Union government of India, led by the right-wing Bharatiya Janata Party (BJP), which also rules in Assam, has claimed that the information exercise is aimed at identifying illegal entrants to India from neighboring Bangladesh.
Full report at:
https://theglobepost.com/2019/01/16/rohingya-exodus-india-bangladesh/
--------
Special Forces video shows Taliban militants blown into pieces in an airstrike
16 Jan 2019
The Special Forces have released a video which purportedly shows an airstrike on a Taliban gathering in Afghanistan.
It is yet not clear if the airstrike has been carried out by the Afghan Air Force or the coalition forces based in Afghanistan as both the Afghan and coalition forces conduct regular airstrikes against the high profile targets of anti-government armed elements.
The Special Operations Corps of the Afghan Military in a statement has said that the Taliban militants and their leaders will no more remain hidden from the sight of the National Defense and Security Forces.
In the meantime, the Afghan Military in the North has said leader of a terrorist group Abu Talha has been killed with his six fighters during an operation of the Afghan Special Forces in northern Faryab province of Afghanistan.
The 209th Shaheen Corps of the Afghan Military in the North in a statement said the Afghan Special Forces conducted operations with the help of close air support in Garziwan district on Tuesday.
The statement further added that the operations were conducted in Adam Qala area of the district leaving terrorist leader Abul Talha dead with his six fighters.
Full report at:
https://www.khaama.com/special-forces-video-shows-taliban-militants-blown-into-pieces-in-an-airstrike-03128/
--------
Terrorist leader Abul Talha and his fighters killed in Faryab operations
16 Jan 2019
A leader of a terrorist group Abu Talha has been killed with his six fighters during an operation of the Afghan Special Forces in northern Faryab province of Afghanistan.
The 209th Shaheen Corps of the Afghan Military in the North in a statement said the Afghan Special Forces conducted operations with the help of close air support in Garziwan district on Tuesday.
The statement further added that the operations were conducted in Adam Qala area of the district leaving terrorist leader Abul Talha dead with his six fighters.
According to 209th Shaheen Corps, at least five militants were also wounded and five weapons were destroyed during the operations.
The anti-government armed militant groups have not commented regarding the killing of the militants in Faryab so far.
Full report at:
https://www.khaama.com/terrorist-leader-abul-talha-and-his-fighters-killed-in-faryab-operations-03126/
--------
Top Taliban commander among 4 militants killed in Pakistan
Jan 16, 2019
PESHAWAR: Security forces in Pakistan have gunned down four militants, including a top Taliban commander who masterminded the last year's powerful bomb blast in the restive Khyber Pakhtunkhwa province in which at least 31 people including three Sikhs were killed.
Those killed in the exchange of fire include Tehreek-e-Taliban Pakistan (TTP) commander Islam and Mohibullah who were involved in various terror activities, officials said.
A huge cache of arms and ammunition was also recovered from their possession.
Intelligence agencies raided a house near Qazi pump area where the militants were believed to be hiding. The owner of the house was also killed in the firing between the militants and security forces.
In November, 31 people including three Sikhs were killed and over 40 others injured in the bomb blast at the Friday Market (Juma Bazar) near an imambargah, a Shia religious place, in Orakzai tribal district's Kalaya area, bordering Afghanistan.
Prime Minister Imran Khan had strongly condemned the terrorist attack.
Full report at:
https://timesofindia.indiatimes.com/world/south-asia/top-taliban-commander-among-4-militants-killed-in-pakistan/articleshow/67553944.cms
--------
Taliban to quit peace talks if US troops are not pulled out of Afghanistan
January 16, 2019
KABUL: The Taliban said on Tuesday they would call off peace talks with the US if its troops were not pulled out of Afghanistan. The threat came as the US special envoy landed in Kabul.
Zalmay Khalilzad arrived in Kabul to brief the government and politicians on his engagement in the region regarding the peace process.
Last month, it was reported that President Donald Trump had ordered the withdrawal of thousands of troops.
But there has been speculation the US wants to keep some military bases in Afghanistan, and that it is pushing the Taliban to hold direct talks with Kabul.
The Taliban has objected to government involvement in its meetings with Khalilzad and wants foreign troops to leave Afghanistan.
The armed group said the US must pursue the peace talks with "sincere intentions" or it would be forced to stall all talks and negotiations until its "unlawful pressures and maneuvering" ended.
"The United States agreed during the Doha meeting in November to discuss the withdrawal of foreign forces from Afghanistan and prevent Afghanistan from being used against other countries in the upcoming meeting," the Taliban said, accusing the US of "backing out from that agenda and unilaterally adding new subjects."
The US Embassy in Kabul said Khalilzad was meeting President Ashraf Ghani, CEO Abdullah, and political leaders to discuss the next steps in efforts to support and facilitate an Afghan-led and Afghan-owned peace process.
His arrival in Kabul followed stops in India, the UAE and China.
Mohammad Akbari, one of those at the meeting, said Khalilzad had expressed optimism about his efforts and regional cooperation but had not revealed why he was so hopeful.
Khalilzad later tweeted about the "good session" in Kabul.
"We discussed the peace process & all agree that progress depends on Afghans sitting with each other, negotiating a future for all Afghan people," he said.
The US Embassy said the goal was to promote dialogue among Afghans about how to end the conflict, and to encourage parties to come together at the negotiating table to reach a political settlement in which every Afghan citizen "enjoyed equal rights and responsibilities under the rule of law."
Ahmad Zia Rafat, a political science professor, said peace talks in a normal country faced ups and downs but there would be more hurdles when it came to Afghanistan because of the war's complexity.
"We had 40 years of war so one should not expect a quick resolution of the crisis. The first priority for peace is for Afghanistan and Pakistan to settle their historical differences," he told Arab News.
Full report at:
http://www.arabnews.com/node/1436581/world
--------
Arab World
Anbar Official Accuses US Forces of Opening Safe Corridors for ISIL
Jan 16, 2019
Qusai al-Anbari told the Arabic-language al-Ma'aloumeh news website on Wednesday that the US forces in al-Anbar are making suspicious moves at the border with Syria, adding that they are creating safe corridors for the ISIL in the province.
He added that the US forces have increased deployment in Ein al-Assad and al-Ramanah bases, noting that al-Anbar province does not need presence of foreign forces.
Meantime, the Arabic-language Sumer news quoted Eid Ammash, another member of al-Anbar's provincial council, as saying that the US forces have been deployed in two new bases, 30km away from the Eastern and Southern banks of the Euphrates river in al-Anbar province.
In relevant remarks earlier today, a senior commander of Iraq's Hashd Al-Sha'abi (Iraqi popular forces) in al-Anbar province underlined that the US Army has been spying on security units along borders with Syria in favor of the ISIL terrorist group, and dismissed the media reports on the American troops' pullout from Syria.
"The US Army has been trying to obtain intelligence from Hashd al-Sha'abi along Iraq-Syria borders to inform the ISIL terrorists stationed in Hajin and Souseh in Syria about the Iraqi popular forces' movements," al-Maloumeh news website quoted Qassim Muslih, the commander of Hashd al-Shaabi forces in al-Anbar province, as saying on Wednesday.
The Iraqi popular forces commander reiterated that after the US Army's attempt, Hashd al-Sha'abi has reinforced its positions along borders with Syria in a move to confront any unprecedented incident.
Elsewhere, Muslih rejected the US troops' pullout from Syria, and said that the US Army has recently dispatched massive military equipment and troops from Iraq to Syria.
He also pointed to the coordination between Iraqi and Syrian sides in combating terrorists in the region, and said, "We are waiting for the order of the Iraqi Command to cross into Syria to cleanse the surrounding areas of Iraq's border and prevent the ISIL terrorists from crossing the border.
http://en.farsnews.com/newstext.aspx?nn=13971026000858
--------
Official: Kurds Not to Accept Turkish-Controlled Safe Zone in Syria
Jan 16, 2019
"It should first be clear who is a threat and the security of which side should be protected to create a safe zone," Aldar Khalil, the head of YPG's diplomatic relations committee, told the Kurdish-language Hawar news on Wednesday.
He added that if the safe zone is meant to establish security in Northern Syria and protect the region against Turkish threats, it is a good policy.
"Entrusting Turkey with controlling the safe zone in Northern Syria is a source of deep concerns because it has threatened of occupation of all regions in Northern Syria," Khalil said.
"We are opposed to the creation of a safe zone under the control and supervision of Turkey in Northern and Northeastern Syria," he underlined.
US President Donald Trump and his Turkish counterpart Recep Tayyip Erdogan have both floated the idea of a safe zone in Northern Syria as a solution to prevent a Turkish military offensive against Kurdish forces in the area. Ankara says that the YPG are a terror organization and a threat to Turkey. The YPG denies the charge and says Turkey is the aggressor.
Trump and Erdogan discussed the proposal in a phone call on Monday, after Trump tweeted about it.
Full report at:
http://en.farsnews.com/newstext.aspx?nn=13971026000416
--------
Daesh Syria attack kills at least 16, including US soldiers
January 16, 2019
BEIRUT: A bomb attack claimed by Daesh killed US troops in northern Syria on Wednesday, weeks after President Donald Trump said the group was defeated there and he would pull out all American forces.
A US official who declined to be named said four US troops had been killed and three wounded in the blast, which a Daesh-affiliated site said was the work of a suicide bomber. Others said only two had been killed.
The US-led coalition fighting Daesh said that "US service members were killed during an explosion while conducting a routine patrol", and that it was still gathering details.
Unusually, Turkish President RecepTayyip Erdogan gave his own death toll for the attack, saying it had killed 20 people, including five US troops. Erdogan said he did not believe the attack would impact Trump's decision to withdraw from Syria.
The attack, which took place in the town of Manbij, controlled by rebels opposed to Syrian President Bashar Al-Assad, appears to be the deadliest on US forces in Syria since they deployed there in 2015.
A Pentagon spokeswoman said only two US troops had previously been killed in action in Syria. There were two additional non-combat fatalities.
Last month, Trump made a surprise announcement that he would withdraw all 2,000 US troops from Syria after concluding that Daesh had been defeated there.
Trump's announcement helped trigger the resignation of his defense secretary, Jim Mattis, stunned allies and raised fears of a long-threatened Turkish military offensive against US-backed Kurdish forces in northern Syria.
A witness in the city said the attack had targeted a restaurant where US personnel were meeting members of the local militia that Washington backs there.
The Syrian Observatory for Human Rights monitoring group said 16 people had been killed, including two Americans. A militia source in north Syria also said two US troops had been killed.
Daesh said a Syrian fighter had detonated his explosive vest on a foreign patrol in Manbij.
Two witnesses described the blast to Reuters.
"An explosion hit near a restaurant, targeting the Americans, and there were some forces from the Manbij Military Council with them," one said.
The Manbij Military Council militia has controlled the town since US-backed Kurdish-led forces took it from Daesh in 2016. It is located near areas held by Russian-backed Syrian government forces and by anti-Assad fighters backed by Turkey.
One of the witnesses said there was a "heavy" presence of military aircraft over Manbij following the blast, which took place near a vegetable market.
Photographs on a local Kurdish news site showed two mutilated bodies, several other bodies lying on the ground with people gathered around them, damage to a building and vehicles, and blood smears on a wall.
Full report at:
http://www.arabnews.com/node/1436421/middle-east
--------
Several US Soldiers Killed, Wounded in Suicide Blast in Manbij
Jan 16, 2019
The Kurdish-language Hawar news reported on Wednesday that the explosion occurred in Kasr al-Umara restaurant at Sondos street, killing at least 10 people, including members of Manbij military council.
It added that two US soldiers were also killed and two others were wounded.
Meantime, some field sources reported that 5 US forces have been killed in the attack which was a suicide blast.
Eyewitnesses in Manbij told the Arabic-language service of Sputnik that leaders of the local military council and an unnamed delegation were at the site of the blast.
According to them, the explosion took place near a cafe where the leaders of the council and guests from the delegation, "whose identity has not yet been established", had gathered.
Other sources also reported that 20 people were wounded in the blast.
According to the Sputnik, the ISIL terrorist group has reportedly claimed responsibility for the explosion.
Full report at:
http://en.farsnews.com/newstext.aspx?nn=13971026000910
--------
Report: Thousands of Iraqi Troops Preparing for Joint Anti-ISIL Military Operations with Syrian Army
Jan 16, 2019
The Iraqi Army troops are standing orders to join the Syrian Army for an imminent battle against the ISIL along Iraq-Syria borders, Al-Etejah Press quoted an Iraqi military source as saying on Wednesday.
The source said over 30,000 Iraqi soldiers are now behind the borderline in order to enter Syria's Eastern deserts (Badiyeh) and engage in battle with remaining ISIL terrorists along the border.
The source noted that Iraq's Hashd al-Sha'abi (Iraqi popular forces) plan to actively take part in the anti-ISIL operations.
He noted that the military operations will soon start, and said the Syrian and Iraqi governments have done the needed coordination to launch the joint assault on ISIL in cooperation with the Russian Air Fore.
In relevant remarks on Tuesday, a senior commander of Iraq's Hashd Al-Sha'abi (Iraqi popular forces) in Al-Anbar Province underlined that his forces have prevented the US Army's spying on security units along borders with Syria.
"The US troops are trying to obtain precise and sensitive intelligence from Iraq's security forces along borders with Syria," the Arabic-language Al-Maloumeh news website quoted Qassim Muslih, the commander of Hashd al-Shaabi forces in al-Anbar province, as saying.
He reiterated that Hashd al-Sha'abi operations command has stopped US spying operations by preventing the US troops from getting close to Hashd al-Sha'abi units and forcing them to return to Ba'er al-Morasemeh base.
Muslih pointed to the US forces' reconnaissance operations along Iraq-Syria borders and questions from border police and Iraqi army about the battle zones off the border regions, the amount of ammunition, type of weapons and the number of troops of each region, and explained that secret intelligence related to the forces stationed along the border regions helps them to easily target any region.
Full report at:
http://en.farsnews.com/newstext.aspx?nn=13971026000667
--------
Report: Terrorists Preparing for Chemical Attack in Idlib Province
Jan 16, 2019
The Russian Interfax news agency quoted a Russian source as saying that the militants in Idlib province are preparing to conduct chemical attacks in Ma'arat al-Numan in Idlib province as the terrorists have piled up chemical and poisonous substances in Idlib and Northern Lattakia.
"The terrorists of Ajnad al-Qoqaz, Jeish al-Izzah and Islamic Turkistani Party are preparing for concurrent chemical attacks in Lattakia, Idlib, Aleppo and Hama by means of bombs and missiles armed with poisonous substances as well as drones," the source said.
He noted that the terrorist groups have sent 500 liters of chemical substances to Abu Dhuhur in Idlib and Halfaya in Northern Hama.
In a relevant development in December, with the help of western spy agencies a 30-member group of terrorists had been sent to Ariha region of Idlib in late December to build missiles and mortars containing chemical substances to prepare for chemical attacks on residential areas and later falsely accuse the Syrian government of carrying out the same attack.
Meantime, after massive penetration of terrorists in the demilitarized zone in Idlib and defeat of Turkey in implementing Sochi agreement, the Syria Army is preparing for cleansing the province.
In a relevant development in mid-December, Tahrir al-Sham Hay'at (the Levant Liberation Board or the Al-Nusra Front) deployed about 50 chemically armed missiles in the demilitarized zone in Southeastern Idlib.
The Tahrir al-Sham terrorists have transferred the chemical-loaded missiles in 5 stages, the Arabic-language service of Sputnik quoted informed sources as saying.
"Tahrir al-Sham has handed over 10 missiles to Ajnad al-Qafqaz militants in Tal Sultan region and several other missiles to Jeish al-Izza in Kafar Zita town in Northern Hama," the sources said.
The Al-Nusra terrorists has also handed over several other missiles to Horras al-Deen terrorists in Mourek city in Northern Hama and two missile consignments to the Islamic Turkistani Party and also another group.
Full report at:
http://en.farsnews.com/newstext.aspx?nn=13971026000503
--------
Commander: US Spying for ISIL on Hashd Al-Sha'abi Along Iraq-Syria Borders
Jan 16, 2019
"The US Army has been trying to obtain intelligence from Hashd al-Sha'abi along Iraq-Syria borders to inform the ISIL terrorists stationed in Hajin and Souseh in Syria about the Iraqi popular forces' movements," the Arabic-language Al-Maloumeh news website quoted Qassim Muslih, the commander of Hashd al-Shaabi forces in al-Anbar province, as saying on Wednesday.
The Iraqi popular forces commander reiterated that after the US Army's attempt, Hashd al-Sha'abi has reinforced its positions along borders with Syria in a move to confront any unprecedented incident.
Elsewhere, Muslih rejected the US troops' pullout from Syria, and said that the US Army has recently dispatched massive military equipment and troops from Iraq to Syria.
He also pointed to the coordination between Iraqi and Syrian sides in combating terrorists in the region, and said, "We are waiting for the order of the Iraqi Command to cross into Syria to cleanse the surrounding areas of Iraq's border and prevent the ISIL terrorists from crossing the border.
In relevant remarks on Tuesday, Muslih underlined that Hashd al-Sha'abi forces have prevented the US Army's spying on security units along borders with Syria.
"The US troops are trying to obtain precise and sensitive intelligence from Iraq's along borders with Syria," he said.
He reiterated that Hashd al-Sha'abi operations command has stopped US spying operations by preventing the US troops from getting close to Hashd al-Sha'abi units and forcing them to return to Ba'er al-Morasemeh base.
Muslih pointed to the US forces' reconnaissance operations along Iraq-Syria borders and questions from border police and Iraqi army about the battle zones off the border regions, the amount of ammunition, type of weapons and the number of troops of each region, and explained that secret intelligence related to the forces stationed along the border regions helps them to easily target any region.
He pointed to the provocative measures by the US troops to obtain secret information from border security guards, and warned that the move is a blatant violation of Iraq's national sovereignty.
In relevant remarks earlier in January, Muslih underlined the necessity for Washington to evacuate its military men from Iraq.
"Some reports have been released about establishment of new US bases in al-Anbar and Saladin provinces which is a violation of Iraq's national sovereignty," Muslih said.
He underscored the necessity for the US forces to leave Iraq, and said, "We are capable of supporting and protecting our land and borders and there is no need for the deployment of foreign forces."
Demands for the withdrawal of US forces from Iraq have increased after US President Donald Trump in a surprise visit late December landed at an airbase West of the Iraqi capital, Baghdad, where he thanked the soldiers for their service.
Full report at:
http://en.farsnews.com/newstext.aspx?nn=13971026000381
--------
Four US soldiers dead, three injured in ISIS-claimed suicide bombing in Manbij
16 January 2019
Four US soldiers were killed and three injured in a suicide bombing targeting US-led coalition forces in the northern Syrian city of Manbij on Wednesday.
Britain-based war monitor, the Syrian Observatory for Human Rights, said 16 people, civilians and US servicemen, were killed in the attack.
A US official confirmed the death of four and injury of three American soldiers in the blast.
"The president has been fully briefed and we will continue to monitor the ongoing situation in Syria," White House spokeswoman Sarah Sanders said in a statement, referring questions to the US Department of Defense.
Manbij's Military Council's Facebook page only confirmed injuries in its initial report on the attack.
A news site linked to ISIS said the suicide attack had struck an international coalition patrol in Syria's Manbij on Wednesday.
The news site, Amaq, said the attacker had used an explosive vest to cause the blast.
Manbij has been held by US-backed fighters allied to the Kurdish YPG militia since they took it from ISIS in 2016. It is located near areas held by Russian-backed Syrian government forces and by anti-Assad fighters backed by Turkey.
Full report at:
https://english.alarabiya.net/en/News/middle-east/2019/01/16/At-least-seven-civilians-killed-in-a-suicide-bombing-in-Manbij-Syria.html
--------
Russia, Kurdish militants reject US-proposed 'security zone' under Turkish control
Jan 16, 2019
US-backed Kurdish militants have rejected Washington's proposal for the establishment of a "security zone" under Turkish control along the Syrian side of the two countries' border, saying it infringes on the sovereignty of the Arab country.
Aldar Khalil, a Syrian Kurdish politician and co-chair of the Democratic Society Movement, told AFP on Wednesday that the Kurds would accept the deployment of UN forces along the separation line between Kurdish militants and Turkish troops to ward off a threatened offensive.
"Other choices are unacceptable as they infringe on the sovereignty of Syria and the sovereignty of our autonomous region," he said.
Turkish President Recep Tayyip Erdogan said Tuesday that Ankara would establish the "security zone" in northern Syria proposed by US President Donald Trump, a day after the two leaders held a phone conversation.
Erdogan noted that during a "quite positive" telephone conversation, Trump reaffirmed that "a 20-mile (30 kilometer) security zone along the Syrian border... will be set up by us."
"We could create such a safe zone if coalition forces, especially America, provide logistical and financial support," Erdogan added.
Ankara and Washington engaged in a war of words over the fate of the Kurdish militants in Syria following the planned withdrawal of American troops. Turkey views the Washington-backed militants as terrorists.
Trump threatened to devastate NATO ally Turkey economically if it launches attacks against the Kurdish militants in Syria when US troops leave the Arab country.
In response, Foreign Minister Mevlut Cavusoglu stressed that Turkey was "not scared of and will not be intimidated" by such rhetoric and that economic threats "will get nowhere."
Also, Russian Foreign Minister Sergei Lavrov reacted to Washington's proposal and said Wednesday that the Syrian government must wrest back control of the country's north.
"We are convinced that the best and only solution is the transfer of these territories under the control of the Syrian government, and of Syrian security forces and administrative structures," Lavrov told reporters.
The top Russian diplomat further said Moscow welcomed and supported "contacts that have now begun between Kurdish representatives and Syrian authorities so they can return to their lives under a single government without outside interference."
Lavrov further highlighted the progress in efforts to resolve Syria's seven-year conflict, and said the focus should remain on Idlib Province -- the last major militant stronghold in the country.
"The Syrian settlement is progressing, though of course more slowly than we would like," he said. "The fight against terrorism must be completed. Now the main hotbed of terrorism is Idlib."
Trump announced the plan to pull US forces out of Syria last month amid plans by Turkey to launch an operation against anti-Damascus Kurdish militants.
The Kurdish militants in northern Syria, who have long enjoyed US support, feel abandoned by Washington.
The US has been arming and training Kurdish militants under the banner of helping them fight Daesh, but Syria and several other countries see ulterior motives behind the deployment.
Full report at:
https://www.presstv.com/Detail/2019/01/16/585945/Syria-Kurds-Aldar-Khalil-Turkey-Trump-safe-zone
--------
Southeast Asia
Actions of misguided individuals should not tar good name of Malay/Muslim community: Ministers
JAN 16, 2019
Hariz Baharudin
SINGAPORE - The actions of a few misguided individuals cannot ruin the good name of the Malay/Muslim Community, said two ministers, in response to news that a former religious teacher and student pair are issued Restriction Orders (ROs) under the Internal Security Act.
The Ministry of Home Affairs (MHA) said on Wednesday (Jan 16) that Murad Mohd Said, 46, was placed on an RO on Dec 5 last year while his student, 56-year-old technician Razali Abas, was arrested in September last year and placed on an RO in October.
Both Singaporeans held radical beliefs promoting violence and views detrimental to Singapore's cohesion.
In a Facebook post on Wednesday, Minister-in-charge of Muslim Affairs Masagos Zulkifli, who is also Minister for the Environment and Water Resources, said: "The issuance of restriction orders against Murad bin Mohd Said and Razali bin Abas show that the challenge of countering radicalisation continues. The swift actions of our security agencies are timely.
"However, the actions of a misguided few must not be allowed to tar the good name of our community."
In a separate Facebook post, Minister for Culture, Community and Youth Grace Fu said Singaporeans should support the Malay/Muslim community and defend the country's multi-religious harmony.
"Murad and Razali do not represent our Muslim community, and we must continue to stand together with our Muslim friends, to protect the deep friendships and harmony between our races and religions in Singapore," she said.
Murad was a freelance religious teacher until he was struck off from the Asatizah Recognition Scheme (ARS) in May last year for his segregationist ideologies that contravened the ARS Code of Ethics, according to the MHA, which added that Razali had attended Murad's classes some time in 2012.
The ARS is managed by the Islamic Religious Council of Singapore (Muis), the Asatizah Recognition Board (ARB) and Singapore Islamic Scholars and Religious Teachers Association (Pergas).
Muis said in a separate statement that Murad had been engaged by Muis and ARB for his divisive views, but did not change them.
He was then struck off the ARS register and barred from conducting classes here. He did not obey this and continued spreading his views online.
As the authorities investigated Razali, they discovered Murad's teachings had influenced him. It was then that they deemed Murad's case to be serious enough for him to be placed on an RO.
Mr Masagos said: "Murad's violent and problematic views as a religious teacher, or Asatizah, carried weight among his followers, and had the potential to mislead many more, with grave consequences for our religious harmony."
He urged the Malay/Muslim community to continue to look out for each other.
"If anyone has questions or doubts, our ARS-recognised teachers and the Asatizah Youth Network are best-placed to answer their queries. If there are signs of radicalisation, we should refer these individuals early to Muis, the Religious Rehabilitation Group or the police," Mr Masagos added.
Muis said in its statement that the cases of Murad and Razali reinforce the need to remain vigilant against exclusivist and extremist teachings and the importance of the mandatory ARS to ensure Muslims receive religious guidance only from certified religious teachers.
Ustaz Pasuni Maulan, vice-chairman of the Asatizah Recognition Board, which manages the ARS with Muis, said it is actively monitoring and engaging religious teachers and Islamic religious schools to ensure the Code of Ethics is put into practice, and would not hesitate to remove from the scheme any teachers who violate the code.
"Such individuals would not be allowed to mislead the community, as these teachings are clearly incompatible with the values of the Muslim community, who are well-adjusted to Singapore's multiracial and multi-religious society," he added.
https://www.straitstimes.com/singapore/actions-of-misguided-individuals-should-not-tar-good-name-of-malaymuslim-community
--------
Islamic teacher placed on restriction order for extremist teachings
January 17, 2019
A religious teacher and another person were placed under restriction order (RO) by Singapore authorities for extremist teachings that promote violence, according to a Ministry of Home Affairs statement.
Murad Mohd Said, 46, has been placed on a RO under the Internal Security Act for spreading exclusivist and extremist teachings that promote violence, the statement issued Wednesday stated.
He taught that it was compulsory to kill apostates, defined broadly to include non-believers, Sufis, Shi'ites, and Muslims who have renounced Islam or disregarded texts and rulings from the Quran and Sunnah, it said.
The statement said a person issued a RO has to adhere several conditions and restrictions such as not allowed to travel out of Singapore and change address and employment.
Said also taught that Muslims were allowed to defend themselves by waging armed jihad against infidels who persecuted them, it said.
Murad also encouraged his students to withdraw from Singapore's secular society, disregard secular laws, and adhere to the rulings of Syariah law instead, the ministry said said.
His student Razali Abas, a 56-year-old technician, met him in 2012 and started attending his classes. Abas was placed under a RO to prevent him from continuing his downward spiral into extremism, the statement said.
Over time, Abas became convinced that it was legitimate to kill those he felt were oppressors of Islam, it said
He began to seek out individuals with militant-looking profiles on Facebook, seeing them as heroes who were making sacrifices he could not make himself, according to the statement..
It said their posts also reinforced his belief in armed violence and his admiration and support for terrorist groups such as the Al Qaeda.
The statement added that Murad's binary us versus them worldview and violent teachings, which he propagated to his students and followers, could have led them to develop extremist views, as well as lead to inter- and intra-faith tensions.
His statements on the primacy of Syariah law over secular laws also undermine Singapore's secular nation-state system, the ministry said
Murad is no longer accredited as a freelance religious teacher by the Islamic Religious Council of Singapore (Muis). It is mandatory for Islamic religious teachers to be accredited under the Asatizah Recognition Scheme since January 2017, according to the statement.
Full report at:
https://www.business-standard.com/article/pti-stories/islamic-teacher-placed-on-restriction-order-for-extremist-teachings-119011700120_1.html
--------
International Paralympic Committee says upset with Malaysia's ban on Israeli swimmers
14 January 2019
KUALA LUMPUR, Jan 14 — The International Paralympic Committee expressed disappointment Saturday after Malaysia said it would not allow Israeli swimmers to attend a competition in the country that will serve as a qualifying event for the Tokyo 2020 Paralympics.
Malaysia is one of a number of Muslim-majority countries that has no formal diplomatic ties with Israel, with entry to the country on an Israeli passport prohibited.
The city of Kuching in the eastern Sarawak state will host hundreds of swimmers from 70 countries from July 29 to August 4.
But on Thursday, Prime Minister Tun Dr Mahathir Mohamad said Kuala Lumpur would deny visas to Israeli para swimmers seeking to attend the meet.
"We maintain our stand on the prohibition. If they do come, it is a violation," he was quoted as saying by the official Bergama news agency.
"If they (the International Paralympic Committee) want to withdraw Malaysia's right to host the championship, they can do so."
The IPC said in a statement that it was "disappointed" with Dr Mahathir's comments, although it would aim to "find a solution" to the issue.
Many in Malaysia support the Palestinian cause, with thousands taking to the streets to protest in December 2017 when US President Donald Trump recognised Jerusalem as the Jewish state's capital.
In 1997, the Israeli cricket team was allowed to play in the 22-nation International Cricket Council Trophy tournament in Kuala Lumpur despite violent street protests.
It was the first official visit by an Israeli sports delegation to Malaysia.
Malaysia has long supported a two-state solution in the Palestine-Israel conflict.
Full report at:
https://www.malaymail.com/s/1712251/international-paralympic-committee-says-upset-with-malaysias-ban-on-israeli
--------
Kit Siang: Cameron Highlands win is Najib's chance to return as PM
17 January 2019
KUALA LUMPUR, Jan 17 — Faced with 39 criminal and corruption charges, Datuk Seri Najib Razak is banking on Barisan Nasional's (BN) victory in the Cameron Highlands by-election to pave the way for his return to power, according to DAP adviser Lim Kit Siang.
The Iskandar Puteri MP noted the former prime minister has been playing an active role on the campaign trail up the mountain and even extended his two-day stint to four, and said all these were indicative of two things: BN's confidence in retaining the Pahang parliamentary seat; and a plot for Najib's political comeback in the next general election to "legitimise his kleptocratic premiership" that has been dogged by financial scandals.
"The Cameron Highlands by-election will be the opening shot of this new Najib plot to return as Prime Minister of Malaysia in the 15th General Election, which will grant him immunity and impunity for the 1MDB scandal.
"If BN can recapture Putrajaya in the 15th General Election and Najib return as Prime Minister, then he would be able to frustrate any attempt to jail him in Sungai Buloh Prison for the 1MDB scandal and crimes of a global kleptocracy in his premiership," Lim said in a statement.
He claimed this is why BN's two component parties MIC and MCA "are playing such a submissive and compliant role to be comrade-in-arms with PAS", even tolerating the Islamist party president's recent pronouncement that "a corrupt Muslim is anytime better than an honest and God-fearing non-Muslim".
Full report at:
https://www.malaymail.com/s/1713433/kit-siang-cameron-highlands-win-is-najibs-chance-to-return-as-pm
--------
Jokowi, Prabowo to square off in first debate
January 17, 2019
The first presidential debate scheduled for Thursday night, which will see President Joko "Jokowi" Widodo and Ma'ruf Amin square off against Gerindra Party chairman Prabowo Subianto and running mate Sandiaga Uno, is set to revolve around issues related to law, corruption, terrorism and human rights.
Analysts say that both camps have plenty of fodder to throw at each other across the four topics, singling out law and human rights in particular as the most potentially contentious issues.
Jokowi pledged in his 2014 presidential campaign to resolve past human rights violations, but activists and experts have criticized the incumbent for not making any apparent breakthroughs to resolve the past atrocities.
The President has also been attacked by opposition activists for allegedly criminalizing ulema and vocal critics of his administration, such as Islam Defenders Front (FPI) leader Rizieq Shihab and musician Ahmad Dhani.
Meanwhile, Prabowo has long raised deep concerns among human rights activists for his alleged links to the forced disappearances of 13 prodemocracy activists between 1997 and 1998 in his capacity as then-commander of the Army's Special Forces (Kopassus).
Lingkar Madani political analyst Ray Rangkuti, however, doubted that either pair would be too aggressive in pursuing human rights issues.
"I think it is the weakest area for both candidates, so both will likely be more passive," he told The Jakarta Post. "If Jokowi is attacked on past human rights violations or legal cases involving [pro-opposition activists], he can counter with the kidnapping allegations and vice versa."
On the topic of corruption, the debate is expected to turn into a battle between Jokowi's boasts on what he has done in the last five years and Prabowo's offer for a change in strategies to eradicate corruption once and for all, said the Gadjah Mada University's Corruption Studies Center director Zainal Arifin Mochtar.
"For example, the President might brag about his push for a more aggressive strategy for fighting corruption, including the formation of the Illegal Levy Eradication Task Force [Saber Pungli]," he said.
The special team has uncovered more than 800 cases since its establishment in 2016.
On the other hand, Zainal said Prabowo might emphasize, among other issues, the rampant corruption across the country and the failure of Jokowi's administration to eradicate such crimes for good.
The President has also been under pressure from the public to speed up the investigation into an acid attack against Corruption Eradication Commission (KPK) investigator Novel Baswedan on April 11, 2017, which has been left unsolved for more than a year without any significant progress.
Transparency International Indonesia secretary-general Dadang Trisasongko said the opposition pair might have the upper hand during the debate if they raised the acid attack.
In mid-2017, the House of Representatives launched a controversial inquiry to prove allegations that the antigraft body had abused its power. Jokowi's party, the Indonesian Democratic Party of Struggle (PDI-P), was a vocal supporter of the investigation at that time.
At the height of the crisis, Jokowi refused to intervene — a stance that appeared inconsistent with his promise to defend and reinforce the KPK.
"Thus, Jokowi's supporting parties became a liability in the anticorruption perspective," Dadang said.
However, he added that the incumbent might be able to counter the attacks by pointing out that Prabowo's Gerindra Party had among the highest number of ex-graft convicts contesting in the 2019 legislative elections. It is tied with the Golkar Party with six politicians running in the election who were once jailed for corruption.
He expected Jokowi to have the upper hand on terrorism as the frequency and scale of terrorist attacks have declined during his administration.
Jokowi said he and running mate Ma'ruf Amin were well-prepared to answer all questions during the debate, including those related to the settlement of past human rights abuse cases and Novel's case.
"We will answer [the questions] tomorrow [Thursday]," Jokowi told reporters, adding that his camp would also refer to data and facts in their statements. "Another important [strategy is to explain] our plans for the future."
Ma'ruf, who received special training from his campaign team to sharpen his political communication skills, said that among the key ideas the pair would deliver during the debate was that Indonesia was a country that upheld the rule of law.
"We uphold the supremacy of the law as well as an independent and impartial judiciary, and that all citizens are equal before the law," he said.
Gerindra executive Andre Rosiade said Prabowo and Sandiaga, along with their coaching team, had been finalizing their preparations for the debate and held several simulations since Tuesday, including "on what Prabowo will say regarding the solution to eradicating corruption".
Full report at:
https://www.thejakartapost.com/news/2019/01/17/jokowi-prabowo-to-square-off-in-first-debate.html
--------
Mideast
Iranian embassy in Beirut slams US as 'ISIS incubator'
16 January 2019
Following an official visit to Lebanon by the Under Secretary of State for Political Affairs David Hale, the Iranian embassy in Beirut released an aggressive statement calling the US an "ISIS incubator which burned the green and the rotten through American financial, logistical and regional support."
In the bizarrely worded rant, the Iranian embassy accused the US of seeking to "annihilate the resistance axis in the region and achieve the White House and its Zionist stepdaughter's goals."
The statement came as a response to comments made by US Secretary of State Mike Pompeo during a regional tour and those by Hale. Both vowed to step up efforts to counter Iran's activities around the region and expel from Syria "every last Iranian boot."
In simpler terms, the Iranian embassy also described the visit as "provocative".
"Thanks to its wise leadership, its government, people, military and responsible resistance, Lebanon has become a force to be reckoned with in regional balances where it has become a bulwark against the dictations of others and its enemies, not allowing anyone any party to dictate wrong decisions to it."
The Iranian statement went on to boast Iranian-Lebanese cooperation.
"The Islamic republic will not spare any effort to cooperate with the valiant Lebanese government and military, and the prideful resistance," the statement read.
On his official visit, Hale said after a meeting with the Lebanese Prime Minister-designate, Saad Hariri, that the United States was pursuing "efforts to counter Iran's dangerous activities around the region, including the financing and activities of proxy terrorist organizations such as Hezbollah."
"It's unacceptable to have a militia outside the control of the state and unanswerable to all the people of Lebanon, digging attack tunnels across the Blue Line into Israel, or assembling an arsenal of over 100,000 missiles with which to threaten regional stability," Hale said.
He pledged continued support for the Lebanese military and security forces and said that while Lebanon has the right to defend itself, "that is the right of the Lebanese state alone."
https://english.alarabiya.net/en/News/middle-east/2019/01/16/In-bizarre-statement-Iran-embassy-in-Beirut-slams-US-and-Zionist-stepdaughter-.html
--------
Turkey-backed fighters await 'zero hour' to attack Syria's Manbij
January 17, 2019
JARABLUS, SYRIA: Opposition commander Adnan Abu Faisal and his army are encamped near the frontline in northern Syria, waiting to launch an offensive on his home city of Manbij.
But they are not the ones who will decide whether to march on the strategically important city, held for more than two years by Kurdish forces supported by the US.
The decision will depend on Turkey, the main backer of Abu Faisal's group, and on how contacts evolve between Washington and Ankara over the US plans to withdraw forces from Syria, a move set to reshape a major theater of the war.
The US and Turkey are allies both in the NATO defense alliance and in the fight against Daesh, but Ankara sees the Kurdish People's Protection Units (YPG) forces that helped the US-led coalition drive Daesh out of Manbij in 2016 as a security threat.
The YPG fear the US withdrawal will open the way for a threatened Turkish attack into northern Syria, including Manbij, but US President Donald Trump has warned Turkey of "economic devastation" if it goes ahead with the attack.
Abu Faisal's fighters are awaiting orders near Jarablus, a town held by Turkey and its Syrian opposition allies about 35 km south of Manbij. The frontline in the area runs through open farmland where wheat and corn are usually grown.
"We are ready with our forces ... for 'zero hour' to begin any military action," Abu Faisal, whose forces have more than 300 vehicles including pickup trucks and armored vehicles provided by Turkey, told Reuters.
"Preparations are going at full speed," he said.
Abu Faisal, 36, was an army captain before Syria's civil war began in 2011 but defected from the Syrian Army in 2012 to join the fight against Bashar Assad.
Abu Faisal helped wrest control of Manbij from the Syrian Army early in the conflict but fled when it was seized by Daesh in 2014 and has not set foot there since then.
The YPG have also left Manbij but retain influence over the Kurdish-allied groups that hold the city 30 km from the border with Turkey.
Manbij lies near the junction of three separate blocks of territory that form spheres of Russian, Turkish and, for now, US influence.
The US military pullout will not only leave Kurds exposed to possible confrontation with Turkey but will also open the way for the expansion of Russian and Iranian sway into the areas that US forces will be leaving.
The US military deployed into Syria as part of the fight against Daesh but officials later indicated wider objectives included containing Iran, Assad's main regional ally.
Late last month, the YPG called on Assad's forces to protect Manbij from attack by Turkey. Syrian government forces, which are backed by Russia, answered the YPG appeal by deploying outside Manbij.
Full report at:
http://www.arabnews.com/node/1436756/middle-east
--------
Arab Coalition, Yemeni army kill 23 Houthis in Taiz
16 January 2019
Eleven Houthi fighters have been killed in Arab Coalition airstrikes on the Yemeni governorate of Taiz, while 12 others were killed during clashes with the Yemeni army on Wednesday.
Leader of the Maqbanah front in Taiz, Colonel Hameed al-Khaleedi, said that "the Yemeni army attacked several Houthi locations with artillery, killing 11 and injuring others."
Twelve others were killed in five Arab Coalition airstrikes which targeted Houthi locations, burning an arms-storage site.
Full report at:
https://english.alarabiya.net/en/News/gulf/2019/01/16/23-Houthis-dead-in-Arab-Coalition-airstrike-on-Yemen-s-Taiz.html
--------
Abbas raps Israeli occupation as Palestine takes over G77 chairmanship
Jan 16, 2019
Palestinian President Mahmoud Abbas has denounced Israel's occupation of the Palestinian territories, as he assumes the chairmanship of the largest bloc of countries at the United Nations.
Abbas made the remarks at a ceremony marking the handover of the chair of the Group of 77 (G77) from Egypt to Palestine at the UN headquarters on Tuesday.
"I am pleased to take over today the chairmanship of the Group of 77 on behalf of the Palestinian people and the State of Palestine," he said. "It is a great responsibility that the State of Palestine will bear with complete humility.
The Group of 77, a coalition of 134 mainly developing countries and China, was founded in 1964. It initially had 77 members, but currently represents some 80 percent of the world's population.
At his Tuesday's speech, Abbas blasted Israel for hampering the development in the Middle East through its occupation policy.
"Israel's continued colonization and occupation of the State of Palestine undermines our development and capacity for cooperation, coordination and obstructs the cohesive future development of all peoples of the region," he said.
Abbas also stressed his commitment to a "peaceful solution" to the decades-long Israeli-Palestinian conflict, which "brings an end to the occupation and the realization of the independence of the state of Palestine with East Jerusalem [al-Quds] as its capital."
The Palestinian president further condemned the scourge of terrorism "in all its forms, colors, and types" regardless of who perpetrates it.
"Terrorism takes place worldwide on a daily basis. It is an epidemic and I therefore call on all countries of the world to cooperate, to put an end to terrorism, to uproot it," he added.
Palestinian officials hailed Palestine's G77 chairmanship as a step towards the country's full UN membership.
Foreign Minister Riyad al-Maliki announced that Palestine is consulting with the UN Security Council member states about its membership bid despite the US threat to veto the measure.
"The moment we conclude the process, we will present the application," he told US television network CBS.
Moreover, Saeb Erekat, the secretary general of the Palestine Liberation Organization (PLO), described the Palestinians' chairmanship of the G77 as a "historic step that was made by the sacrifices of our people and their long struggle for freedom."
The move, he added, "signifies the recognition of the international community of Palestinian statehood and our right to self-determination. Despite the reality under Israel's military occupation, Palestine can play a significant role within the global system. The Palestinian people have a tremendous potential to share with the rest of the international community."
In November 2012, the UN General Assembly upgraded Palestine's status from "non-member observer entity" to "non-member observer state" despite strong opposition from Israel.
Since then, the Palestinians have joined dozens of international organizations and agreements as part of a campaign to garner support for the recognition of their homeland as a sovereign state.
Full report at:
https://www.presstv.com/Detail/2019/01/16/585930/Palestine-G77-Mahmoud-Abbas
--------
Report: Turkey to control buffer zone spanning 460 km in Syria's north
16 January 2019
Turkey has announced a 460-km wide and 32-km deep buffer zone along the border with Syria after reports of rising tension in the region, state-run Anadolu news agency reported.
Presidential spokesperson Ibrahim Kalın said that Turkey would have control over the proposed safe zone along Syria's northern border.
Earlier, Turkish media outlets quoted Turkish president Recep Erdogan as saying that an agreement with the United States to set up a security zone along the country's Syrian borders.
A spokesperson for Kurdish umbrella organization Movement for a Democratic Society (TEV-DEM) said on Tuesday that Kurdish militia would not accept a Turkish-controlled security zone in northern Syria, according to Kurdish news agency ANHA.
Reiterating that Erdogan had been voicing the same safe zone proposal for four years, Kalın said this time the same idea was floated at the top levels of the current US administration, according to Daily Sabah.
Turkey has positively responded to US President Donald Trump's offer to establish a 32-km buffer zone, Kalın said but added that the details of the zone needed to be worked out.
However, Anadolu said that the safe zone will include Syria's locations to the north of Raqqa and others to the north of a-Hasakah, passing through Sarrin, the north Ayn Issa, Suluk, Ras al-Ayn , the north of Tell Tamer, Darbasiya, Amuda, Qamishli , Wardiyah, Tell Hamis, Al-Qahtaniyah , Al-Yarubiyah and Al-Malikiyah.
The northern towns of Shuyukh Tahtani, Ayn al-`Arab (Kobani), Tell Abyad, al-Darbasiyah, Amuda, al-Qahtaniyah, al-Jawadiyyah and al-Malikiyah will fall entirely inside the safe zone, it added.
The line, on the West, begins from the edge of banks of Sajur River, located in the east of Manbij, while central Manbij remains outside of the 32-km zone, according to Ahvalnews.
Full report at:
https://english.alarabiya.net/en/News/middle-east/2019/01/16/Report-Turkey-to-control-buffer-zone-spanning-460-km-in-Syria-s-north-.html
--------
UN Security Council approves up to 75 truce monitors to Yemen's Hodeidah
16 January 2019
The United Nations Security Council has unanimously voted to authorize the deployment of up to 75 observers to Yemen's port city of Hodeidah for six months to monitor the ceasefire.
The unarmed monitors would be sent to Hodeida and its port along with the ports of Saleef and Ras Issa for an initial period of six months.
The port of Hodeida is the entry point for the bulk of Yemen's supplies of imported goods and humanitarian aid.
Talks between the Yemeni government and Houthi militias last month in Sweden on ending the devastating war led to an agreement on the observer force.
A first group of about 20 monitors was authorized by the council last month to begin work in Yemen, but their mandate expires on January 20.
The British-drafted resolution calls on UN Secretary-General Antonio Guterres to "expeditiously" deploy the United Nations Mission to support the Hodeida Agreement (UNMHA), led by retired Dutch General Patrick Cammaert.
Full report at:
https://english.alarabiya.net/en/News/gulf/2019/01/16/UN-Security-Council-approves-up-to-75-truce-observers-to-Yemen-s-Hodeidah.html
--------
Houthi landmines kill, injure dozens of children in Yemen's Mocha
16 January 2019
"Amarah Saeed Mohammed, eight years old. Post bomb explosion, open fracture of the tibia and fibula," a woman reads from a piece of paper at a Doctors Without Borders (MSF) hospital as the little girl lays in a bed, looking frail, and frightened.
On top of that, Amarah is one of the 150 people treated by MSF in the port city of Mocha alone who have encountered deadly Houthi landmines. According to the organization, one third of those are children.
"She was looking after the sheep and playing in the fields," her mother said. "Several kids were injured or got killed in the explosion. People get injured by landmines everyday."
Between the cities of Taiz and Hodeidah, Houthi militias have planted thousands of mines and improvised explosive devices.
According to an MSF report titled "Trapped by mines", the Houthis not only planted the mines on roads and strategic infrastructures to cut-off an advance of the Yemeni army and Arab Coalition forces in areas they have fled, but also plant many on agricultural lands, like Mocha, which are the only source of income and sustenance for many civilians in southwestern Yemen.
Punished 'not once but twice'
A 45-minute drive from Mocha, the Mawza district has seen its population halved. "People who live here are punished – not once, but twice. The mines not only blow up their children but also prevent them from cultivating their fields. They lose their source of income as well as food for their families," Claire Ha-Duong, MSF head of mission in Yemen, said.
The report profiles several patients, including children, affected by the Houthi militias' often-used tactic of planting landmines across the southwestern region of the country to fend off Arab Coalition forces from advancing toward the strategic port city of Hodeidah.
One farmer said he went to the fields eight months ago when a Houthi mine exploded under him. "I found myself lying on the ground. My father picked me up and took me to a hospital in Aden to get my leg treated."
The journey from Mocha to Aden takes approximately eight hours.
Mohammed, the father of a 14-year-old boy who had part of his leg amputated after stepping on a mine told MSF that since the accident, they have been apprehensive about walking in the fields around Mafraq Mocha. "We know mines have been planted around the town, but the problem is we don't know exactly where," he said.
Clearing the mines
Baraa Shiban, a Middle East and North Africa caseworker at the Reprieve human rights organization, told Al Arabiya English that the Houthis have been using landmine planting tactics since before the start of the conflict in 2012.
"If anyone has been following the (country's) conflicts since 2012, you would know it's an ongoing Houthi strategy. I first came across the planting of mines in huge amounts in my hometown of Hajjah in a tribal conflict with Houthis in 2012," Shiban said. "Since then, I realized that it's an effective way to prevent people from coming back. This slows down any quick territorial losses they suffered in conflict," he added.
Shiban explained that this means that even if a group managed to push the Houthis out of an area, it will slow down the settling in process, especially by villagers and residents.
While the Yemeni army, according to the Yemen Executive Mine Action Centre, has cleared 300,000 mines between 2016 and 2018 with the help from the Arab Coalition and organizations like KSRelief, a lot more needs to be done.
In the second week of December 2018, the King Salman Humanitarian Aid and Relief Center landmine clearance project (MASAM) in Yemen extracted 64 anti-personnel mines, 1,430 anti-vehicle mines, 85 improvised explosive devices and 955 unexploded ordnances, which is a total of 2,534 mines.
Since MASAM was launched in June, 2018, a total of 26,609 mines planted by the Iranian-backed Houthi militias in the territories, schools, and homes across Yemen were removed.
But according to the Supervisor General of KSRelief, Dr. Abdullah Al-Rabeeah, the project – launched with an initial budget of $40 million with an aim to achieve a landmine-free Yemen – still has to tackle a total of 600,000 mines planted in liberated areas by the Houthi militias. This includes 130,000 internationally banned sea mines, 40,000 mines in Marib and 16,000 mines on the island of Mayon alone, according to local reports.
In June of 2018, Al-Rabeeah confirmed that Houthi mines resulted in over 1,539 recorded deaths, injury for over 3,000 and permanent disability to over 900 Yemenis, mostly women, children and the elderly.
Iranian hand
According to a report by UK-based organization Conflict Armament Research (CAR), the use of landmines and IEDs is a growing threat in Yemen, especially as their investigation points to Iran's hand at providing the Houthis with the necessary bomb-making supplies.
"IEDs and Radio Controlled Improvised Explosive Device (RCIED) employed by Houthi forces continue to contain components that originate in Iran. The most recent seizures of IED electronics reveal attempts to conceal their provenance," the CAR report, published in September 2018, read.
CAR's report also said that the problem of landmines and IEDS will continue "long after the current phase of the conflict concludes."
A primary problem of the mines planted by the Houthis is that, not only are they camouflaged and hidden, they are sometimes made to look like everyday items in order to trick whomever may walk in its path.
Al Arabiya English previously reported how the Houthis had planted mines that resemble the trunks of palm trees near the strategic Kilo 16 area in the al-Hali district of Hodeidah, close to civilian areas. In another report, coalition forces found mines randomly planted in roads and made to look like ordinary rocks. Those landmines would be come to known as "death stones" by civilians.
But even though Amarah faced the death stone firsthand, she is fighting to survive, unlike many who couldn't.
"She's got shrapnel wounds and a penetrating abdominal wound," Bernard Lemenager, an MSF doctor, said. "We could repair the large intestine straight away but it often doesn't hold properly so the repair could leak and in turn cause peritonitis."
Full report at:
https://english.alarabiya.net/en/features/2019/01/16/Children-are-dying-in-this-Yemeni-city-scattered-with-Houthi-landmines.html
--------
Yemeni forces strike military base in southwestern Saudi Arabia
Jan 15, 2019
Yemeni army soldiers, supported by allied fighters from Popular Committees, have launched an attack against a military base in Saudi Arabia's southwestern Jizan region in retaliation for the Riyadh regime's atrocious military campaign against their impoverished homeland.
The media bureau of Yemen's Houthi Ansarullah movement released video footage on Tuesday, showing Yemeni troops and their allies targeting vehicles at Awjebah base with a domestically-developed combat drone and a salvo of artillery rounds.
Yemeni soldiers and Popular Committees fighters also fired a Zelzal-1 (Earthquake-1) ballistic missile and several artillery rounds at the gathering of Saudi-paid militiamen loyal to Yemen's resigned president Abd Rabbuh Mansur Hadi east of al-Nar mountain in the northern Yemeni province of Hajjah.
An unspecified number of Saudi mercenaries were killed and injured in the process.
Also on Tuesday, Yemeni snipers shot and killed five Saudi border guards on the outskirts of MBC mountain in Saudi Arabia's Jizan region.
'Saudi-led coalition violated Hudaydah truce over 470 times'
Meanwhile, the spokesman for Yemeni Armed Forces says the Saudi-led military coalition has on more than 437 occasions breached a UN-brokered truce in the strategic port city of Hudaydah over the past 72 hours.
During a press conference in the capital city of Sana'a on Tuesday, Brigadier General Yahya Saree said Saudi troops and their mercenaries have lobbed a total of 316 mortar shells at various residential neighborhoods of Hudaydah during the mentioned period.
The top Yemeni military official highlighted that the Saudi-led military coalition carried out 63v airstrikes on different Yemeni regions over the past three days.
Saudi Arabia and a number of its regional allies launched a devastating military campaign against Yemen in March 2015, with the aim of bringing Hadi's government back to power and crushing the country's Houthi Ansarullah movement.
According to a new report by the Armed Conflict Location and Event Data Project (ACLED), a nonprofit conflict-research organization, the Saudi-led war has so far claimed the lives of around 56,000 Yemenis.
The Saudi-led war has also taken a heavy toll on the country's infrastructure, destroying hospitals, schools, and factories. The UN has already said that a record 22.2 million Yemenis are in dire need of food, including 8.4 million threatened by severe hunger. According to the world body, Yemen is suffering from the most severe famine in more than 100 years.
Full report at:
https://www.presstv.com/Detail/2019/01/15/585915/Yemeni-forces-strike-military-base-in-southwestern-Saudi-Arabia-Video
--------
URL: https://www.newageislam.com/islamic-world-news/indian-muslim-scholars-doctors-endorse/d/117488
New Age Islam, Islam Online, Islamic Website, African Muslim News, Arab World News, South Asia News, Indian Muslim News, World Muslim News, Women in Islam, Islamic Feminism, Arab Women, Women In Arab, Islamophobia in America, Muslim Women in West, Islam Women and Feminism