New Age Islam News Bureau
30 Jan 2019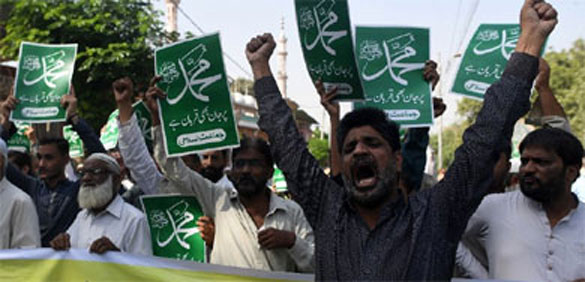 The blasphemy issue created the Tehreek-e-Labaik Pakistan party that has paralysed the country with violent protests (AFP Photo/ASIF HASSAN)
------
• Indian Government Tracking Theological Content Driven Salafi, Wahhabi Websites being Seen As A Carefully-Crafted Strategy to Spread Radical Islam in India
• In God's Name: How Extremists Hijacked Pakistan's Blasphemy Laws
• Malaysia: Yes, Your Kids' Savings above Nisab Value Are Subject To Zakat Payments
• Pak-Supported Terror Groups Will Continue Attacks in India, Afghanistan: US Spymaster
• Afghans Worried About Being Left Out Of US Taliban Peace Talks
• French Militants Will Return Home, and To Prison, From Syria
India
• Indian Government Tracking Theological Content Driven Salafi, Wahabi Websites being Seen As A Carefully-Crafted Strategy to Spread Radical Islam in India
• Dargah of Hazrat Shaikh Ji Hali Abul-U-Lai, the Testimony Of The Ganga-Jamuni Tehzeeb, May Not Host Basant Sufi This Year
• Clerics Question Timing Of Centre's Ayodhya Petition In Supreme Court, Shia Board Hails It
• Pak Foreign Minister Qureshi dials Hurriyat chief Mirwaiz Umar Farooq
• Music in Muslim Weddings Un-Islamic, Qazi Boycotted Nikah
• Terrorists behind Burdwan, Bodh Gaya blasts arrested and charge sheeted
• Divorce rate among Muslims low: IUML
• Notice to 'The Pioneer' For Calling Zakir Naik "Salafist Terror Preacher"
--------
Pakistan
• In God's Name: How Extremists Hijacked Pakistan's Blasphemy Laws
• Pakistan SC Upholds Aasia Bibi's Acquittal in Blasphemy Case, Asks Petitioners If Islam Allows Punishment for Those 'Not Guilty'
• Resolving Pakistan's problems through dialogue culture stressed
• Pakistan, Russia agree to coordinate efforts for Afghan peace
• Bangladesh refuses to accept Pakistani envoy's credentials
--------
Southeast Asia
• Malaysia: Yes, Your Kids' Savings above Nisab Value Are Subject To Zakat Payments
• KL appoints Muslim politician from Chinese-based DAP to Islamic agency's board
• Govt: We'll listen to views on dress code for Muslim workers
• DAP Politician Appointed To Islamic Agency Board
• Grenade Attack In Philippine Mosque Kills Two Muslim Teachers
• Local Abu Sayyaf faction behind deadly Philippine church bombings, says army chief
--------
North America
• Pak-Supported Terror Groups Will Continue Attacks in India, Afghanistan: US Spymaster
• With government shutdown over, US Senate advances Middle East bill
• US intelligence chiefs contradict Trump on Daesh, North Korea
• Foreign ministers of anti-Daesh coalition to meet in US
• US Senate leader challenges Trump on Syria withdrawal as Kurds seek delay
--------
South Asia
• Afghans Worried About Being Left Out Of US Taliban Peace Talks
• Afghan Commandos rescue 38 people including security personnel from a Taliban prison
• 23 ISIS-K and Taliban militants killed in Afghan and Coalition Forces operations
• Bangladesh elite force arrests 5 linked to jihad and Sri Lanka drug haul
• "We continue to stay with the United States in Afghanistan": NATO SG
• NDS Special Forces bust gang of foreign terrorists in Nimroz province
--------
Europe
• French Militants Will Return Home, and To Prison, From Syria
• Human Rights Court: Turkey Didn't Cooperate On Murder Case
• TV Cast Start Fundraising Page for UK Islamic School In Hate Crime Attack
• European Union denounces Bahrain ruling on Sheikh Salman
• Macron calls for inter-religious dialogue at end of Egypt visit
• France shifts stance on returning extremists as US withdraws from Syria
• Turkish, Croatian ministers discuss security, migration
--------
Africa
• Alleged Kids of Daesh Terrorists To Be Returned To Tunisia
• Angola's Muslims Long to Be Legally Recognized
• An Alleged Plot to Attack A N.Y. Muslim Settlement Highlights Online Conspiracy Theories
• Tunisian president accuses PM of secret pact for power
• Sudan security chief orders release of detained protesters
--------
Arab World
• Captured Irish Jihadist Tells Of Dying Days Of 'Caliphate'
• Several Terrorists Killed in Suicide Attack by Rival Group in Idlib
• Al-Qaeda's advance in northern Syria threatens fragile truce
• Daesh fighters pinned in tiny Syria enclave with families
• Egypt Arrests 54 Muslim Brotherhood Members
• Raqqa: Mass Grave of Victims Killed by ISIL Discovered by Syrian Army in Military Airport
• Aleppo: Ankara Continues Efforts to Annex Afrin to Turkey's Soil
• Iran, Syria must step up joint efforts in face of Western economic war: President Assad
• Saudi anti-regime activist says escapes fate not unlike Khashoggi's
• Saudi soldier held prisoner by Houthi militia returns home
• Abu Dhabi TV cameraman among 7 civilians killed in Yemen bomb
--------
Mideast
• Israeli PM Plans to Boot TIPH Observers Protecting Palestinians Out Of Al-Khalil
• Houthi Militia Attacks UN and Demining Teams in Hodeidah
• Syria and Iran sign 'strategic' economic agreement
• UN Agency Eyes $1.2 Bln Budget for Palestinians despite US Cuts
• Netanyahu's toughest ballot rival, ex-general Gantz, to break silence
• Palestinians ask UN to deploy observer force in West Bank
• Houthis blast Saudi regime's plundering of Yemeni oil resources
• Yemen's Ansarullah movement sends ill Saudi soldier back home, draws UN praise
Compiled by New Age Islam News Bureau
URL: https://www.newageislam.com/islamic-world-news/indian-government-tracking-theological-content/d/117600
--------
Indian Government Tracking Theological Content Driven Salafi, Wahhabi Websites being Seen As A Carefully-Crafted Strategy to Spread Radical Islam in India
January 30, 2019
A number of websites are under the scanner of security agencies for propagating Salafism and the ultra-conservative practice of Islam known as Wahhabism as part of what is being seen as a carefully-crafted strategy to spread radical Islam in India.
Most of these websites operate from outside the country but the agencies have noticed regular traffic on these online platforms.
These websites were flagged after they were spotted during investigations into ISIS modules operating in various parts of the country, including in Jammu and Kashmir.
Getting influenced by radical content on the Internet is often the starting point for most of those who join such modules. Ideological and theological indoctrination takes place through these websites.
One website is Ikhwanis.com which claims to spread "the other (hidden) face of the so-called Muslim Brotherhood".
Another website, Ashabulhadith.com, carries a section on Manhaj-ul-salaf, or the belief system of Salafism. It runs an audio of religious sermons.
Salaf.com has "your starting point for Islam, Sunnah and Salafiyyah online" as the tagline.
Also under the lens is Manhaj.com which claims to explain "Quran and Sunnah according to the understanding of the pious predecessors".
Ibntaymiyyah.com claims to clear misgivings about the much misunderstood figure Ibn Taymiyyah, who is said to have influenced Wahhabism.
In the context of Jammu and Kashmir, the security forces see radical content as part of a design by Pakistan to give religious colour to the separatist movement and alienate the people further overshadowing the moderate age-old tradition of Sufism in the region.
There have been instances where protesters have waved ISIS flags during street demonstrations in Jammu and Kashmir but these were played down by the security agencies as aberrations. Officials now claim that the situation is changing on the ground with radical elements becoming more brazen with their activities.
The extent of the problem has forced agencies to launch massive counter radicalization campaigns.
Among the states where ISIS-related cases have been reported are Kerala followed by Telangana. Security agencies are worried about the widespread nature of online radicalization of individuals.
https://www.business-standard.com/article/news-ians/government-tracking-theological-content-driven-salafi-wahabi-websites-119013000169_1.html
--------
In God's Name: How Extremists Hijacked Pakistan's Blasphemy Laws
Jan 29, 2019
ISLAMABAD: Politicians have been assassinated, European countries threatened with nuclear annihilation and students lynched, all in the name of combating blasphemy in Pakistan, where the legal punishment for insulting the Prophet Mohammed is death.
Few issues are as inflammatory in the conservative Islamic republic as blasphemy. Here's a brief history of where the law came from and how it has changed the country over the years.
The country's first blasphemy law was originally passed down from Pakistan's former colonial masters and was largely aimed at keeping the peace between different religious communities on the subcontinent.
The framework was later given a boost during the rule of former hardline Islamist dictator Zia-ul-Haq in the mid-80s.
His military government passed a series of new statutes that included a provision for capital punishment in cases where the Prophet Mohammed was insulted.
However, to date no one has actually been executed for blasphemy, with most punishments commuted to life sentences. But mere accusations of insulting Islam have sparked mob lynchings and murders.
International rights groups have long criticised the legislation as a tool of oppression and abuse, particularly against minorities.
In recent years, it has also been used to smear dissenters and even politicians.
The topic is so inflammatory that even calls to reform the law have provoked violence, most notably the assassination of Salmaan Taseer — the governor of Pakistan's most populous province — by his own bodyguard in 2011.
His murder was followed the same year by the killing of minority affairs minister Shahbaz Bhatti, a Catholic, who had also vowed to maintain his opposition to the laws in defiance of death threats.
The blasphemy issue has also created a new religious extremist movement that has dictated terms to successive governments and paralysed the country at will with violent protests.
In less than two years the Tehreek-e-Labaik Pakistan party (TLP) — or the Movement at the Service of the Prophet — has become one of the most powerful groups in Pakistan.
Led by firebrand cleric Khadim Hussain Rizvi, the far-right religious party has weaponised the ultra-sensitive blasphemy issue in the Muslim-majority nation.
This has sparked fears the TLP is radicalising the country's heartland and opening a dangerous new chapter in Pakistan's brutal confrontation with extremism.
Its leaders have gone on to threaten to "wipe Holland off the face of the earth" with nuclear weapons, call for the assassination of Pakistan's top judges and mutiny in the military ranks.
Activists have long demanded reform, saying the legislation is too often abused to settle personal scores and target religious minorities.
The law is so vaguely written that defining blasphemy can be difficult if not impossible and criticism of the law could be perceived as blasphemy itself.
Following the murders of Taseer and Bhatti, mainstream politicians have steered clear of renewing calls for reform of the blasphemy law, fearing violent reprisals.
The recent uptick in violence, along with prosecutions of alleged offenders, comes as Washington added Pakistan this month to a blacklist of countries it says wantonly violate religious freedom.
Islamabad later dismissed the US move as politically motivated.
https://timesofindia.indiatimes.com/world/pakistan/in-gods-name-how-extremists-hijacked-pakistans-blasphemy-laws/articleshow/67741594.cms
--------
Malaysia: Yes, Your Kids' Savings above Nisab Value Are Subject To Zakat Payments
30 January 2019
By Emmanuel Santa Maria Chin
KUALA LUMPUR, Jan 30 — Children with savings exceeding the minimum amount set by the national zakat institutes (nisab) must also contribute to the fund through their parents or guardians, said a religious agency executive.
Utusan Malaysia cited Ahmad Husni Abdul Rahman, assistant manager of the Shariah and Special Information Unit of the Federal Territory Islamic Council's Zakat Collection Centre (PPZ-MAIWP), as saying many were still unaware of this requirement, blaming it on their limited knowledge of zakat contribution types.
"Many of them are under the impression that only certain types of zakat contributions are compulsory, whereas their children with savings more than the nisab amount are also required pay the 2.5 per cent zakat rate," he was quoted saying at PPZ-MAIWP forum yesterday.
"This year we have set the nisab value at RM13,968. If savings of the child does not exceed that value, then there is no need for them to make the contribution," he said.
In Islam, zakat is compulsory tithing that is treated as taxation. In Malaysia, Muslim taxpayers may also use their zakat contributions to offset their income tax obligations.
Yesterday, Minister in the Prime Minister's Department Datuk Seri Mujahid Yusof Rawa announced that zakat collections in 2018 had increased by six per cent to RM651.2 million, compared to the RM615.2 million collected in 2017.
The figures also revealed a RM45.95 million spike in zakat payments from savings, up seven per cent from the RM42.81 million collected in 2017.
Ahmad Husni said parents with multiple savings accounts set aside for their children's future should take the initiative and total up the money in the accounts to see if they are liable for the payments.
"If the child has savings accounts in three different banks, we need to add up the total of all three accounts and if it exceeds the set nisab value, then it is compulsory to make the zakat contributions.
"This also applies to adults and their savings. This compulsory condition (applies to) people with a lot of assets, even if they are crazy or handicapped," he was quoted saying.
https://www.malaymail.com/news/malaysia/2019/01/30/yes-your-kids-savings-above-nisab-value-are-subject-to-zakat-payments/1717925
--------
Pak-supported terror groups will continue attacks in India, Afghanistan: US spymaster
Jan 29, 2019
WASHINGTON: The terror groups supported by Pakistan will continue to conduct terrorist attacks in both India and Afghanistan, America's spymaster has said.
Director of National Intelligence Dan Coats also said Pakistan's "narrow approach to counterterrorism cooperation - using some groups as policy tools and confronting only the militant groups that directly threaten Pakistan - almost certainly will frustrate US counterterrorism efforts against the Taliban."
"Militant groups supported by Pakistan will continue to take advantage of their safe haven in Pakistan to plan and conduct attacks in India and Afghanistan, including against US interests," Coats told the members of the Senate Select Committee on Intelligence.
Coats and heads of other top American intelligence agencies appeared before the Senate Select Committee on Intelligence on their worldwide threat assessment.
Prominent among them included CIA director Gina Haspel, who has just returned from a trip to India; FBI director Christopher Wray and Defense Intelligence Agency director Robert Ashley.
The comment on South Asia is part of US intelligence community's assessment of worldwide threats in 2019 and was presented in the form of a written document to the Senate Select Committee on Intelligence by Coats.
Coats said that the challenges facing South Asian states will grow in 2019 because of Afghanistan's presidential election in midJuly and the Taliban's large-scale attacks, Pakistan's recalcitrance in dealing with teror groups, and Indian election that risk communal violence.
"We assess that neither the Afghan Government nor the Taliban will be able to gain a strategic military advantage in the Afghan war in the coming year if coalition support remains at current levels," he said.
Afghan forces generally have secured cities and other government strongholds, but the Taliban has increased large-scale attacks, and Afghan security suffers from a large number of forces being tied down in defensive missions, mobility shortfalls, and a lack of reliable forces to hold recaptured territory, Coats said.
https://timesofindia.indiatimes.com/world/pakistan/pak-supported-terror-groups-will-continue-attacks-in-india-afghanistan-us-spymaster/articleshow/67745209.cms
--------
Afghans worried about being left out of US Taliban peace talks
Hikmat Noori
January 29, 2019
As discussions ahead of formal peace negotiations between the US government and Taliban inch forward, Afghan political and civil society leaders have raised concerns about the lack of Afghan representation in the process.
After another round of talks with Taliban leaders in Qatar, US special envoy Zalmay Khalilzad arrived in the Afghan capital on Monday amid widespread reports in Afghan media that he was there to discuss a proposed interim government that would include the Taliban.
Mr Khalilzad, however, dismissed the reports. Addressing local media, Mr Khalilzad said negotiations were now focused on a comprehensive ceasefire plan.
"We are working with the Afghan government, with international partners, to find implementing mechanisms to reach these goals," he said.
The Afghan High Peace Council, an independent body appointed by the government to negotiate peace, also dismissed rumours of an interim government, telling The National that it was "not on our agenda".
But spokesman Sayed Ihsan Taheri did say that greater Afghan involvement in the peace process was necessary. "Our constitutional authority should be considered and respected. Our people want intra-Afghan direct talks to kick off between the Afghan government and Taliban."
Despite Mr Khalilzad's repeated assurances, Afghan politicians and civil society members are concerned about a transitional political leadership with the Taliban, largely because many Afghans fear the influence of Pakistan and other regional powers in such a setup.
The idea of an interim government was raised by Pakistan's intelligence agency three years ago, according to Idrees Stanikzai, a political activist and a former candidate for the parliament from Kabul. "The US wants to hand over Afghanistan to Pakistan in the name of peace," he said.
Rumours of an interim government have raised fears that presidential elections scheduled for July could be postponed. "It is imperative that fair elections be held to ensure that the Afghan interest is represented," Mr Stanikzai said.
Sources close to Mr Khalilzad told The National that the US envoy was critical of Afghan President Ashraf Ghani's approach and policies surrounding the peace talks, and that Taliban leaders including Mullah Zaeef have expressed to Mr Khalilzad their reluctance to enter talks with the Afghan president. "Khalilzad quite openly said that future political system is based on the Afghan will. It is not something the US wants to [control], it is a matter for Afghans, so I think [if they did indeed propose an interim government] there might be a rational explanation to it," said Hekmat Azamy, deputy director at Centre for Conflict and Peace Studies, a Kabul based think tank. Mr Azamy said he had a detailed discussion with Mr Khalilzad on Tuesday about the proposed framework that is currently being discussed in Afghan media.
Further elaborating on what a potential interim government or a "peace set-up" might look like, Mr Azamy said: "President Ghani's term in closing. However, if the elections are postponed his government will remain in power in an acting capacity, albeit unconstitutional."
He speculated that the Taliban might be more open to talking with such an "acting body or group" that represents the Afghan people. "It would then perhaps be more plausible for the Taliban to be willing to negotiate with the current government. Since in such a situation, all sides would be technically illegitimate and the word 'government' – which seems to be a reason for the Taliban to reject them – could be removed from the talks."
If the possibility of the Taliban negotiating with Afghans directly is assured – rather than only with the Americans – an interim government would be worth considering, he said. "This could allow for a truly intra-Afghan dialogue."
Also of concern to Afghans are reports that Mr Khalilzad had discussed with the Taliban a timeline for withdrawal of foreign troops from the country. A premature withdrawal of troops could leave the country's already faltering security in an even more vulnerable state.
The persistent refusal of the Taliban to talk with the Afghan government, which it views as an American puppet, risks undermining the credibility of the talks in the eyes of many Afghans. "I think the fact that Afghanistan as the only country not present in the Afghan peace talks is concerning," said Javid Faisal, former spokesperson to Abdullah Abdullah, the Chief Executive of Afghanistan, an office that was set up in a power-sharing agreement brokered by the US between the two leading presidential candidates during elections in 2014. "Intra-Afghan dialogue [is] the only solution and concrete path forward for lasting peace in the country."
He added: "As it is going now, there are no guarantees that the process will serve the goal [of Afghan people] even if the Afghan government and people agree to an interim government. There are no guarantees for success and no obligations for Taliban and Pakistan to respect a peace deal for long."
Concerns about Pakistan involvement in the peace process are genuine, Mr Azamy said. "The influence that Pakistan enjoys over the Taliban is undeniable. I believe these meetings could never have been possible without Pakistan's pressure, and now the Pakistani army is even claiming that out loud," he said, referring to a recent statement by a Pakistan military spokesperson taking credit for facilitating talks between the US and the Taliban. Afghans remain apprehensive about Pakistan's role in the negotiations, fearing that the neighbouring country may try to exert influence to determine the outcome of talks.
"As an Afghan, it also worries me that if a deal is made with Pakistan looking over the Taliban, it will not be in our national interest," Mr Azamy said.
Mr Khalilzad has rejected accusations about Afghans not being involved in the process. "There is a false narrative that Afghans are not included. That is not true. The Afghan voice is there," he said.
Mr Stanikzai, the activist, is not convinced. If the Taliban do not wish to deal with the Afghan government, it should reach out directly to the Afghan people, he argued.
"Why not call a traditional Loya Jirga [a council of tribal elders] and sit as one nation and decide the country's future, rather than sitting with the Americans in Doha?" he asked.
https://www.thenational.ae/world/asia/afghans-worried-about-being-left-out-of-us-taliban-peace-talks-1.819648
--------
French militants will return home, and to prison, from Syria
30 January 2019
France's government is preparing for an influx of homegrown miltants with the departure of US troops from Syria, saying Tuesday that anyone who left to fight for ISIS will go straight to jail.
In an interview with BFM television, Interior Minister Christophe Castaner said that a handful of French militants had already returned and more would follow soon. Neither he nor France's foreign ministry confirmed BFM's report that as many as 130 could come back within weeks.
"The Americans are leaving Syria. It's important to keep that in mind," Castaner said. "There are a certain number who are imprisoned because the Americans are there, and they will be freed. They will want to return to France."
The question of what to do with foreigners who joined the ISIS group has grown increasingly thorny as the US departure looms.
French miltants made up the largest contingent of European recruits, and in 2015 and 2016 ISIS cell of French and Belgian fighters who sneaked in from Turkey attacked Paris and Brussels.
Britain refuses to take back citizens who joined the group and has stripped their citizenship. Other European countries have remained largely silent about the fate of men and women whom many see as a security threat.
"These are people who have voluntarily joined a terrorist organization ... that has committed attacks in France and continues to threaten us," France's foreign ministry said.
Immediate jail
Castaner said all would be jailed immediately in France and face trial, but declined to provide details.
Kurdish authorities in Syria have detained 900 foreign members of the group, and 4,000 family of ISIS members, according to Ilham Ahmed, a senior Syrian Kurdish official. Russia has taken some of the recruits back and jailed them.
The Syrian Observatory for Human Rights said there are at least 78 French women and children who had recently come out of the last stronghold of ISIS in eastern Syria. This is in addition to another 65 previously evacuated from other ISIS-held areas and in Kurdish custody. It was not clear if Castaner was also speaking of civilians and families of ISIS members.
Castaner said a small number had already returned to France, although it's not clear whether they had voluntarily surrendered or were repatriated, or whether he meant fighters or their families.
In April, then-Defense Secretary Jim Mattis said French special forces had joined American troops in Syria.
https://english.alarabiya.net/en/News/world/2019/01/30/French-militants-will-return-home-and-to-prison-from-Syria.html
--------
India
Dargah of Hazrat Shaikh Ji Hali Abul-U-Lai, the Testimony of the Ganga-Jamuni Tehzeeb, May Not Host Basant Sufi This Year
28th January 2019
HYDERABAD: This year, the Basant Sufi festival at the dargah of Hazrat Shaik ji Hali Abul-u-lai, which stands as the testimony of the Ganga-Jamuni Tehzeeb (Hindu-Muslim unity) of Hyderabad, may not be held at the dargah.
Reason? Poor maintenance of the 202-year-old shrine in Patthargatti due to a dearth of funds is poised to be a danger for devotees who throng the shrine regularly.
The samaa khana, where cultural programmes like the Basant Sufi festival are held has only a tin roof which is supported by wooden planks. Over the years the tin sheet is left with holes and parts of the wooden planks have given way, posing a danger of collapse at any moment.
The mutawali of the dargah has installed a cloth sheet under the tin structure to prevent any roof piece from falling on those standing below.
Pointing towards a rickety-looking joint holding the tin roof, Muzaffar Ali Chisti, the mutawali of the dargah said, "If that gives in, the whole tin roof would collapse. With this danger lurking, we cannot hold the Basant Sufi festival this year inside the dargah."
"We have been asking both the Waqf Board and CM KCR, for release of the funds since a GO ordering the same was issued last May but nothing has borne fruit," he added.
Recently revived by Ali in the city, the Basant Sufi festival was initiated by the Qutub Shahis about five centuries ago.
Reason for delay?
Explaining the same to Express, CEO of Telangana State Waqf Board Shahnawaz Qasim, said, "The increase of salary to imams and muezzins from Rs 1,500 to Rs 5,000 has drained the budget. Apart from that there are other dargahs in a 2017 GO which still await funds."
Three venues for this year's Basant Sufi festival -- Salar Jung Museum, Taj Deccan or Chiran Fort Club, said Ali. The festival will be celebrated on February 10 this year.
http://www.newindianexpress.com/cities/hyderabad/2019/jan/28/dargah-of-hazrat-shaikh-may-not-host-basant-sufi-this-year-1930906.html
--------
Clerics question timing of Centre's Ayodhya petition in Supreme Court, Shia board hails it
Jan 29, 2019
Muslim bodies and clerics on Tuesday questioned the timing of Centre's petition in the Supreme Court offering to return a part of the 67.703 acres acquired in 1993 by the government in and around a disputed site in Ayodhya to its original owners, terming the move, months before Lok Sabha elections, unwarranted and one-sided.
The petition, seeking to return the undisputed part of the land, sought amendments to apex court verdicts that had imposed status quo on the acquired plot.
"The Supreme Court has appointed Centre as the receiver of the entire land keeping in mind the various intricacies and sensitive nature of the dispute. Hindus alone do not own the entire 67 acres, there is land belonging to (a) graveyard and other Muslims also," said Maulana Khalid Rashid Farangi Mahli, a member of the All India Muslim Personal Law Board. In any case, a final call on the Centre's plea would be taken by the apex court, he added.
Waseem Rizvi, chairman of the UP Shia Central Waqf Board Waseem Rizvi, a votary of the construction of a Ram Temple at the disputed site welcomed the move. "It's a very good initiative. We all know that a grand Ram temple has to be built in Ayodhya. If the SC releases this land which is not disputed, construction work on a temple can immediately start...,'" he said.
Full report at:
https://www.hindustantimes.com/india-news/clerics-question-timing-of-centre-s-ayodhya-petition-in-supreme-court-shia-board-hails-it/story-xKSAzfZpoXD1X7zCzBRBzI.html
--------
Pak Foreign Minister Qureshi dials Hurriyat chief Mirwaiz Umar Farooq
by Shubhajit Roy, Naveed Iqbal
January 30, 2019
In an unusual move, Pakistan Foreign Minister Shah Mahmood Qureshi Tuesday dialled All Parties Hurriyat Conference chairman Mirwaiz Umar Farooq to brief him on "the efforts of the government of Pakistan to highlight the gross human rights violations" in Jammu and Kashmir.
This is the first time that the new government in Pakistan, under Prime Minister Imran Khan, has reached out to the Hurriyat.
Qureshi also informed the Hurriyat leader about events being organised in London, including at the House of Commons and an exhibition on February 4-5, where these issues will be highlighted. Official sources in Delhi told The Indian Express that it is "extremely unusual" for a top Pakistan government representative to call Hurriyat leaders directly, and said that they do not recall any such conversation in the last decade. Usually, they said, Pakistani representatives meet Hurriyat leaders while visiting India, and the Ministry of External Affairs is kept in the loop.
The NDA government, however, has drawn a red line on meetings between visiting Pakistan representatives and Hurriyat leaders over the last four-and-half years, even leading to the cancellation of talks at the level of Foreign Secretary and Foreign Minister.
Speaking to The Indian Express, Mirwaiz said Qureshi spoke of involving world capitals in highlighting the Kashmir issue. "He said, 'We are very concerned about what is happening in Jammu and Kashmir'. The most important thing he said was that Prime Minister Imran Khan tried his best to reach out to the government of India but unfortunately there was no response… they will reach out to the next government after the elections."
According to Mirwaiz, Qureshi reiterated that "primarily, hum chahte hain ki baat-chit se hi saare masle hal ho (we want all issues to be resolved through dialogue), but there was no response from the government here".
Reacting to the 10-minute conversation, sources in Delhi said it reflects "the duplicity in the Pakistan leadership's approach" while referring to Imran Khan's call for dialogue.
"Such an attempt by the Pakistan Foreign Minister is a regressive step and is contrary to the overall perception, which the Pakistan leadership is trying to create," sources said.
The Pakistan Foreign Minister also raised the June 2018 report issued by the Office of the High Commissioner for Human Rights and the APPKG report of the UK Parliament. India has rejected both these reports.
"Pakistan has been and continues to foment cross-border terrorism in India. Its repeated attempts to incite disharmony and violence in India continue. The media antics of its leadership cannot divert attention from the fact that the Pakistan establishment's hands are stained with the blood of innocent Indians, including in J&K and in territory under its illegal occupation," sources in Delhi said.
"Pakistan needs to focus on addressing the human rights situation within its own territory and promoting and protecting its own citizens, especially from the minority community. The persecution and discrimination of different ethnic populations, including Pashtuns, Baloch, Ahmediyas, Hindus and Sikhs in Pakistan, need to end," sources said.
"The people of India will defeat all nefarious designs aimed at creating disharmony and terrorist violence in India," sources said.
Full report at:
https://indianexpress.com/article/india/pakistan-foreign-minister-shah-mahmood-qureshi-calls-up-mirwaiz-umar-farooq-5560382/
--------
Music In Muslim Weddings Un-Islamic, Qazi Boycotted Nikah
Jan 29, 2019
NEW DELHI: Shattered with the sound of drums, clerics residing in Jhabua refused to preside over a wedding on Tuesday.
In the region, the Qazis have banned drums, DJ s and music on the occasion of marriage from the past two and a half years.
They believe that only vocal music is permissible (halal) and that instruments are forbidden (haram) in Islam.
Speaking to ANI, Hazi Haroon Rasid, Qazis said: "We will not conduct nikah in weddings where music and dance will happen and DJ will be there. We have banned such thing in our society as it was un-Islamic. Two and a half years ago, the decision to ban drums, music and DJ was taken by all. I also spoke to the family of groom in this regard but they decided to breach the practice. Following which I announced that the marriage will be boycotted by all Qazis of this area."
Hours after Qazi's refusal, the family members of the bride and groom called another Qazi from the nearby Rajghad town to solemnise the wedding.
Giving out more details about the case, Aishwarya Shastri, SDOP, Jhabua told ANI, "After the families called the Qazis from the adjoining area. The Qazis of Jhabua filed a complaint against the groom's family in the Kotwali police station."
Full report at:
https://www.siasat.com/news/music-muslim-weddings-un-islamic-qazi-boycotted-nikah-1461480/
--------
Terrorists behind Burdwan, Bodh Gaya blasts arrested and charge sheeted
Jan 29, 2019
Two arrests in Bengal and a supplementary charge sheet filed against six persons, including a Bangladeshi national currently in a Patna jail, at a special court in the Bihar capital have thrown light on the fact that the same men linked to the banned Bangladesh terror outfit Jamaatul Muhadeen Bangladesh (JMB) were behind both an IED explosion in Bengal's Burdwan in 2014 and the planting of three IEDs at the Mahavihara Buddhist temple complex in Bihar's BodhGaya during the visit of Tibetan spiritual leader the Dalai Lama in January 2018.
Two IEDs exploded in the temple complex but there were no casualties.
The National Investigative Agency (NIA) arrested Kadar Kazi and Sajjad Ali in the Arambagh area of Bengal's Hooghly district on Monday night for alleged links with the Burdwan blast in 2014 that had killed two and blown the lid off a flourishing JMB network in districts of West Bengal.
This brings the total number of arrests in the Burdwan case up to 32.
Kazi is believed to an associate of Bangladesh national Mohammed Jahidul Islam alias Bomaru Mizan alias Kausar, an JMB operative who is the key accused in both Burdwan and Bodh Gaya incidents. Kausar was arrested near Bengaluru last year and a Bihar police officer has confirmed that he is currently lodged in Kolkata's Presidency jail.
Meanwhile, the NIA filed a supplementary charge sheet against six men including 'Kausar' at a special court in Patna in connection with the Bodh Gaya blasts of 2018.
The probe agency had already filed a charge sheet against three accused in September last year. Kausar, who awaits a death sentence in Bangladesh for three separate cases, was one of the key accused in the serial blasts in 63 Bangladesh districts in 2005. He had escaped from a prison van during a staged ambush on the India-Bangladesh border and crossed over to West Bengal.
Full report at:
https://www.hindustantimes.com/india-news/terrorists-behind-burdwan-bodh-gaya-blasts-arrested-and-charge-sheeted/story-TnkQ4uSUGLEO5P8mChLo4L.html
--------
Divorce rate among Muslims low: IUML
Jan 30, 2019
KOZHIKODE: IUML state general secretary KPA Majeed has said that the Triple Talaq Bill proposed by the central government was part of the agenda to implement Uniform Civil Code in the country.
Inaugurating the symposium on 'Triple Talaq Bill- For Whom?' organised by the Vanitha League here on Tuesday, Majeed said that the rate of divorces in the Muslim community was significantly less when compared to other communities.
"BJP is saying triple talaq is the biggest problem faced by the Muslim women in the country. Where is triple talaq happening? It is not an issue at all in Kerala. Even when the entire country is taken into account, the instances of triple talaq are very limited. The rate of divorces in the Muslim community is significantly less when compared to other communities," he added.
He added that while the BJP led government is portraying triple talaq bill as reflective of their commitment for protection of rights of Muslim women, the fact remains that thousands of women and children who were displaced due to the communal riots in North India are still living on the streets.
"According to reports, only 23% of those displaced in communal riots in Gujarat have returned to their homes. Also, women were most affected due to communal violence in Muzaffarnagar and the government has not taken any steps to protect or rehabilitate the victims," he added.
He said if any changes or amendments are to be made in the Shariat Law or Personal Law then it has to be done by the Muslim community and its bodies.
"The Centre is trying to take away the rights of minorities and trying to destroy their beliefs. The government is making such interventions to implement the Uniform Civil Code ," he added.
Full report at:
https://timesofindia.indiatimes.com/city/kozhikode/divorce-rate-among-muslims-low-iuml/articleshow/67748873.cms
--------
Notice to 'The Pioneer' for calling Zakir Naik "Salafist terror preacher"
By safoora
Jan 29, 2019
New Delhi: Recently Enforcement Directorate seized some properties of Dr. Zakir Naik in an alleged money-laundering case. The news, based on a PTI report, was published by newspapers and electronic media describing Dr. Naik as a "controversial preacher" but the Pioneer, while publishing the same news in its front page on 20 January, 2019, described Dr. Naik as "Salafist terror preacher".
Taking sou motu cognisance of this, Delhi Minorities Commission has sent a notice to the Editor of the Pioneer,saying that "this is a gross misuse of media freedoms to defame a person who is still an accused and no court verdict has been passed in the case. The said preacher is at best an accused in a case of money-laundering and not terror funding or preaching."
New Delhi: Recently Enforcement Directorate seized some properties of Dr. Zakir Naik in an alleged money-laundering case. The news, based on a PTI report, was published by newspapers and electronic media describing Dr. Naik as a "controversial preacher" but the Pioneer, while publishing the same news in its front page on 20 January, 2019, described Dr. Naik as "Salafist terror preacher".
Taking sou motu cognisance of this, Delhi Minorities Commission has sent a notice to the Editor of the Pioneer,saying that "this is a gross misuse of media freedoms to defame a person who is still an accused and no court verdict has been passed in the case. The said preacher is at best an accused in a case of money-laundering and not terror funding or preaching."
Full report at:
https://www.siasat.com/news/notice-pioneer-calling-zakir-naik-salafist-terror-preacher-1461501/
--------
Pakistan
Pakistan SC upholds Aasia Bibi's acquittal in blasphemy case, asks petitioners if Islam allows punishment for those 'not guilty'
Jan 29, 2019
Islamabad: Pakistan's Supreme Court on Tuesday rejected the review petition filed against the acquittal of a Christian woman who was on death row for eight years on charges of blasphemy. The apex court's decision in October to overturn the conviction of Aasia Bibi sparked nationwide protests and death threats from hardline groups.
A three-member bench, headed by Chief Justice Asif Saeed Khosa, dismissed the review petition filed by Qari Muhammad Salaam, Dawn reported. During the hearing, Salaam's lawyer said that the matter of Aasia's acquittal is a matter concerning the Muslim clergy and religious scholars should also be called to present their point of view. "How is this a matter of religion?" the chief justice asked. "Has the verdict not been given on merit?" "The verdict was given on the basis of testimonies; does Islam say that one should be punished even if they are found not guilty?" he asked.
"Prove to us what [you believe] is wrong with the verdict," said Chief Justice Khosa said. He further said that if testimonies of those involved in the case were not judged correctly, the court will review them and if the matter needs to be referred to a larger bench, the decision will be taken.
"An FIR lodged five days after an incident is suspect," said Justice Khosa while referring to report lodged in the case and which formed the basis for Aasia's prosecution. He said that testimonies also differed in their account regarding the size and the place of the crowd which had gathered following the blasphemy accusation, the Express Tribune reported. The lawyer countered that late registration of an FIR does not necessarily mean ill intention. "Should we then hand an accused on the basis of such testimonies," questioned the chief justice.
He dismissed the review petition filed against the acquittal of Aasia Bibi, saying the petitioner was not able to point out any mistake in the apex court verdict acquitting the 47-year-old woman.
Security was tightened in Islamabad where the court is located. Paramilitary Rangers were deployed in addition to the regular police to deal with any unsavoury situation. Bibi's lawyer, who fled to the Netherlands after receiving death threats for defending her, returned home last week to represent her in the case.
Bibi, a 47-year-old mother of four, who is now in protective custody, was convicted in 2010 after being accused of insulting Islam in a row with her neighbours. She always maintained her innocence but spent most of the past eight years in solitary confinement. She challenged the verdict in October 2014 in the Lahore High Court which upheld the death sentence. The apex court's decision to acquit her had sparked three-day-long mass protests led by the Tehreek-i-Labbaik Pakistan (TLP).
Qari filed the review petition in the case on 1 November, 2018 at the Lahore registry of the apex court, urging the Supreme Court to reconsider its decision. In the petition, it has been argued that the Supreme Court's acquittal of Bibi did not meet the standards of jurisprudence as well as Islamic provisions and the "normal principle of justice with reference to application in blasphemy laws".
https://www.firstpost.com/world/pakistan-sc-upholds-aasia-bibis-acquittal-in-blasphemy-case-asks-petitioners-if-islam-allows-punishment-for-those-not-guilty-5983751.html
--------
Resolving Pakistan's problems through dialogue culture stressed
January 28, 2019
Islamabad : Religious slogans were used in the run-up to the country by the mob not the elite, said Chairman of the Council of Islamic Ideology Dr. Qibla Ayaz.
He shared his thoughts during a daylong first-ever "Dialogue Pakistan 2019," organized by Pak Institute for Peace Studies (PIPS), a leading think tank of Pakistan. Renowned experts, serving and former parliamentarians, political leaders, former military officials, and religious scholars participated in the dialogue.
The speakers said that the only way forward for Pakistan is dialogue. They were of the opinion that different segments of the society, irrespective of their political leaning; civil and military players; government and opposition should hold dialogues with each other to get out of the problems they often blame on each other.
"Even now, many of our critical debates are outdated, inviting polarizing opinions or leading all the way to the genesis of the country. This despite that the world around has changed a lot," shared the speakers.
Karachi University's Dr. Jaffar Ahmed said the country was founded as a result of separatist ideals, rather than any religious ones. After the country was formed, the discourse shifted to political Islam, which was used by successive governments and bureaucracy to further their end. Former senator Afrasiab Khattak argued that enforced uniformity is problematic. Such top-down approach has failed in the past, and will do in the future, he said.
PIPS director Muhammad Amir Rana noted the issue seemed to be more about struggle over resources between the two players.
The issue of parliamentary supremacy also came in the dialogue. Several former and serving parliamentarians wondered if parliament really is supreme, saying there always are constraining forces.
Farhatullah Babar said it is incorrect to blame parliament for not doing its job, saying that many a questions of parliament were unanswered on the grounds of being "sensitive and secretive."
PML-N's Senator Parvez Rasheed argued that political parties are fighting for their own survival. They have to bear cases which are implanted on them, he said, leading to situation in which parliament takes backseat.
Meanwhile, former military official Lt. Gen. (r) Amjad Shoaib wondered who stops the parliament from taking matters of public interest. He asked why the parliament did not discuss economic issues. He contested the view that the country is becoming a security state, saying there is no controlled environment.
Former MNA of Jamiat Ulema Islam Hafiz Hussain Ahmed said political parties are also responsible for weakening the parliament. PPP's Nafisa Shah agreed, saying parliament has often not been treated seriously by members. She called for making it more transparent and accessible to the people.
On foreign policy, scholar Moeed Yusuf said while we continue to indulge in debates about facts, the world around is changing. He said ten years down the road, India-Pakistan power differential will be equal to India-Sri Lanka's. He said Pakistan's foreign policy centers around India. It is reflected in all its relations, with all its neighbours. "Virtually every single decision we made has been driven around India", he said.
Journalist Rahimullah Yusufzai said insecurities emanating from India essentially tailored our policy around India. Former foreign minister Inam ul Haq said India appears to be more obsessed with Pakistan than Pakistan is with India. After all, while Pakistan is an issue in India's domestic politics, in Pakistan, India is not, he said. Similarly, former Director General of Inter-Services Public Relations Maj. Gen (r) Athar Abbas said one has to be prepared for challenges. "When Indian National Security Advisor talks about covert operations", he said, this is a challenge to be confronted.
On Afghanistan, Inam ul Haq said Pakistan is "overly apprehensive" of Indian influence. He argued Pakistan should have no qualms about Afghanistan trading with India. Meanwhile, Rahimullah reminded that since 1960s, Pakistan and Afghanistan have been supporting each other's opponents.
Sharing the rationale of the Dialogue Pakistan 2019, PIPS director Muhammad Amir Rana said that problems in the country can be resolved by promoting the culture of dialogue. Former CII Khalid Masud said dialogues are rooted in Islamic traditions, and that dialogues, which are about exchanging views among each other, can help achieve consensus on different issues. Dialogues, he said, not only provide rights to the citizens but also strengthen the state.
Full report at:
https://www.thenews.com.pk/print/424522-resolving-pakistan-s-problems-through-dialogue-culture-stressed
--------
Pakistan, Russia agree to coordinate efforts for Afghan peace
January 30, 2019
ISLAMABAD: Pakistan and Russia on Tuesday agreed to continue coordinating their positions on efforts for peace in Afghanistan.
The understanding was reached during Russian Special Representative on Afghanistan Ambassador Zamir Kabulov's meetings with Foreign Minister Shah Mehmood Qureshi and Foreign Secretary Tehmina Janjua.
Mr Kabulov was in Islamabad for consultations on regional political situation and the Afghan peace process.
Pakistan has renewed efforts for facilitating the peace process in Afgha­nistan. The United States and Taliban last week held six-day-long negotiations after which both sides claimed significant progress although some issues still remain to be resolved.
Mr Qureshi in his meeting with Mr Kabulov underscored that Pakistan was facilitating the ongoing talks between the US and the Taliban as a shared responsibility and in good faith and hoped that the talks would lead to an intra-Afghan dialogue.
The Taliban have since the start of negotiations with the US refused to talk to the Afghan government until Washington committed to a clear withdrawal plan.
Amb Kabulov noted that Russia and Pakistan were important stakeholders in peace and stability in Afghanistan and it was in their shared interest to support all efforts for peace and stability there through their close coordination.
"The two sides agreed to continue regular consultations on Afghan peace process and support regional initiatives to bring lasting peace in Afghanistan and the region," a Foreign Office statement said.
Foreign Minister Qureshi later left for a visit to Muscat, Oman.
During his two-day trip to Oman, the minister will attend the meeting of Pak-Oman Joint Ministerial Commission. He would also be meeting Omani Foreign Minister Yusuf bin Alawi and deputy prime minister Sayyid Fahd bin Mahmoud al Said.
Mr Qureshi, in his pre-departure statement, said he would take the Omani leadership into confidence regarding the situation in Afghanistan.
Full report at:
https://www.dawn.com/news/1460705/pakistan-russia-agree-to-coordinate-efforts-for-afghan-peace
--------
Bangladesh refuses to accept Pakistani envoy's credentials
January 30, 2019
In a major blow the already strained bilateral relations, Bangladesh on Tuesday refused to accept the credentials of Saqlain Syedah as Pakistan's high commissioner in Dhaka, according to a report published by a local English daily.
According to the report, Prime Minister Sheikh Hasina Wajid's government did not cite any reason for refusing to accept the envoy's credentials.
The ambassadorial position had fallen vacant after Rafiuzaman Siddiqui's retirement in last year. Syedah, a PBS-20 officer in the Foreign Service of Pakistan, was named as the new high commissioner to Bangladesh subsequently.
Last year, Pakistan's Foreign Office had condemned controversial statements issued by the Bangladesh premier, in which she had urged her compatriots to 'punish' those who still loved Pakistan despite living in an independent nation.
Full report at:
https://www.pakistantoday.com.pk/2019/01/29/bangladesh-refuses-to-accept-pakistani-envoys-credentials/
--------
Southeast Asia
KL appoints Muslim politician from Chinese-based DAP to Islamic agency's board
JAN 29, 2019
KUALA LUMPUR- A Muslim politician from Chinese-based ruling party, the Democratic Action Party ( DAP), has been appointed to the board of trustees of the Islamic Propagation Foundation of Malaysia (Yadim).
The bold move might unsettle Malay Muslims, most of whom have yet to give the Pakatan Harapan (PH) government their support.
The DAP politician is Mr Sheikh Omar Ali, 33, who holds a Bachelor's degree in Usuluddin (Islamic studies) from Universiti Malaya, majoring in dakwah (propagation), local media reported on Tuesday (Jan 29).
He left Parti Islam SeMalaysia (PAS) to join the DAP in 2005, and is today the Johor State Cabinet Minister for Information, Entrepreneurship Development, Cooperatives and Creative Economy.
Yadim has a high-profile role in Malaysia. It is an agency under the Prime Minister's Department that coordinates Islamic propagation involving government agencies and non-governmental organisations.
The appointment of Mr Sheikh Omar was announced by Mujahid Yusof Rawa, Malaysia's de facto Islamic Affairs Minister on Tuesday (Jan 29).
"Sheikh Omar was appointed as someone with a religious education background," he said, as quoted by Malaysiakini. "There should be no negative perception... he's a Muslim, he has merit, and contributed some good ideas in the past," he told reporters.
Critics of the PH government, of which the DAP is a member, may be discomfited by the appointment, especially as the two main opposition parties - Umno and PAS - have been pushing the line that the DAP is anti-Islam.
Former deputy Islamic affairs minister and Umno Youth chief Asyraf Wajdi Dusuki said on Tuesday that Mr Sheikh Omar is from a party that had never recognised Islam as Malaysia's official religion.
Islamic institutions in Malaysia, Datuk Asyraf claims, are under threat from the "DAP-dominated" PH government.
News of the appointment comes as the four-party ruling alliance is still struggling to attract more Malay support, eight months after winning the general election.
PH's candidate from the DAP lost badly in the Cameron Highlands by-election held last Saturday, as Malay voters mostly backed Umno despite last-minute campaigning by Prime Minister Mahathir Mohamad.
https://www.straitstimes.com/asia/se-asia/kl-appoints-politician-from-chinese-based-dap-to-islamic-agencys-board
--------
Govt: We'll listen to views on dress code for Muslim workers
January 29, 2019
PUTRAJAYA: The human resources ministry today said it will take into account views from the National Labour Advisory Council (NLAC) before it implements dress code guidelines for Muslim workers in the private sector.
It said the guidelines will first be presented at a meeting of the NLAC before the final draft is completed.
The ministry said that as a member of the International Labour Organisation (ILO), Malaysia will take into account views from the NLAC on matters involving human resource policies.
The guidelines will only apply to Muslim workers in the private sector and their formulation is important to address possible instances of workplace discrimination, Bernama quoted the ministry as saying in a statement.
"The final draft is currently being finalised towards its implementation.
"However, if an employer compels employees to wear clothing contrary to their religious beliefs, complaints about this matter may be forwarded to the Labour Department," the ministry said.
In August last year, the minister in charge of Islamic affairs, Mujahid Yusof Rawa, announced in the Dewan Rakyat that the government was working on a dress code for women workers in the private sector.
His announcement drew criticism from certain groups, including the Women's Aid Organisation (WAO), which said the government should not be policing what women wear.
Earlier, a report that certain hotels prohibited frontline staff from wearing headscarves had sparked controversy, leading to groups calling for a boycott of the hotels.
Full report at:
https://www.freemalaysiatoday.com/category/nation/2019/01/29/govt-well-listen-to-views-on-dress-code-for-muslim-workers/
--------
DAP politician appointed to Islamic agency board
January 30, 2019
KUALA LUMPUR • A Muslim politician from the Chinese-based ruling party has been appointed to the board of trustees of the Islamic Propagation Foundation of Malaysia (Yadim).
The bold move by the Democratic Action Party (DAP) politician is seen by observers as one which may unsettle Malay Muslims, most of whom have yet to give the Pakatan Harapan (PH) government their support.
The politician, Mr Sheikh Omar Ali, 33, holds a Bachelors degree in Usuluddin (Islamic studies) from Universiti Malaya, majoring in dakwah (propagation), local media reported yesterday. He left Parti Islam SeMalaysia (PAS) to join the DAP in 2005, and is today the Johor state Cabinet minister for Information, Entrepreneurship Development, Cooperatives and Creative Economy.
Yadim is an agency under the Prime Minister's Department that coordinates Islamic propagation involving government agencies and non-governmental organisations.
The appointment of Mr Sheikh Omar was announced by Datuk Seri Dr Mujahid Yusof Rawa, Malaysia's de facto Islamic Affairs Minister, yesterday.
"Sheikh Omar was appointed as someone with a religious education background," Malaysiakini cited him as saying. "There should be no negative perception... he's a Muslim, he has merit, and contributed some good ideas in the past," he told reporters.
Critics of the PH government, of which the DAP is a member, may be discomfited by the appointment, especially as the two main opposition parties - Umno and PAS - have been pushing the line that the DAP is anti-Islam.
Former deputy Islamic affairs minister and Umno Youth chief Asyraf Wajdi Dusuki said yesterday that Mr Sheikh Omar is from a party that has never recognised Islam as Malaysia's official religion. Islamic institutions in Malaysia, he claims, are under threat from the "DAP-dominated" PH government.
News of the appointment comes as the four-party ruling alliance is still struggling to attract more Malay support, eight months after winning the general election.
Full report at:
https://www.straitstimes.com/asia/se-asia/dap-politician-appointed-to-islamic-agency-board
--------
Grenade Attack In Philippine Mosque Kills Two Muslim Teachers
30 JANUARY 2019
A grenade was thrown into a mosque in the southern Philippines where Muslim teachers were sleeping early on Wednesday morning, killing two of them and injuring four, authorities said.
It was the second explosion at a religious site in the south this week, though authorities didn't see it as retaliation for the bombings of a Roman Catholic cathedral in nearly Jolo during Sunday Mass that killed 21 people.
Regional police Chief Superintendent Emmanuel Luis D. Licup said investigators are trying to determine the motive and identity of the suspect in the grenade attack at the mosque in Zamboanga city.
The victims were from Basilan and nearby provinces at the mosque to teach Islam to children.
Military Col Leonel M Nicolas emphasized the grenade blast was not a retaliatory act and was still under investigation. Licup said a personal grudge was among the possible motives.
The Ulama Council of Zamboanga Peninsula condemned the attack as "an inhumane act" and called for people to be "calm yet vigilant." President Rodrigo Duterte's office described the mosque attack as a taunt to the government and said the successive attacks on different places of worship showed the ruthlessness of terrorists.
The peace process for the southern region would not be stalled by such obstacles, presidential spokesman Salvador S. Panelo said. "The movement to change the face of Mindanao and the oppressive conditions affecting its people shall move forward despite these acts of terrorism," the statement said.
The official military and police toll for the cathedral attack was raised to 21 dead with about 100 wounded. One of the dead is still unidentified.
The Islamic State group claimed two suicide bombers carried out the cathedral attack, one who detonated an explosive belt inside the building and the other near the entrance. Philippine authorities have named as their main suspect a commander of a local Abu Sayyaf faction that has pledged allegiance to IS.
Duterte said Tuesday that an unidentified militant couple detonated the two bombs, and Defense Secretary Delfin Lorenzana said at least one was a suicide bomber.
Full report at:
https://www.outlookindia.com/website/story/world-news-grenade-attack-in-philippine-mosque-kills-two-muslim-teachers/324538
--------
Local Abu Sayyaf faction behind deadly Philippine church bombings, says army chief
January 29, 2019
MANILA: Twin bombings during a church service on a southern Philippine island were most likely perpetrated by a cell from a domestic militant group, the country's armed forces chief said Tuesday.
The Jan. 27 attacks on Jolo Island, Sulu province, killed at least 21 people and wounded more than 100. They were one of the deadliest in recent years in a region plagued by decades of instability.
"The most prominent, the most possible angle is that it was perpetrated by the Abu Sayyaf Group (ASG) under commander Hajjan Sawadjan" with the support of the Ajang-Ajang faction of the group, Gen. Benjamin Madrigal Jr. told Arab News.
Abu Sayyaf, meaning "Bearer of the Sword," was founded in the 1990s. Some factions pledged allegiance to Daesh in 2014 and mostly engage in piracy and kidnap for ransom. Experts say the group is fragmented and lacks a central command, operating largely in disparate cells run by different commanders across the Sulu Archipelago.
Ajang-Ajang, a cell within ASG, is notorious for kidnapping and extortion in Sulu. Police believe it carried out the church attacks in revenge for relatives who were killed during military operations against ASG.
Military and police officials said the bombs — planted inside and outside of the church — appeared to have been detonated remotely.
On Tuesday the military also identified one of the suspects as Kamah, a known bombmaker and brother of slain senior ASG figure Surakah Ingog.
Madrigal said it was unclear if the church attacks were suicide bombings.
If confirmed as suicide bombings they would be the second such attack in the Philippines and consistent with details of a claim of responsibility by Daesh through its Amaq news agency on Monday.
The army chief downplayed the Daesh announcement, however, saying anyone could claim the attack and it was yet to be proven if it was the work of the jihadi group.
He said it was possible that Sawadjan's forces were inspired by Daesh, but that the attackers were "locals, and part of the ASG."
There have been reports in the last few years that foreign Daesh fighters forced out of Syria and Iraq were arriving in the Philippines with the aim of recruiting.
Daesh announced in 2016 that it had established what it called the "East Asia Province" in the Philippines, appointing ex-ASG leader Insilon Hapilon as its chief.
More than 1,100 people were killed in 2017 when pro-Daesh militants attacked and held the Philippine city of Marawi for five months, leading to massive destruction across the scenic lakeside town.
Last year Daesh said it was behind an attack in which a device was detonated by the driver of a van when he was stopped at a remote checkpoint in Basilan province, killing 11 people. The driver was believed to be a foreigner and may have triggered the device prematurely, security officials told journalists at the time.
"Daesh-linked personalities have been looking into Southeast Asia," Madrigal said. He added there were reports that some transnational individuals linked with the group had embedded themselves in ASG and were engaged in training its members, especially in IED making.
But the general claimed that such individuals had been thwarted.
"We have to maintain and enhance our coordination with our Asian neighbors so that even before coming into the Philippines we are able to arrest and neutralize these personalities," he said, referring to Indonesia and Malaysia.
The Philippines' immigration bureau said it was on high alert to prevent the possible entry of foreign terrorists.
Full report at:
http://www.arabnews.com/node/1444101/world
--------
North America
With government shutdown over, US Senate advances Middle East bill
29 January 2019
The US Senate advanced legislation reaffirming support for allies in the Middle East on Monday, including fresh sanctions on Syria and a measure that combats the Boycott, Divest and Sanctions (BDS) movement against Israel over its policies toward the Palestinians.
Democrats had blocked the package in the Senate during the 35-day partial government shutdown, saying the chamber should first consider legislation to reopen the government.
But after Friday's agreement to end the shutdown at least until Feb. 15, most of the Senate's Democrats joined Republicans in favor of taking up the bill.
The measure is still several steps from becoming law, and may never get there. Even if passed by the Senate, it must also be approved by the House of Representatives, where Democrats hold a majority of seats.
The legislation includes provisions to impose new sanctions on Syria and guarantee security assistance to Israel and Jordan. Those are seen as efforts to reassure US allies worried about shifts in US policy since President Donald Trump abruptly announced plans last month for a quick withdrawal of US troops in Syria.
However, the act also includes the BDS provision, which opponents consider an impingement of free speech.
"While I do not support the BDS movement, we must defend every American's constitutional right to engage in political activity. It is clear to me that this bill would violate Americans' First Amendment rights," said Senator Bernie Sanders, an independent who caucuses with Democrats and was a "no" vote on Monday.
Some Republicans accused Democrats of supporting the BDS movement, which they see as anti-Semitic. Democrats in turn accused Republicans of trying to use the BDS measure to divide moderate and liberal Democrats.
https://english.alarabiya.net/en/News/world/2019/01/29/As-government-shutdown-ends-US-Senate-advances-Midlle-East-Bill.html
--------
US intelligence chiefs contradict Trump on Daesh, North Korea
Jan 30, 2019
US intelligence chiefs have contradicted President Donald Trump's assertions related to national security, underlining a persistent division in his view of the world and theirs.
During a Senate Intelligence Committee hearing on Tuesday, Director of National Intelligence Dan Coats and CIA director Gina Haspel appeared to contradict the claims made by Trump on the Daesh terrorist group and North Korea.
Trump announced last month that he was going to withdraw American troops from Syria because Daesh had been defeated and there was no reason for the US to extend military presence in the war-torn country.
The decision, however, was met with criticism from both Democrats and Republicans, prompting then defense secretary James Mattis and Brett McGurk, the US special envoy to the so-called anti-Daesh coalition in Syria and Iraq, to resign.
Coats said Tuesday that "ISIS (Daesh) is intent on resurging and still commands thousands of fighters in Iraq and Syria."
US intelligence assessment is that the terror group "very likely will continue to pursue external attacks from Iraq and Syria against regional and Western adversaries, including the United States," he added.
On North Korea, Trump said in June, after returning from Singapore where he had held a historic summit with North Korea leader Kim Jong-un, that Pyongyang did not pose any nuclear threat.
At the end of that summit, the two leaders signed a brief, broadly-worded document according to which both sides committed to working "towards complete denuclearization of the Korean Peninsula."
During the Tuesday hearing, however, Coats said that "we currently assess that North Korea will seek to retain its WMD capabilities and is unlikely to completely give up its nuclear weapons and production capability because its leaders ultimately view nuclear weapons as critical to regime survival."
The intelligence community's "assessment is bolstered by observation of some activity that is inconsistent with full denuclearization," he noted.
A White House spokesman, commenting on Coats' remarks, said, "Our goal is to achieve the final, fully verified denuclearization of the DPRK as Chairman Kim committed to in Singapore."
Full report at:
https://www.presstv.com/Detail/2019/01/30/587174/US-Donald-Trump-Dan-Coats-and-CIA-director-Gina-Haspel-North-Korea-Daesh
--------
Foreign ministers of anti-Daesh coalition to meet in US
30.01.2019
By Servet Gunerigok
WASHINGTON
The foreign ministers of the global coalition fighting the Daesh terror organization will meet in Washington, D.C. on Feb. 6, the U.S. State Department said Tuesday.
"The full 79-member Coalition will meet for in-depth discussions on the impending territorial defeat of ISIS in Iraq and Syria, which is the result of four years of Coalition and our partners' efforts, and a significant milestone towards delivering ISIS an enduring defeat," said the department in a statement, using another name for Daesh.
The meeting comes amid the U.S. withdrawal of troops announced by President Donald Trump in December, who said the U.S.-led coalition had succeeded in militarily defeating the Daesh terrorist group.
According to the statement, the ministers will discuss the "next phase" of the anti-Daesh fight in Iraq and Syria, which it said would focus on protecting against a resurgence of the organization through stabilization and security assistance.
"Ministers will also discuss important next steps in degrading ISIS's global networks and affiliates outside Iraq and Syria," said the statement.
Full report at:
https://www.aa.com.tr/en/americas/foreign-ministers-of-anti-daesh-coalition-to-meet-in-us/1378566
--------
US Senate leader challenges Trump on Syria withdrawal as Kurds seek delay
Joyce Karam
January 30, 2019
Mitch McConnell, the Republican leader in the Senate, is challenging Donald Trump's decision to pull out troops from Syria and Afghanistan through offering a legislative amendment against a "precipitous withdrawal".
Mr McConnell, speaking on the Senate floor on Tuesday, said he is proposing an amendment to the bipartisan backed bill 'Strengthening America's Security in the Middle East Act', which cautions against withdrawing from either Syria or Afghanistan.
Mr Trump has ordered the Pentagon to put plans for US troop pull-out from both wars, against the advice of his top generals and former Secretary of Defence James Mattis.
Mr McConnell explained his rare move against the president as one that "would recognise the danger of a precipitous withdrawal of either conflict and highlight the need for diplomatic engagement and political solutions to the underlying conflicts in Syria and Afghanistan."
"While it is tempting to retreat to the comfort and security of our own shores, there is still a great deal of work to be done…we know that left untended, these conflicts will reverberate in our own cities," the Republican leader warned.
He refuted Mr Trump's notion that ISIS is defeated in Syria, and said "Al Qaeda, ISIS, and their affiliates in Syria and Afghanistan continue to pose a serious threat to our nation."
The bill will require majority support to pass in Congress, and two thirds support to override a possible veto by Mr Trump.
Th US Director of National Intelligence Dan Coats also contradicted Mr Trump's assessment on ISIS. Testifying to Congress on Tuesday, he said "ISIS is intent on re-surging returned and still commands thousands of fighters in Iraq and Syria."
While Mr Trump was initially planning a 30-day-withdrawal from Syria when he announced his decision last month, a more prolonged and coordinated withdrawal is now being planned. Kurdish leader and co-president of the Syrian Democratic Council Ilham Ahmed is currently in Washington to convince the administration to slow down the pull out.
"We are asking the Trump administration to slow down the withdrawal and instead implement a well-studied plan," Ms Ahmed told The National during an event hosted by The Middle East Institute on Tuesday.
She said there has been no change in US military posture in Syria since Mr Trump announced his decision, and was firm in rejecting any Turkish military presence or Turkish led safe zone in the Syrian Democratic Force (SDF) held areas.
However, the Syrian Kurdish leader said her group would be open to accepting UN monitors that won't include a Turkish contingent. She characterised the 32km safe zone under consideration as a Turkish idea and not a US one reiterating that the SDF will reject it.
Full report at:
https://www.thenational.ae/world/mena/us-senate-leader-challenges-trump-on-syria-withdrawal-as-kurds-seek-delay-1.819665
--------
South Asia
Afghan Commandos rescue 38 people including security personnel from a Taliban prison
29 Jan 2019
The Commandos of the Afghan National Army (ANA) have rescued at least 38 people from a Taliban-run prison in southeastern Ghazni province.
The Commander of the Special Operations Corps of the Afghan Military Gen. Bismillah Waziri told reporters 38 people including three civilians have been rescued from a Taliban prison during an operation which was conducted in Aab Band district of Ghazni.
Gen. Waziri further added that 9 Afghan National Army soldiers and number of Afghan National Police soldiers were also rescued during the operations.
He said the militants had also abducted a number of security personnel of a parliamentary candidate as well as members of the public uprising forces.
The acting minister of defense Asadullah Khalid hailed the Afghan Commandos for the successful conduct of the operation which resulted into the release of the hostages.
Khalid also added that he had vowed to take the fight into the hideouts of the terrorists and the Afghan Commandos have proven this during their operation in Aab Band district of Ghazni.
https://www.khaama.com/afghan-commandos-rescue-38-people-including-security-personnel-from-a-taliban-prison-03203/
--------
23 ISIS-K and Taliban militants killed in Afghan and Coalition Forces operations
29 Jan 2019
At least 23 ISIS Khurasan (ISIS-K) and Taliban militants were killed during separate operations and airstrikes of the Afghan and Coalition Forces in the past 24 hours.
According to the informed military sources, the Afghan Special Forces conducted a clearance operation in Sangin district of Helmand province killing 5 Taliban fighters and destroying 8 IEDs and 150 pounds of homemade explosives.
A coalition air strike also killed 2 Taliban fighters in Nahr-e Saraj district of Helmand while another coalition air strike killed 2 ISIS-K fighters in Khugyani district of Nangarhar, the sources added.
The Afghan Special Forces conducted a raid in Achin district of Nangarhar killing 8 ISIS-K fighters and destroying a weapons cache and a house-borne IED, the source said, adding that Afghan Special Forces also conducted a raid in Darah-ye Pech district of Kunar killing 2 ISIS-K fighters.
Full report at:
https://www.khaama.com/23-isis-k-and-taliban-militants-killed-in-afghan-and-coalition-forces-operations-03200/
--------
Bangladesh elite force arrests 5 linked to jihad and Sri Lanka drug haul
January 29, 2019
Following the publication of reports in Blitz on busting of huge drug haul in Sri Lanka and activities of narco-jiahdists within South Asian countries, elite force of Bangladesh Police, Rapid Action Battalion (RAB) on January 29, 2019 detained six members of jihadists belonging to transnational drug trafficking racket. The arrestees are Fatima Imam Tania, 26, Afsana Mimi, 23, Salma Sultana, 26, Sheikh Mohammad Badhon aka Parvez, 28 and Ruhul Amin aka Simon, 29. They were detailed in separate raids.
From the possession of these arrested members of narco-jihadist racket, the elite police unit has recovered 1,970 Yaba pills, foreign currency notes and passports. They have "confessed to being involved in an international drug racket" during preliminary questioning, but the RAB sources did not disclose any information on their involvement with jihadist outfits, although it was earlier reported in Blitz that such groups are affiliated with Islamic State (ISIS).
On Dec 31, Sri Lankan Police seized 272 kilograms of heroin and five kilograms of cocaine during a special operation at a housing complex in Templers Road at Colombo's Mount Lavinia.
Two Bangladeshis caught in the operation were Mohammed Jamaluddin of Bogura and Rafiul Islam of Joypurhat. According to Sri Lankan police, the two had arrived in Sri Lanka on December 23. Investigative reporters of this newspaper have already identified Mohammed Jamaluddin and Rafiul Islam to be directly connected to Jamaat e Islami.
Earlier, on Dec 14, two suspects were arrested in Nugegoda, a suburb in Colombo, with one kilogram of heroin hidden in a cake box, Superintendent of Police Gunasekara had told the Daily Mirror.
"One of the suspects had a remote controller for a roller gate and other keys. We found that the keys belonged to a two-storey house on Kawdana Road, Dehiwala [Mount Lavinia]."
On Dec 15, a Bangladeshi woman called 'Surjamoni' was arrested with another cake box of heroin. A police search in the building she rented, led to the discovery of 31 kilograms of heroin.
The hauls caused a sensation and led to the New Year's Eve raid at Mount Lavinia, conducted jointly by Sri Lanka's Police Narcotic Bureau and the Special Task Force.
During the raid, packets, containers and luggage items filled with heroin were found everywhere in the house, said SP Gunasekara.
"The safe-house had been used to weigh and repack expired drugs … we believe the drugs were transported by sea and air."
On January 5, 2019, Bangladesh's Department of Narcotics Control detained a person named 'Choice Rahman' from a house at Dhaka's Uttara. Rahman was named in a case by the Criminal Investigation Department filed at Uttara West Police Station.
Full report at:
https://www.weeklyblitz.net/news/bangladesh-elite-force-arrests-5-linked-to-jihad-and-sri-lanka-drug-haul/
--------
"We continue to stay with the United States in Afghanistan": NATO SG
29 Jan 2019
The NATO Secretary General Jens Stoltenberg has said the alliance will continue to stay with the United States in Afghanistan.
Speaking during a press conference with the acting defense secretary of the United States Patrick Shnahan in Washington, Mr. Stoltenberg said "We continue to stay with the United States in Afghanistan. We welcome the talks with Taliban."
He said "Ambassador Khalilzad briefed all allies a few weeks ago, and the reason why NATO is in Afghanistan is to create a condition for peaceful solution to make sure that Afghanistan never again becomes a safe haven for international terrorists and to send a message to Taliban that they will not win on the battlefield, so they have to sit down at the negotiating table, and therefore we are encouraged by what we see now, the progress and — and talks with Taliban."
This comes as efforts are underway to revive direct peace talks between the Afghan government and Taliban group leaders to end the ongoing violence in the country.
The U.S. Special Representative for Afghanistan Reconciliation Ambassador Khalilzad had earlier said that significant progress has been made on vital issues during the 6-day talks with Taliban political leaders in Qatar.
Full report at:
https://www.khaama.com/we-continue-to-stay-with-the-united-states-in-afghanistan-nato-sg-03202/
--------
NDS Special Forces bust gang of foreign terrorists in Nimroz province
29 Jan 2019
The Special Forces of the Afghan Intelligence, National Directorate of Security (NDS) have busted a gang of foreign terrorists in western Nimroz province of Afghanistan. The National Directorate of Security (NDS) in a statement said one terrorist was killed during the operation and three others were arrested. The statement further added that the operation against the gang was conducted in Zaranj city based on intelligence tip off. The gang was led by terrorist leader Khadem and were originally hailing from Pakistan who were recently deployed to Zaranj city to plan and coordinate armed attacks in the city, NDS added in its statement. The leader of the terrorists Khadem was killed during the operation and three others identified as Esmatullah alias Hafiz son of Mohammad Ali, Abdul Shakoor alias Daman son of Saifullah, and Hamrazuddin alias Jahan Zeb son of Farzandullah were arrested, acording to NDS statement. The anti-government armed militant groups including Taliban have not commented regarding the killing of the foreign militants so far.
https://www.khaama.com/nds-special-forces-bust-gang-of-foreign-terrorists-in-nimroz-province-03204/
--------
Europe
Human rights court: Turkey didn't cooperate on murder case
30 January 2019
Europe's top human rights court has ordered Turkey to pay a fine to the relatives of a murdered Turkish Cypriot family after ruling it had failed to cooperate with neighboring Cyprus in investigating the 14-year-old crime.
The European Court of Human Rights said on Tuesday that Turkey hadn't made "the minimum effort required" to live up to its obligation to work with Cyprus in getting to the bottom of the 2005 killing of a Turkish Cypriot man, his wife and daughter.
The three were found shot dead on a highway in the internationally recognized, southern part of ethnically divided Cyprus.
The court found that Turkey failed to even respond to the Cypriot government's extradition requests for the murder suspects, who had crossed into the island's breakaway Turkish Cypriot north.
https://english.alarabiya.net/en/News/world/2019/01/30/Human-rights-court-Turkey-didn-t-cooperate-on-murder-case.html
--------
TV cast start fundraising page for UK Islamic school in hate crime attack
January 29, 2019
The former cast of a popular British television series have started an online campaign to raise money for an Islamic school which was targeted in racist attack.
Bahr Academy in the northern English city of Newcastle was broken into last week by vandals who spray-painted swastikas and anti-Muslim graffiti on the walls and threw copies of the Quran on the floor.
The school's building, which was bought by an Islamic charity in 2010 to be turned into a school, was the former set of TV series Byker Grove, which ran from 1989-2006.
The show's former artistic director Anna Magrath as well as former actors and crew members set up a Go Fund me page to help with clearing up the damage and improve security of the building.
"Newcastle is a peaceful city and we cannot allow a few mindless thugs to cause divides amongst us or represent us," a statement on the fundraising page read.
"To attack a place where children are supposed to feel safe is unacceptable."
Northumbria police, who said the attack happened between Thursday night and Friday morning, are treating the incident as a hate crime.
But the school's leaders have said they do not want the vandals to be punished.
Principal Muhammad Abdulmuheet revealed that the site had been frequently targeted by vandals since it was bought by Bahr academy. Still under restoration, the site is scheduled to be opened to students next year.
Mr Abdulmuheet said he wanted to speak with the vandals to say "we are not really what you might have thought we are".
He told the BBC: "We want to speak to you, so you can find out what we are about and teach you what Islam actually says, so you have a correct understanding of what we are trying to do in these places."
Nick Forbes, leader of Newcastle city council, condemned the attack and called the city to unite in the face of division.
Full report at:
https://www.thenational.ae/world/europe/tv-cast-start-fundraising-page-for-uk-islamic-school-in-hate-crime-attack-1.819535
--------
European Union denounces Bahrain ruling on Sheikh Salman
Jan 29, 2019
The European Union (EU) has censured a ruling by Bahrain's Supreme Court to uphold a life sentence for prominent opposition figure Sheikh Ali Salman as "a further step against dissenting voices."
Bahrain's highest court on Monday upheld life sentences issued against Sheikh Ali Salman, who is the secretary general of the now-dissolved al-Wefaq movement, and two senior al-Wefaq leaders, Sheikh Hassan Sultan and Ali Alaswad, in November last year on charges of spying for Qatar.
The final "verdict marks a further step against dissenting voices and undermines the residual chances for an inclusive political dialogue in the Kingdom of Bahrain," an EU spokesperson said in a statement on Monday.
Brussels also reiterated its "concerns over the increasingly limited political space in Bahrain."
Human rights groups have frequently said cases against activists in Bahrain fail to meet the fundamental requirements of fair trials.
"The European Union expects Bahrain to fulfill its international and national Human Rights obligations, including guaranteeing the right to a fair trial, in the interest of the long term stability of the country and its citizens," the statement added.
The Monday ruling was also condemned by Amnesty International, which described the verdict as another blow to the freedom of expression in Bahrain.
Thousands of anti-regime protesters have regularly held demonstrations in Bahrain ever since a popular uprising began in the country in mid-February 2011.
They are demanding that the Al Khalifah dynasty relinquish power and allow a just system representing all Bahrainis to be established.
Manama has gone to great lengths to clamp down on any sign of dissent. In March 2011, troops from Saudi Arabia and the United Arab Emirates were deployed to assist Bahrain in its crackdown.
Full report at:
https://www.presstv.com/Detail/2019/01/29/587101/EU-Bahrain-ruling-Sheikh-Salman
--------
Macron calls for inter-religious dialogue at end of Egypt visit
January 29, 2019
CAIRO: French President Emmanuel Macron on Tuesday held a surprise second meeting with his Egyptian counterpart Abdel Fattah El-Sisi after talks with the country's top clerics, ending a three-day visit aimed at boosting ties while raising human rights concerns.
Before traveling on to Cyprus for a summit of southern EU countries, Macron and El-Sisi held an unscheduled 45-minute meeting at Cairo airport.
Earlier, Macron met with Pope Tawadros II at St. Mark's Cathedral, the seat of Egypt's ancient Coptic Orthodox Church. They both stressed the need for "dialogue between religions."
"I decided that a new conference will be held in Paris to see how to act more effectively," he said, without giving details.
A diplomatic source said the French capital would host a forum on religious minorities in the Middle East, but without giving a date.
Macron visited the church adjacent to the cathedral that was the site of a December 2016 jihadist attack, which killed 29 people.
He also met in Cairo with Ahmed Al-Tayeb, the grand imam of Al-Azhar, the most prestigious seat of Sunni Islamic learning in Egypt.
Their talks centered on "the training of imams (prayer leaders) in France and the fight against the misguided vision of religion," the French presidency said.
Also on Tuesday, Macron lunched with civil society members "active in the areas of judicial protection of detainees, press freedom, gender equality and children's defense," the presidency said.
Full report at:
http://www.arabnews.com/node/1444021/middle-east
--------
France shifts stance on returning extremists as US withdraws from Syria
January 29, 2019
PARIS: France is preparing for the return of dozens of French extremists held by Kurdish authorities in Syria after the United States announced the withdrawal of its forces, its interior minister said on Tuesday, marking a shift in Paris' policy on the issue.
France, like other European nations, has been wrestling with how to handle suspected militants and their families seeking to return from combat zones in Iraq and Syria, as well as those in detention, after Daesh lost huge swathes of territory.
Government policy until now has been to categorically refuse to take back fighters and their wives. Foreign Minister Jean-Yves Le Drian has categorized them as "enemies" of the nation who should face justice either in Syria or Iraq.
"The Americans are disengaging from Syria and there are people who are in prison and held because the Americans are there and they will be released. They will want to come back to France," Christophe Castaner told BFM TV.
"I want all those who return to France to be put immediately into the hands of justice," he added, responding to an unsourced report by BFM that 130 French extremists wil be released in the coming weeks.
The Kurdish-led Syrian Democratic Forces, which have been backed by 2,000 US troops and air support from nations including France, are holding about 150 French citizens in north-eastern Syria, including 50 adults, according to military and diplomatic sources.
Excluding families, officials estimate 250 French extremists are still fighting in Syria, including 150 in the Hajjin area, one of the final bits of territory held by Daesh in eastern Syria, and 100 in Idlib province.
French officials in private say that they will have no choice but to change policy on citizens who went as jihadists to fight in the Middle East. Paris is already trying to repatriate minors on a case-by-case basis.
Washington's decision to withdraw from Syria quickly has left Paris fearing that French extremists will either disperse or fall into the hands of the Syrian government if the Kurdish-led forces strike a peace deal with the government in Damascus.
"Given the evolution of the military situation in north-east Syria, American decisions, and to ensure the safety of the French people, we are examining all options to avoid the escape and dispersion of these potentially dangerous people," foreign ministry spokeswoman Agnes von der Muhll told a daily briefing on Tuesday.
Full report at:
http://www.arabnews.com/node/1444031/world
--------
Turkish, Croatian ministers discuss security, migration
29.01.2019
Turkish and Croatian interior ministers on Tuesday discussed cooperation on security issues and fight against terror, said Turkish Interior Minister Suleyman Soylu.
Soylu and Croatian counterpart Davor Bozinovic met in Ankara and spoke to reporters after the meeting.
The Turkish minister said he discussed cooperation on security issues, fight against terror, irregular migration, anti-narcotics efforts and bilateral relations with his counterpart.
"In today's meeting, we had the chance to review our bilateral relations with Croatia in a comprehensive way," Soylu said.
He expressed hope that Croatia will consider carefully the "very important" issues for Turkey mentioned at the meeting, referring to Fetullah Terrorist Organization (FETO).
FETO and its U.S.-based leader Fetullah Gulen orchestrated the defeated coup of July 15, 2016, which left 251 people martyred and nearly 2,200 injured.
Ankara accuses FETO of being behind a long-running campaign to overthrow the state through the infiltration of Turkish institutions, particularly the military, police and judiciary.
Bozinovic, for his part, said there are around 4 million Syrians living in Turkey and he thanked and praised Turkey for hosting them.
Full report at:
https://www.aa.com.tr/en/europe/turkish-croatian-ministers-discuss-security-migration/1378475
--------
Africa
Alleged kids of Daesh terrorists to be returned to Tunisia
Jan 29, 2019
A delegation from the Tunisian government collected DNA from the alleged children of Daesh Takfiri terrorists in a bid to return them to their families in Tunisia, in the Libyan city of Misurata on Sunday.
Six children, who are currently living at a Red Crescent center in the city, arrived there from Sirte where Daesh was defeated in 2016.
Since then, according to children's supervisor Faisal Jalwal, 53 children of nine different nationalities have arrived at the Red Crescent center.
"They were suffering psychological and physical diseases. During that period the Red Crescent performed many medical operations including bone and plastic surgeries," said Jalwal.
The date when the children might be taken to Tunisia is yet to be set as their origin has first to be confirmed.
https://www.presstv.com/Detail/2019/01/29/587119/daesh-children-Tunisia
--------
Angola's Muslims long to be legally recognized
29.01.2019
Despite being one of the world's largest religions, Islam remains officially unrecognized in Angola.
The southern African nation has a population of nearly 30 million people, 75 percent of whom are Christians – most of them Catholics.
The country's Muslim population totals roughly 800,000, said David Alberto Ja, head of the Islamic Community of Angola.
"Although Islam has ancient roots in Angola, the spread of Islam began in the 1990s as massive immigration took place from the West African countries of Mali, Senegal, and Guinea, among others," Alberto Ja told Anadolu Agency.
He said religion in Angola had been affected by the particular reality of the nation – its political history marked by socialist ideology and years of civil war.
"Political and legal reforms were slow," he said.
"The former regime was not so open with Islam in particular and freedoms in general. Consequently, Muslims faced many challenges. One of the most controversial issues regarding religion is the Law on Religion."
Since 2004, the law has determined that for a religion to be recognized by the state, it must have more than 100,000 members and a presence in over two-thirds of the nation's territory.
In addition, a religious group must submit a minimum of 60,000 signatures to the government to have its congregation legalized.
"Islam is now a reality which cannot be denied," Alberto Ja said, adding that Muslims in Angola are in the process of collecting the 60,000 signatures.
He said this edict was passed just recently by Angola's National Assembly, reducing the minimum number from 100,000.
Optimistic on official legal status
In spite of the legal restrictions imposed by the government, Alberto Ja said he is optimistic about the future.
"I have to say that as a result of the current political reforms in Angola, Muslims are witnessing better relations with the state and society."
However, many lawyers view the legal requirements as a government tactic to limit freedom of religion and say it goes against the rights of religious and ethnic minorities.
Despite the lack of legal recognition, Muslims have been freely exercising their religion for many decades, and there are now 60 mosques in Angola, Mohammed Saleh Jabu, head of Islamic Religious Guidance/Irshad and Cooperation in Angola, told Anadolu Agency.
There are around 1,000 religious communities in Angola, of which only 84 have been legalized.
"We are free to exercise our religion, but the government has yet to recognize Islam as one of the official religions of the state, and that should change," said Jabu. "We are in the process of legalizing our religion."
Jabu said the Justice Ministry has recognized the Supreme Council of Angolan Muslims of Luanda and that other institutions would follow.
Call for cooperation
Jabu also called on Islamic countries to support the council.
"There is also a problem with the number of Islamic books in circulation because of the challenges of printing and distribution," he said.
Alberto Ja echoed Juba's call.
"We shall be grateful if in Islamic conferences held by Turkey, we could be informed too, considering the role the Turkish Republic plays in Islamic matters.
Full report at:
https://www.aa.com.tr/en/africa/angola-s-muslims-long-to-be-legally-recognized/1377577
--------
An Alleged Plot to Attack A N.Y. Muslim Settlement Highlights Online Conspiracy Theories
RICK ROJAS
January 30, 2019
HANCOCK, N.Y. — Deep in the dense woods near the Catskill Mountains, a settlement was started decades ago by Muslim families, many of them African-Americans from New York City, who were seeking to distance themselves from neighborhoods they saw as dangerous and laden with corrosive influences. Holy Islamberg was intended to be a refuge, a serene environment to pray and bring up children.
In the years since, the enclave's residents have forged relationships with state and local law enforcement, and made connections with their non-Muslim neighbors from nearby towns. They work alongside each other in medical clinics and offices. Their children are teammates in youth football and basketball games.
But residents of Islamberg have found that there is no such thing as a safe haven in the internet age.
Conspiracy theorists and anti-Muslim groups have sketched a false portrayal of the community as a hidden-away den of Islamic extremism. Last week, the police in Greece, N.Y., roughly 200 miles away, arrested four young people who are accused of amassing a stockpile of firearms and homemade bombs with plans to target the community.
The alleged plot was the second major one on Islamberg to be thwarted by the authorities in recent years.
The threatened violence reflects how Islamberg has become fodder for a pernicious part of the internet, one steeped in virulent hate and misinformation spread by websites like 4chan and Infowars, alongside baseless theories like Pizzagate and QAnon.
"These kids in Greece, they've never been to Islamberg," said Hussein Adams, chief executive of the Muslims of America and a resident whose family has lived in the community for three generations. "They go on the internet and they're fed all this fake news and all this misinformation, and they come up with a plan."
Mr. Adams and other residents said they subscribe to a faith based on love and respect.
And the local authorities said the swirl of online conspiracy theories about Islamberg were unfounded.
"They are law-abiding," said Maj. William McEvoy, the State Police commander in the region. "They are positive, solid members of the community."
Islamberg has about 200 residents, some from families who have lived here for two or more generations, and covers some 60 acres outside Binghamton, near the Pennsylvania state line and about 150 miles from New York City. It is set back off a bumpy road on private property, up steep slopes, past pastures and alongside a creek.
The winter conditions can be punishing, with snow and ice making the community even harder to reach. Still, residents have a spread of land offering enough room to build homes and a mosque and raise livestock and crops.
Islamberg was started around 1980 by a group of mostly African-Americans who converted to Islam in the 1960s and followed Sheihk Mubarik Ali Shah Gilani, a Pakistani cleric and founder of Muslims of America.
He encouraged his followers to flee large cities and build communes in rural areas where they could separate themselves from the crime and the violence they faced in their old neighborhoods and the decadence that, in his view, pervaded secular society. Over the years, his followers have set up about a dozen other villages similar to Islamberg, including ones in Virginia, Georgia and Tennessee.
The presence of a largely black community whose members wear Muslim garb has been conspicuous in the nearby small towns like Hancock that are populated with mostly white residents. Their arrival more than 30 years ago came with tension, but over time, the relationship warmed as residents of Islamberg became enmeshed in the broader community.
"We've never had a problem," said Nancy Furdock, who has lived in Hancock — "two mountains over" from Islamberg, she said — for nearly two decades and has become friendly with people who live in the enclave.
She corrected herself slightly, "We have a problem with outsiders."
"Why don't they come talk to us?" she added, referring to those who circulate conspiracy theories about Islamberg online. "We'll tell you what's going on, which is nothing."
In recent years, far-right Facebook groups have warned of an encampment governed by an oppressive form of Shariah law, which they claimed would encroach on broader society.
Documentary-style videos portrayed Islamberg as a jihadi training camp and terrorist sleeper cell, and people who present themselves as national security experts have published reports online alleging a culture of "militant brainwashing," forced marriages and doling out lashes and other forms of draconian abuse for violating its rules.
The community's critics seized upon an arrest, in 2017, of a 64-year-old man accused of stealing ammunition in nearby Johnson City, which led the authorities to find a storage locker stocked with powerful weapons.
Officials said at the time they had found "no indications there was a plan in place to commit an act of violence." Still, the case served as fodder for purveyors of disinformation, who peddled false stories claiming the weapons were bound for Islamberg, that President Donald Trump had ordered a raid and that investigators had uncovered "America's WORST Nightmare."
Trespassers have been found attempting to sneak into the community or to fly drones over the property to conduct their own investigations. And a recurring ride of bikers has rumbled past Islamberg's entrance in a caravan to alert the community to their vigilance.
"I don't believe the people inside here are peaceful and are standing for the same thing we stand for," Joseph Glasgow, an organizer of the demonstration, called a "ride for national security," told the crowd that had assembled in a parking lot before setting off for Islamberg in 2017.
The speculation about terrorism has inspired more than protests. In 2017, a Tennessee man, Robert Doggart, was sentenced to nearly 20 years in prison over a plot to recruit a militia and storm the enclave. In a phone call recorded as part of a federal wiretap, Mr. Doggart said, "I don't want to have to kill children, but there's always collateral damage."
The most recent threat of violence came last week after investigators in Greece, outside Rochester, thwarted an apparent plan concocted by a group who, officials said, had stockpiled 23 firearms and three homemade bombs.
Three men — Vincent Vetromile, 19, Brian Colaneri, 20, and Andrew Crysel, 18 — were arrested and charged with criminal possession of a weapon and conspiracy, and a fourth person, whose identity was not released because he or she is a minor, was charged as an adolescent with the same offenses.
It is unclear how the individuals were connected, but three of them had been Boy Scouts. In the days before the plot was uncovered, at least one of them, Mr. Vetromile, shared far-right memes and conspiracy theories about border security and a government scheme to seize weapons. The authorities also said that the defendants had corresponded using Discord, a group chat app created for video gamers that became popular with far-right activists.
Mr. Vetromile and Mr. Colaneri remain in custody, according to jail records.
"Just imagine having to wake up and tell your children of such a plot, tell your children that their life was in danger," said Rashid Clark, Islamberg's mayor.
Much of the scrutiny directed at Islamberg centers on the community's ties to Mr. Gilani, an elusive figure who became more widely known after the 2002 murder of The Wall Street Journal reporter Daniel Pearl in Pakistan. Mr. Pearl, who was reporting on a story about the so-called shoe bomber, Richard Reid, was seeking an interview with the sheikh when he was abducted. (The sheikh is not believed to have been involved in the plot, counterterrorism analysts said.)
Suspicion has also sprung from the community's purported association with an obscure Muslim group called Jamaat al-Fuqra, which is tied to the sheikh and has drawn the notice of law enforcement in the United States because of accusations of criminal activity beginning in the 1980s.
In 2002, after the gun-charge arrests of three people who the authorities said were part of Jamaat al-Fuqra, federal prosecutors described a "history of violence" involving the organization, including firebombings and murder. Islamberg's leaders have denied a connection to the group.
And an analysis published in 2008 in the CTC Sentinel, a journal published by the Combating Terrorism Center at West Point, concluded that there was no evidence proving Islamberg was part of a covert training operation. Instead, the report said, neither "the presence of weapons (or even arsenals), nor weapons training are particularly unusual phenomena in rural America."
The right-wing interest reflects "a certain amount of obsession that I don't see how it's possibly justified," William Rosenau, one of the authors of the Sentinel analysis, said last week. "I think the fact that the members are Muslim and almost all African-American is a source of a lot of the anxiety. I think it's straight up religious and racial fear."
Maj. McEvoy, the State Police commander in the region, said the story of Islamberg reminded him of his own: His mother had moved their family from Brooklyn to Binghamton for a change.
"They believe in education," Maj. McEvoy said. "They believe in hard work. They believe in raising their children with those goals in mind."
A day after the most recent plot emerged, nudging Islamberg back under the glare of outside attention, community officials organized a news conference in a hotel ballroom in Binghamton. There, its leaders once again had to challenge falsehoods about them. "Beautiful place to live, beautiful people to live with," said Cassandra Greene, who was among the earliest arrivals to Islamberg more than 30 years ago.
After the news conference, Mr. Adams of Muslims of America marveled at his community's resilience. He said he believed that the alarm and cynicism that has surrounded Islamberg had not seeped inside the community.
Indeed, he said, Islamberg has remained very much the same place his parents had sought, with tranquillity among residents and the latitude to live out their faith. To him, that was most evident in the mornings. The community rises well before sunrise. People wash their bodies and put on clean clothes and perfume. They step outside, on the land where they hunt and raise much of their own food.
Full report at:
https://www.post-gazette.com/news/nation/2019/01/28/Islamberg-plot-Muslim-enclave-New-York-online-conspiracy-theories/stories/201901280156
--------
Tunisian president accuses PM of secret pact for power
30 January 2019
Tunisia's president on Tuesday accused the prime minister of seeking power through a secret deal with an Islamist party, the latest sign of tension at the top ahead of elections.
Prime Minister Youssef Chahed had gained the backing of the Ennahdha party to stand in the presidential polls, President Beji Caid Essebsi said, quoted by Al Arab newspaper.
"Chahed wants to stay in power... Ennahdha has understood his ambition... They have pushed him to create a new party which divides power between them after the 2019 elections," said Essebsi, whose comments were verified by the presidency.
Chahed was appointed by Essebsi in 2016 but relations between the pair have strained in recent months, fuelling speculation the prime minister will run in this year's presidential election.
For his part, 92-year-old Essebsi indicated he would not seek a second term.
"My ambition is not to stay president for life. I am not in favour of a president for life," he said.
Essebsi's claim of a private pact by Chahed comes as the premier prepares for elections with a progressive platform -- the Tahia Tounes movement -- described as being in opposition to Ennahdha.
Its political stance is similar to that of Essebsi's secularist Nidaa Tounes, which won the 2014 elections and formed a coalition with Ennahdha that lasted four years.
Full report at:
https://english.alarabiya.net/en/News/north-africa/2019/01/30/Tunisian-president-accuses-PM-of-secret-pact-for-power-.html
--------
Sudan security chief orders release of detained protesters
January 29, 2019
KHARTOUM: Sudan's security chief has ordered the release of people detained during weeks of anti-government protests, the Information Ministry said on Tuesday, as demonstrations continued in several cities.
The ministry was confirming reports by activists that Salah Abdallah Mohamed Saleh, the head of Sudan's National Intelligence and Security Service (NISS), visited a prison in the capital Khartoum and said arrested protesters would be freed.
No further details were available. Hundreds of protesters, activists and opposition figures have been arrested since protests began to spread across Sudan on Dec. 19.
The demonstrations, triggered by a worsening economic crisis, have called for an end to the rule of President Omar Bashir who has been in power since 1989.
Police used tear gas on Tuesday to disperse dozens of demonstrators in Khartoum's Burri neighborhood and hundreds who gathered in its twin city of Omdurman, witnesses said.
"It may take months, but I'm confident we will succeed," said Reem, a 25-year-old housewife facing off against clouds of tear gas in Omdurman. Hundreds also demonstrated in the Red Sea city of Port Sudan and chanted anti-government slogans.
Tuesday's demonstrations, called by unions and opposition activists, fell on the anniversary of the 2005 killing of protesters in Port Sudan during an earlier period of demonstrations against Bashir's long rule. Protests also took place there.
The latest rallies were the largest in several days, as Sudanese have taken to demonstrating in local squares and neighborhoods sometimes blocked off with cars or makeshift barricades.
The current wave of protests began on Dec. 19 in opposition to surging prices and a failing economy, but quickly shifted to calls for an end to Bashir's nearly three-decade rule.
A devaluation of the currency in October pushed up prices, but lifting state subsidies on bread last month proved to be the final stroke, sparking the unrest. A cash crunch also led to long lines at ATMs and limits on cash withdrawals. Similarly, a fuel shortage meant hours-long waits at gas stations.
Full report at:
http://www.arabnews.com/node/1444016/middle-east
--------
Arab World
Captured Irish jihadist tells of dying days of 'caliphate'
Jan 30, 2019
HASAKEH: From detention in northern Syria, alleged Irish jihadist Alexandr Bekmirzaev describes hunger and fear as missiles pounded down on the last shreds of the Islamic State group's "caliphate".
"I thought we were going to die from the starvation," the Muslim convert, 46 this year, told AFP in English, captured after fleeing the extremist group's crumbling last pocket in eastern Syria.
Bekmirzaev said he fled into territory held by Kurdish-led forces, who detained him along with four other alleged foreign jihadists late last month.
Backed by air strikes of the US-led coalition, the Syrian Democratic Forces (SDF) have since September been whittling down the last IS holdout near the Iraqi border.
Brought in for an interview by the Kurdish People's Protection Units (YPG) who are still interrogating him, the detainee described watching the IS stronghold collapse around him.
The hundreds of suspected jihadists captured by the SDF are usually keen to be sent home.
The Kurdish administration in northeastern Syria also wants to send the prisoners back for trial, but governments in their countries of origin are often reluctant.
France said Tuesday for the first time that French jihadists held by Kurdish forces in Syria could be allowed to return home.
"We are examining all options to avoid the escape and scattering of these potentially dangerous individuals," the French foreign ministry said.
Bekmirzaev was detained by SDF forces on suspicion of being a fighter trying to blend in with fleeing civilians, with the aim of escaping and then setting up IS sleeper cells to carry out further attacks.
He insisted he had never carried a weapon for Islamic State -- but his claim could not be verified by AFP.
Since summer, there had been "bombing, bombing, bombing" on a near-daily basis, said Bekmirzaev, who was born to an Uzbek father and Belarusian mother.
With the so-called Hajin pocket encircled by the SDF, there was no flour in the market, and meat was prohibitively expensive, he said.
Bekmirzaev said he, his wife and five-year-old son were forced to eat bread made with wheat husks, what little the neighbours gave them, and sometimes grass.
"Vegetables? You wish. There is nothing, absolutely nothing. This is grass we eat," said the bearded man.
As US-backed fighters advanced inside the jihadist pocket, taking village after village, Bekmirzaev and his family were forced to flee deeper into jihadist-held territory.
"I left my home because the SDF approach probably around 800 metres from my house" in the village of Kishmeh, he said.
He and his family fled south along the eastern banks of the Euphrates River to the village of Al-Shaafa, he said, where they slept in a mosque.
From there, they again escaped in a large group including women and children, guided by a young man who helped them avoid landmines.
We thought, "if we go as a big group, it will be less dangerous, because they will see so many people, specially with the kids, kids crying," he said.
Bekmirzaev says he has been in Syria for five-and-a-half years, his Belarusian wife and son a little less.
He claims he never intended to fight for IS and worked as an ambulance worker for around a year in 2014-2015, but it is not clear what he did after that.
He also says an IS commander confiscated his passport, and he had already been thinking of escaping the jihadists with his family from as early as 2015.
Bekmirzaev says he converted to Islam in his early twenties in Uzbekistan, after a troubled period "drinking a lot, taking drugs" following a brother killing himself.
He then lived and worked in Ireland for more than a decade, selling menswear and as a nightclub bouncer, before becoming an Irish citizen in 2010.
But in 2012, a year after Syria's war started with the brutal repression of anti-regime protests, he lost his job.
He says he plunged into depression, to the backdrop of endless news reports about the conflict in Syria.
"I thought, 'I need to help to the Muslims' so I decide to come here," in September 2013, he said. Four months later, his wife and then 10-month-old son joined him.
IS overran large parts of Syria and neighbouring Iraq the following year, and the group's leader Abu Bakr al-Baghdadi proclaimed a "caliphate" there.
But the jihadist group has since lost most of that territory to various offensives, and is down to its last fighters in what remains of its eastern holdout.
Bekmirzaev now describes his decision to come to Syria as a "mistake".
Disillusioned, he asked where the group's elusive leader was.
"Where is this guy called Abu Bakr al-Baghdadi? Where is he? This is my question," he said.
"I didn't do anything," he claimed. "I want to go back to my country. I hope they won't abandon me."
https://timesofindia.indiatimes.com/world/middle-east/captured-irish-jihadist-tells-of-dying-days-of-caliphate/articleshow/67750588.cms
--------
Several Terrorists Killed in Suicide Attack by Rival Group in Idlib
Jan 29, 2019
"A suicide bomber detonated his suicide vest in the command center of Tahrir al-Sham in the Center of Idlib City," a local source in Idlib said.
The source reiterated that several Tahrir al-Sham terrorists were killed and many more were wounded in the explosion.
Meantime, Tahrir al-Sham declared a state of emergence and besieged the area.
In a relevant development in October, two notorious commanders of Tahrir al-Sham Hay'at and National Liberation Front (NLF) were killed in a bomb and gun fire attacks by unidentified raiders in Southern Idlib.
Abdulhamid al-Azo, a field commander of NLF, was killed in a bomb blast along a road connecting Dayer Sharqi to Ein Qari'a in Southern Idlib.
In the meantime, Abu Osama al-Terablosi, a notorious commander of Tahrir al-Sham, was gunned down by unknown raiders near the town of Ma'arat al-Nu'aman in Southern Idlib.
Meanwhile, a number of NLF fighters were killed or injured after a bomb went off near their base in the town of al-Artab in Western Aleppo.
Infighting and assassination operations have increased further in Northern Syria after the endorsement of the Sochi Agreement by Russia and Turkey that ruled for the establishment of a demilitarized zone in Idlib.
Sources close to the armed groups operating in the provinces of Aleppo and Idlib told al-Watan newspaper on Friday that al-Nusra and other terrorist organizations, including the Turkistan Islamic Party and Horas al-Din, would not leave the demilitarized zone as they had not received insurances for the security of their foreign members from Turkey.
They specified that some of the foreign contract fighters were denied access to their home countries.
According to the sources, Ankara failed to provide these guarantees as it is concerned over the foreign contract fighters' possible fleeing to Turkey and the consequent deterioration of the security situation there.
Full report at:
http://en.farsnews.com/newstext.aspx?nn=13971109000810
--------
Al-Qaeda's advance in northern Syria threatens fragile truce
January 30, 2019
BEIRUT: It only took a few days for Al-Qaeda-linked militants to seize more than two dozen towns and villages in northern Syria from rival insurgents earlier this month, expanding and cementing their control over an area the size of neighboring Lebanon.
The advance by Hayat Tahrir Al-Sham, or the Levant Liberation Committee, was the most serious blow yet to a September cease-fire brokered by Russia and Turkey that averted a major government offensive in Idlib province, the last main stronghold of the Syrian opposition.
It highlighted the growing threat posed by Al-Qaeda at a time when its rival, the Daesh group, is on the verge of defeat and the US is preparing to withdraw its 2,000 troops from Syria. Although HTS has formally severed ties with Al-Qaeda, experts say it is still closely linked to the global network founded by Osama bin Laden and could use its base in Syria to launch attacks in the West.
Fawaz Gerges, professor of Middle Eastern politics at the London School of Economics, says there is a "real danger" that the group's advance "will not only worsen the humanitarian crisis for the 3 million inhabitants there, but also give (President Bashar) Assad and his allies the justification to assault the province."
"Such a scenario would be as devastatingly bloody as the battle for Aleppo," he said, referring to the months of heavy fighting over Syria's largest city in 2016, which killed thousands of people and ended with government forces and their allies capturing the rebel-held east.
HTS includes large numbers of battle-hardened Al-Qaeda fighters, and its capture of most of rebel-held Syria could force aid agencies to withdraw, leaving tens of thousands of civilians to fend for themselves. The opposition's Free Aleppo Medical Directorate said that some 250,000 people will lose medical support after 43 facilities it runs cease operations due to a drop in aid from Western agencies after the latest HTS offensive.
The government has meanwhile stepped up its bombardment of Idlib and neighboring rebel-held areas. Pro-government media say Defense Minister Gen. Ali Ayoub and Brig. Gen. Suheil Al-Hassan, who commands the elite Tiger Force, have recently visited the front lines with Idlib, raising fears of a new government offensive.
HTS now controls an area of about 9,000 square kilometers (3,475 square miles) or about 5 percent of Syria's territory. The area is home to some 3 million people, many of whom have been displaced from other parts of the country.
Turkey has nearly a dozen observation posts in Idlib, but has shifted its focus further east, where it is preparing to launch an offensive against Syrian Kurdish forces.
Ankara, which supports the opposition, fears the Syrian government is trying to undermine the September agreement. Russia, a key ally of the Syrian government, has urged Turkey to act more resolutely in reining in militants in Idlib, who have launched attacks on Syrian government forces and the Russian military. Russia said last week that the escalation of hostilities in Idlib threatens the Russian air base in the neighboring coastal province of Latakia.
The first 10 days of January turned rebel-held parts of northern Syria upside down.
The powerful Nour el-Din el-Zinki rebel group dissolved itself after days of fighting with HTS during which it lost more than two dozen villages. The ultraconservative Ahrar Al-Sham, one of the largest groups in northern Syria, also surrendered following attacks by HTS.
Two other groups, Thuwar Al-Sham and Bayareq Al-Islam, handed over Atareb, an important stronghold in Aleppo province, to HTS and withdrew north toward a region held by Turkish troops. Jaysh Al-Ahrar handed over its checkpoints and said it would recognize the HTS-run civil authority.
A week after HTS crushed its opponents, a bomb targeted one of the Al-Qaeda-linked group's checkpoints at the southern entrance to Idlib, the provincial capital. The blast killed 11 people, including militants, and wounded several others.
Days later, HTS claimed that it captured 12 members of the Daesh group who were allegedly behind the bombing. The group then released a graphic video like those produced by IS that showed the men being led to the scene of the blast and forced to kneel, blindfolded, before a line of gunmen. The video cuts out before they are shot in the back of their heads.
After the advance by HTS, which now controls a border crossing with Turkey and major highways, some international aid agencies suspended their work for fear of reprisals. HTS has been known to crack down on independent groups and civil society in areas under its control.
Mohammed Hajj Omar, who heads the opposition's health department in Aleppo province, said 250,000 people will be immediately affected and more than 3 million at a later stage.
UN spokesman Stephane Dujarric said earlier this month that the United Nations was still providing aid to the region.
He added that while the "full implications" of the HTS takeover were not yet clear, the UN and its partners "are closely following developments to ensure that independent, impartial and principled humanitarian action continues."
The Soufan Center, a New York-based think tank, said the HTS takeover "alters the trajectory of the next phase in the civil war, tipping the balance of power in favor of the Assad regime."
Full report at:
http://www.arabnews.com/node/1444241/middle-east
--------
Daesh fighters pinned in tiny Syria enclave with families
January 29, 2019
QAMISHLI, SYRIA: Daesh fighters in eastern Syria are pinned down in a final tiny pocket with their wives and children, forcing a US-backed militia to slow its advance to protect civilians, the militia said on Tuesday.
An aid agency said separately that 10,000 civilians had fled the enclave since last week and were arriving hungry and desperate at a camp.
The Kurdish-led Syrian Democratic Forces, which have been backed by 2,000 US troops and air support, are preparing for a final showdown with Daesh in eastern Syria after helping to drive the fighters from the towns and cities that once formed the group's self-proclaimed caliphate.
SDF spokesman Mustafa Bali said Daesh fighters were now confined to a pocket of just 5-6 square km (around 2 square miles) by the Euphrates River. The presence of their wives and children meant the US-backed militia could not launch an all-out storm of it, and was using slower, more precise tactics instead.
"There are thousands of Daesh families there. They are civilians at the end of the day," Bali told Reuters. "We cannot storm the area or put any child's life in danger."
The SDF had refused an offer from the militants via mediators to surrender the territory in return for safe passage out, Bali said.
Clashes had slowed because of the presence of the civilians, and "precise operations" were taking more time. "Calm prevails on the frontlines but there is a state of caution and waiting."
The International Rescue Committee (IRC) charity said it was helping tend to a sudden influx of more than 10,000 people, almost all women, children and elderly, who had arrived at a camp in northeast Syria since last week.
Most were exhausted, extremely hungry, and thirsty as they fled Daesh territory, the global aid agency said. Many arrived barefoot. The UN confirmed that 12 young children had died after reaching the Al-Hol camp or on the dangerous journey there, the IRC added on Tuesday.
The SDF, spearheaded by the Kurdish YPG militia, has seized much of north and east Syria with US help. It has been battling Daesh remnants near the Iraqi border for months.
Last month, US President Donald Trump declared that Daesh had been defeated and announced the abrupt withdrawal of the US troops, over objections of top advisers including Defense Secretary Jim Mattis who quit in protest.
The SDF vowed to escalate its operations against Daesh this month after a bomb attack killed several people including two US soldiers in northern Syria. SDF officials have warned of a Daesh revival if Washington withdraws.
Full report at:
http://www.arabnews.com/node/1444046/middle-east
--------
Egypt Arrests 54 Muslim Brotherhood Members
29 January, 2019
Egypt announced Tuesday the arrest of 54 members of the banned Muslim Brotherhood group.
The Interior Ministry charged that the suspects were plotting to foment chaos on the anniversary of the 2011 uprising.
"Information has become available ... that escaped leaders of the (Muslim Brotherhood) were implementing a plot to create a state of chaos in the country during the months of January and February, to coincide with the anniversary of the 25 January revolution," it said in a statement.
It identified the Brotherhood figure behind the planned attacks as Yasser al-Omda and said he had set up an organization called Allahuma Thawra.
Members of the group were planning to "cut roads, disrupt traffic, and try to spread chaos and terrify citizens", it added.
The statement did not identify any of those arrested, but said legal measures were being taken against them in coordination with the state security prosecutor.
Full report at:
https://aawsat.com/english/home/article/1567596/egypt-arrests-54-muslim-brotherhood-members
--------
Raqqa: Mass Grave of Victims Killed by ISIL Discovered by Syrian Army in Military Airport
Jan 29, 2019
The sources said that the mass grave contained 11 dead bodies of the Syrian army troops.
"The bodies belonged to the Syrian Army troops of Al-Tabaqa military airport who had been executed by the ISIL near the village of Jab al-Ghol in Southern al-Tabaqa in Southwestern Raqqa," a security source said.
This is while the ISIL had taken control over several villages and al-Tabaqa military airport in Southwestern Raqqa in 2014.
In a relevant development earlier this month, the dead bodies of over 800 civilians killed in the US-led coalition airstrikes and ISIL attacks were found in a mass grave in Raqqa.
The media activists disclosed that the new mass grave has been discovered in the village of al-Fakhikheh South of the city of Raqqa.
They underlined that between 600 to 800 corpses have been retrieved from the mass grave, and said that the newly-discovered mass grave was the 14th of its kind found in Raqqa City and its outskirts.
This is while Raqqa's civilian team also discovered more bodies of civilians, who were killed in the US-led coalition's airstrikes on Raqqa City, from under the debris of the destroyed buildings in districts of al-Tosayeh, Nazleh Shahadeh and al-Haramieh in Raqqa City.
Full report at:
http://en.farsnews.com/newstext.aspx?nn=13971109000723
--------
Aleppo: Ankara Continues Efforts to Annex Afrin to Turkey's Soil
Jan 29, 2019
The Kurdish-language Hawar News pointed to Ankara's efforts to occupy Northern Syria, and said the Turkish occupiers have so far issued over 2,000 ID cards for citizens of Afrin.
It noted that that the Turkish Army and its affiliated militants have driven the residents of Kouran Village in Jandaris region of Afrin out of their homes and instead replaced them with their affiliated militants.
The local sources in Afrin also pointed to the continuation of Ankara-backed militants' measures against civilians, and said that the militants have asked for a ransom of over $10,000 for releasing a physician they have abducted from Afrin region.
Meantime, the Ankara-backed militants have also plundered olive products worth over $100 million.
In a relevant development earlier this month, a number of the Ankara-backed militants were killed and wounded in a military raid by the Kurdish forces in Afrin.
The Kurdish fighters during their military operations against the Turkish Army and its affiliated militants in Afrin region pounded the Turkey-backed militants' positions and movements in the village of Khaleteh in Afrin region, killing at least eight militants of Sultan Murat and Jbahat al-Shamia as well as wounding three others, the Kurdish media Hawar News reported.
It noted that the Kurdish fighters' raid on the military positions of Farqa al-Hamza in the village of Kimar in Shirawa region killed four terrorists, including a terrorist commander and wounded three others.
The Kurdish militants also exploded a bomb in the command center of Faylaq al-Rahman terrorist group and the military police affiliated to Ankara in Marimin village in Shara region, killing four terrorists and wounding two others.
Several other Ankara-backed terrorists were also killed and wounded during the Kurdish fighters' military operations in Shara region.
In a relevant development also earlier this month, the Kurdish fighters during their military operations against the Turkish Army and its affiliated militants in Afrin pounded a military position of Ahrar al-Sham terrorists and Turkish army troops in Jandariseh region of Afrin, severely wounding two Turkish Army soldiers and five Ankara-backed militants, Hawar News reported.
It noted that five members of Farqa al-Hamza and Jbahat al-Shamia were killed and three others were wounded in three consecutive military operations by the Kurdish forces against the Turkish Army and Ankara-backed militants in the Center of Afrin as well as Shirawa and Shara regions in recent days.
Meantime, battlefield sources in Northern Aleppo reported that during the Syrian Democratic Forces' missile attack on a military position of the Free Syrian Army (FSA) in Kimar village in Afrin region, a terrorist was killed and five others were wounded.
Full report at:
http://en.farsnews.com/newstext.aspx?nn=13971108000764
--------
Iran, Syria must step up joint efforts in face of Western economic war: President Assad
Jan 29, 2019
Syrian President Bashar al-Assad says the recent signing of several agreements between Iran and Syria will pave the way for the two countries to boost their steadfastness in the face of an economic war being waged against them by certain Western countries.
In a meeting with Iran's First Vice President Es'haq Jahangiri in Damascus on Tuesday, Assad said Iran and Syria should make more joint efforts to thwart the plots of those countries, which are aimed at weakening the two countries, hindering their independent decision-making and breaking the will of their peoples.
He added that Iran and Syria have always stood by each other during hard times and called for Iranian state and private sectors to play a more active role in the reconstruction plans of the war-stricken country.
Assad was referring to the key economic agreements signed between the two countries on Monday in the presence of Jahangiri and Syrian Prime Minister Imad Khamis.
Detailing the agreements, the Iranian vice president said Monday that the two sides had come to "very important agreements on banking cooperation." The Syrian prime minister also announced that the countries had inked a "unique" agreement enabling long-term economic cooperation.
Elsewhere in his remarks, Assad emphasized that the Syrian government and nation have put up resistance against the terrorists wreaking havoc on the country since 2011, and will continue to do so until their total elimination, hailing the support of Leader of the Islamic Revolution Ayatollah Seyyed Ali Khamenei for the Arab country's fight against terrorism and foreign intervention.
Global security tied to Mideast peace: Jahangiri
The Iranian vice president, for his part, commended the Syrian government and nation for the great achievements they have made in their counter-terrorism battles.
He further said regional and international security is closely intertwined.
Had Daesh managed to establish a government in the Middle East, the Western countries would have witnessed more acts of terror, violence and inhumane crimes on their soil; therefore, the Westerners "must be grateful to Syria and the countries that have been on the frontline of the fight against terrorism," Jahangiri added.
The war in Syria "was not against the Syrian government and nation but the entire regional security and the resistance front. It was, however, defeated thanks to the wisdom and prudence of the Syrian government and people as well as the support of this country's friends," Jahangiri said.
The war started with the financial, intellectual and military support of the Western countries, particularly the US and some regional states, he added.
Heading a 40-member delegation, the Iranian vice president arrived in the Syrian capital on Monday on a two-day visit to hold talks with senior officials of the Arab country.
Iran is a key ally of Syria. Tehran has been providing military advisory assistance to Damascus in its anti-terror fight.
In a meeting between high-ranking delegations of Iran and Syria, co-chaired by Jahangiri and Khamis on Monday, the Iranian first vice president said the Islamic Republic is honored to be spearheading the anti-terror campaign in the region while felicitating the Syrian government and nation for their achievements in the fight against terrorism.
Full report at:
https://www.presstv.com/Detail/2019/01/29/587125/Jahangiri-Assad-terrorism-agreements-Iran-Syria
--------
Saudi anti-regime activist says escapes fate not unlike Khashoggi's
Jan 29, 2019
A Saudi political dissident says he avoided a destiny similar to that of renowned journalist Jamal Khashoggi, who was killed in the Arab kingdom's consulate in the Turkish city of Istanbul three and a half months ago.
Speaking in an exclusive interview with the Arabic news outlet Lebanon Debate, Maan al-Jaraba, the leader of the Saudi opposition group Harakat al-Karama (Movement for Dignity), said Saudi officials lured him into the country's embassy in Lebanon in September. Jaraba noted that he would have met a gruesome end in case he had not been accompanied by bodyguards.
One source close to Jaraba, who requested anonymity, later told Middle East Eye that the events occurred 10 days before Khashoggi was killed in Turkey on October 2, 2018.
The source highlighted that Saudi officials told Jaraba they wanted to speak with him to convince him to return to Saudi Arabia.
"After years of being blacklisted, Sheikh Maan was contacted by Saudi embassy officials in Beirut. They said they were ready to engage in talks to bring him back into the fold," the source said.
The official in charge of negotiations then suggested a face-to-face meeting with Jaraba following several phone conversations.
The Saudi dissident agreed, stipulating however that the meeting be held in a neutral public place, such as a restaurant or cafe.
"They talked about it at length and eventually scheduled a meeting in a building in Beirut belonging to the Saudi embassy," the source said.
Jaraba drove to the meeting place with three armed bodyguards on the day of the appointment. A more substantial security force was also on call nearby.
"The embassy officials who welcomed him were surprised to see the bodyguards," the source said. "They thought the sheikh would come alone, though they themselves were heavily guarded."
Jaraba's interlocutors tried to induce him to return to Saudi Arabia, where they claimed he would be "free" to pursue his work. The dissident turned down the offer, and the meeting concluded with promises of further appointments and talks.
A few days later, Khashoggi was murdered at the Saudi consulate in Istanbul.
Full report at:
https://www.presstv.com/Detail/2019/01/29/587157/Saudi-antiregime-activist-escapes-destiny-not-unlike-Khashoggis-Report
--------
Saudi soldier held prisoner by Houthi militia returns home
January 29, 2019
JEDDAH: Saudi soldier Musa Awaji has arrived back in the Kingdom after he was released by his Houthi captors in Yemen. Col. Turki Al-Maliki, spokesman for the Coalition to Support legitimacy in Yemen, said Awaji flew in to King Salman Air Base in Riyadh at 9:45 p.m. on January 29.
The Houthis agreed to release him because of the poor state of his health and their inability to provide suitable care for him. It followed a joint negotiation effort by the leadership of the coalition forces and Martin Griffith, the special envoy of the secretary-general of the United Nations to Yemen. In return, the coalition has agreed to release seven Houthi detainees.
Al-Maliki praised Griffith and the International Committee of the Red Cross for their efforts in responding to the calls of the coalition leadership for Awaji to be released due to the concerns about his health.
Full report at:
http://www.arabnews.com/node/1444126/saudi-arabia
--------
Abu Dhabi TV cameraman among 7 civilians killed in Yemen bomb
January 29, 2019
DUBAI: A bomb attack in a market killed seven Yemeni civilians including a cameraman for a UAE television channel in the government-controlled town of Mokha on Tuesday.
At least 20 people were wounded in the overnight blast in the Red Sea town, where pro-government forces backed by a Saudi-led coalition battling the Houthi militants are based.
The blast killed Ziad Al-Sharabi, a cameraman for Abu Dhabi TV and wounded Faisal Al-Thubhani, a correspondent for the same network, the official WAM news agency reported.
Abu Dhabi Media general manager, Dr Ali bin Tamim blamed the Houthi militia for the attack and said they have repeatedly targeted the media.
"This is not the first time that our frontline crews in Yemen have been exposed to Houthi violations and terrorist acts," he said. "We will not stop exposing their brutal crimes and terror acts in Yemen on all our media platforms."
The improvised explosive device was planted on a motorcycle parked in the middle of the market, an official in the pro-government forces said.
There was no immediate claim of responsibility for the attack, but the Yemeni government news agency Saba blamed it on the Iran-aligned Houthis.
The city of Mokha has enjoyed relative calm since government forces, backed by an Arab coalition that includes the UAE and Saudi Arabia, seized it from the rebels in July 2017.
Yemen's war was sparked by the Houthis decision to seize the capital Sanaa in 2014.
Full report at:
http://www.arabnews.com/node/1443801/middle-east
--------
Mideast
Israeli PM plans to boot TIPH observers protecting Palestinians out of al-Khalil
Jan 29, 2019
Israeli Prime Minister Benjamin Netanyahu has decided to expel an international observer group tasked with safeguarding Palestinians in the flashpoint city of al-Khalil (Hebron), in the occupied West Bank, claiming the mission is working against Israel.
Netanyahu announced in a statement on Monday that the mandate of the Temporary International Presence in Hebron (al-Khalil) would not be extended, saying, "We will not allow the continuation of an international force that acts against us."
The Israeli premier did not give further details on the alleged misconduct of TIPH, nor did he specify a date for ejecting the international mission.
TIPH is an international civilian observer group that, according to its mandate, "assists in monitoring and reporting efforts to maintain normal life in the city of Hebron, thus creating a sense of security among the Palestinians in Hebron."
It also reports alleged human rights abuses and violations of accords in the city between Israel and Palestinians. TIPH observers come from Norway, Denmark, Sweden, Switzerland, Italy, and Turkey.
The mission was deployed in al-Khalil following an agreement reached between Israel and the Palestinian Authority (PA) in 1994, when an Israeli settler killed 29 Palestinian worshipers at the Ibrahimi Mosque, which is revered by Jews, Christians and Muslims.
The group did not start its work in the city until 1998, after the Israeli military refused to leave al-Khalil following the establishment of an illegal Israeli settlement at the heart of the city.
TIPH's mandate is renewed every six months. Its latest mandate is due to end on January 31.
Netanyahu's decision 'unacceptable'
Palestinians have denounced Netanyahu's decision to expel the monitoring group as "unacceptable."
The decision "means it has abandoned the implementation of agreements signed under international auspices, and given up its obligations under these agreements, which is rejected and is unacceptable," Nabil Abu Rudeineh, spokesman for Palestinian President Mahmoud Abbas said Monday.
The official further called on "the countries sponsoring this agreement to take a clear stance" against Israel's plan and "immediately act to pressure" the regime into respecting international law.
This is proof for the international community that Israel does not respect international resolutions and agreements, he added.
'Israel has made life intolerable for Palestinians'
Meanwhile, leading Israeli human rights group B'Tselem said Tel Aviv "has imposed physical and legal segregation between the hundreds of settlers and the thousands of Palestinian residents" in al-Khalil.
"This, coupled with violence by settlers" and Israeli forces, "has made life intolerable for Palestinians, leading to a mass exodus and the economic ruin of the downtown area," said the group.
Since its deployment, TIPH has "observe(d) and report(ed) on breaches of the agreements (and) violations of international humanitarian law and international human rights law," B'Tselem said.
In December, Israeli daily Haaretz reported that a TIPH investigation of "40,000 incident reports" showed that Israel had violated international law by restricting Palestinian movements in the city.
More than half a million Israelis live in over 120 settlements built since Israel's occupation of the Palestinian territories of the West Bank in 1967. This is while much of the international community considers the settler units illegal and subject to the Geneva Conventions, which forbid construction on occupied land.
Also on Monday, Netanyahu visited Gush Etzion, a string of settlements and settlement outposts in the southern West Bank, pledging to continue his support for the Israeli settlers living there.
"They want to uproot us from here. They will not," Netanyahu said.
https://www.presstv.com/Detail/2019/01/29/587099/Israeli-PM-Netanyahu-TIPH-observers-alKhalil-West-Bank
--------
Houthi militia attacks UN and demining teams in Hodeidah
January 30, 2019
DUBAI: Houthi militants attacked members of the United Nations, Yemeni government liaison officers and an engineering team responsible for surveying and demining areas on Tuesday, Saudi state-news agency SPA reported.
"The engineering, government, and UN officers moved at 8 a.m. to the Red Sea Mills, and reached the 13 Kilo area by 9 a.m. when suddenly the group came under intense fire from the Houthi militia" Yemeni government spokesman Rajih Badi said.
"We have already coordinated with the UN representative, who in turn told the team that the Houthis promised him a cease-fire and allowed for demining," he added.
Badi explained that the liaison officer waited for the UN delegate to enter the Red Sea Mills, but the Houthi militia refused to allow the road to be opened.
http://www.arabnews.com/node/1444231/middle-east
--------
Syria and Iran sign 'strategic' economic agreement
29 January 2019
Syria and Iran signed 11 agreements and memoranda of understanding late Monday, including a "long-term strategic economic cooperation" deal aimed at strengthening cooperation between Damascus and one of its key allies in the civil war that has torn the country apart.
The 11 deals and memoranda of understanding signed on Monday covered fields including the economy, culture, education, infrastructure, investment and housing.
They were signed during the visit of Iran's First Vice President Eshaq Jahangiri to the Syrian capital.
Military pact signed in August
Iran and Syria had already signed a military cooperation agreement in August while Tehran has supported Damascus economically during the conflict through oil deliveries and several lines of credit.
The civil war has killed more than 360,000 people and displaced millions since it started in 2011 with the brutal repression of anti-government protests.
Full report at:
https://english.alarabiya.net/en/News/middle-east/2019/01/29/Syria-and-Iran-sign-strategic-economic-agreement-.html
--------
UN agency eyes $1.2 bln budget for Palestinians despite US cuts
29 January 2019
The UN agency for Palestinian refugees on Tuesday appealed to nations to help it maintain a $1.2-billion budget in 2019 after it was hit last year by the withdrawal of US funding.
The organization, known as UNRWA, was able to fully fund a budget of the same amount in 2018, despite a dramatic initial shortfall when the administration of US President Donald Trump announced it was withdrawing nearly all support.
"The campaign last year was successful," agency chief Pierre Kraehenbuehl told reporters in Geneva.
"We closed the entirety of the shortfall, which was an almost existential shortfall of $446 million, ... thanks to the remarkable and generous mobilization of member states" and others, he said.
The US, which was previously UNRWA's largest contributor, last year cut a full $300 million in funding to UNRWA, and has said it will not repeat the $60 million it did provide.
In the void, the European Union, followed by Germany and Saudi Arabia were the biggest donors, with a total of 40 governments providing funds to the UN agency.
Full report at:
https://english.alarabiya.net/en/News/middle-east/2019/01/29/UN-agency-eyes-1-2-bln-budget-for-Palestinians-despite-US-cuts.html
--------
Netanyahu's toughest ballot rival, ex-general Gantz, to break silence
29 January 2019
Prime Minister Benjamin Netanyahu's toughest rival in Israel's April ballot, former military chief and political enigma Benny Gantz, will set out his goals on Tuesday in a marker of the center-left opposition's prospects.
Polls predict a Netanyahu reelection, with his right-wing Likud party taking around 30 of parliament's 120 seats, and Gantz's Resilience party coming a distant second with around 15.
That would line Gantz up to join a future Netanyahu-led coalition government - unless the ex-general tries to mobilize like-minded factions against the incumbent, now in his fourth term.
Much depends on the ideology of Gantz's newly formed party. On this he has so far been silent. His campaign, meanwhile, has stoked his residual popularity from his term as top general with graphic ads claiming hundreds of enemy deaths in two Gaza wars.
But mindful of Israeli moderates, Gantz's image-makers also cast him in a softer light, releasing a video in which the tall, taciturn 59-year-old says "there is no shame in pursuing peace".
At a launch party on Tuesday timed to coincide with the evening TV news, Gantz was due to deliver his first political speech, with voters watching for combustible policy points like Israeli-Palestinian peace talks, frozen since 2014, or corruption allegations dogging Netanyahu.
Tamar Hermann, a scholar with the non-partisan Israel Democracy Institute, predicted Gantz would try to stay "very vague on certain topics: for instance 'yes to peace but Israel's security comes first'".
For Netanyahu to be defeated, Hermann said, Gantz would have to bring together disparate center-left parties.
"Anything can happen, but at the moment the most likely outcome of the election would be a (Netanyahu-led) center-right government," she said.
Likud has sought to write Gantz off as a "leftist", casting him as an untested whimsy candidate and no match for Netanyahu, 69, who is also defense minister.
As the election approaches, and facing possible indictment, Netanyahu has highlighted his handling of national security, publicly acknowledging Israeli air strikes against Iranian targets in Syria.
Martin Dempsey, a retired US army general whose tenure as chairman of the Joint Chiefs of Staff mirrored that of Gantz as Israeli armed forces chief between 2011 and 2015, told Reuters that he would bring "an open mind to change" and have the "instincts to build a team to solve the most urgent challenges".
Full report at:
https://english.alarabiya.net/en/News/middle-east/2019/01/29/Netanyahu-s-toughest-ballot-rival-ex-general-Gantz-to-break-silence.html
--------
Palestinians ask UN to deploy observer force in West Bank
29 January 2019
The Palestinians are asking the United Nations to deploy a permanent international force in the West Bank and east Jerusalem.
Tuesday's request comes a day after Israel said it was suspending operations of an observer force in the city of Hebron, after 20 years.
Palestinian official Saeb Erekat says the UN should "guarantee the safety and protection of the people of Palestine" until "the end of Israel's belligerent occupation."
Prime Minister Benjamin Netanyahu's office said it would not extend the mandate of the Temporary International Presence in Hebron, saying "we will not allow the continuation of an international force that acts against us."
Full report at:
https://english.alarabiya.net/en/News/middle-east/2019/01/29/Palestinians-ask-UN-to-deploy-observer-force-in-West-Bank.html
--------
Houthis blast Saudi regime's plundering of Yemeni oil resources
Jan 29, 2019
Yemen has denounced exploitation of the country's oil resources by the Riyadh regime in the provinces of Hadhramaut and Mahrah, where troops from Saudi Arabia and the United Arab Emirates are present.
The Yemeni Foreign Ministry affiliated with the Houthi Ansarullah movement said in a statement on Tuesday that Saudi Arabia was "desperately attempting" to take advantage of the "ongoing state of insecurity by plundering oil resources and pursing its illegitimate interests across the region."
The statement further explained that Saudi Arabia was committing a blatant violation of international law by transporting Yemeni oil to the Arabian Sea through a pipeline which extends from the Rub' al-Khali desert to Hadhramaut and Mahrah in the south of the country. It also called on the United Nations and other international organizations to counter through legal mechanisms the Saudi aggression, occupation and looting of Yemeni resources.
Elsewhere in the statement, the ministry demanded that the international community increase pressure on Riyadh and Abu Dhabi authorities to "respect and preserve territorial integrity and sovereignty of the Yemeni nation."
A series of documents obtained by some media outlets in August last year pointed to Saudi Arabia's intention to develop the port, which would extract and export petroleum. In a letter addressed to the kingdom's ambassador to Yemen, a Saudi-based marine construction company, Huta Marine, thanked the official for trusting the company's capabilities by asking it to present a technical and financial proposal for the port's design.
Yemen's southern areas are controlled by Saudi-backed officials of the former Yemeni government. Saudi Arabia has taken control over the provinces' seaports and airports, using them to deploy hundreds of troops in the region.
Experts say the pipeline would allow the kingdom not to be constrained to the Strait of Hormuz or the Bab el-Mandeb Strait, both strategic choke points that affect its current oil shipping routes.
Since the onset of the Saudi war on Yemen in 2015, the Houthis, who run state affairs in Sana'a in the absence of an effective government, have been defending the nation against the aggressors.
Full report at:
https://www.presstv.com/Detail/2019/01/29/587142/Saudi-Yemen-oil-houthis
--------
Yemen's Ansarullah movement sends ill Saudi soldier back home, draws UN praise
Jan 29, 2019
Yemen's Houthi Ansarullah movement has set free an ailing Saudi prisoner on humanitarian grounds, in a move that could boost ongoing UN-led efforts to end the bloody Saudi-led war against the country and broker peace there.
Head of Yemen's National Committee for Prisoners' Affairs, Abdulqader al-Mortadha, said on Tuesday that Ansarullah leader Abdul-Malik al-Houthi had ordered the release of the Saudi trooper, identified as Musa al-Awaji, "on compassionate grounds" due to his deteriorating health condition.
The soldier was repatriated by a plane belonging to the International Committee of the Red Cross (ICRC), according to the official.
Mortadha highlighted that the United Nations officials in addition to a number of tribal and social figures had approached Saudi authorities over the past two weeks in the hope of securing an urgent exchange of the sick Saudi soldier with a group of wounded Yemeni fighters, but to no avail.
Ansarullah, having witnessed the Saudi regime's utter disregard for the soldier and his worsening condition, decided to free him as a humanitarian gesture, the Yemeni official pointed out.
Ansarullah's move was praised by the United Nations' special envoy to Yemen, Martin Griffiths, who expressed hope on Twitter for "more similar humanitarian gestures from the parties" to the conflict in Yemen.
The UN official also said he looked forward to the implementation of a prisoner exchange agreement reached between Yemen's Houthi movement and the Saudi-backed regime of ex-president Abd Rabbuh Mansur Hadi during UN-brokered peace talks in Sweden last month.
The two warring parties have not yet agreed full terms of the prisoner swap deal.
The United Nations is working to facilitate the exchange as well as the implementation of a landmark truce deal, which was signed between the warring sides in Sweden for the main port city of Hudaydah, to set the stage for a new round of negotiations between the two sides.
More Saudi bloodshed
Separately on Tuesday, a civilian lost his life and another sustained injuries when Saudi military aircraft struck al-Mandala area in the Kushar district of Yemen's northwestern province of Hajjah.
Saudi warplanes also launched five airstrikes against an area in the al-Qaflah district of the northwestern Yemeni province of 'Amran. There were no immediate reports about possible casualties and the extent of damage caused.
Moreover, scores of Saudi-backed militiamen loyal to Hadi were killed and injured when Yemeni army soldiers and allied fighters from Popular Committees targeted them with bombs near al-Sadis military base in Saudi Arabia's southern region of Najran.
Saudi Arabia and a number of its regional allies launched a devastating military campaign against Yemen in March 2015, with the aim of bringing Hadi's government back to power and crushing Ansarullah.
According to a new report by the Armed Conflict Location and Event Data Project (ACLED), a nonprofit conflict-research organization, the Saudi-led war has so far claimed the lives of around 56,000 Yemenis.
The Saudi-led war has also taken a heavy toll on the country's infrastructure, destroying hospitals, schools, and factories. The UN has already said that a record 22.2 million Yemenis are in dire need of food, including 8.4 million threatened by severe hunger. According to the world body, Yemen is suffering from the most severe famine in more than 100 years.
Full report at:
https://www.presstv.com/Detail/2019/01/29/587128/Yemens-Ansarullah-movement-sends-ill-Saudi-soldier-back-home-on-humanitarian-grounds
--------
URL: https://www.newageislam.com/islamic-world-news/indian-government-tracking-theological-content/d/117600
New Age Islam, Islam Online, Islamic Website, African Muslim News, Arab World News, South Asia News, Indian Muslim News, World Muslim News, Women in Islam, Islamic Feminism, Arab Women, Women In Arab, Islamophobia in America, Muslim Women in West, Islam Women and Feminism