New Age Islam News Bureau
26 Sept 2017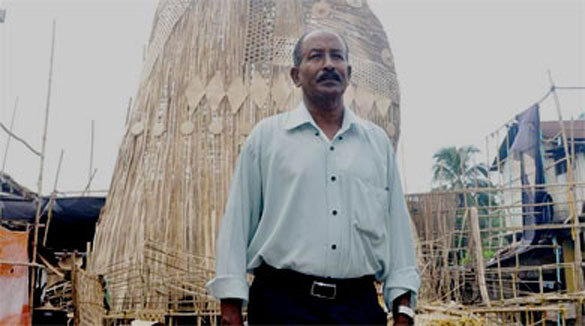 Artist Nuruddin Ahmed who designed the 100 feet height Goddess Durga made out of bamboo pose for photograph infront of the 100 feet height Goddess Durga in a Durga puja mandap ahead of the celebration of Durga puja at Bishnupur in Guwahati . Express Photo by Dasarath Deka
------
• Indian Extremist Preacher Nadwi Once Declared Allegiance to ISIS Chief Baghdadi
• Muslim World League, Vatican to Set Up Permanent Liaison Body
• Pakistan Plans to Regulate Weekly Sermons to Prevent Extremism
• Israeli Settlement Activities Go On Despite Security Council Resolution: UN
• Myanmar Lies at UN, Says No Ethnic Cleansing, Genocide against Muslims
India
• Indian Extremist Preacher Nadwi Once Declared Allegiance to ISIS Chief Baghdadi
• Muslim Artisan Completes Work on 101-Ft Durga Idol
• Amnesty: India's Rohingya need support, not expulsion
• India shows image of martyred Kashmiri Army officer at UN, says Pakistan's 'true face not hidden from anyone'
• Sushma's UN speech arrogant but there is terrorism in Pak: Chinese daily
• India seeks zero tolerance against terrorist safe havens
• Army foils infiltration bid along LoC, 1 terrorist killed
• Highlight equal partnership, says Ansari
---------
Arab World
• Muslim World League, Vatican to Set Up Permanent Liaison Body
• Iraq Kurds Defy Baghdad in Historic Independence Vote
• US-led strikes killed 84 civilians near Syria's Raqa
• Iraq's PM Abadi refuses talks with Kurds over independence vote results
• Qatar hosts Indian extremist who called for attack on Saudi Arabia
• Russian strikes in Syria's Idlib kill 37 civilians
• Iraq hangs 42 prisoners on death row
• Homs: Gov't Forces Tighten Noose on ISIL in Central Syria
• Heavy Infighting Erupts among Terrorists in Northern Syria
• Iraq starts major military drills with Turkey along common border
---------
Pakistan
• Pakistan Plans to Regulate Weekly Sermons to Prevent Extremism
• Intelligence Bureau Accused Of 'Protecting' Terrorists by One of Its Own Spies
• Four 'terrorists' killed during operations in Balochistan: ISPR
• Hostile agencies, some people living abroad want to destabilise Pakistan: Gen Bajwa
• Ahle Bait made great sacrifices for spreading the message of Islam: Syedna Mufaddal
• SPU official to collect data of Chinese nationals at Islamabad, Lahore airports
• JI and PPP reject Kaptaan's early election demand
Imran urges Trump to talk to Taliban
---------
Mideast
• Israeli Settlement Activities Go On Despite Security Council Resolution: UN
• Erdogan Slams Myanmar for Buddhist-Led 'Genocide' Against Muslims
• Palestinian PM to visit Gaza for reconciliation efforts
Iran closes border with Iraqi Kurdistan
• Three Israelis killed in suspected gun attack on West Bank settlement
• Turkey's Erdogan threatens Iraqi Kurds with army
• Iran to host 2nd edition of OIC's top science, technology award
---------
South Asia
• Myanmar Lies at UN, Says No Ethnic Cleansing, Genocide against Muslims
• UN Says Rohingya Must Not Be Forced To Move to Remote Island
• WHO warns of cholera threat in Bangladesh Rohingya camps
• Abdullah meets Karzai to discuss ongoing situation and new US strategy
• US drone targets ISIS vehicle in Nangarhar leaving 5 dead
---------
North America
• Muslim Civil Rights Groups Are FURIOUS About Trump's New Travel Ban
• US 'Deeply Disappointed' By Kurdish Secession Vote, Warns Of Instability
• Venezuela slams new US travel ban as 'psychological terrorism'
• Russian operatives used Facebook ads to exploit America's racial and religious divisions
• US-India ties should not affect relations with Pakistan: Mattis
• US hypocritical policies to blame for Russian general's death in Syria: Moscow
---------
Europe
• Growing Anti-Migrant Sentiment Worries Pope
• 'Daesh leader' in Germany to stand trial for radicalizing youth
• Head of controversial UK Muslim advocacy group convicted over counter-terrorism search
• Muslim surgeon forgives attacker after being stabbed outside mosque
• UK under pressure as US doubles strikes in Yemen
---------
Southeast Asia
• Turkish Author Mustafa Akyol Detained At KLIA, Says His Host
• Malaysian laundry washes hands off non-Muslims, but denies being racist
• Turkish Author Puzzled by Jawi's Action, Hopes To Return
• Indonesian Islamic State sympathiser gets life sentence for church attack that killed toddler
---------
Africa
• Sudan Promises More Efforts to Normalize Ties with US as Travel Ban Lifted
• 'Islam Conversion Saved My Life': Al-Qaeda Hostage In Mali Recounts Six-Year Desert Ordeal
Compiled by New Age Islam News Bureau
URL: https://www.newageislam.com/islamic-world-news/indian-extremist-preacher-nadwi-once/d/112666
---------
Indian Extremist Preacher Nadwi Once Declared Allegiance to ISIS Chief Baghdadi
25 September 2017
"From Salman al-Husseini al-Nadwi, one of the servants of Islam to the Commander of the Faithful, the Islamic State of Iraq and the Levant, Abu Bakr al-Baghdadi al-Husseini - may God preserve him - and benefit the nation and raise the flag of Islam. I have been closely and earnestly following the news of the Islamic State. I have also been observing the Afghan state of affairs from the days of the Jihad against the Soviets. It is clear that the different disputes between the fighting organizations in Syria disadvantaged us, yet amidst this turmoil you have offered glorious news. Indeed, it was found that you took over Mosul in Iraq and you achieved great victory over the tyrant al-Maliki."
Unexpectedly, the above mentioned quote is not one of the messages of Abu Muhammad al-Adnani, official spokesman of ISIS, but rather the words of Indian preacher Salman al-Nadwi who was hosted by the office of Yusuf Qaradawi in Qatar after the Sultanate of Oman deported him late last week.
Nadwi was expelled from Muscat for his numerous attacks and inflammatory allegations against Saudi Arabia and the rest of the Gulf Cooperation Countries and their respective governments. Views he outwardly conveyed during one of his lectures at the Faculty of Sharia Sciences in the Sultanate.
He further states in his speech to al-Baghdadi that: "I heard your speech at the Mosul Mosque two days ago, on Friday during Ramadan. Most of the Sunni tribes are allied with you and Jihadist organization are unwilling to fight against you, but know that I accept you as the legitimate Leader of the Faithful (Amir al-Mu'minin).
Nadwi's presence in Qatar comes as no surprise since he has always considered Doha an important place that embraced his preaching. He was the first to recognize the so-called "Islamic State in Iraq and the Syria", and to congratulate al-Baghdadi personally after the latter assumed the post of "Caliph".
Furthermore, Nadwi relayed, after being permitted to preach in Doha, in his address to the Ahmed bin Mohammed Military College students his congratulatory letter to al-Baghdadi. During which he praised the ISIS chief for the safe arrival of the Indian nurses to India stating that "upon arriving to India, the nurses attested to the good treatment they received and the exemplary conduct of al- Baghdadi's men"
Calling for an Islamic Caliphate
It might be difficult to pinpoint and delimit all of Nadwi's numerous views through his social media page or his speeches, yet it is clear that one of his most important and controversial demands would be his call for Saudi Arabia's government to host an "Islamic Caliphate" as well as the establishment of a global confederation of "jihadist" organizations, active around the world. He further claims that the creation of a Confederation of Islamic and jihadist organizations comes as an attempt to establish a dialogue between the different parties, and to institute common scholarly ground supervised by religion erudite, as a means to avoid, in Nadwi's words any form of negligence, excess or scarcity.
He went even further and called on Saudi Arabia not to refer to extremists as terrorists and to cease any attempt to arrest them since for him they represented but a "youth fighting for nobles causes."
Moreover, in his letter to the Saudi government, he called for the formation of an international Islamic army, and vowed to recruit himself 500,000 volunteers from the Indian subcontinent. He declared that the Saudi government would only have to "equip this young and strong Islamic army of Indian volunteers without having to resort to the weak youths of the Gulf countries bent on enjoying luxury and riches."
Nadwi controversially added: "Since the land of the Two Holy Mosques is the heart of the Muslim nation and the pole of the Muslim world, Jews and Christians must be removed by the Saudi government. There is no room for cursed Jews or misguided Christians within the Holy land."
On describing and praising al-Qaradawi
In a letter published on his social media account, the Indian preacher described Yusuf al-Qaradawi, who is but the grandson of an important political Islamic figure, namely "Abu al-Hasan Nadwi". He deemed him the "uncontested Imam of the Muslim world". Furthermore, addressing al-Qaradawi he stated that "All Islamic movements, groups and organizations from the Islamic world within the International Union of Muslim Scholars agree on the validity of your rule and leadership.
Those who accuse you of terrorism are but creatures of villainy and wickedness. In addition, the former Imam Abu al-Hasan Nadwi wrote only in praise of your person, sound judgment and words. "
Additionally, Nadwi encouraged a union of Turkish President Recep Tayyip Erdogan, Iranian President Hassan Rouhani and Emir of Qatar Sheikh Tamim bin Hamad Al Thani in order to form a common front in Syria, Iraq and Yemen.
He added: "The Islamic nation is undergoing a serious crisis in the Gulf states, particularly Qatar. The latter is viciously and wrongly targeted for hosting various Islamist figures, supporting Hamas, and other organizations including the Muslim brotherhood. On top of that, Qatar is insidiously accused of standing with Iran, whereas these allegations exist with the sole intention of making Qatar capitulate."
Different religious and cultural organizations within the Indian subcontinent denounced the views and calls promulgated by the preacher Salman Nadwi concerning the institution of an Islamic Caliphate as well as his open support for a leader of a terrorist organization, and even went as to demand the Indian authorities to withdraw the preacher's Indian nationality.
https://english.alarabiya.net/en/features/2017/09/25/Indian-extremist-preacher-Nadwi-once-declared-allegiance-to-ISIS-chief-Baghdadi.html
---------
Muslim World League, Vatican to set up permanent liaison body
Mohammed Al-Sulami
26 September 2017
JEDDAH: Following his meeting with Pope Francis in Vatican City, Muslim World League (MWL) Secretary-General Mohammed Al-Issa met with the head of the Pontifical Council of the Vatican, Cardinal Jean-Laurent Tauran.
The latter meeting was held in the presence of the secretary of the Council of Archbishops, Miguel Isosu, and Archbishop Khalid Akasha.
The meeting established a permanent liaison committee between the Vatican, represented by the Pontifical Council, and the MWL, to discuss various initiatives.
Tauran welcomed Al-Issa and his accompanying delegation, and said the meeting with the pope opened a new chapter of friendship and cooperation between the Vatican and the Islamic world in the face of global challenges and risks.
Al-Issa thanked the Vatican and Tauran, and expressed appreciation for the work undertaken by the Pontifical Council, which he said enhances coexistence and cooperation.
The MWL chief lauded the historic meeting with the pope, and his rejection of claims that Islam is linked to extremism and terrorism. Al-Issa said no religion espouses extremism, but none is free from extremist elements.
He said the MWL has communicated and cooperated with the Vatican via the Pontifical Council in all areas to achieve common goals, notably the spread of peace and harmony.
The MWL delegation visited the headquarters of the Community of Sant'Egidio, an international Catholic organization based in Rome.
The president and secretary of the dialogue committee briefed Al-Issa on the humanitarian work carried out by the organization inside and outside Italy.
The president expressed pleasure over the MWL's historic visit, which he said carries a new vision of peace and coexistence.
He said the Community of Sant'Egidio looks forward to opening new horizons with the East in religious and cultural spheres.
Al-Issa said the MWL is fully prepared to cooperate with the organization in all areas that serve cultural communication. In this context, he called for more cooperation between the two organizations.
http://www.arabnews.com/node/1167621/saudi-arabia
---------
Pakistan Plans to Regulate Weekly Sermons to Prevent Extremism
Sep 26, 2017
As pressure is mounting on Pakistan to do more to curb militancy emanating from parts of its territory, the country is planning to regulate Friday's sermons at local mosques where mullahs will preach on pre-approved religious topics.
The new effort is being touted as a means to tackle the growing problem of extremism that threatens the security of Pakistan and its neighbors. Some preachers, using Friday's sermons, try to persuade people to embrace jihad in other countries.
The initiative is in the form of a 13-point proposal under the National Action Plan, a policy adopted in 2015 to combat terrorism, sectarianism and intolerance in the country.
Ahsan Iqbal, Pakistan's interior minister, announced the plan to regulate sermons last week after leading a meeting on the growing challenge of youth radicalization in the country. The meeting reportedly was attended by the vice chancellors of major national universities.
A 'duty' to act
"It is our duty to undertake collective efforts to prevent our youth from accessing the material based on extremist ideologies. We have to ensure that our youth use social media only for education and healthy activities," Iqbal said, according to local Pakistani media.
Officials are optimistic that the new initiative will contribute to building a society based on coexistence, tolerance and peace.
"The government has been working to form the plan for quite some time now, and we really need it as a society," Sardar Yousaf, Pakistan's federal minister for religious affairs and interfaith harmony, told VOA.
"Renowned religious scholars from different sects … have agreed on a 13-point policy to regulate the Friday sermons in accordance to the [religious scripts]," Yousaf added.
A Muslim-majority country, Pakistan also is home to smaller faith communities, including Christians, which at times have decried intolerance and discrimination directed toward them because of their religious beliefs.
Vetting sermons
Most Muslims attend Friday prayers at their local mosques. With the prayer comes what is known as a khutba, or sermon, in which the preacher discusses a religious topic of his choice before the worshippers.
The freedom of choice allows the preacher to discuss any topic he deems important and with whatever interpretation he may have of that issue. The government's move apparently is aimed at vetting and regulating that selection process to ensure issues are properly preached about without indoctrinating or brainwashing followers.
"It's unfortunate that many local religious clerics promote extremist views from the pulpit, either on purpose or because they have inadequate knowledge of the religion," Yousaf said.
Numerous videos circulating on social media show some preachers motivating worshippers for jihad inside Pakistan, and in places like Afghanistan and Indian controlled-Kashmir.
"Friday prayer holds a special importance in our society. Unfortunately, there had been instances in the past where some of the mosques have used Friday sermons as a way to promote their hard stance, which has impacted the mindset of the population, especially the youth, and we need to counter it," said A.Z. Hilali, a political scientist from Pakistan.
Potential backlash
While the initiative to regulate Friday's sermons has been welcomed by different sects in Pakistan, the government seems to be wary of the potential backlash it could trigger from different religious parties and local clerics with huge followings.
But Yousaf told VOA the government was committed to implementation of the initiative.
"Once the plan takes its final form, it will be implemented without any hesitation," he said.
Recently, the government also has barred a number of religious clerics from entering the capital, Islamabad, for two months, accusing them of promoting sectarianism ahead of the Islamic month of Muharram, which coincides with the death anniversary of the Imam Hussain, the grandson of the Prophet Muhammad. Shi'ite Muslims around the world mourn his death every year.
https://www.newdelhitimes.com/pakistan-plans-to-regulate-weekly-sermons-to-prevent-extremism/
---------
Israeli settlement activities go on despite Security Council resolution: UN
Sep 26, 2017
The UN has said that Israel's settlement activities are continuing at "at a high rate," despite demands by the Security Council for the Tel Aviv regime to end its expansions.
"Israel's illegal settlement activities have continued at a high rate, a consistent pattern over the course of the year," said the UN envoy for the Middle East Nickolay Mladenov on Monday.
"Israeli officials continue to use provocative rhetoric in support of expansion," which is "is making the two-state solution increasingly unattainable," he added.
Mladenov made the remarks after an unnamed Israeli official told reporters that plans for the construction of 2,000 new settler units in the occupied West Bank are expected to be approved by the end of next week.
About 600,000 Israelis live in over 230 illegal settlements built since the 1967 Israeli occupation of the Palestinian territories of the West Bank and East Jerusalem al-Quds.
Palestinians want the West Bank as part of a future independent state, with East Jerusalem al-Quds as its capital.
A UN Security Council resolution passed last year condemned all Israeli settlement construction on the occupied Palestinian territories. The landmark Resolution 2334, passed on December 23, 2016, called the Israeli settlements in the West Bank and East Jerusalem al-Quds a "flagrant violation of international law." The resolution also called on Israel to stop all such construction.
http://www.presstv.ir/Detail/2017/09/26/536483/un-israel-settlement-high-rate
---------
Myanmar lies at UN, says no ethnic cleansing, genocide against Muslims
September 26, 2017
The envoy objected "in the strongest terms" to countries that used those words to describe the situation in Rakhine State.
Hau Do Suan used his "right of reply" at the end of the six-day gathering of world leaders at the General Assembly to respond to what he called "irresponsible remarks" and "unsubstantiated allegations" repeated by countries in their speeches to the 193-member world body.
He didn't identify any of the nations, though many spoke out about the plight of more than 420,000 Rohingya Muslims who have fled from Myanmar to Bangladesh since August 25, when Rohingya insurgent attacks on security forces prompted a military crackdown and reprisals by majority Buddhists.
Among those who accused Myanmar of trying to rid itself of Rohingya were Bangladesh Prime Minister Sheikh Hasina, UN Secretary-General Antonio Guterres, UN human rights chief Zeid Ra'ad al-Hussein, and a number of Islamic countries, including the United Arab Emirates.
Suan denied those claims.
"There is no ethnic cleansing. There is no genocide," he said. "The leaders of Myanmar, who have long been striving for freedom and human rights, will not espouse such policies. We will do everything to prevent ethnic cleansing and genocide."
He called the issue of Rakhine State "extremely complex" and urged UN member states and the international community "to see the situation in northern Rakhine objectively and in an unbiased manner."
Pointing to the initial attack by the insurgent Arakan Rohingya Salvation Army, known as ARSA, he said: "It is the responsibility of every government to fight against terrorism and protect innocent civilians."
The ambassador said there are several reasons for the exodus and "prominent among them is the fear factor." Following the August 25 attacks and the security operation, he said, "most of the women and children were forced to flee" while men were conscripted into ARSA to fight Myanmar's security forces.
"The scorched earth policy employed by the terrorists is another factor," Suan said. "The terrorists planted IEDs everywhere, blew up bridges, and committed arsons."
Amnesty International has said it turned up evidence of an "orchestrated campaign of systematic burnings" by Myanmar security forces targeting dozens of Rohingya villages. The human rights group released video, satellite photos, witness accounts and other data that found over 80 sites were torched and said as recently as Friday that fresh fires continued in Rakhine and that satellite and video images showed smoke rising from Muslim villages.
The Rohingya have faced persecution and discrimination in Buddhist-majority Myanmar for decades and are denied citizenship, even though they have lived there for generations. The government says there is no such ethnicity as Rohingya and argues they are Bengalis who illegally migrated to Myanmar from Bangladesh.
US Vice President Mike Pence last Wednesday lamented the "terrible savagery" of Myanmar's security forces and warned that the violence against the Rohingya will "sows seeds of hatred."
He called for an end to violence and a long-term solution and urged the UN Security Council to take "strong and swift action" and "to give hope and help to the Rohingya people in their hour of need." He did not specify what kind of action he was seeking.
The council, the UN's most powerful body, is scheduled to hold private consultations on Myanmar on Tuesday and an open meeting on Thursday.
Suan said humanitarian assistance is the government's top priority and in cooperation with the Red Cross it has started humanitarian assistance to the displaced.
He said a commission led by former UN Secretary-General Kofi Annan that called for economic development and social justice to counter deadly violence between Buddhists and Muslims in Rakhine has provided the government with "a clear roadmap" ahead.
http://www.thedailystar.net/world/rohingya-crisis/myanmar-rejects-un-ethnic-cleansing-genocide-claim-1467949
---------
India
Muslim artisan completes work on 101-ft Durga idol
September 26, 2017
Fifty-nine year old Nuruddin Ahmed has no problem making idols and images of Durga, or for that matter any other Hindu god or goddess. On Monday he completed a 101-foot tall Durga – which he believes is the world's tallest Durga image – with bamboo splits woven around bamboo poles, a typical Assamese rural craft, in the heart of Guwahati, hoping to get an entry into the Guinness Book of World Records.
"I have no issue over making idols, sculptures and images of Hindu gods and goddesses. In fact I have been making them since 1975, when I made my first Durga idol with clay, bamboo and straw in North Lakhimpur, for the local puja committee there. Since then I have been making Durga images and idols every year except in 1991 when a major health problem kept me down," Ahmed said.
He has used over 5,000 bamboo for the durga sculpture, and dozens of bamboo dola (bamboo trays used for cleaning rice), saloni (bamboo sieve), pasi and khorahi (different bamboo baskets) as also the well-known jaapi – the typical Assamese field hat – to complete his assignment.
Ahmed proudly speaks of using the mask-making tradition of the Vasihnavite satra institutions of Majuli island to give finishing touches to the Mother Goddess image for the Bishnupur Sarbajanin Durga Puja Samiti that has become the talk of the town here. Ahmed, and for that matter the local committee had a major on September 17 when a storm had pulled down the Durga sculpture that was almost complete. "But, with the blessings of the devi, I and my boys could put it back in shape in the last six days," Ahmed said.
"Some people, including a section of media are asking me funny questions about why I being a Muslim chose to make Durga idols and sculptures. I have grown up in the Assamese tradition where there is a lot of religious tolerance in comparison to most other parts of India. Chandsai, one of the principal disciples of Srimanta Sankaradeva, the greatest saint-reformer of mediaeval Assam was a Muslim," Ahmed said.
Ahmed, who had left a course in Art mid-way in the JJ College of Arts in Mumbai in the early 1970s, and returned to Assam to work in the state's film industry, has so far worked in over 100 films and has bagged several awards as an art director. He has also worked as an art director for several mobile theatre groups since 1976.
"It has been for the last seven years that I have been making the Durga idol for the Bishnupur puja samiti here. For 12 years I have been making the idol for the Kalibari at Bamunimaidam. I have a team of about 40 young men, both Hindus and Muslims, from villages in Nalbari and Kamrup districts," Ahmed said with pride.
"We are proud to have Nuruddin Ahmed with us for the last seven years. His work has put our puja on focus for the past several days," said Prashanta Bose of the Bishnupur puja samiti.
Ahmed, whose wife Junu Rajkhowa, a school teacher and NCC trainer, is a Hindu, and so also Sandhya, a Tamil Hindu girl who is his second son Deep's wife. "While I regularly go to the masjid, my wife is a devout Hindu who not only offers puja on a daily basis but also attends the naam-ghar throughout the month of bhada," he said.
Priests at the famous shakti-peeth of Kamakhya here too say they have no issues about a Muslim making a Durga idol. "We have no objection to a Muslim making idols of Hindu gods and goddesses. In fact Nuruddin Ahmed is not the first Muslim to have made such idols. There would be many such artisans all over Assam, and nobody has any problem. We even don't have problems if people of other faiths visit the Kamakhya temple, the original abode of the Mother Goddess," said Mohit Chandra Sarma, chief doloi of the shakti temple.
"Religious equations among the Assamese people are very interesting. The Assamese Muslim devotional songs which we call zikir and zari have numerous references to Hindu deities. I know of temples which have a particular day in the week designated for Muslim devotees," said Ranjib Sarma, a spokesperson of the RSS in Assam.
http://indianexpress.com/article/india/in-bjp-governed-assam-nuruddin-ahmed-makes-worlds-tallest-durga-puja-idol-bishnupur-guwahati-made-of-bamboo-4860511/
---------
Amnesty: India's Rohingya need support, not expulsion
Amnesty International has initiated an online campaign and petition calling for people's support to stop India's plan to deport thousands of Rohingya refugees living across India.
Characterising Rohingya refugees and asylum-seekers as illegal immigrants and deeming them "security threats" will expose them to grave risks if forcibly returned, the rights group said on Monday, while pushing the #istandwithrohingyarefugees campaign online.
Last week, India's government said it had evidence showing that some Rohingya in the country have ties to "terror organisations" and pose a security threat that justifies a mass deportation of the approximately 40,000 Rohingya.
"In terms of India's position, it is their legal and moral obligation to not allow the expulsion from happening," Arijit Sen, project manager at Amnesty International India, told Al Jazeera.
"They have been in India for a while, taking small steps, living their lives with dignity. If India has any security concerns, they should understand that not all of them can be viewed through one lens.
"These people are in danger back in Myanmar and need support."
India's Supreme Court is hearing an appeal lodged on behalf of Rohingya against the deportation plan proposed by Prime Minister Narendra Modi's Hindu nationalist government.
Al Jazeera tried to reach out to the ruling party office for a comment but a spokesperson declined to speak on the issue.
A majority of the Rohingya are Muslim, who have often been described as "the world's most persecuted minority".
They have lived for centuries in the Buddhist-majority Myanmar, where they have faced growing violence, with hundreds of thousands being forced to flee to neighbouring countries.
The Rohingya are denied citizenship in Myanmar and regarded as "illegal immigrants", despite claiming roots that date back centuries.
More than 800,000 Rohingya currently live in Bangladesh, nearly 600,000 arrived in the last year.
Muslims deported?
In a previous Al Jazeera story, Rohingya refugees in India said they were being targeted because they were Muslim.
"It fits into the larger policy that any Hindu coming from anywhere is welcome and can get a long-term visa, but if a Muslim is coming then there is a difficulty," Mohammad Haroon, who runs a small grocery store, told Al Jazeera.
Rights activists have criticised the government over a controversial citizenship law that includes a provision for welcoming refugees facing persecution. This provision specifies "Hindus, Sikhs, Buddhists, Jains, Parsis and Christians from Afghanistan, Bangladesh and Pakistan", but notably excludes Muslims.
"The Citizen Amendments Bill allowed persecuted people from the Hindu, Sikh and Buddhist faiths to get Indian citizenship, but Muslims were not allowed even if they were persecuted," Apoorvanand Jha, an academic and activist based in the Indian capital, New Delhi, had told Al Jazeera.
Full report at:
http://www.aljazeera.com/news/2017/09/amnesty-rohingya-india-support-expulsion-170925063519931.html
---------
India shows image of martyred Kashmiri Army officer at UN, says Pakistan's 'true face not hidden from anyone'
Sachin Parashar
Sep 26, 2017
NEW DELHI: After Pakistan described India as mother of terrorism in South Asia, India came up with a stunning rebuttal Monday with a young Indian diplomat accusing Pakistan of using fakes to embellish its false narrative on Kashmir and waving the photo of a martyred Kashmiri Indian Army officer to drive home India's point on cross-border terrorism perpetrated by Pakistan.
Paulomi Tripathi, secretary with India's permanent mission to the UN, held up together 2 photographs - one showing the army officer and the other of Pakistan's permanent representative to UN Maleeha Lodhi brandishing the picture of a Palestinian woman whom she had described as a Kashmiri - and declared, "True face of Pakistan is not hidden from anyone''. The army officer shown in the picture was Lieutenant Umar Faiyaz who was abducted and killed by terrorists in J&K's Shopian district. A 2007 batch IFS officer, Tripathi, who took on Pakistan's most experienced diplomat at the UN, is the junior-most Indian diplomat at India's permanent mission to the UN in New York which is headed by Syed Akbaruddin.
Tripathi was a deliberate choice to portray India as a storehouse of young talent, a point which foreign minister Sushma Swaraj too had sought to make as she ripped Pakistan apart over cross-border terrorism in her UNGA address. Tripathi handles human rights at the Indian Permanent Mission.
Read this story in Marathi
In view of Lodhi's cynical attempt to mislead the UN, a confident Tripathi said, India had been constrained to show the Assembly a photograph (of Faiyaz) that reflected the real picture of pain inflicted by the nefarious designs of Pakistan.
"This is a real and not a fake picture of Lt. Umar Faiyaz, a young officer from the Indian State of Jammu and Kashmir. Umar Faiyaz was kidnapped at a wedding celebration. He was brutally tortured and killed by Pakistan supported terrorists in May 2017,'' said Tripathi, as she displayed the photo of Faiyaz.
"This is a true picture. It portrays a harsh and tragic reality. A picture of terrorism emanating from across our borders that the people of India, especially in the state of Jammu and Kashmir have to struggle with, every day. This is the reality which the Permanent Representative of Pakistan sought to obfuscate,'' she added.
Tripathi accused Lodhi of yet again seeking to divert attention from Pakistan's role as the hub of global terrorism. ``She did so by callously holding up a picture of an injured girl,'' said Tripathi.
Lodhi, while exercising Pakistan's right to reply, had sought to counter foreign minister Sushma Swaraj's strong indictment of Pakistan's conduct on terrorism by displaying a picture of a woman she thought was a Kashmiri pellet gun victim.
As Tripathi said in her speech, it was actually a photograph of Rawya abu Jom'a, a girl from Palestine. The picture was taken on 22 July 2014 by an American photographer Heidi Levine. This photograph was published by New York Times on 24 March 2015 under the caption 'Conflict, Courage and Healing in Gaza'.
Full report at:
http://timesofindia.indiatimes.com/india/india-shows-image-of-martyred-kashmiri-army-officer-at-un-says-pakistans-true-face-not-hidden-from-anyone/articleshow/60832796.cms
---------
Sushma's UN speech arrogant but there is terrorism in Pak: Chinese daily
Sep 26, 2017
BEIJING: Terming as "arrogant" external affairs minister Sushma Swaraj's scathing attack on Islamabad at the UN for being the pre-eminent terror factory, a state-run Chinese daily in a grudging admission said "there is indeed terrorism in Pakistan".
"India and Pakistan became free within hours of each other. Why is it that today India is a recognised IT superpower in the world, and Pakistan is recognised only as the pre-eminent export factory for terror?", Swaraj said in her speech at the UN General Assembly.
"We established scientific and technical institutions which are the pride of the world. But what has Pakistan offered to the world and indeed to its own people apart from terrorism? We produced scholars, doctors, engineers. What have you produced? You have produced terrorists", she had said referring to terrorist groups like Lashkar-e-Taiba and Jaish-e-Muhammad.
However, Sushma's speech denouncing Pakistan riled up all-weather friend China, whose official media termed it as "bigotry".
"There is indeed terrorism in Pakistan. But is supporting terror the country's national policy? What can Pakistan gain from exporting terrorism? Money or honour," said an editorial in the state-run daily Global Times.
"With smooth development of its economy and foreign relations in recent years, an arrogant India has looked down on Pakistan and assumed a haughty air with China," said the editorial titled 'India's bigotry no match for its ambition'.
"She was also deemed by Indian media as having taken a veiled dig at China for blocking international efforts to blacklist Jaish-e-Mohammad chief Masood Azhar," the report said apparently referring to Beijing's blocking of India's efforts to declare Azhar as a terrorist by the UN.
The editorial also made references to the 73-day standoff between India and China at Doklam in the Sikkim section which ended on August 28.
Full report at:
http://timesofindia.indiatimes.com/india/sushmas-un-speech-arrogant-but-there-is-terrorism-in-pak-chinese-daily/articleshow/60834796.cms
---------
India seeks zero tolerance against terrorist safe havens
Sep 26, 2017
UNITED NATIONS: India has urged the UN Security Council to ensure that the first and foremost duty of the international community is to ensure that the forces of terrorism and extremism do not find sanctuaries and safe havens anywhere and at any level.
"We must not differentiate between good and bad terrorists, or play one group against the other. The Taliban, Haqqani Network, al-Qaida, Daesh, Lashkar-e-Taiba, Jaish-e-Mohammad and others of their ilk are all terror organizations, many of them proscribed by the UN," said Syed Akbaruddin, India's Permanent Representative to the UN.
"The international community cannot remain silent. It is the international community's first and foremost duty to ensure that the forces of terrorism and extremism do not find sanctuaries and safe havens anywhere and at any level," he said in an apparent dig at Pakistan.
Participating in an open debate of the UN Security Council on Afghanistan, Akbaruddin said that these terrorist groups should be treated like terrorist organisations with no justifications offered for their activities.
Noting that the situation in Afghanistan has remained particularly painful and disturbing with security worsening and visible signs of withering away of the gains by the international community and Afghan people, the top Indian envoy said that the incessant attacks on hospitals, schools, funerals, or international development agencies, diplomatic missions are a matter of serious concern.
"The multiple crises that have been inflicted on Afghanistan have made Afghan territory attractive for criminal and terrorist groups, who are well connected to international terror and crime networks.
"These groups are stealing the resources of Afghanistan which ought to belong to the people of the country," he said.
Afghan foreign minister Salahuddin Rabbani joined Akbaruddin in identifying terrorist safe havens across the border.
"The scourge of terrorism and violent extremism affecting Afghanistan is the product of a long-standing policy by a neighboring state to keep Afghanistan unstable," he said.
"It has menaced Afghanistan for several decades now, with its roots located in terrorist sanctuaries and safe havens outside of my country," Rabbani said, adding that the new strategy of the United States for South Asia has generated new hope among people across the country.
Afghans from all walks of life are looking to the future with renewed optimism that finally the threats of terrorism and extremism in Afghanistan and the wider region will be tackled appropriately.
"In this connection, we welcome the fact that the new strategy recognizes the critical need to address the lingering problem of terrorist safe-havens and sanctuaries in our region; and for more determined efforts to end political, logistical and financial support enjoyed by terrorist groups," he said.
"Furthermore, the strategy's conditions based approach has addressed some uncertainties by reinforcing the right message that the international community's engagement will endure until Afghanistan becomes stable and secure," Rabbani said.
Representing the European Union, Joanne Adamson, stressed that it is important that the international community remains strongly committed to accompany Afghanistan towards long-term peace, security and stability.
Eshagh AI-Habib from Iran rued that more than a decade after its invasion, Afghanistan, the region and the world is not any safer.
"I need to reiterate, once again that deteriorating security in Afghanistan has its deeper roots and cannot be addressed solely through military buildup as some suggest," he said.
Taliban and self-proclaimed Islamic State Khorasan Province or ISIL-KP continue their heinous attacks against the civilian population.
They are reinforcing and recruiting and undertaking complex attacks such as the attack on a Shia mosque in Herat on the first and 25 August that killed over 90 and 28 people respectively or August attack in Sar-e Pul province during which at least 36 people were killed, as in Herat, the majority of the documented casualties were Shia, he said.
"The proliferation of terrorist groups in the Afghan territory necessitates concerted international effort on counter-terrorism.
"The world needs to deal with this increasing threat in a comprehensive manner," the Iranian diplomat said.
The Turkish representative expressed concern over the deteriorating security situation and the presence of Daesh in the country.
Full report at:
http://timesofindia.indiatimes.com/india/india-seeks-zero-tolerance-against-terrorist-safe-havens/articleshow/60835473.cms
---------
Army foils infiltration bid along LoC, 1 terrorist killed
Sep 26, 2017
"An infiltration bid has been eliminated in general area Zorawar of Uri sector. One terrorist has been killed," an Army official said.
He said a weapon has been recovered from the site of the encounter. The operation is on and further details are awaited, the official added.
http://timesofindia.indiatimes.com/india/army-foils-infiltration-bid-along-loc-1-terrorist-killed/articleshow/60836101.cms
---------
Highlight equal partnership, says Ansari
SEPTEMBER 25, 2017
Subordinate condition of women in Muslim society is unethical, says former Vice President
The subordinate condition of women and misogyny in Muslim society are unethical and contrary to the tenets of faith and hence have to change, so that women can participate in the creation of a society that is humane, said former Vice President Hamid Ansari.
Opening the International Conference on 'The role of women in making a humane society' here on Saturday, he said that society should make efforts to produce equality of varying intensity rather than substantive equality.
Onus on parents
He stressed the importance of the nourishment, education and inculcation of a sense of equality in the girl children and that the principal responsibility was on the parents.
"The traditional societal bias towards patriarchal relationship in the family unit has to give way to relationship of equal partners," said Mr. Ansari. He also urged the families to encourage girls to participate in sports and to undertake physical training and yoga.
Earlier, with the help of a few statistics from the Human Development Report of UNDP in 2016, Mr. Ansari said that 34.7% rural and 19.8% urban Muslim women had never attended school while 19% and 11% respectively had illiterate husbands. Of those who went to school, less than 10% completed schooling. The Muslim women constitute 29% of the total women workforce in the country, he said.
The social mobility of Muslim women was also low. The report said that 75% of them needed their husbands' permission to engage in almost all activities and that most were unaware of the government schemes for their benefit.
The Chairman of the Institute of Objective Studies, the organiser of the programme, put across several ideas for the betterment of women in the community.
'Don't call them docile'
He said that the women should have the ultimate say in determining the size of the family and that assigning gender roles to women was not right. "Don't brand them docile and obedient. It limits their potential," he said.
Mr. Afzal Wani, Faculty of Law at GGS IP University, Delhi, in his key note address said that the conference was in fact an admission that the existing society, without the participation of women, was not humane, with all the bloodshed and atrocities happening around.
Mr. E. Aboobakkar, Chairman of Popular Front of India, announced that the organisation was planning to set up a women's study centre and Hasrat Ayisha Research Library in Kozhikode very soon.
Full report at:
http://www.thehindu.com/todays-paper/tp-national/tp-kerala/highlight-equal-partnership-says-ansari/article19750086.ece
---------
Arab World
Iraq Kurds defy Baghdad in historic independence vote
Sep 26, 2017
ARBIL, Iraq - Iraqi Kurds voted in an independence referendum Monday as tensions rose with Baghdad and neighbouring countries over the historic vote.
The referendum was proceeding peacefully but there were fears of potential unrest, especially after lawmakers in Baghdad demanded that troops be sent to disputed areas where the referendum was taking place.
As night fell, a curfew was imposed in parts of the disputed city of Kirkuk, police said. Iran and Turkey, which both worry it will stoke separatist aspirations among their own sizeable Kurdish minorities, were also increasing pressure on Iraq's Kurds, with Ankara saying it would shut its border and threatening to block key oil exports.
An overwhelming "Yes" outcome is expected, but the vote is non-binding and Kurdish officials have said there are no plans for an immediate declaration of independence. Voters were nonetheless flocking to the polls to pursue a long-cherished dream of statehood, and keen to show off their ink-stained fingers after casting their vote. Kurdish flags were festooned in all streets, on cars and outside homes across Iraqi Kurdistan. Voters headed to the polls early, many men dressed in traditional Kurdish dress of brown shirt and billowing trousers for the occasion.
"I came very early to be the first to vote for a Kurdish state," Diyar Abubakr, 33, said outside a polling station in regional capital Arbil. "It's a day of celebration today. That's why I've put on our traditional outfit, which I bought for the occasion," he said.
One voter even brought a cow to slaughter before the start of the referendum. "I brought this cow as today the state is born and it's tradition to slaughter a cow for a birth," said Dalgash Abdallah, 27.
Initial results are expected to be announced 24 hours after polls close. Veteran Iraqi Kurd leader Massud Barzani, who initiated the vote, cast his ballot early in the morning, smiling and wearing a traditional outfit.
Polling stations are scattered across the three northern provinces of autonomous Iraqi Kurdistan - Arbil, Sulaimaniyah and Dohuk - as well as in disputed border zones such as the oil-rich province of Kirkuk. In Sulaimaniyah, second city of the autonomous region, 40-year-old Diyar Omar came to cast his vote also wearing traditional clothes. "We will seize our independence through the polls," he said. "I'm so happy I could take part in this independence vote during my lifetime."
A total of 12,072 polling stations are open for more than 5.3 million registered voters. Left without a state of their own when the borders of the Middle East were redrawn after World War I, the Kurds see themselves as the world's largest stateless people.
The non-Arab ethnic group number between 25 and 35 million people spread across Iraq, Iran, Turkey and Syria.
Baghdad has declared the vote unconstitutional and parliament voted on Monday to demand Prime Minister Haider al-Abadi "deploy forces" in areas disputed with the Kurds.
Asked about the risks of armed conflict, Abadi's spokesman Saad al-Hadithi told AFP: "If there are clashes in these zones, it will be the job of federal forces to apply the law."
Karim al-Nuri, a head of the Badr Brigade which forms part of the powerful Hashed al-Shaabi paramilitary units, suggested the group was ready to deploy to "Kirkuk and the disputed zones occupied by armed gangs, outlaws who do not respond to the army command."
Kirkuk, home to Arabs, Kurds and Turkmen, has been a particular point of concern and late on Monday police said a curfew was being imposed in the centre of the city and in Arab and Turkmen areas "to ensure security, monitor the situation and protect the citizens of Kirkuk".
Abadi on Sunday pledged to take all the "necessary measures" to protect the country's unity, as his government urged all countries to deal only with it on oil transactions.
The Iraqi Kurds export an average 600,000 barrels per day (bpd) through a pipeline running through Turkey to Ceyhan on the Mediterranean.
Turkey's President Recep Tayyip Erdogan on Monday threatened to halt these oil exports, angrily denouncing an "illegitimate" referendum.
Erdogan also said Turkey's Habur border crossing with Iraqi Kurdistan would be closed.
He again urged Iraqi Kurdish authorities to take a step back and appeared to threaten a possible cross-border operation.
"In Iraq, when necessary, we will not shy away from taking these types of steps," Erdogan said, referring to Turkey's military operation launched last year in Syria against Islamic State group (IS) extremists and Syrian Kurdish militia.
Tehran has also increased pressure, announcing on Sunday it had blocked all flights to and from the region at Baghdad's request.
The foreign ministry in Tehran said its land border with Iraqi Kurdistan remained opened however, reversing an earlier statement.
The United States and other Western nations have raised concerns about the vote, saying it could hamper the fight against IS militants in which cooperation between Baghdad and the Kurds has been key.
http://nation.com.pk/international/26-Sep-2017/iraq-kurds-defy-baghdad-in-historic-independence-vote
---------
US-led strikes killed 84 civilians near Syria's Raqa
Sep 26, 2017
US-led coalition strikes near the militant Islamic State (IS) group's Syrian stronghold Raqa in March killed at least 84 civilians, including dozens of children, Human Rights Watch alleged Monday.
The group said the strikes hit two sites: a school housing displaced families in the town of Mansourah, and a market and bakery in the town of Tabqa.
It said witnesses acknowledged IS fighters had been present at both sites, but that large number of civilians were also there.
"These attacks killed dozens of civilians, including children, who had sought shelter in a school or were lining up to buy bread at a bakery," HRW deputy emergencies director Ole Solvang said. "If coalition forces did not know that there were civilians at these sites, they need to take a long, hard look at the intelligence they are using to verify its targets because it clearly was not good enough."
HRW said the first of the two strikes was on March 20, and killed at least 40 people including 16 children at the Badia school in Mansourah. The second was on March 22 and killed at least 44 people including 14 children at the Tabqa market and bakery.
The US-led coalition has been carrying out air strikes in support of anti-IS operations in Syria since September 2014, after expanding its existing campaign in neighbouring Iraq.
Since last November, it has been supporting the Kurdish-Arab alliance known as the Syrian Democratic Forces (SDF) as it battles to capture Raqa province, including its capital Raqa city.
The SDF broke into Raqa city in June and is on the verge of capturing the former jihadist bastion.
But activists have criticised what they say are disproportionately high civilian death tolls in the campaign.
The coalition says it takes all possible precautions to avoid civilian casualties and investigates credible reports of civilian deaths in its strikes.
In August, it acknowledged the deaths of 624 civilians in its strikes in Syria and Iraq since 2014.
But rights groups say the real figure is much higher, and HRW criticised the coalition's methodology for assessing civilian casualties.
It said the coalition reported having assessed the Mansourah and Tabqa strikes, but it appeared they carried out no site visits nor witness interviews even though both places have been under SDF control for weeks.
"If the coalition had visited the sites and talked to witnesses they would have found plenty of evidence that civilians were killed in these attacks," Solvang said.
"The coalition should follow our lead, conduct full investigations, and find ways to make its civilian casualty assessments more accurate."
Full report at:
http://nation.com.pk/international/25-Sep-2017/us-led-strikes-killed-84-civilians-near-syria-s-raqa
---------
Iraq's PM Abadi refuses talks with Kurds over independence vote results
26 September 2017
The Iraqi government will not hold talks with the Kurdistan Regional Government (KRG) about the results of the "unconstitutional" referendum on independence held on Monday in northern Iraq, Iraqi Prime Minister Haider al-Abadi said.
"We are not ready to discuss or have a dialogue about the results of the referendum because it is unconstitutional," Abadi said in a speech broadcast on state TV on Monday night.
Masoud Barzani's KRG says the referendum is not binding and was meant to be a legitimate mandate to negotiate with Baghdad and neighboring countries over the secession of the Kurdish-controlled region from Iraq.
Full report at:
https://english.alarabiya.net/en/News/middle-east/2017/09/26/Iraq-refuses-talks-with-Kurdistan-about-independence-referendum-results.html
---------
Qatar hosts Indian extremist who called for attack on Saudi Arabia
25 September 2017
Qatar has opened its doors to extremist Indian preacher Sulaiman al-Nadawi who was pictured at prominent Muslim Brotherhood cleric Yusef al-Qaradawi's office on Sunday.
Doha still welcomed Nadawi after the Oman expelled him for provocative remarks against Gulf states, in which he expressed that he loathed their governments, among other remarks, at the college of Sharia Sciences in the Sultanate.
Attack on Saudi Arabia
During his speech, Nadawi called for an attack on Saudi Arabia and some other Islamic countries, while questioning the Arab quartet's decision on boycotting Qatar saying: "The State of Qatar has been turned against on, just because it is home to Hamas, Qaradawi and the Muslim Brotherhood."
Meanwhile, the Omani Foreign Ministry immediately took action to clear itself from Nadawi's claims saying: "The Omani Ministry of Foreign affairs would like to express its condemnation of the speech delivered by Sulaiman bin Taher al-Husseini al-Nadawi, an Indian national, at the College of Shariah Sciences."
"The speech was delivered on Tuesday, September 19, 2017. It strayed from the lecture's context in a manner inconsistent with the principles, approaches, and policies of the Sultanate," continued the ministry.
"As such, the Ministry of Foreign Affairs affirms that the concerned authorities in the Sultanate of Oman have taken action on the matter and asked him to leave the country," the ministry added.
Different opinion
But the hosting college had a different view to the ministry.
In a Twitter post, the college said: "The College of Sharia Sciences wishes to note that it has become used to welcoming preachers, scholars, thinkers and researchers from different backgrounds, like any academic institution."
"Thus, the college asserts that the views and opinions expressed by those guests are their own, and not necessarily the views of the college," they added.
Full report at:
https://english.alarabiya.net/en/News/gulf/2017/09/25/Qatar-hosts-Indian-extremist-who-called-for-attack-on-Saudi-Arabia.html
---------
Russian strikes in Syria's Idlib kill 37 civilians
Sep 26, 2017
BEIRUT - Russian air strikes on northwest Syria's mainly jihadist-controlled province of Idlib on Monday killed at least 37 civilians including 12 children, a Britain-based monitor said.
The Syrian Observatory for Human Rights said it was the highest civilian death toll in Idlib since the region was designated in May as one of Syria's "de-escalation" zones under an accord between regime allies Russia and Iran, and rebel backer Turkey. "The air raids struck several locations and villages in the district of Jisr al-Shughur, leaving 37 dead among civilians, including 12 children," Observatory chief Rami Abdel Rahman told AFP.
After several months of calm, Idlib province has for the past two weeks been the target of heavy air strikes by the regime and its Russian allies, following a jihadist assault in neighbouring Hama province also covered by the de-escalation accord for Syria's war that has cost more than 330,000 lives since 2011.
HRW says US-led strikes killed
84 civilians in March
US-led coalition strikes near the Islamic State group's Syrian stronghold Raqa in March killed at least 84 civilians, including dozens of children, Human Rights Watch alleged Monday.
The group said the strikes hit two sites: a school housing displaced families in the town of Mansourah, and a market and bakery in the town of Tabqa.
It said witnesses acknowledged IS fighters had been present at both sites, but that large number of civilians were also there.
"These attacks killed dozens of civilians, including children, who had sought shelter in a school or were lining up to buy bread at a bakery," HRW deputy emergencies director Ole Solvang said.
"If coalition forces did not know that there were civilians at these sites, they need to take a long, hard look at the intelligence they are using to verify its targets because it clearly was not good enough."
HRW said the first of the two strikes was on March 20, and killed at least 40 people including 16 children at the Badia school in Mansourah. The second was on March 22 and killed at least 44 people including 14 children at the Tabqa market and bakery.
The US-led coalition has been carrying out air strikes in support of anti-IS operations in Syria since September 2014, after expanding its existing campaign in neighbouring Iraq.
Since last November, it has been supporting the Kurdish-Arab alliance known as the Syrian Democratic Forces (SDF) as it battles to capture Raqa province, including its capital Raqa city.
The SDF broke into Raqa city in June and is on the verge of capturing the former militant bastion.
But activists have criticised what they say are disproportionately high civilian death tolls in the campaign.
The coalition says it take all possible precautions to avoid civilian casualties and investigates credible reports of civilian deaths in its strikes.
In August, it acknowledged the deaths of 624 civilians in its strikes in Syria and Iraq since 2014.
But rights groups say the real figure is much higher, and HRW criticised the coalition's methodology for assessing civilian casualties.
It said the coalition reported having assessed the Mansourah and Tabqa strikes, but it appeared they carried out no site visits nor witness interviews even though both places have been under SDF control for weeks.
"If the coalition had visited the sites and talked to witnesses they would have found plenty of evidence that civilians were killed in these attacks," Solvang said.
"The coalition should follow our lead, conduct full investigations, and find ways to make its civilian casualty assessments more accurate."
Full report at:
http://nation.com.pk/international/26-Sep-2017/russian-strikes-in-syria-s-idlib-kill-37-civilians
---------
Iraq hangs 42 prisoners on death row
Sep 26, 2017
BAGHDAD - Iraq has hanged 42 prisoners condemned to death for crimes including kidnapping, killing members of the security forces, car bombings and other attacks, a justice ministry statement said on Monday.
It said Sunday's executions were carried out in Nasiriyah prison in the south and that those put to death were convicted under Iraq's counter-terrorism law. Iraq has faced widespread criticism from diplomats, analysts and human rights groups who say that due to a flawed justice system, those being executed are not necessarily guilty of the crimes for which they were sentenced to die.
Lynn Maalouf, Amnesty International's Middle East Research Director, condemned the latest executions and said that use of the death penalty "will not make the country or its people safer."
Full report at:
http://nation.com.pk/international/26-Sep-2017/iraq-hangs-42-prisoners-on-death-row
---------
Homs: Gov't Forces Tighten Noose on ISIL in Central Syria
Sep 25, 2017
The sources said that the army men pushed ISIL back from the villages of Um al-Rish, Rasm al-Nafeh, al-Zibeh and several hills overlooking the region.
They added that the army has imposed control over 35 sq/km of land after the new advances in Eastern Homs, killing and wounding a number of terrorists.
The remaining pockets of terrorists left behind weapons and ammunitions and fled the battlefield.
A military source reported earlier today that the army troops have pushed terrorists back from over 500 sq/km of territory in the Central parts of the war-hit country in their 12-day-long operation in Eastern Homs.
The source said that the army men have captured over 50 villages in 12 days of military operations in Eastern Homs, seizing control over 500 sq/km of land in Central Syria.
Full report at:
http://en.farsnews.com/newstext.aspx?nn=13960703001320
---------
Heavy Infighting Erupts among Terrorists in Northern Syria
Sep 25, 2017
The Kurdish-language Hawar news reported that Jebhah al-Shamiyah (the Levant Front) and the rival terrorist group of Jeish al-Sharqiyeh affiliated to Turkey exchaged heavy fire in the town of Jarabulus.
It went on to say that the clashes were the result of financial difference among the terrorist groups, adding that a number of militants from both warring sides have been killed and curfew has been imposed in the town.
Hawar news added that Ahrar al-Sham has meddled and sided with Jebhah al-Shamiyah.
Relevant reports said in mid-August that Tahrir al-Sham terrorists attacked Nouralddeen al-Zinki's military positions in Jamiat al-Rahal and Khan al-Asal West of Aleppo and managed to take control of their station and three headquarters paving the way for setting up new checkpoints and road blocks.
Menatime, Tahrir al-Sham terrorists arrested the elements of the TOW regiment of Nouralddeen al-Zinki.
Full report at:
http://en.farsnews.com/newstext.aspx?nn=13960703000682
---------
Iraq starts major military drills with Turkey along common border
Sep 25, 2017
Iraqi army has commenced major military drills with Turkish military along the common border after a highly controversial referendum on independence was held in the Arab country's Kurdish region in open defiance of the central government in Baghdad.
Iraq's Defense Ministry said in a statement carried by the Arabic-language al-Sumeria television news agency on Monday that "Lieutenant General Othman al-Ghanmi, the army's chief of staff, announced the start of large-scale Iraqi-Turkish military exercises along the common border between the two countries."
The development came hours after Iraqi legislators demanded deployment of army troops to areas disputed with Kurds amid growing tensions between the Iraqi government and the Kurdistan Regional Government (KRG), led by Massoud Barzani, over a non-binding referendum on the secession of the Kurdish region from Iraq.
Earlier in the day, Turkish Prime Minister Binali Yildirim announced that Iraqi army would take part in an Iraqi-Turkish military exercise along the common border.
The provocative vote, which was announced by the KRG earlier in the year, was held in the region much to the consternation of the international community, particularly the regional countries, that warned it could most likely throw the already violence-weary country into more trouble.
Turkish President Recep Tayyip Erdogan warned on Monday that Ankara would seal the border with the Iraqi Kurdistan over the contentious plebiscite.
The Turkish leader did not rule out the military intervention in Iraq's Kurdish region to counter the creation of a Kurdish state on its southeastern border, hinting that the would-be state could be a safe haven for Kurdish militants who fight against Ankara.
Turkey, among others, has strongly opposed the referendum from the beginning and has already warned that the disintegration of Iraq has the potential to turn into a major conflict.
Iran, for its part, has announced that it is opposed to the "unilateral" scheme for the independence of the Iraqi Kurdistan Region, underlining the importance of maintaining the integrity and stability of Iraq and insisting that the Kurdistan region is part of the majority Arab country.
Full report at:
http://www.presstv.ir/Detail/2017/09/25/536458/Iraq-Turkey-army-military-drills-referendum-independence-KRG-Kurdish-region
---------
Pakistan
Intelligence Bureau accused of 'protecting' terrorists by one of its own spies
Malik Asad
September 26, 2017
ISLAMABAD: The Intelligence Bureau (IB) has been accused by one of its own spies of "protecting" terrorists.
A serving assistant sub-inspector of IB, ASI Malik Mukhtar Ahmed Shahzad, has accused his senior officers of not taking action against terrorism suspects and filed a petition before the Islamabad High Court (IHC) requesting it to refer the matter to the Inter Services Intelligence (ISI) for a thorough probe.
The IHC Registrar's Office fixed the petition before Justice Aamer Farooq on Monday who referred the case to IHC Chief Justice Mohammad Anwar Khan Kasi, with a note that the matter may be transferred to Justice Shaukat Aziz Siddiqui since an identical matter is pending in his court, an IHC official said.
In the petition filed through his counsel Masroor Shah, Mr Shahzad has said he joined the IB in 2007 and that he "reported against various terrorist groups having roots in Uzbekistan, Iran, Afghanistan, Syria and India".
"However, to the petitioner's utter dismay, no action was ever been taken by IB in this respect despite concrete evidence provided to it in the form of the intelligence reports", the petition says.
"Upon thorough intelligence gathering process, it transpired that certain high officials of the IB themselves are directly involved with the terrorist organizations having linkages with hostile enemy intelligence agencies" the petition reads.
It goes on to say that the matter was even reported to the IB director general, who also did not take any steps.
It says some IB officials travelled to Israel and had direct links with Afghan intelligence which, it was found later, had links with another terrorist group from Kazakhstan.
"These terrorists used to disguise themselves as citrus dealers in Kot-Momin and Bhalwal, Sargodha. The business was a mere camouflage," the petition says.
The petition goes on to say that the son of joint director IB (Punjab) was dealing with the said terrorist groups.
The petition claims that some officials of Afghan and Iranian intelligence used to take refuge in the places of the citrus dealers.
The petition names certain IB's officials who are on the payroll of foreign intelligence agencies which include a joint director general, directors and deputy directors. The petitioner says that the senior IB officials also facilitate Afghan nationals in getting Pakistani nationality.
Mr Shahzad said he "has been running from pillar to post including approaching the prime minister of Pakistan to raise this issue of national security and protection of lives of the citizen of this country but in vain."
The petitioner requested the court that the issue of connivance, complacency and involvement of official of IB and other senior bureaucrats raised in the petition may graciously be entrusted to ISI for investigation.
The petition further requested that the prime minister be directed to evolve a comprehensive strategy to keep a check on IB officials' involvement in sectarian terrorism.
IB also recently came under attack by a joint investigation team consisting of officials from ISI, Military Intelligence and officials from other departments for 'hampering the investigation' into the assets of former prime minister Nawaz Sharif's family. https://www.dawn.com/news/1360119/intelligence-bureau-accused-of-protecting-terrorists-by-one-of-its-own-spies
---------
Four 'terrorists' killed during operations in Balochistan: ISPR
September 25, 2017
Four suspected militants were killed on Monday during operations conducted by the Frontier Corps Balochistan in various parts of the province, a statement issued by Inter-Services Public Relations (ISPR) said.
According to the ISPR statement, four "wanted terrorists" belonging to the outlawed Baloch Republican Army (BRA) and the United Baloch Army (UBA) were killed during the operations, while 24 others were apprehended.
Among those killed were Thango and Keleri of the BRA, the ISPR said. According to the statement, they were involved in the abduction of civilians and responsible for attacks on law enforcement personnel.
The two other suspected militants killed were identified as Muhammad Khan and Jalal Deen ─ both members of the UBA. According to the ISPR, they were involved in bombing railway lines, the planting of improvised explosive devices and destroying power lines.
Among the 24 suspects apprehended by the FC personnel was Samiullah, a resident of Dera Murad Jamali who, the ISPR statement said, was a suicide bomber linked to the banned outfit Lashkar-e-Jhangvi al-Alami.
During the operations, FC personnel seized large machine guns, small machine guns, rifles, pistols, IEDs, rockets, mortar shells and hand grenades, the ISPR said.
According to the ISPR statement, 16 kilogrammes of explosives and 15,032 rounds of mixed calibre ammunition were also seized in the operation.
The raids in Balochistan were carried out as part of Operation Raddul Fasaad, which the army had launched in February in the aftermath of a fresh resurgence in terror attacks in Pakistan.
Full report at:
https://www.dawn.com/news/1359975/four-terrorists-killed-during-operations-in-balochistan-ispr
---------
Hostile agencies, some people living abroad want to destabilise Pakistan: Gen Bajwa
September 25, 2017
RAWALPINDI: Chief of Army Staff Gen Qamar Javed Bajwa on Monday said that hostile agencies and some people living abroad have been trying to destabilise Pakistan and criticise the Pak Army.
According to an ISPR statement, the COAS said that these elements fear the Pak Army as it is "a hurdle in their nefarious designs".
The Army Chief stated this while visiting the grave of Shaheed Lieutenant Arsalan Alam, who martyred while manning a border post in Rajgal valley.
Gen Bajwa said: "No power can harm us untill we have such valiant sons of soil and their brave parents in Pakistan."
He also said the Pak Army would continue to perform in the best interest of the country and will stand by the nation against all challenges.
The COAS said that Pakistan's enemy is our enemy.
He said that use of force is state's prerogative alone, adding the Pak Army would restore peace and rule of law, "whatever sacrifices it may cost".
Meanwhile, the COAS visited the parents of the martyred officer at his village near Murree and offered prayers at his grave.
Full report at:
https://www.thenews.com.pk/latest/232475-Hostile-agencies-some-people-living-abroad-want-to-destabilise-Pakistan-Gen-Bajwa
---------
Ahle Bait made great sacrifices for spreading the message of Islam: Syedna Mufaddal
Sep 25 2017
KARACHI: Addressing the third majlis of Muharram at Taheri Masjid here on Sunday, Dawoodi Bohra community's spiritual leader Syedna Mufaddal Saifuddin said that Almighty Allah chose Islam for showing the right path to mankind through our beloved Holy Prophet (peace be upon him).
He added that Islam is the religion of peace and tranquillity, adding that providing service and welfare to human beings is equivalent to making Allah Almighty happy. "The Holy Prophet (peace be upon him) and Ahle Bait rendered great sacrifices for spreading the message of peace," he said.
The spiritual leader said: "Particularly, the grandson of Holy Prophet (peace be upon him), Hazrat Imam Hussain (RA), who was hungry and thirsty for three days, had fought on the hot sand of Karbala against the tormentors and laid his precious life in the way of Almighty Allah." He further added that the exemplary sacrifices made by Hazrat Imam Hussain (RA) and his people had become a lifetime example in the history of humankind.
Syedna Mufaddal Saifuddin thanked the Government of Pakistan, people of Pakistan and the people in power for making high-level security arrangements for the majlis. He also thanked the prime minister and interior minister for making this visit possible and for coordinating and cooperating during the entire process.
The spiritual leader said that this was the love of Pakistani people and the government that was leading towards enhanced mutual ties. By referring to Syedna Taher Saifuddin and Syedna Mohammad Burhanuddin, Syedna Mufaddal Saifuddin said that both these religious leaders had visited Pakistan many times and directed their community to work towards the betterment and welfare of Pakistan.
The spiritual leader of Dawoodi Bohra community, on the occasion, said that he was very delighted on getting the opportunity to address Muharram majalis in Karachi after a long gap as his (Syedna's) father and grandfather earlier used to address Muharram majalis in the city.
He said that steps and measures adopted by the government and law-enforcement agencies for the restoration of law and order situation in the country in general and in Karachi, in particular, were highly praiseworthy.
He said that initiation of development projects in the city was a welcoming sign as it would provide the best communication facilities to people. He thanked the administration for adopting strict security measures and giving other facilities to participants of the Muharram congregations.
On the other hand, Sindh Governor Mohammad Zubair said that the arrival and stay of the spiritual leader of Dawoodi Bohra community, Syedna Mufaddal Saifuddin, in Karachi during the sacred month of Muharram shows an improvement in law and order of the city.
The Sindh governor stated this on Sunday as he met the spiritual leader of the Dawoodi Bohra community here at the Taheri Masjid, Saddar. He also attended the Muharram majlis addressed by Syedna Mufaddal Saifuddin.
Sindh Chief Minister Syed Murad Ali Shah, Muttahida Qaumi Movement-Pakistan chief Dr Farooq Sattar, Mayor Karachi Waseem Akhtar and Sindh Local Govt Minister Jam Khan Shoro were also present on the occasion.
The meeting took into consideration the role of the Dawoodi Bohra community in development, progress and stabilisation of peace in the province.
Speaking on the occasion, the Sindh governor said that he welcomed the decision of spiritual head of Dawoodi Bohra community to visit Karachi during Muharram after a long gap. He hoped that Syedna, in future, would continue to hold his Muharram majalis in Karachi.
He acknowledged that the Dawoodi Bohra community was one of the most peace-loving sections of the society. He said the Dawoodi Bohra community had always played an important role in promotion of economic and trade activities in Karachi, which is rightly considered as the business hub of the country.
The Sindh governor said that the development of Karachi meant the development of the entire country as the city offered massive prospects of trade and investment after restoration of law and order here.
Speaking to the media on the occasion, the Sindh governor said that stringent security measures had been put in place during the sacred month of Muharram in order to thwart any untoward incident. He said that concerned citizens were required to extend cooperation to the government for maintaining law and order as peace could not be ensured without the support of public. He said that Ulema of all sects had complete consensus of opinion that beliefs and teachings of each others' sect should be given due respect and honour.
Governor Zubair said that teachings of Hazrat Imam Hussain (RA) were for the entire world as the maternal grandson of the Last Prophet (SAW) had laid down his life and that of his companions for upholding the flag of Islam as after this noble sacrifice, Islam had become an exemplary religion for the entire world.
Meanwhile, Sindh Chief Minister Syed Murad Ali Shah said that he had invited the spiritual leader of Dawoodi Bohra community, Syedna Mufaddal Saifuddin, to spend Muharram in the city and address his majalis and he had kindly consented to his request.
He said this while talking to the media just after listening to the majlis of Syedna Mufaddal Saifuddin at Taheri Masjid Saddar.
He said that it was an event where Syedna was addressing the majlis of his community in the city in which his followers had come from other countries also. "We have made necessary security arrangements for his majlis," he said. "Our Bohri brothers were peaceful and cooperative; they have also cooperated with the administration for their security."
Syed Murad Ali Shah said that peace has been restored in the city with constant efforts and political will of the government. "This credit goes to the people of Karachi who supported the targeted operation and also extended their full support to the government, Rangers, police and other law enforcement agencies in restoring peace," he said.
The chief minister said that with the restoration of peace in the city, a boost had been witnessed in the business activities. "People, with their families, have been coming out of their homes for outings without any fear," he said. "Syedna has come from India to address his majalis and this is happening after 21 years."
The Sindh chief minister expressed his satisfaction that the city is again attracting and respecting its visitors, guests, investors and religious scholars and spiritual leaders.
Syedna Mufaddal Saifuddin, just after his address, presented a shawl, rosary and a prayer mat to the chief minister.
Later, the chief minister reviewed the arrangements for the Dawoodi Bohra community's other majlis at the KPI ground. He visited their kitchen, dispensary and sitting places. The chief minister issued directives to Additional IG Karachi Mushtaq Mahar and Commissioner Karachi Aijaz Ali Khan to keep in touch with the management of the Bohra Jamaat majalis and other programmes and provide them necessary security, support, and whatever else was required by them.
Mayor Karachi Wasim Akhtar and MQM-Pakistan chief Dr Farooq Sattar also paid a visit to the Taheri Masjid in Saddar on Sunday where they met with Syedna Mufaddal Saifuddin — the 53rd spiritual leader of the Dawoodi Bohra community and expressed well wishes on his visit to Pakistan.
Talking to media representatives on this occasion, Dr Farooq Sattar stressed the need for promoting Ittehad Bain-ul-Muslimeen, which he said was the need of the hour. He said the arrival of Dr Mufaddal Saifuddin was in fact a message of love and unity and all of their people work for peace and harmony around the world.
He said in the month of Muharram, we all should show the mutual understanding and unity to prove that we are peace-loving people and want progress and development of our city and country.
Akhtar, while talking to the leaders of Bohra community, said this community had a big role in the development and progress of Karachi and they always supported promotion of love and harmony among the people.
He said the development works, including road carpeting, street lights maintenance and cleanliness were started in the city before the start of Muharram and now these are being completed rapidly so that the citizens could be saved from any inconvenience while performing religious rituals during Muharram.
Full report at:
https://www.geo.tv/latest/159739-ahle-bait-made-great-sacrifices-for-spreading-the-message-of-islam-syedna-mufaddal
---------
SPU official to collect data of Chinese nationals at Islamabad, Lahore airports
Mohammad Asghar
September 26, 2017
RAWALPINDI: The Punjab government plans to deploy an official of the Special Protection Unit (SPU) of the Punjab police at Islamabad and Lahore airports to collect data of Chinese and other foreigners visiting Punjab.
The SPU official will sit along with the officials of the Federal Investigation Agency (FIA) at the airports.
According to sources, the Punjab home department has sent a letter to the Ministry of Interior and FIA seeking permission for the deployment of officer/official of the unit at the FIA's desk initially at the Benazir Bhutto International Airport and Allama Iqbal International Airport Lahore.
The SPU was formed in 2014 for the protection of foreigners working on different development projects across the Punjab.
The data would be shared with the home department, provincial foreigners' security cell (PFSC) and district foreigners security cell (DFSC) for necessary action as per standard operating procedure for the security of foreigners, the sources said.
The step has been taken as the SPU has been facing difficulties in maintaining daily record of inflow and outflow of Chinese with necessary details.
The government has been taking security arrangements at different projects of China Pakistan Economic Corridor (CPEC) on top priority and periodically reviews the SPU performance.
In another related move, the divisional police chiefs across the province have been directed to visit every development project in their respective areas where Chinese experts are working and to review their security.
A senior police official told Dawn that all the foreigners were required to report to the district foreign security cell on their arrival and on their departure.
He said the police had been asking the Chinese nationals to abide by the SOPs of the Punjab home department regarding their security.
The provincial authorities have directed the DFSC to communicate about the arrival of the foreigners to the SHOs concerned for necessary liaison with the foreigners with regard to their safety and concerns, if they had any.
The foreigners, especially Chinese, working on development projects in Punjab had already been directed not to leave their workplace or residence without police escort.
Full report at:
https://www.dawn.com/news/1360107/spu-official-to-collect-data-of-chinese-nationals-at-islamabad-lahore-airports
---------
JI and PPP reject Kaptaan's early election demand
26-Sep-17
LAHORE: A day after Pakistan Tehreek-e-Insaf (PTI) Chairman Imran Khan called on the premier to hold early elections, the Jamaat-e-Islami and Pakistan People's Party asserted that the government should be allowed to complete its tenure.
PPP Secretary General Nayyar Hussain Bukhari said the PPP desired that assemblies should complete their term.
Bukhari said Kaptaan lacks political maturity. It is the prerogative of leader of the House to ask for dissolution of assembly and after the 18th amendment, every assembly is sovereign entity and the chief ministers have the right to ask for dissolution of their respective assemblies if they feel the necessity for it.
He said democracy is because of sacrifices of PPP leadership and workers. PTI and its leaders had no feeling for democracy and it was Opposition Leader in the National Assembly Khurshid Shah who brought back PTI members to parliament. PTI lawmakers only received their monthly wages and did nothing for the people of their constituency because Imran Khan kept them busy on container. Imran Khan also miserably failed to serve the people of his constituency, he concluded.
Meanwhile, JI chief Senator Sirajul Haq said the bill passed by the ruling party allowing a disqualified person to hold party office was in conflict with the constitution and an attempt to bulldoze the Supreme Court judgment in the Panama leaks case.
Talking to the media after a meeting of the JI central executive at Mansoora, he called upon the government to withdraw the controversial bill which also negated the electoral laws. He said that a person not fulfilling conditions laid down under articles 62 and 63 of the constitution could not be head of a political party.
In reply to a question, the JI chief said that early elections could be held with the consensus of all political parties. However, he said, that instead of allowing the ruling part y to become a political martyr by calling early elections, it would be better to let the assemblies complete their term so that the governments' performance was before the electorate. He further said that only a few months were left for the completion of the term of the government.
Siraj said that the government itself had made the electoral reforms suggested by the Parliamentary Committee controversial by permitting a disqualified person to lead the party as this was violation of the fundamentals of the constitution and this would bring the entire electoral system in dispute and bring bad name to the country. He said that the electoral reforms suggested by the JI had not been considered at all.
Full report at:
http://dailytimes.com.pk/punjab/26-Sep-17/ji-and-ppp-reject-kaptaans-early-election-demand
---------
Imran urges Trump to talk to Taliban
September 26, 2017
ISLAMABAD - Cricket legend and potential Pakistani prime minister Imran Khan Monday criticized the United States' new strategy for Afghanistan and said that the US should negotiate with the Taliban instead of aiming to destroy it.
"More fighting and bloodshed is not the answer," Khan said in an exclusive interview with The Associated Press, "I said it 17 years ago and I am still saying this now,"
Khan, who is considered a likely contender for premier after next year's parliamentary elections, rejected U.S. President Donald Trump's allegation that his country harbours extremists. He said Pakistanis "felt hurt" when Trump blamed Pakistan for sheltering militants while unveiling the US strategy for Afghanistan in August.
Khan noted that the Taliban have safe havens in Afghanistan and that Pakistan is being subjected the group's attacks launched from Afghan soil.
US officials have long said that Pakistan turns a blind eye to militants operating along the porous Afghan border. He said it was unfair to blame Pakistan Washington not defeating the Taliban.
"I think Donald Trump's policy is deeply flawed," he said, rejecting the US's demand that Pakistan do more to combat the extremists. "I think Pakistan has done enough. I think now the others players involved need to do more," Khan said.
Khan voiced his opposition to the US's drone strikes on Pakistan, which he said were carried out "with the complicity of the government of Pakistan."
He said that if he comes to power, he would "clearly tell the United States that this is not a way to win the war on terror," and that the drone strikes were "actually flaming anti-American feelings in Pakistan." "Drone attacks lead to collateral damage. If (they) were such a successful strategy, they would be winning the war," Khan said.
Khan added that militants often retaliate after drone strikes by targeting civilians and security forces in Pakistan. Khan went on to criticise India's Prime Minister Narendra Modi for the strained relations between Islamabad and New Delhi, saying Modi had not "risen above his communal thinking."
His comments came following recent skirmishes between Pakistani and Indian forces along the disputed region of Kashmir, which is divided between them and claimed by both. Khan called for an early solution to the Kashmir issue, over which Pakistan and India have fought two of their three wars after gaining independence from Britain in 1947.
Khan also dismissed western "propaganda" that Pakistan's nuclear arsenal could fall into the hands of militants. He said Pakistan's army was properly safeguarding the country's nuclear arsenals.
Discussing the country's current climate, Khan said he believed ousted prime minister Nawaz Sharif had no future in the country's politics. Sharif resigned recently when Pakistan's Supreme Court acting on a petition from Khan disqualified him over allegations of corruption.
Khan said he would not pardon any corrupt figures if his countrymen voted him to power in the 2018 elections. He said Pakistanis "felt hurt" when Trump blamed Islamabad for sheltering militants while unveiling the US strategy for Afghanistan and South Asia in August.
Full report at:
http://nation.com.pk/national/26-Sep-2017/imran-urges-trump-to-talk-to-taliban
---------
Mideast
Erdogan slams Myanmar for Buddhist-led 'genocide' against Muslims
Sep 25, 2017
Turkish President Recep Tayyip Erdogan has lambasted Myanmar for launching a Buddhist-led terror campaign against the Rohingya Muslims in the west of the country, while slamming the international community for failing to act against the ongoing "genocide" in the region.
"At the moment, there is a clear Buddhist terror in Myanmar ... There is a very clear genocide over there," said Erdogan on Monday during a speech in Istanbul.
The Turkish president also said there had been constant efforts for covering up the crimes committed by Buddhist mobs against the Rohingya minority Muslims in Myanmar's Rakhine state.
"Buddhists always get represented as envoys of goodwill," he said, adding, "I don't know how you can gloss over this with yoga, schmoga. This is a fact here. And all humanity needs to know this," he said.
Erdogan further criticized the international community for failing to pile up pressure on Myanmar over the crackdown, which has seen more than 430,000 Rohingya Muslims flee their homes to neighboring Bangladesh over the past month, in what United Nations officials have designated as a clear form of ethnic cleansing.
Military forces and Buddhist mobs have attacked dozens of villages and towns in the north of Rakhine under the pretext of hunting down suspected militants who had launched attacks on border and police posts in the region.
The government of Myanmar's de facto leader, Aung San Suu Kyi, has denied that security forces had compelled the Rohingya to flee by killing people and torching their homes, claiming the Rohingya have themselves set the villages on fire.
Suu Kyi, a Nobel Peace Prize winner, has yet to explain why members of the Rohingya community, estimated more than a million before the recent surge of violence and exodus, should set their own homes on fire.
Amnesty International has criticized Suu Kyi for the deadly military crackdown on Rohingya Muslims.
The rights group said last week that "Rohingya homes and villages continue to burn, before, during and after their inhabitants take flight in terror."
"Not satisfied with simply forcing Rohingya from their homes, authorities seem intent on ensuring they have no homes to return to," said Tirana Hasan, Amnesty's director of crisis response, in a statement late Friday.
The absence of international monitors has allowed Myanmar's army to easily deny atrocities.
http://www.presstv.ir/Detail/2017/09/25/536431/Turkey-Erdogan-Myanmar-violence
---------
Palestinian PM to visit Gaza for reconciliation efforts
Sep 26, 2017
JERUSALEM - Palestinian prime minister Rami Hamdallah will travel to Gaza on October 2 as part of a fresh push to end a decade-long split between Fatah and Hamas, which runs the enclave, his government said Monday.
The visit follows concessions by Islamist group Hamas after discussions with Egypt, which has urged it to take steps towards reconciliation with Palestinian president Mahmud Abbas's Fatah, based in the occupied West Bank.
Fatah and Hamas have been divided for a decade, with separate administrations in the West Bank and Gaza Strip. "Prime minister Rami Hamdallah has decided after consulting with president Mahmud Abbas that the government will hold its weekly meeting in Gaza next week," government spokesman Yusuf Al Mahmoud said in a statement published by official Palestinian news agency WAFA.
"Hamdallah and members of the government will arrive in Gaza next Monday to start taking over government responsibilities after Hamas announced its agreement to dissolve the administrative committee and enable the government to assume its full responsibilities."
Hamdallah, who is not believed to have travelled to the Gaza Strip since 2015, also wrote about the visit on his Facebook page.
"I am heading to the beloved Gaza Strip next Monday with the government and all bodies, authorities and security services," he wrote.
"We hope all parties and all Palestinians will focus on the national interest to enable the government to continue carrying out all of its functions in a way which serves the Palestinian citizens first."
Hamas said a week ago that it had agreed to steps towards resolving the split with Abbas's Fatah, announcing it would dissolve a body seen as a rival government - known as the administrative committee - and was ready to hold elections.
The statement came after Hamas leaders held talks with Egyptian officials and with the Gaza Strip facing a mounting humanitarian crisis.
The UN envoy for the Middle East peace process, Nickolay Mladenov, urged the two factions not to "miss this last opportunity to bring unity".
"Everybody recognises that the situation in which Gaza's humanitarian problems risk exploding is extremely dangerous for everyone," he said while on a visit to Gaza on Monday.
"If we miss this opportunity, I don't think another opportunity will come anytime soon."
It remains unclear whether the steps will result in further concrete action towards ending the deep division with Fatah.
Hamas for now continues to run a de facto separate administration in the Gaza Strip and is in charge of security forces there.
Previous attempts to resolve the split have repeatedly failed. The last attempt at a unity government fell apart in 2015, with the two sides exchanging blame.
Hamas has run Gaza since 2007, having seized it in a near civil war from Fatah following a dispute over parliamentary elections won by the Islamist movement the previous year.
It formed the administrative committee in March, and since then Abbas has sought to put further pressure on the Islamist movement, reducing electricity payments for the Gaza Strip and cutting salaries for public employees.
The West Bank and Gaza have not participated in an election together since 2006.
Abbas, whose term was meant to end in 2009, has remained in office with no election held.
The Gaza Strip has meanwhile faced deteriorating humanitarian conditions, including a severe electricity crisis and a lack of clean water.
The coastal enclave of some two million people also has one of the world's highest unemployment rates and has seen three wars with Israel since 2008.
It has been under an Israeli blockade for around a decade, while its border with Egypt has also remained largely closed in recent years.
Full report at:
http://nation.com.pk/international/26-Sep-2017/palestinian-pm-to-visit-gaza-for-reconciliation-efforts
---------
Iran closes border with Iraqi Kurdistan
Sep 26, 2017
Iran has shut its border with Iraqi Kurdistan in response to its independence referendum, the foreign ministry said on Monday.
"At the request of the Iraqi government, we have closed our land and air borders" with Iraqi Kurdistan, foreign ministry spokesman Bahram Ghasemi said at a press conference.
The referendum is "illegal and illegitimate," he added.
Iran had already announced on Sunday that it was stopping all flights to and from Iraqi Kurdistan in response to the vote.
President Hassan Rouhani spoke overnight with Iraqi Prime Minister Haidar al-Abadi, saying: "The Islamic Republic of Iran fully supports the central government of Iraq."
The referendum went ahead on Monday despite strong opposition from Baghdad and its neighbours, as well as Western governments including the United States.
Iran fears the vote could encourage separatists in its own Kurdish region, and said last week that independence could mean an end to all of border and security arrangements.
Full report at:
http://nation.com.pk/international/25-Sep-2017/iran-closes-border-with-iraqi-kurdistan
---------
Three Israelis killed in suspected gun attack on West Bank settlement
26 September 2017
A Palestinian opened fire at Israeli security personnel at the entrance to a West Bank settlement on Tuesday, killing three and wounding another before being shot dead, police said.
"A terrorist who arrived at the rear gate of Har Adar along with Palestinian laborers entering the settlement.... pulled out a weapon and opened fire at the force at the site," police said.
"Three Israelis were killed in the attack, another was wounded and the terrorist was neutralized."
Police later said the Palestinian had died of his wounds.
The wounded Israeli was admitted to Hadassah hospital in Jerusalem in serious condition, the hospital said.
The incident, at a settlement northwest of Jerusalem that lies near several Palestinian villages, comes nearly two years after a wave of unrest broke out.
The violence had greatly subsided in recent months.
Since October 2015, the unrest has killed at least 295 Palestinians or Arab Israelis, 50 Israelis, two Americans, two Jordanians, an Eritrean, a Sudanese and a Briton, according to an Agence France-Presse toll.
Israeli authorities say that most of the Palestinians killed were carrying out knife, gun or car-ramming attacks.
Full report at:
https://english.alarabiya.net/en/News/middle-east/2017/09/26/Three-Israelis-killed-in-suspected-gun-attack-on-West-Bank-settlement.html
---------
Turkey's Erdogan threatens Iraqi Kurds with army
25 September 2017
Turkish President Recep Tayyip Erdogan is threatening a military intervention in Iraq in response to the Iraqi Kurdish region's referendum on independence from Baghdad.
Erdogan, speaking at a conference in the Turkish capital of Ankara as Iraqi Kurds voted in their region on Monday, said that Kurdish independence was unacceptable to his country and that this was a "matter of survival."
He pointed to Turkish military exercises currently taking place on Turkey's border with the Iraqi Kurdish region.
Erdogan said: "Our military is not (at the border) for nothing." He also added: "We could arrive suddenly one night."
Erdogan also said Turkey would take political, economic as well as military measures against Iraqi Kurds' steps toward independence and also suggested that Turkey could halt oil flows from a pipeline from northern Iraq.
Erdogan said: "Let's see where - and through which channels - will they sell their oil. We have the valve. The moment we shut the valve, that's the end of it."
Full report at:
https://english.alarabiya.net/en/News/middle-east/2017/09/25/Turkey-vows-to-take-all-measures-if-Iraqi-Kurdish-referendum-endangers-security.html
---------
Iran to host 2nd edition of OIC's top science, technology award
Sep 25, 2017
Iran will host the second edition of Mustafa Prize ceremony to grant the Organization of Islamic Cooperation's prestigious science and technology award to top researchers and scientists of the OIC member states.
The event is scheduled to be held in the Iranian capital of Tehran on December 3.
The award grant ceremony is held biennially to honor efforts made in various fields of science and technology by top researchers from Muslim OIC member states.
The first edition of the prize was held in the Iranian capital in December 2015 in which the Mustafa Prize handed out to top researchers and scientists in four categories, including life and medical science, information and communication technology, nano science and technology, and top scientific achievement in other fields.
The laureates in each section will be awarded 500,000 USD which is financed through the endowments made to the Prize. The winners will also be adorned with a special medal and certificate.
The Mustafa Prize seeks to encourage education and research and is set to play the pioneering role in developing regional relations between science and technology institutions working in the OIC member countries.
It also aims to improve scientific relations between academics and researchers in order to facilitate the growth and perfection of science in the OIC member states.
The Mustafa Prize started its job in 2013. The Policy Making Council of the prize, which is tasked with supervising various procedures of the event, is comprised of high-profile universities and academic centers of OIC member states.
Full report at:
http://www.presstv.ir/Detail/2017/09/25/536460/Iran-Tehran-OIC-Mustafa-Prize-science-technology
---------
South Asia
UN says Rohingya must not be forced to move to remote island
Sep 26, 2017
DHAKA - Bangladesh must not force Rohingya Muslims who have fled Myanmar to move to camps on a desolate island, the UN refugee chief said Monday.
Authorities have stepped up moves to house the Rohingya on the island in the Bay of Bengal since a new surge which now totals 436,000 refugees started arriving on August 25.
UN High Commissioner for Refugees Filippo Grandi said Prime Minister Sheikh Hasina had mentioned the relocation plan when they met in July. There were already 300,000 Rohingya in camps near the border at Cox's Bazar before the latest influx started.
But he insisted that any move from the camps to Bhashan Char island - also known as Thengar Char - "has to be voluntary on the part of the refugees".
"We cannot force people to go to the place. So the option for the medium term, let's say - I don't want to talk about long-term - has to be also something that is acceptable to the people that go there," he said.
"Otherwise it won't work. Otherwise people won't go."
The United Nations has praised Bangladesh for taking in the Rohingya, who fled a military crackdown in Myanmar. It has appealed for international help for the authorities.
"It is good to think ahead. These people (Rohingya) may not be able to go back very quickly and especially now the population has now doubled," Grandi told a Dhaka press briefing.
The UNHCR chief said his agency was ready to help the island plan with a "technical study of the options.
"That's all that we are ready to give. We are not giving it yet because I have not seen any concrete options on any paper."
The small island in the estuary of the Meghna river is a one-hour boat ride from Sandwip, the nearest inhabited island, and two hours from Hatiya, one of Bangladesh's largest islands.
The government has tasked the navy with making it ready for the Rohingya. Two helipads and a small road have been built.
The authorities first proposed settling the Rohingya there in 2015, as the refugee camps in Cox's Bazar became overstretched.
But the plan was apparently shelved last year amid reports that the silty island, which only emerged from the sea in 2006, was often unhabitable due to regular tidal flooding.
In recent weeks, Bangladesh has appealed for international support to move the Rohingya to the island as the impoverished nation struggles to cope with the influx
More than 436,000 refugees have crossed the border from Myanmar's Rakhine state since August 25 when a military crackdown was launched following attacks by Rohingya militants.
There is not enough food, water or medicine to go around. Roads around the camps are littered with human excrement, fuelling UN fears that serious disease could quickly break out.
Meanwhile, Turkish President Recep Tayyip Erdogan on Monday accused the security forces in Myanmar of waging a "Buddhist terror" against the Rohingya Muslim minority in the country, hundreds of thousands of whom have fled to neighbouring Bangladesh. Erdogan, who has repeatedly highlighted the plight of the Rohingya, again accused the Yangon government of carrying out a "genocide" against the people in Rakhine state.
In a speech in Istanbul, Erdogan lamented the failure of the international community to lay sanctions against the Myanmar government over its campaign. "There is a very clear genocide over there," Erdogan said.
Erdogan, who has held talks by phone with Myanmar's key leader the Nobel Peace Prize winner Aung Sang Suu Kyi, added: "Buddhists always get represented as envoys of goodwill."
"At the moment, there is a clear Buddhist terror in Myanmar... I don't know how you can gloss over this with yoga, schmoga. This is a fact here. And all humanity needs to know this."
More than 430,000 Rohingya Muslims have fled across the border to Bangladesh from a military campaign which the UN says likely amounts to ethnic cleansing of the stateless minority.
Before the most recent surge of violence, there were over one million Rohingyas in Myanmar's restive Rakhine state in the west of the overwhelmingly Buddhist country.
Erdogan, himself a pious Muslim, takes a sharp interest in the fate of Muslim communities across the world and notably sees himself as a champion of the Palestinian cause.
Returning for a key personal theme, he lambasted the international community for being quick to denounce "Islamic terror" but not "Christian terror", "Jewish terror" or "Buddhist terror".
http://nation.com.pk/international/26-Sep-2017/un-says-rohingya-must-not-be-forced-to-move-to-remote-island
---------
WHO warns of cholera threat in Bangladesh Rohingya camps
Sep 26, 2017
COX'S BAZAR, Bangladesh: The World Health Organization warned Monday of a growing cholera risk in the makeshift refugee camps in Bangladesh where more than 435,000 Rohingya Muslims have sought shelter from unrest in Myanmar.
A month after the exodus began, those dispersed in some 68 camps and settlements along the border do not have safe drinking water and hygiene facilities, according to the WHO.
The camps also face dire shortages of food and medicine in what has quickly become one of the world's largest refugee settlements.
"Risk of water-borne diseases is high, especially there is a very high risk of cholera and this is why everyone is concerned," the WHO said in a statement.
"Interventions are being scaled-up, however, the situation remains critical and challenging."
The latest influx has overwhelmed the camps around Cox's Bazar, which previously housed at least 300,000 people who had fled earlier violence in Myanmar's Rakhine state.
The WHO says mobile medical centres have been set up, while Bangladesh health authorities say they have treated some 4,500 Rohingya for diarrhoea in a month and vaccinated some 80,000 children for measles and polio.
"We are trying our best to face the challenges. But we are concerned," Enayet Hossain, deputy head of Bangladesh's health services department, told AFP.
The department said that at least 10 Rohingya have died in Bangladesh since the influx, most from bullet and blast wounds suffered in Rakhine.
Two elderly Rohingya men died of diarrhoea at a charity clinic more than a week ago, said Misbah Uddin Ahmed, a health department official at Ukhia, where most of the camps are located.
"They were also suffering from old age complications and gastroenteritis," he told AFP.
Two Rohingya women, aged 50 and 60, were shifted to a hospital in the port city of Chittagong after they were diagnosed with HIV, police said.
Ahmed said specialists from Bangladesh's International Center for Diarrheal Disease Research (ICDDRB) and government scientists had visited camps to take samples.
"They are going to set up two field stations here," he told AFP.
The Doctors Without Borders (MSF) group said last week the camps were on the brink of a public health disaster as filthy water and faeces flow through shanties.
It said a "massive scale-up of humanitarian aid" was needed, with adults on the cusp of dying from dehydration.
But Ahmed said the situation was improving as hundreds of latrines and tube-wells were being dug by government services and local charities.
The army, which has taken over aid management, says it has made sanitary facilities the "highest priority" in an effort to stave off a health emergency.
"The situation is still under control," Ahmed said.
More than 436,000 refugees have crossed the border from Rakhine since August 25 when a military crackdown was launched following attacks by Rohingya militants, according to UN figures on Monday.
Full report at:
http://nation.com.pk/international/25-Sep-2017/who-warns-of-cholera-threat-in-bangladesh-rohingya-camps
---------
Abdullah meets Karzai to discuss ongoing situation and new US strategy
Sep 26 2017
The Chief Executive of the Government of National Unity Abdullah Abdullah met with the former Afghan President Hamid Karzai in his office on Monday.
The Office of the former President in a statement confirmed the meeting took place between the two sides.
The statement further added that the former President and Chief Executive Abdullah discussed the ongoing situation in Afghanistan and the region as well as the new US strategy for Afghanistan and the South Asia.
The Office of the Chief Executive also confirmed the meeting but did not elaborate further regarding the discussions between Abdullah and Karzai.
The US President Donald Trump last month announced the new US strategy for Afghanistan and South Asia and vowed to continue the fight against terrorism.
The Afghan officials including President Ghani and Chief Executive Abdullah welcomed the announcement of the new strategy.
However, Karzai expressed his opposition regarding the new US strategy and called it a move to sustain the war and violence in Afghanistan.
Full report at:
http://www.khaama.com/abdullah-meets-karzai-to-discuss-ongoing-situation-and-new-us-strategy-03527
---------
US drone targets ISIS vehicle in Nangarhar leaving 5 dead
Sep 25 2017
A US airstrike left at least five militants of the Islamic State of Iraq and Syria (ISIS) terrorist group in eastern Nangarhar province of Afghanistan.
The provincial police commandment in a statement said the airstrike was carried out on Sunday in the vicinity of Haska Mina district.
The statement further added that a Toyota Corolla type vehicle of the terrorists was targeted in the airstrike, leaving at least five militants dead.
Several weapons, ammunition, and explosives loaded on the vehicle were also destroyed, the statement added
In the meantime, the Taliban insurgents launched a coordinated attack on the security posts in Hesarak district, erupting a heavy gun battle with the security forces.
According to the police commandment, at least two Taliban insurgents were killed after the Afghan forces responded to the enemy fire.
The local security officials are saying that the local residents and security personnel have not suffered any casualties during the airstrike and clashes.
The US forces conduct airstrikes, mainly using unmanned aerial vehicles, almost on daily basis in a bid to eliminate the terrorist safe havens and prevent them from expanding their foothold in the country.
Full report at:
http://www.khaama.com/us-drone-targets-isis-vehicle-in-nangarhar-leaving-5-dead-03524
---------
North America
Muslim Civil Rights Groups Are FURIOUS About Trump's New Travel Ban
Sep 26, 2017
Several civil rights groups issued scathing condemnations on Monday after President Donald Trump issued a proclamation banning or partially banning refugees and migrants from eight countries.
Under the terms of Trump's new proclamation, travel from some countries is outright suspended and travel from others may only take place on a limited basis under heavy scrutiny. Entry by most foreign nationals from Chad, Iran, Libya, North Korea, Syria, Yemen and Somalia will be suspended as of Oct. 18. Venezuelan government officials and their family members will also be denied entry. Iraqi nationals will be subjected to intensive screening.
Palestinian-American activist Linda Sarsour described Trump's new travel ban as "immoral and unconstitutional" in a statement sent to The Daily Caller.
"Impacted and allied communities from around the country will continue to fight this discriminatory policy and the #NoMuslimBanEver campaign will continue," Sarsour said. "We will continue to resist this immoral and unconstitutional Muslim ban and any new bans in all forms, in all venues, and in all ways—no matter how long it may take to achieve justice."
Sarsour, one of the main organizers behind January's Women's March on Washington, spoke in April alongside Rasmea Odeh, an alleged member of the terrorist-designated Popular Front for the Liberation of Palestine. Odeh, 69, was convicted in Israel in 1970 of taking part in two bombings the year before, one at a supermarket in Jerusalem and another at the British consulate. Two Israeli students were killed in the supermarket bombing. (RELATED: Taxpayer-Funded College Hosts Sharia-Loving Commencement Speaker With Ties To Terror Group)
Another civil rights advocate, Elica Vafaie of Asian Americans Advancing Justice, called Trump's revamped travel ban "nonsensical" and "unconstitutional at its core."
"Despite the president's attempt to obscure this latest Muslim ban's discriminatory intent, the newest policy remains discriminatory, unlawful, and unconstitutional at its core and deeply impacts our communities," Vafaie said.
"This new nonsensical ban continues to discriminate against immigrants, refugees, and visitors from a group of majority Muslim countries."
Vafaie promised that her group "will resist all forms of a Muslim ban in and out of the court."
National Immigration Law Center spokesman Avideh Moussavian said Trump's proclamation has a "discriminatory intent against Muslims."
"Just like a new coat of paint won't repair a house with dangerous structural problems, this new variation on the ban does nothing to cover up its discriminatory intent against Muslims, nor does it remove the xenophobic core of this executive order," Moussavian said.
The Council on American-Islamic Relations (CAIR), America's largest Muslim civil rights group, vowed to continue to challenge Trump's immigration policies in court.
We cannot forget the families hurt most by this hateful and discriminatory Muslim ban, and we will continue to fight every day for their civil rights," CAIR spokeswoman Zahra Billoo said in a statement sent to TheDC.
"We will not be deterred in continuing to challenge the President's multi-pronged assault of hate directed toward communities of color." (RELATED: Council on American-Islamic Relations: Tear Down Every Confederate Memorial)
Other groups also came out against Trump's new travel ban.
Kristin Rowe-Finkbeiner, executive director of MomsRising, described the proclamation as "inhumane and Islamophobic."
"Six of the ban's target countries are Muslim-majority nations, and the addition of North Korea and government officials from Venezuela does not cancel out the deep anti-Muslim spirit of this policy," Rowe-Finkbeiner said. "This inhumane and Islamophobic policy isn't based on valid security concerns, but rather is rooted in prejudice that is antithetical to our nation's values."
MomsRising.org describes itself as an online grassroots organization of over a million people "working to increase family economic security, decrease discrimination against women and moms."
On Monday, the U.S. Supreme Court canceled oral arguments scheduled for Oct. 10 concerning a previous version of Trump's travel ban. Now, government officials and opponents will file new briefs concerning the latest policy.
A second CAIR spokesman, Gadeir Abbas, urged the Supreme Court to strike down Trump's immigration rules.
"The arrival of the 'Muslim ban 3.0' on Sunday and the cancellation of the October U.S. Supreme Court hearing indicate that federal courts must broadly prohibit Trump administration officials from using religion as a basis for any decision at the border or in the visa and immigration system," Abbas said. "We need this broad prohibition so that we don't have to later litigate a Muslim Ban 4.0 and 5.0."
Trump's new proclamation contains a number of exemptions, in keeping with a framework established in late June by the Supreme Court. Individuals from the relevant countries with a bona fide relationship to a person or entity in the United States will be issued visas. Iranian nationals holding student or exchange visitor visas are unaffected by the order. (RELATED: Eight Countries Named In New Executive Order Restricting Travel)
Officials further said no visas will be revoked as a result of Sunday's proclamation.
Sudan is the only country named in the original travel ban which does not appear in Sunday's directive. (RELATED: Tennessee Church Shooting Suspect Is A Sudanese Bodybuilder)
Critics of Trump's immigration policies have announced plans for a NoMuslimBanEver rally on Oct. 18.
In 2009, CAIR was listed by the U.S. government as an unindicted co-conspirator in a scheme that provided funding to the terror group Hamas.
http://dailycaller.com/2017/09/25/muslim-civil-rights-groups-are-furious-about-trumps-new-travel-ban/
---------
US 'deeply disappointed' by Kurdish secession vote, warns of instability
Sep 26, 2017
The United States says it is "deeply disappointed" by the Iraqi Kurdistan's "unilateral" independence referendum, adding it would increase "hardships" for people living in the region.
"We believe this step will increase instability and hardships for the Kurdistan region and its people," the State Department said in a statement on Monday, shortly after the Kurdistan Regional Government (KRG) defied international pressure to cancel the vote.
"We believe all sides should engage constructively in a dialogue to improve the future of all Iraqis. The United States opposes violence and unilateral moves by any party to alter boundaries," the statement read.
The department noted that the secession bid would "greatly complicate" the KRG's ties with the central Iraqi government, as well as the country's neighbors.
However, It said that Washington's "historic relationship" with the people of Kurdistan would remain unchanged despite the move.
Meanwhile, Iraqi lawmakers demanded that government troops be deployed to areas disputed with Kurds.
Prime Minister Haider al-Abadi also said that his government would not hold talks about the results of Monday's secession vote. Abadi said that those who were responsible for the "unconstitutional" referendum would be duly punished.
Turkish President Recep Tayyip Erdogan warned on Monday that Ankara would seal the border with the Iraqi Kurdistan over the contentious plebiscite.
On Sunday, Iran also closed its airspace to all flights to and from the Kurdish region at the request of the Iraqi government.
Tehran has advised against the "unilateral" scheme, underlining the importance of maintaining the integrity and stability of Iraq amid its ongoing war against Takfiri terrorist groups such as Daesh.
Syria has also rejected the independence referendum by Iraq's Kurds as "unacceptable," stressing that Damascus only recognizes a unified Iraq.
Underlining the importance of focusing on the war against Daesh, the US State Department warned that the terror group was "seeking to exploit instability and discord."
"The United States supports a united, federal, democratic and prosperous Iraq and will continue to seek opportunities to assist Iraqis to fulfill their aspirations within the framework of the constitution," the statement added.
Following the vote, the Iraqi army held major military drills with the Turkish military along the common border between the two countries.
Full report at:
http://www.presstv.ir/Detail/2017/09/26/536491/US-disappointed-Iraq-Kurdistan-referendum
---------
Venezuela slams new US travel ban as 'psychological terrorism'
Sep 25, 2017
The government in Caracas has lambasted the White House for a ban on the travel of Venezuelan citizens to the United States, saying the restriction is a form of "psychological terrorism."
"These types of lists .... are incompatible with international law and constitute in themselves a form of psychological and political terrorism," said the Venezuelan Foreign Ministry in a statement on Monday, a day after Washington included Venezuela in a list of eight countries targeted by a US travel ban.
The statement said the move to include Venezuela in the list was in line with Washington's previous decisions to bring down the government in Caracas, adding that the ban, which is limited to officials from a list of government agencies and their families, aimed to "stigmatize" Venezuela.
It said the US government was using "the pretext of combating terrorism" to include Venezuela "in a unilaterally drawn-up list" and to accuse "other states of being alleged promoters of this terrible scourge."
The statement designated the move as an "irrational decision" which cataloged "the noble Venezuelan people as a threat to their (US) national security."
The Socialist government of President Nicolas Maduro has repeatedly accused the United States of capitalizing on Venezuela's economic problems, which have been exacerbated by a slump in global oil prices, to undermine the country's political stability and pave the way for the rise of the pro-Western opposition to power.
Maduro has blamed the US government for protests and clashes in Venezuela that rocked the Latin American country for months.
Most of the nations affected by the ban were part of an original travel ban, introduced after President Donald Trump took office in January.
Full report at:
http://www.presstv.ir/Detail/2017/09/25/536463/Venezuela-US-travel-ban
---------
Russian operatives used Facebook ads to exploit America's racial and religious divisions
By Adam Entous, Craig Timberg and Elizabeth Dwoskin
September 25, 2017
The batch of more than 3,000 Russian-bought ads that Facebook is preparing to turn over to Congress shows a deep understanding of social divides in American society, with some ads promoting African American rights groups, including Black Lives Matter, and others suggesting that these same groups pose a rising political threat, say people familiar with the covert influence campaign.
The Russian campaign — taking advantage of Facebook's ability to send contrary messages to different groups of users based on their political and demographic characteristics — also sought to sow discord among religious groups. Other ads highlighted support for Democrat Hillary Clinton among Muslim women.
These targeted messages, along with others that have surfaced in recent days, highlight the sophistication of an influence campaign slickly crafted to mimic and infiltrate U.S. political discourse while also seeking to heighten tensions between groups already wary of one another.
The nature and detail of these ads have troubled investigators at Facebook, on Capitol Hill and at the Justice Department, say people familiar with the advertisements, who spoke on the condition of anonymity to share matters still under investigation.
The House and Senate intelligence committees plan to begin reviewing the Facebook ads in coming weeks as they attempt to untangle the operation and other matters related to Russia's bid to help elect Donald Trump president in 2016.
"Their aim was to sow chaos," said Sen. Mark R. Warner (D-Va.), vice chairman of the Senate Intelligence Committee. "In many ­cases, it was more about voter suppression rather than increasing turnout."
The top Democrat on the House Intelligence Committee, Rep. Adam B. Schiff of California, said he hoped the public would be able to review the ad campaign.
"I think the American people should see a representative sample of these ads to see how cynical the Russians were using these ads to sow division within our society," he said. Schiff had not yet seen the ads but was briefed on them, he said, including the ones mentioning "things like Black Lives Matter."
The ads that Facebook found raise troubling questions for a social networking and advertising platform that reaches 2 billion people each month, and they offer a rare window into how Russian operatives carried out their information operations during an especially tumultuous period in U.S. politics.
Investigators at Facebook discovered the Russian ads in recent weeks, the company has said, after months of trying in vain to trace disinformation efforts to Russia. The company said it has identified at least $100,000 in ads purchased through 470 phony Facebook pages and accounts. Facebook said this spending represented a tiny fraction of the political advertising on the platform during the 2016 campaign.
The divisive themes seized on by Russian operatives were similar to those that Trump and his supporters pushed on social ­media and on right-wing websites during the campaign. U.S. investigators are now trying to figure out whether Russian operators and members of Trump's team coordinated in any way. Critics say Trump, as president, has further inflamed racial and religious divisions, citing his controversial statements after violent clashes in Charlottesville and limits imposed on Muslim immigration.
The previously undisclosed ads suggest that the operatives worked off evolving lists of racial, religious, political and economic themes. They used these to create pages, write posts and craft ads that would appear in users' news feeds — with the apparent goal of appealing to one audience and alienating another. In some cases, the pages even advertised events.
"The idea of using Facebook to incite anti-black hatred and anti-Muslim prejudice and fear while provoking extremism is an old tactic. It's not unique to the United States, and it's a global phenomenon," said Malkia Cyril, a Black Lives Matter activist in Oakland, Calif., and executive director for the Center for Media Justice. Social media companies "have a mandate to stand up and take deep responsibility for how their platforms are being abused."
Facebook declined to comment on the contents of the ads being turned over to congressional investigators and pointed to a Sept. 6 statement by Alex Stamos, the company's chief security officer, who noted that the vast majority of the ads run by the 470 pages and accounts did not specifically reference the U.S. presidential election, voting or any particular candidate.
"Rather, the ads and accounts appeared to focus on amplifying divisive social and political messages across the ideological spectrum — touching on topics from LGBT matters to race issues to immigration to gun rights," ­Stamos said at the time.
A Cold War tactic
Moscow's interest in U.S. race relations dates back decades.
In Soviet times, operatives didn't have the option of using the Internet, so they spread their messages by taking out ads in newspapers, posting fliers and organizing meetings.
Much like the online ads discovered by Facebook, messages spread by Soviet-era operatives were meant to look as though they were written by bona fide political activists in the United States, thereby disguising the involvement of an adversarial foreign power.
Russian information operations didn't end with the collapse of the Soviet Union.
After a lull in tensions, Russia's spy agencies became more assertive under the leadership of President Vladimir Putin. In recent years, those services have up­dated their propaganda protocols to take advantage of new technologies and the proliferation of ­social media platforms.
"Is it a goal of the Kremlin to encourage discord in American society? The answer to that is yes," said Michael A. McFaul, a former U.S. ambassador to Russia who is now a director of the Freeman Spogli Institute for International Studies at Stanford University. "More generally, Putin has an idea that our society is imperfect, that our democracy is not better than his, so to see us in conflict on big social issues is in the Kremlin's interests."
Clinton Watts, part of a research team that was among the first to warn publicly of the Russian propaganda campaign during the 2016 election, said that identifying and exploiting existing social and cultural divisions are common Russian disinformation tactics dating back to the Cold War.
"We have seen them operating on both sides" of an issue, said Watts, a fellow with the Foreign Policy Research Institute and a former FBI agent.
Microtargeting users
When Mark Zuckerberg founded Facebook in his college dorm room in 2004, no one could have anticipated that the company would become an advertising juggernaut worth almost half a trillion dollars — the largest online advertising company in the world after Google. Roughly a third of the world's population now logs in monthly.
As Facebook's user base rapidly expanded, the company wrote the playbook for digital targeting in the smartphone era — and for the type of microtargeting that has become critical to modern political campaigns.
The social network invested heavily in building highly sophisticated automated advertising tools that could target specific groups of people who had expressed their preferences and interests on Facebook, from newlyweds who studied at Dartmouth College to hockey enthusiasts living in a particular Zip code in Michigan.
The migration from traditional personal computers to smartphones and tablets helped Facebook gain a major edge: The company pioneered techniques to help advertisers reach the same user on their desktop and mobile devices, helping Facebook grow sevenfold in value since it went public in 2012. Today, advertisers who want to target Facebook ­users by demographics or interests have tens of thousands of categories to choose from, and they are able to flood users with ads wherever they go on the Internet.
Ads on Facebook have directly appeared in people's news feeds since 2012. If a user "likes" a page, administrators of that page can pay for ads and post content that will then appear in that person's news feed.
Since the 2012 presidential election, Facebook has become an essential tool for political campaigns that wish to target potential voters. During the height of election season, political campaigns are among the largest advertisers on Facebook. Facebook has built a large sales staff of account executives, some of whom have backgrounds in politics, who are trained to assist campaigns in spreading their messages, increasing engagement and getting immediate feedback on how they are performing.
The Trump campaign used these tools to great effect, while Clinton's campaign preferred to rely on its own social media experts, according to people familiar with the campaigns.
Aiming at swing voters
Since taking office, Putin has on occasion sought to spotlight racial tensions in the United States as a means of shaping perceptions of American society.
Putin injected himself in 2014 into the race debate after protests broke out in Ferguson, Mo., over the fatal shooting of Michael Brown, an African American, by a white police officer.
"Do you believe that everything is perfect now from the point of view of democracy in the United States?" Putin told CBS's "60 Minutes" program. "If everything was perfect, there wouldn't be the problem of Ferguson. There would be no abuse by the police. But our task is to see all these problems and respond properly."
In addition to the ads described to The Post, Russian operatives used Facebook to promote anti-immigrant and anti-Muslim messages. And Facebook has said that one-quarter of the ads bought by the Russian operatives identified so far targeted a particular geographic area.
While Facebook has played down the impact of the Russian ads on the election, Dennis Yu, chief technology officer for BlitzMetrics, a digital marketing company that focuses on Facebook ads, said that $100,000 worth of Facebook ads could have been viewed hundreds of millions of times.
According to Yu, "$100,000 worth of very concentrated posts is very, very powerful. When you have a really hot post, you often get this viral multiplier. So when you buy this one ad impression, you can get an extra 20- to 40-times multiplier because those people comment and share it."
Momentum is building in Congress and elsewhere in the federal government for a law requiring Facebook and other Web companies to reveal publicly who bought political ads and the amount that was spent on their platforms. Newspapers, television stations and other traditional carriers of campaign messages already disclose such information.
Watts, the Foreign Policy Research Institute fellow, said he has not seen the Facebook ads promised to Congress, but he and his team saw similar tactics playing out on Twitter and other platforms during the campaign.
Watts said such efforts were most likely to have been effective in Midwestern swing states such as Wisconsin and Michigan, where Democratic primary rival Sen. Bernie Sanders had beaten Clinton. Watts said the disinformation pushed by the Russians included messages designed to reinforce the idea that Sanders had been mistreated by the Democratic Party and that his supporters shouldn't bother to vote during the general election in November.
Full report at:
https://www.washingtonpost.com/business/technology/russian-operatives-used-facebook-ads-to-exploit-divisions-over-black-political-activism-and-muslims/2017/09/25/4a011242-a21b-11e7-ade1-76d061d56efa_story.html?utm_term=.2cb987608b76
---------
US-India ties should not affect relations with Pakistan: Mattis
Sep 26, 2017
Stronger military ties between India and the United States should not affect relations with neighbours such as Pakistan, US Defence Secretary Jim Mattis said ahead of a visit to New Delhi.
The Pentagon chief arrived Monday for a 48-hour trip - the first to India by any member of President Donald Trump's cabinet.
"This is a historic opportunity for our two democracies at a time of strategic convergence," Mattis told reporters on his flight. He is to meet Prime Minister Narendra Modi and his new defence minister in New Delhi.
The trip comes weeks after Trump unveiled a new Afghanistan strategy and urged India to increase assistance to the war-torn nation's economy.
When asked how he would balance the India-Pakistan dynamic, Mattis stressed that the relationship the United States is pursuing with India is "not to the exclusion of other countries".
"Any nation that is living by the traditional rules of non-interference in other states in today's age of anti-terrorism, they will not find this relationship in any way adversarial," he said.
India has long vied with Pakistan for influence in Afghanistan, building dams, roads and a new parliament in the troubled country. Last year it offered some $1 billion in aid.
Trump's new Afghan strategy includes the deployment of more than 3,000 additional US troops.
Defence cooperation
In 2016 the United States designated India a "Major Defence Partner" with an aim of improving military cooperation, increasing information-sharing and cutting red tape to ease defence deals.
Mattis's predecessor Ash Carter pushed hard for stronger defence ties and the Trump administration has the same aim.
The two sides will be "discussing joint efforts to advance common goals through a broader strategic exchange of views", Mattis said.
"India from our perspective is clearly a pillar of regional stability and security: we share a common vision for a peaceful and prosperous future in the Indo-Pacific region."
Trump has praised India for contributing to regional stability and for buying US military equipment.
India is contemplating buying Lockheed Martin's F-16 Block 70 aircraft in a deal potentially worth $15 billion.
The US firm has offered the most upgraded version of the jet fighter to India, the world's largest weapons importer.
It is competing with Swedish defence giant Saab, whose Gripen E made its maiden flight in June.
A drone deal for the Indian Navy will also likely be up for discussion, a source familiar with the negotiations told AFP.
"Since Chinese assets have started to dominate the Indian Ocean region, the Trump administration is keen on fast-tracking the acquisition of the drones," the source said.
Many commentators have said US-India cooperation could act as a counterweight to an increasingly assertive China, which has been developing its military capabilities.
Full report at:
http://nation.com.pk/international/25-Sep-2017/us-india-ties-should-not-affect-relations-with-pakistan-mattis
---------
US hypocritical policies to blame for Russian general's death in Syria: Moscow
Sep 26, 2017
Moscow has said that the death of Russian Lieutenant-General Valery Asapov in Syria is the result of the US' hypocritical policies.
"The death of the Russian commander is the price paid with blood for the hypocrisy of American policy in Syria," said Russian Deputy Foreign Minister Sergey Ryabkov on Monday.
Asapov died on Sunday after coming under Daesh mortar fire in Syria's eastern Dayr al-Zawr province.
He was a senior military advisor and was stationed at a Syrian command outpost aiding in the full liberation of Dayr al-Zawr when he was killed.
"The American side declares that it is interested in the elimination of Daesh ... but some of its actions show it is doing the opposite and that some political and geopolitical goals are more important for Washington," Ryabkov added.
He added that Russia wants the US' statements on combating terrorism not to be at odds with its actions on the ground.
On multiple occasions, Moscow has complained about what it suggests are suspiciously friendly ties between US-backed militants , US special forces, and Daesh in the region, with the goal of to slowing the advance of the Syrian army.
Full report at:
http://www.presstv.ir/Detail/2017/09/26/536486/syria-russian-general-us
---------
Europe
Growing anti-migrant sentiment worries pope
September 25, 2017
Pope Francis said he is worried that Catholics are arguing against accepting more migrants and refugees into their communities, and they often cite an ill-defined "'moral obligation' to preserve the original cultural and religious identity" of their nations.
"I will not hide my concern about the signs of intolerance, discrimination and xenophobia that are seen in different regions of Europe," the pope said Sept. 22 during a meeting with the directors of migrant and refugee services from the bishops' conferences of Europe.
"These often are motivated by distrust and fear of the other, the different, the stranger."
"But I'm even more worried by the sad observation that these reactions are not absent from our Catholic communities," he said.
Catholics harboring anti-immigrant sentiments need to realize that "the church spread to every continent thanks to the 'migration' of missionaries who were convinced of the universality of the message of salvation in Jesus Christ, which is destined for men and women of every culture."
The ongoing impact of the economic crisis has been "aggravated by the size and composition" of the waves of migrants trying to reach Europe, he said.
The receiving countries have been unprepared to accept the migrants, frequently from the Middle East and Africa, and both national and European Union policies on migration seem to be "inadequate."
For its part, the pope said, the Catholic Church must "show concretely" its love and concern for all people on the move at every stage of their journey.
"The encounter with migrants and refugees of other confessions and religions," he said, "is fertile ground for the development of a sincere and enriching ecumenical and interreligious dialogue."
http://www.ucanews.com/news/growing-anti-migrant-sentiment-worries-pope/80341
---------
'Daesh leader' in Germany to stand trial for radicalizing youth
Sep 26, 2017
The Takfiri Daesh terror group's "central figure" in Germany, who was arrested last November, is to go on trial on charges of radicalizing young people and running a militant network linked to the Berlin Christmas attacker.
Iraqi national Ahmad Abdulaziz Abdullah A., also known as Abu Walaa, will appear amid tight security before a court in the northern German city of Celle on Tuesday.
He is also called the "preacher without a face" due to his concealed face in the propaganda videos posted by Daesh online.
He and four co-defendants are accused of supporting Daesh, which is mainly concentrated in Iraq and Syria but has claimed terrorist attacks across the globe.
Prosecutors said in their indictment that the five people were creating a pan-regional extremist militant network, led by Abu Walaa as the representative of Daesh in Germany.
"The goal of the network was to send people to IS (Daesh) in Syria or Iraq," the prosecutors said in their indictment.
The extremist preacher was arrested in November 2016, along with four others on suspicion of establishing the network to recruit German Daesh terrorists.
Abu Walaa had built a strong social media following that at one point amounted to as many as 25,000 Facebook fans.
The federal prosecutor's office in Karlsruhe announced after Abu Walaa's arrest that the preacher was a regular speaker at events.
Walaa notably spoke at a Berlin mosque frequented by Anis Amri, who drove a truck through a crowded Christmas market last December, killing 12 people.
Full report at:
http://www.presstv.ir/Detail/2017/09/26/536497/Europe-Germany-Daesh-Walaa
---------
Head of controversial UK Muslim advocacy group convicted over counter-terrorism search
September 25, 2017
The head of a controversial UK advocacy group that has supported Muslims arrested for terrorism-related offences has been convicted after refusing to hand over computer password details when he was stopped by police at Heathrow Airport.
Muhammad Rabbani, 36, declined to give the security code for his phone, or password for his computer, saying he was concerned about the impact on hundreds of people who had gone to his charity for help.
He was stopped under anti-terrorism legislation that allows officers to search passengers at ports and airports without having reasonable suspicion that they are involved with terrorism.
Rights groups and watchdogs have raised questions over the use of the tactic, saying that it indiscriminately targets ethnic groups. Prosecutors said Mr Rabbani was not stopped randomly after returning from a wedding in Doha, Qatar but police declined to say what information they had on him before his arrest.
Rabbani claimed that had been stopped between 20 and 30 times previously and had never before handed over the pin code to his phone but was convicted Monday of wilfully obstructing a stop and search under counter-terrorism legislation.
Judge Emma Arbuthnot said: "I find he took a calculated risk and, as on certain earlier occasions, the police wouldn't take any further action.
"At the time of the stop he was warned over and over he would be committing an offence if he didn't provide the information."
He was given a conditional discharge, meaning he was not fined or sent to jail, and was given flowers by supporters after he left the court.
The London court was told that he declined to tell officers what he did for a living, and claimed that their questioning breached his privacy.
Rabbani's organisation, Cage, works with Muslim communities and has campaigned against what it considers draconian counter-terrorism legislation, and the government's anti-radicalisation programme.
The group has acted on behalf of Britons detained in Guantanamo Bay and in Britain after police operations. It was criticised by leading politicians after it emerged that Mohammed Emwazi, a Briton who featured in ISIL propaganda films as an executioner in Syria, had sought advice from Cage over alleged harassment before leaving the country in 2012.
A senior official from the group said that Emwazi had been a "beautiful young man" before he had been radicalised, sparking accusations from politicians that the group was an apologist for terrorism.
He told the court that he had been unwilling to hand over the details because of the people that the group represented. Rabbani said he had about 30,000 documents on his devices relating to a Qatari client allegedly tortured in the US.
Full report at:
https://www.thenational.ae/world/europe/head-of-controversial-uk-muslim-advocacy-group-convicted-over-counter-terrorism-search-1.661650
---------
Muslim surgeon forgives attacker after being stabbed outside mosque
Sep 26, 2017
According to The Independent, a Muslim surgeon who treated Manchester Arena victims said he has forgiven a man who stabbed him in the neck outside a mosque in a hate crime attack.
Consultant Nasser Kurdy, who operated on those injured in the outrage in May, was stabbed from behind with a knife as he walked into Altrincham Islamic Centre in Hale, Cheshire just before 6pm yesterday.
The 58-year-old victim suffered a three centimetre wound to the back of his neck and was taken to Wythenshawe Hospital for treatment, where he works as a consultant orthopaedic surgeon.
On Monday the father of three, from a Syrian–Jordanian family, was preparing to go back to work to treat his patients as the police investigation continued.
He said: "God was merciful to me yesterday. It could be a nerve, an artery, a vein, the gullet. The neck is the contact between the body and your head, but fortunately it was just the muscle.
"As I entered the grounds of the premises, I felt that pain and the blow to my neck.
"I turned around and saw this gentleman in a threatening pose. I did feel threatened, I did feel vulnerable."
He rushed inside and, fearing the attacker may follow, grabbed a chair and dashed outside, but his attacker had fled.
Police later made two arrests and said they were treating the incident as a hate crime.
Mr Kurdy has worked as a doctor for four decades, after coming to Britain to study medicine in 1977 and working in Perth, Dundee and Northampton before settling in Manchester in 1991.
He was going to the Islamic Centre for mid-afternoon prayers and a committee meeting, as he is a lay imam, sometimes giving sermons, and vice chairman of Altrincham and Hale Muslim Association.
Mr Kurdy said, ahead of giving a police statement, that he could not say what his attacker said to him, but was in "no doubt" he was attacked because he was entering the Islamic Centre.
But he added he feels no anger towards his attacker.
He said: "He is not representative of what this country stands for. I have absolutely no anger or hate or anything negative towards him. I have declared it, I have totally forgiven him.
"He could be a marginalised person within his own community."
But Mr Kurdy said he felt hate crimes against Muslims were escalating on the back of terror incidents including the Arena bombing and the Parsons Green tube attack.
"The climate is very threatening, very worrying. Something could have happened, horrible, yesterday.
"The atmosphere that is around has allowed for that.
"There needs to be acknowledgement that hate crimes against Muslims are on the increase and they are becoming more physical.
"It's not just someone saying something verbally, or somebody pulling a headscarf or what have you, it is now taking that extra step and I think that extra step is what has started worrying and frightening people.
"There are very senseless acts of insanity taking place, which can only fuel anger and hate.
"We can't hide away from what happened in Manchester, what happened around the country and the recent Tube incident. That will fuel hatred and anger.
"People need to know there are Muslims like myself. I've worked hard, I'm a surgeon, I treat people. I have a wonderful community. My colleagues at work respect me and value my contribution.
"I don't think I can see anybody more integrated than I am. I get invited to sit on services in the synagogue, service on Remembrance Sunday, I'm always in the church at All Saints.
"I'm sure people don't get to see that, all they get to see is those crackpots."
Mr Kurdy said Muslims at the Islamic Centre were now frightened and security will be reviewed.
The centre has suffered a brick through its windows, graffiti and a rubbish bin set alight in the past.
Greater Manchester Police said two men, aged 32 and 54, were arrested within an hour of the attack.
Both of the men are understood to have been arrested in the local area.
The force is treating the matter as a hate crime but not terrorism related.
Assistant Chief Constable Russ Jackson said: "This is a very nasty and unprovoked attack against a much-loved local man."
Dr Khalid Anis, a spokesman for the Altrincham & Hale Muslim Association, said: "It could have been very, very serious.
"There were definitely abusive comments made - obviously he was in shock at the time, he had just been stabbed, so the detail of those comments I don't know, but there were definitely abusive comments made by the attackers at the door of the mosque.
"We understand it was a knife, he is very lucky.
"The fact they attacked an orthopaedic consultant who devoted his life to helping others is really quite poignant."
Other Muslim leaders condemned the attack.
Harun Khan, secretary general of the MCB, said on Sunday: "We are shocked to hear of the stabbing of a prominent Muslim surgeon outside Altrincham mosque today in what the Greater Manchester Police have described as a hate crime.
"We are relieved to hear that the victim's injuries are not currently critical.
"Our prayers are with the victim, his family and the local community."
Full report at:
http://nation.com.pk/international/26-Sep-2017/muslim-surgeon-forgives-attacker-after-being-stabbed-outside-mosque
---------
UK under pressure as US doubles strikes in Yemen
Sep 25, 2017
US President Donald Trump has doubled his country's secret military operations in Yemen, according to a new report, causing unease for close allies like the UK which is already accused of complicity in Saudi Arabia's war on the impoverish country.
The US military has carried out as many as 93 covert airstrikes in Yemen this year, more than two times the 40 airstrikes that his predecessor Barack Obama conducted during his last year in the White House, according to data by the Bureau of Investigative Journalism, or TBIJ.
According to the bureau, which tracks US air and drone operations in Pakistan, Afghanistan, Somalia and Yemen, the attacks have killed at least 30 people in Yemen so far.
The report noted that if the attacks continue at their current rate, which stands at one airstrike per two days, US airstrikes across Yemen are expected to show a five-fold increase.
Yemen has been under regular US drone strikes, with Washington claiming to be targeting al-Qaeda elements, while local sources say civilians have been the main victims.
In March, Trump gave the Central Intelligence Agency (CIA) new powers to launch drone attacks against suspected terrorist targets.
In January and May, the US conducted deadly ground and aerial raids on Yemeni soil, leaving dozens of people dead.
The attacks have further complicated the situation in the conflict-ridden country, which has been driven towards a humanitarian crisis after enduring a brutal war led by Saudi Arabia since March 2015.
UK feeling the heat
The Trump administration's growing military role in Yemen has brought more attention to the UK's extensive arms deals with Saudi Arabia.
London has been resisting international calls to stop aiding Saudi war crimes in Yemen, amid overwhelming evidence that British weapons and intelligence are being used to target Yemeni civilians.
There is "mounting evidence" for British support for US operations in Yemen and elsewhere, UK-based human rights group Reprieve said in a recent report.
Full report at:
http://www.presstv.ir/Detail/2017/09/25/536419/US-Trump-UK-Yemen-war-Saudi-repreive-TBIJ
---------
Southeast Asia
Turkish Author Mustafa Akyol Detained At KLIA, Says His Host
September 25, 2017
KUALA LUMPUR: Prominent Turkish journalist Mustafa Akyol is believed to have been detained at the Kuala Lumpur International Airport (KLIA), hours after Islamic authorities pressured organisers of a forum featuring him to call it off at the last minute, FMT has learned.
Akyol had gone to the airport to board a flight to Rome via Istanbul on a Turkish Airlines flight at 11.35pm tonight.
The Islamic Renaissance Front (IRF) which hosted the US-based writer for a lecture tour that abruptly ended this afternoon following the cancellation of a forum at the Nottingham University's Kuala Lumpur campus, said it had been trying to get in touch with Akyol at the airport.
IRF director Dr Ahmad Farouk Musa said he feared that Akyol was detained at the immigration gate before being taken away.
"I could not get in touch with him after he told me he was stopped at the immigration," he told FMT. "I presumed he was taken away."
Farouk said efforts to contact KLIA's immigration authority had been in vain.
"I could not contact the immigration. They did not answer the call."
According to Farouk, Akyol's wife, Riada Asimovic Akyol also tried in vain to contact her husband.
"He did not contact her from the business lounge as promised," said Farouk.
FMT also tried to contact the immigration at the airport as well as the airport authorities without success.
The Federal Territory Islamic Affairs Department (Jawi) had earlier issued a summonse to Akyol for investigation under the Syariah Criminal Offences (Federal Territories) Act, for the offence of teaching without official credentials from the religious authorities. It is believed that the session did not take place.
The department has also summoned Farouk for "abetting" with Akyol, an offence under the same law. Farouk was to present himself at the Jawi office in the city on Wednesday.
This has been Akyol's fifth visit to Malaysia.
The 45-year-old is a critic of President Recep Tayyip Erdoğan, and is known for speaking out against both Islamists and secularists in his home country.
Last night at a forum on democracy, Akyol criticised governments who used draconian laws to remain in power.
"You won't be in power forever and when you're out of power, you will realise that these illiberal systems that you created will make things very difficult for you," he said.
In an earlier forum, Akyol questioned advocates of moral policing, saying it was not part of the shariah which only sought to fight crimes and not personal sins.
http://www.freemalaysiatoday.com/category/nation/2017/09/25/turkish-author-akyol-detained-at-klia-says-his-host/
---------
Malaysian laundry washes hands off non-Muslims, but denies being racist
By Max Walden
26th September 2017
A SELF-SERVICE laundromat in Malaysia has come under fire for implementing a policy to bar non-Muslims from using its services.
In a sign widely circulated on social media, the coin laundrette in Muar, Johor proclaims: "Due to hygiene factors this shop only accepts customers who are Muslim. We regret to cause any inconvenience."
While only a minor, localised example of intolerance, the case has again spurred public debate over rising religious conservatism among the Malay Muslim majority, racial divisions and the country's sensitive pluralism.
It drew heavy criticism from many within Malaysia's Chinese and Indian minority communities online, who represent around 22.6 and 6.7 percent of the population, respectively, and are largely Christian, Hindu or Buddhist.
"If the government seriously wants to unite everyone under the slogan '1Malaysia', they should have rules restricting anyone putting ads … insensitive to religion and race," wrote one netizen, referring to Prime Minister Najib Razak's campaign to promote ethnic harmony and national unity.
Moderate Muslim group Sisters in Islam (SIS) released a statement in which it said it was "disappointed" by the laundromat's actions which it said was "yet another divisive policy that will further segregate and isolate our multi-racial and multi-religious communities from each other."
"Islam is a religion of fairness, justice and has high regard for dignity in humanity. Islam in its time of advancement and leadership always existed side by side with people of other faiths and ways of life," said SIS.
"The perception that non-Muslims are considered unclean and thus unable to mix laundry with the Muslims is in simple terms, prejudism and bigotry. It should be seen as such and not as an excuse of 'Islamic requirements'. It is an assumption which has no basis."
The owner of the laundry, however, told Free Malaysia Today that he is not racist and that there were many laundrettes available for non-Muslim customers nearby. "We respect other religions but ensuring cleanliness is a requirement under Islam," he said.
A United Nations Special Rapporteur on cultural rights recently said that Malaysia's professed commitment to diversity and tolerance didn't reflect the lived reality of many Malaysians.
Various sectors in society "expressed concern at what they saw … as the growing Islamisation of the Malaysian society and polity, based on an increasingly rigid and fundamentalist interpretation of Islam," said the Special Rapporteur's initial observations report.
Last Friday, some 25 Islamic civil society groups protested in Shah Alam near Kuala Lumpur to call upon Malaysia's government to prevent the hosting of festivals based around alcohol or the lesbian, gay, bisexual and transgender (LGBT) community.
Earlier in the week, a beer festival scheduled to take place in KL was controversially cancelled after complaints from Muslim activists and the Malaysian Islamic Party (PAS).
Full report at:
https://asiancorrespondent.com/2017/09/malaysian-laundry-washes-hands-non-muslims-denies-racist/#RbHjtLUZRt2IqzWK.97
---------
Turkish author puzzled by Jawi's action, hopes to return
Abdar Rahman Koya
September 26, 2017
SEPANG: Turkish-born author Mustafa Akyol said he was surprised that Malaysian religious authorities were after him, after the Federal Territory Islamic Affairs Department (Jawi) pressured a private university to cancel a forum where he was to speak.
"I don't claim to be a mufti or imam with religious authority," Akyol told FMT as he arrived at the Kuala Lumpur International Airport (KLIA) to board a flight to Rome, following the last-minute cancellation of a forum based on the theme of his latest book.
"I just had referred to the more liberal views in Islamic tradition, from an academic perspective, and the fact that even this raises alarm is puzzling to me."
The prominent journalist was on a lecture tour, his fifth visit to Malaysia, on the invitation of the Islamic Renaissance Front (IRF).
Yesterday, Akyol was to address a forum at the Kuala Lumpur campus of University of Nottingham Malaysia on the theme of his latest book, "The Islamic Jesus: How the King of the Jews Became a Prophet of the Muslims", which the New York Times described as "a welcome expansion of the fragile territory known as common ground".
However, the university was forced to cancel the forum at the last minute following pressure from Jawi, who had earlier summoned Akyol and IRF director Dr Ahmad Farouk Musa for questioning, accusing Akyol of teaching without official credentials, an offence under the Syariah Criminal Offences (Federal Territories) Act.
Akyol has often spoken out against both Islamists and secularists in his home country, and is a staunch advocate of free speech in Muslim countries. He has criticised Muslim governments for using undemocratic laws in the name of religion.
IRF's Farouk yesterday said he was convinced that the 45-year-old critic of Turkish leader Recep Tayyip Erdoğan was detained by Malaysian immigration authorities before his flight to Rome via Istanbul. Efforts to reach him failed and he had also not returned calls as promised.
'Yes, I'm a liberal Muslim'
Speaking to FMT earlier, Akyol said the forced cancellation of his programme yesterday only confirmed his fears.
"I believe Muslim societies need more freedom of speech and religion, and this incident only confirmed that conviction," he said.
At separate events over the weekend, he criticised governments who use draconian laws to remain in power, and questioned advocates of moral policing, saying it is not part of the shariah which only sought to fight crimes and not personal sins.
"I believe as a Muslim, that sins should not be matters of the state. You can and should advise Muslims who commit sins but you should not punish them," he told a forum organised by IRF yesterday.
Akyol agreed with critics who labeled his views as "liberal", saying his views were based on the Quranic dictum of "No compulsion in religion".
"Yes, of course. I am a liberal Muslim," he told FMT. "I think Islam should not be coerced and Muslims should be able to share their different views freely.
"Liberal does not mean 'secular' or 'non-believing'. It just means believing in 'no compulsion'," he added.
Akyol said he still loved Malaysia despite the incident, and hoped to return.
"I have been here five times before and I always felt great love and admiration for Malaysia.
Full report at:
http://www.freemalaysiatoday.com/category/nation/2017/09/26/turkish-author-puzzled-by-jawis-action-hopes-to-return/
---------
Indonesian Islamic State sympathiser gets life sentence for church attack that killed toddler
Sep 26, 2017
An Indonesian court has sentenced an Islamic State group sympathiser to life imprisonment for an attack on a church that killed a two-year-old girl and injured three other children.
The attacker was captured by local resident after throwing a Molotov cocktail at Oikumene Church in Samarinda, the provincial capital of East Kalimantan province on the island of Borneo, in November last year.
The only victims were children playing outside; a two-year-old girl, Ade Intan Marbun, died from her burns, while three others were injured.
The militant, Juhanda, who uses a single name, was previously convicted of terrorism offenses in 2011 but was released from jail in July 2014.
During his court appearances, Juhanda was not stopped by court officials from wearing Islamic State symbols on his Muslim head dressing and smiled broadly as the sentence was handed down.
Presiding Judge Surung Simanjuntak at the East Jakarta District Court said there was no reason for leniency because of the defendant's lack of remorse and previous conviction.
In a separate trial, Mr Simanjuntak also sentenced four co-conspirators — Supriyadi, Ahmad Dani, Rahmad, and Joko Sugito — to prison terms ranging from six to seven years.
Full report at:
http://www.abc.net.au/news/2017-09-26/indonesia-militant-gets-life-for-church-attack-that-killed-child/8986568
---------
Africa
Sudan promises more efforts to normalize ties with US as travel ban lifted
Sep 25, 2017
The Sudanese government has vowed to do more to normalize ties with the United States after Washington removed the country from its travel ban list and amid reports that decades-old US sanctions on Khartoum could be lifted.
"The government of Sudan will carry out more efforts to remove all obstacles to a full normalization of relations with the American administration," said the Sudanese Foreign Ministry in a statement on Monday, hailing a decision by Washington to drop Sudan from the list of countries facing a US travel ban as a "a positive development in the two countries' bilateral relations."
The ministry said US President Donald Trump's move to delist Sudan from the controversial travel ban was the result of a "clear and long dialogue" and growing cooperation between the two countries in regional and international issues.
It vowed that officials would do their best to prevent Sudanese people who may cause problems from traveling to the US.
"Sudanese authorities are professional and qualified enough to monitor who is travelling through Sudanese airports," said the statement.
The original travel ban, which came right after Trump assumed office in January, targeted six Muslim-majority countries, including Sudan. The ban had faced growing opposition from rights campaigners and governments while courts in the US had also ordered its partial annulment. The new list targets North Korea, Chad, Venezuela, Iran, Libya, Somalia, Syria and Yemen.
Trump's removal of Sudan from the list and his potential decision to permanently lift US sanctions imposed on the African country in 1997 comes after Khartoum clearly adopted a shift in its foreign policy.
Khartoum has sided with Saudi Arabia, a close ally of the US, in regional conflicts, a policy which seems to have appeased Washington.
Meanwhile, US officials have recently hailed Sudan's progress in the fight against terror.
The poor African country has been affected by years of insurgency as armed groups continue to pose threats to government forces and civilians.
http://www.presstv.ir/Detail/2017/09/25/536444/Sudan-US-travel-ban
---------
'Islam Conversion Saved My Life': Al-Qaeda Hostage In Mali Recounts Six-Year Desert Ordeal
By Jack Moore
9/25/17
A former hostage released by Al-Qaeda in June after almost six years has recounted his ordeal at the hands of jihadis in Mali, saying that converting to Islam saved his life.
In November 2011, Swedish national Johan Gustafsson arrived in the Malian town of Timbuktu to take a motorcycle journey through the country, but radical Islamists allied to Al-Qaeda in the Islamic Maghreb swept him away within 24 hours of his arrival, driven by the possibility of securing a ransom for his release.
They took Gustafsson and two other hostages— South African Stephen McGowan, who was released in August, and Dutchman Sjaak Rijke, who French special forces rescued in April 2015—at gunpoint from their hotel, killing a fourth foreign national, a German man. It was the start of a six-year hostage ordeal in the Saharan desert.
Gustafsson has opened up about his experience, speaking at a museum in Stockholm to The New York Times. He said that converting to Islam had played a role in keeping him alive for such a long period of time.
"It was to save my life," he said. "I see that as the most clear evidence that it actually helped change my situation."
After converting to the religion of his captors, Gustafsson did not have to take part in hostage videos dressed in orange jumpsuits copied from Guantanamo Bay, begging for rescue. Such videos are a tactic often used by jihadis to try to summon a ransom from the home nations of their captives.
Instead, he and the other captives that converted would sit alongside their captors, and eat with them, guarded by a dozen or so men. Like something between a "prison sentence and Robinson Crusoe," his captivity meant frequent moving and living outdoors in the middle of the Saharan Desert.
"We are a group of young guys hanging out in a sandbox, living through the same things—sand storms, problems with the car. If we don't have water, it's the same for all of us," he said.
Somewhat surprisingly, he said that he would return to the Sahel if he had the right security. "I'm not going to miss those guys, but I'm going to miss the desert, the vastness, the night skies," he said.
"When you live there, you learn the landscape. You know where the wind comes from at different times of the year. You know how the storms move. All of this is just so majestic."
Several countries, such as Britain and the U.S., do not negotiate with extremist groups, but others in Europe—such as France, Spain and Sweden—are believed to have paid ransoms to secure the release of their citizens from the hands of jihadi. Such exchange deals are largely conducted in secret, and Stockholm has said that Gustafsson's release came as a result of diplomatic efforts.
Gustafsson said he believed that Al-Qaeda's North African affiliate has received many handsome sums in return for the release of foreign nationals. "They're well financed nowadays," he said. "They say they didn't used to be, but now they are, and it's not difficult to figure out that that is actually the money that has been paid by European governments."
Mali, a former French colony, has been wracked by several insurgencies since 2011. Tuareg separatist rebels attempted to take control of northern Mali in 2012, while Al-Qaeda in the Islamic Maghreb seized Timbuktu, where they kidnapped Gustafsson in 2011, before French forces and Malian troops ousted the jihadis.
Deprived of territory, the jihadis have continued to mount attacks, and are believed to have several foreign hostages.
Full report at:
http://www.newsweek.com/islam-conversion-saved-my-life-al-qaeda-hostage-mali-recounts-six-year-desert-670248
---------
URL: https://www.newageislam.com/islamic-world-news/indian-extremist-preacher-nadwi-once/d/112666
New Age Islam, Islam Online, Islamic Website, African Muslim News, Arab World News, South Asia News, Indian Muslim News, World Muslim News, Women in Islam, Islamic Feminism, Arab Women, Women In Arab, Islamophobia in America, Muslim Women in West, Islam Women and Feminism