New Age Islam News Bureau
16 Aug 2015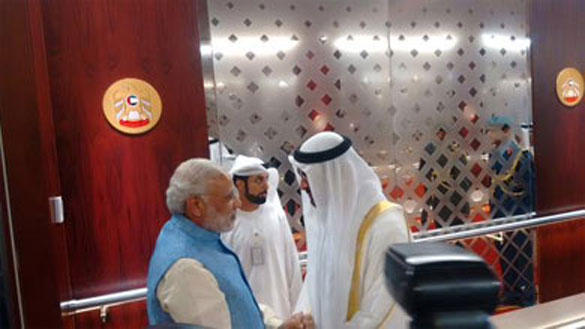 Indian Prime Minister Narendra Modi's visit to UAE will have major strategic, economic dimensions.
---------
India
• India Wants UAE as Top Partner in Trade, Counter-Terrorism: PM Narendra Modi
• Solemn ceremonies in Riyadh, Jeddah mark India's Independence Day
• India summons Pakistan high commissioner over ceasefire violations at LoC
-------
Arab World
• Over 50 ISIL Terrorists Killed in Iraqi Army Counter-Attack
• Bombs in and around Baghdad kill 22 people
• Iraqi Forces Win Back Al-Mallab Area in Southern Ramadi
• Syrian Army Retakes Strategic Checkpoint near Tal Za'tar in West Dara'a
• A No-Fly Zone for Merciless War on Syria
• Yemen anti-Houthi forces take Taiz government buildings
• Egypt's deposed President Morsi appeals death sentence: Lawyer
• Egypt to Open Rafah Crossing with Gaza for 4 Days on Monday
• Iraq's Abadi orders commanders to face trial
----
Pakistan
• Punjab Home Minister Shuja Khanzada Martyred in Attock Suicide Blast
• Three 'Baloch Liberation Army terrorists' killed in Rangers crackdown
• Remarks against ex-ISI chief cost minister, Mushahid­ullah Khan, his job
• Al Qaeda man sentenced to life in prison
• Anti-terrorism Court rejects bail plea of suspected terrorist
• Khanzada attack in retaliation of LeJ chief's killing: sources
• Chances of MQM's return to assemblies seem bright
• Rowdy Independence Day celebrations leave a bad taste in Pakistan
-------
Africa
• IS beheads 12 Libyans in battle for Sirte
• Belmokhtar's jihadist group says its Qaeda branch
• Boko Haram: Nigerian Air Force commences fresh air strike over Sambisa forest
• Cameroon Pledges More Troops against Boko Haram
----
South Asia
• Osama's son calls on followers in Kabul, Baghdad, Gaza to wage jihad on the West
• British Special Forces back in Afghanistan
• Gen. Dostum: Pakistan's ISI behind ongoing violence in Afghanistan
• President Ghani: Kabul's ring road important economical project
• 201st Corps Commander: Military operation in Hisarak District unprecedented in last 14 years
• BD troops kill five tribals in gunfight
----
Mideast
• Iran gives UN agency papers in reply to charges over N-arms
• 6 killed, 8 injured in attacks in Turkey's southeast
• Three Turkish soldiers killed in PKK attack after fresh strikes
• Nusra front frees several U.S.-trained Syrian rebels
• Palestinian shot dead after stabbing Israeli officer
• Turkish PM sheds tear for soldier killed in ISIS gunfight
---
Europe
• U.N. aid chief in first Syria trip to assess needs
-----
North America
• Hillary Clinton hits back at Jeb Bush on Iraq war
-----
Southeast Asia
• Indonesian passenger plane missing over Papua region
-----
Compiled by New Age Islam News Bureau
URL: https://www.newageislam.com/islamic-world-news/new-age-islam-news-bureau/india-wants-uae-as-top-partner-in-trade,-counter-terrorism--pm-narendra-modi/d/104282
------
India
India Wants UAE as Top Partner in Trade, Counter-Terrorism: PM Narendra Modi
PTI | Aug 16, 2015
ABU DHABI: Ahead of his talks with the Emirati leadership, Prime Minister Narendra Modi has said the Gulf region is vital for India's economic, energy and security interests and he wants to see the UAE as the foremost partner in trade and countering terrorism.
Noting that both India and UAE have a range of common security and strategic concerns in the region, including terrorism and extremism, the Prime Minister said he is keen to foster a strategic partnership, particularly in the security, energy and investment sectors, with the fastest growing Arab economy and its visionary and pragmatic leadership.
Modi, the first Indian Prime Minister to visit UAE in 34 years, will have talks with Sheikh Mohamed bin Zayed Al Nahyan, Crown Prince of Abu Dhabi, and Sheikh Mohammed bin Rashid Al Maktoum, the vice president and Prime Minister of UAE, a day after his arrival here.
"We have a range of common security and strategic concerns in the region, including terrorism and extremism. So India and the UAE have everything to be a top priority for each other. This is the way I look at the UAE. The Gulf region is vital for India's economic, energy and security interests," Modi said in an interview to Khaleej Times newspaper.
Noting that he has begun his regional engagement with the UAE which reflects the importance that he attaches to the country, Modi said he would like to see a truly comprehensive strategic partnership evolve between the two countries.
"I want to see the UAE as our foremost trade and investment partner. We would build regular and effective cooperation in a full range of security challenges. Our armed forces would engage with each other more. We will work together more closely in international forums and in addressing regional challenges. There are no limits to our relationship," Modi said.
Asserting that terrorism poses a grave danger to humanity, he said all those countries who believe in humanity, must stand together without delay as it was extremely necessary to challenge the forces of terrorism.
"As far as the Indian community is concerned, the languages that are spoken in India, are all spoken in the UAE! In a manner of speaking, the UAE is a 'Mini India'. The way the two communities work together represents a special bond," the Prime Minister said.
He said the Indian community was not only contributing to the progress and development of the host country, but also participating in the economic development of India through their remittances.
http://timesofindia.indiatimes.com/india/India-wants-UAE-as-top-partner-in-trade-counter-terrorism-PM/articleshow/48500189.cms
-----
Solemn Ceremonies In Riyadh, Jeddah Mark India's Independence Day
August 15, 2015
Munawarunnisa Nazneen
Saudi Gazette
RIYADH/ JEDDAH — The 69th Independence Day of India was celebrated with great joy and enthusiasm at the embassy in Riyadh and the consulate general in Jeddah.
Charge d'Affaires Hemant Kotalwar hoisted the national flag at the ceremony in Riyadh, followed by rendition of the national anthem and patriotic songs by the students of the International Indian School, Riyadh.
Kotalwar read out the president's message to the nation on the eve of India's 69th Independence Day to a gathering of over 500 members of Indian community, friends of India and mission officials.
A flag hoisting ceremony was also held on the premises of the Consulate General of India in Jeddah.
Patriotic songs such as 'Ye Mera India', 'Mera Desh Mera Mulk', 'Jahan Dal Dal par Soney ki Chidya Karti Hai Basera', echoed in the premises and awakened the spirits of the people as they stepped into the Indian consulate. There was a patriotic fervor in air.
Consul General B.S. Mubarak hoisted the tricolor on the occasion and everyone saluted the flag singing the national anthem.
Indian nationals, persons of Indian origin, members of the Saudi community and friends of India attended the ceremony.
The unfurling of the flag was followed by Mubarak reading out the president's message.
Mubarak extended warm greetings to all the participants.
"The birth of modern India was a moment of historic exhilaration; the most precious gift of the constitution was democracy, which reshaped liberty into a living opportunity and our institutions are the infrastructure of this idealism," Mubarak quoted the president as saying.
The president recalled Dr. B.R. Ambedkar's speech that the working of a constitution does not depend wholly upon the nature of the constitution but on the people and the political parties they will set up. He added that the country's rise would be measured by "the strength of our values; our policies must be geared to meet the zero hunger challenge in a foreseeable future."
He said: "Peace, friendship and cooperation bind nations and peoples together. And the Indian policy will remain one of zero tolerance for terrorism."
He paid homage to the martyrs who made the supreme sacrifice of their lives defending India and saluted the courage and heroism of the security forces.
He added that India is a complex country of 1.3 billion people, 122 languages, 1,600 dialects and seven major religions. Its strength lies in its unique capacity to blend apparent contradictions into positive affirmations. In Pandit Jawaharlal Nehru's words, it is a country held together by strong but invisible threads.
This enlightening message was followed by beautiful patriotic songs, which were sung by the nightingales of International Indian School, Jeddah. The lists of songs paying tribute to the nation included, 'Hum Us Desh Ke Wasi Hain', 'Sare Jahan Se Achcha' and a special patriotic number in memory of the late former president Dr. A.P.J. Abdul Kalam, 'Hum Hongay Kamiyab Ek Din' (We shall overcome one day).
The ceremony concluded with the wife of the consul general cutting the cake along with the ladies of the consulate and the children present.
http://www.saudigazette.com.sa/index.cfm?method=home.regcon&contentid=20150816253537
-----
India summons Pakistan high commissioner over ceasefire violations at LoC
TNN | Aug 16, 2015
NEW DELHI: India on Sunday summoned Pakistan high commissioner Abdul Basit and lodged a strong protest over the recent ceasefire violations by Pakistani troops along the LoC in which six people, including a woman, have been killed.
Basit was summoned to the external affairs ministry by secretary (east) Anil Wadhwa during which India conveyed its strong protest over the issue.
After the meeting, Basit said an effective mechanism was required to determine who is engaged in ceasefire violations.
"We are concerned about ceasefire violations in months of July and August, there have been close to 70 ceasefire violations from this side of the LOC and the working boundary. We are obviously very concerned about it," Basit was quoted as saying by ANI.
'Our side would like to have a more effective mechanism in place as to determine who indulges in these unprovoked firing,' he said.
http://timesofindia.indiatimes.com/india/India-summons-Pakistan-high-commissioner-over-ceasefire-violations-at-LoC/articleshow/48501631.cms
-----
Arab World
Over 50 ISIL Terrorists Killed in Iraqi Army Counter-Attack
Aug 16, 2015
TEHRAN (FNA)- The Iraqi defence ministry said that at least 50 members of the ISIL Takfiri terrorist group were killed in the Iraqi Army's counter-attack in the Eastern province of Salahuddin.
"The forces of the Division 5 of the Iraqi army repelled a massive assault of the ISIL militants on the oilfields of Allas and Ajail and gunned down 50 of them," the ministry said in a statement.
On Friday, The Iraqi air force conducted several airstrikes against positions of the ISIL Takfiri terrorists in the province of Salahuddin, and killed at least 125 of them.
The Takfiri militants were killed after Iraqi warplanes carried out precision strikes against the ISIL positions in the town of al-Shirqat, about 250 kilometers (155 miles) North of the capital, Baghdad, a security source said.
The source further said that six arms depots belonging to the terrorists were completely destroyed in the air raids.
Commander of the Federal Police Forces Lieutenant General Raed Shaker Jawdat also said Iraqi police troopers have engaged ISIL militants in the city of Husaybah, which lies seven kilometers (4.5 miles) East of Anbar's provincial capital city of Ramadi, killing 29 terrorists in the operation.
He added that a large amount of munitions and equipment, including rocket launchers and heavy machine guns, were destroyed in the operation.
http://english.farsnews.com/newstext.aspx?nn=13940525000917
----
Bombs in and around Baghdad kill 22 people
By the Associated Press | Baghdad 16 August 2015
A car bomb at a popular auto dealership Saturday killed 13 people and injured 52 in eastern Baghdad's volatile Sadr City neighbourhood, where a market bombing two days earlier killed dozens, police said.
The Habibiya car dealership, widely-known for buying and selling used vehicles, has been targeted multiple times in the past. The Islamic State of Iraq and Syria (ISIS) group claimed responsibility for the bombing in a communique distributed via affiliated Twitter accounts, saying the vehicle targeted a large gathering of the Iraqi army, federal police and government-backed Popular Mobilization Forces.
A massive explosion in a Sadr City market on Thursday killed at least 67 people and wounded more than 100. The bombing, claimed by ISIS, was one of the worst single-day attacks in Baghdad in a decade.
Elsewhere in and around the capital, a series of bombings killed at least nine people and wounded 33.
The largest took place in the town of Madain, just south of Baghdad, when a bomb tore through a popular market killing three people and wounding 10, police said.
In the town of Taji, north of Baghdad, a bomb hit a row of auto repair shops, killing two people and injuring eight.
In Baghdad's al-Askan district, an improvised explosive device detonated on a busy commercial street, killing at least two people and wounding eight. And in Baghdad's southeastern suburb of Jisr Diyala, police said two were killed and seven wounded when a bomb exploded on a commercial street.
Hospital officials corroborated the casualties. Officials spoke on condition of anonymity because they were not authorized to talk to reporters.
https://english.alarabiya.net/en/News/middle-east/2015/08/16/Bombs-in-and-around-Baghdad-kill-22-people.html
-----
Iraqi Forces Win Back Al-Mallab Area in Southern Ramadi
Aug 16, 2015
TEHRAN (FNA)- An official in Anbar province said on Sunday that the Iraqi Army and popular forces have retaken full control over the al-Mallab area and are approaching Ramadi through its Southern side.
"The Iraqi security forces alongside the army's 16th brigade have advanced from the area of al-Humaria into Ramadi, while arrived in al-Dabet and al-Bekr districts in South of the city," Ibrahim Fahdawi said.
"The government forces of the Anti-Terrorism Command have entered parts of the area of al-Mallab in South of Ramadi," he further added.
Fahdawi went on to say that the ISIL Takfiri terrorists have sustained heavy losses after the army's operations in the fighting areas.
On Friday, the Iraqi army and popular forces continued their advances in the Western parts of Iraq, and seized back a strategic region in the city of Ramadi.
The ISIL Takfiri terrorists were purged from al-Maziq in Ramadi city and the Iraqi forces restored full security to the region.
The Iraqi forces also destroyed three logistical vehicles of the ISIL in al-Maziq region.
Al-Maziq is located 9 kilometers to the East of Ramadi.
http://english.farsnews.com/newstext.aspx?nn=13940525000751
-----
Syrian Army Retakes Strategic Checkpoint near Tal Za'tar in West Dara'a
Aug 16, 2015
TEHRAN (FNA)- Following the recapture of Tal Za'tar form Liwaaa Thawar Souriya rebel group on Saturday, the Syrian army retook full control over the strategic sugar checkpoint, military sources in Dara'a province said Sunday.
The sources said that, after fierce clashes against the militants, the Syrian Army's 132nd Brigade of the 5th Armoured Division, pushed the fighters back from their positions and retook full control over the checkpoint.
The sources went on to say that two dozen rebels were killed and three armored vehicles were destroyed in the army's operations.
Tal Za'tar's location is imperative to both the Syrian Armed Forces and the rebels due to its proximity to the provincial capital's Western suburbs; if controlled by either side, it holds the key to Dara'a City's Western and Northern flanks.
http://english.farsnews.com/newstext.aspx?nn=13940525000509
-----
A No-Fly Zone for Merciless War on Syria
Aug 15, 2015
TEHRAN (FNA)- The US-Turkish plan to create a no-fly zone in Syria under the guise of eliminating ISIL has a dark motive.
After several days of prevarication, US officials say together with Turkey they will set up a coalition-protected "safe zone" inside northern Syria in return for permitting US aircraft to use Turkey's military bases to attack ISIL.
In what is more proof that this is a fake operation against ISIL, Washington is still resisting use of the term "no-fly zone", preferring the more innocuous "safe zone" or "buffer zone". But after initially ignoring Turkish media reports that a deal have been struck, US officials say a protected area could soon be a reality. They claim the still evolving plan envisages occupation of the zone by their trusted terrorist forces.
That such scheme is openly under consideration without a UN mandate - one of the wishes of Turkey since the very beginning of the war on Syria - suggests that the regime changers haven't given up on the idea of regime change in Damascus.
For those of us who can still remember, the US flew "no-fly zones" over Iraq for more than a decade before the 2003 invasion that toppled Saddam. US warplanes kept Iraqi aircraft out of the sky, and targeted air-defense systems that threatened to shoot.
Now, along with neighbouring Turkey, the US is planning to launch something similar over a stretch of northern Syria. So it's not a "safe zone". It's a bombing campaign. Much as in Iraq, no-fly zones often become precursors to additional military involvement at a later date.
The regime changers seek to eliminate air defenses so that they can launch airstrikes against the Syrian military and free up a launching pad for their trusted terrorists to conduct attacks deeper into Syria.
As for Turkey, it's all about PKK plus stretching its power to a war-stricken neighbor. Kurdish forces control most of the northern frontier, and the Turkish government views them as a threat. Ankara is also more interested in toppling President Assad than battling ISIL. In fact, Ankara does not have any problem with ISIL because the terrorist group is its protégé. Turkey seeks to suppress the Kurds and disintegrate Northern Syria by showing it is fighting ISIL.
No wonder Iran has voiced opposition to their illegal scheme as violation of Syria's territorial integrity and sovereignty. In the words of Iranian Foreign Ministry officials, the US and its associates have sown some very bitter seeds in yet another war of deceit in the Middle East.
History teaches us there will be consequences though: When their fortunes inevitably run out and they are forced to reap the bitter harvest - just like their botched military adventures in Iraq, Libya and Yemen.
http://english.farsnews.com/newstext.aspx?nn=13940524001433
----
Yemen anti-Houthi forces take Taiz government buildings
Fighters loyal to exiled government take security headquarters in country's third city after heavy clashes with Houthis.
Yemen, 16 Aug 2015: Forces loyal to Yemen's exiled government have made advances in Taiz, the country's third city, taking over the security headquarters and the governorate building there, following heavy clashes with Shia Houthi fighters.
Fighters backing the exiled president, Abd-Rabbu Mansour Hadi, were reported on Saturday to be inching closer to the presidential palace in the city, located southwest of the capital Sanaa, and military bases still under the control of Houthi rebels, army sources said.
A military source told Al Jazeera that at least 22 fighters were killed in the fighting in Taiz, which analysts regard as a gateway to Sanaa, the capital city which was overrun by the rebels earlier this year.
Al Jazeera's Hamdi al-Bakari, reporting from Yemen, said the Houthis were still in control of three important brigades in the city.
The advances by the forces backing Hadi have been aided by weapons and troops from Yemen's Gulf neighbours, as Saudi-led coalition warplanes continue to pound rebel positions.
Troops loyal to Hadi on Saturday also announced that they had gained control of Shabwa, the fifth southern province they have take over in the past month.
The Houthis "withdrew" and "handed over" Shabwa to the pro-government forces after they were promised a safe route out of the province, a military official told the AFP news agency.
Other army officials confirmed the rebel pull-out.
"The province was handed over" to the Southern Movement, a secessionist group whose fighters have been fighting in loyalist ranks, said Salem al-Awlaqi, a political activist in Shabwa.
Military officials said this week that the pro-rebel governor of Shabwa - which has substantial oil reserves - had fled as loyalist forces had prepared to enter the province.
They also accused the rebels of planting landmines in government buildings across Shabwa, as they had done in other provinces before fleeing.
Aid flights
Loyalist forces in the south launched an offensive last month against the Houthis, forcing them out of main southern city Aden in mid-July. They subsequently retook Daleh, Lahj and Abyan provinces.
Military sources say the coalition has provided Hadi's supporters with modern heavy equipment in recent weeks, including tanks and personnel carriers, as well as Yemeni soldiers trained in Saudi Arabia.
The conflict has cost nearly 4,300 lives since March, half of them civilians, according to UN figures, while 80 percent of Yemen's 21 million people need aid and protection.
Aid workers in the south told AFP that aid groups from Saudi Arabia, the UAE and beyond had begun distributing much-needed food and other supplies to residents in Aden and nearby areas.
A Saudi plane carrying 10 tonnes of medical aid landed at Aden on Saturday, the official SPA news agency reported, adding that this was the seventh aid flight to the city since July.
Since the oil-rich kingdom announced the forming of the anti-rebel coalition, Saudi Arabia has pledged $540 million in aid to Yemen.
http://www.aljazeera.com/news/2015/08/yemen-anti-houthi-forces-advances-taaz-150815174507849.html
-----
Egypt's deposed President Morsi appeals death sentence: Lawyer
Reuters | Aug 16, 2015
CAIRO: The court-appointed legal team representing deposed Egyptian president Mohamed Morsi filed an appeal on Saturday at the country's highest court challenging sentences of life imprisonment and death handed down in June, Morsi's lawyer said.
The Cairo criminal court sentenced Morsi to death over a mass jail break during the 2011 uprising against Hosni Mubarak as well as life imprisonment for giving state secrets to Qatar. It also issued sweeping punishments against the leadership of the Musim Brotherhood, Egypt's oldest Islamic group.
The general guide of the Muslim Brotherhood, Mohamed Badie, and four other leaders were also handed the death penalty. More than 90 others, including influential cleric Youssef al-Qaradawi, were sentenced to death in absentia.
The sentences were part of a crackdown launched after an army takeover stripped Morsi of power in 2013 following protests against his rule. Hundreds of Islamists have been killed and thousands arrested.
The government has declared the Brotherhood a terrorist group and has accused it of fomenting an Islamist insurgency since Morsi's removal, but the group has said it is committed to political change through peaceful means only.
Morsi has not appointed a lawyer to defend himself and has refused to recognise the legitimacy of the court proceedings, saying he remains the legitimate president of the country.
The government has said the judiciary is independent and it never intervenes in its work.
http://timesofindia.indiatimes.com/world/middle-east/Egypts-deposed-President-Morsi-appeals-death-sentence-Lawyer/articleshow/48501905.cms
-----
Egypt to Open Rafah Crossing with Gaza for 4 Days on Monday
Aug 16, 2015
TEHRAN (FNA)- The Egyptian authorities said Rafah crossing between Egypt and Gaza will be open for four days starting from Monday the 17th, The Palestinian Embassy in Cairo said in a statement.
They said the crossing, the only practical way in or out for Gaza's 1.7 million residents, will be open in both directions from Monday through Thursday following intensive calls by president Mahmoud Abbas with the Egyptian side, WAFA reported.
Israel imposed a tightened blockade on the strip since 2007 after Hamas won the democratic legislative elections and took over power in the strip.
http://english.farsnews.com/newstext.aspx?nn=13940525000255
-----
Iraq's Abadi orders commanders to face trial
By Reuters | Baghdad, 16 August 2015
Iraqi Prime Minister Haider al-Abadi approved on Sunday an investigative council's decision to refer military commanders to a court martial for abandoning their positions in the battle against ISIS militants in Ramadi.
The announcement came as Abadi pushes ahead with a sweeping reform campaign aimed at combating corruption and mismanagement in the biggest shake-up in the governing system since the U.S. military occupation.
Ramadi, the capital of western Anbar province, fell to ISIS militants in May, dampening Baghdad's hopes of quickly routing them from the country's north and west following earlier victories in eastern provinces.
The army's collapse in June 2014 in the face of ISIS's takeover of the northern city of Mosul left the Baghdad government dependent on Shi'ite Muslim militias, many funded and assisted by neighboring Iran, to defend the capital and recapture lost ground.
Critics blamed the military's weakness on sectarian splits, corruption and politics.
The fall of Ramadi nearly a year later undermined Abadi's policy of keeping the militias on the sidelines in Anbar, the Sunni heartland, for fear of inflaming sectarian tensions. The militias are now fighting alongside the security forces in many places.
https://english.alarabiya.net/en/News/middle-east/2015/08/16/Iraq-s-Abadi-orders-commanders-to-face-trial-over-Ramadi-withdrawal.html
------
Pakistan
Punjab Home Minister Shuja Khanzada Martyred in Attock Suicide Blast
DAWN.COM | IMRAN GABOL | IRFAN HAIDER | HASEEB BHATTI — 16 August, 2015
ATTOCK: Punjab home minister Colonel (retd) Shuja Khanzada was killed in a suicide attack on his political office in Shadi Khan Village. His death was confirmed by Dr Syed Elahi, adviser to the chief minister of Punjab.
Several others died in the bomb blast. The impact of the explosion caused the roof of the building to collapse, and shattered windows in nearby houses.
Between 50-100 people were estimated to have been in attendance at the jirga being held at Khanzada's political office. Many of them were buried underneath the wreckage as the entire structure had been razed to the ground by the explosion.
Deputy Superintendent of Police Hazro Syed Shoukat Shah was among the dead recovered from the site. Ten other policemen who are yet to be rescued were present at the scene when the blast occurred.
LeJ involvement
Sources in the interior ministry claim that banned outfit Lashkar-e-Jhangvi (LeJ) has taken responsibility of the suicide attack on Khanzada. They alleged Khanzada was under threat following the killing of LeJ chief Malik Ishaq in July.
The Rawalpindi regional police officer confirmed the attack was a suicide blast.
Shuja Khanzada was given charge of the home department in October 2014 and had been actively involved in major operations against terror outfits. The provincial department he headed was responsible for the maintenance of law and order, and protection of life and property of citizens. He had previously held positions as Provincial Minister Punjab and Advisor to the Chief Minister Punjab.
Rescue operations are still underway at the scene of the attack.
Prime Minister Nawaz Sharif has condemned the terrorist attack. Interior Minister Chaudhry Nisar Ali Khan similarly condemned the incident and directed federal and provincial institutions to carry out immediate rescue activities.
http://www.dawn.com/news/1200807/punjab-home-minister-shuja-khanzada-killed-in-terror-attack
-----
Three 'Baloch Liberation Army terrorists' killed in Rangers crackdown
DAWN.COM — 16 08 15
KARACHI: Three 'terrorists' suspected of affiliation with the Baloch Liberation Army (BLA) were killed, while one other was injured in an exchange of fire with Rangers personnel during an operation near the Ismael Shah Mazar area late Saturday night.
Those killed have been identified as Zahid, Nasir and Habib, alias Fauji. Their accomplice, Allahi Buksh, alias Guddu, was injured, said a Rangers press release.
The statement said the paramilitary force was conducting 'surgical action' on suspected hideouts of 'BLA terrorists'. On seeing the Rangers, the 'gangsters' resorted to firing, upon which paramilitary troops returned fire.
The 'terrorists' are suspected of engineering a railway track blast near Gharo, killing a Chinese national in 2010 at the Hub check post, extortion, target killing, kidnapping for ransom and providing support to the BLA in Karachi.
The June 15, 2013 attack on the Ziarat Residency was carried out by the BLA, which also claimed responsibility for the murder of 13 non-Baloch labourers in September of the same year. The group mainly operates in the Khuzdar and Bolan districts although like the other insurgent groups, its area of operations is not rigidly defined.
http://www.dawn.com/news/1200805/three-bla-terrorists-killed-in-rangers-crackdown
------
Remarks against ex-ISI chief cost minister, Mushahid­ullah Khan, his job
AMIR WASIM — 16 08 15
ISLAMABAD: Mushahid­ullah Khan became the first victim of the perceived ongoing civil-military tussle on Saturday when he was asked to quit his cabinet position over his allegations against a former chief of the Inter Services Intelligence.
"Yes, Mushahidullah Sahib has sent his resignation through email from [the] Maldives," Information Minister Pervez Rashid told Dawn, confirming that the climate change minister had been asked by Prime Minister Nawaz Sharif to resign immediately and return to the country.
Mr Rashid refuted reports that the prime minister had sought a written explanation from the outgoing minister or summoned him for any meeting, saying there was no need for it since the interview clearly showed that he had talked in an "irresponsible manner".
Leaving the controversy behind in the country, Mr Mushahidullah left for the Maldives on Saturday morning to attend an international conference on climate change. But the information minister said he would return on Sunday morning without attending the conference.
PTI calls for probe into controversy
Not satisfied with the minister's resignation, the Pakistan Tehreek-i-Insaf (PTI) called for setting up a commission to investigate charges that last year's sit-in of the party was sponsored by the military.
"If anyone is found guilty, he should be severely punished and if those making the accusations are exposed as liars they need to be removed from office and politics," said PTI Information Secretary Dr Shireen Mazari.
But Pervez Rashid rejected her demand and said: "The prime minister has already taken the required action and there is no need for it."
He advised PTI Chairman Imran Khan to show courage and implement recommendations of the commission headed by retired Justice Wajihuddin Ahmed before asking the government to form a similar body.
Senator Mushahidullah, who is also the PML-N's information secretary, had stated in his interview to the BBC on the eve of Independence Day that "the former head of ISI had hatched a conspiracy to remove the elected government".
He claimed that the plan was made when the 'Azadi March' by PTI and the Inquilab March by the Pakistan Awami Tehreek entered Islamabad in August last year. He also alleged that then head of ISI, Gen Zaheerul Islam, had prepared the plan to stir unrest and chaos in the country.
Mushahidullah had also claimed that "telephone discussions of the former intelligence head have been recorded in which he is heard giving directives on how to create chaos and take over the PM's House and that the audio tape provided by the Intelligence Bureau was played by the prime minister before Army Chief Gen Raheel Sharif during their meeting on Aug 28 last year".
After his remarks were carried by news channels on Friday evening, first the Prime Minister's Secretariat and then the ISPR denied that any conspiracy was hatched against the government.
Asked if Mr Mushahidullah could be asked to quit his Senate seat or office of the ruling party's information secretary, Pervez Rashid said his resignation from the cabinet was sufficient.
PTI HITS BACK: Dr Shireen Mazari accused the government of hurling baseless allegations against the PTI over its peaceful sit-in, trying to link it to some grand conspiracy involving the military, specifically the ISI.
"The purpose is clearly to malign both the PTI and a strategic organisation of the state."
She said the PTI was fed up with such "dangerous and debilitating games" the PML-N was playing, especially at a time when the military was involved in operations against terrorism.
She pointed out that the latest interview to a foreign media house proved that the PTI and the army were maligned intentionally.
"While the whole nation has condemned the MQM's attack on the army, members of the government are indulging in the same game," she said in an apparent reference to such statements by Defence Minister Khawaja Asif and Punjab Chief Minister Shahbaz Sharif.
"Although the PM has contradicted his minister's claims, this game of accusations about the PTI sit-in being part of a conspiracy by the ISI to bring down democracy and then some weak contradictions flowing from other members of the cabinet – this time the PM himself – are becoming absurd," she said.
Ms Mazari recalled that Imran Khan had repeatedly explained the circumstances which led his party to go for the sit-in as a last resort.
"It is time for these malicious games now that media has a field day in conjecturing wild plots and conspiracy theories fanned by irresponsible and baseless accusations hurled by ministers," she said.
http://www.dawn.com/news/1200799/remarks-against-ex-isi-chief-cost-minister-his-job
-----
Al Qaeda man sentenced to life in prison
A REPORTER — Aug 16, 2015
LAHORE: Giving a verdict in the first-ever case submitted by the Counter Terrorism Department (CTD), Lahore, an anti-terrorism court (ATC) on Saturday awarded life imprisonment, with orders for confiscation of entire property, to an Al Qaeda member.
Convict Khurrum Shah­zad of Rawalpindi was arres­ted by CTD police from Lorry Adda on May 13 this year and a hand-grenade and 10kg of explosive material were found in his possession.
Khurram Shahzad confessed that he had planted a bomb in the washroom of a bus stand. The bomb was also recovered by CTD officials.
The CTD registered a case against the suspect under anti-terrorism charges and during investigation it was revealed that the suspect belonged to Al Qaeda and was involved in transporting arms, ammunition and explosive material to carry out attacks.
CTD police presented the suspect before the ATC after completion of challan and investigation. After a cross- examination of witnesses and trial, presiding judge Muzaffar Husain Shah announced the verdict.
The court convicted Khurrum Shahzad and awarded life imprisonment besides confiscation of his moveable and unmoveable property.
http://www.dawn.com/news/1200797/al-qaeda-man-sentenced-to-life-in-prison
------
Anti-terrorism Court rejects bail plea of suspected terrorist
BUREAU REPORT — 16 08 15
PESHAWAR: An anti-terrorism court here on Saturday dismissed bail petition of a suspected terrorist arrested in connection with a suicide bombing that had killed the then senior minister Bashir Ahmad Bilour and eight other people at Qissa Khwani in 2012.
Judge Mohammad Zafar Khan pronounced that the suspect Amanullah, a resident of Yaseenabad area in Peshawar, did not deserve the concession of bail.
A suicide bomber had blown himself up when Bashir Bilour was heading towards his vehicle after a public meeting of Awami National Party on Dec 22, 2012 in the jurisdiction of Khan Raziq Shaheed police station, Kabuli. Those killed in the attack also included SHO of the said police station Abdus Sattar Khattak and personal assistant to Mr Bilour, Noor Mohammad Khan.
Banned Tehreek-i-Taliban Pakistan had claimed responsibility for the incident.
At that time the FIR was registered against unidentified terrorists under Section 7 of the Anti-Terrorism Act, Section 3 and 4 of the Explosive Substance Act and Section 302, 324, 427 and 353 of the Pakistan Penal Code.
The local police have reportedly arrested the suspect a few days ago on the charges that he was in league with the persons involved in planning the attack and providing material support to the attacker.
The petitioner's counsel contended that he was falsely implicated in the case and there was no evidence against him.
He argued that the petitioner was arrested on the basis of hearsay and he had no concern with the occurrence.
CONFESSION: A suspect arrested on the charges of kidnapping a minor boy for ransom and his subsequent death here at Yakatoot area recorded his confessional statement before a local judicial magistrate on Saturday.
Official sources said that the suspect, Haseeb, had recorded his statement under Section 164 of the Code of Criminal procedure wherein he admitted that he along with some other culprits had kidnapped Haris, 6, on July 17 and the victim later died due to an overdose of intoxicant they injected to him.
The suspect was arrested a few days ago by the Counter-Terrorism Department.
Body of the victim stuffed in a gunnysack was also reportedly recovered from the house of the suspect.
After kidnapping the boy, the kidnappers had demanded Rs5 million from his father, who is a trader here.
http://www.dawn.com/news/1200712/court-rejects-bail-plea-of-suspected-terrorist
-----
Khanzada attack in retaliation of LeJ chief's killing: sources
By Abdul Manan: August 16, 2015
ISLAMABAD: A preliminary report regarding the blast at Punjab Home Minister Col (r) Shuja Khanzada's political office in Attock on Sunday suggested it was in retaliation for two major actions of Punjab Police in the province, sources told The Express Tribune.
The preliminary report which was presented to Punjab Chief Minister Shahbaz Sharif by law enforcement agencies and Punjab IG Mushtaq Sukhera suggested Khanzada was attacked in retaliation for the killing of Lashkar-e-Jhangvi (LeJ) chief Malik Ishaq.
"The attack on Punjab home minister is in reaction to the killing of LeJ chief and a senior al Qaeda commander for Punjab last month," a source said.
Malik Ishaq, the founder of LeJ, a banned militant outfit blamed for some of the bloodiest sectarian attacks in Pakistan, was killed along with 13 others — including his two sons — in a 'gunfight with police' on July 29. After Ishaq's death, Khanzada, Punjab Chief Minister Shahbaz Sharif and Prime Minister Nawaz Sharif were put on high alert.
Further, following the encounter, PM Nawaz avoided visiting his Jati Umra Raiwind residence in Lahore. and Punjab CM restricted his movements as well.
"Punjab Police foiled a terrorist attack at provincial office of Intelligence Bureau at Zafar Ali Road, The Mall, Lahore," the source said, explaining the second action which caused retaliation.
"The police raided terrorists' hideouts at Shahdra and killed al Qaeda linked terrorists in an encounter," the source added.
Further, the source said the suicide attacker came from Khyber-Pakhtunkhwa as Attock is on the border of K-P and Punjab.
"Shahbaz was briefed that Police College in Sihala may be next target," the source added. Further, the source said LeJ might kidnap senior police officers from Punjab particularly Rawalpindi.
Punjab Home Minister Col (r) Shuja Khanzada was trapped under the rubble and eight others were killed in a blast at his political office in Shadi Khan near Attock on Sunday.
Police said the blast appeared to be a large bomb, and it had caused the roof to cave in as Khanzada held meetings with supporters in his hometown of Attock. Khanzada is reportedly trapped under the rubble along with 24 other people as the entire structure of his office building collapsed.
http://tribune.com.pk/story/939039/khanzada-attack-in-retaliation-of-lej-chiefs-killing-sources/
-----
Chances of MQM's return to assemblies seem bright
August 16, 2015
Chances of MQM's return to assemblies seem bright
ISLAMABAD: Jamiat Ulema-e-Islam-Fazl (JUI-F) Chief, Maulana Fazl-ur-Rehman has succeeded in persuading the Federal Government to constitute a high-level monitoring committee tasked to oversee the ongoing Rangers operation in Karachi.
This has brightened the chances of redressal of Muttahida Qaumi Movement's (MQM) legitimate reservations and its return to the assemblies.
Maulana Fazl telephoned MQM Chief Altaf Hussain and the latter accepted the former as the negotiator.
The JUI-F Chief's diplomatic magic seems to have worked yet again. The formation of a high-level monitoring committee will pave the way for investigation into the MQM's claims of 'extra-judicial killings of its workers and illegal detentions'.
Sources told Geo News that a meeting between Maulana Fazl and special assistant of Prime Minister Ashtar Ausaf has been fruitful.
http://www.thenews.com.pk/article-194346-Chances-of-MQMs-return-to-assemblies-seem-bright
----
Rowdy Independence Day celebrations leave a bad taste in Pakistan
ZULFIQAR ALI — 16. 08. 15
PESHAWAR: The rowdy celebrations of the 69th Independence Day in the provincial capital have given an impression that inhabitants of the city have no taste for celebrating national days.
It seems that reckless driving, blowing bugles and removing silencers from vehicles to produce more noise are the only sources of entertainment for the people of Peshawar to celebrate the national day. And, it happens on the occasion of every Independence Day.
Unruly youngsters come out on the roads and streets after sunset and continue generating noise till late night.
Youngsters came out on roads after sunset and disturbed public peace till late night
The reason behind disorderly activities on August 14 is that our youths have no alternate channel or platform to express their sentiments on such occasions. They have been left with the option to drive cars, motorbikes, cycles and rickshaws to express their feelings.
Indeed the level of enthusiasm and national spirit among Peshawarites was extremely high compared to the previous years' celebrations of Independence Day.
People from all walks of life, particularly youngsters, converged on roads and streets to celebrate the day with zeal and spirit. Small and big retailers made record business by selling material related to the Independence Day.
The people had hoisted national flags on shops, houses and vehicles. Youngsters wore green-white masks and painted national flag on their faces signaling resurgence of patriotism. Many enthusiasts decorated their cars and rickshaws with green and white artificial flowers to express their love and feelings for the country.
Private buildings, restaurants, gas stations were properly illuminated.
This time around, Independence Day looked different from that of previous years.
The apparent reason for showing patriotism is that atmosphere in Peshawar has changed due to decrease in threat perception. This is another thing that the number of checkpoints has increased in cantonment areas despite marked decline in militant activities.
Presently, there is visible improvement in security situation in and around Peshawar since the army launched the Zarb-i-Azb operation in North Waziristan Agency. The militants' activities have been contained and they have been flushed out from Khyber Agency, adjacent to Peshawar, so improvement in security situation has emboldened Peshawarites to come to the streets to celebrate the day with pomp and show.
Unfortunately, the Pakistan Tehreek-i-Insaf-led coalition government did not organise mega events like sports, exhibitions, concerts or cultural shows on this important occasion to engage the general public, particularly youths, in positive activities.
In the absence of positive activities, thousands of youths opted for engaging themselves in noisy celebrations.
The relevant departments and directorates despite the fact that Khyber Pakhtunkhwa has diverse culture, customs and traditions could not arrange major activities or functions to mark the day.
Only cultural directorate had organised a small function at Nishtar Hall in the capital city. The prime responsibility of the department for culture, tourism, sports and youth affairs is to attract youth towards healthy activities and promote the national and local culture on such occasion remained completely silent. The department and its directorates receive huge funds from the government for organising events on such special occasions.
In addition, the corps headquarters, Frontier Corps, Frontier Constabulary and the police department have their own music bands but they too did not organise any event to attract the general public. Their activities remained restricted to illuminating buildings and hoisting national flag at ceremonies attended by a select audience.
http://www.dawn.com/news/1200707/rowdy-independence-day-celebrations-leave-a-bad-taste
-----
Africa
IS Beheads 12 Libyans in Battle for Sirte
AFP | Aug 16, 2015
TRIPOLI: Islamic State has beheaded 12 people and hung them on crosses during a battle for the coastal city of Sirte, news reports said.
Sources said the 12 people beheaded were local gunmen who had been battling IS in eastern Sirte district known as "neighbourhood three". IS militants also executed 22 other Sirte residents who had taken up arms against the group and later set the hospital on fire in which the injured were admitted.
The fight over Sirte has been raging since Tuesday, with one Libyan diplomat warning of a "massacre" in the city. Authorities in Tripoli, 450 kms from Sirte, said warplanes were bombing armed groups linked to IS in Sirte. The Libyan ambassador said the fighting erupted after IS assassinated an influential imam from the Al-Farjan tribe.
http://timesofindia.indiatimes.com/world/middle-east/IS-beheads-12-Libyans-in-battle-for-Sirte/articleshow/48498528.cms
-----
Belmokhtar's jihadist group says it's Qaeda branch
By AFP | Nicosia, 15 August 2015
The militant group Al-Murabitoun, which has claimed a string of deadly attacks in North Africa, has declared itself a branch of Al-Qaeda in a statement posted on jihadist websites.
Al-Murabitoun said that the notorious Algerian militant Mokhtar Belmokhtar remained its leader, despite reports that he was killed in a U.S. air strike in Libya in June.
The statement dated July 17 says that Al-Murabitoun is "Qaeda al-Jihad in West Africa" and committed to "directives" by network founder Osama bin Laden to attack the enemy "France and its allies".
Belmokhtar, whose real name is Khaled Abu al-Abbas, allegedly masterminded the 2013 siege of an Algerian gas plant in which 38 hostages, mainly Westerners, were killed.
An audio recording attributed to another leading member of Al-Murabitoun in May pledged allegiance to the Islamic State of Iraq and Syria jihadist organisation.
But Belmokhtar reportedly soon distanced himself from the declaration and vowed backing for IS's jihadist rival Al-Qaeda in what was seen as a sign of a power struggle.
The one-eyed Belmokhtar, a former chief of Al-Qaeda in the Islamic Maghreb (AQIM) who was nicknamed "The Uncatchable" by an ex-French intelligence chief, was twice condemned to death by Algeria.
He had been reported killed in Mali at least once before the United States, which placed a $5 million bounty on his head, targeted him in an air strike in Libya in June.
At the time Al-Murabitoun denied he was killed, claiming that Libyan militants were the target of the U.S. strike.
The group has claimed a series of attacks over the years, including a deadly hostage drama at a Mali hotel earlier this month in which 13 people died including five U.N. workers.
Belmokhtar founded his Al-Qaeda breakaway group "Signatories in Blood" in 2012, later merging it with MUJAO, one of the jihadist groups that seized northern Mali in early 2012, to form Al-Murabitoun.
https://english.alarabiya.net/en/News/africa/2015/08/15/Belmokhtar-s-jihadist-group-says-it-s-Qaeda-branch.html
----
Boko Haram: Nigerian Air Force commences fresh air strike over Sambisa forest
August 15, 2015
The Nigerian Military, in its resolution to incapacitate and further degrade the fighting spirit of Boko Haram Terrorist Group, has carried out several bombings and air strike missions in Sambisa Forest, the spokesperson for the Nigerian Air Force, Dele Alonge, has said.
The strike missions said Mr. Alonge, an air commodore, came after several weeks of tactical reconnaissance by the reconnaissance/ surveillance aircraft.
The air strikes carried out by F-7NI and Alpha Jet fighter aircraft, as well as attack helicopters has resulted in the degradation of the terrorists capabilities and destruction of some of their strong holds, the spokesperson said.
He added, "Intelligence report revealed that as aftermath of the strike missions, the terrorists have been confined and their capabilities greatly reduced, thereby restricting their nefarious activities to small scale attacks and suicide bombings.
"The Chief of Air Staff, Air Marshal Sadique Abubakar assures all Nigerians that the air efforts would be sustained until the Boko Haram Activities becomes a thing of the past. He further stated that, the Nigerian Air Force with their support is Willing, Able and Ready to meet up with current and future security challenges of the nation."
The Air Force had on Friday announced that it was deploying additional combat platforms to North East Nigeria in support of the ongoing counter-insurgency operation codenamed 'Operation Lafiya Dole'.
Mr. Alonge said the new deployment came on the heel of the recent visit of the Chief of the Air Staff, Air Marshal Sadiq Abubakar to the operational areas.
The newly deployed platforms, according to Mr. Alonge, include the F-7Ni fighter aircraft, Mi-24/35 attack helicopters, Agusta 109 LUH, Supa Puma Combat Support helicopter and ATR-42 surveillance aircraft, which hitherto had been away for scheduled maintenance.
"The provision of additional platforms in the North-East is in line with President Mohammadu Buhari's mandate to bring an end to insurgency in the North-East," Mr. Alonge said.
"The new deployment is aimed at boosting existing military efforts to defeat the Boko Haram Terrorists. It is also expected to enhance the capability of the Nigerian Armed Forces to fight in a more proactive and efficient manner."
President Muhammadu Buhari had on Thursday charged heads of the Nigerian military to defeat the Boko Haram insurgents within three months.
The president made the call in Abuja when he decorated the new service chiefs in with their new ranks.
The decorated service chiefs – General Abayomi Gabriel Olonishakin , Chief of Defence Staff; Lt-General T.Y. Buratai, Chief of Army Staff; Vice Admiral Ibok-Ete Ekwe Ibas, Chief of Naval Staff; and Air Marshal Sadique Abubakar, Chief of Air Staff – were appointed on July 13 and confirmed by the Senate on August 4.
Mr. Buhari, who was joined by Vice President Yemi Osinbajo, charged the new military chiefs to brace up to the challenge of the insurgency.
Apart from asking the soldiers to resolving the insurgency in three months, the president also charged them to ensure that armed banditry, kidnapping, and other forms of criminality are phased out within this period.
"The activities of these misguided groups and individuals have resulted in wanton destruction of lives and properties of our citizens as a disruption of socio-economic lives of millions of Nigerians," the president said.
"You need to brace up and continue to team up with other stakeholders to come up with a well coordinated joint effort which will bring a desired end to these insurgencies within three months".
The president also charged the military chiefs to be accountable for both the men and equipment placed under their command, in the course of carrying out their assignment.
"Your troops welfare must be uppermost in your mind, take care of them and make available what is due to them, " he said, promising that his administration would provide all the resources the soldiers need to succeed.
http://www.premiumtimesng.com/news/headlines/188448-boko-haram-nigerian-air-force-commences-fresh-air-strike-over-sambisa-forest.html
-------
Cameroon Pledges More Troops against Boko Haram
Moki Edwin Kindzeka
August 15, 2015
Cameroon has pledged to provide 2,450 troops to join the multinational force to combat Boko Haram. The country has also named General Nka Valere as deputy to the commander of the force.
Military spokesperson Colonel Didier Badjeck, who issued a statement from Cameroon's president, Paul Biya Friday night, says the decision to send 2,450 troops follows a commitment Cameroon made July 11 at a summit of heads of state and defense ministers that took place in the Nigerian capital, Abuja.
He said Cameroon can not be indifferent to the plight and cries of distress from Africans who have been victims of obscurantist groups that know only violence. He added that Cameroon will never allow people who claim they are serving God but practice hate to operate.
Colonel Badjeck said the troops were already at the disposal of officials of the joint forces. Cameroon initially pledged to contribute 750 troops.
During his visit to Cameroon last July, Nigeria's new president, Muhammadou Buhari, said he will collaborate with Cameroon, Chad, Niger and Benin to stop Boko Haram's six-year-old insurgency in the shortest possible time and called for trust and confidence among countries that are contributing troops.
President Biya also appointed General Nka Valere, presently serving as Cameroon's military attaché for the central African nation's high commissioner in Nigeria, as deputy to General Iliya Abbah, the commander of the multinational joint forces. They will lead a force of 8,700 troops.
http://www.voanews.com/content/cameroon-vows-to-contribute-2400-troops/2919250.html
-----
South Asia
Osama's Son Calls on Followers in Kabul, Baghdad, Gaza to Wage Jihad on the West
By KHAAMA PRESS - Sat Aug 15 2015
Hamza bin LadenThe son of the former Al Qaeda chief Osama bin Laden has called on his followers in Kabul, Baghdad and Gaza to wage jihad on the West.
The demand by Osama's son, Hamza Bin Laden, was made in an audio message released by al Qaeda website.
Hamzad is believed to be either 23 or 24 years old and the audio recording is believed to be the first such message from him him.
Touted as a future leader of the terror network, Hamza is believed to have taken part in attacks in Pakistan and Afghanistan as early as 2005.
The Al-Jazeera network broadcast footage that appeared to show him among Taliban fighters in Afghanistan during the US-led invasion of Afghanistan in 2001.
Hamza specifically suggests London, Washington, Paris and Tel Aviv as targets for attacks i the audio message shared by jihadists on Twitter.
The al Qaeda supreme leader Osama bin Laden wanted to nurture Hamza as his successor in the group, according to documents confiscated from bin Ladens' Abbottabad hideout by US forces.
Hamza was due to travel to Abbottabad to join his father when US forces raided the hideout.
http://www.khaama.com/osamas-son-calls-on-followers-in-kabul-baghdad-gaza-to-wage-jihad-on-the-west-1390
-----
British Special Forces back in Afghanistan
By KHAAMA PRESS - Sun Aug 16 2015
British-soldiers-from-B-C-001The British special forces have been returned to Afghanistan and reportedly take part in military operations against Taliban and other militant groups.
According to a British media organization these forces together with the special forces of the United States are taking part in military operation almost every night.
The Mirror quotes unnamed defense sources that in reality the troops plan and lead counter-terrorist strike operations.
"In the last six months the British special forces have gone from training Afghan commando units to kicking down doors and arresting Taliban suspects. There have been some pretty hairy firefights but fortunately no casualties." An unnamed source is quoted by the news agency as saying.
"The Afghan Special forces are enthusiastic amateurs but they do not have the ability to plan and execute counter-terrorist operations."
The British forces return to Afghanistan at a time the country is overwhelmed with insurgent activities.
Taliban have increased their attacks and Daesh emerged as a new threat to Afghanistan.
http://www.khaama.com/british-special-forces-back-in-afghanistan-3770
------
Gen. Dostum: Pakistan's ISI behind ongoing violence in Afghanistan
By KHAAMA PRESS - Sat Aug 15 2015, 9:19 pm
0 Comments340 viewsEmail Email Print Print
Gen. DostumThe Afghan First Vice President Gen. Abdul Rashid Dostum joined the Afghan security institutions and top government officials for blaming Pakistan's military intelligence for the ongoing violence in the country.
Gen. Dostum is currently in northern Faryab province of Afghanistan to coordinate military operations against the anti-government armed militant groups amid deteriorating security situation in this province.
He said the Pakistani military generals and the country's powerful military intelligence – Inter service Intelligence (ISI) are plotting and coordinating attacks across Afghanistan, under the name of al Qaeda, Islamic State affiliates and Taliban militants.
According to Gen. Dostum, the ongoing violence in Afghanistan could end only if Pakistan's military and ISI truely coopeate with the Afghan government.
The remarks by Gen. Dostum comes as the Afghan Intelligence – National Directorate of Security (NDS) said Wednesday that specific elements within the Pakistani army was behind the deadly attacks in capital Kabul, apparently gesturing towards the country's military intelligence – Inter Services Intelligence (ISI).
NDS spokesman Haseeb Sediqi told reporters that the attacks were carried out by the elements of the Pakistani army with the help of their mercenaries – Haqqani terrorist network.
The former Afghan President Hamid Karzai called on United States and the West not to support Pakistan's military intelligence – Inter Services Intelligence (ISI), blaming it for sponsoring terrorism in Afghanistan.
Speaking among the gathering of Afghans youths to celebrate the International Youth Day, the former Afghan President said politicians and military leaders of the United States, United Kingdom and other countries admitted in the past that Pakistan's military intelligence is the founder and sponsor of terrorism.
Karzai further added that the US and Western leaders must stop supporting the sponsors of terrorism if they agree with the fact that ISI is supporting terrorism in the region.
http://www.khaama.com/gen-dostum-pakistans-isi-behind-ongoing-violence-in-afghanistan-1391
------
President Ghani: Kabul's ring road important economical project
By ZABIHULLAH MOOSAKHAIL - Sun Aug 16 2015
President GhaniPresident Mohammad Ashraf Ghani has said that the ring road of capital Kabul is an important economical and urban development project.
Various government organizations have been meeting to draft a plan for building the rind road of Kabul city.
President Ghani chaired a meeting regarding this project in the Presidential Palace yesterday and advised the related government organizations to prepare a draft for executing this project within two weeks.
The meeting was also Kabul's garrison commander and former chief of National Directorate of Security (NDS) Amrullah Saleh where the president advised related organs to prepare an execution draft of the project within two weeks.
The survey and design of this road is completed and is expected to start in near future.
The 95 kilometers long rind road will start from Chahar Asyab area, reach to Arzan Qeemat and from there it will be passing through Mahipar to connect to New Kabul city in Deh Sabz area. The road will then reach out to Qala-e-Murad Beg and then to Paghman.
It will ultimately link back to its starting point, Chahar Asyab area.
Financial support for this project will be provided by the Islamic Development and Asian Development banks.
http://www.khaama.com/president-ghani-kabuls-ring-road-important-economical-project-3768
------
201st Corps Commander: Military operation in Hisarak District unprecedented in last 14 years
By KHAAMA PRESS - Sun Aug 16 2015
WaziriMaj. Gen. Mohammad Zaman Waziri, the 201st Corps commander in the country's east says that the military operation 'Iron Triangle' is successfully ongoing in Hisarak, Khogyani and Sherzad districts.
He said that the main objective of this operation is to clear Hisarak District from militants who come here from Pakistan and then dispatch to Kabul.
"In the last 14 years, there have been no operations in this area … this is the first time for joint operations here. Our main objective is Hisarak, it is a strategic district. The enemies in the area come from Pakistan into Hisarak, from here they deploy into Kabul."
Maj. Gen. Waziri further said that once Hisarak is cleared they will discuss the future security plan of this district with local tribal leaders.
"The plan is once the area of Hisarak is cleared we'll organize another tribal leader meeting, and talk about the peace for the future in the area," he said.
In the meantime, NATO's Resolute Support mission that provides advisory assistance to Afghan forces says that operation 'Iron Triangle' demonstrates the ability of Afghan forces.
"They were very successful. This is the first Corps-level operation for the 201st Corps this year. The Corps headquarters established a command and control echelon here [ANA Camp Khugyani]," said Col. J.B. Vowell, NATO's Deputy Commander of Train, Advise, Assist Command – East.
Operation 'Iron Triangle' started about two weeks before and aims at clearing the target areas from insurgents in one month period.
http://www.khaama.com/201st-corps-commander-military-operation-in-hisarak-district-unprecedented-in-last-14-years-3766
------
Bangladesh troops kill five tribals in gunfight
AFP — UPDATED16 08 15
DHAKA: Bangladesh troops fired at suspected insurgents in the country's restive Chittagong Hill Tracts in the southeast, leaving at least five people dead on Saturday, police said.
Police said the gunfight occurred in a remote place called Boradom where army troops raided a den of suspected members of Jana Sanghati Samiti (M.N. Larma).
"There was an exchange of fires between the army troops and suspected members JSS M. N. Larma in the morning. Five members of the group were killed", local police chief Zakir Hossain said.
The JSS M.N. Larma is an offshoot of a former rebel group which fought a decades-long battle for a tribal homeland in the Chittagong Hill Tracts before signing a peace deal with the government in 1997.
Police said troops seized at least seven firearms in the raid. There was no immediate comment from the army or the insurgents.
http://www.dawn.com/news/1200760/bd-troops-kill-five-tribals-in-gunfight
------
Mideast
Iran gives UN agency papers in reply to charges over N-arms
AP — 16 08 15
VIENNA: Iran on Saturday gave the UN nuclear agency documents linked to the agency's probe of allegations that Tehran tried to develop atomic arms, along with a confidential explanation that is unlikely to veer from previous Iranian denials of work on such weapons.
Announced by the UN's International Atomic Energy Agency, the handover meets a key deadline Iran has committed to as part of its overarching deal with six world powers promising Tehran sanctions relief in exchange for nuclear concessions.
The July 14 deal's main focus is curbing Iran's present nuclear programme that could be used to make weapons. But a subsidiary element obligates Tehran to cooperate with the IAEA in its probe of the allegations.
The investigation has been essentially deadlocked for years with Tehran asserting the allegations are based on false intelligence from the US, Israel and other adversaries. But Iran and the UN agency agreed last month to wrap up the investigation by December, when the IAEA plans to issue a final assessment on the allegations.
http://www.dawn.com/news/1200763/iran-gives-un-agency-papers-in-reply-to-charges-over-n-arms
-----
6 killed, 8 injured in attacks in Turkey's southeast
DIYARBAKIR, 16 August 2015 , Turkey — Six people were killed and eight wounded on Friday as violence between Kurdish militants and Turkish soldiers flared up again in Turkey's southeast, security sources and the military said.
Fighting between the outlawed Kurdistan Workers Party (PKK) and the military has broken out almost daily over the last month. The PKK has been hitting military targets after Ankara resumed airstrikes on PKK camps in northern Iraq in what it calls a "synchronized war on terror".
Ankara has said its military campaign is also designed to tackle Islamic State militants in neighbouring northern Syria. However, it has so far focused on the PKK, raising suspicions among Kurds that the main aim is to check Kurdish territorial ambitions rather than to rout the insurgents.
Friday's bloodshed came a day before the 31th anniversary of the PKK's first attacks. The group, deemed a terrorist group by both Washington and Ankara, has waged an insurgency for greater Kurdish autonomy that has left 40,000 dead. The latest violence has shelved a recent peace process with Ankara.
Three soldiers were killed and six wounded — one critically — in the south-eastern province of Hakkari after PKK militants opened fire with long-range rifles and rocket launchers, the military confirmed in a statement. Security sources earlier put the death toll at four soldiers.
In the eastern province of Bingol, a soldier was killed after a mine laid by militants was detonated remotely, the provincial governor's office said. Two PKK fighters were killed during an operation in response to the attack.
In a separate incident, youths linked to the PKK opened fire with rifles at a police vehicle in the town of Nusaybin bordering Syria early on Friday, wounding two policemen, security sources said.
Earlier this week, Turkish warplanes pounded 17 targets in Hakkari, a border province, as part of the crackdown on the PKK, which has claimed responsibility for the bombing of a police station in Istanbul.
Speaking overnight in his ancestral hometown in northeast Turkey's Rize province, President Tayyip Erdogan said the operations against militants were not temporary and would continue.
"Those who support them and lead them will be defeated sooner or later," he told a crowd in the town of Guneysu, his wife at his side. "Don't dare think they are strong ... They are condemned to fall ... There are terrorist groups behind them, whereas behind us there is God, there are the people."
Turkish security forces rounded up more than 2,000 people as part of the crackdown in raids against Daesh and Kurdish militants last month. On Friday, police detained at least 34 people in raids, Turkey's Yeni Safak daily reported. — Reuters
http://www.saudigazette.com.sa/index.cfm?method=home.regcon&contentid=20150816253507
------
Three Turkish soldiers killed in PKK attack after fresh strikes
AFP — 16 08 15
ISTANBUL: Three more Turkish soldiers were killed on Saturday in an attack by members of the Kurdistan Workers' Party (PKK) in eastern Turkey, the army said, as authorities carried out new raids to arrest suspected militants.
The latest deaths bring to six the number of soldiers killed in the last 24 hours by Kurdish rebels, who have stepped up their attacks on Turkish security forces in an escalating cycle of violence that has left a 2013 ceasefire agreed by the PKK in tatters.
The soldiers were killed when an explosive device laid by PKK militants on a road in the Karliova district of eastern Bingol province was detonated, the army said in a statement.
"Three of our soldiers were martyred and six wounded," the army said, adding clashes were continuing in the region.
The attack in Karliova came after three other troops were killed late on Friday in an attack by PKK militants in the Daglica area of the southeastern Hakkari region.
Ankara has launched a two-pronged "anti-terror" offensive against jihadists in Syria and PKK militants in northern Iraq after a series of attacks on Turkish soil, including a suicide bombing blamed on IS that killed 32 pro-Kurdish activists in the town of Suruc on July 20.
So far, the operation has focused largely on the Kurdish rebels, who have responded by waging a bloody campaign against the security forces.
Speaking in his ancestral hometown in northeast Turkey's Rize province, President Recep Tayyip Erdogan vowed that the fight against terror would continue "unabated," adding: "No one should test Turkey's strength, or they will pay a heavy price".
Turkish authorities carried out new dawn raids to arrest suspected IS and PKK members, with the official Anatolia news agency saying at least 84 suspects had been detained in several provinces, including Istanbul as well as Mardin and Gaziantep in the southeast and Van to the east.
Police seized a large number of explosives, Kalashnikovs and rocket launchers, Anatolia said.
Citing official sources, the Hurriyet newspaper said Turkish authorities had seized 30 suicide vests, some of them ready to be used, in recent anti-IS operations.
More than 2,500 people have so far been detained in raids targeting suspected members of the PKK, IS and the Marxist Revolutionary People's Liberation Party Front (DHKP-C), a Turkish official said Saturday, the overwhelming majority from the PKK.
The official told reporters that 39 members of the Turkish security forces have died in attacks since July 20 and 40 civilians have been killed including the Suruc bombing.
http://www.dawn.com/news/1200764/three-turkish-soldiers-killed-in-pkk-attack-after-fresh-strikes
-----
Nusra front frees several U.S.-trained Syrian rebels
By AFP | Beirut, 16 August 2015
Al-Qaeda's Syrian affiliate Al-Nusra Front has freed several members of a US-trained rebel force that it kidnapped two weeks ago, the Western-backed unit said in a statement.
In a statement circulating on social media, Division 30 said seven of its members had been freed by Al-Nusra after being captured in late July.
"Seven Division 30 fighters who were being held by the brothers in Al-Nusra Front have been freed," the statement stamped by the unit said.
"We welcome this noble initiative and urge the brothers of Al-Nusra and hope that they will release in the coming hours the group's commander and other fighters," the statement continued.
It did not specify where the releases took place. All the kidnaps occurred in northern Syria.
Division 30 is among the units receiving training as part of a U.S.-led programme operating from Turkey that is intended to create a force to fight the Islamic State of Iraq and Syria (ISIS) group.
But after the first 54 members of the force entered Syria in July, 13 were kidnapped by Al-Nusra, including a commander, and at least three more were killed in clashes with the jihadist group.
Al-Nusra accused the captured fighters of serving U.S. interests and claimed responsibility for the kidnap in a video purporting to show some of the detained forces.
https://english.alarabiya.net/en/News/middle-east/2015/08/16/Nusra-front-frees-several-U-S-trained-Syrian-rebels-.html
-----
Palestinian shot dead after stabbing Israeli officer
AFP — 16 08 15
NABLUS: A Palestinian teen was shot dead by Israeli forces after stabbing a border policeman in the northern West Bank on Saturday, the army and Palestinian medics said.
The military said that "an assailant stabbed a Border Police officer at the Beta Junction, south of Huwara", in the second stabbing attack of the day and the third in less than a week.
"Forces on scene responded immediately, shooting and wounding the attacker," it said in a statement.
Abdelhalim Jaafreh, head of the Red Crescent in Nablus, said the suspected assailant died of his wounds.
"He was critically wounded by five bullets, we tried to save him but he died," he said.
Palestinian sources identified him as 16-year-old Ahmad Taj from Nablus. Israeli police confirmed Taj's death.
The border policeman, who was on patrol with other officers when he was attacked from behind and stabbed in the back, was lightly wounded, police said.
Earlier on Saturday, a Palestinian was shot after stabbing an Israeli soldier near a checkpoint on highway 443 in the central West Bank, the army said.
Both the Palestinian and the soldier were lightly wounded in that attack, which took place at the "Bel" crossing not far from Ofer military prison.
And last Sunday Israeli troops shot dead a Palestinian who stabbed and lightly injured an Israeli civilian at a petrol station on highway 443.
Tensions have soared in the West Bank in recent weeks in the wake of the deadly firebombing of a Palestinian home, attributed to Jewish extremists.
An 18-month-old boy was killed in the July 31 arson attack in the West Bank village of Duma and days later his father died in hospital from horrific burns over 80 percent of his body.
http://www.dawn.com/news/1200767/palestinian-shot-dead-after-stabbing-israeli-officer
-----
Turkish PM sheds tear for soldier killed in ISIS gunfight
By Staff writer | Al Arabiya News, 16 August 2015
Turkey's Prime Minister Ahmed Davutoglu fought back tears at an event in Ankara as he spoke about a soldier recently killed by the Islamic State of Iraq and Syria (ISIS).
In a video posted on Turkish newspaper Hurriyet Daily News's website, Davutoglu's voice descends into a more somber tone as he begins to talk about the soldier.
"I can't forget how the respected wife of that brave person, Yalçın Nane, welcomed us to their home without shedding any tears and telling us that - God willing - her baby will also serve the country after, God willing, he or she is born," the PM said at an event marking the 14th anniversary of his party's establishment.
Nane was killed during the first fire exchange between the Turkish military and ISIS militants on July 23.
"We don't get tired even when we work day and night. But when we hear the voice of a martyred soldier's mother or father on the phone, then everything stops at that moment," Davutoglu said, according to Hurriyet Daily.
The following video, courtesy of Hurriyet Daily News, shows Davutoglu addressing members of his party.
https://english.alarabiya.net/en/News/middle-east/2015/08/16/Turkish-PM-sheds-tear-for-soldier-killed-in-ISIS-gunfight-.html
-----
Europe
U.N. aid chief in first Syria trip to assess needs
Syria's conflict, which began in March 2011, has created the world's worst humanitarian crisis. (AP)
By AFP | Damascus,16 August 2015
New United Nations humanitarian chief Stephen O'Brien held talks with Syria's foreign minister on Sunday during his first trip to Damascus since taking the top aid post.
O'Brien, who succeeded Valerie Amos in May, told Walid Muallem he was ready to work with the Syrian government to alleviate humanitarian suffering in the country, according to Syria's state news agency SANA.
Close to 12 million people have been displaced or become refugees because of Syria's war.
SANA quoted Muallem as underlining "the Syrian government's committment to meet the basic needs of the people, who face a fundamental battle against takfiri (extremist) terrorism.
O'Brien started his trip on August 14 with a brief stop in Lebanon, where he met officials including Prime Minister Tamam Salam.
On Saturday, he met Syria's deputy foreign minister and travelled to the devastated central Syrian city of Homs, where he held talks with local governor Talal Barazi.
"Visited Homs today. Beyond destruction of buildings lies destruction of lives. Syria needs peace," O'Brien wrote on his Twitter account after the visit.
"We are committed to continuing to support humanitarian efforts in Syria. Equal access to all people in need (is) vital for our work," he added.
O'Brien is due to give a press conference in Damascus on Monday.
Syria's conflict, which began in March 2011, has created the world's worst humanitarian crisis.
More than four million Syrians have fled the country, in the biggest exodus from war in a generation.
And with an additional 7.6 million Syrians displaced internally, around half of the country's overall population has been uprooted by the war.
U.N. agencies estimate some 12.2 million Syrians are in need of aid, among them more than 5.6 million children.
https://english.alarabiya.net/en/News/middle-east/2015/08/16/UN-aid-chief-in-first-Syria-trip-to-assess-needs-.html
------
North America
Hillary Clinton hits back at Jeb Bush on Iraq war
By AFP | Washington, 16 August 2015
Democratic presidential hopeful Hillary Clinton returned fire Saturday at her Republican rival Jeb Bush's claim that a "premature" U.S. pullout from Iraq fueled the rise of the Islamic State of Iraq and Syria (ISIS) group.
Clinton served as secretary of state under President Barack Obama during the rise of the self-proclaimed ISIS.
In 2002, while serving as a U.S. senator from New York, Clinton voted in favor of authorizing the invasion of Iraq ordered by Bush's brother and then-president George W. Bush.
With the war dragging into a protracted, costly and unpopular conflict, she later called her decision a mistake.
"I find it somewhat curious that Jeb Bush is doubling down on defending his brother's actions in Iraq," Clinton said on the campaign trail in Iowa.
"If he's going to do that, he needs to present the entire picture," she argued.
"And the entire picture as you know, includes the agreement that George W. Bush made with the (Nuri al-) Maliki government in Iraq that set the end of 2011 as the date to withdraw American troops."
On Tuesday, Jeb Bush blamed Clinton for allowing the brutal emergence of ISIS by withdrawing troops from Iraq too fast.
"That premature withdrawal was the fatal error, creating the void that (ISIS) moved in to fill," he told a crowd in California.
"Rushing away from danger can be every bit as unwise as rushing into danger, and the costs have been grievous."
Taking a political risk, Bush even suggested it might be necessary to send more troops back to Iraq.
"Right now, we have around 3,500 soldiers and Marines in Iraq, and more may well be needed."
His remarks dredged up a bitter debate that has long bubbled in Washington and that has tarnished his brother's legacy.
A wildly successful invasion of Baghdad was followed by a ham-fisted occupation that fueled brutal sectarian violence and left the central government debilitated.
In addition to being a point of contention between Republicans and Democrats, the conflict may have also cost Clinton the 2008 Democratic nomination to anti-war candidate Barack Obama.
ISIS frequently targets Shiites, whom it considers heretics, fanning the flames of sectarian tensions in Iraq, and often strikes crowded areas such as markets and cafes.
ISIS overran large parts of Iraq in June 2014 and also holds significant territory in neighboring Syria.
https://english.alarabiya.net/en/News/world/2015/08/16/Hillary-Clinton-hits-back-at-Jeb-Bush-on-Iraq.html
-----
Southeast Asia
Indonesian passenger plane missing over Papua region
16 Aug 2015
Indonesia's state search and rescue agency has reported that it has lost contact with an Indonesian aircraft.
In a tweet posted on Sunday, the National Agency Search and Rescue egency said the Trigana Air flight had 54 passengers on board. The plane was reported to be an ATR-42 model.
he passengers include 44 adults, two children, three toddlers and five crew members.
According to the tweet, the aircraft lost contact while flying over the remote eastern Papua region at 2:55pm local time.
Al Jazeera's Step Vaessen, reporting from Jakarta, said the plane was scheduled to land at a small airport in Oksibil at around 3pm local time (06:00 GMT).
Oksibil is a remote town near the country's border with Papua New Guinea.
She said reports indicated that "the weather was very bad" in Papua at the time the plane was in the air.
The search operation has been suspended as night fell in the region and will resume on Monday morning, Vaessen said.
The government said it is coordinating with other authorities to implement the search operation.
"We are not sure what happened to the plane yet and we are coordinating with local authorities," transport ministry spokesman JA Barata told the AFP news agency.
"The weather is currently very bad there, it is very dark and cloudy. It is not conducive for a search. The area is mountainous."
Small aircraft are commonly used for transport in remote, mountainous Papua, and bad weather has caused several accidents in recent years.
On Wednesday, a Cessna propeller plane operated by Indonesian company Komala Air crashed in Papua's Yahukimo district, killing one person and seriously injuring the five others on board.
Officials suspect that crash was caused by bad weather.
An AirAsia passenger jet crashed en route from the Indonesian city of Surabaya to Singapore last December, killing all 162 people on board.
The crash prompted the government to introduce regulations aimed at improving safety.
Indonesia's president promised a review of the ageing air force fleet in July after a military transport plane crashed in the north of the country, killing 130 people, including 110 passengers and 13 crew members.
http://www.aljazeera.com/news/2015/08/indonesia-aircraft-missing-papua-region-150816090539975.html
----
URL: https://www.newageislam.com/islamic-world-news/new-age-islam-news-bureau/india-wants-uae-as-top-partner-in-trade,-counter-terrorism--pm-narendra-modi/d/104282