New Age Islam News Bureau
3 Dec 2018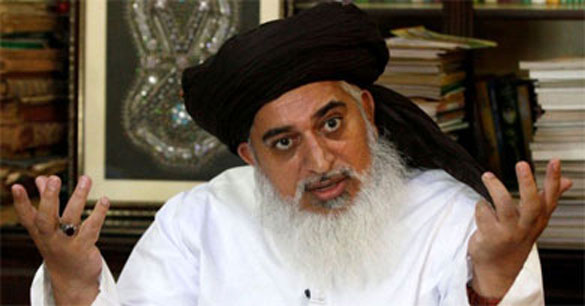 Firebrand cleric Khadim Hussain Rizvi and his party Tehreek-Labaik Pakistan held furious protests after the Supreme Court overturned the death penalty for Asia Bibi in October 2018.PHOTO: REUTERS
-----
• India: Villagers Open Gates of Shiva Temple for Muslims to Offer Namaaz in Courtyard
• Pakistan Terror Groups Use Women to 'Honey Trap' Jammu & Kashmir Youths: Indian Officials
• Netanyahu Granted More Time To Pass Law Drafting Ultra-Orthodox Jews into Army
• Pakistani Cleric Who Led Asia Bibi Protests Charged With Terrorism
• Legal Case Sought to Dissolve Tunisia's 'Ennahda' For Alleged Terror Links
India
• Bulandshahr Villagers Open Gates of Shiva Temple for Muslims to Offer Namaaz in Courtyard
• Pakistan Terror Groups Use Women to 'Honey Trap' Jammu & Kashmir Youths: Indian Officials
• Kashmiri Pandits Demand Kartarpur-Like Corridor to PoK's Sharda Peeth
• Proud To Be A 'Fundamentalist Muslim', Was Targeted In India by 'Enemies of Islam': Zakir Naik
• Marwar Muslim Education and Welfare Society Establishes Minority University
• Is Election Speech More Important Than "Recitation Of Quran"? Local Party's Priorities Exposed
• J&K: Encounter Breaks Out Between Terrorists, Security Forces in Shopian's Sangran Village
• Giriraj Singh's statement against Darul Uloom Deoband: AIMMM President seeks apology, threatens legal action
• Lack of safety, discrimination force 97 Sindhis to migrate from Pak to India
• Pakistan should seek our help if it can't fight terrorism by itself, says Rajnath
• J&K student who joined militant ranks returns after appeals from his family
--------
Mideast
• Netanyahu Granted More Time To Pass Law Drafting Ultra-Orthodox Jews into Army
• Iran Says Missile Program Is Defensive Amid Heightened Allegations, Evidence
• Yemen City Fights To Resurrect Itself after Al-Qaeda Defeat
• Israeli court orders release of Palestinian Jerusalem al-Quds governor to house arrest
• Israel police recommend indicting Netanyahu in third graft probe
• Coalition to facilitate evacuation of 50 wounded Houthi militants for treatments
• Zarif blasts 'surrealism' guiding US foreign policy
--------
Pakistan
• Pakistani Cleric Who Led Asia Bibi Protests Charged With Terrorism
• Pakistani Man Sentenced To 7 Yrs in Jail for Providing Material Support to Terror Outfit
• RHC asks authorities to show 'PTI-like leniency' to TLP
• International actors behind Sami's killing, says his son
• Mufti Muneeb seeks PTI-type treatment for TLP leaders
• Opposition doubts PTI's seriousness about new province
• FIA opens immigration office in Kartarpur
• Qatari prince allowed to hunt Houbara bustard
• State won't compromise on its writ, says info minister
• Govt considering renegotiating LNG deal with Qatar: minister
--------
Africa
• Legal Case Sought to Dissolve Tunisia's 'Ennahda' For Alleged Terror Links
• Don't Be Cowards – Buratai Tells Special Forces
• Nine people killed in new US airstrike in Somalia
• Top Libyan leaders in Jordan to strengthen bilateral relations
• Kenya: Kilifi Mosque Demolished in Land Dispute Pitting Two Families
• Boko Haram claims deaths of eight Nigerian soldiers
• Police deploy 2000 operatives to North East
• Boko Haram: Two suicide bombers die in Maiduguri
--------
South Asia
• Police Takes Control of Bishwa Tableeghi Ijtema Grounds
• Bangladesh Jamaat-affiliated Candidates Divided over Using BNP's Symbol
• Several militants killed in Tagab district of Kapisa province
• Taliban call's Mullah Manan's death a major loss
• 4 militants killed, wounded in Afghan, foreign forces operations in Ghazni
• Top Taliban commander killed in airstrike in southern Afghanistan
• Rohingya Repatriation: 'Do the right thing', Bangladesh writes to Myanmar
• Legacy of pope's visit lingers on in Bangladesh
• Taliban's shadow governor for Helmand province killed
• Taliban militants kidnap 60 coal mine drivers in Samangan province
--------
Arab World
• Syria Coalition Targets IS Leader Linked To Decapitation Of American Humanitarian Worker
• US-Backed Militia Blackmailing Civilians in Eastern Syria
• More Civilians Killed, Injured in US Raid in Eastern Deir Ezzur
• Ankara Forces Continue Targeting Kurds in Northern Syria
• Senior Non-Syrian Commander of Terrorists Killed in Idlib
• Syria accuses coalition of missile strikes on its army positions
• Pro-Syrian Lebanese politician urges calm after aide killed by gunfire
• Lebanese demonstrators gather outside Saudi embassy to protest Yemen bombings
• Russia expands air defense network in Syria to US dismay: Report
--------
North America
• Pompeo: No Intelligence Directly Links Saudi Prince To Khashoggi Killing
• US-led coalition attacks Syrian Army in Homs province
• US Should Keep Ties with Saudi, Hold MbS Responsible: Top Democratic Senator
• US cannot cite UN Security Council resolution on Iran's missiles: Commentator
• US admiral found dead in Bahrain residence
--------
Southeast Asia
• Perkasa: Introduce Special Act to Protect Islam, Malay Rulers
• Hardliners Pull Out Islam Card on Jokowi
• Islamic politics show strength in massive Jakarta anti-Ahok rally
• Mat Sabu: Don't Be Influenced By Racial, Religious Sentiments
--------
Europe
• Putin: Russia, Saudi agreed to keep oil production low
Compiled by New Age Islam News Bureau
URL: https://www.newageislam.com/islamic-world-news/india-villagers-open-gates-shiva/d/117050
--------
India: Villagers Open Gates of Shiva Temple for Muslims to Offer Namaaz in Courtyard
Dec 2, 2018
Meerut: It was indeed a rare spectacle, at least for the people of western Uttar Pradesh, when scores of Muslims bowed down to offer Namaz in the courtyard of a Shiva temple in Bulandshahr.
Setting example of bonhomie amid rising communal rhetoric in the region, residents of Bulandshahr's Jainpur village on Sunday afternoon threw open the gate of Shiva temple for the Muslim devotees who couldn't reach the mosque on time due to traffic congestion.
As a sea of devotees gathered in Bulandshahr on Sunday to attend the final day of 'Tablighi Iztema', a three-day Islamic congregation, a few men got stuck in traffic near the village at the time of Namaaz. When the Muslim men narrated their tale to the locals, they decided to take up the matter with the temple committee members. Together, in unison, they decided to throw open the temple gate for the Muslims. Soon, the Shiva temple's water taps were opened for 'Wazu' and mats were laid for Namaz in its courtyard.
"The message of love and brotherhood should spread far and wide. Some Muslim brothers got stuck in the traffic jam here and it was Namaaz time. Since there wasn't any other place for them to offer prayers, we opened the gate of the Shiva temple and asked them to come in," said Amar Singh, the priest of the Shiva temple.
Meanwhile, the Muslims also thanked the temple priest and villagers.
"So many Muslims were in the city on Sunday for 'Tablighi Iztema'. When some of them came to us and requested to offer prayers inside the temple premises, there was no way we could have refused. Love is prayer and prayer is love, and we just did our little bit," said Chaudhary Sahab Singh, a member of the temple management committee.
Village Pradhan Ganga Prasad said: "The villagers sat and decided this together. It was decided in unison to open the temple gate."
https://timesofindia.indiatimes.com/city/meerut/bulandshahr-villagers-open-gates-of-shiva-temple-for-muslims-to-offer-namaaz-in-courtyard/articleshow/66911290.cms
--------
Pakistan Terror Groups Use Women to 'Honey Trap' Jammu & Kashmir Youths: Indian Officials
December 2, 2018
'Honey trapping' is one of the new methods used by Pakistan-based terror groups to woo youths towards militancy and use them as human carriers for delivering arms from one place to another or acting as guides to infiltrating terrorists, officials said.
An intelligence-based operation had led to the arrest of Syed Shazia, a woman in her early 30s from Bandipore, a fortnight ago. It was seen that she had many accounts on social networking sites such as Facebook and Instagram which many youths in the Valley followed, they said.
Officials from the central security agencies had been keeping a watch on the Internet Protocol (IP) address used by Shazia for several months. She used to converse with youths and would promise to meet them only if a certain "consignment" was delivered from one place to another, the officials said.
Shazia had been in touch with some officials in the police department as well, but the officials termed it a usual tactic of "double-cross" as she used to report the movement of troops and "not so sensitive" information to her handlers across the border.
During interrogation, she told the investigators about the presence of some more women in militants ranks who had been tasked with luring youths into militancy, they said. A week before her arrest on November 17, the Jammu and Kashmir Police had arrested Aysia Jan (28) for carrying 20 grenades in Lawaypora on the city outskirts, after receiving inputs about militants trying to smuggle arms and ammunition into the city.
Besides grenades, the police had also seized ammunition from her possession, they said.
Her monitoring had started during the probe of a case from September last year when the police killed Abu Ismail, the Lashker-e-Taiba terror chief in the valley, and Chotta Qassim. Both were involved in last year's gunning down of Amarnath pilgrims in which eight people were killed. Some documents and materials were seized from the encounter site in the outskirts of Srinagar city which indicated that an unidentified woman hailing from North Kashmir was involved in supplying arms and ammunition to the two terrorists.
It was in April this year, the woman was identified as Syed Shazia. Continuous monitoring of her social media presence showed that she was getting diktats from across the border for honey trapping and luring youths into militancy from across the border, they said.
She was in constant touch with Sherwan alias Ali of Jaish-e-Mohammed terror outfit who introduced her to Pakistan-based terrorists Sufiyan and Qasim Khan Gauri.
Later, she started working as an overground worker from Jaish terror group and was acting as the main conduit for ensuring delivery of weapons to other parts of the valley.
Before her arrest, a special police officer hailing from Handwara was picked up by police for informing Shazia that her phone had been kept on monitoring.
It was found that the special police officer identified as Irfan had been passing information to Shaiza, they said. She was arrested under various sections of Ranbir Penal Code (equivalent of IPC) and Arms Act.
https://indianexpress.com/article/india/pakistan-terror-groups-use-women-to-honey-trap-youths-officials-5475113/
--------
Netanyahu granted more time to pass law drafting ultra-Orthodox Jews into army
2 December 2018
Israel's Supreme Court on Sunday extended a deadline for Prime Minister Benjamin Netanyahu's government to pass a law related to military service for ultra-Orthodox Jews, a measure that could potentially provoke early elections.
The court agreed to extend the deadline, which was on Sunday, until January 15, rejecting the government's request for it to be moved back to the end of March.
Netanyahu's government has been seeking to have a law passed that could gradually see ultra-Orthodox Jewish students serve in the military like their secular counterparts, as mandated by the Supreme Court.
Ultra-Orthodox parties that form a key part of Netanyahu's coalition reject such measures and a compromise law given initial approval earlier this year has not been advanced further.
Netanyahu's government is now in a much more precarious position, left with only a one-seat majority in parliament after defense minister Avigdor Lieberman resigned last month.
The premier says he wants his government to last until the end of its term in November 2019, but tensions surrounding the issue of ultra-Orthodox Jews and the military could derail those plans.
Ultra-Orthodox parties control 13 seats and at least some could withdraw from the government over the issue.
The need for a new bill arose after the Supreme Court in September 2017 struck down a law allowing ultra-Orthodox men to be exempted from military service until 2023.
The court gave parliament a year to pass a new law, before an initial extension pushed that back to December 2.
The issue is part of a decades-old debate over whether young ultra-Orthodox men studying at seminaries should perform mandatory military service like the rest of Israel's Jewish population.
Tens of thousands of ultra-Orthodox between 18 and 24 obtain exemptions from military service to study at seminaries.
The compromise law would set targets on proportions of young ultra-Orthodox who would begin serving in the army and establish financial penalties against seminaries that do not meet the goals.
https://english.alarabiya.net/en/News/middle-east/2018/12/02/Netanyahu-granted-more-time-to-pass-law-drafting-ultra-Orthodox-Jews-into-army.html
--------
Pakistani cleric who led Asia Bibi protests charged with terrorism
December 02, 2018
ISLAMABAD: A hardline cleric has been charged with terrorism and sedition by the Pakistani government after he led violent protests to oppose the acquittal of a Christian woman from blasphemy charges, a minister said.
Khadim Hussain Rizvi and his party Tehreek-Labaik Pakistan (TLP) held protests after the Supreme Court overturned the death penalty for Asia Bibi in October.
Demonstrators blocked major roads, burned cars and buses, and left large swathes of the country paralysed as they called for her execution.
Rizvi was detained on November 24 after police launched a crackdown on hundreds of his supporters in the Punjab province and the port city of Karachi.
Fawad Chaudhry, federal minister for information and broadcasting, told reporters in Islamabad that sedition and terrorism charges had been filed against Khadim Rizvi and other TLP leaders.
During the protests, one TLP leader called for mutiny against the military chief, the murder of the judges who acquitted Bibi, and branded Prime Minister Imran Khan as a "son of Jews."
Chaudhry said these charges can carry a life term in prison.
"Other people who were directly involved in destruction of properties, insulting women and snatching their purses, burning buses, have been charged in terrorism cases," he said, saying more than 3,000 people had been arrested in connection with the TLP protests.
The government signed an agreement with the protesters at that time to bring about a quick end to the violence, but launched a crackdown a few weeks later when the TLP threatened to launch another protest.
Blasphemy is a hugely inflammatory issue in Muslim-majority Pakistan, where even unproven allegations of insulting Islam and Prophet Mohammad (PBUH) can lead to lynchings.
Bibi's conviction stemmed from a 2009 incident when she was asked to fetch water while out working in the fields.
Muslim women labourers objected to her touching the water bowl as a non-Muslim, and a fight reportedly erupted. A local imam then claimed Bibi insulted the Prophet Mohammad (PBUH).
Bibi has consistently denied the charges, and her prosecution rallied international rights groups, politicians and religious figures.
She spent eight years on death row before the Supreme Court's decision to free her.
https://gulfnews.com/world/asia/pakistan/pakistani-cleric-who-led-asia-bibi-protests-charged-with-terrorism-1.60705561
--------
Legal case sought to dissolve Tunisia's 'Ennahda' for alleged terror links
2 December 2018
A Tunisian lawyer, who is a member of the defense team of assassinated political opponents Chokri Belaid and Mohamed Brahmi, announced on Saturday that he will file a legal case to dissolve the Ennahda Movement Party for its alleged links to terror.
Ali Kalthum, the defense team's member said that he will push his case against Ennahda in front the court which held on Friday a hearing on the assassination case.
Meanwhile the Court of First Instance postponed its deliberations on the case of the assassination of Belaid to March 30, 2019.
On Thursday, Tunisian President Beji Caid Essebsi stated that the Ennahda Movement Party threatened him personally and that he would not allow it.
Essebsi comments came during his supervision of the National Security Council's meeting at Carthage Presidential Palace.
This development came after the Security Council said it will investigate the secret apparatus of the Ennahda Movement Party.
https://english.alarabiya.net/en/News/north-africa/2018/12/02/Tunisia-Legal-case-to-dissolve-Ennahda-for-terror-links.html
--------
India
Kashmiri Pandits demand Kartarpur-like corridor to PoK's Sharda Peeth
Dec 03, 2018
More than 200 Kashmiri Pandits took out a protest march in Anantnag Sunday demanding that a passage on the lines of the Kartarpur Corridor for Sikhs be opened to facilitate devotees to visit the Sharda Devi temple in Pakistan-occupied Kashmir.
The Kashmiri Pandits held placards and raised slogans in support of reopening the passage to PoK.
Sharda Peeth is an abandoned temple in Sharda village along the Neelam river across LoC. It was a major centre of learning and is regarded as one of the 18 highly-revered temples in South Asia.
The protesters, under the banner of All Party Migrant Coordination Committee (APMCC), demanded that the Sharda Peeth corridor between Neelam Valley in PoK and Teetwal in north Kashmir be reopened on the lines of the Kartarpur Corridor.
India and Pakistan last week laid the foundation stones of the Kartapur corridor on their respective sides. The construction of the corridor is expected to be complete in five months, facilitating the visit of Indian Sikh pilgrims to the 16th-century gurdwara in Kartarpur in Pakistan.
Sunny Raina, president of Vessu Transit KP Colony, pressed for an early opening of a corridor to Sharda Peeth.
Ranjan Jyotshi, president of Mattan KP Colony, said, "We have been waiting anxiously from 70 years for its reopening. It is the matter of faith".
"The pandits of Kashmir have an immense belief that whatever bloodshed or mayhem is in Kashmir nowadays is due to the neglect of their presiding deity Sharda Mata," he added.
The APMCC has been calling for reopening of passage for 10 years and they had twice sat on fasts in support of their demand.
https://www.hindustantimes.com/india-news/kashmiri-pandits-took-out-rally-for-sharda-peeth-corridor-to-pok/story-JssqYpbbP447XB41uSyxiK.html
--------
Proud to be a 'fundamentalist Muslim', was targeted in India by 'enemies of Islam': Zakir Naik
Dec 2, 2018
Controversial Islamic preacher Zakir Naik, wanted in his home country of India, said he has not broken any Indian law and was being targeted by the "enemies of Islam," in a rare public speech in Malaysia where he has sought refuge.
Naik, 53, is facing charges of money laundering and hate speech in India, where authorities last year said he has been "promoting enmity and hatred between different religious groups in India through public speeches and lectures".The preacher has been living in Malaysia, where he has permanent residency, since India started investigating him, but he has kept a low profile over the past year amid criticism that he is a threat to peace in multi-ethnic Malaysia.
Naik said in a late Saturday speech in Kangar, capital of the north Malaysian state of Perlis, that he had never broken any Indian law."But because I was spreading peace, I was giving solution for humanity, all the people who don't like peace to prevail, they don't like me," he said, adding he was being targeted because of his work to spread Islam."This doesn't go down (well with) the enemies of Islam. Be it western countries or the country I was born in, India."
Naik has been controversial because of his puritan brand of Islam - recommending the death penalty for homosexuals and those who abandon Islam as their faith, according to media reports.In a clip on Youtube, Naik says that if Osama bin Laden "is terrorizing America the terrorist, the biggest terrorist, I am with him".Bangladesh suspended a television channel that featured his preachings after media reported that militants who attacked a Dhaka cafe killing 22 people last year were admirers of him.
Islamic State claimed responsibility for the attack.Britain banned Naik from entering in 2010.About 1,000 people turned up for Naik's speech, along with the state's chief minister, crown prince and religious officials.The preacher was known to be close to officials in the previous Malaysian administration, which was unexpectedly defeated in a May general election.
Full report at:
https://www.dnaindia.com/india/report-proud-to-be-a-fundamentalist-muslim-was-targeted-in-india-by-enemies-of-islam-zakir-naik-2691570
--------
Marwar Muslim Education and Welfare Society Establishes Minority University
Dec 02, 2018
Jodhpur: Marwar Muslim Education and Welfare Society established 32 educational institutions including a university on a sprawling campus covering an area of more than 57 acres in Jodhpur, Rajasthan.
Mr. Ahmed Javeed, Correspondent of Inquilab Urdu Daily interviewed Prof. Akhtarul Wasey, VC of Maulana Azad University Jodhpur.
Prof. Akhtarul Wasey informed that in 1981, a Senior Secondary School was set up in Jodhpur which was inaugurated in 1988 by the then CM of Rajasthan, Mr. Shiv Charan Mathur.
In 2013, Rajasthan Assembly passed an act in which permission was given for the establishment of Maulana Azad University. It got minority status. It has 3300 students studying in it.
It may be mentioned that in 1937, Maharaja Umeed Singh had given the gift of a school for which he had also appointed a regular British principal. After the independence of India, Govt. had seized this school in 1948.
In 1987, Govt. of Rajasthan allotted this land on which this education society started educational institutions. This university admits candidates who secure 40-50 percent marks and fail to get admission in any educational institution. An attempt is being made to bring these students into the mainstream.
Giving further details of the activities of the university, Prof. Akhtarul Wasey told that the students who do not get Govt. scholarships are given financial assistance from Zakat Fund. Last year, Rs. 14.5 lakh were given from Zakar Fund. He also said that Jodhpur has become a hub in the fields of health and education. There is an Ayurvedic University, Law University (NALSAAR) and AIIMS in Jodhpur.
He mentioned that this university does not get funds from the Govt. The members of the education society who were associated with construction work supervise the construction of the university buildings.
Full report at:
https://www.siasat.com/news/where-theres-will-theres-way-muslim-society-establishes-minority-university-1440475/
--------
Is Election Speech More Important Than "Recitation Of Quran"? Local Party's Priorities Exposed
Dec 03, 2018
Hyderabad: After the incident of changing the schedule of Namaz in the Masjid by the local party leaders, another incident took place in which the recitation of the Quran was stopped. This was done to facilitate continuation of speech of the leader of local political party.
This incident occurred in Charminar Assembly Constituency. When the local party candidate of this constituency was about to start his speech, at that time recitation of the Quran was going on as part of birthday celebration of Prophet Mohammed (PBUH). The candidate of the local party of Charminar Assembly Constituency was holding the mike and gave a hint to his supporters for stopping the recitation of the Quran. The activists jumped from the dais and stopped the recitation of the Quran. The local party candidate continued his speech.
Full report at:
https://www.siasat.com/news/election-speech-more-important-recitation-quran-local-partys-priorities-exposed-1440743/
--------
J&K: Encounter Breaks Out Between Terrorists, Security Forces in Shopian's Sangran Village
December 3, 2018
New Delhi: An encounter broke out between terrorists and security forces in Sangran village of Shopian district in Jammu and Kashmir, news agency ANI reported on Monday. In the latest development, two terrorists are reported to be trapped. Firing has been stopped at present, as per ANI tweet.
Mobile internet services have been snapped in the area. The area has been cordoned off and a search operation is underway to nab the terrorists. More details in the incident awaited.
In an earlier incident on November 27, a soldier was martyred following an encounter in Redwani area of Kulgam. According to news reports, two terrorists were also killed in the gunfire.
According to a report, security forces had received a tip-off about the presence of terrorists hiding in a house. The incident came three days after six terrorists were killed in an encounter which broke out in Sekipora area of Bijbehara in Anantnag district. Arms and ammunition were also recovered from the custody of terrorists.
On November 18, two terrorists were killed in an encounter which broke out between terrorists and security forces at Rebban area of Zainapora village in Shopian district of Jammu and Kashmir. The encounter came a day after the militants abducted and killed a 19-year-old teenager.
Recently, a former special police officer (SPO) was killed after he was kidnapped by terrorists in Reban area of Shopian district. Terrorists had kidnapped three persons including a former special police officer (SPO).
Full report at:
https://www.india.com/news/india/jammu-and-kashmir-encounter-breaks-out-between-terrorists-security-forces-in-shopians-sangran-village-3457513/
--------
Giriraj Singh's statement against Darul Uloom Deoband: AIMMM President seeks apology, threatens legal action
Dec 02, 2018
New Delhi: President of All India Muslim Majlis-e-Mushawarat, Mr. Naveed Hamid condemned the statement given by Union Minister, Mr. Giriraj Singh against Darul Uloom Deoband.
Mr. Hamid further told that by associating a world fame educational institution like Darul Uloom Deoband with terrorism and claiming Hafiz Saeed and Abu Bakr Al-Baghdadi to be the former students of this institution is nothing but diverting the attention. By making this statement, Mr. Singh is creating hatred among the Hindus and the Muslims.
Full report at:
https://www.siasat.com/news/giriraj-singhs-statement-against-darul-uloom-deoband-aimmm-president-seeks-apology-threatens-legal-action-1440406/
--------
Lack of safety, discrimination force 97 Sindhis to migrate from Pak to India
Dec 3, 2018
Nagpur: December 3, 2018 will remain a historic day in the lives of around 97 Sindhis from Pakistan, who have been staying in Nagpur on long term visas (LTV). On Monday, chief minister Devendra Fadnavis would be granting them Indian citizenship, thereby making them Indian nationals.
"It is such a relief," sighs Manohar Pamnani currently residing in Jaripatka where he runs a jewellery shop. Pamnani came to India in 1997 to meet his relatives and found the environment very positive. "I got so much love and affection from them, and so in 2009 I returned on a LTV along with my family. On Monday, we will severe all ties with Pakistan and become Indians," he says.
Virendra Kukreja, Standing Committee chairman of the Nagpur Municipal Corporation (NMC), has played an active role in making this possible. "Sindhis are facing a lot of trouble in Pakistan and felt very unsafe there. Being a social worker, it as my duty to help them. After all, our families too had fled from that country during partition," Kukerja says.
Nearly 3,500 Sindhis from Pakistan are staying in the city in Jaripatka, Khamla and other Sindhi dominated areas of the city.
According to the rules, an immigrant can apply for citizenship after staying in India for seven years. "There are 600 applications for granting of citizenship pending before the government. A total of 97 applications have been cleared of which 35 got citizenship earlier. The chief minister will give certificates to all 97 of them on Monday," Kukreja informed.
Safety issues, cultural clashes and victimization have been some of the reasons why so many Sindhis have fled from Pakistan.
"Hindus form barely 2% of the population in Pakistan and face a lot of discrimination," says Vijay Nanwani who moved to India in 2004. "There is no sense of belongingness there," he says.
The partition in 1947 divided many families like that of Bheeman Bhojwani. "Two of my brothers came to India while my younger brother and I stayed back along with our mother. In 1991, we too decided to settle in India. The kind of opportunities that our children got here would not have been possible there. We run a plumbing and borewell business and can go to villages even at night. This sort of safety is not there in Pakistan," he says.
It was marriage in 1992 to an Indian which kept Sarwanand Zambani in India. "I took my wife to Pakistan in 2008 and though she liked meeting people there, we could not have stayed back as Pakistan will not grant citizenship even to an Indian Muslim.
Giving it to non-Muslim is out of question," he says.
Full report at:
https://timesofindia.indiatimes.com/city/nagpur/lack-of-safety-discrimination-force-97-sindhis-to-migrate-from-pak-to-india/articleshow/66911716.cms
--------
Pakistan should seek our help if it can't fight terrorism by itself, says Rajnath
Dec 3, 2018
Home minister Rajnath Singh on Sunday said Pakistan can seek India's help if it cannot handle the fight against terrorism alone. Singh also rebutted Congress president Rahul Gandhi's claim that three surgical strikes were conducted when UPA was in office.
He asserted there have not been any major terrorist-related incident in the country in over 4 years of the Modi government. "I want to ask the Pakistani PM (Imran Khan) that if in Afghanistan, a fight can be carried out against terror and Taliban with the help of the US, then, Pakistan can seek help against terrorism from India if it feels that it cannot handle it alone," he said.
Full report at:
https://timesofindia.indiatimes.com/india/pakistan-should-seek-our-help-if-it-cant-fight-terrorism-by-itself-says-rajnath/articleshow/66913101.cms
--------
J&K student who joined militant ranks returns after appeals from his family
by Bashaarat Masood
December 3, 2018
A Jammu and Kashmir youth studying in Noida, who had joined militancy in October, has returned home after appeals from his family.
Without naming him, J&K Police said an individual has been "brought back into the mainstream". "With the help of family and police an individual has been brought back to the mainstream," J&K Police tweeted on Sunday.
"He has returned home," a senior police officer told The Indian Express. "Police compliments the community and the family for their effort, which has helped the boy to come home".
The police, however, didn't reveal the name and identity of the student and, in a tweet, requested that his name be withheld "in view of the sensitivity of the matter".
The 19-year-old's family said he returned home on Sunday afternoon.
"Within half an hour of his return to his home, a police team turned up at his home and detained him," the boy's uncle said. "When he returned home, he was bleeding and couldn't talk".
The student went missing a month after he was assaulted by a group of fellow students on his college campus in Noida. A week later, on November 3, an audio message was released on social media in which he announced he had joined the Islamic State Jammu and Kashmir (ISJK), adding that he had decided to join the militants the day he was assaulted in college.
Soon after the audio message appeared on social media, his family made a fervent appeal to him, asking him to return home.
Full report at:
https://indianexpress.com/article/india/jk-student-who-joined-militant-ranks-returns-after-appeals-from-his-family-5475444/
--------
Mideast
Iran says missile program is defensive amid heightened allegations, evidence
2 December 2018
Iran said on Sunday its missile program is defensive and not in breach of UN resolutions, the state news agency IRNA said, following a US allegation that Tehran had carried out a new missile test.
US Secretary of State Mike Pompeo on Saturday condemned what he described as Iran's testing of a medium-range ballistic missile capable of carrying multiple warheads as a violation of the 2015 international agreement on the Iranian nuclear program.
"Iran's missile program is defensive in nature... There is no Security Council resolution prohibiting the missile program and missile tests by Iran," IRNA quoted Foreign Ministry spokesman Bahram Qasemi as saying in response to Pompeo's remarks.
Qasemi did not confirm or deny that Iran had carried out a new missile test.
Under the UN resolution enshrining the 2015 nuclear deal with Britain, China, France, Germany, Russia and the United States, Iran is "called upon" to refrain for up to eight years from work on ballistic missiles designed to deliver nuclear weapons.
Iran has repeatedly said its missile program is purely defensive and denied its missiles are capable of being tipped with nuclear warheads.
President Donald Trump pulled Washington out of the nuclear deal, approved before he took office, in May and re-imposed sanctions on Tehran. Trump said the deal was flawed as it did not include curbs on Iran's development of ballistic missiles or its support for armed proxies in Syria, Yemen, Lebanon and Iraq.
The US's International Institute for Strategic Studies had released a report stating that Iran was using a space program to disguise its building of missiles.
"Indeed, no country has converted a liquid-fuel, satellite-launch vehicle into a long-range ballistic missile. Yet allowing Iran to continue developing and launching large rockets in support of its space program is not risk-free," the report stated.
The center affirmed that Iran has the largest arsenal of missiles in the Middle East, including short and medium-range missiles, and cruise missiles that can reach Europe.
https://english.alarabiya.net/en/News/world/2018/12/02/Iran-says-missile-program-defensive-after-US-test-allegation.html
--------
Yemen city fights to resurrect itself after Al-Qaeda defeat
December 03, 2018
MUKALLA, Yemen: In azure waters off Yemen, newly minted coast guards stormed a fishing boat in a mock exercise as part of a war-scarred city's struggle to resurrect state institutions two years after Al-Qaeda's ouster.
In a nation torn by conflict, the former extremist bastion of Mukalla stands out as an oasis of stability, offering what many call a blueprint for post-war Yemen.
In a ceremony last week on a beach littered with rusted Soviet-era tanks, dozens of Yemeni officers took charge of securing the 350-kilometer (217 miles) coast of southern Hadramawt province, infested with drug and weapons smugglers.
The handover in Mukalla included management of local ports, with a Saudi-led military coalition giving maritime equipment and surveillance boats to the new coast guard trained by Saudi, Emirati and American officials.
"The real answer to the humanitarian crisis (in Yemen) lies in bringing about an end to the conflict in a way that will restore the institutions of the state," said Matthew Tueller, the US ambassador to Yemen.
"We cannot afford to see Yemen continue in this failed state status," he added at the ceremony also attended by Saudi envoy Mohammed Al-Jaber.
Al-Qaeda in the Arabian Peninsula (AQAP), seen by the United States as the militant network's most dangerous franchise, was expelled from Mukalla in April 2016.
It was a rare success for coalition-backed Yemeni forces locked in a bloody stalemate with Iran-aligned Houthi militia.
Militants who stoned women adulterers and enforced an austere vision of Islam no longer roam Mukalla's corniche and its squares no longer serve as venues for public executions.
But officials concede that the conditions that facilitated the militants' takeover of the poverty-stricken city of nearly 500,000 — mainly a lack of services and governance — still prevail.
Alongside fishermen in colorful sarongs, Mukalla's streets host beggars scavenging through overflowing dumpsters while raw sewage flows in open drains.
Neighbourhoods bear the scars of war, including bombed out houses. Joblessness is rampant, and despite Hadramawt being oil-rich, Mukalla is crippled by frequent power outages and fuel shortages.
"In Mukalla, the security is good, services are bad," said resident and former transport minister Badr Basalmah.
AQAP sleeper cells still lurk in the city, but Hadramawt governor Faraj Al-Bahsani says they do not pose a major threat.
"There is peace in Mukalla but it's fragile," said Elisabeth Kendall, a Yemen scholar at Oxford University.
"Militant groups are no longer strong and have mainly gone to ground, but that does not mean they won't resurge as they attract disillusioned youths who lack opportunities."
Lasting stability depends on reconstruction and development, but Yemen is reeling from an economic meltdown led by a collapsing Yemeni currency, leaving many out of work and unable to afford even basic food staples.
"With low salaries and high inflation, people are focusing on survival," said Basalmah.
The local government is struggling to pay wages and banking heavily on the UAE and Saudi Arabia for financial support.
The regional airport remains closed to commercial traffic, further stifling business.
AQAP militants — the target of a long-running US drone war — swept into Mukalla virtually unopposed in 2015.
The militants were feared, but some multiple residents said they sought to offer basic services such as clean water, electricity and fuel, while repairing sewer lines and paying regular salaries on time — seen as an anomaly in Yemen.
The extremists retreated to the province's mountainous interiors just as swiftly as they took over the city after looting up to 270 billion riyal ($100 million) from Mukalla's banks, Yemeni officials said.
Governor Bahsani said authorities recovered a tranche of AQAP documents after they left, which revealed intelligence such as blueprints of their military strategy, their sources of revenue and details of storage sites for armaments.
He said the documents had been handed over to Emirati authorities who backed the main Yemeni offensive to retake the city.
"Al-Qaeda's grip on this place was benefiting Houthis," said General Abdullah Abu Hatem, from the Yemeni border guard forces.
Though two separate groups, they were mutually benefiting from Yemen's war economy. The porous Hadramawt coastline controlled by AQAP facilitated the smuggling of weapons which often ended up in Houthi areas, Hatem said.
After their ouster, Mukalla is experimenting with a prohibition on civilians bearing firearms — something unique in a country with a long tradition of carrying guns.
Full report at:
http://www.arabnews.com/node/1414726/middle-east
--------
Israeli court orders release of Palestinian Jerusalem al-Quds governor to house arrest
Dec 2, 2018
An Israeli court has ruled to conditionally release Palestinian Authority (PA) Jerusalem al-Quds Governor Adnan Ghaith from detention to house arrest, days after he was detained on charges of collaborating with Palestinian security forces in violation of interim peace accords between Israel and the Palestinians.
Lawyer Rami Othman said Jerusalem al-Quds magistrate court justice Chavi Toker ruled on Sunday that Ghaith will be confined to his home through Tuesday, and could leave custody on bail and on condition he not enter the occupied West Bank for two weeks.
Ghaith and more than 30 Palestinian activists were arrested last week.
Last month, the Palestinian Jerusalem al-Quds governor was arrested by Israeli forces and held in prison for two days before being released.
A large group of special Israeli forces arrested Ghaith in the Beit Hanina neighborhood of Jerusalem al-Quds on October 20 after intercepting his car.
The charges against him were not clear, but apparently had to do with his staunch opposition to the recent sale of a Palestinian-owned property in the Old City of Jerusalem al-Quds to Israeli settlers.
Palestinian Authority President Mahmoud Abbas appointed Ghaith, a longtime activist in Fatah political party, to the role of PA Jerusalem al-Quds governor in late August.
In his role, Ghaith is responsible for overseeing the PA's operations in the neighborhoods within its jurisdiction on the outskirts of Jerusalem al-Quds.
Israeli military forces have arrested Ghaith many times in the past several years, including on suspicion of incitement, according to his brother Hani.
Ghaith, alongside Fatah activists, has spent several hours a week at Khan al-Ahmar Bedouin village, which is slated for demolition, in the past couple of months.
Tensions continue in the occupied Palestinian territories in the wake of Trump's recognition of Jerusalem al-Quds as Israel's capital.
The dramatic shift in Washington's policy vis-à-vis Jerusalem al-Quds on December 6 last year has triggered demonstrations in the occupied Palestinian territories, Iran, Turkey, Egypt, Jordan, Tunisia, Algeria, Iraq, Morocco and other Muslim countries.
On December 21 last year, the United Nations General Assembly overwhelmingly voted in favor of a resolution that calls on the US to withdraw its controversial recognition of Jerusalem al-Quds as Israeli "capital."
In an attempt to prevent the passing of the resolution, Trump threatened reprisals against countries that backed the measure, which had earlier faced a US veto at the UN Security Council.
On June 13, the United Nations General Assembly adopted a resolution, sponsored by Turkey and Algeria, condemning Israel for Palestinian civilian deaths in the Gaza Strip.
The resolution, which had been put forward on behalf of Arab and Muslim countries, garnered a strong majority of 120 votes in the 193-member assembly, with eight votes against and 45 abstentions.
The resolution called on UN Secretary General Antonio Guterres to make proposals within 60 days "on ways and means for ensuring the safety, protection, and well-being of the Palestinian civilian population under Israeli occupation," including "recommendations regarding an international protection mechanism."
Full report at:
https://www.presstv.com/Detail/2018/12/02/581786/Israeli-court-orders-release-of-Palestinian-Jerusalem-alQuds-governor-to-house-arrest
--------
Israel police recommend indicting Netanyahu in third graft probe
2 December 2018
Israeli police are recommending Prime Minister Benjamin Netanyahu be indicted in a corruption case involving Israel's telecom giant.
Police say Sunday they have established an evidentiary foundation to charge Netanyahu and his wife Sara with accepting bribes, fraud and breach of trust.
The case revolves around suspicions that confidants of Netanyahu promoted regulations worth hundreds of millions of dollars to the Bezeq telecom company in exchange for positive coverage of the prime minister on Bezeq's news website, Walla.
Police have already recommended indicting Netanyahu on corruption charges in two other cases, one involving accepting gifts from billionaire friends, and the second over trading positive media coverage for advantageous legislation for a newspaper.
The prime minister has denied any wrongdoing, dismissing the accusations as a witch-hunt orchestrated by the media.
"These recommendations were determined and leaked even before the investigations began," Netanyahu said in a statement after the third recommended indictment against him in recent months.
Full report at:
https://english.alarabiya.net/en/News/middle-east/2018/12/02/Israeli-police-recommend-indicting-Netanyahu-in-telecom-case.html
--------
Coalition to facilitate evacuation of 50 wounded Houthi militants for treatments
3 December 2018
At the request of the UN special envoy to Yemen and in consultation with the legitimate Yemeni government, the Arab coalition said they have facilitated the evacuation of 50 wounded Houthi militants for further treatment.
Spokesman of the Coalition forces Col. Turki al-Maliki said that the leadership of the joint forces of the coalition has received the request of UN Special Envoy to Yemen Martin Griffiths to facilitate the evacuation of the 50 wounded militants to Muscat for humanitarian reasons.
The statement also said the facilitation comes within the confidence-building framework between the Yemeni parties to prepare for the upcoming peace talks in Sweden.
Maliki said that a commercial aircraft belonging to the United Nations will arrive at Sanaa airport on Monday to evacuate the injured fighters, which will carry 50 militants, three Yemeni doctors and a United Nations doctor from Sanaa to Muscat after completing all procedures and special coordination.
Full report at:
https://english.alarabiya.net/en/News/gulf/2018/12/03/Qatar-says-it-will-withdraw-from-OPEC-beginning-of-2019.html
--------
Zarif blasts 'surrealism' guiding US foreign policy
Dec 2, 2018
Iranian Foreign Minister Mohammad Javad Zarif condemns the "surrealism" informing the US' foreign policy after his American counterpart accuses Tehran of violating the very UN Security Council resolution that Washington is in breach of.
"'Surrealism' is now the US' modus operandi in its foreign affairs," Zarif tweeted on Sunday.
Earlier, Mike Pompeo had accused Tehran of testing a missile "capable of carrying nuclear warheads" in violation of Security Council Resolution 2231.
The resolution -- which represents a nuclear agreement signed between Iran and other countries, including the US, in 2015 -- bans all activity relating to "nuclear-capable" weapons. Iran does not engage in any such activity, something that has been verified on many occasions by the UN nuclear watchdog.
Washington itself started breaching the resolution in May after it left the nuclear agreement. In the following months, it took further steps in breach of the resolution by restoring the sanctions that had been lifted under the agreement, and even threatened the countries potentially ignoring the bans with "secondary sanctions."
"While itself violates UNSCR 2231…, it (the US) now falsely accuses Iran of violating the very same resolution," Zarif wrote.
Referring to the US' warning against the countries that could break the bans targeting Iran, he reminded that Washington now "even threatens to punish those who don't wish to violate it in abiding with illegal US sanctions."
The top Iranian diplomat incorporated #Hypocrisy at the bottom of his tweet.
Pompeo talk 'paradoxical'
Earlier in the day, Foreign Ministry Spokesman Bahram Qassemi said Pompeo was talking in "paradoxical" terms since he had predicated his remarks on a resolution that the US itself had contravened.
Qassemi also repeated the country's assertion that the Iranian missile program was entirely defensive in nature.
He asserted that Iran had to equip itself with "whatever it needs to defend itself" in the light of the past and ongoing tensions in the region, and its own past experience of coming under an imposed war by Iraq.
The official, meanwhile, reminded that the missile program was a matter of the Islamic Republic's own discretion. "We do not take advice on our missile policies from others, and view the matter in the light of our own defensive preferences," he said.
The spokesman said the US was trying to adversely affect Iran's current relations with the international community, especially Europe, in line with its policy of Iranophobia.
US arming Yemen terrorists
In a separate tweet, Zarif remarked about a recent report by The Guardian that showed weapons supplied by the US and Britain had "fallen into" the hands of splinter groups in Yemen, "some with links to al-Qaeda and Isis (Daesh)."
"Complicity in Saudi & UAE war crimes with arms, intel & logistical support apparently not enough. US also proliferating advanced weapons to extremists including al-Qaida & ISIS (Daesh)," the foreign minister wrote.
The US and Britain have been generously arming Saudi Arabia and its allies since the 2015 launch of a brutal Saudi-led invasion against Yemen.
The countries also provide the invasion, which seeks to restore the impoverished country's former Riyadh-backed officials, with logistical assistance, including bombing coordinates.
"First Syria; now in Yemen. Aim: Permanent instability to justify heinous policy," Zarif added.
Full report at:
https://www.presstv.com/Detail/2018/12/02/581806/Iran-United-States-Pompeo-missile-nuclear-Zarif-surrealism-Qassemi-Yemen
--------
Pakistan
Pakistani man sentenced to 7 yrs in jail for providing material support to terror outfit
Dec 2, 2018
NEW YORK: A Pakistani man has been sentenced to seven years in prison in the US for attempting to provide material support and resources to Jabhat al-Nusrah, an alias name for the terror group Al Qaeda in Iraq.
Basit Javed Sheikh, 39, of North Carolina was sentenced to 84 months imprisonment followed by a lifetime of supervised release. He had pleaded guilty to the charge in August and since he is not a natural born citizen of the US, he faces possible automatic removal from the country.
Sheikh had been living for years in the US as a legal permanent resident.
The affidavit to the complaint describes multiple Facebook postings by him in 2013, expressing support for Jahbat al-Nusrah. He posted articles acknowledging that Jahbat al-Nusrah had been designated by the US as a terrorist group.
As detailed within the affidavit, Sheikh utilized Facebook to "propagate the violent ideology of Islamic Extremism," US Attorney's Office for the Eastern District of North Carolina said.
In mid-2013, Sheikh sought out a relationship with an individual online whom he believed could assist him in travelling to Syria in support of violent jihad. This individual informed him of another person described as a member of Jabhat al-Nusrah able to assist Sheikh. In reality, both of these individuals were working with and for the FBI.
Sheikh reached out to the individual he believed to be a Jabhat al-Nusrah member and expressed his desire to travel to Syria in order to "help the mujahideen…in any way I can."
When asked how he wanted to help, Sheikh responded "logistics, media, fight too."
Believing that the FBI covert employee would be able to assist in smuggling him from Lebanon into Syria, Sheikh purchased a one-way ticket with a final destination of Lebanon and a departure from Raleigh-Durham Airport in November 2013. He was arrested prior to boarding his flight.
"Our security as a nation, as a state, and as a local community requires vigilance against the hateful rhetoric and goals of groups and persons who hijack the tenets of any religion towards their own violent purposes," US Attorney for the Eastern District of North Carolina Robert Higdon said.
https://timesofindia.indiatimes.com/world/pakistan/pakistani-man-sentenced-to-7-yrs-in-jail-for-providing-material-support-to-terror-outfit/articleshow/66904758.cms
--------
RHC asks authorities to show 'PTI-like leniency' to TLP
Dec 03, 2018
Ruet-e-Hilal Committee (RHC) Pakistan Chairman Mufti Muneebur Rehman on Sunday said that the leaders of Tehreek-e-Labaik Pakistan (TLP) should be shown leniency over the losses caused to public property during the protests just as they did to Pakistan Tehreek-e-Insaf (PTI) during their sit-in in 2014 against the government.
The RHC chief's statement came after Information Minister Fawad Chaudhry on Saturday announced that the TLP leaders have been charged with treason and terrorism.
He said that PTI had also been involved in unlawful activities, including attacking the Parliament Building and Pakistan Television (PTV) Headquarters, adding that if they can be pardoned for conducting these acts then the TLP leaders and activists also deserved similar treatment. "Cases were also lodged against current rulers, which were later dismissed on personal guarantees. Treason charges are also framed on those living lavishly in palaces in Dubai these days," said the renowned cleric, adding that the government should legislate for a uniform action on damages during sit-ins and protests. He urged the prime minister, the chief justice of Pakistan (CJP) and the army chief to pardon the TLP leaders for issuing provocative statements against them.
He said the authorities must refrain from making the TLP an example as this will only give them a temporary success but will ignite a fire that can engulf the entire country. "Even superpowers have failed to control terrorism by using force and we do not want to arouse religious sentiments and want a peaceful way to resolve the issue," he said.
Full report at:
https://www.pakistantoday.com.pk/2018/12/02/rhc-asks-authorities-to-show-pti-like-leniency-to-tlp/
--------
International actors behind Sami's killing, says his son
December 03, 2018
LAKKI MARWAT: The acting chief of Jamiat Ulema-i-Islam-S and former MNA Maulana Hamidul Haq Haqqani has alleged that the conspiracy to assassin Maulana Samiul Haq was hatched on the soil of Afghanistan, insisting that the United States, India and Israel were behind the killing of his father.
This he said while speaking at a condolence reference in Darul Uloom Islamia in Lakki city on Sunday. Other speakers included provincial emir Maulana Syed Mohammad Yousaf Shah, district emir Maulana Habibullah Haqqani, Maulana Islahuddin and Hafiz Tahir Shah.
Mr Haqqani said that the assassination of Samiul Haq had saddened the entire Muslim world as he was an inspiration for Islamic movements and always worked for unity of Muslims. He said his father wanted peace in Afghanistan and had made efforts to restore peace in the war-torn country.
"But external forces, including America, India and Israel, considered Samiul Haq a big hurdle in accomplishment of malicious designs they had made to harm Islam and Pakistan," he maintained.
The acting head of JUI-S gave his father the credit of uniting all religious and political forces on a single platform for defence and security of the country.
He said Samiul Haq was the man of great wisdom as he gave political maturity to masses and also raised awareness among them about defence of the country.
Referring to President Dr Arif Alvi's visit to the Akora Khattak seminary to condole the death of his father, Mr Haqqani said he had demanded of the government to confer Shaheed-i-Pakistan award on Maulana Samiul Haq and take his killers to task.
Terming assassination of Samiul Haq a great tragedy for entire Muslim world, Maulana Yousaf Shah said celebrations over the death of Samiul Haq in Afghanistan proved that United States, India, Israel and Afghanistan were responsible for his killing.
He said Samiul Haq would always be remembered for services he rendered for Islam and Pakistan and that his supporters and followers would continue his mission.
Full report at:
https://www.dawn.com/news/1449156/international-actors-behind-samis-killing-says-his-son
--------
Mufti Muneeb seeks PTI-type treatment for TLP leaders
DECEMBER 3, 2018
Ruet-e-Hilal Committee Pakistan Chairman Mufti Muneebur Rehman Sunday said the authorities should show leniency towards Tehreek-e-Labbaik Pakistan (TLP) leaders and activists for the losses incurred to public and private property during their protests and sit-ins last month just like they did to Pakistan Tehreek-e-Insaf (PTI) over their sit-in back in 2014.
A day after Information Minister Fawad Chaudhry announced that TLP leaders Khadim Hussain Rizvi and Pir Afzal Qadri among others have been charged with sedition and terrorism, Mufti Muneeb told a press conference on Sunday that the ruling party had also been involved in 'unlawful' activities including attacks on the parliament building and the PTV headquarters. "If they can be pardoned for conducting those acts, then the TLP leaders and activists also deserve similar treatment," he argued. "Cases were also lodged against the current rulers, which were later dismissed on personal guarantees … treason charges are also framed on those living lavishly in palaces in Dubai these days," he said, adding that legislation should be made for uniform action over damages during protests and sit-ins. Urging the prime minister, chief justice and army chief to pardon the TLP leaders for issuing provocative statements against them, Mufti Muneeb said the authorities must refrain from making the TLP an example as this will give them only a temporary success but will ignite a fire that can engulf the entire country. "Even superpowers have failed to control terrorism by using force … we don't want to arouse religious sentiments and want a peaceful way to resolve the issue," he remarked. Mufti Muneeb said Prime Minister Imran Khan was approached to nominate the federal minister for religious affairs for negotiations with the TLP leadership and leave Information Minister Fawad Chaudhry for the 'political wrestling'.
https://dailytimes.com.pk/329120/mufti-muneeb-seeks-pti-type-treatment-for-tlp-leaders/
--------
Opposition doubts PTI's seriousness about new province
Amjad Mahmood
December 03, 2018
LAHORE: Opposition parties doubt that the ruling party is serious about the creation of a new province and decline to promise their support until the Pakistan Tehreek-i-Insaf (PTI) comes out with a clear-cut proposal.
Foreign Minister Shah Mehmood Qureshi had told the media in Multan on Saturday that he would approach Pakistan Muslim League-Nawaz (PML-N) president Shahbaz Sharif and Pakistan Peoples Party (PPP) chairman Bilawal Bhutto-Zardari to get their support for the constitutional amendment needed to create south Punjab province.
A two-thirds majority is required for a constitutional amendment to sail through the bicameral parliament, while an equal support for a new province's proposal is a must in the provincial assembly of the federating unit which is proposed to be bifurcated. The PTI-led ruling alliance lacks the required numbers in both houses of parliament as well as in the Punjab Assembly.
Mushahidullah Khan, information secretary of the PML-N which is the largest party in the Senate, said none took 'the egg and hen' government seriously, particularly when the ruling alliance itself didn't seem to be unanimous on the issue, a reference to a federal minister's statement about seeking restoration of Bahawalpur province first.
He argued that the PTI could not think of bifurcating Punjab, because it would then lose control over 25 central Punjab districts, where the N-League had won most of the seats, and the ruling party would be reduced to 11 districts of the southern belt. He, however, said his party would give its formal reaction after going through the proposal if and when put up by the government.
Rana Sanaullah Khan, another senior party leader, made it clear that in no case the PML-N would support the creation of just south Punjab province. Rather it would back the idea of forming a national body to see the need for new federating units across the country, he added.
"Like in India, a national commission must be formed to see and decide where carving out new provinces on administrative grounds is needed," he said, spelling out the condition for his party's support.
The former Punjab law minister is the mover of the resolution unanimously passed by the Punjab Assembly for the creation of south Punjab and Bahawalpur provinces back in May 2012. It, too, had called upon the federal government to form a national commission to do the needful.
He insisted that the Bahawalpur province issue would crop up by design whenever division of Punjab would be considered.
Mr Sanaullah ruled out cooperation on the south Punjab issue with the Janoobi Punjab Mahaz leaders, terming them "opportunists" who had been bagging votes in the name of deprivations of south Punjab but did nothing for the region despite holding offices in successive governments.
Responding to a question, the MNA from Faisalabad and a lawyer by profession asserted that a new constitutional bill would be required to be introduced as the previous one passed by the Senate stood infructuous.
The second largest opposition party also doubts intentions of the ruling party on the issue. PPP finance secretary and law professional Haider Zaman Qureshi said that by excluding the opposition from the consultative council formed on the subject by the Punjab government, the PTI had exposed its non-seriousness.
"How will the PTI morally seek our support for amending the Constitution to create the new province when it hasn't taken input from us on the issue?"
Arguing that they cannot support the cause blindly for fears that the new unit may be without powers like Gilgit-Baltistan, he said Foreign Minister Qureshi had been talking on the issue since coming into power but hadn't contacted the opposition even once.
The PPP leader rejected the proposal of establishing the south Punjab secretariat, saying it wouldn't serve the cause as "decision-making powers will continue to rest with Lahore as the additional chief secretary will only be forwarding files to the provincial capital instead of taking decision locally".
Full report at:
https://www.dawn.com/news/1449098/opposition-doubts-ptis-seriousness-about-new-province
--------
FIA opens immigration office in Kartarpur
December 03, 2018
GUJRANWALA: The Federal Investigation Agency (FIA) has established an immigration office at Kartarpur border in Narowal.
FIA Deputy Director Mufakhar Adeel told Dawn that Gurdwara Darbar Sahib was located close to the Kartarpur border. He said since the border crossing could be an easy target for terrorists, human traffickers and drug dealers, a strong mechanism was required to keep the situation under control on both sides of the border.
He said FIA officers would play the role of boarding officers and check the documents of pilgrims and identify them through biometric technology. He said Sikh pilgrims having visa would be allowed to enter the city while pilgrims with permits would be given access to Gurudwara only.
PROTEST: A number of people along with family of a youngster who was burnt to death protested over police failure in arresting accused.
Full report at:
https://www.dawn.com/news/1449060/fia-opens-immigration-office-in-kartarpur
--------
Qatari prince allowed to hunt houbara bustard
December 03, 2018
QUETTA: Though the Balochistan government has approved guidelines to ensure implementation of the law for the wildlife's protection, authorities have issued a special permit to a Qatari prince, allowing him to hunt internationally protected houbara bustard in the province.
Inhabitants of the Central Asian region, houbara bustards migrate to Pakistan every year in winter to avoid harsh weather conditions at home. The return to the region after winter.
Sources said that the Qatari prince had paid $100,000 before he was issued the permit for hunting the migrating birds.
Hunting parties are set a limit of 100 birds in a maximum period of 10 days, but they often exceed their quota.
According to the policy, they cannot use shotguns and other inflammatory weapons, but can hunt houbara bustard with the help of falcons.
Full report at:
https://www.dawn.com/news/1449121/qatari-prince-allowed-to-hunt-houbara-bustard
--------
State won't compromise on its writ, says info minister
Dec 03, 2018
ISLAMABAD: A day after the government decided to book Tehreek-e-Labbaik Pakistan (TLP) leadership under sedition and terrorism charges, Information Minister Fawad Chaudhry on Sunday said that the government won't compromise on its writ and will take "indiscriminate action" against all those who would violate constitution.
Talking to a private news channel, the minister said that the government would deal with all the "miscreants and extremists in the country with an iron hand".
He said that all political parties have a consensus on the National Action Plan (NAP), but unfortunately the previous government had failed to fully implement it. However, the Pakistan Tehreek-e-Insaf (PTI) government will implement the NAP, he added.
Responding to a question, Fawad said the action against the TLP was taken after collection of evidence and added the government had taken all the religious scholars and ulema on board, who had shown their support.
A case was registered against TLP a week after the police had taken its chief Khadim Hussain Rizvi and other top TLP leaders into "protective custody" on November 23, after they refused to withdraw a call for yet another protest in Rawalpindi's Liaquat Bagh on November 25.
Rizvi was arrested in a joint operation by the Lahore Police, Elite Force and Dolphin Force at the Yateem Khana Rehmatallil Alameen Mosque after an approval by the federal cabinet.
On October 31, TLP led widespread protests which erupted in the major cities after the Supreme Court (SC) acquitted Aasia Bibi, a Christian woman on death row since 2010 when she was convicted on blasphemy charges. The protests lasted for three days and paralysed routine life in several parts of the country.
Rizvi and his fellow party leaders also passed incendiary remarks against the superior judiciary and Prime Minister Imran Khan as well as provoking the military to stage a mutiny against Chief of Army Staff (COAS) General Qamar Javed Bajwa.
Despite PM Khan's stern warning to the TLP leaders against challenging the State's writ, the PTI government reached a five-point agreement with the protesters on November 3.
Full report at:
https://www.pakistantoday.com.pk/2018/12/02/no-compromise-on-the-writ-of-the-state-fawad/
--------
Govt considering renegotiating LNG deal with Qatar: minister
December 01, 2018
ISLAMABAD: Building on its continuous criticism of liquefied natural gas import and processing terminals, the government on Friday said it was considering renegotiating the 15-year LNG import contract with Qatar.
The ruling Pakistan Tehreek-i-Insaf (PTI) has been criticising the contracts signed by the previous Pakistan Muslim League-Nawaz (PML-N) government for import of LNG from Qatar at a price equivalent to 13.39 per cent of international benchmark crude oil price and two terminals set up by the private sector for re-gasifying imported LNG.
"The price of LNG imported from Qatar is the most expensive," said Petroleum Minister Ghulam Sarwar Khan at a news conference, adding that even the prices under proposed gas pipelines from Turkmenistan and Iran were cheaper.
He said that his objection to the LNG agreement with Qatar was that why it was signed for 15 years when the mandate was only for five years. On top of that, he added, it also contained a clause putting a bar on non-disclosure of the agreement even three years after the expiry of the 15-year term.
Mr Khan said the government was looking into the agreement from both aspects [being expensive and non-disclosure]. Responding to a question, he said he would not speak about its specific terms because the issue could land in the International Court of Arbitration (ICA). "I am bound under the contract to keep its specifics secret," otherwise they would involve the ICA, he said, adding that "an in-camera briefing will be given to Prime Minister Imran Khan in a few days" for a decision.
The minister said the petroleum division also had some reservations over the agreements on terminals and some of them were in courts and, therefore, he would opt not to prejudice the issue.
He said the Supreme Court, National Accountability Bureau (NAB) and Federal Investi­gation Agency (FIA) were looking into the contracts relating to import of LNG from Qatar and two LNG terminals in Karachi and those found responsible for signing the expensive deals would be held accountable.
The petroleum minister had last month announced sending three LNG contracts to NAB for investigation and renegotiating the contract with terminal operations to bring down processing charges.
The terminal operators said the agreement could not be reopened. NAB had been probing the LNG deals even when the PML-N was in power and comprehensively grilled various officials involved but never took it to the next level of filing a reference in a court.
Former prime minister Shahid Khaqan Abbasi has always defended the LNG import and processing terminal contracts as transparent and in best national interest and has been challenging the PTI ministers for an open debate.
The petroleum minister also announced at the news conference that all politically motivated board of directors of oil and gas companies would be reconstituted in the next 100 days to ensure transparency in the appointment of heads of these companies, adding that the government had already reconstituted boards of directors of six companies. He said the boards would also elect their own professional chairmen while chief executive officers would be appointed after clearance from NAB and the FIA.
Mr Khan claimed that the previous government had not auctioned a single block for oil and gas exploration during its five-year tenure, whereas the PTI government selected 40 blocks and auctioned 10 of them to exploration companies.
He said the federal government had written letters to the provinces, asking them to give the names of their representatives for boards of directors of oil and gas companies.
The minister said ExxonMobil would start offshore drilling 230 kilometres from Karachi in January next year for which a rig was on its way. OGDCL, PPL, ENI and ExxonMobil have 25pc shares each in this offshore block.
Full report at:
https://www.dawn.com/news/1448712
--------
Africa
Don't be cowards – Buratai tells Special Forces
December 2, 2018
By Wale Odunsi
The Nigerian Army has challenged its Special Forces to prove that they have better training and tactics than terrorists by making a difference and positive impact in the ongoing counter-terrorism operations.
NAN reports that Chief of Army of Staff, Lt.-Gen. Tukur Buratai, gave the charge in Maiduguri on Sunday, while addressing the Armed Forces Special Forces and Army Strike Group deployed in the North-East.
"You are selected specially and deployed here in the North East. You are given special training and that is why you are called Special Forces.
"I am here to tell you that you have a great job to do and you must do it properly.
"You are deployed in the North-East to make a difference because of your special training. If there will be any challenge in terms of capacity, I believe you will fill that gap and you have all it takes to do that.
"If you apply the training that you are given, we all have cause to be proud to belong the armed forces of our great country,'' Buratai said.
He warned them against exhibiting cowardice, saying "we do not have time for the chicken-hearted, the cowards.
"You all must brace up and be brave. We have done the greatest job so far in the North-East; the greatest in terms of degrading the terrorists.
"We are better trained, better equipped. We know tactics better than them and what is remaining for us is to dominate everywhere and dominate our areas of responsibilities.
"We must dominate the whole of the North-East.''
He added that "the terrorists must no longer be allowed the freedom to move about and commit heinous crime and escape.
"They must be dealt with squarely. We must say no to their vain and invalid threats.
"Henceforth, there should be no dull moment in our operations. There should be no gap, but make a difference".
http://dailypost.ng/2018/12/02/boko-haram-dont-cowards-buratai-tells-special-forces/
--------
Nine people killed in new US airstrike in Somalia
Dec 2, 2018
The United States military has reportedly conducted an airstrike in Somalia, killing nine people.
The US's Africa Command (AFRICOM) claimed in a press release that the US military had struck a position in Somalia and killed nine al-Shabab militants a day earlier.
"To support the Federal Government of Somalia's continued efforts to degrade al-Shabab, US forces conducted an airstrike targeting al-Shabab militants near Lebede, Somalia," AFRICOM said.
"We currently assess this airstrike killed nine militants with no civilians involved," it claimed, Reuters reported on Sunday.
AFRICOM says it carries out periodic airstrikes in the Horn of Africa country to support the UN-backed government there, which has been making efforts to eradicate the al-Qaeda-linked al-Shabab group in the past years.
The US military began conducting airstrikes in Somalia in 2007, with helicopters and AC-130 gunships. In June 2011, American forces began using drones to carry out airstrikes in Somalia on purported militant positions, in a mission which has so far failed to uproot the militants there.
US President Donald Trump has approved increased military operations against purported members of al-Shabab in Africa and Daesh in the Middle East and Asia.
Some observers say the US has stepped up its operations in Somalia — as well as elsewhere — in often secretive efforts to expand its military influence in those regions.
A recent report suggested Pentagon had secretly expanded its military presence in Tunisia, another North African country.
The US military has in recent years used the presence of Takfiri militants as a pretext to build up its forces across the continent, where it reportedly has over 6,000 boots on the ground.
The US also carries out drone strikes in Afghanistan, Pakistan, Yemen, and Libya.
Locals say the US drone attacks often target civilians in those countries.
Full report at:
https://www.presstv.com/Detail/2018/12/02/581755/US-Somalia-airstrike
--------
Top Libyan leaders in Jordan to strengthen bilateral relations
December 03, 2018
AMMAN: King Abdullah of Jordan received Fayez Al-Sarraj, chairman of the Presidential Council of Libya and prime minister of the Government of National Accord (GNA) on Sunday in Amman.
They discussed bilateral ties and recent developments in Libya and the region, Jordan's royal court said without elaborating.
Jordan's Prime Minister Omar Razzaz also met with Al-Sarraj, and "spoke about the deep relationship between the two countries and the expectation that mutual cooperation can accomplish the aspirations of both people," his office said in a statement.
They discussed existing agreements, unresolved issues and the potential for Libyan investment in Jordan, the statement added.
Musa Shteiwi, head of the Strategic Studies Center at Jordan University, said Jordan provides a safe environment for reconciliation talks between rival Libyan sides.
"Jordan has historically had a great relation with all political and military parties in Libya," he told Arab News.
Because of that, Jordan "can play a role in bringing them together," he said, adding that international players have been supportive of the country's role as an "honest broker."
Jordanian government spokesman Jumana Ghnaimat told Arab News that the presence of Libyan officials in Amman provides an opportunity to resolve a number of issues, including unpaid hospital and hotel bills.
Abdel Hakim Al-Hindi, chair of the Hotel Owners Association, said hotels will receive $46 million of the $150 million due for providing accommodation to Libyans.
Nael Zidane, deputy director of the Jordanian Hospital Association, said the Libyans have promised to pay back $220 million.
"The Libyan government had appointed an audit firm, and this was the amount that it confirmed is the debt to Jordanian hospitals," he told Arab News.
Full report at:
http://www.arabnews.com/node/1414696/middle-east
--------
Kenya: Kilifi Mosque Demolished in Land Dispute Pitting Two Families
2 DECEMBER 2018
Kilifi — A mosque which is sitting on a contentious piece of land in Kambe Bondora in Kaloleni Constituency in Kilifi County has been demolished.
On Sunday morning, a contingent of police officers arrived at the site with an excavator and pulled down three structures sitting on the half-acre piece of land; the mosque, an orphanage centre and a residential home.
Two families, that of Juma Ali and David Mwamutsi, are fighting over the said ownership of the land.
Last Friday, over 300 Muslim faithful, who worship at the mosque protested the impending demolition, saying they have been in that area for over 40 years.
According to Emmanuel Chengo, a human rights activist in the region and who witnessed the demolition, describe the scene as "very bad and disheartening."
"This is an issue which could have been settled by the two families without necessarily pulling down a place of worship. We are staring at the bulldozers helplessly, we cannot do anything," said Chengo.
In May this year, the Mwamutsi family obtained a court order to demolish all the structures on the said piece of land, arguing that that is their family property.
The matter is currently being heard at the Supreme Court following an appeal.
Full report at:
https://allafrica.com/stories/201812030008.html
--------
Boko Haram claims deaths of eight Nigerian soldiers
2018-12-03
Islamist group Boko Haram said on Saturday it was behind an attack that killed eight soldiers and injured 17 more in northeastern Nigeria.
The group said they had attacked army positions near Gamboru in the Lake Chad area near the border with Cameroon, in a statement translated by the SITE monitoring group.
The group, which calls itself Islamic State's West Africa Province (ISWAP), said they had suffered no casualties in the clash, and promised further attacks.
An army statement Friday confirmed the attack, without mentioning any casualties.
Gamboru residents told AFP on condition of anonymity the Islamists had launched the attacks on Thursday around the bridge straddling the border with Cameroon.
AFP has logged 18 attacks on military bases since July - almost all of them in the ISWAP-controlled region around Lake Chad.
President Muhammadu Buhari vowed on taking office in 2015 to eradicate the jihadists and has said on several occasions that Boko Haram is "technically defeated".
Full report at:
https://www.news24.com/Africa/News/boko-haram-claims-deaths-of-eight-nigerian-soldiers-20181202
--------
Police deploy 2000 operatives to North East
December 2, 2018
By Chudi Felix
The Inspector General of Police, Ibrahim Idris kpotun has deployed additional 2000 Police Mobile Force, PMF, and Counter Terrorism Units, CTU, Personnel of the Force and the Sniffer Dog sections to the North East to fight Boko Haram insurgency, under the operation Lafiya Dole.
This new deployment was said to be consistent with Section 4 of the Police Act and Regulations which specifies the general duties of the Nigeria Police Force.
FPRO Jimoh Moshood in a statement said the deployment was made to support the strength of the military to defeat the dreaded insurgents.
Moshood added, "Before now, the Nigeria Police Force has on ground 47 PMF Units (63 X 47 = 2961) in Borno State in addition to the Police Mobile Force (PMF) Squadron in Borno State.
"26 Units (63 X 26 = 1638) on ground in Yobe State in addition to the Police Mobile Force (PMF) Squadron in Yobe State.
"18 Units (63 X 18 = 1134) on ground in Adamawa State in addition to the Police Mobile Force (PMF) Squadron in Adamawa State".
The Inspector General of Police, Ibrahim Idris kpotun has deployed additional 2000 Police Mobile Force, PMF, and Counter Terrorism Units, CTU, Personnel of the Force and the Sniffer Dog sections to the North East to fight Boko Haram insurgency, under the operation Lafiya Dole.
This new deployment was said to be consistent with Section 4 of the Police Act and Regulations which specifies the general duties of the Nigeria Police Force.
FPRO Jimoh Moshood in a statement said the deployment was made to support the strength of the military to defeat the dreaded insurgents.
Moshood added, "Before now, the Nigeria Police Force has on ground 47 PMF Units (63 X 47 = 2961) in Borno State in addition to the Police Mobile Force (PMF) Squadron in Borno State.
"26 Units (63 X 26 = 1638) on ground in Yobe State in addition to the Police Mobile Force (PMF) Squadron in Yobe State.
"18 Units (63 X 18 = 1134) on ground in Adamawa State in addition to the Police Mobile Force (PMF) Squadron in Adamawa State".
It was disclosed that the Counter Terrorism Units of the Force has deployments of over 1,250 specially trained Counter Terrorism Police personnel and that the Police Anti-Bomb Squad has about 300 personnel, while over 100 Sniffer Dogs are working with the military in the fight against Insurgency in the North East.
Part of the statement reads, "It is of significant note that the Police Mobile Force (PMF) Personnel, Counter Terrorism Units (CTU), Anti-Bomb Squad (EOD), Sniffer Dog Sections, the Federal Anti-Robbery Squad (FSARS) and conventional Police personnel have being fighting along with the Military in the front line against Boko Haram insurgency and also providing security for restoration of law and order in the North East, security for all the liberated towns and villages in the North-East, escort of Foreign and Local Humanitarian workers and relief materials, protection of IDP camps and security of public and private infrastructures.
"The Police Air-wing Surveillance Helicopters and crews are also deployed to support most of the operations of Operation Lafiya Dole throughout the North East in the fight against insurgency in the North East.
Full report at:
http://dailypost.ng/2018/12/02/boko-haram-police-deploy-2000-operatives-north-east/
--------
Boko Haram: Two suicide bombers die in Maiduguri
December 2, 2018
By Chijioke Jannah
Two unidentified suicide bombers suspected to be agents of Boko Haram insurgents have died near Mina garage in Maiduguri, Borno state.
Army Spokesman, Brig-Gen. Sani Usman, disclosed this on Sunday in a statement issued to journalists in Abuja.
According to him, the suicide bombers, a male and a female, on a mission to infiltrate the garage hurriedly, detonated one of their suicide vests upon sighting troops of 195 Battalion on patrol.
Usman further said the incident, which occurred at about 8pm on Saturday, left no fewer than five members of the Civilian Joint Task Force, CJTF, injured.
The statement reads: "Two Suicide Bombers (Male and Female) on a mission to infiltrate Muna Garage Maiduguri, hurriedly detonated one of their suicide vests on sighting troops of 195 Battalion on patrol at about 8 P.M on 1 December 2018.
"The patrol team quickly moved to the scene and discovered it was only the female suicide bomber's vest that was detonated, killing herself and the male suicide bomber.
"Unfortunately, five members of Civilian Joint Task Force (CJTF) on duty at the market were injured in the explosion.
"Subsequently, the area was cordoned off and the Explosive Ordinance Device Team were drafted to defuse the other unexploded vest, while Borno State Emergency Management Agency and the Red-cross evacuated the mutilated body parts of the suicide bombers.
Full report at:
http://dailypost.ng/2018/12/02/boko-haram-two-suicide-bombers-die-maiduguri/
--------
South Asia
Police Takes Control of Bishwa Tableeghi Ijtema Grounds
December 2nd, 2018
Police have taken control of the Bishwa Ijtema grounds in Tongi after a clash between two factions of the Tabligh Jamaat led to a man's death on Saturday.
No cases were filed till 4pm on Sunday about the death.
After the clash between supporters of Maulana Saad Kandhalvi, top scholar of Indian Tabligh Jamaat and Maulana Jubayer took place on Saturday, police barred them from entering the Ijtema grounds.
Every gate of the grounds was in control of the police at the moment to avoid any unwanted situations.
Nazmul Alam, a pharmacy owner near the Kamarpara-Tongi road near the Ijema grounds said: "Till Saturday evening, supporters were seen leaving the grounds. After that, police barred everyone from the place."
Gazipur Metropolitan Police (GMP) Commissioner YM Belalur Rahman visited the grounds on Sunday. He has set up a nine member committee putting Additional Commissioner (Crime) Abu Hanif in charge of returning belongings which were left behind by worshippers at the grounds.
Commissioner Belalur said: "According to the directive of the Home Ministry, no group of the Tabligh Jamaat is allowed to carry out any programs at the grounds before the election and it will be under the control of law enforcement agencies."
Tongi (west) police station OC Emdadul Haque said: "Ismail Hossain, 70, of Munshiganj who died at the Ijtema grounds, was sent to Gazipur morgue for autopsy. If his family files any case we will take it."
Earlier on Saturday, Ismail was killed in a series of clashes between the two factions of the Tabligh Jamaat over establishing dominance at the Bishwa Ijtema grounds on the banks of the Turag River.
More than 200 people were also injured in the clashes at the Ijtema grounds in Tongi.
Tongi Ahsan Ullah Master Health Complex physician, Dr Monira Begum, said around 150 people received treatment at the hospital and more people were being admitted.
"Of them, 25 people who were severely injured, were transferred to Dhaka Medical College and Hospital, Kurmitola General Hospital, and other hospitals," she said.
Supporters of Indian preacher Maulana Saad Kandhalvi, and Maulana Jubayer's supporters, engaged in sporadic clashes, chases, and counter-chases for several hours since morning, said OC Emdadul.
"The trouble mongers also vandalized a number of cars and motorcycles parked at the Ijtema grounds," he said.
The clash broke out around 8am on Saturday when supporters of Saad Kandhalvi tried to enter the Ijtema premises where the supporters of Maulana Jubayer had taken up position.
At one stage, the supporters of Maulana Saad broke open the main gate of the Ijtema grounds and swarmed in.
Sporadic clashes took place between the two groups, leaving Ismail dead on the spot and scores of people injured. The Tabligh men hurled brickbats at each other and attacked each other with sticks.
https://www.dhakatribune.com/bangladesh/dhaka/2018/12/02/police-takes-control-of-ijtema-grounds
--------
Bangladesh Jamaat-affiliated Candidates Divided over Using BNP's Symbol
December 2nd, 2018
Bangladesh Jamaat-e-Islami, the party that sided with Pakistan during Bangladesh's 1971 Liberation War, has internal disagreements on whether to file their candidates using BNP's symbol or not in the upcoming general elections.
Jamaat, which is no more a legal political party registered under the Election Commission, is a core component of the BNP-led 20 party alliance.
A total of 85 candidates from the party will be contesting in the polls, including 25 of them competing in polls under the 'paddy sheaf' symbol of BNP, while the rest will be competing as independent candidates, Jamaat leaders told the Dhaka Tribune.
Some 17-18 Jamaat candidates were elected members of parliament in the 1986 and 1991 elections. In 2001 election, Jamaat contested for 31 seats as part of the Four-Party Alliance – 30 seats were with the alliance and one seat was contested for the party. However, the popularity of those candidates in the constituencies remains the same as in the past, said the party's senior leaders.
In the 2008 elections, the party contested for four seats under the party banner though it cleared 39 seats for the alliance.
Thus, the party is filing those candidates who are qualified, popular, and honest candidates, and those having public support to compete in the 11th parliamentary polls slated for December 30, they added.
Among the popular names that received BNP's ticket are convicted war criminal Delwar Hossain Sayedee's son, Shamim Sayedee in Pirojpur 1, and former lawmakers Professor Mia Golam Parwar in Khulna 5, Farid Uddin Chowdhury in Sylhet 5, Syed Abdullah Md Taher in Comilla 11, ANM Shamsul Islam in Chittagong 15, and Hamidur Rahman Azad in Cox's Bazar 2.
Executed war criminal Motiur Rahman Nizami's son Nazibur Rahman will be contesting from Pabna 1 as an independent candidate.
"We are still popular across Bangladesh. Since our registration has been canceled, we will take part in the polls for 25 seats under the BNP-led coalition. However, considering the organizational strength, we will file another 60 candidates as independent ones before the last day of withdrawal of nomination papers," Matiur Rahman Akand, organizing secretary of Jamaat, told The Dhaka Tribune.
Responding to a query on what are the criteria for shortlisting candidates, he said experienced leaders who are popular for their honesty will be given preference.
Citing an example, he said their candidates secured victory in 203 upazilas in the upazila parishad elections of 2014 because of their popularity.
"Our candidates are not young. Shafikul Islam Masud will be competing from Baufol of Patuakhali who is about 40 years old and is the youngest candidate. The rest are experienced," he added.
When asked on whether they are hopeful, he said they are looking for justice.
"We have worked across Bangladesh neutrally to serve people. If there is a fair election, we will get 18-20 seats like in the 1986 and 1991 elections," he expected.
However the Jamaat leader said it is the responsibility of the Election Commission to hold a credible poll.
"As of now, the commission has not been able to ensure a level playing field although less than a month remains till the polls. If there is proper preparation, the elections will be fair and normal, which is an expectation of all political parties," he said.
Jamaat central leader, advocate Ehsanul Mahbub Jubayer, said they will finalize the number of total candidates on December 9, but it is likely to be set at a total of 85.
The senior Jamaat leader said most of their candidates will be new faces, but all of them are experienced enough.
Full report at:
https://www.dhakatribune.com/bangladesh/election/2018/12/02/jamaat-affiliated-candidates-divided-over-using-bnp-s-symbol
--------
Several militants killed in Tagab district of Kapisa province
Dec 03 2018
The Afghan Military in the East claims that several anti-government armed militants have been killed during the operations in northeastern Kapisa province.
The 201st Silab Corps of the Afghan Military in the East in a statement said the Afghan army, Afghan police, Local Police, Public Order Police, and Afghan intelligence forces conducted joint operations in Badrab village of Tagab district.
The statement further added at least 13 militants were killed during the operations and 19 various types of improvised explosive devices were discovered and defused.
The anti-government armed militant groups including Taliban militants have not commented regarding the operations so far.
Full report at:
https://www.khaama.com/several-militants-killed-in-tagab-district-of-kapisa-province-02866/
--------
Taliban call's Mullah Manan's death a major loss
Dec 02 2018
The Taliban militants group in Afghanistan has called the death of Mullah Abdul Manan, the group's shadow governor for Helmand, a major loss.
The group in a statement said the death of Mullah Abdul Manan Akhunda is a major loss for 'Islamic Emirate and the Muslim nation' emphasizing that 'martyrdom' is the desire of all leaders of the group that leaders' deaths will not have an impact on their ranks to wage 'a holy war'.
This comes as the Helmadn provincial government media office in a statement said the shadow governor of the group Mullah Abdul Manan was killed in Nawzad district on Saturday night.
The statement further added "The shadow governor of Taliban for Helmand Mullah Abdulu Rahim alias Mullah Abdul Manan was killed with his four comrades, including two spokespersons identified as Hafiz Rashid and Mullah Javied, and two of his security guards."
Full report at:
https://www.khaama.com/taliban-calls-mullah-manans-death-a-major-loss-02862/
--------
4 militants killed, wounded in Afghan, foreign forces operations in Ghazni
Dec 02 2018
The Afghan Military in the Southeast claims that 64 militants have been killed during the operations of the Afghan and foreign forces in Ghazni province.
The 203rd Thunder Corps of the Afghan Military in the Southeast in a statement said the Afghan and coalition forces carried out airstrikes in Andaar, Deh Yak, Qarabagh, and Geru districts, leaving at least 35 militants dead.
The statement further added that at least 17 militants were also wounded during the same operations.
According to 203rd Thunder Corps, the military commission chief of the group for Deh Yak Hazrat Khalid and two other group leaders were among those killed.
Full report at:
https://www.khaama.com/64-militants-killed-wounded-in-afghan-foreign-forces-operations-in-ghazni-02860/
--------
Top Taliban commander killed in airstrike in southern Afghanistan
Dec 2, 2018
A senior Taliban commander and dozens of his comrades have been killed during a joint operation by Afghan and US Special Forces in southern Afghanistan, officials and Taliban members say.
Helmand provincial governor Mohammad Yasin Khan said Sunday that Abdul Manan was killed along with 29 others in an airstrike while he was meeting local commanders and militants in Nawzad district on Saturday.
The death of Mullah Manan, who was in charge of Helmand province for the insurgent group, was also confirmed by Taliban spokesman Zabiullah Mujahid. Manan commanded Taliban militants as they steadily increased their control over Helmand in recent years.
A senior security official in Kabul described Manan's death a serious blow to the insurgent group. "He was the most senior Taliban commander in the south and his death will have an overall impact on security."
Col Dave Butler, spokesman for US Forces in Afghanistan, said in a statement that Afghan forces had gone on the offensive with US support, notably through precision airstrikes to push the Taliban to accept peace talks.
"They're going to have trouble intensifying the fight when their fighters and leaders are under constant assault. Peace talks are the only solution," Butler said.
The Kabul government has stepped up efforts to convince the Taliban to end the 17-year militancy amid Washington's failures on the battleground.
Afghan President Ashraf Ghani on Wednesday announced the formation of a team for prospective peace talks with the Taliban. At an international conference on Afghanistan in Geneva, Ghani said the 12-person negotiating team includes both men and women and will be led by Abdul Salam Rahimi, his chief of staff.
Contacts have already started between US special envoy Zalmay Khalilzad and Taliban representatives with both sides aiming to build a favorable position in advance of any talks.
Full report at:
https://www.presstv.com/Detail/2018/12/02/581797/taliban-helmand-
--------
Rohingya Repatriation: 'Do the right thing', Bangladesh writes to Myanmar
December 3rd, 2018
Following the November 15 failed attempt to begin the Rohingya repatriation process, Bangladesh has communicated with Myanmar to reiterate the concerns of the refugees on Sunday.
Dhaka asked Yangon to address the concerns that refugees have to facilitate the safe, voluntary and dignified return of the persecuted people from Rakhine, diplomats in both Dhaka and Yangon told Dhaka Tribune on Sunday.
A note verbale (government to government diplomatic communication), containing the issues to be addressed has recently been sent to the Myanmar government; they said requesting anonymity as they were not authorized to officially speak to the media.
This has been the first official communication between the two governments after the failed attempt to begin the repatriation on November 15, said the diplomats.
"Yes, after the failed attempt, we have sent a note verbale to the Myanmar authorities to address the issues that were raised by the Rohingyas," a senior diplomat at the embassy in Yangon told this correspondent over phone.
When asked about the content, he said that all the aspects concerning Rohingyas, especially verifiable safety and security in the short term, and citizenship in the long run has been mentioned in the letter.
"Let's see what they come up with," said the diplomat.
When contacted, Ambassador to Myanmar Manjurul Karim Khan Chowdhury said: "We are always intent on engaging with Myanmar, the international community and the Rohingyas."
A senior Foreign Ministry official said: "We have just informed what needs to be done on the other side of the border to begin the repatriation without any problem,"
Dhaka is waiting for the reply, they said, stressing that living up to the pledges has never been Myanmar's strong point.
In accordance with a decision taken by the Bangladesh-Myanmar joint working group on repatriation on October 30 in Dhaka, the repatriation of hundreds of thousands of Rohingyas, who had to cross into Cox's Bazar to escape the unprecedented atrocities orchestrated by the Myanmar security forces, local Buddhist mobs and people from other ethnic groups in Rakhine, was supposed to begin on November 15 with the persecuted people earlier cleared by the authorities in Naypyitaw.
Full report at:
https://www.dhakatribune.com/bangladesh/rohingya-crisis/2018/12/03/rohingya-repatriation-do-the-right-thing-bangladesh-writes-to-myanmar
--------
Legacy of pope's visit lingers on in Bangladesh
December 3, 2018
Pope Francis' journey to Bangladesh in late 2017 has had a positive effect on society while his appeal to keep an "open heart" has seen people work harder to overcome their differences and thwart the threat of extremism, according to Oblate Bishop Bejoy N. D'Cruze of Sylhet.
The pontiff's visit touched the lives of everyone in the nation yet there is still much work to be done to fully materialize his call for a culture of love and justice, Bangladeshi Christian, Muslim and Hindu leaders say.
"Bangladesh is a good example of a country that strives for religious harmony and offers cultural diversity. For decades, the church has actively promoted dialogue among various religions," Bishop D'Cruze, chairman of the Catholic Bishops' Commission for Christian Unity and Interreligious Dialogue, told ucanews.com.
"The pope's message of love, peace and harmony has given a significant boost to our efforts to have people of all creeds and classes peacefully co-exist," he said.
Pope Francis visited Dhaka from Nov. 30 to Dec. 2. He was the third pope to visit the nation after Paul VI in 1970 and St. John Paul II in 1986.
"Even before he arrived, he was hugely popular among Bangladeshis from all parts of the social spectrum," Bishop D'Cruze said.
"This was largely because of his strong advocacy for the poor and oppressed, and his appeal for an end to the culture of injustice and corruption," he said.
"People welcomed him not just a top religious leader, but as a global advocate for peace, harmony, and the voiceless."
Despite the upsurge in radicalism and Islamic militancy in the region, the pope chose Bangladesh for its long tradition of religious pluralism and harmony, the prelate said.
Invigorating Christians
His visit also highlighted the contributions of Christians, who make up less than half a percent in Bangladesh's more than 160 million people, said Nirmol Rozario, president of the Bangladesh Christian Association, the country's top inter-denominational Christian forum.
"Christians are a minuscule minority but they have made great contributions in various sectors, including education, health, and social development," he said. "But they need to do more in the fields of justice, human rights, and peace building."
"The pope's visit shone a spotlight on Christians and raised their image in the country," he told ucanews.com.
Islam is dominant in Bangladesh with about 90 percent of the public identifying with this religion, followed by Hinduism (8 percent), and other faiths including Buddhism and Christianity.
There are about 600,000 Christians, mostly Catholics spread across eight dioceses. Roughly half of the country's Christians hail from ethnic groups.
Despite all the fanfare, pageantry and excitement surrounding the pope's historic visit one year ago, however, many Catholics are still not practicing what he preached, Bishop D'Cruze lamented.
"The pope warned against materialism and abuse of power but some of the faithful, including religious leaders, seem to have forgotten this already," he said.
"Most are following his instructions but others continue to neglect their vows and put aside their duties for their own comfort. We need to work harder to advocate in favor of peace and justice, not just for minorities but for everyone," Bishop D'Cruze added.
Inclusive growth
Dr. Benedict Alo D'Rozario, a former executive director of Caritas Bangladesh, the church's charity arm, said the pope urged "inclusive growth" for everyone.
"His message highlighted the need for inclusive development, both from the church and the state. He called for more participation from laity, women and young people, and he sought to help the poor. He entreated us to denounce materialism and march to a life of holiness," he said.
D'Rozario said the church's recent pastoral workshop incorporated the pope's messages and priorities, but expressed concern that implementation was still stuck at the "planning" stage.
"So far, there haven't been many visible signs of the pope's teachings reaching out to people effectively. Pope Francis asked us to be more vocal about minorities' rights and justice for all to help break the culture of silence. We still have a long way to go," he added.
The church must work harder to involve laity and women, said Rita Roselin Costa, a development worker and women's rights activist.
"We've seen an increase in the participation of women in the church, yet there are still many limits placed on what women can do," she said.
Govinda Chandra Pramanik, a Hindu leader and Supreme Court lawyer, said the pontiff's visit inspired hope for socio-political change but that this has not borne much fruit.
"He called for tolerance and stability, which could be achieved with more compromise and dialogue. Sadly, our society and political parties don't care too much about other people so intolerance is on the rise. The pope came with great messages but most of us have failed to grasp and internalize them," Pramanik said.
During his three-day visit, Pope Francis paid tribute to the millions of martyrs from Bangladesh's 1971 war of independence with Pakistan. He met President Abdul Hamid on Nov. 30, held a public Mass on Dec. 1, and ordained 16 deacons to the priesthood.
He also met Catholic bishops, and attended an interfaith gathering featuring thousands of people from various faiths and Christian denominations.
The highlight of that meeting saw him pray with a delegation representing nearly a million Rohingya Muslim refugees who had fled a series of deadly crackdowns in neighboring Myanmar's Rakhine state.
Full report at:
https://www.ucanews.com/news/legacy-of-popes-visit-lingers-on-in-bangladesh/83991
--------
Taliban's shadow governor for Helmand province killed
Dec 02 2018
The provincial officials in southern Helmand province are saying that the shadow governor of the Taliban group for Helmand province has been killed.
The provincial government media office in a statement said the shadow governor of the group Mullah Abdul Manan was killed in Nawzad district on Saturday night.
The statement further added "The shadow governor of Taliban for Helmand Mullah Abdulu Rahim alias Mullah Abdul Manan was killed with his four comrades, including two spokespersons identified as Hafiz Rashid and Mullah Javied, and two of his security guards."
According to the provincial government media office, Mullah Abdul Manan was killed in an airstrike late on Saturday night in Nawzad district.
Full report at:
https://www.khaama.com/talibans-shadow-governor-for-helmand-province-killed-02861/
--------
Taliban militants kidnap 60 coal mine drivers in Samangan province
Dec 02 2018
The anti-government armed militants have abducted at least 60 drivers working in a coal mine in northern Samangan province of Afghanistan, the local security officials said.
Provincial governor's spokesman Sediq Azizi sadi sixty coal mine drivers who were on their way to Balkh province were abducted by the Taliban militants.
Provincial police spokesman Mohammad Munir Rahimi had earlier confirmed that the incident has taken place in Dara Suf district at around 10 am local time.
Rahimi further added that the anti-government armed militants have kidnapped at least 60 drivers in Khush Dara village.
He said efforts are underway for the release of the kidnapped passengers and the drivers.
The anti-government armed militant groups including Taliban militants have not commented regarding the kidnapping of the passengers so far.
Full report at:
https://www.khaama.com/taliban-militants-kidnap-60-coal-mine-drivers-in-samangan-province-02863/
--------
Arab World
Syria Coalition Targets IS Leader Linked To Decapitation Of American Humanitarian Worker
December 3, 2018
Beirut, Dec 3 (AFP) The anti-jihadist international coalition in Syria said Sunday it had targeted in a strike an Islamic State group leader involved in the execution of American humanitarian worker Peter Kassig and other Western prisoners.
"The coalition forces carried out specific strikes against a high-ranking IS leader, Abou al Oumarayn… in the desert" in Syria, said Sean Ryan, spokesman for the US-led coalition.
The leader "was implicated in the murder of American citizen… Peter Kassig", kidnapped in Syria in 2013 and executed by decapitation in November 2014, he added.
He was also "directly implicated in the execution of a number of other prisoners", Ryan said, adding that coalition air strikes "continued to disrupt the command and control of IS on the battlefield".
Peter Kassig, aged 26 at the time of his death, founded a humanitarian organisation in 2012 and adopted the name Abdul Rahman after his conversion to Islam.
The international coalition intervened in Syria and Iraq in 2014 to fight the expansion of IS after it had taken control of vast swathes of territory straddling the two countries.
Defeated in Iraq, the group still retains territory in some parts of the Syrian desert, particularly in the east of the country, where the coalition continues to fight the jihadists with the support of an alliance of Kurdish and Arab fighters. (AFP) GVS 12030552
https://www.india.com/news/agencies/syria-coalition-targets-is-leader-linked-to-decapitation-of-american-3457505/
--------
US-Backed Militia Blackmailing Civilians in Eastern Syria
Dec 02, 2018
The sources said that the SDF captured a 40-member group of civilians that had escaped from ISIL-held regions in al-Souseh and al-Sha'afah in Southeastern Deir Ezzur and transferred them to their base in al-Umar oilfield.
The SDF claimed that its forces have arrested the civilians for interrogations, the sources said.
The sources further said that the detainees were later transferred to a school in the small town of al-Dahlah by the SDF who later asked for a hefty mount of money to release them.
"If the captured civilians reject to pay the SDF, they will be accused of cooperation with the ISIL terrorists," the sources said, adding that some of the captured civilians have been freed after paying the ransom money, while others are still in custody. In September, heavy clashes were reported between the SDF and civilians in Eastern Deir Ezzur.
Local sources in Eastern Deir Ezzur said that the SDF forces fired at the residents of the town of al-Sajar, and wounded several people, adding that a number of them were also detained by the US-backed militants.
They noted that the incident happened after residents of the town attacked one of the SDF commanders, namely Damhat.
Full report at:
http://en.farsnews.com/newstext.aspx?nn=13970911000822
--------
More Civilians Killed, Injured in US Raid in Eastern Deir Ezzur
Dec 02, 2018
A number of people were killed and wounded in a fresh raid by US fighter jets in the town of Hajin in Southeastern Deir Ezzur on Saturday.
In the meantime, the London-based Syrian Observatory for Human Rights said that at least 4 civilians have been killed in the US airstrikes on Hajin.
Also, airstrikes by the US-led coalition warplanes killed many more civilians in the Eastern part of Deir Ezzur last week.
"The US-led coalition warplanes struck the homes of civilians in the town of al-Sha'afah in Eastern Deir Ezzur, killing at least 14 civilians from a family most of them children and women," battlefield sources in Eastern Deir Ezzur said.
The sources noted that many other civilians were also injured in the US airstrikes on the residential areas.
"A large number of houses were destroyed and the region's infrastructure was extensively damaged in the US warplanes' raids," the sources added.
Full report at:
http://en.farsnews.com/newstext.aspx?nn=13970911000839
--------
Ankara Forces Continue Targeting Kurds in Northern Syria
Dec 02, 2018
Hawar news reported that gunmen of the Turkey-led Euphrates Shield Force targeted the positions of the Manbij Military Council from the village of Tokhar in Northeastern Aleppo.
It further said that the Euphrates Shield forces, deployed in the village of al-Mohsenli, targeted Kurdish militias' strongholds in al-Sajour region.
Hawar news went on to say that fierce clashes are underway between the Syrian Democratic Forces (SDF) and the Euphrates Shield forces near the village of al-Hamran Northwest of the town of Manbij that have, thus far, inflicted major casualties on both sides.
Xeber news website, affiliated to the Kurdish militia, reported last week that units of the Ankara-led Euphrates Shield, deployed in the village of Jub al-Dam in al-Bab region in Northeastern Aleppo, targeted the positions of the Manbij Military Council in the village of Korhodok West of Manbij.
It further said that the Turkish forces' provocative measures intensified after Turkish and the US troops carried out joint patrol around Manbij to prevent escalation of the situation.
The website went on to say that Turkish reconnaissance planes carried out continued flights over the town of Ra'as al-Ein West of Hasaka.
In the meantime, Turkey's state-owned Yeni Safak paper pointed to the US plan to set up observation posts in the Kurdish-held regions at Syria's border with Turkey, and said that the Turkish army is planning to launch a military operation in the region regardless of the US measures.
Full report at:
http://en.farsnews.com/newstext.aspx?nn=13970911000516
--------
Senior Non-Syrian Commander of Terrorists Killed in Idlib
Dec 02, 2018
The sources said that Abu Omar Tunisi from Tunisia was a notorious field commander of Tahrir al-Sham who was killed by unknown raiders North of the town of al-Tamanna yesterday.
In the meantime, the sources said that terrorists have declared curfew in Southern Idlib after tensions intensified among militants in the small town of Ma'arat Hamah.
They went on to say that Ahrar al-Sham's decision to expel rival terrorist groups from Foua'a and Kafraya regions has fueled fresh wave of tensions and infighting in Northeast of Idlib.
Tensions among terrorist groups and insecurities in regions occupied by militants in Idlib and Aleppo provinces exacerbated, field sources in Northern Syria said last week, adding that more senior terrorist commanders were shot dead by unidentified attackers in the region.
Unknown assailants killed several terrorist commanders, including two from Tahrir al-Sham Hay'at, in Idlib and Aleppo provinces.
A commander of Tahrir al-Sham named Abdullah Ansari was killed in an attack by unknown gunmen in the town of Ahsam in Jebel al-Zaviyeh region in Southern Idlib, field sources in Idlib said.
Meantime, another Tahrir al-Sham commander nom de guerre Abu Jalbib was shot dead by unidentified assailants in the town of al-Dana in Northern Idlib, they added.
In Western Aleppo, a former commander of Jeish al-Mojahedin was also killed by unknown gunmen in Batbou village.
Full report at:
http://en.farsnews.com/newstext.aspx?nn=13970911000472
--------
Syria accuses coalition of missile strikes on its army positions
3 December 2018
Syria on Sunday accused the anti-extremist international coalition, led by the United States, of launching missiles against Syrian army positions in the center of the country, the official Sana news agency said.
"The American coalition forces launched around 8:00 pm (1800 GMT) this evening several missiles against some positions of our forces in the Ghorab mountains south of Sukhna," causing only "damage to equipment," Sana said, citing a military source.
According to the monitoring Syrian Observatory for Human Rights, coalition forces positioned in the Al-Tanf region fired "more than 14 missiles" at a Syrian army convoy as it was passing through the desert in the far east of Homs province.
"The group was lost in the middle of the desert around 35 kilometres from the Al-Tanf base" of US and British troops, the Observatory's director Rami Abdel Rahmane told AFP.
The United States generally uses this base to launch its strikes against ISIS extremists. It has also been used in the past to train Syrian opposition fighters.
Last year there were clashes in the region between Syrian regime forces and those supported by the coalition.
Full report at:
https://english.alarabiya.net/en/News/middle-east/2018/12/03/Syria-accuses-coalition-of-missile-strikes-on-its-army-positions.html
--------
Pro-Syrian Lebanese politician urges calm after aide killed by gunfire
2 December 2018
A pro-Syrian Lebanese politician urged calm on Sunday after one of his aides was killed by gunfire during a police attempt to bring him in for questioning over accusations of stirring civil strife.
Wiam Wahhab, a Druze ally of the powerful Shiite group Hezbollah who has close ties to Damascus, has been at the heart of rising political tension over the last week with a series of verbal attacks on Prime Minister Saad al-Hariri.
Hariri supporters lodged a legal complaint against him after a video surfaced in which he was widely perceived to direct obscene insults at the Hariri family, including the late prime minister Rafik al-Hariri, without naming them.
The tension has cast another shadow over efforts to form a new national unity government more than six months since an election, with rival parties still unable to agree on how to share out portfolios in the new cabinet.
The internal security forces said they went to Wahhab's village of al-Jahiliya on Saturday evening to take him for questioning after the public prosecutor accepted the legal complaint against him and referred the matter to the police.
In a statement, police said one of Wahhab's aides- Mohamed Abu Diyab- was shot in "random" gunfire by Wahhab supporters and denied the police had opened fire.
Wahhab's Arab Tawhid Party said he was hit by a bullet fired by "the attackers".
Wahhab said on Saturday the incident meant "civil war" but on Sunday urged calm while addressing Abu Diyab's funeral in Jahilya.
"I am working to calm the atmosphere. I have (told) the guys it is forbidden to block roads or to annoy any citizen or to open fire during the funeral," Wahhab told al-Jadeed TV.
Wahhab accused officials including Hariri of responsibility for the killing.
A source close to Hariri, referring to Saturday's events, said: "These were judicial proceedings in which we had no intervention".
Wahhab has said his comments in the video, which appeared to have been shot by mobile phone at a private gathering, were "general" and not directed at Rafik al-Hariri.
Hariri's Future Movement said last week the Hariris were being targeted by "a campaign of falsehoods" hatched by "sick minds" bent on destabilizing Lebanon and obstructing efforts to form the new government.
Full report at:
https://english.alarabiya.net/en/News/middle-east/2018/12/02/Pro-Syrian-Lebanese-politician-urges-calm-after-aide-killed-by-gunfire.html
--------
Lebanese demonstrators gather outside Saudi embassy to protest Yemen bombings
Dec 2, 2018
Hundreds of people have gathered outside Saudi Arabia's embassy in the Lebanese capital city of Beirut to protest against the Saudi-led military aggression against people, which claimed the lives of thousands of civilians and left the country's infrastructure in ruins.
Demonstrators holding signs and placards chanted outside the residence on Sunday afternoon, with many calling on the United Nations and other world bodies to stop the massacres against the Yemeni people.
The participants also denounced attempts by a number of Persian Gulf littoral states to normalize diplomatic relations with the Tel Aviv regime.
Lebanese security forces set up iron barriers in front of the Saudi embassy and removed protesters 100 away meters from the building. There were no reports of clashes between security forces and the demonstrators.
On Friday, thousands of Iraqis took to the streets in the capital Baghdad to express outrage over the Saudi-led aerial bombardment campaign against Yemen.
Iraqi protesters, carrying Iraqi and Yemeni flags as well as banners in condemnation of the Saudi-led aggression, converged in the al-Jadriya neighborhood.
They chanted slogans and censured Saudi-led war crimes against the Yemeni nation during the demonstration, which had been organized by religious scholars as well as social media activists and dubbed as "We Stand With You."
The demonstrators condemned the continuation of the Saudi-led aggression on Yemen, and deplored the international silence on the tragic humanitarian situation there.
Mohammad al-Qabali, a representative of Yemen's Houthi Ansarullah movement, said the Saudi-led military alliance has unleashed a relentless onslaught against Yemen aimed at starving ordinary people to death and destroying the country.
He added that more than two million Yemeni children are suffering from acute malnutrition, warning that al-Qaeda in the Arabian Peninsula (AQAP) and Daesh Takfiri terrorist group are acting freely in areas seized by the Saudi-led coalition.
Saudi Arabia and a number of its regional allies launched a devastating military campaign against Yemen in March 2015, with the aim of bringing the government of former Yemeni president Abd Rabbuh Mansur Hadi back to power and crushing the country's Houthi Ansarullah movement.
According to a new report by the Armed Conflict Location and Event Data Project (ACLED), a nonprofit conflict-research organization, the Saudi-led war has so far claimed the lives of around 56,000 Yemenis.
The Saudi-led war has also taken a heavy toll on the country's infrastructure, destroying hospitals, schools, and factories. The UN has already said that a record 22.2 million Yemenis are in dire need of food, including 8.4 million threatened by severe hunger. According to the world body, Yemen is suffering from the most severe famine in more than 100 years.
Full report at:
https://www.presstv.com/Detail/2018/12/02/581766/Lebanese-demonstrators-gather-outside-Saudi-embassy-to-protest-Yemen-bombings
--------
Russia expands air defense network in Syria to US dismay: Report
Dec 2, 2018
Russia has reportedly completed an advanced anti-access/area denial network in Syria, posing a challenge to US military presence in the Arab country and the Eastern Mediterranean Sea.
The Washington-based Institute for the Study of War (ISW) said in new report that in 2015, Russia began to establish a partial independent air defense network in Syria to protect its military assets at the Hmeimim Airbase and Tartus Naval Facility on the Mediterranean Coast.
Since then, the report said, Moscow has deployed S-300 and S-400 missile defense systems as well as four unique electronic warfare systems to Syria.
It also stationed at least one advanced 1L122-1E targeting radar and Barnaul-T mobile command-and-control system for short-range air defense systems in the war-torn state, the report added.
The report further noted that Russia opted to expand its air defense network in Syria following the April 14 western missile strike on Syria and the September 17 accidental downing of an Il-20 reconnaissance aircraft in the country.
"Russia has finished an advanced anti-access/area denial (A2AD) network in Syria that combines its own air defense and electronic warfare systems with modernized equipment formerly commanded by Syria. Russia can use these capabilities to mount a long-term strategic challenge the US and NATO in the Eastern Mediterranean Sea and the Middle East," the ISW report said.
It also stressed that recent deployments to Syria "significantly widen the geographic reach of Russia's air defense network" there.
Russian jets have been targeting positions held by terror outfits inside Syria at the Damascus government's request since September 2015. The airstrikes have helped Syrian forces advance against the militants, who have been wreaking havoc in the Arab country since 2011.
Elsewhere, the report said that Russia's expanded presence in Syria is meant to force American troops' pullout while disrupting a bombing campaign by the US and its allies against alleged Daesh positions inside the country.
"Russia is currently positioned to disrupt US' anti-ISIS Coalition and constrain future military options for the US in Syria," it said.
"Russia ultimately aims to use its technical capabilities as part of its wider campaign to force the withdrawal of the US anti-ISIS (Daesh) coalition from Syria. Russia can use these systems to decrease the overall freedom of maneuver - and increase the overall risk - faced by the US in Syria."
The report further said that Russia's air defense network in Syria would increase the cost of future airstrikes by Israel on the Syrian soil.
Full report at:
https://www.presstv.com/Detail/2018/12/02/581738/Russia-Syria-air-defense
--------
North America
Pompeo: no intelligence directly links Saudi prince to Khashoggi killing
December 2, 2018
US Secretary of State Mike Pompeo said on Saturday he has seen all the intelligence possessed by the United States on the killing of Saudi journalist Jamal Khashoggi and repeated that no direct evidence links Saudi Crown Prince Mohammed bin Salman to the incident.
"I have read every piece of intelligence that is in the possession of United States government," Pompeo said in an interview with CNN in Buenos Aires on the G20 summit sidelines.
"When it is done, when you complete that analysis, there's no direct evidence linking him to the murder of Jamal Khashoggi. That is an accurate statement, an important statement and it is a statement that we are making publicly today," he said.
Asked if the Central Intelligence Agency had concluded with "high confidence" that Prince Mohammed was involved, Pompeo said: "I can't comment on intelligence matters, CIA conclusions."
The CIA assessed that the crown prince ordered the October 2 killing at the Saudi consulate in Istanbul of the Washington Post columnist Khashoggi, a critic of the Saudi royal.
Pompeo said the United States was working with Saudi Arabia in Afghanistan and against Iran, and that Riyadh was "an enormous support" for Washington. "They're a relationship that has mattered for 70 years across Republican and Democrat administrations like ... We're aiming to keep that relationship," he said.
On the sidelines of G20, Mr Trump met with Turkish President Recep Tayyip Erdogan, who has sought to keep international pressure on Saudi Arabia over the slaying in October. Mr Trump reiterated that there is no definitive evidence that Prince Mohammed is complicit in the killing. He said the kingdom is an important ally that has helped keep oil prices low.
Prince Mohammed, who is attending his first major international event since the murder of Mr Khashoggi, met United Nations Secretary General Antonio Guterres on Saturday. Following the meeting, Prince Mohammed told Saudi TV that the two leaders had reviewed aspects of partnership between Saudi Arabia and United Nations.
The prince also met on Saturday with Italy's prime minister, Giuseppe Conte, and reviewed bilateral relations, the Saudi news agency SPA said.
Mr Erdogan demanded on Saturday that Saudi Arabia extradite suspects in the killing in Istanbul, saying a trial in the kingdom was not satisfactory.
Addressing reporters at the Group of 20 summit, the Turkish president said that Prince Mohammed had given an "unbelievable explanation" of Riyadh's role in the case.
Mr Erdogan said that Turkey had no intention of harming the Saudi royal family, adding that holding those responsible for Mr Khashoggi's killing would also be beneficial for Saudi Arabia.
https://www.thenational.ae/world/the-americas/pompeo-no-intelligence-directly-links-saudi-prince-to-khashoggi-killing-1.798052
--------
US-led coalition attacks Syrian Army in Homs province
Dec 2, 2018
Syria says the United States-led coalition alleging to be fighting Takfiri terrorists in the Arab country has attacked the positions of the country's army in a central province.
"A military source said on Sunday that at around 8 PM, the US-led alliance forces fired several rockets at army positions in al-Ghurab mountain south of al-Sekhneh, causing only material damage," the official Syrian Arab News Agency reported, citing a military source. The area is located in Homs province.
According to a so-called monitoring group, the coalition forces at a US military base in al-Tanf region fired "more than 14 missiles" at a Syrian army convoy as it was passing through the desert in the far east of Homs province.
"The group was lost in the middle of the desert around 35 kilometers from the al-Tanf base," the UK-based Syrian Observatory for Human Rights told AFP.
The coalition invaded Syria without a United Nations mandate in 2014 under the pretext of defeating the Takfiri terror group of Daesh. It sustains its operations although Syria and its allies defeated the outfit late last year.
In September, the monitor said US airstrikes had killed 3,331 civilians in Syria since they began.
In April, the US, the UK, and France launched a joint missile offensive against a research center in the town of Douma near the Syrian capital. The incursion came after the allies blamed Damascus for a "chemical attack" in the city's countryside.
A year earlier, a suspected sarin gas attack hit the town of Khan Shaykhun in the northwestern Syrian province of Idlib, killing more than 80 people. The Western countries rushed to blame the incident on Damascus, with the US launching a missile attack against Shayrat Airbase in Homs three days later.
The countries have been backing so-called aid workers, known as the White Helmets, which Syria and Russia, a Damascus ally, blame for staging chemical attacks inside the Arab country to help justify such military actions.
Syria turned over its entire chemical stockpile under a deal negotiated by Russia and the United States back in 2013.
Full report at:
https://www.presstv.com/Detail/2018/12/02/581808/Syria-US-attack-army-positions-Homs
--------
US should keep ties with Saudi, hold MbS responsible: Top Democratic senator
Dec 2, 2018
The United States should maintain its strategic partnership with Saudi Arabia while holding Crown Prince Mohammed bin Salman responsible for the murder of journalist Jamal Khashoggi, a top Democratic senator says.
Speaking to Fox News on Sunday, Senator Ben Cardin said he had no doubt that bin Salman, also known as MBS, was involved in the murder of Khashoggi, who was killed after entering the Saudi consulate in the Turkish city of Istanbul on October 2.
"There's no doubt in my mind that the crown prince knew what was going on in Turkey and was very much involved in that," Cardin said.
"We cannot allow that type of conduct to go unchallenged," the Maryland lawmaker added. "The United States needs to have a pretty strong position on it and we have to demand that there be accountability."
US President Donald Trump has so far resisted growing calls from both sides of the isle in Congress for a strong response to Khashoggi's murder, arguing that doing so would endanger deep financial and political ties between the two sides and push Riyadh towards Russia.
Trump's reluctance to go after MbS became clearer after he undermined a CIA assessment that the prince was indeed aware of the murder, despite Riyadh's denials.
But the biggest reason is the risk that losing Saudi Arabia's services would pose to Israel, Trump has admitted
"Israel would be in big trouble without Saudi Arabia," Trump said after a Thanksgiving Day telephone call with military personnel from his Mar-a-Lago resort home in Florida.
"If you look at Israel, Israel would be in big trouble without Saudi Arabia," he added. "So what does that mean, Israel is going to leave? You want Israel to leave? We have a very strong ally in Saudi Arabia."
The President said the Saudis were "tremendously helpful" in the region as they also helped keep oil prices down.
Pressed to say who should be held accountable for Khashoggi's death, Trump made a strange statement.
"Maybe the world should be held accountable, because the world's a very very vicious place," Trump said during the Thanksgiving call.
Cardin said in his interview that he believed the US had the upper hand over Riyadh and could use this to its advantage without worrying about the possible consequences.
Full report at:
https://www.presstv.com/Detail/2018/12/02/581801/US-Saudi-Trump-MbS-Khashoggi
--------
US cannot cite UN Security Council resolution on Iran's missiles: Commentator
Dec 2, 2018
The United States cannot cite United Nations Security Council Resolution 2231 on Iran's missiles program given the fact that it is the same resolution which endorsed the nuclear deal Washington withdrew from, says a political commentator.
"As a matter of fact resolution 2231 is the same resolution that accompanied the nuclear deal and endorsed the multilateral deal and the US violated the resolution and discarded it the same way that it discarded the nuclear deal after withdrawing from this multilateral agreement. So basically if we were living in a fair world, then this is the US that should have been punished for this disrespecting a decision by UN Security Council … So the United States is not entitled to refer to this resolution," Mostafa Khoshcheshm told Press TV in an interview on Sunday.
"What it calls resolution 2231 with regard to Iran's missile program is not at all a reference to the conventional missile program of the country. First of all it is a non-binding paragraph in that resolution … Second it asks Iran to avoid testing those missiles that have been designed for carrying WMDs … So basically we are here speaking of a very false and wrong interpretation of resolution 2231 for the propaganda purposes that the United States has," he added.
Iran has rejected US Secretary of State Mike Pompeo's claims against its missile capabilities, saying the program is defensive and does not violate the international agreement on Tehran's nuclear program.
Pompeo claimed in a statement released on Twitter Saturday that Iran was increasing its "testing and proliferation" of missiles and called on the Islamic Republic to "cease these activities."
The test, he said, "violates UNSCR 2231," citing the United Nations Security Council's endorsement of the international nuclear agreement, which the United States abandoned in May.
Full report at:
https://www.presstv.com/Detail/2018/12/02/581767/Iran-US-resolution-2231-
--------
US admiral found dead in Bahrain residence
02.12.2018
A U.S. admiral in the Middle East was found dead in his residence in Bahrain, the Navy said Saturday.
Vice Adm. Scott Stearney was the commander of the U.S. Navy's 5th Fleet in Bahrain.
In a video released on Twitter, the 31st Chief of Naval Operations Adm. John Richardson said the Naval Criminal Investigative Service and Bahraini Ministry of Interior are cooperating on the investigation.
"But at this time no foul play is suspected," said Richardson.
Meanwhile, according to defense officials quoted by CBS News, Stearney was found dead of "apparent suicide".
Full report at:
https://www.aa.com.tr/en/americas/us-admiral-found-dead-in-bahrain-residence-/1327231
--------
Southeast Asia
Perkasa: Introduce special Act to protect Islam, Malay rulers
02 December 2018
KUALA LUMPUR, Dec 2 — Right wing Malay movement Perkasa has proposed that a special Act, namely the Insulting Islam and the Malay Rulers Act or abbreviated as the 'Amir' Act be enacted to prevent actions or attempts to threaten the peace and harmony of the country.
Perkasa president Datuk Ibrahim Ali said the law could be enacted with the consent of the Yang di-Pertuan Agong and the Malay Rulers.
"This new Act proposed by Perkasa is the same as the one (lese majeste Act) implemented in Thailand right now. Perkasa suggests that the Act has two sections, the first part provides for detention without trial and the second, open to prosecution in court as a criminal offence.
"The Amir Act... the concept is similar to the Internal Security Act (ISA) 1960 and imposing a five-time mandatory caning and a minimum of five years imprisonment," he told a press conference after opening the 9th Annual General Meeting of Perkasa here, today.
Ibrahim said this punitive Act would act as a reminder and lesson to all parties not to touch on or insult the honour of Islam and the Malay Rulers, as the Malay Rulers are the head of Islam at state and federal levels.
Earlier, at noon, more than 100 Perkasa members had gathered peacefully for an hour at a hotel compound in Jalan Raja Alang here holdings placards and shouting 'Allahu Akbar'. — Bernama
https://www.malaymail.com/s/1699276/perkasa-introduce-special-act-to-protect-islam-malay-rulers
--------
Hardliners pull out Islam card on Jokowi
DECEMBER 2, 2018
The radical Indonesian cleric behind the push to jail former Jakarta governor Ahok for blasphemy has declared it unIslamic to vote for any parties who supported him — a thinly veiled attack on President Joko Widodo — at a mass rally yesterday, setting the stage for another bitterly divisive election influenced by political Islam.
Rizieq Shihab addressed a huge crowd — which police estimated to be "in the hundreds of thousands" — gathered in central Jakarta's Monas square yesterday by pre-recorded message from Saudi Arabia, where he fled in 2017 facing treason charges and pornography allegations related to allegedly explicit text messages.
Security was tight at the rally to mark the anniversary of the so-called 212 Movement, named for the December 2, 2016, Jakarta demonstration where about half a million people demanded former Jakarta governor Basuki Tjahaja "Ahok" Purnama, an ethnic-­Chinese Christian seeking re-election, be jailed for blasphemy.
Extra police were also deployed to the Australian embassy from midnight on Saturday after protesters at a Friday rally against the relocation of Australia's embassy in Israel to Jerusalem called on the 212 Movement to help it ­occupy the diplomatic mission.
While billed as a non-political reunion, yesterday's event was highly partisan involving many of the political players behind the opposition campaign to unseat Jokowi (as he is known) at next April's elections.
Presidential challenger Prabowo Subianto addressed the crowd, thanking them for their attendance while carefully avoiding any breach of electoral laws. He left that to clerics such as Rizieq, who told the crowd that held banners for his Islamic Defenders Front as well as the banned pro-caliphate Hizbut Tahrir, that it was time to "change presidents".
"Let us change this country from one that is full of sinners and blasphemers to one blessed by God. My message is … at the presidential and legislative elections 2019, it is haram to vote for presidential and legislative candidates supported by parties which supported blasphemers," a clear reference to Jokowi and his Democratic Part of Struggle, which supported Ahok ahead of his conviction.
"Let's vote for a presidential candidate supported by clerics. "
Melbourne University Indonesian law specialist Tim Lindsey said the rally was a reminder of the rising influence of political Islam in Indonesia and the fact that hardliners — though not strong enough to capture government themselves — could set the agenda.
"It's now a fact of mainstream Indonesian politics that nobody who is a good politician can afford to ignore what hardliner Islamists think about issues and that is the legacy of the Ahok campaign," Professor Lindsey said. "Jokowi is fully aware of that, having lost his close colleague (and former deputy governor) Ahok to it."
Jokowi shocked many earlier this year by choosing as his vice- presidential running mate Ma'ruf Amin, a cleric who gave evidence against Ahok. The pick was seen as an attempt to neutralise the sort of political attacks by hardline Islamists that he encountered in 2014 when he first stood for president against Mr Prabowo.
But Hendri Satrio, a politics lecturer at Jakarta's Paramadina University, said the high turnout suggested the tactic wasn't working. "It shows Jokowi's efforts to boost his Islamic credentials by picking Ma'ruf as running mate, convincing Rizieq Shihab's lawyer to switch sides, his stance on Palestine issues, his foreign policies are not working," he said.
While yesterday's rally would give Mr Prabowo a boost, the question was whether he could maintain the momentum, as the 212 Movement did by uniting Indonesians against Ahok ahead of last year's Jakarta guber­natorial elections.
Full report at:
https://www.theaustralian.com.au/news/world/hardliners-pull-out-islam-card-on-jokowi/news-story/76fa6fc73c16c2b5f85c418415d1c27b
--------
Islamic politics show strength in massive Jakarta anti-Ahok rally
3 Dec 2018
Islamist groups behind the downfall of former Jakarta governor Basuki "Ahok" Tjahaja Purnama are calling on Muslims to vote against the presidential candidate and political parties that backed the city's first Chinese and second Christian governor.
In a big rally that shows the growing clout of the Islamists in Indonesian politics and the 2019 general elections, hundreds of thousands of conservative Muslims flocked to the National Monument (Monas) in Jakarta on Sunday (Dec 2) to commemorate the second anniversary of the 2016 anti-Ahok rally that led to his imprisonment for blasphemy.
Ahok, a close ally and deputy of President Joko "Jokowi" Widodo when the latter served as Jakarta governor, was found guilty of insulting the Quran in a blasphemy case that was widely condemned as flawed and politically charged.
The rally, organized by a group calling itself the 212 Rally Alumni, was billed as a "reunion" for those who participated in the 2016 protest, although it quickly turned into a political stage for opposition leaders and outspoken critics of the Jokowi administration.
Other than calling on Muslims to boycott candidates backed by political parties that had supported Ahok, they also endorsed the anti-Jokowi movement bearing the moniker #2019GantiPresiden
(2019ChangePresident ).
Protesters brought thousands of flags of various colors bearing the Islamic creed "There is no God but Allah", also known as the tauhid, and chanted slogans in defense of the flag, which they called "the Prophet's banner".
The flag seems to have served as a unifying symbol for the various Islamist groups joining the 212 movement in the wake of a controversy surrounding the burning of one by members of Banser, a paramilitary group under the Nahdlatul Ulama's youth wing, GP Anshor, which is considered to be pro-Jokowi.
A report released in April 2018 by the Institute of Policy Analysis of Conflict (IPAC) highlighted fractures in the 212 Movement following Ahok's conviction, but analysts said the upcoming elections might prove to be a unifying factor among sympathizers of the political-religious movement.
Gerindra Party chairman Prabowo Subianto, who is challenging Jokowi in the presidential race for the second time, made a brief appearance at the rally together with Jakarta Governor Anies Baswedan, who beat Ahok in the 2017 regional elections.
Other opposition coalition politicians were also in attendance, including National Mandate Party (PAN) founder Amien Rais, People's Consultative Assembly (MPR) Speaker Zulkifli Hasan and Gerindra deputy chairman and House of Representatives Deputy Speaker Fadli Zon.
"I'd like to thank the committee for inviting me today. I'm proud at seeing millions of Indonesians, millions of Muslims, gathering here peacefully," Prabowo said in his speech at the rally.
"I am proud to be an Indonesian Muslim."
Jokowi, who appeared at the 2016 rally, was not invited to this latest event and neither was his running mate and Indonesian Ulema Council chairman Ma'ruf Amin, once an influential figure among the 212 activists.
Ma'ruf had previously signed a fatwa declaring that Ahok's remarks were blasphemous, which was considered a trigger for the 2016 rallies.
Islam Defenders Front (FPI) leader Rizieq Shihab took part in the rally through a phone call from Saudi Arabia, where he lives. He called on his supporters to continue the fight against Ahok during the 2019 presidential and legislative elections.
"During the 2019 elections, it is haram for us to vote for presidential and legislative candidates backed by parties supporting the blasphemer," he said, in a reference to Ahok.
"Let's vote for presidential and vice presidential candidates based on the decision of ijtima ulama [the consensus of the ulema]."
Prabowo had been recommended as a presidential candidate at a gathering organized by the National Movement to Safeguard the Ulema Fatwa (GNPF) in August, while all the parties that backed Ahok in 2017 are now supporting Jokowi.
ISEAS-Yusof Ishak Institute research fellow Quinton Temby said the upcoming elections and the flag-burning incident contributed to the scale of Sunday's rally.
"I think the approaching election is focusing the views of a certain constituency that the government is in some sense against Islam," he told The Jakarta Post.
Full report at:
https://www.thestar.com.my/news/regional/2018/12/03/islamic-politics-show-strength-in-massive-jakarta-anti-ahok-rally/
--------
Mat Sabu: Don't be influenced by racial, religious sentiments
2 Dec 2018
SANDAKAN (Bernama): Muslims in Malaysia are reminded to be cautious and not to be easily swayed by racial and religious sentiments being played up by supporters of the former government.
Defence Minister Mohamad Sabu (pic) said the group had intentionally used this method to appeal to Muslim sentiments, thus diverting people's attention from their leaders' corruption issues.
"We (Pakatan Harapan) have just taken over the administration for six months and there is no better way for them to rise immediately except through racial and religious issues.
"It is very easy to stoke sentiments through such talk so we have to be knowledgeable and careful," he said in his speech at the Sabah Parti Amanah Negera (Amanah) convention here on Sunday (Dec 2).
He said Malaysians should be aware of spillover effects of stoking such sentiments as experienced by some Muslim countries including Syria, Libya, Iraq, Somalia and Afghanistan.
Mohamad added that he raised the subject to make people realise that the recent incident over the temple in Selangor had nothing to do with racial issues.
He said the matter could be resolved amicably but there were people who took advantage of the situation to incite racial sentiments.
Meanwhile, he expressed hope that Pakatan Harapan leaders would be transparent and honest in their dealings to win over the hearts of people at the grassroots level.
Full report at:
https://www.thestar.com.my/news/nation/2018/12/02/mat-sabu-dont-be-influenced-by-racial-religious-sentiments/
--------
Europe
Putin: Russia, Saudi agreed to keep oil production low
Dec 2, 2018
Russia and Saudi Arabia have agreed to extend an agreement on cutting their respective oil outputs to prevent crude prices from slumping further.
Russia's President Vladimir Putin said on Saturday that he and Saudi Crown Prince Mohammad bin Salman had come to the arrangement following talks during the Group of 20 countries' summit in Buenos Aires, Argentina.
"Yes, we have an agreement to prolong our accords," Putin told reporters on the summit's sidelines.
"There is no final deal on volumes, but we together with Saudi Arabia will do it. And whatever is the final figure, we agreed to monitor the market situation and react to it quickly," he noted.
Russia is the most prolific oil producer outside the Organization of the Petroleum Exporting Countries (OPEC), of which Saudi Arabia is the biggest producer.
Moscow has been cooperating with the body for years to engineer a rebound after the prices sank in 2014 due to oversupplying of the market.
Though steadily facing the threat of decline, the prices have almost stabilized at around $60 per barrel.
Two weeks earlier, Putin had said he favored a level of $70 per barrel for Russia. On Wednesday, however, he told an investment conference in Moscow that the current prices were "absolutely fine" for his country. He also praised bin Salman for what he described as the success of the agreement between OPEC and non-OPEC producers.
This is while the United States, which renewed its oil sanctions against major producer Iran last month, has been pressing other producers - particularly Saudi Arabia - to speed up production to stabilize the market.
The OPEC, Russia, and other big producers will meet in Vienna on December 6-7 to discuss further steps concerning the situation governing the oil market.
https://www.presstv.com/Detail/2018/12/02/581741/Russia-Saudi-Arabia-oil-cut-agreement-G20-Iran-United-States
--------
URL: https://www.newageislam.com/islamic-world-news/india-villagers-open-gates-shiva/d/117050
New Age Islam, Islam Online, Islamic Website, African Muslim News, Arab World News, South Asia News, Indian Muslim News, World Muslim News, Women in Islam, Islamic Feminism, Arab Women, Women In Arab, Islamophobia in America, Muslim Women in West, Islam Women and Feminism