New Age Islam News Bureau
7 Jul 2017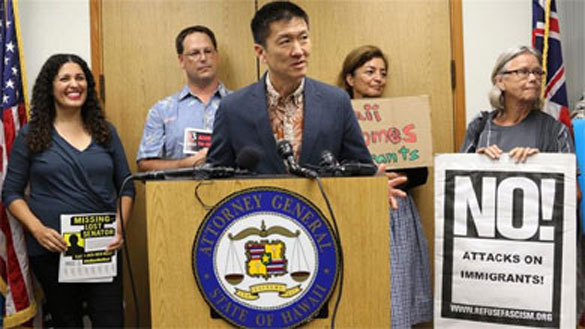 Hawaii's attorney general Douglas Chin said Trump's ban had illogical standards for entry into the US [Caleb Jones/AP]
-----
• India: Urgent Need to Check Radicalisation to Fight Terror, Say Muslim Scholars
• Bangladesh Holding Hundreds in Secret Jails: HRW
• Tahrir Al-Sham Recruits Fugitive ISIL Commanders, Members
• Palestinians, Israelis Square Off On UNESCO Vote On Hebron
• Supporters of Muslim Americans Outnumber Muslim Haters
India
• India: Urgent Need to Check Radicalisation to Fight Terror, Say Muslim Scholars
• Subrahmaniam alias Mullah Omer Was Laden Fan, But Lured IS Backers on Social Media
• We Condemn Violence, Show Restraint and Opt For Peace: Kolkata Muslim Leaders
• Maharashtra Government Mulls Residential Centres to Train Muslims for Police Force
• Pakistan alleges use of 'chemical ammunition' in Kashmir
• Veena Malik Says PM Narendra Modi's Israel Trip Might 'Destroy Lives of Several Muslims'
• Cops on high alert ahead of Burhan Wani's death anniversary
--------
South Asia
• Bangladesh Holding Hundreds in Secret Jails: HRW
• Hefazat Accuses India of Racial Oppression with Cow Vigilantism
• Khalilzad doubts Pakistan will act against Haqqani network and Taliban
• Militants kill 3 and take as many hostages in Nangarhar mosque attack
• Bangladesh made scapegoat in Mamata-BJP fights
• Taskforce: Investigate IBBL borrowers' possible terror links
--------
Arab World
• Tahrir Al-Sham Recruits Fugitive ISIL Commanders, Members
• Egypt Blocked UN Sanctions against Saudi Branch of Daesh: Report
• Iraqi Kurdish leader says no turning back on independence bid
• Arab sanctions stir defiance, patriotism in wealthy Qatar
• Tens of ISIL Terrorists Arrested for Speaking about Al-Baghdadi's Death
• US-led strikes killed 224 civilians since allies entered Raqqa
• Syrian Army Scores More Victories against Terrorists in Eastern Damascus
• Several Militants Hand over Weapons to Syrian Army in Idlib for First Time
• Terrorists Violates Ceasefire again in Homs, Syrian Army Retaliates
• Syria Blasts Turkey's Refusal to Accept De-Escalation Zones
• UN: Up to 20,000 civilians trapped in ISIS-held areas of Mosul
• Daesh families join final battle for Mosul: Iraqi commanders
--------
Mideast
• Palestinians, Israelis Square Off On UNESCO Vote On Hebron
• Kurdish YPG: Turkey's Preparations Are a Declaration of War
• Turkish police arrests local Amnesty chief, human rights activists
• Iran says Europe not on agenda of gas exports
• Iran arrests 21 Daesh terrorists in north-eastern city: Official
• Iran sanctions not without costs for US: Larijani
• Nearly 10 million children need urgent help in Yemen: UNICEF
--------
North America
• Supporters of Muslim Americans Outnumber Muslim Haters
• Bid to Exempt Grandparents from US Muslim Ban Rejected
• US concerned Arab dispute with Qatar may intensify: State Department
• US military in Afghanistan will delay casualty reports
• Qatar Airways removed from US laptop ban list
• Winnipeg man wants answers after being refused entry to the U.S.
--------
Europe
• EU Parliament Calls For Turkey Accession Talks to Be Suspended
• Macron Says Supports Two-State Solution in Middle East
• France, Russia discuss Syria, sidestep differences on chemical weapons
• Britain First supporter calls for Merkel to be shot for refugee policy
• Germany, Qatar to share intel to help end Gulf crisis
--------
Pakistan
• Haqqani Network Operates From Afghanistan: FO
• COAS Reaffirms Army's Support to Peace, Security in Balochistan
• Pakistan Welcomes Ayotallah Khamenei's Statement On Kashmir
• Constitution gives equal basis rights to minorities
• RAW paid Raymond Davis to write anti-Pakistan book, says Rehman Malik
• US Prefers Stable Civilian Government in Pakistan: Mccain
• CTD nicks suspected terrorist with explosives
--------
Southeast Asia
• Defence Minister: Malaysia Looks to Middle East in Bid to Combat Islamic State
• Philippines' Duterte Says He Will Never Talk to 'Terrorists'
• Lanzhou, China a potential gateway for Malaysian halal products
• Jokowi, Erdogan write new chapter in RI, Turkey relations
--------
Africa
• Niger Army Kills 14 Civilians Mistaken For Militants
• Africa: US Grants Gambian Students Visas for Robotics Contest
• ICC declines to refer SA to UN for not arresting Bashir
• US strikes al Shabaab militants in Somalia - Pentagon
• Islamic finance provides Kenyans with cushion against drought
• Libya government forces 'repulse twin attacks' on Sirte
Compiled by New Age Islam News Bureau
URL: https://www.newageislam.com/islamic-world-news/india-urgent-need-check-radicalisation/d/111815
--------
India: Urgent Need to Check Radicalisation to Fight Terror, Say Muslim Scholars
Siraj Qureshi
July 7, 2017
With the increased radicalization of certain segments of Indian society in recent times, the Muslim scholars in Agra expressed serious concern over the trend and said that there was a pressing need to check radical discourses in order to counter extremist ideology responsible for violence and terrorism.
Talking to India Today, former principal of Intermediate College in Agra Shamsuddin said that due to the international crisis confronting Islam and Muslims, renowned muftis, preachers, scholars and politicians from Egypt, China, Uganda, North and South America recently underscored the need to fight against radicalisation propaganda.
The scholars from the world over held a meeting at Al-Azhar in Egypt, Shamsuddin said, agreed on pro-active confrontation against extremism, which was identified as a major threat to global peace.
Shamsuddin further said that the political and religious leaders, including the Saudi Deputy Minister of Islamic Affairs, called for the wresting of religious discourse from extremists and vested interests. It was also stressed that united efforts on religious, intellectual and political fronts are required to confront the deviant ideologies as the extremist ideology provides new entrants to the terror outfits as their cadre.
Shamsuddin said that the condemnation of terrorism, terrorist organizations and terror acts perpetrated by them against innocent people, should simultaneously target the extremist ideology as well. "Moreover, social media platforms, with their wider accessibility and reach have further vitiated the propaganda by terrorists, taking lead from radical ideologies, advocating violence in the name of false jihad," he added.
How Radicalisation Breeds Terror
Bhartiya Muslim Vikas Parishad Chairman Sami Aghai said, "The extreme religious ideology acts as initiator as well as catalyst for violence and terrorism ultimately posing a threat to the world-peace and humanity."
"The terrorist outfits such as ISIS, Al-Qaeda, Al-Shabab and of their ilk were built over the extremist ideology of a section of Wahhabist and Salafist Islamic ideologies of past and present. The multi-faceted growth of terrorism may be checked and eliminated only by proactively targeting and neutralising extremist religious ideologies," Aghai said.
Aghai further said, "The most dangerous extremist activities are generally based on exploiting religious activities that had no political purpose. These are related to collecting of funds, radicalised education, Dawah, misuse of print and social media which ultimately includes students, women and even foreigners in their lap. Extremist ideologies often exploit wars and illiteracy for their purpose."
"They also over emphasize injustice being done to some Muslims and use it to plant the seed of extremism, ultimately engulfing whole of the society," Aghai said, adding that "there is an urgent need to stop or discourage the radical discourse."
http://indiatoday.intoday.in/story/agra-indian-muslim-scholars-radicalisation-terrorism-isis-al-qaeda/1/996269.html
--------
Bangladesh holding hundreds in secret jails: HRW
July 7, 2017
New York - Bangladesh has secretly detained hundreds of people, including scores of opposition activists, many of whom have later been killed, a rights group said Thursday.
The Human Rights Watch report, released days after the alleged abduction of a high-profile government critic, said security agencies were removing people with "no regard" for the rule of law.
Hundreds of people have been detained and held in secret locations since 2013, including at least 90 last year, it said. "Bangladesh security forces appear to have a free hand in detaining people, deciding on their guilt or innocence, and determining their punishment, including whether they have the right to be alive," Brad Adams, HRW's Asia director said.
"The disappearances are well-documented and reported, yet the government persists in this abhorrent practice with no regard for the rule of law," he said. The New York-based group said in 2016 alone it documented 21 cases of detainees who were killed, and nine others whose whereabouts are unknown.
Among those missing is Sajedul Islam Sumon, 37, a Dhaka neighbourhood chief of the main opposition Bangladesh Nationalist Party (BNP).
Sumon's sister Sanjida Islam said officers from the country's elite Rapid Action Battalion (RAB) detained her brother and five other BNP activists on December 4, 2013. This was one month before a controversial 2014 general election which the BNP boycotted. "Some 20 construction workers who were on the site told us RAB officers picked them up and led them away on a RAB van. They were never returned," Islam told AFP.
"For the last three years and eight months we've knocked on doors, gone to every agency's office and met the home minister to know my brother's whereabouts," she said. Islam said the family was hopeful her brother, a father of two, would be found.
Political tensions are rising in Bangladesh ahead of a national election due next year.
The BNP and its ally Jamaat-i-Islami have said tens of thousands of their activists and supporters have been arrested in recent years.
Bangladesh home minister Asaduzzaman Khan however rejected the allegations, saying the detentions were lawful, and accused HRW of spreading "propaganda". "Since Bangladesh's inception they are trying to spread a negative propaganda which has no similarity with the reality," he told reporters.
The mothers of 22 of the missing activists have set up a group, Mayer's Daak (Mother's Call), to seek government answers on the cases.
Meanwhile police have filed a kidnapping case over the disappearance of government critic Farhad Mazhar, who was found on a coach earlier this week after his wife reported him missing. Abdul Baten, joint commissioner of detective police, quoted Mazhar as saying he had been blindfolded and taken away in a vehicle.
http://nation.com.pk/international/07-Jul-2017/bangladesh-holding-hundreds-in-secret-jails-hrw
--------
Tahrir Al-Sham Recruits Fugitive ISIL Commanders, Members
Jul 06, 2017
The Arabic-language Al-Watan daily quoted a source close to al-Golani, who also heads the al-Nusra Front (also known as Fatah al-Sham Front or the Levant Liberation Board), as saying that he has underlined the necessity for recruiting all ISIL commanders and terrorists who have fled the battlefield.
According to reports, al-Golani has ordered Masirah al-Jabouri, nom de guerre Abu Maria al-Qahtani, to contact ISIL commanders and militants and convince them to come to Idlib through safe corridors.
Also, reports said that Hessam al-Shalouf, a senior ISIL commander who had disappeared several days ago, has moved to Idlib along with tens of his forces.
al-Shalouf, along with a number of Free Syrian Army (FSA) commanders like Saddam al-Jamal and Mahmoud Matar, played an effective role in paving the ground for ISIL's control over Deir Ezzur in 2014.
Media sources said that 150 defected ISIL members have fled Raqqa for Idlib along with al-Shalouf.
Other reports said that al-Golani wants to strengthen al-Nusra Front and equip it with skilled militants as differences between Tahrir al-Sham and Ahrar al-Sham terrorist groups have intensified and might soon end up in serious battle between the two groups.
Local sources in Northwestern Syria reported on Wednesday that Tahrir al-Sham Hay'at is preparing to launch a fresh wave of attacks on rival terrorists of Ahrar al-Sham in Idlib.
The sources reported that Tahrir al-Sham Hay'at has gathered it forces in the town of Harem in Northern Idlib and the town of Abu al-Dhohour in Eastern Idlib to kick off fresh attacks on Ahrar al-Sham's positions.
News websites affiliated to the terrorist groups reported that unknown militants kidnapped Ibrahim Yaseen, one of the commanders of Ahrar al-Sham, and transferred him to the town of Sarmada in Northern Idlib.
The sources also said that unknown raiders also abducted Abu Yusef Choubak, another commander of Ahrar al-Sham, in Idlib.
The websites said Tahrir al-Sham's decision to attack Ahrar al-Sham was made after the abduction of Ahrar commanders and several explosions in Idlib.
http://en.farsnews.com/newstext.aspx?nn=13960415000767
--------
Palestinians, Israelis square off on Unesco vote on Hebron
July 07, 2017
'The second thing is that we'll have a legal body at an international level that will help our efforts to stop any attempts to destroy it'
The United Nations' cultural arm will decide whether to declare the Old City of Hebron a protected zone this week, the latest Israeli-Palestinian spat at the international body.
Hebron in the occupied West Bank is home to more than 200,000 Palestinians and a few hundred Israeli settlers, who live in a heavily fortified enclave near the site known to Muslims as the Ibrahimi Mosque and to Jews as the Tomb of the Patriarchs.
Unesco's World Heritage Committee is expected to vote today on a resolution brought by the Palestinians declaring Hebron's Old City, including where the settlers live, an area of outstanding universal value.
The resolution was fast-tracked on the basis that the site was under threat, with the Palestinians accusing Israel of an "alarming" number of violations, including vandalism and damage to properties.
On Tuesday in a separate vote, the heritage committee backed a resolution condemning Israeli actions in Jerusalem, sparking Israeli anger.
Israel says the Hebron resolution – which refers to the city as "Islamic" – denies thousands of years of Jewish connection there.
Hebron claims to be one of the oldest cities in the world, dating from the chalcolithic period or more than 3,000 years BC, the Unesco resolution said.
At various times it has been conquered by Romans, Jews, Crusaders and Mamluks.
If the resolution passes it would be seen as a victory for Palestinian diplomacy and would be cited by Israel as a fresh example of what it alleges is the UN's inherent anti-Israel bias.
In May the Jewish state reacted furiously after Unesco passed a separate resolution on Jerusalem, and has recently prevented Unesco researchers from visiting Hebron.
The vote, which requires a two-thirds majority of those 21 countries that vote either in favour or against, is likely to be close, with both sides expressing quiet confidence.
'Fake news'
On Tuesday the heritage committee backed the Jerusalem resolution 10 to three, with eight abstentions – a couple of switched votes would have tipped the balance.
The US envoy to the United Nations, Nikki Haley, voiced support for Israel's attempts to block the Hebron resolution.
Alaa Shahin, from the Palestinian Hebron municipality, said Unesco designation would "help in marketing (the city) as an important global location which will support the tourism sector".
"The second thing is that we'll have a legal body at an international level that will help our efforts to stop any attempts to destroy it."
Israeli foreign ministry spokesman Emmanuel Nahshon said the Palestinian plan was "fake news".
"They are trying to rewrite Jewish history and the history of the region," he said.
Nahshon accused the Palestinian Authority of seeking to pretend that the Tomb of the Patriarchs "is actually part of the Palestinian national heritage."
Shahin said they focussed only on cultural heritage.
http://www.dhakatribune.com/world/middle-east/2017/07/07/palestinians-israelis-square-off-unesco-vote-hebron/
--------
Supporters of Muslim Americans outnumber Muslim haters
July 6, 2017
On a bright and windy morning last Saturday (June 10), Esther and Neal, a middle-aged couple, drove 60 miles from Richmond to San Jose to express their solidarity with Muslim Americans. They were motivated to come after hearing about the rally a group called ACT for America (AofA) were organizing against Sharia Law in the U.S.
"This was really important for us," said Esther, "to say 'No' to the hate mongers. As Jews, we can never forget the Holocaust legacy. We have to reach out to our fellow Muslims to make America safer and stronger."
But the couple, holding up signs that read "Another Jew for Love,' was also curious to know from me — a Muslim — what percent of Muslim Americans (about 3.3 million, or one percent of the population) wanted Sharia Law (traditional Islamic law) in the U.S.
"I know of no Muslim who wants Sharia Law," I said. "We love the U.S. Constitution."
"That's what we thought," said Neal.
Bay Area Muslims have been bracing for the anti-Sharia Law protest for weeks. It was the quintessential straw man, a conduit for anti-Muslim hysteria by Islamophobes and white supremacists emboldened by President Trump's anti-Muslim policies.
We were tense and stressed as dawn broke but when we showed up at the intersection of Santa Clara and San Jose on Stevens Creek Boulevard on Saturday, June 10, our fear dissolved and hope filled our hearts. Supporters, brought together by over 130 diverse organizations from all faiths and of all ages, easily outnumbered the AofA protesters — I counted about 40 of them — by at least 20 to 1.
"I am a writer," said Esther, as we reflected on the sad state of America today riven by divisions, inequality and hatred. I made a mental note of the book she had written.
The sidewalks along Santana Row resounded with chanting.
"Trump Says: Get Back. We Say: Fight Back!"
"When Muslims are Under Attack, Stand Up and Fight Back!"
"Say It Loud, Say It Clear, Muslims Are Welcome Here!"
Victoria, in her 60s and affiliated with the Trinity Episcopal Church in Menlo Park, showed me how she had used the malleability of the English language to turn a negative slogan into a positive message. "I saw this poster at an anti-Muslim rally that showed a brick wall on which was written 'No More Muslims.' I simply changed it to 'Know More Muslims!" she said, beaming.
Abigail, 7, and her two-year-old brother Theo, conveyed to the rest of America and to the world this message: "Stop the Hatred. Muslims Welcome Here."
Maureen and Barbara, retired teachers from San Jose, held aloft posters that read "Christians stand up for Muslim Americans," and "Resist the Right. Stop Racist Attacks."
For Martin of San Jose, it was a moral imperative to attend the rally in support of Muslims. "We cannot wait for Internment camps. I heard some politicians talk openly for Muslim Internment camps after the Manchester attack."
A large number of Japanese-Americans, descendants of American concentration camp survivors during WWII, held up signs that stated in bold red letters, "We Stand for Inclusion." The statements were imprinted on images of the "Instructions to All Persons of Japanese Ancestry" manual that was handed out to their parents and grandparents during their incarceration.
Across the street, among the anti-Sharia Law protesters, there was a man with a poster that read "Sharia Law: No. US Constitution: Yes." I wanted to ask him if he knew of a single Muslim American who wanted to impose Sharia Law on America. But when I checked with a policeman, he wisely advised me not to.
What I noticed was that in this month of Ramadan, fasting Muslim volunteers were distributing water bottles to thirsty people, and that included those rallying against us. Nothing captured for me the spirit of Ramadan more than this simple and poignant gesture.
The posters were pithy and precise. Tara of San Jose: "Honk if you love your Muslim Neighbor." Honking along Stevens Creek was indeed deafening.
Chris of Palo Alto told me her daughter Michelle, 10, insisted on accompanying her after she heard about the event and wished upon all of us: "Shabbat Shalom. Ramadan Mubarak." We are also in the midst of the Jewish observance of Sabbath.
Charles and Tori, members of Showing Up For Racial Justice (SURJ), declared, "I Love My Muslim Neighbor." Jay, of Muslim-Jewish Solidarity Alliance, advised, "Resist Hate." A San Jose family declared: "We stand with Our Muslim Neighbors," and implored "Unity." Tim, of Congress of Resistance, advised: "Unite to Fight Against Racism and Bigotry."
For Steven, what was at stake was nothing less the future of democracy in America. "We cannot accept What Trump is trying to do to America," he said. "We have to stand up for what we believe in and fight for our values for as long as it takes."
For Sister Elizabeth, it was to stop the encroachment of what she saw was the unmistakable sign of fascism in America. Her poster said: "In the Name of Humanity, He Refused to Accept a Fascist America." It showed the image of Taliesin Myrddin Namkai Meche, who lost his life at the hand of a White Supremacist in Portland when he came to the defense of two muslim girls.
After a while I simply began reading the signs for my own edification and inspiration:
"Muslims for love, peace, diversity, feminism, science and humanity."
"Jews Stand with Muslims"
"End Terrorism by Not Participating In it"
"Dear Mrs. President: Trust Muslim Women"
"First They Came for the Muslims and I said, Stop Right There!"
Particularly moving for me was the message conveyed by the word "MUSLIM" on the T-shirt of a woman holding a banner with two other Americans of "Indivisible San Jose." She had highlighted "US" in "MUSLIM." It could stand for "US" as in, we are all in this together, and it could also stand for the United States. I never thought of my faith label that way, and I would have never discovered it if I hadn't come to the rally. With awe and wonder, I realized that in the most unexpected way, I had redeemed my fasting!
When I returned home that night after performing the special nightly Ramadan prayers called 'Taraweeh' at the Evergreen Islamic Center, the images of diversity and inclusion and love and courage still fresh in my mind. It was past midnight. But I had one more thing to do before turning it in. I turned on my laptop, went to Amazon's Website and ordered a book called "Nest," a book about the power of healing and friendship, by an author named Esther Ehrlich.
http://www.nichibei.org/2017/07/supporters-of-muslim-americans-outnumber-muslim-haters/
--------
India
Subrahmaniam alias Mullah Omer Was Laden Fan, But Lured IS Backers On Social Media
Jul 7, 2017
HYDERABAD: Alleged Islamic State (IS) sympathiser Subrahmaniam alias 'Mullah Omer', who was arrested by Counter-Intelligence sleuths a few days ago, and like-minded persons created a social media group, 'True Allah Group' (TAG), to ensure the Caliphate becomes a reality.
On the TAG group, which has hundreds of sympathisers from Saudi Arabia, Nigeria and other African countries and a few from India, Subrahmaniam used to initiate discussions to lure members towards IS.
On Thursday, Omer, a Hindu who converted to Islam, was produced in the Nampally criminal court by Special Investigation Team (SIT) after his seven-day police custody ended and he was again sent to judicial custody.
Though Omer is an IS sympathiser, he is reportedly a big fan of al-Qaida founder Osama bin Laden and did a lot of study on his life. It is well established that IS and al-Qaida share a bitter relationship, due to various factors, including ideological reasons, but Omer is an exceptional.
As the Telangana police were still in the process of finding the whereabouts of Omer's handler Al Hindi, they took him to Mumbai and other locations in the last seven days. The investigators found that those who gave shelter to him in Tamil Nadu, Srinagar and Gujarat were unaware about his IS links.
Omer reportedly worked with other IS sympathisers to form a module, but he was not privy to the conspiracy being planned by his handler. "Omer's started his covert activities in the last six months only and that too on the web. As we know, he was more into luring liked-minded persons to their module,'' sources in Telangana police told TOI.
http://timesofindia.indiatimes.com/city/hyderabad/mullah-omer-was-laden-fan-but-lured-is-backers-on-social-media/articleshow/59482730.cms
--------
We Condemn Violence, Show Restraint and Opt For Peace: Kolkata Muslim Leaders
July 7, 2017
CONDEMNING THE violence at Baduria and Basirhat in North-24 Parganas, Muslim leaders on Thursday asked members of the community to show restraint. The leaders, who addressed media persons in Kolkata, claimed they suspect a larger conspiracy behind the incident. They maintained Muslims should not have resorted to violence once the student — who had uploaded a derogatory post on Facebook, leading to communal tension in the area — was taken into police custody.
"We condemn all acts of violence at Baduria and Basirhat, where normal life has been thrown out of gear. What the student has done is a heinous crime but once administration had stepped in and police detained him, there was no point in people going on a rampage," said Abdul Aziz, general secretary of Forum for Democracy and Communal Amity, on the sidelines of a press meet. He added that as soon as they would get permission from the administration, they would send a delegation to the riot-torn area. "We will go there with the message of peace and urge people to maintain peace and harmony. I have already spoken to some people and told them that digging up the road, placing logs to block roads and damaging vehicles were unbecoming of an ideal Muslim. We believe that the whole incident was RSS' conspiracy and our resorting to violence would only help them in their purpose," said Aziz.
Shabbir Ali Azad, a member of the forum, said the protest should have been peaceful. "The Facebook post was insulting and disturbing but our Constitution empowers us with the right to protest in several peaceful ways. People should have opted for those," he added. The leaders claimed a conspiracy is being hatched to defame Muslims and to create communal tension in parts of the state. They warned other members of the community not to fall into the trap.
Full report at:
http://indianexpress.com/article/india/we-condemn-violence-show-restraint-and-opt-for-peace-muslim-leaders-4739428/
--------
Maharashtra government mulls residential centres to train Muslims for police force
July 7, 2017
The Maharashtra government is contemplating setting up of district-level residential training centres, where members of the minority community can be trained for police recruitment examinations. Since 2009, the state government has been running a scheme under which Muslim youth are provided training for the written as well as the physical round of examinations for police recruitment. These two-month modules are run for a few hours a day. The government spends roughly Rs 2 crore each year to run these training centres in all 36 districts, with the help of NGOs. The state has, however, not been too happy with the scheme's performance, and is now planning to start residential schools to provide more intensive training to the aspirants.
"The plan is to ensure that these candidates stay in the schools and get trained. In the previous form of the scheme, students spent a lot of time travelling to and from these centres. Their time was not being utilised effectively. By letting them stay full-time in these training schools for three months, we hope we will be have a better success rate," a senior state government official said.
Full report at:
http://indianexpress.com/article/india/maharashtra-government-mulls-residential-centres-to-train-muslims-for-police-force-4739593/
--------
Pakistan alleges use of 'chemical ammunition' in Kashmir
Jul 6, 2017
NEW DELHI: Pakistan on Thursday alleged that Indian security forces are using "ammunition containing chemical agents" in Jammu and Kashmir, reported Pakistani media.
Pakistan's Ministry of Foreign Affairs spokesperson Nafees Zakaria claimed that Indian security forces were using deadly chemical weapons to kill Kashmiris and destroy their properties, a report published in The Express Tribune said.
Zakaria cited "charred bodies" found in houses in Bahmnoo and Kakpora in the Pulwama district suggested that chemical agents were used.
"Charred bodies of Kashmiri youth were found in the debris of five houses destroyed by Indian forces at Bahmnoo and Kakpora in Pulwama," Zakaria said, adding that the bodies were extensively burnt and beyond visual recognition, reported The Express Tribune.
Zakaria added that the international community should investigate, ARY news reported.
Full report at:
http://timesofindia.indiatimes.com/india/pakistan-alleges-use-of-chemical-ammunition-in-kashmir/articleshow/59473152.cms
--------
Veena Malik Says PM Narendra Modi's Israel Trip Might 'Destroy Lives of Several Muslims'
Jul 6, 2017
Former Bigg Boss contestant Veena Malik is currently the news anchor of a Pakistani channel called Pak News. In a recent video shared by the channel on Twitter, the actress has called Prime Minister Narendra Modi's trip to Israel as one that is meant to destroy the lives of thousands of Muslims.
In a rant against Indian Prime Minister Narendra Modi and Israel's PM Benjamin Netanyahu, Veena criticized their meeting and held the two responsible for affecting Muslims. She called them evil, and said that their mission is only to ruin the Muslim race. She further added how India and Israel have destroyed Kashmir and State of Palestine respectively. And this meeting cannot be seen without malicious intentions.
Full report at:
http://timesofindia.indiatimes.com/tv/news/hindi/watch-bigg-boss-contestant-veena-malik-says-pm-narendra-modis-israel-trip-might-destroy-lives-of-several-muslims/articleshow/59470327.cms
--------
Cops on high alert ahead of Burhan Wani's death anniversary
M Saleem Pandit
Jul 7, 2017
SRINAGAR: Ahead of Hizbul commander Burhan Wani's first death anniversary on July 8, the state administration and the police have taken measures to prevent terrorists and separatists from observing the day.
Separatists and terror outfits have joined hands to observe the day, sources said. Hurriyat leaders and Hizbul supreme commander Syed Salahuddin have called for a complete shutdown on July 8 and issued a a week's protest calendar.
The Hizbul has decided to launch a recruitment drive for young Kashmiri boys, and it has already spread the word in south Kashmir's four districts - Anantnag, Pulwama, Kulgam and Shopian - to assemble at Wani's native village Tral on July 8 for their recruitment drive. Hizbul is aiming to recruit at least 200 youth and arm them with weapons snatched from police, the sources said.
According to some villagers, around half a dozen young boys from Radwani, Khudwani and Quimoh villages have gone missing in the last few days. Security agencies fear that the boys might have already joined the terror outfit. A senior leader of a national party said terrorists in Kulgam, Redwani, Khuwani, Quimoh, Hawara and Haji Dumhalpora have been mobilizing young boys from poor families to join Hizbul.
Considered to be among the 12 dreaded Hizbul terrorists of the Burhan group, Altaf Ahmad Dar alias Kachroo, Kulgam district commander who joined militancy in 2006, is believed to be the man behind the recruitment drive. After Zakir Musa's exit from Hizbul, Kachroo is reportedly a contender for the divisional commander post of Hizbul.
Security forces have launched the "operation clean-up" in the terror-prone parts of south Kashmir. "We will make all-out efforts to maintain law and order," Kashmir IG Muneer Khan said.
Superintendents of Police of all the districts, especially the four in south Kashmir, have started rounding up over ground workers of terror outfits. Police in the four districts are likely to pick up stone-pelters to avert any law and order problem, a senior police officer said. Police have asked the stone-pelters to report to their respective police stations in order to hold them under "preventive detention" for a day or two till July 8, the officer added.
Anantnag SSP Altaf Ahmad said stone-pelters would be kept under check on July 8.
The government has announced a 10-day summer break for all schools and colleges. All internet service providers have been asked to block social media sites from Thursday. Most separatists are being put under house arrest, officials said.
"I want peace in my district and I will maintain it with full resources available to me. You need stick and carrot to cool the tempers," the SSP said.
Full report at:
http://timesofindia.indiatimes.com/india/cops-on-high-alert-ahead-of-burhan-wanis-death-anniversary/articleshow/59481706.cms
--------
South Asia
Hefazat accuses India of racial oppression with cow vigilantism
July 07, 2017
'India meets 25% of the global beef demand and earns $4bn from it. Regrettably, the Indian government is trying to control the people's diet'
Radical Islamist platform Hefazat-e-Islam Bangladesh condemned and expressed grave concerns over the cow vigilantism in India.
The Qawmi madrasa-based organisation claimed the cow vigilantes were actively colluding with the state.
The Islamist platform also urged the international community to play a more effective role in protecting the Muslim community in India.
Junayed Babunagari, secretary general of Hefazat-e-Islam Bangladesh also urged the government of Bangladesh to convey its concerns to India to cease the "ongoing repression on the Muslim people."
The accusations and concerns were delivered via a press release on Thursday.
The Hefazat leader referred to one of BJP's election slogans "Vote for Modi, give life to the cow," while highlighting the fact that India is among the two largest beef-exporting countries in the world, the other being Brazil.
"India meets 25% of the global beef demand and earns $4bn from it. Regrettably, the Indian government is trying to control the people's diet," complained Babunagari.
"Muslims are sadly becoming victims of cow vigilantism in India. Indian politicians believing in 'Hindutva' are inciting violence against Muslims," Babunagari lamented.
http://www.dhakatribune.com/bangladesh/nation/2017/07/07/hefazat-accuses-india-racial-oppression-cow-vigilantism/
--------
Khalilzad doubts Pakistan will act against Haqqani network and Taliban
Jul 06 2017
The former US ambassador to Afghanistan Zalmay Khalilzad doubts the Pakistani military will act against the Haqqani terrorist network and Taliban leadership.
Khalilzad made the remarks in reaction to the agreement on joint efforts to fight against the terrorist groups along and on both sides of the Durand Line.
"AF/Pak coordinated counter/terror operations? Will see if Paks move against Haqqanis and Talibs," Khalilzad said in a Twitter post.
Khalilzad further added "Are the Paks serious?or another attempt at deceiving US to avoid pressure. US must remain skiptical & vigilant."
This comes as the former Afghan intelligence chief Rahmatullah Nabil earlier said expressed concerns that the agreement which has secretly been reached will once again offer concessions to Pakistan.
"It seems @ARG_AFG once again signed a secret agreement with PAK & give unilateral concessions to PAK again. AFG public should know d detail," Nabil said in a Twitter post.
The Afghan government has said it agrees with the proposal for the joint operations with Pakistan along the Durand Line.
The Afghan officials have long been insisting that the leadership councils of the Taliban group and the notorious Haqqani terrorist network are based in Peshawar, Quetta, and other parts of Pakistan from where they plan and coordinate attacks in Afghanistan.
Full report at:
http://www.khaama.com/khalilzad-doubts-pakistan-will-act-against-haqqani-network-and-taliban-03099
--------
Militants kill 3 and take as many hostages in Nangarhar mosque attack
Jul 06 2017
A group of insurgents launched an attack on a mosque in eastern Nangarhar province of Afghanistan on Wednesday, leaving at least six people dead or wounded.
The 201st Silab Corps of the Afghan National Army (ANA) forces said the incident took place in the vicinity of Chaparhar district.
A statement by the 201st Silab Corps said several militants attacked a mosque in Haji Abad village, leaving three people dead and three more wounded.
The statement further added that the militants also took three people as hostages and has taken them to an unknown location.
In the meantime, the 201st Silab Corps said at least two civilians were shifted to the hospital by the personnel of the Silab corps after they sustained injuries in a roadside mine explosion in Achin district.
The anti-government armed militant groups have not commented regarding the report so far.
The Taliban insurgents frequently use IEDs as the weapon of their choice to target the security forces and government officials but in majority of such incidents the ordinary civilians are targeted.
The United Nations Assistance Mission in Afghanistan (UANAMA) released its latest civilian casualties report late in April, covering a period of three months since the start of 2017.
According to the report, the Anti-Government Elements caused 62 per cent of civilian casualties – 1,353 civilian casualties (447 dead and 906 injured), reflecting a five per cent increase compared to the same period in 2016.
Full report at:
http://www.khaama.com/militants-kill-3-and-take-as-many-hostages-in-nangarhar-mosque-attack-03096
--------
Bangladesh made scapegoat in Mamata-BJP fights
July 07, 2017
BJP's West Bengal unit chief asks Delhi to dismiss Mamata's government
Even when they fight each other politically over domestic issues, it seems the Trinamool Congress (TMC) and the Bharatiya Janata Party (BJP) must somehow bring in the Bangladesh factor into their war of words.
BJP's West Bengal unit leaders publicly accused "Bangladeshi extremists" of fomenting religious fundamentalism in the state at a media briefing in Kolkata on Wednesday.
They launched a scathing attack on Chief Minister Mamata Banerjee for "encouraging" such elements and said West Bengal could also "turn into Bangladesh" unless Delhi stepped in to improve the situation.
The BJP press briefing was organised in the context of its bitterest acrimony with Mamata's Trinamool. For the first time, BJP's West Bengal unit chief Dilip Ghosh called upon the central government to dismiss the state government and introduce President's rule in the state.
Mamata's party came to power in 2011 and secured its second consecutive victory last year.
Trouble has been brewing since Sunday (July 4) at Baduria in North 24 Parganas, after a student wrote a blog. It soon went viral and apparently offended a section of Muslims.
Police sensed the public discontent by nightfall, and arrested the youth to pacify the locals. But apparently this was not enough.
Over the next two days, angry mobs roamed the streets, shouting slogans, vandalising shop and vehicles. Police, who mostly carry batons, tried to stop them but the mobs shoved them aside and continued their mayhem.
The angry mob demanded police to hand over the youth to them and set 12 police vehicles on fire as the latter declined to comply.
Reinforcements were sent as the outnumbered policemen could do nothing. Oddly enough, the additional forces were not deployed but kept at local police stations as the mob kept growing in size by the hour and became more aggressive.
The mob then started ransacking local houses, attacking common people, damaging vehicles and looting shops. Their slogans grew louder as helpless people cowered in their homes and frantically called police for help but nobody came to their rescue.
Police later claimed that the only order they had received was to "keep calm and study the situation". Police also prevented journalists from visiting the affected areas.
By now, Basirhat, Hasnabad, Taki and parts of Barasat have been affected.
It was unclear why Mamata's government allowed the situation to spiral out of control in areas close to the Bangladesh border.
Initially it was the majority community that was targeted.
By Tuesday however, a Hindu backlash began, with mobs targeting houses, shops and vehicles. BJP leaders who had made video recordings of the incidents in different areas, met state Governor Kesrinath Tripathy at 2:30pm and briefed him about the situation. Tripathy called up Chief Minister Mamata an hour later and spoke for 12 minutes. According to available indications, the governor wanted to know why the outbreak of communal violence had been allowed to get out of hand. If the police could not act, why the para-military forces and the army had not been called out.
Mamata said that police were in charge and along with local Trinamool leaders, they were trying to persuade the people to desist from violence. The Government had not ordered firing as that would have killed 200-300 people – a claim Mamata reiterated at a media briefing later.
This apparently did not convince Tripathy who promptly called Union Home Minister Rajnath Singh and briefed him about the situation.
In the meantime, Mamata launched a vitriolic tirade against Governor Tripathy and the central government, accusing the former of insulting and intimidating her.
She claimed she wanted to resign at one stage and warned that the governor should not overstep his authority. Mamata also condemned communal elements among Hindus and Muslims, but clearly she was after governor Tripathy, journalists said.
Governor Tripathy remained calm and expressed his shock at Mamata's language and vehemence.
He reminded her that he was doing only his Constitutional duty. It was his right to inquire about failures of law and order. Tripathy said he had neither insulted nor intimidated the chief minister at any stage.
Amid the chaos, the central government dispatched Border Security Force and later, army units to patrol the troubled areas.
Home Minister Singh asked Tripathy and Mamata to maintain decorum in their dealings.
Sources in the West Bengal government said the centre had acted after Kolkata requested assistance but this was denied by the state's BJP leaders who insisted that Delhi moved after Tripathy spoke spoke to Singh.
BJP's West Bengal unit chief Dilip Ghosh made a telling point at Wednesday's media briefing: "When it came to the violence in the Darjeeling hills, Banerjee lost no time to call in the army. Why did she not ask for additional help even after the failure of her police here?
"Because a particular community was involved in the violence and they could not be punished? This is yet another instance of how this TMC government aids and abets violence sponsored by Muslim extremists as they go on a rampage, keeping the police inactive."
He referred to what he described as Mamata's "shameless appeasement of militant Muslims", alleging that under Trinamool's rule, Muslims had attacked Hindus at Deganga, Canning, Dhulagari, burnt thanas at Malda and Birbhum but hardly anybody had been punished.
In this context, he referred to the role played by fundamentalist madrasa teachers from Bangladesh, who addressed youths and students in West Bengal at special meetings, where Islamic jihad was preached.
Other BJP leaders said there was evidence of extremists' activities in Malda, Murshidabad and other areas. Even if Mamata's government tried to protect them and suppress their activities, the central fact-gathering agencies had collected plenty of information and evidence of activities of such people who usually belong to banned political organisations in Bangladesh.
Full report at:
http://www.dhakatribune.com/bangladesh/foreign-affairs/2017/07/07/bangladesh-made-scapegoat-mamata-bjp-fights/
--------
Taskforce: Investigate IBBL borrowers' possible terror links
July 06, 2017
Ninety percent of loan receivers from IBBL are related to Jamaat's politics, the taskforce says
The taskforce to strengthen action against militancy financing has asked officials of Bangladesh Bank, Islamic Foundation, and all intelligence agencies to look into the suspected links between pro-Jamaat borrowers of Islami Bank Bangladesh Limited (IBBL) and terrorism financing.
The taskforce, in a directive sent to the government bodies last month, stated that 90% of loan receivers from IBBL were related to Jamaat's politics.
It also asked authorities of the leading Islamic bank to submit statements of dividends provided to its non-profit depositors since the inception of the bank.
Industries Minister and Chairman of the taskforce Amir Hossain Amu chaired the meeting.
At the meeting, Home Minister Asaduzzaman Khan Kamal said: "Bangladesh Bank must inform intelligence agencies as soon as they get any information about these illegal transactions. Based on the information, the intelligence agencies will carry out further investigation."
State Minister for Foreign Affairs Mohammed Shahriar Alam said that the director general of the Islamic Foundation, the charitable branch of IBBL, had failed to submit substantive reports on the expenditure of Islami Bank's Corporate Social Responsibility (CSR) funds.
He alleged that the director general had been funding the sectors that were trying to incite action against the government.
Shahriar also urged that details about Islami Bank's CSR funding be revealed soon.
According to sources at the meeting, IBBL has so far disbursed Tk61,641 crore to 751,300 borrowers.
Most of the borrowers had links to Jamaat-e-Islami which has been accused of funding terrorist activities and anti-government action across the country, sources said.
Due to allegations of terror financing, Bangladesh Bank imposed special restrictions on IBBL, requiring the central bank's clearance on any appointment at the level of executive deputy managing director.
The government in recent months appointed four independent directors to the bank's board of directors to extend the government's control on the bank.
Full report at:
http://www.dhakatribune.com/bangladesh/2017/07/06/taskforce-investigate-ibbl-borrowers-possible-terror-links/
--------
Arab World
Egypt blocked UN sanctions against Saudi branch of Daesh: Report
Jul 7, 2017
Through two successive objections, Egypt reportedly managed to keep the Daesh terror group's Saudi offshoot off a United Nations terrorism-related sanctions list.
Reporting on Wednesday, the Middle East Eye (MEE) news portal revealed that Cairo had raised objections both the times the world body received a proposal to blacklist the branch earlier this year.
The last time, the Egyptian mission formally objected to the inclusion of the Saudi branch on the sanctions list back in May. In its obstruction of the proposal, Egypt was also joined by Senegal.
Previously, it had said on February 3 that it wished for the UN to "put on hold…the proposal of the United States of America to add ISIL (Daesh)-Saudi Arabia" to the list.
The stonewalling apparently resulted in the scrapping of the proposal entirely, and Cairo was reportedly not asked to provide any justification for its objection.
The MEE cited Madawi al-Rasheed, a visiting professor at the Middle East Centre at London School of Economics, as calling Riyadh and Cairo in cahoots for the maneuver, and saying, "This is a classic case of Saudi Arabia not wanting to draw attention to its own terrorism problems."
Rasheed said were the Saudi branch of Daesh sanctioned by the UN, Riyadh would "have to deal with the problem." They would have to "go after operatives or activists associated, and freeze bank accounts…they have to round them up, and do something," she added.
"It exposes them internationally that Saudi Arabia have IS (Daesh) operatives. When of course they have, and everyone knows they have," added the professor.
Daesh's acts of terrorism are inspired by Wahhabism, a radical ideology dominating the Saudi kingdom.
Riyadh is accused across the globe of providing Takfiri terrorists operating outside its borders with financial and other sorts of patronage to devastating effects.
Germany has famously complained about Wahhabi mosques' engagement in propagation of the ideology across the European nation.
Also on Wednesday, a British think tank said Saudi Arabia was the main sponsor of extremism in the UK, urging a probe into sources of the money being injected mainly by the Riyadh regime into the institutions promoting radicalism in the European state.
The Henry Jackson Society said Saudi Arabia had, since the 1960s, sponsored a multimillion-dollar effort to export Wahhabism across the Islamic world, including to Muslim communities in the West, adding that foreign funding for extremism in Britain mainly came from the kingdom.
http://217.218.67.231/Detail/2017/07/07/527688/Saudi-Arabia-Egypt-Daesh
--------
Iraqi Kurdish leader says no turning back on independence bid
6 July 2017
Iraq's Kurdish leader said on Thursday that there was no turning back on a bid to achieve an independent Kurdish state, but he would pursue it through dialogue with Baghdad and regional powers to avoid conflict.
Masoud Barzani, President of the Kurdistan Regional Government (KRG), told Reuters in an interview that the timetable for independence after a Sept. 25 vote on the issue was "flexible but not open-ended". He expected a "yes vote".
The vote could turn into another regional flashpoint, with Turkey, Iran and Syria, along with Iraq the states with sizeable Kurdish populations, all resolutely opposed to an independent Kurdistan in northern Iraq. But Barzani played down such fears.
Within Iraq's borders, there is growing concern the real purpose of the referendum is not secession, but to strengthen Kurdish claims over hotly disputed territory adjoining recognized KRG boundaries, such as the oil-rich region and city of Kirkuk, whose future has been in play for over a decade.
Inside the KRG, parties such as the Patriotic Union of Kurdistan (PUK) of Jalal Talabani or the dissident Gorran group, all favor independence but not necessarily under the leadership of Barzani and his Kurdistan Democratic Party (KDP).
At his palace in the hillside village of Salahaddin, Barzani said the vote would decide the fate of Kirkuk, which Kurdish Peshmerga forces prevented ISIS from capturing in 2014.
"Whatever the people of Kirkuk decide within the referendum, that decision should be respected," said a relaxed Barzani.
The Peshmerga effectively runs Kirkuk, also claimed by Turkmen and Arabs. Hardline Iran-backed Iraqi Shiite militias have threatened to expel the Kurds by force from this region and three other disputed areas - Sinjar, Makhmour and Khanaqin.
Barzani, a Kurdish nationalist who has long championed the rights of his people, said negotiations with Baghdad, neighbors and international powers would start immediately after the vote in order to reach an amicable agreement.
"Our main goal is to implement and achieve the decision of our people through peace and dialogue," he said, wearing his traditional Peshmerga uniform.
Historic bid
Barzani accused the Shiite-led Iraqi government, backed by Iran, of not sticking to a constitutional agreement of allowing the Kurds to have greater powers under a federal state set up after the US-led invasion that toppled Saddam Hussein in 2003.
"For 14 years we have been waiting and we have been discussing this partnership but we have always been told it's not a good time and it's not acceptable timing so my question is, when is the right time?"
The Kurds have been seeking an independent state since at least the end of World War One, when colonial powers divided up the Middle East, but their territory ended up split between modern-day Iraq, Syria, Turkey and Iran.
Saddam's government waged the Anfal campaign against them in the 1980s, killing tens of thousands including with poison gas in the city of Halabja.
Barzani, whose father led struggles against Baghdad in the 1960s and 1970s, grew up in Iranian exile but returned as a teenager, joined the Peshmerga and took on the mantle of resistance. He said the Kurds were ready to take responsibility for the outcome of the referendum.
"We have to rectify the history of mistreatment of our people and those who are saying that independence is not good, our question to them is, if it's not good for us, why is it good for you?"
Barzani played down speculation that the referendum would spark violence, saying "the legitimacy of the people is bigger than the legitimacy of any of the political parties or any of the external interventions".
"I don't think anybody can stand against the big wave of the people of Kurdistan when they decide their destiny. Maybe there will be some attempts to foil (it)... We will try our best not to allow that to happen."
He said he was ready to allay the security concerns of Iraq, Turkey and Iran, saying that postponing independence would actually lead to greater instability.
"We have proved that we are factors of stability," he said. "So what we do through a referendum is prevent that upcoming instability. We want to cut any possibility of bloodshed in the future."
After Mosul
An additional element of regional volatility is Turkey's determination to stop further advances across northern Syria by the Kurdish People's Protection Forces (YPG) militia.
Ankara and the KDP are united in trying to stop the YPG - allied to the Kurdistan Workers Party (PKK) conducting an insurgency in Turkey - from consolidating self-rule in Syria. But Turkey regards Barzani's independence bid as pulling in the opposite direction.
He said his "Kurdish state" would give full assurances to ethnic minorities including Christians, Yazidis, and Shabaks, indicating his Peshmerga forces had already lost hundreds of fighters to retake their areas from ISIS.
As the battle to recapture the Iraqi city of Mosul draws to a close, Barzani said victory is incomplete without a political reconciliation plan.
He accused the Iraqi government of failing to prepare a post-battle political, security and governance plan.
"I warned if you are not going to have this political plan, the situation will reverse."
He said a high-level committee formed by the Kurdish region, the Baghdad government and a US-led military coalition to help Mosul leaders rebuild the city had never convened.
Full report at:
https://english.alarabiya.net/en/News/middle-east/2017/07/06/Iraqi-Kurdish-leader-says-no-turning-back-on-independence-bid.html
--------
Arab sanctions stir defiance, patriotism in wealthy Qatar
July 7, 2017
At dusk, young Qataris gather outside the house of a ruling family member in Doha to sign a portrait of Qatar's emir mounted on a giant billboard.
A month of sanctions imposed on Qatar by Egypt and Arab neighbors that have cut ties and accused Doha of supporting militants has galvanized patriotic feelings among Qataris, who number 300,000, as well as fear about the possibility of military escalation.
While Doha denies the charges and there are no signs the standoff will spiral into military confrontation, the crisis has bolstered nationalist support for the 37-year-old ruler of the world's wealthiest country per capita.
"We will go to the streets and fight for him [Sheikh Tamim]," said Ahmed al-Kuwari, a 32-year-old engineer.
Local media say that hundreds of men are signing up for the military, as others deliver jibes at Arab rulers on social media and rail against "fake news" they say some Arab media outlets are spreading to divide them.
After an announcement on Wednesday by Saudi Arabia, Bahrain, Egypt and the United Arab Emirates that their boycott of the tiny Gulf Arab state would continue, playful Qataris shared on Twitter photoshopped images ridiculing officials from those countries. One showed a minister wearing rabbit ears.
Others shared a clip of the UAE foreign minister berating Qatar for supporting terrorism followed by a clip of Sheikh Tamim drinking a cup of tea and laughing.
LUXURIOUS LIVES, CUSHY JOBS
A painting depicting Qatar's Emir Sheikh Tamim Bin Hamad Al-Thani is seen as people gather to watch players from Spain's national team in Mall of Qatar in Doha, Qatar July 5, 2017. Picture taken July 5, 2017. REUTERS/Naseem Zeitoon NO RESALES. NO ARCHIVES.
1/2
left
right
2/2
left
right
1/2
Accustomed to luxurious lives and cushy government jobs, thousands of Qataris are cut off from relatives as well as properties they own in the UAE and Bahrain. Some say they won't return even if the dispute is settled.
Amira, a Moroccan curator at a Doha fashion house that imports designs from the UAE, says the dispute is affecting the decisions of her customers.
"People are starting to ask where the fabrics come from," she said. "Last week a Qatari woman found out a dress was from the UAE. She said 'get it away from me'."
There is broad support for Sheikh Tamim among young people who associate their wealth with his family's rule.
Officials from the four countries have also ruled out any plans to try to change the ruler or use force in the crisis.
"No one in the family is worried about him stepping down," said Haya Alwaleed al-Thani, a student at Doha's Georgetown university and a member of Qatar's ruling family.
MEMORIES OF WAR
"He has legitimacy. He has treated people with equality."
The al-Thani tribal rulers of Qatar, a small peninsular country protruding into the Gulf with a population of 2.7 million, most of them foreign workers, have been rattled in the last few decades by internal palace coups or threatened intervention by Saudi Arabia.
But the discovery of vast liquefied natural gas reserves in the 1970s that crowned Doha with skyscrapers and ushered in cradle-to-grave welfare has brought stability and lured in foreign investors.
For older Qataris who knew leaner years and witnessed wars in the Gulf including Iraq's 1990 invasion of Kuwait, the feud is more troubling.
"During the Kuwait invasion my relatives barricaded their windows and stayed inside. They are scared of that happening again," said Haya, the Doha student.
Full report at:
http://nation.com.pk/international/07-Jul-2017/arab-sanctions-stir-defiance-patriotism-in-wealthy-qatar
--------
Tens of ISIL Terrorists Arrested for Speaking about Al-Baghdadi's Death
Jul 06, 2017
The source said that the ISIL has arrested over 20 of its members in the villages of Eastern Makhoul in Salahuddin for making public remarks about al-Baghdadi's death.
The terrorist group has accused them of promoting an internal sedition.
According to the source, ISIL members are confused over the ban on speaking about al-Baghdadi's death, specially after the terrorist group was forced to arrest its members.
A well-informed local source in Northwestern Iraq reported on Sunday that ISIL has burned Abu Qatibeh alive on charges of implying the death of Abu Bakr al-Baghdadi, the terrorist group's ring leader, in his sermon on Friday Prayers in the town of Tal Afar.
The sources said that only a few hours after arresting Abu Qatibeh on charges of internal sedition, the terrorist group burnt him in front of tens of people in the Central part of Tal Afar.
Full report at:
http://en.farsnews.com/newstext.aspx?nn=13960415000844
--------
US-led strikes killed 224 civilians since allies entered Raqqa
6 July 2017
US-led coalition air strikes have killed at least 224 civilians since the Syrian forces it backs entered ISIS group bastion Raqqa a month ago, a monitor said on Thursday.
But the coalition pushed back against the report, saying its "critics" were not conducting "detailed assessments".
Arab and Kurdish fighters from the Syrian Democratic Forces broke into Raqqa on June 6 after a months-long operation to encircle the northern city.
"At least 224 civilians, including 38 children and 28 women, have been killed in air strikes by the global coalition on Raqqa since the SDF entered it," said the Syrian Observatory for Human Rights.
The Britain-based Observatory said it did not have a toll for those killed in other ways, including by other military operations, mines, or while trying to flee the city.
Tens of thousands of civilians are believed to be trapped inside Raqqa, with warnings that the jihadists are using them as human shields.
Raqqa residents who have managed to escape say ISIS snipers are targeting anyone trying to leave the city.
The Raqqa is Being Slaughtered Silently activist collective says dozens of civilians have lost their lives in artillery, shelling, and explosives laid by IS in recent weeks.
The Observatory said clashes and air strikes in Raqqa had killed 311 ISIS militants and 106 SDF militiamen since June 6.
The US-backed coalition is providing the SDF's Raqqa campaign with heavy air support, as well as special forces advisers, weapons, and equipment.
Its spokesman Colonel Ryan Dillon pushed back against the Observatory's toll, saying the coalition would be publishing its own monthly civilian casualty report on Friday.
"We hold ourselves accountable with an open and transparent process to assess allegations of civilian casualties, and we publish these findings on a regular basis for the world to see," he said.
"Most of our critics do not conduct such detailed assessments and often rely on scant information, which frequently comes from single, unreliable sources," Dillon added.
He said the coalition strived for "zero human casualties" with tough targeting protocols aimed at protecting non-combatants.
Full report at:
https://english.alarabiya.net/en/News/middle-east/2017/07/06/US-led-strikes-killed-224-civilians-since-allies-entered-Raqqa.html
--------
Syrian Army Scores More Victories against Terrorists in Eastern Damascus
Jul 06, 2017
The army resumed military operation in the Eastern suburbs of Damascus, hitting militants at both Jobar and Ein Terma.
According to a battlefield source, pro-government forces advanced inside Jobar, seizing a number of points in the Taibeh area after hours of bloody clashes.
Other units of the army recaptured several buildings within the Taibeh in Northeastern Jobar, following heavy clashes with the Takfiri terrorists.
The Syrian Army also broke through Faylaq Al-Rahman's front-lines in the Western part of Ein Terma, capturing several points from the militants.
The Syrian soldiers also managed to prevail over the militants' defense lines near the al-Kheir market compound.
An army officer pointed to the military importance of Jobar, and said that the Syrian army has dispatched a large number of forces and a large volume of equipment to this front and also summoned a large number of its experienced soldiers to Jobar battle.
The source said that rifts are widening in the terrorists' front, adding that the army soldiers are to cut off all the supply lines to Jobar and lay siege on the militants inside the region.
He further said that the pro-government forces are to bypass the enemy front from the Northern and Southern directions in order to pave the ground for a final attack on Jobar.
Relevant reports said on Tuesday that the army men engaged in a tough battle with Al-Nusra Front (also known as Fatah al-Sham Front or the Levant Liberation Board) in Jobar and Ein Terma regions, while the army's artillery units opened heavy fire at terrorists' positions behind the frontline.
In the meantime, the Syrian Air Force carried out several combat sorties over Al-Nusra's positions in Jobar and Ein Terma.
A military source said the army units have won back several positions in their anti-terrorism operation in Jobar and Ein Terma.
The source pointed to the collapse of the terrorist front and said that 25 members of Al-Nusra were killed in the clashes with the army.
Full report at:
http://en.farsnews.com/newstext.aspx?nn=13960415000724
--------
Several Militants Hand over Weapons to Syrian Army in Idlib for First Time
Jul 06, 2017
The sources said that a sum of 11 gunmen have surrendered to the Syrian authorities in Northern Idlib and left the region for government-controlled city of Hama.
The gunmen, who were from a group affiliated to the Free Syrian Army (FSA), at first contacted the Russian Reconciliation Center for Syria which is responsible for facilitating the processes for all individuals and groups willing to reconcile with the Syrian government.
The same sources cited the surrendered gunmen as saying that there are considerable numbers of fighters who are willing to lay down their weapons in return for amnesty but they are afraid of the ruling Tahrir al-Sham Hay'at (the Levant Liberation Board).
"The Tahrir al-Sham Hay'at won't think twice before shooting dead any fighter willing to reconcile with the government," one of the militants said.
Local sources in Northwestern Syria reported on Wednesday that Tahrir al-Sham Hay'at was preparing to launch a fresh wave of attacks on rival terrorists of Ahrar al-Sham in Idlib.
The sources reported that Tahrir al-Sham Hay'at gathered it forces in the town of Harem in Northern Idlib and the town of Abu al-Dhohour in Eastern Idlib to kick off fresh attacks on Ahrar al-Sham's positions.
News websites affiliated to the terrorist groups reported that unknown militants kidnapped Ibrahim Yaseen, one of the commanders of Ahrar al-Sham, and transferred him to the town of Sarmada in Northern Idlib.
The sources also said that unknown raiders also abducted Abu Yusef Choubak, another commander of Ahrar al-Sham, in Idlib.
Full report at:
http://en.farsnews.com/newstext.aspx?nn=13960415000605
--------
Terrorists Violates Ceasefire again in Homs, Syrian Army Retaliates
Jul 06, 2017
The terrorist groups' missile units deployed in Northern Homs targeted the villages of Merimin and Qurmus, violating the de-escalation zones truce agreement.
The artillery and missile unis of the army opened retaliatory fire at the terrorists' concentration and gathering centers in the villages of Kafr Laha and Taldou in al-Houleh region, inflicting several casualties on them.
Relevant reports said on Wednesday that the army engaged in fresh round of clashes with ISIL in Humeimeh desert and advanced against terrorists in al-Heil oilfield.
A military source said that the army men's clashes with ISIL in al-Heil oilfield, Northeast of Arak and Southeast of Palmyra city were very fierce.
The source further added that a large number of terrorists were killed or wounded in the clashes.
He went on to say that the army forces seized control over the key heights overlooking al-Heil oilfield and the third power plant that are important positions for military back up.
The source underlined that ISIL's movements and supply lines are now under the control of the army in the Northern direction of the third power station and West of al-Heil oilfield.
Full report at:
http://en.farsnews.com/newstext.aspx?nn=13960415000546
--------
Syria Blasts Turkey's Refusal to Accept De-Escalation Zones
Jul 06, 2017
"The stance of the Turkish delegation was negative since the beginning of the Astana track. This negativity was translated into the modest results we listened to just now," Ja'afari underscored.
"I am saying that because the Turkish delegation objected to the adoption of any document related to the implementation of mechanisms of the agreement on the de-escalation zones," he pointed out.
"I say 'modest' because we came to Astana and the agenda of the fifth round was specifically to conclude the details of the agreement over the de-escalation zones, and the mechanisms of implementing the agreement over the four de-escalation zones."
"The Turkish side opposed this and practiced a policy of blackmail against this subject, which is the main subject of the agenda, and also against other documents that the parties intended to adopt."
"This is why I cannot say but that the Turkish delegation, unfortunately, for the fifth time sought with all their might to hinder reaching positive results that could practically serve the interests of the Syrian people."
"Contrary to the positive standpoint taken by all the parties except by the Turkish delegation, there has been an indication that the Turkish policy towards the Astana process has been a negative policy" noting that the Turkish delegation objected to the adoption of documents on the implementation of mechanisms for the agreement of de-escalation zones."
The fifth round of talks between the Syrian government and opposition started in Kazakhstan's capital on Tuesday, with Iran, Russia, and Turkey present at this round of talks as mediators. Jordan and the United States also participated as observers.
Iran, Russia and Turkey agreed to resume the next round of Syrian peace talks in Astana in late August following their decision to continue discussions on creating four de-escalation zones in Syria.
"(It has been) decided to hold the next high-level international meeting on Syria in Astana in the last week of August 2017," the three mediators of the peace talks said in a joint statement on Wednesday.
Prior to the next round, the joint working group of the three countries will meet in Iran on August 1-2 to continue delineation of de-escalation zones, the communique added.
The statement further underlined the need for efforts to secure the stability and territorial integrity of Syria, noting that there can be no military solution to the crisis.
Russia, Iran and Turkey agreed on May 4 to set up four de-escalation zones in Syria.
Under a memorandum signed at the talks in Kazakhstan's capital of Astana, these four zones include the Idlib Province and some areas in the neighboring provinces of Aleppo, Lattakia and Hama, an area North of Homs, the Damascus suburb of Eastern Ghouta, and a couple of provinces in Southern Syria, Dara'a and Quneitra.
Full report at:
http://en.farsnews.com/newstext.aspx?nn=13960415000387
--------
UN: Up to 20,000 civilians trapped in ISIS-held areas of Mosul
6 July 2017
Up to 20,000 civilians are trapped in the last ISIS -held areas in Mosul's Old City, which Iraqi forces are battling to retake, a senior UN official said Thursday.
More than eight months since the start of the operation to retake Mosul from ISIS, the jihadists have gone from fully controlling the city to holding a small pocket of territory on the west bank of the River Tigris.
But the fighting against the last ISIS holdouts is heavy, and civilians caught in the middle of the battle are in "extreme danger," UN humanitarian coordinator in Iraq Lise Grande told AFP.
Shortage of supplies
"Our estimate at this stage is that in the final pockets of the Old City, there could be as many as 15,000 civilians, possibly even as high as 20,000. "The people that are still trapped inside of these pockets are in terrible condition," facing shortages of food, she said.
"They're in extreme danger from bombardment, from artillery crossfire. The (ISIS) fighters that are still there are still directly targeting civilians if they try and leave."
Full report at:
https://english.alarabiya.net/en/News/middle-east/2017/07/06/United-Nations-Up-to-20-000-civilians-trapped-in-ISIS-held-areas-of-Mosul.html
--------
Daesh families join final battle for Mosul: Iraqi commanders
Jul 6, 2017
Iraqi commanders engaged in an operation to liberate the northern city of Mosul say family members of Daesh terrorists have joined the battle as it nears its end.
The commanders said on Thursday that female Daesh elements were firing on Iraqi forces and using children as human shields in Mosul's Old City.
Lieutenant General Sami al-Aridi, of the Iraqi special forces, said, "The women are fighting with their children right beside them," adding, "It's making us hesitant to use airstrikes, to advance. If it weren't for this we could be finished in just a few hours."
Another Iraqi officer, whose name was not mentioned, said, "There are civilians there, but they are Daesh families."
Daesh militants are using other tactics such as bombings, sniper fire, and mortar attacks to slow the advance of the Iraqi forces.
Three female bombers hiding among civilians fleeing Mosul killed at least three soldiers over the past week.
Separately on Thursday, UN humanitarian coordinator in Iraq, Lise Grande, said as many as 15,000 civilians, possibly even as high as 20,000, were still trapped in Mosul.
Mosul fell to Daesh in 2014, when the terror outfit began its campaign of death and destruction in Iraq.
The Iraqi army soldiers and allied volunteer fighters have been leading the Mosul liberation operation since October 2016. They took control of eastern Mosul in January and launched the battle in the west in February.
Iraqi authorities expect the battle to end in coming days as remaining Daesh elements are bottled up in a few districts of the Old City.
Earlier this week, Iraqi Prime Minister Haider al-Abadi congratulated his forces on their "big victory" in Mosul.
Full report at:
http://217.218.67.231/Detail/2017/07/06/527641/Iraq-Mosul-Daesh
--------
Mideast
Kurdish YPG: Turkey's preparations are a declaration of war
6 July 2017
Turkish officials and military commanders belonging to the Kurdish People's Protection Unit (YPG) have had some heated exchange recently, the most recent of which was when Turkish President Recep Tayyip Erdogan threatened to carry out military operations against any military operation or threat coming from the Kurds.
According to observers, a new battlefront is looming in the horizon of the region, which is tormented by wars against ISIS and is divided on two fronts: the first through Kurdish forces backed by Washington, and the second through Turkish forces backed by Syrian opposition factions, reported Al Arabiya.
Following the escalation of Ankara's position, Kurdish Protection Units said that they considered the Turkish military moves in the north-west of Syria as a declaration of war. It announced that it won't stand idle in the face of what it described as possible Turkish aggression.
Meanwhile, the Deputy Prime Minister seemed to tone down as he considered that the moves have nothing to do with the declaration of war, but are rather legitimate preparations, reported by the Turkish media following the arrival of large military reinforcements to the area of Afrin near the Turkish borders.
Full report at:
https://english.alarabiya.net/en/News/world/2017/07/06/Protection-Units-Turkey-s-preparations-are-a-declaration-of-war.html
--------
Turkish police arrests local Amnesty chief, human rights activists
July 7, 2017
Turkish police have arrested nine leading human rights activists, including the local director of Amnesty International, in a raid near Istanbul, reported BBC.
Two trainers, from Germany and Sweden, were also arrested as they worked in a digital security workshop at a hotel.
No reason has been given for the arrests. The operation was a "grotesque abuse of power", Amnesty said.
Meanwhile, tens of thousands of people are marching from Ankara to Istanbul as part of an opposition protest.
The march, now on its 22nd day, was in reaction to the arrest of an opposition lawmaker. But it has become a wider demonstration of what many say is an erosion of democracy under President Recep Tayyip Erdogan.
Turkey remains under a state of emergency imposed after rogue army officers tried to oust Mr Erdogan in a coup on 15 July 2016. Police have jailed more than 50,000 people since then.
The human rights activists were arrested on Buyukada, an island south of Istanbul, and were being held in five different police stations. They included Idil Eser, Amnesty's Turkey director.
The group's secretary general, Salil Shetty, said in a statement that the raid was "a grotesque abuse of power and highlights the precarious situation facing human rights activists in the country", and urged their immediate and unconditional release.
The workshop was organised by Netherlands-based rights group Hivos.
Human rights activists are often accused of treacherous activity in Turkey but the new development is a serious escalation of the situation, the BBC's Selin Girit reports from Istanbul.
Amnesty International's Turkey chair, Taner Kilic, is also in police custody. He was arrested on 6 June with 22 other lawyers and charged with membership of a "terrorist" organisation. Amnesty called the charges "baseless".
Seven of the rights activists arrested with Ms Eser on Wednesday evening were named by Amnesty as: Ilknur Ustun of Women's Coalition; Gunal Kursun and Veli Acu of Human Rights Agenda Association; Nalan Erkem and Ozlem Dalkiran of Citizen's Assembly; Nejat Tastan of Equal Rights Watch Association and lawyer Seyhmus Ozbekli.
The post-coup crackdown has targeted tens of thousands of public servants accused of supporting US-based Muslim cleric Fethullah Gulen.
The European Parliament has deplored the crackdown on Mr Erdogan's opponents in Turkey and called for a suspension of talks on it joining the EU if Mr Erdogan is formally granted sweeping new powers.
A controversial referendum in April backed constitutional changes that would turn Turkey into a presidential republic, diminishing parliament's role.
Full report at:
http://nation.com.pk/international/07-Jul-2017/turkish-police-arrests-local-amnesty-chief-human-rights-activists
--------
Iran says Europe not on agenda of gas exports
Jul 7, 2017
Iran says it has removed an old plan to export natural gas to Europe and is instead focusing on exports to its neighbors as well as India.
Amirhossein Zamaninia, Iran's deputy minister of petroleum for trade and international affairs, said Europe's gas market was already saturated with excessive supplies and had thus lost its priority in Iran's gas export plans.
"Iran's key priority should be exports to the neighboring states as well as India," Zamaninia told Iran's IRNA news agency.
He further emphasized that the landmark nuclear agreement that Iran had sealed with the five permanent members of the Security Council plus Germany in 2015 and the subsequent removal of sanctions against the Islamic Republic had already provided an appropriate opportunity to pursue plans to export natural gas to the neighboring states.
Iran had for years pursued plans to export natural gas to Europe. A tentative scheme that was developed in cooperation with Nabucco - a consortium led by Austria's OMV – envisaged piping Iranian natural gas from the southern energy hub of Assaluyeh to Turkey and thereon to Europe. However, Nabucco eventually abandoned Iran in 2008 after complications grew the most important of which were US-engineered sanctions against the Iranian energy sector.
A parallel plan to export Iranian gas to Europe – again through Turkey – has been pursued by Switzerland's EGL, also known as Elektrizitaetsgesellschaft Laufenburg,
Based on the EGL scheme, the Iranian natural gas would be taken to Greece and Albania through Turkey. It would thereon flow to Italy through a pipeline under the Adriatic Sea before reaching Switzerland. However, this scheme had a fate similar to that of Nabucco.
Over the past few years, Iran had been pursuing exporting natural gas to Kuwait, Oman and Iraq.
In late June, the country started exporting gas to Iraq by virtue an agreement that was signed in 2013.
Talks over exports to Kuwait and Oman have been presently stalled over technical issues.
An ambitious project to pipe gas to India through Pakistan - that had been in the offing for almost two decades but delayed for disputes over pricing and the related technicalities - has also been recently revived.
Full report at:
http://217.218.67.231/Detail/2017/07/07/527692/Iran-says-Europe-not-on-agenda-of-gas-exports
--------
Iran arrests 21 Daesh terrorists in north-eastern city: Official
Jul 7, 2017
Iran's security forces have arrested 21 Takfiri Daesh terrorists in the northeastern city of Mashhad, foiling their plans to launch several attacks on Iranian soil, a judiciary official says.
The terrorists "intended to carry out different operations, including suicide attacks," Fars news agency quoted Hassan Heidari, the deputy prosecutor general of Mashhad, as saying on Thursday.
"Some of the detained Daesh members are Iranians and some of them are Afghan nationals who have entered the country using fake documents," he noted.
The official said a number of the arrested terrorists had conducted terrorist operations outside the country.
Heidari went on to say that Iranian intelligence forces had launched the security operation in Mashhad as a "deterrent measure" following the recent Daesh terror attacks in the capital, Tehran.
As part of the operation, Iranian intelligence forces had put a group of Daesh terrorists under surveillance, said the official. They found out that some of the terrorists had entered Iran with fake IDs after receiving military training and pledging allegiance to senior Daesh leaders, he added.
Heidari underlined the Judiciary's resolve to take serious action against Daesh elements and other terrorists.
On June 7, gunmen mounted almost simultaneous assaults on Iran's Parliament and the Mausoleum of the late Founder of the Islamic Republic Imam Khomeini. Daesh claimed responsibility for the assaults, which killed 18 people and injured over 50 others.
Full report at:
http://217.218.67.231/Detail/2017/07/07/527679/Iran-Daesh-terrorist
--------
Iran sanctions not without costs for US: Larijani
Jul 6, 2017
Iranian Parliament Speaker Ali Larijani has denounced US Senate's adoption of new sanctions on Iran, saying the new restrictions against Tehran will not be without costs for Washington.
Last month, US Senate voted for a bill to impose new sanctions on Iran over its ballistic missile program, alleged support for terrorism and human rights violations. The bill would become law if passed in the House of Representatives and signed by US President Donald Trump.
Addressing the administrative council of Iran's northern Gilan Province on Thursday, Larijani said US officials "might suppose they could put up new roadblocks for Iran, but it is not like that they would incur costs on us without paying anything themselves."
Iranian officials say the new US restrictions violate a landmark nuclear agreement with the Islamic Republic, known as the Joint Comprehensive Plan of Action (JCPOA), to which the US is a party.
Under the JCPOA signed between Iran and the five permanent members of the United Nations Security Council - the United States, France, Britain, Russia and China - plus Germany, Iran undertook to put limitations on its nuclear program in exchange for the removal of nuclear-related sanctions imposed against Tehran.
Elsewhere in his remarks, the top Iranian parliamentarian touched on foreign-backed terrorism plaguing the region and said the scourge had backfired on its supporters.
"Support for terrorism, including financial assistance, albeit being perilous to us over the past decades, has afflicted its sponsors as well," Larijani said.
"Certain countries' support for terrorism is not a matter of the recent one or two years. It has been for decades that big powers and some regional countries have been using pressure and terrorism [against Iran]," he added.
Full report at:
http://217.218.67.231/Detail/2017/07/06/527615/Iran-US-Ali-Larijani
--------
Nearly 10 million children need urgent help in Yemen: UNICEF
Jul 7, 2017
The United Nations Children's Fund (UNICEF) has warned that nearly 10 million children in Yemen are in immediate need of humanitarian assistance as the Saudi-led war against the crisis-hit country continues.
UNICEF's Yemen office released a statement on its official Facebook page on Thursday, saying that most children in Yemen do not have access to basic medical care, adequate nutrition, fresh drinking water, suitable sanitation and education.
Also on Thursday, UN humanitarian coordinator in Yemen Jamie McGoldrick warned of growing risk of famine in the country, saying aid groups struggle to find funds as they have pulled resources from the campaign against malnutrition to battle the cholera outbreak in the impoverished Arab nation.
"We are trying to do our best, but it is very much beyond what we can cope with," McGoldrick said at a news conference in the capital city of Sana'a.
Cholera has swept Yemen with alarming velocity in what the United Nations has described as "the worst cholera outbreak in the world."
UN spokesman Stephane Dujarric told reporters on Wednesday that the cholera outbreak that started in April has spread to all the 21 governorates in Yemen.
Dujarric said there have been 270,000 suspected cases of cholera and over 1,600 deaths from the disease in Yemen since late April.
Children under the age of 15 made up 41 percent of those cases and people older than 60 accounted for 33 percent of the deaths, Dujarric pointed out.
The World Health Organization (WHO) and its partners received 400 tons of medical supplies, including 30 ambulances and kits and equipment, to treat 10,000 people in Aden and Hodeida, the UN spokesman said.
Cholera is an acute diarrheal infection that is spread through contaminated food or water. It can be effectively treated with the immediate replacement of lost fluids and salts, but without treatment it can be fatal.
The Saudi-led war on the Arab world's poorest country, which started in March 2015, has taken a heavy toll on Yemen's health facilities and caused severe medicine shortages there.
Latest UN figures show that the conflict in Yemen has left 18.8 million of the country's 28 million population in need of humanitarian aid and almost seven million on the brink of famine.
Saudi Arabia has led a brutal military campaign against Yemen since two years ago in a bid to eliminate the Houthi Ansarullah movement and reinstall the Riyadh-friendly former president, Abd Rabbuh Mansur Hadi. The Saudi military campaign has, however, failed to achieve its goals.
Full report at:
http://217.218.67.231/Detail/2017/07/07/527668/Yemen-children-UNICEF
--------
North America
Bid to exempt grandparents from US Muslim ban rejected
July 7, 2017
A US judge has rejected the state of Hawaii's bid to exempt grandparents from President Donald Trump's Muslim ban, but he said the state could directly ask the US Supreme Court to clarify its ruling.
US District Judge Derrick Watson in Honolulu had been asked to interpret a ruling from the Supreme Court that revived parts of Trump's March 6 executive order banning people from six Muslim-majority countries for 90 days.
The highest court let the ban go forward with a limited scope, saying it could not apply to anyone with a credible "bona fide relationship" with a US person or entity.
Trump said the measure was necessary to prevent extremist attacks. However, opponents including states and refugee advocacy groups sued to stop it, disputing its security rationale and saying it discriminated against Muslims.
Watson said in Thursday's ruling he "declines to usurp the prerogative of the Supreme Court to interpret its own order".
Hawaii said late on Thursday it would appeal against Watson's ruling to the 9th US Circuit Court of Appeals in San Francisco, according to a court filing.
The Justice Department said in a statement it was pleased with the ruling.
"We are confident that the US Supreme Court will again vindicate the president and his constitutional duty to protect the national security of the United States," it said.
'Bona fide relationship'
The government said after last month's Supreme Court ruling that a "bona fide relationship" meant close family members only, such as parents, spouses, fiancés, siblings and children.
Grandparents, grandchildren, aunts, uncles, nieces, nephews and cousins from Iran, Libya, Somalia, Sudan, Syria and Yemen would still be banned.
The state of Hawaii asked Watson last week to clarify the Supreme Court's ruling, arguing the government's definition of "bona fide relationship" was too narrow.
Justice Department lawyers said its definition "hews closely" to language found in US immigration law, while Hawaii's attorney general's office said other parts of immigration law included grandparents as close family.
The government reversed its position on fiancés before the ban went into effect last week, saying they could also qualify for exceptions.
The roll-out of the narrowed version of the ban was more subdued last week compared to January, when Trump first signed a more expansive version of the order.
That sparked protests and chaos at airports around the country and the world.
http://www.aljazeera.com/news/2017/07/bid-exempt-grandparents-muslim-ban-rejected-170707064025861.html
--------
US concerned Arab dispute with Qatar may intensify: State Department
July 7, 2017
The United States is increasingly concerned that a rift between Qatar and other Arab states is at an impasse and could drag on for a long time or intensify, the U.S. State Department said on Thursday.
Underscoring U.S. concerns about a crisis involving key allies in the Middle East, the department said Secretary of State Rex Tillerson plans to visit Kuwait, which is mediating in the dispute, on Monday.
In the latest top-level U.S. contact with officials of the countries involved in the dispute, Defense Secretary Jim Mattis discussed the importance of easing tensions in a phone call with Qatari Minister of State for Defense Affairs Khalid al-Attiyah on Thursday.
Saudi Arabia, the United Arab Emirates, Egypt, and Bahrain broke diplomatic relations with Qatar last month and launched a drive to boycott the gas-producing state, which they accuse of supporting terrorism and allying with regional foe Iran.
Qatar denies the charges and has accused the four countries of "clear aggression."
"We remain very concerned about that ongoing situation between Qatar and GCC (Gulf Cooperation Council) countries," State Department spokeswoman Heather Nauert told a briefing.
"We've become increasingly concerned that dispute is at an impasse at this point. We believe that this could potentially drag on for weeks. It could drag on for months. It could possibly even intensify," she said.
Mattis discussed the state of relations among Gulf Arab states and "the importance of de-escalating tensions" in his call with Attiyah, the Pentagon said in a statement.
The two officials "affirmed the strategic security partnership" of their countries and Mattis emphasized the importance of Qatar's contributions to the U.S.-led coalition fighting Islamic State, it added.
Qatar hosts the largest U.S. Air Force base in the region. Saudi Arabia has been a close U.S. ally for decades, and U.S. President Donald Trump sealed a $110 billion arms deal with the kingdom during a visit in May.
The rift opened days after Trump met Arab leaders in Riyadh in May and called for unity against Iran and hardline Islamist militant groups.
Full report at:
http://nation.com.pk/international/07-Jul-2017/us-concerned-arab-dispute-with-qatar-may-intensify-state-department
--------
US military in Afghanistan will delay casualty reports
July 7, 2017
Washington - The American military in Afghanistan says it will delay announcing troop casualties until after next of kin have been notified, potentially leaving casualties unreported for days.
The change in policy was instituted by General John Nicholson, the senior US commander in Kabul, over fears that families could be left guessing for days after casualties were announced but not identified and before families could be notified, said military spokesman Captain Bill Salvin. "It's a balance we're trying to strike between trying to provide all the support we can to families, while also informing the public," he told Reuters.
Previously, the US military command in Kabul issued a initial announcement only stating that a soldier had been killed, often including a general location within Afghanistan, but not identifying him. Once the soldier's family or next of kin had been notified, the Pentagon would release more details, including names and home units.
The change in policy was revealed this week when US Army Private First Class Hansen Kirkpatrick was killed in Afghanistan's Helmand province on Monday, but officials did not announce that a soldier had been killed until Wednesday, when his death and identity was released.
A Pentagon spokesman confirmed that the policy only applied to Nicholson's command, leaving other war zones like Iraq or Syria guided by the usual US reporting requirements.
Military spokesmen in Afghanistan would continue to release casualty reports, albeit on a more delayed schedule, Salvin said. "There might be a bit longer period before we report it," he said.
About 13,000 US and allied troops in a NATO-led force are deployed in Afghanistan to train and advise the security forces fighting Taliban insurgents. More than 3,500 of the coalition troops have been killed since the fighting began in late 2001.
Full report at:
http://nation.com.pk/international/07-Jul-2017/us-military-in-afghanistan-will-delay-casualty-reports
--------
Qatar Airways removed from US laptop ban list
July 7, 2017
DUBLIN - Qatar Airways said on Thursday passengers travelling to the United States can now carry their laptops and other large electronics on board, ending a three month in-cabin ban on devices for the Doha-based airline.
Qatar Airways joins Emirates [EMIRA.UL], Turkish Airlines (THYAO.IS) and Etihad Airways, which have also announced this week a lifting of the ban on their US flights.
In March, the United States imposed the ban on direct flights originating at 10 airports in eight countries - Egypt, Morocco, Jordan, the United Arab Emirates, Saudi Arabia, Kuwait, Qatar and Turkey - to address fears that bombs could be concealed in electronic devices taken aboard aircraft.
Qatar Airways said in a statement on Thursday the ban had been lifted after the airline and its hub airport Hamad International met with new US security requirements.
The United States announced on June 29 enhanced security measures for flights to the country which require additional time to screen passengers and personal electronic devices for possible explosives.
Qatar Airways Chief Executive Akbar al-Baker told reporters in Dublin the airline was found to be in compliance with the "new draconian requirements" after an audit over the previous two days.
US transport officials were due to visit Qatar Airways, Emirates and Turkish Airlines on July 5 to check the latest measures were in place, a spokesman for the US Transportation Security Administration (TSA) told Reuters on Wednesday.
TSA said on Twitter on Thursday the restrictions on Qatar Airways and Hamad International had been lifted.
Airlines affected by the ban have complained that demand on US flights had been weakened by restrictions imposed by President Donald Trump's administration.
Middle East carriers saw demand rise by 3.7 percent in May compared with a year earlier, close to an eight-year low, the International Air Transport Association (IATA) said on Thursday.
IATA said the weaker growth was reflective of the laptop ban on US-bound flights and uncertainty over President Trump's proposed travel bans.
The new US security measures, which take effect within three weeks of the announcement, will affect around 325,000 passengers a day traveling on 180 airlines from 280 airports around the world, according to the US Department of Homeland Security.
Airlines that fail to meet the new security requirements could still face in-cabin restrictions on electronic devices.
Saudi Arabian Airlines (Saudia) has said it expects the ban to be lifted on flights from Jeddah and Riyadh by July 19.
Royal Air Maroc also believes [RAM.UL] it can have the ban lifted for flights out of Casablanca's Mohammed V International Airport by July 19, a senior official from the state-owned airline told Reuters.
Full report at:
http://nation.com.pk/international/07-Jul-2017/qatar-airways-removed-from-us-laptop-ban-list
--------
Winnipeg man wants answers after being refused entry to the U.S.
Jul 06, 2017
A Winnipeg man with a Bangladeshi passport believes he was denied entry to the U.S. without just cause.
Md Mofizul Islam attempted to cross the border south of Cartwright, Man., with his wife and a friend on June 30 and planned to spend three days vacationing in Montana.
But Islam, 31, was held up for three hours at the border where agents fingerprinted and photographed him.
"The officer said, 'I'm sorry, we're not giving you any permission. So this time we're refusing your application. And next time you have to have your new passport and then if you want to come to the United States again you can try to come.'"
He said one officer took him into a private room and asked him if he had a weapon, along with a series of other questions. Eventually, U.S. border officers told him his Bangladeshi passport wasn't valid, even though it doesn't expire for nine months.
He was the only one denied entry out of the group. Islam said when he asked the officer why he was refused entry, he was told it was because his passport expires within the next year, and he'd require a new passport to enter the U.S.
But he said when he went home and checked online he discovered that is not the case. According to the U.S. Department of State's website, the passport only needs to be valid for six months after the duration of the intended stay in the U.S.
"I was really feeling ashamed because I was thinking I did something very seriously wrong. Maybe that's why they are treating me this way." He said he was surprised because he's visited the U.S. before.
His wife, Sirajum Munira, feels they were targeted because of their identity.
I wear hijab and my husband has a beard. My friend, he has a beard and we are young. And probably they were treating us in a different way. That's the first thing that came into my mind. It was really frustrating."
Full report at:
http://www.cbc.ca/news/canada/manitoba/denied-entry-border-1.4193851
--------
Europe
EU parliament calls for Turkey accession talks to be suspended
July 7, 2017
ANKARA - The European Parliament called on Thursday for Turkey's European Union accession talks to be suspended if Ankara fully implements plans to expand President Tayyip Erdogan's powers, in a vote which Turkey dismissed as flawed and wrong.
The parliament has limited influence on Turkey's decades-old pursuit of EU membership, now in limbo after bitter exchanges between Ankara and some European countries, but the decision highlighted the gulf which has grown between the two sides.
EU leaders have been critical of Erdogan and his behavior toward opponents, both before and after an abortive military coup against him last July.
A year-long crackdown since the failed coup and the sweeping new powers which Erdogan won in a tightly fought referendum in April have raised concerns among Turkey's Western allies.
Erdogan says both the crackdown and the increased presidential powers are needed to help tackle serious challenges to Turkey's security both at home and beyond its borders.
The resolution passed by parliament in Strasbourg "calls on the Commission and the member states... to formally suspend the accession negotiations with Turkey without delay if the constitutional reform package is implemented unchanged."
Some constitutional changes approved in April have already been implemented - Erdogan has been able to return to lead the ruling AK Party, and members of a top judicial body have been changed. Other steps, such as scrapping the post of prime minister, are due to take place within two years.
Opposition parties and human rights groups say the changes threaten judicial independence and push Turkey toward one-man rule. The EU has also expressed concern, although many in the European Parliament believe the bloc has not gone far enough.
"The current strategy of the European Commission and EU leaders seems to wait silently for things to improve in Turkey," said the European Parliament's lead negotiator on Turkey, Kati Piri, criticizing a stance which she said was "feeding President Erdogan's authoritarianism".
Turkey's EU Affairs Minister Omer Celik said Ankara regarded Thursday's vote in Strasbourg as invalid, while the foreign ministry was similarly dismissive.
"This decision, which is based on false claims and allegations, is trampling the reputation of the institution in question," the ministry said in a statement, referring to the European Parliament. "This decision is of no value for us."
Thursday's vote came as EU Enlargement Commissioner Johannes Hahn visited Istanbul for talks with Celik and other Turkish ministers. Speaking before the result, Hahn said parliament was reflecting the mood in Europe.
"I don't know what will be decided, but I have to stress that the European Parliament is one of the institutions elected by the European citizens. Members of the European Parliament represent the view of their voters," he told reporters.
However, Hahn said he hoped that contact between the two sides would lead to a higher level of political dialogue.
While EU leaders have voiced their concerns, they do not want to undermine an agreement struck last year whereby Ankara effectively stopped migrants reaching Greece from Turkish shores, thereby easing a crisis that had threatened EU unity.
In an interview on Wednesday, Deputy Prime Minister Numan Kurtulmus told Reuters that Turkey was not responsible for the escalation of tensions between the two sides.
Full report at:
http://nation.com.pk/international/07-Jul-2017/eu-parliament-calls-for-turkey-accession-talks-to-be-suspended
--------
Macron says supports two-state solution in Middle East
July 7, 2017
Paris - French President Emmanuel Macron said he supported a two-state solution to end the Middle East conflict as he welcomed Palestinian President Mahmoud Abbas to the Elysee Palace Wednesday.
Speaking publicly on the issue for the first time, Macron said any deal "must recognise the legitimate rights of the Palestinians to have an independent state, but also ensure Israel's security".
"There is no viable alternative to a two-state solution," he said, adding "but today this solution is under threat both on the ground and in people's minds."
The UN reported in June that Israel had announced a substantial increase in settlements in the past three months despite a United Nations resolution demanding a halt to the Jewish outposts in occupied Palestinian territory.
Macron said that "France has always condemned the continuation of settlement building, which is illegal under international law, and has reached an unprecedented level since the beginning of the year".
His comments come after Donald Trump called on Israelis and Palestinians to make compromises for peace, saying he was "personally committed" to helping Israel reach a deal with the Palestinians.
Speaking during a trip to the Middle East in May, the US President did not specifically mention the two-state solution, long the focus of international efforts and US Middle East diplomacy.
Both Macron and Abbas said they would support Trump in his efforts to end the impasse.
Full report at:
http://nation.com.pk/international/07-Jul-2017/macron-says-supports-two-state-solution-in-middle-east
--------
France, Russia discuss Syria, sidestep differences on chemical weapons
7 July 2017
France and Russia agreed on Thursday that fighting terrorism in Syria was their common objective, but pointedly avoided airing their differences over the sensitive issue of chemical weapons.
France appears to be broadly aligning its foreign policy with the US priorities of tackling terrorism while seeking better ties with Russia and avoiding a head-on clash with Moscow over Syria.
French Foreign Minister Jean-Yves Le Drian, who held six hours of talks primarily on Syria with Russian officials in Moscow two weeks ago, continued his push for closer co-operation, when he met his Russian counterpart Sergei Lavrov again in Paris on Thursday.
With the two countries previously publicly at odds over the issue of chemical weapons, Le Drian now hopes to convince Russia to enforce a 2013 Security Council resolution to prevent their use in Syria.
He also wants to win concessions from Russia to improve the humanitarian situation in a country where hundreds of thousands are besieged and millions displaced after six years of civil war.
Le Drian has not said what incentives Paris could offer Russia in return beyond closer security cooperation.
"Terrorism is our number one enemy and to fight it we have to put everything else aside," Lavrov, whose country supports the Syrian government of Bashar al-Assad, said in a joint statement.
Le Drian echoed those comments saying terrorism was their common enemy.
Standing alongside Lavrov, he said that France, which has backed opposition groups fighting Assad, had set a red line on the use of chemical weapons in the country.
He shied away from criticizing Russia.
"We are both opposed to the use of chemical weapons and what's at stake is to be able to dismantle the regime's chemical weapons' stocks," Le Drian said, refusing to take questions from reporters.
Lavrov himself made no mention of chemical weapons.
French intelligence agencies have accused Assad's government of carrying out a chemical weapons attack in April, something that both Syrian and Russian officials have dismissed.
Full report at:
https://english.alarabiya.net/en/News/middle-east/2017/07/07/France-Russia-discuss-Syria-sidestep-differences-on-chemical-weapons.html
--------
Britain First supporter calls for Merkel to be shot for refugee policy
6 July 2017
A prominent Britain First supporter has advocated gunning down Angela Merkel because of Germany's policy of allowing Muslim refugees to settle in Europe.
Marian Lukasik, a far-right activist, said the German chancellor should be shot "to pieces" after allowing Syrian and Iraqi people to enter Germany.
Footage of his comments has been uploaded to YouTube as part of an interview which has been viewed thousands of times.
It comes days after a man, reportedly with rightwing views, was charged with planning to assassinate the French president, Emmanuel Macron, and one year on from the murder of the Labour MP Jo Cox, who was killed by a far-right activist who shouted "Britain First" before shooting and stabbing her.
Lukasik, 61, a Polish national who lives in Enfield, north London, made his comments while attending a Britain First rally in Birmingham last month. He was interviewed for more than 20 minutes by a Polish blogger, Weronika Kania, and asked for his opinion on Merkel's immigration policy.
Lukasik replied in Polish: "Let comrade Mauser speak" – an apparent reference to a German semi-automatic pistol – before imitating the sound and miming the action of a firing gun for several seconds. He then said: "Shoot her into pieces. This is the only solution. If this whore remains in charge it will just get worse. There will be terrorist attacks and so on."
According to the Criminal Law Act 1977, a person who makes a threat to kill, intending that others would fear it would be carried out, can face a sentence of up to 10 years.
After being urged to calm down by another man at the rally, Lukasik said: "I will go to prison for what I have said. I will not be the first or the last. If I go to prison for telling the truth, it's fine by me."
Lukasik, a former champion wrestler, stood as an independent councillor in Enfield in 2014. During the campaign Lukasik told the Barnet and Whetstone Press that he wanted to help foreigners: "We, foreigners, English people, must find some solution to live together peacefully."
This benevolent sentiment is absent from Lukasic's current presence on social media where he has posted slogans warning about the number of Muslims in Europe, and called for trade unions to be banned.
Lukasik's views on Islam have been uploaded to YouTube by Britain First's deputy leader, Jayda Fransen, and he has been photographed alongside her on several occasions.
In one piece of footage, he says: "I am here to warn you about Islamisation," before claiming that Muslim gangs have been involved in the "ritual rape" of young white girls.
Contacted on Wednesday night, Lukasik said he stood by the sentiment of what he said in the footage but would not murder Merkel or anyone else. He said he had lived in Germany and became emotional when asked about Merkel but would not actually shoot her.
"I do not like what she has done because of the many Muslims who have come to Germany and the terrorist attacks in Europe. I would not shoot her or anyone," he said.
He said he had helped Britain First to recruit supporters among the Polish community and took 40 supporters to recent rallies by the group.
"I worry about the Muslims coming to Europe. We have seen too many deaths from terrorism in Germany, in London, in Manchester," he said.
Three far-right activists from Poland were recently stopped from attending the Britain First rally in Birmingham after being detained by the UK authorities at airports.
They included Jacek Międlar, 28, an antisemitic priest, and his fellow activist Piotr Rybak, who was indicted for inciting hatred last year after burning an effigy of an orthodox Jew during a protest against Muslim immigration.
Full report at:
https://www.theguardian.com/world/2017/jul/06/britain-first-supporter-calls-for-merkel-to-be-shot-for-refugee-policy
--------
Germany, Qatar to share intel to help end Gulf crisis
07 July 2017
German intelligence will work with Qatar to resolve accusations by Gulf states, that country's foreign minister said Thursday, Al Jazeera.
Sigmar Gabriel said Qatar agreed to share information about "certain people and institutions" with German intelligence.
There were no further details provided.
Gabriel visited Saudi Arabia, the United Arab Emirates (UAE), Qatar and Kuwait as part of a three-day Gulf tour that began Monday.
Gabriel said Tuesday that Berlin was in favor of solution-oriented approaches to the Gulf crisis and praised the U.S. and Kuwait for their efforts as mediators, in a joint news conference with his Qatari counterpart, Sheikh Mohammed bin Abdulrahman al-Thani.
"Germany has not taken the side of any party during the Gulf crisis. However, we support a solution-based approach and we are trying to figure out what the core of this problem is," he said.
On June 5, Saudi Arabia, Egypt, the United Arab Emirates and Bahrain all abruptly cut diplomatic ties with Qatar, accusing Doha of interfering in their domestic affairs and supporting terrorist groups.
Full report at:
http://www.worldbulletin.net/europe/191576/germany-qatar-to-share-intel-to-help-end-gulf-crisis
--------
Pakistan
Haqqani Network operates from Afghanistan: FO
07-Jul-17
By Ijaz Kakakhel
ISLAMABAD: Foreign Office Spokesperson Nafees Zakariya on Thursday said that there was no organised presence of any terror outfit, including Tehreek-e-Taliban Pakistan (TTP), Jamaatul Ahrar, Daesh and Al Qaeda on Pakistani soil. He also reiterated that the Haqqani Network operated from Afghanistan, not Pakistan.
At his weekly news briefing, the spokesperson said the allegations about the presence of Haqqani network in tribal areas were mere rhetoric. "These are only aimed at putting the blame of their failures on Pakistan. The killing of a number of commanders of Haqqani network in Afghanistan clearly indicates that the group was based in Afghanistan and not operating from Pakistan," he said.
He maintained that as result of effective counter terrorism operations, the terrorists were on the run and their infrastructure had been dismantled. "This has also been manifested in the improved security situation in the country. Taliban and other terrorist outfits have been eliminated from Pakistan and that those surviving are functioning from Afghanistan. Pakistan's counter-terrorism operations are without any discrimination, and the terrorists are on the run and their infrastructure has been dismantled," he said.
Nafees Zakariya said that during the visit of the US delegation headed by Senator McCain, matters pertaining to Afghanistan were also discussed. "Pakistan believes in an Afghan-led and Afghan owned peace process. Peace and stability in Afghanistan has direct bearing on peace and stability in Pakistan. Pakistan is ready to assist in all efforts aimed at bringing peace to the neighbouring country," he said.
"Pakistan itself is a victim of terrorism in which Indian state agencies have a proven involvement. That country is involved in perpetrating state-sponsored terrorism. India, on the other hand, is part of the problem in Afghanistan. It does not want peace prevailing in the country. People of Pakistan are the most sincere friends of Afghanistan," he said.
The spokesperson said Pakistan welcomed Iranian supreme leader, Ayatollah Khamenei's recent statement in which he urged the Muslims worldwide to support the oppressed people of Kashmir.
He said the entire Muslim Ummah was concerned over gross human rights violations in occupied Kashmir.
http://dailytimes.com.pk/pakistan/07-Jul-17/haqqani-network-operates-from-afghanistan-fo
--------
COAS reaffirms Army's support to peace, security in Balochistan
July 06, 2017
Chief of Army Staff General Qamar Javed Bajwa has reaffirmed military's support and assistance to civil authorities for peace and development of Balochistan.
He said this while talking to Balochistan Chief Minister Nawab Sanaullah Zehri in Rawalpindi on Thursday, Inter-Services Public Relations said in a statement.
The two also discussed security situation in Balochistan. Chief Minster Zehri praised the Army chief's efforts in bringing normalcy to the province.
http://nation.com.pk/national/06-Jul-2017/coas-reaffirms-army-s-support-to-peace-security-in-balochistan
--------
Pakistan welcomes Ayotallah Khamenei's statement on Kashmir
Jul 6 2017
Pakistan on Thursday welcomed Iranian Supreme Leader Ayatollah Khamenei's statement on Kashmir wherein he asked his country's judiciary to pursue the Kashmir cause. Foreign Office (FO) Spokesperson Nafees Zakaria, in a statement on Thursday, said the "Muslim Ummah is worried about the human rights violations in Kashmir by Indian forces." "The secretary general of the Organisation of Islamic Cooperation has also denounced atrocities in Kashmir," Zakaria was quoted as saying by Geo News. Ayatollah Khamenei on Monday had urged his country's judiciary to extend support to the "oppressed" Muslims of Kashmir.
http://www.greaterkashmir.com/news/world/pakistan-welcomes-ayotallah-khamenei-s-statement-on-kashmir/254003.html
--------
Constitution gives equal basis rights to minorities
July 7, 2017
Islamabad
The constitution of Islamic Republic of Pakistan gives all rights and privileges to the minorities on equal basis and the present Government has taken positive and constructive steps for the betterment of the minorities and many others are under consideration. This was stated by Dr. Nadeem Shafiq Malik, Chairman, National Council of Social Welfare, while addressing an "Eid Millan Party for the minority children of Islamabad and Rawalpindi" arranged by National Council of Social Welfare.
Dr. Nadeem Shafiq Malik, Chairman, National Council of Social Welfare presided the event while Syed Gulzar Hussain, Joint Secretary, Ministry of Inter-Provincial Coordination, was the Chief GuestLarge number of Muslims and non Muslims include Christians, Sikh, Hindu, Bahis and Parsis attended the party. Dr. Nadeem Shafiq Malik, said in his presidential address that all religions teach love for the humanity.
Non-Muslims are playing very important role in the progress of Pakistan. Our religion Islam and the Holy Prophet's (PBUH) teachings instruct not to differentiate on the basis of race, colour, creed, and religion among the people. The Holy Prophet (PBUH) loved the children including non- Muslims. The purpose of this Eid Millan party is to promote Inter-faith harmony asadvised by the Quaid-i-Azam clearly. Other speakers including Muslim and Non-Muslim, Social Activists including Professor Mehar Dad Yousaf, Allama Muhammad Asghar Khan, Pandit ChannaLal, Central President Hindu Panchaiet and Mr. Zamurad Khan, Patron Chief Pakistan Sweet Homes said that the minorities are living peacefully in Pakistan and have State Protection. They are playing very commendable role in the progress of Pakistan. The Constitution of Pakistan protects all its citizens and minorities in Pakistan have all religious freedom and rights. It is our collective responsibility to promote religious tolerance and interfaith harmony.
http://pakobserver.net/constitution-gives-equal-basis-rights-minorities/
--------
RAW paid Raymond Davis to write anti-Pakistan book, says Rehman Malik
Syed Irfan Raza
Jul 07, 2017
ISLAMABAD: Terming CIA contractor Raymond Davis's book, The Contractor, a pack of lies, former interior minister Rehman Malik has claimed that India's Research and Analysis Wing (RAW) had paid Davis to write the book in order to malign Pakistan's army and democratic institutions.
Mr Malik, who was interior minister in 2011 when Davis was acquitted of shooting two people in Lahore, issued a detailed statement on Thursday regarding so far undisclosed developments that had unfolded in the aftermath of Davis's arrest.
Mr Malik claimed that the Pakistan Peoples Party (PPP) government and the military establishment had decided not to release Davis till he was acquitted by a court of law. "A high-level meeting had decided that neither would Davis be deported nor would he be granted diplomatic immunity, and that we would wait for the decision of the court in the matter and no action would be taken through any executive order," he said, adding that the name of Davis had been placed on the Exit Control List immediately.
He said that later in a meeting at the President House, the then Inter-Services Intelligence director general, Gen Shuja Pasha, had told the political leadership that the Americans wanted to exercise the right of Diyat (blood money) under Islamic law. "The matter was dealt with the cooperation of the Punjab government, the Ministry of Foreign Affairs and the Ministry of Interior," he said.
Commenting on Davis's claim regarding Gen Pasha's role in pushing for diplomatic immunity, Mr Malik said: "No such role was played by the then ISI DG in the release of Raymond Davis, as claimed in his controversial book," said the PPP senator.
He urged the nation not to fall prey to Indian conspiracies and not to project Davis as a hero. "He is nothing but an agent to the RAW," he claimed. "I have documentary proof that Davis was approached by Indian agency RAW's Additional Secretary Jagnathan Kumar for writing the book The Contractor in order to malign Pakistan's premier agency ISI, the Pakistan military and the civilian leadership," he said.
Mr Malik claimed that after returning to the US, Davis had fallen on hard times and had attempted suicide several times. "Only last year, Raymond Davis was under a huge debt of $700,000 and his wife Rebecca has taken separation from him. Due to his miserable financial condition, he became an easy prey and was sponsored by RAW and the book was written through a ghostwriter."
He said he was astonished how an impoverished Davis had decided to circulate a free PDF version of his book on the internet and via WhatsApp.
Earlier, Pakistan Tehreek-i-Insaf general secretary Shah Mehmood Qureshi, the then foreign minister, had claimed that he had resigned from the ministry on the issue of immunity granted to Davis. Commenting on this, Mr Malik said: "I would like to clarify that nobody wanted to give immunity to the US spy as claimed by Mr Qureshi and that he never resigned from the ministry over the issue of Raymond Davis... prime minister Gilani had dissolved the cabinet on Feb 9, 2011 to reshuffle and Mr Qureshi was offered the portfolio of Ministry of Water & Power or Agriculture...in the presence of other cabinet members, he had resented and walked out insisting that he wanted to be foreign minister."
He said Mr Qureshi had left the political party due to his own political gripes eight months after Davis's acquittal.
The former interior ministry also revealed that back then he had been approached by Dr Fozia Siddiqui, sister of detained Afia Siddiqui, who had proposed that government consider an exchange of her sister with Davis.
Full report at:
https://www.dawn.com/news/1343756/raw-paid-raymond-davis-to-write-anti-pakistan-book-says-rehman-malik
--------
US prefers stable civilian government in Pakistan: McCain
July 7, 2017
ISLAMABAD: US Senator John McCain informed Pakistan's key stakeholders that the Trump administration preferred a stable civilian dispensation in the country.
The development came during a recent visit of a group of American senators led by Senate Armed Services Committee chairman McCain.
Sources close to the ruling Pakistan Muslim League-Nawaz (PML-N) government said the US delegation that engaged with the top civil and military leadership of the country made their assessment of the current political situation in the country besides communication on the critical question of terrorism and Pakistan's Afghan policy.
The delegation had meetings with Prime Minister Nawaz Sharif, PM Adviser on Foreign Affairs Sartaj Aziz, National Security Adviser Lt-Gen Nasir Janujua and army chief General Qamar Javed Bajwa.
According to sources, Senator McCain was alluding to US preference that Premier Nawaz will continue in his position. But the position of the military on the issue so far is that it is the judiciary that is currently pursuing investigation against the Sharif family in the Panama Papers scandal.
Sources added: But this can also not be overlooked that the Sharif Family and its supports have been giving hints that cases against them are being pursued due to the manipulations of some elements within the army and may have been communicating to international stakeholders to speak to the military establishment.
The visit apparently was a part of the periodic engagement with Pakistan. It was significant in the backdrop of the ongoing assessment of the Pakistan-US relationship that is undergoing in Washington currently.
The United States is reviewing its policy options in Pakistan and Afghanistan and this review will set the future course for Washington in the region.
Full report at:
https://tribune.com.pk/story/1452073/us-prefers-stable-civilian-government-pakistan-mccain/
--------
CTD nicks suspected terrorist with explosives
July 07, 2017
TOBA TEK SINGH: The Counter-Terrorism Department nicked an alleged terrorist, belonging to a banned outfit here on Thursday. The CTD sources said that the alleged terrorist identified as Abdul Rashid of DG Khan was caught from General Bus Stand. The CTD officials said he was planning subversive activity in Toba and Faisalabad. Four detonators, 430 grams of black explosive powder and a 30-bore pistol with eight cartridges were from possession of the suspected terrorist who was shifted to an undisclosed location for investigation.–Staff Reporter
http://nation.com.pk/national/07-Jul-2017/ctd-nicks-suspected-terrorist-with-explosives
--------
Southeast Asia
Defence Minister: Malaysia Looks to Middle East in Bid to Combat Islamic State
July 7, 2017
PETALING JAYA, July 7 — Malaysia will study the mechanism and proactive action taken to address the growing threat of Daesh militants by some Middle East countries, said Defence Minister Datuk Seri Hishammuddin Tun Hussein.
He said the partnership will be implemented through his official visit to Saudi Arabia, the United Arab Emirates (UAE) and Bahrain next week, as these countries were more experienced in dealing with Daesh as in Iraq and Syria.
"'It's important for us to learn and understand how these countries are facing the Daesh threat in Iraq and Syria and share intelligence information.
"'The possibility of their fleeing Raqqa, Mosul or Aleppo after the successful military interventions, where will they go? I am worried they will flee to this region,"' he told a press conference after officiating the Kompleks Mutiara Perbadanan Perwira Niaga Malaysia (Pernama) at the Subang Air Base, near here.
Hishammuddin said in conjunction with the visit, he would also meet the King of Saudi Arabia, King Salman Abdul Aziz Al-Saud to discuss the matter in detail.
Asked on security in Sabah, especially after the militant attacks in Marawi, Mindanao, Philippines, Hishammuddin said the ministry had raised security levels and added assets such as fighter jets at the Labuan Air Base.
Earlier, Hishammuddin witnessed the handing over of the 2016 dividend amounting to RM55 million, from Pernama to the Armed Forces Fund Board (LTAT) and an annual contribution of RM500,000 to the Armed Forces Welfare Fund.
Pernama is one of the government agencies that does not rely on government funding and most of the infrastructure development projects as well as complexes are from their own profit.
Pernama Complex is the fifth built for the convenience of members of the Malaysian Armed Forces (ATM) and has 84 stores currently operating in major ATM camps nationwide. — Bernama
PETALING JAYA, July 7 — Malaysia will study the mechanism and proactive action taken to address the growing threat of Daesh militants by some Middle East countries, said Defence Minister Datuk Seri Hishammuddin Tun Hussein. He said the partnership will be implemented through his official visit to Saudi Arabia, the United Arab Emirates (UAE) and Bahrain next week, as these countries were more experienced in dealing with Daesh as in Iraq and Syria. "'It's important for us to learn and understand how these countries are facing the Daesh threat in Iraq and Syria and share intelligence information. "'The possibility of their fleeing Raqqa, Mosul or Aleppo after the successful military interventions, where will they go? I am worried they will flee to this region,"' he told a press conference after officiating the Kompleks Mutiara Perbadanan Perwira Niaga Malaysia (Pernama) at the Subang Air Base, near here. Hishammuddin said in conjunction with the visit, he would also meet the King of Saudi Arabia, King Salman Abdul Aziz Al-Saud to discuss the matter in detail. Asked on security in Sabah, especially after the militant attacks in Marawi, Mindanao, Philippines, Hishammuddin said the ministry had raised security levels and added assets such as fighter jets at the Labuan Air Base. Earlier, Hishammuddin witnessed the handing over of the 2016 dividend amounting to RM55 million, from Pernama to the Armed Forces Fund Board (LTAT) and an annual contribution of RM500,000 to the Armed Forces Welfare Fund. Pernama is one of the government agencies that does not rely on government funding and most of the infrastructure development projects as well as complexes are from their own profit. Pernama Complex is the fifth built for the convenience of members of the Malaysian Armed Forces (ATM) and has 84 stores currently operating in major ATM camps nationwide. — Bernama
http://www.themalaymailonline.com/malaysia/article/hishammuddin-malaysia-looks-to-middle-east-in-is-combat-bid
--------
Philippines' Duterte Says He Will Never Talk to 'Terrorists'
July 7, 2017
Manila. Philippine President Rodrigo Duterte said on Thursday (06/07) he did not initiate dialogue with Islamist militants occupying a southern town because he would never talk to criminals and terrorists.
Reuters reported exclusively on Wednesday that Duterte was preparing to make a deal with the Islamic State-inspired militants in the days after they occupied the town of Marawi, but he aborted the plan without explanation.
"No, I did not," Duterte said when asked during a media briefing if he had indeed, as Reuters reported, pushed for talks with the Maute group of militants battling government troops for control of Marawi.
"I have never talked to terrorists and I will never talk to criminals and terrorists, but I will talk to revolutionaries who are imbued with principle," Duterte said.
The battle for control of Marawi has been the biggest crisis of Duterte's year-old presidency.
His government has consistently ruled out negotiating with "terrorists" so any behind-the-scenes efforts by either side to get talks going are likely to be scrutinized.
Defense Minister Delfin Lorenzana, responding to the report from Reuters, said earlier the influential mother of two brothers, who with their Maute group of militants seized Marawi on May 23, had approached the government for talks.
But Duterte had rejected the offer from the woman, Farhana Maute, as government forces had suffered too many casualties by the time the offer came, Lorenzana said.
More than six weeks after the militants launched their assault in the town on the southern island of Mindanao, they are still resisting daily attacks by government forces using aircraft and artillery.
More than 400 people have been killed, including 351 militants, 85 members of the security forces, and 39 civilians. About 260,000 residents have been displaced.
The fighting in the largely Muslim town in the predominantly Christian Philippines has alarmed neighbors, fearful that Islamic State is bent on gaining a foothold in the region as it loses ground in the Middle East.
'Let Us Finish This'
Duterte said members of other Muslim separatist groups, some of which are involved in peace talks with the government, may "have started initiatives" to hold talks with the militants in Marawi but it was "impossible" that any attempt was made by him.
"Many of my soldiers and policemen have been killed. If there has to be peace it would really be peace. Don't play with me. Let us finish this once and for all," Duterte said.
A prominent Muslim leader told Reuters earlier that Duterte had been preparing to make a deal with the militants in the days after they began their assault but dropped the plan without explanation.
Agakhan Sharief, an intermediary involved in the process, said he was approached by a senior Duterte aide to use his connections with the Maute group's leaders to start back-channel talks.
Lorenzana said he did not know about any back-channel efforts.
"Talking does not mean negotiating," he said.
Lorenzana reiterated that the government did not negotiate with terrorists.
"Either they surrender, or we go to war," he said.
Two other sources in Marawi familiar with the matter confirmed the president had worked behind the scenes to hold talks with the Maute brothers, Omarkhayam and Abdullah.
However, the process was halted when Duterte, in a May 31 speech, declared he "will not talk to terrorists."
Duterte's spokesman, Ernesto Abella, referring to any effort by the president on talks, said he had "no verified reports that there were efforts to initiate such actions."
Full report at:
http://jakartaglobe.id/international/philippines-duterte-says-will-never-talk-terrorists/
--------
Lanzhou, China a potential gateway for Malaysian halal products
7 July 2017
LANZHOU: The capital city of China's Gansu province, Lanzhou, which has a Muslim population of over one million, has the potential to become a gateway for Malaysian halal products into other Muslim territories in China and even central Asia where demand for such products is growing.
Second International Trade and Industry Minister Datuk Seri Ong Ka Chuan said the industrial city, located about 1,505km southwest of Beijing can be the best place for Malaysian halal companies to tap into the existing market for its products.
"This gateway can provide another platform for trade exchange between both parties whereby Malaysian companies can penetrate Lanzhou and other parts of Muslim territories in China while Lanzhou's halal products can explore Malaysian and Southeast Asia markets," he said at the sidelines of the China Lanzhou Investment and Trade Fair on Thursday.
Themed "Jointly Advancing BRI (Belt and Road Initiative) To Promote Mutual-Winning Cooperation", this year's edition, which focused on openness, pioneering, cooperation and development', began on Thursday and ends July 9.
BRI is an initiative mooted by Chinese President Xi Jinping in 2013 as a development strategy that focused on connectivity and cooperation apart from boosting trade between countries by providing infrastructure such as ports, railway and highways.
Ong, on a working visit to the province, said based on the meeting held with representatives from Gansu Provincial Committee on Thursday, interest was expressed to conduct research and development on the quality of Malaysian halal products.
The committee was also keen to get universities and the research and development centre in the province, to be involved and assist Malaysia in conducting further research on producing quality food products such as fruits and even halal-related products.
"The Malaysia External Trade Development Corporation (MATRADE) has also invited them to attend the Malaysian International Halal Showcase (Mihas) next year and to visit Malaysia more often to deliberate further on establishing the halal gateway," he added.
Meanwhile, Matrade Chief Executive Officer Ir Dr Mohd Shahreen Zainooreen Madros pointed out that the reception, among Chinese patrons to the fair, for Malaysian halal products was very positive.
As demand of halal products were growing rapidly in this Muslim-majority province, he said Matrade would continue to encourage more Malaysian halal companies to promote their products with a potential link to penetrate the market with the collaboration of local players from Lanzhou.
"Lanzhou has a huge potential especially when the Chinese government, through the BRI, was using the area as one of its halal and logistic hub in China, to penetrate the west.
Full report at:
http://www.thestar.com.my/business/business-news/2017/07/07/lanzhou-china-a-potential-gateway-for-malaysian-halal-products/
--------
Jokowi, Erdogan write new chapter in RI, Turkey relations
July 7 2017
Turkish tour: Turkish President Recep Tayyip Erdogan (left) ushers President Joko "Jokowi" Widodo past a guard of honor during an official welcoming ceremony at the Presidential Complex in Ankara, Turkey, on Thursday.(AFP/Adem Altan)Indonesia and Turkey are entering a new and stronger chapter in their diplomatic history after both countries with Muslim-majority populations agreed to expand key...
http://www.thejakartapost.com/news/2017/07/07/jokowi-erdogan-write-new-chapter-ri-turkey-relations.html
--------
Africa
Niger army kills 14 civilians mistaken for militants
July 7, 2017
ABADAM - Soldiers in Niger killed 14 unarmed civilians after mistaking them for Boko Haram militants during a patrol in the remote southeast of the country, a senior regional official said on Thursday.
Nigerien soldiers were patrolling a militarily restricted zone around the village of Abadam near Lake Chad on Wednesday afternoon when they opened fire on what turned out to be farmers, according to Yahaya Godi, the Secretary General of the Diffa region of southeast Niger.
"Fourteen people are dead. Abadam is a village located in the red zone and has been prohibited for a very long time," said Godi. "Any individual seen in the area is considered Boko Haram."
He said two of the dead were from Niger and the rest from neighboring Nigeria, where Boko Haram is based and from which the jihadist group has sometimes carried out cross-border attacks into Niger, Cameroon and Chad.
It was not immediately clear why the civilians were in the restricted area.
http://nation.com.pk/international/07-Jul-2017/niger-army-kills-14-civilians-mistaken-for-militants
--------
Africa: US Grants Gambian Students Visas for Robotics Contest
7 JULY 2017
There is a happy ending for a team of Gambian students who planned to compete in a major global robotics contest in Washington later this month.
The five-members were granted visas Thursday to come to the United States after being turned down earlier this week.
They say they are still disappointed that their mentor, education and science ministry director, Mucktarr Darboe, was not granted a visa.
But the Gambian American Association will escort the students around Washington.
Gambia and Afghanistan were the only two countries whose robotics teams were initially denied visas. Neither were given any reason.
The Afghan students had planned to try again this week.
The Gambian and Afghan students were especially puzzled because teams from Iran and Sudan, and a group of Syrian refugees were given visas. All three Muslim-majority countries are on President Donald Trump's travel ban. Afghanistan and Gambia are not.
Lida Azizi, a 17-year old from Herat, calls the visa rejection "a clear insult for the people of Afghanistan."
The group called FIRST Global Challenge holds the yearly robotics competition to build up interest in science, technology, engineering and math across the world.
Full report at:
http://allafrica.com/stories/201707070095.html
--------
ICC declines to refer SA to UN for not arresting Bashir
July 7, 2017
THE HAGUE - South Africa violated its obligations to the International Criminal Court by failing to arrest Sudan's President Hassan al-Bashir when he visited in 2015, the court's judges said in a ruling on Thursday.
However, the war crimes court judges declined to refer South Africa to the UN Security Council over the matter.
They said South African courts had already censured the government for its failure in Bashir's case and presiding judge Cuno Tarfusser, reading a summary of the ruling, said a referral to the UN or the court's own governing body was "not an effective way to obtain cooperation."
Bashir, who came to power in Sudan in a 1989 Islamist and military-backed coup, was charged with genocide and crimes against humanity in 2008 over the deaths and persecution of ethnic groups in the Darfur province between 2003 and 2008.
He denies the charges and continues to travel abroad.
Though Sudan is not a member of the ICC, the court has jurisdiction there due to a 2005 UN Security Council resolution that referred the conflict to the Hague court.
Full report at:
http://nation.com.pk/international/07-Jul-2017/icc-declines-to-refer-sa-to-un-for-not-arresting-bashir
--------
US strikes al Shabaab militants in Somalia - Pentagon
6 July 2017
The US military carried out a strike in Somalia against the al-Qaeda-linked al Shabaab militant group on July 4, the US military said on Wednesday, the second attack on the group in the last few days.
The strike occurred about 480 km southwest of the Somali capital Mogadishu, the Pentagon said. It did not disclose additional information such as the number of fighters killed.
On Monday, the US military said it carried out an air strike against al Shabaab on July 2.
"We will continue to assess the results of the operation and will provide additional information as appropriate," the US military's Africa Command said in a statement.
"Specific details about the units involved and assets used will not be released in order to ensure operational security."
Full report at:
https://english.alarabiya.net/en/News/world/2017/07/06/US-strikes-al-Shabaab-militants-in-Somalia-Pentagon.html
--------
Islamic finance provides Kenyans with cushion against drought
7 July 2017
Hamara Hujale tries to keep an eye on two squirming children and a pot of simmering ugali - a white doughy dish - as she reaches for her buzzing phone.
After speaking a few words, she hangs up and scribbles in a wrinkled notebook.
"My driver has found another customer so won't be back for another 30 minutes," she says with a satisfied smile.
Hujale, who lives in the northeast Kenyan town of Wajir, used to make and sell kitchen utensils, "mostly to pastoralists who would use them as dowry for their daughters' weddings".
"But as they lost their animals to drought, they had no money left to buy my products. So I had to find an alternative," she said.
Last year she secured a loan of 370,000 Kenyan shillings (about $3,560) through Crescent Takaful Sacco, an Islamic finance institution, and used the money to buy a tuk-tuk and set up a taxi business in Wajir.
Access to credit is critical to help communities prepare for and cope with increasingly frequent climate shocks like droughts and floods, experts say.
But in this Kenyan region bordering Somalia, where over 90 percent of the population is Muslim, few banks or institutions offer financial services that comply with Islamic law, which bans gambling and speculation, including interest-bearing loans, said Diyad Hujale, a programme coordinator at Mercy Corps, a charity, and no relation to Hamara.
To remedy this, in 2016 a project helped set up the county's first private cooperative offering financial products in accordance with Islamic principles - such as interest-free loans, with no fees for late payment.
The initiative, which is part of the Building Resilience and Adaptation to Climate Extremes and Disasters (BRACED) programme, is funded by the UK Department for International Development (DFID) and led by Mercy Corps.
Gladys Mutisya, manager of the Wajir sacco, said it targets "the unbanked: pastoralists - who make up half of our clients - farmers, and poorer communities in general."
"We're trying to fill a gap that banks and traditional institutions are not able or willing to fill."
Diyad Hujale explained that while Sharia-compliant financial services already exist in Nairobi, the capital, and elsewhere in the country, they are too far away and expensive for local residents to access - so the BRACED programme supported the sacco to hire and train staff in Wajir.
Preparing for shocks
The toughest challenge in this largely pastoralist county is prolonged drought, which Hamara Hujale said "affects everyone".
In addition to her kitchen utensil business, she used to herd over 100 goats - but drought has claimed many of them.
"I can't even remember how many have died," she said, bending to smell her pot of ugali.
Catherine Simonet of the Overseas Development Institute (ODI), a London-based think tank, said that families with little or no disposable income are most affected when drought hits.
Repeated droughts create "a vicious circle where they not only have no alternative income if they have lost their harvest,for example, (but) they are also made more vulnerable to the next shock", she said.
To avoid this situation, Mutisya said the sacco's clients tend to take out loans in "good times", such as the harvesting season, when they can most easily qualify for loans.
They then hold the cash as easily accessible savings, so that in dry periods they can buy food and fodder for their animals to survive.
Businesses for resilience
While many clients use the sacco as a way to boost their cash on hand, others like Hamara Hujale take out larger loans to set up their own businesses.
That fills a key gap in the market that is not met by other banks or institutions, Diyad Hujale said.
"Wajir is vast and its residents earn very little, so to most investors they don't make 'business sense,'" he said.
Simonet concurred that the potential for pastoralists to launch businesses is often underestimated.
"We tend to only look at pastoralists for example as households, when they're also producers, businesses, and a hugely untapped source of investment," she said.
Key to the sacco's model is trust, said Mutisya. "We don't just blindly give out loans. We assess the viability of our clients' business ideas and we train them on issues like accounting."
To minimize risk, the financial institution often lends money to groups rather than individuals. "The group's cohesion and reputation acts as a guarantee for us," Mutisya said.
Hamara Hujale, who took out a loan on her own, now makes up to 2,000 shillings ($20) per day from her two businesses - nearly twice as much as when she only sold utensils.
"But I need the money to repay over 30,000 shillings per month to the sacco," she said. Her dream, once she has repaid the loan in full, is to "buy a bigger car to serve as a taxi in rural areas".
Reaching remote areas
Since the sacco opened, about 500 accounts have been created, Diyad Hujale said.
But "we're only present in a 20km radius around the town, when the entire county needs us," he said.
He hopes mobile phone technology will allow the initiative to expand and reach more people through an online platform, without the need to physically meet with an agent.
"Currently the only way to get a loan outside of Wajir town is for our agents to travel to outside villages, so the operation is currently very costly," he explained.
Simonet said a mobile service would make particular sense for pastoralists.
Full report at:
https://english.alarabiya.net/en/features/2017/07/07/Islamic-finance-provides-Kenyans-with-cushion-against-drought.html
--------
Libya government forces 'repulse twin attacks' on Sirte
06 July 2017
Forces loyal to Libya's Tripoli-based UN-backed unity government on Thursday announced they had repulsed two attacks -- one by ISIL and another by forces led by commander Khalifa Haftar -- in the north-central city of Sirte.
"Our forces are fully prepared to meet any additional attacks by ISIL remnants or Al-Karama militiamen [i.e., pro-Haftar forces]," forces affiliated with the unity government said in a statement published on their official Facebook page.
According to the same statement, the two attacks in Sirte -- which occurred Wednesday evening -- were aimed at "destabilizing the city and threatening its security".
They went on to say that, while pro-government forces had been preparing to confront an assault by ISIL terrorists south of Sirte, they had come under attack by pro-Haftar forces from the nearby Al-Heniwah and Abu Hadi districts on the city's outskirts.
"But our forces managed to repulse both attacks," the statement read, adding that no casualties had been sustained in the melee.
Based in the city of Tobruk, pro-Haftar forces have yet to comment on the assertions.
Libya has been locked in a state of violence and turmoil since 2011, when a bloody popular uprising ended with the ouster and death of former President Muammar Gaddafi.
Full report at:
http://www.worldbulletin.net/africa/191557/flash-floods-kill-5-in-ethiopian-capital
--------
URL: https://www.newageislam.com/islamic-world-news/india-urgent-need-check-radicalisation/d/111815
New Age Islam, Islam Online, Islamic Website, African Muslim News, Arab World News, South Asia News, Indian Muslim News, World Muslim News, Women in Islam, Islamic Feminism, Arab Women, Women In Arab, Islamophobia in America, Muslim Women in West, Islam Women and Feminism