New Age Islam News Bureau
21 Aug 2017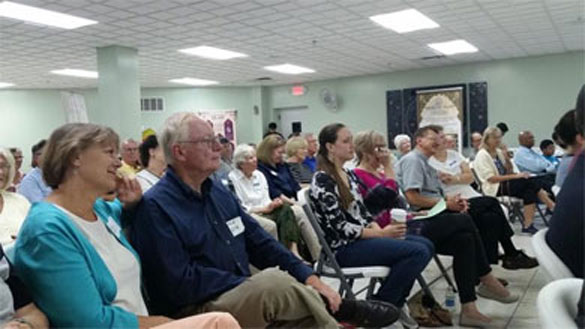 Dozens gathered for an open house event held Saturday at the Islamic Foundation North Mosque as part of the first National Open Mosque Day. (Lee V. Gaines / Pioneer Press)
----
• India Upholds Controversial Marriage Annulment amid 'Love Jihad' Inquiry
• Palestinian Cause Not a Muslim-Only Problem, Activists Tell Malaysia
• Over 200 Daesh Terrorists Killed In Airstrike in Dayr Al-Zawr: Russia
• In Barcelona, a Heartening Rejection of Islamophobia
India
• India Upholds Controversial Marriage Annulment amid 'Love Jihad' Inquiry
• Shias for Representation in Muslim Forums
• 39 members of Islamic outfit held for 'promoting enmity' in Kerala
• Indian police order Muslim man to prove his patriotism by leading partition celebrations
• Rohingyas say compulsions drove them to take shelter in J&K
• Hizbul wiped out JKLF before dominating Valley militancy
• Cable operator among two youth killed by terrorists in south Kashmir
--------
Southeast Asia
• Palestinian Cause Not a Muslim-Only Problem, Activists Tell Malaysia
• Federal Court Grants Stay On 'Abdullah' Surname Ruling
• The Rise of Religious Extremism in Malaysia
• Only Malay-Muslim Leaders Can Govern Malaysia, Says Hadi
• Umno MP Promises 12.8 Ha Of Land for 'Quran University' In Baling
• Indonesia angered after Malaysia shows its flag as Poland's
• Johor aims to be gateway for Xinjiang in Asean halal market
--------
Arab World
• Over 200 Daesh Terrorists Killed In Airstrike in Dayr Al-Zawr: Russia
• Iraqi Forces Lay Siege on ISIL in 1st Day of Tal Afar Liberation Operation
• Lebanon army advances against IS in border battle
• ISIL Suffers Heavy Defeats in Army Attacks in Central Syria
• ISIL Suffers Major Losses in Syrian Armed Forces' Attacks in Deir Ezzur
• Syrian Army Scores More Victories in War on Terrorists in Eastern Hama
• Arab Daily: S. Arabia to Set Up Operations Room for Qatari Opposition
• Senior Terrorist Commander Killed in Booby-Trap in Southern Syria
• Russian jets kill more than 200 ISIS militants near Syria's Deir al-Zor
• Lebanese army advances against ISIS in battle on Syrian border
• Bahrain foreign minister: Qatar turned blind eye to King Salman's initiatives
--------
Europe
• In Barcelona, a Heartening Rejection of Islamophobia
• Lake County Mosque Opens Doors to Non-Muslims: 'There Are So Many Things In Common between Us'
• 'ISIS is the enemy of Islam and Muslims' – Imam El Sadi on behalf of Muslim community in Malta
• Spain Terror Attacks Put Muslims in Catalonia under Harsh Spotlight
• Russia steps up probe into attack claimed by Islamic State
• Barcelona attack: From age 3 to 80, victims represent a wide world
• Spain 'dismantles cell behind terror attacks'
• Train station in France evacuated over terror alarm
--------
South Asia
• Trump Eyes Afghanistan's Elusive Mineral Riches
• Taliban, Daesh Jointly Massacred People in Afghan Village: UN
• Interpol identifies Bangladeshi-born Canadian as potential suicide bomber in Europe
• Afghan Air Force to get organic intelligence reconnaissance capability for the first time
• Taliban rejects Ata Mohammad Noor's claims during Balkh operations
--------
Pakistan
• Pak: Noted Terrorist in US to Contest for Nawaz Sharif's National Assembly Seat
• Pakistan Christian teen detained over 'Quran burning'
• Boy killed, 6 hurt in toy bomb blast in Peshawar
• Two militants killed in shootout in Kech: security officials
--------
Mideast
• Iran Reformist Leader Calls for Politicians' Release
• Turkey Kills IS Suspect, Detains 4 More 'Planning Attack'
• Houthi leader launches attack on Yemen's Saleh and his party
• Iran's interests in Iraq, Syria not materialistic: Commander Soleimani
• US must pay $245mn in damage to chemical victims of Iraq-Iran war: Judiciary
• Turkey could be key to Iraq's Tal Afar operation
--------
Africa
• Nigerian President Vows to Step up Fight against Boko Haram
• Sudanese Children of ISIS Militants Released In Libya
• Kenya to flush militants out of area near Somali border
• Turkish students go to Somalia to renovate school
• Clerics offer prayer for lawyers as NBA 2017 commences
--------
North America
• Federal Appointee to Race Relations Board under Scrutiny for Writings on Islam
• Trump to lay out US strategy for Afghanistan on Monday night
• Rally in Quebec turns violent when counterprotesters take aim at police
Compiled by New Age Islam News Bureau
URL: https://www.newageislam.com/islamic-world-news/india-upholds-controversial-marriage-annulment/d/112275
--------
India Upholds Controversial Marriage Annulment amid 'Love Jihad' Inquiry
21 August 2017
The Indian supreme court has upheld a decision to annul the marriage of a 24-year-old woman in Kerala and force her to live back at her parents' house because she married a Muslim man.
The woman, Akhila Ashokan, who prefers to be known as Hadiya, converted to Islam from Hinduism while studying medicine in Coimbatore in Tamil Nadu. Last year, she met Shafin Jahan, a Muslim, and they married in December. Her livid father went to the Kerala high court demanding that Hadiya be returned to his custody.
In May, the court nullified the wedding and forcibly sent Hadiya back to her parental home in Kottayam despite her express wish not to return. The controversial judgment said Hadiya was "weak and vulnerable, capable of being exploited in many ways" and that "her marriage being the most important decision in her life, can also be taken only with the active involvement of her parents".
On Wednesday, the supreme court ruled that India's National Investigation Agency, which investigates terrorism, must assess whether Hadiya converted freely to Islam or was part of a "love jihad" – a phrase used by some Hindu fringe groups to allege that Muslim men are forcing Hindu women into marriage.
Hadiya has had virtually no contact with anyone outside her parents' home since May. Local reporters say she has no phone or internet access and the house is guarded by police officers. A police officer quoted in the local media said social isolation had made Hadiya depressed.
Jahan approached the supreme court to rule on the validity of the ruling that annulled his marriage. In his petition, he said the high court order was an "insult to the independence of the women of India as it completely takes away their right to think for themselves".
But instead of overturning the lower court's ruling, the supreme court ordered a federal investigation into the union.
In a video clip of Hadiya in her parent's house, shot recently by a social activist, she is heard asking her mother: "Is this how I should live? Is this my life?"
The supreme court judgment has shocked women's rights activists. The court has established a reputation for supporting Indian women by ruling against honour killings and other customs that deny women the right to exercise their choice.
Rebecca Mammen, a senior lawyer in India, said she was "simply stunned" by the supreme court ruling.
"It [the marriage] is clearly a consensual relationship between two adults, totally voluntary – the woman has not complained of any coercion – I don't know of any law that allows a court to act in this way," said Mammen. "So all I can say that I am really taken aback."
Vrinda Grover, a lawyer withn a track record of defending women's rights, called Hadiya's confinement "illegal house arrest". Grover said it was typical, when an Indian woman transgressed social norms by exercising her own choice, that society should react by curbing her freedom.
"Her right, as an adult, to choose her husband irrespective of his caste or creed or ethnicity and her right to freedom of religion have been violated," she said. "The courts are behaving as though she doesn't know what's good for her. The fact of being kept confined by her parents has deprived her of her personal liberty."
https://www.theguardian.com/global-development/2017/aug/21/india-annulment-mixed-faith-marriage-love-jihad-hindu-woman-muslim-man-akhila-ashokan-shafin-jahan
--------
Palestinian cause not a Muslim-only problem, activists tell Malaysia
By Lee Lian Kong
21st August 2017
WHILE lauding Malaysia for its record of strong support for the Palestinian cause, foreign activists are calling upon Malaysia to lose the 'Muslim-only' problem label on its advocacy efforts and re-frame it as one that affects humanity as a whole.
Speaking at a forum held in Kuala Lumpur last week, European Palestinian (EuroPal) Forum chairman, Zaher Birawi said Malaysia can do more in its aid to Palestine, from its geopolitical relations to how it puts forth the Palestinian narrative at home.
"We need to reach out to all sectors regardless of their religion," Birawi told the "Advancing the Palestinian Cause: Advocacy and Activism in the Malaysian Context" forum.
Efforts at home, through civil society and its education system, tend to label the struggle for Palestinian independence from Israel's illegal occupation as a problem limited to Muslims, according to Birawi.
Malaysia is a long-time Palestine ally and does not have formal diplomatic relations with Israel. Last year, it was one of the 4 countries in the United Nations' Security Council to put forth a resolution demanding an end to "all settlement activities" in the occupied Palestinian territory, including East Jerusalem, which was later adopted following a surprise abstention by the United States.
While Birawi lauds this, the British-Palestinian journalist said more can be done on the geopolitical front by Malaysia, especially through its diplomatic relations with other Muslim countries. For example, its Ministry of Foreign Affairs should be playing a more active role among the Organisation of Islamic Cooperations – a coalition of 56 countries in the Muslim world – to mobilise support for the Palestinian courts in international forums.
"Malaysia can do a lot more," Birawi said, urging locals to lobby the Malaysian government on this.
Apart from reducing the cause to one based on religion only, another panelist, Muslim Imran who chairs the Palestinian Cultural Organization Malaysia (PCOM), argued that there are areas where Malaysian non-governmental organisations (NGO) can improve its advocacy.
Imran called for these NGOs to cover all bases and reach as big an audience as possible..
"We don't want 100 NGOs in one country that do the same function and role. No, we want them to complement each other," Imran said.
While pro-Palestine support is commonplace in Malaysian society, its campaigns to show support have sometimes missed the mark, in terms of efficacy and accuracy.
In 2014, several Malaysian Muslim organisations held a month-long ban on buying products from companies which they deemed were in support of a Zionist regime, such as McDonald's and Coca Cola, although many of them were later found to be unverified claims.
https://asiancorrespondent.com/2017/08/palestinian-cause-not-muslim-problem-activists-tell-malaysia/#bf2uY7gJi8uRMupw.97
--------
Over 200 Daesh Terrorists Killed In Airstrike in Dayr Al-Zawr: Russia
Aug 21, 2017
Russia's Defense Ministry says its aircraft have eliminated more than 200 Daesh terrorists on their way to the eastern Syrian city of Dayr al-Zawr.
The operation also destroyed around 20 SUVs laden with large-caliber weapons and mortars, as well as armored vehicles, including tanks, the Ministry said in a statement on Monday.
The city contains relatively large concentrations of the Takfiri group's terrorists and is subject to offensives by both the Syrian Army and its allies, and Russian warplanes.
The Ministry said the city was now witnessing "international terrorists…trying to regroup and equip their last base in Syria."
"The defeat of ISIS (Daesh) in the Dayr al-Zawr region will be a strategic defeat for the international terrorist group in the Syrian Arab Republic," the statement said.
Earlier in the month, Russian Defense Minister Sergei Shoigu said if the group lost the city, it would potentially mean it had suffered an ultimate defeat.
"This is perhaps the main point at the Euphrates, which will in many ways indicate the end of the fight against ISIS," he said.
Dayr al-Zawr, however, still contains some 125,000 civilians, a fact that could slow down the military operations targeting the city.
Bouthaina Shaaban, the political and media adviser to Syrian President Bashar al-Assad, said in an interview on Friday that the six-year-old foreign-backed militancy in her country was nearly over as foreign states had cut their backing for Takfiri terrorist groups.
On Sunday, Assad said the assistance provided by main allies, Russia, Iran, and Lebanon's Hezbollah resistance movement to the country's counter-terrorism operations, had enabled the Syrian Army to make battlefield gains and reduce the burden of war.
http://www.presstv.ir/Detail/2017/08/21/532390/Russia-Syria-Daesh-Dayr-alZawr
--------
In Barcelona, a heartening rejection of Islamophobia
By James McAuley
August 20
BARCELONA — In the aftermath of Europe's latest terrorist attack , a set of familiar tensions clouded this sunny, vibrant city Sunday .
Some here insist that Barcelona is a state of mind, a nonstop celebration of the good life where anyone is welcome and anything goes. But then came the almost predictable events of last week. In a scheme that resembled recent assaults in Paris and Brussels, a group of young, local Moroccan Muslim men — some of whom spoke Spanish and Catalan better than Arabic — staged Spain's deadliest attack in more than a decade. The Islamic State later claimed responsibility for their actions.
Suddenly, Barcelona — and the surrounding region of Catalonia — is being put to a test that has faced not just Paris and Brussels, but also Nice, Berlin, Stockholm and London in the past two years. At stake is the place of the region's Muslim community, the largest in Spain.
For now, Barcelona seems to be responding differently than its neighbors, whose reactions to similar violence were often marked by a fierce anti-immigrant and anti-Muslim sentiment that, in some cases, even translated into political traction. With the rise of the once-obscure Marine Le Pen, for instance, some saw the French elections in May as a referendum on Muslims in France. The migration issue also looms large in Germany's elections, slated for next month.
Although there were isolated reports of vigilante violence against Muslims here, Barcelona appears to be generally resisting being drawn into a post-attack culture war. A traditionally left-leaning city where Muslims have lived for centuries, its officials and citizens have mainly chosen to speak out against the potential for the kind of Islamophobic backlash seen elsewhere in Europe.
On Sunday, thousands of local Muslims marched down La Rambla, the scenic, tree-lined boulevard where the first of two coordinated attacks took place. Young and old, men and women, many of whom were veiled, the demonstrators chanted in unison: "I am Muslim! Not a terrorist!" Non-Muslims lined the sidewalks, clapping and crying. Some stepped forward to hug demonstrators as they passed.
At a Sunday news conference on the investigation, Carles Puigdemont, Catalonia's regional president, grew most animated when he spoke in defense of the local Moroccan population. "The Moroccan people are integrated in Catalonia, and they have made important contributions to the community," he said.
Some, especially in rural Catalonia, might have said otherwise. Home to the largest percentage of Spain's Muslim population — about 25 percent — the region is also the locus of Islamist militant activity in the country. Roughly a quarter of those arrested on suspicion of radicalized tendencies between 2013 and 2016 were arrested in Barcelona and its environs, according to data released by the Real Instituto Elcano, a Madrid-based think tank.
Carola García-Calvo, a senior terrorism analyst at Elcano, said that part of the reason was that Barcelona has long been a receiving center for immigrants and one of the few places in Spain where the vulnerable group of second-generation immigrant youths has matured in a concentrated mass.
On Friday, less than 24 hours after the Las Ramblas attack, a small group of demonstrators from the far-right Falange movement — named for a fascist group active in 1930s Spain — protested what they called the "Islamicization of Europe."
But that was far from a widespread sentiment. Thousands of counterprotesters ultimately turned out in response, drowning out the handful of rightists and forcing them to disband.
In recent days, a number of Muslim citizens of Barcelona said they had not experienced major discrimination before or after the attacks last week, although many emphasized that their experiences did not mean that there is no Islamophobia in Spain.
Chaima Jalili, 23, is from Morocco, in the same demographic as the ring of suspects. She came to Barcelona three years ago to study design, she said.
"Actually, Barcelona has been great to me," she said. "I've been to France and Germany, and I've never felt more safe and secure." Every morning before going out, she said, she puts on her scarf. "I've never been scared."
Asked about Islamophobia, she said: "I have never experienced any of that."
Naoufal, 22, a young Moroccan waiter in a trendy cafe in the city's Nadal district, said he felt a subtle change in the way he was perceived after the attack. He felt he had drawn heavy scrutiny because of the way he looked.
"They see you in a car with a Moroccan face, and the police tell you to stop. Yesterday I left work, and they stopped me like four times, from here to my house," he said, emphasizing that it was just a short distance away.
Sana Ullah Gondal, 51, from Pakistan, owns a computer supply store here. He said that his 15 years in Spain have been marked by a notable absence of prejudice.
"There are drunk and drugged people who sometimes speak badly," he said, in an interview in his shop. "But normal people don't say anything."
Vahangir Alam Ali Segum, 52, owns the Turin Supermarket. Born in Bangladesh, he has lived in Barcelona for 26 years and says he has never experienced Islamophobia, either.
"I've only had problems with thieves, and then I call the police," he said. "I live better than in my country — Spain is very quiet."
"I go to my house. We pray in the mosque. It's a normal life," he said. "This store is over 15 years old, and almost the whole neighborhood knows me, and I know them. We live as brothers, as family members."
At the Muslim march on Sunday, Lourdes Miguel, 50, a lifelong Barcelona resident, stood on La Rambla with her son, watching the Muslim demonstration. She held back tears.
"This shows that they march from the heart," she said, gesturing at the marchers. "It's not fake."
https://www.washingtonpost.com/world/europe/in-barcelona-a-heartening-rejection-of-islamophobia/2017/08/20/dbee8954-852f-11e7-9e7a-20fa8d7a0db6_story.html?utm_term=.12375cdc0764
--------
India
Shias for Representation In Muslim Forums
AUGUST 21, 2017
'Most privileges being enjoyed by Sunnis'
Shia Ulema Welfare Association president Maulana Syed Abbas Bakhari on Sunday urged Chief Minister N. Chandrababu Naidu to provide a slot to a Shia scholar in the Wakf Board Committee.
Speaking to media persons, he said the association members had toured the 13 districts in the State and interacted with Shias who felt the need for the representation.
He said there were many issues with regard to mosques and cremation grounds of the community and by being part of the Wakf Board Committee those issues could be resolved in a proper manner.
Other speakers felt that while Muslims were a minority in the country, the Shias were a micro minority in the State with most privileges being enjoyed by the Sunnis.
They said in several Muslim forums like the Haj Committee, Wakf Board, Urdu Academy, Minority Corporation and the Minority Finance Corporation, only Sunnis were occupying the crucial posts.
http://www.thehindu.com/news/national/andhra-pradesh/shias-for-representation-in-muslim-forums/article19530908.ece
--------
39 members of Islamic outfit held for 'promoting enmity' in Kerala
by Shaju Philip
August 21, 2017
Thirty-nine activists of an outfit called the Global Islamic Mission were arrested on Sunday in the Ernakulam rural district on charges of promoting religious enmity.
The arrested were allegedly engaged in distributing pamphlets about Islam at houses of non-Muslims in Vadakkekara police station area in Ernakulam. Ernakulam (Rural) SP A V George said the group is affiliated to the Kerala Naduvathul Mujahideen. "They had gone to houses of Hindus and spoken against idol worship," George said.
The SP said there was a minor scuffle between the members of Global Islamic Mission and some Hindu youths, leading to police intervention. The Kozhikode-based Global Islamic Mission's representative was not available for comment. On its Facebook page, the mission said the pamphlets were meant to promote religious harmony. The police action would create a misconception about the movement and its activities, it said.
http://indianexpress.com/article/india/39-members-of-islamic-outfit-held-for-promoting-enmity-in-kerala-4806003/
--------
Indian police order Muslim man to prove his patriotism by leading partition celebrations
Memphis Barker
15 AUGUST 2017
Police in India have ordered a 22-year-old Muslim to prove he is not a traitor by leading Tuesday's celebrations of the split from Pakistan in 1947.
Dilnawaz Alam was accused by neighbours in Sheohar District, northeast India, of posting pro-Pakistan content on his Facebook page, including pictures of the former Prime Minister, Nawaz Sharif, ahead of the 70th anniversary of partition.
In order to show his repentance, "he has undertaken to participate in the Independence day function with suitable fervor", an official said, "by putting up the national flag on the mast, salut[ing] it during its unfurling and join[ing] others in singing the national anthem."
Over the weekend Mr Alam, a member of India's 172m-strong Muslim minority, also washed the walls of the local police station and cleared its grounds of litter.
The district superintendent said Mr Alam had agreed voluntarily to "mend his ways and thoughts", rather than face worse punishment.
His case is the latest in a growing number relying on hazy laws that forbid the expression of 'anti-nationalist' sentiment, which critics say has created an atmosphere of suspicion and hostility towards minorities.
In June, 15 Muslim men were arrested for "shouting pro-Pakistan slogans" after the country's victory over India in the final of the cricket world cup.
Full report at:
http://www.telegraph.co.uk/news/2017/08/15/indian-police-order-muslim-man-prove-patriotism-leading-partition/
--------
Rohingyas say compulsions drove them to take shelter in J&K
Aug 20, 2017
JAMMU: Amid calls for their deportation from India, Rohingya Muslims of Myanmar say they have settled in Jammu and Kashmir because of compulsions, and not out of choice, and that they will return to their country once the situation becomes favourable.
More than 13,700 foreigners, including Rohingya Muslims and Bangladesh nationals, are settled in Jammu and Samba districts, where their population has increased by over 6,000 between 2008 and 2016, according to data available with the state government.
"We are in India because of some compulsions, and not out of choice. We know this is not our land. We will leave on our own once those compulsions are addressed by the global community and we get justice," 35-year-old Mohammad Yusuf, the head of a camp for Rohingya refugees, told PTI.
The Rohingyas are a Bengali-dialect speaking Muslim minority in Myanmar. Following persecution in their country, many of them entered India illegally through Bangladesh and took shelter here.
"We were boarded into a train and asked to embark at the last station when the whole train gets empty. We were not aware that it is Jammu. We came to know at the railway station that some Rohingyas were living here and met them. This is how we reached here," he said, explaining why they landed in Jammu and Kashmir, several thousand miles from their homes.
The Rohingya refugees are aware of reports about New Delhi's plan to deport them and the 'Quit Jammu' campaign by certain social and political organisations that see their presence as a "conspiracy to alter the demographic character and a threat to the peace in the region".
Fear of deportation writ large on the faces of the refugees at their temporary cluster in Narwal on the Jammu- Pathankot highway.
Yusuf, originally a resident of the worst-hit Arakan in Myanmar, has been living in one of the 75 shanties, along with his wife and four minor children. The settlement is considered the largest on the outskirts of the city.
Such camps have also been set up at a number of other places including Bhagwati Nagar, Ban Talab, Channi and Bari Brahmana in Samba district.
"We are not involved in any criminal activity and are doing odd jobs to make our living. Most of us work as wage labourers, rag-pickers, scrap-dealers and a few are working at railway stations as sweepers," he said.
Rohingyas are facing a battle for survival, he says. "We are paying Rs 800 per month as rent to the land owner for each shanty and electricity connection," said Yusuf, surrounded by a group of men and children who nodded in agreement.
On August 18, the National Human Rights Commission (NHRC) issued a notice to the Centre over the plan to deport Rohingya refugees.
The NHRC notice came just days after UN Secretary General Antonio Guterres expressed concern over India's plan, and said the refugees should not be returned to the countries where they fear persecution.
The Human Rights Watch's South Asia also asked India to abide by its international legal obligations and not forcibly return Rohingya refugees to Myanmar.
According to the Human Rights Watch, about 16,500 Rohingya Muslims living in India are registered with the United Nations High Commissioner for Refugees (UNHCR), while the government contends that around 40,000 illegal immigrants from Myanmar are unregistered.
Yusuf, who had arrived in Jammu in 2012 and got registration card from the UNHCR the next year, said there are around 8,000 Rohingyas in Jammu and none of them had ever been arrested for terror links.
The state government had said only 17 FIRs were lodged against 38 Rohingyas for various offences, including illegal border-crossing.
Yusuf, who is also the prayer leader and runs a madrasa within the settlement for the children of their community, said their religious belief is the same as of 'Deobandi' thought and "we believe in non-violence".
"Back home, we cooperated with local government and implemented its orders fully, whether of seeking permission for marriage and depositing Rs five lakh for various services. Despite that, we faced the wrath and forced to migrate to save our faith and lives," he said.
"We have people here who have seen worst and their stories can send shivers down the spine. They are targeting us because of our religion otherwise we had done nothing wrong," he said.
Yusuf was all praise for the people of Jammu.
"After a fire left us on the roads with all our belongings consumed by flames, the people came forward and helped generously to make us to restart our shattered lives," he said, referring to the fire in their camp earlier.
He, however, said they did not get any institutional help, except from an NGO, Save the Children.
The Jammu and Kashmir head of the NGO, Mohammad Shafi Bhat, said, "We are running a health and hygiene camp across the state and as part of our efforts to reach the last child, we concentrate on the health issues of the children of Rohingyas as well."
"We do not extend any monetary help to them but our effort is concentrated on improving the conditions for their children to check spread of any disease and improve their survival rate," he added.
Yasmeen Akhtar, a resident of Bousdang area of Myanmar and a select few who could speak in Urdu, said they have been facing lot of hardships in running their households.
Initially reluctant to talk like many other women in the camp, Yasmeen said they have to buy even water.
"We don't need anything but please allow us to stay back and spend a few peaceful years of our lives," she pleaded.
Akhtar has been living with her husband and a girl child in the camp for the past five years.
In May, the state government had announced the setting up of a high-level Group Of Ministers (GoM) on the issue of illegal settlement of foreign immigrants in Jammu and Samba. The panel is yet to submit its report, drawing criticism even from the BJP which is a part of the coalition government.
Comprising two ministers each from BJP and PDP, the GoM headed by Deputy Chief Minister Nirmal Singh has been given the mandate to go into the settlement of illegal migrants from Myanmar and Bangladesh and examine all relevant aspects related to them.
Earlier this year, BJP legal cell member Hunar Gupta had moved the high court seeking identification and deportation of Rohingyas and Bangladeshis from Jammu. The matter is sub- judice.
Full report at:
http://timesofindia.indiatimes.com/india/rohingyas-say-compulsions-drove-them-to-take-shelter-in-jk/articleshow/60145418.cms
--------
Hizbul wiped out JKLF before dominating Valley militancy
Aug 21, 2017
SRINAGAR: Hizbul Mujahideen was formed by a Jamiat-e-Islami worker, Master Ahsan Dar, in 1989. Dar had crossed over to PoK in 1988 for arms training and returned to Kashmir in 1989 and began recruiting local youth for jihad. But he kept his outfit low key. Dar was joined by Mohammad Yousuf Shah, another staunch Jamiat supporter, who later gained notoriety as Syed Salauddin of the United Jihad Council.
The two together expanded the group and tried to take over from the Jammu Kashmir Liberation Front, which advocated complete independence or "azadi" for Kashmir — not its merger with Pakistan. HuM strategically allowed JKLF to target Kashmiri Pandits and mainstream politicians, close cinema halls and ban liquor in the Valley.
The expansion of JKLF and its dominance in the Valley worried both Jamiat and Pakistan. In 1990, Dar came out in the open and started issuing statements in the press warning Pandits to leave valley "within 48 hours".
In Srinagar, Dar was joined by one Mohammed Abdullah Bangroo. HuM formally came into being in April 1990 with Bangroo joining as "military advisor" while Dar was the chief of operations. There was no dearth of funds or arms. Within a year, HuM had over 10,000 armed cadres. The outfit's first major strike is believed to have been Mirwaiz of Kashmir, Moulvi Mohammed Farooq, the father of current Mirwaiz Umer Farooq.
According to police, Bangroo and his two associates conspired to kill Moulvi Farooq on May 21, 1990. A large number of people took to streets protesting against Farooq's killing, forcing the Armed forces to fire in which 26 people were killed. The joining of Yousuf Shah alias Syed Salauddin led to Ahsan Dar's expulsion. Salauddin took over Hizb leadership by 1991. Dar, however, formed his own group along with loyalists, naming it 'Muslim Mujahideen'. The group, however, quickly fell apart after his arrest in 1993.
Full report at:
http://timesofindia.indiatimes.com/india/hizbul-wiped-out-jklf-before-dominating-valley-militancy/articleshow/60150213.cms
--------
Cable operator among two youth killed by terrorists in south Kashmir
Aug 20, 2017
SRINAGAR: Terrorists killed two youth including a cable operator at two places in south Kashmir on Sunday.
According to police official, one Hilal Ahmad Malik of Malik Mohalla, Shopian was shot at by the gunmen near his residence at around 8:05 pm. Malik, who was in critical condition and was being taken to Srinagar hospital, succumbed to injuries, police said.
The deceased Hilal Malik was operating a cable network in the area, according to the police.
Meanwhile, the locals located a bullet- riddled body of a 16-year-old youth in Shopian district of south Kashmir on Sunday morning.
Official sources said that the body of the teenager was found by the locals and that they had informed the police.
The police recovered the body soon after information that the youth was lying in pool of blood near the periphery of an orchard at Nagbal. Station House Officer (SHO) of the area identified the deceased as Gowhar Ahmad Dar of Urpara, Nagbal in Shopian.
Full report at:
http://timesofindia.indiatimes.com/india/cable-operator-among-two-youth-killed-by-terrorists-in-south-kashmir/articleshow/60148538.cms
--------
Southeast Asia
Federal Court grants stay on 'Abdullah' surname ruling
By RAHMAT KHAIRULRIJAL
August 21, 2017
PUTRAJAYA: The Federal Court today granted stay on the Court of Appeal's decision to allow a child conceived by Muslim parents out of wedlock not to carry the 'Abdullah' surname, pending a leave application by Johor Religious Authority (MAIJ).
A three-judge panel led by Chief Justice Tan Sri Md Raus Sharif made the decision after MAIJ's lawyer, Datuk Sulaiman Abdullah, convinced the court that the state's laws were related as the case was first filed in Johor.
However, Md Raus struck out the Kuala Lumpur Islamic Religious Council's (MAIWP) application to become the intervener.
"I do not want multiple parties to intervene and argue on the same point. I do not see any reasons for MAIWP to become the intervener in this case.
"I also hope both parties to become amicus curiae (to assist the court) because this is a judicial review and not a suit," he said during the proceeding.
He also set Sept 8 for hearing.
Also presiding were Court of Appeal President justice Tan Sri Zulkefli Ahmad Makinudin and Justice Datuk Alizatul Khair Osman Khairuddin.
On May 25, the National Registration Department, its director-general, and the government applied for stay of the Court of Appeal's decision while MAIJ and MAIWP have applied to become parties (interveners).
A three-man Court of Appeal panel in its landmark judgment on July unanimously made the decision after allowing an appeal by a 7-year-old boy and his parents.
Judge Datuk Abdul Rahman Sebli, who presided, wrote in his judgment that the National Registration Department (NRD) director-general had acted irrationally and outside the scope of his power in registering "Abdullah" as the boy's last name in the birth certificate and in setting aside the parents' wish to register the father's name.
He said the Births and Deaths Registration Act 1957 (BDRA) made no distinction between a Muslim child and non-Muslim child and Section 13A (2) did not say that an illegitimate Muslim child must be treated differently from a non-Muslim child when it comes to the registration of a surname.
https://www.nst.com.my/news/nation/2017/08/270548/federal-court-grants-stay-abdullah-surname-ruling
--------
The rise of religious extremism in Malaysia
Aug 21, 2017
What is happening to Malaysia, a country that often boasts itself as multiracial and multi-religious? Are we moving in the direction of religious and ethnic extremism?
Harmless statues are being removed from parks and schools in the name of protecting a religion. Slow but sure, segregation measures are being introduced in schools by some overzealous headmasters. The list can go on.
These are some of the recent developments in the country that have incensed and hurt the feelings of non-Muslims. They point in the direction where the country is becoming religiously polarised. Of course, ethnic and religious politics at the macro level are not helping the situation. In fact, they are making the situation much worse.
In a park in Kulim, two statues of women with wings were removed because they were "offensive" to Islam. These statues merely existed to enhance the attraction of the park but were ordered removed.
In a school in Ulu Langat, the headmaster instructed the separation of drinking cups for Muslim and non-Muslim children. Although the direction was rescinded, nonetheless, the damage was done, and it set a dangerous precedent for other schools in the country to follow.
Full report at:
https://www.malaysiakini.com/news/392600
--------
Only Malay-Muslim leaders can govern Malaysia, says Hadi
20 Aug 2017
ISLAM and history dictate that only Malay-Muslim leaders can govern the country, said PAS president Abdul Hadi Awang in an interview published by Berita Harian's Sunday edition today.
The leader of the Islamist party was replying to a question on which party Malays should pick in the 14th General Election.
Hadi said Islam also compelled leaders govern properly and to be fair towards multicultural and multireligious communities, and to include them in all facets of the administration, like the economy, education and others.
"But only Islam has the spirit of worship towards Allah in the ruling aspect and only Islam has the ability to see through and judge the sins and deeds of a government. It can lead a multicultural society fairly and handle the welfare of all," he said.
On whether PAS was working with Umno for GE14, Hadi said the two parties would cooperate according to the concept of "taawun", that is working together on only good things and not evil.
"My stand is the same with PAS and the Syura council. Cooperate under taawun on good things and not evil things," he said.
PAS has grown closer to Umno ever since it cut ties with DAP in 2015, leading to the dissolution of the Pakatan Rakyat opposition bloc. In April, PAS formally severed ties with PKR.
Its senior leaders have been seen with Umno politicians at public events, sparking talk of an understanding if not outright cooperation between the two traditional rivals.
Hadi said DAP had been vocal in going against Muslim rights that are enshrined under Article 3 of the Federal Constitution, and also against the implementation of hudud.
He said working with DAP would not benefit Muslims.
Full report at:
https://www.themalaysianinsight.com/s/11630/
--------
Umno MP promises 12.8 ha of land for 'Quran university' in Baling
August 21, 2017
KUALA LUMPUR, Aug 21 — Baling MP Datuk Seri Abdul Azeez Abdul Rahim has pledged to allocate 12.8 hectares of land for a so-called "Quran university" in his constituency.
The Umno MP said he will award the land to Permata Al-Quran, a national tahfiz school association, using his own personal capacity, with further help from Putrajaya when it comes to the infrastructure, Utusan Malaysia reported today.
"I will find 'wakaf' land in the Baling area and award it to Permata Al-Quran but the application to develop the university I must discuss further with Prime Minister Datuk Seri Najib Razak," he reportedly said, referring to land designated for charity purposes.
The association has also reportedly requested for exclusive quota for 10 of its directors and best students to perform umrah, or minor pilgrimage to Mecca.
In response, Azeez — who is also the chairman of pilgrims' fund Lembaga Tabung Haji — said no quota is needed for umrah, but he could fund the pilgrimages using Tabung Haji Foundation's funds.
Full report at:
http://www.themalaymailonline.com/malaysia/article/umno-mp-promises-12.8-ha-of-land-for-quran-university-in-baling#IWCDTruofmZ7bC24.97
--------
Indonesia angered after Malaysia shows its flag as Poland's
Aug. 20, 2017
JAKARTA, Indonesia (AP) — Indonesia accused the Malaysian organizers of the Southeast Asian Games of negligence after the Indonesian flag was printed upside down in a souvenir guidebook.
The mistake, which makes the red-and-white Indonesian flag resemble Poland's, has caused anger in Indonesia where "shameonyoumalaysia" has become the most popular hashtag on Twitter.
President Joko "Jokowi" Widodo also called for an apology but cautioned against exaggerating the incident.
"We are waiting for an apology from the Malaysian government because this is related to the pride of our nation," Jokowi said Sunday.
Indonesia's Olympic Committee chairman Erick Thohir said the mistake "shows negligence" and demanded the guidebook be withdrawn and a new version printed.
"Friendship is the greatest legacy in sports, but a mistake in presenting a national identity is not justified," he said.
Later Sunday in Kuala Lumpur, Malaysian Youth and Sports Minister Khairy Jamaluddin met his Indonesian counterpart at a news conference and apologized.
Indonesia appears to have taken particular offense because the guidebook was distributed to VIPs at Saturday's opening ceremony in Kuala Lumpur for the 29th Southeast Asian Games and only its flag was shown incorrectly.
Youth and Sports Minister Imam Nahrawi said the error was "very painful."
The Malaysian Organizing Committee issued a statement saying "we very much regret the mistake."
Malaysia and Indonesia are both Muslim majority nations and share a similar language but often trade accusations of stealing the other's food and culture.
The creation of Malaysia when the British empire was dismantled after World War II was bitterly opposed by Indonesia, itself then a new nation emerging from Dutch colonial rule and a short-lived Japanese occupation.
On Twitter, Indonesians said their flag represents the sacrifices of independence heroes and accused Malaysia of either being stupid or deliberately misprinting it.
Full report at:
http://www.njherald.com/article/20170819/AP/308199820#
--------
Johor aims to be gateway for Xinjiang in Asean halal market
August 21, 2017
XINJIANG, August 21 — Johor can become the gateway for Xinjiang-based companies to penetrate the lucrative Asean halal market.
Johor Tourism, Trade and Consumerism Committee Chairman Datuk Tee Siew Kiong said its strategic location to neighbouring Singapore, gave the state a competitive edge and offered vast opportunities within and beyond the shores.
"Apart from that, we already have a good infrastructure in place, as well as, recognised Halal certification especially from member countries of the Organisation Islamic Countries," he said during a business dialogue with representatives from Xinjiang Halal Traders and Manufacturers Association here on Friday.
Currently, Asean which comprised 10 member countries, offered a massive market of 600 million people and a majority of the population were Muslims.
Tee is currently leading a 11-member delegation, comprising representatives, among others, from the Johor State Investment Centre , Johor Tourism and Johore Islamic Council, on a trade mission to China's Autonomous Region of Xinjiang and Gansu from August 17 to 23.
With good bilateral relations between Malaysia and China, both parties could exchange information on potential sectors that can be explored while at the same time create synergy that both parties can tap, Tee said.
Meanwhile, Xinjiang Halal Traders and Manufacturers Association Chairman Radil Abla said there was also a huge potential for Malaysian local companies to tap into the autonomous halal market.
"Xinjiang has a population of 25 million people, of which about 60 per cent are Muslims. Besides, there are 18 entry points to this region (Xinjiang) which also serve as a gateway to other continents," he said.
Apart from that, Xinjiang is also known as East Turkestan, strategically bordering eight countries — Mongolia, Russia, Kazakhstan, Kyrgyzstan, Tajikistan, Afghanistan, Pakistan and India.
In Xinjiang, the delegation also held dialogues with representatives from Xinjiang International Exhibition Administration, as well as, trade associations.
Full report at:
http://www.themalaymailonline.com/malaysia/article/johor-aims-to-be-gateway-for-xinjiang-in-asean-halal-market#RDgOBVd1zXXPEe3s.97
--------
Arab World
Iraqi Forces Lay Siege on ISIL in 1st Day of Tal Afar Liberation Operation
Aug 20, 2017
The Iraqi units and Hashd al-Shaabi won four hills in the Southern direction of Tal Afar and trapped ISIL in a circle of their forces.
Also, the Iraqi pro-government forces took control of the village of Tal al-Saban West of Tal Afar.
In the meantime, the Iraqi Federal Police forces, backed up by Hashd al-Shaabi, liberated Abrah al-Najar, Abrah Hanash, al-Abrah al-Saqirah and al-Abrah al-Kabirah regions in Western direction of Tal Afar.
The Iraqi police also pushed ISIL out of the villages of Qazal Qi'yu and Kasar Mehrab Southeast of Tal Afar.
The Iraqi forces have ended their mop-up operation successfully in the villages of Batisheh, al-Alam, Khafajeh, Halbiyeh al-Oliya, Tal al-Masbak and the Southern part of Zambar mountains East of Tal Afar.
The Iraqi forces have, meantime, cut off the ISIL's supply line from Tal Afar to al-Mahalbiyeh.
The Arabic-language al-Mayadeen TV reported that five ranking members of the military council of ISIL commanders are now in Tal Afar.
Earlier reports said that the Iraq's military launched a military operation to liberate the city of Tal Afar, West of Mosul, in Nineveh province from ISIL terrorist group.
"You either surrender, or die," Iraqi Prime Minister Haider al-Abadi said in a televised address.
"As we announce the start of operations to liberate Tal Afar we salute the heroic Iraqi forces who fight to bring victory, freedom and peace," Abadi added on Twitter.
Iraqi government forces were deployed in four areas at the start of the ground offensive, while they allegedly cut all escape routes in and out of Tal Afar. The Iraqi air force also intensified its airstrikes on Takfiri terrorists in Tal Afar prior to the ground operation.
According to reports, About 2,000 battle-hardened militants remain in the city.
The UN's International Organization for Migration (IOM) estimated that about up to 40,000 people are left in and around Tal Afar and militants are "preventing people from escaping, as it did in West Mosul, by shooting at families attempting to flee."
Also, some 50,000 people have fled the areas surrounding Tal Afar in recent months.
Spokesman for the Iraqi Popular Mobilization Units (PMU) had announced that thousands of pro-government fighters are also going to participate in the military operation to retake the Northern city of Tal Afar.
Speaking in an exclusive interview with Lebanon-based Arabic-language al-Mayadeen television news network on Friday, Ahmed al-Asadi said 20,000 volunteer forces, commonly known by the Arabic name Hashd al-Shabi, will take part in the battle for Tal Afar.
Last November, the Iraqi Parliament approved a law giving full legal status to Hashd al-Shabi fighters. It recognized the PMU as part of the national armed forces, placed the volunteer fighters under the command of the Prime Minister, and granted them the right to receive salaries and pensions like the regular army and police forces.
Tal Afar has remained one of the last large ISIL's strongholds in Iraq, as the liberation of the city will signify a large victory in the fight against terrorism.
Tal Afar has been under ISIL's control since mid-2014, when the Takfiri terrorists captured the town. Before the seizure, it was home to 750,000 people. Many civilians still reside in the city.
The Iraqi Army announced in July 10 that Baghdad forces has recaptured the key town of Mosul, ISIL's de facto capital in the Arab country, after 9-month of bloody battle with the Takfiri terrorists in Nineveh province.
http://en.farsnews.com/newstext.aspx?nn=13960529300127
--------
Lebanon army advances against IS in border battle
Aug 21, 2017
BEIRUT - A mine blast killed three Lebanese soldiers Sunday as they were heading to take part in an offensive against the Islamic State group along the border with Syria, the army said.
Lebanon's army began its operation in the Jurud Ras Baalbek and Jurud al-Qaa region early on Saturday, and has already recaptured two thirds of the territory in the area, the military said.
The retaken area covers about 80 square kilometres (around 31 square miles) once controlled by the jihadists, the army said. But an army source warned on Sunday that ousting IS from the rest of the territory would be tough.
"The toughest battle will be to retake the remaining 40 percent because it is there that Daesh fighters are gathered. Nevertheless the army is ready," said the source, using an Arabic acronym for IS.
The soldiers killed on Sunday were on their way to join the offensive to oust IS, the military said in a statement. "An army vehicle was hit by a landmine on the Al-Najsa road roundabout in Jurud Arsal at noon today, killing three soldiers and injuring one soldier seriously," it read.
The statement said the wounded soldier was evacuated to hospital. The battle against IS is being fought further north from Jurud Arsal, along the border with Syria.
The army also said soldiers blew up an explosives-packed car and a booby-trapped motorcycle carrying would-be suicide bombers in Jurud Ras Baalbek, preventing an attack on the troops. Lebanon's battle against IS comes as the jihadist group faces assaults in both neighbouring Syria and Iraq, where the government early Sunday announced an offensive on the group's bastion of Tal Afar.
On Sunday, Lebanon's National News Agency reported soldiers used heavy artillery and rockets against IS positions in Jurud Ras Baalbek. At least 20 IS fighters have been killed in clashes since the army unleashed its operation on Saturday, and 10 soldiers wounded, military spokesman Brigadier General Nazih Jreij said.
He said on the first day of the offensive that the army had captured around 30 square kms of territory. The army says around 600 IS fighters were deployed in the Jurud Ras Baalbek and Jurud al-Qaa areas and controlled around 120 square kms of territory before the latest advances.
The offensive comes after Lebanon's powerful Shiite militant group Hezbollah waged a six-day assault against IS and Al-Qaeda's former affiliate in the Jurud Arsal area. The operation ended with a ceasefire that saw around 8,000 refugees and jihadists transported to a jihadist-held area of northwestern Syria in return for the release of five captured Hezbollah fighters.
On Saturday, Hezbollah said it launched an operation against IS from the Syrian side of the border, where its fighters are battling alongside President Bashar al-Assad's army against rebels. The Lebanese army denied any coordination with Hezbollah or the Syrian army.
Hezbollah's War Media outlet said its fighters and Syrian troops had "managed to liberate 87 square kilometres of the total area controlled by the Daesh organisation... in western Qalamun region" of Syria on Saturday alone.
On Sunday, the SITE Intelligence Group reported an IS claim that the jihadists had killed "nearly 100 Lebanese soldiers and Hezbollah fighters amidst clashes in western Qalamun".
Security along Lebanon's eastern border with Syria has long been a concern, and in 2014 jihadists invaded the town of Arsal and kidnapped 30 Lebanese soldiers and policemen. Four were executed by their captors while a fifth died of his wounds.
Sixteen were released in a prisoner swap in December 2015, but another nine solders are believed to remain in IS hands, their fate unknown. The army offensive against IS also comes after the jihadist group claimed several international attacks, including twin car ramming incidents in Spain that killed 14 people.
Full report at:
http://nation.com.pk/international/21-Aug-2017/lebanon-army-advances-against-is-in-border-battle
--------
ISIL Suffers Heavy Defeats in Army Attacks in Central Syria
Aug 20, 2017
The sources said that the army's artillery units shelled heavily ISIL's positions and movements East of the town of al-Sukhnah, Mosheireheh al-Janoubi and Abu Qatour in Eastern Homs, killing over 20 terrorists and destroying several military vehicles.
They added that the army soldiers also fortified their positions in Humeimeh region.
In the meantime, the army units drove ISIL out of Ba'ar Qadim and Ba'ar Tuweinan in the Southeastern part of Raqqa province.
Also, the artillery and missile units targeted ISIL's defense lines in areas surrounding the terrorist-held town of Aqayrabat in Hama province, killing and wounding a number of militants.
Relevant reports said on Saturday that the army troops and popular forces ended the first phase of their anti-ISIL operation in Central part of the country, including in Raqqa, Homs and Hama province, after imposing full control over 9,000sq/km of land.
The pro-government forces pushed ISIL terrorists from their positions in the Southeastern part of Raqqa province, Eastern Homs and Eastern Hama, a military source said, adding that the army soldiers managed to take control of 9,000sq/km, including 25 towns and villages and five oil and gas wells in five days of military operation against ISIL in Central Syria.
Full report at:
http://en.farsnews.com/newstext.aspx?nn=13960529300103
--------
ISIL Suffers Major Losses in Syrian Armed Forces' Attacks in Deir Ezzur
Aug 20, 2017
The army's artillery and missile unis shelled heavily ISIL's positons in al-Maqaber region, Tal (hill) Alloush and al-Huweiqa neighborhood in Deir Ezzur and its outskirts, killing at least 20 militants.
Meantime, the army soldiers stormed ISIL's defense lines in al-Maqaber, al-Thardah mountain, Panorama base and Regiment 137 base, killing a number of militants and destroying several command centers, positions and a large volume of arms and ammunition.
Also, local sources reported that commander of the Headquarter of "Caliphate's Young Lions" Abu Abadah Shami escaped Deir Ezzur along with his family members.
The Russian Air Force targeted a number of ISIL positions in the Eastern city of Deir Ezzur and its outskirts on Saturday, destroying a large depot of arms and ammunition in the city's districts.
The warplanes bombed heavily ISIL's positions in Civil Defense region North of al-Mufti Grand Mosque in Deir Ezzur city, destroying a large weapons and munitions depot of the terrorists.
The fighter jets, later, targeted ISIL's defense lines in Jonayd division base, Tal Aloush, Tal Milad in the Southwestern outskirts of Deir Ezzur city.
Full report at:
http://en.farsnews.com/newstext.aspx?nn=13960529300086
--------
Syrian Army Scores More Victories in War on Terrorists in Eastern Hama
Aug 20, 2017
The army men engaged in fierce clashes with the ISIL and captured the villages of al-Dakileh al-Shamali, al-Dakileh al-Janoubi and Um Hartin.
In the meantime, the army soldiers won control of a set of hills overlooking the Southern part of Um Hartin.
The army killed 10 ISIL terrorists and destroyed several military vehicles in the attack.
Relevant reports said on Friday that the army men engaged in fierce clashes with ISIL South of the town of Ithriya in Northeastern Hama and managed to take control over Ba'ar al-Seyed, Ba'ar al-A'awar, Rajm al-Hajaneh and Jabal al-Fasada regions.
The army men also imposed full control over mount al-Bal'as and the village of al-Sawaneh.
Full report at:
http://en.farsnews.com/newstext.aspx?nn=13960529300082
--------
Arab Daily: S. Arabia to Set Up Operations Room for Qatari Opposition
Aug 20, 2017
According to Rai al-Youm newspaper, Sheikh Abdollah bin Ali Al Thani, one of the prominent Qatari opposition figures, said that Saudi King Salman has allowed him to form a special operations room aimed at what he called as "giving service to the Qatari people".
He wrote on his twitter page that he had met with King Salman in Tangier in Morocco.
Al Thani said that the operations room will study and meet the demands of the Qatari Hajj pilgrims and citizens in Saudi Arabia and other world states and the Saudi employees will register their names and phone numbers.
According to the newspaper, observers believe that the operations room is most possibly created to pave the ground for the activities of Qatari opposition figures like what was formed for their Syrian counterparts in Jordan and Istanbul.
"Saudi Arabia's approach towards Sheikh Abdollah bin Ali and other Qatari opposition figures who join the operations room will be like a government in exile," they added.
Bahrain, Saudi Arabia, the United Arab Emirates and Egypt cut off diplomatic ties with Qatar early June, and suspended air and sea communication one week after the Arab Islamic American Summit in Riyadh, accusing Doha of supporting terrorist organizations and destabilizing the situation in the Middle East.
Qatar rejected claims by a Saudi-led bloc of countries that it "finances terrorism" and intervenes in their internal affairs.
After more than two weeks, on June 22, the Saudi-led bloc gave Qatar a 10 days to comply with 13 demands, which included shutting down the Al-Jazeera Media Network, closing a Turkish military base and scaling down ties with Iran.
Through Kuwait, which has been acting as intermediary, Qatar officially responded to the new deadline, as Doha stressed that the demands by Saudi Arabia and its allies were impossible to meet.
Foreign Ministers from the bloc of countries boycotting Qatar released a statement, saying Doha's rejection of the demands "proved" its link with terrorism. Top diplomats of the boycotting countries also added that the list of the collective demands was now void and they pledged further political, economic, and legal steps against Qatar.
Qatar had announced that Doha would not meet any of the 13 demands made by Saudi Arabia and its allies, offering instead "a proper condition for a dialogue" to resolve the [Persian] Gulf crisis, accused Saudi Arabia and its regional allies of "demanding that we must surrender our sovereignty as the price for ending the siege".
But Riyadh reiterated that its demands to Qatar to end the stand-off in the [Persian] Gulf were "non-negotiable".
Qatar is supported by Turkey and Iran as Ankara and Tehran have stepped in to provide fresh produce, poultry and dairy products to Doha, while Russia stressed that Moscow would do "everything possible" to help resolve the crisis. The US, UK and other Western countries have also dispatched senior envoys to the region to press both sides to resolve the dispute.
Full report at:
http://en.farsnews.com/newstext.aspx?nn=13960529300119
--------
Senior Terrorist Commander Killed in Booby-Trap in Southern Syria
Aug 20, 2017
The sources said that al-Amari was killed along with three of his aids as a result of a booby-trapped bomb explosion in one of the vehicles of the FSA-affiliated al-Thowar battalion along the road connecting the towns of al-Sourah and al-Qariyeh al-Sharqi.
Relevant reports said earlier this month that scores of militants in Dara'a were killed and wounded in a huge blast at one of their arms and ammunition depot in the city.
Websites affiliated to the terrorist groups reported that the blast occurred in a cache of mortars, ammunition and missiles in Katibeh al-Mahjoureh region in the Western parts of the Old Customs Office in Dara'a, killing 7 militants and injuring tens of others.
The blast came as a new wave of assassinations has started in recent months against commanders of the terrorist groups in Dara'a.
Full report at:
http://en.farsnews.com/newstext.aspx?nn=13960529300061
--------
Russian jets kill more than 200 ISIS militants near Syria's Deir al-Zor
21 August 2017
Russia's air force has destroyed a large column of ISIS fighters on their way to the Syrian city of Deir al-Zor, killing over 200 militants, Russian news agencies cited Russia's Defense Ministry as saying on Monday.
ISIS is concentrating its forces around Deir al-Zor after being pushed out of the south of Raqqa Province and the west of Homs Province by Syrian land forces and the Russian air force, the ministry said.
It said its planes had also destroyed the militants' military equipment. It did not say when the strike took place.
https://english.alarabiya.net/en/News/middle-east/2017/08/21/Russian-jets-kill-more-than-200-ISIS-militants-near-Syria-s-Deir-al-Zor-.html
--------
Lebanese army advances against ISIS in battle on Syrian border
20 August 2017
Lebanese soldiers renewed fire on ISIS group positions on the country's eastern border with Syria on Sunday after capturing a third of the territory held by militants in the area.
Lebanon's army began its operation in the Jurud Ras Baalbek and Jurud al-Qaa region early on Saturday, and in the first day captured around 30 square kilometers of territory, a military spokesman said.
"That is around a third of the area controlled by the terrorists," Brigadier General Nazih Jreij said late Saturday.
Jreij said 20 ISIS fighters had been killed in the clashes, and 10 Lebanese soldiers wounded.
Lebanon's battle against ISIS comes as the militant group faces assaults in both neighboring Syria and Iraq, where the government early Sunday announced an offensive on the group's bastion of Tal Afar.
The attack also comes after ISIS claimed several international attacks, including twin car ramming incidents in Spain that killed 14 people.
Lebanese soldiers raised the Spanish flag on a hilltop captured from ISIS on Saturday in a tribute to the victims of those attacks, the army said.
Lebanon's military estimated around 600 ISIS fighters were present in the Jurud Ras Baalbek and Jurud al-Qaa areas, controlling around 120 square kilometres of territory before Saturday's advances.
On Sunday, Lebanon's National News Agency reported soldiers were firing heavy artillery and rockets at ISIS positions in Jurud Ras Baalbek.
The army's assault comes after Lebanon's powerful Shiite militants group Hezbollah waged its own campaign against militants operating in another border area south of the current battle.
The group's six-day offensive against ISIS and Al-Qaeda's former affiliate in the Jurud Arsal area ended with a ceasefire.
The agreement saw around 8,000 refugees and militants transported to a militant-held area of northwestern Syria in return for the release of five captured Hezbollah fighters.
Hezbollah said Saturday it had launched a simultaneous operation against ISIS from the Syrian side of the border, where the group's fighters are battling alongside President Bashar al-Assad's army against rebels.
Lebanon's army denied any coordination with Hezbollah or the Syrian army.
Hezbollah's War Media outlet said its fighters and the Syrian army had on Saturday "managed to liberate 87 square kilometres of the total area controlled by the Daesh (ISIS) organization... in western Qalamun region" of Syria.
Security along Lebanon's eastern border with Syria has long been a concern, and in 2014 militants invaded the town of Arsal and kidnapped 30 Lebanese soldiers and police.
Four were executed by their captors while a fifth died of his wounds.
Full report at:
https://english.alarabiya.net/en/News/middle-east/2017/08/20/Lebanon-army-advances-against-is-in-border-battle.html
--------
Bahrain foreign minister: Qatar turned blind eye to King Salman's initiatives
21 August 2017
Bahraini Foreign Minister Khalid bin Ahmed Al Khalifa said on Sunday that Doha has not appreciated initiatives made by Saudi Arabia's King Salman's towards the Qatari pilgrims going to Hajj this year.
The foreign minister added: "King Salman has had good intentions since the start of the crisis in regards to exempting Qatari pilgrims from any prohibitions [towards them entering Saudi Arabia], however this gesture has been met with Qatar turning a blind eye to the matter and abuse [of the gesture]," according to an official Bahrain News Agency report.
"We are not evil nor are we are not trying to insult anyone, however any insult directed towards Saudi Arabia is one directed towards Bahrain. We do not accept it and we will respond to it," he added.
The minister made his remarks following news that Saudi Arabia's state carrier was unable to send planes to transport Qatari pilgrims to the kingdom because it had been unable to get permission to land at Doha airport amid a diplomatic dispute between the two countries.
Qatar and Saudi Arabia, along with three other Arab states, have been locked in a political row which severed transport ties to Doha in June, but Riyadh said last week it would facilitate the travel of Qataris for the annual haj pilgrimage.
Between 2 million and 3 million Muslims travel to Mecca each year for the pilgrimage - which every able-bodied Muslim has a duty to undertake at least once in their lifetime.
Along with reopening its land border with Qatar, Saudi Arabia said on Wednesday that King Salman had ordered the dispatch of a Saudi Arabia Airlines plane to fly Qatari pilgrims to Jeddah at his own expense so that they could go on to Mecca, Islam's holiest city.
However, the first flight has not been able to take off from Saudi Arabia because it had not yet received landing permission in Doha, said Saleh al-Jasser, the general director of the airline, according to Saudi state news agency SPA.
Full report at:
https://english.alarabiya.net/en/News/gulf/2017/08/21/Bahrain-foreign-minister-Qatar-has-turned-a-blind-eye-to-King-Salman-s-initiative-.html
--------
Europe
Lake County mosque opens doors to non-Muslims: 'There are so many things in common between us'
Aug 21, 2017
Shaykh Azfar Uddin, the imam at the Islamic Foundation North Mosque, said when the prime minister of Spain called the recent deadly terror attack in Barcelona an example of "jihadi terrorism," he did not know the true meaning of the word jihad.
The imam's comments came during the question-and-answer portion of an open house event hosted at the mosque on Saturday's first National Open Mosque Day.
Questions about jihad and the clothing worn by Muslim women were answered by the imam and other representatives of the mosque. The imam explained that jihad simply means "to struggle."
"There are different types of jihad...Your jihad could be not to gossip," he said.
Answering questions like these and providing an opportunity to educate non-Muslim community members about the religion while clearing up misconceptions about Islam is the intent of the National Open Mosque Day, according to the director of outreach at the mosque, Sabeel Ahmed. He said the mosque, located near Libertyville and Waukegan, was one of about 100 mosques participating in the national open house day.
"There's so many misconceptions that are out there, especially after what happened in Barcelona and different places," he said, referring to terrorists acts carried out in the name of Islam. "We want to make sure our fellow Americans get to know the correct info about Islam from Muslims and the source, which is the Quran. This is giving them the opportunity to get the information."
The dozens who attended Saturday's event were treated to lunch, free copies of the Quran and a brief lecture from Ahmed about the key tenants of the religion, which has over 1 billion adherents worldwide.
Several women in attendance asked why Muslim women are required to cover themselves.
A member of the mosque community, Helena Abushamma, replied that "this is not a Muslim thing. God from the beginning told both men and women to dress modestly. The Virgin Mary is my role model when it comes to fashion."
Abushamma said she dresses modestly because she doesn't want to "become a sexual object for men or anyone else" and she'd rather be known for who she is as a person. And, she said, wearing a hijab and dressing modestly is just one small part of being a good Muslim.
"What's more important is how I act, how I treat people and how I control myself," she said.
As a follow-up, Ahmed explained to the crowd gathered that men are also required to dress modestly.
"Men have to control ourselves and our sisters," he said. "We have to control ourselves with the guidance of God."
Waukegan Mayor Sam Cunningham praised the mosque for opening its doors to the community and for the local Muslim community's willingness to educate their non-Muslim peers. He said he the event had inspired him to host something similar at Waukegan City Hall.
"There is always another side of the story, and this is the side people need to hear about and understand and be educated on," he said. "So I'm saying to you that I want to extend the doors of city hall that we do this on a night and we invite those into the city of Waukegan and city hall to give all of us a better understanding and better education about the Islamic faith."
Lynn Hepler, a Vernon Hills resident, said she attended Saturday's open house because she's angry at the rhetoric about Muslims and other minority groups coming from the Trump administration.
"These people are open about what they believe. It's not what I believe, but it's OK. It's not necessary. That's part of the whole U.S. freedom of religion thing," she said. "If we stick to our constitution and the higher ideals that brought this country together, I think we're going to be way better off than what I'm seeing demonstrated now on a national level."
Gloria Walsh, a Mundelein resident who attended the open house, said she was also dismayed by the rhetoric around Muslims at the national level.
"I have family members who are Muslim, and I wanted to learn more, but also just with everything going on in the country and the world, you feel like you just want to be supportive," she said.
Hepler said she thought what the mosque was doing was "brilliant," and that fear and hatred is often driven by a lack of interaction between people of differing backgrounds and belief systems.
Ahmed said the National Open Mosque Day is a tool to foster interaction between Muslims and people of different faiths. He said there's so much the mosque and other religious organizations can do together to combat big problems in the community and the world.
He said he hopes by continuing this event as an annual tradition it will pave the way toward more interfaith collaboration and erode the anxiety people have about those who are different from them.
"The fear of the unknown people may have about each other, different races and nationalities, hopefully that will go away and people will realize there are so many things in common between us as humans and believers," Ahmed said.
http://www.chicagotribune.com/suburbs/libertyville/news/ct-lbr-mosque-open-house-tl-0824-20170820-story.html
--------
'ISIS is the enemy of Islam and Muslims' – Imam El Sadi on behalf of Muslim community in Malta
Aug 21, 2017
The terrorist organisation known as ISIS are enemies of Islam and Muslims, Imam Mohammad El Sadi wrote in a press release reacting to the terrorist attack in Barcelona on Friday which left 34 people dead and scores more injured.
He described the attack as "criminal" and "satanic".
"The injured and the dead victims came from 34 countries including Islamic countries, the fact which makes this horrible offence a kind of genocide against humanity.
"Contrary to what ISIS claims of supporting Islam and oppressed Muslims, ISIS is causing grave harm to the Islamic Faith and the followers of Islam. IT hijacked Islam and turned it into a religion of hatred, bloodshed, savageness and devastation. It drove non-Muslims to fear, hatred and enmity against Islam and Muslims thus exposing Muslims all over the world to grave sufferings and injustice.
"Since its creation ISIS gangs caused the killing of tens of thousands of innocent Muslims, the destruction of several cities and villages like Mosul, Fallujah and Anbar in Iraq and Palmyra and Raqqa in Syria which led to the displacement of hundreds of thousands of Muslims.
"The disastrous consequences of ISIS criminal practices show that Muslims are the main victims of ISIS terrorism and prove that ISIS is the enemy of Islam and Muslims. It only serves the Satan and the enemies of Islam.
"Unfortunately, Muslims are not only the victims of terror but, also, in most cases, are the victims of counter terror."
He called the "savage criminal acts of ISIS in Europe" a serious threat to the peaceful existence of Muslim communities in the region.
"It is a threat to the stability of thousands of Muslim families who found in Europe a secured shelter from fear and death. Any threat to the security of Europe is a threat against the security of Muslims of Europe."
He thanked the Maltese community together with other European countries for their "generosity
"We appeal to the European people not to judge Islam and Muslims according to the evil practices of the few ignorant crazy ISIS criminals who only represent themselves.
Full report at:
http://www.independent.com.mt/articles/2017-08-20/local-news/ISIS-is-the-enemy-of-Islam-and-Muslims-Imam-El-Sadi-on-behalf-of-Muslim-community-in-Malta-6736178028
--------
Spain Terror Attacks Put Muslims in Catalonia Under Harsh Spotlight
By F. BRINLEY BRUTON
AUG 20 2017
BARCELONA, Spain — As authorities hunted the driver who plowed into a crowd in the Catalan capital, Barcelona, some have expressed concern that the region's large Muslim population puts it at particular risk from Islamic extremism.
An ISIS-affiliated news agency said the terror group took responsibility for the van atrocity, which killed 13 people including an American, and for related attacks that have rocked the area since Thursday.
Police believe they have dismantled a terror cell, and have raided an apartment belonging to a Muslim cleric. The father of two of the suspected terrorists involved in the attacks said his sons had been radicalized by a local imam.
A fiery editorial in right-wing newspaper La Razon branded Catalonia the "capital of Salafism in Spain." With this reference to an ultra-conservative branch of Islam, polemicist Alfonso Ussía took aim at local politicians for avoiding the issue and suggested local Muslims had not shown sufficient anxiety.
The attention from La Razon and others has shone a harsh light on the area's Muslims — even as those opinions clash with those held by the many in a city that elected a progressive mayor in 2015.
Dozens of Muslims gathered Saturday on La Rambla, the tourist hotspot where the van attack took place, and chanted "Not in my name" and "Islam isn't terrorism."
They also held placards emblazoned with "We are all Barcelona" in Catalan, the language of the region.
David Garrida Guitart, a criminologist based in Barcelona and an expert on Islamic extremism, says some 30 percent of Spain's almost 300 mosques are in Catalonia, which has a population of about 7.5 million. Around 46.6 million people live in Spain as a whole.
Government statistics, meanwhile, show that authorities in Catalonia conducted 11 anti-terror operations and detained seven suspected extremists in 2017 before the attack — more than any other region in Spain.
The worry now is that "parallel societies" could develop in parts of the country like El Raval, a gritty neighbourhood with a large Muslim population right next to La Rambla, said Garrida Guitart. The district has been dubbed by some as the Molenbeek of Barcelona — a reference to the suburb of Brussels that has been tied to Islamic extremism.
"We're not talking external ghettos — they are right in the middle of urban centers," he said. "But people are isolated, some imams don't speak Spanish."
Garrida Guitart warned that El Raval could be one of these "parallel populations."
As shown by Saturday's demonstration, the anger the recent attacks provoked have compelled members of Catalonia's 500,000-strong Muslim community to respond.
"We ask forgiveness from the families and the souls that we were not able to take care of these people," said Javid Mughal, the director of El Mirador dels Immigrants, a newspaper based in El Raval aimed at recent arrivals.
Mughal, whose paper is printed in Urdu, Spanish and Catalan, warned his co-religionists to remain alert to extremism within their own ranks.
"We cannot lower our guard — if we see strange things we have to take them to the police. It affects all of us."
Suspected jihadists were behind a string of attacks across Europe in which vehicles has been used as weapons — a crude but deadly tactic that is near-impossible to prevent and has now killed nearly 130 people in France, Germany, Britain, Sweden and Spain. While Mughal acknowledged the community's role in preventing extremist attacks, he was also was quick to warn of xenophobia stemming from Thursday's onslaught.
"Just because someone is a criminal doesn't mean everyone in the neighborhood is responsible," he said.
With the raw grief on display in the growing memorials throughout La Rambla and news of the manhunt dominating the news, feelings are running high on all sides.
"It is claimed this attack was done by Muslims. This is bulls---," said Samir, a worshiper at Tariq bin Ziyad mosque in El Raval.
The 32-year-old, an engineering student who declined to provide his last name, questioned whether those who committed the crime were true Muslims, since their acts were "against Allah" and could not have been committed by anyone with faith in God.
"No religion supports this," he said. "I don't think they are practitioners."
Samir blamed social isolation typical of Western cultures for the wrongs committed by some in the name of Islam.
"The lonely can be misguided by their frustrations," he said.
Regardless of whether the perpetrators of the Barcelona attack were Muslim, his coreligionists had the obligation to seek out those who were troubled and bring them back into the fold, Samir added.
Other Muslims looked beyond the community for answers.
Thursday's attack "was a complete failure of the security system of the government," said Huma Jamshed Bashir — who owns a string of travel agencies and has worked on the issue of forced marriage and women's rights.
"Yes, there are some little groups of radical people but it doesn't mean they are terrorists," said the 51-year-old. "So the government should have taken some measures to get closer to those groups and try to change their minds."
Jamshed Bashir, who was embroiled in a legal dispute with the municipal government after having been expelled as a local counselor, also believes her fellow Muslims have an important role to play in combating extremism. She said they should promote a more inclusive image — one that, for example, includes women.
Related: Scared but Defiant, Barcelona Marches to Reclaim City From Terrorists
"There is no open mosque for everyone. If you ask any Muslim leader they will say 'Yes, she is allowed, she can pray,'" she said.
"They will say this but they don't have two bathrooms. And they don't have a separate place for them to pray."
Garrida Guitart, the criminologist, takes a more holistic approach. The key to dealing with extremism is integrating young Muslims into mainstream society overall, he said.
Full report at:
http://www.nbcnews.com/news/world/spain-terror-attacks-put-muslims-catalonia-under-harsh-spotlight-n794216
--------
Russia steps up probe into attack claimed by Islamic State
Aug 20, 2017
Russia said on Sunday that a stabbing which injured seven people and was claimed by the Islamic State group is being probed by top investigators in Moscow, as new details emerged.
IS claimed responsibility for the attack in the remote city of Surgut along with the attacks in Spain that killed 14 through its Amaq propaganda agency, calling the attacker "a soldier of the Islamic State."
A black-clad attacker in a balaclava ranged through central streets of the city around 2,100 kilometres (1,330 miles) northeast of Moscow on Saturday morning, stabbing people apparently at random before being shot by police.
Russia, which initially said the theory of terrorism was "not the main one" being considered, has opened a criminal probe into attempted murder and has not reacted officially to the IS claim.
The Investigative Committee, which probes major crimes, said in a statement on Sunday that "due to the wide public reaction," its chief Alexander Bastrykin has put the case directly under control of its central apparatus in Moscow.
Investigators said they had carried out searches of the attacker's home and were establishing the circumstances and the "motive for the attacker's actions."
The attacker was born in 1998, the Investigative Committee said, while previously it had said he was born in 1994.
Unconfirmed media reports on Saturday had described the attacker as a 19-year-old whose father originates from Dagestan in Russia's mainly-Muslim North Caucasus region.
Video posted by Izvestia newspaper on its website on Sunday showed the attacker, a slim young man, lying on the ground dressed all in black with a red object taped round his waist.
NTV television aired witness video of a policeman chasing the attacker through streets and firing apparently at his head, after which the attacker falls to the ground.
Earlier investigators said that they were looking into the attacker's "possible psychiatric disorders."
One of the stabbing victims remained in a serious condition while the others were stable, investigators said.
Full report at:
http://www.hindustantimes.com/world-news/russia-steps-up-probe-into-attack-claimed-by-islamic-state/story-yCoSANDlKeIch4IojIj3lM.html
--------
Barcelona attack: From age 3 to 80, victims represent a wide world
Aug 21, 2017
People from around the world killed in vehicle attacks in Barcelona and the nearby seaside resort of Cambrils on Thursday and early Friday.
As many as 14 people lost their lives in Barcelona attack and among them there was an Italian father who saved his children's lives but lost his own, an American celebrating his first wedding anniversary and a Portuguese woman celebrating her birthday with her granddaughter.
They spanned generations — from age 3 to age 80 — and leave behind devastated loved ones. The victims — who also include over 120 people wounded in the attacks — come from nearly three dozen countries.
Here is a look at some of them:
Francisco Lopez Rodriguez, 57, and Javier Martinez, 3, Spain
Francisco Lopez Rodriguez was killed with his 3-year-old grand-nephew, Javier Martinez, while walking along the Las Ramblas promenade in Barcelona.
Lopez was accompanied by his wife Roser — who is recovering from her wounds in a hospital — her niece and the niece's two children, one of them Javier.
"He was a lovely man, kind and charitable. Everyone loved him," said 81-year-old Natalia Moreno Perez from Lopez's native town of Lanteira, some 700 inhabitants outside Granada in southern Spain.
"I knew him from when he was a kid, always telling jokes," said Natalia. "Terrible news, the town is in mourning."
Lopez emigrated from the town with his family in the 1960s to seek work. He lived in Rubi, a migrant town of 75,000 people northwest of Barcelona, and had been visiting the Catalan capital.
Leading newspaper El Pais said Lopez worked as a metal worker in Rubi and had been walking back from Barcelona port area when the van burst onto Las Ramblas.
"We are a broken family," niece Raquel Baron Lopez posted on Twitter.
Granddaughter and grandmother, 20 and 74, Portugal
The two were in Barcelona to celebrate the grandmother's birthday when they were caught up in the horror on Las Ramblas, according to Portuguese media reports.
They had arrived in the city for a week's vacation just a few hours before they were killed, Jose Luis Carneiro, Lisbon's secretary of state for Portuguese communities abroad, told reporters.
Full report at:
http://nation.com.pk/international/20-Aug-2017/barcelona-attack-from-age-3-to-80-victims-represent-a-wide-world
--------
Spain 'dismantles cell behind terror attacks'
Aug 20, 2017
Spain says it has dismantled an extremist cell behind the recent terrorist attacks in Catalonia, which were claimed by the Takfiri Daesh group.
Thirteen people died on Thursday when a man drove a van into people in a Barcelona promenade. Some 120 people were also injured.
Another similar attack on Friday killed one person and wounded five in the resort of Cambrils.
Spanish Interior Minister Juan Ignacio Zoido told a news conference on Saturday that the cell behind the terrorist attacks had been dismantled.
"The cell has been fully dismantled in Barcelona, after examining the people who died, the people who were arrested and carrying out identity checks," Zoido said.
He assured there was no new imminent danger of an attack.
This is while Spanish police have said the driver of the van in the Barcelona attack is still at large. He was seen escaping on foot after the attack.
Information about the investigation is patchy. Police were also trying on Saturday to determine whether two other suspects linked to the attacks were dead or still at large.
That uncertainty may be because the remains of three people found at a house in Alcanar after an explosion on Wednesday are yet to be identified. An unknown number of suspects were reportedly attempting to build bombs there when a pre-mature detonation occurred.
A Moroccan-born 22-year-old, Younes Abouyaaqoub, is among the suspects still being sought. Spanish media said he might have been the driver of the van in the Barcelona attack, but authorities have not confirmed that.
In the Cambrils incident, police managed to kill all the five assailants. They were wearing fake explosive belts.
Seventeen-year-old Moussa Oukabir, whose brother Driss reported to police that his documents had been stolen, was one of the five killed. His documents were found in the van in the Barcelona attack.
Four people were also in police custody.
Everyone so far known in the cell grew up in Ripoll, a Catalan town near the French border, 100 kilometers north of Barcelona.
Halima Hychami, the mother of Mohamed Hychami, one of the attackers named by police, said she learned about the incident on TV.
Full report at:
http://www.presstv.ir/Detail/2017/08/20/532293/Spain-Ignacio-Zoido-terrorist-cell-dismantled
--------
Train station in France evacuated over terror alarm
20 August 2017
A train station in southern France's Nimes was evacuated late Saturday after three armed men were reportedly spotted on the Paris-Nimes train, local media said.
According to the French Midi Libre newspaper one person allegedly in possession of a non-lethal alarm gun was arrested as a result of their investigation.
On their official Twitter page, French government officials in Gard, said the police have completed their investigations in the area, "against a suspicious report".
Gard warned citizens to avoid visiting the station and its surroundings.
'http://www.worldbulletin.net/europe/193142/train-station-in-france-evacuated-over-terror-alarm
--------
South Asia
Trump eyes Afghanistan's elusive mineral riches
Aug 21, 2017
KABUL: U.S. President Donald Trump is eyeing Afghanistan's mineral wealth to help pay for a 16-year war and reconstruction efforts that have already cost $117 billion. Investors who have studied the country, one of the world's most dangerous, say that is a pipe dream.
Ever since a United States Geological Survey study a decade ago identified deposits later estimated to have a potential value of as much as $1 trillion, both Afghan and foreign officials have trumpeted the reserves as a likely key to economic independence for Afghanistan.
As well as deposits of gold, silver and platinum, Afghanistan has significant quantities of iron ore, uranium, zinc, tantalum, bauxite, coal, natural gas and significant copper - a particular draw given the dearth of rich new copper mines globally.
Afghanistan, some reports say, even has the potential to become "the Saudi Arabia of lithium", thanks to deposits of the raw material used in phone and electric car batteries.
But a lack of basic logistics - paved roads and rail links needed to export copper concentrate or iron ore - pervasive corruption, a messy bureaucracy and a growing insurgency that has left much of the country beyond the writ of the Kabul government have stifled attempts to a build a legitimate mining sector.
Much of the basic data dates back to the Soviet occupation in the 1980s. And the cost of having foreign geologists and engineers visit remote sites to carry out new surveys is prohibitive when nothing is yet being produced to pay for it.
"There is no low-hanging fruit that could trigger rapid growth and foster self-sustaining development," said the government's own National Peace and Development Framework document, presented at last year's donor conference in Brussels.
Major projects such as the Mes Aynak copper mine, being developed by a Chinese consortium, remain at a standstill.
"There is zero active mining and very little exploration, if any," says Leigh Fogelman, director at merchant bank Hannam & Partners in London. The bank's founder, former JP Morgan rainmaker Ian Hannam, has been a long-time investor in Afghanistan through the Afghan Gold and Minerals Company (AGMC).
AGMC won the license for another copper deposit, at Balkhab in northern Afghanistan, in 2012.
For the rest, resources have been prey to what William Byrd, a development economist with the United States Institute of Peace, has dubbed "industrial-scale looting".
While small and medium-sized mines do exist, many are outside government control, profiting powerful local operators and depriving the treasury of what the government estimates at $300 million in unpaid taxes.
"The big mining opportunities are just languishing and there's looting of smaller resources everywhere," Byrd said.
GREAT GAME
As Afghan officials sought to raise interest in Afghanistan with the incoming U.S. administration earlier this year, they pushed the idea of the mineral reserves.
"President Trump is keenly interested in Afghanistan's economic potential," Hamdullah Mohib, Afghanistan's ambassador to Washington, told Reuters in June. "Our estimated $1 trillion in copper, iron ore, rare earth elements, aluminum, gold, silver, zinc, mercury and lithium. That's new."
U.S. officials have told Reuters that Trump argued at a White House meeting with advisors in July that the United States should demand a share of Afghanistan's mineral wealth in exchange for its assistance to the Afghan government. [nL1N1KP007]
U.S. Defense Secretary Jim Mattis said on Sunday that Trump has made a decision on the United States' strategy for Afghanistan after a review with national security advisors, but did not give any details. [nL8N1L60GC]
It is easy to see why the mining sector has aroused so much interest in Afghanistan, a landlocked country with an economy worth about $20 billion a year - roughly half the size of Wyoming, the least populous U.S. state.
But private investors are wary, says Fogelman, and there is no quick fix.
"In the case of large, public sector investment, the situation would be different - however, there would still be the problem of building up logistics and export links," he said. "I reckon it would still likely take years to get a meaningful large-scale operation going."
Even if private armies could be hired to defend the mines against insurgent attack, the cost of moving minerals out would likely be prohibitive until the entire country was secure - which could take many years.
One longtime mining expert formerly based in Kabul recounted his conversation with a top mining firm.
"They said: 'Don't worry, we can bring our own security detail and do the mining operation'. But, they said, 'How are we going to get this stuff out of the country?'"
According to a 2014 mining ministry study, some of Afghanistan's most promising deposits of lithium are in the eastern province of Ghazni and in the far southern region of Gowde Zereh in Helmand province, all areas largely under the control of the Taliban.
"The idea that this will materialize in the near future and pay for the security sector budget is unrealistic," said Byrd.
Even without the war, mining is tough.
China acquired a 30-year lease on the Mes Aynak copper mine for around $3 billion in 2008 but, although the Taliban has explicitly declared that it will not target it, the project has been plagued by delays due to contractual wrangling.
Under a donor program agreed in Tokyo in 2012, Afghanistan was supposed to be earning $1 billion a year from mining revenues by 2017 but expectations have been pulled back.
In the first 11 months of the last fiscal year, the government raised just $18 million from mining revenues and the government's own projections now do not see them exceeding the $1 billion mark before 2029.
That compares with security spending of $4.6 billion this year, equivalent to almost a quarter of the total budget.
"It's illusory to think that minerals will save Afghanistan in any foreseeable future," said one senior Western diplomat in Kabul.
http://nation.com.pk/international/21-Aug-2017/trump-eyes-afghanistan-s-elusive-mineral-riches
--------
Taliban, Daesh jointly massacred people in Afghan village: UN
Aug 20, 2017
An investigation team of the United Nations has confirmed that the Taliban and Daesh terrorist groups jointly massacred dozens of people, mostly Shia Hazaras, in an attack that "may amount to a war crime" in a remote northern village in Afghanistan earlier this month.
Investigators of the UN Assistance Mission in Afghanistan (UNAMA) said in a fact-finding report published on Sunday that they had "verified allegations" of at least 36 deaths in the Shia-majority village of Mirza Olang in Sayad district of the northern province of Sar-e Pul.
"These killings, corroborated by multiple credible sources, constitute violations of international humanitarian law and may amount to war crimes," UNAMA said in its report.
Fierce fighting began in the area on August 3, when militants, reportedly including foreign nationals, seized a checkpoint manned by local police. Two days later, they entered the village, and according to provincial officials, killed civilians in "a brutal, inhumane way."
The militants set fire to several mosques, torched at least 30 houses, beheaded a number of villagers and shot dozens of others dead, officials said.
Following the civilian deaths, Taliban said in a statement that they had gained control of the village, but dismissed reports of the massacre, calling it "hollow propaganda by the enemy."
The report added that more than half of the killings occurred on August 5, when hundreds of families tried to flee the militant-held Mirza Olang.
At the time, Afghan officials announced that over 60 people had lost their lives in the brutal killing carried out by Taliban and Daesh in a rare joint operation between the two rival terrorist groups.
Taking advantage of the chaos, the Daesh Takfiri group, which is mainly based in the Middle East, has managed to establish some footholds in Afghanistan, trying to recruit from Afghan Taliban defectors.
In a statement, Taliban rejected the UN report, claiming that it contained "baseless allegations" and "false claims." Last week, however, Daesh said in a statement that it had killed some 54 Shia Muslims in the ill-fated village.
Taliban militants were removed from power following the 2001 US-led invasion of Afghanistan, but they have stepped up activities in recent months, attempting to overrun several regions. During the past 16 years, the militants have been conducting terrorist attacks across the country, killing and displacing civilians.
Full report at:
http://www.presstv.ir/Detail/2017/08/20/532366/Afghanistan-Taliban-Daesh-UN-report-Mirza-Olang-Sare-Pul-massacre
--------
Interpol identifies Bangladeshi-born Canadian as potential suicide bomber in Europe
August 20, 2017
Tabirul Hasib, 25, is among 173 Islamic State fighters Interpol has named as potential suicide bombers
Interpol is currently in pursuit of a Bangladeshi-born Canadian who is believed to have been trained by the Islamic State for suicide attacks in Europe, according to a Canadian media outlet Global News.
Tabirul Hasib, 25, is among 173 Islamic State fighters Interpol has named as potential suicide bombers, based on data uncovered by US intelligence.
The list was distributed amid concerns that, as Islamic State collapses in Syria and Iraq, it will attempt to send waves of trained operatives to the West to conduct attacks.
The media outlet quoted Canada-based militancy researcher Prof Amarnath Amarasingam, who found the Bangladeshi-Canadian on the list, saying Interpol disseminated it because "they are scared of many of these guys sneaking into various countries to launch attacks."
Amarasingam said most of those named were Iraqis, who would "not really be on the radar of European law enforcement." But he added that the list also included several Westerners, including Hasib.
The Guardian, which first reported on the list, said it was disseminated on May 27 and named fighters that "may have been trained to build and position improvised explosive devices in order to cause serious deaths and injuries. It is believed that they can travel internationally, to participate in terrorist activities."
A note attached to the list said those on it "have been identified through materials found in the hiding places of ISIL," and added that "it emerges that those subjects may have manifested willingness to commit a suicidal attack or martyrdom to support Islam," The Guardian reported.
Former Toronto resident Hasib was part of a group of friends of Bangladeshi and Indian origin who were recruited in Toronto by André Poulin, a Muslim convert originally from Timmins, Ontario who called himself "Abu Muslim."
In July 2012, Hasib and three others, including one named Malik Abdul, flew to Lebanon to join the fight in Syria but their fathers went after them and convinced them to return to Canada. The incident was not reported to police at the time.
Poulin died in Syria in 2013 and in July 2014, Hasib, Malik Abdul and at least one other recruit- both Bangladeshi-born Canadians- flew to Turkey and crossed into Syria at Tal Abyad on July 14, according to leaked Islamic State entry records.
Hasib's Islamic State entry form noted he was single, wanted to be a fighter and had previously travelled to Bangladesh and Lebanon. His "Shariah level" was rated as "student."
The Interpol list also said Hasib joined Islamic State in July 2014 and that he used the nom de guerre "Abu Bakr Bangladeshi." It named his mother, and said he lived at the "Battalion Guest Houses."
Amarasingam, an expert on foreign fighters and a senior research fellow at the Institute for Strategic Dialogue, said the Canadians had joined Islamic State with the help of former Mississauga resident Mohammed Ali, an Islamic State member in Syria.
During the investigation into the "recruitment and radicalisation" of Hasib and his associates, Malik Abdul's younger brother Kadir Abdul told police that he had remained in contact with Hasib on Facebook, according to court documents.
Hasib told the brother that the two other Hasib had travelled with, including Malik Abdul, had been killed in November 2014 and early 2015.
"Both had died fighting with Islamic State," the court documents said.
Kadir Abdul told police "that Hasib must also be dead due to Russia airstrikes." But that has never been confirmed.
Full report at:
http://www.dhakatribune.com/world/north-america/2017/08/20/interpol-identifies-bangladeshi-born-canadian-potential-suicide-bomber-europe/
--------
Afghan Air Force to get organic intelligence reconnaissance capability for the first time
Aug 20 2017
The Afghan Air Force for the time will get organic intelligence reconnaissance capability for the first time as efforts are underway to expand the capabilities of the Afghan forces.
The NATO-led Resolute Support mission in Afghanistan in its latest report has said the airpower of the AAF includes the Mi-17 (for air transport of troops and cargo, medical evacuations, and attack), the A-29 (a strike aircraft), the MD-530 (a small attack helicopter), the C-130 (airlift), and the C-208 (airlift with airdrop capability).
The report further adds that AAF is expanding and will include new capabilities such as the AC-208, an aircraft which, for the first time, will provide the AAF an organic intelligence surveillance reconnaissance capability. Also, they will be empowered with 159 new UH-60 Black Hawk helicopters and additional A-29s and MD-530s.
In the meantime, the alliance informs regarding the unprecedented progress the Afghan Air Force has made recently.
"Just as one example, last year, the Afghans led, planned, and executed a medical evacuation in which they managed to transport a soldier from the battlefield to a medical facility within one hour, the golden hour, saving his life," explained U.S. Air Force Master Sgt. Terisa Filner, TAAC-Air medical superintendent.
This is just one example of how the Afghans have excelled in routine medical evacuations. In 2016 they successfully transported about 10,000 wounded soldiers for medical care. This translates into saving many lives, she added.
Another success highlighted by these NCOs was the first-ever operation to resupply forward deployed Afghan soldiers earlier this year, in which the Afghans led and executed an airdrop of 650 pounds of critical supplies in support of ground forces.
According to Resolute Support mission, a mission critical component of these successes are the air-to-ground coordination team and the Fly Away Security team. FAST provides security to the aircraft and the crew.
"The air-to-ground coordination team owns the battlefield. They are responsible to validate strikes and avoid civilian casualties. They cipher altitudes, set priorities of fires, set structure levels to destroy, suppress or neutralize the enemy, make safety calls, and constantly make life or death decisions with the ground commander," explained Chief Warrant Officer 4 Davis R. Kalcevic, 438th Air Expeditionary Attack Squadron, – Train, Advise, Assist MD 530, instructor pilot.
Air power is a key capability that insurgents do not have, which places extra importance on the AAF mission. To put their successes into perspective, it takes about five to 10 years to build an Afghan pilot during peacetime. The AAF, with the help of coalition forces, is professionalizing these pilots and experts in about 18 months without sacrificing quality.
To save time, Afghan candidates are recruited directly from officer school. They undergo an aggressive process, conducting part-task training, which means concentrating efforts on specific areas they will be performing.
"We are building an enterprise. It is not only about the aircraft, it's about maneuvering, maintenance, weather planning and sustainment. They have an authorized force of 8,017 members, and in 2017 we are on pace to meet or exceed the missions from 2016," explained Brig. Gen. Phillip A. Stewart, TACC-Air commander, during the mission brief.
The new generation of Afghan leaders are striving for continued success, according to TAAC-Air leadership.
"The next generations of Afghan senior leaders will definitely help the junior enlisted and young NCOs to succeed and find their way … the new generation of Afghan airman and soldiers will thrive. There is no doubt," Thetford said.
Full report at:
http://www.khaama.com/afghan-air-force-to-get-organic-intelligence-reconnaissance-capability-for-the-first-time-03395
--------
Taliban rejects Ata Mohammad Noor's claims during Balkh operations
Aug 20 2017
The Taliban insurgents group in Afghanistan has rejected the claims by the Balkh governor regarding the operations in Chamtal district.
The Taliban spokesman Zabiullah Mujahid in a statement said the claims by Noor regarding the operations in Chamtal are 'propaganda' and are not true.
The statement further added that the government forces have used all their forces but no developments have been made by them to recapture the lost areas.
However, the officials of the 209th Shaheen Corps of the Afghan national army in the North said the deputy shadow governor of the Taliban identified as Matiullah Omari was wounded during the counter-terrorism.
The officials further added that the operations nicknamed Alburz-12 were launched on Saturday after the insurgency related movements by the Taliban group.
According to the officials, the operations are being led by the 209th Shaheen Corps commander Gen. Amanullah Mubin.
More than ten insurgents have been killed during the operations so far, the officials said, adding that Omari was wounded during the operations in Arab Mazari village.
Full report at:
http://www.khaama.com/taliban-rejects-ata-mohammad-noors-claims-during-balkh-operations-03394
--------
Pakistan
Pak: Noted terrorist in US to contest for Nawaz Sharif's National Assembly seat
Aug 21, 2017
Lahore: Global terrorists hiding in Pakistan are making an easy foray into country's mainstream politics.
Milli Muslim League (MML), a political party formed recently by noted terrorist Hafiz Saeed, has nominated Qari Mohammad Yakub Sheikh to contest former Pakistani Prime Minister Nawaz Sharif's National Assembly seat.
Born in Bhawalpur in 1972, Yakub was listed as a Specially Designated Global Terrorist by US Treasury Department in 2012.
Yaqub will contest against Kulsoom Nawaz under the banner of JuD's political outfit Milli Muslim League (MML) from the National Assembly constituency NA-120 (Lahore) that earlier elected Nawaz Sharif, the deposed Prime Minister of Pakistan. He is holding a Master degree in Islamic Studies from University of Punjab, Lahore.
Yakub is the representative of Jamaat-ud-Dawa (JuD) in the Difa-e-Pakistan Council. He is also holding the post of JuD's Bain-ul-Jamaat Rabtaa (Communication with Foreign Religious Organisation).
A close aide of Hafiz Saeed, Yakub reportedly visits Saudi Arabia more than two three times in a year for fund raising activities.
Central advisory committee member of Lashkar-e-Taiba (LeT) Qari Muhammad Yakub Sheikh has held several different leadership positions in the group since approximately 2006, including acting as the department's Deputy Director of political and foreign affairs between 2008 and 2009.
As of mid-2008, Sheikh was also in-charge of LeT's Islamabad office, including managing LeT's general operations in and around Pakistan's capital.
Between 2008 and 2011, Sheikh managed LeT front organizations that were used to raise funds and recruit on behalf of the group. Sheikh also worked for Falah-e-Insaniat Foundation (FIF), from early 2009 until mid-2010, and was replaced as the FIF head by Hafiz Abdur Rauf.
As of early 2010, Sheikh was the head of LeT's ulema (clerics) wing. He has also worked LeT's international donors. In the late 2006 and late 2007, Sheikh was part of an LeT delegation that travelled to the Gulf on behalf of LeT seeking support.
Yakub Sheikh, a terrorist who is known to threaten world leaders like Prime Minister Narendra Modi is now readying to play an active role in Pakistani politics.
Analysts in Pakistan believe the MML might not be able to sweep the elections anywhere in Pakistan, but has the potential to emerge as a strong pressure group in local political alliances.
http://www.asianage.com/world/south-asia/210817/pak-noted-terrorist-in-us-to-contest-for-nawaz-sharifs-national-assembly-seat.html
--------
Pakistan Christian teen detained over 'Quran burning'
20.08.2017
Shamil Shams
Police said Sunday that Asif Massih, an 18-year-old member of the minority Christian community, was caught "red handed" desecrating the Muslim holy book, the Quran. The incident took place in the central Punjab province.
"On the night of August 12, police received a complaint that a Christian boy has been found burning pages of the holy Quran outside the shrine," Asghar Ali, a police official, told the AFP news agency.
Another security official, Pervaiz Iqbal, said a crowd of 200 people had gathered outside the police station demanding that Massih be handed over to them for vigilante punishment.
"We then secretly moved the culprit to the police station in Wazirabad where he was interrogated and confessed to his crime," Iqbal said.
A sensitive matter
Massih was charged under section 295-B of Pakistan's penal code that makes the death sentence mandatory for insulting Islam.
Blasphemy is a highly sensitive topic in the Islamic Republic of Pakistan, where around 97 percent of its 180 million inhabitants are Muslim. Rights advocates have long been demanding a reform of the controversial blasphemy laws, which were introduced by the Islamic military dictator General Zia-ul-Haq in the 1980s.
Activists say the laws have little to do with blasphemy and are often used to settle petty disputes and personal vendettas. Religious groups oppose any change to the blasphemy law and consider it necessary for Pakistan's Islamic identity.
In April, 23-year-old journalism student Mashal Khan was killed by a vigilante mob over allegations of blasphemy in Pakistan's northwestern city of Mardan.
At least 65 people have been murdered by vigilante mobs over blasphemy allegations since 1990.
Living in fear
Pakistan's Christians and other religious minorities complain of legal and social discrimination. In the past few years, many Christians and Hindus have been brutally murdered over unproven blasphemy allegations.
One of Pakistan's most high profile blasphemy cases is that of Asia Bibi, a Christian woman who was found guilty of committing blasphemy while working in the fields in 2009 and was sentenced to death. In 2014, her death sentence was upheld by the Lahore High Court. Amnesty International called the verdict a "grave injustice."
Read: Asia Bibi's appeal against death penalty - A test case for Pakistan
In one case, a young girl between the ages of 10 to 14 years with Down syndrome, was accused in August of 2012 of burning pages upon which verses of the Quran were inscribed. Rimsha Masih was taken into police custody and only released months later, when charges were dropped. The case caused an uproar in her home town and beyond and sparked riots and violence against Christians in the region. In 2013, she and her family relocated to Canada.
In 2014, a Christian couple was beaten to death for allegedly desecrating a copy of the Quran. Their bodies were subsequently burned in a brick kiln.
State support
Pakistan's liberal activists blame their country's authorities for emboldening religious fanatics.
In June, a Pakistani court sentenced a man to death for committing blasphemy on Facebook.
"This vigilantism is being supported by the state as well as the judiciary. Religious clerics are fanning hatred. Even the civil society has failed to perform its duties," Aatif Afzal, an Islamabad-based rights activist and communication strategist with a media development organization, told DW.
Government critics and secular writers in Pakistan fear religious extremists and the government alike when it comes to blasphemy allegations, which are enough to put them in prison or get vigilante mobs to lynch them.
Read: Blasphemy allegations – the new way of muzzling free speech in South Asia
The "abduction" of liberal bloggers in January – allegedly by Pakistan's security forces – and the lynching of a secular journalism student shocked activists and the journalist community in Pakistan. There has been increased social media vigilantism, which is forcing critics of the government and military as well as human rights activists to censor their thoughts and words.
Activist Afzal says that blasphemy violence will not stop in Pakistan until the government takes firm action against vigilantism and those who wrongly accuse people of blasphemy.
Full report at:
http://www.dw.com/en/pakistan-christian-teen-detained-over-Quran-burning/a-40166731
--------
Boy killed, 6 hurt in toy bomb blast in Peshawar
Bureau Report
August 21, 2017
PESHAWAR: A boy was killed and six children were injured in a toy bomb explosion on the outskirts of the provincial capital here on Sunday.
Police said the incident took place in Spinawari area falling in the precincts of Pishtakhara police station, located on the road leading to Bara tehsil of Khyber agency.
A police official told Dawn the children were playing in a field when the explosion took place at around 4pm.
The official said apparently the blast was caused by a toy like grenade. "The grenade went off with a bang when the children were playing with it," the official said. He said the blast killed a boy and injured six others.
A spokesperson for the Rescue 1122 said that a child was dead and six others were injured in the explosion.
Full report at:
https://www.dawn.com/news/1352930/boy-killed-6-hurt-in-toy-bomb-blast-in-peshawar
--------
Two militants killed in shootout in Kech: security officials
21-Aug-17
QUETTA: Two men associated with a banned militant outfit were killed in a shootout in Kech district on Sunday, security officials said. They said the shootout took place during a raid in Thalsar area of Hoshab.
The raid was undertaken on a tip off about the presence of militants, they added. The officials said that the militants opened fire at the raiding team that returned fire, killing two men. The gun battle lasted for an hour. The deceased were identified by officials as Wahag and Washdil, both residents of Thalsar. The bodies were shifted to the district hospital for medico-legal examination after which they were handed over to the families. The shootout in Thalsar comes a few days after security forces killed four suspected militants in a gun battle in Kanak area of Mastung district. Officials had said that they recovered a huge quantity of weapons, ammunition and explosives during the raid. Meanwhile, three bullet-riddled bodies were found from a roadside in Hoshab area of Turbat. Security officials said identity documents recovered from the bodies established that the deceased were permanent residents of Punjab and may have been visiting the area for work opportunities. The bodies were shifted to a nearby hospital for postmortem examination. A case was registered and investigations started by the time this report was filed. Child dies playing with bomb mistaken as toy In Peshawar, a child lost his life and six others were severely injured after an explosive device they were playing with, mistaking it to be a toy, went off in Pishtakhara area on Sunday. The deceased was identified as Zubair, 10. The injured included Aqil, 17, Azeem, 14, Samiullah, 12, Junaid 12, and Ismail and Rahil, both eight-years-old. Pishtakhara police quoted witnesses as saying that the children found the device in a field and started playing with it. One of them hit it with a stone causing the device to explode, they said. The injured were taken to Khyber Teaching Hospital where Zubair died. His body was later handed over to the family. The rest of the children were reported to be in a stable condition. Investigators have sent the forensic evidence gathered from the site to a laboratory. They said the report was likely to be available by Monday (today).
http://dailytimes.com.pk/balochistan/21-Aug-17/two-militants-killed-in-shootout-in-kech-security-officials
--------
Mideast
Iran reformist leader calls for politicians' release
Aug 21, 2017
TEHRAN - Iran's ex-president Mohammad Khatami on Sunday asked supreme leader Ayatollah Ali Khamenei to intervene in the case of two reformist politicians under house arrest without trial for the past six years. The two high-profile reformists — Mehdi Karroubi and Mir Hossein Mousavi — have been under house arrest since 2011 for their part in mass protests that rocked the regime two years earlier.
"I want to request the supreme leader to intervene to ensure that the house arrest is resolved," said Khatami, who led a reformist government between 1997 and 2005, and is himself banned from appearing in the media since the protests. "The responsible institutions cannot or do not want to resolve the issue of the house arrests and only your intervention can allow this issue to be resolved, which is in the interests of the regime and would be a sign of its strength," he said, addressing Khamenei.
The issue has returned to the fore after Karroubi, 79, went on a brief hunger strike Wednesday to demand a trial. He gave up the strike the following day after reportedly gaining assurances from the government that they would at least remove intelligence agents who had recently been posted inside his home. But on Sunday, the spokesman for the judiciary denied that the agents had been removed, saying this was "lies", according to local media.
http://nation.com.pk/international/21-Aug-2017/iran-reformist-leader-calls-for-politicians-release
--------
Turkey kills IS suspect, detains 4 more 'planning attack'
Aug 21, 2017
ISTANBUL - Turkish security forces on Saturday killed a suspected Islamic State (IS) jihadist and detained four others believed to have been planning a bomb attack, local authorities said.
Turkish forces in the southern Hatay region bordering Syria stopped a vehicle carrying five suspected IS members after receiving intelligence that "they had come to our country to carry out a bomb attack", the regional governor's office said.
Four of the suspects gave themselves up but security forces opened fire on the fifth individual after he failed to heed warnings to surrender and attempted to attack them, it said.
Identified as a Syrian national, he later died in hospital despite efforts to save his life, the statement said. The nationalities of the other four were not specified. The statement said investigations were continuing into the incident.
Meanwhile, two foreign citizens who are also suspected members of the IS group were detained on Thursday in Istanbul, the state-run Anadolu news agency said Saturday.
They are accused of planning an attack and police seized an automatic rifle, two pistols and ammunition in the raid, it said. The pair had entered Turkey illegally, it added, without specifying their nationality. Turkey was hit by a succession of attacks in 2016 that left hundreds dead in the bloodiest year of terror strikes in its history.
The attacks were attributed to IS jihadists as well as the outlawed Kurdistan Workers' Party (PKK) who have battled the Turkish state in an insurgency lasting more than three decades.
In one of the bloodiest strikes, a jihadist gunman opened fire on an elite nightclub in Istanbul just 75 minutes into New Year's Day in 2017, killing 39 people, mainly foreigners.
There has since been a lull in similar attacks, but tensions remain high and Turkish police launch raids almost daily against suspected IS cells across the country.
Full report at:
http://nation.com.pk/international/21-Aug-2017/turkey-kills-is-suspect-detains-4-more-planning-attack
--------
Houthi leader launches attack on Yemen's Saleh and his party
20 August 2017
Houthi leader Abdul Malik al-Houthi has launched an attack on his coup partner, ousted former Yemeni President Ali Abdullah Saleh.
In a speech which appeared to be referring to Saleh's party, al-Houthi said that there are those who seek to dismantle and strike the home front. They also aim to provoke conflicts to influence the military front, he added.
Al-Houthi also noted that there are those who are holding deals and attempting to conspire against Yemen.
Similarly, the Houthi leader spoke on the penetrations found in some of the political elements. Allegedly referring to Saleh's party, he underlined the apparent practice of labor abroad which aimed to divide the national front.
Full report at:
https://english.alarabiya.net/en/News/gulf/2017/08/20/Houthis-launch-attack-on-Yemen-s-Saleh-and-his-party.html
--------
Iran's interests in Iraq, Syria not materialistic: Commander Soleimani
Aug 21, 2017
Major General Qassem Soleimani of Iran says the Islamic Republic does not seek materialistic interests in supporting Iraq and Syria — where it has advisory military presence — and the Palestinian cause.
"When we entered Iraq, we didn't differentiate between our interests and those of Iraq; and we were not after [taking control of] oil wells or seizing cities like Mosul or Kirkuk. We did not and do not have monetary demands, either," Major General Soleimani, who commands the Quds Force of Iran's Islamic Revolution Guards Corps (IRGC), said on Sunday.
He also said that Iran did not support the Palestinian people because of "Shia interests." Almost all Palestinians are Sunnis, he said, and yet "we defend them."
The senior commander also said that in spite of the violent capacities of the Daesh terrorist group and the creation of such other militant outfits as Jaish al-Islam in Syria, Iran had been able to bring stability to Syria.
Referring to Daesh terrorists, he said, "These are people who send a hundred suicide bombers to the battlefield every day."
"It was with religion that we fought against their religious war, not with military power," the Iranian commander said.
Daesh launched a terrorist offensive inside Iraq in 2014. It swiftly took over territory in the Arab country and posed a threat to seize the capital, Baghdad, too. Iran then offered advisory military assistance to both the central government in Baghdad and the regional government in Iraqi Kurdistan, helping them both maintain ground and win back territory lost to the terrorist group.
In Syria, too, Iran has been offering advisory support to the government. An armed conflict broke out in Syria in 2011 and soon transformed into a foreign-backed militancy by a hodgepodge of terrorist groups, including Daesh.
Full report at:
He said Iran was now enjoying a status of real power in the region.
http://www.presstv.ir/Detail/2017/08/21/532385/Iran-Soleimani-Iraq-Syria-Palestinian-cause-Iranian-interests
--------
US must pay $245mn in damage to chemical victims of Iraq-Iran war: Judiciary
Aug 21, 2017
The Iranian Judiciary has issued a ruling demanding that the US government pay around 245 million dollars in damage to a number of victims of chemical attacks carried out by Saddam Hussein's troops during the 1980 to 1988 imposed war on Iran.
Gholam-Hossein Mohseni-Ejei, Iran's Judiciary spokesman, made the remarks on Sunday, while noting that the amount would be distributed among 18 victims of the attacks who had filed for the legal action.
Hundreds of thousands of Iranians were killed in the Iraqi-imposed war and many more were affected by the chemical weapons like mustard gas that were used by the regime of the Iraqi dictator Saddam Hussein. Many of those Iranians who were attacked by chemical weapons and are alive today continue to suffer the lingering aftereffects.
Iraq once possessed a huge arsenal of chemical weapons, the production of which was facilitated by exports of chemicals as well as financial and technological support from the United States and other Western countries.
Full report at:
http://www.presstv.ir/Detail/2017/08/21/532378/iraq-iran-war-judiciary-us-damages
--------
Turkey could be key to Iraq's Tal Afar operation
21 August 2017
ANKARA: Following Sunday's launch of a ground operation by Iraqi forces to retake Tal Afar from Daesh, Ankara's stance on the offensive will be decisive as the northwestern city is predominantly populated by Turkmen, who have close ethnic and historical ties to Turkey.
Ankara has not yet released a statement on the operation. Situated west of Mosul, which was liberated from Daesh last month, it is estimated that 2,000 Daesh fighters are protecting Tal Afar, including foreign fighters.
US-led coalition airplanes have increased airstrikes against Daesh targets in the city, which has been held by the group since mid-2014.
Ankara has previously voiced opposition to participation by Iraq's Hashd Al-Shaabi, an umbrella group dominated by Shiite forces that Turkey considers a "terrorist" entity.
Ankara has underlined the need to consider ethnic and sectarian balances in the region.
Turkey has begun building a wall on its southeastern border to halt a possible influx of militants.
As part of its integrated border-management policy, the country also plans to build a security wall on its border with Iraq.
"Beyond being a predominantly Turkmen city, Tal Afar is situated in a very strategic region, 61 km from the Turkish border and 60 km from Syria," Ali Semin, a Middle East expert from Istanbul-based think tank BILGESAM, told Arab News.
"In the past, Turkey even considered opening a second border gate with Iraq at Tal Afar."
Semin said Turkey should engage in diplomatic efforts to prevent any sectarian conflict in the city between Turkmen and Iranian Shiites.
Ankara "should be in constant dialogue with Turkmen and the Iraqi Turkmen Front to find common ground with Shiite forces in the region," he said.
"Turkey should also provide logistical support in the liberation of Tal Afar, in close coordination with Iraq's central government."
Maj. Gen. Mohammed Baqeri, Iran's military chief, recently visited Turkey to discuss regional conflicts with top civilian and military figures in Ankara.
Semin said terrorists' infiltration into Turkey from Tal Afar is a real concern for Ankara, so it should cooperate with the international community — especially with those conducting a proxy war in the region — regarding intelligence-sharing.
Full report at:
http://www.arabnews.com/node/1148141/middle-east
--------
Africa
Nigerian president vows to step up fight against Boko Haram
Aug 21, 2017
Nigeria's President Muhammadu Buhari said his government will reinvigorate its campaign against the Islamic extremist insurgency in the country's northeast as he spoke to the nation for the first time Monday after returning from London where he spent more than three months for medical treatment.
"Terrorists and criminals must be fought and destroyed relentlessly so that the majority of us can live in peace and safety," said Buhari in a televised speech on Monday. "Therefore we are going to reinforce and reinvigorate the fight not only against elements of Boko Haram which are attempting a new series of attacks on soft targets, kidnappings, farmers versus herdsmen clashes, in addition to ethnic violence fueled by political mischief makers. We shall tackle them all."
Buhari returned Saturday to Abuja, though he didn't make any comments upon his arrival to Abuja. Though he looked slimmer than his early days in office, his appearance was healthier than it had seemed in previous months as he walked from the airplane, and video footage later Saturday showed him shaking hands, smiling and laughing with dignitaries on his return.
In his address, Buhari, 74, did not say what illness caused him to leave Nigeria in May for the lengthy treatment in Britain. He thanked Nigerians for their prayers.
"I am pleased to be back on home soil among my brothers and sisters," Buhari said.
The government of Africa's most populous nation has never said what exactly has been ailing Buhari and his long absences have led some to call for his replacement and for the military to remind its personnel to remain loyal.
Earlier this year Buhari spent seven weeks in London for treatment and said he had never been so sick in his life.
In his address, Buhari talked about political divisions, urging that Nigeria must be united. He said that while he was in London he kept in touch with daily events at home.
"Nigerians are robust and lively in discussing their affairs, but I was distressed to notice that some of the comments, especially in the social media have crossed our national red lines by daring to question our collective existence as a nation. This is a step too far," he said.
Observers have feared that political unrest could erupt in Nigeria, particularly in the predominantly Muslim north, should Buhari not finish his term in office, which ends in 2019. The previous president was a Christian from the south, as is Vice President Yemi Osinbajo, who has served as acting president during Buhari's time abroad.
Nigeria's ongoing challenges include the deadly Boko Haram insurgency, a weak economy and one of the world's worst humanitarian crises, with millions malnourished in the northeast.
Buhari called on Nigerians to come together to face challenges of "economic security, political evolution and integration as well as lasting peace."
Ending his first national address for months, Buhari said "I remain resolutely committed to ensuring that these goals are achieved and maintained. I am so glad to be home."
This isn't the first time Nigeria has faced a leader's long absences. When former President Musa Yar'Adua was ill abroad for months before coming home to die in 2009, northerners blocked his southern Vice President Goodluck Jonathan from assuming power, creating a months-long political paralysis.
Jonathan was eventually confirmed, but his subsequent successful run for election angered many Muslims, breaking an unwritten agreement that power rotates between northerners and southerners.
Buhari will submit a letter to the National Assembly Monday to reassure them he is back in office, said Femi Adesina, special assistant to the president on media and publicity, speaking on a local news program after Buhari's address.
http://abcnews.go.com/International/wireStory/nigerian-president-addresses-nation-months-49329452
--------
Sudanese children of ISIS militants released in Libya
Aug 21, 2017
MISRATA: Four children from Sudan whose parents are believed to have been killed fighting for Islamic State in the Libyan city of Sirte last year were handed over to the Sudanese consul on Sunday for return to their country.
Sirte was a stronghold for Islamic State from 2015-2016, when Libyan forces backed by U.S. air strikes ousted the ultra-hardline group. Hundreds of foreign militants joined Islamic State in Sirte.
Dozens of women and children detained towards the end of the fighting have been held in Misrata, the city from which the military campaign in Sirte was led.
They include nationals of Tunisia, Egypt, Sudan, Senegal, Chad, and Niger. Twenty-one Libyan children have been handed back to their families.
In June, eight children were handed over to the Sudanese authorities and returned to Sudan. Eleven other Sudanese women and children are still in Misrata.
Full report at:
http://nation.com.pk/international/21-Aug-2017/sudanese-children-of-isis-militants-released-in-libya
--------
Kenya to flush militants out of area near Somali border
21 August 2017
The Kenyan military on Sunday told residents who live close to Boni forest along the Kenyan coast to vacate the area within 48 hours in preparation for a heavy bombardment planned to wipe out al-Shabaab militants hiding within.
The order was delivered on Sunday by the head of Operation Linda Boni mission (Swahili for Operation Protect Boni) Joseph Kanyiri. He urged the herders, who are most likely to frequent the area, to stay away from the forest.
"We would like to caution herders to stay away from the forest, the Boni forest is part of our operation, we don't want anyone to get caught in the bombing of al-Shabaab hideouts that is imminent, we are giving them 48 hours to vacate with their animals," he said in a news conference in the coastal city of Mombasa.
The warning comes in the wake of numerous al-Shabaab attacks in the area which, in the last two month, have claimed the lives of at least 20 police officers. All the attacks involved roadside bombs.
Al-Shabaab militants have also beheaded at least 10 people from villages in the area during the same period. The latest, in ehich three people were killed, happened on Friday.
Full report at:
http://www.worldbulletin.net/africa/193164/kenya-to-flush-militants-out-of-area-near-somali-border
--------
Turkish students go to Somalia to renovate school
20 August 2017
A group of Turkish students participated in renovation works at an orphanage-cum-school in Somalia on Sunday, as part of a visit to several African countries under an exchange program.
The 2017 Africa Experience Sharing Program provides an opportunity to 200 students to visit several African countries, including Tunisia, Libya, Somalia, Kenya, Algeria, Chad, Sudan, Ghana and Niger from Aug. 5-30.
The program is organized by the Turkish Cooperation and Coordination Agency (TIKA) in cooperation with Turkish Airlines, Anadolu Agency and state broadcaster Turkish Radio and Television (TRT).
The students participate in social, cultural and humanitarian activities and renovate schools, orphanages, libraries and places of worship as predetermined by TIKA and local NGOs in the visiting countries.
They also take part in the implementation of local developmental projects.
As part of the program, seven students arrived in Somalia's capital Mogadishu and visited the Turkish Embassy, the Turkish military training base, a civil aviation school, and the offices of Turkish Airlines, TIKA and the Turkish Maarif Foundation.
The volunteer students from different universities in Turkey also participated in repair works of the Al Haramain orphanage in the capital Mogadishu. The orphanage will also serve as a school for 800 Somalian children.
Usame Targal, a second-year law student from Istanbul Sabahattin Zaim University, told Anadolu Agency that they had painted 200 benches and tables in the school.
Full report at:
http://www.worldbulletin.net/africa/193160/kenya-to-flush-militants-out-of-area-near-somali-border
--------
Clerics offer prayer for lawyers as NBA 2017 commences
21 August 2017
As the Nigerian Bar Association (NBA) 2017 conference begins today, Christian and Muslim prayers have been offered for participating lawyers.
On Friday, Fidal prayers for the conference was held at the Central Mosque, Lagos Island, while Christian prayers was offered yesterday (Sunday) at the Cathedral Church of Christ Marina.
NBA Chairman, Abubakar Mahmoud, Chairman local organising committee, Lawal Pedro, SAN and other top Muslim members of the association attended the Muslim prayer service, while 2nd Vice-President, Monday Ubani on Sunday led Christian members of the association to the church service.
At the church service, Reverend Sunday Ogundipe charged all parishioners, including the NBA members, not to abandon their faith for the things of the world.
He said that more Christians now succumb to secularism and charged them to stand up for their faith.
However, Islamic Alhaji Engr Shakiru Gafar on his part admonished NBA members not to abandon morality in the pursuit of the profession.
Full report at:
https://guardian.ng/news/clerics-offers-prayer-for-lawyers-as-nba-2017-commences/
--------
North America
Federal appointee to race relations board under scrutiny for writings on Islam
Aug 21, 2017
OTTAWA — A board member with the Canadian Race Relations Foundation, an arms-length federal government agency with a mandate to combat racial discrimination, is in jeopardy of losing her post over her writings on the controversial website Jihad Watch.
Christine Douglass-Williams has been writing for the site almost since she was appointed to the foundation's board in 2012. But multiple sources have told The Canadian Press that the government is reviewing that appointment in the wake of an essay that appeared on the site in May.
The post, entitled, "Christine Williams: My personal warning to Icelanders," was based on a visit Douglass-Williams paid to the country alongside Jihad Watch founder and U.S. academic Robert Spencer earlier this year.
In it, Douglass-Williams warns that Icelanders are being duped by seemingly moderate Muslims who deceive people into believing they are harmless, and writes that if Muslims truly had nothing to hide, they'd allow police to conduct surveillance in their mosques.
"Islamic supremacists will smile at you, invite you to their gatherings, make you feel loved and welcome, but they do it to deceive you and to overtake you, your land and your freedoms," she writes.
"They intentionally make you feel guilty for questioning their torturous deeds toward humanity — toward women, Christians, gays, Jews, apostates, infidels and anyone who dares to oppose these deeds."
With concerns about the post circulating among her fellow board members, it came to the attention of Heritage Minister Melanie Joly, whose department is responsible for the foundation.
Specifically, there are concerns that Douglass-Williams's views are a hindrance to her work with the foundation and an affront to its legally defined mandate, which is to help eliminate racism and racial discrimination in Canada.
In a statement to The Canadian Press, Douglass-Williams said it is not racist to oppose "the jihadist-Islamist" agenda, and that her writings are entirely in keeping with the work of the board.
"Any efforts currently against me in my private work are an unjust, agenda-driven and cruel attempt to intimidate me for my distaste for all supremacist agendas," she wrote. She pointed to her recent book, "The Challenges of Modernizing Islam," as proof that she's pro-Muslim and pro-human rights.
"My book differentiates between Islamists and human rights-respecting Muslims who thrive to live peaceably and equally among Westerners," Douglass-Williams wrote.
"They ask for no special favors and advocate for the separation of mosque and state; they condemn Islamism, and stand against human rights abuses committed in the name of their religion, sometimes at great personal risk."
Pierre-Olivier Herbert, a spokesperson for Joly, said the foundation needs a board that recognizes the importance of diversity and inclusion.
"While we cannot comment on specific cases, with respect to Governor in Council (GIC) appointees, it is expected that appointees' conduct not be at odds with an organization's mandate, otherwise the GIC will consider whether action should be taken," Herbert said.
The foundation was launched in 1997 as part of the settlement the federal government at the time reached with Japanese Canadians over their internment in Canada during the Second World War.
It holds workshops and roundtables across the country on combating racism, and also funds research into Canadian attitudes towards multiculturalism, immigration and other issues.
Board member and foundation spokesman Rubin Friedman said allegations that Douglass-Williams was Islamophobic had been brought to the attention of the board.
"We discussed those allegations and we looked at our mandate, and our policy, and we decided that we don't make comment on what our part time board members do outside of our organization."
The board has no control over its membership, Friedman said, and whatever might happen next is up to the government. Douglass-Williams's current term expires in 2018.
Spencer, who launched Jihad Watch in 2003, has expressed frustration with the view that the perpetrators of the 9/11 terrorist attacks did not represent the true peaceful nature of Islam. He believes it must be made clear that the attacks were rooted in Islam — not to demonize Muslims, but to prove there's a problem within the religion.
Spencer has gone on to deny the existence of Islamophobia, calling it a term deployed in order to "intimidate non-Muslims away from criticizing or resisting the jihad and Islamic supremacism."
Douglass-Williams picked up on similar themes in a March 2017 post about a controversial House of Commons motion that called "on the government of Canada to condemn Islamophobia in Canada and all forms of systemic racism and religious discrimination."
Douglass-Williams accused the Liberal MP who sponsored the motion of being part of a broader plot when she insisted on including the word Islamophobia in the text, as opposed to other suggested phrases like "anti-Muslim bigotry."
In a statement, the National Council of Canadian Muslims said anyone with such views has no place on the foundation's board.
"For a federal appointee to be writing for hateful websites, denying the existence of Islamophobia and calling for the violation of fundamental rights and freedoms of a minority community is contrary to everything the Canada Race Relations Foundation stands for and to the values enshrined in the charter," Amira Elghawaby said in a statement.
"We are confident that the federal government will take appropriate action with respect to this matter."
http://nationalpost.com/news/politics/federal-appointee-to-race-relations-board-under-scrutiny-for-writings-on-islam/wcm/2d8f7754-c23c-4637-b949-887414b86030
--------
Trump to lay out US strategy for Afghanistan on Monday night
Aug 21, 2017
WASHINGTON: President Donald Trump will lay out his long-awaited U.S. strategy for the war in Afghanistan in a prime-time television address to the American people on Monday night, the White House said on Sunday, with a modest increase in U.S. troops possible.
A White House statement said Trump's 9 p.m. (0100 GMT Tuesday) speech from Fort Myer, Virginia, near Washington, would "provide an update on the path forward for America's engagement in Afghanistan and South Asia."
Trump will be making the third prime-time address of his seven-month-old presidency after a particularly bruising week in which he was widely criticized for blaming both white nationalists and counter-protesters for violence at a Virginia rally this month organized by neo-Nazis and white supremacists.
The president, ending a working vacation at his Bedminster, New Jersey, golf club, reached his decision on Afghanistan after lengthy talks with his top military and national security aides at Camp David, Maryland, on Friday.
A senior administration official said the likeliest outcome of the talks was that Trump would agree to a modest increase in U.S. troops as recommended by his top advisers. Current U.S. troop numbers are about 8,400.
The president, who launched a strategy review for the region shortly after taking office in January, has expressed weariness at the long-running Afghan war launched by then-President George W. Bush after the Sept. 11, 2001, attacks on the United States, and privately questioned whether sending more American troops was wise, U.S. officials said.
"We're not winning," he told advisers in a mid-July meeting, questioning whether Army General John Nicholson, the top U.S. commander in Afghanistan, should be fired, an official said.
Defense Secretary Jim Mattis has argued that a U.S. military presence is needed to protect against the ongoing threat from Islamist militants, the official said.
Afghan security forces have struggled to prevent advances by Taliban insurgents, more than 15 years since the United States invaded Afghanistan to topple the Islamist Taliban government for giving al Qaeda a sanctuary where it plotted the Sept. 11 attacks.
According to U.S. estimates, government forces control less than 60 percent of Afghanistan, with almost half the country either contested or under the control of the insurgents.
U.S. military and intelligence officials are concerned that a Taliban victory would allow al Qaeda and Islamic State's regional affiliate to establish bases in Afghanistan from which to plot attacks against the United States and its allies.
CONFLICTING OPTIONS
One reason the White House decision has taken so long, two officials who participated in the discussions said on Sunday, is that it was difficult to get Trump to accept the need for a broader regional strategy that included U.S. policy toward Pakistan before making a decision on whether to send additional forces to Afghanistan.
Both officials, speaking on condition of anonymity, declined to disclose Trump's decisions on troop levels and Pakistan policy before he does.
The difficulty in reaching a decision was compounded, the two officials said, by the wide range of conflicting options Trump received, both in formal briefings, meetings and phone calls and from news and commentary on television and social media.
White House national security adviser H.R. McMaster and other advisers favored accepting Nicholson's request for some 4,000 additional U.S. forces.
But recently ousted White House strategic adviser Steve Bannon had argued for the withdrawal of all U.S. forces, saying that after 16 years, the war was still not winnable, U.S. officials said. Bannon, fired on Friday by Trump, was not at the Camp David meeting.
At least two other options were examined, the officials said.
One, favored by some officials, was shrinking the U.S. force by some 3,000 troops and leaving a smaller counterterrorism and intelligence-gathering contingent to carry out special operations and direct drone strikes against the Taliban.
Proponents argued that option was less costly in lives and money and would add less to the damage already inflicted on U.S. special operations forces by the long-running battles in Afghanistan, Iraq, Somalia and Syria.
Another option, to use a private mercenary force to aid and train the Afghans in place of U.S. troops, was never seriously considered, officials said.
Full report at:
http://nation.com.pk/international/21-Aug-2017/trump-to-lay-out-us-strategy-for-afghanistan-on-monday-night
--------
Rally in Quebec turns violent when counterprotesters take aim at police
Aug. 20, 2017
MONTREAL—Tensions boiled over in Quebec City on Sunday, as police were pelted by beer bottles and smoke bombs set off in garbage cans in an ugly end to a weekend of pro- and anti-immigrant rallies across the country.
The Quebec group La Meute, which is associated with the far right, called for a rally Sunday to protest against the federal and provincial government's handling of the border crossers, but ended up having its members pinned inside a garage while counter-protesters demonstrated outside.
Once the counterprotesters turned violent, the Quebec City police declared the protest illegal. Clashes ensued and at least one protester was arrested as officers tried to block access to the building where some of the La Meute protesters had taken refuge.
By 6 p.m. the counterprotesters had dispersed and the members of La Meute, many of them carrying flags featuring the group's wolf-paw logo, emerged from the building to begin their protest.
Television footage showed them marching in silence near Quebec City's legislature.
The protests in the Quebec capital were far more tense than a demonstration a day earlier in Vancouver where thousands of people peacefully demonstrated in an anti-racism rally in response to reports earlier in the week that an anti-Muslim protest was planned. That latter rally didn't materialize.
The rallies sprung up in the wake of last week's deadly events in Charlottesville, Va., in which one person was killed and others injured when a vehicle plowed through a crowd of anti-racism protesters.
The Quebec events were largely spurred by the unprecedented number of people walking across the border to seek asylum.
Almost 6,800 people showed up at an unofficial crossing from the U.S. into Quebec since Canada Day to claim asylum. By comparison, only 2,920 claims were filed in Quebec in all of 2015.
When asked Sunday if the unprecedented number of border crossers was stoking anti-immigrant sentiments in the country, Prime Minister Justin Trudeau condemned "intolerant, racist demonstrations." He said he stood with millions of Canadians "who reject the hateful, harmful, heinous ideologies" that have sprouted across the country.
"The small minority, angry, frustrated group of racists don't get to define who we are as a country, don't get to tell others who we are and don't get to change the nature of the open, accepting values that make us who we are," Trudeau said in Montreal hours before the Quebec City demonstration.
Federal authorities have said more than 3,800 people walked over the border into Quebec through the first two weeks of August, compared to the 2,996 who similarly crossed the border throughout all of July. Many are being housed in temporary shelters, including tents along the Quebec-New York border and inside Montreal's Olympic Stadium, while officials handle the sudden surge in asylum claims.
Haitian nationals form the bulk of recent arrivals, believed to be driven by a change in U.S. policy that many fear would result in mass deportations. Canada lifted the temporary restriction on deporting Haitians last year, set up in the wake of the 2010 earthquake, and many were sent back to the island nation, Trudeau said.
Trudeau urged Canadians to maintain trust in the immigration system and the officials who he believed were managing the situation. He said none of those walking across the U.S. border would receive any special advantages in their quest to come to Canada, stressing to Canadians and would-be refugees alike that border hoppers must go through the usual security checks and immigration evaluations.
Quebec Premier Philippe Couillard tweeted about the violence in the provincial capital Sunday, saying that people have the right to demonstrate peacefully with zero tolerance for violence.
Full report at:
https://www.thestar.com/news/canada/2017/08/20/trudeau-urges-trust-in-government-as-anti-immigrant-protests-take-place-in-quebec.html
--------
URL: https://www.newageislam.com/islamic-world-news/india-upholds-controversial-marriage-annulment/d/112275
New Age Islam, Islam Online, Islamic Website, African Muslim News, Arab World News, South Asia News, Indian Muslim News, World Muslim News, Women in Islam, Islamic Feminism, Arab Women, Women In Arab, Islamophobia in America, Muslim Women in West, Islam Women and Feminism