New Age Islam News Bureau
16 Aug 2019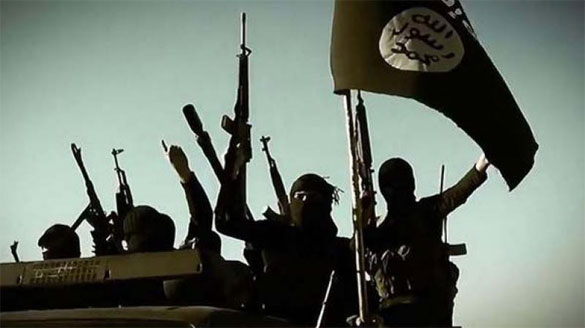 In recent times, IS has carried out more activities outside West Asia than inside and also restructured its group, under the directions of its leader Abubakr al-Baghdadi. (Photo: Representational /AFP)
--------
• 'Muslims Can't Claim Street As Prayers Offered There Too': Supreme Court Told
• Indian Defence Minister, In A Tweet, Said Though India Has 'No First Use' Policy On Nuclear Weapons, "What Happens In Future Depends On The Circumstances"
• Turkish Government Clamps Down On Liberal Imams
• Malaysia to Question Islamic Preacher Zakir Naik Over Remarks On Religion
• Wanted Al Qaeda Leader Warns Of Turkish Influence On Jihad In Syria
• US Agency's Forecasts Fast Growth for Islamic Banking in Next Five Years
• Modi Govt's Fascist Tactics to Smother Kashmiri Liberation Struggle Will Fail Miserably: PM Imran
• UN Says 2nd Attempt to Return Rohingya Muslims To Myanmar Planned
• Trump To Meet Senior U.S. Officials To Review Peace Plan With Taliban
Compiled By New Age Islam News Bureau
-----------
India
• Article 370: Terror Groups Led Anti-India Protests In Pok, Renew Fresh Call For Jihad
• Kashmir: Situation Improving, Curbs Being Lifted Gradually, Says Centre to SC
--------
Mideast
• Islamic State 'blooper reel' revealed by Al Qaeda amid fighting in Yemen
• Turkey continues to support Rakhine Muslims
• Senior Indonesian MP Lauds Iran's Independent Foreign Policy
• Iranian FM Reiterates UK Seizure of Oil Tanker Illegal from Outset
• US Threatens Visa Ban on Crew of Iranian Oil Tanker after Failed Attempt to Seize Vessel
--------
Southeast Asia
• Bishop speaks out on treatment of Uighur Muslims in China
• Marawi crisis has brought Muslims and Christians together, says RC bishop
--------
Arab World
• Annual Hajj Conference of Muslim World League: Islamic Civilization Combines Wealth, Openness, Discipline
• 300 Media Representatives From Different Countries Thank The Custodian Of The Two Holy Mosques for unprecedented Hajj services
• Custodian of the Two Holy Mosques receives phone call from King of Morocco
• Custodian of the Two Holy Mosques Congratulates Gabon's President on Independence Day
• Army at Gates of Foreign Terrorists' Largest Stronghold in Lattakia
--------
North America
• Under increased scrutiny, NYPD faces bias complaints from Muslim New Yorkers
• US slaps crew of Iranian supertanker with visa ban after it set sail from Gibraltar
• Worshippers run for cover outside Auckland mosque after loud noise mistaken for gunfire
• Muslim Migration Lobby Feels 'Ignored' by 2020 Democrats as Trump Travel Ban Remains Popular
• Austria: Muslim Taxi Drivers Refuse To Transport Guide Dogs For The Blind
--------
Pakistan
• 5 Killed In Blast at Seminary In Quetta's Kuchlak Area
• A feeble reaction of Muslim Ummah on Kashmir situation
--------
South Asia
• 16 Taliban militants killed, wounded in Logar and Ghazni operations: 203rd Thunder Corps
• U.S. Ambassador reacts to release of ex-Kabul Bank CEO Khalilullah Ferozi
• Special Forces kill Taliban's chief of terror operations in Logar
--------
Europe
• Gloucestershire County Cricket League Discriminates With Cricket Club Made Up Mainly Of Muslim Cricketers over Muslim Festival
• Aegean villagers mistook Greek boxer's tomb for Islamic holy site, archaeologists discover
• Albuquerque Muslim lawmaker speaks out on immigrant poem
• Austria concerned by radical Islamic terrorism
--------
Africa
• Group Seeks Muslims' Prayers For Makinde's Govt
Compiled by New Age Islam News Bureau
URL: https://www.newageislam.com/islamic-world-news/india-turkey-afghanistan-sri-lanka/d/119483
----------
India, Turkey, Afghanistan and Sri Lanka Next Islamic State Territories, Suggests Monitoring Report
Aug 16, 2019
New Delhi: India, Turkey, Afghanistan and Sri Lanka are among the countries where radical terror group Islamic State (IS) is eyeing to foot its influence as its hold in the territories of origin (Iran and Syria) is loosening drastically, Hindustan Times reported.
A US-based leading conflict monitor, Armed Conflict Location and Event Data (ACLED), has indicated that the radical outfit, in its first, had carried out more activities outside West Asia than inside and also restructured its group, under the directions of its leader Abubakr al-Baghdadi.
"The IS greeted its loss of territory in Iraq and Syria in 2018 with expanded global presence in 2019," said the ACLED report titled Branching Out: Islamic State's Continued Expansion. "Through the first five months this year, the IS has placed unprecedented emphasis on its global operations… In his first video in five years (after the Sri Lanka Easter bombings in April), Baghdadi focused largely on the group's activity in South Asia, North, West and Central Asia."
The report reflected that IS is active and proliferating in India, Afghanistan, Sri Lanka, Saudi Arabia, Turkey, DR Congo, Burkina Faso, Mali and Libya.
The monitor showed that the increase in its activity outside West Asia -- mostly across South Asia and Africa-- is drastic. In 2019, more that 60 per cent movements and exercises were carried out outside group's origin-territory. In 2018, the activity outside West Asia was limited to 45 per cent and it was as low as 20 per cent in 2016 and 2017.
https://www.deccanchronicle.com/nation/current-affairs/160819/india-sri-lanka-next-islamic-state-territories-suggests-monitoring-r.html
--------
'Muslims can't claim street as prayers offered there too': Supreme Court told
Aug 16, 2019
Ashok Bagaria
Muslims may have offered prayers at the disputed Ayodhya site but that does not give them the right to lay claim over it in the backdrop of the fact that structure, pillars, motifs and inscriptions are primarily Hindu, the Supreme Court was told on Friday by the lawyer representing the deity Ram Lalla Virajman.
"Just because prayers are being offered on a street (by Muslims) doesn't mean a claim of ownership over it can be made," senior advocate CS Vaidyanathan told the five-judge Constitution bench of the Supreme Court on Friday.
Vaidyanathan told the judges that the structure was never in the true sense considered a mosque. "The images (inside the Babri structure) are contrary to Islamic belief - Islam does not have image in their place of worship, whether of a human being or animals," he told the bench led by Chief Justice of India Ranjan Gogoi. The senior lawyer also placed photographs before the bench that he said, were taken in 1990.
The top court is holding daily hearing into the contentious Ram Janmabhoomi-Babri Masjid title dispute case. At the hearings over the past few days, Vaidyanathan has argued that the Babri mosque was built on the ruins of the temple and it was wrong to say that the land does not belong to anyone.
"If it is built on the ruins of a temple, it can't be a mosque, as this is contrary to Shariat law," he told the court this week. Vaidyanathan has argued that there were indeed two versions on the demolition of temple in Ayodhya. One that it was done by Mughal emperor Babar and the second version that holds Aurangzeb responsible for it. But the undisputed fact was that the temple was demolished and a mosque built over it.
He has also cited Faizabad's Commissioner report of 1950 which records that there were 14 pillars at the disputed site "with illustrations of Hindu gods and symbols". "And there cannot be a mosque which has pillar with images of Hindu gods," he had added.
https://www.hindustantimes.com/india-news/muslims-can-t-claim-street-as-prayers-offered-there-too-supreme-court-told/story-Y2hPjqcGCenv0WTJzLzN4M.html
--------
Indian Defence Minister, In A Tweet, Said Though India Has 'No First Use' Policy On Nuclear Weapons, "What Happens In Future Depends On The Circumstances"
Aug 16, 2019
Defence minister Rajnath Singh said on Friday India stood by its current "no first use policy" on nuclear weapons but its stance may see a shift in the future.
Rajnath Singh tweeted his remarks during his visit to Rajasthan's Pokhran, which is the site of two nuclear tests by India in 1974 and 1998. Former prime minister Atal Bihari Vajpayee was at the helm of the Bharatiya Janata Party (BJP) government when the second round of test was held.
"Pokhran is the area which witnessed Atal Ji's firm resolve to make India a nuclear power and yet remain firmly committed to the doctrine of 'No First Use'. India has strictly adhered to this doctrine. What happens in future depends on the circumstances," the defence minister tweeted.
The defence minister paid respects to Vajpayee on his first death anniversary. Vajpayee died last year on August 16 at the All India Institute of Medical Sciences (AIIMS) after a prolonged illness. He was 93.
"India attaining the status of a responsible nuclear nation became a matter of national pride for every citizen of this country. The nation will remain indebted to the greatness of Atal Ji," he said in another tweet.
Rajnath Singh's comments have come amid tension with Pakistan, which has attacked India over its move to end the special status of Jammu and Kashmir under Article 370.
They also came on a day the United Nations Security Council is scheduled to hold a rare meeting on Kashmir after India stripped the region of its autonomy, sparking a row with Pakistan. It will take place behind closed doors on Friday morning, the diplomats said.
https://www.hindustantimes.com/india-news/rajnath-singh-s-cryptic-tweet-on-nuclear-no-first-use/story-2ujqgoBe0ZZROBM7TpE0CO.html
--------
Turkish government clamps down on liberal imams
Turkey's directorate for religious affairs, Diyanet, keeps watch over its imams — the religious scholars whose work is mostly that of leading prayers in mosques.
Diyanet provides its imams at 90,000 mosques with guidelines that govern morals, prayer, and the teaching of the faith. Violations are punished harshly — most of the time, the imam is discharged immediately.
The body, which also organizes Islamic religion courses for children, declined to comment on the exact number of dismissals, but the fate of certain individual imams who spoke to DW shone a light on the severity of the problem. Overall, Diyanet employs about 117,000 people, though not all of them are imams.
Abdullah, a 35-year-old imam, opposed a mufti who issued an Islamic legal decree, known as a fatwa, stating that women could not enter a supermarket unaccompanied by men. "I saw it differently," Abdullah said.
After disagreeing with the fatwa, he said his Facebook profile was searched and turned up an entry in which he permitted women wearing nail polish to pray and perform religious ablutions.
What about freedom of speech?
"Then everything happened very quickly," Abdullah told DW. "Right after that, the investigations were underway." After six years in office, the authority dismissed Abdullah without notice. "A breach of guidelines" was the only reason he received.
"In my statement, I invoked freedom of speech," he said. "I was just doing my job, and that is getting people to use their own minds. I thought there was freedom of expression in this country."
Ahmet Muhsin Tuzer, known to many as the "rock imam," was dismissed nine months ago, again for a "breach of guidelines" when he formed a rock band in the Mediterranean seaside town of Kas.
"Immediately after its founding, Diyanet started hassling the band, they sent the investigators to our shows, and turned my entire life upside-down," he said.
The accusations were soon to follow: Tuzer put on concerts without the proper permission and earned significant additional income. He would have submitted his bank statements to them, but that, he said, wouldn't have changed anything.
However, he said even before his music shows he had fallen out of favor with his superiors by saying, "The inventor of the light bulb, Thomas Alva Edison, certainly went to heaven."
Local higher-ups did not approve of the statement because the US inventor born in 1847 was a Christina.
Tuzer called the turn of events a "disgrace to democracy and freedom."
A fateful prayer
In the southeastern Anatolian city of Sirnak, the 46-year-old S.T. was sacked after 25 years serving as an imam because he was a member of a trade union.
In the summer of 2015, militias from the outlawed Kurdistan Workers' Party (PKK) occupied several municipalities, and Ankara retaliated with military operations in Kurdish territories.
The workers' union in question was accused of having ties to the PKK groups at the time. S.T. said he was suspended by emergency decree along with nine other trade unionists.
Another case is that of Zekeriya Bilada, an imam in the town of Nevsehir. He received an invitation from the ultranationalist Good Party (Iyi Party) to lead a prayer for the party shortly before the local elections on March 31.
Bilada said nearly all imams make political statements
It turned out to be a fateful prayer: A mufti, close to Turkish President Recep Tayyip Erdogan's Justice and Development Party (AKP) party, intervened then called to inform Bilada that another imam would replace him.
They accused the 21-year-old of praying for a FETO supporter, referring to the chairman of the Iyi Parti, Meral Aksener. FETO is the name given by the government to the Gulen movement that allegedly participated in the 2016 coup attempt.
The Islamic lawmaker referred to Article 25 of the law on religious affairs stating, "Religious personnel may neither praise nor criticize the attitude and opinion of the parties."
Diyanet as a political instrument?
However, Bilada said almost all Turkish imams made political statements during the local elections and added that those who prayed for the AKP candidate Binali Yildirim are still in office.
Turkish opposition members criticized that the presidential office for religious affairs is increasingly acting on political motivations. The widely shared accusation is that the authority acts in the interests of the conservative Islamic AKP government.
This favoritism would be hugely problematic because secularism — the separation of state and religion — has been one of the key principles of Turkish society since its founding in 1923.
The father of the modern Turkish republic, Mustafa Kemal Ataturk viewed the separation of state and religion as one of "six pillars of the Turkish state."
https://www.dw.com/en/turkish-government-clamps-down-on-liberal-imams/a-50045194
--------
Malaysia to question Islamic preacher Zakir Naik over remarks on religion
August 16, 2019
Malaysian authorities will summon Indian Islamic preacher Zakir Naik for questioning after he allegedly made racially sensitive remarks in the multi-ethnic nation, the government said on Thursday.
The move comes after several ministers demanded Zakir Naik's expulsion on Wednesday after he said Hindus in Malaysia had "100 times more rights" than the Muslim minority in India.
Zakir Naik, who has lived in Malaysia for about three years and faces charges of money laundering and hate speech in India, has come under fire for comments allegedly pitting the country's ethnic and religious minorities against the ethnic Malay majority, who are predominantly Muslim.
Police will question Zakir Naik and several other individuals and groups for making "racially-tinged statements" and for spreading false news that has affected public sensitivities, Home Minister Muhyiddin Yassin said.
"I would like to remind all parties, including non-citizens, that enforcement agencies under my ministry will not think twice to take legal action against anyone who attempts to threaten public harmony and peace," Muhyiddin said in a statement.
Asked for comment, a representative for Zakir Naik told Reuters he would first need to study the minister's statement.
Race and religion are sensitive issues in Malaysia, where Malay Muslims make up about 60 percent of a population of 32 million. The rest are mostly ethnic Chinese and Indians, most of whom are Hindus.
Zakir Naik, who has repeatedly denied the charges against him in India, has said his detractors were quoting him out of context to malign him.
State news agency Bernama quoted Malaysian Prime Minister Mahathir Mohamad as saying this week that Zakir Naik cannot be sent back to India because of fears for his safety.
"If any (other) country wants to have him, they are welcome," Mahathir added.
India banned Zakir Naik's Islamic Research Foundation in late 2016, accusing him of encouraging and aiding its followers to "promote or attempt to promote feelings of enmity, hatred or ill-will between different religious communities and groups".
https://www.indiatoday.in/world/story/malaysia-question-zakir-naik-over-remarks-religion-1581264-2019-08-16
--------
Wanted al Qaeda leader warns of Turkish influence on jihad in Syria
BY THOMAS JOSCELYN
August 15, 2019
Yesterday, a jihadist Telegram channel published a short statement (seen below) attributed to Saif al-Adel, a wanted terrorist who has worked for al Qaeda since the 1990s. The message addresses the jihadist scene in Syria, specifically dealing with the controversies surrounding relations with Turkey and Turkish-backed rebel groups.
Various pieces of evidence indicate that al-Adel has had a hand in events in Syria, most likely from afar, but he rarely issues public statements. It is for this reason, among others, that the purported statement is noteworthy.
"The battle in Syria is clear to any" who "have experience," al-Adel writes. He expresses some skepticism with respect to the mujahideen's ability to devise a plan to merge the factions.
Al-Adel asserts that the "clear goal" of the jihadists' enemies "is to exterminate any organization working to return Islam to its fundamentals and Turkey and others will not accept anything other than that." Al-Adel advises the mujahideen that they "must once again change the military theory to one that fits the situation and will succeed against the conspiracies of the enemies and against the Turkish program that the factions have agreed with."
It isn't clear when the statement was written, but al-Adel is referring to the ongoing intra-jihadi disagreement concerning Turkey's involvement with various parties in the Syrian insurgency, namely Hay'at Tahrir al-Sham (HTS) and the National Liberation Front (NLF), among others.
Some al Qaeda members and affiliated jihadis object to HTS's strategy of relying, in part, on Turkey. The northwest Syrian province of Idlib is pinned between Bashar al-Assad's forces, along with their Russian and Iranian-supported allies, and Turkey to the north. Assad and his international backers are currently bombing southern Idlib province in an intensifying air campaign. Turkish-backed groups are reportedly sending reinforcements to Idlib. This may be part of what prompted al Qaeda-affiliated Telegram channels to share the message from al-Adel.
The jihadis' relations with Turkey are complicated, but there is no doubt that the issue has been in dispute. Ayman al-Zawahiri himself has accused the mujahideen in Syria of competing for "imagined authority" over territory that is under the dominion "of secular Turkish checkpoints."
Al-Adel plays a role in Syrian jihad
Al-Adel has been involved in the Syrian jihadi scene for some time, but it has often difficult to trace the extent of his influence. He doesn't address the public.
In mid-2018, a report submitted to the UN Security Council placed al-Adel, along with his comrade, Abdullah Ahmed Abdullah (a.k.a. Abu Mohammed al-Masri), inside Iran. The two were among the al Qaeda figures released by the Iranian government as part of a reported hostage exchange in 2015, but apparently decided to stay inside Iran for security reasons.
In Aug. 2018, the State Department raised the reward for information on their whereabouts from $5 million to $10 million, but didn't explain that the two were thought to be inside Iran. Both have long been wanted by the American government for their alleged role in al Qaeda's 1998 U.S. Embassy bombings, as well as a variety of other acts.
Citing undisclosed information received from "Member States," a July 27, 2018, report submitted to the UN Security Council said al Qaeda leader Ayman al-Zawahiri, "partly through the agency of senior Al Qaeda leadership figures based in the Islamic Republic of Iran…has been able to exert influence on the situation in north-western Syrian Arab Republic."
Specifically, the UN report said that al-Adel and Adullah have "influenced events in the Syrian Arab Republic, countering the authority of Abu Mohammed al-Jawlani…and causing formations, breakaways and mergers of various Al Qaeda-aligned groups in Idlib." Abu Mohammed al-Jawlani (al-Julani) is the leader of HTS, the aforementioned group that some al Qaeda jihadis accuse of being too close to Turkey.
In July 2016, Julani announced that his group, Al Nusrah Front, was disassociating from al Qaeda. Although there is evidence that the move was initially a media ploy, it ultimately led to real divisions in the jihadis' ranks.
Al-Adel and Abdullah reportedly encourage formation of Hurras al-Din (HAD)
Sometime between Al Nusrah's disassociation from al Qaeda in mid-2016 and its relaunch as HTS in early 2017, Saif al-Adel and Abdullah (a.k.a. Abu Muhammad Al-Masri) were consulted on the issue. From their perch inside Iran, they rejected Julani's moves.
One of Julani's advocates, an HTS official known as Abu Abdullah al-Shami, argued that Adel and Abdullah didn't have the authority to overrule Julani and his comrades because the two were "in an enemy state (Iran)," where "they are being held there against their will." In other words, the two al Qaeda leaders were supposedly detained inside Iran and, therefore, not able to freely consider the matter.
But another al Qaeda figure, Abu al-Qassam (a.k.a. Khalid al-Aruri), quickly rejected Abu Abdullah al-Shami's argument, explaining that Saif al-Adel and Abdullah "left prison and they are not imprisoned." The two al Qaeda managers "are forbidden from traveling until Allah makes for them an exit," Qassam wrote, but "they move around and live their natural lives except for being allowed to travel."
Abu al-Qassam is one of al-Adel's and Abdullah's longtime compatriots. He was held in some form of detention alongside them in Iran and reportedly released in the 2015 exchange. He is currently located in Syria.
According to another report submitted to the UN Security Council last month, Abu al-Qassam is now the leader of Hurras al-Din (HAD), or the "Guardians of Religion" organization. HAD is one of the breakaway factions that was formed in early 2018 to lessen Julani's standing, as it absorbed some of HTS's fighters. It was initially led by Abu Hammam al-Shami, another al Qaeda veteran, but al-Qassam has reportedly taken the helm.
Abu al-Qassam is a former deputy to Abu Musab al-Zarqawi, a legacy role that gives him standing within the jihadis' ranks. The UN has identified some of HAD's other leading figures as Iyad Nazmi Salih Khalil (who was reportedly killed last year), Bilal Khuraysat (a prominent al Qaeda ideologue who is also known as Abu Khadijah al-Urduni) and Faraj Ahmad Nana'a. In addition, Sami al-Uraydi is known to play a leading role in HAD.
Despite the sometimes heated disagreements between HAD and HTS, the two entered into a new accord earlier this year. The UN monitoring team finds that Zawahiri is the "defining authority for HAD, but not for HTS." Yet, according to an analysis by FDD's Long War Journal, it appears that a member of al Qaeda's shura council, Abu 'Abd al-Karim al-Masri ("Karim"), has repeatedly mediated disputes between the two and HTS has respected his authority.
Al-Adel's eulogy for the "lion of Jihad Wahl"
Although al-Adel rarely comments on current events in public, some of his writings have been posted online. For years, his status inside Iran was murky, as there were reports that he was active well before al Qaeda's prisoner exchange with the Iranians.
In Aug. 2015, for instance, al-Adel's eulogy of Abu Khalid al-Suri, an al Qaeda veteran who served as both a senior figure in Ahrar al Sham and as Ayman al Zawahiri's representative in Syria, was posted online. Al Suri was killed in Feb. 2014 by fighters dispatched by the Islamic State, al Qaeda's jihadist rival. Zawahiri had assigned al-Suri to broker a truce between Abu Bakr al Baghdadi's organization and Al Nusrah Front (al Qaeda's official branch in Syria at time). This effort failed in spectacular fashion, and al-Suri emerged as one of the Islamic State's harshest critics.
In his eulogy, Al Adel described al-Suri as the "lion of Jihad Wahl," an al Qaeda training camp in pre-9/11 Afghanistan. Al Adel remembered al Suri's time training the "youths," helping them to "build their bodies" and "teaching them target practice." Al Adel also reminisced about al Suri's time yelling at the new recruits with his peculiar voice. And he implicitly criticized the Islamic State, as he wondered who could possibly dare "to kill a sheikh among the sheikhs of the mujahideen," meaning al Suri. Al Adel described al Suri's killers as having "twisted" and "perverted" thoughts.
Other, older writings by al-Adel are regularly circulated online as well. These include the al Qaeda veteran's guide to kidnapping operations. That manual was shared once again by some of the same Telegram channels that posted his message dealing with Syria.
*Editor's note: Parts of this article were copied from previous FDD's Long War Journal reports, which are linked throughout.
Thomas Joscelyn is a Senior Fellow at the Foundation for Defense of Democracies and the Senior Editor for FDD's Long War Journal.
Are you a dedicated reader of FDD's Long War Journal? Has our research benefitted you or your team over the years? Support our independent reporting and analysis today by considering a one-time or monthly donation. Thanks for reading! You can make a tax-deductible donation here.
https://www.longwarjournal.org/archives/2019/08/wanted-al-qaeda-leader-warns-of-turkish-influence-on-jihad-in-syria.php
--------
US Agency's Forecasts Fast Growth for Islamic Banking in Next Five Years
Thursday 15 August 2019
The US agency is forecasting financial expansion in many of the CIS counties during the years ahead as a result of government initiatives built to nurture the sector.
"Kazakhstan, Kyrgyzstan, Tajikistan and Uzbekistan are set to lead this expansion of Islamic banking," said Svetlana Pavlova, AVP-analyst at Moody's, in a report released today.
Pavlova added: "These countries have large Muslim populations, and are notable for their governments' commitment and progress in establishing better legal and regulatory infrastructure for Islamic finance."
Kazakhstan's government aims to boost the share of Islamic banking assets to three per cent of total banking assets in the country by 2025 from the current 0.2 per cent, the report said.
In Kyrgyzstan, the national bank aims to expand the share to five per cent by 2021 from the current 1.4 per cent.
While Russia was judged to have the weakest growth potential, some individual banks are seeking to meet demand for Shariah-compliant products and services under existing laws.
One example given in the report was Sberbank, the largest commercial bank by assets in Russia, which was looking to offer such services and has launched an Islamic payment application in 2019.
AK BARS, the largest bank in the Republic of Tatarstan, introduced a pilot Islamic mortgage product in 2019.
https://www.cityam.com/moodys-forecasts-fast-growth-for-islamic-banking-in-next-five-years/
--------
Modi Govt's Fascist Tactics To Smother Kashmiri Liberation Struggle Will Fail Miserably: PM Imran
Dawn.comUpdated August 16, 2019
Prime Minister Imran Khan on Friday said that the Indian government's "fascist tactics" in occupied Kashmir "to smother the Kashmiri liberation struggle will fail miserably".
The premier, who has been tweeting regularly in support of Kashmiris after the Indian government stripped the people of occupied Kashmir of their autonomy, said: "The fascist, Hindu supremacist [Narendra] Modi government should know that while armies, militants and terrorists can be defeated by superior forces, history tells us that when a nation unites in a freedom struggle and does not fear death, no force can stop it from achieving its goal."
"That is why the Hindutva exclusivist creed of the Modi-led government with its fascist tactics in IoK will fail miserably in its attempt to smother the Kashmiri liberation struggle," declared the premier in a second tweet.
A black day was observed across Pakistan on Thursday to coincide with India's independence day celebrations, to condemn the unilateral move by Prime Minister Narendra Modi's government to strip occupied Kashmir of autonomy and raise voice over continued suppression of the Kashmiri people by Indian security forces.
Under the aegis of various political parties and organisations, rallies were staged in Islamabad and other cities of the country as well in Muzaffarabad, the capital of Azad Jammu Kashmir.
Speakers at the rallies warned India that it could not subjugate the Kashmiris through brute use of force and called on the world community, particularly the United Nations, to intervene and play its role to protect the Kashmiris from India's state fascism.
Flags on government buildings flew at half-mast. Politicians, including Prime Minister Imran Khan, replaced their social media pictures with black squares.
A British mounted police officer sits on his horse between pro-Pakistan (L) and pro-India (R) demonstrators as they protest outside of the Indian High Commision in central London on Thursday. — Reuters
Thousands of protesters carrying placards gathered outside the Indian High Commission in London, demanding an end to the Indian government's brutalities in occupied Kashmir and lashing out at Modi's decision to revoke the disputed territory's special status.
Meanwhile, the United Nations Security Council (UNSC) will hold a consultative meeting today to discuss the Kashmir issue as Pakistan urges the world body to implement its own resolutions on this 70-year-old dispute.
The consultative meeting has been called by China on Pakistan's request to discuss the prevailing situation in IoK. In the closed door meeting, briefings will be given on the situation and consultations will take place to decide how to proceed further. The meeting may decide to issue a statement or can possibly suggest calling an emergency session of the Security Council.
This marks the first time in over 50 years that the UN Security Council is holding an exclusive meeting on Kashmir, even though consultative.
https://www.dawn.com/news/1499813/modi-govts-fascist-tactics-to-smother-kashmiri-liberation-struggle-will-fail-miserably-pm-imran
--------
UN says 2nd attempt to return Rohingya Muslims to Myanmar planned
Aug 16, 2019
Myanmar and Bangladesh are making a second attempt to start repatriating Rohingya Muslims after more than 700,000 of them fled a security crackdown in Myanmar almost two years ago, the United Nations refugee agency said Friday.
Caroline Gluck, a spokesperson for the UN High Commissioner for Refugees, told The Associated Press that the Bangladesh government has asked for its help in verifying the 3,450 people who signed up for a voluntary repatriation. She said the list was whittled from 22,000 names that Bangladesh had sent to Myanmar for verification.
Myanmar's military in August 2017 launched a counterinsurgency campaign in response to an attack by a Rohingya insurgent group. The army operation led to the Rohingya exodus to Bangladesh and accusations that security forces committed mass rapes, killings and burned thousands of homes.
The UN-established Independent International Fact-Finding Mission on Myanmar last year recommended the prosecution of Myanmar's top military commanders for genocide, war crimes and crimes against humanity. Myanmar has rejected the report and any suggestion its forces did anything wrong.
In July, Myanmar officials went to the camps in Bangladesh to talk to the refugees about their plans and preparations to bring them back, the latest of several similar visits. So far, most refugees appear to distrust the promises and believe it is too dangerous to return.
It is unclear when any repatriation might begin, given the need to find and check all the individuals and the fact that there is a major holiday at the moment in Bangladesh, Gluck said.
It is also possible it may stall, as it did last year.
"It's very hard to say whether people will accept voluntary repatriation this time round," said Gluck. "They tell us very clearly we want to go back with .. full rights. They are not willing to go back if nothing on the ground has changed."
The Rohingya have long been treated as outsiders in Buddhist-majority Myanmar, even though their families have lived in the country for generations.
Nearly all Rohingya have been denied citizenship since 1982, effectively rendering them stateless, and they are denied freedom of movement and other basic rights.
https://www.cbc.ca/news/world/un-2nd-attempt-return-rohingya-myanmar-planned-1.5249310?cmp=rss
--------
Trump to meet senior U.S. officials to review peace plan with Taliban
Friday, 16 Aug 2019
The U.S. President Donald Trump is expected to meet with senior U.S. officials to review a potential peace plan with Taliban.
U.S. official privy of the development have told CNN that President Trump will meet with Secretary of State Mike Pompeo and national security adviser John Bolton at his Bedminster golf resort.
The officials further added that Secretary of Defense Mark Esper and Chairman of the Joint Chiefs of Staff General Joseph Dunford are expected to be present.
The officials have also added that President Trump will discuss Afghanistan and the peace plan with the Taliban.
Meanwhile, the sources have told CNN that the peace plan negotiated by Ambassador Zalmay Khalilzad for the past several months, would formalize a significant withdrawal of US forces from Afghanistan — from about 15,000 troops to 8,000 or 9,000 troops.
According to the sources, the plan would also enshrine official commitments by the Taliban to counterterrorism efforts in Afghanistan.
Furthermore, the sources have said Ambassador Khalilzad will likely travel to Doha to finalize the deal in coming days, after reviewing the agreements with the officials in the State Department and White House.
According to the sources, the visit by Khalilzad to Doha will likely take place on 19th of August.
https://www.khaama.com/trump-to-meet-senior-u-s-officials-to-review-peace-plan-with-taliban-03673/
--------
India
Article 370: Terror groups led anti-India protests in PoK, renew fresh call for jihad
16 August 2019
Article 370: After the abrogation of Article 370 and bifurcation of Jammu and Kashmir, the terror groups operating in Pakistan are regrouping against India. They have renewed their call for jihad in Kashmir. Several groups led anti-India protests on Thursday in Muzaffarabad and threatened India. They held a protest outside the Press Club of Muzaffarabad in which Khalid Saifulla and Naib Ameer — Hizbul Mujahideen terrorists participated.
In a fiery speech, Saifulla urged Hizbul chief Syed Salahuddin to move forward against India and he would receive complete support from them. Despite international pressure to take action against terror groups in the country, many operatives are openly holding rallies and protests in Pakistan. They seem to be having no fear of the government or the latter is encouraging them to continue their work.
Dozens of terror groups are operating in Pakistan. Recently, Prime Minister Imran Khan in the US admitted that thousands of armed men who received training from the army are in the country. Following the Pulwama terror attack in which 40 CRPF jawans were killed, Pakistan took some action against Jaish-e-Mohammad chief Azhar Masood and Hafiz Saeed, apparently to mislead world community.
The protests in Muzaffarabad came in the aftermath of NDA-led BJP government's move to strip Jammu and Kashmir of its special status. There has been a massive clampdown in the valley in terms of communications blackout and curfew-like restrictions. For the first time, the landline services were cut. Even news channels were taken off the air.
https://www.newsx.com/national/article-370-terror-groups-protests-in-pok-call-for-jihad-syed-salahuddin-muzaffarabad.html
--------
Kashmir: Situation improving, curbs being lifted gradually, says Centre to SC
August 16, 2019
As communication blockade enters Day 11, situation in Kashmir remains the same. The Independence Day was celebrated in the Valley with no reports of violence on August 15. The United Nations Security Council (UNSC) will hold a closed door meeting on India's decision to revoke Article 370, which granted special status to Jammu and Kashmir. Pakistan's Foreign Minister Shah Mehmood Qureshi formally called for an emergency meeting of the UNSC and said that India's decision was "illegal and against the UN resolutions". Further, terror outfits are seen regrouping with an aim to launch 'jihad' against India. The Pakistani authorities are now encouraging terror groups like Hizbul Mujahideen and United Jihad Council (UJC), headed by Syed Salahudeen to come over ground in their bid to target India after the abrogation of Article 370 and Article 35A from Jammu and Kashmir. Follow IndiaToday.in for Live Updates on Kashmir.
https://www.indiatoday.in/india/story/jammu-and-kashmir-article-370-live-updates-1581238-2019-08-16
--------
Mideast
Islamic State 'blooper reel' revealed by Al Qaeda amid fighting in Yemen
Mark Quinlivan
New footage has been released in what's being described as a "blooper reel" of Islamic State (IS) propaganda.
The footage was originally released by Al Qaeda's Hidaya Media, and shows a member of IS on his knees attempting a renewal of allegiance to the leader of the militant group.
His pledge of allegiance proves unsuccessful however, as a squawking bird continuously interrupts him.
The video shows the jihadi distracted by the bird, while someone can be heard saying "stay calm, keep cool".
"Leader's feeble memory adds to the woes," said a woman who shared the video on Twitter, Dr Elisabeth Kendall. "These bodged 'takes' didn't even make it into the official video on this solemn event, released end [of] July," writes Dr Kendall, a Middle East expert at Oxford University.
The Telegraph describes Al Qaeda and IS as "bitter rivals", as they both continue to fight Houthi militants, who are backed by Iran.
Al Qaeda's media company has not specified how it came to be in possession of the footage, according to reports. Dr Kendall suggests it could have been found when the group overran ISIS camps in Yemen.
"Embarrassingly, #alQaeda does counter narratives better than we do," Dr Kendall wrote on Twitter.
https://www.newshub.co.nz/home/world/2019/08/islamic-state-blooper-reel-revealed-by-al-qaeda-amid-fighting-in-yemen.html
--------
Turkey continues to support Rakhine Muslims
16.08.2019
Turkey has been carrying out active and strong diplomacy at the table and on the ground to help Rakhine Muslims, Turkey's Ambassador to Myanmar Kerem Divanlioglu said.
"Turkey is one of the countries implementing projects with its own resources," Divanlioglu told Anadolu Agency (AA).
Divanlioglu stressed that Ankara pioneers support for Rakhine Muslims in the international arena in three fields: keeping their problems on the agenda of international organizations, such as the United Nations and the Organisation of Islamic Cooperation (OIC); providing humanitarian support for urgent needs; and dialogue with Myanmar's government on the issue.
The Myanmar government has long been blamed for genocide against the minority Muslim Rohingya community in the western Rakhine State. The exodus of Rohingya began in August 2017 after Myanmar security forces launched a brutal crackdown following attacks by an insurgent group on guard posts. The scale, organization and ferocity of the operation led to accusations from the international community, including the U.N., of ethnic cleansing and genocide. Rohingya Muslims are the most persecuted minority in the world, according to U.N. figures and continue to suffer from oppression under the Myanmar government, the army and Buddhist extremists. The Turkish ambassador said the priority should be the return of the nearly 1 million Rohingya Muslims living in dire conditions to their homeland in Myanmar. "Rohingya Muslims don't want to return Myanmar without security guarantees and the determination of their legal status," Divanlioglu said.
Over the past decade, thousands of Rohingya have been killed since violence broke out in 2008, causing hundreds of thousands to flee their homeland for Bangladesh, Malaysia and other countries in the region. At least 9,000 Rohingya were killed in Rakhine State between Aug. 25 and Sept. 24, 2017, according to Doctors without Borders (MSF). Turkey geared up efforts to revive the lives of the persecuted Rohingya as the country has so far reached out to at least 700,000 Rohingya Muslims with humanitarian aid.
Charities, state-run organizations and individuals set up camps, hospitals and water wells and distributed aid to the community. In one year, more than 2,000 tons of food packages were delivered to the displaced Rohingya Muslims. Some 165,000 people received free medical treatment and more than 300,000 others received psychiatric treatment to cope with what they suffered at the hands of poverty, military oppression and other misfortunes in Myanmar.
https://www.dailysabah.com/diplomacy/2019/08/16/turkey-continues-to-support-rakhine-muslims
--------
Senior Indonesian MP Lauds Iran's Independent Foreign Policy
Fri Aug 16, 2019
TEHRAN (FNA)- A senior Indonesian Member of Parliament (MP) praised Iran's independent foreign policy, and called for expansion of parliamentary relations between Tehran and Jakarta.
In a Thursday meeting with Iranian Deputy Foreign Minister for Political Affairs Seyed Abbas Araqchi, Chairman of the Indonesian Parliament's First Commission Abdul Kharis Almasyhari hailed Iran's self-confidence and independence, calling for the enhanced parliamentary relations between the two countries.
He also voiced his country's readiness for cooperation in all fields including fighting extremism and terrorism.
Last month, Iranian and Indonesian officials sealed an agreement in Jakarta to further increase mutual cooperation in legal and judicial grounds, migration and extradition of prisoners in particular.
In a meeting between Iran's Ambassador to Jakarta Valiollah Nasrabadi and Indonesian Minister of Law and Human Rights Yasonna Laoly at the end of Nasrabadi's mission, the two sides inked a draft agreement for increasing judicial cooperation between Tehran and Jakarta.
During the talks, Nasrabadi said Iran and Indonesia enjoy constructive and growing relations.
The two countries can share their good experiences in the legal and migration affairs and also in the fight against drug trafficking, the ambassador said.
Nasrabadi further described the exchange of visits between Iranian President Hassan Rouhani and his Indonesian President Joko Widodo as a turning point in promotion of bilateral cooperation in the recent years.
Iranian diplomat hoped that the two countries would sign agreement on cooperation in extradition of prisoners in the near future.
For his part, Laoly said Jakarta-Tehran political, cultural and legal cooperation is at an acceptable level.
Commenting on the draft plan which is to be prepared by Indonesia's parliamentarians, the minister said the plan would serve as a legal ground for extraditions of prisoners after being approved.
https://en.farsnews.com/newstext.aspx?nn=13980525000274
--------
Iranian FM Reiterates UK Seizure of Oil Tanker Illegal from Outset
Fri Aug 16, 2019
TEHRAN (FNA)- Iranian Foreign Minister Mohammad Javad Zarif provided a copy of Iran's embassy note to UK's Foreign and Commonwealth Office, and reiterated that London's detention of a supertanker carrying his country's oil was totally illegal from the very beginning.
Iranian Foreign Minister Mohammad Javad Zarif in a message referred to Iran's embassy note to UKFCO, saying seizure of tanker carrying Iran oil was 100 percent unlawful.
"Our London Embassy note to UKFCO protested the illegal detention of Grace1; Repeated public statements about destination; and made it crystal clear that the European Union's sanctions do not apply to Iran—a position shared by most Europeans," Zarif tweeted on Thursday.
"Nothing changes the fact: detention was 100% unlawful," he underlined.
Authorities in Gibraltar finally released the Iranian oil tanker on Thursday, ignoring the US request to detain the vessel for a further period.
Following the decision by the Gibraltar court, Iran's Ambassador to the UK Hamid Baeidinejad also said the US effort to press the government of Gibraltar to transfer control of the vessel to Washington had failed.
"The US, with its desperate, last-minute efforts, intended to prevent the release of the [Grace 1] oil tanker from detention, and was faced with humiliation," Baeidinejad added.
The envoy stated that all preliminary steps have been taken to ensure the tanker's movement toward free waters and "the vessel will soon leave the Gibraltar region".
In early July, British marines and Gibraltar police seized the Iranian tanker off the Southern coast of the Iberian Peninsula, claiming that the ship was transporting crude oil to Syria "in violation" of the EU sanctions placed on Damascus. Washington had applauded the move, hailing it as a sign that Europe is on board with the US unilateral sanctions against Tehran.
Iran had condemned the "illegal move" of London and described it as "tantamount to piracy". Tehran accused the UK of doing Washington's bidding and helping the US attempt to stifle the Islamic Republic's oil exports, rejecting London's claim that the supertanker was carrying crude for Syria.
https://en.farsnews.com/newstext.aspx?nn=13980525000222
--------
US Threatens Visa Ban on Crew of Iranian Oil Tanker After Failed Attempt to Seize Vessel
Fri Aug 16, 2019
TEHRAN (FNA)- The United States on Thursday threatened a visa ban on the crew of recently-released Iranian supertanker whose departure from Gibraltar Washington failed to block.
Without providing any proof, Spokesperson for the US Department of State Morgan Ortagus claimed in a statement that Grace 1 "was assisting the Islamic Revolution Guards Corps (IRGC) by transporting oil from Iran to Syria" and this "could result in serious consequences for any individuals associated with the Grace 1".
Ortagus warned that Washington "intends to revoke visas held by members of such crews".
In early April, the US administration decided to designate the IRGC as a terrorist organization, while critics called it stupid and dangerous. In a tit-for-tat measure, Tehran labeled the United States Central Command (CENTCOM) in the Middle-East as a terrorist entity.
Gibraltar's Supreme Court earlier Thursday ruled in favour of releasing the vessel seized weeks ago. Hours before the announcement, the United States had launched a last-minute legal move demanding that the British overseas territory detain the ship.
In early July, British marines and Gibraltar police seized the Iranian tanker off the Southern coast of the Iberian Peninsula, claiming that the ship was transporting crude oil to Syria "in violation" of the EU sanctions placed on Damascus. Washington had applauded the move, hailing it as a sign that Europe is on board with the US unilateral sanctions against Tehran.
Iran had condemned the "illegal move" of London and described it as "tantamount to piracy". Tehran accused the UK of doing Washington's bidding and helping the US attempt to stifle the Islamic Republic's oil exports, rejecting London's claim that the supertanker was carrying crude for Syria.
https://en.farsnews.com/newstext.aspx?nn=13980525000159
--------
Southeast Asia
Bishop speaks out on treatment of Uighur Muslims in China
by MADELEINE DAVIES
16 AUGUST 2019
THE Chinese government thinks that it can "fool the international community" and get away with injust treatment of religious minorities, the Bishop of St Albans, Dr Alan Smith, has said.
He described the treatment of Uighur Muslims in the Xinjiang region as "the latest example of the systematic crack down on religious minorities by the Chinese government.
"As well as the detention camps for Uighur Muslims in Xinjiang Province, and the demolition of Christian churches in Shanxi, the Chinese have also opened up camps, euphemistically called 'vocational schools', for Buddhists, in Tibet.
"I am glad to add my voice to religious and political leaders around the world to speak out against this oppression and protect these persecuted minorities."
Officials in China have defended their policies in Xinjiang, where one million Uighurs have been detained in "political education" camps, human-rights activists say (News, 3 May).
"Most people who have received training have already returned to society, returned home," Alken Tuniaz, the vice-chairman of Xinjiang and himself an Uighur, said at the end of last month. He accused other countries of having "inverted right and wrong, and slandered and smeared [China about the centres]".
The statement was challenged by activists, including Amnesty International's regional director for East and South-East Asia, Nicholas Bequelin.
"China is making deceptive and unverifiable statements in a vain attempt to allay worldwide concern for the mass detentions of Uighurs and members of other ethnic minorities in Xinjiang," he said. "We have received no reports about large-scale releases. In fact, families and friends of people who are being detained tell us they are still not able to contact them.
"Given China's record of heavy censorship, outright falsehoods, and systematic obfuscation about the situation in Xinjiang, it remains imperative that UN human-rights investigators, independent observers, and the media be given unrestricted access to the region as a matter of urgency."
Tensions between China and the West over the treatment of Uighurs have risen in recent months. At a conference on religious freedom last month, the US Secretary of State, Mike Pompeo, described it as the "stain of the century".
Last month, a total of 22 ambassadors, including representatives of Australia, Canada, Japan, and Britain, signed a letter to the president of the UN Human Rights Council calling on China to end the detention of Uighurs. They also called on China to allow the UN High Commissioner for Human Rights, Michelle Bachelet, "meaningful access" to the region.
But 37 countries, including Russia and Saudi Arabia, signed a letter defending China's policies in the region. A copy of the letter, seen by Reuters, reads: "Faced with the grave challenge of terrorism and extremism, China has undertaken a series of counter-terrorism and deradicalisation measures in Xinjiang, including setting up vocational education and training centres."
A Chinese diplomat, Jiang Duan, told the UN Human Rights Council that other countries could learn from China: "During the past three years, there has not been a single incident of a terrorist attack, and people in Xinjiang feel much better and much more happy and secure."
Mr Tuniaz told the Council: "By setting up vocational education and training centres in accordance with the law, we aim to educate and save those who were influenced by religious extremism and committed minor legal offences. This will prevent them from becoming victims of terrorism and extremism, and protect the basic human rights of the citizens from infringement."
https://www.churchtimes.co.uk/articles/2019/16-august/news/world/bishop-speaks-out-on-treatment-of-uighur-muslims-in-china
--------
Marawi crisis has brought Muslims and Christians together, says RC bishop
by REBECCA PAVELEY
16 AUGUST 2019
TWO years after an armed siege in the Philippines that killed 1000 people, a bishop in the region has said that the crisis has brought Muslims and Christians together.
The Roman Catholic Territorial Prelate of Marawi, the Most Revd Edwin Angot de la Peña, said that
the conflict has taught both Muslims and Christians the importance of dialogue, and that both faiths needed to work together to combat extremism.
Muslims and Christians suffered the same ordeal," he said.
The city of Marawi is the capital of Lanao del Sur province in the Bangsamoro Autonomous Region of the Philippines, and is predominately Muslim.
Fighting broke out between militants aligned to the Islamic State and the government in May 2017 in Marawi (News, 2 June 2017), the capital city on the southern island of Mindanao. A five-month siege followed which left the city pockmarked with unexploded bombs and landmines. These are still being cleared by government troops.
The Philippine government said that it aims to complete the rebuilding work by December 2021. The President of the International Committee of the Red Cross, Peter Maurer, said that people were still
traumatised by the conflict.
He said: "In my visit, I saw a community dealing with the physical and psychological impact of conflict. I met a family of a missing person that hasn't lost hope that news about their relative will arrive soon."
https://www.churchtimes.co.uk/articles/2019/16-august/news/world/marawi-crisis-has-brought-muslims-and-christians-together-says-rc-bishop
--------
Arab World
Annual Hajj Conference Of Muslim World League: Islamic Civilization Combines Wealth, Openness, Discipline
2019/08/15
Jeddah, August 15, 2019, SPA -- The annual Hajj conference of the Muslim World League has recommended extending bridges of communication and civilizational dialogue that respect human existence, history and culture without bias and show that Islamic civilization is a comprehensive and integrated civilization, combining material masterpieces, faith meanings and moral practices.
Participants in the conference urged all Muslims to enrich human civilization with a unique experience of the civilizational contributions that humanity needs in solving its moral, social and environmental crises, to return to cultural renewal and achieve moral distinction.
The participants stressed the importance of developing an Islamic discourse that is characterized by moderation and balance.
The participants recommended to use all social media to show the efforts of the Islamic civilization in building sincere relations with others.
https://www.spa.gov.sa/viewfullstory.php?lang=en&newsid=1958908
--------
300 Media representatives from different countries thank the Custodian of the Two Holy Mosques for unprecedented Hajj services
2019/08/15
Jeddah, Aug. 15, 2019, SPA -- Around 300 media representatives, who are guests of the Ministry of Media for this year's Hajj, expressed thanks to and appreciation of the Custodian of the Two Holy Mosques King Salman bin Abdulaziz Al Saud in writing, for what the Kingdom of Saudi Arabia has provided to serve pilgrims.
Their thanks to the Custodian of the Two Holy Mosques included sincere expressions and feelings from the guests of the Ministry of Media for this year's Hajj coming from various Arab, Islamic and international media circles.
https://www.spa.gov.sa/viewfullstory.php?lang=en&newsid=1958885
--------
Custodian of the Two Holy Mosques receives phone call from King of Morocco
Thursday 1440/12/14
Jeddah, August 14, 2019, SPA -- Custodian of the Two Holy Mosques King Salman bin Abdulaziz Al Saud today received a telephone call from King Mohammed VI of Morocco.
During the call, they exchanged congratulations on Eid Aladha.
https://www.spa.gov.sa/viewfullstory.php?lang=en&newsid=1958912
--------
Custodian of the Two Holy Mosques Congratulates Gabon's President on Independence Day
2019/08/16
Jeddah, August 16, 2019, SPA -- The Custodian of the Two Holy Mosques King Salman bin Abdulaziz Al Saud has sent a cable of congratulations to President Ali Bongo Ondimba of the Republic of Gabon on the anniversary of his country's Independence Day.
The King wished the President constant good health and happiness and the Government and people of the Republic of Gabon steady progress and prosperity.
https://www.spa.gov.sa/viewfullstory.php?lang=en&newsid=1958963
--------
Army at Gates of Foreign Terrorists' Largest Stronghold in Lattakia
Fri Aug 16, 2019
TEHRAN (FNA)- The Damascus army advanced in strategic areas in Northeastern Lattakia concurrent with its battle in Southern Idlib and Northern Hama, arriving at the entrance of Turkistani party terrorists' bastion town of Kabana over the past 24 hours.
"The army forces, supported by the Russian fighter jets, could regain control of the heights overlooking Kabana which is the Turkistani party's main stronghold at the border with Idlib," the Arabic-language website of Russia's Sputnik news agency quoted a field source as saying on Thursday.
Meantime, the Syrian army continued its military advances in other parts of Syria over past 24 hours.
Tens of terrorists were killed and dozens more were injured during the Syrian army's operations in provinces across Syria.
Lattakia
The Syrian army advanced in strategic areas in Northeastern Lattakia concurrent with its battle in Southern Idlib and Northern Hama, arriving at the entrance of Turkistani party terrorists' bastion town of Kabana.
The Arabic-language service of Sputnik news agency quoted a field source as saying on Thursday that the army forces, supported by the Russian fighter jets, could regain control of the heights overlooking Kabana which is the Turkistani party's main stronghold at the border with Idlib.
He added that the Syrian army forces could recapture Jabal al-Zawiqat and the adjacent hills as the most important corridor leading to the strategic town of Kabana, noting that the terrorists' defense lines have collapsed given the Syrian army's concurrent advance in Northern Hama and Southern Idlib.
Kabana's freedom will pave the ground for the Syrian army to enter the Turkistani terrorists' most important bases and towns in Jisr al-Shaqour, Badama and al-Sarmaniyeh in Western and Southwestern Idlib.
Idlib
The Syrian army continued military operations in Southern Idlib, regaining control of new regions at the entrance of the town of Khan Sheikhoun.
The army forces continued clashes with Tahrir al-Sham al-Hay'at (the Levant Liberation Front or the Al-Nusra Front) terrorists in the Western parts of Khan Sheikhoun in Southern Idlib on Thursday, retaking control of the towns of Horsh al-Abedin and Kharbat al-Abedin in the Northern parts of the town of al-Habit, Zaitouneh farm and the village of Madaya in the North of the town of Kafar Ain.
Meantime, a military source said that the Syrian army's special forces in clashes with Tahrir al-Sham took back control of regions from Zarae'i farms in the West of Khan Sheikhoun to al-Salam checkpoint in the Western gate of the town and deployed in the area.
He added that the Syrian army troops also resumed advance in the Eastern parts of Khan Sheikhoun near the town of al-Tamane'ah in Southern Idlib.
Meantime, Tahrir al-Sham terrorist group replaced a number of its commanders to maintain regions under its control after the Syrian army's extensive advances in Southern Idlib.
The report came on Thursday after the Syrian army forces continued clashes with Tahrir al-Sham in al-Habit in Southern Idlib, regaining control of the towns of Kafar Tab and Abedin in the Northern parts of Kafar Ain in Western Khan Sheikhoun.
Field sources in Northern Syria reported that Tahrir al-Sham has changed a number of its military commanders in Northern Hama and Southern Idlib and has set up a new military formation in these regions.
They added that after the Syrian army's advances, the terrorists in Northern Syria have engaged in internal differences, noting that Tahrir al-Sham has replaced its commanders to protect the remaining occupied regions against the Syrian army's impending attacks.
Eastern Euphrates
Informed sources reported that the Kurdish militants are holding talks with Damascus on delivering control of certain parts of Eastern Euphrates region to the Syrian army after the US agreement with Ankara to set up a safe zone in Syria.
The Arabic-language Bas News affiliated to the Kurds quoted the Kurdish sources as saying on Wednesday that a delegation of the Kurdish forces headed by Chairman of the Syrian Democratic Council Ilham Ahmad has recently met with senior officials in Damascus and Russia's military base in Humeimim on the fate of Eastern Euphrates region.
He added that during the talks, Damascus has urged the Syrian Democratic Council to return the heavy weapons they had taken from the Syrian army, withdraw the Syrian Democratic Forces (SDF) militants from the centers of Qamishli and Hasaka cities, and deliver their control to the Syrian government.
The source also referred to the Damascus' demand from the Kurdish forces to pave the ground for the Syrian army's deployment in Hasaka province, and said an agreement will soon be made between the two sides to give control of Raqqa and al-Tabaqah to the Syrian government.
He added that at present, the problem is the US opposition, noting that Washington intends to receive some advantages from Russia first.
https://en.farsnews.com/newstext.aspx?nn=13980525000225
--------
North America
Under increased scrutiny, NYPD faces bias complaints from Muslim New Yorkers
By ERIN DURKIN
08/15/2019
Three Muslim New Yorkers accused the NYPD of excessive force and neglecting crimes against them in new complaints filed with a civilian oversight board, as the department faces national scrutiny over the death of Eric Garner.
A Brooklyn woman charged that after a traffic stop, where she asked to be searched by a female officer because of her religion, police threw her to the ground and kneeled on top of her, with one officer putting his hands around her neck.
"I was thrown to the floor and beaten to the ground like an animal," said Rayhanah Alhanafi, who said she was stopped last month while driving in Harlem on suspicion of having fake license plates. "I was screaming and crying because I couldn't breathe. I have asthma, and ... I was in a lot of pain."
Her complaint was one of three filed by the Council on American-Islamic Relations' New York chapter with the Civilian Complaint Review Board, alleging biased policing.
The complaints come after an NYPD Inspector General's report found that the NYPD did not substantiate a single bias complaint, despite nearly 2,500 such complaints being filed. They also come amid growing unrest over the department's ability to impose internal discipline — with five years having elapsed since Garner's death and no official decision yet on the fate of Officer Daniel Pantaleo, who put Garner in a department-prohibited chokehold.
Mayor Bill de Blasio, who has been asked multiple times about Garner during his bid for the White House, has insisted the department has undergone extensive re-training on how to deescalate conflicts with New Yorkers. Advocates have complained that despite reforms to reduce searches and unnecessary arrests, the city has failed when it comes to accountability for officers who commit misconduct.
"The NYPD should not be policing itself," said Ahmed Mohamed, the litigation director at CAIR New York. "There is a larger pattern of the NYPD failing to investigate properly when the victims are black, immigrant, Muslims, brown individuals in this city."
Alhanafi said she was repeatedly denied medical attention while in police custody. She went to the emergency room after her release and suffered a hairline fracture in her neck. She was charged with resisting arrest and disorderly conduct.
In another case, a woman charged that police failed to investigate after she was brutally beaten in an anti-Muslim hate crime.
Fatoumata Camara said she resorted to investigating her own attack — getting local businesses to give her video footage of the assault — after the NYPD closed her case.
Camara, who is of Guinean descent and was wearing a hijab, said she was attacked and robbed by a group of teens who broke her nose after getting off a bus in the Bronx. The teens called her a "dumb black bitch" and referred to her hijab as a "stupid headrag," according to the complaint.
The case was reopened after Camara turned over video, but NYPD officers have said it will not proceed because the Bronx district attorney will not prosecute an assault where the victim cannot identify her attackers, the complaint says.
In a third complaint, a 16-year-old Bengali American from Queens charges he was sucker punched by an adult man, leaving him hospitalized for three days and requiring surgery. The family and attorneys at CAIR say police dropped the case when the alleged victim, Abrar Chowdhury, could not identify his attacker.
"We're here to tell the NYPD that these lives matter," Mohamed said at a press conference outside police headquarters. "We ask them to protect and serve all communities, not just the communities that they prefer."
Asked about the complaints, NYPD Chief of Detectives Dermot Shea said Thursday that the department's hate crimes task force is the largest in the country.
"I'm proud of the work they do, day in and day out, and I'll leave it at that," he said.
https://www.politico.com/states/new-york/albany/story/2019/08/15/under-increased-scrutiny-nypd-faces-bias-complaints-from-muslim-new-yorkers-1144522
--------
US slaps crew of Iranian supertanker with visa ban after it set sail from Gibraltar
16 Aug, 2019
Hours after Washington failed to persuade the Gibraltar authorities to not release the Iranian oil tanker, the State Department warned that anyone linked to the vessel will not be able to travel to the US.
Unable to stop the Iranian supertanker Grace 1 from leaving Gibraltar, the US will target its crew, comprised of Indian, Filipino, Latvian, and Russian citizens. The sailors are now accused of aiding Iran's elite Islamic Revolutionary Guard Corps (IRGC), labeled as a "terrorist organization" by the US.
"Crewmembers of vessels assisting the IRGC by transporting oil from Iran may be ineligible for visas or admission to the United States under the terrorism-related inadmissibility grounds," a statement released by the State Department reads.
On Thursday, Washington unsuccessfully sought the seizure of the Grace 1, filing a request that formally postponed the lifting of Gibraltar's detention order by a few hours. Iran's ambassador to the UK, Hamid Baeidinejad, called Washington's move "its desperate, last-minute efforts, intended to prevent the release of the [Grace 1] oil tanker from detention," which ended in "humiliation."
Nevertheless, the authorities chose not to bow to the US pressure and allowed the Panamanian-flagged ship to finally set sail.
The Grace 1 was seized by the British Royal Marines outside of Gibraltar in early July, prompting Tehran to retaliate in kind by capturing a British-flagged vessel in the Persian Gulf two weeks later. The seizures added fuel to the simmering feud between Iran and the West, prompting the UK to seek to defuse the tensions.
https://www.rt.com/news/466619-us-visas-iranian-tanker/
--------
Worshippers run for cover outside Auckland mosque after loud noise mistaken for gunfire
Muslim worshippers in Auckland, still on edge after the March terrorist attack on mosques in Christchurch, feared they were witnessing a repeat when they heard what sounded like shots as they were leaving Friday prayers at the Pakuranga Mosque this afternoon.
Some ran for cover, but police say no shots were fired and it was an armed offenders squad callout outside the Pakuranga mosque that had nothing to do with the mosque itself.
Police with assistance from AOS arrested a 40-year-old man in Cortina Place, Pakuranga, just before 2pm, said inspector Wendy Spiller of Counties Manukau Police.
The man had a warrant for his arrest and AOS were called in as a precautionary measure, Ms Spiller said in a statement.
"The arrest took place outside of a mosque but we just want to assure our community that the arrest was in no way related to the mosque," she said.
"We understand that this incident may have caused alarm but this matter has been resolved and is in no way connected to the mosque."
Police told 1 NEWS no shots were fired.
The man arrested is expected to appear in the Waitakere District Court tomorrow, Ms Spiller said.
Earlier, RNZ reported that a worshipper at the Pakuranga Mosque had witnessed police firing six to seven shots as people left after Friday prayers.
Up to 300 people were leaving the mosque when the noise was heard on the busy street at about 1.30pm.
Khalid Baloch was outside the building with his son and ran for cover when the shooting started, he told RNZ.
He said he was terrified they were witnessing a repeat of the 15 March terror attack.
Mr Baloch said he managed to talk to others in the mosque who told him the police were focused on a BMW parked over the road and that the shooting had nothing to do with the mosque.
https://www.tvnz.co.nz/one-news/new-zealand/shots-fired-outside-auckland-mosque-worshipper-says
--------
Muslim Migration Lobby Feels 'Ignored' by 2020 Democrats as Trump Travel Ban Remains Popular
15 Aug 2019
Muslim migration advocates told Politico in interviews that their opposition to Trump's travel ban — which has effectively ended legal immigration from Chad, Iran, Iraq, Libya, North Korea, Syria, Venezuela, and Yemen — is not being voiced in the 2020 Democrat presidential primary.
In the last Democrat primary debate, for example, the constitutional and widely popular travel ban was only spoken about for less than two minutes. This, Muslim migration advocates said, is putting a bad taste in their mouth for the Democrat field of candidates:
Democrats like former Vice President Joe Biden, Sen. Bernie Sanders (I-VT), and Sen. Elizabeth Warren (D-MA) have hardly attacked Trump's travel ban — mainly because poll after poll has revealed that it remains one of the most popular policies enacted by the White House.
A January 2019 poll conducted by Harvard/Harris found that about 8-in-10 registered U.S. voters said they supported "tough" legal immigration restrictions on terrorist-sponsoring countries, like those implemented through Trump's travel ban — including 94 percent of Republican voters, 71 percent of Democrats, and 79 percent of swing voters.
Months before, a November 2018 poll conducted by Harvard/Harris Poll found that a plurality of 4-in-9 U.S. registered voters said they specifically supported Trump's constitutional travel ban. Nearly half of American men said they supported the travel ban, as well as almost 7-in-10 Republicans and more than 4-in-10 swing voters. Less than 30 percent of swing voters said they disapproved of the policy.
Grappling with the travel ban's popularity has left leftists activists declaring that a "significant" population of Americans have "Islamophobic tendencies," according to those interviewed by Politico:
A June 2017 poll by Rasmussen Reports, though, noted that the majority of likely American voters did not see the travel ban as being "anti-Muslim" but rather about the national security of the nation even before it was ruled constitutional by the U.S. Supreme Court.
For instance, 52 percent of Americans at the time said the travel ban was about keeping terrorists out of the U.S., while only a small minority of 39 percent said the ban was about "blocking" Muslims from entering the country. The poll found that the travel ban was supported by about 5-in-10 U.S. likely voters — including 57 percent of American men, 56 percent of white voters, and 50 percent of swing voters.
https://www.breitbart.com/politics/2019/08/15/muslim-migration-lobby-feels-ignored-by-2020-democrats-as-trump-travel-ban-remains-popular/
--------
Austria: Muslim Taxi Drivers Refuse To Transport Guide Dogs For The Blind
by Tyler Durden
Fri, 08/16/2019
Muslim taxi drivers in Austria are refusing to transport blind people with guide dogs because dogs are seen as being unclean in Islamic culture.
Tiroler Tageszeitung reports on how a former board member of the Association for the Blind, who is totally blind herself, ordered a taxi to drop her off at Innsbruck airport.
However, when the taxi arrived, the driver refused to take her dog.
Taxi operators Anton Eberl and Harald Flecker apologized for the incident but stressed that they only mediate calls and do not own the taxis.
According to the Tiroler Tageszeitung newspaper, "80 percent of drivers now have a migrant background – and Muslims traditionally often regard dogs as "impure".
Gabriele Jandrasits also tried to order a taxi to transport her and her Beagle-Jack Russell dog to the airport. Despite the fact that the dog was contained inside a transport cage, she was told that "most drivers would refuse to take dogs for reasons of faith."
Local laws state the drivers must accept guide dogs for the blind, although many of them simply seem to be ignoring this mandate.
Meanwhile, diversity continues to be a strength.
* * *
There is a war on free speech. Without your support, my voice will be silenced. Please sign up for the free newsletter here. Donate to me on SubscribeStar here. Support my sponsor – Turbo Force – a supercharged boost of clean energy without the comedown.
https://www.zerohedge.com/news/2019-08-15/austria-muslim-taxi-drivers-refuse-transport-guide-dogs-blind
--------
Pakistan
5 killed in blast at seminary in Quetta's Kuchlak area
Syed Ali ShahUpdated August 16, 2019
At least five people have been killed after a loud explosion rocked a madressah located in Kuchlak area on the outskirts of Quetta, DawnNewsTV reported, quoting police.
The nature of the blast has not been ascertained as yet.
Several people injured in the blast have been shifted to Civil Hospital Quetta.
TV footage showed the blast caused extensive damage to the walls and ceiling of the seminary.
This is the fourth explosion that has taken place in Quetta over the past four weeks. On July 23, at least three people were killed and 18 were injured in a bomb attack in Quetta's Eastern Bypass area.
On July 30, another attack took place near a police station in which five people were killed and 30 people were injured. The banned Tehreek-i-Taliban Pakistan had claimed responsibility for that blast.
Last week, an explosion in Quetta's Mission Road area killed one person and injured 10 others.
https://www.dawn.com/news/1499823/5-killed-in-blast-at-seminary-in-quettas-kuchlak-area
------
A feeble reaction of Muslim Ummah on Kashmir situation
Sabir Shah
August 16, 2019
LAHORE: Though Pakistani Premier Imran Khan and a few of his cabinet colleagues are vying hectically to muster global support following the Indian move to abrogate Article 370 of its Constitution for Jammu & Kashmir, the responses and reactions received from the Organization of Islamic Cooperation (OIC) and the Muslim nations individually are rather weak.
The nearly 50-year-old OIC, which had behaved like a mere spectator when Israel had annexed the Golan Heights in the closing stages of the 1967 Six-Day War to the sheer dismay of the Palestinians, has issued few statements studded with diplomatic jargon sans any conviction seemingly, not realising perhaps that India is taking a page straight out of the Israeli playbook!
Or, if that is not the case, the Indian trade and business prowess within the OIC member states is relatively too large to be ignored by its trading partners none of whom is currently paying any heed to loud whispers that Narendra Modi does possess the DNA, similar to that of former Yugoslav leader Slobodan Milosevic, to launch an ethnic cleansing campaign in the restive Valley from where shocking images of refugees fleeing their homes, mass graves and concentration camps might soon begin to emerge if the world does not come to rescue the unarmed and starving Kashmiris.
Milosevic's name became synonymous with ethnic cleansing since he had embarked upon a horrible genocide spree in Bosnia during the early 1990's.
Or Modi might like to emulate Adolf Hitler, whose reign of terror had claimed lives of around six million Jews alone across the German-occupied Europe between 1941 and 1945.
Here follow a few tweets posted by the OIC on social networking website Twitter in this context:
"The OIC General Secretariat has learnt with concern the reports of curtailment of religious freedoms of Kashmiri Muslims in the Indian-Occupied Jammu and Kashmir, including complete lockdown even on the auspicious occasion of Eid, denying Eid Al Adha congregations."
"In a statement delivered on behalf of the Secretary General, the OIC expressed its deep concern over the critical situation in IoK and condemned the gross human rights violations in Jammu and Kashmir; and encouraged the parties for a negotiated settlement."
"Following a request from the Islamic Republic of Pakistan, an urgent meeting of the OIC Contact Group on Jammu & Kashmir at the level of Permanent Representatives was held in Jeddah on August 6, 2019 to review the recent developments in the Indian occupied Jammu and Kashmir."
"The OIC also calls upon the international community, including the United Nations and other relevant bodies, to increase efforts for a negotiated settlement of Jammu and Kashmir dispute on the basis of relevant UN Security Council resolutions."
The Organization of Islamic Cooperation, the second largest inter-governmental organization after the United Nations with 57 member states having a collective population of over 1.8 billion, has further tweeted: "Denial of religious rights constitutes a serious violation of international human rights law & is an affront to Muslims across the world. The OIC urges Indian authorities to ensure the protection of the rights of Kashmiri Muslims & the exercise of their religious rights."
Remember, 53 of the 57 OIC members are Muslim-majority countries!
It is also imperative to note that during March 2019, India was amused after it was invited as a "Guest of Honor" to participate in the 46th session of the Organization of Islamic Cooperation meeting.
UAE's Foreign Minister Sheikh, Abdullah Bin Zayed Al Nahyan, as the current chair of the session and the host of the event, had invited India to be the guest of honor in the plenary session on March 1, 2019, the first-ever incident of its kind since OIC's inception in 1969.
The "Daily Sabah" of Turkey has reported: "The presence of India at the OIC is an explicit indication of a major departure of the Arab world from its traditional stance and the changing stature of India. The content of the invitation stated that the invites were in testimony to India's growing political and economic stature and Islamic component of its history and civilization. The invitation came when India was mourning the death of 41 Central Reserve Police Force personnel in a horrendous, recent suicide attack in Pulwama in Jammu and Kashmir. It was also a time when New Delhi was surrounded by controversy due to the visit of Saudi Crown Prince Mohammed bin Salman (MBS) to India after completing his two-day, high-profile visit to Pakistan, whose hand was suspected in the deadly assault in Kashmir. The invitation was also juxtaposition and a grim reminder of September 1969, when India suffered deep humiliation after Pakistan scuttled India's invitation to the first OIC Summit in Rabat, Morocco."
Research shows that the volume of trade between India and the Muslim countries is about $100 billion, so one should not be much surprised if the Arab countries, where over 7 million Indians work, are not as vocal on the Kashmir cause, as they should have been.
On the contrary, Pakistan's total bilateral trade with Islamic countries is far less.
Pakistan's total bilateral trade with Islamic countries between 2007 and 2009 had amounted to $44.262 billion, as has not grown much since.
Turkey's trade volume with India rests at around $7 billion, whereas Pakistan's total bilateral trade with Turkey was hardly $596.08 million for the year 2017.
The Indo-Saudi bilateral trade reached US$27.48 billion in the financial year 2017–18, up from US$25.1 billion in the preceding year.
On the other hand, the two-way trade volume between Pakistan and Saudi Arabia is just US$ 3.6 billion.
While the Indo-Malaysia trade volume was $16.93 billion in 2017-18, Pakistan's total bilateral trade with Malaysia was just over $1.27 billion in 2017.
Pakistan's total bilateral trade with Iran rests at around $1.3 billion, while that of India stands at over $13.13 billion.
If Imran Khan shares his concerns with the members of the United Nations Security Council next month in the United States, one wonders if the feeble and 'run-of-the-mill OIC response on the issue will help Pakistan gain any international support of virtue.
Turkey's reaction:
Turkish President Recep Tayyip Erdogan also assured Pakistan of country's support on issues related to Kashmir.
The Prime Minister House in Islamabad was quoted by a large section of media as saying: "President Erdogan shared the concerns on the developing situation in Kashmir and assured of Turkey's steadfast support in this regard."
Malaysia's response:
Malaysian Prime Minister, Mahathir bin Mohamad, said he was "keeping a close eye on the situation in J&K."
Mahathir had reportedly expressed his views over a telephone call with Imran Khan.
The "Star," a reputed Malaysian newspaper, had reported: "Malaysia has urged India and Pakistan to exercise restraint to prevent further escalation in Jammu and Kashmir. The Prime Minister's Office said it was concerned over the recent developments in Jammu and Kashmir, in particular the repeated escalation of tension in the region. "As a close partner to both India and Pakistan, Malaysia places high hopes that the two neighbours will exercise utmost restraint to prevent further escalation that could be detrimental to the peace, stability and prosperity in the region. Malaysia always believes that dialogues and consultations are the best route to a peaceful and amicable solution over this long-standing issue, " it said in a statement."
Saudi Arabia has urged restraint and expressed concern over the brewing crisis.
We all know, Saudi Arabia's Aramco has already struck a $15 billion deal with India's Reliance Group just days ago.
The UAE-based "Gulf News" has stated: "Saudi Arabia called on the concerned parties in Jammu and Kashmir to maintain peace and stability in the region and to take into account the interests of the people of the region. An official source at the Foreign Ministry said that Saudi Arabia is following up the current situation in Jammu and Kashmir, resulting from India's move to revoke Article 370 of the Constitution, which guarantees autonomy to the state of Jammu and Kashmir. The source expressed Saudi Arabia's concern over the latest developments and called for peaceful settlement of the conflict in accordance with the relevant international resolutions."
The United Arab Emirates downgraded Occupied Kashmir's status an internal matter of India.
The "Gulf News" quoted the UAE's ambassador to India, Ahmad Al Banna, as viewing: "We also took note of the introduction of Jammu and Kashmir Reorganization Bill in the Indian Parliament aimed at replacing Article 370 with the creation of Ladakh region and the state of Jammu and Kashmir as India's two new Union Territories. We expect that the changes would improve social justice and security and confidence of the people in the local governance and will encourage further stability and peace."
Meanwhile, the "Live Mint," an Indian financial daily and a sister concern of "The Hindu" newspaper, said that the UAE's ambassador to India viewed this latest decision as an internal matter as stipulated by the Indian Constitution.
The Iranian reaction:
The "CNN-News18," an Indian English-language news television channel based in the state of Uttar Pradesh, said: "The Pakistani Prime Minister Imran Khan on Sunday called Iranian President Hassan Rouhani as part of his outreach to the world leaders to apprise them about the situation in Kashmir, his office said. On Monday, India revoked Article 370 to withdraw the special status to Jammu and Kashmir, bifurcating the region into two Union Territories - Jammu and Kashmir, and Ladakh."
The Indian media house quoted a statement from the Pakistani Premier's Office:
"The Prime Minister underlined that the actions taken by India in a bid to change the internationally recognized disputed status of Jammu and Kashmir were in violation of UN Security Council resolutions."
The "CNN-News18" maintained: "Khan has already called Prime Ministers of the UK and Malaysia, as well as the Turkish President, Saudi Crown Prince and King of Bahrain to apprise them about the Kashmir situation. Prime Minister Khan highlighted the serious risk of massive killings and stressed that the international community must act urgently to prevent the impending calamity, the statement said. He apprised the Iranian leader of Pakistan's repeated calls and efforts, urging India to resolve the dispute through peaceful means, in accordance with the long-standing UNSC Resolutions, it said."
https://www.thenews.com.pk/print/512750-a-feeble-reaction-of-muslim-ummah-on-kashmir-situation
--------
South Asia
16 Taliban militants killed, wounded in Logar and Ghazni operations: 203rd Thunder Corps
Thursday, 15 Aug 2019
The security forces killed or wounded at least 16 Taliban militants during the operations in central Logar and south-eastern Ghazni provinces.
The 203rd Thunder Corps said in a statement that the Afghan Special Forces killed 11 Taliban militants during a raid in Charkh district of Logar.
The statement further added that the Special Forces also destroyed two caches of the weapons of Taliban including 40 improvised explosive devices.
Furthermore, the 203rd Thunder Corps said the Afghan Air Force conducted an airstrike in Marwardar area of Qarabagh district in Ghazni which killed 2 Taliban militants.
The 203rd Thunder Corps also added that the airstrike wounded 3 Taliban militants adn destroyed 3 motorycles of the militants.
The Afghan forces also discovered and defused 7 improvised explosive devices during the operations in Qarabagh district of Ghazni province.
https://www.khaama.com/16-taliban-militants-killed-wounded-in-logar-and-ghazni-operations-203rd-thunder-corps-03672/
--------
U.S. Ambassador reacts to release of ex-Kabul Bank CEO Khalilullah Ferozi
Thursday, 15 Aug 2019
The U.S. Ambassador to Afghanistan John Bass reacted to the alleged release of the former CEO of Kabul Bank Khalilullah Ferozi.
Ambassador Bass said in a Twitter post "Disturbed by reports the #Afghan government requested early release for Kabul Bank fraud perpetrator Khalil Firozy before conclusion of his sentence. Countless Afghans suffered in the past decade because international assistance funds were stolen for personal gain."
Furthermore, Ambassador Bass said "This action, along with the continued failure to execute warrants for those accused of corruption, calls into question the government's commitment to combating #corruption and making best use of donors' support."
This comes as reports emerge earlier on Wednesday evening suggesting that government has released Mr. Ferozi from the prison.
According to reports, the security forces have transferred Mr. Ferozi to his residence after receiving instructions from President Mohammad Ashraf Ghani.
President Ghani has reportedly issued the instruction for the transfer of Mr. Ferozi after receiving recommendations from a delegation which was appointed to review Mr. Ferozi's case, particularly focusing on his deteriorating health condition and the steps he has taken so far to fulfill the financial commitments he had made pertaining the Kabul Bank collapse case.
https://www.khaama.com/u-s-ambassador-reacts-to-release-of-ex-kabul-bank-ceo-khalilullah-ferozi-03671/
--------
Special Forces kill Taliban's chief of terror operations in Logar
Thursday, 15 Aug 2019
The Afghan Special Forces killed the chief of terror operations of Taliban group during an operation in Logar province.
The Ministry of Defense said in a statement that the Special Forces conducted the operation in Patkhab Village located in the provincial capital of Logar.
The statement further added that the Special Forces killed Mawlavi Qudratullah, the chief of terror operations of Taliban for Logar.
Furthermore, the Ministry of Defense said Mawlavi Qudratullah was mainly involved in terrorist related activities on Highway No.2 of Logar besides having major role in overall terrorist related activities across Logar.
The Ministry of Defense also added that the Special Forces also destroyed an Improvised Explosive Device making facility during the operation.
https://www.khaama.com/special-forces-kill-talibans-chief-of-terror-operations-in-logar-03670/
--------
Europe
Gloucestershire County Cricket League Discriminates With Cricket Club Made Up Mainly Of Muslim Cricketers over Muslim Festival
15 August 2019
A cricket club claims it has been discriminated against for not playing a match during a religious festival.
Gloucester AIW said it has been docked 22 points, and its opponents awarded a further 20 points as a concession, for refusing to play last Saturday.
The club, which is made up mainly of Muslim cricketers, said the date clashed with the Day of Arafat - the day before Eid al-Adha.
Gloucestershire County Cricket League said it had acted "within its rules".
The club said the league has a specific clause in its constitution - introduced this season - requiring matches to be rearranged where there is a risk of games coinciding with Eid.
Club secretary Ahmed Goga said he informed the league in January about the clash, but "they ignored it".
"The day of Arafat is one of the most important days in Islam which comes a day before Eid al-Adha.
"They discriminated against our religious obligations."
He said the league's "level of ignorance about Eid" was "shocking".
The league's handbook states that if Eid falls on a Saturday a match can be rescheduled before the start of the season, but it makes no mention of the Day of Arafat.
A spokesman for the league said it had acted "within its rules" and had "no further comment".
Mr Goga said the club offered its opponents, Redmarley, "a variety of alternative dates to reschedule but none were accepted".
A spokesman for Redmarley said it was "impossible" to play on any day other than a Saturday.
The Muslim festival Eid al-Adha - which means "feast of the sacrifice" - commemorates the Prophet Ibrahim's willingness to sacrifice his son on the command of God. Ibrahim was eventually given a lamb to sacrifice instead.
It is the second Islamic festival of the year, and follows Eid al-Fitr, which marks the end of Ramadan, the holy month of fasting.
https://www.bbc.com/news/uk-england-gloucestershire-49343932
--------
Aegean villagers mistook Greek boxer's tomb for Islamic holy site, archaeologists discover
Aug 15 2019
For decades, villagers in the Turgut area on Turkey's Aegean coast offered their prayers and even sacrifices at the ancient, pyramid shaped structure nestled among the olive groves on the hillside overlooking their settlement.
But what they believed to be the tomb of an Islamic saint turned out to be a mausoleum built for a famous Greek boxer called Diagoras in the third century BC, archaeologists have discovered.
"I used to kiss the tomb", one villager interviewed by Turkish national broadcaster TRT said. "People would sacrifice chickens or goats for their prayers to be answered", she said.
The tomb had become a pilgrimage site for the Muslims who called it Çagbaba, believing it to be the resting place of a holy man.
People would pray at the tomb for rain to come, to be blessed with children or for their relatives to return safely from military service, the villager said.
However, doubts were raised about the belief that the tomb belonged to an Islamic figure in the 1970s, news site Greece High Definition said. Decades later, archaeologists have proven those doubts well founded.
The boxer for whom the mausoleum was built, Diagoras, was celebrated for his victories at multiple Olympic games and other contests during his life in the 5th century BC.
"The pictures of this boxer have been newly found. He had two sons, and they were boxers too. Diagoras won many prizes, and these have been found in many different temples", TRT quoted archaeologist Rasit Öztürk as saying.
"He was a boxer who would draw applause from people when he walked the streets", he said.
https://ahvalnews.com/archaeology/aegean-villagers-mistook-greek-boxers-tomb-islamic-holy-site-archaeologists-discover
--------
Albuquerque Muslim lawmaker speaks out on immigrant poem
AUGUST 15, 2019
ALBUQUERQUE, N.M.
The first Muslim elected to the New Mexico Legislature is speaking out against a Trump administration official who said the inscription on the Statue of Liberty welcomed only people from Europe.
State Rep. Abbas Akhil told The Associated Press this week that comments by Ken Cuccinelli, acting director of U.S. Citizenship and Immigration Services, were divisive and racist.
The Albuquerque Democrat says Emma Lazarus' poem welcoming "your tired, your poor, your huddled masses" spoke to him when he came to the U.S. in 1972 from India.
Beginning in the 1930s, immigration supporters began using the poem to bolster their cause.
https://www.bellinghamherald.com/news/politics-government/national-politics/article234069142.html
--------
Austria concerned by radical Islamic terrorism
16/08/19
An Austrian intelligence report found that radical Islamic terrorism is still the number one security issue in the country, with returning Islamic State (ISIS) fighters a chief concern, Breitbart reports, citing the Austrian newspaper Kronen Zeitung.
The report, which comes from the Austrian Office for the Protection of the Constitution (BVT), states that returnees from the Middle East are difficult to predict in their actions and pose a danger due to possibly having combat experience acquired overseas.
By the end of last year, the BVT estimates that at least 320 individuals from Austria travelled to fight for radical Islamic terror groups in Syria or Iraq, with 107 likely to have been killed and 93 having returned.
The agency is said to be deploying new methods to tackle the threats posed by radical extremism and laid out a new plan in October of last year based on the prevention of terror attacks and deradicalization of current extremists.
Facing the challenges of Austrians travelling to the Middle East to join jihadist groups, Austria's parliament in February of 2015 passed a law banning foreign sources of financing to Muslim organizations and requiring imams to be able to speak German.
In June of that year, an Austrian court convicted nine people of Chechen origin who were arrested on their way to join Islamic State (ISIS) terrorists together with their Turkish driver.
In January of 2017, Austrian armed commandos arrested a man suspected of planning a terrorist attack in Vienna, police said.
http://www.israelnationalnews.com/News/News.aspx/267483
--------
Africa
Group Seeks Muslims' Prayers For Makinde's Govt
Aug 16, 2019
A socio-political group, SMA-ROL Democratic League of Oyo State, has appealed to Muslims across the state to pray for the success of the Seyi Makinde-led Peoples Democratic Party (PDP) government in the state.
In a message of felicitation with Muslims on the celebration of Eid-el-Kabir, signed by the state coordinator, Mr Bola Oluwadero, on Thursday, the group also extended greetings to the governor and his deputy, Mr Rauf Olaniyan.
"We seize this occasion to rejoice with our Muslim brothers and sisters in Oyo State and Nigeria in general in this season of Eid-el-Kabir. We urge them to seek the face of Allah for the success of the current government in the state.
"In the same vein, we are greeting our hardworking governor, His Excellency, Mr Seyi Makinde and his deputy, Mr Rauf Olaniyan. We say barka de sallah. We also appeal to all PDP leaders and members in all the 33 local government areas in the state to continue in their solid support for the Makinde and Olaniyan-led administration.
"We also urge our governor to take advantage of this period for consultative engagements to solidify the arrangements he has been putting on ground. We pray for divine guidance for the government and our party leaders," the group said.
https://tribuneonlineng.com/234908/
--------
URL: https://www.newageislam.com/islamic-world-news/india-turkey-afghanistan-sri-lanka/d/119483
New Age Islam, Islam Online, Islamic Website, African Muslim News, Arab World News, South Asia News, Indian Muslim News, World Muslim News, Women in Islam, Islamic Feminism, Arab Women, Women In Arab, Islamophobia in America, Muslim Women in West, Islam Women and Feminism