New Age Islam News Bureau
25 February 2021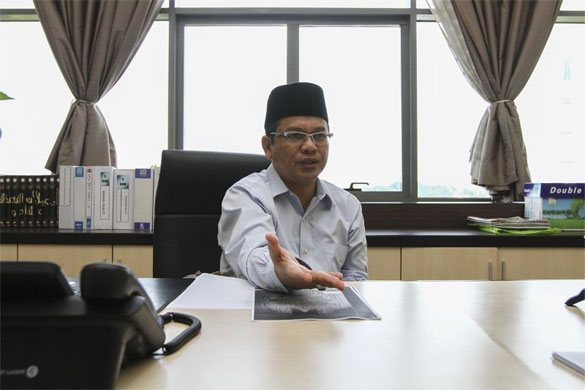 Mohd Na'im said the Islamic court here could take action against Muslims of any nationality but only if their religious offences are committed locally. ― Picture by Yusof Mat Isa
---------------
• Pakistan, India can resolve Kashmir issue through dialogue: Imran Khan
• Chief judge: Malaysian Shariah court has no jurisdiction over apostasy cases outside country
• Satellite images show secretive Israel nuclear facility undergoing major construction
• US plans to release report incriminating bin Salman for Khashoggi murder
• EU allocates $47M in humanitarian aid for Rohingya
• Biden to hold phone call with Saudi Arabia's King Salman soon: White House
• 10 Killed in Suspected Boko Haram Attack in Nigeria
• France denounces abuses by China against Uighurs
India
• India slams Organisation of Islamic Cooperation for raising Kashmir issue at UNHRC
• India, Pakistan agree to follow all ceasefire pacts
• Tamil Nadu: DMK Muslim MLA donates for Ram temple
• Congress pitch for Muslim quota could hurt Shiv Sena
• Imam gets 10-yr RI for sodomy bid
• Kerala: 8 activists of Islamist party in custody over killing of RSS man
• Two terrorists slain in Anantnag encounter
• India on lips, Pakistan PM Imran Khan plays peace card in Sri Lanka
--------
Pakistan
• Pakistan, India can resolve Kashmir issue through dialogue: Imran Khan
• Imran Khan posing as standard-bearer of Islam would create problems for Pakistan: Report
• Pakistan lawmaker apologises for tweet hurting Hindu community's sentiments
• FATF to decide whether Pakistan has done enough to exit grey list
• Pakistan offers $50m credit line to Sri Lanka for defence ties
• Govt urged to take up Sikh pilgrims' issue with New Delhi
• Pakistan military personnel punished over escape of Taliban figure: Spokesperson
• Pakistan to continue to support Afghan peace process: DG ISPR
--------
Southeast Asia
• Chief judge: Malaysian Shariah court has no jurisdiction over apostasy cases outside country
• Peace deal between Thailand, separatists still distant
• Federal Court unanimously declares Selangor Shariah law criminalising 'unnatural sex' void, unconstitutional
• The duo who stole Malaysia's democracy
• China's Crackdown on Muslims Spreads to Tropical Hainan 
--------
Mideast
• Satellite images show secretive Israel nuclear facility undergoing major construction
• Turkish police nab Iraqi ISIS suspect in Ankara, rescue 7-year-old Yazidi girl
• Yemeni Minister: US Seeking to Block Ma'arib Freedom
• President: US Needs to Stop Economic Terrorism BeforeRejoining N. Deal
• Turkey to examine lifting opposition MPs' immunity amid mounting pressure
• Iran says it is up to US to move first on saving nuclear deal
• Iran's limits on UN nuclear inspections a 'threat': Israel FM Ashkenazi
• Yemen appreciates Iran's support amid Western-backed war
• Israel's killing of young Palestinian in June 2020 'extrajudicial execution': Advocacy group
• Iran uses Houthis as pressure card for 2015 nuclear pact: Yemeni information minister
--------
North America
• US plans to release report incriminating bin Salman for Khashoggi murder
• Top US general warns Iran, says Taliban not breaking with al-Qaeda
• US working to integrate Saudi Arabia's missile defense system with neighbors: CENTCOM
• Biden pursuing Trump's hostile policies toward Iran: American author
• US, Israel to launch 'quiet' talks on Iran amid Israeli warmongering
--------
South Asia
• EU allocates $47M in humanitarian aid for Rohingya
• EU-Afghanistan discussed human rights, violence reduction
• Afghan Taliban Ask Fighters Not to Harbor 'Foreign' Militants as US Reviews Peace Deal
• Engine explosion, fire kill ten Afghan civilians: Officials
--------
Arab World
• Biden to hold phone call with Saudi Arabia's King Salman soon: White House
• Top Lebanese lawmaker calls for World Bank official to be kicked out after threats
• Iraqi Christians, decimated by extremist violence, prepare for pope's visit
• Khashoggi's assassins flew on planes under control of MBS: CNN
• Irish foreign minister voices concern over rights violations in Bahrain
• Arab states' massive arms deals tribute to US, Western firms: Anti-war activist
• Egypt Postpones Trial of 5 ISIS Terrorists till March
--------
Africa
• 10 Killed in Suspected Boko Haram Attack in Nigeria
• Turkey condemns terrorist attacks in Nigeria
--------
Europe
• France denounces abuses by China against Uighurs
• British law professor under fire over 'Islamophobic' statements
• German 'IS leader' faces verdict
• Turkey slams EU for expression of support for pro-Kurdish party
• Report: Far-right incidents surge in German military
Compiled by New Age Islam News Bureau
URL: https://www.newageislam.com/islamic-world-news/malaysian-shariah-court-no-jurisdiction/d/124396
--------
India slams Organisation of Islamic Cooperation for raising Kashmir issue at UNHRC
Feb 24, 2021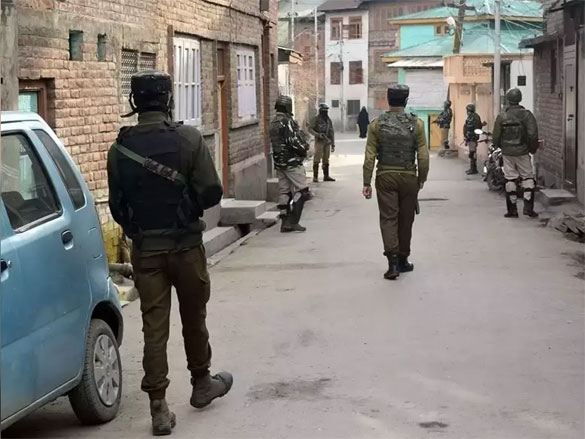 India Slams OIC for Presenting ''factully and unwarranted'' references at UNHRC
---------------
NEW DELHI: India on Wednesday slammed the Organisation of Islamic Cooperation (OIC) for raising the Kashmir issue at United Nations Human Rights Council (UNHRC) and presenting "factually incorrect and unwarranted references."
India said it regrets that OIC countries continue to allow Pakistan to misuse its platforms to indulge in anti-India propaganda.
On Turkey's mention of Kashmir, India said in its right of reply that it is ironical for a country which has trampled upon its own civil society to pass unjustified comments on other's internal matters.
S Pujani, Second Secretary, Permanent Mission of India to the UN reiterated that Jammu and Kashmir and Ladakh are integral and inalienable parts of India.
We reiterate that J-K &Ladakh are integral & inalienable part of India. Steps by Govt to ensure good governance &… https://t.co/8newZ5XSIE
— ANI (@ANI) 1614171938000
Pujani also drew attention towards OIC member Pakistan's dismal record in safeguarding rights of minorities.
"Violence, institutionalised discrimination and persecution faced by Pakistan's minorities, including Christians, Sikhs and Hindus continued unabated. There've been frequent attacks on places of worship of minority communities-grave violation of right to freedom of religion and beliefs," she said.
The condition of women of minority communities, notably Hindus, Sikhs and Christians remains deplorable and an estimated 1,000 women from these communities are subjected to abduction, forced conversion and marriage in Pakistan every year as per Human Rights Commission of Pakistan's recent report.
Pujani also mentioned the Pakistani establishment's collusion with terrorist organisations, and the controversial trial of Omar Saeed Sheikh, accused of killing American journalist Daniel Pearl.
"Recent acquittal of Omar Saeed Sheikh, the Al-Qaeda terrorist and murderer of American journalist Daniel Pearl by the Pakistani Supreme Court is a clear example of the Pakistani establishment's nexus with such entities," Pujani added.
Pakistan is currently placed on the 'grey list' of the global terror financing watchdog Financial Action Task Force (FATF).
Despite intense lobbying by Islamabad, it has been unable to escape the list for the last few years, and faces possibility of slipping into the 'black list' if its efforts to curb terrorist activities on its soil are found unsatisfactory.
https://timesofindia.indiatimes.com/india/india-slams-organisation-of-islamic-cooperation-for-raising-kashmir-issue-at-unhrc/articleshow/81193326.cms
--------
Pakistan, India can resolve Kashmir issue through dialogue: Imran Khan
Feb 24, 2021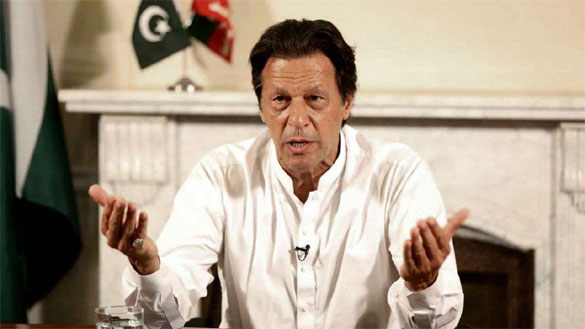 Pakistan Prime Minister Imran Khan(File Photo)
--------
COLOMBO: Pakistan Prime Minister Imran Khan said on Wednesday that Kashmir is the only dispute with India and it can only be resolved through dialogue.
Addressing the Sri Lanka-Pakistan Trade and Investment Conference which he co-chaired with his counterpart MahindaRajapaksa in Colombo, Khan said that he offered India an opportunity to hold peace talks on being elected as prime minister in 2018 but nothing came to pass.
"Our only dispute is Kashmir and it can only be resolved through dialogue," he said.
Earlier this month, India said it desires normal neighbourly relations with Pakistan in an environment free of terror, hostility and violence.
"Immediately when I came into power, I approached our neighbour India and explained to Prime Minister NarendraModi that the way forward for the subcontinent is to resolve our differences through dialogue," Khan said.
"I didn't succeed but I am optimistic that eventually sense will prevail. The only way the subcontinent can tackle poverty is by improving trade relations," he added.
India has said that the onus is on Pakistan to create an environment free of terror and hostility.
"Our position is well-known. India desires normal neighbourly relations with Pakistan in an environment free of terror, hostility and violence," External Affairs Ministry spokesperson Anurag Srivastava said. "The onus is on Pakistan for creating such an environment."
Ties between India and Pakistan nosedived after a terror attack on the Pathankot Air Force base in 2016 by terror groups based in the neighbouring country. Subsequent attacks, including one on Indian Army camp in Uri, further deteriorated the relationship.
The relationship dipped further after India's war planes pounded a Jaish-e-Mohammad terrorist training camp deep inside Pakistan on February 26, 2019 in response to the Pulwama terror attack in which 40 CRPF jawans were killed.
The relations deteriorated after India in August 2019 announced withdrawing special powers of Jammu and Kashmir and bifurcation of the state into two union territories.
Khan, who is the first head of state to visit Sri Lanka since the Covid-19 pandemic, said political stability in the region - by maintaining good relations with neighbouring countries - ensured a business-friendly environment that resulted in the people's overall development.
The Sri Lankan Muslim leaders were allowed to meet Khan after the opportunity was denied to them initially.
Rauff Hakeem, the leader of the main Muslim party - Sri Lanka Muslim Congress - said that they had a pleasant and fruitful discussion with Khan. He said the Pakistani prime minister had expressed confidence in the ability of the Muslim leaders to achieve communal harmony in the island nation.
Khan was under pressure from local Muslim leaders to raise the issue of forced cremations of Muslim Covid-19 victims.
Sri Lanka had adopted a policy of allowing only cremations citing health issues despite opposition from the Muslim community and international rights groups who were insisting on respecting the Islamic religious rite of burials.
Khan congratulated Sri Lanka earlier this month when Prime Minister MahindaRajapaksa said in Parliament that burials would be allowed for Muslim victims of Covid-19. However, the decision is yet to be implemented.
https://timesofindia.indiatimes.com/world/pakistan/pakistan-india-can-resolve-kashmir-issue-through-dialogue-imran-khan/articleshow/81193555.cms
--------
Chief judge: Malaysian Shariah court has no jurisdiction over apostasy cases outside country
25 Feb 2021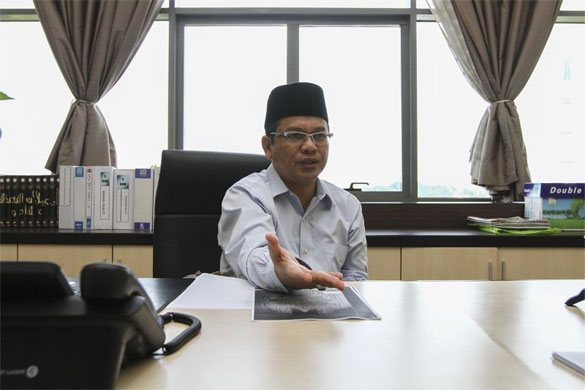 Mohd Na'im said the Islamic court here could take action against Muslims of any nationality but only if their religious offences are committed locally. ― Picture by Yusof Mat Isa
-----------
BY JERRY CHOONG
KUALA LUMPUR, Feb 25 — The country's Islamic judicial system only has authority over Muslims in Malaysia and cannot act on cases of apostasy outside the nation, a senior Shariah court official said.
BeritaHarian reported Shariah Judiciary Department director-general Datuk Seri MohdNa'imMokhtar as saying the Islamic court here could take action against Muslims of any nationality but only if their religious offences are committed locally.
"As it is known, the Shariah court is limited to only Muslims. But its jurisdiction does not take into consideration the Muslim individual's nationality when looking at charges.
"As long as the charge is said to have occurred within the country, then anyone including Muslim foreign citizens can face action per the Shariah Criminal Offences Enactments," he said after a preliminary court proceedings in Perak's Chief Shariah Court.
MohdNa'im, the chief judge of the Shariah court, earlier participated in the case of an Indonesian woman who is accused of having apostatised and abetted by a local man, a video of which was circulated online.
The man in question is being investigated by the police under Section 4(1) of the Sedition Act 1948, Section 298 and Section 505(C) of the Penal Code, and Section 233 of the Communications and Multimedia Act 1998.
MohdNa'im said that as the man is a non-Muslim, he will be investigated under the civil law system.
In the video, the man is reported to have told the Indonesian woman that for a non-Muslim man to marry a Muslim woman, she must first change her religion in another country.
https://www.malaymail.com/news/malaysia/2021/02/25/chief-judge-malaysian-shariah-court-has-no-jurisdiction-over-apostasy-cases/1952694
--------
Satellite images show secretive Israel nuclear facility undergoing major construction
25 February, 2021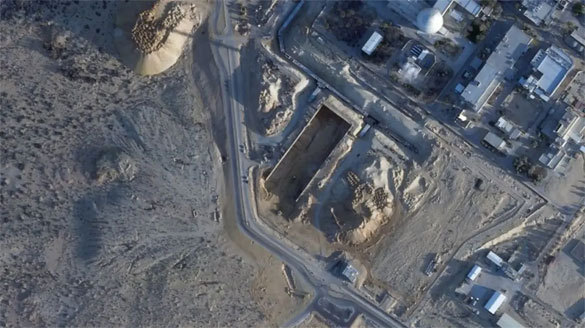 A Feb 22, 2021 satellite photo from Planet Labs Inc. shows construction at the Shimon Peres Negev Nuclear Research Center near the city of Dimon Israel. (AP)
------------
A secretive Israeli nuclear facility at the center of the nation's undeclared atomic weapons program is undergoing what appears to be its biggest construction project in decades, satellite photos analyzed by The Associated Press show.
A dig about the size of a soccer field and likely several stories deep now sits just meters from the aging reactor at the Shimon Peres Negev Nuclear Research Center near the city of Dimona. The facility is already home to decades-old underground laboratories that reprocess the reactor's spent rods to obtain weapons-grade plutonium for Israel's nuclear bomb program.
What the construction is for, however, remains unclear. The Israeli government did not respond to detailed questions from the AP about the work. Under its policy of nuclear ambiguity, Israel neither confirms nor denies having atomic weapons. It is among just four countries that have never joined the Non-Proliferation Treaty, a landmark international accord meant to stop the spread of nuclear arms.
The construction comes as Israel — under Prime Minister Benjamin Netanyahu — maintains its scathing criticism of Iran's nuclear program, which remains under the watch of United Nations inspectors unlike its own. That has renewed calls among experts for Israel to publicly declare details of its program.
What "the Israeli government is doing at this secret nuclear weapons plant is something for the Israeli government to come clean about," said Daryl G. Kimball, executive director of the Washington-based Arms Control Association.
With French assistance, Israel began secretly building the nuclear site in the late 1950s in empty desert near Dimona, a city some 90 kilometers (55 miles) south of Jerusalem. It hid the military purpose of the site for years from America, now Israel's chief ally, even referring to it as a textile factory.
With plutonium from Dimona, Israel is widely believed to have become one of only nine nuclear-armed countries in the world. Given the secrecy surrounding its program, it remains unclear how many weapons it possesses. Analysts estimate Israel has material for at least 80 bombs. Those weapons likely could be delivered by land-based ballistic missiles, fighter jets or submarines.
For decades, the Dimona facility's layout has remained the same. However, last week, the International Panel on Fissile Materials at Princeton University noted it had seen "significant new construction" at the site via commercially available satellite photos, though few details could be made out.
Satellite images captured Monday by Planet Labs Inc. after a request from the AP provide the clearest view yet of the activity. Just southwest of the reactor, workers have dug a hole some 150 meters long and 60 meters wide. Tailings from the dig can be seen next to the site. A trench some 330 meters runs near the dig.
Some 2 kilometers west of the reactor, boxes are stacked in two rectangular holes that appear to have concrete bases. Tailings from the dig can be seen nearby. Similar concrete pads are often used to entomb nuclear waste.
Other images from Planet Labs suggest the dig near the reactor began in early 2019 and has progressed slowly since then.
"I believe that the Israeli government is concerned to preserve and maintain the nation's current nuclear capabilities," said Avner Cohen, a professor of nonproliferation studies at the Middlebury Institute of International Studies at Monterey, who has written extensively on Dimona.
"If indeed the Dimona reactor is getting closer to decommissioned, as I believe it is, one would expect Israel to make sure that certain functions of the reactor, which are still indispensable, will be fully replaced."
Kimball, of the Arms Control Association, suggested Israel may want to produce more tritium, a relatively faster-decaying radioactive byproduct used to boost the explosive yield of some nuclear warheads. It also could want fresh plutonium "to replace or extend the life of warheads already in the Israeli nuclear arsenal," he added.
https://english.alarabiya.net/News/middle-east/2021/02/25/Nuclear-Satellite-photos-show-secretive-Israel-nuclear-facility-undergoing-major-construction
--------
US plans to release report incriminating bin Salman for Khashoggi murder
24 February 2021
The administration of US President Joe Biden plans to release an unclassified intelligence report that will likely incriminate Saudi Crown Prince Mohammed bin Salman in the brutal killing of Jamal Khashoggi.
The Guardian reported on Wednesday that Biden was expected to call King Salman on Wednesday.
Biden's phone call plan, the paper said, was reported on Tuesday night by Axios, which described the report as "explosive."
Washington's decision comes amid rising calls by human rights activists and Saudi dissidents to "strike a blow" against Saudi human rights abuses, the paper said.
Khashoggi, a former advocate of the Saudi royal court who later became a critic, was killed in the Saudi consulate in Istanbul on October 2, 2018, after he entered the premises to collect documents for his planned wedding to his Turkish fiancée HaticeCengiz.
According to Turkish officials, Khashoggi was killed and his body was cut into pieces by a 15-man Saudi squad inside the consulate.
The Washington Post, where Khashoggi was a columnist, reported in November the same year that the CIA had concluded bin Salman had personally ordered the murder.
"The release of the report is a long-awaited step that must be accompanied by accountability to ensure that this barbaric crime doesn't happen again," said Khalid Aljabri, the son of SaadAljabri, a former Saudi intelligence official who is hiding in Canada fearing for his life.
"Toothless sanctions by the Trump administration didn't deter MBS [as the crown prince is often known] from going after others. The Biden administration must take more effective steps by sanctioning senior officials and political figures, institutions and entities that contributed to the murder," Khalid said, referring to the former US president, Donald Trump.
Last week, Jake Sullivan, the White House's national security adviser, said in an interview on CNN that the administration was preparing to accompany the release of the report in the murder with a "further answer to how we will ensure that there is accountability for that murder."
"Congress has passed a law actually mandating that the administration release an unclassified version of the report of accountability and responsibility for the brutal and grisly murder of Jamal Khashoggi," Sullivan said. "We intend to comply with that, we intend to do soon."
During his election campaign, Biden pledged to treat Riyadh as a "pariah" for the killing of Khashoggi.
Kirsten Fontenrose, director of the Scowcroft Middle East Security Initiative at the Atlantic Council, ruled out the imposition of US sanctions on MBS personally, but said "you could see steps against state-owned enterprises and perhaps limits on the PIF [Saudi sovereign wealth fund] investments in the US. They could also issue a statement that we will not deal with MBS as head of state, which has already been said."
Abdullah Alaoudh, the DC-based professor and son of a prominent Saudi cleric and political prisoner who is facing the death penalty in Saudi Arabia, and Michael Eisner, a former state department lawyer, have urged the Biden administration to implement "targeted sanctions" that would force the Saudi government to lift travel bans on dissidents and their families.
"Such a measure would signal to the Saudis and the world that the US … has turned the page on the Trump administration's policy of embracing despots," they said in a recent opinion piece on CNN.
Sarah Leah Whitson, executive director of Democracy for the Arab World (Dawn), said, "The Biden administration should move to apply the exact same Magnitsky Act sanctions – including a travel ban and freeze of his assets – that the US applied to his 17 accomplices for the murder of Khashoggi."
Agnes Callamard, the outgoing special rapporteur on extrajudicial killing for the United Nations, who investigated the Khashoggi murder, said targeted sanctions against the personal assets and bank account of MBS ought to be ordered as a "minimum" if intelligence showed the crown prince ordered or incited the killing.
She also called on Biden to exert pressure on the Saudis to identify the location of the remains of the slain journalist, allow for Khashoggi's children to leave Saudi Arabia if they wish, and, if evidence showed the crown prince ordered the assassination, freeze the prince's diplomatic engagements with Washington.
"Banishing the persons responsible for ordering the killing of Jamal Khashoggi from the international stage is an important step towards delivering justice to Jamal Khashoggi," Callamard said.
https://www.presstv.com/Detail/2021/02/24/645999/US-report-MBS-Khashoggi
--------
EU allocates $47M in humanitarian aid for Rohingya
Agnes Szucs
23.02.2021
The European Union on Tuesday announced €39 million ($47.4 million) in humanitarian aid to address the needs of Rohingya in Myanmar and Bangladesh.
The bloc will allocate €24.5 million ($30 million) and €11.5 million ($14 million) to humanitarian organizations working in Bangladesh and Myanmar respectively, said a European Civil Protection And Humanitarian Aid Operations statement.
The aid is meant to help Rohingya refugees with food, shelter, and sanitation, as well as supporting the education and other services in the conflict-affected communities.
"The recent military overthrow of the legitimate government in Myanmar risks worsening the already dire humanitarian crisis faced by displaced and conflict-affected populations", EU Commissioner for Crisis Management JanezLenercic said.
"In Bangladesh, the COVID-19 crisis is aggravating the already difficult conditions experienced by almost one million Rohingya refugees in camps and for host communities," he added.
The bloc will provide further €3 million ($3.4 million) for Rohingya refugees in other neighboring states.
Myanmar has seen large protests since the military declared a state of emergency on Feb. 1. Security forces in the country have reacted with violence to the protests.
According to Amnesty International, more than 750,000 Rohingya refugees, mostly women and children, fled Myanmar and crossed into Bangladesh after Myanmar forces launched a crackdown on the minority Muslim community in August 2017.
Since Aug. 25, 2017, nearly 24,000 Rohingya Muslims have been killed by Myanmar's state forces, according to a report by the Ontario International Development Agency (OIDA).
https://www.aa.com.tr/en/asia-pacific/eu-allocates-47m-in-humanitarian-aid-for-rohingya/2154410
--------
Biden to hold phone call with Saudi Arabia's King Salman soon: White House
Joseph Haboush
24 February ,2021
US President Joe Biden will have a phone call with Saudi Arabia's King Salman bin Abdulaziz "soon," a White House official said Wednesday.
"We expect that to happen soon. We're still in the process of scheduling when that will happen," Jen Psaki told reporters during the daily White House briefing.
Asked about what was expected to be discussed, Psaki refused to preview. "They'll cover a range of topics," she said.
Despite the Biden administration taking a less amicable approach toward Riyadh than previous US administrations, Psaki cited Washington's "long relationship" with Saudi Arabia.
"There are areas we will work with the Kingdom Saudi Arabia on, including ensuring that they have the protections they need to face the threats facing them," she added.
https://english.alarabiya.net/News/gulf/2021/02/24/US-foreign-policy-Biden-to-hold-phone-call-with-Saudi-Arabia-s-King-Salman-soon-White-House
--------
10 Killed in Suspected Boko Haram Attack in Nigeria
By Timothy Obiezu
February 24, 2021
ABUJA - Officials in Nigeria's Borno state say 10 people have died from explosions around the northeast city of Maiduguri. Residents in affected areas have fled their homes. Local officials suspect Islamist militant group Boko Haram was behind the blasts.
There was relative calm on Wednesday and residents who fled their homes last night returned to the affected areas of Adam Kolo, Gwange, and Kaleri.
The Borno state governor, BabaganaZulum, visited two hospitals in the morning and confirmed in a statement that 10 people were killed in the attack, including children who were playing in a field. He said 47 others were injured.
No one has claimed responsibility, but Maiduguri resident Sani Adam blamed the blasts on the group Boko Haram.
"The deaths was as a result of projectiles fired by Boko Haram which landed in three different locations," said Adam.
Maiduguri is the capital of Borno state, the epicenter of the Boko Haram insurgency. For years, the group has carried out bloody raids and suicide bombings here. The last one until Wednesday occurred one year ago.
Governor Zulum said authorities are taking measures after the explosions. He said the military has repelled the insurgents.
But Maiduguri resident Andy Rufi said he heard multiple explosions and was terrified.
"When I came back from work, I started hearing the explosions which was close to my area. Later there was gunshots and multiple bomb blasts, more than ten," he said.
The Borno state health ministry says it is taking care of all the injured people.
An estimated 36,000 people have been killed since the Boko Haram insurgency started in 2009. Boko Haram has been fighting to create an Islamic state based in Nigeria.
https://www.voanews.com/africa/10-killed-suspected-boko-haram-attack-nigeria
--------
France denounces abuses by China against Uighurs
Shweta Desai
24.02.2021
PARIS
France on Wednesday denounced China's large-scale "institutionalized repression" of the Uighur Muslims in the UN Human Rights Council.
"From the Chinese region of Xinjiang we have received testimonies and corroborating documents, which describe unjustifiable practices against the Uighurs and a system of surveillance and institutionalized repression on a large scale," said French Foreign Minister Jean Yves Le Drian at the ongoing UN session in Geneva which he attended via video link.
As a voting member at the council, France also raised the regression of human rights in Russia, particularly highlighting the assassination attempt on opposition figure Alexey Navalny, who is currently in prison; violence in Belarus; the civil war in Syria; the armed conflict and famine in Yemen; and the military coup in Myanmar.
China has denied rights abuse of the Uighur Muslims, despite mounting evidence gathered by international rights groups against Beijing.
Embassy responds
The Chinese Embassy in Paris in a series of tweets termed the acts of "genocide", "forced labor", "forced sterilization", "systematic rape and torture" as "lies" and "more than absurd."
"These lies are the tools of the Western anti-Chinese forces to demonize China. It is insulting the 1.4 billion Chinese, including the 25 million multiethnic inhabitants of Xinjiang!" one of the tweets read.
On the testimony of GulbaharHaitiwaji, a French resident of Uighur origin, who was imprisoned and sent to a re-education camp, the embassy posted another set of tweets stating: "Instead of being grateful to Chinese justice for its leniency, Haitiwaji no longer hid her separatist and terrorist character and concocted so-called 'suffering' in China."
In her book, Survivor of the Chinese Gulag, Haitiwaji recalls the nightmare endured during her three-year imprisonment and narrates the first-hand account of torture as well as witnessing the physical and psychological ordeal and surveillance by the authorities in the camps. She also writes about the forced inoculation of women in the camps after which they stopped menstruating. "I, who already stopped having my period, tried to reassure them. But deep inside, a terrible thought already began to take shape: Are they sterilising us?" an extract from the book reads.
The Chinese Embassy in its tweet said: "[Haitiwaji] visited relatives and friends and traveled to Urumqi, Karamay, Ili, Altay and other places, where does detention and torture come from? What is even more grotesque is that she claims to have been 'sterilized'. At 55?."
Reportedly, she was pronounced innocent and allowed to leave Xinjiang, an autonomous region of China where the Uighurs live, following diplomatic intervention by France. She returned to Paris last year.
https://www.aa.com.tr/en/asia-pacific/france-denounces-abuses-by-china-against-uighurs/2155995
--------
India
India, Pakistan agree to follow all ceasefire pacts
Feb 25, 2021
NEW DELHI: India and Pakistan have agreed to strictly observe all agreements on ceasefire along the Line of Control (LoC) and other sectors, according to a joint statement on Thursday.
The decision on ceasefire, effective since Wednesday midnight, was taken at a meeting between the Director Generals of Military Operations (DGMOs) of India and Pakistan.
The DGMOs held discussions over the established mechanism of hotline contact and reviewed the situation along the Line of Control and all other sectors in a "free, frank and cordial atmosphere".
"In the interest of achieving mutually beneficial and sustainable peace along the borders, the two DGMOs agreed to address each other's core issues and concerns which have propensity to disturb peace and lead to violence.
"Both sides agreed for strict observance of all agreements, understandings and cease firing along the Line of Control and all other sectors with effect from midnight of February 24/25," the joint statement said.
Both sides reiterated that existing mechanisms of hotline contact and border flag meetings will be utilised to resolve any unforeseen situation or misunderstanding, it added.
https://timesofindia.indiatimes.com/india/india-pakistan-agree-to-follow-all-ceasefire-pacts/articleshow/81206360.cms
--------
Tamil Nadu: DMK Muslim MLA donates for Ram temple
Feb 25, 2021
CHENNAI: DMK legislator from Gingee K S Masthan, who also heads the party's minority wing, has donated Rs 11,000 towards the construction of Ram Mandir in Ayodhya, Uttar Pradesh.
"I obliged when a long-time friend (Kalivaradhan) approached me, asking for the contribution," Masthan told TOI.
This was not the first time that he had donated money for temples. Recalling that he had donated money to construct various temples and also taken part in temple 'kumbhabishekam', since 1986, when he was elected president of Gingee town panchayat in 1986. "It is surprising when people ask me why I donated money for the construction of Ram temple. Neither the Hindu God (Ram) nor the God of Muslims had problems. It arises when people create issues using the name of the Gods," he said.
He also justified his action quoting the DMK party founder C N Annadurai 'OndreKulamOruvane Devan (there is one religion and one God)'. "The religion that I practice also preaches the same," he said.
Former DMK chief M Karunanidhi was strongly opposed to the demolition of Babri Masjid and the Hindu concept of Ram Setu or RamarPalam (Adam's bridge), which became a stumbling block for his pet project — Sethusamudram shipping canal. The five-time DMK chief minister had posed the question "Who is Ram?" and went on to say "he is a lie" when Subramanian Swamy and Hindu Munnani leaders approached the Supreme Court to stall the Sethusamudram project.
Masthan defended his move saying, "Our leader Kalaignar (M Karunanidhi) in his script of 'Parasakthi' had made it clear that the party is not against any religion or temple." He recounted one of the dialogues of SivajiGanesan from the film: "I created problems in the temple, not because I don't want a temple. But it should not become an abode of evil-doers."
However, the Gingee MLA's act did not go down well with some leaders of the DMK. They said the RSS and the BJP had done injustice to a Muslims, and are now building a temple to further their cause. Donating funds is like aiding them, knowingly or unknowingly, they said. "It is unacceptable from a senior functionary, who should differentiate between good and bad, right and wrong. Going against the Constitution, the government initiated collection of funds to build the temple," said a senior leader on condition of anonymity.
https://timesofindia.indiatimes.com/city/chennai/dmk-muslim-mla-donates-for-ram-temple/articleshow/81197544.cms
--------
Congress pitch for Muslim quota could hurt Shiv Sena
25th February 2021
MUMBAI: The Maharashtra Congress resolution on Tuesday demanding reservations for the Muslims in education and government jobs is likely to put its ruling ally, the Shiv Sena, in a spot of bother.
Sources in the Shiv Sena asserted that being a staunch Hindutva party, any capitulation to the Congress demand could hurt its electoral prospect in the future.
"Muslim reservations can turn into a bone of contention for the MahaVikasAghadi partners. However, we are confident that Uddhav Thackeray will handle the situations skillfully as he is doing in other cases," a Sena insider said.
On his part, Maharashtra Congress president Nana Patole maintained that the party is committed to development and welfare of all communities.
"During the Congress rule, we gave Maratha and Muslim quota, but later DevendraFadnavis cancelled the Muslim reservation. Since Congress is the partner in MahaVikasAghadi, we want to fulfil our promise to the community," said Patole.
What could make the situation delicate for Uddhav is that the NCP — the third ally in the ruling MVA alliance — is also not openly against the Muslim quota. Earlier, NCP minister Nawab Malik had also sought quota under the common minimum agenda.
"While preparing the agenda, we had discussed the Muslim reservations where no MVA party had raised objections," he had said.
https://www.newindianexpress.com/nation/2021/feb/25/congress-pitch-for-muslim-quota-could-hurt-shiv-sena-2268703.html
--------
Imam gets 10-yr RI for sodomy bid
Feb 25, 2021
Hyderabad: A local court has sentenced a 26-year-old imam from Santosh Nagar to undergo 10 years rigorous imprisonment for attempting to sodomize a nine-year-old boy.
On June 1, 2018, a housewife from Santosh Nagar lodged a complaint with police saying that her 9-year-old son went to a worship place near their house on May 28, 2018 and returned home crying. When she asked him why he was crying, he told her that the accused had attempted to sodomize him. Based on the complaint, Santosh Nagar police registered arrested the accused. tnn
https://timesofindia.indiatimes.com/city/hyderabad/imam-gets-10-yr-ri-for-sodomy-bid/articleshow/81197749.cms
--------
Kerala: 8 activists of Islamist party in custody over killing of RSS man
February 25, 2021
Eight workers of the Social Democratic Party of India (SDPI) have been taken into custody in connection with the killing of a RSS worker in Alappuzha district, police said on Thursday.
Nandu Krishna (22) was allegedly hacked to death by the workers of the SDPI, a political offshoot of Islamist outfit Popular Front of India (PFI), following a clash between two groups in Nagamkulangara near Cherthala, on Wednesday night. Onmanorama reported Nandu was the RSS branch leader of Vayalar.
According to the police, at least six people belonging to the SDPI and the RSS were injured in the clash between their workers.
They have been admitted to various hospitals in Alappuzha and Ernakulam, police said.
One of the injured workers of the RSS is said to be in a serious condition, they said.
The BJP is observing a dawn-to-dusk hartal in the district to protest against the violence against their workers.
According to reports, tension had been brewing in the area following a march organised by the SDPI recently in protest against Uttar Pradesh Chief Minister Yogi Adityanath's Kerala visit to inaugurate BJP's Vijay Yatra from Kasargod to Thiruvananthapuram.
The area had witnessed back-to-back protest marches by two groups following the SDPI programme.
https://www.theweek.in/news/india/2021/02/25/kerala-8-activists-of-islamist-party-in-custody-over-killing-of-rss-man.html
--------
Two terrorists slain in Anantnag encounter
Feb 25, 2021
SRINAGAR: Two unidentified terrorists were killed in an anti-terror operation in Shalgul forest area in Anantnag district's Srigufwara on Wednesday. The firefight, which began in the morning, continued till the time of going to press, J&K Police confirmed on Twitter.
Two to three terrorists were suspected to be still hiding in the area, sources said, adding that the slain terrorists were allegedly from Jaish-e-Mohammad.
Based on intelligence inputs about the presence of terrorists in Shalgul, a joint team of Army's 3RR, CRPF and J&K Police launched a cordon-and-search operation in the forest area. Seeing the security forces approach, holed in ultras opened fire at the search party, triggering a gunfight in which the terrorist duo was killed.
https://timesofindia.indiatimes.com/india/two-terrorists-slain-in-anantnag-encounter/articleshow/81197568.cms
--------
India on lips, Pakistan PM Imran Khan plays peace card in Sri Lanka
Feb 25, 2021
ISLAMABAD: Pakistan PM Imran Khan frequently referred to India during his two-day visit to Sri Lanka, projecting himself as someone who had always advocated dialogue as the way forward for the two neighbours even as New Delhi took two steps back.
Addressing the Pakistan-Sri Lanka Trade and Investment Conference in Colombo on Wednesday, Khan said one of his first tasks after assuming office was to "explain" to PM NarendraModi the need to resolve all differences through dialogue for the sake of peace and prosperity in the subcontinent.
"I didn't succeed, but I am optimistic that eventually common sense will prevail. The only way the subcontinent can tackle poverty is by improving trade relations. Let us live like civilised neighbours, just as the Europeans live," he said.
"Germany and France have fought multiple times, but today it is unthinkable for them to have a conflict because they are so interlinked due to trade. Similarly, my dream for the subcontinent is that we resolve our differences," he said, adding that the Kashmir issue was the only reason for conflict in the region.
Apprehensions about Khan raking up the Kashmir issue had reportedly led Colombo to cancel his planned address to the Sri Lankan parliament. Some within the Sri Lankan government fear that allowing Khan to speak to parliamentarians against Delhi's policies of Delhi could harm the island country's ties with India.
"All we want is for the Kashmir dispute to be resolved according to the United Nations Security Council's resolutions, and this can only be achieved through dialogue," Khan said at the trade and investment conference.
He also expressed hope that Pakistan could play its part in reducing rising tensions between the US and China. "We would much rather be a country that brings other nations and humanity together," he said.
At the end of his address, Khan urged the Sri Lankan business community to participate in the over $60b-China-Pakistan Economic Corridor project. "It gives you the opportunity of connecting from Gwadar right up to Uzbekistan and the central Asian states," he said. "This is the connectivity that Pakistan offers."
https://timesofindia.indiatimes.com/india/india-on-lips-pak-pm-plays-peace-card-in-lanka/articleshow/81197391.cms
--------
Pakistan
Imran Khan posing as standard-bearer of Islam would create problems for Pakistan: Report
25-02-2021
Pakistan Prime Minister Imran Khan posing himself as the standard-bearer of Islam against the wave of 'Islamophobia' could create problems for the country, said an opinion piece in a Pakistani media outlet. The opinion piece by Pakistan Today's editorial department earlier this week said that "domestic pressure" from a section of the powerful religious lobby requires Khan to increasingly cater to "religiosity" to prove his commitment to Islam.
"His claim to turn Pakistan into RiasteMadina, the decision to make Arabic language a compulsory subject in schools of Islamabad, banning 100 books in Punjab for profane and anti-Pakistan content, the announcement of Punjab Tahaffuz-e-Bunyad-e-Islam Bill 2020 are aimed at negating the damaging charges leveled against the PM by some of the religious parties," the piece said. "The measures introduced by PM Khan are contributing to spread of religiosity and extremism. Imran Khan's mixing of politics and religion to gain support from religious quarters has taken a dangerous direction. Posing himself as the standard-bearer of Islam against the wave of Islamophobia, the PM is taking positions that could create problems for the country," it added.
Pakistan President ArifAlvi had on Sunday asked the political leadership of France "not to entrench the discriminatory attitudes against Muslims into laws", warning that such steps would lead to serious repercussions in the shape of hatred and conflict. The president's remarks came in reference to an anti-radicalism bill passed by the French parliament's lower house last week with an overwhelming majority that would strengthen oversight of mosques, Radio Pakistan tweeted.
France on Tuesday summoned Pakistan charge d'affaires to protest comments by President Alvi on the new anti-radicalism bill introduced in the French Parliament and asked Islamabad to adopt a "constructive attitude" to bilateral relations. (ANI)
https://www.devdiscourse.com/article/international/1472373-imran-khan-posing-as-standard-bearer-of-islam-would-create-problems-for-pakistan-report
--------
Pakistan lawmaker apologises for tweet hurting Hindu community's sentiments
February 25, 2021
APakistani lawmaker from Prime Minister Imran Khan's ruling party was forced to apologise and delete a tweet deemed disrespectful to the minority Hindu community after it led to widespread condemnation and calls for action against him.
Amir LiaquatHussain, a member of the National Assembly from the Pakistan Tehreek-e-Insaf (PTI) party, started the controversy when he tweeted an image of a Hindu deity to mock Opposition leader Maryam Nawaz, the daughter of former prime minister Nawaz Sharif.
Hussain, who is also a popular TV host and became famous as an evangelist and religious scholar, faced flak from the Hindu community, civil society and other politicians for the tweet.
Ramesh Kumar Vankwani, the PTI's representative from Tharparkar in Sindh province, criticised Hussain's tweet as a "shameful act".
"Strongly condemned this shameful act by someone who claims to be a religious scholar also but doesn't know the respect for other religions," Vankwani, who is also the chief of the Pakistan Hindu Council, tweeted.
"Delete this tweet immediately otherwise we reserve the right to demand strict action under the Blasphemy Act and protest across the country," he wrote.
LalMalhi, another party leader from the Hindu community in Umerkot in Sindh, also criticised Hussain and asked Prime Minister Khan to take notice of his illogical act.
"Strongly condemn the blasphemous act of @AamirLiaquat and appeal @ImranKhanPTI to take notice of this immoral act. No religion including Islam permits him to do such illogical acts," he said.
Hussain later deleted his tweet and tweeted an apology to the Hindu community.
"I know the sentiments of the Hindu community were hurt," Hussain said.
"I respect all faiths, this is what my religion has taught me," he added.
https://www.indiatoday.in/world/story/pakistan-lawmaker-apologises-for-tweet-hurting-hindu-community-s-sentiments-1772905-2021-02-25
--------
FATF to decide whether Pakistan has done enough to exit grey list
February 25, 2021
The Financial Action Task Force (FATF) is expected to announce later today whether Pakistan has done enough to exit the grey-list as it wraps up its four-day plenary meeting.
The FATF president will give a press briefing on the outcomes of the FATF plenary at 9:30pm (16:30 GMT).
Background discussions with key officials and foreign diplomats suggest that the jury is divided — with the authorities claiming sufficient progress to be confident of a positive outcome but some diplomats suggesting that even in the best case scenario Pakistan would remain in the increased monitoring list (grey list) until June.
Ahead of the plenary which began on Monday, the FATF had updated the overall performance of all countries.
Based on this update, Pakistan has been shown improving compliance on two out of 40 recommendations of the FATF on effectiveness of anti-money laundering and combating financing terror (AML/CFT) systems.
It finds Pakistan's progress non-compliant on four counts, partially compliant on 25 counts and largely compliant on nine recommendations. Pakistan's evaluation at the plenary will be based on the 27-point action plan and not on these 40 recommendations.
Diplomats said they had not seen this time the kind of aggressive diplomatic effort Islamabad had been making in the past, particularly before the October 2020 plenary review. They said the plenary could discuss all options, including blacklisting Pakistan, keeping it in the grey list or removing it from the grey list.
There are, however, no chances that Pakistan could be put in the blacklist because it has at least three members of the FATF — China, Turkey and Malaysia — who can sustain all pressures against any downgrade.
This is not only based on friendly bilateral relations but performance as well. "From our perspective, we have completed all action points and complied with what the country was required to do, but sometimes some influential members can raise objections on a point that one can think is not justified," said an official.
Pakistan fully complied with 21 out of 27-point action plan last year, leading the FATF to soften its stance from previously aggressive threats and yet it kept it in the grey list in October last year. Following robust progress on anti-money laundering and terror financing laws, rules, regulations and updating inter-agency and inter-provincial cooperation, the FATF narrative shifted towards Islamabad to "demonstrate" seriousness on ground through results and prosecutions.
In October last year, the FATF had announced that Pakistan had made progress across all action plan items and "largely addressed 21 of the 27 action items". As all action plan deadlines stood expired, the FATF had said it strongly urged Pakistan to swiftly complete its full action plan by February 2021 appreciating that it took "note of the significant progress made on a number of action plan items".
It had asked Pakistan to continue to work on implementing its action plan to address its strategic deficiencies by "demonstrating" that law enforcement agencies are identifying and investigating the widest range of terror financing (TF) activity and that TF investigations and prosecutions target designated persons and entities, and those acting on behalf or at the direction of the designated persons or entities.
Secondly, it was required to "demonstrate" that TF prosecutions result in effective, proportionate and dissuasive sanctions and thirdly to "demonstrate" effective implementation of targeted financial sanctions against all 1,267 and 1,373 designated terrorists and those acting for or on their behalf, preventing the raising and moving of funds, including in relation to non-profit organisations (NPOs), identifying and freezing movable and immovable assets and prohibiting access to funds and financial services.
Fourth and finally, it had asked Islamabad to "demonstrate" enforcement against terror financing sanctions (TFS) violations, including in relation to NPOs, of administrative and criminal penalties and provincial and federal authorities cooperating on enforcement cases.
The Foreign Office spokesman had said last week that Pakistan had made substantive progress on the remaining six items of the FATF action plan and was duly acknowledged by the wider FATF membership.
Pakistan has been on the FATF's grey list for deficiencies in its counter-terror financing and anti-money laundering regimes since June 2018.
Until the last assessment, Pakistan was found deficient in acting against the organisations allegedly linked to the terror groups listed by the UN Security Council, prosecuting and convicting banned individuals and tackling smuggling of narcotics and precious stones.
Recently, the authorities had taken further steps including the prosecution of Lashkar-e-Taiba chief Hafiz Saeed and his associates in terror financing cases.
https://www.dawn.com/news/1609329/fatf-to-decide-whether-pakistan-has-done-enough-to-exit-grey-list
--------
Pakistan offers $50m credit line to Sri Lanka for defence ties
February 25, 2021
COLOMBO: Pakistan has offered a $50 million new credit line to Sri Lanka for cooperation in the field of defence and security.
The announcement was made by Prime Minister Imran Khan, who concluded his two-day official visit to the island nation, said a joint communique issued by the foreign ministries of the two countries from Colombo and Islamabad on Wednesday.
The two sides called for stronger partnership in matters related to security, terrorism, organised crime and drug and narcotics trafficking as well as intelligence-sharing, according to the joint communique. They also noted that the elevation of staff-level talks to defence dialogue had provided an opportunity to expand security sector relations.
To strengthen sports diplomacy, Pakistan would provide Rs52 million for promotion of sports in Sri Lanka, according to the communique. Prime Minister Khan at an interactive session with the sports community of Sri Lanka announced the commissioning of the Imran Khan High Performance Sports Centre in Colombo.
Pakistan also announced plans to establish Asian Civilisation and Culture Centre at the University of Peradeniya at the Sri Lankan resort of Kandy.
The visit afforded a timely opportunity to both sides to build upon their regular consultations in the areas identified during the recently held foreign secretary-level bilateral political consultations, joint economic commission session, and the commerce secretary-level talks, the joint communique said.
Pakistan also announced 100 scholarships in the field of medicines (MBBS and BDS) as part of the Pakistan-Sri Lanka Higher Education Cooperation programme.
During the visit, the prime minister held delegation-level meetings with President GotabayaRajapaksa and his counterpart MahindaRajapaksa. PM Khan reiterated Pakistan's support for the socio-economic development of Sri Lanka in line with the vision of a peaceful neighbourhood. The two sides reviewed the extensive engagement in promoting cultural linkages, human resource development and capacity building in diverse areas besides educational and technological cooperation.
The memorandums of understanding (MoUs) signed during the visit include i) MoU on cooperation in tourism, ii) MoU between the Boards of Investment, iii) MoU between Sri Lanka's Industrial Technology Institute (ITI) and Karachi University's International Centre for Chemical and Biological Sciences, iv) Intent of cooperation between ITI and Comsats University Islamabad and v) MoU between University of Colombo and Lahore School of Economics.
$1bn trade target
At the Pakistan-Sri Lanka Trade and Investment Conference held in Colombo, the two countries highlighted the importance of realising the goal of achieving $1 billion bilateral trade target and also agreed to work towards broadening and deepening of Pakistan-Sri Lanka Free Trade Agreement (FTA).
Also, Prime Minister Imran Khan and Prime Minister MahindaRajapaksa jointly acknowledged the reconstitution of the Sri Lanka-Pakistan Parliamentary Friendship Association.
Both sides stressed the need to convene the charter-based bodies and agreed to take forward the Saarc process for strengthening regional cooperation. The two sides reaffirmed their joint commitment to regional peace, security and stability as Prime Minister Khan underscored the need for peaceful resolution of all outstanding disputes, particularly Kashmir issue, through constructive dialogue in accordance with international legitimacy.
Reiterating the commitment of the new government to boost bilateral relations, Prime Minister MahindaRajapaksa thanked the government and people of Pakistan for the constant support extended to safeguard the independence, sovereignty and territorial integrity of Sri Lanka.
Earlier, Prime Minister Khan and Sri Lankan President GotabayaRajapaksa in a one-on-one meeting affirmed cooperation at multilateral fora.
During the talks held at Presidential Secretariat, Mr Khan emphasised the importance of building robust economic partnership characterised by enhanced bilateral trade, investments, and deeper cooperation in the fields of agriculture, tourism, science and technology, sports, education and culture.
The two leaders also shared experiences in poverty alleviation and use of technology to control food inflation.
Referring to the rich Buddhist heritage of Pakistan, Mr Khan highlighted that the country had huge potential of being a choice destination for religious tourism for the people of Sri Lanka. Mr Khan also extended invitation to the Sri Lankan president to visit Pakistan at the earliest convenience.
Connectivity
While inviting the Sri Lankan businessmen to invest in Pakistan by exploring the opportunities being offered in the form of ease-of-doing business, Prime Minister Khan told Pakistan-Sri Lanka Trade and Investment Conference that trade connectivity among the countries was vital for poverty alleviation.
He proposed establishing trade links, as existed among the European Union members, which he said could prove beneficial for the prosperity of the sub-continent. He said Pakistan and Sri Lanka could explore the idea of generating wealth through joint business activities and diverting the wealth to alleviate poverty.
The two prime ministers led their business delegations at the conference held in a bid to explore avenues of collaboration in different sectors.
Mr Khan expressed intent for Pakistan to learn from Sri Lanka's advanced tourism industry. Pakistan had several undiscovered sites of religious tourism including the Gandhara civilization and trails of Buddhism, he said, adding that a recently discovered 40-foot-long Sleeping Buddha could be of special interest for Sri Lankan tourists. He said joining the Belt and Road Initiative could open up new avenues for Sri Lanka with an opportunity to connect from Gwadar up to Central Asian states.
Mr Khan said he had offered Indian Prime Minister NarendraModi for a dialogue to resolve all outstanding issues, particularly the Kashmir dispute, but Pakistan did not get a positive response.
For a sustainable prosperity, he said, the South Asian region with 1.3 billion people needed to resolve its mutual conflicts through dialogue.
https://www.dawn.com/news/1609232/pakistan-offers-50m-credit-line-to-sri-lanka-for-defence-ties
--------
Govt urged to take up Sikh pilgrims' issue with New Delhi
Kalbe Ali
February 25, 2021
ISLAMABAD: The GurdwaraKartarpur Governing Council on Wednesday called on the federal government to ask India to ease travel of Sikh pilgrims to Pakistan.
The fourth meeting of the council was held here under the chairmanship of Religious Affairs Secretary SardarIjaz Khan Jaffar. Officials of the ministries of foreign affairs, finance, interior, Evacuee Trust Property Board (ETPB), Nadra and relevant security agencies were also present.
It was decided that the issue of preventing Indian Sikh pilgrims from coming to Pakistan would be raised at a high level.
During the briefing, the meeting was informed by the relevant authorities that India had sent two groups of Hindu pilgrims to Pakistan while the Sikhs were being prevented from visiting under various pretexts.
The council was further told by the foreign ministry officials that the Indian home ministry – which was equivalent to Pakistan's interior ministry – had denied permission to a Sikh Jatha of around 600 pilgrims to visit Pakistan for the 100th anniversary of the SakaNankana Sahib.
The group was also expected to visit five gurdwaras from Feb 18 to 21.
Expressing concern over the attitude of the Indian authorities, the religious affairs secretary said: "The state should not have double standard for different religions."
"This biased attitude of the Indian authorities and prejudice towards religious minorities was unfair," he added.
SardarJaffar said the issue of Sikh pilgrims' visit to Pakistan would be raised at a high level.
The Kartarpur Corridor project was an example of philanthropy and interfaith harmony, but the meeting deplored the unannounced restrictions on pilgrims by the Indian authorities.
Secretary Jaffar also reviewed the arrangements of the Kartarpur Corridor project.
Pace of ongoing development works related to facilities required by the pilgrims, such as connecting roads towards GurdwaraKartarpur Sahib, were reviewed.
The meeting decided to provide opportunities to domestic and foreign investors to invest in the project in the near future to harness the potentials of religious tourism.
https://www.dawn.com/news/1609276/govt-urged-to-take-up-sikh-pilgrims-issue-with-new-delhi
--------
Pakistan military personnel punished over escape of Taliban figure: Spokesperson
FEB 24, 2021
A number of Pakistani military personnel have been penalised for negligence over the escape of a high-profile former Pakistani Taliban figure from custody, an armed services spokesman said on Wednesday.
Liaqat Ali, the former public face of the militant Tehrik-e-Taliban Pakistan (TTP) and better known by his pseudonym EhsanullahEhsan, escaped last year three years after he handed himself in to the military.
"All those responsible for it were tried and penalised," Major General Babar Iftikhar, spokesman for Pakistan's Armed Forces, told reporters in the city of Rawalpindi where the army is headquartered.
He said those penalised were military personnel but did not give details including the number or identity of whose who were prosecuted. The military's media wing denied that any of those penalised had any involvement or collusion with Ehsan during the escape, saying it was a case of negligence.
Ehsan was TTP's spokesman for nearly a decade, issuing statements and holding press conferences in the group's stronghold near the Afghan border. He proclaimed TTP's responsibility for deadly bombings and attacks, including the 2012 shooting of education activist MalalaYousafzai.
On Twitter earlier this month, Yousafzai responded to a threatening tweet directed at her by an account allegedly belonging to Ehsan, asking the military and government how he had been able to escape.
A government statement last year confirming the escape said had said Ehsan evaded custody during a counter-terror operation in which he was accompanying soldiers to find Taliban leaders, as he had agreed to do after his surrender.
Ehsan has issued statements through various Twitter accounts since his escape and has said on social media that he is abroad.
Iftikhar, the military spokesman, said that his tweet this month was via a fake account and that Ehsan's location was not confirmed, but efforts were underway to recapture him.
https://www.hindustantimes.com/world-news/pakistan-military-personnel-punished-over-escape-of-taliban-figure-spokesperson-101614182551035.html
--------
Pakistan to continue to support Afghan peace process: DG ISPR
Muhammad Anis
February 25, 2021
RAWALPINDI: Director General (DG) of the Inter-Services Public Relations (ISPR) Major General Babar Iftikhar Wednesday said that Pakistan has done what it could do to influence the Taliban. "Even Afghan leaders are admitting that Pakistan has done utmost for peace in Afghanistan," he said while talking to foreign media at his office.
He said that it is for the citizens and the government of Afghanistan to determine the future of their country, how the dialogue process would further, and who they back to take it on. "We only aim for a long-lasting peace in Afghanistan."
He emphasised that there should not be any void in Afghanistan. On a question on Nato forces' likely drawdown and the return of the Taliban after it, he said: "Afghanistan now is not what it was in '90s and the state infrastructure cannot be trounced easily, and Pakistan also has changed.
"It's impossible for the Taliban to recapture Kabul and that Pakistan would support them. It isn't going to happen." The DG ISPR maintained that the policy of the Pakistan government to extend a hand of peace to the neighbours was very clear. In this connection, he referred to recent statement of Chief of Army Staff (COAS) General QamarJavedBajwa in which he talked about extending a hand of peace; however, this does not mean that they are not aware of the danger on the eastern border.
"We have a vigilant eye on all Indian military's movements," he said. To a question he said the whereabouts of former TTP spokesman EhsanullahEhsan were not known, and they was making efforts for re-arrest of Taliban leader.
He said that the TTP leader's Twitter account, which was recently used to issue threats to Nobel laureate MalalaYousafzai, was found to be fake. Talking about issue of missing persons, he said that the committee formed to investigate the matter has shown a good progress.
"Out of more than 6,000 cases received by the commission, 4,000 cases have been resolved, while the remaining cases will also be addressed soon," the DG ISPR said. Answering a question about the murder of 11 Hazara miners in Mach, Balochistan, last month, Babar Iftikhar said that some important arrests have been made in connection with the tragic incident.
"We have made arrests and these arrests are very important," he said. The DG ISPR went on to say that the recent attack on the car of an NGO in North Waziristan which led to the death of four female social workers was retaliation of Pakistan Army's operation in the area. He said that at present, there are no organised terrorist groups in Waziristan, adding that some "small groups from the region are resorting to terrorist activities there.
"These petty extremists will be eliminated from Waziristan soon," the DG ISPR said. Babar Iftikhar said that terrorists in Pakistan operate with the assistance of groups in Afghanistan, and said that India was involved in supplying arms, money and new technology to the terrorists to create unrest in Pakistan and disturb regional stability. "It goes without saying that the Afghan intelligence is well aware of such developments," he said.
https://www.thenews.com.pk/print/795348-pakistan-won-t-support-taliban-dg-ispr
--------
Southeast Asia
Peace deal between Thailand, separatists still distant
PizaroGozaliIdrus
25.02.2021
JAKARTA, Indonesia
One year later, peace talks facilitated by Malaysia between the Thai government and Muslim rebels in southern Thailand are still facing obstacles due to political instability in both countries, according to experts and activists.
On Jan. 20 last year, Bangkok engaged in formal dialogue with National Revolutionary Front (BRN), the main rebel group. The second round of talks was held in Kuala Lumpur in March. Since then no talks have been held due to the coronavirus pandemic.
Speaking to Anadolu Agency, Thai political analyst Abdulsuko Dina said the government is facing a wave of pro-democracy demonstrations demanding a more democratic policy.
The same situation, said Dina, is also occurring in Malaysia, where the government of Prime Minister MuhyiddinYassin continues to face criticism from opposition groups over the validity of his status as a prime minister.
"The political situations in Thailand and Malaysia are unstable. This is a problem. If Malaysian politics is unstable, the negotiations will be hard to be realized," he said.
Since July last year, Thailand has been gripped by pro-democracy protests.
"The peace talks were effective, but not much has changed. Violence has indeed decreased, but it was due to COVID-19," said Dina.
The expert said the Association of Southeast Asian Nations (ASEAN) should be able to be involved in the peace negotiations led by Indonesia, as the world's largest Muslim country.
"ASEAN can put more pressure on Thailand," he said.
Dina also encouraged the unity of several Patani resistance groups, including the Patani United Liberation Organization, the Islamic Liberation Front of Patani (BIPP), BRN and others to ensure peace in the region.
"There needs to be an inclusive perspective among them so that everyone understands the perspective of the other group in solving a problem," he added.
The insurgency in southern Thailand originated in 1948 as an ethnic and religious conflict in the historical Malay Patani region.
Southern Pattani, Yala, Narathiwat and Songkhla provinces have a large Malay-Muslim community -- Patani -- with 1.4 million residents, according to government data.
The Thai government imposed martial law in three Muslim-majority provinces in southern Thailand -- Pattani, Narathiwat and Yala -- following deadly violence in 2004.
According to the monitoring group Deep South Watch, more than 7,000 people were killed and 13,000 injured in the armed conflict from 2004-2020.
Muhammad AladiDengni, chairman of the Civil Society Assembly For Peace, made up of 27 non-governmental organizations, said the government decided to negotiate with BRN because the group is currently the most powerful in southern Thailand.
"The government has said it wants to negotiate with each organization, but they want to prioritize BRN because it is the largest organization," Dengni told Anadolu Agency.
He said, however, that the people of Patani do not really know about the peace negotiation process between the group and the government as the two parties never explained the process to the public.
Learn from failure
Dengni said it was not the first time that the government held peace talks with several factions in southern Thailand.
He noted that peace talks between factions and the government were held several times from 1991 to 2013 in Switzerland, Egypt, Damascus, Malaysia and Indonesia, but they failed to bring real peace to southern Thailand.
He said this was partly because the peace negotiations were always organized by the military-led government, not by a civilian government.
"Negotiations led by a civilian government were only held in 2013," he said, adding the country its first-ever peace talks deal with BRN aimed at ending the decades-long conflict in the south under the then Prime Minister YingluckShinawatra.
However, negotiations between the two sides stopped in 2014 as the country was hit by a military coup led by Gen. Prayut Chan-o-cha, the commander of the Royal Thai Army.
Another factor, according to Dengni, was the sincerity of the Thai government and the resistance groups.
He said the government often carried out an intelligence operation only to know more about the groups and their leaders
"Their way of thinking is military; how to control and how to win. So negotiations are just a show," he added.
- Peace through prosperity
AwaniIrewati, a researcher from the Indonesian Institute of Sciences, encouraged the Thai government to optimize economic development in southern Thailand as a way to build peace.
Irewati said the economic situation in the southern regions is in stark contrast to the other provinces in northern Thailand.
"Inclusive development must be implemented in the southern region immediately. The economic gap is also the root of the problem," she said.
Peace negotiations between the BRN and the Thai government were first launched on Jan. 20, 2020, followed by the second round in Kuala Lumpur on March 2-3 last year.
On April 3, the BRN declared that it would cease all activities on humanitarian grounds due to the COVID-19 outbreak.
Both sides agreed to restart negotiations online on Feb. 3, 2021.
The Patani Malay National Revolutionary Front, also known as the BarisanRevolusiNasional (BRN), is an independence movement in northern Malaysia and southern Thailand's Patani region.
The BRN was founded on March 13, 1963 by Haji Abdul Karim Hassan, a religious teacher, as a territorial organization that prioritized Pattani secessionism.
*Writing by RhanyChairunissaRufinaldo from Anadolu Agency's Indonesian language services in Jakarta
https://www.aa.com.tr/en/asia-pacific/peace-deal-between-thailand-separatists-still-distant/2156612
--------
Federal Court unanimously declares Selangor Shariah law criminalising 'unnatural sex' void, unconstitutional
25 Feb 2021
BY IDA LIM
KUALA LUMPUR, Feb 25 — The Federal Court's nine-judge panel today unanimously declared that a Selangor state law's provision which made unnatural sex a Shariah offence is invalid and having gone against the Federal Constitution, as such offences fall under Parliament's powers to make laws and not under state legislatures' law-making powers.
Reading out a summary of the unanimous judgment, Chief Justice TunTengkuMaimun Tuan Mat said the Federal Court granted the order sought by a Malaysian Muslim man who was challenging the constitutionality and validity of Section 28 of the Shariah Criminal Offences (Selangor) Enactment 1995.
Section 28 makes it a Shariah offence for "any person" performing "sexual intercourse against the order of nature with any man, woman or animal", with the punishment being a maximum fine of RM5,000 or a maximum three-year jail term or a maximum whipping of six strokes or any combination.
The order sought by the man and granted by the Federal Court today is for a declaration that Section 28 is invalid on the ground that it makes provision with respect to a matter which the Selangor state legislature has no power to make laws and is therefore null and void.
Other judges on the nine-member panel who agreed with the chief justice's grounds of judgment include President of the Court of Appeal Tan Sri Rohana Yusuf, Chief Judge of Malaya Tan Sri Azahar Mohamed, Chief Judge of Sabah and Sarawak DatukAbangIskandarAbangHashim, Federal Court judges Datuk Seri ZawawiSalleh, DatukNalliniPathmanathan, Datuk Vernon Ong, DatukZabariahMohdYusof, and Datuk Seri Hasnah Mohammed Hashim.
Justice Azahar read out a summary of his separate grounds of judgment to explain the important constitutional issues in this case and why he felt the order should be granted to the Malaysian Muslim man, with the chief justice and all the other judges on the panel also agreeing with his judgment.
The facts in this case
In August 2019, the Malaysian Muslim man was charged in the Selangor Shariah High Court under Section 28 of the 1995 Selangor state law read together with Section 52 for attempted offences, where he was alleged to have in November 2018 in a house in Bandar BaruBangi attempted to commit sexual intercourse against the order of nature with other men.
The man filed for leave directly at the Federal Court on November 28, 2019 to start court proceedings against the Selangor government to seek a declaration that Section 28 is invalid as the Selangor state legislature has no powers to make such law, with the Federal Court on May 14, 2020 then granting leave for the man to proceed to have his constitutional challenge heard at the Federal Court.
On October 6, 2020, the Federal Court allowed the Selangor Islamic Religious Council (Mais) to be an intervener and join the court case as the second respondent, while the Federal Territories Islamic Religious Council (Maiwp) was not allowed to be an intervener but was allowed to be an amicus curiae.
On December 14, the nine-judge panel at the Federal Court heard the constitutional challenge on Section 28 in the Selangor state law, with all parties including the man's lawyers, the Selangor government, Mais and also Maiwp as the amicus curiae allowed to present arguments to the court.
In the Federal Court's judgments today, two lists in the Federal Constitution's Ninth Schedule were examined, with these two lists stating the different matters that the federal government and state governments have powers to make laws on.
In the Federal Constitution's Ninth Schedule, List I which is also known as the Federal List states what the federal government via Parliament can make laws on, while List II which is also the State List states the matters which state governments through their respective state legislative assemblies can make laws on.
Essentially, the court case was about whether the Selangor state government should not have made a state law — via Section 28 — which makes unnatural sex a Shariah criminal offence, if unnatural sex is a matter which comes under Parliament's power to make laws on instead, based on the Federal Constitution.
What the chief justice said
Under Item 1 of the Federal Constitution's State List, state legislatures can make laws on Islamic law, including the "creation and punishment of offences by persons professing the religion of Islam against precepts of that religion, except in regard to matters included in the Federal List".
The phrase "except in regard to matters included in the Federal List" was described in this court case as a "preclusion clause", or a provision that excludes the state legislatures from making laws on matters falling under the federal jurisdiction.
Justice TengkuMaimun noted that the Muslim man's lawyer Datuk Malik ImtiazSarwar had said the Selangor state legislature could not make Section 28 into law, as Section 377 and Section 377A of the Penal Code which is a federal law already governs the same subject matter in Section 28, and due to the preclusion clause.
The judge noted that the Selangor state government and Mais had both argued that the Selangor state legislature has jurisdiction or power to enact Section 28 as it comprises an offence "against the precepts of Islam", and that they had argued that Section 28 is worded differently from the Penal Code provisions and that this meant Selangor could make such a state law to co-exist with federal laws and that Section 28 would be constitutionally valid.
In presenting the Federal Court's decision, Justice TengkuMaimun however said the Selangor government and Mais had failed to answer satisfactorily on how Section 28 can still be valid despite the preclusion clause.
Examining the phrase "precepts of Islam" and its constitutional limitations, the judge said it was undisputed that "liwat" or sodomy which Section 28 covers is against the precepts of Islam, but said it is not enough to argue that Section 28 is valid simply because it is an offence against the precepts of Islam.
The judge noted that the bigger question that was put forward for the Federal Court to consider was whether the Selangor state legislature is competent or had the powers to enact Section 28 in light of the Federal Constitution's preclusion clause.
Looking at the preclusion clause in Item 1 of the state list which placed a limit on what the state legislatures can enact or make laws on, the judge noted that the preclusion clause states "except in regard to matters included in the Federal List" and not "except in regard to matters included in the Federal Law".
The judge explained that this does not mean that state legislatures have power to make law on matters that Parliament has not already made law on, and that state legislatures are instead unable to make law on matters that fall within Parliament's jurisdiction, even if there is no such federal law yet.
In other words, it would be a case-by-case basis, where the question is not necessarily whether there is already a federal law on a matter, but whether the matter comes under the federal jurisdiction.
"It remains to be tested in every given case where the validity of a state law is questioned, for the courts to first ascertain whether a law in question is within the jurisdiction of Parliament to enact and not necessarily whether there is already a federal law in existence such that the state-promulgated law is displaced," the judge said.
With no challenge by any of the parties in the case over Parliament's powers to make the Penal Code provisions that cover the same matter as Section 28, the judge said the Federal Court must accept that Parliament had competently enacted the Penal Code provisions in line with the Federal Constitution.
After going through judgments by the Federal Court in three other relevant court cases, Justice TengkuMaimun said that the nine-member panel is of the view that these judgments show that the issue is not about the "co-existence" of federal and state laws, but instead more about the independent application of the two streams of laws — civil and Shariah laws — within their respective jurisdictions.
Looking through other provisions in the Federal Constitution including Article 3, Article 74(3), the chief justice also looked at the Reid Commission Report 1957 which she cited as showing that the main powers to make law in Malaysia is with the federal government via Parliament, while states are to only have limited powers to make laws on specific matters.
"Unlike countries such as the United States where the primary power of legislation
lies with the individual states with residual powers in the Federation, the terms of our Federal Constitution and the history of its founding make it abundantly clear that the primary legislative powers of the Federation shall lie ultimately with Parliament save and except for specific matters over which the states shall have legislative powers," she explained.
She also cited the Federal Constitution's Article 75 and Article 77 as showing that Parliament has the primary legislative power or power to make laws, while state legislatures have residual powers to make laws.
The judge listed out the Federal List's Items 3 and 4 which gave the power to Parliament to make criminal law and to create offences on matters listed within the Federal List, while noting that the State List does allow the creation of offences against the "precepts of Islam" but that these powers were limited by the "preclusion clause" and only on matters listed in the State List. She also noted that the entire State List does not carry any of the same matters listed in the Federal List's Items 3 and 4.
The judge also said the argument by the Selangor government and Mais on Section 28 allegedly being worded more broadly than the Penal Code provisions was "wholly immaterial" or irrelevant, pointing out that what matters in this case is that Section 28 covers a matter which falls under the Federal List.
The judge then concluded that it could be put forward that when Parliament and the state legislature make laws on the same subject matter of criminal law, the two laws cannot co-exist even if the offence is said to be against the precepts of Islam, due to the "preclusion clause" in Item 1 of the State List.
"Given the above, the natural consequence is that the subject-matter upon which section 28 of the 1995 Enactment was made falls within the preclusion clause of Item 1 of the State List.
"As such, it is our view that the said section was enacted in contravention of item 1 of the State List which stipulates that the state legislatures have no power to make law 'in regard to matters included in the Federal List'. To that extent, section 28 of the 1995 Enactment is inconsistent with the Federal Constitution and is therefore void," the judge said when noting that Section 28 in the Selangor state law had went against the Federal Constitution.
To avoid any doubt, the chief justice noted that the range of offences against the precepts of Islam that can be enacted by state legislatures in Malaysia is "wide" as the Federal Court had in another case previously decided that the "precepts of Islam" is wide and not limited to the five pillars of Islam.
But she pointed out the wide range of such offences against precepts of Islam that state legislatures can make law on is subjected to limits under Malaysia's Federal Constitution: "Thus, the range of offences that may be enacted are wide. Having said that, the power to enact such range of offences is subject to a constitutional limit."
What the chief judge of Malaya said
Justice Azahar cited two previous Federal Court judgments which he said showed the phrase "precepts of Islam" as being wide to include "every single rule, conduct, principle, commandment and teaching of Islam prescribed in the Shariah, including Islamic criminal law".
He considered the wide meaning of "precepts of Islam" and cited two expert opinions by Professor Emeritus Tan Sri Mohd Kamal Hassan and Professor Emeritus DatukPadukaMahmoodZuhdiAbd Majid.
The judge said Section 28 which relates to unnatural sex including "liwat" or sodomy is undeniably an offence against the precepts of Islam.
But he also said whether Section 28 was validly enacted by the Selangor state legislature within the limits of its powers under the Federal Constitution was a question that must be dealt with separately.
He noted that this is the first time that the Federal Court has had to directly address the point of whether Section 28 cannot be valid due to the "preclusion clause" in the Federal Constitution and as it had intruded into an area that belongs to Parliament.
He concluded that the "preclusion clause" was worded in a "compellingly clear and unequivocal" manner, adding that he had no doubt that it meant that the state legislature's powers to make laws on offences against the precepts of Islam is regulated by the phrase "except in regard to matters included in the Federal List".
"The preclusion clause functions as a limitation imposed by the Federal Constitution on the state legislatures to make laws on Islamic criminal law," he said.
Justice Azahar also pointed out that it is important to note that the Federal Constitution's State List itself expressly recognises that certain areas of Islamic criminal law are part of Parliament's jurisdiction, and that as a result, any matter falling under Parliament's jurisdiction would not be something that the state legislature can make laws on.
"Although the range of the state legislature to enact "offences against the precepts of Islam" appears to be so extensive as to comprise almost 'every single rule, conduct, principle, commandment, and teaching of Islam prescribed in the Shariah', in reality there is constitutional limitation upon the subject matter of the legislation enforced by the preclusion clause.
"So construed, there could be no doubt, to my mind, that the state legislature cannot create offence already dealt with in the Federal List," the judge said.
Based on this reason, Justice Azahar concluded that the state legislature does not have the sole or exclusive right to make laws on Islamic criminal offences, stating that the preclusion clause clearly implies that the state legislature only has residual powers to make such laws and that it is subject to the federal jurisdiction on criminal laws.
He noted that "criminal law" comes under Parliament's law-making powers under Item 4 of the Federal List and said the offence of unnatural sex offence in Section 28 obviously falls within that category.
"By that I mean, in practical terms, that even if Parliament has yet to make legislation with respect to an offence of sexual intercourse against the order of nature, still the State Legislature is precluded from legislating on this subject matter," he said.
The judge however highlighted that the Penal Code — which applies to both Muslims and non-Muslims and is administered in civil courts — was enacted much earlier than Selangor's Section 28.
The Penal Code is a written law by Parliament that covers most of the criminal offences and punishments in Malaysia.
In explaining his conclusion, the judge said: "Put another way, only Parliament has power to make such laws with respect to the offence of sexual intercourse against the order of nature."
Justice Azahar disagreed with Mais' claim that the state legislature would not be able to make any laws on offences if every offence is a criminal law and that the state legislature's law-making powers would be redundant.
Instead, the judge said the Federal Constitution guarantees that states have the power to make laws on offences against the precepts of Islam unless already covered in the Federal List, explaining his view that this meant states could still validly make laws on offences that are "purely religious" in nature.
Justice Azahar noted that there are three categories of Shariah criminal offences in Malaysia that would remain valid as state laws, despite the "preclusion clause", namely offences relating to "aqidah" or the Muslim faith (including wrongful worship, deviating from Islamic belief, teaching false doctrines), offences relating to the sanctity of Islam and its institution (including insulting the Quran, failure to perform Friday prayers, disrespecting Ramadan and not paying zakat), offences against morality (including consuming intoxicating drinks, khalwat or close proximity and zina or sexual intercourse outside marriage).
"As can be seen, these are offences in relation to Islamic religion practiced in this country that must conform to the doctrine, tenets and practice of the religion of Islam. In short, I refer to these offences as religious offences," he said, adding that this is a non-exhaustive list of examples of religious offences that can be validly enacted by state legislatures, based on the facts of each case.
"In my opinion, all these offences are purely religious in nature that is directly concerned with religious matters or religious affairs," he said, citing Article 74(2) when saying that these religious offences which regulate Muslims' beliefs and practices can only be created through laws passed by state legislatures and that such religious offences would not fall under the category of "criminal law" in the Federal List.
He noted that such religious offences come under the Shariah courts' jurisdiction and only apply to Muslims.
The judge said that such laws should be made by the state legislature — instead of Parliament — due to the State List, and as it is only the states that have the powers to make laws on such matters.
"It is the states alone that can say what should be the religious offences, which are reserved expressly for legislation by the state legislatures," he said.
Stressing that "criminal law" is a federal matter for Parliament to make laws on and that Islamic criminal law that is not caught by the preclusion clause is for state legislature to make laws on, the judge noted that the reason for this complicated division of federal and state law-making jurisdictions would require a close look at Malaysia's legal history which stretches back to the beginning of the Malay states and the colonial rule period.
In his summary, Justice Azahar did not agree with the Selangor government's and Mais' arguments that Section 28 is constitutionally valid as the federal and state laws on unnatural sex could allegedly co-exist, noting that this was because of the Federal Constitution's Article 8 which provides for equal protection of the law and non-discrimination against Malaysians.
In this case involving the Malaysian Muslim man for example, Justice Azahar noted that the other male persons in the man's Shariah case included three non-Muslims.
Justice Azahar pointed out that Section 28 of the Selangor state law which only applies to Muslims is punishable by a maximum sentence of jail up to three years, fine up to RM5,000, or whipping up to six strokes or any combination, while Section 28 would not apply to non-Muslims and the non-Muslims could instead be charged in the civil courts under the Penal Code's Section 377 which is punishable with a maximum jail term of up to 20 years and also fine or whipping.
With Article 8 of the Federal Constitution providing for all persons to be equal before the law and no discrimination against citizens only on grounds such as religion, the judge had said it would be hard to deny that a non-Muslim would be discriminated in such a situation as a Muslim would have the benefit of a lesser sentence for a substantially similar offence.
Justice Azahar said this was among the reasons why he concluded that Section 28 is invalid as it was ultra vires or went beyond the Federal Constitution, noting that the state legislature had made Section 28 when it had no power to make law on the unnatural sex offence and that "only Parliament could enact such a law".
The Shariah trial for the Malaysian Muslim man has yet to start, as it has been put on hold while waiting for the Federal Court's decision today, his lawyer confirmed. The man's name is being withheld on the lawyers' request, due to concern over the potential harm or risks he may face if namely publicly.
In the online proceedings via Zoom where the Federal Court had delivered its decision, the legal teams for all the related parties had attended, with DatukSalimSoib@Hamid leading the team for the Selangor state government, Halimatunsa'diah Abu Ahmad leading for Mais, Abdul Rahim Sinwan leading for Maiwp, while Imtiaz, SurendraAnanth, Honey Tan Lay Ean, Tay Kit Hoo attended for the Malaysian Muslim man. Lawyer Andrew Khoo held a watching brief for the Human Rights Commission of Malaysia.
https://www.malaymail.com/news/malaysia/2021/02/25/federal-court-unanimously-declares-selangor-shariah-law-criminalising-unnat/1952701
--------
The duo who stole Malaysia's democracy
By NILE BOWIE
FEBRUARY 24, 2021
SINGAPORE – Malaysia is in the grip of arguably its worst political crisis since independence, with critics and politicians accusing embattled Prime Minister MuhyiddinYassin of abusing his power to stifle any challenge to his unelected rule.
Parliament has been suspended under a state of emergency on public health grounds, the economy is in deep decline and the nation's democracy is unmistakably under heavy strain. It all marks a dramatic turn from May 2018, when the nation basked in its first democratic transition of power since achieving independence.
One year since former prime minister Mahathir Mohammad's shock resignation after that historic electoral upset, many have come to blame the two-time premier for the political coup orchestrated by his then-allies to topple his popularly elected government.
That coup brought Muhyiddin to power after a weeklong political impasse now known as the "Sheraton Move", a backroom political maneuver that brought Mahathir's PakatanHarapan (PH) coalition's 22-month reformist rule to an early and highly unexpected end.
Debate still swirls around the seismic shifts and upheaval that ensued last February, particularly over the extent of Mahathir's knowledge of and role in the knives-out conspiracy, believed to be engineered in large part by Muhyiddin, Mahathir's then deputy, and Mohamed Azmin Ali, then deputy to his would-be successor Anwar Ibrahim.
Camps aligned to Mahathir and Anwar, whose hot-and-cold relationship has shaped Malaysian politics for decades, were at the time in a dispute over the timeline for the promised handover from the former to the latter, a rift that ultimately gave rise to an opportunity for coup-makers from opposition parties and within PH to strike.
National media went into a frenzy when defecting lawmakers from Mahathir's PartiPribumiBersatu Malaysia (Bersatu) and Anwar's PartiKeadilan Rakyat (PKR) publicly gathered at the Sheraton Hotel on the outskirts of Kuala Lumpur with opposition politicians for a celebratory dinner on the evening of February 23.
It marked the start of an audacious gambit that would end with a power grab by the hastily cobbled-together PerikatanNasional (PN) coalition, leaving the country's two most prominent political personalities outfoxed by their number twos in a maneuver that invited comparisons with the popular television show Game of Thrones.
Rumors of a new political alignment had been rife for weeks, with talk of a Malay Muslim unity coalition emerging, bringing Bersatu together with the United Malays Nasional Organization (UMNO), the former long-ruling party, and Parti Islam SeMalaysia (PAS). But their declaration of a new governing coalition initially hit an unexpected hurdle.
Mahathir was not present at the February 23 gathering and issued no public statements. But it became apparent as the night drew on that the formation of a new "backdoor" governing coalition meant that PH lost its parliamentary majority through defections and had collapsed, which Anwar then described as a "betrayal [of] promises made."
Without naming Mahathir, his remarks were a clear reference to repeated vows by the then-premier to eventually step aside and hand power to Anwar. Amid the uncertainty and confusion, sources from PH told Asia Times they were convinced that Mahathir had engineered the plot to block Anwar's ascent to the premiership.
By the following afternoon, however, Mahathir resigned from office, a move that was completely unanticipated given that only days earlier at a press conference following a February 21 meeting of the PH presidential council, he announced – with Anwar seated by his side – that PH had agreed to allow him to decide his own transition timeline.
After discussions with Mahathir on February 24, Anwar publicly stated that the nonagenarian politician had not approved the bid to form a new governing coalition and was opposed to cooperation with corruption-tainted leaders from UMNO. The PKR president claimed at the time that Mahathir's name had been "used" by those plotting PH's downfall.
A campaign to support Mahathir serving a full five-year term was championed by Anwar's publicly-estranged then-deputy Azmin and involved efforts to collect "statutory declarations" signed by lawmakers as proof of their support for his premiership, which were ultimately intended to legitimize designs for the new political realignment.
A source close to Mahathir gave Asia Times an inside account of how Bersatu leaders pressured the former premier into accepting their bid for a Malay unity government, which he refused to go along with due to his unflinching disapproval of partnering with UMNO, despite being ruffled and upset by rising demands to step aside from Anwar's camp.
Mahathir's resignation had then thrown a spanner in the works that opened an unprecedented power vacuum in the Southeast Asian nation, which all sides rushed to fill. Malaysia's king, the Yang di-PertuanAgong, named Mahathir interim prime minister following his resignation, a position through which he attempted his own powerplay.
The nonagenarian sought to rally support to lead a non-partisan unity government comprised of leaders from both sides of the nation's political divide, a proposal seen as a bid for "personal rule" that was unanimously rejected, with UMNO and PAS withdrawing support for Mahathir three days after publicly endorsing his continued premiership.
PH followed suit, naming Anwar as their prime ministerial candidate in a separate effort to capture lawmaker support for a governing majority. In an unprecedented move, Malaysia's king opted to interview all 222 elected members of Parliament to determine which potential candidate for the premiership commanded a majority required to form a government.
On March 1, a week after the fateful gathering at the Sheraton Hotel, the same venue where PH leaders announced their surprise general election victory less than two years earlier, Muhyiddin was appointed by the king and sworn-in as Malaysia's eighth premier. Mahathir publicly contested his nomination, saying it had violated the rule of law.
Acting as Bersatu's chairman after Mahathir similarly resigned from the role, Muhyiddin withdrew the party he co-founded from PH and formed PN with support from UMNO, which he was previously sacked from during former premier NajibRazak's tenure, putting him in an awkward alliance with PH's archrivals who had lost the historic 2018 general election.
Ousted from power, Mahathir and Anwar decried the bitter betrayal of their deputies but were soon publicly sparring and at loggerheads with each other. Muhyiddin's tenure, meanwhile, has since been characterized by severe intra-coalition infighting that analysts say has undermined his government's Covid-19 response and overall performance.
"One of the unintended positive consequences of the Sheraton Move is that it ends the myth of Malay unity," said Wong Chin Huat, a political scientist at the Jeffrey Sachs Center on Sustainable Development. "UMNO, Bersatu and PAS are like three brothers after the same love interest. They are anything but united."
Nor has Muhyiddin's unelected PN-coalition shaken off popular accusations of it being a "backdoor" government, despite the controversial power transition having occurred through entirely legal and constitutional means. Voters have, meanwhile, attempted to hold one of the political coup's key architects to account.
Ten voters from Gombak constituency are claiming damages and compensation in a civil suit against Azmin launched last November for his role in toppling the PH government he was elected to serve, which the plaintiffs argue amounts to a breach of his fiduciary duty as an elected representative.
With no other legal avenues to challenge the act of constitutionally-protected party-hopping, the civil suit has been watched closely despite it likely having little chance of being heard. Through his lawyer, Azmin has said he intends to file an application to strike down the suit on grounds it is an abuse of the court process.
Azmin, who was PKR's former deputy president, is now a Bersatu supreme council member who oversees international trade and industry as one of four senior ministers. Many observers and politicians view him as a de facto deputy prime minister, a role that Muhyiddin has formally left vacant.
Mahathir has publicly offered to be a witness in the civil suit if his testimony is requested in court. Prior to PH's collapse, speculation was rife that Azmin was the former premier's preferred successor.
In an exclusive interview with Asia Times last June, Mahathir called Azmin a "disappointment" but admitted he had previously been "very close" with him.
In August, Azmin penned a cryptic poem he shared in a Facebook post shortly after formally joining Bersatu that suggested he and Muhyiddin "shook hands" and decided to work together to "save" Malaysia, writing that there was no Langkah Sheraton (Sheraton Move), only what he termed as a langkahkanan (the right move).
Though elected state governments had in the past fallen due to lawmaker defections, the Sheraton Move marked the first time it happened at the federal level. The episode has prompted calls for the government to consider enacting anti-party hopping legislation to safeguard political stability, a proposal that has garnered bipartisan support.
A parliamentary caucus on electoral reform was formed last year to discuss ways to address the issue. Mohamed Nazri Abdul Aziz, an UMNO lawmaker appointed to lead the caucus with support from PH, has advocated a party-list system that ties a constituency to the political party that won the seat, rather than the elected representative.
Both the Mahathir and Muhyiddin administrations have taken the view that any laws regulating lawmaker defections would contravene constitutionally-enshrined rights to association. Mahathir's government notably leaned on the political utility of defections during PH rule and was widely panned for welcoming droves of party-hoppers into Bersatu from UMNO.
As the opposition, PH has likewise attempted to use defections in a bid to restore its mandate. In September, Anwar claimed to have "a solid and convincing majority" to form a new federal government in a maneuver dubbed the "Meridien Move" after the Le Meridien Hotel in Kuala Lumpur, where he launched the divisive and ultimately unsuccessful gambit.
One year since PH's downfall, the opposition remains fractured between pro-Anwar and pro-Mahathir camps. Some within PH's component parties have in recent months expressed frustration with Anwar's leadership and advocated for renewed cooperation with Mahathir and his newly formed and unregistered party, PartiPejuang Tanah Air (Pejuang).
On top of the storied history between Mahathir and Anwar, the breakdown of trust that occurred following the Sheraton Move continues to be a stumbling block to reviving the unified opposition formula that garnered previous success at the ballot box, shattering the UMNO-led BarisanNasional's (BN) 60-year grip on federal power.
Citing repeated "conspiracies and betrayals" by Mahathir, Anwar insisted he would take his own path in an interview last November. PKR has more recently blamed Mahathir for the country's ongoing political instability after he resigned without consultation from PH. They have also accused him of trying to scupper the opposition coalition's return to power.
Mahathir, for his part, has renewed attacks on Anwar, claiming last November that he is incapable of leading the country through an economic crisis and not fit to be prime minister. The 95-year-old had previously proposed serving as prime minister for six months if they can retake the government by joining forces, before handing power to Anwar.
"Whether Mahathir and Anwar can come together again will depend on a wide range of factors, including whether they can reconcile as individuals, whether they can agree on how to share or divide power, and whether they can manage the various parties and powerbrokers" said Amrita Malhi, a research fellow at Australian National University (ANU).
"They will have to articulate a compelling vision of how the nation can remake itself in the context of the enormous challenges it currently faces. If they can't do that, they will have to live with unstable coalitions with no particular ideological orientation – that form, dissolve and re-form in ways that nobody can control."
Many believe Mahathir was far from oblivious to the conspiracy brewing prior to the Sheraton Move and had never intended to hand power to Anwar. Leaked recordings reported by local media suggest that while Mahathir intended to eventually resign, he did not plan to muster the necessary support for Anwar from his then-party Bersatu.
Bersatu supreme council member Wan Saiful Wan Jan wrote in a lengthy essay published last year by the ISEAS–YusofIshak Institute in Singapore that behind closed doors Mahathir was "was both adamant and consistent that he did not want to see Anwar succeed him as prime minister despite his public statements (to the contrary)."
The former premier's botched bid to form a non-partisan unity government after his resignation was, moreover, widely seen as directly breaking his vow to hand the premiership to Anwar. Mahathir has maintained that the Sheraton Move was initiated against his wishes and despite his advice and that he had no choice but to resign given that PH had lost its majority.
To be sure, Mahathir could have become Malaysia's eighth prime minister premiership if he desired merely by accepting the new alignment advocated by his party, which toward the second half of PH's truncated tenure began to see the multiracial coalition as a liability that would cost it crucial support among the country's majority ethnic Malay Muslim population.
Malhi said that just as Malaysians were divided over the election of the relatively liberal PH coalition, whose rise chipped away at the hegemonic idea of a nation of races managed by a Malay Muslim government and energized a potent conservative backlash, voters are divided by how they now remember the Sheraton Move.
"How Malaysians understand the Sheraton Move is currently an open question, and the answer will depend on their underlying beliefs about what sort of nation they want to live in, and whether those beliefs can be sustained under the pressure of the pandemic, its social and economic impacts, and the emergency rule they are living under now," Malhi said.
https://asiatimes.com/2021/02/the-duo-who-stole-malaysias-democracy/
--------
China's Crackdown on Muslims Spreads to Tropical Hainan 
By Hai Yan
February 24, 2021
Hainan province is China's southernmost territory, a tropical island of white-sand beaches, stately palm trees and, now, a small population of persecuted Muslims.
The Utsuls, who number about 10,000, are the latest Muslim ethnic group targeted by the nationwide campaign conducted by the Chinese Communist Party (CCP) to achieve "the Sinicization of Islam."
The campaign is best known for its internationally condemned treatment of ethnic Uighur Muslims, which the United States refers to as genocide.
But now the Utsuls, who are Sunni Muslims, are also coming under the campaign's strict controls. Like Beijing's efforts to curtail Christians and Buddhists, the campaign against the Muslim Utsuls is designed to curtail religions so the CCP can remain the dominant ideology.
Gu Yi, a political commentator who is Muslim, told VOA Mandarin that the CCP's Sinicization of Islam campaign is meant to eliminate Islamic culture.
"They do this because Islam has its own belief system and social structure, which is a serious threat to a totalitarian regime such as the Communist Party of China. They cannot tolerate groups that think differently," he said. "Therefore, they must carry out such a cultural extinction of the Islamic society." 
The goal of the Sinicization of Islam campaign is to cut off ties that Muslims have with Islam, so that Muslim ethnic groups throughout China lose any sense of unity their religion may provide, according to Gu.
After Beijing accelerated the nationwide campaign in 2018, local governments issued specific measures including closing Islamic schools, mandating hanging the national flag at mosques, removing Islamic buildings, and replacing halal signs. They also banned minors under 18 from studying at the mosques and required Muslims to register their address and identification with the government. Authorities banned the use of loudspeakers, which can be used in the Muslim calls to prayer, and microradio transmission, which is used for listening to non-CCP approved programming.
"It's to make this minority a calm and docile Chinese group," Gu said. "Islam is not only a religious belief for most Muslims, but also a cultural and national tradition. Many of the customs and psychological identity of believers can't be divided from Islam." 
Most of the Utsuls live in the port city of Sanya, in the villages of Huixin and Huihui, and speak a Chamic language related to those spoken in Vietnam and Cambodia, from where they emigrated centuries ago.
Also known as the Hainan Hui, the Utsuls are one of the few unrecognized ethnic groups in China, which means the CCP groups them with a larger, similar population.
The Utsul community in Sanya has played a significant role in China's relations with the Islamic world, serving as a resort destination for other Chinese Muslims and as a bridge to Muslim communities in Southeast Asia and the Middle East, according to the New York Times.
The crackdown on Utsuls began when local government and CCP officials issued the "Work Plan for Strengthening the Comprehensive Governance of Huixin Community and Huihui [Utsul] Community" dated 2019, according to an image from Chinese microblogging site Weibo. It "stipulates the six aspects of the comprehensive crackdown, including the rectification of discipline, community, symbols and signs, schools and hospitals, a mandatory financial audit, and the demolition and relocation of illegal buildings," according to Bitter Winter, a publication focused on religion in China.
The aspects mean women are forbidden from wearing headscarves at work and any committees established to manage mosques must now include CCP members. Arabic scriptures, directives for prayer toward Mecca and religious phrases are to be covered with official CCP slogans.
A worker at a local halal restaurant, which serves food permissible according to Islamic law, told VOA that the local government had ordered the removal of the word "halal" from signs and menus. After asking to remain unnamed due to fear of CCP reprisal, he added that authorities ordered the obliteration of signs in homes and shops saying "Allahuakbar," which means "God is greatest."
The local government also closed two Islamic schools and tried to bar female students from wearing head scarves. According to the restaurant worker, public outcry forced authorities to relent on the ban.
https://www.voanews.com/east-asia-pacific/voa-news-china/chinas-crackdown-muslims-spreads-tropical-hainan
--------
Mideast
Turkish police nab Iraqi ISIS suspect in Ankara, rescue 7-year-old Yazidi girl
24 February ,2021
Turkish police have detained a suspected Iraqi ISIS group militant and rescued a 7-year-old girl from Iraq's Yazidi religious minority he had allegedly been holding captive, the state-run news agency reported on Wednesday.
The man, identified by his initials S.O., was detained in an early morning raid in the capital Ankara, the Anadolu Agency reported. Another person, identified as N.H.R., was also detained during the raid.
The suspect had once served as an officer in the Iraqi army, the agency said, adding that police and the country's intelligence agency had been monitoring his moves. They timed the raid so that the child wasn't placed at risk, the agency reported.
The girl was later placed in the care of Turkey's social services.
The ISIS group attacked the heartland of the Yazidi community, at the foot of Iraq's Sinjarmountain, in 2014. Hundreds of Yazidis were killed and thousands of women and children were abducted, many forced into slavery.
A day earlier, police detained a French ISIS suspect near the French Embassy in Ankara, Anadolu reported. The woman, who was identified as Sarah Talib, was taken into custody as she approached the embassy to allegedly seek repatriation to France.
The pro-government Daily Sabah newspaper said Talib joined the ISIS group in Syria and is believed to have illegally crossed the border into Turkey.
Anadolu Agency said the woman would be deported to France following her questioning by counterterrorism police.
https://english.alarabiya.net/News/middle-east/2021/02/24/Terrorism-Turkish-police-nab-Iraqi-ISIS-suspect-in-Ankara-rescue-7-year-old-Yazidi-girl
--------
Yemeni Minister: US Seeking to Block Ma'arib Freedom
2021-February-24
"The US seeks to hinder liberation of Ma'arib and purging the province from the occupiers and their puppets, and now it has been forced to expose its games and interventions because it no longer trusts its tools," al-Shami told FNA on Wednesday.
"Involvement of al-Qaeda and ISIL in the battle of Ma'arib is nothing new because they are a crucial part of the forces used by the US. They are the two tools of Washington in the world, and the US moves them anywhere whenever it wants," he added.
Al-Shami said that the Yemeni Army is committed to the battle against al-Qaeda and ISIL and is resolved cut off the US hands from the region.
Earlier this week, High-ranking Yemeni officials stated members of the Takfiri Al-Qaeda and ISIL terrorist groups are using the Center of strategic Ma'arib Province to launch attacks on other regions in the war-ravaged country, and that the militants are receiving training from Saudi military officers.
"Al-Qaeda and Daesh [terrorist] groups have turned Ma'arib into a launching pad for attacks on entire Yemeni regions. They are under the auspices of a Saudi officer, and sending car bombs and death squads across the country," Director of Yemen's Presidency Office Ahmed Hamed said at a ceremony in Sana'a on Tuesday.
He added, "Those who are crying foul at the ongoing battle in Ma'arib had kept mum when Sana'a was under threat by [the Al-Qaeda-affiliated Salafist] Islah Party, Al-Qaeda and ISIL [terrorists]."
"Why is it that no one is worried about the closure of Sana'a International Airport, which has resulted in the deaths of thousands of patients? Why is it that no one is concerned about the seizure of Yemen-bound oil tankers, which has brought vital, health and service sectors in Yemen to a standstill. This is while Al-Qaeda and ISIL operatives have occupied the city of Ma'rib and displaced its local residents. It is very heartbreaking," Hamed stated.
Chairman of the Comprehensive National Reconciliation and Political Solution Team Yousef Abdullah al-Fishi also noted Yemeni and foreign militants from Islah Party as well as Al-Qaeda and ISIL terror groups have come together in Ma'arib, displaced locals and usurped their residences.
"Why don't we hear the United Nations, the Security Council, the international community and, above all, the United States voicing concern about the brutal siege of 30 million people [in Yemen]?," he questioned.
Over the past few weeks, Ma'arib has been the scene of large-scale operations by the Yemeni troops and allied Popular Committees fighters, who are pushing against Saudi-backed militants loyal to former Yemeni President AbdRabbuh Mansur Hadi.
https://www.farsnews.ir/en/news/13991206000842/Yemeni-Miniser-US-Seeking-Blck-Ma%E2%80%99arib-Freedm
--------
President: US Needs to Stop Economic Terrorism BeforeRejoining N. Deal
2021-February-24
Rouhani said that Iran's preservation of the Joint Comprehensive Plan of Action necessitates the new US administration to immediately stop the economic terrorism against the Iranian nation.
He stressed that there will be no talks about the JCPOA, as it is a done deal and will not be renegotiable.
"We have reduced our obligations, but we are still committed to the JCPOA, "Rouhani stated, stressing that the US and European parties to the deal should fulfill their obligations.
In relevant remarks on Wednesday, Iranian Parliament Speaker Mohammad BaqerQalibaf lauded the end of the voluntary implementation of the additional protocol to the Nuclear Non-Proliferation Treaty by Tehran, saying that the nuclear industry has returned to its proud days.
"With the nullification of [additional] protocol-based inspections, the final stage of the law of 'Strategic Action for Lifting Sanctions' was put into effect," Qalibaf tweeted early on Wednesday.
"Many could not believe that the nuclear industry would return to its honorable days in such a time span and turn into an opportunity for bargaining on lifting of sanctions," he added.
Qalibaf went on to say that the lock of the sanctions will also be broken through the unity of the Iranian nation.
Tehran stopped the voluntary implementation of the Additional Protocol to the NPT early Tuesday based on a law approved earlier by the parliament after the Biden administration refrained from removing the sanctions against Iran in compliance with the terms of UN Resolution 2231 and the nuclear deal.
Yet, Tehran has stressed that IAEA inspections would continue under the NPT similar to the era before the implementation of the Joint Comprehensive Plan of Action, as Iran is still a signatory to the treaty.
Iranian President Hassan Rouhani said on Wednesday that his government will stop the voluntary implementation of the Additional Protocol to the NPT as of February 21 in compliance with parliament law.
"The law that the parliament has passed on the nuclear issue will be implemented by the government," Rouhani said, adding, "One of the paragraphs [of the law] reiterates that we should exit from the Additional Protocol as of February 23; and we will cooperate with the International Atomic Energy Agency on the basis of the Safeguards."
He stressed that there is no place for weapons of mass destruction, including nuclear weapons, in Iran's defense doctrine as the firm view of the establishment.
"We will not look for nuclear weapons, but for the peaceful nuclear technology that is our right," Rouhani went on to say.
Also, on Tuesday, Iranian Government Spokesman Ali Rabiyee announced on Tuesday that the country will stop the voluntary implementation of the Additional Protocol to the NPT due to the US and other parties' disloyalty to the nuclear deal.
"Based on the sixth paragraph of the parliament's bill and given the fact that sanctions have not been removed so far, the government and the Atomic Energy Organization of Iran (AEOI) are required to suspend the voluntary implementation of the Additional Protocol which will decrease the supervisions and inspections beyond the IAEA's safeguards agreements," Rabiyee told reporters in a press conference.
He noted that the measure does not take time and can be carried out rapidly, but meantime, said Iran is still a member of the safeguards agreements, which means that a major part of the inspections which are not within the framework of the Additional Protocol will continue.
"Therefore, stopping the voluntary implementation of the protocol does not mean terminating cooperation with the Agency. This cooperation will continue and the Islamic Republic of Iran will definitely inform the Agency of all its moves in advance in a letter, as has been the case so far," Rabiyee said.
"It is clear that this new measure is against Iran's will and was adopted due to the US lagging in lifting sanctions and fulfilling its obligations under the UN Security Council Resolution 2231. We continue to consider the nuclear deal a creditable agreement and the best possible agreement, and we are ready to immediately reverse all steps taken under paragraph 36 of the nuclear deal to their original status as stated in the nuclear deal provided that the US and other parties to the agreement revive their undertakings," he added.
Rabiyee expressed the hope that the US and three European members of the nuclear deal (France, Britain and Germany) would take the closing window of opportunity to keep diplomacy alive.
Last month, Iranian Envoy and Permanent Representative to the UN Majid TakhtRavanchi underlined that if Biden decides to return to the nuclear deal, Washington should comply with all its undertakings in exact accordance with the internationally-endorsed agreement.
"We make decision and take reciprocal action considering Biden's moves vis a vis the nuclear deal. We have repeatedly demanded the US to return to the nuclear deal and this return should be complete and without preconditions, that is to say, no issue related or unrelated to the nuclear deal should be put forward for discussion," TakhtRavanchi said.
"It should only be clear that the US international undertakings cannot be half-fulfilled. If they claim to return to the nuclear deal, this return should be accompanied by the full implementation of their undertakings with no hesitation or controversy," he added.
TakhtRavanchi stressed Iran's clear position towards the nuclear deal, and said, "We live up to our undertakings."
He referred to the parliament's bill to take strategic measures to counter the US sanctions against Iran, and said, "There is a timetable in the parliament's bill and we are moving in the same direction, so we (at the foreign ministry) are not entitled to specify the period for how long we will wait. In the first place, we make decisions based on national interests, and secondly, we should act on the basis of and within the framework of the parliamentary bill."
His remarks came after Head of the Atomic Energy Organization of Iran (AEOI) Ali Akbar Salehi announced that the country is at present producing nearly half a kilo of uranium enriched to the 20% purity level, meantime, saying that Tehran's steps to reduce nuclear deal undertakings after the West's disloyalties can all be backtracked.
"Based on the latest news I have, they (the Iranian scientists at nuclear installations) are producing 20 grams (of 20% enriched uranium) every hour; meaning that practically, we are producing half a kilo every day," Salehi said in an interview with the Persian-language Khamenei.ir website released last month.
"We produce and store this 20% (enriched uranium) and if they return to the nuclear deal, we will return to our undertakings too," he added.
Asked about the recent bill approved by the parliament to adopt strategic measures to remove sanctions against Iran, Salehi said that the AEOI is required to implement it.
"It is a reality and both the government and the AEOI have declared that they do not have any technical problems with implementation of the parliament's bill and we launched 20% enrichment within 24 hours," he said.
Salehi also underlined the need for Washington to remove all sanctions against Iran, specially those which prevent the country's oil sales and banking transactions.
Iranian legislators had in January praised the AEOI for restarting enrichment of uranium at 20-percent purity level, and called for the full implementation of the recent parliamentarian law to counter the illegal US sanctions against the country.
In a statement, 190 legislators expressed their support for the AEOI's resumption of 20% uranium enrichment and urged the body to fully and precisely implement the law ratified as a counteractive move to the sanctions illegally imposed on the country, especially those by the United States.
The lawmakers said the parliament approved the 'Strategic Counteractive Plan for Lifting Sanctions and Safeguarding Rights of Iranian People' to highlight Iran's legitimate right to use peaceful nuclear technology and the importance of lifting all cruel sanctions against the country.
The Iranian parliamentarians in a meeting on December 1, 2020 ratified the generalities of a bill to adopt strategic measures to remove sanctions against the country and defend the nation's interests.
The lawmakers, in November, had given the green light to the single-urgency of the strategic motion, but the plan turned into a double-urgency on Sunday after the assassination of the Iranian nuclear scientist Mohsen Fakhrizadeh.
Iranian nuclear scientist Mohsen Fakhrizadeh's car was targeted by an explosion and machinegun fire in Damavand's Absard 40 kilometers to the East of Tehran on Friday November 27, 2020.
Under the bill, the AEOI is required to start in two months after the approval of the present bill to produce at least 120 kg of 20%-enriched uranium annually at Fordow nuclear site and store it inside the country, increase the enrichment capacity and production of enriched uranium to at least 500 kg per month, start the installation of centrifuges, gas injection, enrichment, and storage of materials up to proper purity levels within 3 months, via at least 1000 IR-2m centrifuges in the underground part of ShahidAhmadiRoshan facility in Natanz, transfer any enrichment, research, and development operations of IR-6 centrifuges to the nuclear site of Shahid Ali Mohammadi in Fordow, and start enrichment operation via at least 164 centrifuges and expand it to 1000 by the end of 20 March 2021 (end of the Iranian calendar year) and return the 40 megawatts Arak heavy water reactor to its pre-JCPOA condition by reviving the heart (calandria) of the reactor within 4 months from the date of the adoption of this law.
Also, the government is required to suspend the nuclear deal-based regulatory access under the Additional Protocol and beyond within 2 months after the adoption of the law based on the articles 36 and 37 of the nuclear deal.
Iran signed the JCPOA with six world states — namely the US, Germany, France, Britain, Russia, and China — in 2015.
Trump, a stern critic of the historic deal, unilaterally pulled Washington out of the JCPOA in May 2018, and unleashed the "toughest ever" sanctions against the Islamic Republic in defiance of global criticism in an attempt to strangle the Iranian oil trade, but to no avail since its "so-called maximum pressure policy" has failed to push Tehran to the negotiating table.
In response to the US' unilateral move, Tehran has so far rowed back on its nuclear commitments four times in compliance with Articles 26 and 36 of the JCPOA, but stressed that its retaliatory measures will be reversible as soon as Europe finds practical ways to shield the mutual trade from the US sanctions.
Tehran has particularly been disappointed with failure of the three European signatories to the JCPOA -- Britain, France and Germany -- to protect its business interests under the deal after the US' withdrawal.
On January 5, 2020, Iran took a final step in reducing its commitments, and said it would no longer observe any operational limitations on its nuclear industry, whether concerning the capacity and level of uranium enrichment, the volume of stockpiled uranium or research and development.
Meantime, Biden has recently said in a CNN article that he wants a renegotiation of the contents of the deal before he agrees to rejoin the agreement.
"I will offer Tehran a credible path back to diplomacy. If Iran returns to strict compliance with the nuclear deal, the United States would rejoin the agreement as a starting point for follow-on negotiations. With our allies, we will work to strengthen and extend the nuclear deal's provisions, while also addressing other issues of concern," he wrote, mentioning that he wants changes to the contents of the nuclear deal and guarantees from Tehran that it would be open for compromise to strike multiple deals over its missile and regional powers as well as a number of other issues that have been the bones of contention between the two sides in the last four decades.
In response, Iranian Foreign Minister Mohammad JavadZarif had stressed that the US has violated the nuclear deal and is in no position to ask for any conditions for its return to the JCPOA, adding that it's Tehran that has its own terms to allow the US back into the internationally endorsed agreement.
The foreign minister has reiterated time and again that Tehran would not change even a single word of the agreement, and cautioned the US that it needs to pay reparations for the damage it has inflicted on Iran through its retreat from the nuclear agreement and give enough insurances that it would not go for initiating the trigger mechanism again before it could get back to the deal.
In relevant remarks earlier this month, Spokesman of the Atomic Energy Organization of Iran (AEOI) BehrouzKamalvandi said his country enjoys the capability to produce 120 kg of uranium with 20% purity in 8 months, that's 4 months faster than the one-year period required by a recent parliament approval.
https://www.farsnews.ir/en/news/13991206000550/Presiden-US-Needs-Sp-Ecnmic-Terrrism-Befre-Rejining-N-Deal
--------
Turkey to examine lifting opposition MPs' immunity amid mounting pressure
24 February ,2021
The Turkish parliament will examine lifting some opposition lawmakers' immunity, its speaker said on Wednesday, as the pro-Kurdish party comes under renewed pressure from the government.
The pro-Kurdish leftist Peoples' Democratic Party (HDP) is Turkey's second-biggest opposition party but in the past few years has been the subject of multiple prosecutions.
Its two former leaders have languished in jail since they were arrested and prosecuted in 2016 after being stripped of their immunity while members of parliament. This occurred when President ReceptTayyipErdogan unleashed a sweeping political crackdown after surviving a coup attempt.
Turkish prosecutors sent 33 legal proceedings to the parliament on Tuesday in a bid to remove the immunity of at least nine HDP MPs, speaker Mustafa Sentop was quoted as saying by the Anadolu state news agency.
He added some of the notices concerned HDP's co-leader PervinBuldan, who is accused of involvement in 2014 pro-Kurdish protests that left 37 dead.
The unrest erupted after Turkish troops took no action while ISIS militants fought to capture the mainly Kurdish northern Syrian border town of Kobane.
Buldan was among nine MPs named by the Ankara chief public prosecutor on Friday in a case of 108 suspects linked to the 2014 unrest.
The government has already jailed dozens of mayors and other HDP officials, and replaced the majority of HDP municipalities won in 2019 with trustees.
The HDP stands accused of links to the outlawed Kurdistan Workers' Party (PKK) but the party strongly denies formal ties.
The PKK has waged an insurgency against the Turkish state since 1984 and is blacklisted as a terrorist organization by Ankara and its Western allies.
But the HDP has come under further scrutiny in the past few weeks, especially after the leader of the ruling party's ultranationalist partner, DevletBahceli, repeatedly called for the HDP to be shut down.
The political pressure redoubled after Erdogan accused the PKK of executing 12 Turks and an Iraqi who were being held hostage in northern Iraq on February 14.
The PKK says the 13 were killed by Turkish bombs.
"PKK and HDP are one and the same," Erdogan's communications director FahrettinAltun tweeted that same day.
The court of cassation last week also upheld a two-year prison sentence for HDP MP Omer FarukGergerlioglu for "making terrorist propaganda" in a social media post.
https://english.alarabiya.net/News/middle-east/2021/02/24/Turkey-to-examine-lifting-opposition-MPs-immunity-amid-mounting-pressure
--------
Iran says it is up to US to move first on saving nuclear deal
24 February ,2021
It is up to the United States to make the first move in saving the Iran nuclear deal, Iran's ambassador in Geneva told the UN-sponsored Conference on Disarmament on Wednesday.
"The onus is on the offending party to return, restart and compensate for the damages as well as to reassure that they would not renege again," Ambassador EsmaeilBaghaeiHamaneh said.
"There is a path forward with a logical sequence as (Iranian Foreign) Minister (Mohammad Javad) Zarif recently outlined."
https://english.alarabiya.net/News/middle-east/2021/02/24/Iran-nuclear-deal-Iran-says-it-is-up-to-US-to-move-first-on-saving-nuclear-deal
--------
Iran's limits on UN nuclear inspections a 'threat': Israel FM Ashkenazi
24 February ,2021
Israel on Wednesday described Iran's move to restrict some site inspections by the UN nuclear watchdog as a "threat" that required a response.
Iran this week began limiting the International Atomic Energy Agency's access to sites and other information in response to the US refusal so far to lift sanctions imposed by former president Donald Trump.
"Israel sees this step as a threat and it must not go by without response," Foreign Minister Gabi Ashkenazi said in a statement.
"We will never allow Iran to control the capability to acquire a nuclear weapon," he added.
For all the latest headlines follow our Google News channel online or via the app.
Israel's government, led by right-wing Prime Minister Benjamin Netanyahu, was vehemently opposed to the 2015 nuclear agreement negotiated between Tehran and world powers.
Netanyahu applauded when Trump scrapped the deal almost three years ago.
The Israeli leader has repeatedly urged US President Joe Biden not to restore the deal.
But Biden, European powers and Iran are still trying to keep the nuclear accord alive.
Tehran demands Washington take the first step by scrapping painful sanctions Trump had imposed since 2018, while Washington insists Iran first return to all its nuclear commitments, some of which it has backed away from.
Iran's parliament had set Sunday as the deadline to limit to some IAEA inspections, a move that took effect on Tuesday.
The IAEA and Iran agreed a temporary technical deal allowing the watchdog to "retain the necessary degree of monitoring and verification work", according to IAEA chief Rafael Grossi.
With inspections now restricted, Ashkenazi said that "Iran is destroying what remains of the IAEA's oversight."
Iran says its nuclear program is civilian in nature.
Netanyahu alleges the Islamic republic is pursuing a nuclear weapon and insists this marks one of the gravest threats to the Jewish people since the Nazi Holocaust.
https://english.alarabiya.net/News/middle-east/2021/02/24/Iran-nuclear-deal-Iran-s-limits-on-UN-nuclear-inspections-a-threat-Israel-FM-Ashkenazi
--------
Yemen appreciates Iran's support amid Western-backed war
25 February 2021
Yemen's Foreign Minister HishamSharaf Abdullah has expressed gratitude to the Iranian people and government for standing by the impoverished nation, which has long been suffering from a Western-sponsored war, dismissing accusations that Tehran is prolonging the conflict.
"Iran is a brotherly country which has helped us in several stages. We appreciate the Iranian nation and leaders," he said in an interview with Lebanon's al-Mayadeen television network on Wednesday.
"Yemen's decision-making is up to the country itself… We completely reject any allegation against Iran about prolonging the war," he added.
Abdullah also said the administration of US President Joe Biden is affiliated to the Democratic Party, the same party that first sponsored the Saudi regime and its allies to launch the military campaign against Yemen and appears now to be seeking to make up for it mistake.
Yemen's National Salvation Government is after peace, but it requires trust-building and a halt in the Saudi-led offensive, he emphasized, adding that the airstrikes and the economic blockade on Yemen must stop before any political talks.
Saudi Arabia launched a devastating military aggression against Yemen in March 2015 in collaboration with a number of its allied states, and with arms and logistics support from the US and several Western countries.
The aim was to return to power the former Riyadh-backed regime and crush the popular HouthiAnsarullah movement which has been running state affairs in the absence of an effective government in the country.
The war has failed to achieve its goals, but killed tens of thousands of innocent Yemenis and destroyed the impoverished country's infrastructure. The UN refers to the situation in Yemen as the world's worst humanitarian crisis.
Currently, the Yemeni forces are advancing against Saudi-led coalition mercenaries and allied terrorists in the central province of Ma'rib.
The US State Department claimed that the Houthi's push in Ma'rib is "the action of a group not committed to peace or to ending the war afflicting the people of Yemen."
UN Special Envoy to Yemen Martin Griffiths also said the battle is extremely concerning at a time of renewed diplomatic momentum.
Elsewhere in his interview, the top Yemeni diplomat said Griffiths behaves as if he is representing Saudi Arabia rather than the UN.
He further noted that terrorists are stealing Mar'rib's oil, adding that the Yemenis would not let Daesh and al-Qaeda elements enter the strategic region.
"We want the cessation of the war and the preservation of our oil," Abdullah said. "Sana'a is ready to exchange prisoners ... but the aggressor countries do not want to resolve the issue."
Houthi spokesman doubts US claims on ending Yemen war
Additionally on Wednesday, Houthi spokesman Mohammed Abdul-Salam said there has been no real progress in the US government's position on ending the Yemen war.
"The US stance has so far been in words and we have not seen any practical action. We will not be deceived by the words that are not real," he told al-Masirah TV.
In early February, Biden declared a halt to US support for the Saudi-led military campaign in Yemen.
"This war has to end," he said during a visit to the US State Department. "And to underscore our commitment, we're ending all American support for offensive operations in the war in Yemen, including relevant arms sales."
Abdul-Salam stressed that the invasion of Yemen was carried out by a foreign coalition, starting with the bombing and siege and reaching the stage of occupation.
The enemy has used Ma'rib as a base for military operations, he underlined. "The battle of Ma'rib is a reaction to the escalation of attacks, and we are accustomed to the silence of the international community when the Yemenis are being crushed."
The Yemeni official also said the UN does not dare condemn the siege of Yemen, adding that the National Salvation government cannot be silent in the face of the aggressors.
https://www.presstv.com/Detail/2021/02/25/646033/Yemen-war-Hisham-Sharaf-Iran-
--------
Israel's killing of young Palestinian in June 2020 'extrajudicial execution': Advocacy group
24 February 2021
The killing of a young Palestinian man in 2020 by Israeli soldiers at a checkpoint between Jerusalem al-Quds and Bethlehem was an "extrajudicial execution."
That is according to a report published on Tuesday by Forensic Architecture, a London-based group specializing in the investigation of violations of human rights.
Ahmed Erekat, it said, was shot at the Container checkpoint in Bethlehem in June and left to bleed to death for more than an hour after Israeli troops prevented a Palestinian Red Crescent ambulance from treating him.
The 27-year-old posed no threat to the Israeli soldiers, the report said.
"Our analysis raises major questions about Ahmed's killing that raise doubts in the Israeli army's claims and call for further investigation."
On June 24, Israel said its soldiers had shot and killed a suspect who they claimed had attempted to run over a female officer in the Palestinian village of Abu Dis, east of Jerusalem al-Quds.
Palestinian officials rejected the account.
The 27-year-old was later identified as the nephew of SaebErekat, the secretary general of the Palestine Liberation Organization (PLO).
Ahmad was "executed" by the Israeli police, Saeb said at the time.
The PLO chief also held Israeli Prime Minister Benjamin Netanyahu responsible for the crime. He dismissed Israeli police allegation of an attempted car ramming.
The elder Erekat died of COVID-19 in November 2020.
Human Rights Watch in September criticized Israeli officials for refusing to hand over the body of the nephew more than 10 weeks after he was shot dead.
Since 2015, the bodies of 67 Palestinians killed by Israeli forces have been held, according to the Jerusalem Legal Aid and Human Rights Center (JLAC).
https://www.presstv.com/Detail/2021/02/24/645978/Israel-Erekat
--------
Iran uses Houthis as pressure card for 2015 nuclear pact: Yemeni information minister
February 25, 2021
DUBAI: The Iranian regime is using the Houthi militia as a pressure card against the international community and the US administration to extract concessions on the 2015 nuclear agreement, Yemeni Minister of Information Muammar Al-Eryani said on Thursday.
Al-Eryani claimed that Iran is pressuring the Houthis for a military escalation in Yemen through suicide bombing in Marib province, as well as attacks against civilians in Saudi Arabia, state news agency SPA reported.
He said the militia is experiencing a major deadlock after failing to carry out the tasks assigned to it with a depletion of its fighters and armaments in Marib.
Al-Eryani also claimed that Iran is preventing the Houthis from halting its attacks or yielding to calls for a ceasefire so that Tehran's negotiating position is not affected.
He again called on the international community, the United Nations and the permanent members of the Security Council to take firm stances regarding Iran's role in Yemen.
Dozens of Iranian-backed Houthis and government troops were killed on in fierce clashes in Marib earlier this month, which prompted warnings from local officials and NGOs the heavy fighting further impact the humanitarian crisis in Yemen.
Government forces and allied tribesmen, backed by Arab coalition warplanes, have consistently fended relentless Houthi attacks in Marib.
https://www.arabnews.com/node/1815521/middle-east
--------
North America
Top US general warns Iran, says Taliban not breaking with al-Qaeda
24 February ,2021
The United States always reserves the right to respond to attacks "at a time and place of our choosing," a senior US general said Wednesday, adding that "the memory and reach of the US are very long."
The head of US Central Command (CENTCOM) Gen. Kenneth McKenzie said this was shown in 2020 when a US drone strike killed both the head of Iran's Quds Force and the deputy leader of an Iran-backed Iraqi militia.
Speaking to the Beirut Institute during a webinar, McKenzie also touched on other areas in the Middle East where US troops are present.
Afghanistan
There are "legitimate doubts" about whether the Taliban is following through on its commitments made during last year's peace talks with the United States,
McKenzie said that the Taliban had refrained from attacking US-Coalition troops, but there were still worrying signs.
"Right now, as we speak today, there are some legitimate doubts about the Taliban's commitments," he told the Beirut Institute during a webinar.
These include no signs of the Taliban breaking with al-Qaeda. "The violence, while too high on both sides, in my judgment, rests on the Taliban," McKenzie said.
Asked about US troops in Afghanistan, he said there were 2,500 remaining. But there are close to 5,000 NATO forces as well, according to the US general.
Iraq
The US has achieved state-on-state deterrence with Iran, but it continues to have a level of "contested deterrence," McKenzie said.
"We still see Iranian proxies seek to attack our allies and partners in Iraq … and Saudi Arabia is under constant attack. What Iran believes is that these can be non-attributed to Iran," he said.
But the Iraqi government wants the US to remain in the country and this is frustrating Iran, according to McKenzie. "Iraq faces significant economic and other problems; they want an international presence to remain. That has very much frustrated Iran."
Syria
Inside Syria, there is a US presence of around 900 troops. "We are there to work with the [Syrian Democratic Forces] to finish ISIS off, up and down the Euphrates River valley," McKenzie said.
As for Russia's presence inside Syria, McKenzie said it was looking for inroads in the region. "They'll use that to sell military equipment to whoever will buy it. They're actively looking to undermine US interests in the region," he said.
"Our posture is clear about why we're there, to fight ISIS. I'm not sure how they see their long-term goals."
Lebanon
In Lebanon, McKenzie said the US would continue its support for the Lebanese Army. But he would not elaborate or answer if the weapons and type of military aid would be upgraded.
"Lebanon's in the queue with everyone else," he said, referring to the Biden administration's current process of reviewing aid to foreign countries.
The country, which is experiencing one of its worst economic, financial and social crises in recent history, continues to move forward without a fully functioning government.
A massive explosion ripped through Lebanon's capital last August, and the coronavirus pandemic has further deteriorated the situation.
But the Beirut blast gives Lebanon an opportunity to move forward, according to McKenzie. "I've been to Lebanon once, and it is one of the most beautiful places I've ever seen."
The US general revealed that he was planning to visit Beirut in the spring, without elaborating on specific dates.
https://english.alarabiya.net/News/middle-east/2021/02/24/US-foreign-policy-Top-US-general-warns-Iran-says-Taliban-not-breaking-with-al-Qaeda
--------
US working to integrate Saudi Arabia's missile defense system with neighbors: CENTCOM
Joseph Haboush
24 February ,2021
The United States has around 3,000 troops in Saudi Arabia and it will continue to help Riyadh boost its defense capabilities as attacks from Iran-backed groups ramp up, the top US military commander for the region said Wednesday.
Central Command chief Gen. Kenneth McKenzie said that the US "prizes" its relationship and bilateral ties with Saudi Arabia. Since 2019, the US has deployed several air defense systems in the Gulf power.
These include a Terminal High Altitude Area Defense (THAAD) battery, two Patriot missile batteries and others, McKenzie said during a webinar with the Beirut Institute.
Washington has also worked with Saudi Arabia's air defense systems to improve their capabilities as well as to integrate air and missile defense systems.
"We are working to integrate [Saudi Arabia's systems] with those of [its] neighbors in the region and with ours," McKenzie said.
Fighter squadrons are constantly in Saudi Arabia on a "rotating basis," he added.
Asked about Yemen and increased attacks by the Houthis, McKenzie said the US was aware of the "ramp-up in Houthi attacks in the last 30 days" against Saudi Arabia.
"This is significant, and these things are not helpful to coming to a peaceful solution in Yemen.
"It is my belief that the Kingdom of Saudi Arabia does seek a negotiated political solution in Yemen, and these attacks don't help," the US general said.
He also noted that the weapons launched from Yemen "hand Iranian fingerprints all over them."
https://english.alarabiya.net/News/gulf/2021/02/24/US-working-to-integrate-Saudi-Arabia-s-missile-defense-system-with-neighbors-CENTCOM
--------
Biden pursuing Trump's hostile policies toward Iran: American author
25 February 2021
An American author argues that the Biden administration is continuing the US pattern of dishonesty and double-standards with regard to Iran, instead of making a clear break with the Trump administration's confrontational policy toward Tehran.
"Rather than making a clear break with Trump's policy of unilaterally shredding the JCPOA and pushing hostilities almost to the point of all-out war, Biden is trying to use Trump's 'maximum pressure' sanctions as leverage," Kevin Barrett said in an interview with Press TV on Wednesday, referring by abbreviation to the multilateral 2015 Iran nuclear deal, which was unilaterally dumped by former US President Donald Trump in 2018.
He said such approach reveals Biden's complete lack of integrity, otherwise he would first admit that Trump's team left the JCPOA while Iran was in full compliance with it.
"Then Biden would apologize and move the US back into compliance with JCPOA by ending sanctions on Iran," he said, adding that the Biden administration is under pressure from pro-Israel infiltrators and is instead trying to force Iran to make concessions before the US returns to the deal.
In May 2018, Trump unilaterally withdrew the US from the JCPOA and imposed the "harshest ever" sanctions on Iran, so that he could make a "better deal" with Tehran compared to the historic accord signed under his predecessor Barack Obama.
Almost three years forward, the Biden administration claims it is ready to re-engage with Iran and rejoin the JCPOA, which was signed when Biden was vice president. But the US administration has conditioned its return to the agreement on Iran's full compliance with the accord.
Barrett said such position is "absurd" and even "insane".
In any agreement, he argued, if one party renounces and violates the deal, and then later decides it wants to return to the very agreement it violated and renounced, obviously it has to make amends for its bad behavior.
"But rather than making amends, Biden is trying to force Iran to make amends for the US's bad behavior," he remarked. "The shamelessness of US arrogance is sometimes so extreme that it's almost comical, and this is one of those times."
He also pointed to a fatwa issued by Leader of the Islamic Revolution Ayatollah Ali Khamenei, which prohibits the development and deployment of weapons of mass destruction (WMD), including nuclear weapons.
"What makes the situation even more absurd is that Iran is, as far as I know, the only nation that has renounced nuclear weapons on religious grounds," said Barrett, who has a Ph.D. in Islamic and Arabic Studies.
According to Barrett, Iran respected its anti-WMD fatwa during the imposed war with Iraq at great cost to itself.
He pointed out that the countries leading the effort to whip up hysteria about the nonexistent Iranian nuclear threat are the two biggest nuclear rogues on earth, Israel and the United States.
Barrett added that Israel committed innumerable crimes in its development of nuclear weapons, including the murder of US President John F. Kennedy, who had vowed to prevent Israel from ever obtaining nuclear weapons.
https://www.presstv.com/Detail/2021/02/25/646014/Biden-following-Trump-hostile-policies-toward-Iran-American-author
--------
US, Israel to launch 'quiet' talks on Iran amid Israeli warmongering
25 February 2021
While the new US administration of Joe Biden voices willingness to rejoin the Iran nuclear deal, it is reportedly planning to coordinate its Iran policy with Israel – the regime that has repeatedly attacked the nuclear agreement and threatened Iran with military "action" in case the UN-backed deal survives.
Former US President Donald Trump, a close ally of Israel's hawkish Prime Minister Benjamin Netanyahu, repeatedly attacked and later withdrew his country from the multilateral nuclear pact, known as the Joint Comprehensive Plan of Action (JCPOA).
Biden promised to re-enter the JCPOA and pursue "diplomacy" with Iran, contrasting – at least in words – Netanyahu's hatred of resolving the issue through diplomacy. However, his administration is reportedly planning a "quiet dialogue" with Israel over Iran, which could curtail efforts to remove obstacles and salvage the deal.
The Axios news website reported the US-Israeli plan to reconvene a "strategic working group" to discuss Iran, saying the group is intended to avoid a public spat between the two allies over Washington's Iran policy under the Biden administration.
The working group was initially set up during the Obama administration, under which the US and five other countries -- Russia, China, France, Britain and Germany -- reached the JCPOA with Iran; but it reconvened during the Trump administration to coordinate his country's withdrawal from the JCPOA and its "maximum pressure" campaign against Iran, the Wednesday report said.
The US and Israel are planning to reconvene the forum, again, which will be led by US national security advisor Jake Sullivan and his Israeli counterpart Meir Ben-Shabbat, the Axios report added.
The report comes amid repeated bellicose rhetoric by the Israeli regime against Iran, with Israel's minister for military affairs Benny Gantz saying the regime is preparing itself for "any scenario... including operative action" against Iran. Iranian officials have dismissed such threats as "nothing but psychological warfare."
In his Wednesday remarks, Gantz also said Israel will prevent Iran from "obtaining nuclear weapons."
This is while the Islamic Republic has repeatedly emphasized that its nuclear activities are peaceful and that it does not seek to develop nuclear weapons – a declaration based on Leader of the Islamic Revolution Ayatollah Seyyed Ali Khamenei's fatwa (religious decree) that bans stockpiling and using nuclear weapons and other weapons of mass destruction.
Unlike Israel, which is believed to be the sole possessor of nuclear weapons in the region, Iran is a signatory of the nuclear Non-Proliferation Treaty (NPT), its nuclear facilities have been open to IAEA inspections, and has signed a nuclear agreement to reassure the world of the peaceful nature of its nuclear program.
"Iran is a global and regional problem before anything else... That's why we need to work together with our allies; with the US, with Europe, and with our new partners in the Middle East," Gantz said.
Earlier, Israeli Foreign Minister Gabi Ashkenazi also claimed that Iran intends to continue developing "hidden nuclear capabilities."
The web of lies spun by Israeli officials is never-ending. Netanyahu, like his close friend Trump, has proven to be unable to keep his lies and racism to himself. In remarks on Tuesday, Netanyahu lied repeatedly and even distorted history to make his typical anti-Iran claims.
"On the eve of Purim, I would like to say to those who seek our lives, Iran and its proxies in the Middle East: 2,500 years ago, another Persian villain tried to destroy the Jewish people and just as he failed then, so too will you fail today," he claimed.
One could only imagine the outrage the words "another Jewish villain" would cause if someone uttered those words. However, his remarks, in addition to being racist, were also untrue, especially since the Hebrew Bible has repeatedly praised Persian King Cyrus the Great as the patron and deliverer of the Jews who put an end to their Babylonian captivity some 2,500 years ago.
Iran's condemnation of Israel for its crimes, as repeatedly clarified by Iranian officials, does not amount to hatred toward Jewish people. In fact, Iran currently hosts the largest Jewish community in the Middle East outside the occupied Palestinian territories. Iran is also home to dozens of synagogues and kosher stores, and recognizes the Jewish people as a minority with a representative in parliament.
Reacting to the Israeli PM, Iranian Foreign Ministry spokesman Saeed Khatibzadeh slammed Netanyahu's remarks as "bigoted lies" which he said were aimed at inciting "racist Iranophobia."
"From saving Jews to opposing occupation, Iran has always fought oppressors. History doesn't lie," Khatibzadeh twitted on Wednesday.
Back in 2015, when the JCPOA was inked, Israel was among the only three regimes that strongly opposed the UN-endorsed deal. The other two were Saudi Arabia and the United Arab Emirates.
In recent months, relations between Israel and the two Arab countries became more overt, with a normalization deal brokered by Trump and signed between Israel and the UAE, as well as a reported visit by Netanyahu to Saudi Arabia.
https://www.presstv.com/Detail/2021/02/25/646013/Will-Biden-follow-Netanyahu-plan-Iran
--------
South Asia
EU-Afghanistan discussed human rights, violence reduction
25 Feb 2021
EU-Afghanistan third meeting on human rights, good governance, and migration was held on Wednesday and both of the parties agreed to work together for the protection of human rights and good governance.
"The EU and Afghanistan reaffirmed their commitment undertaken with the signature of their bilateral Cooperation Agreement for Partnership and Development (CAPD) to respect democratic principles and human rights, as well as the principle of the rule of law as essential elements of the CAPD and underpinning the internal and international policies of both parties," Afghanistan and EU said in a press release.
Both parties had reportedly spoken on human rights and fundamental freedom in the context of the ongoing Afghan peace process and also expressed concerns over escalated violence by condemning it.
European Union called on Afghanistan to provide security for media workers and civil society activists who are victims of the targeted killings and conduct thorough investigations to bringing the culprits to justice and keep afghans informed of the measures taken.
EU called for the imperative of respecting human rights and promoting it to protect civilians in any war by all means.
The protection of civilians, medical and education facilities as well as humanitarian workers, cannot wait for peace. The parties stressed that only an immediate cessation of violence would restore confidence in the sincerity of the Taliban for a political settlement to end the war.
Civilians, medical, education facilities, humanitarian workers and their protection depends on peace, parties stressed that only cessation of violence would restore confidence insincerity of the Taliban for a political settlement to end the war.
"The EU and Afghanistan agreed on the importance of an enhanced promotion of inclusivity in the peace talks, notably the involvement of women, youth, minorities, internally displaced persons, refugees and victims of war, to ensure an ownership of the process by all Afghans", the EU press statement added.
The European Union also emphasized the importance of free, fair and transparent and inclusive electoral processes
According to the statement, "The parties discussed the measures taken by the Afghan Government and commended their joint coordination in the area of anti-corruption policy and institutional reforms and committed to keep the matter high on their bilateral agenda".
EU renewed supports to Afghanistan peace and maintenance of decades of gains as violence escalated in the country since US-Taliban agreement in Doha, Qatar.
"Anti-money laundering and countering the financing of terrorism (AML/CFT) issues were also addressed, in view of the EU's ongoing assessment of Afghanistan's AML/CFT regime," the statement read.
This comes as President Ashraf Ghani on Wednesday said the way had been paved for more serious peace talks with the Taliban
In a meeting with members of Afghanistan's parliament on Wednesday, Ghani said that the move by the NATO alliance to hold off on a decision about the troop pullout will help the Afghan peace process.
In a meeting with parliament of Afghanistan, President Ghani said that NATO's move to hold off troops withdrawal will further support the afghan peace process,
The decision by NATO sends a big message," President Ghani said.
https://www.khaama.com/eu-afghanistan-discussed-human-rights-violence-reduction-2331144/
--------
Afghan Taliban Ask Fighters Not to Harbor 'Foreign' Militants as US Reviews Peace Deal
By AyazGul
February 24, 2021
ISLAMABAD - Afghanistan's Taliban have ordered their members not to harbor "foreign" fighters in their ranks in an attempt to dispel allegations the Islamist insurgency continues to maintain close ties with al-Qaida and other terror groups in breach of a February 2020 peace deal with the United States.
The U.S.-Taliban pact, sealed in Qatar a year ago, requires all American and allied troops to leave Afghanistan by May 1, provided the Taliban are also honoring their commitments, including cutting ties with terrorist groups that threaten the United States and its allies.
U.S. President Joe Biden's new administration is reviewing the deal to decide whether to withdraw the remaining 2,500 U.S. troops in Afghanistan by the May deadline to close what has been the longest war in U.S. history. NATO-led U.S. partners have fewer than 10,000 troops in the country.
"All commanders and mujahideen (fighters) are directed that they are barred from bringing foreign nationals into their ranks or giving them shelter," the Taliban's so-called military commissions said in an order reportedly delivered to insurgent fighters.
The Taliban statement, circulating on social media, warned that violators will face punitive action, including disbandment of their groups.
Taliban spokesperson ZabihullahMujahid, when contacted by VOA to confirm the authenticity of the one-page Pashto language directive, said he would respond after gathering information from his superiors.
The U.S. review of the Feb. 29 deal was prompted by allegations the Taliban have not cut their relationship with al-Qaida in Afghanistan. The insurgents are also accused of dragging their feet in ongoing peace negotiations with the Afghan government, a crucial outcome of the U.S.-Taliban accord to bring an end to decades of hostilities in the turmoil-hit South Asian nation.
Afghan leaders allege the Taliban have intensified attacks across the country against national security forces and civilians despite opening the intra-Afghan talks in Doha, the capital of Qatar.
On Tuesday, Pentagon spokesperson John Kirby said the review of the deal with the Taliban was still underway.
"We're mindful of looming deadlines here -- and everybody shares the sense of alacrity when it comes to working our way through this review," Kirby told reporters. He defended the review process, saying the agreement was reached before the Biden administration.
"So perfectly understandable, given the stakes in Afghanistan, for us to want to come in and take a look at that and to look at the issues of compliance, and to try to make informed decisions about what the best way ahead is... We're taking it very seriously," stressed Kirby.
A United Nations panel monitoring the Taliban said in its latest report published earlier this month that the insurgency had maintained a close association with al-Qaida despite having promised to end cooperation with terrorist groups.
"Member states report little evidence of significant changes in relations between al-Qaida and the Taliban," said the U.N. Analytical Support and Sanctions Monitoring Team, which completed its reports based in part on information shared by foreign governments' intelligence services.
The report noted that the overall number of members of al-Qaida and its affiliates in Afghanistan "is currently estimated at between 200 and 500 spread across" at least eleven provinces of the war-shattered country.
The Taliban have rejected the U.N. findings and denies the presence of al-Qaida militants in insurgent-held Afghan areas.
Skeptics say the latest Taliban directive to bar fighters from allowing foreign militants to join their ranks could be a last-minute attempt to assure the Biden administration can enact a U.S. troop withdrawal by May.
"Taliban smartly taking some new steps ahead of a Washington deliberation & review process," tweeted Omar Samad, a former Afghan diplomat. "All sides need to be earnestly & factually held responsible for their actions, decisions & worldview…Too much is at stake," Samad tweeted.
https://www.voanews.com/south-central-asia/afghan-taliban-ask-fighters-not-harbor-foreign-militants-us-reviews-peace-deal
--------
Engine explosion, fire kill ten Afghan civilians: Officials
24 February ,2021
A minivan carrying civilians caught fire Wednesday after its engine exploded in southern Afghanistan killing ten family members, including three children, an official said.
Southern Urozgan provincial police spokesman Ahmad Shah Sahel said the family was returning from a wedding when their minivan became partially submerged in the Helmand River. Sahel said the family wasn't able to exit the vehicle as it was half in the water.
High pressure and water finding its way into the engine caused an explosion and fire inside the car, killing all the family members, Sahel said.
The bride and groom were riding in a separate car and were not among the casualties. A police spokesman said the incident happened in an area where militants and Afghan forces are active and police were not able to provide assistance immediately.
Meanwhile, a media advocacy organization called Nai said in a statement that unknown gunmen shot and killed Dr. Khalil Narmgo, former head of a Baghlan journalists association in northern Afghanistan.
A Baghlan police official who wanted to remain anonymous as he was not authorized to speak to the media said Narmgo was returning to the capital of Baghlan province late Tuesday when unknown gunmen stopped his car, took him out, and opened fire at him.
No group immediately claimed responsibility for the attack.
Afghanistan has seen a nationwide spike in bombings, targeted killings, and violence as peace negotiations in Qatar between the Taliban and the Afghan government resumed this week after over a month's delay.
The local affiliate of ISIS has claimed responsibility for some of the attacks, but many go unclaimed, with the government putting the blame on the Taliban. The Taliban have denied responsibility for most of the attacks.
https://english.alarabiya.net/News/middle-east/2021/02/24/Engine-explosion-fire-kill-ten-Afghan-civilians-Officials
--------
Arab World
Top Lebanese lawmaker calls for World Bank official to be kicked out after threats
Joseph Haboush
24 February ,2021
Lebanon's deputy parliament speaker Wednesday called for the World Bank representative in the country to be expelled after the official threatened to cut World Bank funding for the coronavirus campaign due to violations by lawmakers.
More than 20 Lebanese MPs received a dose of the Pfizer vaccine, which was supplied using World Bank funds allocated for Lebanon.
But according to the national plan formed by the Lebanese government and agreed to by the World Bank, those above 75 years old and registered on the national platform were supposed to get the vaccine. Any individual who did not meet the criteria was supposed to wait their turn.
Nevertheless, and in a country where corruption permeates nearly every state institution, 26 lawmakers received their first jab at the Parliament building in Downtown Beirut. Meanwhile, ordinary citizens and the elderly waited their turn at designated vaccine centers across the country.
Upon news of this, the World Bank's Regional Director of the Mashreq Department Saroj Kumar Jha voiced his frustration and disappointment. In a tweet on Tuesday, Jha said this would be recorded "as a breach of terms and conditions agreed with us for fair and equitable vaccination."
He used the hashtag #nowasta, which is an Arabic word used to describe nepotism.
Jha went further and threatened to suspend financing for vaccines and the COVID-19 response to Lebanon.
On Wednesday, two MPs apologized for receiving the vaccine and not waiting their turn.
Deputy Parliament Speaker ElieFerzli launched a diatribe against media outlets across Lebanon and accused the World Bank official of being a liar.
After Ferzli degraded Jha and purposefully mispronounced his name, using the Arabic word for baby chicken, the Lebanese official said Jha needed to be kicked out of Lebanon.
"You are a liar, and you shouldn't be allowed to remain in Lebanon. Let FaridBelhaj in Washington send a replacement for you," Ferzli said in a televised interview where he also accused the TV host of being a "tool" for alternative purposes.
Belhaj is currently the World Bank Group Vice President for the Middle East and North Africa. He was previously based in Beirut for several years.
Pushed further, Ferzli was asked how he would expel Jha. "Don't worry about that. I will deal with the World Bank. It's none of your business," Ferzli told the reporter.
The World Bank has not responded to a request for comment.
https://english.alarabiya.net/News/middle-east/2021/02/25/Lebanon-crisis-Top-Lebanese-lawmaker-calls-for-World-Bank-official-to-be-kicked-out-after-threats
--------
Iraqi Christians, decimated by extremist violence, prepare for pope's visit
24 February ,2021
Iraqi Christians are busy scrubbing churches, practising hymns and preparing for mass ahead of the first ever papal visit to the country, a four-day trip next month that is going ahead despite the coronavirus pandemic and security risks.
The minority community of several hundred thousand was decimated first by al Qaeda's rise in the early 2000s and later by Islamic State, the extremist group that brutally persecuted them and other minority faiths and sects from 2014-2017.
For many of those who remained, or have returned to Iraq where free worship is again possible, Pope Francis' visit from March 5-8 is welcome recognition of how they have suffered for their beliefs.
"We hope that after the pope's visit, the situation of Christians will improve," said AmerAbdelahad, a Christian in Erbil, as he registered to attend a mass for 10,000 people in the northern city on Sunday, March 7.
"Christians in Iraq suffered a lot over the past years, they are emigrating. The pope will come and see this reality on the ground," he added, accompanied by his wife and daughter who will also be at the gathering.
The trip by the 84-year-old leader of the world's Catholics was announced in December, and will take in the capital Baghdad, as well as Ur, a city linked to the Old Testament figure of Abraham, and Erbil, Mosul and Qaraqosh in the plain of Nineveh.
A twin suicide attack in Baghdad killed at least 32 people in January, a reminder of Iraq's ongoing security risks despite the defeat of Islamic State and a general reduction in militant violence. The pope condemned the bombing.
Although some of Iraq's Christians, who include Catholics and Orthodox, have moved back to homes they fled during the upheaval of the last two decades, others foresee further problems and are looking to leave.
https://english.alarabiya.net/News/middle-east/2021/02/24/Iraqi-Christians-decimated-by-Islamist-violence-prepare-for-pope-s-visit
--------
Khashoggi's assassins flew on planes under control of MBS: CNN
25 February 2021
Leaked Saudi documents show that the assassination squad that killed Saudi dissident journalist Jamal Khashoggi flew to the Turkish city of Istanbul on private jets owned by a company under the full control of Saudi Crown Prince Mohammed bin Salman (MBS), a report says.
Citing official documents labeled "Top Secret" and signed by a Saudi minister, the CNN reported late on Wednesday that the ownership of the company Sky Prime Aviation had in 2017 been transferred to Saudi Arabia's Public Investment Fund, which is the country's $400-billion sovereign wealth fund, and the company's planes were later used in the October 2018 killing of Khashoggi.
The sovereign wealth fund is controlled by the Saudi royal family and is chaired by the 35-year-old crown prince.
The fact that the planes were owned by a company under the control of the Saudi crown prince "provides another link between Khashoggi's death and MBS," CNN said, using Mohammed's initials to refer to him.
In October 2018, and after Khashoggi's murder, The Wall Street Journal, citing people familiar with the matter, had reported that the private jets used by the assassins belonged to a company controlled by Mohammed.
"He would have been tracking [the company] and would've been aware of how it was used," Dan Hoffman, the former director of the CIA's Middle East Division, said of the Saudi crown prince.
"It's just more potential evidence that he was in the know on this. Which has always been the contention. This is just more evidence of that," Hoffman said, referring to the widespread belief that Mohammed personally ordered the assassination in Turkey.
Faisal Gill, a lawyer for Khashoggi's former fiancée and a nonprofit organization, which have filed a federal lawsuit against MBS and two dozen co-defendants, told CNN that his client was "pleasantly surprised" that evidence of bin Salman's control over Sky Prime Aviation has come to light.
"Any evidence that basically ties MBS and others, especially in a direct line way — which we believe this does — is extremely important," said Gill.
"[MBS] wanted to use a company that he controls, in a fund that he absolutely controls in hopes that it would not get out," Gill added. "That to me is not only a direct line to him killing Jamal but also a direct line of him trying to cover it up using an aviation company that he absolutely has full control of."
The Wednesday revelation comes as the US intelligence community is set to release a long-awaited report with new public details about those behind the murder of Khashoggi.
Khashoggi, a former advocate of the Saudi royal court who later became a critic of bin Salman, was killed in the Saudi consulate in Istanbul on October 2, 2018, after he entered the perimeter to collect documents for his planned wedding. He had been falsely promised the documents.
The dissident journalist was strangled and his body was cut to pieces by a 15-man Saudi hit squad inside the consulate, according to Turkish officials.
Saudi Arabia has not produced his remains as of yet.
Saudi officials initially denied the killing of Khashoggi altogether, but they later said a "rogue" group had assassinated him.
The Washington Post, for which Khashoggi was a columnist, reported in November 2018 that the CIA had concluded that bin Salman personally ordered the murder.
Khashoggi's killing damaged the ties between Ankara and Riyadh, and tarnished Mohammed's image.
Agnes Callamard, the outgoing special rapporteur on extrajudicial killing for the United Nations, who investigated the Khashoggi murder, has said targeted sanctions against the personal assets and bank account of MBS ought to be ordered as a "minimum" if intelligence showed the crown prince had ordered or incited the killing.
She has also called on the administration of US President Joe Biden to exert pressure on Saudi Arabia to identify the location of the remains of the slain journalist, allow Khashoggi's children to leave Saudi Arabia, and, if evidence shows the crown prince ordered the assassination, freeze the prince's diplomatic engagements with Washington.
https://www.presstv.com/Detail/2021/02/25/646029/Khashoggi-s-assassins-flew-on-planes-under-control-of-MBS--CNN
--------
Irish foreign minister voices concern over rights violations in Bahrain
24 February 2021
The Irish foreign minister has raised serious concern over human rights violations in Bahrain, demanding that the Al Khalifah regime release a senior opposition leader and other political prisoners.
"The human rights situation in Bahrain remains a matter of serious concern. We are concerned by ongoing instances of violations of fundamental freedoms there," Simon Coveney told a recent parliament session.
He also called on Manama to release the jailed secretary-general of opposition Haq Movement, Hassan Mushaima, whose health has been deteriorating dramatically because of the neglect of his physical health.
"I note with concern reports regarding the health and well-being of the person in question [Mushaima]. Ireland urges all States to safeguard the human rights of prisoners and detainees as set out in the United Nations Standard Minimum Rules for the Treatment of Prisoners, also known as the Mandela rules."
A number of Irish lawmakers have grilled the foreign minister for voicing concern against rights abuses in Bahrain.
Ali Mushaima, son of the distinguished activist, recently dismissed allegations by the Bahraini Ministry of Interior that his father had received all the rights stipulated for prisoners, including full health care.
The Irish foreign minister said he would raise the issue at international organizations.
Separately, the European Center for Democracy and Human Rights in Brussels recently held a conference to mark the 10th anniversary of the pro-democracy movement in Bahrain.
Similar events were also held in Italy and some other European countries to denounce the Bahraini regime's crackdown on dissent and its systematic abuse of the majority Shia population and discrimination against Sunni activists.
Several Western countries are accused of being complicit in the crackdown.
The United States and Britain have military bases in Bahrain, and human rights advocates say both are complicit in rights abuses in the country by refusing to exert the influence they apparently have over the monarchy.
Bahrainis in recent days have taken to the streets across the tiny Persian Gulf kingdom to mark the tenth anniversary of a popular uprising against the ruling monarchy.
The popular uprising in Bahrain began in mid-February 2011.
Manama has responded to the protests with an iron fist. Authorities have detained rights campaigners, broken up major opposition political parties, revoked the nationality of several pro-democracy activists and deported them.
Saudi Arabia and the United Arab Emirates have also helped Manama in its crackdown.
https://www.presstv.com/Detail/2021/02/24/645995/Irish-FM-Bahrain
--------
Arab states' massive arms deals tribute to US, Western firms: Anti-war activist
24 February 2021
An American political commentator says Saudi Arabia and its regional allies enter into massive weapons deals with the United States and European countries in order to pay their tribute to American and other Western financial institutions and corporations.
In an interview with Press TV on Tuesday, Bill Dores, a writer for Struggle/La Lucha and longtime anti-war activist, said the US has long been trying to "keep that tribute flowing" through endless wars, covert operations as well as sanctions, since the 1953 coup d'état in Iran that overthrew the government of then prime minister Mohammad Mossadeq until the current humanitarian catastrophes in Yemen and Syria.
He said, "US policy in the so-called Middle East is basically a giant protection racket, the biggest, most lucrative and most violent one in history. It has been going since 1945, when President Roosevelt met Saud King Abdulaziz aboard the USS Quincy [heavy cruiser].
"FDR (Franklin Delano Roosevelt) made the King an offer he couldn't refuse: 'We keep you on your throne, you pay us tribute.' The US in that case was the Rockefeller-controlled Standard Oil monopoly, which then owned the Kingdom's oil," he added.
Dores went on to say that the approach expanded to include all oil-rich kingdoms of the Arabian Peninsula, and included Iran as well following the 1953 CIA coup that restored the monarchical rule of Mohammad Reza Pahlavi.
"The racist regime of Israel, created in 1948 on the stolen land of Palestine, is crucial to the functioning of the racket. That's why it gets an endless stream of arm and dollars from the United States," the American political analyst pointed out.
Dores added that Western corporations owned and exploited energy resources in the Middle East region from the end of World War II until the 1970s, and that half of all the overseas profits of US corporations came from Arab and Iranian oil in 1960.
Even though the deposed Shah of Iran was the US arms industry's biggest paying customer after the Pentagon, he said, Iranian officials canceled arms deals worth billions of dollars following the victory of the 1979 Islamic Revolution and Washington has placed Tehran on its sanctions list ever since.
"Countries which didn't pay tribute – Iraq, Libya, Syria, Egypt under [Gamal Abdel] Nasser and Iran after the 1979 Revolution – became targets of the Pentagon, the CIA and Israel. Since the administration of Venezuela's [late President Hugo] Chavez began using its oil wealth for the people, the US has targeted that country as well," Dores said.
The pundit then noted that the US has been selling arms to Saudi Arabia and the United Arab Emirates for the past six years in order to "murder and starve the people of Yemen," casting doubt on the purported intention of the administration of US President Joe Biden to end the war on Yemen.
"It's unclear what that actually means, since US contractors are pretty crucial to Saudi military operations," he said.
Dores then lashed out at the US protection racket over its humanitarian cost, asking, "How many more people must die to keep this racket going, to keep the wealth of [Saudi] Arabia flowing to Wall Street?
"Politicians tell people in the US that the weapons industry creates jobs. But what if all those factories were making medical equipment or trains or other things that people need. What if the trillions spent on war went to healthcare or housing or schools. No one would be homeless or jobless. The world could defeat COVID-19 and many more diseases. The world could defeat climate change," Dores said.
https://www.presstv.com/Detail/2021/02/24/645961/Massive-arms-deals-by-Arab-deals-done-in-tribute-to-US,-Western-corporations-Analyst
--------
Egypt Postpones Trial of 5 ISIS Terrorists till March
23 February, 2021
Egypt postponed the trial of five persons accused of "joining a terrorist group" to March 28 in the case known as the "October ISIS Cell."
The investigations of the Egyptian Prosecution indicated that between 2013 and 2015, the first convict founded a terrorist group affiliated with ISIS in the 6th October suburb of Giza governorate.
The purpose of this group was to disrupt public order, endanger the safety of society, attack the general freedom of citizens, assault members of the armed forces and the police, harm national unity and social cohesion, and target churches.
The Public Prosecution charged the second, third, fourth, and fifth defendants with "joining a terrorist group."
It also charged the first to fourth offenders of traveling outside the country, joining ISIS in Syria where they received training on weapons and manufacturing and detonating explosive devices.
Meanwhile, the Cairo Criminal Court postponed the retrial of Mahmoud Ezzat, the acting leader of the Muslim Brotherhood, in the case during the events of January 25 in 2011, when terrorists stormed Wadi al-Natrun prison and attacked security institutions.
The prosecution accused the defendants of collaborating with leaders of the international Brotherhood organization and the Lebanese Hezbollah to overthrow the Egyptian state and its institutions and train armed elements by the Iranian Revolutionary Guards Corps to commit hostile and military acts inside the country.
In 2015, the Cairo Criminal Court sentenced 20 convicts to life imprisonment, while Ezzat and 99 other defendants were sentenced to death by hanging after they were convicted in the case that included storming Egyptian prisons and assaulting security and police facilities.
https://english.aawsat.com/home/article/2823121/egypt-postpones-trial-5-isis-terrorists-till-march?utm_source=iterable&utm_medium=email&utm_campaign=2034589_
--------
Africa
Turkey condemns terrorist attacks in Nigeria
SedaSevencan
24.02.2021
Turkey on Wednesday condemned deadly terrorist attacks in northeastern Nigeria.
"We are deeply saddened by the news that 10 people lost their lives and many wounded in the terrorist attacks perpetrated by the terrorist organization Boko Haram in Borno State of Nigeria, on 23 February 2021," the Turkish Foreign Ministry said in a statement.
"We condemn these heinous terrorist attacks," the ministry added.
Turkey extended its sincere condolences to the families of those who lost their lives, friendly and brotherly people and government of Nigeria and wish a speedy recovery to the injured.
At least 10 people were killed and 50 more injured in a string of mortar attacks by the Boko Haram terrorist group in northeastern Nigeria.
Fear gripped Maiduguri city and scores of residents scampered for safety as mortar rounds hit four populated areas – Kaleri, Bulabulin, Gwange, and Adam Kolo – on Tuesday evening.
BabaganaZulum, the governor of the northeasternBorno State, said that Boko Haram, which has repeatedly targeted Maiduguri, was responsible for the attacks.
https://www.aa.com.tr/en/africa/turkey-condemns-terrorist-attacks-in-nigeria/2156032
--------
Europe
British law professor under fire over 'Islamophobic' statements
By Arwa Ibrahim
25 Feb 2021
London, United Kingdom – A British university professor has come under mounting criticism over what students described as his "Islamophobic" remarks and taught content.
In a statement last week, the University of Bristol's Islamic Society (BRISOC) said it was "alarmed by multiple complaints against Professor Steven Greer of the Law School for his reported use of discriminatory remarks and Islamophobic rhetoric".
Law students have claimed Greer "frequently expressed views in class that can be deemed Islamophobic, bigoted and divisive", said the statement, which was signed by several other student societies.
Although Greer's accusers have gone public, he has been barred by the university from making any comment on the allegations because they are subject to an ongoing investigation and he is bound by a duty of confidentiality.
He did however tell Al Jazeera he rejects the allegations.
BRISOC's president, Aamir Mohamed, told Al Jazeera the first complaints came last September and the society lodged a formal complaint with the university in November.
A law student at the university told Al Jazeera he filed an independent complaint about Greer last year.
BRISOC is demanding an official apology from Greer and the removal of content it considers to be problematic, in a human rights module.
The society also seeks an apology from the university for "funding, supporting and promoting" Greer's work and for its "delayed updates" since the complaint was made, said the statement.
The university told Al Jazeera it has launched a process to address the issue.
'Islamophobic' content
The principle complaint against Greer relates to a human rights module he teaches, titled Human Rights in Law, Politics and Society.
BRISOC highlighted several lines in lecture slides they provided to Al Jazeera from the module.
One of Greer's students described them as painting an overall "misinformed and bigoted view of Islam".
In a section discussing "Islam and human rights", Greer listed freedom of expression as a "key challenge", and highlighted "insult to Islam was punishable by death".
The slide gave the deadly Charlie Hebdo attack as an example.
Gunmen killed at least 12 people when they attacked the French satirical magazine in 2015 over cartoons of Prophet Muhammad they deemed offensive.
A student who attended Greer's class said he was shocked by some of the content, which gave the impression that Islam was "essentially bad" and "incompatible with freedom".
"The Charlie Hebdo killing was a terrorist attack. Muslim leaders not only condemned the killings, but the fact that the professor actually used it as proof of Islam's stance on freedom of expression was absolutely appalling," the law student, who wished to remain anonymous, told Al Jazeera.
"The professor cherry-picked his examples to put Muslims in such a negative light when there are examples of the contrary – he just chose to not talk about them," he said.
On the same slide, Greer listed several other human rights challenges related to Islam, including freedom of thought, conscience and religion, and the position of non-Muslims in Muslim countries.
Another section related to the position of women in Islam, said students, referring to lines that said Muslim women experienced "physical chastisement by husbands" and "women who wear hijab [were] less likely to work outside home or be involved in higher education".
A law student who attended the same module during the previous academic year said she felt "extremely uncomfortable, othered and hurt" on several occasions during Greer's classes.
"Initially, I was interested to share an academic discussion on Islam, but I was left shocked and antagonised," said the student, who also wished to remain anonymous.
"He singled out Islam as a sort of threat. It was another Islamophobic, misinformed and bigoted understanding of Islam. Not something I expected in a university and especially, a human rights module," she added.
According to FOSIS, an umbrella body of Islamic societies in UK universities, the Bristol case is not unique.
"Numerous cases are brought to our attention regularly where universities have failed to recognise and adequately address the concerns of Muslim students and their experiences with Islamophobia," Muna Ali, acting vice president of student affairs at FOSIS, told Al Jazeera.
According to the National Union of Students, there are more than 300,000 Muslim university students in the UK.
An NUS study in 2018 revealed that one in three Muslim students in the UK had experienced abuse or crime at their place of study, while one in four said they would not report an Islamophobic incident.
"Islamophobia remains largely unacknowledged and by extension, accepted and normalised in higher education," Sofia Akel, from the Centre for Equity and Inclusion at London Metropolitan University, told Al Jazeera. "Wilful negligence is complicity."
University response
Disappointed with the university's response, BRISOC went public with its concerns last week. The university's Student Union issued a statement of solidarity.
The campaign comes amid complaints about another Bristol University professor accused of anti-Semitism.
A University of Bristol spokesperson told Al Jazeera they were "in regular contact with the society and the member of staff", and that a process of responding to BRISOC's concerns was "still ongoing and under review" and as such, they were unable to comment further.
In a statement, the university said it upholds the 2018 All Parliamentary Party Group (APPG) definition on Islamophobia – which describes it as a distinct form of racism – and that it was keen to create an "inclusive place for all students".
It added that the university was also committed "to freedom of speech and to the rights of all our students and staff to discuss difficult and sensitive topics … universities are places of research and learning, where debate and dissent are not only permitted but expected, and where controversial and even offensive ideas may be put forward, listened to and challenged".
https://www.aljazeera.com/news/2021/2/25/british-law-professor-under-fire-over-islamophobic-content
--------
German 'IS leader' faces verdict
24/02/2021
A German court will hand down Wednesday its ruling in a case against Abu Walaa, a notorious Iraqi preacher believed to be the Islamic State jihadist group's de facto leader in Germany.
Ahmad Abdulaziz Abdullah Abdullah, better known as Abu Walaa, is accused of being "IS' representative in Germany" and directing a jihadist network which radicalised young people in Europe and helped them travel to Iraq and Syria.
The Iraqi preacher, 37, is in the dock with three other men in a costly and high-security trial that began in 2017 in the northern German town of Celle.
Abu Walaa is charged for his membership of IS, while the other three defendants are accused of backing the jihadist organisation.
Prosecutors have sought a prison sentence of eleven and a half years for Abu Walaa.
The defence however demanded an acquittal, with Abu Walaa himself declining to make a closing statement last week.
- 'Preacher without a face' -
Abu Walaa arrived in Germany as an asylum seeker in 2001, and was arrested in November 2016 after a long investigation by Germany's security services.
Based in a mosque in Hildesheim, Lower Saxony, he is alleged to have recruited at least eight jihadists -- most of them "very young" -- to IS, including a pair of German twin brothers who committed a bloody suicide attack in Iraq in 2015.
Dubbed the "preacher without a face" for his online videos in which he always appeared with his back to the camera, he is also alleged to have preached jihad at the since-closed Hildesheim mosque.
Among those who Abu Walaa allegedly helped radicalise was at least one of the three teenagers who were convicted of a 2016 bomb attack on a Sikh temple in Essen, western Germany.
Another notorious terrorist with possible links to Abu Walaa was AnisAmri, the Tunisian who killed 12 people when he drove a truck into a Berlin Christmas market in 2016.
Amri was allegedly in contact with Abu Walaa's co-defendant BobanSimeonovic, who is believed to have put the Tunisian asylum seeker up in his flat in Dortmund.
Amri, who was killed by police in Italy while fleeing, also attended a Berlin mosque known for its links to jihadism at which Abu Walaa occasionally preached.
A direct link between Amri and Abu Walaa remains unproven.
- 'Notorious liar' -
The charge against the Iraqi preacher is largely based on the testimony of a security service informant who spent months collecting evidence.
The informant was exempted from testifying in person before the court over fears that it would put his life in danger.
Another key informer was a disillusioned jihadist who agreed to cooperate after returning to Germany from IS-controlled territory, and told investigators how he had been part of Abu Walaa's network before travelling to Syria.
Yet Abu Walaa's lawyer Peter Krieger insisted that these testimonies were untrustworthy, telling the court that the key witness was a "notorious liar".
While German authorities now see far-right terrorism as the primary danger to domestic security, the threat of Islamist extremism remains.
Two weeks ago, three Syrian brothers were arrested in Denmark and Germany on suspicion of planning bomb attacks.
According to the interior ministry, German security forces have prevented 17 such attacks since 2009, the majority since a spate of successful attacks in 2016.
Authorities believe there are 615 potentially dangerous Islamists currently living in Germany, five times as many as in 2013.
https://www.france24.com/en/live-news/20210224-german-is-leader-faces-verdict?utm_source=iterable&utm_medium=email&utm_campaign=2034589_
--------
Turkey slams EU for expression of support for pro-Kurdish party
24 February 2021
Turkey has slammed the European Union (EU)'s support for the country's pro-Kurdish Peoples' Democratic Party (HDP), saying the bloc should rather be concerned about the outlawed Kurdistan Workers' Party (PKK)'s crimes in northern Iraq.
"For once, you could perhaps be concerned about the PKK, a terrorist organization on the EU list, which brutally executed 13 people in Gara, Iraq. Or would that get you into trouble with the PKK lobby?" Turkish presidential spokesman Ibrahim Kalin said in a post on his Twitter account on Wednesday.
The remarks came after the spokesperson for EU foreign affairs and security policy, Peter Stano, issued a statement on Turkey's recent actions against some members of the HDP.
"The European Union is gravely concerned about the continuing pressure against the HDP and several of its members, which has materialized lately through arrests, replacing elected mayors, what seem to be politically-motivated judicial proceedings and the attempt of lifting parliamentary immunities of Members of the Grand National Assembly," the statement said.
On February 14, Turkish officials said PKK militants had executed over a dozen kidnapped Turks, including military and police personnel, in a cave in northern Iraq.
Turkish police detained 718 people in 40 cities over alleged links to the Kurdish militants it blamed for the executions.
The Turkish Interior Ministry said heads of the HDP in cities and districts were among those detained.
The PKK said the 13 men had died when Turkish forces bombed the cave where the captives were being held.
Stano further stressed that any alleged wrongdoing or crime needed to be subject to due process and that the presumption of innocence must be safeguarded.
The HDP is Turkey's second-largest opposition party after the Republican People's Party (CHP).
The Turkish government has long accused the HDP of having links to the PKK, which is listed as a terrorist group by Turkey, the US, and the EU.
In recent years, Ankara has jailed dozens of mayors and other officials from the HDP. The party denies having any links with the separatist militants.
The PKK has for decades used Iraq's mountainous areas as a springboard for attacks on Turkish troops.
PKK militants also regularly clash with Turkish forces in the Kurdish-dominated southeast of Turkey attached to northern Iraq.
The militant group has been seeking an autonomous Kurdish region since 1984.
More than 40,000 people have been killed in the decades-long conflict between Turkey and the Kurdish militant group.
A shaky ceasefire between the PKK and the Turkish government collapsed in July 2015. Attacks on Turkish security forces have increased since then.
https://www.presstv.com/Detail/2021/02/24/645962/Turkey-slams-EU-for-not-having-enough-concern-about-PKK
--------
Report: Far-right incidents surge in German military
23 February 2021
BERLIN -- The number of suspected far-right incidents in the German military surged to 477 last year from 363 in 2019, parliament's commissioner for the military said Tuesday.
Eva Hoegl stressed as she presented her annual report that "soldiers are not under general suspicion and the absolute majority does a responsible job every day."
But she said the number of incidents involving far-right extremism are a source of concern and show that "there's a lot to do."
"There's no place for far-right extremism in the army," Hoegl wrote in the report. "We need investigations, sanctions and prevention — in a consistent, complete and fast way."
Hoegl demanded that more staff be hired to speed up investigations.
The report comes at a time of broader concerns that Germany has not done enough to tackle right-wing extremism within its Bundeswehr military in general. The country's special forces, the KSK, have faced particular scrutiny after numerous allegations of far-right extremism in recent years.
As a consequence of far-right scandals involving the special forces, the defense minister disbanded one of the KSK's units in July and vowed to to further investigate extremism and implement reforms.
The rise in far-right extremism in the army mirrors a growing overall number of anti-Semitic, anti-migrant or homophobic attacks in Germany.
In 2020, 183,777 soldiers served in the German military, 23,066 of them women.
https://abcnews.go.com/International/wireStory/report-incidents-surge-german-military-76061150?utm_source=iterable&utm_medium=email&utm_campaign=2034589_
--------
URL: https://www.newageislam.com/islamic-world-news/malaysian-shariah-court-no-jurisdiction/d/124396
New Age Islam, Islam Online, Islamic Website, African Muslim News, Arab World News, South Asia News, Indian Muslim News, World Muslim News, Women in Islam, Islamic Feminism, Arab Women, Women In Arab, Islamophobia in America, Muslim Women in West, Islam Women and Feminism