New Age Islam News Bureau
10 Oct 2014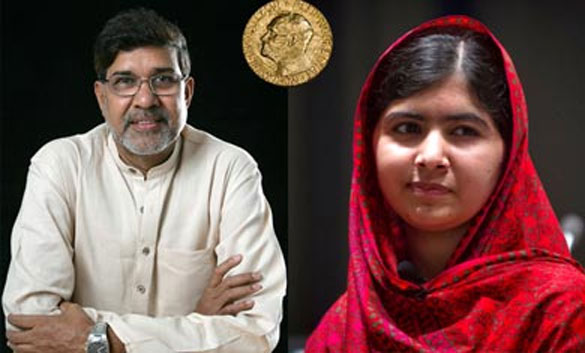 Pakistani child education activist Malala Yousafzai and child rights activist Kailash Satyarthi of India
-----------
India
• India's Kailash Satyarthi and Pak's Malala Yousafzai Win Nobel Peace Prize
• Pakistan Has Been Taught a 'Befitting Lesson', PM Narendra Modi Says
• Terror network spread over 3 districts in West Bengal
Arab World
• Syrian Troops Kill 57 Al-Nusra Terrorists near Damascus
• ISIS fighters capture Kurd HQ in Syria's Kobane
• 23 ISIL Terrorists Killed in Kirkuk
• 18 dead in Syria regime bombing: monitor
• Syrian Kurdish Fighters Kill 11, Capture 4 ISIL Terrorists in Kobani
• Kurds hold off IS in Syria town, pressure mounts on Turkey
• Three Saudis killed in Kobani, 1 in Iraq
'• So-called' radicals misusing Islam, says OIC
Europe
• UN Envoy Urges Turkey to Allow Kurds to Protect Kobane
• Art Exhibit In London Captures the Beauty of Haj
• France, Germany seek revamp of Schengen laws to fight jihadist exodus
• UNHCR: 100,000 Libyans flee fighting near Tripoli
Mideast
• Yemen bombing death toll rises to 67
• At least 31 killed in Turkey protests
• Israeli restrictions force Palestinians to pray on Jerusalem streets
• Iran trying to convince Turkey to save Kobane
• Turkish PM: We oppose ISIL and Assad
• UNRWA to make biggest ever financial aid plea on Gaza
Pakistan
• 'Nuclear Pak Can Give Fitting Reply to India': Defence Minister
• Finance Minister for Peaceful Resolution Of Pak-India Disputes
• Malala the 'pride of Pakistan': PM
• PML-N responsible for 'Go Nawaz Go' slogan
• Efforts to deviate attention from Zarb-e-Azb have failed: Bilawal
• Minister accuses Khan and Qadri of inciting violence
• JI Jirga sets deadline for govt to resolve IDPs' problems
Africa
• Militia chief among 17 killed in Libya fighting
• Tunisia questions journalist 'friend' of terror leader
• 600 'terrorists' to face trial soon in Tunisia: Minister
North America
• Islamic rebel advance on Kobani a tragedy, says US's Kerry
• U.S. seeks bigger Turkish role in fight against ISIS
• U.S. officials: Qaeda strikes won't stop plots
• US delegation shows concern over LoC conflict
• Egypt can fight "terrorism" with moderate Islamic thought: US special envoy on ISIS
• Aafia allowed to end US appeal
Southeast Asia
• Islamist extremists now above the law, says Sarawak minister
• Was bomb blast the work of Muslim extremists, ask Malaysians
• Lessons that Nancy Shukri is teaching Malaysians
South Asia
• Executed Kabul rape convict's sister attempts suicide
• 3rd Bangladesh-US dialogue Oct 21
Compiled by New Age Islam News Bureau
URL: https://www.newageislam.com/islamic-world-news/new-age-islam-news-bureau/india-s-kailash-satyarthi-and-pak-s-malala-yousafzai-win-nobel-peace-prize/d/99462
----------
India
India's Kailash Satyarthi and Pak's Malala Yousafzai win Nobel peace prize
Kounteya Sinha,TNN | Oct 10, 2014
LONDON: History was made on Friday when an Indian and a Pakistani national jointly shared the Nobel peace prize for 2014, the first time ever.
India's Kailash Satyarthi and Pakistan's Malala Yousafzai were awarded the Nobel peace prize 2014 jointly for "showing great personal courage and in their struggle against the suppression of children and for the right of all children to education".
Child labour activist Satyarthi became India's 8th Nobel laureate while the champion for children's education Malala became her country's second citizen to be given the most coveted prize. Malala is also the youngest to be awarded the globally prestigious annual prize.
The two will split the £690,000 ($1.11m) prize announced by the Norwegian Nobel Committee.
The committee said 60-year-old Satyarthi maintained Mahatma Gandhi's tradition and headed various forms of protests and demonstrations, all peaceful, focusing on the grave exploitation of children for financial gain.
According to the committee "he has also contributed to the development of important international conventions on children's rights".
62 was the average age of all Nobel Peace Prize Laureates the year they were awarded the prize, today with a 17 yrs old it decreased to 61!
— The Nobel Prize (@NobelPrize) October 10, 2014
"Children must go to school and not be financially exploited. In the poor countries of the world, 60% of the present population is under 25 years of age. It is a prerequisite for peaceful global development that the rights of children and young people be respected. In conflict-ridden areas in particular, the violation of children leads to the continuation of violence from generation to generation," the committee said.
Talking about Malala, the committee said "Despite her youth, Malala has already fought for several years for the right of girls to education, and has shown by example that children and young people, too, can contribute to improving their own situations. This she has done under the most dangerous circumstances. Through her heroic struggle she has become a leading spokesperson for girls' rights to education".
17 yrs Malala Yousafzay is the youngest Nobel Laureate ever, Lawrence Bragg (Physics 1915) was 25 when awarded the Prize with his father.
— The Nobel Prize (@NobelPrize) October 10, 2014
The struggle against suppression and for the rights of children and adolescents contributes to the realization of the "fraternity between nations" that Alfred Nobel mentions in his will as one of the criteria for the Nobel peace prize.
The Nobel committee said it regards it as an important point for a Hindu and a Muslim, an Indian and a Pakistani, to join in a common struggle for education and against extremism.
Congratulations to Nobel Peace Laureate Kailash Satyarthi, a true champion in the fight to end child labour. pic.twitter.com/gP1bGEUwhV
— ILO (@ilo) October 10, 2014
The committee said "Many other individuals and institutions in the international community have also contributed. It has been calculated that there are 168 million child labourers around the world today. In 2000 the figure was 78 million higher. The world has come closer to the goal of eliminating child labour".
The Nobel Institute in Oslo saw a record 278 candidates for the Nobel Peace Prize for 2014. Around 47 of these were organizations. The Committee had said that 278 is the highest number of candidates ever. The previous record was 259 from 2013.
The Nobel peace prize has been awarded to 124 Laureates - to 100 individuals and 24 organizations till now.
Since the International Committee of the Red Cross was awarded three times and Office of the United Nations High Commissioner for Refugees was awarded twice there are 100 individuals and 21 organizations that have been awarded the Nobel Peace Prize.
Lets fearlessly and whole heartedly celebrate our heroes before its too late! #MalalaYousafzai #nobelprize2014 pic.twitter.com/oVwuEGruGF
— Mahira Khan (@TheMahiraKhan) October 10, 2014
The Organisation for the Prohibition of Chemical Weapons (OPCW) - an international organisation working since 1997 to convince countries to give up chemical weapons besides checking and confirming the destruction of existing chemical weapons had won the Nobel Peace Prize in 2013.
Malala Yousafzai and Kailash Satyarthi are true inspirations for standing up for children's rights http://t.co/y1FU2eSdGj #NobelPeacePrize
— AmnestyInternational (@AmnestyOnline) October 10, 2014
Malala has won the European Union's human rights award, was named one of Time magazine's most influential person in 2013 and was nominated for the Nobel peace prize last year.
President of the European Council Herman Van Rompuy and President of the European Commission Jose Manuel Barroso congratulated the newly crowned Nobel laureates. "We wholeheartedly congratulate Malala Yousafzai and Kailash Satyarthi - the winners of this year's Nobel Peace Prize. Today's decision pays tribute to the undisputable right to education for all children, equal rights for women and the important campaign against their oppression.
We are delighted for Malala, who so courageously stood up for her rights and paid a high price for something that many in our countries take for granted. But we cannot forget the millions of other children around the world who are denied their right to education. This is a victory for all of them. Young boys and girls who aspire to learning".
They added "And we are delighted for Kailash Satyarthi, who staunchly has advocated children's rights across the globe. As the first donor of development aid worldwide, the EU and its member states have constantly worked to root out poverty, one of the prime causes of child labour.
The decision equally sends a strong message to those who try to impeach on the fundamental right to education, by violence, suppression and cowardly threats.
List of all the Nobel Peace Prize Laureates since 1901: http://t.co/tdqCcwii3H #nobelprize2014
— The Nobel Prize (@NobelPrize) October 10, 2014
But Malala Yousafzai and Kailash Satyarthi will not be threatened and neither will the European Union. We urge all leaders worldwide to redouble their efforts for the education of all children and to intensify the fight against poverty".
The European Union, when it received the 2012 Nobel peace prize decided to use the award money precisely for this purpose by dedicating it to children in conflict zones under the EU's Children of Peace initiative.
http://timesofindia.indiatimes.com/india/Indias-Kailash-Satyarthi-and-Paks-Malala-Yousafzai-win-Nobel-peace-prize/articleshow/44773483.cms
-------------
Pakistan has been taught a 'befitting lesson', PM Narendra Modi says
PTI | Oct 10, 2014
DHAMANGAON (Maharashtra): As firing from across the border declined following strong retaliatory response by India, Prime Minister Narendra Modi said Pakistan has been taught a "befitting lesson" with the Army "shutting their mouth".
"Pakistan has got a befitting lesson. They will not dare to repeat it again. Our jawans have shut their mouth," he said addressing an election rally here on Friday.
The Prime Minister said those living close to the border with Pakistan who had to leave their homes following nine days of heavy mortar shelling and firing will be adequately compensated by the Centre.
"I assure you, the government of India will act promptly to provide adequate compensation to those who had to leave their homes due to shelling and migrate elsewhere," he said.
Modi also slammed Congress for targeting him over his government's response to Pakistan's aggression.
"Congress is busy issuing statements over what is happening on the Pakistan border. This not the time for empty 'boli' (talk) by them, but for 'goli' (bullet) by our jawans," he said.
http://timesofindia.indiatimes.com/india/Pakistan-has-been-taught-a-befitting-lesson-PM-Narendra-Modi-says/articleshow/44771273.cms
--------
Terror network spread over 3 districts in West Bengal
TNN | Oct 10, 2014
BURDWAN/KOLKATA: As many as 16 calls were made to Sheikh Kader at his Kirnahar home days before the Khagragarh blast on October 2, while President Pranab Mukherjee was there at a stone's throw from the place.
But Kader is not alone. A total 24 calls reached Borhan Sheikh at Simulia village in Burdwan's Mangalkote and Yusuf Mollah staying at Mokamnagar in Murshidabad's Lalgola as a build up to the operation. The state investigating agency has come to know about this from the call details record (CDR) of two cellphones of the killed terrorist Shakil Ahmed. CID has also identified eight other numbers where calls were made.
The CDR points to a triangular chain touching Burdwan, Birbhum and Murshidabad from where members of the Bangladesh-based Islamic outfit Hifazat-e-Islami were coordinating with one another. Raids in these areas have brought to fore specific job distribution of the coordinators from the three places.
For instance, a CID team on Thursday busted a non-descript mud hut at Simulia tucked away on the fringes of Mangalkote where there is no electricity. Surprisingly, the investigating team recovered electrical and electronic gadgets and circuits from the hut. According to CID, Borhan Sheikh was the points-person here overseeing the accommodation and communication sub-module. Borhan chose the muslim-dominated Khagragarh locality and hired houses on high rent to arrange the accommodation of the module members who used to stay in at least three houses as couples. The Simulia hut was possibly used to communicate with the coordinators at Birbhum and Murshidabad and with other members abroad.
Mangalkote used to provide the logistic support for dispatching consignment as well. The CID sleuths seized the red motor cycle used by Kausar on Thursday parked at Purbasthali police station. During a raid at the house of Hasem Mollah of Khardattapara in Purbastahli, police seized the motorbike with a number plate — WB 52A9185. According to CID, consignments were sent to Assam from Mangalkote. The terrorists had drawn up a bigger plan to purchase a land in Goda area and expand its operations.
Yusuf Mollah, the other coordinator from Murshidabad, used the Indo-Bangla porous border to procure chemicals and arms. Yusuf, a madrassa teacher is the key person behind the jihad. Known to have got an arms training, Yusuf faked his teacher identity and trained other members such as Abdur Hasan in making explosives, a CID officer said. Injured Hasan, now in custody, was shifted to the SSKM hospital on Thursday afternoon for treatment.
Funds for the project were distributed from Kirnahar where Kausar's brother-in-law Sheikh Kader used to stay. He is the third coordinator. All the coordinators have allegedly crossed the borders. A CID team video-graphed the Khagragarh blast site on Thursday. However, officers have run into trouble in going ahead with the probe because the grenades and explosives have all been destroyed. CID officers would have been able to get a clue about the terrorist group on the job if the circuits and destroyed detonators were available. This will pose a problem for the NIA when it takes over the probe.
http://timesofindia.indiatimes.com/india/Terror-network-spread-over-3-districts/articleshow/44764125.cms
----------
Arab World
Syrian Troops Kill 57 Al-Nusra Terrorists Near Damascus
10 October 2014
Syrian Armed Forces thwarted an infiltration attempt by the al-Nusra Front terrorist group into the al-Qalamoun region, North of the capital Damascus, killing 57 of them.
A military source told Syrian Arab news agency that the al-Nusra terrorists were attempting to infiltrate into an area between the towns of Jubbeh and Esal al-Wared in the rugged al-Qalamoun region on Thursday, where they were faced with the army's crushing response.
Syria has been experiencing unrest since March 2011 with organized attacks by well-armed gangs and terrorists against both the army and civilians.
The unrest, which took in terrorist groups from across Europe, the Middle-East and North Africa, has transpired as one of the bloodiest conflicts in recent history.
As the foreign-backed insurgency in Syria continues without an end in sight, the US government has boosted its political and military support to Takfiri extremists.
http://english.farsnews.com/newstext.aspx?nn=13930718000103
----------
ISIS fighters capture Kurd HQ in Syria's Kobane
10 October 2014
Islamic State of Iraq and Syria (ISIS) fighters made new gains on Friday in the Syrian town of Kobane, taking control now of about 40 percent of it, a monitoring group said.
The Syrian Observatory for Human rights said ISIS has seized areas including Kurdish administrative buildings in the "security quarter."
http://english.alarabiya.net/en/News/middle-east/2014/10/10/ISIS-fighters-capture-Kurd-HQ-in-Syria-s-Kobane.html
----------
23 ISIL Terrorists Killed in Kirkuk
10 October 2014
Iraqi troops stormed the hideouts of the ISIL terrorists in Kirkuk, leaving more than 23 members of the Takfiri group dead.
A military source told Iraqi News that the army soldiers inflicted heavy losses on the terrorists in Sa'adiya district and killed more than 23 ISIL Takfiri terrorists.
The Takfiri terrorists currently control parts of Syria and Iraq. They have threatened all communities, including Shiites, Sunnis, Kurds, Christians, Ezadi Kurds and others, as they continue their atrocities in Iraq.
Senior Iraqi officials have blamed Saudi Arabia, Qatar, and some Persian Gulf Arab states for the growing terrorism in their country.
The ISIL has links with Saudi intelligence and is believed to be indirectly supported by the Israeli regime.
http://english.farsnews.com/newstext.aspx?nn=13930718000071
----------
18 dead in Syria regime bombing: monitor
10 October 2014
BEIRUT: At least 18 civilians, four of them children, were killed in Syrian army bombardment and air strikes in the south of the country Friday, a monitoring group said.
"The Hara area, which recently fell to rebel forces, was hit by air strikes and surface-to-surface missiles, causing 18 deaths, including four children," said the Syrian Observatory for Human Rights.
Hara stands less than two kilometers (one mile) from a strategic hill in Daraa province that Al-Nusra Front jihadist rebels seized on October 5 in a battle which cost the lives of 30 regime forces and 29 insurgents.
More than 180,000 people have been killed in Syria since an uprising against President Bashar Assad's regime began in 2011, escalating into a multi-sided civil war that has drawn thousands of jihadists from overseas.
http://www.arabnews.com/middle-east/news/642016
----------
Syrian Kurdish Fighters Kill 11, Capture 4 ISIL Terrorists in Kobani
10 October 2014
Syrian Kurdish forces killed 11 ISIL terrorists and captured four others in the Syrian border town of Kobani.
The 11 terrorists were killed during ongoing clashes between the so-called Islamic State of Iraq and the Levant (ISIL) terrorist group and the Syrian Kurdish fighters in the strategic town of Kobani, al-Mayadeen TV reported.
Meanwhile, thousands of Kurdish people have gathered in the western part of the Northern al-Qamishly province in support of Kobani.
Kobani, Syria's largest Kurdish city, has seen intense battles over the past three weeks as ISIL terrorists are trying to seize the city due to its strategic location.
http://english.farsnews.com/newstext.aspx?nn=13930718000193
----------
Kurds hold off IS in Syria town, pressure mounts on Turkey
10 October 2014
Kurdish militia fought to hold off Islamic State group jihadists in the battleground Syrian border town of Kobane on Friday as pressure grew for action by neighbouring Turkey.
US-led warplanes have intensified air strikes against IS fighters who have been closing on the town for three weeks but the Pentagon has warned that, without a force on the ground to work with, there are limits to what can be done.
The coordinator of the US-led campaign, retired US general John Allen, was to hold a second day of talks in Ankara after the NATO ally insisted it could not be expected to take ground action alone against the jihadists on its doorstep.
Fierce clashes raged early Friday close to the command headquarters of the main Kurdish fighting force, the People's Protection Units (YPG), the Syrian Observatory for Human Rights said.
Full report at:
http://english.ahram.org.eg/NewsContent/2/8/112726/World/Region/Kurds-hold-off-IS-in-Syria-town,-pressure-mounts-o.aspx
---------
Three Saudis killed in Kobani, 1 in Iraq
10 October 2014
Three Saudis of the so-called Islamic State terrorist group have been reportedly killed in the bloody fighting between the IS militants and the Kurds defending the Syrian border town of Kobani.
Another Saudi was killed in a suicide attack in Iraq.
The two incidents coincided with the tweets posted by those who sympathize with IS and fighters of the terrorist group, calling it "the martyrs day."
The tweets named the slain militants as Rajeh Hindi Albuqami (Abu Samer Aljazrawi), Mansour Al-Osaimi (Abu Quraidah) and Waleed Awad Alrushaidi (Abu Hakeem), but their colleagues said the three men were killed in US-led coalition's airstrikes.
IS also announced the death of Hamad Ibrahim Aldossari (Abu Azouz), a Saudi, without giving details and location of his killing, but other Iraqi news sources said he was killed in a suicide attack on a military barrier.
http://www.arabnews.com/news/641996
----------
'So-called' radicals misusing Islam, says OIC
World Bulletin/News Desk
10 October 2014
A senior figure from the world's second-largest intergovernmental group after the U.N. has told an Istanbul audience that strategies are needed to challenge "so-called radical groups" misusing the name of Islam.
Elshad Iskandarov, the secretary-general of the Organization of Islamic Cooperation's youth forum, was addressing delegates at major conference for young people in Turkey's largest city.
Iskandarov noted that the progress of radical groups in the Syrian town of Kobani – kilometers from Turkey's southern border – was pressing bodies like the OIC into adopting major strategies to stop extremists converting young people to their ideologies.
"But how should we, the policy makers and experts reject this? In this particular area the four groups are: revenge seekers; adventure seekers; the self-identity seekers; and the ideology seekers."
Full report at:
http://www.worldbulletin.net/muslim-world/145870/so-called-radicals-misuing-islam-says-oic
----------
Europe
UN envoy urges Turkey to allow Kurds to protect Kobane
10 October 2014
U.N. envoy Staffan de Mistura on Oct. 10 called on Turkey to allow Kurds to cross back into Syria to defend the key border town of Kobane from an onslaught by Islamic State in Iraq and the Levant (ISIL) jihadists.
"We would like to appeal to the Turkish authorities in order to allow the flow of volunteers at least, and their equipment to be able to enter the city to contribute to a self-defence operation," de Mistura, the U.N.'s Syria envoy, told reporters in Geneva.
He also called on Turkey, "if they can, to support the deterrent actions of the coalition through whatever means from their own territory."
Kobane, where Kurdish fighters are holding out after a three-week offensive by the ISIL militants, has become a crucial battleground in the fight against he ISIL extremists.
The statement marked an unusual one by the United Nations, which usually strives to stay neutral in conflicts, but de Mistura explained the rare appeal by the precarious situation in the key border town.
Kobane was "literally surrounded" except for one narrow entry and exit point, with up to 700 mainly elderly civilians still inside the city centre, with another 10,000-13,000 gathered nearby, he said.
Full report at:
http://www.hurriyetdailynews.com/un-envoy-urges-turkey-to-allow-kurds-to-protect-kobane.aspx?pageID=238&nID=72795&NewsCatID=359
----------
Art exhibit in London captures the beauty of Haj
10 October 2014
Great news for Londoners and for tourists visiting London and those who were in the city during the Eid holidays: Be sure to stop by at the must-see interactive Haj Art Exhibition, organized by Ahlan Art, scheduled for Oct. 6 until Oct. 12, at the Holiday Inn, Wembley. It is the first ever interactive Haj art exhibition and entry is free.
For those who are unable to take the spiritual journey for Haj this year, if you are in London you can get a glimpse of the Haj experience by visiting the art exhibit. Get a feel of the colors, the unity yet diversity between Muslims, the spirituality, and the vibrancy of the Haj.
The exhibit features the work of two of the world's leading Islamic artists, Saddiqa Juma and Peter Gould. As well as showcasing a number of pieces designed exclusively for this exhibition, there will be one art piece for the public to make their mark on canvas.
Ahlan Art is recreating Siddiq Juma's popular painting, 'Diversity' which has gained world recognition. You can place your own brush stroke on a new, Haj art piece, as did many members of the London community, including singer Sami Yusuf. This is your opportunity to add your touch to the canvas.
The exhibition highlights modern, contemporary, abstract as well as classical art centered around the magnificent Kaaba. There will be an opportunity to meet the artists at the evening networking events.
Full report at:
http://www.saudigazette.com.sa/index.cfm?method=home.regcon&contentid=20141010220706
----------
France, Germany seek revamp of Schengen laws to fight jihadist exodus
10 October 2014
France and Germany on Thursday pressed for urgent reforms to the European Union's visa-free Schengen travel zone to counter the increasing number of Europeans leaving to wage jihad in Iraq and Syria.
French Interior Minister Bernard Cazeneuve led the impassioned plea to EU counterparts at a meeting in Luxembourg, calling for "a European PNR (Passenger Name Record) ... and a more efficient system of checks at airports.
"This is urgent," he said.
German Interior Minister Thomas de Maiziere echoed Cazeneuve, saying "three thousand fighters have left Europe to wage jihad and we don't want Europe to become an exporter of terror".
"We above all do not want battle-hardened fighters to return to Europe and plan attacks," he said. "We need measures both at the national and European levels."
Cazeneuve said a new category of "foreign fighters" should be added to the list of suspect individuals for police at European borders.
Full report at:
http://english.alarabiya.net/en/News/world/2014/10/09/France-Germany-seek-revamp-of-Schengen-laws-to-fight-jihadist-exodus-.html
----------
UNHCR: 100,000 Libyans flee fighting near Tripoli
World Bulletin/News Desk
10 October 2014
About 100,000 people have fled fighting near the Libyan capital Tripoli in the past three weeks, adding to a growing problem of internal displacement, the U.N. refugee agency UNHCR said on Friday.
"With fighting among rival armed groups intensifying in a number of areas of Libya, we are seeing growing displacement, now estimated at 287,000 people in 29 cities and towns countrywide," UNHCR said in a statement.
The main area of recent displacement was around Warshefana, a suburb of Tripoli, while another 15,000 had fled from fighting around the Benina area outside Benghazi, it said.
Most displaced people were living with local families but others were sleeping in schools, parks and non-residential buildings converted into emergency shelters.
UNHCR spokesman Adrian Edwards said it was hard to get access and information and it was not clear if the displaced people would be able to return home soon, but many local communities were unable to cope with the influx.
One town, Ajaylat, 80 km (50 miles) west of Tripoli, had a population of 100,000 but was hosting 16,000 refugees, and its health service was struggling to cope, UNHCR said.
http://www.worldbulletin.net/headlines/145939/unhcr-100000-libyans-flee-fighting-near-tripoli
----------
Mideast
Yemen bombing death toll rises to 67
October 10, 2014
Suicide bombers targeting Yemen's powerful Shi'ite Houthi group and an army camp killed at least 67 people in two separate attacks on Thursday, hours after a political crisis forced the new prime minister to step down.
At least 47 people were killed, including four children, when a suicide bomber detonated a belt packed with explosives at a Houthi checkpoint in the centre of the capital Sanaa where Houthi supporters were preparing to hold a rally.
Body parts were scattered across Tahrir Square and pools of blood formed on the asphalt after the blast, which also wounded at least 75 people.
In eastern Yemen, where the militant group al-Qaeda in the Arabian Peninsula (AQAP) has waged repeated attacks on army installations and government facilities in recent months, at least 20 soldiers were killed in a suicide car bombing and gun attack on an army outpost, state news agency SABA reported.
http://www.thedailystar.net/yemen-bombing-death-toll-rises-to-67-45028
----------
At least 31 killed in Turkey protests
10 October 2014
At least 31 people have been killed and 360 others wounded in four days of violent protests in Turkey by Kurdish demonstrators angry at the government's lack of action to save the Syrian town of Kobane from a jihadist militant takeover, the interior minister said Friday.
U.N. envoy to Syria Steffan de Mistura appealed to Turkey on Friday to allow volunteers to defend Kobane, saying the U.N. resolution 2170 says everyone should do whatever possible to stop massacre.
De Mistura said 500-700 people, mostly elderly, are still in Kobane, 10,000-13,000 are in border area between Turkey and Syria
In addition to the toll of 31 people killed in protests, two policemen were shot dead in the southern city of Bingol late Thursday while inspecting the scene of a demonstration and five "terrorists" suspected of gunning them down were themselves killed, Interior Minister Efkan Ala told reporters.
Thousands of Kurds have taken to the streets to protest against what they see as Ankara's reluctance to help Kobane, a Syrian Kurdish town on the border besieged for weeks by militants from Islamic State of Iraq and Syria (ISIS).
Full report at:
http://english.alarabiya.net/en/News/middle-east/2014/10/10/At-least-31-killed-360-injured-in-Turkey-protests-this-week-minister.html
----------
Israeli restrictions force Palestinians to pray on Jerusalem streets
World Bulletin/News Desk
10 October 2014
Hundreds of Palestinians were forced to perform the weekly Friday prayers on the streets in East Jerusalem after Israel imposed restrictions on the entry of worshippers into the Al-Aqsa Mosque.
Hundreds of worshippers were seen praying on the streets in Jerusalem's Old City amid a heavy presence of Israeli police forces, according to Anadolu Agency reporter.
Israeli police have erected barricades at the entry points of the Old City as helicopters flew overhead.
Full report at:
http://www.worldbulletin.net/todays-news/145943/israeli-restrictions-force-palestinians-to-pray-on-jerusalem-streets
----------
Iran trying to convince Turkey to save Kobane
10 October 2014
Iran has begun talks with Turkey aimed at convincing it to help stop Islamic State of Iraq and the Levant (ISIL) jihadists from taking the key Syrian border town of Kobane, an official said Oct. 10.
"Iran will take any action to help the Kurdish (people) of Kobane in the framework of the support that it provides to the Syrian government to combat terrorism," Deputy Foreign Minister Hussein Amir Abdollahian said, quoted by the official IRNA news agency.
Abdollahian said Tehran was in talks with Turkey.
"In our initial talks with Turkey, we found out that this country is not in favour of an aggravation of the crisis in the region and we hope that will play a positive role."
He also said Ankara can "play the most important role to help Syrian refugees go back home."
ISIL jihadists seized a third of Kobane Thursday in fighting that killed dozens, as calls grew for ground action to support Kobane's beleaguered Kurdish defenders.
But Turkish Foreign Minister Mevlut Çavuşoğlu said after meeting the head of NATO that it was "not realistic" to expect Ankara to "lead a ground operation on its own".
Ankara is under pressure over its inaction, and protests in Kurdish areas of Turkey have sparked clashes that claimed at least 35 lives and forced authorities to impose a curfew in six provinces.
http://www.hurriyetdailynews.com/iran-trying-to-convince-turkey-to-save-kobane.aspx?PageID=238&NID=72769&NewsCatID=359
--------
Turkish PM: We oppose ISIL and Assad
World Bulletin/News Desk
10 October 2014
"Turkey opposes the ISIL as much as the Assad regime in Syria," Prime Minister Ahmet Davutoglu said on Friday.
But Davutoglu rejected as "funny" a motion from the main opposition party to put Turkish 'boots on the ground' at Kobani, also known as Ayn al-Arab, the Syrian border town under attack by ISIL.
Opposition leader Kemal Kilicdaroglu made the motion in parliament on Thursday. The motion proposes ground troop operations by the Turkish army against ISIL that would be limited to the Kobani region. The opposition has, however, rejected a separate motion that would allow foreign troops to operate on Turkish territory.
Davutoglu spoke to reporters after visiting the Police Chief Atalay Urker of the eastern Bingol province, who was wounded in an attack on Thursday.
The Turkish parliament accepted a government motion on October 2 authorizing military action in Syria and Iraq against any terrorist group, including ISIL.
Full report at:
http://www.worldbulletin.net/todays-news/145929/turkish-pm-davutoglu-we-oppose-isil-and-assad
----------
UNRWA to make biggest ever financial aid plea on Gaza
10 October 2014
The United Nations' Palestinian refugee agency is to make its largest ever financial plea to donors, it said on Thursday, asking for $1.6 billion (1.26 billion euros) to rehabilitate war-battered Gaza.
The conflict between Israel and Hamas-led Gaza militants, which ended on August 26, killed nearly 2,200 Palestinians, most of them civilians, and 73 people on the Israeli side, mostly soldiers.
"This is the largest single ask in UNRWA's 64-year history," spokesman Christopher Gunness told AFP ahead of an October 12 donors' conference in Cairo.
"The figure we are requesting at Cairo is $1.6 billion, which makes this... unprecedented," he said, adding nearly half of that would go towards rebuilding homes damaged during 50 days of war in July and August.
Full report at:
http://english.alarabiya.net/en/News/middle-east/2014/10/10/UNRWA-to-make-biggest-ever-financial-aid-plea-on-Gaza-.html
----------
Pakistan
'Nuclear Pak Can Give Fitting Reply to India': Defence Minister
Omar Farooq Khan, TNN | Oct 10, 2014
ISLAMABAD: Nuclear Pakistan was fully capable of responding "befittingly" to Indian aggression on the LoC and the international border, the country's defence minister, Khwaja Muhammad Asif, said on Thursday, responding to an earlier statement by Arun Jaitley.
"We don't want the situation on the borders of the two nuclear neighbours to escalate into a confrontation. India must demonstrate caution and behave with responsibility," Asif said.
Prime Minister Nawaz Sharif has called a meeting of the National Security Committee on Friday to discuss the tense situation at the LoC and the IB, with firing and shelling intensifying to dangerous levels amid accusations from both sides.
The Pakistani state media reported that two Pakistanis were killed and 12 injured in firing by Indian troops along the working boundary on Wednesday, raising the death toll to 12 and injured to 43. Sources here said India has targeted 73 Pakistani border posts while Pakistan has targeted 47 Indian border posts.
Full report at:
http://timesofindia.indiatimes.com/india/Nuclear-Pak-can-give-fitting-reply-to-India/articleshow/44765397.cms
----------
Finance Minister for peaceful resolution of Pak-India disputes
October 10, 2014
WASHINGTON- Finance Minister Ishaq Dar has said all outstanding disputes between Pakistan and India including Kashmir should be resolved peacefully.
Addressing a think-tank in Washington DC, he said resolution of bilateral disputes is desirable to protect trade and economic ties between the two countries. He said Kashmir issue should be resolved in accordance with the UN Security Council resolutions. He hoped that current tensions between the two countries on Working Boundary would end soon. The finance minister said a new economic era will begin with improved relations between Pakistan and India.
http://nation.com.pk/national/10-Oct-2014/dar-for-peaceful-resolution-of-pak-india-disputes
----------
Malala the 'pride of Pakistan': PM
10 October 2014
Malala Yousafzai was hailed as the "pride of Pakistan" by Prime Minister Nawaz Sharif on Friday for winning the Nobel Peace Prize, as a former fellow pupil said the award was a victory for every girl in the country.
Political leaders and activists alike rallied around Malala, the youngest ever Nobel laureate, expressing their support for the student who moved to Great Britain after being shot in the head by Taliban militants two years ago.
"She is (the) pride of Pakistan. She has made her countrymen proud. Her achievement is unparalleled and unequalled. Girls and boys of the world should take the lead from her struggle and commitment," Sharif's office said in a statement sent to AFP.
The 17-year-old is Pakistan's second-ever Nobel laureate after Abdus Salam, who won the physics prize in 1979 but was widely shunned for being a member of the country's persecuted Ahmadi minority.
Full report at:
http://english.ahram.org.eg/NewsContent/2/8/112738/World/Region/Malala-the-pride-of-Pakistan-PM.aspx
----------
PML-N responsible for 'Go Nawaz Go' slogan
October 10, 2014
ISLAMABAD: Pakistan Tehreek-e-Insaf (PTI) Chairman Imran Khan has said that the "aristocratic style of governance" of the Pakistan Muslim League-Nawaz (PML-N) has added to the public anger and frustration, which is the real force behind the "Go Nawaz Go" slogan.
"The Nooras think the Go Nawaz Go slogan has been orchestrated by the PTI. Haven't they seen their aristocratic style of malgovernance? People are committing suicides due to injustice, deprivation and frustration," Imran said while addressing his supporters at D Chowk of the capital on the 56th day of PTI's protest to force Prime Minister Nawaz Sharif's resignation. Imran Khan again alleged that the PPP and PML-N were clinging to power "through an unholy alliance backed by the Charter of Democracy". "The PTI has exposed both of them. Their Charter of Democracy has become a Charter of Disaster for Pakistan. We'll make Nawaz and Zardari pay through their noses after coming to power." Congratulating his supporters, Imran Khan said, "Pakistanis! Your untiring resolve has made it possible."
http://www.dailytimes.com.pk/islamabad/10-Oct-2014/pml-n-responsible-for-go-nawaz-go-slogan
----------
Efforts to deviate attention from Zarb-e-Azb have failed: Bilawal
October 10, 2014
KARACHI: Pakistan People's Party (PPP) Chairman Bilawal Bhutto Zardari in his recent tweet has said that efforts to deviate attention from operation Zarb-e-Azb have failed.Bilawal pronounced that they are proud of Pakistan on not being provoked despite Indian aggression. He further criticised Prime Minister of Pakistan stating that the PM visited North Waziristan for the first time in 40 years.Earlier, Bilawal Bhutto Zardari had openly challenged an external threat in a tweet, which said that Kashmir would become Pakistan, and this also appeared as a reiteration of his previous public statement. Bilawal's tweet audaciously challenges India's fierce stance on Kashmir while hinting that his prior statements were just the beginning, and there was more to come as yet. He added that this sudden anxiety encapsulated India just because of two statements, and Kashmir would become Pakistan, definitely.
http://www.dailytimes.com.pk/national/10-Oct-2014/efforts-to-deviate-attention-from-zarb-e-azb-have-failed-bilawal
----------
Minister accuses Khan and Qadri of inciting violence
October 10, 2014
Lahore- Federal Minister for Railways Khawaja Saad Rafique urged PTI chairman Imran Khan and PAT chief Tahirul Qadri to stop inciting their workers for violence.
Talking to journalists today, the minister said that the mutual respect was burning in the fire of hatred created by the PTI. Rafique said that the country could not afford such fights between the political parties. "PML-N will not respond with hatred to the parties that spread hatred", he added.
He said that protests and sit-ins damaged the country's economy added that protesting parties had no agenda but to destabilize the country. The minister said that the government was committed to working for betterment of the country and its people despite the worst challenges. He said that India's aggression on border was not acceptable added that such aggression would not be tolerated.
http://nation.com.pk/national/10-Oct-2014/saad-accuses-khan-and-qadri-of-inciting-violence
----------
JI jirga sets deadline for govt to resolve IDPs' problems
October 10, 2014
PESHAWAR - Jamaat Islami (JI) Central Chief Sirajul Haq has said the country is facing numerous challenges owing to the wrong decisions of the government, saying the Internally Displaced Persons (IDPs) especially women and children were facing multiple difficulties at makeshift camps.
"The tribal people are patriotic and responsible citizens of the country and the rulers should pay due attention towards the issues of Internally Displaced Persons (IDPs) by meeting their genuine demands within thirty days," Sirajul Haq said this while addressing a tribal jirga of the elders of North Waziristan Agency here at Al-Markaz Islami on Thursday.
He warned if the demands of IDPs of North Waziristan Agency were not met within next thirty days, then thousands of tribesmen would be compelled to hold a protest sit-in in Islamabad and then the government would forget rest of sit-ins.
Full report at:
http://nation.com.pk/national/10-Oct-2014/ji-jirga-sets-deadline-for-govt-to-resolve-idps-problems
---------
Africa
Militia chief among 17 killed in Libya fighting
10 October 2014
BENGHAZI: A militia chief was among at least 17 people, mostly soldiers, killed this week in fighting over the airport in Libya's eastern city of Benghazi, medical and military sources said Thursday.
The oil-rich North African nation has been in turmoil since an uprising toppled longtime leader Muammar Qaddafi three years ago, with interim authorities facing powerful militias that fought to oust him.
Salim Nabbous, a commander of the Shoura Revolutionary Council, was killed along with two of his comrades on Wednesday in clashes at the airport, a hospital source in Benghazi said.
His group, an alliance of militias, has been trying to wrest control of the airport from former general Khalifa Haftar, who launched a campaign against them in May.
And a spokesman for army special forces loyal to Haftar said 14 of them had been killed over the past three days.
Full report at:
http://www.arabnews.com/middle-east/news/641801
----------
Tunisia questions journalist 'friend' of terror leader
10 October 2014
Tunisian authorities on Thursday questioned a journalist after he told a television show that he was "honored" by his friendship with leader of Ansar al-Sharia terrorist group Abu Ayadh, Tunisian media reported.
Nasreddine Ben Hadid made the statement during a talk show aired on el-Hiwar Ettounissi TV on Sunday.
He spoke about his "friendship" with the wanted leader of the ultra-conservative group, Ansar al-Shariah, Seif Allah ben Hassine, more commonly known as Abu Ayadh.
"Abu Ayadh is my friend and I am honored by this friendship," Ben Hadid told the show.
The Independent High Authority for Audiovisual Communication (French: HAICA) later ordered the suspension of the talk show, known as Liman Yajroo Faqat ("Only for those who Dare").
The media regulatory body said the show "glorified terrorism and therefore incited violence."
It accused the show's host, Samir al-Wafi, of "provoking" Ben Hadid to say that he was a friend of the terrorist leader.
Full report at:
http://english.alarabiya.net/en/media/television-and-radio/2014/10/09/Tunisia-questions-journalist-friend-of-terror-leader.html
----------
600 'terrorists' to face trial soon in Tunisia: Minister
10 October 2014
The first trials of prisoners accused of "terrorism" in Tunisia since the 2011 revolution could open later this month, with 600 defendants facing prosecution, its justice minister said Thursday.
Hafedh Ben Salah told AFP in an interview that the defendants included Al-Qaeda-linked jihadists who have been battling the Tunisian army near the Algerian border for nearly two years.
Since the uprising that ousted former president Zine El Abidine Ben Ali in January 2011, Tunisia has seen a proliferation of jihadist militias suppressed under the former dictator.
These groups have been blamed for a wave of attacks, including the assassination last year of two opposition lawmakers whose murders plunged the country into a protracted political crisis.
Suspected jihadists have also launched skirmishes against the army in the remote southern Mount Chaambi area since late 2012, killing dozens of soldiers and police.
In July, militants killed 15 soldiers in the restive border region, the bloodiest day in the army's history.
Full report at:
http://english.ahram.org.eg/NewsContent/2/8/112681/World/Region/-terrorists-to-face-trial-soon-in-Tunisia-Minister.aspx
---------
North America
Islamic rebel advance on Kobani a tragedy, says US's Kerry
10 October 2014
The advance of Islamic State rebels on the Syrian border town of Kobani is a tragedy but will not deter the United States and its allies from their long-term strategy in the region, US Secretary of State John Kerry said on Thursday.
"Kobani is a tragedy because it represents the evil of ISIS but it is not the definition either of the strategy or the full measure of what is happening with response to ISIS," Kerry told reporters in Boston, using an acronym for Islamic State rebels.
Rebels have seized more than a third of Kobani, advancing despite US-led air strikes as Turkish troops looked on but did not engage.
"We are only a few weeks into building the coalition. People are still receiving assignments," Kerry said. "The primary goal of this effort has been to provide the space for Iraq to be able to get its government in place and to be begun to push back."
http://english.ahram.org.eg/NewsContent/2/8/112709/World/Region/Islamic-rebel-advance-on-Kobani-a-tragedy,-says-US.aspx
----------
U.S. seeks bigger Turkish role in fight against ISIS
10 October 2014
The United States would like to have access of Turkey's air base at Incirlik and an agreement to help train and equip the moderate Syrian forces, U.S. Defense Secretary Chuck Hagel said Thursday, the Associated Press reported.
Hagel said U.S. officials are raising those issues with Turkish leaders in discussions this week.
While Ankara's persistent request for the U.S. to set up a safe zone along Turkey's border with Syria is not "actively being considered," he said, American leaders are open to a discussion about it.
The defense secretary said Turkey has military capabilities that would be valuable in the fight against the Islamic State of Iraq and Syria (ISIS) militants. The U.S. would like to be able to base various aircraft at the air base near the Syrian border, he said.
Hagel spoke to reporters on his plane as he began a six-day, three-country trip to South America. His first stop is Colombia, and he will also go to Chile and Peru, where he will attend a conference of defense ministers from the Americas.
Full report at:
http://english.alarabiya.net/en/News/middle-east/2014/10/10/Hagel-U-S-wants-use-of-Turkey-base-help-training.html
----------
U.S. officials: Qaeda strikes won't stop plots
10 October 2014
The barrage of U.S. cruise missiles aimed at a cell of al-Qaeda militants in Syria last month failed to stop ongoing terror plots to blow up airplanes over Europe and the United States, American intelligence officials say.
The strikes on a facility near Aleppo killed only one or two key members of what is referred to as the Khorasan Group, officials said, because many of the militants had scattered amid news reports highlighting their activities.
Among those who survived is a French-born jihadist who fought in Afghanistan with a military prowess that is of great concern to U.S. intelligence officials. The group is believed to be continuing its plans to attack the West, officials say
"The strikes were certainly effective in setting back the Khorasan Group, but no one thinks they were a permanent solution or a death blow to the threats that come from this cell," said Democratic Rep. Adam Schiff, who serves on the House Intelligence Committee.
On Sept. 22, the U.S. fired 46 cruise missiles at eight locations to target the group. At the same time, American airstrikes struck targets associated with the Islamic State group in Syria.
Full report at:
http://english.alarabiya.net/en/News/middle-east/2014/10/10/Officials-Strikes-on-terror-cell-don-t-stop-plots.html
----------
US delegation shows concern over LoC conflict
Sachin Parashar,TNN | Oct 10, 2014
NEW DELHI: A visiting Congressional delegation Thursday expressed "serious concern" over firing across LoC and international border describing the incidents as significant "provocations at the border" and backing UNSG Ban Ki-moon's call for India and Pakistan to address the issue diplomatically and through dialogue.
Senator Tim Kaine, who heads a Senate foreign relations subcommittee, said Ban's call was appropriate and added that UN's role could be encouraged to resolve the issue.
"I'm heartened by Secretary General's comment. I have not gone into how deeply the UN needs to be engaged but as a promoter of peaceful resolution of disputes, its role should be encouraged," said Kaine, adding there was great concern over civilian deaths.
Accompanied by an independent senator from Maine, Angus King, Kaine is on a 5-day visit to India. Kaine also welcomed PM Narendra Modi's remark that everything was going to be fine, describing it as reassuring.
Full report at:
http://timesofindia.indiatimes.com/india/US-delegation-shows-concern-over-LoC-conflict/articleshow/44766228.cms
----------
Egypt can fight "terrorism" with moderate Islamic thought: US special envoy on ISIS
10 October 2014
Egypt's foreign affairs minister Sameh Shouky met earlier with retired US general John Allen, American special envoy for US led coalition against ISIS.
The two discussed ways to confront ISIS and support the Iraqi government which is facing a growing jihadist insurgency.
In a statement issued by the foreign affairs ministry, official spokesperson Badr Abdel-Atti said that Egypt was ready to support the US to strengthen the Iraqi government and rebuild its capabilities.
The Egyptian minister of foreign affairs met with retired General Allen during his visit to Cairo. Allen is on a region-wide tour to discuss the situation in Iraq and Syria. After Egypt he will travel to Turkey.
Full report at:
http://english.ahram.org.eg/NewsContent/1/64/112691/Egypt/Politics-/Egypt-can-fight-terrorism-with-moderate-Islamic-th.aspx
----------
Aafia allowed to end US appeal
October 10, 2014
NEW YORK - A Pakistani neuroscientist whom militants have tried to free in proposed prisoner swaps with the United States was allowed on Thursday to withdraw what could be the last appeal of her conviction on US charges of attempted murder.
US District Judge Richard Berman in Manhattan said that Aafia Siddiqui, who is serving an 86-year sentence in a prison medical centre in Texas, had "clearly and unequivocally" stated her intent to end the appeal.
The judge ordered the case closed and said that, even if the appeal had continued, he likely would have ruled against Siddiqui. She was represented at trial by an able team of five lawyers, Berman wrote. He declined to hold a hearing to question Siddiqui further.
In May, a new lawyer filed the appeal on Siddiqui's behalf, but in July Siddiqui wrote a letter to Berman saying she had no faith in the US legal system and refused to participate in it.
Militants in Syria, Algeria, Afghanistan and Pakistan have made Siddiqui's release a condition for freeing certain foreign hostages.
Full report at:
http://nation.com.pk/national/10-Oct-2014/aafia-allowed-to-end-us-appeal
----------
Southeast Asia
Islamist extremists now above the law, says Sarawak minister
October 10, 2014
utrajaya's contention that police did not take action against Perkasa president Datuk Ibrahim Ali over his call to burn copies of the Bible containing the word "Allah" because he was merely defending Islam has placed Islamist extremists above the law, a senior Sarawak Barisan Nasional minister said today.
"So now it is acceptable to burn the Bibles, insult believers of other faiths and do disrespectful acts in defence of the sanctity of Islam," Land Development Minister Tan Sri Dr James Masing (pic, right) said in reaction to Minister in the Prime Minister's Department Nancy Shukri's written parliamentary reply on Monday to a question by Bagan MP Lim Guan Eng on why Ibrahim had not been charged with sedition.
Full report at:
http://www.themalaysianinsider.com/malaysia/article/police-inaction-over-bible-burning-threat-places-islamic-extremists-above-t#sthash.IP40yg6R.dpuf
----------
Was bomb blast the work of Muslim extremists, ask Malaysians
October 10, 2014
The timing of today's bomb blast in front of a nightclub along Jalan Bukit Bintang has not escaped the attention of Malaysians on social media, many of whom were quick to associate the explosion with the heated debate over the "Oktoberfest" beer festival.
Even as police suspect gangsters to be behind the blast which killed one and injured 13 others, Internet users speculated that the Islamic State of Iraq and Syria (Isis) militants have reached Malaysia's shores.
"I guess this is something to do (with) the alcohol... you wanted a beer festival... this may be the case..." wrote Facebook user Mariah Mohd Shah on a link to the news article on the bomb blast.
Peter Cheng wrote on Facebook: "Somehow I get the feeling this is jihadist work. It's outside a pub. Habis la our beloved Malaysia!!!"
Others began posting comments with the words "Isis is here" and "Welcome Isis!", while a few bandied names of other well-known Islamist terrorist groups such as Al Qaeda and the Taliban.
Full report at:
http://www.themalaysianinsider.com/malaysia/article/was-bomb-blast-the-work-of-muslim-extremists-ask-malaysians#sthash.cHPCryE9.dpuf
----------
Lessons that Nancy Shukri is teaching Malaysians
October 10, 2014
Yes, no one should get angry with Nancy Shukri for the written parliamentary reply for the lack of action against Perkasa chief Datuk Ibrahim Ali's threat to burn Malay Bibles.
It was not her decision. Her job as the de facto law minister is merely to answer questions related to law, some of which are directed at Prime Minister Datuk Seri Najib Razak.
But here's what we can learn from the minister in the Prime Minister's Department in her statement last night over the outrage caused Putrajaya's decision not to prosecute Ibrahim.
1. When push comes to shove about prosecution, Nancy will shovel it to the Attorney-General's Chambers (AGC). After all, the Attorney-General has the ultimate authority to decide on prosecution, if we don't know that.
Yes, we do. That office is still part of the government, the executive part of the government. That does not mean the responsibility stops with the AGC. The government takes the blame for this, not just the AGC.
Full report at:
http://www.themalaysianinsider.com/malaysia/article/lessons-that-nancy-shukri-is-teaching-malaysians#sthash.YCGxKilS.dpuf
----------
South Asia
Executed Kabul rape convict's sister attempts suicide
October 10, 2014
Kabul gang-rape convictsA woman attempted to commit suicide following the execution of five men over gang rape of four women in capital Kabul.
According to the security officials, the woman shot herself with a pistol after her brother – Samiullah was hanged to death along with four others on Wednesday.
The official from Paghman district police commandment said the woman was taken to hospital and is under the treatment in Ibn-e-Sina hospital.
Samiullah along with Azizullah, Nazar Mohammad, Qaisullah and Habibullah were found guilty of armed robbery, kidnapping and gang rape of four women in Paghman district.
The individuals were sentenced to death by the primary and appellate court and was approved by the Supreme Court of Afghanistan.
Former President Hamid Karzai signed on the death penalty of five convicts along with the senior Mafia leader Habib Istalif before leaving office.
The four women were returning along with their family from a wedding ceremony when they were abducted and repeatedly raped by the group earlier in August.
http://www.khaama.com/executed-kabul-rape-convicts-sister-attempts-suicide-6820
----------
3rd Bangladesh-US dialogue Oct 21
October 10, 2014
The two-day third Bangladesh-US Partnership Dialogue will begin in the US capital Washington DC on October 21, focusing on the expansion of security, trade and development ties between the two countries.
Issues related to labour, regional connectivity, climate change, counter terrorism and food security will come up during the dialogue, which is aimed to bolster bilateral and regional cooperation between Bangladesh and the United States.
Official sources said Dhaka will ask the US side to take a considerate view in the next Generalised System of Preferences (GSP) review for Bangladesh as the country has already implemented most of the preconditions in the "Bangladesh Action Plan 2013".
Dhaka will also stress on the importance of allowing duty-free, quota-free access of Bangladeshi products to the US markets.
Full report at:
http://www.thedailystar.net/city/3rd-bangladesh-us-dialogue-oct-21-44955
----------
URL: https://www.newageislam.com/islamic-world-news/new-age-islam-news-bureau/india-s-kailash-satyarthi-and-pak-s-malala-yousafzai-win-nobel-peace-prize/d/99462