New Age Islam News Bureau
29 January 2022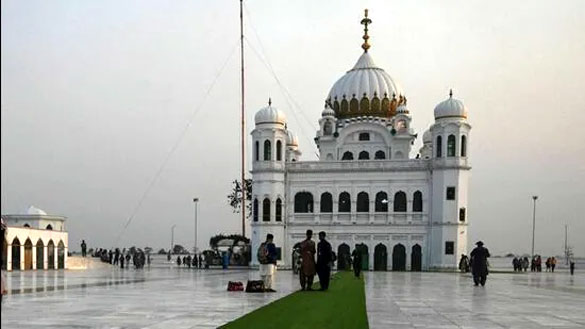 A 1974 protocol between India and Pakistan currently includes five Muslim shrines on the Indian side and 15 shrines on the Pakistani side, a majority of them gurdwaras. (AFP File Photo)
-----
• French Officials New Islamophobic Actions; To Shut Down An Activist-Run Media Outlet And A Muslim Website
• Pakistani Netizens Divided Over Blasphemy Death Sentence Imposed On A 26-Year-Old Muslim Woman
• Starvation In Afghanistan, People Sell Children And Body Parts Of Their Bodies: World Food Program
• China Agrees To Xinjiang Visit By UN Rights Chief After Olympics: Report
India
• Kerala: Catholic Priest Booked For Offensive Remarks Against Muslims
• Karnataka: Ex-Congress MLA's Kin Among 8 Chargesheeted by NIA in Islamic State Conspiracy Case
• Gujarat: Three Held For Killing Man Over Facebook Post In Ahmedabad
• Hijab Row: Udupi College Asks Students To Opt For Online Classes, Local Leaders Cite Divide & Politics
--------
Europe
• Britain's Youngest Islamist Terrorist, Aged Just 14, Back Behind Bars For Breaking His Release Conditions
• UN Human Rights Office says discussions ongoing for visit to Xinjiang
• One of three suspects accused of murdering British imam pleads not guilty
• Europeans set two-week deadline to review untenable situation in Mali
• UK minister: Pro-Palestinian 'from the river to the sea' chanters could face prosecution
--------
Pakistan
• Pakistan-Afghanistan Border Have Brought To Light The Unresolved Issue Of The Durand Line, Says Think Tank
• JI ends sit-in after successful talks with Sindh govt on LG law
• Not completely optimistic of Taliban govt, says Pak NSA
• Ten Pakistani soldiers killed in insurgent attack, army says
• Iran Embassy In Pakistan Condemns Terrorist Attack On Security Forces In Balochistan
• 'Hitman' In Blogger Ahmad Waqass Goraya Murder Plot Found Guilty By UK Court
--------
South Asia
• Defining Inclusive Government Is Not Intl-Community's Task, Afghans Should Do It: EU
• Protest over water, Iranian protestors attack Afghan vehicles
• IEA working on comprehensive economic, educational plans: Mujahid
• Russian ready to mediate talks between Taliban and other Afghan fractions
• Pregnant New Zealand reporter 'forced' to ask Taliban for refuge, slams MIQ system
--------
Southeast Asia
• Three NGOs To Challenge Decision On The Validity Of Vernacular Schools After The Case Was Dismissed By The High Court
• Japan's Hayashi Strongly Condemns Houthis, Pledges Cooperation With UAE
• Groups voice concerns over Kafa Ihsan plan
• Three Indonesian soldiers die in Papua ambush
• Let the people decide which party is relevant, Tok Mat tells PAS
--------
Africa
• Mali 'Ruling Nothing Out' In Relationship With France
• Killings by Islamist Militia in the DRC Rose Almost 50% in 2021, UN Says
• Somali military kills 28 al-Shabaab terrorists in 48 hours
• Saif Al-Islam Gaddafi Suggests New Plan For Libyan Elections
• Islamist insurgency: Mozambique in talks with Tanzania
• Tunisia thwarts alleged terrorist attack targeting tourist areas
--------
Arab World
• Saudi Arabia Sentences Shia Cleric To Eight Years In Prison, Puts Another Behind Bars
• Syrian Military Prosecution Investigating US Occupation Forces' Collaboration With Daesh Terrorists
• Arab Coalition strikes kill 70 Houthi 'terrorists' in Marib
• At least 18 Kurdish fighters found dead in Syria jail hit by ISIS: Monitor
• Lebanon govt says 'will not be Launchpad for activities that violate countries'
• Lebanon's Bahaa Rafik Hariri says he will follow father into politics
• 'Callers of peace': 3-day conference on Muslim Brotherhood begins
--------
Mideast
• Israel's PM Bennett Says Netanyahu 'Threatened' To Target Him With Drones
• Senior Cleric: Removal of All Sanctions Main Condition for Agreement in Vienna Talks
• Hamas slams Israeli premier's rejection of any future Palestinian state
• Israeli forces injure 26 Palestinians in anti-settlement rallies
• Houthi strike on Yemen govt's last stronghold kills five
• PM reaffirms commitment to eradicate terrorism from Pakistan
• Iranian Envoy Urges End to US Military Operations in Syria
• Turkish embassy condemns rocket attack on Baghdad airport
--------
North America
• 'We're Here To Stay': Quebecers Who Fought To Get Muslim Cemeteries Built Say They're A Sign Of Progress
• US President Biden To Deny $130 Mln In Military Aid To Egypt: Sources
• White House gets more time to assess billions in frozen Afghan funds
• US-backed Syrian fighters searching for Islamic State militants near prison
• US warplanes carry out airstrikes in Syria's Hasakah, hit residential buildings
• US advises citizens not to travel to UAE over Yemeni missile, drone attacks
Compiled by New Age Islam News Bureau
URL: https://www.newageislam.com/islamic-world-news/india-pakistan-shrines-pilgrims/d/126264
--------
India Ready To Engage Pakistan On Expanding List Of Shrines For Pilgrims Of Both Sides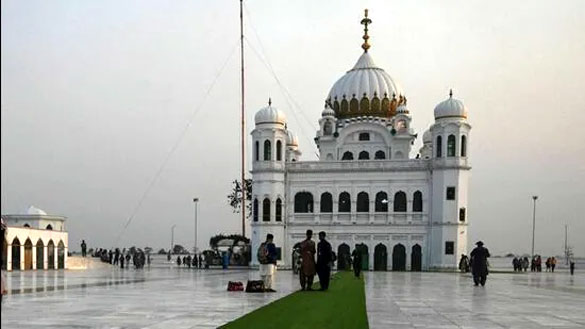 A 1974 protocol between India and Pakistan currently includes five Muslim shrines on the Indian side and 15 shrines on the Pakistani side, a majority of them gurdwaras. (AFP File Photo)
-----
Jan 28, 2022
By Rezaul H Laskar
NEW DELHI: India on Friday said it is ready for discussions with Pakistan on expanding the number of religious shrines that can be visited by pilgrims of both sides and their mode of travel, against the backdrop of a Pakistani proposal for allowing pilgrims to travel by air.
The development comes at a time when ties between the two countries are at an all-time low, with trade and most forms of travel suspended since a terror attack at Pulwama in 2019 brought the two countries close to war.
The Pakistani mission in New Delhi recently forwarded to the external affairs ministry a proposal from the Pakistan Hindu Council that permission be granted for two chartered flights of the Pakistan International Airlines to carry pilgrims from Lahore and Karachi to India. Currently, pilgrims are only allowed to travel via the Wagah land border and the Kartarpur Corridor.
External affairs ministry spokesperson Arindam Bagchi told a virtual weekly media briefing that India is prepared to discuss the expansion of the list of shrines that can visited by pilgrims of both countries under the terms of the bilateral "Protocol on Visits to Religious Shrines" of 1974.
With Covid-related travel restrictions currently in place, he suggested these talks could be held before the situation normalises.
"As you are aware, under the 1974 protocol between India and Pakistan, visits to religious shrines are being facilitated regularly. There is an interest on both sides to expand the agreed list of shrines and mode of travel. It naturally needs to be discussed under the protocol," he said.
"You are also aware that currently restrictions are in place on movement and gatherings in view of the Covid-19 pandemic. As the situation normalises, we expect that this time can be utilised to hold discussions under the bilateral protocol," he added.
India hopes to facilitate the "early exchange of visits to all shrines of interest to pilgrims", Bagchi remarked. "Let me underline that India has a positive approach on this matter and is willing to engage the Pakistani side," he said.
The protocol currently includes five Muslim shrines on the Indian side and 15 shrines on the Pakistani side, a majority of them Gurdwaras.
Ramesh Kumar Vankwani, the patron-in-chief of the Pakistan Hindu Council and a lawmaker from Prime Minister Imran Khan's Pakistan Tehreek-e-Insaf party, had suggested the two proposed chartered flights could carry about 170 Pakistani pilgrims, most of them Muslims, to India to visit Ajmer Sharif, Nizamuddin dargah and other shrines.
He said he also suggested that Air India flights could be allowed to carry Indian pilgrims to Pakistan so that they could visit shrines such as the samadhi of Parihans Maharaj at Teri village in Khyber-Pakhtunkhwa and Hinglaj Mata mandir in Balochistan. These flights would be part of what the Pakistani side is describing as a "faith tourism" initiative.
Vankwani suggested the first flight from the Pakistani side could operate on January 29, and contended the plan was "postponed for a few days" to obtain the required clearances and also because of the pandemic. "I am hopeful this will happen next week and this programme is intact. We hope to take up to 340 pilgrims to India," he said.
Source: Hindustan Times
Please click the following URL to read the text of the original story:
https://www.hindustantimes.com/india-news/india-ready-to-engage-pakistan-on-expanding-list-of-shrines-for-pilgrims-101643383443911.html
--------
French Officials New Islamophobic Actions; To Shut Down An Activist-Run Media Outlet And A Muslim Website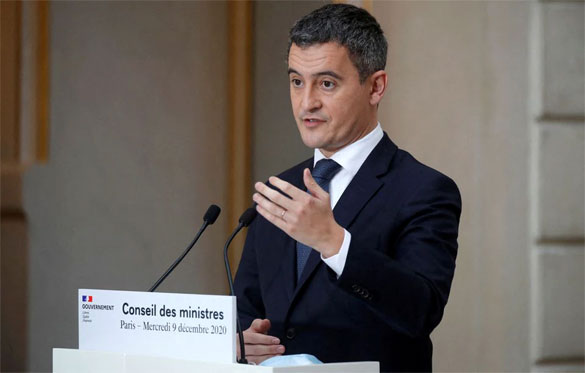 French Interior Minister Gerald Darmanin/ REUTERS/Charles Platiau/Pool/File Photo
-----
27 January 2022
French officials have announced that they will shut down an activist-run media outlet and a Muslim website that contradicted "nationwide values," the latest in a series of actions violating democratic freedoms.
French Interior Minister Gerald Darmanin said "Nantes Révoltée," a local media platform, would be shut down. The platform had published details of a protest in Nantes last weekend in which three people were arrested.
Announcing the plan to shut down Nantes Révoltée to members of French parliament on Tuesday, Darmanin described it as an "extreme left group" that has repeatedly referred to violence against the government and police.
According to French law, prior to the dissolution of an affiliation, the Ministry of the Interior has to inform the organization, which then has 15 days to respond to arguments. To date, Nante Révoltée says it has not received any notice from the Interior Ministry regarding its closure.
Raphael Kempf, a lawyer for Nantes Révoltée, said a website sharing information on an event couldn't be held accountable for what occurs and authorities are misusing their power to assault voices that criticize them.
In the last two years, there have been 12 such closures, which have increased from seven between 2016 and 2019. Among these 12, seven were Muslim-related associations, one a humanitarian organization, one an anti-Islamophobia team, and three far-right teams.
Earlier this week, Darmanin announced in a televised interview that the Islamic website "La Voie Droite" could be shut down using 2021 laws related to "content material inciting for hatred."
La Voie Droite denied the allegations in a statement, stating "once we encourage Muslims to respect the texts, it's against any kind of menace or legitimating of violence."
On July 2021, the lower house of the French parliament approved a controversial bill targeting religious freedom and stigmatizing Muslims, while tightening rules on the funding of mosques, associations, and non-governmental organizations belonging to Muslims.
The main association in defense of Muslims, the CCIF, was also dissolved.
The bill also targeted Muslim girls under the age of 18 by banning the wearing of hijab in public places.
Source: Press TV
Please click the following URL to read the text of the original story:
https://www.presstv.ir/Detail/2022/01/27/675611/French-officials-take-new-Islamophobic-actions
--------
Pakistani Netizens Divided Over Blasphemy Death Sentence Imposed On A 26-Year-Old Muslim Woman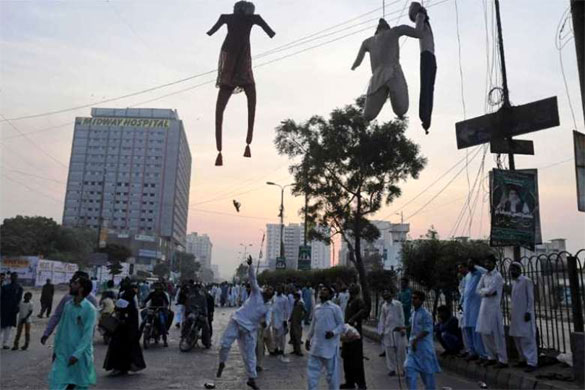 Islamist students throw footwear toward effigies representing Asia Bibi, a Pakistani Christian woman who was released after spending eight years on death row for blasphemy, in Karachi on Nov. 21, 2018. (Photo: AFP)
-----
Kamran Chaudhry
January 27, 2022
A death sentence imposed on a 26-year-old Muslim woman for sharing blasphemous messages over WhatsApp and Facebook has divided social media in Pakistan.
The hashtags #SaveAneeqa and #HangAneeqa started trending on Twitter in the wake of the Jan. 19 verdict by a sessions court in Rawalpindi convicting Aneeqa Ateeq under Section 295-C (blasphemy) for sharing images deemed to be insulting to Prophet Muhammad and one of his wives.
In her plea to the court, Aneeqa said she was deliberately pulled into a religious controversy by a male friend and the complainant in the case after she refused his overtures. The two had reportedly met online and connected on WhatsApp.
Besides being sentenced to death along with a fine of 50,000 rupees (US$283), she was also given a 20-year jail sentence under various sections of the Pakistani Penal Code including 298-A, pertaining to derogatory remarks against holy personages.
"295 C Red Zone of Muslim. Hang all Blasphemers! #HangAneeqa," stated Nasir Mahmood, an activist of Radical Islamist party Tehreek-e-Labbaik Pakistan, in his Jan. 24 tweet.
However, academics like Ammar Ali Jan, a member of the Haqooq-e-Khalq Movement, a democratic pressure group, cited the plight of several blasphemy victims in his tweet.
"Aneeqa Ateeq accused of blasphemy after refusing a man's advances and sentenced to death. Junaid Hafeez implicated by jealous colleagues and jailed. Mashal Khan lynched at behest of corrupt university admin. Blasphemy charges wreck lives and are a disservice to Islam and Pakistan," he said.
Hafeez, a university professor, was sentenced to death in 2019 after being in solitary confinement for more than six years under blasphemy charges for insulting Prophet Muhammad on Facebook.
Khan, a journalism student, was lynched by a mob at a university in Khyber Pakhtunkhwa province in 2017.
Blasphemy has been a sensitive issue in Pakistan. Church leaders and human rights groups say blasphemy allegations have often been used to intimidate religious minorities and settle personal scores.
According to the Centre for Research and Security Studies (CRSS), 89 people, including 18 women, have been killed in accusations and cases of blasphemy in the country since modern Pakistan was formed in 1947.
Allegations of blasphemy were made against 107 women and 1,308 men up to 2021, claims the think-tank. "The actual number is believed to be higher because not all blasphemy cases get reported in the press," states the CRSS report, adding that more than 70 percent of the accused were reported from Punjab province.
Source: UCA News
Please click the following URL to read the text of the original story:
https://www.ucanews.com/news/pakistani-netizens-divided-over-blasphemy-death-sentence/95876
--------
Starvation In Afghanistan, People Sell Children And Body Parts Of Their Bodies: World Food Program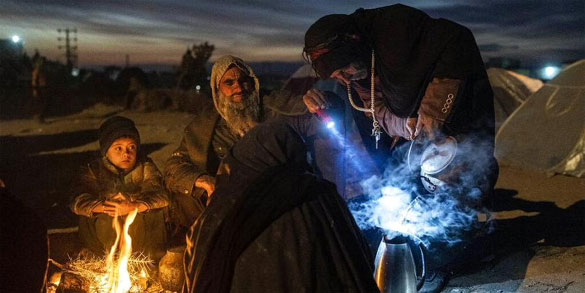 As winter deepens, grim situation in Afghanistan is getting worse. Freezing temperatures compounded with starvation (File photo | AP)
----
29 Jan 2022
World Food Program has again expressed deep concern over the humanitarian crisis in Afghanistan and added that the Afghan people have resorted to selling their children and parts of their bodies to survive.
Speaking in an interview with Deutsche Welle, head of WFP David Basely asked the international community to expedite aid delivery to Afghanistan as over half of the population is starving in the country.
David Basely reiterated that if billionaires of the world allocate the income of their single day to Afghanistan, it will end the humanitarian crisis in Afghanistan.
Basely added that lack of cash is the real challenge in Afghanistan not lack access of people in need to relief assistance.
The WFP has estimated that they will need $2.6 billion to provide foodstuff to people in need in Afghanistan in the current year.
The Afghan people have been going through the worst humanitarian situation in decades after the Taliban takeover on August 15 last year but the IEA has assured of special plans to end poverty in the country.
Source: Khaama Press
Please click the following URL to read the text of the original story:
https://www.khaama.com/starvation-in-afghanistan-people-sell-children-and-body-parts-wfp-76576/
--------
China Agrees To Xinjiang Visit By UN Rights Chief After Olympics: Report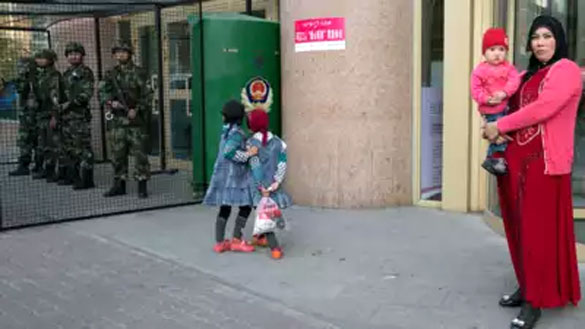 Uighur children play near a cage protecting heavily armed Chinese paramilitary policemen on duty in Urumqi in northwest China's Xinjiang Uyghur Autonomous Region (AP file photo)
-----
Jan 28, 2022
BEIJING: China has agreed that the UN human rights chief can visit Xinjiang after the Beijing Olympics, the South China Morning Post said, citing unidentified sources, but activists and a Western diplomat expressed doubt after years of stalled talks.
Rights groups have accused China of widescale abuses against Uyghurs and other minority groups in its far western region of Xinjiang, including mass detention, torture and forced labour. The United States has accused China of genocide.
Beijing denies all allegations of abuse of Uyghurs and other Turkic Muslims and has described its policies as necessary to combat religious extremism.
The newspaper said approval for the visit by Michelle Bachelet, the UN high commissioner for human rights, after the Games conclude on Feb. 20, was granted on condition that it should be "friendly" and not framed as an investigation.
Beijing had asked Bachelet's office not to publish a report on the situation in Xinjiang, the paper said on Thursday.
The office of Bachelet, who has been pursuing negotiations with China for a visit since September 2018, did not immediately respond to a request for comment.
A Western diplomat cast doubt on the SCMP report, saying China and Bachelet had been discussing a visit for years but had yet to agree the terms of reference, which, on Bachelet's side, include free and unfettered access to people of her choice.
A spokesman of China's foreign ministry, Zhao Lijian, said Bachelet had been invited to visit Xinjiang a long time ago for the purpose of exchange and cooperation, and added that China opposed any "political manipulation" based on the visit.
With the UN Human Rights Council's five-week session set to start on Feb 28, activists and diplomats say the diplomatic window is closing for Bachelet to publish the report, expected to be based on her office's own research and interviews with alleged victims and witnesses in and out of Xinjiang and China.
US lawmakers had urged the UN human rights office to release its assessment before the Olympics.
Activists have voiced frustration for months about the delay in publishing the report. In December, Bachelet's spokesperson told a UN briefing in Geneva that her office was finalising its assessment of the situation.
As in 2008, the Olympics have again cast a spotlight on China's human rights record, which critics say has worsened since, leading Washington to call Beijing's treatment of Uyghur Muslims genocide and prompting a diplomatic boycott by the United States and other countries.
"No one, especially the world's leading human rights diplomat, should be fooled by the Chinese government's efforts to distract attention away from its crimes against humanity targeting Uyghurs and other Turkic communities," Sophie Richardson, the China director of New York-based Human Rights Watch, told Reuters in an email on Friday.
Source: Times Of India
Please click the following URL to read the text of the original story:
https://timesofindia.indiatimes.com/world/china/china-agrees-to-xinjiang-visit-by-un-rights-chief-after-olympics-report/articleshow/89177998.cms
--------
India
Kerala: Catholic priest booked for offensive remarks against Muslims
28th January 2022
Kannur police have lodged a complaint against a Catholic priest in Manikkadavu, near Iritty, for allegedly making offensive remarks against Muslims.
According to the Ulikkal police, the accused made insulting statements against halal cuisine and Prophet Mohammed during a speech at Manikkadavu St Thomas Church. As per a Times of India report, a complaint has been filed against Father Antony Tharakkadavil of the Kunnoth Seminary under Section 153 of the IPC.
The priest allegedly said that attempts were being made to convert Christian girls after attracting them through a network of juice shops. The Sunni Yuvajana Sangam (SYS) said that such remarks were inappropriate for a priest and a disgrace for the state where many religious groups live in harmony.
Chancellor of Thalassery Archdiocese, Father Thomas Thenguballil commented on the issue saying, "The remarks against Muslim beliefs in a speech made during the Manikkadavu church festival do not reflect the stand of the Catholic Church or the Thalassery Archdiocese. We do not support ideas which are against communal harmony."
Source: Siasat Daily
Please click the following URL to read the full text of the original story:
https://www.siasat.com/kerala-catholic-priest-booked-for-offensive-remarks-against-muslims-2265783/
--------
Karnataka: Ex-Congress MLA's Kin Among 8 Chargesheeted by NIA in Islamic State Conspiracy Case
JANUARY 29, 2022
Afamily member of former Karnataka Congress MLA, late B M Idinabba, has been chargesheeted by the National Investigation Agency over alleged conspiracy to recruit people for Islamic State (IS) from India.
According to a report in Indian Express, the chargesheet was filed against eight accused, including Deepthi Marla and Ammar Abdul Rahiman. Marla's husband Anas Abdul Rahiman is son of B M Basha, whose father Idinabba was a former Congress MLA. Idinabba died in 2009. Ammar Rahiman is Anas's brother. Marlah had been arrested earlier this month.
"Investigation has revealed that all eight accused chargesheeted today are affiliated with…ISIS and were involved in radicalising, recruiting, organising terror funds and grooming like-minded gullible Muslim youth through different secured social media platforms to perform Hijrat to ISIS-controlled territory for joining ISIS," the agency was quoted. NIA had registered a case in the matter in March last year.
"During investigation, it has been revealed that after the decline of ISIS Caliphate in Syria/Iraq, Deepthi Marla and Mohd. Ameen had visited Kashmir in January and March 2020 for Hijrah (religious migration) and for engaging in terrorist acts and supporting the activities of ISIS," the NIA stated.
Source: News18
Please click the following URL to read the full text of the original story:
https://www.news18.com/news/india/karnataka-ex-congress-mlas-kin-among-8-chargesheeted-by-nia-in-islamic-state-conspiracy-case-4710527.html
--------
Gujarat: Three held for killing man over Facebook post in Ahmedabad
Jan 28, 2022
AHMEDABAD: Three persons, including a Muslim cleric, have been arrested in connection with the killing of 27-year-old man over a Facebook post in Dhandhuka town of Gujarat's Ahmedabad district, a senior police official said on Friday. Kishan Boliya was shot dead by two motorcycle-borne assailants in Modhwada area of Dhandhuka on January 25, when he was riding pillion on his brother's two-wheeler.
The police have arrested Shabbir Chopda (25), Imtiyaz Pathan (27), both residents of Dhandhuka, and maulvi Mohhamad Ayyub Javrawala (51), who is from Jamalpur area of Ahmedabad city, an official said.
Preliminary investigations have revealed that Shabbir, who was riding pillion on Pathan's motorcycle, had opened fire on Boliya, killing him on the spot, Ahmedabad superintendent of police Virendrasingh Yadav said.
"We zeroed in on Shabbir and Pathan after scanning the footage of CCTVs installed on the route, which showed the duo following Boliya on their motorcycle. Shabbir is quite radicalised and was in touch with a Mumbai-based maulvi, who asked him to be in touch with Javrawala," Yadav said.
During a religious gathering in Ahmedabad a few months ago, which Shabbir had attended, Javrawala had allegedly said that Muslims should not spare people who insult Islam, the official said.
On January 6, Boliya had shared a Facebook post, which Muslims found offensive and approached the police to take action, claiming it had hurt their religious sentiments. Based on a complaint, the Dhandhuka police had lodged an FIR against Boliya on January 9 and took necessary legal action, he said.
"However, Shabbir was not happy with the FIR and police action. So, he consulted the cleric and told him that he needed a weapon to teach Boliya a lesson for sharing that post. Javrawala then gave him a pistol and some cartridges. With the help of his friend Pathan, Shabbir shot Boliya dead on January 25," Yadav said.
Before killing him, Shabbir kept a secret watch on Boliya's daily routine and movements for four to five days, Yadav said, adding that the weapon used in the crime is yet to be recovered.
Source: Times Of India
Please click the following URL to read the full text of the original story:
https://timesofindia.indiatimes.com/city/ahmedabad/gujarat-three-held-for-killing-man-over-facebook-post-in-ahmedabad/articleshow/89186036.cms
--------
Hijab row: Udupi college asks students to opt for online classes, local leaders cite divide & politics
by Kiran Parashar
January 29, 2022
"IF THE government thinks wearing the hijab is a crime, and does not allow my daughter to attend the final exams, let her stay at home… We want our daughter to study well and excel in life but why are her rights being snatched?"
It's a decision driven by despair. His daughter, a Class 12 student, is among six Muslim girls who have been denied entry into their classrooms at a Government Pre-University College in Karnataka's Udupi since January 1 for wearing the hijab.
"We are being treated like criminals for demanding the fundamental right to practise our religion. My classmates were not allowed to talk to me and if someone was seen talking to us, they were pulled up," said the student.
Ever since these six students were kept out of classrooms, the issue has been gaining steam until the college in communally polarised coastal Karnataka was ordered closed last week by local authorities on account of a Covid outbreak.
The college development committee, which is headed by BJP MLA K Raghupathi Bhat, has now "suggested" that students wearing the hijab to college must opt for online classes until the issue is resolved by the BJP state government.
Speaking to The Indian Express, Karnataka Education Minister B C Nagesh said: "We have ordered for the formation of a committee to look into the uniform matter. We cannot change it for one college. Once the committee submits its report, a call will be taken. We have asked all the schools and colleges across the state to maintain the status quo."
The state's Department of Undergraduate Education does not prescribe uniforms for its colleges, and individual government colleges have come up with their own rules in this regard.
At the Udupi college, the students claim the hijab was allowed in class till a few years ago. "But for the past few years, they (college officials) have been objecting to it and asking us to remove it inside the classroom. We have been wanting to wear the hijab in class but were repeatedly denied permission. We decided to go ahead now," said one of them.
Rudre Gowda, the college principal, says the rule on hijab has been in force since the college got established in 1985. "According to the rule, the students are allowed to wear the hijab till they reach their desks. Once the class starts, they have to remove the hijab. This issue started only at the end of December and we don't know why," he said.
There is no state government directive regarding a ban on the hijab at any of its institutions. Bengaluru-based lawyer Maitreyi Krishnan points to a Kerala High Court ruling in 2016 — on a case over a dress code for the all-India pre-medical entrance test — that banning the hijab would violate article 25(1) of the Constitution on religious freedom. "There are essential rights in each faith and that cannot be denied," Krishnan said.
In Udupi, teachers and local leaders feel the issue has gone beyond their control. They are now concerned that the controversy could spread to other schools and colleges in the district since radical groups have entered the fray "to generate political mileage".
The Campus Front of India (CFI), the student wing of Popular Front of India (PFI), has supported the students' demand. But Hindu Jagarana Vedike (HJV) general secretary Prakash Kukkehalli has warned that Hindu students will attend classes with saffron shawls if the hijab is allowed.
"We do not know how this issue cropped up but if this is not addressed, it is going to spread to other schools and colleges, polluting the environment of educational institutions," said Abdul Rehman Razvi Kalkatta, secretary of the Muslim co-ordination committee for Udupi district.
The college has a strength of about 700 students, including 76 Muslim students. On Wednesday, MLA Bhat held a meeting with Muslim leaders and the principal, and suggested that students unwilling to attend classes without the hijab can take up online classes.
Speaking to The Indian Express, Bhat said: "There are educational institutions with their own sets of rules, and this college has set its own rules. There is nothing on paper but it has been followed for years."
Source: Indian Express
Please click the following URL to read the full text of the original story:
https://indianexpress.com/article/cities/bangalore/hijab-row-udupi-college-asks-students-to-opt-for-online-classes-local-leaders-cite-divide-politics-7746661/
--------
Europe
Britain's Youngest Islamist Terrorist, Aged Just 14, Back Behind Bars For Breaking His Release Conditions
29 January 2022
Britain's youngest Islamist terrorist is back behind bars for breaking his release conditions after being jailed for plotting a beheading and massacre aged just 14.
The man, from Blackburn, Lancashire, identified only by the letters RXG, was described as a "deeply committed extremist" who, aged 14, was days away from helping stage a "massacre" at an Anzac Day parade in Australia in April 2015.
Six months later he was sentenced to life at Manchester Crown Court and told he would only be eligible for parole in October 2020 after serving a minimum of five years in custody after admitting inciting terrorism overseas.
He was arrested last month and, now in his early 20s, is back in custody at a jail in the north of England, security sources told the PA news agency.
RXG was found to be in possession of a smartphone, which broke the terms of his release on licence.
The nature of the material on his phone is not known to PA but sources said the fact that he had the internet-enabled device meant he was held.
RXG had exchanged more than 3,000 encrypted messages from his Samsung phone instructing a jihadist in Australia, Sevdet Besim, to launch "martyrdom" attacks during an Anzac Day remembrance parade in Melbourne.
The teenager was recruited online by Islamic State propagandist Abu Khaled al-Cambodi and took on the role of "organiser and adviser", suggesting to Besim beheading or using a car and machete to murder police officers.
Australian police were alerted to the plot after British officers discovered material on the teenager's phone.
Media are banned from identifying RXG so as not to interfere with his rehabilitation.
There is no suggestion he has committed any further offences.
Sources said RXG had already had one "close shave" on being recalled to prison, after he was located near an airport.
When he was jailed at Manchester Crown Court in October 2015, one expert concluded the defendant posed a high risk of serious harm to the public including forces and emergency service personnel worldwide.
Jailing him, Mr Justice Saunders said the revelation that someone of only 14 was radicalised to the point of wanting to murder was "chilling".
The court heard the defendant felt isolated in terms of his education and home life, and filled the "vacuum" in his life with religious extremism.
He had paid "lip service" to the Government's attempts to deradicalise him through the Channel programme and became "disengaged" with the process.
Police found "disturbing material" on electronic devices seized from his bedroom.
An officer from the hi-tech unit of the North West Counter Terrorism Unit (NWCTU) decoded the encrypted messages exchanged and uncovered the plot.
Anzac Day was the chosen for the attack as it is commemorated each year on April 25, to honour Australians and New Zealanders killed in war.
Besim, at the time 18 and from Melbourne, pleaded guilty to a single terror-related charge and was jailed for 10 years at the Victorian supreme court in 2016.
A ban on identifying RXG because he was aged under 18 applied at the time he was convicted.
Source: Jersey Evening Post
Please click the following URL to read the full text of the original story:
https://jerseyeveningpost.com/morenews/uknews/2022/01/29/britains-youngest-islamist-terrorist-back-behind-bars/
--------
UN Human Rights Office says discussions ongoing for visit to Xinjiang
Peter Kenny
28.01.2022
GENEVA
The United Nations Human Rights Office said Friday that there are ongoing discussions about a possible visit to Xinjiang during the first half of this year by the UN High Commissioner for Human Rights.
UN Rights Office spokesman Rupert Colville was asked to comment at a UN press conference on a report in a Hong Kong newspaper that such a visit might take place before the Beijing Winter Olympics that start on Feb. 4.
"As we've stated many times, from our side, it's important that such a visit be meaningful, with unsupervised access to a wide range of civil society actors and locations, as well as high-level arrangement with government officials," said Colville.
"But clearly, it's not going to take place before the start of the Olympics. The parameters of that visit are still very much under discussion. There's no final decision or agreement."
Colville was also asked about a pending report from Bachelet's office regarding the Xinjiang region where the minority Uyghurs live.
"When we produce these reports, we're often making very serious allegations, which are tied to very serious elements of law, international law, humanitarian law, human rights, law, whatever," said the UN rights office official.
"So, I don't exactly know where we are in that. But I know we're in the final stages.
Since she assumed office in 2018, UN Human Rights Office chief Michelle Bachelet has been calling on China to allow her office access to the Xinjiang Uyghur Autonomous Region.
No progress
At the Human Rights Council on Sept. 13, she said she was sorry that there was no progress on the issue.
According to the UN data, at least 1 million Uyghurs are kept against their will in places Beijing calls "vocational training centers" and the international community defines as "re-education camps".
Source: Anadolu Agency
Please click the following URL to read the full text of the original story:
https://www.aa.com.tr/en/europe/un-human-rights-office-says-discussions-ongoing-for-visit-to-xinjiang/2488403
--------
One of three suspects accused of murdering British imam pleads not guilty
January 29, 2022
LONDON: A 22-year-old man accused of killing a British-Bangladeshi imam in East London has pleaded not guilty. Muzahid Ali, one of three men charged with murdering Mohammed Aqil Mahdi, appeared at Southwark Crown Court on Friday and was remanded in custody.
The other defendants, Majid Ahmed, 18, and Abul Kashem, 28, did not appear for their plea hearings. Ahmed had been transferred to the Category-A Belmarsh prison and his "papers had been lost in transition," said Judge Deborah Taylor.
Prosecutor Gareth Patterson QC said Kashem was listed as "not attending." His attorney, Benjamin Gordon, said his client was "unwell and complaining of stomach pains." Judge Taylor said Kashem was "fit to attend court" and there was "no justification" for not doing so.
Ahmed and Kashem were ordered to attend their arraignment, which was set for May 6, days before the time limit on their custody is due to expire. All three of the accused were previously refused bail and have been in custody since they were charged on Nov. 10.
Ali spoke only twice during his court appearance on Friday, once to answer "yes" when asked by the judge whether he had spoken to counsel, and then to plead "not guilty."
Paramedics found Mahdi, 22, who lived in north London, with stab wounds on Nov. 6, police said. He was unresponsive and pronounced dead at the scene.
Mahdi was in his second year at Greenwich University, where he was studying accounting and finance. He also taught the Qur'an in his spare time and had led Taraweeh prayers during Ramadan at various mosques around London for the past nine years.
"He wanted to dedicate his time by making a difference and impacting young children and teenagers' lives by teaching the Qur'an alongside his studies," his mother, Shamam Chowdhury, told Arab News.
An online fund has been set up in Mahdi's memory to raise money for a mosque in Egypt where he studied in 2019 to receive his ijazah, a license for those who want to teach Islam's holy book.
Source: Arab News
Please click the following URL to read the full text of the original story:
https://www.arabnews.com/node/2014216/world
--------
Europeans set two-week deadline to review untenable situation in Mali
January 29, 2022
PARIS: European allies have agreed to draw up plans within two weeks for how to continue their fight against militants in Mali, Denmark's defense minister said, after France said the situation with the Malian junta had become untenable.
Tensions have escalated between Mali and its international partners after the junta failed to organize an election following two military coups.
It has also deployed Russian private military contractors, which some European countries have said is incompatible with their mission.
"There was a clear perception, that this is not about Denmark, it's about a Malian military junta, which wants to stay in power. They have no interest in a democratic election, which is what we have demanded," Defense Minister Trine Bramse said after a virtual meeting between the 15 countries involved in the European special forces Takuba task mission.
She said the parties had agreed to come up with a plan within 14 days to decide on what the "future counterterrorism mission should look like in the Sahel region."
The ministers held crisis talks after the junta insisted on an immediate withdrawal of Danish forces despite the 15 nations rejecting its claims that Copenhagen's presence was illegal.
"European, French and international forces are seeing measures that are restricting them. Given the situation, given the rupture in the political and military frameworks we cannot continue like this," France's Foreign Minister Jean-Yves Le Drian told RTL radio earlier in the day.
The junta's handling of Denmark is likely to impact future deployments, with Norway, Hungary, Portugal, Romania and Lithuania due to send troops this year.
It raises questions about the broader future of French operations in Mali, where there are some 4,000 troops. Paris had staked a great deal on bringing European states to the region.
Col. Arnaud Mettey, commander of France's forces in Ivory Coast, which backs up Sahel operations, said that the junta had no right to refuse Denmark's presence given agreed treaties.
"Either they are rejecting this treaty and so put into question our presence or they apply it," he said.
Source: Arab News
Please click the following URL to read the full text of the original story:
https://www.arabnews.com/node/2014136/world
--------
UK minister: Pro-Palestinian 'from the river to the sea' chanters could face prosecution
28 January 2022
A British minister has threatened pro-Palestinian protesters and activists with prosecution and warned that those chanting slogans in support of Gaza-based resistance groups could face legal action.
In yet another anti-Palestine move by the West, UK Education Secretary Nadhim Zahawi said protesters chanting the pro-Palestinian slogan "From the river to sea, Palestine will be free" should be referred to the police.
Zahawi claimed that the slogan, the wording of which refers to the River Jordan and the Mediterranean Sea, was an indication of "anti-Semitism".
He said it was essential for university campuses to crack down on pro-Palestinian activists as those using the chant were implicitly supporting Palestinian resistance groups, particularly Hamas.
"Any form of anti-Semitism or prejudice promoting the murder of Jewish people is in my book anti-Semitic and therefore you should act on that," he said. "This is a proscribed organization and they should be reported to the police."
Palestinians have invariably acknowledged that the slogan shows their desire for the establishment of a democratic state in historic Palestine, the liberation of al-Quds and the return of all Palestinians to their homeland.
In November last year, the British government blacklisted the political wing of Hamas, joining the United States, Canada and the European Union in fully banning the Gaza-based Palestinian resistance group, which provides a tremendous amount of defense for the Palestinian rights against frequent Israeli acts of aggression.
London had already banned the group's military wing, known as the Izz ad-Din al-Qassam Brigades, across the UK. The move to proscribe Hamas means its members or those who invite support for the resistance group could be jailed for up to 14 years.
Source: Press TV
Please click the following URL to read the full text of the original story:
https://www.presstv.ir/Detail/2022/01/28/675692/UK-Nadhim-Zahawi-Palestinian-activists-resistance-groups-Hamas
--------
Pakistan
Pakistan-Afghanistan Border Have Brought To Light The Unresolved Issue Of The Durand Line, Says Think Tank
Jan 29, 2022
ISLAMABAD: The recent incidents at the Pakistan-Afghanistan border have brought to light the unresolved issue of the Durand Line, which has the potential to exacerbate tensions between the two sides.
Following the Taliban's takeover of Kabul in August, Pakistan had hoped to put the issue of Durand Line to rest. Pakistani leadership backed the Afghan Taliban despite warnings from the international community about a terrorist blowback.
Within months of the Taliban takeover of Kabul, Pakistan is now facing the consequences, said an editorial piece by virtual think-tank Global Strat View (GSV).
As the Taliban try to establish themselves politically in Afghanistan, the simmering issue of Durand Line has resurfaced after the Taliban damaged parts of the border fence erected by the Pakistan army.
Experts have anticipated the likelihood that the current border clashes on the border can potentially lead to a rupture in the ties between Kabul and Islamabad.
Recently, Pakistan's National Security Adviser (NSA) Moeed Yusuf had to cancel his visit to Afghanistan in view of a planned anti-Pakistan protest in Kabul.
Yusuf was scheduled to lead an inter-ministerial Pakistani delegation to discuss the issue of border fencing along the Durand Line.
NSA Yusuf had to cancel his two-day visit as an anti-Pakistan protest was planned at the Hamid Karzai International Airport in Kabul.
Contrary to media reports, Pakistan NSA earlier said the Taliban authorities in Afghanistan was maintaining cordial ties with Pakistan despite border fencing troubles.
Answering questions on multiple border incidents with the Taliban, Yusuf said those incidents were "local level issues" that were addressed locally and had nothing to do with the policy of the Taliban government.
Source: Times Of India
Please click the following URL to read the full text of the original story:
https://timesofindia.indiatimes.com/world/pakistan/taliban-does-not-feel-beholden-to-isi-for-kabul-takeover-says-think-tank/articleshow/89195447.cms
--------
JI ends sit-in after successful talks with Sindh govt on LG law
January 28, 2022
The Jamaat-e-Islami (JI) on Friday announced to end its 29-day-long sit-in outside the Sindh Assembly after the Sindh government agreed to amend the local government act.
The announcement to end the sit-in was made by JI leader Hafiz Naeemur Rehman after successful talks with a delegation of the Sindh government. The delegation of Pakistan People's Party (PPP) was led by Sindh Minister for Local Government Nasir Hussain Shah.
The two sides also reached an agreement, according to which, the Karachi mayor will be chairperson of the water and sewerage board while all departments of the education and health sectors, including hospitals and dispensaries, will be handed back to the Karachi Municipal Corporation (KMC).
The government also agreed to form the Provincial Finance Commission (PFC) board within 30 days after the LG elections. The elections will be held within 90 days after the local bodies end their current tenure.
The committee formed to review the local government act will meet regularly to iron out differences on clauses on which both parties could not agree as of now, the agreement said, adding that the Sindh government will take measures to restore student unions in Sindh's educational institutions.
Speaking to media, Nasir said that PPP and JI have agreed to empower the mayor of Karachi.
Source: Pakistan Today
Please click the following URL to read the full text of the original story:
https://www.pakistantoday.com.pk/2022/01/28/ji-ends-sit-in-after-successful-talks-with-sindh-govt-on-lg-law/
--------
Not completely optimistic of Taliban govt, says Pak NSA
Jan 28, 2022
Pakistan's frustration with the Afghan Taliban became evident on Thursday when its top security official said Islamabad was "not completely optimistic" of the Taliban government in Kabul as organised terrorist networks are still operating in the war-torn nation and the Afghan soil was still being used against his country.
Briefing the National Assembly Standing Committee for Foreign Affairs, National Security Adviser Moeed Yusuf spoke about the threat posed to Pakistan by the presence of the banned Tehreek-e-Taliban Pakistan in Afghanistan. "Organised terrorist networks are still operating in Afghanistan and the Afghan soil is still being used against Pakistan," he said. "Pakistan is not completely optimistic of the Taliban government and a complete solution to all problems should not be expected with the Taliban coming into powe," he said. — PTI
Can't raise funds for 'jihad': Lahore HC
Source: Tribune India
Please click the following URL to read the full text of the original story:
https://www.tribuneindia.com/news/world/not-completely-optimistic-of-taliban-govt-says-pak-nsa-364923
--------
Ten Pakistani soldiers killed in insurgent attack, army says
Jan 28, 2022
QUETTA: Separatist insurgents have claimed responsibility for an attack on a Pakistani army post near a southwestern port in which China is investing, and the army said 10 soldiers were killed.
The attack, launched late on Tuesday in Kech district, north of Gwadar port, was the heaviest in years in a low-key insurgency that ethnic Baloch insurgents have been waging against the Pakistani government.
"We are resolute in our commitment to rid Pakistan of all forms of terrorism," Prime Minister Imran Khan said in a statement on Friday in which he paid tribute to the 10 "martyred" soldiers.
The army said it killed one of the attackers and arrested three in a clearance operation that was still going on.
The Baloch Liberation Front (BLF) insurgent group claimed responsibility for the attack, saying in a statement sent to a Reuters reporter that 17 soldiers and one of its members were killed.
Ethnic Baloch guerrillas have been fighting the government for decades for a separate state, saying Pakistan's central government unfairly exploit the rich gas and mineral resources of Balochistan province, which shares borders with Afghanistan and Iran.
China is involved in the development of the Gwadar port on the Arabian Sea and other projects in the province as part of a $60 billion China-Pakistan Economic Corridor, which is itself part of Beijing's Belt and Road initiative.
The insurgents often target gas projects as well as infrastructure and security posts in the province but have begun launching attacks in other parts of Pakistan.
Source: Times Of India
Please click the following URL to read the full text of the original story:
https://timesofindia.indiatimes.com/world/pakistan/ten-pakistani-soldiers-killed-in-insurgent-attack-army-says/articleshow/89185775.cms
--------
Iran embassy in Pakistan condemns terrorist attack on security forces in Balochistan
January 29, 2022
The Embassy of the Islamic Republic of Iran in Pakistan strongly condemned the terrorist attack on Pakistan Army in southwestern Balochistan province.
The Embassy in a tweet on Friday said it strongly condemns the terrorist incident in Kech area of Balochistan, which resulted in the death and wounding of a number of Pakistani security forces.
The Embassy expressed its condolences to the Government and people of Pakistan and families of the victims.
According to a statement issued by Pakistan Army ten soldiers were martyred after terrorists attacked a security forces' checkpost in Balochistan's Kech district.
Source: ABNA24
Please click the following URL to read the full text of the original story:
https://en.abna24.com/news//iran-embassy-in-pakistan-condemns-terrorist-attack-on-security-forces-in-balochistan_1223613.html
--------
'Hitman' in blogger Ahmad Waqass Goraya murder plot found guilty by UK court
Atika Rehman
January 29, 2022
LONDON: Muhammad Gohir Khan, the 31-year-old British Pakistani man at the centre of a trial involving the plot to slay a dissident blogger in the Netherlands, was found guilty on Friday on one count of conspiracy to murder.
The jury gave its verdict to the Kingston-upon-Thames crown court after deliberating for two days.
Justice Hilliard had earlier directed the jury to return when a majority verdict was reached.
Mr Khan is to be sentenced on March 11 at a criminal court.
The trial, which spanned about two weeks, starting on Jan 11, featured chilling accounts from the prosecution of how Mr Khan was approached in early 2021 and paid by a Pakistan-based man identified as Muzamil for a 'job'.
Later, it was communicated that the job was a contract to kill Ahmad Waqass Goraya, a dissident blogger who left Pakistan to live in exile in Rotterdam. The court heard how Mr Khan was paid £5,000 as advance via hundi, with the primary payment made into a Pakistani bank account by Muzamil. The agreement was that Mr Khan would be paid the remainder, £80,000, when the job was done.
Whatsapp and Signal message exchanges submitted as evidence during the trial revealed how the two men spoke of the hit in code words, using fishing metaphors and describing the blogger as 'tuna not shark' who would 'not require fishing tools'.
Upon receiving the advance payment, Mr Khan flew to Amsterdam with a bogus letter of reference only to be denied entry due to stringent pandemic rules. Mr Khan then made a second attempt and was successful in travelling to Rotterdam via Paris after taking the Eurostar. There, Mr Khan stayed at a hotel, rented a car and made reconnaissance trips to the address of the target as provided by Muzamil. He also purchased a knife, which the prosecution said was the intended murder weapon.
Mr Khan was arrested upon his return to London at the St Pancras station, and in subsequent interviews with the police gave up his devices and shared details of the plot.
Mr Khan accepted during the cross-examination that the communications with Muzamil and the plot to murder the blogger were legitimate, but denied ever intending to murder Mr Goraya. He maintained he wanted to get money out of Muzamil, to settle an old loss incurred when Muzamil worked for the defendant's cargo company.
During the trial, voice messages exchanged between Mr Khan and Muzamil showed that the middleman had referred to future jobs and contracts if the Goraya hit was successful. He bragged that Mr Khan could earn £20,000 - £30,000 'per job'.
Talking to Dawn, Mr Goraya said he was "a bit relieved" that the hitman sent to target him had been arrested and would be punished.
"But those who ordered, financed and organised the hit are still at large."
Mr Goraya has not returned to Pakistan since 2017, the year he was abducted in the capital. That year, he and his family went into self-imposed exile in the Netherlands, citing security fears and threats.
He said that on Feb 12, 2021, the Dutch police informed him that he should move from his home as they believed his life was in danger.
Source: Dawn
Please click the following URL to read the full text of the original story:
https://www.dawn.com/news/1672027/hitman-in-blogger-ahmad-waqass-goraya-murder-plot-found-guilty-by-uk-court
--------
South Asia

Defining inclusive government is not Intl-Community's task, Afghans should do it: EU
28 Jan 2022
European Union has reacted to Amir Khan Motaqi's-acting Foreign Minister of Afghanistan- remarks accusing the international community of having been failed in defining an inclusive government in Afghanistan.
Special Representative of European Union for Afghanistan Tomas Niklasson said that defining inclusive government in Afghanistan is not the task of the International Community and that the Afghan men and women must do it.
"It is for all adult Afghan men and women to do so through transparent processes on which they have also had a say and respecting their rights." Reads the Twitter post of Niklasson.
Earlier, Amir Motaqi said that the IEA government is fully inclusive and that the International community is making a "political excuse" by accusing the IEA's interim government of not being inclusive.
Source: Khaama Press
Please click the following URL to read the full text of the original story:
https://www.khaama.com/defining-inclusive-government-is-not-intl-communitys-task-afghans-should-do-it-eu-768765/
--------
Protest over water, Iranian protestors attack Afghan vehicles
29 Jan 2022
People in the bordering Sistan-Balochistan province of Iran took to the streets on Friday, January 28, 2022, and demanded their rights to water that flows from Afghanistan, Iranian State media Irna reported.
Security forces in the port interfered after the protestors started attacking trucks that belonged to the Afghan people.
Eyewitnesses say that Iranian protestors broke the windows of trucks and inflicted financial loss to the drivers.
Meanwhile, another group of Iranian protestors rallied at the Afghan consulate in Zahedan city and demanded the flow of Helmand water to the country.
After the demonstration of Iranian nationals, the Afghan drivers rallied on Afghanistan soil and asked for their losses to be refunded.
The demonstration comes a year after former Afghan president Ashraf Ghani inaugurated hydroelectric dam-Kamal Khan Dam- on Helmand River and said that they will no longer give water to Iran for free but in exchange for oil.
Source: Khaama Press
Please click the following URL to read the full text of the original story:
https://www.khaama.com/protest-over-water-iranian-protestors-attack-afghan-vehicles-87768767/
--------
IEA working on comprehensive economic, educational plans: Mujahid
28 Jan 2022
Acting Minister of Information and Culture and Spokesperson of the Islamic Emirate of Afghanistan Zabiullah Mujahid said that Afghanistan's future is bright as they have comprehensive economic and educational plans.
Speaking in a video clip on Friday, January 28, 2022, Zabiullah Mujahid said that different government administrations are busy working for the country's economic and educational sectors.
The spokesperson added that Afghanistan will have great opportunities for the development of the economy of the country and drafting comprehensive plans for strengthening the economy is going on.
"We will have great economic opportunities in coming months along with investment, large economic projects will get started, mines will be excavated, and the Islamic Emirate of Afghanistan will have plans for the country's economy." Said Mujahid.
About education in Afghanistan, Zabiullah Mujahid said that the IEA would like to provide a proper environment for girls and that works have been expedited in this regard.
"Based on the plans of the IEA, Afghanistan will own proper educational places and universities both for boys and girls. Our universities will be providing modern studies based on Sharia law for male and female."
Zabiullah Mujahid further added that the development of Afghanistan is fully dependent on education and for this cause, there is a dire need for the young people in Afghanistan to get educated.
Source: Khaama Press
Please click the following URL to read the full text of the original story:
https://www.khaama.com/iea-working-on-comprehensive-economic-educational-plans-mujahid-876856/
--------
Russian ready to mediate talks between Taliban and other Afghan fractions
29 Jan 2022
A week after reports in regards to the visit of top officials of the Islamic Emirate of Afghanistan and members of the so-called National Resistance Forces (NRF) to Russia denied by both parties, Russia's Foreign Ministry has said that they are ready to host talks between the Taliban and their dissidents.
Press and information in charge of the Foreign Ministry of Russia Alexy Ziatsf in a weekly press conference said that they are ready to host negotiations between the Taliban and other factions in Afghanistan.
Earlier, there were rumors that the IEA's Deputy Prime Minister Mullah Abdul Ghani Baradar and acting Defense Minister Mullah Muhammad Yaqoob Mujahid will meet with the head of the NRF Ahmad Masoud and leader of the Jamiat-e-Islami party Salahudin Rabbani in Russia.
The rumors were denied by both parties later on.
After the Taliban takeover on August 15 last year, the parties have met only once in the Iranian capital Tehran.
Source: Khaama Press
Please click the following URL to read the full text of the original story:
https://www.khaama.com/russian-ready-to-mediate-talks-between-taliban-and-other-afghan-fractions-8756576/
--------
Pregnant New Zealand reporter 'forced' to ask Taliban for refuge, slams MIQ system
Jan 29, 2022
A pregnant New Zealand reporter has said that she was forced to ask for refuge in Afghanistan after being denied an MIQ (Managed Isolation and Quarantine) spot. The MIQ is an important step implemented by the New Zealand government to stop the spread of the coronavirus disease (Covid-19).
It is meant for people who are coming back to New Zealand from abroad, to prevent the spread of Covid-19 in the country.
The journalist Charlotte Bellis was reporting on Afghanistan for Al Jazeera. Bellis wrote an open letter in New Zealand Herald in which the reporter said that she discovered she was pregnant in September while in Qatar, where Al Jazeera's headquarters are. She quit her job in November seeking to return to her home country to give birth to her child. But that's where the problems began, the former reporter said.
Bellis said that she had to go to her partner's country Belgium as it is illegal to be unmarried and pregnant in Qatar. She said she kept trying to get to New Zealand but couldn't succeed in getting an MIQ spot through New Zealand's lottery system.
Bellis said she could not overstay in Belgium since she was not a resident and had nowhere else to go but Afghanistan. So, she organised a meeting with senior Taliban contacts and told them about her situation. The Taliban told her she and her partner will be safe in Afghanistan.
"No we're happy for you, you can come and you won't have a problem. Just tell people you're married and if it escalates, call us. Don't worry. Everything will be fine," the Taliban told her through a translator, Bellis said in her article.
She had gained fame after asking the Taliban, when they seized power in Afghanistan in August last year, what they will do to protect women's rights.
The journalist said despite her numerous attempts, and the doctors telling her that it is unsafe to give birth in Afghanistan, her application for an MIQ sport was rejected on January 24. Among the reasons given were that the couple's travel dates were more than 14 days away and she did not provide evidence she had scheduled medical treatment in New Zealand.
"I thought about sending them a story I did in October at a maternity hospital in Kabul where they had no power so were delivering by cell phones at night. They couldn't do caesarean deliveries and the only medicine they had were tabs of paracetamol wrapped in crinkled newspaper," Bellis said in her open letter, describing her ordeal and the situation in Afghanistan.
She further said that New Zealand's Covid-19 minister Chris Hipkins got involved, after which her application's status in MIQ website changed to "under review" from "rejected".
Bellis then questioned the entire process and claimed they were getting a preferential treatment "because of who we are and the resources we have".
"The decision of who should get an emergency MIQ spot is not made on a level playing field, lacks ethical reasoning and pits our most vulnerable against each other," she said in the article.
Source: Hindustan Times
Please click the following URL to read the full text of the original story:
https://www.hindustantimes.com/world-news/pregnant-kiwi-reporter-forced-to-ask-taliban-for-refuge-slams-miq-system-101643436504172.html
--------
Southeast Asia
Three NGOs To Challenge Decision On The Validity Of Vernacular Schools After The Case Was Dismissed By The High Court
January 27, 2022
PETALING JAYA: Three NGOs that filed suits on the validity of vernacular schools filed their appeals this week after the case was dismissed by the High Court.
The Federation of Peninsular Malay Students (GPMS), the Islamic Education Development Council (Mappim) and the Confederation of Malaysian Writers Association (Gapena) said they had instructed their lawyers to file the appeal before the Court of Appeal.
"We hope this appeal can clarify the constitutional position (of vernacular schools) and that our case would not be used as a racial issue by irresponsible parties," they said.
Last month, High Court judge Mohd Nazlan Mohd Ghazali ruled that the use of Tamil and Mandarin in vernacular schools was constitutional.
"These schools are not public entities as defined in the Federal Constitution to use Malay as the medium of instruction," he said in dismissing the suit against the existence of vernacular schools.
Nazlan added that one must also look at pre- and post-Merdeka laws and the Constitution, which provide safeguards for the use of these languages and for the schools to exist.
In the lawsuit, GPMS, Mappim and Gapena sought a declaration that Sections 2, 17 and 28 of the Education Act 1996, and the extent to which they provided for the establishment of vernacular schools using Tamil and Mandarin as the main languages, were inconsistent with Article 152(1) of the Constitution and are considered null and void.
Nazlan added that there was no basis to contend that vernacular schools infringed Articles 5, 8, 10, 11 and 12 of the Constitution. He said the use of these languages as mediums of instruction was constitutional and protected under exceptions in Articles 152 (1) (a) and (b) of the Constitution.
"Enrolment in a vernacular school is, after all, a matter of choice. It is difficult to see in what fashion the establishment and existence of these schools would infringe the rights of any person under the Constitution," he said.
The government was named as a defendant in the suit. However, the court later allowed political parties and other groups to be included as co-defendants.
Source: Free Malaysia Today
Please click the following URL to read the full text of the original story:
https://www.freemalaysiatoday.com/category/nation/2022/01/27/3-ngos-to-challenge-decision-on-vernacular-schools/?__cf_chl_jschl_tk__=n2o_NgCTdh75P1mFPAtirnFdojni.UkYXIJR8U81l4g-1643441843-0-gaNycGzND70
--------
Japan's Hayashi strongly condemns Houthis, pledges cooperation with UAE
January 28, 2022
TOKYO: Japan's foreign minister Hayashi Yoshimasa, in a telephone talk on Friday Jan. 28 with Sheikh Abdullah bin Zayed Al Nahyan, minister of foreign affairs and international cooperation of the United Arab Emirates (UAE), strongly condemned the series of recent attacks against Abu Dhabi which were claimed by the Houthis.
With regards to the Houthis' attacks on January 17 which resulted in casualties, minister Hayashi expressed his condolences to those who lost their lives and their bereaved families, and prayed for the swift recovery of those who were injured in the incident, the foreign ministry in Tokyo said on Friday evening.
During the talks, minister Hayashi expressed Japan's commitment to continue to actively contribute to the stability of the Middle East region in coordination with the UAE and other countries concerned.
Source: Arab News
Please click the following URL to read the full text of the original story:
https://www.arabnews.com/node/2013986/world
--------
Groups voice concerns over Kafa Ihsan plan
29 Jan 2022
PETALING JAYA: The intention to introduce Fardu Ain Basic Class (Kafa) Ihsan module to all secondary school students has drawn concerns from civil society leaders and educational groups.
Member of the G25 group of eminent Malays Datuk Noor Farida Ariffin said national schools should instead focus on science, technology, engineering and mathematics subjects.
"I believe national schools should have fewer religious classes and more time devoted to English, mathematics and science subjects.
"We should not try to turn our students into ustaz and ustazah as there are already many of them.
"Religious classes should instead include ethics as an important component," she said.
On Thursday, Minister in the Prime Minister's Department (Religious Affairs) Senator Idris Ahmad said a Kafa Ihsan module would be introduced to all secondary school students in the near future.
Idris said the module was still in the final evaluation process by the Department of Islamic Development Malaysia (Jakim).
However, he said Kafa Ihsan would be an elective subject and that students were encouraged to take it.
Parent Action Group for Education Malaysia chairman Datin Noor Azimah Abdul Rahim said schools need more well-rounded students in line with the spirit of the national education policy.
"The teaching of Islam is about its delivery, proper practice and the imparting of knowledge," she said.
Noor Azimah said it appeared that the proposed curriculum is linked to Jakim.
"This could breach some laws as Jakim does not have any jurisdiction nor presence in schools.
"The teaching of Islam as we know is state-controlled under the Islamic Religious Council and as such, should not be allowed to encroach into the Education Ministry's timetable," she said.
Noor Azimah also said the announcement was "highly suspect" as it did not come from the ministry.
Melaka Action Group for Parents in Education chairman Mak Chee Kin said he is "lost for words" with the proposal.
"I hope the Education Ministry will reconsider this proposal. There are already many concerns that our schools are too religion-orientated," he said.
A parent, who wanted to be known as Noor, said having the Kafa Ihsan module in schools is fine so long as it remains an elective subject.
Source: The Star
Please click the following URL to read the full text of the original story:
https://www.thestar.com.my/news/nation/2022/01/29/groups-voice-concerns-over-kafa-ihsan-plan
--------
Three Indonesian soldiers die in Papua ambush
Katharina Reny Lestari
January 28, 2022
Three soldiers were killed and another was seriously wounded by an armed separatist group during an attack on a military post in Indonesia's easternmost province of Papua, the army said.
The Jan. 27 attack was carried out by the West Papua National Liberation Army, the military wing of the Free Papua Organization, in Tigilobak of Puncak district.
Indonesian military spokesman Colonel Aqsha Erlangga said the rebels ambushed the soldiers at dawn while the guard was being changed at the military post.
He said the rebels killed one soldier at the scene and mortally wounded another before fleeing into the jungle.
They attacked again while Indonesian soldiers were trying to evacuate the badly wounded soldier, fatally wounding one more trooper and injuring another.
West Papua National Liberation Army spokesman Sebby Sambom later claimed responsibility for the attack.
"[We] will continue to mobilize our fighters in our 34 defense regions throughout the Land of Papua," the Papuan news portal jubi.co.id quoted him as saying.
Father Bernard Baru, chairman of the Justice and Peace Commission of the Augustinian Order in Papua, condemned the attack and called on both sides to seek a peaceful solution to the conflict through dialogue.
"If the central government cares about the common good, it will tell all Papuan people, including separatist rebels, to sit down for talks," he told UCA News.
He said the Catholic Church could play a significant role as a mediator.
The attack was the latest in a decades-long campaign of violence by separatists seeking independence from Indonesia.
Source: UCA News
Please click the following URL to read the full text of the original story:
https://www.ucanews.com/news/three-indonesian-soldiers-die-in-papua-ambush/95904
--------
Let the people decide which party is relevant, Tok Mat tells PAS
January 29, 2022
PETALING JAYA: Barisan Nasional (BN) deputy chief Mohamad Hasan has fired back at PAS, saying the Islamic party is not likely to be part of the government after the next general election (GE15).
Mohamad, who is also Umno deputy president, said BN is also willing to let the people decide which party was "still relevant".
"If PAS feels BN is no longer relevant, then we should seek the people's view on that matter. Let the people also determine whether PAS or Perikatan Nasional (PN) is still relevant," he said in a statement today.
Mohamad, who is also known as Tok Mat, was responding to a scathing attack against Umno by PAS president Abdul Hadi Awang in a video posted on Facebook yesterday.
Hadi had "warned" Umno, saying PAS and Bersatu have their own strengths and will "strike back" should Umno continue triggering state elections like it did in Johor, following the one in Melaka two months ago.
He said Umno was "undignified and acted unfairly" by leaving out PAS at the same time.
"If there are states where Umno is strong, there are also states where we are strong. So is Bersatu in Sabah. The federal government is also dominated by PN," he said.
The Marang MP also claimed that PAS had "saved" Umno-BN after its defeat in the last general election (GE14), adding that the party's effort had now been forgotten.
Meanwhile, DAP leader P Ramasamy said PAS is complaining about Umno's betrayal because it is worried that it might not be in the federal government much longer.
"PAS is realising now that it might have backed the wrong horse, Bersatu, especially with the ascendancy of Umno-BN," the Penang deputy chief minister II said in a statement today.
Source: Free Malaysia Today
Please click the following URL to read the full text of the original story:
https://www.freemalaysiatoday.com/category/nation/2022/01/29/let-the-people-decide-which-party-is-relevant-tok-mat-tells-pas/
--------
Africa
Mali 'ruling nothing out' in relationship with France
28 January ,2022
Malian Foreign Minister Abdoulaye Diop said on Friday that his government was "ruling nothing out" regarding its relations with France, amid fraught tensions between the two countries.
Speaking to French broadcaster RFI, he added that the question of French troops leaving the conflict-torn country "is not on the table for the moment."
France, Mali's former colonial power, has thousands of troops deployed in Mali as part of anti-militant force.
The Sahel state has been struggling to contain an Islamist insurgency that first emerged in 2012, before spreading to neighboring Burkina Faso and Niger.
Diop's intervention came after French Foreign Minister Jean-Yves Le Drian told media earlier on Friday that "things cannot stay the way they are" between the French government and Mali's ruling military junta.
Relations between the two countries have deteriorated sharply since Mali's army staged a coup in August 2020.
Earlier this month, the West Africa bloc ECOWAS imposed a trade embargo and shut borders with Mali, in a decision backed by France, the United States and European Union.
The move followed a proposal by Mali's junta to stay in power for up to five years before staging elections -- despite international demands that it respect a promise to hold the vote in February.
Diop, referring to Le Drian's statements, said that engaging with Mali should not be done via the media.
"Mali is ruling nothing out," Diop told RFI, referring to the country's relationship with France.
Source: Al Arabiya
Please click the following URL to read the full text of the original story:
https://english.alarabiya.net/News/world/2022/01/28/Mali-ruling-nothing-out-in-relationship-with-France
--------
Killings by Islamist Militia in the DRC Rose Almost 50% in 2021, UN Says
January 28, 2022
KINSHASA, DEMOCRATIC REPUBLIC OF THE CONGO —
An Islamist militia in eastern DRC (Democratic Republic of Congo) killed more than 1,200 people in 2021, up almost 50% from the previous year, the United Nations said on Friday, even as the government imposed martial law and conducted joint operations with Uganda to root it out.
The increase in killings occurred as the Allied Democratic Forces, a Ugandan armed group that pledged allegiance to Islamic State in 2019, extended its attacks farther northward into Ituri province, the U.N. Joint Human Rights Office said.
The group often kills civilians as retaliation for military campaigns against it.
IS has claimed responsibility for some of the violence carried out by ADF, including a string of bombings in Uganda in October and November, and an explosion in a restaurant in the Congolese city of Beni on Christmas Day.
However, United Nations researchers say they have found no evidence of IS command and control over ADF operations.
DRC imposed martial law in Ituri and neighboring North Kivu province in May and began joint operations with Uganda's army in November against the ADF.
Violence levels have not come down, but Congolese authorities insist they are making progress.
Authorities on Friday detained a Kenyan ADF fighter, Salim Mohamed Rashid, government spokesman Patrick Muyaya said. He did not provide further details.
Salim appeared in the first video of an ADF beheading last June, according to Laren Poole of the U.S.-based Bridgeway Foundation, which studies the group.
Source: VOA News
Please click the following URL to read the full text of the original story:
https://www.voanews.com/a/killings-by-islamist-militia-in-congo-rose-almost-50-in-2021-un-says/6417221.html?0CE195C8-F4AE-1448-AFD0-61919701413A_kis_cup_C6FA3ED5_6D17_47D1_B6E2_F4B02CC905E0_
--------
Somali military kills 28 al-Shabaab terrorists in 48 hours
Mohammed Dhaysane
28.01.2022
MOGADISHU, Somalia
Somali national army (SNA) on Friday said it had killed 28 al-Qaeda-affiliated al-Shabaab terrorists in a military operation against the terrorist group over the last forty-eight hours.
The operation against the group took place in the villages of Marerey, Mukay-Dhere, Shalow and Yaqle villages, all located on the outskirts of the town of Balad, in the country's Middle Shabelle region, according to a security officer in the region, who spoke to Anadolu Agency over the phone.
He said there was also a fresh firefight on Friday between the Somali military and al-Shabaab after the terrorists attacked the village of Mukay-Dhere that also resulted in the death of several civilians which he described as "tragic".
Balad is a strategic agricultural town located 40 kilometers (24 miles) north of the country's capital, Mogadishu.
The commander of the 27th Division of the Somali National Army, Salah Yaqub also confirmed the operation to local media, saying they carried out the offensive against Al-Shabaab and killed 28 terrorist fighters and destroyed their hideouts.
Source: Anadolu Agency
Please click the following URL to read the full text of the original story:
https://www.aa.com.tr/en/africa/somali-military-kills-28-al-shabaab-terrorists-in-48-hours/2488426
--------
Saif al-Islam Gaddafi suggests new plan for Libyan elections
28 January, 2022
Seif al-Islam Gaddafi - son of former dictator Muammar Gaddafi - has suggested a tentative initiative to jumpstart Libya's stalled election process.
In the statement published on Tuesday, lawyer Khalid al-Zaidi said that Gaddafi proposed a delay of all processes relating to the presidential election, while going ahead with elections for Libya's parliament, the House of Representatives.
In the statement, al- Zaidi said that "by postponing the presidential race without delaying parliamentary elections…. we can avoid further war and division, cutting off all justifications for further delays and transitions."
"In doing so, the newly elected parliament could then take all necessary steps to implement effective presidential elections."
The letter is not signed by Gaddafi himself, and does not feature any words directly from him.
After years out of the spotlight, Seif al-Islam Gaddafi emerged dramatically last November to announce his candidacy for presidential elections originally scheduled for 24 December.
This was despite claims that he was ineligible to stand as he had been sentenced to death in absentia.
Many political analysts believe however that Gaddafi's influence over Libyan politics - and hopes for any future presidential bid - will remain severely limited.
Source: The New Arab
Please click the following URL to read the full text of the original story:
https://english.alaraby.co.uk/news/saif-al-islam-gaddafi-puts-forward-new-libya-election-plan
--------
Islamist insurgency: Mozambique in talks with Tanzania
28-01-2022
The fighting in northern Mozambique has occasionally spilled across the border with Tanzania, which has deployed troops in the country under the umbrella of the Southern African Development Community (SADC).
"Tanzania has always been on our side, has always offered to help Mozambique within the scope of SAMIM," Mozambican President Filipe Nyusi said, referring to the SADC mission.
"In our talks, we looked at how our cooperating is evolving, because we are two countries and we have a common problem," he said in remarks broadcast on national radio.
Nyusi met with Tanzanian President Samia Suluhu Hassan in the northern town of Pemba, the provincial capital of Cabo Delgado, which SADC and Rwandan forces helped Mozambique reclaim from the insurgents in August.
"REAFFIRM COMMITMENT"
Neither leader revealed much of the substance of their talks, but Nyusi signalled that he wanted continued support from the region.
"The terrorists cross the common border between Mozambique and Tanzania," he said.
"We are interested in a more dedicated approach to the problem."
"We have seen that the enemy is improving its techniques. We want to study how our forces can deal with the enemy, with terrorism. We will soon improve our combat forces," he added.
Hassan said that she came "to reaffirm our commitment to Mozambique."
"Tanzania is here to work together with Mozambique in our developmental and our peace and security affairs."
'BRUTAL'
The unrest erupted in 2017, leaving at least 3,500 dead and around 820,000 homeless. The insurgents' brutal tactics – including beheadings, mass abductions, and the torching of homes – rattled the region.
International energy companies stopped their multi-billion-dollar natural gas projects in Cabo Delgado and evacuated their staff.
Cabo Delgado is home to the largest-ever foreign investment in Africa: a $20-billion development by France's Total.
Source: The South African
Please click the following URL to read the full text of the original story:
https://www.thesouthafrican.com/news/africa/tanzania-islamist-insurgency-mozambique/
--------
Tunisia thwarts alleged terrorist attack targeting tourist areas
28 January ,2022
Tunisian police thwarted an attack planned by a woman coming from Syria, where she received training "with terrorist groups," targeting tourist areas in the country, the interior ministry said on Friday.
It added that the woman, who was planning attacks with an explosive belt, was imprisoned.
The ministry said the woman returned to Tunisia from Syria via Turkey on Jan. 10 after spending a year of training in Syria, where she planned the attack.
Tunisian security forces have thwarted most militant plots in recent years and they have become more efficient at responding to those attacks that do occur, Western diplomats say.
In November police shot and wounded an extremist who sought to attack them with a knife and cleaver in the capital.
Source: Al Arabiya
Please click the following URL to read the full text of the original story:
https://english.alarabiya.net/News/north-africa/2022/01/28/Tunisia-thwarts-alleged-terrorist-attack-targeting-tourist-areas
--------
Arab World
Saudi Arabia sentences Shia cleric to eight years in prison, puts another behind bars
27 January 2022
A court in Saudi Arabia has sentenced Shia cleric Sheikh Abdul Latif al-Nasser to eight years in prison, as the Riyadh regime presses ahead with its heavy-handed crackdown on members of the religious community.
The London-based and Arabic-language Nabaa television news network reported that a terrorism court on Wednesday passed the ruling on the clergyman – a resident of Dammam city in the kingdom's oil-rich and Shia-populated Eastern Province.
Sheikh Nasser was arbitrarily arrested on the King Fahd Causeway, which connects Saudi Arabia and Bahrain, in June 2019 as he was traveling with his family.
Moreover, Saudi regime forces arrested Sheikh Kazem al-Omari earlier this week.
Nabaa TV identified him as the son of Shia cleric Sheikh Muhammad al-Omari, who is among distinguished religious figures in the holy city of Medina.
On November 1 last year, Saudi authorities executed a citizen from the Qatif region of Eastern Province over alleged involvement in terrorist activities and weapons possession.
The state-run Saudi Press Agency (SPA), citing the Ministry of Interior, reported at the time that the death sentence was carried out against Makki bin Kazem Al Obaid in the city of Dammam.
The Saudi man who was executed "took part in two shooting operations against security forces with intent to kill" and "in dealing and possessing weapons," the ministry alleged in a statement.
He was "linked to people wanted for terrorism-related activities," the statement further claimed.
Saudi Arabia has stepped up politically-motivated arrests, prosecution and conviction of peaceful dissident writers and human rights campaigners, in particular in Eastern Province.
The province has been the scene of peaceful demonstrations since February 2011. Protesters have been demanding reforms, freedom of expression, the release of political prisoners, and an end to economic and religious discrimination against the region.
The protests have been met with a heavy-handed crackdown, with regime forces increasing security measures across the province.
Ever since Mohammed bin Salman became Saudi Arabia's de facto leader in 2017, the kingdom has ramped up arrests of activists, bloggers, intellectuals, and others perceived as political opponents, showing almost zero tolerance for dissent even in the face of international condemnations of the crackdown.
Source: Press TV
Please click the following URL to read the full text of the original story:
https://www.presstv.ir/Detail/2022/01/27/675643/Saudi-Arabia-sentences-Shia-clergyman-to-eight-years-in-prison,-puts-another-behind-bars
--------
Syrian Military Prosecution investigating US occupation forces' collaboration with Daesh terrorists
28 January 2022
The Syrian Military Prosecution says it has launched an investigation into violations committed by the United States military forces in the conflict-plagued Arab country, particularly the occupation troops' training of the Daesh Takfiri terrorists and collaboration with them to carry out various acts of terror.
"The Military Prosecution has come up with sufficient and incontrovertible evidence that American forces assert fairly direct control over Daesh members as well as their terrorist activities across Syria, using its illegal base in al-Tanf [region in southern Syria]," Ahmad Touzan, a spokesman for the prosecution, said at a press conference in the capital Damascus on Thursday.
He noted, "We have convincing proof that many Daesh terrorists are currently being trained at that base. The armed terrorists visit the base aboard their vehicles without any restraint."
Touzan went on to stress that the Syrian Military Prosecution will explore all available judicial means in order to prosecute American occupation forces for the plunder of natural resources in Syria's oil-rich northeastern province of Hasakah as well as the eastern province of Dayr al-Zawr.
"An in-depth investigation is underway into US criminal acts in Syria, namely destruction of various buildings, loss of human lives, attempts aimed at undermining national sovereignty, illegal shipments of crude oil, cruel sanctions and collaboration with Daesh in occupied territories," he said.
"The probe will provide Syrian authorities with the opportunity to take appropriate legal actions against the US administration and American occupation forces in the near future," Touzan pointed out.
The Syrian Military Prosecution finally denounced Washington over supporting the separatist agenda of Kurdish-led militants from the so-called Syrian Democratic Forces (SDF) by providing them with different kinds of ammunition.
The US military trains anti-Damascus militants at al-Tanf base, which is situated near Syria's borders with Iraq and Jordan.
Washington has unilaterally declared a 55-kilometer "de-confliction zone" around the facility, and frequently threatened to target Syrian forces within the area.
Back in May 2020, a number of captured Daesh terrorists confessed to close cooperation with US military forces stationed at al-Tanf base on carrying out various acts of terror and sabotage.
During confessions broadcast on Syria's state-run television network, several terrorists revealed that they were instructed by American forces to target Syrian government troops in and around the ancient city of Palmyra, the Tiyas Military Airbase – also known as the T-4 Airbase, the Shaer gas field as well as nearby oil wells.
"Once a close aide to our commander Hassan Alqam al-Jazrawi came to me and said he was in contact with the Americans at al-Tanf base. The man, whose name was Hassan al-Wali, added it was necessary to target Palmyra and T4 Airbase, and that US forces would provide us with rocket launchers and machine guns, besides financial support, cars and whatever we needed," one of the terrorists said at the time.
Source: Press TV
Please click the following URL to read the full text of the original story:
https://www.presstv.ir/Detail/2022/01/28/675690/Syrian-Military-Prosecution-investigating-US-occupation-forces%E2%80%99-collaboration-with-Daesh-terrorists
--------
Arab Coalition strikes kill 70 Houthi 'terrorists' in Marib
28 January ,2022
The Arab Coalition has conducted 24 targeted strikes in Yemen's Marib to combat the Iran-backed Houthi militia, according to the official Saudi Press Agency (SPA).
The strikes killed 70 "terrorists" and 16 "military vehicles," SPA reported on Friday.
The operation comes during a time when tensions are rising with Yemen's Iran-backed Houthis.
The Houthi militia attack on the UAE and the continued attempts on Saudi Arabia have attracted global outcry.
The UAE attack was reportedly a first of its kind, leading to condemnations of the Houthi group's actions from all major world leaders.
UAE's Dr. Anwar Gargash, the diplomatic adviser to the country's president, is among many of the local officials who are in conversation with global representatives to find a solution to the Iran-backed issue.
Gargash said that the UAE has a "legal and moral right" to defend itself against terrorist acts by Yemen's Iran-backed Houthi militia during a call with Hans Grundberg, the Special Envoy of the Secretary-General of the United Nations to Yemen.
The UAE official also met with the US Special Envoy for Yemen Tim Lenderking where he reiterated the need for "appropriate international pressure" which may help reach a ceasefire agreement and aid in finding a political solution to the Yemeni crisis.
Yemen's Iran-backed Houthis have launched dozens of cross-border attacks on Saudi Arabia throughout 2021.
In September 2021, the Houthis intensified their efforts to take Marib, a provincial capital which is the government's last northern stronghold.
However, on January 26, forces of Yemen's internationally recognized government swept through a strategic central province, forcing Houthi fighters out of its second largest district, reported The Associated Press.
Source: Al Arabiya
Please click the following URL to read the full text of the original story:
https://english.alarabiya.net/News/gulf/2022/01/28/Arab-Coalition-strikes-kill-70-Houthi-terrorists-in-Marib
--------
At least 18 Kurdish fighters found dead in Syria jail hit by ISIS: Monitor
28 January ,2022
Kurdish-led forces in northeast Syria on Friday found the bodies of 18 fellow fighters inside a prison that ISIS attacked last week, a war monitor reported.
The US-backed Syrian Democratic Forces said Wednesday that they had recaptured the sprawling complex in the city of Hasakeh following a January 20 ISIS jailbreak attempt that sparked days of clashes inside the facility and in surrounding areas.
But mop-up operations are still underway in the Ghwayran prison where Kurdish forces say dozens of terrorists remain holed up.
During a sweep on Friday, the SDF backed by Kurdish internal security forces "found the corpses of 18 fellow fighters killed by terrorists", the Britain-based Syrian Observatory for Human Rights said.
The war monitor, which relies on a network of sources inside Syria, also reported that an overnight air strike near the jail, carried out by the US-led coalition battling ISIS, killed seven terrorist.
The death toll since January 20 now stands at over 260, including around 180 ISIS terrorists, 73 members of Kurdish-led forces and seven civilians, according to the Observatory.
The terrorists that remain inside the facility have barricaded themselves in "cellars that are difficult to target with air strikes or infiltrate on the ground," the Observatory said.
Kurdish forces "are looking to starve jihadists into surrendering," said Observatory head Rami Abdul Rahman, adding that those holding out were diehard ISIS followers.
An SDF official said around 60 ISIS fighters were holed up in a basement and a ground floor above it.
Source: Al Arabiya
Please click the following URL to read the full text of the original story:
https://english.alarabiya.net/News/middle-east/2022/01/28/At-least-18-Kurdish-fighters-found-dead-in-Syria-jail-hit-by-ISIS-Monitor-
--------
Lebanon govt says 'will not be launchpad for activities that violate countries'
28 January ,2022
The Lebanese government, in a letter to Gulf states, would say that the Lebanon "will not be a launchpad for activities that violates Arab countries," sources familiar with the letter told Reuters on Friday.
The Lebanese foreign minister will deliver the letter in response to a Kuwaiti proposal of confidence-building measures to end a diplomatic rift with Gulf states on Saturday in an Arab ministerial meeting in Kuwait.
Source: Al Arabiya
Please click the following URL to read the full text of the original story:
https://english.alarabiya.net/News/middle-east/2022/01/28/Lebanon-govt-says-will-not-be-launchpad-for-activities-that-violate-countries-
--------
Lebanon's Bahaa Rafik Hariri says he will follow father into politics
28 January ,2022
Lebanon's Bahaa Hariri said on Friday that he will continue the journey of his father, the late Prime Minister Rafik Hariri, and would "enter the battle to take back" the country.
Bahaa's younger brother, Lebanon's veteran Sunni Muslim leader Saad Hariri, a three times prime minister, said earlier this week that he would not run in a forthcoming parliamentary election and was suspending his role in political life, calling on his political party to do the same.
Saad's decision opened a new phase in Lebanon's sectarian politics and will accelerate the fragmentation of the Sunni community which his family dominated for 30 years with Saudi support.
Bahaa, 55, who has not held public office before and largely kept away from politics, said in a recorded speech sent to news outlets that he "will fight the battle to restore the country and restore the sovereignty of the country from its occupiers."
A businessman whose interests include real estate investments in Lebanon and Jordan, Bahaa, a Lebanese-Saudi national, said that he would continue his father's path.
He added that "any misinformation or intimidation" alluding to a power vacuum among Lebanon's Sunni Muslims "serves only the enemies of the country."
Saad cited Iran's influence as one of the reasons he saw little hope of positive change for Lebanon.
Source: Al Arabiya
Please click the following URL to read the full text of the original story:
https://english.alarabiya.net/News/middle-east/2022/01/28/Lebanon-s-Bahaa-Rafik-Hariri-says-he-will-follow-father-into-politics
--------
'Callers of peace': 3-day conference on Muslim Brotherhood begins
Riyaz ul Khaliq
28.01.2022
ISTANBUL
A three-day international conference to debate Middle East's Islamic movement, popularly known as Muslim Brotherhood, started in Istanbul on Friday.
"That we are 'callers of peace and towards righteousness' was the clear message of Hasan al-Banna," said Mohamed Gamal Heshmat of Canadian Institute for Strategic Studies and Development, referring to the Muslim Brotherhood founder who was a schoolteacher.
The three-day conference will brainstorm the Muslim Brotherhood's experience in politics and governance in Egypt, said Sami Al-Arian, director of Center for Islam and Global Affairs, an Istanbul-based think tank and the host of the event.
Al-Banna founded the Muslim Brotherhood in 1928 with an "Islamic vision," said Abd El-Moneim El-Barbary, former president of MIST University in Accra, Ghana.
The purpose of a state imagined by the Muslim Brotherhood, El-Barbary said, is to "please Allah."
He said the Muslim Brotherhood, which has its roots in Egypt, believed a state has to gain foreign sovereignty which is to "attain independence from any foreign hegemony."
"Internally," he added, the Muslim Brotherhood "rejected dictatorship."
In the next two days, the scholars attending the conference virtually from across the globe will address many aspects of the Muslim Brotherhood experience including the movement itself and the Egyptian state, Al-Arian said.
"We will see scholars discussing economic, social issues, the movement and society, the issue of civil-military relations, and national security besides foreign relations," he elaborated.
Source: Anadolu Agency
Please click the following URL to read the full text of the original story:
https://www.aa.com.tr/en/middle-east/-callers-of-peace-3-day-conference-on-muslim-brotherhood-begins/2488343
--------
Mideast
Israel's PM Bennett says Netanyahu 'threatened' to target him with drones
28 January ,2022
Israeli Prime Minister Naftali Bennett said his predecessor Benjamin Netanyahu "threatened" him last year when he was fighting to unseat the veteran leader, in an interview published Friday.
The Jewish nationalist Bennett became prime minister in June 2021, after he banded with blocs ranging from right to left to Arab Islamic conservatives to end Netanyahu's 12-year rule.
"Establishing the government was very hard for me. I knew clearly where I was going. I knew I was about to get hit with the mother of all battles," Bennett told Haaretz newspaper.
Bennett said he had been negotiating with Netanyahu in May as the long-serving PM fought hard to stay in power, but their talks hit a brick wall.
"When he realized that I didn't intend to let him drag Israel into a fifth election, he really threatened me," Bennett said.
"'Listen,' he said to me, 'If I understand correctly what you're going to do, you should know that I am going to turn my whole machine on you, the army'," he said, recounting what Netanyahu had told him.
He said Netanyahu followed his comments by making a gesture with his arm as if to indicate "an airplane descending for an attack," Haaretz reported.
According to Bennett, the former prime minister had told him: "'I will send the drones at you, and we'll see'."
Bennett said he thought that with those remarks, Netanyahu was threatening to unleash against him "his army of bots" of broadcasters from television, radio and social media.
"A kind of change came over me. I realized that everything was resting on my shoulders" and that Netanyahu's re-election "would have thrown us into a terrible spin," Bennett said.
"I know that this sounds big, but I think we saved the state," he added.
Bennett's coalition won a wafer-thin margin of 60 votes to 59 in parliament in June last year, allowing him to form a government.
A tech millionaire, Bennett was once an ally of Netanyahu.
Losing the top job left the hawkish former prime minister exposed to legal battles involving corruption.
Source: Al Arabiya
Please click the following URL to read the full text of the original story:
https://english.alarabiya.net/News/middle-east/2022/01/28/Israel-s-PM-Bennett-says-Netanyahu-threatened-to-target-him-with-drones
--------
Senior Cleric: Removal of All Sanctions Main Condition for Agreement in Vienna Talks
2022-January-28
Addressing a congregation of people at Tehran's Imam Khomeini Grand Mosalla (congregational prayers site), Ayatolallah Khatami said, "The United States seeks looting, not negotiation. The Us dreams of looting will never be realized. All sanctions must be removed permanently and Tehran will not accept the suspension of sanctions."
In relevant remarks in late November, Tehran's Provisional Friday Prayers leader Hojjatoleslam Seyed Mohammad Hassan Aboutorabifard called on the European leaders not to sacrifice the interests of their nations for the sake of the illegitimate interests of the US and Israel.
Hojatoleslam Aboutorabi Fard touched on the new round of nuclear talks between Iran and Group 4+ 1 in Vienna, Austria.
He called on the leaders of the European countries not to sacrifice the interests of the European nations to the illegitimate interests of the "United States and the Zionist regime".
"The interests of European nations are tied to the interests of Asia, specially West Asia, and today it is the Islamic Republic of Iran that has the authority to guard this security. If it were not for the authority of the Resistance, Europe would be exposed to severe insecurity today, and it was the authority of Islamic Iran and the Resistance that defeated the ISIL," the senior cleric added.
He pointed out that today, it is known to everyone that the policies of the United States in the West Asian region have been failed.
"Given the tremendous amount of contradictions and conflicts in US strategic plans, the inability of the Pentagon and US military apparatus to suppress popular movements in the world, we are witnessing a decline in US soft power," he further said.
The revival of the 2015 Iran nuclear deal, officially called the Joint Comprehensive Plan of Action (JCPOA) has been on the agenda of high-profile negotiations between Iran and the remaining signatories, known as the G4+1 group (Russia, China, Britain and France plus Germany), in the Austrian capital since April.
The JCPOA was unilaterally abandoned by the US in 2018, when former US President Donald Trump decided to implement a "maximum pressure" policy against Tehran.
US President Joe Biden promised to reverse Trump's own reversing of his predecessor Barack Obama's decision to sign on to the JCPOA. The Biden administration also argued on the sidelines of the Vienna talks that Tehran and Washington should mutually return to their commitments under the agreement.
Source: Fars News Agency
Please click the following URL to read the full text of the original story:
https://www.farsnews.ir/en/news/14001108000533/Senir-Cleric-Remval-f-All-Sancins-Main-Cndiin-fr-Agreemen-in-Vienna
--------
Hamas slams Israeli premier's rejection of any future Palestinian state
Mohammad Majid
29.01.2022
GAZA CITY, Palestine
The Palestinian Hamas resistance movement on Friday slammed a statement by Israeli Prime Minister Naftali Bennett that said he is opposed to the establishment of a Palestinian state.
"The Palestinian state is not begged for, but our people will grab it forcefully by their resilience and heroic resistance," Hamas senior official Izzat El-Reshiq said in a statement. "Bennett's statements that he will not allow for negotiations that could lead to a Palestinian state reveal again the reality of the enemy (Israel)."
He added that the statement is a "slap" in the face of those who are seeking behind "the mirage of the absurd negotiations," referring to Palestinians seeking talks with Israel.
Bennett pledged Thursday that he will not agree to political talks with Palestinians and will not allow the establishment of the Palestinian state during his tenure.
"As long as I am prime minister, there will be no implementation of the Oslo agreement," he said.
Source: Anadolu Agency
Please click the following URL to read the full text of the original story:
https://www.aa.com.tr/en/middle-east/hamas-slams-israeli-premiers-rejection-of-any-future-palestinian-state/2488552
--------
Israeli forces injure 26 Palestinians in anti-settlement rallies
Awad al-Rujoub
28.01.2022
RAMALLAH, Palestine
At least 26 Palestinians sustained injuries when the Israeli forces fired rubber-coated bullets and tear gas shells to disperse rallies on Friday in different areas in the northern occupied West Bank.
In a statement, the Palestinian Red Crescent Society said its medical teams treated 26 Palestinians, including a doctor, in the villages of Beita and Beit Dajan, and southern and eastern Nablus city.
It added that 13 Palestinians were injured by rubber-coated bullets and 13 others suffered tear gas inhalation who were treated in the field.
The statement added the Israeli forces also shot at an ambulance, injuring a doctor who was treating an injured Palestinian.
On weekly basis, Palestinians hold demonstrations against illegal Jewish settlements in different parts of the West Bank, especially in Beita, Beit Dajan, and Kafr Qaddoum villages.
Source: Anadolu Agency
Please click the following URL to read the full text of the original story:
https://www.aa.com.tr/en/middle-east/israeli-forces-injure-26-palestinians-in-anti-settlement-rallies/2488304
--------
Houthi strike on Yemen govt's last stronghold kills five
January 29, 2022
ADEN: At least five people were killed and 34 injured in what Yemeni-government media said was a Houthi missile strike on Marib city on Wednesday night, state news agency SABA said on Friday.
A resident and a medical source said a missile on Wednesday had fallen next to a military building in the al-Matar area.
Marib city is the Yemeni government's last northern stronghold. It sits in an energy-producing region which has been the focus of fighting over the past year, during which Iran-aligned Houthi forces advanced towards the city.
According to Reuters, the fighting for Marib has dashed UN-led ceasefire efforts as both sides ramped up military operations.
Aid agency Save the Children late on Thursday said 28 civilians had been killed or injured and that international law must be respected in Yemen's seven-year conflict.
"Civilians must be spared the horrors of ongoing fighting," it said in a Twitter post.
In the past few weeks the Houthis have launched a number of missile and drone attacks on Saudi Arabia, which leads a coalition backing the government's fight against the Houthis, and two unprecedented attacks on the United Arab Emirates, a coalition member.
The Saudi-led coalition has in recent weeks stepped up air strikes on Houthi areas in Yemen, including on a detention centre which killed around 90 people.
Strategically vital city
Meanwhile, a United Arab Emirates-trained militia that delivered a series of defeats to Yemen's rebels has begun withdrawing from a key area of the conflict, it announced on Friday.
The Giants Brigades said it was repositioning its forces after driving the rebels out of Shabwa province and beginning a push north towards Marib, the strategically vital city that the rebels have been trying to capture for months.
The surprise announcement followed two drone-and-missile attacks by the Houthi rebels on the UAE, the first of which killed three oil workers.
"After the great success achieved by the Giants Brigades... it began transferring its brigades to the main headquarters," said a statement.
"The Brigades repositioned its forces in Shabwa governorate after liberating the districts of Bihan and Harib and securing them completely from the Houthi militia," it added.
The Giants Brigades, fighting as part of the Saudi-led pro-government coalition, dealt a serious blow to the Houthi campaign after moving into Shabwa.
Source: Dawn
Please click the following URL to read the full text of the original story:
https://www.dawn.com/news/1672057/houthi-strike-on-yemen-govts-last-stronghold-kills-five
--------
PM reaffirms commitment to eradicate terrorism from Pakistan
January 28, 2022
PM Imran has assured the nation that he will "rid Pakistan of all forms of terrorism"
PM's statement came a day after 10 soldiers were martyred in a terrorist attack at a security check post in Balochistan's Kech district.
PM Imran took to his Twitter, and stated that the brave soldiers of Pakistan continue to lay down their lives to keep the country safe from terrorists.
"I salute the 10 martyred soldiers who repulsed a terrorist fire raid on checkpost in Kech Balochistan. We are resolute in our commitment to rid Pakistan of all forms of terrorism," he wrote.
It is pertinent to note that a day earlier, as many as 10 soldiers were martyred after terrorists opened fire at a security check post in Balochistan's Kech district, the Inter-Services Public Relations (ISPR) said on Thursday.
The military's media wing stated that the incident took place on the night between January 25 and 26, where one terrorist was killed and several others sustained injuries.
The security forces have apprehended three terrorists in follow up clearance operation, while they were still on the hunt for the perpetrators behind the incident.
"Armed forces are determined to eliminate terrorists from our soil no matter what the cost," the statement added.
It is pertinent to note that ealier, Interior Minister Sheikh Rasheed Ahmad had warned of a surge in terrorist activities in the country in the coming months.
"Terrorism is expected to rise in the country in the next two months," Rasheed stated.
He, however, said that Pakistan has a much better system to fight terrorists and gathering information and this wave of terrorism will be dealt with accordingly.
The minister stated that Afghan Taliban are unable to force the Tehreek-e-Taliban Pakistan into anything.
Source: Pakistan Today
Please click the following URL to read the full text of the original story:
https://www.pakistantoday.com.pk/2022/01/28/balochistan-attack-pm-vows-to-eradicate-terrorism-from-pakistan/
--------
Iranian Envoy Urges End to US Military Operations in Syria
2022-January-28
"The current condition in Al-Hasakah province, Syria, is consequence of military presence of foreign forces, particularly the US in the war-stricken country, and the free transit of terrorist groups who wreak havoc in Iraq, Syria and other countries, which threatens international peace and security," Ershadi said while addressing the Thursday meeting of the UN Security Council on humanitarian situation in Syria.
The following is the full text of the Iranian envoy's speech at the UNSC meeting in New York:
I thank you, Madam President, for convening this meeting and I also thank Under Secretary General Voronkov, for his informative briefing.
The most recent attack on a prison in Al-Hasakah, which was claimed by ISIS in Syria's north-east, is an alarming bell, indicating once more that ISIS which is backed by certain states is still a real threat to regional security and stability.
Iran is closely monitoring the developments in the east of the Euphrates, especially in Al-Hasakah province.
What we are witnessing today in Al-Hasakah is the result of the continued illegal occupation of parts of Syria by foreign forces including the United States.
More importantly, free movement of terrorist groups including ISIS members in territories under the illegitimate occupation of foreign forces in Syria and Iraq, as well as their transfer to other countries threatens regional and international peace and security. We consider the recent incident in that context.
The Al-Hasakah incident clearly shows that the occupying force and its allies have been unable to restore security and order in the occupied areas. This has assisted ISIS to expand its influence in the region, thus jeopardizing the lives of civilians living there.
This incident reminds us once again that the presence of Foreign Terrorist Fighters (FTFs) and their accompanying families in the conflict zones is still a growing source of insecurity and instability to the entire region.
It is deeply regrettable that those countries who constantly and repeatedly claim to pioneer human rights refrain from repatriating their own nationalities, especially women and children, who are trapped in deplorable conditions in conflict zones.
Considering the threats caused by FTFs for security and stability of the region, the Security Council must address the repatriation of FTFs to their own countries as a matter of priority.
Fighting terrorism must not be used as a pretext to violate the sovereignty and territorial integrity of Syria.
The continued occupation of parts of Syria is the main factor in creating conducive grounds for such terrorist activities in Syria and must be ended forthwith.
We believe that the effective exercise of sovereignty by the Syrian government over all its territory is an important element in restoring stability and security to this country. In this regard, as reaffirmed by the UNSC resolutions, the sovereignty and territorial integrity of Syria must be respected.
The Syrian Government has the legitimate and inherent right to counter terrorist activities in its territory and under its jurisdiction and any measure taken to counter terrorism must be coordinated with the Syrian Government.
Source: Fars News Agency
Please click the following URL to read the full text of the original story:
https://www.farsnews.ir/en/news/14001108000580/Iranian-Envy-Urges-End-US-Miliary-Operains-in-Syria
--------
Turkish embassy condemns rocket attack on Baghdad airport
Haydar Karaalp
28.01.2022
BAGHDAD
The Turkish Embassy in Iraq on Friday condemned a rocket attack that hit the Baghdad International Airport.
"Terrorist attacks targeting the stability of Iraq and the security of civilians must end," the embassy said in a statement.
Earlier on Friday, a police officer told Anadolu Agency that six Katuysha rockets hit the airport.
The attack caused significant damage to a civilian aircraft, the official said, adding no casualties were reported.
Source: Anadolu Agency
Please click the following URL to read the full text of the original story:
https://www.aa.com.tr/en/middle-east/turkish-embassy-condemns-rocket-attack-on-baghdad-airport/2488134
--------
North America
'We're here to stay': Quebecers who fought to get Muslim cemeteries built say they're a sign of progress
Josh Grant
Jan 28, 2022
Standing in front of the gates of the Quebec City Muslim Cemetery, Boufeldja Benabdallah reflects on the more than two decades he spent trying to establish a local burial ground for his community.
"It was 22 years of fighting, research and meetings," he said. "People were burying their loved ones at the Muslim cemetery in Montreal."
Benabdallah, who is the cemetery director and co-founder of the Quebec City Islamic Cultural Centre, said it was extremely difficult to find land that was available, affordable and properly zoned.
Reda Bouchelaghem of the Association Culturelle Islamique de l'Estrie (ACIE) in Quebec's Eastern Townships said his group faced similar challenges.
Both men say it took a tragedy that shocked the country for their cemeteries to see the light of day.
Quebec City mosque attack
It has been five years since the deadly attack on the Quebec City mosque. On Jan. 29, 2017, six members of Benabdallah's congregation were killed, and five others were critically injured when a gunman entered the city's Islamic Cultural Centre during evening prayers. One of the injured is still in a wheelchair. Alexandre Bissonnette is serving two concurrent life sentences for the killings.
Following the shootings, the bodies of five of the six Muslim men killed were sent to their countries of origin. The sixth was buried in Laval, Que., which at the time had the only two Muslim cemeteries in Quebec.
According to Islamic tradition, the body of a deceased Muslim is to be washed, shrouded and a communal prayer performed before it is interred in the shortest possible time after death — something that's been historically difficult for Muslims in Canada.
A few months after the attack, Benabdallah found a potential cemetery site in Saint-Apollinaire, a town of 6,000 about 45 kilometres south of Quebec City. The mayor of Saint-Apollinaire approved an Islamic cemetery, but a group of residents protested the project. They pushed the issue to a municipal referendum, where it was voted down.
Former mayor Régis Labeaume steps in
Benabdallah instead got the ear of Quebec City's then-mayor Régis Labeaume, who said he was determined to work with the city's Muslim community in an effort to heal and move forward after the 2017 attack.
In the days after the shooting rampage at the mosque, Labeaume promised to find a suitable site for a Muslim cemetery.
"We are working with them to see what they need. We will help them," he said at the time.
It was Labeaume who later found a parcel of land on Frank-Carrel Street in the same Sainte-Foy neighbourhood as the Quebec City mosque.
"He knew the difficulties we were having, and all of a sudden, he found a site that belonged to the city and was already zoned for a cemetery," said Benabdallah.
After raising more than $250,000 in donations, the Quebec City Islamic Cultural Centre signed a purchase agreement with the city in 2019. The cemetery opened in June 2020, and since then, 16 Muslims have been buried there.
Labeaume's gesture "really touched the community," Benabdallah said.
Muslim cemetery in Sherbrooke
In the Eastern Townships, Bouchelaghem shares a similar story. The Sherbrooke man who first came to the region 20 years ago started looking for a burial ground for Muslims in 2015.
"Back then, it felt like we were running up against a wall, but things eventually started to open up for us," he said, "specifically after the attack in Quebec City."
In 2018, the City of Sherbrooke agreed to sell the Islamic cultural association a small site in the north end of the city, near Victoria Park. Following a fundraising campaign and approval from the province, the cemetery opened last November.
"Now Muslims who live here in Sherbrooke don't have to visit Montreal to lay flowers on a grave," said Bouchelaghem. "It's an enormous gain ... spiritually and emotionally."
CBC reached out to city officials in Quebec City and Sherbrooke to ask about the impact the 2017 mosque attack had on their relationships with the Muslim community but did not hear back.
Putting down roots
Bouchelaghem has watched Sherbrooke's Muslim community grow over the past two decades, as more international students arrived to study at Bishop's University and waves of Syrian refugees and other immigrants settled in the region.
He says language challenges for Muslim immigrants who don't speak French and Quebec's Bill 21 — which bans some civil servants from wearing religious symbols at work — have driven some Muslims out of the province, but many in the community consider it home.
"We're here to stay," he said. "The majority of the community, we're well established here. We have work, our children go to school here, and we're working to advance our society."
Sombre anniversary
For Benabdallah, the establishment of the Quebec City cemetery is a sign of progress.
"When someone decides they want to be buried here and puts it in their will, it's a sign of integration," he said. "It's a sign to the family, to the children [that] this is somewhere we can live."
Source: CBC News
Please click the following URL to read the full text of the original story:
https://www.cbc.ca/news/canada/montreal/muslim-cemeteries-quebec-city-sherbrooke-1.6317767
--------
US President Biden to deny $130 mln in military aid to Egypt: Sources
28 January ,2022
The Biden administration is set to deny $130 million of military aid to Egypt over human rights concerns, three sources familiar with the decision told Reuters.
Secretary of State Anthony Blinken said in September that the aid would be withheld if Egypt did not address specific human-rights related conditions.
For the latest headlines, follow our Google News channel online or via the app.
Rights groups had called on the administration to block the entire $300 million of Foreign Military Financing to Abdel Fattah al-Sisi's government. Sisi, who ousted the Muslim Brotherhood in 2013, has overseen a crackdown on dissent that has tightened in recent years.
One source said members of Congress had been briefed on the administration's decision to withhold the aid, which accounts for 10 percent of the $1.3 billion that Egypt is still expected to receive from the United States this year. As of now there are no plans to withhold the rest of that aid, the source said.
US Senator Chris Murphy, a Democrat and an ally of President Joe Biden, welcomed the decision, and said Sisi had failed to meet the administration's "narrow and wholly achievable human rights conditions."
"It sends the important message abroad that we will back up our commitment to human rights with action and gone are the days where dictators receive blank checks from America," Murphy said in a statement.
The State Department did not immediately respond to a request for comment.
Asked about the aid in a press briefing on Thursday, State Department spokesperson Ned Price said Blinken had yet to make a determination.
"We believe that continued progress when it comes to human rights would only strengthen our bilateral relationship with Egypt," Price said.
The decision comes after the administration approved the potential sale of air defense radars and C-130 Super Hercules planes to Egypt for a combined value of more than $2.5 billion.
Source: Al Arabiya
Please click the following URL to read the full text of the original story:
https://english.alarabiya.net/News/middle-east/2022/01/28/US-President-Biden-to-deny-130-mln-in-military-aid-to-Egypt-Sources
--------
White House gets more time to assess billions in frozen Afghan funds
Jan 29, 2022
NEW YORK: A United States judge on Friday gave the Biden administration more time to decide what should be done with about $7 billion of frozen Afghan central bank funds, which some victims of the September 11, 2001, attacks want and which the Taliban claims is theirs.
Magistrate Judge Sarah Netburn in Manhattan gave the Department of Justice until Feb. 11 to recommend what to do with the funds, which are held at the Federal Reserve Bank in New York.
The funds have been frozen since the Taliban's military takeover in Afghanistan last August. A recommendation on what to do had been expected by Friday.
In a Thursday court filing, the Justice Department requested more time to address the "many complex and important issues" including Sept. 11 victims' claims, diplomacy, and the "still-evolving" situation in Afghanistan.
It said the matters are being fully discussed and "receiving urgent attention at the highest levels of government".
Some 9/11 victims and their families are seeking to cover unsatisfied court judgments related to the attacks, which killed nearly 3,000 people.
One group, the Havlish plaintiffs, won court permission in September to serve the New York Fed a so-called writ of execution to seize the $7 billion and cover an October 2012 court judgment of about the same amount.
The White House also faces pressure from the United Nations and humanitarian aid groups not to apply the funds toward court judgments. They would prefer money be used to shore up Afghanistan's central bank, ease the country's liquidity shortfalls, and help address poverty, hunger and other economic distress.
Several governments, including China, Iran, Pakistan and Russia, are also urging the release of frozen Afghan assets.
Source: Times Of India
Please click the following URL to read the full text of the original story:
https://timesofindia.indiatimes.com/world/us/white-house-gets-more-time-to-assess-billions-in-frozen-afghan-funds/articleshow/89188531.cms
--------
US-backed Syrian fighters searching for Islamic State militants near prison
BY CHLOE FOLMAR
01/28/22
The Syrian Democratic Forces (SDF), a group of Kurdish-led fighters backed by the United States, searched Friday for Islamic State militants near a Syrian prison, reports The Associated Press.
Some militants surrendered Friday morning, while the rest are hiding in a section of the prison, said SDF spokesman Siamand Ali. In total, 3,000 fighters have surrendered in the past three days.
The Islamic State attacked the Syrian prison, located in Hassakeh, on Jan. 20, in its largest military operation since falling from power in 2019. The attack occurred in the midst of multiple other attacks by the group.
Thousands of Syrians in Hassakeh have been displaced due to conflict in the city. The city's leadership instated a curfew and closed off movement across Hassakeh's borders, according to the AP.
The SDF regained control of the prison after a week of conflict, resulting in kidnappings and the deaths of dozens. Dozens of militants remain in the prison, however.
Source: The Hill
Please click the following URL to read the full text of the original story:
https://thehill.com/blogs/blog-briefing-room/591804-us-backed-syrian-fighters-searching-for-islamic-state-militants-near?1999C5DE-BF91-2744-822A-B56FC37755B5_kis_cup_C6FA3ED5_6D17_47D1_B6E2_F4B02CC905E0_
--------
US warplanes carry out airstrikes in Syria's Hasakah, hit residential buildings
29 January 2022
US warplanes have bombed a residential neighborhood in Syria's northeastern province of Hasakah, a week after remnants of the Daesh Takfiri terrorist group launched an armed attack on a detention center run by the Kurdish-led militants from the US-backed Syrian Democratic Forces (SDF).
Syria's official news agency SANA, citing local sources, reported that the fighter jets struck several houses in the vicinity of Industrial Secondary Prison in the provincial capital city of Hasakah city on Friday, under the flimsy pretext of hunting down terrorists currently at large after escaping the Kurdish-run Ghwayran jail.
The report added that the aerial strikes caused massive destruction in the targeted area, with no immediate information about the number of casualties.
SANA noted that the US military airstrikes were coupled with home break-ins, which SDF members carried out in Aziziyah neighborhood of Hasakah city.
The US-backed militants arrested an unidentified number of people, and took them to an unknown location.
On Wednesday, the US-backed Syrian Democratic Forces said they had retaken full control of Ghwayran prison, ending six days of battles that turned the largest city in northeastern Syria into a war zone.
More than 100 Daesh terrorists launched an attack against the Ghwayran prison on January 20 to free their comrades from the detention center, which was thought to hold some 3,500 Daesh inmates at the time of the assault.
The Daesh terrorists entered the prison after their two explosives-laden vehicles steered by bombers destroyed the entrance and killed the guards. The terrorists caused a major jailbreak of an unknown number of their comrades, seized weapons and took over several cell blocks.
The brazen Daesh jailbreak attempt and ensuing clashes, according to the so-called Syrian Observatory for Human Rights, left 124 Daesh terrorists, 50 SDF militants and seven civilians dead. The attack is considered the group's most high-profile and sophisticated terrorist operation since the loss of its so-called caliphate nearly three years ago.
The development comes as security conditions have been deteriorating in the SDF-controlled areas in Syria's northern and northeastern provinces of Raqqah, Hasakah and Dayr al-Zawr.
Local Syrians complain that the SDF's constant raids have generated a state of frustration and instability, severely affecting their businesses and livelihood.
Residents accuse the US-sponsored militants of stealing crude oil and refusing to spend money on service sectors.
Local councils affiliated with the SDF also stand accused of financial corruption.
Syrian forces block US military convoy in Hasakah
Syrian government forces have prevented a US military convoy from passing through a neighborhood in Hasakah city.
SANA reported that a US convoy of two armored vehicles was forced on Friday afternoon to turn around and head back in the direction it came from after army soldiers blocked Palestine Street, and prevented its movement.
The US military has stationed forces and equipment in eastern and northeastern Syria, with the Pentagon claiming that the deployment is aimed at preventing the oilfields in the area from falling into the hands of the Daesh terrorists.
Damascus, however, says the unlawful deployment is meant to plunder the country's resources.
Source: Press TV
Please click the following URL to read the full text of the original story:
https://www.presstv.ir/Detail/2022/01/29/675733/US-warplanes-carry-out-airstrikes-in-Syria%E2%80%99s-Hasakah,-hit-residential-buildings
--------
US advises citizens not to travel to UAE over Yemeni missile, drone attacks
28 January 2022
The United States has advised its citizens not to travel to the United Arab Emirates over the threat of retaliatory missile and drone attacks from Yemen, as Yemeni officials warn of greater counterstrikes against targets deep inside the UAE.
In a notice released on Thursday, the US State Department retained its highest level travel warning for the UAE due to the spread of COVID-19 in the Arab country, but also updated it to warn of the threat of more attacks from Yemeni forces.
"Reconsider travel due to the threat of missile or drone attacks," the notice said. "The possibility of attacks affecting US citizens and interests in the [Persian] Gulf and Arabian Peninsula remains an ongoing, serious concern."
In recent weeks, Yemen has conducted several rounds of drone and missile counterstrikes against the UAE and Saudi Arabia, as the countries ramped up their aggression against the Yemeni people.
On January 17, the Yemeni armed forces launched drone attacks targeting an oil facility in Abu Dhabi, warning the UAE of severe repercussions should it maintain its acts of sabotage in Yemen.
A week later, the Yemeni forces launched massive missile and drone strikes against sensitive targets in Abu Dhabi and Dubai, as well as Saudi Arabia's Najran, Jizan, and Asir regions.
'Terrifying strikes await Saudis, Emiratis'
Yemen's Defense Minister Mohammad al-Atefi said on Thursday that the drone and missile raids against the two invading countries are "punitive strikes" and "warning messages" against the military coalition countries, Yemen's al-Masirah news network reported.
"We can and we have all legitimate and powerful capabilities to target you," Major General al-Atefi said in a statement, adding that "the coming period will witness terrifying strikes in the military and economic strategic sites in the Saudi and UAE depth."
He said the aggressive countries demonstrate their defeats on the battlefield by targeting residential neighborhoods and directing their deliberate strikes against civilians, killing children and women.
"What you failed to achieve in seven years, will not be achieved now or in the future so if you continue your aggression, your end will be shameful," he said, addressing the invading countries.
Al-Atefi also said if the US-Saudi war coalition continues to escalate, the Yemeni people and their armed forces are ready to escalate as well, adding that "Today, Yemeni Armed Forces are more than ever able to face the worst possibilities, defend Yemen, its independence and unity."
The comments come against the background of repeated warnings from Yemen against the UAE over increasing its role in the war on Yemen.
The Yemeni army has urged foreign companies to leave the UAE and warned that the Dubai Expo might be targeted next if the Emiratis continue their aggression against Yemen.
Yemeni attacks kill Saudi mercenaries in Ma'rib
Meanwhile, the Yemeni army has intensified its attacks against Saudi-backed mercenaries inside Yemen as well.
Yemen's official Saba news agency reported on Friday that at least five people were killed and 34 injured in an attack on Ma'rib city on Wednesday night.
A resident and a medical source said a missile on Wednesday had fallen next to a military building in the al-Matar area.
Ma'rib city is the former Saudi-backed Yemeni government's last northern stronghold. It sits in an energy-producing region which has been the focus of fighting over the past year, during which the Yemeni armed forces advanced towards the city.
The intensification of Saudi-Emirati attacks on Yemen is widely attributed to the Ansarullah-run government's advances towards Ma'rib.
Source: Press TV
Please click the following URL to read the full text of the original story:
https://www.presstv.ir/Detail/2022/01/28/675684/US-advises-citizens-not-travel-UAE-Yemeni-counterstrikes
--------
URL: https://www.newageislam.com/islamic-world-news/india-pakistan-shrines-pilgrims/d/126264
New Age Islam, Islam Online, Islamic Website, African Muslim News, Arab World News, South Asia News, Indian Muslim News, World Muslim News, Women in Islam, Islamic Feminism, Arab Women, Women In Arab, Islamophobia in America, Muslim Women in West, Islam Women and Feminism