New Age Islam News Bureau
11 Jul 2017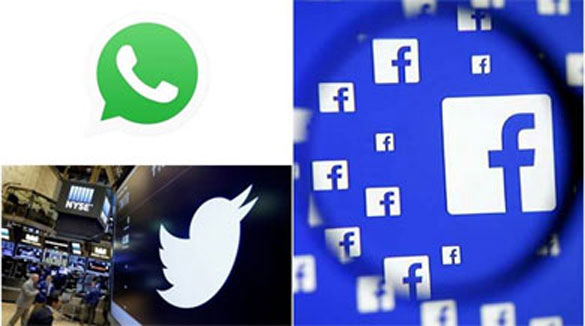 Rehman told The Indian Express, "This is the need of the hour. The social media is a very strong medium and a lot of misinformation and hatred are being spread through it. We have decided to combat this hatred through the social media itself."
-----
• India: Muslim Religious Leaders Plan Social Media Outreach
• Despite Ban, Lashkar-e-Taiba Leader Thumbs Nose in Pakistan, Hails Terrorist
• Whistle-Blower Reveals New Dimensions of Saudi-Israeli Ties
• Nahdlatul Ulama Scholars, Preachers to Convene In Fight against Radical Groups
• IRGC Commander: Daesh Defeat in Mosul Victory for Whole World
• A Muslim and a Jew Urge the Supreme Court to Strike down The Muslim Ban
India
• India: Muslim Religious Leaders Plan Social Media Outreach
• Despite Ban, Lashkar-e-Taiba Leader Thumbs Nose in Pakistan, Hails Terrorist
• Terror Attack on Amarnath Pilgrims Carried Out By Let, Masterminded By • Pakistani Terrorist Ismail: J&K Polic
• Amarnath terror attack: Internet services suspended in Jammu
• Zakir Naik's passport could be revoked soon
• Adil, Lashkar Man in Valley, Is Sandeep Sharma From UP
• J&K: Three terrorists killed as Army foils infiltration bid along LoC
• Mosul freed: Search on for 39 Indians abducted in 2014
--------
Arab World
• Whistle-Blower Reveals New Dimensions of Saudi-Israeli Ties
• New ISIL Document Reveals Key Information about Al-Baghdadi
• Police kill six Daesh sympathizers in southern Egypt: Interior Ministry
• After Mosul, other Iraqi territory still in Islamic State hands
• Security forces kill six 'militants' in shootout in Egypt
• Bahraini rights activist Nabeel Rajab sentenced to two years in jail
• Syrian Army Captures More Territories in Northeastern Damascus
• Sources Disclose S. Arabia's Pressure on Iraq to Give Up Support for Qatar
• Syria: Popular Uprising against Terrorists Starts in Southeastern Deir Ezzur
• Syrian Army Inches Closer to ISIL's Vital Stronghold in Homs
• Tahrir Al-Sham Arrests Tens of Rival ISIL Terrorists in Northwestern Syria
--------
Southeast Asia
• Nahdlatul Ulama Scholars, Preachers to Convene In Fight against Radical Groups
• Zakir Naik A Guest at PAS' Regional Muslim Scholars' Conference
• S. Sumatra Police Arrest Self-Professed Islamic State Member
• Malaysian Apex Court to Decide If Fatwa Dispute Should Go To Civil or Shariah Court
• Mais gets court's nod to continue bid to stop SIS's 'deviant' fatwa challenge
• 'Gay film' screening in Penang cancelled after pressure from Islamists
--------
Mideast
• IRGC Commander: Daesh Defeat in Mosul Victory for Whole World
• Turkish Army Jets Kill 11 Kurdish Militants In Southeast
• Israeli spy chief proposes to annex 5 settlements to Jerusalem al-Quds
• 4 Saudis sentenced to death in Yemen for beheadings
• Palestinian tries to run down Israeli soldiers, killed
• Documents Prove US Involvement in 1980 Nojeh Coup Plot in Iran
• West Bank gets Israeli power boost as Gaza endures energy crisis
• Nuclear-related sanctions hurt Iranian people, not government: President Rouhani
• UK court ruling deadly blow to Yemeni civilians: Amnesty
--------
North America
• A Muslim and a Jew Urge the Supreme Court to Strike down The Muslim Ban
• U.S. Soldier Arrested For Attempting To Train Islamic State Fighters
• Terrorist Apologism Dominates Islam Convention in Chicago
• American Muslim Institute Opens Its Doors in Omaha
• Orange County deputies did not harass Muslim colleague, jury decides
• Fighting the Wrong Enemy: Why Americans Hate Muslims
--------
Europe
• French Police Officer Charged For Helping His Brother Recruit Muslims To Join ISIS
• Jeremy Corbyn Says UK Arms Sales To Saudi Arabia 'Unethical'
• Brutal Muslim religious police now patrol Europe
• London High Court rejects bid to halt British arms sales to Saudi
• EU warns GCC may fall apart amid Qatar dispute
• Austria bars Turkish economy minister over rally plans
• French report: Hezbollah building weapons factories in Lebanon
--------
Pakistan
• Many Organizations Banned In Pakistan Thrive Online
• Razina Advises Students for Following Islamic Ethics
• As PPP's win bodes well for party, MQM-P sans Altaf proves a force
• Militants 'virtually' running Karachi Central Prison, says CTD inquiry report
• Two FC personnel martyred in Kurram Agency blast
• Will financial deal with Qatar Sheikh end Pakistan PM Sharif's political career?
--------
South Asia
• Taliban Kill 2 Afghan Policemen in Attack On Security Post
• Shia Ismaili Muslims to celebrate 60 years of Aga Khan's life, work Tuesday
• Ghani vows to build more dams amid concerns by neighboring countries
• NATO reacts at ISIS Khurasan's claims of killing US soldiers in East of Afghanistan
--------
Africa
• Kenya: Tana River Muslim Clerics Oppose Curfew Imposed By Matiang'i
• 4 killed in Tripoli clashes: Libya's unity gov't
• 19 bodies of Egyptian migrants found in Libya desert
• Grenade attack kills 8, wounds 50 in northern Burundi
• Buharia Is the Problem With Nigeria, Says Muslim Leader
--------
Australia
• Islamic experts work towards national religious school curriculum to apply faith to modern Australian life
Compiled by New Age Islam News Bureau
URL: https://www.newageislam.com/islamic-world-news/india-muslim-religious-leaders-plan/d/111823
--------
India: Muslim Religious Leaders Plan Social Media Outreach
By Ravik Bhattacharya
July 11, 2017
More than a week after a Facebook post triggered communal violence in Baduria and Basirhat areas of North-24 Parganas district, Muslim religious leaders and intellectuals have decided to take to the social media to preach true Islam and counter hatred. Several Imams and Muslim leaders in the state have come together for the initiative and have planned to form a team that will counter religious hatred on social media platforms — Facebook, Twitter, WhatsApp — and inform police if they come across derogatory posts.
The initiative is being led by Qari Fazlur Rehman, a senior Imam who leads the Eid prayers on the Red Road in Kolkata. Rehman told The Indian Express, "This is the need of the hour. The social media is a very strong medium and a lot of misinformation and hatred are being spread through it. We have decided to combat this hatred through the social media itself."
"We are already in the process of forming a team of youths for the task. Their job will be to spread the message of true Islam, which is of peace. Islam does not permit murders. They will also counter misinformation that can misguide and keep a watch on derogatory posts," he added. Muslim leaders recently floated the Minority Council of Bengal, a platform for the Muslims of the state. Besides religious leaders, doctors and professors are being approached to join the platform, said Rahman, one of the key functionaries of the council.
The council, he said, will play a key role in countering hatred on the Internet. "What happened in Basirhat and Baduria is unfortunate. We do not support them. Islam does not allow the burning of cars, the ransacking of houses or attacks on anyone. It is time we do something about it. The BJP is inciting such violence to get Hindu votes, while other parties are doing the same for Muslim votes. The common people are caught in between," said Syed Ibrahim Siddiqui, 'Bara Peer' at Furfura Sharif shrine and convener of the Council.
Audio-visual messages explaining the tenets of Quran and Islam will be a part of the social media campaign, said the Muslim leaders. The messages will be in Arabic, Urdu, Hindi, Bengali and English, so that they can reach a wider audience not only in Bengal, but across the country. The initiative would focus on youths. The Muslim leaders have also decided to visit riot-hit villages in Basirhat and Baduria once peace returns. "We want to visit the areas, but we will do so only after the situation becomes normal," said Siddiqui.
http://indianexpress.com/article/cities/kolkata/muslim-religious-leaders-plan-social-media-outreach-kolkata-4744877/
--------
Despite Ban, Lashkar-e-Taiba Leader Thumbs Nose in Pakistan, Hails Terrorist
July 11, 2017
By Praveen Swami
ABDUL REHMAN Makki, the second-in-command of the Jama'at-ud-Dawa and brother-in-law of its jailed chief Hafiz Muhammad Saeed, offered funeral prayers last week for a Lashkar-e-Taiba terrorist, who was killed fighting the Indian Army in Kashmir, before a crowd of hundreds in the Pakistani city of Bahawalpur, according to posters, banners and eyewitness testimony compiled by The Indian Express.
The funeral assembly on July 6 provides fresh evidence that the Lashkar-e-Taiba, banned under the United Nations Security Council's resolutions and Pakistani law, continues to operate in plain sight of the country's law enforcement despite a hyped crackdown on its top leadership.
Posters for the Ghaibana Namaaz-e-Janazah — funeral prayers held when the body of the deceased is unavailable — state that the event was held in memory of Abu Muhammad Yaqoob, the son of Kot Noora resident Muhammad Nawaz, "martyred fighting the Indian Army while performing Ghazwa-e-Hind".
Ghazwa-e-Hind refers to a set of five theologically contentious prophecies attributed to Prophet Muhammad, predicting a victorious war to capture India that will precede the apocalypse.
The posters, as well as large banners placed over major intersections in the city, announced that Bahawalpur-born Makki would deliver his address at Basti Kot Noora after the evening Asr prayers.
Kot Noora, known locally as Noorey ki Goth, is one of Bahawalpur's newer suburbs, near the city's radio station. It is home to lower-middle income, ethnic Saraiki traders, key targets for the Lashkar-e-Taiba's recruitment campaigns, which are reaching out to politically disenfranchised communities.
In his funeral oration, an eyewitness present at the function said, Makki vowed to defy ongoing efforts to rein in the Jama'at-ud-Dawa, which he described as an international conspiracy, and committed to continue supporting the "jihad" in Kashmir. He also lashed out at the "lecherous and debased" US President Donald Trump for killing Muslims, and plotting to destroy the Kashmir struggle.
"Earlier, Kashmiris were divided on what they wanted, but today every martyr's flag is draped with the flag of Pakistan. We want the United Nations resolutions on Kashmir to be implemented, and for it to be freed from Hindu rule," the eyewitness quoted Makki as saying.
Last month, Pakistan's junior minister for interior, narcotics control and education attended a ceremony where the Jama'at-ud-Dawa's charitable wing, Falah-i-Insaniat Foundation (FIF), donated ambulances to the Bahawal Victoria Hospital after an oil-tanker accident killed at least 190 people in Bahawalpur.
The minister did so even though the FIF is listed by the UNSC as a proxy organisation for the Lashkar-e-Taiba, in what Indian diplomats said is a demonstration of the Jama'at-ud-Dawa's abiding clout with elements of Pakistan's army and Punjab province's Islamist-leaning middle-class.
Last October, The Indian Express had reported the Jama'at-ud-Dawa had held a similar function for Lashkar-e-Taiba terrorist Muhammad Anas, hailing his role in the attack on the Indian Army's 20 Brigade headquarters in Uri. The killing of 20 soldiers in the attack led India to launch cross-Line of Control strikes on Lashkar-e-Taiba facilities, sparking artillery and machine-gun exchanges, which are still unfolding.
The Lashkar had, in posters put up in Gujranwala, described Anas as having sent "177 Hindu soldiers to hell at the Uri Brigade camp in occupied Kashmir, and thus drank from the glass of martyrdom".
Lashkar chief Saeed, as well as his aides Abdullah Ubaid, Malik Zafar Iqbal, Abdul Rehman Abid and Qazi Kashif Hussain, were in January held under preventive detention clauses in Pakistan's anti-terrorism laws, just weeks before a meeting of the multinational Financial Action Task Force (FATF). Some observers saw this as an effort to avert measures that would have targeted the country's access to the global banking system.
The Lahore High Court is scheduled to rule next month on the validity of Saeed's detention, which his lawyer A K Dogar has argued is illegal.
For its part, the FATF is scheduled to hear a presentation from Pakistan on its compliance with UNSC sanctions against the Lashkar-e-Taiba, passed after the 26/11 attacks, later this year.
Listed as a global terrorist by the US, which has announced an $2-million reward for information leading to his arrest, Makki took charge of the organisation following Saeed's arrest. Named by alleged jihadist Abdul Karim Tunda as an associate, Makki is believed by Indian authorities to have begun building pan-India networks for the Lashkar as early as 1994.
In a conference on Kashmir held in Pakistan's Faisalabad in February, Makki had lashed out at Prime Minister Nawaz Sharif, accusing him of acting against the Jama'at-ud-Dawa at the behest of "that man who had tea at Raiwind" — a reference to Prime Minister Narendra Modi's visit in 2015.
http://indianexpress.com/article/india/despite-ban-lashkar-leader-thumbs-nose-in-pak-hails-terrorist-4744946/
--------
Whistle-Blower Reveals New Dimensions of Saudi-Israeli Ties
Jul 10, 2017
"Riyadh has had contacts with Tel Aviv; first, generally by the Saudi government. Second, by Salman bin Abdolaziz, the current King, when he was the Emir of Riyadh and then became the king of the country," Mujtahid wrote on his twitter page on Monday.
He added that incumbent Saudi Foreign Minister Adel al-Jubeir was also one of the channels for contacts between Riyadh and Tel Aviv since he was the advisor of the Saudi embassy in Washington for the Congress affairs when Bandar bin Sultan was the Saudi ambassador to the US, saying that Jubeir had good relations with the American Israel Public Affairs Committee (AIPAC).
Late in June, Mujtahid had revealed that new Saudi crown prince Mohammed bin Salman is attempting to pave the ground for overt relations with Israel.
"In line with preparing the public opinion to establish open ties with Israel, bin Salman has launched a media and twitter campaign and gifts any twitter activist or reporter who helps him in this regard," Mujtahid wrote on his twitter page.
Also last month, a leading Arab daily disclosed secret meetings between bin Salman and Israeli officials in the past two years.
Al-Qods al-Arabi newspaper reported that the Israeli media have all voiced pleasure in Mohammed bin Salman's appointment as the crown prince, adding that this development has long been wished by the Israelis.
The Arab daily quoted the Israeli newspaper Yediot Aharonot as reporting that the intelligence sources have confirmed that bin Salman has held meetings with the Israeli officials under a secret name, Walad, in the past two years.
The Israeli daily didn't reveal the venues and time for the meetings, but wrote that Israel and Saudi Arabia have common foes, friends and interests.
http://en.farsnews.com/newstext.aspx?nn=13960419000463
--------
Nahdlatul Ulama Scholars, Preachers to Convene In Fight against Radical Groups
July 11, 2017
Hundreds of Islamic scholars and preachers from the Nahdlatul Ulama (NU), the country's largest Muslim organization, will convene in Jakarta on Thursday and Friday to find solutions to Islamic radicalism. They also hope to revive a sense of nationalism and commitment to the values of Pancasila among the Muslim community.
The two-day event will be attended by President Joko "Jokowi" Widodo and some state officials.
At least 500 scholars, preachers and leaders of Islamic boarding schools are scheduled to attend the event. The event will be held at Hotel Borobudur in Central Jakarta.
Hery Haryanto, the secretary of Hubbul Wathon, which has organized the event, said the national convention sought to unite the Islamic and nationalist elements of the nation in the fight against radical Islamic movements that had started to appear throughout the country.
"This meeting is held in response to the recent emergence of radical Islamic movements," Hery said in a press release sent to The Jakarta Post.
"We hope the meeting will serve as a medium where Islamic scholars and preachers can restate that nationalism is part of their faith, a remark once stated by Hasyim Asy'ari [the founder of the NU]," Hery said. (yan)
http://www.thejakartapost.com/news/2017/07/11/nu-scholars-preachers-to-convene-in-fight-against-radical-groups.html
--------
IRGC commander: Daesh defeat in Mosul victory for whole world
Jul 10, 2017
Iran's Major General Qassem Soleimani has hailed Iraq's defeating of Daesh in Mosul as a major victory in the battle against terrorism.
The commander of the Quds Force of Iran's Islamic Revolution Guards Corps (IRGC) made the remark during a ceremony on Monday. He went on to note that Daesh is one of the most dangerous entities which the world has ever faced.
"The dark and evil phenomenon called Daesh has caused the world of Islam great damages," he added.
Soleimani further hailed the volunteer fighters from the Popular Mobilization Units, commonly known by their Arabic name Hashd al-Sha'abi, for their hard work towards expelling the Daesh from Mosul.
Soleimani was speaking at a ceremony to commemorate the IRGC's fallen General Sha'aban Nasiri, who was killed around forty days ago in an advisory operation in western Mosul.
Iranian Foreign Minister Mohammad Javad Zarif, Iranian Defense Minister Brigadier General Hossein Dehqan, and Secretary of Iran's Supreme National Security Council (SNSC) Ali Shamkhani have also sent congratulatory messages to the Iraqi government, armed forces and nation over their victory.
Earlier, Iraqi Prime Minister Haider al-Abadi formally declared victory of the country's forces over the Daesh Takfiri terrorist group one day after the country's military and Popular Mobilization Forces took full control of the northern city.
Iraqi army soldiers and volunteer fighters from the PMU have made sweeping gains against Daesh since launching the Mosul operation on October 17, 2016.
The Iraqi forces took control of eastern Mosul in January after 100 days of fighting, and launched the battle in the west on February 19.
An estimated 862,000 people have been displaced from Mosul ever since the battle to retake the city began eight months ago. A total of 195,000 civilians have also returned, mainly to the liberated areas of eastern Mosul.
http://www.presstv.ir/Detail/2017/07/10/528069/iran-iraq-daesh-soleimani-mosul
--------
A Muslim and a Jew urge the Supreme Court to strike down the Muslim ban
Jul 11, 2017
We are an American Jew and an American Muslim. Because our communities are well versed in the pain of discriminatory and exclusionary policies, we are fiercely committed to protecting, defending and upholding the American democratic ideals under threat by President Trump's travel ban.
During the Holocaust, European Jews fleeing Nazi persecution found the gates of entry barred by many countries. The Evian Conference in 1938 brought together 32 countries to discuss the increasingly dire fate of Jews, but only the Dominican Republic volunteered to take in refugees. The United States, which earlier had severely restricted new arrivals in the Immigration Act of 1924, was among those who refused to absorb Jews in need. In one of the most infamous episodes, the U.S. government turned away the St. Louis in 1939 with 900 German Jewish refugees on board, sending its desperate passengers back to the Europe they had fled to face an uncertain fate.
While Jews were the chief victims of the exclusionary policies of the United States in the 1930s and 1940s, today Muslims have been unfairly singled out.
President Trump's executive order banning entry to people from six Muslim-majority countries, which the U.S. Supreme Court will review this fall, is quite obviously the "Muslim ban" that candidate Trump swore he'd institute.
For now, the Supreme Court has barely reined in the administration, permitting the admission of only those prospective arrivals proving a "bona fide relationship" with a close family member. Adding another layer of gratuitous cruelty, the administration has inexplicably excluded grandparents and grandchildren from that standard. And there is serious concern that the Supreme Court will let the president have his way, as it did in the notorious Korematsu decision (1944) that upheld President Roosevelt's Executive Order 9066 to intern Japanese Americans. If it were to do so, it would overturn every other federal judicial judgment on the matter and empower the president to discriminate on the basis of religion.
Federal judges in Hawaii and Maryland amply chronicled the president's discriminatory rhetoric during the campaign and after as evidence of the underlying bias in the ban. Existing immigration law holds that "no person shall receive any preference or priority or be discriminated against in the issuance of an immigrant visa because of the person's race, sex, nationality, place of birth, or place of residence." In addition, the 9th Circuit found that the administration had offered no evidence that allowing entry to citizens of Muslim countries heightened national security risks. Nor did the federal government in Korematsu, yet in the feverish wartime political environment, Roosevelt's internment order was upheld anyway.
We call on the greatest of our country's traditions: its openness and tolerance for newcomers, along with its commitment to justice for all. Muslims and Jews have been part of and benefited from those traditions. Setting the stage for this noble inclusivity was the treaty of peace and friendship entered into with Morocco in 1786, one of the first and longest-standing treaties that the fledgling United States signed. In more recent times, millions of Muslims have called America their homeland, including many who have served in and sacrificed on behalf of the armed services.
Meanwhile, despite some notable lapses, Jews have considered themselves welcome in America at least from the time of President Washington's famous letter of 1790 to the Jewish community in Newport, R.I. Washington proclaimed not only that the United States gives "to bigotry no sanction," but then added: "May the children of the stock of Abraham who dwell in this land continue to merit and enjoy the good will of the other inhabitants."
Muslims and Jews together are derived from the stock of Abraham. Drawing on our shared roots, we look on with trepidation at the risks facing our country. The Supreme Court's decision on the legality of the travel ban will not just be a holding on an administrative matter, but a stress test of the integrity and resilience of America's democratic institutions. Confronting the gravest internal threat to our democratic tradition in modern memory, today's Supreme Court faces a stark choice between affirming the grand American ideals of tolerance and inclusion or uprooting and betraying them.
Zev Yaroslavsky is a former Los Angeles County supervisor, a fellow at the UCLA Luskin School of Public Affairs and history department, and board member of Jews United for Democracy and Justice. Salam Al-Marayati is the president of the Muslim Public Affairs Council.
http://www.latimes.com/opinion/op-ed/la-oe-yaroslavsky-marayati-muslim-ban-20170710-story.html
--------
India
Terror attack on Amarnath pilgrims carried out by LeT, masterminded by Pakistani terrorist Ismail: J&K polic
Jul 11, 2017
NEW DELHI: The terror attack on Amarnath yatra pilgrims+ on Monday was carried out by the Lashkar-e-Toiba and was masterminded by a Pakistani terrorist Ismail, said Jammu and Kashmir's inspector general of police Muneer Khan to ANI news agency, on Tuesday.
Seven Amarnath pilgrims from Gujarat were killed+ and 14 others injured when terrorists opened fire on a bus near Batengoo in Jammu and Kashmir's Anantnag district on Monday.
Police sources said the terrorists initially attacked a police bunker in Batengoo. The fire was returned but there was no report of injuries. It was after that the bus was attacked. The bus was on way to Jammu from Baltal and was not part of a convoy, a police spokesman said.
Initial reports said the bus was not registered with the Amarnath shrine board and was travelling after permitted hours and therefore without adequate security.
Several political organisations, including the Vishwa Hindu Parishad (VHP), the Jammu and Kashmir National Panthers Party, the National Conference and the Congress called for a bandh in Jammu on Tuesday to protest the killings.
Senior Union home ministry officials are scheduled to visit J&K on Tuesday. They include minister of state for home Hansraj Ahir, and Kashmir joint secretary Gyaneshwar Kumar. J&K governor NN Vohra has also called for a meeting in Srinagar, said ANI. Separately, a high-level meet is scheduled for Tuesday 9:45 am at home minister Rajnath Singh's residence to discuss the attack.
http://timesofindia.indiatimes.com/india/terror-attack-on-amarnath-pilgrims-carried-out-by-let-masterminded-by-pakistani-terrorist-ismail-jk-police/articleshow/59539344.cms
--------
Amarnath terror attack: Internet services suspended in Jammu
Jul 11, 2017
JAMMU: Internet services were suspended in the Jammu region today after the terror attack on Amarnath pilgrims in Jammu and Kashmir's Anantnag district, official said.
Internet and broadband services in the region have been suspended as a precautionary measure following the killing of Amarnath pilgrims in a terrorist attack in the Kashmir Valley, the SSP control room said.
Terrorists tonight killed seven pilgrims from Gujarat, including six women, and injured 32 others as they struck at a bus in the district, in the worst attack on the annual pilgrimage since the year 2000.
http://timesofindia.indiatimes.com/india/amarnath-terror-attack-internet-services-suspended-in-jammu/articleshow/59537395.cms
--------
Zakir Naik's passport could be revoked soon
Jul 11, 2017
NEW DELHI: Fugitive televangelist Zakir Naik could soon become a stateless person, with the Regional Passport Office, Mumbai, serving him a 10-day ultimatum to submit his passport in person or face its revocation.
The proceedings were initiated on a request from the National Investigation Agency (NIA), which is probing Naik's speeches that allegedly incited youth to commit terror acts, after he failed to respond to its multiple notices asking him to join the investigation. The assistant passport officer (policy) at RPO Mumbai wrote to Naik on July 3, directing that he meet him on any working day between 10 am and 12.30 pm within 10 days from the issue of the letter, along with his passport dated January 20, 2016. "Failure to submit the passport will force us to initiate necessary action under the Passport Act, 1967 against you," he warned.
The NIA had written to the RPO, Mumbai, on June 29 seeking revocation of Naik's passport on the ground that he was "not cooperating with them in the investigation pending against him". Citing its June 23 communication to the home ministry, the NIA said Zakir Naik had thrice been issued notices under Section 160 of CrPC on February 28, March 15 and March 31 but was yet to join the proceedings against him. It added that a non-bailable warrant had been issued against him on April 21.
Full report at:
http://timesofindia.indiatimes.com/india/zakir-naiks-passport-could-be-revoked-in-10-days/articleshow/59536597.cms
--------
Adil, Lashkar man in Valley, is Sandeep Sharma from UP
by Mir Ehsan , Manish Sahu , Ankita Dwivedi Johri
July 11, 2017
THE JAMMU and Kashmir Police on Monday claimed to have busted a Lashkar-e-Taiba module with the arrests of two persons, including Sandeep Kumar Sharma alias Adil, a resident of Muzaffarnagar, Uttar Pradesh.
Identifying the second person as Muneeb Shah of Kulgam, police said the duo were involved in several attacks on security forces, including the killing of six policemen in Achabal last month, and bank robberies in South Kashmir. Inspector General of Police, Kashmir, Muneer Ahmad Khan said Sharma was nabbed in the encounter at Brenti Batapora, Dialgam, in South Kashmir on July 1, when Lashkar 'commander' Bashir Ahmad Wani was killed. "He was present in the same house at Brenti Batapora where Wani and Abu Maaz of Pakistan were killed," he said.
"Sharma and his accomplice were involved in an attack on an Army convoy at Lower Munda Qazigund in June. They were also involved in a weapon snatching incident at the residence of Justice (retd) Muzuffar Attar at Anchidoora on June 13, and attack on a police party in which six policemen were killed at Thajiwara Achabal on June 16," said Khan. He said Sharma and his associates were also involved in five incidents of bank robberies and looting of ATMs.
"This criminal conspiracy started sometime in January 2017. Sharma and his associates (all Kashmir residents) came from Patiala to carry out criminal activities. They stayed in Wanpoh and were involved in robberies, including looting of ATMs, in South Kashmir. They worked in conjunction with the Lashkar… Sharma worked as Wani's key aide," he said.
In Muzaffarnagar, Sharma's mother Premvati, brother Parveen and sister-in-law Rekha have been detained for questioning. "An ATS team from the local police station went to their residence at around 9 am, after receiving information from the J&K police. His mother and sister-in-law were at home," said Inspector G C Sharma of Civil Lines Police Station, who was part of the team. Parveen was brought in from Haridwar, where he is employed as a driver.
Read | Who is Sandeep Kumar Sharma?
The family is reported to have told the police that Sharma had converted to Islam and married a girl from Kashmir. They have reportedly claimed that Sharma left his home, in Sarwat village of Muzaffarnagar district, about seven years ago, and did not contact them till about three years ago. That was when they found out that he had converted.
Contradicting the family's claim, a police officer said they had evidence that Sharma was in regular contact with them. Inspector General, Uttar Pradesh ATS, Asim Arun said they had not found any criminal records against Sharma or his family members so far. An ATS team has left for J&K to question him.
In Kashmir, police said Sharma was arrested in a robbery case in March 2017, but was later released on bail.
According to Kashmir IG Khan, Sharma first visited the Valley in the summer of 2012. He used to work as a welder in Kashmir during the summer months and moved to Patiala during winter, he said.
"During his stay in Patiala, he came in contact with Shahid of Pohlu Pulwama. In January 2017, he returned to Kashmir, and stayed in Wanpoh, along with Shahid and two other associates, Muneeb Shah and Muzaffar. Sharma got involved in criminal activities, along with Lashkar terrorist Shakoor of Supat village. They used Sharma's services in looting banks, and shared the spoils," said Khan.
Khan said investigations revealed that Sharma, along with others, had hatched a criminal conspiracy to provide shelter and transport to militants for carrying out terror strikes. "On the Lashkar's directions, Sharma and his associates received Lashkar terrorists and dropped them off at different sites in South Kashmir. He also concealed weapons looted from police guards in a vehicle, and transported these to different locations on the Lashkar's directions," he said. Since Sharma was not a J&K resident, he would drive vehicles with "outside state" numberplates, police said.
Police said they were investigating the role of Sharma's associates. "Investigations have revealed that Lashkar, in league with a criminal network, is raising funds by looting banks, especially ATMs in South Kashmir, besides using these networks to further terrorist activities," said Khan.
The Lashkar, however, denied any link with Sharma, and said it was a ploy by intelligence agencies to sabotage the Kashmir movement.
In Sarwat, villagers expressed surprise at the arrest. "They were a very poor family. He was miffed with the family since they had sold their old home, a few years ago. He wanted a share of the money, but Parveen wasn't willing to give him," said Gaurav Tyagi, 30, Sharma's neighbour.
Full report at:
http://indianexpress.com/article/india/jammu-kashmir-police-bust-lashkar-e-taiba-module-involved-in-bank-atm-robberies-4743786/
--------
J&K: Three terrorists killed as Army foils infiltration bid along LoC
Jul 10, 2017
SRINAGAR: Three terrorists were killed on Monday as the Army foiled an infiltration bid along the Line of Control (LoC) in Naugam sector of north Kashmir.
"Suspicious movement was noticed along the LoC in Naugam sector last night and the terrorists were tracked till dawn, when they were challenged by own troops," an Army official said.
He said in the ensuing gunfight, three terrorists have been killed so far as the operation was still in progress.
Full report at:
http://timesofindia.indiatimes.com/india/three-terrorists-killed-as-army-foils-infiltration-bid/articleshow/59523470.cms
--------
Mosul freed: Search on for 39 Indians abducted in 2014
Jul 11, 2017
NEW DELHI: Describing the liberation of Mosul from Islamic State as an important milestone in the global war on terror, the government on Monday announced that it had activated "various channels" for locating the 39 Indian construction workers who were abducted from the Iraqi city and who remain missing.
Minister of state VK Singh reached Erbil late on Monday evening to inquire about them, the government said.
Foreign ministry spokesman Gopal Baglay said as soon as the announcement of Mosul's liberation was made by the Iraqi Prime Minister, the government activated various channels for locating the missing Indians.
"The ambassador of India to Iraq and our consul general in Erbil have been instructed to continue the efforts to locate them on priority," said Baglay, adding that Iraqi authorities have conveyed that all cooperation would be extended in this regard and that instructions had been issued by them to all relevant Iraqi agencies for the same.
Full report at:
http://timesofindia.indiatimes.com/india/mosul-freed-search-on-for-39-indians-abducted-in-2014/articleshow/59536409.cms
--------
Arab World
New ISIL Document Reveals Key Information about Al-Baghdadi
Jul 10, 2017
Intelligence sources told the Arabic website of Sputnik news agency that the document which was discovered in an ISIL base in Mosul bans any discussion of al-Baghdadi's death in a move to prevent chaos among members.
The document, distributed among the leaders, also emphasizes that "the ISIL will survive even if al-Baghdadi is dead", stressing the need for the terrorist groups' members to keep patient and take orders from their commanders.
A local source in Iraq's Salahuddin reported on Thursday that the ISIL terrorist group has arrested scores of its members in the Eastern parts of the province for speaking about the death of al-Baghdadi.
The source said that the ISIL has arrested over 20 of its members in the villages of Eastern Makhoul in Salahuddin for making public remarks about al-Baghdadi's death.
The terrorist group has accused them of promoting an internal sedition.
According to the source, ISIL members are confused over the ban on speaking about al-Baghdadi's death, specially after the terrorist group was forced to arrest its members.
A well-informed local source in Northwestern Iraq reported earlier this month that ISIL has burned Abu Qatibeh alive on charges of implying the death of Abu Bakr al-Baghdadi, the terrorist group's ring leader, in his sermon on Friday Prayers in the town of Tal Afar.
The sources said that only a few hours after arresting Abu Qatibeh on charges of internal sedition, the terrorist group burnt him in front of tens of people in the Central part of Tal Afar.
"Abu Qatibeh, who was a close friend to al-Baghdadi, implicitly endorsed earlier revelations about the death of ISIL's ring leader and cried for him in his Friday Prayers sermon, which raised several questions. ISIL kept mum on the issue at first, but later arrested him and executed him on charges of sedition," the source went on to say.
http://en.farsnews.com/newstext.aspx?nn=13960419001487
--------
Police kill six Daesh sympathizers in southern Egypt: Interior Ministry
Jul 10, 2017
Egyptian police have killed six militants who allegedly adhered to the Daesh Takfiri group's ideology when a gunfight erupted during a raid on their Nile valley hideout, the government says.
The militants opened fire on police as they approached the hideout in Dairut, a town in the southern province of Assiut, the Interior Ministry said in a statement on its Facebook page.
Police were acting on intelligence that "a group of terrorists who adhere to the beliefs of [Daesh] were hiding in a residential apartment in uninhabited buildings," it said.
When the six militants opened fire, the police shot back and killed them.
The militants were using the hideout as "an organizational base and to prepare to carry out a series of terrorist operations within the southern provinces," said the ministry.
Police found a bomb, five automatic weapons, ammunition, military uniforms, and "educational publications containing the concepts and slogans" of Daesh, it added.
Daesh has been leading a deadly insurgency that has killed hundreds of policemen and soldiers since the army overthrew former president Mohamed Morsi in 2013 and started a crackdown on his supporters.
While Daesh has been operating mainly in North Sinai, they have also carried out attacks in other parts of the country, including Cairo.
The extremists have been increasingly targeting Christians in their campaign as well.
Groups other than Daesh have also carried out attacks in Egypt, targeting policemen and judges. Gunmen on Friday shot dead a National Security Service officer as he was leaving his home north of Cairo. The militant group Hasam claimed responsibility for the attack.
Full report at:
http://www.presstv.ir/Detail/2017/07/10/528047/Egypt-Daesh-
--------
After Mosul, other Iraqi territory still in Islamic State hands
Jul 10, 2017
Even after the recapture of Mosul, the Islamic State group still holds significant territory in several Iraqi provinces and has the ability to carry out attacks in government-held areas.
Here are some of the key areas still controlled by the jihadists, the recapture and control of which pose political as well as military challenges:
Tal Afar
A town located between Mosul and the Syrian border that had an estimated population of around 200,000 before IS seized it in the summer of 2014.
Tal Afar was a Shiite Muslim-majority enclave in the mostly Sunni Muslim area with an overwhelmingly Turkmen population before its capture by IS.
"Tal Afar itself is going to be a bit like Mosul, it's going to be... sort of a quite conventional clearance operation," said Michael Knights of the Washington Institute for Near East Policy.
But the issue of which forces will participate, and who will control it after it is retaken, are potential sources of conflict.
"Shiite militia insistence on controlling the Turkmen (town) of Tal Afar juxtaposed with US and Turkish refusal to allow the Shiite militias to participate" are among the conditions that could lead to conflict in the future, said Patrick Martin of the Institute for the Study of War.
Hawijah
A town in Iraq's Kirkuk that is the centre of a large IS-held area in a province that is otherwise controlled by Kurdish forces.
Security forces entered an anti-government protest camp in the Hawijah area in April 2013, sparking clashes that killed dozens, a key event in a surge in violence in Iraq that culminated in an IS offensive that overran swathes of the country the following year.
"Political challenges are preventing the Hawijah operation from starting," Martin said.
"The convergence of Iraqi Kurdish forces, who seek to control Kirkuk and its oil resources, Iraqi Shiite militias who seek to prevent Kurdish separatism and Iraqi government forces could lead to instability in recaptured Kirkuk," he said.
Hawijah is "part of a threat complex that is an island of ungoverned space in the middle of north-central Iraq. And it's a complicated, big, long-term problem," Knights said.
He said clearing Hawijah will likely be left until last.
Western Anbar
IS holds a string of territory along the Euphrates River valley in Anbar province, including the Al-Qaim area on the Syrian border.
While Iraqi forces have recaptured Ramadi and Fallujah, the two main population centres in Anbar, this territory closer to the border with Syria will be difficult to defend once recaptured.
"Holding the border and preventing (IS) infiltration of western Anbar's expansive deserts with limited manpower will be a serious challenge" for Iraqi forces, Martin said.
Knights agreed. Syrian border areas "are really dangerous areas where IS could throw... a tank company over the border and just overrun you and smash you to bits if you're not careful."
Successfully defending the small border forts in western Anbar will require sensors on the border to detect intruders and military forces that can respond quickly on the ground or with air strikes, Knights said.
Government-held areas
Iraqi forces have retaken three cities and numerous towns and villages from IS, but the jihadists still have a presence in government-held areas and are able to carry out frequent attacks on civilians and security forces personnel.
"By the time we liberate all these openly (IS)-controlled areas, they're gonna have a whole bunch of re-clearing to do," said Knights.
He gave Diyala province -- where IS has undergone a resurgence since the province's announced recapture in 2015 -- as an example of what may happen in other areas.
IS's predecessor, the Islamic State of Iraq, was also dealt major military setbacks in past years, but widespread Sunni Arab anger with the government combined with the Syrian civil war to set the stage for its resurgence.
Full report at:
http://www.hindustantimes.com/world-news/after-mosul-other-iraqi-territory-still-in-islamic-state-hands/story-YLrz3puYpkJswuMX36BmGJ.html
--------
Security forces kill six 'militants' in shootout in Egypt
Jul 11, 2017
Cairo - Egyptian security forces have killed six suspected militants sympathetic to Islamic State in a shooutout in the southern province of Assiut, an Interior Ministry said on Monday. A ministry statement said security forces were carrying out a raid on the group's apartment in Assiut when a firefight ensued in which all six militants were killed. It did not say when the incident took place. The apartment was "an organizational base where (the group) was preparing to carry out a series of terrorist operations in the provinces," the statement said.
http://nation.com.pk/international/11-Jul-2017/security-forces-kill-six-militants-in-shootout-in-egypt
--------
Bahraini rights activist Nabeel Rajab sentenced to two years in jail
Jul 11, 2017
A Bahrain court sentenced rights campaigner Nabeel Rajab to two years in jail on Monday, supporters said, for allegedly making "false or malicious" statements about Bahraini authorities.
Authorities at Bahrain's information affairs office could not immediately be reached for comment. Bahrain has repeatedly denied systematic rights abuses.
The Bahrain Institute for Rights and Democracy (BIRD) said Rajab had been unable to attend the trial, having been at an interior ministry hospital since his health deteriorated in April. He was detained a year ago.
"This outrageous sentence against someone speaking the truth exhibits the brutality of the Bahraini government and its heinous crimes and that of its kangaroo court," said Sayed Al-Wadaei, director of advocacy at BIRD.
In a January 2015 media interview cited by the prosecution, according to al-Wadaei, Rajab had said Bahrain's jails housed political prisoners who were subject to torture.
Rajab was a leading figure in a 2011 pro-democracy uprising which Bahrain crushed with the help of fellow Gulf Arab countries.
He was arrested in June last year after tweets from his account suggested that security forces had tortured detainees in a Bahraini prison and during a military campaign in Yemen.
"BLATANT INJUSTICE"
Amnesty International called Rajab's imprisonment "a flagrant violation of human rights, and an alarming sign that the Bahraini authorities will go to any length to silence criticism".
Human Rights First called the ruling "blatant injustice designed to serve political interests".
Rajab criticized US President Donald Trump in a New York Times column in May for selling arms to his country and to Saudi Arabia, citing their human rights records.
Trump's White House has green-lighted a $5 billion military sale to Bahrain held up by the administration of his predecessor Barrack Obama last year over human rights concerns. The island state is home to the US Navy's Fifth Fleet.
The Sunni-ruled kingdom, most of whose population is Shi'ite, says it faces a threat from neighboring Shi'ite theocracy Iran.
It accuses the Islamic Republic of radicalising and arming some members of its majority Shi'ite population in an effort to bring about the downfall of the ruling Al Khalifa family.
Tehran denies any meddling in Bahrain.
Full report at:
http://nation.com.pk/international/10-Jul-2017/bahraini-rights-activist-nabeel-rajab-sentenced-to-two-years-in-jail
--------
Syrian Army Captures More Territories in Northeastern Damascus
Jul 10, 2017
The army men kicked off the second phase of al-Fajar al-Kobra operation South of the road that connects al-Seen airbase to Zaza region and managed to advance against terrorists from Tal 9hill Deco towards Tal Roqeileh, Tal al-Baqar and Tal al-A'saf and the regions of Khirbet al-Ambashi and al-Kera'ah.
The army soldiers further drove terrorists out of the mountain between Tal Deco and Tal Roqeileh up to Tal Risheh.
The army units also won back Tal Risheh Dam, Jabal (mount) Mahkoul, Baer Makhour and Jabal Sis South of al-Seen airbase.
The Army had managed to secure over 5,000 square kilometers of the Syrian Desert from the clutches of ISIL during the first stage of al-Fajr al-Kobra operation that is the largest swathes of land won back from ISIL since 2011 and includes Southern Homs.
In the meantime, the army forces managed to foil terrorists' plan to join Badiyeh (desert) al-Sham to Badiyeh of Homs to Eastern Qalamoun, repelling ISIL's threats to al-Seen airport.
Earlier reports said that the army troops continued their anti-terrorism operation from four directions in Ein Terma region in Eastern Ghouta and managed to seize control over more lands.
The army men stormed terrorists' defense lines from four directions and advanced from their positions Southeast of Kaziyeh towards al-Kheir Bazaar West of Ein Terma Wadi (desert), capturing a number of buildings.
The army soldiers also reached the center of the Ein Terma-Jobar-Zmelka Triangle after a series of fierce clashes with the militants of Faylaq al-Rahman.
Full report at:
http://en.farsnews.com/newstext.aspx?nn=13960419001536
--------
Sources Disclose S. Arabia's Pressure on Iraq to Give Up Support for Qatar
Jul 10, 2017
The Arabic-language al-Taqrir al-Iraqi news website quoted Jassim al-Bayati, one of the leaders of Iraq's al-Da'wah party, as saying that since the crisis started in the relations between Saudi Arabia and Qatar, increasing pressure has been exerted on his country to unite with Riyadh against Doha.
He added that the Iraqi Prime Minister Haider al-Abadi has postponed his visit to Saudi Arabia following the aforementioned pressures.
His remarks came as al-Abadi underlined in June that Iraq is opposed to the isolation of Qatar by Saudi Arabia and other Persian Gulf Arab neighbors because it hurts ordinary citizens.
"Regimes are not affected by the blockade; the blockade hurts people," he told reporters in Baghdad.
Bahrain, Saudi Arabia, the United Arab Emirates and Egypt cut off diplomatic ties with Qatar early June, and suspended air and sea communication one week after the Arab Islamic American Summit in Riyadh, accusing Doha of supporting terrorist organizations and destabilizing the situation in the Middle East.
Full report at:
http://en.farsnews.com/newstext.aspx?nn=13960419001104
--------
Syria: Popular Uprising against Terrorists Starts in Southeastern Deir Ezzur
Jul 10, 2017
Local sources in the town of Albu Kamal reported that a group of young men have burned 2 ISIL vehicles and a bus in the town and killed one of the terrorists.
The development came a day after three other terrorists were killed and their car was burned at the hands of locals of al-Kataf area on the outskirts of Albu Kamal.
The sources also announced that a state of turmoil and confusion still prevails among ISIL terrorists, where clashes erupted among ISIL groups in the area of al-Souar, which led to the injury of ISIL commanders, including Abu Mosaab al-Falastini and Abu Omar al-Australi.
In the meantime, the Russian and Syrian fighter jets intensified air raids on ISIL's strongholds as army ground troops are advancing towards the last stronghold of ISIL in Eastern Homs that is considered as a gate to Deir Ezzur province.
In early May, a large number of people in the town of Albu Kamal along the Euphrates River attacked one of the checkpoints of ISIL Hasaba (security-monitoring) forces, setting fire at two of their vehicles.
Relevant reports said on Friday that the army soldiers, backed up by the country's fighter jets, started clashes with the ISIL in Panorama square and managed to fend off their heavy attack.
The ISIL suffered heavy casualties and its military hardware sustained major damage in the failed attack.
Full report at:
http://en.farsnews.com/newstext.aspx?nn=13960419001125
--------
Syrian Army Inches Closer to ISIL's Vital Stronghold in Homs
Jul 10, 2017
The army soldiers and Hezbollah fighters that are fighting against ISIL in al-Heil energy field to take a small part of the field still under the control of the terrorists stormed ISIL's defense lines around the oilfield and managed to take control of more heights.
The army units and Hezbollah fighters continued their operations to reach the strategic town of al-Sukhnah, the last ISIL stronghold in Homs province as well as the Takfiri terrorist group's last defense lines directly West of the city of Deir Ezzur and captured most hilltops within the al-Qalilat mountain to the Northwest of the al-Heil area.
The army soldiers continued to advance against ISIL Northeast of Jubab Hama after capturing Jubab Hamd key region and al-Alaam heightand took back several heights overlooking the villages of al-Baqaliyeh.
Earlier reports said that the army men and the Hezbollah fighters managed to advance against ISIL in the depth of Badiyeh (desert) and seized full control over a large part of al-Heil oilfield near the town of al-Sukhnah.
In the meantime, the Russian and Syrian fighter jets carried out repeated attacks on ISIL's defense lines in al-Heil, killing a number of terrorists.
According to reports, a few dozens more of ISIL terrorists have remained in the region, and the army soldiers seem to have an easy job to move fast towards al-Sukhnah.
Field reports also said that the pro-government forces are engaged in a military operation to liberate the oil-rich town of al-Sukhnah from ISIL.
Full report at:
http://en.farsnews.com/newstext.aspx?nn=13960419001031
--------
Tahrir Al-Sham Arrests Tens of Rival ISIL Terrorists in Northwestern Syria
Jul 10, 2017
According to the Al-Qaeda group's official media wing, large convoys of fighters stormed various towns and villages where ISIL sleeper cells were believed to be in Idlib province.
Tahrir al-Sham further confirmed that its forces arrested 100 gunmen on charges of affiliation to ISIL in Idlib and its countryside.
News websites affiliated to the Tahrir al-Sham Hay'at reported heightened public discontent among the people residing in Idlib.
According to Aba news website, the security situation in Idlib is tense and people are living in chaos and horror in the province.
"The checkpoints where the cars are inspected are disordered and chaotic and the terrorist groups have lost their unity, leading to increased feeling of insecurity among people," it added.
Full report at:
http://en.farsnews.com/newstext.aspx?nn=13960419000744
--------
Southeast Asia
Zakir Naik a guest at PAS' regional Muslim scholars' conference
July 11, 2017
KUALA LUMPUR, July 11 ― Fugitive televangelist Dr Zakir Naik has been confirmed as one of the guests to a regional conference for Muslim scholars organised by Islamist party PAS in Kota Baru, Kelantan later this month.
The organisers said it is aware of the controversy surrounding the Indian national who is currently on the run from authorities in his home country, but the conference called International Assembly of Ummah Unity will stay away from any such polemics.
"Among those who have confirmed their attendance is Dr Zakir Naik. Among the special guests that we have invited this year," PAS deputy president Datuk Tuan Ibrahim Tuan Man said in a press conference yesterday.
A video of the press conference was posted on the event's Facebook page.
"The issue of Zakir Naik is not an issue of conflict. But it is his personal issue, with others who do not agree with him," Tuan Ibrahim said.
"We take in the context of how the he plays his role in evangelism, how he can contribute in that aspect."
The 51-year-old medical doctor by training has been visiting Malaysia and Saudi Arabia frequently after leaving India where he is wanted for money laundering and terrorism investigations.
Dr Zakir was conferred honorary membership in Malay rights organisation Perkasa on April 16.
He is also a central figure in a March 1 civil lawsuit filed by 19 Malaysian human rights activists against the federal government, which it accused of failing to protect the country from Dr Zakir whom they claim to be a security threat.
Tuan Ibrahim said the conference will see participation from representatives of 23 countries including Timor Leste, Papua New Guinea, Japan, South Korea, Singapore, Sudan, Turkey, Pakistan, Bangladesh, Sri Lanka, Cambodia, Brunei, Australia, New Zealand, Hong Kong, and Laos.
Other guests will include International Union of Muslim Scholars assistant secretary-general Sheikh Ghafar Abdul Aziz from Pakistan, Dewan Da'wah Islamiyah Indonesia's de facto leader Mohammad Siddik, and Jamaat-e-Islami Hind's vice-president Sadat Husani from India.
The conference will be held in the Sultan Muhammad IV Stadium in Kota Baru between July 20 and 22.
http://www.themalaymailonline.com/malaysia/article/zakir-naik-a-guest-at-pas-regional-muslim-scholars-conference-video
--------
S. Sumatra Police Arrest Self-Professed Islamic State Member
Jul 11, 2017
Jakarta. South Sumatra Police have detained an alleged Islamic State member, known as Toni, after he was accused of spreading hate speech targeted against the police on social media.
South Sumatra Police chief Insp. Gen. Agung Budi Martoyo said authorities also seized a laptop and cell phone during the arrest.
"The arrest was based on his social media activity. He posted a lot of things, including a claim that he was a member of Islamic State," Agung said on Sunday (09/07).
Agung added that Toni was taken to South Sumatra Police headquarters for intensive questioning about his alleged involvement with transnational terror group.
"From our early questioning, he said he wanted to go to Syria," Agung said. "Based on that statement and other posts, he might have violated the Information and Electronic Transaction Law. We are further investigating what he meant by posts like, among others, 'The police do not worship God.'"
Toni could be charged under the ITE law and face over five years imprisonment if found guilty.
Full report at:
http://jakartaglobe.id/news/s-sumatra-police-arrest-self-professed-islamic-state-member/
--------
Malaysian Apex Court to Decide If Fatwa Dispute Should Go To Civil or Shariah Court
July 11, 2017
PUTRAJAYA: The Selangor government and its state religious authorities have won the right to argue whether the civil or Islamic court has jurisdiction to hear a constitutional challenge to a "fatwa" (religious edict).
A three-man Federal Court bench chaired by Chief Justice Raus Sharif today allowed the applicants' leave application to appeal against a Court of Appeal ruling.
" The applicants have met the threshold (under Section 96 of the Courts of Judicature Act ) to obtain leave," he said.
Raus said despite numerous past decisions (of the Federal Court), the questions posed had an effect on several provisions in the Federal Constitution.
Two other key questions would also be raised during the appeal.
One is whether the presence of government lawyers from the Attorney-General's Chambers in the High Court is presumed to represent the state religious authorities.
In Malaysia, Islamic religious affairs come under the jurisdiction of state governments.
The other question is whether a company that uses the name of Islam and is controlled by those who profess the religion may be interpreted as "Islamic" within the meaning of Section 2 of the Administration of Religion of Islam (Selangor) Enactment 2003.
On March 2, the Court of Appeal said the civil court had jurisdiction to hear a complaint by Islamic non-governmental organisation Sisters in Islam (SIS), the group's co-founder Zainah Mahfoozah Anwar and former federal minister Mohd Zaid Ibrahim.
A three-man bench chaired by Tengku Maimun Tuan Mat also ordered the merit of the case to be heard before a new High Court judge.
On June 24 last year, Justice Hanipah Farikullah ruled that civil courts had no power to hear cases pertaining to religious matters such as "fatwa" .
She had said the civil court had no jurisdiction to grant the remedies the NGO was seeking as the issue of "fatwa"was under the exclusive jurisdiction of the Shariah Court.
On Oct 31, 2014, SIS, Mahfoozah and Zaid filed an application for a court order to revoke the "fatwa" decision that SIS subscribed to liberalism and religious pluralism, and had deviated from Islamic teachings.
Selangor state legal adviser Nik Suhaimi Nik Sulaiman represented the government, Yusfarizal Yussoff the Selangor Islamic Religious Affairs Council and Sulaiman Abdullah the Selangor Fatwa Committee.
Full report at:
http://www.freemalaysiatoday.com/category/nation/2017/07/11/apex-court-to-decide-if-fatwa-dispute-should-go-to-civil-or-shariah-court/
--------
Mais gets court's nod to continue bid to stop SIS's 'deviant' fatwa challenge
BY IDA LIM
July 11, 2017
PUTRAJAYA, July 11 — The Federal Court today allowed the Selangor religious authorities to continue with its bid to end Sisters in Islam's (SIS) legal challenge against a fatwa labelling the latter as "deviant".
The Federal Court said the five questions of law submitted by the Selangor Islamic Religious Council (Mais) and two others sued by SIS need to be discussed in court.
"We allow the application on the five questions presented to us," said Chief Justice Tan Sri Md Raus Sharif, who chaired the three-man panel.
The two other judges are Tan Sri Zulkefli Ahmad Makinudin and Datuk Seri Abu Samah Nordin.
The five questions of law include whether the Shariah court's jurisdiction can be implied from or has to be expressly stated in state laws; and whether a fatwa issued under a Selangor state law is within the exclusive jurisdiction of Shariah courts.
One of the questions is also on whether a company that "uses the name of Islam and is controlled by those who profess the religion of Islam" can be legally interpreted as being a person that professes the religion of Islam.
Surendra Ananth, one of the lawyers who represented SIS, said the lawsuit has yet to be heard on its merits and that the Federal Court's upcoming hearing is still on preliminary issues.
The Federal Court decision after it hears the Selangor Islamic authorities' appeal on the preliminary matter will however be crucial to determine if SIS can continue its challenge in the civil courts against the fatwa.
"If the Federal Court agrees with the appeal proper, it ends there.
"If the Federal Court dismisses the appeal, it will go back to the High Court," he told reporters after the court's decision.
SIS executive director Rozana Isa told reporters after the decision: "Of course naturally we are very disappointed with leave being allowed today but nevertheless this is not final, and so we look forward to our day in court".
Today was the hearing of the Selangor government and Selangor Islamic bodies' application for leave to appeal an earlier court ruling that allowed SIS to proceed with its lawsuit.
On March 2, the Court of Appeal had unanimously reversed the High Court's decision to dismiss SIS's legal challenge against the fatwa.
The Court of Appeal had then ordered the case to be sent back to the Kuala Lumpur High Court to be heard before another judge.
On December 10, 2014, then High Court Judge Datuk Asmabi Mohamad granted SIS leave for judicial review.
But High Court judge Datuk Hanipah Farikullah had last June 24 dismissed the case based on a preliminary objection by the Selangor religious authorities on the issue of which court had jurisdiction, ruling that only the Shariah courts have the powers to deal with the religious edict.
SIS had filed on October 31, 2014 for judicial review of a gazetted fatwa in Selangor that declared the group as "deviants" in Islam due to their alleged religious liberalism and pluralism.
The fatwa also deemed any publications with elements of liberalism and religious pluralism as "haram", or forbidden to Muslims, and can be seized by religious authorities.
It also sought for local Internet regulator the Malaysian Communications and Multimedia Commission to monitor and block social media websites with content that was against Islam.
Full report at:
http://www.themalaymailonline.com/malaysia/article/mais-gets-courts-nod-to-continue-bid-to-stop-siss-deviant-fatwa-challenge
--------
'Gay film' screening in Penang cancelled after pressure from Islamists
July 11, 2017
KUALA LUMPUR, July 11 — A public screening of a Vietnamese film with homosexual elements scheduled tonight in Penang has been cancelled following pressure from several Islamist groups.
The 2011 film titled Lost in Paradise was supposed to be shown in an adult-only screening at the Performing Arts Centre of Penang (PenangPAC) in Tanjong Tokong but has been replaced with another movie.
"Due to unforeseen circumstances, the film that was scheduled for viewing has now been replaced.
"Our management said the movie is unsuitable for screening due to its sensitive subject. So we decided to replace it," a PenangPAC's spokesman was quoted saying by New Straits Times (NST).
The film, directed by Vu Ngoc Dang, is said to be the South-east Asian country's "first gay film".
One part of the film portrays the love triangle between three men amid a backdrop of male prostitution.
It has been shown among others at the Toronto International Film Festival, Vancouver International Film Festival, and the Busan International Film Festival.
Hardline group Jaringan Muslimin Pulau Pinang chairman Hafiz Nordin was reported by NST saying the organisers should have been more careful when selecting the genre of the film to be screened.
"If they really are Malaysians, they should know that such movies should not be screened for the public even if it is done at their premises. This can be construed by some as a way of promoting homosexuality in our country," he reportedly said.
Full report at:
http://www.themalaymailonline.com/malaysia/article/gay-film-screening-in-penang-cancelled-after-pressure-from-islamists
--------
Mideast
Turkish army jets kill 11 Kurdish militants in southeast
Jul 11, 2017
At least 11 militants with the Kurdistan Workers Party (PKK) have been killed as Turkey's fighter jets bombed their positions in two areas of the country's southeast overnight.
Turkey's army said in a statement on Tuesday that an air operation on an area in the Dargecit district of Mardin Province near the Syrian border claimed the lives of eight PKK militants believed to be preparing for an attack.
Turkish warplanes also destroyed two gun positions during the operation.
The statement added that the jets also conducted air raids in the countryside of Hakkari Province, which borders Iraq and Iran, leaving three other PKK members dead.
Turkey has declared the PKK a terrorist organization and has banned it. The militant group has been seeking an autonomous Kurdish region since 1984.
A shaky ceasefire between the PKK and the Turkish government collapsed in July 2015. Attacks on Turkish security forces have soared ever since.
Over the past few months, Turkish ground and air forces have been carrying out operations against the PKK positions in the country's southeastern border region as well as in northern Iraq and neighboring Syria.
More than 40,000 people have been killed during the three-decade conflict between Turkey and the autonomy-seeking militant group.
http://www.presstv.ir/Detail/2017/07/11/528106/Turkey-jets-PKK--militants
--------
Israeli spy chief proposes to annex 5 settlements to Jerusalem al-Quds
Jul 10, 2017
Israel's Intelligence Minister Yisrael Katz has proposed the annexation of five Israeli settlements, located in the occupied West Bank, to the Jerusalem al-Quds municipality while removing some 100,000 Palestinians from the city's census.
"Those settlements, those towns -- Maale Adumim, Gush Etzion, Givat Zeev, Beitar Illit and Efrat -- will become part of Jerusalem [al-Quds] but without changing their status," Katz said in a presser on Monday.
He went on to say that according to the proposed plan, dwellers of those settlements would be able to vote in the Jerusalem al-Quds municipal elections; however, the settlements, some of which are located over 10 kilometers deep into the West Bank, would not be under full Israeli control.
The Israeli spy chief further said that some 100,000 Palestinian people, who live outside the Israeli controversial wall encircling Jerusalem al-Quds, would be removed from the city's census at the same time, and a new municipality would be built for them.
Katz's highly provocative plan, if implemented, would significantly change the city's official demographic balance, making it a more Jewish city.
"I am a hawk, but a clever hawk, a humanitarian hawk," said Katz, who is a member of Israeli Prime Minister Benjamin Netanyahu's right-wing Likud party. He noted that the bill would be discussed this week.
The extreme right-wing Jewish Home Party has already proposed the unilateral annexation of Maale Adumim on the outskirts of Jerusalem al-Quds, a controversial move that is expected to draw strong condemnation from the international community.
Palestinians want the West Bank as part of their future independent state, with East Jerusalem al-Quds as its capital, while the Israeli occupiers of Palestinian territories deem the West Bank as "liberated land," saying formal annexation is only a matter of time.
The presence and continued expansion of illegal Israeli settlements in occupied Palestine have created a major obstacle to the establishment of such a Palestinian state.
More than half a million Israelis live in over 230 settlements built since the 1967 Israeli occupation of the Palestinian territories of the West Bank and East Jerusalem al-Quds.
Full report at:
http://www.presstv.ir/Detail/2017/07/10/528050/Palestine-Israel-Yisrael-Katz--Jerusalem-al-Quds-Maale-Adumim
--------
4 Saudis sentenced to death in Yemen for beheadings
Jul 11, 2017
SANAA - A court in Sanaa has sentenced to death four Saudis convicted of belonging to al Qaeda and beheading 14 Yemeni soldiers in a 2014 attack, according to media run by the Houthis, the northern rebel group in control of Yemen's capital.
The 2014 attack was one of many carried out by Al Qaeda in the Arabian Peninsula (AQAP) on state security targets in the period preceding Yemen's descent into full blown war involving Saudi Arabia. The conflict has killed around 10,000 people and displaced another 3 million. "The criminal court in charge of terrorism cases in Sanaa on Sunday sentenced four Saudi nationals to death for belonging to al Qaeda and killing and beheading 14 soldiers of the 134th Brigade," al-Masirah television reported. The Houthis seized control of Sanaa in September 2014, forcing the then government into exile. In March the following year, a Saudi-led coalition launched a campaign to try to restore the ousted govt of President Abd-Rabbu Mansour Hadi.
But despite more than two years of heavy fighting, the Houthis, close to Saudi Arabia's arch-enemy Iran, have maintained control over the most populated provinces including the capital Sanaa.
The court ordered for the men to be executed in public and in the presence of the families of those killed, the channel reported.
Full report at:
http://nation.com.pk/international/11-Jul-2017/4-saudis-sentenced-to-death-in-yemen-for-beheadings
--------
Palestinian tries to run down Israeli soldiers, killed
Jul 11, 2017
GAZA - A Palestinian driver who tried on Monday to run down and then stab Israeli soldiers near a settlement in the occupied West Bank was shot dead by the troops, the Israeli military said.
A wave of Palestinian street attacks that began in 2015 has slowed but has not stopped. In the latest incident, the military said the soldiers opened fire in response to an "immediate threat" posed by the man.
At least 255 Palestinians and one Jordanian citizen have been killed since the violence began. Israel says at least 173 of those killed were carrying out attacks while others died in clashes and protests. Thirty-eight Israelis, two US tourists and a British student have been killed in Palestinian stabbings, shootings and car-rammings.
Full report at:
http://nation.com.pk/international/11-Jul-2017/palestinian-tries-to-run-down-israeli-soldiers-killed
--------
Documents Prove US Involvement in 1980 Nojeh Coup Plot in Iran
Jul 10, 2017
The documents are related to the confessions made by Nasser Rokni, a pilot, who had collaborated with the coup plotters.
In his confessions he admitted the US role in the coup and its financial assistance to the coup plotters in Iran.
The Nojeh coup plot was a plan to overthrow the newly established Islamic Republic of Iran and its Revolution Leader Ayatollah Khomeini.
The plan involved officers and servicemen from the infantry, air force, army and secret service, and was largely halted by the arrest of hundreds of officers on 9–10 July 1980 at Nojeh Air Base, near Hamedan, although substantial sabotage damage had already been carried out, with only 28 tanks (of 159) operational in the frontline Khuzestan Province.
The plan was organized by Colonel Muhammad Baqir Bani-Amiri, a retired Gendermerie officer, with the Shah's last Prime Minister, Shahpour Bakhtiar, contributing financial support and providing his contacts and authority.
Bakhtiar's liaison with the conspirators in Iran was the businessman Manucher Ghorbanifar, who headed the logistics branch of the Niqab network which organized the civilian part of the plot.
Bakhtiar told the plotters the United States "had given [the coup] its blessing".
According to then-President Abolhassan Banisadr, the government discovered eight major cells, and exposed the plotters' plan, leading to the arrests.
Full report at:
http://en.farsnews.com/newstext.aspx?nn=13960419001420
--------
West Bank gets Israeli power boost as Gaza endures energy crisis
10 July 2017
State-owned Israel Electric Corp and the Palestinian Authority signed an agreement on Monday to boost Israeli electrical supply to the occupied West Bank, even as Gaza endures daily blackouts in a Palestinian political dispute.
Under the deal, a new electrical substation was inaugurated near the West Bank city of Jenin. Palestinian Prime Minister Rami Hamdallah and Israeli Energy Ministry Yuval Steinitz cut the red ribbon in a rare show of Israeli-Palestinian cooperation, three years after peace talks collapsed.
The facility will transmit 60 megawatts of electricity purchased from the Israel Electric Corp (IEC), officials said.
The West Bank is dependent on Israeli electricity and the internationally-funded substation is one of four that will be operated in the area by a Palestinian Authority-owned transmission company.
"This is definitely an encouraging historic moment in which we are inaugurating the first substation in the Palestinian Authority," Steinitz said at the ceremony.
A power boost for the West Bank coincides with an energy crisis in the Gaza Strip, where electricity flows only two to three hours a day and medical facilities and residents who can afford to buy fuel largely rely on generators.
Since last month, the IEC has cut by nearly half the amount of power it supplies to Gaza after the PA slashed its payments to the company for the electricity.
The Authority argued that the rival Hamas movement which controls Gaza was not reimbursing it for the cost.
Full report at:
https://english.alarabiya.net/en/News/middle-east/2017/07/10/West-Bank-gets-Israeli-power-boost-as-Gaza-endures-energy-crisis.html
--------
Nuclear-related sanctions hurt Iranian people, not government: President Rouhani
Jul 11, 2017
Iran's President Hassan Rouhani says the sanctions that had been imposed on the country over its nuclear program impacted the Iranian nation rather than government, contrary to what the enforcers of the sanctions claimed.
"In spite of what the Western world would claim, the sanctions didn't bite the government, they bit the people. When sanctions are imposed on [the sales of] our oil, and the country's revenues dwindle [as a result], all government services [to the public] are affected," President Rouhani said on Tuesday.
The Iranian president, who was speaking at a health conference in Tehran, said the "cruel" sanctions had even caused trouble in the procurement of medical equipment, medication, and pharmaceutical raw material.
He referred to his administration's efforts to engage more deeply in negotiations with a group of world powers over the bans and said, "The first thing that had to be resolved was the issue of the sanctions."
He said Iranian diplomacy, supported by the people, proved how it can succeed against the machinations of big world powers.
The Iranian nuclear program had been the subject of a global dispute for well over a decade, during much of which Iran engaged in negotiations to resolve the matter diplomatically. But it wasn't until 2013, when President Rouhani took office, when negotiations between Iran and its latest interlocutors gained increased momentum. Foreign Minister Mohammad Javad Zarif, a veteran diplomat and once Iran's ambassador to the United Nations, was tasked by President Rouhani to take up the nuclear file.
Zarif and his team engaged in some 22 months of tough negotiations with representatives from six world powers and the European Union before they managed to reach a deal in July 2015, practically ending the long-running dispute.
Full report at:
http://www.presstv.ir/Detail/2017/07/11/528097/Iran-Rouhani-nuclear-sanctions-Iranian-people-government
--------
UK court ruling deadly blow to Yemeni civilians: Amnesty
Jul 10, 2017
Amnesty International says a recent UK court ruling that the British government is entitled to continue authorizing arms supplies to Saudi Arabia is a deadly blow to Yemeni civilians.
Head of Arms Control and Human Rights at Amnesty James Lynch on Monday described the court ruling as "disappointing."
"The verdict is a deadly blow for Yemenis under attack from a Saudi Arabia-led coalition bolstered by UK-manufactured weapons," Lynch said, adding, "This is a deeply disappointing outcome, which gives a green light to the UK authorities – and potentially Saudi Arabia's other arms suppliers – to continue authorizing arms transfers to the kingdom despite the clear risk they will be used to commit violations."
"Extensive and credible reports, including Amnesty International's own research on the ground in Yemen, have in our view demonstrated that such weapons have been used to commit serious violations, including war crimes, against civilians in Yemen and that – in light of the clear risk – authorizing further transfers would be counter to the UK's obligations under international law," Lynch noted.
The developments come after the High Court in London reviewed a plea against the country's arms sales to Saudi Arabia, deciding that the government's weapons sales were not against law.
The court had been studying the case lodged by the UK-based NGO 'Campaign against the Arms Trade' since February. It issued its ruling on Monday.
Back at the time when the review began, Rosa Curling from the law firm, Leigh Day, which is representing the NGO, said she believed the decision to continue to grant new licenses for the sale of arms to Saudi Arabia was "unlawful."
The United States has also been generously rewarding the kingdom with hefty arms deals during the invasion. Both the UK and the US are further lending intelligence and logistical support to the bombing campaign.
Elsewhere in his remarks, Lynch demanded an end to all arms exports to the Riyadh regime irrespective of this ruling.
"Irrespective of this ruling, the UK and other governments should end their shameless arms supplies to Saudi Arabia. They may amount to lucrative trade deals, but the UK risks aiding and abetting these terrible crimes," the Amnesty official said.
Amnesty International and other NGOs and UN bodies have concluded that the Saudi pattern of attacks across Yemen raises serious concerns about an apparent disregard for civilian life.
A failure to take feasible precautions to spare civilians, as required by international humanitarian law, has led to civilian deaths and injuries and destruction of civilian homes and infrastructure.
Saudi Arabia has bombed hospitals, mosques, markets and other civilian infrastructure, and frequently carried out disproportionate and indiscriminate attacks that have killed and injured civilians.
Amnesty said in March that the US and the UK had sold over $5 billion worth of weapons to the Riyadh regime since the onset of the invasion, more than 10 times the $450 million they have allegedly spent to help save Yemeni civilians.
Full report at:
http://www.presstv.ir/Detail/2017/07/10/528045/UK-Saudi-Arabia-Yemen-Amnesty-International-James-Lynch
--------
North America
U.S. soldier arrested for attempting to train Islamic State fighters
July 11, 2017
By Ray Downs
July 11 (UPI) -- An active duty U.S. soldier in Hawaii with the highest combat level training in the Army was arrested for providing material support for Islamic State.
The FBI used a SWAT team to take in Sgt. Ikaika Erik Kang, 34, an air traffic control operator with the 25th Infantry Division at U.S. Army Pacific Command on Saturday. They charged him with "attempting to provide material support or resources to a foreign terrorist organization."
"A probable cause arrest was made in the interest of public safety," said Honolulu FBI Special Agent in Charge Paul D. Delacourt. "We believe that Kang was a lone actor and was not associated with others who present a threat to Hawaii."
According to the criminal complaint, Kang provided "material support to [Islamic State] by providing both classified military documents, and other sensitive but unclassified military documents, to persons he believed would pass the documents to [Islamic State]."
The complaint says Kang used his high-level combat training and mixed-martial arts experience to train a person he believed to be a member of Islamic State and videotaping the sessions "so they could be used by [Islamic State] to train other fighters" and helped pay for a drone he believed would be used by Islamic State.
He also told an undercover FBI agent that he wanted to join Islamic State.
"People still say it's illegal to join them, but the way I look at it is they're just fighting people who are committing genocide there," Kang said, according to the complaint. "I'm just going to go there...and fight these guys who are committing genocide."
The Department of Defense said Kang was a highly decorated soldier who had received several commendations, including the Global War on Terrorism Service Medal, the Afghanistan Campaign Medal and the Iraq Campaign Medal and the Army Good Conduct Medal, reported Hawaii News Now.
Kang deployed to Iraq from March 2010 to February 2011, and to Afghanistan from July 2013 to April 2014.
The FBI complaint says Kang "was becoming radicalized" in early 2016. He expressed more interest in Islam, "anti-government topics," and Islamic State. The Army alerted him to the FBI, which sent an undercover agent to make contact with him. Kang and the undercover agent had several discussions and Kang once told him that the only terrorist organization in the world is the United States. He also told the undercover that "Hitler was right, saying he believed in the mass killing of Jews."
After his arrest, the FBI says that Kang admitted to wanting "to help the Islamic State as early as late 2015, because he saw how ill-equipped they were for the fight."
Kang's attorney, Birney Bervar, told NBC News that Kang, "may have some service-related mental health issues which the government was aware of but neglected to treat."
He had been reprimanded by the Army before in 2012 for "threatening to hurt or kill other service members, and for arguing pro-ISIS views while at work and on-post."
https://www.upi.com/Top_News/US/2017/07/11/US-soldier-arrested-for-attempting-to-train-Islamic-State-fighters/3461499746493/
--------
Terrorist Apologism Dominates Islam Convention in Chicago
JULY 10, 2017
by John Rossomando
The Islamic Society of North America (ISNA) wants to be viewed as a mainstream Muslim organization, but its recent national convention suggests that it remains anything but moderate.
ISNA's annual convention drew thousands of people in Chicago recently, spreading paranoid messages — such as claiming that President Trump wants to put Muslims in concentration camps — and presenting speakers who cast convicted terrorists as victims.
Invoking Japanese internment camps from World War II, speaker Zahra Billoo warned that Muslims face a similar fate today.
"And we know from our experience that unless we have laws in place… and we [know they have done this] with other communities, that they're going to send us to concentration camps," she said.
Billoo is the Council on American-Islamic Relations' (CAIR) San Francisco director. In the past, she has urged Muslims to "build a wall of resistance" between themselves and law enforcement, equated Americans in the Israeli army with ISIS terrorists, and accused the FBI of fabricating terrorist threats for public consumption.
ISNA, however, saw her as an ideal person to lead a political discussion. Joining her was a former CAIR official who used the opportunity to advocate for convicted terrorists, including one whose case has been championed by Al-Qaeda and ISIS.
"…[Some] of them are our leaders," Cyrus McGoldrick said. "Some of them are our youth, who were entrapped, some people were framed, I'm talking about Imam Jamil Al-Amin, I'm talking about Tarek Mehanna, I'm talking about Dr. Aafia Siddiqui. A number, hundreds, hundreds of leaders who, and Muslims who are in prison right now. And we forget them, we forget them. No one's talking about that at this convention. We need to do more."
Jamil Al-Amin, a Black Panther formerly known as H. Rap Brown, was convicted in 2002 for killing a Fulton County, Georgia, sheriff's deputy, who tried to serve an arrest warrant on him.
Tarek Mehanna was convicted in 2011 for conspiring to provide material support to Al Qaeda, and for lying to federal investigators. After traveling to Yemen seeking training in order to fight US soldiers in Iraq, Mehanna returned to the United States, where he posted Al Qaeda recruitment videos and other documents online.
Aafia Siddiqui, an MIT-trained neuroscientist, represents the most extreme case of those that McGoldrick cast as "political prisoners" to his ISNA audience. Afghan security officers detained her in 2008, finding "handwritten notes that referred to a 'mass casualty attack'" and a list of New York landmarks. During subsequent interrogation, Siddiqui, known as "Lady Al Qaeda," managed to grab a soldier's M-4 rifle and open fire. She allegedly shouted, "I'm going to kill all you mother**kers!" and "Death to America."
Before executingJames Foley, Steven Sotloff and Kayla Mueller, ISIS offered their release in exchange for Siddiqui.
Despite such rhetoric, ISNA remains politically influential. The group played a key role in convincing former FBI Director Robert Mueller to purge FBI training materials dealing with Islam. Former ISNA President Mohamed Magid also served on President Obama's Homeland Security Advisory Council. During the Obama administration, ISNA representatives met with then President Obama and Vice President Joe Biden, and ISNA hosted then-DHS Secretary Jeh Johnson at its convention last year.
ISNA's congressional allies include people like US Representatives Don Beyer, D-Va., Keith Ellison, D-Minn., Andre Carson, D-Ind., Senator Orrin Hatch, R-Utah and Senator Richard Durbin, D-Ill.
Another ISNA speaker, John Morrow, who teaches at Ivy Tech Community College in Indiana and directs the Covenants of the Prophet Foundation, launched into conspiratorial rhetoric at the ISNA conference — accusing the US of using the CIA to support jihadi groups with the intent of spreading anti-Muslim hatred.
"How do you ensure that the public continues to support the War on Terror, which is really a war on Islam and Muslims?" Morrow asked. "By means of terrorist attacks, by means of false flag operations — that way the eternal endless war of the globalist totalitarian fascists continues unabated to the pleasure of big brother, or as we know him in Islam, the one-eyed liar.
"The philosophy is clear. Keep the focus on fear."
This is the same narrative that ISIS jihadist recruiters use to lure disaffected Muslims into becoming terrorists.
Prominent Muslim activist Linda Sarsour, for example, has falsely asserted that white supremacists were a bigger terror threat in the United States than Muslims.
"I will not be on a national platform condemning terrorism as a Muslim," she said. "I will only condemn terrorism as a human being because that's the only place that we should be condemning terrorism, because terrorism should never be framed as a conversation that should be just had with Muslims in a country where white supremacists have killed more people since 9/11 than Muslims have."
Yet even the liberal New America Foundation now admits that Muslim terrorists have killed more Americans since 9/11 than white supremacists.
Sarsour accused the Trump administration of being an "authoritarian racist regime" that needed to be resisted. "I hope, that when we stand up to those who oppress our communities, that Allah accepts from us that as a form of jihad," Sarsour said. "That we are struggling against tyrants and rulers, not only abroad in the Middle East or on the other side of the world, but here in these United States of America. You have fascists and white supremacists and Islamophobes reigning in the White House."
The ISNA convention also featured hatred of Israel.
Several speakers at the ISNA event promoted the boycott, divestment and sanctions movement, which aims to isolate Israel. Sarsour proudly proclaimed that the prominence she received due to her involvement in the Women's March in January gave her a better platform to discuss the BDS movement.
"I have been able to have our country reckon with this conversation about what does it mean for a Muslim or a Palestinian American to be part of the resistance and to be working with allies who are now taking up the cause of BDS and supporting the Palestinian people," Sarsour said. "So, what I am saying to you is don't be afraid to be the center of controversy."
Billoo repeatedly referred to the Jewish state as "apartheid Israel."
McGoldrick attacked the Muslim Leadership Institute (MLI), which "invites North American Muslims to explore how Jews understand Judaism, Israel, and Jewish peoplehood." MLI brings people to "occupied Palestine," McGoldrick said, indicating he had no interest in recognizing Israel's legitimacy. He condemned the MLI for teaching Muslims about Zionism in a positive manner and for instructing them about Judaism in "so-called Israel."
This kind of hateful rhetoric is a staple at ISNA conferences. In 2009, a speaker at the annual event lamented Jewish "control of the world."
In 1993, ISNA signed a declaration calling Israel's creation a crime. "To recognize the legitimacy of that crime is a crime in itself and any agreement which involves such recognition is unjust and untenable. The League of Ulama in Palestine declared on Sept. 14 '93 that no one has the authority to concede the rights of the Islamic Ummah in Palestine."
Full report at:
https://www.algemeiner.com/2017/07/10/terrorist-apologism-dominates-islam-convention-in-chicago/
--------
American Muslim Institute Opens Its Doors in Omaha
July 10, 2017
OMAHA, Neb. (AP) — A new mosque and cultural center has opened in Nebraska.
Nearly 3,000 people toured the American Muslim Institute in Omaha on Sunday. Attendees had the opportunity to tour six stations, including a prayer room.
The 35-acre center is part of the Tri-Faith Initiative, which is made up of Jewish, Christian and Islamic faiths.
Imam Mohamad Jamal Daoudi says the project "comes at a very crucial time of violence, divisiveness and intolerance in our nation." He says the institute's goal is to promote "education, peace and brotherhood."
The institute is located at the Tri-Faith Initiative Commons campus, which also houses a Jewish synagogue. A Christian church, park and community center are expected to be completed by 2018.
Institute leaders say they hope to see more tri-faith centers built in the U.S.
Full report at:
https://www.usnews.com/news/best-states/nebraska/articles/2017-07-10/american-muslim-institute-opens-its-doors-in-omaha
--------
Orange County deputies did not harass Muslim colleague, jury decides
Jul 11, 2017
A group of Orange County deputies did not harass a fellow deputy because he is Muslim, a federal jury decided Monday.
Waleed Albakri had sued the Orange County Sheriff's Office, where he worked from 2008 to 2014, alleging that co-workers called him a "terrorist," among other derogatory terms, and started a criminal investigation against him because of his religion.
"The sheriff is pleased with the outcome," the county's attorney, Mark Levitt, said Monday evening. "The jury quickly recognized that Mr. Albakri's claim was totally without merit."
He was fired from the Sheriff's Office in 2014 after being arrested on insurance-fraud charges, which prosecutors later dropped.
The jury on Monday sided with the Sheriff's Office after about an hour and a half of deliberations, finding no harassment because of race, religion or national origin.
Levitt argued Albakri was the one making jokes and said he didn't complain about feeling uncomfortable until two years later.
"Who's the one making light of being Arab?" he asked the jury during his closing argument. "You shouldn't dish it out if you can't take it."
But Albakri's attorney said his client was just making the jokes to fit in. One time, he said, a co-worker checked him "for bombs" when he came to work.
"He didn't welcome it," attorney Peter Helwig said. "It made him feel very uncomfortable."
Albakri filed an internal complaint with the Office of Professional Standards in August 2014, saying the Sheriff's Office was a hostile workplace. He was working undercover in a drug and prostitution unit.
Full report at:
http://www.orlandosentinel.com/news/breaking-news/os-waleed-albakri-muslim-harassment-verdict-20170710-story.html
--------
Fighting the Wrong Enemy: Why Americans Hate Muslims
By: Dr. Ramzy Baroud
10 July 2017
Americans, Muslims are not your enemy. They have never been. Conformity is.
Two officers sought me from within a crowd at the Seattle-Tacoma International Airport. They seemed to know who I was. They asked me to follow them, and I obliged. Being of Arab background, often renders one's citizenship almost irrelevant.
In a back room, where other foreigners, mainly Muslims, were holed for "added security," I was asked numerous questions about my politics, ideas, writing, children, friends and my late Palestinian parents.
Meanwhile, an officer took my bag and all of my papers, including receipts, business cards, and more. I did not protest. I am so used to this treatment and endless questioning that I simply go through the motions and answer the questions the best way I know how.
My first questioning commenced soon after September 11, 2001, when all Muslims and Arabs became, and remain, suspect. "Why you hate our president," I was asked then, in reference to Bush.
On a different occasion, I was held in a room for hours at JFK International Airport because I had a receipt that revealed my immortal sin of eating at a London restaurant that served Halal meat.
I was also interrogated at an American border facility in Canada and was asked to fill several documents about my trip to Turkey, where I gave a talk at a conference and conducted several media interviews.
A question I am often asked is: "what is the purpose of your visit to this country?"
The fact that I am an American citizen, who acquired high education, bought a home, raised a good family, paid my taxes, obeyed the law and contributed to society in myriad ways are not an adequate answer.
I remain an Arab, a Muslim and a dissident, all unforgivable sins in the new, rapidly changing America.
Truthfully, I never had any illusions regarding the supposed moral superiority of my adopted country. I grew up in a Palestinian refugee camp in Gaza, and have witnessed, first hand, the untold harm inflicted upon my people as a result of American military and political support of Israel.
Within the larger Arab context, U.S. foreign policy was felt on a larger scale. The invasion and destruction of Iraq in 2003 was but the culmination of decades of corrupt, violent American policies in the Arab world.
But when I arrived in the U.S. in 1994, I also found another country, far kinder and more accepting than the one represented — or misrepresented — in U.S. foreign policy. While constantly embracing my Palestinian Arab roots, I have lived and interacted with a fairly wide margin of like-minded people in my new home.
While I was greatly influenced by my Arab heritage, my current political thoughts and the very dialectics through which I understand and communicate with the world — and my understanding of it — are vastly shaped by American scholars, intellectual dissidents and political rebels. It is no exaggeration to say that I became part of the same cultural Zeitgeist that many American intellectuals subscribe to.
Certainly, anti-Arab and Muslim sentiments in the U.S. have been around for generations, but it has risen sharply in the last two decades. Arabs and Muslims have become an easy scapegoat for all of America's failed wars and counter-violence.
Terrorist threats have been exaggerated beyond belief to manipulate a frightened, but also a growing impoverished population. The threat level was assigned colors, and each time the color vacillated towards the red, the nation drops all of its grievances, fights for equality, jobs and health care and unites in hating Muslims, people they never met.
It mattered little that, since September 11, the odds of being killed by terrorism are 1 in 110,000,000, an extremely negligible number compared to the millions who die as a result of diabetes, for example, or shark attacks for that matter.
'Terrorism' has morphed from being a violent phenomenon requiring national debate and sensible policies to combat it, into a bogeyman that forces everyone into conformity, and divides people between being docile and obedient on the one hand, and 'radical' and suspect, on the other.
But blaming Muslims for the decline of the American empire is as ineffective as it is dishonest.
The Economic Intelligence Unit had recently downgraded the U.S. from a "full democracy' to a "flawed democracy." Neither Muslims nor Islam played any role in that.
The size of the Chinese economy is soon to surpass that of the U.S., and the powerful East Asian country is already roaring, expanding its influence in the Pacific and beyond. Muslims are hardly the culprits there, either.
Nor are Arabs responsible for the death of the "American dream," if one truly existed in the first place; nor the election of Donald Trump; nor the utter corruption and mafia-like practices of America's ruling elites and political parties.
It was not the Arabs and Muslims who duped the U.S. into invading Iraq, where millions of Arabs and Muslims lost their lives as a result of the unchecked military adventurism.
In fact, Arabs and Muslims are by far the greatest victims of terrorism, whether state-sponsored terror or that of desperate, vile groups like ISIS and al-Qaida.
"In this age, the mere example of nonconformity, the mere refusal to bend the knee to custom, is itself a service," wrote John Stuart Mill in "On Liberty." The English philosopher had a tremendous impact on American liberalism.
I read his famous book soon after I arrived in the U.S. It took me a while to realize that what we learn in books often sharply contradicts reality.
Instead, we now live in the "age of impunity," according to Tom Engelhardt. In a 2014 article, published in the Huffington Post, he wrote: "For America's national security state, this is the age of impunity. Nothing it does — torture, kidnapping, assassination, illegal surveillance, you name it — will ever be brought to court."
Those who are "held accountable" are whistleblowers and political dissidents who dare question the government and educate their fellow men and women on the undemocratic nature of such oppressive practices.
Staying silent is not an option. It is a form of defeatism that should be outed as equally destructive as the muzzling of democracy.
"One has a moral responsibility to disobey unjust laws," wrote Dr. Martin Luther King, Jr.
Barring citizens of Muslim countries from traveling to the U.S. is a great act of immorality and injustice. Sadly, many Americans report that such discriminatory laws already make them feel safe, which itself is an indication of how the government and media manipulate consent in this country to produce the desired results.
A big fan of hating Edward Bernays' work, yet appreciating his honesty, I realize the question is not that of Trump alone. Bernays, whose writing on propaganda influenced successive governments and inspired various military coups, was versed on manipulating popular consent of Americans nearly a century ago. He perceived the masses as unruly and a burden on democracy, which he believed could only be conducted by the intelligent a few.
The outcome of his ideas, which influenced a generation of conformist intellectuals, is on full display today.
America is changing fast, and is certainly not heading in the right direction. Shelving all pressing problems and putting the focus on chasing after, demonizing and humiliating brown skinned men and women is certainly not the way out of the economic, political and foreign policy quagmires which American ruling elites have invited upon their country.
"If liberty means anything at all, it means the right to tell people what they don't want to hear," wrote George Orwell.
No matter the cost, we must adhere to this Orwellian wisdom, even if the number of people who refuse to hear has grown exponentially, and the margins for dissent have shrunk like never before.
Full report at:
http://www.telesurtv.net/english/opinion/Fighting-the-Wrong-Enemy-Why-Americans-Hate-Muslims--20170710-0027.html
--------
Europe
French police officer charged for helping his brother recruit Muslims to join ISIS
July 10, 2017
A French police officer suspected of being an ISIS supporter has been charged with "conspiracy and fraud in connection with a terrorist group" after he allegedly helped jihadists travel to the Middle East and join terrorist organizations.
According to the report, the officer was arrested on June 27 in the Parisian suburb of Kremlin-Bicêtre, where he was stationed.
He is suspected of helping his brother recruit jihadists to a terror cell. His brother, however, had been in jail for a year after his links with ISIS terrorists was revealed.
Local media say France's intelligence services believe that the officer used his position to view confidential police files.
https://www.therebel.media/french_police_officer_charged_for_helping_his_brother_recruit_muslims_to_join_isis
--------
Jeremy Corbyn says UK arms sales to Saudi Arabia 'unethical'
Jul 10, 2017
Britain's opposition Labour Party Leader Jeremy Corbyn has criticized a UK High Court ruling that allows London to continue arms sales to Saudi Arabia.
Corbyn said on Monday the court may have provided a legal basis for the arms exports, but this does not mean the government is acting ethically.
He made the comment in a parliamentary session where Prime Minister Theresa May welcomed the High Court judgment as a proof that the British export control regime is functioning properly.
The development came after the High Court reviewed a plea against the country's arms sales to Saudi Arabia in light of the fact that Riyadh is waging a bloody war against Yemen, deciding that the government's weapons sales are not in contravention of the law.
The court had been studying the case lodged by the UK-based NGO 'Campaign Against the Arms Trade' since February. It issued its ruling on Monday.
The NGO had also unsuccessfully sought an order to block export licenses for the multi-billion-pound arms with Saudi Arabia.
Amnesty International has also condemned the court ruling as "a potentially deadly blow to Yemeni civilians."
The human rights group said the ruling is deeply disappointing and leaves the UK open to aiding violations of international humanitarian law in Yemen.
"The verdict is a deadly blow for Yemenis under attack from a Saudi Arabia-led coalition bolstered by UK-manufactured weapons," said James Lynch, head of Arms Control and Human Rights at Amnesty.
"This is a deeply disappointing outcome, which gives a green light to the UK authorities – and potentially Saudi Arabia's other arms suppliers – to continue authorizing arms transfers to the kingdom despite the clear risk they will be used to commit violations," Lynch said.
The United States has also been generously rewarding the kingdom with hefty arms deals during the invasion. Both the UK and the US are lending intelligence and logistical support to the bombing campaign.
Full report at:
http://www.presstv.ir/Detail/2017/07/10/528056/Labour-leader-says-weapons-deal-unethical
--------
Brutal Muslim religious police now patrol Europe
Jul 11, 2017
Saudi Arabia is known for its notorious religious police, the Mutaween, but now a German newspaper is reporting public enforcers of Islamic law are active in the heart of Europe.
Muslim immigrant women who have adopted a Western lifestyle are particular targets of gangs of Muslim men in certain parts of Germany who have emigrated in the past three years from the Muslim-majority Russian state of Chechnya, including Berlin, reports Der Taggespiegel.
A video of an armed man in a hood began circulating in the Chechen community in March.
"Here, in Europe, certain Chechen women and men who look like women do unspeakable things. You know it; I know it; everybody knows it," he declared, according to the Latvia-based Russian language news aggregator Meduza.
He said Chechen women "who flirt with men of other ethnic groups and marry them, Chechen women who have chosen the wrong path and those [creatures] who call themselves Chechen men – given half a chance, we will set all of them straight."
"Having sworn on the Quran, we go out onto the streets. This is our declaration of intent; do not say that you were not warned; do not say that you did not know."
Help defend the First Amendment right to expose the Muslim Brotherhood's infiltration of America through your contribution to the legal defense in the "Muslim Mafia" case
Meduza interviewed a woman who was targeted after the Shariah enforcers videoed her walking down the street with a non-Chechen man. When the gang showed up at her door, she hid, but the man was brutally beaten, losing almost all of his teeth.
"Why does my private life concern [them] at all?" the woman asked, according to Meduza. "I don't know them. I don't want to. I'm not their sister or daughter. My private life is no one else's business."
Meduza said that according to her and other Chechens, "transgressors" of the moral code include Chechen girls who attend German schools, where the curricula include classes on sexual education and the German language courses, and where the Muslim immigrants meet people of other cultures.
An estimated 36,000 Chechens have entered Germany over the past five years.
In East London from 2013 to 2014, a group of young Sunni Muslim men patrolled the streets calling identifying themselves as part of the "Shariah Project."
Two members were convicted of harassment in November 2013. In one incident, the group shouted "Kill the non-believers" at men drinking beer in the street, before a member attacked them.
Minnesota's religious police
In April, WND reported a 22-year-old Muslim convert was enforcing Shariah on Somali refugees living in Minneapolis.
Abdullah Rashid, who said he was just trying to be a good Muslim and please Allah, wears a green uniform with a patch marking him as the "religious police."
He regularly visits Somali households to make sure the women are dressed in compliance with Islamic law, no alcohol is being consumed and nobody is interacting with the opposite sex.
He claims to have 10 other men working under him to patrol the Cedar Riverside community of Minneapolis.
Rashid believes he is performing a service similar to that of the morality police who enforce Shariah in Saudi Arabia, Iran, Somalia and the Islamic State.
Minneapolis has the nation's largest community of Somali refugees, which have been arriving weekly in the U.S. since the early 1990s.
WND also reported Somalis have taken over politics in the sixth ward in Minneapolis, providing a video that showed their caucus event turning into bloody chaos.
'Propagation of virtue'
In Saudi Arabia, the government-sponsored Committee for the Propagation of Virtue and the Elimination of Sin enforces Shariah.
In 2002, Saudi Arabia's Mutaween caused 15 young girls to die when a fire broke out in their school in Mecca.
The religious police said they blocked firefighters from saving the girls because the youth weren't properly dressed to be seen in public. With helpless firemen watching, the Mutaween beat back into the inferno girls who were not wearing their headscarves.
While the "Muslim patrols" often are criticized by Muslim communities in the West, Daniel Akbari, a former top Shariah defense lawyer who defected from Iran to the U.S., pointed out to WND in an interview that the Quran provides three basic mechanisms for spreading Islam: Dawa or proselytizing, jihad and the enforcement of Shariah.
The Shariah mission is to be implemented in phases in areas where Muslims already have control and want to maintain their authority.
Shariah can be enforced both privately and collectively, and "private enforcement of Shariah is exactly what Abdullah Rashid is doing," he said.
"He assumes Muslims have control over the neighborhood he is patrolling."
Full report at:
http://www.wnd.com/2017/07/brutal-muslim-religious-police-now-patrol-europe/
--------
London High Court rejects bid to halt British arms sales to Saudi
Jul 11, 2017
London's High Court on Monday rejected a claim by campaigners that Britain's multi-billion-pound arms sales to Saudi Arabia should be halted because they were being used in Yemen in violation of international humanitarian law.
The ruling was condemned by activist groups and charities, with Oxfam saying it "sets back arms control 25 years", but it was welcomed by the British government.
"I welcome the High Court judgment today ... it shows that we do in this country operate one of the most robust export- control regimes in the world," British Prime Minister Theresa May told parliament when asked about the ruling.
The Campaign Against Arms Trade (CAAT) had sought an order to block export licenses for British-made fighter jets, bombs and other munitions which it said the Saudi-led Arab coalition was using in a campaign against Iranian-backed Houthis in Yemen's civil war.
An annual report by U.N. experts who monitor sanctions and the conflict in Yemen, seen by Reuters in January, said the Saudi-led coalition acting in support of the Yemeni government had carried out attacks that "may amount to war crimes". Riyadh rejects those accusations.
Yemen's civil war started in 2015, pitting the exiled government of President Abd-Rabbu Mansour Hadi, backed by the Saudi-led coalition, against the Iran-aligned Houthi group, which controls most of northern Yemen, including the capital, Sanaa.
The United Nations has put the civilian death toll in the conflict at about 10,000 killed and 40,000 wounded as result of actions by all sides.
More than 100 people were killed last October when coalition planes bombed a funeral reception in Sanaa. Hospitals, port facilities and other infrastructure have also been hit.
CAAT had argued that the government's decision to allow arms exports to continue to Saudi Arabia, a major customer for British defense companies and an important British ally in countering terrorism, was unlawful.
"The claimant's claim for judicial review is dismissed," the High Court judgment said.
The court, which heard much of the government's case in hearings closed to the media and public, said there had been extensive political and military engagement with Saudi Arabia regarding operations in Yemen and the Saudis had "sought positively to address concerns about International Humanitarian Law".
"Saudi Arabia has been, and remains, genuinely committed to compliance with International Humanitarian Law; and there was no 'real risk' that there might be 'serious violations' of International Humanitarian Law (in its various manifestations) such that UK arm sales to Saudi Arabia should be suspended or canceled," the court said.
Trade minister Liam Fox said that Britain would monitor the situation in Yemen and would stop granting export licenses and suspend current licenses if the risk of violations increased.
The court also said the British government had access to "a wider and qualitatively more sophisticated range of information than that available to the claimant's sources", although campaigners said the evidence they had gathered should be taken seriously. "The suggestion that human rights researchers were rarely or never on the ground in Yemen, or relied on 'second-hand information' ...is not true," Human Rights Watch said in a statement.
CAAT said it would appeal against the decision, and the leader of the opposition Labour party, Jeremy Corbyn, heavily criticized the government for its trade with Saudi Arabia.
"The government continues to sell arms to Saudi Arabia, one of the most oppressive and brutal regimes, that finances terrorism and is breaching humanitarian law," Corbyn said.
Full report at:
http://nation.com.pk/international/11-Jul-2017/london-high-court-rejects-bid-to-halt-british-arms-sales-to-saudi
--------
EU warns GCC may fall apart amid Qatar dispute
Jul 11, 2017
The European Union (EU) has warned that the Arab regional grouping of the Persian Gulf Cooperation Council (GCC) might collapse as a result of the current diplomatic dispute among its member states.
GCC members Saudi Arabia, Bahrain, and the United Arab Emirates have severed diplomatic ties and cut all land, sea, and air routes with Qatar, accusing it of supporting terrorism and destabilizing the region.
Other members, Oman and Kuwait, have remained neutral. Kuwait City is also engaging in mediation efforts. And the only other GCC member is Qatar itself, which has rejected the accusations against it and has ruled out submitting to the will of the boycotting countries.
Speaking on Monday, EU foreign policy director Federica Mogherini said the European bloc was "worried" that the GCC "might come disunited out of these tensions."
Earlier, a Qatari deputy prime minister had also said the GCC was in its dying stages. Abdullah bin Hamad al-Attiyah said Qatar had learned not to put too much trust in the countries that have laid the siege on it.
Mogherini also said that the EU backed the mediation efforts being carried out by Kuwait.
"As you know we support the mediation efforts of the Emir [Sheikh Sabah Al Ahmad Al Sabah] of Kuwait with all our means," she said, adding, "We hope and we believe that the tensions can be resolved through the Kuwaiti mediation."
'Qatar issues own ultimatum'
Meanwhile, Egypt's Middle East News Agency (MENA) has alleged that Qatar has given the GCC three days to reconsider its stance or it would leave the body.
MENA said Qatar presented the demands in a letter by Foreign Minister Sheikh Mohammed bin Abdulrahman Al Thani.
In the letter, he said the boycotting countries had to lift the sanctions within the period and compensate the Qatari government and people for the political and economic damage they have subjected them to, the report added.
Neither Doha nor the GCC have verified the report, however.
Lifting the lid of a 2013 dispute?
Also on Monday, the countries opposing Qatar sought to ratchet up pressure on Doha by saying that the publication of a previously-secret accord between Riyadh and Doha showed that Qatar had broken a promise not to meddle in the affairs of fellow-Persian Gulf countries.
The 2013 accord was reportedly signed to settle a dispute between Qatar and its Persian Gulf neighbors. The bloc says Qatar agreed through the accord not to meddle in its neighbors' politics.
The text of the reported deal was first published by CNN earlier on Monday.
In a joint statement, the bloc said the publication of the accord "confirms beyond any doubt Qatar's failure to meet its commitments and its full violation of its pledges."
Qatar responded by saying that Saudi Arabia and the UAE had violated the spirit of the agreement and had engaged in an "unwarranted and unprecedented attack on Qatar's sovereignty."
Tillerson meets Kuwaiti emir
Also on Monday, US Secretary of State Rex Tillerson began a three-leg trip to Kuwait, Qatar, and Saudi Arabia for talks apparently focusing on the crisis.
Qatari broadcaster Al Jazeera cited US officials as saying Tillerson did not expect an immediate breakthrough and was rather seeking "to explore possibilities for sparking negotiations."
On June 22, the countries boycotting Qatar issued a 13-point list of demands for Doha to meet in order for the relations to be restored. Among them was that Qatar close a Turkish military base, limit its ties with Iran, and "compensate" the sanctioning countries for unspecified harm.
'No clean hands'
Tillerson's adviser R.C. Hammond, meanwhile, said the package was not viable but said there were individual items on the list "that could work."
Hammond would not elaborate on which demands Qatar could meet but said concessions from others would be required.
"This is a two-way street," he said of the dispute among parties all of whom have been accused of supporting "extremism" in one form or another. "There are no clean hands."
Call for a swift resolution
Full report at:
http://www.presstv.ir/Detail/2017/07/11/528085/EU-Mogherini-Qatar-dispute-GCC-collapse
--------
Austria bars Turkish economy minister over rally plans
Jul 10, 2017
Austria has banned Turkish Economy Minister Nihat Zeybekci from entering the country to take part in a political march marking the anniversary of a failed military coup against the Ankara government.
"He has been barred because his visit was not planned as part of a bilateral exchange, but was about his public appearance at an event marking the coup attempt," Foreign Ministry spokesman Thomas Schnoell told media on Monday.
Schnoell explained that the minister's attendance at the rally would have threatened "public order."
Austria's ban comes days after the Dutch government warned Turkey against sending its deputy prime minister, Tugrul Turkes, to address a rally in the eastern Netherlands this week to mark the anniversary of last July's abortive coup.
European Union countries, along with international rights groups, have been critical of Turkey's massive post-coup crackdown, which has seen more than 50,000 people behind bars pending trial.
Ankara has also suspended or dismissed some 150,000, including soldiers, teachers and civil servants, over alleged links with US-based cleric Fethullah Gulen, whom the Turkish government blames for the July 2016 coup attempt.
Earlier this year, several EU countries hosting large Turkish populations, including Austria and the Netherlands, banned pro-Ankara rallies ahead of a controversial referendum in April on granting sweeping powers to the president.
Turkish ministers had been heading to Europe to whip up support for a 'Yes' vote among millions of Turkey's voters who live abroad.
Some 360,000 people of Turkish origin live in Austria.
Many of the Turkish nationals living across Europe are believed to be supporters of President Recep Tayyip Erdogan.
Expat votes are said to have significantly helped Erdogan win the April referendum on overhauling the constitution.
The EU has warned Ankara that such constitutional amendments equal forfeiting Turkey's EU membership request.
Turkey keeps up post-coup purge
In another development on Monday, Ankara issued arrest warrants for more than 70 university staff over their alleged links to Gulen, the Analdolu news agency reported.
Under the orders, some 42 of the personnel from the universities of Bogazici University and Medeniyet in Istanbul have been taken into custody, the report added.
Full report at:
http://www.presstv.ir/Detail/2017/07/10/527991/EU-Austria-Turkey-Zeybekci-Rally-Coup
--------
French report: Hezbollah building weapons factories in Lebanon
10 July 2017
Iran-backed Hezbollah terrorist group is constructing at least two underground facilities in Lebanon for manufacturing missiles and other weaponry, a report by French Intelligence Online magazine has revealed.
Intelligence Online quoted sources saying that the first factory is being built in northern Lebanon, near the town of Hermel in the eastern Bekaa Valley. The second facility is reportedly being constructed along the southern coast, between the towns of Sidon and Tyre.
While Arab media outlets, including Al Arabiya News Channel, have reported on Hezbollah planning on building weapons facilities in Lebanon in the past, the French report sheds light on the type of weapons being built.
According to Intelligence Online, the Hermel facility is being used to produce the Fateh 110, a medium-range missile. The southern facility, meanwhile, will be used to make smaller munitions.
Full report at:
https://english.alarabiya.net/en/News/middle-east/2017/07/10/Lebanon-Hezbollah-builds-two-factories-for-bomb-and-weapon-manufacturing-.html
--------
Pakistan
Many organizations banned in Pakistan thrive online
By KATHY GANNON
July 11, 2017
ISLAMABAD (AP) - It's dusk. The shadows of three men brandishing assault rifles welcome the reader to the Facebook page of Lashkar-e-Islam, one of 65 organizations that are banned in Pakistan, either because of terrorist links or as purveyors of sectarian hate.
Still more than 40 of these groups operate and flourish on social media sites, communicating on Facebook, Twitter, WhatsApp and Telegram, according to a senior official with Pakistan's Federal Investigation Agency, or FIA, who is tasked with shutting down the sites. They use them to recruit, raise money and demand a rigid Islamic system. It is also where they incite the Sunni faithful against the country's minority Shiites and extoll jihad, or holy war, in India-ruled Kashmir and in Afghanistan.
"It's like a party of the banned groups online. They are all on social media," the FIA official told The Associated Press. He spoke on condition his name not be used because agency officials are not allowed to be quoted by name.
Meanwhile, Pakistan is waging a cyber crackdown on activists and journalists who use social media to criticize the government, the military or the intelligence agencies. The Interior Ministry even ordered the FIA, Pakistan's equivalent of the American FBI, to move against "those ridiculing the Pakistan Army on social media."
The FIA official said the agency has interrogated more than 70 activists for postings considered critical. All but two have been released and a third is still under investigation, he said.
Activists, journalists and rights groups who monitor Pakistan's cyberspace say the banned groups active on social media operate unencumbered because several are patronized by the military, its intelligence agencies, radical religious groups and politicians looking for votes.
Even the FIA official concedes state support for some of the banned groups but said it is a global phenomenon engaged in by all intelligence agencies.
"Everyone is protecting their own terrorists. Your good guy is my bad guy and vice versa," he said, adding that some sites belonging to banned groups are intentionally ignored to gain intelligence.
On one Facebook page, the Afghan Taliban flag welcomes viewers, its masthead emblazoned with Arabic script identifying the page as belonging to the Islamic Emirate of Afghanistan. Still another Facebook site features one of India's most wanted, Hafiz Saeed, the founder of Lashkar-e-Taiba, another banned organization and a U.S. declared terrorist group.
Saeed even has a $10 million U.S.-imposed bounty on his head. Yet his group, which has been resurrected under several names, is billed as a charity and has several Facebook pages. Currently called Falah-e-Insaniat, the group boasts of its community work, but its pages feature anti-India videos, call Syria a bleeding wound, rail against India and chastise the Pakistan government for siding with the U.S. following the 9/11 attacks.
Facebook and Twitter have said that they ban "terrorist content." In the second half of last year, Twitter said on its site it had suspended 376,890 accounts because they were thought to promote terrorism, although they say less than 2 percent of the removals were the result of requests from governments. Facebook, meanwhile, said in a blog last month it uses artificial intelligence and human reviewers to find and remove "terrorist content."
"There is no place on Facebook for terrorism," Facebook spokeswoman Clare Wareing said in an email reply to The Associated Press. "Our Community Standards do not allow groups or people that engage in terrorist activity, or posts that express support for terrorism. We encourage people to use our reporting tools if they find content that they believe violates our standards, so we can investigate and take action."
Shahzad Ahmed, of the Islamabad-based social media rights group BytesForAll, said Pakistan's powerful military and intelligence agencies are waging a "communication war" against progressive, moderate voices and those who criticize the government and more particularly the military and its agencies. They use radical religious groups to promote their narrative, he said.
"Their connectivity on the ground, the mosques, madrassas and supporters translates into social media strength and they are (further) strengthened because they feel 'no one is going to touch us,'" he said.
Ahmed Waqass Goraya is a blogger who was picked up and tortured by men he believes belonged to the country's powerful intelligence agency, known by its acronym ISI. He said Pakistan's social media space is dominated by armies of trolls unleashed by the military, intelligence agencies and allied radical religious groups to push their narrative. That narrative includes promoting anti-India sentiment - India is Pakistan's longtime enemy against whom it has fought three wars.
Critics who openly accuse the military of using extremists as proxies are under attack, said Goraya. He fled Pakistan after social media was used to suggest the he and other bloggers were involved in blasphemy, a charge that carries the death penalty. In Pakistan even the suggestion that someone insulted Islam or its prophet can incite mobs to violence.
Earlier this month, Taimoor Raza, a minority Shiite, became the first person sentenced to death under Pakistan's blasphemy law for a social media posting.
Taha Siddiqui, a Pakistan-based journalist with France 24 and an active social media user who often criticizes heavy handed actions of the military or its agencies, has taken the FIA to court to demand to know why he is under investigation after being ordered to come in for questioning. His resistance is taking its toll with family, friends and colleagues, who plead for him to be silent, he said. "They worry someday I will just disappear."
At FIA headquarters in the capital, Islamabad, the official told the AP that banned groups use proxy servers that reveal IP addresses buried somewhere in other countries, making it impossible to track.
That explanation was called "lame" by Haroon Baloch, a social media rights activist who has studied the free-wheeling use of social media by banned groups and purveyors of sectarian hate. He said sites can be blocked, users located and the persons running the pages stopped.
Bloggers like Goraya had elaborate safeguards but still were tracked down by authorities, said Baloch. Unlike the banned groups, Baloch said bloggers, social media activists and journalists are found and stopped because Pakistan's civilian and military intelligence agencies are on the offensive against them.
"Agencies have established a new wing to monitor 24/7, to counter liberal and progressive debate and particularly anything that criticizes their policies," he said.
http://www.washingtontimes.com/news/2017/jul/11/many-organizations-banned-in-pakistan-thrive-onlin/
--------
Razina advises students for following Islamic ethics
Jul 11, 2017
Chairperson National Commission for Human Development (NCHD) and Senior members of executive council of Nazria Pakistan Council, Razina Alam Khan Monday advised the students to follow Islamic ethics and social values for developing better society.
Delivering a lecture on " Ethical Values and Social Norms" in a summer camp here she said,"Today we need to follow Islamic, cultural and social values in its true spirit for good character building and developing better society, as it is noticed, we are forgetting the teaching of Islam which devalues our norms and society."
Around 55 male and female students from Rawalpindi, Islamabad are participating in 15 days summer camp arranged by the Nazria e Pakistan Trust.
She advised the organizer of summer camp for focusing on building good character, Nazria Pakistan and how difficulties are being faced for independence of Pakistan. Razina Alam said young generation was the future of Pakistan and urged them to play their role for the development, progress and prosperity of the country.
Full report at:
https://pakobserver.net/razina-advises-students-following-islamic-ethics/
--------
As PPP's win bodes well for party, MQM-P sans Altaf proves a force
Zia Ur Rehman
July 11, 2017
Winning Sunday's PS-114 (Karachi-XXVI) by-election for the first time in three decades is a welcome boost for the ruling Pakistan Peoples Party (PPP), but the Muttahida Qaumi Movement-Pakistan's (MQM-P) significant votes have proven that the Urdu-speaking community continues to support the party even with its founder Altaf Hussain out of the picture.
However, the dismal performances by the Pakistan Muslim League-Nawaz (PML-N), the Pakistan Tehreek-e-Insaf (PTI) and the Jamaat-e-Islami in a mixed-ethnicity constituency have brought about censure within and outside these parties for their consecutive electoral defeats in the metropolis.
Around 27 candidates contested for the Sindh Assembly seat on Sunday, but the major contenders were affiliated with the PPP, the MQM-P, the PML-N, the PTI and the JI.
The results issued by the returning officer stated that PPP Senator Saeed Ghani won the constituency by securing 23,797 votes, followed by the MQM-P's Kamran Tessori (18,000). The PML-N's Ali Akbar Gujjar won only 7,175 votes, followed by the PTI's Najeeb Haroon (5,942) and the JI's Zahoor Jadoon (2,320).
PS-114 is considered one of the toughest and the most sensitive constituencies of the city where politician Irfanullah Marwat and the MQM have fought electoral battles neck and neck in the past.
Marwat won the seat in the 2013 general elections on a PML-N ticket, but his victory was declared void by an election tribunal in July 2014. On May 11 this year the Supreme Court ordered re-polling for PS-114, dismissing Marwat's appeal challenging the tribunal's decision. The seat fell vacant after the top court's verdict unseated Marwat.
PPP eyeing urban areas
Winning PS-114 is important for the PPP because it has major influence among Baloch- and Sindhi-dominated areas such as Malir, Lyari and Keamari, and it is now making all-out efforts to branch out of these traditional localities. PS-114 is among the few mixed-ethnicity constituencies of the city where the party has an opportunity for an easy win.
The PPP's past performance in the constituency's elections has been poor: in the 2013 polls Marwat won the seat with 37,130 votes, defeating the MQM's Rauf Siddiqui (30,305), the PTI's Israr Abbasi (13,807) and the PPP's Sajjad Ahmed Pappi (3,827).
Although the PPP claims that Ghani's victory will be a trendsetter for the next general elections, analysts disagree with the view. Being a resident of PS-144, Ghani appeared the stronger candidate after mustering support of various religious and political parties as well as labour and minority groups.
The Awami National Party, the Fazlur Rehman faction of the Jamiat Ulema-e-Islam, the Jamiat Ulema-e-Pakistan, the Pakistan Sunni Tehreek, the Majlis-e-Wahdatul Muslimeen and the Punjabi Pakhtun Ittehad supported the PPP in the by-poll.
Political analyst Sartaj Khan claimed that the PPP had channelled its governmental resources into the by-election and all the departments of the provincial administration were at Ghani's disposal. "It is an open secret that by-polls are won by ruling parties."
MQM minus Altaf works
Dealing with the turmoil besetting the MQM after splitting away from the party founder as well as some of its members defecting to the Pak Sarzameen Party, the renamed MQM-P was not able to win the by-election.
However, analysts believe that the by-poll helped the MQM-P escape from Hussain's shadow and the influence the founder had on the votes of the Urdu-speaking community.
The MQM-London, which comprises all those party workers who are still loyal to Hussain, had appealed to the Urdu-speaking community of the constituency to boycott the by-election. But by securing 18,000 votes the MQM-P has shown that it is still a potent political force in the city's Urdu-speaking localities.
Poor performances by others
Although support from two former lawmakers Marwat and Sardar Abdul Rahim had made the PTI a stronger force in the PS-114 by-poll, the party still could not perform up to par. "Most surprising is the outcome for the PTI," said Khan. "It ended badly for them despite the backing of heavyweights from the constituency."
The PML-N and the JI had also fielded candidates who were not considered strong contenders. The PML-N's Gujjar had managed to get the support of the Punjabi- and Hindko-speaking communities, especially the Gujjars, and outdid arch-rival PTI.
Full report at:
https://www.thenews.com.pk/print/215656-As-PPPs-win-bodes-well-for-party-MQM-P-sans-Altaf-proves-a-force
--------
Militants 'virtually' running Karachi Central Prison, says CTD inquiry report
Imtiaz AliUpdated
July 11, 2017
KARACHI: An inquiry into the recent jailbreak by two high-profile militants of Lashkar-i-Jhangvi has revealed that some militants belonging to banned outfits were virtually running the affairs of the Central Prison Karachi by imposing their will on jail staff who follow their instructions due to fear or incompetence, it emerged on Monday.
Sources quoting the report of the inquiry conducted by the Counter-Terrorism Department of police told Dawn that the probe into the escape of LJ militants exposed some "incidents of deliberate and systematic intimidation" on part of certain prisoners towards jail authorities.
The jail officials were found 'powerless' to ensure discipline for fear of being targeted by the accomplices of such militants, the sources said.The hardcore militants, Shaikh Mohammad Mumtaz alias Firaun and Mohammad Ahmed alias Munna, who had been arrested four years ago by the CTD for killing more than 60 people including several police officials, workers of a political party and Shia community members, had escaped from the judicial complex inside the Karachi prison last month.
The CTD found that the jail authorities were 'mostly content' to become part of the system of pervasive corruption that underlined every single activity within the jail. "Thus, the jail has imposed a virtual caste system, with the prisoners who can intimidate or threaten the jail authorities, like members of political parties or Jihadis, enjoying virtually every privilege under the sun and all the other prisoners having to pay through their nose for everything.
"The senior jail authorities and specially the superintendent have totally abdicated their responsibility with regard to imposing authority," said sources privy to the report.
The outcome of such state of affairs was that the prisoners were acting as court clerks, helpers and even assisting in locking and unlocking of the wards.
The CTD report revealed that certain prisoners belonging to militant outfits and political parties had been made 'zimmedar' (responsible for administrating their wards) who operated like 'virtual dons', controlling their networks even outside the jail and getting every conceivable facility inside the prison.
"High-profile prisoners resultantly can do what they like; they can go to the court complex without judicial summons, they can go into other wards when they feel like it, and it is this complete laxity that has led to the situation, where on June 13, two prisoners went to the judicial complex, one of whom did not even have a court date, stayed there, cut the bars of a courtroom and escaped."
Furthermore, the CTD said it was the complete command failure and abdication of responsibility of the jail staff that the escape of the two high-profile prisoners went unreported until the next morning because "even the simple and crucial act of counting the prisoners has been outsourced to the prisoners themselves."
There was certainly 'gross negligence' on the part of the jail authorities behind the escape of two UTPs, but the CTD disclosed that this was not a new phenomenon, as some arrested jail staff told the inquiry team that such state of affairs had been persisting for the past 15 to 20 years.
"So deeply has this become institutionalised that in fact, one can question whether there was any point in sending high-profile prisoners to jail, because being in prison makes them safe from further prosecution and allows them to continue their activities without fear of the law enforcers."
Delayed justice
The CTD report also revealed that there were many UTPs whose cases have been pending before the ATCs for years, thus such prisoners were not particularly concerned about being convicted of heinous crimes. It found that one of the escaped UTPs, Shaikh Mumtaz, was arrested in 2013 and was challaned in several cases before ATC but none has been decided so far.
Another high-profile LJ militant, Hafiz Qasim Rasheed, who was the roommate of escaped Shaikh Mumtaz, had allegedly threatened jail officials, police officers, witnesses and even judicial staff openly with no one able to do anything about it while his cases were pending in courts for past many years.
Sarmad Siddiqui, another high-profile prisoner who was allegedly involved in the Karachi airport attack, was another self-styled 'zimmedar' of his ward in the jail, the sources disclosed to Dawn.
The CTD also alleged that MQM militants such as Minhaj Qazi also operated as 'dons' in the prison.
The department recommended to the provincial authorities that such high-profile prisoners be kept in 'isolation' and under high security but instead they were allegedly giving 'instructions' to the jail staff in the prison.
'Defects' in FIR
Regarding the registration of an FIR against 11 jail officials on the complaint of former DIG prisons Ashraf Nizamani who was later suspended over charges of negligence, the CTD report said it appeared as if the jail authorities had been selective in fixing the responsibility of the jailbreak.
"Many of those arrested ostensibly have no reason to have been charged whereas several others, whose names were not included in the FIR, have a clear responsibility for the negligence but were not nominated."
The CTD believed that such jail officials were "saved because they had powerful patrons within the prison department."
The CTD recommended to the authorities concerned to refer cases of such high-profile UTPs to military courts for trial and significantly expand the number of such cases.
"It is necessary for a larger number of, especially Jihadi militants, to be sent to military courts to ensure speedy trial and convictions," recommended the CTD.
Besides, the CTD also proposed the creation of a high-security prison in a remote region of Sindh, where high-profile prisoners could be held in isolation from other prisoners and from Karachi.
Full report at:
https://www.dawn.com/news/1344467/militants-virtually-running-karachi-central-prison-says-ctd-inquiry-report
--------
Two FC personnel martyred in Kurram Agency blast
Ali Akbar
July 10, 2017
Two officials of the Frontier Constabulary (FC) were martyred and two others were injured in a blast in the Laka Tika area of Lower Kurram Agency on Monday, according to security sources.
The blast that used explosive material targeted post number two of the FC and was claimed by the Tehreek-i-Taliban Pakistan, sources added.
Last month, at least 74 people were killed and more than 200 were injured after two subsequent explosions hit a densely populated area of Kurram Agency's Parachinar city.
Parachinar, with a population of more than 50,000, has been under strict security arrangements for quite some time. Army and paramilitary personnel have set up checkpoints on all routes leading to the town and visitors and vehicles go through extensive search and identification process.
On March 31 this year, the city had suffered a similar tragedy when 23 people were killed in a car bomb blast near an Imam­bargah at midday. More than 70 others were wounded in the attack. Another person had died later after security forces opened fire on a crowd trying to hold a demonstration in front of the political agent's office in protest against increasing terrorist attacks.
In January this year, 25 people were killed and 87 others suffered injuries when a bomb went off during peak business hours at a crowded vegetable market in the city. In what appeared to be a sign of growing cooperation among extremists, two banned groups had come forward to claim the deadly assault, with one describing the incident as a suicide attack.
The army had launched Operation Raddul Fasaad in February following a spate of terror attacks in the country, which claimed more than a hundred lives and left hundreds others injured.
The operation seeks to eliminate the "residual/latent threat of terrorism", consolidating the gains made in other military operations, and further ensuring the security of Pakistan's borders.
Full report at:
https://www.dawn.com/news/1344407/two-fc-personnel-martyred-in-kurram-agency-blast
--------
Will financial deal with Qatar Sheikh end Pakistan PM Sharif's political career?
11 July 2017
Decades-old business ties with Qatar have returned to haunt Pakistan Prime Minister Nawaz Sharif in the middle of a court battle he is facing to save his political career. Observers believe that the absence of Qatari former Prime Minister Sheikh Hamad bin Jasim bin Jaber al Thani from the testimony box, that was crucial to the investigation, may even end Sharif's political career.
Sharif's family is facing investigations in Pakistan over disparities in its overseas financial dealings. Sharifs have been business and friends with Sheikh Hamad bin Jasim bin Jaber al Thani's family for at least two generations. However, it seems, when the Sharif family needed him the most, the Qatari prince was not there for his friend.
Speaking to Al Arabiya, Fawad Hussain Chaudhary, an eminent lawyer and spokesperson of opposition party Pakistan Tehreek-e-Insaaf (PTI) said that Jasim's failure to testify in the highest court of Pakistan means the court may declare Sharif dishonest as per Article 62 and 63, which could mean his disqualification from office.
Links to Pakistan
Notwithstanding his decision not to testify, Chaudhary says that the Jasim family's connections with Pakistani politics are not a new phenomenon. According to him, several such cases have surfaced in the past.
"RedCo group is one of its examples. Even in earlier reference against PM Sharif where, he was accused of using helicopter for election campaign, it was Jasim al-Thani who had given him a favor by providing an affidavit that he paid rent for the helicopter," said Chaudhary.
Raza Rumi, Editor of Pakistan's Daily Times says that Jasim al-Thani's involvement in Sharif scandal has nothing to do with the Qatari government and is entirely one individual's business deals across the borders.
"Though both Qatar and Pakistan have maintained friendly relations, and both sides have refrained from meddling into each other's domestic politics, Jasim al-Thani is involved in this transaction in his personal capacity," he said.
According to him, it appeared that Jasim al-Thani wanted to cooperate with the investigation only on his own terms. "He had asked for presence of his aides during his meeting with the investigation team from Pakistan," Rumi said.
Beginning of the crisis
The story goes back to April 2016, when the International Consortium of Investigative Journalists (ICIJ) published a report, which alleged that Nawaz Sharif's family owns four high profile apartments in London purchased through two off-shore companies. These properties were not declared to the Election Commission of Pakistan before he contested for the highest executive position in the country in 2013 elections.
To make matters worse, Sharif and his family gave conflicting versions to the media, on the resources that were utilized for buying the property. When the matter went to the Supreme Court of Pakistan, Hussain Nawaz, the prime minister's son and a London-based businessman, came up with a new plea that his grandfather Mian Sharif invested money with Qatar's Jasim family. In 2006, when Jasim family settled the investment, Hussain became the owner of London properties.
Sheikh Hamad bin Jasim bin Jaber al-Thani – who was prime minister of Qatar from 2007-2013 – initially confirmed the claim through two different written correspondences to the court. He confirmed that Prime Minister Nawaz's father, Mian Muhammad Sharif, made an investment of approximately 12 million Qatari dirhams in the al-Thani family's real estate business.
Cash transaction
"The investment was made by way of provision of cash which was common practice in the Gulf region at the time of the investment. It was also, given the longstanding relationship between my father and Mr Sharif, a customary way for them to do business between themselves," the letter said.
According to reports carried out by the Pakistani media, at the end of 2005, after receiving all accruals and other distributions made over the term of the investment, it was agreed that an amount of approximately $8,000,000 was due to Mr Sharif.
"The amount due to him was settled in 2006, by way of the delivery to Mr Hussain Nawaz Sharif's representative of bearer shares of Nescoll Ltd and Nielsen Enterprises Ltd, which had been kept during that time in Qatar," a Dawn report said.
The Supreme Court rejected the letters and asked Jasim to appear in person and validate his claims by providing related bank documents. The prince, however, refused to present himself in a court in Pakistan or even in the Pakistan embassy in Doha.
estimony at his palace
The investigation team insisted that he should record the statement within the territorial jurisdiction of Pakistan, while Sheikh Hamad said he is not subject to the jurisdiction and has offered the JIT members to record his statement at his palace.
Eventually, on Monday July 10, the JIT submitted its investigation report to the court without Jasim's testimony. The report, which was made public, mentioned glaring disparities in the Sharif family's known sources of income and their actual wealth.
"Significant gap/disparity amongst the known and declared sources of income and the wealth accumulated by the Respondents….have been observed," the JIT observed in its concluding remarks in the report.
Sharif's political party, Pakistan's Muslim League, has rejected the JIT report without Jasim's testimony. The court has been adjourned till Monday (July 17) to decide Sharif's fate.
Full report at:
https://english.alarabiya.net/en/perspective/features/2017/07/11/ANALYSIS-Will-financial-deals-with-Qatar-end-Pakistan-PM-Sharif-s-political-career-.html
--------
South Asia
Taliban kill 2 Afghan policemen in attack on security post
11 July 2017
KABUL: An Afghan official says the Taliban have attacked a security outpost in eastern Laghman province, killing two policemen and wounding seven civilians.
Sarhadi Zwak, spokesman for the provincial governor, says the attack took place in the district of Ali Shing on Monday night.
Zwak says the seven civilians wounded in the two-hour-long assault included women and children.
He says reinforcements were deployed to the scene and government forces engaged in an intense battle until they finally pushed back the insurgents.
Zwak says that top Taliban commander known as Adam Khan was killed in the attack, along four others insurgents.
The Taliban did not immediately claim responsibility for the assault.
http://www.arabnews.com/node/1127666/world
--------
Shia Ismaili Muslims to celebrate 60 years of Aga Khan's life, work Tuesday
2017-07-11
This year, July 11 marks the 60 years of a commitment "to faith, pluralism and improved quality of life for vulnerable societies" of the Aga Khan as the 49th hereditary Imam (spiritual leader) of the world's Shia Ismaili Muslims.
The Aga Khan Development Network (AKDN), government bodies and faith community leaders in over 25 countries including Bangladesh will come together on Tuesday to celebrate the day.
The AKDN said there would be a private event marking this historic occasion in conjunction with the global ceremonies.
"Over the past six decades, the Aga Khan has transformed the quality of life for millions of people around the world".
"In the areas of health, education, cultural revitalization, and economic empowerment, he has worked to inspire excellence and improve living conditions and opportunities in some of the world's most remote and troubled regions".
In Islam's ethical tradition, religious leaders not only interpret the faith but also have a responsibility to help improve the quality of life of their community and the societies among which they live.
For the Aga Khan, this has meant dedicating his life to addressing the concerns of the developing world.
Who is Aga Khan?
The Aga Khan is a direct descendant of the Prophet Muhammad (peace be upon him and his family) through his cousin and son-in-law Ali, the first Imam, and his wife Fatima, the Prophet's daughter.
He succeeded his grandfather, Sir Sultan Mahomed Shah Aga Khan as the Imam of the Shia Ismaili Muslims sixty years ago, at the age of 20.
Today, the Aga Khan leads a global community of some 15 million Shia Ismaili Muslims, living predominantly in South Asia, Central Asia, Africa, the Middle East, Europe, North America, and the Far East.
Like the Muslim world as a whole, the Ismaili community represents a rich diversity of cultures, languages, and nationalities.
His role as Imam includes the interpretation of the faith and responsibility for religious institutions and activities of his followers worldwide.
The AKDN
The Aga Khan has been at the forefront of innovation in development during his 60 years as Imam.
It was driven by the ethics of his faith and the Imam's hereditary responsibility to improve the quality of life for his community and for those amongst whom they live.
He is Founder and Chairman of the AKDN, one of the most comprehensive development networks in the world today.
The AKDN operates in over 30 countries primarily in Central and South Asia, Eastern and Western Africa and the Middle East. It has grown to 80,000 staff, one of the largest development organisations in the world.
AKDN spends $925 million dollars annually on non-profit social and cultural development activities – a threefold increase over the past ten years.
It operates more than 200 health care institutions, two universities spanning six countries, and 200 schools and school improvement programmes in some of the most remote and poorest parts of the developing world.
Full report at:
http://bdnews24.com/bangladesh/2017/07/11/shia-ismaili-muslims-to-celebrate-60-years-of-aga-khans-life-work-tuesday
--------
Ghani vows to build more dams amid concerns by neighboring countries
Jul 11 2017
President Mohammad Ashraf Ghani has said the Afghan government is committed to build more dams despite the concerns by the neighboring countries, insisting that waters are the national capital of the country.
President Ghani made the remarks during a press conference in Kabul, briefing the media regarding his recent visits to the central Asian countries.
In regards to the concerns expressed by the Iranian President Hassan Rouhani regarding the building of water dams in Afghanistan, President Ghani said the remarks of President Rouhani could have been analyzed from different points of view.
He insisted on the government's policy for maintaining good neighborly relations but said the Afghan government will continue to build more water dams to properly utilize the national capital of the country, which are waters.
This comes as the Iranian President Rouhani earlier expressed concerns regarding the construction of water dams in Afghanistan, insisting that Tehran cannot remain silent in this regard.
He made the remarks during an international conference being held for three days in Tehran, the capital of Iran, saying "Dam construction in Afghanistan and Sistan-Baluchestan Province (in Iran) play a role in the desiccation of rivers.".
Full report at:
http://www.khaama.com/ghani-vows-to-build-more-dams-amid-concerns-by-neighboring-countries-03122
--------
NATO reacts at ISIS Khurasan's claims of killing US soldiers in East of Afghanistan
Jul 10 2017
The NATO-led Resolute Support Mission in Afghanistan (RSM) reacted at the claims of the Islamic State of Iraq and Syria (ISIS) terrorist group's offshoot in Afghanistan, ISIS Khurasan, regarding the killing of two US soldiers.
Rejecting the claims as baseless, the Resolute Support mission, said only two US soldiers were wounded in Nangarhar province.
NATO spokesman in Afghanistan, U.S. Navy Captain William K. Salvin, said "As is usually the case, the ISIS-K claim of killing 2 U.S. Soldiers in Nangarhar Province over the weekend is false. Two service members were wounded on July 7th and were medically evacuated out of theater for treatment."
This comes as the Afghan forces are busy conducting counter-terrorism and clearance operations in some restive districts of Nangarhar as the ISIS loyalists have been attempting to expand their foothold and activities in certain districts of the during the recent years.
The US forces based in Afghanistan have stepped up airstrikes against the anti-government armed militants in Afghanistan.
The airstrikes were increased particularly after the former US administration granted broader role to the US forces to resume counter-terrorism operations, a step that was taken after growing instability in the country, mainly due to the insurgency led by the Taliban and ISIS militants.
Full report at:
http://www.khaama.com/nato-reacts-at-isis-khurasans-claims-of-killing-us-soldiers-in-east-of-afghanistan-03118
--------
Africa
Kenya: Tana River Muslim Clerics Oppose Curfew Imposed By Matiang'i
10 JULY 2017
By Charles Lwanga
Muslim clerics in Tana River County have urged the government to immediately lift the curfew imposed by acting Interior Cabinet Secretary Fred Matiang'i.
They questioned why Dr Matiang'i included Tana River in the dusk to dawn curfew yet the county has not experienced cases of insecurity such as attacks by the Al-Shabaab.
In a gazette notice dated July 8, Dr Matiang'i imposed the dusk to dawn curfew in Lamu, Tana River and Garissa Counties following the increased attacks by Al-Shabaab in Lamu County.
The CS said the curfew would remain in force for three months.
Addressing journalists at Caritas Hotel in Garsen town on Monday, the Tana River Council of Imams and Preachers in Kenya Chairman Sheikh Musa said the county does not deserve curfew since residents have been living in peace.
"We cannot accept to carry the burden of our neighbouring counties and we urge the government to lift the curfew immediately," he added.
His sentiments were supported by Sheikh Salim Omar Dima, a Muslim scholar from Tana Delta and Sheikh Idris Bakero, who urged the government to exclude the county from the curfew.
"We urge President (Uhuru) Kenyatta, as Muslims and religious leaders , to lift the curfew imposed by Dr Matiang'i , the county is peaceful," said Mr Bakero .
http://allafrica.com/stories/201707100440.html
--------
4 killed in Tripoli clashes: Libya's unity gov't
11 July 2017
Four people have been killed in two days of clashes between forces of the UN-backed unity government and a rival administration east of the capital Tripoli, according to the unity government-affiliated health ministry.
In a statement on Tuesday, the ministry said two foreign workers were among the victims, but without unveiling their nationality.
Sporadic clashes were reported on Tuesday between forces of the unity government and the rival salvation government in Gasr Garabulli, 75 kilometers (46 miles) east of Tripoli.
A local security source said the violence erupted as a result of attempts by the salvation government to amass forces in preparation for storming Tripoli.
Libya has been locked in a state of violence and turmoil since 2011, when a bloody popular uprising ended with the ouster and death of former President Muammar Gaddafi.
Full report at:
http://www.worldbulletin.net/africa/191720/4-killed-in-tripoli-clashes-libyas-unity-govt
--------
19 bodies of Egyptian migrants found in Libya desert
10 July 2017
Libyan aid workers recovered the bodies of 19 migrants believed to be Egyptians in Libya's eastern desert, a Red Crescent spokesman said on Sunday.
The migrants appeared to have been smuggled into Libya by foot and have perished due to high temperatures and hunger, said Khaled al-Raqi, a Red Crescent spokesman in the east Libyan city of Tobruk.
They were found on Saturday more than 400 km (250 miles) south of Tobruk, in the Jaghboub desert, Raqi said. Seven of the migrants were identified from papers or identity cards, and the rest were thought to be Egyptian from their appearance, he said.
The seven came from Assiuyt and Minya, areas on the River Nile south of Cairo, and from Kafr el Sheikh, in the Nile Delta north of Cairo.
Libyan television station Libya Alaan broadcast footage of Libyan Red Crescent workers offloading bodies from the back of a truck into black body bags.
Full report at:
https://english.alarabiya.net/en/News/middle-east/2017/07/10/19-bodies-of-Egyptian-migrants-found-in-Libya-desert-.html
--------
Grenade attack kills 8, wounds 50 in northern Burundi
Jul 10, 2017
A grenade attack killed eight people and wounded 50 others in a village in Burundi's northern Kayanza province late on Sunday, police said.
Four of the victims died at the scene and the other four succumbed to their injuries, police spokesman Pierre Nkurikiye said.
The assault occurred around 6:30 p.m. local time (4:30 GMT) in the village of Shinya on Sunday, Nkurikiye told reporters in the capital, Bujumbura, on Monday. He called the assault "a terrorist attack."
"An unknown person threw a grenade among the population," he said.
Nkurikiye did not say who might have carried out the assault, but police usually use the phrase "terrorist attack" to indicate armed opponents of President Pierre Nkurunziza.
At least 700 people have been killed in clashes between Nkurunziza's supporters and his opponents since April 2015, when the president said he would run for a third term in office. He was re-elected in July 2015 in a vote largely boycotted by the opposition.
In a tweet on Monday, Nkurunziza offered condolences "to the families who lost their next of kin in the terror attack ... The perpetrators will surely be punished."
Nkurunziza's opponents say his bid for a third term violated the country's constitution and the terms of a peace deal that ended a previous rebellion. The president cited a constitutional court ruling that his bid was legal.
Burundi's growing insecurity has spurred some alarm in the region because it has the same ethnic mix of majority Hutus and minority Tutsis as neighbouring Rwanda, where 800,000 people were killed in ethnic violence in 1994.
Full report at:
http://www.presstv.ir/Detail/2017/07/10/528038/Burundi-attack
--------
Buharia Is The Problem With Nigeria, Says Muslim Leader
10 July 2017
by Ifeanyi Omokwe
Orlu who spoke in Port Harcourt, the River State capital on Sunday, said the country was due for restructuring.
According to him, Nigerians who believe the nation is united are deceiving themselves.The elder statesman called on President Buhari to restructure the nation, as it is the only way regional agitations would end.
He said: "Those, who are not supporting restructuring, are ignorant of what is happening in the country. They are enemies of the country. If they know what restructuring stands for, they will not opposed to it. I want you to know that, Nigeria of today, is not united and we should not deceive ourselves.
"Is it not clear that in the South-South and South East, this Federal government has nothing to show? That is not what government is all about. Previous government spent time developing the North. The issue of being voted for or not, should not determine development of an area."
He advised the federal government to 'appeal' to the people of the South-East to accept restructuring, adding that the struggle will always remain in the minds of the people.
"What we need is to appeal to them (Biafra people) to accept restructuring for us to live together in peace as one Nigeria," he said.
"I want to state that the Biafra struggle is in the minds and blood of South East people and, therefore, cannot die. So, Federal Government should appeal to them to accept restructuring.
Full report at:
https://thewhistler.ng/story/nepotism-in-buhari-s-govt-cause-of-regional-agitation-muslim-leader
--------
Australia
Islamic experts work towards national religious school curriculum to apply faith to modern Australian life
By Sowaibah Hanifie
Jul 11, 2017
A new high school curriculum will help young people realise there's no conflict between following Islam and being raised Australian, despite an atmosphere of Islamaphobia, according to young student Gaida Merei.
Ms Merei was part of the pilot program of what will eventually become a national syllabus for Islamic and Arabic studies.
She said young Muslims often find themselves questioning their identity because they don't have the answers to questions about their faith that are raised in the news.
"It makes them makes you feel like you're constantly being attacked," Ms Merei said.
"It could make them [young Muslims] question their belonging and negatively impact the way they view their role in society and whether their contribution has value."
She said the pilot program gave her a confidence boost.
"It meant I could embrace my identity a lot more confidently, and confirmed that just because I followed the faith, it didn't conflict with being raised Australian."
Experts work toward creating national curriculum
Currently, Australian Islamic schools use approved curriculum for core subjects such as maths, science and English, but there is no cohesive religious studies or Arabic program.
In an attempt to change that, leading experts in Islamic education from around the globe are meeting in South Australia to look at creating a standardised national Islamic studies curriculum that would become the first in the western world.
The two-day conference brings together international experts from New Zealand, Indonesia, North America amongst others to discuss a renewed approach to teaching in Islamic schools.
For the last couple of years several Islamic schools have been in the spotlight for governance concerns.
Centre for Islamic Thought and Education, Professor Mohamad Abdalla, said these issues shed light on the need for Islamic schools to re-evaluate future direction.
As part of the conference agenda academics and policy specialist will look at creating a learning program relevant to a modern-day Australian context.
Professor Abdalla said that's something current Islamic studies in schools lack.
How to applying faith to modern Australia
Ms Merei said from her experiences of attending an Islamic school, students are missing out on education relevant to their lives in Australia.
"The way the religion is followed and applied in modern Australia will differ to the way it is followed in countries in the Middle East or Europe or Asia," she said.
The course explored often misunderstood topics of sharia, women in Islam, terrorism and identity.
Ms Merei said she missed out on learning about these subjects at the Islamic school she attended and now understands the value of learning about them from a credible source.
"They can properly engage in debate and discussion with people who have different understandings and perspectives.
"They'll be less frustrated when questioned on these topics because they can actually respond."
She said in today's world self-proclaimed scholars are brainwashing young people who have little understanding of their faith.
Ms Merei said having a basic understanding of these topics would empower them to see through their politically motivated propaganda.
Professor Abdalla said an Australian curriculum was expected to be ready in the next two to three years.
http://www.abc.net.au/news/2017-07-11/islamic-national-curriculum-push-to-apply-faith-for-australia/8696330
--------
URL: https://www.newageislam.com/islamic-world-news/india-muslim-religious-leaders-plan/d/111823
New Age Islam, Islam Online, Islamic Website, African Muslim News, Arab World News, South Asia News, Indian Muslim News, World Muslim News, Women in Islam, Islamic Feminism, Arab Women, Women In Arab, Islamophobia in America, Muslim Women in West, Islam Women and Feminism