New Age Islam News Bureau
8 Dec 2019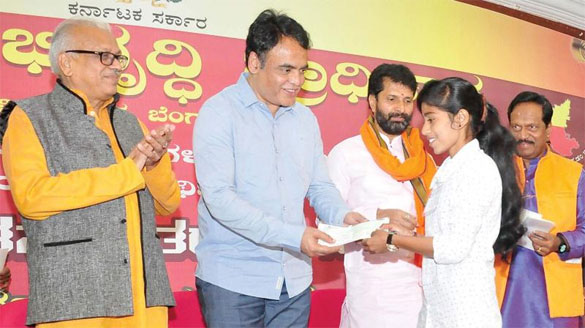 Deputy Chief Minister C.N. Ashwathnarayan and Tourism minister C.T. Ravi distribute scholarships of the Kannada Development Authority to Kannadiga students studying outside Karnataka, in Bengaluru on Saturday. Poet H.S. Venkatesh Murthy is seen (KPN)
-------
• India: Karnataka Tourism Minister's Dream Scheme To Protect Old Temples, Churches, Mosques
• Hafiz Saeed's Indictment in Terror Financing Case Delayed as Officials Fail to Produce Co-Accused
• Dedicated TV Channel Will Showcase True Meaning of Islam And Counter-Narrative Against Islamophobia Faced By The Muslim Community Globally- Academics
• Saudi Pilot Reportedly Quoted Bin Laden Online, Watched Shooting Videos before Attack
• Organization Of Islamic Cooperation: Florida Shooting Does Not Represent Tolerant Values Of Saudis
• 'Islamic State Is Not A Great Threat to the UK' – What Jeremy Corbyn Said The Day After Jihadi John Beheaded A British Aid Worker
• Los Gatos-Based Netflix Leads Rush to Build Moviemaking Mecca in New Mexico
Dear Mark Zuckerberg: Facebook Is an Engine of Anti-Muslim Hate the World Over. Don't You Care?
• Hamas Warns Israel about Violations at Al-Aqsa Mosque In Jerusalem
• Distorted Narratives about Islamic Schools Deflect Ugly Truths About Nigerian Society
Compiled By New Age Islam News Bureau
URL: https://www.newageislam.com/islamic-world-news/india-karnataka-tourism-ministers-dream/d/120467
------
India
• Sunni Waqf Board Be Given Land outside Ayodhya: Vishva Hindu Parishad
• Socialist Equality Party (UK) Candidate Speaks On Kashmir And Palestine At Sheffield Mosque Hustings
• Four Afghans held with foreign currency in Delhi
• Delhi Waqf Board gives 2 lakh to rape survivor
• CAB A Majoritarian Exercise to Prove Muslims Have Lesser Place in the 'New India'
------
Pakistan
• The Young Pakistan Couple Are Married With an Interreligious Rite And Each Maintain Their Own Faith
• London Bridge Terrorist Buried In Ancestral Village In Pakistan-Occupied Kashmir
• Pakistan Rupee Climbs to Five-Month High Vs Dollar
• 1 dead, 6 injured after blast in Lahore refrigerator workshop: police
------
Southeast Asia
• Aspiring Islamic teachers back from studies abroad can register for course
• Mohamaddin: Malaysia should enhance Muslim-friendly tourism concept
• China's top diplomat tells Pompeo US should stop interfering in China's internal affairs
------
Arab World
• UAE-based forum discusses problems of Muslim youth
• Bimaristan Al Muayyad, one of the world's largest hospital, is locked behind Islamic Cairo's gates
• Unidentified drone strikes home of firebrand Iraqi cleric Sadr
• Bin Laden Group undergoes management overhaul
• KSRelief team performs 13 heart surgeries in Tanzania
• Saudi GACA chief signs air safety agreements at Jordan conference
• Saudi Justice Ministry allows online updating of real estate deeds
• Arab World Must Tackle 'Deficits' To Create Own Vision: International Experts
------
Europe
• Russian forces bombed a mosque in Kfarrouma village in Idlib suburbs, on December 6
• London Bridge attacker's body flown to Pakistan for burial
• Who exactly paid for Cambridge's new eco-mosque?
• 'There are a lot of lies': In London's key swing seats, Britain's Muslim voters could prove decisive
• Russian FM blames US' policies for recent unrest in Iran
• Mostafa Bakry on student's suicide at Cairo Tower: 'Muslim Brotherhood's alternative plan to explosive belt'
• UK election rivals face off for final time ahead of poll
------
North America
• Muslim Comics Are Opening Up About Their Faith on the Stand-Up Circuit
• Parent protests outside Small Heath mosque after former trustee convicted of assaulting child
• US Sanctions Iraqi Shia Militia Leaders
• US imposes sanctions on three Iraqi Hashd al-Sha'abi leaders
• Donald Trump pulls back on designating Mexico cartels as 'terror' groups
------
Mideast
• Islamic Organization Criticizes Israel's Settlement Plans in Hebron
• Israel planned to terminate other officials in the Islamic Jihad
• Syrian- Russian Alliance forces bombed a mosque in al Bara village in Idlib suburbs, on December 7
• Iran says new budget bucks US oil embargo, uses Russian loan
• Air strikes kill 19 civilians in northwest Syria: monitor
• Rouhani says Iran budget set to resist US sanctions by curbing oil dependence
• Israel strikes in Gaza after rocket attack
• Airstrikes kill 19 civilians in northwest Syria
• Turkey faces US sanctions over missile defense deal
• Algeria's presidential debate falls flat, as anger simmers
------
Africa
• Sudan to withdraw all forces from Yemen: PM
• Top Shia cleric Sheikh Zakzaky, wife transferred to 'dilapidated' jail
------
South Asia
• Halted US-Taliban talks resumed in Qatar
• Indian Army hands over 10 sniffer dogs to Bangladesh army
• Switzerland's top insurer enters in to Afghanistan market
• Nakamura's body is transported to his birthplace in Japan
• Afghans leave Iran in thousands as economy worsens
------
India: Karnataka Tourism Minister's Dream Scheme To Protect Old Temples, Churches, Mosques
Dec 8, 2019
BENGALURU: Tourism minister C.T. Ravi on Saturday announced an ambitious scheme, Samrakshane, aimed at protection of important monuments and buildings which do not figure in the lists of either the Archaeological Survey of India or the state archaeology department.
Speaking to the media on completion of 100 days in office as tourism minister, Mr Ravi said: "There are more than 25,000 temples, mosques, churches, buildings and other monuments across the state which needs attention, care, protection and conservation. I felt that these monuments should be brought under scheme to take up restoration work in a phased manner."
This scheme would tentatively be known as - Samrakshane -but all details would be spelt out in forthcoming budget. "This will be a dream project," he added.
The tourism minister felt the new scheme could be implemented with the help of private partners as well. "Maintaining heritage can be done through public-private partnership as well," he said without elaborating but it was evident the minister was inspired by the Union Tourism ministry's - Adopt Heritage and Monument Mitra - scheme launched in 2017 in which private entities are roped into manage ASI's big ticket monuments like the Red Fort.
The minister said that his ministry would soon come out with new tourism policy to augment tourism facilities.
"The tourism department contributes nearly 14.8 per cent to the state GDP and with the new policy we intend it to increase the contribution to 20 per cent, a modest target over the next five years," he added.
In response to a question, Mr Ravi said the state government would soon re-launch the Golden Chariot railway project once the railway ministry signs the Memorandum of Understanding.
"I am in touch with Union minister of state for railways, Suresh Angadi to relaunch this train," he added.
https://www.deccanchronicle.com/nation/current-affairs/081219/samrakshane-ravis-dream-scheme-to-protect-old-temples-churches-m.html
------
Hafiz Saeed's indictment in terror financing case delayed as officials fail to produce co-accused
Dec 7, 2019
ISLAMABAD: Hafiz Saeed, the 2008 Mumbai terror attacks mastermind, could not be indicted by the Lahore-based anti-terrorism court (ATC) on Saturday as authorities failed to produce the other co-accused for the hearing of the case related to money laundering and terror financing.
Saeed was brought to the court from Lahore's Kot Lakhpat jail in tight security. The absence of Malik Zafar Iqbal, the co-accused, prompted the court to adjourn the proceedings till December 11. ATC judge Arshad Hussain Bhutta directed the authorities to ensure Iqbal's presence in court for next hearing and gave December 11 as new date for indictment of the accused. Last week, the ATC had fixed December 7 as date for framing charges against Saeed and others.
Like previous hearings, authorities barred journalists from covering Saturday's proceedings, citing security reasons.
On July 3, Saeed and 12 other top leaders of the Jamaat-ud-Dawa (JuD) were booked in 23 cases for terror financing and money laundering under the Anti-Terrorism Act (ATA), 1997.
The counter-terrorism department (CTD), which registered the cases in five cities of Punjab, declared that JuD and Falah-e-Insaniat Foundation (FIF), the Saeed-led charities that act as front for the banned Lashkar-e-Taiba (LeT), were financing terrorism from the massive funds collected through non-profit organisations and trusts, including Al-Anfaal Trust, Dawatul Irshad Trust and Muaz Bin Jabal Trust.
The CTD had banned these non-profit organisations in April after finding during investigations that they had links with JuD and its top leadership.
Subsequently, the CTD had arrested Saeed from Gujranwala on terror financing charges on July 17 and sent him to jail on judicial remand after presenting him in court.
The action against Saeed was described by officials and observers as a renewed effort by Pakistan to comply with the commitments given to the Financial Action Task Force (FATF), an international terrorism-financing watchdog, to curb terror financing and money laundering.
Last February, the government had announced a ban on JuD and FIF to partially address the concerns raised by India that Pakistan was supporting Saeed's outfits and six similar organisations, including Maulana Masood Azhar-led Jaish-e-Mohammad (JeM).
Over the next few weeks, law enforcement agencies had intensified crackdown on JeM, JuD, FIF and other banned outfits, and arrested more than 100 activists. Nearly 200 seminaries, besides hundreds of other facilities and assets associated with them across the country, were taken over by the government.
Quarterly assessments by the FATF of Pakistan's progress continued over the course of the year.
In the latest FATF review held in October, it was found that Pakistan will have to take extra measures for complete elimination of terror financing and money laundering. A reprieve till February 2020 has been given. Till that time, Pakistan will remain on the task force's grey list.
The FATF had put Pakistan on its grey list in June 2018 for the second time. Previously, the country was placed on grey list in 2012 and remained on it till 2015.
This time Pakistan was given implementation of the 27-point action plan, with a warning that in case of failure, the country would be added to the blacklist — a list of the countries branded as uncooperative and tax havens for terror funding.
India and the US accuse Pakistan's military of continuing to nurture extremist groups as proxies against neighboring countries. Publicly, Pakistani officials insist that the country has changed its narrative and no longer believes to achieve its goals through proxies. But a lot of skepticism still prevails about such claims, given Islamabad's record of making similar promises in the past that remained unfulfilled.
https://timesofindia.indiatimes.com/world/pakistan/hafiz-saeeds-indictment-in-terror-financing-case-delayed-as-officials-fail-to-produce-co-accused/articleshow/72420313.cms
------
Dedicated TV Channel Will Showcase True Meaning of Islam And Counter-Narrative Against Islamophobia Faced By The Muslim Community Globally- Academics
08/12/2019
By Siti Baaqiah Mamat
KUALA LUMPUR, Dec 8 -- The setting up of a dedicated television channel will provide a strategic platform to launch counter-narrative against Islamophobia faced by the Muslim community globally, said Prof Dr Zaid Ahmad from Universiti Putra Malaysia (UPM).
Zaid, a lecturer at the UPM's Faculty of Human Ecology, said the setting up of a dedicated television channel would be able to dispel the stereotypes often portrayed by the western media when comes to Islam which had influenced the thinking of the world population in general.
"Islamophobia has now become a mainstream discourse in the West as it permeates into various segments of thoughts and is seen as influencing every attitude, decision and action, particularly in issues involving the Muslims.
"Hence, once this television channel is established, it will provide a platform to launch counter-narrative, apart from disseminating a more accurate and credible information, thus, attracting more people to understand the true meaning of Islam," he said. Zaid said this to Bernama ahead of the Kuala Lumpur Summit 2019 scheduled to take place from Dec 18 to 21.
The setting up of a dedicated television channel is expected to be among the highlights of the summit that will be chaired by Prime Minister Tun Dr Mahathir Mohamad with the presence of Islamic world leaders, apart from thinkers, scholars and ulama (religious scholars).
Zaid stressed that the involvement of scholars and ulama crucial in the efforts to correct the news and false information that tarnished the image of Islam and Muslims.
Efforts to eradicate negative perceptions of Islam and Muslims required solid knowledge base and quality research as well as the ability to clearly understand the issues that were being played internationally, he said.
It will also help bring Muslims to return to the true teachings of Islam as set out in the Quran.
The summit, which is scheduled to take place at the Kuala Lumpur Convention Centre, aims at, among others, discussing and finding new solutions to the problems facing the Islamic world, and to contribute towards enhancing the image of Muslims and the Islamic nations.
It also aims at establishing a network between Islamic leaders, scholars, ulama and thinkers worldwide, and to revitalise Islamic civilisation.
Meanwhile, Malaysian Press Institute (MPI) chief executive officer Datuk Dr Chamil Wariya said in order for the television channel to succeed, it must offer balanced programming that not only limited to the Muslim community.
The television channel also needs to be friendly towards the non-Muslims to make the content more accessible for everyone.
Chamil said any talkshow or discussion programme to be produced should also be conducted in rational manner.
"To ensure a balanced content, non-Muslim academics with expertise in Islam can be invited to provide constructive views on the issues raised," he said.
In addition, he said, the contribution of Islamic civilisation to the modern world, often ignored or downplayed by the western historians, could also be presented in the form of a documentary that could entice people to watch and learn.
Among the highlights are the Islamic banking and business ethics as well as achievements in sports.
He also suggested that the costs of developing and financing the television channel be shared among countries with similar goals in realising the idea.
http://www.bernama.com/en/general/news.php?id=1797454
------
Saudi Pilot Reportedly Quoted Bin Laden Online, Watched Shooting Videos Before Attack
December 07, 2019
The Saudi pilot blamed in the killing three people at a U.S. Navy base in Florida posted criticism of the United States online and quoted slain Al-Qaeda terror leader Osama Bin Laden, a group that tracks extremism says.
A U.S. official on December 7 also told AP that the Saudi hosted a dinner party earlier in the week in which he and three others watched videos of mass shootings.
Federal investigators have not disclosed any motive behind the attack, which occurred on December 6 when the Saudi national is said to have opened fire with a handgun inside a classroom at the Naval Air Station Pensacola.
U.S. Defense Secretary Mark Esper said on December 7 that he was not ready to call it an act of terrorism.
Labeling an act by a Saudi national could be a sensitive topic. Sunni Muslim Saudi Arabia is closely allied with the United States, and Washington relies on Riyadh to be a counter to Shi'ite-led regional rival Iran.
Saudi Arabia's King Salman called President Donald Trump to extend his condolences and pledge his country's support in the investigation.
The Saudi leadership remains under pressure for the killing last year of Washington Post columnist Jamal Khashoggi at the Saudi Consulate in Istanbul. Riyadh blamed that murder on rouge Saudi intelligence officials.
Authorities said a sheriff's deputy who responded to the Florida base fatally shot the gunman after the attack.
Two U.S. officials, speaking on condition of anonymity, named the shooter as Second Lieutenant Mohammed Saeed Alshamrani.
Florida Governor Ron DeSantis said the suspect was attending training at the base as part of Navy program open to U.S. allies.
The suspect reportedly played videos of mass shootings at a dinner earlier in the week with other Saudi aviation students, according to U.S. media.
One of the three students who attended the dinner party videotaped outside the building while the shooting was taking place, a U.S. official told AP on condition of anonymity.
Two other Saudi students watched from a car, the official said. All three are being questioned by investigators.
SITE Intelligence Group, which monitors online Islamist extremism, said Alshamrani appeared to have posted a justification of his planned attack in English on Twitter a few hours before it began.
He referred to U.S. wars in Muslim countries and wrote that he hated Americans for "committing crimes not only against Muslims but also humanity." He also criticized Washington's support for Israel and quoted Bin Laden, SITE said.
Officials said they have so far found no indications Alshamrani had links to international terrorist groups.
https://www.rferl.org/a/saudi-aviation-pilot-shooting-pensacola-florida-naval-base-terror-binladen/30313291.html
------
Organization of Islamic Cooperation: Florida shooting does not represent tolerant values of Saudis
December 07, 2019
RIYADH: The Organization of Islamic Cooperation (OIC) and the Muslim World League (MWL) condemned the attack in Florida that killed three and injured several others on Friday.
The shooting by a member of the Saudi military took place at the US naval base in Pensacola, Florida. The attacker, who had been an aviation student at the base, was shot and killed by police.
The OIC issued a statement stressing that the shooter did not represent the tolerant Islamic values of the Saudi people and all Muslims who believe in "tolerance and moderation."
The secretary-general of the Muslim World League (MWL) Mohammed bin Abdulkarim Al-Issa said that the attack was "a horrific crime" that "represents only the criminal inclinations of its perpetrator, and that Islam and all Muslims are innocent of it."
He added that criminal behaviour does not have a religion or nationality, and that the attack has upset everyone. He also said that the the American nation is respected and held in high esteem.
The secretary-generals of the OIC and the MWL offered their condolences to the families of the victims and said they hoped those injured would get better soon.
https://www.arabnews.com/node/1595511/saudi-arabia
------
'Islamic State Is Not A Great Threat To The UK' – What Jeremy Corbyn Said The Day After Jihadi John Beheaded A British Aid Worker
8 December 2019
Jeremy Corbyn claimed that Islamic State was 'not a great threat to the UK' only hours after a video of Jihadi John beheading a British aid worker horrified the world, The Mail on Sunday can reveal.
Mr Corbyn made the extraordinary statement at a Stop The War Coalition rally on October 4, 2014, following the release of footage the day before showing the sickening murder of father-of-two Alan Henning.
The Salford taxi driver had volunteered as an aid worker and travelled to Syria in 2013. But soon after arriving he was kidnapped by Islamic State fighters and held hostage.
Nearly a year later, the video was released by IS showing his execution by Mohammed Emwazi, nicknamed Jihadi John – after John Lennon – because he was in a four-man British IS cell dubbed The Beatles.
The footage repulsed the world and made Emwazi the world's most wanted man. Prime Minister David Cameron issued a 'kill or capture' order and Emwazi was killed in a joint US-British drone strike on November 12, 2015.
Mr Corbyn addressed the murder of Mr Henning at the hard-Left Stop The War Coalition rally in Central London and blamed 'jingoism' and Britain's foreign policy rather than IS.
'We have to remember that the price of war, the price of intervention, the price of jingoism, is somebody else's son, and somebody else's daughter, being killed,' he said.
Speaking to the Turkish-based Anadolu news agency after his speech, Mr Corbyn said: 'I think ISIL [Islamic State] is not a great threat to the UK. I think the bigger threat to the UK is our continuing involvement in wars all around the world.'
At the time, IS controlled territory roughly the size of the UK across Iraq and Syria and boasted more than 900 British recruits.
Last night, when contacted by this newspaper, Labour did not distance itself from Mr Corbyn's comments and instead drew attention to his speech last week when he claimed he had been correct when he opposed the Iraq war.
But critics said Mr Corbyn was unfit to be Prime Minister.
Former Labour Minister Ian Austin said the MoS revelation was 'the most powerful example yet of the way that Jeremy Corbyn takes the side of this country's enemies, not our own people'.
He added: 'Corbyn does not take the terrorist threat seriously, believing it is caused by the West – not by people who murdered hero Alan Henning. He was an ordinary guy doing his best to help the Syrian people.'
He also claimed that rather than criticise 'the brutal Syrian regime, whose barbaric attacks on their own people caused millions to flee and are responsible for hundreds and thousands of deaths', Mr Corbyn 'laid into Britain instead'.
Mr Austin, chairman of anti-extremism group Main Stream UK, which unearthed Mr Corbyn's comments, added: 'I'm not afraid to admit it – the idea of a Corbyn government makes me scared.
'He's not fit to lead the Labour Party and not fit to be Prime Minister. That's why me and millions of other lifelong Labour voters will vote to keep him out this Thursday.'
Mr Corbyn sparked uproar by attacking the killing of IS leader Abu Bakr al-Baghdadi in Syria on October 26 by US special forces, claiming that it would have been right to arrest him, despite the fact he blew himself up with a suicide belt.
He also claimed that IS bride Shamima Begum should be allowed to return to Britain and once claimed the death of 9/11 mastermind Osama bin Laden was a 'tragedy'.
https://www.dailymail.co.uk/debate/article-7768095/HARRY-COLE-Labour-leader-said-Islamic-State-not-great-threat-UK.html
------
Los Gatos-Based Netflix Leads Rush to Build Moviemaking Mecca in New Mexico
December 7, 2019
ALBUQUERQUE, N.M. (AP) — An executive with Netflix says the streaming giant has boosted its original content exponentially over the last several years and that will mean more action for its production hub in New Mexico, where state officials have been busy trying to woo more big partners in the industry.Nick Maniatis, who ran the state's film office before going to work for Netflix, spoke to a group of hundreds of business leaders and elected officials who were gathered Thursday in Albuquerque. He described it as a "golden era," saying the amount of content that's out there is amazing.
"A year ago you could say all the major studios — take Disney, Warner Bros., Paramount, Fox, all of them combined — would do about 300 or 400 projects a year. This year, we will do 1,000 projects, just Netflix," he said.
The pace of production is showing no signs of slowing down as Disney and others are planning new products. Maniatis said that will surely lead to a dearth of sound stages.
That's where New Mexico is hoping to fill the void.
It's already home to Netflix's first U.S. production hub. The company partnered with the state and the city of Albuquerque in purchasing a studio complex on the city's southern edge, pledging to invest $1 billion in production in the state over the next decade. It has put more than $2 million into renovating the studios so far and its offices there are expected to be complete by the end of the month.
"We have a lot more to bring to New Mexico," Maniastis said, teasing about some new developments. "I can't really tell you about it other than to say we're really pushing forward into the future with how production will be done. We've got some really innovate ways to do it and we're going to do a lot of that here in New Mexico."
The company also says it's on track with meeting spending and employment benchmarks promised as part of the partnership with the state. Netflix and state officials are planning to announce the progress in the coming weeks.
NBC Universal is in midst of turning a warehouse near downtown Albuquerque into a state-of-the art television and film studio. It has committed to spending $500 million on productions in the state over the next decade.
Both NBC Universal and Netflix also plan to put money each year toward film industry training initiatives.
Alicia J. Keyes, secretary of the New Mexico Economic Development Department, is just back from Los Angeles where she met with another company interested in coming to New Mexico. She said the state has shifted the conversation from one-off shows to partnerships with studios that can make long-term commitments to being in the state and keeping the established crew base working.
"Hollywood is finally like, 'Wow, what's going on here and how are they doing this?' So we are on the map I think in a way that we never have been before," she said Friday in an interview.
State officials tout changes in the film incentive program for the uptick in productions and interest over the past six months. Netflix is among those to benefit from the program, though Keyes said it will take some time for the state to calculate the total amount of incentives and the economic impact of the work done since the legislation took effect in July.
In all, there have been about 80 to 85 productions in 2019, according to the state film office.
The state is projecting direct spending by the industry of about $530 million for the current fiscal year.
https://sanfrancisco.cbslocal.com/2019/12/07/los-gatos-based-netflix-hollywood-movie-studio-new-mexico/
------
Dear Mark Zuckerberg: Facebook Is an Engine of Anti-Muslim Hate the World Over. Don't You Care?
Mehdi Hasan
December 7 2019
What happened to you?
Back in December 2015, you spoke out loudly and proudly against anti-Muslim hatred. "I want to add my voice in support of Muslims in our community and around the world," you wrote in a post on Facebook, two days after then Republican presidential candidate Donald Trump announced his plan for a "total and complete shutdown" of Muslims entering the country. "After the Paris attacks and hate this week," you added, "I can only imagine the fear Muslims feel that they will be persecuted for the actions of others."
The headline in the New York Times? "Mark Zuckerberg of Facebook Reassures Muslim Users."
Yet here we are in December 2019. Four years later, you and Facebook have gone from reassuring Muslims to amplifying hate and bigotry against us. You have allowed what the actor Sacha Baron Cohen recently described as "the greatest propaganda machine in history" to be used to target and persecute some of the most vulnerable Muslim communities on Earth.
I'm talking of course about the Rohingya Muslims in Myanmar. In March 2018, the chairman of the U.N. Independent International Fact-Finding Mission on Myanmar, Marzuki Darusman, told reporters that social media companies like yours had played a "determining role" in the violence, having "substantively contributed to the level of acrimony and dissension and conflict."
"Everything is done through Facebook in Myanmar," added Yanghee Lee, the U.N. Special Rapporteur on Myanmar. "I'm afraid that Facebook has now turned into a beast, and not what it originally intended.
You know all this, Mark. Your company has, basically, admitted to it. In November 2018, your own product policy manager, Alex Warofka, acknowledged that you and your colleagues at Facebook had not done enough "to help prevent our platform from being used to foment division and incite offline violence" in Myanmar.
And what have you done since? Warokfa claims Facebook has "improved proactive detection of hate speech in Myanmar." Yet Matthew Smith, the founder of Fortify Rights, a human rights nonprofit focused on Myanmar, disagrees: "Facebook has a lot of work to do," he told me. Yes, your company has appointed more than 100 new content reviewers for Myanmar, but there are more than 20 million Facebook accounts in the country and, as Smith argued, "efforts to date are not enough to tackle the misuse of the platform."
"It's not clear that the senior leadership fully understands the gravity of the situation," he said. "The company should be thinking about reparations for Rohingya and other initiatives to end and remedy the harms."
How about India's Muslim minority communities? Does their fate keep you up at night, Mark? If not, why not? In October, a report by the nonprofit activist network Avaaz accused Facebook of having become a "megaphone for hate" against Muslims in the northeastern Indian state of Assam — where nearly two million people, many of them Muslims, have just been stripped of citizenship by the far-right Hindu nationalist government of Prime Minister Narendra Modi.
Another report, by the South Asian human rights group Equality Labs, found "Islamophobic content was the biggest source of hate speech on Facebook in India, accounting for 37 percent of the content," as Vice News noted in June.
You haven't said or done anything about any of this. You have, though, repeatedly met with Modi — the world leader, incidentally, who has the highest number of Facebook followers! You even introduced your parents to him. I wonder: Will you be introducing your parents to any of the Indian Muslims who have had their WhatsApp accounts deactivated by Facebook in the wake of the Modi government's lockdown in Kashmir?
How about the Muslims of Sri Lanka? When members of a Colombo-based advocacy group called the Center for Policy Alternatives came to your company with multiple examples of inflammatory and Islamophobic videos and posts on Facebook — including a post declaring, "Kill all Muslims, don't even save an infant" — the New York Times reports that nearly every complaint of theirs "got the same response: the content did not violate Facebook's standards."
A call to kill all of Sri Lanka's Muslims, spread through your platform, doesn't bother you? Doesn't shock you?
Let's not forget the Uighur Muslims in China, either. More than a million people have been locked up in concentration camps across Xinjiang province, where they have been beaten, tortured, and raped. Yet BuzzFeed News reported in August on how "Chinese state-owned media is running ads on Facebook seemingly designed to cast doubt on human rights violations" against the Uighurs.
Are you OK with Facebook helping cover up what experts are calling a "cultural genocide" in Xinjiang?
THEN THERE'S THE U.S. In May 2018, a detailed report by the Southern Poverty Law Center explained how "anti-Muslim content finds a home on Facebook." A more recent investigation from Reveal found that while "Facebook has removed groups tied to white nationalist organizations … the social network continues to host groups that are openly hostile to Muslims, such as 'DEATH TO ISLAM UNDERCOVER.'"
Mark, you know all this. You do. You can't plead ignorance.
Again, Mark, you know all this. You do. You can't plead ignorance. You recently hosted Farhana Khera, of the civil rights groups Muslim Advocates, at your home in California. Khera says she told you "about the pain and suffering that Facebook is causing Muslim communities, here in the United States and around the world." Did her personal testimony not affect you?
Then again, you previously hosted Fox News anchor Tucker Carlson, who once called Iraqis "semiliterate primitive monkeys," and Daily Wire founder Ben Shapiro, who has falsely claimed the majority of the world's Muslims are "radicalized." Last month, you also had a secret dinner with President Donald Trump and refused to disclose what you discussed with him. (What a difference four years makes!)
Meanwhile, The Guardian revealed this week that two Muslim members of Congress, Reps. Ilhan Omar, D-Minn., and Rashida Tlaib, D-Mich., "have been targeted by a vast international operation that exploits far-right pages on Facebook to inflame Islamophobia for profit." The Guardian's revelations "show how Facebook has failed to stop clandestine actors from using its platform to run … hate campaigns" and how these online Islamophobes have "operated with relative impunity."
You must be aware of how social media hatred has real-world consequences, right? Patrick Carlineo, who pled guilty to threatening to assault and murder Omar in November, spent years using your platform "to taunt Muslims, attacking them with racist slurs and saying he wished he could confront a group of Muslim politicians with 'a bucket of pig blood,'" according to The Guardian.
Facebook moderators in the U.S. didn't lift a finger to stop him. Is it any wonder that Omar agrees with me that you've helped put a target on her back?
The sad reality is that, across both the developed and developing worlds, Muslim minority communities are being demonized, targeted, and attacked by far-right nationalists. And these far-right nationalists are being aided and abetted, whether directly or indirectly, by self-styled liberals in Silicon Valley. By Facebook. By you, Mark.
Is this really how you want to be remembered? Not as the founder of a company that brought together 2 billion people online through funny memes and friend requests, but as the founder of a propaganda machine that helped incite and organize the mass killing of hundreds of thousands of Muslims?
What happened to the Mark Zuckerberg of December 2015 who told his Muslim employees that he would "fight to protect your rights and create a peaceful and safe environment for you"? Who told the rest of us that "as a Jew, my parents taught me that we must stand up against attacks on all communities"?
Seriously, where did that guy go?
https://theintercept.com/2019/12/07/facebook-mark-zuckerberg-muslims-islamophobia/
------
Hamas warns Israel about violations at Al-Aqsa Mosque in Jerusalem
2019-12-08
GAZA, Dec. 7 (Xinhua) -- Hamas, ruler of the Gaza Strip, on Saturday warned Israel about violations at Al-Aqsa Mosque in Jerusalem.
The warning was issued by Abu Obeida, spokesman of Hamas' armed wing al-Qassam Brigades, in a short text message, where he held Israel fully responsible for the continuing violations at the mosque.
"What happens at the Al-Aqsa Mosque, whether attacks, provocations or dangerous practices against worshippers, will be a cause for an explosion in the face of the occupation," Obeida said.
"Our patience won't last too long," he added.
On Saturday night, Palestinian militants fired three projectiles from the Gaza Strip into southern Israel, according to Palestinian and Israeli sources.
Israel Radio reported that two rockets were intercepted and a third one landed on an empty field, causing no injuries or damage.
No one claimed responsibility for the attack.
http://www.xinhuanet.com/english/2019-12/08/c_138614100.htm
------
Distorted narratives about Islamic schools deflect ugly truths about Nigerian society
December 8, 2019
Recent reports about the mistreatment of children in Nigeria included news reports of "torture houses" at Islamic schools in a number of states. The catchy news headlines came close to invoking mass hysteria by linking events at the schools to kidnapping, child begging, Boko Haram and Nigeria's reported 10 million "out of school" children.
In this environment, every Nigerian becomes an expert and has a strong opinion. But the debate doesn't include the very people involved in the system who struggle to make a claim for alternative narratives.
I have conducted research into this system of Qur'anic education for the past six years. I have looked specifically at the mainstream misrepresentation and distortion of Almajiranci, a classical system of Qur'anic schooling which is common in northern Nigeria and other parts of Muslim West Africa. Young boys are sent away from home to live with and study the Qur'an with a teacher, also known as a Malam. "Single-story" narratives about this simplify an otherwise complex and nuanced system of education and socialisation.
In my research, I used the stories of the men who had gone through the system as a counter narrative. I especially aimed to amplify their voices to challenge their harsh representations by Nigerians like myself – the "Western-schooled elite". People with the power to do all the representing.
The conclusion I have reached is that if Nigerians only adhere to the mainstream discourses of Almajiranci, bent on seeing Qur'anic schools only through a lens of dysfunctionality, they risk never really understanding what this situation tells them about their society. They also risk misunderstanding how society fails its most vulnerable – again and again. Nigerians end up only presenting it as a problem of Almajiranci – a system which Nigerians have already convinced themselves is not fit for purpose, and which they have learnt to encounter (and to judge) only through superior (Western schooled) gazes.
It is important, therefore, not to take the issue of these "torture houses" as only peculiar to Almajiri Qur'anic schools.
My research
In my research, I broke the debates about Almajiranci into three main categories: as a backward and retrograde system of knowledge; as producing dysfunctional adults; and as abusive and posing a children's rights concern.
To many Nigerians, Almajiranci as an education system is past its sell-by date. It is considered to have no utilitarian value, and no longer fit for the production of the ideal and modern Nigerian citizen. Through this lens, the way that Almajirai learn is not considered as learning. It is no longer deemed as either valued or valid knowledge. After all, Nigerians cannot see how Almajirai can end up as doctors, engineers, lawyers and politicians.
This is in contrast to attitudes towards Western schooling, which has been inherited through the colonial project and which continues to be viewed as being modern and valuable.
Another effect of this way of thinking is a difference in understanding what Almajiranci really means to its many practitioners. Nowhere is this difference more visible than in the way that Qur'anic schools – and the men who function in them – are conceptualised. Many Western schooled Nigerians hold both simultaneously noble and degrading stereotypes of the men that this system produces.
But, in fact, the treatment of former Almajirai, men who have been through the Almajiranci system of education and who identify as Malamai (Qur'anic school teachers) within their local communities, is often quite removed from their treatment and representation in the mainstream media and debates.
Being a Malam
According to Nasir Mohammed Baba, an eminent scholar of Almajiranci, being a Malam can confer leadership responsibilities in the religious and social life of host communities. This includes being expected to undertake traditional roles of healing and spiritual protection. These services are highly sought after and are often delivered discreetly, or even in secrecy.
Services which I call Acts of Malamta can include sanctification of a new home or car, and prayers for success, charisma and the dead. They can also include treatment of addiction, mental health conditions and behavioural problems.
It is this role that's very important in providing context to the so-called "torture houses". Nigeria is a society that struggles with several structural and systemic inadequacies and failures. These include a struggling health care system, as well as a raging drug addiction problem.
This is happening in a society without an appropriate understanding and acceptance of mental health issues, and in which mental health facilities are inadequate.
Juxtapose this with a high level of societal shame, and a need to cover up for family honour, and you have a perfect storm.
I believe strongly that it is these conditions that allow torture houses like the ones found in Daura, Kaduna, Ilorin and Ibadan to function. It also speaks to a pressing need, but for which there are very few alternatives. This means many are forced to revert to what is available – even when it is horrific and clearly problematic.
Word of caution
The abuse found in these so-called "Qur'anic schools" is replicated in several other contexts in Nigeria – in homes with people hired as domestic help being whipped for minor misdemeanours. The abuse is also replicated in other religious establishments where people are taken for deliverance, in Nigeria's prison system where everything goes, and in government boarding schools which can sometimes be brutal. This abuse is seen even in the few government-owned rehabilitation facilities where inmates are shackled.
It would be a mighty shame – and a missed opportunity – if Nigerians didn't use the opportunity of the horror stories to take a hard look at themselves.
https://theconversation.com/distorted-narratives-about-islamic-schools-deflect-ugly-truths-about-nigerian-society-127834
------
India
Sunni Waqf Board Be Given Land Outside Ayodhya: Vishva Hindu Parishad
December 08, 2019
Nagpur: The Vishva Hindu Parishad (VHP) on Saturday demanded that the Sunni Waqf Board be allotted land outside the municipal limits of Ayodhya for construction of a mosque.
Central VHP vice president Champatrai also said RSS chief Mohan Bhagwat should not head the trust to be formed for construction of a Ram temple in Ayodhya.
In a unanimous verdict on November 9, the supreme court had paved the way for the construction of a Ram Temple at the disputed site. It also directed the Centre to allot a five-acre plot to the Sunni Waqf Board for building a mosque.
"Ayodhya was a small municipality prior to December 2018 when Ayodhya and Faizabad municipalities were merged into a corporation. However, the five-acre land to be allotted to Sunni Waqf Board should be located outside the old Ayodhya municipality," Champatrai told reporters.
Replying to a query on deamnds from some seers that Bhagwat should head the proposed trust to oversee construction of the Ram temple, Champatrai said, "That should not happen". He said the trust will likely be formed by January 2020.
On the issue of Muslim parties filing a review petition in the top court, Champatrai said it is their legal right.
"We are not affected by such move. I feel the review will be on if there is any typing mistake or improper sentence or if explanation of any argument left out by the court. I am saying this as a layman," said Champatrai.
On Friday, six petitions were filed in the SC seeking review of the November 9 judgement.
While five pleas were filed by Maulana Mufti Hasbullah, Moulana Mahfoozur Rehman, Mishbahuddin, Mohd Umar and Haji Nahboob, who are all supported by the All India Muslim Personal Law Board (AIMPLB), the sixth one was filed by Mohammad Ayub.
https://www.ndtv.com/india-news/vishva-hindu-parishad-sunni-waqf-board-be-given-land-outside-ayodhya-limits-2145237
------
Socialist Equality Party (UK) Candidate Speaks On Kashmir And Palestine At Sheffield Mosque Hustings
By our reporter
7 December 2019
Socialist Equality Party candidate for the Sheffield Central constituency Chris Marsden spoke at a general election meeting organised at the Madina Masjid, the first purpose-built mosque in Sheffield.
The event was particularly aimed at establishing the position of the various parties on the questions of Kashmir and Palestine. It was co-chaired by the Sheffield Palestine Solidarity Campaign and Sheffield Sisters4Kashmir.
As well as Marsden, only the Labour Party candidate Paul Blomfield and Natalie Bennett representing the Green Party, attended. Bennett was formerly the leader of the Greens who has been elevated to the House of Lords. She declared at the beginning of the meeting that she was now Baroness Bennett of Manor Castle, but "you can call me Natalie."
Chris Marsden speaking at the hustings
In his introductory remarks Marsden explained that the Socialist Equality Party was the British section of the International Committee of the Fourth International, the party founded by Leon Trotsky. "The SEP is an internationalist party, a socialist party, a party of, by and for the working class. We fight for the end of the profit system, the end of the division of the world into antagonistic states, for a system of planned production for need not profit, that benefits all the world's peoples."
Marsden continued, "Of course, I do not have to tell anyone here how appalling the situation is in Kashmir. The most extraordinary thing is that you have 12 million people living under a state of siege—in which thousands have been arrested disappeared, where they are building de facto concentration camps, and you have much of the Asian population in Britain with direct ties to Kashmir—yet you rarely see it on the news. It is a complete blackout."
Far more was heard about Hong Kong than Kashmir. "It is like it is not happening. We know it is happening, we know why we are not hearing about it."
Marsden noted that the Conservative Party candidate had not bothered to turn up, asking rhetorically, "Well, how could she, when Home Secretary Priti Patel is a close friend of Narendra Modi, a supporter of the BJP [Bharatiya Janata Party], who congratulated the Indian people on his election only months before he launched this brutal campaign against Kashmir."
The platform at the hustings
The situation was only going to get worse, Marsden warned. "It is not just Kashmir that is the prize here. Kashmir has been a terrible victim of the partition of India on religious and communal lines; it has never enjoyed any sustained period of peace."
"But there is something else about Kashmir now. It is standing in the way of a conflict between India and China, with India working in alliance with the United States."
"No one will condemn it, no one will raise a protest against the terrible treatment of the Kashmiris, because Kashmir is a victim of the most dangerous geopolitics, the kind that could end in a world war."
"It is the same issue in Palestine," Marsden said, "the history of which was one of terrible suffering since the Nakba (catastrophe).
"Since 1948—and the formation of the state of Israel—so many terrible things have happened. But we are entering a new period in which the terrible danger is that something is going to happen to the Palestinians which will make their previous sufferings in all those decades pale into insignificance."
Addressing the role of US imperialism, Marsden said that Secretary of State Mike Pompeo had declared there was "no judicial solution to the Palestinian question. He has declared that as far as Washington is concerned, international laws no longer apply."
The policy of creating facts on the ground, the constant division of Palestinian territory, is now legal as far as the United States is concerned.
"The United States is the most powerful imperialist state and it has declared war on the Palestinians as part of a general struggle to take control of the Middle East," Marsden said to considerable agreement from the audience.
"We are on the cusp of the most dangerous period the world has ever seen. The working class must mobilise against that. The struggles in Kashmir must be united with the struggles of the Palestinians. They must be united with the struggles of suffering humanity all over the world, for a system based on production for need not profit."
Marsden called for the building of "a mass socialist anti-war movement."
Turning to the position of the Labour Party, Marsden said that many people hoped it would bring a change, including on issues such as Kashmir. The Labour Party conference had passed a motion in defence of Kashmir and opposing what was taking place.
"Yet within a matter of weeks, Labour Party chairman Ian Lavery issued a letter repeating the same words as the Conservative government: the issue of Kashmir was a bilateral question between India and Pakistan."
As long as the situation continued that this was a bilateral conflict between India and Pakistan, "the inevitable outcome will be further degradation of Kashmir and the very real danger of war," Marsden said. "There are no bilateral questions. There are international questions and they have to be answered by the international working class. That is what we stand for."
In his next remarks, Labour candidate Blomfield sought to refute what Marsden had said about Ian Lavery's letter. The position of the Labour Party was "very clear. It was passed at our conference."
When he next spoke, Marsden refuted Blomfield. "If what I say is not true, then I hope there will be a very serious complaint made by the Labour Party to the Guardian ." He quoted directly from the newspaper's report of Lavery's letter that "Labour has responded to a backlash among voters of Indian heritage in the UK by shifting its stance on the Kashmir dispute and insisting it is a bilateral matter between India and Pakistan in which Labour will not interfere."
So long as Modi runs the government in India "there is no bilateral solution that is going to protect anybody's rights," Marsden stated.
In answer to a question on the campaign to denigrate the Labour Party as anti-Semitic, which has dominated the election campaign, Marsden said this was "one of the biggest frauds in British and international political life." It was an attempt to portray "those who defend the right of the Palestinians as anti-Semites, as opposed to anti-Zionists."
There was a clear political distinction between the two. "Anti-Semitism comes overwhelmingly from the far right … The danger of anti-Semitism comes from fascism and a terrible, terrible confusion is being deliberately generated to try and associate the left with anti-Semitism."
As a result of this campaign, people who had spent their entire lives opposing racism "have been driven out of the Labour party. They've not been defended by Jeremy Corbyn. I think it's a disgrace that he hasn't defended them."
For the Socialist Equality Party, this was a matter of principle to defend those who have been slandered. "We don't have any political sympathy with Chris Williamson, we don't have any political sympathy with Marc Wadsworth. But everything they have ever stood for is being deliberately misrepresented."
If this were not challenged, Marsden warned, "the working class will play a terrible price. There should be no apology in the face of the intervention by the chief rabbi because he is acting as part of a political campaign to continue the domination of the Conservative Party" and supporting the Netanyahu government in Israel. He opposes "any struggle that cuts across the interests of Israel in pursuit of this vicious and brutal war against the Palestinian people."
In her remarks, Bennett sought to maintain the lie that the Labour Party had been flooded with anti-Semites after Jeremy Corbyn had become leader. Marsden said it was not the fact that "a few anti-Semites had crawled into the Labour Party" when hundreds of thousands joined to support Corbyn. A smear campaign was "being used against the left."
"The people that have been expelled from the Labour Party are not anti-Semites. Marc Wadsworth was expelled from the Labour Party because he called out Ruth Smeeth. Ruth Smeeth is a CIA asset, as identified by WikiLeaks, and it is she who should have been expelled from the Labour Party, not Marc Wadsworth."
A supporter of the SEP asked the platform their stance on Julian Assange. He noted that the reason why anyone in the world knew about the war crimes and injustices perpetuated in Iraq, Afghanistan, Syria and elsewhere, was because of the role of WikiLeaks and Julian Assange.
Assange is currently languishing in Belmarsh prison, a maximum-security prison, in which he faces extradition to the United States and a sentence of 175 years. "What are you doing about reversing that injustice?" he asked the panel.
The chair responded that Assange's fate was not a topic for discussion and instead another question was asked about the role of the UK regarding Kashmir.
Neither the Labour representative nor the Greens addressed the issue of Assange in their contributions.
Marsden said he wanted to distance himself from remarks made by Bennett that Britain could be a "force for good" in the world. The Socialist Equality Party did not want Britain to be a force for good in the world, "Our party wants Britain to stop interfering in other people's countries," Marsden said to applause.
"Britain is an imperialist power. It has worked in collusion with the United States in launching some of the bloodiest and dangerous wars the world has ever seen, and it will continue to do so." He explained, "They will maintain the Trident nuclear weapons programme. Corbyn has already said that is the case, even if Labour comes to power."
Turning to the issue of Assange, Marsden said he wanted to reject the notion that Julian Assange's fate was not bound up with the issues of the Palestinians or Kashmir.
"Julian Assange was runner-up as Time magazine person of the year. This was because he was held in high regard by people all over the world, because he exposed war crimes in Iraq and Afghanistan."
Marsden then detailed the smear campaign launched against Assange, his fitting up on bogus allegations in Sweden, driving him to seek political asylum in the Ecuadorian Embassy to avoid extradition to the United States. Assange had been "kept under arbitrary detention for nearly nine years. Then he was seized from the embassy and thrown in jail. Now he is facing 175 years in prison, which is a death sentence."
"If they can do that to Julian Assange, in Britain, in London, not very far from Parliament, what will they do to anyone else who opposes the crimes of British and world imperialism?" Marsden asked. "Julian Assange must be defended for his own sake, but he must also be defended for every single one of us. And anyone who stays silent on this question, including so-called left-wing parties and the Labour Party, is committing a crime against the working class and they will be culpable if Julian Assange is sent to the United States and silenced forever."
Another questioner asked what the parties would do to resolve the situation facing Kashmir. In his reply, Marsden said "We are not a party of state, we are not a party of government. But what we do have is the World Socialist Web Site, our international online publication that publishes six days a week."
The site received 2 million hits a month and was by far the most widely read socialist publication in the world. "We report regularly on all events in Palestine. We report on the terrible situation in Kashmir. We break the media embargo on the truth of what is taking place and we make our appeal to the most thoughtful workers and intellectuals, who are opposed to the existing order and want to see a just and equitable world for everyone."
"That international public opinion," Marsden said, "is the most powerful thing in the world, provided it is given a leadership."
In his concluding remarks, Marsden addressed the general election.
"In a week's time, we are going to find out whether the Labour Party is going to form a government or whether it has thrown away the greatest chance of forming a government in many, many years because of Corbyn's refusal to kick out the Blairites and his retreats on policy."
Even if Labour came to power, he said, some 100–140 of its MPs remained determined supporters of every imperialist war. Together with the Conservatives, this meant "the party that dominates in Parliament will be the party of war and it won't matter a damn whether Corbyn registers his protest or not. The only answer is to build a genuine party of the working class.
"The future is not going to be decided on December 12, it is going to be decided in struggle. Millions of people all over the world are entering into struggle. A class struggle perspective is the way forward and that means building the Socialist Equality Party, not the Labour Party."
After the event finished, several audience members came and shook Marsden's hand and thanked him for what he had said. He was also interviewed by a reporter for Pakistani news channel Geo News.
https://www.wsws.org/en/articles/2019/12/07/kash-d07.html
------
Four Afghans held with foreign currency in Delhi
Dec 8, 2019
NEW DELHI: Four Afghan travellers have been apprehended with over Rs 35 lakh foreign currency by CISF personnel at the Delhi airport, officials said on Saturday.
They said the passengers, bound for Kabul, had allegedly hidden USD 49,860 and over Rs 1 lakh in books and slippers kept in their baggage. They could not explain the reason for carrying so much currency.
https://timesofindia.indiatimes.com/city/delhi/chandigarh-municipal-corporations-one-liner-leaves-pollution-panel-livid/articleshow/72423881.cms
------
Delhi Waqf Board gives 2 lakh to rape survivor
Dec 8, 2019
NEW DELHI: Delhi Waqf Board on Saturday gave a financial assistance of Rs 2 lakh to the family of a minor rape survivor in south Delhi's Okhla.
Waqf board chairman Amanatullah Khan gave a cheque to the family and assured them help in their legal battle for justice. The girl aged around 16, a student of class IX, was raped by a local and his accomplices on December 1. Based on a complaint lodged by her family, cops registered a case.
(The victim's identity has not been revealed to protect her privacy as per Supreme Court directives on cases related to sexual assault)
https://timesofindia.indiatimes.com/city/delhi/delhi-waqf-board-gives-2-lakh-to-rape-survivor/articleshow/72423765.cms
------
CAB A Majoritarian Exercise to Prove Muslims Have Lesser Place in the 'New India'
Written by Tavleen Singh
December 8, 2019
There are things about the citizenship Bill that are deeply disturbing. Not least is the manner in which Home Minister Amit Shah routinely makes clear that it targets Muslims.
He has said so often that he is going to hunt out Muslim "termites" and deport them that he leaves no doubt at all about the real purpose of the Citizenship Amendment Bill that the government hopes next week to make into law.
Last week, while campaigning in Jharkhand, he once more made his speech threatening "termites". It made me happy to see that there was no response from the crowd. Not even when he asked why "Rahul baba" was so upset that he was showing undue concern. "Where will they go, what will they eat, how will they live, Rahul baba asks. I ask him, are they your cousins?"
Rahul Gandhi and Mayawati are right to publicly oppose a law that seeks to leave it in the hands of petty officials to determine who has a right to be Indian and who not. Most of the "termites" that Shah so despises are very poor people who usually do not have documents to prove if they are Indian or not. They will now be at the mercy of officials who more often than not will use the law as a new source of inhumane extortion.
Last week, Ram Madhav tried to give the law a 'humanitarian' spin by describing it as an exercise to deal with the "fallout of Partition". With the deepest respect, Ram Madhavji, I would like to say that this is rubbish and you probably know this.
Partition has nothing to do with this law. As someone who belongs to a family of refugees from Pakistan, may I tell you that the "fallout" of Partition was dealt with long ago. This new law is nothing more than a majoritarian and very ugly exercise to prove to Indian Muslims that in the 'new India', they have a lesser place than Hindus, Sikhs, Buddhists, Jains and Christians and they better get used to this.
The Prime Minister continues to remain silent about this law but his closest confidant, the Home Minister, concentrates on reminding us almost daily that Indian citizenship is no longer anyone's birthright. It will in future be treated as a privilege, especially for Muslims. If they cannot prove that they are Indian, then they will end up in detention camps or deported.
What makes this amendment to India's citizenship law totally irrelevant is that there are not exactly millions of "termites" trying to creep across our borders.
If we had a situation similar to what exists on the southern border of the United States, or what happened in Europe when the Syrian war caused a mass migration, this amendment may have had some meaning, even in its current discriminatory form. But, this is not the situation we face.
There was a time when Bangladeshis flooded across our eastern border in search of jobs and a better life. They no longer do in any significant numbers because the truth is that many social and economic indicators now show that Bangladesh has gone ahead of India in some areas.
From the north we have seen a small trickle of Afghans come to Delhi to escape the war in Afghanistan, and they should be welcomed with open arms because they are fleeing jihadists of the worst kind. If there are Pakistanis coming into India illegally, it is mostly as jihadists and not immigrants.
The Hindus and Sikhs who have come across to escape religious persecution are in every case welcomed with open arms. Nobody has ever threatened to send them back, so what really is the purpose of this new amendment?
Could it be that its real purpose is only to further poison the already fearful atmosphere in which Indian Muslims have lived since Narendra Modi became Prime Minister? Modi likes to repeat, every now and then, that he believes in 'sabka saath, sabka vikas (development for everyone)' but has almost never spoken out against the lynchings that cause Muslims to live in terror, and that have scarred India's image as a secular, liberal democracy. Nor has he explained why he considers this amendment to the citizenship law necessary.
There is no doubt at all that his government has the numbers in Parliament to ram the amended law through next week. Rahul Gandhi and Mayawati have spoken out against its discriminatory nature, but neither the Congress nor the Bahujan Samaj Party has the strength in either House of Parliament to make a difference.
What disturbs me most about this law is that it could be a harbinger of very bad times. With the second largest Muslim population in the world, we have contributed the least number of holy warriors to the worldwide jihad. But how long will things stay this way?
https://indianexpress.com/article/opinion/columns/citizenship-legally-weaponised-6155936/
------
Pakistan
The Young Pakistan Couple Are Married With an Interreligious Rite And Each Maintain Their Own Faith
12/07/2019
by Shafique Khokhar
Faisalabad (AsiaNews) - A young Pakistani couple is forced to live in a secret location due to threats received from the girl's Muslim family. The relatives of "T" [a fictitious name for security reasons, ed.], the bride of 19, oppose their daughter's decision, who freely married a Christian boy, Akash Maish of 20 .
They were married with an inter-religious rite and each maintain their own faith, but the relatives of "T" accuse the Christians of kidnapping. Speaking to AsiaNews Naveed Walter, president of Human Rights Focus Pakistan (Hrfp), denounces "the biased Islamic clerics who teach hate-based teachings and create religious extremism against other religions".
The two met by chance at an academic course and fell in love. They decided to marry with an interreligious rite, each maintaining their respective beliefs and praying according to their own religion. The marriage took place on 28 August and was communicated to families the following day.
After hearing the news, the parents of "T" filed a complaint for kidnapping; then helped by religious and police, they raided Akash's house and some friends in search of the couple. The agents arrested and tortured the boy's mother, his older brother and two uncles.
The mother and older brother remained in jail for months awaiting trial. In the end, thanks to the legal support of Hrfp, the woman was released on bail on 6 November; the son a few days before, on October 31.
Meanwhile, the police continued to investigate and look for the couple. Finally the two were "captured" in Karachi, about 930 km away from Faisalabad (place of origin), and transferred into the district jail on November 18th. At the end of the month, they appeared before the judge: on that occasion, "T" reiterated that she had consciously married her beloved, had been neither kidnapped nor forced in some way, and that she continues to profess the islam and to pray to the prophet. Then she added that she was very happy with her husband.
The judges ordered the release because the fact does not exist and the couple's marriage is legal. At the moment they live hidden because the family of "T" does not accept their daughter's marriage to a Christian man and continues to search for her. Naveed complains: "Why can only Muslim men marry Christian, Hindu, Sikh and other minority girls?"
According to the activist, "problems arise only in the event that marriages are forced", such as the many cases of abduction and forced conversion of minors to Islam. "But when both spouses are adults and marriage is consensual - he continues - this must be accepted. If the Constitution allows mixed marriages, why doesn't the government protect couples and families? ".
Finally, Naveed criticizes the police efforts, "which immediately mobilizes in search of the couple when the girl is Muslim. Instead the minority youths are still missing and the police and even the courts close the proceedings for fear of radical reprisals".
http://www.asianews.it/news-en/-Threats-to-a-couple%3A-she-is-a-Muslim-and-%22must-not-love%22-a-Christian-48755.html
------
London Bridge terrorist buried in ancestral village in Pakistan-occupied Kashmir
Dec 7, 2019
LAHORE/ISLAMABAD: Usman Khan, the convicted terrorist of Pakistani origin who killed two people in the London Bridge attack before being shot dead by the Scotland Yard, has been buried at his ancestral village in Pakistan-occupied Kashmir(PoK).
However, the Foreign Office said it was not aware if Khan's body was in Pakistan.
The body of the 28-year-old London Bridge terrorist, who was a British citizen, was flown to Islamabad from London and then handed over to his family on Friday.
"Usman's family didn't want to bury him in the UK," one of his relatives said, adding that his funeral prayers were earlier offered in a mosque in UK's Birmingham city.
According to Dawn newspaper, Khan's body was brought by his family from the Islamabad airport to Kijlani village in PoK's Kotli district where the funeral took place on Friday afternoon, following which he was buried in a local graveyard.
"Khan's body was shifted to Islamabad from London aboard a PIA flight PK-792. Later, it was handed over to his family," the report quoted Pakistan International Airlines' General Manager (Public Relations) Abdul Hafeez as saying.
His family members refused to speak to the media, saying they had already given their statement through the London police on Tuesday.
Meanwhile, the Foreign Office said it was not aware if Khan's body was in Pakistan. "Is his body in Pakistan? I have no confirmation of this," the Dawn quoted the Foreign Office spokesperson as saying.
Earlier on two occasions on Monday and Friday, angry mob besieged the office of the Dawn in Islamabad, chanting slogans against the organisation and setting copies of the newspaper on fire, for publishing a news report in which the London Bridge attacker was identified as a "man of Pakistani origin".
Khan went on a rampage on November 29 in the London Bridge and killed one man and a woman and injured three others before being shot by armed police officers. The Islamic State terror group has claimed the responsibility for the attack.
Khan was a convicted terrorist who was jailed seven years ago over a plot to bomb the London Stock Exchange and build a terrorist training camp on land owned by his family in Pakistan-occupied Kashmir.
He had also discussed staging a Mumbai-style attack on the UK Parliament and described by the judge who sentenced him for terrorism offences in 2012 as an ongoing risk to the public with a "serious, long term venture in terrorism".
The profile of Khan dating back to his conviction in 2012 reveals his links with terror groups. He had been secretly recorded talking about plans to recruit UK radicals to train at a camp in Pakistan-occupied Kashmir (PoK), the region his family comes from.
He and two other co-conspirators had conducted a surveillance trip around central London as they talked about launching a Mumbai-style attack on UK Parliament. The then-20-year-old pleaded guilty to engaging in conduct for the preparation of terrorism, which included travelling to and attending operational meetings, fundraising for terrorist training, preparing to travel abroad and assisting others in travelling abroad.
Khan had originally received an indeterminate sentence to be kept behind bars for public protection but this was quashed by the UK Court of Appeal in April 2013, after which he was given a determinate 16-year jail term and ordered to serve at least eight years in prison before being considered for parole.
He had been released on licence, or parole, in December last year and was reportedly being monitored via an electronic tag.
https://timesofindia.indiatimes.com/world/uk/london-bridge-terrorist-buried-in-ancestral-village-in-pakistan-occupied-kashmir/articleshow/72418102.cms
------
Pakistan Rupee Climbs to Five-Month High Vs Dollar
Shahid Iqbal
December 08, 2019
KARACHI: The rupee in open market rose to its five-month high as demand for the greenback fell owing to the decline in imports whereas the increase in dollar from lending agencies and foreign investment in the government papers helped stabilise rupee-dollar parity.
Currency dealers foresee rupee to rise further in coming months in the wake of higher inflows of dollars and increased attraction of local currency.
The dollar traded as low as Rs154.70 in the open market on Saturday which was much lower compared to Rs164 on June 26 this year.
"We traded dollar at Rs154.70 as lowest and Rs155 as the highest rate during the day. These were lowest prices since it touched Rs164," said Forex Association of Pakistan President Malik Bostan.
The dollar scaled new peak on June 26 after it hit Rs164 mark in the open market but soon started falling against the rupee. The rupee has appreciated by 5.67 per cent against the dollar since June this year.
Currency dealers said the gradual appreciation of rupee helped stabilise exchange rate which remained range bound in the Rs155-156 bracket for the last few months.
The stability can be attributed to steady exchange rates in the inter-bank market which showed the dollar price at Rs155 on lower side and Rs155.10 on higher side on Friday.
The dollar in the open market usually trades above the inter-bank rates but for the last couple of months, the open market rates have treaded closer to the inter-bank rates.
"One of the biggest reasons is that the country has come out from huge current account deficit of $20 billion in FY18 and now[in] October, [it] posted a surplus for the first time after four years," explained Bostan.
He said both risk and attraction for dollar investment has gone. Now those holding dollars are liquidating them to get rupee and benefit from the much higher returns on the local currency deposits. Due to high policy interest rate of 13.25pc, the local currency investors could get double-digit returns on long-term deposits.
Currency dealers at banks said the frequent inflows from International Monetary Fund, the Asian Development Bank and lower outflows for imports have reduced dollar demand. Importers are not eager to get forward booking, said a banker dealing in foreign currencies.
The country has reduced its import bill with slight improvement in exports helping the country's foreign exchange reserves to remain stable.
The import bill would further decline during the current fiscal year as Saudi Arabia activated its $3bn deferred oil facility for the next three years from July.
Currency dealers said the government has now realised that the rupee was devalued more than the requirement of free market. The market forces have now started setting the real exchange rate, they said.
https://www.dawn.com/news/1521086/rupee-climbs-to-five-month-high-vs-dollar
------
1 dead, 6 injured after blast in Lahore refrigerator workshop: police
Wasim Riaz
December 07, 2019
A blast in a refrigerator workshop in Lahore's Township area on Saturday left one person dead and at least six injured, according to police.
A police spokesperson said that a preliminary investigation had suggested that the blast took place as gas was being filled in a refrigerator. A 'Seerat-un-Nabi' conference was being held nearby, he added.
A statement released by the spokesperson of the Punjab counterterrorism department (CTD) said that a blast occurred "at about 7:50pm in front of a refrigerator workshop in Township, Lahore".
"According to an initial investigation, it seems that a compressor [blew up]. Pieces of the compressor have been found," said the statement, which added: "No traces of explosives have been found."
An injured man being tended to by a rescue offical. — Photo by author
The statement confirmed that the deceased was a "technician who was working on repairing a fridge".
The deceased man was identified as Hafiz Mahmood, 22. The injured were identified as Ahsaan s/o Anayatullah, 25; A. Ghafoor s/o A. Razzaq, 20; Abu Bakr s/o Shafique, 22; M. Afaq s/o Ishfaq, 60; M. Aslam s/o Ibraheem, 30; and Dilshad s/o Shahid, 40.
The area was cordoned off and bomb disposal squads along with rescue officials arrived at the scene. The injured were taken to Jinnah Hospital for emergency aid and treatment.
An investigation into the blast has been launched. Further details will be shared tomorrow after results from a lab report are released, said the CTD statement.
https://www.dawn.com/news/1520973/1-dead-6-injured-after-blast-in-lahore-refrigerator-workshop-police
------
Southeast Asia
Aspiring Islamic teachers back from studies abroad can register for course
Rahimah Rashith
Graduates of Islamic studies programmes overseas will be allowed to teach Islam here while taking a mandatory course, which is a requirement for registration as an Islamic teacher in Singapore.
The Postgraduate Certificate in Islam in Contemporary Societies (PCICS) is a full-time one-year programme that aims to help returning Singaporean graduates re-adjust and contextualise what they have learnt to the local context.
Registration for the programme is now open and classes will start in April next year for the first cohort, the Islamic Religious Council of Singapore (Muis) said yesterday.
Graduates hoping to work as Islamic religious teachers, or asatizah, in Singapore will be required to hold the PCICS.
Those who apply for the Asatizah Recognition Scheme will be given a provisional recognition that is valid for three years, allowing them to teach Islam while undergoing the course.
Returning graduates who do not intend to work in the religious sector will not have to go through the PCICS or apply for the Asatizah Recognition Scheme.
Muis, which set up the PCICS programme, said it will equip Singaporean students with the relevant knowledge and skills to serve in both the religious and secular sectors, while being grounded in Islamic teachings and values.
The programme will replace the current four-week Islam In Context course for all returning graduates.
Students on the PCICS programme will read a selection of modules offered by the Muis Academy and by local and foreign universities.
During an engagement session with overseas graduates on Thursday, a panel of seasoned asatizah, led by Deputy Mufti of Singapore, Dr Nazirudin Mohd Nasir, emphasised the importance of equipping future religious leaders with the relevant knowledge and skills to serve in the religious sector.
The panel said the graduates also need to deepen their understanding and apply their Islamic learning to the Singapore context.
Muis is also developing an Asatizah Workforce Development Plan, which will include a skills framework as well as upgrading and leadership programmes.
Mr Uwais Al-Qarni Mohamed Fawzi, 25, a recent graduate of Islamic Theology from the University of Jordan, said he will be applying to enrol in the PCICS programme.
"In the (foreign) university, we were mainly exposed to the theoretical aspects of Islam," he said.
"But religious queries from people in Singapore are different as a result of the diverse community and unique challenges here. Courses like the PCICS programme can further professionalise asatizah to better guide our community."
https://www.straitstimes.com/singapore/aspiring-islamic-teachers-back-from-studies-abroad-can-register-for-course
------
Mohamaddin: Malaysia should enhance Muslim-friendly tourism concept
Saturday, 07 Dec 2019
SEMPORNA, Dec 7 — Malaysia should actively develop Muslim-friendly tourism concept to attract more Muslims tourists to the country.
Minister of Tourism, Arts and Culture, Datuk Mohamaddin Ketapi said halal and Muslim-friendly tourism has a huge potential and can turn into a game changer in the world tourism industry.
"It will generate lucrative income and create job opportunities as well as business for locals.
"The global halal and Muslim-friendly tourism is expected to worth more than US$220 billion (RM915 billion) or almost RM1 trillion by 2020," he said during the launching of International Muslim Friendly Carnival 2019 (IMFC) here, today.
The five-day event (6-10 Dec) attended by more than 1,000 government officers and industry players, was co-organised by the federal and the state governments.
Ranked top in the Mastercard-Crescent Rating Global Muslim Travel Index for nine consecutive years as the world main halal tourist destination, Mohamaddin said, Malaysia still need to double up its effort to promote the Muslim-friendly tourism sector.
"The sector is growing rapidly every year with more than 165 million Muslims worldwide expected to book their journeys and visit their choice of destination next year," he said.
Mohamaddin said countries who are not members of the Organisation of Islamic Cooperation (OIC) such as United Kingdom, South Korea and Japan, are now eagerly developing their services and facilities to be more Muslim-friendly including halal restaurants to attract more Muslim tourists.
"Therefore, all parties should improve their products and services, and to strengthen the effort," he said and added that his ministry and Tourism Malaysia would highlight halal and Muslim-friendly tourism sector as one of the cores of Visit Malaysia Year 2020 strategic plan. — Bernama
https://www.malaymail.com/news/malaysia/2019/12/07/mohamaddin-malaysia-should-enhance-muslim-friendly-tourism-concept/1817136
------
China's top diplomat tells Pompeo US should stop interfering in China's internal affairs
Dec 7, 2019
BEIJING: China's top diplomat Yang Jiechi told US Secretary of State Mike Pompeo in a phone call on Saturday that the United States should stop interfering in China's internal affairs, according to a report by state TV.
Citing the passing of the Uighur Human Rights Policy Act of 2019 and the Hong Kong Human Rights and Democracy Act of 2019, Yang said the United States had seriously violated international relations, and urged Washington to "correct its mistakes" and "immediately stop interfering in China's internal affairs".
https://timesofindia.indiatimes.com/world/china/chinas-top-diplomat-tells-pompeo-us-should-stop-interfering-in-chinas-internal-affairs/articleshow/72415697.cms
------
Arab World
UAE-based forum discusses problems of Muslim youth
December 7, 2019
Ashwani Kumar
The Muslim youth needs to be empowered to take up leadership roles, announced policy makers and religious leaders from 250 non-Muslim countries at the inaugural edition of the International Youth Forum, hosted by the World Muslim Communities Council, in Abu Dhabi. The experts focused on the essence of Islam, education, innovative solutions and better understanding of new technologies, among other issues, to help the Muslim youth deal with multifaceted challenges in an ever-changing world.
Dr Ali Rashid Al Nuaimi, chairman of World Muslim Communities Council, said the two-day conference is a "hope" for the nation and for the Muslims.
"We are looking forward to a joint cooperation in order to find solutions to the problems of the Muslims around the world. We live in an era of rapid change, in which challenges are constantly renewed, that require creative and innovative solutions. The UAE doesn't live in the crises of the past, but in reality, and creates the future, which is our main goal," Al Nuaimi said in his keynote address.
He stressed on the need to listen to problems and challenges faced by the youth.
"The youth are facing massive challenges, and we have to give all we have to them. Our youth are the future and they may shape it by undertaking their responsibilities efficiently," Al Nuaimi pointed out.
'AI could govern thoughts'
Dr Robert Dickson Crane, adviser to the late US President Richard Nixon and deputy director of the US National Security Council, said artificial intelligence (AI) has the potential to govern human thoughts. "Artificial intelligence may be the most important development in our lifetime. It may determine whether civilisation has any future. The key question is whether raw power or transcendent principle will govern AI. This is a new technology."
Crane underlined that the global powers should ensure that human paradigm of thought must control the machine, rather than the opposite. "The greatest challenge for the younger generations today may be to define civilisation by exploring truth and justice in order to shape it in accordance with the essence of the world religions. This must be done independently of the political rivalry among the great powers," the 90-year-old Muslim activist said.
Change begins with self
Leaders, including Koutoubou Moustapha Sano, Minister in the president office and Diplomatic Counsellor to the President of Guinea, focused on the importance of education to empower the youth.
Alyautdinov Ildar, Mufti of Moscow, Russia, gave a terse message: "Before changing others, we need to change ourselves. We need to spend our time doing good deeds. Once we develop ourselves, we can then be role models for others. We must start tolerance among Muslims themselves. We must maintain our identity as Muslims."
The conference themed 'Building Future Leaders: Commitment, Integrity and Innovation' will continue on Sunday.
ashwani@khaleejtimes.com
https://www.khaleejtimes.com/uae/abu-dhabi/uae-based-forum-discusses-problems-of-muslim-youth
------
Bimaristan Al Muayyad, one of the world's largest hospital, is locked behind Islamic Cairo's gates
Bassant Mohammed
Looking from Cairo Citadel, people can only see Sultan Hassan and Al-Rifa'i Mosques. Yet, beside the Citadel, there is a mesmerising forgotten place, Darb Al Labana.
This area has the fourth largest Bimaristan (hospital) in the Islamic world, which is locked behind one of the oldest gates in Islamic Cairo.
When looking at the etymology of the hospital, we find that "Bimaristan" is of Persian decent, and is comprised of two words, "Bimar" meaning sick and "Stan" meaning place. So, in essence, Bimaristan means the place of the sick people, or hospital. As the word travelled west into Arabic speaking regions, it changed from Baimaristan to Moristan, where the word was associated closely to hospitals, specifically mental hospitals.
Although Bimarist al-Muayyad sheikh, as any hospital was established to cure all the diseases, its functions have changed over time to become a place to cure only one disease.
Al Muayyad Sheikh was Sultan of Egypt in the era of Mamluk Circassians. He ordered to build the Bimaristan on the hill near Cairo Citadel.
When the Sultan died, the hospital's expenses were reduced; therefore the hospital could only specialise and cure only one type of disease. Although, Al-Nasir Muhammad's Bimarstan was the only hospital to specialise in curing mental illness diseases.
Entering the Bimarstan, visitors would witness a huge hall with mihrab, which indicates the qibla for prayer; this hall was used as a small mosque for the patients and doctors inside the hospital. The Bimaristan was the third largest hospital in Egypt and the fourth in the Islamic world.
The two-story hospital was divided into two sectors one for males and the other for females, with a timber-roofed middle hall, it also had a water tank, which was located 10 metres below the hospital. However, the women department was ruined, as well as the pharmacy, library, and a small mosque.
Al Muayyad Sheikh is well known for killing his own son. Ibrahim was the son of Al-Muayyad not different from his father, Ibrahim was intelligent and brave, so the military campaigns were led by him.
Achieving victory in the military campaigns, one of the Sultan's ministers tried to create a dispute between the Sultan and his son. The minister had warned the Sultan that some princes would like to overthrow him and appoint his son Ibrahim instead in the Sultanate, advising him to get rid of Ibrahim to regain control of the kingdom.
Al Muayyad Sheikh, had put poison in food to kill his son. Screaming from excessive pain, the young man who was not over the age of twenty years, was dying in front of his father. The sultan did not bear the cries of his son, and decided to look for an antidote to save his son from death. However the young man was dying and all of the drugs and treatments did not work.
The sultan got paralyzed during his son's funeral, to die only six months later. It was said that the Sultan found out that his son was loyal, and the young man was unjustly accused by the minister. The Sultan accordingly was ordered the minister to be killed.
Protected by gates, Tekkeyet Al-Bustami is also located in Darb Al Labana in Islamic Cairo.
Entering Darb Al Labana's gates, people witness Tekkeyet Al-Bustami, and Al-Muayyedi Bimaristan, both sites are connected by a small tunnel and protected by the gate.
Tekkeyet Al-Bustami is believed to be built by sultan Mohamed Ibn Qalawun, who also might have built a small mosque for a Sufi man named Taqieddin Al-Bustami from Persia who lived there until he passed away.
Then the mosque turned into Tekyeh, which refers to a place where Sufis gather to worship. The Tekyeh has a central court, surrounded by a small mosque, and a school.
Darb Al-Laban Gate was built in limestone during the Bahari Mameluke era and located beside the Tekyeh. It consists of a gate which is the oldest of those that once marked the entrance to many Islamic City alleys. However, many of them were destroyed since 1798, during the French campaign in Egypt.
The gate has a small-decorated widow with iron bars to allow the entrance of air and light. It is decorated with wooden and stone decorative elements with geometric designs.
https://wwww.dailynewssegypt.com/2019/12/07/bimaristan-al-muayyad-one-of-the-worlds-largest-hospital-is-locked-behind-islamic-cairos-gates/
------
Unidentified drone strikes home of firebrand Iraqi cleric Sadr
ERBIL (Kurdistan 24) – An unidentified drone has shelled the residence of Iraqi Shia cleric Muqtada al-Sadr in Najaf, a close politician to the senior leader wrote on social media on Saturday.
"Al-Hannana was bombed at dawn today by a drone in response to orders issued by his eminence for the Blue Caps to protect the revolutionaries [protesters] in Baghdad and Najaf last night," Muhammad Saleh al-Iraqi wrote on Facebook.
Hannana is the area where Sadr lives. A source close to Sadr told Agence France-Presse that the unmanned drone dropped a bomb on Sadr's home, but hit its outer wall.
The local Najaf government later denied that any planes had entered the province's airspace over the past 24 hours and said the incident required an investigation. "No sounds of explosions were heard in Najaf and its surroundings." It added that the attack could have been carried out using small consumer drones.
The incident occurred just hours after armed individuals killed upward to 23 protesters, according to Reuters, in Baghdad's Tahrir Square, and wounded over 127 others.
The Shia cleric is currently in Iran's holy city of Qom on a religious-related visit. In anticipation of a bloody night, however, he urged his supporters to go to the protest square of Baghdad to protect demonstrators.
Videos that were posted on social media purported to show the cleric's militias capturing perpetrators of the violence. Media reports claimed three Sadr supporters died in the shootings.
It was unclear who carried out Friday night's attacks on protesters, which appeared the bloodiest night of violence since demonstrations began in early October. Parliament recently approved the resignation of Prime Minister Adil Abdul Mahdi in response to protest demands.
The interior ministry (police) announced that it had formed a commission of inquiry to investigate the attacks on protesters. A ministry spokesperson said security forces had cordoned off the area where the incident occurred in search of those responsible for the massacre.
A Popular Mobilization Forces (PMF) militia group reportedly shot at demonstrators on Friday in another attempt to disperse protests near Baghdad's bridges.
Since protests began, over 400 people have died, most of them killed by Iraqi security forces, while 17,000 others have been wounded.
Editing by Karzan Sulaivany
https://www.kurdistan24.net/en/news/6f20a007-06df-4388-9477-00d7ee3286f0
------
Bin Laden Group undergoes management overhaul
07/12/2019
Saudi Arabia's largest construction company, Bin Laden Group, overhauled its top management, delaying plans to appoint an adviser for a proposed $15 billion debt restructuring, Bloomberg reported citing people familiar with the matter.
The group's previous chairman and managing director left within months of being appointed, the sources added. The company also named four new directors to its board this week.
The builder is planning to restructure its borrowings and shortlisted Moelis & Co. and Rothschild & Co. to advise on the debt restructuring, as reported by Bloomberg.
Abdulaziz Al-Duailej joined as chairman in September replacing Khalid Nahas, who had been appointed chairman in March as part of a settlement agreement with the government.
https://www.argaam.com/en/article/articledetail/id/1333703
------
KSRelief team performs 13 heart surgeries in Tanzania
December 08, 2019
JEDDAH: A medical team of the King Salman Humanitarian Aid and Relief Center (KSRelief) on Saturday performed 13, including five open-heart, surgeries on children suffering from congenital heart diseases in Tanzania.
Since the launch of the medical campaign in Tanzania, the KSRelief teams have performed 55 operations to help people who cannot afford to pay for expensive medical procedures.
On Saturday, a KSRelief team performed 172 eye surgeries in Morocco's Chichaoua province. The campaign in Morocco has been organized in cooperation with Al-Basar International Foundation.
Saudi Arabia's humanitarian efforts exerted through KSRelief have reached 45 countries to date, through 1,062 projects, most allocated to Yemen.
The total Saudi assistance to Yemen since May 2015 amounted to $16 billion in humanitarian and development aid, in addition to supporting refugees, providing funds to Yemen's central bank and supporting the Yemeni economy.
Mobile nutrition clinics of KSRelief continue to provide treatment services in Sana'a governorate, in partnership with the Tiba Development Foundation. The total number of medical nutrition clinic beneficiaries thus far has reached 1,511.
KSRelief is also carrying out several water and sanitation projects across Yemen. On Friday, KSRelief provided ambulances to Aden, Taiz and Hodeidah governorates.
Yemeni Health Minister Dr. Nasser Ba'oom hailed the support of Saudi Arabia through KSRelief.
The center is supporting the Yemeni health sector in coordination with Yemen's High Relief Committee.
According to KSRelief, it provides dialysis solutions and other medications necessary for treating chronic diseases to Yemen.
KSRelief provides urgent treatment for wounded and injured Yemenis in their country, and those for whom treatment is not possible in Yemen are transferred to Saudi Arabia and other countries in the region.
The center has implemented numerous health projects in Taiz, including support for Al-Thawra Hospital, which the center has provided with equipment, supplies and medicines. The first phase of support to the hospital's orthopedic department alone amounted to $3.15 million.
When a recent shipment of dialysis solutions was stolen by the Iranian-backed Houthi militias, KSRelief acted quickly to provide Al-Thawra Hospital with a replacement shipment. KSRelief also provided support to the Al-Jomhory Hospital and other regional health centers in Taiz.
KSRelief's support for dialysis centers throughout Yemen is continuing as a second phase of support provides six month's worth of medical supplies. Fuel is also being distributed to 95 health facilities across Yemen in cooperation with the World Health Organization.
KSRelief's projects cover many areas of the medical sector including primary healthcare and maternal and pediatric healthcare programs implemented in collaboration with UNICEF.
KSRelief also extended support to the Artificial Limbs Centers in Taiz, Aden, Mukalla and Sanaa in cooperation with the International Committee of the Red Cross (ICRC), and is currently preparing a new Artificial Limbs Center in Taiz.
https://www.arabnews.com/node/1595746/saudi-arabia
------
Saudi GACA chief signs air safety agreements at Jordan conference
December 08, 2019
AQABA: General Authority of Civil Aviation (GACA) President Abdulhadi bin Ahmed Al-Mansoori signed agreements regulating air services and protecting aviation security with a number of countries in Aqaba, Jordan.
The deals were signed on the sidelines of the 12th International Conference on Air Services Negotiations (ICAN) held from Dec. 2 to Dec. 6.
Al-Mansoori signed two bilateral agreements bringing together the governments of Saudi Arabia and Iceland and Zimbabwe in air transport services. He also signed two memoranda of understanding with Mozambique and Guyana.
The GACA delegation met representatives of participating countries and discussed joint cooperation.
The ICAN conference aims to keep pace with the rapid development of the air transport industry globally, as countries meet to hold negotiations or consultations on a bilateral or multilateral basis. The aim is to provide better services to the air transport community and aid the establishment of links between systems regulators, air operators and related service providers.
https://www.arabnews.com/node/1595731/saudi-arabia
------
Saudi Justice Ministry allows online updating of real estate deeds
December 08, 2019
RIYADH: The Ministry of Justice announced on Saturday that beneficiaries can update their real estate deeds online, the Saudi Press Agency (SPA) reported.
The move coincided with the launch of the third phase of the deed verification service. Deeds that are updated on the portal now look like paper deeds, improving the beneficiaries' experience.
The service is a substitute for visiting notaries. It also allows the verification of the authenticity of the deed online by visiting the link (https://www.moj.gov.sa/ar/eServices/Najiz/Pages/RealstateQuery.aspx) and entering the numbers of the deed and ID of one of the owners to see the full details. Beneficiaries can view the real estate deed in full as saved in the systems of the Ministry of Justice, allowing for more reliable information than paper deeds.
The second phase enhances the reliability of the deeds updated online, improves the experience of the beneficiaries, ensures the validity of the information and ease of access, and provides privacy and transparency of information.
Dr. Walid bin Mohammed Al-Samaani, justice minister and president of the Supreme Judicial Council, launched the digital transformation in the Ministry's documentation sector on Nov. 19, 2018. The digital transformation targeted a number of digital forensic services aimed at eliminating paperwork and making procedures easier for beneficiaries who no longer need to visit notaries to issue low-risk powers of attorney.
The ministry highlighted that the digital transformation in documentation would save about 8 million papers annually, which leads to spending efficiency, protects the environment and makes things easier for beneficiaries as there is no need to carry documents and visit notaries to issue clauses specified by powers of attorney.
https://www.arabnews.com/node/1595726/saudi-arabia
------
Arab world must tackle 'deficits' to create own vision: International experts
December 07, 2019
DHAHRAN: The Arab world needs to resolve many of its shortfalls in order to "develop its own vision" for the future, an influential regional conference has been told.
Hussain Haqqani, director of the south and central Asia Hudson Institute think tank, said gender gaps, institutional and knowledge deficits were among vital issues that the region had to tackle.
"The Arab region must develop its own vision and the only way to do so is by overcoming its many deficits," he told Arab News at the FIKR17 conference, being staged in Saudi Arabia for the first time.
Haqqani was among a gathering of international and political relations experts taking part in a discussion session titled, "Today's world ... Tomorrow's world: The transformations, challenges and visions."
Other participants in the seminar, held in Dhahran, included Naoki Tanaka, president of the Center for International Public Policy Studies, and Frederic Charillon, professor in international relations at ESSEC Business School.
"The region has a huge deficit in terms of knowledge," Haqqani said. "There are about 400 million people whose language is Arabic but there are fewer books written in Arabic every year than (those) written every year in Greek, which is the language of 11 or 12 million people.
"Also, fewer books are translated from other languages into Arabic every year than are translated into Danish, which is the language of only 5 million people in Denmark."
The former Pakistani ambassador to the US added that gender gap was also one of the deficits faced by the Arab world. "Half the society is women. A society that is excluding women will be behind any society that is including women."
Institutional deficit, or the lack of functioning institutions, he said, was another challenge, particularly for the poorer Arab countries.
"The global trade in goods and services has only five percent of input from the Arab world, whereas China has 15 percent and India has 13 percent," Haqqani added. "There's no reason why the Arab world cannot improve its productivity … when you have the economic means and the intellectual means you will be able to have your own vision."
Haqqani noted that societies were living in what he described as a "revolutionary state" where interconnectedness did not necessarily mean connection. "Everybody can communicate with one another, but everybody does not necessarily understand each other."
Decision-makers and influencers played a vital role when it came to directing societies. According to Haqqani, their power was in helping consumers to process overwhelming information and analyze it logically, and in trying to maintain society's stability.
"It is important to try and keep the equilibrium to keep societies stable as soon as possible, instead of allowing too much dispersal of views and ideas," he said, while pointing out that although social media connected people, it also allowed them to disrupt. "One wrong idea can go and travel very fast. Fake news can travel very fast, so influencers and decision-makers have to assert themselves in a way in which societies find their equilibrium again."
Earlier in the same conference, Dr. Henry Awit, director of the Arab Thought Foundation, stressed that the unity of the Arab world was vital in order to shape a new vision.
Awit told Arab News that Dhahran's King Abdul Aziz Center for World Culture (Ithra) was a world-renowned cultural center which sponsored innovation, adopted a modernist approach and embraced creativity.
He noted that the conference was "about outlining a new Arab vision, and we are today in the Kingdom that started the vision that invites to develop, invites to improve and invites to renew."
The aim of the Arab Thought Foundation, he added, was "to spread knowledge and serve Arab societies and their development, hence we are open to everything that contributes to our purpose and aim."
https://www.arabnews.com/node/1595646/saudi-arabia
------
Europe
Russian forces bombed a mosque in Kfarrouma village in Idlib suburbs, on December 6
SNHR: fixed- wing warplanes we believe were Russian fired missiles near Omar Bin al Khattab Mosque in Kfarrouma village in the southern suburbs of Idlib governorate, partially destroying its building and damaging its furniture, on December 6, 2019.
http://sn4hr.org/sites/news/2019/12/07/russian-forces-bombed-mosque-kfarrouma-village-idlib-suburbs-december-6/
------
London Bridge attacker's body flown to Pakistan for burial
Dec 8, 2019
LONDON: London Bridge attacker Usman Khan's body has been flown to Pakistan to be buried in his ancestral village despite claims by Pakistan that the terrorist has no links to the country.
Officials at Islamabad International Airport confirmed to Sky News that the 28-year-old's body had been flown out from the UK on a passenger plane on Thursday afternoon and arrived in Pakistan on Friday morning, after being released by the City of London coroner.
A cousin of Khan told the channel that the terrorist's parents and other close family members "would bury the convicted terrorist in their home village in Pakistan-occupied Kashmir." The cousin said the family wanted a low-key burial and did not want to bury him in the UK because they "were scared".
A pre-burial ritual known as 'Janaza' took place at a Birmingham mosque before the body was flown to Pakistan. The prayer is performed to seek pardon for the deceased. Khan was finally buried in Kajlani village, which has a population of 3,000 people, in Kotli district on Friday after Asr prayers.
Many in the local Muslim community did not want his body to be buried at the Markazi Jamia Ghausia Mosque in Cobridge, the part of Stoke-on-Trent where Khan's family lives. Last Tuesday, the family of Khan said they condemned Usman's actions in a statement issued through the Metropolitan Police.
Khan was radicalised through the Internet by al-Qaida Yemeni-American leader Anwar Al Awlaki and was close friends with a student of hate preacher Al Muhajiroun leader Anjem Choudary.
Federal minister for science & technology government of Pakistan Ch Fawad Hussain slammed Dawn newspaper for saying Usman was "of Pakistani descent" in a tweet on December 1 in which he wrote: "Dawn walas please have some mercy on this Nation, shocked on your cheap attempt to link a British terroist [sic] to Pakistan, Anwar Al Awlaki and Anjem ch both are brit origin nothing to do with Kashmir or Pak, Britain should handle its problem within—irresponsible n cheap attitude."
The following day, on Monday, a mob besieged the Pakistan daily's offices in Islamabad, by staging a protest outside carrying banners and chanting slogans against the newspaper and preventing staff from entering or leaving.
Khan was shot dead on London Bridge on November 29 by armed police after he killed two people and injured three others in an IS-inspired stabbing attack. Born and raised in Stoke-on-Trent by Pakistani parents, he was out on licence from prison attending a prisoner rehabilitation event, when he launched the attack.
Khan had been jailed in 2012 after pleading guilty to preparing al-Qaida-inspired terrorist attacks in Britain and fundraising and recruiting for a terrorist military training facility, working under the guise of a madrassa in POK, owned by his family. The aim was to carry out attacks in Kashmir and then in the UK.
https://timesofindia.indiatimes.com/world/uk/london-bridge-attackers-body-flown-to-pakistan-for-burial/articleshow/72421325.cms
------
Who exactly paid for Cambridge's new eco-mosque?
ByDebbie Luxon
7 DEC 2019
Cat Stevens and Turkish President Recep Tayyip Erdoğan - two names you may not usually expect to see in the same sentence. But it turns out that not only are they friends, but that they share something else in common. They both helped to fund Cambridgeshire's newest, and Europe's biggest, eco-mosque, which opened in Cambridge in April this year.
The official inauguration of Cambridge Central Mosque this Thursday December 5 saw half of Mill Road closed for the occasion, and the attendance of both the controversial Turkish President and Cat Stevens, who is now called Yusuf Islam after his famous conversion to Islam in 1977. Following this event, CambridgeshireLive asked who actually funded the mosque.
This impressive construction totalled £24 million to build, and according to the mosque's website, saw 10,000 donations come in to make it happen.
The biggest individual donation by far was from Turkey, as joint government and private groups contributed two-thirds of this massive budget. These were from Turkey's Directorate of Religious Affairs, under the government's rule, and the Turkish construction company Yapi Merkezi.
So why has Turkey put so much money into this corner of Cambridge?
A delegation of the Cambridge Mosque Project in 2013 went to meet with then Turkish President Abdullah Gul and Prime Minister Erdoğan in the Turkish capital city of Ankara to ask for economic support for the build. They were accompanied by Yusuf Islam (Cat Stevens) who is Patron of the mosque. Yusuf is a vocal advocate for the Islamic faith and has supported the opening of several mosques in England, his home country.
After the huge contribution from Turkey estimated at £16 million, Yusuf then invited President Erdoğan in November to the inauguration that took place this week.
The mosque says they only accepted donations with 'no strings attached'. Tim winter whose the chair on the mosque board of trustees said:"We are happy to have avoided accepting any overseas donations which have strings attached. This will be a non-denominational mosque, a spiritual place, where people of every background can come and find peace and reassurance."
Four out of the nine board of trustees were nominated by the Turkish Directorate of Religious Affairs but the mosque website maintains that the trustee board is "independent in its policies" which are shaped annually by Life Members, 80% of which are Cambridge residents.
On the inauguration day, 50 residents of Cambridge took to the streets and 300 signed a letter against the President's visit, who they deem tyrannical. His most recent activity includes a huge military invasion in October of the long-oppressed Kurdish communities of northern Syria.
Some of the other 10,000 donors reported on the mosque website include members of the Saudi royal family and the Qatar National Fund - two more countries with long records of human rights abuses.
The amount of local community money donated to build it
Thousands of Cambridge Muslims gave to the fund, as well from people as far afield as Indonesia, Hong Kong and the US.
On the mosque's JustGiving page a multitude of individual donors are displayed, giving anything from £10 upwards. The mosque's that are local to the area are two converted terraced houses which are small and well used but do not provide the community space that would serve this vast community.
Some people ran 10k's, one raising £1188. There were many anonymous donors sending their love and support to the project.
One sent in £100 and wrote, "Please accept my donation as Sadqa Jariyah for my father who passed away last year. May he be in peace in his grave, May Allah forgive all his sins, May Allah grant him the highest Jannah, Ameen."
The most remarkable community donation came from Baraka Khan. She was described as an inspiring, intelligent and hard-working woman who studied at Cambridge University and raised £258,143.19 before she died, engaging 501 donors. She passed away at age 22 to lung cancer. They built a female-only balcony above the main worship area and dedicated this to her.
The Muslim population of Cambridge is vast. The majority are of Bangladeshi origin but demographic data shows a substantial number are Arabic, Turkish, Nigerian, Pakistani and Iranian. There were almost as many turning out to say thanks to the Turkish President as there were in protest of his presence.
The funding and inauguration guests may have raised more than a few eyebrows, but the community drive and passion for this gorgeous place of worship ihas been, and continues to be, remarkable.
https://www.cambridge-news.co.uk/news/cambridge-news/cambridge-central-mosque-turkey-funding-17374653
------
'There are a lot of lies': In London's key swing seats, Britain's Muslim voters could prove decisive
Samuel Lovett
Khalid Hasan hangs up a sign that reads "back in 10 minutes", locks the front door to his rug shop and sets off for afternoon prayer at the Al Huda Mosque. In this corner of north Kensington, on a cold but clear winter day, it's business as usual as we pass the market stalls, halal butchers and family-run cafes of Golborne Road. Hasan, though, is no mood to soak up the sights and sounds.
"My concern is with what's going on so much at the moment in society: the polarisation taking place between people – the hate and the anger that exists in our communities," the 45-year-old says, trying to pinpoint those issues that matter to him ahead of next week's vote. "What we hear in the news – the hate crimes and violence, Islamophobia – is quite disturbing for us."
Hasan is one voice among many in this Muslim community, stretching from Ladbroke Grove up to Trellick Tower, but he isn't alone in his fears and concerns. Frustration runs deep here, with anger not far behind. It's no surprise. The economic fault lines are stark. Kensington is one of the wealthiest areas in England, yet the northern parts rank among the most deprived in the country. Rich and poor inhabit different worlds, but are often separated by the width of a single street. In the distance, the hollowed-out frame of Grenfell Tower stands as a grim testament to the social injustices ingrained within the borough.
Against this backdrop of division and inequality, Hasan and his fellow Muslims head to the polls on 12 December with more power to shape the Kensington vote than they may realise. Labour candidate Emma Dent Coad is defending a majority of 20 for the constituency, where nine per cent of the voting electorate is Muslim – estimated at 5,431, or 271 times her majority. It's a similar story in Richmond, where the Muslim electorate is 71 times greater than Zac Goldsmith's margin, and Putney too, which has 3,557 Muslim constituents, more than twice the size of the Tory majority.
But judging how Britain's Muslims will vote in these seats – along with 28 others that could be swung by the Muslim electorate – is tricky business, especially with so many individual views, beliefs and experiences to take into account. And at a time of divisive tribalism, disinformation and hollow rhetoric, many Muslims have yet to even decide themselves.
"There are a lot of lies," says Hasabseeda, taking a break from the parenting session she's been leading at Kensington's Al Manaar Mosque. Two young mothers, sat at a table in one of the building's quieter rooms, nod in agreement. "There are a lot of promises which the politicians are not going to fulfil," the 69-year-old social worker adds. "It's not very clear where to vote."
The conversation quickly turns to the problems facing Kensington and its Muslim voters. Hasabseeda's colleague, Intisar, offers some thoughts. "Knife crimes and drugs are a big issue for us now," the 45-year-old says. "Every single day there is someone who is going to be stabbed on the streets." According to her, these problems have been "accelerated" by the scaling back of local police services. "Why did they cut the community police?" adds Hasabseeda. "They are important because they know the area, they walk around all day and know even the kids who are making the trouble and how to deal with the community."
Only the day before, a young Muslim boy was threatened with a knife and robbed of his possessions in the nearby area. Hasabseeda is thankful the incident didn't end in bloodshed, but she fears what comes next. "Does he then take a knife to protect himself in case it happens again or is he going to be scared and stay at home? Do I take him back to my country where it's safe? The police know about the drugs in our area – but nothing is done. They take our kids on the county lines, and the police know but again do nothing.
"When we have our kids going outside, you can't imagine how scared we are. It's very important for us to see crime addressed."
Such experiences are by no means unique to Kensington. The Muslim Council of Britain (MCB) has shown almost half of England's Muslims live in the country's 10 most deprived areas, subjecting them to the high crime rates, overcrowded housing and low educational attainment that are part of the vicious circle of poverty. Muslims also take home the lowest earnings of any religious group and are twice as likely to be unemployed as the general population, again heightening their vulnerability in these times of austerity.
"It isn't just about poverty, though," says Zainab Gulamali, a public affairs manager at the MCB, as she outlines the key voting concerns of the UK's Muslims. "We asked about healthcare and found that their top concerns were cuts to the NHS and the availability of services. These two things impact almost everyone in Britain, but they do impact Muslims in particularly acute ways. For example, in terms of mental health treatment, Muslims have been found to be under-referred."
Moving south of the river, the opulence and grime of Kensington makes way for the suburban sprawl of Putney. At the Fazl Mosque, London's oldest, black electric gates cover the entrance, sliding silently back and forth as local worshippers filter in for evening prayer. Here, the conversations strike a very different tone, with representation and the strengthening of political allegiances dominating discussion.
"We remained very loyal to Justine Greening [the former Conservative MP for Putney] as she did a fair amount of work for us, but she resigned on a matter of principle," says Mansoor Shah, the imam. "Therefore we feel left out as we now have to find a new friend to work with." It's a view shared by his friend and co-worker. "We'd like to vote for the person who will be easy to contact with, someone who is more accessible and listens to us," adds Hafeez Mirza.
Shah believes that most of Putney's Muslims will continue to back the Conservatives on account of Greening's previous relationship with the community, but he can see some voters taking "the bold step" of supporting either Labour or the Liberal Democrats. As for himself? "When it comes to putting pen on paper at the ballot box, I think I'll take into account who told me the least lies."
There is one issue, though, that is uniting Muslims ahead of the coming election. "The rise of Islamophobia, and particularly the mainstreaming of Islamophobic views in political discourse, is hugely concerning for British Muslims," says Gulamali.
"Many Muslims are fed up of Islamophobia being normalised, of MPs, councillors, candidates and even the Prime Minister making Islamophobic comments and facing almost no repercussions. People expect better of their politicians, and British Muslims deserve representatives that actually seek to represent them."
In the same way that Jews have been turning away from Labour on account of its antisemitism, the Conservatives' own issues with Islamophobia could serve to repel Tory-voting Muslims. "Historically we do not see many specifically ethnic issues making a difference," Maria Sobolewska, a professor of political science at Manchester University, tells The Independent. "But we know that the perception that racial discrimination affects their life chances does make them less likely to vote for Conservatives and more likely to vote Labour."
Some will stand by Labour and the Conservatives regardless – "I don't think this Islamophobia and antisemitism is the party position, but maybe two or three individuals," explains Mirza – but the recent decisions by the Chief Rabbi and MCB to condemn the two parties reflect the deep misgivings within each faith.
For all the discussion of Brexit, which has dominated the agenda over the past three years, next week's vote goes far beyond addressing the UK's future in Europe. While many no doubt see it this way, Thursday 12 December also offers British Muslims the chance to express their political colours and, given their ability to influence so many swing seats, potentially determine the country's next chapter.
https://www.independent.co.uk/news/uk/home-news/muslim-voters-uk-general-election-kensington-putney-a9234431.html
------
Russian FM blames US' policies for recent unrest in Iran
December 7, 2019
AhlulBayt News Agency (ABNA): Foreign Minister Sergei Lavrov called US' destabilizing policies the main reason behind the recent unrest in Iran.
Making the remarks in his address to the Mediterranean Dialogues Conference (MED) in Italy, the Russian FM said that the US has caused tensions and protests in Iran via its applied policies, Deutche Welle reported on Saturday.
"These problems were caused by the US since it unilaterally imposed sanctions on Iran, withdrew from JCPOA but forces all the parties including Iran to comply with the deal."
"I do not even know how to describe the issue," he said, "it is a surrealistic approach.
Americans prevent everyone from implementing the UN security council resolution, the one they have invalidated."
The US seeks to create economic conditions in Iran to make Iranians discontent and we have seen the same plan implemented in Venezuela, he added.
The Russian official reiterated that his country still believes in holding talks to resolve the problems.
On December 6, Iranian Deputy Foreign Minister Abbas Araghchi rebuked the unilateral measures of the US regarding the 2015 nuclear deal, saying all parties to the pact consider Washington as the root cause of the tensions on the matter.
https://en.abna24.com/news//russian-fm-blames-us-policies-for-recent-unrest-in-iran_992001.html
------
Mostafa Bakry on student's suicide at Cairo Tower: 'Muslim Brotherhood's alternative plan to explosive belt'
December 7, 2019
Member of the Egyptian House of Representatives and journalist, Mostafa Bakry, claimed in a statement that the engineering student of Helwan University, Nader Mohammad, who recently threw himself off the top of Cairo Tower, belonged to the Muslim Brotherhood and committed suicide to "fuel the protests" against the ruling authority, in conjunction with the imminence of the ninth commemoration of the Egyptian revolution.
On Friday, Bakry sent a message to journalists via WhatsApp, which he forwarded from a WhatsApp group comprising Egyptian editors-in-chief and journalists, run under the General Intelligence Service's knowledge.
He claimed that Mohammad was the brother of dismissed army major, Karim Tusoon, convicted of joining terrorist cells in 2013.
Bakry added in his message that Mohammad's brother is married to the daughter of a staff member of the Muslim Brotherhood, and that she persuaded her brother-in-law to commit suicide, to instruct someone to film him at the top of Cairo Tower and to publish the video on social media. However, the video was recorded by one of the tower's security cameras, and not by an eyewitness.
Bakry continued that the Muslim Brotherhood's plan aimed to show the suicide with the same intention as the young Tunisian, Mohamed Bouazizi, who set himself on fire in early 2011 and was a major cause of the outbreak of the Tunisian Revolution. He explained that the filming of the incident was intended to spread this suicide operation amongst young people in Egypt.
Egypt: Man sets fire to wife who didn't get pregnant
Bakry concluded his message by asserting that Mohammad's suicide represents an alternative tactical change to the use of the explosive belt and direct suicide operations, especially after the bombing of the Institute of Oncology in Cairo last August (killing more than 20 citizens). The incident damaged the Muslim Brotherhood's popularity, and they considered it a big mistake, according to the message forwarded by the MP.
The repercussions of Mohammad's suicide are still dominating the attention of social media websites in Egypt, with the launch of many hashtags, including "#why Egyptian youth are committing suicide," to discuss the causes of suicide among youths. This issue became a remarkable phenomenon during the rule of President Abdel Fattah Al-Sisi, as a result of the deteriorating economic and social conditions.
On the morning of 1 December, the video of Mohammad's suicide was spread on social media, with accusations of the ruling authority being responsible for the increased suicide cases. According to a report by the World Health Organisation, Egypt has topped the list of Arab countries in terms of the number of suicide rates over the past few years.
This has prompted sociologists and psychologists to warn against this growing phenomenon, amid the increase of living burdens on Egyptian families, 45 per cent of which are living below the poverty line, according to official figures in the country.
https://www.middleeastmonitor.com/20191207-mostafa-bakry-on-students-suicide-at-cairo-tower-muslim-brotherhoods-alternative-plan-to-explosive-belt/
------
UK election rivals face off for final time ahead of poll
Dec 7, 2019
LONDON: The two men vying to be British Prime Minister in next week's election exchanged trademark blows on Friday over the familiar faultlines of Brexit and healthcare in the final head-to-head TV debate of the month-old campaign.
In a lacklustre hour-long battle largely devoid of standout moments, Prime Minister Boris Johnson repeatedly criticised Labour leader Jeremy Corbyn's failure to say if he supports Britain leaving the EU while talking up his agenda.
"We have a fantastic plan to get Brexit done," Johnson said, referring to a divorce deal he finalised with EU leaders in October.
"How can you get... a new deal from Brussels for Brexit, if you don't actually believe in it?" he added, referring to Corbyn's vow to remain neutral in a second EU referendum he wants to hold within six months.
The Labour leader is proposing to negotiate a softer form of Brexit to put up against remaining in the bloc in the vote.
He said Johnson's vow to strike trade deals with both the European Union and the United States next year were unrealistic, and that Britain's cherished national health service (NHS) was under threat.
"What he will do is walk out of a relationship with the EU into a relationship with nobody," Corbyn said.
Corbyn has spent the campaign lagging in the polls and was in need of a breakthrough moment, but often found himself on the defensive on Brexit and other issues.
A snap poll by YouGov found the debate, the second head-to-head between the pair, was a draw, but that those questioned found Corbyn more trustworthy.
"Given the Conservatives went into this debate in the lead, they will hope the lack of a knockout blow means they can maintain this until voting day," said Chris Curtis, YouGov's political research manager.
Johnson called the snap election - the third in Britain in nearly five years - last month to try to get a parliamentary majority which would enable him to secure backing for his divorce deal.
Voting takes place next Thursday. The Britain Elects poll aggregator puts the Conservatives on 42 per cent, Labour on 33 per cent and the Liberal Democrats on 13 per cent.
The Greens and the arch-eurosceptic Brexit Party were both on three per cent. Ahead of Friday evening's debate former Prime Ministers Tony Blair and John Major launched unprecedented interventions, calling for people to vote tactically to help ensure a second referendum on Brexit.
Major, a Conservative who was in power from 1990 to 1997, and Labour's Blair, who ousted him and was in Downing Street until 2007, addressed a rally for another poll in London. Both want Britain to remain in the EU.
Major gave his backing to several candidates thrown out of the Conservative ranks for rebelling over Brexit.
"Let me make one thing crystal clear, none of them left the Conservative Party, the Conservative Party left them," he said via video-link.
"Were I resident in their constituency I would vote for them." Asked about the comments, Johnson insisted his party retained "a very broad spectrum of views" and noted that all Tory candidates had taken a vow to back his deal. But in a blow to Johnson, a senior British diplomat in the US quit on Friday, criticising the government over Brexit.
Alexandra Hall said she could no longer "peddle half-truths" on behalf of political leaders she did not "trust", according to CNN, which obtained a copy of her resignation letter.
Earlier on Friday, Johnson came under fire for avoiding a set-piece television interview that all other major party leaders have already subjected themselves to.
The Prime Minister has so far declined to undergo an uncomfortable grilling from Andrew Neil, who is one of the BBC's top political interviewers, with less than a week to go until the election.
Former Sunday Times editor Andrew Neil said Johnson faced questions of trust, and it was his job to "scrutinise and hold to account those who would govern us".
Corbyn meanwhile used Friday to unveil leaked documents he said proved Johnson was "deliberately misleading the people" about his Brexit deal.
He said the finance ministry papers suggested there would be customs declarations and security checks between mainland Britain and Northern Ireland, contrary to what he had said.
Corbyn returned to the subject during the debate, while reiterating his claims US President Donald Trump was eyeing the NHS for America's pharmaceutical firms. But Johnson strongly denied the claims.
"This is pure Bermuda Triangle stuff," he said.We'll be hearing about 'little green men' next", he said.
"Under no circumstances will we sell it off to anybody in any kind of trade deal."
https://timesofindia.indiatimes.com/world/uk/uk-election-rivals-face-off-for-final-time-ahead-of-poll/articleshow/72411187.cms
------
North America
Muslim Comics Are Opening Up About Their Faith On The Stand-Up Circuit
By Neal Justin
DECEMBER 6, 2019
Did you hear the one about the Muslim who walked into a comedy club? It's no joke. These comedians are talking openly about their Islamic faith in stand-up routines that mine previously untapped material while shattering stereotypes about an often misunderstood religion.
At one of Acme Comedy Company's recent open-mic nights, which contrary to the title is highly selective on who gets stage time, three of the 22 acts were Muslim, including Ahmed Khalaf, whose family immigrated to Minnesota from Somalia when he was a child.
"I don't have stories about spending Christmas with a crazy uncle," he said before his performance. "My thing is Ramadan. That's an insane holiday. It's really just a diet."
Khalaf, 26, is treading into waters rarely tested by his more established peers. "The Big Sick" star Kumail Nanjiani and Aziz Ansari, who both grew up in Muslim households, identify as nonreligious and rarely talk about faith in their acts, although one of the most memorable episodes of Ansari's Emmy-winning series, "Master of None," features his agnostic character sneaking away from Eid prayer to pig out at a pork festival.
Dave Chappelle converted to Islam in 1998, but religion is one of the few things he won't discuss in his otherwise unreserved performances.
"I don't normally talk about my religion publicly because I don't want people to associate me and my flaws with this beautiful thing," the latest recipient of the Mark Twain Prize for American Humor told Time magazine in 2005.
Ramy Youssef doesn't have the same qualms. In his groundbreaking series, "Ramy," the fast-rising talent makes gentle fun of his rituals, like making time for his daily prayers, the same way a Catholic-raised comic would find the humor in going to confession. In the premiere, which debuted on Hulu in April, Youssef's character, Ramy Hassan, gets scolded at his mosque for not properly washing between his toes. Filthy feet turn out to be the least of his shortcomings. In subsequent episodes, he accepts a job with a sexist relative and initiates an affair with a married woman.
"I just want to show that we're human," Youssef said earlier this year. "This is not a How-to-Be-a-Muslim guide. This is not outtakes from the Qur'an. This is someone who is struggling and not being a good Muslim. I would have called it 'Bad Muslim' if it wasn't for the 'Bad Santa' movies. Because we are so underrepresented, when people do see us, we're constantly trying to apologize or over-prove that we're good. I think what really shows that someone's good is when they're a human being and they're dealing with real things. That's what this show is doing for the first time for Muslims."
It also personalizes practices. In one scene, Hassan and his friends set up prayer rugs outside a diner as naturally as any other customer would order coffee to go.
Fizaa Dosani, an L.A.-based comic, has been honing material based on her pilgrimage to Mecca last year. The routine has little to do with why millions of believers make the trek to Saudi Arabia for Hajj every year, focusing instead on just how uncomfortable it can get for a Western woman in the middle of a desert, covered from head to toe.
"No matter what religion you are, no one is going to disagree that it's very, very, hot," said Dosani, the creator of Facial Recognition, a national touring group that spotlights female comics of South Asian descent. "We can bond over that."
Other Muslim comedians are willing to take more chances. In his appearance at Minneapolis' 10,000 Laughs Comedy Festival this past October, Usama Siddiquee delivered a line about how his Islamic faith gave him an edge in the afterlife.
"You know how tough it is being the only one in this room going to heaven?" he said.
The sold-out crowd at the Parkway Theater roared. But Siddiquee, who was named one of the 2018 New Faces at Montreal's influential Just for Laughs Festival, has to be careful about that bit when using it in smaller, more conservative cities.
"Sometimes the irony doesn't land," Siddiquee said following the show. "Religion is more entrenched than other subjects so you have to go the extra distance to show you're just joking."
Criticism can come from surprising places. Ali Sultan, who moved to the Twin Cities from Yemen when he was 15, is attracting national attention with routines that range from a schoolteacher making him squirm in the wake of the Sept. 11 attacks to how he accidentally ate bacon: "Why am I allowed four wives but not this slice of deliciousness?"
Not everyone approves — and that includes some fellow Muslims.
"There can be pressure, like I'm letting them down," he said. "But I can't worry about representing everyone. I can only represent myself."
Moe Yaqub, one of the most promising young stars on the Twin Cities circuit, remembers an uncomfortable encounter in the lobby following one of his performances.
"I like you, I wanted to love you," the spectator told him. "But I started to hate you once you said you were Muslim."
Yaqub still makes it a point to meet the public after his act — even if it means conversations with those who have difficulties shaking their preconceived notions.
"Otherwise, I feel like I'm only creating a wider gap," he said. "It's very much about trying to change the stereotypes people have about Muslims and people like me who are from Pakistan. There's this box we've been put in by Hollywood movies and 'The Simpsons.' Just because we have a different faith doesn't mean we don't have the same feelings. We all get embarrassed by the same things. We get mad about the same things. I can convey that message, as long as I tell people my true experiences. People can relate to that."
Sultan is encouraged by the progress being made by Yaqub and Khalaf, as well as the success of Youssef and "Patriot Act" host Hasan Minhaj, whose 2017 one-man show, "Homecoming King," relayed his experiences growing up in an Indian American Muslim family. But he insists there's still a long way to go.
" 'Ramy' is the most groundbreaking thing, but he's not a household name," he said. "We're still not the main lead or even the supporting characters. We're still the cabdrivers. We're only making small progress."
http://www.startribune.com/muslim-comics-are-opening-up-about-their-faith-on-the-stand-up-circuit/565852602/
------
Parent protests outside Small Heath mosque after former trustee convicted of assaulting child
ByMike Lockley
8 DEC 2019
Protests have been staged outside a Birmingham mosque after a former trustee was convicted of physically assaulting an eight-year-old child.
Parents are furious Saddique Hussain is still acting as a volunteer at Central Jamia Ghamkol mosque, in Small Heath.
And they are demanding the Islamic education centre - housed within the building - is re-opened.
The Ghamkol Sharif Education Centre, where the incident took place, was closed on April 1 immediately after 53-year-old Hussain's arrest.
But Hussain, who first became involved with the Jamia Ghamkol charity in 1982 and has been a key member of the new mosque since it opened in 1997, said he was victim of a vendetta.
And he insisted the education centre's closure had nothing to do with his arrest. He says its doors were closed after he uncovered failings in procedure, particularly involving volunteers.
Hussain, who stepped down as a mosque trustee, also said he will challenge his conviction.
More than 50 demonstrators gathered outside the mosque last Thursday demanding action. A protest was also held in September and a petition has been raised.
The parents claim Central Jamia Ghamkol top brass have supported Hussain and threatened to ban some individuals who have spearheaded the protest.
In letters, leaders accused some demonstrators of over-stepping the mark. One accuses a worshipper of mounting a campaign of "intimidation, bullying and threats of violence".
The letter warns: "This is not a formal notice to ban. Instead, it is a notice to pre-warn you if we experience any further disturbances of any nature on the premises or threats or intimidation against beneficiaries or trustees then we will formally ban you."
Following a trial at Birmingham Magistrates Court on November 28, Hussain was found guilty of assault by beating, fined £180 and ordered to pay £450 costs and compensation to his victim.
It is understood Hussain, a former policy and procedure lead trustee at the education centre, grabbed his victim while attempting to break-up a fight.
The incident was followed by the closure of the centre, which provided religious education and day out activities to around 300 children.
One parent, who asked to be referred to as Kam, said: "He is still working at the mosque and there is an attempt to silence people who want him out. They have sent out letters warning of bans and continue to deny he has done anything wrong.
"After Hussain's arrest, he was interviewed on a news channel and said he'd done nothing wrong. People are angry. It now needs to come into the public light as a week has past and some are still saying he did nothing wrong because he didn't receive a jail sentence."
Kam is incensed the education centre has been closed following the controversy.
He said: "My seven-year-old daughter was in the final year of her education. She cried when the closed it down. It wasn't necessary. It's the children who have suffered in the wake of the process."
And he strongly refutes claims demonstrators caused disruption. "The only disruption came from security officers who wanted to move us on," he added. "It is our legal right to protest. We were on the car park outside.
"Tensions are high because this has been going on since April. They won't answer us, they just threaten to ban us which is unacceptable. We, the public, fund the mosque, so our voices should be heard. I've sent emails, no response. I've spoken to trustee members, no response. I've tried to arrange meeting, no response."
A fellow worshipper, who asked to remain anonymous, said: "There seems to be an attempt to sweep this under the carpet, which, in this day and age, is something you cannot do.
"The correct course of action should've been to remove him from the education centre, not close it.
"We are not saying he shouldn't pray at the mosque, but he shouldn't be allowed to work as a volunteer or be involved in management. For him to be involved in the day-to-day running is bad."
Notices pinned inside the mosque shortly after Hussain's conviction have done nothing to ease the simmering tension.
One carries a personal, printed statement from the defendant.
It states: "At no time did I punch, hit or slap the child. I just held his arms from behind him.
"I am disappointed with the verdict and it demonstrates how challenging it is for anyone who works in an educational establishment and especially when children start to fight each other and what you can do to stop them from fighting."
A notice outlining the trust's stance states: "As many of you will be aware, the charity has faced various accusations by some people and various posts have been put out on social media and some people have even demonstrated outside the Masjid.
"This statement is to refute the above and explain our position.
"There was a fight between two children outside in the corridor and some children came into the office telling him about the fight.
"He went out to investigate and helped separate the two children. One of the children continued being aggressive, punching, kicking and then throwing shoes at people. Saddique tried to calm the chlld, but failed and then restrained him by holding his arms.
"On November 26, 2019, a magistrates court found Saddique guilty of using unreasonable force to restrain the child and fined him. The court did not order any other penalty or restriction."
When we approached Hussain, he said he had contacted solicitors over social media slurs on his character. Those comments, he says, accuse him of much graver offences than the matter dealt with by magistrates.
He will, he stressed, battle to overturn the guilty verdict delivered at magistrates court.
"I will challenge the decision in the crown court," he told our reporter.
"At the time I was a trustee, I've stepped down as a trustee. I have never been in the dock before. The trustees - some of whom were witnesses at the trial - accept the judgement, obviously, but they are supportive.
"This thing has affected me and my family. Initially, my family were confused. My character has been destroyed, to a degree. Absolutely, this is a vendetta by certain individuals, absolute false information has been posted about me and I am taking legal steps over that. A group of individuals are trying to take over."
Hussain said he was paying the price for ruffling feathers over his insistence the education centre was run by the rule book.
"On a personal note," he added, "certain people were not happy with my involvement because my aims are to deliver due process. I believe in good practice. I'm 53 with a lot of experience of social-economic work.
"The centre was lacking in policies and procedures. There were some serious issues, particularly in terms of the use of volunteers."
https://www.birminghammail.co.uk/news/midlands-news/parent-protests-outside-small-heath-17377222
------
US Sanctions Iraqi Shia Militia Leaders
7/12/2019
ERBIL — The United States imposed sanctions on three Iraqi Shia Militia leaders linked to Iran, Treasury Secretary Steven Mnuchin said in a statement on Friday.
The sanctions came in response to leaders of Hashd al-Shaabi's involvement in suppressing protests across Iraq which have so far left nearly 400 people killed with 16,000 injured.
"OFAC [Department of the Treasury's Office of Foreign Assets Control] designated Qais al-Khazali, Laith al-Khazali, and Husayn Falih 'Aziz al-Lami pursuant to Executive Order (E.O.) 13818 for their involvement in serious human rights abuse in Iraq," reads the statement.
Additionally, OFAC designated Iraqi millionaire businessman Khamis Farhan al-Khanjar al-Issawi for bribing government officials and engaging in corruption at the expense of the Iraqi people.
"Iran's attempts to suppress the legitimate demands of the Iraqi people for reform of their government through the slaughter of peaceful demonstrators is appalling," said Treasury Secretary Steven Mnuchin. "Peaceful public dissent and protest are fundamental elements of all democracies. The United States stands with the Iraqi people in their efforts to root out corruption. We will hold accountable the perpetrators of human rights abuse and corruption in Iraq."
In a subsequent statement, Secretary of State Mike Pompeo said: "The Iraqi people want their country back. ... They are calling for genuine reform and accountability and for trustworthy leaders who will put Iraq's national interests first. Those demands deserve to be addressed without resort to violence or suppression."
The Trump administration will consider imposing further sanctions if violence against Iraqi protesters does not stop, according to David Schenker, assistant secretary of state for Near Eastern affairs.
"We are not done. This is an ongoing process," Schenker told reporters on Friday.
http://www.basnews.com/index.php/en/news/iraq/565400?__cf_chl_jschl_tk__=e49ebdc9a4425fa227bf92032f730cd37bae8d5f-1575792305-0-AdET6rOmR2BV8X8su9WYTpiKRA5fx_4K2rqQUX7m4rBeEyLj4MEzgDO4Lqm9NSFdNByGgnakbC0WMOs3ZNJUBCiANnabQEaLVC8GfgZLSm7kCOhEPlOsyvIJYivPxe90KI1YznYqxGkf4ovNdRTaAYx2eHduaPGIynYKFyq-4TzXJThRmNZZ_WzOS02haOcHqAgJxVHoUS0XHudjmqkBovG9bXKHKFW2Q6pHryAGsJ8WB0tnz06Kle-hJLbZV1DSrG9GN4ZVrkOzAVnQ91WYrjwjfxLnktRHCFTS8GYsr9YN
------
US imposes sanctions on three Iraqi Hashd al-Sha'abi leaders
December 7, 2019
AhlulBayt News Agency (ABNA): The administration of US President Donald Trump has slapped sanctions on three leaders of Iraq's Popular Mobilization Forces or Hashd al-Sha'abi, an umbrella paramilitary group that has actively cooperated with the national army in sweeping counter-terrorism operations.
In a statement released on Friday, US Secretary of State Mike Pompeo announced sanctions on Qais al-Khazali and his brother Laith, two leaders of the Asaib Ahl al-Haq group, as well as Hussein Falil Aziz al-Lami of Kata'ib Hezbollah.
The sanctions restrict the individuals' travel to the US and freeze any American-held assets by the trio.
"The Iraqi people want their country back," Pompeo said. "They are calling for genuine reform and accountability and for trustworthy leaders who will put Iraq's national interests first."
Meanwhile, the US Treasury Department claimed that the resistance groups led by the three Iraqi figures had "opened fire on peaceful protests, killing dozens of innocent civilians."
Since October 1, Iraq has been the scene of street protests over economic woes.
The rallies resumed on October 25 after a pause of about two weeks, but took a violent turn, with some participants vandalizing public property and opening fire on demonstrators during the mayhem.
The anti-government protests have led to the resignation of Prime Minister Adil Abdul-Mahdi.
A senior US Treasury official suggested that the fresh bans were timed to distance the three Iraqi figures from the process of forming a new government.
Separately, US Assistant Secretary of State for Near Eastern Affairs David Schenker warned that the Iraqi officials, who deal with the blacklisted Hashd al-Sha'abi leaders, would face their own economic sanctions.
He further raised the possibility of imposing sanctions on some of the Iraqi government security forces over what he called crackdown on protesters.
An Iraqi source told CNN that the practical impact of the punitive measures is "negligible" as the designated Iraqis are not thought to have any assets in the US.
Schenker also acknowledged that the designations are "first and foremost" symbolic, adding, however, that more designations will be coming.
"We are not done. This is an ongoing process," he said.
Hashd al-Sha'abi, a combination of some 40 groups of mostly Shia fighters as well as Sunnis and Christians, was formed shortly after the Daesh Takfiri terrorist group emerged in Iraq in 2014.
In the early days of the Daesh's reign of terror, Hashd al-Sha'abi fighters played a major role in reinforcing the Iraqi army, which had suffered heavy setbacks in the face of lightning advances by the Takfiri elements.
In November 2016, the Iraqi parliament voted to integrate Hashd al-Sha'abi into the military in the face of US efforts to sideline the group.
https://en.abna24.com/news//us-imposes-sanctions-on-three-iraqi-hashd-al-sha%e2%80%99abi-leaders_991910.html
------
Donald Trump pulls back on designating Mexico cartels as 'terror' groups
Dec 7, 2019
WASHINGTON: US President Donald Trump said Friday he would not proceed with his stated plans to designate Mexican drug cartels as terror groups following a request from his counterpart Andres Manuel Lopez Obrador.
Trump called for a "war" on the cartels last month after the killings of nine women and children from a US-Mexican Mormon community.
The case brought fresh attention to cartel violence in Mexico and leftist president Lopez Obrador's struggles to rein in bloodshed, but south of the border the US plans were seen as unwanted meddling.
Mexican officials asked for clarification on Trump's plans, and said they wanted to make progress on efforts to stem the flow of weapons and money from the United States to criminal gangs in Mexico.
Foreign Minister Marcelo Ebrard had reacted more forcefully, saying: "Mexico will never allow any action that means a violation of its national sovereignty." While Trump said in a tweet Friday evening that "all necessary work has been completed to declare Mexican Cartels terrorist organizations," he said he was putting a hold on the move out of respect for Lopez Obrador.
"We will temporarily hold off this designation and step up our joint efforts to deal decisively with these vicious and ever-growing organizations!" the president tweeted.
Trump said Lopez Obrador was a "man who I like and respect, and has worked so well with us." The Mexican president hailed the change of heart, telling reporters that joint action with Washington on cartels needed to be done "with respect for our sovereignty." "I think the decision made today was very good," he added.
The victims in last month's attack, including twin eight-month-old babies, were killed as they drove on a remote road between the states of Sonora and Chihuahua, in northern Mexico, a lawless region disputed by warring drug cartels.
https://timesofindia.indiatimes.com/world/us/us-and-world/donald-trump-pulls-back-on-designating-mexico-cartels-as-terror-groups/articleshow/72415289.cms
------
Mideast
Islamic Organization Criticizes Israel's Settlement Plans in Hebron
December 7, 2019
The Organization of Islamic Cooperation (OIC) has condemned a controversial plan by Israel to build a new settlement in the heart of the flashpoint West Bank city of Hebron, the Palestine News Network reported.
Naftali Bennett, right-wing Israeli minister of military affairs, said on Sunday, that the new settlement, to be constructed at the site of a wholesale market complex used by Palestinians, will "double" the number of settlers in Hebron.
Under the construction project, the old market stalls will be demolished to make way for new shops and residential buildings.
Currently, approximately 200,000 Palestinians live Hebron, alongside, but separate from, about 800 illegal Israeli settlers, guarded by hundreds of Israeli soldiers.
In a statement issued on Tuesday, OIC Secretary General, Yusuf bin Ahmed al-Uthaymeen said the Israeli decision to "is a flagrant breach of international law, the Geneva Accord and relevant UN resolutions, and undermines peace efforts."
He also urged the international community and the UN Security Council to take "resolute action" towards ending Israeli settlement policies.
Earlier, Saeb Erekat, the Palestine Liberation Organization (PLO) secretary general, said the project was the "first tangible result of the US decision to legitimize colonization."
He was referring to US Secretary of State, Mike Pompeo's announcement last month that the establishment of settlements in the occupied West Bank "is not per se inconsistent with international law."
Israeli anti-settlement group Peace Now also condemned Hebron settlement plan as an addition to the "ugliest face of Israel's control in the occupied territories."
"In order to maintain the presence of 800 settlers among a quarter of a million Palestinians, entire streets in Hebron are closed to Palestinians, denying them freedom of movement," Peace Now said in a statement.
More than 600,000 Israelis live in over 230 settlements built since the 1967 Israeli occupation of the Palestinian territories of the West Bank.
Emboldened by US President Donald Trump's all-out support, Israel has stepped up its settlement construction activities in defiance of UN Security Council Resolution 2334, which pronounced settlements across the West Bank "a flagrant violation under international law."
https://imemc.org/article/islamic-organization-criticizes-israels-settlement-plans-in-hebron/
------
Israel planned to terminate other officials in the Islamic Jihad
By YASSER OKBI/MAARIV
DECEMBER 7, 2019
Less than a month after the death of Islamic Jihad official Baha Abu al-Ata Egyptian officials claimed on Saturday in The New Arab paper that "Israel assassinated him despite its previous promises to avoid killing him."
They stated the assassination brought about deterioration and a threat from the Egyptian government to no longer mediate between Israel and the various Palestinian factions, which initially prevented the further assassinations of Islamic Jihad officials.
According to them, Israel had also intended to assassinate officials of both the political and military wings of the Islamic Jihad.
The Egyptian sources further told the paper that preventative security measures have been taken by Egypt in regard to previous visits to Cairo of Hamas and Islamic Jihad officials to make sure they are not assassinated.
"Israel did not rule out the possibility that they would be assassinated," The officials said. "There is a disagreement on this at the top of the intelligence and security offices of Israel there is a disagreement on this policy."
They even stated that for the first time, the security services in charge of the officials living quarters are using advanced technology to prevent their assassination.
Last month, al-Ata and his wife were killed in an Israeli air force attack. The IDF said that the building he was in was attacked, and added that the assassinated official was in charge of a large number of terrorist attacks, shootings, drone and rockets among them, and was defined as a "ticking time-bomb."
After the attack, Prime Minister Benjamin Netanyahu said that: "The IDF assassinated the Islamic Jihad terrorist official in the Gaza Strip."
Over the last year, this arch-terrorist was the main cause of terror from the Strip. Over the last year this Arch terrorist planned and executed a great number of attacks, and was in the midst of planning more.
He was a ticking bomb." According to Netanyahu, the suggestion of killing him was discussed in the cabinet and was recommended by the chief of staff and other security forces.
"The decision was approved by the cabinet unanimously ten days ago. The cabinet has empowered me to order the operation at a date suggested by the IDF and the Shin Bet," Netanyahu said.
"The IDF and the Shin Bet indeed found such a date. They recognized a unique window of opportunity with a maximum chance of success and minimum chance of hurting civilians. In light of this, I had decided to approve the operation. I congratulate the IDF and the Shin Bet, and especially the IAF and the intelligence section for the successful and precise operation. All terrorists share the same assumption. They think they can hurt civilians and at the same time hide behind those same civilians, but we proved that you can hurt the killer with minimum involvement of innocents. Anyone who thinks that he can escape our long reach- is mistaken. Whoever hurts us, we will hurt them."
https://www.jpost.com/Middle-East/Israel-planned-to-terminate-other-officials-in-the-Islamic-Jihad-610185
------
Syrian- Russian Alliance forces bombed a mosque in al Bara village in Idlib suburbs, on December 7
SNHR: fixed- wing warplanes we believe were Russian fired missiles in parallel with dropping barrel bombs by Syrian regime forces helicopters near al Rahman Mosque in al Bara village in the southern suburbs of Idlib governorate, partially destroying its building and damaging its furniture, on December 7, 2019.
http://sn4hr.org/sites/news/2019/12/07/syrian-russian-alliance-forces-bombed-mosque-al-bara-village-idlib-suburbs-december-7/
------
Iran says new budget bucks US oil embargo, uses Russian loan
Dec 8, 2019
TEHRAN: Iran's president says his country will depend less on oil revenue next year, in a new budget that is designed to resist crippling US sanctions.
Hassan Rouhani spoke during Sunday's opening session of Parliament.
"The budget is based on maximum pressure and sanctions," by the US, Rouhani said.
Rouhani added that the Iranian government's budget will also benefit from a $5 billion loan from Russia that's being finalized.
He said the US and Israel will remain "hopeless" despite their goal of weakening Iran through sanctions.
The next Iranian fiscal year begins March 20, with the advent of the Persian new year. The budget is set to be about $40 billion, some 20% higher than in 2019.
Iran is in the grips of an economic crisis. The US re-imposed sanctions that block Iran from selling its crude oil abroad, following President Trump's decision to withdraw from Tehran's 2015 nuclear deal with world powers.
https://timesofindia.indiatimes.com/world/middle-east/iran-says-new-budget-bucks-us-oil-embargo-uses-russian-loan/articleshow/72423913.cms
------
Air strikes kill 19 civilians in northwest Syria: monitor
Dec 7, 2019
AL-BARA (SYRIA): Syrian regime and Russian air strikes on Saturday killed 19 civilians, eight of them children, in the country's last major opposition bastion, a war monitor said.
The air raids in the jihadist-run northwestern region of Idlib also wounded several others, the Syrian Observatory for Human Rights said.
Air strikes by regime ally Russia killed four civilians including a child in the village of Al-Bara in the south of the region, the Observatory said.
An AFP correspondent at the scene saw rescue workers pick through the rubble of a two-storey home whose concrete roof had collapsed.
Rescuers carried away the body of a victim wrapped in a blanket on a stretcher.
Russian raids also killed nine civilians including three children in the nearby village of Balyun, the Observatory said.
Crude barrel bombs dropped by government helicopters killed five civilians including three children in the village of Abadeeta, also in the same area.
In the southeast of the embattled region, a raid by a regime aircraft killed another child in the village of Bajghas, the Observatory said.
The Britain-based monitor, which relies on a network of sources inside Syria, says it determines the provenance of an air strike by looking at flight patterns and the aircraft and munitions involved.
The Idlib region, which is home to some three million people including many displaced by Syria's civil war, is controlled by the country's former Al-Qaeda affiliate.
The Damascus regime has repeatedly vowed to take back control of Idlib.
Syrian President Bashar al-Assad's forces launched a blistering military campaign against the region in April, killing around 1,000 civilians and displacing more than 400,000 people from their homes.
A ceasefire announced by Moscow has largely held since late August.
But the Observatory says deadly bombardment and skirmishes have persisted, with more than 200 civilians killed in the region since the deal.
Syria's war has killed over 370,000 people and displaced millions from their homes since beginning in 2011 with the brutal repression of anti-Assad protests.
https://timesofindia.indiatimes.com/world/middle-east/air-strikes-kill-19-civilians-in-northwest-syria-monitor/articleshow/72418772.cms
------
Rouhani says Iran budget set to resist US sanctions by curbing oil dependence
December 08, 2019
TEHRAN: Iran's President Hassan Rouhani on Sunday presented to parliament what he called a "budget of resistance" against crippling sanctions imposed by arch-enemy the United States.
"Next year, similar to the current year, our budget is a budget of resistance and perseverance against sanctions," Rouhani told parliament in remarks broadcast on state radio.
"This budget announces to the world that despite sanctions we will manage the country, especially in terms of oil," he added.
The budget for the financial year starting late March 2020 comes after fuel price hikes that were imposed in mid-November triggered deadly demonstrations across the Islamic republic.
In his speech, Rouhani announced a 15 percent increase for public sector wages in a country whose economy has been battered by US sanctions.
US President Donald Trump began imposing punitive measures in May 2018, after unilaterally withdrawing from an accord that gave Iran relief from sanctions in return for limits on its nuclear program.
The International Monetary Fund has forecast that Iran's economy will contract by 9.5 percent this year.
https://www.arabnews.com/node/1595811/middle-east
------
Israel strikes in Gaza after rocket attack
December 08, 2019
GAZA CITY, Palestinian Territories: Israeli aircraft carried out attacks in the Hamas-controlled Gaza Strip early Sunday, Palestinian security officials said, hours after militants in the enclave launched three rockets at the Jewish state.
The strikes targeted two sites belonging to Al-Qassam Brigades, the Hamas military wing, in northern Gaza, with another series of sorties at a Qassam site west of Gaza City, Hamas officials said.
There were no immediate reports of injuries.
The Israeli army said "fighter jets and attack helicopters struck a number of Hamas terror targets" in Gaza, as well as "a military post belonging to the Hamas naval force in the northern Gaza Strip."
"The IDF (Israel Defense Force) holds the Hamas terror organization responsible for events transpiring in the Gaza Strip and emanating from it," the army said in a statement.
"Hamas will bear the consequences for actions against Israeli civilians."
Late Saturday night, Palestinian militants in Gaza launched three rockets at southern Israel.
All three projectiles were intercepted by the Iron Dome defense system, the army said, amending an earlier statement according to which two of the three rockets were shot down over southern Israel.
Medics had treated three people in the southern Israeli town of Sderot who suffered minor injuries while seeking shelter as air raid sirens went off, the Magen David Adom emergency medical service said.
There were no immediate reports of material damage.
On November 29, Israeli warplanes struck Hamas positions in Gaza in response to rocket fire at the Jewish state the previous day.
Hamas has controlled Gaza since 2007, and Israel holds the Islamist movement responsible for all rocket fire coming from the territory, although it has targeted other militant groups there.
Last month, Israeli forces assassinated a senior Islamic Jihad leader in the Gaza Strip, sparking a two-day flare-up which killed 36 Palestinians.
Islamic Jihad fired around 450 rockets at Israel, many of which were intercepted by the Iron Dome defense system.
Israel has fought three wars with Hamas and allied armed groups in Gaza since 2008.
https://www.arabnews.com/node/1595806/middle-east
------
Airstrikes kill 19 civilians in northwest Syria
December 07, 2019
AL-BARA, Syria: Syrian regime and Russian airstrikes on Saturday killed 19 civilians, eight of them children, in the country's last major opposition bastion, a war monitor said.
The air raids in the rebel-run northwestern region of Idlib also wounded several others, the Syrian Observatory for Human Rights said.
Airstrikes by regime ally Russia killed four civilians including a child in the village of Al-Bara in the south of the region, the Observatory said.
An AFP correspondent at the scene saw rescue workers pick through the rubble of a two-story home whose concrete roof had collapsed.
Rescuers carried away the body of a victim wrapped in a blanket on a stretcher.
Russian raids also killed nine civilians including three children in the nearby village of Balyun, the Observatory said.
Crude barrel bombs dropped by government helicopters killed five civilians including three children in the village of Abadeeta, also in the same area.
In the southeast of the embattled region, a raid by a regime aircraft killed another child in the village of Bajghas, the Observatory said.
The Britain-based monitor, which relies on a network of sources inside Syria, says it determines the provenance of an airstrike by looking at flight patterns and the aircraft and munitions involved.
The airstrikes on Idlib province have intensified over the past few weeks as the government appears to be preparing for an offensive on rebel-held areas east of the province to secure the main highway that links the capital Damascus with the northern city of Aleppo, Syria's largest and once commercial center.
The Idlib region, which is home to some 3 million people including many displaced by Syria's civil war, is controlled by the country's former Al-Qaeda affiliate.
The Damascus regime has repeatedly vowed to take back control of Idlib.
Bashar Assad's forces launched a blistering military campaign against the region in April, killing around 1,000 civilians and displacing more than 400,000 people from their homes. A cease-fire announced by Moscow has largely held since late August.
But the Observatory says deadly bombardment and skirmishes have persisted, with more than 200 civilians killed in the region since the deal.
Syria's war has killed over 370,000 people and displaced millions from their homes since beginning in 2011 with the brutal repression of anti-Assad protests.
Earlier, the Observatory and the opposition's Syrian Civil Defense said four people, including a child and two women, were killed in airstrikes on the opposition-held village of Bara.
The Observatory said five others were killed in the village of Ibdeita and a child in another village nearby.
Different casualty figures are common in the immediate aftermath of violence in Syria, where an eight-year conflict has killed about 400,000 people, wounded more than a million and displaced half the country's prewar population.
Syrian troops launched a four-month offensive earlier this year on Idlib, which is dominated by al-Qaida-linked militants. The government offensive forced hundreds of thousands of civilians to flee their homes.
A fragile cease-fire halted the government advance in late August but has been repeatedly violated in recent weeks.
https://www.arabnews.com/node/1595671/middle-east
------
Turkey faces US sanctions over missile defense deal
MENEKSE TOKYAY
December 07, 2019
ANKARA: The crisis over Turkey's acquisition of the S-400 air defense system from Russia may come to a head with the threat of US sanctions, according to sources in Ankara.
Despite the close relationship between Turkish President Recep Tayyip Erdogan and his US counterpart Donald Trump, the CAATSA (Countering America's Adversaries Through Sanctions Act) sanctions package promoted by the US Senate is expected to bring political and financial repercussions for Turkey.
The increasing congressional anger is mainly related to the country's insistence on purchasing Russian-made weapons and its growing military incursions into Syria targeting Syrian Kurdish YPG militia, longtime partners of the US against Daesh.
Images provided to the media showing Turkey allegedly testing the radar of the missile defense system it bought from Russia accompanied with US-made F-16 fighter jets has been the final straw for the US Senate, which is pressing for immediate sanctions, five months after delivery of the Russian system.
Ali Cinar, a US-based foreign policy expert, expects US sanctions within the coming weeks and said that these will further damage the bilateral relationship.
"The US Senate Foreign Relations Committee has scheduled for next week deliberations on legislation that would penalize Turkey's S-400 purchase," he told Arab News.
Last week, US Senators Republican Lindsey Graham and Democratic Chris Van Hollen wrote a letter to Secretary of State Mike Pompeo urging the Trump administration to impose sanctions on Turkey.
"It is time you applied the law. Failure to do so is sending a terrible signal to other countries that they can flout US laws without consequence," they wrote in the letter.
The committee will elaborate on the bill just a week after the meeting between Trump and Erdogan under the auspices of the NATO leaders' summit in London. The general feeling in the US is that after several meetings between the US and Turkish leaders, with seemingly no breakthrough on the S-400, Ankara appears not to be changing course.
According to Cinar, if Turkey continues on its path to activate the S-400 system, the US is right to impose sanctions and expel Turkey from the F35 program under CAATSA.
"I think the sanctions would be lighter at the beginning but sending a strong message to Turkey is key for the Senate so sanctions on some officials would be one of the options," he said.
But Cinar also underlined that the US president has the power to waive the sanctions for 180 days, after which he must submit another waiver for another 180 days, and that the president can do this consecutively.
"The president also has the right to waive one or more sanctions, for instance impose one package of sanctions and waive the rest," he said.
The law provides the president, who signed it in August 2017, with the opportunity to select from a list of 12 possible sanctions to punish countries taking possession of Russian military hardware. Among these options, preventing access to loans from financial institutions and denying US visas to government officials are considered as hard ones.
CAATSA became US law in July 2017, and sanctions have so far been imposed on Iran, Russia and North Korea. Being a manufacturing and financial partner of the program, Turkey is already disengaged from Lockheed Martin's colossal F-35 fighter jets program for buying the Russian system, and the last Turkish manufacturer is expected to be removed from the multinational program by March. Ankara has expressed its intention to buy the Kremlin's Su-35 fighter jets in retaliation.
Beyond harming its ties with Washington, possible sanctions are likely to oblige Turkey to search for alternative markets and supplies for defense equipment.
For Ozgur Unluhisarcikli, Ankara office director of the German Marshall Fund of the US, it was clear that CAATSA sanctions would be imposed on Turkey as a consequence of it making a major weapons acquisition from Russia.
"President Trump tried to defer this decision for as long as possible and it appears that the US Congress is getting impatient and may take matters into its own hands in case Trump does not impose the sanctions soon," he told Arab News.
Unluhisarcikli added: "While Trump is expected to impose the sanctions before 2020, he will likely formulate a package that will have a minimum impact on the Turkish economy. As the risk-averse foreign investors have already left the Turkish market, citizens are already dollarized, there is shortage of liquidity and the current accounts deficit has decreased as a consequence of stagnation, the impact of the sanctions on the financial markets can be lower than generally anticipated."
For Unluhisarcikli, the impact on the Turkish economy will be felt in the medium and long term as it will become even less attractive for real investment.
"The sanctions will unavoidably point to a new low in US-Turkey relations and lead to a new wave of anti-Americanism. It will be surprising if President Erdogan does not choose to surf this wave and create a rally around the flag-or-president sentiment," he said.
This process will have an indirect affect on the fate of millions of refugees currently living in Turkey.
As the Turkish economy deteriorates, Unluhisarcikli predicted, the job market will contract, including for refugees, and some of these refugees may start looking elsewhere to rebuild their lives.
https://www.arabnews.com/node/1595666/middle-east
------
Algeria's presidential debate falls flat, as anger simmers
December 07, 2019
ALGIERS: Algeria's first-ever presidential debate seems to have failed to persuade the country's pro-democracy protesters to take part in next week's election.
The five candidates recited their platforms instead of sparring over ideas in the Friday night debate — and they did not even look at each other.
Members of Algeria's 10-month-old protest movement shrugged off the exercise as a farce. They pushed out long-serving President Abdelaziz Bouteflika earlier this year, and now want a whole new political system. They oppose the election altogether because it is organized by Algeria's power structure, and they see the candidates as part of a corrupt and out-of-touch elite.
Students plan new protests Tuesday ahead of the first round of the election Thursday.
In the debate, the candidates — including former Prime Ministers Ali Benflis and Abdelmadjid Tebboune — responded to the same questions posed by four journalists.
The questions concerned their political and economic plans, unemployment, Algerians who risk their lives to migrate to Europe, education, health and foreign policy.
"We saw five candidates answering like automatons ... as if it were an oral examination," said journalism professor Djamel Mouafia.
Other commentators called it a missed opportunity for Algeria's leadership to show they're trying to be more transparent and democratic.
Criticism exploded on social media, notably from protesters.
"Before promising to defend freedoms, the candidates should have first denounced the mass arrest of protesters of the people's movement," activist Hirak Abdelmadjid Benkaci wrote on his Facebook page.
The candidates had kind words for the peaceful movement, without directly addressing its demands for wholesale change.
Benflis said he chose to seek the presidency "knowing that all conditions are not met."
"But if I am elected, my top priority would be to engage in a dialogue with the opponents of the presidential election. They have the right to have a point of view contrary to mine, but we must come together to reflect on political reforms," according to the former prime minister.
https://www.arabnews.com/node/1595651/middle-east
------
Africa
Sudan to withdraw all forces from Yemen: PM
December 7, 2019
AhlulBayt News Agency (ABNA): Sudan's new Prime Minister Abdalla Hamdok has vowed to withdraw troops from the Saudi-led war in Yemen, saying his country's role should be limited to assisting in a political resolution of the conflict.
"The conflict in Yemen has no military solution, whether from us or from anywhere in the world," Hamdok told the Atlantic Council, a US-based think tank, on Thursday.
He added that the war "has to be resolved through political means," and that his country will seek to "help our brothers and sisters in Yemen and play our role with the rest to help them address this".
Sudan has been one of the main contributors to the so-called Saudi coalition against Yemen, formed in 2015 in a bid to install a pro-Saudi government in Sana'a and crush Yemen's Ansarllah.
According to reports, up to 40,000 Sudanese troops were deployed in the country during the peak of the conflict in 2016-2017.
Late October, however, Sudanese officials said the country had withdrawn thousands of troops from Yemen, with only a "few thousand" remaining.
Speaking on Thursday, Hamdok said "not many" Sudanese forces remain in Yemen.
Hamdok, who is leading the country's transitional government in a power-sharing pact with the military, further stated that he will be "absolutely" able to withdraw the remaining troops from Yemen.
The new prime minster said his government had "inherited" the deployment in Yemen from Sudan's former president Omar Hassan al-Bashir who was ousted following a popular uprising against his rule in April.
Hamdok pledged to "address" the country's involvement in the Saudi-led war "in the near future" without further elaborating on the matter.
While Sudanese officials have abstained from publishing official casualty numbers in Yemen, Yemen's armed forces have said a total 4,253 Sudanese troops have been killed in the conflict.
The developments come as the Saudi-led mission in Yemen has come to a standstill due to the resistance and increasingly sophisticated attacks of Yemeni forces.
Earlier this year, the United Arab Emirates (UAE), Riyadh's most influential partner in the war, was reported to have withdrawn most of its troops from Yemen.
UAE officials have reached the conclusion that the war has become "unwinnable" and that Ansarullah will eventually "have a role in the future in Yemen", reports said.
Fearing a long-lasting quagmire in Yemen, Riyadh has also been reportedly seeking to negotiate an end to the conflict through discussions with Ansarullah.
https://en.abna24.com/news//sudan-to-withdraw-all-forces-from-yemen-pm_991921.html
------
Top Shia cleric Sheikh Zakzaky, wife transferred to 'dilapidated' jail
7 December 2019
TEHRAN, Dec. 07 (MNA) – Nigerian authorities transfered top Shia cleric, Sheikh Ibrahim Zakzaky, and his wife to a dilapidated prison, where many detainees have so far died due to lack of medical attention.
A High Court ordered the Department of State Services on Thursday to transfer the cleric and his wife, Zinat, to the Correctional Center in Kaduna state, northwest of the country, according to Press TV.
Sheikh Zakzaky, who is in his mid-sixties, lost the sight of his left eye in a 2015 raid by security forces, that left more than 300 of his followers and three of his sons dead. His wife also sustained serious injuries during the raid.
He has been kept in custody along with his wife and a large number of his followers ever since.
Members of the Islamic Movement in Nigeria (IMN) said on Thursday that any attempt to take the couple anywhere other than a hospital will put them in further jeopardy.
The IMN said the facilities at the Kaduna Central Prison are dilapidated, adding that it was the same prison where some survivors of the December 2015 raid perished due to a lack of medical attention.
Earlier this year, the IMN accused the Nigerian government of having poisoned Zakzaky in jail after "large and dangerous quantities of lead and cadmium have been found in his blood."
https://en.mehrnews.com/news/153097/Top-Shia-cleric-Sheikh-Zakzaky-wife-transferred-to-dilapidated
------
South Asia
Halted US-Taliban talks resumed in Qatar
Saturday, 07 Dec 2019
United States negotiations with Taliban restarted in Qatar on Saturday, a US source told AFP.
"The US rejoined talks today in Doha. The focus of discussion will be reduction of violence that leads to intra-Afghan negotiations and a ceasefire," said the US source.
US peace envoy Zalmai Khalilzad arrived in Doha on Wednesday after meeting Afghan leaders and politicians.
Zalmai Khalilzad met President Ghani, CEO Abdullah Abdullah, Hamid Karzai and some Afghan politicians and public figures in his two-day visit to Kabul.
United States and Taliban had reached to an agreement in September and was at the eve of signing a deal that could led to Intra-Afghan talks between the Taliban and Afghan politicians and leaders, but it was stopped with a surprising tweet of Donald Trump, following an explosion in Kabul that killed 12 people including a senior US official.
President Donald Trump landed in Bagram airfield of Afghanistan in a surprise thanksgiving holiday visit and said the Taliban is ready to 'make a deal'.
One of the key conditions of the Taliban to make a 'peace deal' is the full withdrawal of foreign troops from Afghanistan.
Currently 16,000 foreign troops including 8,000 US soldiers are present under Resolute Support mission in Afghanistan providing technical support to Afghanistan National Defense Security forces.
The role of Resolute Support Mission in Afghanistan was discussed at the NATO Leaders Meeting in London, which was held on 3rd and 4th of December.
The NATO Chief, Jens Stoltenberg in a press conference on Wednesday reassured that NATO will continue its supports to ANDSF as the peace talks resume.
"What I can say is that we are committed to continue to support Afghanistan. Because we strongly believe that the best way NATO can support the peace efforts is to train, assist and advise the Afghan security forces so that the Taliban understand that they will never win on the battlefield.", Stoltenberg said.
Afghanistan government has set 'Ceasefire' as a precondition for the peace talks resumption, but the Taliban leaders have continuously said they are not going to talk with Afghan government, calling it 'US-Puppet'.
https://www.khaama.com/halted-us-taliban-talks-resumed-in-qatar-9886/
------
Indian Army hands over 10 sniffer dogs to Bangladesh army
Dec 7, 2019
KOLKATA: The first batch of 10 dogs trained in sniffing out mines and other explosive devices were on Saturday handed over to the Bangladesh army by the Indian Army at the Petrapole check post in North 24-Parganas on Saturday. The canines have been trained at the Remount Veterinary Centre in Meerut. India is also providing training to Bangladesh army personnel in handling dogs and other animals and training them.
"The Indian Army has several breeds of dogs including Belgian Malinois, German Shepherds, Labradors and Dobermans. Training of pariah dogs have also started now. Their performance is very good. We are always ready to provide assistance to a friendly nation like Bangladesh in issues concerning security. After all, our concerns over terrorism are the same. The dogs that were handed over are extremely efficient and will work as force multipliers in detecting explosives as well as improvised explosive devices," a senior Army official said.
In the past, the Indian Army has handed over horses to the Bangladesh army as a gesture of friendship. Military ties between the two countries have grown over the last several years and troops participate in joint exercises frequently. The Eastern Command Hospital in Kolkata also provides treatment to personnel from Bangladeshi defence forces suffering from critical ailments.
On Saturday, the Indian contingent was led by Col Krishan Yadav while the Bangladeshi team was headed by Col Anwarul Islam. Sqn Ldr Tushar Mohan from the Indian High Commission in Dhaka was also present.
https://timesofindia.indiatimes.com/india/indian-army-hands-over-10-sniffer-dogs-to-bangladesh-army/articleshow/72418639.cms
------
Switzerland's top insurer enters in to Afghanistan market
Sunday, 08 Dec 2019
The 147-year-old Zurich, Switzerland's largest insurer entered in to the Afghanistan's market through partnership with ICA, Afghanistan's first private insurance company.
The Insurance Corporation of Afghanistan has signed a partnership agreement with Zurich, one of the top global insurer with over $47 billion annual revenue.
Jamal Asfour, Chief Executive Officer of ICA said this is an exclusive partnership which enables Zurich to insure risks in Afghanistan.
Such milestone proves ICA's ability to deliver top notch insurance and risk management solutions to Zurich, Asfour said.
Mosa Kamawi, the director of insurance affairs at the Ministry of Foreign affairs of Afghanistan welcomed the presence of Zurich in Afghanistan and said:
Zurich is a multi-national insurance group which provides life and non-life insurance having over $395 billion assets and over 53K employees around the world.
There are five insurance companies in Afghanistan including the Afghanistan National Insurance Company (ANIC) which is owned by the government.
The deficiency of awareness, lack of law enforcement and political instability have been the major challenges for the financial risk management and insurance companies in Afghanistan.
https://www.khaama.com/switzerlands-top-insurer-enters-in-to-afghanistan-market-77654/
------
Nakamura's body is transported to his birthplace in Japan
Saturday, 07 Dec 2019
Dr. Tetsu Nakamura's photo is displayed in the Afghan airline Kam-Air's airbus
Five family members of Dr. Tetsu Nakamura including his wife and daughter arrived in Kabul on Friday to take his dead body to his birthplace in Japan.
Reports suggest that dead body of Dr. Nakamura is going to be transported to Japan on Saturday.
According to the presidential office statement, President has said to communion the body of Nakamura in a special ceremony today, the Dec 7th.
The family members of Nakamura met Afghan president Mohammad Ashraf Ghani and first-lady Rola Ghani (Bigi Gul) last night at the palace, presidential office reported.
Afghan president has promised to rename the projects implemented by the late Japanese aid-worker in the eastern Kunar and Nangarhar provinces, to Dr. Tetsu Nakamura's name.
From left, the wife and daughter of slain Japanese physician Tetsu Nakamura stand next to his coffin after they arrived to pay their tribute to Nakamura at the Afghan military hospital in Kabul, Afghanistan, Friday, Dec. 6, 2019. (AP Photo/Tamana Sarwary) Dr. Nakamura, died at the age of 73 after an attack by unknown gunmen in eastern Jalalabad city in Nangarhar province of Afghanistan on Wednesday, when he was on the way to his charity organization.
No group or individual has so far claimed the responsibility for this murder.
Soon after the attack, Taliban in a statement announced that they are not involved in the assassination of Dr. Tetsu Nakamura and his five colleagues.
A video footage taken by a security camera on site, shows that unknown gunmen park their two cars at the corner of the street.
The gunmen fled the scene after gun fires on Dr. Nakamura's vehicle.
Dr. Tetsu Nakamura was the only foreign national who had received an honorary Afghanistan citizenship status in recognition of his long-term aid-working and services to Afghanistan.
Nakamura served in the areas of irrigation and agriculture developments for long year in eastern parts of Afghanistan.
https://www.khaama.com/nakamuras-body-is-transported-to-his-birthplace-in-japan-76543/
------
Afghans leave Iran in thousands as economy worsens
Thousands of Afghan workers and refugees are leaving Iran each week because of the dire economic situation caused by United States sanctions.
They say rising prices and the falling value of the Iranian rial makes it impossible to survive.
For some Afghans, the desperation for work now outweighs the dangers they once ran from.
Al Jazeera's Tony Birtley reports from the Islam Qala border crossing between Iran and Afghanistan.
https://www.aljazeera.com/news/2019/12/afghans-leave-iran-thousands-economy-worsens-191207111012876.html
------
URL: https://www.newageislam.com/islamic-world-news/india-karnataka-tourism-ministers-dream/d/120467
New Age Islam, Islam Online, Islamic Website, African Muslim News, Arab World News, South Asia News, Indian Muslim News, World Muslim News, Women in Islam, Islamic Feminism, Arab Women, Women In Arab, Islamophobia in America, Muslim Women in West, Islam Women and Feminism