New Age Islam News Bureau
19 Jun 2017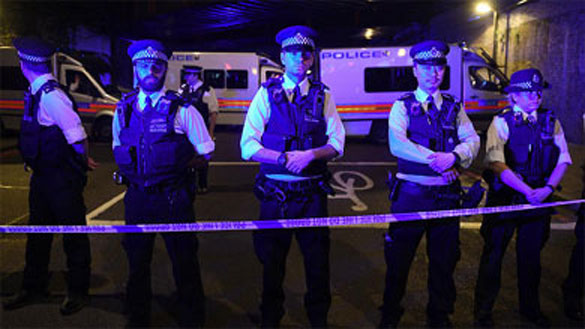 A police cordon is in place near Finsbury Park, after a van collision incident in north London, Britain. (AAP)
----
• India: Chandigarh Jama Masjid Imam Says Azaan Shouldn't Disturb Non-Muslims
• One Dead, 10 Injured In London Mosque Incident: Police
• Ex-Taliban Commander Admits the Group's Leaders Are in Pakistan
• Putrajaya to File Expert Opinion That 'Allah' Exclusive to Muslims
• Christian Accused of Blasphemy for Demanding Wage from Muslim
India
• Chandigarh Jama Masjid Imam Says Azaan Shouldn't Disturb Non-Muslims
• Muslim Scholar Deeply Influenced By Writings of Sant Dyaneshwar
• Hizb leaders at LeT duo's funerals leave agencies worried
• J&K Tourism using social media to promote 'success stories'
--------
Europe
• One Dead, 10 Injured In London Mosque Incident: Police
• Theresa May: Deadly London Van Incident Is 'Potential Terrorist Attack'
• Germany to leave Turkish Incirlik base in July
• Uncertainty surrounds Russia's claim that airstrike killed Islamic State leader
--------
South Asia
• Ex-Taliban Commander Admits the Group's Leaders Are in Pakistan
• In Myanmar, Religious Tensions Simmer as Madrasas Shuttered
• 6 Dead As Taliban Storm Afghan Police Base
• Sri Lanka Arrests Monk, Police Officer for Anti-Muslim Violence
• Afghan spy chief rejects existence of 5th pillar in govt and its role in recent violence
• Afghan forces clear strategic Tora Bora of ISIS militants: Gen. Waziri
• Top Haqqani network leaders killed in Paktia airstrike
• Saudi and Egypt seeks Hamid Karzai's support against Qatar
--------
Southeast Asia
• Putrajaya to File Expert Opinion That 'Allah' Exclusive to Muslims
• Islamic State Threat in Southeast Asia Raises Alarm In Washington
• Mufti warns Muslims, says firecrackers 'haram'
• Lebanese want Zakir Naik banned over speaking tour
• Brothers who brought death and ruin to their hometown
--------
Pakistan
• Christian Accused of Blasphemy for Demanding Wage from Muslim
• MS Dhoni Wins Hearts with Picture of Sarfaraz's Son
• Pakistan essential for bringing Taliban to talks: US official
• Iranian forces fire shells into Panjgur
• Two Pakistan consulate officials go missing in Afghanistan
• President discusses Middle East situation with Saudi King Shah Salman
• All named in 'leaks' to face music: Baloch
• Imran reiterates letter by Qatari prince a hoax
--------
Mideast
• Iran Launches Missile Strikes at ISIL to Avenge Tehran Terrorist Attacks
• 25 Killed In Saudi Airstrikes on Yemen Market
• Iran's deputy foreign minister visits Qatar with Rouhani message
• Saudi security services linked to Tehran terror attacks: Iranian official
• IRGC launches missiles at Daesh headquarters in Syria from western Iran
• 'Walk for justice' to go on despite Erdogan threat: Opposition chief
--------
Arab World
• Iraqi Forces Storm Mosul's Old City in 'Last Chapter' Operation
• Egyptian on Terror List Says Those Boycotting Qatar Are 'Allied With Crusaders'
• 30 bomb squads at Grand Mosque
• U.S. warplane downs Syrian army jet in Raqqa province
• Iraqi forces launch final assault on IS-held Mosul Old City
• Kuwait overturns death sentence in Iran spy case
• Damascus: US-Led Coalition Downs Syrian Army Aircraft over Raqqa
• Senior FSA Commander Killed in Southern Hama
• Syrian Army Regains Control of Several Areas in Eastern Hama
• PPSF: ISIL, Al-Nusra Front to Leave South Damascus Soon
• Syria troops advance in Raqqa towards Deir Ezzor
• Syrian, Iraqi army troops meet up at border for first time in years
--------
Africa
• Forgotten City Unveiling Origins of Islam Discovered In Ethiopia
• Nigeria: You Can't Islamise Nigeria, Apostle Suleman Warns Buhari
• Gunmen Attack Resort outside Mali's Capital, Two Dead
• Half of Nigeria food never reached Boko Haram victims: Government
• Mali urges UN Security Council to fight extremists in Sahel
--------
North America
• Muslim Teen Beaten and Abducted After Leaving US Mosque, Found Murdered
• Muslim Peace March: Hundreds Take To Cologne Streets to Protest Islamist Terrorism
• Sri Lankan Muslims in Canada write to Justin Trudeau
Compiled by New Age Islam News Bureau
URL: https://www.newageislam.com/islamic-world-news/india-chandigarh-jama-masjid-imam/d/111597
--------
India: Chandigarh Jama Masjid Imam Says Azaan Shouldn't Disturb Non-Muslims
Jun 17, 2017
After singer Sonu Nigam tweeted in April expressing his displeasure on being woken up early by loudspeakers blaring the azaan from a mosque, Maulana Ajmal Khan, the Imam of Chandigarh's Jama Masjid, said that the loudspeakers should not disturb the non-Muslims.
On the third Friday of Ramzan, when Muslims from across the city had gathered for their afternoon prayers, Khan said, "We should not bother our neighbours unnecessarily. The volume of our loudspeakers should be brought down to a level that it does not disturb them. I believe that disturbing the neighbours is a nuisance, which is forbidden in Islam."
He added, "We make announcements at Sehri (before sunrise) at about 3:40am when the other residents are sleeping. We should avoid doing this. It is a sensitive issue and anybody is free to take action against us. One can move court as well."
Khan gave an example of one of the mosques in Kerala where the authorities have decided to recite azaan once in five times.
"They have decided that only a single azaan will be delivered from the Masjid and others in the area will repeat it without any noise," Khan added.
In a recent observation made by the Punjab and Haryana high courts, it was stated that azaan is undoubtedly an integral part of Islam, it does not necessarily have to be blared through loudspeakers.
The court had made this observation in connection with a plea filed against Nigam who had tweeted, "I am not a Muslim, and I have to be woken up by the azaan in the morning. When will this forced religiousness end in India."
http://www.hindustantimes.com/india-news/chandigarh-jama-masjid-imam-says-azaan-shouldn-t-disturb-non-muslims/story-cdTPRJVUnzwNdgNLYGoVwI.html
--------
One dead, 10 injured in London mosque incident: police
June 19, 2017
One person was killed and 10 others injured on Monday when a van collided with pedestrians near a North London mosque in an incident which is being investigated by counter terrorism officers, police said.
"One man was pronounced dead at the scene," the Metropolitan police said in a statement.
Police said eight people had been taken to three separate hospitals and two people were treated at the scene for minor injuries.
A 48-year old van driver, who was detained by members of public at the scene and then arrested by police, has been taken to hospital and will be subject to a mental health assessment.
Several people were injured in north London early on Monday when a van rammed into worshippers leaving a mosque, witnesses said, in what British police described as a "major incident".
The Muslim Council of Britain said the vehicle hit people as they were leaving the Finsbury Park Mosque, one of Britain's largest. The attack comes during the Muslim holy month of Ramadan, when people attend prayers at night.
Two worshippers were feared killed, according to the Sun newspaper, but there was no immediate confirmation of this.
Prime Minister Theresa May said her thoughts were with those injured in "this terrible incident". The leader of the opposition Labour Party, Jeremy Corbyn, said he was "totally shocked".
Police said they were called just after 12:20 a.m. (2320 GMT Sunday) to reports of a collision on Seven Sisters Road, which runs through the Finsbury Park area of the city. They said there were a number of casualties and one person had been arrested.
"From the window, I started hearing a lot of yelling and screeching, a lot of chaos outside. … Everybody was shouting: 'A van's hit people, a van's hit people'," one woman who lives opposite the scene told the BBC.
"There was this white van stopped outside Finsbury Park mosque that seemed to have hit people who were coming out after prayers had finished. I didn't see the attacker himself, although he seems to have been arrested, but I did see the van."
A man leapt out of the van and stabbed at least one person, the Evening Standard newspaper reported, citing witnesses. Reuters could not immediately confirm that report.
The incident comes just over two weeks after three Islamist militants drove into pedestrians on London Bridge and stabbed people at nearby restaurants and bars, killing eight..
It also comes at a time of political turmoil, as Prime Minister May plunges into divorce talks with the European Union weakened by the loss of her parliamentary majority in a June 8 election.
She has faced heavy criticism for her response to a fire in a London tower block on Wednesday which killed at least 58 people, and for her record on security after a series of attacks blamed on Islamist militants in recent months.
One witness told CNN it was clear that the attacker at Finsbury Park had deliberately targeted Muslims.
"He tried to kill a lot of people so obviously it's a terrorist attack. He targeted Muslims this time," the witness, identified only as Rayan, said.
Other witnesses told Sky television that the van had hit at least 10 people.
Counter-terrorism police have joined regular police officers looking into the incident, the Guardian newspaper reported.
'DELIBERATELY SWERVED'
Miqdaad Versi, assistant secretary general of the Muslim Council of Britain, said the van had deliberately swerved into a group of people who were helping a man who was ill and had fallen to the ground.
"A number of passers-by, or friends, or people who had come by from the mosque, were gathering around him to help take him to his family, take him to his house," Versi told Reuters.
"At that moment in time, basically a van swerved into them deliberately," he said, citing a witness at the scene.
He said the driver had run out of the van but a group of people caught him and held him until police arrived.
A Reuters witness saw at least one person being loaded into an ambulance. Armed police, ambulances and the fire service were in attendance.
Britain has been hit by a series of attacks in recent months, including the van-and-knife attack on London Bridge on June 3.
On March 22, a man drove a rented car into pedestrians on Westminster Bridge in London and stabbed a policeman to death before being shot dead. His attack killed five people.
On May 22, a suicide bomber killed 22 people at a concert by American pop singer Ariana Grande in Manchester in northern England.
The attacks were a factor in campaigning ahead of the June 8 election, with Prime Minister May criticized for overseeing a drop of 20,000 in the number of police officers in England and Wales as interior minister from 2010 to 2016.
She was also criticized for keeping her distance from angry residents during her visit to the charred remains of the 24-storey Grenfell Tower, and said on Saturday the response to the fire disaster had been "not good enough".
The Finsbury Park Mosque gained notoriety more than a decade ago for sermons by radical cleric Abu Hamza al-Masri, who was sentenced to life in a U.S. prison in January 2015 for his conviction on terrorism-related charges.
A new board of trustees and management took over in February 2005, a year after Abu Hamza was arrested by British police, since when attendance has greatly increased among worshippers from various communities, according to the mosque's website.
http://nation.com.pk/international/19-Jun-2017/several-injured-when-vehicle-rams-people-leaving-london-mosque-witnesses
--------
Ex-Taliban Commander Admits the Group's Leaders Are in Pakistan
Jun 18 2017
A former commander of the Taliban group who has joined peace process in eastern Nangarhar province has admitted that the group's leaders are based in the neighboring Pakistan.
The provincial government in a statement said a group of Taliban insurgents joined peace process due to the efforts of the Afghan intelligence operatives and have vowed that they will not conduct anti-government activities anymore.
The leader of the group Abdul Wahab who has surrendered to the government with his four fighters has said they were conducting insurgency in Khogyani, Shirzad, Hesarak, Chaparhar and some other districts of Nangarhar since last eight years.
Wahab claimed that the group's top leaders are based in Pakistan and they were receiving instructions from them to conduct insurgency activities.
Another member of the group Wahidullah who joined peace process has said he joined the Taliban ranks six years ago and during the period they were receiving instructions from the Pakistan-based leaders of the group to conduct insurgency.
Accoridng ot Wahidullah, they were mainly instructed to target the schools, bridges, culverts and other public welfare compounds.
The Taliban insurgents group has not commented regarding the surrender of the group's fighters in this province so far.
http://www.khaama.com/ex-taliban-commander-admits-the-groups-leaders-are-in-pakistan-02969
--------
Putrajaya to file expert opinion that 'Allah' exclusive to Muslims
V Anbalagan
June 19, 2017
KUALA LUMPUR: The home ministry will file an expert report to support their argument that the word "Allah" is exclusive to Muslims, a government lawyer said.
Shamsul Bolhassan said the Attorney-General's Chambers would liaise with their client who they have in mind as expert to submit the opinion in response to a suit filed by a Sarawakian, Jill Ireland.
"We have been given until July 14 to submit the report to the court," Shamsul told reporters after a case management in the chambers of Justice Nor Bee Ariffin today.
He said lawyers for Ireland had also indicated they would expunge the report.
Lim Heng Seng and Anou Xavier are appearing for Ireland who in 2008 had filed a judicial review to challenge the seizure of eight CDs with Christian content, which had the word "Allah" on it, at an airport in Malaysia after returning from Indonesia.
On May 11, 2008, the CDs titled "Cara Hidup Dalam Kerajaan Allah", "Hidup Benar Dalam Kerajaan Allah" and "Ibadah Yang Benar Dalam Kerajaan Allah", were seized by Customs officers from Ireland, a Melanau Christian, on her arrival at the Low-Cost Carrier Terminal (LCCT) in Sepang.
On Aug 20, 2008, she filed an application for leave for judicial review to reclaim the eight CDs, naming the home ministry and government as respondents.
On July 21, 2014, the High Court ordered the home ministry to return the CDs to Ireland but did not issue a declaration she had applied for, that she had the right to keep, use and import published materials containing the word "Allah".
On June 23, 2015, the Court of Appeal upheld the High Court's decision for the home ministry to return the eight CDs to Ireland within one month of the ruling date.
The panel also remitted Ireland's application for the declaration to the High Court.
She now wants a declaration that she has the right to import the CDs in the exercise of her rights to practise religion and the right to education, as provided for by the Federal Constitution's Article 11 on the freedom of religion.
The High Court will also decide on Ireland's bid for a declaration that the Constitution's Article 8 guarantees her equality before the law and protection from discrimination on grounds of religion in the administration of law, especially the Printing Presses and Publications Act 1984 and the Customs Act 1967.
http://www.freemalaysiatoday.com/category/nation/2017/06/19/putrajaya-to-file-expert-opinion-that-allah-exclusive-to-muslims/
--------
Christian accused of blasphemy for demanding wage from Muslim
18/06/17
The Pakistani Center for Law and Justice reports that on June 15, 2017, Muhammad Ishtiaq, son of Haji Muhammad Rafique of the Miraasi caste, came into the shop of Ashfaq Masih, son of Yaqoob Masih, resident of Green Town, Baghariyan Road, Lahore, Pakistan, to get his bicycle repaired, which Masih did, and requested payment.
Ishtiaq replied that "I am a Sadhu person and you should have to give me free services," but Masih said, "I only believe in Jesus Christ not others, so please give me the payment since I repaired your bicycle."
Upon hearing this, Ishtiaq accused Masih of using abusive words against the holy prophet, an unpardonable microagression, and lodged an FIR (First Information Report) against Masih under section 295C PPC in the police station of Green Town, Baghariya Road, Lahore.
According to the FIR, Muhammad Ishtiaq, the complainant, claimed that on June 15, 2017 at approximately 12 PM, Masih was sitting in his shop and using abusive words against the holy prophet.
As if this were not enough, Muhammad Irfan, son of Muhammad Mumtaz of the Mughal caste, Muhammad Nawaz, son of Muhammad Taajdeen, of the Raajpoot caste, Muhammad Naveed, son of Muhammad Ashraf of unspecified caste, and others went together into the shop of Ashfaq Masih and told him to stop this nonsense, but he kept right on abusing the prophet.
The FIR was lodged with police and Masih has been sent to jail.
The Pakistani Center for Law and Justice will provide the family legal and financial support for their case.
http://www.israelnationalnews.com/News/News.aspx/231197
--------
India
Muslim Scholar Deeply Influenced By Writings of Sant Dyaneshwar
Jun 18, 2017
Nagpur: Drawing parallels between Hinduism and Islam, scholar, academician Zulfi Sheikh says that both preach oneness of god. Sheikh who recently completed her D.Lit. on Sant Dyaneshwar says the saint's philosophy has had a deep influence on her mind. "Sant Dyaneshwar's teachings can be imbibed by everybody across caste and religion. Dyaneshwari written by him is the most profound lesson in humanity," she says.
Terming the Marathi saint as the greatest, Sheikh says that almost every saint, sage, poet, warkaris have picked up from his teachings. "Even Shah Mrityunjay, a poet from Karnataka was under his influence and his ovi or phrases of 3 ½ lines are like those of Dyaneshwer," she says.
Shiekh who did her Ph.D on Vedanta has more than 24 books to her credit including 'Aksharvedh' which had a prologue by poet Grace and was released by actor Dilip Kumar. She won a state government award for her Marathi translation of Harivanshrai Bachchan's Madhushala in 2005, which she had written in 'rubai' form. "Vedas also believe in nirankar Ishwar. It is our belief and faith which makes us give a form to god," she says and adds that it was her learning of vedas and sant sahitya which has given her the strength to go through life. "The Vedas are a storehouse of knowledge and have remained very secluded and not available to all. Due to this society has been deprived of so much knowledge," she feels.
http://timesofindia.indiatimes.com/city/nagpur/muslim-scholar-deeply-influenced-by-writings-of-sant-dyaneshwar/articleshow/59206205.cms
--------
Hizb leaders at LeT duo's funerals leave agencies worried
June 19, 2017
Among the five militants who came to Lashkar-e-Toiba (LeT) commander Junaid Matoo's funeral on Saturday, two were from the Hizb-ul Mujahideen, their attendance reflective of a co-ordination between terror outfits that security forces and the police find worrisome. LeT militants Matoo, Nasir Ahmed Wani and Adil Mushtaq were killed in an encounter in Anantnag district on Friday.
Nasir's funeral, too, was attended by two Hizb commanders. At both places — Matoo's village Khudwani in Kulgam and Nasir's family home in Heff, Shopian — the militants came armed and raised anti-India slogans. A senior police officer said the presence of militant leaders at funerals of militants who did not belong to the same outfit, was a way to glamourise their movement. "It is a matter of concern for us," said the officer. "By appearing at militants' funerals, they are trying to attract more youths towards militancy and they have been successful sometimes."
Police sources said the Hizb district commander for Kulgam, Altaf Ahmad Dar, and Lashkar commander Shakoor were among the militants seen at Matoo's funeral. Altaf carries a bounty of Rs 10 lakh on his head. At Nasir's funeral, Hizb commander for Shopian Saddam Padder was present with LeT's Shopian commander Waseem Shah and another Hizb militant. "Over the past two years, militants of different organisations, especially LeT and Hizb, are working together," said a police officer. "It was Burhan (Wani) who started coordinating with militants of other outfits," he said.
Full report at:
http://indianexpress.com/article/india/hizb-leaders-at-let-duos-funerals-leave-agencies-worried-4710770/
--------
J&K Tourism using social media to promote 'success stories'
Jun 18, 2017
PUNE: The tourism department of Jammu and Kashmir has started a campaign to highlight the sector's "success stories" to counter negative perception about the state, often in news for unrest and terrorist violence.
Mehmood Ahmad Shah, Director of J&K Tourism, admitted that tourist arrival has taken a hit due to the latest phase of civil unrest, but maintained the problem is restricted to a handful of districts and the rest of the state is safe for holiday-makers.
"I admit there is a problem in the Valley, but not of the magnitude that is being portrayed in the media. There are 22 districts in the state and the current problem is restricted to just three districts," he said.
Shah, who was in the city on the invitation of local NGO Sarhad, was speaking to reporters on Saturday.
He said the state's tourism industry, a key source of revenue and employment, was badly affected due to the violent protests which broke out in the wake of killing of Hizbul Mujahideen terrorist Burhan Wani in July last year.
Things had started improving after the protests ebbed but widespread violence during the recent by-polls for the Srinagar Lok Sabha seat again disrupted tourism activities, Shah said.
"The average annual footfall of tourists in the state is around one crore and compared to last year, this year arrivals are down by 4 to 5 lakh till now," said Shah.
He said the department is using social media platforms to counter negative perception in the media about the state and provide a "correct picture".
"To do that we have started our own social media handles on Twitter, Instagram and YouTube, where we are showing success stories of our tourism business.
"We are recording interviews of VVIPs and celebrities who visit the Valley and putting out their experiences through social media. This will help present a correct and positive image of the Valley," he said.
Talking about the objective of his visit to Maharashtra, Shah said the state, along with Gujarat and West Bengal, is a principal market for travellers coming to Kashmir.
These three states account for most number of sightseers visiting Jammu and Kashmir, the officer said.
"This year, the arrivals from these states have not been satisfactory. So I have come here to instill confidence among prospective tourists from Maharashtra and to dispel negative image of the state."
He said the state government has introduced helicopter services to the Gurez Valley with an aim to attract more visitors to the area in North Kashmir.
Shah said tourism is an effective tool for promoting national integration. "Tourism binds the nation and makes people aware about its diversity."
Full report at:
http://timesofindia.indiatimes.com/india/jk-tourism-using-social-media-to-promote-success-stories/articleshow/59204293.cms
--------
Europe
Theresa May: Deadly London van incident is 'potential terrorist attack'
19 June 2017
British Prime Minister Theresa May said an incident in which a van ploughed through pedestrians near a mosque in north London overnight was being treated "as a potential terrorist attack".
"I will chair an emergency meeting later this morning. All my thoughts are with the victims, their families and the emergency services on the scene," she said in a statement on Monday.
At least one person was confirmed dead as the van driver rammed into a crowd of Muslim worshipers near a restaurant close to the Muslim Welfare House Mosque in London's Finsbury Park.
London's Metropolitan police have confirmed they were called to the scene after a "vehicle collision incident on Seven Sisters Road".
Police have confirmed that the van driver, aged 48, was found detained by members of public at the scene and then arrested by police. The say he will also be subject of a mental health assessment in due course.
The Muslim Council of Britain clarified on Twitter they were misinformed that a van had run over worshippers as they left the Finsbury Park Mosque. "The attack took place outside the Muslim Welfare House which is nearby the Finsbury Park Mosque, not outside Finsbury Park Mosque itself," they said.
Counter-terrorism police are investigating the incident.
Several witnesses told Al Arabiya English that the van driver 'intentionally accelerated into crowded small restaurant near the mosque' as people finished Tarawih prayers.
One photo posted on social media by Thomas Van Hulle showed emergency services tending to injured persons lying near the Banaadiri Restaurant, located on the same street as the Muslim Welfare House mosque.
The late night prayers during Ramadan usually begin at 10:30 PM local time in London and end at around midnight. Several cafes and restaurants in the area remain open for suhoor until Fajer (morning) prayers at 02:39 AM local time when Muslims begin their fast.
May says crash was a 'terrible incident'
"The area near the mosque in Finsbury Park is usually quiet on Sunday nights but given the timing during Ramadan, there are a lot of Muslims in the area finishing up their night prayers and are usually at the local restaurants and cafes eating their suhoor before they begin their fast a couple of hours later," Badr al-Qahtani, a Saudi writer and journalist living in London, told Al Arabiya.
Earlier, May's office said she was informed about the ramming attack and described the crash early on Monday morning as a "terrible incident".
"All my thoughts are with those who have been injured, their loved ones and the emergency services on the scene," May was quoted as saying.
The leader of the opposition Labour Party Jeremy Corbyn also tweeted about the crash and said he was "totally shocked".
https://english.alarabiya.net/en/News/world/2017/06/19/Several-injured-in-London-s-Finsbury-Park-after-van-hits-pedestrians.html
--------
Germany to leave Turkish Incirlik base in July
Jun 19, 2017
Germany says it will start pulling out its troops and aircraft from a Turkish airbase in July and will move them to a base in Jordan, following a bitter dispute over Turkey's refusal to allow German lawmakers to visit the soldiers at the base.
German Defense Minister Ursula von der Leyen said on Sunday that the troops as well as tanker aircraft and jets will begin pulling out from the Turkish air base in Incirlik and will be moving to Jordan's Muwaffaq Salti airbase.
The European country has about 280 troops stationed at the Incirlik airbase along with six Tornado fighter jets and a tanker plane used for refueling.
Von der Leyen said the military plans to carry out operations against Daesh militants are set until the end of June. "After that, we'll be transferring our tanker aircraft as quickly as possible to Jordan."
She said the tanker aircraft will be operational again after the transfer approximately in the second half of July. But the relocation is expected to disrupt operations by the Tornados for at least two months, she said, reassuring, however, that all the jets would be expected to become fully operational before October.
The German defense minister said moving heavier equipment would take longer.
Germany deployed the contingent to the Turkish airbase in December 2015, as part of a US-led coalition that has purportedly been fighting the Takfiri Daesh terrorist group in Iraq and Syria.
Berlin started to look for possible alternatives for the base as its ties with Ankara took a new hit in mid-May, when Turkey for the second time blocked a scheduled meeting of German lawmakers with the German soldiers stationed at the base.
Ankara made the decision in response to Berlin's move to grant asylum to Turkish military personnel whom Ankara had accused of participating in a failed coup to overthrow the government of President Recep Tayyip Erdogan in July 2016.
Ankara made a similar move last year after the German parliament in June 2016 recognized the Ottoman Empire's World War I-era massacre of Armenians as "genocide."
In response to Belin's decision to leave the Turkish airfield, Ankara has said Germany will be able to carry out the withdrawal according to its own plans and "their own way."
Full report at:
http://217.218.67.231/Detail/2017/06/19/525753/Germany-Incirlik-withdrawal-July-Jordan
--------
Uncertainty surrounds Russia's claim that airstrike killed Islamic State leader
June 19, 2017
Uncertainty and confusion surrounded the fate of the head of the Islamic State group Friday as Russia announced it may have killed him in an airstrike targeting a meeting of IS leaders just outside the group's self-declared capital in Syria, but U.S. officials said there was no definitive proof of his death.
The demise of Abu Bakr al-Baghdadi would be a severe blow to the extremist group as it fights to hang on to its strongholds in Syria and Iraq, although it was not clear how much operational control he retains over the organization whose capabilities keep evolving on the battlefield and beyond.
Apart from Moscow's claim that he may have been killed in the May 28 airstrike along with more than 300 militants, there was not much else to back it up. The Russian Defense Ministry said the information about his death was still "being verified through various channels."
Asked about that claim at a Moscow news conference, Russian Foreign Minister Sergey Lavrov said: "I don't have a 100 percent confirmation of the information."
A spokesman for the U.S.-led coalition fighting the Islamic State said he would welcome such news but urged caution.
"There have been several past claims of this kind that have been proven false, and we have seen no definitive proof that this report is true either," U.S. Army Col. Ryan Dillon said. Capt. Jeff Davis, a Pentagon spokesman, also said there was no information to corroborate the report.
Al-Baghdadi, believed to be in his mid-40s, last released an audio message Nov. 3, urging his followers to keep up the fight for Mosul as they defended the Iraqi city against a major offensive that had begun weeks earlier.
The latest report of his death comes amid major setbacks for IS, having lost significant territory on both sides of its so-called caliphate in Syria and Iraq. The group is fighting for survival in a few remaining neighborhoods in western Mosul and is now under attack in Raqqa, its self-styled capital.
The battle for Raqqa was launched a few days after al-Baghdadi's supposed killing, at a time when most of the group's commanders have relocated to Mayadeen , a remote town in the heart of Syria's IS-controlled, Euphrates River valley near the Iraqi border. The relocation could extend the group's ability to wreak havoc in the region and beyond for months to come.
Most recently, the group claimed responsibility for attacks in Iran's parliament and at the tomb of revolutionary leader Ayatollah Ruhollah Khomeini in Tehran, killing at least 17 people and injuring more than 50. It also claimed responsibility for a June 3 attack in London that killed eight people. Both took place after the Russian airstrike.
On Monday, IS released an audio message from its chief spokesman, Abu al-Hassan al-Muhajer, urging supporters to carry out attacks in the United States and Europe during the Muslim holy month of Ramadan. There was no mention al-Baghdadi.
At the news conference, Lavrov noted that if al-Baghdadi's death is confirmed, its importance mustn't be overestimated. He said that "past examples of similar actions to strike the leadership of terrorist groups were presented with much enthusiasm and pomp, but the experience shows that those structures later regained their capability."
Still, the death of al-Baghdadi would be a major military and propaganda success for Russia, which has waged a military campaign in support of Syrian President Bashar Assad since September 2015. Moscow has a strong interest in showing that it is also fighting IS in Syria — something that has been questioned in the West.
That is partly why the news was met with skepticism.
"Russia has a long track record of issuing fake claims and deliberate misinformation during its campaign in Syria," said Charles Lister, a senior fellow at the Washington-based Middle East Institute.
He said the claims should be taken "with a heavy grain of salt," adding that "there's no logical reason imaginable" why al-Baghdadi would have risked staying in a surrounded, sitting target with U.S.-led forces only days away from launching their final assault on Raqqa.
The claim comes nearly three years to the day after al-Baghdadi declared himself the leader of IS from a historic mosque in Mosul, the largest city the group has ever held. Since then, it has horrified the world with mass killings and other atrocities in areas it controls, as well as claiming attacks around the world that killed hundreds.
Al-Baghdadi is a nom de guerre for a man identified as Ibrahim Awwad Ibrahim Ali al-Badri al-Samarrai. The U.S. has a $25 million bounty for information leading to his death or capture.
It is not clear who would succeed al-Baghdadi. The group has lost many of its top commanders in U.S.-led airstrikes, including Fadhil Ahmad al-Hayali, said by U.S. officials to be the second in command.
The group's current No. 2 is believed to be Ayad Abdul-Rahman al-Obeidi, also known as Abu Saleh Haifa, a former Iraqi army officer under Saddam Hussein. But according to Hisham al-Hashimi, an Iraqi expert on IS who advises the Iraqi government, he is not likely to succeed al-Baghdadi as "caliph," since that title is reserved for members of the Prophet Muhammed's Quraish tribe, according to some Muslim scholars. Al-Obeidi is not a member.
Al-Hashimi predicted that al-Baghdadi's death could splinter the organization into three groups: One will return to the mother al-Qaida group and form its arm in Iraq; another will join al-Qaida's branch in Syria known as Fatah al-Sham Front; and the third group, which is the weakest, will remain loyal to al-Baghdadi's ideology.
The May 28 air raid targeted an IS meeting in Raqqa's southern outskirts and killed about 30 midlevel militant leaders and about 300 other guards, the Russian Defense Ministry said.
It said the IS leaders were discussing the group's withdrawal from Raqqa, with the military planning the airstrike after hearing that the leadership would be meeting.
Drones were sent to monitor the area, followed by Su-34 bombers and Su-35 fighter jets to carry out the attack, the ministry said.
"According to the information that is being verified through various channels, IS leader Abu Bakr al-Baghdadi also attended the meeting and was killed in the airstrike," the military said in a statement.
The Defense Ministry added that it had warned the U.S. of the coming strike.
Syrian opposition activists reported airstrikes May 28 south of Raqqa that killed more than a dozen people.
Full report at:
http://www.chicagotribune.com/news/nationworld/ct-islamic-state-abu-bakr-al-baghdadi-20170617-story.html
--------
South Asia
In Myanmar, Religious Tensions Simmer as Madrasas Shuttered
Jun 19 2017
Yangon. Chit Tin, a 55-year-old Muslim man has prayed at the same madrassa in eastern Yangon his whole adult life, most of it spent under a junta that crushed opposition, ruined Myanmar's economy and turned it into an international pariah state.
But even as the father-of-four endured poverty and isolation, the Muslim religious school, which doubles as a mosque, had remained a focal point of his community – until a month ago, when Buddhist nationalists raided it and forced authorities to shut it down on the grounds it did not have a permit to operate as a place of worship.
When Ramadan, the Muslim holy month, started some three weeks ago, hundreds of residents braved the monsoon rain to join prayers organized in the street nearby. Local authorities banned the event and threatened those attending with jail.
"I feel deeply sad, as if the sky has fallen down," said Chit Tin, one of the few Muslims from the neighborhood who agreed to speak to Reuters. Most residents refused to discuss the restrictions, saying they feared repercussions.
One of the youth members of the community, Moe Zaw, now faces a fine or six months in jail for not obtaining a permit to organize the prayers, according to a notification he received from a court.
The closure of the religious school is among a series of incidents that have stoked religious tensions in the country's commercial capital in recent weeks.
Although some of the Buddhist hardliners involved were arrested, human rights monitors say the incident shows how Aung San Suu Kyi's 14-month-old civilian administration is struggling to tackle discrimination against Muslims.
Suu Kyi's ruling party, the National League for Democracy (NLD) did not field any Muslim candidates in the historic 2015 election that elevated it to power on pledges of modernizing the country and democratization.
Tensions between the two communities have simmered since scores were killed and tens of thousands displaced in clashes between Buddhists and Muslims accompanying the start of the country's democratic transition in 2012 and 2013.
"Mosques and madrassas that have been forcibly shuttered should be immediately re-opened, and religious believers should not be threatened or criminally charged simply for exercising their fundamental right to observe and practice their religion," said Phil Robertson from watchdog Human Rights Watch.
Local administrators refused repeated requests for comment. Myanmar's government spokesman was not available for comment, and two other government officials contacted by Reuters declined to comment.
No Reply
The madrassa, opened nearly half a century ago, typically attracted around 1,000 people on Friday nights. Around 300 children between the ages of five and 12 studied Islam there daily.
The two-storey building is now cordoned off by barbed wire and the gate is locked.
"The children were about to sit exams, so we feel it's a big loss for their education," said Chit Tin, whose two 6-year-old grandchildren started classes at the madrassa a year ago.
He now attends another mosque 20 minutes walk away, where the congregation has swelled from 5,000 to 8,000 in recent weeks due to the closure of his madrassa and another nearby that was also targeted by Buddhist nationalists.
In the city of Meikhtila, 500 km (310 miles) north of Yangon in central Myanmar, three private homes that have been used by about 150 people for prayers since mosques in the city were destroyed in the 2013 violence were also ordered to close down by local administrators.
The police has been patrolling the neighborhood since last week, checking whether the houses have stayed closed and whether the prayers have ceased during Ramadan.
"Since the authorities don't allow us to pray anymore, we requested them to arrange a suitable place for us," San Win Shein, an Islamic scholar and a secretary of a local inter-faith group told Reuters by telephone. "There is no reply until now."
http://jakartaglobe.id/international/myanmar-religious-tensions-simmer-madrassas-shuttered/
--------
6 dead as Taliban storm Afghan police base
June 19, 2017
Kabul - At least six police were killed and dozens of people wounded when as many as six gunmen and a suicide bomber attacked a police headquarters in eastern Afghanistan on Sunday morning, officials said.
It took Afghan security forces most of the day to kill the last gunmen, who had barricaded themselves in a kitchen in the compound, according to police.
The attack, claimed by the Taliban, began around 6:30 am (0200 GMT) when one bomber detonated a car packed with explosives at the gate of the police headquarters in Gardez city, capital of Paktia province, said Najib Danish, a spokesman for the Interior Ministry.
Around six attackers stormed the gate after the blast, with at least two quickly killed by police. The others held out against Afghan special forces that had responded to the attack, he said.
Paktia police chief Toryalai Abdani put the toll at six police killed and 12 wounded. Doctors at the city hospital said they had received the bodies of at least five police, as well as at least 30 wounded people, including 21 civilians.
The Taliban claimed responsibility for the attack, with spokesman Zabihullah Mujahid reporting more than 100 police were killed and wounded. The militant group often exaggerates casualty numbers in attacks against government targets and security forces.
Insurgent groups like the Taliban and Islamic State have launched a string of attacks across Afghanistan in recent weeks. Islamic State claimed responsibility for a deadly attack on a mosque in Kabul on Thursday.
A massive truck bombing and later suicide attacks left hundreds dead and wounded at the end of May and beginning of June, raising political tensions for the Afghan government, which is struggling to combat rising violence and corruption.
Seven US soldiers were injured on Saturday in an attack by an Afghan soldier who turned his weapon on his instructors and advisers. The Taliban did not directly claim the attack but described the soldier, who was killed, as a patriot.
On June 11, the insurgents claimed responsibility for a similar attack in which an Afghan soldier killed three US soldiers and wounded a fourth in the eastern province of Nangarhar.
The Pentagon is set to announce it is sending another 4,000 US troops to the country to counter the insurgents. There are about 8,400 US troops in Afghanistan, with another 5,000 from Nato allies. They mainly serve as trainers and advisers.
AMERICAN KIDNAPPED IN AFGHANISTAN
Monitoring Desk adds: An American citizen and employee of the World Bank who is living in Afghanistan was kidnapped on his way to work on Sunday, Kabul police said, reported ABC News.
Full report at:
http://nation.com.pk/national/19-Jun-2017/6-dead-as-taliban-storm-afghan-police-base
--------
Sri Lanka Arrests Monk, Police Officer for Anti-Muslim Violence
Jun 19 2017
Colombo. Sri Lankan police have arrested four people, including a Buddhist monk and a police officer accused of taking part in an attack on a mosque, as part of a crackdown on violence against the minority Muslim population.
Police said on Sunday (18/06) that the four were members of the hardline Bodu Bala Sena (BBS) or Buddhist Power Force organization, which Muslim groups have blamed for a string of recent attacks on businesses and mosques. BBS has denied any involvement.
"The police arrested four people including a Buddhist monk and a serving police constable after watching the CCTV footage of an attack on a mosque," police spokesman Priyantha Jayakody told reporters, referring to an attack on a property in Panadura, a suburb of the capital Colombo, on May 17.
"This is a major breakthrough in the investigations, these two people are prominent members of the Bodu Bala Sena organization," he added, saying they were arrested with a sword, a hockey stick and equipment used to make petrol bombs.
President Maithripala Sirisena's government has come under fire from opposition groups and diplomats for not doing enough to crack down on hardline Buddhist groups and protect Muslims.
More than 20 attacks on Muslims, including arson at Muslim-owned businesses and petrol-bomb attacks on mosques, have been recorded since April 17.
Sirisena and Prime Minister Ranil Wickremasinghe have ordered police to uphold the law, but violence has continued.
Buddhists make up about 70 percent of Sri Lanka's population of 21 million, compared with around 9 percent for Muslims. Tensions have been growing, with some hardline Buddhist groups accusing Muslim counterparts of forcing people to convert to Islam and vandalizing Buddhist archaeological sites.
Jayakody said police had arrested 11 people for hate speech offences this month, including a Muslim for a Facebook post against Buddhism and a Tamil accused of attacking a mosque.
Full report at:
http://jakartaglobe.id/international/sri-lanka-arrests-monk-police-officer-anti-muslim-violence/
--------
Afghan spy chief rejects existence of 5th pillar in govt and its role in recent violence
Jun 19 2017
The Afghan Intelligence, National Directorate of Security (NDS) Chief, Masoom Stanikzai rejected the allegations regarding the existence of the 5th pillar in the government having role in the recent violence in the country.
Speaking to lawmakers in the Upper House of the Parliament, Meshrano Jirga, Stanikzai said the term '5th pillar' is a rumor spread by the political circles and such a thing or circle does not exist in the government.
Stanikzai further added that the existence of the 5th or 6th pillar is baseless and it is only the rumors being spread due to the political rivalries.
The NDS chief also rejected that the current system is facing threats of collapse but warned that inappropriate remarks and spread of rumors could take the country towards a crisis.
Stanikzia was summoned by the lawmakers due to the persistent security and political issues faced by the country, particularly in capital Kabul where sit-ins by certain protesters continue demanding the removal of the top security officials from the government.
Full report at:
http://www.khaama.com/afghan-spy-chief-rejects-existence-of-5th-pillar-in-govt-and-its-role-in-recent-violence-02974
--------
Afghan forces clear strategic Tora Bora of ISIS militants: Gen. Waziri
Jun 19 2017
The Afghan National Defense and Security Forces (ANDSF) have cleared the strategic Tora Bora area of ISIS militants, inflicting heavy casualties to the fighters of the group, the Ministry of Defense (MoD) spokesman General Dawlat Waziri said Monday.
He said the mountainous terrains of the area and its surroundings were cleared during the operations conducted two days ago.
Gen. Waziri further added that the Afghan security forces are still stationed in the area and a search operation is underway to find the insurgents who fled the area during the operations.
According to Gen. Waziri, the ISIS militants have hidden themselves inside the caves in Tora Bora and Afghan forces are busy conducting clearance operations to find them and fully clear the area.
In the meantime, the provincial government in Nangarhar said the Afghan forces have started clearance operations and moving towards Alif Khel and Markhanai villages in Pacher Agam district, located close to the Tora Bora area which has been fully cleared. A statement by the provincial government said the operations are being led by the 201st Silab Corps of the Afghan national army and in joint cooperation between the Afghan commandos, Afghan intelligence, and security personnel from the other institutions. The statement further added that no casualties have been reported among the security forces involved in the operations.
http://www.khaama.com/afghan-forces-clear-strategic-tora-bora-of-isis-militants-gen-waziri-02973
--------
Top Haqqani network leaders killed in Paktia airstrike
Jun 18 2017
Two senior leaders of the Haqqani terrorist network were killed in an airstrike in southeastern Paktia province of Afghanistan.
The Ministry of Interior (MoI) said the two top Haqqani network leaders were killed in the vicinity of Orgun district earlier today.
A statement by MoI said the two leaders of the terrorist network identified as Abdul Azizi and Ghalchakai were targeted in Shikhan area of Orgun around 5:30 am local time.
The Ministry of Defense of Afghanistan also confirmed that an airstrike was carried out in Orgun and at least five Haqqani network members were killed.
The anti-government armed militant groups including the Haqqani network and Taliban have not commented regarding the report so far.
The airstrike was apparently carried out nearly a hour before a group of suicide bombers launched a coordinated attack on a headquarters of the police forces in this province.
Haqqani network was formed in the late 1970s by Jalaluddin Haqqani. The group is allied with al-Qaida and the Afghan Taliban and cooperates with other terrorist organizations in the region.
The US Department of State designated the HQN as a Foreign Terrorist Organization on September 7, 2012.
Full report at:
http://www.khaama.com/top-haqqani-network-leaders-killed-in-paktia-airstrike-02972
--------
Saudi and Egypt seeks Hamid Karzai's support against Qatar
Jun 18 2017
The Kingdom of Saudi Arabia and Egypt have sought the support of the former Afghan President Hamid Karzai in the stance the coalition of the Arab countries against Qatar.
The Office of the former president in a statement said the Ambassador of Egypt and Charge d'Affaires of the Kingdom of Saudi met with Hamid Karzai to discuss the issue surrounding the sanctions imposed on Qatar.
The statement further added that the two top diplomats of Saudi Arabia and Egypt demanded from the ex-president to declare his support in the isolation of Qatar.
In his turn, Karzai called on unity among the Muslim nations but declared his support against any nation supporting or having links with the terrorism, the statement added.
Several Arab nations, including Saudi Arabia, Egypt, United Arab Emirates, Bahrain, and some other states have supported the isolation and sanctions imposed by Saudi on Qatar.
Qatar is accused of having links with the terrorist groups and relations with Iran, the two main reasons behind the step taken by certain Arab states to isolate the country and impose sanctions.
Full report at:
http://www.khaama.com/saudi-and-egypt-seeks-hamid-karzais-support-against-qatar-02970
--------
Southeast Asia
Islamic State threat in Southeast Asia raises alarm in Washington
Jun 18, 2017
Southeast Asia's jihadis who fought by the hundreds for the Islamic State group in Iraq and Syria now have a different battle closer to home in the southern Philippines. It's a scenario raising significant alarm in Washington.
The recent assault by IS-aligned fighters on the Philippine city of Marawi has left more than 300 people dead, exposing the shortcomings of local security forces and the extremist group's spreading reach in a region where counterterrorism gains are coming undone.
Defense Secretary Jim Mattis told Congress last week a long-running U.S. military operation to help Philippine forces contain extremist fighters was canceled prematurely three years ago. Small numbers of U.S. special forces remain in an "advise and assist" role, and the U.S. is providing aerial surveillance to help the Philippines retake Marawi, an inland city of more than 200,000 people.
But lawmakers, including from President Donald Trump's Republican Party, want a bigger U.S. role, short of boots on the ground. They fear the area is becoming a new hub for Islamist fighters from Southeast Asia and beyond.
"I don't know that ISIS are directing operations there but they are certainly trying to get fighters into that region," said Republican Sen. Joni Ernst of Iowa, using another acronym for the group. "We need to address the situation. It should not get out of control."
U.S. intelligence and counterterrorism officials note that IS has publicly accepted pledges from various groups in the Philippines. In a June 2016 video, it called on followers in Southeast Asia to go to the Philippines if they cannot reach Syria.
About 40 foreigners, mostly from neighboring Indonesia and Malaysia, have been among 500 involved in fighting in Marawi, the Philippine military says. Reports indicate at least one Saudi, a Chechen and a Yemeni killed. In all, more than 200 militants have died in the standoff, now in its fourth week.
Video obtained by The Associated Press from the Philippine military indicates an alliance of local Muslim fighters, aligned with IS, are coordinating complex attacks. They include the Islamic State's purported leader in Southeast Asia: Isnilon Hapilon, a Filipino on Washington's list of most-wanted terrorists, with a $5 million bounty on his head.
U.S. officials are assessing whether any of the estimated 1,000 Southeast Asians who traveled to Iraq and Syria in recent years are fighting in Catholic-majority Philippines. They fear ungoverned areas in the mostly Muslim region around Marawi could make the area a terror hub as in the 1990s.
Then, the Philippines was a base of operations for al-Qaida leaders like Khalid Sheikh Mohammed and Ramzi Yousef, who plotted in 1994-95 to blow up airliners over the Pacific. The plot was foiled. But the same men were instrumental in the 9/11 attacks on the United States.
Other nations share the fear. Singapore recently warned of IS exerting a radicalizing influence "well beyond" what that of al-Qaida and Jemaah Islamiyah ever mustered. Jemaah Islamiyah carried out major terror attacks around the region in the 2000s. IS already has been linked to attacks in Indonesia and Malaysia, and foiled plots in Singapore, this past year.
This month, Mattis told the region's defense chiefs that "together we must act now to prevent this threat from growing." In Congress this past week, he stressed intelligence sharing and nations like Singapore sharing the burden, rather than deploying U.S. troops.
More than 500 U.S. special forces were based in the Mindanao region from 2002 to 2014, advising and training Filipino forces against the Abu Sayyaf, a group notorious for bombings and kidnappings. When it ended, Philippine and U.S. officials voiced concern the U.S. withdrawal "could lead to a resurgence of a renewed terrorist threat," the RAND Corp. later reported. Months before the withdrawal, Abu Sayyaf pledged support to IS.
Supporting the Philippines isn't straightforward in Washington. President Rodrigo Duterte is accused of overlooking and even condoning indiscriminate killings by his forces in a war on drugs. Thousands have died. But that campaign has involved mainly police and anti-narcotic forces, not the military leading the anti-IS fight.
Still, the Philippine government is partly to blame for Marawi's violence, said Zachary Abuza, a Southeast Asia expert at the National War College. He said the root cause was the government's failure to fulfill a 2014 peace agreement with the nation's largest Muslim insurgency, which fueled recruitment for IS-inspired groups.
Ernst, who chairs a Senate panel on emerging threats, wants the U.S. military to restart a higher-profile, "named operation" helping the Philippines counter IS. The Pentagon retains between 50 and 100 special forces in the region. At the request of the Philippine military, it has deployed a P3 Orion plane to surveil Marawi. It gave more than 600 assault firearms to Filipino counterterrorism forces last week.
Duterte has retreated from threats to expel U.S. forces from the Philippines as he seeks better ties with China. He said recently he hadn't sought more U.S. help, but was thankful for what he was getting.
"They're there to save lives," Duterte said.
http://www.hindustantimes.com/world-news/islamic-state-threat-in-southeast-asia-raises-alarm-in-washington/story-8yQIXqoKgX9DvkKWonA5cN.html
--------
Mufti warns Muslims, says firecrackers 'haram'
June 19, 2017
PETALING JAYA: Playing with material that is harmful to oneself or others is against the teachings of Islam, said a state mufti when calling for the banning of firecrackers.
Kelantan Mufti Mohamad Shukri Mohamad said there was also no basis for associating the playing of firecrackers with Hari Raya Aidilfitri, reported The Star.
His comments followed the many cases of injuries that have occurred, mainly involving children, due to them playing with firecrackers during Ramadan.
More than nine cases have been reported in the past three weeks, and that too in just three states, namely Kedah, Kelantan and Pahang.
Shukri said the whole industry behind the availability of firecrackers to the general public needs to be shunned by Muslims as it was illegal.
According to local laws, the manufacturing, selling and possessing of explosive firecrackers is an offence. However, fireworks in general are okay.
"Islam forbids its followers from breaking the country's laws. So, in other words, it is 'haram' (sinful)," he told The Star.
Under Section 8 of the Explosives Act 1957, anyone convicted of selling explosive materials without a permit faces up to seven years in jail and a fine of up to RM10,000.
Full report at:
http://www.freemalaysiatoday.com/category/nation/2017/06/19/mufti-warns-muslims-says-firecrackers-haram/
--------
Lebanese want Zakir Naik banned over speaking tour
June 19, 2017
PETALING JAYA: Lebanon is the next stop for controversial Islamic preacher Zakir Naik and the people in the Middle East nation are up in arms.
Activists in the country have launched a campaign to block Naik from a speaking tour in Lebanon, according to The New Arab.
Calling Naik's views "extremist" and "inflammatory", the activists say his presence is not conducive to the "harmony of a multicultural country like Lebanon".
The activists said his views may encourage attacks on both non-Muslims and moderate Muslims.
"We are considering taking legal action on the grounds that his views may be in violation of Lebanese laws regarding sectarian incitement," the activists were quoted as saying by The New Arab.
Naik's prominent speaking tours are now limited to Muslim majority countries since he left India last year, following actions by the Indian government against his Islamic Research Foundation (IRF) and him over allegations linked to terrorism and money laundering.
There have been reports made against him in various countries, resulting in him being barred from entry by the United States, the United Kingdom and many other countries for several reasons.
Naik had been accused by Indian authorities of spreading hatred by his provocative speeches, of funding terrorists and laundering several crores of money over the years. His IRF and Peace TV have been banned by the Indian government.
Last month, India's National Investigation Agency (NIA) approached Interpol to issue a red corner notice (RCN) against the controversial Islamic preacher.
Having issued a non-bailable warrant against Naik, a special NIA court in Mumbai had said "there are reasonable grounds to believe that Naik is evading arrest and that he will not voluntarily appear before the court or before the agency".
The court had also said that it found substance in the allegations made by the NIA.
Naik fled India after some of those involved in the July 1, 2016 Dhaka (Bangladesh) terror attack claimed they had been inspired by him.
In its latest move, Indian authorities are now considering revoking Naik's passport as that could result in him being deported.
However, Naik has reportedly been granted citizenship by the Saudi Arabian government last month in order to prevent him from being arrested under the red notice issued by Interpol. If true, the cancelling of his Indian passport would also not have any impact on his movements.
According to a report in the Middle East Monitor, Naik is believed to be currently in the United Arab Emirates or Saudi Arabia. He also keeps moving between Malaysia and Indonesia.
Full report at:
http://www.freemalaysiatoday.com/category/nation/2017/06/19/lebanese-want-zakir-naik-banned-over-speaking-tour/
--------
Brothers who brought death and ruin to their hometown
JUNE 18, 2017
Twenty years after receiving education at a church-run school in Marawi, the Maute brothers came back and set fire to their alma mater
Twenty years after obtaining Christian educations, Muslim brothers Omarkhayam and Abdullah Maute returned to their southern Philippine city with the black flags of the Islamic State group and set fire to their alma mater.
Hundreds of gunmen, many of them young locals recruited by the Maute brothers, destroyed Dansalan College in a rampage across Marawi city last month as they launched a brutal offensive to stamp their credentials as Philippine leaders of Islamic State.
It turned the siblings, aged in their mid 30s, into the most infamous high school alumni of the Protestant church-run institution, which had been a symbol of religious tolerance in the mostly Muslim city of 200,000 people.
The brothers have since remained holed up in parts of Marawi, using their local knowledge of tunnels and bomb-proof basements, to withstand a military offensive that has left entire neighbourhoods in ruins and claimed more than 300 lives.
"We do not understand where that hate is coming from," said Zia Alonto Adiong, a member of the regional Parliament in a self-ruled Muslim area in the southern Philippines' Mindanao region that includes Marawi.
Duma Sani, an ex-dean of Mindanao State University whose daughter also went to school with one of the Maute brothers, said most locals did not support their radical brand of Islam, under which non-believers must be killed.
Inspired by IS
The Maute group emerged as a small rag-tag group around 2012 from a decades-old Muslim separatist rebellion in Mindanao, which makes up one third of the predominantly Catholic Philippines.
As the main rebel organisation — the Moro Islamic Liberation Front (MILF) — sought to broker peace with the government, the Maute and other small hardline groups filled a vacuum for fanatics as they took inspiration from the IS's atrocities in Iraq and Syria.
"I think what transformed the Mautes from a small band of siblings to a real serious military threat was the emergence of ISIS in the Middle East," security analyst Sidney Jones told AFP, using an alternative acronym. But the brothers were radicalised much earlier: while pursuing studies in the Middle East after college, according to Jones and Rommel Banlaoi, head of the Manila-based Philippine Institute for Peace, Violence and Terrorism Research. Omarkhayam headed to Egypt's Al-Azhar University, while Abdullah went to Jordan.
Full report at:
http://www.thehindu.com/news/international/brothers-who-brought-death-and-ruin-to-their-hometown/article19099659.ece
--------
Pakistan
MS Dhoni wins hearts with picture of Sarfaraz's son
June 19, 2017
As expectations and emotions peak on both sides of the border ahead of the Champions Trophy final between Pakistan and India, a picture reportedly showing former Indian skipper Mahendra Singh Dhoni carrying the son of Pakistani skipper Safaraz Ahmed in his arms has given fans a glimpse of a softer side of the Gentleman's Game.
Hours before the two cricket-crazy nations are going to face each other at the Oval in London, the picture, apparently taken in the lobby of a hotel, has gone viral on social media.
While heartwarming, this is not the only time an Indian cricketer has shown remarkable goodwill to a Pakistani counterpart. A couple of months ago, reports suggested that Indian skipper Virat Kohli had gifted his shirt to Pakistan's star cricketer Shahid Afridi on the latter's retirement.
However, the picture of Dhoni with Sarfaraz's son has symbolic significance as it appears at a time when media on both sides of the border has been ramping up the rhetoric against the other side in the lead-up to the match.
Hopes for a bilateral cricket tournament between the two countries have also all but collapsed as the Indian cricket board repeatedly excuses the team from playing against Pakistan without formal approval from New Delhi, where the political party in power sees it against its interests.
Expressing support for each others' cricket teams openly has also cost admirers jail time in some instances. In December last year, 21-year-old Indian youngster Ripon Chaudhry was arrested for wearing the Pakistan team's shirt while watching a local cricket tournament in India's Assam state.
Similarly, earlier last year, a Pakistani fan of Virat Kohli was booked and arrested for hoisting the Indian flag on the roof of his house as an expression of support and admiration for his idol.
This endearing picture in the prevailing environment has therefore drawn overwhelming praise from cricket fans all around the globe as a fine show of sportsmanship.
https://www.dawn.com/news/1340178/ms-dhoni-wins-hearts-with-picture-of-sarfarazs-son
--------
Pakistan essential for bringing Taliban to talks: US official
Anwar Iqbal
June 19, 2017
WASHIGTON: Pakistan is an ally on counterterrorism issues and will be essential for bringing the Afghan Taliban to the table for peace talks, says acting Assistant Secretary of State for Political-Military Affairs Tina Kaidanow.
"The United States and Pakistan have a close partnership on regional peace, security, prosperity and stability. And we continue to work with the government of Pakistan on areas — many areas of mutual interest, including counterterrorism," adds the US State Department's spokesperson, Heather Nauert.
And a retired US general, Douglas Lute, urges Washington to balance "our demands on Pakistan (with) … our other interests in Pakistan", adding that "we actually have several interests in Pakistan (that)… surpass our interest in dealing with the Afghan Taliban".
These three are among a handful of voices that were heard in the US capital recently, emphasising the need to retain the US-Pakistan relationship as the Trump administration finalises a new policy for the Pak-Afghan region.
The voices that advocate severing ties with Pakistan, however, seem dominant. Some demand that Islamabad should be labelled a state sponsor of terrorism. Others want cessation of all military and economic assistance to the country. And some are urging the new administration to cancel the status of a non-Nato ally, conferred on Pakistan at the height of the US-led 'war on terrorism'.
Most of the debates were held inside the US Congress, as various congressional committees arranged for key administration officials to defend their budget proposals for the next fiscal year. And during one of these debates, Secretary of State Rex Tillerson revealed that the administration was holding an inter-agency review of already dwindling US support and funding to Pakistan.
Indications are that while the United States may not sever ties with Pakistan or declare it a state sponsor of terrorism, it may impose new, strict conditions on financial support. Washington may also increase drone strikes inside Pakistan, particularly in retaliation to terrorist attacks in Afghanistan.
It was during one of these congressional meetings — when the demand for ending the US partnership with Pakistan increased — that Assistant Secretary Kaidanow explained why it was important to retain the ties.
"Pakistan is an ally on counterterrorism issues and would be essential in bringing the Afghan Taliban to the table for peace talks," she told Congressman Ted Poe, a Texas Republican, who was leading the attack on Pakistan. But she added that a condition has been there since 9/11: do more.
Washington continuously pressures Islamabad over its alleged support for the Haqqani network, which is fighting the US-led Nato forces and the Afghan government. "This has been made clear to the Pakistani government at the highest levels," she said.
Congressman Dana Rohrabacher, a Republican, asked Ms Kaidanow to explain how would the administration have justified giving weapons to Pakistan had Islamabad scrambled its US-made fighter jets during the US raid to kill Osama bin Laden.
Although in the 2018 budget proposals, the Trump administration has already cut allocation for foreign military financing to Pakistan, from around $265 million to $100m, Mr Rohrabacher was not happy. He wanted a complete ban on military financing for procuring weapons from the United States.
Also in recent days, Senate Foreign Relations Committee chairperson Bob Corker reportedly said he was disappointed in the relationship and demanded a reduction in US aid to Pakistan. He was instrumental in blocking the sale of F-16 fighter aircraft to Pakistan with US aid.
The future of US-Pakistan relationship was also raised at the latest State Department briefing where a journalist asked the spokesperson to explain Secretary Tillerson's announcement that the administration was holding an inter-agency review of its relations with Pakistan.
The comments received wide coverage in the Pakistani media, where it was interpreted as "the beginning of the end" of US-Pakistan ties, with some commentators suggesting that Pakistan should now learn to live without US support.
Ms Nauert, however, advised not to read too much into these comments. "I should show you our list of policy reviews taking place, because there are plenty. There's the Iran policy review; there's the Afghan policy review; Pakistan policy review is one of them," she said.
Full report at:
https://www.dawn.com/news/1340391/pakistan-essential-for-bringing-taliban-to-talks-us-official
--------
Iranian forces fire shells into Panjgur
June 19, 2017
GWADAR: Iranian border security forces fired several mortar shells into Pakistani territory, at least one of which exploded in the Prom area of Panjgur district on Sunday, official sources said.
They said the shells were fired in the early hours of the day and landed close to the border.
"The mortar shell that exploded in Prom [town] had landed in an uninhabited area; that's why there was neither any casualty nor loss of property," the sources said, adding that security personnel rushed to the area after learning about the incident.
About two weeks ago a man was killed when shells fired from across the border hit a vehicle in the same area.
Pakistani officials have repeatedly had to lodge protest with Iranian officials over similar incidents in the past.
Full report at:
https://www.dawn.com/news/1340386/iranian-forces-fire-shells-into-panjgur
--------
Two Pakistan consulate officials go missing in Afghanistan
June 18, 2017
Two officials of Pakistan consulate in Jalalabad city of Afghanistan has gone missing, Foreign Office stated.
Foreign Office spokesperson Nafees Zakria said that both officers were coming to Pakistan by road on June 16th but did not reach Torkham border.
"Pakistan has raised the issue with Afghan authorities," Zakria added.
He further said that Afghan government has established an investigation team to probe the issue.
Afghan ambassador to Pakistan Dr Omar Zakhilwal has confirmed the incident.
Full report at:
http://nation.com.pk/national/18-Jun-2017/two-pakistan-consulate-officials-go-missing-in-afghanistan
--------
President discusses Middle East situation with Saudi King Shah Salman
June 18, 2017
President Mamnoon Hussain has held a meeting with Saudi King Salman bin Abdulaziz in Makkah-tul Mukarrama, reported Radio Pakistan.
They discussed matters pertaining to bilateral relatons, mutual interest and the situation in South Asia and Middle East.
The President appreciated the Saudi government for excellent arrnagements for the Umra pilgrims during Ramazan-ul Mubarak.
President of Yemen Abdrabbuh Mansour Hadi and Speaker National Assembly of Kuwait Marzooq bin Ali Al-Ghanim also held meetings with President Mamnoon Hussain.
Matters of mutual interst figured in the meetings.
Full report at:
http://nation.com.pk/national/18-Jun-2017/president-discusses-middle-east-situation-with-saudi-king-shah-salman
--------
All named in 'leaks' to face music: Baloch
June 19, 2017
LAHORE - Jamaat- e-Islami's acting chief Liaqat Baloch has said if the prime minister and his family were subjected to real accountability, all those named in the Panama Papers, 'Dubai leaks', 'London leaks' and those who got heavy bank loans written off would also have to face the process.
Baloch, however, said that the appearance of the prime minister before the investigating team with all his full powers in spite of facing serious charges, was a joke and the negation of democracy and the rule of law.
According to a press release issued on Sunday, the JI acting amir held that the press conferences of the ministers and their threats to the JIT members could lead to anarchy. However, he said that accountability had already started and the nation would not allow anyone to obstruct the process.
Liaqat Baloch said that in real democracies, whenever a president, a prime minister or a minister faced any allegation of moral or financial corruption, he immediately resigned and offered himself for enquiry. However, the Pakistani rulers who made tall claims of democracy and rule of law had never stepped down to allow an independent probe.
"The statements of the ministers against the JIT prove that the rulers do not want to pass through the process of accountability and are making every effort to flee accountability by making the JIT controversial."
Baloch also reiterated the JI's demand for the prime minister's resignation before he (the PM) faced enquiry. "With the PM stepping down, the process of accountability would also have won public confidence and the supremacy of the law and the judiciary would have been established."
However, he regretted, the prime minister did not give any weight to these points. As a result, Baloch said, doubts were arising in regard to the accountability of the corrupt elite the supremacy of law and constitution.
Full report at:
http://nation.com.pk/lahore/19-Jun-2017/all-named-in-leaks-to-face-music-baloch
--------
Imran reiterates letter by Qatari prince a hoax
June 19, 2017
KARACHI - Pakistan Tehreek-e-Insaf (PTI) Chairman Imran Khan has said that Joint Investigation Team (JIT) concerning Panamagate should summon Inaamur Rehman and reiterated that a letter by a Qatari prince is a hoax.
Imran said this while talking to media men at Karachi airport. PTI leaders including Dr Arif Alvi, Fridous Shamim Naqvi, Naeemul Haq, Imran Ismail, Ali Zaidi, Samar Ali Khan, Khurram Sher Zaman, Haleem Adil Sheikh, Sardar Abdul Aziz, Dawa Khan Sabir and others were also present on the occasion.
Criticizing his political opponents, Imran said that it was the first time that corrupt mafia was being probed in the country while Nawaz Sharif's family had no more evidence to hide their corruption.
In the occasion the former skipper of national cricket team, Imran Khan offered 'advance congratulations' to Sarfraz eleven on a brilliant game against India in Champions Trophy 2017 final.
JIT a thorn in Nawaz
Sharif's flesh: PTI
Vice President and a senior leader of Pakistan Tehreek-e-Insaf (PTI) Sindh Nusrat Wahid has said that Nawaz Sharif survived punishment in Model Town massacre case, whereas the Panama leaks Joint Investigation Team (JIT) had become a thorn in his flesh.
In a statement issued here on Sunday, the PTI leader said that despite availability of all the records, including videos and other documentary evidences in Model Town tragedy, Nawaz Sharif, Shahbaz Sharif, Rana Sanaullah and many police and other officials managed to get their names removed from the list of the accused, and for that purpose Nawaz sharif gave away huge amounts of money to Model Town police station and to the chief of police in Punjab.
"However, Nawaz and his family members will not be able to get rid of the ongoing Panama leaks case," he said, and added, "The court and other departments are working on Panama leaks on the directives of JIT and they are carrying out their duties without any fear or influence.
The government, on the other hand, is trying to depute their selected people to create problems for the JIT and hide the story of London flat's purchase, Gulf Steel and other properties of Nawaz and his family members."
He further said that the bogus documents of sale and purchase will be of no use for Nawaz, and the JIT would complete its work within the next two months and the report will be submitted to the Supreme Court. The decision will be against Nawaz Sharif, Hassan Nawaz and Hussain Nawaz Inshallah.
Full report at:
http://nation.com.pk/karachi/19-Jun-2017/imran-reiterates-letter-by-qatari-prince-a-hoax
--------
Mideast
Iran Launches Missile Strikes at ISIL to Avenge Tehran Terrorist Attacks
Jun 18, 2017
"The Takfiri terrorists' command center, concentration points and logistical centers used for assembling cars for suicide attacks in Deir Ezzur region in Eastern Syria came under attack by the IRGC moments ago in a move to punish the terrorists for the twin attacks on the Iranian parliament and the holy shrine of the late founder of the Islamic Republic, Imam Khomeini, on June 7," the statement issued by the IRGC Public Relations Office said late this evening.
"A number of mid-range ground-to-ground missiles fired from the IRGC Aerospace Force bases in Kermanshah and Kurdistan provinces targeted the Takfiri terrorists in this operation and struck them with lethal and crushing blows," the statement said.
The statement further added that according to intel and reports, "a large number of Takfiri terrorists have been killed and their equipment, systems and weapons have been destroyed" in the operation.
The IRGC cautioned that the missile strikes were just a warning to deter any further action by the terrorists. "The IRGC warns the Takfiri terrorists and their regional and trans-regional supporters that they would be engulfed by its revolutionary wrath and flames of the fire of its revenge in case they repeat any such devilish and dirty move in future."
An hour later, the IRGC put the number of the missiles at 6, and said that they flew through Iraq's airspace.
Three unknown assailants fired several rounds at the guards protecting the parliament building in Tehran on June 7. The assailants opened their way into the parliament's administrative building while shooting at the guards and civilians.
A similar attack took place at the holy shrine of the late founder of the Islamic Republic, Imam Khomeini, parallel with the parliament attack.
A sum of 18 people, including a parliament guard, were killed and 52 others were wounded in the twin attacks claimed by the ISIL.
http://en.farsnews.com/newstext.aspx?nn=13960328001862
--------
25 killed in Saudi airstrikes on Yemen market
June 19, 2017
SANAA - At least 25 Yemenis were killed when Saudi-led coalition aircraft struck a market in the northern Saada province, a local health official said on Sunday, the latest in a string of deadly incidents in the 27-month-old conflict.
Officials from the Saudi-led coalition could not immediately be reached for a comment on the report.
Yemen has been torn by a civil war in which the exiled government of President Abd-Rabbu Mansour Hadi, backed by the Saudi-led coalition, is trying to roll back gains made by the Iran-aligned Houthi group which controls most of northern Yemen, including the capital Sanaa.
The director of the Houthi-run Health Department office in Saada said the aircraft conducted two raids on al-Mashnaq market in Shada district, which is close to the Saudi border, on Saturday, killing 25 people and wounding at least one.
"Rescue teams were unable to reach the area for some time for fear of being hit by artillery shelling of the area," the official, Dr Abdelilah al-Azzi, told Reuters by telephone.
Reuters could not independently confirm the report because the area is located very close to the frontline, but several Yemeni online news outlets carried a similar report.
A Saudi-led coalition air strike killed 22 people and wounded dozens when it struck a market in western Yemen near the Red Sea fishing town of Khoukha in March.
Khoukha and the nearby city of Hodeidah are controlled by the Houthis who overran Sanaa in 2014 and moved south to Aden in 2015 forcing Hadi and his administration to flee into exile.
The Yemen war has killed more than 10,000 people, displaced more than three million and ruined much of the impoverished country's infrastructure.
The Saudi-led coalition was formed in 2015 to fight the Houthis and troops loyal to former President Ali Abdullah Saleh who have fired missiles into neighbouring Saudi Arabia.
Full report at:
http://nation.com.pk/international/19-Jun-2017/25-killed-in-saudi-airstrikes-on-yemen-market
--------
Iran's deputy foreign minister visits Qatar with Rouhani message
18 June 2017
Iranian Foreign Ministry spokesman Bahram Qasimi said that the Deputy Foreign Minister for Arab and African Affairs, Hossein Jaberi Ansari, paid a short visit to Qatar where he met with Qatari officials and exchanged views about the bilateral relations and the most important international issues.
The Iranian news agency "IRNA" stated that Qasimi pointed out that Jaberi Ansari carried friendly messages from Iranian officials to Qatari officials.
He stressed that the Islamic Republic of Iran always seeks unity and solidarity among the Islamic world and helps to set foundations of peace and security in the region.
The Spokesman for the Iranian Foreign Ministry said that this visit comes in the framework and the continuation of previous consultations with Qatari officials.
"Iran era" site, which is close to the government, reported that Ansari carried a verbal message from Rouhani to Sheikh Tamim bin Hamad, emir of Qatar.
The website quoted the Qatari News Agency that Rouhani's message to Sheikh Tamim was carried by Hossein Jaberi Ansari, assistant of Iranian foreign affairs Minister for Arab and African Affairs, during a meeting with Qatari Foreign Minister Sheikh Mohammed bin Abdul Rahman Al Thani on Saturday evening.
The agency gave no further details about the message.
Jaberi Ansari is the first Iranian official to visit Doha since severing relations with Qatar by some Arab countries about two weeks ago.
Full report at:
https://english.alarabiya.net/en/News/gulf/2017/06/18/Deputy-Minister-of-Foreign-Affairs-of-Iran-in-Qatar-carrying-a-message-from-Rouhani.html
--------
Saudi security services linked to Tehran terror attacks: Iranian official
Jun 19, 2017
A senior Iranian official says the recent deadly terror attacks in Tehran were carried out by the request of Saudi Arabia's security services.
Hossein Amir-Abdollahian, a special adviser on international affairs to the Iranian parliament speaker, made the remarks during a meeting with Vietnam's ambassador to Iran on Wednesday.
"The existing documents are proof of the US and Saudi Arabia's continued manipulation of terrorism in the region and the world," he said.
"Their strategy and policy is to draw out regional crises in order to carry out their own agendas such as arms sales," Amir-Abdollahian added.
After the attacks, Iran's Foreign Minister Mohammad Javad Zarif said that his country had obtained intelligence showing that Saudi Arabia was "actively" propping up terrorist groups along Iranian eastern and western borders.
Riyadh has severed its diplomatic relations with Iran. The Tehran attacks came hot on the heels of especially adversarial comments and threats by high-ranking Saudi authorities.
Last month, Mohammed bin Salman said Saudi Arabia would work to move "the battle" to Iran.
Also, on June 6, Saudi Foreign Minister Adel al-Jubeir said Iran had to be "punished" for what he called "its interference in the region." The Tehran attacks happened less than a day later.
Full report at:
http://217.218.67.231/Detail/2017/06/19/525747/iran-saudi-tehran-attacks-request
--------
IRGC launches missiles at Daesh headquarters in Syria from western Iran
Jun 18, 2017
Iran's Islamic Revolution Guards Corps has launched missiles at Daesh Takfiris' headquarters in Syria's Dayr al-Zawr.
The IRGC announced on Sunday that the medium-range ground-to-ground missiles were launched from Iran's western provinces of Kermanshah and Kordestan in response to the recent Daesh-claimed terror attacks in Tehran, which killed 18 people and injured 50 more.
The IRGC noted that a large number of terrorists have been killed in the attacks, in which a large amount of terrorists' weapons, ammunition, and equipment were also destroyed.
"The spilling of innocent blood will not go unanswered," said the IRGC in a statement.
The IRGC further assured the Iranian nation that it will "spare no efforts to defend the national security and obviate plots as well as anti-security phenomena."
The unofficial footage below released on social media shows what is reported to be one of the missiles being launched from one of Iran's western provinces.
On June 7, gunmen mounted almost simultaneous assaults on Iran's Parliament and the Mausoleum of the late Founder of the Islamic Republic Imam Khomeini.
Full report at:
http://217.218.67.231/Detail/2017/06/18/525740/iran-irgc-missiles-syria
--------
'Walk for justice' to go on despite Erdogan threat: Opposition chief
Jun 18, 2017
Head of Republican People's Party (CHP), the main opposition party in Turkey, says he would continue with his protest walk across the country despite threats by President Recep Tayyip Erdogan that he could face legal action over the controversial action.
Kemal Kilicdaroglu said Sunday that he would press on with a "walk for justice" from Ankara to Istanbul in protest at a heavy jail sentence handed down to former journalist turned CHP lawmaker Enis Berberoglu.
A court sentenced Berberoglu to 25 years in jail on Wednesday for leaking classified information to a newspaper.
Kilicdaroglu said he was undeterred by Erdogan's threats that the action might lead to legal proceedings against him.
"They want to provoke us but we will not give in! They want to threaten us with the courts and he (Erdogan) calls out the judges, the prosecutors," said the CHP chief, adding, "We are walking for justice, not against justice."
The 68-year-old Kilicdaroglu made the remarks while completing the fourth day of the 450-kilometer (280 miles) trek that is expected to take almost a month and will culminate at Maltepe prison in Istanbul where Berberoglu is being held.
Erdogan said Saturday that actions like the march by Kilicdaroglu would bring no good for Turkey, saying the opposition leader should not "be surprised" if legal proceedings were opened.
Turkey has seen a surge in political fighting since a failed coup attempt on July 15 last year. The opposition has constantly criticized a crackdown launched since the coup which has seen more than 40,000 people arrested and over 100,000 discharged from their jobs. Kilicdaroglu even once accused Erdogan of being the "July 20 coup plotter", saying he had used the deadly coup by military renegades to consolidate his rule in Turkey.
Full report at:
http://217.218.67.231/Detail/2017/06/18/525716/Turkey-CHP-Erdogan-Kilicdaroglu
--------
Arab World
Iraqi forces storm Mosul's Old City in 'last chapter' operation
Jun 18, 2017
Iraqi forces have stormed the northern city of Mosul's Old City, the last bastion held by the Daesh terrorist group in the Arab country.
The assault was announced by the military on Sunday, a day after the country's battle to retake the city entered its ninth month.
Staff Lieutenant General Abdulamir Yarallah, who commands army operations in Nineveh Province, said Iraqi special forces, the regular army and Federal Police are taking part in the operation which began Sunday at dawn.
The Old City is home to the centuries-old al-Nuri Mosque, where Daesh leader Abu Bakr al-Baghdadi delivered a Friday sermon in 2014 as his group declared a caliphate in the areas it controlled in Syria and Iraq.
"This is the last chapter" in the Mosul offensive, said Lieutenant General Abdul Ghani al-Asadi, the commander of the Counter Terrorism Service (CTS), which comprises crack forces.
Battle is especially hard in the district given its structure of intertwined narrow passageways, where some 100,000 civilians are trapped and being used by the terror outfit as human shields. The Iraqi forces, hence, are trying to liberate the district house by house.
The Takfiri terrorists, meanwhile, have been shooting down civilians trying to flee on foot or via the Tigris River, the United Nations has reported.
Daesh started its campaign of bloodshed and destruction against Iraq and Syria in 2014. The same year, it named Mosul and the northern Syrian city of Raqqah as its capitals.
Iraqi government forces regained eastern Mosul in January. A month later, they began the offensive on the western side.
Reports from the eastern side have depicted the situation as normal, with the civilians going about their daily business.
Also, Raqqah is currently being approached from various sides by Syrian troops and US-led militants in a final push to retake the city.
http://217.218.67.231/Detail/2017/06/18/525676/Iraq-Mosul-Old-City-Daesh
--------
Egyptian on terror list says those boycotting Qatar are 'allied with crusaders'
18 June 2017
Egyptian fugitive Wagdy Ghoneim, who is on the Qatar-linked terror list and who had fled to Qatar, slammed Saudi Arabia, Egypt, Bahrain and the United Arab Emirates and described them as "demons."
In response to these countries' decision to cut ties with Qatar and to their list of designated individuals and entities whom Qatar supports or harbors, he said via a YouTube video that these four countries are hostile to Islam and support "crusaders and infidels."
Ghoneim also defended Qatar and its policy and voiced gratitude that Doha protected him and others.
He added that those who accuse him of terrorism were "God's enemies," and mocked Gulf countries' support of Egypt and President Abdel-Fattah al-Sisi.
Muslim Brotherhood member
Ghoneim's relation with Qatar began after he was expelled from Bahrain and Britain due to his takfiri fatwas (religious edicts).
Since he was a member of the Muslim Brotherhood, he headed to Qatar in 2013.
An Egyptian security source told Al-Arabiya.net that Ghoneim dealt with Qatari institutions which supported and funded terrorists under the pretext of aid, adding that Ghoneim and his family lived in a villa in Doha where he nominated the terrorist entities and groups which could receive financial support from Qatar.
Following GCC pressures on Doha in 2014, the latter had to send Ghoneim away, so he went to live in Turkey.
Full report at:
https://english.alarabiya.net/en/News/middle-east/2017/06/18/Egyptian-on-terror-list-says-those-boycotting-Qatar-are-allied-with-crusaders-.html
--------
30 bomb squads at Grand Mosque
June 19, 2017
MAKKAH — For the first time some 30 specialized weapons and bomb disposal squads have been deployed around the Grand Mosque in Makkah for the last 10 days of Ramadan.
"The units inspect vehicles with the help of sniffer dogs and special tools. This safety measure has been implemented for the first time," said Khalid Muhareb, a major general in Umrah Safety Forces for Weapons and Bombs.
Drivers around the hotels surrounding the Grand Mosque have been warned against carrying any flammable or prohibited material.
Full report at:
http://saudigazette.com.sa/saudi-arabia/30-bomb-squads-grand-mosque/
--------
U.S. warplane downs Syrian army jet in Raqqa province
June 19, 2017
A U.S. warplane shot down a Syrian army jet on Sunday in the southern Raqqa countryside, with Washington saying the jet had dropped bombs near U.S.-backed forces and Damascus saying the plane was downed while flying a mission against Islamic State militants.
A Syrian army statement released on Syrian state television said the plane crashed and the pilot was missing in the first such downing of a Syrian jet by the United States since the start of the conflict in 2011.
The army statement said it took place on Sunday afternoon near a village called Rasafah.
The "flagrant attack was an attempt to undermine the efforts of the army as the only effective force capable with its allies ... in fighting terrorism across its territory," the Syrian army said.
"This comes at a time when the Syrian army and its allies were making clear advances in fighting the Daesh (Islamic State) terrorist group," it added.
The U.S. Central Command later issued a statement saying the Syrian plane was downed "in collective self-defense of Coalition-partnered forces," identified as fighters of the Syrian Democratic Forces (SDF) near Tabqah.
It said that "pro-Syrian regime forces" had earlier attacked an SDF-held town south of Tabqa and wounded a number of fighters, driving them from the town.
Coalition aircraft in a show of force stopped the initial advance. When a Syrian army SU-22 jet later dropped bombs near the U.S.-backed forces, it was immediately shot down by a U.S. F/A-18E Super Hornet, the statement said.
Before it downed the plane, the coalition had "contacted its Russian counterparts by telephone via an established "de-confliction line" to de-escalate the situation and stop the firing."
The coalition does "not seek to fight the Syrian regime, Russian or pro-regime forces" but would not "hesitate to defend itself or its "partnered forces from any threat," the statement said.
The U.S.-led coalition has in recent weeks escalated its aerial bombing campaign in northern Syria and Raqqa province. U.S.-backed forces have encircled the city of Raqqa and captured several districts from the militants.
The Syrian army, which has been taking territory from retreating Islamic State militants in the eastern Aleppo countryside, has moved into Raqqa province and seized back some oil fields and villages that had been under the militants' control for almost three years.
An SDF official told Reuters the Syrian army had been engaged in skirmishes in recent days with U.S.-backed forces near the town of Maskaneh close to the borders of Raqqa province, much of which is now held by U.S.-backed groups fighting Islamic State.
The Syrian army backed by Iranian-backed militias has also been in competition in southeastern Syria with U.S.-backed Free Syrian Army (FSA) rebels who are also trying to recapture territory from Islamic State.
Full report at:
http://nation.com.pk/international/19-Jun-2017/us-warplane-downs-syrian-army-jet-in-raqqa-province
--------
Iraqi forces launch final assault on IS-held Mosul Old City
June 19, 2017
MOSUL - Iraqi forces began storming the Islamic State-held Old City of Mosul on Sunday, an assault they hope will be the last in the eight-month campaign to seize the militants' stronghold.
The historic district is the last still under control of the militants in the city which used to be their capital in Iraq.
It is a densely-populated maze of narrow alleyways where fighting is often conducted house by house.
About 100,000 civilians remain trapped there in harrowing conditions, with little food, water and medicine and limited access to hospitals, according to the United Nations. "This will be a terrifying time for around 100,000 people still trapped in Mosul's Old City ... now at risk of getting caught up in the fierce street fighting to come," the International Rescue Committee (IRC) said in a statement. "This is the final chapter" in the offensive to take Mosul, said Lieutenant General Abdul Ghani al-Assadi, commander of the Counter Terrorism Service (CTS) elite units spearheading the assault.
A US-led international coalition is providing air and ground support to the campaign.
The Iraqi government initially hoped to take Mosul by the end of 2016, but the campaign took longer as militants dug in the middle of civilians to fight back.
Islamic State is also using suicide car and motorbike bombs, booby traps and sniper and mortar fire against the troops. "The buildings of the old town are particularly vulnerable to collapse even if they aren't directly targeted, which could lead to even more civilian deaths than the hundreds killed so far in air strikes across the rest of the city," the IRC said.
"We are trying to be very careful, using only light and medium weapons ... to avoid casualties among civilians," CTS commander Major General Maan Saadi told Iraqi state TV. Hundred of civilians were killed near the frontlines in the past three weeks while fleeing the Old City, as Iraqi forces couldn't fully secure exit corridors.
"We expect thousands of families to escape from the Old City; we made all preparations to evacuate them from the frontlines," army colonel Salam Faraj told Reuters. Islamic State snipers are shooting at families trying to flee on foot or by boat across the Tigris River, as part of a tactic to keep civilians as human shields, the UN said on Friday.
The Iraqi army thinks the number of Islamic State fighters in the Old City doesn't exceed 300, down from nearly 6,000 when the battle of Mosul started, on Oct. 17. "The operation now is about street fighting, air and artillery strikes will be limited because the area is heavily populated and the buildings fragile," CTS spokesman Sabah al-Numan told al-Hadath TV in Dubai.
Iraqi government forces regained eastern Mosul in January, then a month later began the offensive on the side located west of the Tigris, which includes the Old City. The fall of Mosul would, in effect, mark the end of the Iraqi half of the "caliphate" that Islamic State leader Abu Bakr al-Baghdadi declared in a speech from an historic mosque in the Old City three years ago, covering parts of Iraq and Syria.
The group is also retreating in Syria, mainly in the face of a US-backed, Kurdish-led coalition. Its capital there, Raqqa, is being besieged.
Baghdadi has left the fighting in Mosul and Raqqa to field commanders, to become effectively a fugitive focused on his own survival in the border area between Iraq and Syria.
Full report at:
http://nation.com.pk/international/19-Jun-2017/iraqi-forces-launch-final-assault-on-is-held-mosul-old-city
--------
Kuwait overturns death sentence in Iran spy case
June 19, 2017
KUWAIT CITY : Kuwait's highest court on Sunday overturned the death sentence imposed by a lower tribunal against a man convicted of belonging to a group Kuwait said was trying to destabilise the Gulf Arab state on behalf of Iran and Lebanon's Hezbollah.
Iran has denied any links to the alleged cell. Some Kuwaiti officials and some other Gulf Arab countries, mostly ruled by Sunnis, accuse Tehran of seeking to weaken them by infiltrating local Shia communities and stirring up local politics.
The so-called "Abdali cell" was uncovered when security forces raided a farmhouse in Abdali outside Kuwait City in 2015 and found a cache of guns and explosives. In January, a court found 23 guilty of various crimes, including intent to carry out "hostile acts" against Kuwait and possessing weapons.
On Sunday, the country's Court of Cassation commuted the death sentence for one man to life in prison, a statement on state news agency KUNA said, without specifying defendants' names.
Full report at:
http://nation.com.pk/international/19-Jun-2017/kuwait-overturns-death-sentence-in-iran-spy-case
--------
Damascus: US-Led Coalition Downs Syrian Army Aircraft over Raqqa
Jun 19, 2017
According to the statement, the warplane was carrying out operations against ISIL in the countryside of Raqqa when it was targeted, leading to a crash and the loss of the pilot, who is currently missing.
The Syrian army backed by the country's air force continued its military operation in the Western part of Raqqa, after capturing ISIL's last bastion in Eastern Aleppo and has captured several districts in recent days.
As Washington claims that it fights against the ISIL group, US warships fired 59 Tomahawk cruise missiles from two warships in the Mediterranean Sea at the Shayrat airfield in Homs province on April 7, following a chemical weapons incident in Idlib province which the Western countries blamed on the Damascus government.
The Syrian government has fiercely denied using or even possessing chemical weapons since the country's compliance with the Chemical Weapons Convention was certified by international observers in 2013, as the world is still waiting for the US and its allies to provide any proof for its claims of Bashar al-Assad government involvement in the alleged chemical attack.
Also on May 18, the US-led coalition struck pro-Bashar Assad forces near al-Tanf in the area of an established de-confliction zone. The coalition air raids occurred near al-Tanf, where US' and British special operations forces have been training militants near the border with Iraq and Jordan.
On June 6, the Pentagon announced the coalition conducted a new strike on pro-Syrian government forces as they entered the de-confliction zone with Russia and posed threat to its personnel. The force comprised of a tank, artillery, anti-aircraft weapons, armed technical vehicles and more than 60 soldiers. At least two Syrian servicemen were killed and more than 15 injured as a result of the attack.
On June 8, the US-led coalition bombed pro-Damascus forces near al-Tanf in the area of a de-confliction zone following an alleged attack by a combat drone resulting in no coalition forces' casualties. This was the third attack by the coalition on Damascus' allies in the area. The coalition targeted a drone and trucks with weapons.
Full report at:
http://en.farsnews.com/newstext.aspx?nn=13960329000028
--------
Senior FSA Commander Killed in Southern Hama
Jun 18, 2017
Ahmed Abdel Salam Bakour, senior commander of Jeish al-Tawhid affiliated to the FSA was killed in clashes with the Syrian army near the village of Qabibat in Southern Hama.
The Syrian army units engaged in fighting with Jeish al-Tawhid terrorist group in areas near Hush Qabibat village, Housh Qabibat battalion and Qour al-Asi checkpoint in Southern Hama which resulted in the temporary control of the terrorists over the region, but the Syrian army managed to recapture the lost positions after a massive air and artillery campaign.
Many terrorists were killed in the clashes with the Syrian army.
In a relevant development on Sunday, the Syrian army sent tens of military vehicles, a large number of weapons and ammunition and hundreds of fresh forces to intensify the anti-ISIL operations in Hama.
A military source said that the army has deployed forces in Eastern Salamiyeh to launch concurrent air, missile and artillery strikes on ISIL bases in Aqayrabat region.
The Syrian army backed by the country's air force continued its military operations against the ISIL in Eastern Hama province Saturday and managed to take control of more strategic heights and also pave the way for its advances towards a strategic dam.
The government forces recaptured Debareh al-Dibeh hilltop and Tabarat al-Dibeh region after engaging in heavy clashes with the ISIL terrorists in the Eastern countryside of Hama, focusing on recapturing Aqarib dam East of Salamiyeh after regaining control over the strategic Debareh al-Dibeh hilltop.
Meanwhile, the Syrian and Russian bombers carried out a number of combat flights over ISIL's supply lines to the strategic town of Aqayrabat as Army troops continued operation in Eastern Hama to expel terrorists from the region.
The Syrian and Russian forces, backed by the two countries' warplanes, have started a new phase of military operations to expel the ISIL from Eastern Hama in bid to secure the strategic city of Salamiyeh.
Based on reports, the Russian Special Forces, backed by Moscow Air Force, also participated in the military operations in Eastern Hama.
A military source underlined the army's advance in the region, and said the operations will continue in Aqayrabat region as well. Aqayrabat region includes tens of villages and towns that is ISIL's main base in the province and is used by the terrorists to attack the army positions in Salamiyeh.
According to earlier reports, the fresh troops of the Syrian army along with Russian marines were dispatched to Eastern Hama for this large-scale operation.
Days ago, the Syrian army dispatched a large number of fresh forces to Hama as Damascus troops started a new phase of military operation to drive ISIL out of the province.
Full report at:
http://en.farsnews.com/newstext.aspx?nn=13960328001400
--------
Syrian Army Regains Control of Several Areas in Eastern Hama
Jun 18, 2017
The army units continued their advanced from Sheikh Halal axis in the Northeastern countryside of Salamiyeh, and managed to recapture Points 8 and 9 as well as the villages of Rasm al-Tineh and Rasm Amoun in Eastern Hama.
The Syrian soldiers killed several ISIL terrorists in clashes and destroyed several of their military vehicles.
In a relevant development on Saturday, the Syrian army sent tens of military vehicles, a large number of weapons and ammunition and hundreds of fresh forces to intensify the anti-ISIL operations in Hama.
A military source said that the army has deployed forces in Eastern Salamiyeh to launch concurrent air, missile and artillery strikes on ISIL bases in Aqayrabat region.
The Syrian army backed by the country's air force continued its military operations against the ISIL in Eastern Hama province Saturday and managed to take control of more strategic heights and also pave the way for its advances towards a strategic dam.
The government forces recaptured Debareh al-Dibeh hilltop and Tabarat al-Dibeh region after engaging in heavy clashes with the ISIL terrorists in the Eastern countryside of Hama, focusing on recapturing Aqarib dam East of Salamiyeh after regaining control over the strategic Debareh al-Dibeh hilltop.
Meanwhile, the Syrian and Russian bombers carried out a number of combat flights over ISIL's supply lines to the strategic town of Aqayrabat as Army troops continued operation in Eastern Hama to expel terrorists from the region.
The Syrian and Russian forces, backed by the two countries' warplanes, have started a new phase of military operations to expel the ISIL from Eastern Hama in bid to secure the strategic city of Salamiyeh.
Based on reports, the Russian Special Forces, backed by Moscow Air Force, also participated in the military operations in Eastern Hama.
A military source underlined the army's advance in the region, and said the operations will continue in Aqayrabat region as well. Aqayrabat region includes tens of villages and towns that is ISIL's main base in the province and is used by the terrorists to attack the army positions in Salamiyeh.
According to earlier reports, the fresh troops of the Syrian army along with Russian marines were dispatched to Eastern Hama for this large-scale operation.
Days ago, the Syrian army dispatched a large number of fresh forces to Hama as Damascus troops started a new phase of military operation to drive ISIL out of the province.
Full report at:
http://en.farsnews.com/newstext.aspx?nn=13960328001189
--------
PPSF: ISIL, Al-Nusra Front to Leave South Damascus Soon
Jun 18, 2017
The Arabic-language Hadas newspaper quoted Abdelmajid as referring to several meetings held between relevant Syrian government bodies and representatives of Al-Nusra Front and the ISIL, and said, "The withdrawal of the terrorist groups to regions, specially to Raqqa and its surrounding areas, has been postponed due to security and military reasons."
He also said that the exit of Al-Nusra Front from Yarmouk, Beit Sahm, Yalda and Babila will take place soon. "This is linked to the implementation of other agreements related to four towns so that Al-Nusra Front's withdrawal from Yarmouk should take place simultaneously with the exit of patients and the injured and their families from the towns of Kafraya and Fu'aa."
Abdelmajid also said that the number of the ISIL terrorists whose names have been sent to the concerned officials has reached 2,000 in Yarmouk and Hajar al-Aswad, adding that 600 of these militants are stationed in the camp. "This is while only 130 Al-Nusra terrorists are remaining there."
He underlined the definite withdrawal of the terrorists from Southern Damascus, and said that many infightings have taken place between the ISIL and Al-Nusra Front which has caused many of those who had made allegiance to ISIL leader Abu Bakr al-Baghdadi and were residing in Hajar al-Aswad and its surrounding towns to ask the relevant officials for amnesty to remain in Hajar al-Aswad after surrendering to the Damascus troops.
In a relevant development on Saturday, the Syrian army sent hundreds of reinforcements to Damascus province as security sources disclosed that the government troops are preparing for sensitive and massive military operations near the capital city.
"The Syrian army intends to kick off a large-scale military operation soon to recapture Jobar district from terrorists," a security source said.
The source went on to say that Damascus is in the final stage of preparations to dispatch troops and military equipment to the vital front while the missile and artillery units of the Syrian army are continuously targeting the terrorists' defense lines in the region.
"Jobar is highly important for the Damascus government because by recapturing this region, the terrorists will no longer be able to hit the capital city with their rockets and mortar shells.
The Syrian army and air force continued raiding Al-Nusra Front (also known as Fatah al-Sham Front or the Levant Liberation Board) in Southwestern and Southeastern Damascus, inflicting major losses on the terrorists.
The army soldiers engaged in fierce clashes with Al-Nusra in Tal (hill) Marwan North of the village of al-Maqrouseh Southwest of Damascus city.
In the meantime, the army aircraft pounded several times terrorists' positions in Rajm al-Sarikhi region East of Ba'ar al-Qasab Southeast of Damascus city, killing and wounding a number of terrorists.
The fighter jets, meantime, bombed heavily Al-Nusra's strongholds in Jorbar district that was used by terrorists to target the army's positions and residential areas in Damascus city.
In relevant developments in the province last week, the army troops managed to drive Jeish al-Islam terrorists out of another key town in Eastern Damascus.
The army troops engaged in a tough battle with terrorists in Eastern Ghouta and captured the town of Hawsh al-Dawahra.
Full report at:
http://en.farsnews.com/newstext.aspx?nn=13960328001367
--------
Syria troops advance in Raqqa towards Deir Ezzor
18 June 2017
The Syrian army on Sunday advanced into the northern province of Raqqa as part of an offensive to reach the neighboring oil-rich province of Deir Ezzor, a monitoring group said.
The Britain-based Syrian Observatory for Human Rights said regime troops had reached the edges of Resafa, a town some 40 kilometers (25 miles) southwest of Raqqa city, bastion of ISIS.
The goal of the operation is to push further east and reach Deir Ezzor, the Observatory said.
The regime has lost control of many oil and gas fields since the start in 2011 of Syria's conflict, especially in the provinces of Homs and Deir Ezzor.
Sunday's advance came after government troops captured several villages in the past few days, said the Observatory.
Troops were also about 50 kilometers from a US-backed Kurdish-Arab alliance of fighters, which launched a new offensive this month to retake Raqqa city.
The fighters of the Syrian Democratic Forces entered the northern city earlier in June, after months of heavy clashes to encircle Raqqa.
Since June 6, they have seized a few neighborhoods, including one in the east and one in the west, and are battling to push into the Old City of Raqqa.
The Observatory says a large number of ISIS militants are holed up in the Old City.
Full report at:
https://english.alarabiya.net/en/News/middle-east/2017/06/18/Syria-troops-advance-in-Raqqa-towards-Deir-Ezzor.html
--------
Syrian, Iraqi army troops meet up at border for first time in years
Jun 18, 2017'
Syrian government soldiers, backed by volunteer fighters from popular defense groups, have linked up with Iraqi army troops for the first time in years after they took control of a vast territory in Syria's semi-arid southeastern region of al-Badiya.
Lebanon-based Arabic-language al-Manar television network reported on Sunday that the army units in cooperation with allies had managed to liberate 25,000 square kilometers (9,600 square miles) of land during a campaign in the border region in recent weeks.
"This is the sign of the cooperation between the brotherly Iraqi and Syrian military leadership to secure the shared borders," a Syrian army general, speaking on condition of anonymity, told privately-owned and pro-government al-Ikhbariya al-Soriyah television news network.
The general said the meeting point for Iraqi and Syrian forces is northeast of Tanf base, where the US military is training anti-government Takfiri militants.
The Syrian military official further noted that the new meeting point is only 20 kilometers (12 miles) from al-Mayadeen area, where Daesh terrorists have recently relocated much of their leadership to.
The development came only a day after Iraqi forces liberated al-Waleed border crossing point in the Ar-Rutba district of the western province of Anbar from Daesh extremists.
Meanwhile, the so-called Syrian Observatory for Human Rights said Iraqi forces had moved northeast of al-Waleed, meeting up with pro-government Syrian troops for the first time since 2015.
The head of the Britain-based monitoring group, Rami Abdurrahman, said the link between Iraqi and Syrian forces will allow Iraqi army soldiers and volunteer fighters from the Popular Mobilization Units, commonly known by their Arabic name, Hashd al-Sha'abi, to move inside Syria and help Syrian government's campaign against Daesh in the eastern province of Dayr al-Zawr.
Separately, the artillery units of the Syrian army have struck Daesh positions across Dayr al-Zawr, killing and wounding many of the extremist militants in Panorama area, Borouk Hill, al-Tharda and al-Hueiqa neighborhoods as well as Ayash village.
A correspondent for Syria's official news agency SANA reported that Syrian Air Forces jets have bombarded Daesh vehicles equipped with heavy machineguns in Hattla and the outskirts of Dayr al-Zawr Airport.
Scores of militants have been killed and injured during the airstrikes.
Full report at:
http://217.218.67.231/Detail/2017/06/18/525731/Syrian-forces-link-up-with-Iraqi-troops-at-border
--------
Africa
Forgotten City Unveiling Origins of Islam Discovered In Ethiopia
18 Jun 2017
Archaeologists have uncovered an ancient, forgotten city in Ethiopia that unveils the origin of Islam in the country and its trade relations with India between the 10th and early 15th centuries.
A dig of Harlaa - a city 120 kilometres (km) from the Red Sea coast and 300 km from Addis Adaba - revealed a 12th- century mosque, evidence of Islamic burials and headstones, glass vessel fragments, rock crystal,glass beads, imported cowry shells and pottery from Madagascar, Maldives, Yemen and China.
The architecture of the mosque is similar to those found in Southern Tanzania and Somaliland, showing connections between different Islamic communities in Africa, researchers said.
"This discovery revolutionises our understanding of trade in an archaeologically neglected part of Ethiopia. What we have found shows this area was the centre of trade in that region," said Timothy Insoll, professor at University of Exeter in the UK.
The settlement, which is around 500 metres by 1,000 metres has buildings and walls constructed with large stone blocks leading people to assume only those with enormous stature or strength could have built it.
The size of some of the building stones found created a local legend that the area had been home to giants.
"The archaeological findings suggest this place was home to a very mixed community. Farmers had been finding strange objects, including Chinese coins, as they were working on their land, and a legend began that the area was home to giants," researchers said.
The team also found bronze and silver coins from 13th- century Egypt. The remains found suggest jewellers were making high-quality, delicate pieces in silver, bronze and semi- precious stones and glass beads.
They used some technology usually associated in that period with jewellers in India, suggesting trade or immigration from there to Harlaa, researchers said.
"We know jewellery was being made here for trading into the African interior, and materials to do this came in from the Red Sea, East African Coast and possibly India, but we don't know what was given in exchange for that jewellery," Insoll said.
The discoveries will be exhibited in a heritage centre.
Some findings will be displayed in the country's national museum in Addis Ababa.
http://www.dnaindia.com/world/report-forgotten-city-unveiling-origins-of-islam-discovered-in-ethiopia-2476362
--------
Nigeria: You Can't Islamise Nigeria, Apostle Suleman Warns Buhari
18 JUNE 2017
President of the Omega Fire Ministries, Apostle Johnson Suleman has warned President Muhammadu Buhari, saying he cannot Islamise Nigeria. The Apostle who expressed outrage at the removal of Christian Religious Knowledge (CRK) as a subject of study from the secondary school curriculum described it as a move to Islamise Nigeria, which he said can never happen.
In a statement issued by Phrank Shaibu, spokesman of the church, Apostle Suleman also said that President Muhammadu Buhari, by this new policy, has confirmed that he set out to Islamise the country soon after being sworn in on May 29, 2015.
According to the fiery preacher, the decision to scrap CRK as a subject in the curriculum but only to be studied as a theme in civic education while leaving Islamic/Arabic studies as a subject to be studied in the secondary school curriculum is a deliberate plot by the Buhari administration, among other schemes, to eliminate Christianity or at best reduce it to insignificance in Nigeria.
"The new curriculum which is the brain-child of the Nigerian Educational Research Council and which is mischievously crafted to force Islamic Studies down the throat of non adherents is unjust, discriminatory, a subtle attempt at islamisation, and therefore unacceptable."
"This is a well orchestrated and articulated plot. Let nobody try to fool Nigerians that it was a mistake or a coincidence. Why is it that CRK would be removed as a subject to be studied from the secondary school curriculum while Islamic/Arabic studies is retained? This is a plan from hell and it shall not stand," he declared.
Apostle Suleman also noted that the policy has been introduced at a time when Fulani herdsmen are on rampage in many parts of the country and just before the "so called Arewa youths" who gave Nigerians of Igbo extraction living in the North an order to quit the region before October 1.
"Over 7000 people have been killed by these Fulani herdsmen with our security forces unable to stop the bloodshed. So called Arewa youths backed by some discredited elders have also issued a treasonable ultimatum to Igbo people without any reprisals from the Buhari government. So, is it a coincidence that Christian Religious Knowledge has been expunged from the school curriculum?" he asked.
The revered cleric however called on the Federal Government to reverse what he termed the offensive policy and immediately restore Christian Religious Knowledge to the curriculum. He also commended the Christian Association of Nigeria (CAN) for being at the forefront of seeking to redress the anomaly.
"This evil policy must be reversed immediately. What is sauce for the goose is sauce for the gander. Christian Religious Knowledge (CRK) must be restored to the school curriculum. And I'm happy that the CAN has taken up the battle to ensure that those who seek to banish our faith do not succeed. We will continue to speak out until satan and his agents are put to shame", he declared.
Similarly, he called on the government to stem the tide of consistent attacks by Fulani herdsmen as well as deal with those giving ultimatum to people from an ethnic group to vacate the north.
"For as long as Fulani herdsmen continue to kill, rape and burn people's homes without restraint, in the event that the safety of an ethnic group cannot be guaranteed in any part of the country, then Nigerians should know that it is not a coincidence. And my God shall not fold arms while the devil and his children seek to destroy the destiny of Nigeria", he declared.
"We have the strength of character, the courage and the conviction to mount a sustained campaign in defense of justice, and in defense of our religion. We will not give up our religious practice because of someone else'. Nigeria belongs to us all and not for a few bigots who currently occupy positions of authority," he said.
The Apostle also said that bigotry, hate and intolerance by anybody- be he or she a Muslim, Christian, Buddhist or Jew is indefensible and should be condemned.
"The earlier Buhari's men come to terms with the fact that Nigeria is a secular state and cannot be Islamised or made a Christian State under any guise, the better for everyone."
He warned that should anyone think that he can go ahead with the curriculum , then he or she should be ready for the mother of all battles, the consequences of which can only be imagined.
Full report at:
http://allafrica.com/stories/201706180123.html
--------
Gunmen attack resort outside Mali's capital, two dead
June 19, 2017
Gunmen on Sunday attacked a luxury resort popular with Western expatriates just outside Mali's capital, Bamako, killing two people in what the security minister called a terrorist attack, while 36 guests were rescued.
Four gunmen arriving on motorbikes and a car stormed Le Campement Kangaba, near Dougourakoro, to the east of the capital Bamako, a resort that foreign residents visit for weekend breaks. Malian security forces backed by French troops deployed to push them out.
"At first we thought they were armed bandits but we know how armed bandits operate, they don't hold territory, so now we think it is a terrorist attack," Mali's Security Minister Salif Traore told journalists late Sunday outside the entrance to the resort, part of which was on fire.
Malian security forces, United Nations peacekeeping mission vehicles and French military armored vehicles surrounded the resort, according to a Reuters witness. A helicopter circled overhead.
In a later news conference, Traore said Malian forces fatally shot two of the attackers but the other two escaped and were being pursued. An attacker had been wounded and fled, leaving a submachine gun and six bottles of explosives behind, the ministry said earlier.
"We're now in the process of combing the area to verify no one is hiding anywhere," Traore said.
One of victims killed in the attack was a French-Gabonese citizen, while the other has not yet been identified, Traore said. Both were killed by gunfire. Two hotel staff workers and two guests were also wounded by bullets, he said.
Eight policemen were wounded in the shootout with the attackers, Traore said.
Security has gradually worsened across Mali since French forces pushed back Islamist and Tuareg rebel fighters in 2013 from swathes of the north they had occupied the previous year.
Initially concentrated in the desert north, attacks have increasingly struck the center and south, around Bamako. Al Qaeda in the Islamic Maghreb and another militant group claimed responsibility for an attack on a Bamako hotel in 2015 in which 20 people were killed.
Of the 36 people who escaped unharmed, there were 13 French citizens, 14 Malians, and also Spanish, Dutch, Egyptian and Kenyan nationals, Traore said.
Daniel Okwogo, a Kenyan guest who witnessed the attack, said that about 30 minutes after his arrival he heard the gunshots. "So ... we took a cover, slipped under the bed and then the security team came and evacuated us," Okwogo said.
Witness Boubacar Sangare was just outside the compound during the attack. "Westerners were fleeing the encampment while two plainclothes police exchanged fire with the assailants," he said.
Full report at:
http://nation.com.pk/international/19-Jun-2017/gunmen-attack-resort-outside-mali-s-capital-two-dead
--------
Half of Nigeria food never reached Boko Haram victims: Government
Jun 18, 2017
Nigeria says half of government food aid meant to reach the victims of a militancy northeast of the country has not reached its destination.
A spokesman for acting president Yemi Osinbajo said late on Saturday that half of the trucks carrying food aid for people driven from their homes by Boko Haram Takfiri group have been diverted away from their destination.
"Over 1,000 trucks of assorted grains are now on course, delivering the grains intact to beneficiaries since the commencement of the present program as against the reported diversion of over 50 trucks in every 100 trucks sent to the northeast," said Laolu Akande in an emailed statement.
Osinbajo, acting in lieu of President Muhammadu Buhari who is in Britain on medical leave, launched a program on June 8 to reach out to around 2.7 million people identified as IDPs, or internally displaced, as a result of more than eight years of insurgency by Boko Haram.
Akande said the new system for distribution of food would significantly prevent the diversion of the humanitarian aid.
"The issue of diversion of relief materials, including food and related matters, which has dogged food delivery to the IDPs would be significantly curbed under the new distribution matrix," said the official, elaborating that 1,376 military personnel and 656 armed police would be tasked with guarding the food from where it its loaded to the trucks to the three main location where displaced people live, namely Borno, Adamawa and Yobe.
Full report at:
http://217.218.67.231/Detail/2017/06/18/525729/Nigeria-food-Boko-Haram-insurgency
--------
Mali urges UN Security Council to fight extremists in Sahel
Jun 17, 2017
Mali's foreign minister on Friday pressed the UN Security Council to quickly adopt a resolution endorsing the creation of a special force to fight the extremists increasingly plaguing North Africa's Sahel region.
The minister, Abdoulaye Diop, expressed the "deep concern" of Malian President Ibrahim Boubacar Keita, who heads a five-nation regional grouping known as the G5 Sahel, over the "difficulties" slowing approval of the resolution.
He urged members to adopt it "without delay."
The G5 -- comprised by Mali, Niger, Chad, Mauritania and Burkina Faso -- agreed in March to form a 5,000-strong anti-extremist force, but sought Security Council authorization before activating it. The force would collaborate with the UN peacekeeping force in Mali known as MINUSMA.
Keita said adoption of the resolution would "send a strong and unequivocal signal from the international community to terrorist groups and traffickers of all types."
But a French-introduced resolution to provide political and financial support to such a force has been resisted by the United States, which says the resolution is too vague and believes a simple statement, rather than a resolution, would suffice.
As the leading financial contributor to UN peacekeeping operations, Washington also wants to tighten overall spending.
Diop, the Malian minister, also urged the UN to provide "adequate" material, staffing and financing for MINUSMA.
Full report at:
http://217.218.67.231/Detail/2017/06/17/525566/Mali-UNSC-Sahel-Extremists
--------
North America
Muslim teen beaten and abducted after leaving US mosque, found murdered
Jun 19, 2017
A 17-year-old American Muslim girl was beaten and abducted after leaving a mosque in Virginia on Sunday by a man who police later arrested on suspicion of murder after her body was found dumped in a pond, authorities said.
The attack spurred an outpouring of grief and horror in a Muslim community that has been gathering to pray at the All Dulles Area Muslim Society mosque about 30 miles outside Washington in observance of the last 10 days of Ramadan.
The attack happened early on Sunday after the victim and several friends walking outside the mosque got into a dispute with a motorist in the community of Sterling, the Fairfax County Police Department said in a statement.
At one point, the motorist got out of his car and assaulted the girl, police said.
The teen was reported missing by her friends who scattered during the attack and could not find her afterwards, touching off an hours-long search by authorities in Fairfax and Loudoun counties.
At around 3 pm, the remains of a female believed to be the teen victim were found in a pond in Sterling, police said.
During the search for the missing teen, authorities stopped a motorist "driving suspiciously in the area" and arrested the driver, later identified as identified as Darwin Martinez Torres, 22.
Police obtained a murder warrant that charges Torres for her death, the Fairfax County Police Department said.
A police spokeswoman told reporters the attack followed some sort of dispute between the man and the girls, and authorities had not ruled out hate as a motivation for the attack.
The number of anti-Muslim bias incidents in the United States jumped 57% in 2016 to 2,213, up from 1,409 in 2015, the Council on American-Islamic Relations advocacy group said in a report last month.
While the group had been seeing a rise in anti-Muslim incidents prior to Donald Trump's stunning rise in last year's presidential primaries and November election victory, it said the acceleration in bias incidents was due in part to Trump's focus on militant Islamist groups and anti-immigrant rhetoric.
In an incident in London on Monday, a van ploughed into worshippers leaving a mosque, killing at least one person and injuring several in what Britain's largest Muslim organization said was a deliberate act of Islamophobia.
Isra Chaker, a person who said in a Facebook post that she was close to a family friend of the victim in the Virginia incident, said the driver came out with a baseball bat and began swinging it at the girls, Chaker said.
"She then went missing (presumably kidnapped/moved by the suspect) and was found dead this afternoon," Chaker said.
An online fundraiser for the girl's family had raised $61,606 by Sunday evening.
Police said a medical examiner will conduct an autopsy to confirm the victim's identity and cause of death, though detectives believe the body found in the pond was the missing girl.
http://www.hindustantimes.com/world-news/muslim-teen-beaten-and-abducted-outside-us-mosque-found-murdered-in-virginia/story-bU8blaf1eP1ppYWz3yhXYJ.html
--------
Muslim peace march: Hundreds take to Cologne streets to protest Islamist terrorism
June 19, 2017
A Muslim "peace march" against terrorism has been held in the German city of Cologne.
The DPA news agency reported that a few hundred people gathered for the demonstration Saturday, with placards such as "Together against terror" and "Hatred makes the earth hell," and the crowd later grew to over 1,000.
The organisers of the "Not With Us" march had expected several thousand protesters.
Marchers held banners including one that said: "Love for all, hatred for none," and another reading: "A Muslim protects lives and does not take them".
The country's biggest Islamic association had refused to take part in the march, which was led by groups representing the Ahmadi sect.
The Turkish-Islamic Union argued it would send the wrong signal by suggesting that international terrorism is mainly a Muslim problem.
It also said Muslims observing the Ramadan fast could not be expected to march for hours in summer temperatures.
That stance drew criticism from the government, which welcomed the march.
The protest comes in the wake of recent terror attacks in the UK and around the world.
"The attacks by people who justify their acts by invoking Islam, without justification, are becoming more frequent," protest organisers wrote ahead of the rally.
Full report at:
http://www.independent.co.uk/news/world/europe/muslim-peace-march-cologne-germany-islamist-not-with-us-isis-terror-attacks-love-for-all-hatred-for-a7795481.html
--------
Sri Lankan Muslims in Canada write to Justin Trudeau
June 19, 2017
Sri Lankan Muslims in Canada has written to Canadian Prime Minister Justin Trudeau seeking his intervention over the violence in Sri Lanka targeting Muslims.
The letter states that minorities in Sri Lanka are once again facing a crisis. The diaspor urged the Canadian Prime Minister to intervene through his office to stress upon the Government of Sri Lanka to take prompt action.
"Once again the minority communities have come under persistent intimidation and attacks, perpetrated by a group of radical Buddhist monks and extremist groups which has reached a critical and intolerable point. These groups have targeted Muslim and Christian places of worship, businesses and homes. We also fear that they are planning to unleash major violence by creating a riot situation similar to the one in 1983, where the Hindu and Christian Tamils were targeted. As a matter of fact, these same groups orchestrated violent attacks on the Muslim community in a southern suburb, Aluthgama in June 2014; with loss of lives and significant damages to businesses and properties," the letter said.
The letter dated June 17 says to this day the Government of Sri Lanka has failed to address the issue of compensation to the victims in a meaningful way or taken steps to prosecute the perpetrators of these heinous crimes.
"This inaction has created an environment of hate mongering and religious unrest to alarming proportions. In spite of a change of regime in 2015, that came to power with promise of sweeping changes, the Government of Sri Lanka and the law enforcement authorities has so far failed to take any positive action to resolve this grave and escalating situation. Statements and assurances made to local and International audiences by the political leadership and law enforcement authorities has been nothing but empty rhetoric," the letter said.
The diaspora appealed to the Canadian Prime Minister to leverage through his diplomatic channels and bear upon the Sri Lankan Govt. by expressing his concerns for the safety of the minority communities and preserving peace and safeguarding the fundamental rights of all citizens, especially the freedom of worship, enshrined under the constitution of Sri Lanka.
Full report at:
http://colombogazette.com/2017/06/19/sri-lankan-muslims-in-canada-write-to-justin-trudeau/
--------
URL: https://www.newageislam.com/islamic-world-news/india-chandigarh-jama-masjid-imam/d/111597
New Age Islam, Islam Online, Islamic Website, African Muslim News, Arab World News, South Asia News, Indian Muslim News, World Muslim News, Women in Islam, Islamic Feminism, Arab Women, Women In Arab, Islamophobia in America, Muslim Women in West, Islam Women and Feminism