New Age Islam News Bureau
21 Sept 2013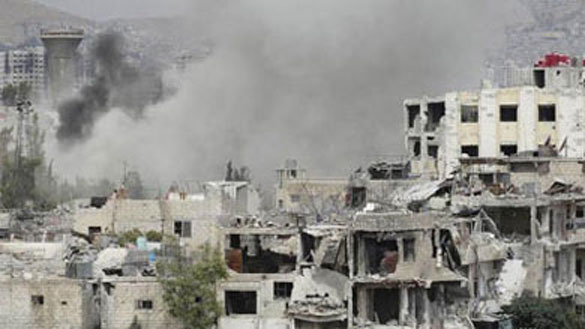 15 People killed by Syrian troops in a Sunni village, according to the Syrian Observatory for Human Rights. (File photo: Reuters)
-------
South Asia
• Bangladesh Jamaat-e-Islami discusses war crimes issues, politics with British HC
• Hang convicted war criminals by Dec 16
• Japanese tourist falls prey to Bangladesh Jamaat e Islami terror
• International observers should "help, not hinder" state institutions: Maldives Foreign Ministry
• Former President Nasheed meets Jumhooree Party Leader Gasim Ibrahim
• Afghan insurgents want peace deal, says ex-Taliban minister
Arab World
• Four suicide bombers storm Iraqi police station, kill SWAT officers
• Syria troops, militia kill 15 in Sunni village: NGO
• Attacks kill 10 in northern Iraq
• Islamist ethic will bring back dictatorial repression in Syria: Syrian National Coalition
• Syria sends watchdog chemical weapons inventory
• Sinai Jihadists Respond To Egyptian Military Offensive with Suicide Bombs
• Expats should respect and obey Saudi laws
• Syria war, refugees to cost Lebanon $7.5b: World Bank
Europe
• The Gods of Chiapas: Mexican Muslims in the Shadow of Zapatistas
• Hundreds of North Caucasians Have Joined the Ranks of Syria's Rebels
• North Caucasus Leaders Adopt Kadyrov Model to Dealing with Militants
• Russian clerics warn of unrest over ban of translation of Quran
• We may change Syria position if President Assad 'cheats', Russia says
Africa
• Terrorist Attack on Nairobi mall kills 10 people
Mideast
• Islamic Movement leaders warn of 'Israeli plan to destroy al-Aksa Mosque'
• Security Forces Sidelined as Salafists Battle Houthi Shiites in Yemen
• Turkish Main opposition leader visits Syria border gate, says Turkey imports terrorism
• Turkey does not want war in Syria, says President Gül
• Israel's secret weapon for any strike on Iran
• Islamic Movement in Israel festival marked by chants for Egypt, Syria
Southeast Asia
• Humanitarian crisis as Philippine troops go after rebel remnants
• Follow Islamic teachings, Mat Taib advises Umno aspirants
India
• Congress equates Muzaffarnagar riots with Gujarat 2002
• M F Husain's 'Bhopal' to go under the hammer, valued at £200,000-300,000
• Fourth man killed in Shopian firing was LeT militant
• Indo-Pak talks on river water issues to begin on Sunday
• Army spook unit set up by VK Singh carried out covert ops in Pakistan
• Pak judicial commission arrives in India to cross-examine 26/11 attack witnesses
• Tripura eager to sell power to Bangladesh
• Curfew continues in violence-hit Bhopal town
North America
• US and Iran eye diplomatic defrosting at UN
• Arabs target Israel at UN nuclear meet despite US warning
• Muslims name 37 groups that fuel Islamophobia
• Obama's brother denies Muslim Brotherhood link
• U.S. shows support for Somalia's fight against terrorism
• U S and allies target Hezbollah financing, ties in Africa
• Anti-Muslim groups in the US raised $119 million between 2008 and 2011, report finds
Pakistan
• In the name of jihad: Traders pay millions in extortion
• Pakistan releases top Afghan Taliban commander Mullah Baradar
• Taliban talks: Pakistan govt, army at loggerheads
• PTI tribal leader killed in attack
• PML-N ex-legislator meets two prisoners 'on behalf of Taliban'
• SC orders to apprehend more than 33,000 absconders in Karachi
• Malala's teacher stresses importance of education
• 'Army abducted several after attack in Bolan'
Compiled by New Age Islam News Bureau
URL: https://www.newageislam.com/islamic-world-news/new-age-islam-news-bureau/in-the-name-of-jihad--traders-pay-millions-in-extortion/d/13617
----------
In the name of jihad: Traders pay millions in extortion
September 21, 2013
RAWALPINDI: Jamil* left the tribal areas near Peshawar last year after Mangal Bagh, the head of Lashkar-e-Islam, ordered him to pay Rs5 million as 'protection money'. He established his business in the garrison city but has not been able to escape extortionists.
"My brother went away to Lahore but he was traced and shot after we refused to pay," he said. "If they can kill my brother in Lahore, they can kill me here." Bagh had given him two options: send two volunteers from the family to join the militant outfit or pay Rs5 million annually. Jamil said he was willing to pay the amount but his brother refused to give in.
A couple of months after settling in Rawalpindi, Jamil received a call from an unknown number. The man, an acquaintance, warned him to pay the extortion sum in three days or face consequences. Jamil did not think much of it but after three days, he received news of his brother's murder.
Extortion payments are common in the garrison city. Nearly every trader pays hefty amounts to extortionists who make calculated threats with details of their bank accounts and family life, said Jamil.
A trader in Raja Bazaar, refusing to reveal his name and the nature of his business, said he recently paid Rs2 million. "Three people came to my store and asked me to pay up after discussing the amount of money I could spare."
Even though he had agreed to pay the amount, his son was kidnapped by extortionists and freed after they received the money.
Traders said phone calls from extortionists almost always start with, "We are fighting a holy war against infidels and if you cannot volunteer for the fight then help our cause with cash," and end with death threats in case of refusal or tipping off the police.
The Express Tribune learnt that a trader recently shifted his business to Islamabad after his minor daughter was kidnapped. She is still in captivity and he refused to share any details when contacted.
Mistrust of the police and the ability of extortionists to strike anyone anywhere have forced traders to pay whatever is demanded. Most of the time police officials themselves are involved in the racket so how can we trust them? asked Ramzan, a trader in Rawalpindi.
A vendor was gunned down on Monday night for refusing to pay extortion in the jurisdiction of Waris Khan Police Station. A member of the Rawalpindi Chamber of Commerce and Industry said the police said to inform them about petty criminals only and not "national level" players, like the Taliban and "politically connected" groups.
In Pirwadhai, Saddar and Raja Bazaar, traders are forced to pay millions in the name of jihad. Rawalpindi City Police Officer Bilal Kamyana admitted that traders were forced to pay extortion sums to various groups operating in the city. "How can we trace these criminals if traders don't cooperate with us?" he asked, adding that the police was monitoring the situation and stern action would be taken against extortionists.
Extortionists' networks are active in other cities as well. Several attempts have been made on the lives of PTI leader Sadaqat Abbasi and his father-in-law, who own hotels in Murree for refusing to pay up. "A man left a flash drive, on which a video featured people with long beards and sophisticated weapons," Abbasi said. "They demanded Rs100 million and gave details of our assets."
Abbasi informed the police and an FIR was registered. A few days later, his house in Topa, Murree, was targeted. However, the house was unoccupied as the family was in Islamabad at the time. They still call us and we've provided contact numbers and even identified people who are providing information about our movement but no action has been taken, he said. A six-kilogramme explosive connected to a remote was also defused outside Abbasi's house.
"Taking advantage of the opportunity, agents for other hotels are frightening away tourists, asking them not to stay in hotels owned by Abbassi, due to which our business is suffering."
* Name changed to protect identity
http://tribune.com.pk/story/607174/in-the-name-of-jihad-traders-pay-millions-in-extortion/
----------
South Asia
Bangladesh Jamaat-e-Islami discusses war crimes issues, politics with British HC
Sep 21 2013
Bangladesh Jamaat-e-Islami Assistant Secretary General Barrister Abdur Razzaq on Thursday met British High Commissioner Robert Gibson at the High Commission in the capital, and discussed political issues and the ongoing war crimes trials.
The two-hour meeting began at 4:30pm at the high commission, Abdur Razzaq told the Dhaka Tribune over phone.
He added that the current political situation and judgments on war crimes cases were among the issues discussed.
Responding to a query on the recent verdict against Quader Molla, Abdur Razzaq said: "Quader Molla is a political leader of our party, so we discussed that issue as well."
"He [Gibson] asked us about the party's [Jamaat] current situation and we updated him on it," Abdur Razzaq said.
The Jamaat leader also said they discussed the high court's ruling against the legality of Jamaat as a political party. British Deputy High Commissioner Nick Low also attended the meeting, Abdur Razzaq informed.
http://www.dhakatribune.com/politics/2013/sep/20/razzaq-discusses-war-crimes-issues-politics-british-hc
----------
Hang convicted war criminals by Dec 16
Sep 21 2013
All the convicted war criminals must be executed before the upcoming Victory Day on December 16, the Gonojagoron Mancha activists demanded yesterday.
The anti-war criminal campaigners also urged the government to ban Jamaat-e-Islami as a terrorist organisation so that it cannot create anarchy ahead of the next general election.
Addressing a rally at the capital's Shahbagh, war crimes researcher Shahriar Kabir said, "Jamaat could be banned for its anti-state activities administratively under the anti-terrorism act."
Quoting terrorism expert Dr Irfan Al Alawi, he added, "The king of Saudi Arabia has allocated Muslim Brotherhood of Egypt and Jamaat-e-Islami 50 billion pounds to strengthen their global network with a focus on South Asia."
Imran H Sarker, convener of Gonojagoron Mancha, which seeks the death penalty for all war criminals, demanded immediate arrest of those who have attacked their co-campaigners recently.
Expressing his determination, Bangladesh Chhatra Moitri president Bappaditya Basu said, "We must not go back home until the war criminals are hanged and Jamaat is banned."
http://www.thedailystar.net/beta2/news/hang-convicted-war-criminals-by-dec-16/
----------
Japanese tourist falls prey to Bangladesh Jamaat e Islami terror
Sep 21 2013
Sitting by the window, Shiho Nishiyamy was travelling back to Dhaka from her three-day trip to Cox's Bazar on Thursday night. Suddenly, the bus was showered with bricks and stones from both sides, and a projectile struck her left eye holing through the window pane.
"Her eye was bleeding," said Krishna Raj, supervisor of the Hanif Paribahan bus, which came under the attack by pickets during the second day of Jamaat-e-Islami's 48-hour shutdown when it reached Keranihat of Satkania upazila, Chittagong around 11:00pm.
Full report at:
http://www.thedailystar.net/beta2/news/japanese-tourist-falls-prey-to-jamaat-terror/
----------
International observers should "help, not hinder" state institutions: Maldives Foreign Ministry
By JJ Robinson | September 21st, 2013
President Mohamed Waheed's government has called on international groups to "help, not hinder the state institutions in exercising their constitutional duties".
The Foreign Ministry's statement follows unanimous confidence from international election observers in the credibility of the first round of polling, and calls for the losing parties to accept defeat and allow the second round to proceed as scheduled on September 28.
Presidential candidate Gasim Ibrahim, who narrowly missed a place in the run-off with 24.07 percent of the vote, is pursuing a Supreme Court case to have the results annulled, alleging electoral impropriety. The Progressive Party of the Maldives (PPM) and Attorney General Azima Shukoor have intervened in the case against the Elections Commission.
Full report at:
http://minivannews.com/politics/international-observers-should-%E2%80%9Chelp-not-hinder-state-institutions-foreign-ministry-66180
----------
Former President Nasheed meets Jumhooree Party Leader Gasim Ibrahim
By Minivan News | September 20th, 2013
Former President Mohamed Nasheed met Jumhooree Party (JP) Leader Gasim Ibrahim at the business tycoon's residence in Male' last night.
Speaking briefly to press after the one-hour meeting, the presidential candidates of the Maldivian Democratic Party (MDP) and JP coalition said the pair had discussed matters of national interest and maintaining stability and public order.
Following the first round of the presidential election on September 7 – where Nasheed emerged the front runner with 45.45 percent of the vote and Gasim narrowly missed out on the second round run-off with 24.07 percent – the JP alleged vote rigging by the Elections Commission (EC) and contested the results at both the High Court and Supreme Court.
Full report at:
http://minivannews.com/politics/former-president-nasheed-meets-jumhooree-party-leader-gasim-ibrahim-66092
----------
Afghan insurgents want peace deal, says ex-Taliban minister
20 September 2013
A veteran Taliban leader claims that a majority of Afghan insurgents want to negotiate a peace deal but says their views have been suppressed by hardliners controlling the movement's propaganda machine.
In a rare interview, Agha Jan Motasim, who was finance minister in the Taliban regime, said statements issued in recent years in the name of the insurgent leader Mullah Omar have not reflected the fugitive cleric's true views.
Full report at:
http://www.theguardian.com/world/2013/sep/20/afghan-insurgents-peace-taliban-minister
----------
Arab World
Four suicide bombers storm Iraqi police station, kill SWAT officers
21 September 2013
Four suicide bombers stormed the police headquarters in a town north of Baghdad at dawn on Saturday, killing six SWAT officers after a one-hour shootout, security sources said.
The bombers shot dead the guards outside the compound in the town of Baiji, 180 km (112 miles) from Baghdad.
One of them was killed in the ensuing fighting inside the base and the other three blew themselves up when army reinforcements arrived.
It was not clear who was behind the attack, but security forces and police are prime targets for Sunni Islamist militants who have been regaining momentum in their insurgency against Iraq's Shiite-led government.
Full report at:
http://english.alarabiya.net/en/News/middle-east/2013/09/21/Four-suicide-bombers-storm-Iraqi-police-station-kill-6-SWAT-officers.html
----------
Syria troops, militia kill 15 in Sunni village: NGO
Sep 21 2013
Beirut : Syrian troops backed by pro-regime militia killed at least 15 people in a Sunni village in the central province of Hama, the Syrian Observatory for Human Rights said.
The group, which relies on a network of activists, doctors and lawyers on the ground, said pro-regime forces carried out a "massacre" on Friday using guns and knives to kill residents of Sheikh Hadid village.
"Fifteen people were killed -- two women, a child and 12 men -- by regime forces backed by the Popular Committees and National Defence Forces Alawite militias using guns and knives," the group said on Saturday.
Full report at:
http://www.indianexpress.com/news/syria-troops-militia-kill-15-in-sunni-village-ngo/1172304/
----------
Attacks kill 10 in northern Iraq
Sep 21 2013
The deadliest of Saturday's incidents came when four suicide bombers stormed a headquarters for police commandos in the city of Beiji, killing six policemen.
A suicide assault on a police headquarters and other insurgent attacks in northern Iraq killed 10 members of the security forces on Saturday, police said.
The attacks are the latest in a months-long surge of violence that has raised fears the country is slipping back toward the widespread sectarian killings of 2004-2008.
Police officials said the deadliest of Saturday's incidents came when four suicide bombers stormed a headquarters for police commandos in the city of Beiji, killing six policemen and wounding 17 others.
Full report at:
http://www.thehindu.com/news/international/world/attacks-kill-10-in-northern-iraq/article5153935.ece
----------
Islamist ethic will bring back dictatorial repression in Syria: Syrian National Coalition
Sep 21 2013
Beirut: Syria's main Western-backed opposition group on Friday slammed al-Qaida-linked gunmen and their expanding influence in the country, saying the jihadis' push to establish an Islamic state undermines the rebels' struggle for a free Syria.
The statement from Syrian National Coalition comes as a truce was reached late Thursday after two days of vicious infighting in which the extremists seized control of the northern town of Azaz, near the border with Turkey, from mainstream opposition fighters. The fighting prompted Turkey to close a major nearby crossing point.
Full report at:
http://www.indianexpress.com/news/islamist-ethic-will-bring-back-dictatorial-repression-in-syria-snc/1171823/
----------
Syria sends watchdog chemical weapons inventory
Sep 21 2013
Syria has sent the Organization for the Prohibition of Chemical Weapons an "initial declaration" outlining its weapons program, the organization said Friday, in keeping with the agreement Russia and the U.S. brokered to have Syria give up its chemical weapons arsenal.
Michael Luhan, the organization's spokesman, told The Associated Press the declaration is "being reviewed by our verification division," but details of it will not be released.
U.S. State Department spokeswoman Marie Harf said the United States and other nations that have joined the chemical weapons organization "will be making a careful and thorough review of the initial document."
Full report at:
http://www.thehindu.com/news/international/world/syria-sends-watchdog-chemical-weapons-inventory/article5152088.ece
----------
Sinai Jihadists Respond To Egyptian Military Offensive with Statements and Suicide Bombs
Andrew McGregor
Sep 21 2013
As the Egyptian military intensifies its campaign against militants and terrorists in the volatile but strategic Sinai Peninsula, their jihadist opponents have responded with a series of messages claiming the Army is using excessive force, destroying property and killing civilians. These statements of defiance have been backed up by several suicide attacks designed to dissuade Egypt's security forces from pursuing the complete elimination of the various Salafi-Jihadi groups operating in the Sinai.
Full report at:
Jamestown Foundation
----------
Expats should respect and obey Saudi laws
Sep 21 2013
I am writing with regard to the article "Expats responsible for most crimes in KSA: Experts" (Sep. 19). I think that this is a very serious reflection on all the expatriate workers in the Kingdom. We should realize that to live here peacefully, all of us are duty bound to respect and obey Saudi laws. We should also realize that there is a price to be paid for any mistakes and crimes that we commit. Sometimes that price can be very painful. So, we should take all of this into consideration and live here like law-abiding residents.
Full report at:
http://www.saudigazette.com.sa/index.cfm?method=home.regcon&contentid=20130921181075
----------
Syria war, refugees to cost Lebanon $7.5b: World Bank
Sep 21 2013
BEIRUT — Syria's conflict will cost Lebanon $7.5 billion in cumulative economic losses by the end of next year, the World Bank has said in a report prepared for an aid meeting at the United Nations.
A summary of the report, seen by Reuters after the World Bank briefed diplomats in Beirut, provides the most detailed assessment yet of the strain Syria's conflict has placed on its small Mediterranean neighbor. It estimates that the war and resulting wave of refugees into Lebanon will cut real GDP growth by 2.85 percent a year between 2012 to 2014, double unemployment to above 20 percent and widen the deeply indebted nation's deficit by $2.6 billion.
Full report at:
http://www.saudigazette.com.sa/index.cfm?method=home.regcon&contentid=20130921181137
----------
Europe
The Gods of Chiapas: Mexican Muslims In The Shadow Of Zapatistas
"The Sixth Pillar Of Islam"
By Avedis Hadjian
September 20 2013
SAN CRISTÓBAL DE LAS CASAS, Mexico – "We used to have the god of rain, the god of sun – lots of gods, until the Spaniards came and they imposed their god and blond saints on us," said Manuel, with the bitterness of a man who feels shortchanged of his divinities.
At that moment, a summer downpour lashed San Cristóbal de Las Casas, setting in motion a confusion of shapes and colors as birds took flight from the rain and Tzotzil Indian women in purple dresses ran for cover. As Manuel, a young attorney of European-Spanish descent, mourned the ancient gods of this land of thick jungles and densely packed cities, a few miles away, just inside the periphery of San Cristóbal, Ibrahim Chechev, a Tzotzil and the leader of a local Muslim group, was honoring the solitary God of the Arabian desert.
Full report at:
http://www.ibtimes.com/gods-chiapas-mexican-muslims-shadow-zapatistas-1407812
----------
Hundreds of North Caucasians Have Joined the Ranks of Syria's Rebels
Sep 21 2013
Following Syrian Foreign Minister Walid Muallem's September 9 visit to Moscow at the invitation of Russian Foreign Minister Sergei Lavrov (http://kommersant.ru/doc/2275019), the issue of the involvement of Chechens in the Syrian war once again came to the fore.
At a press conference, Muallem insisted that his country is fighting not against the opposition, but foreign terrorists—who, he claimed, are being armed and trained by Turkey. "People from the Caucasus and Chechnya are among the terrorists," he said. "Turkey trains terrorists from 83 countries" (http://ru.apa.az/news/255100).
Full report at:
The Jamestown Foundation
----------
North Caucasus Leaders Adopt Kadyrov Model to Dealing with Militants
Sep 21 2013
Militants carried out two significant attacks in Chechnya and Ingushetia on September 16 and 17. The attacks took place in the districts that are adjacent to each other and have the same name—Sunzha. In the past, there was a single Sunzha district in Checheno-Ingushetia, but when Ingushetia seceded in 1992, Sunzha district was divided between Chechnya and Ingushetia, retaining its name in each.
Full report at:
The Jamestown Foundation
----------
Russian clerics warn of unrest over ban of translation of Quran
World Bulletin / News Desk
Sep 21 2013
Russia's senior Islamic clerics warned the country's leaders on Friday unrest could erupt in Muslim communities in Russia and beyond if a court decision ordering the destruction of a interpretive translation of Quran is not overturned.
Tuesday's ruling by a court in Novorossiysk, a city in southern Russia, ordered the widely read text outlawed under a Russian anti-extremism law that rights activists say has been abused by local officials out of prejudice or to persecute groups frowned upon by the dominant Russian Orthodox Church.
Full report at:
http://www.worldbulletin.net/?aType=haber&ArticleID=118512
------------
We may change Syria position if President Assad 'cheats', Russia says
AFP | Sep 21, 2013
MOSCOW: Russia may change its position on Syria if it sees any "cheating" on the part of the regime, a senior Kremlin official said on Saturday as the country disclosed first details of its chemical stockpile as the first step of the disarmament plan.
"I am speaking theoretically and hypothetically, but if we become convinced that (Syrian President Bashar) al-Assad is cheating, we can change our position," the Kremlin chief of staff Sergei Ivanov was quoted as saying by Russian news agencies.
He was speaking at a conference in Stockholm organized by the International Institute for Strategic Studies.
Full report at:
http://timesofindia.indiatimes.com/world/middle-east/We-may-change-Syria-position-if-President-Assad-cheats-Russia-says/articleshow/22862534.cms
----------
Africa
Terrorist Attack on Nairobi mall kills 10 people
Sep 21 2013
Nairobi police Chief Benson Kibue said this was a terrorist attack and that there are likely no more than 10 terrorists involved, as gunfire continues to be exchanged.
Gunmen threw grenades and opened fire inside Nairobi's most upscale mall, killing about 10 people and wounding dozens.
Associated Press reporters said on Saturday they saw about 10 dead bodies more than two hours after the attack began at the Westgate shopping centre. Officials did not give an official death toll.
Full report at:
http://www.thehindu.com/news/international/world/attack-on-nairobi-mall-kills-10-people/article5153876.ece
---------
Mideast
Islamic Movement leaders warn of 'Israeli plan to destroy al-Aksa Mosque'
Sep 21 2013
Tens of thousands of Israeli-Arabs attended the "Al-Aksa is in Danger" rally in Umm al-Fahm on Friday, organized by the Islamic Movement's northern branch.
The festival came some two weeks after Sheikh Raed Salah, the leader of the Islamic Movement's northern branch, was arrested and subsequently ordered by the Jerusalem District Court to stay at least 30 kilometers away from the Aksa Mosque on the Temple Mount. Salah had given an inflammatory speech, calling for violence against Jews at the Temple Mount.
Full report at:
http://www.jpost.com/National-News/Islamic-Movement-leaders-warn-of-Israeli-plan-to-destroy-al-Aksa-Mosque-326665
----------
Security Forces Sidelined as Salafists Battle Houthi Shiites in Yemen
By: Andrew McGregor
Sep 21 2013
With Yemen in the midst of a political reconstruction, there are signs that the Zaidi Shiite insurgent group known as the Houthis is taking advantage of the ongoing turmoil to consolidate their de facto rule of the northern province of Sa'ada while making inroads in other parts of the country. Yemen's military is largely preoccupied with its struggle against al-Qaeda and its allies in southern Yemen, but the Houthist expansion has not gone unopposed, with Salafist tribesmen tied to the Islamist Islah Party resisting all attempts by the Houthists to spread the areas under their control. Yemen's security forces have little influence in the northern regions and at times have even been outgunned by both factions in the conflict.
Full report at:
http://www.jamestown.org/single/?no_cache=1&tx_ttnews%5Btt_news%5D=41382&tx_ttnews%5BbackPid%5D=7&cHash=579074466d522fbb664a732e19938c29#.Uj1rhNK-pRJ
----------
Turkish Main opposition leader visits Syria border gate, says Turkey imports terrorism
Sep 21 2013
Turkish main opposition leader Kemal Kiçdaroglu visited the Cilvegözü border crossing with Syria in the southern Hatay province on Sept. 21, where he once again criticized the government's foreign policy.
"Turkey is not well-governed. It has now become a country that imports terrorism," the Republican People's Party (CHP) leader told reporters following his examination at the gate where a deadly car bomb attack took place on February and which continues to be one of the main refugee entry points.
Full report at:
http://www.hurriyetdailynews.com/main-opposition-leader-visits-syria-border-gate-says-turkey-imports-terrorism.aspx?pageID=238&nID=54881&NewsCatID=338
----------
Turkey does not want war in Syria, says President Gül
Sep 21 2013
Turkey has never aspired to a military resolution to end the devastating civil war in neighboring Syria, yet it certainly desires a clear end to the ongoing massacre in the shortest possible time, President Abdullah Gül has said.
"Turkey is a country that wishes for this matter to be solved without a war. It is a country that has exerted the greatest effort for this since the beginning," Gül said Sept. 20 when asked by reporters whether Turkey had been in favor of conducting a military intervention in Syria.
Full report at:
http://www.hurriyetdailynews.com/turkey-does-not-want-war-in-syria-says-president-gul.aspx?pageID=238&nID=54861&NewsCatID=338
----------
Israel's secret weapon for any strike on Iran
Sep 21 2013
Nestled deep in the maze of an Israel Air Force base, secretive units form an essential component in any Israeli air strike in enemy territory with air defenses.
Indeed, they would have been an inseparable part of recent air force strikes in Syria, attributed to Israel by foreign media reports, to stop the transfer of sophisticated missiles and air defenses to Hezbollah.
No potential future air campaign in Iran, against the Islamic Republic's nuclear sites, would be possible without the units.
Full report at:
http://www.jpost.com/Features/Front-Lines/Security-and-DefensePlaying-cat-and-mouse-326589
----------
Islamic Movement in Israel festival marked by chants for Egypt, Syria
World Bulletin / News Desk
Sep 21 2013
Chants in support of ousted Egyptian President Mohamed Morsi and the Syrian insurgency were frequently heard at a Friday festival held by the Islamic Movement in Israel in Umm al-Fahm, the largest Arab city in Israel.
Tens of thousands of Israeli Arabs attended the rally, held in the city's soccer stadium under the banner "Al-Aqsa is in danger."
The rally was attended by Islamic Movement leader Raed Salah, two weeks after he was ordered by an Israeli court to stay at least 30 kilometers away from the holy city of Al-Quds (Jerusalem).
Full report at:
http://www.worldbulletin.net/?aType=haber&ArticleID=118506
---------
Southeast Asia
Humanitarian crisis as Philippine troops go after rebel remnants
September 21, 2013
ZAMBOANGA: The Philippines urged its citizens on Saturday to send more aid for 100,000 people who had fled heavy fighting between troops and Muslim rebels in the country's south, calling their plight a "humanitarian crisis".
The conflict has claimed more than 100 lives since hundreds of rebels from the Moro National Liberation Front (MNLF) entered the key trading centre of Zamboanga in a bid to derail peace talks with a rival group.
While many of the insurgents have surrendered and most of the dozens of hostages they took have been freed, attention has turned to conditions faced by 118,000 refugees displaced by the fighting.
Full report at:
http://tribune.com.pk/story/607393/humanitarian-crisis-as-philippine-troops-go-after-rebel-remnants/
----------
Follow Islamic teachings, Mat Taib advises Umno aspirants
BY HASBULLAH AWANG CHIK
SEPTEMBER 21, 2013
Former Umno vice-president Tan Sri Muhammad Muhammad Taib has advised candidates in the Umno elections not to forget Islamic teachings in their quest to vie for a post.
"Whatever we do, we have to follow Islamic teachings as prescribed in the Quran. Do not succumb to worldly desires," he said when contacted by The Malaysian Insider.
The former Selangor Menteri Besar from 1986 to 1997 had previously vied for the deputy president's post but lost to Tan Sri Muhyiddin Yassin at the party polls in 2009.
Full report at:
http://www.themalaysianinsider.com/malaysia/article/follow-islamic-teachings-mat-taib-advises-umno-aspirants
---------
India
Congress equates Muzaffarnagar riots with Gujarat 2002
TNN | Sep 21, 2013
NEW DELHI: Congress put Muzaffarnagar riots at par with Gujarat 2002, ratcheting up pressure on the UP government as the clashes continue to hog the national discourse a fortnight after they broke out.
AICC spokesman P C Chacko told reporters, "Muzaffarnagar riots are like revisiting Gujarat riots. When the country is in the need for communal harmony, the state failed miserably in taking preventive action.... the state government had no right to continue."
Asked if Congress thought the UP government was complicit in riots as it believed was the case in Gujarat, Chacko replied in the affirmative, pointing out he had slammed the Akhilesh Yadav government for failure in controlling the riots.
Full report at:
http://timesofindia.indiatimes.com/india/Congress-equates-Muzaffarnagar-riots-with-Gujarat-2002/articleshow/22830687.cms
----------
M F Husain's 'Bhopal' to go under the hammer, valued at £200,000-300,000
PARVATHI MENON
Sep 21 2013
The oil on canvas has been valued at £200,000-300,000
'Bhopal', Maqbool Fida Husain's anguished representation of the terrible consequences of industrial negligence in Bhopal, is to go under the hammer on October 8 at the Bonhams Auction House in London.
Husain's framed and signed oil on canvas, with 'Bhopal' painted boldly on the side of the canvas — as if to leave no doubt on which disaster he is depicting — has been valued between £200,000 and 300,000, a press release from the auctioneers said.
Full report at:
http://www.thehindu.com/arts/husains-bhopal-to-go-under-the-hammer/article5150535.ece
----------
Fourth man killed in Shopian firing was LeT militant
Sep 21 2013
Jammu and Kashmir Police on Friday said the fourth man killed in CRPF firing at Shopian on September 7 was LeT militant Abdullah Haroon.
"That is established. The person who was killed in Gagran (Shopian) is Abdullah Haroon. Every evidence has substantiated that... that is an established fact. It has been confirmed by our sources in various places," Inspector General of Police (Kashmir) Abdul Gani Mir told reporters in Srinagar.
Full report at:
http://www.thehindu.com/news/national/other-states/fourth-man-killed-in-shopian-firing-was-let-militant/article5150495.ece
----------
Indo-Pak talks on river water issues to begin on Sunday
Vishwa Mohan, TNN | Sep 21, 2013
NEW DELHI: The much awaited Indo-Pakistan talks on Indus Water Treaty will begin here on Sunday. During the four-day talks, both the sides will discuss contentious issues concerning water sharing between the two countries.
Pakistan's objection on four hydroelectric projects (2018 MW of generation capacity) -- proposed to be constructed by India in the Chenab river basin -- will also be discussed during the meeting of the Permanent Indus Commission. The meeting will conclude on September 25.
Full report at:
http://timesofindia.indiatimes.com/india/Indo-Pak-talks-on-river-water-issues-to-begin-on-Sunday/articleshow/22860621.cms
---------
Army spook unit set up by VK Singh carried out covert ops in Pakistan
September 21, 2013
The military intelligence unit set up by former army chief General VK Singh was involved in sensitive covert operations in Pakistan and was even on the trail of 26/11 mastermind and Lashkar-e-Taiba chief Hafiz Saeed, officials associated with it have told HT.
"Our main task was to combat the rising trend of state-sponsored terrorism by the ISI and we had developed contacts across the Line of Control in a bid to infiltrate Hafiz Saeed's inner circle," an official who served with the controversial Technical Services Division (TSD) said.
Full report at:
http://www.hindustantimes.com/India-news/newdelhi/Army-spook-unit-set-up-by-VK-Singh-carried-out-covert-ops-in-Pakistan/Article1-1125008.aspx
----------
Pak judicial commission arrives in India to cross-examine 26/11 attack witnesses
Yudhvir Rana, TNN | Sep 21, 2013
AMRITSAR: A seven-member Pakistani judicial commission arrived in India via Attari land border to carry forward the Mumbai terror attack investigations and cross-examine the witnesses.
This is the second visit of the commission whose earlier report submitted in March 2012 was reportedly rejected by an anti-terrorism court in Pakistan due to the absence of the cross-examination of witnesses of the gruesome attack on India's financial capital.
The Pakistani judicial commission is in India on a 7-day visa.
http://timesofindia.indiatimes.com/india/Pak-judicial-commission-arrives-in-India-to-cross-examine-26/11-attack-witnesses/articleshow/22851139.cms
----------
Tripura eager to sell power to Bangladesh
Sep 21, 2013
AGARTALA: Tripura chief minister Manik Sarkar has expressed interest in selling 100MW power to neighbouring Bangladesh as the state will be power surplus by January next.
"We can sell 100 mw power to Bangladesh from our share which will further improve our relation with the neighbouring country and help develop our state," he said after inaugurating a 21 Mg watt gas based thermal power project at Rukhia in West Tripura district yesterday. Full report at:
http://timesofindia.indiatimes.com/business/india-business/Tripura-eager-to-sell-power-to-Bangladesh/articleshow/22861769.cms
-----------
Curfew continues in violence-hit Bhopal town
September 21, 2013
31 persons have been arrested for rioting and arson
Curfew continued for the second day in the farming town of Khirkiya in Madhya Pradesh' Harda district, after a mob ransacked dwellings of minorities and attacked the police on Thursday. Superintendent of Police Deepak Verma told The Hindu that 31 persons were arrested for rioting and arson.
"An indefinite curfew is being enforced by 600 to 700 officers, including one company of the Rapid Action Force. We took two people into custody yesterday [Thursday] after a complaint was filed accusing them of cow slaughter. Despite this, a 'leaderless' mob blocked the Hoshangabad- Khandwa highway demanding that the suspects be handed over to them. We dispersed them after bringing additional forces, who fired in the air and used teargas and mild force. The situation is now calm," the SP said.
Full report at:
http://www.thehindu.com/news/national/other-states/curfew-continues-in-violencehit-bhopal-town/article5151091.ece
----------
North America
US and Iran eye diplomatic defrosting at UN
AP
2013-09-21
WASHINGTON: President Barack Obama and Iran's new president Hasan Rouhani may meet briefly next week for the first time, marking a symbolic but significant step toward easing their countries' tense relationship.
An exchange of letters between the leaders already has raised expectations for a revival of stalled nuclear talks, though Iran is still likely to seek an easing of international sanctions in exchange for significant progress.
In small steps and encouraging statements, Iran's leaders appear to be opening a door more widely to detente in their nuclear dispute with the US. Cautiously optimistic yet still skeptical, Washington is weighing whether Iranian President Rouhani's recent overtures actually represent new policies or just new packaging.
Full report at:
http://www.dawn.com/news/1044380/us-and-iran-eye-diplomatic-defrosting-at-un
----------
Arabs target Israel at UN nuclear meet despite US warning
September 20, 2013
Arab states will push ahead with a bid to single out Israel for criticism over its assumed atomic arsenal at this week's UN nuclear agency meeting, despite Western pressure to refrain, a senior representative said on Friday. Frustrated over the indefinite postponement last year of an international conference on banning atomic arms in the region,Arab states have proposed a non-binding resolution expressing concern about "Israeli nuclear capabilities".
If adopted at the annual member state gathering of the UN International Atomic Energy Agency, it would call on Israel to join a global anti-nuclear weapons treaty and place its nuclear facilities under IAEA monitoring. Diplomats expect a close vote.
Full report at:
http://www.hindustantimes.com/world-news/europe/Arabs-target-Israel-at-UN-nuclear-meet-despite-US-warning/Article1-1124757.aspx
----------
Muslims name 37 groups that fuel Islamophobia
By Katherine Burgess
September 19
WASHINGTON — Groups with a mission to spread prejudice and hatred against Muslims are coordinated and well financed, according to a report released by the Council on American-Islamic Relations, a Washington-based civil rights group.
The report, titled "Legislating Fear: Islamophobia and its Impact in the United States," was released Thursday (Sept. 19), and it names 37 individuals and institutions that "were at the center of promoting Islamophobia in America" during 2011-2012.
Full report at:
http://www.washingtonpost.com/national/on-faith/muslims-name-37-groups-that-fuel-islamophobia/2013/09/19/5d529c24-2166-11e3-ad1a-1a919f2ed890_story.html
----------
Obama's brother denies Muslim Brotherhood link
Sep 21 2013
Malik Hussein Obama, the half-brother of US President Barak Obama, has denied allegations that he has links to the Muslim Brotherhood.
"I know of those claims and they are circulating on the internet," Malik told Anadolu Agency in a phone interview.
He described the claims as "utter nonsense."
An Egyptian lawyer has recently lodged a complaint with the Egyptian prosecutor-general to place Malik on Egypt's terror watch list over allegations of links with the Muslim Brotherhood, the group from which ousted Egyptian President Mohamed Morsi hails.
Full report at:
http://www.worldbulletin.net/?aType=haber&ArticleID=118492
----------
U.S. shows support for Somalia's fight against terrorism
21 September 2013
Somali President Hassan Sheikh Mohammad and U.S. National Security Adviser Susan E. Rice on Friday discussed ways to strengthen Somalia's democratic institutions and promote economic development, according to a White House statement on the pair's meeting.
Both coutries reaffirmed their commitment to fighting terrorism and expand security through Somalia.
Full report at:
http://english.alarabiya.net/en/News/africa/2013/09/21/U-S-and-Somalia-agree-to-fight-terrorism-strengthen-democracy-.html
----------
US and allies target Hezbollah financing, ties in Africa
Sep 21 2013
DAKAR- The United States and its allies are clamping down on suspected Hezbollah activity in West Africa, which Washington says is a major source of cash for the Lebanese group as its patron Iran feels the pinch of sanctions.
The push coincides with Hezbollah's deepening role in Syria, where it has dispatched thousands of fighters to back President Bashar Assad. It also comes in the wake of attacks outside Lebanon linked to Hezbollah that Western experts say are part of global campaign that could soon include Africa.
Full report at:
http://www.jpost.com/International/US-and-allies-target-Hezbollah-financing-ties-in-Africa-326615
----------
Anti-Muslim groups in the US raised $119 million between 2008 and 2011, report finds
BY DAVID KNOWLES / NEW YORK DAILY NEWS
SEPTEMBER 19, 2013
Pastor Terry Jones' Dove World Outreach Center is one of the groups that CAIR cited in its report on organizations that rake in cash by spreading so-called Islamophobia.
'Islamphobia,' it seems, is a lucrative business.
American-based groups promoting an anti-Muslim worldview took in more than $119 million in revenue between 2008 and 2011, a new report by the Council on American-Islamic Relations has found.
Full report at:
http://www.nydailynews.com/news/national/anti-muslim-groups-rake-millions-u-s-article-1.1461566#ixzz2fWDcbDLE
----------
Pakistan
Taliban talks: Pakistan govt, army at loggerheads
Reuters | Sep 21, 2013
ISLAMABAD: Disagreement over how to handle an escalating insurgency has put Pakistan's all-powerful army on a collision course with the government, with the military increasingly vocal in its criticism of civilian leaders, officials and diplomats said.
Prime Minister Nawaz Sharif who came to power in the month of May has promised to tame Islamist militancy through negotiations, but four months on, talks have yet to start and attacks continue daily.
Full report at:
http://timesofindia.indiatimes.com/world/pakistan/Taliban-talks-Pakistan-govt-army-at-loggerheads/articleshow/22832920.cms
----------
Pakistan releases top Afghan Taliban commander Mullah Baradar
2013-09-21
ISLAMABAD: Pakistan on Saturday released its most senior Afghan Taliban detainee Abdul Ghani Baradar, a senior official told AFP, in a move welcomed by Kabul who hope it will encourage peace talks with the insurgents.
Baradar, a one-time military chief often described as the militants' former second-in-command, was the most high profile detained Taliban commander in Pakistan.
"Yes Baradar has been released," Omar Hamid, a spokesman for Pakistan's interior ministry told news agency AFP, without elaborating on the circumstances of the release.
Afghanistan's High Peace Council (HPC) welcomed the release and thanked Pakistan's government.
Full report at:
http://www.dawn.com/news/1044437/pakistan-releases-top-afghan-taliban-commander-mullah-baradar
----------
PTI tribal leader killed in attack
SUHAIL KAKAKHEL
2013-09-21
NOWSHERA: A tribal leader belonging to Pakistan Tehreek-i-Insaf was killed and five others suffered injuries when gunmen on a motorcycle attacked a PTI office at the Jalozai camp here on Friday.
Sources said two attackers opened fire at the PTI office at 10am when a meeting of tribal elders was in progress. Malik Mulla Khel Afridi died on the spot and five others — Syed Baz Afridi, Malik Gulistan Khan, Haji Gul Jalal, Malik Sham Mohammad and a passer-by Mohammad Ali (9) — were injured.
Full report at:
http://www.dawn.com/news/1044411/pti-tribal-leader-killed-in-attack
----------
PML-N ex-legislator meets two prisoners 'on behalf of Taliban'
2013-09-21
RAWALPINDI: As the government's plans for holding talks with Taliban have come to a standstill after the recent Upper Dir incident, a former member of the National Assembly has met two condemned prisoners belonging to the banned Sipah-i-Sahaba Pakistan in the Central Jail, Adiala, on behalf of Taliban.
Sources said Javaid Ibrahim Paracha, an ex-legislator of PML-N, met Omer Adeel and Hafiz Mohammad Naseer, who both had been awarded capital punishment for carrying out terror attacks.
Full report at:
http://www.dawn.com/news/1044410/paracha-meets-two-prisoners-on-behalf-of-taliban
----------
SC orders to apprehend more than 33,000 absconders in Karachi
AGENCIES
2013-09-20
KARACHI: Expressing annoyance over the inability and failure of police in arresting absconders involved in heinous crimes, Pakistan's top court Friday ordered all responsible officials to apprehend them immediately.
A five-member bench, headed by Chief Justice Iftikhar Muhammad Chaudhry and comprising Justices Jawad S. Khawaja, Justice Khilji Arif Hussain, Justice Amir Hani Muslim and Justice Sheikh Azmat Saeed, resumed hearing of the Karachi law and order implementation case at the Supreme Court's Karachi registry.
Full report at:
http://www.dawn.com/news/1044250/sc-orders-to-apprehend-more-than-33000-absconders-in-karachi
----------
Malala's teacher stresses importance of education
2013-09-21
ISLAMABAD: Mariam Khalique, a teacher of Malala Yousufzai, has said that more needs to be done to ensure all girls get a chance to go to school.
In her speech at the launch of a UNESCO EFA Global Monitoring Report data revealing the importance of education at a school in New York on Thursday, Ms Khalique spoke about the power of education in transforming lives.
Full report at:
http://www.dawn.com/news/1044432/malalas-teacher-stresses-importance-of-education
----------
'Army abducted several after attack in Bolan'
Sep 21 2013
BOLAN: The Baloch Republican Party (BRP) Media Cell's sources reported that the Pakistan Army has started a massive military operation in the areas of Mach after an attack on their convoy. The army laid siege around the entire area and set ablaze dozens of houses of Baloch villagers after looting their hardly earned valuables from their houses during the operation. Full report at:
http://www.dailytimes.com.pk/default.asp?page=2013\09\21\story_21-9-2013_pg7_20
----------
URL: https://www.newageislam.com/islamic-world-news/new-age-islam-news-bureau/in-the-name-of-jihad--traders-pay-millions-in-extortion/d/13617