New Age Islam News Bureau
30 Jun 2018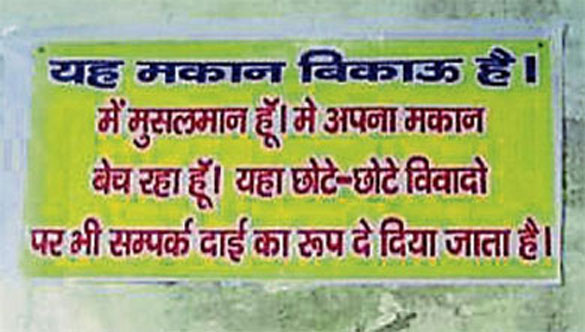 The poster at one of the houses in Lisari village in Meerut.(HT Photo). In Meerut village, posters say 'I'm a Muslim, I'm selling my house' to protest bias | india news | Hindustan Times
----
• In Meerut Village, Posters Say 'I'm A Muslim, I'm Selling My House' To Protest Bias
• European-Islamic Media Forum Calls for Clampdown on Hate Speech in Western Press
• Bangaldesh Awami League Takes Initiatives to Tap Into Islamist Voter Banks
• Rifts in Jamaat Deepen Over JUI-F Dominance in MMA
• Pakistan Has Outstanding Counterterrorism Deficiencies Raised By FATF: US Official
• Korean Deacons Embrace Other Religions with Pilgrimage
India
• In Meerut Village, Posters Say 'I'm A Muslim, I'm Selling My House' To Protest Bias
• Muslim Groups in Gurgaon Claim Stopped From Offering Namaz at Vacant Plot Again
• Muslim Community Infuriated With Yogi Adityanath's Refusal to Wear Skullcap At Sant Kabir's Shrine
• India, US Are One in Saying Pakistan Deserved To Be Demoted To Anti-Terror Funding Group's 'Grey List'
• Pulwama encounter: 3 terrorists gunned down, civilian killed in clashes
• Eight cow vigilantes who lynched Muslim trader in Jharkhand get bail
• Terror funding probe: NIA steps up heat on Hurriyat leaders
• NIA files FIR against Kashmiri separatist leader Asiya Andrabi
--------
Europe
• European-Islamic Media Forum Calls for Clampdown on Hate Speech in Western Press
• UN Agency Rejects Trump Nominee Who Made Controversial Islam, Refugee Posts
• Al Arabiya reporting from inside Saturday's 'Free Iran' conference in Paris
--------
South Asia
• Bangaldesh Awami League Takes Initiatives to Tap Into Islamist Voter Banks
• Ghani Announces End of Ceasefire with Taliban, Orders Resumption Of Operations
• Officials: Special Forces Senior Commander martyred in an attack in Kabul
• Taliban's Quetta Council leaders mulling peace talks, claims Gen. Raziq
• Fugitive Bangladeshi Militants Bring Jamaat ul Mujahideen to India
• Myanmar transit camps sit empty as Rohingya fear return
--------
Pakistan
• Rifts in Jamaat Deepen Over JUI-F Dominance in MMA
• FATF Gives Pakistan 10-Point Action Plan to Counter Terror Financing
• HRW urges Pakistan to repeal discriminatory laws against Ahmedis
• Pakistan Pulls Extremist from Terror Watch List
• Punjab govt denies lifting ban from ASWJ
• Imran sees tickets award as most unrewarding task
• Shamshad renews govt pledge to rout terror financing
--------
North America
• Pakistan Has Outstanding Counterterrorism Deficiencies Raised By FATF: US Official
• US Upgrades Pakistan on 'Human Trafficking Index'
• Man admits making bomb threat targeting Florida mosque
• Annapolis attack: Deadliest day for journalism in US since 9/11
--------
Southeast Asia
• Korean Deacons Embrace Other Religions with Pilgrimage
• Indonesia Plans Crackdown on Condemned Cleric's Militant Network
• Taiwan keen on encouraging more Muslim tourists from Malaysia
• Anwar defends his praise for Turkish strongman Erdogan
• Indonesia seeks Malaysian promise to protect migrant workers
--------
Arab World
• Foreign-backed Takfiri Militants Renounce Violence in Syria's Dara'a
• Hezbollah Seeks Role in Return of Syrian Refugees from Lebanon
• Syrian offensive displaces more than 120,000 civilians
• Another FSA Commander Flees Dara'a to Jordan with Large Amount of Cash
• Syrian Army Seizes Large Cache of American, Israeli Weapons from Terrorists in Dara'a
• Deir Ezzur: Syrian Army Repels ISIL's Attack on Positions near Border with Iraq
• Iraqi Hashd al-Sha'abi forces will punish those behind attack on its fighters: Nasrallah
• Number of displaced triples to 160,000 during fighting in south Syria: UNHCR
--------
Mideast
• Turkey Arrests Former Opposition Lawmaker on Terrorism Charges
• Arab Trio Warned Israel about Turkish Drive in Al-Quds: Report
• Israeli forces kill two Palestinians in Gaza border protests - medics
• Yemeni Army takes control of al-Habl port in Hajjah
• UN says Yemeni legitimate government, Houthis will return to peace talks
• US wrong policies, interference to blame for terror spread: Iran
• Israel's nukes threat to global security, peace: Iran
• Turkey vows to keep Iran ties despite US pressures
--------
Africa
• Boko Haram; UNIMAID Launches Center for Counter Terrorism
• Somalia: Jubbaland Readies an Anti-Al-Shabaab Push, Says Minister
• Three dead in attack on Mali HQ of G5 Sahel anti-terror force
• Haftar rejects any foreign military presence to stem migration
• Three migrants die after boat sinks off Libya's coast
Compiled by New Age Islam News Bureau
URL: https://www.newageislam.com/islamic-world-news/in-meerut-village-posters-say/d/115694
--------
In Meerut village, posters say 'I'm a Muslim, I'm selling my house' to protest bias
Jun 29, 2018
Ten Muslim families living in Lisari village of Meerut have threatened to sell their houses and move out after a fight with a shopkeeper, police said.
The families have put up posters saying: "I am a Muslim. I am selling my house. Here even petty issues are given a communal colour." The families allege that small disputes are given a communal colour and the police were biased against them. a claim refuted by the Meerut police.
The Muslim residents alleged that a brawl broke out between a shopkeeper Jony and some people of the area on June 21. Jony lodged a report against at least six Muslim men and the police arrested two of them on Wednesday. When the Muslims approached the police, they allegedly refused to lodge their report.
Refuting the allegations, circle officer, Kotwali, Dinesh Shukla, said the families should have approached senior officers with their complaint instead of putting up posters. "A meeting of villagers has been convened to solve the issue," he added.
Samajwadi Party MLA from Meerut Rafiq Ansari alleged the police had registered a case against the members of one community under the pressure of a political party. "They refused to lodge the FIR [on the complaint] of Muslims. They should have at least registered a case. I spoke to senior police officials but they did not give a satisfactory reply," he claimed.
Bahujan Samaj Party (BSP) leader Haji Noor Saifi of Lisari village said people of both the communities lived here peacefully but some people were trying to disturb communal harmony.
"A fair investigation should be carried out into the case," Saifi said.
https://www.hindustantimes.com/india-news/in-meerut-village-posters-say-i-m-a-muslim-i-m-selling-my-house-to-protest-bias/story-gfUyxbTmEk7Ok8E9FSvwmN.html
--------
European-Islamic media forum calls for clampdown on hate speech in Western press
June 30, 2018
JEDDAH: The first Islamic-European forum for examining ways of cooperation to curb hate speech in the media began on Friday at the Press Club Brussels Europe, the Saudi Press Agency (SPA) reported.
During the opening session, the head of the Council of Journalists Union in Brussels, Peter Knappen, spoke about the importance of press freedom and stressed that it should be used responsibly and follow ethical and professional values.
Director of the information department of the Organization of Islamic Cooperation (OIC) Maha Mustafa Aqeel explained that the forum is part of the OIC's media strategy to counter Islamophobia.
"Our strategy focuses on interacting with the media, academics, and experts on various relevant topics, in addition to engaging with western governments to raise awareness, support the efforts of Muslim civil society bodies in the West, and engage the latter in developing plans and programs to counter Islamophobia," she said.
Aqeel said that, since 2005, the OIC has adopted many resolutions that call for clear and tangible measures to address Islamophobia and counter-terrorism resulting from it. These efforts have included establishing the Islamophobia Observatory, which issues an annual report on countering Islamophobia.
She also pointed out that the OIC has made efforts to engage the media, western governments, civil society and regional and international organizations such as the European Union and UNESCO in order to fight Islamophobia.
Aqeel explained that the OIC established a ministerial Contact Group of European Muslims in 2016 to communicate more closely and regularly with officials and communities in Europe, in addition to establishing a correspondence center to respond to the arguments and fatwas of extremist groups.
"The OIC is in the process of establishing a global press award for journalists who contribute to the promotion of inter-cultural dialogue and tolerance," she added.
Aqeel said that the two-day forum would explore ways to establish cooperation between media professionals from OIC member states and the European Union to help curb hate speech, stereotyping and fake news, "all of which negatively impact society and provoke intolerance."
The forum's sessions discussed press freedom from legal and religious perspectives, and introduced attendees to the contents of the OIC Media Strategy to Counter Islamophobia and ISESCO's Program for Training Media Professionals on Redressing Stereotypes about Islam and Muslims.
http://www.arabnews.com/node/1330536/saudi-arabia
--------
Bangaldesh Awami League Takes Initiatives to Tap Into Islamist Voter Banks
June 30th, 2018
As the 11th parliamentary election draws near, the Awami League is making an effort to develop stronger ties with Islamist parties, with plans to form a polls-time alliance and unite like-minded Islamic clerics under the same umbrella
In line with maintaining good ties with Hefazat-e-Islam and other Islamist parties, Awami League has taken a decision to form an Islamic Forum, a party wing comprised of Islamist parties such as Hefazat, Islami Oikya Front Bangladesh, and people with Islamist sentiments.
On May 22, 2017, following a secretary level meeting of the Awami League, its General Secretary Obaidul Quader told journalists that the ruling party will form an Islamic Forum, which would be similar to existing forums for lawyers and doctors.
Awami League Religious Affairs Secretary Sheikh Mohammad Abdullah has been given the responsibility to form that forum.
Speaking with the Dhaka Tribune, Abdullah said: "We will form an Islamic forum with Islamist parties and clerics who believe in the spirit of the Liberation War and democracy.
"Any party and person can join us if they believe in the spirit of 1971. I will seek party President Sheikh Hasina's counsel on the matter after forming the religious affairs sub-committee."
Awami League presidium member Lt Col (retd) Muhammad Faruk Khan echoed the same opinion, saying that the party has no problem maintaining good ties with Islamist parties who believe in the spirit of 1971 and democracy.
He further said: "We did not lose our secular identity [despite our good ties with Islamist parties]. Rather, we encouraged them to follow the spirit of the Liberation War and a secular Bangladesh."
Meanwhile, two organising secretaries of Awami League, preferring to be anonymous, pointed out that several Islamist parties and clerics have vote banks, but they neither have registration nor the means to participate in the next general polls.
The Awami League is planning to utilize the abovementioned vote banks, by bringing those parties and clerics under the soon to be formed Islamic forum.
Good ties with Hefazat
The Awami League plans to award Hefazat several seats in the upcoming election under the party banner, but it will not form a direct alliance with the Islamist party.
Islami Oikya Jote, Bangladesh Khelafat Majlish, Khelafat Andolan, Islami Andolan Bangladesh, Islami Oikya Andolan, Jamiatul Ulama Islam, and several other Islamist parties are politically active under the banner of Hefazat.
This means that Awami League has already developed good political standing with these parties through Hefazat.
A number of sources from both the Chittagong and Dhaka units told the Dhaka Tribune that the top brass of Hefazat has been in dialogue with the ruling party since the 2013 Motijheel mayhem.
The insiders further commented: "Before 2013, their movement was coordinated by the Lalbagh Madrasa leaders, but in the last three years, Baridhara Madrasa, led by its Vice-President Nur Hossain Kashemi is leading the party.
"The ruling party also maintains control of Hefazat through Maulana Farid Uddin Masud, chairman of Bangladesh Jamiyatul Ulama, who heads the country's largest Eid congregation in Kishoreganj, and is a key figure in the Hefazat's Dhaka city unit."
Sources from the Hefazat claimed that the party will demand at least 50 seats from Awami League in the next general polls.
What about Islami Oikya Front?
The Awami League is planning to bring Islami Oikya Front Bangladesh into the 14-party alliance.
A number of 14-party alliance leaders told the correspondent that some members of the alliance, especially the left-wing parties are not very eager to include Islami Oikya Front into the alliance.
However, as the Awami League is the decision maker, these parties have decided to keep silent on the issue.
According to sources from the Awami League, ruling party General Secretary Obaidul Quader and Awami League Presidium member Mohammad Nasim, who is serving as the 14-party alliance spokesperson, have already held several meetings with Islami Oikya Front leaders.
In those meetings, leaders from the Islamist party expressed interest about joining the alliance.
Both the Islami Oikya Front and Awami League are ready to march jointly, but sources could not confirm when the formal announcement of their alliance would come.
In 2014, Islamist Oikya Front had taken to the streets against BNP's atrocities following the January 5 polls.
Lure of the ruling alliance
Zaker Party, Bangladesh Khelafat Andolan, Islami Front Bangladesh, and Bangladesh Islami Oikya Jote are also trying to be a part of the ruling alliance.
Spokesperson for the 14-party alliance Mohammad Nasim told the Dhaka Tribune that several other religion-based parties have also approached them.
"We held a meeting with the leaders of Islami Front Bangladesh, but no decision was reached," Nasim said.
In the 8th national election, the ruling party gave a seat to Islami Front leader Sayed Mohammad Bahadur Shah Mujaddedi, but he lost the polls. Nasim however expressed optimism that the Islamist party will win at least two seats in the next general polls.
Meanwhile, 14-party alliance member Bangladesh Tariqat Federation has started campaigning and also made a list of 120 eligible candidates.
The party's Joint Secretary Syed Tayabul Bashar Maizbhandari added that they would demand 30 seats from the ruling party to contest in the next election. Tariqat is the only Islamist party to have MPs in the current parliament.
A new Islamist alliance?
Leaders of several Islamist parties have claimed that votes from people with religious sentiment will help them secure at least 15 seats in the next parliamentary polls.
Khelafat Secretary General Ahmad Abdul Quadir also commented that Islamist parties were preparing to join the next election as part of an alliance.
Meanwhile, several Qawmi madrasa-based parties are trying form a coalition. A leader of Chattogram-based hardliner group Hefazat-e Islam said they were backing the new alliance.
Ahle Sunnat Wal Jamaat had not clearly announced that it will not join the ruling coalition, but it is also unclear whether it plans to go alone or be part of a different alliance for the polls.
Islami Andolan's Secretary General Maulana Yunus Ahmad stated: "We are prepared to contest the polls alone. But we will try to form a coalition with like-minded parties or join a big alliance."
Maulana Yunus however declined to divulge any details.
The party has already announced candidates for the upcoming Khulna City Corporation election and for four parliamentary seats in Bagerhat.
Meanwhile, Nurul Islam Khan, chairman of Ganatantrik Islamist Andolan, an unregistered party, stated that he is trying to form a separate coalition named "Islamist Democratic Alliance" with 15 like-minded parties.
"We demanded 30 seats from the Awami League. We will join the 14-party alliance if our demand is accepted. Otherwise, we will fight the election with our own alliance," he added.
A senior leader of the abovementioned party, preferring not to be named, told the Dhaka Tribune: "We were instructed by the Awami League to form an alliance of Islamist parties. We will work for the Awami League and may contest the polls under the ruling party's banner.
"But there is also the possibility that our coalition will contest the polls alone if the BNP boycotts it. But our alliance will work to ensure victory for the Awami League."
https://www.dhakatribune.com/bangladesh/2018/06/30/awami-league-takes-initiatives-to-tap-into-islamist-voter-banks
--------
Rifts in Jamaat deepen over JUI-F dominance in MMA
Zulfiqar Ali
June 29, 2018
PESHAWAR: Rifts in the district units of the Jamaat-i-Islami in Khyber Pakhtunkhwa have deepened as dozens of senior members have quit the party protesting the dominating role of the Jamiat Ulema-i-Islam-Fazl in the religio-political alliance of the Muttahida Majlis-i-Amal triggering differences over the award of tickets for the 2018 general elections.
The dissidents blamed JI chief Senator Sirajul Haq and provincial chief Senator Mushtaq Ahmad Khan for crisis and unrest in the party.
"The Jamaat has become a rudderless ship since Sirajul Haq took over command at Mansoora. He (Haq) is visionless and does not have qualities to lead the party," said a senior leader, who recently quit the party.
Mansoora houses the headquarters of Jamaat in Lahore.
"There is no match between Sirajul Haq and Maulana Fazlur Rehman. He (Haq) looks like a Lilliputian in front of shrewd Maulana," he remarked, adding that the JUI-F had overshadowed MMA by occupying all key offices in the center and provinces.
Dozens of old guards, including arakeen (cardholders) and office-bearers, have resigned from the party in various districts due to differences with the leadership either over policy matters or for giving too much space to the JUI-F in MMA.
An insider said the JI had become part of the MMA in 2007 without seeking the approval of the All Pakistan Ijtema-i-Arkaan, the party's highest decision-making body.
He also said it was mandatory for the party head to seek the approval of the body before rejoining the alliance.
The information gathered from different districts revealed that the JI faced serious internal rifts in Malakand division, Peshawar, Nowshera and southern districts. Many arakeen have resigned from the party while in some constituencies they have announced contesting polls against candidates of the MMA.
District emir (chief) of Nowshera Anwar Islam along with heads of 53 villages has resigned from the party after their opinion was ignored in allotment of ticket in PK-63.
Israrullah Advocate, former information secretary of JI and close aide to late Qazi Hussain Ahmad had resigned from the party and joined Pakistan Muslim League-Nawaz.
His family had been associated with the Jamaat for seven decades. His brother, Fazlullah, who had served as deputy chief of JI Peshawar District has also left the party.
He is the PML-N candidate against MMA's Asif Iqbal Daudzai. Intikhab Chamkani, political advisor to Sirajul Haq, has also resigned from JI.
The party's office-bearers in Karak have revolted against their leaders and 70 of the total 110 arakeen in the district have left the party and announced to support rival candidates of MMA in the elections.
Maulana Samiur Rehman who along with 69 other arakeen had resigned from JI accused Sirajul Haq of deviating from the ideology of the party and promoting corrupt elements. He alleged that an officer who was dismissed from paramilitary forces in Balochistan on massive corruption charges had been inducted in the party.
"We will support either Awami National Party or Pakistan Tehreek Insaf candidates in the elections," said Maulana Rehman adding that office holders in Lakki Marwat and other districts were not happy with the policies of the central leadership.
Muhammad Tasleem Iqbal, sitting district Ameer of JI in Karak acknowledged that there were resentments among the party workers over allotment of tickets in seven district of southern region.
He said that JI had been allotted only five tickets out of 28 provincial assembly constituencies in seven districts. "This is unfair and unacceptable," he said adding that it would put negative impact on MMA in elections in these areas.
The JUI-F has been allotted 62 tickets while JI had obtained 37 tickets of the provincial assembly.
The JUP-Noorani and TI had been given two seats each. For National Assembly, the JUI-F had been allotted 26 tickets, JI 11 tickets and Jamiat Ahle Hadiat one ticket. KP has total 48 seats including eight reserved seats for women.
Also, there is an embarrassing situation for the party in Lower and Upper Dir districts of Malakand division, its stronghold in KP. Large numbers of workers had either resigned from the party or struck underground deal with the party's rival candidates for the elections.
Shafiullah, who had earlier filed nomination papers against Sirajul Haq for NA-7, Lower Dir had launched "Jamaat Bachao Movement." He was forced to withdraw his papers in favour of Sirajul Haq.
Noor Hamdard, another office bearer of JI in Lower Dir is contesting election against JI candidate and former finance minister Muzafar Said on PK-15. Dr Bashir Khan, an old guard of JI had filed papers against the party candidate Dr Zakir. He withdrew his papers after reconciliation.
"If the JI candidate suffers defeat in polls in Upper and Lower Dir districts, that will be at the hands of its own party supporters and not PPP or any other party's," said MMA leader Ayaz Gul in Lower Dir.
He said for the first time, workers had revolted against the party's candidates in Malakand division.
The JI is also in hot water in Upper Dir, another pocket of the party where senior leader and former MPA Malik Hayat had joined the PML-N. Sahibzada Sibghatullah, another political stalwart in the district, has quit the party and got PTI ticket for the elections.
Buner is another stronghold of the JI, where its district units have made alliance with the PML-N and disowned the MMA.
Former Speaker Bakhat Jehan has been declared joint candidate of the JI and PML-N for PK-20.
Mushtaq Ahmad Khan and JI spokesman Jamaat Ali Shah were not available for comments despite repeated efforts.
https://www.dawn.com/news/1416731/rifts-in-jamaat-deepen-over-jui-f-dominance-in-mma
--------
Pakistan has outstanding counterterrorism deficiencies raised by FATF: US official
Jun 30, 2018
WASHINGTON: Pakistan has outstanding counterterrorism deficiencies consistently raised by the Financial Action Task Force (FATF) and needs to take actions, including on the raising and moving of funds of UN-designated terrorist groups, a top US official has said.
The US State Department official's remarks have come two days after global financial watchdog Financial Action Task Force (FATF) placed Pakistan on the grey list for failing to curb anti-terror financing.
The announcement was made despite Pakistan submitting a 26-point action plan and launching a concerted diplomatic effort to avert the decision.
"Pakistan has outstanding counterterrorism financing (CFT) deficiencies consistently raised by the Financial Action Task Force (FATF)," a State Department Spokesperson told PTI yesterday.
"Pakistan will need to take a number of comprehensive actions on CFT including the raising and moving of funds of UN-designated terrorist groups," the Spokesperson said in response to questions on Pakistan being placed on the gray list by the FATF.
The FATF is an inter-governmental body established in 1989 to combat money laundering, terrorist financing and other related threats to the integrity of the international financial system.
The spokesperson, however, welcomed the assurance given by Pakistan to work in this area.
"We are pleased that Pakistan has made a high-level political commitment to work with the FATF to address weaknesses in its CFT regime," the official said.
"We strongly encourage Pakistan to work with FATF and the international community to meet its CFT obligations, including fulfilling its commitments under UN Security Council Resolution 1267 to freeze and prevent the raising and moving of funds belonging to or associated with UN-designated terrorist groups," the spokesperson said.
By January next year, Pakistan will publish updated lists of persons and entities proscribed under the Anti-Terrorism Act and the UN-designated entities.
Pakistan had tried hard to avoid being added to a list of countries deemed non-compliant with anti-money laundering and terrorist financing rules.
https://timesofindia.indiatimes.com/india/pakistan-has-outstanding-counterterrorism-deficiencies-raised-by-fatf-us-official/articleshow/64802695.cms
--------
Korean deacons embrace other religions with pilgrimage
June 29, 2018
Over 100 Catholic deacons in South Korea made a pilgrimage to places of worship for other religions in Seoul from June 20-22 to promote religious tolerance and understanding.
The 108 transitional deacons joined a three-day event dubbed the Ecumenical and Interreligious Pilgrimage of Catholic Deacons organized by the Catholic Bishops' Conference of Korea (CBCK).
They visited the CBCK's headquarters, the Vatican Apostolic Nunciature in Korea, St. Nicholas Orthodox Cathedral, Seoul Anglican Cathedral, Hwagyesa temple of the Buddhist Jogye Order, the Won Buddhist Temple in Gangnam, and the Seoul Central Masjid (mosque).
"The CBCK organized the pilgrimage so the deacons could better understand the different religions in Korea," said Father Stephano An Pong-hwan, the CBCK's communications director.
"By visiting [these places of worship] and experiencing the culture of other religions, they can widen their understanding of other religions and different Christian denominations."
During the visit to Korea's largest mosque on June 22, Song Bo-ra, an official with the Korea Muslim Federation, said Islam is often misunderstood as a religion of violence due to its association with extremist groups like the Islamic State (IS).
"The Quran says, 'Whoever kills a person [unjustly] — it is as though he has killed all mankind'," he said.
"But Islam is a religion of peace not violence. That's why we always greet people with the salutation, 'As-salamu ʿalaykum,' which means 'peace be upon you'."
Jesuit Deacon John Lee Heun-kwan said the visit to the mosque was an effective way of creating greater understanding.
"It was a good chance to experience another religion and break down barriers and prejudices," he said.
"Especially when talking about Islam, I feel we can coexist harmoniously through dialogue as we have many things in common. I don't see it as a threat."
Imam Lee Ju-hwa, who preaches at the mosque, hailed the pilgrimage as a example for others to follow.
"We feel graced to have had the soon-to-be ordained Catholic deacons visit us with such open minds," he said.
"Their efforts to understand other religions will serve as a small step toward world peace."
https://www.ucanews.com/news/korean-deacons-embrace-other-religions-with-pilgrimage/82685
--------
India
Muslim groups in Gurgaon claim stopped from offering namaz at vacant plot again
by Sakshi Dayal
June 30, 2018
The issue of offering Friday prayers in the open in Gurgaon resurfaced once again, as several people were stopped from reading namaz at a vacant plot in Phase III. According to representatives of the Muslim community, they had taken the space on rent following clashes with locals over reading namaz in the allotted spots in the area.
"We had been given space near Moulsari Metro station for Friday prayers, but it was being disrupted. We then moved to another park owned by the Haryana Urban Development Authority, but residents there objected as well," said Wajid Khan, head of the Nehru Yuva Sangathan Welfare Society Charitable Trust.
They finally rented a space in Nathupur village. But this week, they were informed that they could no longer pray at the spot. "The man who rented the space to us said villagers had warned him that he should either stop giving it to us for prayers, or he would have to move from the area. So, he asked us to shift elsewhere," alleged Khan.
An officer at the DLF Phase III police said they had received a complaint. "We have received a complaint alleging that namaz is being read at spots that have not been allotted for the purpose… The matter will be investigated," said assistant sub-inspector Naresh Kumar.
Some members of the Muslim community also alleged that a group offering prayers in Sector 34 had been asked to disperse by police on Friday afternoon. The SHO of Sadar police station, however, denied the allegations and said no such directions had been issued, verbally or in writing.
On April 20, six men had disrupted namaz in an open field in Sector 53 with chants of 'Jai Sri Ram' and 'Radhe Radhe'. The men were arrested before being released on bail. In the wake of the incident, several outfits formed the Sanyukt Hindu Sagharsh Samiti and demanded a ban on namaz in the open. They later said that Friday prayers must be allowed only at five open spaces.
https://indianexpress.com/article/cities/delhi/muslim-groups-in-gurgaon-claim-stopped-from-offering-namaz-at-vacant-plot-again-5239362/
--------
Muslim community infuriated with Yogi Adityanath's refusal to wear skullcap at Sant Kabir's shrine
Siraj Qureshi
June 29, 2018
It may not appear to be a big deal on the outset, but UP Chief Minister Yogi Adityanath's refusal to cover his head with a skullcap during his visit at Sant Kabir's shrine is having far-reaching reverberations among the Muslim community, which may create a serious setback for PM Narendra Modi and the Bharatiya Janata Party (BJP) in the upcoming 2019 parliamentary elections.
While PM Modi and the BJP had been making slow but steady inroads in the Muslim community through the government's reformatory steps like banning triple talaq, when Yogi Adityanath refused to wear a skullcap, these advances into the Muslim hearts have suddenly come to an abrupt pause and even reversed.
Infuriated by the UP CM's refusal to adhere to the simple protocol of visiting the sufi saint's shrine, the Muslim community is now thinking about giving a fitting rebuttal to the BJP, which may include bringing about a change in the community's secular ideals and not vote for the BJP in the coming elections.
In a meeting of the officials of Muslim organisations in Agra following the Friday Namaz, Bharitya Muslim Vikas Parishad chairman Sami Aghai said that the UP Chief Minister Yogi Adityanath is unable to rise above his communal mindset which he has displayed time and again during his tenure of Gorakhpur MP and is following the same ideas even when he is on a constitutional post of the Chief Minister of UP.
He said that Yogi talks about walking on the footsteps of PM Modi, but while PM Modi is not averse to visiting Muslim shrines or wearing a skullcap since he became the PM, Yogi Adityanath is unable to change himself and he represents the mindset of the majority of the BJP workers and leaders that are against anything Muslim, including the Indian citizens who were born Muslim.
Aghai said that a chief minister belongs to the entire state and he does not belong to a specific community, but Yogi Adityanath is destroying the sanctity of this constitutional post by showing that he does not consider himself a chief minister of the minorities of Uttar Pradesh, chiefly the Muslims. However, Aghai said, he forgets this distinction between Hindus and Muslims when he seeks votes for himself or his party and at that time, Yogi claims that he is the leader of all UP citizens.
Rashtriya Muslim Action Committee Chairman Haji Jamiluddin said that whatever Yogi Adityanath did, only displayed his true identity, that he will always remain a right-wing Hindu first and foremost.
Full report at:
https://www.indiatoday.in/india/story/bharitya-muslim-vikas-parishad-yogi-adityanath-refuse-wear-skullcap-kabir-shrine-1273537-2018-06-29
--------
India, US are one in saying Pakistan deserved to be demoted to anti-terror funding group's 'grey list'
Jun 30, 2018
NEW DELHI: India and the US today welcomed a global terror financing watchdog demoting Pakistan to a 'grey list' for underperforming in rooting out sources of finance for terrorists within its borders and for not taking enough - or any, at all - action in curbing activities of terror elements who roam freely within its provinces.
The watchdog, the Paris-based Financial Action Task Force (FATF), on Wednesday greylisted Pakistan - an international pariah - for its support to terror. Pakistan avoided the far graver 'black list' by agreeing to comply with a 26-point action plan formulated by the International Cooperation Review Group (ICRG) of the Asia Pacific Group.
"India welcomes the decision of the Financial Action Task Force to place Pakistan in its Compliance Document (grey list) for ICRG monitoring," said India's ministry of external affairs, in a statement today.
The FATF is an inter-governmental body established in 1989 to combat money laundering, terrorist financing and other related threats to the integrity of the international financial system. And to avoid FATF's black list, Pakistan has to, by January, publish updated lists of persons and entities proscribed under the Anti-Terrorism Act and the UN-designated entities.
Pakistan has "outstanding counterterrorism deficiencies consistently raised by the Financial Action Task Force" and needs to take actions, including on the raising and moving of funds of UN-designated terrorist groups, a top US official said to news agency PTI yesterday.
The ICRG's compliance list - to which Pakistan has agreed to work with - envisages a 26-point plan to root out and erase all sources of financing to terror groups operating within its borders, including the India-focussed Lashkar-e-Toiba (LeT) and the Jaish-e-Mohammed (JeM), and any other entities associated with these two parent groups' head, the Jamaat-ud-Dawa (JuD). AThe JuD is led by Hafiz Saeed who masterminded the 2611 terror attacks in Mumbai in 2008. Also to be its tragets are Daesh, the Haqqani Network, the Pakistani Taliban and al Qaida.
Saeed - who has a US bounty on his head and is designated a terrorist by the UN - and other of his ilk roam freely in Pakistan, hold rallies to incite hate - against India and the US and whomever they don't like - and collect large amounts of unmonitored money for their terror activities.
"The freedom and impunity with which the designated terrorists like Hafiz Saeed and entities like JuD, LeT, JeM continue to operate in Pakistan is not in keeping with such commitments" by Pakistan so far, said India's external affairs ministry.
And Pakistan, to be put on the grey list as opposed to being blacklisted, promised action to cut the legs from under these entities by constricting their finance sources.
"Pakistan has given high level political commitment to address global concerns on implementation of FATF standards for countering terror financing and anti-money laundering, especially in respect of UN designated and internationally proscribed terror entities and individuals," said India.
India said it hopes Pakistan keeps to its commitments, something even the country's newspaper editorials seemed to cast doubt on yesterday. They said the 26-point plan will not be easy to implement if some real on-the-ground change and restructuring doesn't happen. And they believe this restructuring won't happen or not easily or soon enough.
The US, too, said Pakistan needs to take "comprehensive actions", something India hopes it will, for the safety and security of the entire Asian region.
"We hope that the FATF action plan shall be complied with in a time bound manner and credible measures would be taken by Pakistan to address global concerns related to terrorism emanating from any territory under its control," said the external affairs ministry.
Pakistan is the ninth country to be placed on the Paris-based FATF's grey list, the other eight being Ethiopia, Serbia, Sri Lanka, Syria, Trinidad and Tobago, Tunisia and Yemen, reported Pakistan's The Express Tribune.
Full report at:
https://timesofindia.indiatimes.com/india/india-us-are-one-in-saying-pakistan-deserved-to-be-demoted-to-anti-terror-funding-groups-grey-list/articleshow/64802488.cms
--------
Pulwama encounter: 3 terrorists gunned down, civilian killed in clashes
Jun 29, 2018
SRINAGAR: Three terrorists were on Friday gunned down in Pulwama district of Jammu and Kashmir and a youth died in clashes between stone pelters and security personnel near the encounter site, a police official said.
Security forces launched a cordon and search operation in Thumna village after getting information about the presence of militants there, the official said.
Jammu and Kashmir Police DGP SP Vaid has also confirmed the killing of three terrorists.
"All three militants eliminated. Good Job," he said in a tweet.
Three terrorists were holed up inside a house. The security personnel managed to pinpoint the location of the terrorists but the operation had to be delayed due to the presence of civilians in the house, he said.
The encounter broke out between the security forces and the terrorists after all the civilians were evacuated. All the three terrorists were killed, the official said.
Meanwhile, a mob started hurling stones at the security forces engaged in the anti-terror operation.
At least five people received pellet or bullet injuries in the security forces action against the protesters, the police official said.
Full report at:
https://timesofindia.indiatimes.com/india/pulwama-encounter-3-terrorists-gunned-down-civilian-killed-in-clashes/articleshow/64796857.cms
--------
Eight cow vigilantes who lynched Muslim trader in Jharkhand get bail
Jun 29, 2018
The Jharkhand high court on Friday granted bail to eight of 11 convicted cow vigilantes serving life imprisonment in Hazaribag central jail for lynching a 55-year-old Muslim trader, Alimuddin alias Asgar Ali.
A special fast track court in Jharkhand's Ramgarh district, in a record six-month time, on March 16 convicted 11 accused. Five days later, it sentenced them to life imprisonment.
The court held guilty all the accused under Section 302 (murder) and other offences of the Indian Penal Code (IPC). A mob of over 100 people, including Bajrang Dal activists, lynched Alimuddin at Bazartand in Ramgarh on June 29 last year.
A division bench on Friday granted bail to Nityanand Mahto (a local BJP leader), Santosh Singh, Vicky Saw, Sikandar Ram, Uttam Ram, Raju Kumar, Rohit Thakur, and Kapil Thakur.
The other three convicts — Chottu Verma, Deepak Mishra and Vikram Prasad — have not applied for bail. All have filed appeal petition in high court challenging their conviction.
Full report at:
https://www.hindustantimes.com/ranchi/eight-cow-vigilantes-who-lynched-muslim-trader-in-jharkhand-get-bail/story-YK34JuwDCCzeyC1H6hp1jM.html
--------
Terror funding probe: NIA steps up heat on Hurriyat leaders
Jun 29, 2018
The National Investigation Agency (NIA)'s newly revived Kashmir terror funding probe may soon land at the doorstep of top separatist Syed Ali Shah Geelani, with the federal investigation agency planning to issue summons for questioning his associate Ghulam Nabi Sumji, officials familiar with the development said.
"Sumji will be summoned soon. We have lots of questions for him," said an investigator who spoke on condition of anonymity as he is not authorised to speak to media.
Besides Sumji, the investigator said, the agency also intends to call Abdul Rahim Wani, brother-in-law of businessman Zahoor Watali, who has already been charged in the case; Abdul Razak, a close aide to separatist Shabir Shah; Shakeel Bakshi, an aide to separatist Yasin Malik; and advocate Shafi Reshi, who is the legal secretary of Geelani's Hurriyat. Reshi is also the uncle of Yasir Reshi, who is a People's Democratic Party (PDP) MLC.
Sumji, secretary general of Geelani's hardline Hurriyat, is a former member of the Jammu and Kashmir (J&K) assembly from the Homeshalibug constituency. He remained a legislator between 1987 and 1989 when he was a member of the Muslim United Front, and resigned after militancy broke out in the Valley.
A few weeks ago, Sumji hit the headlines for seeking a revision of his MLA pension. "I don't know why the NIA wants to question me though it is true that my house was raided last year. I have not received any summons from the NIA so far. And, yes, it is true I had asked for revised pension for being ex-MLA," said Sumji.
A spokesperson for Geelani declined to comment on the issue.
Following the current round of questioning, the NIA intends to go after the top leadership of the Hurriyat – which includes the triumvirate of Geelani, Mirwaiz Umar Farooq and Yasin Malik.
In May last year, the NIA initiated a probe against unnamed Hurriyat leaders and associates of three terror outfits — Hizbul Mujahideen, Lashkar-e-Taiba (LeT) and Dukhtaran-e-Millat — suspected of receiving funds from Pakistan-based LeT patron Hafiz Mohammed Saeed.
In January, besides Watali, the NIA charged seven middle-rung separatists, including Geelani's son-in-law Altaf Ahmad Shah 'Fantoosh' and Farooq Ahmad Dar alias Bitta Karate; and two terror chiefs – Hafiz Saeed and Syed Salahuddin – in the case.
"The NIA conducted raids at many locations including Sumji's premises between June and September last year... And now these persons are being called to fill critical gaps in our investigation," said the investigator.
Full report at:
https://www.hindustantimes.com/india-news/terror-funding-probe-nia-steps-up-heat-on-hurriyat-leaders/story-KXNsqjnTkEwQfOj719cMYK.html
--------
NIA files FIR against Kashmiri separatist leader Asiya Andrabi
Jun 29, 2018
The National Investigation Agency (NIA) on Friday said an FIR has been registered against Kashmiri separatist leader Asiya Andrabi for allegedly advocating secession of Jammu and Kashmir from the Union of India and calling for Jihad and use of violence against the country.
The FIR was registered on April 26 this year against Asiya and her associates, a senior NIA official said adding the accused are likely to be questioned by authorities soon.
"The Central Government has received information that one Aasiya Andrabi and her associates namely Sofi Fehmeeda and Nahida Nasreen are actively running a terrorist organisation named as "Dukhtaran-E-Millat" (DEM) which is proscribed under the First Schedule to the Unlawful Activities (Prevention) Act, 1967. They are using various media platforms to spread insurrectionary imputations and hateful speeches that endanger the integrity, security and sovereignty of India," NIA said.
The probe agency has alleged that DEM, through Aasiya, "openly advocates secession of Jammu & Kashmir from the Union of India and has also called for Jihad and use of violence against India".
Asiya, who is currently jailed in Srinagar, is the head of DEM, a separatist organisation founded in 1987. She is also the wife of jailed separatist leader Dr. Qasim Faktoo. Arrested for alleged unlawful activities, Asiya's DEM was named in a earlier NIA case in which Lashkar-e-Taiba chief Hafiz Saeed and Hizbul Mujahideen supremo Syed Salahudin were charge sheeted.
NIA spokesperson Alok Mittal told HT that the case against Asiya is a separate one.
"Aasiya Andrabi and her associates have written and spoken words, besides publishing visible representations that bring into hatred and contempt apart from exciting disaffection towards the Government of India. DEM is promoting enmity, hatred and ill-will between different communities on the grounds of religion and is doing acts prejudicial to maintenance of harmony. Aasiya Andrabi has solicited help from proscribed terrorist organizations and along with her associates has entered into a criminal conspiracy to wage war against Government of India," the agency said.
Full report at:
https://www.hindustantimes.com/india-news/nia-file-fir-against-kashmiri-separatist-leader-asiya-andrabi/story-S3dN40iCOw2gspMOHRqxmK.html
--------
Europe
UN agency rejects Trump nominee who made controversial Islam, refugee posts
June 30, 2018
The UN's migration agency snubbed the Trump administration's candidate to lead it on Friday, a major blow to U.S. leadership of a body addressing one of the world's most pressing issues — and only the second time that it won't be run by an American since 1951.
Ken Isaacs, nominated by President Donald Trump in February, came third behind Portugal's Antonio Vitorino and Costa Rica's Laura Thompson in a secret ballot of member states of the International Organization for Migration in Geneva, delegates said.
"Yet another sign that [U.S.] power, authority and prestige has been so dramatically diminished," tweeted Keith Harper, who was the ambassador to the rights council during Barack Obama's presidency. The "IOM Director is seen as an 'American seat' and Trump was unable to place an American in it."
Isaacs, vice-president of U.S. evangelical charity Samaritan's Purse, had caused controversy after being forced to
apologize for tweets and social media posts in which he disparaged Muslims.
The North Carolina native tweeted "#Islam is not peaceful" and "Muslims fast, they also blast," in response to news events in the past three years. He also once compared Islam to the People's Temple, the cult led by Jim Jones at which hundreds were killed in Guyana in 1978.
He also suggested Switzerland and Austria should consider building a border wall to keep illegal aliens out.
Also retweeted conspiracy theories
The Washington Post and CNN, working separately, uncovered over 100 questionable tweets and retweets from Isaacs that also included conspiracy theories about deaths of people known to Bill and Hillary Clinton, as well as the 2016 killing of Seth Rich, a young employee of the Democratic National Committee.
Issacs apologized after the Post report came to light in February.
Nominees need two-thirds approval from voting members. Senegalese diplomat Youssoupha Ndiaye, upon leaving the voting in Geneva, said: "The American is out."
William Lacy Swing is the outgoing IOM director general. An American has held the post on all but one occasion since 1951, but comments by Isaacs and Trump as well as administration policies surrounding immigration and refugees that have included a travel ban from several countries and the separation of children from parents requesting asylum may have hampered his chances.
Mark Hetfield, a self-described friend of Isaacs who heads the humanitarian group HIAS, which works with IOM, put the blame on policies and invective from the man in the White House, not the candidate.
"This IOM election really was not about Ken Isaacs, for whom I have a lot of respect as a humanitarian," Hetfield said. "The election was an international referendum rejecting President Trump and his xenophobic, Islamophobic and isolationist policies. Let's face it, Isaacs's tweets were no worse than the ones coming out of the White House."
Vitorino, 61, was ultimately chosen. He is a former EU commissioner for Home and Justice Affairs who has been president of the "Notre Europe" think-tank for the past seven years. He is considered very close to UN Secretary-General Antonio Guterres, also a Portuguese Socialist early in his political career.
Thompson, currently an IOM deputy director-general, was vying to become the agency's first woman chief.
https://www.cbc.ca/news/world/isaacs-un-agency-rejected-1.4727873
--------
Al Arabiya reporting from inside Saturday's 'Free Iran' conference in Paris
29 June 2018
Al Arabiya news channel revealed that the annual conference of the exiled "National Council of Resistance of Iran" headed by the Mujahedeen-e-Khalq (MEK) due on Saturday in Villepinte in Paris, will host a number of American officials who are expected to unveil the American administration's new strategy towards the Islamic Republic.
Among the expected American officials to attend the conference, US president Donald Trump's personal lawyer Rudy Giuliani and advisor Newt Gingrich.
It is worth mentioning that the controversial Iranian opposition group (MEK) was designated during former US president Barak Obama as a terrorist group and until 2012, but today this group is being marketed under "Change in Iran" in a direction that reflects the seriousness of Trump's administration in gathering dissenting Iranian opposition forces, in order to find a democratic political alternative to Wilayat al-Faqih doctrines.
Iranian pressures on France
The Iranian government had officially protested to France for allowing the Organization to hold activities and conferences.
During his meeting with French Foreign Ministry Secretary-General Maurice Gordo Montaigne last week in Tehran, the Iranian foreign ministry undersecretary Abbas Arakji called the French government to ban the organization's activities.
This year's conference is characterized by a high-level organization, an intense public presence and the influx of supporters of the Iranian resistance from around the world.
The Paris conference will run for two days in the presence of delegates and international figures from the international community and the Arab world.
In an interview with Al Arabiya news channel, Mousa Afshar, the Arabic media spokesperson in the foreign affairs' committee for the National Council of Resistance of Iran, said that the Iranian regime increased its political and diplomatic pressures on France to discourage it from allowing the conference to go on.
US administration hawks
The hawks of the American administration, some of whom will attend Paris conference, point out to the need to implement a plan that will eventually bring down the rogue regime and replace it with a democratic system that will restore Iran as a peaceful state that respects the rights of its people and coexist peacefully with its neighbors and the world.
John Bolton, the former American ambassador to the UN, before being appointed national security advisor at the White House, said in statements that he "does not like to allow the Mullahs to celebrate the 40th anniversary of their regime," due in 2019, reviving hopes of a US plan to overthrow the Islamic Republic.
Full report at:
https://english.alarabiya.net/en/News/middle-east/2018/06/29/Al-Arabiya-reporting-from-inside-Saturday-s-Free-Iran-conference-in-Paris.html
--------
South Asia
Ghani announces end of ceasefire with Taliban, orders resumption of operations
Jun 30 2018
President Mohammad Ashraf Ghani on Saturday announced that the ceasefire with the Taliban group has ended and the Afghan security forces are allowed t resume operations against the militants.
Speaking during a press conference, President Ghani said the ceasefire has ended and the Afghan forces are allowed to resume their comprehensive operations.
He said the reason for the announcement and extension of ceasefire and its subsequent end was to prove that the plan for peace was proposed from a stronger stance.
President Ghani further added that the environment had changed after the announcement of ceasefire and the ceasefire was extended after the Helmand peace march activists made a demand during a meeting with him in Chama Hozuri.
He also added that the recent developments proved that no one can bring peace to Afghanistan and only Afghans can bring peace and stability in their country.
According to President Ghani, Afghanistan's domestic issues have three dimensions, including government, Taliban, and the nation.
He said the nation demands peace and an end to the conflict and the government has positively responded to the demands, emphasizing it is the time that the Taliban should also respond positively.
President Ghani said the Taliban group is facing the nation, religious scholars of the country as well as Indonesia, Pakistan, Saudi Imams and the clerics of the Islamic world.
He said such pressures existed on the government as well which have been sidelined responsibly and the time has come that the Taliban should also prove their responsibility and decide on how they are going to face the pressures.
President Ghani once again called on Taliban to reconcile as he emphasized that the existing pressures are domestic and have no links with the outside.
He said the demands for peace come from the nation, religious scholars, and women. The Uelmas present the holy Koran and the nation present their children, and it is the time that Taliban should decide whether they will kill the nation or respond positively to their demands.
https://www.khaama.com/ghani-announces-end-of-ceasefire-with-taliban-orders-resumption-of-operations-05459/
--------
Officials: Special Forces Senior Commander martyred in an attack in Kabul
Jun 29 2018
The officials are saying that a senior commander of the Afghan Special Forces lost his life in an attack by unknown gunmen in Kabul city.
A spokesman for Kabul Police Commandment Hashmat Stanikzai confirmed the incident and said at least two people including a senior Special Forces commander were martyred in the attack.
Stanikzai further added that the incident took place at around 8:30 pm local time in the vicinity of the ninth police district of the city in Ferdawsi Park.
He said the commander of the 01 Unity of the Special Forces for Paktika Azizullah Karwan was martyred in the attack along with another civilian.
According to Stanikzai, at least three more people, including a woman were wounded in the attack.
The Taliban group claimed responsibility behind the attack with the group's spokesman Zabiullah Mujahid claiming that commander Azizullah Karwan was killed in a tactical attack.
Full report at:
https://www.khaama.com/officials-special-forces-senior-commander-martyred-in-an-attack-in-kabul-05456/
--------
Taliban's Quetta Council leaders mulling peace talks, claims Gen. Raziq
Jun 29 2018
The Police Chief of Southern Kandahar province General Abdull Raziq claims that the Taliban's Quetta Council leaders are mulling peace talks with the Afghan government.
Gen. Raziq claims that he is in contact with the Taliban group leaders and has participated in talks for at least four times as efforts are underway to encourage the group to start peace negotiations, according to RFE/RL's Afghanistan Service.
According to Gen. Raziq, the contacts between him and the Taliban leaders started nearly two months ago and efforts are underway to start talk for reconciliation.
The Police Chief of Kandahar also claimed that representatives of some other countries, including US, Saudi, and officials of certain European countries are also engaged in the ongoing efforts for the revival of peace talks.
The Taliban group has not commented regarding the latest claims of Gen. Raziq so far.
In the meantime, Gen. Raziq claims that almost half of the Taliban leaders representing the Quetta Shura (Council) are shown readiness for the peace talks.
This comes as reports emerged earlier suggesting that the Afghan officials and Taliban group leaders will participate in the summit in Azerbaijan to discuss peace prospects.
Full report at:
https://www.khaama.com/talibans-quetta-council-leaders-mulling-peace-talks-claims-gen-raziq-05457/
--------
Fugitive Bangladeshi Militants Bring Jamaat ul Mujahideen to India
By Animesh Roul
June 29, 2018
A failed bomb plot that appeared to target the Tibetan Buddhist spiritual leader, the Dalai Lama, as he visited a pilgrimage site in Bihar, India, has been blamed on the militant group Jamaat-ul-Mujahideen Bangladesh (JMB), and an emerging Indian offshoot.
On January 19, a low intensity blast on the grounds of the Tibetan monastery in Bodh Gaya caused panic among devotees of the Dalai Lama. A subsequent sweep of the vicinity—the blast occurred after the Dalai Lama had left—led to the recovery of two improvised explosive devices near the monastery's Kalachakra (Wheel of Time) prayer ground (Indian Express, January 20). Investigations into the incident revealed the involvement of the Bangladesh-based JMB.
India's elite anti-terror National Investigation Agency (NIA) and Kolkata Police Special Task Force (STF) believe the JMB was planning to avenge the atrocities on Rohingya Muslims in neighboring Myanmar by targeting Buddhist pilgrims and foreign nationals—actor Richard Gere was among those who visited the Dalai Lama—who had come to listen to the Dalai Lama during his month-long stay (New India Express, February 3). The NIA initiated a massive search and sweep operation in West Bengal, a well-known hideout for Bangladeshi militant fugitives. Subsequently, details of a newly emerged JMB network in India have surfaced.
Jamaat-ul-Mujahideen India
In February 2018, the Special Task Force (STF) of the Kolkata (West Bengal) police arrested at least six people from the Murshidabad and Darjeeling districts with suspected links to JMB, including two who police say were involved in the planting of IEDs in Bodh Gaya (Hindustan Times, February 23). Following the arrests of the two men—who the authorities named as Azhar Hossain and Shish Mohammad—police in the town of Dhuliyan, in Murshidabad, seized more than 200 kilograms of ammonium nitrate, 50 detonators, timers and tiffin boxes (metal lunchboxes) that were allegedly to be used to make IEDs.
Two other suspects arrested, Paigambar Shaikh and Jamirul Shaikh, revealed more incriminating details about JMB's India wing and the recruitment drive in West Bengal and Bihar. The pair reportedly confessed that fugitive JMB leaders Salahuddin Ahmed (a.k.a. Salein) and Jahidul Islam, known as "Boma" Mizan for his expertise in explosives, were the creators of Jamaat-ul-Mujahideen India (JMI) and had planned to target Buddhist pilgrimage circuits in West Bengal and Bihar. They claimed that Salein was the chief of JMI and had been instrumental in recruiting several new members, and said that at least eight units of JMI, each comprising 10-12 members, had been tasked with carrying out anti-Buddhist attacks in India (New Indian Express, February 3).
The continued crackdown led to the arrest on June 11 of a suspected militant named Hazibullah, who the police claim helped in procuring explosives for the Bodh Gaya bomb plot (DNA India, June 12). Hazibullah was picked up in Bandel town, in the Hooghly district of West Bengal.
Before the formal founding of JMI, the remnants of a fleeing JMB contingent were visible on Indian soil, especially during the Burdwan bombing episode of October 2014. According to India's National Investigation Agency (NIA), JMI's chief and his deputy are responsible, along with other JMI members, for an accidental explosion in 2014 in the Burdwan district of West Bengal. The Khagragarh blast, which was followed by a police raid and a subsequent arms seizure, exposed for the first time a flourishing JMB network in India (Live Mint, December 1, 2014). Two JMB militants were killed in the accidental explosion and a number of others sustained severe injuries. Both NIA and Bangladesh's Counter Terrorism and Transnational Crime Units have already announced monetary rewards for credible information relating to JMB fugitives and its burgeoning network.
JMB Fugitives
JMI's Salein has been a senior figure in JMB since 2001. He was in charge of Sylhet-Mymensingh region in Bangladesh, but fled Bangladesh and is in hiding. He has possibly been operating from Indian territory since he and Boma Mizan escaped from a prison van after a JMB orchestrated ambush in the Trishal locality of Mymensingh district in February 2014 (Daily Star, February 23, 2014).
A committed jihadist originally from Narayanganj, Salein has been sentenced to death in Bangladesh for his role in the Mymensingh court bombing in 2007, the targeting several Christian youths in Jamalpur and the killings of Hridoy Roy in April 2003 and Joseph Gani Gomez Mandal in September 2004 (Daily Star, February 21, 2013; Daily Star, March 08, 2015).
A cursory look at Salein's career within JMB's rank and file suggests he had been a member of the Jamaat-e-Islami party's radical student wing, Islami Chhatra Shibir (ICS). He joined JMB while studying in Tejgaon Polytechnic Institute in Dhaka, and was influenced by JMB's military chief Ataur Rahman Sunny. He was arrested in late April 2006, during a Rapid Action Battalion (RAB) operation at Pahartoli in Chittagong. Boma Mizan is presently the deputy chief of JMI and has backed Salein since his dramatic 2014 ambush and escape.
Boma Mizan, who was finally arrested in May 2009 after years of work by the Bangladesh security agencies, came onto the security radar following JMB's countrywide serial bombings on August 17, 2005. He played a major role in making more than 500 bomb attacks across Bangladesh that killed and injured more than a hundred people. His bomb-making skills were employed by JMB in a series of attacks against the Court Houses and judges in Bangladesh, between October and November 2005 (Dhaka Tribune, February 23, 2014; BDNews24.com, September 26, 2017). He was arrested in May 2009 in the Mirpur area of Dhaka, the Bangladeshi capital.
According to Bangladesh's investigating agencies, like many JMB operatives, Boma Mizan had received arms and explosives training from the Rohingya Solidarity Organization (RSO), an insurgent group that fought for the cause of Rohingya Muslim minorities and against alleged atrocities by Buddhists in Myanmar (Daily Star, May 19, 2009). These long-standing operational links with the Rohingya group may lie behind the attempts by fugitive JMB leaders to target Buddhist pilgrimage circuits in West Bengal and Bihar.
Proselytization, Training and Armed Combat
The founding of JMI on Indian soil indicates two things—that Bangladesh's concerted counterterror operations have pushed the JMB remnants into neighboring India in search of a safe haven, and that there has been somewhat of an ideological rift within the original JMB with the different strands adhering to either the jihadist ideals of al-Qaeda or those of Islamic State (IS).
Salein's al-Qaeda-influenced, India-based faction is attempting to regroup and recruit new members under the banner of JMI, and its seemingly broad based jihadist objectives and geographical reach. Long before the confessions of arrested militants in February revealed the existence of JMI, Salein and his team had attempted to reinvigorate the old JMB and had broadcast their future agenda through a Bengali language media arm, Sahm al-Hind (Dhaka Tribune, August 5, 2017).
JMI and Sahm al-Hind media used popular online publishing platforms like WordPress and Justpaste.it, as well as social media channels such as YouTube, to post their propaganda. In mid-July 2017, Sahm al-Hind published an interview with Salein that gave details about future activities and the objectives of his new group, although these details appear worryingly to have escaped the attention of India's intelligence agencies. [1]
Underscoring the JMB's reorganization as JMI and the larger agenda of jihad on the Indian subcontinent, Salein in his interview with Sahm al-Hind outlined JMI's three main objectives: proselytization, training and armed combat with a view to establishing Islamic rule across the Indian subcontinent. According to Salein, JMI's target would oust "unbelievers" in the "land of Allah" by force of arms. He vehemently denied the existence of any New-JMB in Bangladesh and rejected suggestions of a split in the JMB, calling the suggestion a conspiracy intended to malign the movement. He urged Muslims of the region to wage the mythical Ghazwa tul Hind (battle between infidels and believers in India) to establish a caliphate in the Indian subcontinent. [2].
Salein is highly critical of IS in Syria and Iraq and adheres instead to the ideals of JMB's original influencer, al-Qaeda. In sharp contrast, the Neo-JMB faction that has dominated the militant landscape in Bangladesh in recent years and masterminded several high profile attacks in the country—including the July 2016 attack on the Holy Artisan bakery—is ideologically and operationally influenced by IS and its violent principles (Prathom Alo, August 17, 2016; Hindustan Times, February 10).
India's northeastern region, including Assam and West Bengal, provides a safe haven for illegal immigrants and Islamic militants because of its porous border and poor security. The regions have predominate Muslim populations, with mosques and madrasa networks that have allowed Bangladesh-based militant groups like JMB and Harkat ul-Jihad Islami (HuJI) to raise money, material and manpower.
Full report at:
https://jamestown.org/program/fugitive-bangladeshi-militants-bring-jamaat-ul-mujahideen-to-india/
--------
Myanmar transit camps sit empty as Rohingya fear return
JUNE 30, 2018
The transit camp in Myanmar's Rakhine state stands ready to welcome back 150 Rohingya refugees from Bangladesh every day.
But on most days it lies completely empty, as members of the stateless minority dread returning to a place they were violently driven from by the military, and Myanmar makes little effort to reassure them things will be different this time.
"We have been ready to receive them since January, when we opened," said Win Khaing, immigration director at Nga Khu Ra, standing in the desolate camp with reporters on Friday as part of a two-day government-chaperoned trip to the area.
The result is a stand-off, as Myanmar immigration officials wait in empty offices shuffling papers and arranging biometric equipment but with little to no work to do except greet visiting delegations and journalists.
Fewer than 200 Rohingya Muslims have been resettled in Myanmar's northern Rakhine state from the 700,000 who fled a violent army crackdown in August.
Rohingya women say they were raped by security forces, while witnesses described summary executions and a merciless campaign of violence that the UN has said amounts to ethnic cleansing.
Myanmar says it only targeted militants, although the military has admitted one instance of executing captured suspects.
Even the limited number of Rohingya who have returned have all done so under murky circumstances.
In April the government trumpeted the arrival of a Rohingya family of five, but it was later slammed as a PR stunt as it emerged they had come from a buffer area between the two countries that is technically part of Myanmar.
Local authorities nevertheless created a billboard with several large photos of the family near the border, heralding the "photo records of steps of repatriation".
In recent months, Myanmar says dozens have been repatriated after crossing over from Bangladesh illegally.
It says others who tried to flee to Bangladesh by boat but accidentally washed up back in Myanmar have also been sent to live with relatives after being processed at the transit camp.
Bangladesh does not recognise these as legitimate returnees.
"The repatriation process has not begun," Bangladesh refugee commissioner Mohammad Abul Kalam told AFP.
– 'We haven't been to Bangladesh' –
Nine Rohingya purportedly released from prison in May after crossing back over illegally were brought by Myanmar officials to meet journalists on Friday.
But cracks quickly emerged in the story, with some saying they had never even been to Bangladesh and were "repatriated" from prison in Myanmar.
"We were arrested in November last year (in Myanmar) and sentenced to four years imprisonment each under the immigration act," said Yar Sein, 35, a farmer and father-of-four.
"We were arrested from school and accused of coming from Bangladesh. We haven't been to Bangladesh."
The prolonged delays in repatriation have also strained relations with Bangladesh, which plans to send a protest note after a 10-year-old Rohingya boy in the buffer zone was struck by a bullet from the Myanmar side on Thursday.
Myanmar says it fired at people attempting to damage the border fence.
As the two countries blame each other for the delay, Myanmar has embarked on what is says is a massive development project in northern Rakhine, bulldozing Rohingya towns and remaking the entire landscape in the name of reconstruction.
The UN has said conditions in Rakhine are not ripe for a safe, voluntary and dignified repatriation, but signed an agreement with Myanmar to assess conditions on the ground to help refugees make an informed decision.
– 'No one' at the camps –
Myanmar has faced global condemnation for its treatment of the Rohingya, and Amnesty International said this week that several senior military figures should be tried for crimes against humanity.
A US Trafficking in Persons (TIP) report Thursday downgraded Myanmar for failing to protect Rohingya Muslims fleeing the crackdown and leaving them vulnerable to exploitation and trafficking rings.
The Rohingya are loathed by many in Myanmar, where they were stripped of citizenship and branded illegal immigrants from Bangladesh despite calling Rakhine their homeland.
Min Aung Hlaing, the army chief, said last month that Rohingya have nothing to fear as long as they stay in places "designated" for them, raising concerns that they would be placed back into the apartheid-like conditions they escaped.
Ye Htoo, district administrator in Maungdaw — the epicenter of violence in the western state — told reporters Myanmar is "planning to create a good environment for them to stay if they come back."
Still, he admitted, "there is no one" at the camps.
Local residents have also spoken of not being willing to coexist alongside their former neighbours, whom many associate with a Rohingya militant group that attacked police posts.
Full report at:
https://dailytimes.com.pk/260380/myanmar-transit-camps-sit-empty-as-rohingya-fear-return/
--------
Pakistan
FATF gives Pakistan 10-point action plan to counter terror financing
June 30, 2018
LAHORE: After grey-listing Pakistan due to its 'terror-financing deficiencies', Financial Action Task Force (FATF) on Friday gave a 10-point action plan, welcoming the high-level political commitment conveyed by the country.
After Plenary Meetings held in OECD, Paris, from June 24-29, 2018, to discuss the issues relating to security and integrity of the global financial system, FATF said it has "identified Pakistan as a jurisdiction with strategic AML/CFT deficiencies". The body has recommended an action plan to address the issues regarding anti-money laundering and counter-terror financing.
The action plan includes:
(1) Demonstrating that TF risks are properly identified, assessed, and that supervision is applied on a risk-sensitive basis
(2) Demonstrating that remedial actions and sanctions are applied in cases of AML/CFT violations, and that these actions have an effect on AML/CFT compliance by financial institutions
(3) Demonstrating that competent authorities are cooperating and taking action to identify and take enforcement action against illegal money or value transfer services (MVTS)
(4) Demonstrating that authorities are identifying cash couriers and enforcing controls on illicit movement of currency and understanding the risk of cash couriers being used for TF
(5) Improving inter-agency coordination including between provincial and federal authorities on combating TF risks
(6) Demonstrating that law enforcement agencies (leas) are identifying and investigating the widest range of TF activity and that TF investigations and prosecutions target designated persons and entities, and persons and entities acting on behalf or at the direction of the designated persons or entities
(7) Demonstrating that TF prosecutions result in effective, proportionate and dissuasive sanctions and enhancing the capacity and support for prosecutors and the judiciary
(8) Demonstrating effective implementation of targeted financial sanctions (supported by a comprehensive legal obligation) against all 1267 and 1373 designated terrorists and those acting for or on their behalf, including preventing the raising and moving of funds, identifying and freezing assets (movable and immovable), and prohibiting access to funds and financial services
(9) Demonstrating enforcement against TFS violations including administrative and criminal penalties and provincial and federal authorities cooperating on enforcement cases
(10) Demonstrating that facilities and services owned or controlled by designated persons are deprived of their resources and the usage of the resources
The Pakistani delegation was led by caretaker Finance Minister Dr Shamshad Akhtar along with officials from Ministry of Finance, Ministry of Foreign Affairs, State Bank of Pakistan and Financial Monitoring Unit. On the sidelines of FATF and ICRG meetings, the Pakistani delegation held bilateral meetings with several FATF members to ensure their support for Pakistan in the FATF process. FATF members were informed that the government already sent its commitment letter to the FATF President on the Policy Action Plan on June 22, 2018.
A special intervention to FATF/ICRG was made by Dr Akhtar where she emphasised that Pakistan was steadfast in upgrading the AML/CFT standards and ensuring their enforcement. She reiterated Pakistan's strong resolve to strengthen its counter measures against terrorism and terrorism financing, and to implement the action plan by adopting a "whole-of-government" approach.
"This opportunity was instrumental in ensuring Pakistan's commitment to the world for compliance of international standards and increasing effectiveness of regulatory and enforcement regimes for its own benefit," she said.
In a statement issued by the finance ministry, the government said, "The FATF/ICRG group supported Pakistan's proposition on keeping the timeframe realistic for implementation of policy actions."
"Further to the decision already made at the FATF Plenary held in February 2018, the FATF Plenary of June 2018 approved the Action Plan for Pakistan and placed Pakistan on its Public Statement in the Ongoing Compliance section."
"Moving forward, the Government of Pakistan is putting in place a strategy to implement the Action Plan in the next 15 months. Given the complexity and size of the action plan, the Minister for Finance has established a high-powered, inclusive and robust institutional coordination and monitoring mechanism to ensure that the Action Plan is implemented within time and the country is brought out of FATF's Public Statement the soonest," it added.
The meetings were attended by delegates from several countries as well as the UN, IMF, World Bank and other multilateral institutions.
https://www.pakistantoday.com.pk/2018/06/30/fatf-gives-pakistan-10-point-action-plan-to-counter-terror-financing/
--------
HRW urges Pakistan to repeal discriminatory laws against Ahmedis
June 30, 2018
Human Rights Watch (HRW) on Friday urged the government to immediately act to allow the full and equal participation of members of the Ahmadiyya religious community in the general elections scheduled for July 25, 2018.
HRW, in a statement issued, said that "the government should drop discriminatory provisions in the electoral law that effectively exclude Ahmedis because of their religious beliefs."
To register as voters, Ahmedis must either renounce their faith or agree to be placed in a separate electoral list and accept their status as "non-Muslim". Self-identification as Muslims, however, is the cornerstone of Ahmadiyya religious belief, and thus they end up not voting at all.
"The elections in Pakistan can't be 'free and fair' if an entire community is effectively excluded from the electoral process," said Brad Adams, Asia director. "Religious disagreements cannot justify denying people their right to vote."
"The choice is between practically renouncing our faith or vote," said an Ahmedi activist. "This is not a real choice. It would have been better had the government outright banned Ahmedis from voting since then they would rightly receive international criticism for doing that."
"This is a vicious cycle," said an Ahmedi businessman. "We are persecuted and discriminated by laws which ensure that we don't get a voice in the parliament, and since we don't have a voice, there is nothing that we can do to have these laws changed."
Pakistani laws against the Ahmadiyya community violate Pakistan's international legal obligations under the International Covenant on Civil and Political Rights (ICCPR), including the rights to freedom of conscience, religion, expression, and association; to profess and practice their own religion; and to vote and be elected at genuine periodic elections. Pakistan ratified the ICCPR in 2010.
The HRW further said that the government of Pakistan should also investigate and prosecute as appropriate intimidation, threats, and violence against the Ahmadiyya community by militant Islamist groups.
Full report at:
https://www.pakistantoday.com.pk/2018/06/29/hrw-urges-pakistan-to-repeal-discriminatory-laws-against-ahmedis/
--------
Pakistan Pulls Extremist From Terror Watch List
June 29, 2018
Pakistan's government has lifted a ban on extremist religious leader Mohammad Ahmed Ludhianvi, at a time when the Paris-based Financial Action Task Force (FATF) has placed the country on its terror watch list for its alleged failure to curb terror financing.
Ludhianvi, known to be a staunch Sunni Islamist, is the leader of Ahl-e-Sunnat Wal Jamaat (ASWJ), a radical sectarian outfit that is accused of orchestrating several deadly attacks against minority Shiites in Pakistan over the past two decades.
Some experts in Pakistan believe the decision will undermine the state's counterterrorism regulations and its narrative that the country is targeting militant groups, along with their money-laundering and terror-financing efforts.
"We've just been placed on FATF's gray list and this decision would further complicate the situation," Rasul Baksh Raees, a Lahore-based political analyst, told VOA. "Two days ago, Pakistan presented a 26 point anti-terror-financing strategy in front of the FATF countries. Who will take it seriously if people like Ludhianvi are set free?"
Retaliation?
While viewing the move as "irrational," Raees dismissed the notion that Ludhianvi's freedom is some sort of retaliation against the FATF's decision.
"The country has a caretaker government setup and cannot afford to take any such rash and foolish measures," Raees added.
Ahmad Bilal Mehboob, the head of the Pakistan Institute of Legislative Development and Transparency (PILDAT), said the announcement of setting Ludhianvi free has placed a question mark on the integrity of the caretaker government.
"The decision could be a result of any political pressure. I'm still unable to comprehend why would the caretaker provincial government set free the ASWJ leader, a group that has established terror ties," Mehboob said.
According to Pakistani laws, with his name cleared, Ludhianvi can run in the upcoming general elections and will have access to his previously frozen financial assets. He also can freely travel within and outside the country.
Punjab recommendation
Speaking to VOA, provincial government officials have downplayed the lifting of the ban on Ludhianvi.
"It is a routine matter for the provincial home department to revisit names on the terror list and remove those who are acting according to the law," Shaukat Javed, Punjab's provincial interior minister, told VOA.
"Ahmed Ludhianvi's name was taken out of the watch list after a close review of his case by the provincial government," Javed added.
Hasan Askari Rizvi, the caretaker chief minister of Punjab province, told Reuters the decision was made by the federal government. The "Punjab government is implementing decisions of [the] election commission and the federal government in this regard," Rizvi said.
Raees is among the experts saying the decision is a "sheer mistake that should be corrected" and "it doesn't matter whether the decision was taken by the federal government, Punjab government or NACTA."
Ahl-e-Sunnat Wal Jamaat
ASWJ is a sectarian Sunni militant group established in Punjab province in 1985 to counter the Shiite Islam in the country. It was previously known as Sipah-e-Sahaba Pakistan (SSP).
Pakistan placed ASWJ on its terror watch list in 2002. Over the years, however, the outfit has resurfaced with several identities, including Anjuman Sipah-e-Sahaba, Sipah-e-Sahaba Pakistan, Millat-e-Islamia Pakistan and Sipah-e-Muhammad.
The group has had several alliances and links with terror groups including al-Qaida and Lashkar-e-Jhangvi (LeJ), and has been blamed for several deadly attacks against the Shiite minority in the country.
The group is also a staunch supporter of the country's controversial anti-blasphemy law.
In 2011, ASWJ follower Mumtaz Qadri fatally shot Punjab's governor, Salman Taseer, after Taseer demanded changes in the blasphemy law.
In addition, ASWJ has operated as a political party and, despite being banned several times, its candidates, through affiliations with various political and religious groups, have openly participated in past elections.
Aurangzeb Farooqui, a Karachi-based ASWJ member, and several others will be contesting for seats in the upcoming elections in July.
Who is Ludhianvi?
Mohammad Ahmed Ludhianvi, the current chief of Ahl-e-Sunnat Wal Jamaat and the joint secretary of Difa-e-Pakistan Council (DPC), an alliance of about 40 political and religious parties, hails from Pakistan's Punjab province.
Ludhianvi is known to be a strong proponent of a strictly Sunni Islamic Pakistan and is referred to as Safeer-e-Aman (Ambassador of Peace) among his followers. He took charge of the outlawed ASWJ after Ali Sher Haidri, its former chief, was killed in an attack in 2009.
Full report at:
https://www.voanews.com/a/pakistan-removes-sunni-extremist-leader-from-terror-watch-list-/4460750.html
--------
Punjab govt denies lifting ban from ASWJ
June 30, 2018
LAHORE: Punjab government on Friday termed a news-item published in a section of the press with regard to participation of Ahle Sunnat Wal Jamaat (ASWJ) in the elections of 2018 as baseless, beyond facts and misguided.
According to a statement issued here, Punjab government spokesperson made it clear that ASWJ was a banned outfit and it had no permission to carry out any sort of activities.
"The law enforcement agencies have initiated legal action under Anti- Terrorism Act 1997 for violating the law and all the offices of this outfit have been sealed," said the spokesman, adding that the name of Maulana Ahmed Ludhianvi was not included in the fourth schedule under Anti-Terrorism Act, therefore, the law did not stop anybody, whose name was not included in the fourth schedule, to take part in the elections.
On Wednesday, it was reported that the government had ordered to unfreeze the assets of Maulana Ahmed Ludhianvi and removed the ban placed on his movement – ASWJ.
According to reports, National Counter-Terrorism Authority (NACTA) on Wednesday had issued a notification in this regard following the recommendations of Punjab's home department.
The ASWJ chief, who is also the joint secretary of the Difa-e-Pakistan Council (DPC), was reportedly allowed to operate his bank accounts which were frozen on the recommendation of the same department earlier.
Full report at:
https://www.pakistantoday.com.pk/2018/06/30/punjab-govt-denies-lifting-ban-from-aswj/
--------
Imran sees tickets award as most unrewarding task
Mansoor Malik
June 30, 2018
LAHORE: For Imran Khan, the ticket-award exercise is the most painful task of his life. He not only described this exercise as "Azab" (torment) but also called it "the most difficult time of my life."
"I will be thankful to Allah for coming out of the crisis of awarding party tickets," he said as he briefly came out of his Zaman park residence late on Friday evening.
The Pakistan Tehreek-i-Insaf chairman is facing severe criticism over award of party tickets to turncoats, while completely ignoring the party's ideological and loyal workers.
"We the workers have lifted this party to its present position but the fruits are being offered to turncoats, many of whom had recently joined the party," Junaid Shahzad told Dawn.
A number of PTI workers from different Lahore constituencies as well as other districts continued protesting outside Zaman Park residence on Friday -- the last day to finalise the party tickets before going ahead for intense election campaign for the general election.
Former MPA Seemal Kamran, who claims to be the wife of PML-Q government's Punjab law minister Raja Basharat, also protested outside the PTI chairman's residence. She said Basharat was a liar and demanded that the PTI chairman should withdraw the ticket from him.
Though the PTI chairman had claimed that there is a system in place to ensure that only the right candidates are given tickets, many aspirants say the most deserving candidates have been ignored in a bid to accommodate turncoats who defected the former ruling PML-N party.
"Many of the candidates who could have won respective seats have been ignored," said a protester.
"Why we were kept on toes to keep a close contact with voters in our constituency as well as remain available at all party events whether sit-ins or public meetings during the past five years in particular – and spending huge money," a ticket aspirant expressed his dismay while speaking to Dawn.
Mr Khan had spent a full day to 'placate' the disgruntled elements while explaining them the ground realities as well as reasons leading to parliamentary boards' decisions at his Lahore residence on Thursday. Still many a protester believed that the chairman had only given (false) hope to many ticket aspirants that they would be accommodated in the by-elections and for other positions after forming the government.
The PTI chairman had arrived in Lahore on Wednesday night and was limited to indoors owing to round-the-clock protest outside his residence. As he came out of his residence late on Friday evening and met some protesters, he said in sheer frustration, "I will heave a sigh of relief, when Allah rescues me from this Azab (torment) of awarding party tickets to candidates."
Full report at:
https://www.dawn.com/news/1416942/imran-sees-tickets-award-as-most-unrewarding-task
--------
Shamshad renews govt pledge to rout terror financing
June 30, 2018
ISLAMABAD - Finance Minister Dr Shamshad Akhtar reiterated the government's strong resolve to strengthen measures against terrorism and terrorism financing, and to implement the Action Plan by adopting a "whole-of-government" approach during FATF Plenary meetings held in OECD, Paris, from June 24 to 29, 2018, to discuss issues relating to security and integrity of the global financial systems.
This opportunity was instrumental in ensuring Pakistan's commitment to the world for compliance of international standards and increasing effectiveness of regulatory and enforcement regimes for its own benefit.
The meetings were attended by delegates from several countries as well as the UN, IMF, World Bank and other multilateral institutions.
Pakistan delegation was led by Finance Minister, Dr. Shamshad Akhtar along with officials from Ministry of Finance, Ministry of Foreign Affairs, State Bank of Pakistan and Financial Monitoring Unit, said a press release issued here Friday.
On the sidelines of FATF and ICRG meetings, the Pakistani delegation held bi-lateral meetings with several FATF members to ensure their support for Pakistan in the FATF process. FATF members were informed that the government of Pakistan already sent its commitment letter to the FATF President on the Policy Action Plan on 22 June 2018.
A special intervention to FATF/ICRG was made by Dr. Shamshad Akhtar. She emphasized that Pakistan was steadfast in upgrading the AML/CFT standards and ensuring their enforcement.
Extensive preparation in consultations with all the concerned authorities and initiating some actions prior to the Paris meetings was helpful in strengthening Pakistan's case. The FATF/ICRG group supported Pakistan's proposition on keeping the timeframe realistic for implementation of policy actions.
Further to the decision already made at the FATF Plenary held in February 2018, the FATF Plenary of June 2018 approved the Action Plan for Pakistan and placed Pakistan on its Public Statement in the Ongoing Compliance section.
Moving forward, the government of Pakistan is putting in place a strategy to implement the Action Plan in the next 15 months.
Full report at:
https://nation.com.pk/30-Jun-2018/shamshad-renews-govt-pledge-to-rout-terror-financing
--------
North America
US upgrades Pakistan on 'human trafficking index'
Anwar Iqbal
June 30, 2018
WASHINGTON: The United States has moved Pakistan from a watch list to another group of countries that have taken significant steps to curb human trafficking, says a report released on Friday.
"The government of Pakistan does not fully meet the minimum standards for the elimination of trafficking; however, it is making significant efforts to do so," says the report released by the US State Department.
"The government demonstrated increasing efforts compared to the previous reporting period, therefore, Pakistan was upgraded to Tier 2."
The move came two days after an international financial watchdog placed Pakistan on its monitoring list — known as the 'grey list'— for allowing terrorist groups to collect funds.
"Modern slavery has no place in the world, and I intend to ensure, through diplomatic engagement and increased action, that the United States government's leadership in combating this global threat is sustained in the years to come," said US Secretary of State Michael R. Pompeo while releasing the trafficking in persons report.
Tier 2 on the State Department's list includes countries that do not fully comply with these minimum standards, but are making significant efforts to bring themselves into compliance while tier 2 watch list includes countries being monitored for compliance.
The report notes that the Pakistan government demonstrated increasing efforts by raising the number of victims it identified and investigations and prosecutions of sex trafficking.
The provincial government of Punjab increased investigations, prosecutions, and convictions for bonded labour, the country's largest human trafficking problem.
The government of Azad Jammu and Kashmir adopted a law prohibiting bonded labour.
The governments of Khyber Pakhtunkhwa and Sindh reported operating two additional women shelters and three additional child protection units, respectively.
The federal government continued to implement its 2015-20 national strategic framework against trafficking in persons and migrant smuggling.
The report, however, points out the Pakistan government did not meet the minimum standards in several key areas:
Overall government law enforcement efforts on labour trafficking remained inadequate compared with the scale of the problem; Punjab continued to be the only province to report prosecutions and convictions for bonded labour.
Convictions for sex trafficking decreased and the government's overall convictions remained small compared with the extent of trafficking in Pakistan.
Official complicity in trafficking crimes remained a pervasive problem, yet the government did not report new law enforcement efforts to hold such officials accountable, including failing to investigate serious allegations of trafficking regarding a high-ranking diplomatic official.
Government protection efforts remained inconsistent; only a small number of the total victims identified were referred to assistance services.
The report urges Pakistan to increase prosecutions and convictions, particularly of forced and bonded labour, while strictly respecting due process; pass an anti-trafficking law that criminalises all forms of human trafficking, including sex trafficking of those under 18 without requiring coercive means.
It also urges Pakistan to prescribe penalties commensurate with other serious crimes, such as rape; thoroughly investigate credible allegations of government complicity in trafficking and stringently prosecute and punish officials who are complicit.
Pakistan should also provide additional resources to increase trafficking-specific services for victims, including for men and boys, and ensure victims are not penalised for acts committed as a result of being subjected to trafficking.
The States Department also urges Pakistan to ensure the creation, dissemination, and use of standard operating procedures (SOPs) for victim identification and referral to rehabilitation services at the provincial level; expand ability for freed bonded labourers; to obtain identification documents and gain access to government services.
Pakistan should also take steps to eliminate all recruitment fees charged to workers; issue policies and provide trainings to government officials that clearly distinguish between human trafficking and migrant smuggling.
The report urges Pakistan to strengthen the capacity of provincial governments to address human trafficking, including bonded labour, through training, awareness raising, funding, and encouraging the creation of coordination task forces and the adoption of provincial-level anti-trafficking action plans.
https://www.dawn.com/news/1416961/us-upgrades-pakistan-on-human-trafficking-index
--------
Man admits making bomb threat targeting Florida mosque
Jun 29, 2018
WASHINGTON: A 26-year-old Florida man has admitted obstructing the free exercise of religious beliefs through the threatened use of a dangerous weapon and explosive after he called in a bomb threat to a mosque, federal prosecutors said on Friday.
Dustin Allen Hughes of Cutler Bay, Florida, pleaded guilty on Thursday during a hearing in the Southern District of Florida, federal prosecutors said in a statement.
He faces up to 20 years in prison when he is sentenced on Sept. 6.
Hughes confessed to calling an emergency contact for the Jamaat Ul Muttaqeen Mosque in Pembroke Pines, Florida, on May 5 and leaving "a hate-filled and profanity-laden voicemail message denigrating Islam and threatening to blow up the mosque," the prosecutors' statement said.
In the message, Hughes said he had a detonator, that he was "going to blow your ... temple up," and that "you guys are all going to be up in flames after I'm done with you," according to the statement.
Law enforcement was contacted and immediately responded, but no bomb was found at the mosque, prosecutors said.
Full report at:
https://timesofindia.indiatimes.com/world/us/man-admits-making-bomb-threat-targeting-florida-mosque/articleshow/64797263.cms
--------
Annapolis attack: Deadliest day for journalism in US since 9/11
Brian Stelter
June 30, 2018
Thursday's attack at the Capital Gazette newspaper is the deadliest day for journalism in America since 9/11. Four people died at the newspaper's office in Annapolis, and a fifth person died after being transported to the hospital.
The identities of the victims were released on Thursday night. Rob Hiaasen, Gerald Fischman, Wendi Winters, and John McNamara were editors, and Rebecca Smith was an ad sales assistant for the paper. "What happened here was very calculated," Capital Gazette reporter Selene San Felice said on "Anderson Cooper 360."
She was in the newsroom when the shots rang out. "I think this person was going after editors," she said. Reporter Phil Davis said on "AC360" that he hid under a desk during the attack. When he heard the gunman reload, he said he wondered to himself, "Are we all going to die?"
Local authorities said the newspaper as a whole was "targeted." Multiple law enforcement officials have told CNN the suspect in the shooting is Jarrod Warren Ramos, who had previously filed a defamation lawsuit against the paper. The suit was dismissed.
News of the shooting spree caused a chill in newsrooms across the United States on Thursday. Law enforcement in several cities stepped up security around major news organizations as a precautionary measure. Threats against members of the media have been on the rise in recent years. But murders of American journalists are very rare. The last time multiple journalists were killed while on assignment in the U.S. was in 2015, when an ex-employee attacked two members of a WDBJ TV news crew during a live report in Virginia.
Reporter Alison Parker and photojournalist Adam Ward were killed. On Thursday, Chris Hurst, who was engaged to Parker when she was killed, tweeted in response to the Annapolis shooting, "The threat to journalists is real and became deadly once more today in Annapolis. My condolences to everyone impacted at the @capgaznews newsroom."
The Committee to Protect Journalists, which tracks threats to journalists around the world, said that "seven journalists have been killed in relation to their work in the United States" since the group began its tracking effort in 1992.
The group noted that "a music journalist was killed in Chicago" earlier this year, but "CPJ is still investigating the motive for that killing."
"Newspapers like the Gazette do vital work, and our thoughts are with them amid this unconscionable tragedy," the group's executive director Joel Simon said in a statement. "Violence against journalists is unacceptable, and we welcome the thorough investigation into the motivations behind the shooting."
CPJ's database includes one journalist death on 9/11 -- a freelance news photographer. Six broadcast engineers working for TV stations were also killed in the terror attacks, for a total of seven members of the news media.
That's why Thursday's death toll of five stands as the deadliest day for the industry since the terror attacks. Capital Gazette Communications publishes multiple papers, including the Capital and the Maryland Gazette. Danielle Ohl, a reporter for The Capital, pointed out on Twitter that the shared newsroom has "about 20 news staffers, a few more advertising."
Despite the attack, The Capital will still be publishing a newspaper Thursday night. Multiple newsroom staffers, plus reporters from its parent company, The Baltimore Sun, are working on stories for Friday's edition.
The Sun is owned by Tronc, which operates papers in many local markets. Tronc executives are on the way to Annapolis, according to an internal memo from CEO Justin Dearborn Thursday night.
In the memo, obtained by CNN, Dearborn said that "out of abundant precaution, we are increasing security presence at the company."
Full report at:
https://nation.com.pk/30-Jun-2018/annapolis-attack-deadliest-day-for-journalism-in-us-since-9-11
--------
Southeast Asia
Indonesia Plans Crackdown on Condemned Cleric's Militant Network
June 29, 2018
Jakarta. Indonesia's elite counterterrorism squad Densus 88 plans to arrest more than 100 suspected militants in a bid to prevent retaliatory attacks after a radical cleric linked to Islamic State was sentenced to death, National Police chief Gen. Tito Karnavian said on Thursday (28/06).
Aman Abdurrahman, regarded as the ideological leader of Jemaah Ansharut Daulah, a loose grouping of hundreds of Islamic State sympathizers, was convicted last month for masterminding four deadly attacks in Jakarta and elsewhere in Indonesia.
He has been in prison since 2009 but was accused of orchestrating the attacks from behind bars. No date has been set for Abdurrahman's execution, which is likely to be by firing squad, but in the meantime Indonesian security forces have been put on high alert.
"The price we have to pay is the possibility of his networks retaliating," Tito told Reuters in an interview at the National Police headquarters in Jakarta.
"But the good news is we have detected most of his networks and cells... More than 100 of them will be arrested. We have to move before they move," said Tito, who previously headed Densus 88.
The country has faced a surge in homegrown militancy in recent years and around 30 people were killed in suicide bombings in Surabaya, East Java, last month, marking the deadliest militant attack in over a decade in the Muslim-majority country.
The attacks on three churches and a police station in Surabaya were carried out by families, who took children as young as 8 on their mission, marking the first time such a tactic had been used, according to terrorism experts.
Tito said the authorities had been aware of the risk of female suicide bombers but had no information that a whole family unit or children would be used to carry out bombings.
The families behind the attacks had been monitored by authorities for four months last year, but there had been no suspicious activity involving the children, he said.
Since the Surabaya attacks, the police have detained more than 120 suspects and killed 17.
One key suspect, Kholid Abu Bakar, who officials believe was the leader of the attackers' Islamic study group, remains at large.
Tito said Kholid and his family had attempted to travel to Syria last year to join Islamic State but were caught in Turkey and deported back to Indonesia.
Tito said surveillance teams in Indonesia had now been doubled and provincial police headquarters instructed to set up joint teams involving local-level military, intelligence and paramilitary police. In the wake of the attacks, Indonesia toughened up its anti-terrorism laws last month to allow police to arrest and detain suspected militants for longer periods, and without having to wait until they acquired weapons or carried out attacks.
"It gives us more room to maneuver. It is much, much easier because we don't need to watch and wait until they possess weapons," he said.
But expanded authority or firepower may not always be enough to foil attacks, Tito said, calling for radicalization programs to be strengthened.
"I believe Densus 88 is good enough in monitoring people, foiling plans and investigating attacks ... but there is no use in this hard approach if we cannot change their mindset."
http://jakartaglobe.id/news/indonesia-plans-crackdown-condemned-clerics-militant-network/
--------
Taiwan keen on encouraging more Muslim tourists from Malaysia
29 June 2018
KUALA LUMPUR: Taiwan is keen on encouraging more Malaysians especially Muslims to visit the island republic as it continues to expand its halal hub facilities throughout the country.
Taipei Economic and Cultural Office in Malaysia representative James Chang Chi-ping said presently there are 150 restaurants and hotels that are certified by the Malaysian Islamic Development Department (Jakim) in Taiwan.
"In an effort to promote more Malaysian Muslims to visit Taiwan, we are continuing to work with Jakim and they have since certified around 800 Taiwanese products comprising of food and cosmetics with many other products pending review and certification," he told reporters after officiating the MEET Taiwan networking session with local and Taiwan Tourism Agencies at the Berjaya Times Square, here, today.
Chang said this year marked MEET Taiwan's fifth consecutive year in the country aimed at further developing bilateral relations between both countries.
"This year Taiwan is promoting itself as the global destination for the MICE (meeting, incentive, convention and exhibition) market with hundreds and thousands of visitors arriving each year for business activities," he said.
As such, he called on Muslim entrepreneurs and corporations to conduct their MICE activities in the country as its facilities are well suited and cater to the community.
"Our exhibition centres, conference buildings and train stations are equipped with prayers rooms for the Muslims. Muslim travellers need not worry when getting halal food as an app is available which gives the location of halal hubs throughout the country," he said.
The increase in halal facilities in Taiwan, he said is proven when Taiwan ranked fifth in the latest Global Muslim Travel index (GMTI) under the non-Organisation of Islamic Cooperation (OIC) category for the first time this year.
"That is an improvement of two places from last year. In the GMTI's general category, Taiwan rose to 27th position this year from 33 in 2017.
"The significant improvement is a clear indication of Taiwan's commitment to becoming a Muslim friendly travel destination," he said.
In Asean, he said Malaysia has the most number of tourists visiting Taiwan with 528,000 out of the 2.13 million visitors in South East Asia.
Chang said it foresees the number of tourists from Malaysia visiting Taiwan to increase with a significant double-digit growth.
"In 2016 the number of Malaysian tourists were 474,000 while the year before saw 430,000 tourists.
"Of the total tourists, one-tenth are Muslims. More Muslims will arrive if we continue to expand a more halal-friendly environment for them. As such, we encourage more restaurants and hotels to get the certification from Jakim," Chang said.
In line with this year's theme "High Five Taiwan", the MEET Taiwan initiative which promotes MICE efforts by providing travel incentive promotions is already ongoing with Nestle Malaysia among the first local company to select the country as its incentive travel destination.
The MEET Taiwan initiative which is organised by the Bureau of Foreign Trade and Taiwan External Trade Development Council (Taitra) and the Taiwan Trade Centre of Kuala Lumpur will also see companies that sign up under the initiative participate in the Asia Super Team: Dare for Future event.
The cross-border contest is expected to attract teams from eight countries including Japan, South Korea, Singapore, Malaysia, Thailand, Indonesia, the Philippines and Vietnam.
Full report at:
http://www.thesundaily.my/news/2018/06/29/taiwan-keen-encouraging-more-muslim-tourists-malaysia
--------
Anwar defends his praise for Turkish strongman Erdogan
June 30, 2018
Anwar Ibrahim, Malaysia's democracy champion and the country's most famous former political prisoner, had barely tasted five weeks of freedom when he flew to Ankara last week and stood beside Turkey's strongman President Recep Tayipp Erdogan to praise his "commitment to democracy".
Mr Erdogan's election victory last Sunday, which critics say brings him ever closer to one-man rule, was a "victory for the Islamic world in portraying a modern and progressive face of Islam that embraces change while not compromising on the values of our faith and the fundamental teachings of the Holy Prophet", Mr Anwar declared on his return home.
The comments by Malaysia's prime minister-in-waiting have triggered alarm at his apparent disregard for the deterioration of human rights and democracy in Turkey, and wider international concern over what to expect from an Anwar-led government.
Mr Anwar yesterday defended his praise for Mr Erdogan, saying he supported Turkey's democratic transition under Mr Erdogan after decades of military rule, but acknowledged "institutions need to be fortified". "I emphasised democratic accountability in my remarks," he told The Weekend Australian. "That would include the rule of law and an end to all draconian measures. I'm confident that Turkey would evolve into a more mature democracy.
"Despite some valid criticisms against his rule, Erdogan persists on a democratic agenda."
Mr Anwar also accused Western nations of being "somewhat ambivalent, if not hypocritical" in dealing with the numerous attempted military coups in Turkey.
Southeast Asia expert Bridget Welsh — who taught at Turkey's Ipek University until the failed coup in 2016 triggered a crackdown and purges against the civil service, academics and media — says Mr Anwar's praise for Mr Erdogan could at best be seen as poor judgment and at worst a worrying portent for Malaysia under his future leadership. "He should have shown much more prudence before making this visit and even greater prudence before making those remarks," she said.
"He has raised serious questions in the international community about the future of his leadership and whether or not he is actually a democrat. I think it's deeply troubling and sends worrying signals for those concerned about reform in Malaysia."
Asked if he believed such criticism was valid, Mr Anwar said he remained "consistent in my views against any excesses and would encourage (Mr Erdogan) to respect the rule of law". "My commitment is for democratic accountability," he said.
But Mr Anwar's comments have also caused discomfit within his People's Justice Party (PKR), part of the ruling Pakatan Harapan government under Mahathir Mohamad since the four-party coalition toppled the government of Najib Razak in a shock election victory last month.
Under a deal struck between Mr Anwar and Dr Mahathir, two former political foes, Dr Mahathir, 92, will serve half a term as prime minister before stepping aside for the 70-year-old.
PKR vice-president Tian Chua said he believed Mr Anwar had been stating a personal opinion and not that of the party when he praised Mr Erdogan.
"When Anwar started his political career, Erdogan represented the hopes for the Islamic world to bring about a democratic system," Mr Chua said. "No doubt he is an improvement from the previous military system, but … Erdogan has, during his time, tailor-made the constitution for his own power base and that is not the behaviour of a democrat."
Last year, Mr Erdogan narrowly won a referendum allowing him to abolish the prime minister's office and grant the president executive authority to effectively rule by decree.
Whereas Western nations see Mr Erdogan as an illiberal leader bent on subverting democracy to amass power, and as an increasingly problematic NATO ally, many in the Muslim world — including in South and Southeast Asia — see a modern champion.
Pakistan rushed to congratulate Mr Erdogan on his victory this week, as did separatist leaders in Indian Kashmir. Indonesian President Joko Widodo also praised Mr ­Erdogan's victory, although in more measured tones, saying the Turkish people would be "more prosperous under your wise and measured leadership".
Mr Anwar's enthusiastic endorsement of Mr Erdogan is puzzling, not least because it ignores the tens of thousands of citizens in jail on spurious charges — a fate Mr Anwar shared for more than a decade.
Mr Erdogan's measures to consolidate his power also resemble those of the Malaysian government, which Mr Anwar spent two decades fighting.
On his release last month, Mr Anwar told The Weekend Australian Canberra's "muted" response to the oppression of the former Najib government had been "painful for democrats, those who are struggling for freedom in their countries". "Those countries that are supposed to be beacons of democracy must rise up to the occasion and be seen to be playing a role and not just working with people who are known to be corrupt and authoritarian," he said.
Dr Welsh says many Pakatan Harapan politicians have romanticised Mr Erdogan's early ­victories and failed to fully comprehend what is happening in Turkey, and the parallels between how Mr Erdogan and Mr Najib maintained support.
"But the fact that Anwar would choose to go to Turkey and effectively campaign for Mr Erdogan speaks to a fundamental lack of a sense of principles of democratic governance. He didn't speak up for one moment about the 200,000-plus people imprisoned in Turkey — many of them much more vulnerable than Anwar ever was — and, in fact, was supporting their jailer," she said. "I think Anwar is blinded by personal loyalties and is focused on himself and not the bigger challenges the country faces."
While Mr Anwar insisted his visit was based on "long-term friendship" and not politics, he endorsed Mr Erdogan before last Sunday's election, calling him the "one leader who shows courage against the powers in the world" on the Palestinian issue and the plight of Rohingya Muslims.
Mr Anwar noted with gratitude that the Turkish president would "remind (Najib) about my release" at every meeting, but did not mention that it was to the Turkish embassy in Kuala Lumpur he turned in 2008 when facing a second spurious sodomy charge.
National University of Malaysia associate professor Muhammad Takiyuddin bin Ismail believed Mr Anwar knew well the rise of authoritarianism in Turkey, but felt praising Mr Erdogan was the practical thing to do for the sake of securing his image in the Muslim world. "Erdogan, Anwar and Mahathir are widely seen as leaders who can confront and, at the same time, bridge the gap between Muslim and Western countries," he said, adding both Malaysia and Turkey believed in the idea of "our way of democracy".
"From a layman's perspective, of course, it is poor political judgment to support an authoritarian leader like Erdogan, especially in the era of the 'New Malaysia', but Anwar must also appease the segments within the Muslim world who see Erdogan as someone who can represent their view."
It is not the first time Anwar has shown such poor judgment and let what University of NSW emeritus professor Clive Kessler calls his "soft Islamist sentimentality" overshadow democratic principles. He was among the first foreigners in 1980 to go to Tehran to congratulate Ayatollah Ruhollah Khomeini following the Iranian revolution.
Professor Kessler last month noted that, as deputy prime minister in the 1990s, Mr Anwar "often proved a facilitator for harder-line Islamists" and could again "succumb to the same temptations".
Mr Anwar's supporters believe experience and hardship has moderated the former firebrand, and refined his ambitions for an Islamic renaissance in which the religion's main tenets are harmoniously incorporated into a democratic system.
Full report at:
https://www.theaustralian.com.au/news/world/anwar-defends-his-praise-for-turkish-strongman-erdogan/news-story/1bf2cdb743b5441121aa38efd552318b
--------
Indonesia seeks Malaysian promise to protect migrant workers
June 29, 2018
JAKARTA: Malaysian Prime Minister Mahathir Mohamad has pledged to protect millions of Indonesians living and working in the country, Indonesian President Joko Widodo said after talks between the two leaders.
"I have asked about protection to migrant workers in Malaysia as well as the establishment of schools for Indonesian children there," Widodo said during a joint press conference with Mahathir at the Bogor Palace in Bogor, West Java, on Friday.
There are about 2.7 million Indonesian migrant workers in Malaysia working as domestic helpers, and plantation and construction workers — the largest concentration of the Indonesian diaspora abroad. Almost half work there illegally, according to data from the government.
Mahathir acknowledged that there are Indonesians in Malaysia who entered the country illegally, many with children. "These children need to go to schools. We already have Indonesian schools in the peninsula, but we still don't have any in Sabah and Sarawak. We will see to it," Mahathir said.
However, neither of the leaders said anything about the stalled negotiation of a bilateral memorandum of understanding on protection and placement of Indonesian migrant workers in Malaysia, which expired in 2016.
Migrant workers advocacy group Migrant Care has urged both leaders to make migrant workers' protection a priority in their bilateral discussions. "Indonesian migrant workers in Malaysia are still prone to various abuse, such as physical, fall victim to trafficking, and some of them are on death row," Migrant Care's executive director, Wahyu Susilo, told Arab News.
Susilo also said the two leaders should finalize negotiations on the MoU and refer it to the principles on the ASEAN Consensus on Protection and Promotion the Rights of Migrant Workers and other international human rights instruments to protect migrant workers.
Mahathir called on Indonesia to band together to counter accusation from the EU, which aims to phase out the use of biodiesel made from palm oil by 2030, that the two countries' palm oil plantations have caused massive deforestation and ignited climate change.
"This is not correct," he said, adding that both Malaysia and Indonesia have the right to clear its land for wider cultivation grounds and benefit from them economically.
He said Europe was also once covered by forests, which have now been cut down.
"No one objected to it, we never objected to it. However, now when we need to have larger cultivation areas, they accuse us of destroying the environment and causing climate change," Mahathir said.
He added that EU's position was mainly based on economic grounds instead of environmental concerns.
Indonesia and Malaysia are two of the world's biggest producers of palm oil, accounting for roughly 90 percent of global oil palm production.
The premier was on a two-day official visit in Indonesia, which ended Friday. It was his first visit to a Southeast Asian country since he became prime minister for the second time in May after defeating then-prime minister Najib Razak. It is customary for newly installed leaders of ASEAN countries to make their first official visits to fellow member states of the regional bloc.
"We wanted to make Indonesia as our first trip abroad because Indonesia is our closest neighbor," Mahathir said, taking into account the family ties between people in both countries.
"We are not strangers to each other and many Malaysians are originated from Indonesia," he added.
Full report at:
http://www.arabnews.com/node/1330466/world
--------
Arab World
Foreign-backed Takfiri militants renounce violence in Syria's Dara'a
Jun 29, 2018
Foreign-sponsored Takfiri militants in a number of areas in the northern sector of Syria's southern province of Dara'a have laid down their arms and renounced violence in the wake of territorial gains being made by government troops and allied fighters from popular defense groups.
The media bureau of Syria's Operations Command announced in a statement released on Friday that militants in the towns of Abta'a, Da'el – located approximately 14 kilometers north of the provincial capital city of Dara'a – and Tafas have disarmed.
The statement added that extremists in the towns of al-Taybeh, Saida and Umm al-Mayazen have expressed readiness to surrender.
Meanwhile, Syrian soldiers and their allies have made a major advance west of Dara'a.
Syria's official news agency SANA reported that Syrian troopers have managed to capture the strategic hilltop of Tal Zamitiyah village following a short battle with militants from the so-called Free Syrian Army.
The report added that the assault was led by the Syrian Army's 4th Mechanized Division and Republican Guard forces.
Syrian army soldiers and fighters from popular defense groups are now working to cut off militant supply routes to the southern part of Dara'a, which serves as the main terrorist stronghold inside the city.
Syria's southwest is strategically sensitive because of its proximity to the frontiers with both Jordan and the Israeli-occupied Golan Heights.
The recapture of Dara'a is highly important because it borders the occupied Golan Heights which Israel has used to treat wounded militants for years.
The territory's return to the Syrian government control would cut the much-reported collaboration between Israel and militants and deal a blow to Tel Aviv's plans to annex the Golan Heights.
Syria has been gripped by foreign-backed militancy since March 2011. The Syrian government says the Israeli regime and its Western and regional allies are aiding Takfiri terrorist groups that are wreaking havoc in the country.
Russia has been helping Syrian forces in an ongoing battle in the province of Dayr al-Zawr as the Daesh terrorist group struggles to keep its last positions in eastern Syria.
The Russian military assistance, which began in September 2015 at the official request of the Syrian government, has proved effective as the Syrians continue to recapture key areas from Daesh and other terrorist groups across the country with the backing of Russian air cover.
On May 21, the General Command of the Syrian Army and Armed Forces announced in a statement that complete security was restored to Damascus and its countryside after al-Hajar al-Aswad district and al-Yarmouk camp had been totally purged of Daesh terrorists.
The development was preceded by flushing the Takfiris out of the towns of Yalda, Babbila and Beit Sahem on the southern outskirts of Damascus.
http://www.presstv.com/Detail/2018/06/29/566456/Foreignbacked-Takfiri-militants-renounce-violence-in-Syrias-Daraa
--------
Hezbollah seeks role in return of Syrian refugees from Lebanon
29 June 2018
The head of Lebanon's Hezbollah said on Friday his powerful movement was creating a mechanism to help Syrian refugees in the country return home, in coordination with Lebanese authorities and Damascus.
Lebanon hosts just under one million registered refugees from the conflict in neighboring Syria, although authorities say the real number is much higher.
As some battlefronts in Syria's devastating seven-year war have quietened, Lebanese officials are ramping up demands that refugees go home, and Hezbollah said on Friday it wanted to play a role.
"We in Hezbollah, facing the slow progress in resolving this issue and based on our good and strong relationship with the Syrian state, we want to help," said its head Hassan Nasrallah.
Thousands of Hezbollah fighters, as well as Russian warplanes, have helped Syrian government troops retake swathes of territory in recent years.
Nasrallah said the group was setting up centers with phone numbers and social media accounts where refugees could sign up to return home.
"We will submit these lists to the relevant authorities in Syria," said Nasrallah, and would also coordinate with Lebanon's General Security agency.
"We will work together so that as many Syrian refugees as possible who want a voluntary and safe return can go back," he said in a televised address.
Nasrallah said Hezbollah would take advantage of the summer months as Syrian families would want to be home before schools open in September.
"There is no time to lose," he said. "There is a huge difference between living in a tent and returning home, to your neighborhood, your school."
Nasrallah spoke a day after several hundred Syrian refugees left the Lebanese border town of Arsal, returning to their hometowns around Damascus.
The operation was coordinated between Lebanon's General Security and Syrian authorities.
Earlier this year, around 500 refugees also left southern Lebanon for Syria in a return organised by Beirut and Damascus.
Several thousand have independently left in recent years.
Nasrallah said neither his group nor the Lebanese government wanted to force refugees to return.
But he warned of local and international efforts aimed at dissuading refugees from going home.
Full report at:
https://english.alarabiya.net/en/News/middle-east/2018/06/29/Hezbollah-s-Nasrallah-interferes-in-the-Syrian-refugees-return-from-Lebanon.html
--------
Syrian offensive displaces more than 120,000 civilians
29 June 2018
A Syrian government offensive in the southwest has uprooted more than 120,000 civilians, driving most of them towards the border with Jordan and the Israeli-occupied Golan Heights, a war monitoring group said on Friday.
A senior Israeli minister said refugees gathering at the Golan frontier must be prevented from crossing into Israel.
Jordan, already hosting some 650,000 Syrian refugees, also says its border will remain closed to more refugees.
Syrian government forces backed by Russian air power have turned their focus to the rebel-held southwest since defeating the last remaining insurgent pockets near the cities of Damascus and Homs.
Their advances in areas east and northeast of Daraa city, and bombardment of the heavily populated rebel-held town of Nawa to its northwest, have triggered a mass flight of civilians.
The Syrian Observatory for Human Rights said tens of thousands had gathered at Syria's border with Jordan while thousands more had fled to the Golan frontier, many of them from Nawa.
Observatory Director Rami Abdulrahman, speaking by phone, said some people had also crossed into government-held areas, while others had gone to a corner of the southwest held by an Islamic State affiliated group.
"I think we must prevent the entry of refugees from Syria to Israel, in the past we have prevented such cases," Israeli Energy Minister Yuval Steinitz, a senior minister, told a Tel Aviv Radio.
Jordan says the international community must find ways to support Syrians inside Syria. "Jordan has reached its capacity in receiving refugees," Foreign Minister Ayman Safadi told the pan-Arab broadcaster al-Jazeera late on Thursday, affirming the government position.
Full report at:
https://english.alarabiya.net/en/News/middle-east/2018/06/29/Syrian-offensive-in-Southwest-displaces-more-than-120-000-civilians.html
--------
Another FSA Commander Flees Dara'a to Jordan with Large Amount of Cash
Jun 29, 2018
Abu Sidra, commander of FSA artillery battalion has fled Dara'a to Jordan while taking a plenty of cash.
Abu Sidra was the FSA commander in charge of Nasib border region.
Abu Sidar's escape comes as the Syrian army is making rapid advances toward the Nasib border crossing.
In a relevant development on Thursday, the Syrian army continued military operations in Eastern Dara'a as reinforcement and new military equipment were dispatched to the region.
The Army forces regained control of the towns of Nahetah, Western Malihah and Eastern Malihah on Wednesday after clashes with the terrorists in Eastern Dara'a.
Meantime, tens of terrorists withdrew from their positions after the army forces advanced in the region.
Also, the Syrian air force and artillery and missile units attacked the terrorists' positions in the towns of al-Harak, Kharba and Rakham and the regions near the old customs office, inflicting heavy damage on them.
Field sources reported that the Syrian army has sent a large number of its forces and new military equipment to Eastern Dara'a, adding that a big convoy has been dispatched to Eastern Dara'a through the town of Basari al-Sham.
They said that a large convoy of the Syrian army has been sent to the army positions in al-Ashrafiyeh, al-Saqiyeh and Tal al-Asfar in Eastern Dara'a, raising the speculations that the army might open a new front against the terrorists in the region.
The Syrian army troops managed to liberate a sum of 44 towns and villages in Eastern Dara'a in less than a week, seizing more than 10 military vehicles in the battlefield, a military source said on Wednesday.
The source said that the army men managed to capture the town of Azra'a after driving terrorists out of Busral al-Harir and Malihah al-Atash regions in Northeastern Dara'a.
The army has now freed the entire territories between Northern Dara'a and Sweida province, the source further said.
The source went on to say that the army liberated a sum of 44 villages and towns in Eastern Dara'a in less than a week, killing tens of terrorists and destroying their equipment.
The source further said that the army soldiers destroyed over 10 tanks and military vehicles of Amoud Houran terrorist group in Busra al-Harir operation.
Full report at:
http://en.farsnews.com/newstext.aspx?nn=13970408000495
--------
Syrian Army Seizes Large Cache of American, Israeli Weapons from Terrorists in Dara'a
Jun 29, 2018
The army found a huge depot of arms and ammunition that is the largest ever seized from the terrorists and has branches in several caves and hideouts in al-Petra Mountain in Eastern Qalamoun.
The Syrian army's engineering units seized large caches of terrorists' military equipment during their mopping operations in the towns of Basr al-Harir and Naheteh in Northeastern Dara'a.
The government troops also found US-made TOW missiles, RPGs, mortar rounds, tanks and a large amount of bullets.
Basr al-Harir and Nahete were among the largest terrorist bastions in Northeastern Dara'a that link Dara'a with Jordan's borders and al-Lajah region in the North.
The Syrian army had previously seized field hospitals and medicine made in Israel and Saudi Arabia from the terrorists in its military operations in Dara'a.
In a relevant development earlier on Friday, the Syrian army continued its military operations in Eastern Dara'a and managed to impose control over six crucial areas and cut the terrorists' supply routes.
The Damascus government troops continued their advance in Eastern Dara'a and captured Suker strategic hill and cut off the terrorists supply routes between Um Walad and Habib villages.
The Syrian army also took control of Air Defense Battalion 49 and the town of Ulema West of Qazaleh town in Eastern Dara'a.
The government troops engaged in heavy clashes with the terrorists and liberated Hamd Tal, Abta Dam and Battalion 271 West of Sheikh Meskin city in Eastern Dara'a.
Full report at:
http://en.farsnews.com/newstext.aspx?nn=13970408000611
--------
Deir Ezzur: Syrian Army Repels ISIL's Attack on Positions Near Border with Iraq
Jun 29, 2018
The Syrian army troops engaged in heavy clashes with the ISIL terrorists who were planning to attack the army positions near Point 400 close to the border with Iraq and thwarted their attack.
The government forces destroyed a number of military vehicles of the terrorists and seized a drone and a large volume of their weapons and military equipment.
In a relevant development on Thursday, the Syrian army fully cleansed Badiyeh (desert) of Deir Ezzur of the remnants of the ISIL terrorists in an operation in the Southeastern parts of the province, regaining control over 5,800 sq/km of territory.
The Syrian army's operations command center announced in a statement on Thursday that its forces have been able to retake control of the entire Badiyeh region in Deir Ezzur in military operations also backed by the air force.
It added that the army units have won back control of 5,800 sq/km of the country's soil after heavy clashes with the terrorists and inflicting heavy losses and damages on them.
The Syrian army has fully purged the terrorists from regions in Eastern Homs and Badiyeh of Deir Ezzur to the borders with Iraq.
In a relevant development on Monday, government troops in Syria continued their cleansing operation in Southeastern Deir Ezzur and drove the remaining pockets of ISIL terrorists out of a vast stretch of land.
The army men engaged in fierce clashes with the remaining pockets of ISIL in Southeastern Deir Ezzur and freed 1,800 sq/km of land along the border with Syria near Point 400 in Albu Kamal region.
Full report at:
http://en.farsnews.com/newstext.aspx?nn=13970408000233
--------
Iraqi Hashd al-Sha'abi forces will punish those behind attack on its fighters: Nasrallah
Jun 29, 2018
The secretary general of the Lebanese Hezbollah resistance movement says the Iraqi voluntary and pro-government Popular Mobilization Units would give a befitting response to those responsible for a deadly air raid on their fellow fighters in Syria's eastern province of Dayr al-Zawr earlier this month.
Addressing his supporters via a televised speech broadcast from the Lebanese capital city of Beirut on Friday evening, Sayyed Hassan Nasrallah said the forces – better known by the Arabic word Hashd al-Sha'abi – will get revenge for the late June 17 strike against the border town of al-Hari near the frontier with Iraq.
Nasrallah further noted that Hashd al-Sha'abi fighters played an effective role in defeating the Daesh Takfiri terrorist group in Iraq.
The Hezbollah chief also stressed that his movement seeks "the speedy formation of a new cabinet in Lebanon," saying, "Clear and unified criteria must be set for this objective."
"If the new cabinet fails to represent all parliamentary blocs, it would not then foster national unity," Nasrallah pointed out.
He added that the voluntary repatriation of Syrian refugees in Lebanon must be facilitated, and that no reason should complicate such a process.
"Creating hurdles on the path to the return of Syrian refugees will harm the displaced population, Lebanon and Syria. We must join forces to help more Syrian refugees return to their homeland," Nasrallah said.
He also brushed aside allegations that Hezbollah is in charge of the Lebanese government, and controls all affairs in the Arab country.
Nasrallah also dismissed some reports alleging that Lebanese citizenship is being offered on the basis of monetary incentives, demanding an explanation for President Michel Aoun's decision to sign a naturalization decree and grant Lebanese citizenship to over 400 foreign nationals.
Elsewhere in his remarks, the Hezbollah secretary general said Washington and the Tel Aviv regime are colluding to ensure the success of US President Donald Trump's much touted "deal of the century" for Palestine.
Nasrallah said Washington's withdrawal from the 2015 nuclear deal with Iran is in line with the impending deal on the Israeli-Palestinian conflict.
He also rejected Saudi media reports regarding the presence of Hezbollah and Iranian fighters inside Yemen, stressing that no Lebanese resistance fighter has been killed in the conflict-ridden Arab country.
Nasrallah then stated that Saudi and Emirati military forces, together with their regional and Western allies, have suffered serious losses in Yemen's western port city of Hudaydah.
The Hezbollah leader also extended his gratitude to Malaysian Prime Minister Mahathir Mohamad to pull troops out of the Saudi-led military coalition, which has been relentlessly pounding impoverished Yemen in an imposed war for more than three years.
Full report at:
http://www.presstv.com/Detail/2018/06/29/566490/Iraqi-Hashd-alShabi-forces-will-punish-those-behind-attack-on-its-fighters-Nasrallah
--------
Number of displaced triples to 160,000 during fighting in south Syria: UNHCR
June 29, 2018
AMMAN: The number of displaced people in southern Syria has more than tripled to 160,000 in the latest fighting, the UN refugee agency's Jordan spokesman Mohammad Hawar said on Friday.
"We expect the numbers during the night to rise further," Hawar said. The last UN figure issued Monday was 45,000.
Full report at:
http://www.arabnews.com/node/1330456/middle-east
--------
Mideast
Turkey arrests former opposition lawmaker on terrorism charges
Jun 29, 2018
A Turkish court has ordered the arrest of a former lawmaker from the main opposition Republican People's Party (CHP) on several charges, including aiding a movement led by US-based opposition cleric Fethullah Gulen, whom the Ankara government accuses of having masterminded the July 2016 coup attempt against President Recep Tayyip Erdogan.
On Friday, a court in Istanbul took the decision against Eren Erdem shortly after he was detained in capital Ankara following a warrant issued by the Istanbul Chief Public Prosecutor's Office on charges of "being a member of a terrorist organization."
Prosecutors are seeking a jail sentence of up to 22 years for Erdem.
He faces charges connected to reports in the Karşı daily, where he had been editor-in-chief and published stories linked to the Gulenist Terror Group (FETO).
Erdem is also charged with violating the confidentiality of an investigation, membership in an armed group and exposing the identity of a secret witness.
He reportedly tried to leave Turkey after his party failed to re-nominate him for parliament in the June 24 general elections, and he lost his immunity from prosecution.
Erdem is the second CHP politician to be jailed after Enis Berberoglu, who was sentenced to 25 years in jail for his role in leaking secret documents to a newspaper showing the country's National Intelligence Organization (MIT) shipped weapons to foreign-backed Takfiri terrorists in Syria.
On June 14, 2017, Istanbul's 14th Heavy Penal Court handed down the sentence to Berberoglu for releasing secret documents with the purpose of political or military espionage.
Berberoglu was arrested in the courthouse after the hearing.
Back in May 2015, the Cumhuriyet daily posted on its website footage showing Turkish security forces in early 2014 intercepting a convoy of trucks carrying arms for the militants in Syria.
The paper said the trucks were carrying some 1,000 mortar shells, hundreds of grenade launchers and more than 80,000 rounds of ammunition for light and heavy weapons.
Ankara denied the allegation and claimed that the trucks had been carrying humanitarian aid to Syria. However, Berberoglu defended the video, saying it was genuine.
The incident triggered a huge controversy in Turkey with many bashing the government for explicitly supporting terrorism in neighboring Syria.
Cumhuriyet's former editor-in-chief Can Dundar and Ankara bureau chief Erdem Gul were among other defendants in the case.
Dundar and Gul were sentenced to at least five years in jail for revealing what was said to be state secrets. The prosecutor is now seeking an additional 10 years in prison for the two over the report on MIT trucks.
http://www.presstv.com/Detail/2018/06/29/566467/Turkey-arrests-former-opposition-lawmaker-on-terrorism-charges
--------
Arab trio warned Israel about Turkish drive in al-Quds: Report
Jun 29, 2018
Israel's Ha'aretz says Saudi Arabia, Jordan, and the Palestinian Authority (PA) have warned Israel about increasing Turkish activities in the occupied East Jerusalem al-Quds.
Ha'aretz said the trio had told the regime about "an attempt by Turkish President Recep Tayyip Erdogan to 'claim ownership over the Jerusalem [al-Quds] issue.'"
The daily wrote that Saudi Arabia had purportedly "expressed concern over Erdogan trying to mobilize the Jerusalem issue in order to boost his image across the Arab and Islamic world, and present himself as the only leader truly standing up to Israel and the Trump administration."
Jordanian officials had specifically warned that Israel was "sleeping at the wheel" while Turkey carried out the activities, saying Tel Aviv was slow to react because of a reconciliation agreement it signed with Ankara in 2016.
"The main source of concern" for the Palestinian Authority was that Turkey's support would boost groups that opposed the PA, and were closer to the Palestinian resistance movement Hamas in Gaza," Ha'aretz added.
The daily, meanwhile, said Turkey was pushing its clout in East al-Quds through a range of activities, including by donating to certain organizations there. It also said Turkey-based groups, some with alleged ties to Erdogan's ruling Justice and Development Party, had been organizing tours of East al-Quds and that Turkish activists had established "a prominent presence" in demonstrations around Haram al-Sharif in al-Quds' Old City.
It also cited an Israeli police source as saying that the same groups were trying to buy real estate and strengthen their political standing in the city.
Ankara and Tel Aviv's once close relations soured after Israeli commandos attacked the Freedom Flotilla in international waters in the Mediterranean Sea on May 31, 2010, killing nine Turkish citizens and injuring about 50 other people. A tenth Turkish national later succumbed to his injuries. The vessel was attempting to break the Israeli naval blockade of the Gaza Strip.
Despite the reconciliation deal, Turkey ordered the Israeli ambassador to leave last month after the regime went on a killing spree of protesters in the Gaza Strip. Israel retaliated by expelling the Turkish consul general in al-Quds.
Last year, Trump recognized al-Quds as Israel's "capital" in May, and said the US was moving its embassy from Tel Aviv to the holy occupied city. It relocated the diplomatic mission in May.
Palestinians want the city's eastern part as the capital of their future state.
Full report at:
http://www.presstv.com/Detail/2018/06/29/566430/Israel-Turkey-Jerusalem-Saudi-Arabia-Jordan-Palestinian-Authority-Erdogan
--------
Israeli forces kill two Palestinians in Gaza border protests - medics
30 June 2018
Israeli forces shot and killed two Palestinians, one of them a 14-year-old boy, and wounded 415 others with live fire and tear gas during protests along the Gaza border on Friday, Gaza health officials said.
Gaza medical officials said the boy, Yasser Abu Al-Naja and Mohammad Al-Hamayda, 24, were hit by live bullets. They added that four other men wounded by live fire were in critical condition.
The Israeli military said in a statement that troops had used "large amounts of riot dispersal means". In some cases, when the non-lethal means proved ineffective, live fire was used "in accordance with the standard operating procedures".
It said thousands of Palestinians had "participated in extremely violent riots", hurling a grenade and rocks at troops and the border fence and burning tyres.
It said the reported death of the boy would be investigated and that legal action could be taken, if appropriate.
Gaza officials say Israeli troops have killed at least 135 people since the weekly protests began on March 30.
Palestinians say the protests are a popular outpouring of rage against Israel by refugees demanding the right to return to homes their families fled or were driven from on Israel's founding 70 years ago.
Israel says the demonstrations are organized by Hamas that controls the Gaza Strip and denies Israel's right to exist. Israel says Hamas has intentionally provoked the violence, a charge Hamas denies.
Tens of thousands took part when the protests were launched at several locations along the Gaza border but the number has dropped significantly in the past few weeks and only a few thousand have participated more recently.
International condemnation
Israel's deadly tactics have drawn international condemnation. But support has come from its main ally, the United States, which like Israel, has cast blame on Hamas.
Israel has accused Hamas of stoking the violence in an attempt to deflect domestic opinion from Gaza's energy shortages and faltering economy.
Full report at:
https://english.alarabiya.net/en/News/middle-east/2018/06/30/Israeli-forces-kill-two-Palestinians-in-Gaza-border-protests-medics.html
--------
Yemeni Army takes control of al-Habl port in Hajjah
29 June 2018
The Yemeni army and the popular resistance backed by Arab coalition air defense took control over al-Habl port in Hajjah governorate in northwest of the country.
A squad of the Yemeni army navy unit along with a ground force and air cover from the coalition, managed to take control of the port of al-Habl under Hiran directorate in Hajjah, following clashes with the Houthi militias.
Yemeni military sources said that the army recovered three boats and various kind of weapons.
The source added that the Yemeni army inflicted losses among the Houthi militias inside the port, while the coalition air strikes destroyed a number of vehicles which were being used to transport weapons and ammunition.
https://english.alarabiya.net/en/News/gulf/2018/06/29/Yemeni-Army-takes-control-of-al-Habl-port-in-Hajjah.html
--------
UN says Yemeni legitimate government, Houthis will return to peace talks
29 June 2018
UN Yemen envoy Martin Griffiths expects to get all parties in Yemen back to the negotiating table for the first time in years, and both sides have confirmed their willingness to talk, he said in a UN radio interview late on Thursday.
"I'd like to get the parties together within the next few weeks at the very latest," he said. "I'm hoping that the (UN) Security Council will meet next week and we'll put a plan before them as to how we're going to bring the talks back."
Griffiths said that in the last few days he had met President Abd-Rabbu Mansour Hadi in the southern city of Aden, and Mohammed Abdul-Salam, the chief negotiator of the Houthi militias fighting against the legitimate government.
"Both parties have confirmed to me their willingness to come to the table to restart negotiations. I think it's long overdue that that should take place. It's been about two years since the last talks on Yemen."
After long negotiations and disagreements within their ranks, the Houthis had agreed to giving the UN a lead role in managing the port.
"At the moment we are still in negotiations as to whether a UN role would help to avoid an attack, and more importantly, and this is where I think we're going, whether in fact the restart of negotiations will mean the attack on Hodeidah or the move towards war will be avoided."
Griffiths expected more talks with the Houthis in the next few days to be clear about the timing and details of negotiations between the two sides.
There were estimated to be up to 1 million Yemenis fighting and it would be a massive task to disarm, demobilize and reintegrate them, but that was the priority for the ordinary people of Yemen, he said.
Full report at:
https://english.alarabiya.net/en/News/gulf/2018/06/29/UN-says-Yemeni-legitimate-government-Houthis-will-return-to-peace-talks.html
--------
US wrong policies, interference to blame for terror spread: Iran
Jun 29, 2018
Iran has hit back at US Secretary of State Mike Pompeo over his latest meddlesome comments about the Islamic Republic's role in the Middle East, saying Washington's "illegitimate interference and wrong policies" are the root cause of the expansion of terrorism and insecurity in the region.
"Instability, extremism, insecurity and the growth of terrorism as well as other problems and crises in this region are created by the US illegitimate interference and wrong policies," Iranian Foreign Ministry Spokesman Bahram Qassemi said on Friday.
He made the comments after Pompeo claimed in a post on his Twitter account that Iran's support for Yemen's Houthi Ansarullah movement "not only enables attacks on Saudi Arabia & UAE, but also risks increasing Yemen's already massive humanitarian crisis."
The Iranian spokesperson reacted to Pompeo's allegations and said such false comments and blame game against Tehran cannot hide the destructive and destabilizing role of the United States, which is "interfering in the affairs of our region from thousands of kilometers away."
The US must answer to world public opinion about its destructive and wrong policies, he added.
Qassemi emphasized that Washington is exacerbating the crises in the region and selling destructive arms to some regional countries on one hand and milking the resources of Muslim countries in the region on the other hand by resorting to different pretexts such as its threadbare policy of Iranophobia.
He said the oppressed Yemeni people, particularly the defenseless and innocent women, children and the elderly, are suffering from the round-the-clock bombardment by the Saudi regime, which enjoys the US government's financial and military support.
The perpetrators and supporters of these war crimes must be held accountable for their criminal acts one day, the Iranian spokesman pointed out.
Saudi Arabia and its allies launched a brutal war on Yemen in March 2015 to reinstall former President Abd Rabbuh Mansur Hadi and crush the popular Houthi Ansarullah movement.
The Yemeni Ministry of Human Rights announced in a statement that the war had left more than 600,000 civilians dead and injured.
The Saudi aggression has also taken a heavy toll on the country's facilities and infrastructure, destroying many hospitals, schools, and factories.
Since 2016, the impoverished nation has also been grappling with a deadly cholera outbreak, which has already killed thousands of people.
Several Western countries, the United States and Britain in particular, are accused of being complicit in the aggression as they supply the Riyadh regime with advanced weapons and military equipment as well as logistical and intelligence assistance.
The Iranian Foreign Ministry spokesman said on Tuesday the hike in Saudi Arabia's bombardment of civilian targets in Yemen shows the coalition's frustration in falling short of the goals.
Full report at:
http://www.presstv.com/Detail/2018/06/29/566480/Qassemi-Pompeo-Iran-Yemen-terrorism
--------
Israel's nukes threat to global security, peace: Iran
Jun 29, 2018
Iran's Defense Minister Brigadier General Amir Hatami says the Islamic Republic is the biggest victim of chemical weapons, stressing that the Israeli regime's possession of a massive stockpile of nukes is a threat to international peace and security.
Hatami made the remarks in a message on the occasion of the 31st anniversary of a deadly chemical attack by executed Iraqi dictator Saddam Hussein on the Iranian city of Sardasht in West Azarbaijan Province during the Iraqi-imposed war.
"The occupying Zionist regime is a threat to international peace and security with regard to its possession of a huge stockpile of banned chemical, biological and nuclear weapons," he said.
He added that the deadly chemical attack on Sardasht was carried out at a time when the United States, which has been claiming to advocate human rights, had vetoed efforts by a majority of the United Nations Security Council to issue a statement in condemnation of the use of chemical weapons by the Iraqi government.
Sardasht was the third most populated city in the world, after Japan's Hiroshima and Nagasaki, to be deliberately targeted with weapons of mass destruction. It was also the first city in the world to be attacked with poisonous gas.
The actual death toll is far greater than announced. Nearly 5,000 residents of the city, which had a population of 20,000 at the time of the attack, are still suffering from serious respiratory and skin ailments and disorders.
Iraq once possessed a huge arsenal of chemical weapons, the production of which was partly facilitated by exports of chemicals from the United States and Western countries.
The Iranian defense minister further said two decades after the establishment of the Organization for the Prohibition of Chemical Weapons (OPCW), the region is still facing threats to security and peace.
Hatami added that the US has violated international law and regulations of the Security Council and the OPCW and conducted a military attack on Syria under the pretext of the Arab country's use of chemical weapons that led to the creation of more insecurity in the West Asia region.
"This incident will definitely cause new serious threats and challenges to the future of the Organization for the Prohibition of Chemical Weapons," the Iranian defense chief pointed out.
He pointed to the support by certain Western and Arab countries and the Israeli regime for terrorist groups and their collusion with the extremists and warned against the formation of organized chemical terrorism in West Asia.
Hatami criticized the change of approaches and main priorities of the OPCW, particularly its politicization, and said transforming a disarmament organization into a security and political body would lead to its lack of independence in dealing with Western states.
Israel, which has a long history of waging wars and occupying sovereign states, has been trying to portray Iran, which has not attacked any nation for hundreds of years, as a threat to world peace.
In a meeting with OPCW Director General Ahmet Üzümcü in Tehran in July 2017, Iranian Foreign Minister Mohammad Javad Zarif said the Islamic Republic, as per its core principles, opposes the use of chemical weapons in any form and by any group.
"The Islamic Republic of Iran has always emphasized that no group has the right to use chemical weapons in armed conflicts," Iran's top diplomat said, adding, "However, the Daesh terrorist group has used chemical weapons in its war against the Syrian government."
In a message on July 1, 2017, Zarif lashed out at major world powers for refusing to adopt a firm stance on Saddam's chemical attack on Sardasht, urging the international community to react to any use or proliferation of weapons of mass destruction.
Full report at:
http://www.presstv.com/Detail/2018/06/29/566460/Hatami-Sardasht-Israel-nukes
--------
Turkey vows to keep Iran ties despite US pressures
Jun 29, 2018
Turkey says it remains determined to maintain trade ties with Iran in an apparent defiance against a purported plan by the US to urge all nations to cut imports of Iranian oil from November.
Turkey's Foreign Minister Mevlut Cavusoglu was quoted by media as saying that Ankara would not cut off trade ties with Iran "at the behest of other countries" in a clear reference to the US.
"If the United States' decisions are aimed at peace and stability, then we'll support them, but we don't have to follow every decision. Being allies doesn't mean following every decision word for word," Cavusoglu told the Turkish broadcaster NTV in an interview.
"Iran is a good neighbour and we have economic ties. We are not going to cut off our trade ties with Iran because other countries told us so."
Earlier, Turkey's economy minister had emphasized that Washington's demand to stop purchasing oil from Iran will not be binding for Ankara.
Nihat Zeybekci told reporters on Wednesday that Turkey would only respect measures announced by the United Nations toward its eastern neighbor.
"The decisions taken by the United States on this issue are not binding for us. Of course, we will follow the United Nations on its decision. Other than this, we will only follow our own national interests. In addition, we will pay attention so our friend Iran will not face any unfair actions," Turkey's Economy Minister Nihat Zeybekci told reporters on Wednesday.
Iran has been Turkey's leading supplier of crude oil for most of the past two decades, ceding first place to Iraq only for three years during the recent period of US sanctions.
Imports last year came to 11.493 million tonnes, or 44.6% of the total supply, at an average of 230,800 barrels per day (bpd), up 66% from the 6.939 million tonnes supplied in 2016, according to reports.
F-35 drama
The Turkish top diplomat finally said his country had conveyed to Trump its discomfort about a purported decision by Washington to cancel delivery of F-35 jets to Ankara.
The US has warned Turkey against the purchase of S-400 air defense missile systems from Russia, threatening to impose sanctions on Ankara and also stop delivery of F-35 fighter jets it is contracted to give to the country.
Full report at:
http://www.presstv.com/Detail/2018/06/29/566448/Turkey-vows-to--keep-Iran-ties-despite-US-pressures-
--------
Africa
Boko Haram; UNIMAID launches center for counter terrorism
June 29, 2018
The University of Maiduguri, one of the most attacked tertiary institutions in the ongoing Boko Haram conflict, has commissioned a newly established resource centre for countering violence extremism (CVE) within and around the Lake Chad region.
Named CVE Resource Centre, the facility, which was commissioned on Thursday, is expected to carry out research and develop counter-narratives against extremism like Boko Haram. It is donated by an international aid agency, the North-East Region Initiative (NERI).
Located within the complex of the university's already existing Centre for Disaster Risk Management and Development Studies, the CVE Resource centre, a first of its kind in the country, is to be operated by staffers of the university, while NERI takes charge of its funding.
The University of Maiduguri has suffered several attacks by Boko Haram.
The insurgents had carried out suicide attacks in the varsity during which several lives including that of a professor were lost in 2017.
Speaking during the commissioning of the centre, Program Manager of NERI, Suleiman Dauda, said the centre was initiated in accordance with the desire of NERI to have a very stable recovery in the post insurgency period.
"We believe sustainable recovery cannot be achieved unless we prepare grounds for such to thrive; and that involves engaging the right human resources, putting in place the right scholarly and knowledge based research and ideas; because the ideas of stabilisation and recovery must have to come from a recognised body of knowledge or institutions", he said.
"That is the basic reason that informed us choosing the University of Maiduguri for the purpose of establishing the countering violence extremism center which will work collaboratively with other universities across the Lake chad basin to ensure that we forge a common front in countering violent extremism. This collaboration will seek the active involvement of Nigeria, Niger, Chad and Cameroon.
Mr Dauda said the day to day activities of the centre will be solely run by the University of Maiduguri while the NERI will continue to function as a facilitating partner until the project becomes sustainable.
"NERI is a donor funded project and as such it comes with a life span; so we are hoping that by the time NERI is folding up some day, we will be able to leave behind a very sustainable system that the University who has all the manpower can effectively carry on.
He said NERI is responsible for the design and provision of support mechanism for the establishment of the centre.
"We have provided the furniture, the e-library, the dozens of computers, 20kva generator, air conditioning of the offices, office equipment like printers, photocopiers, the internet facilities, and of course funds for the daily running the generator," he said.
"NERI is also responsible for designing organogram and what is expected of the centre in terms of objective research and promoting programmes that will promote the core objective of the CVE.
"Our broad expectation is for the CVE Resource Centre to achieve a very stable post insurgency recovery across the communities in the Lake Chad region, through the churning out of information that are credible and making it accessible to those in the highest position of government, the federal legislature, the military and other stakeholders in the northeast for the purpose of effective decision making and policy formulation".
NERI commended the University of Maiduguri for opening up and accepting the idea of such partnership despite what it had experienced in the continuing Boko Haram insurgency.
The centre was declared open by the Vice Chancellor of the University of Maiduguri, Abubakar Njodi, who described the CVE resource centre as one of the best collaborative partnership that has ever happened in the life of the institution.
He said the CVE Resource Centre is not the first kind of support that NERI had given to the university, saying 'the campus' FM radio station would not have been on the air today without the ample support from NERI".
He said the establishment of the centre is the kind of support that the university has been craving for especially in this challenging times of insecurity. He said the centre is coming at an appropriate time and place because there is no better place to establish such centre for countering violent extremism other than Maiduguri and the university in particular which is the epicenter of the entire insurgency.
The don who was represented by a deputy vice chancellor, Haruna Godowoli, advised the managers of the CVE centre to link up with the Nigeria Armed Forces Resource Center for possible collaboration in countering extremism.
https://www.premiumtimesng.com/regional/nnorth-east/274285-boko-haram-unimaid-launches-center-for-counter-terrorism.html
--------
Somalia: Jubbaland Readies an Anti-Al-Shabaab Push, Says Minister
28 JUNE 2018
Jubbaland administration in southern Somalia announced it has mobilized hundreds of troops for fresh offensives against the Al Qaeda-linked Al Shabaab militants. Jubbaland security minister Abdirashid Janan said the new offensive is aimed at liberating areas remaining under the control of Al-Shabaab, mainly Gedo and Jubba regions.
Janan added that the operation will be unleashed in the coming weeks with the support of Somali and Africa Union forces in the region. The Kenya-backed Jubbaland has previously announced similar operations to take back springboards from what has been beleaguered militant group. Al-Shabaab maintains to hold the whole Middle Jubba region and other large swathes of ground in Lower Jubba and Gedo provinces in southwest of Somalia.
http://allafrica.com/stories/201806290461.html
--------
Three dead in attack on Mali HQ of G5 Sahel anti-terror force
JUNE 30, 2018
A suicide bomber in a vehicle painted in UN colours attacked the Malian headquarters of an international anti-terror task force, the G5 Sahel, on Friday, killing two soldiers and a civilian, according to a security source and a local leader.
The building's entrance wall was destroyed, with the force of the blast throwing the vehicle inside it, according to witnesses and pictures of the scene.
The Al-Qaeda-linked Support Group for Islam and Muslims, the main jihadist alliance in Africa's Sahel region, claimed the attack in a telephone call to the Mauritanian news agency Al-Akhbar.
UN secretary general Antonio Guterres condemned "the complex attack perpetrated against the G5-Sahel Joint Force's Headquarters", his spokesman said in a statement.
It was the first attack on the headquarters of the five-nation force, set up with the backing of France in 2017 to roll back jihadist insurgents and criminal groups in the vast, unstable Sahel region.
"Shortly after Friday prayers, a suicide bomber in a vehicle painted with UN colours blew up at the entrance to the G5 base in Sevare. It was a huge blast," a military source in the G5 Sahel force told AFP.
Two soldiers from the force and a civilian were killed, as well as two attackers, according to a source within the force and the governor of Mopti, the regional capital.
The Malian government later said that the two soldiers killed were members of its armed forces.
A previous toll of six people killed was revised down.
Governor Sidi Alassane Toure said there had been "confusion" in the morgue.
"We have arrested four suspects," he told AFP, adding that search operations would take all night.
– Security shortcomings –
Guterres, who visited the Sevare headquarters last month, highlighted security shortcomings on several of the force's sites in Mali in a report published in May.
"Poor conditions on and around the site represent an important security threat, and are delaying the deployment of the remaining soldiers," the report said.
Residents in Sevare, 600 kilometres (375 miles) northeast of the capital Bamako, hid inside their homes during Friday's attack, according to Bouba Bathily, a trader who sheltered from the gunfire in his house.
A local orange seller, Haoussa Haidara, said "there was a huge blast" followed by shooting that lasted more than an hour.
The attack came three days before a meeting in the Mauritanian capital of Nouakchott between French President Emmanuel Macron and the heads of the G5 Sahel states to discuss progress made by the force.
The G5 Sahel aims to have a total of 5,000 troops from five nations — Burkina Faso, Chad, Mali, Mauritania and Niger, but has faced funding problems.
It operates alongside France's 4,000 troops in the troubled "tri-border" area where Mali, Niger and Burkina Faso meet, and alongside the UN's 12,000-strong MINUSMA peacekeeping operation in Mali.
– Force's problems –
France's armed forces minister, Florence Parly, condemned the "cowardly attack" in a Twitter statement.
"Solidarity with our African partners with whom we will continue the fight against terrorism," she said.
The G5 Sahel was scheduled to be fully mobilised by mid-2018, but its deployment has faced delays, equipment worries and accusations of human rights abuses.
On Tuesday, the UN said Malian soldiers within the force had "summarily" executed 12 civilians in a market in central Mali in May in retaliation for the death of a soldier.
Malian Prime Minister Soumeylou Boubeye Maiga said that the government had "taken the necessary measures" after the bloodshed, which he condemned.
France intervened militarily in Mali in 2013 to help government forces drive Al-Qaeda-linked jihadists out of the north.
But large tracts of the country remain lawless despite a peace accord signed with ethnic Tuareg leaders in mid-2015 aimed at isolating the jihadists. The violence has also spilled over into both Burkina Faso and Niger.
Earlier Friday, French military headquarters said troops from its Barkhane mission in Mali had killed or captured 15 jihadists on June 22 in a joint operation with local forces.
The clash took place in a woodland area of the Inabelbel region, southeast of Timbuktu, it said in a statement.
Full report at:
https://dailytimes.com.pk/260371/three-dead-in-attack-on-mali-hq-of-g5-sahel-anti-terror-force/
--------
Haftar rejects any foreign military presence to stem migration
June 30, 2018
The forces of Libyan strongman Khalifa Haftar on Friday rejected any foreign military presence in the south of the country to stem migration, after EU leaders struck a deal to deter Mediterranean crossings.
The bloc's leaders agreed to consider setting up "disembarkation platforms" outside Europe, most likely in North Africa, to discourage migrants from boarding EU-bound boats.
Smugglers have taken advantage of the turmoil in Libya since the 2011 fall of Muammar Qaddafi to establish the country as a major people-trafficking hub.
Haftar heads the self-styled Libyan National Army (LNA) and supports a parallel government in eastern Libya that challenges the authority of the UN-backed Government of National Accord (GNA) based in Tripoli.
The LNA said any attempt by "foreign parties to deploy a military presence in some areas of southern Libya on the pretext of stemming illegal migrations" is rejected.
"The army's general command warns these foreign parties that any such (military) deployment would be considered a flagrant violation of international law and a heinous aggression against Libyan sovereignty," a statement said.
It added that the LNA would take "all the necessary measures to protect Libya and its borders."
On Monday, GNA Vice President Ahmed Maiteeq said that the UN-backed government "categorically refuses" the installation of migrant centers in Libya.
Maiteeq made the remarks during a visit to Tripoli by Italy's new far-right Interior Minister Matteo Salvini.
During the visit, Salvini had called for processing centres to be set up "south of Libya, on the external border of Libya" as a way to block attempts by migrants to head for Europe and "to help Libya as well."
Haftar's forces control much of eastern Libya and some regions in the country's largely lawless south.
The strongman has been accused by his opponents of wanting to establish a new military dictatorship in Libya, which has been wracked by violence since the NATO-backed 2011 uprising.
Full report at:
http://www.arabnews.com/node/1330526/middle-east
--------
Three migrants die after boat sinks off Libya's coast
30 June 2018
At least three undocumented migrants drowned after their boat sank off Libya's coast in the Mediterranean Sea, an official said Friday.
Capt. Ayoub Qasim, a spokesman for the Libyan navy, told Anadolu Agency that coastguard teams recovered the bodies of three migrants off the coast of the capital Tripoli.
Sixteen others were rescued, Qasim said, adding more than a hundred migrants were missing.
The boat, which was carrying around 120 migrants, was old, overloaded and the weight was piled up at the stern due to a crack in the fore, Qasim said, citing the reasons why it sunk.
The undocumented migrants were Yemeni, Egyptian, Sudanese, Moroccan, Ghanaian, Nigerian and Zambian nationals, he added.
On Monday, the Libyan Coast Guard announced that a boat carrying undocumented migrants had sunk off the country's coast.
Around 785 migrants have died in the Mediterranean Sea this year while trying to sail to Europe, according to the UN Migration Agency (IOM).
According to the Libyan navy, 16,000 undocumented migrants were rescued in 2017.
Ever since the collapse of the central authority in Libya in 2011, the country's northwestern coast has become a hub for illegal migration to Italy and other countries in Europe.
Full report at:
http://www.worldbulletin.net/africa/203566/three-migrants-die-after-boat-sinks-off-libyas-coast
--------
URL: https://www.newageislam.com/islamic-world-news/in-meerut-village-posters-say/d/115694
New Age Islam, Islam Online, Islamic Website, African Muslim News, Arab World News, South Asia News, Indian Muslim News, World Muslim News, Women in Islam, Islamic Feminism, Arab Women, Women In Arab, Islamophobia in America, Muslim Women in West, Islam Women and Feminism