New Age Islam News Bureau
14 Jun 2018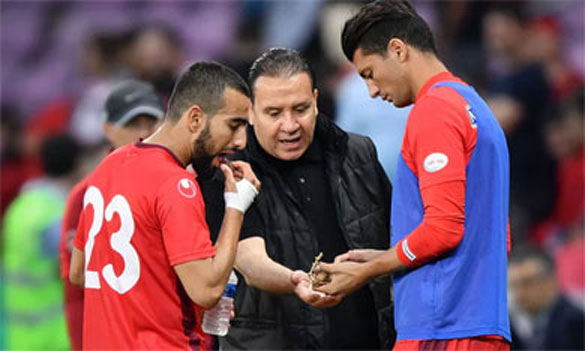 Tunisia's head coach Nabil Maâloul distributes dates to midfielder Naïm Sliti, left, and defender Rami Bedoui during the friendly with Turkey. Maâloul said he had asked his goalkeeper, Mouez Hassen, to simulate an injury in warm-up games to allow his players to break the fast. Photograph: Fabrice Coffrini/AFP/Getty Images
-----
• Assam Citizenship Issue: Jamiat Delegation Meets NSA Ajit Doval and Home Secretary
• 120 Countries at UN Condemn Israel over Gaza Violence
• Israeli Lethal Force in Gaza May Be War Crime: Human Rights Watch
• How Can a Commando Be So Afraid To Return Home: Pak SC to Musharraf
Arab World
• In Kobane, a monument to lives lost and battles won against Daesh
• Islamic State executes 30 members in Syria, near borders with Iraq
• US-Led Coalition Commits 2 Massacres in 24 Hours in Hassakeh
• Yemen militia 'blocking aid to Hodeidah' says Saudi KSrelief
• Top Houthi commanders killed in Hodeidah, several mines extracted from Saada
• Syrian President Assad says Iran's presence in Syria is not negotiable
• KSA, UAE urge the human rights, UN bodies to expedite aid through Hodeida port
• Over 2m worshipers attend Khatm Al-Qur'an at the Grand Mosque
-----
India
• Assam citizenship issue: Jamiat delegation meets NSA Ajit Doval and Home Secretary
• Two Muslim men lynched in Jharkhand for stealing cattle
• India rejects UN human rights report on Kashmir, terms it 'motivated, fallacious'
• Soldier, 2 militants killed in Bandipora operation
• Pak shelling kills 4 BSF troopers
-----
Europe
• 120 countries at UN condemn Israel over Gaza violence
• How seven World Cup squads have prepared during Ramadan
• UNSC to hold emergency session amid assault on Yemen's Hudaida
• UN agency hopes to win reprieve for refugees
------
Mideast
• Israeli lethal force in Gaza may be war crime: Human Rights Watch
• Yemen war: Fighting rages over vital port of Hudaydah
• US, Iran broker truce between rival factions in Iraq amid poll tensions
• In Gaza, unpaid government salaries dampen Eid joy
• Yemeni minister, Abdulraqeeb Fath, seeks world community support
• UAE ambassador: Coalition aims to prevent a second Hezbollah in Yemen
-----
Pakistan
• How can a commando be so afraid to return home: Pak SC to Musharraf
• Election Commission of Pakistan urged to provide safety to transgender candidates
• Pakistan military 'willing to prosecute ex-army chief'
• De-radicalised Pakistan militants get skill development training
• Caretaker govt, state institutions urged to recover 'missing' persons on Eid
• Nawaz, Maryam set to fly off to London
• PTI Candidate challenges Maryam's papers
-----
South Asia
• Former Maldives President Maumoon Abdul Gayoom jailed for 19 months
• Afghan forces fully prepared to respond if ceasefire breached: Danish
• Airstrikes leave 2 ISIS-K members dead in Kunar province
• Durand Line fencing not an obstacle between people of both sides, Bajwa tells Ghani
• Afghan Taliban offer direct talks with Washington
• Modi offers his best wishes ahead of historic Afghanistan-India test match
-----
Africa
• Al-Qaida's Mali branch releases video of 2 female hostages
• Two worshippers, suspect killed in Malmesbury mosque attack
----
Southeast Asia
• Ramadan helps to heal the wounds in war-ravaged Philippine city
-----
Compiled by New Age Islam News Bureau
URL: https://www.newageislam.com/islamic-world-news/in-kobane-monument-lives-lost/d/115545
-----
In Kobane, A Monument To Lives Lost And Battles Won Against Daesh
AFP
June 14, 2018
KOBANE, Syria: With a father's tenderness, Adham Olaiki clears dried leaves and twigs from his son's final resting place, a neat marble grave on the edge of Syria's Kobane.
It is a gloomy morning and rain clouds are forming ominously overhead, but Olaiki cannot forego his daily ritual of visiting the imposing site known as the Martyrs' Cemetery.
Hundreds of identical tombs are arranged in rows, topped with planters holding yellow daisies and red roses that rise up to meet silvery headstones.
Buried underneath are civilians and fighters who lost their lives in more than three years of battle against Daesh, including Olaiki's 12-year-old son.
The boy died in 2015, during the final stages of the four-month fight to oust Daesh from Kobane, on Syria's northern border with Turkey.
Olaiki, 54, has taken solace in daily visits ever since.
"This place has become more than a home for me. I feel at peace near my son's grave," he says.
Olaiki himself took up arms to defend his hometown, and was wounded fighting alongside the Kurdish People's Protection Units (YPG).
"The shrapnel scars are still visible," he says.
The YPG, the leading Kurdish militia in Syria, has spearheaded offensives against Daesh across the country's north and east, backed by a US-led coalition.
Many of its fighters are buried in the Martyrs' Cemetery, their graves identifiable by the militia's triangular yellow flag.
Each fighter's name, nom-de-guerre, place and date of birth are inscribed in Kurdish, followed by the place and date of death, or "martyrdom."
Many were killed fighting Daesh in Kobane in 2015, some in the flashpoint town of Manbij to the southwest in 2016, and others still in the 2017 assault to oust Daesh from Raqqa. Their graves are both markers of loss and monuments to a string of victories by the YPG-led Syrian Democratic Forces.
Now, the SDF is fighting the last dregs of Daesh in eastern Syria.
"Many of my fighter friends were buried here. We're tired of war," says Olaiki, gazing across the sea of graves around him.
"Peace must prevail and Daesh must be permanently eliminated, so we can feel we fought for stability and security, and actually achieved them both."
The cemetery was set up in 2012, but graves began multiplying with the battle for Kobane. Today, 1,230 people are buried there, says Aref Bali, who heads a relief group for families of those killed.
Driving into Kobane, the graveyard is hard to miss: Five silvery pyramid-like structures are arranged in a semi-circle at the head of a large courtyard.
When the YPG or SDF lose a fighter, he or she is buried in a ceremony equal parts mournful and defiant. Speeches are delivered from the foot of the monument as friends, family, and Kobane residents chant: "Martyrs do not die."
But most days, relatives quietly trickle into the cemetery to tend their loved ones' graves, wiping dust from headstones and trimming the shrubs.
Toddler Layla gurgles innocently as she plays near the tomb of her father, a YPG fighter killed at the age of 26 by a mine last year in the city of Raqqa.
Her grandfather, 60-year-old Mohyeddin Hami, carries a framed portrait of his deceased son Mehmud in one hand, wiping away a tear with the other.
"Layla lost her father just 20 days after her birthday. He watched her turn one, and then died," says Hami, dressed in a dark collared shirt.
Two of his other sons also fight for the YPG.
"We will pursue Daesh until not a single one of them is left in Kurdish lands in Syria. We will follow them until their demise," he says.
"We did not bleed in vain — it's all for the safety and stability of this country."
Nearby, the Ibish family is paying respects to several of their sons lost in the fight against Daesh.
Hamad Ibish, 56, fought against Daesh in Kobane, shoulder-to-shoulder with his brother — but only one of them came out alive.
"We were constantly attacked and would hear voices saying: Oh infidels, we're coming for you," he recalls.
During a three-day assault on their position, Hamad's brother was killed along with 12 other fighters. He also later lost his son and his nephew.
"We gave many lives. Every family has lost two or three people," he says.
But, he adds, "we can hold our heads up high because of our martyrs. I'm happy Daesh is finished — people can rest in northern Syria without that brutal injustice."
Source: http://www.arabnews.com/node/1321296/middle-east
-----
Assam Citizenship Issue: Jamiat Delegation Meets NSA Ajit Doval and Home Secretary
June 13, 2018
New Delhi: With the deadline for the final list of National Registration of Assam (NRC) is closing by June 30, the people of Assam are under severe strain as all kinds of rumors are getting around in the air about future of their citizenship rights.
In the meantime, the State Coordinator of NRC has issued a fresh guideline stating that the relatives of citizens who are D-voters or declared foreigners will also come under D-category and their case will be reviewed afresh though they have passed the test earlier. Besides that, many valid documents like Panchayat link certificate, Private School certificate and even the certified copies of the voter lists are being denied as the valid proof of citizenship.
With that in view, A delegation of Jamiat Ulama-i-Hind (JUH) led by Maulana Qari Mohammad Usman Mansurpuri, President Jamiat Ulama-i-Hind met with on Ajit Doval, National Security Adviser, and Home Secretary to discuss this critical issue.
The delegation consisted of Maulana Badruddin Ajmal, President Jamiat at Assam State and Member of Parliament, Maulana Nizam Farooqui, Hafiz Bashir MLA, General Secretary Assam State Jamia, Advocate Shakeel Ahmad Sayed, Maulana Abdul Qadir Assam, Advocate Ameenul Islam, Advocate N.H. Mazhar Bhuiya, Ameenul Islam, MLA from Assam, and Maulana Manzar Bilal Qasmi.
The delegation also submitted a memorandum to the NSA which contains 22 points defying the fresh orders of the State Coordinator of NRC. The Jamiat's press statement reads, "Questions have been raised about re-checking the citizenship status of those bonafide Assamese citizens who is doubted only for having a FD or D-Voters as their relatives."
The delegation expressed deep concern about how a bonafide citizen could be denied citizenship only on the ground that he/she has a foreign relative. "It is to be noted that there are already one lakh forty-one thousand nine hundred sixty-five D-voters and fifty-three thousand DF. In view of this, there is a deep concern that if foreign relative criteria are adopted, then more than one million persons will suffer," said Jamiat's statement.
The delegation conveyed to Ajit Doval that "how several lakh genuine Assamese Citizen continue to face severe harassment in the name of furnishing genuine proof of identity." "Despite the categorical ruling of the Supreme Court, Panchayat link certificate is not being recognized as the valid proof of citizenship. Likewise, the certificate issued by Mukhya, delayed birth certificate, genuine voter's lists are also not getting recognized as the valid proof of citizenship only at the pretext that their records are not maintained in the relevant departments," said the press statement.
The statement further noted, "As it is the prime responsibility of the concerned department to keep the record and tribal population of Assam could not be held responsible if these records are missing. The citizen of Assam continues to remain under fear unsafe. They have a dominant feeling that the government of the day is not interested in transparency rather it is more interested in declaring its own citizen as the foreigner."
Source: twocircles.net/2018jun13/423730.html?utm
-----
120 Countries at UN Condemn Israel over Gaza Violence
Jun 14, 2018,
UNITED NATIONS: The UN General Assembly on Wednesday adopted by a strong majority of 120 countries an Arab-backed resolution condemning Israel for Palestinian deaths in Gaza and rejected a US bid to put the blame on Hamas.
At least 129 Palestinians have been killed by Israeli fire during protests near the border with Gaza that began at the end of March. No Israelis have died.
The resolution put forward by Algeria and Turkey on behalf of Arab and Muslim countries won 120 votes in the 193-member assembly, with 8 votes against and 45 abstentions.
An amendment presented by the United States condemning Hamas for "inciting violence" along the border with Gaza failed to garner the two-third majority needed for adoption.
Addressing the assembly, US Ambassador Nikki Haley dismissed the resolution as biased against Israel and accused Arab countries of trying to score political points at home by seeking to condemn Israel at the United Nations.
"For some, attacking Israel is their favorite political sport. That's why we are here today," said Haley.
"I wish everyone supporting this one-sided resolution would put as much energy into encouraging President Abbas to the negotiating table," she said.
The resolution deplored Israel's use of "excessive, disproportionate and indiscriminate force" against Palestinian civilians and called for protection measures for Palestinians in Gaza and the occupied West Bank.
Arab countries backing the measure turned to the General Assembly after the United States used its veto in the Security Council to block the resolution on June 1.
Unlike the Security Council, resolutions adopted by the assembly are non-binding and there is no veto.
The resolution tasks UN Secretary-General Antonio Guterres with the drafting of proposals for an "international protection mechanism" for the Palestinians in Gaza and the West Bank.
These could range from setting up an observer mission to a full-blown peacekeeping force, but action on any option would require backing from the Security Council, where the United States has veto power.
Palestinian Ambassador Riyad Mansour dismissed the US amendments blaming Hamas as "games and gimmicks" and urged ambassadors not to be "fooled" by the US proposal.
"We are asking for a simple thing," Mansour told the assembly. "We want our civilian population to be protected."
Turkey's Ambassador Feridun Hadi Sinirlioglu defended the resolution, saying it was "about taking sides with international law" and showing the Palestinians that the world "does care about their suffering."
Taking the podium, Israeli Ambassador Danny Danon assailed the measure as an "attempt to take away our basic right to self-defense." He warned ambassadors that by supporting the resolution "you are empowering Hamas."
The US amendment condemning Hamas received 62 votes in favor, with 58 against and 42 abstentions. The United States sought to challenge the ruling requiring a two-thirds majority but that was defeated in a separate vote.
"We had more countries on the right side than the wrong side," Haley said in a statement.
The General Assembly last held a similarly contentious vote on the Israeli-Palestinian conflict in December, when it rejected President Donald Trump's decision to recognize Jerusalem as Israel's capital and move the US embassy there.
Haley had warned at the time that Washington was "taking names" of countries that supported the resolution. That vote was 128 to 9, with 35 abstentions.
Backed by Arab countries, the Palestinians had lobbied to win as many votes as those cast in support of the Jerusalem resolution.
Source: timesofindia.indiatimes.com/world/middle-east/120-countries-at-un-condemn-israel-over-gaza-violence/articleshow/64580137.cms
-----
Israeli Lethal Force In Gaza May Be War Crime: Human Rights Watch
Jun 13, 2018
JERUSALEM: Human Rights Watch alleges that Israel's use of lethal force against Palestinian demonstrators in the Gaza Strip in recent weeks may constitute war crimes.
The statement was issued Wednesday ahead of an emergency UN General Assembly meeting to vote on a resolution condemning Israel's use of force.
Palestinians have held near-weekly protests since March 30, calling for a ``right of return'' to ancestral homes now in Israel. At least 120 Palestinians have been killed and over 3,800 wounded by Israeli fire in protests along the border.
The Israeli military has said its soldiers adhere to the rules of engagement to defend Israeli civilians and security infrastructure from attacks cloaked by the protests.
The organization calls on the international community to "impose real costs for such blatant disregard for Palestinian lives."
Source: timesofindia.indiatimes.com/world/middle-east/israeli-lethal-force-in-gaza-may-be-war-crime-human-rights-watch/articleshow/64571690.cms
----
How Can A Commando Be So Afraid To Return Home: Pak SC To Musharraf
JUNE 14, 2018
Lahore: The Supreme Court on Wednesday gave former military dictator Gen (r) Pervez Musharraf until today (Thursday) to present himself in a case pertaining to his lifetime disqualification.
While hearing Musharraf's appeal against his 2013 disqualification by the Peshawar High Court (PHC), a three-member apex court bench, headed by Chief Justice of Pakistan (CJP) Mian Saqib Nisar that a decision on his candidature would be announced in absentia if the former army chief did not show up by 2pm today (Thursday).
The top court had last week permitted Musharraf to file nomination papers for the forthcoming general elections on the condition that he appear in person before the court on June 13 to attend a hearing.
The court had made clear that the fate of Musharraf's nomination papers would be subject to the final decision in the present case.
Although Musharraf's nomination papers for NA-1 were submitted earlier this week, the former military ruler did not show up in the court despite the top court's orders that his national identity card (CNIC) and passport be unblocked in order to facilitate his travel.
"The Supreme Court is not bound to Musharraf's terms," the CJP remarked after the former's counsel insisted on blanket guarantees for his security. "We've already said that if Musharraf returns, he will be provided with security. We are not bound to also provide a written guarantee in this regard."
"If he doesn't return, the scrutiny of his nomination papers will not be permitted," Justice Nisar warned. The counsel for Musharraf requested the court to restore the former president's nomination papers for the 2013 election since the high court verdict on the basis of which they were rejected had been made in absentia.
He said that Musharraf was ready to face an ongoing treason case against him, but he should be provided a guarantee of protection.
"He has Parkinson's disease, so a medical board will need to be set up," Musharraf's lawyer said, to which the chief justice said the court would form a medical board if Musharraf returns in an air ambulance. "What [other] assurance do you want from the Supreme Court: that treason proceedings will not take place against him?" the annoyed CJP asked. "If Pervez Musharraf is a commando, he should show us by returning instead of continuously parroting like a politician that he will return," the CJP said.
"Why does Musharraf need protection, what is he so afraid of?" the CJP wondered. "How can a commando be so afraid? Musharraf had said that he evaded death many times but was never afraid," he remarked. "He didn't feel afraid when he was taking over this country," the top judge added.
"Musharraf should face the law, nation and the courts," Justice Nisar asserted. "The court will examine whether to give Musharraf permission to come and go, and whether his name should be placed on the Exit Control List (ECL) or not," CJP Nisar said. The top judge said that the former military dictator should return and face the cases against him for suspension of the constitution and treason. "The SC did not allow Musharraf to travel abroad," the CJP said. "The permission was granted by the government, which removed his name from the ECL. The top court's decision in this regard was taken the wrong way," he said.
Source: https://dailytimes.com.pk/253401/behave-like-a-commando-not-politician-cjp-to-musharraf/
-----
Arab World
Islamic State executes 30 members in Syria, near borders with Iraq
by Nehal Mostafa
Jun 12, 2018
Anbar (IraqiNews.com) Islamic State has executed thirty of its members in a Syrian region near borders with Iraq, a paramilitary leader in Anbar said on Tuesday.
Speaking to BasNews website, Qutri al-Samarmad, a leader with tribal mobilization forces in Anbar, said "information by the intelligence and eyewitnesses from Syrian regions said Islamic State executed thirty of its members in Hegeen region in Syria, near al-Bu Kamal town on borders with Iraq from the side of Qaim town in Anbar."
The execution, according to Samarmad, "was carried out by shooting them, in collaboration with Syrian and Iraqi forces."
Islamic State "worked on withdrawing communication devices from families of the members who were execution and prevented them from leaving their homes," he said.
The militant group "still exists in Jazirat al-Furat and Hegeen regions in Syria as well as wide parts in the vicinity of al-Bu Kamal."
The Iraqi-Syrian borders are under the control of joint troops of military and border guards.
Iraqi warplanes launched, last month, a new wave of air raids against outposts of the Islamic State group in Syria.
In April, Abadi denied intentions to intervene within Syrian affairs, saying airstrikes against Islamic State will continue.
Iraq had previously announced launching airstrikes against IS locations in Syria. This came after Abadi said security troops will follow IS militants in the whole region, not only in Iraq.
Thousands of IS militants as well as Iraqi civilians were killed since the government campaign, backed by paramilitary troops and the coalition was launched in October 2016 to fight the militant group, which declared a self-styled "caliphate" from Mosul in June 2014.
Source: https://www.iraqinews.com/iraq-war/islamic-state-executes-30-members-in-syria-near-borders-with-iraq/
-----
US-Led Coalition Commits 2 Massacres in 24 Hours in Hassakeh
June 13, 2018 Arabi Souri Saudi-Arabia, Syria, USA 2
An Outlaw, that's exactly what the US-led Coalition operating in Syria is; it was never approved by the Syrian government, nor by the United Nations Security Council if that matters, and an outlaw acts they commit.
One family 'Hassoun al-Pasha' lost 12 of its members, all civilians, 2 more were injured in an air bombing carried out by the US-led coalition under claims of fighting ISIS in the village of Tal Shayer in Hassakeh southern countryside.
ISIS terrorists operate freely in pockets protected by the US-led coalition in Tanf, northeast of Euphrates and southwest of Syria, this is no secret anymore. Any claims by the US and its cronies to be fighting ISIS in Syria is as ludicrous as its claims of the Iraqi possession of WMDs that led to the illegal invasion of the country in 2003 and the killing, maiming, and displacing of millions of Iraqis which in turn led to the emerging of al-Qaeda in Iraq and later in Iraq and Syria ISIS, Nusra Front and their affiliates.
This heinous bombing using the 'nice, new and smart missiles' was launched just under 24 hours from the one day earlier massacre carried out by the same outlaw coalition using the same false pretext of fighting ISIS and resulted in the slaughter of 18 civilians mostly Iraqi women and children refugees who actually fled from US-sponsored ISIS in Iraq. This crime was carried out in the village of Khuweibra southeast of Shaddadi city, south of Hassakeh city.
The request by the Syrian Ministry of Foreign Affairs to the United Nations Security Council to condemn the Tuesday's massacre by the US-led Coalition and call on it to cease its illegal operations in Syria was not yet read by the members of the UNSC when that Coalition committed its second massacre.
Last Tuesday the US-led Coalition's massacre which killed 10 other civilians, all were women and children, massive destruction in properties as the US-led Coalition outlaws targeted the houses of the people of Jazza'a village, north of Dsheishah in the southern countryside of Shaddadi city.
The US and its coalition member cronies tend from these massacres to force the people of Hassakeh's southern countryside to join the Kurdish SDF terrorist group, which alongside ISIS and other terror groups are used by the US to fight the Syrian Arab Army and create a de facto region outside the Syrian state's control where Syria's main oil fields and main agricultural lands are.
Source: https://www.syrianews.cc/us-coalition-2-massacres-hassakeh/
------
Yemen militia 'blocking aid to Hodeidah' says Saudi KSrelief
ARAB NEWS
June 13, 2018
Riyadh: Yemenis in the port city of Hodeidah are being denied humanitarian aid by the Houthi militia, Dr. Abdullah AlRabiah, head of the King Salman Center for Relief and Humanitarian Aid (KSRelief), has warned.
Saudi-led coalition forces on Wednesday launched an air, sea and land assault to recapture Hodeidah from the rebel group.
Al-Rabiah said that the relief of the Yemeni people is a priority for the coalition, which would do all it could to deliver humanitarian aid despite attempts by the Houthi militia to halt distribution across the country.
In a joint press conference on Wednesday with UAE Minister for International Cooperation Reem Al-Hashemi, the relief agency head said that Iran-backed Houthi militia had stopped aid reaching the people of Hodeidah.
KSRelief will mount a "humanitarian aid bridge using land, air and sea to deliver urgent food and subsistence material for the people of Hodeidah," Al-Rabiah said. He urged all relief organizations to help KSRelief continue aid deliveries through the port.
Source: http://www.arabnews.com/node/1321146/saudi-arabia
------
Top Houthi commanders killed in Hodeidah, several mines extracted from Saada
Islam Seif, Hani al-Sufyan– Al Arabiya.net
14 June 2018
Top Houthi commanders and a number of militants have been killed in the large-scale ground operation "Golden Victory" that's been launched by the Yemeni army and Arab Coalition to liberate Hodeidah and its port, west of Yemen.
The Houthis on Thursday acknowledged that one of their top commanders Brigadier General Ibrahim Mohammed al-Moutawkel was killed on the west coast front.
Local Houthi sources said Moutawkel, who commands one of the battalions of the so-called Al-Hussein Brigade, was appointed to fight in Hodeidah's airport. They added that Moutawkel and a number of his fighters were killed in confrontations with the army and resistance forces on the outskirts of the port.
Moutawkel was trained in Iran and studied there for 10 years, sources said, adding that he's been fighting with the Houthis ever since their coup as he was dispatched to command several fronts where they were suffering from defeats.
The commander of the Houthis' front in Al-Manzar, south of the Hodeidah Airport, Colonel Ali Hussein al-Marani, also known as Abu Muntathar, was killed with 13 other Houthi militants during the clashes, a military source said on Thursday.
Local sources in Hodeidah said the Houthis booby-trapped the Hodeidah Port and its facilities to blow it up if legitimate and coalition forces advance to expel them from the area.
Meanwhile, in Saada, the Yemeni army, aided by the coalition forces, discovered hundreds of types of mines planted by Houthis while advancing into the Saada axis.
Military sources in Baqim district in Saada told Al Arabiya that the army and the coalition advanced after removing the mines.
Yemeni human rights organizations slammed the Houthis and said planting mines jeopardizes civilian lives and violates international laws.
Source: https://english.alarabiya.net/en/News/2018/06/14/Top-Houthi-commanders-killed-in-Hodeidah-several-mines-extracted-from-Saada.html
----
Syrian President Assad says Iran's presence in Syria is not negotiable
By: AP | Beirut | Published: June 14, 2018
Syrian President Bashar Assad says Iran's presence in Syria and its relations with Damascus are not negotiable and repeated the assertion that Iran has no fixed bases in Syria.
In an interview with Iran's Al Alam TV broadcast Wednesday night, he says reaching a settlement in the southwestern region, where Iranian-backed forces are near the border with Israel, is still possible.
Israel's prime minister has just one thing on his mind as he tours Europe this week - and that's Iran. Benjamin Netanyahu wants Germany, France and Britain to follow Washington's lead and tear up the Iran nuclear deal.
Israel has repeatedly warned against any permanent Iranian military presence in Syria.
Assad says contacts are "ongoing" between the Russians, the U.S., and the Israelis, but says the relationship between Syria and Iran "will not be part of any settlement" and is "not in the international bazaar."
There has been speculation that Iran might pull its forces back from near the Israeli-occupied Golan Heights in some kind of settlement.
Source:indianexpress.com/article/world/assad-says-irans-presence-in-syria-is-not-negotiable-5216732/
----
KSA, UAE urge the human rights, UN bodies to expedite aid through Hodeida port
14 June 2018
RIYADH — Advisor-Royal Court Dr. Abdullah Bin Abdulaziz Al-Rabeeah, who is also the General Supervisor of King Salman Center for Humanitarian Assistance and Relief Aid (KSrelief), and Dr. Reem Bint Ibrahim Al-Hashmi, UAE minister of state for international cooperation affairs, co-held a press conference on Wedneday here on behalf of the Coalition for the Restoration of Legitimacy in Yemen to cast light on the deteriorating humanitarian situation in Yemen in general, and Houthi-controlled Hodeida port and province in particular.
In a joint statement, the two sides shed light on the flagrant violations committed by the Houthi militias in Hodeida port, barring foreign assistance to be delivered to the needy inside Yemen, confiscating the contents of vessels waiting outside the docks of the port to unload the aid.
The humanitarian assistance being sent by international organizations have been looted by the Houthis in control of Hodeida port, while also preventing goods and oil derivatives from entry, causing famine, starvation and poverty inside the province, the report said.
The report citing, former UN envoy for Yemen's report, said that the Houthis continue to reject an initiative to allow assistance enter into the country.
Since 2015, they have seized 19 assistance-laden vessels, looted and robbed 65 vessels and trucks, and implanted mines on the road of caravans carrying relief items, Al-Rabeeah said.
He gave an account on the relief items provided by the Coalition countries for Yemeni people over the last three years, saying that they amount to $16 billion, including foodstuffs, medical assistance, accommodation items, social support, education, refugee support, economic support and developmental programs and bilateral support in addition to other programs.
He announced that the Kingdom of Saudi Arabia and the UAE would provide relief and humanitarian assistance through Hodeida port in the form of a sea bridge from Jazan port and Abu-Dhabi port to Hodeida.
Further to the poor infrastructure in the province, the Houthis have destroyed the remnants of service facilities in Hodeida province and Yemen at large, the statement said.
He gave an account on the Saudi assistance and relief items provided for Yemenis, since May 2015 to date that's worth more than $1 billion, the assistance provided by KSrelief amounting to 262 projects through 80 local and international partners, including health, food security, early treatment, accommodation and shelter, water, environment treatment, nutrition, education, protection and others, including 71 projects for women and 83 humanitarian projects for children.
He said Saudi Arabia received 561,911 Yemeni refugees and in response to the WHO and UNICEF, provided $66.7 million to combat cholera in Yemen.
On her part, the UAE senior official said the UAE has responded to the UN plan to give relief to Yemen and offered $500 million in support of the plan. She cast light on the deteriorating humanitarian situation in Yemen because of the Houthi control in Sanaa and Hodeida. — SPA
Source: http://saudigazette.com.sa/article/536928/SAUDI-ARABIA/KSA-UAE-urge-the-human-rights-UN-bodies-to-expedite-aid-through-Hodeida-port
-----
Over 2m worshipers attend Khatm Al-Qur'an at the Grand Mosque
14 June 2018
MAKKAH – Amid ample and integrated services, under the direct supervision of Custodian of the Two Holy Mosques King Salman and Crown Prince Muhammad Bin Salman, deputy premier and minister of defense, over two million worshipers including visitors, Umrah pilgrims, citizens and expatriates witnessed on Wednesday Khatm Al-Qur'an at the Grand Mosque.
Khatm Al-Qur'an is the conclusion of recitation of the whole Qur'an during night prayers (Taraweeh), which began on the first night of Ramadan. Khatm Al-Qur'an was on the 29th night of the holy month of Ramadan.
The worshipers performed their prayers in a tranquil spiritual atmosphere, tight security and safety, Saudi Press Agency said Wednesday night.
The prayers were led by Imam and Khateeb of the Grand Mosque Sheikh Abdulrahman Al-Sudais, who supplicated to Allah Almighty to forgive all Muslims on this blessed night and save them from the Hellfire. He prayed for safeguarding the Kingdom and all Muslim countries from all evil and that He make them safe, secure and stable.
The worshipers thronged the Grand Mosque from the early hours of the day. All the floors and piazzas of the Grand Mosque were full and the rows of worshipers extended to the courtyards surrounding the Grand Mosque and to the roads and streets leading to it.
The mega projects carried out by the Kingdom under the supervision of the King and Crown Prince and personal follow up by Prince Khaled Al-Faisal, adviser to Custodian of the Two Holy Mosques and emir of Makkah, and his deputy Prince Abdullah Bin Bandar contributed greatly to facilitating all in carrying out the rituals.
Traffic flow was streamlined. Despite heavy traffic, the traffic plans prepared beforehand contributed to preventing traffic jams and accidents. All the security bodies contributed to crowd management and smooth traffic flow.
Apart from the Traffic Department, these bodies included the Civil Defense safety patrols, Makkah Police, the Haram Security Force and Security Aviation. Several other government agencies contributed to these efforts and providing services and help to the worshipers and Umrah pilgrims. They included the Presidency for the Affairs of the Two Holy Mosques, Ministry of Health, Makkah mayoralty and municipalities. – SPA
Source: http://saudigazette.com.sa/article/536930/SAUDI-ARABIA/Over-2m-worshipers-attend-Khatm-Al-Quran-at-the-Grand-Mosque
-----
India
Two Muslim Men Lynched In Jharkhand For Stealing Cattle
PTI GODDA, JUNE 14, 2018
Four villagers arrested; police deployed in the area
Two Muslim men were lynched allegedly by a group of enraged villagers on suspicion of cattle theft in Jharkhand's Godda district, police said on Wednesday.
Deputy Inspector-General of Police (Santal Paragana) Akhilesh Kumar Jha said five people had allegedly stolen buffaloes from the house of Munshi Murmu and others in the tribal-dominated Dullu village on Tuesday night.
Finding the buffaloes missing, Murmu and other villagers gave a chase to the five people, who were caught in adjoining Bankati village with the cattle early on Wednesday.
The villagers thrashed Sirabuddin Ansari, 35, and Murtaza Ansari, 30, to death. The three others managed to flee, Mr. Jha said.
Four persons, including Murmu, have been arrested.
The victims were residents of Taljhari in the district, about 200 km from Ranchi, Superintendent of Police Rajeev Ranjan Singh said.
Adequate police force, along with a magistrate, had been deployed in the village, Mr. Jha said.
The SP, who rushed to the spot, said that according to the villagers, the five people had stolen 13 buffaloes.
After lynching the duo, the villagers brought the bodies back to Dullu village on bicycles, the SP said.
Mr. Singh said the stolen cattle had been recovered.
Source: http://www.thehindu.com/news/national/other-states/two-jharkhand-men-lynched-for-stealing-cattle/article24157702.ece?homepage=true
----
India rejects UN human rights report on Kashmir, terms it 'motivated, fallacious'
By: Express Web Desk |
New DelhiJune 14, 2018: India on Thursday rejected the United Nations report on "human rights situation in Kashmir" calling it " fallacious, tendentious and motivated," the External Affairs Ministry said in a statement. Adding that the report is a "selective compilation of largely unverified statements," the Ministry said that the report "violates India's sovereignty and territorial integrity," and "questioned the intent" behind it. "The entire state of Jammu and Kashmir is an integral part of India. Pakistan is in illegal and forcible occupation of a part of the Indian state through aggression," it added.
In a first of its kind report on the alleged human rights violations, the United Nations sought an international inquiry into these abuses. Asserting that there was an "urgent need" to address the past and ongoing human rights violations, the report said, "any resolution to the political situation in Kashmir should entail a commitment to ending the cycles of violence and accountability for past and current human rights violations."
Adding that "people on both sides of the Line of Control have been detrimentally impacted and suffer from limitations or denial of a range of human rights," the report also asked neighbouring country Pakistan to end its "misuse" of anti-terror legislation to quash dissent.
"Despite the Government of Pakistan's assertions of denial of any support to these groups, experts believe that Pakistan's military continues to support their operations across the Line of Control in Indian-Administered Kashmir," the global human rights watch body said.
This is for the first time the UNHRC has issued a report on the alleged human rights violations in Jammu and Kashmir and Pakistan-occupied Kashmir.
(With inputs from agencies)
Souce: indianexpress.com/article/india/motivated-and-fallacious-india-on-uns-human-rights-report-on-kashmir-5217156/?utm
-----
Soldier, 2 militants killed in Bandipora operation
Peerzada Ashiq SRINAGAR , JUNE 14, 2018
Police sources said the bodies of the slain militants and two weapons recovered so far.
The Army on Thursday morning said it killed two militants in an ongoing operation in Bandipora. One soldier was also killed in the exchange of fire.
"Two militants have killed in the operation so far in Bandipora's Pannar area. One soldier also died," said an Army spokeman.
Police sources said the bodies of the slain militants and two weapons recovered so far.
Their identities and group affiliation is being ascertained, they said.
The operation was launched on Saturday last week in Bandipora where the militants and the Army exchanged brief gunfight in Raynar forests of Panar area. Since then the Army has been combing the area.
Source: http://www.thehindu.com/news/national/encounter-at-bandiporas-pannar-area/article24159979.ece
-----
Pak shelling kills 4 BSF troopers
MUZAFFAR RAINA Jun 14, 2018
Srinagar: A Border Security Force assistant commandant and three other troopers died in Pakistani shelling on an Indian post in Jammu on Tuesday night in the highest single-day toll of security personnel in enemy attacks this year.
BSF officials said the latest casualties had taken its total number of men killed in Pakistani shelling in the past six months to 11; three more than the combined toll of the preceding four years.
State police chief S.P. Vaid said the shelling - that also injured five BSF men - took place in the Ramgarh sector of Samba district. "Our heart goes to those who lost their dear ones," he tweeted.
The BSF has identified the slain men as assistant commandant Jitendra Singh, 34; sub-inspector Rajneesh Kumar, 32; assistant sub-inspector Ram Niwas, 52, and constable Hansraj Gurjar, 28. Except for Kumar, who was from Uttar Pradesh, all the others were from Rajasthan.
Officials said troopers from the Pakistani Rangers used snipers from the Ashraf post to target the Indian soldiers and then unleashed mortar fire when the injured were being shifted to inflict more casualties.
"The firing started around 9.40pm on Tuesday and continued till the wee hours today. Our side retaliated appropriately," an official said.
The number of casualties on the other side could not be ascertained.
Tuesday night's attack was the second major ceasefire violation along the International Border this month. On June 3, two BSF men were killed and 10 people, including civilians, were injured along the IB in the Pragwal, Kanachak and Khour sectors of Jammu.
That was after the directors general of military operations of the two countries had agreed on May 29 to implement the ceasefire pact of 2003 in "letter and spirit".
Last week, the sector commanders of the BSF and the Rangers had met on the Jammu border and pledged to ensure peace.
An officer said Pakistani shelling had left 26 civilians and 24 security personnel dead since January - 20 more than the toll for the whole of last year.
Eight BSF men, the officer added, had lost their lives in Pakistani shelling between 2014 and 2017.
BSF additional director general Kamal Nayan Choubey, who flew to Jammu from Delhi following Tuesday night's attack, said the sector commanders had decided to uphold the ceasefire when they met last week. "India has maintained the sanctity of the ceasefire but Pakistan has violated it," he said.
"It is very unfortunate. The ceasefire announcements are decisions meant to be honoured. We have honoured it, Pakistan has not. What Pakistan does is Pakistan's business, how we respond to Pakistan's betrayal is our job," Choubey added, hinting at a strong retaliation.
Last month, Pakistani shelling had forced around 80,000 residents of dozens of villages along the border to flee their homes. The villagers have since returned home but live in perpetual fear.
Pakistan, however, claims it is India that has been targeting its positions, prompting it to retaliate. A 45-year-old civilian died on Tuesday in alleged Indian shelling in the Poonch district of Pakistan-occupied Kashmir.
A BSF spokesman said a sector-level flag meeting was held around 4.40pm at India's request. The BSF was represented by DIG P.S. Dhiman and the Pakistan side by Brigadier Mohammad Amjad.
India lodged a strong protest and warned that such a "cowardly act" would not be tolerated in the future, the BSF said.
Pakistan denied the Indian charge and said it had retaliated after a ceasefire violation by India. Both sides agreed to maintain peace and harmony on the border.
Source: https://www.telegraphindia.com/india/pak-shelling-kills-4-bsf-troopers-237673?ref=hm-new-stry
-----
Europe
How seven World Cup squads have prepared during Ramadan
Paul MacInnes
13 Jun 2018
As World Cup 2018 begins in Russia, the Muslim festival of Ramadan is ending around the world. With fasting during daylight hours obligatory for all adults, Ramadan provides challenges for seven nations taking part in the World Cup with majority or large Muslim populations. Here is how the squads from each country have responded.
Saudi Arabia
Russia's opponents in the opening fixture, Saudi Arabia will play their first match during Ramadan. Moreover, their base in St Petersburg is currently experiencing 18 hours of daylight. Faced with such strictures, the majority of the Saudi camp have opted to defer their fast till after the tournament. Citing travel as a cause for postponement is a common dispensation during Ramadan. It was given the rubber stamp by Saudi authorities who issued abstention permits to players who required them.
Iran
In the Islamic Republic of Iran, there has not been much complaining about the effects of Ramadan on athletic conditioning. "Ramadan does not really affect training" said the forward Reza Ghoochannejhad. President Hassan Rouhani drew a direct parallel between fasting and training. "You go to the gym to prepare yourself for an important international competition," he said. " The month of Ramadan is the gym for all of us. It is about patience and resistance." Due to the divergent nature of the Ramadan calendar in different countries, Iranian players will not have finished fasting by the time they play Morocco on Friday.
Morocco
Of all the countries facing the fasting dilemma, Morocco have been the most circumspect. Fasting in their country also comes to an end on Friday night, after the crucial group B opener with Iran, but neither the Moroccan FA nor the religious body that issues fatwas in Morocco, the Higher Council of Ulema, have commented on the team's preparations.
Tunisia
Tunisia's World Cup squad are observing the fast, but there's no doubt the players aren't entirely happy. The midfielder Wahbi Khazri said Ramadan was "very difficult … We cannot eat or drink [when we want]. It is very complicated to prepare." During the 58th and 47th minutes of recent friendlies against Portugal and Turkey goalkeeper Mouez Hassen went to the floor injured. This enabled treatment at the precise moment of sundown and players were not only seen rehydrating with water, but consuming glucose-rich dates by the touchline.
Egypt
The Egyptian FA hired nutritional specialists to ensure Ramadan caused minimal disruption to their preparations. The outcome was not entirely successful, however, as the team failed to win a single pre-tournament match. A number of clerics weighed in with interpretations of whether athletes were able to break the fast and, if so, for how long. The FA issued a statement insisting they were "determined" to last the entire month but Egypt's Grand Mufti Shawki Allam granted exemption to the team.
Nigeria
Nigeria's heterogenous religious mix has left coach Gernot Rohr with fewer challenges than some of his peers in African football. He has, however, been more outspoken about the consequences of fasting. The forward Ahmed Musa and defender Shehu Abdullahi have both been observing Sawm and, despite Nigeria not playing until Sunday, Rohr is expected to rest the pair. "For the first game, it will not be easy to put it fasting away," the German said. "It will be difficult to regain the energy lost in such a short time."
Senegal
A majority Muslim country, Senegal have faced the same issues. "Everyone knows that high-level football isn't compatible with Ramadan," the coach Aliou Cissé, himself a Muslim, told local media. "I am responsible for the health of these players." Cissé did not elaborate on how he planned to address the issue, but it has been reported in Senegal that the players collectively agreed not to fast ahead of the World Cup.
Source theguardian.com/football/2018/jun/13/fast-friends-world-cup-squads-dealt-with-ramadan
-----
UNSC to hold emergency session amid assault on Yemen's Hudaida
14 June 2018
The United Nations Security Council (UNSC) has called for an emergency session as the Saudi-Emirati military assault on the Yemeni port city of Hudaida entered its second day.
The closed meeting, requested by the United Kingdom, will take place on Thursday afternoon. It will be the second time the Council convenes this week over the situation in Yemen, which aid groups warn stares at an imminent humanitarian crisis.
On Wednesday, the Saudi Arabia and United Arab Emirates (UAE) launched an air and ground offensive on Hudaida, Yemen's third largest city, in the biggest battle in the three-year war between the coalition and Iranian-aligned Houthi rebels.
The air attacks targeting Houthi positions have been supported by ground operations by foreign and Yemeni troops south of the Red Sea port.
Fighting raged near Hudaida airport and al-Durayhmi, a rural area 10km south of the city, UAE's WAM news agency said.
It also said that UAE forces and local allies had penetrated the Houthis' front line on the airport perimetre.
Coalition spokespeople said 18 air attacks were fired on the outskirts of Hudaida on Wednesday.
The Houthis deployed military vehicles and troops in the city centre and near the port, as warplanes struck the coast to the south, residents told Al Jazeera.
Fear of 'full-fledged war'
The rebel fighters have been instructing residents in the outskirts to leave their homes for the city centre for days.
"Today I heard warplanes hovering and the sounds of explosions," a 20-year-old woman, who wished to remain anonymous for fear of reprisal, told Al Jazeera.
The mother of two decided to leave her village of Taif a few days ago, "during the last few days of the holy month of Ramadan".
"We walked on foot with nothing but the clothes on our backs," she said of her and her extended family members, who walked some 10km.
Residents of the city have been experiencing a relative calm prior to the assault. The sounds of warplanes and air attacks have frightened many who wonder if the city was soon going to see a "full-fledged war".
The possibility of food running out is also among the residents' main fears.
"We have enough food for now, but we don't know if we'll have more of it if the port completely shuts down," 18-year-old Safaa, who requested her real name to be withheld, told Al Jazeera.
The attack's objective is to push Houthi fighters out from the city, which has been under their control since 2014. Apart from Hudaida, the Houthis control the capital, Sanaa, and most of the country's populated areas.
With logistical support from the US, the Saudi-led coalition has been carrying out attacks inside Yemen since March 2015, killing at least 10,000 people, in an attempt to reinstate the internationally recognised government of President Abu-Rabbu Mansour Hadi.
Houthi leader Mohammed Ali al-Houthi criticised the coalition's allies. In a statement, he held the US and Britain responsible for the Saudi-backed attack on the vital port city.
Yemen's government said Wednesday that negotiations had failed to force the Houthis from Hudaida, and that a grace period for UN-led peace efforts was over.
Meanwhile, the UN special envoy for Yemen Martin Griffiths, said he was continuing to negotiate on keeping Hudaida open and urged all sides to exercise restraint.
On Monday, the UNSC said it supported Griffiths' diplomatic efforts but did not specifically call on Saudi Arabia and the UAE to refrain from attacking the city - a key point for aid supply.
'We came on foot'
For the last few weeks, the UN had been trying to broker a deal in a bid to avert the attack, which it fears would further hinder Yemenis' access to food, fuel and medicine - worsening the world's most urgent humanitarian crisis.
The Hudaida port is a vital lifeline that is crucial for the flow of food supplies into a country that is on the brink of famine, as it serves the entry point for 70 percent of the country's imports.
Riyadh and Abu Dhabi maintain that the port is being used to smuggle weapons.
They say they will attempt to keep the port running and can ease the crisis once they seize it by lifting import restrictions they have imposed.
Lise Grande, the UN humanitarian coordinator for Yemen, said the organisaiton would continue to deliver aid supplies.
"We are there and delivering, we are not leaving Houdaida," Grande said.
"We have a ship offloading food even as shelling and bombing is happening. Humanitarians will not walk away," she told Reuters News Agency from the capital, Sanaa.
Two Saudi and UAE aid ships were in the waters off Hudaida, coalition spokesman Turki al-Maliki told Saudi state media.
The two countries also said they would operate a dedicated shipping lane to Hudaida from Abu Dhabi and the southern Saudi city of Jizan to deliver food and medical supplies
About 600,000 people live in and around Hudaida, and "as many as 250,000 people may lose everything - even their lives" in the assault, the UN has warned.
The war in Yemen has displaced 2 million more and helped spawn a cholera epidemic.
With additional reporting from Manal Abdulrahman in Hudaida.
Source: aljazeera.com/news/2018/06/unsc-hold-emergency-session-assault-yemen-hudaida-180614070602614.html
----
UN agency hopes to win reprieve for refugees
By Umer Farooq
June 14, 2018
PESHAWAR: With the deadline [June 30, 2018] for repatriation of Afghan refugees living in Pakistan approaches, the United Nations High Commission for Refugees (UNHCR) is hopeful that the interim government would extend the stay of refugees.
Afghan refugees living in Pakistan have been issued Proof of Registration (PoR) card following an agreement signed between United Nations, Pakistan and Afghanistan allowing refugees registered with UNHCR to live in Pakistan.
The extension had expired on December 31. However, following talks with Afghan government in Islamabad; the stay was extended during a meeting of the federal cabinet. The meeting was chaired by former premier Shahid Khaqan Abbasi.
"We hope the interim government extends the deadline [for stay of the Afghan refugees with PoR cards in Pakistan]," Ruvendrini Menikdiwela, UNHCR's head for Pakistan told The Express Tribune.
Menikdiwela appreciated Pakistan's role in hosting the largest displaced population after the World War, adding that it was not possible for a single country or a single organisation to continuously support such a large section of migrated population and collective efforts were required.
Afghan refugees win two-month extension in stay
"Pakistan has been generously extending support to Afghan refugees for last 40 years," she informed during her address in connection with Refugees Day adding the entire global community got together on this day 'but currently, unfortunately there is a dire need of celebrating this day.'
Head for Afghan Refugees at commissionerate stated that the former minister for States and Frontier Regions (SAFRON) Abdul Qadir Baloch was in contact with Afghan officials where Jalili also hoped the interim setup would extend the stay of Afghan refugees.
"Well, if you see the political situation, relations between both the government, I think the smooth relations will play their role and we hope the stay is granted," he said, adding 'the interim setup would hopefully extend the stay but we would also talk to the next government.'
According to the commissionerate, some five million refugees had migrated to Pakistan around 40 years ago. However, some have repatriated and around 1.4 million registered Afghan refugees still live in the country across 43 camps. Of that figure, over one million refugees live in Khyber-Pakhtunkhwa (K-P) alone.
Trump's pick to lead UN agency says has trust of Muslim states
"We do not want these people to be repatriated forcefully. But whenever they go, they should have all the facilities available for them," commissioner of Afghan refugees said, adding 'voluntary repatriation was the perfect solution.'
Afghan nationals including traders, students and people from different walks of life talked on the occasion and appreciated Pakistan and specifically K-P's role in supporting refugees by extending them all out support. Later, UNHCR also donated an ambulance worth Rs4,980,000 to Rescue 1122 Peshawar.
Source: tribune.com.pk/story/1734646/1-un-agency-hopes-win-reprieve-refugees/
-----
Mideast
Yemen war: Fighting rages over vital port of Hudaydah
14 June 2018
The assault began after Houthi rebels ignored a deadline to withdraw from Hudaydah
Fierce fighting has been reported after pro-government forces in Yemen, backed by a Saudi-led coalition, launched an offensive on the rebel-held city of Hudaydah, a key port for aid supplies.
The United Arab Emirates confirmed of its four soldiers had been killed and 22 Houthi rebels reportedly also died.
Fighting raged mainly near the city's airport and the al-Durayhmi area south of the city, media reports say.
The UN Security Council is to hold urgent talks on Yemen on Thursday.
It is the first time the Saudi-led coalition of mostly Gulf states has tried to capture such a well-defended major city in Yemen.
About eight million people are at risk of starvation in the war-torn country and the coastal city is where most aid arrives for people in rebel-held areas.
The Emirati news agency Wam said attacking forces had managed to "liberate areas... in the surroundings of the airport" and captured or killed "dozens" of Iranian-backed Houthis.
It reported the "martyrdom" of the four Emirati soldiers but did not give further details of the fighting.
Medical sources in the region said 22 Houthi fighters had been killed in coalition strikes.
Coalition sources say 18 air strikes were carried out on Houthi positions on the outskirts of Hudaydah on Wednesday.
Houthi rebels, meanwhile, said they had struck a coalition warship with missiles although there was no confirmation of this.
The offensive, which analysts say could be the biggest battle so far in the Yemeni civil war, has raised fears of mass casualties among the city's 400,000 population.
However, coalition spokesman Colonel Turki al-Malki said they wanted to avoid a street war with the Houthis "for the safety of civilians".
He told al-Hadath TV that the aims were to win control of the airport and seaport as well as the main road leading to the capital of Sanaa.
Thursday's meeting of the UN Security Council was called by Britain amid fears of a humanitarian crisis in Hudaydah.
The pro-government assault began after Houthi rebels ignored a deadline to withdraw.
Civil war has raged in Yemen since late 2014, when the Houthis and allied forces seized north-western parts of the country, including the capital Sanaa, and eventually forced President Abdrabbuh Mansour Hadi to flee abroad.
Alarmed by the rise of a group they saw as an Iranian Shia Muslim proxy, Saudi Arabia and eight other Sunni Arab states launched a military campaign in March 2015 to restore Mr Hadi's government.
Source: https://www.bbc.com/news/world-middle-east-44477500
-----
US, Iran broker truce between rival factions in Iraq amid poll tensions
SUADAD AL SALHY
June 14, 2018
BAGHDAD: An alliance between rival Shiite political coalitions — one pro-Iranian, the other anti — has defused tensions that engulfed Baghdad in recent weeks.
Muqtada Al-Sadr, the influential cleric who heads the Sairoon Coalition, agreed to join up in the new Parliament with the Tehran-backed Fattah Coalition in a deal overseen by arch-rivals the US and Iran.
Washington and Tehran moved to broker the agreement after fighting between the two Shiite sides and a series of security and political developments erupted after the election. They feared a return to violence threatened to wipe out Iranian and American projects in the country.
Three warehouses used to store ballot boxes and electoral equipment were set on fire last week. Days earlier, a large ammunition warehouse owned by Saraya Al-Salam, the armed wing of Al-Sadr, was bombed inside a slum in Baghdad's Sadr City, killing 20 people and wounding scores of others.
Both incidents were aimed at drawing Al-Sadr, who emerged as one of the biggest winners of the election, to fight the Iranian-backed forces, particularly the Assaib armed group, Shiite politicians and officials told Arab News.
Douglas Silliman, the US ambassador to Baghdad, and Jan Kubis, the representative of the UN in Iraq, held dozens of meetings in the past two weeks with the involved parties to end the crisis.
Qassem Soleimani, commander of Iran's Al-Quds Force, arrived in Iraq on Saturday night for a series of meetings to unite the two factions.
The meetings ended with an agreement to manually recount no more than 10 percent of the election ballots to ensure they meet constitutional deadlines for forming a government. Iraq's Parliament last week ordered a full recount after accusations of voting fraud, but a partial recount should still ease tensions between the two sides.
"US, UN and Iranian officials have met everyone (political parties) to tell them there will be no canceling of the results of the elections, no new elections and the only available option is the partial manual recounting," a prominent Shiite politician involved in the talks told Arab News.
"Not just this, they asked all the conflicted parties to sit and talk or they will lose their backing.
"They are obliged to sit and negotiate, with no other option."
Al-Sadr, whose Sairoon Coalition emerged as the biggest winner in the elections with 54 seats, has led talks to form the biggest parliamentary bloc. His negotiations have been with Al-Nassir, the coalition of the outgoing Prime Minister Haider Abadi, and Hikma, the coalition of the Shiite cleric Ammar Al-Hakim, in an attempt to form a government.
But his efforts were blocked by the amendment made by the Parliament to the electoral law, which allowed the manual recounting of votes.
Since then, a string of security incidents, including assassinations, have taken place in Sadr City, the stronghold of Al-Sadr's support, security sources said.
"Many local and regional parties have an interest in creating a security mess in Iraq at this time, so the two (Silliman and Soleimani) men's priority was to contain the most dangerous tools of this potential chaos, Saraya Al-Salam and Assaib," a senior Shiite negotiator close to Soleimani told Arab News.
"The containment of these two (Al-Salam and Assaib) will provide an opportunity for everyone to focus on negotiations to form a government and rationally overcome the obstacles."
The US and Iran have both battled for influence in Iraq since the downfall of Saddam Hussein, and Soleimani has huge influence with Shiite paramilitary forces. Al-Sadr, who rejected directly dealing with Silliman and Soleimani, negotiated through many channels, negotiators said.
Kubis; Waleed Al-Kremawi, the head of Al-Sadr's negotiation team; and Dhiyaa Assadi, head of Sadr's political office, were the main channels used by the US and Iranians to reach out to Al-Sadr in addition to Hakim and Hadi Al-Amiri, the commander of Badr Organization, the oldest and largest pro-Iranian Shiite armed group in Iraq, negotiators told Arab News.
On Monday, the talks resulted in the announcement of an alliance between Sairoon and Fattah, which came second in the elections with 47 seats.
Negotiations are continuing with the former Prime Minister Nuri Al-Maliki to bring in his coalition, the State of Law, negotiators said.
A senior Fattah negotiator told Arab News that Al-Sadr would deal only with Al-Amiri and was opposed to the Assaib force — both members of Al-Fattah. He will also not deal directly with Al-Maliki.
None of the mediators spoke in detail about the formation of the government, but both men agree on the need to prevent the collapse of the political process in Iraq, negotiators said.
Iran wants to bring together the five main Shiite blocs to form the biggest ruling parliamentary coalition, while US wants to "limit" the influence of the pro-Iranian forces inside the next government and "works to have a prime minster not hostile to Iran but also not loyal to it," the negotiators said.
Abadi, who is supported by the US for a second term, still has a chance to compete for the prime minister post.
Source: http://www.arabnews.com/node/1321226/middle-east
-----
In Gaza, unpaid government salaries dampen Eid joy
AFP
June 14, 2018
GAZA CITY, Palestinian Territories: Hani Al-Laham sits down to a family dinner after a long day of fasting, but he has little to celebrate as the end of the Muslim holy month of Ramadan approaches.
Despite Laham having a monthly salary of 1,700 shekels ($475), tied to a job in the security services, the Palestinian government has repeatedly failed to pay him.
He is one of nearly 60,000 Palestinians in Gaza on the payroll of the internationally-recognized administration based in the West Bank.
More than a decade ago the Palestinian Authority (PA) ordered its employees in the enclave to stay at home, over a dispute with Gaza rulers Hamas, promising to continue paying their salaries.
But now the money has been cut back.
"This is a disaster, Gaza is collapsing," said Laham, whose financial woes have seen the family evicted from their rented home in Khan Yunis in the southern Gaza Strip.
They have now moved to a homemade shack on the coast near Gaza City, but even that meager existence is threatened.
The local municipality is trying to demolish their temporary home, claiming it was built without the necessary permits.
"If they give me back my salary, I will rent an apartment. I am tired of this life," the 55-year-old said.
Last week Laham finally received a small sum of money, ahead of the Eid Al-Fitr Muslim festival marking the end of Ramadan, but it doesn't cover the family's basic needs.
"Where should we go? Burn ourselves?" his wife Noor, 33, asked.
The family's situation — and that of thousands of other Gazans — is one of the idiosyncrasies of the bitter intra-Palestinian conflict.
The Hamas movement seized control of Gaza in 2007, after a near civil war with the PA which is led by president Mahmoud Abbas.
Hamas argued it had won 2006 parliamentary elections and been deprived of the right to rule after the international community refused to accept the result.
The Gaza takeover was deemed a coup by Abbas, who eventually told his employees not to go to work until Hamas ceded power.
The salaries of staff including judges, doctors and ministry workers continued to be paid while they waited for bickering politicians to allow them to return to jobs.
But years later they are stuck, with Israel imposing a blockade on Gaza that has crippled the economy and no realistic employment opportunities under Hamas.
Recently, facing financial shortfalls and seeking to isolate Hamas, Abbas sought to make cuts to the Gaza salaries.
Last year they were reduced by 30 percent, while in March the PA paid nothing at all — without explanation.
The following month Abbas promised the salaries would be paid within a few days, but nothing happened.
Finally 50 percent of one month's salary was paid on June 5, ahead of Eid which will likely be celebrated Friday.
The Ramallah government has said the lack of payment is a "technical" issue, but it has long had budgetary problems.
Critics also argue that by cutting salaries the PA is seeking to sow discord among Gaza's two million residents, and make life difficult for Hamas.
Hundreds of Palestinians in the West Bank took to the streets of Ramallah on Sunday and Wednesday to demand that salaries be paid in Gaza, a rare show of opposition in the city where Abbas's government is based.
The latter protest had been banned by the Palestinian administration and security forces dispersed demonstrators with tear gas and sound grenades.
The United Nations warned last month that Gaza could be on the brink of war, after at least 129 Palestinians were killed by Israeli fire in border protests.
Hamas, which has strongly backed the demonstrations, has fought three wars with Israel since 2008.
The salary cuts have also affected Gazans' health.
Sabara Abu Ali, 67, has kidney failure but can no longer afford the necessary care after her income was stopped.
"I get dialysis three times a week," at Gaza City's Shifa Hospital, she said. "I don't even have the 30 shekels I need for transport each day."
"How could you desert us Abu Mazen?" she asked, using Abbas's Arabic nickname.
Yasser, an employee of the health ministry, said even if he were to receive his full salary, his debts are such that once the bank takes its loan repayment and electricity and telephone bills are paid he would have only 75 shekels left.
"I have debts to the supermarket, the greengrocer, the pharmacy, university fees for my daughter and school fees for my youngest," he said.
Yasser said his financial situation led his wife to desert him, taking the children and returning to her family home.
"Suicide is better than this humiliating life," he said.
ource: http://www.arabnews.com/node/1321356/middle-east
-----
Yemeni minister, Abdulraqeeb Fath, seeks world community support
14 June 2018
ADEN — Yemeni minister of local administration Abdulraqeeb Fath, who is also chairman of the higher committee for relief in Yemen, Thursday urged the world community to provide support for his government's efforts aiming to restore control on Hodeida strategic port.
In a statement carried by the Yemeni News Agency, Fath referred to the keenness of the Yemeni legitimate government to commit to the humanitarian and international laws and guarantee the safety of civilians and access of foreign assistance to all provinces in Yemen without exception.
He said that the Houthi militias, since their control over Hodeida province, have sent the humanitarian situation spiraling in the province to its worst, citing their policies of starvation that resulted in the breakout of poverty and famine throughout the province. — SPA
Source: http://saudigazette.com.sa/article/536929/World/Mena/Yemeni-minister-seeks-world-community-support
------
UAE ambassador: Coalition aims to prevent a second Hezbollah in Yemen
Staff writer, Al Arabiya EnglishWednesday, 13 June 2018
The UAE's ambassador to Britain, Sulaiman al-Mazroui, said on Wednesday that the coalition to support legitimacy in Yemen aims to prevent the establishment of a second Hezbollah in Yemen.
"The main objective of the intervention of the coalition countries is to prevent the establishment of another Hezbollah in the Arabian Peninsula in Yemen, which is represented by the Houthi, and prevent Iran from besieging the Arabian Peninsula," the ambassador said.
The UAE ambassador in London also confirmed that the Coalition for Legitimacy Support in Yemen has drawn up emergency plans to deliver humanitarian aid to besieged families in Hodeidah.
He added: "There are procedures and contingency plans, in the event of the destruction of the port by Houthis, the aid will be by air and land."
He stressed that the restoration of control of the city of Hodeidah and its port will force the Houthis to negotiate, and prevent them from exploiting the port to smuggle weapons.
"The coalition believes that the liberation of Hodeidah will ensure pressure on the Houthis to sit at the negotiating table of the peace process, and prevent them from using it to import and smuggle weapons, and smuggling of food and enrich their treasure from the exploitation of the port," he said.
He pointed out that the humanitarian file is a priority, and the coalition has prepared contingency plans, stressing that the coalition plans to ensure the arrival of aid to Yemen by air, sea and land.
A large-scale humanitarian aid to Hodeidah
Meanwhile, speaking from the Saudi capital Riyadh during a press briefing alongside a representative from the King Salman Humanitarian Aid and Relief Centre, the UAE's Minister of State for International Cooperation Reem bint Ibrahim al-Hashemy said that the Arab Coalition has prepared a large-scale and comprehensive surge plan for the rapid delivery of humanitarian aid to the Hodeidah and surrounding areas.
The Minister said that food and essential supplies have been stocked and prepared for immediate intervention. "We have ships, planes, and trucks with food supplies and medicine to address the immediate needs of the people," she said.
Al-Hashemy stated that the Hodeidah port remains open to shipping. "Should the Houthis attempt to further damage and destroy any port or logistics infrastructure, we have also put contingency plans in place to move aid by other methods to Hodeidah and points beyond," as reported by WAM.
"On top of the $14 bln that the Coalition has already given for aid in Yemen - we continue to work with aid agencies on the ground to ensure that once the port is liberated we will quickly increase the capacity of the port and the amount of aid flowing through it."
"The Coalition successfully implemented similar large-scale operations when it liberated Aden, Mukalla and Mocha which led to a considerable improvement in the lives of their people. In each area the Coalition has liberated, the local people are now better off than under Houthi or AQAP control," she added.
Source: https://english.alarabiya.net/en/News/gulf/2018/06/13/UAE-Coalition-aims-to-prevent-establishing-a-second-Hezbollah-in-Yemen.html
----
Pakistan
Election Commission of Pakistan urged to provide safety to transgender candidates
Ali Hazrat Bacha
June 14, 2018
PESHAWAR: Stressing the need to ensure active participation of the transgender community in the upcoming elections, the All Pakistan Transgender Election Network (APTEN) on Wednesday urged the Election Commission of Pakistan (ECP) to take pragmatic measures to remove hurdles in the way of their participation and to provide security in case of the possibility of election violence.
The members of the network condemned harassment of transgender politicians looking to contest the election. They said that a total of 12 transgender persons in the country had submitted their nomination papers. So far, the ECP has cleared the nomination papers of five aspiring candidates, while the papers of the remaining contenders are being scrutinised.
Speaking at a press conference held at the Peshawar Press Club, APTEN focal person and candidate from NA-144 (Okara) Nayab Ali said they had asked the ECP to include specific columns for the transgender community in the nomination forms, but their request had not been accepted. She was joined by Trans Action Alliance Khyber Pakhtunkhwa president Farzana Jan, transgender rights activist Qamar Naseem, Nadeem Khaish, a candidate from PP-53 Islamabad, Lubna Lal, a candidate from PP-26 Jhelum, Naina, a candidate from PP-77 Sargodha, and others.
Activists ask political parties to think beyond gender binary approaches and include transgender community in election manifestos
Ms Ali demanded an end to impunity for acts of election-based violence, whether committed by state or non-state actors, and punishment for all forms of violence and discrimination, including targeting persons based on their gender identities and expressions.
Members of the transgender community, she said, had not been counted as voters. She added that this was sheer injustice and a violation of their fundamental rights. The contender from Okara demanded effective legislation to ensure acceptance of the transgender community and to provide them necessary facilities at public institutions across the country.
She also expressed concern over the heavy amount of fee charged to submit nomination papers to contest the election — Rs30,000 for those contesting from National Assembly constituencies and Rs20,000 from candidates contesting on provincial assembly seats. She termed the amount unjust and said that many in the transgender community could not afford the heavy fee.
Ms Ali suggested that the government allocate reserved seats in the national and provincial assemblies for the transgender community, and regretted that mainstream political parties had ignored the transgender community in their manifestos. She condemned the reported harassment of Rani, a transgender from Haripur, after she had received a ticket to contest the election.
Nayab Ali, who is contesting the election on a ticket of the Pakistan Tehreek-i-Insaf Gulalai's party from NA-144, Okara, vowed they would fully participate in the electoral process despite odds. She said a transgender political party would be announced after the general election, adding that this would be the first party of its kind in the country, if not the world.
The aspiring lawmaker said that she wanted the government to provide her security during the campaign because it would be a major challenge competing against influential candidates.
Earlier, transgender rights activist Qamar Naseem presented the manifesto of APTEN and asked the interim government and the ECP to protect the transgender community's fundamental and constitutional rights.
https://www.dawn.com/news/1414054/ecp-urged-to-provide-safety-to-transgender-candidates
-----
Pakistan military 'willing to prosecute ex-army chief'
SIB KAIFEE
June 13, 2018
ISLAMABAD: The Pakistan army has said that it will assist the apex court to prosecute retired top-ranking military officers allegedly involved in the politically engineering of the 1990 general elections in favor of military-backed candidates and in bribing politicians and journalists.
The "Asghar Khan case" is named after Air Marshall (retired) Asghar Khan who filed a human rights petition to Pakistan's Supreme Court in 1996 accusing former officers of covertly funding electoral campaigns, buying political loyalties and influencers, and the formation of a short-lived political party to manipulate the country's national elections to defeat assassinated former Prime Minister Benazir Bhutto's Pakistan People's Party (PPP).
Among the accused were ex-army chief (retired) Gen. Mirza Aslam Beg and ex-spymaster of Inter-services Intelligence (ISI) — Pakistan's prime intelligence agency — (retired) Lt. Gen. Asad Durrani.
The Ministry of Defense submitted a letter to the superior court saying that the military was willing to hold a trial and prosecute the former accused officers, a report in a local daily citing a senior official suggested.
The Army's Director General Lawfare Directorate (DGLP), formerly known as the Judge Advocate General, has consulted the office of the federation's Attorney General (AG) Ashtar Ausaf Ali to take legal action against the accused former top brass. AG had suggested to the court that the retired officers case be referred to the military.
Legal expert and former law ministry adviser, Sharafat Ali, said that the sudden interest of the army in the decades'-old case is questionable.
He told Arab News: "The civil court can absolutely prosecute retired officers" who have subverted the constitution but the court is taking a lenient position toward retired men of the armed forces in his opinion.
He pointed to the case of former military ruler (retired) Gen. Pervez Musharraf, who is a declared absconder yet the court allowed him to submit nomination papers and said that it would not to arrest him on his return to Pakistan.
"It seems there may be political factors more than legal," Ali said.
Since the DGLP is not authorized to speak to the media, it is unclear what punishment the military court would hand down to the former officers, apart from stripping them of retirement benefits and allotted land.
A panel of judges headed by Chief Justice of Pakistan Mian Saqib Nisar has promised an early conclusion to the case and ordered all state institutions to cooperate with the Federal Investigation Agency (FIA), which has widened its probe beyond certain named politicians and personalities.
Some of those implicated in receiving millions of rupees include former Prime Minister Nawaz Sharif, whose party won the 1990 elections, Abida Hussain, Altaf Hussain Qureshi, Maulana Salahuddin, Humayun Marri, Zafarullah Jamali, Kadir Baloch, Sarwar Khan Kakar, Hasim Bazenjo, Nadeem Mengal, Muzaffar Hussain Shah, Ghulam Ali Nizamani, Arbab Ghulam Rahim, Liaqat Jatoi, Imtiaz Sheikh, Jam Mashooq, Jam Haider, Dost Muhammad Faizi, Javed Hashmi and Altaf Hussain.
Nearly all have denied the charge, raising concerns that the case is even viable. Political analyst Qamar Cheema believes that the case is being dragged intentionally.
"They will try to prolong the case so that with the change of top judicial and military leadership the case progress slows down. If Musharraf has not been punished, there is a very bleak chance that army officers in Asghar Khan case may be punished," Cheema told Arab News.
Source: arabnews.com/node/1321131/world
-----
De-radicalised Pakistan militants get skill development training
June 14, 2018
LANDI KOTAL: A total of 1,089 surrendered militants have been de-radicalised and imparted skill trainings in different trades at Bara De-radicalisation Center since 2015.
This was said during a briefing given to Inspector General Frontier Corps Maj Gen Waseem Ashraf after completion of the training of the rehabilitated militants at the centre.
He was told that another batch of 81 suspected militants, who had either surrendered to the security forces or had been arrested during various military operations, was undergoing similar training and rehabilitation.
The centre, later named as Sabawon, was established in Bara in 2015 to impart education and skill development trainings to the suspected militants. Some of them voluntarily surrendered while some were arrested.
Speaking on the occasion, the IG FC said that the centre was established to provide proper guidance and rehabilitate those elements, who had been lured by militant groups into militancy.
He said that all those, who had successfully completed their training, had become useful citizens of the society and were positively utilising their skills and knowledge.
Mr Ashraf said that peace was restored in Bara and rest of the regions in tribal areas with the sacrifices of both security forces and local people. "Enemy countries are bent on destroying Pakistan but army with active support of civilians has thwarted all such designs of the enemy," he said.
Later, he administered oath of a good conduct and patriotic citizens to those, who completed their rehabilitation courses. They were also awarded certificates.
Officials of the local administration, tribal elders and parents of the de-radicalised persons witnessed the ceremony.
Source:dawn.com/news/1413949/de-radicalised-militants-get-skill-development-training
-----
Caretaker govt, state institutions urged to recover 'missing' persons on Eid
Shazia Hasan
June 14, 2018
KARACHI: A rights body on Wednesday appealed to the caretaker government and state institutions to release victims of "enforced disappearance" and "missing" persons on the occasion of Eid.
"With Eid just round the corner I appeal to the caretaker government to please look into the biggest violation of human rights going on here of enforced disappearances and missing persons. We ask the state institutions, federal and Sindh government to release all these people in their custody. Their families await their return. They miss them badly," Zulfiqar Shah, joint director of the Pakistan Institute of Labour Education and Research (Piler), told a press conference here.
The presser was called by human rights activists at the Karachi Press Club on Wednesday.
"If they have done anything which goes against the establishment please have them tried in a court of law. Article 10-A of the Constitution provides every citizen the right to fair trial and due process," he reminded, adding that according to the data on the Sindh police's website there are over 600 people missing from Sindh of whom 154 have disappeared since August 2017.
Of the 600 people missing from Sindh, 154 have disappeared since August 2017
Mr Shah said that Piler had organised a two-day National Conference on Human Rights and Labour Rights in which leading human rights and labour rights activists had expressed serious concerns over the deteriorating condition of human rights and labour rights in Pakistan.
They had called upon the federal and provincial governments to take practical measures to ensure the provision and protection of fundamental rights of people as enshrined in the Constitution and committed to by the state under various international conventions, including the Universal Declaration of Human Rights (UDHR) and Conventions of International Labour Organisation (ILO).
Sharing more about the conference, he said that among the things discussed there included the recent aggressive approach of the government towards non-governmental organisations, which was "laced with prejudice and distrust resulting in harassment of their staff, malignant propaganda against them and the use of non-state actors to intimidate them which has resulted in the abrupt closure of many NGO operations.
"This is totally against the right to association enshrined in the Constitution, not to mention International Covenant on Civil and Political Rights and other international obligations that Pakistan is a signatory to," he added.
Talking about another matter taken up at the conference — freedom of expression — he said that the freedom of expression was a fundamental human right enshrined in Article 19 of the Constitution. "Unfortunately, this right is in regress in Pakistan, reflected in increased censorship, harassment of media persons and outlets, and aggressive laws directed at the media, including internet and cyberspace," he said.
He also said that the participants of the conference noted that the European Union (EU) had offered Pakistan a trade incentive scheme — General Scheme of Preferences (GSP)-Plus — which is a window of opportunity for stronger mechanisms and systems realising rights.
The 27 conventions in the scheme holistically covered major sections of rights, including human rights, labour rights, rights for women, environment and ecology, and governance, he added.
Pakistan has recently been reviewed for a second time for the status by the EU. The EU review report released early this year (January 2018) notes gaps in effective implementation of conventions related to GSP-Plus.
He said the report had particularly noted with concern the continuation of the policy of capital punishment against the backdrop of a weak justice system, enforced disappearances and custodial torture, in addition to the blasphemy laws, compromise access to justice for the accused.
Contract labour
Senior labour leader Liaquat Sahi, who is central leader of the State Bank of Pakistan's Democratic Workers Union, said that the Supreme Court of Pakistan had recently declared contract labour as illegal and unconstitutional and ordered to provide regular employment to all employees. "There is child labour, modern slavery, deficits in operational health and safety, absence of labour laws in the agriculture sector, and poor access to social security for workers," he said.
"The social security coverage must be expanded by focusing on implementing appointment letter provision under standing orders and enhancing outreach to the so-called informal workforce. Minimum wages need to be consistent with the concept of living wages, which is equivalent to Rs25,000, in accordance with the cost of living and inflation in 2018," Mr Sahi said.
Senior trade union leader Habibuddin Junaidi underlined the need for serious efforts to remove obstacles in the way of unionisation in the country that stands at only one per cent of the total labour force.
"These obstacles include exclusionary laws, poorly performing institutions, including National Industrial Relations Commission, labour judiciary and a non-serious attitude of the state towards the issue, not to mention employers' reluctance to support unionisation," he said.
Mahnaz Rahman, resident director of Aurat Foundation, said that in all the things mentioned by the others already women had double problems as they are also homemakers. "Then when we talk about missing, it is the wives of the missing people who are left to worry about how to make ends meet in their absence. There are also several laws here in support of women but there has been no implementation on them," she said.
Source: .dawn.com/news/1413993/caretaker-govt-state-institutions-urged-to-recover-missing-persons-on-eid
-----
Nawaz, Maryam set to fly off to London
Zulqernain Tahir
June 14, 2018
LAHORE: Despite request by the National Accountability Bureau (NAB) to put their names on the Exit Control List (ECL), former prime minister Nawaz Sharif and his daughter Maryam Nawaz will leave for London on Thursday (today) to see Begum Kulsoom Nawaz, according to sources.
The two members of the Sharif family would not be stopped from proceeding to London under the existing political situation, a source told Dawn. "Like the Pakistan Muslim League-N government, the caretaker government has neither rejected nor accepted the NAB request so far," he said.
The two PML-N leaders have booked their seats on the London-bound flight of a private airline, the source added.
When contacted, a spokesperson for the PML-N confirmed that the two leaders were set to leave for the UK capital. "Nawaz Sharif and Maryam Nawaz are leaving for London on Thursday and will return after a week's stay," said Marriyum Aurangzeb.
The former information minister said the PML-N's supreme leader and his daughter would "surely return" to the country, unlike the military ruler who had trampled upon the Constitution twice.
"People should be equal in the eyes of law," she remarked and said her party wanted to know how the name of Imran Khan's friend Zulfiqar Bukhari had been removed from the ECL. "Does Imran Khan have a magic wand?"
Earlier in the day, Maryam Nawaz expressed the hope that she would be spending Eidul Fitr with her ailing mother.
Talking to reporters after the scrutiny of her nomination papers, she said: "I will hopefully spend Eid with my mother. Her radiotherapy has been completed and the doctors will re-examine her on June 17."
In response to a question about possibility of delay in general elections, she said: "To think of delay in the elections is an insult to the people of Pakistan. Nawaz Sharif is fighting to defeat this mindset. If elections are delayed the situation in the country may not remain in control of anyone."
Meanwhile, the NAB has not just requested the interior ministry to put the names of former premier and his daughter on the ECL, but also those of his two sons and son-in-law because they are being tried in an accountability court.
In a recent letter, the bureau said: "This matter is agitated again in view of the fact that references against the accused persons are in the final stages of trial. There is apprehension that they may leave the country to avoid legal outcome of the judgement which is expected to be announced shortly."
The bureau also asked the ministry to put the name of former finance minister Ishaq Dar on the ECL and initiate the process to bring him back to the country as well as the two sons of Mr Sharif (Hassan and Hussain Nawaz) through the Interpol.
On Feb 14, NAB had sent a similar letter to the ministry, but the then government did not place the Sharifs' names on the ECL. The government reportedly declined the request on the grounds that names could only be included in the no-fly list on a court's order.
Source: dawn.com/news/1414039/nawaz-maryam-set-to-fly-off-to-london
-----
PTI Candidate challenges Maryam's papers
The Newspaper's Staff Reporter
June 14, 2018
LAHORE: Pakistan Tehreek-i-Insaf candidate Dr Yasmin Rashid has challenged the nomination papers of PML-N candidate Maryam Nawaz for NA-125.
Dr Rashid filed 20 objections against Ms Nawaz before Returning Officer Asif Bashir.
The PTI candidate stated Ms Maryam Safdar was neither qualified to contest an election as per the strict provisions of Article 62 nor the nomination papers filed by her fulfilled the requirement of law particularly sections 60, 61 and 62 of election laws 2017.
According to election laws, she stated all contesting candidates were bound to declare their assets and liabilities of their spouses and dependents. In the instant matter, she stated that Ms Nawaz had misdeclared and concealed information about her and her spouse's assets.
Dr Rashid said Maryam was using different name spellings in her wealth tax returns, in his father's wealth tax and in her passport. She stated that the PML-N candidate should be asked to file copy of passport she used for opening accounts in Saudi Arabia, the UK and elsewhere and for offshore companies.
She stated that Ms Nawaz had lied in a TV telecast about her property and concealed her tax returns and wealth statements as well as income from agricultural land.
Source: dawn.com/news/1413969/yasmin-challenges-maryams-papers
-----
South Asia
Former Maldives President Maumoon Abdul Gayoom jailed for 19 months
Jun 14, 2018
Male: A court in the Maldives on Wednesday convicted former President Maumoon Abdul Gayoom and the sitting chief justice for obstruction of justice and sentenced them to 19 months in prison.
The trials are widely seen as part of a plan by President Abdulla Yameen to tighten his grip on power ahead of elections in September at which he seeks a second five-year term against an Opposition yet to decide on a single candidate. The government denies this.
The country of 400,000 people is popular with tourists but has seen political unrest since its first democratically elected leader, Mohamed Nasheed, was forced to quit amid a police mutiny in 2012.
Nasheed was convicted of terrorism charges in 2015 and sentenced to 13 years after a trial criticised as unfair.
Gayoom, who is the country's longest serving leader, Chief Justice Abdulla Saeed and Supreme Court Justice Ali Hameed were found guilty on Wednesday after they were charged for refusing to hand over their mobile phones for a police investigation.
The Indian Ocean island chain has faced upheaval since February, when Yameen, half brother of Gayoom, imposed a 45-day state of emergency to annul a Supreme Court ruling that quashed the convictions of nine Opposition leaders, including Nasheed.
During the emergency, authorities arrested the three men and a Supreme Court administrator on charges of trying to overthrow the government. They still face those charges. Saeed and Hameed refused the opportunity to make a closing argument saying their lawyers had earlier quit, citing grave procedural defects with the trial.
Criminal Court Judge Hassan Najeeb refused multiple appeals by the defendants to be given time to appoint new lawyers.
Najeeb said it was clear from "anonymous testimonies" that the defendants had mobile phones and refused to comply with a police investigation and requests to hand over their devices and this represented obstruction of justice.
Rights group Amnesty International said in a statement the convictions are politically motivated and should be quashed because the trials did not meet international standards.
Athul Keshap, the US ambassador for Maldives said in a tweet that an unfair trial with no defence witnesses or defence lawyers would always result in an unfair sentence.
"Judges cannot serve the cause of fair and impartial justice if they fear the Executive. When will the people of #Maldives see the restoration of rule of law?," Keshap said on Twitter. Reuters
Source: https://www.telegraphindia.com/world/gayoom-jailed-for-19-months-237617?ref=hm-new-stry
----
Afghan forces fully prepared to respond if ceasefire breached: Danish
By KHAAMA PRESS - Wed Jun 13 2018
The Ministry of Interior (MoI) spokesman Najib Danish says the Afghan armed forces are committed to respect the ceasefire with the Taliban as per the instructions of President Mohammad Ashraf Ghani.
However, he warned that the Afghan forces are fully prepared to defend in the event the ceasefire was breached by the militants.
Danish made the remarks during a press conference in Kabul as he was briefing the media regarding the security arrangements during the Eid-ul-Fitr days.
He said full security measures will be in place in mosques, highways, recreational places, and Eid prayer sites and the security forces have been instructed to fully cooperate with the people during the Eid days.
Danish also urged the families to prevent their children from the use of fire crackers and other substances that could ignite fire.
This comes as the Ministry of Interior issued a statement on Tuesday, asking the security forces to take immediate actions to prevent the sale and purchase of fire crackers and other hazardous materials causing fire.
In the meantime, Danish urged the residents of the country to communicate with the security forces in the event they come across with the suspicious actions.
Source: https://www.khaama.com/afghan-forces-fully-prepared-to-respond-if-ceasefire-breached-danish-05367/
----
Airstrikes leave 2 ISIS-K members dead in Kunar province
Posted: 13 Jun 2018
At least two militants affiliated with the Islamic State of Iraq and Syria Khurasan (ISIS-K) were killed during the airstrikes conducted in eastern Kunar province of Afghanistan.
The Ministry of Defense (MoD) said the airstrikes were carried out in the vicinity of Wataput district.
Without disclosing further information, the Ministry of Defense said the Afghan armed forces carried out airstrikes against ISIS militants, leaving two of them dead.
The anti-government armed militant and terrorist groups including ISIS loyalists have not commented regarding the report so far.
Kunar is among the relatively volatile provinces in East of Afghanistan where the Taliban insurgents as well as militants affiliated with the other terrorist groups are actively operating in its various districts and often carry out insurgency and terrorist related activities.
The latest airstrikes in Wataput have been carried out amid ongoing counter-terrorism operations against the loyalists of the terror group in some restive provinces of the country.
The US forces based in Afghanistan also conduct airstrikes almost on regular basis in a bid to prevent the terror group expand its foothold in the country.
Source: khaama.com/airstrikes-leave-2-isis-k-members-dead-in-kunar-province-05364/?utm
------
Durand Line fencing not an obstacle between people of both sides, Bajwa tells Ghani
By KHAAMA PRESS - Wed Jun 13 2018
The Chief of Army Staff of Pakistan General Qamar Javed Bajwa has said that the fencing along the Durand Line will not create obstacles between the people of the two sides.
According to Inter Services Public Relations, the media wing of the military, General Bajwa made the remarks while meeting President Mohammad Ashraf Ghani during his visit to Kabul on Tuesday.
According to a statement released by the Pakistani military, during his visit to Kabul, Gen. Bajwa had exclusive one on one meeting with Afghanistan President Ashraf Ghani followed by delegations level discussions.
Referring to border fencing, the Army Chief said that this is an obstacle for checking terrorism and not between people of both sides.
Pakistan started work on fencing the line in June last year, covering the areas which the Pakistani authorities are the most prone in terms of the movement of the militants.
Major General Nauman Zakaria, the commander for the South Waziristan tribal region had told reporters that no "terrorist" will be able to use Afghan or Pakistani soil to launch cross-border attacks after the fencing is completed.
"(The fence) is a paradigm change. It is an epoch shift in the border control management," he said, adding that "There will not be an inch of international border (in South Waziristan) which shall not remain under our observation."
Source: https://www.khaama.com/durand-line-fencing-not-an-obstacle-between-people-of-both-sides-bajwa-tells-ghani-05366/
-----
Afghan Taliban offer direct talks with Washington
Kabul, June 14, 2018
Taliban leader Mullah Hebatullah Akhundzada has called for direct talks with the United States, stating that occupying forces should leave Afghanistan if they want peace in the country, US media reported.
In an Eid message Akhundzada said, the US forces and "other occupying forces" should leave the country so that an independent intra-Afghan government "can take root", Voice of America reported.
"If the American officials truly believe in a peaceful end to the Afghan imbroglio, then they must directly present themselves to the negotiation table so that this tragedy, the destructive effects of which mainly harm the American and Afghan people, can be resolved through talks," Akhundzada said in a statement.
According to the Afghan media, the Taliban leader stated the issue with US was that it used power to seek solution to issues. He added that US should come to the negotiation table as not every problem is solved with the use of force.
On June 7, the Afghan government had announced a week-long ceasefire with the Taliban for Eid though operations.
The ceasefire will last "from the 27th of Ramazan until the fifth day of Eid-ul-Fitr," Afghan President Ashraf Ghani tweeted from an official account, indicating it could run from June 12-19.—TNS
Source: pakobserver.net/afghan-taliban-offer-direct-talks-with-washington/
-----
Modi offers his best wishes ahead of historic Afghanistan-India test match
By KHAAMA PRESS - Wed Jun 13 2018
The Indian Prime Minister Narendra Modi offered his best wishes ahead of the historic test match between the Afghanistan and India cricket teams.
"It is truly historic occasion today as the national cricket team of the Islamic Republic of Afghanistan plays its first international cricket test match. And it is a matter of great pride and immense pleasure that Afghanistan has chosen to play its maiden test match with India," Modi said in a statement.
He said "The young and talented Afghan national team has made great strides in a very short period of time. After becoming an affiliate member of the International Cricket Council (ICC) in 2001, it achieved the test playing status last year. During that journey, it has consistently performed against other full ICC members and test playing nations, recording milestone victories over them in various formats of the game."
"These achievements have come about in challenging and difficult circumstances. This demonstrates the indomitable Afghan spirit to overcome all challenges and realize aspirations for a prosperous, stable, united and peaceful nation. Today, cricket is a unifying force for the people of Afghanistan," Modi said in a statement.
He also added "India takes pride in being shoulder-to-shoulder with Afghanistan in this journey. It is an honour for India to host the Afghan national team at home grounds in Greater NOIDA and Dehradun. The people of India have shared the joy of millions of Afghans at the success of their players in tournaments in India and elsewhere."
"I congratulate the Board for Control of Cricket in India and the Afghanistan Cricket Board for organizing this historic test match,"Modi said, adding that "I convey my best wishes to both teams. I am sure that the game will score a win for the renowned Afghan fortitude, and for the historic friendship between India and Afghanistan."
The historic test match between Afghanistan and India will kick off from tomorrow in Dehradun city of India.
Source: https://www.khaama.com/modi-offers-his-best-wishes-ahead-of-historic-afghanistan-india-test-match-05368/
----
Africa
Al-Qaida's Mali branch releases video of 2 female hostages
— By Agencies | Jun 14, 2018
Dakar (Senegal): Al-Qaida's Mali branch has released a proof-of-life video showing footage of two female hostages abducted in separate incidents and held for more than a year, according to SITE Intelligence Group.
The video released on Telegram yesterday by the Mali-based al-Qaida affiliate known by its acronym JNIM shows Colombian nun Gloria Cecilia Narvaez caring for French aid worker Sophie Petronin, according to the US-based group that monitors jihadist communications. Petronin was kidnapped in late 2016 in Gao, Mali. Narvaez was seized near Mali's border with Burkina Faso in February 2017.
In the video, which Petronin indicates was recorded June 7, the two women address the camera. Petronin speaks out to her son, after allegedly hearing a message from him, according to a transcript of the video by SITE Intelligence Group. She expresses a wish to reunite with her family, and addresses the French government saying she fears being sacrificed.
Narvaez addresses Pope Francis, thanking him for his interest in her case and asking him to help intervene to help the ailing Petronin. In January, the Mali insurgency released a video of Narvaez with an extremist member narrating an appeal for the payment for her release. The last video of Petronin was released in July 2017 alongside five other foreign hostages. Narvaez was also in that video, which came shortly before France's president visited Mali.
A number of hostages in Mali have been held for years. The extremists have made a fortune over the last decade abducting foreigners in the vast Sahel region and demanding enormous ransoms for their release. A Swede, Johan Gustafsson, was freed in June 2017 after being held by Islamic extremists in Mali for six years. South African Stephen McGown, also held for six years, was released in late July 2017. Both governments said they did not pay ransoms.
A French-led intervention drove out Islamic extremists from strongholds in northern Mali in 2013, but the extremists have continued targeting peacekeepers and other forces. Al-Qaida and Islamic State terror group-linked extremists have pushed into central Mali, and also stage attacks in Niger and Burkina Faso. In March 2017, the extremist groups Ansar Dine, Al-Mourabitoun and al-Qaida in the Islamic Maghreb declared that they had merged to form JNIM.
The group has also claimed responsibility for attacks in neighboring Burkina Faso. A recently created G5 Sahel Force aims to have 5,000 troops from Mali, Niger, Burkina Faso, Mauritania and Chad countering extremist groups linked to the Islamic State terror group and the al-Qaida in the Sahel region.
Source: http://www.freepressjournal.in/world/al-qaidas-mali-branch-releases-video-of-2-female-hostages/1296138
----
Two Worshippers, Suspect Killed In Malmesbury Mosque Attack
SOUTH AFRICA Thursday 14 June 2018
CAPE TOWN - Three people have been killed in an attack at a mosque in Malmesbury in the Western Cape.
Police said a man entered the building during morning prayers.
Two worshippers have reportedly been stabbed to death.
Police say an officer responding to the incident shot and killed the suspect.
Three people -- including a police officer -- were injured.
The Muslim Judicial Council said in a statement that two people have been killed whilst in I'tikaaf and another regular musallee of the Masjied were injured.
Western Cape police spokesman Lieutenant Colonel Andrè Traut said detectives are currently combing the crime scene for clues.
"The suspect, believed to be in his thirties and armed with a knife, was still on the scene and charged at the police who tried to persuade him to hand himself over.
"He ignored the calls and tried to attack police. He was shot and killed in the process," said Traut.
Source: https://www.enca.com/south-africa/two-worshipers-suspect-killed-in-malmesbury-mosque-attack
------
Southeast Asia
Ramadan Helps To Heal The Wounds In War-Ravaged Philippine City
ELLIE ABEN
June 13, 2018
MANILA: Last year, as Muslims in the Philippines were preparing for Ramadan, Daesh-inspired militants seized Marawi, one of the main Muslims cities in the south.
This set off a months'-long war that displaced thousands of residents and left the city in ruins.
Ismael Ali, a former overseas worker in Saudi Arabia, was among those directly affected by the crisis. He and his family have been living at the temporary camp site for internally displaced persons (IDPs) following the siege.
For Ali, the holy month of Ramadan is the best time to reflect, mend ties and strengthen relationships.
"Ramadan is a time of renewal and by doing this, I am also using this spiritual process to overcome the trauma brought by the conflict," Ali, an electrical engineer, said.
Ali told Arab News how he worked overseas to provide a better life for his family.
"Immediately after I graduated from Manuel L. Quezon University, I applied for a job in Saudi Arabia ... I worked there for 33 years."
With the the help of his wife, who also worked as a nurse in Saudi Arabia for 26 years, they built a three-story house in Marawi.
Ali said that he returned to the country in October last year. By that time, the government had declared victory against the Maute group and the city "liberated from terrorist influence." However, it was only last month (May) when they were allowed to enter ground zero that he was able to see their home again.
"There was nothing left but bullet-riddled walls. It is all shambles. I did not find even a single spoon," Ali said, as he recalled how the sight of their three-story house completely burned down, hit by a bomb, brought him to tears.
Ali and his family are currently living just outside the city at a temporary shelter in Barangay Bito Buadi Itowa, where he acts as camp manager. Ali said some 463 families, or about 2,000 people, are staying at the camp site. There are 85 tents, each occupied by at least three families, while the others are cramped in 50 bamboo houses.
The IDPs use a small multipurpose hall at the evacuation camp as a makeshift mosque to pray at night during Ramadan.
"There's a small mosque nearby but it can only accommodate a few people so we decided to use the multipurpose hall as our makeshift mosque just for the Ramadan," said Ali.
Like the other IDPs, Ali remains hopeful that they can rebuild their houses and return to their normal lives.
"It's not the end. I accept what happened to us. It's part of our sacrifice. I just hope that after what happened to us in ground zero, Allah has something good in store for us in the future."
As camp manager, Ali sees to it that there is unity and harmony in the evacuation camp. "I always tell my fellow evacuees we are all neighbors now and we should stay positive despite the present challenges we are facing. We can overcome these with the help of Allah," he said.
This positive attitude is shared by fellow evacuee Guhary Pacasum who said that this Ramadan, Iftar (breaking of the fast) is not just about sharing of food among the IDPs but also provides the opportunity to strengthen relationships inside the evacuation center.
Both Ali and Pacasum lead their communities in separate healing sessions and iftar at their temporary shelters.
The healing session is part of the 10-day Duyog Ramadan Alang sa Kalinaw, a solidarity project initiated by the Office of the Presidential Adviser on the Peace Process (OPAPP). It aims to strengthen social healing for those living in transitory sites in Marawi.
"With this intervention, we forget for the meantime the nightmare of the war," Pacasum said. "We have to admit that there are still IDPs who haven't moved on yet from the trauma brought about by the armed conflict, especially those who lost their loved ones during the crisis."
"We are really happy for those people who have been helping us ever since the crisis started, most especially to our Christian friends. We value the efforts very much, particularly during the holiest month of Ramadan," he said.
Pacasum and his family are temporarily taking shelter at an evacuation center with a total of 247 families or 1,235 people in Barangay Sagonsongan.
Rolly Asuncion, OPAPP assistant secretary, said that the initiative is part of the process of rebuilding the social fabric and to foster unity and harmony among the people of Marawi by engaging support for spiritual and religious practices.
"We can't help but miss those times before the siege happened. But inshallah we will overcome this," said Hadji Abdullah Mohaimen, another evacuee.
The IDPs are gradually turning the trauma into a source of strength to be more resilient during Ramadan. "Ramadan only happens once in a year, that's why it also gives us the opportunity to reflect and recover from the trauma we have gone through," said another evacuee.
The Marawi crisis began in May last year when Daesh-inspired militants Omarkhayam Maute and Abu Sayyaf Group leader Isnilon Hapilon seized the city. Heavy fighting between government forces and the Islamist militants lasted 154 days, leaving more than 1,000 people dead.
The government said that up to 80 billion Philippine pesos ($1.5 billion) will be spent on rehabilitation and reconstruction of war-torn Marawi.
Source: http://www.arabnews.com/node/1321211/world
------
URL: https://www.newageislam.com/islamic-world-news/in-kobane-monument-lives-lost/d/115545
New Age Islam, Islam Online, Islamic Website, African Muslim News, Arab World News, South Asia News, Indian Muslim News, World Muslim News, Women in Islam, Islamic Feminism, Arab Women, Women In Arab, Islamophobia in America, Muslim Women in West, Islam Women and Feminism