New Age Islam News Bureau
7 Aug 2018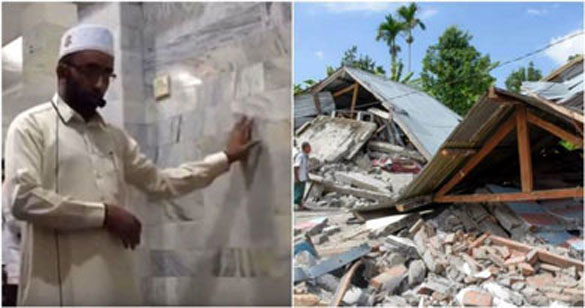 Allahu Akbar !!! Imam continued with Salat during massive earthquake in Indonesia, yesterday...
This is unshakable faith, literally
-----
• In Karachi, a School inside a Temple Where Muslim Teachers Teach Hindu Students
• Indonesian Imam Calmly Recited Prayers through an Earthquake & People Are All Praises for Him
• Arab Coalition Denounces AP Report, Reaffirms Fight against Terrorism in Yemen
• Maharashtra: Muslims Demand 5 Per Cent Reservation
• US Democrats to Elect Nation's First Muslim Governor
Pakistan
• In Karachi, a School inside a Temple Where Muslim Teachers Teach Hindu Students
• Want To See an 'Equal' Relationship with India: 1st Hindu to Win General Seat in Pak
• JI Expels 20 Shura Members after Election Debacle
• Opposition Nominates Shehbaz Sharif As Joint PM Candidate
• TLP to contest by-polls, continue protests: Rizvi
• Unseen forces used ECP powers to engineer results: Siraj
• Imran Khan's Stepdaughter Joins Pakistan Tehreek-Insaf
• Imran Khan challenges LHC's decision to bar ECP from issuing notification of his victory
• JUI-F, MMA plan sit-ins across Sindh tomorrow; GDA vows protest drive
• Pakistan determined to root out terrorism, extremism
--------
Southeast Asia
• Indonesian Imam Calmly Recited Prayers through an Earthquake & People Are All Praises for Him
• Group of Ulema Pushes for VP Slot in Prabowo Coalition
• Philippines' Duterte Urges Peace in Unveiling Muslim Autonomy Law
• Closing Saudi-backed outfit a loss to Malaysia, says Hisham
• Young Indonesian Thinkers Explore Life of Muslims in Germany
--------
Arab World
• Arab Coalition Denounces AP Report, Reaffirms Fight against Terrorism in Yemen
• Terrorists Plunder Southern Syria's Historical Artifacts
• Amnesty Slams Bahrain's 'Cruel, Inhumane' Treatment of Jailed Activists
• Tens of Turkey-Backed Militants Killed in Drone Attacks in Northern Syria
• Syrian Army Keeps Rolling on ISIL's Centres in Sweida Badiyeh
• Damascus creates body to repatriate Syria refugees
• Iraq jails French and German ISIS members for life
• Syrian warplanes pound positions of Daesh, Nusra Front in Sweida, Hama
• Jordan, Iraq ink security deal but still face rocky road
--------
India
• Maharashtra: Muslims Demand 5 Per Cent Reservation
• Restoring Faith in Humanity, Muslim Group in UP Gives Foot Massages, Food, Medicines to Kanwariyas
• Al-Qaeda linked terrorist, who was part of planned August 15 attack, arrested in Delhi
• LeT Operative Deported From Riyadh, Held By NIA at IGI
• Aligarh Muslim University Yet To Decide On Removal of Jinnah Portrait, Parliament Told
• Three JMB members arrested for blasts in Bodh Gaya, Burdwan
--------
North America
• US Democrats to Elect Nation's First Muslim Governor
• Israel, US Greatest Terror Entities Ever Known: Scholar
• Saudi Arabia expels Canadian ambassador, freezes new trade deals
• US putting unprecedented pressure on Iran to 'change its behaviour': Bolton
• Washington restores tough, unilateral Iran sanctions lifted under nuclear deal
--------
South Asia
• HRW Calls on Bangladesh to Relocate Rohingya Refugees to Safer Areas
• 13 Family Members of a Taliban Commander Killed, Wounded In Premature IED Blast
• Government not to turn a blind eye to atrocities of ISIS: Abdullah
• Displaced Hindu Families in Myanmar Set To Be Resettled
• Ghani says government working on ceasefire with Taliban in Eid Al-Adha
• MoI Special Forces deployed in Jalalabad city on President Ghani's orders
--------
Mideast
• Houthis Dispute Seriousness of 'Aggressors' To Peace
• Trump Signs Executive Order Reimposing Sanctions against Iran
• Yemeni Popular Movement Calls on Canada to Open Embassy in Sana'a after Ottawa-Riyadh Row
• Saudi Arabia intercepts Houthi ballistic missile targeting Najran
• Yemeni forces hit Saudi military base in Jizan with ballistic missile: Report
• Turkish, US officials to meet in Washington amid dispute -CNN Turk
--------
Africa
• Boko Haram: Nigerian Troops Record Major Victories Over Insurgents
• Nearly 250,000 people couldn't vote 'for various reasons': Mali govt
• Tunisian president appoints ex-PM as political adviser
• Car bomb blast kills 4 in Somalia's capital
--------
Europe
• No, Labour's Anti-Semitism Crisis Isn't the Fault of Britain's Muslims
• Germany says will protect firms from Iran curbs
Compiled by New Age Islam News Bureau
URL: https://www.newageislam.com/islamic-world-news/in-karachi-school-inside-temple/d/116064
--------
In Karachi, a School Inside a Temple Where Muslim Teachers Teach Hindu Students
August 6, 2018
It isn't a common sight to find a school running inside a temple. It is more uncommon to find a temple school running in Pakistan's Karachi where Muslim teachers teach Hindu children belonging to scheduled castes.
According to a report by The News, the school was set up at a Hindu temple in Rehman Colony by the Initiator Human Development Foundation (IHDF), as the temple was literally the only available place to open a school. The NGO, however, first sought the permission of the local community before opening up the school in their place of worship.
Currently, there are 93 Hindu children studying at the temple school. The teachers in the 'temple school' only teach basic courses to these children. Subsequently, these students are then sent to government schools in the city.
The local Hindu community of Resham colony had tried to establish a school in the area several times but was unable to do so after the police demanded a hefty bribe from them.
According to reports, Hindus in Rehman Colony live in unhygienic conditions with no potable water or even toilets. They also face a constant threat of being evacuated by the authorities. However, they feel safe when they see the Muslim community taking an interest in teaching Hindu children.
According to a recent report by Al Jazeera, there has been a rise in land encroachment of Hindu temples and historic landmarks situated in Karachi.
Not just temples, even historic clock towers, and cinemas which have not received any maintenance whatsoever in years are in a dilapidated condition and being used as warehouses or makeshift vegetable markets.
Sudden population boom, unplanned urbanization and the government's lackadaisical approach towards preserving the cultural heritage have undone the charms of Karachi.
However, this one little school is perhaps the only binding factor between the two communities.
https://www.news18.com/news/buzz/in-karachi-a-school-inside-a-temple-where-muslim-teachers-teach-hindu-students-1834955.html
--------
Indonesian Imam Calmly Recited Prayers through an Earthquake & People Are All Praises for Him
August 06, 2018
Shewali Tiwari
When calamity strikes, people are often left bewildered about their next course of action. They don't know where to run, how far to run and who to take along. Yet, time and again, many people have chosen to stay, only for the benefit of others.
Watch the footage of this Indonesian imam who stoically recited evening prayers in Bali as a deadly earthquake struck neighbouring Lombok. His video has now gone viral, with internet users praising him for his unwavering faith.
The white-robed Islamic leader was preaching on Sunday night at a mosque in Denpasar on the holiday island of Bali when the shallow 6.9-magnitude earthquake struck. Footage of the imam, recorded on a cell phone, showed him supporting himself against the wall as the room shook violently around him and as some congregants fled the building.
Other worshippers can be seen stoically remaining in prayer as the mosque rocked from side to side.
The powerful quake killed at least 91 people and damaged thousands of buildings in Lombok. A number of mosques on that island have collapsed with worshippers inside them. It was also felt strongly in the neighbouring Bali, a predominantly Hindu island in the world's largest Muslim majority nation. The clip quickly went viral after the mosque posted it to Facebook.
It has been watched more than 130,000 times on Facebook and shared on Youtube and Twitter. "I am crying... he did not even flinch, even though it is allowed to leave your prayer during an earthquake," said Indonesian cleric Yusuf Mansur, who shared the clip to his two millions followers on Instagram.
"The faith shown by the Imam and the worshippers is extraordinary," a Twitter user Inyol tweeted to his 39,000 followers.
https://www.indiatimes.com/trending/social-relevance/indonesian-imam-calmly-recited-prayers-through-an-earthquake-people-are-all-praises-for-him-350749.html
--------
Arab Coalition denounces AP report, reaffirms fight against terrorism in Yemen
7 August 2018
The Arab Coalition's spokesman Colonel Turki al-Maliki reiterated the coalition's mission and efforts to combat terrorism in Yemen in light of a recent Associated Press report falsely accusing the coalition of doing otherwise.
Maliki said that the report was based on opinions, rather than facts and concrete evidence. He reaffirmed the coalition's purpose, which is to restore legitimacy in Yemen, adding that they are waging a war against terrorist organizations like ISIS, the Iran-backed Houthi militias and al-Qaeda.
"The coalition has and will continue to carry out joint operations with brotherly and friendly nations to dismantle the capabilities of said groups through air, naval and joint Special Forces operations under the international cooperative efforts to eradicate terrorism and maintain international security," Maliki said.
"We have followed what AP posted today entitled "AP investigation: Yemen war binds US, allies, al-Qaida". What was stated in this article whether it was stories or conclusions is unfounded and expressed the personal opinion of the author as there was no tangible evidence nor convincing arguments," Maliki added.
"The writer should have followed the professional ethics of journalism and fact-checked such information before publication through communicating with the Joint Forces Command of the coalition, and verifying the coalition's efforts in combating terrorism, the coalition would have provided detailed information in this regard. All channels of communication with members of the media are open," he said.
Maliki concluded that the coalition will continue its efforts and operations to combat terrorist groups in Yemen, with the cooperation of the international community to eradicate terrorism around the world. He added that this is done through intelligence-sharing and joint operations with friendly nations.
https://english.alarabiya.net/en/News/gulf/2018/08/07/Mauritania-voices-solidarity-with-Saudi-Arabia-in-Canada-row-.html
--------
Maharashtra: Muslims Demand 5 Per Cent Reservation
Aug 7, 2018
Pune: In the midst of the agitation for Maratha reservation, Muslim organisations have now threatened to carry out a "Muslim Muk Mahamorcha" on September 9 in Pune if their demand of five per cent reservation for their community is not fulfilled.
Muslim organisations have united under the "Muslim Muk Mahamorcha Coordination Committee" to demand reservation. They have demanded that Muslims be brought under the Scheduled Castes and Tribes (Prevention of Atrocities) Act.
One of the organisers, Anjum Inamdar, said, "Earlier, the Congress-NCP government had given five per cent reservation by ordinance. Even the high court had approved it. Commissions constituted by the central government had concluded the same. Hence, the government should approve our demand or else we will go on strike on September 9 in Pune, where four to five lakh people are expected to participate."
Another organiser, Samrin Qureshi, said, "Muslims should be given protection under the Atrocities Act like the dalits."
http://www.asianage.com/metros/in-other-cities/070818/muslims-demand-5-per-cent-reservation.html
--------
US Democrats to elect nation's first Muslim governor
August 06, 2018
WASHINGTON: Former US democrat presidential candidate Bernie Sanders and a newly elected Congresswoman, Alexandria Ocasio-Cortex have joined hands to elect the nation's first Muslim governor, as the country heads to a mid-term election in November that will decide which party controls the House.
Abdul El-Sayed, a 33-year old physician and the first-time candidate will face-off former state Sen. Gretchen Whitmer and another Democrat candidate in the primary election to decide which Democrat candidate will contest with Republican candidate for the governorship of Michigan State.
According to reports, El-Sayed is trailing behind Whitmer, but he has emerged as a threat to him, especially after winning the support of Sanders who lost to Hillary Clinton for a Democratic nominee to challenge the then-candidate Donald Trump, who defeated Clinton to win the White House.
The support of Congresswoman Ocasio-Cortez has added more momentum to El-Sayed's bid as Democrats experience a new wave of progressive liberals that steered her to an unlikely victory against a high-ranking Democrat in the house.
Although, every public poll of the primary has shown Whitmer leading El-Sayed and entrepreneur Shri Thanedar, but with Sanders parachuting into Michigan this weekend, El-Sayed is gaining momentum.
If El-Sayed wins the Democrat primary, he will most likely face off Attorney General Bill Schuette, who is the favorite to win the Republican primary and has been endorsed by President Donald Trump.
Whitmer has a 6-point lead in the primary over El-Sayed and has raised more money than him, but El-Sayed the former executive director of the Detroit Health Department and a public-health expert, has built a significant support base by presenting himself as a Sanders-aligned progressive alternative to the more mainstream Whitmer.
According to reports, groups that supported Sanders in 2016 are behind El-Sayed, as are progressive lawmakers like Ocasio-Cortez. El-Sayed has also received donations from Hollywood star Ben Affleck.
El-Sayed hasn't shied from his Muslim religion in the campaign, and has happily described the immigrant story of his father moving to the United States from Egypt and spending time with his stepmother, whose family history in Michigan goes back to before the Civil War.
"Michigan is ground zero for the debate over how you win back power from Trump and Trumpism," said Ben Wikler, the Washington director of an NGO called MoveOn. Org, which is supporting El-Sayed.
https://nation.com.pk/06-Aug-2018/us-democrats-working-to-elect-nation-s-first-muslim-governor
--------
Pakistan
Want to see an 'equal' relationship with India: 1st Hindu to win general seat in Pak
Aug 7, 2018
The first-ever Hindu elected to a general seat in Pakistan's parliament, Mahesh Malani of Pakistan Peoples Party, says he would like to see a healthy and "equal" relationship between Pakistan and India. He also wants to tell the hundreds of Hindu immigrants from Pakistan living in India that "the situation has changed" and that they can return "without any fear".
"Those who don't feel the same, there is no compulsion... For those who have applied for Indian citizenship or have acquired it, I don't have to say anything to them," Malani, 58, told TOI over a phone interview.
"Both the countries should equally strive to repair the relationship and bring peace and harmony in the region. Since we (PPP) are in opposition, we will ensure that our government reciprocates on all peace initiatives with India," Malani said, adding, "The late Benazir Bhutto, our mother, had always insisted to have better relations with all neighbours, including India. I will follow her legacy to foster relations with India."
In response to a question regarding reports about difficulties being faced by religious minorities in Pakistan, Malani said: "The international media was only playing up negative things about my country… To start with, I was voted by both Hindus and Muslims. Is it not a strong message for the international community? … I would like to invite the international community to visit Pakistan during Diwali, Holi or Krishna Janmashtami to see how we celebrate with pomp and gaiety".
Malani, 58, a close aide of the Bhutto family, won from NA-222 (Tharparkar-II), sixteen years after non-Muslims got the right to vote and contest on general seats in the country. The constituency has a 44% Hindu population. He was a member of Parliament from 2003-2008, nominated by the PPP to a reserved seat.
https://timesofindia.indiatimes.com/world/pakistan/want-to-see-an-equal-relationship-with-india-1st-hindu-to-win-general-seat-in-pak/articleshow/65300119.cms
--------
JI expels 20 shura members after election debacle
August 07, 2018
PESHAWAR: The Jamaat-i-Islami, who was routed in the July 25 election, has expelled several senior members of the district Shura (executive council) and terminated their basic membership for violating its constitution.
In a statement issued by the JI provincial headquarters here on Monday, secretary general of the party Abdul Wasi said investigations had been launched against those, who reportedly violated the party's policies and discipline during the recent election.
He said JI provincial chief Senator Mushtaq Ahmad Khan had expelled Shura members in Peshawar and Lower Dir districts on the recommendation of the relevant party units.
Mr Wasi said the basic party membership of those members had also been terminated.
The 20 expelled shura members include Ajmal Khan, Mohammad Karim, Noor Mohammad, Qazi Azizul Haq, Nisar Ahmad, Ghulam Mohammad, Abdul Kabir Khan and Fazal Rahim from Lower Dir and Israrullah advocate, Fazlullah Daudzai, Lutfullah, Mohammad Nauman, Mohammad Iqbal, Atif Hussain, Sher Zaman, Haroon Luqman, Sohail Khan, Shaukat Sadozai, Dr Fayaz Khan and Niaz Mohammad from Peshawar.
The JI, a major member of the Muttahida Majlis-i-Amal, had suffered the worst electoral defeat on July 25 by securing only one seat from Upper Dir district. Party chief Senator Sirajul Haq, who had contested the July 25 election in home district Lower Dir's NA-7 constituency had also lost seat to the Pakistan Tehreek-i-Insaf.
Dir is considered to be the JI stronghold, which is also referred as its 'Granada'. However, the party suffered defeat apparently due to internal differences. The JI candidates had contested election for 39 seats of Khyber Pakhtunkhwa and only Inayatullah Kahn retained his seat from Upper Dir.
The statement said inquiry committees had been constituted at the district level to review organisational matters from top to bottom.
It added that the party would take further action in light of the reports of inquiry committees.
Sources said the party was in deep crisis due to the alleged nepotism in the award of election tickets as dozens of members had either left it before election or tendered resignations.
An insider told Dawn that for the first time in the JI history, a member had filed nomination papers against party chief Sirajul Haq in Lower Dir showing the magnitude of resentment among members.
Sources said several members of the executive councils in various districts had resigned from the party and joined other parties.
They said Noor Mohammad had left the party before election and contested against JI candidate and former finance minister Muzafar Said in PK-15.
"The notification of the expulsion of shura members is just eyewash as several members have already quit the party," said an insider.
He said Qazi Azizul Haq, who was terminated, had left the party and contested election against JI nominee Saeed Gul in the PK-17 constituency.
Similarly, senior members of JI shura in Lower Dir, including Professor Nisar Ahmad, Ghulam Mohammad, Abdul Kabir and Fazal Rahim, had joined the Pakistan Peoples Party and Awami National Party, while former JI information secretary Israrullah advocate had joined the Pakistan Muslim League-Nawaz.
Full report at:
https://www.dawn.com/news/1425506/ji-expels-20-shura-members-after-election-debacle
--------
Opposition nominates Shehbaz Sharif as joint PM candidate
Aug 7, 2018
ISLAMABAD: Pakistan Muslim League-Nawaz (PML-N) President Shehbaz Sharif has been nominated as the joint candidate for the prime minister's (PM) post by opposition political parties, party's spokesperson Marriyum Aurganzeb said on Monday.
Talking to media, the former minister said that the decision was made in the All Parties Conference (APC) held in Islamabad on Thursday to discuss the alleged rigging during the July 25 elections.
She further said that the nominees of prime minister, National Assembly (NA) speaker, and deputy speaker will be from PML-N, Pakistan People's Party (PPP) and Muttahida Majlis-e-Amal (MMA), respectively.
The party with majority seats in NA, PTI, has already nominated its chairman Imran Khan for the premiership. The two leaders will contest for the PM's post during the voting in assembly.
Meanwhile, Marriyum stated that opposition parties have decided to pen a whitepaper on the "blatant rigging" that took place in these elections, adding that the parties would "protest outside the Election Commission of Pakistan's office in Islamabad".
She added that all ticket holders and members of the political parties will take part in the demonstration.
Recalling that Imran Khan's promise to conduct a recount in any constituency where there were reservations, she asked, "If the 120-day-long dharna can be covered, why can't peoples' concerns be aired on TV?"
Full report at:
https://www.pakistantoday.com.pk/2018/08/06/opposition-nominates-shehbaz-sharif-as-joint-pm-candidate/
--------
TLP to contest by-polls, continue protests: Rizvi
August 07, 2018
LAHORE: Converting most of his speech into prayers and cursing those who opposed "deen" (faith) in the recent elections – meaning thereby the opponents of Tehreek-e-Labaik Pakistan – the party chief, Khadim Hussain Rizvi, on Monday vowed to fight "for mandate of his party, which was stolen in the polls."
Addressing a protest rally on The Mall, cut short by rain in the afternoon, Mr Rizvi, using his choicest Punjabi expletives, said that those who thought the TLP could be scared into submission were wrong in their calculations. "We are here (to stay) and would continue to fight till the end."
Explaining the TLP strategy, which gave clues to things to come, he said the party knew that its mandate had been stolen and would act on two prongs to get its due right back; contest by-elections and continue to protest on the roads.
"It (TLP) would not leave the field open for anyone. It would take part in by-elections and would do so better prepared," he announced. He asked the party workers to go and prepare for the by-elections.
On the second prong, the TLP was convinced that the result transmission system (RTS) never crashed but was "made to crash" for stealing its mandate.
"The LP would continue protesting till the end. It would take out a rally on August 12 in Karachi and would return to the Lahore roads on August 14. Next protest plan would be announced after Karachi event and it will surely come," Mr Rizvi said.
He demanded that the Election Commission should upload all Form 45 and 46 on its website so that people knew what had exactly happened in their constituencies. "It is also time for the election commissioner to either quit himself or be thrown out because he has failed to conduct free and fair elections."
The rally, which kept the main city artery closed for well around four hours and played havoc with the traffic around The Mall, had a substantial and charged attendance. The estimates differed widely as the city police put the figures at less than 2,000 and the TLP claiming 50,000.
The rain cut the rally short and Khadim Hussain Rizivi had to jump many who were scheduled to deliver speeches before him, to speak out of turn because drizzle had turned into downpour by then.
Though rain forced some of the participants to take refuge in verandas of the nearby buildings, the main crowd – on the Charing Cross – remained steady despite rain and rather became more charged as Mr Rizvi took the podium.
"Many people came to purchase us before elections, but were told that we are not for sale. They told us that they have commitments to fulfill. I told them I also have made commitments – with the Holy Prophet (PBUH) to fight for his deen. So, they went ahead with their commitments and we are moving forwards with our own," Mr Rizvi told a charged crowd.
Earlier in the day, over 2,000 policemen who were deployed for the event, had started closing The Mall by 3pm as rally started from Data Darbar (shrine of saint Ali Hajveri).
Full report at:
https://www.dawn.com/news/1425425/tlp-to-contest-by-polls-continue-protests-rizvi
--------
Unseen forces used ECP powers to engineer results: Siraj
AUGUST 7, 2018
Quetta: Jamaat-e-Islami amir Sirajul Haq has said that the Election Commission of Pakistan (ECP) has failed to hold transparent elections and it has suppressed the voice of the masses.
He was addressing the provincial shura of the party in Balochistan here on Monday.
Haq said that the Election Commission had not been able to satisfy the political parties and added that controlled democracy was not acceptable.
He said although the Election Commission had been made autonomous but its powers were used for the July 25 election by the unseen forces.
As a result, the masses were deprived of fair and transparent elections. He said that if the electoral system was not reformed, the people would lose confidence in the ballot box. The JI chief urged the powers-that-be not to make Balochistan a laboratory for their experiments.
Haq insisted that the solution of all the problems of the country and the masses laid in the Islamic system and added that true Islamic revolution could be achieved only through the democratic process.
He stressed that the people of Balochistan should be given their due share in the CPEC which 'was a gigantic project for development'.
Speaking on the occasion, JI Secretary General Liaqat Baloch said that the problems of Balochistan could be solved through fair elections, end of corruption and the use of the provinces resources for the province.
Different reports on the problems facing the province were presented at the meeting.
Full report at:
https://dailytimes.com.pk/279275/unseen-forces-used-ecp-powers-to-engineer-results-siraj/
--------
Imran Khan's Stepdaughter Joins Pakistan Tehreek-Insaf
Aug 6, 2018
ISLAMABAD: Prime Minister in-waiting Imran Khan's step daughter Mehru Maneka on Monday joined the Pakistan Tehreek-i-Insaf party, according to a media report.
Mehru, the daughter of Khan's third wife Bushra Maneka, joined the party following a meeting with the PTI chairman, who was today officially nominated the party's prime ministerial candidate, DawnNewsTV reported.
Her mother was also present during her meeting with Khan.
Khan had married Bushra in Lahore in February. She is a leading scholar and spiritual guide in the mystic Sufi branch of Islam.
Bushra has largely remained out of the public eye and not assumed an active role in politics following her marriage with Khan.
Following the July 25 polls in which PTI secured a lead over other political parties, Bushra had felicitated the nation on the party's victory.
Full report at:
https://timesofindia.indiatimes.com/world/pakistan/imran-khans-stepdaughter-joins-pakistan-tehreek-i-insaf/articleshow/65294741.cms
--------
Imran Khan challenges LHC's decision to bar ECP from issuing notification of his victory
Haseeb Bhatti
August 06, 2018
PTI Chairman Imran Khan, through his counsel Babar Awan, on Monday submitted an appeal before the Supreme Court to challenge the Lahore High Court's (LHC) decision where it had restrained the Election Commission of Pakistan (ECP) from issuing the victory notification of the PTI chief from NA-131, Lahore.
The LHC issued the directives on Saturday after hearing the petition filed by PML-N leader Khawaja Saad Rafique and ordered the returning officer to hold a recount of all ballot papers.
Justice Mamoonur Rashid directed the ECP to withhold the notification announcing Khan's win from the constituency until the recount is completed. According to the order issued by the judge, recounting must take place within three days of receiving the court's order.
Rafique, the former railways minister, had lost the poll to the PTI chief in NA-131 constituency (Lahore-VII) by a margin of only 680 votes, receiving 83,633 votes against Khan's 84,313, according to the Form-47 available on the ECP website.
The 2,835 rejected votes from the constituency were then recounted on Rafique's request, which resulted in slight changes to the final count but Imran Khan still remained the winner by a few hundred votes.
After losing the recount, Rafique had applied for yet another recount, this time seeking the fresh counting of all votes cast in the constituency. However, this request was rejected by the Returning Officer.
Rafique subsequently approached the high court, requesting it to order a full recount of the constituency.
Rafique's lawyer, Azam Nazir Tarar, argued before the court that the RO, when first approached for a recount, had said that the rejected votes would be examined first.
"After the rejected votes were examined [and] when we asked for the bags of ballot papers to be opened for a full recount, our request was rejected," he said.
To support his arguments, Advocate Tarar said that a recount on a provincial seat from the same constituency had led to a rise in the number of votes for Rafique.
"My client claims that 2,800 votes have not been made part of the final count," he told the court.
In a note of appreciation for the prime minister-in-waiting, the lawyer said: "I was deeply affected by Imran Khan's victory speech in which he showed willingness to open up any constituency for recounting for which there were objections."
However, "if Imran Khan had backed his statement with concrete action, then there would have been no need to approach the high court," he said.
On the other hand, Babar Awan, who was representing Khan, claimed that the RO had ordered the recounting of votes without hearing his side of the argument.
"He should have issued the order after having heard from all parties involved. We only received a notice asking us to appear for the recounting," he claimed.
Justice Rashid after hearing arguments from both Rafique as well as Khan's lawyers announced the decision in the PML-N leader's favour.
The recounting will begin after a notification is sent to all the candidates, the written court order states.
Full report at:
https://www.dawn.com/news/1425337/imran-khan-challenges-lhcs-decision-to-bar-ecp-from-issuing-notification-of-his-victory
--------
JUI-F, MMA plan sit-ins across Sindh tomorrow; GDA vows protest drive
August 07, 2018
SUKKUR/KARACHI: Maulana Rashid Mehmood Soomro, the Sindh president of Jamiat Ulema-i-Islam-Fazl (JUI-F) and general secretary of Muttahida Majlis-i-Amal (MMA), announced on Monday that sit-ins will be held on highways in all cities and towns of Sindh on Wednesday in protest against rigging in the July 25 general elections.
He was speaking to the media after chairing an emergency meeting of the two electoral allies in Sukkur which was attended by senior leaders from both sides. He said all points of sit-ins had been finalised.
Sharing the protest plan with the media, Maulana Soomro said that sit-in would be held at 11 points from 10am to block highways. He said JUI-F and MMA activists and supporters would hold sit-ins at certain points in Karachi's East, West, South and Central districts as well as in Malir district and on Hub River Road, he added.
Likewise, he said, sit-ins would be held at Badin bypass, Hatri bypass (in Hyderabad), Sakrand bypass, Sujawal bypass and Jacobabad bypass.
In Kandhkot-Kashmore district, the sit-in would be held on the highway's gas field section while another sit-in would be held at toll plaza in Ghotki, he added.
He said that the plan was prepared in a manner that people from all districts would be able to participate in a sit-in to be held at the nearest venue within their respective area of residence.
He repeated the allegation that under a conspiracy JUI-F and MMA candidates were defeated "in connivance with the Election Commission of Pakistan, district returning officers and returning officers".
Maulana Soomro said that on Thursday, JUI-F-MMA activists and supporters would hold a demonstration in front of the Provincial Election Commission's office in Karachi.
The JUI-F-MMA meeting was attended by Maulana Saud Afzal Halejvi, Mau­lana Mohammed Sualeh Indhar, Maulana Moham­med Ramzan Phulpoto, Syed Siraj Ahmed Shah Amroti, Siraj Ahmed Cha­nna and others.
GDA plans to launch drive against rigging after Independence Day celebrations
KARACHI: The Grand Democratic Alliance reiterated on Monday that the alliance rejected results of July 25 election and announced launching a protest drive in the province after Independence Day celebrations were over.
The protest would continue till transparent election was held in Sindh to restore stolen mandate to people's genuine representatives, according to decisions taken at a meeting of GDA leaders here at the residence of National Peoples Party chief Ghulam Murtaza Khan Jatoi.
The meeting, which was convened to formulate the protest strategy against alleged rigging and consider obtaining political situation in the country, was presided over by GDA chief and PML-F president Pir Pagara.
After detailed deliberations, the GDA leaders empowered Pir Pagara to hold negotiations and take decision with regard to the federal government, said GDA secretary general Ayaz Latif Palijo.
He said that representatives of the component parties of the alliance once again rejected the polls' results and reiterated its stance that people's mandate had been stolen during the counting of votes in the absence of polling agents who were pushed out and not issued certified results on Form 45.
He said that although people had cast vote in favour of GDA candidates in large numbers PPP had once again been imposed on Sindh through manipulation of results.
Mr Palijo raised question how the PPP could manage to grab more seats than it secured in previous election despite unrest among teachers and farmers.
"It is quite surprising; the PPP could not have bagged such a heavy mandate even in [the] election held soon after the assassination of Benazir Bhutto. What is the party's achievement over the past 10 years that it secured such a huge mandate," he said.
He gave credit for election result to the "king" on whose instruction the GDA candidates' results were changed in favour of PPP after pushing out our polling agents at the time of counting of votes. "The GDA will continue to protest until fresh polls are held in a transparent manner in Sindh," he added.
He asked why National Accountability Bureau, Federal Investigation Agency and other law enforcement agencies were avoiding launching investigation against the corrupt people in Sindh.
GDA, which had extended full cooperation to PTI well before election, said they had great expectations from the PTI government in making and suggested Imran Khan announce federal packages for the development of rural Sindh and special packages for growers.
Mr Palijo condemned institution of "fake" cases against GDA workers and demanded the federal government rid Sindh of corruption and post impartial IGP and chief secretary in Sindh.
In reply to a question he said that after Independence Day, the GDA would announce its strategy including strike to get back snatched mandate.
Veteran politician and GDA leader Syed Ghaus Ali Shah said: "We have decided to extend our full support to Imran Khan in his efforts to rid the country of corruption menace".
PML-F Sindh president and central leader of GDA Pir Sadruddin Shah Rashdi said that poor masses of Sindh had cast votes for GDA candidates and people had fully participated in election but results were changed later under a calculated conspiracy to defeat GDA.
He said that they would not give up struggle for fair play and snatch back rights of people from usurpers. "We'll never disappoint people of the province," he added.
Full report at:
https://www.dawn.com/news/1425367/jui-f-mma-plan-sit-ins-across-sindh-tomorrow-gda-vows-protest-drive
--------
Pakistan determined to root out terrorism, extremism
AUGUST 7, 2018
Chief of Army Staff General Qamar Javed Bajwa Monday said that Pakistan is determined to root out extremism and terrorism once and for all.
"State is determined to root out extremism and terrorism for which youth has an important role to play," he told the youth during his visit to the Inter-Services Public Relations Directorate (ISPR). "Nature and character of war has changed. Youth now is the prime target of our enemies in the hybrid war," he said in his address to the students doing internship at the ISPR. He advised the youth to stay determined and defeat all such threats to take Pakistan forward to its rightful destination as part of the nation, according to a press statement issued by the military's media wing.
The COAS said that Pakistan is blessed with most talented and vibrant youth and the future of the country belongs to them. "I have full confidence and optimism that Pakistani youth realizing their potential will lead Pakistan to new era of peace and progress," he said.
Acknowledging the efforts of youth vis-à-vis historic merger of erstwhile FATA into Khyber Pakhtunkhwa (KP), the COAS said that the mainstreaming of the region will facilitate bringing enduring peace, stability and socio-economic development for the long neglected and terrorism-rid area.
The COAS emphasised that education is country's national priority and Pakistan Army is determined to provide wholehearted support towards this objective, especially in Balochistan. "Establishment of NUST campus in Balochistan and Khushhal Balochistan programme are testimony of our commitment in this regard," he said.
Full report at:
https://dailytimes.com.pk/279451/pakistan-determined-to-root-out-terrorism-extremism/
--------
Southeast Asia
Group of Ulema Pushes for VP Slot in Prabowo Coalition
August 7, 2018
Nurul Fitri Ramadhani
Ulemas and Muslim activists united under the National Movement to Safeguard the Ulema Fatwa (GNPF) are pushing Gerindra Party chairman Prabowo Subianto over the certainty of a vice president candidate.
The GNPF visited Prabowo at his private residence in Kertanegara, South Jakarta, late on Monday, asking about the recommendation it made regarding two potential VP figures for Prabowo.
"They came to ask [Prabowo] about the result of the discussion among the parties in the coalition regarding their recommendation," Gerindra secretary-general Ahmad Muzani said after the meeting.
The Prabowo coalition, despite no official declaration, now comprises the Gerindra, the Prosperous Justice Party (PKS), the National Mandate Party (PAN) and the Democratic Party.
The GNPF held an ulema gathering on July 24 and issued a recommendation proposing two figures as potential hopefuls to be Prabowo's running mate in the 2019 race. The two are Prosperous Justice Party (PKS) advisory board chairman Salim Segaf al-Jufri and popular preacher Abdul Somad Batubara.
Salim was a former social affairs minister and once an Indonesia ambassador to Saudi Arabia. However, most surveys have shown that his electability is too low to be able to help boost Prabowo's in the election.
Meanwhile, Somad has reportedly refused the suggestion to be nominated for VP candidate.
Full report at:
http://www.thejakartapost.com/news/2018/08/07/group-of-ulemas-pushes-for-vp-slot-in-prabowo-coalition.html
--------
Philippines' Duterte urges peace in unveiling Muslim autonomy law
August 7, 2018
MANILA: President Rodrigo Duterte unveiled a law on Monday granting greater autonomy to the Philippines' Muslim south, as he expressed hope the measure will at last end decades of bloody separatist conflict.
He delivered his words after handing a symbolic copy of the new law, which he signed last month, to the leader of the country's largest Muslim rebel group.
It was the culmination of a ceremony at the presidential palace in Manila marking the passage of legislation that is a key step to ending one of Asia's longest and deadliest conflicts.
The measure has been a crucial missing element to a languishing peace pact with the Moro Islamic Liberation Front (MILF) which, along with other groups, has waged a rebellion that has claimed about 150,000 lives in the Mindanao region since the 1970s.
"I hope (the law) will finally end the decades-old conflict that is rooted in the Bangsamoro's fight for self-determination and the recognition of their unique identity," Duterte said, referencing the region where much of the conflict has raged.
"May this serve as the final trajectory for the attainment of genuine peace, stability (and) good governance in Muslim Mindanao," he added. "Let us work together as we continue the healing and reconciliation process."
The law enforces a historic but fragile 2014 peace deal where the MILF vowed to give up its quest for an independent homeland and lay down its fighters' weapons in return for self-rule.
Both sides believe creating the area will head off the lure of violent extremism and draw investments to a region where brutal poverty and perennial bloodshed has spawned radical armed groups.
The initial peace accord was signed under Duterte's predecessor, Benigno Aquino, but Congress then refused to pass the supporting law.
Rebel factions and jihadists began pledging allegiance to the Islamic State group soon afterwards and last year attacked the southern city of Marawi sparking a five-month battle that killed 1,200 people and levelled much of the town.
Muslim rebels regard Mindanao, the southern third of the archipelago, as their ancestral homeland dating back to when Arabic traders arrived there in the 13th century.
In 1996, another major rebel group, the Moro National Liberation Front, signed a peace deal with the government that created a Muslim autonomous area in the south.
But critics, including the MILF, said it had failed to bring peace and development.
Under the law Duterte signed, a new political entity known as the Bangsamoro would replace the current autonomous region, gaining more power and resources.
It would keep 75 percent of taxes collected in the area as well as receive an annual fund allocation worth five percent of national revenues, or about 60 billion pesos ($1.12 million).
The region is also to have a parliament and Islamic shariah courts exclusively for cases involving Muslims.
Full report at:
https://www.nst.com.my/world/2018/08/398766/philippines-duterte-urges-peace-unveiling-muslim-autonomy-law
--------
Closing Saudi-backed outfit a loss to Malaysia, says Hisham
August 7, 2018
PETALING JAYA: Former defence minister Hishammuddin Hussein said the government's decision to close the Saudi-backed King Salman Centre for International Peace (KSCIP) was a loss to Malaysia.
"It is a loss to the government and to the nation," he said in a statement today.
"Malaysia's contribution to global peace and security would have been invaluable," he added.
He added that he would personally fight violent extremism and terrorism, including working with Saudi Arabia.
Yesterday, Hishammuddin's successor in the ministry, Mohamad Sabu announced the closure of the centre with immediate effect.
He said the centre's role would be absorbed into the Malaysian Institute of Defence and Security, which comes under the Ministry of Defence.
Critics said Saudi Arabia was not qualified to lead such a centre in view of its official doctrine of Wahhabism which they blamed for inspiring the Islamic State ideology.
KSCIP was proposed after the official visit by Saudi's King Salman Abdul Aziz to Malaysia last year.
The then Barisan Nasional government allocated a massive plot of land in Putrajaya to set up the facility.
Hishammuddin said KSCIP would position Malaysia as a strategic nation to jointly combat terrorism on the ideological front together with Saudi Arabia.
"Violent extremism is increasingly undermining global security, especially in the Muslim world. This problem, because of its borderless nature, requires cooperation and coordination among nations.
"Through the centre, Malaysia would have been at the forefront of the fight against narratives and ideologies that drive violent extremism, a fight Malaysia is uniquely qualified to take on.
But Hishammuddin said it was better for the government to shut down the centre now rather than after making serious commitments.
Full report at:
http://www.freemalaysiatoday.com/category/nation/2018/08/07/closing-saudi-backed-outfit-a-loss-to-malaysia-says-hisham/
--------
Young Indonesian Thinkers Explore Life of Muslims in Germany
August 06, 2018
Jakarta. As part of the project "Life of Muslims in Germany" the Goethe-Institut Jakarta invited a group of Indonesian intellectuals and academics to take part in a recent study tour to the cities of Berlin, Hamburg and Goettingen. For two weeks, the 14 participants from across Indonesia, including Central and East Java, Kalimantan, Sumatra and Sulawesi, had the opportunity to learn more about Islamic culture in a secular environment.
Due to the global rise of populism, nationalism and conservative movements, cross-cultural projects and interfaith dialogues can play a crucial role in fostering mutual understanding and tolerance.
"The participants get an insight into the religious practice and everyday life of Muslims through various encounters and discussions with Muslim organizations, as well as the role that Islam plays in German cultural and educational institutions, such as museums or universities," said Heinrich Bloemeke, director of the Indonesian Goethe-Institut.
"They also became acquainted with the sensitive 'questions of faith' in secular societies by meeting representatives of Muslim associations as well as politicians," he added, referring mainly to areas of friction between believers of different religions and faiths as well as a potential conflict between them and public institutions.
Both Indonesia and Germany have experienced an intensification of the discussion on the role of religion in public and political life. Germany may be dominated by Christian communities, but understands itself as a secular country. However, due to immigration, especially by Muslims, it has developed into a multi-religious and multicultural society.
Today, between 5 to 6 percent of the people living in Germany are Muslims.
"The questions and areas of friction associated with this religious and cultural change in Germany provide material for a dialogue between Germans and Indonesians," Bloemeke explained.
"For young Muslim intellectuals from Indonesia, the lives of Muslims in a secular and multi-religious environment are interesting in several ways: how are religious beliefs lived in a secular society, how does the Muslim minority relate to other religious communities and how do the different Muslim groups – the Sunni, Alevis, Shiites, Alawites, Ahmadiyya, etc – deal with one another?"
The diverse program included seminars, visits to mosques, churches and universities as well as governmental, social and cultural institutions; a well-balanced mixture of theory – such as the seminars with Susanne Kaiser, a journalist and expert on Islam in Germany – and hands-on activities that often resulted in lively discussions and exchanges, like their visit to German parliament and the Foreign Ministry, and "JIK – Junge Islam Konferenz" ("Young Islam Conference"), a platform for young people with and without Muslim background, analyzing perceptions of Muslims in Germany, aiming to reduce prejudice and create dialogue.
Tarek Muendelein of JIK said the platform was founded in 2011 as an answer to the wave of right-wing populist movements in Germany and to participate actively in public discourse on multiculturalism.
"Muslims are often considered a homogenous group but in reality, the Muslim community is very diverse," he said. "Some people consider Islam as a threat, as hostile to women, anti-democratic, intolerant and culturally incompatible with the West. The image of Muslims often conveyed in the media is that they are unwilling to integrate and have become a permanent security risk in light of global terrorism."
According to Tarek, social degradation leads to practical repercussions, including barriers to educational resources, housing or labor markets. At the same time, he added, there are also positive developments.
"Young people in Germany are more open and tolerant," he said. "They are more accepting of cultural diversity."
For many participants, it was a journey of first-time experiences: the first time to travel to Europe, the first time to leave the country, the first time to set foot in a church – and the first time to find themselves in a reversed situation: in Indonesia, they are the majority as Muslims, whereas in Germany, the Muslim community is a minority.
The study tour became an informative and insightful way to get a better insight into a complex issue.
"I wanted to join this program to learn more about Muslim integration in Germany and how Muslims, German society and the state interact in the process of integration," said Rangga Eka Saputra, a researcher at the Syarif Hidayatullah Islamic State University (UIN) Jakarta and one of the participants.
"During the two weeks in Germany, I realized that the concept of secularism in Germany called 'positive neutrality' is very accommodative of religion. It treats all religions equally and not only helps to facilitate the integration process but also encourages religious believers to be moderate or not radical. This often works because they have channels for religious expression," Rangga said.
At the same time, Rangga is skeptical if such an approach would also work in his home country.
"In Indonesia, the people are very religious," he continued. "The different history of nation-state building in the two countries also makes it difficult to apply the German secularist model in Indonesia. But Indonesia must learn that we have to treat all religions equally, and also the non-believers," he said.
Rangga was particularly impressed by the interfaith programs in Germany that directly target the grassroots level – unlike in Indonesia, he said, where they remain in elite circles.
"This was especially evident when we visited House of One, where different religious communities build a house of worship together," he said.
House of One is a globally unprecedented project where Jews, Christians and Muslims are working together to build a structure that will house a synagogue, a church and a mosque under the same roof – a house of prayer and interdisciplinary meeting, and a place of encounter for people of different faith and is also open to people who don't belong to any religious community.
Full report at:
http://jakartaglobe.id/features/young-indonesian-thinkers-explore-life-muslims-germany/
--------
Arab World
Terrorists Plunder Southern Syria's Historical Artifacts
Aug 06, 2018
The sources in the newly-feed regions in Dara'a regretted that the terrorists damaged historical sites in Tal al-Asha'ari region West of the town of Tafas overlooking Wadi al-Yarmouk and plundered valuable artifacts.
In the meantime, local sources in Houran region in Dara'a disclosed that terrorists along with a number of foreign nationals carried out vast excavation works in the region and unearthed artifacts that date back to the third millennium BC in Tal al-Asha'ari to apparently sell them in neighboring countries.
Head of Historical Artifact Organization in Dara'a Mohammad Nasrullah pointed to severe damage on the sites in Tal al-Asha'ari, and said that the terrorists used explosives and heavy machinery to carry out excavation to unearth the artifacts.
In a relevant development but in Northwestern Syria last week, Tahrir al-Sham Hay'at (the Levant Liberation Board or the Al-Nusra Front) did excavations at the ancient Girls Palace North of the village of al-Dana, plundering its valuable artifacts.
The sources pointed to the vast destruction of the palace, adding that Tahrir al-Sham smuggled the stolen artifacts to Turkey to sell them there.
http://en.farsnews.com/newstext.aspx?nn=13970515000648
--------
Amnesty slams Bahrain's 'cruel, inhumane' treatment of jailed activists
Aug 7, 2018
Amnesty International has blasted Bahrain for denying vital medical care to jailed pro-democracy activists, saying the cruel and inhumane practice is putting the prisoners' lives at risk.
The London-based rights group said on Monday that Bahraini authorities have for over a year deliberately subjected four elderly prisoners of conscience, Hassan Mushaima, Abdel-Jalil al-Singace, Abdel-Wahab Hussain and Abdel-Jalil al-Miqdad, to ill-treatment.
Lynn Maalouf, Middle East research director at Amnesty International, called for the swift release of the four men, who are "frail and suffering the severe debilitations that come with serious chronic illnesses such as hypertension and diabetes."
"That anyone can bring themselves to treat people with such cruelty is unbelievable," she said, adding that the activists "have been imprisoned solely for taking part in peaceful protests."
"They should not have been arrested, tried or imprisoned in the first place, let alone continue being subjected to this ill-treatment that is now endangering their lives. They must be released immediately and unconditionally," she further said.
The four men were put on unfair trial for leading the 2011 peaceful anti-regime protests and sentenced to life in prison.
Maalouf also complained that the Bahraini authorities' treatment of the activists "violates international law and standards on prisoner treatment and constitutes cruel, inhuman and degrading treatment or punishment."
Since February 2011, Bahraini people have been holding peaceful protest rallies on an almost daily basis, demanding that the Al Khalifah family relinquish power and let a just system representing all Bahrainis be established.
Bahrainis have also been complaining against widespread discrimination against the Shia majority in the kingdom.
Manama has responded to the demonstrations with lethal force, killing scores of people and arresting hundreds more.
Bahraini authorities have further detained human rights campaigners, broken up major opposition political parties, revoked the nationality of several pro-democracy activists and deported those left stateless.
Manama 'killing my father slowly'
Additionally on Monday, Ali, Hassan Mushaima's son, raised alarm about his father's health condition.
"They are killing my father slowly, because when you are denying a 70-year-old man his medicine, his body will not take it," he told Reuters.
Ali Mushaima has been on hunger strike outside the Bahraini embassy in London since August 1 in an attempt to draw attention to his father's plight.
He said his father suffered from high blood pressure, diabetes and a urinary tract infection and needed regular check-ups after being treated for cancer several years ago.
"I have lost five kilos. I am drinking, but I am not eating. My demand is very simple ... I am talking about medical care, family visits and access to books," he pointed out.
Full report at:
https://www.presstv.com/Detail/2018/08/07/570424/Amnesty-International-Bahrain-Mushaima
--------
Tens of Turkey-Backed Militants Killed in Drone Attacks in Northern Syria
Aug 06, 2018
The Arabic-website of Sputnik quoted local sources as reporting that unknown assailants launched several drone attacks on a ceremony at a base of Firqa al-Hamza affiliated to the National Army in the town of al-Bab, once formed by the Turkish troops, killing and wounding tens of militants.
Local sources told the Arabic Sputnik that the drones targeted the base by five bombs on Sunday, adding that the attacks were possibly launched from villages near al-Bab that are under the Kurdish fighters' control.
The Kurdish-led People's Protection Units (YPG) claimed on Saturday that their forces killed 54 Turkish Army soldiers and Free Syrian Army (FSA) fighters in July.
According to the YPG's statement, their forces killed 23 Turkish Army soldiers, including 2 captains and a lieutenant, and 31 Free Syrian Army militants in the Afrin region in Northwestern Aleppo.
The YPG's report added that they lost eight fighters during their field operations inside the Afrin region.
Since losing the Afrin region in March 2018, the YPG has been continuously conducting hit-and-run attacks against the Free Syrian Army and Turkish military.
Full report at:
http://en.farsnews.com/newstext.aspx?nn=13970515000857
--------
Syrian Army Keeps Rolling on ISIL's Centres in Sweida Badiyeh
Aug 06, 2018
The army soldiers, backed up by the artillery and missile units and Air Force, engaged in tough battle with the ISIL and advanced towards al-Dayathah region 3km in the depth of Badiyeh.
Other units of the army advanced against ISIL in al-Kara'a and Deko hills and captured several areas.
In the meantime, the artillery and missile units pounded ISIL's strongholds in Tal Sanim, Barak al-Tamthounah and Satah Namlah region in Eastern Badiyeh, inflicting major casualties on the terrorists.
The ISIL terrorists further retreated towards unleveled areas in Badiyeh of Sweida after the army's rapid advances toward Taloul al-Safa.
Other units of the army managed to capture several hills and residential areas, including Tal Basir near the small towns of al-Kasib and Tarba in Eastern Sweida and Tal al-Razin, Qabasha region, South of the town of al-Malah and outskirts of the town of Sha'af.
Earlier reports said that the army forces launched heavy attacks on ISIL's strongholds, advancing in several flanks in the Eastern Badiyeh of Sweida.
The army units, backed up by artillery and missile fire, further advanced against ISIL in al-Dayath and al-Kara'a, pushing terrorists back from their positions towards the depth of Badiyeh.
Full report at:
http://en.farsnews.com/newstext.aspx?nn=13970515000801
--------
Damascus creates body to repatriate Syria refugees
7 August 2018
Syria's government is to set up a committee to coordinate repatriating millions of its nationals who fled the country's seven-year conflict, state media has said.
The cabinet on Sunday "agreed to create a coordination body for the return of those displaced abroad to their cities and villages," state news agency SANA reported.
The conflict has displaced more than five million Syrians outside the country, the United Nations says, with more than half displaced to Turkey and most of the rest split between Lebanon and Jordan.
The committee "will take the necessary measures to settle the status of all those who were displaced and secure their return as security and basic services return to different regions," SANA said on Sunday.
It will take steps towards "ensuring they can lead normal lives and practice their jobs as before the war" which broke out in 2011, it added.
The coordination body is to "intensify contact with friendly countries to provide all facilitations and take suitable steps towards their return", SANA said.
President Bashar al-Assad's regime has ousted rebels and extremists from large parts of Syria since 2015 when its ally Russia launched a military intervention in the country.
But much of Syria lies in ruins, the economy is shattered, and many male refugees voice fear of being drafted into the regime's armed forces.
Russian involvement
Last month, Russia presented the United States with plans for the coordinated return of refugees to Syria.
The proposal includes the establishment of working groups in both Lebanon and Jordan, involving US and Russian officials.
Also in July, Russia's chief Syria negotiator Alexander Lavrentiev visited Damascus, Amman and Beirut.
According to the Syrian presidency, Assad told Lavrentiev that "Syria is bent on all its children returning".
In comments to the Russian media, Assad appealed for Syrian refugees -- especially those who had their own businesses in the country -- to return.
Countries hosting Syrians, including Turkey and Lebanon, have ramped up demands in recent months for refugees to return to safe areas in their homeland.
Over the same period, hundreds of Syrians have left Lebanon in organized returns, coordinated between authorities in Beirut and Damascus.
Several thousand have also independently returned home in recent years.
On Monday, Lebanon's General Security agency announced it had opened 17 centers across the country that would receive applications for Syrians who want to travel back home.
The statement said Syrians in Lebanon could call hotlines and "regularize" their status with authorities in case of outstanding legal or security problems.
It did not provide details on what was needed for applications or under what circumstances they might be rejected.
The agency insisted that returns were voluntary.
Full report at:
https://english.alarabiya.net/en/News/middle-east/2018/08/07/Damascus-creates-body-to-repatriate-Syria-refugees.html
--------
Iraq jails French and German ISIS members for life
6 August 2018
An Iraqi court sentenced a French man and a German woman to life in prison on Monday after finding them guilty of belonging to ISIS.
Judge Suhail Abdullah read out the sentences in Iraq's Central Criminal Court, saying he found French citizen Lahcen Ammar Gueboudj, 55, and the German, Nadia Rainer Hermann, 22, guilty of joining the hardline militant group.
The sentences can be appealed.
Hermann had already been sentenced to a year in jail for entering Iraq illegally.
Embassy staff and translators from both countries attended Monday's hearing.
ISIS captured a third of Iraq in 2014 but was largely defeated there and in neighboring Syria last year.
Iraq's government declared victory over the group in December.
Iraq is trying hundreds of suspected members, many of whom were arrested as the group's strongholds crumbled throughout Iraq. This includes hundreds of foreigners.
Full report at:
https://english.alarabiya.net/en/News/middle-east/2018/08/06/Iraq-jails-French-and-German-Islamic-State-members-for-life.html
--------
Syrian warplanes pound positions of Daesh, Nusra Front in Sweida, Hama
Aug 6, 2018
Syrian army warplanes have launched airstrikes against the positions of the Daesh Takfiri terrorist group in the country's southwestern province of Sweida and those of the Jabhat Fateh al-Sham Takfiri terrorist group, formerly known as al-Nusra Front, in the central province of Hama.
Syria's official news agency, SANA, citing its correspondent, reported on Monday that the government's fighter jets had pounded positions held by remnants of the Daesh outfit near al-Kra'a, Beir Qinyan and Sneim Gharaz towns deep inside Sweida's desert areas.
The report added that "scores of terrorists" had been killed in the airstrikes and many others were wounded and their vehicles and ammunition were destroyed as a result of the raids.
Syria troops defeated Daesh late last year, but the terror group's remnants have been trying to regroup and have mounted a series of hit-and run attacks.
Additionally on Monday, Syrian fighter jets pounded positions held by Jabhat Fateh al-Sham terrorists and those of its affiliated outfits in Hama's northern areas. SANA's reporter in the province said that army units conducted bombardments against dens and supply routes of terrorists in the villages of Zaizoun, al-Ziyara, al-Zakat, al-Arba'ain and al-Janabra in the northern countryside of Hama.
The correspondent added that several of terrorists' positions were destroyed in the bombardments and a number of terrorists were killed.
In recent weeks, the Syrian army has been making significant territorial gains against terrorists in the country's south. Militants have been handing over their heavy weapons to Syrian government forces and leaving the region in negotiated surrender deals.
Full report at:
https://www.presstv.com/Detail/2018/08/06/570386/Syria-warplanes-Daesh-Nusra-Front-Sweida-Hama
--------
Jordan, Iraq ink security deal but still face rocky road
Aug 6, 2018
Jordan and Iraq have signed a military and security cooperation agreement after years of stormy ties which saw Daesh terrorists gain control of their joint border and cut vital trade to a bare minimum.
Jordan's Chairman of the Joint Chiefs of Staff Lt. General Mahmoud Abdul Halim Freihat and Iraqi Defense Minister Irfan Mahmoud Al Hayali oversaw the signing of the agreement in Amman Sunday, Petra news agency reported.
"The agreement aims to exchange expertise and information on border protection, as well as improving intelligence capabilities and combating terrorism in all its forms," the report said.
The two sides also agreed to increase joint military exercises, boost research and technology development and hold joint courses in security and military fields.
The vast desert Province of Anbar on the 180 km border with Jordan became a historic hotbed of the Takfiri militancy sparked by the 2003 US invasion of Iraq.
Before that Iraq was the kingdom's main export market, accounting for almost a fifth of Jordan's exports or about $1.2 billion a year, according to the International Monetary Fund.
Last August, Jordan opened its main border crossing with Iraq for the first time since 2015 after Iraqi forces gained control of the main highway to Baghdad.
The Tureibil post is crossed by the 550 km highway to Baghdad, connecting Iraq's Basra port in the south to Jordan, where the Red Sea port of Aqaba has long served as a gateway for Iraqi imports coming from Europe.
Although the highway has been secured after driving out Daesh, the threat of hit-and-run attacks on convoys and the army are ever present and there have been several attacks near al-Rutba town, the last town before the border with Jordan.
Iraqi authorities have reportedly awarded a contract to a US security company that would employ a local force to secure the highway.
History of mistakes
Jordan's former prime minister Hani al-Mulki visited Baghdad early last year to revive an oil pipeline project running from Basra to Aqaba.
Amman has hoped that the opening of export routes would save its debt-ridden economy which has been badly hit by prolonged conflicts in neighboring Syria and Iraq.
The kingdom has been rocked by its worst protests in years over a controversial tax system backed by the IMF from which the country secured a $723-million loan in 2016.
Jordan's King Abdullah II swore in a new government in June after Mulki stepped down under pressure from protesters who blamed his government for worsening poverty and unemployment.
The kingdom, however, has a rocky road ahead for a full normalization with Iraq.
Many Iraqis hold a dim view of Jordan, believing it did not do enough to stem the flow of militants entering Iraq and seizing a third of the country. They are also unhappy with Jordan having given sanctuary to Saddam Hussein's daughters.
King Abdullah was the first Arab leader to claim a "Shia Crescent" in the making in late 2004, meaning there was a strategic arc running from Iran through Iraq and Syria to Lebanon.
The allegation riled many Iraqi leaders and those in neighboring countries, who believed the remarks played a second fiddle to a campaign to stoke up sectarian strife in the region.
Full report at:
https://www.presstv.com/Detail/2018/08/06/570329/Jordan-Iraq-security-agreement
--------
India
Restoring Faith In Humanity, Muslim Group In UP Gives Foot Massages, Food, Medicines To Kanwariyas
August 06, 2018
Setting an example of communal harmony, the members of a Muslim organisation, Awaz-e-haq have set up camps to help Kanwariyas in their yearly pilgrimage of carrying ganga-jal on foot.
Devotees of Lord Shiva from across India travels by foot with holy water to Haridwar and Gomukh. The camps have been set up in Muzaffarnagar where the Kanwariyas are being offered food and foot massages to relax them after covering the long distance.
Shadab Khan, chief of Awaz-E-Haq, told News 18, "We are setting up camps for Kanwariyas for many years, where arrangements of food, medical assistance and other things are made."
"Our Muslim brothers also give a foot massage to all the Kanwariyas who are exhausted on their long journey; after all, they are our brothers. I don't care what people will think or say about it, we all are humans and humanity should be our priority." The members of the minority community have a long history of assisting the pilgrims during the Kanwar Yatra, but Muzaffarnagar riots damaged the age-old fabric between communities.
However, now the situation seems to be getting better.
Senior Superintendent of Police, Muzaffarnagar, Anant Dev Tiwari said, "Efforts are being made to bring all the people together with the help of community policing and we have also been successful to some extent in it. It is a great example of brotherhood when Muslims are helping Kanwariyas, no doubt the effort if commendable."
https://www.indiatimes.com/news/india/restoring-faith-in-humanity-muslim-group-in-up-gives-foot-massages-food-medicines-to-kanwariyas-350753.html
--------
Al-Qaeda linked terrorist, who was part of planned August 15 attack, arrested in Delhi
August 6, 2018
The Jammu and Kashmir Police on Monday claimed to have foiled an attempt by Al-Qaeda linked Ansar Ghazwat-ul-Hind terror group to disrupt the Independence Day celebrations in Delhi with the arrest of a terrorist.
Inspector General of Police, (Jammu) S D S Jamwal told reporters that Irfan Hussain Wani, who hailed from Dangerpora-Awantipora village of south Kashmir, was arrested from Gandhi Nagar locality of Jammu city on Sunday.
He said a police squad noticed him moving under suspicious circumstances at Chatri point. Eight grenades were seized from his bag after a search and he was immediately taken into custody and interrogated.
"He was carrying this cache of grenades to Delhi to hand it over to a contact. These grenades would have been used to disturb the Independence Day celebrations," Jamwal said, adding that he was also carrying Rs 60,000.
The Jammu police chief said that during questioning, the 25-year-old revealed his affiliation with Ansar Ghazwat-ul-Hind led by Zakir Mussa and added that he was in touch with number two of the outfit, Rehan.
"A BA dropout and radicalised, the terrorist was active in militancy for the last one year. With his arrest, a major chance of disturbing the Independence day celebrations in Delhi and parts of Jammu was foiled," he said.
Terming the arrest a "major success", the IGP said it was the result of robust security measures put in place by the police to ensure peaceful Independence Day celebrations in Jammu.
The IGP said the interrogation of the terrorist was going on and revealing anything more would hamper the investigation.
He said that they were looking into all aspects and they were also checking his mobile phone for more information.
Meanwhile, the Delhi Police said that it would be questioning the accused. A team of the Special Cell is in Jammu.
In reply to a question, the IGP said that Wani was not onboard a Delhi-bound bus but on foot when he was intercepted by alert policemen.
The police official said that Wani had received the consignment in Kashmir and was planning to hand over the same to somebody in Delhi and added that there was no security lapse.
"His arrest was the result of the robust security structure which is in place," he said.
Asked whether the arrest of the Ansar Ghazwat-ul-Hind terrorist was linked to an intelligence alert about a terrorists' plan to trigger serial blasts in Delhi or Jammu, he said, "Maybe it is a part of that but we have maintained high alert and the major success was the result of that alertness."
On a grenade attack at the Jammu bus stand on May 24 which left two policemen and a pedestrian injured, he said it was a separate incident and not linked with this arrest.
"We have already solved the case and arrested the accused. We will share details of the same separately," the officer said.
The policemen were on high alert and Independence Day celebrations would pass off peacefully, the IGP said.
About hideout and presence of sleeper cells in Jammu, he said, "Investigation is going on and once we get any concrete information we will share it with you."
Asked whether the Amarnath yatra was suspended from Jammu due to the separatist sponsored strike in Kashmir valley in support of Article 35A, he said the annual pilgrimage was going on for the last over one month and had seen a decline in the number of the pilgrims visiting the 3,880 metre high holy cave shrine.
Full report at:
https://indianexpress.com/article/india/independence-day-august-15-al-qaeda-terrorist-arrested-in-delhi-5294270/
--------
LeT operative deported from Riyadh, held by NIA at IGI
Aug 7, 2018
NEW DELHI: Senior Lashkar-e-Taiba operative Habibur Rahman, who was supervising plans from Saudi Arabia to carry out terror attacks in India, was arrested by the National Investigation Agency on arrival here on Sunday following his deportation from Riyadh.
The NIA said Rahman was arrested at the IGI airport as soon as he landed from Riyadh. Sources said his deportation was the result of cooperation between the two governments. He is being questioned to gather information about Lashkar's plans for India and other cadres, some of whom are believed to be in Delhi-NCR for a terror strike in the run-up to Independence Day.
Rahman was the handler of LeT terrorist Shaikh Abdul Naeem alias Nomi, arrested in 2007 while trying to help two Pakistani and one Kashmiri terrorist infiltrate into India from Bangladesh. Naeem had escaped from police custody while being taken from Kolkata to appear in a court in Maharashtra in August 2014. This emboldened Naeem, who kept playing cat-and-mouse with agencies for three years during which he continued with his nefarious activities on the directions of his handlers based in Pakistan and Saudi Arabia, the NIA said.
https://timesofindia.indiatimes.com/india/let-operative-deported-from-riyadh-held-by-nia-at-igi/articleshow/65300276.cms
--------
Aligarh Muslim University yet to decide on removal of Jinnah portrait, Parliament told
August 6, 2018
Months after violence erupted over a portrait of Pakistan founder Mohammad Ali Jinnah hanging at Aligarh Muslim University's students' union office, Parliament was told Monday that AMU was yet to take a decision on the portrait's removal. HRD Minister of State Satya Pal Singh said this in a written reply to a question in the Lok Sabha, news agency PTI reported.
"The students' union has been dissolved and any decision on the issue can only be taken by the newly-elected union when formed," Singh said.
The controversy was stoked in early May after Aligarh BJP MP Satish Gautam wrote to AMU Vice-Chancellor seeking removal of Jinnah's portrait from the campus. Some Hindu Yuva Vahini members later barged into the campus demanding that the portrait be pulled down. A function to grant life membership of the students' union to former vice-president Hamid Ansari, scheduled on the same day, was called off and Ansari had to return to Delhi.
Ansari had later questioned the "precise timing" of the protests in AMU and the "excuse manufactured for justifying it".
Several people were injured when the police lobbed teargas shells to disperse the AMU students demanding the arrest of those who had barged into the campus shouting slogans.
Full report at:
https://indianexpress.com/article/india/aligarh-muslim-university-yet-to-decide-on-removal-of-jinnah-portrait-parliament-told-5294242/
--------
Three JMB members arrested for blasts in Bodh Gaya, Burdwan
August 7, 2018
The National Investigation Agency (NIA) has arrested in Kerala two suspected members of Jamaat-ul-Mujahideen Bangladesh (JMB) — a terrorist outfit active in Bangladesh — in connection with a blast in Bihar's Bodh Gaya in January.
A third member of the outfit was arrested from the neighbouring Karnataka in connection with the 2014 Burdwan (in West Bengal) blast case.
Abdul Karim and Mustafizur Rehman, from Murshidabad and Birbhum districts of West Bengal, respectively, were arrested from a labour camp in Kerala's Malappuram district on August 3, a statement released by the NIA said. The two men had been hiding in the camp after they allegedly planted improvised explosive devices (IEDs) at Bodh Gaya's Mahabodhi temple, it said.
On Monday, they were produced before a Patna court that remanded them in 15-day NIA custody, it said. The NIA has recovered incriminating material, including circuit design of IEDs, from the two accused, the statement said.
A small-intensity bomb had gone off near the temple complex on January 19. While there were no casualties due to the blast, it had led to the recovery of several other IEDs in the vicinity.
In a separate operation, the NIA and the Intelligence Bureau on Monday arrested another suspected JMB member and Bangladeshi national, Kausar alias Muneer Sheikh alias Shujanmiya, from Karnataka's Ramanagara district.
Kausar was identified as accused "number 24" and "senior leader of JMB" in a chargesheet filed by the NIA in the 2014 case — a bomb had ripped through a house in Khagragarh locality of Burdwan on October 2 that year, killing two people. He was tracked down after he established contact with an associate in Kerala, said police sources.
Two 'IS sympathisers' questioned
Full report at:
https://indianexpress.com/article/india/bodh-gaya-blast-case-jmb-terrorist-burdwan-case-nia-probe-5294879/
--------
North America
Israel, US greatest terror entities ever known: Scholar
Aug 6, 2018
The United States' annual military aid to Israel violates America's own laws and goes to prove that the two allies are also the world's "greatest terror entities," says an American scholar.
Jaames Ftezer, an American philosopher based in Wisconsin, made the remarks in reaction to reports that US senators are quietly paving the way for a military aid to Israel that exceeds the declared $3.8 billion per year.
The number would amount to $23,000 per year for every family in Israel, according to a Friday report by Minnesota-based news website MintPress News, released amid a media blackout.
American senators passed a bill titled the "United States-Israel Security Assistance Authorization Act of 2018," on Wednesday, paving the way for its likely approval by the US House of Representatives within the week.
The amount is a result of a memorandum of understanding on security assistance between Washington and Tel Aviv.
The funding involves an additional $550 million aid for Israeli missile systems and $1 billion for US weapons stockpiles in Israel.
"The very idea that he US Senate should be paving the way for increased aid to Israel is simply outrageous and contravenes the guidelines of the United States for giving foreign aid to nations because they are precluded from offering aid to those nations if they have undeclared weapons of mass destruction," Fetzer told Press TV on Sunday.
"It is well known, common knowledge, within intel analysts that Israel has a vast stockpile of nuclear, chemical and biological weapons which means the Senate is ought to be withdrawing aid from Israel not adding to it," he argued.
US military aid to Israel has skyrocketed over the past several years while the regime's forces are engaged in blatant human rights violations against Palestinians in Gaza and elsewhere.
Also, the regime is widely believed to be the sole possessor of a nuclear arsenal in the Middle East with up to 400 undeclared nuclear warheads.
Fetzer said the congressional push to increase the aid would only further tarnish the image of American lawmakers.
The Senate must "cease disgracing itself by its constant pandering to Israel which next to the United States is the greatest terror entity the world has ever known," Fetzer concluded.
https://www.presstv.com/Detail/2018/08/06/570352/US-Israel-aid-increase-Senate-Trump-Netanyahu
--------
Saudi Arabia expels Canadian ambassador, freezes new trade deals
6 August 2018
The Saudi Ministry of Foreign Affairs announced on Sunday, recalling its ambassador in Canada for consultation, and declared the Ambassador of Canada persona non-grata, giving him 24 hours to leave.
Saudi Arabia has decided to freeze all new trade and investment deals between the kingdom and Canada while retaining its right to take other measures, Saudi Press Agency (SPA) reported.
Riyadh said Canada's statement about "civil society activists" was negative and unfair to the truth.
"The Ministry of Foreign Affairs in Saudi Arabia briefed the Canadian Foreign Minister and the Canadian Embassy in the Kingdom on what they called civil society activists who were arrested in the Kingdom. They urged the authorities in the Kingdom to release them immediately," the Saudi foreign ministry said in a statement.
The ministry stressed "that this negative and surprising position from Canada is an incorrect and totally incorrect claim to the truth, and that no information or facts have been found to be correct and that the two parties have been arrested by the competent authority, the Public Prosecutor's Office, Their rights, which are considered legitimate will be provided them with all guarantees during the investigation and trial stages."
"The Canadian position is an open and transparent interference in the internal affairs of the Kingdom of Saudi Arabia and contrary to the most basic international norms and all the charters governing relations between countries. It is a grave and unacceptable transgression against the Kingdom's regulations and procedures, and in violation of the judicial authority in the Kingdom. Throughout its long history, Saudi Arabia has not accepted and will not accept interference in its internal affairs or impose dictates on it from any country. The Canadian position is an attack on Saudi Arabia that requires a firm stance towards it. The Kingdom of Saudi Arabia expresses its absolute and categorical rejection of the position of the Canadian Government. "
Full report at:
https://english.alarabiya.net/en/News/world/2018/08/06/Saudi-Arabia-expels-Canadian-ambassador-freezes-new-trade-deals.html
--------
US putting unprecedented pressure on Iran to 'change its behaviour': Bolton
Aug 7, 2018
US President Donald Trump's National Security Adviser John Bolton has said the United States is exerting "unprecedented pressure on the government of Iran to change its behavior."
Bolton made the remarks in an interview with Fox News on Monday, shortly after Trump signed an executive order reimposing many sanctions on Iran to levy "maximum economic pressure" on the Islamic Republic.
Bolton claimed that the Trump administration is not attempting to change the government in Iran.
"Our policy is not regime change," he said. "We want to put unprecedented pressure on the government of Iran to change its behavior. And, so far, they've shown no indication they're prepared to do that."
While signing the executive order, Trump repeated his opinion that the international nuclear agreement with Iran, known as the Joint Comprehensive Plan of Action (JCPOA), was a "horrible, one-sided deal."
The US sanctions on Iran came into effect at 12:01 a.m. Tuesday, according to local time in Washington, DC.
Bolton accused Iran of trying to produce nuclear weapons and supporting terrorism and said the United States is attempting to stop this.
"What we're focused on is the nuclear weapons program, ballistic missiles, the support for terrorism, and the belligerent activity militarily," he said.
Bolton's anti-Iran rhetoric comes as the longstanding Western dispute over Tehran's nuclear program was settled after the conclusion of the landmark nuclear agreement in 2015. UN Security Council Resolution 2231 also endorsed the nuclear deal, which went into effect in January 2016.
The International Atomic Energy Agency (IAEA) has also confirmed Iran's commitment to the terms of the nuclear agreement.
Iran and the five permanent members of the United Nations Security Council -- the United States, France, Britain, Russia and China -- plus Germany started implementing the JCPOA on January 16, 2016.
The deal limited parts of Iran's peaceful nuclear program in exchange for the complete removal of all sanctions against the country.
In May, Washington withdrew from the deal. It also said it would be returning the nuclear-related sanctions, which have been lifted on the back of the accord.
The second wave of sanctions that would hit on November 4 would aim to bring Iran's oil exports to zero as claimed by US officials.
The Leader of the Islamic Revolution Ayatollah Seyyed Ali Khamenei has ordered officials and institutions in charge to prepare to build up the country's enrichment capacity in case the nuclear deal falls apart after the US unilaterally scrapped it.
Full report at:
https://www.presstv.com/Detail/2018/08/07/570432/US-putting-unprecedented-pressure-on-Iran-to-change-its-behavior
--------
Washington restores tough, unilateral Iran sanctions lifted under nuclear deal
7 August 2018
The United States re-imposed tough, unilateral sanctions against Iran on Tuesday, bringing back into effect tough penalties that had been lifted under a historic, multi-party nuclear agreement that President Donald Trump abandoned in May.
The first of two rounds of US sanctions kicked in at 12:01 am (0431 GMT), targeting Iran's access to US banknotes and key industries including cars and carpets.
The aim of US sanctions on Iran is to change the behavior of the Iranian regime, not the regime itself, the officials added. He said that the sanctions will be "fully enforced" in an "aggressive manner", including countries and companies dealing with Iran.
"We've seen company after company announce that they are getting out of Iran," the officials said. "This pressure is already working."
US officials said that more than 100 international firms have already agreed to leave the Iranian market.
They said that Americans stand with the Iranian people in their demands in recent protests, mainly against how the Iranian regime is taking money from the country to fund militias and wars abroad.
The snapback sanctions are meant to target Iran's purchases of US dollars, metals trading and other dealings, coal, industrial-related software and its auto sector.
"There is no question that these financial sanctions are going to continue to bring significant financial pressure," one official told reporters on a conference call.
The United States also plans to re-introduce potentially more damaging sanctions on Iranian oil in November.
Asked about any possible exemptions to the renewed sanctions, officials said they would examine any requests on a case-by-case basis.
Meanwhile, US President Donald Trump said Monday he remains open to forging a new nuclear deal with Iran, as he confirmed Washington will go ahead with re-imposing sanctions against Tehran.
Full report at:
https://english.alarabiya.net/en/News/middle-east/2018/08/07/US-reimposes-tough-unilateral-sanctions-against-Iran.html
--------
South Asia
HRW Calls on Bangladesh to Relocate Rohingya Refugees to Safer Areas
August 7th, 2018
Human Rights Watch (HRW) has warned against the threat of natural disasters facing the Rohingya Muslim refugees living in an overcrowded mega camp in Bangladesh's border region near Myanmar, calling on Dhaka to relocate the hapless refugees to safer places.
The US-based rights group said in a 68-page report on Monday that the Muslim refugees – who have fled a state-sponsored ethnic cleansing campaign at home in Myanmar – should not have to face floods and landslides, urging the Bangladeshi officials to provide them with better shelters as well as adequate education.
Almost one million Rohingya Muslims have fled their homes in Myanmar's Rakhine State to take refuge in border camps in Bangladesh's Cox's Bazar.
Some 700,000 of them arrived in Bangladesh after the latest military crackdown on the stateless minority started in August last year.
The report points out the risks of communicable diseases, fires, community tensions and sexual violence in packed areas.
The average space in the mega-camp section of Cox's Bazar is 10.7 square meters per person, compared to a refugee camp standard of 45 square meters per person.
"It's an incubation for contagious disease, for social dysfunction, domestic violence for example, and things like fire," Bill Frelick, HRW refugee rights director at Human Rights Watch, told reporters while unveiling the report dubbed, "'Bangladesh Is Not My Country': The Plight of Rohingya Refugees from Myanmar."
"Immediately what is needed is relocation," he insisted.
The HRW said it had identified six feasible sites that could accommodate 263,000 refugees living in dire conditions.
It warned, however, against moving the refugees to an uninhabitable island in the Bay of Bengal called Bhasan Char amid reports of such a plan.
Other recommendations by the HRW were for Bangladeshi authorities to provide the Rohingya Muslims forced out of Myanmer with legal refugee status, freedom of movement as well as cyclone shelters.
The report called for greater contributions from donor governments, agencies and NGOs to help improve the conditions. It said an appeal for $136.6 million for shelter and non-food items was only 14 percent funded as of last month.
https://www.albawaba.com/news/hrw-calls-bangladesh-relocate-rohingya-refugees-safer-areas-1169666
--------
13 family members of a Taliban commander killed, wounded in premature IED blast
Aug 06 2018
At least 13 family members of the Taliban commander were killed or wounded in a premature blast triggered by an improvised explosive device in southern Helmand province of Afghanistan.
The provincial government media office in a statement said the incident took place on Sunday afternoon in the vicinity of Garamser district.
The statement further added that the incident took place in Shamal area of the district inside the house of a Taliban commander identified as Baran who was also killed in the explosion.
According to the provincial government, the Taliban commander was busy making improvised explosive devices when the incident took place, leaving himself dead along with two other family members.
At least eleven others including seven children and four women also sustained critical wounds in the explosion, the provincial government added.
Taliban and other militants often use IED as the weapon of their choice to target the security forces and government but in majority of such attacks ordinary civilians are targeted, besides such attacks often claims the lives of the militants as well.
The UN Assistance Mission in Afghanistan (UNAMA) in its latest report stated that 1,692 civilians were killed in the first six months of 2018.
According to UNAMA, the use of improvised explosive devices (IEDs) in attacks by Anti-Government Elements remained the leading cause of civilian casualties.
Full report at:
https://www.khaama.com/13-family-members-of-a-taliban-commander-killed-wounded-in-premature-ied-blast-05727/
--------
Government not to turn a blind eye to atrocities of ISIS: Abdullah
Aug 06 2018
The Chief Executive of the Unity Government Abdullah Abdullah says the government will not turn a blind eye to the atrocities committed by the ISIS militants as he ordered the security institutions to thoroughly investigate the cases of the surrendered militants.
Abdullah made the remarks during a meeting of the Council of Ministers in Kabul today.
He said the government will deal with the surrendered ISIS militants as prisoners of war and their cases would be thoroughly investigated.
According to Abdullah, the ISIS militants have not joined process in northern Jawzjan province but have surrendered to the Afghan forces due to the pressures of the armed forces and the Taliban insurgents.
Abdullah emphasized that the security institutions must pay a close attention in this regard and the cases of the surrendered militants should be reviewed and investigated properly.
This comes as hundreds of ISIS militants surrendered to the Afghan forces in northern Jawzjan province last week.
Full report at:
https://www.khaama.com/government-not-to-turn-a-blind-eye-to-atrocities-of-isis-abdullah-05726/
--------
Displaced Hindu families in Myanmar set to be resettled
August 6, 2018
About 190 Hindu families displaced by violence in Myanmar last August are to be resettled from camps into a village near Maungdaw town in conflict-torn Rakhine State.
Ni Maw, a Hindu community leader in Maungdaw, said local authorities discussed the resettlement plan with displaced Hindus two months ago and foundations for the new houses were being constructed.
He said 190 families out of 293 will be resettled in Aung Bala village, just three kilometers from Maungdaw, but the resettlement of the other 103 families is yet to be discussed. It will take at least two months to finish construction of the houses.
Ni Maw said people wanted to move into the new resettlement village, which is surrounded by several Rakhine villages, and expect living conditions to be better than staying in camps.
"People don't want to return to their own villages as they were surrounded by many Muslim villages," Ni Maw told ucanews.com.
He said northern Rakhine has few employment opportunities and most people rely on aid from the government, private donors and Hindu groups in Yangon. "Some people work as daily laborers and some work as hairdressers, but there are not many customers in the region," Ni Maw said.
Some 21 Hindu families are staying in a Hindu temple in Sittwe, the capital of Rakhine, as they don't want to go back to their villages in northern Rakhine.
Ragu Nay Min, a Hindu in Yangon who collects donations and provides food and clothes to the displaced Hindu community in Rakhine, said Hindus don't get full support from the government.
He said people may face difficulties in the new resettlement village and most people fear for their security as the village is close to the border with Bangladesh.
"Unemployment is a big challenge for people in northern Rakhine," Nay Min told ucanews.com.
At least 3,000 of an estimated 8,000 Hindus living in Maungdaw, Buthidaung and Sittwe fled during the exodus of Muslim Rohingya during clearance operations by the Myanmar military. Some were internally displaced, while others crossed over to neighboring Bangladesh.
More than 700,000 Rohingya fled to Bangladesh to escape the brutal military crackdown in Rakhine in response to Muslim militant attacks on security posts on Aug. 25, 2017.
The violence affected thousands of Rohingya Hindus. Myanmar's military reportedly found two mass graves with 45 bodies of Hindus in Rakhine and blamed the killings on militants from the Arakan Rohingya Salvation Army (ARSA).
The United Nations says about 500 Hindus belonging to 165 families have fled to Bangladesh.
On May 22, Amnesty International published a report that ARSA killed 53 members of the Hindu community in Kha Maung Seik village and another 46 Hindus from Ye Bauk Kyar village in August 2017.
Full report at:
https://www.ucanews.com/news/displaced-hindu-families-in-myanmar-set-to-be-resettled/83002
--------
Ghani says government working on ceasefire with Taliban in Eid Al-Adha
Aug 06 2018
President Mohammad Ashraf Ghani says the government is working on ceasefire with the Taliban group during Eid Al-Adha.
Speaking during a meeting with the representatives of the registered political parties, President Ghani pointed towards the successful experience of the ceasefire with the Taliban during Eid Al-Fitr and said the government is working on a similar ceasefire during the upcoming Eid Al-Adha, according to the Office of the President, ARG Palace.
This comes as a Presidential spokesperson, Haroon Chakhansuri had earlier said that there are chances of another ceasefire announcement with the Taliban group during Eid Al-Adha.
Speaking to reporters in Kabul nearly two weeks ago, Chakhansuri further added that signs of interests are seen on all sides, the government and Taliban, to declare another ceasefire during the upcoming.
He said the ceasefire will only be declared based on the decision of the government and demands of the people and religious scholars.
In the meantime, President Ghani rejected the rumors suggesting that the personnel of the national defense and security forces are retreating from certain parts of the country.
He said such rumors are baseless and the government has no policy to establish safe zones for the militants.
Full report at:
https://www.khaama.com/ghani-says-government-working-on-ceasefire-with-taliban-in-eid-al-adha-05732/
--------
MoI Special Forces deployed in Jalalabad city on President Ghani's orders
Aug 06 2018
The Special Forces of the Ministry of Interior (MoI) were deployed to Jalalabad city, the provincial capital of eastern Nangarhar province of Afghanistan, based on President Mohammad Ashraf Ghani's orders.
The provincial government media office in a statement said governor Hayatullah Hayat has instructed the Special Forces to carry out special operations to eliminate the terrorists and their symphatizers from the city.
Governor Hayat said the Special Forces of the Ministry of Interior will work jointly with the security personnel of other institutions for the betterment of the security of Nangarhar.
The statement by the provincial government also added that the MoI Special Forces will also assist with the operations to restrict the movement of the vehicles with black tinted glass and vehicles without registration plates.
They will also conduct operations against the irresponsible armed individuals and other illegal activities in Jalalabad city based on the orders of provincial governor, the statement added.
This comes as the anti-government armed militants have increased their attacks in Jalalabad city during the recent months.
Full report at:
https://www.khaama.com/moi-special-forces-deployed-in-jalalabad-city-on-president-ghanis-orders-05729/
--------
Mideast
Houthis dispute seriousness of 'aggressors' to peace
Aug 6, 2018
The UAE says it supports UN-sponsored talks for peace in Yemen, but the Houthis say they do not see "any serious or real stance by the aggressors toward reaching a political solution."
The United Arab Emirates is Saudi Arabia's key partner in the ongoing war on Yemen, including a massive offensive to capture the Red Sea port of Hudaydah.
With the conflict having ground into a stalemate, UN envoy to Yemen Martin Griffiths told the Security Council earlier this month that the world body would invite warring sides in Yemen for talks on September 6.
The warning sides are about to gather in Geneva to discuss a framework for peace negotiations, with Griffiths saying "a political solution" to end the war in Yemen was "available".
"We have always been in support of the special envoy, we are going to continue to do so," Emirati Minister of State for International Cooperation Reem al-Hashemi told journalists in Abu Dhabi on Sunday.
UAE troops and their mercenaries have faced a stiff brick wall in their push to capture Hudaydah in the face of fierce resistance from residents and Houthi fighters.
Salim Meghles, a member of the political wing of the Houthi movement, said Saturday that the fighters were willing to attend the UN-brokered talks but they had low expectations of a positive outcome.
He stressed that the Ansarullah political wing was "not opposed to such consultations" which are aimed at "reaching a general framework for negotiations."
"We are not opposed to traveling to any neutral country to take part in such consultations," Meghles told Agence France-Presse.
However, Meghles cast doubt over the expected talks, saying he did not sense "any serious or real stance by the aggressors toward reaching a political solution."
The last UN-brokered talks on Yemen broke down in 2016.
On Thursday, the UN envoy said that he was "still trying" to negotiate a deal to avoid a full-blown battle for Hudaydah, which is a key entry point for humanitarian aid.
Griffiths expressed worries that "Hudaydah could be a flashpoint" that could derail the push for talks in September.
Saudi Arabia and the UAE launched their offensive on June 13 to capture Hudaydah, the main entry point for food in a country teetering on the brink of famine.
Humanitarian organizations have warned that the Hudaydah operation threatens to cut off essential supplies to millions of Yemeni people. More than 70 percent of Yemen's imports pass through Hudaydah's docks.
On Sunday, witnesses said heavy fighting had left at least 80 people dead on both sides as Saudi-backed militants tried to capture the Houthi-held district of al-Durayhimi south of Hudaydah.
https://www.presstv.com/Detail/2018/08/06/570357/UAE--UN-talks-Houthis
--------
Trump signs executive order reimposing sanctions against Iran
Aug 6, 2018
US President Donald Trump has signed an executive order reimposing many sanctions on Iran to levy "maximum economic pressure" on the Islamic Republic.
Trump repeated his opinion that the 2015 international nuclear agreement with Iran, known as the Joint Comprehensive Plan of Action (JCPOA), was a "horrible, one-sided deal."
"[The Iran nuclear deal] a horrible, one-sided deal, failed to achieve the fundamental objective of blocking all paths to an Iranian nuclear bomb," Trump said in a statement on Monday.
"Since the deal was reached, Iran's aggression has only increased. The regime has used the windfall of newly accessible funds it received under the JCPOA to build nuclear-capable missiles, fund terrorism, and fuel conflict across the Middle East and beyond," he said.
Trump also warned that nations that do not gradually reduce their ties to the Iranian economy "risk severe consequences" under the reimposed sanctions.
"The United States is fully committed to enforcing all of our sanctions, and we will work closely with nations conducting business with Iran to ensure complete compliance," he said.
In May, Washington withdrew from the deal, which also has the UK, France, Russia, China, and Germany as its signatories. It also said it would be returning the nuclear-related sanctions, which have been lifted on the back of the accord.
"By exiting the JCPOA, the United States is able to protect its national security by applying maximum economic pressure on the Iranian regime," Trump said in his statement on Monday.
The first phase of US sanctions include a universal ban on Iran's access to the US dollar, as well as prohibitions against the country's trade in gold and other precious metals, among other restrictions.
"To date, my Administration has issued 17 rounds of Iran-related sanctions, designating 145 companies and individuals," Trump said.
The second wave of sanctions that would hit on November 4 would aim to bring Iran's oil exports to zero as claimed by US officials.
Full report at:
https://www.presstv.com/Detail/2018/08/06/570387/Trump-reimposes-sanctions-nuclear-Iran
--------
Yemeni Popular Movement Calls on Canada to Open Embassy in Sana'a after Ottawa-Riyadh Row
Aug 06, 2018
"I call on the Canadian state to open its embassy in the Republic of Yemen in the capital, Sana'a," Houthi wrote on his Twitter account.
The Ansarullah official stated that the Saudi considered the call of the Canadians to release civil society activists as an opportunity to retaliate after being fed up with Canada's oil competition, describing the decision to expel the ambassador of Canada "foolishly".
Saudi Arabia has recently stepped up politically-motivated arrests, prosecution, and conviction of peaceful dissident writers and human rights campaigners.
Al-Houthi stressed that "we have the real legitimacy in the expulsion of Saudi Arabia and its allies under the same justification expelled by the Canadian ambassador", ridiculing the justification by Riyadh that "Saudi Arabia does not interfere in the affairs of others".
"If all the principles were not there and still one justification remains, it would enough for the Yemeni people to reject the foreign intervention in its internal affairs of any regime, " he added.
He called on Saudi authorities to release all civil society activists, including the 96 detainees held in Saudi prisons.
The Saudi Arabian foreign ministry has recalled its ambassador from Canada and given the Canadian ambassador 24 hours to leave the country, in response to Canada's statement of concern over the arrests of human rights activists in Saudi Arabia. Riyadh is also freezing all new trade and investment deals with Ottawa.
In a statement issued by the Saudi Arabian foreign ministry, Riyadh slams as "totally false" allegations by the Canadian authorities that recent arrests of several civil society activists were unwarranted, saying the arrests were made by "the competent authorities" and the detainees were provided with all the rights guaranteed during investigative and trail stages.
The Canadian embassy in Riyadh has stated that it was "gravely concerned" over a spike of arrests of human rights campaigners in the Saudi kingdom including gender rights activist Samar Badawi.
"We urge the Saudi authorities to immediately release them and all other peaceful #humanrights activists," the Canadian embassy tweeted.
In response, the Saudi foreign ministry tweeted that "it is very unfortunate that the words 'immediate release' appeared in the Canadian statement... it is unacceptable in relations between countries".
Canada called on Friday on Riyadh to "immediately release" civil and human rights activists recently arrested by the Saudi Arabian authorities, including Samar Badawi, an internationally recognized human rights defender. Badawi and another high-profile Saudi women's rights activist, Nassima al-Sadah, were arrested in the kingdom last week, sparking an international outcry.
The United Nations human rights office has also called on Saudi Arabia to release all peaceful activists as Riyadh continues its heavy-handed crackdown on dissent.
Ravina Shamdasani, spokeswoman of the UN rights office, during a press briefing in the Swiss city of Geneva on Tuesday demanded the immediate release of all rights advocates, including women held for campaigning to lift a long-time ban on driving.
After Samar Badawi, sister of jailed blogger Raif Badawi, and Nassima al-Sada detained days ago, Amnesty International stated that the recent arrests in Saudi Arabia is further proof that a crackdown against activists in the country is ongoing and shows no sign of relenting.
Since May, a number of prominent women's rights activists were arrested and still remained in detention centers without charge and incommunicado with no access to their families or lawyers. Most of the detainees are prominent figures, who enjoy considerable respect among the Saudi grassroots, including university professors and a psychotherapist.
Riyadh so far labeled the detainees "traitors", infuriating the country's rights activists who fear additional arrests amid much-hyped reports of reforms led by Saudi Crown Prince Mohammad bin Salman.
Also, hundreds of princes, ministers and former ministers were detained in early November 2017 on the orders of Saudi Arabia's so-called Anti-Corruption Committee headed by Crown Prince Mohammad bin Salman. The detained individuals faced allegations of money laundering, bribery, extorting officials, and misappropriation of public funds for personal benefit. A total of $100 billion was exacted from many of the detainees before they could be released.
Reforms have been accompanied by a heavy-handed crackdown on dissent, which has targeted clerics as well as some of the very female activists who campaigned for years to end the driving ban.
Full report at:
http://en.farsnews.com/newstext.aspx?nn=13970515000750
--------
Saudi Arabia intercepts Houthi ballistic missile targeting Najran
6 August 2018
Saudi air defense forces intercepted a ballistic missile fired by the Houthi militias towards the city of Najran on Monday night.
A military source said that air defense forces destroyed the missile at around 8:30 p.m. local time (0530 GMT) after it entered Saudi air space.
On July 19, Saudi air defense forces also destroyed a Houthi missile targeting Jazan. Another Houthi ballistic missile was launched targeting Najran on July 18.
https://english.alarabiya.net/en/News/gulf/2018/08/06/Saudi-Arabia-intercepts-Houthi-ballistic-missile-targeting-Najran.html
--------
Yemeni forces hit Saudi military base in Jizan with ballistic missile: Report
Aug 6, 2018
Yemeni army forces, backed by allied fighters from Popular Committees, have fired a short-range domestically-manufactured missile at a Saudi military base in the kingdom's southwestern Jizan province, in retaliation for the Saudi regime's campaign against the impoverished country.
Yemen's Arabic-language al-Masirah television network, citing a military source, reported that the Zelzal-1 missile, with an average range of 150 kilometers, was launched against a military base in the al-Khobe district, on Monday.
The report added that the missile was aimed at a gathering of Saudi soldiers in the area, but did not said the number of possible casualties and the extent of damage the projectile inflicted on the base.
Separately, Yemeni snipers managed to shoot dead a Saudi trooper in Jabal al-Doud district in the same province, al-Masirah said, adding that three other Saudi soldiers had been killed by Yemeni sharpshooters in Jazan's al-Mash'al military base.
Meanwhile, Ansarullah news portal reported that Yemeni army forces destroyed at least one military vehicle after the targeted with rocket fire west of al-Sadis military base in Saudi Arabia's southern province of Najran. The reported added that all Saudi soldiers onboard the vehicle had been killed in the attack.
Saudi Arabia and some of its allies launched a brutal war, code-named Operation Decisive Storm, against Yemen in March 2015 in an attempt to reinstall Abd Rabbuh Mansur Hadi, Yemen's former president and a staunch ally of Riyadh, and crush the Houthi Ansarullah movement.
The movement, which is a significant aid to the Yemeni army in defending the country against the invading forces, has been running state affairs in the absence of an effective administration during the past three years.
The imposed war initially consisted of a bombing campaign but was later coupled with a naval blockade and the deployment of ground forces into Yemen.
Some 15,000 Yemenis have been killed and thousands more injured since the onset of the Saudi-led aggression.
The Saudi-led aggression has also taken a heavy toll on the country's infrastructure, destroying many hospitals, schools, and factories. The United Nations has already said that a record 22.2 million Yemenis are in dire need of food, including 8.4 million threatened by severe hunger.
Full report at:
https://www.presstv.com/Detail/2018/08/06/570395/Yemen-Saudi-Arabia-ballistic-missile-Jizan-Najran-Hadi-Houthis
--------
Turkish, US officials to meet in Washington amid dispute -CNN Turk
August 07, 2018
ANKARA: A delegation of Turkish officials will head to Washington in two days to discuss an ongoing row between the two NATO allies, broadcaster CNN Turk reported on Tuesday, citing diplomatic sources.
Relations between the two countries have steadily worsened, strained by differences on Syria policy and over the trial of US pastor Andrew Brunson in Turkey. A trade spat between the two sent Turkey's lira currency to plunge to a record low on Monday.
Over the weekend, the US Trade Representative said it was reviewing Turkey's duty-free access to the US market, after Ankara imposed retaliatory tariffs on US goods in response to American tariffs on steel and aluminum. The move could affect $1.7 billion of Turkish exports.
On Tuesday, CNN Turk cited diplomatic sources saying that Ankara and Washington had reached pre-agreements on certain issues, but it did not elaborate.
The Turkish government was not immediately available for comment, and the US State Department did not respond to a request for comment.
US President Donald Trump's administration has demanded that Turkey release Brunson, an evangelical pastor who has lived in Turkey for more than two decades and has been charged with supporting a group that Ankara has blamed for an attempted coup in 2016. He has denied the accusations.
Last week, Washington imposed sanctions on President Tayyip Erdogan's justice minister and interior minister, saying they played leading roles in organizations responsible for Brunson's arrest.
Erdogan said that Turkey would retaliate by freezing assets of the US interior and justice ministers in Turkey "if they have any."
The Turkish currency, which has lost 27 percent of its value this year, fell some 5.5 percent to a record low of 5.4250 against the dollar on Monday, its biggest single-day drop in nearly 10 years.
Full report at:
http://www.arabnews.com/node/1352261/middle-east
--------
Africa
Boko Haram: Nigerian troops record major victories over insurgents
August 6, 2018
By Ameh Comrade Godwin
The Nigerian Army has continued its dominance over remnants of the Boko Haram insurgents in North eastern part of the country.
This is just as the troops have recorded another victory over the insurgents in an encounter with the sect in Malari village of Borno State.
Texas Chukwu, Director Army Public Relations in a statement, said the troops of 222 Battalion deployed in operation LAFIYA DOLE, while on ambush operation around Malari village Borno State, decimated two Boko Haram terrorists, while others fled into the bush.
According to him, ten items were recovered from the terrorists during the encounter.
He advised the general public to report any suspicious movements or activities to the security agents for necessary action.
DAILY POST reports that during the weekend, Troops of operation LAFIYA DOLE arrested a wanted Boko Haram suspect, Maje Lawan at Banki in Borno State, northeast Nigeria.
Chukwu, a Brigadier General, said the suspect believed to be number 96 on the wanted list earlier published by the Army was apprehended after he infiltrated into the Internally Displaced Persons, IDPs camp in the area.
"The suspect is currently undergoing preliminary investigation and will be handed over to the appropriate authority for further action.
"The public is reminded to be vigilant and to report any suspicious person, movements as well as activities to the law enforcement agents for prompt action," the statement said.
http://dailypost.ng/2018/08/06/boko-haram-nigerian-troops-record-major-victories-insurgents-photos/
--------
Nearly 250,000 people couldn't vote 'for various reasons': Mali govt
August 07, 2018
BAMAKO: The Mali government on Monday published a list of 871 polling stations which were unable to operate during last week's presidential election due to outbreaks of violence, adding that almost a quarter of a million people had been unable to vote.
A total of 245,888 voters — mainly in northern Timbuktu region, central Mopti and Segou in the south — "were unable to vote for various reasons" during the July 21 election, the ministry of territorial administration said.
The government was responding to calls by the opposition and the European Union to provide more details of the contested vote results.
The three main opposition candidates in Mali's presidential election announced Sunday they were mounting a legal challenge in the country's constitutional court alleging "ballot box-stuffing" and other irregularities, after incumbent Ibrahim Boubacar Keita took the lead in the first round of voting.
Keita won 41.42 percent of the vote in July's presidential poll, according to provisional results, easily ahead of the second place rival Soumaila Cisse with 17.8 percent. They are set to contest a runoff vote next Sunday.
The government had earlier said that 715 polling stations had remained closed out of a total 23,000 nationwide.
Two days after polling took place the European Union pressured Mali to present a "complete and detailed list" of polling stations where a key presidential election could not be held due to violence.
Security was a central issue during the campaign, in which 73-year-old Keita is seeking re-election with the international community hoping the poll will strengthen a 2015 peace accord.
In Mali's north, where the state is barely present, armed groups who signed the peace accord helped to ensure security.
The vote was monitored by observers from the European Union, the African Union, the regional ECOWAS grouping and the Francophonie organization.
Violence also marred the lead-up to the election, despite the presence of 15,000 UN peacekeepers, 4,500 French troops and a much heralded five-nation anti-terror G5 Sahel force.
The jihadist violence has spread from northern Mali to the center and south of the country and spilled over into neighboring Burkina Faso and Niger, often inflaming communal conflicts.
On Monday 18 of the presidential candidates denounced an "electoral hold-up" and called for a major protest in Bamako on Tuesday.
The constitutional court is due to officially announce the first-round results on Wednesday.
Full report at:
http://www.arabnews.com/node/1352236/world
--------
Tunisian president appoints ex-PM as political adviser
06 August 2018
Tunisian President Beji Caid Essebsi on Monday appointed Habib Essid, a former prime minister, as his special political adviser.
The appointment was announced in an official statement released by Essebsi's office following a meeting between the president and Essid at the government palace in Carthage.
"President Essebsi has decided to appoint Essid as his special adviser for political affairs," the statement read with elaborating.
Essid served as Tunisia's prime minister from February 2015 to August 2016 before being sacked by Essebsi, who replaced him with Yusuf al-Shahid, the current premier.
Full report at:
http://www.worldbulletin.net/africa/204740/tunisian-president-appoints-ex-pm-as-political-adviser
--------
Car bomb blast kills 4 in Somalia's capital
06 August 2018
At least four people were killed and seven others wounded when a car bomb blast hit a busy restaurant in the Somali capital Mogadishu on Sunday night, said an official.
"The blast targeted our innocent citizens, we condemn this horror act from the enemy of our people," Mogadishu Municipality Spokesman Salah Dhere told reporters after the blast that happened at the busy street of Maka.
All casualties were civilians, said Dhere, adding that the security agencies were investigating the incident.
No group has yet claimed responsibility for the attack.
Full report at:
http://www.worldbulletin.net/africa/204722/car-bomb-blast-kills-4-in-somalias-capital
--------
Europe
No, Labour's anti-Semitism crisis isn't the fault of Britain's Muslims
BY STEPHEN BUSH
6 AUGUST 2018
When you write about anti-Semitism in the Labour Party, inevitably, some of the responses are racist: in my inbox, in my Twitter feed and on Facebook. The antisemitic ones have a wide range of themes: from accusing me of being in the pay of Israel to attacking my own Jewish roots. But they have an Islamophobic cousin that is growing in its frequency and has just one theme: that the real reason for the Labour Party's anti-Semitism crisis is its Muslim voters. The calculation that Labour has made, or so the argument runs, is that losing support among the United Kingdom's small Jewish population – which numbers around 300,000 – is a price worth paying for winning over British Muslims, who made up 4.8 per cent of the population (2.7 million) at the time of the last census.
I don't like to respond to hate speech on Twitter, as exposing fringe ideas tends to boost them as much as to debunk them, particularly as every study has found that fact-checking is largely ineffective. However, the idea has now been given sympathetic houseroom in a variety of mainstream right-wing outlets, in addition to the Economist and the Observer, so an explanation as to why this is false is clearly overdue.
The meme rests on three claims, all of them highly dubious. The first is that anti-Semitism in Britain is largely the preserve of Britain's Muslim population. The second is that there an electoral bounty to be won for Labour among British Muslims and that the policy offer to do it is increasing anti-Semitism from the Labour party. The third is that anti-Semitism within the Labour Party owes its origins to Labour's Muslim voters.
Let's take the argument that Britain's anti-Semitism problem largely emanates from Britain's Muslims first. In the autumn of 2017, the Institute for Jewish Policy Research produced a highly detailed analysis of what British people thought about Jewish people, which is worth reading in full. The JPR found that 30 per cent of all British people agreed with at least one anti-Semitic statement, and that the figure rose to 50 per cent among British Muslims.
There are more than 60 million people in the United Kingdom and at most there are three million Muslims. So even by using this very broad definition of what an anti-Semite is, which would mean there were more than 18 million anti-Semites in Britain, British Muslims would make up just one and a half of million of them. It is hard to see how you can argue that the one and a half million are more at fault than the remaining 16 and a half million.
Crucially, however, the JPR did not define an anti-Semite as someone who agrees vaguely with one anti-Semitic statement, arguing that this definition was too broad. They defined the anti-Semitic proportion of the population as those who held "multiple and intense" anti-Semitic views, which they defined as just 3.6 per cent of the population, as a whole. If every British Muslim who holds "multiple and intense" anti-Semitic views were to vanish from the United Kingdom, the percentage of British people holding multiple and intense anti-Semitic views would drop from 3.6 to 3.0 per cent. Again, you simply cannot say accurately or fairly that British Muslims are a major contributor to anti-Semitism in the United Kingdom. It is not true.
What about the argument that Labour views anti-Semitism as a way to "get out the Muslim vote"? There are a couple of shaky assumptions here: the first is that the 0.6 per cent of people in the United Kingdom who are a) anti-Semitic and b) Muslim live in constituencies where their votes are vital in winning or holding power. The second is that 0.6 per cent they are all more preoccupied by anti-Semitism than they are by health, education, crime, Brexit or whatever other issue you might care to name.
And of course neither of these assumptions are true: the overwhelming majority of British Muslims live in seats that are Labour fortresses anyway, so no Labour strategist is planning a path to Downing Street that runs on Muslim voters. And as for the idea that anti-Semitism is a vote-mover even among the 0.6 per cent: all the indications are that those of this group who did vote in 2015 largely voted for Ed Miliband, who is literally Jewish, so it clearly isn't particularly high up their list of electoral concerns.
Fundamentally, we are talking about a group that makes up a fifth of a group that is already less than five per cent of the country and a still smaller proportion of the actual electorate. Thanks to our first past the post electoral system, it is significantly less electorally significant than Britain's Jewish population, which is at clustered in seats – Hendon, Chipping Barnet, Bury South, Finchley and Golders Green, Ilford North – that do actually help to decide who forms the government.
Of course, a group doesn't have to have electoral weight. It could have influence within a political party. That's the third plank of the idea that Muslims are driving Labour's anti-Semitism crisis. Writing in the Observer, Nick Cohen describes "political Islamists" as one half of Jeremy Corbyn's base, with the other half "former Stalinists from the old Communist party and Trotskyists from the remnants of Militant and the Socialist Workers party".
There are, of course, former members of the Communist Party, ex-members of Militant and of the Socialist Workers Party as well as the odd Liberal Democrat in Jeremy Corbyn's inner circle. I am, however, at a loss as to who the leader's office employs who could ever have been described as a political Islamist. Nor are they well represented in my inbox, or Twitter feed: the faces sharing blatant anti-Semitism are white, their names Anglo-Saxon. As for Corbyn's foreign policy views – which are what drives his stance on the issue – they were formed in the 1970s, at a time when the Muslim population as a whole comprised just 0.46 per cent of the population.
This is not to say that the 0.6 per cent of British people who are both Muslim and hold anti-Semitic views don't exist. But it is to say that the idea that they hold any kind of influence over the present direction of the Labour party is bunk. The reality is that the Labour Party is run overwhelmingly by the same sorts of people who feel able to be so causal about blaming Muslims for the party's present trajectory: that is to say, the white middle classes. To suggest Labour's present discontents have anything to do with Britain's Muslims is a racist canard, nothing more.
https://www.newstatesman.com/politics/staggers/2018/08/no-labour-s-anti-semitism-crisis-isn-t-fault-britain-s-muslims
--------
Germany says will protect firms from Iran curbs
Aug 6, 2018
Germany says it will continue to support companies over their Iran business activities in face of returning US sanctions and also warned that EU firms – including enterprises in Berlin – could sue the administration of President Donald Trump if they suffer losses due to sanctions.
Reuters quoted a statement by Germany's economy ministry as saying that Berlin would offer export and investment guarantees for companies doing business with Iran.
"Export guarantees and investment guarantees from the Federal Ministry of Economics are still available to companies," said the statement.
This followed an earlier announcement by the European Commission that it would activate a law that would shield European companies that have business ties with Iran from US sanctions.
The law or the so-called 'Blocking Statute' would comprise a set of protective measures and would be the most powerful tool at EU's immediate disposal because it would ban any European company from complying with US sanctions and would not recognize any court rulings that would enforce American penalties, according to media reports.
On a related front, Reuters quoted the statement by Germany's economy ministry as stressing that the Blocking Statute would not provide for any legal claim for damages by companies against the EU or EU member states if they are to be affected by the US sanctions.
But the claim would be directed against the "initiator" of the damage, meaning the US in Iran case, the ministry further wrote in its statement.
Meanwhile, the German Chamber of Commerce and Industry (DIHK) said the announcement of US sanctions against Iran was already reflected in current German export figures.
"Many companies are on the retreat in the face of US sanctions against Iran," DIHK head Martin Wansleben said, adding that although business with Iran was still legal under EU law, new and ongoing banking transactions was no longer working.
German exports to Iran fell by 4 percent in the first five months of 2018 after rising by 16 percent last year, he said as reported by Reuters.
Full report at:
https://www.presstv.com/Detail/2018/08/06/570388/Germany-says-will-protect-firms-from-Iran-curbs
--------
URL: https://www.newageislam.com/islamic-world-news/in-karachi-school-inside-temple/d/116064
New Age Islam, Islam Online, Islamic Website, African Muslim News, Arab World News, South Asia News, Indian Muslim News, World Muslim News, Women in Islam, Islamic Feminism, Arab Women, Women In Arab, Islamophobia in America, Muslim Women in West, Islam Women and Feminism