New Age Islam News Bureau
26 May 2018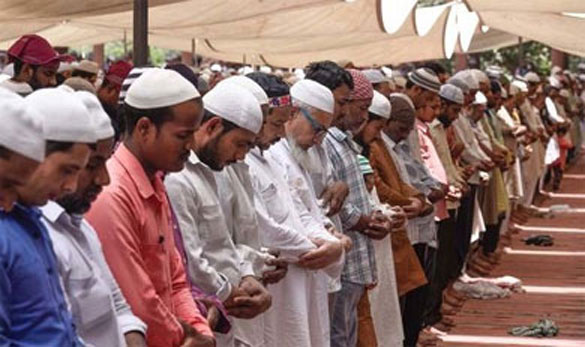 Tents that had been set up in a parking lot for Ramadan prayer were done so illegally. A FRENCH mayor has ignored a court order to dismantle two Ramadan tents
-----
• In Its Last Session, Sindh Assembly Grants Hindu Widows Right To Remarry
• Filipino Catholics Accompany Muslims In Ramadan Fast
• Fearing Extremist Violence, Egypt Silences 20,000 Storefront Mosques
• India's New Shia Party Seen As Hindu Divisive Effort
• Fasting Muslims Collecting Food for Poor during Ramadan
Pakistan
• In Its Last Session, Sindh Assembly Grants Hindu Widows Right To Remarry
• SCO Legal Experts Meet In Pakistan To Discuss Extremism, Terrorism
• Pakistan Senate votes to merge FATA with Khyber-Pakhtunkhwa
• Fazl, Achakzai created hurdles to Fata bill: Qureshi
• Musharraf suggests exchanging Afridi for Fazlullah
• Common policies, uniform laws needed to combat extremism: CJP
• Summon 'emergency meeting' of NSC on ex-ISI chief's book as well: Nawaz
--------
Southeast Asia
• Filipino Catholics Accompany Muslims In Ramadan Fast
• Indonesia Toughens Antiterror Law Following Deadly Islamic State-Linked Attacks
• Jais Detains Seven Muslims For Not Observing Ramadan
• Aman denounces church attacks, calls perpetrators 'mentally ill'
• Terengganu to promote Muslim-oriented tourism, says MB
--------
Arab World
• Fearing Extremist Violence, Egypt Silences 20,000 Storefront Mosques
• Nearly Dozen Militants Slain As Iraqi Forces Thwart Attacks in Kirkuk
• KSA, Vatican playing major role in defeating extremism: Interfaith official
• Same Textbook for Muslim and Christian Students in Schools despite Opposition
• Iraqi Air Force Stages Massive Bombing of ISIL's Positions in Eastern Syria
• US sanctions on Hezbollah will have no effect, Nasrallah says
• Saudi forces intercept Houthi ballistic missile fired toward Najran
--------
India
• India's New Shia Party Seen As Hindu Divisive Effort
• Muslim Labour Allegedly Beaten In Bengal for Not Answering Queries on PM, National Anthem
• Muslim Leaders Raise Questions on Amnesty International Report on Myanmar
• Social media hails Sikh cop who saved Muslim youth from mob
• Religious Activity Can't be allowed on Court Premises: Vadodara Judge
• Infiltration bid foiled, 5 terrorists killed in Kashmir
• NIA files chargesheet against LeT operative Sheikh Abdul Naeem, 9 others
• Sheikh Hasina asks India for help in urging Myanmar to take Rohingyas back
• Lakhvi's son's van ferried us till LoC, says arrested jihadi
--------
Europe
• Fasting Muslims Collecting Food for Poor during Ramadan
• French Mayor Refuses to Dismantle Makeshift Ramadan Tents Despite Court Order
• UN: French anti-terror laws risk marginalizing Muslims
• Britain should welcome more Ahmadiyya Muslims from Pakistan
• Muslims in Italy: First time under the Crescent Star
--------
Mideast
• Iran Nuclear Deal Signatories Meet For First Time since US Pullout
• Over 5000 American Professors, Activisits, Politicians Voice Readiness to Testify for Iran's Innocence in 9/11 Appeal Case
• Turkey warns Israel against recognising Armenia killings
• Israeli soldiers injure 109 Palestinian protesters with live fire, tear gas in Gaza
• UN voices concern over decline in Yemen imports amid Saudi restrictions
• Yemeni army liberates new area in Taiz from Houthi grip
--------
North America
• Canada's Mysterious Islamic State Returnee Looks Frighteningly Familiar
• Muslim inmates say food, spiritual support during Ramadan is inadequate
• From a humble start, this Toronto Muslim charity has grown to serve multitudes, as far away as N.W.T.
• Judge set to order proper meals for Muslim inmates in Alaska
• US House bans Trump from declaring war on Iran without Congress's approval
--------
South Asia
• One Family, Four Countries - The Dispossession of the Rohingya
• Form Separate Ministry for Religious Minorities: Bangladesh Leaders
• US forces carry out airstrikes on Taliban hideouts in Nangarhar
• Taliban's military commission chief for Nangarhar districts killed in NDS raid
--------
Africa
• Al-Shabaab Militants Raid Komor Haile Mosque, Preach For Hours
• Car bomb kills 6 civilians in Libya's Benghazi
• Boko Haram: Navy deploys more boats in Lake Chad
Compiled by New Age Islam News Bureau
URL: https://www.newageislam.com/islamic-world-news/in-its-last-session-sindh/d/115365
--------
In its last session, Sindh Assembly grants Hindu widows right to remarry
May 26, 2018
KARACHI: In the last working session of its current tenure, the Sindh Assembly passed on Friday a law allowing Hindu widows to remarry of their own freewill provided that a period of six months has lapsed after their husbands' deaths. Hindu women were also granted the right to file a petition for the termination of their marriages.
The bill, titled the Sindh Hindu Marriage Act, 2016 (Amendment) Bill, 2018, was moved by Pakistan Muslim League – Functional (PML-F) parliamentary leader Nand Kumar Goklani. "The Hindu community, especially their widows, suffer a lot because of outdated customs and traditions that don't allow them to remarry in our society," said Goklani. Parliamentary Minister Nisar Ahmed Khuhro and Law Minister Ziaul Hasan Lanjar supported the law, which was passed unanimously.
Call attention notices
A heated exchange of words took place between Deputy Speaker Shehla Raza and Muttahida Qaumi Movement (MQM) – Pakistan MPA Kamran Akhtar when the latter brought up the issue of the quota system in the province in a call attention notice.
Akhtar inquired about the number of people appointed on the quota system during the tenure of the current government. He termed the quota system a 'mass killing of educated youth'. He also alleged that jobs were being sold in the province and people with fake domiciles were being appointed.
Barbs fly, shoe waved during Sindh Assembly session
The MQM-Pakistan MPA quoted the chief minister, who had claimed that thousands of jobs had been created in Sindh. Akhtar asked whether those jobs were given on merit. As he continued his speech during the call attention notice, the deputy speaker turned his microphone off.
Khuhro informed the House that 69 people were appointed in the services and general administration department in a year on the quota for deceased employees' family members, adding that appointments in other departments had been made separately.
Akhtar, however, was not satisfied with Khuhro's reply. He continued speaking to which Khuhro remarked, "Maybe he will learn", prompting the deputy speaker to add that the MPA would not be elected next time.
Raza's remarks irked MQM-Pakistan MPA Faisal Subzwari, who demanded that they be retracted.
House demands national holiday on Sooriah Badshah's death anniversary
PML-F MPA Nusrat Sehar Abbasi spoke on another call attention notice about the torture of women sitting outside the Karachi Press Club to protest against missing persons. Responding to the notice, Home Minister Sohail Anwar Siyal said the police and other institutions concerned were investigating the matter.
"Efforts are being made to recover missing persons," Siyal informed the assembly, adding that many persons who had gone missing had now been allowed to meet their relatives. The home minister explained that the police had also appointed a focal person on the issue of missing persons. The cases of some missing people are being heard in the high court, he said, adding that an inquiry committee had also been formed to investigate missing persons.
Contractual doctors
The assembly also approved three bills, including one that aimed to make contractual or ad hoc doctors' appointments permanent. The bill had been passed by the House earlier as well, however, the governor objected to it and did not give his consent, upon which it was returned to the assembly. After its second approval from the House, it made into an Act.
After the bill's enactment, as many as 400 doctors hired on a contractual or ad hoc basis will be made permanent employees. This includes 59 doctors of Tharparkar, 216 doctors of the health department, 76 doctors of the trauma centre in Karachi and others.
PTI's adjournment motion on corruption in purchase of medicines turned down
The assembly also approved another bill for the restoration of the Sindh Institute of Traumatology, Orthopaedic and Rehabilitation. It was passed unanimously.
The House adopted a resolution against the removal of 1,145 employees from the Sindh Building Control Authority. Employees who had been working on different posts were removed citing various reasons. The issue of the employees was raised by Pakistan Peoples Party (PPP) MPA Nadir Magsi. "Are we going to end our tenure by removing these employees who are protesting in Karachi?" he asked.
Khuhro and Leader of the Opposition in the Sindh Assembly Khawaja Izharul Hasan said they had no any objections if the government reinstated the SBCA employees. Later, PPP MPA Bahadur Dahri moved a resolution on the issue that demanded the restoration of the employees and formation of a committee under the supervision of the law minister.
The House also allowed an adjournment motion of Pakistan Tehreek-e-Insaf (PTI) lawmaker Khurrum Sher Zaman against load-shedding in Karachi with a majority vote. The PTI lawmaker had blamed the Sindh government for not exercising its influence over K-Electric (K-E).
Sindh Assembly approves budget for fiscal year 2018-19
"The worst form of load-shedding continues to this day while I have been raising my voice about this for the past five years. Load-shedding is a serious issue in Karachi and it continues during sehri and iftar times," Zaman said.
He accused K-E of being indifferent to the miseries of the residents of Karachi. The PTI MPA criticised the chief minister for not playing his due role in improving the affairs of K-E. When the PTI government comes into power in 2018, it will improve K-E, he said.
An adjournment motion moved by MQM-Pakistan MPA Sabir Hussain Qaimkhani was also allowed by the speaker. The motion pertained to the shortage of water in Sindh. "The farmers will not receive water for the kharif crop," the MPA lamented.
After the agenda was completed, the session was adjourned till Monday where a photo session has been scheduled for assembly members. The MPAs will also be given certificates based on their performance.
https://tribune.com.pk/story/1719327/1-last-session-sindh-assembly-grants-hindu-widows-right-remarry/
--------
Filipino Catholics accompany Muslims in Ramadan fast
May 16, 2018
In a gesture of solidarity, Filipino Catholics joined Muslims in the war-torn city of Marawi to kick off the start of Ramadan this week.
About a thousand Christians and Muslims participated in the annual "Duyog Ramadan" celebration which was spearheaded by the Catholic prelature in Marawi, according to a report in UCANews.
Since 1979 the Church, has encouraged Christian families to "accompany" Muslim residents of the city, by fasting, praying, and serving the poor.
This year's event comes at a very difficult time for both Muslims and Christians in Marawi. A five-month conflict between pro-Islamic State terrorists and government forces that left destruction in its wake and displaced 400,000 Muslims and Christians from Marawi, the only majority-Muslim city in the Philippines.
"After the destruction of the city, Catholics need to show more solidarity with our Muslim brothers and sisters," Father Gary Alvarado, head of the group Duyog Marawi, told UCANews.
Reynaldo Barnido, executive secretary of the group, said that the event helps reinforce the bond between followers of the two religions.
"This year's Ramadan is a celebration of victory against individuals and groups who intended to destroy the unity we're forging between Christians and Muslims," Barnido. told UCANEWS.
Sultan Abdul Hamidullah Atar of Marawi hailed fasting as a way to "the transformation of the inner self of every person."
"Let Ramadan be our guide towards reconciliation and peace," the Muslim leader told UCANews.
Six months after Marawi was liberated, displaced Christians have been slow to return to a city where so much has been destroyed, according to an article at ReliefWeb.
Barnido told ReliefWeb that until last year Muslims had co-exited peacefully with Christians in the city. The 84-year old St. Mary's Cathedral was among the buildings destroyed by military bombs during the city's liberation.
Catholic bishops who visited the heavily damaged cathedral in March determined that it would have to be demolished.
"One of the bishops knelt on the ground. It was very sad to see what happened to the church," Barnido said.
https://aleteia.org/2018/05/16/filipino-catholics-accompany-muslims-in-ramadan-fast/
--------
Fearing extremist violence, Egypt silences 20,000 storefront mosques
May 26, 2018
CAIRO (RNS) – The Egyptian government has banned preaching at 20,000 mosques as a precautionary measure to prevent extremist violence during the Muslim holy month of Ramadan.
Some Egyptian Muslims say the ban is unfairly curtailing religious life in their neighborhoods. But the government deems it an important step for public safety.
Penalties have increased for mosques that use their minaret loudspeakers for anything other than the traditional call to prayer. Scores of imams have been fired for straying from state-approved topics.
It's all part of a crackdown on storefront mosques, or zawyas, that sprang up about six years ago when a government with ties to the Muslim Brotherhood was in power. Most still receive state subsidies but are viewed warily in a season known for increased violence in the Middle East.
"There are now more than 110,000 mosques in Egypt," said Ministry of Religious Endowments spokesman Jaber Taya. "With the numbers growing all the time, our ministry has taken steps to monitor violations of sermon guidelines, especially when it comes to the unacceptable promoting of extremist groups."
Ramadan ends June 14, but it's unclear whether the new restrictions will be lifted at that time.
The clampdown stems from President Abdel-Fattah el-Sissi's campaign against terrorism. Officials are targeting zawyas to prevent extremist incitement that has occurred in multiple cities during extended after-dusk prayers and recitations of the Quran at Ramadan.
When ex-President Mohammed Morsi and his allied Muslim Brotherhood held power in Egypt from June 2012 to July 2013, hundreds of zawyas popped up in violation of codes requiring distance between mosques, according to Ghani Hindi, a member of the Supreme Council for Islamic Affairs, the chief state body overseeing Muslim religious practice.
The Muslim Brotherhood wanted to impose Shariah, or Islamic law, as the basis of Egypt's legal system. The group's agenda sparked interreligious clashes between Muslims, and between Christians and Muslims.
The military ousted Morsi in 2013, paving the way for el-Sissi's rise to power. But the zawyas remain.
"The storefront mosques have been used for political organizing and unqualified preachers are giving religious instruction, putting their speeches out on loudspeakers, especially late at night during Ramadan," said Hindi.
Zawya attendees insist the blanket directive shutting down sermons at their mosques is unfair.
"I am very saddened," said Abdul Aziz al-Ghafar, a 43-year-old teacher who attends the Rahman corner mosque in Heliopolis, a northern suburb of Cairo.
"The ministry made a generalized decision that had nothing to do with what was going on at my mosque," he added. "Our worship leader performs a great service to this neighborhood, giving us a place for prayer and interesting Quran instruction. Yes, some mosques turned to platforms defending the Muslim Brotherhood, but every imam deserves the respect of individual observation and feedback."
While Ramadan is a time of fasting, spirituality and prayer, the Middle East also usually sees an uptick in terrorism during the holiday. In Egypt, the victims are often Christians. Last May, jihadists attacked three buses filled with Coptic Christians, killing 28 pilgrims on their way to the St. Samuel the Confessor monastery in southern Egypt.
Off-script Islamic preachers who wander from state-authorized messages are also often accused of spreading intolerance in Egypt during the holy month.
"It is prohibited for Muslims to congratulate non-Muslims on their religious occasions because it expresses support for practices that Islam considers to be acts of unbelief," said TV preacher Sheikh Abdullah Roshdi recently.
Meanwhile, authorities are firing scores of zawya preachers for violating the guidelines imposed by the el-Sissi administration and straying from the topics authorized by the Religious Endowments Ministry.
The government imposed a nationwide testing of imams to "measure their skills as public speakers and religious educators." That same directive, to upgrade speaking skills and further supervise content for imams, added that "any imam who is not qualified to deliver public speech and lessons in Islam will be barred from the pulpit."
The government's defenders insist the ban on sermons in the storefront mosques is a necessary step to get divisive politics out of the pulpit.
"President el-Sissi is calling for a renewal of religious discourse to show the tolerance of Islam for other religions," said Usama al-Abd, a former president of Al-Azhar University, the main seminary in Sunni Islam.
Many disagree.
"I was suspended from my position after saying in a sermon that I thought Mohammed Morsi was a president who was only seeking to reform Egypt," said Abu Khalid, a 37-year-old imam in the Nile delta. "An Endowments Ministry official reported me to the higher-ups. I have not been allowed to preach since March."
Ministry of Religious Endowments officials said that in addition to random inspections, they also set up a telephone hotline for complaints about "immoderate discourse from citizens." Closed-circuit television cameras with audio recording capabilities have been installed in thousands of mosques, too.
In 2015, cameras were first installed at the landmark Al-Noor and Al-Sayeda Zeinab mosques in Cairo. Religious Endowments Minister Mohamed Mokhtar Gomaa said his staff would monitor sermons to ensure no extremist messages were delivered. The ministry has not released the total number of fired or disciplined imams.
Other countries have taken similar measures in the past. Saudi Arabia and Kuwait installed cameras in mosques in 2015 after three bombings for which the Islamic State group claimed responsibility. In October, Saudi officials said they had dismissed thousands of imams to prevent spreading extremism.
El-Sissi's supporters say the zawya sermon ban and other measures make sense because it's impossible for the government to monitor every mosque in Egypt.
"There just aren't enough resources to check on all the zawyas," said Abdul Aziz Mohammed Diab, a health ministry inspector in Sharkia, in the Nile delta. "Other public institutions, including hospitals and schools, need the funds more than many of these half-empty mosques that get taken over by extremists."
Islam Barakat, a researcher at the Egyptian Initiative for Personal Rights, an opponent of Morsi's Islamist agenda, said the el-Sissi administration is overreaching with the sermon ban.
"We need to move toward liberating the religious domain from the authority of the state," Barakat said. "Now the security agencies are determining who gets appointed and who is excluded, and some imams are informing on others to advance their own position."
Worshippers who find community and solace at local zawyas believe the government is using the larger mosques to promulgate its policies, such as drafting state-funded preachers to drive up voter turnout in last March's presidential elections.
"The current government repeats the same means of control and monopoly used by the Muslim Brotherhood," said Yasser Abdul Aziz, a 54-year-old construction engineer who attended a zawya in Al-Mataryia, about nine miles east of Cairo. "Simple people like me have no interest in any political parties since they all are just about promoting their own private affairs. We come to the mosque to learn and to pray."
https://religionnews.com/2018/05/25/fearing-extremist-violence-egypt-silences-20000-storefront-mosques/
--------
India's New Shia Party Seen As Hindu Divisive Effort
May 25, 2018
The leader of a new political party claiming to represent India's Shia Muslim minority has verbally attacked the country's Sunnis, resulting in accusations that he is being used by pro-Hindu groups to divide the country's Muslims ahead of national polls.
Shia politician Syed Waseem Rizvi — from India's most populous state Uttar Pradesh — launched a Shia-centric political party named Indian Shia Awami League on May 14.
It wasn't long until he was accusing the majority Sunni Muslims of defaming Islam.
Sunnis constitute about 80 percent of India's 172 million Muslims.
Rizvi said in a statement six days after launching his political party that Sunnis take all the benefits of government welfare schemes meant for Muslim minorities, leaving nothing for Shia people. Politicians looking for Muslim votes cater to the majority Sunni interest, he said.
In an interview with online news portal ThePrint, Rizvi blamed Sunni extremism for Hindu-Muslim riots and he added that Shia people are targeted during the riots because of their Muslim identity.
"The Shia-Sunni conflict is irreconcilable … They (Sunnis) don't even consider us Muslims, but because of them our identity is under threat," the Shia leader said.
In response, many Muslim leaders have said that Rizvi's claims are part of plan to divide the country's Muslims ahead of national elections due in April 2019.
Molvi Ghulam Ai Gulzar, a prominent Shia scholar and author, told ucanews.com that Rizvi seems to be mandated by hard-line Hindu group Rashtriya Swayamsevak Sangh (RSS) to stoke sectarian tensions in the country.
"This is a clear attempt to create hatred amongst the Muslims against one another," said Molvi Gulzar. "Fanatic Hindu groups are hell-bent to divide Muslims and create animosity," he said.
"Muslim leaders must step in to thwart such elements who have infiltrated into our ranks."
India's two Muslim communities have fought each other in the past but each time the conflicts were pacified by religious leaders from the both sides.
Molvi Gulzar said that Rizvi has a history of making inflammatory statements beneficial for pro-Hindu groups such as RSS and the ruling Bhartiya Janata Party (BJP). Rizvi was on record as saying that Muslims speaking out against Hindus over the Ayodhya dispute should move to Pakistan. He also asked Prime Minister Narendra Modi to close madrassas as they were breeding grounds for terrorists.
"Rizvi made the same appeal in a letter to Uttar Pradesh Chief Minister Yogi Adityanath as well," Movli Gulzar told ucanews.com
Well-known Shia cleric Maulana Kalbe Sadiq said Rizvi's statements in "no way" represent Shia Muslims.
"We condemn such statements that aim to divide Muslims. We can have theological differences but we as a community are one," said the cleric.
Saaqib Ali, a research scholar at University of Kashmir's department of Islamic studies, told ucanews.com that ahead of national elections there will be rigorous attempts made by the Hindu groups like the BJP to divide Muslim communities.
Ali said that since the BJP came to power in 2014, Muslim communities have experienced violence against them by Hindu hardliners.
Muslims are determined to vote against the BJP in elections "and so attempts are being made to divide the country's Muslims to scatter their votes," Ali said.
Shia cleric Moulana Qalb-e-Jawwad said the BJP has been using a "few of its sycophants" to create an atmosphere that could prove detrimental for law and order.
Globally, Shias are a minority as they form only 10-12 percent of 1.6 billion Muslims, according to a 2009 study of the Pew Research Center.
The succession of Prophet Muhammad was the cause of differences between the two branches of Islam. The majority — that became the Sunni — considered his father-in-law and friend Abu Bakr as Muhammad's heir, but a small group — that became the Shia — wanted his son-in-law and father of his grandchildren instead.
Abu Bakr finally became the first caliph and ongoing political differences between the opposing groups evolved to form the two sects which are still at loggerheads today.
https://www.ucanews.com/news/indias-new-shia-party-seen-as-hindu-divisive-effort/82403
--------
Fasting Muslims Collecting Food for Poor during Ramadan
May 25, 2018
London's Muslim community is in the spirit of giving during Ramadan as they gather donations for the London Food Bank.
The food drive during the Islamic holy month that began May 16 helps to give back to the community and is an expression of charity, one of the five pillars of Islam. Food items are collected at the London Muslim Mosque.
Donating to the food bank is in the "giving spirit of Ramadan," said Ali D. Chahbar, an outreach co-ordinator for the mosque.
"The food drive is usually quite successful," he said.
A new food bank fundraiser, Give 30, encourages not only Muslims, but also the entire community to get involved during the 30 days of Ramadan by donating money. The goal of Give 30 is to make a difference in the fight against hunger where donors live.
Give 30 is new to the London region, but the on-line campaign (give30.ca) has been successful in 13 communities across Canada.
Only one week into Ramadan, more than $2,000 has been raised for the London Food Bank, co-director Glen Pearson said.
"They have always been really generous," he said. "It comes at an important time of the year for us. Our demand stays high in the summer, but our donations drop."
As Ramadan continues, the general consensus is that fasting has been easy so far, Chahbar said. Muslims refrain from eating and drinking during daylight hours.
"It's much easier when you are in the spirit of Ramadan," he said.
June 14 is Eid al-Fitr, meaning "festival of breaking the fast." Thousands will gather at a location to be determined for prayers and a sermon to celebrate the end of Ramadan.
Ramadan facts:
Ramadan is the Islamic holy month of fasting, and falls on the ninth month of the Muslim year
There are more than 1.8 billion Muslims worldwide, with more than 35,000 living in the London area
During Ramadan, Muslims do not eat or drink during daylight hours
Muslims are encouraged to eat a meal before dawn, and break their fast right after sunset
Eating dates and drinking water or milk traditionally breaks the fast
Each day, people gather at the London Mosque to break their fasts together
http://lfpress.com/news/local-news/fasting-muslims-collecting-food-for-poor-during-ramadan
--------
Pakistan
SCO legal experts meet in Pakistan to discuss extremism, terrorism
May 25, 2018
ISLAMABAD: Legal experts from SCO member states on Friday met in the Pakistani capital and discussed proposals to increase cooperation to combat extremism and terrorism.
Pakistan's Foreign Office (FO) said in a statement that the legal experts' group meeting of the Shanghai Cooperation Organisation-Regional Anti-Terrorist Structure (SCO-RATS) started on May 23 and ended today.
"Member states discussed various proposals for enhancing regional cooperation in countering terrorism and extremism. The legal experts also discussed administrative and organisational matters," the FO said.
It said the meeting of legal experts in Islamabad also deliberated on the agenda of the 33rd session of the council of SCO-RATS, which will be held in Bishkek, Kyrgyzstan in October.
This was the first ever SCO meeting to be held in Pakistan since it become a member of the grouping in June, 2017 along with India.
The FO said legal experts from eight member states, namely China, Kazakhstan, Kyrgyzstan, India, Russia, Tajikistan, Uzbekistan and Pakistan, as well as representatives of the SCO-RATS executive committee participated in the meeting.
The SCO-RATS, based in Tashkent, was established by the member states of the SCO in 2001 to combat terrorism, separatism and extremism.
As a permanent organ of the SCO, it is a regional forum for exchange of views and best practices on countering terrorism and extremism. The highest decision-making body of the SCO-RATS is the council, which meets once in six months.
The decisions of the council of SCO-RATS are prepared and vetted by the legal experts working group, which meets thrice before every council meeting. These expert-level meetings are held in all members of the SCO on voluntary or rotational basis, the FO said.
https://timesofindia.indiatimes.com/world/pakistan/sco-legal-experts-meet-in-pakistan-to-discuss-extremism-terrorism/articleshow/64321659.cms
--------
Pakistan Senate votes to merge FATA with Khyber-Pakhtunkhwa
May 25, 2018
ISLAMABAD: Pakistan's Senate today endorsed a Constitutional amendment seeking to merge the restive tribal region along the Afghanistan border with Khyber-Pakhtunkhwa province in the northwest, a day after the historic move was overwhelmingly passed by the National Assembly.
The 31st constitutional amendment bill was moved in the 104-memebr Senate by Law Minister Bashir Virk to merge Federally Administered Tribal Areas (FATA) with Khyber-Pakhtunkhwa after months of delays following disagreements between coalition partners and the opposition over its clauses.
The amendment was passed with a 229-1 vote in the National Assembly yesterday, bringing an end to 150-year-old British-era arrangement.
The bill which needed 69 votes was supported by 71 Senators while only five members opposed it. The opposition came from Pakhtunkhwa Milli Awami Party (PkMAP).
Another party which opposed was Jamiat Ulema-i-Islam-Fazl (JUI-F). It boycotted the voting on the bill by staging a walk out.
The bill will now be presented in the assembly of Khyber-Pakhtunkhwa province as it aims to change the territory of the province by merger of tribal region into it.
According to the Constitution, any change in the territory of a province must be passed with two-thirds majority by the assembly of the respective province.
It is a race against time as provincial assembly will complete its tenure on May 28 and the bill should be presented and passed before that.
Since Pakistan Tehreek-i-Insaf (PTI), which supported the bill in the national parliament, is in majority in the province and also has support of other parties, the merger law is expected to be passed easily.
Finally, the president will sign the bill passed by the federal parliament and provincial legislature to become part of the law.
The semi-autonomous tribal region was created by British government as a buffer between India and Afghanistan.
The tribal areas currently consist of seven districts which stretch along the border with Afghanistan, and became known to the world due to presence of militants who fled the porous border after the US forces invaded Afghanistan after 9/11 attack.
Full report at:
https://timesofindia.indiatimes.com/world/pakistan/pakistan-senate-votes-to-merge-fata-with-khyber-pakhtunkhwa/articleshow/64321636.cms
--------
Fazl, Achakzai created hurdles to Fata bill: Qureshi
May 26, 2018
MULTAN: Pakistan Tehreek-e-Insaf vice-chairman Shah Mehmood Qureshi Friday said JUI-F chief Maulana Fazlur Rehman and Pakhtoonkhwa Milli Awami Party leader Mehmood Khan Achakzai were the prime hurdle in the merger of Federally Administered Tribal Areas (Fata) with Khyber Pakhtunkhwa.
Talking to media men at the airport here, he said the National Assembly had done a historic job and buried hundreds years old FCR law. The ruling Pakistan Muslim League-N was hectically engaged in reconciliation with its partners, including Jamiat Ulema Islam-F and Pakhtoonkhawa Milli Awami Party but both the parties opposed the merger, he added.
He said the number of 228 votes were required for making consensus on Fata. The National Assembly speaker sent a chit to him, saying the bill is hard to pass because MQM was not taking part in the voting on Fata bill, he said. "I approached and wooed them. Later, MQM lawmakers cast their votes in favour of the bill. I thanked them for taking part in the voting process," he added. Qureshi said the entire Fata was in protest against the black law of the English rulers. The people of Fata would be given representation right in the province and the centre. The PTI would bring an effective political system in Fata, including education and health services. Now peace would prevail in Fata, he remarked.
To a query, he said the party had principally decided creation of south Punjab province. The Janoobi Punjab Sooba Mahaz was not a registered party, so the PTI had assured them to back creation of the south Punjab province. The PTI has foiled the filler of PML-N for the creation of Bahawalpur province after the Nawab of Bahawalpur had joined the PTI, he added.
The PTI leaders said, "Our party will introduce revolutionary measures in the south Punjab province. If the province is created then it would have representation in the Senate. The PTI vision will make the south Punjab province a key pillar in agriculture development." He foresees two major revolutions in the coming days. He appealed to the masses to vote for PTI on maximum slots so that it may form the government to serve the people in a better way.
Rs8.9m tax recovered from businessman: The Regional Tax Office Multan (RTO) has recovered Rs 8.9 million as default or tax arrears from the bank account of a businessman.
According to official sources, Customs Intelligence and Investigations Department detected around Rs 10 million tax default on the part of a businessman and sent the case to chief commissioner Inland Revenue Multan after an inquiry for further action.
Full report at:
https://www.thenews.com.pk/print/321607-fazl-achakzai-created-hurdles-to-fata-bill-qureshi
--------
Musharraf suggests exchanging Afridi for Fazlullah
Anwar Iqbal
May 26, 2018
WASHINGTON: Pakistan's former military ruler retired Gen Pervez Musharraf has said had he been the president now, he would have released Dr Shakil Afridi in a "give and take" deal.
In an interview to Voice of America's Greta Van Susteren, Musharraf also noted that relations between the United States and Pakistan were at their "lowest ebb" now.
"Well, with a deal, yes. With a deal," said the retired general when asked if he was the president now, would he release Afridi. "A deal, is a give and take. Yes, indeed it can be resolved. I don't think it is such a serious thing that it cannot be resolved," he added.
Dr Afridi, who helped the CIA locate Osama bin Laden in Abbottabad, has been in prison in Pakistan since 2011. On Wednesday, US Secretary of State Mike Pompeo pledged before a congressional committee that he would continue to work "diligently" to get Afridi out of prison.
US lawmakers have urged the Trump administration to bring Afridi to the United States where he is considered a hero.
Defending Pakistan's position on Afridi, Musharraf said every nation had to make policies in accordance with its interests.
He acknowledged that Pakistan's policy in this case was an "irritant to the United States but Washington would have probably done the same if faced with a similar situation. "Purely on the merits of the case, ... would you allow… a US citizen dealing with the ISI on a very, very sensitive issue of national importance to the United States?" he asked.
One possibility Musharraf indicated in the interview was exchanging Afridi for Mullah Fazlullah. "We can resolve this irritant and exchange more accommodating stance from the United States… and Afghanistan because we have a terrorist sitting there, Fazlullah," he said.
"I suppose the United States also knows that he's there."
Further exploring the possibilities for improving America's relations with Pakistan, he urged Washington to listen to Islamabad's grievances and advised Islamabad to pay attention to America's complaints about the Haqqani network. "We need to sit down and resolve these issues," he said.
Full report at:
https://www.dawn.com/news/1410077/musharraf-suggests-exchanging-afridi-for-fazlullah
--------
Common policies, uniform laws needed to combat extremism: CJP
May 26, 2018
ISLAMABAD: Chief Justice Mian Saqib Nisar Friday said common policies, uniform laws, pooled wisdom, shared data and information between Shanghai Cooperation Organisation (SCO) member States, could be the weapons to combat extremism in the region.
Terrorism did not respect territorial borders, in order to combat the menace we need to forge strong bonds at all levels with other member states, CJP said on 13th Conference of the Presidents of Supreme Courts of SCO's member States in China, a press release said.
While addressing the gathering ,Chief Justice Mian Saqib Nisar said, "We are all gathered to find ways to ensure greater cooperation between member States to combat problems such as terrorism and extremism, which threaten the security of the member States.
He said, "The judiciary of the member States needs to play its part in building a strong framework in which these threats to our security can be combatted."
He underlined the need of International Judicial Cooperation and said, "It is very necessary for global peace and regional security."
The SCO will allow mutual legal assistance, the sharing of best practices, developing of regional dispute resolution mechanisms, extension of formal and informal cooperation by justice sector institutions, which will advance peace and stability in this region," he added.
Discussing the Informatization of Court Work and the Development of Smart Court, Chief Justice of Pakistan gave them an overview of Court automation in Pakistan and Alternate Dispute Resolution (ADR) that the disposal of cases through mediation /ADR is being encouraged.
Chief Justice said that the setting up of smart courts is our long-term objective i.e. electronically operating courts aimed at strengthening e-justice services, improving access to justice through legal aid and alternative dispute resolution systems.
These smart courts will be set up in the form of commercial courts which would decide matters related to the CPEC and Foreign Direct Investment (FDI) on mediation / ADR techniques on a fast track basis, thus providing quick redressal to investors, which will help Pakistan reassure and give confidence to foreign investors in Pakistani courts."
Commenting on geopolitical importance and key economic features of Pakistan, the CJP said,"It is believed to be a perfect location and an ideal market for foreign direct investment (FDI). Its huge natural resources, competitive and educated labour and specially tailored investment policies are very attractive to foreign investors, he added.
As Pakistan attracts more FDI, especially with CPEC coming to Pakistan, the inevitable investment disputes must be amicably settled through internationally recognized principles of Arbitration/ADR mechanisms which are acceptable to all the parties.
He informed the gathering that all the civil courts in Pakistan have been asked not to issue ex-parte stay orders in respect of CPEC related projects.
This initiative will improve the confidence level of foreign investors on Pakistan's judicial system and will give a sense of protection, comfort and peace of mind whilst investing in Pakistan.
Moreover, with respect to CPEC investment, there is a requirement of uniformity in laws, processes and mechanisms and there is a need of a forum like IFC Dubai for looking after foreign direct investment and designating special courts for hearing CPEC related disputes.
This requires further negotiation at State to State level and if necessary on the judicial level too. Therefore, I reiterate that the judiciaries of the region, especially with regard to CPEC Pak-China, need to work closely for developing mechanisms such as smart courts and information centers so that both the countries can progress hand in hand, he added.
Justice Nisar said that the sharing of legal ideas and the use of information technology by our two countries will be materially helpful for the judicial systems of both the countries."
Chief Justice of Pakistan said, "Pakistan has recently joined this organization and is keen to play a productive role as a member of SCO. We are also excited at the thought of the many opportunities this forum will open up to Pakistan and its judiciary to learn from the experiences and wisdom of other member States."
As trade between member States of the SCO increases and as travel increases, there is increased need for international judicial cooperation.
He said none of us wants our countries to be safe havens for terrorists, for terrorist financing, for white collar crimes, or for cyber crimes.
These are just a few of the crimes and offences that do not respect territorial borders. The reach of such offences and offenders is not neatly confined to one country.
CJP suggested the members, "We all appoint focal persons from within our judiciaries to represent the member States at the SCO. The dedicated people will bring continuity to the work of the SCO and also help to build institutional memory within the SCO.
The designated person from each member state would prove to be an effective link between his/her state and other members of the SCO and this would lead to greater success in bringing about uniform legislation and policies.
Workshops and seminars be organized for very specific problems and issues facing member States. This is the time for practical solutions and pragmatic problem solving.
He said, "another effective way to settle regional disputes amicably is through arbitration because arbitration proceedings are usually faster and cheaper than traditional court proceedings.
Article 2 of the Charter of the Organization (SCO) insists upon "Peaceful settlement of disputes between the member States", therefore, it is the prime obligation of the Organization (SCO) to provide a platform to the member States to resolve their differences through peaceful settlement.
"I would suggest that the SCO may establish a 'Joint Arbitration Center' for the arbitral settlement of disputes amongst the member States and for effective enforcement of the award."
Finally, member States need to vigorously enforce the resultant arbitral awards in order to strengthen the system of dispute resolution.
In Pakistan we at the Supreme Court are trying to settle the law with respect to the relationship between national courts and arbitration through our judgments.
Full report at:
https://www.pakistantoday.com.pk/2018/05/26/common-policies-uniform-laws-needed-to-combat-extremism-cjp/
--------
Summon 'emergency meeting' of NSC on ex-ISI chief's book as well: Nawaz
MAY 26, 2018
ISLAMABAD: Former Prime Minister Nawaz Sharif said on Friday that an emergency meeting of the National Security Committee (NSC) should be summoned to discuss the contents of a new book co-authored by former heads of Pakistani and Indian premier spy agencies.
He was referring to The Spy Chronicles: RAW, ISI and the Illusion of Peace released this Wednesday, co-authored by Lieutenant General (retd) Asad Durrani of Pakistan and A.S. Dulat of India.
Nawaz made the comment while speaking to journalists at the accountability court. He stated that the former DG ISI had made public some 'serious information and insisted that it was now necessary to call an emergency meeting of the NSC. His statement came in view of the recent NSC meeting summoned on the suggestion of the Armed Forces of Pakistan following Nawaz's statements about 2008 Mumbai attacks.
Regarding former military dictator Pervaiz Musharraf's treason trial, Nawaz said no law could prevent the trial from reaching its logical conclusion. "It may happen today or in six months, but the trial will reach its logical conclusion."
The PML-N quaid further said that Musharraf could not avoid the trial. "Musharraf knows that the trial against him is an open and shut case, which is why he is not coming to Pakistan. This is a serious treason case, such cases cannot be taken back," he said.
Nawaz maintained that it was shame that a dictator was absconding, while a three-time PM had appeared before court 70 times.
"Musharraf used to show his fists to express his power. If you remember when Musharraf appeared in the parliament, he showed his fist. Where is that fist now? The coward who is sitting outside the country should hit himself with the same fist," a visibly agitated Nawaz said.
The former PM also lashed out at his political opponent PTI chairman Imran Khan, saying that Khan had once cursed on the Parliament. "Imran is taking full advantage of the parliament, even though he cursed it," he said.
Full report at:
https://dailytimes.com.pk/244866/summon-emergency-meeting-of-nsc-on-ex-isi-chiefs-book-as-well-nawaz/
--------
Southeast Asia
Indonesia Toughens Antiterror Law Following Deadly Islamic State-Linked Attacks
By Ben Otto
May 25, 2018
JAKARTA—Indonesia's parliament overwhelmingly passed a tougher antiterror law Friday, giving police new powers to detain suspects following the worst terrorist attacks in the Southeast Asian country in over a decade.
The law comes amid criticism of the police after Islamic State supporters, using women and children suicide bombers for the first time here, killed at least 14 civilians and security personnel in attacks last week. Police have arrested at least 60 suspects.
Indonesia is the world's largest Muslim-majority nation and is the largest economy in Southeast Asia, where Islamic State and those it inspires have fueled a recent surge in terrorism, the worst being the five-month takeover of the southern Philippine city of Marawi last year.
Tougher laws are being imposed in the region in response to Islamic State. Singapore passed a regulation this year allowing media and communications blackouts during terrorist attacks. In 2015, Malaysia legalized the detention of terror suspects for two years without trial.
Indonesia's elite counterterror police force has long argued that it needs expanded powers to arrest suspects before they launch attacks. The new law criminalizes being a member of a terrorist group, traveling overseas to support militant groups and creating or spreading extremist propaganda. Being a member of a terrorist group will be punishable by up to seven years in jail, while leaders face up to 12 years.
The law also allows police to detain suspects for 21 days without charges, up from seven days, and to keep them in detention for close to another 10 months without trial, up from six months. Police also gain the power to wiretap suspects' phone conversations before obtaining approval from Indonesian courts.
"The new offenses listed in the law close some important loopholes," said Sidney Jones, head of the Jakarta-based Institute for Policy Analysis of Conflict. But it is problematic to believe "that a law by itself is going to make a major dent in Indonesian terrorism," she said.
Another problem, analysts said, is the unclear role of the military's involvement in counterterror operations, which have been the realm of the police. The new law states the military will play a role, but omits the details pending a presidential decree.
The law replaces one that was introduced in response to Indonesia's worst-ever terrorist attack in 2002, when bombings by an al Qaeda-linked group killed 202 people on the resort island of Bali. The attacks also prompted Indonesia to form a highly trained counterterrorism police force, which dismantled the most dangerous networks and hampered the technical and operational abilities of remaining cells.
However, the rise of Islamic State in recent years has raised the terror threat level. Police are concerned about the influence of hundreds of Indonesians who traveled to support the group in Syria, and have arrested hundreds of suspects in recent years.
https://www.wsj.com/articles/indonesia-toughens-antiterror-law-following-deadly-islamic-state-linked-attacks-1527236627
--------
Jais detains seven Muslims for not observing Ramadan
25 May 2018
SHAH ALAM, May 25 — The Selangor Islamic Religious Department (Jais) has detained seven Muslims for eating and drinking in public and seven others for allegedly committing 'khalwat' (close proximity.
Jais Enforcement Management Division principal assistant director Mahdi Al-Hilmy Arshad said the raids were conducted at restaurants, snooker centres and food stalls in Meru, Klang and Shah Alam as well as hotels and budget hotels in the Klang Valley from the first day of Ramadan until Wednesday, following public tip-offs.
"We are preparing the investigation papers to prosecute all of the individuals aged between 27 and 30s," he told reporters here last night.
He said seven of them were investigated under Section 19 of the Syariah Criminal Offences (Selangor) Enactment 1995 while the rest under Section 29 of the same enactment.
Mahdi urged the public to alert Jais on Muslims who committed Syariah offences during Ramadan by calling its hotline at 1-800-88-2424.
Full report at:
https://www.malaymail.com/s/1634929/jais-detains-seven-muslims-for-not-observing-ramadan
--------
Aman denounces church attacks, calls perpetrators 'mentally ill'
Fachrul Sidiq
May 25, 2018
Pro-Islamic State (IS) cleric Aman Abdurrahman denounced in his defense plea on Friday the recent terror attacks in Indonesia, saying the perpetrators were ignorant and mentally ill.
Aman, who is facing the death penalty for allegedly inspiring others to commit at least five terror attacks in Indonesia, told the South Jakarta District Court that he was not involved in any of the attacks.
"The people who committed [terrorism], allowed it to happen or taught others to do it are mentally sick and frustrated with the world. Islam does not teach that," Aman read out his plea in the heavily guarded courtroom.
He said the suicide bombings targeting churches in Surabaya, East Java, were "hideous" as the perpetrators involved children in their actions.
"What happened in Surabaya, where a mother took her children to blow themselves up could never be the action of a person who understands Islam and jihad."
Aman, touted by analysts as the most influential pro-ISIS cleric, admitted he had encouraged more than 1,000 of his followers to go to Syria and become militants. However, he denied that he had instructed them to carry out attacks in Indonesia.
"Related to a bombing in Samarinda church in [East Kalimantan], Islam urges Muslims who live in a kafir [infidel] country, including Indonesia, to live side by side with followers of other religions as long as they don't disturb or fight Muslims. [...] And there was no report of any religion-based conflict in Samarinda triggered by non Muslims," he said.
The attack in Samarinda in 2016 killed a toddler, and Aman said that killing a child was unforgivable.
Full report at:
http://www.thejakartapost.com/news/2018/05/25/aman-denounces-church-attacks-calls-perpetrators-mentally-ill.html
--------
Terengganu to promote Muslim-oriented tourism, says MB
May 25, 2018
KUALA TERENGGANU: The new Pas government is drawing up a master plan to make Terengganu a hub for Muslim-oriented tourism by targeting tourists from the Middle East, China and Western nations as well as from the country.
Menteri Besar Dr Ahmad Samsuri Mokhtar said the plan would not have drastic changes from the tourism promotion efforts of the previous Barisan Nasional state government but improvements would be made to several tourism products.
"Many tourists from the Middle East and Western nations come to Malaysia but not many of them visit Terengganu. If they want to experience Malay-Muslim culture and the beauty of islands and beaches, Terengganu is a good choice.
"This is what we will focus on, how we can highlight our tourism capacity to make the tourism sector more progressive and contribute to the economic well-being of the state and the people," he said to reporters after a breaking-of-the-fast with the state tourism industry players on Thursday.
At the event, Samsuri, as the representative of Terengganu, was presented with the Muslim-Friendly Destination Award from Universal Crescent Standard Centre in collaboration with Universiti Teknologi Mara.
Samsuri said non-Muslims should not have any worry about the tourism master plan because the sensitivities of all communities would be considered in drafting the programme.
Full report at:
https://www.nst.com.my/news/nation/2018/05/373268/terengganu-promote-muslim-oriented-tourism-says-mb
--------
Arab World
Nearly dozen militants slain as Iraqi forces thwart attacks in Kirkuk
May 25, 2018
Nearly a dozen members of the Daesh Takfiri terrorist group have been killed after Iraqi security forces, supported by pro-government fighters from Popular Mobilization Units, foiled their attacks in the country's northern oil-rich province of Kirkuk.
Iraqi Joint Operations Command (JOC) spokesman Brigadier General Yahya Rasool said a joint force from Hawija police and voluntary fighters, better known by the Arabic word Hashd al-Sha'abi, repelled militant attacks on the villages of Gharib and Hanaf, south of the provincial capital city of Kirkuk, killing 11 extremists in the process, Arabic-language al-Taghier television network reported.
Rasool added that five Takfiris clad in explosive vests were among the slain militants.
A policeman and a Hashd al-Sha'abi fighter were killed during the clashes as well.
Separately, the JOC announced in a statement that Iraqi F-16 fighter jets had bombarded Daesh positions and a weapons cache in Syria's Hegeen region, located 40 kilometers from the border town of al-Qa'im in Iraq's western province of al-Anbar.
The statement added that the militant sites were completely destroyed in the aerial attacks.
Iraqi authorities have on occasions stated that they work closely with the Syrian government to monitor and target terrorist positions based on the efforts of intelligence and information departments of the security coordination committee formed between Baghdad, Damascus, Tehran and Moscow years ago, as well as coordination with the so-called US-led anti-Daesh coalition.
"If we perform a strike, we will coordinate with the international coalition, the joint security center and all the relevant parties. As we work together, we follow the principle of partnership to ensure safety and harmony between allies," Iraqi Ministry of Defense spokesman Tahseen al-Khafaji said in late April.
On April 23, intelligence sources, speaking on condition of anonymity, told Arabic-language Shafaaq news agency that Daesh's second-in-command had been killed during an Iraqi airstrike inside the Syrian territory.
The top-ranked extremist, identified by the nom de guerre Abu Luqman al-Suri, was killed in the attack. He was the deputy of purported Daesh leader Ibrahim al-Samarrai aka Abu Bakr al-Baghdadi.
The sources added that Suri was "in charge of recruiting attackers and dispatching them to Iraq to carry out bomb attacks there."
http://www.presstv.com/Detail/2018/05/25/562873/Nearly-dozen-militants-slain-as-Iraqi-forces-thwart-attacks-in-Kirkuk
--------
KSA, Vatican playing major role in defeating extremism: Interfaith official
May 26, 2018
RIYADH: Last month, Vatican officials led by Cardinal Jean-Louis Tauran visited Saudi Arabia for the first time and the delegation met with King Salman and high-level Saudi officials in Riyadh.
The way for the meeting was paved by Dr. Mohammed Al-Issa, the head of the Muslim World League (MWL), said Sultan Al-Mousa, a member of the Vatican interfaith committee.
"He has led the way to meet the pope since September 2017. He faced some challenges in these efforts, he organized the meeting and on the basis of this meeting, the interfaith committee of dialogue was created," Al-Mousa said.
Al-Mousa said that two major world religions were working together to raise awareness campaigns for the oppressed around the world.
"Mutual visits from these two religion powerhouses will lead the way for others," he said.
"The dialogues that have been held are not exclusive to us, on the contrary there are many mutual aspects such as renouncing terrorism from all religions. Awareness campaigns are now being held to help all the oppressed worldwide, whether the oppressed be in Rohingya, Myanmar or Tibet."
Besides these efforts, the King Salman Humanitarian Relief Center has helped many countries that had been victims of extremism, terrorism and oppression, he said. Saudi Arabia had fought against extremism and terrorism, denouncing the violent acts that some have intertwined with the peaceful religion of Islam.
"I believe that in the same way that extremism and fanaticism are the result of extremist thoughts — tolerance, coexistence and rejection of extremism and terrorism are also influenced by tolerant mindsets. This is one of the goals for which the joint commission was created," Al-Mousa said.
"This was the first time anyone from the Vatican visited Saudi Arabia. This visit proved the seriousness of this step and the measures that Saudi Arabia wants to take to combat extremism and promote tolerance, peace and dialogue."
The delegation stayed for five days. One of the accompanying cardinals was Khalid Akasha, who has Jordanian roots and speaks Arabic.
In November, a Saudi delegation visited the Vatican, led by Al-Issa.
"As they welcomed us in their home, we welcomed them in ours. I believe that this is the first step to openness and coexistence between the two parties," Al-Mousa said.
"The fact that King Salman welcomed the delegation proved that the king himself welcomed the initiative. This step further strengthened the initiative with blessings and support which was a motive for all of us."
Full report at:
http://www.arabnews.com/node/1309786/saudi-arabia
--------
Same Textbook for Muslim and Christian Students in Schools Despite Opposition
JANA BOU MATAR
MAY 25, 2018
In an effort to combat religious extremism in Egypt, the Ministry of Religious Endowments plans on introducing a new academic textbook to be used in the beginning of the academic year in September. The Ministry has been accused of cancelling the religious education in schools thus it clarified that this initiative, formerly announced in April, is to further vitalize the importance of decent behavior and religious tolerance among students of different backgrounds and beliefs.
As Muslim and Christian students were previously separated into two separate religious education classes in Egypt, the idea of students learning from the same curriculum has arisen noticeable irritation amongst religious conservatives. "Do we really need the new book when religion books contain all the values and ideals contained in it?" asks Salafist preacher Sameh Abdel Hamid.
Mohamed Mokhtar Gomaa- the Relgious Endowments' minister -insists that this book which has been pre-approved by both Al-Azhar, the country's leading Islam authority, and the Coptic Orthodox Church, is to accompany and support the religious education in the schools of Egypt but not replace the current curriculum.
"The new textbook tries to teach that difference is not a sin and that the world is made to have enough room for everybody" Gomaa says. The Ministry, which is to regulate the country's mosques and determine the Islamic courses taught in schools, has been leading a campaign against religious extremism that is strongly supported by the government.
Having had removed numerous extremist books, audio, and media from the libraries of more than 100,000 Egyptian mosques, Gomaa emphasizes on the "need to raise a new generation of Egyptians who share the same values and know how to respect each other's beliefs and way of thinking." He stresses that the textbook unifies the Egyptian values and morals yet secures and fortifies the specificities of each religion.
Full report at:
https://egyptianstreets.com/2018/05/25/same-textbook-for-muslim-and-christian-students-in-schools-despite-opposition/
--------
Iraqi Air Force Stages Massive Bombing of ISIL's Positions in Eastern Syria
May 25, 2018
"The Iraqi F-16s struck two sites today, including a headquarter used by leading members of the terrorist group and a warehouse used for storing missiles… in Hajin region in Southeastern Deir Ezzur," the Joint Command said.
The operation achieved its objective, totally destroying both targets, the statement asserted.
Iraq's Joint Operation Command announced in a statement earlier this month that the Iraqi fighter jets bombed and destroyed an ISIL command base in Dashisha region in Southern Hasaka.
The statement further said that the air raid was ordered by Commander-in-Chief of the Armed Forces Haydar al-Ebadi and coordinated by Joint Operation Command, adding that Iraqi F16 jets struck ISIL's base in Southern Hasaka, destroying it completely.
Full report at:
http://en.farsnews.com/newstext.aspx?nn=13970304000367
--------
US sanctions on Hezbollah will have no effect, Nasrallah says
May 25, 2018
The secretary general of the Lebanese resistance movement says the latest round of sanctions by the United States and a number of its Persian Gulf Arab allies against the leadership of the group will have no effect and will not harm its officials at all.
Addressing his supporters via a televised speech broadcast live from the Lebanese capital city of Beirut on Friday evening, Sayyed Hassan Nasrallah described some of the measures as "new," stressing that Washington's objective to keep people away from Hezbollah accounts for the imposition of such sanctions against the anti-Israel resistance movement.
Nasrallah then warned that a number of Lebanese investors and entrepreneurs, who have close ties with Hezbollah, will be targeted as a result of the bans, calling on the government to develop plans which would protect the businessmen against the sanctions.
The Hezbollah chief also strongly dismissed classification of Hezbollah as a terrorist group, emphasizing that it consists of honorable fighters.
Nasrallah went on to say that people from all walks of the Lebanese society proved their loyalty to Hezbollah by voting in favor of the group during the country's May 6 parliamentary elections.
He stated that US sanctions against Hezbollah are aimed at placing those who support the group under pressure, and punishing them at large.
The Hezbollah head stated that the punitive measures also seek to harm Hezbollah's social popularity, its allies and supporters, and dry up its financial resources.
He went on to say that the recent announcement of US sanction on Iran is partly due to the Islamic Republic's firm support for Hezbollah.
"When one refuses to give in to US and Israeli hegemonic policies, and endeavors to be independent, s/he is viewed as a potential threat," Nasdrallah pointed out.
"The financial pressures which ensue in the wake of US sanctions are due to confronting the policies of the United States and the Zionist regime (of Israel)," he said.
"The United states and the Tel Aviv regime are gravely mistaken to think that by stopping financial funds from reaching Hezbollah, the resistance movement will abandon its activities," Nasrallah said.
"Sanctions and blacklisting Hezbollah official will by no means discourage people who are fighting for a noble cause," he commented.
Nasrallah then praised the fallen commanders of Hezbollah for sacrificing their lives for the sake of Lebanon's freedom, extending his gratitude to Iran and Syria for their support for the resistance movement in the face of Israeli aggressions.
He underlined that Hezbollah is currently much mightier than what it used to be in 2000 when it comes to manpower and possession of sophisticated weapons.
"Resistance fighters deserved victory over Israel in 2000 and 2006 as they had honesty and made enormous sacrifice in their battles against the enemy," he pointed out.
Elsewhere in his remarks, Nasrallah dismissed Morocco's accusation that Hezbollah was plotting against it with the Polisario Front, stressing that his movement has no relations whatsoever with the group.
The Hezbollah chief also congratulated the Syrian nation and government for liberation of neighborhoods south of the capital Damascus from the clutches of the Daesh Takfiri terrorist group.
Turning to the formation of the new government in Lebanon, Nasrallah said Hezbollah strongly believes that the new Lebanese administration must be quickly shaped in order to preserve national interests.
"We look forward to a cabinet which would represent politicians from all factions and parties. It is, meanwhile, important for Hezbollah to have a presence in the new cabinet, and will do our utmost for such a presence to be constructive," the Hezbollah chief said.
Full report at:
http://www.presstv.com/Detail/2018/05/25/562892/US-sanctions-on-Hezbollah-will-have-no-effect-Nasrallah-says
--------
Saudi forces intercept Houthi ballistic missile fired toward Najran
26 May 2018
JEDDAH: The Saudi Royal Air Defense Force intercepted on Friday morning a ballistic missile headed toward Najran.
The missile was spotted at 00:39 Saudi time and was said to be fired by the Houthi militia in Yemen.
The Houthis deliberately fired the missile toward Najran, targeting civilian and populated areas, coalition spokesman Turki Al-Maliki said in a statement released by the official Saudi Press Agency.
Debris from the missile landed in residential areas of Najran without causing casualties, Al-Maliki said.
He added: "This hostile act carried out by the Iranian Houthi militia proves that the Iranian regime is still providing the terrorist Houthi armed militia with qualitative capabilities, in flagrant defiance of UN Security Council Resolution 2216 and 2231, with the main objective of threatening Saudi Arabian, regional and international security."
He concluded: "Launching ballistic missiles at densely populated civilian areas is a direct breach of the principles of the international humanitarian law."
The Houthi militias claimed the attack via their news outlet Al-Masirah, saying the "Badr 1" missile had targeted Najran.
The Iranian-backed Houthis have fired a number of missiles over the border at Saudi cities, including the capital, Riyadh, in breach of international laws banning the targeting of civilian areas.
On Thursday, Saudi forces also intercepted a ballistic missile fired by the Houthi militia toward the border province of Jazan.
The ballistic missile was launched from the Houthi strong-hold province of Saada.
And on Wednesday, UAE coalition forces intercepted two boats in the Red Sea being used by the Houthis to target a tanker.
Saudi Arabia has since March 2015 led a coalition of Arab states fighting to roll back the Houthis in Yemen and restore its neighbor's internationally recognized government to power.
So far, the Houthis have launched over 130 missiles at Saudi cities and installations.
Arab coalition allows aid group to enter Yemen
For the second time in less than a month, the Saudi-led Arab coalition has allowed Al-Balsam International Organization to enter Yemen to provide needy patients with free medical services, in coordination with the country's legitimate government.
A medical team from Al-Balsam will leave for Yemen in the coming days, the coalition said.
Earlier in May, the organization successfully treated heart patients in the country, performing surgeries including open heart surgery and catheterization.
This is part of ongoing coalition efforts to facilitate the entry of international humanitarian organizations into Yemen to alleviate suffering caused by Iran-backed Houthi militias, which continue to destroy and damage infrastructure and health facilities, and loot humanitarian aid to blackmail Yemenis.
Full report at:
http://www.arabnews.com/node/1309341/saudi-arabia
--------
India
Muslim labour allegedly beaten in Bengal for not answering queries on PM, national anthem
May 25, 2018
A man was allegedly assaulted by four persons in a moving train in West Bengal, after he failed to reply to their queries on the prime minister and the national anthem, police said on Friday.
The victim, a migrant labourer, was on his way to Kaliachak in Malda district from Howrah on May 14, when the four persons got into the train and sat next to his seat after he had briefly deboarded at a station, a police officer said.
Upon his arrival, they suddenly started asking him questions about Prime Minister Narendra Modi, the national anthem and Chief Minister Mamata Banerjee, he said, adding, the man was roughed up when he could not reply to the queries.
The group later got down at Bandel station.
A local NGO - Bangla Sankriti Mancha - lodged an FIR yesterday against the accused, based on videos taken by co-passengers, Kaliachak Police Station Inspector-in-Charge Suman Chatterjee said.
An investigation into the matter is underway, Chatterjee said.
https://www.hindustantimes.com/india-news/muslim-labour-allegedly-beaten-in-bengal-for-not-answering-queries-on-pm-national-anthem/story-xsfdkcwbXOfdASL41KOCRP.html
--------
Muslim leaders raise questions on Amnesty International report on Myanmar
May 25, 2018
New Delhi: According to the recent report of Amnesty International, Rohingya Muslim militants in Myanmar killed dozens of Hindu civilians during attacks last August. The report has raised many doubts in the minds of justice-loving people. The report shows that it was communal riots; if it was a communal riot, the Hindus and Muslims were not forced to live on the borders of Bangladesh and India. If the Muslims had killed Hindus then why the Burmese's government remained silent so far.
General Secretary Muslim Majlis-e-Amal, Syed Tariq Bukhari said if any such report has been released it is meaningless. It is being tried to give communal colour to the Muslim massacre, while it was the worst example of state terrorism in which Hindus were also killed along with the Muslims. He said never in the social media reports the Hindu killing by Muslims was mentioned. The report tried to suppress oppressors' voice, he said.
Chairman Delhi Minority Commission Dr Zafarul Islam said that such report cannot be believed. He said Hindus of the region are also called Rohingyas; they were also massacred and the army was responsible for it. Burmese's forces are trying to give it communal colour to save themselves.
Full report at:
https://www.siasat.com/news/muslim-leaders-raise-questions-amnesty-international-report-myanmar-1360060/
--------
Social media hails Sikh cop who saved Muslim youth from mob
May 25, 2018
DEHRADUN: Social media was all praise for the action of a Uttarakhand cop after a video purportedly showed him saving a Muslim youth from a mob after the latter was allegedly found in a compromising position with a Hindu girl at a temple near Ramnagar in Nainital district.
ADG (law and order) Ashok Kumar said the incident occurred on Tuesday when a Muslim youth went to meet his girlfriend, a Hindu, at Garjia Devi temple about 15 km from Ramnagar.
Locals somehow came to know about it and reached the temple to "teach the duo a lesson", he said.
On being informed about a trouble in the area, Sub-Inspector Gagandeep Singh rushed to the spot where he found a mob preparing to attack the couple alleging that they had been found in a compromising position.
He immediately rushed to their rescue drawing the Muslim youth close to him to act as a shield to him, and in the process taking several blows from the mob on himself, the ADG said, adding the mob was dispersed and the couple was taken to a police station from where they were sent back to their families.
Five people whose faces are visible in the clip have been booked and a search is on to nab them. A reward of Rs 2,500 has been announced for Gagandeep Singh for his act of bravery, he said.
Singh's "courage" was hailed by the IPS Association as well.
"We salute the courage, compassion and presence of mind of our young colleague from Uttarakhand Police in saving a man from a lynch mob. SI Gagandeep Singh exemplifies the values that should guide every police officer," IPS Association said in a tweet.
Social media was buzzing with praise for the "brave" police officer.
"Cop Gagandeep Singh is a hero," a Twitter user wrote as he tweeted an image of Singh protecting the boy from the mob.
Full report at:
https://timesofindia.indiatimes.com/india/social-media-hails-sikh-cop-who-saved-muslim-youth-from-mob/articleshow/64324105.cms
--------
Religious Activity Can't be allowed on Court Premises: Vadodara Judge
May 26, 2018
Vadodara: Vadodara District Judge J C Doshi has asked the local bar association not to allow any kind of religious activity on the court premises, saying it violates "principles of secularism".
Doshi stated this in a letter to Baroda Bar Association president Nalin Patel, after two rooms in the newly-constructed court building were opened to allow Muslim lawyers to offer namaaz.
"As the judiciary represents the Indian state, showcasing the symbology of one particular religion amounts to violating the principle of secularism," Doshi said in the letter, which was shared with media by Patel.
Earlier, Kedar Biniwale, secretary of the BBA, had provided two rooms to Muslim lawyers for offering prayers during the ongoing month of Ramazan, which some members of the association had opposed.
Biniwale argued that there was no mosque nearby where Muslim lawyers could offer prayers.
However, judge Doshi said in the letter that India is a secular country, and "fundamental rights make it a constitutional mandate for the state not to discriminate on the basis of religion".
Full report at:
https://www.news18.com/news/india/religious-activity-cant-be-allowed-on-court-premises-vadodara-judge-1760249.html
--------
Infiltration bid foiled, 5 terrorists killed in Kashmir
May 26, 2018
SRINAGAR: At least five terrorists were killed in a gunfight with the Indian Army on the Line of Control (LoC) after an infiltration attempt from across the de facto border with Pakistan was foiled early on Saturday, officials said.
The operation, which is still in progress, was launched in north Kashmir border area of Tanghdar, around 120km from here.
"Five terrorists killed while attempting to infiltrate early morning today," a defence spokesperson said.
https://timesofindia.indiatimes.com/india/infiltration-bid-foiled-5-terrorists-killed-in-kashmir/articleshow/64327491.cms
--------
NIA files chargesheet against LeT operative Sheikh Abdul Naeem, 9 others
May 25, 2018
NEW DELHI: The National Investigation Agency on Friday filed a chargesheet against Lashkar-e-Taiba operative Sheikh Abdul Naeem and nine others for conspiring to revive the activities of LeT in India and carry out major attacks on the directions of Pakistan and Saudi Arabia-based handlers.
Those named in the chargesheet include Naeem, a resident of Aurangabad (Maharashtra), Bedar Bakht from Bihar, Towseef Ahmad Malik from Pulwama (Kashmir), two Muzzafarnagar-based jewelers Dinesh Garg and Adish Jain, a Pakistani national Amzad, one Mohammad Imran from Muzzafarnagar and three operatives based in Saudi Arabia– Habib-ur-Tahman, Gul Nawaz and Javed Ahmed.
Naeem was caught in November last year after his escape from police custody in 2014.
A NIA spokesperson said that Naeem has been receiving funds from the main operatives of Lashkar-e-Taiba (LeT) based in Pakistan and UAE for terrorist activities in India and was using the same to establish hideouts, recruit people for LeT and to do reconnaissance of targets in India.
He said that after his escape in 2014, Naeem remained in telephonic (voice and VOIP calls) and internet (Nimbuz) contacts with his handlers of LeT including Abdullah Rashid alias Wali of Faisalabad, Pakistan.
Naeem established hideouts at various places including Varanasi, Gopalganj, Cuttack and Delhi with the help of co-accused persons namely Bedar Bakht and Towseef Ahmad Malik. They helped him with shelter, logistics, mobile phones and SIMs. They also received, collected and raised funds for Naeem and facilitated in assuming a fake identity as Sohel Khan," said NIA Spokesperson.
Naeem also visited Kashmir during May-June, 2017 where he contacted active Pakistani LeT terrorists Abu Maaz and Abu Muslim and stayed at the home of accused Towseef Ahmad Malik in Chandgam, Pulwama on many occasions.
"He introduced himself to accused Towseef Ahmad Malik as Hamid, resident of Pakistan. Naeem motivated Towseef to work for the LeT," he said.
Full report at:
https://timesofindia.indiatimes.com/india/nia-files-chargesheet-against-let-operative-sheikh-abdul-naeem-9-others/articleshow/64321561.cms
--------
Sheikh Hasina asks India for help in urging Myanmar to take Rohingyas back
May 25, 2018
Bangladesh Prime Minister Sheikh Hasina, who is on a two-day visit to India, requested PM Narendra Modi for help in urging Myanmar to take Rohingya Muslim refugees back, news agency ANI reported. Speaking at the convocation ceremony of Visva Bharati University, She said her country had allowed the refugees to enter on humanitarian grounds but wants to repatriate them as soon as possible.
"Rohingyas have taken shelter in Bangladesh. We've given them a place on humanitarian grounds. We want them to return to their country as early as possible. I request you to help us to interact with Myanmar so that they take Rohingyas back," she said.
At the inauguration ceremony of Bangladesh Bhavan, PM Modi said India and Bangladesh are two separate countries bonded by cooperation and understanding. "Be it culture or public policy, the people of the two countries get to learn a lot from each other," the prime minister said. One such example is Bangladesh Bhavan, added Modi.
Aiming at strengthening culture and history of both the countries, PM Modi said the government will take the responsibility to even renovate the residence of Rabindranath Tagore "Kuthibaari" in Kushtiya district of Bangladesh.
"Like we have inaugurated the Bangladesh Bhavan in West Bengal, we have also taken the responsibility to renovate the residence of Ravindra Nath Tagore "Kuthibaari" in Kushtiya district of Bangladesh," PM Modi said.
Modi said India and Bangladesh have written a "golden chapter" in recent years by solving issues that were earlier considered impossible to solve.
The two leaders are likely to hold bilateral meetings later in the day. Bangladesh information minister Hasanul Haq Inu said enhancing cultural co-operation is the prime agenda of Hasina's visit.
Full report at:
http://indianexpress.com/article/india/bangladesh-pm-shiekh-hasina-seeks-indias-help-in-urging-myanmar-to-take-rohingya-muslim-refugees-back-5190874/
--------
Lakhvi's son's van ferried us till LoC, says arrested jihadi
Rohan Dua
May 26, 2018
LUCKNOW: Riding a Toyota Coaster and carrying Rs 6 lakh, a bagful of dates and almonds, and cutters is how a batch of six Lashkar-e-Taiba (LeT) terrorists reached Kupwara this March to lay siege.
The National Investigation Agency (NIA) has managed to trace their route from Muzafarrabad in Pakistan after interrogating Zaibullah, the 20-year-old lone survivor of the terrorist squad caught during an anti-terror operation in Kupwara on March 20. His associates were killed.
Their route included halts at two locations in PoK (Dudhniyal and Tezia), Sarbal on the Indian side of the LoC and four areas near Indian Army posts till the forests of Tushan Bala Jugtiyal and Halmatpora in Kupwara.
"After completion of the last leg of training, Huzefa (head of LeT training) selected the six of us. We were given AK-47s, 1kg almonds and dates, five bottles of honey, some 20 chapatis and Rs 1 lakh each in Indian currency by Kasim Bhai, the son of Zakiur Rehman Lakhvi," Zaibullah said. Lakhvi is the operational commander of LeT and mastermind of the 26/11 attack.
They were first taken in Lakhvi's son's Toyota Coaster from Muzaffarabad to Sarwal. "It took us two days to reach the LoC. That night, we cut the fencing. Five others had come to help us and they left us at the LoC. Then we started with the journey with the help of a GPS till we reached Indian Army post Ding," Zaibullah revealed.
He said they used the forests of Kupwara as a hideout for 15 days. Some local Kashmiris helped them to get ration. "On March 12 evening, we reached the house of Altaf and Bila. Our group leader Wakas paid them Rs 13,000 to buy dal, biscuits, utensils and milk powder. We stayed there for six days. On March 18, we moved to the next village, Fateh Khan, where people initially refused to host us. However, one gave us shelter and food," Zaibullah said.
He said that on March 20, the Army cordoned off the area and started firing.
Full report at:
https://timesofindia.indiatimes.com/india/lakhvis-sons-van-ferried-us-till-loc-says-arrested-jihadi/articleshow/64325815.cms
--------
Europe
French mayor refuses to dismantle makeshift Ramadan tents despite court order
May 25, 2018
Judges ruled the prayer halls had been set up illegally, but the official insists that removing them would trigger religious tensions and upset the local Muslim community.
The tents, which serve as makeshift prayer halls during Islam's holy month, have been a fixture in the Basse council estate in Sevran for 15 years.
They have been set up in a parking lot located on the estate which is owned by the social housing provider Logirep for the past four years.
This year, however, Sevran mayor Stéphane Blanchet "forgot" to officially ask Logirep for the permission to use their parking lot, triggering a legal dispute he warns could anger the local Muslim community.
Last week, an administrative court in Montreuil ruled the Ramadan tents had been set up "illegally" and were a "grave" violation of Logirep's property rights.
Judges added the town would be fined £1,700 (€2,000) a day if it did not dismantle the tents and reuse the space as a parking lot.
Mr Blanchet told the court that Sevran did not have its own mosque and that taking down the Ramadan tents would "pose a threat to public order". He then issued a requisition order for the space.
He said: "There is no mosque in Sevran. And while I am not implying that worshippers will turn into rioters, I do fear that many locals will be bitterly disappointed if we remove the tents.
"I refuse to add fuel to the fire."
Mr Blanchet added the atmosphere in Sevran had been "electric" when local Muslims found out that the court had ruled in Logirep's favour and ordered officials to demolish the prayer tents.
A social worker told the French daily Le Parisien: "Youths, during Ramadan, don't smoke and don't eat, so let's just say some of them are a little bit on edge. And so if we take away the only place they can go to to pray, clashes will erupt.
Mongi Boubaker, a Sevran local, told France Bleu radio: "Logirep is making a grave mistake: Ramadan is a month of peace for Muslims, and so they should be left in peace."
Ramadan, which began on the evening of Tuesday May 15 and will end on the evening of Thursday June 14, is the holiest month of the Islamic calendar.
During this month, practicing Muslims abstain from food, drink and sex during daylight hours, a discipline intended to better their souls.
https://www.express.co.uk/news/world/965204/france-news-paris-mayor-ramadan-tents-islam-muslims-court-order-sevran-seine-saint-denis
--------
UN: French anti-terror laws risk marginalizing Muslims
25.05.2018
By Fatih Erel
GENEVA
A UN human rights expert on Friday raised concerns about possible effects of France's new anti-terrorism laws on fundamental human rights, especially for the country's Muslims.
"These laws may disproportionately affect, stigmatize and further marginalize citizens of the Muslim faith," said Fionnuala Ni Aolain, UN's special rapporteur on the protection of human rights while countering terrorism.
In a statement, she called the French government to devise an independent body to "oversee counter-terrorism and exceptional national security powers in the country".
Her report follows a nine-day visit to the country from May 14 to 23.
France's new anti-terrorism legislation entered into force on November 1, 2017, formally ending a state of emergency that had lasted almost two years after the Paris attacks.
The law which gives authorities vastly expanded powers to search homes, restrict movement, and close places of worship, is set to replace the state of emergency.
Under the new law, police could carry out house raids and searches without a warrant or judicial oversight, including at night. It also gives officials extra powers to skip usual judicial processes and place people under house arrest.
The bill also allows for restrictions on gatherings and closing places of worship.
"It is clear that the French Muslim community has been the community primarily subject to exceptional measures both during the state of emergency and the new law in tandem with other counter-terrorism measures," she said, underlining the closure of mosques as an encroachment on exercising religious freedoms.
Full report at:
https://www.aa.com.tr/en/europe/un-french-anti-terror-laws-risk-marginalizing-muslims/1156693
--------
Britain should welcome more Ahmadiyya Muslims from Pakistan
May 26, 2018
Britain should welcome more refugees from a community of Muslims who have fled "abhorrent" abuse in Pakistan, a former cabinet minister has said.
Sir Ed Davey called on the Home Office to improve training to ensure officials better understand why Ahmadiyya Muslims should have asylum applications approved.
He added the United Nations' genocide prevention team should investigate abuse against the community in Pakistan.
Labour MP Hugh Gaffney (Coatbridge, Chryston and Bellshill) also raised the case of Glasgow shopkeeper Asad Shah, who was murdered in a brutal attack in 2016 for being an Ahmadiyya.
Mr Shah was stabbed to death by Sunni Muslim Tanveer Ahmed who claimed he had "disrespected the messenger of Islam, the Prophet Muhammad".
Mr Gaffney said: "His death shows we have much to do to raise awareness and increase support for that minority group. He was a brilliant man loved by everybody in his community."
Sir Ed, speaking in the same Commons debate, said police and local authorities need to be "very strong" in preventing and dealing with hatred towards Ahmadiyya Muslims.
He added: "I also think of the Ahmadiyya Muslim Pakistani people who have fled from Pakistan who are refugees in refugee camps around the world, and I do not believe we're taking enough of them into this country.
"I know it's a Home Office issue but I'd ask (Foreign Office minister Mark Field) if he could confirm he will go to the Home Office and say can this country take more Ahmadiyya Muslims who are sitting in refugee camps, forgotten, or let's not forget them. "If we're going to take anything from this debate, let's take some small steps that are under our control and let's revisit the country guidance about how Home Office officials are trained to consider asylum applications from Ahmadiyya Muslims in Pakistan.
"Let's make sure that is properly dealt with so people understand what Ahmadiyya Muslims are having to put up with in Pakistan."
Sir Ed earlier said of the abuse aimed at the community: "This persecution, yes it is state permitted but it is actually ubiquitous in Pakistani society and it is that that I find most frightening."
He went on to tell MPs that what was happening to the Ahmadiyya Muslims "rang awful bells" with what happened to the Jewish populations of Europe under Nazism.
He said: "While we should not throw away that word too freely I do think maybe the UN Office for Genocide Prevention needs to do a study."
Responding to the debate on behalf of the Government, Foreign Office Minister Mark Field told MPs that he would raise the issue of Ahmadiyya persecution "to a greater degree" with the Pakistani government.
He said: "I do accept that perhaps we do need to do a little more, indeed publicly as well."
Full report at:
http://www.asianimage.co.uk/news/16249909.Britain_should_welcome_more_Ahmadiyya_Muslims_from_Pakistan/
--------
Muslims in Italy: First time under the Crescent Star
May 26, 2018
People were slowly heading to the area. It was around 9:30 p.m. as the sky was readying to blend into darkness in the elegant Italian city of Milan. No, people were not heading to a high-end fashion show or a classy painting exhibition with their $1,000 jewelry and expensive clothing.
The destination was Casa Della Cultura Islamica Milano, which simply translates into English as the Home of Islamic Culture. While the fourth day of Ramadan neared its end, Muslims from Africa, Middle East and Europe gathered in the mosque.
The azan, or call to prayer, is recited. It is time to break the fast. Following the meal, Muslims stand to pray shoulder-to-shoulder and side-by-side. One of the Muslims in the row was Shawki from Egypt. The journey began in 2005 for him.
Embarking on an adventure 13 years ago, the 34-year-old picked out Italy in a series of options to kick off a new life. Well, life is all about unexpected events, and Shawki's first years in Milano were beyond challenging. "Just like everyone in this mosque, I came here to find a better life. However, the language was an obstacle, and my documents were missing. I had difficulties," he said.
A family to support him day in and day out did not exist either. Shawki was single after all, yet the decision had already been made, and he had arrived in the country. "I was having trouble finding a job and earning money, but I had to face these challenges."
In the wake of his efforts over the course of these 13 years, life is treating him much better. When asked about the state of his living conditions, the Egyptian said: "Alhamdulillah [Thank God]."
Shawki, just like hundreds of Muslims that night, prayed under the Turkish flag. Indeed, the fast-breaking meal was organized by the Turkish Cooperation and Coordination Agency (TİKA). Far from being bothered by the presence of the Turkish flag in the mosque, Shawki was overjoyed. "Even seeing the Turkish flag is enough reason for us to be happy. Thank God you are here."
Turkey's initiative by way of TİKA projects in Italy is new. For years, the Turkish government had little presence in Italy, a country that is geographically and economically very close to Turkey. As of 2016, Turkish-Italian bilateral trade was nearly $18 billion. Furthermore, around 1,500 Italian companies operate in Turkey, while 53 Turkish companies do business in Italy.
What is more, diplomatic ties between the two countries are way better than with other European Union member states. Through the current angle of circumstances, the door may be open for TİKA to expand activities in the country.
Aside from African and Arab Muslims praying there that night, Italians who converted to Islam were present. Alberto is one of them. He believes the relatively large Muslim community in Italy, and above all in Milano, could be an opportunity for Turkey, yet in a careful way. "It is definitely a chance for Turkey to grow influence among Muslims, which is already high, but it should not be exploited," he argued.
As Turkey's first-ever fast breaking meal was wrapped up, Muslims were all smiles. In a rich and glamorous city like Milano, the Muslim community seemed to have felt embraced in a very long time. That being said, the Milano event was not the end of the road for the Turkish agency.
The next chapter was in one of the best historically preserved cities across the globe: Rome. One does not easily run into a mosque in the Italian capital. Yet, Muslims do have a mosque. The Mosque of Rome is located quite far away from the city center though.
It marked the second fast-breaking meal in Italy in a week by TİKA. Completing the evening prayer, Muslims, mostly Africans and Arabs again, flocked to the building inside the complex of the Mosque of Rome.
It took the Muslims only around 10 to 15 minutes to finish off the meal, yet the impact of the Turkish event would continue to live with them for some time. As one after another headed to the exit to bring the evening to a close, an Arab had everyone turn his or her heads. He was shouting out loud. He was angry. It was as if he brought up his frustration.
"Down with the Saudis," he shouted. "Turkey is 'numero uno'." His words landed like a bombshell. Well, it was bare dissatisfaction. It was simultaneously both to the astonishment and liking of the Turks present at the event.
TİKA's East and Southeast Asia, Pacific and Latin America Department head Rahman Nurdun, who was also present in Milano and Rome, thinks the gratitude and love they have received in Milano and Rome from Muslims simply point to Turkey's prestige. "It was immensely significant for us. It shows to which levels Turkey's activity and prestige have reached in the Islamic region," he said.
Indeed, the Muslim community feels isolated and alienated in Italy, above all across Europe, due to the rising Islamophobia and xenophobia. At a time when their angst grows day-by-day, Arab countries seem to let them down. Turkey's initiatives, in this respect, may pay dividends if they are carried out on a consistent basis.
TİKA's Nurdun seems aware of it. "It was necessary to come here and do something in the recent period when Islam is introduced in a wrong and bad way and Islamophobia gradually grows in Europe."
As Turkey's first Ramadan quest in Italy comes to an end, the first experience is far from a letdown and failure. On the contrary, the Turkish agency has more than enough reasons to be content with the outcome.
Full report at:
https://www.dailysabah.com/feature/2018/05/26/muslims-in-italy-first-time-under-the-crescent-star
--------
Mideast
Iran nuclear deal signatories meet for first time since US pullout
May 25, 2018
Signatories of the Iran nuclear deal meet with the Islamic republic in Vienna on Friday in a bid to save the agreement two weeks after Washington's dramatic withdrawal.
For the first time since the deal came into force in 2015, China, Russia, France, Britain and Germany will gather -- at Iran's request -- without the United States, which pulled out on May 8.
US President Donald Trump has long trashed the deal with Iran -- concluded under his predecessor Barack Obama -- saying it did not do enough to curtail Tehran's nuclear ambitions.
He also said it did not go far enough in restricting Iran's ballistic missile programme, or its intervention in regional conflicts from Yemen to Iraq and Syria.
Since the US's pull out, the other signatories have since embarked on a diplomatic marathon to try to keep the agreement afloat.
According to a report seen by AFP Thursday, an International Atomic Energy Agency report shows Iran is still abiding by the deal's key restrictions on its nuclear facilities in return for relief from damaging economic sanctions.
The IAEA, however, is "encouraging (Iran) to go above and beyond the requirements" of the deal in order to boost confidence, said a senior diplomat in Vienna, where the IAEA is based.
Iran said it is waiting for concrete measures from the EU nations before it decides whether the deal can be saved, while threatening to restart its uranium enrichment programme at an "industrial level" if not.
The five signatories still committed to the agreement have said they want Iran to stay in the deal, with the European countries saying they would not rule out further talks with the Islamic Republic on an expanded text.
However, several Iranian officials warned that the Vienna meeting would be devoted to the existing agreement only, implying that there was no question of broadening the discussions.
https://nation.com.pk/25-May-2018/iran-nuclear-deal-signatories-meet-for-first-time-since-us-pullout
--------
Over 5000 American Professors, Activisits, Politicians Voice Readiness to Testify for Iran's Innocence in 9/11 Appeal Case
May 25, 2018
"We (over 5000 US professors, experts and politicians) are willing and ready to provide court testimony in support of Iran's innocence; the extremely weak case against Iran is predicated on the 9/11 Commission's version of events, according to which 19 alleged hijackers (15 of whom were Saudis, and none of whom were Iranians) precipitated a series of miracles, including gross violations of the laws of physics. we can prove absolutely, beyond any reasonable doubt, that this version of events is false, thereby nullifying the case against Iran," the statement said.
The signatories of the statement underlined their firm belief that by strongly contesting this matter in a US court, Iran can win a major media victory over its enemies, and will likely win the legal case as well, adding, that for while the US courts can be corrupt, they follow procedural rules, and create legal records, that will in this case make it very difficult for the anti-Iran forces to achieve their objectives.
They said that the alternative—not contesting the judgment—hands the anti-Iran forces a victory that they do not deserve, adding that for although they have no valid evidence against Iran, if Iran fails to defend itself, it appears to be admitting guilt.
"We believe that the following organizations would likely be available to assist with Iran's defense, whether in the capacity of expert witnesses or as friends of the court; Architects and Engineers for 9/11 Truth (https://www.AE911Truth.org), Consensus 9/11 (http://www.consensus911.org), Scientists for 9/11 Truth (http://www.scientistsfor911truth.org)," the signatories of the statement said.
"We urge the government of Iran to contact Mr. Mick Harrison Esq. of the Lawyers Committee for 9/11 Inquiry" who, in his capacity as a private attorney, may be able to help the Islamic Republic of Iran take the initial steps toward assembling a legal team to appeal Judge Daniels' ruling in advance of the May 28 deadline:
Lawyers Committee for 9/11 Inquiry https://www.lawyerscommitteefor9-11inquiry.org (which on April 10 filed a 54-page petition for a grand jury investigation of 9/11 with the U.S. Attorney of the Southern District of New York).
The signatories include David Ray Griffin, Professor Emeritus, Claremont School of Theology; author of 13 books on 9/11, Richard Falk, Professor of International Law, Emeritus, Princeton University, Cynthia McKinney, Ph.D., six-term congresswoman (D-GA) and Green Party candidate for President of the United States (2008), Graeme MacQueen, Associate Professor of Religious Studies (retired), McMaster University; former Director of McMaster's Centre for Peace Studies and author of numerous articles on 9/11, Mark Crispin Miller, Professor of Culture and Communication, New York University, Piers Robinson, Professor of Politics, Society and Political Journalism, Niels Harrit, Ph.D., Associate Professor (retired), Dept. of Chemistry, University of Copenhagen, Denmark, Oliver Boyd-Barrett, Professor Emeritus of Journalism, Bowling Green State University, Anthony J. Hall, Ph.D., Professor of Globalization Studies, University of Lethbridge, Tony Szamboti, ME, former Lockheed Martin and BAE Systems mechanical design engineer, Ibrahim Soudy, PhD, PE, SE, PEng, Structural Engineer, Ian Henshall, author, 911 The New Evidence, Sander Hicks, Candidate, US Congress, www.hicksforcongress.com, Michael Santangelo, Co-Facilitator for Truth Action Project, New York City, Kevin Barrett, Muslim-Jewish-Christian Alliance for Truth; author, Questioning the War on Terror, www.scientistsfor911truth.org Scientists for 9/11 Truth Science professionals seeking new and independent investigations into the attacks of September 11, 2001, In early May, Southern District Court of New York issued a default judgment requiring Iran to pay more than $6bn to victims of the September 11, 2001 attacks that killed almost 3,000 people, court filings show.
The US court's ruling came despite the fact that official investigations found no evidence of Iranian involvement.
The Southern District Court's ruling "found the Islamic Republic of Iran, the Islamic Revolutionary Guard Corps, and The Central Bank of the Islamic Republic of Iran" liable for the deaths of more than 1,000 people as a result of the September 11 attacks. Judge George B Daniels of the Southern District Court of New York said that Iran is ordered to pay "$12,500,000 per spouse, $8,500,000 per parent, $8,500,000 per child, and $4,250,000 per sibling" to the families and estates of the deceased.
A 4.96 annual interest rate will also be applied to the amount, starting from September 11, 2001 to the date of the judgment.
A default judgment is issued when a defendant does not contest the case in court.
Daniels issued other default judgments against Iran in 2011 and 2016 that ordered the Islamic Republic to pay victims and insurers billions of dollars for damages and deaths in the hijacker attacks.
Iran has rejected all cases, but it says it doesn't recognize the US courts for judging such cases.
Though the lawsuit alleged Iran supported the hijackers with training and other assistance, no Iranian involvement in the attacks has ever been substantiated.
The 9/11 Commission, which was tasked with preparing a "full and complete account of the circumstances surrounding" the attacks, found no evidence of Iranian support.
Saudi Arabia remains the main target of US citizens looking for damages in relation to the attacks.
The judgment against Iran was issued in a court case consisting of more than 40 lawsuits that have been consolidated over the years.
Plaintiffs allege that Saudi Arabia provided material support to the 19 hijackers who crashed commercial airliners into the World Trade Center in New York and the Pentagon in Washington.
Full report at:
http://en.farsnews.com/newstext.aspx?nn=13970304000253
--------
Turkey warns Israel against recognising Armenia killings
May 26, 2018
ANKARA - Turkey on Friday said Israel would only harm itself if it recognised the Armenian genocide because to do so would undermine the special status of the Holocaust.
"We think that Israel putting the events of 1915 on the same level as the Holocaust is harming itself first and foremost," Turkish Foreign Ministry spokesman Hami Aksoy told reporters in Ankara.
He was reacting after Israeli lawmakers on Wednesday approved plans to hold a plenary debate on "recognising the Armenian genocide".
No date has been fixed for the debate.
Armenians have long sought international recognition for the 1915-1917 killings in the Ottoman era as genocide, which they say left some 1.5 million of their people dead. Turkey - the Ottoman Empire's successor state - strongly rejects that the massacres, imprisonment and forced deportation of Armenians from 1915 amounted to a genocide.
"The events of 1915 are not a political issue but historical and legal," Aksoy said, without commenting further.
Some six million Jews were killed in the Nazi death camps during World War II.
Relations between Turkey and Israel have been tense in recent years and got worse after Israeli troops shot dead scores of Palestinians on the Gaza border and Washington moved its embassy to Jerusalem despite international criticism.
Full report at:
https://nation.com.pk/26-May-2018/turkey-warns-israel-against-recognising-armenia-killings
--------
Israeli soldiers injure 109 Palestinian protesters with live fire, tear gas in Gaza
May 25, 2018
Over a hundred Palestinian protesters have been injured at the border of the besieged Gaza Strip with the occupied territories by Israeli gunfire and tear gas, as the latest round of protesting rallies drew several thousand Palestinian demonstrators to the flashpoint frontier.
According to figures provided by the Gaza Health Ministry, on Friday, at least 109 demonstrators were injured, about 10 of whom by Israeli live fire.
The occupied territories have been the scene of new tensions ever since US President Donald Trump on December 6, 2017 declared Washington's recognition of Jerusalem al-Quds as Israel's "capital" and promised that the US would move its diplomatic mission to the city.
The highly provocative move caused outrage among Palestinians, who want the occupied West Bank as part of their future independent state with East Jerusalem al-Quds as its capital. Israel, on the other hand, lays claim to the whole city as its "capital."
In the hours leading up to the inauguration of the embassy in al-Quds on May 14, Israeli troops engaged in clashes with Palestinian protesters, killing over 60 unarmed demonstrators and wounding more than 2,700 others, either through direct shooting or firing tear gas canisters. The death toll is so far the highest in a single day since a series of Palestinian protests demanding the right to return to ancestral homes began on March 30.
The embassy inauguration also coincided with the climax of a six-week demonstration on the 70th anniversary of Nakba Day (Day of Catastrophe), May 15, when Israel was created and hundreds of thousands of Palestinians were forcibly evicted from their homeland by Israelis in 1948.
Gaza medical officials say 113 Palestinians have so far lost their lives by Israeli fire since the border rallies began in late March.
"The Marches of Return are not over. They may be smaller but we are continuing," said Ali, a participant who masked his face with his t-shirt at a protest east of Khan Younis in the southern Gaza Strip on Friday.
The Gaza Strip has been under an Israeli siege since June 2007, causing a decline in living standards as well as unprecedented unemployment and poverty there.
In addition, the Israeli regime has imposed increasing power cuts and shortages in fuel in the sliver, hugely disrupting water and sanitation services. Medicines and health equipment are also in dire short supply, straining an already fragile health system.
Full report at:
http://www.presstv.com/Detail/2018/05/25/562905/Palestine-Israel-wounded-protesters-Gaza-US-Trump-embassy
--------
UN voices concern over decline in Yemen imports amid Saudi restrictions
May 25, 2018
The United Nations aid chief has expressed concern over the decline of food imports to Yemen amid restrictions put in place by the Saudi regime, warning that a further 10 million Yemenis could be at risk of starvation by the year's end.
"I am particularly concerned about the recent decline of commercial food imports through the Red Sea ports," said Mark Lowcock, the UN emergency relief coordinator, in a statement read out to a Geneva briefing on Friday.
After three years of a Saudi-led campaign against Yemen, the United Nations says a record 22.2 million Yemenis are in need of food aid, including 8.4 million threatened by severe hunger.
On November 6, Saudi Arabia announced that it was shutting down Yemen's air, sea, and land borders, after Yemeni fighters targeted an international airport near the Saudi capital with a cruise missile in retaliation for the devastating campaign. The blockade has had a severe impact on Yemen, which traditionally imports 90 percent of its food. Under international pressure the coalition has reportedly lifted the blockade, but tightened ship inspections.
Lowcock said commercial food and fuel imports remained "well short of pre-blockade averages."
"If conditions do not improve, a further 10 million people will fall into this category by the end of the year," he warned.
Confidence among commercial shippers has eroded due to delays, "including as a result of inspections undertaken by the Saudi-led coalition after these vessels have been cleared by UNVIM," Lowcock said, referring to a UN verification system.
The UN aid chief also called on the government of former Yemeni President Abd Rabbuh Mansur Hadi "to take active steps to boost commercial imports of food, fuel and humanitarian supplies through all Yemen's ports."
Since March 2015, the Saudi regime has been heavily bombarding Yemen as part of a brutal campaign against its impoverished southern neighbor in an attempt to reinstall Yemen's former president Abd Rabbuh Mansur Hadi and crush the Houthi Ansarullah movement, which is in control of large parts of Yemen, including the capital. The Saudi campaign, however, has failed to achieve its goals.
The Yemeni Ministry of Human Rights announced in a statement on March 25 that the Saudi-led war had left 600,000 civilians dead and injured since March 2015.
Full report at:
http://www.presstv.com/Detail/2018/05/25/562888/UN-Yemen-imports-Saudi
--------
Yemeni army liberates new area in Taiz from Houthi grip
May 26, 2018
DUBAI: The Yemeni National Army liberated the Wadi Al-Jisr area, west of Taiz, following violent confrontations with the Iran-backed Houthi militia on Saturday, Saudi state-news channel Al-Ekhbariya reported.
The official Yemeni news agency quoted a military source as saying that "the confrontations led to the liberation of Wadi Al-Jisr, west of Taiz, during which the militias suffered heavy losses in men and equipment."
In the same context, the Yemeni army forces foiled a Houthi on the army's air defense positions.
http://www.arabnews.com/node/1309821/middle-east
--------
North America
Canada's mysterious Islamic State returnee looks frighteningly familiar
Denise Balkissoon
May 26, 2018
The question of what to do with the Islamic State member in our midst has been on Canadian minds ever since an episode of The New York Times podcast Caliphate a few weeks ago.
The unsettling series stars the dynamic reporter Rukmini Callimachi, one of the first journalists to cover the extremist group as it emerged and began to play a role in the Syrian war. It's a dangerous job that she professes to love, one that's involved face-to-face interviews with dozens of current and former Islamic State members.
One of those is the Canadian man at the centre of the podcast known as Abu Huzaifa al-Kanadi. Rumour has it that he lives in the Toronto area, and it's disconcerting to hear his story told by a twentysomething with the same accent and slang as any other kid from the Greater Toronto Area.
Huzaifa, as Ms. Callimachi calls him, is the son of Pakistani immigrants, moderate Muslims who discouraged him when he began parroting extremist YouTube pundits. In 2014, he told them he was going to their home country to study and spend time with his grandparents. Instead, he sneaked into Syria to join the Islamic State just after it declared its caliphate, or homeland.
His recounting of his experience there includes time spent "chilling" with other English-speaking recruits. Apparently shooting a Glock is just "like paintball." Then comes the infamous episode that invokes a physical reaction of angry nausea: In it, Huzaifa describes in detail how he personally killed "apostates," Islamic State resisters considered inferior Muslims.
The problem is that this seems to be different from what Huzaifa told the RCMP and CBC. Both have interviewed him since he defected, and CBC has him on record saying he's innocent of serious violence. But Ms. Callimachi was the first to talk to him after his return to Canada in 2016: Her take on the discrepancy is that he felt more confident back then that he'd escaped law enforcement.
The change in his story coincides with growing intelligence attention. Having purposely joined a violent terrorist group, Huzaifa is now unwilling to be arrested for being a terrorist.
For law enforcement, Huzaifa's story is about the need to have enough evidence before charging someone with a crime; for politicians, it's about the balance between maintaining open borders and tracking potential extremists.
As Ms. Callimachi details on the latest episode of Caliphate, it's also about journalistic quandaries, such as fact-checking complicated narratives and the ethics of protecting a source's identity after a bloody admission.
Yet another angle from which to consider the show is this: a seemingly bottomless pool of unmoored young men who first become prey, and then predator.
Former schoolmates told the Times that Huzaifa was a loner, an anti-social guy without many friends. He says himself that he felt like he disappointed his parents by not going to university and that fighting for the beleaguered Muslims of Syria seemed like it would give his life meaning.
Ms. Callimachi met him on Instagram, one of many platforms where the Islamic State spreads its propaganda. He was lured to the caliphate by a sophisticated recruiting set-up, after essentially making his decision to become a jihadist online.
His back story sounds uncannily similar to that of, say, Alexandre Bissonnette, described as a once "lonely teenager" who made frequent visits to racist far-right websites before allegedly shooting members of the congregation of a Quebec City mosque.
It's not terribly different than that of Toronto van-attack suspect Alek Minassian, who has been described as "socially awkward" and preoccupied with misogynist "incel" propaganda.
Huzaifa also has much in common with a legion of disaffected, internet-obsessed U.S. mass shooters. While their varying ideologies focus hate in different places, the lead-up to their alleged crimes follows a pattern.
In mid-May, Ms. Callimachi was on a panel at the University of Toronto's Munk School of Global Affairs with academics who study extremists. All were careful to say that, of course, not all unhappy or bullied young men become killers. Neither mental illness nor internet addiction makes a murderer.
But the journalist said one of her goals is to humanize recruits in order to understand them. And what her work shows is the vulnerability of many unremarkable young men, and what easy targets they are for well-crafted lures.
Law enforcement will decide whether there's enough evidence to charge Huzaifa for joining the Islamic State or other crimes, but dealing with him is just part of this challenge. We also have to figure out what to do with other young men so desperate for belonging – and with the would-be puppet masters whispering poison in their ears.
https://www.theglobeandmail.com/opinion/article-canadas-mysterious-islamic-state-returnee-looks-frighteningly/
--------
Muslim inmates say food, spiritual support during Ramadan is inadequate
May 25, 2018
Muslims in the Halifax area and around the world are observing Ramadan this month by fasting for 17 hours each day. At night, they come together to break their fast and eat a big nutritious meal to give them energy for the next day.
But Muslims in the Central Nova Scotia Correctional Facility in Burnside say they're struggling to get adequate food and spiritual guidance.
Two Muslim inmates spoke of their struggles to the CBC, which has agreed not to identify them because they fear retribution for speaking out.
"It has been hard because I do feel weak during the day and I'm sleeping a lot because I know I'm obviously not getting enough fruits and vegetables," said Ahmad, which is not his real name.
Calling for food changes
For the first time this year, the provincial jail in Burnside has someone who stays to cook two hot meals at night after the Muslims break their fast.
The inmates say that's a "positive move forward," but they're still not getting enough food — and the right types of food — to help them get through the day.
The inmates are having to save their breakfast, which is made up of cereal, milk and a fruit, and some other meals to eat in the evening for iftar, the time when people gather to break their fast.
"We're requesting to get some boxes of juice or some different fruits with more sugar in them, more natural sugars in them, and to get more vegetables to help us stay full through the day," said Ahmad, who, along with the other Muslims, wants the facility to understand how important the diet is for their spiritual journey.
Seeking spiritual support
The Muslim inmates are also struggling with not having an imam, or worship leader, to help guide them on the path of self-betterment.
"It's not about me, it's about the people," said Mohammad, one of the Muslim inmates awaiting trial. Mohammad is not his real name.
"I'm trying to remind myself and my brothers that we're fasting to think about the people who have been oppressed, who have no food and who are in worse positions than us."
So far, they've been allowed to listen to a religious sermon on YouTube, which they found to be helpful.
Mohammad said they were also able to get some printed material, but want more access to Islam's treasured literature, like the hadiths, which are crucial for anyone who wants to get a complete understanding of Islam.
"I'm trying to get some Islamic literature, because the main issue all year round — and I've raised this issue before — like, they don't have an imam or any volunteer from the Halifax area come in and teach the people," said Mohammad.
'Gap in the cultural and religious education'
El Jones, an activist and spoken word poet, says more education is needed in the correctional system.
"I think part of it is perhaps a gap in the cultural and religious education. This province is changing," she said. "We have a lot of people from different populations, so that maybe the provincial Justice [Department] aren't quite aware of some of the needs."
Jones has raised awareness about this on her Facebook page and says there has been a big response from the Muslim community.
Full report at:
http://www.cbc.ca/news/canada/nova-scotia/burnside-jail-muslims-ramadan-iftar-spiritual-guidance-nutritious-food-1.4677878
--------
From a humble start, this Toronto Muslim charity has grown to serve multitudes, as far away as N.W.T.
By NOOR JAVED
May 25, 2018
It's the middle of the day on a weekday afternoon, but with the hustle and bustle inside the Muslim Welfare Centre, one could think otherwise.
A line of people, some pulling shopping trolleys, make their way to the large food bank situated in a warehouse in a quiet strip mall at Markham Rd. and McLevin Ave. Some have taken the bus to get here; others have hitched rides with friends for their scheduled visit to collect a month's worth of halal meat and non-perishable ethnic groceries. Dozens of volunteers load the shelves and sort through boxes of donated clothes and furniture that has been dropped off.
"I heard from people that they are a good charity that helps widows," said Ambio Mahmood, the mother of seven who started using the food bank last year after the death of her husband. She makes the trek from Toronto's west end to come here once a month, as all clients are allowed. "They help me and my kids," she said. "They are really good people."
It was 25 years ago that the Muslim Welfare Centre's food bank had a humble start in a small 12-foot by 12-foot rented room in the same strip mall. It was the effort of retiree Major Muhammad Abbas Ali and his wife Sarwar Jahan Begum — who saw a need in their new homeland and wanted to do something to help.
Today, more than two decades later, the organization has become one of the most trusted charities in the Muslim community, running dozens of projects, most of which serve communities in the GTA. The charity also employs 55 full-time and part-time employees, and has a roster of hundreds of volunteers who regularly show up to help.
Its growth has been grasroots, and funded by donations from the community. Muhammad Iqbal Ali, whose parents started the charity in 1993, says initial donors were drawn to the organization's mandate of alleviating poverty in Canada first, before trying to solve problems abroad.
"My father was very committed to the idea that anyone who needs help should be helped, regardless of religion, or background," said Ali, who balances his role as vice-president of the board and full-time job as an engineer. "His guiding principal was: service to humanity is service to God," Ali said, adding that the motto is still the mission statement of the charity.
His father, known best as Major Abbas, was a retired army officer from Pakistan who began the charitable organization when he was 72 years old. "And at that time, when people were focused on donating to programs 'back home,' he felt that there was a need locally that should be addressed first," Ali said about his father.
Today, the Muslim Welfare Centre runs two large food banks in the GTA — one in Mississauga and one in Scarborough — which have become a lifeline for thousands of residents. Over 500 families visit the food banks every month. And since the Syrian refugees arrived nearly three years ago, the food bank has registered around 1,700 families into a regular rotation.
"Our food bank costs went up almost 70-80 per cent since the huge influx of refugees came in. We cater to refugees from everywhere," Ali said.
"We anticipated a big increase, but not this big," he said. "But thanks to our donors, so far we have not said no to anyone on the basis of capacity."
But the local food banks are just a small part of the charity's work. The organization also runs two weekly restaurant-style lunch programs in Malvern and at the Christian Resource Centre in Regent Park, which have served 80,000 meals over the past four years. They also run a halal meals on wheels program, a before-school breakfast program for nearly two dozen Toronto public schools, a free medical clinic for the uninsured and Durham Region's only women and children's homeless shelter. They also branched out in 2015, to open a food bank in Inuvik, Northwest Territories in co-operation with the Midnight Sun Mosque, the most northern mosque in Canada.
Last year, according to their 2017 annual report, the Muslim Welfare Centre raised over $3.8 million in donations. The numbers are humbling for Ali, who says that with the money comes immense responsibility.
"We try to be as transparent as possible, so that people can see exactly where the money they give us goes," he said. "We aren't a top-heavy organization. We want most of the money to go back to where the need is."
The seniors and students streaming into the TAIBU Community Health Centre in Malvern for a free lunch program are in for a West-Indian inspired meal: fish, dhaal, potato choka and rice.
The tables fill quickly, as volunteers, including uniformed Toronto police officers, serve food to the guests. The Malvern Eats program, which started in 2016, is a unique partnership between the Muslim Welfare Centre (MWC), Toronto police, the TAIBU centre, the Presbyterian Church, the Malvern Food bank and a neighbourhood organization called 1LoveMalvern.
"The lunch program bridges many relationships in the community," said Liben Gebremikael, the executive director of TAIBU. Especially in cases when students from nearby schools are served by police officers, "it's a very different dynamic that you won't find in many places," he said.
"The Muslim Welfare Centre is really a very dynamic organization … their programs touch upon all members of the community, the youth, the seniors, newcomers," Gebremikael said. "And when they are out there serving, they are serving everybody. It doesn't matter if you are Muslim or not. And that also builds bridges."
The first major partnership was established early in the charity's history, when Major Abbas used donations to buy a small building in Durham to open a culturally diverse shelter for women and their families fleeing abuse.
In 1996, they reached out to Durham Region for some funding, and eventually entered into the agreement to run the region's only emergency shelter for women and children facing homelessness. The charity also runs the region's motel programs, which provide shelter for families who need accessible care or who have older male children.
"We have a good working relationship with them," said Diana Chappell, who works in the social services department in Durham. "And they have a really good relationship in the community … they have definitely made their mark in Whitby. It's all very positive."
Major Abbas died in 2009 when he was 87.
"It was a real challenge for us. There were people thinking now that the founder is gone, the charity might not last," Ali said. It was during this time that Ali joined the organization in a more official capacity.
And so the work continued. Within a year of Major Abbas's death, the charity launched a nutrition program for schools in the Toronto District School Board, and a weekly free medical clinic for the uninsured. "I think people realized that the principles the charity had been started on had not been abandoned," he said.
Ali admits the organization's success over the past decade has come from bringing in youth and new ideas. "Many charities do not want to really let younger people come up with idea and put those ideas into practice and allow them to run those projects. Many organizations don't want to take that risk. We love to work with younger folk, because we allow them to think and put their ideas into practice — and give them a lot of free reign and liberty," he said.
Engaging social-media-savvy youth has paid off in getting noticed, and support from all levels of government.
Last year, as Ramadan was almost over, the Muslim Welfare Centre received a phone call from the Prime Minister's Office asking if they could host an event making food baskets for some of the city's needy, through Project Ramadan, one of the programs run by the organization. The organizers quickly obliged, setting up the event at a few days notice to accommodate Justin Trudeau, MPs and leaders from across the GTA.
This year, Mayor John Tory, Premier Kathleen Wynne and a number of other MPPs have already participated in Project Ramadan in the GTA. The charity also ran an event on Parliament Hill in April — which brought out MPs and senators from across party lines to help build 100 food baskets for the Ottawa food bank.
Ali says despite the "overwhelming" amount of programs and projects on the go on any given day, the charity has no plans to slow down. The organization's next two priorities are working with First Nations, and eventually building a nursing home to serve the Muslim community in the GTA.
Full report at:
https://www.thestar.com/news/gta/2018/03/21/from-a-humble-start-this-toronto-muslim-charity-has-grown-to-serve-multitudes-as-far-away-as-nwt.html
--------
Judge set to order proper meals for Muslim inmates in Alaska
May 25, 2018
A judge plans to issue an order Friday requiring that an Alaska jail provide suitable meals to Muslim inmates as they break their daily fasts during Ramadan. US District Court Judge H Russel Holland said at a hearing Thursday that the emergency order generally will resemble a request made by two Muslim inmates who are being held at the Anchorage Correctional Complex. The men asked the judge to order the jail to provide them with nutritionally adequate, pork-free food during Ramadan.
The Council on American-Islamic Relations Legal Defense Fund, on behalf of the men, sought the emergency order and sued state corrections officials this week, arguing that the inmates are not provided adequate nourishment as they break their daily fasts during Ramadan. The Muslim holy month began on May 16 and will end on about June 15, the lawsuit states.
Those observing Ramadan receive bagged meals each evening that range from about 500 and 1,100 calories a day, when the men should be receiving 2,600 to 2,800 calories a day under federal health guidelines, the lawsuit states.
An attorney for the state, Matthias Cicotte, disputed the allegations that the prisoners were deprived.
Full report at:
http://indianexpress.com/article/world/us-judge-set-to-order-proper-meals-for-muslim-inmates-in-alaska-5190775/
--------
US House bans Trump from declaring war on Iran without Congress's approval
May 25, 2018
The US House of Representatives has unanimously passed an amendment that bans President Donald Trump from declaring a war on Iran without the Congress's approval.
The bipartisan amendment received on Wednesday approval from the House as part of the US National Defense Authorization Act of 2019.
The amendment, introduced by Democratic Representative Keith Maurice Ellison and cosponsored by a number of other Democratic as well as Republican lawmakers, made clear Congress's position that no law exists which gives the president power to launch a military strike against the Islamic Republic.
The announcement came two weeks after Washington unilaterally walked out of a multilateral nuclear agreement, officially known as the Joint Comprehensive Plan of Action (JCPOA), signed between Iran and major powers in 2015. The move was construed by many as a declaration of war against Tehran.
"The unanimous passage of this bipartisan amendment is a strong and timely counter to the Trump administration's withdrawal from the Iran deal and its increasingly hostile rhetoric," Ellison said.
"This amendment sends a powerful message that the American people and Members of Congress do not want a war with Iran. Today, Congress acted to reclaim its authority over the use of military force," he added.
Congresswoman Barbara Lee threw her support behind the measure and said, "I am pleased with the inclusion of this amendment, which clarifies that the President does not have the authority to go to war with Iran."
"Just weeks after President Trump shamefully pulled out of the Iran Deal, it is more important than ever to ensure diplomacy with Iran and in the region. I am proud to be a cosponsor of this important amendment and will do everything in my power to ensure we do not go to war with Iran," she noted.
Jan Schakowsky, a Democrat from the US state of Illinois, also said, "This amendment's historic passage affirms the fact that the American people do not want to go to war with Iran."
"Following the President's misguided withdrawal from the JCPOA, the House of Representatives sent a clear message by passing this amendment unanimously: unauthorized war with Iran is not an option. The President must listen to the American people and return to diplomacy as the primary solution to Iran's nuclear ambitions," she added.
Since the JCPOA Implementation Day in January 2016, the International Atomic Energy Agency (IAEA) has been monitoring Iran's compliance with its nuclear-related commitments under the nuclear deal and has consistently verified the Islamic Republic's compliance.
President Trump announced on May 8 that Washington was walking away from the nuclear agreement which was reached between Iran and the five permanent members of the UN Security Council - the US, Britain, France, Russia and China - plus Germany.
Trump also said he would reinstate US nuclear sanctions on Iran and impose "the highest level" of economic bans on the Islamic Republic.
Iran has said it would remain in the JCPOA for now, pending negotiations with the other signatories in the coming weeks before making a final decision on its future role in the agreement. Tehran wants the Europeans to give it clear-cut guarantees about fulfilling their obligations if it remains in the accord.
Full report at:
http://www.presstv.com/Detail/2018/05/25/562896/US-House-Representatives-war-Iran-Donald-Trump-JCPOA
--------
South Asia
One family, four countries - the dispossession of the Rohingya
May 26, 2018
Aidan JONES, Redwan AHMED - It takes a few moments to sift through the years of chaos and dislocation before Rohingya refugee Robi Alam settles on the Muslim holiday of Eid al-Fitr, August 2012, as the last time he saw his seven brothers together in Myanmar.
"We were still a family then under one roof, in one country," the 16-year-old says, from his current home - a bamboo shack in a Bangladesh refugee camp.
By then Myanmar had already lurched into a dark new phase of an old conflict between their Muslim Rohingya minority and the Buddhist ethnic Rakhine. Violence unravelled after the alleged rape and murder of a Buddhist woman by Rohingya men; neighbour turned on neighbour as villages across Rakhine state were set ablaze.
Still, where they could, Rohingya families celebrated Eid, the end of the fasting month of Ramazan. Robi recalls being carried on his older siblings' shoulders as they went door-to-door through the village of Yae Twin Kyun in Maungdaw district gorging on snacks.
Nearly six years on, the eight brothers are now split across four countries: Bangladesh, India, the United States and Myanmar.
One is in a Myanmar jail, another has vanished on the treacherous trafficking route south - a painful family history that traces the key events in the dispossession of the Rohingya in Myanmar, and their dispersal overseas. When the brothers were last united, in 2012, there were around 1.2 million Rohingya living in Rakhine state. Now fewer than a third remain.
Myanmar, which denies the Rohingya citizenship, drove most of the minority out in October 2016 and August 2017 in army-led crackdowns that the United Nations has said may amount to "ethnic cleansing". Separated from their four older brothers, the younger siblings - Robi, Jaber, 18, Hashim, 17, and Faiz, 12 - are starting new lives as refugees.
For now, home remains a 10-metre (30 foot) hut covered by a UN-branded tarpaulin in the Kutupalong camp, which the brothers share with 15 other relatives including their mother.
"We can't work here, it's a place we know nothing about," says Robi. "But how do we go back to Myanmar again?"
Mohammad Rashid
The first of the brothers to flee Rakhine was Mohammad Rashid.
It was early 2013, and by then conditions described as "apartheid-like" by Amnesty International were biting hard, with Rohingya locked out from hospitals, schools and their own farms.
Worn down by the asphyxiating security controls, Rashid crossed the Naf River into Bangladesh, paying a broker 30,000 Taka ($355) to take him to Malaysia, where menial jobs await Rohingya. Robi shows a photo on his mobile phone of the 25-year-old on the day of his departure - staring confidently back, an arm slung around a cousin. "We haven't heard from him since." Rashid disappeared as a transnational trafficking network was at its peak, spinning a fortune carrying a desperate human cargo of Rohingya and Bangladeshi economic migrants south by sea. They docked in Thailand, where gangs - including a powerful southern army general - corralled the migrants overland to Malaysia.
That escape route collapsed in May 2015, when shallow graves of migrants were found pitting the hills along the Thai-Malaysia border.
Authorities closed in on the traffickers, who abandoned migrant boats in the Andaman Sea, leaving starving and dehydrated passengers to drift south, hoping for rescue by Thai, Malaysian and Indonesian authorities. No one knows exactly how many died in the migrant camps or at sea.
Abdur Rashid
His older brother had disappeared, but Abdur Rashid chose the same escape route.
"I tried to stop him, I begged him," his mother Khadija Begum says. "But he is stubborn. He said 'I will swim to Malaysia if I can't get a boat' and so he went." His months-long odyssey, which began around early 2014, eventually led to resettlement in the United States, via detention in Thai immigration facilities.
"I wasn't scared. It was pre-destined," the 23-year-old told AFP from Colorado, where he is now learning English and working in a cake factory.
"After 10 days at sea we were near Thailand... we came to shore in smaller boats, 50-60 people on each, but when we landed Thai police, military and even journalists were there," he said.
Thailand does not accept refugees and so, after several months in immigration detention, the UNHCR secured the US move - but resettlement is open to only a tiny number of Rohingya refugees. He moved in 2017 and, when he can, sends oney to his brothers 8,000 miles away in the world's biggest refugee camp.
Abul Kashim
Violence and repression have hit the Rohingya in waves since the late 1970s.
In 1982 Myanmar's ruling junta stripped the Muslim minority of citizenship, stirring up hatred towards the group and casting them as "Bengali" infiltrators to the Buddhist-majority country.
As such, life in Rakhine has always been hard, says Jaber, the oldest of the four brothers in the Kutupalong camp.
"But after the violence started in 2012, the "Moghs" (a pejorative word for ethnic Rakhine) gradually took everything."
Rohingya who strayed from their villages were frequently lynched or beaten, he says - allegations backed up by rights monitors. One of the brothers, Abul Kashim, now 19, suffered a beating while fishing with friends. A teenager at the time, he was jolted into leaving by the brutality of the attack, first for Bangladesh, then overland to join an uncle in India. For now, he has a made a decent life - he is married and works as a mason in Haryana state. But India has threatened to deport 40,000 of the minority. "I miss my family," he told AFP, saying each phone call leaves a yearning to travel to Bangladesh. "But I can't. I don't have any travel documents."
Hamid Hussein
On October 9, 2016, Rakhine again went up in flames as a nascent Rohingya militant group - known now as the Arakan Rohingya Salvation Army (ARSA) - raided border posts.
The army response was swift and unforgiving. Tens of thousands of Rohingya were driven into Bangladesh, fleeing murders, rapes and mass arrests. The crackdown visited more tragedy on Robi Alam's family. Their 60-year-old father Nagu Miah was arrested and, the family alleges, beaten to death in police custody. Confined to their homes with food running scarce, the oldest brother Hamid Hussein, 28, defied a strict curfew and went fishing after his children complained of eating rice every day. He was arrested by soldiers and taken to Buthidaung jail.
Soon after, soldiers swarmed their village, ordering Rohingya residents to sit hands on their heads in a field as they ransacked homes.
"Then they started to burn our homes, they raped some women and pushed them inside burning homes," says 17-year-old Mohammad Hashim, from Kutupalong camp. "We could not stay any longer." Over the next six weeks the extended family crept over to Bangladesh.
In August 2017, another 700,000 others began to join them after an even more ferocious army crackdown. With their land taken and security still parlous, Robi and his family have little expectation of returning to Rakhine. Instead they are preparing for long-term life as refugees. And in their freshly trimmed haircuts, football shirts and fixation with mobile phones, there are even flickers of teenage normality in the most abnormal of circumstances.
But the fragmentation of their family is never far away. Through the smudged memories of life in Rakhine, the youngest brother Abul Faiz recalls flecks of freedom - playing football or fishing - as a child in Rakhine.
"My older brothers would hug me, give me money for the shop," the watchful youngster adds in a near-whisper. "I miss them."
https://nation.com.pk/26-May-2018/one-family-four-countries-the-dispossession-of-the-rohingya
--------
Form Separate Ministry for Religious Minorities: Bangladesh Leaders
May 26, 2018
Minority community leaders yesterday demanded that the government form a separate ministry for religious minorities in the country before the next parliamentary polls to ensure their rights.
They also demanded a national commission and a separate act for the minorities, and urged all political parties not to nominate candidates who work against minorities in the upcoming election, slated for later this year.
The demands were made at a discussion organised by Bangladesh Hindu Buddhist Christian Oikya Parishad, a platform for religious minorities, at Jatiya Press Club in Dhaka. The programme was organised on the occasion of Oikya Parishad's 30th anniversary.
General Secretary of the platform, Advocate Rana Dasgupta, said the government should ensure security of the minorities to protect them from pre and post polls violence.
"If any political party nominates any candidate who works against the interest of the minorities, we will not vote for them. We will even boycott election at those constituencies," he said.
The parties should give nomination based on ratio of religious communities so that minority groups are better represented at the parliament, said Rana Dasgupta, while reading a written statement.
He also demanded the election commission put a ban on using religious institutions, like mosques, temples and churches, in election activities.
Speaking at the discussion, Awami League's Joint General Secretary Mahbubul Alam Hanif said the minorities are still target of the anti-liberation war forces.
"All problems cannot be solved overnight.
We will take initiatives to solve the issues of the minorities step by step," he said.
Former election commissioner Brig Gen (retd) M Sakhawat Hussain said special monitoring of areas with minority communities during the election is a must to prevent pre and post polls violence against them.
Full report at:
https://www.thedailystar.net/city/form-separate-ministry-religious-minorities-1581787
--------
US forces carry out airstrikes on Taliban hideouts in Nangarhar
May 26 2018
The US forces carried out airstrikes on Taliban hideouts in eastern Nangarhar province of Afghanistan leaving at least three members of the group dead.
The 201st Silab Corps of the Afghan Military in the East said the airstrikes were carried out late on Friday night in the vicinity of Surkh Rod district.
The source further added that the US forces unmanned aerial vehicles pounded the Taliban hideouts in the district that left at least three Taliban militants dead.
This comes as counter-terrorism operations are underway against the Taliban and other militants in this province.
A senior Taliban leader in charge of the military commission of the group for the 14 districts of eastern Nangarhar province was killed during an operation of the Afghan Intelligence, National Directorate of Security (NDS).
The governor's office in Nangarhar in a statement said the senior Taliban leader Gul Mohammmad was killed late on Thursday night in the vicinity of Surkh Rod district.
Full report at:
https://www.khaama.com/us-forces-carry-out-airstrikes-on-taliban-hideouts-in-nangarhar-05238/
--------
Taliban's military commission chief for Nangarhar districts killed in NDS raid
May 25 2018
A senior Taliban leader in charge of the military commission of the group for the 14 districts of eastern Nangarhar province was killed during an operation of the Afghan Intelligence, National Directorate of Security (NDS).
The governor's office in Nangarhar in a statement said the senior Taliban leader Gul Mohammmad was killed late on Thursday night in the vicinity of Surkh Rod district.
The statement further added that Gul Mohammad was also famous Sangari and was attempting to flee the area when he was shot dead by the NDS Special Forces.
According to the provincial government, at least two comrades of Sangari were arrested by the NDS Special Forces during the operation.
Sangari had visited Surkh Rod to coordinate the supply of weapons, explosives, and munitions for the future attacks, the statement said, adding that he was mainly looking to carry out attacks in Jalalabad city.
Full report at:
https://www.khaama.com/talibans-military-commission-chief-for-nangarhar-districts-killed-in-nds-raid-05236/
--------
Africa
Al-Shabaab militants raid Komor Haile mosque, preach for hours
MAY 25 2018
Suspected Al-Shabaab militants invaded a mosque on the Kenya-Somalia border and preached to the residents for about five hours.
A Mandera police report revealed an unknown number of heavily armed militants arrived at Komor Haile mosque on Thursday at about 10pm and left at around 2am.
A local resident who spoke to the Nation on condition of anonymity said the militants went to the chief's home but did not find him.
"They arrived when a sheikh was delivering a sermon, snatched the microphone and ordered him to sit and listen. We were shocked," said the local.
The report at the police station said militants forced worshippers to listen for hours to their tirade against the Kenya government, local civil servants and security officials.
"It is Ramadhan and we go to the mosques at night for prayers and teachings," said the local.
It is not clear if the militants arrived on foot or used vehicles.
"If they had vehicles then they were left far and used them to carry what they looted in local shops," said the local.
Mandera County Commissioner Kutswa Olaka declined to comment on the raid.
Komor Haile is located between Koromey and Arabia in Mandera East Sub County.
https://www.nation.co.ke/counties/mandera/Al-Shabaab-militants-raid-mosque--preach-for-hours/1183298-4579638-b1nafu/index.html
--------
Car bomb kills 6 civilians in Libya's Benghazi
25 May 2018
Six civilians lost their lives and more than 20 others were injured in a car bombing early Friday in Libya's Benghazi city, a security officer said.
"Six civilians were killed, including a child, in a car bomb attack on Jamal street in central Benghazi," said Capt. Tarek al-Khazar, spokesman of security joint forces of the army and police in the city.
Al-Jalaa and Benghazi hospitals received more than 20 injured people, according to the officer.
An international exhibition since Wednesday for Syrian industries has been ongoing at the bombing site.
"Perpetrators of the crime want to deliver a message to the world that Benghazi is not safe to spark fear among foreign visitors," the officer added.
No group has yet claimed responsibility for the attack.
Libya has remained dogged by turmoil since 2011, when a bloody uprising ended with the ouster and death of President Muammar Gaddafi after more than four decades in power.
Full report at:
http://www.worldbulletin.net/africa/202407/50-dead-in-boat-accident-in-northwest-dr-congo
--------
Boko Haram: Navy deploys more boats in Lake Chad
May 26, 2018
The Chief of the Naval Staff, Vice Admiral Ibok Ete Ibas, yesterday said more boats had been deployed in the Lake Chad Basin as part of efforts to beef up security in the area and protect the nation's territorial integrity.
Admiral Ete Ibas said the Navy, alongside the Army and the Air Force, are currently in joint clearance operations against the Boko Haram terrorists in the Lake Chad region, stating that the nine boats and Naval personnnel deployed to secure the area are well armed and equipped.
He enjoined Nigerians to continue to pray for the success of the military, particularly in the task of securing the nation from terrorists' and bandits' attacks, stressing that the amount of resources being deployed to keep the nation secured are huge enough to develop education and health sectors.
The Naval Chief made the remarks shortly after a special Jummat prayer at the Defence Headquarters (DHQ) mosque in Abuja to commemorate the 62nd anniversary of the Nigerian Navy.
Represented by the Chief of Logistics, Rear Admiral Shuwa Mohammed, the naval boss said: "We need the support of Nigerians spiritually and materially and their best wishes in the fight against insurgency. The country is spending a lot of resources in footing the bills of the armed forces regarding the ongoing campaigns to keep the nation's territorial integrity secured.
"And these rsources are affecting other aspects of the economy. If the resources are channelled to education, health and so on, things would be different today. So we also need your prayers as Nigerians, and for the media, please you are our partners in this war. Always see the good aspects of our efforts to secure the country.
Full report at:
http://thenationonlineng.net/boko-haram-navy-deploys-more-boats-in-lake-chad/
--------
URL: https://www.newageislam.com/islamic-world-news/in-its-last-session-sindh/d/115365
New Age Islam, Islam Online, Islamic Website, African Muslim News, Arab World News, South Asia News, Indian Muslim News, World Muslim News, Women in Islam, Islamic Feminism, Arab Women, Women In Arab, Islamophobia in America, Muslim Women in West, Islam Women and Feminism