New Age Islam News Bureau
22 Oct 2014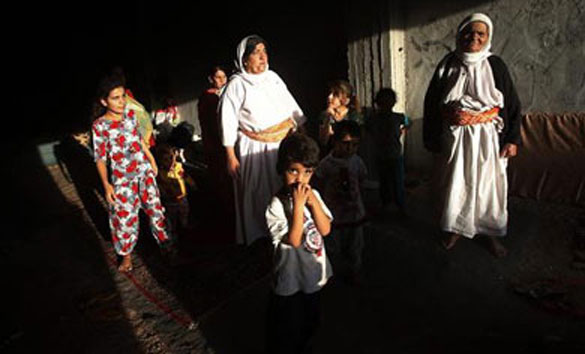 Displaced people from the minority Yazidi sect wait for aid at an abandoned building that they are using as their main residence, outside the city of Dohuk. REUTERS Photo
----------
Arab World
• In ISIS Video, Father Stones Girl to Death
• Syria Wants Turkey, Saudi Arabia, Qatar, Israel Punished
• Army Kills Dozens of ISIL Terrorists in Iraq's Samarra
• Tribes in tense Abu Ghraib vow to keep ISIS out
• Syria claims it destroyed jets seized by ISIS
• ISIS fighters seize weapons cache meant for Kurds
• Egypt military court sentences 7 to death on charges related to terrorism
• Saudi Arabia sentences two more to death for Shiite protests: AFP
• Top Saudi Muslim Cleric Warns 'Twitter is the Source of All Evil'
• Iraqi Kurds to vote on sending forces to Syria
• Saudi jails 13 for plan to attack US forces
Pakistan
• Taliban Commander among 30 Killed In North Waziristan
• Pakistani Taliban Re-Affirms Allegiance to Mullah Mohammad Omar
• D-Chowk: Tahir Ul Qadri Calls It A Day
• Imran demands govt accept PTI resignations
• Lashkar-e-Islam warns Bara residents against leaving the area
• Pak-Iran agree on intelligence cooperation following border unrest
• Opposition defers no-confidence move: Jamiat Ulema-e-Islam
• MQM Proposes Tougher Punishment for Cannibalism
South Asia
• Taliban militants suffer heavy casualties in Kandahar
• Madrasa student murdered while fending off rapist
• Iran executes 3 Afghans over drugs smuggling charges
• Bangladesh wins third term to UN Human Rights Council
• Bangladesh Islamic parties call Hartal for Sunday
Southeast Asia
• Ulema Who Mislead Are Like Dogs with Tongues Hanging Out, Says Religious Scholar
• Jais officers greeted with 'open arms' at non-Muslim places of worship, says paper
Europe
• ISIL onslaught on Yazidis may be attempted genocide: UN
• EU sets 'red lines' for Israel in W. Bank, Jerusalem
• Third ISIS fighter from UK city killed in Syria
• BBC Muslim presenter calls for British Muslims to condemn ISIS terror
• First ever Denmark trade team to explore business opportunities in Pakistan
Mideast
• Ottomanism a guise for Islamic ambitions, Turkish prominent historian says
• Turkey turning into semi-open prison: CHP
• Jewish settlers storm Al-Aqsa Mosque compound
• Political disputes delay formation of Yemen cabinet
• Iran Calls for International Consensus to Uproot Extremism, Violence
• Ya'alon slams Turkey for harbouring terrorism
North America
• Kerry: status quo between Israel, Palestinians 'unsustainable'
• Canada raises its terrorism threat level
• Pentagon: Fight against Islamic State costing around $7.6 million a day
• Kurdish fighters received vast majority of US supply drop: Pentagon
• US designates TTP's Khan Said as global terrorist
India
• India Wins another Term at UNHRC
• Police Identify Youths Who Waved IS Flags
• When Pak fired, we had sword, not shield in our hand: Defence Minister
Africa
• Nigeria Truce Is Shaky, No News of Abducted Girls
• Muslim Brotherhood in Libya does not have a military arm, claims leader
• Public lashings follow Derna "Sharia Court" verdicts
• Libya orders army to advance on capital
Compiled by New Age Islam News Bureau
URL: https://www.newageislam.com/islamic-world-news/new-age-islam-news-bureau/in-isis-video,-father-stones-girl-to-death/d/99669
----------
Arab World
In ISIS Video, Father Stones Girl to Death
Oct 22, 2014
Islamic State militants fighting in Syria and Iraq have released a sickening video of a young woman being stoned to death by a group of men - including her own father.
The shocking footage is understood to have been filmed in the city of Hama and shows a bearded cleric ranting at the woman in Arabic and accusing her adultery while she pleads for her life.
The woman turns to her father and begs his forgiveness but he coldly rejects her, saying he would rather please God. He then turns to the men to give the signal for his daughter's murder to begin.
Minutes later, as the men rain rocks down upon the helpless woman, her father steps forward with a large stone and the video fades to black.
It is believed he had been granted the barbaric 'honour' of being allowed end the life of the daughter he felt had betrayed both him and her religion.
In a separate incident a man was executed in Idlib province in an area controlled by Islamist groups including the Nusra Front, al Qaeda's official affiliate in Syria, said the Syrian Observatory for Human Rights, which tracks violence on all sides of Syria's civil war.
It is the first documented case of a man being stoned to death for adultery since Syria descended into civil war in 2011 and hard-line Islamic groups emerged as powerful players in areas that slipped from government control, the Observatory said.
The sickening five-minute video emerged on ISIS-affiliated social media pages this morning. It is not clear when the footage was actually shot and has not been independently verified.
The exact accusations against the woman remain sketchy, although the cleric who appears at the start of mobile phone-filmed clip accuses her of committing adultery.
The militant orders her to be 'content and happy' that she is about to be stoned to death because, he says, her death has been ordered by God and is therefore required under Islamic law.
Asking her is she is now willing to 'submit to God' and be stoned to death, the young woman replies 'yes', before pleading with her father to forgive her.
After initially ignoring her, the man is eventually prompted into responding by the militant.
'Don't call me father,' he tells his daughter, who responds by asking him to pray for her.
At this point her father turns to the ISIS fighters, who help him tie a rope around her neck and drag her to a pit, where the stoning begins.
As the militants rain down rocks on the defenceless woman, her father steps forward and picks up the largest rock before using it to strike and kill his daughter.
The exact moment of her death is not caught on camera as the footage fades to black moments before her father strikes her.
ISIS militants often use stoning to murder women they accuse of committing adultery.
Earlier this year the extremists stoned two women to death in Raqqa after accusing them of having sex outside marriage. Both were placed in holes in the ground before a lorry arrived to dump large rocks for the men to use to brutally murder the women.
'I'VE BEEN RAPED 30 TIMES AND IT'S NOT EVEN LUNCHTIME': DESPERATE PLIGHT OF YAZIDI WOMAN WHO BEGGED WEST TO BOMB HER BROTHEL AFTER ISIS MILITANTS SOLD HER INTO SEX SLAVERY
A young Yazidi woman forced into sex slavery by the Islamic State begged the West to bomb the brothel where she was being held after militants raped her 30 times in just a few hours, it is claimed.
The unidentified woman is understood to have been kept as a prisoner of the jihadists somewhere in western Iraq having been captured by ISIS during the Sinjar massacre in early August.
A group raising awareness of ISIS' persecution of women in the vast swathes of the Middle East under its control said the woman had contacted Kurdish Peshmerga fighters by telephone to plead for the brothel to be bombed to put the women held as sex slaves out of their misery.
She allegedly told the fighters she had been raped so frequently that she could no longer use the toilet, adding that the ordeal has been so harrowing that she plans to commit suicide even if freed.
Details of the woman's brutal experience at the hands of the Islamic State emerged during an interview with Kurdish activists staging demonstrations in London to raise awareness of the plight of women in the Middle East.
During an interview with BBC World Service, a man identified as Karam described how a friend embedded with the Peshmerga took a phone call from the Yazidi woman.
Describing the woman as crying on the phone, Karam quoted her as saying: 'If you know where we are please bomb us... There is no life after this. I'm going to kill myself anyway - others have killed themselves this morning.'
'I've been raped 30 times and it's not even lunchtime. I can't go to the toilet. Please bomb us,' he claimed the woman added.
http://www.dailymail.co.uk/news/article-2801575/isis-releases-sickening-video-clip-showing-syrian-woman-stoned-death-group-men-including-father.html#ixzz3Gs1nyXeF
----------
Syria Wants Turkey, Saudi Arabia, Qatar, Israel Punished
Oct 22, 2014
Syria's permanent ambassador to the United Nations called on the world body to punish "the terrorist coalition of Turkey, Saudi Arabia, Qatar and Israel".
At a UN Security Council session on Tuesday, Bashar al-Jaafari said the coalition has been seeking to destroy Syria by fanning the flames of terrorism and shedding the blood of Syrian people, press tv reported.
Syria has been gripped by deadly violence since 2011. Western powers and their regional allies -- especially Qatar, Saudi Arabia and Turkey -- are reportedly supporting the militants in Syria.
UN High Commissioner for Human Rights Zeid Ra'ad Al-Hussein has said that more than 200,000 people have died in the Syrian conflict since March 2011.
The Syrian envoy to the UN further voiced support for the Palestinian people, saying the terrorist coalition aims to destroy any solution for the formation of a sovereign Palestinian state.
"We urge the UN and its Security Council to shoulder their responsibilities and put an end to Israel's occupation and its barbaric policies and continuous aggressions in addition to committing Israel to withdraw from the occupied Arab lands to the line of June 4th 1967, in accordance with the UN relevant resolutions," al-Jaafari added.
The Palestinian ambassador to the UN, Riyad Mansour, said in an interview with the Associated Press on October 2 that the Palestinian national unity government had asked the UN Security Council to "force Israel to negotiate in good faith the end of occupation within a time frame".
Mansour also stated that Palestinians expect the council to adopt a draft resolution that leads to the pullout of Israelis from the occupied Palestinian territories by November 2016.
The United States, Israel's staunch ally, is almost certain to veto such a UN resolution.
http://english.farsnews.com/newstext.aspx?nn=13930730000541
----------
Army Kills Dozens of ISIL Terrorists in Iraq's Samarra
Oct 22, 2014
Dozens of the ISIL terrorists were killed in the Iraqi city of Samarra by the country's security forces on Wednesday.
The army soldiers, backed by Iraq's bombers, carried out an operation in Mazarie area, and managed to kill 15 members of the Takfiri group.
The ISIL Takfiri terrorists currently control parts of Syria and Iraq. They have threatened all communities, including Shiites, Sunnis, Kurds, Christians, Ezadi Kurds and others, as they continue their atrocities in Iraq.
Senior Iraqi officials have blamed Saudi Arabia, Qatar, and some Persian Gulf Arab states for the growing terrorism in their country.
The ISIL has links with Saudi intelligence and is believed to be indirectly supported by the Israeli regime.
The security forces killed 15 terrorists in the Mazarie area in Samarra.
A security source told the reporter of the National Iraqi News Agency / NINA / Samarra Operations Command, in coordination with the Army Air, destroyed a nest in Mazarie area, where 15 terrorists were hiding, killing them all.
http://english.farsnews.com/newstext.aspx?nn=13930730000882
----------
Tribes in tense Abu Ghraib vow to keep ISIS out
22 October 2014
The Baghdad suburb of Abu Ghraib, best known for its infamous prison, sits close enough to Baghdad's airport that you can see the control tower in the distance. It's an enticing potential prize for Islamic State of Iraq and Syria militants.
For now, this Sunni-dominated town remains beyond their grip, despite recent reports to the contrary. Markets buzz with shoppers and young women in colorful clothes and headscarves walk freely through the streets.
That's thanks in large part to the support of local Sunni tribal leaders who fought against extremists in the past are vowing to do so again. But to win the fight, they also need to combat long-held feelings of discrimination and what residents feel are arbitrary detentions and disappearances that continue to fuel resentment against the country's Shiite majority.
New tanks and checkpoints have left Abu Ghraib more militarized in recent weeks. At some checkpoints, Associated Press journalists on a recent visit saw heavily-armed volunteers in black ski masks standing alongside the military, quizzing locals and checking vehicles.
A report by Amnesty International last week said Iraq's Shiite militias have abducted and killed scores of Sunni civilians with tacit government support in retaliation for ISIS group attacks. Tens of thousands of militiamen wear military uniforms but operate outside any legal framework and without any official oversight, it found.
Arrests by those purporting to be government forces continue too, residents and outside observers say.
"The military harasses us all, but there is nothing we can do so we are forced to keep quiet," said Abu Ghraib resident Umm Mohammed, who agreed to be identified only by her nickname for fear of reprisals. She said her 22-year old son Omar has been detained, allegedly by the Iraqi military. She insisted he had no connection to the Sunni militant group.
Donatella Rovera, senior crisis response adviser at Amnesty International, said it's often unclear whether people are taken by militias or by security forces, and that there have been reports of local residents being rounded up in Abu Ghraib.
Families are reluctant to speak up, and it's hard to find defense lawyers to handle cases, "so detainees can be temporarily disappeared for quite a long time," she said.
That complicates efforts by influential tribal leaders to keep the militants at bay.
Sheik Khalil Ibrahim Haidan, a local tribal elder, insists Abu Ghraib will never fall to the ISIS group. He believes the town's dark past has taught its citizens the dangers of flirting with the country's radical elements.
"There is no place here for Daesh or anyone else," he said, using an Arabic name for ISIS.
After the revelation of prisoner abuse at the hands of U.S. troops following the 2003 invasion, Abu Ghraib became the scene of brutal insurgent attacks.
Al-Qaeda in Iraq, which eventually would morph into the group now known as Islamic State, targeted tribal leaders opposed to its ideology throughout Iraq's Sunni heartland in the years that followed.
Many of the Sunni tribesmen eventually fought back. Members formed ad hoc militias known as Sahwa, or Awakening Councils. The movement was supported by the American government, which sought to empower locals entrenched in some of the insurgent group's biggest strongholds.
A similar community-driven national guard is now envisioned by Prime Minister Haider al-Abadi and his new government, with the support of the U.S.-led coalition.
But many Sunni tribes have not been won over. In the vast western province of Anbar, some 5,000 tribesmen are currently on board with government efforts to take part in the fight against ISIS, which includes arrangements for arms and financial compensation. With tribes often numbering 30,000 to 40,000 people, the effort is has a long way to go.
Back in Abu Ghraib, Iraqi troops and militants regularly exchange mortar fire just west of town as the militant group works its way around Iraq's Sunni-dominated, western Anbar province.
The U.S. said Sunday that it expanded airstrikes in Sunni-dominated Anbar, targeting a berm near the Fallujah Dam which, in May, had been used by ISIS militants to flood areas east of Fallujah - including Abu Ghraib - and in turn, slow any military offensive.
At least 12,000 families in the Abu Ghraib area lost crops and livestock and were displaced from their homes by those floods. Some 11,000 were left in desperate need of food, clean water and other assistance, according to the UN.
The destruction bolstered the tribes' resolve.
"All of the tribes are so closely knit and would not tolerate the fall of their city to any outside force," said Sheikh Hamza Mohammed Ali, another elder in al-Zoba tribe.
Even so, residents worry about how long the town can hold out.
"We are very scared," Umm Mohammed said. "We keep receiving information that (ISIS fighters) are close, that they entered the city. But then I go out into the street and see that everything is still ok for now. May Allah protect us."
http://english.alarabiya.net/en/News/middle-east/2014/10/22/Tribes-in-tense-Abu-Ghraib-vow-to-keep-ISIS-out.html
----------
Syria claims it destroyed jets seized by ISIS
22 October 2014
The Syrian air force has destroyed two of three jets seized and reportedly test flown over Aleppo by the Islamic State of Iraq and Syria group last week, according to the country's information minister.
Omran al-Zoubi told Syrian TV late Tuesday that Syrian aircraft bombed the jets as they were landing at Jarrah airbase in the eastern countryside of Aleppo province. He said the militants were able to hide a third jet, which the Syrian air force is now searching for.
The Britain-based Syrian Observatory for Human Rights earlier had reported that ISIS militants flew three MiG fighter jets over the Jarraj air base with the help of former Iraqi air force pilots who were now members of the militant group. The report could not be independently confirmed, and U.S. officials said they had no reports of the militants flying jets.
The group is known to have seized fighter jets from at least one air base it captured from the Syrian army in Raqqa province earlier this year. Militant websites had posted photos of ISIS fighters with the warplanes, but it was unclear if they were operational.
Al-Zoubi described the aircraft as old and suggested they were no longer useful as military equipment.
Full report at:
http://english.alarabiya.net/en/News/middle-east/2014/10/22/Syria-claims-it-destroyed-jets-seized-by-ISIS.html
----------
ISIS fighters seize weapons cache meant for Kurds
Oct 22, 2014
Syrian activists claim militants from the Islamic State of Iraq and Syria (ISIS) seized earlier this week a cache of weapons airdropped by U.S.-led coalition forces that were meant to supply Kurdish fighters battling the extremist group.
The Britain-based Syrian Observatory for Human Rights said the militants seized at least once cache, but may have seized more, the Associated Press reported.
The cache of weapons included hand grenades, ammunition and rocket-propelled grenade launchers, according to a video uploaded by a media group loyal to ISIS, the agency said.
The video appeared authentic and corresponded to The Associated Press' reporting of the event.
The Observatory, which bases its information on a network of activists on the ground, said the caches were airdropped early Monday to Kurds in the embattled Syrian town of Kobane that lies near the Turkish border.
Full report at:
http://english.alarabiya.net/en/News/middle-east/2014/10/21/ISIS-fighters-seize-weapons-airdrop-meant-for-Kurds.html
----------
Egypt military court sentences 7 to death on charges related to terrorism
Oct 22, 2014
A military court sentenced seven Egyptian men to death and two to life in prison on charges of terrorism on Tuesday, in the first trial to be conducted concerning prominent Egyptian militant group Ansar Beit Al-Maqdis.
The sentenced were charged in the case known as the Arab Sharkas case, named for a village in the governorate of Qaliubiya, north of Cairo, where security forces carried out a raid in March against a terrorist cell which claimed the lives of two military officers.
The verdict comes after the death sentences originally handed out in August were referred to Egypt's grand mufti for approval, a necessary procedure in Egyptian law.
The verdict was adjourned to 21 October after its previously scheduled date of 23 September.
The defendant's charges include planning terrorist operations, shooting at security forces, attacking military facilities and naval ships and being members of Ansar Beit Al-Maqdis.
Of the nine defendants in the case, only one was tried in absentia who was among the 7 sentenced to death.
Full report at:
http://english.ahram.org.eg/NewsContent/1/64/113600/Egypt/Politics-/Egypt-military-court-sentences--to-death-on-charge.aspx
----------
Saudi Arabia sentences two more to death for Shiite protests: AFP
Oct 22, 2014
A court in Saudi Arabia has sentenced two more people to death in connection with protests by minority Shiites that began three years ago, official media said.
The latest convictions followed last week's death sentence against Shiite cleric Nimr al-Nimr, a driving force behind the demonstrations.
A special court in the capital Riyadh issued the latest verdicts "as a deterrent to others," the Saudi Press Agency said late Tuesday.
A third person was jailed for 12 years.
SPA did not name the accused, who were tried on charges including "participating in marches and rallies that caused riots" in the Eastern Province community of Awamiya.
They were also accused of "chanting slogans hostile to the state with the intent of breaching security and overthrowing the regime," attacking security forces, and stealing medical supplies from a pharmacy to treat people injured during protests.
Full report at:
http://english.ahram.org.eg/NewsContent/2/8/113669/World/Region/Saudi-Arabia-sentences-two-more-to-death-for-Shiit.aspx
----------
Top Saudi Muslim Cleric Warns 'Twitter is the Source of All Evil'
Oct 22, 2014
RIYADH: Twitter is nothing more than "a source of lies" and evil, Saudi Arabia's top Muslim cleric said, in comments that sparked lively debate Tuesday on the micro blogging site.
"If it were used correctly, it could be of real benefit, but unfortunately it's exploited for trivial matters," Sheikh Abdul Aziz al-Sheikh said on his 'Fatwa' television show broadcast late Monday.
Twitter is "the source of all evil and devastation", the mufti said. "People are rushing to it thinking it's a source of credible information but it's a source of lies and falsehood."
The social media platform is popular among both men and women in ultra-conservative Saudi Arabia, where some supported the mufti's views but many others objected.
"This is why I will repent, and close my account to distance myself from this great evil," one Twitter user wrote with apparent sarcasm.
"Respected sheikh, how can you judge something without using it?" another post asked.
But a supporter of the sheikh wrote: "I swear the mufti has spoken the truth; the evils of Twitter are many."
Saudi Arabia adopts a strict version of Sunni Islam, including a segregation of the sexes, that influences all aspects of life in the Gulf kingdom.
http://timesofindia.indiatimes.com/Tech/Social/Twitter-is-source-of-all-evil-top-Saudi-cleric-says/articleshow/44907001.cms
----------
Iraqi Kurds to vote on sending forces to Syria
22 October 2014
Iraq's Kurdish regional parliament will hold a session on Wednesday to vote on deploying peshmerga security forces to aid Syrian Kurds battling jihadists from the Islamic State of Iraq and Syria group, a senior lawmaker said.
The planned vote raises the possibility that the three-province autonomous Kurdistan region will make the decision to deploy forces from Iraq to fight in Syria's civil war independent of the federal government.
"Today, the Kurdistan parliament will hold a session... to give the authorization and allow the president of the region to move forces to the town of Kobane" in Syria, Omid Khoshnaw, the head of the Kurdistan Democratic Party's parliamentary bloc, told AFP.
Full report at:
http://english.alarabiya.net/en/News/middle-east/2014/10/22/Iraqi-Kurds-to-vote-on-sending-forces-to-Syria-.html
----------
Saudi jails 13 for plan to attack US forces
Oct 22, 2014
RIYADH: A Saudi court has sentenced 13 people, including an Afghan and a Qatari, to between 18 months and 30 years in prison for plotting an Al-Qaeda attack against US forces.
The defendants were convicted of "forming a terrorist cell" to target American forces in Qatar with hand grenades, rockets and other weapons, official media said after Tuesday's verdicts.
They also planned to attack US forces in Kuwait, the Saudi Press Agency (SPA) reported. The group intended to send someone to Iraq to learn how to make vehicle bombs that could target foreign soldiers, it said.
Full report at:
http://www.dawn.com/news/1139642/saudi-jails-13-for-plan-to-attack-us-forces
-----------
Pakistan
Taliban commander among 30 killed in North Waziristan
Oct 22, 2014
PESHAWAR: At least 30 suspected militants have been killed as jet fighters targeted militant hideouts in North Waziristan Agency.
Daud Matta, a key Taliban commander, was also killed in the strike which took place in North Waziristan's Datta Khel area, according to sources.
The official sources also said that the jets targeted at least four militant hideouts, which were destroyed.
The media has no access to the agency, making it difficult to verify the information from independent sources. The ISPR is yet to issue details of the operation.
Military operation Zarb-i-Azb was launched by the Pakistan Army on June15 following a brazen militant attack on Karachi's international airport and failure of peace talks between the government and Tehreek-i-Taliban Pakistan negotiators.
http://www.dawn.com/news/1139430/taliban-commander-among-30-killed-in-north-waziristan
----------
Pakistani Taliban reaffirms allegiance to Mullah Mohammad Omar
Oct 22 2014,
The Pakistani Taliban group – Tehrik-e-Taliban Pakistan (TTP) has reaffirmed allegiance to Afghan Taliban supreme leader Mullah Mohammad Omar.
The reaffirmation was made following a statement which was issued by TTP to confirm the dismissal of group's spokesman Shahidullah Shahid.
"As far as allegiance to ISIS is concerned, (Taliban leader) Amir Mullah Fazlullah has clarified that our allegiance is to Mullah Mohammad Omar Mujahid," the statement by TTP said.
Shahid was sacked as Tehrik-e-Taliban Pakistan (TTP) spokesman after he announced allegiance to Islamic State of Iraq and Syria (ISIS).
Five other top Pakistani Taliban commanders, including the group's chief for Orakzai Agency Saeek Khan, TTP chief for Hangu Khalid Mansoor, TTP chief for Kurram Agecuy DAulat Khan, TTP chief for Khyber Agency Fateh Gul Zaman and TTp chief for Peshawar Mufti Hasan had announced support to Islamic State together with Shahid.
http://www.khaama.com/pakistani-taliban-reaffirm-allegiance-to-mullah-mohammad-omar-8862
----------
D-Chowk: Tahir ul Qadri calls it a day
Oct 22, 2014
ISLAMABAD: Pakistan Awami Tehreek (PAT) chief Dr Tahirul Qadri on Tuesday announced to temporarily suspend the sit-in keeping in view the sanctity of Muharram.
The decision was reached after the PAT chief held a meeting with his ally parties, including the Pakistan Muslim League, Sunni Ittehad Council and Majlis Wahdatul Muslimeen.
Addressing the participants of sit-in, the Sufi cleric said that revolution was a journey and it came in phases. He said the PAT workers achieved first phase by "breaking the siege".
"We have reached next phase so now participants of sit-in at federal capital should pack up their luggage and go home. Now two-day sit-ins will be held in all major cities," he announced.
Full report at:
http://www.dailytimes.com.pk/islamabad/22-Oct-2014/d-chowk-qadri-calls-it-a-day
----------
Imran demands govt accept PTI resignations
Oct 22, 2014
ISLAMABAD: Pakistan Tehreek-e-Insaf Chairman Imran Khan on Tuesday urged the government to accept resignations of PTI lawmakers immediately, saying he does not accept this 'fake parliament'.
After PAT chief Dr Tahirul Qadri announced an end to his sit-in in Islamabad on Tuesday, Imran reiterated his commitment to continue his protest until resignation of the prime minister, a private TV channel reported.
Addressing his supporters from his container in Islamabad, Kaptaan directed PTI Additional Secretary General Saifullah Niazi to ask all PTI Khyber Pakhtunkhwa legislators, who have failed to declare their assets, to submit details of their assets to the Election Commission of Pakistan immediately.
Full report at:
http://www.dailytimes.com.pk/islamabad/22-Oct-2014/imran-demands-govt-accept-pti-resignations
----------
Lashkar-e-Islam warns Bara residents against leaving the area
Oct 22, 2014
PESHAWAR: Militants from private militia Lashkar-e-Islam (LI) on Tuesday warned the residents of Bara Tehsil of Khyber Agency against leaving the area before the launch of military operation, in an attempt to use the civilians as human shields. "This warning aims at using the civilians as human shields," said a senior administration official speaking to Daily Times on condition of anonymity. Civilians were told not to leave their areas before the operation, otherwise their houses would be destroyed, the militants warned through announcement through an illegal FM radio station, according to the residents and political administration officials. Leaving homes would be taken as support for the military operation, the civilians were warned through the radio announcements. The local administration gave the civilians a three-day deadline to lay down arms and surrender or face a full-fledged operation. LI militants were suspected of destroying homes of around 30 Bara Tehsil residents, including two militant commanders, after they surrendered to the authorities.
http://www.dailytimes.com.pk/national/22-Oct-2014/li-warns-bara-residents-against-leaving-the-area
----------
Pak-Iran agree on intelligence cooperation following border unrest
Oct 22, 2014
QUETTA: Pakistani and Iranian officials met in Tehran on Wednesday where the two sides agreed on intelligence cooperation at the porous border between the neighbouring countries.
"The two sides agreed to boost intelligence cooperation with regard to border security," said Khan Wasey, a spokesman for the Frontier Corps. "Cooperation between the two countries in battling terrorists is indispensable," he added.
The meeting was between Inspector General FC Balochistan Major General Ejaz Shahid and Iranian border force's chief General Qasim Razai, Wasay said, adding that it took place in the Iranian capital and was aimed at discussing ways and means to end border skirmishes.
The meeting was called in the wake of the recent flare up at the 900 kilometre border and with the objective of avoiding any untoward incidents in future on its agenda.
Full report at:
http://www.dawn.com/news/1139633/pak-iran-agree-on-intelligence-cooperation-following-border-unrest
----------
Opposition defers no-confidence move: Jamiat Ulema-e-Islam
Oct 22, 2014
ISLAMABAD: After being cold-shouldered by Prime Minister Nawaz Sharif, Fazl ur Rehman, chief of his own faction of Jamiat Ulema-e-Islam, has decided to dump the no-confidence move against Khyber Pakhtunkhwa (KP) Chief Minister Pervez Khattak.
The cleric announced this after his meeting with Prime Minister Nawaz Sharif at the PM's House.
Fazl was accompanied by Federal Minister for Housing and Works Akram Khan Durrani, Leader of Opposition in KP Assembly Lutfur Rahman and Senator Gul Naseeb Khan.
KP Governor Sardar Mehtab Ahmed Khan, Interior Minister Chaudhry Nisar Ali Khan and Railways Minister Khawaja Saad Rafique were also present. Matters related to national and political situation came under discussion during the meeting.
After the meeting, Fazl announced to cancel the no-confidence move against Khyber Pakhtunkhwa Chief Minister Pervez Khattak.
Full report at:
http://www.dailytimes.com.pk/national/22-Oct-2014/opposition-defers-no-confidence-move
----------
MQM proposes tougher punishment for cannibalism
Oct 22, 2014
ISLAMABAD: The lawmakers in the National Assembly on Tuesday took up eleven private bills, including three separate bills proposing strict punishments for those guilty of cannibalism as well as one related to amendments in election rules.
The assembly secretariat also included two amendment bills of Pakistan Tehreek-e-Insaf (PTI) lawmakers, who tendered resignations from assembly seats in the "orders of the day". The bills were deferred after Speaker Ayaz Sadiq called the names of PTI's lawmaker to present their bills. Thin attendance was pointed out in the session when PPP's MNA Imran Zafar Leghari pointed towards empty treasury benches, saying the parties protesting outside parliament (PAT and PTI) are raising voices against it, and the treasury is providing them a justification by not showing any seriousness to parliament.
Independent MNA Jamshed Dasti introduced a constitutional amendment bill for out a southern Punjab province, which was, however, voted out after opposition from PML-N's legal wizard Zahid Hamid. The first bill related to cannibalism and was introduced by MQM lawmakers SA Iqbal Qadri, Abdul Rashid Godel, Sufyan Yusuf, Sajid Ahmed and Iqbal Muhammad Ali. It was aimed at curbing this crime. The MQM lawmakers proposed punishment for those who exhume corpses or any part of a corpse without permission from the competent authority.
Full report at:
http://www.dailytimes.com.pk/national/22-Oct-2014/mqm-proposes-tougher-punishment-for-cannibalism
--------
South Asia
Taliban militants suffer heavy casualties in Kandahar
Oct 22, 2014
At least 37 Taliban militants were killed following military operations by Afghan national security forces in the past 24.
The Ministry of Interior (MoI) said Wednesday that the majority of the militants were killed during the operation in Maiwand district of Kandahar province.
A statement released by MoI said, Afghan National Police conducted several anti-terrorism joint operations with Afghan National Army and NDS to clean some of the areas from terrorists and enemies of peace and stability of Afghanistan,
The statement further added that the operations were conducted in Kandahar, Ghazni, Khost and Nangarhar provinces, as a result 37 armed Taliban members were killed, six wounded and 10 others were arrested by Afghan National Security Forces.
Taliban suffered the heaviest casualty in Maiwand district, southern Kandahar province, MoI said.
Afghan National Police discovered and confiscated light and heavy rounds ammunition during the same operations, MoI said, adding that Afghan National Police discovered and defused two different types of IEDs in Baghlan and Balkh provinces.
http://www.khaama.com/taliban-militants-suffer-heavy-casualties-in-kandahar-8863
----------
Madrasa student murdered while fending off rapist
Oct 22, 2014
An 11-year-old boy studying at a South Keraniganj madrasa had his throat slit with a kitchen cleaver early Monday after resisting a rape attempt by a school staff member, his killer admitted to police yesterday.
The self-confessed killer, Shah Alam, a 35-year-old cook at Tahfiz ul Quran Nurani Hafezi Madrasa, admitted to rape the same boy a month ago.
"I don't know what came over me. I killed the boy with a boti in the madrasa kitchen," Shah Alam, whose wife is nine months pregnant, said yesterday at the media and community centre of Dhaka Metropolitan Police (DMP).
Shah Alam said he had tried to get hold of Abu Rayhan around 1am when the child was on his way to the toilet. He attempted to rape Abu Rayhan, but the boy resisted and threatened to tell the authorities about what had happened.
Shah Alam then dragged Abu Rayhan into the kitchen and slit his throat with a razor-sharp cleaver.
Full report at:
http://www.dhakatribune.com/crime/2014/oct/22/madrasa-student-murdered-while-fending-rapist#sthash.7G3V1CDM.dpuf
----------
Iran executes 3 Afghans over drugs smuggling charges
Oct 22, 2014
At least three Afghans were hanged to death in Iran over drugs smuggling charges, the officials said Wednesday.
The officials further added that the deceased individuals were originally residents of northeastern Takhar province whose bodies were handed over to their families on Tuesday.
Provincial governor spokesman for Takhar province, Sanatullah Temori said the dead bodies of the men were buried in Kalafgan district.
Temori further added that four other Afghan nationals are also due to be executed in the near future.
In the meantime, Temori said at least two Afghan nationals were also shot dead by Iranian border guards along the bordering regions between the countries.
This comes as at least six Afghan nationals were hanged to death in Iran over drugs smuggling charges earlier this year.
http://www.khaama.com/iran-executes-3-afghans-over-drugs-smuggling-charges-8866
----------
Bangladesh wins third term to UN Human Rights Council
Oct 22, 2014
Bangladesh has won membership to the United Nations Human Rights Council for the term 2015 – 2017, in an election in New York yesterday.
"Bangladesh was elected to the Human Rights Council with 149 votes," the director general of the UN Wing at the foreign ministry told the Dhaka Tribune.
"The election is very important for us against the backdrop of the negative campaign against Bangladesh following the January 5 election," Bangladesh Permanent Representative to the United Nations AK Abdul Momen told the Dhaka Tribune.
The country has served in the UNHRC twice and this is the third time Dhaka has expressed an interest in membership to the global human rights body.
Bangladesh served on the council from 2006-11 and withdrew for the 2012-14 period due to rules and regulations governing membership.
Full report at:
http://www.dhakatribune.com/bangladesh/2014/oct/22/bangladesh-wins-third-term-un-human-rights-council#sthash.KcovsJ1t.dpuf
----------
Islamic parties call hartal for Sunday
Oct 22, 2014
The Islamic parties have called a countrywide dawn to dusk hartal for Sunday, demanding maximum punishment for Abdul Latif Siddique for his comments on hajj.
Party's Secretary General Mohammad Zafar Ullah announced the hartal on Wednesday afternoon.
Earlier, the alliance of Islamic parties had declared it would observe hartal on October 26 if the government did not arrest former Minister Abdul Latif Siddique by October 22.
While addressing a programme in the US on September 28, Latif made derogatory remarks regarding Hajj, Tablighi Jamaat and the Prime Minister's son Sajeeb Wazed Joy.
The minister's "derogatory" comments on Hajj have sparked widespread criticism both at home and abroad.
Full report at:
http://www.dhakatribune.com/politics/2014/oct/22/latif-issue-islamic-parties-call-hartal-sunday#sthash.ZiNlblvr.dpuf
----------
Southeast Asia
Ulema Who Mislead Are Like Dogs with Tongues Hanging Out, Says Religious Scholar
OCTOBER 22, 2014
KUALA LUMPUR, Oct 22 — Popular religious scholar Datuk Dr Mohd Asri Zainul Abidin yesterday compared Islamic clerics who twist the truth to dogs amid the continuing fallout from an event at which some Muslims touched the culturally "haram" animal.
The former Perlis mufti stressed that he had not expressed his support nor opposition to the "I Want to Touch a Dog" event held in Petaling Jaya Sunday but merely related what the Quran said about canines.
"While we're busily discussing the issue about touching dogs, let us not forget that there are bigger issues raised in the Quran related to dogs, like ULAMA WHO ACT LIKE DOGS," Asri wrote on his Facebook page yesterday.
"A Mat Rempit, robber, or a dishonest leader is not worse than an ulama who hides the truth or who twists facts to mislead people. Therefore, the Quran equates ulamas who twist the truth to dogs whose tongues are hanging out," he added.
Full report at:
http://www.themalaymailonline.com/malaysia/article/ulama-who-mislead-are-like-dogs-with-tongues-hanging-out-says-religious-sch#sthash.iI8N6vLK.dpuf
--------
Jais officers greeted with 'open arms' at non-Muslim places of worship, says paper
Oct 22, 2014
Selangor Islamic Department (Jais) officials, who embarked on a course on comparative religions to build "religious understanding" of other faiths, were greeted with open arms when they visited three places of worship, The Star reported today.
The visits to the Sri Maha Mariamman temple in Shah Alam, Samadhi Vihara Buddha temple in Shah Alam and the Syrian Orthodox Church in Klang were conducted last month, attended by 50 participants including dakwah officials, college lecturers, teachers, government servants and committee members of mosques.
"It is the first time that we organised something like this. We want the participants to know how devotees of other religions observed their faiths," Jais' Dakwah Department assistant director Mohd Basori Omar was quoted as saying.
"We want to build an understanding so that, in future, religious issues don't become polemic."
Full report at:
http://www.themalaysianinsider.com/malaysia/article/jais-officers-greeted-with-open-arms-at-non-muslim-places-of-worship-says-p#sthash.4K8dqCoC.dpuf
----------
Europe
ISIL onslaught on Yazidis may be attempted genocide: UN
Oct 22, 2014
The campaign of Islamic State in Iraq and the Levant (ISIL) militants against Iraq's Yazidi minority may be attempted genocide, U.N. Assistant Secretary-General for human rights Ivan Simonovic said on Oct. 22.
"Facts are indicating that actions against Yazidis may amount to attempted genocide," he told a small group of reporters at the United Nations after returning from a recent visit to Iraq.
Simonovic was speaking as ISIL advanced on Iraq's Sinjar mountain, tightening a siege of thousands of stranded Yazidis, who called on the United States and its allies to act to avert more bloodshed.
Thousands of Yazidis have been shot, buried alive or sold into slavery by ISIL militants, who regard them as devil-worshippers.
U.S. President Barack Obama authorized air strikes in Iraq in August, citing the duty to prevent an impending genocide of Yazidis at the hands of ISIL militants after they overran a vast swathe of northern Iraq.
The 1948 U.N. Convention on the Prevention and Punishment of the Crime of Genocide defines genocide as an intent to destroy in whole or in part a national, ethical, racial or religious group.
Full report at:
http://www.hurriyetdailynews.com/isil-onslaught-on-yazidis-may-be-attempted-genocide-un.aspx?pageID=238&nID=73304&NewsCatID=359
----------
EU sets 'red lines' for Israel in W. Bank, Jerusalem
World Bulletin/News Desk
Oct 22, 2014
The European Union (EU) is seeking to persuade Israel not to take a series of moves in the occupied West Bank deemed "red lines" by the European body, Israeli daily Haaretz reported, citing an internal EU document.
According to the paper, the European Union believes that crossing any of these "red lines" by Israeli may undermine the possibility of a future Palestinian state alongside Israel, a risk that might draw further European sanctions against Israel.
"The EU considers the preservation of the two state solution a priority," the document obtained by Haaretz reads.
"The only way to resolve the conflict is through an agreement that ends the occupation which began in 1967, that ends all claims and fulfills the aspirations of both parties. A one state reality would not be compatible with these aspirations."
Full report at:
http://www.worldbulletin.net/headlines/146774/eu-sets-red-lines-for-israel-in-w-bank-jerusalem
-----------
Third ISIS fighter from UK city killed in Syria
22 October 2014
A third British citizen fighting for the the Islamic State of Iraq and Syria militant group has been killed during fighting in Syria, a newspaper in his UK hometown of Portsmouth reported.
Committee chairman of the Portsmouth's Jami Mosque Abdul Jalil told the Portsmouth News that Manunur Roshid is the third man from his city to be killed in fighting, following Ifthekar Jaman, 23, and Mohamed Hamidur Rahman, 25.
"It is probable that Roshid died in the battle for Kobane as another of his Portsmouth counterparts, Muhammad Mehdi Hasan, is known to be fighting there, although we haven't been able to independently verify this yet," Shiraz Maher, a senior researcher at King's College's International Centre for the Study of Radicalism told the Guardian.
"We are very worried. They are on the front line. Five people went there and three have been killed," Jalil said, adding that he has seen reports that a fourth man from Portsmouth has been hospitalized in Syria.
Full report at:
http://english.alarabiya.net/en/News/middle-east/2014/10/22/Third-ISIS-fighter-from-UK-city-killed-in-Syria.html
----------
BBC Muslim presenter calls for British Muslims to condemn ISIS terror
22 October 2014
Mishal Husain, the co-host of BBC program Today, has urged Britain's Muslim clerics to hop on the social media bandwagon in publically condemning the Islamic State of Iraq and Syria (ISIS), several news reports quoted Husain as saying during an interview with Radio Times this week.
Husain, 41, said Muslim community leaders should publically support the anti-ISIS social media campaign Not In My Name which was set up by the East London-based group Active Change Foundation after the murder of David Haines and the kidnapping of Alan Henning. The campaign – praised by U.S. President Barack Obama during a speech to the U.N. General Assembly – aimed to counter the presence of ISIS' extremist ideology on social media.
"I think the 'Not In My Name' campaign is a very positive development because outrage is shared by all right-thinking people," Husain said.
"I would really like to see much more of the counterpoint from a theological perspective, with scholars taking to social media to refute the awful arguments we see put forward in those videos," she added.
Full report at:
http://english.alarabiya.net/en/media/television-and-radio/2014/10/22/BBC-Muslim-presenter-calls-for-British-Muslims-to-condemn-ISIS-terror-.html
------
First ever Denmark trade team to explore business opportunities in Pakistan
Oct 22, 2014
ISLAMABAD: A Denmark trade delegation reached Islamabad on a week- long visit to explore business opportunities and partners in Pakistan.
It is the first trade team from Denmark, which would explore potential for expanding trade between the two countries.
The delegation will meet Pakistani companies in Karachi, Lahore and Islamabad. Exclusive business seminars with individual company meetings will be arranged in all three cities and the Danish companies will also participate in broader match-making receptions in Karachi and Islamabad, said a statement of the Embassy.
Danish Ambassador Jesper Moller Sorensen said companies were representing different sectors and would see opportunities in areas where Pakistan was facing challenges, such as energy.
Volume of trade between Denmark and Pakistan was increasing and the potential is still significantly larger.
Full report at:
http://www.dailytimes.com.pk/business/22-Oct-2014/first-ever-denmark-trade-team-to-explore-business-opportunities-in-pakistan
----------
Mideast
Ottomanism a guise for Islamic ambitions, Turkish prominent historian says
Oct 22, 2014
A prominent Turkish historian has argued that today's political Islamists use Ottomanism as a guise for their ulterior motives to reach the Islamic "Golden Age."
"Ottomanism is a flashy cover, a guise for the Islamist front in Turkey. What they really seek is the 'Age of Happiness' [the term used to describe the Prophet Muhammad's lifetime]. They use the Ottomans as a guise to reach there," Prof. İlber Ortaylı told Hürriyet in an interview published on Oct. 22.
Ortaylı, a professor of history at Galatasaray University in Istanbul and at Bilkent University in Ankara, also challenged the notion that the Ottoman Empire was supranational. "The Ottomans were not above nations. Turkishness was [in the core] of the Ottomans," he said.
The recent debate regarding religious education in Turkey is not being conducted on a healthy ground, according to Ortaylı.
"A society can have religious education, but it has to be with quality. Now the government is increasingly opening more [religious vocational] imam hatip schools, as was done in previous decades by other parties. But are these schools producing any religious scholars?" he asked.
Ignorance about ISIL
Full report at:
http://www.hurriyetdailynews.com/ottomanism-a-guise-for-islamic-ambitions-prominent-historian-says.aspx?pageID=238&nID=73319&NewsCatID=338
----------
Turkey turning into semi-open prison: CHP
Oct 22, 2014
The government aims to turn Turkey into a "semi-open prison" with its contentious new security code, main opposition Republican People's Party (CHP) leader Kemal Kılıçdaroğlu said on Oct. 21, addressing his weekly parliamentary group meeting in Ankara.
"Now they are bringing in a new code. It offers fines for those who cover their faces [in protests]. But there is already a fine for this. Why are you cheating the people?" Kılıçdaroğlu said.
"The country is at risk of being turned into a semi-open prison," he added, also criticizing the government's poor record on freedom of expression.
"Can journalists write freely in Turkey?" the CHP head asked, ruling out recent claims by a Cabinet member that there was "no political pressure on press."
Kılıçdaroğlu also expressed outrage over the annulment of the huge corruption probe that included senior government figures, likening the prosecutor who annulled the probe to Nazis.
Ekrem Aydıner, a prosecutor from the anti-terror and organized crime unit of the Istanbul Chief Prosecutor's Office, decided on Oct. 17 not to proceed with the case against 53 graft suspects in the Dec. 17 investigation.
Full report at:
http://www.hurriyetdailynews.com/turkey-turning-into-semi-open-prison-chp.aspx?pageID=238&nID=73301&NewsCatID=338
----------
Political disputes delay formation of Yemen cabinet
World Bulletin/News Desk
Oct 22, 2014
Differences between Yemen's political forces over cabinet representation are delaying the formation of a new government, a local political source said Wednesday.
According to the source, the dispute emerged over the refusal of the General People's Conference Party, led by former president Ali Abdullah Saleh, and the Shiite Houthi group to give President Abd Rabbuh Mansour Hadi the right to appoint heads of strategic ministries (interior, defense, finance and foreign affairs) in line with recommendations made earlier this year.
A coalition of 13 Yemeni opposition parties, meanwhile, insists that the recommendations – which came out of a national dialogue conference held earlier this year – be implemented.
The recommendations also called for giving the 13-party coalition – composed of leftist, Islamist and nationalist parties – the right to appoint two ministers in the new government.
Last week, the Houthis backed a presidential decree appointing Khaled Bahah as the new prime minister.
Full report at:
http://www.worldbulletin.net/world/146797/political-disputes-delay-formation-of-yemen-cabinet
-----------
Jewish settlers storm Al-Aqsa Mosque compound
World Bulletin/News Desk
Oct 22, 2014
Dozens of Jewish extremists backed by Israeli police on Wednesday stormed the Al-Aqsa Mosque compound in occupied East Jerusalem, a Palestinian official has said.
"Around 40 settlers, under Israeli police protection, forced their way into the Al-Aqsa compound through the Al-Magharbeh Gate," Sheikh Azzam al-Khatib, head of the Jordan-run Organization for Muslim Endowments and Al-Aqsa Affairs, told Anadolu Agency.
"The intruders, including members of the extremist 'Women for the Temple' organization, were led by hardline rabbis and wandered into the courtyards of the holy site," he said.
"The rabbis gave settlers lessons in the Talmud near the Al-Qiballi and Marwani mosques," he added.
Full report at:
http://www.worldbulletin.net/middle-east/146796/jewish-settlers-storm-al-aqsa-mosque-compound
-----------
Iran Calls for International Consensus to Uproot Extremism, Violence
Oct 22, 2014
Iran's Vice-President for Legal Affair Elham Aminzadeh voiced Tehran's concern over the spread of extremist groups in the region, and urged the world states and international bodies to coordinate efforts against worldwide violence.
"Today we are witnessing the creation of a global culture against aggression and extremism after (President Hassan) Rouhani's proposal of World against Violence and Extremism (WAVE) was approved by UN General Assembly last year," said Aminzadeh in a WAVE Conference in the University of Tehran on Tuesday.
She said that an international cooperation is needed to uproot aggression and terrorism and establish sustainable peace and welfare for the world nations.
On September 25, 2013, President Rouhani proposed "the WAVE" initiative in his address to the UN General Assembly meeting in New York.
On December 18, 2013, the UN General Assembly overwhelmingly voted to approve President Rouhani's proposal, which called on all nations across the globe to denounce violence and extremism.
Full report at:
http://english.farsnews.com/newstext.aspx?nn=13930730000809
----------
Ya'alon slams Turkey for harboring terrorism
Oct 22, 2014
Defense Minister Moshe Ya'alon met with his US counterpart, Defense Secretary Chuck Hagel in the Pentagon, where he highlighted Jerusalem's concern about Iran's nuclear ambitions.
A nuclear Iran "remains the most significant threat," he said, echoing Prime Minister Benjamin Netanyahu who warned this week about the danger of an agreement that would leave Iran as a nuclear threshold state.
"We are following the negotiations [between the world powers and Iran] closely," Ya'alon said, outlining Iran's actions that worry Israel, from arming Hezbollah to backing Palestinian terror groups in Gaza.
Turning to Hamas next, he said the organization was sponsored by Turkey and Qatar, charging that Hamas now "has two terror headquarters": in Gaza and Istanbul.
Ya'alon said the Gaza-based group has moved its operation from Damascus to Turkey, who he accused of playing a" cynical game."
Turkey is a member of NATO on the one hand, he said, yet it operates terrorism against Israel.
http://www.jpost.com/Breaking-News/Yaalon-slams-Turkey-for-harboring-terrorism-379455
----------
North America
Kerry: status quo between Israel, Palestinians 'unsustainable'
22 October 2014
U.S. Secretary of State John Kerry said on Wednesday that the "status quo" in the Israeli-Palestinian conflict was "unsustainable" and that the United States understands of the urgency of the situation.
"The current situation, the status quo, is unsustainable," Kerry said at a joint news conference with German Foreign Minister Frank-Walter Steinmeier in Berlin
He added that it was necessary to find a way to negotiate and said the U.S. would continue with these efforts: "Obviously we understand the urgency of it," he said.
Last week Kerry angered Israelis with statements the conflict between Israel and Palestine was contributing to the rise of radical extremism in the world.
"I respect John Kerry and his efforts but he keeps breaking new records in lack of understanding of our region and the essence of our disputes," Communications Minister Gilad Erdan said in an interview with Israeli public radio.
"There wasn't a leader I met with in the region who didn't raise with me spontaneously the need to try to get peace between Israel and the Palestinians, because it was a cause of recruitment and of street anger and agitation," Kerry said after returning from a visit to Egypt.
Full report at:
http://english.alarabiya.net/en/News/middle-east/2014/10/22/Kerry-status-quo-between-Israel-Palestinians-unsustainable-.html
----------
Canada raises its terrorism threat level
Oct 22, 2014
Canada has raised its terrorism threat level to medium from low because of a rise in "general chatter" from radical groups such as Islamic State and al-Qaida, a government official said on Tuesday.
"This increase is not the result of a specific threat," said Jean-Christophe de Le Rue, a spokesman for Public Safety Minister Steven Blaney. A suspected Canadian militant ran over two soldiers in Quebec on Monday, killing one of them.
De Le Rue said the new terrorism threat level meant Canadian intelligence services had "indicated an individual or group within Canada or abroad has the intent and capability to commit an act of terrorism."
http://www.jpost.com/Breaking-News/Canada-raises-its-terrorism-threat-level-379457
----------
Pentagon: Fight against Islamic State costing around $7.6 million a day
Oct 22, 2014
WASHINGTON - The Pentagon said on Tuesday that the cost of fighting Islamic State militants in Iraq and Syria has cost about $424 million since air strikes began on Aug. 8.
Rear Admiral John Kirby, the Pentagon press secretary, said the conflict was costing an average of about $7.6 million per day.
http://www.jpost.com/Breaking-News/Pentagon-Fight-against-Islamic-State-costing-around-76-million-a-day-379449
----------
Kurdish fighters received vast majority of US supply drop: Pentagon
Oct 22, 2014
The Pentagon said on Oct. 22 the vast majority of military supplies air dropped near the Syrian city of Kobane had reached the Kurdish fighters they were intended to help, despite an online video showing Islamic State in Iraq and the Levant (ISIL) militants with a bundle.
Rear Admiral John Kirby, the Pentagon press secretary, said experts were analyzing the video and trying to determine if the bundle was the one the department reported earlier had fallen into ISIL's hands or if it was a second bundle in the group's possession.
Pentagon officials said a U.S. airdrop had delivered 28 bundles of military supplies to Syrian Kurdish fighters near Kobane on Oct. 20 and reported that one had fallen into ISIL's hands. The Pentagon later said it had targeted the missing bundle in an air strike and destroyed it.
An Iraqi Kurdish official said 21 tons (tonnes) of supplies had been air dropped to the Kurds in Kobane.
Full report at:
http://www.hurriyetdailynews.com/kurdish-fighters-received-vast-majority-of-us-supply-drop-pentagon.aspx?pageID=238&nID=73306&NewsCatID=359
----------
US designates TTP's Khan Said as global terrorist
Oct 22, 2014
WASHINGTON – The US Department of State has designated Tehrik-e Taliban Pakistan (TTP) leader Khan Said as Specially Designated Global Terrorists under an Executive Order, which targets terrorists and those providing support to terrorists or acts of terrorism.
A statement released here on Tuesday said Khan Said became deputy leader of TTP following the death of Wali-ur-Rehman in May 2013. "Said has experience of fighting in Afghanistan, and is believed to be involved in the attack on a Naval base in Karachi, Pakistan, and is also credited with masterminding a 2012 jailbreak in which the Taliban freed 400 inmates in the northwestern city of Bannu, Pakistan."
Full report at:
http://www.dailytimes.com.pk/national/22-Oct-2014/us-designates-ttp-s-khan-said-as-global-terrorist
----------
India
India wins another term at UNHRC
SUHASINI HAIDAR
Oct 22, 2014
India received the most number of votes in the Asia-Pacific group of the U.N. Human Rights Council, winning a second consecutive two-year term at the world body. Official sources said this was a reflection of India's standing in the world. India was a committed supporter of the U.N. human rights system and would continue to work towards strengthening of the Council.
http://www.thehindu.com/news/national/india-wins-another-term-at-unhrc/article6524390.ece
----------
Police identify youths who waved IS flags
ZAHID RAFIQ
Oct 22, 2014
Jammu and Kashmir Chief Minister Omar Abdullah on Tuesday said the police had identified the youths who waved flags of the terror group Islamic State (IS) in different parts of Srinagar.
He said they were not linked to militancy.
"The police have registered cases against the youths involved in waving IS flags," Mr. Abdullah said on the sidelines of a police commemoration function here.
According to police sources, four youths were arrested on Saturday, a day after IS flags appeared in the old city area.
"We know that two of the youths — one of whom is a medical representative — have been in police custody since Saturday. For the first two days, the police did not show their arrest and we don't know what charges they will frame against them," said Mir Urfi, a lawyer at the Saddar Court here.
'No link with terror group'
The police sources said the youths waved the IS flags for fun and they did not have any ideological connection with the terror group.
http://www.thehindu.com/news/national/other-states/police-identify-youths-who-waved-is-flags/article6524789.ece
---------
When Pak fired, we had sword, not shield in our hand: Defence Minister
Reuters | Oct 22, 2014
NEW DELHI: India warned Pakistan on Tuesday of more "pain" if it continued to violate a ceasefire on their disputed border in Kashmir and said it was up to Islamabad to create the conditions for a resumption of peace talks.
The two sides exchanged mortars and intense gunfire this month, killing at least 20 civilians and wounding dozens in the worst violation to date of a 2003 ceasefire. While the firing has abated, tension remains high along a 200-km stretch of the border dividing the nuclear-armed rivals.
"Our conventional strength is far more than theirs. So if they persist with this, they'll feel the pain of this adventurism," defence minister Arun Jaitley told NDTV in an interview.
The Modi government that came to power in May promised a tough response to violence in the territory.
Full report at:
http://timesofindia.indiatimes.com/india/When-Pak-fired-we-had-sword-not-shield-in-our-hand-Arun-Jaitley/articleshow/44905435.cms
----------
Africa
Nigeria Truce Is Shaky, No News of Abducted Girls
Oct 22, 2014
MAIDUGURI, Nigeria —Days after Nigeria's military raised hopes by announcing Islamic extremists have agreed to a cease-fire, Boko Haram is still fighting and there is no word about 219 schoolgirls held hostage for six months.
Officials had said talks with Nigeria's Islamic extremist rebels would resume in neighboring Chad this week, but there was no confirmation that negotiations had resumed by Wednesday.
The silence raises many questions, especially since Boko Haram's leader Abubakar Shekau has not confirmed the truce.
People who escaped this week from a town where Boko Haram has declared an Islamic caliphate say hundreds are being detained for breaking the group's strict version of Shariah law.
The insurgents have attacked three northeastern towns and raised their flag in a fourth village since Nigeria's military chief announced a cease-fire Friday.
http://abcnews.go.com/International/wireStory/nigeria-truce-shaky-news-abducted-girls-26368967
----------
Muslim Brotherhood in Libya does not have a military arm, claims leader
Oct 22, 2014
The official head of the Libyan Muslim Brotherhood, Bashir Kubti, has rejected the assertion by the Prime Minister that Libya Dawn is the military arm of the Muslim Brotherhood in Libya.
Speaking in a telephone interview with the German Press Agency, Kubti criticized Prime Minister Abdullah Al-Thinni for making the claim and said that the Muslim Brotherhood does not have a military arm. He added some rather choice remarks about Thinni, saying that he could not be believed.
He also said that the Brotherhood was tired of being blaimed for all the problems in the country, saying that the government should be held responsible, starting back to the time of Ali Zeidan. According to Kubti, the government spent too much time blaming the Muslim Brotherhood and did not focus on finding a solution to the problems in Libya.
On the subject of Khalifa Hafter, Kubti declared he that was dictating not only military events in Libya but also the political process. He claimed that Hafter was "an illegitimate leader" and questioned the legitimacy of the House of Representatives since it was backing Hafter.
The Muslim Brotherhood, claimed Kubti, is not biased. "We are with the people and respect the people's choices", he said. "We supported the elections and the outcome of the elections."
The House of Representatives (HOR), however, had failed to follow the correct procedures for the handover, he stated. That had led to questions about its legitimacy.
http://www.libyaherald.com/2014/10/21/muslim-brotherhood-in-libya-does-not-have-a-military-arm-claims-spokesperson/#ixzz3GsRnw2RT
----------
Public lashings follow Derna "Sharia Court" verdicts
Oct 22, 2014
The "Sharia Court" of Derna, an institution of Derna's Shoura Council of Islamic Youth, has laid down the law for a group of young men guilty of alcohol abuse, sentencing them to a public flogging, which was carried out on Saturday in the courtyard of the town's old mosque.
According to common interpretations of the Hadith, the appropriate punishment for alcohol consumption is 40 or 80 lashes—left to the discretion of the Muslim leader – "with two palm branches stripped of their leaves".
Derna's Shoura Council of Islamic Youth was said to have declared its allegiance to the Islamic State (IS), and to the "caliphate" of Abu Bakr Al-Baghdadi at the beginning of October.
http://www.libyaherald.com/2014/10/20/public-lashings-follow-derna-sharia-court-verdicts/#ixzz3GsRryoS5
--------
Libya orders army to advance on capital
22 October 2014
Libya's internationally recognized government ordered on Tuesday its military, led by renegade General Khalifa Haftar, to advance on the capital Tripoli and called for a civil disobedience there against armed Islamist groups.
Prime Minister Abdullah al-Thani's cabinet said in statement posted on Facebook that the armed forces have the green light to "liberate" Tripoli "and state institutions from the grip of armed groups."
The cabinet also urged Tripoli residents to launch "a civil disobedience campaign until the arrival of the army."
In an interview with AFP Saturday, Thani said military forces in the strife-torn country had united to try to recapture Tripoli and second city Benghazi from Islamist militias.
Islamist militias who have seized Tripoli and other parts of Libya have their own government and parliament.
Full report at:
http://english.alarabiya.net/en/News/middle-east/2014/10/22/Libya-orders-army-to-advance-on-capital.html
----------
URL: https://www.newageislam.com/islamic-world-news/new-age-islam-news-bureau/in-isis-video,-father-stones-girl-to-death/d/99669