New Age Islam News Bureau
27 Dec 2014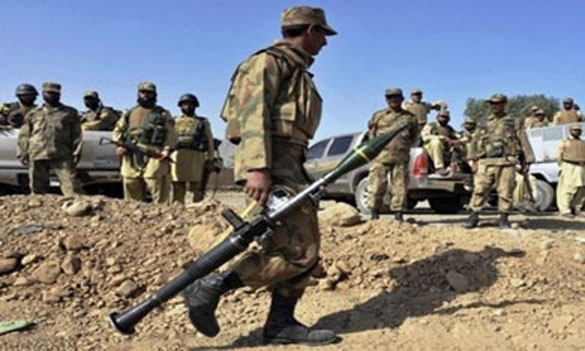 Photo: Orakzai clashes kill 16 suspected militants
----------
Arab World
• In ISIS-Controlled Syria and Iraq Everyday Life Is Falling Apart
• Iraq Calls On Us to Arm Sunni Tribes against ISIS
• Kurdish Peshmerga Forces Kill 30 Isil Terrorists in Syria's Al-Qamishli
• Lebanese Army Foils Infiltration Attempt Kills 3 Militants
• ISIS blows up Catholic Church in Mosul
• Assad orders Christmas Day strike on Islamic State territory
• Two Ansar Beit El-Maqdis militants killed in gunfight near Cairo Friday
• ISIS claims Iraq suicide bombing that killed 3826 December 2014
• Islamic State Training Child Recruits for Bloodlust
• Airstrikes against Islamic State top $1bn, kill over 1,100 people
Pakistan
• Pakistan Army Kills 39 Militants near Afghan Border In Fresh Assault
• Orakzai Clashes Kill 16 Suspected Militants
• Two Suicide Bombers Killed In Zhob Operation
• Police 'Reluctant' To Execute Warrants for Lal Masjid Cleric's Arrest
• Pakistan to set up counter-terrorism force to check funding to militants
• PM wants functional NACTA in anti-terror effort
• Fight against terrorism should start from Punjab: PTI
• Punjab governor blames major powers for spread of terrorism
• 'Legally, Abdul Aziz Is Not the Khateeb'
• Civil society, intellectuals, writers support National Action Plan against terrorism
• 'PPP endorsed military courts due to looming threats to the country'
• Legal loopholes led to 26/11 mastermind Lakhvi's bail: Pakistan ATC
Europe
• ISIS Has 'The Power of a Nuclear Bomb,' Says Author Allowed First-Hand Look at 'Caliphate'
• EU To Lose Pluralist Nature As Hatred toward Muslims Grows
• Dutch Muslims concerned by mosque attacks
• Top UN officials ordered to leave Sudan for 'insulting' the country
• UN urges Pakistan to halt executions
India
• NCM Condemns Statements 'Making Minorities Insecure'
• No Change in India's Support to Palestine Cause, Govt Says
• J&K: PDP seeks BJP's assurance on Article 370, AFSPA
• Pakistan Rangers resort to unprovoked firing in Jammu
Southeast Asia
• Boy, 10, Among Six Stopped by Police at Jakarta Airport Heading for Syria
• US news portal describes Najib as 'radical Islamist PM'
• After tsunami recovery, Sharia law now defines Aceh province
South Asia
• 4 ANA martyred, 35 insurgents killed in Military Operations
• NATO force mistakenly kills three Afghan nomads
• End of a decade of West's assistance to Afghanistan
• Online jihadists threaten Sean Paul with death ahead of New Year's concert
Mideast
• Islamic State Fighters Are Moving Ever Closer Towards Israel
• Terrorism costs Turkey $1 trillion: Minister
• Turkish President Erdoğan: I was fooled, betrayed by Gülen
• 'I will commit the same crime every day': teen sentenced for joining Gezi protests
Africa
• Islamist gunmen attack African Union base in Somalia
• Sudan pressures U.N. as it reviews Darfur force
• Fire spreads to more oil tanks at Libya port
North America
• Islamic Banking Set To Boom in Canada
• US plagued by doubts as it exits Afghan war
• Volunteering is way of life for a Saudi student in US
• Poll: IS terrorism top 2014 international story to Canadians
Compiled by New Age Islam News Bureau
URL: https://www.newageislam.com/islamic-world-news/new-age-islam-news-bureau/in-isis-controlled-syria-and-iraq-everyday-life-is-falling-apart/d/100723
----------
Arab World
In ISIS-Controlled Syria and Iraq Everyday Life Is Falling Apart
27 Dec, 2014
Isis's vaunted exercise in state-building appears to be crumbling, as living conditions deteriorate across the territories under its control, exposing the shortcomings of a group that devotes most of its energies to fighting battles and enforcing strict rules.
Residents say services are collapsing, prices are soaring and medicines are scarce in towns and cities across the "caliphate" that Isis proclaimed in Iraq and Syria, belying the group's boasts that it is delivering a model form of governance for Muslims.
Slick videos depicting functioning governing offices and the distribution of aid fail to match the reality of growing deprivation and disorganised, erratic leadership, the residents say. A trumpeted Isis currency has not materialised, nor have the passports the group promised. Schools barely function, doctors are few and disease is on the rise.
In the Iraqi city of Mosul, the water has become undrinkable because supplies of chlorine have dried up, according to a journalist living there, who spoke on the condition of anonymity. Hepatitis was spreading and flour for bread was becoming increasingly scarce, he said. "Life in the city is nearly dead, and it is as though we are living in a giant prison," he said.
In the Syrian city of Raqqa, the group's self-styled capital, water and electricity are available for no more than three or four hours a day, rubbish piles up uncollected and the city's poor scavenge for scraps on streets crowded with people hawking anything they can find to sell, residents say.
Videos filmed in secret by an activist group show desperate women and children clamouring for handouts of food, while photographs posted on the internet portray foreign jihadists eating lavish spreads, a disparity that is starting to stir resentment.
Much of the assistance that is being provided comes from Western aid agencies, who discreetly continue to help areas of Syria under Isis control. The US funds healthcare clinics and provides blankets, plastic sheeting and other items to enable the neediest citizens to weather the winter, according to US officials.
The government workers who help sustain what is left of the crumbling infrastructure, in Syrian as well as Iraqi cities, continue to be paid by the Syrian government, travelling each month to collect their pay from offices in government-controlled areas.
"Isis doesn't know how to do this stuff," the US official said. "When stuff breaks down they get desperate. It doesn't have a whole lot of engineers and staff to run the cities, so things are breaking down."
There are also signs of falling morale among at least some of the fighters whose expectations of quick and easy victories have been squashed by US-led air strikes. A notice distributed in Raqqa this month called on fighters who were shirking their duties to report to the front lines, and a new police force was created to go house-to-house to root them out.
There is no indication that the hardships are likely to lead to rebellion, at least not soon. Fear of draconian punishments and the absence of alternatives deter citizens from complaining too loudly.
But the deterioration is undermining at least one important aspect of Isis's self-proclaimed identity – as a state, dedicated to reviving the seventh-century caliphate that once ruled the Muslim world.
The group's momentum on the battlefield has been slowed by the air campaign, which has helped reverse or stall Isis offensives on numerous fronts, from the town of Kobani in northern Syria to the farmland south of Baghdad.
That the group is also failing to deliver services in the areas it does control calls into question the sustainability of its larger ambition.
Isis "is not this invincible monster that can control everything and defeat everyone," said an activist in the eastern Syrian city of Deir al-Zour, describing the ineffectual delivery of services. "The whole idea that it is well organised and an administrative entity is wrong. It is just an image."
It is in Raqqa, the first major city to fall under Isis control more than a year ago and the cradle of its governance experiment, that the discrepancy is perhaps most conspicuous. A Raqqa businessman who travelled to Mosul recently said the Iraqi city was in far better shape than his own city, where people were being driven away by the spectre of hunger and devastating government bombing raids that have killed mostly civilians.
The bombardments have played a big role in straining the infrastructure. Air strikes, aimed at Isis targets, have also contributed, forcing the group to abandon many of its government buildings. American attacks on the small, makeshift oil refineries that many citizens relied on for income have deepened the deprivation, leaving many people without income and sending prices soaring.
Whether Isis's administration was ever as capable as it has been portrayed appears to be in doubt. Syrians say those who could afford to flee areas controlled by the group have done so, disproportionately including the professionals and technocrats whose skills are needed to run services.
For most citizens, the main interaction with Isis is with its ubiquitous police and security agencies, including the notorious Hesbah, which patrols the streets in quest of those transgressing the group's harsh interpretation of Islamic law.
Tensions are emerging between the local populace and the foreign fighters, estimated by US officials and analysts to number around 15,000, or about half of the total fighting force. Foreigners get paid in dollars, while Syrian recruits are paid in Syrian pounds.
Isis fighters get treated in their own secretly located field hospitals, while civilians are forced to rely on the collapsing private hospitals, according to an activist with Raqqa is Being Slaughtered Silently, a group that works to draw attention to conditions under Isis.
"People are fed up with them and would like to get rid of them," he said. "But they don't have the ability."
http://www.independent.co.uk/news/world/middle-east/islams-dysfunctional-state-in-isiscontrolled-syria-and-iraq-everyday-life-is-falling-apart-9945774.html
----------
Iraq calls on US to arm Sunni tribes against ISIS
27 Dec, 2014
Iraq has called on the U.S. to arm 100,000 Sunni tribesmen in the country against the Islamic State of Iraq and al-Sham, according to an adviser to Iraqi parliament speaker.
Wahdah al-Jamili's comments came Friday following a meeting between U.S. Senator John McCain, and Iraqi parliament Speaker Salim al-Juburi in the Iraqi capital, Baghdad.
"Juburi has called on the U.S. to provide arms to 100,000 Sunni tribesmen living in four regions that are controlled by the ISIS," Jamili told The Anadolu Agency.
He said that some tribesmen and members of parliament also attended the meeting.
Juburi and McCain discussed the political and security situation in Iraq, as well as the problems in northern and western provinces that were partially controlled by the militant group, according to the adviser.
"They talked about the issue of increasing efforts of the U.S.-led coalition to overcome difficulties in Anbar, Saladin, Nineveh and Kirkuk," Jamili said.
The issue of increasing training and weapons aid to Iraqi security forces was also discussed, he added.
Armed tribesmen, who have been fighting against the ISIS along with security forces, recently called on the Iraqi government to provide them with arms and ammunition as they were running out of weapons and military supplies; but said that the government didn't meet their demands.
Iraq has been in a security vacuum since June, when ISIS overran Mosul and declared what it calls a caliphate in parts of Iraq and Syria.
The U.S. is leading an international coalition that has carried out numerous airstrikes against ISIS in Iraq and Syria.
http://www.dailysabah.com/mideast/2014/12/26/iraq-calls-on-us-to-arm-sunni-tribes-against-isis
-----------
Kurdish Peshmerga Forces Kill 30 Isil Terrorists in Syria's Al-Qamishli
27 Dec, 2014
Kurdish Pishmarga forces killed around 30 members of the ISIL terrorist group in Syria's Northern city of al-Qamishli, a monitoring group reported.
The Kurdish People's Protection Units (YPG) succeeded in recapturing the village of Abu Qasayeb in the Tal Hamis area in Southeast al-Qamishli, the Syrian Observatory for Human Rights told Xinhua.
The observatory said three YPG fighters also were killed in the operation to recapture the village, which was seized by the ISIL on Tuesday.
Syrian government's troops and the YPG have recently been engaged in clashes with the ISIL in the predominantly Kurdish city of al-Qamishli as part of a broader conflict that has gripped Syria for about four years.
http://english.farsnews.com/newstext.aspx?nn=13931005000205
----------
Lebanese Army Foils Infiltration Attempt, Kills 3 Militants
27 Dec, 2014
The Lebanese army foiled an infiltration attempt across the Lebanese borders from Syria killing three militants.
Thought to belong to Syria's Al-Qaeda branch al-Nusra Front, the three militants, one of whom was identified as Adham Shaddad, were trying to reach the outskirts of the Northeastern Lebanese town of Ersal overnight, the National News Agency (NNA) reported Friday.
In August, Ersal was briefly overrun by Takfiris who crossed the border from Syria, sparking fierce clashes with the army, Al-Akhbar reported.
A truce negotiated by clerics ended the fighting, but the Takfiris from the Islamic State of Iraq and the Levant (ISIL) terrorist group and al-Nusra took with them 29 hostages from the Lebanese army and police.
Four hostages have since been executed, and the Lebanese government has been unsuccessfully trying to negotiate the release of the rest.
Sources told Al-Akhbar in November that the fate of the hostages was no longer in the hands of militants in the Qalamoun area, where the soldiers are being held, but in the hands of ISIL leader Abu Bakr al-Baghdadi.
Three months after the fighting in Ersal, Lebanese troops fought deadly clashes in October with the Takfiri militants, in the Northern city of Tripoli. The fighting left 42 people dead, including 11 soldiers and eight civilians.
Since then, the army intensified its crackdown on suspected militants across North Lebanon, arresting hundreds in wide-scale raids.
http://english.farsnews.com/newstext.aspx?nn=13931006000479
----------
ISIS blows up Catholic church in Mosul
27 Dec, 2014
ERBIL, Kurdistan Region—Islamic State (ISIS) militants blew up a Catholic church in the al-Arabi district of Mosul on Friday, a Pastor told Rudaw.
"Members of the extremist organization (ISIS) cleared the Church of Virgin Mary of its contents in al-Arabi area, north of Mosul and blew it up after few hours," said Pastor Behnam Raad.
Local sources said that the militants had sealed off the church and planted the bombs on Thursday.
The majority of Mosul's Christian population fled the city when ISIS took over in June. The group has since demolished a number of Christian, Shiite and Yezidi shrines in and around Mosul among them the ancient shrine of Jonah (Nabi Yunus).
http://rudaw.net/english/middleeast/iraq/261220142
---------
Assad orders Christmas Day strike on Islamic State territory
27 Dec, 2014
WASHINGTON - Forces loyal to embattled Syrian president Bashar Assad have engaged in a bombardment of territory under the control of Islamic State militants over the last 48 hours, killing roughly 40 people, according to local reports.
Syrian Army helicopters used barrel bombs - barrels packed with explosives and metal shards, with no precision mechanism— to strike the areas of al-Bab and Qabaseen on Christmas Day and overnight.
Early reports did not clarify how many of the deceased were members of the Islamic State, a terrorist organization holding territory throughout eastern Syria and northern Iraq.
The United States has condemned Assad's use of barrel bombs throughout the war; the bombs are typically thrown out the back of helicopters without aim, thus making them an indiscriminate weapon, often dropped on heavily populated civilian areas.
Full report at:
http://www.jpost.com/Middle-East/Assad-orders-Christmas-Day-strike-on-Islamic-State-territory-385864
----------
Two Ansar Beit El-Maqdis militants killed in gunfight near Cairo Friday
27 Dec, 2014
Two members of Egypt's most active Islamist jihadist group, Ansar Beit El-Maqdis were killed during a gunfight near Cairo late Thursday, the country's official news agency reported.
Three policemen and two civilian passersby were also wounded in the shootout.
The run-in took place in El-Salam City, on the eastern outskirts of the capital, MENA reported, citing an unnamed source in the interior ministry.
The men are among "the most dangerous" members of Ansar Beit Al-Maqdis – which swore allegiance to the Islamic State in November, the official said.
Egypt's military is battling an Islamist insurgency, primarily based in the Sinai Peninsula, which has targeted police and security forces since the 2013 ouster of Islamist president Mohamed Morsi.
Full report at:
http://english.ahram.org.eg/NewsContent/1/64/118848/Egypt/Politics-/Two-Ansar-Beit-ElMaqdis-militants-killed-in-gunfig.aspx
---------
ISIS claims Iraq suicide bombing that killed 3826 December 2014
27 Dec, 2014
The Islamic State of Iraq and Syria (ISIS) group claimed it carried out a suicide bombing south of Baghdad that targeted Sunni fighters who oppose the militants, in which 38 people were killed.
The bomber attacked the fighters, known as Sahwa, while they were gathering near a military base in Madain on Wednesday to receive their pay, also wounding at least 56 people.
ISIS claimed the attack in a message posted online titled "Statement on the Martyrdom Operation in the Madain District", and identified the bomber as Saifeddin al-Ansari.
ISIS spearheaded a sweeping militant offensive that has overrun much of Iraq's Sunni Arab heartland since June -- areas that Shiite-led government forces have sought local Sunni help to recapture.
Full report at:
http://english.alarabiya.net/en/News/middle-east/2014/12/26/ISIS-claims-Iraq-suicide-bombing-that-killed-38-.html
----------
Islamic State training child recruits for bloodlust
A boy in ISIS. A suicide vest. A hope to live
Tim Arango, NYT News Service | Dec 27, 2014
BAGHDAD: Before war convulsed his hometown in Syria, Usaid Barho played soccer, loved Jackie Chan movies and adored the beautiful Lebanese pop singer Nancy Ajram. He dreamed of attending college and becoming a doctor.
His life, to say the least, took a detour.
On a recent evening in Baghdad, Usaid, who is 14, approached the gate of a Shiite mosque, unzipped his jacket to show a vest of explosives, and surrendered himself to the guards.
"They seduced us to join the caliphate," he said several days later in an interview with The New York Times at a secret Iraqi intelligence site where he is being held.
Usaid described how he had been recruited by the Sunni extremists of the Islamic State from a mosque in his hometown, Manbij, near Aleppo. He said he joined the group willingly because "I believed in Islam."
"They planted the idea in me that Shiites are infidels and we had to kill them," he said in the interview, which took place in the presence of an Iraqi intelligence official.
If he did not fight, he was told, Shiites would come and rape his mother.
He soon found himself in Iraq, but he quickly had misgivings and wanted to escape. His best chance, he decided, was a risky deception: volunteer to be a suicide bomber so he could surrender to security forces.
Full report at:
http://timesofindia.indiatimes.com/world/middle-east/A-boy-in-ISIS-A-suicide-vest-A-hope-to-live/articleshow/45657822.cms
----------
Airstrikes against Islamic State top $1bn, kill over 1,100 people
27 Dec, 2014
US and coalition airstrikes against the Islamic State in Syria have killed nearly 1,200 people ? including 52 civilians ? and wounded at least 800 others at a cost of more than $1 billion since the bombings began in September.
The Syrian Observatory for Human Rights (SOHR) said Thursday that airstrikes in Syria over the last three months have killed 1,046 fighters from the Islamic State – most of whom were non-Syrian fighters.
An additional 72 jihadists from Jabhat al-Nusra, a rival group, were killed in bombing raids against their headquarters in the western countryside of Aleppo and the northern countryside of Idlib.
Full report at:
http://rt.com/usa/217919-islamic-state-airstrikes-cost-casualties/
----------
Pakistan
Pakistan army kills 39 militants near Afghan border in fresh assault
Agencies
Islamabad/United Nations, December 27, 2014
Pakistani warplanes and ground forces killed 39 militants as part of an ongoing operation in a volatile tribal region near the Afghan border, the Pakistani military said.
The airstrikes were carried out Friday evening in the Datta Khel area of the North Waziristan tribal region, an army statement said Saturday, adding that an underground tunnel system and a large underground cache of weapons and ammunition were also destroyed.
The military claimed several important militant commanders were among the dead, but didn't provide further details on the identities of the slain militants.
Also late Friday night, Pakistani troops ambushed a large assembly of militants on the border between the Orakzai and Khyber tribal regions, the statement said.
It said an intense battle took place in which 16 militants were killed and another 20 injured. Four army soldiers were also injured in the shootout, the statement said.
Journalists are barred from the region and it is impossible to independently verify the information.
The army says it has killed over 1,200 militants since the start of a massive offensive launched June 15 against militants in North Waziristan. The military offensive was launched after a terrorist attack on Pakistan's largest airport in Karachi.
Full report at:
http://www.hindustantimes.com/world-news/pakistan-army-kills-39-militants-near-afghan-border-in-fresh-assault/article1-1300783.aspx#sthash.ccd6sJzD.dpuf
----------
Orakzai clashes kill 16 suspected militants
December 27, 2014
PESHAWAR: At least 16 militants were killed and 20 injured, when security forces repulsed attacks on two check posts in the northwestern tribal region of Orakzai, official sources told Dawn.
Four security personnel were also injured in clashes that followed the attacks on the Shindara and Khazana Kandao checkposts in Orakzai.
The soldiers injured in the attacks that took place a little after midnight were shifted to the Kalaya Agency Headquarters for treatment.
Orakzai is one of Pakistan's seven semi-autonomous tribal regions in the northwest, where Pakistani Taliban and Al Qaeda-linked militants are said to have carved out strongholds.
It was a key abode of former Tehreek-i-Taliban Pakistan (TTP) chief Hakimullah Mehsud before he was killed in a US drone strike in North Waziristan in 2013.
Full report at:
http://www.dawn.com/news/1153472/orakzai-clashes-kill-16-suspected-militants
----------
Two suicide bombers killed in Zhob operation
27 Dec, 2014
QUETTA: Two suicide bombers were killed during a security forces' operation in Balochistan's Northern Zhob district on Saturday morning.
A security officer, who requested anonymity, told Dawn that forces conducted an operation against militants in the Gawal Ismailzai area of Zhob.
"One suicide bomber blew himself up while the other one was killed by security forces," he said.
Security forces and militants also exchanged fire during the operation. More troops were called in the area to apprehend the militants involved in acts of targeted killings, kidnapping and bomb explosions, the officer added.
Full report at:
http://www.dawn.com/news/1153478/two-suicide-bombers-killed-in-zhob-operation
----------
Police 'reluctant' to execute warrants for Lal Masjid cleric's arrest
27 Dec, 2014
ISLAMABAD: Police have turned up the heat on controversial Lal Masjid supremo Abdul Aziz, issuing warrants for his arrest on Friday, following the registration of an FIR against the firebrand cleric for threatening civil society members who had protested against his refusal to condemn the Peshawar tragedy.
Police officers Dawn spoke to on Friday said that the government had already ordered the police to detain those who were included in the 4th Schedule of the Anti-Terrorism Act due to the tense situation, which had developed in the aftermath of the Army Public School massacre.
However, police officers said they were finding it hard to implement the orders in the case of Abdul Aziz, and feared that his detention under the Maintenance of Public Order (MPO) may create a law and order situation. The cleric has already threatened to launch a countrywide protest if he is arrested, a claim he made during a Friday sermon delivered last week.
The case against the cleric filed on December 19 was registered in response to a complaint lodged by Syed Naeem Athar Bukhari, Mohammad Jibran Nasir, Farzana Bari, Shaan Taseer and others. The FIR, registered under Section 506(ii) of the Pakistan Penal Code (PPC) – which deals with criminal intimidation – is a non-bailable offence.
Full report at:
http://www.dawn.com/news/1153394/police-reluctant-to-execute-warrants-for-lal-masjid-clerics-arrest
----------
Pakistan to set up counter-terrorism force to check funding to militants
27 Dec, 2014
Stepping up its fight against militancy, Pakistan on Friday announced the formation of a federal counter-terrorism force, directed financial bodies to check funding to militants and set up a panel for implementing the plan to deal with the scourge.
The government has constituted a federal counter-terrorism force with immediate effect, Dawn News reported quoting official sources as saying after a high-level meeting chaired by Prime Minister Nawaz Sharif where the National Action Plan on counter-terrorism was discussed.
The force would work under the Ministry of Defence and would be deployed across the country. It would be responsible solely for countering terrorism, the sources said.
The force would also keep contact with civilian, military intelligence security agencies and its counter-terrorism wings, the sources were quoted as saying.
Interior Minister Chaudhry Nisar had earlier this week announced the formation of a 5,000-strong counter-terrorism force to fight terrorists.
Full report at:
http://indianexpress.com/article/world/neighbours/pakistan-to-set-up-counter-terrorism-force-to-check-funding-to-militants/99/#sthash.9Hrvt0se.dpuf
----------
PM wants functional NACTA in anti-terror effort
27 Dec, 2014
ISLAMABAD: Prime Minister Nawaz Sharif on Saturday directed that the National Counter Terrorism Authority Pakistan (Nacta) be made functional with immediate effect.
The prime minister chaired a meeting of the committee to oversee the implementation of the National Action Plan, which was worked out two days ago with the consensus of all political parties represented in parliament to tackle terrorism and militancy.
Following the premier's directive, an administrative meeting of the Nacta has been summoned for Wednesday. The meeting will be chaired by Interior Minister Chaudhry Nisar Ali Khan and it will review anti-terrorism measures adopted by the government.
The anti-terror body has largely remained dormant resulting in an absence of coordination among various intelligence and law-enforcement agencies which is critical to monitoring activities of extremist groups operating in different parts of the country.
Nacta is an independent body answerable directly to the prime minister. Although its new chief, Hamid Ali Khan, took charge in November this year, Nacta is yet to become fully functional.
Full report at:
http://www.dawn.com/news/1153473/pm-wants-functional-nacta-in-anti-terror-effort
----------
Fight against terrorism should start from Punjab: PTI
27 Dec, 2014
LAHORE: Pakistan Tehreek-i-Insaf (PTI) Punjab President Ejaz Chaudhry said Punjab should be the focal point for eliminating terrorists in the light of multi-party conference recommendations and consequent approval by the National Action Committee.
Chaudhry said on Friday the Punjab government should make a provincial action plan against terrorists as terrorism had not plagued Khyber Pakhtunkhwa or Balochistan only, but was also rooted in many areas of Punjab.
Until Punjab focused on improving the law and order situation and stopped providing indirect support to banned organisations, he said, the menace of terrorism could not be eliminated.
PTI Punjab Secretary-General Dr Yasmin Rashid said the Peshawar tragedy had brought major stakeholders closer. She stressed that Punjab and other provinces should develop coordination to share sensitive information on terrorist hideouts.
Recalling the tragedy at Wagah Border where 60 people were killed, Information Secretary Andaleeb Abbas said the Punjab government had not yet made public the steps taken to investigate and prevent recurrence of such events.
Full report at:
http://www.dawn.com/news/1153426/fight-against-terrorism-should-start-from-punjab-pti
----------
Punjab governor blames major powers for spread of terrorism
27 Dec, 2014
MUZAFFARABAD: Punjab Governor Chaudhry Mohammad Sarwar blamed the 'double standards' of the international community, particularly major powers, for sparking terrorism in various parts of the world, especially in Pakistan.
"Had the international issues like that of Kashmir and Palestine been settled in accordance with the wishes of their people as well as UN resolutions, the world would not have been in a mess it is in today," he said while addressing the Mirpur District Bar Association (DBA) during his visit to the lakeside city of Azad Jammu and Kashmir (AJK).
The governor said the whole world was suffering from the consequences of American invasion of Iraq and Afghanistan in the wake of 9/11.
Full report at:
http://www.dawn.com/news/1153392/punjab-governor-blames-major-powers-for-spread-of-terrorism
----------
'Legally, Abdul Aziz Is Not the Khateeb'
27 Dec, 2014
ISLAMABAD: Legally speaking, the Lal Masjid has not had a Khateeb since 2004, as the order notifying Maulana Abdul Aziz as the Khateeb or imam (prayer leader) of the mosque was withdrawn by the Islamabad Capital Territory (ICT) administration in 2004.
"There has been no notified Khateeb in Lal Masjid for almost 10 years, except for the brief period of less than a week, when Maulana Ashfaq Ahmed was made the Khateeb ," a senior official of the ICT administration confirmed on condition of anonymity.
But, Maulana Ashfaq, who was posted to Lal Masjid from Bilal Masjid, was thrashed by students of various seminaries as soon as he arrived at the mosque to lead Friday prayers after it was reopened following the army operation in July 2007.
The notification of Abdul Aziz as Khateeb of the Lal Masjid was withdrawn by the ICT administration in 2004 after he issued a fatwa against the army and its operation in Waziristan.
Full report at:
http://www.dawn.com/news/1153401/legally-abdul-aziz-is-not-the-khateeb
----------
Civil society, intellectuals, writers support National Action Plan against terrorism
27 Dec, 2014
ISLAMABAD: The civil society leaders, writers, intellectuals, representatives of human rights bodies, traders and common people have fully supported the National Action Plan worked out by the civil and military leadership to completely root out the menace of terrorism from the country.
The top political and military leadership during the longest meeting displayed absolute unity and devised a comprehensive strategy with consensus to combat terrorism and extremism. Talking to APP here on Friday, Social Activist and Gender Expert, Dr Fouzia Saeed said it was good omen for the country that the present government and military leadership were in harmony and coordination and held joint efforts to combat terrorism.
"The time has arrived when the government can take even more braver steps and citizens should back the government in its efforts to fight terrorism," she added. Appreciating the efforts to completely uproot terrorism, Pak-China Institute Chairman, Senator Mushahid Hussain Sayed said that this was the real time to implement the National Action Plan formulated to fight terrorism. He said the nation has expressed confidence into the present political and military leadership toward pursuing stringent measures to root out terrorism.
CEO, Mishal, a civil society organization, Amir Jehangir said, "It is a good sign that all political parties as well as military leadership are together to eliminate the scourge of terrorism from its roots". "The APC would further strengthen the democratic institutions in the country and it would help out to settle down all the issues including terrorism and economic crisis".
Full report at:
http://www.dailytimes.com.pk/islamabad/27-Dec-2014/civil-society-intellectuals-writers-support-national-action-plan-against-terrorism
----------
'PPP endorsed military courts due to looming threats to the country'
27 Dec, 2014
KARACHI: Sindh Minister for Information, Archives and Local Government, Sharjeel Innam Memon on Friday said the PPP had endorsed the establishment of the military courts due to looming threats to the country.
He said the carnage in which 134 students of a school in Peshawar were martyred was a horrible tragedy in country's history following which the nation had to take some stern decisions. "It was a difficult decision for the PPP to say yes to the proposed establishment of the military courts but keeping in view the worst scenario in the country and threats of terrorism we finally agreed," he told journalists seeking his opinion about the government decision in its fight against terrorism.
Full report at:
http://www.dailytimes.com.pk/sindh/27-Dec-2014/ppp-endorsed-military-courts-due-to-looming-threats-to-the-country
-------
Legal loopholes led to 26/11 mastermind Lakhvi's bail: Pakistan Anti-Terrorism Court
27 Dec, 2014
Legal loopholes, weak evidence and irrelevant sections invoked against Zakiur Rehman Lakhvi, the key planner of the 2008 Mumbai attacks, led to the granting of his bail, an Anti-Terrorism Court (ATC) said.
ATC judge Judge Syed Kausar Abbas Zaidi, who had granted bail to Lakhvi on December 18, in his written order said that the evidence against 54-year-old accused was based on the statements of the officials of the Crime Investigation Department (CID) which apparently were 'insufficient' to refuse him bail.
The court observed that from the statements of the prosecution witnesses reveal that Lakhvi had been charged on 'hearsay' basis.
"It is also an admitted fact that not a single word has been uttered by Mohammad Mumtaz (witness) against Lakhvi," it said.
Full report at:
http://indianexpress.com/article/india/india-others/legal-loopholes-led-to-lakhvis-bail-pakistan-anti-terrorism-court/99/#sthash.uFsYr9Rm.dpuf
----------
Europe
ISIS Has 'The Power Of A Nuclear Bomb,' Says Author Allowed First-Hand Look At 'Caliphate'
27 Dec, 2014
A 74-year-old German author who gained unprecedented access to ISIS militants in Iraq has described the terrorist group as having "the power of a nuclear bomb or a tsunami."
Juergen Todenhoefer travelled to Mosul, the largest city controlled by Islamic State of Iraq and Al-Sham. He described seeing first-hand how the population is controlled by the militants.
Bookshops are filled with tomes describing how to treat slaves, while public dress is strictly monitored so as not to "resemble those worn by infidel women or men", Todenhoefer told German media.
Todenhoefer met recruits from Europe, the U.S. and even the Caribbean, as well as gun-wielding child soldiers swearing their allegiance to the caliphate. The German author said he was most disturbed by his conversations with ISIS militants, who insisted that "all religions who agree with democracy have to die," and that ISIS intends to "conquer the world." "This is the largest religious cleansing strategy that has ever been planned in human history," he told the RTL channel. "With every bomb that is dropped and hits a civilian, the number of terrorists increases."
Full report at:
http://news.nationalpost.com/2014/12/24/isis-has-the-power-of-a-nuclear-bomb-says-author-allowed-first-hand-look-at-caliphate/
----------
EU to lose pluralist nature as hatred toward Muslims grows
27 Dec, 2014
The disastrous rise of Islamophobia and xenophobia across Europe reveals that the multicultural and pluralist nature of the European Union was already damaged. The EU's commitment to respect freedom and human rights of minority groups based on race, religion and ethnicity has seemingly failed as no strong sanctions imposed by the EU is sufficient enough to halt widespread hatred toward the Muslim community living in different European countries. Respect for human rights, fundamental freedoms and democracy are the "principles upon which the European Union is founded and which are common to the member states." The EU considers xenophobia as a violation of human rights and the EU's fundamental rules. A broad set of rules to tackle different forms and manifestations of racism and xenophobia under the Framework Decision on combating racism and xenophobia was introduced and initiated by the European Union in 2008. The European Commission is "to monitor closely the implementation of the EU's rules on racism and xenophobia at the national level. According to the EU treaty, all acts of public incitement to violence and hatred on the basis of religion and race or national, ethnic origin would be penalized "by means of criminal law."
Full report at:
http://www.dailysabah.com/europe/2014/12/27/eu-to-lose-pluralist-nature-as-hatred-toward-muslims-grows
--------
Dutch Muslims concerned by mosque attacks
27 Dec, 2014
Amsterdam, The Netherlands - An unidentified man wearing a hoodie placed fireworks in the window of the Selimiye Mosque in Enschede, a city in the Netherlands, on December 14. A few seconds later, the fireworks exploded, breaking the window.
The motives of the perpetrator remain unclear - he has not yet been caught - but mosque board member Sezgin Akman said he suspects the attack was inspired by hatred of Islam.
"Maybe someone wanted to tell us we are not welcome," he said, adding the mosque has received several threatening letters in the past.
More than one-third of the Netherlands' 475 mosques have experienced at least one incident of vandalism, threatening letters, attempted arson, the placement of pigs' heads, or other aggressive actions in the past 10 years, according to research by Ineke van der Valk, author of the book Islamophobia and Discrimination.
Full report at:
http://www.aljazeera.com/indepth/features/2014/12/dutch-muslims-concerned-mosque-attacks-20141226131025788306.html
----------
Top UN officials ordered to leave Sudan for 'insulting' the country
27 Dec, 2014
Sudan said Friday it ordered two top United Nations officials to leave Khartoum for "insulting" the country and being "prejudiced" against its government.
UN Resident and Humanitarian Coordinator Ali Zaatari and UN Development Programme Country Director Yvonne Helle were told to leave, in a move criticised by Secretary General Ban Ki-moon who urged Khartoum to reverse the decision.
But the foreign ministry said it ordered Zaatari, a Jordanian national, to leave for "insulting the Sudanese people and its political leadership in an interview with a Norwegian newspaper".
In early December, a website close to Sudan's security apparatus said that Zaatari had criticised President Omar al-Bashir's government in an interview published by the Norwegian publication Bistandsaktuelt.
Full report at:
http://www.france24.com/en/20141226-top-un-officials-ordered-leave-sudan-insulting-country/
----------
UN urges Pakistan to halt executions
27 Dec, 2014
UNITED NATIONS: UN chief Ban Ki-moon is pressing Pakistan to end capital punishment and restore a moratorium on the death penalty the government lifted in terror cases following the Taliban school massacre in Peshawar.
Ban spoke with Prime Minister Nawaz Sharif on Thursday to express his condolences after the slaughter last week that left 150 people dead, including 134 children.
However, "while fully recognising the difficult circumstances, the secretary general urged the government of Pakistan to stop the executions of convicts and re-impose the moratorium on the death penalty," Ban's office said in a statement.
Prime Minister Sharif promised that "all legal norms would be respected," the statement added.
The prime minister ended the six-year moratorium on the death penalty, reinstating it for terrorism-related cases, in the wake of the deadliest terror attack in Pakistani history.
Pakistan plans to execute 500 militants in the coming weeks.
http://www.dawn.com/news/1153474/un-urges-pakistan-to-halt-executions
---------
India
NCM Condemns Statements 'Making Minorities Insecure'
27 Dec, 2014
In a resolution passed on Friday, the National Commission for Minorities has condemned statements implying that religions like Christianity and Islam are not native to India.
The commission said that such statements are creating a sense of insecurity among minority communities in the country and urged the government to ensure that all persons in public life refrain from making statements that can cause polarisation.
"The Indian Constitution guarantees every citizen the right to freedom of religion (Article 25) and any attempt to curtail this right goes against the Constitution of India. Ours is a secular nation where all religions are given an equal status and all persons are equally entitled to freedom of conscience and the right to freely profess, practise and propagate their religion.
Claiming religious monopoly for any one religion in a multi-religious, secular state and forcible conversions through inducement, allurement and coercion violate the Constitution, and must be strongly condemned," the resolution said. It described the statements as "irresponsible and uncalled for."
The NCM did not name any persons or organisations. However, in the wake of a Parliament session where Rajya Sabha saw no business over the conversion debate, the resolution seems to suggest that NCM, which maintained low profile since NDA government came to power, has woken up to the "Ghar Wapsi" debate.
http://indianexpress.com/article/india/india-others/national-commission-for-minorities-condemns-statements-making-minorities-insecure/#sthash.NerTYNNf.dpuf
----------
No change in India's support to Palestine cause, Govt says
TNN | Dec 27, 2014
NEW DELHI: Amid speculation that India may be contemplating a shift in its Palestine policy, the government reiterated on Friday that there was no change in New Delhi's policy of extending "traditional support'' for the Palestinian cause even as it continues to maintain good relations with Israel.
Apart from external affairs minister Sushma Swaraj's statement in Parliament earlier this year, which sought to allay apprehension that there was any change in India's Palestine policy, the foreign ministry also referred to the recent message by PM Narendra Modi to the UN reaffirming support for the "just cause of Palestine and solidarity with the Palestinian people for their struggle".
The message was meant to mark the International day of solidarity with the Palestinian People on November 24.
The government said, "India supports a negotiated solution, resulting in a sovereign, independent, viable and united state of Palestine with East Jerusalem as its capital, living within secure and recognized borders, side by side and at peace with Israel, as endorsed in the Arab Peace Initiative, the Quartet road map and relevant United Nations Security Council Resolutions."
Full report at:
http://timesofindia.indiatimes.com/india/No-change-in-Indias-support-to-Palestine-cause-Govt-says/articleshow/45656222.cms
----------
J&K: PDP seeks BJP's assurance on Article 370, AFSPA
27 Dec, 2014
The stalemate over government formation in Jammu and Kashmir continued for the fifth day on Saturday as PDP sought assurance from BJP over certain issues like safeguarding Article 370 and revocation of AFSPA which form the core agenda of the regional party.
"All options are still open, no decision has been taken yet on formation of government in the state with any other party," PDP spokesperson Naeem Akhter said.
He said the leadership of PDP, which emerged as the single largest party in the assembly elections, was discussing all its options for government formation including an alliance with the BJP.
Full report at:
http://indianexpress.com/article/india/politics/pdp-seeks-assurance-from-bjp-on-article-370-afspa/99/#sthash.7EUkCAjf.dpuf
----------
Pakistan Rangers resort to unprovoked firing in Jammu
PTI | Dec 27, 2014,
JAMMU: Pakistani troops violated the ceasefire twice along the Indo-Pak border in Jammu and Kathua districts, drawing retaliation from BSF.
This is the fourth ceasefire violation in the past four days.
"Pakistani troops resorted to small arms firing on Vikraman post along the International Border in Arnia sub-sector of Jammu district late last night", a police officer told PTI.
It continued till around 1.30am, he said, adding there was no loss of life or injury to anyone in the firing exchanges.
In another such ceasefire violation, Pakistani troops fired on the Jabowal post in Hiranagar sector of Kathua district last night, official said.
Full report at:
http://timesofindia.indiatimes.com/india/Pakistan-Rangers-resort-to-unprovoked-firing-in-Jammu/articleshow/45658056.cms
----------
Southeast Asia
Boy, 10, Among Six Stopped by Police at Jakarta Airport Heading for Syria
27 Dec, 2014
Jakarta. Indonesian police detained six people at Jakarta's international airport on Saturday morning expected of attempting to fly to Syria.
Police are investigating whether they intended to travel to Syria to join the Islamic State organization. The six were from Makassar, South Sulawesi, and included a 10-year-old boy.
"They are currently being questioned at the police office in Soekarno-Hatta International Airport," Jakarta Police investigator Adj.Sr.Cmr. Herry Heryawan told the Jakarta Globe on Saturday.
Jakarta Police spokesman Sr.Cmr. Rikwanto said the six people included a woman and a 10-year-old boy. They were heading to Syria via a Qatar Airlines flight, which was scheduled to leave Jakarta at 4 a.m. on Saturday morning.
"Based on our intel we apprehended six people who are suspected of using fake passports and documents," Rikwanto said.
Rikwanto said Jakarta Police would coordinate with Densus 88, the National Police's specialist anti-terror unit, to investigate any links to known extremists.
Earlier this month authorities in Malaysia prevented 12 Indonesians from travelling to Syria.
http://thejakartaglobe.beritasatu.com/news/boy-10-among-six-stopped-police-soekarno-hatta-airport-heading-syria/
----------
US news portal describes Najib as 'radical Islamist PM'
27 Dec, 2014
Datuk Seri Najib Razak has been described as a "radical Islamist prime minister of Malaysia" by news, entertainment and lifestyle website examiner.com, following his golf game with US president Barack Obama in Hawaii on Christmas Eve.
The US-based news portal said this based on Najib's speech in June at a dinner to commemorate the 20th anniversary of the Cheras Umno branch where he had urged party members to emulate the exploits of the Islamic State of Iraq and Syria (Isis) members as they had been able to defeat the Iraqi armed forces despite being outnumbered.
"The nation's Commander-in-Chief teed-off on Christmas Eve with the radical Islamist prime minister of Malaysia, who praised the actions of terrorist groups such as the Isis for their victories," it wrote.
Examiner.com's report, however, made no mention of the fact that the prime minister's office had later clarified that Najib's words were taken out of context and had on many occasions reiterated that the militants' actions ran counter to the Islamic faith and culture and humanity.
Full report at:
http://www.themalaysianinsider.com/malaysia/article/us-news-portal-describes-najib-as-radical-islamist-pm#sthash.llkKns85.dpuf
----------
After tsunami recovery, Sharia law now defines Aceh province
27 Dec, 2014
In 2004, the Indonesian province of Aceh was a civil war zone. Then came the tsunami. Today the region is at peace, but Aceh has established an Islamist government under the eyes of the Jakarta government.
There are hardly any traces left of the biggest natural disaster in Aceh's history. Several of the ruined villages on the coast have been rebuilt. Modern residential blocks, new mosques, even freshly asphalted roads now cover the area. The markets are full again, the fishermen venture out to sea, and people work in the factories - as if the wave had never come. The wave that, on December 26, 2004, ended the lives of 160,000 people in Aceh alone.
Around $7 billion (5.7 billion Euros) in reconstruction aid were sent to the utterly destroyed province from around the world. "Afterwards," explains Felix Heiduk, Indonesia expert at the German Institute for International and Security Affairs (SWP), "there was a reconstruction the likes of which had hardly ever been seen before in the world. If you compare the Aceh of today with the Aceh of before the tsunami, there has been a clear modernization boost in the past few years."
Full report at:
http://www.dw.de/after-tsunami-recovery-sharia-law-now-defines-aceh-province/a-18153006
----------
South Asia
4 ANA martyred, 35 insurgents killed in Military Operations
Dec 27 2014
The defense ministry of Afghanistan says four Afghan National Army soldiers embraced martyrdom in an explosion.
A statement issued this morning by the ministry's spokesman General Zahir Azimi would not provide further details but only states that the incident took place in past 48 hours.
The statement further states that 35 insurgents were also killed in military operations conducted in this period of time in four provinces.
According to the statement a large quantity of weapons and ammunition was also seized by the forces as well as 113 landmines were discovered.
Taliban insurgents rely more on landmines which beside the security forces cause heavy casualties to the civilians.
Three members of the same family lost lives in Helmand province on Friday when their vehicle ran over a landmine.
United Nations have expressed concern over the increase in civilian casualties caused by the landmine or improvised explosive devises beside the ground engagements in Afghanistan.
United Nations Assistance Mission in Afghanistan (UNAMA) has urged all sides to reduce civilian casualties.
http://www.khaama.com/4-ana-martyred-35-insurgents-killed-in-military-operations-2610
----------
NATO force mistakenly kills three Afghan nomads
27 December 2014
Afghanistan's NATO-led foreign force mistakenly killed three civilians in an air strike, Afghan officials said on Saturday, less than a week before most foreign troops are due to pull out at the end of a 13-year mission.
The mistaken killing of civilians in air strikes has been a source of anger throughout the force's mission, frequently straining ties between the NATO force and the government.
The latest incident took place in Logar province just south of the capital, Kabul, on Friday, and it involved nomads who had clashed in a dispute over land, provincial officials said.
Authorities in the area were negotiating a ceasefire but NATO's International Security Assistance Force (ISAF) apparently mistook the nomads for insurgents preparing an attack, officials said.
Full report at:
http://english.alarabiya.net/en/News/asia/2014/12/27/NATO-force-mistakenly-kills-three-Afghan-nomads-.html
----------
End of a decade of West's assistance to Afghanistan
27 December 2014
AFGHANISTAN has new roads, sections of which many deem too dangerous to use. It has a turbine to fill electricity needs that remains in pieces.
Sixteen transport planes given to the Air Force were scrapped having barely flown. International aid has been the mainstay of the Afghan economy since the Taliban were ousted in 2001, and donors, chiefly the United States, have plenty to show for tens of billions of dollars they poured into the war-ravaged nation.
Yet for all the success of cities rising from the rubble and boys and girls flocking to schools, there are frequent examples of aid poorly spent, with little regard for the long term viability of projects once money taps are turned off.
Take Mohammad Nasir, a farmer in his 70s who was recommended to Reuters by the US Agency for International Development (USAID) as an example of its success in Afghanistan.
Nasir earns over three times the national average wage of around $650 a year, thanks largely to US money that covered most of the cost of the concrete trellises on which his grapes grow near Kabul.
Full report at:
http://www.saudigazette.com.sa/index.cfm?method=home.regcon&contentid=20141227228714
--------
Online jihadists threaten Sean Paul with death ahead of New Year's concert
27 Dec, 2014
A video has appeared online threatening dancehall singer Sean Paul with death should he visit the Maldives for a New Year's Eve concert.
"'Sean Paul'!!! If you visit the Maldives, the world will see your burnt and blood drenched dead body," read cards held by a cloaked figure in the video posted on Youtube late last night (December 25).
Tourism minister Ahmed Adeeb, has responded to the threat this afternoon, stating in a tweet that the concert will go ahead as planned. Meanwhile Islamic minister Dr Mohamed Shaheem Ali Saeed has that that both bringing foreigners to perform new year's concerts, and the issuing of death threats were both "unacceptable".
Adeeb informed media late last month that the Jamaican artist would be appearing in a free concert in the capital Malé as part of the government's tourism promotion efforts.
Last night's video bears the logo of 'Bilad Al Sham Media' (BASM) group – an organisation which claims to consist of Maldivian jihadis based in Syria and the Maldives.
Through social media, the group has reported the deaths of five Maldivians in the Syrian civil war this year, as well as taunting the police's efforts to locate its members.
Full report at:
http://minivannews.com/crime-2/online-jihadists-threaten-sean-paul-with-death-ahead-of-new-years-concert-91822
--------
Mideast
Islamic State fighters are moving ever closer towards Israel
27 Dec, 2014
Islamic State has suffered severe losses as a result of coalition air strikes in the last months. Over 1,000 of its fighters have been killed, and Kurdish peshmerga forces have driven the jihadists back on a wide front between the cities of Erbil and Mosul.
The terror movement has also failed to conquer the symbolic town of Kobani (Ayn al-Arab) close to the Syrian-Turkish border (further south, Islamic State losses have been more modest and at least partially reversed).
Yet despite these setbacks, there are no indications that Islamic State is anywhere close to collapse. And while American bombers and Kurdish fighters are preventing its advance further east, there are many indications the jihadists are continuing to advance their presence in a south and westerly direction – from the borders of their entity towards Damascus and Lebanon, and incidentally, in the direction of Israel.
A largely hidden contest is under way in Deraa province in southern Syria, between Islamic State and the rival jihadists of Jabhat al-Nusra.
Full report at:
http://www.jpost.com/International/Behind-the-lines-Moving-ever-closer-385791
----------
Terrorism costs Turkey $1 trillion: Minister
27 Dec, 2014
Turkey has lost some $350 billion directly and $1 trillion indirectly over the last 30-40 years due to terrorism and its spillover effects, said Finance Minister Mehmet Şimşek on Dec. 26.
"It is not easy to calculate how much terrorism costs Turkey. Turkey has lost around $350 billion over the last 30-40 years due to terrorism, according to several experts. We can say terrorism has cost Turkey around $1 trillion overall," he said at the Symposium of Detection and Analysis of Financial, Economic and Social Impacts of Organized Crime.
The eastern and southeastern regions of the country couldn't attract direct investment, despite fertile agricultural soil and a young population, due to terrorism, he said.
"Terrorism and other unlawful actions, such as drug trafficking, fuel each other. Organized money laundering is the greatest problem here. The fight against these actions must be multilateral," he said.
Full report at:
http://www.hurriyetdailynews.com/terrorism-costs-turkey-1-trillion-minister-.aspx?pageID=238&nID=76149&NewsCatID=344
----------
Turkish President Erdoğan: I was fooled, betrayed by Gülen
27 Dec, 2014
President Recep Tayyip Erdoğan has publicly expressed regret over his once-friendly relations with U.S.-based Islamic scholar Fethullah Gülen, as he likened what he perceived as "betrayal" by Gülen and the Gülenist movement to being stabbed in the back.
"You have witnessed it. You cannot guess from where the attack will come. You cannot predict from where betrayal will come. You cannot see who stabbed you in the back," said Erdoğan on Dec. 26.
The president then quoted a traditional narrative about a brave man who was regretful of the fact that he was stabbed in the back. According to the narrative, the man would have had no regret if the assailant had approached him from the front and then stabbed him.
Full report at:
http://www.hurriyetdailynews.com/turkish-president-erdogan-i-was-fooled-betrayed-by-gulen.aspx?pageID=238&nID=76156&NewsCatID=338
----------
'I will commit the same crime every day': teen sentenced for joining Gezi protests
27 Dec, 2014
A 17-year-old high school student sentenced to three months in jail with four other teenagers by a Children's Court for setting up tents during last year's Gezi protests in İzmir has expressed his dismay for the ruling handed out Dec. 26.
Mustafa Ali Tonbul, whose sentence was turned into a fine and will not be executed unless he commits the same offense in the next three years, defiantly said the ruling would not intimidate him from continuing political activism.
"I will commit the same crime every day, because, in my judgment, that is not a crime. We want an equal future with the rich. My friends are also of the same opinion. We will continue to commit that crime," Tonbul said.
The student, who was left permanently injured after a police tear gas canister hit his skull at the protests, questioned why the protesters who did not use any violence at the demonstrations were convicted while the police officer who fatally injured 14-year-old Berkin Elvan was still free.
Full report at:
http://www.hurriyetdailynews.com/i-will-commit-the-same-crime-every-day-says-teen-sentenced-for-joining-gezi-protests.aspx?pageID=238&nID=76132&NewsCatID=339
----------
Africa
Islamist gunmen attack African Union base in Somalia
27 Dec, 2014
MOGADISHU - Eight Islamist gunmen infiltrated the main African Union (AU) base in Mogadishu on Thursday and killed three peacekeepers and a civilian contractor, the AU mission in Somalia said.
Somali militant group al Shabaab claimed responsibility for the attack, which lasted several hours, and said it had killed 14 peacekeepers. Witnesses reported hearing bomb blasts and volleys of gunfire through the day.
"We targeted the enemies at a time they were celebrating Christmas," Sheikh Abdiasis Abu Musab, al Shabaab's military operations spokesman, told Reuters.
In the past, al Shabaab has exaggerated the number of soldiers it has killed, while officials have played down losses.
The al-Qaida-aligned militants want to topple the Western-backed Mogadishu government and describe AU troops as "Christian enemies". The Islamist group also wants to impose its own strict version of sharia law in the country.
The raid showed al Shabaab's ability to carry out high-profile attacks in the capital even as it is losing territory in rural areas to AU peacekeepers who have launched two major offensives this year.
http://www.jpost.com/Breaking-News/Islamist-gunmen-attack-African-Union-base-in-Somalia-385880
----------
Sudan pressures U.N. as it reviews Darfur force
27 December 2014
Sudan's government is stepping up pressure on the United Nations as Secretary-General Ban Ki-moon prepares recommendations on the future of a joint U.N.-African Union peacekeeping force in the country's violence-wracked Darfur region.
In the government's latest move, President Omar al-Bashir ordered the expulsion of two top U.N. officials, a decision condemned by the secretary-general Thursday as "unacceptable." The U.N. chief called on Sudan's government to reverse its decision immediately.
So did U.S. Ambassador Samantha Power who tweeted Friday: "Sudan gov continuing to show true colors: expels two U.N. officials while violence continues. Shameful decision should be reversed."
The expulsions follow al-Bashir's call on Nov. 30 for a "clear program" to end the joint mission in Darfur, known as UNAMID, which was established in 2007 to protect civilians caught in a conflict between rebels who took up arms against the government in 2003, accusing it of discrimination and neglect. The United Nations says 300,000 people have died in the conflict and more than two million have fled their homes.
Full report at:
http://english.alarabiya.net/en/News/middle-east/2014/12/27/Sudan-steps-up-pressure-on-U-N-as-it-reviews-Darfur-force.html
----------
Fire spreads to more oil tanks at Libya port
27 Dec, 2014
A fire at an oil storage tank in Libya's oil port of al-Sidra has spread to two more tanks following clashes between pro-government forces and Islamist militias, officials said on Friday.
The militants had launched Thursday surprise attack in which they used speedboats in a failed bid to seize the main oil terminal.
The militiamen belonging to the Fajr Libya, or Libya Dawn, launched the attack on the port of al-Sidra by firing rockets from speedboats, setting an oil tank on fire and killing at least 19 soldiers, security sources said.
Al-Sider and its adjacent Ras Lanuf terminal have been closed since a force allied to a rival government in Tripoli moved east trying to take them, part of a struggle between former rebels who helped topple Muammar Qaddafi in 2011 but are now fighting for power and a share of oil reserves.
Full report at:
http://english.alarabiya.net/en/News/africa/2014/12/26/Fire-spreads-to-more-oil-tanks-at-Libya-port.html
--------
North America
Islamic banking set to boom in Canada
27 Dec, 2014
Expert says it would be a win-win, opening Canada to more Shariah-compliant capital investment
After emerging largely unscathed from the financial crisis that hammered North American and European financial institutions, Islamic banking has momentum.
Worth $1 trillion in assets, Islamic banking is being lauded by British Prime Minister David Cameron and supported by Canada's Conservative government, major banks and credit unions, leading business schools and influential Muslims across the country.
Islamic banking — which bans interest payments, pure monetary speculation and investing in such things as alcohol, gambling, pornographic media and pork — is being sold as the next big thing in financing for Canada, which is home to just over a million Muslims.
"Awareness in Canada of Islamic banking has increased dramatically in the last few years," says Walid Hejazi, an associate professor at the University of Toronto's Rotman School of Management, where he teaches on the subject.
Full report at:
http://www.vancouversun.com/life/Islamic+banking+boom+Canada/10682520/story.html#ixzz3N8EtDJec
----------
US plagued by doubts as it exits Afghan war
27 Dec, 2014
WASHINGTON: After 13 years, the United States is winding down its war in Afghanistan, plagued by doubts about what was accomplished at such a high cost.
Instead of a sense of triumph at the close of the longest conflict in America's history, there is mostly regret and fatigue over a war that claimed the lives of more than 2,300 American troops and cost more than a trillion dollars.
US commanders insist the Afghan security forces will hold the line in a stalemate with the Taliban. But some officials fear a repeat of Iraq, in which an American-trained army virtually collapsed in the face of an extremist onslaught.
A large majority of Americans now say the war was not worth it, and only 23 per cent of US soldiers believe the mission has been a success, according to recent polls.
But when it began, the war enjoyed overwhelming support and victory seemed within reach.
Less than a month after Al Qaeda's attacks of September 11, 2001, president George W. Bush captured the nation's sense of righteous anger as he announced military action in Afghanistan in a televised address in October.
Full report at:
http://www.dawn.com/news/1153490/us-plagued-by-doubts-as-it-exits-afghan-war
----------
Volunteering is way of life for a Saudi student in US
27 Dec, 2014
THE United States is home to one of the biggest philanthropists in the world — Microsoft founder Bill Gates — who gives away over $3 billion of his own money to projects around the world.
He and his wife, Melinda, travel the world donating not just their money, but volunteering their time too, so they can give back to those in need.
Volunteering is a huge pastime for many Americans, with about 62.6 million people volunteering through or for an organization at least once between September 2012 and September 2013.
Now there's another volunteer that the US Bureau of Labor Statistics can add to the list — 22 year old Rasheed Al-Faris from Yanbu, near Jeddah.
Rasheed is currently in his final year studying Biomedical Energy at the University of Hartford in Connecticut.
Shortly after joining the Saudi student club on campus, he heard about an organization called "US to US," which encourages Saudi students to volunteer their time to the local communities they are living in.
Full report at:
http://www.saudigazette.com.sa/index.cfm?method=home.regcon&contentid=20141227228721
----------
Poll: IS terrorism top 2014 international story to Canadians
27 Dec, 2014
Islamic State terrorism was the top story across the globe in 2014, one-third of Canadians say.
According to an Ipsos Reid poll, IS terrorism acts and the war in Iraq was the highest ranked international news story of the past year among Canadians, 33 per cent of whom picked the story for the top spot.
The Ebola outbreak in Africa was a close second, as 30 per cent of Canadians felt it was the top story for 2014. The end-of-year poll was conducted online by Ipsos Reid between Dec. 16-19 on behalf of Global News. The survey sampled 1,005 Canadians from Ipsos' Canadian online panel.
The disparity between the two choices is small, but varies slightly by demographic. The polling results revealed that women (35 per cent) were nine per cent more likely than men (26 per cent) to declare the Ebola outbreak as the top story, whereas men (35 per cent) were only slightly more likely than women (31 per cent) to list ISIS in the top spot.
Full report at:
http://www.theglobeandmail.com/news/world/poll-is-terrorism-top-2014-international-story-to-canadians/article22211401/
----------
URL: https://www.newageislam.com/islamic-world-news/new-age-islam-news-bureau/in-isis-controlled-syria-and-iraq-everyday-life-is-falling-apart/d/100723