New Age Islam News Bureau
1 Apr 2017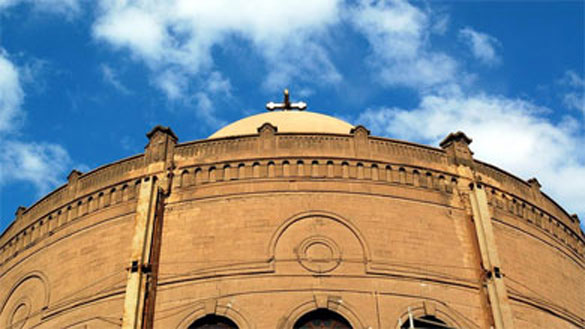 The extremist Fatwas rejected coexistence between Muslims and Christians in Egypt. (Shutterstock)
---------
• In Egypt, '3000 Extremist Fatwas' Incite Destruction of Churches: Egypt's Grand Mufti
• Hariri: Only Way to Achieve Diverse Syria Is To Eliminate Tyranny and Extremism
• EU Minister Blames European Media for Anti-Muslim Sentiment
• US Warns Israel on 'Unrestrained' Settlement Building
• Banner Claiming Muslim Support for Ram Mandir Uses Photo of Pune Cleric 'Without His Permission'
Arab World
• In Egypt, '3000 Extremist Fatwas' Incite Destruction of Churches: Egypt's Grand Mufti
• Hariri: Only Way to Achieve Diverse Syria Is To Eliminate Tyranny and Extremism
• Hundreds of Militants Endorse Peace with Syrian Army in Homs
• US must accept 'political reality' in Syria: White House
• Syrian Army Continues to March on Terrorists' Strongholds in Hama
• Syrian Army Forces Hit ISIL's Strongholds Hard in Deir Ezzur Province
• Turkey-Backed Militants Leave Northern Aleppo to Join Comrades in Other Battlefields
• Russian Navy Launches Missile Attack on Terrorists' Centres in Syria's Lattakia
• One killed and four wounded by a suicide bomb in Iraq's Rutbah province
--------
Europe
• EU Minister Blames European Media for Anti-Muslim Sentiment
• Muslims Pray Outside To Protest Mosque Closure in Paris
• News media Muslim coverage driving Islamophobia - study
--------
Mideast
• US Warns Israel on 'Unrestrained' Settlement Building
• Saudi War Seeks To Install Puppet Regime In Yemen: Houthi
• Coalition air raids strike Houthi sites on the outskirts of Sanaa
• UN 'extremely concerned' over potential attack on Yemen's Hudaydah
• Turkey will maintain military presence in Syria
• Steely determination, collective bids required for terror fight: Iran
• Europe takes issue with Israel's new settlement plan
• Turkish minister says other military operations possible in Syria
• Turkish prosecutors seek life sentences for 45 coup suspects
--------
India
• Banner Claiming Muslim Support for Ram Mandir Uses Photo of Pune Cleric 'Without His Permission'
• Muslims Should Return Ram Janmabhomi Site in Ayodhya to Hindus, Says VHP
• Two Indians Allegedly Living Illegally In Pakistan Arrested, Say Authorities
• 2008 blasts: Crime branch brings Yasin Bhatkal, accomplice to Ahmedabad
--------
Pakistan
• Are Pakistan And Russia Forming An Alliance? Not Without China, Says Expert
• Pak Deputy Speaker Muslim States Urged To Form Unified Strategy
• 'High-Value' Terrorist of TTP Sajna Group Killed In Security Operation: ISPR
• Fazal ur Rehman shows displeasure on Tahir Ashrafi's presence during media talk
• Pakistan valued by global friends: COAS
• Polio refusal cases among well-educated people baffle officials
--------
South Asia
• Russia Supports Taliban's Call for Withdrawal of All Foreign Forces
• Top Bangladesh army officer dies from Islamic State claimed blast
• Rohingya rebel leader challenges Myanmar's Suu Kyi, vows to fight on
• NATO's work in Afghanistan remains critical: US Secretary of State
--------
Southeast Asia
• Shock Slap for Malays, Umno & Pas: Singapore, China More Islamic Than 'So-Called' Muslim Nation Malaysia – U.S. Report
• 'Shariah Amendment to Be Revived When Umno Is Stronger'
• Thousands protest against Jakarta's Christian governor
• PAS firm on tabling Hadi's bill at this Parliament sitting
--------
North America
• County Supervisor to Host Forums on Islam Featuring Authors, Activists, Faith Leaders
• CAIR Leader Compares Plight of Muslims in America to That of Jews in Nazi Germany
• Canada extends mission against ISIL for three months
• FBI releases 9/11 Pentagon photos
--------
Africa
• UN Urges New Efforts to Defeat Boko Haram and Tackle Hunger
• Nigeria: The Unlikely Trump Fans of Nigeria
Ethiopia: 'Ethiopiansim' Is Sympathy
Compiled by New Age Islam News Bureau
URL: https://www.newageislam.com/islamic-world-news/in-egypt-3000-extremist-fatwas/d/110617
--------
In Egypt, '3000 Extremist Fatwas' Incite Destruction of Churches: Egypt's Grand Mufti
1 April 2017
Egypt's official religious institution tasked with drafting edicts has found 3,000 Fatwas (religious edicts) issued by extremists that incite the destruction of churches in the country, Egypt's Grand Mufti, Dr. Shawki Allam, said on Friday.
Dr. Allam rejected the existence of these fatwas, saying: "human diversity is inevitable and divine … the oppression of religions is rejected by law because human relations are a divine formula to achieve coexistence and renounce discord."
The extremist Fatwas rejected coexistence between Muslims and Christians in Egypt.
Towards the end of 2016, 25 people were killed and 31 wounded in an explosion that targeted the Cathedral of Saint Mark in the Abbasia district in Cairo.
The Mufti said that "all attempts aiming to divide between the Muslims and Christians of Egypt have failed."
He added: "Muslims had never destroyed any kind of heritage after their historic victories in foreign countries, in contrary to what ISIS and other extremists are doing now."
He said that they have also found "Fatwas inciting the demolition of Cairo and Giza heritage sites, in an explicit violation to the way Islam deals with heritage."
https://english.alarabiya.net/en/News/middle-east/2017/04/01/In-Egypt-3000-extremist-fatwas-incite-destruction-of-churches.html
--------
Hariri: Only Way to Achieve Diverse Syria Is To Eliminate Tyranny and Extremism
31 March 2017
The head of the delegation of the Supreme Commission of the Syrian opposition in the Geneva negotiations Nasr al-Hariri said that the only way to achieve a diverse Syria is by eliminating tyranny and extremism.
Hariri said that they discussed the electoral procedures that are supposed to take place at the end of the transitional period and presented their vision of the political transition to UN envoy Staffan de Mistura.
He also said: "Our goal is to form a transitional government and we have not yet found a partner in the negotiations."
The peace talks on Syria concluded on Friday in Geneva amid expectations of no tangible progress, where UN envoy to Syria Staffan de Mistura met the participating delegations in the negotiations.
Sources told Al-Arabiya that this round of negotiations won't be prolonged.
This comes as the Kurdish National Council announced that it has suspended its participation in the current round held in Geneva as part of the Supreme Commission's negotiating team.
US Ambassador to the United Nations, Nicky Healy, said Thursday that Washington is no longer focused on overthrowing Syrian President Bashar al-Assad but rather seeking ways to end the war in Syria. Yet, the Syrian opposition rejects any plan involving al Assad in power.
"We choose the battle we want to fight," Healey told reporters. "When we look at it, it's about changing priorities, and our priority is no longer overthrowing al Assad."
https://english.alarabiya.net/en/News/middle-east/2017/03/31/Syrian-opposition-rejects-any-role-for-Assad-now-or-in-the-future.html
--------
EU minister blames European media for anti-Muslim sentiment
April 1, 2017
EU Minister and Chief Negotiator Ömer Çelik on Friday criticized the European media for propagating the misperception that "all terrorists are Muslims."
Speaking at a panel on the European Anti-Muslim Report (EIR) 2016, prepared by the Foundation for Political, Economic and Social Research (SETA), the EU minister marked the refugee crisis and Daesh terror as the main reasons for anti-Muslim.
Regarding the misconception that there were links between acts of terrorism and Muslims, the EU minister said, "Daesh had a huge impact on the European public and their politicians manipulated the negative events against Muslims in general."
Çelik also noted that terrorist incidents could not be systematically evaluated in accordance with Islam.
"Using the words of Islam and terror side by side only strengthens Daesh ideologically. European politicians, who see radicalization as something particular to Muslims, are also misled. This kind of idea deepens the divide and discrimination [in society] and damages all Muslims," the minister added, while criticizing European politicians over the upward movement in far-right mentalities.
As anti-migration and anti-Islam rhetoric begins to dominate European politics while far-right politics gain ground all across Europe, Çelik pointed out that anti-Muslim was becoming a real threat to the basic principles of the EU and social peace.
"We see anti-Erdoğan, anti-Turkey, anti-Islam and xenophobic movements in Europe, which are based on racist politics," the minister said.
Çelik said the perception that refugees would occupy Europe,was a view manipulated by some fascist politicians, who using the media, wanted to create a fear of Muslims among Europeans.
https://www.dailysabah.com/eu-affairs/2017/04/01/eu-minister-blames-european-media-for-anti-muslim-sentiment
--------
US warns Israel on 'unrestrained' settlement building
April 1, 2017
JERUSALEM - The United States warned Friday that "unrestrained" building of settler homes could hinder peace, after Israel approved a new settlement in the occupied West Bank for the first time in a quarter century.
The Palestinians reacted angrily as what is widely seen as the most right-wing government in Israeli history presses ahead with settlement expansion in defiance of international concern. US President Donald Trump's administration refrained from criticising the new settlement, which was approved by the Israeli security cabinet late Thursday, but warned that further expansion could undermine peace efforts.
"While the existence of settlements is not in itself an impediment to peace, further unrestrained settlement activity does not help advance peace," a White House official said.
"Going forward... the Israeli government has made clear that Israel's intent is to adopt a policy regarding settlement activity that takes President Trump's concerns into consideration."
UN Secretary General Antonio Guterres said Friday he is "disappointed and alarmed" by Israel's approval of the construction of its first completely new settlement in the occupied Palestinian territory of West Bank in 25 years.
"The secretary general has consistently stressed that there is no Plan B for Israelis and Palestinians to live together in peace and security," UN spokesman Stephane Dujarric said in a statement.
"He [Guterres] condemns all unilateral actions that, like the present one, threaten peace and undermine the two-state solution," he added. Israel's so-called security cabinet on Thursday unanimously voted in favour of the new settlement in two decades.
Senior Palestinian official Saeb Erekat said Israel "continues to destroy the prospects of peace."
He also criticised the UN, European Union and United States for not doing enough to punish Israel for continuing to expand settlements in the West Bank. "Peace is not going to be achieved by tolerating such crimes," he said.
More than 400,000 Israelis live in existing settlements considered illegal under international law.
The new settlement will be constructed north of the former wildcat Jewish outpost known as Amona, which was razed in February in accordance with an Israeli High Court order.
Prime Minister Benjamin Netanyahu had promised to build a new settlement for its residents after their eviction.
"I promised to create a new community and we are going to respect that commitment and create it today," he said ahead of Thursday's security cabinet meeting.
Oded Revivi, chief foreign envoy for the umbrella body representing settlers, welcomed the decision.
"We will be monitoring the government very closely to see that these plans come to fruition, enabling a new era of building," he said in a statement.
Agriculture minister Uri Ariel also welcomed the announcement, saying it would allow the "development of Judaea and Samaria," using a term right-wing Israelis apply to the West Bank. It will be the first entirely new settlement that an Israeli government has approved since 1991, the anti-settlement NGO Peace Now said. In recent years, construction had focused instead on expanding existing settlements.
Peace Now said the new settlement's location deep in the West Bank was "strategic for the fragmentation of the West Bank," which Palestinians see as the bulk of their future state.
"Netanyahu is held captive by the settlers, and chooses his political survival over the interest of the state of Israel," the NGO said, adding it was pushing Israelis and Palestinians closer to "apartheid."
The international community regards all Israeli settlements in the occupied Palestinian territories as illegal and a major obstacle to Middle East peace. Israel draws a distinction between those it sanctions and those it does not - so-called outposts.
The cabinet also invited tenders for nearly 2,000 new homes in existing settlements and discussed retroactively legalising three outposts, Peace Now said. Ronen Bergman, senior correspondent for Israel's Yediot Aharonot newspaper, said Netanyahu, who has faced corruption allegations, has been dragged further right to keep his government together.
The far-right pro-settlement Jewish Home party, part of Netanyahu's coalition, is often dictating the government's agenda, he added. "He has been shifted more and more to the right since being re-elected. "(Netanyahu) is not calling the agenda, he is chasing the agenda," Bergman told AFP.
The former US administration of Barack Obama was deeply opposed to Israel's expansion of the settlements and in December withheld its veto from a UN Security Council resolution condemning the policy.
But since Trump took office in January, settler leaders have been emboldened by his far less critical stance and Israel has since announced more than 5,500 new homes in existing settlements.
Netanyahu has been in discussions with the Trump administration on how to move ahead with further construction.
Trump has pledged unstinting support for Israel but has also urged Netanyahu to "hold back on settlements for a little bit" while his administration looks for ways to restart Israeli-Palestinian talks.
http://nation.com.pk/international/01-Apr-2017/us-warns-israel-on-unrestrained-settlement-building
--------
Banner claiming Muslim support for Ram Mandir uses photo of Pune cleric 'without his permission'
April 1, 2017
by Chandan Shantaram Haygunde
A banner in support of the construction of Ram Temple in Ayodhya, put up outside the UP Assembly premises in Lucknow by BJP leader Kunwar Syed Iqbal Haider, has sparked a controversy as it features Maulana Dr Shabih Ahsan Kazmi, a religious leader from Pune.
Kazmi said his picture was used without his knowledge or permission, and he didn't even know about the banner that "went viral on social media".
The banner features Prime Minister Narendra Modi and BJP chief Amit Shah, among others. Kazmi's photograph is displayed on the banner, along with the statement "Ho janmabhumi par mandir nirman, Muslimo ka yahi armaan" (Let the temple be constructed at Ram's birthplace, that's what Muslims wish for).
Kazmi, a religious leader with Reza Trust in Guruwar Peth area of Pune, said his photograph was used with "mischievious intent", to show that he had extended support for the construction of Ram Temple in Ayodhya.
"I have not made any such comment regarding the Ram Mandir issue, which is sub-judice. The order of the Supreme Court on the issue will be final and I will accept it," said Kazmi.
The banner also has images of Ram, a temple, UP Chief Minister Yogi Adityanath, Union Home Minister Rajnath Singh, as well as Kunwar Syed Iqbal Haider himself.
According to Haider's Facebook page, he is running a campaign in support of Ram Temple, and has held a press conference in Uttar Pradesh as part of his campaign. An image on his FB page, posted on Friday, shows the banner on display behind Haider as he addresses the media.
Kazmi said he got to know about the banner from Anjum Inamdar, a social worker, on Friday. "The banner was part of a report on a Hindi news channel. I have nothing to do with this banner. I was not asked for permission before printing my name on it. I don't know the people who have used my photograph on the banner. After the news report, images of the banner went viral on social media. There were many negative comments on it… I was harassed and mentally disturbed by them".
Kazmi said he had approached police to file a complaint on the issue. "I have filed a complaint application with the Pune police commissioner, seeking legal action against the culprits. I have also contacted the news channel's correspondent in Pune, clarifying that I had nothing to do with the banner. I have been working in the social and religious fields in Pune for the last 31 years. I travel all over India to spread the message of social harmony. It is wrong to misuse my name in such a manner," he said. When contacted, Haider told The Indian Express over the phone, "We got Maulana Kazmi's photograph from his representative Hussain Raza in Lucknow, that's why we used it. The Supreme Court wants the Ram Mandir issue to be resolved through talks. We are doing the same thing. Thousands of Muslims in India are joining our campaign and supporting the construction of Ram Mandir. We appeal to Maulana Kazmi… he too should come out openly to support it…"
Hyder Abbas Chand, president of the BJP minority wing in UP, said Haider had been a member of the party state executive for almost eight months, and he had been associated with the party for over a year.
For all the latest India News, download Indian Express App now
http://indianexpress.com/article/india/banner-claiming-muslim-support-for-ram-mandir-uses-photo-of-pune-cleric-without-his-permission-ayodhya-4594492/
--------
Arab World
Hundreds of Militants Endorse Peace with Syrian Army in Homs
Mar 31, 2017
"Around 530 militants will stay here. They are giving up fight against the army and will be granted full rights as ordinary people," Governor of Homs Province Talal al-Barazi said according to TASS.
Other militants in Al-Wa'er district in the Northwestern outskirts of Homs city did not want to take advantage of the amnesty however, he added.
All the rest will be transported to the North of the country within the next six weeks together with their family members, he stated.
"As the government, we tried to persuade the militants to stay here, but they did not want to do this, so they are leaving," the governor said.
Also, the Syrian Army's artillery and missile units and the Russian fighter jets targeted the terrorist groups' strongholds in Northern Homs on Thursday, killing and wounding a number of militants.
The missile units opened heavy fire at terrorists' defense lines in the outskirt of Talbiseh town, leaving a number of militants dead or wounded.
Also the army's artillery units targeted the positions of terrorist groups in Tir Ma'ala.
The Syrian warplanes, meantime, targeted the military sites of the terrorists in the village of Za'aferaneh and Tir Ma'ala in Northern Homs, while the Russian bombers raided the positions of the terrorists near the town of Rastan.
http://en.farsnews.com/newstext.aspx?nn=13960111000133
--------
US must accept 'political reality' in Syria: White House
April 1, 2017
WASHINGTON - The White House said on Friday that the United States must accept the political reality that the future of Syrian President Bashar al-Assad is up to the Syrian people and the US focus in the region must be on defeating Islamic State militants.
"With respect to Assad, there is a political reality that we have to accept in terms of where we are right now. We lost a lot of opportunity the last administration with respect to Assad," White House spokesman Sean Spicer told a news briefing.
"We need to focus on now defeating ISIS," he said, using an acronym for the group. "The United States has profound priorities in Syria and Iraq and we've made it clear that counterterrorism, particularly the defeat of ISIS, is foremost among those priorities."
US top diplomat demands Nato allies pay up
In Brussels, US Secretary of State Rex Tillerson pressed Nato allies Friday to ramp up military spending and denounced Russia's "aggression" in Ukraine, toughening the Trump administration's tone toward Moscow.
Tillerson delivered the message as he met fellow Nato foreign ministers for the first time ahead of a May 25 summit to be attended by leaders of the 28-nation alliance, including President Donald Trump.
"As President Trump has made clear, it is no longer sustainable for the US to maintain a disproportionate share of Nato's defence expenditures," Tillerson said in Brussels.
He urged his fellow foreign ministers to agree at the May summit to produce plans by the end of the year to meet the spending pledge.
Nato countries originally agreed at a summit in Wales in 2014 to contribute the equivalent of two percent of their gross domestic product to defence.
Seeking to draw a line under the funding row, Nato chief Jens Stoltenberg has sought to play down concerns that Trump is less committed to the alliance than his predecessors.
"We see a strong US commitment to Nato, to the transatlantic bond not only in words but also in deeds," Stoltenberg said, citing increased US military deployments in eastern Europe.
Tillerson's remarks were tougher than those previously made by Trump or his cabinet officials who have stressed better US relations with Moscow after they had sunk to a low under former president Barack Obama over the crisis in Ukraine.
"We want to have a discussion around Nato's posture in Europe, most particularly in eastern Europe in response to Russia's aggression in Ukraine and elsewhere," Tillerson told reporters.
In his speech, Tillerson added that Nato was "fundamental to countering both non-violent, but at times violent, Russian agitation and Russian aggression."
US officials said Tillerson would work with Nato allies to press Russia to fulfil its obligations under the Minsk agreements to end the war in eastern Ukraine.
Russia in 2014 annexed Crimea from Ukraine and backed separatists in eastern Ukraine.
Allies have been alarmed at the prospect of Trump seeking to improve relations with Russia at the expense of support for the pro-Western government in Ukraine or Nato allies in former Soviet parts of eastern Europe.
Their concerns were reinforced when Tillerson initially planned to skip the Nato meeting, citing various commitments including a trip to Russia.
But Tillerson, a media-shy former oilman who had friendly ties with Russian President Vladimir Putin, agreed to attend when Nato moved the meeting forward to Friday from next week.
Full report at:
http://nation.com.pk/international/01-Apr-2017/us-must-accept-political-reality-in-syria-white-house
--------
Syrian Army Continues to March on Terrorists' Strongholds in Hama
Mar 31, 2017
The army launched a powerful assault on the positions of Tahrir al-Sham Hay'at in Arzeh village from their positions at Tal Shihah.
According to army reports, the charge led to a series of intense clashes that lasted for several hours on Thursday and early Friday.
The reports said the army soldiers and their allied forces restored security and stability to the villages and towns of Eastern Arzeh, Western Arzeh, Qusai'ya, Belhosain and Kharbat al-Hujamah and took control over the Shihah hill North of Hama province following the clashes.
In relevant developments in the province on Thursday, the Syrian Air Force and artillery units targeted the positions of Al-Nusra Front (also known as Fatah al-Sham Front or the Levant Liberation Board) in 13 different villages and towns in Northern Hama, inflicting major losses on the terrorists.
The warplanes and artillery units hit the movements and concentration centers of Al-Nusra Front in the villages and towns of Atashan, Skeik, Latamina, Souran, Taybat al-Imam, Ma'ardes, al-Majdal, Khattab, Qatish, Heybat, Kafar Naboudeh, Tal Huvash and Jaberiyeh in Northern Hama and inflicted heavy losses on the terrorists.
Full report at:
http://en.farsnews.com/newstext.aspx?nn=13960111000182
--------
Syrian Army Forces Hit ISIL's Strongholds Hard in Deir Ezzur Province
Mar 31, 2017
The Syrian Army men engaged in heavy fighting with ISIL in al-Sonouf hill on the Taym Road, killing a number of terrorists and destroying their military vehicle.
In the meantime, intense battles erupted in and around Deir Ezzur as the Syrian Army prepares to launch a massive offensive on ISIL positions in the Western regions of Deir Ezzur.
Meanwhile, the army soldiers repelled another powerful offensive of ISIL around the Panorama Roundabout.
Local sources said that the ISIL has launched several "desperate" attacks against the Syrian Army in the past few days, but retreated from the battlefield after brief battle.
The sources also mentioned that the army soldiers are attempting to seize the provincial cemetery and al-Thardah Mountain which overlook the Deir Ezzur's military airport.
Well-informed military sources disclosed on Thursday that the Syrian Army troops were preparing for a large-scale attack on ISIL's defense lines in the Western and Southern countryside of Deir Ezzur province.
The sources said that the army's 104th Airborne Brigade and Al-Qassem Group would lead the assault on ISIL's concentration centers, alongside the 123rd Brigade of the 3rd Division and 137th Artillery Brigade of the 17th Reserve Division.
Full report at:
http://en.farsnews.com/newstext.aspx?nn=13960111000225
--------
Turkey-Backed Militants Leave Northern Aleppo to Join Comrades in Other Battlefields
Mar 31, 2017
According to the military source that cited Russian drone footage, many of the militants from the Turkey-led Euphrates Shield Operation have left Northern Aleppo after the closure of the base.
The military source added that with the large influx of militants in Western Aleppo and Northern Lattakia lately, it is very likely that these militants came from Northern Aleppo.
"In the coming weeks, the terrorists are expected to launch several attacks across Syria, so this transfer of militants will benefit them greatly in the manpower department," he said.
Media sources reported earlier this month that ISIL members joined the Turkey-backed militants of the Euphrates Shield Operation.
Hawar news website released images of ISIL Emir Mostafa Abi, nom de guerre Abu Ayesheh, along with two of his comrades in Homs province, and reported that he was a member of al-Mo'tasem Bellah group.
According to Hawar news, the other two ISIL militants seen in the image were members of Jeish al-Izzah terrorist group.
Meantime, the news website released an image of militants in ISIL uniforms standing among the Euphrates Shield Operation forces.
Hawar news had reported earlier this month that the Turkish Army troops were forcing Arab citizens in Northern Syria to join the Ankara-backed militants of the Euphrates Shield Operation, killing those who do not obey.
Full report at:
http://en.farsnews.com/newstext.aspx?nn=13960111000095
--------
Russian Navy Launches Missile Attack on Terrorists' Centres in Syria's Lattakia
Mar 31, 2017
The Russian cruise missiles reportedly struck several sites along the Lattakia-Idlib road on Thursday, causing significant damage on the strongholds of Tahrir al-Sham near the town of Jisr Al-Shughour in Southern Idlib.
According to a local source in Lattakia, the cruise missile strikes could be heard from as far away as the provincial capital and the Southern city of Jableh, where the Russian Air Force is stationed.
This powerful attack by the Russian Navy was in response to the rocket assault on the Humeimim Military Airbase conducted by the terrorists earlier this week.
In relevant developments on Thursday, the Syrian Air Force carried out more than a dozen combat flights over terrorist groups' positions in Northeastern Lattakia, inflicting major losses on the militants.
The warplanes targeted the terrorists' concentration centers in Kabani town and its surroundings in the Kurds Mountain, killing and wounding a number of militants.
The fighter jets also pounded terrorists' gathering centers during heavy night raids in the villages of Tafahia and Yunesiya located on an important supply route between Idlib and Lattakia near the Turkish border North of Lattakia.
The raids resulted in the destruction of a convoy of gunmen heading towards the Lattakia countryside near the Yunesiya crossing, destroying more than 10 SUVs with heavy machine guns loaded with weapons and ammunition.
Full report at:
http://en.farsnews.com/newstext.aspx?nn=13960111000086
--------
Europe
Muslims pray outside to protest mosque closure in Paris
31 Mar, 2017
Hundreds of Muslims have taken to praying on the streets of a Paris suburb to protest the closure of the hall they had been using as a prayer room.
Protesters gathered outside the town hall of the northern Paris suburb of Clichy on Friday. The Muslims were protesting the loss of their prayer hall which the mayor, Rémi Muzeau, plans to turn into a multimedia library for Clichy's 60,000 residents.
The hall had been rented by the Union of Muslim Worship and Cultural Associations of Clichy-la-Garenne (UAMC) since May 2013, but their lease expired in 2016. A court of appeal then ruled against the UAMC, who have been negotiating with the council to keep their old prayer space ever since.
As a result from taking the hall from the UAMC, 300 children now cannot attend Arabic or Islamic history classes formerly being held there.
"The social and educational role of our association is important, both for newcomers and for younger people," Soraya, a local mother, told the newspaper 20 minutes. "Our literacy classes offer a means of integration so that French becomes the language of choice in place of Arabic."
Local authorities have argued that Muslims can use the new Clichy Muslim Cultural and Worship Center (ACCCMC) that was inaugurated last year. But after visiting the new center – located next to a car pound – last year, UAMC's supporters say it's too small and too far away.
"For women, the elderly and children who travel by foot or by public transport in the evenings, it will be difficult for us to get there," Rabiaa, a member of the UAMC, told 20 minutes. "We will be out of the way and risk losing practitioners along the way."
Protesters have been gathering outside the town hall for ten days now, and have vowed to stay every day until the issue is resolved.
There are an estimated five million Muslims in France, and street prayers are becoming more frequent due to a shortage of mosques. Far-right presidential candidate Marine Le Pen has pointed to such outdoor prayers as an example of Muslim encroachment on French secular values.
https://www.rt.com/news/383017-muslims-pray-outside-protest-paris/
--------
News media Muslim coverage driving Islamophobia - study
April 1, 2017
A New Zealand study has linked listening to, watching and reading the news to greater anger towards Muslims.
Researchers from Auckland, Otago and Victoria universities used data collected from the 20-year New Zealand Attitudes and Values Study, covering the responses of more than 16,000 Kiwis.
It didn't matter whether they saw themselves as liberal or conservative - the more news they consume, the more likely New Zealanders are to show both increased anger and reduced warmth towards Muslims.
"The association of prejudice towards Muslims with more media exposure holds across the political spectrum, and is specific to Muslims," says lead author Dr John Shaver of the University of Otago.
"This indicates that it is widespread representations of Muslims in the news that is contributing to lower Muslim acceptance, rather than any partisan media bias. The media, regardless of politics, tend to publish violent stories because violence sells."
Muslim Kiwis attacked in Huntly
Prof Joseph Bulbulia of Victoria University, one of the study's co-authors, said there are "real-world" consequences for Muslims, who already "encounter prejudice across their daily routines, at the workplace, and in their children's schools".
Full report at:
http://www.newshub.co.nz/home/new-zealand/2017/03/news-media-muslim-coverage-driving-islamophobia-study.html
--------
Mideast
Saudi war seeks to install puppet regime in Yemen: Houthi
Mar 31, 2017
The leader of Yemen's Houthi Ansarullah movement says Saudi Arabia's military aggression against the impoverished country aims to install a puppet regime serving the kingdom's interests.
Abdul Malik Badreddin al-Houthi said in a televised speech in Sana'a on Friday that the aggressors seek to install a weak and puppet regime in Yemen to protect the interests of Saudi Arabia and the United Arab Emirates.
He added that the United States and the Saudi and Emirati aggressors seek to dominate Yemen's wealth and territory as well as Bab-al-Mandeb Strait.
Houthi also stated that the Saudi campaign aims to strip the Yemeni people of their identity.
Ansarullah's leader further said Yemen's people would continue their fight till they liberate all Yemeni areas. The people of Yemen will not give in to occupation, Houthi said.
He also dismissed as mere lies the claims that the Saudi war aims to counter Iran's influence.
He underlined that this war was not against Iran but a war against the Yemeni nation. The Houthi leader praised Iran's honorable stance towards the Yemeni people.
Saudi Arabia has been leading a destructive and deadly campaign against Yemen since March 2015 in an attempt to reinstate Abd Rabbuh Mansur Hadi, the president who has resigned, and crush the Houthi movement. Riyadh has failed to achieve its goals and suffered setbacks as a result of Yemen's resistance and retaliatory attacks by Yemeni fighters.
The campaign has seriously damaged Yemen's infrastructure. Local Yemeni sources have put the death toll from the Saudi war at over 12,000, including many women and children.
http://www.presstv.ir/Detail/2017/03/31/516263/Houthi-Saudi-puppet-regime-Yemen
--------
Coalition air raids strike Houthi sites on the outskirts of Sanaa
31 March 2017
The Arab coalition launched several air strikes on Houthi militia and ousted-president Saleh loyalists on the outskirts of Sanaa.
Security sources revealed that 17 raids have struck security camps and weapons' caches affiliated with Saleh militias in suburbs south of the capital.
Seven other raids also struck weapons' caches in al-Zindani farms in Bani al-Harith district north east of the Sanaa.
It also struck several Houthi grouping locations in Arhab province, and north of Nahm in al-Matoun in al-Jawf providence.
Around 35 militants were killed and injured in other raids on al-Jawf region.
Full report at:
https://english.alarabiya.net/en/News/gulf/2017/03/31/Coalition-air-raids-strike-Houthi-sites-on-the-outskirts-of-Sanaa.html
--------
UN 'extremely concerned' over potential attack on Yemen's Hudaydah
Apr 1, 2017
The United Nations has warned against a possible military action against Yemen's Houthi-controlled port city of Hudaydah, where over 70 percent of the nation's food imports and relief aid is delivered.
During a Friday panel discussion on Yemeni crisis at the Washington-based Middle East Institute, the United Nations Special Envoy for Yemen Ismail Ould Cheikh Ahmed said he was "extremely concerned" over a potential military operation on the vital Saudi port.
"We as the United Nations are advocating that no military operations should be undertaken in Hudaydah," Ahmed said.
The warning comes days after the Saudi-led coalition, which has been engaged in a deadly military campaign against Yemen over the past two years, threatened to attack Yemen's western port city.
Hudaydah is part of a broad battlefront where Saudi-backed forces are fighting the Yemeni army and its Houthi allies, which control most of northern and western Yemen.
This is while recent reports say Washington is considering a more assertive role in the war on Yemen by providing more assistance to the Riyadh-led military alliance by conducting an operation in Hudaydah aimed at removing the Houthi fighters and allied army and popular forces.
The previous US administration, which had been wary of operations involving the port, rejected a proposal by the Saudi Kingdom last year to assist a push to take control of the Red Sea port near the Bab al-Mandab strait, through which nearly 4 million barrels of oil are shipped daily.
The UN envoy further warned that any military action in the area would "need to take into account the need to avoid any further deterioration in the humanitarian situation."
Despite repeated assaults and heavy bombardments, Saudi Arabia has failed to wrest control of the strategic port. On March 19, Riyadh called for jurisdiction over Hudaydah to be transferred to the UN.
The world body, however, flatly rejected the call.
The development came nearly two weeks after a reported Saudi strike hit a boat carrying 145 Somali refugees near the port, killing 42 and injuring nearly 30 more, prompting international rights group Human Rights Watch (HRW) to condemn the move as a "war crime."
Full report at:
http://www.presstv.ir/Detail/2017/04/01/516304/Yemen-Hudaydah-port-UN-envoy-Ismail-Ould-Cheikh-Ahmed-Saudi-aggression
--------
Turkey will maintain military presence in Syria
31 March 2017
The Turkish army said Friday it will keep a military presence in Syria despite officially ending its offensive in the country's north against the ISIS militants.
"Our activities continue for the protection of our national security, to prevent any undesirable entity, to allow our displaced Syrian brothers and sisters to return to their country, and to ensure security and stability in the region," the military said. The Turkish armed forces said in a statement this "phase" of its operation against ISIS and "terrorists" in the region was "successfully completed."
The completion of the operation dubbed "Euphrates Shield" had been announced by Prime Minister Binali Yildirim on Wednesday, who nevertheless did not rule out new military campaigns inside Syria.
At the time, neither Yildirim nor the top advisory national security council had said whether or not there were plans to withdraw Turkish troops.
Turkey launched in August its unilateral operation with Syrian rebels to remove ISIS from its border and to halt the Kurdish militia advance.
Dozens of Turkish soldiers were killed by ISIS during clashes and attacks as Turkey-backed Syrian opposition fighters recaptured towns including Jarabulus, Al-Rai, Dabiq and Al-Bab.
President Recep Tayyip Erdogan's spokesman Ibrahim Kalin said Friday the completion of the military operation did not mean Turkey would ignore what takes place on its southern border.
Full report at:
https://english.alarabiya.net/en/News/middle-east/2017/03/31/Turkey-will-maintain-military-presence-in-Syria.html
--------
Steely determination, collective bids required for terror fight: Iran
Mar 31, 2017
Iran has censured a terrorist bomb blast near a mosque in Pakistan, saying "steely determination" and "collective cooperation" are required to eliminate terrorism and extremism at both international and regional levels.
Iranian Foreign Ministry Spokesman Bahram Qassemi said on Friday terrorism would be eradicated in the region and across the world only through steely determination to stop financial and spiritual support for terrorism and extremism.
He added that a successful campaign against the scourges also requires the engagement of all countries in a mechanism based on "collective and honest" cooperation.
"So long as some individuals deploy the rhetoric of bullying, carnage and massacre instead of logic and dialog as a means to achieve their own ominous goals and a few countries in the region [also] see their interests in the spread of insecurity, terrorism and extremism, there is no hope for uprooting this cancerous tumor," he added.
He expressed confidence that those who are spreading violence and terror would pay a heavy price for their criminal acts.
The Iranian spokesman expressed his sympathy with the Pakistani government, nation and the bereaved families of the victims.
At least 22 people were killed after a powerful bomb attack targeted a mosque in the northwestern Pakistani city of Parachinar on Friday.
Full report at:
http://www.presstv.ir/Detail/2017/03/31/516268/Iran-Pakistan-Parachinar-Bahram-Qassemi-mosque-JamaatulAhrar
--------
Europe takes issue with Israel's new settlement plan
Apr 1, 2017
Israel's recent approval of a first settlement in the occupied West Bank in 20 years has been met with strong denunciations from major European governments.
On Thursday, Israel's so-called security cabinet unanimously voted in favor of the construction of a settlement near the Palestinian city of Ramallah. It is supposed to house some 40 Israeli families reluctantly evicted from Amona, an outpost razed in February because of a court ruling that structures built on privately-owned Palestinian land — like Amona — be removed.
Just one day before the new settlement was approved, state members of the Arab League had called for Israel's withdrawal from occupied territories and the formation of an independent Palestinian state based on the borders that had been designated before 1967, the year when the West Bank, and other territories, were occupied by Israel.
In a statement released on Friday, British Foreign Secretary Boris Johnson described the new Israeli construction plan as "contrary to international law," stressing that it "seriously" undermined the prospects of the so-called two-state solution.
"I urge Israel not to take steps such as these, which move us away from our shared goal of peace and security and make it harder to achieve a different relationship between Israel and the Arab world," he said.
The French Foreign Ministry separately said that Israel's settlement announcement was "extremely worrying" and that Paris "firmly condemns these decisions that threaten peace and risk exacerbating tensions on the ground."
"France reiterates that settlements are illegal under international law, notably under Resolution 2334 of the UN Security Council. It calls on Israel to respect its international obligation," the French ministry statement read, referring to a historic December 2016 resolution condemning Israeli settlement activities as a "flagrant violation of international law.
The German Foreign Ministry adopted a similar stance and emphasized that Berlin expected Tel Aviv "to clarify which solution they are pursuing for a lasting peace with the Palestinians."
"Germany will not recognize any change in the 1967 lines, which has not been agreed between the parties," the spokesperson added.
The European Union (EU)'s top diplomat, Federica Mogherini, also issued a statement reiterating that, "All settlements in the occupied Palestinian territory… are illegal under international law, constitute an obstacle to peace and threaten to make a two-state solution impossible."
Countries that have typically been supporting Israel in the past seem to be growing restless with the regime in Tel Aviv because of its defiant settlement activities on occupied territory. Such impatience was displayed in the passing of the Security Council Resolution 2334 (2016), during which the United States — Israel's staunchest ally — uncharacteristically decided not to wield its veto power and allowed the adoption of the text with a mere abstention, much to the chagrin of Tel Aviv.
Approved 14-0 in the 15-member Council, the resolution calls on Israel to immediately and completely cease all settlement activities on occupied Palestinian territory, including the West Bank.
Although the new US administration has denounced the former administration for letting the resolution go through, the Israeli regime now seems to be seeing more friction with other Western governments.
Earlier on Friday, the United Nations (UN), too, expressed its disapproval of the new Israeli measure.
Full report at:
http://www.presstv.ir/Detail/2017/04/01/516300/Israel-West-Bank-settlement-UK-France-Germany-EU
--------
Turkish minister says other military operations possible in Syria
Mar 31, 2017
Turkey has not ruled out the possibility of yet another military intervention in war-torn Syria despite officially announcing the completion of a months-long offensive in the Arab country, claiming that the end of a military operation does not mean that "threats" against Ankara have been eliminated.
"When the need arises and a threat occurs against Turkey's security, Turkey will not hesitate to conduct other operations in order to eliminate this threat," said Turkish Defense Minister Fikri Isik on Friday, two days after Prime Minister Binali Yildirim announced the end of Turkey's major military operation on Syrian soil.
In August 2016, Turkey began a unilateral military intervention in northern Syria, code-named Operation Euphrates Shield, sending tanks and warplanes across the border. Ankara claimed that its military campaign was aimed at pushing the Daesh Takfiri terrorist group from Turkey's border with Syria and stopping the advance of Kurdish forces, who were themselves fighting Daesh, but Damascus denounced the operation as a breach of its sovereignty.
"Therefore, the end of Operation Euphrates Shield does not mean the threats against Turkey are completely over," Isik further told reporters in the eastern Black Sea province of Gumushane.
The Turkish minister also claimed that the operation had cleared 2,000 square kilometers from the presence of Daesh, adding that the Kurdistan Workers' Party (PKK) and the Democratic Union Party (PYD)'s "dream of merging cantons" in northern Syria had been crushed. Ankara has listed the PKK, and its Syrian offshoot, the PYD, as terrorist organizations.
Full report at:
http://www.presstv.ir/Detail/2017/03/31/516282/Turkey-Syria-Isik-Yildirim-Euphrates-Shield-Daesh-PKK
--------
Turkish prosecutors seek life sentences for 45 coup suspects
Mar 31, 2017
Prosecutors in Turkey seek life sentences for more than 40 people stationed at an air base outside Ankara, from where plotters allegedly led the attempted coup of July 15, 2016.
According to Turkey's state-run Anadolu Agency, the prosecutors formally charged the 45 along with 436 others in a 4,658-page indictment issued on Friday.
Twenty-five generals stationed at Akinci Air Base as well as 25 pilots who are charged with commandeering F-16 jets that flew low over the cities of Ankara and Istanbul or dropped bombs on key government installations are among the 481 suspects.
The indictment needs to be approved by an Ankara court before a trial date is determined.
Full report at:
http://www.presstv.ir/Detail/2017/03/31/516252/Turkey-life-sentences-coup-suspects
--------
India
Muslims Should Return Ram Janmabhomi Site in Ayodhya to Hindus, Says VHP
April 1, 2017
The slogan of "Mandir Wahin Banayenge" echoed once again, but in Mumbai. At a press conference on Friday evening, VHP office-bearers said Muslims must voluntarily return the "Ram Janmabhomi" site in Ayodhya to Hindus. Citing the observations of the Allahabad High Court and quoting various orders, the VHP claimed it was very clear that the place was the birthplace of Lord Ram and was of religious importance to the Hindu community.
Taking a firm stand, VHP's Dr Surrendra Jain said, "The Ayodhya Ram Janmabhomi is as important for Hindus as Mecca and Madina are for Muslims. Considering this, Muslims must voluntarily return the land to the Hindu community. The government of India too must keep up with its promise, and clear the 70-acre land and hand it over to Hindu community for Ram Mandir," Jain said.
Jain also appealed that a law should be enacted in Parliament for Ram Mandir on the lines of the Somnath temple.
Jain added that the Archeological Survey of India too was of the view that the masjid was built after demolishing a structure. "Everybody knows it was the Lord Ram temple and thus belongs to the Hindu community," he said.
Jain said, "Though the temple was demolished, the Hindu community still worships at that place. The Ayodhya controversy is not the issue of temple and mosque but it is the struggle to get back our Ram Janmabhomi. It is the right of the Hindu community."
http://indianexpress.com/article/india/muslims-should-return-ram-janmabhoomi-site-in-ayodhya-to-hindus-says-vhp-4594510/
--------
Two Indians Allegedly Living Illegally In Pakistan Arrested, Say Authorities
March 31, 2017
Two Indian nationals have been arrested in Karachi during census exercise with Pakistani authorities claiming they were living illegally in the city for the last eight years.
Law enforcement agencies are questioning the duo from Gujarat who had been arrested from Gulshan-e-Iqba and Saddar areas of Karachi on Monday during the ongoing countrywide census, Sindh Census Commissioner Abdul Aleem Memon said.
"We found them during census checks in Karachi this week," Memon said.
The census officials alerted the authorities about the presence of the two Indians which led to a raid by police and intelligence agencies.
According to officials, the two men have been living in the city for the last eight years.
They have been identified as Hassan Ahmad, a resident of Ahmadabad and Waseem Hassan from Gujarat, local Dunya TV reported.
Both the persons are living in the country without any legal documents.
"They have no legal documents to support why they are living in Karachi and they were unable to respond to our questions properly. One of them also had a diary which we confiscated and handed over to the authorities," Memon said.
Pakistan began its first census in about two decades with the assistance of over 200,000 troops and civilian officials on March 15 to collect crucial data that will be used for key policy decisions, including delimitation of constituencies.
Full report at:
http://indianexpress.com/article/world/two-indians-allegedly-living-illegally-in-pakistan-arrested-say-authorities-4594213/
--------
2008 blasts: Crime branch brings Yasin Bhatkal, accomplice to Ahmedabad
April 1, 2017
Ahmedabad Detection of Crime Branch (DCB) on Friday brought Indian Mujahideen (IM) terrorist Mohammed Ahmed Siddibapa alias Yasin Bhatkal and his accomplice Asadulla Akhtar alias Haddi to the city on a transfer warrant in connection with their alleged roles in 2008 serial bomb blasts.
DCB officials said that they would seek their remand for further interrogation from metropolitan court where both would be produced on Saturday. "The duo is key accused in the case, right from doing a recce of the spots, planting bombs and exploding them. As many as 56 persons had died while nearly 200 suffered injuries," said an officer.
Full report at:
http://indianexpress.com/article/india/2008-blasts-crime-branch-brings-yasin-bhatkal-accomplice-to-ahmedabad-4594605/
--------
Pakistan
Are Pakistan And Russia Forming An Alliance? Not Without China, Says Expert
DAWN.COM 01 April 2017
Analysts were quick to note a new friendship which appears to be blossoming between Pakistan and Russia. The Russian Deputy Chief of General Staff Colonel General Israkov Sergi Yuryevich was hosted by Peshawar Corps Commander Lt-Gen Nazir Ahmed Butt on a visit to North and South Waziristan just a few days ago.
But is it too soon to draw any conclusions about the relations between the two states, especially given the complicated history?
"This is an interesting and unusual development. The military relations between the countries are growing rapidly but we cannot be so forward as to call it an alliance yet," Pakistan's former military attaché to Afghanistan Brigadier (retd) Saad Muhammad said during a talk show on Dunya News.
Brig Saad reminded viewers about the proxy war the two nations were fighting in Afghanistan in the 1980s. He the relationship only started to mend in 2014 when Russian Defence Minister Sergey Shoigu visited Pakistan in November 2014 "and signed a defence cooperation contract with us."
He elaborated on the growing military cooperation between the two countries, saying, "Last year's military exercise is an example of the countries' conjoined interests, apart from that the naval forces of both countries participated in 'Arabian Monsoon' exercises in 2014 and again in 2015."
He was referring to September 2016, when around 200 military personnel of both countries participated in the drills. The special operations drills codenamed 'Druzhbha-2016' — a Russian word meaning "friendship" — saw Russian troops and Pakistani special forces working in close cooperation.
Brig Saad pointed out, however, that an alliance between Pakistan and Russia would not be without China, a mutual friend, "The prospect of an alliance between Pakistan and Russia will not be possible without their mutual friend — China," he said and did not stop there but went on to say that Turkey too is interested in such an alliance.
"Turkey is also interested to be part of the group and I know for a fact that President Erdogan has shown his willingness in the matter," Brig Saad added.
"So this will be a four-way alliance between China, Turkey Russia and Pakistan and there is a lot of restlessness in the US regarding this prospective alliance and we cannot rule the US factor out as they are sitting in Afghanistan right now," Brig Saad cautioned, but also said, "The game is on."
Full report at:
https://www.dawn.com/news/1324187/are-pakistan-and-russia-forming-an-alliance-not-without-china-says-expert
--------
Pak Deputy Speaker Muslim States Urged To Form Unified Strategy
April 01, 2017
ISLAMABAD - Deputy Speaker National Assembly Murtaza Javed Abbasi has urged upon the Muslim Countries to devise a unified strategy in information technology to handle the online blasphemous material against Islam and Holy Prophet (Peace Be Upon Him).
He expressed these views while addressing the luncheon hosted in honour of diplomats of Islamic countries in connection with the Pakistan Day by him at the Parliament House on Friday.
He said that the Muslim Ummah needs to shun its differences and unite for a common cause of peace and prosperity and utilize its potential for uniform growth of all Muslims.
The deputy speaker said that Islam accords equal respect to all other religions, however, in the garb of freedom of expression, Muslims are subjected to ridicule and hate speeches. He said that this issue poses a major challenge to all of us that needs to be handled collectively.
He said that Parliament of Pakistan is determined to play a leading role in restraining the onslaught of hatred against Islam. He said that the engineered propaganda against Islam and its religious symbols necessitates for a unified front. He asked the guest diplomats to highlight this critical issue in their respective countries' parliament.
Murtaza Javed Abbasi said that Pakistan's relationship with the Muslim countries forms the cornerstone of our foreign policy. He said that Muslim Ummah today stands at the cross roads of its history and the confronting unprecedented challenges.
He said that Pakistan is fast emerging as a linchpin in fostering regional connectivity in the form of transcontinental game-changing corridor of prosperity.
Full report at:
http://nation.com.pk/national/01-Apr-2017/muslim-states-urged-to-form-unified-strategy
--------
'High-value' terrorist of TTP Sajna group killed in security operation: ISPR
April 1, 2017
A high-value terrorist and his accomplice from the Tehreek-i-Taliban Pakistan (TTP) Sajna group were killed in an operation by security forces near South Waziristan, the Inter-Services Public Relations (ISPR) said on Friday.
Mehmoodul Hassan alias Khwaja Madni and his accomplice were killed in the cordon and search operation carried out in the Frontier Region of Jandola.
The security personnel recovered weapons and ammunitions from the terrorists' hideout, said the ISPR statement.
The raid is a part of ongoing Operation Raddul Fasaad, which the army launched last month following a spate of terror attacks in the country, which claimed more than a hundred lives and left hundreds others injured.
The operation seeks to eliminate the "residual/latent threat of terrorism", consolidating the gains made in other military operations, and further ensuring the security of Pakistan's borders.
Full report at:
https://www.dawn.com/news/1323976/high-value-terrorist-of-ttp-sajna-group-killed-in-security-operation-ispr
--------
Fazal ur rehman shows displeasure on Tahir Ashrafi's presence during media talk
April 01, 2017
Maulana Fazal ur Rehman of Jamiat Ulema-e-Islam (F) questioned Maulana Tahir Ashrafi, former Chairman of the All Pakistan Ulema Council, presence in the room during his media talk, reported a private channel.
Fazal ur rehman was visiting Darul ullum Zakria in Tarnol where an Islamic congregation was being held. Media had requested JUI-F leader to spare sometime for them. When Fazal ur Rehman entered the room, where he was to talk to the journalists, he saw Maulana Tahir Ashrafi sitting next to his chair. Fazal ur Rehman asked him what was he doing there? Upon which Tahir Ashrafi took his chair into a corner and sat there along with his followers.
Full report at:
http://nation.com.pk/national/01-Apr-2017/fazal-ur-rehman-shows-displeasure-on-tahir-ashrafi-s-presence-during-media-talk
--------
Pakistan valued by global friends: COAS
April 01, 2017
ISLAMABAD - The Chief of Army Staff (COAS), General Qamar Javed Bajwa, on Friday said that those who wished to isolate Pakistan should see how Pakistan was actually valued and honoured by its global friends.
The army chief said that terrorism was affecting the whole world and required a collective response.
According to a statement issued by the Inter-Services Public Relations (ISPR), the army chief made these remarks during his visit to the National Counter-Terrorism Centre (NCTC) Pabbi near Mangla where troops from 10 foreign armies are participating in the 2nd Pakistan Army Team Spirit Competition (PATS).
Teams from armies of China, Indonesia, Jordon, Malaysia, Maldives, Myanmar, Sri Lanka, Turkey, Thailand and the UK are participating in the event.
The competition is aimed at testing survival skills and physical endurance, spread over 72 hours and includes 23 field events focusing on counter-terrorism operations.
The COAS interacted with foreign teams and highlighted importance of physical fitness and spirit of team work.
He said that Pakistan was a peace-loving country and had significantly contributed towards peace and stability.
Gen Bajwa said that the world acknowledged Pakistan's efforts in this regard and "your presence here is the evidence".
HIGH-VALUE TERRORIST KILLED IN SWA
Staff Reporter from Peshawar adds: A high-value terrorist along with another militant belonging to the banned Tehreek-e-Taliban Pakistan (TTP)'s Sajna group, were killed on Friday in South Waziristan Agency (SWA).
Full report at:
http://nation.com.pk/national/01-Apr-2017/pakistan-valued-by-global-friends-coas
--------
Polio refusal cases among well-educated people baffle officials
IKRAM JUNAIDI
April 1, 2017
ISLAMABAD: During the recent polio campaign held in the capital it was observed that a large number of educated people did not want to vaccinate their children.
Additional Deputy Commissioner (ADC) Abdul Sattar Isani termed the situation unfortunate and claimed that all possible steps would be taken to ensure that every child was administered the polio drops.
He said even cases were registered against those who refused the vaccination.
Prime Minister's Focal Person on Polio Eradication Senator Ayesha Raza Farooq said she was not in favour of registering cases as the administration of polio vaccine was a continuous process.
She requested the media to play a role to create awareness that polio vaccine is safe.
During the current year environmental samples collected from different parts of Islamabad and Rawalpindi were found positive for the poliovirus.
As a result, a special polio campaign was launched on March 27 in the high risk areas of the twin cities.
An official of the polio programme, requesting not to be quoted, said teams were formed to administer polio drops to every child.
"However, it was strange that we faced a strong resistance from even well-educated people. Though they did not have religious reasons but were not in favour of vaccinating their children. A majority of them claimed that they had administered polio drops privately but failed to produce a vaccination card or certificate," he said.
Sharing an incident, he said a resident of Sector G-7/2 refused to vaccinate his son.
"We tried our best and even a representative of the district administration was sent to the house to convince him. However, the citizen started threatening the team after which an FIR was registered against him with the Aabpara police," he said.
Abbas Khan, a duty officer at the Aabpara police, told Dawn that though the citizen was arrested and an FIR registered against him, he could not be detained as it was a bailable offence.
"My initial impression was that the person against whom the FIR was registered would be totally illiterate but I was shocked to see that he was well educated," he said.
The official of the polio programme said the polio team faced an awkward situation when a deputy secretary of a ministry refused to administer polio drops to children present in his house.
Full report at:
https://www.dawn.com/news/1324148/polio-refusal-cases-among-well-educated-people-baffle-officials
--------
South Asia
Russia supports Taliban's call for withdrawal of all foreign forces
Apr 01 2017
Russia has endorsed the Taliban militants group's call for the withdrawal of all foreign forces from Afghanistan, it has been reported.
The endorsement was reportedly made by Russia's Special Envoy for Afghanistan Zamir Kabulov during an interview.
"Of course it's justified" for the Taliban to oppose the foreign military presence, Kabul was quoted as saying by Bloomberg.
Kabulov further added "Who's in favor? Name me one neighboring state that supports it."
The latest remarks by Kabulov came as concerns are on the rise by the American officials regarding the growing attempts by Moscow to strengthen links with the Taliban group.
The American defense secretary James Mattis has said Washington is concerned regarding the ties between Moscow and Taliban group.
He said Washington is informed regarding the ties between two but did not comment further regarding the alleged supply of weapons to the group by Russia.
The commander of the United States Central Command earlier had accused Moscow of supporting the Taliban insurgency.
The top US commander in Afghanistan who is also leading the NATO-led Resolute Support Mission had also expressed concerns regarding the growing interferences by the neighboring countries of Afghanistan.
http://www.khaama.com/russia-supports-talibans-call-for-withdrawal-of-all-foreign-forces-02478
--------
Top Bangladesh army officer dies from Islamic State claimed blast
April 1, 2017
A senior army officer who headed the intelligence wing of Bangladesh's elite security force died Friday, days after he was injured in a bomb attack claimed by the Islamic State group.
Lieutenant Colonel Abul Kalam Azad was on life support and flown to Singapore on Sunday a day after he was critically injured in an explosion near a militant hideout.
He was flown back to Dhaka Wednesday and admitted to a military hospital after his condition remained unchanged.
"He died very early on Friday," said Mizanur Rahman Bhuiyan, a spokesperson of the Rapid Action Battalion.
Bangladesh prides itself on being a mainly moderate Muslim country. But that perception has been damaged by a series of gruesome killings of atheist bloggers, foreigners and religious minorities.
Colonel Azad, 41, was the intelligence director of the RAB, which has been at the forefront of Bangladesh's fight against militancy. He was the highest ranked military officer to have been killed in the country's more than a decade-long fight against extremism.
On Saturday six people including two police officers were killed in twin explosions that targeted a crowd and security officers who were watching army commandos storming an militant hideout in the northeastern city of Sylhet.
IS took credit for the attack while the Bangladeshi government and police blamed the blast on a homegrown militant outfit. About a dozen more police and security officers were also injured in the attack. Army commandos said they later shot dead four extremists including one of their top leaders after a three-day gunfight.
On Thursday police's counter-terrorism officers and SWAT raided another insurgent hideout in a village in the northeast and found bodies of up to eight people. Police believed they blew themselves up in an explosion to avoid being arrested.
Full report at:
http://www.pakistantoday.com.pk/2017/03/31/top-bangladesh-army-officer-dies-from-islamic-state-claimed-blast/
--------
Rohingya rebel leader challenges Myanmar's Suu Kyi, vows to fight on
April 01, 2017
The leader of a Rohingya Muslim insurgency against Myanmar's security forces yesterday said his group would keep fighting "even if a million die" unless the country's leader, Aung San Suu Kyi, took action to protect the religious minority.
Attacks on Myanmar border guard posts in October last year by a previously unknown insurgent group ignited the biggest crisis of Suu Kyi's year in power, with more than 75,000 Rohingya fleeing to Bangladesh in the ensuing army crackdown.
In his first independently conducted media interview, Ata Ullah, who has been identified by analysts and local people as the group's leader, denied links to foreign Islamists and said it was focused on the rights of the Rohingya, who say they face persecution at the hands of Myanmar's Buddhist majority.
"If we don't get our rights, if 1 million, 1.5 million, all Rohingya need to die, we will die," he said, speaking via a video call from an undisclosed location. "We will take our rights. We will fight with the cruel military government."
A United Nations report issued last month said Myanmar's security forces have committed mass killings and gang rapes against Rohingya during their campaign against the insurgents, which may amount to crimes against humanity.
The military has denied the accusations, saying it was engaged in a legitimate counterinsurgency operation.
"No one will be above the law," said Suu Kyi's spokesman Zaw Htay, responding to questions from Reuters on Friday about the insurgent leader's comments. "If they attack us violently, we will respond the same way. Nowhere in the world would violent action be tolerated."
ETHNIC CLASHES
More than a million Rohingya live in northwestern Myanmar's Rakhine State, where they are denied citizenship, freedom of movement and access to services such as healthcare. Serious ethnic clashes between Rohingya and ethnic Rakhine Buddhists erupted in 2012 in which more than 100 people were killed and some 140,000 were displaced.
"In 2012, lots of things happened and they killed us, so we understood at that time, they would not give us our rights," said Ata Ullah.
A report by the International Crisis Group in December said the insurgent group, which at first called itself Harakah al-Yaqin, Arabic for "Faith Movement", was formed by Rohingya living in Saudi Arabia after the 2012 violence.
It identified Ata Ullah, who appeared in a series of videos claiming responsibility for the Oct. 9 attacks on security forces, as the group's leader.
Ata Ullah said decades of resentment at their treatment had prompted hundreds of young Rohingya men to join him after he returned to Rakhine following several years in Bangladesh and Saudi Arabia.
"We can't turn on the lights at night. We can't move from one place to another during the day too. Everywhere checkpoints. That is not the way human beings live," he said.
Rohingya refugees Reuters has spoken to in camps in Bangladesh have said that many initially sympathised with the insurgents, but that the violence their campaign has unleashed had cost them support. Some have described how suspected government informers were killed by fighters.
"WE SURVIVE BY SELLING COWS"
In the earlier videos, Ata Ullah had cited Koranic verse and called for "jihad".
Full report at:
http://www.thedailystar.net/world/south-asia/rohingya-rebel-leader-challenges-suu-kyi-1384696
--------
NATO's work in Afghanistan remains critical: US Secretary of State
Apr 01 2017
The US Secretary of State Rex Tiller has said the work of the alliance in Afghanistan remains critical as he insists continued support to the Afghan forces to enable them fight terrorist groups and prevent the country from becoming the safe haven of the terrorist groups.
"NATO's work in Afghanistan remains critical. The United States is committed to the Resolute Support Mission and to our support for Afghan forces," he said in his intervention remarks at the NATO Foreign Ministerial.
Mr. Tiller further added "NATO's "Train, Advise, And Assist" mission is essential to our shared goal of ensuring that Afghanistan develops the capability to contribute to regional stability and prevail over terrorist threats, including al-Qaeda and ISIS." He said "The ongoing commitment of NATO Allies and partners to peace in Afghanistan, including to an eventual settlement between the Afghan government and the Taliban, protects this Alliance's interests, and, when successful, ensures that Afghanistan never again becomes a safe haven for terrorists."
This comes as the menace terror being faced by Afghanistan is on the rise with the insurgency led by a resurgent Taliban and other terrorist networks operating in the country, including the Islamic State of Iraq and Syria (ISIS) group and Al-Qaeda militants.
Full report at:
http://www.khaama.com/natos-work-in-afghanistan-remains-critical-us-secretary-of-state-02479
--------
Southeast Asia
Shock Slap For Malays, Umno & Pas: Singapore, China More Islamic Than 'So-Called' Muslim Nation Malaysia – U.S. Report
March 31, 2017
Rather than write on politics or economics/corporate or government policy, we like to be spiritual on this third day of Rejab and a Friday.
This morning, we received a message and it checked out to be true. It was something we used to say that in a certain aspect, the German and Japanese imbued Islamic value better than the Muslims in a certain endeavour but without the Islamic labeling.
Seeing how committed Markel is on human rights and her support to Malaysia on fighting for the fate of the Rohingya, the German Chancellor is more Islamic than some OIC leaders..
The message read:
Ranking of true Islamic countries
How Islamic are the Islamic Countries: A study conducted by Prof. Hussain Askari of George Washington University entitled "How Islamic are the Islamic Countries" showed that most of the countries that apply Islamic Principles in their daily lives are not ones that are traditionally Muslim.
Singapore 7th
Ireland ranked 1st, Denmark 2nd, Luxemborg 3rd, Sweden and UK 4th, New Zealand 6th, Singapore 7th, Malaysia 33rd, Kuwait 42nd, Bahrain 61th and the surprise, Kingdom of Saudi Arabia ranked 91st.*
The study, published in the Global Economy Journal might be shocking to most of us but when we look around us and see the reality of the situation, we find that the results of the study are accurate and true.
As Muslims we seem to care only about performing religious Obligations/Rituals/Sunnah (prayer, fasting, niqab, beards, etc), reading the Qur'an and the Hadiths, but we don't practice what we espouse.
We listen to religious lessons and sermons more than the other people on the face of the earth, but we are still not the best of Nations. In the last 60 years, we have listened to 3,000 Friday sermons.
A Chinese merchant once said: "Muslim merchants come to me and ask me to put fake international labels and brands on their goods. When I invite them to eat, they refuse because the food is not Halal. So it is Halal for them to sell fake goods?"
A Japanese Muslim said: "I traveled to the West and saw Islam in practice applied in the daily life of non-Muslims. I traveled to the East, I saw Islam but did not see any Muslims. I thank Allah I knew Islam before I knew how Muslims act."
Religion should not be reduced to Prayer and Fasting. It is a way of life and it is about how we treat others.
Performing a religious obligation is up to you and it is something between you and Allah. However, good ethics is something between you and other people. In other words, if we do not put Islamic ethics into action and practice, corruption will become rampant and disgrace will be our future.
We should not judge a person based on how he performs religious obligations for he might be a hypocrite.
The Prophet Muhammad (peace be upon him) said:
Verily, the bankrupt of my nation are those who come on the Day of Resurrection with prayers, fasting and charity, but also with insults, slander, consuming wealth, shedding and beating others.
Full report at:
http://www.malaysia-chronicle.com/shock-slap-for-malays-umno-pas-singapore-china-more-islamic-than-so-called-muslim-nation-malaysia-u-s-report/
--------
'Shariah Amendment to Be Revived When Umno Is Stronger'
April 1, 2017
PETALING JAYA: Sarawak DAP chairman Chong Chieng Jen has cautioned that the move to amend Shariah law in Malaysia may be revived within the next 15 years after Umno is powerful enough to impose it.
The Kota Sentosa assemblyman said despite the announcement by prime minister and Umno president Najib Razak that the government would not take over and table a private member's bill on the matter, the Umno-led administration will likely proceed with it when the party can withstand political opposition to such a move.
He said the Umno-led Barisan Nasional (BN) ran the risk of losing Sarawak and Sabah in the next general election if it had gone ahead with the Shariah Courts (Criminal Jurisdiction) Act 1965, or Act 355.
"This is a real risk that Najib cannot afford to take," Chong said in a statement yesterday.
"As a result, the Hudud Bill is thus postponed to another date. But surely this is only a temporary measure.
"The whole issue may again be revived in another five, 10 or 15 years when Umno becomes more powerful," he said.
Chong claimed that Umno has, through "indoctrination of racism and religious bigotry in our education system", churned out more bigots in the country.
"The import of West Malaysian Islamic religious teachers into Sarawak is just another example of such brain-washing projects of Umno on the Sarawak populace," he said.
He stressed that there will be more Sarawakian Muslims thinking the same way as "bigots" in Umno and PAS who have been pushing for the bill.
There would then be even more leaders of Parti Pesaka Bumiputera Bersatu, that currently heads Sarawak, having the same mentality as present Umno leaders, he added.
Umno would then be able to table such a bill with stronger support even in Sarawak because of the increase in the Muslim population there.
"Umno's brain-washing programmes will turn more Muslims into agreeing to the implementation of hudud law in Malaysia," he said.
The unfair electoral re-delineation exercise would also contribute to Umno always having more MPs in its favour, he added.
"Today, Sarawak may have objected to the implementation of hudud law in Sarawak.
"However, if we continue to allow Umno to import its ideology into Sarawak, in another 10 or 20 years, when those subject to Umno indoctrination programmes have grown of age, will the Sarawak government continue to object to the implementation of hudud law?"
He pointed out that there were now more than 1,000 West Malaysian Islamic religious teachers teaching their version of Islamic values in Sarawak.
"If we truly want to defend and preserve the secularism under our Federal Constitution, Umno must be made the opposition in the coming general election," he said.
"It is only when Umno is made the opposition that it can no longer implement its hudud agenda."
Full report at:
http://www.freemalaysiatoday.com/category/nation/2017/04/01/shariah-amendment-to-be-revived-when-umno-is-stronger/
--------
Thousands protest against Jakarta's Christian governor
March 31, 2017
JAKARTA: Undeterred by the arrest of hardline protest leaders, tens of thousands of Muslims marched in Indonesia's capital on Friday, calling for the jailing of the city's minority Christian governor.
Following Friday prayers, the protesters were marching from Istiqlal Mosque in central Jakarta to the nearby presidential palace, which was under heavy police guard.
Protests against Gov. Basuki "Ahok" Tjahaja Purnama have snowballed since September when he was accused of blaspheming the Quran and subsequently charged. His trial is still underway.
The turnout for Friday's protest was relatively small compared with the hundreds of thousands who answered the call of hardline Islamic groups to flood central Jakarta for demonstrations in November, December and February.
Earlier Friday, Indonesian police said they had arrested Muhammad Al Khaththath, the leader of the Muslim Peoples Forum umbrella group, and several other activists for suspected treason.
"We are not cowed by the arrest of our leaders," said a protester who identified himself as Wahyudi. "We'll keep fighting for the dignity of Islam. There's no room for kafir to lead in this nation."
The blasphemy case and the ease with which hard-liners attracted huge numbers of people to protest Ahok have undermined Indonesia's reputation for practicing a moderate form of Islam and shaken the secular government as well as mainstream Muslim groups.
Blasphemy is a criminal offense in Indonesia, punishable by up to five years in prison.
Ahok will compete in a runoff election for governor next week against a former cabinet minister backed by conservative Muslim clerics.
Full report at:
http://www.nst.com.my/news/2017/03/225901/thousands-protest-against-jakartas-christian-governor
--------
PAS firm on tabling Hadi's bill at this Parliament sitting
March 31, 2017
MARANG: PAS president Abdul Hadi Awang will still table the bill to amend the Syariah Courts (Criminal Jurisdiction) Act 1965, or better known as Act 355, during the current Parliament sitting.
He said even though the Barisan Nasional government had decided not to table the bill, PAS was firm on tabling it as a private member's bill and hoped the government would support the move.
"It is up to the Speaker to decide a suitable time according to the Order Paper.
"I call upon all Muslim MPs to support the bill and for non-Muslim MPs to respect the Federal Constitution which clearly states that this is a right related to Muslims only," he told reporters after delivering a weekly lecture at Rusila here today.
The bill was first tabled by Hadi, who is also Marang MP, in the Dewan Rakyat in May 2016 with a view to empower shariah courts in the country.
Full report at:
http://www.freemalaysiatoday.com/category/nation/2017/03/31/pas-firm-on-tabling-hadis-bill-at-this-parliament-sitting/
--------
North America
County Supervisor to Host Forums on Islam Featuring Authors, Activists, Faith Leaders
By Diana San Juan
April 1, 2017
Santa Clara County Supervisor Joe Simitian is teaming up with the Commonwealth Club for a free speaker series in hopes of creating a better understanding of Islam.
Simitian will co-host and moderate the "Understanding Islam" panel discussion with experts and activists from the Islamic community.
"Not only will it lead to greater understanding of the various interpretations of Islam, but it will create a beneficial dialogue between those of the Muslim faith and others in our community," Commonwealth Club President Dr. Gloria Duffy said.
The speaker series comes as Islamic communities battle an uptick in hate crimes and federal policies hostile to immigrants and refugees from Muslim-majority countries. Zahra Billoo, head of the San Francisco Bay Area chapter of the Council on American-Islamic Relations, said the speaker series could not have come at a better time.
Silicon Valley residents are encouraged to attend the event to hear from Muslim leaders in their shared community. Organizers hope the forum will be beneficial not only to those in the Muslim faith, but to everyone else by encouraging an open, candid dialogue.
"We're lucky to live in one of the most diverse places in the country," Simitian said. "But without understanding the diverse cultures around us, misconceptions abound."
Below is a list of dates and locations for each part of the speaker series.
What does it mean to be Muslim? The basics.
7pm April 3, Lucie Stern Community Center Theatre, Palo Alto
In the first part of the series, speakers will tackle misconceptions of Islam in modern America and abroad. The panel will feature The Muslim Next Door author Sumbul Ali-Karamali, Islamic Networks Group Executive Director Maha Elgenaidi, Bayan Claremont Islamic Networks Group President Jihad Turk and Santa Clara County Supervisor Joe Simitian as the moderator. Though the program is sold out, a waiting list is posted on the Commonwealth Club website.
Fear of a Faith: Sharia, Surveillance, Terrorism, The Muslim Ban. What's real, and what's not?
7pm May 9, Rinconada Library, Palo Alto
Policies, politics and current events will be the focal point of the second part of the series as speakers shed light on facts and fiction. Santa Clara County Supervisor Joe Simitian will moderate a discussion led by panelists Ameena Jandali, founding member of the Islamic Networks Group, and Jihad Turk, president of Bayan Claremont Islamic Graduate School.
Women and Islam
7pm May 22, Rinconada Library, Palo Alto
Previous panelists return for the last forum of the series to discuss what it mean to be a Muslim woman and how Islam intersects with gender today. The Muslim Next Door author Sumbul Ali-Karamali and Islamic Networks Group Executive Director Maha Elgenaidi join moderator Joe Simitian, Santa Clara County Supervisor, along with additional panelists who are yet to be determined.
http://www.sanjoseinside.com/2017/03/31/county-supervisor-to-host-forums-on-islam-featuring-authors-activists-faith-leaders/
--------
CAIR leader compares plight of Muslims in America to that of Jews in Nazi Germany
Mar 31, 2017
A prominent American Muslim leader suggested earlier this month that American Muslims could face persecution similar to what the Jews endured in Nazi Germany.
Nihad Awad, the executive director of the Council on American-Islamic Relations, made the comparison during a March 23 speech at Wake Forest University in Winston-Salem, N.C., according to the Triad City Beat.
"The past two years, ladies and gentlemen, so many minorities have been attacked," Awad said. "Latinos. Mexicans. Women have been denigrated. African-Americans. People with disabilities. You name the minority, and they have been attacked in the past two years."
The Muslim leader blamed President Donald Trump and his "Islamaphobic" policies for the alleged "denigration" of minority communities.
Just weeks after taking office, Trump issued an executive order temporarily banning travel to the U.S. from seven Muslim countries in the Middle East: Iraq, Syria, Iran, Libya, Somalia, Sudan and Yemen. A federal judge in Washington state halted the order, prompting the administration to later remove Iraq from the list of seven countries in a new, revised executive order. A federal judge in Hawaii put a restraining order on the revised travel ban.
"It is becoming dangerous because we see Islamaphobic policies are being produced, proposed and implemented," Awad said, according to the Winston-Salem Chronicle. "This is not only threatening to American Muslims, it's threatening to what America is and our values."
Awad called it "unfortunate" that some people resort to what he called "fear-mongering for political reasons," noting, however, that "it works."
"Sometimes selling fear is effective. Fear is abhorred, is rejected by people with common sense," he said. "For people who don't know, it is a very selling product. In fact, it is a very profitable business to sell hate."
Full report at:
http://www.theblaze.com/news/2017/03/31/cair-leader-compares-plight-of-muslims-in-america-to-that-of-jews-in-nazi-germany/
--------
Canada extends mission against ISIL for three months
01 April 2017
Canada announced on Thursday it will extend for three months its mission against ISIL where it is part of a US-led international coalition.
Since deploying forces to Iraq in the summer of 2014, Canada has twice extended its mission for another year and expanded it to include Syria.
Defense Minister Harjit Sajjan said the North American country will now extend its participation in the fight until June 30 of this year.
The "scope and mission of Canada's military contribution will remain the same over the next three months," namely providing "advice" and "assistance" to Iraqi Security Forces, according to the National Defense statement.
Full report at:
http://www.worldbulletin.net/america-canada/187196/trump-calls-russia-probe-witch-hunt-as-flynn-seeks-immunity
--------
FBI releases 9/11 Pentagon photos
31 March 2017
Never-seen photographs from the September 11, 2001 attack on the Pentagon released by the FBI this week show the massive devastation that faced first responders.
Twenty-seven pictures from that day depict the crushed walls, blazing fires and eviscerated interiors of the seat of the US Department of Defense.
The American Airlines jet that struck the Pentagon was one of four airliners hijacked by Al-Qaeda teams and used as weapons in the deadliest terror attack ever on US soil.
When the Pentagon was hit, two other airliners had already been flown into New York's World Trade Center; the fourth plane crashed in a field in Pennsylvania after passengers rose up against the hijackers.
One poignant shot shows an American flag tangled in concrete-and-rebar wreckage being cleared by a tractor.
Another shows rescuers crouched as a blaze consumes part of west side of the building.
Full report at:
http://www.worldbulletin.net/america-canada/187189/fbi-releases-9-11-pentagon-photos
--------
Africa
UN urges new efforts to defeat Boko Haram and tackle hunger
April 1, 2017
UNITED NATIONS: The U.N. Security Council called for stepped up efforts Friday to defeat Boko Haram insurgents and Islamic State extremists in Nigeria and the Lake Chad region and tackle the humanitarian crisis that has left millions facing hunger and possible famine.
A resolution adopted unanimously by the U.N.'s most powerful body strongly condemned attacks by the militant groups and encouraged greater support to strengthen the capabilities of the multinational force trying to rout them. It said the force needs logistical, mobility and communications assistance and equipment, and better ways to share information.
It expressed "grave concern at the ongoing terrorist attacks" by Boko Haram and Islamic State militants and at "the dire humanitarian situation across the region caused by the activities of Boko Haram."
The resolution urged the immediate disbursement of the $458 million in humanitarian assistance pledged for the Lake Chad region for 2017 at a donors conference in Oslo and called on those who haven't donated to contribute urgently.
The Security Council visited the Lake Chad region in early March for a firsthand look at the impact of the extremist attacks and the humanitarian crisis.
Britain's U.N. ambassador, Matthew Rycroft, said putting a spotlight on Lake Chad Basin isn't enough.
"We will fail the people of the region if we do not respond to what we saw, if we don't take tangible actions to bring real relief, real respite to the suffering, the hunger, the instability," he told the council after the vote.
First and foremost, Rycroft said, the international community and the United Nations must scale up their response to the looming humanitarian disaster.
"If we act now, famine can be avoided," he said.
To tackle the crisis, Rycroft said, the root causes must also be addressed including "economic inequalities, countering violent extremism, and empowering women." And he stressed that humanitarian aid must be accompanied by economic development.
http://nation.com.pk/international/01-Apr-2017/un-urges-new-efforts-to-defeat-boko-haram-and-tackle-hunger
--------
Nigeria: The Unlikely Trump Fans of Nigeria
31 MARCH 2017
By Atane Ofiaja
On the surface, Donald Trump's earnest support from a group of secessionists in Southeastern Nigeria might seem odd, especially when one of the biggest charges being hurled at his administration is anti-Black racism. However, the Biafran support of Donald Trump is nuanced. They don't agree with him on everything- but they don't feel they have to.
Biafra was a short-lived secessionist state in Southeastern Nigeria that lasted from 30 May 1967 to 15 January 1970. A military coup in January 1966 saw the assassinations of Northern Nigerian leaders like Prime Minister Abubakar Tafawa Balewa and Northern Premier Ahmadu Bello. Their deaths sparked the killing of thousands of Igbos and members of other ethnic groups from Southern Nigeria in anti-Igbo pogroms across the north of the country. Millions of southerners fled the North, abandoning their homes, businesses and employment. The pogroms led to secession and the Nigerian Civil War, which only ended when Biafra conceded defeat and rejoined the country.
Modern Biafran secessionists believe that the conditions that led to the Nigerian Civil War are still present today. However, unlike the original movement, the secessionists, led by the Indigenous People of Biafra (IPOB) and the Movement for the Actualisation of the Sovereign State of Biafra (MASSOB), feel the people of Southeastern Nigeria are economically and socially marginalized by the state.
Why Donald Trump?
A pro Donald Trump rally held by Biafran activists in Port Harcourt, Nigeria, in January 2017, left over 20 people dead at the hands of the police. A lot of my American friends couldn't understand why any Nigerians would come out in support of Trump when his administration has been charged with xenophobic immigration policies and the appointment of staff who have ties to white supremacist groups.
But from dialogues I have had with many Biafra supporters,the reason for Trump's overwhelming support is actually multifaceted. They don't support his immigration policies, xenophobia or his anti-Black racism, but they are willing to overlook them based on his stance on radical Islam, Brexit, and his statements on the self-determination of nations.
After all, the argument Biafran activists have been putting forward is that if European countries can have referendums for independence, then why can't Nigeria?
On 23 June 2016, the United Kingdom held a referendum that saw it break away from the European Union. This has become known as Brexit. The next day, on 24 June, Trump tweeted:
"Self-determination is the sacred right of all free people's [sic], and the people of the UK have exercised that right for all the world to see."
Self-determination is the sacred right of all free people's, and the people of the UK have exercised that right for all the world to see. - Donald J. Trump (@realDonaldTrump) June 24, 2016
This statement became a rallying cry for the secessionists who took it as a sign that Trump would support their cause. After all, the argument Biafran activists have been putting forward is that if European countries can have referendums for independence, then why can't Nigeria?
The other reason for Biafran activists' support of Trump is his tough stance on radical Islam. The mostly Christian Igbos have long cited cultural incompatibilities with the largely Muslim ethnic groups in Northern Nigeria, and growing Islamic fundamentalism in the North has been a major point of contention for Biafran activists. Many states in the North have implemented strict Sharia laws, which many Christians have seen as a violation of the constitution of what should be a secular country. For Biafrans, Trump is one of the few leaders bold enough to address the issue head on.
Islamic fundamentalism in Northern Nigeria has been a major point of contention for Biafran activists.
Full report at:
http://allafrica.com/stories/201703310548.html
--------
Ethiopia: 'Ethiopiansim' Is Sympathy
31 MARCH 2017
The Koshe landfill has been a dumping ground for Addis Ababa dry wastes for more than 50 years. Hundreds of waste-collectors are believed to work at the site every day, picking garbage from about 4 million residents. Thousands of tons of waste are collected each year from the capital to be dumped at the Koshe landfill.
Recently, part of the largest pile of this rubbish had disastrously collapsed demolishing dozens of residential houses of people living there. Grieving families of the dead and every Ethiopians, the landslide had claimed the lives of waste-collectors.
Following the saddening news, citizens took no time in expressing their condolence to the bereaved and in sympathizing with them. So far, several individuals, investors and state heads have granted millions of Birr to undertake rehabilitative activities for those who survived from the dump avalanche.
Ethiopians residing in every corners of the country have been doing their level best to support victims and their family members . Addis Ababa City Administration, Ethiopian Red Cross Society and various NGOs are also providing emergency aid. It is also disclosed that City dwellers are joining hands to help victims personally and in groups.
The City Administration had undertaken swift measures to bury the dead pulled out of the debris, rehabilitate the survivors and undertake rescue and search activities. Efforts are still underway to provide shelter and food to the survivors.
Focal attention has been attached to rehabilitating survivors and relocating them. To this end, a task force has been established to coordinate relief efforts and provide lasting solutions to the problems associated with dump disposals. The task force is being chaired by the Mayor. The task eyed at giving quick responses and properly addressing the problem.
The visit by President Dr. Mulatu Teshome testifies the people and government of Ethiopia have stood by the victims' sides. During his visit, he confirmed his government's commitment to work on rehabilitating the victims by relocating people in and around the dump yard in a more sustainable manner.
Irrespective of differences, Ethiopians have a common soul of caring for others. This sentiment has been witnessed at various times. They never wait for others to lend them a hand in time of disasters; rather they are always willing and ready to help each other. No matter how empty their pocket or their belly might be, they are accustomed to the culture of helping others. This was also becoming a reality when drought surfaced at different parts of the country.
All Ethiopians have special room in their hearts and minds for others. Such affectionate bond was witnessed recently when the people around Koshe landfill were exposed to unexpected tragedy.
Full report at:
http://allafrica.com/stories/201703310588.html
--------
URL: https://www.newageislam.com/islamic-world-news/in-egypt-3000-extremist-fatwas/d/110617
New Age Islam, Islam Online, Islamic Website, African Muslim News, Arab World News, South Asia News, Indian Muslim News, World Muslim News, Women in Islam, Islamic Feminism, Arab Women, Women In Arab, Islamophobia in America, Muslim Women in West, Islam Women and Feminism