New Age Islam News Bureau
27 September 2022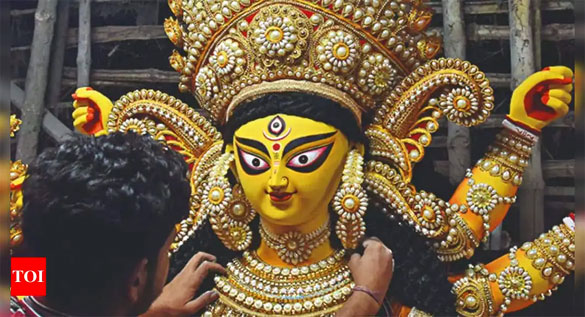 Photo: Times of India
----
• Sheikh Youssef Al-Qaradawi, Islamist Leader of Arab Revolts, a Spiritual Guide to the Muslim Brotherhood Dies at Age 96
• UN Speeches End With Silence from Myanmar, Afghanistan
• Transgenders Part of Society, Should Be Given Full Rights: PM Representative On Interfaith Harmony
• 'No Information on Whereabouts' Of Former Afghan Official Detained By Taliban, Says Family Member
India
• PFI Raids: 'Futile Attempt to Scare Muslims', Says Jamaat-e-Islami Telangana President
• With Sikhs Practically Extinct in Islamic Emirate of Afghanistan, India's Case As A Natural Homeland Deserves A Revisit
• Second round of NIA raids on PFI under way across India: Latest developments
--------
Arab World
• Islamic Minister Al-Sheikh: Juristic Judgment Catalyst to Salvage Islamic Ummah
• Qatar: Ugandan worker celebrated after giving Friday mosque sermon in perfect Arabic
• Iraq MPs to meet for first time since inter-Shia bloodshed
• No more social distancing between worshippers in mosques across UAE
• As Ukraine war grinds on, Saudi Arabia influence grows
• Syria at UN demands withdrawal of US-led military coalition
• German, Qatari leaders back diplomatic efforts to revive JCPOA
--------
Europe
• World Needs A 'New Paradigm for Peace,' Indonesian Foreign Minister Tells UN General Assembly
• UK's Truss thanks Saudi Crown Prince for his prisoner release efforts
• German foreign minister urges sanctions on Iran over violence against protesters
• British police arrest anti-Iran rioters affiliated with MKO terrorist group in London
--------
Pakistan
• Peshawar court acquits two of Ahmadi homeopath's killing
• 6 Pakistan Army officials martyred in Harnai helicopter crash: ISPR
• Bilawal urges measures to combat Islamophobia
• Imran Khan accuses Maryam Nawaz of hatching plot to kill him through 'religious fanatic'
• Pakistan's businessmen and economists ask govt to import food from neighbouring countries, including India
• Imran's harangue stirs up debate on campuses prestige
• President Arif Alvi admits 'personal' role in bringing stakeholders closer
--------
South Asia
• 'No Information on Whereabouts' Of Former Afghan Official Detained By Taliban, Says Family Member
• As The Threat of Terrorism Becomes Common Again, People In Khyber-Pakhtunkhwa Are Already Protesting
• Sylhetis Were Separated By Partition. Now, Indo-Bangladesh Festival Aims to Bring Them Together
• WFP Needs $1.1bn as Winter Spells Hunger for Afghanistan
• Mass grave containing remains of 12 people uncovered in Afghanistan: Taliban
--------
Mideast
• My Views on 'Rest in Peace' Based On Islamic Tradition, Says Turkish Scholar
• Türkiye condemns raid on Al-Aqsa Mosque complex
• Israel police storm Al-Aqsa to clear Muslims from compound on Jewish New Year holiday
• Hamas slams 'racist' Israeli settler violations against al-Aqsa
• At least 76 people killed in Iran protest crackdown: NGO
• Iran steps up arrests of activists, journalists amid anti-regime protest crackdown
• Turkey says Malaysia, Indonesia interested in buying armed drones
• Terror group PKK seeking to exploit Iranian protests for own self-interest, warns expert
• Unlawful foreign presence in Syria must end immediately, unconditionally: Mekdad
--------
Southeast Asia
• China's Failure to Invest In Afghanistan Is Frustrating the Taliban
• Ummah Unity Shouldn't Come At Others' Expense, PAS Told
• PAS Members, Leaders Told To Heed Spiritual Leader's Advice, Says Takiyuddin
• Alliance Islamic Launched Malaysia's First Book on Zakat Microfinancing
• Coalitions are better for Malaysia, says PKR's Wong Chen
• Govt files notice of appeal over Zahid's graft acquittal
--------
Africa
• Muslim-Muslim Ticket: Nigerians Too Hungry To Bother About Their Religious Faiths In 2023 Election – Keyamo
• At least five killed in western Libya clashes
• Algeria's UN integration will develop with support, says FM Lamamra
• 'Dozen' dead in suspected Burkina Faso militant attack
--------
North America
• Canada Sanctions Iran Morality Police as Protests Flare
• US to give $10m for food security assistance, says Blinken
• US adds fourth Iranian cargo plane to export violation list over Russia flights
• US urges Greece, Türkiye to 'work together' for regional peace
• Former US Congressman Ron Paul mocks US neocon ties to Iran riots 'leader'
Compiled by New Age Islam News Bureau
URL: https://newageislam.com/islamic-world-news/durga-puja-hindu-muslim-women-nuns-namaz/d/128047
--------
In Durga Puja Pandals in Kolkata Hindu and Muslim Women Perform Rituals, Nuns Share Space with Hindus, Loudspeakers Blare Mantras and Namaz Together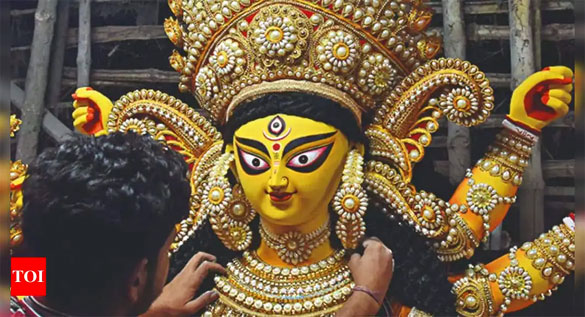 Photo: Times of India
----
Sep 27, 2022
KOLKATA: A Pandal where nuns from Missionaries of Charity are set to share space with their Hindu neighbours. Another where the rituals are performed by Hindu and Muslim women and sex workers help with arrangements. Yet another where loudspeakers blare Durga mantras and namaz together. A common string holds up these Kolkata pujas - the organisers are largely Muslims who shine through the festival's glitz as emblems of communal harmony and peaceful coexistence that their areas have witnessed for generations.
While some have been carrying on this legacy of inclusivity for years, others have started recently.
The Alimuddin Street puja was revived by local Muslims after a 16-year break last year. This time, nuns from Missionaries of Charity will join their Hindu neighbours in the carnival. A six-member all-Muslim committee is in charge here.
"We are organising this puja for a single Hindu family that stayed back in our neighbourhood even as others left," said Md Shabbir, a member of the committee.
Last year, this puja drew curious crowds from all sections of society. Another lodestar on this firmament of inclusivity is the Five Star Club Durga Puja in Kidderpore. Nearly 70 years old, this, too, is steered by Muslims.As many as 13 of the organisers are Muslims.
Not far away is The Alipore 78 Pally Durga Puja. Set up adjacent to a mosque, it has held up the tradition of inclusivity for over 63 years.
As per puja secretary Sourav Majumdar, 40 of the organising committee's 70 members are Muslims. "They (Muslim members) are involved in all activities - from collecting funds and distributing bhog (offering) to participating in Sandhi Puja."
Elaborating on pandal design, artist Anirban Das said,"As per the Purohitadarpana (a manual on rituals), using a handful of soil from the doorstep of a brothel is a must in Durga Puja. But the festival fails to add any colour to these women's lives. The pandal has been modelled after a red-light area and visitors will be able to see the sad saga of the residents' lives."
Source: Times Of India
Please click the following URL to read the text of the original story:
https://timesofindia.indiatimes.com/city/kolkata/kolkatas-muslim-organised-pujas-send-out-a-message-of-harmony/articleshow/94465051.cms
--------
Sheikh Youssef Al-Qaradawi, Islamist Leader of Arab Revolts, a Spiritual Guide to the Muslim Brotherhood Dies at Age 96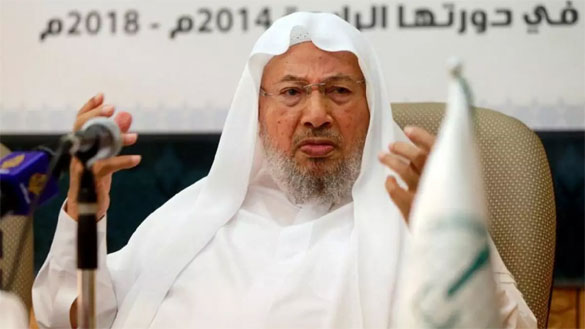 Sheikh Qaradawi, Islamist champion of Arab revolts, dies at 96 - Copyright Thomson Reuters 2022
-----
September 26, 2022
Sheikh Youssef al-Qaradawi, a spiritual guide to the Muslim Brotherhood who championed the 2011 Arab Spring uprisings and unsettled rulers in Egypt and the Gulf with his Islamist preaching, died on Monday. He was 96.
Born in Egypt, Qaradawi spent much of his life in Qatar, where he became one of the most recognisable and influential Sunni Muslim clerics in the Arab world thanks to regular appearances on Qatar's Al Jazeera network.
Broadcast into millions of homes, his sermons fuelled tensions that led Saudi Arabia and its Gulf allies to impose a blockade on Qatar in 2017 and declare Qaradawi a terrorist.
His death was announced on his official Twitter account.
Qaradawi, who studied at Cairo's Al-Azhar University, was often described by supporters as a moderate who offered a counterweight to the radical ideologies espoused by al-Qaeda. He strongly condemned the Sept. 11, 2001 attacks in the United States, and supported democratic politics.
But he also sanctioned violence in causes he favoured.
In Iraq after a 2003 U.S.-led invasion, he backed attacks on coalition forces and he supported Palestinian suicide bombing against Israeli targets during an uprising that began in 2000.
Several Western states banned him from entry.
During the Arab Spring uprisings he called for Libyan leader Muammar Gaddafi to be killed and declared jihad against Syrian President Bashar al-Assad's government.
Qaradawi joined the Muslim Brotherhood as a young man. Advocating Islam as a political programme, the Brotherhood has been seen as a threat by autocratic Arab leaders since it was founded in 1928 in Egypt by Hassan al-Banna, whom Qaradawi knew.
He turned down the chance to lead the organisation, instead focusing on preaching and Islamic scholarship and building a following that extended well beyond the group.
His prominence grew after the 2011 Arab revolts.
Visiting Cairo after the downfall of President Hosni Mubarak, he told a packed Tahrir Square that fear had been lifted from Egyptians who had toppled a modern day pharaoh.
The appearance captured the scale of change that seemed to be sweeping the region, with long-oppressed Islamists enjoying new freedoms and a Brotherhood member, Mohamed Mursi, being elected president in 2012.
When the military, encouraged by mass protests, toppled Mursi a year later, Qaradawi condemned the new, army-led order as it unleashed a ferocious crackdown on the Brotherhood.
He urged a boycott of the presidential election which made army commander Abdel Fattah al-Sisi president in 2014.
"The duty of the nation is to resist the oppressors, restrain their hands and silence their tongues," Qaradawi said.
Death Sentence
"He's somebody who was committed to democracy and popular sovereignty from an Islamic perspective," said David Warren, a scholar of contemporary Islam and research fellow at Washington University in St. Louis.
"But being a democrat doesn't mean that someone has to be a pacifist, so in the context of a civil war like Libya and Syria, he could hold those positions while similarly saying that Gaddafi is a tyrant who should be killed...," he said.
Jailed numerous times in Egypt as a young man, Qaradawi was sentenced to death in absentia by an Egyptian court in 2015, along with Mursi and some 90 others. Qaradawi said the rulings, which related to a mass jail break in 2011, were nonsense and violated Islamic law, noting that he was in Qatar at the time.
He criticised Riyadh for backing Sisi, while his attacks on Sisi and help for the Brotherhood fuelled tensions between Qatar on the one hand and Saudi Arabia and the United Arab Emirates, another supporter of Egypt's new government, on the other.
Both Saudi Arabia and the United Arab Emirates designated the Brotherhood a terrorist organisation in 2014.
In 2014 when Riyadh and its allies withdrew ambassadors from Doha, Qaradawi stopped his Friday sermons, saying he wanted to ease some pressure on Qatar, his adopted home since the 1960s.
But he still criticised Egypt's new ruler in statements.
Qaradawi, who memorised the Koran by age 10, chaired the International Union of Muslim Scholars (IUMS). He opposed takfir, a concept used by Islamist militants to justify killing Muslims who disagreed with them by declaring them non-believers.
Qaradawi also opposed the ultra-radical Islamic State group, saying he totally disagreed with Daesh "in ideology and means".
When IS burnt alive a captured Jordanian pilot in 2015, the IUMS said the group did not represent Islam in any way.
However, he rejected the U.S. role in fighting the group as self-interested. Critics noted how that position appeared to contrast with his tacit support for U.S. action in Syria in 2013 when Washington considered - but never carried out - strikes on the Syrian government over the use of chemical weapons.
On that occasion, Qaradawi suggested foreign powers were God's instrument for vengeance.
The war in Syria, where Sunni rebels battled the Alawite-led state backed by Shi'ite Iran, turned Qaradawi against the Lebanese Shi'ite group Hezbollah, which he had once praised for fighting Israel. He condemned it as "the party of the devil".
He staunchly supported the Palestinian struggle with Israel.
On a 2013 visit to Gaza hosted by its ruling Hamas Islamist group, Qaradawi said: "We should seek to liberate Palestine, all of Palestine, inch by inch."
Source: Fox News
Please click the following URL to read the text of the original story:
https://www.foxnews.com/world/sheikh-youssef-al-qaradawi-islamist-leader-arab-revolts-dies-age-96
--------
UN Speeches End With Silence from Myanmar, Afghanistan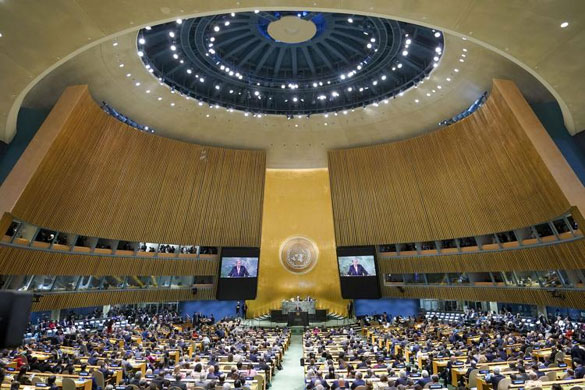 United Nations Secretary-General Antonio Guterres addresses the 77th session of the General Assembly at U.N. headquarters Tuesday, Sept. 20, 2022.
-----
September 26, 2022
UNITED NATIONS: For the second straight year, Afghanistan and Myanmar were silent at the UN General Assembly's leaders' meeting, which ended Monday with no representative of either government stepping forward to talk as the United Nations tries to resolve who should represent them.
At the annual high-level meeting of leaders, there was no speech from Afghanistan's ruling Taliban, who now control the nation after a US withdrawal last year, and no words from Myanmar, where a military junta toppled the civilian government last year and detained its de facto leader, Aung San Suu Kyi.
For Afghanistan, it mirrored last year's assembly when the Taliban — in its second chapter of ruling the nation — tried to figure out how to interact with the United Nations.
Last month, the UN special envoy on Myanmar said she wouldn't visit the Southeast Asia nation again unless its military government allows her to meet with Suu Kyi, who was sentenced to 20 years in prison, including a three-year term with hard labor imposed last week for alleged election fraud.
Myanmar's military seized power in February 2021 from Suu Kyi's elected government, plunging the country into what some UN experts have described as civil war. Critics say the charges subsequently brought against Suu Kyi and top figures in her Cabinet were fabricated to keep them out of politics.
In December, the UN delayed actions on both Afghanistan's and Myanmar's bid for seats. UN diplomats said then that the decision to delay the requests by Myanmar's junta and the Taliban had wide support because of the actions of the two countries' new rulers.
Myanmar and Afghanistan didn't go entirely unmentioned Monday. Bharat Raj Paudyal, foreign secretary of Nepal, brought up both of them.
"Afghanistan has remained on the precipice of uncertainty and violence," he noted, and asked all parties in Myanmar to "respect the will of the people to elect their representatives."
Source: Arab News
Please click the following URL to read the text of the original story:
https://www.arabnews.com/node/2170021/world
--------
Transgenders Part of Society, Should Be Given Full Rights: PM Representative On Interfaith Harmony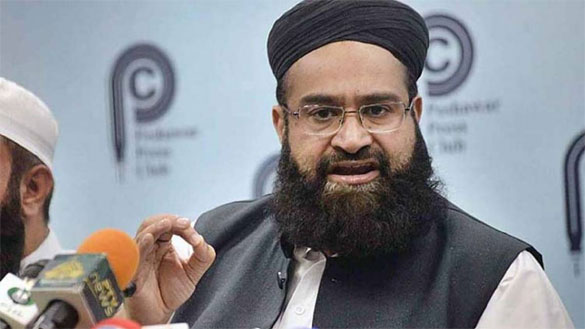 Special Representative to the Prime Minister on Interfaith Harmony and Middle East Hafiz Muhammad Tahir Ashrafi
-----
26 September, 2022
ISLAMABAD (Dunya News) – Special Representative to the Prime Minister on Interfaith Harmony and Middle East Hafiz Muhammad Tahir Ashrafi on Monday said transgenders were a part of the society, just like other people, and they should be given full rights.
Talking to a delegation of Ulema and Mashaykh, Ashrafi, who is also the chairman of Pakistan Ulema Council, clarified that religious and political parties were not against the transgenders' rights but they had valid objection on a sub-section of the act which allowed anyone to formally register his/her gender based on self-perceived identity without any approval.
"We welcome the bill and amendments prepared by Jamiat Ulema-e-Islam-Fazl (JUI-F) with reference to the Transgender Act," he said, adding the responsibility was on the JUI-F Chief Maulana Fazl-ur-Rehman's shoulder as his party was the largest religious and political party in the parliament.
He said the bill was passed four years ago and the government's proposal to form a joint committee for amendments in the bill was a step in the right direction.
He said the Constitution did not allow any law contrary to Islamic Shari'ah as the Transgender Act had shortcomings on the part of all. "We should all admit that everyone remained ignorant about approval of the bill four years back," he maintained.
Ashrafi said the law minister had proposed to form a joint committee to redress the Transgender Act's sections opposing the Constitution and Islamic Shari'ah.
Expressing condolence on the death of prominent religious scholar Al-Sheikh Yusuf Qaradawi, he said his services to Islam and Muslim Ummah could not be forgotten.
On the occasion, he was flanked by Maulana Tahir Aqeel Awan, Allama Tahir Al Hasan, Maulana Muhammad Ashfaq Patafi, Maulana Asadullah Farooq, Allama Zubair Abid, Maulana Aslam Siddiqui, Maulana Saadullah Ludhianwi, Maulana Aziz Akbar Qasim and others religious scholars.
Source: Dunya News
Please click the following URL to read the text of the original story:
https://dunyanews.tv/en/Pakistan/669172-Transgenders-part-of-society-should-be-given-full-rights-Ashrafi
--------
'No Information on Whereabouts' of Former Afghan Official Detained by Taliban, Says Family Member
FILE - Map of Afghanistan and surrounding countries
----
September 27, 2022
WASHINGTON —
The family of a former Afghan official who was allegedly detained by the Taliban in Kabul last month says that they have "no information on his whereabouts."
Ahmad Shah Habibi accused the Taliban of detaining his brother Mahmood Shah Habibi, former deputy chief of Afghanistan's Aviation Authority, in the Shash Darak area of Kabul on August 10.
"The Taliban, who were wearing civilian clothes, detained Mohammad Shah Habibi in front of his house in the Shash Darak area. ... Later, they broke the gate, forced their way into the house, and took some documents, books and a laptop computer."
The Taliban's representative did not respond to VOA's request for comment about the alleged disappearance and whether Habibi had been detained.
"No [Taliban government] agency has given us any information on his whereabouts. They have not let us meet him. And they have not told us why he was taken into custody," said Ahmad Shah Habibi, who lives in the U.S.
He added that the armed men who detained Habibi introduced themselves to the family as "Mujahideen of the Islamic Emirate," a name used by the Taliban for their forces.
Habibi, a U.S. citizen, was working as a consultant for the Asia Consultancy Group (ACG), a Kabul-based telecommunication company.
A spokesperson for the State Department told VOA that they are "monitoring the situation but have no further comment at this time."
"U.S. citizens should not travel to Afghanistan due to civil unrest, armed conflict, crime, terrorism, and kidnapping," said the spokesperson in an email Monday.
In August 2021, the United States and its NATO allies completely withdrew from the country after almost two decades of war with the Taliban, paving the way for the resurgent Islamist group to seize power.
Last week, the Taliban released Mark Frerichs, a U.S. citizen, in exchange for a Taliban drug lord, Bashir Noorzai, who was serving a life sentence in a U.S. prison.
In a statement, U.S. President Joe Biden said that after being in captivity for 31 months in Afghanistan, Frerichs release was "the culmination of years of tireless work by dedicated public servants across our government and other partner governments."
He added that his government "continues to prioritize the safe return of all Americans who are held hostage or wrongfully detained abroad, and we will not stop until they are reunited with their families."
The U.N. special rapporteur on human rights in Afghanistan Richard Bennett expressed his concerns earlier this month about the deteriorating security situation in Afghanistan.
He added that the U.N. received numerous reports of civilians being subjected to house-to-house searches and what appeared to be collective punishment.
"I am particularly concerned that former Afghan National Defense and Security Forces and other officials of the former government remain subject to ongoing arbitrary detention, torture, extrajudicial killings and forced disappearances, despite the amnesty declared by the Taliban," Bennett said.
Bennett said those committing these crimes appear to be acting with impunity and are creating an atmosphere of terror.
Source: VOA News
Please click the following URL to read the text of the original story:
https://www.voanews.com/a/no-information-on-whereabouts-of-former-afghan-official-detained-by-taliban-says-family-member/6764839.html
--------
India
PFI raids: 'Futile attempt to scare Muslims', says Jamaat-e-Islami Telangana president
24th September 2022
Hyderabad: The President of Jamaat-e-Islami, Maulana Hamid Muhammad Khan strongly condemned the raids of NIA and ED against PFI in various places of the state and the country and said that the purpose of allegations is to indirectly install fear in Muslims and lower the morale and courage of the youth.
"The central government is under the control of fascist elements and is trying to eliminate the voice of righteous people and by targeting democratic institutions, human rights activists and journalists. The government is providing undisclosed patronage to elements and organizations that are not only involved in hatred and violence but are openly promoting terrorism," he said.
He further said that 'this attitude of the government has become a 'challenge to the supremacy of the Constitution of India'.
"Continuously targeting the largest minority in the country, insulting their holy personalities, targeting the holy book and mosques and raising new objections against the Muslim Personal Law has become a daily routine. Due to this, the largest minority of the country has become a victim of insecurity," he remarked.
Source: Siasat Daily
Please click the following URL to read the full text of the original story:
https://www.siasat.com/pfi-raids-futile-attempt-to-scare-muslims-says-jamaat-e-islami-telangana-president-2420014/
--------
With Sikhs practically extinct in Islamic Emirate of Afghanistan, India's case as a natural homeland deserves a revisit
Monica Verma
September 27, 2022
As 55 Hindus and Sikhs landed in New Delhi on a special flight from Afghanistan this week, the plight of persecuted minorities in India's neighbourhood once again came to the fore. These Hindus and Sikhs are one of the very last lot of persecuted minorities who have been provided with visa assistance from the Indian government to help them escape from the torture in Islamic Emirates of Afghanistan. Some of them were under imprisonment before they returned to New Delhi with their hair butchered and pressure to convert to Islam. This has been a common form of torture for Afghanistan's micro minority, the Sikh community which is all set to become extinct with just 22 Sikhs remaining in the country today. In 2021, an attack on a gurdwara in Kabul by Islamic State Khorasan Province (ISKP) had also claimed 50 lives.
The persecution of Hindus and Sikhs in Afghanistan is a long story. While Guru Nanak Dev himself travelled to the country to preach, leading many Afghans to choose Sikhism, a large presence was also maintained by migration of Sikhs to Afghanistan for trading purposes. During the partition of the Indian subcontinent in 1947, many Sikhs fled from Pakistan and found a safe refuge in Afghanistan instead. There are various estimates that peg Hindu and Sikh populations between 5 lakh and 7 lakh in the 1970s. Some peg this population at around 2,20,000. However, it sharply fell to 15,000 in the 1990s when Mujahideen came to power.
By 2016, only 1,350 Hindus and Sikhs remained in Afghanistan. Active discrimination against them has ranged from literal head counts of Hindus and Sikhs for elimination and a diktat to wear yellow armbands for identification. Religious persecution became a common feature of the Taliban rule as did the torture done to the ethnic minorities of Hazara, Uzbek and Tajiks. About 99 per cent of their population left the country in the last three decades with only a handful left behind waiting to be evacuated by the Indian government.
Despite religious persecution being a hard fact of life for many in Afghanistan, Western powers who pontificate on human rights and religious intolerance to other countries, never bothered to recognise it as a legitimate facet of Taliban Rule. Neither were the persecuted Hindus and Sikhs recognised even once as refugees nor was any leniency given in deporting them back to Afghanistan. This has left them with India as their only hope.
Meanwhile in India, the subject of persecuted minorities from the Indian subcontinent getting citizenship has always sparked a huge debate. In late 2019 and early 2020, a series of protests rocked the country when the Narendra Modi government tabled the Citizenship Amendment Bill (CAA) that sought to give priority to these persecuted minorities in getting citizenship. Unlike the massive misinformation campaign that spread rumours that Muslims will be disenfranchised, CAA simply sought to reduce years of naturalisation required under the existing act by half. Even the cut-off was 2014, thereby not addressing the plight of persecuted minorities in more recent years. Although the CAA bill finally became a law, the rules under the act are still waiting to be notified with the government seeking extension from the past two years. There is a growing demand for increasing the cut-off to 2022 under CAA.
While India has always been a home to persecuted people worldwide with Parsis, Jews and even Tibetans finding a safe refuge in India, the case of religious minorities is a different one. While all the other persecuted people come from a different background to India, the persecuted people in the subcontinent have a historical and civilisational link with India. It was the unfortunate event of India's partition on religious lines that made these persecuted people a minority in what was once their own homeland. The need to address their plight has been highlighted across the political spectrum with former prime minister Manmohan Singh speaking on the matter in the Rajya Sabha in 2003.
The fact that the Sikhs weren't allowed to carry their scriptures by the current Taliban government to India and the fact that Sikhs will soon be an extinct minority in Afghanistan should revive the case for India as a natural homeland for them. Currently they are dependent on Long-Term Visas (LTVs) to stay in India and face multiple problems in settling here peacefully. Even the persecuted Hindus who arrived from Pakistan are living in miserable conditions in India.
History has been very unkind to the Hindus, Sikhs, Parsis, Jains, Christians and other minorities in the subcontinent. Whether it was the partition in 1947 or liberation of Bangladesh in 1971 and the recent return of Taliban to Afghanistan, Islamic regimes have adopted a governance and justice system that outlaws any scope for survival or dignity for these non-Muslims. If they can't come back to India which was once the land of their ancestors, then where do they go?
Source: Firstpost
Please click the following URL to read the full text of the original story:
https://www.firstpost.com/opinion-news-expert-views-news-analysis-firstpost-viewpoint/with-sikhs-practically-extinct-in-islamic-emirate-of-afghanistan-indias-case-as-a-natural-homeland-deserves-a-revisit-11338871.html
--------
Second round of NIA raids on PFI under way across India: Latest developments
Sep 27, 2022
NEW DELHI: The National Investigation Agency (NIA) is conducting raids at multiple locations linked to the Popular Front of India (PFI) members in at least eight states. This is the second massive nationwide crackdown on people linked with the outfit. While several activists of the Popular Front of India have been arrested in the ongoing operation, many have also been detained.
Earlier this week, over 106 members of PFI were arrested by the NIA and the Enforcement Directorate (ED) for allegedly supporting terror activities in the country.
Here are the latest developments:
Twenty five PFI activists have been arrested from different districts of Assam. According to police, the highest number of 10 PFI activists were held in Goalpara, five in Kamrup (Rural) and three in Dhubri, followed by arrests in Barpeta, Baksa, Darrang, Udalguri and Karimganj.
Maharashtra Police have arrested four activists of the outfit from different locations in Thane district for alleged anti-national activities, an official said on Tuesday. Two of the activists were nabbed from Mumbra and one each from Kalyan and Bhiwandi towns, Laxmikant Patil, deputy Commissioner of Police (Crime), said without elaborating.
The Nashik Police also arrested two people liked with the organisation. Both the arrested persons will be produced before the court later today.
More than 30 PFI members have been detained by the Delhi Police during multiple raids by central agencies in the national capital. As per latest reports, the raids are still under way at several places in the city.
Several PFI leaders have been detained in urban and rural areas of Dakshina Kannada and Udupi districts early of Karnataka as well. Preventive detention cases have been filed against them under sections 107 and 151 of Criminal Procedure Code (CrPC) against the detained leaders, police sources said.
In state-wide raids in Karnataka, more than 75 PFI workers of its political wing Social Democratic Party of India (SDPI) and leaders were taken into preventive custody.
At least 10 people have been detained in Gujarat for questioning over links with the Popular Front of India.
The NIA is also conducting raids at the premises of PFI members at multiple locations in western Uttar Pradesh, including Bulandshahr and Meerut. "We are grilling them. As of now no arrest memos have been filed against any of them. They are PFI members. We received fresh inputs after questionning PFI members who were arrested following the September 22 pan-India raids," the sources said.
Madhya Pradesh Police have detained 21 people over links with the outfit, state home minister Narottam Mishra said.
The PFI has thousands of active members in Gulf countries where it has raised substantial funds and is sending them to India through hawala transactions, the Enforcement Directorate (ED) said on Monday.
The searches and arrests on September 22 – with the NIA alone searching 93 locations and arresting 45 PFI leaders and cadres – were in five cases registered or re-registered by NIA in the recent past, of which three are being probed by NIA's Delhi branch and one each by its Hyderabad and Kochi branches. The raids followed inputs and evidence that the PFI leaders and cadres were involved in funding of terrorism and terrorist activities, organising training camps for providing armed training and radicalising people to join banned organisations.
PFI condemned the raids and 'unjust' arrests and accused the NIA and ED of engaging in a witch-hunt against its members and supporters. "Popular Front will never be intimidated by such scare tactics by a totalitarian regime that uses the central agencies as its puppets," the outfit said in a statement.
Source: Times Of India
Please click the following URL to read the full text of the original story:
https://timesofindia.indiatimes.com/india/second-round-of-nia-raids-on-pfi-under-way-across-india-latest-developments/articleshow/94469348.cms
--------
Arab World
Islamic Minister Al-Sheikh: Juristic judgment catalyst to salvage Islamic Ummah
September 26, 2022
RIYADH — Minister of Islamic Affairs, Call and Guidance Sheikh Dr. Abdullatif Al-Sheikh emphasized that the methodology of Ijtihad (juristic judgment on newly-surfacing religious issues) was and is still serving as the catalyst to salvage the Islamic Ummah when it comes to confronting unprecedented philosophical issues.
He drew attention to the fact that any new fatwa (religious edict) should be based on the outcomes of the Holy Qur'an and the Sunnah of the Prophet (peace be upon him).
Speaking to the Saudi Press Agency, while attending the 33rd international conference of the Supreme Council for Islamic Affairs being held in Cairo, Al-Sheikh underscored the importance of fighting extremism, violence and terrorism on the basis of the Islamic principles of moderation and tolerance.
Source: Saudi Gazette
Please click the following URL to read the full text of the original story:
https://saudigazette.com.sa/article/625440/SAUDI-ARABIA/Islamic-Minister-Al-Sheikh-Juristic-judgment-catalyst-to-salvage-Islamic-Ummah
--------
Qatar: Ugandan worker celebrated after giving Friday mosque sermon in perfect Arabic
26 September, 2022
A Ugandan petrol station worker in Qatar won the hearts of social media users after he stepped up to give the sermon during Friday prayers in perfect Arabic.
The man, wearing his work overalls, took the place of the imam who was late for a religious service in Doha, according to pan-Arab news website Arabi 21.
The man spoke to the congregation through a mosque microphone for at least two minutes and 20 seconds, as shown by a video circulating on social media.
"Mashallah [that's amazing]. He gives a beautiful sermon," tweeted one user.
"May Allah reward him. Islam does not differentiate between its members except in piety," another wrote in reference to a famous anti-racist saying of the Prophet Mohammed.
The Ajial Educational Center tweeted a video of the worker being honoured by participants in its "Wathiq" youth programme.
It said the programme "aims to address the phenomenon of bullying and highlight the intrinsic value of the human being".
"In the context of promoting righteous behaviour and tolerant Islamic values, the participants in the programme honoured the Ugandan gas worker" who gave the sermon, Ajial added.
Source: The New Arab
Please click the following URL to read the full text of the original story:
https://english.alaraby.co.uk/news/qatar-ugandan-worker-celebrated-giving-mosque-sermon
--------
Iraq MPs to meet for first time since inter-Shia bloodshed
26 September, 2022
Iraq's parliament, at the center of a months-long political paralysis, is to convene Wednesday for the first time since deadly unrest in August and a sit-in protest by supporters of Iraqi Shia cleric Muqtada al-Sadr.
Parliament said in a brief statement on Monday that votes on the resignation of the assembly's speaker, Mohammed al-Halbussi, and the appointment of a first deputy speaker would top the agenda.
The move is being seen by analysts as a vote of confidence in Halbussi.
The speaker "is not planning to resign but by allowing a potential vote of confidence to go ahead he is expecting his coalition partners to back him strongly", Sajad Jiyad, a fellow at the Century International think-tank, told AFP.
He said the aim was to "end any further attempts to unseat him.
"This will cement his position as political leader of Iraq's Sunnis and put pressure on" Shia and Kurdish parties to form a government, Jiyad added.
Iraq's deeply divided political factions have failed to form a new government since inconclusive elections last October, and the last session of parliament dates back to July 23.
Later in July, al-Sadr's supporters stormed the assembly and staged a month-long sit-in on its grounds.
Tensions boiled over into clashes on August 29 between the Sadrists, rival Iran-backed factions and the army in which more than 30 demonstrators were killed.
The violence followed months of disagreements between al-Sadr and his rivals within Iraq's majority Shia camp, as the impasse has left the country without a new government, prime minister or president since the elections almost a year ago.
Iraq's standoff pits al-Sadr against the Iran-backed Coordination Framework, which includes lawmakers from the party of his longtime foe, ex-prime minister Nuri al-Maliki.
Al-Sadr wants snap elections and the dissolution of parliament but the rival Shia bloc wants a new head of government appointed before any new polls are held.
Source: Al Arabiya
Please click the following URL to read the full text of the original story:
https://english.alarabiya.net/News/middle-east/2022/09/26/Iraq-MPs-to-meet-for-first-time-since-inter-Shia-bloodshed-
--------
No more social distancing between worshippers in mosques across UAE
September 27, 2022
The UAE has eased a number of restrictions related to the Covid-19 starting from Sept.28.
In a media briefing on Monday, the authorities announce the easing of a number of restrictions related to the Covid-19 pandemic at the state level and the updates that are taking place in various sectors.
The country has moved on to expand by actively contributing to finding scientific and health solutions to the Covid-19 pandemic through vaccine experiments in the country and working on scientific research that contributes to developing vaccines, in addition to education and remote work, which the UAE was one of the first countries to implement.
Among the first restrictions eased were in the mosques.
Mosques and places of worship
•Cancelling the distance between worshippers.
•Worshippers must carry their own prayer mats.
•We recommend wearing a mask for the elderly and those with chronic diseases in all open and closed spaces.
•Wearing a mask is mandatory in mosques and places of worship in order to preserve health the elderly and those with chronic diseases.
The authorities said that the society played a key role in awareness and commitment to implementing all preventive and precautionary measures to achieve the results.
Source: Gulf Today
Please click the following URL to read the full text of the original story:
https://www.gulftoday.ae/news/2022/09/26/no-more-social-distancing-between-worshippers-in-mosques-across-uae
--------
As Ukraine war grinds on, Saudi Arabia influence grows
Sep 27, 2022
RIYADH: Saudi Arabia's unexpected role in brokering the release of foreign fighters detained in Ukraine was just the latest example of how the kingdom is seeking to bolster its international standing, diplomats and analysts say.
It also enables Riyadh to argue that preserving ties with Moscow -- a source of tension with Washington, especially since Russia's invasion of Ukraine -- can be a positive factor, while potentially deflecting attention from human rights concerns that consistently generate negative headlines.
The release of the 10 foreign fighters, including two from the United States and five from Britain, came alongside a broader prisoner-of-war swap, brokered by Turkey, that saw 215 Ukrainians walk free while Russia received 55 prisoners.
A former Ukrainian lawmaker and ally of Russian President Vladimir Putin were among those released.
The foreigners, who landed in Riyadh on a chartered jet last Wednesday, also hailed from Morocco, Sweden and Croatia.
Expressions of gratitude for Saudi Arabia immediately poured in from Washington, London and beyond, with officials highlighting the personal involvement of Crown Prince Mohammed bin Salman.
"It is a first for sure," Ali Shihabi, a Saudi analyst close to the government, said of the deal.
"In this case, it was an opportunity to leverage Saudi's ties with Russia for a good cause," he said, adding that similar arrangements could be possible in the future.
Before war broke out in Ukraine seven months ago, Saudi Arabia -- and Prince Mohammed in particular -- was still struggling to overcome diplomatic isolation resulting from the 2018 killing of journalist Jamal Khashoggi in the kingdom's Istanbul consulate.
Last year, US President Joe Biden declassified an intelligence report that found Prince Mohammed had approved the operation against Khashoggi, an assertion Saudi authorities deny.
But the spike in energy prices triggered by Russia's invasion spurred a number of Western leaders to travel to Saudi Arabia to appeal for ramped-up oil production, notably then-UK prime minister Boris Johnson and Biden himself, who swallowed an earlier vow to make the Saudi leadership a "pariah".
German chancellor Olaf Scholz this weekend became the latest major leader to visit the kingdom.
Saudi Arabia has largely resisted the calls to pump more oil, coordinating with the OPEC+ cartel it jointly leads with Russia.
At the same time, the world's biggest crude exporter has benefited financially from the war. Oil giant Saudi Aramco announced record profits and the kingdom's economy is expected to grow 7.6 percent this year, according to the International Monetary Fund.
Moves like mediating a prisoner swap allow Prince Mohammed "to prove to the West that he is a reliable person in international affairs" -- despite, or even because of, his close ties with Putin, said a Riyadh-based Arab diplomat.
"His intervention in this way also creates headlines that cover up stories like harsh judicial rulings" against government critics, the diplomat said, citing the cases of two women who received decades-long prison sentences, apparently for their social media posts.
The Saudi foreign minister, Prince Faisal bin Farhan, told the BBC at the weekend that the Saudi mediation was for purely "humanitarian reasons" and that it was "very cynical" to think the kingdom was out to burnish its reputation.
Several of Saudi Arabia's neighbours have traditionally embraced mediation roles in pursuit of diplomatic clout within and beyond the region.
Oman has leveraged ties with Iran to negotiate prisoner swaps, including for detained Americans, and Qatar has done the same with groups like the Taliban and Al-Qaeda-affiliated militants in Syria.
"Turkey has also increasingly taken on this kind of role in recent years, especially in Syria and more recently in Ukraine," said Alex Stark, senior researcher at the New America think-tank in Washington.
"Saudi Arabia has also seen how Turkey has won praise and attention for brokering the grain deal with Russia and Ukraine, and may be seeking to replicate that success."
In addition to the Ukraine war, Riyadh has long been active closer to home including in Lebanon and Yemen, where it is leading a military coalition against Iran-backed Huthi rebels.
All the while, though, the kingdom is making clear its soft-power ambitions extend further than ever -- even to space, where, under a programme unveiled last week, it plans to send astronauts next year, including a woman.
Source: Times Of India
Please click the following URL to read the full text of the original story:
https://timesofindia.indiatimes.com/world/middle-east/as-ukraine-war-grinds-on-saudi-arabia-influence-grows/articleshow/94468384.cms
--------
Syria at UN demands withdrawal of US-led military coalition
26 September, 2022
Syria's top diplomat pressed Monday for a US-led military coalition to get out of his country and told the UN General Assembly meeting of world leaders that Damascus wants compensation for losses suffered by its oil and gas industry during an 11-year-long and ongoing civil war.
Hundreds of US troops are stationed in eastern Syria to help the Kurdish-led Syrian Democratic Forces (SDF) fight ISIS terrorist group.
Syrian Foreign Minister Faisal Mekdad said the coalition's presence contradicts international law and "must end immediately and without conditions."
"Fighting terrorism does not happen through an illegitimate international coalition that violates the sovereignty of states and destroys cities and villages," he said, arguing that battling terrorism can't work without "coordination" with Syrian President Bashar al-Assad's government.
The civil war began in 2011 with anti-government protests demanding democratic reforms but quickly escalated into fighting.
Hundreds of thousands of people have been killed, large parts of the country have been destroyed, half the country's pre-war population has been displaced.
Amid the chaos, ISIS took over significant parts of Syria.
Though the group in 2019 lost the last sliver of land its fighters controlled, its sleeper cells are still active.
Mekdad said "direct and indirect" losses in Syria's oil and gas sector have reached $107 billion since the conflict began.
He added that Damascus will demand compensation for these losses, an apparent reference to the US- SDF control of much of the oil fields in eastern Syria.
Amid the war, the US, some other countries and the European Union have imposed sanctions on Syria's government and oil industry.
Mekdad complained that his country had been "economically besieged" by powers bent on imposing their will and retaining their wealth.
Source: Al Arabiya
Please click the following URL to read the full text of the original story:
https://english.alarabiya.net/News/middle-east/2022/09/26/Syria-at-UN-demands-withdrawal-of-US-led-military-coalition
--------
German, Qatari leaders back diplomatic efforts to revive JCPOA
26 September 2022
Germany and Qatar have expressed their support for efforts aimed at reviving Iran's 2015 nuclear deal, officially known as the Joint Comprehensive Plan of Action (JCPOA).
The United States, under former president Donald Trump, abandoned the JCPOA in May 2018 and launched a "maximum pressure" campaign against the Islamic Republic in order to destroy the agreement.
Talks to salvage the agreement kicked off in the Austrian capital of Vienna in April last year, months after US President Joe Biden succeeded Donald Trump, with the intention of examining Washington's seriousness in rejoining the deal and removing its anti-Iran sanctions.
Qatar's Emir Sheikh Tamim bin Hamad Al Thani said in a joint press conference with Germany's Chancellor Olaf Scholz in Doha on Sunday that the two leaders had agreed on the significance of supporting the Vienna-based diplomatic efforts to conclude an agreement on restoring the JCPOA.
Sheikh Tamim noted that the accord would contribute to enhancing security and stability in the region.
In recent weeks, there have been unfruitful, indirect exchanges of responses between Tehran and Washington over an EU draft proposal on restoring the JCPOA, with Iranian officials urging their American counterparts to show "realism" and "flexibility" in order to secure a final agreement.
Source: Press TV
Please click the following URL to read the full text of the original story:
https://www.presstv.ir/Detail/2022/09/26/689872/Germany-Qatar-back-efforts-restore-Iran-nuclear-deal
--------
Europe
World needs a 'new paradigm for peace,' Indonesian foreign minister tells UN General Assembly
September 26, 2022
LONDON: Peaceful solutions offer the only hope for resolving conflicts around the globe, Indonesia's foreign minister told the UN General Assembly Debate on Monday.
Focusing in particular on the plight of the peoples of Palestine and Afghanistan, Retno Marsudi said the world needs a "new paradigm to reignite the spirit of peace," and added that it is a global responsibility to apply it "consistently, not selectively or only when we see fit."
She continued: "The fundamental principles of sovereignty and territorial integrity are non-negotiable. For far too long, the people in Palestine have suffered and longed for peace. Until Palestine can truly become an independent state, Indonesia will stand firm in solidarity with our Palestinian brothers and sisters.
"People in Afghanistan also deserve a peaceful and prosperous life, where the rights of all people, including women, are equally respected, where access to education for women and girls are granted.
"Without this new paradigm, peace will remain an elusive dream."
Marsudi also said the developing world is looking to the members of the G20, of which Indonesia currently holds the presidency, to spearhead economic recovery efforts worldwide.
"The whole world is pinning their hope on the G20 to be a catalyst of global economic recovery, especially for developing countries," she said.
"The G20 must not fail. We cannot let global recovery fall at the mercy of geopolitics. We must act urgently to address food and energy crises and prevent a fertilizer crisis from happening, otherwise billions more people would be at risk, particularly in developing countries."
Marsudi also echoed the growing calls during the General Assembly for reforms within the UN.
"Inclusive and meaningful engagement must trump a take-it-or-leave-it approach (and) the voices of all countries — big and small, developed and developing — must equally matter," she said.
Source: Arab News
Please click the following URL to read the full text of the original story:
https://www.arabnews.com/node/2170016/world
--------
UK's Truss thanks Saudi Crown Prince for his prisoner release efforts
27 September, 2022
UK Prime Minister Liz Truss thanked Saudi Arabia's Crown Prince Mohammed bin Salman during a phone call on Monday for the role he played in the release of 10 foreign prisoners last week as part of a prisoner exchange between Russia and Ukraine, the Saudi Press Agency (SPA) reported.
The Crown Prince's meditation efforts successfully resulted in the arrival of 10 prisoners, who included British and American citizens, to Saudi Arabia last week.
"The Prime Minister thanked the Crown Prince for his personal role in securing the release of five British detainees held by Russia-backed forces in Eastern Ukraine last week, to the great relief of their families," a spokesperson for the British leader's Downing Street office said in statement.
During the phone call, the Crown Prince and Truss also "reviewed bilateral relations and ways to develop them within the framework of the Saudi-British Strategic Partnership Council," SPA added.
For his part, the Crown Prince offered his condolences to Truss on the passing of Queen Elizabeth II and congratulated King Charles III on his accession to the throne.
Source: Al Arabiya
Please click the following URL to read the full text of the original story:
https://english.alarabiya.net/News/gulf/2022/09/27/UK-s-Truss-thanks-Saudi-Crown-Prince-for-his-mediation-efforts
--------
German foreign minister urges sanctions on Iran over violence against protesters
Erbil Basay
26.09.2022
BERLIN
Germany's foreign minister on Monday urged sanctions against Iran for the use of violence to quell protests sparked by the death of 22-year-old Mahsa Amini in police custody after she was arrested for not wearing hijab properly.
Annalena Baerbock told German news agency DPA that attempts to suppress peaceful protests with deadly violence in Iran should not go unanswered and those responsible should face sanctions.
Emphasizing that women's rights are an important criterion for the state of a society, she said if women are not safe in a country, nobody is safe.
At a press conference in Berlin on Monday, German Foreign Ministry Spokesperson Christian Wagner said that Iran's ambassador to Berlin was summoned to the Foreign Ministry.
Amini died on Sept. 16 in mysterious circumstances after being detained and taken to the headquarters of the morality police in Tehran.
Source: Anadolu Agency
Please click the following URL to read the full text of the original story:
https://www.aa.com.tr/en/europe/german-foreign-minister-urges-sanctions-on-iran-over-violence-against-protesters/2695300
--------
British police arrest anti-Iran rioters affiliated with MKO terrorist group in London
26 September 2022
Violent rioters who assembled in front of the Islamic Center of England in north-west London on Sunday faced stiff resistance from the supporters of the Islamic Republic of Iran who joined the police to foil the unruly demonstration.
The crowd of demonstrators affiliated with the Mujahedin-e Khalq Organization (MK0), an anti-Iran terrorist group, had gathered in Maida Vale on Sunday, throwing stones at the police and the windows of the center and breaking the glass.
One of the rioters climbed his way to the top of the center's roof but was stopped by the police officers before he could vandalize the property.
Earlier in the day, at least five people were arrested for resorting to "aggressive acts" following violent protests in front of the Iranian embassy in London, according to reports.
This came after hundreds of unruly demonstrators clashed with riot police in London over the death of Mahsa Amini, a 22-year-old Iranian woman, in police custody on September 16.
The demonstrators reportedly pelted stones at the police and resorted to vandalism outside the Iranian diplomatic mission in the country.
Large crowds have been gathering all week outside the Knightsbridge compound in protest against the death of Amini since her death.
The investigation to ascertain the cause of her death is currently underway, but preliminary reports suggest that she died of a cardiac arrest, ruling out any foul play or torture in the police custody.
According to London's Metropolitan Police, "a substantial group" of the large crowd were "intent on causing disorder" and tried to break police lines and storm towards the embassy compound, which led to the injury of some police officers, including broken bones, but none are believed to have been seriously hurt.
"While the majority of those who attended the embassy on Sunday continued to act responsibly, a significant group who arrived actively sought to confront officers and protesters from groups they were not in agreement with," the Met Police said in a statement.
Holding signs in their hands, the demonstrators chanted slogans against Iranian officials and the Islamic Republic of Iran, leading to violent altercations.
The development came after Iran's foreign ministry summoned the British ambassador in Tehran, Simon Shercliff, over the creation of a "hostile atmosphere" by London-based Farsi-language media outlets.
In a statement, the ministry said a "strong protest" was registered against the UK government for "hosting" the media that has "incited disturbances and riots" while calling it "interference" in Iran's internal affairs and the violation of the country's sovereignty.
Apart from the UK, there have been demonstrations in other European countries as well, including Italy and France.
Footage circulating on social media showed French police officers making several protesters lie on the ground and handcuffing them.
Source: Press TV
Please click the following URL to read the full text of the original story:
https://www.presstv.ir/Detail/2022/09/26/689865/Five-people-arrested-at-protests-out-of-Iranian-embassy-in-London
--------
Pakistan
Peshawar court acquits two of Ahmadi homeopath's killing
September 27, 2022
PESHAWAR: A local court has acquitted two men on the charge of killing an Ahmadi homeopath in his clinic on the outskirts of the provincial capital last year.
Additional sessions judge Attaullah Jan ruled that the accused facing trial, Ehsanullah of Bara tehsil in Khyber tribal district as well as his co-accused of Darra Adamkhel, a juvenile person,were given the benefit of doubt for acquittal in the murder case.
He added that Ehsanullah, who was in custody, would be released forthwith if he was not wanted in any other case.
The co-accused has already been freed after the grant of bail.
Gives accused benefit of doubt in case
The deceased, Dr Abdul Qadir, 65, was attacked in his clinic in Bazidkhel area on Feb 11, 2021, by the prime accused during a visit. Ehsanullah, who pretended to be a patient, allegedly fired gunshots at the homeopath and tried to escape.
However, he was allegedly overpowered by the deceased's cousin, Dr Ibne Amin, who was present in the clinic at that time.
The co-accused was arrested after he, as the police claimed, was named by the prime accused as his accomplice during initial investigation.
The prime accused had allegedly told police that the co-accused had provided him with the pistol used in the murder.
The FIR of the targeted killing was registered at the Inqilab police station under Section 302 of the Pakistan Penal Code and Section 13 of the Arms Act.
The complainant in the case was Dr Ibne Amin, who claimed that he was present at the clinic and had gone to another room for attending a phone call when he heard fire shots.
The complainant claimed that he chased the prime accused and caught him near the clinic before handing him over to the policemen, which showed up later.
He claimed that his cousin was killed for religious reasons.
The family members of the deceased didn't pursue trial.
The defence counsel contended that the prosecution's case was 'full of doubts' and that the accused were falsely implicated in it.
He argued that there was no witness to the killing, so merely on basis of rumours and allegations, the accused couldn't be convicted.
BAIL DENIED: A child protection court has turned down the bail plea of a man arrested on charge of sexually assaulting a 14-year-old boy.
Additional sessions judge Hina Mehwish observed that the offence allegedly committed by the petitioner was 'sensational in nature, bore deeper repercussions on collective moral fabric of society and fell within the prohibitory clause of Section 497 of the Code of Criminal Procedure', so he was not entitled to the concession of bail.
The accused was named in an FIR registered at the Tehkal police station on July 24 under Section 377 (unnatural offence) of the PPC and Section 53 (sexual abuse) of the Khyber Pakhtunkhwa Child Protection and Welfare Act.
Source: Dawn
Please click the following URL to read the full text of the original story:
https://www.dawn.com/news/1712150/peshawar-court-acquits-two-of-ahmadi-homeopaths-killing
--------
6 Pakistan Army officials martyred in Harnai helicopter crash: ISPR
Naveed Siddiqui
September 26, 2022
The Inter-Services Public Relations (ISPR) said on Monday that six Pakistan Army officials, including two majors, were martyred after a helicopter crashed during a flying mission near Khost in Harnai, Balochistan.
"All six personnel on board, including two pilots, have embraced shahadat," the military's media affairs wing said, adding that the incident occurred late last night.
The martyred officials were identified as:
39-year-old Major Khurram Shahzad (pilot), a resident of Attock. He was married with one daughter.
30-year-old Major Muhammad Muneeb Afzal (pilot), a resident of Rawalpindi. He was married with two sons.
44-year-old Subedar Abdul Wahid, a resident of Sabirabad village in Karak. He was married with four children, including three sons and a daughter.
27-year-old Sepoy Muhamad Imran, a resident of Makhdoompur in Khanewal. He was married with two daughters and a son.
30-year-old Naik Jalil, a resident of village Bhutta, Lohara, Teh Kharian in Gujrat district. He was married with two sons.
35-year-old Sepoy Shoaib, a resident of village Khatarphatti PO Syeeda Teh Jhand in Attock district. He was married with one son.
The ISPR has yet to release details about the cause of the crash which comes more than a month after a similar incident occurred in Balochistan.
Meanwhile, the funeral prayers of the martyred soldiers were offered at Quetta Garrison, according to the ISPR. Balochistan corps commander as well as senior military and civil officials attended the funeral.
The bodies of the martyrs are now being sent to their native towns where they will be buried with full military honours, the ISPR added.
On August 1, a Pakistan Army helicopter with six people on board, including Commander 12 Corps Lieutenant General Sarfraz Ali, lost contact with the air traffic control in Balochistan's Lasbela district.
A day later, the wreckage of the helicopter was found near Musa Goth, with all personnel on board embracing martyrdom. According to the ISPR, the accident occurred due to bad weather.
'Too many crashes'
Reacting to the news of the latest crash, Prime Minister Shehbaz Sharif said that he was deeply grieved. He prayed for the deceased and their family members, adding that the entire nation shared the grief of the bereaved.
President Arif Alvi also expressed grief over the incident and paid tributes to the martyred officials.
An official statement on Twitter said the president prayed for the martyrs and extended condolences to their families.
PTI chairman Imran Khan extended condolences and prayers to the families of the brave soliders.
Interior Minister Rana Sanaullah said he was deeply saddened to hear of the incident, terming it to be "tragic".
PTI's Fawad Chaudhry said helicopter flying was getting dangerous, adding that this required "engineering evaluation".
"Too many crashes [...] rest in peace bravehearts. All were too young to die," he said.
Climate Minister Sherry Rehman offered her condolences over the lives lost in the crash. She also prayed for the families of the martyred officials.
Balochistan Chief Minister Mir Abdul Qudoos Bizenjo expressed deep grief and sorrow over the helicopter crash. In a statement, he said the entire nation paid rich tribute to those who sacrificed their lives while performing their duties.
Source: Dawn
Please click the following URL to read the full text of the original story:
https://www.dawn.com/news/1712054/6-pakistan-army-officials-martyred-in-harnai-helicopter-crash-ispr
--------
Bilawal urges measures to combat Islamophobia
September 26, 2022
ISLAMABAD: Foreign Minister Bilawal Bhutto-Zardari on Monday met Miguel Moratinos, UN high-representative for the alliance of civilizations (UNAOC), on the sidelines of the 77th annual session of the General Assembly in New York.
A Foreign Office statement said Zardari held a discussion on the work of the UN body and avenues for collaboration with Moratinos. They also deliberated on strengthening interreligious dialogue, and combating Islamophobia as well as intolerance based on religion or belief.
The two diplomats underlined the need for achieving harmony among diverse cultures and societies.
The foreign minister emphasised that Islamophobia was prevalent in Western countries but its most virulent manifestation was on display in India. He called upon the body to step up its efforts to halt and reverse Islamophobia, bigotry and discrimination based on religion and belief.
While encouraging interfaith and intercultural dialogue and exchange of ideas at the local, national and international levels, Moratinos reiterated the willingness of UNAOC to support all efforts that promote continued dialogue and foster mutual respect and understanding, including on ways to combat Islamophobia.
Separately, Zardari also held a bilateral meeting with his Algerian counterpart, Ramtane Lamamra, and discussed the established framework for cooperation and exchanges characterised by mutual trust and friendship between the two countries.
According to Foreign Office, the foreign minister expressed satisfaction at the historically fraternal ties between the two nations. He expressed pride in Pakistan's role in Algeria's independence.
Lamamra welcomed Pakistan's principled position on the Middle East and other issues. Both ministers agreed that the commitment of Pakistan and Algeria to international principles was the pillar of their close relationship.
Source: Pakistan Today
Please click the following URL to read the full text of the original story:
https://www.pakistantoday.com.pk/2022/09/26/bilawal-urges-efforts-to-combat-islamophobia/
--------
Imran Khan accuses Maryam Nawaz of hatching plot to kill him through 'religious fanatic'
Sep 26, 2022
LAHORE: Pakistan's ousted prime minister Imran Khan on Monday accused senior politician Maryam Nawaz of propagating "sectarianism and religious hatred" against him and hatching a plot to kill him through a "religious fanatic".
Khan also said Maryam, the daughter of former premier Nawaz Sharif, is so desperate that she is also making sure that he is disqualified by the Election Commission of Pakistan (ECP) in the Toshakhana case for not disclosing the information regarding the gifts received from the state depository in his assets declaration.
"Maryam Nawaz along with her accomplices propagated sectarianism and religious hatred against me to make a ground that any religious fanatic gets motivated and kill me," Khan, 69, said during his address with businessmen here.
"I am not afraid of death as it will be decided by Allah (God) and none else," the 69-year-old cricketer-turned-politician said.
In a rally in Rahim Yar Khan, some 400 kms from Lahore, the Pakistan Tehreek-e-Insaf chairman last Saturday had also talked about the conspiracy to kill him.
"Four people had decided behind 'closed doors' to get me killed," he claimed.
Earlier, Maryam, a senior Pakistan Muslim League (N) leader, had uploaded two purported statements of Imran Khan and as many verses of the Quran on her Twitter account to draw a comparison between them.
"This man (Imran) is using religion for his politics and promoting his false narrative. Save your faith and the country from this Satan," she said.
Last week, the Punjab Police booked two federal ministers, as well as two senior officials of state-run PTV on terrorism charges for allegedly fanning religious hatred against Khan and endangering his life.
The FIR was filed against Federal Information Minister Marriyum Aurangzeb, Federal Minister Mian Javed Latif, PTV Managing Director Sohail Khan, as well as the broadcaster's Controller Programmes, Rashid Baig, on the complaint of a local leader.
They were booked under Section 9 (punishment for acts intended or likely to stir up sectarian hatred) and Section 11X(3) (responsibility for creating civil commotion) of the Anti-Terrorism Act of 1997.
Latif had declared Khan a "non-Muslim and "supporter of minority Ahmadi community."
Source: Times Of India
Please click the following URL to read the full text of the original story:
https://timesofindia.indiatimes.com/world/pakistan/imran-khan-accuses-maryam-nawaz-of-hatching-plot-to-kill-him-through-religious-fanatic/articleshow/94460967.cms
--------
Pakistan's businessmen and economists ask govt to import food from neighbouring countries, including India
Sep 26, 2022
ISLAMABAD: Pakistan's leading businessmen and economists have asked the government to take emergency measures to import food from neighbouring countries, including India, in the wake of possible food shortages following the devastating floods that destroyed standing crops in thousands of acres in the country.
The Pakistan Businessmen and Intellectual Forum (PBIF) said in a statement that the government should abolish all taxes until the country's agricultural production situation improves and returns to normalcy.
"We urge the government to allow imports from all four neighbouring countries," the PBIF statement quoted its President Zahid Hussain as saying.
He said that the war between Russia and Ukraine had caused a lot of damage to global agriculture and the prices of all agricultural commodities had skyrocketed.
"The grain which fell prey to this with the biggest impact was wheat, whose prices jumped record high, and now following the disastrous floods, its entire crop standing on millions of acres wiped out in Pakistan," said the statement.
Although imports from Iran and Afghanistan were allowed, the supply of foreign exchange to importers was stopped which increased the cost of their business significantly, it said.
It said while India was the best choice for quick and cheap food import, it was not allowed by the government as the mainstream opposition could use it as a weapon for political advantage.
"In the absence of direct trade with India, Indian and Pakistani businessmen are forced to trade through the United Arab Emirates at extra cost," it said.
The government should give priority to the welfare of the people and give preference to the neighbouring countries instead of importing agricultural products from distant countries.
Moreover, if $17 billion or Rs 4000 billion are given to Pakistani farmers in the form of interest-free loans there can be a revolution in the country's agricultural production, it said.
Otherwise, the situation could worsen even further by 2050, when Pakistan's population is projected to reach 380 million, it warned.
Pakistan has reported over $40 billion of economic losses due to floods and there is fear that damage to crops may result in a food crisis.
However, despite throwing positive feelers, the government has been hesitant to allow imports from India.
On Sunday, former prime minister Imran Khan said that his government had snapped trade ties with India after New Delhi revoked the special status of Jammu and Kashmir in 2019 and claimed that the Shehbaz Sharif-led government wanted to resume it.
In recent weeks, several business chambers have urged the government to import essential items like onion and tomato from India for the sake of consumers in the wake of soaring prices of the vegetables following the devastating floods in the country.
Relations between India and Pakistan have often been strained over the Kashmir issue and cross-border terrorism emanating from Pakistan.
However, the ties between the two countries nosedived after India abrogated Article 370 of the Constitution, revoking the special status of Jammu and Kashmir and bifurcating the state into two Union territories on August 5, 2019.
India's decision evoked strong reactions from Pakistan, which downgraded diplomatic ties and expelled the Indian envoy. Trade ties between Pakistan and India have largely been frozen since then.
Source: Times Of India
Please click the following URL to read the full text of the original story:
https://timesofindia.indiatimes.com/world/pakistan/pakistans-businessmen-and-economists-ask-govt-to-import-food-from-neighbouring-countries-including-india/articleshow/94460220.cms
--------
Imran's harangue stirs up debate on campuses prestige
Zulqernain Tahir | Kashif Abbasi
September 27, 2022
LAHORE: The Government College University (GCU) on Monday became a 'centre of controversy' following former prime minister Imran Khan's hard hitting speech targeting his political opponents especially PML-N vice president Maryam Nawaz at the varsity's Oval ground.
A social media trend purportedly generated by the PML-N against GCU Vice-Chancellor Prof Dr Asghar Zaidi for what the party of the Sharifs said "allowing Imran Khan to hold his public meeting at the prestigious institution."
Acting swiftly, the PML-N led federal government removed Dr Zaidi from the VC's Search Committee.
Over 50,000 tweets were made till Monday evening mostly targeting the VC (#RemoveVCofGCU) with PML-N supreme leader Nawaz Sharif's daughter Maryam Nawaz calling for 'action' against him (Dr Zaidi).
GCU VC stripped of search panel membership
Even Federal Education Minister Rana Tanvir Hussain and Punjab Governor Balighur Rehman jumped into the controversy and supported their leader (Maryam) in this respect.
The GCU VC was quick to remind his detractors that in known universities of the world, students got the opportunity to hear all kinds of political views from the varsity forum. "The varsities have the right to be engaged in the political debate of the time. The world over, political leaders come to universities to address youth, and we don't discriminate on the basis whether they are in the government or in the opposition," Dr Zaidi said in a talk with Dawn.
The VC further said the Punjab Information Technology Board had organised the event and chose the guest list. "When the chief guest is speaking he cannot be instructed what to say and what not," he said and added the GCU operated within the territorial jurisdiction of Punjab, so it was bound to follow the directions of the Punjab government.
In a tweet Maryam Nawaz said: "Strict action must be taken against the GCU VC for desecrating an educational institution by lending it to a Fitna & organising his jalsa on the premises. Using a seat of learning for political hate-mongering is a crime that should not go unpunished."
Governor Baligur Rehman in a statement said: "As a chancellor, I have taken notice of organising a political programme in the GCU. There is no scope for such political gatherings in universities. Children are our future and they should not be pushed into politics."
Punjab Information Technology Minister Dr Arslan Khalid replied to Ms Nawaz on Twitter saying: "Why don't you (Maryam) or Shehbaz Sharif go and visit GCU or any university yourself and make whatever speech you want? Political leaders go to universities everywhere in the world. If you ppl can't face youth, it's not our fault."
![](https://twitter.com/arslankhalid_m/status/1574357048812130304(
Meanwhile, Federal Education Minister Rana Tanvir reportedly removed Dr Zaidi from the Ministry of Federal Education and Professional Training's Search Committee.
The committee was constituted on Sept 13 headed by the federal education minister for appointing VCs of Quaid-i-Azam University, Allama Iqbal University and rector of International Islamic University, Islamabad.
A source told Dawn that following the event addressed by Imran Khan at GCU, the education minister ordered removal of Dr Zaidi from the search committee. He said on the direction of minister, Joint Secretary Raja Muhammad Akhtar issued a notification, removing VC GCU from search committee.
Sources said Dr. Zaidi had been replaced with Dr. Shoiab Mir, as co-opted member of Search Committee. They said the minister also asked Higher Education Commission (HEC) to take action against the VC "in accordance with law."
Source: Dawn
Please click the following URL to read the full text of the original story:
https://www.dawn.com/news/1712181/imrans-harangue-stirs-up-debate-on-campuses-prestige
--------
President Arif Alvi admits 'personal' role in bringing stakeholders closer
Imran Ayub
September 27, 2022
KARACHI: Without confirming or denying reports of his meetings with military brass and key political figures that drew sharp criticism from leaders of the ruling coalition, President Arif Alvi on Monday conceded his recent "efforts in personal capacity" to bring the "stakeholders closer" to one another.
President Alvi talked about his role to "consult, negotiate and deliberate" in personal capacity during his interaction with Karachi-based journalists and TV show hosts at Governor House, where he was asked a range of questions including one in the context of media reports that he had facilitated a meeting between ex-premier Imran Khan and army chief Gen Qamar Javed Bajwa at the presidency this month, some participants in the meeting shared with Dawn.
They said the president didn't respond to the question directly but in the overall context of different queries and his role as president, he came up with an explanation which covered the issue indirectly.
A statement later issued by the press information department about the president's meeting with journalists also made his observation clear.
Describes audio leaks of PM, Maryam and others as 'worrisome'
"He said he was trying to bring the stakeholders closer together in his personal capacity through democratic means of consultations, negotiation and deliberations at the appropriate level," the official statement quoted President Alvi as saying.
Reports of Mr Khan's meeting with the army chief went viral on the social media earlier this month, with no confirmation from any side.
Speculations deepened when senior PTI leader Ishaq Khakwani in a TV interview claimed the party held a meeting with Gen Bajwa at the presidency, facilitated by President Alvi.
During his media interaction, he sounded worried about audio leaks revealing conversations of Prime Minister Shehbaz Sharif, PML-N leader Maryam Nawaz and some federal cabinet members.
Source: Dawn
Please click the following URL to read the full text of the original story:
https://www.dawn.com/news/1712198/president-arif-alvi-admits-personal-role-in-bringing-stakeholders-closer
--------
South Asia
As The Threat Of Terrorism Becomes Common Again, People In Khyber-Pakhtunkhwa Are Already Protesting
September 26, 2022
Since the Taliban resurgence in Afghanistan, the situation in Pakistan's Khyber-Pakhtunkhwa province is getting worse day by day. As in the past, a series of target killing and terrorism incidents started again. The current rise of the Taliban is not limited to Waziristan – in ex-FATA – but rapidly diffusing to adjacent areas of the province like Bannu, Bajaur, Swat, Buner and Mohmand. But this time, the Pashtun people are not naïve to the changing situation in their lands. They are protesting against the resettlement of TTP in their lands and condemning this move of the state. However, unfortunately, the mainstream media and leading political parties are silent on this issue and completely ignoring the protests and rallies happening against this resettlement. These are the same media and political parties that used to criticise terrorism hourly on the TV screens, just before the US withdrawal from Afghanistan.
Freely roaming terrorists late at night in districts of Dir, Buner, Swat, Mohmand have once again become common. Residents of these areas, aware of this movement, reported the matter to the authorities. So far, no significant actions have been taken in this regard. Tribal leaders and elders from the area had already warned the law enforcement and administration to address the matter, or they would opt for street protests to record their discontent.
Pakistan Tehreek-i-Insaaf (PTI) MPA Malik Liaquat Ali, who was protesting against the administration's indifference and failure to stop terrorism, met with an attack which resulted in the killing of his family members and bodyguard. Sadly, the provincial government of Pakhtunkhwa being led by PTI did not say a single word against the terrorists. But, this time, the people there are organising mass demonstrations against this fresh wave of Talibanisation and terrorism. The role of youth in this regard is remarkable. Their simple demand is the elimination of terrorism and a long-term peace and stability in the area. On the other side, these protests are completely blacked out by the mainstream media.
Recently, two mass protests were recorded against the terrorists; none of the protests was broadcast or covered by the news media. People severely criticised the security agencies' performance. They argued that a common citizen is stopped at each check-post for hours and is subjected to search, while terrorists, along with their assault weapons, are free to travel from area to area. This sparks suspicion about security forces. Many of the locals has reported seeing terrorists travelling in state forces' vehicles, which is a big question mark on state policies and the efforts to eliminate armed militancy from the region.
A few weeks ago, an unpleasant incident took place between the Taliban and the police in Matta area of Swat, which is the native area of Khyber-Pakhtunkhwa Chief Minister Mehmood Khan. The Taliban took prisoner a Deputy Superintendent of Police, a major from the army, and a few others as hostages. The alleged video of this incident was released by the Taliban, showing injured DSP and the army officer in their custody. In this alarming situation, the role of local law enforcement agencies i.e. police appeared to be very helpless as the mentioned hostages were not released by law enforcement action, but with the efforts of a local jirga. This incident, and the alleged footage and audio messages, caused fear and anxiety among the public. The common people are forced to think: when the government cannot protect its own officials, what protection will it provide to the common people? Meanwhile, the complete silence of the provincial government sends the message that all this is happening with the will of the provincial government. The people of Swat vowed to do every possible thing to block the way for Talibanisation in their region. They have no option but to take streets and express their disapproval against this armed unrest and a generally destabilised situation.
There has recently even been talk of the reintroduction of Talibanisation to Buner. The sudden wall-chalking with the slogans of Taliban and Da'esh (ISKP) and the complete silence of the local government and the district administration on this whole situation is mysterious. As in Swat, the masses in Buner, too, demonstrated in large numbers, sending the message that they want peace in the area. "We do not want to see Taliban and terrorists here, we want education and peace for our children," the protestors chanted.
Nevertheless, a positive take-away from this whole situation is that unlike the past, when people were tricked in the name of religion and Shariah, this time they are straightforward and not in favour of any "Islamic system" introduced by the Taliban.
In North Waziristan, a protest for life, property, honour and peace has been going on for 40 days, in which all the tribes of North Waziristan are participating. The protest is also against Talibanisation, terrorism and target killing. The people there protested even on the country's independence day. On that day, all the people had put up black flags on the houses, markets and protest camps. These people have a simple demand: a halt to terrorism on their land. They are of the view that it is the responsibility of the state and the security agencies to protect every citizen, but they have completely failed to fulfill this responsibility – or, in a possibility that is yet more sinister, they may be deliberately launching a new project of religious fundamentalist militancy.
There is a demand from the tribes there that they will hold talks with local military leadership and the representatives of the mainstream political parties will be present as witnesses. Still, the security forces and bureaucracy are evasive.
In South Waziristan's Mehsud tribe districts, the Taliban, coming from different areas, are swiftly regrouping and, like in the past, they once again established their check-posts. They could be seen holding arms and patrolling various areas of Mehsud constituency. This situation has left residents in deep fear. Threatened by the Taliban, they are scared to speak against them, as in the past when dissent against terrorists would result in death. Surprisingly, this whole regrouping and reorganisation of Taliban is happening when the security forces are still present in the area. This, after all, is an area where locals are not allowed to keep weapons for their safety, but Taliban could be seen flaunting assault weapons openly, in broad daylight.
Some people are already describing it as the familiar nexus of state security and the Taliban.
The situation in In Bannu, Jani Khel and Bakkakhel is not very different from that in other Pashtun areas. As was the case in the past, the Taliban have started to approach every businessman, trader and contractor to demand extortion money. People have been protesting in these areas for months, but no government official approached them to ensure meeting their demands of peace. "We don't want war, we want peace. The state security agencies are responsible for our security. We don't want rations from them, but protection." Locals from Khyber district, Tirah Valley and Bara Bazar repeated their demands as political alliances and thousands of people from different walks of life came out to record their protest. As usual, mainstream media did not show these protests, which increased the disenchantment of the people. They were wondering why it is that Pashtuns end up with stepmotherly treatment from the state, even when it comes to their fundamental security.
In Momand district of Khyber-Pakhtunkhwa, the residents are protesting for the same cause, including state atrocities towards them. They have held multiple protests and sit-ins – some of which are still going on – to little avail.
Bajaur district is also in the grip of terrorism. Over the past four years, terrorist activities have again increased. Taliban started to approach the influential and wealthy people – traders, builders and businessmen – of the area, forcing them to evacuate and to shift their businesses outside the 'danger-zone.'
For their part, the military and various security agencies emphasise that they eliminated the terrorism from the region, and that the current wave of terrorism is caused by the terrorists who entered from the other side of Durand Line – i.e. from Afghanistan. The new breed of Pashtun, being more educated and aware of the geo-political situation of the region, are not quick to accept such claims. They argue, instead, that the Pak-Afghan border is all fenced: which raises questions on how such large numbers of terrorists cross the fence without being noticed by the security personnel guarding the fence.
It is important to mention here that similar to Swat and other tribal districts, another security operation to curb terrorism was conducted in Bajaur Agency, which resulted in mass damage of public property like schools, business centre, markets and houses. But after all this loss and damage, the terrorists are back again, which raises questions about the immense sacrifices that locals made to bring peace to their homeland.
It should be noted that the military has been negotiating with the TTP for several months and government officials from the region have been sent to Afghanistan to hold meetings with the Taliban there. But despite ongoing peace negotiations and an announced ceasefire, the attacks on innocent civilians and security personnel are still continued. Activities like ambush attacks on law enforcement agencies, bomb blasts, target killings and extortion demands have again become a routine practice.
The Taliban started to gain strength in the region right after US and NATO forces left Afghanistan, where the Afghan Taliban overthrew the internationally-recognised government of Ashraf Ghani and established their own Islamic Emirate of Afghanistan. Right after that, ex-ISI chief Gen. Faiz Hameed was appointed as Corps Commander Peshawar, who initiated peace talks with the Pakistani Taliban. Multiple ceasefires were announced, and the state released hundreds of Taliban prisoners as a goodwill gesture.
Source: The Friday Times
Please click the following URL to read the full text of the original story:
https://www.thefridaytimes.com/2022/09/26/as-the-threat-of-terrorism-becomes-common-again-people-in-khyber-pakhtunkhwa-are-already-protesting/
--------
Sylhetis were separated by Partition. Now, Indo-Bangladesh festival aims to bring them together
Angana Chakrabarti
27 September, 2022
Guwahati: In 1947, the Muslim-majority Sylhet district of Assam province became a part of East Pakistan (now Bangladesh), causing many Hindu Sylhetis to migrate from their homeland to India as refugees. While this episode from Assam's Barak Valley region has become a footnote in the discourse around Partition, it will be the fulcrum of a festival to "celebrate the age-old people-people connect" across both sides of the border.
The Silchar-Sylhet Festival, slated to be held in Assam's Silchar town from 29 to 31 October, is being organised by the think-tank India Foundation "under the aegis" of the Union government's Ministry of Culture and in association with the Bangladesh Foundation for Regional Studies.
"Sylhetis are on either side of the border… now it is time to forget the past of Partition and forge new alliances and links, especially between the twin cities of Silchar and Sylhet," BJP leader and Sylhet Lok Sabha MP Dr Rajdeep Roy told ThePrint.
According to a press release, the three-day long festival will see sessions and addresses by "ministers from India and Bangladesh, governors, chief ministers, industry leaders, litterateurs, academics, and practitioners".
"The festival will showcase tribal culture, cuisine, arts, crafts, and local produce, entertainment and bring together eminent people from both sides to discuss and deliberate on issues of mutual growth and opportunity," the press communique from Saturday stated.
Roy told ThePrint that discussions pertinent to diplomatic relations between India and Bangladesh are also likely to take place on the sidelines.
Several dignitaries from both Bangladesh and India are expected to attend the event.
The guest list from Bangladesh includes Minister for Foreign Affairs A.K. Abdul Momen, Minister for Commerce Tipu Munshi, and State Minister for Cultural Affairs K.M. Khalid.
From the Indian side, prominent attendees will include the Governor of Assam Jagdish Mukhi, Union Minister for Culture, Tourism and Development of North-East Region (DONER) G. Kishan Reddy, and Minister of Ports, Shipping and Waterways Sarbananda Sonowal, among others.
A cross-border Sylheti identity
The Bengali-speaking region of Sylhet was historically a part of the erstwhile East Bengal, but the British tacked it on to the newly created province of Assam in 1874 in order to boost the 'backward' region's economic strength.
Silchar was linguistically and culturally closer to Calcutta than anywhere in the northeast part of India, and many inhabitants were against the move. However, according to some scholars, Hindus were more rankled than Muslims.
"[T]he Hindus of Sylhet demanded for a return to the more 'advanced' Bengal, whereas the Muslims of Sylhet by and large preferred to remain in Assam where its leaders… found a more powerful political voice," wrote researcher Anindita Dasgupta in her 2008 paper 'Remembering Sylhet: A Forgotten Story of India's 1947 Partition', published in the Economic and Political Weekly.
Most of the local Assamese, too, were not pleased by the presence of the Bengali-speaking "Sylhetis" due to increased competition for jobs and the fear that the perceived interlopers would try to assert cultural dominance in the region.
Meanwhile, the years from 1874 saw Sylhetis migrating to different parts of the northeast, and creating sizeable pockets in areas of southern Assam like Silchar (in Cachar district) and Karimganj.
"Over time there emerged a de-territorialised Sylheti identity in Assam/ India," Dasgupta wrote.
Then in 1947, the Sylhet referendum was held to decide whether the district would remain with India, as a part of undivided Assam, or East Bengal, a part of the newly created Dominion of Pakistan.
The majority voted in favour of joining Pakistan, but on 17 August 1947, the announcement of the Radcliffe Line — which delineated the geopolitical border between India and Pakistan — resulted in Karimganj joining India.
Neighbouring areas of Cachar district like Silchar had also felt the effects of the Partition. In a paper on the demographic growth of Silchar, scholars N.B. Dey and Purusottam Nayak noted that the town's population grew by 10.5 per cent between 1941 and 1951, "mainly due to Partition".
The influx comprised predominantly Hindu refugees from the part of Sylhet that had joined erstwhile East Pakistan.
There are currently sizeable populations of Sylhetis in not just the Barak valley (comprising Cachar, Karimganj, and Hailakandi districts) but also Hojai in Assam, Meghalaya, North Tripura, and Manipur.
The Sylheti identity is marked by a distinctive dialect, cuisine, and culture. It is this cross-border identity, whether in Bangladesh's Sylhet or India's Silchar, that the upcoming festival aims to highlight.
Source: The Print
Please click the following URL to read the full text of the original story:
https://theprint.in/india/sylhetis-were-separated-by-partition-now-indo-bangladesh-festival-aims-to-bring-them-together/1143683/
--------
WFP Needs $1.1bn as Winter Spells Hunger for Afghanistan
By Saqalain Eqbal
27 Sep 2022
While the World Food Programme (WFP) urgently needs US$1.1 billion to continue supplying them with monthly food and nutritional support for the upcoming six months, millions of Afghan families lack the resources necessary to cope with another cold winter.
The country is now facing its greatest risk of famine in 20 years, according to a statement released by the WFP on Monday, September 26. The country's economy has withered and development assistance and assets are still mostly frozen.
The country has seen jobs disappear, and the economic collapse and climate shocks exacerbate the already precarious food security. It is estimated that the needed $1.1 billion will help nearly 18 million families experiencing food insecurity throughout the winter.
Farmers are still suffering from one of the country's worst droughts in decades, and their shrunken harvests are increasing the already alarmingly high levels of hunger. According to the statement, middle-class and urban households are now also affected by food insecurity and hunger.
A decrease in hostilities, according to the statement, has been one of the few positive aspects of the last year, making it easier for humanitarian workers to reach isolated, vulnerable areas.
The funds, if received on time, allow the WFP to pre-position food in remote difficult areas as winter renders many towns inaccessible. This will reduce the risk of food insecurity and allow for timely aid distribution.
According to the United Nations Office for the Coordination of Humanitarian Aid (OCHA), $4.4 billion in financial resources have been requested this year to assist 22 million people in Afghanistan; however, only 43% of this request has been fulfilled after nine months.
Source: Khaama Press
Please click the following URL to read the full text of the original story:
https://www.khaama.com/wfp-needs-1-1bn-as-winter-spells-hunger-for-afghanistan-67486/
--------
Mass grave containing remains of 12 people uncovered in Afghanistan: Taliban
26 September, 2022
A mass grave containing the remains of 12 people has been uncovered in Afghanistan, Taliban officials said on Monday.
The grave was found by villagers over the past few days in the town of Spin Boldak, bordering Pakistan, a site of fierce fighting between former Afghan government forces and Taliban fighters before the Taliban seized power last year.
Government spokesman Zabihullah Mujahid said the people were killed nine years ago when the US-backed government was in power but the site has not been independently investigated.
"These were individuals who were arrested from villages by the former cruel commander General Raziq. They were all civilians who were killed and buried in a mass grave," he said, referring to Kandahar's late police chief -- a powerful commander known for his effective battles against Taliban fighters during the 20-year war.
"We are looking into the issue of this mass grave after which we will decide on what kind of investigation should be conducted."
The remains have been reburied nearby, along with that of another individual found in a separate unmarked grave, said Haji Zaid, the spokesman for the governor of Kandahar province.
UN Special Rapporteur on human rights in Afghanistan, Richard Bennett, tweeted that it was "important these remains are not disturbed and damaged further pending forensic examination."
Videos posted to social media, shared by Taliban officials, show villagers gathered around heaps of bones.
General Abdul Raziq was shot dead by a bodyguard in October 2018, minutes after a meeting with then top US commander in Afghanistan, General Scott Miller.
The Taliban claimed responsibility, saying they had targeted Raziq who had a reputation of being a ruthless opponent in Kandahar and neighboring provinces.
Raziq's brother Tadin Khan rejected the Taliban accusations.
"This is an attempt to malign our family," Khan, who had succeeded Raziq as Kandahar police chief, told AFP in a brief comment by telephone.
Human Rights Watch called for an investigation into the killings.
"Discovery of grave sites makes it all the more urgent the authorities prevent acts of revenge," tweeted Patricia Grossman, associate director at HRW.
Source: Al Arabiya
Please click the following URL to read the full text of the original story:
https://english.alarabiya.net/News/world/2022/09/26/Mass-grave-containing-remains-of-12-people-uncovered-in-Afghanistan-Taliban-
--------
Mideast
My Views on 'Rest in Peace' Based On Islamic Tradition, Says Turkish Scholar
Sean Augustin
September 27, 2022
PETALING JAYA: Turkish scholar Mustafa Akyol has responded to critics who questioned his credentials in contradicting a mufti's views on the use of the phrase "Rest in peace".
Akyol said his religious arguments were based on views within the Islamic tradition.
"I am not a mufti, and don't claim to be," he said. "But I have been researching contemporary issues in Islam, and writing about them with both traditional and academic sources, for almost 30 years," he told FMT.
Some of his detractors had disparagingly referred to him as an academic and author, implying that he was in no position to challenge the mufti's view.
Akyol is a senior fellow with a US-based libertarian think tank, the Cato Institute for Global Liberty and Prosperity.
He had disagreed with the federal territories mufti Luqman Abdullah, who said last week that Muslims were prohibited from saying "Rest in peace". Luqman held that Muslims were not allowed to pray for forgiveness for non-Muslims as prescribed in several hadiths.
However, Akyol disagreed. To back his argument, he cited two Quranic verses that promised salvation to Jews and Christians, in addition to Muslims.
Akyol said he respected muftis for their knowledge and goodwill, but no mufti had the last word on Islam in any issue. This was why there are fatwas (religious edicts) with differing verdicts on a plenitude of topics, he said.
As an example, he quoted the differing views of scholars about the word "Islam" as used in the Quranic verse "If anyone seeks a religion other than Islam, it will not be accepted by him".
He said "Islam" in this verse could mean merely submission to God, as some of the earliest exegetes put forward. A later exegete understood "Islam" to mean "an active approach on the part of the individual" towards God. It was not meant as a group reference, Akyol said.
Only later did scholars begin to define the word as "the specific, historical path of Muhammad". Akyol said many people in Malaysia seemed to know only this rather late view represented by Ibn Kathir, but not its alternatives.
Liberal take on Islam?
He said the liberal view on Islam that he advocated was that there must not be any coercion in religious practice or belief, a conviction based on the Quranic exhortation that "there is no compulsion in religion".
He said there were other verses that also touched on there being no compulsion, but a study of Islam's traditional jurisprudence revealed that those verses had been "abrogated" by verses about war, or were limited by certain hadiths, including ones that commend killing apostates.
He said such abrogation was very much debatable, and hadiths with a single narrator were questionable as human error was always possible in transmission.
"There is nothing which makes the coercive view of Islam more 'religious', or any of my 'liberal' views more secular. Both are religious views," he said.
Can non-Muslim monotheists be saved?
Akyol said the idea that Jews and Christians could be saved in the afterlife without converting to Islam was a view that had been defended by prominent Islamic scholars throughout the past century.
They include Musa Jarullah Bigiev, Rashid Rida, Süleyman Ateş, Sayyid Hosen Nasr and Fazlur Rahman.
Even the Directorate of Religious Affairs, Turkey's equivalent to Jakim or the Islamic development department, mentions it as an "alternative interpretation" in its Encyclopedia of Islam.
He said even within the mainstream interpretation, the all-prominent Imam al-Ghazali had argued that non-Muslims could be excused by God if they only heard about Prophet Muhammad in a negative way.
And today, there were some conservative scholars who think that this may be applied to non-Muslims who hear about Islam via Islamophobic circles, or through militant interpretations.
Source: Free Malaysia Today
Please click the following URL to read the full text of the original story:
https://www.freemalaysiatoday.com/category/nation/2022/09/27/my-views-on-rip-based-on-islamic-tradition-says-scholar/
--------
Türkiye condemns raid on Al-Aqsa Mosque complex
Seda Sevencan
26.09.2022
ISTANBUL
Türkiye condemned on Monday the raid by some Israeli radical groups on the Al-Aqsa Mosque complex in the occupied East Jerusalem, calling on Israeli authorities to take necessary measures.
"We condemn and find it unacceptable that radical Israeli groups raided the Al-Aqsa Mosque in occupied East Jerusalem under the protection of Israeli security forces," the Foreign Ministry said in a statement.
"We call on the Israeli authorities to take the necessary measures immediately so that these practices that violate the sanctity and the status based on international law of the Al-Aqsa Mosque are not allowed and tensions do not escalate," it added.
Source: Anadolu Agency
Please click the following URL to read the full text of the original story:
https://www.aa.com.tr/en/turkiye/turkiye-condemns-raid-on-al-aqsa-mosque-complex/2695357
--------
Israel police storm Al-Aqsa to clear Muslims from compound on Jewish new year holiday
26 September, 2022
Israeli police stormed the Al-Aqsa Mosque complex in occupied East Jerusalem on Monday to clear Muslims from the compound so Jews can enter on Rosh Hashanah, or Jewish New Year.
Officers raided Al-Aqsa, the third-holiest place in Islam, and attacked Muslims who were at the compound for early morning prayers, according to officials from the Islamic Waqf, the department tasked with administering the mosque.
The officials said Muslim faithful were pushed out of the site as Jewish extremists waited close to a nearby entrance, official Palestinian news agency Wafa reported.
Israeli police manning the eight gates on the way to Al-Aqsa stopped Muslims below 40 years old and students from accessing schools within the compound.
Meanwhile Jewish extremists carried out acts of worship in violation of the longstanding status-quo agreement that governs the site.
Radical Israeli groups have urged their supporters to raid Al-Aqsa on Monday and over the coming weeks as Jewish religious holidays are observed.
Palestinians consider Israeli raids at Al-Aqsa, which are a common occurrence, part of an attempt to change the status-quo agreement and either transform the compound into a wholly Jewish site or split it between the two faiths.
Palestinian and Islamic leaders have urged Muslim believers to maintain a constant presence at Al-Aqsa to stop this.
The Monday raid comes after Israeli authorities recently banned over 100 Palestinians from Al-Aqsa and Jerusalem, a move Wafa said aims to make raids at the site easier.
Source: The New Arab
Please click the following URL to read the full text of the original story:
https://english.alaraby.co.uk/news/israel-police-storm-al-aqsa-clear-muslims-compound
--------
Hamas slams 'racist' Israeli settler violations against al-Aqsa
26 September 2022
The Palestinian resistance movement Hamas has censured the Israeli regime's escalation of violations against the al-Aqsa Mosque compound during the Jewish holidays, saying settler incursions into the holy site in the occupied Old City of al-Quds prove Israeli racism in dealing with the Palestinians.
Fawzi Barhoum, a Hamas spokesman, was cited by the Palestinian Information Center (Palinfo) as saying in a statement on Monday that the violations against the al-Aqsa Mosque reflected the injustice to which the Palestinian people are subjected.
"Thanks to our people's resistance and steadfastness, these incursions were turned into a continuous state of depletion to the Israeli occupation," Barhoum said.
The Hamas spokesman called on the Palestinians from al-Quds, the West Bank and the 1948 occupied territories to mobilize in defense of the holy shrine. Barhoum said the Arab and Muslim nations are required to support the Palestinians in their battle against the occupying regime.
Earlier in the day, hundreds of settlers broke into the al-Aqsa Mosque under the protection of Israeli forces and provocatively performed rituals there. It was the first day of the Jewish holidays which will continue until mid-October.
Also on Sunday, scores of Israeli settlers, escorted by military forces, broke into the compound through the Moroccan Gate and provocatively performed rituals and Talmudic prayers.
The incidents took place amid calls by Israeli settler organizations to hold mass break-ins into the al-Aqsa Mosque compound ahead of the Jewish holidays on September 29. The compound, which sits just above the Western Wall plaza, houses both the Dome of the Rock and al-Aqsa Mosque.
Source: Press TV
Please click the following URL to read the full text of the original story:
https://www.presstv.ir/Detail/2022/09/26/689903/Palestinian-resistance-movement-Hamas-Israel-violations-Aqsa-Mosque-compound-Jewish-holidays-
--------
At least 76 people killed in Iran protest crackdown: NGO
26 September, 2022
The Iranian authorities' crackdown on protests following the death of Mahsa Amini has left at least 76 people dead, the Norway-based Iran Human Rights (IHR) NGO said on Monday.
"We call on the international community to decisively and unitedly take practical steps to stop the killing and torture of protesters," said IHR director Mahmood Amiry-Moghaddam, adding that video footage and death certificates obtained by the group showed "live ammunition is being directly fired at protesters."
It said deaths have been recorded in 14 provinces in Iran, with the highest number, 25, recorded in the northern Mazandaran province on the Caspian Sea. Three deaths have been recorded in Tehran, it said.
IHR also said "most families have been forced to quietly bury their loved ones at night and pressured against holding public funerals.
"Many families were threatened with legal charges if they publicized their deaths."
According to Iran's official toll, 41 people have been killed including several members of the security forces.
Amini's death following her arrest by morality police sparked nationwide demonstrations.
Source: Al Arabiya
Please click the following URL to read the full text of the original story:
https://english.alarabiya.net/News/middle-east/2022/09/26/At-least-76-people-killed-in-Iran-protest-crackdown-NGO-
--------
Iran steps up arrests of activists, journalists amid anti-regime protest crackdown
26 September, 2022
Iran is stepping up arrests of activists and journalists in a crackdown against civil society as anti-regime protests continue to rage nationwide, activists said on Monday.
Eighteen journalists have been imprisoned since the protests erupted earlier this month over the death of Mahsa Amini, 22, who had been arrested by the country's notorious morality police, according to the Washington-based Committee to Protect Journalists (CPJ).
Numerous activists and lawyers have also been held, including the prominent freedom of speech campaigner Hossein Ronaghi who was arrested over the weekend, reports in Persian-language media abroad said.
The arrests come on top of severe Internet restrictions and blocking of sites including Instagram and WhatsApp, which activists say is aimed at preventing details of the protests filtering out to the outside world.
"By targeting journalists amid a great deal of violence after restricting access to WhatsApp and Instagram, the Iranian authorities are sending a clear message that there must be no coverage of the protests," Reporters Without Borders (RSF) said in a statement.
Ronaghi, who is bitterly critical of Iran's Islamic leadership and has contributed to the Washington Post, said in a video posted at the weekend that he had initially eluded arrest by escaping his flat when agents came for him at home.
But security forces detained him on Saturday along with both his lawyers, London-based Iran International said, saying that he had told his family from prison that he had been beaten in detention.
Activists also said two university students in their early 20s who were also beginning careers as writers -- Banafsheh Kamali and Maedeh Jamal -- had been arrested.
Videos were posted on social media claimed to show the moment when Jamal was arrested with a female voice yelling "Help! Help!"
Among the 18 journalists held, according to the CPJ, are photojournalist Yalda Moaiery, who won international recognition for an iconic 2019 photo of protests and reporter
Nilufar Hamedi who exposed the case of Amini by going to the hospital where she was in a coma.
Meanwhile, the authorities also arrested five prominent members of the Bahai religious minority in different cities across the country, said Diane Alai, representative of the Bahai International Community (BIC) to the UN in Geneva.
Source: Al Arabiya
Please click the following URL to read the full text of the original story:
https://english.alarabiya.net/News/middle-east/2022/09/26/Iran-steps-up-arrests-of-activists-journalists-amid-anti-regime-protest-crackdown
--------
Turkey says Malaysia, Indonesia interested in buying armed drones
26 September, 2022
Turkey said on Monday that Malaysia and Indonesia had expressed keen interest in buying armed drones from Turkish defense firm Baykar, which has supplied the weapons to several countries after battlefield successes.
"Many Asian countries, especially Malaysia and Indonesia, show great interest in our defense industry products. Agreements are being signed," Turkish foreign minister Mevlut Cavusoglu told a press conference in Tokyo.
"We would most gladly meet Japan's need for drones," the minister added on a visit there to attend the funeral of former Prime Minister Shinzo Abe.
Source: Al Arabiya
Please click the following URL to read the full text of the original story:
https://english.alarabiya.net/News/middle-east/2022/09/26/Turkey-says-Malaysia-Indonesia-interested-in-buying-armed-drones
--------
Terror group PKK seeking to exploit Iranian protests for own self-interest, warns expert
Dilara Hamit
26.09.2022
The terrorist group PKK and its Iranian affiliates are trying to take advantage of nine days of protests following the Sept. 16 killing of a young woman in police custody, said a Turkish expert on the ongoing protests.
Cagatay Balci, a PhD from the Ankara-based National Defense University, told Anadolu Agency that although the protests started independently of the armed groups, these groups soon sought to steer this process, and the IKPD, PJAK – an Iranian terror group affiliated with the terrorist PKK – and Komele groups began to get involved in demonstrations concentrated in Kurdish-majority cities.
Referring to the death of 22-year-old Mahsa Amini, he said: "Of course, the most important reason for this advantage for Kurdish armed groups is that (Amini) was born in Saqqez, in Iran's Kurdish region, and her death was seen as an attack on Kurdish identity in Iran, or discrimination against Kurdish society, or subconscious discrimination. It triggered the experience of exclusion, and they began to use the very clear expression of this consciousness that evolved in Kurdish armed groups."
He also stated that this was presented and perceived as a women's liberation movement, particularly abroad, and said armed groups in Iran dominated by Kurds, like the IKPD, tried to mobilize it around Kurdish identity, whereas Komele and the PJAK see themselves as taking part in a women's liberation movement alongside Kurdish identity, adding that seeing the protests as a women's rights movement also generates a favorable environment.
Türkiye, the US, and Iran have all designated the Iranian-based PJAK as a terrorist group.
In its more than 35-year terror campaign against Türkiye, the PKK – listed as a terrorist organization by Türkiye, the US, and EU – has been responsible for the deaths of over 40,000 people, including women, children, and infants.
"Furthermore, given the ideology, it got from the (terrorist group) PKK, for many years the PJAK has been presenting its actions as campaigning for women's rights. In reality, many political fronts were founded for this goal, as were women's armed wing organizations. During these rallies, I believe the PJAK was successful in both safeguarding Kurdish identity and combining the themes and arguments of the women's liberation movement," he said.
No major upheaval expected
"I don't believe the protests will escalate into a major rebellion in Iran's Kurdish territories, as happened in 1979 (the year of the country's revolution overthrowing the shah). Of course, the ultimate goal of these groups is to incite a rebellion and insurgency, but this can't happen due to Iran's security measures," Balci explained.
He said the security measures will not allow these groups potentially escalate the protests into an uprising, but added that the groups will simply try to deepen the protests as much as possible, intensify them, and make them as massive as possible.
"But we will see how successful this can be within days because Iran has already begun to implement tough measures," he added.
Attack on Iran's Embassy in Athens
Early Sunday, attackers threw Molotov cocktails at the Iranian Embassy in Athens, reportedly causing no significant damage. Balci said that looking at Greece's relations with terror groups, the terrorist group PKK might have organized the attack.
"In recent days, the Lavrion camp, in particular, has become increasingly prominent," said Balci, referring to a camp in Greece that Türkiye has charged became a terrorist headquarters and training ground.
"This camp is home to many terrorist groups, particularly those operating against Türkiye. This brings up the fact that these groups are very active in Greece. This incident may have been carried out by the PKK; sure, this is a normal process; we're talking about a process that every state that protects terrorist groups would face at some point."
Turkish officials have long warned that any country that harbors or protects terrorist groups will eventually find itself targeted by those same groups.
Protests in Iran erupted on Sept. 17 following the funeral of Mahsa Amini, a 22-year-old who died after being detained by the morality police in the capital Tehran for allegedly wearing her hijab head covering improperly.
Authorities have sought to pin blame on her death on a heart attack, but her family and many others in Iran have rejected the claim, saying she was the victim of police brutality. Authorities have promised a thorough investigation of Amini's death.
Her death has triggered a wave of angry protests in Iran over the past week, with protesters calling for justice and accountability.
Source: Anadolu Agency
Please click the following URL to read the full text of the original story:
https://www.aa.com.tr/en/middle-east/terror-group-pkk-seeking-to-exploit-iranian-protests-for-own-self-interest-warns-expert/2694545
--------
Unlawful foreign presence in Syria must end immediately, unconditionally: Mekdad
26 September 2022
Syria's Foreign Minister Faisal Mekdad has condemned unlawful presence of foreign forces in the country, calling for an immediate end to such presence.
According to Syria's official SANA news agency, Mekdad made the remark while addressing the 77th session of the United Nations General Assembly on Monday, saying, "The unlawful presence of foreign forces in Syria must end immediately and unconditionally."
"Countering terrorism," the Syrian top diplomat added, "does not mean occupying other people's land, establishing a safe zone, or backing terrorists."
The United States forces have been actively involved in Syria under the guise of fighting the Takfiri terrorist group of Daesh since 2014. Washington extended its troops' presence in Syria since 2017, although, the Arab country and its allies defeated the terror outfit that year.
Numerous reports and regional officials have, meanwhile, pointed to the US' role in transferring Daesh elements throughout the region and even airlifting supplies to the group.
The US military has stationed forces and equipment in northeastern Syria, with the Pentagon claiming that the deployment is aimed at preventing the oil fields in the area from falling into the hands of Daesh. Damascus, however, asserts that the deployment is aimed at plundering the country's rich resources.
Al-Mekdad also touched on the Israeli regime's 1967-to-present occupation of Syria's Golan Heights, and Tel Aviv's incessant violations against the country.
"Israel exercises the most heinous violations in the Syrian occupied Golan, which include the illegal settlement expansion, demographic changes, and stealing the natural resources, not to mention supporting the terrorist organizations and repeatedly attacking Syrian territories," Syrian foreign minister said.
Damascus maintains that the occupying regime backs Daesh and al-Nusra Front--which is al-Qaeda's Syria-based offshoot--and carries out attacks against civilian airports in Syria, Mekdad added, referring to the regime's multiple assaults so far against international airports in the Syrian capital and the western city of Aleppo.
Elsewhere in his remarks, the top diplomat said the foreign presence and violations that have been carried out by Washington and its allies against Syria, have caused the country to incur material damage running up to $107 billion.
Source: Press TV
Please click the following URL to read the full text of the original story:
https://www.presstv.ir/Detail/2022/09/26/689906/Syria-United-States-Israel-foreign-presence-terrorism
--------
Southeast Asia
China's failure to invest in Afghanistan is frustrating the Taliban
Sep 27, 2022
BEIJING: The US withdrawal from Afghanistan after two decades of war opened up an opportunity for China to expand its influence and lock down access to the country's vast mineral deposits.
It hasn't worked out that way.
More than a year after US troops left, Afghanistan's economy is collapsing, 19 million people are at risk of acute hunger and the investment the Taliban were counting on from Beijing hasn't arrived. Both sides blame the other.
"There has not even been a penny of investment by China," Khan Jan Alokozay, vice president of Afghanistan's Chamber of Commerce and Investment, said in an interview. "Many of their companies came, met with us, conducted research and then left and vanished, which is frustrating."
From China's perspective, the Taliban haven't shown they are doing enough to crack down on a group that has ties to separatists in its far western Xinjiang region, according to two people familiar with the issue. What's more, the people said, the Taliban are also seeking to renegotiate the terms of existing projects to tap Afghanistan's resources.
While the Taliban has vowed not to allow terror groups to operate on Afghan soil, China on multiple occasions has implored the group to take action against the East Turkistan Islamic Movement, or ETIM, a Muslim separatist group seeking to establish an Islamic state overlapping with China's vast Xinjiang region. China and Afghanistan share a 76-kilometer (47 mile) border.
The Taliban have repeatedly said ETIM isn't operating in Afghanistan and that they "won't allow anyone to use Afghan soil against any other country," according to Suhail Shaheen, the head of the Taliban's political office in Doha. But a UN report in May cites several nations saying ETIM remains a presence in Afghanistan.
Support for any group stoking tensions in Xinjiang is a red line for Beijing, which has been accused by the US and other nations of "genocide" for pressing the region's largely Muslim Uyghur population into forced labor camps after a spate of unrest more than a decade ago. China rejects those charges and says critics are trying to meddle in its domestic affairs.
"The ETIM is certainly a ticking time bomb for China, which makes it a long-term threat," said Faran Jeffery, deputy director at Islamic Theology of Counter Terrorism, a UK-based think tank known as ITCT.
Zhao Lijian, a Chinese foreign ministry spokesperson, directed questions about the Taliban's ties to ETIM to officials in Kabul, but added, "according to our communication with the Afghan Taliban, the Taliban side said on multiple occasions that they will not allow their territory to be used by any terrorist forces to attack countries, including China."
The dream of mining riches in Afghanistan dates back centuries. After the US withdrawal, China signaled it would help make it happen -- both by activating earlier joint ventures that had stalled and breaking ground on new projects. With many nations pausing support for Afghanistan to see how the Taliban would rule, China was one of the few countries to promise the new regime an economic lifeline.
China "is ready to step into the void left by the hasty US retreat to seize a golden opportunity," Zhou Bo, a military strategist and former colonel in the People's Liberation Army, wrote in the New York Times just days before American forces left last year. He cited access to Afghanistan's mineral wealth as a key benefit of enhanced ties.
To facilitate those ties, Chinese Foreign Minister Wang Yi met repeatedly with Taliban representatives before and after the US exit. In March he made a rare visit to Kabul for talks with acting Foreign Minister Amir Khan Muttaqi. After praising the country's leaders and hinting at support for Afghanistan's participation in the belt and road infrastructure program, Wang's statement afterward cut to the chase.
"China hopes that the Afghan side will earnestly fulfill its commitment and take effective measures to resolutely crack down on all terrorist forces, including the ETIM," according to the statement.
But Beijing still isn't convinced that's happening, leaving billions in promised and future investments on hold. That includes a $3 billion deal with state-owned Metallurgical Corporation of China, which was awarded a contract in 2007 to mine a copper deposit in the Mes Aynak area for 30 years. The Taliban had expected to earn hundreds of millions of dollars per year from the long-stalled project.
Also, a project by China National Petroleum Corp. is either not fully operational or making little progress in extracting oil from the Amu Darya basin in northern Afghanistan after getting its contract from the previous government. Building a refinery was part of the deal that never came to fruition.
The Taliban's ties with ETIM date back to the 1990s, when they ruled Afghanistan for five years before being ousted by the US following the Sept. 11, 2001, terrorist attacks.
"The Taliban see ETIM as their guests who have fought alongside the Taliban against US and NATO forces" the past two decades, said Jeffery, adding that such ties are proving difficult to turn their backs on.
A UN report in May -- citing comments by member states -- said the ETIM has expanded its "operational space" in Afghanistan by forming alliances with local Taliban commanders and "covertly" purchasing weapons, aiming to improve its capabilities for "terrorist activities." Estimates of the group's size vary widely, from a few dozen fighters to as many as 1,000, according to the report.
While the Taliban are trying to restrain the movement of ETIM militants in Afghanistan to satisfy China -- such as pressing them back from the border with Xinjiang -- they also "worry that if they come down too hard against ETIM, many of their members could end up defecting" to Islamic State, one of the Taliban's biggest threats, said Jeffery of the ITCT.
Beyond the ETIM, the Taliban also wants to renegotiate the terms of some of the previously-reached investments, including raising the royalty rate for copper mining at the Mes Aynak site. China has previously sought to lower the 19.5% rate.
A spokesman for Afghanistan's ministry of mines and petroleum, Mufti Esmatullah Burhan, downplayed any security risk to China, saying the Taliban have tightened control throughout the country and that a "suitable business environment" has emerged for China and other countries to "leverage" the country's resources.
That hasn't been enough to persuade Beijing.
For now, the continuing standoff means that Afghanistan's mineral treasures -- including deposits of gold, copper and lithium -- will remain underground even longer. By some estimates, the assets could be worth more than $1 trillion -- but only if they can be mined.
Experts who follow the country say that after two decades of warfare, the Taliban haven't managed to transition from insurgents to rulers. The government is run largely based on orders from spiritual leader Haibatullah Akhundzada, who rules from the Taliban birthplace in the Kandahar region bordering Pakistan.
All of that is also giving China pause, said Raffaello Pantucci, a senior associate fellow at the Royal United Services Institute in the UK.
Source: Times Of India
Please click the following URL to read the full text of the original story:
https://timesofindia.indiatimes.com/world/south-asia/chinas-failure-to-invest-in-afghanistan-is-frustrating-the-taliban/articleshow/94468965.cms
--------
Ummah unity shouldn't come at others' expense, PAS told
September 26, 2022
PETALING JAYA: PAS should not use its agenda of "uniting the ummah" as an excuse to seek out its own profit at the expense of other parties, says Umno Supreme Council member Isham Jalil.
In a Facebook post, Isham reiterated that PAS must ditch Bersatu, its partner in Perikatan Nasional, if it wanted to work with Umno.
Claiming that Bersatu president Muhyiddin Yassin was helping fund PAS, he said the Islamic party cannot hope to be financed by the former prime minister while asking Umno for seats for the next general election (GE15).
This was not normal in a genuine friendship, he said, but was the strategy of a party that was seeking to take advantage of others.
"One party cannot profit while the others suffer losses and are cheated supposedly in the name of the unity of the ummah," he said.
The top leadership of PAS and Umno have been going back and forth over the past month on the possibility of cooperation in GE15, despite Muhyiddin declaring Barisan Nasional as PN's enemy in nationwide polls.
Previously, PAS secretary-general Takiyuddin Hassan said the party's political foes were Pakatan Harapan and its allies, not BN.
He had said that only unity among the Malay political parties could guarantee a government that would be fair and equal to all people.
Isham said there cannot be too many Malay splinter parties like Bersatu, Pejuang and others if the Malay people were to be united, adding that Umno and PAS were sufficient.
"If there are too many Malay splinter parties, the Malays will be at odds and eventually split up," he said.
He maintained that Umno will not work with Bersatu for betraying the party in the past.
"If they genuinely want to return to struggling for the Malay people and to Umno, they must not push to be given seats," he said.
Source: Free Malaysia Today
Please click the following URL to read the full text of the original story:
https://www.freemalaysiatoday.com/category/nation/2022/09/26/ummah-unity-shouldnt-come-at-others-expense-pas-told/
--------
PAS members, leaders told to heed spiritual leader's advice, says Takiyuddin
26 Sep 2022
KUALA LUMPUR, Sept 26 — All PAS leaders and members have been urged to comply and give wala' (loyalty) to the order of PAS Mursyidul Am (spiritual leader) Datuk Hashim Jasin, that all parties who want unity and stability in the country should appreciate and realise the unifying agenda of the ummah.
PAS secretary-general Datuk Seri Takiyuddin Hassan said PAS is always committed to carrying out all efforts towards achieving the unification of the ummah, especially among Malays and Muslims.
"In this regard, PAS cannot accept the stand of any party that labels other Muslim Malay groups as its main enemy, let alone on matters involving the position and power of Muslims in the government of a country where the majority is made up of Muslims like Malaysia.
"Such a statement is especially seen as inappropriate and embarrassing if a party which is labeled as the main enemy is a partner in the joint government," he said in a statement today.
Source: Malay Mail
Please click the following URL to read the full text of the original story:
https://www.malaymail.com/news/malaysia/2022/09/26/pas-members-leaders-told-to-heed-spiritual-leaders-advice-says-takiyuddin/30253
--------
Alliance Islamic launched Malaysia's first book on zakat microfinancing
September 26, 2022
KUALA LUMPUR: Alliance Islamic Bank Bhd launched Malaysia's first book on zakat microfinancing, titled 'Zakat and Microfinance', which pioneers the productive distribution of zakat funds as microfinancing to empower the underprivileged or asnaf micro-entrepreneurs.
As the objective of zakat is to alleviate poverty, the book aims to promote equitable development and financial inclusion of all categories of entrepreneurs.
Alliance Islamic chief executive officer Rizal IL-Ehzan Fadil Azim said the bank sees the potential of using Islamic social funds such as zakat to help the asnaf community, especially after the onset of the COVID-19 pandemic.
"Through this, we hope to serve the community better and create a greater social impact.
"The book and our upcoming pilot Zakat Microfinancing Programme lead the way in promoting financial inclusion by providing accessible funding to this segment," he said.
The utilisation of zakat funds for microfinancing to empower communities and progress asnaf micro-entrepreneurs out of poverty through business is a breakthrough concept.
It pioneers Malaysia's first social financing model that utilises zakat for microfinancing and is aligned with Bank Negara Malaysia's Value-Based Intermediation (VBI) agenda, which promotes a socio and eco-centric banking model in furtherance of the intended outcomes of shariah.
Alliance Islamic Bank consulted with various organisations and committees to obtain input on the permissibility of productively distributing zakat funds as microfinancing to asnaf micro-
entrepreneurs.
"We understand that asnaf micro-entrepreneurs have difficulties scaling their business due to limited access to financing and lack of business guidance.
"To help address these challenges, we have embedded training and peer support into the pilot Zakat Microfinancing Programme.
"By providing them with an opportunity to grow their business professionally and with accountability, we support and partner asnaf micro-entrepreneurs in their progress towards financial resiliency, transforming them from a zakat recipient into a future zakat contributor," Rizal said.
Alliance Islamic conducted extensive research in collaboration with subject-matter experts, Islamic studies researchers specialising in social financing from Universiti Kebangsaan Malaysia and Pusat Pungutan Zakat – Majlis Agama Islam Wilayah Persekutuan.
The book discusses the principles of distributing zakat funds to asnaf micro-entrepreneurs as qard (repayment without profit).
Source: NST
Please click the following URL to read the full text of the original story:
https://www.nst.com.my/business/2022/09/834505/alliance-islamic-launched-malaysias-first-book-zakat-microfinancing
--------
Coalitions are better for Malaysia, says PKR's Wong Chen
Samuel Chua
September 27, 2022
PETALING JAYA: Coalition politics is better for Malaysia instead of a single multiracial party which, as a dominant party, would not be good for any democracy, according to Subang MP Wong Chen.
He said coalitions had always been part of Malaysia's political history, as they provided the public with the freedom to choose the path they want.
A coalition of many parties was likely to happen because the north, south, east, and west regions of the peninsula, and Sabah and Sarawak, all had their own concerns.
"This is a wonderful thing about Malaysia. It makes us diverse and flexible in dealing with the world in terms of doing business with Indonesians, Indians and the Chinese. We have it all," he told FMT.
Wong, a member of PKR's leadership council, said coalition politics were likely to stay for decades to come.
"Race-based politics has to stop. This kind of crazy politics that demeans and lowers each of us in terms of values has to stop. Therefore, a multiracial platform of many parties is best," he said.
He said it was important for other parties to believe in progressive ideas that focused on class rather than on race-based issues.
Wong also said a strong government might not be as useful as before, pointing out that weak governments are now being forced to deliver reforms in the country.
He said the memorandum of understanding signed between the government and Pakatan Harapan was proof that reforms were being implemented.
"We need a very distinctive opposition and government. For me, a 'mega government' is not something in my mind. I don't think that should happen."
The call for a single multiracial party to be formed came from political author Lim Teck Ghee last week, who said such a party could be a gamechanger as politics was mired in racial and religious issues.
Source: Free Malaysia Today
Please click the following URL to read the full text of the original story:
https://www.freemalaysiatoday.com/category/nation/2022/09/27/coalitions-are-better-for-malaysia-says-pkrs-wong-chen/
--------
Govt files notice of appeal over Zahid's graft acquittal
V Anbalagan
September 26, 2022
PETALING JAYA: The Attorney-General's Chambers has filed a notice of appeal to challenge former home minister Ahmad Zahid Hamidi's acquittal of charges of receiving bribes amounting to S$13.56 million (RM42 million) from a company handling a foreign visa system.
According to a source the notice was filed at the High Court in Shah Alam at 4.40pm today.
The attorney-general, Idrus Harun, later confirmed the filing. He told Bernama in a text message: "Yes, the prosecution has filed an appeal against the decision of the High Court in DS Zahid's case this afternoon."
The appeal comes days after Idrus had said the prosecution would study the judgment of High Court judge Yazid Mustafa who had ruled that the prosecution had failed to establish a prima facie case against Zahid.
He said three key prosecution witnesses in the case were unreliable and not credible. He also said they led a luxurious lifestyle and owned expensive property and vehicles, giving credence to an inference that the alleged bribe money could have been distributed among the three.
Zahid, 69, had been accused of 33 counts of receiving bribes amounting to S$13.56 million (RM42 million) from Ultra Kirana Sdn Bhd between 2014 and 2018 while he was home minister.
The prosecution said the alleged bribes were to extend the firm's contract to handle a foreign visa system and a one-stop centre in China.
Source: Free Malaysia Today
Please click the following URL to read the full text of the original story:
https://www.freemalaysiatoday.com/category/nation/2022/09/26/govt-files-notice-of-appeal-over-zahids-graft-acquittal/
--------
Africa
Muslim-Muslim ticket: Nigerians too hungry to bother about their religious faiths in 2023 election – Keyamo
By Jimisayo Opanuga
26 September 2022
Minister of State for Labour and Employment, Festus Keyamo, says Nigerians are too hungry to be swayed by their religious faiths in the choice they will make in the 2023 general elections.
Keyamo, a spokesperson of the ruling All Progressives Congress (APC) Presidential Campaign Council, stated this during an interview with Channels Television on Sunday while reacting to the criticisms of the party's Muslim-Muslim ticket.
The minister argued that Nigerians would like to see policies that will address their hunger rather than worrying about their faiths.
"Nigerians are hungry and want to see how the hunger issue can be addressed and not the same-faith ticket.
"They want to see our policy on Agriculture and see what Asiwaju has done before as governor of Lagos State and he can bring over such dexterity," Keyamo said
The ruling APC has chosen Bola Tinubu, a South-west Muslim, and Kashim Shettima, a North-east Muslim, as its presidential and vice presidential candidates in the February election.
The Pentecostal Fellowship of Nigeria (PFN), an arm of the Christian Association of Nigeria (CAN) in recent interview stated that its opposition to the Muslim-Muslim ticket of the APC remains unchanged.
PFN noted that the group has no affiliation with members of the Pentecostal Bishops Forum of Northern Nigeria who met with Tinubu, the APC presidential flagbearer in Abuja on Friday.
Keyamo reacting to this stated that PFN should concentrate on its primary assignment, which is to seek how to lead the Christian to paradise and not the presidential villa.
He said; "The purpose or duty of pastors, we have said so before, is to lead people to heaven. It is not to lead people to villa. The PFN should go and vote for their choice of candidates on Election Day if they seek to. They should not be questioning the decision not our party publicly.
"They are called by God to lead to heaven. If I go to Church every Sunday, I want to hear the sermon of God, not the sermon of politics on who should rule me. I want to listen to them talk about salvation, not villa."
According to the Minister, PFN and CAN are not members of APC and should stop interfering in the affairs of the ruling party.
Keyamo added that the Christian bodies should join the political party if they want to take part in the country's decision-making process.
"Is the PFN or CAN a member or structure of APC? The vice presidential candidate is a decision of our party leaders. It is our party's decision. These external bodies are not part of us.
Source: Guardian Nigeria
Please click the following URL to read the full text of the original story:
https://guardian.ng/news/muslim-muslim-ticket-nigerians-too-hungry-to-bother-about-their-religious-faiths-in-2023-election-keyamo/
--------
At least five killed in western Libya clashes
26 September, 2022
Five people were killed and 13 wounded in gun battles in the western Libyan town of Zawiyah, the latest unrest in the troubled North African nation, medics said Monday.
Fighting late Sunday broke out between rival forces equipped with heavy weapons, with one group linked to the defense ministry and the other to the interior ministry, local media reported.
Libya's ambulance service reported five dead, including a 10-year-old girl, and 13 injured in Zawiyah, some 40 kilometers (25 miles) west of the capital Tripoli.
The United Nations mission in Libya (UNSMIL) condemned the deadly clashes.
"The UN in Libya is greatly concerned about reports that civilians were injured and killed during armed clashes in Zawiyah," it tweeted.
"We condemn the use of heavy artillery in densely populated neighborhoods."
A security source, who requested anonymity, said the fighting broke out after a member of one group was killed by a supporter of the other in a dispute over fuel smuggling, which is common in this region bordering Tunisia.
The fighting comes amid a political crisis between backers of rival Libyan prime ministers Abdulhamid Dbeibah and Fathi Bashagha, whose administrations are vying for control of the oil-rich nation.
Dbeibah's government was installed in Tripoli as part of a UN-led peace process last year, while Bashagha was appointed by Libya's eastern-based parliament in February.
In late August, fighting between rival militias in Tripoli left 32 people dead and 159 injured.
Source: Al Arabiya
Please click the following URL to read the full text of the original story:
https://english.alarabiya.net/News/north-africa/2022/09/26/At-least-five-killed-in-western-Libya-clashes
--------
Algeria's UN integration will develop with support, says FM Lamamra
September 27, 2022
LONDON: Algeria's development remains on track and will continue with the support of UN member states, the country's foreign minister Ramtane Lamamra said on Monday.
During his speech at the General Assembly Debate, Lamamra also reaffirmed his country's push for a non-permanent seat on the UN Security Council.
"My country is a member of the UN, it celebrates this year the 60th anniversary of independence," he said. "It resolutely pursues the process of building a new Algeria under the leadership of President Abdelmadjid Tebboune."
He continued: "My country reaffirms its compliance with the values and principles (of the UN) and its determination to revive the role of multilateral action in keeping international peace and security and the achievement of comprehensive, fair, and sustainable development."
Lamamra outlined Algeria's commitment to the principles of the UN charter ahead of elections scheduled for next June on membership in the Security Council.
"Algeria is aware of the magnitude of unprecedented challenges that arise at the international and regional levels," he said.
"Therefore, it has submitted its candidacy for the position of non-permanent member of the Security Council, a candidacy endorsed by the African Union, the League of Arab States, and the Organization of Islamic Cooperation."
Source: Arab News
Please click the following URL to read the full text of the original story:
https://www.arabnews.com/node/2170236/middle-east
--------
'Dozen' dead in suspected Burkina Faso militant attack
September 27, 2022
OUAGADOUGOU: A suspected militant attack in the north of Burkina Faso has killed around a dozen people, mostly soldiers, security sources said on Monday.
Violence has raged in the landlocked west African country after Lt. Col. Paul-Henri Sandaogo Damiba seized power in a January coup, ousting Burkina's elected leader and promising to rein in militants.
But as in neighboring countries, insurgents affiliated to Al-Qaeda and the Daesh group have stoked the unrest.
In the latest attack, a convoy carrying supplies to local residents and escorted by a military unit "was the target of a terrorist attack" near Gaskinde in the Sahel region, an army statement said.
"The attack unfortunately caused human and material losses," and a full toll would be established "as soon as possible," it said.
A security source said that a preliminary toll indicated "about a dozen dead among elements of the unit. There were also a number of seriously wounded."
The source added that reinforcements had been sent to the area, both to secure it and to aid the victims.
On Sunday an improvised explosive device that targeted another army-escorted resupply convoy in the Sahel wounded four people, security sources said.
These attacks followed one on Saturday in the country's east near the borders with Niger and Benin. The army said at least two soldiers and two civilian auxiliaries were killed in an ambush on their patrol.
Thousands have died and about two million people have been displaced by the fighting since 2015 when the insurgency spread into Burkina Faso.
Source: Arab News
Please click the following URL to read the full text of the original story:
https://www.arabnews.com/node/2170161/world
--------
North America
Canada sanctions Iran morality police as protests flare
26 September, 2022
Canada on Monday announced sanctions against Iranian officials over the Islamic republic's lethal crackdown on protests driven by the death of a young woman after her arrest by the morality police.
"We will implement sanctions on dozens of individuals and entities, including Iran's so-called morality police," Prime Minister Justin Trudeau told a news conference.
"We join our voices, the voices of all Canadians, to the millions of people around the world demanding that the Iranian government listen to their people, end their repression of freedoms and rights and let women and all Iranians live their lives and express themselves peacefully," he added.
At the same time, Canada's foreign minister, Melanie Joly, offered her support to Iranian women at the UN General Assembly, saying in a speech their protests have been "met with arrests and bullets."
"We salute their courage and join them in sending a strong message that women's rights are human rights," Joly said.
More than 1,200 angry demonstrators have been arrested, along with reformist activists and journalists, since the death of Kurdish woman Mahsa Amini in custody 10 days ago, and at least 41 people have died, according to official figures.
State television aired footage of "rioters" on the streets in north and west Tehran as well as "some provinces", and said they had set fire to public and private property.
Source: Al Arabiya
Please click the following URL to read the full text of the original story:
https://english.alarabiya.net/News/middle-east/2022/09/26/Canada-sanctions-Iran-morality-police-as-protests-flare-
--------
US to give $10m for food security assistance, says Blinken
Anwar Iqbal
September 27, 2022
WASHINGTON: US Secretary of State Antony Blinken said on Monday he was pleased to announce another $10 million for food security assistance, adding he was sending a simple message that "we are here for Pakistan just like we have been in the past".
Secretary Blinken said this during a meeting with Foreign Minister Bilawal Bhutto-Zardari where they had a "good and engaging and extensive conversation" on a host of issues.
At the meeting, Mr Blinken also talked about managing a responsible relationship with India. He said: "Our colleagues also spoke about China and we also critically talked about deepening our relations."
Secretary Blinken said: "We are convinced to do much more on trade and convinced that the [bilateral] relationship is strong and will continue to be stronger."
In meeting with Bilawal, vows to rebuild ties
During the meeting, Mr Blinken also said: "We are meeting when Pakistan's one-third [area] is under water. We have a sense of urgency and sense of determination. We're looking ahead to rebuild [bilateral ties]."
He further said that both countries had worked together on mutual threats and worked together on counterterrorism and shared common objectives on Afghanistan.
"This is a resilient relationship, capable of coming over all challenges," Secretary Blinken said.
FM Bhutto-Zardari reached Washington on Sunday evening with Minister of State for Foreign Affairs Hina Rabbani Khar and other members of his team.
Soon after his arrival, the foreign minister met US State Department's Special Representative for Commercial Affairs Dilawar Syed and discussed with him various options for the expansion of trade ties.
In the meeting, Mr Syed "emphasised US private sector's role in rebuilding infrastructure post-floods," the foreign minister said in a tweet.
He said he also "highlighted Pakistan's potential and sought greater US investment" in the country and in the government's green energy plan.
Mr Syed said that in his meeting with the foreign minister, he expressed "our solidarity with the millions of Pakistanis impacted by the devastating floods", adding that the US was leading the international effort to support Pakistan with an initial direct assistance of $53m. "We discussed building on the momentum from my recent visit to Islamabad to expand US-Pakistan economic relationship," he said.
The United States is Pakistan's largest single country export market and one of the largest sources of foreign investment, with US direct investment growing by 50 per cent in the past year. The US-Pakistan bilateral trade reached nearly $9 billion in 2021.
US companies and their local affiliates are among Pakistan's largest employers, with roughly 80 US companies directly employing more than 125,000 Pakistanis, and more than one million Pakistanis employed indirectly. In 2021, US firms invested up to $5.7m in corporate social responsibility initiatives in Pakistan.
Mr Bhutto-Zardari also met US corporate leaders, representatives of various American companies and prominent members of the Pakistani American community at the residence of the Pakistani ambassador.
At an earlier briefing to Dawn, State Department's counselor Derek Chollet acknowledged that the US wanted to maintain friendly ties with Pakistan and it did not want Pakistan to abandon China for improving its relations with Washington.
In a meeting with a delegation of Medicines San Frontier (MSF), the foreign minister appreciated the role this international NGO is playing in providing health facilities to flood-affected people.
Source: Dawn
Please click the following URL to read the full text of the original story:
https://www.dawn.com/news/1712180/us-to-give-10m-for-food-security-assistance-says-blinken
--------
US adds fourth Iranian cargo plane to export violation list over Russia flights
26 September, 2022
The US Commerce Department said on Monday it had added a fourth Iranian cargo plane serving Russia to a list of aircraft believed to violate US export controls under Biden administration sanctions.
The department added three Iranian cargo planes to the list on Sept. 19. The fourth plane belongs to Iran's Saha Airlines, which is owned by Iran's air force, the department said in a statement.
Source: Al Arabiya
Please click the following URL to read the full text of the original story:
https://english.alarabiya.net/News/world/2022/09/26/US-adds-fourth-Iranian-cargo-plane-to-export-violation-list-over-Russia-flights
--------
US urges Greece, Türkiye to 'work together' for regional peace
Michael Hernandez
26.09.2022
WASHINGTON
The US appealed to fellow NATO allies Greece and Türkiye on Monday to "work together" to ensure regional peace and security after Ankara said Athens breached international law.
"Now's not the time for statements or any actions that could raise tensions between NATO allies," State Department spokesman Ned Price told reporters. "We are encouraging our NATO allies to resolve any disagreements they may have diplomatically. We think we should remain focused on what is a collective threat to all of us, and that's Russia's aggression."
Turkish military drones recorded the deployment of Greek armored vehicles on the islands of Midilli (Lesvos) and Sisam (Samos), which Ankara maintains is in violation of international law. The footage was released on Sunday.
Türkiye on Monday summoned the Greek ambassador and called for an end to violations on Aegean islands and restoring their non-military status, according to the Foreign Ministry.
Source: Anadolu Agency
Please click the following URL to read the full text of the original story:
https://www.aa.com.tr/en/americas/us-urges-greece-turkiye-to-work-together-for-regional-peace-/2695381
--------
Former US Congressman Ron Paul mocks US neocon ties to Iran riots 'leader'
26 September 2022
Former US Congressman Ron Paul has mocked the claim that a US-government-hired Iranian opposition figure is "leading" what Washington is projecting as a "freedom" movement in Iran amid deadly riots over the death of a young woman.
In a Twitter post on Monday, Paul pointed to the close ties between Masih Alinejad -- a commentator for Washington's official Persian language propaganda network Voice of America (VOA) – and the ultra-rightwing neoconservative elements (neocons) in US politics and ridiculed the notion as "totally legit."
"Doesn't it strike anyone as strange that the "leader" of this "freedom" movement in Iran is a US government employee and bosom buddy of the neocons? But hey, sure, it's totally legit…," the ex-lawmaker wrote, posting a photo of Alinejad with former hawkish US Secretary of State and CIA Director, Mike Pompeo.
The deadly riots, backed by the Western regimes, in the past week in many Iranian cities have seen armed rioters beating and killing police officers, public works servants as well as ordinary civilians while vandalizing banks and other public and private properties.
The riots -- also sponsored and encourage by terrorist groups, such as the Komola, Kurdistan Democratic Party (KDP), and the Paris-based MKO, as well as UK-based propaganda media networks like the state-funded BBC and the Saudi-financed Iran International – started after the death of an Iranian woman, Mahsa Amini, during her brief detention in Tehran by law enforcement officers for failing to adequately observe hijab.
Police authorities in Tehran insist that Amini was not mistreated by law-enforcement personnel, and released video footage showing that she suddenly fainted while attending an educational workshop on the proper observance of the country's dress code regulations.
After initial peaceful protests demanding official explanations surrounding the circumstances of Amini's death, foreign-based anti-Iran media outlets as well as opposition and terrorist leaders used it as an opportunity to incite violent riots across Iran.
Meanwhile, investigations to ascertain the cause of Amini's death are underway with results likely to be made public in a couple of weeks.
Source: Press TV
Please click the following URL to read the full text of the original story:
https://www.presstv.ir/Detail/2022/09/26/689879/-Ron-Paul-mocks-US-ties-to-Iran-riot--leader-
--------
URL: https://newageislam.com/islamic-world-news/durga-puja-hindu-muslim-women-nuns-namaz/d/128047
New Age Islam, Islam Online, Islamic Website, African Muslim News, Arab World News, South Asia News, Indian Muslim News, World Muslim News, Women in Islam, Islamic Feminism, Arab Women, Women In Arab, Islamophobia in America, Muslim Women in West, Islam Women and Feminism