New Age Islam News Bureau
3 Jun 2020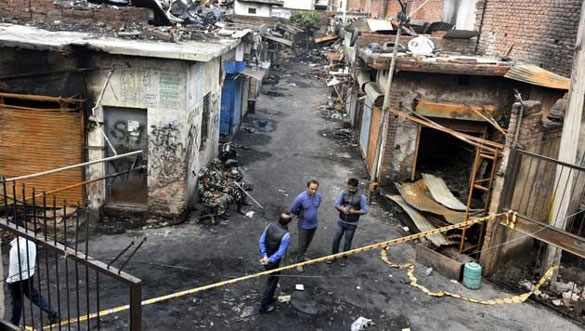 Burnt shop seen after recent violence, at Tyre market, Gokulpuri, in North East Delhi, India on Saturday, March 7, 2020.(Sonu Mehta/HT PHOTO)
-------
• In Punjab, Muslim Couple Hosts Hindu Girl's Marriage in The Best Possible Manner
• Saudi Cleric Stirred Backlash and Controversy AfterClaiming Islam Forbids Protests
• Capital Administration, Former Lal Masjid Cleric Reach Agreement
• UN Report Says Taliban Is Maintaining Relations With Al Qaeda Despite Deal With US
• Indonesia's Religious Freedom Has Not Improved, According to Rights Group
• 'Imagine A Muslim Talking About Police Brutality': WWE Star Launches Tirade Against Haters
• UK's Iraq War Crimes Probe Dismisses Thousands of Complaints
------
India
• In Crime Branch Charge Sheet in Delhi Riots Case, A Reference to Tablighi Jamaat
• In Punjab, Muslim Couple Hosts Hindu Girl's Marriage in The Best Possible Manner
• Ex-AAP councillor Tahir Hussain led the mob that killed Ankit Sharma says Delhi police charge sheet
• Fadnavis Opposes BMC Tie-Up with PFI To Facilitate Burial of Muslim Covid-19 Victims
• UN Report Says Let, Jem Active in Afghanistan, MEA Expresses Concern
• No Tablighi Members in Quarantine Centres, UP Tells High Court
• 3 Jaish-e-Mohammed terrorists killed in encounter in Jammu and Kashmir's Pulwama: Police
--------
Arab world
• Saudi Cleric Stirred Backlash and Controversy AfterClaiming Islam Forbids Protests
• Qatar's Former Emir, PM Assure Gaddafi Al Jazeera Won't Host Anti-Libya Guests: Audio
• Syrian artist paints portrait of George Floyd on Idlib wall
• $1.35bn raised for Yemen in virtual donor's conference hosted by Saudi Arabia, UN
• Turkish government employees slap Syrian shepherd in viral video stirring outrage
• Kurdish man killed in Turkey for listening to Kurdish songs: Report
• Saudi Arabia announces $500 mln aid to Yemen during virtual UN conference
• Saudi Arabia remains top supporter of Yemen, says envoy
• Saudi project continues to clear thousands of Houthi mines in Yemen
--------
Pakistan
• Capital Administration, Former Lal Masjid Cleric Reach Agreement
• Shahbaz asks speaker to issue agenda for NA session
• Differences surface in Karak JUI-F
• ECP wants report on PTI foreign funding in one week
• PM backs novel proposal to fight locust invasion
• 7 children die as seminary roof collapses in Waziristan
--------
South Asia
• UN Report Says Taliban Is Maintaining Relations With Al Qaeda Despite Deal With US
• Taliban Strongly Reacts To Kabul Mosque Bombing Which Left A Prominent Prayer Leader Dead
• Bangladeshi Catholics wary as services resume
• Bangladesh confirms 1st death of Rohingya from coronavirus
• Taliban reacts to UN report regarding the group's links with Al Qaeda terrorist network
• Explosion in a mosque in Kabul city leaves 1 dead, 3 others wounded
--------
Southeast Asia
• Indonesia's Religious Freedom Has Not Improved, According to Rights Group
• Alarm over Duterte's new anti-terrorism bill for Philippines
• Perak To Replace Pre-Marriage Course with Special Interview During CMCO
• Former IGP Musa Hassan appointed to Universiti Sains Islam board of directors
• Indonesia cancels haj pilgrimage over coronavirus concerns
• Malaysia reports 20 new coronavirus cases with no new deaths
--------
North America
• 'Imagine A Muslim Talking About Police Brutality': WWE Star Launches Tirade Against Haters
• Baghdad Safer Than Washington: US TV Host
• Four Extremist Groups Suspected of Involvement in Protest Violence
• 'Domestic Terrorist Actors' Could Exploit Floyd Protests, DHS Memo Warns
• US must be prosecuted at intl. courts for human rights abuses: Iran's Judiciary chief
• Trump tries religious gestures to hike support amid protests
• Priest kicked out of church for Trump's Bible show
• Argentinian court decision brings hope for Rohingya
• Trump visits St. John's church after protestors cleared
--------
Europe
• UK's Iraq War Crimes Probe Dismisses Thousands of Complaints
• Turkey won't let rights in Mediterranean be compromised
• Uproar in Italy over Qatari influence under bilateral funding agreement
-------
Mideast
• Turkey Looks To Link Syrian Kurdish Militia To ANTIFA Following Trump Tweet
• IRGC Commander: US Equipping, Training Terrorists against Iran
• Iran Blasts Silence of Western Gov'ts on Brutal Suppression of Protests in US
• Jordan says foiled suicide attacks against Israeli targets in occupied West Bank
• Turkey issues 118 detention warrants for those with suspected Gulen links
• US sanctions amid pandemic reach brink of crime against humanity: Iran
• Palestinian leaders 'open to talks with Israel via Moscow'
• Houthis reject Yemeni government offer to cooperate against COVID-19
--------
Africa
• Rival Sides in Libya Agree Return to Ceasefire Talks, Says UN Mission
• Libya: Haftar militias retreat, leave 48 bodies behind
• Nigeria: Why Boko Haram Attacks Are Declining in N-East - Investigation
• Islamic State in Somalia suffers setbacks despite uptick in claimed activity
• Civilians killed as attackers storm Niger refugee camp
Compiled by New Age Islam News Bureau
URL: https://www.newageislam.com/islamic-world-news/in-crime-branch-charge-sheet/d/122024
--------
In Crime Branch Charge Sheet in Delhi Riots Case, A Reference to Tablighi Jamaat
Neeraj Chauhan
Jun 03, 2020
Faisal Farooque, a key conspirator in the Delhi riots case, was in close contact with Abdul Aleem, described as a close associate of Tablighi Jamaat chief Maulana Mohd Saad when the February riots were taking place, the Delhi Police has said in its charge sheet filed in a Delhi court.
According to people familiar with the development, the police had carried out a detailed call analysis of Faisal Farooque's phone as part of its investigation into his role in the riots. The analysis pointed out that Faisal Farooque was in touch with prominent members of Popular Front of India, Pinjra Tod group, Jamia Coordination committee and the Hazarat Nizamuddin Markaz.
Faisal Farooque, who owns Rajdhani School in Dayalpur, was among the 18 people arrested by the crime branch for riots around his school. One of the initial targets of the rioters was the DRP Convent School next to the school run by Farooque.
During investigation, it has been found that Faisal Farooque had hatched a conspiracy to precipitate and aggravate riots, in and around Rajdhani School. On his instructions, the adjacent and rival DRP Convent School was destroyed by the mob, according to the charge sheet accessed by Hindustan Times.
This charge, the police said, had been substantiated on the basis of the security guards of the Rajdhani School as well as Farooque's Rajdhani School.
The reference to Farooque's phone conversations with Tablighi Jamaat's Abdul Aleem, 53, could mean more trouble for the Markaz, the headquarters of the Islamic sect in central Delhi's Nizamuddin.
The Markaz has been in the spotlight after thousands of coronavirus cases in the early days of the coronavirus pandemic in the country were traced to congregations held at its headquarters in March this year. The sect's leadership is already being probed for violating norms under the epidemic diseases law while its volunteers from abroad have been booked for violating visa norms and the Foreigners Act.
Maulana Saad also faces investigations over charges of money laundering being probed by the Enforcement Directorate.
https://www.hindustantimes.com/india-news/in-crime-branch-charge-sheet-in-delhi-riots-case-a-reference-to-tablighi-jamaat/story-PyAzLCOOE0RrfWEbzFnReL.html
--------
In Punjab, Muslim Couple Hosts Hindu Girl's Marriage in The Best Possible Manner
Jun 3, 2020
MACHHIWARA: Against the backdrop of Covid-19 triggered restrictions, a Muslim couple in Ludhiana made the wedding of a Hindu couple possible. The family from Bhatiyan in Ludhiana district stepped in to solemnise the marriage of 22-year-old Pooja with Sudesh Kumar from Sahnewal according to Hindu rituals and carried out her Kanyadaan (giving of a daughter's hand in marriage) on Tuesday as her parents couldn't return from Uttar Pradesh due to the lockdown.
Pooja's marriage was fixed before the lockdown, but her farm worker father Varinder Kumar, mother, brother Agba and three sisters, who had gone to their native village in Moradabad in Uttar Pradesh, got stuck there due to the Covid curbs.
"When the family of the bridegroom asked us about the marriage, I called up Pooja's parents and they told us that we could go ahead with the marriage. We did all preparations for the ceremony, called Pandit Ji from Machhiwara and got the "pheras" solemnized as per the Hindu rituals. I along with my wife Soni, performed Pooja's Kanyadaan and cooked lunch for the bridegroom's family. We also gifted her a double bed, almirahs and utensils," said Abdul Sajid, who works in a yarn mill and is originally from Katihar in Bihar. "She addresses me and my wife as mama (maternal uncle) and maami (maternal aunt) and we did whatever we could for her." We have known her family for about five years. There are many examples in India where people of various religions and beliefs help each other." Sajid said her parents had sent some money for the marriage.
Soni said they considered Pooja to be their daughter and felt good that they could get her marriage solemnized in the best possible manner. She added that though the marriage was simple, they tried to ensure that all the rituals associated with a traditional Hindu marriage were done.
The marriage was a small, cosy affair. "There were only four other adults at the marriage, including two sisters of groom and their husbands and three children, so only seven persons had come for the marriage. The family of the groom had insisted that they didn't want any sort of gift , but we thought that we must give her something when she leaves for her new home," said Sajid.
The bridegroom was touched by the couple's gesture. "I am marrying a Hindu girl and I am happy that our marriage is being solemnized by a Muslim family." The bride was highly appreciative of how her Muslim mama-maami made her wedding possible.
https://timesofindia.indiatimes.com/city/ludhiana/in-ludhiana-muslim-couple-hosts-hindu-girls-marriage/articleshowprint/76165058.cms
--------
Saudi Cleric Stirred Backlash And Controversy After Claiming Islam Forbids Protests
By Safaa Kasraoui -
Jun 2, 2020
Rabat – Saudi cleric Assim Alhakeem stirred backlash and controversy after claiming that protests are forbidden in Islam.
The cleric's tweet was a response to a social media user who asked about the ruling of Islam on demonstrations.
"It is not permissible to protest in Islam," Alhakeem wrote on May 31.
Assim Alhakeem
@Assimalhakeem
It is not permissble to protest in Islam. https://twitter.com/muslim1087/status/1266399370385252354 …
696
2:40 PM - May 30, 2020
Twitter Ads info and privacy
933 people are talking about this
The response generated a wave of backlash from people across the world.
One Twitter user heavily criticized the cleric, saying that the prophet of Islam asked his people to stop oppression with their hands.
The user referenced a hadith from Prophet Muhammad, which was narrated by Abu Sa'id al-Khudri — one of his "sahabah," or companions.
The hadith, or the account of the prophet stipulates: "Whoever amongst you sees an evil, he must change it with his hand; if he is unable to do so, then with his tongue; and if he is unable to do so, then with his heart; and that is the weakest form of Faith."
Another Twitter user said the Quran tells Muslims to "stand firmly against injustice even if our near & dear ones are the perpetrators. If that isn't a permission for protest, what is it? The Prophet (SAW) strove against injustice all his life."
Assim Alhakeem
@Assimalhakeem
• May 30, 2020
It is not permissble to protest in Islam. https://twitter.com/muslim1087/status/1266399370385252354 …
Irena Akbar
@irenaakbar
The Quran preaches us to stand firmly against injustice even if our near & dear ones are the perpetrators. If that isn't a permission for protest, what is it? The Prophet (SAW) strove against injustice all his life.
626
8:20 AM - May 31, 2020
Twitter Ads info and privacy
75 people are talking about this
Islam stands for peace and submission as it does not promote violence. Its ethics and values narrated in Quran and hadiths do not show any indications that peaceful protests are forbidden.
Some Twitter users suggest that the statement is in line with Saudi Arabia's policy.
"If you see his location you would know the reason why he said that. Just say it is not permissible to protest in Saudi Arabia not Islam."
Assim Alhakeem
@Assimalhakeem
• May 30, 2020
It is not permissble to protest in Islam. https://twitter.com/muslim1087/status/1266399370385252354 …
Anonymous
@Anonymouscen
If u see his location you would know the reason why he said that. Just say It is not permissble to protest in Saudi Arabia not Islam
2
3:20 AM - May 31, 2020
Twitter Ads info and privacy
See Anonymous's other Tweets
Saudi Arabia's history on non-violent dissent
The 2019 Human Rights Watch World Report criticized Saudi Arabia for its crackdown on non-violent activism in 2018.
"Saudi authorities stepped up their arbitrary arrests, trials, and convictions of peaceful dissidents and activists in 2018, including a large-scale coordinated crackdown against the women's rights movement beginning in May. In June, Saudi Arabia ended the long-standing ban on women driving, but authorities continued to discriminate against women and religious minorities," one of the report's passages reads.
In response to the backlash, the cleric shared a new video in which he described the criticism as "violent and abusive" and coming from ignorant people.
He said that the remarks he received were from people without influence.
"Whenever you check their followers, you will find 30 or 60 followers, which tells you that they are nobody or they are paid to have an impact on Twitter and social media. We call them electronic flies. We have a lot of them here," he said.
He said that people who criticized him lack knowledge of the Quran and Sunnah.
"This is an issue of hallal and Haram. If you would like to comment on it, the least is to be qualified. Without going to a lot of details, protesting is not an Islamic concept," he said.
https://www.moroccoworldnews.com/2020/06/304586/saudi-cleric-stirs-backlash-after-claiming-islam-forbids-protests/
-------
Capital administration, former Lal Masjid cleric reach agreement
Munawer Azeem
June 03, 2020
ISLAMABAD: The capital administration and former Lal Masid cleric Maulana Abdul Aziz appear to have relaxed their standoff, with the police removing barricades around the mosque and withdrawing from the area.
Police and administration officials said the administration and Mr Aziz have agreed to resolve their issues and reach an agreement within two months.
This was the result of negotiations between them, mediated by ulema including Ahle Sunnat Was Jamaat leader Ahmed Ludhianvi.
Administration and police officials told Dawn on condition of anonymity that there had been positive development in the complex Lal Masjid matter and they hoped there would a result that would be acceptable to all.
They said the barricades were removed all around the mosque and the roads were reopened. The police contingent deployed nearby was recalled, although some officials are still stationed there.
Hafiz Onaib from the ASWJ told Dawn that Mr Ludhianvi was mediating between the two sides to resolve the matter.
They have reached an agreement to calm the tense situation and the standoff between them, he said.
In a message, Haroon Rasheed said that the administration and Mr Aziz had reached an agreement and Mr Ludhianvi was the guarantor, under which the police contingent was withdrawn.
He said negotiations on other demands would continue.
Under the agreement signed by the deputy commissioner and Mr Aziz, Mr Aziz and his family will vacate the mosque in three days and move to Jamia Hafsa in G-7.
They will be prohibited from entering the mosque for two months, officials said.
During this time, Haroon Rasheed and others will look after the mosque's administrative issues and the restrictions on Mr Aziz's movement will be lifted after two months.
Neither the government nor Mr Aziz can take possession of the H-11 plot in this period, they said. Guards from each side will be stationed there and the key to the main gate of the plot will be with the administration of Jamia Hafsa.
Mr Rasheed confirmed that Mr Aziz will vacate the mosque in three days under the agreement and that he will be banned from entering it for two months.
In June 2019, the capital administration removed Mr Aziz as the khateeb of Lal Masjid and banned him from entering the mosque for three months.
Mr Aziz and his family then moved into eight rooms on the mosque premises and began teaching seminary students there.
It was eventually decided that Jamia Hafsa students would be allowed to study in the mosque for three months.
During this period, the administration would resolve the issue regarding the cancellation of a plot allotted to the seminary so they could move there, officials said.
Mr Aziz was offered replacements in a few areas, but demanded the same plot in H-11.
He then demanded a plot in locations that were not acceptable to the government as well as compensation for construction in H-11, officials said.
He sought land in sectoral areas and did not accept any of the locations offered by the government.
In February, the mosque was cordoned off once again when the deadline Mr Aziz and his family and students were given to vacate the premises expired.
https://www.dawn.com/news/1560944/capital-administration-former-lal-masjid-cleric-reach-agreement
-------
UN report says Taliban is maintaining relations with al Qaeda despite deal with US
June 1, 2020
Washington (CNN)A new United Nations report says that the Taliban assured al Qaeda that it would maintain their close links despite the "peace" deal with the organization which the Trump administration has touted as signifying a break between the Taliban and the terror group responsible for the 9/11 terror attacks.
"The senior leadership of Al-Qaida remains present in Afghanistan, as well as hundreds of armed operatives, Al-Qaida in the Indian Subcontinent, and groups of foreign terrorist fighters aligned with the Taliban," the UN report said, estimating that some 400 to 600 armed al Qaeda operatives are currently in Afghanistan.
"The Taliban regularly consulted with Al-Qaida during negotiations with the United States and offered guarantees that it would honour their historical ties," the report added.
The report was sent to the UN Security Council late last month and was produced by the UN's Analytical Support and Sanctions Monitoring Team.
The Trump administration has said that its February deal with the Taliban signified the group's break with al Qaeda, with Secretary of State Mike Pompeo saying shortly after it was signed that the Taliban had "agreed that they would break that relationship and that they would work alongside of us to destroy, deny resources to and have al-Qaeda depart from that place."
Pompeo also asserted that the agreement has a "deep, complex, well-thought out, multi-month negotiated verification complex and mechanism by which we can observe and hold every member of the agreement accountable."
The Taliban's jettisoning of its ties with al Qaeda was cited as a key outcome of the Trump administration's negotiations with the Taliban, justifying the US military withdrawing some 4,000 troops from Afghanistan, nearly a third of US forces in the country.
However, the UN report released Monday says that the Taliban and al Qaeda have maintained close links and that in a series of meetings the Taliban regularly assured the terror group that it would not abandon its ties with al Qaeda during its negotiations with the United States.
Taliban told bin Laden's son they 'would not break its historical ties'
The report said that one such meeting took place in Afghanistan's Helmand Province during spring 2019, where a former adviser to the Taliban's founder, Mullah Omar, "reportedly met with Hamza Usama Muhammad bin Laden to reassure him personally" that the Taliban "would not break its historical ties with Al-Qaida for any price."
The Trump administration said in September that Hazma bin Laden, the son of al Qaeda founder Osama bin Laden, was "killed in a United States counterterrorism operation in the Afghanistan/Pakistan region."
"Relations between the Taliban, especially the Haqqani Network, and Al-Qaida remain close, based on friendship, a history of shared struggle, ideological sympathy and intermarriage," the report said. The Haqqani Network is closely tied to the Taliban and members of the network hold leadership positions with the Taliban.
The report said that some countries "reported that the Taliban appear to have strengthened their relationship with Al-Qaida rather than the opposite," with one member state saying "that the regularity of meetings between Al-Qaida seniors and the Taliban "made any notion of a break between the two mere fiction."
Asked about the report's findings later on Monday, the US special representative for Afghanistan reconciliation, Zalmay Khalilzad, did not directly address questions whether the US had been aware of the meetings between the Taliban and al Qaeda but repeated that US commitments to the deal were based on the Taliban fulfilling their agreed-upon obligations.
Khalilzad noted he had not read the report yet, but had been briefed on it, saying they were "monitoring Taliban compliance with the agreement."
"We believe that there is progress, but we will continue to monitor those activities very closely," he said.
He noted that the report covers only the period going up to March 15, and the deal was signed at the end of February.
"We recognize it takes time to take the steps necessary operationally to deliver on their commitments," Khalilzad said. "If the Talibs do not deliver, and I'd rather not speculate, then as I said before, the commitments that we have made is also then subject to change, if the other side doesn't deliver on its commitments."
While Pompeo claimed that the Taliban would help "destroy" al Qaeda as part of its agreement with the US, the text of the accord says only that the "Taliban will not allow any of its members, other individuals or groups, including al-Qa'ida, to use the soil of Afghanistan to threaten the security of the United States and its allies."
It also says that "the Taliban will prevent any group or individual in Afghanistan from threatening the security of the United States and its allies, and will prevent them from recruiting, training, and fundraising and will not host them in accordance with the commitments in this agreement."
News of the continued links between al Qaeda and the Taliban comes amid some progress in other areas.
While the Taliban had ramped up its attacks on Afghan soldiers and police in the weeks and months following the signing of its deal with the US, the insurgent group recently announced it would participate in a brief three-day cease fire during the Eid holiday.
The Afghan government, despite not being party to the US-Taliban deal, has also moved to release up to 2,000 Taliban prisoners, an action that the accord had called for.
Yet despite the absence of a longer ceasefire or progress in talks between the Taliban and the Afghan government, several defense officials tell CNN that senior US military commanders have been discussing options for significantly reducing the US troop presence in Afghanistan earlier than planned, according to several defense officials.
President Donald Trump said last month that while he did not have a target withdrawal date in mind, "we're acting as police and we're not sent there to be policemen, but we're there 19 years and, yeah, I think that's enough, and they understand. We're having very positive talks. We want to bring our soldiers back home."
The Pentagon has long insisted that any further reduction of US troops in Afghanistan below 8,600 would be contingent on the Taliban meeting additional conditions.
Khalilzad said Monday that it was Trump's prerogative to determine if the conditions on the ground in Afghanistan are being met, which could speed up the pace of the US troop withdrawal.
"The issue of whether -- if the conditions are made at a faster pace, or sooner than the timeline that we have agreed to in the agreement," Khalilizad told reporters. "It is the prerogative of the President if he thinks that the conditions have been met, and we could do it faster."
https://edition.cnn.com/2020/06/01/politics/un-report-taliban-al-qaeda/index.html?utm_source=iterable&utm_medium=email&utm_campaign=1259405_
-------
Indonesia's Religious Freedom Has Not Improved, According to Rights Group
06/02/2020
Indonesia (International Christian Concern) – The Indonesian government is regarded by international human rights organizations in recent years as failing to protect religious freedom. As the country attempts to move forward in nine different human rights issues according to the Human Rights Watch (HRW), no legitimate policy measures have taken place.
In a recent report, HRW highlights some of the rights that still need to improve. One of them is religious freedom. Even the government admits that intolerance is increasing among religious freedom cases. The Director of Human Rights of the Indonesian Ministry of Law and Human Rights said there are intolerant groups who often prevent Christians from building churches. ICC has reported several cases of churches attempting to build their churches yet faced protests or government's change of mind. Hate speech and social media also created a perfect storm of media hoaxes and anti-religious tolerance.
The country also has not increased legal protection over religious freedom, taking the side of the Muslim majority. Some laws inside the Indonesian legal system target religious minorities; one prominent example are blasphemy laws. Last year, they charged Suzethe Margaret, a Catholic woman with mental disorder with blasphemy against Islam. She accused a mosque of converting her husband to Islam to marry another woman, while she was wearing shoes and bringing her dog into the mosque, moves considered offensive to Muslims.
She has paranoid schizophrenia and cannot be criminally liable for any act under Indonesia's criminal code article 44. However, Indonesian law allows the court to send a mentally disabled person to a "lunatic asylum" for up to a year. The Human Rights Watch documented the poor treatment of patients in the asylum, abuse ranging from forced treatment, isolation, and the high risk of sexual harassment and violence against women.
The court charged her with blasphemy because bringing a dog into the mosque was "clearly blasphemous", said the Vice President of Indonesia.
Another case is Christian woman Eka Trisusanti Toding, an English teacher, was sentenced to five months jail over her allegedly blasphemous comments on Facebook about Islam last Novemeber. Despite her apology, she still was taken to court for blasphemy.
https://www.persecution.org/2020/06/02/indonesias-religious-freedom-not-improved-according-rights-group/
-------
'Imagine a Muslim talking about police brutality': WWE star launches tirade against haters
June 02, 2020
Legendary Muslim WWE superstar Mustafa Ali launched a tirade against Internet trolls claiming the legend was incapable of "cutting a promo," a wrestling term used for recording a promotional video containing taunts about an opponent.
After viewers criticized his skills, Ali reposted one of his previous videos on Twitter, highlighting some of the topics he has spoken about, including police brutality, as the death of African-American George Floyd remains fresh.
"Imagine having a Muslim name, talking about good & evil, police brutality and having it air on WWE programming...and people still saying 'bUt CaN hE cUt A pRoMo?'," he wrote.
Mustafa Ali / Adeel Alam
✔
@AliWWE
Imagine having a Muslim name, talking about good & evil, police brutality and having it air on WWE programming...and people still saying "bUt CaN hE cUt A pRoMo?" https://twitter.com/aliwwe/status/1148776013545037824 …
Mustafa Ali / Adeel Alam
✔
@AliWWE
I asked the Devil, "May I have this dance?" #SDLive
Embedded video
8,927
5:41 AM - May 31, 2020
Twitter Ads info and privacy
1,313 people are talking about this
When the U.S. was shaken with protests over the killing of Floyd, he also drew attention to severity of the situation and pushed people to take action for change.
"The point of all this is simple; society and specifically our African American brothers and sisters have a justifiable distrust with the police. It's the responsibility of the police to fix that issue, but they won't. Thus, it is on us, as a society, to force that change from within," he wrote on Twitter, blaming the police for the situation in country.
Mustafa Ali / Adeel Alam
✔
@AliWWE
• May 27, 2020
I'm a former police officer. I joined the force because I believed the only real way to bring change to policing is from within. I remember being told "empathy will get you killed." No, lack of empathy allows you to kill. We have to change policing from within. #GeorgeFloyd
Mustafa Ali / Adeel Alam
✔
@AliWWE
And like always, there's going to be some comment about "you were part of the problem." No. I saw the problem and did something to combat it. Countless times, I showed up and put a stop to any sort of harassment/excessive force. You can't change anything sitting behind a screen.
4,535
10:08 PM - May 27, 2020
Twitter Ads info and privacy
627 people are talking about this
Floyd, 46, an African American man, died last week in the neighboring state of Minnesota, when a police officer knelt on his neck for nearly nine minutes. His last words, "I can't breathe," became the slogan of nationwide protests.
https://www.yenisafak.com/en/world/imagine-a-muslim-talking-about-police-brutality-wwe-star-launches-tirade-against-haters-3531003
-------
UK's Iraq war crimes probe dismisses thousands of complaints
02 June 2020
An independent British investigator looking into allegations that UK soldiers committed war crimes in Iraq between 2003 and 2009 said on Tuesday that all but one of the thousands of complaints had been dropped.
The Service Prosecuting Authority director Andrew Cayley told BBC radio that it was "quite possible" that none of the original allegations would lead to a prosecution.
Cayley said the overwhelming majority of the cases were thrown out in the early stage of the probe because the alleged offences were "at such a very low level."
He did not provide details of the allegation in the last remaining case.
For all the latest headlines follow our Google News channel online or via the app.
British combat troops fought alongside other coalition forces in an effort to quell unrest that followed the 2003 US invasion and subsequent fall and execution of dictator Saddam Hussein.
Former lawyer Phil Shiner and a team in Berlin drew on the accounts of more than 400 Iraqis who allegedly witnessed or experienced crimes ranging from rape and torture to mock executions and other atrocities.
A UK tribunal struck off Shiner after finding him guilty of misconduct and dishonesty in connection with the allegations in 2017.
Cayley told the BBC he was also "convinced" that no action would be taken in a separate International Criminal Court (ICC) probe that prosecutor Fatou Bensouda reopened in 2014.
"My sense is these matters are coming to a conclusion," Cayley said.
A lawyer representing some of the soldiers accused by Shiner called for a public apology over the "vile war crime slurs."
"At long last, this witch hunt is coming to an end," lawyer Hilary Meredith said.
The investigation into the allegation "came at a price - not only the cost to the taxpayer but the shattered lives, careers, marriages and health of those falsely accused over many years", the soldiers' lawyer said.
The Ministry of Defense said in 2012 it had paid £15.1 million ($19 million, 17 million euros) to more than 200 Iraqis who had accused British troops of illegal detention and torture.
https://english.alarabiya.net/en/News/middle-east/2020/06/02/UK-s-Iraq-war-crimes-probe-dismisses-thousands-of-complaints.html
-------
India
Ex-AAP councillor Tahir Hussain led the mob that killed Ankit Sharma says Delhi police charge sheet
Jun 03, 2020
Delhi police crime branch on Wednesday filed charge sheets in connection with the communal riots in north east Delhi earlier this year stating that former Aam Aadmi Party councilor Tahir Hussain had led the mob that killed IB staffer Ankit Sharma on February 25, said officials privy to the developments.
The charge sheet alleges a "deep rooted conspiracy" behind Sharma's murder in which 10 people have been arrested so far.
Ankit Sharma, an intelligence bureau staffer, was killed by a mob during riots that broke out in north east Delhi on February 25 this year, when groups supporting and opposing the Citizens Amendment Act and the National Register of Citizens clashed with each other for close to three days leading to at least 53 deaths.
The charge sheet says Sharma was stabbed 51 times and his body thrown in a drain, an act captured in a video filmed by a person from the rooftop of a house in the locality. Sharma's body was fished out two days later from the drain on February 27.
"He was specifically targeted by a mob led by Tahir Hussain, a politician of Aam Aadmi Party and sitting councilor of EDMC Delhi," the charge sheet seen by HT says.
After Tahir Hussain's name first surfaced for involvement in the riots, he was suspended and later expelled by AAP. Tahir, however, has in the past professed his innocence and claimed that he was not in the area when the incident happened.
The police charge sheet says that Ankit Sharma was murdered outside Hussain's house in Khajuri Khas area.
The charge sheet adds that the bloodstained knife used to stab Ankit Sharma was found along with the bloodstained clothes of the killer. The blood found on the clothes was that of Ankit Sharma. It adds that another knife used in the crime was also recovered.
The police also claim to have seized Tahir Hussain's pistol but that is in relation to another matter. The police had earlier claimed to have also recovered locally made explosive materials from Hussain's house but that doesn't find any mention in the charge sheet.
Some of the other people arrested in the case are Salman, Firoz, Javed, Gulfam, Shoyaib and Anas.
Home minister Amit Shah had told Parliament in March that a breakthrough in Sharma's murder was made possible by video evidence shared by the residents in the area, one of which captured one of the accused assaulting Sharma with a knife.
https://www.hindustantimes.com/india-news/ex-aap-councilor-tahir-hussain-led-the-mob-that-killed-ankit-sharma-says-delhi-police-charge-sheet/story-plFr0Dq9hbwPvrU2hYoDLP.html
--------
Fadnavis opposes BMC tie-up with PFI to facilitate burial of Muslim Covid-19 victims
June 3, 2020
Strongly objecting to an order of the Brihanmumbai Municipal Corporation (BMC) allowing the Popular Front of India (PFI) to facilitate the burial of Muslim victims of Covid-19, former chief minister and Leader of the Opposition Devendra Fadnavis on Tuesday sought to know the Uddhav Thackeray government's stand on the decision.
Fadnavis also tweeted the BMC order entrusting the PFI with the task, which states, "Whenever there is a suspected Covid-19 death of a Muslim person all hospitals should inform the coordinators of the PFI. Task force team of the PFI will facilitate burial of Muslim dead bodies."
"Does Chief Minister Uddhav Thackeray agree with the decision…," Fadnavis asked in his tweet. "If the CM is not in favour of promoting anti-national organisations, he should immediately make his stand clear and initiate strong action," he added.
Around the same time Fadnavis put out the tweet, Pune Municipal Corporation (PMC) decided to "cancel their arrangements" of burial it had with the PFI. PFI volunteers were aiding the PMC in burying Covid-19 bodies since April.
A group of volunteers affiliated to the PFI has been working with civic bodies across the state to help with the burial of Covid-19 patients, especially as Muslim families are facing opposition from community graveyards to burials. Across Maharashtra, the group has helped bury 200 bodies, though none yet in Mumbai. The BMC confirmed that it has authorised hospitals to co-ordinate with the PFI volunteers for burials.
"The PFI is accused of anti-national and anti-social activities," Fadnavis said in a video. "The demonstrations and violence over the citizenship Act saw the PFI playing a major role and using foreign funds.
The Enforcement Directorate
has established links between banks and money routes to the PFI. The NIA is investigating its activities," Fadnavis said.
Stating that while other states have taken strong action against the organisation, Fadnavis said the Maharashtra government was legitimising the controversial organisation by allowing it to facilitate the burial of Muslim victims of the coronavirus.
Volunteers attached with the PFI said the BJP-ruled Pune Municipal Corporation was the earliest to rope them in for burials of Covid-19 patients. "In April they asked us to help with burials. We wanted to help, as there were a lot of problems around Muslims' burials. In Pune alone we have buried 103 bodies," said Saeed Choudhary, a PFI volunteer.
In Mumbai, Choudhary said he wrote a mail to BMC offering help. A meeting was held in early May with BMC executive health officer Dr Padmaja Keskar.
While Keskar did not respond to calls, Choudhary said BMC officials were short-staffed for the disposal of the dead, and needed assistance. "They agreed to provide personal protective equipment and masks, and we have 29 volunteers who are ready to provide dignified final rites to Covid-19 deceased," he said.
In Mumbai, burials have been rendered more complex by a BMC rule that says no Covid-19 body, irrespective of religion, can be buried unless the graveyards are large and the community living around the burial ground does not raise objections. The BMC's preferred mode of disposal of bodies of all faiths is cremation at electric crematoria. Muslim and Christian families have faced difficulties because of this.
The BMC letter's on May 18, accessed by The Indian Express, asks hospitals to inform suspected or confirmed Covid-19 deaths to four coordinators of the PFI apart from informing local police and local medical officer. But so far, none of the hospitals have had to approach the designated co-oordinators for help with burials.
Suresh Kakani, additional municipal commissioner, said, "They approached us to offer their help. Why should we doubt their intention? Relatives are not willing to touch the body. Bodies were piling up in the mortuary. We need help in disposing bodies."
MLA Rais Shaikh said it is "unethical for politicians to politicise issues related to pandemic". "These people are stepping forward and doing good work. There was no need to raise this issue," Shaikh said.
Full report at:
https://indianexpress.com/article/cities/mumbai/fadnavis-opposes-bmc-tie-up-with-pfi-to-facilitate-burial-of-muslim-covid-19-victims-6439870/
-------
UN report says LeT, JeM active in Afghanistan, MEA expresses concern
June 3, 2020
India on Tuesday expressed "serious concern" at a United Nations report which said a large number of foreign terrorist fighters, including up to 6,500 Pakistan nationals, are operating in Afghanistan.
A report submitted by the UN Security Council's Analytical Support and Sanctions Monitoring Team concerning individuals and entities constituting a threat to the peace, stability and security of Afghanistan, also said that UN- designated entities like Lashkar-e-Taiba and Jaish-e-Mohammed, operating from Pakistan-controlled territories, are facilitating trafficking and imparting training to other terrorists in Afghanistan.
The Ministry of External Affairs spokesperson Anurag Srivastava said, "We note with serious concern reference in the Report to the continued presence of the senior leadership of the UN designated terrorist organisation Al Qaida and its affiliates in Afghanistan; as well as a large number of foreign terrorist fighters, including up to 6500 Pakistan nationals, operating in Afghanistan. Besides, UN designated entities like Lashkar-e-Tayyiba and Jaish-i-Mohammed, operating from Pakistan controlled territories facilitating trafficking and imparting training to other terrorists in Afghanistan."
He said this "vindicates India's long standing position that Pakistan remains the epicentre of international terrorism".
"That proscribed terrorist entities and individuals continue to enjoy safe havens and recruit, train, arm, finance and operate with impunity from Pakistan with state support. They inflict violence and spread terrorism in the region and other parts of the world," he said.
"Pakistan has failed in fulfilling its international obligations, including under relevant UNSC resolutions and the Financial Action Task Force, to put an end to support to terrorism emanating from territories under its control. The international community should hold Pakistan accountable and seek sustained, verifiable and irreversible action by Pakistan against terrorism," the MEA spokesperson said.
Full report at:
https://indianexpress.com/article/india/un-report-says-let-jem-active-in-afghanistan-mea-expresses-concern-6439979/
-------
No Tablighi members in quarantine centres, UP tells High Court
June 3, 2020
In a submission to the Allahabad High Court, the Uttar Pradesh government has stated that there is no Tablighi Jamaat member at any of its quarantine centres in the state, and all have been released and sent home.
The government furnished the details on a PIL filed by a lawyer, Shaad Anwar, who had sought the court's intervention in seeking the release of Tablighi Jamaat members who had visited the Nizamuddin Markaz in Delhi that emerged as a Covid cluster.
Additional Advocate General Manish Goyal, who represented the government, said the court was informed a total of 3,001 Tablighi Jamaat members were quarantined in UP, out of which 21 were sent to jail for alleged violation of visa laws and spreading of the viral disease, while, 2,979 were sent home.
As per the government's submission, a total of 325 foreign Tablighi Jamaat members were quarantined in the state. Out of which, 46 were sent back to their countries, while 279 are lodged in jail, it said. "One Indian national Tablighi Jamaat member is still undergoing treatment for Covid at the district hospital in Mirzapur," the document that was submitted to the court on May 30 added.
Full report at:
https://indianexpress.com/article/india/no-tablighi-members-in-quarantine-centres-up-tells-high-court-6439767/
-------
3 Jaish-e-Mohammed terrorists killed in encounter in Jammu and Kashmir's Pulwama: Police
Jun 03, 2020
Three terrorists believed to be part of the Jaish-e-Mohammad (JeM) group were gunned down by security forces on Wednesday in Jammu and Kashmir's Pulwama, police said, in the second encounter in the district in the last 24 hours.
The joint operation was launched by the Indian Army's Rashtriya Rifle, the Central Reserve Police Force (CRPF) and the state police in Kangan Murran village of south Kashmir's Pulwama on specific information.
Dilbag Singh, J-K's director general of police, confirmed that three Jaish terrorists were killed in the encounter and that their identities have been ascertained.
Sources said that one of the terrorists killed could be a so-call top commander of Jaish, who has been active in south Kashmir.
Since the last few weeks, police have not been revealing the identities of terrorists killed in encounters and they are being buried away from their native villages. Police said only family members are allowed to participate in the funerals.
On Tuesday, two terrorists were killed in an encounter with security forces in Tral area of Pulwama district.
The terrorists, who sources said were locals, were killed in a gunfight which erupted after a search operation was launched by a joint team of the state police and the army at Saimoh village. Two AK-47 assault rifles were recovered from the encounter site.
On Monday, three heavily-armed terrorists were killed along the Line of Control (LoC) in Nowshera sector of Rajouri district. They attempted to sneak into India but were intercepted by the alert troops near Kalal village, triggering a gunfight, officials said.
Full report at:
https://www.hindustantimes.com/india-news/three-jaish-e-mohammed-terrorists-killed-in-encounter-in-jammu-and-kashmir-s-pulwama/story-PS4GAP4bkOCVnnGuudXZVM.html
-------
Arab world
Qatar's Former Emir, PM Assure Gaddafi Al Jazeera Won't Host Anti-Libya Guests: Audio
02 June 2020
Qatar's former emir Sheikh Hamad bin Khalifa al-Thani and former prime minister Sheikh Hamad bin Jassim assure late Libyan dictator Muammar Gaddafi that the Doha-based Al Jazeera network would not host anti-Libya guests in a leaked audio recording.
"Give us names ... if you give us the people that you don't want to come out on Al Jazeera. The person that coordinates between us and you ... [inaudible] ... Abdulla," Sheikh Hamad bin Jassim could be heard telling Gaddafi.
The late Libyan leader then replies: "The agreement is that anyone who attacks Libya, they're not allowed."
Al Arabiya English could not verify the authenticity of the recording, which was posted on social media by Qatari opposition activist Khalid al-Hail.
The newly leaked recording by al-Hail follows another one late last month in which former emir of Qatar Sheikh Hamad bin Khalifa al-Thani called ex-US President Barack Obama a "slave" and "silly."
A similar recording between Qatar's former emir and Gaddafi was released in 2017, in which the two ex-leaders attacked Saudi Arabia and the ruling family.]
The recordings were secretly taped by Gaddafi during his meetings with world leaders in Libya, which have since been leaked following the late Libyan leader's death in 2011.
Hamad bin Jassim did not deny the recording and said that the issue was discussed to appease Gaddafi.
Later in the recording, Qatari former emir Sheikh Hamad bin Khalifa could be heard referring to an individual saying he had "Hamad's personal number. Hamad bin Thamer."
Sheikh Hamad bin Thamer al-Thani is the chairman of the Al Jazeera Media Network. The Doha-based network has claimed it has no government interference in its work numerous times over the years. The newly leaked recording, however, showed both the former emir and the prime minister had direct influence over the network's editorial lines.
In 2013, Sheikh Hamad handed over power to his son, current Emir Sheikh Tamim al-Thani. Hamad bin Jassim stepped down from his positions in government at the time and reportedly has strained relations with the current emir.
Libyan dictator Gaddafi was tortured and killed on October 20, 2011, when rebel fighters took control of his hometown Sirte as part of an uprising that deposed his regime and led to the subsequent civil war in the country.
https://english.alarabiya.net/en/features/2020/06/02/Qatar-s-former-emir-PM-assure-Gaddafi-Al-Jazeera-won-t-host-anti-Libya-guests-Audio.html
-------
Syrian artist paints portrait of George Floyd on Idlib wall
02 June 2020
On the last standing wall of a building damaged by air strikes in Idlib, a Syrian artist painted a striking mural of George Floyd, who was killed in police custody in the US on May 25.
The artist, Aziz Asmar, said on Monday he was driven to paint the mural to send a message of solidarity to all humanitarian causes in the world.
Asmar painted George Floyd's face next to the sentence "I can't breathe", which he repeated multiple times before dying.
Asmar, who worked on the painting with his colleague Anis Hamdoun, said the images of Floyd reminded him of images he had seen of Syrian children killed by a suspected chemical attack in Damascus and the city of Khan Sheykhoun in 2017.
Protests spread across the US this past week over the death of a black man, George Floyd, in police custody in Minneapolis last Monday.
Video footage showed a white police officer kneeling on the neck of Floyd, 46, for nearly nine minutes before he died. Derek Chauvin, the since-fired police officer involved in the incident, has been charged with third-degree murder.
Full report at:
https://english.alarabiya.net/en/News/middle-east/2020/06/02/Syrian-artist-paints-portrait-of-George-Floyd-on-Idlib-wall-.html
-------
$1.35bn raised for Yemen in virtual donor's conference hosted by Saudi Arabia, UN
June 02, 2020
NEW YORK: International donors on Tuesday pledged $1.35 billion of aid for Yemen, during a virtual humanitarian event organized by Saudi Arabia, in partnership with the United Nations
Time is of the essence in the efforts to help the people of Yemen, the donors were reminded at the end of the conference.
"When the pledges are paid literally means the difference between life and death for countless Yemeni people," said UN under-secretary-general for humanitarian affairs Mark Lowcock, who co-chaired the event with Abdullah Al-Rabeeah, the supervisor general of Saudi Arabia's King Salman Humanitarian Aid and Relief Center.
"I reiterate the plea the secretary-general made to all those who made pledges to pay them straightaway, because pledges on their own achieve nothing."
Lowcock also called on countries that had not yet pledged to do so as soon as possible, and added that the UN will continue its fundraising efforts. "This is not the end," he said.
The event followed a call by UN aid workers in Yemen for more than $2.4 billion to fund emergency aid, including medical supplies, food and shelter, at a time when the coronavirus pandemic is making what was already a dire situation even worse.
Humanitarian organizations need the funding to shore up their operations in Yemen, where 75 percent of UN programs have had to close or been scaled down because of lack of money.
There are many reasons for the dwindling funds, but one of the main issues has been obstruction by the Houthi rebels who control the capital, Sanaa, and other territories. The United States, one of the largest donors, decreased its aid to Yemen this year blaming the decision on interference by the Houthis.
In his opening statement at the conference, UN Secretary-General Antonio Guterres warned that aid workers face a race against time in Yemen.
"Unless we secure significant funding, more than 30 out of 41 major United Nations programs in Yemen will close in the next few weeks," he said
He also thanked Saudi Arabia for its "continued commitment to the humanitarian aid to the people of Yemen."
The Kingdom pledged $500 million during the conference's opening ceremony.
Melissa Fleming, the UN's under-secretary-general for global communications, who moderated a question-and-answer session after the conference, described Saudi Arabia as "the largest funder of the humanitarian response in Yemen in recent years."
Yemeni Prime Minister Maeen Abdulmalik Saeed thanked the Kingdom for its contribution and its role in Yemen in recent years. Describing the humanitarian crisis in his country, he said "a macabre tragedy is imminent."
Prince Faisal bin Farhan, the Saudi minister of foreign affairs, reiterated the Kingdom's "firm commitment to alleviating the human suffering of the brotherly Yemeni people."
He also passed on King Salman and Crown Prince Mohammed bin Salman's "deep appreciation to the United Nations for its efforts in providing humanitarian work through its agencies operating around the world, and in Yemen in particular."
He added: "The Kingdom has provided humanitarian aid to Yemen since the beginning of the crisis, totaling more than 16 billion, nine hundred and forty million US dollars."
Prince Faisal called on the international community to honor its financial promises to Yemen. The people of the country are looking forward to an effective resolution that will help them face the humanitarian, military, security and economic-development challenges they face "due to the inhuman practices and violations by Iranian-backed Houthi militias….blocking out humanitarian aid, looting relief convoys, and impeding its access to all Yemeni lands," he added
The prince also highlighted the refusal by the Houthis to accept any political solution to the crisis in Yemen based on international resolutions and the Stockholm Agreement "and thus, the Houthi denial of all efforts and initiatives for a ceasefire, and the UN Envoy for Yemen's invitation to engage in direct negotiations between all Yemeni parties."
The pledging event brought together representatives of more than 125 UN member states, international organizations, UN agencies, NGOs and civil-society groups to raise funds to meet the humanitarian needs of the Yemeni people.
The Office for the Coordination of Humanitarian Affairs, the UN's humanitarian agency, echoed the pleas for those who pledged to "actually pay early because the operation in Yemen is severely, severely underfunded. We are running out of time."
"COVID-19 has created new needs there, but (it) is just the latest challenge in an already deteriorating situation," Al-Rabeeah said during a press conference after the event. The UN has accused the Houthi rebels of underreporting the number of coronavirus cases.
"I leave this conference with a positive attitude," Al-Rabeeah added. "Even though the pledging did not reach last year's numbers it is a very good response, taking into account the various factors at play, from COVID-19 and the economic crisis resulting from it to the reticence of some donors due to violations of humanitarian aid."
He vowed that the Kingdom will continue to advocate for a political solution to the war in Yemen, to support the country, and to work hard to assist in its battle against Covid-19.
"If we continue to advocate these points, then we are not far from reaching a better future for Yemen," he said.
Lowcock thanked Al-Rabeeah for the Saudi collaboration on a conference that highlighted the "wide issues that are adulterating the human response in Yemen, and restrictions by parties in Yemen which made our work there harder."
He again urged donors to pay promptly, "otherwise, the life-saving programs will simply close. Those who have not pledged, it is important that they stand up and play a role."
He said UN fundraising efforts will continue, adding: "We cannot be satisfied with what where we got today. What's needed in Yemen is peace but in the meantime we have to keep people alive."
Al-Rabeeah noted that although only about half the money being sought was raised, it is enough to maintain "the momentum of humanitarian work in Yemen."
He said: "It is important to keep the work going. (There needs to be) determination, on the part of the UN and donor countries, that we will do what it takes to protect those donations.
"We hope that the hindrances to humanitarian workers, and to the aid itself, will be limited and minimized. It is about time for those who violate international law to stop, and to allow the international community to do the humanitarian work.
"We should not shy away from bringing those violations to light, and to the attention of international community. We should also make it clear at the Security Council that those violations are happening on this or that side.
"Enough selling the lives of the Yemeni people for political motives," added Al-Rabeeah.
PLEDGES (IN $):
Austria: 1.1m
Belgium (1): 5.52m
Bulgaria (1): 55,000
Canada (1): 29.03m
Cyprus: 55,000
Czech Republic: 737,000
Denmark: 3.41m
European Commission: 78.21m
Finland: 3.31m
France: 9.60m
Germany (1): 137.97m
Greece: 33,000
Iceland: 200,000
Ireland (1): 5.52m
Italy: 5.79m
Japan: 41.20m
Korea, Rep. of (1): 18.50m
Lithuania (1): 110,000
Luxembourg (1): 2.04m
Malaysia: 100,000
Malta (1): 33,000
Netherlands (1): 17.00m
Norway (1): 17.78m
Russia: 4m
Saudi Arabia: 500m
Slovenia (2): 93,000
Sweden (1): 30.84m
Switzerland (1,2): 12.40m
United Kingdom (1): 196.56m
United States: 225m
(1) Made announcement to the Yemen Humanitarian Fund
(2) Made multi-year announcement
https://www.arabnews.com/node/1683686/middle-east
--------
Turkish government employees slap Syrian shepherd in viral video stirring outrage
02 June 2020
A Syrian refugee shepherd identifying himself as Ahmed Hilal was violently slapped by Turkish government employees in the Ceylanpınar district of Şanlıurfa province in southeastern Turkey, according to a viral video that has stirred anger among users on social media.
The video shows Hilal answering questions by men identified on social media as security employees working under the state-run General Directorate of Agricultural Enterprises (TİGEM).
Hilal was reportedly tending to sheep, seen in the video, near an area the officers said he was not permitted to, according to Turkish media reports.
For all the latest headlines follow our Google News channel online or via the app.
While the exact date of when the incident could not be indecently verified, a search of the video on Twitter showed it was posted as early as May 29 by users from the Şanlıurfa, also known as Urfa, province which is on the border with Syria.
"Violence against a shepherd who grazes animals in Şanlıurfa Ceylanpınar. He thinks that he will use violence wherever he wants, wearing any uniform, in any way. Because he is aware that there will be profit for what he does," wrote Said Sefa, a Turkish journalist.
Kendal Uzun
@Kendal_Uzun
Turkish police beating an Arab shepherd in Ceylanpınar opposite to the occupied #Serekaniye/Ras al Ayn.
These officers confidently filmed their action and posted it online.@TurkeyAffairs @Hevallo @davidgraeber#BlackLivesMatter #PoliceBrutality https://twitter.com/sefa_said/status/1267269999128989696 …
Said Sefa
✔
@sefa_said
Şanlıurfa Ceylanpınar'da hayvanları otlatan bir çobana gösterilen şiddet.
Üzerine herhangi bir şekilde herhangi bir üniforma giyen istediğine istediği yerde şiddet uygulayacağını düşünüyor.
Çünkü yaptığının yanına kâr kalacağının farkında.
Embedded video
11
7:23 AM - Jun 1, 2020
Twitter Ads info and privacy
See Kendal Uzun's other Tweets
The latest incident comes less than a week since Turkish police killed a young Syrian refugee southern city of Adana for breaking coronavirus curfew restrictions. Police in the city said they accidentally shot Ali El Hamdan, said to be between 17 and 19-years-old after he was caught on his way to work during curfew hours.
https://english.alarabiya.net/en/News/middle-east/2020/06/02/Turkish-government-employees-slap-Syrian-shepherd-in-viral-video-stirring-outrage.html
-------
Kurdish man killed in Turkey for listening to Kurdish songs: Report
02 June 2020
A Kurdish man was stabbed to death by three Turkish men near Turkey's capital Ankara because he was listening to Kurdish music, according to a media report.
Baris Cakan, 20, was attacked and killed on Sunday while he was reportedly out for "some fresh air" at a park, according to his family, reported Mezopotamya Agency, a Kurdish news agency in Ankara.
The three suspects were detained after the incident, according to the report.
Cakan's cousin, Dogan Cakan, was reportedly attacked in a prior incident as well, the new agency said in the report.
However, a statement from the Ankara governor's office contradicts the details of the incident first reported.
"The incident happened after the victim and friends had warned the suspected opposite party as the suspected party was listening to loud music in their car during the Azan [call to prayer], vice versa to the claims that the victim and his friends were interfered by the suspected opposite party while listening to Kurdish music," the statement read.
Full report at:
https://english.alarabiya.net/en/News/middle-east/2020/06/02/Kurdish-man-killed-in-Turkey-for-listening-to-Kurdish-songs-Report.html
-------
Saudi Arabia announces $500 mln aid to Yemen during virtual UN conference
02 June 2020
Saudi Arabia has pledged $500 million aid for Yemen during the virtual conference held with the United Nations on Tuesday, the official Saudi Press Agency reported.
The money will go to support the Yemen Humanitarian Response Plan 2020 and COVID-19 Response plan, according to SPA.
For all the latest headlines follow our Google News channel online or via the app.
The announcement was made by Royal Court Adviser Dr. Abdullah Abdulaziz al-Rabeeah during the Yemen High-Level Pledging Event 2020 organized by the Kingdom with a goal of raising $2.4 billion.
"The Kingdom of Saudi Arabia has always embraced the principles of peace, harmony and cooperation between the peoples and countries of the world," he was quoted by SPA as saying. "The Kingdom has provided impartial support and assistance while carrying out its responsibilities to respond to humanitarian crises and limit their effects on people globally."
Al-Rabeeah also said $300 million will be allocated to UN agencies and organizations. The remaining $200 million will be allocated to the King Salman Humanitarian Aid and Relief Center.
Germany also announced a donation of 125 million euros ($139.8 million) in humanitarian assistance to Yemen, Niels Annen, Minister of State at the Federal Foreign Office, said during the conference, according to Reuters.
Full report at:
https://english.alarabiya.net/en/News/gulf/2020/06/02/Saudi-Arabia-announces-500-mln-aid-to-Yemen-during-virtual-UN-conference.html
-------
Saudi Arabia remains top supporter of Yemen, says envoy
June 03, 2020
JEDDAH: Saudi Arabia, which co-hosted the UN pledging event on Tuesday, continues to remain the top supporter of the war-ravaged country with its $500 million pledge.
Commenting on the event, Saudi Ambassador to Yemen Mohammed Al-Jaber said it was a continuation of Saudi efforts to serve the Yemeni people at all fronts — humanitarian, economic, and development.
Saudi Arabia "is the biggest supporter of Yemen, with a total value of humanitarian and development aid amounting to about $17 billion," he said.
Highlighting the humanitarian role of Saudi Arabia, the envoy said that the Kingdom topped the donor countries in response to the UN humanitarian plan for Yemen in 2018 with $500 million, $750 million in 2019, and is carrying out several humanitarian initiatives and programs through the King Salman Humanitarian Aid and Relief Center (KSRelief).
Al-Jaber said: "Economically, the Kingdom has provided direct support of $7.8 billion to Yemen since 2012, where it supported the Central Bank of Yemen by depositing $3.2 billion (to keep it afloat), and oil derivatives worth $4.15 billion to operate power plants over several years, in addition to $435 million for the Social Welfare Fund."
The Saudi ambassador said the Kingdom is also working through the Saudi Development and Reconstruction Program for Yemen to implement 175 projects and initiatives including 45 in the education sector, 18 in the health sector, 20 in the energy sector, 30 related to water, 13 in the field of agriculture and fisheries, 23 in the transport sector, and 26 in the government buildings sector."
Saudi Arabia has also pledged $25 million to help Yemen fight the coronavirus disease (COVID-19) pandemic.
Through the KSRelief, Saudi Arabia is carrying out several projects in different sectors of Yemen. One of the key projects is the establishment of a prosthetics center in Yemen's Marib and Aden to help Yemeni civilians mutilated by the Iranian-backed Houthi militia.
Between January and April, 1,724 persons benefited from the center in Marib.
Some 119 prosthetic limbs were fitted to 119 patients, 44 orthotic cosmetic limbs were fitted to 28 patients, and 181 prosthetic measurement services were implemented for 178 patients.
The KSRelief also provides dialysis solutions and other medications necessary for treating chronic diseases to Yemen.
Full report at:
https://www.arabnews.com/node/1683991/saudi-arabia
-------
Saudi project continues to clear thousands of Houthi mines in Yemen
June 03, 2020
RIYADH: The Saudi Project for Landmine Clearance (MASAM) in Yemen dismantled 56 anti-tank mines, three explosive devices and 257 unexploded ordnance — totaling 316 mines — during the fourth week of May.
A total of 167, 303 mines have been extracted since the beginning of the project. More than 1.1 million mines have been planted by Iran-backed Houthi militias in Yemen during the conflict, claiming hundreds of civilian lives.
Houthis are developing anti-vehicle mines and turning them into antipersonnel explosives to intimidate and terrorize civilians. The vast number of land mines continues to pose a threat to Yemeni people. MASAM aims to dismantle mines in Yemen to protect civilians and ensure that urgent humanitarian supplies are delivered safely.
In April 2019, Human Right Watch said Houthi-laid mines had killed hundreds of civilians, obstructed their movement and prevented lifeline humanitarian aid from reaching people. The Kingdom's support for humanitarian causes around the world stems from its policy of cooperation between nations and peoples to promote world peace and preserve human achievements disregarding religion or race.
https://www.arabnews.com/node/1684001/saudi-arabia
-------
Pakistan
Shahbaz asks speaker to issue agenda for NA session
June 03, 2020
ISLAMABAD: Pakistan Muslim League-Nawaz president Shahbaz Sharif has written a letter to National Assembly Speaker Asad Qaiser, suggesting him to issue an agenda for the first five days of the assembly session prior to the presentation of the federal budget on June 12.
The letter, a copy of which is available with Dawn, shows that Opposition Leader in the National Assembly has suggested to the speaker to allow the members to have a thorough debate on key national issues, including the May 22 crash of Pakistan International Airlines (PIA) aircraft near Karachi airport and the situation arising due to spread of Covid-19 pandemic and locust attack in various parts of the country.
Mr Sharif has also proposed a debate in the assembly on the "report of the commission to probe into the increase in sugar prices". He has also asked the speaker to hold a debate on "the issue of privatisation of airports and PIA hotels".
The Pakistan Peoples Party has already submitted an adjournment motion to the National Assembly Secretariat seeking a debate on the PIA plane crash.
"The National Assembly session has been summoned for June 5 and the government is expected to introduce the 2020-21 budget on June 12. This provides us with five full working days to take up issues of national importance," writes Mr Sharif in his letter.
https://www.dawn.com/news/1560957/shahbaz-asks-speaker-to-issue-agenda-for-na-session
-------
Differences surface in Karak JUI-F
June 03, 2020
KARAK: Differences have surfaced in Jamiat Ulema-i-Islam-Fazl, Karak chapter, following announcement by central deputy general secretary of Pakistan Muslim League-Nawaz Rehmat Salam Khattak to join the party.
One group of ideological workers of JUI-F has been opposing the joining of such people who have their eyes fixed on election tickets. The party insiders said here on Tuesday that some political figures were trying to get positions in JUI-F just to get the tickets in future elections.
They insisted that ideological group wanted such leaders to join the party without any condition. They said that election tickets were the right of ideological workers who had always offered sacrifices for party.
The insiders resolved that they would oppose entry of such elements into the party.
KILLED: A proclaimed offender has been killed in the limits of Takht-i-Nusrati police station.
Police sources said on Tuesday that Habibur Rehman of Shahidan Banda was allegedly shot dead over old enmity by his rivals in the area.
Relatives of the deceased later registered an FIR against their enemies.
PROMOTION: District education officer Sheraz Khan has asked the primary schoolteachers to submit details of their qualifications and services in respective education office for preparation of the seniority list so that the deserving among them could be promoted.
He said that a large number of posts of BPS-14 were lying vacant in primary schools in the district.
He was talking to All Primary Teachers Association district president Javaid Iqbal Khattak who called on him at his office here on Tuesday.
Full report at:
https://www.dawn.com/news/1561002/differences-surface-in-karak-jui-f
-------
ECP wants report on PTI foreign funding in one week
Iftikhar A. Khan
June 03, 2020
ISLAMABAD: The Election Commission of Pakistan (ECP) on Tuesday directed a committee to submit a status report on the progress in scrutiny of the PTI's foreign funding within a week.
The scrutiny committee was formed in March 2018 to audit the Pakistan Tehreek-i-Insaf's foreign fund accounts.
The directives were issued by the ECP during the hearing of miscellaneous petitions linked with the foreign funding case against the PTI.
In what surprised many, the director general (law) of the ECP, who heads the scrutiny committee, while answering a query from the bench, candidly said he was unsure about how long the committee would take to complete its examination of PTI accounts.
He was unable to specify any time frame and cited other official legal engagements that impede the progress.
Upon this, the ECP directed the DG to submit a preliminary status report within one week and a detailed progress report on the scrutiny in one month.
The ECP will take up the case again after one month.
The commission insisted that the scrutiny process be taken to its logical conclusion, including information on PTI's undeclared accounts, besides day-to-day hearing of the case.
The hearing on Pakistan Muslim League-Nawaz leader Ahsan Iqbal's application was adjourned to June 23.
Advocate Syed Ahmad Hassan Shah, the petitioner' s lawyer, argued that the over two-year delay in the scrutiny of PTI accounts was a consequence of lack of will and intent. He said it was surprising that on the one hand, forensic audit of 10 companies allegedly involved in the sugar scandal was completed in six weeks and, on the other, the scrutiny of PTI accounts was dragging on.
The petitioner's lawyer argued that his client had been getting death threats only because he had challenged the "status quo" in PTI in an effort to cleanse the party and bring it back to its founding ideals.
He said that since the ECP was custodian of the foreign funding case, under the doctrine of complete justice it has all the powers to protect the life of the petitioner from harm and frivolous cases.
He urged the ECP to issue directives to safeguard the fundamental rights of Akbar S. Babar, the petitioner and prominent member of the PTI.
Mr Babar's counsel argued that the ECP had in its Oct 10, 2019 verdict already held the PTI responsible for historic delays by abusing the law. He said that despite admission of opening accounts abroad, the PTI had not submitted a single bank statement of foreign accounts.
The counsel wondered how any scrutiny could be transparent if the petitioner was denied access to PTI documents, including the 23 bank statements of accounts mostly concealed from the ECP.
The PTI lawyer, Shah Khawar, relied on the Supreme Court judgement in the Hanif Abbasi case regarding PTI foreign funding, whereby the ECP was fully empowered to conduct scrutiny but only on credible evidence and without any mala fide intention.
He said any evidence of prohibited funding that was beyond the prescribed time frame between 2009 and 2013 should not be entertained. He claimed that the PTI had no quarrels on the issue of PTI membership of Akbar S. Babar notwithstanding the fact that the party's chairman, Imran Khan, had filed a petition in the Supreme Court in January this year challenging the petitioner's PTI membership. The party chief had also challenged the jurisdiction of the ECP to scrutinise PTI accounts.
Talking to reporters after the hearing, former prime minister Shahid Khaqan Abbasi said the ECP would be useless if it did not summon Prime Minister Imran Khan and the previous chief election commissioner in the foreign funding case.
PML-N secretary general Ahsan Iqbal said his party did not vigorously pursue the case against the PTI when it was in power to ensure "we are not accused of political victimisation. Now we are not in government and hope that the ECP would take the case to its logical conclusion".
On the other hand, Minister for Parliamentary Affairs Ali Muhammad Khan said the PTI had already submitted details of its accounts along with certificates by chartered accountants. He wondered as to when Shahbaz Sharif, Bilawal Bhutto and Asif Zardari would do the same.
Chiding the PML-N leadership, he said they would be needing "a Qatari" in this case too.
Full report at:
https://www.dawn.com/news/1560967
-------
PM backs novel proposal to fight locust invasion
Syed Irfan Raza
June 03, 2020
ISLAMABAD: Prime Minister Imran Khan, while chairing a meeting of the federal cabinet on Tuesday, endorsed an out-of-the-box proposal for dealing with the locust threat in the country under which people would be given financial incentives for catching locusts and encouraged to sell these insects to poultry farmers who could use them as poultry feed at a rate of Rs15 per kilogram.
The cabinet also decided to form an inter-ministerial committee to present recommendations to the government regarding the role of regulators in the light of the sugar inquiry commission report that has exposed 'wrongdoings' of many bigwigs, including ruling Pakis­tan Tehreek-i-Insaf (PTI) stalwart Jahangir Tareen, Pakistan Muslim League-N (PML-N) president Shahbaz Sharif's sons and PML-Q leader Monis Elahi.
It was officially informed that the meeting also took some important decisions regarding prevention of shortage and smuggling of wheat/flour and the spread of coronavirus in the country.
People will be encouraged to catch the swarms and sell them at Rs15 a kilo
A participant of the meeting, who did not want to be named, told Dawn that PM Khan endorsed the proposal for encouraging people to catch locusts and sell them to poultry farmers.
He said the prime minister was apprised that recently the plan of catching and selling locusts for Rs15 per kg was implemented in Okara.
PM Khan hailed the plan and desired that it should be implemented across the country after consent of provinces as this would not only give some relief to already coronavirus-hit people but also boost poultry farming, besides eradication of migratory insects that could fly hundreds of kilometres in swarms.
Federal Information Minister Shibli Faraz, when contacted later, confirmed that the prime minister had endorsed the proposal for dealing with locust swarms under which people would be given financial incentives and an opportunity of selling the migrating insects to poultry farmers for Rs15 per kg.
"In fact, the prime minister wanted to turn the crisis into an opportunity, therefore, he approved a plan of catching and selling locusts," he added.
He said PM Khan had asked Ministers Fakhar Imam, Hammad Azhar and Khusro Bakhtiar as to how the people would be given financial incentives for catching locusts.
During the cabinet meeting, the prime minister was given a detailed briefing on present situation of locust swarms, including information about the worst-hit parts of the country.
According to state-run PTV, locust swamps have attacked 31 districts in Baluchistan, 10 in Khyber Pakhtunkhwa, four in Punjab and seven in Sindh.
The meeting also called for giving incentives to people for saving crops from locusts through traditional means, like beating the tin drum.
Contrary to normal practice, no post-cabinet meeting press conference was held by Information Minister Faraz though the media was informed that the minister would hold a presser at 6:30pm.
Sugar scam report
"The meeting decided to form an inter-ministerial committee to review the facts in the light of inquiry commission's report on sugar and give recommendations for reforms and effective role of regulators," an official press release issued by the information ministry said.
The press release quoted the prime minister as saying that: "The main objective of such measures is to prevent people from the burden of price hike of sugar."
On May 21, the federal cabinet had made public the much-awaited sugar commission's inquiry forensic audit report that exposed over Rs150 billion fraud in the manufacturing sale and export of the commodity every year by sugar barons.
The report had suggested criminal proceedings against those involved in the scam and referring of their cases to accountability agencies concerned, like the National Accountability Bureau (NAB), Federal Investigation Agency (FIA), Federal Board of Revenue (FBR) and Anti-Corruption Departments (ACDs) in provinces.
However, a source privy to the cabinet meeting said the cabinet did not consider referring of cases of the sugar scam to NAB, but hinted that they would be sent to FIA.
The report revealed that how the "sugar cartel" in the country, comprising 88 mills, in collaboration with some government departments -- including the Competition Commission of Pakistan (CCP), FBR, Sugar Advisory Board --allegedly cheated innocent sugarcane growers and later the common man right from the start of procurement of cane, manufacturing of sugar, sale of sugar in the local market, the export subsidy and tax evasion involving billions of rupees.
Wheat shortage and smuggling
The cabinet meeting was given a detailed briefing on procurement of wheat by provinces and estimates of future supply and demand of these items.
The meeting decided to form a high-level committee to present recommendations in reform in the sector and the role of flour mills.
PM Khan directed the interior secretary to present recommendations of an already formed task force on wheat smuggling so that they could be implemented in letter and spirit.
The meeting also reviewed the coronavirus situation in the country and stressed the need for the strict implementation of SOPs (standard operating procedures) devised by the government for different industries and business to control spike of Covid-19 in the country.
The cabinet expressed satisfaction over increasing coronavirus testing capacity in the country that has increased from 400 to 32,000 tests per a day.
Full report at:
https://www.dawn.com/news/1560948
-------
7 children die as seminary roof collapses in Waziristan
Pazir Gul
June 03, 2020
MIRAMSHAH: Seven children died and 13 others were wounded when the roof of a seminary collapsed in Shewa area of North Waziristan tribal district on Tuesday, police said.
Deputy Superintendent Police Azam Khan said the wounded children had been sent to hospitals in Thall, Hangu district. He said that the children from nearby houses, including girls, were sitting in the classroom of the seminary for learning the holy Quran when its roof collapsed.
Local people rushed to the site to retrieve survivors from debris. Officials said that 13 wounded children, including girls, were taken to hospitals in Thall where doctors pronounced two children dead.
Medical Superintendent of Tehsil Headquarters Hospital in Thall Dr Abdur Rehman that one body and five injured children were brought to the hospital. He said that two children were discharged while two others were referred to a Peshawar hospital. He identified deceased child as Adil.
Full report at:
https://www.dawn.com/news/1560954/7-children-die-as-seminary-roof-collapses-in-waziristan
--------
South Asia
Taliban strongly reacts to Kabul mosque bombing which left a prominent prayer leader dead
03 Jun 2020
The Taliban group strongly reacted to Kabul mosque bombing which left a prayer leader dead in the diplomatic zone of Kabul city.
Zabiullah Mujahid, a spokesperson for the group, in a statement said the group strongly condemns the attack in Wazir Mohammad Akbar Khan mosque which resulted into martyrdom of Mawlavi Mohammad Ayaz Niazi.
Mujahid further added that the attack on Mawlavi Niazi is a major criminal act.
Mawlavi Ayaz Niazi, the prayer leader of Wazir Mohamamd Akbar mosque died of wounds from an explosion in diplomatic area of Kabul city earlier on Tuesday evening.
Tariq Arian, a spokesperson for the Ministry of Interior, confirmed that Mawlavi Niazi succumbed to his injuries following the explosion.
According to Arian, the incident took place at around 7:45 pm local time in the vicinity of Wazir Mohammad Akbar Khan mosque.
Arian further added that the terrorists had planted explosives in the vicinity of the mosque which killed one person and wounded three others.
He also added that the security forces discovered some other explosives before the militants manage to detonate them.
No individual or group has so far claimed responsibility for the incident.
https://www.khaama.com/taliban-strongly-reacts-to-kabul-mosque-bombing-which-left-a-prominent-prayer-leader-dead-08885/
-------
Bangladeshi Catholics wary as services resume
June 01, 2020
The Bangladesh government's decision to lift a nationwide shutdown and resume normal life despite surging Covid-19 cases and deaths has divided opinions in the Muslim-majority country.
The shutdown launched on March 26 officially ended on May 30.
Churches resumed Masses on May 31 after a two-month suspension. Public and private offices reopened on May 31 and public transport including buses, trains and ferries started on a limited scale from June 1.
The government ordered strict social distancing measures and health guidelines including use of masks, gloves and sanitizers to be followed everywhere.
Public transport vehicles were ordered to operate at half of passenger capacity, while bus fares were raised by about 60 percent on May 31 despite public uproar.
Reports on television and in newspapers showed that in many places health guidelines and social distancing were not followed amid a rush of passengers.
Bangladesh has seen a surge in Covid-19 cases and deaths. On May 31, it recorded 2,545 confirmed cases and 40 deaths in just 24 hours. It had reported a total of 49,534 infections and 672 deaths as of June 1.
Shohidul Islam, 30, a marketing officer with a real estate company in capital Dhaka, criticized the decision to lift the lockdown.
"This is ridiculous. When Covid-19 confirmed cases and the death toll are rising day by day, the government has decided to go back to normal life," Islam told UCA News.
"We are at high risk due to the government's wrong decision. We demand safety in our lives so that we can live with our families without fear."
Bishop Sebastian Tudu of Dinajpur expressed similar sentiments. "Of course, this decision is alarming for us and we are afraid. The government should reconsider it," he told UCA News.
Churches reopen
In various parts of Bangladesh, churches have reopened and resumed Masses after nearly two months, starting with Sunday liturgy on May 31.
Churches were seen following heath guidelines and some increased the number of Masses to maintain physical distancing
Francis Rozario, 50, a Catholic from Maria Virgo Potens Church in Natore district, said he was happy to attend Sunday Mass after a break of two months, but he was still concerned about Covid-19.
"We are happy but also concerned. I attended the Mass with fear. I don't know who is Covid-19 positive or negative. Also, it is not possible in our culture to maintain social distancing as we believe in friendly living. If anyone comes to me, I cannot move away from him," Rozario told UCA News.
Bishop Tudu said churches were told to maintain health guidelines from the government and the World Health Organization to ensure the safety of people.
"We announced that all churches must maintain health guidelines and provide soap so that people can wash their hands before entering," the prelate said.
Full report at:
https://www.ucanews.com/news/bangladeshi-catholics-wary-as-services-resume/88238
-------
Bangladesh confirms 1st death of Rohingya from coronavirus
3 June 2020
DHAKA, Bangladesh -- Authorities in Bangladesh have confirmed the first death of a Rohingya refugee from the coronavirus, as infections rise in sprawling camps where more than 1 million Rohingya Muslims have been living since fleeing from neighboring Myanmar.
The 71-year-old refugee died Saturday at Ukhiya in Cox's Bazar, and samples collected from him tested positive on Monday, said Abu Toha M.R. Bhuiyan, chief health coordinator of the office of the Refugee, Relief and Repatriation Commissioner.
The man died in an isolation center set up by the government and aid agencies where he had been admitted with COVID-19 symptoms a week earlier.
Louise Donovan, a spokeswoman for the U.N. refugee agency, said at least 29 Rohingya refugees have tested positive for the disease.
With about 40,000 people per square kilometer (103,600 per square mile), the 34 refugee camps have more than 40 times Bangladesh's average population density. Each shack is barely 10 square meters (107 square feet) and many are packed with up to 12 residents.
Aid agencies and government officials say the challenge of handling a wide outbreak of the virus in the camps could be huge.
U.N. spokesman Stephane Dujarric called the death "a very worrying development" and said U.N. humanitarian teams "are working very diligently with the refugee community, with the host community, and of course, the Bangladeshi communities to try to contain the outbreak as quickly and as effectively as possible."
"But, obviously, refugee camps, especially the various camps around Cox's Bazar, are a very, very high risk area, and that's why we're working very quickly to try to contain it," Dujarric told reporters in New York.
Authorities in Buddhist-majority Myanmar consider Muslim Rohingya to be migrants from Bangladesh, even though their families have lived in Myanmar for decades. Nearly all have been denied citizenship since 1982, effectively rendering them stateless. They are also denied freedom of movement and other basic rights, including education.
Most of the Rohingya in the camps fled Myanmar after August 2017, when Myanmar's military launched clearance operations in response to attacks by a rebel group. Security forces have been accused of mass rapes, killings and the burning of thousands of homes.
Bangladesh reported 2,911 new confirmed coronavirus infections on Tuesday, bringing its total to 52,445, including 709 deaths.
Full report at:
https://abcnews.go.com/Health/wireStory/bangladesh-confirms-1st-death-rohingya-coronavirus-71014240
-------
Taliban reacts to UN report regarding the group's links with Al Qaeda terrorist network
02 Jun 2020
The Taliban group reacted to the latest UN report which confirms that the group has maintained links with the Al Qaeda terrorist network despite signing a peace deal with the United States.
Zabiullah Mujahid, a spokesperson for the Taliban group, in a statement said the Islamic Emirate strongly rejects the details of the report as the group is strictly committed in implementing the peace deal with the United States which the UN Security Council approved.
The statement further added that no divisions exist among Taliban ranks as the militants of the group strictly follow the decisions of their elders and observing the recent ceasefire is a testimony to it.
Furthermore, the statement added that the Islamic Emirate is committed not to allow anyone to use the soil of Afghanistan against the countries or establish training camps inside Afghanistan.
According to Mujahid, the recent report has been published with an aim to jeopardize and fail the recently signed peace deal between Taliban and the United States.
This comes as the United Nations on Monday released a report stating that Taliban retained close links with the Al Qaeda terrorist network and sought advise from the network during the negotiations with the U.S. officials.
Relations between the Taliban, including its partners in the Haqqani network, and al Qaeda "remain close, based on friendship, a history of shared struggle, ideological sympathy and intermarriage," the report said.
It also added "The Taliban regularly consulted with al Qaeda during negotiations with the United States and offered guarantees that it would honor their historical ties."
Full report at:
https://www.khaama.com/taliban-reacts-to-un-report-regarding-the-groups-links-with-al-qaeda-terrorist-network-08883/
-------
Explosion in a mosque in Kabul city leaves 1 dead, 3 others wounded
02 Jun 2020
An explosion in a mosque in diplomatic area of Kabul city left at least one person dead and three others wounded earlier this evening.
Tariq Arian, a spokesperson for the Ministry of Interior, said the incident took place at around 7:45 pm local time in the vicinity of Wazir Mohammad Akbar Khan mosque.
Arian further added that the terrorists had planted explosives in the vicinity of the mosque which killed one person and wounded three others.
He also added that the security forces discovered some other explosives before the militants manage to detonate them.
No individual or group has so far claimed responsibility for the incident.
Full report at:
https://www.khaama.com/explosion-in-a-mosque-in-kabul-city-leaves-1-dead-3-others-wounded-08882/
-------
Southeast Asia
Alarm over Duterte's new anti-terrorism bill for Philippines
1 Jun 2020
The Philippine Congress moved closer on Monday towards enacting a new anti-terrorism law that would allow longer detentions without charge, and give the executive branch more power against dissent, raising alarm among rights groups and the opposition.
The Anti-Terrorism Act of 2020 has been approved at the committee level and members of the House of Representatives are expected to debate and fast-track its approval before they go on a two-month break from June 6.
The Senate approved a similar proposal earlier this year, with only two members dissenting. Both chambers of Congress are controlled by allies President Rodrigo Duterte, whose administration has been pressing for the quick passage of the bill. On Monday, Duterte sent a letter to the Speaker certifying the bill as "urgent".
By passing a bill identical to the one approved by the Senate, members of the House of Representatives skirt a longer process of reconciling the two versions, and cutting the time to debate and question the merits of the law.
Among the most contentious provisions include the warrantless arrest and 14-day detentions of suspected "terrorists", and the creation of an anti-terror council that would determine what is terrorism and order arrests without a warrant - a function usually reserved for the courts.
"We should be very concerned about these provisions," said human rights lawyer Chel Diokno, who ran as an opposition candidate in the Senate in 2019.
Diokno wrote on social media that the steps taken by Congress "railroad" the process of scrutinising details of the law that "endanger our basic rights and freedoms".
He said the power authorising prolonged detention of suspects arrested without warrants "usurps judicial power".
Diokno, who has earned the ire of Duterte, warned that the new law could possibly be used to go after the administration's critics.
Usurping judicial power
The new bill also proposes 12 years of imprisonment for any person who "joins" designated "terrorist organisations or group(s)".
The bill also removes a provision on payment of 500,000 Philippine pesos ($10,000) damages for wrongful detention.
In previous statements, the National Union of People's Lawyers (NUPL) also condemned the bill as "sanctioned state terrorism", adding that given the government's vilification of political dissenters, anyone could be accused of terrorism.
Defence Secretary Delfin Lorenzana on Sunday defended the proposal, saying, "the people need not fear", because there were civil liberties "safeguards" in place.
Duterte's national security adviser Hermogenes Esperon Jr was also quoted by news reports as saying: "The bill provides for measures that will preclude or minimise abuses in implementing the law."
The rights group, Karapatan, however, disputed the claims of the government officials, saying the new law "will only embolden to commit more human rights violations with more impunity".
"We have already seen what happens when state security forces are given more power. Ordinary citizens criticising the president and his anti-people policies have been served subpoenas or have been put under surveillance, harassed and arrested, even for satirical posts," said Karapatan Deputy Secretary General Roneo Clamor.
https://www.aljazeera.com/news/2020/06/alarm-duterte-anti-terrorism-bill-philippines-200601030304552.html?utm_source=iterable&utm_medium=email&utm_campaign=1259405_
-------
Perak to replace pre-marriage course with special interview during CMCO
02 Jun 2020
IPOH, June 2 — Beginning tomorrow, Muslim couples who plan to get married during the conditional movement control order (CMCO) period in Perak do not need to attend a pre-marriage course.
State Islamic Religion and Information Committee chairman Mohd Akmal Kamarudin said the course would be replaced by a special interview or Tatacara Temuduga Khas (TTK) which would be conducted at religious offices in respective districts.
"The flexibility is given to those who have not attended the pre-marriage course due to the implementation of CMCO.
"The interview session will be conducted free of charge and RM5 will be imposed for certificates," he told a press conference here today.
Mohd Akmal said applicants were required to fill up a special form which could be obtained at religious offices in their respective districts.
The couples would alos have to submit their marriage applications online at www.sppim.gov.my/sppim/online/benarnikahonline.
Meanwhile, the Perak Islamic Religious Department (JAIPk) is mulling a plan to conduct pre-marriage course online.
Elaborating, its director Datuk Mohd Yusop Husin said JAIPk would start implementing the online course after the CMCO is lifted at the latest, to provide participants better understanding of marriage.
"Through the online course, JAIPk would provide a module and participants will also be required to answer certain questions to check for their understanding," he said.
Full report at:
https://www.malaymail.com/news/malaysia/2020/06/02/perak-to-replace-pre-marriage-course-with-special-interview-during-cmco/1871787
-------
Former IGP Musa Hassan appointed to Universiti Sains Islam board of directors
03 Jun 2020
PETALING JAYA: Former Inspector-General of Police Tan Sri Musa Hassan has been appointed to the Universiti Sains Islam Malaysia (USIM) board of directors.
The university congratulated Musa on his appointment, which took effect on May 15, in a Facebook post on Tuesday (June 2).
The appointment is effective until May 14,2023.
"We are grateful and congratulate Tan Sri on his appointment as a new member, " it said.
In a tweet on Wednesday (June 3) morning, Musa said the appointment is a heavy trust placed on him to propel USIM towards excellence.
"Thank you for your well wishes.
"InsyaAllah (God willing) with all your prayers, I pray to the Almighty to give me strength and guidance to do my best, " he tweeted.
Full report at:
https://www.thestar.com.my/news/nation/2020/06/03/former-igp-musa-hassan-appointed-to-universiti-sains-islam-board-of-directors
-------
Indonesia cancels haj pilgrimage over coronavirus concerns
June 2, 2020
Nilufar Rizki
Indonesia has cancelled the haj pilgrimage this year for people in the world's largest Muslim-majority nation due to concerns over the coronavirus, the religious affairs minister said on Tuesday.
Each year hundreds of thousands of Indonesians go on the haj to Saudi Arabia, where Islam's two holiest sites -- Mecca and Medina -- are located. For many Indonesians, the religious pilgrimage is a once-in-a lifetime event, with the average wait time 20 years due to a quota system, according to the country's cabinet secretariat.
Saudi authorities have already said the haj and umrah pilgrimages -- which attract millions of travellers from around the world -- will remain suspended until further notice.
Fachrul Razi, Indonesia's religious affairs minister, said the decision to cancel hajj this year was made due to concerns over the coronavirus and ongoing travel restrictions.
The quota for Indonesian pilgrims this year was 221,000, with more than 90 percent already registered to go, according to the religious affairs ministry website.
Dewi, an employee of a telecommunications company in Jakarta and registered to perform the pilgrimage this year, told Reuters that while she had waited six years, she had made peace with the news.
Full report at:
https://www.thejakartapost.com/news/2020/06/02/indonesia-cancels-haj-pilgrimage-over-coronavirus-concerns.html
-------
Malaysia reports 20 new coronavirus cases with no new deaths
June 02, 2020
KUALA LUMPUR: Malaysian health authorities on Tuesday reported 20 new coronavirus cases, bringing the cumulative total to 7,877 cases.
The health ministry also reported no new deaths, keeping total fatalities at 115.
https://www.arabnews.com/node/1683601/world
--------
North America
Baghdad safer than Washington: US TV host
Vakkas Doğantekin
03.06.2020
An American conservative television host said she felt safer in Baghdad in 2006 than she did in Washington DC last weekend after George Floyd protesters stormed streets of the nation's capital.
Laura Ingraham's remarks came during her Ingraham Angle television program on the Republican-leaning Fox News network late Monday.
"All people of good faith agree that what happened to George Floyd was heinous and depraved. That is murder," Ingraham said in her opening monologue. But she wasted no time in slamming protesters for wreaking havoc across the country.
"But that is not what we are seeing on our violent streets," said one of US President Donald Trump's favorite TV hosts as she accused many demonstrators of being "criminals and domestic terrorists" who "want to tear down everything" Americans have built in 250 years.
After a tour of the vandalized town, she said she felt like she was in Iraq, Ingraham said.
"I felt like I was back in Iraq in 2006 in February, except I actually felt a lot safer on the streets of Baghdad than I did at times in DC last night," she said.
She dedicated the rest of her program to explaining what is the Antifa group, blamed by Republicans for instigating the chaos.
If looting happens in Iraq, it is a right, if it happens in DC, fight it with military might
But Republican discourse on looting has not always been consistient. Seventeen years ago, the then Republican Defense Secretary Donald Rumsfeld said looting in Iraq was a result of "pent-up feelings" of oppression and the situation would calm down as Iraqis adjusted to life without Saddam Hussein.
"Freedom's untidy, and free people are free to make mistakes and commit crimes and do bad things," Rumsfeld said during US occupation and invasion of that country that later led to sectarian violence.
US troops led the war on Iraq in March 2003, in a coalition with the UK and other nations.
According to Iraq Body Count, an organization that has been collating civilian deaths using cross-checked media reports and other figures such as morgue records, more than 106,300 civilians have been killed in Iraq up until July 2010.
"Very often the pictures are pictures of people going into the symbols of the regime, into the palaces, into the boats and into the Baath Party headquarters and into the places that have been part of that repression," the George Bush administration's top defense official told reporters at the time.
"And while no one condones looting, on the other hand one can understand the pent-up feelings that may result from decades of repression and people who've had members of their family killed by that regime, for them to be taking their feelings out on that regime," he said.
https://www.aa.com.tr/en/americas/baghdad-safer-than-washington-us-tv-host/1862870
-------
Four Extremist Groups Suspected of Involvement in Protest Violence
By Masood Farivar
June 01, 2020
WASHINGTON - Amid the ongoing U.S. protests over the death in police custody of George Floyd, state officials have blamed outside extremist agitators, saying they mix with legitimate protesters to foment violence.
Minnesota Governor Tim Walz cited unconfirmed reports Saturday that white supremacists had been behind violent protests in Minneapolis where Floyd, who was African American, died last Monday.
When that assertion was not borne out, President Donald Trump pointed a finger at extremists of a different hue: left-wing anti-fascist activists known as antifa.
Blaming antifa for violence that took place at protests around the country, Trump vowed to designate it as a terrorist organization.
Attorney General William Barr, for his part, warned that violence committed by antifa and other similar groups is "domestic terrorism" and will be treated as such.
Here is a look at the extremist movements suspected of involvement in the protests:
White supremacists
White supremacists are individuals and groups that believe in the supremacy of the white race, oppose immigration and, in some cases, advocate the expulsion from the country of non-whites. Once boasting organized groups such as the Ku Klux Klan and neo-Nazi organizations, the movement has become increasingly disjointed and leaderless in recent years, with most members now operating online.
Although many white supremacists don't advocate violence, a growing number of individuals inspired by far-right ideology have carried out deadly shootings in recent years. The violent elements of the far right are known as "accelerationists" because they seek to accelerate a race war. FBI Director Christopher Wray has said that most of the FBI's domestic terrorism investigations involve white supremacist groups.
Boogaloo Boys
A relatively new incarnation of the anti-government militia movement, the Boogaloo Boys are an online community of pro-gun activists who advocate for a second boogaloo, their term of choice for civil war. The movement took off last summer when white supremacists appropriated the term for a cause of their own: a race war as opposed to a civil war, according to Megan Squire, a professor of computer science at Elon University. Mostly, though not exclusively, white, Boogaloos have been promoting themselves as libertarians fighting tyranny, according to Squire.
Antifa
Depending on whom you ask, antifa, short for anti-fascist, is a movement of far-left activists opposed to neo-Nazis and other extremist groups or, as one critic put it, an "extreme anarchist-communist movement."
Organizing on social media, antifa followers show up at right-wing rallies dressed in black and wearing masks and often engage in violent confrontations.
Antifa sympathizers were among counter-protesters at the 2017 "Unite the Right" rally in Charlottesville, Virginia, that turned violent.
The Southern Poverty Law Center says it does not label antifa as a hate group in part because antifa members "do not promote hatred based on race, religion, ethnicity, sexual orientation or gender identity."
Given that antifa is not a group, it is uncertain how Trump intends to label it as a terrorist organization. A Justice Department spokeswoman did not respond to a request for comment.
Anarchists
With sympathizers on both the right and the left, anarchists see government as illegitimate and seek to sow chaos. Their history in the United States goes back more than a century to when an anarchist assassinated President William McKinley in 1901.
Today, many young anarchists are members of the Anti-Racist Action, a national network of antifa associations, according to the Southern Poverty Law Center. Critics often denounce antifa followers as anarchists, with Trump blaming the recent violent protests on "radical-left anarchists."
"For the most part, the anarchists we see here in the United States tend to be more disenchanted with the progressive left," said Brian Levin, a professor of criminal justice at California State University.
Full report at:
https://www.voanews.com/usa/four-extremist-groups-suspected-involvement-protest-violence?utm_source=iterable&utm_medium=email&utm_campaign=1259405_
-------
'Domestic terrorist actors' could exploit Floyd protests, DHS memo warns
06/01/2020
Anarchist and militia extremists could try to exploit the recent nationwide protests spurred by the death of George Floyd, the Department of Homeland Security warned in an intelligence note sent to law enforcement officials around the country.
Floyd, a black man who pleaded that he couldn't breathe while a police officer held him down and pressed his knee into his neck for nearly 9 minutes, was killed in Minnesota on May 25. The officer responsible has been charged with murder and manslaughter.
The memo, dated May 29 and marked unclassified/law enforcement sensitive, cites "previous incidents of domestic terrorists exploiting First Amendment-protected events" as one reason for DHS' concern of additional targeted violence by "domestic terrorist actors."
It also reveals, citing the FBI, that on May 27, two days after Floyd's death, "a white supremacist extremist Telegram channel incited followers to engage in violence and start the 'boogaloo '— a term used by some violent extremists to refer to the start of a second Civil War — by shooting in a crowd." One Telegram message encouraged potential shooters to "frame the crowd around you" for the violence, the document said.
And on May 29, "suspected anarchist extremists and militia extremists allegedly planned to storm and burn the Minnesota State Capitol," the memo reads, citing FBI information.
The body of the memo says the plans about the state capitol were made in 2019, but a footnote describing the FBI's information says twice that the plans were made in 2020. Spokespersons for DHS and the FBI did not respond to requests for clarification on the dates, but a source familiar with the report said 2019 was a typo, and the plans were made in 2020.
A spokesperson for the Minnesota Department of Public Safety said he was unable to confirm or deny the report for security reasons. A spokesperson for the FBI declined to comment. After publication, a DHS spokesperson flagged a tweet from DHS Secretary Chad Wolf. In the tweet, Wolf confirmed that DHS had reported that domestic terrorists were trying to exploit the protests.
News of the report comes as the Trump administration has touted its ambition to crack down on Antifa, a cohort of far-left activists who often destroy private property and use violent tactics.
President Donald Trump and Attorney General Bill Barr have blamed Antifa radicals for inciting violence at the protests, and Barr on Sunday said the FBI's Joint Terrorism Task Forces would coordinate federal, state, and local efforts to find violent perpetrators.
"The violence instigated and carried out by Antifa and other similar groups in connection with the rioting is domestic terrorism and will be treated accordingly," Barr said. Trump also tweeted that he would designate Antifa as a terrorist organization––a move he does not have the legal authority to make.
Despite the DHS intelligence note, administration officials have focused overwhelmingly on alleged left-wing violence. The note itself does not use the terms "left" or "right." But it defines "militia extremists" as people who direct violence at the government because they believe it is taking away Americans' freedoms and setting up a totalitarian regime. That definition also notes that militia extremists oppose laws regulating gun ownership and often form armed paramilitary groups. Those details are all hallmarks of far right extremism.
The document also defines "anarchist extremists" as people who use violence to change the government and society because they oppose capitalism and globalization, and believe government institutions are unnecessary and harmful––hallmarks of the far left.
The DHS intelligence note is at least the fifth the department has sent out to law enforcement officials in the last two months warning of the mobilization of domestic terrorists and violent extremists in the context of a national crisis.
On April 23, as so-called Liberate protesters began demonstrating outside several states' capitol buildings demanding an end to the coronavirus lockdowns, DHS warned that the pandemic was "driving violent actors — both non-ideologically and ideologically motivated — to threaten violence" and "serving as the impetus for some domestic terrorist plots."
In remarks to the Security Industry Association on Monday, DHS' assistant director for Infrastructure Security, Brian Harrell, said the department had been "touched by this violence," too. He cited the murder of a Federal Protective Service contract officer on Friday as he and his partner, who was wounded, monitored protests, as well as assaults on Secret Service officers that evening and over the weekend.
Full report at:
https://www.politico.com/news/2020/06/01/dhs-domestic-terrorists-protest-294342?utm_source=iterable&utm_medium=email&utm_campaign=1259405_
-------
US must be prosecuted at intl. courts for human rights abuses: Iran's Judiciary chief
02 June 2020
Amid a global outcry over the brutal death of a black man at the hands of US police, Iran's Judiciary Chief Ebrahim Raeisi says the United States must face prosecution at international courts for "systematic racism" and violations of basic human rights.
In remarks on Tuesday, Raeisi slammed the shocking US police brutality that led to the death of George Floyd earlier this month, saying the tragedy "laid bare America unmasked."
The 46-year-old unarmed black man lost his life in police custody on a Minnesota street after a white officer kneeled on his neck for nearly 9 minutes.
Raeisi further said the US, which claims to be a defender of human rights "should in fact be prosecuted at international courts" as a violator of basic human rights and for racial discrimination.
"It's not just about the color of skin; it's about systematic racism in the US," said Raeisi.
The latest instance of US police violence has triggered angry protests both inside the US and abroad.
The rallies in American cities have been met with an iron fist, with police firing teargas canisters and rubber bullets to break up the gatherings.
Minnesota, where the murder took place, has even activated the National Guard against the protesters in a rare move.
Shootings and killings of unarmed black people at the hands of white police officers have on several occasions prompted mass protests across the country in recent years.
Full report at:
https://www.presstv.com/Detail/2020/06/02/626591/Iran-Raeisi-US-George-Floyd-US-
-------
Trump tries religious gestures to hike support amid protests
June 03, 2020
WASHINGTON: Cloaking himself in religion for the second day in a row, President Donald Trump sought to seize the moral authority to justify his hard line against demonstrators protesting the killing of another black man in police custody and at the same time mobilize his religious conservative base.
Trump signed an executive order on international religious freedom Tuesday and traveled to the Saint John Paul II National Shrine, where he and the first lady laid a ceremonial wreath and observed "a moment of remembrance."
A day earlier, he had held up a Bible and posed for photos in front of a historic church across from the White House that had suffered fire damage from protesters. He strode through Lafayette Park to the church after authorities forcefully broke up peaceful protests there.
Trump's religious outreach marked his latest efforts in a series of overtures to mobilize conservative voters of faith, particularly the white evangelical Christians who are among his most loyal supporters. The furious, politically charged response to his gestures from less pro-Trump faith leaders, however, suggested his efforts to lock in one part of his base could backfire by turning off other religious voters.
Tuesday's shrine visit was originally set as a venue for Trump to sign the religious freedom order, which he ended up signing during a private event in the Oval Office. But his tweets made clear what was on his mind as he spent much of the morning urging Republicans to vote in primaries on Tuesday that he vowed would "lead to big victories on November 3rd."
"SILENT MAJORITY!" he tweeted.
Trump has turned to religion as he seeks to project strength and quell violent protests that have spread across the nation in response to the killing of George Floyd in Minneapolis. But religious leaders across denominations accused Trump of trying to coopt religion in an attempt to project leadership at a time of deep national strife.
The Rev. Mariann Budde, bishop of the Episcopal Diocese of Washington, said she was "outraged" by Trump's Monday visit to St. John's Church and noted that Trump didn't pray while visiting the landmark that has been visited by sitting presidents since the early 19th century. The church sustained minor fire damage during protests Sunday night.
Rev. Gini Gerbasi, the rector at a church in Washington's Georgetown neighborhood, said she was "deeply shaken" after having been forcefully cleared from the Lafayette Square area Monday evening. She urged Trump to live by the Bible's words "instead of carrying them around as a prop."
The use of "weapons of war" to help the president "show his supporters that he's religious," Gerbasi told The Associated Press, defied further comment. "I can't even go there. The layers of irony and hypocrisy and sacrilege are already thick."
As for Tuesday's trip to the Catholic shrine, Archbishop Wilton Gregory of Washington's Catholic diocese said he found it "baffling and reprehensible that any Catholic facility would allow itself to be so egregiously misused and manipulated."
White House counselor Kellyanne Conway defended Trump's St. John's visit as a powerful symbol to those who set the church ablaze, telling Fox News Channel, "We don't look into other people's hearts and souls and discern and judge what their faith is, why the president felt compelled to walk there, why he held that Bible up."
Trump's campaign framed his visit to St. John's as "a powerful statement that God will always prevail by standing before the burned church, Bible in hand," in the words of spokeswoman Sarah Matthews.
Budde challenged that narrative as she aligned with the goals of peaceful protesters, saying in an interview that "if the president was trying to capitalize on religious outrage because the church was burned, I think the real outrage was the death of George Floyd."
Family Research Council President Tony Perkins, a Christian conservative ally of the president, lauded Trump's visit for "sending a message that he's not going to be intimidated, that our government is not in hiding."
Perkins said the only thing he would have done differently, had he been shepherding the church visit, would be to ask a multiracial group of pastors to offer prayer for the nation during the crisis.
Rev. Samuel Rodriguez, a Latino evangelical pastor who has advised Trump, said any president holding up the Bible is a "powerful image." Rodriguez dismissed the idea that Trump's recent forays into religious symbolism were "a dog whistle or a clarion call" to a religious base that, as he put it, is already firmly by the president's side.
"Is he somehow shaky with the white evangelical community?" Rodriguez said of Trump.
But just months before November's presidential election, polls show Trump struggling in key swing states, with some evidence of waning enthusiasm among some of his most loyal supporters, including white evangelical Christians.
Polling from the public Religion Research Institute, a nonpartisan nonprofit, found a double-digit decline in Trump's support among white evangelicals and Catholics from March to April, a sign that Trump could be struggling to consolidate his appeal with a demographic he desperately needs to win.
Full report at:
https://www.arabnews.com/node/1684046/world
-------
Priest kicked out of church for Trump's Bible show
Vakkas Doğantekin
02.06.2020
US authorities expelled a priest and a seminarian from an iconic Washington DC church shortly before President Donald Trump unexpectedly showed up to pose with a Bible, according to the Religion News Service.
Trump went to the St. John's Episcopal Church on Monday, which was damaged the previous day during protests involving the murder of an unarmed black named George Floyd while in police custody last week in Minneapolis, Minnesota.
Reverend Gini Gerbasi, an Episcopal priest in the city told Religion News that police used tear gas to expel her and others from church property less than an hour before Trump's show.
"They turned holy ground into a battleground," Gerbasi told the news service. "That's what it was for: to clear that patio so that man could stand in front of that building with a Bible."
White House earlier denied allegations that streets were cleared off protesters for Trump's church visit.
Gerbasi was not alone in slamming Trump's action.
The Right Reverend Mariann Budde, the Episcopal bishop the church that oversees St. John's, criticized Trump for using the church "as a backdrop for a message antithetical to the teachings of Jesus and everything our churches stand for."
"He didn't come to pray. He didn't come to lament the death of George Floyd. He didn't come to address the deep wounds that are being expressed through peaceful protest by the thousands upon thousands. He didn't try to bring calm to situations that are exploding with pain," Budde added.
The most surprising bashing of Trump's church maneuver came Tuesday from one of the president's Republican allies, Nebraska Senator Ben Sasse.
"There is no right to riot," Sasse said in a statement. "But there is a fundamental—a Constitutional—right to protest, and I'm against clearing out a peaceful protest for a photo op that treats the Word of God as a political prop."
Known as the church of the presidents for its proximity to the White House and frequent visits from sitting presidents, St. John's, like many Episcopal congregations, boasts a liberal bent and have had a critical approach to Trump since the beginning of his term.
Prior to his church appearance, Trump gave a fiery speech vowing to establish law and order at all costs.
There are reports the president wanted the nation to see him in the open after news outlets reported he was hiding in the White House bunker Friday night as protests neared the Executive mansion.
Floyd, 46, died on May 25 after now former police officer Derek Chauvin knelt on his neck for nearly nine minutes during an arrest for allegedly using a counterfeit $20 bill at a local store.
His last words: "I can't breathe," became a slogan of nationwide demonstrations.
Full report at:
https://www.aa.com.tr/en/americas/priest-kicked-out-of-church-for-trumps-bible-show/1862820
-------
Argentinian court decision brings hope for Rohingya
Md. Kamruzzaman
02.06.2020
A court in South American country of Argentina has decided to pursue a case against Myanmar's leader Aung Sang Suu Kyi and senior officers in the military over the genocide and persecution against Rohingya community.
In a statement issued on Monday, Burmese Rohingya Organization UK (BROUK) said that Argentina's Federal Criminal Chamber No. 1 has accepted its petition and asked to collect more information on the Rohingya genocide.
The court, in its decision on May 29, overturned a previous order when it had rejected to admit a similar petition seeking to probe the role of Myanmar leadership in the acts of genocide.
"A court in Buenos Aires on Friday overturned a previous order of not to pursue a case against [Myanmar's] State Counsellor Aung San Suu Kyi and senior officers in the Tatmadaw [the Myanmar military]," the statement said.
"The court has now requested more information from the International Criminal Court (ICC), to ensure that the case in Argentina would not duplicate other efforts of justice," the statement added.
An Argentinian court on Dec. 9, 2019, had rejected the lawsuit filed by BROUK seeking to open an investigation into the role of Myanmar's civilian and military leaders in committing genocide and crimes against the Rohingya.
Citing the principle of "universal jurisdiction", the BROUK pleaded that the cases of genocide and extreme crimes against humanity can be tried in any court across the globe.
Earlier the court had pointed out that admission of the petition would amount duplicating the investigation launched by the ICC.
The ICC on Nov. 14, 2019, approved a full investigation into Myanmar's alleged crimes against the minority Rohingya Muslims.
The country is also facing a separate genocide lawsuit at the UN's top court, International Court of Justice (ICJ).
Court's decision to strengthen other int'l justice efforts
Speaking to Anadolu Agency BROUK President Tun Khin described the Argentinian court's decision as another great success in their struggle to ensure justice for Rohingya.
"We are convinced that a universal jurisdiction case in Argentina will only complement and strengthen other international justice efforts, not undermine them," Khin said.
Hailing Argentinian Federal Court's order, Rohingya rights activists and experts described it as inspirational development not only for the Rohingya but also for other ethnic groups in Myanmar.
"The court showed there is hope for the victims of such unspeakable violence and they deserve justice," Khin said.
He also urged the ICC to promptly respond to the request from the Argentinian court to ensure that the investigation can begin as soon as possible.
Welcoming the court's ruling, co-author of Essays on Myanmar Genocide and co-founder of the Free Rohingya Coalition, Maung Zarni said the order indicated the seriousness of the Argentinian appellate court in recognizing the concept of universal jurisdiction.
"There are more than 190 nations that have recognized Geneva Conventions and other major treaties whereby they are obligated to act on this legal concept rooted in the Genocide Conventions on the laws of war of 1949," he said.
In 1961, Israel used this concept to prosecute a top German Schutzstaffel (SS) -- a major Nazi paramilitary organization -- officer Adolf Eichmann for his role in the Jewish genocide, especially overseeing and ordering the transportation of 600,000 Hungarian Jews to gas chambers at Auschwitz, he said.
"More recently, the Spanish judge in Madrid used this principle to go after the US-backed Chilean dictator Augusto Pinochet", Zarni added.
He said the disgraced Noel Laureate Aung San Suu Kyi's name has been included in the Myanmar case for her role in the Rohingya genocide.
Zarni accused Kyi of using her enormous societal influence to deny and dismiss the state of Myanmar's heinous crimes against Rohingya.
Persecuted community
The Rohingya, described by the UN as the world's most persecuted people, have faced heightened fears of attack since dozens were killed in communal violence in 2012.
According to Amnesty International, more than 750,000 Rohingya refugees, mostly women, and children fled Myanmar and crossed into Bangladesh after Myanmar forces launched a crackdown on the minority Muslim community in August 2017, pushing the number of persecuted people in Bangladesh above 1.2 million.
Since Aug. 25, 2017, nearly 24,000 Rohingya Muslims have been killed by Myanmar's state forces, according to a report by the Ontario International Development Agency (OIDA).
Full report at:
https://www.aa.com.tr/en/americas/argentinian-court-decision-brings-hope-for-rohingya/1861967
-------
Trump visits St. John's church after protestors cleared
Servet Günerigök
02.06.2020
WASHINGTON
US President Donald Trump made a surprise visit to St. John's Episcopal Church in Washington, DC on Monday which was vandalized during overnight protests over the death of George Floyd.
His visit came shortly after he said he would be "going to pay my respects to a very very special place" during his press briefing at the White House.
To pave the way for Trump and his entourage to walk to the church, which also suffered damage from a fire set by protesters in its basement, police used tear gas to clear protestors from Lafayette Park, the focal point of a fourth day of protests.
Trump posed for photos in front of the church and raised a black-covered Bible for reporters to see.
"We have a great country. Greatest country in the world," said Trump.
Speaking to CNN, Mariann Budde, bishop of the Episcopal Diocese of Washington, DC, rebuked Trump's visit, which she said she found out about by watching it on TV.
"I am outraged. The president did not pray when he came to St. John's, nor as you just articulated did he acknowledge the agony of our country right now," said Budde.
The protests have been raging in the US since May 25 when a video went viral on social media showing Floyd being pinned down by Derek Chauvin, a white police officer in Minneapolis, Minnesota, as he was being arrested.
Chauvin knelt on his neck for nearly nine minutes.
Shortly after, Floyd appeared to lose consciousness, but Chauvin maintained his position on the victim.
He died shortly after being taken to a hospital.
His last words were "I can't breathe," which became the slogan of the nationwide protests.
Full report at:
https://www.aa.com.tr/en/americas/trump-visits-st-johns-church-after-protestors-cleared/1861515
--------
Europe
Turkey won't let rights in Mediterranean be compromised
Gozde Bayar and Burak Bir
02.06.2020
Turkey will continue protecting its rights and interests in the Mediterranean without any compromise, the country's National Security Council said on Tuesday.
"Negative approaches of some actors, who met on the common ground against Turkey, regarding Turkey's legitimate and legal steps in the Mediterranean were evaluated, and it is stated that protection of our country's rights and interests in land, sea, and air will continue without any compromise," the council, headed by President Recep Tayyip Erdogan, said in a statement issued following its meeting.
Turkey is a guarantor nation for the Turkish Republic of Northern Cyprus (TRNC) and has consistently contested the Greek Cypriot administration's unilateral drilling in the Eastern Mediterranean, asserting that the TRNC also has rights to the resources in the area.
In 1974, following a coup aimed at the annexation of Cyprus by Greece, Ankara had to intervene as a guarantor power. In 1983, the TRNC was founded.
Fight against terrorism
The council said Turkey will resolutely continue its fight against terrorism with its operations both inside and across the border.
"The commitment to continue multi-dimensional works to protect the territorial integrity of Syria, to clear the region of terrorist organizations and return of Syrians to their countries was reiterated," it added.
Since 2016, Turkey has launched three successful anti-terror operations across its border in northern Syria to prevent the formation of a terror corridor and enable peaceful settlement by locals: Euphrates Shield (2016), Olive Branch (2018), and Peace Spring (2019).
In its more than 30-year terror campaign against Turkey, the PKK -- listed as a terrorist organization by Turkey, the US and EU -- has been responsible for the deaths of 40,000 people, including women, children, and infants. The YPG is the PKK's Syrian offshoot.
Libya
Regarding current developments in Libya, the council said Turkey will continue providing military consultancy to Libya's legitimate government.
Libya's internationally recognized government, also known as the Government of National Accord, has been under attack by renegade Gen. Khalifa Haftar's forces since April 2019.
Libya has been torn by civil war since the ouster of late ruler Muammar Gaddafi in 2011. Libya's new government was founded in 2015 under a UN-led agreement, but efforts for a long-term political settlement failed due to the military offensive by Haftar's forces.
Coronavirus pandemic
The meeting also underlined the success of Turkey's health, economy, food, technology, public order and security during the fight against the coronavirus pandemic.
Since first appearing in China last December, the novel coronavirus has spread to at least 188 countries and regions.
The US, Brazil, Russia and several European countries are currently the hardest hit in the world.
The pandemic has killed over 376,800 people worldwide, with more than 6.31 million confirmed cases, while recoveries surpassed 2.72 million, according to figures compiled by the US' Johns Hopkins University.
https://www.aa.com.tr/en/europe/turkey-won-t-let-rights-in-mediterranean-be-compromised/1862692
-------
Uproar in Italy over Qatari influence under bilateral funding agreement
Damien McElroy
June 2, 2020
Italy has ratified an agreement with Qatar that will give the Gulf country an official platform to fund organisations and build mosques, a move that has bitterly divided politicians in Rome.
Warnings that ratification of the accord would let Doha use its resources to extend its influence in Italy, and that of its allies in the Muslim Brotherhood, have raised concerns about the deal.
Italy was in the depths of a financial crisis when it signed the last accord with Qatar in 2012 and it has not escaped attention that the government of Giuseppe Conte, the Italian Prime Minister, has pushed forward the current pact as the economy faces collapse amid the coronavirus pandemic.
That deal triggered a wave of Qatari funding to Italian organisations, much of it directed to the Unione delle Comunita e Organizzazioni Islamiche, which acts as an umbrella for Muslim Brotherhood-affiliated mosques in the country.
According to Qatar Papers, a book that documented Qatari fund transfers to Europe, tens of millions of euros were directed to mosque-building projects and community organisations in places such as Milan, Bergamo and Sicily.
The book quotes fund-raising letters for Italian projects from Doha-based Yusuf Al Qaradawi, who spoke on Italian television as far back as 2006, about his dreams for the "conquest" of Rome. "This will be done through preaching and ideology," he said.
Italian opposition parties hit back against the ruling left-wing coalition's decision to push through the accord for the government to enable Qatari funding of religious bodies, Arabic language-learning centres and cultural exchanges.
Giovanbattista Fazzolari told a Senate session that Doha's ties to the Muslim Brotherhood and its links to radicalisation and terrorism means this was not a standard "cultural exchange" package.
"Parliament opens the doors of Italy to the Islamic fundamentalist propaganda of Qatar and the Muslim Brotherhood to contaminate us through student exchanges, university exchanges, the possibility of paying scholarships, the possibility of establishing university collaborations, of teaching Arabic in Italy," the Brothers of Italy senator said.
Matteo Salvini, of the right-wing Lega party, also spoke against the measure, as did members of Silvio Berlusconi's centrist faction. Mr Salvini highlighted links between Qatar and Iran in his speech.
Fears of Qatar's growing influence were also voiced by Isabella Rauti, another senator hostile to the accord, who said Qatari officials were coming "to Italy not to finance charity".
The vote came as Italian politicians sought answers over Qatar's involvement with Turkish intelligence in freeing the Italian hostage Silvia Romano, an aid worker held by Al Shabab in Somalia.
Last year there was a fierce reaction to news that former prime minister Matteo Renzi had met Qatar's leadership to discuss the purchase of Roma football club.
The influential columnist Alessandro Sallusti echoed the warnings in the Qatar Papers about his country. "Doha also finances the Muslim Brotherhood," Mr Sallusti wrote in Il Giornale. "Qatar Charity is the fund with which Doha finances mosques and cultural centres abroad. Not exactly a circumstance to be taken lightly.
"On Al Jazeera, space is given as preacher to Imam Yusuf Al Qaradawi, the one who in 2006 supported the duty for Muslims to conquer Rome without bombs but with proselytism and cultural influence. At the basis of this situation, Qatar continues to be very active in Italy and to find support in various political forces.
Full report at:
https://www.thenational.ae/world/uproar-in-italy-over-qatari-influence-under-bilateral-funding-agreement-1.1028017
-------
Mideast
Turkey looks to link Syrian Kurdish militia to ANTIFA following Trump tweet
Jun 1, 2020
Turkish commentators and a Kurdish armed group in Syria are at odds over the latter's alleged connections to the ongoing riots in the US.
US President Donald Trump tweeted yesterday he would declare the left-wing ANTIFA movement a terrorist organization after its apparent role in protests and riots in the US. Trump's statement prompted some in Turkey to draw a connection between the movement and the Kurdish group in Syria the People's Protection Units (YPG), which the US backs against the Islamic State (IS) and which has accepted some international volunteers with ANITFA affiliations. One former foreign fighter in the YPG said that while there were ANTIFA supporters in the YPG, they do not represent the group nor its foreign volunteers as a whole.
"It's no secret that international antifascists joined the YPG," Joshua Molloy told Al-Monitor. "But to say all international YPG volunteers were ANTIFA activists is not accurate."
The US is currently engulfed in protests and riots following the death of George Floyd. The late Floyd was an African-American former security guard who died while in the custody after a white policeman kneeled on his neck. The role of ANTIFA, a loosely-organized protest movement that rose to prominence following Trump's election, came into focus following their presence at the subsequent demonstrations. ANTIFA supporters have endorsed fires and property destruction during the protests. They have also clashed with far-right groups likewise known for violence in the past.
Following Trump's tweet, several Turkish commentators started saying that ANTIFA were present in the YPG and that Trump should stop supporting the Kurdish ally as a result. The YPG has a communalist and feminist ideology. Its early success against IS prompted hundreds of Westerners to join the group on the battlefield. Turkey considers the YPG a terrorist organization and an offshoot of the Kurdistan Workers Party (PKK) that it has been in conflict with for decades.
Turkish state-run media outlet TRT ran an article entitled "Antifa: Trained by terrorist PKK in Syria, may end up outlawed in the US" following Trump's tweet.
Another TRT journalist replied to Trump's tweet asking why the US is supporting the YPG given the apparent ANTIFA connection. His reply showed a picture of YPG fighters holding up an ANTIFA flag.
A columnist for the pro-Turkish government Daily Sabah newspaper quoted Trump on Twitter, saying "next should be YPG" regarding the terrorist designation.
Some former foreign members of the YPG admit there were ANTIFA supporters in their ranks, but say the connection is not as strong as some in Turkey believe. Molloy, an ex-British soldier from Ireland, fought in the YPG from 2015 to 2016 – one of several veterans of Western militaries to do so. He said there were a diverse range of ideologies among foreigners who joined.
"Close to half of all international volunteers killed in Rojava were non-political and held a diverse range of beliefs," he said, using the Kurdish term for northeast Syria. "Initially, leftists were a minority among the international YPG volunteers."
Molloy said the number of leftists grew somewhat over time, but that they never constituted a majority.
"From early to mid-2016 onwards, their numbers grew to be more evenly split with that of the non-political volunteers," he said.
The foreigners in the YPG have largely been from North America, Europe and Australia. Many Turkish leftists also continue to fight alongside the YPG. Other foreigners joined Christian armed groups in Syria and Iraq, as well as Kurdish peshmerga forces in Iraq.
An American who fought in the YPG in 2016 said he saw some ANTIFA supporters there. Paul, who declined to give his last name, said he did not agree with their politics, but worked with them and various other people he came into contact with.
"There were probably 20. They were fine. I tried to avoid them as much as possible. Personally, I don't agree with what they're about," Paul told Al-Monitor. "I taught medicine and trained Turkish communists, too. It didn't matter to me."
Paul agreed with Molloy that more leftists joined over time and he said ANTIFA supporters and other groups had their own units in the YPG, but he disputed that there is any formal alliance.
"There's no real connection," he said. "ANTIFA units only recruited their own. It doesn't mean the YPG has any official relationship with ANTIFA, which they don't."
The foreign volunteers have received significant media coverage, but the majority of YPG fighters are Syrian Kurds. The YPG leads the multi-ethnic Syrian Democratic Forces (SDF) that fights IS with US support. Its main allies are not international groups, but Syrian Christian and Arab military organizations in the SDF.
Wladimir van Wilgenburg, co-author of the recently published book "The Kurds of Northern Syria," likened the YPG's acceptance of foreigners with different ideological persuasions to the international brigades during the Spanish civil war.
"The YPG initially saw the volunteers comparable to the Spanish civil war when anti-fascists went to Spain," he told Al-Monitor. "There were some anarchists from European countries and the US, but also you had liberal, right-wing and all kinds of people."
Turkey adamantly opposes US support for the YPG, believing them to simply be the PKK on their border. Some Turkish commentators frequently criticize the US-YPG relationship. A report from the Turkish think tank SETA in January pleaded with the the US to reexamine its support for the YPG, blaming the group for attacks on civilians in Turkish-controlled parts of Syria and accusing it of pursuing demographic change vis-a-vis Arabs.
It is therefore not surprising that during this tumultuous time in the US, some in Turkey linked the YPG to ANTIFA, considering Trump's disdain for the latter and Turkey's opposition to the former.
https://www.al-monitor.com/pulse/originals/2020/06/turkey-ypg-trump-antifa-tweet-kurds.html?utm_source=iterable&utm_medium=email&utm_campaign=1259405_
-------
IRGC Commander: US Equipping, Training Terrorists against Iran
Jun 02, 2020
"We are in possession of precise intelligence on the Americans' pressuring the anti-revolutionary forces and terrorists to carry out operations and foment insecurity in Iran or wait for a halt of their financial support from the US," General Pakpour said in the Northern city of Qazvin on Tuesday.
He said that the anti-revolutionary and terrorist groups had in the past year extensive plots to make the Iranian borders insecure, but their plots were foiled before they could make a move.
"Also, the Americans have since the start of this year begun extensive moves in the neighboring states to equip, train and back up the terrorists to enable them to disrupt security of the borders and the nearby towns in a specially-designed situation," General Pakpour said.
He underlined the Iranian Armed Forces' deterrent preparedness to defend the country, and said, "The Americans are well aware of the Islamic Republic's power and know that our response will be equal to the level of their aggression and threats against the Islamic Republic."
Late last month, the Iranian police forces in Mahshahr city in Khuzestan province detained 14 members and supporters of Takfiri terrorist groups.
The detainees had opened fire at police posts and centers of the Basij volunteer forces, hoisted the flag of the al-Ahwazia terrorist group across the city and carried banners in support of the group, Police Chief of Khuzestan province Brigadier General Heidar Abbaszadeh said.
He added that they had sent videoclips of their activities abroad.
Abbaszadeh said police forces in coordination with judicial officials carried out four separate operations and arrested the elements, eight of whom were involved in shootings while the remaining six were engaged in raising the flags of the terrorist group across the city.
Five motorcycles and 12 cellphones were also confiscated from them, according to the police official, who said the detainees had confessed to the offenses and their cases were sent to judicial authorities.
Nine of them were sent to prison while an investigation was still underway for the remaining detainees, he added.
On September 22, 2018, four gunmen had attacked a military parade in the Southern Iranian city of Ahvaz, killing at least 25 people and wounding 69 others. A four-year-old boy was among the fallen victims.
Gunmen opened fire on people from behind a viewing stand during a parade held to mark Iran's eight-year defense against the invasion of the country by former Iraqi dictator Saddam Hussein in the 1980s.
Full report at:
https://en.farsnews.ir/newstext.aspx?nn=13990313001089
-------
Iran Blasts Silence of Western Gov'ts on Brutal Suppression of Protests in US
Jun 02, 2020
"Despite cruel murder of another black man and days of brutal suppression of protests in the US, western governments keep silent, and forget their human rights fever," the foreign ministry wrote on its official twitter page on Tuesday.
It added that if such a brutal behavior was shown towards the protestors in a non-Western country, the western governments would surely made hues and cries about it.
"No, this is not whataboutism, but just a mere fact-recounting," the foreign ministry underlined.
Earlier today, Iran's Judiciary Chief Seyed Ebrahim Rayeesi said that the current protest rallies in different US states will end the life of the hegemonic system.
"Today, the hegemonic system should account for its crimes before the world public opinion," Rayeesi said on Tuesday.
He expressed confidence that innocent people's blood shed by the American regime in and outside the United States "certainly sparks (unrests) and will entangle the US and the hegemonic system in fire, and their fate will be condemnation and annihilation".
Rayeesi called on the world human rights and legal bodies to show reaction to the US crimes against its people and the world nations, stressing the need for putting the American statesmen on trial.
Protests erupt for a 7th day across the US over the death of George Floyd, an unarmed black man, at the hands of a police officer in Minneapolis, Minnesota.
At least 40 cities have imposed curfews and National Guard members have been activated in 15 states and Washington, DC.
One former officer, who was seen with his knee on Floyd's neck, was charged with third-degree murder and manslaughter but protesters say the charge isn't harsh enough, and are demanding charges for the other officers involved.
Full report at:
https://en.farsnews.ir/newstext.aspx?nn=13990313001037
-------
Jordan says foiled suicide attacks against Israeli targets in occupied West Bank
03 June 2020
Five suspects are on trial in Jordan for allegedly plotting to carry out suicide attacks against Israeli targets in the occupied West Bank, a judicial source told AFP on Tuesday.
The Jordanian source said the trial of the suspects, all citizens of the kingdom, had begun recently at the state security court, a military tribunal that usually deals with terrorism-related cases.
"The state security court recently began legal proceedings against five people accused of involvement in a terrorist plot, which the intelligence unit foiled in February," the source said.
For all the latest headlines follow our Google News channel online or via the app.
The suspects are accused of "planning to carry out suicide attacks against Israeli targets in the occupied West Bank," the source added.
The suspects were arrested in February, according to the source, who did not say why news of their detention was not made public then.
There was no immediate comment from Israel.
Report of the alleged foiled plot comes amid increased tensions over Israel's plans to annex part of the West Bank, infuriating the Palestinians and eliciting a warning from Jordan it could review ties with Israel.
According to the charge sheet, one of the suspects had visited the Israeli-blockaded Gaza Strip in 2007, where he was trained to make explosive vests and bombs.
The suspect returned to Jordan in 2010 and seven years later, recruited the four other suspects with whom he plotted to infiltrate the West Bank and carry out attacks "with bombs against buses and trains and with explosive vests against other Israeli targets."
Jordan is the only Arab state apart from Egypt to have a formal peace treaty with Israel.
Full report at:
https://english.alarabiya.net/en/News/middle-east/2020/06/03/Jordan-says-foiled-suicide-attacks-against-Israeli-targets-in-occupied-West-Bank.html
-------
Turkey issues 118 detention warrants for those with suspected Gulen links
02 June 2020
Turkey issued detention warrants for 118 people, mostly members of the military and security forces, suspected of links to the network that Ankara says was behind a 2016 coup attempt, the Istanbul prosecutor's office said on Tuesday.
Authorities have carried out a sustained crackdown on alleged followers of US-based Muslim cleric Fethullah Gulen since the failed coup in July 2016, when 250 people were killed. Police still routinely carry out raids on suspects.
Gulen, a former ally of President Tayyip Erdogan, has lived in self-imposed exile in Pennsylvania since 1999. He denies any involvement in the attempted coup.
The prosecutor's office said it issued detention warrants for 42 military and gendarmerie personnel as a result of statements by previously detained people and analyses of pay phone calls. Among them were 24 officers on active duty.
It said it had requested the detention of 76 military, gendarmarie personnel and civilians in a separate operation after determining they had used pay phones to contact members of the network. Seventy-four of those were on active duty.
The detention orders included members of the land, air and marine forces, as well as one colonel and three lieutenants.
Erdogan has for years accused Gulen's supporters of establishing a "parallel state" by infiltrating the police, judiciary, military and other state institutions.
Since the coup attempt, about 80,000 people have been jailed pending trial and some 150,000 civil servants, military personnel and others sacked or suspended from their jobs.
Full report at:
https://english.alarabiya.net/en/News/middle-east/2020/06/02/Turkey-issues-118-detention-warrants-for-those-with-suspected-Gulen-links.html
-------
US sanctions amid pandemic reach brink of crime against humanity: Iran
03 June 2020
Iran's ambassador to the United Nations says Washington has crossed the red lines of economic and medical terrorism by continuing to impose sanctions on various countries amid the coronavirus pandemic, and reached the brink of "crime against humanity."
Majid Takht-Ravanchi made the remarks during a meeting on the "impact of unilateral coercive measures on global confrontation with the coronavirus" in New York on Tuesday.
"While the world is grappling with the repercussions of the coronavirus pandemic and countries are working to boost cooperation and solidarity to help each other in this critical situation, the United States has expanded and intensified its unilateral and illegal action against countries that are largely plagued by the virus," Takht-Ravanchi said.
The Iranian ambassador added that, "It is the right of all countries to have access to medicines, equipment and supplies needed to prevent the coronavirus spread but the unilateral action by the United States has created a serious obstacle to its realization."
Lashing out at the US's restrictive measures, Takht-Ravanchi said "Washington has made groundless claims that the sanctions do not include food, medicine and medical equipment but [the fact of the matter is that] depriving a country of access to international trade and the global banking system will curb its entire abilities to access medicine, food and medical equipment through financial and trade mechanisms."
The Tuesday meeting was initiated by the permanent missions of Iran, Russia, China, Venezuela, Cuba, Syria, Belarus, Nicaragua and Zimbabwe to the United Nations.
US President Donald Trump reimposed its unilateral sanctions on Iran after leaving a multilateral and historic nuclear accord between Iran major world powers, including Russia, officially known as the Joint Comprehensive Plan of Action (JCPOA), in May 2018.
Under the deal, the US administration had lifted its anti-Iran sanctions in return for the Islamic Republic making changes in its peaceful nuclear program.
Iran has sued the US at the International Court of Justice after the latter reinstated the sanctions, with the tribunal ruling that Washington has to lift the bans on Iran-headed humanitarian supplies.
Washington alleges that it has exempted foodstuff and medicine from the bans. Tehran roundly rejects the claim.
Iran has now stepped up the production of its own medical equipment, such as producing ventilators needed for COVID-19 patients.
In March, UN Secretary General Antonio Guterres called on the leaders of the G-20 economic powers to roll back international sanction regimes around the world, including the ones against Iran, amid the pandemic.
Full report at:
https://www.presstv.com/Detail/2020/06/03/626622/Iran-Majid-Takht-Ravanchi-red-lines-medical-terrorism-coronavirus-pandemic
-------
Palestinian leaders 'open to talks with Israel via Moscow'
June 03, 2020
AMMAN: Palestinian leaders would be open to a resumption of talks with Israel if they were brokered by Russia, Palestinian Foreign Affairs Minister Riyad Al-Maliki said on Tuesday.
"We trust President Vladimir Putin and are sure that such a meeting would bear fruit, and succeed in getting us back to the talks, as well as stopping the Israeli plans to annex parts of the occupied West Bank," he said.
Al-Maliki said Israeli Prime Minister Benjamin Netanyahu had twice derailed Russian plans to hold discussions in Moscow. "Palestine is willing to have talks with Israel via video conferencing and under Russian auspices," he said. "The Palestinian side will look into the idea if Russia felt it was feasible," he said.
Ofer Zalzberg, a senior analyst with the International Crisis Group, told Arab News that Moscow had been engaging separately with both the White House and Ramallah about stopping or postponing Israel's controversial annexation plans, which Netanyahu has threatened to implement on July 1.
"The sticking point appears to be around whether Trump's plan … has to be at the center of the discussions. It is not enough to agree on the channel of the talks, be it Russia or another one. The substance of the talks is important."
Zalzberg said opponents of annexation were waiting for Palestinian leaders to propose their own peace plan and agenda for talks, and were frustrated that neither was forthcoming.
Full report at:
https://www.arabnews.com/node/1683961/middle-east
-------
Houthis reject Yemeni government offer to cooperate against COVID-19
June 03, 2020
DUBAI: The Houthi militia has repeatedly dismissed the Yemeni government's efforts for a coordinated response against the coronavirus pandemic, state news agency Saba reported.
Yemeni Prime Minister Maeen Abdulmalik said the government had initially agreed to a UN proposal for both sides to cooperate in tackling the outbreak, but the Houthis refused to cooperate.
Instead, Abdulmalik said, the Houthis have escalated the violence in the country despite a raging health crisis.
The prime minister was speaking with Niel Annen, the German Minister of State at the Federal Foreign Office.
Both officials discussed the results of the pledging conference which Saudi Arabia has lead to raise funds for Yemen.
Full report at:
https://www.arabnews.com/node/1684026/middle-east
--------
Africa
Rival sides in Libya agree return to ceasefire talks, says UN mission
03 June 2020
Libya's warring parties have agreed to restart ceasefire talks, the United Nations mission to the country said late on Monday after weeks of intense fighting near the capital Tripoli.
In a statement posted online, the United Nations Support Mission in Libya (UNSMIL) said it welcomed their plan to resume talks based on earlier so-called 5+5 meetings, involving five senior officers appointed by each side.
The eastern-based Libyan National Army (LNA) of General Khalifa Haftar has been waging an offensive since April 2019 to seize the capital Tripoli, seat of the UN-recognized Government of National Accord (GNA).
Two ceasefires have already been agreed this year but both shelling and fighting continued. UN envoy Ghassan Salame resigned in March and the Security Council has yet to agree on a successor, further complicating peacemaking efforts.]
A military commission made up of five GNA loyalists and five Haftar delegates held talks in February, but the dialogue was suspended.
A January truce brokered by GNA backer Turkey and key Haftar ally Russia has been repeatedly violated.
Neither side immediately commented on the UN statement.
The UN mission urged "states backing either of the belligerents to respect what was agreed at the Berlin conference" in late January, where world leaders committed to ending all foreign meddling in Libya and to uphold a much-violated arms embargo.
UNSMIL also voiced hopes that the resumption of talks by the joint military commission would be "the start of a truce on the ground and a humanitarian truce to provide the opportunity to reach a final ceasefire deal."
https://english.alarabiya.net/en/News/north-africa/2020/06/03/Rival-sides-in-Libya-agree-return-to-ceasefire-talks-says-UN-mission-.html
-------
Libya: Haftar militias retreat, leave 48 bodies behind
Gulsen Topcu
03.06.2020
TRIPOLI
Militias loyal to renegade commander Khalifa Haftar have left 48 corpses behind while fleeing from war zones, the Libyan army said Tuesday.
Mohammed Qanunu, a spokesman for the government-led Operation Volcano of Rage, did not provide further details in his statement but said they had been ordered to take all measures to safeguard against the novel coronavirus while collecting the bodies.
Libya currently has 182 confirmed coronavirus cases and five deaths, according to data from US-based Johns Hopkins University. The number of recoveries stands at 52.
Since first appearing in Wuhan, China last December, the novel coronavirus, officially known as COVID-19, has spread to at least 188 countries and regions.
The pandemic has killed over 380,000 people worldwide, with more than 6.37 million confirmed cases, while recoveries have surpassed 2.72 million, according to figures compiled by Johns Hopkins.
Following the ouster of late ruler Muammar Gaddafi in 2011, Libya's new government was founded in 2015 under a UN-led political agreement.
Full report at:
https://www.aa.com.tr/en/africa/libya-haftar-militias-retreat-leave-48-bodies-behind/1862964
--------
Nigeria: Why Boko Haram Attacks Are Declining in N-East - Investigation
1 JUNE 2020
There appears to be a shift in the insurgency war between the military and Boko Haram insurgents in the North-East, as the latter now seem to be under heat for the first time since the terrorists started their destructive campaign in 2009.
This came as Zamfara State governor, Mohammed Bello Matawalle, weekend, warned emirs, Fulani leaders and stakeholders in the state to be vigilant and never allow the security currently being enjoyed in the state to be threatened.
His warning came as a result of last Wednesday's killing of over 70 persons in Sokoto by bandits.
Prior to about two months ago, specifically between January and April, 2020, there had been series of coordinated Boko Haram attacks and closure of many roads in some parts of the North-East, especially the attacks and ambush on military formations, humanitarian hub in Gamboru Ngala, Auno, Buni Gari, Goniri, and Baga communities of Borno and Yobe states.
Unspecified number of soldiers, other security agencies, innocent civilians and even some of the terrorists lost their lives in those attacks.
This development forced relocation of the Chief of Army Staff, Lt. Gen. Yusuf Tukur Buratai, and other service chiefs to the theatre of operations on April 4, 2020.
However, with the relocation, there had been a remarkable improvement in the fight against the insurgents whose many hideouts in Sambisa forest and fringes of Lake Chad in Northern Borno had been neutralized.
Though no fewer than 90 residential houses, a church, clinic, nine shops, and other properties worth millions of naira were razed in Debiro,Tarfa and Dakwaima villages of Biu Local Government Area by the insurgents who invaded the communities recently, investigation revealed that lack of telecommunications network in the communities delayed first-hand information which made it impossible for the military to get at the attackers.
However, reliable sources said local hunters who repelled the attacks succeeded in killing three of the insurgents, while one resident sustained bullet wounds on his hand from the attackers, with no civilian death.
Aside from these attacks, there had been relative calm in the three North-Eastern states of Borno, Yobe and Adamawa states affected by the insurgency, as there had been incessant bombings by suicide attackers and occupation of communities by terrorists.
Sources have attributed the relative peace witnessed in the region lately to the relocation of the Army chief from Abuja to the 7 Division/Operation Lafiya Dole headquarters, as well as fresh deployment of fighter jets which mostly respond promptly to any attacks in support of the ground troops.
Similarly, the renewed synergy that now exists among the military, Air Force, Police and other paramilitary agencies as well as the Civilian Joint Task Force (CJTF) and vigilante/hunters has played a significant role in the military's capacity to deal with the Boko Haram insurgents.
North East govs' support
Our Correspondent gathered that the successes recorded by the military against the insurgents could also be attributed the support troops received from the governors from the North East sub-region, especially Governor Mai Mala Buni of Yobe State and his counterpart from Borno, Professor Babagana Umar Zulum.
The support cuts across provision of logistics and other incentives to boost troops morale in the war front.
The Army chief, Buratai himself admitted the contributions of the governors, describing it as immeasurable.
The COAS said: "I want to use this opportunity to thank Your Excellency, most sincerely, for all your support to the Nigerian Army and other services, the Nigerian Air Force, as well as the Theatre of Operation Lafiya Dole. Your support is quite immeasurable. We appreciate it and this has really made us to improve on our operations."
In his response, Governor Zulum assured the military of his continued commitment in the fight against insurgency.
Zulum also pointed out that he had always kept faith in the Nigerian military, stressing that despite some misunderstandings, his heart had always been with the military.
The governor said Buratai's presence in the theater of war in the last two months had added so much value to the ongoing counter-insurgency operation in the region.
He said: "Within the last two months, we have been witnessing a gradual return of peace, we are optimistic that the Nigerian military can contain the situation. Government of Borno State will do everything possible to support the Nigerian military."
Recall that Governor Zulum had for much of last year, been at loggerheads with the military hierarchy over the inability of troops to contain Boko Haram insurgents.
It was learned that since April 4, 2020, the Army chief had toured operational units and battalions in the region, giving words of encouragement to soldiers to keep up with the tempo to defeat the terrorists.
He visited the Special Super Camp, Ngamdu, in Kaga Local Government Area of Borno State, Super Camp 1, Molai, Special Forces Super Camp 12, Chabbol, near Maiduguri, and the Forward Operations Base, Alau Dam, where he personally led the troops on patrol round Mairimari and Maigilari forests.
Buratai also ensured that additional military hardware and platforms were deployed to the theatre, with prompt payment of welfare and allowances to boost the morale of soldiers.
'Buratai's presence boosted troops' morale'
According to a retired security expert who granted an interview to our correspondent, but did not want his name in print for security reasons, the successes recorded against the insurgents can be attributed to the presence of Buratai and his principal officers in the war front, as they had been giving additional military hardwares and new strategies to complement the existing ones at hand.
One of the soldiers at the frontline who is not authorized to talk to the press, also attributed one of the factors to Buratai's commitment in leading the war, overseeing and directing the overall operations in the theatre and other Nigerian Army operations across the region.
Investigation revealed that the initiation of Operation Safe Corridor for any repentant terrorist to be trained, empowered and reintegrated into the society has also played a significant role, as many of the terrorists laid down their arms and surrendered to troops during recent military onslaughts.
Another security expert based in Damaturu, the Yobe State capital, who spoke on grounds of anonymity, said: "Regular/ongoing manufacture and repairs/overhaul of combat vehicles, including Armoured Personnel Carriers and mine-resistant anti-Ambush Protected Vehicles by Buratai and his troops at frontline contributed to winning the war in recent time."
The security expert also pointed out that the outbreak of COVID-19 pandemiç which resulted in total lockdown and restriction of movement in the North-East made it easier for troops to descend on terrorists hideouts to eliminate a substantial number of them, coupled with the renewed zeal and gallantry effort of troops who took the war to the terrorists' doorsteps.
A top Boko Haram commander testified to the onslaught of the military against his men, and defected with his wife and child to a secret location manned by the Multinational Joint Task Force, MNJTF.
According to Colonel Timothy Antigha, Chief of Military Public Information for MNJTF, the defector voluntarily denounced the terrorists groups and surrendered.
The defector disclosed that he joined Boko Haram in 2015 and took part in terrorist operations in Arege, Kangarwa, Metele and Mallam Fatori, adding that he decided to surrender following intense bombing of the terrorists' positions by the military Task Force.
"Constant artillery and air bombardments have greatly affected our plans and dampened our morale. More fighters are ready to surrender, but they are uncertain of what fate awaits them. I am not sure if our spiritual direction is correct," the defecting Boko Haram commander said.
In March this year, a group of Boko Haram terrorists surrendered in Sector Four in Diffa, Niger Republic, while at the same time, some terrorists also surrendered to troops of Sector One in Mora, Cameroon and are currently being rehabilitated.
Also reacting to the present state of affairs in the North-East, Governor Mai-Mala Buni of Yobe State acknowledged the successes recorded against the insurgents, and commended the interim relocation of the Chief of Army Staff, Lt-Gen. Tukur Buratai, and other top military officers to the region in a renewed operation to clear the menace of insurgency in the region.
Buni described the presence of the Chief of Army Staff and his officers in the frontline states of the North-East as motivation to officers and men in the battle field who now fight with vigour, confidence and resilience.
He commended the President and Commander-in-chief of the Nigerian Armed forces, Muhammadu Buhari, for his continued support which contributed to the current successes being recorded by the military in the anti-insurgency war.
The governor called on the people of the state to remain vigilant and volunteer timely information on any suspicious movement and persons in their communities.
Matawalle warns emirs, Fulani leaders, others against bandits' attacks
Full report at:
https://allafrica.com/stories/202006010290.html?utm_source=iterable&utm_medium=email&utm_campaign=1259405_
-------
Islamic State in Somalia suffers setbacks despite uptick in claimed activity
June 1, 2020
During the course of May, Somalia witnessed a relative uptick in Islamic State claimed attacks compared to recent months. However, this activity was offset by significant setbacks dealt to the organization across the country.
In total, the Islamic State in Somalia (ISS) claimed just four attacks in May according to data maintained by FDD's Long War Journal. While this number is minuscule compared to other Islamic State branches around the world, this number represents a relative boost since the beginning of the year.
In February and March, the Islamic State released only four total claims from Somalia. And in April, the group stated its responsibility for three raids. The total amount of claims for May matches the number for January at four.
Additionally, three of the four claims in May were part of the Islamic State's global "Battles of Attrition" campaign. This campaign, in which other branches also saw relative boosts to their activities, was meant to signal the group's staying power in the face of a global battle against it.
The first use of this moniker was in April 2019 when then-Islamic State leader Abu Bakr al Baghdadi urged his followers to conduct a "battle of attrition" in order to "drain the enemies of their resources."
The relative increase in activity inside Somalia last month is likely explained by ISS participating in this renewed campaign. That said, only one of the Islamic State's claimed operations inside Somalia in May can be confirmed by local media.
On May 18, the group stated its responsibility for detonating an improvised explosive device (IED) on a vehicle belonging to the Somali military in Mogadishu the previous day.
Local media indeed reported an IED on Somali troops in Mogadishu on May 17. This attack was also unclaimed by Shabaab, Al Qaeda's branch in East Africa, thereby giving more veracity to the Islamic State's communiqué.
The other three alleged assaults have so far not been confirmed by local sources.
At the same time, local media has reported additional clashes between ISS and Shabaab in Somalia's north-central region of Mudug.
According to Garowe Online, several clashes between the two were reported near the town of Dasaan where earlier rounds of infighting has also taken place.
The outlet goes on to cite Abdiqani Hassan, a local Reuters correspondent, that the Islamic State's men reportedly gained the upper hand in the fight.
The renewed battles between the jihadist groups marks the first instances of the infighting since early last year. The two groups have been fighting each other since the emergence of the Islamic State in Somalia in late 2015.
Garowe Online's report also notes that some of Shabaab's men fled the region for Puntland's mountains, where both Shabaab and ISS maintain refuge. However, this cannot be independently verified.
Shabaab has recently been quite active in Mudug, where it killed the regional governor in a suicide bombing on May 17.
Suffering setbacks
While all of this was occurring, ISS suffered several blows in Puntland and Mogadishu. On May 9, Puntland Security Forces (PSF) killed a purported member of the group's amniyat [internal security force] wing near Bosaso.
Photos released by the PSF following the raid also show captured explosive material, indicating the breakup of a potential bombing inside the city. And only two days later, three other ISS members were also arrested by the PSF in Bosaso.
On May 13, the PSF captured several IEDs and suicide belts from Islamic State safe-houses in Bosaso. While on May 25, the PSF launched major security operations in several areas near Bosaso which purportedly captured dozens of ISS militants.
Puntland officials have also stated that one of the militants captured during the raids is the "driver for Abdulqadir Mumin," the overall leader of the Islamic State's branch in Somalia.
If confirmed, this could provide additional intelligence for the PSF as it continues to mount pressure on ISS.
These raids also follow additional strikes against the group earlier this year. In April, Somali intelligence reportedly captured the head of the ISS branch in southern Somalia. This has yet to be confirmed, however.
And in March, the PSF launched other security operations in Bosaso, which reportedly captured members of both ISS and Shabaab. A senior ISS leader was also reportedly killed by the PSF in January.
These security operations have undoubtedly impacted ISS' operational capabilities in Puntland. While the group still sporadically claims operations inside Bosaso, the majority of its claims this year have been focused on Mogadishu and its suburbs.
Local security operations, infrequent U.S. drone strikes, and clashes with Shabaab have all greatly reduced the Islamic State's capabilities inside Somalia. With the zenith of its activities in 2018, it has steadily seen a decline in operations since last year.
Full report at:
https://www.longwarjournal.org/archives/2020/06/islamic-state-in-somalia-suffers-setbacks-despite-uptick-in-claimed-activity.php?utm_source=iterable&utm_medium=email&utm_campaign=1259405_
-------
Civilians killed as attackers storm Niger refugee camp
1 Jun 2020
At least three civilians have been killed in a coordinated attack on a camp housing thousands of Malian refugees in western Niger, according to the United Nations.
Some 50 fighters launched a "well-planned operation" against the Intikane refugee camp in the Tahoua region on Sunday afternoon, the United Nations High Commissioner for Refugees (UNHCR) in Niamey told AFP news agency.
The three victims were the head of a refugee committee, the head of a refugee vigilance group and a representative of a Tahoua nomadic group, the UNHCR said on Monday.
The attackers also abducted a guard and sabotaged the camp's water supply.
"The jihadists inflicted damage on the camp's facilities, in particularly emptying the food supplies and destroying the system which supplies drinking water to the area within a radius of 40km (25 miles)," the UN agency said.
Alessandra Morelli, the UNHCR's representative in Niger, denounced the attack.
"It is very serious, the terrorists have destroyed our space to live," Morelli told AFP.
A security source told the news agency that before the attack, the fighters destroyed telephone relay antennas in the area.
Alongside the local population, the town of Intikane is hosting some 20,000 Malian refugees and 15,000 internally displaced Nigerien citizens - all of whom fled their villages due to violence perpetrated by armed groups.
Fighters with links to al-Qaeda and the ISIL (ISIS) group have increasingly mounted attacks across the Sahel in recent years despite the presence of thousands of regional and foreign troops in the region.
The violence has hit Mali and Burkina Faso the hardest, rendering large swaths of those countries ungovernable, but it has also spilled into Niger, which shares long and porous borders with its two neighbours.
Niger is home to nearly 60,000 Malian refugees who fled their country's north after it fell under the control of al-Qaeda-linked groups in 2012, according to the UN. A French-led military intervention the following year pushed them out, but parts of Mali remain out of government control and awash with armed groups.
Niger has also endured unrest in its southeast from Boko Haram and the Islamic State in West Africa Province, a breakaway group from Boko Haram.
Full report at:
https://www.aljazeera.com/news/2020/06/civilians-killed-attackers-storm-niger-refugee-camp-200601171455078.html?utm_source=iterable&utm_medium=email&utm_campaign=1259405_
-------
URL: https://www.newageislam.com/islamic-world-news/in-crime-branch-charge-sheet/d/122024
New Age Islam, Islam Online, Islamic Website, African Muslim News, Arab World News, South Asia News, Indian Muslim News, World Muslim News, Women in Islam, Islamic Feminism, Arab Women, Women In Arab, Islamophobia in America, Muslim Women in West, Islam Women and Feminism