New Age Islam News Bureau
30 Dec 2018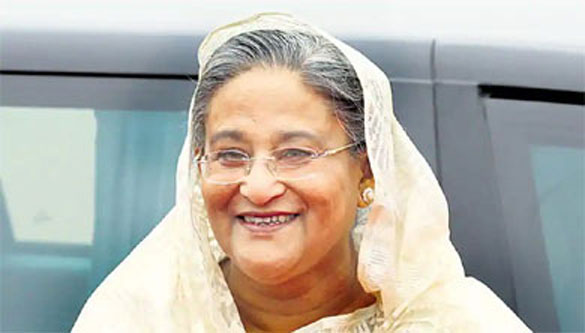 Bangladesh's premier and ruling party leaders have attacked the opposition in the bitter campaign for Sunday's general election.(Hindustan Times)
------
• In Bangladesh, a 47-Year-Old War Dominates Election Campaign Rhetoric
• Umno Denies Using Racial, Religious Sentiments to Regain Support
• Egypt Kills 40 'Terrorists' In Crackdown after Giza Attack
• Despite Ban, Iran's Ahwazi Students Dance To Arabic Song
• New Year Celebration: Is It Allowed In Islam?
• Pakistan Sends Recommendations to India For Visa-Free Travel Of Sikh Pilgrims Through Kartarpur Corridor
South Asia
• In Bangladesh, a 47-Year-Old War Dominates Election Campaign Rhetoric
• Bangladesh: Jamaat-e-Islami Leader's Wife, Son Caught For Bribing Voters With Fake Notes
• Uzbekistani militants among 36 killed, wounded in Faryab operations
• ISIS-K commander among 16 killed in Nangarhar operations
• NDS Special Forces storm Taliban's military compound in Wardak leaving 10 dead
• 24 Taliban, ISIS-K militants killed in Afghan, coalition forces operations
• Taliban dismiss Afghanistan's peace talks offer
--------
Southeast Asia
• Umno Denies Using Racial, Religious Sentiments to Regain Support
• Muslim Separatists Suspected In New South Thailand Violence
• USIM Prof: PTPTN zakat payment from other investment revenues, not study loans
• Dr M Picked As Muslim Man Of The Year
• Spike in bomb and grenade attacks in Thailand's restive south
--------
Arab World
• Egypt Kills 40 'Terrorists' In Crackdown after Giza Attack
• Days after Her Appointment, Iraqi Education Minister Quits Over Links with ISIS
• Enthusiasts Treated To Arab Classical Music At Dar Al-Hekma University
• MWL chief receives Islamic scholars from Iraq
• Syrian Army Highly on Alert to Counter Turkish Troops' Possible Operation in Manbij
• Hama: Syrian Army Preempts Terrorists' Offensive from Demilitarized Zone
• US-Backed SDF Sends Aid Convoy to ISIL Terrorists in Eastern Syria
• US army withdraws from military base in Syrian city of Hasakah
• Bahrain has revoked over 800 nationals of citizenship since 2012: Report
--------
Mideast
• Despite Ban, Iran's Ahwazi Students Dance To Arabic Song
• Iran to Continue Backing Palestine, Zarif Says
• Yemeni government source denies Houthis' withdrawal from Hodeidah
• Khomeini grandson warns: No guarantees Iranian regime will survive
• Israel's Jewish Home party splits ahead of April election
• Saudi Arabia destroys Houthi ballistic missile targeting Najran
• Iran's IRGC: US pullout from Syria sign of defeat
• Israeli troops arrested some 6,500 Palestinians throughout 2018: Rights group
--------
India
• New Year Celebration: Is It Allowed In Islam?
• Islamic State Flags in Srinagar Reflect Disillusionment That Is Popularising Radical Alternatives In Kashmir
• Three Private Firms In Sec 58 Give Space To Muslim Employees For Namaz
• Pakistan finalises 14-point agreement on Kartarpur corridor
• No tolerance policy towards militancy in Jammu and Kashmir to continue
• Police refuse permission for Pak's Dawat-e-Islam event in Hyderabad
• Srinagar's Jamia Masjid desecrated: Youth mounts pulpit, displays ISIS flag – Video goes viral
• Al-Qaeda in a Kerala college campus: A radicalised state and why we aren't surprised
• Searches launched after suspected militants exchanged fire with soldiers in Jammu
--------
Pakistan
• Pakistan Sends Recommendations to India For Visa-Free Travel Of Sikh Pilgrims Through Kartarpur Corridor
• Saudi oil facility likely to start in January, UAE's could take longer
• FM Qureshi discusses Afghan peace, regional situation during day-long visit to Qatar
• Accountability not being done transparently: Nisar
• CJP Nisar defends judicial activism, terms it 'constitutional responsibility'
--------
Africa
• UN calls on Sudan to investigate protest deaths
• Turkey condemns terrorist attack in Burkina Faso
• Boko Haram: Residents flee as insurgents attack Buni Gari in Yobe
--------
North America
• US May Let Kurdish Militants to Keep Arms after Syria Pullout: Officials
• Two-year-old Yemeni boy at centre of row over US travel ban dies
• Trump not drawing down military presence in Afghanistan: White House
• Most Americans support US troop withdrawal from Syria: Poll
--------
Europe
• Turkey, Russia Agree To Cooperate With Eye on US Withdrawal
• German police arrest Syrian man wanted in Dutch terror case
• Italy to halt arms sales to Saudis amid Yemen war
Compiled by New Age Islam News Bureau
URL: https://www.newageislam.com/islamic-world-news/in-bangladesh-47-year-old/d/117308
--------
In Bangladesh, a 47-year-old war dominates election campaign rhetoric
Dec 30, 2018
Bangladesh's premier and ruling party leaders have attacked the opposition in the bitter campaign for Sunday's general election by relying on references to the country's 1971 war for independence from Pakistan.
Prime Minister Sheikh Hasina's father Sheikh Mujibur Rahman won the country that independence, and her Awami League party has run a campaign on reminding the public of "war criminals", "fake freedom fighters" and "collaborators".
It has also sought to paint the entire opposition as an "anti-liberation" front.
"Do you want to vote for betrayers?" Hasina, who is seeking a third consecutive term, said at a public speech this month, referring to Jamaat-e-Islami, an Islamist group that opposed the independence movement and several of whose members have been sentenced to death or life in prison for war crimes.
She says the main opposition Bangladesh Nationalist Party (BNP) is also culpable due to its traditional ties with Jamaat.
In the election, the BNP – in disarray following the jailing of its leader and former prime minister Khaleda Zia for alleged corruption - has joined smaller parties to form the National Unity Front alliance, headed by secular leader Kamal Hossain. The BNP did not contest the 2014 election, saying it would not have been fair.
Hossain, an 82-year-old Oxford-educated international jurist and close ally of Hasina's father in freedom struggle, has not been spared the attacks.
In a recent interview, Hasina's political adviser H.T. Imam questioned Hossain's role in the independence struggle and said it would be an "exaggeration" to call him a freedom fighter. He said he did not question Hossain's patriotism, but argued that "the way that he is portrayed as a significant freedom fighter is very wrong." Hasina has separately accused Hossain of "joining hands with war criminals and terrorists."
In a country that won independence only 47 years ago, memories of the nine-month-long Liberation War that claimed the lives of many thousands of people are still fresh in the minds of the older generation, making it a poignant campaign tool.
But it is used so frequently that it has often dominated the campaign, taking the spotlight away from civic issues, such as jobs, wages, and road safety, let alone any discussion of alleged human rights abuses under the government.
"The freedom movement is a convenient excuse to peddle. It's not just about whether you are in league with the Jamaat or not," said CR Abrar, a professor of international relations at the University of Dhaka.
"The independence struggle was also about equality, justice, and human rights. Where is the conversation on that?"
Hasina's government has been accused of extrajudicial killings, rampant arrests of critics and opposition workers, and curbs on the media – charges the government denies. The opposition alliance has vowed to reduce controls and "restore democracy" in Bangladesh, while also promising to retain a war crimes tribunal set up under Hasina.
Weeks before elections, a tense 'docudrama' on Hasina's life released in cinemas in Bangladesh depicted how most of her family, including her father who is known in the country as the Father of the Nation, was assassinated in 1975 in an army coup while she was away with her sister in Germany. Hasina refers to the BNP as thugs in the film.
Whether the war rhetoric will work is yet to be seen. Millions of new voters - many under 25 - are registered for Sunday's polls, which will be the country's first fully competitive election in a decade. Some Awami League leaders said the party's campaign was also focused on educating that young generation about the war.
"Now, the younger generation is getting a sense of what the history is about," historian and writer Syed Badrul Ahsan said.
https://www.hindustantimes.com/india-news/in-bangladesh-a-47-year-old-war-dominates-election-campaign-rhetoric/story-cgtFPTtOUr5rsCnNab9JkL.html
--------
Umno denies using racial, religious sentiments to regain support
December 30, 2018
PETALING JAYA: Umno today refuted PPBM's claims that it has been playing up racial and religious sentiments in order to gain support after losing in the 14th general election.
Its vice-president Mohamed Khaled Nordin said in a statement that the party had always been "consistent" in its pro-Islam and Malay stand.
"Everyone can check. Our stand is clear. There has never been any change. The Malay agenda, Islam and the brightest future for a multiracial Malaysia, are the three main pillars of Umno — before, now and forever," he said, adding that the party would not apologise for upholding their pro-Malay ideology.
Khaled said there had been "systematic threats" to the position of the Malay race and Islam under the guise of freedom, saying that this might not be from PPBM but from its allies in the Pakatan Harapan (PH) government.
"Therefore, when PPBM are unable to do anything apart from playing deaf and bowing down to the liberals in Pakatan Harapan, Umno would not turn a blind eye towards these threats," he said.
Khaled said Umno believed that the systematic threats would cause the downfall of the Malays if they were allowed to continue.
In his speech at the PPBM second general assembly, the party's president Muhyiddin Yassin slammed PAS and Umno for allegedly fanning racial sentiments and inciting Malays to go against the PH government.
"Their political capital today has not differed," Muhyiddin said in his speech, adding that the PH leadership had agreed to always support and respect the role of Islam as the official religion of the state, as spelt out in the Federal Constitution.
Muhyiddin said Umno and PAS had been spreading lies about Muslims no longer being safe in Malaysia and that the position of the Malay rulers as heads of Islam was under threat.
He also claimed that Umno and PAS were spreading lies that Jakim (Malaysian Islamic Development Department) would be done away with, and laws to allow LGBT culture and same-sex marriage would be passed in Parliament.
Khaled, however, said that the threats towards Malays and Islam were not fictitious.
"These threats are no fairytales. How can an alliance, which harbours ill thoughts towards each other and is inconsistent in their interpretations of the Federal Constitution, protect the rights and the special position of the Malays?"
However, he acknowledged that some of Umno's methods in upholding their ideology were ineffective. "All of these will have to be improved and reviewed," he said.
Meanwhile, Khaled also refuted claims of any formal collaboration with PAS.
"Our association with PAS only extends to aspects relating to Islam and the Malay race, and issues that would have negative impacts towards the country. We are not a coalition. This is simply a symbol of political maturity," he said.
Khaled also pointed out that Umno has been around for 70 years and many PPBM members, including Muhyiddin, would not be where they are if not for the party.
https://www.freemalaysiatoday.com/category/nation/2018/12/30/umno-denies-using-racial-religious-sentiments-to-regain-support/
--------
Egypt kills 40 'terrorists' in crackdown after Giza attack
DECEMBER 30, 2018
Egyptian police killed 40 suspects in a crackdown on Saturday after a roadside bomb hit a tour bus claiming the lives of three Vietnamese holidaymakers and an Egyptian guide.
Thirty alleged "terrorists" were killed in separate raids in Giza governorate, home to Egypt's famed pyramids and the scene of Friday's deadly bombing, while 10 others were killed in the restive North Sinai, the interior ministry said without directly linking them to the attack.
It said authorities had received information the suspects were preparing a spate of attacks "targeting state institutions, particularly economic ones, as well as tourism, armed forces, police and Christian places of worship."
A security source said the raids took place early Saturday morning, hours after Friday evening's roadside bombing which officials said hit a tour bus in the Al-Haram district near the Giza pyramids killing the three Vietnamese holidaymakers and their Egyptian guide.
Eleven other tourists from Vietnam and an Egyptian bus driver were wounded, the public prosecutor's office said.
Saigon Tourist, the company that organised the trip, said the tourists were "on their way to a restaurant for dinner" when the bomb exploded.
Company officials were heading to Cairo on Saturday and plans were made to allow some relatives of the victims to also fly to Egypt.
One of them was Nguyen Nguyen Vu whose sister Nguyen Thuy Quynh, 56, died in the bombing, while her husband, Le Duc Minh, was wounded.
The couple, both aged 56, were in the seafood business, Quynh's younger brother said.
"We were all very shocked… My sister and her husband travel quite a lot and they are quite experienced in travelling abroad," Vu told AFP.
He said he was applying for a visa for Egypt and hoped to travel on Saturday. "Our wish is that we could bring my sister back home."
'Harsh punishment'
Vietnam's foreign ministry spokeswoman Le Thi Thu Hang thanked Egyptians who were caring for the survivors. "Vietnam is very angry and strongly condemns the terrorist act that killed and injured many innocent Vietnamese and has asked Egypt to soon open an investigation, chase and give harsh punishment to those who carried out these terrorist act," she said in a statement.
There was no immediate claim of responsibility for the bombing, the first attack to target tourists since 2017.
Friday's attack was the latest blow to Egypt's vital tourism industry, which has been reeling from turmoil set off by the 2011 uprising that forced veteran president Hosni Mubarak from power.
While tourism has picked up since 2011, the 8.2 million people who visited Egypt in 2017 are still a far cry from the 14.7 million who visited in the year before the uprising.
"Yesterday's attack undermines the Egyptian government's very determined message that the country is safe for tourists," said Zack Gold, a US-based expert on Middle East security issues.
https://dailytimes.com.pk/338764/egypt-kills-40-terrorists-in-crackdown-after-giza-attack/
--------
Despite ban, Iran's Ahwazi students dance to Arabic song
29 December 2018
Although they are not allowed to study in their mother tongue, a video of female Arab students in Ahwaz dancing to an Arabic song at their school surfaced on social media, which grabbed the attention of many as it was seen as a challenge to the authorities who ban singing and dancing in public to begin with.
A video had spread lately of the Arab girls in primary school dancing to a well-known folkloric Arabic song called "Hamoudi Ze'al".
Accordingly, the debate over preserving Arab heritage and the right to be educated in one's mother language surfaced again.
The Iranian authorities had prohibited non-Persian minority students from officially learning their languages in schools, despite the fact that the Constitution affirms this right.
Information on the exact time and place that the video was recorded remains unknown, but many speculated that it was recorded in one of the primary schools in Ahwaz or one of the neighboring Arab cities.
The video shows a group of Arab Ahwazi girls dancing to a modern version of an old Arabic song called "Hamoudi Ze'al".
The modern version, by the Ahwazi singer "Hamed al-Neisi", amused the girls and made them dance while the school headmaster danced with them as well.
The original song is part of the Arab Ahwazi folkloric heritage and it is usually played at wedding ceremonies, which made it close to the students' identity and made them dance enthusiastically.
However, the widely-spread video raised a movement on social media, asking the authorities to apply Article 15 of the Iranian constitution, which states allowing teaching different languages at schools in Iran.
The video also highlighted the necessity to preserve the folklore of various ethnicities in Iran, including that of the Arabs.
Article 15 of the Iranian constitution states that: "The Official language and script of Iran, the lingua franca of its people, is Persian. Official documents, correspondence, and texts, as well as text-books, must be in this language and script. However, the use of regional and tribal languages in the press and mass media, as well as for teaching of their literature in schools, is allowed in addition to Persian."
https://english.alarabiya.net/en/features/2018/12/29/Despite-the-ban-Iran-s-Ahwazi-students-dance-to-Arabic-song.html
--------
New Year Celebration: Is It Allowed In Islam?
Dec 30, 2018
Hyderabad: New Year Celebration in Hyderabad is on the increase during the recent years. Many youths are getting attracted to this tradition.
There are many calendars in vogue in India but no other calendar enjoys the importance as does 1st January of Gregorian calendar.
In olden days, when the Muslims established their kingdoms, new-year day was never used to be celebrated since it has no religious importance for them.
It was reported that Nowruz celebrations used to be held in the Darbars of the Moghals in accordance with the Iranian festivities of Nowruz which falls on 21st March.
After the decline of Moghal kingdom, the British conquered India. They started celebrating New Year's Day. There used to be the festivities of dine and dance at the midnight of 31st December.
After the independence of India, in all the official matters, Gregorian calendar started playing important role. In the early days, these celebrations were limited to the rich and the high class sections of the society. With the increase of communication facilities, common Indians also started celebrating New Year's Day. In many cities, incidents of traffic jam occur on New Year's Day.
The Sang Parivar is worried about the tradition of New Year's Day celebrations since they have apprehension about the danger of vanishing their culture.
Many Muslim scholars have advised the Muslim youths not to celebrate New Year's Day as it has no religious significance.
https://www.siasat.com/news/new-year-celebration-it-allowed-islam-1451265/
--------
Pakistan sends recommendations to India for visa-free travel of Sikh pilgrims through Kartarpur corridor
Dec 29, 2018
ISLAMABAD: Pakistan has sent recommendations to India for facilitating visa-free travel of Indian Sikh pilgrims through the upcoming Kartarpur corridor, according to a media report here on Saturday.
Islamabad has given a 59-page document with 14 key recommendations to New Delhi, Express News TV reported quoting Pakistani diplomatic officials.
The recommendations call for Indian pilgrims to be given free entry and that facilitation centres and security check-posts to be set up on both sides of the border.
The pilgrims shall be allowed in groups of a minimum of 15 people and Pakistan shall issue special permits to them.
Both countries will compile a record of visitors which will include their names, travel records and other details, according to the recommendations.
The Indian government shall provide a list of pilgrims to Pakistan three days in advance and it will be mandatory for all visitors to bear a standard Indian passport.
The recommendations further say that all visitors shall be required to obtain a security clearance certificate from Indian authorities.
Pakistan shall issue permits to 500 visitors per day and local authorities shall reserve rights to admission.
On November 28, Prime Minister Imran Khan had laid the foundation stone for the corridor on the Pakistani side that will connect Gurudwara Darbar Sahib in Kartarpur to Dera Baba Nanak situated in Indian Punjab's Gurdaspur.
Two days earlier, Vice President M Venkaiah Naidu and Punjab chief minister Amarinder Singh laid the foundation stone for the corridor on the Indian side of the border.
Pakistan has said it will complete and open the corridor before the 550th birth anniversary of Guru Nanak in November, 2019.
https://timesofindia.indiatimes.com/world/pakistan/pakistan-sends-recommendations-to-india-for-visa-free-travel-of-sikh-pilgrims-through-kartarpur-corridor/articleshow/67301591.cms
--------
South Asia
Bangladesh: Jamaat-e-Islami Leader's Wife, Son Caught For Bribing Voters With Fake Notes
Dec 29, 2018
Dhaka: A Jamaat-e-Islami leader's wife and son were among four people arrested for allegedly trying to bribe voters using fake notes in Bangladesh, which is going to crucial polls on Sunday The arrests were made after police on Friday raided the house of Amir Shahadat, chief of Jamaat's west unit at Sadar Upazila after getting tip-off about attempts to buy votes, bdnews reported.
The Jamaat leader fled the scene, but his son Jaharul Islam, wife Hafiza Khatun and two assistants were arrested. As many as 39 counterfeit notes of Tk 1,000 denomination was recovered from the house, said the police.
Bangladesh's Election Commission last week allowed Jamaat-e-Islami, a crucial ally of jailed former prime minister Khaleda Zia's Opposition BNP, to contest the general elections, two months after it scraped the fundamentalist party's registration The Jamaat is contesting from 25 seats in the parliamentary polls with 'sheaf of paddy', the electoral symbol of the BNP.
https://www.timesnownews.com/international/article/bangladesh-jamaat-e-islami-leaders-wife-son-caught-for-bribing-voters-with-fake-notes/338640
--------
Uzbekistani militants among 36 killed, wounded in Faryab operations
29 Dec 2018
At least thirty six militants including foreign insurgents hailing from Uzbekistan were killed or wounded during a series of operations in northern Faryab province of Afghanistan.
The 209th Shaheen Corps of the Afghan Military in the North said at least fifteen militants, including two Uzbekistanis were killed during the military operations supported by airstrikes in Shash Tapa area of Shergin Tagab district.
The statement further added that the airstrikes were carried out at around 6:00pm local time on Friday and as a result at least sixteen militants also sustained injuries.
The Afghan forces also discovered two improvised explosives during the operations in Tapa-e-Qeshlaq area of Khwaja Sabspoz district, the 209th Shaheen Corps said.
Full report at:
https://www.khaama.com/uzbekistani-militants-among-36-killed-wounded-in-faryab-operations-03018/
--------
ISIS-K commander among 16 killed in Nangarhar operations
30 Dec 2018
At least sixteen militants affiliated with the Islamic State of Iraq and Syria Khurasan (ISIS-K) have been killed during the latest operations of the Afghan Special Forces in eastern Nangarhar province.
The 201st Silab Corps of the Afghan Military in the East said a commander of the terror group was among those killed.
According to a statement released by 201st Silab Corps, the operations were conducted by 02 Unit of the Afghan army in Chengi area of Achin district.
The statement further added that the Air Forces also provided air support to the Afghan forces during the operation.
The security personnel involved in the operations and local residents have not suffered casualties during the operations, the 201st Silab Corps added.
The anti-government armed militant and terrorist groups including ISIS-K loyalists have not commented regarding the operations so far.
Full report at:
https://www.khaama.com/isis-k-commander-among-16-killed-in-nangarhar-operations-03023/
--------
NDS Special Forces storm Taliban's military compound in Wardak leaving 10 dead
30 Dec 2018
The Special Forces of the Afghan Intelligence, National Directorate of Security (NDS), stormed a military compound of the Taliban group in central Maidan Wardak province of Afghanistan.
The Special Operations Corps of the Afghan Military said the raid was conducted in Karo Khel Village in Syedabad district.
According to a statement released by the Special Operations Corps, at least ten militants were killed during the operation and the military compound used by Taliban has been destroyed.
The NDS Special Forces also destroyed four vehicles, three motorcycles, and some weapons which were used by the militants to carry out guerrilla attacks against the security forces.
The anti-government armed militant groups including Taliban have not commented regarding the operation so far.
Maidan Wardak is located in central parts of Afghanistan which is among the relatively volatile provinces.
Full report at:
https://www.khaama.com/nds-special-forces-storm-talibans-military-compound-in-wardak-leaving-10-dead-03022/
--------
24 Taliban, ISIS-K militants killed in Afghan, coalition forces operations
29 Dec 2018
At least twenty militants belonging to Taliban and ISIS Khurasan were killed in separate operations conducted by the Afghan and coalition forces in the past 24 hours.
The Afghan Military in the Southeast confirms that a raid conducted by the Afghan Special Operations Forces in Sabari district of Khost of province left 1 Taliban fighter dead.
Separately, a coalition air strike left 1 Taliban fighter dead in Qaisar district of Faryab province.
Afghan Special Operations Forces conducted a raid in Tarin Kot district of Uruzgan province, killing 8 Taliban fighters and destroying bomb making material, the Afghan Military in South said.
In the meantime, an Afghan Special Operations Forces raid killed 8 ISIS-K militants in Achin district of Nangarhar province.
Full report at:
https://www.khaama.com/24-taliban-isis-k-militants-killed-in-afghan-coalition-forces-operations-03019/
--------
Taliban dismiss Afghanistan's peace talks offer
30 December 2018
The Taliban have rejected Kabul's offer of talks next month in Saudi Arabia where the militants, fighting to restore strict Islamic law in Afghanistan, will meet US officials to further peace efforts, a Taliban leader said on Sunday.
Representatives from the Taliban, the United States and regional countries met this month in the United Arab Emirates for talks to end the 17-year war in Afghanistan.
But the Taliban have refused to hold formal talks with the Western-backed Afghan government.
"We will meet the US officials in Saudi Arabia in January next year and we will start our talks that remained incomplete in Abu Dhabi," a member of the Taliban's decision-making Leadership Council told Reuters. "However, we have made it clear to all the stakeholders that we will not talk to the Afghan government."
Taliban spokesman Zabihullah Mujahid also said the leaders of the group would not talk to the Afghan government.
The militants have insisted on first reaching an agreement with the United States, which the group sees as the main force in Afghanistan since US-led forces toppled the Taliban government in 2001.
Diplomatic efforts to resolve the conflict have intensified after Taliban representatives started meeting US envoy Zalmay Khalilzad this year. Officials from the warring sides have met at least three times to discuss the withdrawal of international forces and a ceasefire in 2019.
But the United States has insisted that any final settlement must be led by the Afghans.
According to data from the NATO-led Resolute Support mission published in November, the government of President Ashraf Ghani has control or influence over 65 percent of the population but only 55.5 percent of Afghanistan's 407 districts, less than at any time since 2001. The Taliban say they control 70 percent of the country.
A close aide to Ghani said the government would keep trying to establish a direct line of diplomatic communication with the Taliban.
"Talks should be Afghan-led and Afghan-owned," the aide said on condition of anonymity. "It is important that the Taliban acknowledge this fact."
Full report at:
https://english.alarabiya.net/en/News/world/2018/12/30/Taliban-dismiss-Afghanistan-s-peace-talks-offer.html
--------
Southeast Asia
Muslim separatists suspected in new south Thailand violence
December 29, 2018
HAT YAI, Thailand: Four people have been wounded in southern Thailand by one of several bombs suspected of being planted by Muslim separatists.
Security officials in Narathiwat province said Friday night's violence also included a shootout between security forces and suspected insurgents who attacked a defense outpost at a small rural village. The bombs mostly targeted utility poles and caused a blackout in one village.
Nearby Songkhla province on Wednesday and Thursday nights experienced similar small bombing attempts, including two that damaged well-known statues at a popular beach but caused no casualties.
Since 2004, Thailand's deep south has been wracked by a Muslim insurgency that has left about 7,000 people dead.
http://www.arabnews.com/node/1427436/world
--------
USIM Prof: PTPTN zakat payment from other investment revenues, not study loans
30 December 2018
KUALA LUMPUR, Dec 30 ― An academic today justified the decision made by the National Higher Education Fund Corporation (PTPTN) to give out zakat or obligatory alms in Islam despite the fund's current struggle with financial survivability.
Universiti Sains Islam Malaysia (USIM) associate professor Amir Shaharuddin explained that PTPTN received two main sources of revenue through government grants and investments from the public through SSPN-i and SSPN-i Plus products.
"Both of these products are Islamic-compliant investments as the funds from the public are invested in halal businesses.
"Thus the profit gained must be paid through zakat so that the income earned is blessed," he said in a statement.
PTPTN recently announced that it will be making zakat payments to fulfill its religious obligations.
The corporation said the sum paid was based on its profits and that it will not dip into its study loans funding for zakat.
"This payment of zakat does not affect the loans that will be given to students, as the payment of zakat is based on the net revenue of investments especially SSPN deposits," it said in a statement yesterday.
In a two-page statement yesterday, PTPTN also said it started the practice of issuing zakat payments to all states in Malaysia since 2016, and had continued to do so for 2017.
Amir also pointed out that it was impossible for PTPTN to use its zakat funds to settle the debts of its borrowers reportedly at RM40 billion after certain quarters had raised the issue.
"The majority of Islamic finance Shariah advisers believe that zakat issued by an institution cannot benefit itself as it was a conflict of interest. In other words, it cannot be used to pay off the debts.
"It is worrisome that the zakat will not be accepted by the public when it is channeled for the 'business' interest of their own institutions," he said.
He also said the claims of mismanagement of zakat institutions who misuses zakat funds for their own operational cost was baseless but admitted that there was space for improvement.
"Zakat institutions should generally take one eighth or 12.5 per cent of their zakat collection to fund their operational cost including staff wages and building maintenance.
Full report at:
https://www.malaymail.com/s/1707495/usim-prof-ptptn-zakat-payment-from-other-investment-revenues-not-study-loan
--------
Dr M picked as Muslim Man of the Year
December 30, 2018
KUALA LUMPUR: Tun Dr Mahathir Mohamad has been picked as the Muslim Man of the Year by The Muslim 500 for the year 2019.
In its 2019 edition published in conjunction with the 10th anniversary of the publication, Dr Mahathir was ranked top, leading the list of the world's top 500 Muslim.
His success in leading Pakatan Harapan to win the 14th General Election, then being appointed as the second Prime Minister after his previous 22-year rule, was his special feature.
Dr Mahathir is described as one in one million who pushed Malaysia towards becoming the East Asian Economic Leader during the era of his previous rule.
"This quite extraordinary man has had a dynamic political career spanning 70 years and yet at the same time been the author of 17 published books. Aside from two memoirs, all of them are direct narratives responding to the immediate problems confronting Malaysian governance and economy, a concern often extended to Asia as a whole and the global economy and his plans for rectifying those problems.
"Not bad for a 93 year old politician with a history of two heart attacks and one bypass surgery," said Prof S Abdallah Schleifer in his writeup in the online publication.
Also on the list are King Abdullah II of Jordan, Indonesian President Joko Widodo and Turkish President Recep Tayyip Erdogan.
Meanwhile, for the most influential Muslim women, the Woman of the Year Muslim title was given to Ahed Tamimi, 17, a Palestinian teenager known for her courage in slapping Israeli troops in December 2017.
The 500 Most Influential Muslims is an annual publication published in 2009, which recognizes the most influential Muslim individuals in the world.
Nominations are evaluated on the basis of the influence that particular Muslims have had within the Muslim community and the manner in which their influence has benefited the Muslim community, both within the Islamic world and in terms of representing Islam to non-Muslims.
Full report at:
https://www.nst.com.my/news/nation/2018/12/445363/dr-m-picked-muslim-man-year
--------
Spike in bomb and grenade attacks in Thailand's restive south
29 Dec 2018
BANGKOK: Thai Prime Minister Prayut Chan-O-Cha decried "opportunists" on Saturday (Dec 29) after a wave of coordinated bomb attacks by suspected insurgents hit Thailand's Muslim-majority "deep south" in the lead-up to the New Year holidays.
The region bordering Malaysia has been in the grip of a low-level but bloody insurgency for more than a decade as ethnic Malay militants battle the Buddhist-majority state for greater autonomy.
Since 2004, insurgents armed with homemade bombs and grenades have clashed with Thailand's powerful military, killing nearly 7,000 people, mostly civilians, of both Muslim and Buddhist faith.
However, 2017 saw a record low of 235 people killed in clashes.
The latest attacks occurred Friday night in a series of seven separate incidents in three different districts of Narathiwat province, said police commander Major General Dussadee Choosungkit.
Two bomb attacks occurred in Sri Sakhon district, four in Chanae district, and militants "ambushed a base in Rangae district" using grenades, he said.
The homemade bombs were "detonated by radio", he said, adding that no one was injured.
The attacks prolong a bout of violence that began late Monday evening when a policeman died in an explosion from a detonated roadside bomb hidden in a gas cylinder.
In nearby Songkhla province on Wednesday night, two bombs rocked popular tourist site Simila beach, causing no fatalities but damaging to two seaside statues.
Songkhla provincial police are still investigating the beach bombings, and no arrest has been made, police told AFP Saturday.
Major General Dussadee said the Songkhla bombings were not connected to his province's troubles -- which he said is payback for a Dec 12 raid on the insurgents' camp in Narathiwat.
"I think the militants are retaliating at authorities after the raid on their camp earlier this month," he told AFP.
The prime minister has instructed officials to step up security measures after the attacks, said government spokesman Buddhipongse Punakanta Saturday.
"(Prayut) called them the works of ill-intentioned people and opportunists for staging attacks during New Year holidays," said Buddhipongse, adding that the junta head asked for locals to "tip off" authorities on any irregularities.
The three southernmost provinces - Narathiwat, Yala and Pattani - are predominantly Muslim and have long chafed against Bangkok's rule, calling for greater autonomy or independence.
The latest attacks come as the Thai junta renews talks with an umbrella group claiming to represent the rebels, with the aid of Malaysia as facilitator.
Full report at:
https://www.channelnewsasia.com/news/asia/spike-in-bomb-and-grenade-attacks-in-thailand-s-restive-south-11071934
--------
Arab World
Days after her appointment, Iraqi education minister quits over links with ISIS
30 December 2018
A scandal and slew of accusations directed at Iraq's Minister of Education Shaima al-Hayali caused her to quit her post, after the head of the committee defending victims of terrorism, Nafie al-Imara, said she was a supporter of ISIS during their siege of Mosul, and that her nephew blew himself up near security forces.
Emara said that the documented information is public, adding that Hayali is the sister of an ISIS leader named Laith al-Hayali.
Hayali had been nominated by the al-Banaa Coalition, which includes the Fatah Alliance led by Hadi al-Ameri and the State of Law Coalition led by former Prime Minister Nuri al-Maliki.
Hayali released a statement declaring her resignation, which is now with Prime Minister Adel Abdul Mahdi. She admitted to the accusations against her, stating that her brother's association with ISIS was forced.
"I am an Iraqi woman, first and foremost, and independent. I never worked with any party or political bloc," she said in her statement, adding that her appointment to the ministry of education was because she was an academic from the University of Mosul, which is known for its high cadres.
Hayali added that ISIS forced them to work within the scope of civil jobs, as was the case with many in the Nineveh province, pointing out that her brother's continued work with the organization was because he was under threat. She added that the threats continued even after Mosul was liberated.
Hayali also said that her brother "never carried arms nor kill or help kill any Iraqi", adding that the videos circulating of her brother are "cheap methods to incite against her." She said there is no concrete evidence proving that he belonged to the organization on a military level.
She concluded by saying that her resignation is "now in the hands of Prime Minister Abdul Mahdi to make his decision once he is sure of any relation linking me with the terrorist organization."
The Iraqi parliament had appointed the minister of education, as well as minister of culture and minister of planning last Saturday to complete the cabinet of Abdul Mahdi, whereas the posts for minister of interior, defense and justice remained vacant.
According to security sources, Hayali also has two cousins who belong to ISIS.
The video which circulated online showed that her brother, along with one of his sons, had fled from Iraq to Turkey using false passports, after he lost two of his sons during the suicide bombing operations against the Iraqi army.
https://english.alarabiya.net/en/News/middle-east/2018/12/30/Days-after-her-appointment-Iraqi-education-minister-quits-over-links-with-ISIS.html
--------
Enthusiasts treated to Arab classical music at Dar Al-Hekma University
December 29, 2018
JEDDAH: A concert organized by the General Culture Authority (GCA) at Dar Al-Hekma University on Friday attracted hundreds of visitors.
An all-Saudi band headed by Dr. Mohammed Qari took the audience on a journey through the history of classical Arabic music by renowned composers such as Lebanon's Philemon Wehbe and Egypt's Mohammed Abdul Wahab. The band included oud player Rayan Al-Saqqaf, pianist Ali Khafaji and two rhythmists.
Qari told Arab News: "Without an encouraging response from the audience, a musician fails to do his best in such a concert."
He said there are many skilled Saudi musicians and singers, adding: "If we had a music institute, all these hidden treasures would come to the surface." He said he may set one up.
Qari's sister Zakia, who attended the concert, said her brother began playing music when he was six years old.
"The interaction of the crowd with my brother's performance made me want to go on stage to hug and kiss him. He has long made his family proud," she said.
Alhan BaFaqeeh, who attended with her husband, told Arab News: "The music pieces performed were selected carefully to satisfy the audience's different tastes.
The musicians played classical pieces from different cultures in the region. They were delightful pieces."
Full report at:
http://www.arabnews.com/node/1427596/saudi-arabia
--------
MWL chief receives Islamic scholars from Iraq
December 29, 2018
MAKKAH: A delegation of Islamic scholars from Iraq headed by the president of Iraqi Jurisprudence Council, Sheikh Ahmed Hassan Al-Taha, called on the secretary-general of the Muslim World League (MWL), Dr. Mohammed bin Abdul Karim Al-Issa, in Makkah.
The Iraqi scholars lauded the MWL for organizing the Islamic Unity Conference in Makkah.
They highlighted the importance of the conference and the role it played in discussing ways of tackling extremist tendencies, dangers of exclusion and promotion of national unity.
The recently concluded conference brought together more than 1,200 Islamic scholars and academics of different schools of thought from 127 countries.
The Iraqi delegation stressed the need to forge unity among the ranks of Muslims and to respect differences of opinion and cooperate to achieve common goals.
They also said they would not allow any force to drive a wedge between Muslims or to harm the sovereignty of any nation state.
Full report at:
http://www.arabnews.com/node/1427586/saudi-arabia
--------
Syrian Army Highly on Alert to Counter Turkish Troops' Possible Operation in Manbij
Dec 29, 2018
The sources said that the Damascus forces, deployed in Manbji, are on alert to counter any attack by the Turkish soldiers and Ankara-backed militants.
The sources went on to say that the Army Command has ordered Presidential Guard Forces and other Damascus soldiers to give a crushing response to any military operation by the Ankara forces in Manbij region.
They further said that the Ankara forces have started preparing for a military operation in Manbij after the Syrian Army's arrival in the region.
The sources quoted Ziad Hajji Obeid, Commander of the militants of Turkey-backed National Army, as saying that a sum of 15,000 militants from his group have prepared to enter Manbij, adding that almost 25,000 gunmen of the Ankara-backed Free Army have been preparing to enter the towns of Tal Abyadh and Ra'as al-Ein.
The Syrian Armed Forces' Headquarters announced in a statement on Friday that the Damascus forces entered Manbij in Aleppo province and hoisted the country's national flag over the key town.
The statement by the Syrian Armed Forces' Headquarters came after the Syrian Democratic Forces asked for the deployment of the government troops.
The Syrian Army entered Manbij town after the People's Protection Units asked the Syrian Armed Forces to enter the strategic town.
SDF Spokesman Ceyhan Ahmad also confirmed the Syrian Army's arrival in Manbij town.
The local sources in Northern Syria announced that the Ankara-backed militants are fortifying their positions around Manbij in a bid to attack the strategic town concurrent with US troops' withdrawal from there.
Manbij is in a critical situation after US President Donald Trump declared US forces' withdrawal from Manbij town.
In relevant development on Thursday, residents of Manbij called on Damascus to deploy army forces in the strategic town in Northeastern Aleppo.
The Arabic-language al-Watan newspaper quoted Mojib al-Rahman al-Dandan, the representative of Manbij in the Syrian parliament, as saying on Thursday that as Damascus and the Syrian Democratic Forces (SDF) are holding talks on deployment of army forces in the town, the residents are also strongly pressuring the officials to this end.
He added that after US President Donald Trump's declaration of withdrawal of American forces from Syria, the US army retreated from Manbij to Tishrin dam, noting that Manbij residents want immediate deployment of the Syrian army in the town.
Al-Dandan, meantime, said that the SDF leaders are also involved in internal differences as some intend to leave Syria for France and call for the establishment of a no-fly zone and some others want talks with the Syrian government.
Full report at:
http://en.farsnews.com/newstext.aspx?nn=13971008000917
--------
Hama: Syrian Army Preempts Terrorists' Offensive from Demilitarized Zone
Dec 29, 2018
The army's artillery units, deployed in the small town of Shaliout in Northern Hama, pounded the movements of Jeish al-Izzah that tried to prevail over the government forces' positions from al-Zakat region and preempted their attack after inflicting major losses on the militants.
In the meantime, the army's mortar units, deployed in regions near the village of al-Masasana, opened heavy fire at terrorists' positions in the small town of al-Latamina, killing and wounding a number of them.
The terrorists' refusal to implement the Sochi Agreement to establish a demilitarized zone is pushing the army to initiate its long-waited assault on militants in Idlib that had been put on hold due to the Sochi Agreement.
Colonel Mar'ei Hamdan, a Syrian military expert, was quoted by the Arabic-language website of Sputnik news agency as saying last month that Tahrir al-Sham Hay'at (the Levant Liberation Board or the Al-Nusra Front) is in control of nearly 70% of towns and villages in Idlib province and makes provocative moves against the Syrian army, adding that the army's commitment to decrease tensions is not lasting forever.
He added that the Syrian army has so far repelled all attacks by terrorists against its positions and inflicted heavy damages on them, noting that the army is now necessitated to come out of the defensive mood to retake control of Idlib.
Hamdan said that Tahrir al-Sham will resort to a full-scale military operation against the Syrian and Russian armies soon, after rejecting the Sochi agreement last October, which leaves no room for ceasefire or disarmament anymore, and underlined that the Syrian army's battle against Tahrir al-Sham is inevitable.
Meantime, the Turkey-backed Ahrar al-Sham and National Liberation Front (NLF) terrorist groups has also dismissed the Russian-Turkish Sochi agreement and is preparing for military operations against the army in Northern Syria, calling for a coalition with Tahrir al-Sham.
Tahrir al-Sham and other allied terrorist groups have not left the demilitarized zone two months after the Sochi agreement and have instead reinvigorated their strongholds and targeted the army positions every day.
Full report at:
http://en.farsnews.com/newstext.aspx?nn=13971008000612
--------
US-Backed SDF Sends Aid Convoy to ISIL Terrorists in Eastern Syria
Dec 29, 2018
The sources reported that a number of SDF vehicles, carrying food stuff, were sent to al-Sha'afah via al-Alalouni passageway in Eastern Deir Ezzur.
The sources pointed to a possible agreement between the SDF and the ISIL over sending the convoy in return for receiving a hefty amount of money by the Washington-backed militia.
In November, the Arabic-language al-Ma'aloumah news website quoted Ahamd al-Sahrifi, an Iraqi security expert, as disclosing that the US intended to heliborne ISIL terrorists from Syria-Iraq border to regions behind Iraqi forces' positions near border with Syria.
It further said that the US plan to heliborne ISIL to Iraq came after the Iraqi forces deployed at border with Syria and close off any infiltration by terrorists into Iraq.
Full report at:
http://en.farsnews.com/newstext.aspx?nn=13971008000653
--------
US army withdraws from military base in Syrian city of Hasakah
30 December 2018
The US military withdrew from its base in the city of Hasakah in Syria, the first base to be evacuated by US forces since US President Donald Trump's announcement of troops withdrawing from Syria, Turkish media reported.
Two years after the deployment of nearly 2,200 US troops inside Syria, the withdrawal seems to have begun, Turkish media outlets reported.
According to local residents, about 50 US soldiers have already left their positions in the town of Al-Malikiya in Hasakah and have turned their armored vehicles into Iraq.
Turkish sources say US troops are deployed in about 18 military bases, while US officials said the withdrawal would take between two months and three months.
The withdrawal in northern Syria comes in an area that Ankara, Moscow and Tehran are racing control it, while Kurdish units seem closer to making a deal with Russia away from Turkish intervention.
The United States still has about 2,000 troops in Syria, many of them special operations forces working closely with an alliance of Kurdish and Arab militias known as the Syrian Democratic Forces, or SDF.
Full report at:
https://english.alarabiya.net/en/News/middle-east/2018/12/30/US-army-withdraws-from-military-base-in-Syrian-city-of-Hasakah.html
--------
Bahrain has revoked over 800 nationals of citizenship since 2012: Report
Dec 29, 2018
The Al Khalifah regime in Bahrain has stripped more than 800 nationals of their citizenship during the past six years, a human rights group says.
According to a new report by the UK-based NGO, SALAM for Democracy and Human Rights, cited by the Arabic-language Bahrain Mirror news website on Saturday, Manama has revoked the citizenship of 804 nationals from the beginning of 2012, a year after widespread anti-regime rallies began to rock the small Persian Gulf island country.
SALAM, which tries to preserve universal principles of dignity and respect by shielding democracy and human rights, detailed by the year the number of revocations per year: "2018 (298) - 2017 (156) - 2016 (90) - 2015 (208) - 2014 (21) - 2013 (0) - 2012 (31)."
It also said that the highly controversial move of revoking citizenship with an increasing rate is taken with the growing use of the judiciary for punishment despite international convictions.
On Thursday, the Supreme Court of Appeals stripped 25 Bahraini activists of their citizenship, accusing them of involvement in a purported terror attack.
Thousands of anti-regime protesters have held demonstrations in Bahrain on an almost daily basis ever since a popular uprising began in the country in mid-February 2011.
They are demanding that the Al Khalifah regime relinquish power and allow a just system representing all Bahrainis to be established.
Manama has gone to great lengths to clamp down on any sign of dissent. On March 14, 2011, troops from Saudi Arabia and the United Arab Emirates were deployed to assist Bahrain in its crackdown.
Scores of people have lost their lives and hundreds of others sustained injuries or got arrested as a result of the Al Khalifah regime's crackdown.
On March 5, 2017, Bahrain's parliament approved the trial of civilians at military tribunals in a measure blasted by human rights campaigners as being tantamount to imposition of an undeclared martial law countrywide.
Full report at:
https://www.presstv.com/Detail/2018/12/29/584324/Bahrain-citizenship-
--------
Mideast
Iran to continue backing Palestine, Zarif says
December 29, 2018
"The Islamic Republic of Iran will remain on the side of the Palestinian people and will support the Palestinian cause," Zarif said during a meeting with Ziad al-Nakhala, the secretary general of the Islamic Jihad movement.
Zarif said it is one of the principles of Iran's foreign policy to support Palestine.
For his part, Nakhala said the resistance front has boosted its capacities to counter the aggressors.
Also, during a meeting with Mahmoud al-Zahar, the co-founder of Hamas and a member of the Hamas leadership in Gaza, on December 23, Zarif said supporting Palestine is a principled policy of Iran.
"Supporting Palestine is one of the principled policies of the Islamic Republic and we hope that certain Islamic governments which are dependent on the U.S. and Zionists' support would return to the world of Islam and would realize that the Zionists are not a trusted friend and partner," he said.
Zarif also suggested that the Islamic world should support Palestine unitedly.
Zahar expressed hope that the Zionism project would end in failure through resistance by the Palestinians and support by the Islamic world.
https://www.tehrantimes.com/news/431243/Iran-to-continue-backing-Palestine-Zarif-says
--------
Yemeni government source denies Houthis' withdrawal from Hodeidah
29 December 2018
A Yemeni government source denied reports that the pro-Iranian Houthi militia had withdrawn from the port of Hodeidah.
The source said that: "During a meeting on Friday, Retired Dutch general Patrick Cammaert, the head of a United Nations advance team, handed over a memorandum to the parties requesting that the two sides provide, on Tuesday, January 1, 2019, perspectives on the ceasefire and redeployment mechanisms."
The source added: "During the meeting, the government's delegation told the Dutch general Cammaert that they reject any measures or unilateral actions, emphasizing that any decision must be made through formal means and by approval from the UN redeployment committee."
The source confirmed that the Houthis' statement on the redeployment in the port of Hodeidah is a clear attempt to maneuver around Sweden peace deal regarding the port which is not acceptable and is considered a violation that might lead to the deal's failure.
Yemen's government submits formal complaint to UN
The delegation of the Yemeni legitimate government submitted on Saturday a formal complaint to the United Nations on the announcement of handing over Hodeidah port.
For his part, the head of the UN team acknowledged that Houthis did not hand over the Hodeidah port.
Earlier, Al Arabiya's correspondent reported that the Yemeni government has not received any notification about the withdrawal of the Houthis from the port of Hodeidah.
The correspondent confirmed that the legitimacy observed redeployment and repositioning of the Houthi militias in the province.
As per the Sweden peace deal the Houthis must withdraw from the port and handover control to local units of Yemeni coast guards who were in charge of protecting ports before the war. These will be under UN supervision, according to Reuters.
The Houthis' withdrawal from the three ports of Hodeidah, Salif and Rass Issa is intended to be the first step in the implementation of the agreement.
The agreement, the first significant breakthrough in peace efforts in five years, was part of confidence-building measures intended to pave the way for a wider truce and a framework for political negotiations.
Hodeidah port is considered the entry point for most of Yemen's commercial goods and aid supplies, and a lifeline for millions of Yemenis.
The truce came into force on December 18.
Earlier, the United Nations team - tasked with monitoring the ceasefire between the Houthis and the legitimate government - announced that the Houthis started withdrawing from the port of Hodeidah, under the Sweden peace deal, a UN official said Saturday. The official, who requested anonymity, said that the Houthis began to pull back from the Red Sea port at midnight Friday. (2100 GMT Friday)
Full report at:
https://english.alarabiya.net/en/News/gulf/2018/12/29/UN-Houthis-begin-withdrawal-from-Hodeida-port.html
--------
Khomeini grandson warns: No guarantees Iranian regime will survive
30 December 2018
Hassan Khomeini, the grandson of Ayatollah Khomeini, the founder of the Iranian regime, stressed that the satisfaction of the people is the foundation of any society, warning Iranian officials to observe the principles of human behavior, and stressing that otherwise "there's no guarantees for them (Iranian officials) to stay in power."
Hassan added that in the absence of adherence to the rules, the Iranian regime will lose the support of the people.
According to the semi-official ISNA news agency, Hassan Khomeini said in a speech on Saturday in the Iranian capital Tehran: "The foundations of human behavior and reasons for survival and fall must be understood in order to take them into account. Otherwise, there is no guarantee that we will stay, and others will leave, if you do not observe the rules, they will take the arena from you."
"If you only see the formalities of society rather than the foundations of social relations and the core problems, be aware that these will bring unpleasant consequences for governments," said Hassan.
He stressed the need to win the support of the people, noting that "communities are built on the basis of consensus. Dividing society constantly and spreading hatred and hypocrisy constantly, forces individuals into dual personality, pushing them away from honesty, all these indicate that unpleasant consequences await governments."
Emphasizing the need to appease the public, he pointed out that lack of interest or development of talents is another reason for the collapse of governments.
Full report at:
https://english.alarabiya.net/en/News/middle-east/2018/12/30/Khomeini-grandson-warns-No-guarantees-Iran-s-regime-will-survive.html
--------
Israel's Jewish Home party splits ahead of April election
29 December 2018
A religious-nationalist party in Israeli Prime Minister Benjamin Netanyahu's coalition government split on Saturday, with its leaders saying they were bolting to appeal to more secular constituents ahead of an April election.
The Jewish Home party's schism posed no immediate threat to Netanyahu, for whom polls predict an easy win to a fifth term. But it suggested his fellow rightists were interested in poaching votes from a center-left opposition energized by the candidacy of an Israeli ex-general, Benny Gantz.
The Jewish Home leader, Education Minister Naftali Bennett, told reporters that he and his deputy, Justice Minister Ayelet Shaked, were leaving to form "a new party, of religious and secular together ... in true partnership".
The party, "New Right", would, like Jewish Home, pursue hawkish security policies including opposition to a Palestinian state, Bennett said.
It was not immediately clear whether Jewish Home was also continuing as a party.
Jewish Home, which has drawn on support from Israeli settlers in the occupied West Bank, had eight of parliament's 120 seats.
Prior to Bennett's announcement, polls had predicted the party would take around the same number in the April 9 vote, trailing Netanyahu's right-wing Likud party and at least three center-left parties.
Bennett has frequently locked horns with Netanyahu, accusing the prime minister of being too restrained in Gaza fighting.
Full report at:
https://english.alarabiya.net/en/News/middle-east/2018/12/29/Israel-s-Jewish-Home-party-splits-ahead-of-April-election.html
--------
Saudi Arabia destroys Houthi ballistic missile targeting Najran
29 December 2018
The Saudi air defense forces on Saturday destroyed a ballistic missile fired by the Houthi militias targeting Najran, sources told Al Arabiya. There has yet to be a formal statement from the Arab Coalition on the incident.
The missile is the second to be launched by the militias within 24 hours, targeting Saudi soil.
The launch of the Houthi missile towards the Kingdom comes in light of successive violations by the militias of the Sweden agreement.
On November 2, Najran was also targeted by a Houthi ballistic missile, but Arab Coalition forces succeeded in intercepting it without any injuries caused.
Coalition spokesman Colonel Turki al-Maliki had stated that the Houthi militias continuously attempt to threaten the security of the Kingdom, regional security, as well as violate international humanitarian laws.
Full report at:
https://english.alarabiya.net/en/News/gulf/2018/12/29/Saudi-Arabia-destroys-Houthi-ballistic-missile-targeting-Najran.html
--------
Iran's IRGC: US pullout from Syria sign of defeat
Dec 29, 2018
The deputy commander of Iran's Islamic Revolution Guards Corps (IRGC) says President Donald Trump's decision to pull out US troops from Syria is a sign of Washington's defeat in the region.
The decision is an "obvious retreat and the defeat and burial of US policies and strategies in the region," Brigadier Hossein Salami said on Saturday.
"They spent $7 trillion in the region, and are leaving today without any achievements," said the general on the sidelines of a conference on "40 years of plots and 40 years of resistance" in Tehran.
Salami was apparently referring to Trump's remarks during a sneak trip to Iraq on Thursday and his acknowledgement of concerns about visiting Iraq.
"Pretty sad when you spend $7 trillion in the Middle East, and going in has to be under this massive cover with planes all over and all of the greatest equipment in the world, and you do everything to get in safely," the US president said.
Trump's decision to withdraw all US troops from Syria has shocked and angered many American politicians who want to see the back of President Bashar al-Assad.
On Friday, leading US Senator Lindsey Graham warned in a tweet about a "major disaster" if Syrian Kurdish militants aligned with Assad following Trump's decision.
"If reports accurate about Kurds aligning with Assad, major disaster in the making," he said.
Graham's remarks came after the Kurdish residents of Manbij asked the Syrian government to retake the city following the US pledge to withdraw troops from the Arab country.
The Syrian army said later it had entered the city as it pledged to guarantee "full security for all Syrian citizens and others present in the area."
"Nightmare for Turkey and eventually Israel," Graham said, adding that the withdrawal would hand over a big win to Russia, Iran and the Syrian government.
Iran has been giving military advisory support to Syria's anti-terror operations at Damascus' request.
Full report at:
https://www.presstv.com/Detail/2018/12/29/584273/Iran-United-States-withdrawal-Syria-defeat-IRGC-Lindsey-Graham-warning-Assad-Kurds
--------
Israeli troops arrested some 6,500 Palestinians throughout 2018: Rights group
Dec 29, 2018
Israeli military forces have reportedly arrested 6,489 Palestinians, including 140 women and 1,063 minors, during separate operations across the occupied West Bank and the besieged Gaza Strip throughout the current year.
The Commission for Prisoners and Ex-Prisoner Affairs, in a statement released on Saturday, announced that six Palestinian lawmakers and 38 journalists were rounded up in 2018.
The statement added that Israeli authorities had issued 988 administrative detention orders during the mentioned period.
The commission highlighted that figures showed that the sweeping majority of Palestinians arrested this year were from the West Bank, while only 5 percent were from the Gaza Strip.
The statement came on the same day that Israeli forces raided several homes in the northern West Bank village of Faqqu'a, and detained a Palestinian man.
Palestine's official news agency WAFA reported that Israeli soldiers arrested Yasser Jamil Abu Khamis after violently ransacking his home.
The troopers also stormed the homes of his brothers, Mohammad and Loay, as well as of his father's. There were no reports of detentions there.
More than 7,000 Palestinians are reportedly held at Israeli jails. Hundreds of the inmates have apparently been incarcerated under the practice of administrative detention, a policy under which Palestinian inmates are kept in Israeli detention facilities without trial or charge.
Some Palestinian prisoners have been held in administrative detention for up to eleven years.
Palestinian inmates regularly stage hunger strikes in protest at the administrative detention policy and their harsh prison conditions in Israeli jails.
Full report at:
https://www.presstv.com/Detail/2018/12/29/584317/Israeli-troops-arrest-some-6500-Palestinians-throughout-2018-Rights-group
--------
India
Islamic State flags in Srinagar reflect disillusionment that is popularising radical alternatives in Kashmir
David Devadas
Dec 29, 2018
The waving of Islamic State (IS) flags and the chanting of IS slogan 'daulat ul Islam' from the pulpit of the Jamia mosque at the heart of Srinagar after Friday prayers is a chilling reminder of how stridently some young Kashmiris have imbibed the pan-Islamist ideas of IS.
One of them climbed onto the pulpit, which is traditionally treated with veneration, sat down where the Mirwaiz sits to deliver his sermons, took out a black IS flag, and waved it.
Someone promptly made him rise from the throne-like seat and others shouted loudly in protest, but a few more boys waved those flags just below the pulpit. Each of them had masked his face.
Widespread disillusionment
Such boys tend to fervently believe that rule by a caliph and the imposition of Shariat law would bring a perfect world of justice and good governance. It is a measure of their disappointment and disillusionment with the current set-up that they turn to such radical alternatives.
There is a general impression among them that the system is corrupt and unresponsive to the core, and does not care about the deaths of young Kashmiris.
Many have even come around to the view — promoted vigorously in certain social media discourses — that democracy is a Western conspiracy to impose unpopular and profane governments.
They often say that it is close to impossible to get a job in the state unless one is recommended by someone in the network of power and influence — and that such recommendations come at a price.
Many of them talk of having experienced the administrative set-up as not just corrupt but a sort of organised extortion racket.
In such unsettled situations, perceptions often matter more than the objectives of those in authority. These various perceptions have tended, over the past few years, to drive young people towards extremist movements.
History of authoritarianism
Sadly, there is little attempt to explain the realities of realpolitik to them. It is easy to see how, particularly in a milieu of deep distress, they might assume that any regime headed by one who is known as caliph, would necessarily act in accordance with divine guidance.
Even a cursory look at the history of religion-based regimes, however, would show how totalitarian, unresponsive, self-serving and corrupt such systems can become.
Whether they have claimed legitimacy on the basis of being Christian or Muslim or Buddhist or of any other religion, earthly regimes that claim a right to rule as given by divine right often end up only restricting the people's right to question them. Generally, they do not actually provide the justice, selflessness, and accountability that their respective religions teach.
Most Islamic scholars agree that the caliphate became unjust in various phases after the first four caliphs, who ruled the Muslim people of the time for the first thirty years after the Prophet's death.
Unjust experience
In this light, very few citizens might actually be happy with the sort of coercive political, administrative and social systems that IS imposed in areas of Iraq and Syria that it ruled recently.
In the first place, dress codes for both women and men might be experienced as restrictive if they were actually to be enforced. The young man who clambered onto the pulpit was dressed in fashionably faded jeans.
Those who implement the laws that would be put in place might turn out to be tyrannical and unjust in their dealings with ordinary people with no access to power and authority.
This has already been the experience of many people in Kashmir at the hands of the police in certain phases of the past couple of decades — and the Ikhwan bands who played havoc with the lives of so many about two decades ago.
Women might experience injustice more acutely, if one goes by the narratives of several women — particularly those from minority communities — in places where IS actually ruled in recent years.
An aspect of rule by such narrow-vision groups that does not match with Kashmir's inclusive ethos is their potential treatment of minorities, including groups who claim to be Muslim but do not follow all the tenets that those in power might insist upon.
https://www.firstpost.com/india/islamic-state-flags-in-srinagars-jamia-reflect-disillusionment-that-is-popularising-radical-alternatives-in-jammu-and-kashmir-5810451.html
--------
Three private firms in Sec 58 give space to Muslim employees for namaz
Dec 29, 2018
As the Noida police, through a directive, deterred Muslim workers from offering Friday namaz at the Sector 58 public park on Friday, private firms stepped up, and offered space to their employees for the day's prayers.
Three firms in Sector 58 opened up their rooftops Friday to allow Muslim employees to pray.
Amid the raging namaz row, Friday saw majority of the Muslim workers in sector 58 head towards a tomb adjacent to a park in Sector 54 to offer prayers. However, a few dozen employees found a space in their respective office spaces.
The owner of a hosiery company in Sector 58, told HT, on condition of anonymity, that he has been arranging a space for his Muslim employees on the rooftop to offer Friday prayers for the past 12 years. He said he had also arranged for an Imam who recites the Quran to the 35-40 Muslim employees working in his company.
Friday noon saw 70-80 people offer namaz on the company's office rooftop, with Imam Mohammad Abbas reciting verses from Quran.
"I have been coming to the company every Friday for the past 12 years. It started when the owner was looking for an Imam for his muslim employees. The owner has also arranged for a priest for the Hindu employees of the company. It's incredible how the environment of mutual respect has been carried for more than a decade," Abbas, hailing from Saharanpur and living in Bhangel village of Noida, said.
The Noida police had Monday had issued a notice to all companies in Sector 58 asking them to inform their Muslim employees not to offer namaz in the adjacent park, and that companies would be held "liable" in case of any violations. The park used to be frequented by hundreds of Muslim employees every Friday for the past five years.
Full report at:
https://www.hindustantimes.com/noida/three-private-firms-in-sec-58-give-space-to-muslim-employees-for-namaz/story-mFRzHykkWg5FdBISN2Q9SL.html
--------
Pakistan finalises 14-point agreement on Kartarpur corridor
Dec 30, 2018
Imtiaz Ahmad
Pakistan has finalised the draft of a 14-point agreement with India on the basis of which Indian pilgrims will be allowed to enter the country to visit Gurdwara Darbar Sahib in Kartarpur through a special corridor that is expected to be operational by November 2019.
The proposed agreement was to be sent to India, but was leaked to the Pakistani media ahead of its dispatch.
According to Pakistani officials quoted by local media, the draft document had been readied, but it hadn't been approved as yet and had not been shared with India.
Islamabad has proposed steps including security clearance of Sikh pilgrims by Indian authorities and possession of valid Indian passports for visiting the Gurdwara in Kartarpur, Pakistan, where Guru Nanak, the founder of Sikhism, died in 1539.
Pakistan has also proposed that a maximum of 500 pilgrims from India should be able to visit the holy site daily in groups of 15 between 8am and 5pm. It proposed visa-free entry for Indian pilgrims, and the setting up of facilitation centres and security checkposts within the planned corridor on both sides of the India-Pakistan border.
Pakistan shall issue a special permit to Sikh pilgrims ahead of their visit to Kartarpur and the Indian government would share the list of pilgrims with Pakistan three days in advance, according to the proposal. Both countries would compile records of the visitors, which will include their names, travel details and other relevant information.
Pakistan has also suggested that local authorities will reserve the right to refuse admission to any pilgrim.
Indian officials in New Delhi said they had no knowledge of the proposed agreement.
On November 28, Pakistan Prime Minister Imran Khan laid the foundation stone of the Kartarpur corridor, which will connect Darbar Sahib Gurdwara in Pakistan's Narowal to Dera Baba Nanak in India's Gurdaspur.
Vice president M Venkaiah Naidu laid the digital foundation stone of the project on the Indian side on November 26.
Full report at:
https://www.hindustantimes.com/india-news/pakistan-finalises-draft-of-14-point-agreement-on-kartarpur-corridor/story-2xNiIYKILS3Vj5stBmlTXN.html
--------
No tolerance policy towards militancy in Jammu and Kashmir to continue
Dec 29, 2018
The Centre has decided to persist with its muscular "no tolerance" policy towards militancy in Jammu and Kashmir even as violence in the Valley increases, a senior government official said on Saturday, a day the security forces shot dead four militants in Pulwama district.
"Through the winter, counter-terror operations by the Srinagar-based Chinar Corps of the Indian Army along with Central Reserve Police Force and Jammu and Kashmir Police will continue unabated if not scaled up," a senior ministry of home affairs (MHA) official said on condition of anonymity. The decision to continue with the no tolerance policy was taken after a review in New Delhi. "We believe results will be visible soon...," a second MHA official, who is not authorised to speak to the media, said.
This year, at least 180 young men from the Valley have joined terror groups like the Lashkar-e-Taiba (LeT) and Jaish-e- Mohammed (JeM), among others, and around 240 suspected terrorists killed, the most since 2010. The slain militants include 12 top commanders of various militant groups. Gun battles have sometimes been followed by civilian protests.
"The balance, however, is tipping in our favour after sustained counter-terror operations from June 2018. Terror groups in the valley are leaderless, the groups are directionless and most in their ranks lack training. With winter coming in, it will be impossible for those (terrorists) in the Valley to hide in the forests or head into mountains....," a senior officer at Army Headquarters said, explaining the Centre decision. "By March, the security situation could change."
And after a sudden spike, of late, a smaller number of local men are joining terror groups. "Only five local boys joined local terror groups last month after a sudden peak in June, July and August", a senior ministry of defence official said.
Earlier this year, the government suspended anti-terror operations during Ramazan in a move described as "non-initiation of combat operations" in Kashmir . After journalist Shujaat Bukhari, editor of Rising Kashmir, and Indian army soldier Aurangzeb were killed by militants, the initiative was called off.
Full report at:
https://www.hindustantimes.com/india-news/no-tolerance-policy-towards-militancy-in-jammu-and-kashmir-to-continue/story-XPxzUBZ5Va8im1laXBx4DP.html
--------
Police refuse permission for Pak's Dawat-e-Islam event in Hyderabad
December 29, 2018
The police on Saturday refused to grant permission to a Pakistani organisation, Dawat-e-Islami, to hold a public event in the Old Hyderabad.
Speaking to ANI over the phone, Deputy Commissioner of Police (DCP) South Zone, Amber Kishore Jha, said: "We have received a letter from Dawat-e-Islami seeking permission for an event to be held today and tomorrow here in Hyderabad's old city."
Opposing the event, many local religious organisations like All India Ulaima Mashaik Board, Quadria International, Sunni United Forum of India and Seerat un Nabi and some others had earlier written to the DCP South Zone requesting him not to grant permission for the event as it will pose a threat to the law and order situation.
"We had received letters from many local religious organisations requesting us not to allow Dawat-e-Islami organise the event in the old city. After evaluating and examining the claims and counterclaims, we decided not to grant permission to the organisation," the senior police official added.
Full report at:
https://www.business-standard.com/article/news-ani/police-refuse-permission-for-pak-s-dawat-e-islam-event-in-hyderabad-118122900399_1.html
--------
Srinagar's Jamia Masjid desecrated: Youth mounts pulpit, displays ISIS flag – Video goes viral
Dec 30, 2018
Srinagar: A few masked youths desecrated historic Jamia Masjid of Srinagar after the Friday prayer on 28th December. Separatist leaders and the management of Jamia Masjid condemned the incident.
It may be mentioned that after the Friday prayer, a few masked youths entered Jamia Masjid and one of them mounted the pulpit wearing shoes, unfolded the ISIS flag and also raised slogans.
His companion videographed the incident. After the incident, the video clip went viral on social media.
One of the youths present at the masjid made an attempt to stop the masked youth but failed. He was saying that they are desecrating the masjid.
Full report at:
https://www.siasat.com/news/srinagars-jamia-masjid-desecrated-youth-mounts-pulpit-displays-isis-flag-video-goes-viral-1451246/
--------
Al-Qaeda in a Kerala college campus: A radicalised state and why we aren't surprised
December 30, 2018
Kochi, Dec 30: A video of college students in Kerala carrying out a road show in support of terror groups, Al-Qaeda and the Islamic State has been doing the rounds.
Janam TV put out the visuals showing students of the Varkala C H Muhammad Koya Memorial College holding a show in support of the terror groups by raising their flags.
The visuals also showed Al-Qaeda flags being raised. Further writings on the walls of the toilet colleges in support of the terror groups were also part of the visuals.
The Kerala police has said that it has ordered a probe into the incident. The college authorities say that this is an old video of seven months back. It was part of the annual day, the authorities said while being quoted by various media outlets.
The visuals showed students dressed up as Al-Qaeda and ISIS activists, with their faces covered and waving flags of the banned organisations. Sloganeering in support of the the terror outfits were also part of the visuals. The radical hub: Kerala has been a hub for Islamic radicalisation and this has been proven in a number of cases that have been reported from the state over the past decade. The politics of the state, the social fabric among a large section in the Muslim community have made the state a happy hunting ground for jihadis. No story on this subject would be complete unless one speaks about a terrorist from Kerala who fought in Kashmir. This is important because this Kerala resident was the first non-Pakistani, non-Kashmiri terrorist who fought in Kashmir. While the state has over the years seen the influence of terror groups such as the Students Islamic Movement of India, Indian Mujahideen, Base Movement (Al-Qaeda's local chapter), today there seems to be more affiliation towards the Islamic State. Over the past three years nearly 54 from Kerala went off the radar one day and further investigations went on to suggest that they had joined the Afghan chapter of the Islamic State.
While the Indian Intelligence Bureau has always warned about the lurking danger of radical groups, now a study in Pakistan too has identified Kerala as the state which has the most affiliation towards the ISIS. A study titled 'Prospects of Daesh's Expansion in South Asia,"conducted by Abdullah Khan, the managing director of the Pakistan Institute for Conflict and Security Studies says that Wilayat-e-Hind is the new chapter of the Daesh which is quickly attracting educated youth in India, Bangladesh and Pakistan. It says the Indian citizens, especially from Kerala find the Islamic State more attractive than another group. This observation comes in the wake of 54 people from Kerala joining the ISIS in the past three years. The affiliation towards radical and terror groups in Kerala stems out of several factors. This is the state where radical groups such as the PFI and SDPI are extremely strong and enjoy a large amount of political patronage. These groups have played a major role in radicalisation of the youth, which in turn led to the major Wahhabi influx into the state from Saudi Arabia.
Wahhabism:
Several 1,000 Wahhabi preachers came into the state, spread their ideology, pumped in money and then left. They funded the construction of new Mosques heavily, with an intention of ensuring that the ideology was preached from these places of worship. The newer Mosques that are coming up in Kerala are also constructed in the manner in which they done in Saudi Arabia. This is just one small indicator of how much people of the state are willing to follow the radical style preached by the Wahabi scholars. Moreover the inflow of funds into Kerala from Saudi is the highest when compared to any other part of the country. It was in Kerala that one got to see posters mourning the death of Osama Bin Laden and also a prayer for Ajmal Kasab after he was hanged. Intelligence Bureau officials tell OneIndia that a large number of youth appear to be attracted to this radical style of Islam, but also add that there are some elders who are trying to oppose it. Several Muslim youth in Kerala got together and started an outfit called the Ansar-ul-Khilafa KL. This was the feeder outfit for the ISIS and its job was to identify people and send them to the ISIS.
https://www.oneindia.com/india/al-qaeda-in-a-kerala-college-campus-a-radicalised-state-and-why-we-arent-surprised-2829352.html
--------
Searches launched after suspected militants exchanged fire with soldiers in Jammu
Dec 30, 2018
Ravi Khajuria
Following grenade attack at Jammu bus stand on the intervening night on Friday and Saturday, suspected militants opened fire at an army camp in Ratnuchak area of Jammu on the intervening night of Saturday and Sunday before fleeing from the spot.
The army has launched a massive search operation in the area.
"In Ratnuchak Military Station, a suspicious movement was noticed by the sentry on duty around 0150 hours today (1.50 am on Sunday). The suspects were challenged but they did not stop, thereafter warning shots were fired by the sentry. The suspects fired back at the sentry and rushed out of sight. The search operation is still on", said Defence spokesman Lt Col Devender Anand.
A grenade blast had rocked Jammu Bus Stand on the intervening night of Friday and Saturday.
Full report at:
https://www.hindustantimes.com/india-news/searches-launched-after-suspected-militants-exchanged-fire-with-soldiers-in-jammu/story-w27Nt1xc7Sj34ffgevuVKI.html
--------
Pakistan
Saudi oil facility likely to start in January, UAE's could take longer
Mubarak Zeb Khan
December 30, 2018
ISLAMABAD: The deferred oil facility with Saudi Arabia should be complete and ready for signature in January as a revised draft agreement has been sent to Riyadh, a well-placed source in the finance ministry told Dawn on Saturday, while the talks with the UAE on the same facility have not yet yielded a draft agreement.
"We have almost finalised the details of the agreement with Saudi Arabia at the technical level," the source said, adding that the remaining issues will be sorted out by the second week of January.
Once the draft has been agreed at the technical level, it will be signed by the ministers of both countries. The first meeting on the deal at the technical level was held in Islamabad in October.
As per proposed agreement, Pakistan will receive up to $3 billion worth of oil with payment deferred for 365 days in the first year of the agreement in 2018. The Saudi Fund for Development will act as a third party in the agreement.
How the deal works
Pakistan based refineries will place orders with Saudi Aramco — a government owned company —for supplying crude oil. Pakistan has a long term contract with Aramco for supplying 110,000 barrels per day (bpd). Of these, Pak Arab Refinery Ltd (Parco) has a quota of 60,000bpd while the remaining quota of 50,000bpd is allocated to National Refinery Limited (NRL).
Both Parco and NRL will place orders for import with Aramco. The Saudi Development Fund will pay in dollars to Aramco. However, these refineries will deposit an equivalent amount in Pak rupee with State Bank (SBP) here in Pakistan.
The SBP will begin repayments to the Saudi Development Fund 12 months later, with monthly payments. For example, the January 2019 payment will be made in January 2020.
This arrangement will be in place for a period of three years, with oil imports worth $9bn.
Saudi Arabia had earlier extended a similar special package to Pakistan soon after the nuclear tests of 1998, following which the country faced international sanctions. Between 1998 and 2002, Pakistan received $3.5bn (Rs190bn at the exchange rate at that time) worth of oil from Saudi Arabia on deferred payment, a major part of which was converted into grant and never repaid.
Deferred oil facility with UAE
According to the source, talks with UAE government are in an advanced stage for a similar agreement of up to $3bn. The conditions attached to deal will be similar to those agreed with Saudi Arabia.
Currently, Pakistan based refineries are importing crude and petroleum products from Abu Dhabi National Oil Company (ADNOC) under a long-term contract. The quantum of imports stands at 75,000bpd. However, in case of extra demand, Pakistan can also import oil through open tender from UAE.
As per the agreed contract, Parco imports 39,000bpd crude oil, followed by 29,000bpd by Pakistan Refinery Ltd and 6,500bpd by NRL.
According to the source, the UAE government has not yet nominated a third party for the payment to Adnoc.
However, it is expected to finalise such an arrangement next month, according to the finance ministry official. At the moment, no formal agreement on deferred oil facility with UAE has yet been exchanged, the official tells Dawn.
In the year 2017-18, Pakistan's fuel imports — both oil and LNG — reached to $16bn despite fall in oil prices owing to rising consumption in the transport sector.
The overall, liquid foreign currency reserves held by the country, including net reserves held by banks other than the SBP, stood at $14,017.8 million. Net reserves held by banks amounted to $6,560.5m.
https://www.dawn.com/news/1454408/saudi-oil-facility-likely-to-start-in-january-uaes-could-take-longer
--------
FM Qureshi discusses Afghan peace, regional situation during day-long visit to Qatar
December 30, 2018
Foreign Minister Shah Mahmood Qureshi met the Qatari Prime Minister Sheikh Abdullah bin Nasser bin Khalifa Al Thani, Deputy Prime Minister and Minister of Foreign Affairs Sheikh Mohammed bin Abdulrahman Al-Thani and other top officials during a one-day trip to Doha on Sunday.
Qureshi and the Qatari officials in their meetings discussed the overall regional situation, as well as the Afghan peace process.
They also discussed increasing cooperation between Qatar and Pakistan in different fields, in addition to other regional and global issues.
Upon arrival in Qatar, the foreign minister was received by top officials of the Qatar Ministry of Foreign Affairs and the Embassy of Pakistan in Doha.
Before embarking on the trip, Qureshi had spoken about the relationship between Pakistan and Qatar, where a large Pakistani community resides.
The foreign minister, who last week wrapped up a whirlwind, three-day four-nation tour of Kabul, Tehran, Beijing and Moscow in connection with the Afghan peace process, had said that Pakistan had decided on "regional outreach" and on taking important allies into confidence, as well as exchanging views with them about the regional situation and the Afghan issue.
Qureshi said that Doha had played a role in the peace and reconciliation process in the past and it was therefore important to get their opinion on the matter.
Qatar has been hosting the Taliban's political office since 2013, but Pakistan-backed talks between US and Taliban were held in the UAE capital. This apparently was done to accommodate Saudi Arabia and UAE in the process. Diplomatic observers say the move did not go well with the Qatari leadership.
Full report at:
https://www.dawn.com/news/1454473/fm-qureshi-discusses-afghan-peace-regional-situation-during-day-long-visit-to-qatar
--------
Accountability not being done transparently: Nisar
Aamir Yasin
December 30, 2018
RAWALPINDI: Terming it a campaign against opposition parties, former interior minister Chaudhry Nisar Ali Khan on Saturday raised questions over the pro­cedure of accountability curr­­ently being car­­ri­ed out by different agen­cies in the country.
Talking to media personnel here, he said that the fake accounts case was initiated by the Supreme Court, but the Pakistan Tehreek-i-Insaf (PTI) government while trying to own it was making the whole accountability process controversial.
"I am not against accountability, but the accountability process currently going on in the country is not transparent," he said. Rese­rvations being exp­ressed by the opposition parties on the current accountability process shou­ld be addressed to make it transparent, otherwise it would simply be called political victimisation, he added.
The senior politician said that the country was facing a serious political crisis and in this situation it was a better option to remain silent.
He said the government should understand that it could not function properly without an opposition. Nawaz Sharif, Shahbaz Sharif and Asif Ali Zardari were not only faces of the opposition. They were, in fact, leaders of political parties which played the role of an opposition, he added.
He said the accountability process was being conducted by state institutions and not by the government. But, he added, they both could be accountable for it if it was not transparent. Furthermore, he said, the people would accept the opposition parties' narrative of political victimisation if the accountability process was not transparent.
Mr Khan broke his silence on the 2018 general election and raised questions over its credibility and results. Expressing doubts over the results of his constituency, he said how could it be possible that his votes in election for a National Assembly seat were reduced while his votes in election for a provincial assembly seat were increased.
The former federal minister, however, did not answer the question why he had so far not taken the oath of the Punjab Assembly seat he had won in the July election.
Chaudhry Nisar said that had the Pakistan Muslim League-Nawaz (PML-N) leadership taken his advice seriously the party would have been in power now, adding that he had advised the party leadership against directly criticising the army and the judiciary.
The former federal minister criticised Prime Minister Imran Khan for repeatedly calling for resumption of Pakistan's dialogue with India. He claimed that the government of Prime Minister Narendra Modi in India was not interested in holding talks with Pakistan. PM Khan's repeated plea for resumption of dialogue was contrary to the national honour, he added.
Full report at:
https://www.dawn.com/news/1454416/accountability-not-being-done-transparently-nisar
--------
CJP Nisar defends judicial activism, terms it 'constitutional responsibility'
Dec 30, 2018
LAHORE: Chief Justice of Pakistan (CJP) Mian Saqib Nisar on Saturday said it was the "judiciary's constitutional responsibility" to tackle the flaws of institutions.
Justice Nisar, while addressing the convocation ceremony of Services Institute of Medical Sciences (SIMS) in Lahore, said that ensuring the provision of proper health services was neither his nor court's job; however, curbing flaws of institutions is the constitutional responsibility of the judiciary.
He, however, went on to defend his judicial activism. The judiciary is the "guardian of the fundamental rights of the people of Pakistan" by the law and thus it's "bound to ensure that the rights of the people are protected".
"There were flaws in hospital management systems and it was our responsibility to deal with them," he said, adding that judiciary did not interfere in the internal matters of any institution.
The top judge further said that private hospitals have become business centres and are no longer academic institutes. He further said that Rs726 million were recovered from the millions earned by private medical colleges as fee and were returned to the students.
Furthermore, Justice Nisar talked about female doctors who abandon practice after getting their degrees. "If you sit at home and become housewives [after receiving medical education], you violate the oath that you swore today, which is to help the miserable."
He said that the constitution had ended the quota system where women were allotted lesser seats than men, so that admissions are given on the basis of merit. It is detrimental to society, he said, when female doctors abandon their profession.
The chief justice urged female students to convince their families to facilitate them so they can serve as doctors and repay the resources provided to them by the state.
Justice Nisar, while recalling incidents from his childhood, said, "When I was eight years old, I used to take my mother to the doctor in a horse carriage and we used to spend hours at the clinic. My mother taught my brother and me to serve humanity and prayed to God to protect us from all difficulties."
"Those who suffer greatly, understand the pain of others," the top judge added. "I began my mission with my mother's teachings in mind," he continued.
"I have spent my whole life working for the provision of justice. The purpose of my life is to stay loyal to my profession," he said, adding that moral righteousness was his motto.
Full report at:
https://www.pakistantoday.com.pk/2018/12/29/judiciarys-responsibility-to-curb-flaws-of-institutions-cjp/
--------
Africa
UN calls on Sudan to investigate protest deaths
29 December 2018
UN Secretary-General Antonio Guterres on Friday called on authorities in Sudan to investigate deaths during violent protests in Khartoum and other cities.
At least 19 people have been killed since December 19 during protests sparked by Khartoum's decision to hike the price of bread, according to the government.
Guterres "appeals for calm and restraint and calls on the authorities to conduct a thorough investigation into the deaths and violence," the UN spokesman said in a statement.
The UN chief is "following with concern" developments in Sudan and "emphasizes the need to safeguard freedom of expression and peaceful assembly."
Sudanese police fired tear gas at worshippers who staged demonstrations after Friday prayers in several cities, including Khartoum and its twin city of Omdurman on the west bank of the Nile, witnesses said.
Photographs posted by activists on social media showed thick plumes of smoke rising from neighborhoods in Khartoum as protesters burned garbage and tires.
Opposition groups have called for more anti-government rallies to be held over the next few days.
Sudan is facing an acute foreign exchange crisis and soaring inflation, despite the US decision to lift an economic embargo in October 2017.
https://english.alarabiya.net/en/News/middle-east/2018/12/29/UN-calls-on-Sudan-to-investigate-protest-deaths.html
--------
Turkey condemns terrorist attack in Burkina Faso
28.12.2018
Turkey on Friday condemned a terrorist attack that killed at least 10 people in northwestern Burkina Faso.
"We are saddened by the terrorist attack against the security forces in Sourou State in northwestern Burkina Faso, claiming many lives and leaving several people injured," the Foreign Ministry said in a statement.
"We condemn this heinous attack and offer our condolences to the people and Government of Burkina Faso," the statement said.
https://www.aa.com.tr/en/africa/turkey-condemns-terrorist-attack-in-burkina-faso/1351215
--------
Boko Haram: Residents flee as insurgents attack Buni Gari in Yobe
December 30, 2018
By Shehu Usman
Buni Gari town in Gujba local government of Yobe State has been reportedly under attack by suspected Boko Haram insurgents.
Report has it that, the gunmen came to the town in a convoy of trucks and started shoot sporadically with residents fleeing for safety last night.
DAILY POST gathered that the assault seems to be a reprisal attack as last week after two Boko Haram insurgents were reportedly killed by members of the vigilante.
The town which is about 63 kilometers away from Damaturu, the Yobe State capital, is the ancestral home to APC National secretary and Yobe APC gubernatorial aspirant Mai Mala Buni.
Full report at:
http://dailypost.ng/2018/12/30/boko-haram-residents-flee-insurgents-attack-buni-gari-yobe/
--------
North America
US may let Kurdish militants to keep arms after Syria pullout: Officials
Dec 29, 2018
US officials say the Pentagon is considering recommending that Kurdish militants be allowed to keep American-supplied weapons after the withdrawal of troops from Syria.
Speaking on the condition of anonymity, three US officials told Reuters that the recommendations were part of discussions at the Pentagon on a draft plan.
The initiative, they added, would be presented to the White House in the coming days with US President Donald Trump making the final decision.
Earlier this month, Trump ordered a quick withdrawal of all 2,000 US forces from Syria claiming victory over the Daesh Takfiri terrorist group in the war-torn country.
US media reports say the planned pullout has made anti-Damascus Kurdish militants, who have long enjoyed American support, feel abandoned by Washington.
On Friday, Kurdish YPG militants asked Damascus for protection after the withdrawal of US troops. Units of the Syrian army entered Manbij later and hoisted the national flag in the Kurdish-held city.
Turkey views the YPG as a terrorist group and an affiliate of the outlawed Kurdistan Workers Party (PKK) and threatened to attack east of the Euphrates River in northern Syria to drive out the militants.
Asked about possible US recommendations for leaving behind weapons provided to Kurdish militants, the Pentagon said it would be "inappropriate" and premature to comment on what will happen with the arms.
"Planning is ongoing, and focused on executing a deliberate and controlled withdrawal of forces while taking all measures possible to ensure our troops' safety," said Pentagon spokesman Commander Sean Robertson.
One of the American officials stressed that the US had vowed to arm the YPG until the purported fight against Daesh was complete.
"The fight isn't over. We can't simply start asking for the weapons back," he added.
Another one noted that it would be nearly impossible to locate all of the equipment supplied to the Kurds, asking, "How are we going to get them back and who is going to take them back?"
The other US official said, "The idea that we'd be able to recover them is asinine. So we leave them where they are."
A person familiar with the discussions of the US pullout plan said that the White House and Turkish President Tayyip Erdogan would oppose the proposal to allow the YPG to retain its weapons.
The recommendation "is a rejection of Trump's policy to withdraw from Syria," he pointed out.
The likely US plan to leave weapons at the hands of the Kurds is expected to infuriate Ankara, which has repeatedly complained about Washington's close ties with the militants.
The US has given the Kurdish militants anti-tank missiles, armored vehicles and mortars. Back in April, Erdogan said the US had sent 5,000 trucks loaded with weapons to northern Syria.
https://www.presstv.com/Detail/2018/12/29/584241/Syria-Kurdish-militants-weapons
--------
Two-year-old Yemeni boy at centre of row over US travel ban dies
Dec 29, 2018
Two-year-old Abdullah Hassan, whose Yemeni mother had been banned entrance to the United States by the State Department for months to see him, has died.
Hassan died on Friday from a terminal genetic brain disease named hypomyelination in UCSF Benioff Children's Hospital in Oakland, California.
The two-year-old Hassan, who was a US citizen, had been brought to the US for treatment about three months ago by his father, Ali Hassan, who also bears US citizenship.
His mother, Shaima Swileh, had been barred from visiting her ailing son due to the US travel ban imposed on several Muslim countries.
For months, the US State Department, citing the presidential travel ban, had rejected her visa request.
Swileh was eventually granted permission to enter the US days before Hassan's death and only after she sued the Trump administration over the travel ban.
"We are heartbroken. We had to say goodbye to our baby, the light of our lives," the father was quoted by media as telling reporters.
Trump's travel ban targets people from six Muslim-majority countries, namely, Iran, Libya, Syria, Yemen, Somalia and Chad.
In addition to the Muslim states, North Korea and Venezuela are also targeted in the presidential ban.
During the 2016 presidential race, Trump campaigned for "a total and complete shutdown" of Muslims entering the US.
Full report at:
https://www.presstv.com/Detail/2018/12/29/584315/Boy-at-center-of-row-over-Trumps-travel-ban-dies
--------
Trump not drawing down military presence in Afghanistan: White House
Dec 29, 2018
The White House says President Donald Trump has not yet ordered the US military to pull troops out of Afghanistan, amid reports that Trump is planning for the withdrawal of thousands of troops from the country.
"The president has not made a determination to drawdown U.S. military presence in Afghanistan and he has not directed the Department of Defense to begin the process of withdrawing U.S. personnel from Afghanistan," Garrett Marquis, a spokesman for the National Security Council, said in an emailed statement to Bloomberg on Friday.
The official White House statement came after reports were published by Bloomberg and various media outlets from unnamed American officials who claimed the Pentagon was pulling out some 7,000 troops deployed to Afghanistan. The US has a total of 14,000 troops stationed in Afghanistan.
The United States -- under Republican George W. Bush's presidency -- and its allies invaded Afghanistan on October 7, 2001 as part of Washington's so-called war on terror. The offensive removed the Taliban regime from power, but after more than one and a half decades, the foreign troops are still deployed to the country.
After becoming the president in 2008, President Barack Obama, a Democrat, vowed to end the Afghan war -- one of the longest conflicts in US history – but he failed to keep his promise.
President Trump, who has spoken against the Afghan war, has dubbed the 2001 invasion and following occupation of Afghanistan as "Obama's war".
But Trump has also announced to deploy thousands of more troops to the war-torn country, signaling a policy shift.
The Taliban on Thursday warned the United States it would face the same fate as the Soviet Union in the 1980s if it did not leave Afghanistan.
Taliban spokesman Zabiullah Mujahid said in a statement that US forces face "humiliation" and could "learn a great deal" from the experience of their Cold War foe.
Full report at:
https://www.presstv.com/Detail/2018/12/29/584311/Trump-not-drawing-down-military-presence-in-Afghanistan-
--------
Most Americans support US troop withdrawal from Syria: Poll
Dec 29, 2018
A majority of Americans have expressed support for pulling the US troops out of Syria, according to a recent poll.
According to a new Harvard CAPS/Harris poll published by The Hill on Saturday, the majority of the participants in the survey supported US President Donald Trump's decision to withdraw US troops from Syria and reduce the country's military presence in Afghanistan.
Trump announced that he had decided to withdraw the approximately 2,000 US troops in Syria, and cut in half the roughly 14,000 US forces in Afghanistan.
Poll results showed that 52% of respondents said they backed the withdrawals from Syria and Afghanistan.
By contrast, 48 percent said they oppose the troop withdrawals and reductions, the poll found.
The announcement of the US troop withdrawal was followed by the resignation of Defense Secretary James Mattis and Brett McGurk, the US special envoy to the so-called anti-Daesh coalition in Syria and Iraq.
Trump criticized Mattis, saying he gave the former general a second chance after he had been fired by former President Barack Obama.
Full report at:
https://www.presstv.com/Detail/2018/12/29/584287/US-Trump-Troop-Withdrawal-Afghanistan-Syria
--------
Europe
Turkey, Russia agree to cooperate with eye on US withdrawal
December 29, 2018
Top Russian and Turkish ministers have agreed to maintain cooperation in northern Syria as US forces prepare to withdraw and Ankara threatens to launch a military operation against the American-backed Kurdish forces controlling nearly a third of the country.
Russian Defence Minister Sergei Shoigu said before the talks began that they would focus on the situation in and around Idlib, as well as "what can and should be done" when the US withdraws from Syria.
After the meeting, Russian Foreign Minister Sergei Lavrov told reporters that much of the discussion focused on the pending American withdrawal and that Russia and Turkey managed to agree on coordinating their steps in Syria "to ultimately eradicate the terrorist threat."
Russia is a key ally of Damascus who have reportedly sent forces into northern Syrian areas at the invitation of the Kurdish majority Syrian Democratic Forces – until now a strong ally and partner of the US in the fight against ISIS. The move by the Kurds is seen as an attempt to head off a Turkish military push across the border by creating a buffer zone of Syrian government forces and also as means of bolstering relations between the Kurds and the government ahead of possible talks on the future of the region.
Turkey's official Anadolu news agency said the meeting lasted an hour and a half. Turkish Foreign Minister Mevlut Cavusoglu said Russia and Turkey have a "shared will on cleaning Syria from all terror organizations," and added Turkey would continue its "close cooperation" with Russia and Iran in Syria and the region.
The Syrian military said it entered the Kurdish stronghold of Manbij on Friday as part of an apparent agreement between the two sides.
With President Donald Trump's surprise decision to withdraw troops earlier this month, Turkey announced it will hold off on a threatened offensive against Kurdish militants that it considers terrorists. It has, however, continued amassing troops at the border as it monitors the situation.
The movements follow days of equipment transfers across the border into a Turkish-held area of northern Syria near Manbij. Turkish-backed Syrian opposition fighters said they have started moving along with Turkish troops to front-line positions near the town as a show of readiness.
A statement released by the rebels said they are ready to "begin military operations to liberate the city in response to calls by our people in the city of Manbij."
Turkish news agency IHA showed video of at least 50 tanks arriving at a command post in Sanliurfa province early on Saturday. The province borders Kurdish-held areas east of the Euphrates river in Syria.
The Russian side was represented in Saturday's talks by Mr Lavrov, Mr Shoigu, and Kremlin foreign affairs aide Yuri Ushakov. The Turkish delegation includes Mr Cavusoglu, presidential spokesman Ibrahim Kalin, intelligence chief Hakan Fidan and Defence Minister Hulusi Akar.
Kremlin spokesman Dmitry Peskov told reporters in Moscow on Saturday that, in addition to the foreign and defence ministers of each country, the meeting was attended by intelligence chiefs from both sides.
Presidents Vladimir Putin and Recep Tayyip Erdogan did not attend the meeting. Mr Peskov said the two would later schedule a separate meeting.
In Syria, opposition activists said the head of a local council allied with the Kurds was assassinated in the eastern province of Deir Ezzor. The Britain-based Syrian Observatory for Human Rights said Marwan Fatih, head of the Deir Ezzor Council, was shot dead in the province by unknown assailants. The activist collective DeirEzzor24 said he was killed when a roadside bomb exploded on the highway linking the cities of Ezzor and Hassakeh in the northeast.
https://www.thenational.ae/world/mena/turkey-russia-agree-to-cooperate-with-eye-on-us-withdrawal-1.807551
--------
German police arrest Syrian man wanted in Dutch terror case
29 December 2018
German police say they have arrested a Syrian man suspected of involvement in preparations for a terror attack in the Netherlands.
Police said the 26-year-old was arrested Saturday in the western city of Mainz following an extradition request from the Netherlands. They didn't name him.
A statement from police said the suspect has neither an official residence nor a criminal record in Germany. The apartment where he was found was searched.
German police said they couldn't give further details, which they said are a matter for the police in the Dutch city of Rotterdam who are leading the investigation.
https://english.alarabiya.net/en/News/world/2018/12/29/German-police-arrest-Syrian-man-wanted-in-Dutch-terror-case.html
--------
Italy to halt arms sales to Saudis amid Yemen war
Dec 29, 2018
Italy's Prime Minister Giuseppe Conte says his government wants to end arms sales to Saudi Arabia due to war and atrocities in neighboring Yemen.
"We are not in favor of the sale of these weapons and so now it is only a question of formalizing this position and acting accordingly," Conte said at the prime minister's traditional end-of-the-year press conference on Friday while responding to Italy's continuing arms exports to the Persian Gulf kingdom.
The move comes amid controversy over Saudi Arabia's war on Yemen and massive aerial bombardment of Yemen's residential areas and infrastructure there as well as the killing of dissident journalist Jamal Khashoggi in the Saudi consulate in Turkey's Istanbul.
If Conte's decision goes ahead, Italy would join a growing list of countries halting arms sales to the Saudis.
Denmark, Finland, Germany and Norway have already decided to stop selling arms to Saudi Arabia, while Canadian Prime Minister Justin Trudeau has also expressed interest in canceling his country's $13 billion arms deal with Riyadh.
Trudeau announced in October that Ottawa stands ready to halt its weapons deal with the Saudis, claiming in a parliamentary address that "we strongly demand and expect that Canadian exports are used in a way that fully respects human rights."
The Canadian branch of the US-based General Dynamic arms manufacturer has been contracted to deliver 742 armored vehicles to the Saudi kingdom to support its aggression against Yemen.
Despite Trudeau's pledge however, reports last week revealed that a consignment of the military vehicles had already left Canada for Saudi Arabia.
Canada's leading daily The Globe and Mail reported last Sunday that a cargo ship loaded with armored vehicles left the port of Saint John for Saudi Arabia a day after protesters gathered to condemn the shipment.
Another report earlier this month further revealed that despite Germany's claim of halting its arms shipments to the Saudis over the murder of Khashoggi, Berlin is covertly continuing its arms exports to the kingdom and is even planning to resume overt weapons sales to Riyadh soon.
This is while many more Western governments are continuing their arms deals with the Saudis, including the US, France, and the UK.
The United Nations calls Yemen the site of the worst humanitarian suffering in the world as the Saudi war has left 14 million people facing starvation
Saudi Arabia invaded Yemen in March 2015 to reinstate former president Abd Rabbuh Mansur Hadi, who had resigned amid popular discontent and fled to Riyadh.
The aggression is estimated to have left 56,000 Yemenis dead.
Full report at:
https://www.presstv.com/Detail/2018/12/29/584248/Italy-Prime-Minister-Giuseppe-Conte-Saudi-Arabia-arms-sales-Yemen-conflict
--------
URL: https://www.newageislam.com/islamic-world-news/in-bangladesh-47-year-old/d/117308
New Age Islam, Islam Online, Islamic Website, African Muslim News, Arab World News, South Asia News, Indian Muslim News, World Muslim News, Women in Islam, Islamic Feminism, Arab Women, Women In Arab, Islamophobia in America, Muslim Women in West, Islam Women and Feminism