New Age Islam News Bureau
19 July 2022
Channel 13's Gil Tamari in Mecca, Saudi Arabia with the Grand Mosque in the background from footage broadcast on July 18, 2022. (Screen capture/ Channel 13)
-----
• In Apparent First, Gil Tamari, Israeli Television Journalist Visits Muslim Holy City of Mecca
• Muslim Community Network Survey Results Reveal Muslims in NYC Dealing with Racism, Threats at Early Ages
• Malaysia's Kedah State Raises Minimum Legal Age for Marriage among Muslims from 16 to 18 Years
• Islamic Emirate of Afghanistan Proved Afghan Soil Not a Threat: Interior Minister Sirajuddin Haqqani
• North West's Mosques and Churches Provide Safe Haven from 'Extreme' Heat
Middle East
• Palestinian Woman Activist Banned By the Israeli Authorities from Entering Al-Aqsa Mosque for One Week
• Nobuaki Kondo's studies on Islamic law in Qajar Iran published in Persian
• Paintings by Ruholamin represent Muslims' oath of allegiance at Ghadir event
• Iran filmmaker Panahi must serve 6-year sentence: Judiciary
• Palestinian residents in West Bank facing severe water crisis
------
North America
• US delegation urges Lebanon to speed up government formation
• Beset by delays, new Rolling Meadows mosque construction finally set to begin
------
Southeast Asia
• East Timor hopes to join ASEAN under Indonesia presidency next year
------
South Asia
• Earthquakes Devastate Quake-Hit Afghanistan Again
• House-to-House Search and Alleged 25 Arrests in Northern Afghanistan
• Taliban's Central Bank Injects $12 Million to the Market to Maintain the Currency Value
------
Europe
• Downing Street confirms ban on Muslim Council of Britain contacts
• Battle over Sydney Muslim Radio Station Escalates As Imams Council Seeks To Take Over Licence
• Europe's Castle Mecca Hides on This Popular Isle
• Putin Visits Iran for First Trip outside Russia since Ukraine War
• Vladimir Putin heads to Tehran for talks with leaders of Iran, Turkey
------
India
• Allahabad High Court to Civil Judge: Decide On ASI Survey of Krishna Janmabhoomi Mosque in 3 Months
• Babri Demolition Case: Allahabad HC Rejects Revision Petition Filed Against the Razing Of Mosque
• No Non-Muslims Offered Namaz in Lucknow's Lulu Mall, Clarify Police
• Mathura mosque-temple dispute: Civil court to hear suit next on July 21
• Former councillor murdered in tussle over mosque in Bengaluru, nephew held
• Maharashtra: One dead in clash between Hindus and Muslims in Dhule district
------
Pakistan
• Enhanced Engagement with the Taliban Is Needed, Says Pakistani Diplomat to International Community
• SC To Hear Petition on 'Pakistan Tehreek-i-Insaf Hate Campaign' Against SC, EC, Armed Forces
• Pakistan to get $4 billion from friendly countries to shore up reserves: Finance Minister Miftah Ismail
• Pakistan, China mull extending CPEC to Afghanistan
• PM Shehbaz urges ECP to announce 'long-delayed' judgement in PTI prohibited funding case
• Security beefed up in Islamabad amid threat alerts
-------
Africa
Moment Of Truth as Muslim-Muslim Presidential Ticket Tests Nigeria's Unity
Muslim-Muslim conversation is win-win for APC
Muslim-Muslim ticket: Winning elections, parties' first concern, say Muslim professionals
------
Arab World
• Grand Mosque Distributes 12m Litres of Zamzam Water to Hajj Pilgrims
• Saudi Arabia and Japan reaffirm close bilateral ties
• Saudi authorities order doubling of admission rates for in-demand university subjects
• Saudi authorities record more than 80 environmental violations in Asir
• OIC condemns terrorist attack in Somalia
• Saudi students win 6 prizes at biology and chemistry Olympiads
• At least 22 killed, 33 injured in car crash in southern Egypt
Compiled by New Age Islam News Bureau
URL: https://newageislam.com/islamic-world-news/gil-tamari-israeli-television-journalist-mecca/d/127516
------
In Apparent First, Gil Tamari, Israeli Television Journalist Visits Muslim Holy City of Mecca
Channel 13's Gil Tamari in Mecca, Saudi Arabia with the Grand Mosque in the background from footage broadcast on July 18, 2022. (Screen capture/ Channel 13)
-----
18 July 2022
An Israeli television reporter recently visited the holy Muslim city of Mecca, his network reported Monday, days after US President Joe Biden wrapped up a trip that included a direct flight from Israel to the coastal Saudi city of Jeddah.
Channel 13's world news editor, Gil Tamari, broadcast footage of himself driving into the city, where the Saudi government bans non-Muslims from entering.
Tamari showed himself driving under the iconic gates of the city and past the Grand Mosque that houses the cube-shaped Kaaba, the holiest shrine in Islam.
The face of his driver was blurred.
In an image shared by the network, Tamari was also seen on Mount Arafat, about 15 kilometres (nine miles) from Mecca, where Muslims gather during the hajj pilgrimage.
Several Israeli journalists travelled to Saudi Arabia last week to cover the visit of US President Joe Biden.
Before Biden's visit, Channel 13's military correspondent, Alon Ben David, and the Israel Hayom daily's Yoav Limor both traveled to the Gulf nation, amid speculation that Israel and Saudi Arabia were taking steps toward normalization.
While Israelis have visited Saudi Arabia before, most have been Mossad chiefs or senior political figures, along with Muslims making the hajj pilgrimage. Recently, an Israel business delegation reportedly visited.
Officially, Saudi Arabia rejected recognition of the Jewish state in 1948 and maintained that policy in part due to the Israeli-Palestinian conflict. That, however, started to change in recent years, with behind-the-scenes attempts to promote diplomatic and security cooperation in the face of the Iranian threat.
On Friday, Saudi Arabia announced it was opening its airspace to all civilian overflights, in a move that had widely been regarded as part of US-brokered efforts to advance normalization steps between Jerusalem and Riyadh. The announcement happened while Biden was visiting Israel, hours before he traveled to Jeddah and met Saudi leaders.
However, Saudi Foreign Minister Prince Faisal bin Farhan said Saturday that Riyadh's decision to open its airspace had "nothing to do with diplomatic ties with Israel" and was "not in any way a precursor to any further steps" toward normalization.
Source: Times Of Israel
Please click the following URL to read the text of the original story:
https://www.timesofisrael.com/in-apparent-first-israeli-journalist-visits-muslim-holy-city-of-mecca/
------
Muslim Community Network Survey Results Reveal Muslims in NYC Dealing with Racism, Threats at Early Ages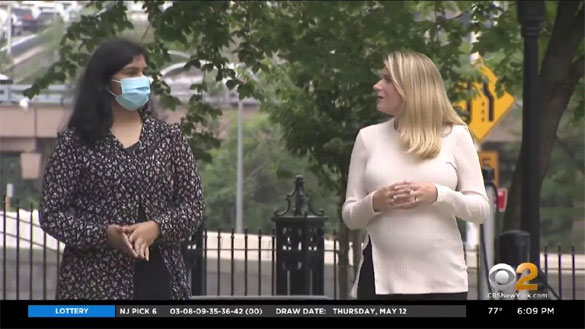 Photo: CBS New York
----
JULY 18, 2022
NEW YORK -- Disturbing new numbers show that anti-Muslim activity appears to be growing in the city.
According to the Muslim Community Network, more than 26 percent of Black Muslims and nearly 32 percent of Asian Muslims experienced or saw a hate crime in the first half of this year.
And as CBS2's Leah Mishkin reported Monday, the incidents can start as early as elementary school.
"It was like really difficult for me," a teenager named Yyra said.
She was only 6 years old when another student threatened her because of her race and religion.
"He told me that he was going to one day come to my house and he was going to murder me as I was sleeping," Yyra said.
In the fourth grade, she said that same student told her his father, who was a cop, would deport her family.
"He'd like accuse me of being a terrorist," Yyra said.
The Muslim Community Network surveyed 116 city Muslims in 2019 and found that 43.5 percent of 10- to 18-year-old respondents said they experienced or witnessed a hate crime.
The Network wants the City Council to reintroduce and pass Resolution 1257, which would allow the Department of Education to introduce religious diversity courses into the curriculum.
"And provide professional development training to educators. The hate crimes is not just coming from youth to youth. It's also educators' lack of knowledge about the religions," advocacy program manager Ajifanta Marenah said.
Of the 100 New York City Muslims surveyed in 2022, nearly half, 49 percent, said they were victims of a hate crime, and 76 percent said they witnessed a hate crime.
"People pulling off students' hijabs, spitting on someone, mostly verbal abuse, calling someone a terrorist," Marenah said.
Leaders stood on the steps of City Hall on Monday to shine a spotlight on the rise in hate crimes across the country and advocated for change.
"Not just hate crimes against Muslims, but anti-religious hate crimes across the board. Hate crimes against Jews, against our Sikh partners. Hate crimes against the Asian community," Marenah said.
Yyra, now 15, shared her story, hoping laws will be signed so her younger siblings never have to experience what she did growing up.
Source: cbs news
Please click the following URL to read the text of the original story:
https://www.cbsnews.com/newyork/news/community-network-survey-results-reveal-muslims-in-nyc-dealing-with-racism-threats-at-early-ages/
------
Malaysia's Kedah State Raises Minimum Legal Age for Marriage among Muslims from 16 to 18 Years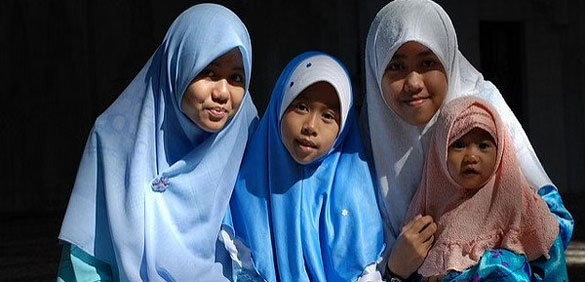 Representative Image (Photo Credit: Twitter)
-----
Tue, Jul 19 2022
Kuala Lumpur, Jul 19 (IANS): Malaysia's Kedah state has raised the minimum legal age for marriage among Muslims from 16 to 18 years old in order to ensure girls will reach the minimum maturity age before entering marriage.
Kedah state chief minister Muhammad Sanusi Md Nor tabled the amendment during the state legislative assembly session on Monday, and the bill has been passed, according to state news agency Bernama.
Those seeking to get married below the minimum age could still do so, but they should seek the prior permission of the Islamic court, Xinhua news agency reported quoting Bernama.
The state government also passed an amendment to increase the fine to 3,000 ringgit (about 673 U.S. dollars) and a jail term of up to one year for those entering polygamy without court approval.
Malaysia has a dual-track legal system specifically for Muslims and non-Muslims, and Islamic marriage comes under state matters as provided for under the federal constitution.
In pursuance of the Islamic family law of the respective states, the minimum marriage age for Muslims is 18 for males and 16 for females. Previously, the sole exception was Selangor state which had amended the minimum legal marriage age by raising it to 18 for both men and women in 2018.
Underage marriage has been a contentious issue in the country with advocates calling for the minimum age of 18-years-old, arguing that early marriage deprives women of opportunities besides exposing those involved to health problems.
Government statistics revealed that in 2020 there were many underage marriage applications in various regions across the country, including the northern Borneo state of Sarawak that logged 183 cases.
Source: The Print
Please click the following URL to read the text of the original story:
https://theprint.in/world/malaysias-kedah-state-raises-marriage-age-to-18/1045745/#:~:text=Kuala%20Lumpur%20%5BMalaysia%5D%2C%20July,age%20before%20entering%20a%20marriage.
------
Islamic Emirate of Afghanistan Proved Afghan Soil Not a Threat: Interior Minister Sirajuddin Haqqani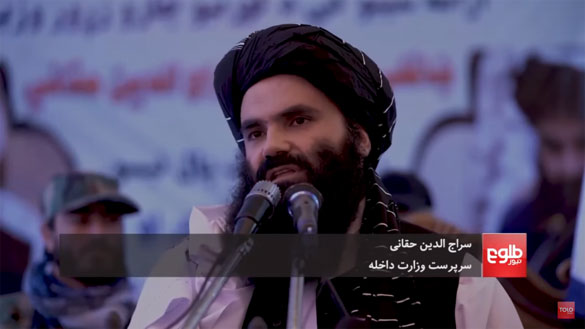 Acting Interior Minister Sirajuddin Haqqani
-----
Monday, 18 Jul 2022
KABUL, Afghanistan – Acting Interior Minister Sirajuddin Haqqani during his visit to the southeastern province of Khost asked the international community to recognize the Islamic Emirate rule, saying its government has proven not be a threat against any country.
This came days after the Uzbekistan government announced it will host a tow-day conference on Afghanistan in July 25-26, where delegations from more than 20 countries will participate.
"Based on international principles and our Islamic and national traditions they (the world leaders and international community) should recognize the Islamic Emirate, but if they don't recognize it, I assure our people that Afghans are not without resolve," he said, as TOLOnews quoted.
Praising Afghans strength and resistance during the war, Haqqani said people can still fight economic challenges and similar crisis by themselves if the world refuses to provide any resources.
"They (Afghans) have fought for 20 years without foreign resources, and with their faith and zeal, they will fight against the economic situation with the strength of their arms," he added.
Emphasizing on joint-venture and mutual interest, the Acting Interior Minister said Afghanistan's relations with the world with benefit both sides, asking on what basis the world will approach Afghan leaders if they won't recognize their government officially.
"I want to say that it is in their best interest to create diplomatic relations with Afghanistan, they need us and we need them, if tomorrow they need us in any matter, then based on what principles they will talk to me," he exclaimed.
But the international community – including world leaders – laid down conditions before giving the Taliban a formal identity to lead the Afghanistan republic government: 1- Observe women's right, 2- observe freedom of speech, 3- never use of Afghan soil as a threat to other countries, including the United States, 4- and form an inclusive government.
Zalmay Khalilzad, the former US envoy for Afghanistan peace, in an interview with "Talks at GS" said that the Islamic Emirate has not fulfilled the Doha agreement commitments, according to the TOLOnews report.
"There were things that they committed themselves too, and things that we committed ourselves too in return, parts of it were implemented and parts are not," he said.
Earlier, the Uzbekistan government announced it will host a tow-day conference on Afghanistan later this month, where delegations from more than 20 countries will participate.
The event that is scheduled for July 25-26 aims to facilitate approaches for international communities to better engage in diplomatic relation with Afghanistan, as well as promote peace and security in the country.
"The main goal of the event is to develop a set of measures and proposals for the approaches of the world community to promote stability, security, post-conflict reconstruction in Afghanistan and its integration into regional cooperation processes in the interests of the multinational Afghan people and the whole world," the statement reads, as TOLOnews quoted.
Analysts believe "the attention of the world has been distracted," saying international community plays vital role on Afghanistan's overall growth, including political and economic sectors, and so they should not let the country be isolated from the rest of the world.
"The world is responsible to play an important role regarding Afghanistan in its economic field to prevent Afghanistan from being side-lined and the collapse of the political and economic systems," said Wali Froozan, an economist, as local media reported.
Highlighting the agenda of the event, Nazak Meer Ziyarmal, an economist, said Afghan railway line that connects Kabul to neighboring Pakistan will be one of the main topics during the two-day conference in Uzbekistan.
"In the economic area, the humanitarian aid, transit, unfinished projects of Uzbekistan in Afghanistan, particularly the railway to Kabul and from Kabul to Peshawar, will be the main agendas of the conference," he said.
Meanwhile, the Islamic Emirate officials said its delegation led by the acting Minister of Foreign Affairs Amir Khan Muttaqi will participate in the conference, discussing joint-venture and bilateral ties among the other key topics.
"Following an official invitation of Uzbekistan, a delegation led by Amir Khan Muttaqi and comprised of members of ministries and sectorial organizations will attend and the Islamic Emirate will express its needs," said Bilal Karimi, deputy spokesman for the Islamic Emirate.
The Kabul delegation "will also meet with several others on the side-lines of the conference," he added.
Source: Khaama Press
Please click the following URL to read the text of the original story:
https://www.khaama.com/islamic-emirate-proved-afghan-soil-not-a-threat-interior-minister/
------
North West's Mosques and Churches Provide Safe Haven from 'Extreme' Heat

Video report by ITV Granada Reports journalist, Zoe Muldoon.
------
Monday 18 July 2022
Churches and mosques in the North West have opened their doors to provide a cool sanctuary for people to escape the heat wave.
It comes as the UK braces for extreme temperatures, with the UK Health Security Agency issuing a level 4 heat-health alert and Met Office issuing its first red extreme heat warning.
Both warnings are running from Monday, 18 July, to Wednesday, 20 July.
St Mary's Church, in Worsley, are using the usually chilly place of worship to their advantage by offering people of any faiths the opportunity to cool down there.
One local said: "If your church is open, go to it. Because these buildings with high ceilings and thick walls stay cool."
Meanwhile, Makki Masjid mosque, in Longsight, Manchester, is also welcoming people into its air-conditioned space to take a break from the heat.
They are also offering free bottled water on both Monday and Tuesday, from 1pm until 10pm, with designated areas for men and women to enjoy some time away from the scorching temperatures.
A spokesperson from the mosque said: "Being the hub of our community here in Longsight, we see it as our responsibility to look after our neighbours.
"Islam encourages and places great importance and emphasis in looking after neighbours, especially in such difficult times."
Temperatures have already been broken in the North West on Monday, with Nantwich, in Cheshire, reaching 37°C.
Emergency services have issued water safety advice after 16-year-old boy lost his life over the weekend trying to cool off in Salford Quays.
But despite the warnings, the cold water at the same spot proved too tempting for some, with many jumping into the quays on Monday.
Detective Inspector Joanne Johnston, from Greater Manchester Police, said: "We remind the public to avoid being tempted to cool off in reservoirs, rivers, canals or ponds.
"We all want to enjoy the warm weather; please make sure you do so in a safe way. Think of your family - look out for your friends."
Meanwhile, there has been substantial disruption to travel due to the heat, with the Bury tram line in Greater Manchester suspended due to damage to the overhead lines.
A spokesperson from MetroLink say tickets and passes are being accepted on the 97, 98, 135, 524 bus services.
Rail passengers in the region are being advised to plan ahead, with conditions expected to impact journeys for the duration of the heatwave.
Passengers are being urged to regularly check National Rail Enquiries before they set off on their journey.
Source: ITV
Please click the following URL to read the text of the original story:
https://www.itv.com/news/granada/2022-07-18/churches-and-mosques-open-doors-for-people-to-escape-heat
------
Middle East
Palestinian woman activist banned by the Israeli authorities from entering Al-Aqsa Mosque for one week
18/July/2022
JERUSALEM, Monday, July 18, 2022 (WAFA) – A Palestinian woman activist was banned from entering Al-Aqsa Mosque for one week in a series of bans that extend for years, according to local sources.
They said that the Israeli police yesterday detained Khadija Khweis, 45, a mother of five children from al-Tur neighborhood of occupied East Jerusalem, when she was near one of the gates leading to Al-Aqsa Mosque in Jerusalem's Old City.
After several hours of interrogation and holding at an Israeli police station in Jerusalem, she was released on condition of not entering Al-Aqsa Mosque compound for one week that could be renewed.
Khweis is one of several devout Palestinian women who keep constant vigil at Al-Aqsa Mosque and who have been banned for months and years by the Israeli police from entering their mosque for worship or any other purpose.
She was banned for the first time from entering Al-Aqsa compound in 2011, sometimes for days and others for months for a total of eight years. She was also banned from travel abroad and separated from her husband who was forced to leave their home in al-Tur and move to the West Bank since he does not have residency papers for East Jerusalem.
Source: English Wafa
Please click the following URL to read the text of the original story:
https://english.wafa.ps/Pages/Details/130087
------
Nobuaki Kondo's studies on Islamic law in Qajar Iran published in Persian
July 19, 2022
TEHRAN – "Islamic Law and Society in Iran: A Social History of Qajar Tehran" by Japanese scholar Nobuaki Kondo has been published in Persian.
Translated by Ali-Mohammad Azadeh, the book has been published by Nashre Tarikhe Iran.
The relationship between Islamic law and society is an important issue in Iran under the Islamic Republic. Although Islamic law was a pivotal element in the traditional Iranian society, no comprehensive research has been made until today.
This is because modern reformers emphasized the lack of rule of law in nineteenth-century Iran. However, a legal system did exist, and Islamic law was a substantial part of it.
This is the first book on the relationship between Islamic law and the Iranian society during the nineteenth century.
The author explores the legal aspects of urban society in Iran and provides the social context in which political process occurred and examines how authorities applied law in society, how people utilized the law, and how the law regulated society.
Based on rich archival sources including court records and private deeds from Qajar Tehran, this book explores how Islamic law functioned in Iranian society.
The judicial system, sharia court, and religious endowments (vaqf) are fully discussed, and the role of ulema as legal experts is highlighted throughout the book.
It challenges nationalist and modernist views on nineteenth-century Iran and provides a unique model in terms of the relationship between Islamic law and society, which is rather different from the Ottoman case.
Providing an understanding of this legal system in Iran and its role in society, this book offers a basis for assessing the motives and results of modern reforms as well as the modernist discourse.
This book will be of interest to students of West Asian and Iranian studies.
Nobuaki Kondo is a professor at the Research Institute for Languages and Cultures of Asia and Africa at the Tokyo University of Foreign Studies.
His research interests cover the early modern history of Iran and the Persianate societies. His most important publication is "Persian Documents".
Source: Tehran Times
Please click the following URL to read the text of the original story:
https://www.tehrantimes.com/news/474789/Nobuaki-Kondo-s-studies-on-Islamic-law-in-Qajar-Iran-published
------
Paintings by Ruholamin represent Muslims' oath of allegiance at Ghadir event
July 19, 2022
TEHRAN – The oath of allegiance to Imam Ali (AS) by the companions of the Prophet Muhammad (S) at the Ghadir event has been portrayed in two paintings by Hassan Ruholamin.
The artist who is best known for his paintings on early Islamic historical events unveiled the artworks on Sunday on the eve of Eid al-Ghadir, Shia Muslims' celebration on Dhul Hijjah 18, the day on which Imam Ali (AS) was appointed as successor to the Prophet Muhammad (S).
Huge digital copies of the paintings entitled "Ghadir Oath of Allegiance" were set up in the holy shrine of Imam Ali (AS) in Najaf, Iraq on Monday, some Persian news agencies announced.
On the way back home from Hajj in 632, which is known as the Farewell Pilgrimage, Muhammad (S) asked for a stop in a region called Ghadir Khum, where in his sermon, he announced his cousin Ali (AS) as his successor and first Imam shortly before his death based on a revelation from God.
Afterwards, two tents were pitched, in one of which Muslims congratulated the Prophet (S) for his excellent choice and, in other one, Muslims from all tribes gave their allegiance to Ali (AS). One of the Muslims was Hazrat Fatima (SA), the wife of Imam Ali (AS) and daughter of the Prophet (S).
However, Ruholamin's paintings show Muslims pledging their loyalty to the Imam in an open-air gathering.
One of the paintings shows a man wearing a Yemeni jambiya in the left corner. In his introduction to the painting, Ruholamin wrote an Arabic phrase reading, "We do not forget our Yemeni brothers."
The phrase refers to the historical fact that when the Prophet (S) began his journey to perform the Hajj rituals in Mecca, Imam Ali (AS) was in Yemen to promote Islam. However, he left Yemen soon to join the Prophet (S) for the Hajj rituals.
Ruholamin has several other canvases depicting stories on Imam Ali (AS). One of them is "The Conqueror of Khaybar" which depicts the Imam removing the door of the enemy's fort in the Battle of Khaybar, which was fought in the year 628 between Muslims and the Jews living in the oasis of Khaybar.
He has reproduced the artwork in the form of a mural on the Imam Ali (AS) Highway, which was unveiled to celebrate Eid al-Ghadir on Monday.
Photo: One of the paintings from Hassan Ruholamin's collection "Ghadir Oath of Allegiance".
Source: Tehran Times
Please click the following URL to read the text of the original story:
https://www.tehrantimes.com/news/474787/Paintings-by-Ruholamin-represent-Muslims-oath-of-allegiance
------
Iran filmmaker Panahi must serve 6-year sentence: Judiciary
July 19, 2022
TEHRAN: Award-winning dissident Iranian filmmaker Jafar Panahi, arrested last week in Tehran, must serve a six-year sentence previously handed to him in 2010, the judicial authority announced Tuesday.
"Panahi had been sentenced in 2010 to a total of six years in prison... and therefore he was entered to the detention center of Evin to serve his sentence there," judiciary spokesman Massoud Setayeshi told reporters.
Source: Arab News
Please click the following URL to read the text of the original story:
https://www.arabnews.com/node/2125056/middle-east
------
Palestinian residents in West Bank facing severe water crisis
MOHAMMED NAJIB
July 18, 2022
RAMALLAH: A Palestinian village surrounded by three Israeli settlements and an Israel Defense Forces military camp is in the grip of a severe water crisis, community leaders have revealed.
Nearly 3,500 residents of Duma village in Jordan Valley in the northern West Bank are struggling to find enough drinking water to meet their basic needs and sustain livestock. And many of them cannot afford the $100 cost of buying a water tank.
Suleiman Dawabsheh, head of Duma village council, told Arab News that local residents received just 1,280 cups of water per week, and that four nearby Bedouin communities also relied on Duma for water supplies.
He said: "They call us the thirsty village due to the small amount of water that reaches us and the small amount of rain that falls annually, which does not exceed 420 millimeters."
Dawabsheh claimed that settlers had prevented them from rehabilitating four springs in the village that could have contributed to alleviating the water shortage.
"We have large numbers of livestock that consume vast quantities of water, especially this summer that has been hotter than previous ones, and as a result we cannot find enough water for human use and watering sheep."
Duma is just one example of many Palestinian towns and villages in the West Bank — where 3 million people live — suffering from a lack of water.
Meanwhile, many of the 700,000 people living in Israeli settlements throughout the West Bank are thought to have access to plentiful supplies of water for drinking, filling swimming pools, irrigating crops, and washing vehicles.
Huge black-and-es have been accused of syphoning off 85 percent of Palestinian water and then re-selling it to them, while also refusing license applications to drill additional wells or install booster pumps.
Bassam Darwidh, a supervisor of five residential and commercial buildings in Ramallah housing around 65 apartments and stores, told Arab News that this year's water crisis had been worse than last year as the number of hours and days of pumping water to citizens' homes had been reduced. Sometimes, he said, water could take up to 10 days to reach the area.
"Every day, I receive inquiries from residents in the buildings under my responsibility, and they all ask me when the water will arrive? Why is the water cut off? I do not have an answer for them, and some residents ask me for the phone number of the owner of a water tank to buy a tank at his expense," he added.
Darwish pointed out that supplies had been dwindling since April.
Thirty-four of the 42 water wells controlled by Israel's national water company Mekorot were on Palestinian land in the Jordan Valley. The Palestinian Authority has requested that Israel increase the amount of water sold to the West Bank, but the Israelis claim the Palestinian water infrastructure was not capable of handling larger quantities.
Mahmoud Barham, mayor of Beita, south of Nablus, said his town of 15,000 people was only receiving 50 percent of its water requirements.
"We need 2,400 cups of water, but Mekorot supplies us with only 120 cups and pumps them to our town intermittently. For eight years, the company has refused to increase the amount of water, despite the large increase in the population of the town," he added.
He noted that the Israeli authorities would not allow digging for water wells on land belonging to the village.
Bassam Al-Sawalhi, director of operations at the Jerusalem Water Undertaking, told Arab News that he was still able to provide the 380,000 residents of Ramallah and Al-Bireh areas with their basic water needs, despite constraints. And he said the authority was seeking to rehabilitate water wells around Ramallah in a bid to alleviate the crisis.
Although the average daily water consumption rate was between 60,000 and 65,000 cubic meters during the summer, Al-Sawalhi pointed out that the Jerusalem Water Undertaking could only supply 53,000 cubic meters a day to its customers.
Mekorot has reduced supplies to 32,000 cubic meters per day from 38,000 in previous years and has been accused of transferring the difference to Israeli settlements around Ramallah.
On July 1, dozens of Palestinian youths closed the southern entrance to Bethlehem in protest at water shortages in the city.
But Israeli authorities maintain it is the job of the Palestinian Authority to provide its citizens with water. Al-Sawalhi claimed that Israel delivered an additional 76 million cubic meters of water per year, using 200 connection points.
One Palestinian resident of Ramallah, Mohammed Abu Qassem, who owns a water tank, told Arab News that his mobile phone never stopped ringing with residents and owners of cafes, restaurants, and hotels offering to buy his tank.
He said the current situation would probably not ease until the beginning of November. "I think the next war between the Palestinians and the Israelis will be a war over water, not just land," he added.
Source: Arab News
Please click the following URL to read the text of the original story:
https://www.arabnews.com/node/2124746/middle-east
------
North America
US delegation urges Lebanon to speed up government formation
NAJIA HOUSSARI
July 18, 2022
BEIRUT: A delegation from the American Task Force for Lebanon has stressed the importance of "establishing a social economic program before it is too late."
The call came after the delegation — accompanied by US ambassador to Lebanon Dorothy Shea — held talks with several Lebanese officials on Monday.
Edward Gabriel, head of the ATFL, said: "Time is moving quickly, and the government must expedite laws and policies, carry out the required reforms, and take the necessary steps to meet the needs of citizens to push forward negotiations with the International Monetary Fund. We need a partner, and that partner is the government, which has to act quickly to achieve what is required from it."
The US provided aid worth more than $700 million to Lebanon last year, he added, and President Joe Biden "did not forget about Lebanon" during his Middle East visit.
FASTFACT
MP Ibrahim Kanaan, chair of the finance and budget committee, announced the adoption of a law amending banking secrecy to prevent tax evasion, combat corruption, financing terrorism, and illicit enrichment.
Biden mentioned several issues that affected Lebanon and stressed the integrity of the Lebanese territories during his meetings.
The US call came as judicial assistants decided to join a strike of public sector employees on Monday, causing courts in Lebanon to grind to a halt.
Public sector employees have been striking for about a month demanding that salaries be increased and for transportation allowances to be raised.
The judicial assistants said they had stopped working permanently and would not make any exceptions, be they for urgent cases or public prosecutions, and would no longer issue notices on behalf of departments and courts.
Joseph Talj, an official from the judicial assistants' committees, said: "Ever since the crisis began in 2019, judicial assistants have been seeing how unfortunate people's lives have become and are now suffering just like them in making ends meet. They can no longer provide food for their families, proper education, or health care.
"How can we work in palaces of justice where equity, equality, justice, and fairness don't exist? Either we work to live a decent life with our children, or we stay home and die of starvation and diseases."
The same demand prompted retired members of the armed forces to stage a sit-in on Monday morning in front of the Baalbek branch of Banque du Liban, preventing employees from entering.
They stressed that salary increases needed to include all employees, especially military personnel, in service and retired.
The Lebanese pound has lost 95 percent of its value since it started depreciating in 2019.
The minimum wage is equivalent to $23 according to the black market exchange rate of LBP29,500. Before the financial collapse, it amounted to $444.
With the gradual lifting of subsidies on fuel and medicines, and the inability of health and social security institutions to cover hospitalization for public sector employees, the workers went on strike because they were unable to afford a minimum standard of living.
Speaking on behalf of the retired armed forces personnel, Imad Awada said: "More protests will be organized in different regions until the decision to amend judges' salaries based on the LBP8,000/USD rate is withdrawn, or until all public employees are included in the decision, especially military personnel in service and retirement, in addition to improving benefits."
The ongoing strike paralyzes most of the state's official departments, especially the Ministry of Finance and the real estate departments.
Those striking urged the ministerial committee tasked with managing public facilities to hold a meeting headed by the caretaker PM and PM-designate Najib Mikati to follow up on this issue.
Parliamentary committees have been convening to approve bills that fall within the framework of reforms demanded by the IMF in light of the ongoing government impasse since mid-May to present them in a legislative session to be determined later.
MP Ibrahim Kanaan, chair of the finance and budget committee, announced the adoption of a law amending banking secrecy to prevent tax evasion, combat corruption, financing terrorism, and illicit enrichment.
The committee has not yet finished studying the 2022 budget which, according to Kanaan, required "the government to present its study on the unification of the exchange rate, especially since taxes, fees, and salaries in the state are still calculated based on the rate of 1,507 LBP/USD, with the exception of judges' salaries."
There is also discontent over calls to divide the municipality of Beirut into one council for the Christian part of the capital and one for the rest.
MPs from the Free Patriotic Movement have proposed a bill on this subject. MPs from the Lebanese Forces Party and the Kataeb Party argued that the proposal served to "treat all Beirut neighborhoods equally."
But there were strong reactions to the idea.
Lebanon's Grand Mufti Sheikh Abdel Latif Derian said: "This cannot happen. This would bring us back to the East/West Beirut division. This is unacceptable and threatens the Islamic-Christian coexistence that we have preserved and will preserve at all costs. A government needs to be formed as soon as possible, especially since the collapse and paralysis pervade state institutions."
Derian stressed that officials needed to assume their responsibilities and form a rescue government as nothing else would pave the way for the election of a new president, implementing reforms, and fighting corruption.
Beirut MP Ibrahim Mneimneh also commented on the division proposal.
"Beirut's size and role require an elected local authority with the ability to rule and make decisions, not sectarian divided municipalities that seek to give priority to narrow interests over the city's. Populist proposals do not address the crisis, but may create a larger one."
Source: Arab News
Please click the following URL to read the text of the original story:
https://www.arabnews.com/node/2124756/middle-east
------
Beset by delays, new Rolling Meadows mosque construction finally set to begin
Christopher Placek
7/18/2022
First rejected by Rolling Meadows aldermen, then approved two years later, and then delayed by the pandemic and red tape, construction of the Islamic Society of Northwest Suburbs' new mosque is finally set to begin.
The society received full approvals for its building and site plans just over a week ago, and its newly-selected general contractor is now applying for a city construction permit in hopes of starting work at 1200 Hicks Road by mid-August.
That's about four years after mosque leaders received the necessary city zoning approvals they had long lobbied for.
They encountered delays not only because of the pandemic, but also securing final approval of site plans from at least three governmental agencies.
Mohammed Abdul-Gaffoor, secretary of the society's board of directors and point man on the mosque project, said they went through several iterations of plans and rounds of reviews with the Illinois Department of Transportation, which has jurisdiction over Hicks Road, and the Metropolitan Water Reclamation District of Greater Chicago, which approved a proposed detention pond, weir and other stormwater upgrades for the site. Those plan reviews were in addition to the ones provided by the city's planners, engineers and other consultants.
"That took a while," Abdul-Gaffoor said. "Good news, it is all behind us and we look forward to start the construction in August."
The society is converting the vacant one-story, 47,534-square-foot brick industrial building on an eight-acre site it purchased in 2016 into its new prayer hall. It has plans for a Sunday school, gymnasium, library and multipurpose room/banquet hall in subsequent phases and as funding allows.
But the initial renovation will go a long way to providing more space for the growing membership of nearly 500 worshippers, who now attend weekly Friday afternoon services around the corner at 3950 Industrial Ave.
The current facility -- about 15,000 square feet on a one-acre site -- has become cramped, Abdul-Gaffoor said. The society opened its first mosque in a 5,000-square-foot building down the block in 1986.
Renovation of the Hicks building will include mostly interior upgrades and some exterior changes to make it look like a house of worship, he said. A few detached structures, like old garages and small pump house structures, will be torn down.
"This project will transform an old building into an iconic new landmark in the city of Rolling Meadows and for the entire Northwest suburbs," Abdul-Gaffoor said.
Officials declined to provide exact cost figures for project, but the initial phase and site plan was listed as $5.1 million -- of which about half had been secured in donations, according to a project status update on the society's website from April.
Abdul-Gaffoor said the project is being funded entirely by donations from the community's members.
"We have donations fulfilled and pledges yet to be fulfilled and some more is needed, and our community members will step up once the project construction starts," he said.
Initial renovations are expected to be complete in time for Ramadan next March.
Source: Daily Herald
Please click the following URL to read the text of the original story:
https://www.dailyherald.com/news/20220718/beset-by-delays-new-rolling-meadows-mosque-construction-finally-set-to-begin
------
Southeast Asia
East Timor hopes to join ASEAN under Indonesia presidency next year
July 19, 2022
BOGOR, Indonesia: East Timor President Jose Ramos-Horta said on Tuesday during a visit to Indonesia that he hoped to boost trade ties between the countries and seal a decades-long bid by his nation to join the Association of Southeast Asian Nations (ASEAN) next year.
Ramos-Horta met his counterpart Joko Widodo on his first state visit to neighboring Indonesia since he was elected in April for a second stint as president.
He previously served as president of East Timor, which is also known as Timor Leste, between 2007 and 2012.
"Timor Leste as part of Southeast Asia has fulfilled many of the requirements necessary for a functioning economy and democracy so... will be a productive member of ASEAN," he said, noting he hoped his young country could join the group when Indonesia takes over the presidency next year.
East Timor, which applied for ASEAN membership in 2011, currently holds observer status.
Speaking at the presidential palace in Bogor, south of Jakarta, the Indonesian president said his country had invested $818 million in East Timor, mainly in energy, banking and communication businesses.
"We've agreed to increase trade between both countries," said Widodo, who is widely known as Jokowi.
Official Indonesia data shows trade between the countries was worth around $250 million last year.
Heavily dependent on revenue from oil and gas, the half-island nation of 1.3 million people has grappled with diversifying its economy and reducing high rates of poverty.
Indonesia invaded the former Portuguese colony in 1975 and East Timor only gained full independence in 2002 after a long and bloody struggle to end an often brutal occupation.
Ramos-Horta, who won a Nobel Peace Prize for his peaceful efforts to end the conflict, said he welcomed deepening trade ties with Jakarta and Indonesia's commitment to East Timor joining the 10-member ASEAN regional grouping.
Source: Arab News
Please click the following URL to read the text of the original story:
https://www.arabnews.com/node/2125046/world
------
South Asia
Earthquakes Devastate Quake-Hit Afghanistan Again
By Saqalain Eqbal
Monday, 18 Jul 2022
Two relatively powerful earthquakes have been reported by local sources in the provinces of Paktika, Paktia, Logar, and Badakhshan. In the Gayan district of Paktika province, which was already severely damaged by the earthquake on June 22nd, reports of damages include the demolition of several homes and the injury of many people.
According to the United States Geological Survey (USGS), two seismic events struck northeastern and southeastern Afghanistan around one hour apart on Monday, July 18th.
The USGS reports that the earthquake that jolted southeast Afghanistan had a magnitude of 5.1 on the Richter Scale and occurred at a depth of 10 kilometers in Khost province.
The second earthquake hit Badakhshan province in northeastern Afghanistan. Its strength was 4.3 on the Richter scale, and its epicenter was in the Jurm district of Badakhshan province.
The southeast earthquake in Paktika's Gayan district injured at least ten people, according to the provincial governor's office, which also stated that many houses damaged in the previous earthquake were destroyed and teams were dispatched to the site.
Prior to this, a magnitude-6 earthquake in southeast Afghanistan that struck a rural region and rendered the inhabitants homeless caused at least 1150 deaths, more than 1,500 injuries, and the destruction of more than 10,000 homes and other structures.
Afghanistan recently experienced an earthquake of a high magnitude that was its deadliest in 20 years, leaving it in desperate need of humanitarian assistance, especially with the cash-strapped rebellion-turned-politician Taliban ruling the country.
Source: Khaama Press
Please click the following URL to read the text of the original story:
https://www.khaama.com/earthquakes-devastate-quake-hit-afghanistan-again-37493/
------
House-to-House Search and Alleged 25 Arrests in Northern Afghanistan
Monday, 18 Jul 2022
Local sources in the northern Afghan province of Samangan say that Taliban forces are still searching homes door to door in Aybak, the province's capital. Additionally, 25 young people are said to have been arrested as a result of these searches, according to some domestic news sources.
On Sunday, July 17, the Taliban reportedly began house-to-house searches in various areas of Aybak city and carried them out until late at night, with 25 young individuals reportedly detained during these searches.
According to sources, a door-to-door search was resumed this morning in the Karte Sulha neighborhood, which is near the city of Aybak.
This is despite the fact that the Taliban had already searched people's houses in Kabul calling it a "search and clear" operation, in the capital of Afghanistan.
Regarding the search of people's houses in Samangan, the local Taliban authorities have not yet made any comment.
Afghans have been terrified by the house searches, which have brought up terrifying memories of previous house searches by previous governments.
The Afghan people have been forthright in posting images and videos of the chaos the Taliban forces have wrought on social media, criticizing what they call "violations of privacy," "intrusive behavior," and "suppressing dissent".
Source: Khaama Press
Please click the following URL to read the text of the original story:
https://www.khaama.com/house-to-house-search-and-alleged-25-arrests-in-northern-afghanistan-56478/
------
Taliban's Central Bank Injects $12 Million to the Market to Maintain the Currency Value
By Saqalain Eqbal
Monday, 18 Jul 2022
The Central Bank of the Taliban's caretaker administration holds an auction to sell approximately 12 million dollars to maintain the Afghani currency's value against the US dollar.
The Central Bank will hold a foreign currency auction on Tuesday, 19 July, according to the Central Bank's newsletter, inviting banks, money exchange dealers, and other competent parties including qualified money service companies to participate.
The Taliban's Central Bank also released another 12 million dollars into the market yesterday, even though food prices have risen due to the Afghani currency's depreciation against other currencies.
Currently, Kabul's exchange rate for a US dollar is 89 Afghanis. Before the Taliban took control, the US dollar's value against the Afghani currency was less than 80.
During the first few months of the Taliban's control in Afghanistan, the value of the Afghani currency fell relative to the US dollar, with 120 Afghanis being traded for one dollar.
Increased inflation rates, according to a report by the International Committee of the Red Cross (ICRC), are negatively affecting hundreds of thousands of unemployed, destitute Afghans and their families.
Even basic supplies are now out of reach for the majority of people due to the increase in the cost of staple foods.
Source: Khaama Press
Please click the following URL to read the text of the original story:
https://www.khaama.com/talibans-central-bank-injects-12-million-to-the-market-to-maintain-the-currency-value-47383/
------
Europe
Downing Street Confirms Ban on Muslim Council of Britain Contacts
Thomas Harding
Jul 18, 2022
Downing Street has stated that ministers should continue to boycott the Muslim Council of Britain following controversy over a meeting with one of its leaders by Conservative leadership candidate Penny Mordaunt in defiance of the long-standing policy.
The trade minister has been accused of breaching government guidelines after she met the organisation's leader last year.
She has also failed to remove a tweet in which she said she was delighted to the see MCB general secretary Zara Mohammed in February 2021 when she was the Paymaster General, then a position in the Cabinet Office. The Cabinet Office has oversight of the National Security Secretariat, the country's intelligence and security policy hub.
"Great to have met with Zara today, to wish her success and hear more about her plans, look forward to working with her," the tweet dating from 2021 read.
Under a code drawn up by the Labour government in 2009, the government implemented a policy of not engaging with the MCB after its deputy SecretaryGeneral Daud Abdullah signed the Istanbul Declaration that called for violence against Israel and condoned attacks on British forces. "We have said before the UK government has a long-standing policy since 2009 of not engaging the Muslim Council of Britain and that policy hasn't changed," a spokesman for the prime minister said on Monday.
Three women vying to battle Rishi Sunak to become next British PM
A report by Sir John Jenkins, the former UK ambassador to Saudi Arabia, in 2015 set out the history behind the decision to axe contacts with the MCB, which seeks to exert influence over policy by cultivating politicians and officials. It laid out how the Muslim Brotherhood shaped the Islamic Society of Britain (ISB), which went on to dominate the Muslim Association of Britain (MAB) and played an important role in establishing and then running the Muslim Council of Britain (MCB).
"In 2009 the then government suspended dialogue with the MCB after an office holder signed a public document which appeared to condone violence against any country supporting an arms blockade against Gaza," Sir John stated. "There has been no substantive dialogue since then between any part of the Brotherhood in the UK and government."
As of Monday, Ms Mordaunt's tweet remained in place, and Downing Street appeared unwilling to order its removal in the middle of the contest to be the next Conservative Party leader.
The National asked the prime minister's spokesman whether the tweet should be deleted.
"This is going back a number of years," he said. "I'm conscious some of these issues relate to issues during the leadership campaign."
When asked whether she had been asked to remove the tweet, Ms Mordaunt's team did not respond.
Some political commentators claimed that the meeting called into question Ms Mordaunt's judgment and her suitability for high office.
But there are also questions over whether the story has been highlighted by British media outlets hostile to the possibility of the 49-year-old becoming the next British prime minister.
However, it is understood that Miss Mordaunt has claimed to have been acting in her capacity as a constituency MP and meeting the group in a personal capacity, rather than as a member of the British government.
The MCB purports to represent British Muslims and has said there are more than 500 mosques associated to its charter. Its stated aim is to "empower the Muslim community" although it has run into controversy over a number of issues.
In a statement that was highly critical of the official boycott of the group in meetings organised by Whitehall officials, Ms Mohammed condemned the Conservatives for attempts to "delegitimise" Muslims in Britain and accused the party of "weaponising" Islamophobia..
Source: The National News
Please click the following URL to read the text of the original story:
https://www.thenationalnews.com/world/uk-news/2022/07/18/downing-street-confirms-ban-on-muslim-council-of-britain-contacts/
------
Battle over Sydney Muslim radio station escalates as Imams council seeks to take over licence
Mostafa Rachwani
@Rachwani91
Mon 18 Jul 2022
For years Muslim Community Radio has broadcast religious programs to listeners in Sydney, bringing news and daily talk-back shows in Arabic as well as making community announcements.
As the only Muslim community station on FM radio in Sydney, it can reach most of the city's 300,000 Muslims, avoiding signal problems that plague most other community stations on low-powered AM transmission.
But behind the scenes there has been a long-running dispute over who should hold the station's FM broadcasting licence, provided by the Australian Communications Media Authority (Acma).
"For Lease" signs are seen outside a block of units in inner Sydney on Friday, April 8, 2016. (AAP Image/Mick Tsikas) NO ARCHIVING
'A landlord's market': rents hit record highs across Australia's capital cities
Muslim Community Radio is backed by representatives of the minority religious group al-Ahbash – a fringe Sunni movement noted for its fervent criticism of more conservative Islamic groups such as the Salafis.
The Imams council is often the body delivering major community announcements, fielding calls from the media or making statements on political or religious issues. And the council believes its centrality makes it an ideal holder of the licence, which it has unsuccessfully tried to take over in the past.
It's a dispute that dates back two decades, with the council consistently saying Muslim Community Radio could not possibly represent the Muslim community and its broad spectrum the way it believes the council can.
The dispute spilled into a Sydney court last week, when the Imams council accused Acma of showing a lack of "candour and trustworthiness" and mishandling its application for the radio licence.
The council said the licence was renewed without giving fair consideration to competing applicants.
Muslim Community Radio has previously denied the Imams council's claims, saying the consistent support shown by the communication watchdog was evidence of the station's competence.
In submissions made to the federal court, the Imams council's barrister, Robert Angyal, said the body represented a "far broader spectrum of the Muslim community" in Sydney and that Muslim Community Radio was "dominated by a very narrow and exclusionary sect of Islam".
"The applicant is Australia's largest peak Muslim body and the sole national organisation of Australian Imams and Islamic scholars. And it represents the wider interests of the Australian Muslim community, as has been widely recognised by state and federal governments."
Angyal said that a licence, when granted, could potentially go on "for ever" and that Acma was not considering any alternatives that may "do a better job" than the incumbent holder.
When pushed on why the Imams council couldn't just apply for a separate licence, Angyal said it was irrelevant to the case at hand.
"And not relevant to whether my client was adversely affected by this decision to renew the licence."
Matthew Lewis, Muslim Community Radio's barrister, told the court that the Imams council's case could be boiled down to the "wholly subjective" fact that it considers itself a competitor and an aggrieved party.
"The relevant question is how specifically is ANIC aggrieved?" Lewis said.
"There is simply no good evidence setting out precisely how ANIC has been aggrieved."
Almost half of Australians have a parent born overseas, and more than one in four were born internationally, according to the 2021 census results.
Ten things we learned from the 2021 census results: Christianity in decline and Australia hits 25 million
"Acma was not persuaded that there was any evidence that the Muslim Community Radio posed any significant risk of the relevant kind, as identified."
Judge Jayne Jagot adjourned the case on Wednesday afternoon and a decision is due in the coming months.
The Imams council and Muslim Community Radio declined to comment on the case when contacted by Guardian Australia.
Thank you for joining us from India.
The Guardian often shares big stories with rival news organisations. Other newsrooms like to keep their scoops to themselves. But we know we are stronger and more powerful when we are many. Our fearless investigative reporting can resonate further.
We did this most recently with our Uber Files investigation, sharing more than 120,000 documents leaked to us with 180 journalists in 29 countries. Why not just keep it to ourselves? Because we knew the impact would be greater if domestic titles in France, Germany, India and other countries were publishing to their audiences simultaneously.
Journalism like this is vital for democracy as it exposes wrongdoing and demands better from the powerful. The Guardian is well placed to deliver it because unlike many others, we have no shareholders or billionaire owner. Our independence means we can investigate what we like, free from commercial or political influence.
And we provide all this for free, for everyone to read. We do this because we believe in information equality. Greater numbers of people can keep track of the global events shaping our world, understand their impact on people and communities, and become inspired to take meaningful action. Millions can benefit from open access to quality, truthful news, regardless of their ability to pay for it.
Source: The Guardian
Please click the following URL to read the text of the original story:
https://www.theguardian.com/australia-news/2022/jul/19/battle-over-sydney-muslim-radio-station-escalates-as-imams-council-seeks-to-take-over-licence
------
Europe's Castle Mecca Hides on This Popular Isle
The names of villages are like secret passwords—if you can pronounce them.
By Laura Studarus
7/19/2022
A country with a village called Llanfairpwllgwyngyllgogerychwyrndrobwllllantysiliogogogoch is bound to be a fascinating destination. Wales may feel like a tucked away place, but those in the know have long broadcasted the country's seemingly hidden idyllic landscapes. The Dark Knight Rises placed Batman's fictional cave behind the very real Henrhyd Falls. The Doctor Who spin-off Torchwood was so popular that even eleven years after going off air, you can still find a shrine to secondary character Ianto Jones in Cardiff's Mermaid Quay. And Netflix hit Sex Education films in the village of Chepstow. (Yes, you can go visit the corner store, or the bridge where Adam and Eric broke up.)
And yet, Wales still feels like a secret. Roughly the size of New Jersey, the country sits like a tiny, almost-forgotten corner of a well-visited island. A mere two-hour train ride from London, Wales sees only 3% of all visitors to the UK—and hey, that's the loss of the other 97% tourists.
These narrow country lanes—where cars have to pull over to let an oncoming neighbor pass—are quite literally less traveled. Not to mention Wales has more castles than any other country in the world. Whether you're looking to hunt for medieval ghosts, challenge your adrenal system with guided adventures, try a cheesy toast dish called Welsh rarebit (which contains exactly zero rabbit), or just sit and sip while gazing out at incredible sea cliffs, have we got the destination for you. Hoist your dragon flag and read on to start planning your Welsh vacation.
Source: Thrillist
Please click the following URL to read the text of the original story:
https://www.thrillist.com/travel/nation/things-to-do-wales
------
Putin Visits Iran for First Trip Outside Russia Since Ukraine War
July 18, 2022
LONDON/DUBAI —
Russian President Vladimir Putin visits Tehran on Tuesday for a meeting with Supreme Leader Ayatollah Ali Khamenei, the first trip by the Kremlin chief outside Russia since the invasion of Ukraine.
Putin casts the West's attempt to cripple Russia's economy with the most severe sanctions in recent history as a declaration of economic war and says Russia is turning away from the West to China, India and Iran.
Just three days after U.S. President Joe Biden finished a visit to Saudi Arabia, Russia's leader arrives in Tehran to hold his fifth meeting with Khamenei, Iran's second supreme leader who came to power in 1989.
"The contact with Khamenei is very important," Yuri Ushakov, Putin's foreign policy adviser, told reporters in Moscow. "A trusting dialog has developed between them on the most important issues on the bilateral and international agenda."
Putin's visit to Iran will coincide with one by Turkish President Recep Tayyip Erdogan, and the two leaders will meet in Tehran to discuss a deal aimed at resuming Ukraine's Black Sea grain exports, and Erdogan's threat to launch another operation in northern Syria which Moscow opposes.
In Syria, Russia and Iran prevailed in their support for President Bashar al-Assad against the West, which called repeatedly for him to be toppled since the Syrian civil war began in 2011.
The 69-year-old Kremlin chief has made few foreign trips in recent years due to the COVID-19 pandemic and then the crisis triggered by his February 24 invasion of Ukraine. His last trip beyond Russia was to China in February.
By heading to the Islamic Republic for his first major foreign trip since the Ukraine war, Putin is sending a clear message to the West that Russia will seek to build ties with Iran, a foe of the United States since the 1979 Revolution.
Before the trip, Putin's spokesman, Dmitry Peskov, said that Russia and Iran had long been subject to Western sanctions: the price, he said, of sovereignty.
For Tehran, building ties with Putin's Russia is a way to balance the clout of the United States and its alliances across the Gulf with Arab rulers and Israel. Putin will meet with Iranian President Ebrahim Raisi, who was elected last year.
Emboldened by high oil prices, Tehran is betting that with Russia's support it could pressure Washington to offer concessions for the revival of a 2015 nuclear deal.
Still, Russia's tilt toward Beijing has significantly reduced Iran's crude exports to China -- a key source of income for Tehran since then-President Donald Trump reimposed sanctions in 2018.
Talks with Erdogan will focus on a plan to get Ukrainian grain exports moving again and Turkey's threat to launch new military operations in Syria to extend 30-kilometer-deep "safe zones" along the border.
Russia, Ukraine, Turkey and the United Nations are expected to sign a deal later this week aimed at resuming the shipping of grain from Ukraine across the Black Sea.
Any Turkish operation in Syria would attack the Kurdish YPG militia, a key part of the U.S.-backed Syrian Democratic Forces (SDF) that controls large parts of north Syria and is regarded by Washington as an important ally against the Islamic State.
Source: VOA News
Please click the following URL to read the text of the original story:
https://www.voanews.com/a/putin-visits-iran-for-first-trip-outside-russia-since-ukraine-war-/6664039.html
------
Vladimir Putin heads to Tehran for talks with leaders of Iran, Turkey
July 19, 2022
TEHRAN: Russian President Vladimir Putin's visit to Iran starting Tuesday is intended to deepen ties with regional heavyweights as part of Moscow's challenge to the United States and Europe amid its grinding campaign in Ukraine.
In only his second trip abroad since Russian tanks rolled into its neighbor in February, Putin is scheduled to hold talks with Iran's President Ebrahim Raisi and Turkish President Recep Tayyip Erdogan about the pressing issues facing the region, including the conflict in Syria and a UN-backed proposal to resume exports of Ukrainian grain to ease the global food crisis.
As the West heaps sanctions on Russia and the costly campaign drags on, Putin is seeking to bolster ties with Tehran, a fellow target of severe US sanctions and a potential military and trade partner. In recent weeks, Russian officials visited an airfield in central Iran at least twice to review Tehran's weapons-capable drones for possible use in Ukraine, the White House has alleged.
But perhaps most crucially, Tehran offers Putin a chance for a high-stakes meeting with Erdogan, who has sought to help broker talks on a peaceful settlement of the Russia-Ukraine conflict, as well as help negotiations to unblock Ukrainian grain through the Black Sea.
Turkey, a NATO member, has found itself opposite Russia in bloody conflicts in Azerbaijan, Libya and Syria. But Turkey hasn't imposed sanctions on the Kremlin, making it a sorely needed partner for Moscow. Grappling with runaway inflation and a rapidly depreciating currency, Turkey also relies on the Russian market.
The gathering has symbolic meaning for Putin's domestic audience as well, showing off Russia's international clout even as it grows increasingly isolated and plunges deeper into confrontation with the West.
Backed into a corner by the West and its regional rivals, the Iranian government is ramping up uranium enrichment, cracking down on dissent and grabbing headlines with optimistic, hard-line stances intended to keep the Iranian currency, the rial, from crashing.
Without sanctions relief in sight, Iran's tactical partnership with Russia has become one of survival, even as Moscow appears to be undercutting Tehran in the black market oil trade.
"Iran is (the) center of dynamic diplomacy," Iranian Foreign Minister Hossein Amirabdollahian wrote on Twitter, adding the meetings will "develop economic cooperation, focus on security of the region via political solution ... and ensure food security."
Fadahossein Maleki, a member of the Iranian parliament's influential committee on national security and foreign policy, described Russia as Iran's "most strategic partner" on Monday. His comments belied decades of animosity stemming from Russia's occupation of Iran during World War II — and its refusal to leave afterward.
Source: Arab News
Please click the following URL to read the text of the original story:
https://www.arabnews.com/node/2124991/middle-east
------
India
Allahabad High Court to Civil Judge: Decide On ASI Survey of Krishna Janmabhoomi Mosque in 3 Months
Jul 19, 2022
PRAYAGRAJ: In a matter relating to Krishna Janmabhoomi dispute of Mathura district, the Allahabad high court on Monday directed the civil judge (senior division), Mathura to expedite and decide, within three months, the application for survey of Shahi Eidgah and Jahanara's mosque by the Archaeological Survey of India (ASI).
Besides, the court also directed the civil judge to decide the objections filed by the UP Sunni Central Waqf Board in the suit within the same period.
The order was passed by Justice VC Dixit while disposing of a writ petition filed by Bhagwan Shri Krishna Virajman through his devotee Shailendra Singh and three others.
Source: Times Of India
Please click the following URL to read the text of the original story:
https://timesofindia.indiatimes.com/city/lucknow/allahabad-high-court-decide-on-asi-survey-of-mathura-mosque-in-3-months/articleshow/92966759.cms
------
Babri Demolition Case: Allahabad HC Rejects Revision Petition Filed Against the Razing Of Mosque
Jul 19, 2022
The Lucknow bench of Allahabad High Court has said that the revision petition filed against the acquittal of all 32 accused persons, including former Deputy Prime Minister L.K. Advani, the then Uttar Pradesh Chief Minister Kalyan Singh, senior BJP leaders -- Murli Manohar Joshi, Uma Bharti, Vinay Katiyar, Sadhvi Ritambhara, Brij Bhushan Sharan Singh -- in Babri mosque demolition case was not maintainable and hence directed its office to convert and treat the revision as criminal appeal.
The Court has fixed August 1 as the next date of hearing and the order came from a bench of Justice Dinesh Kumar Singh. The matter was earlier fixed on July 11, 2022, but the lawyers for revisionists sought adjournment.
The bench had agreed but fixed Monday with caution to the revisionists` lawyers that it would not adjourn the hearing on Monday on any of their pleas. The petition was filed by two Ayodhya residents -- Haji Mahmood Ahmad and Syed Akhlaq Ahmad.
The two petitioners claimed in the petition that they were witnesses in the trial against the accused persons and alleged victims owing to demolition of the disputed structure.
The Babri mosque was demolished by `Karsevaks` on December 6, 1992.
After a long legal battle, the special CBI court on September 30, 2020, pronounced the judgment in the criminal trial and acquitted all the accused.
The trial judge had refused to believe newspaper articles, video clips as evidence as the originals of the same were not produced, while the entire edifice of the case rested on pieces of documentary evidence.
The trial judge also held that the CBI could not produce any evidence that the accused had a meeting of mind with `Karsevaks` who demolished the disputed structure.
Source: DNA India
Please click the following URL to read the text of the original story:
https://www.dnaindia.com/india/report-babri-demolition-case-allahabad-hc-rejects-revision-petition-filed-against-the-razing-of-mosque-2969680
------
No Non-Muslims Offered Namaz in Lucknow's Lulu Mall, Clarify Police
Anuj Kumar
JULY 19, 2022
'We will soon come out with details of persons who offered Namaz on premises'
The Lucknow Police on Monday denied media reports that the eight persons, who were caught on camera offering Namaz in Lulu Mall on July 12 were non-Muslims.
A press note issued by the Lucknow Commissionaire said the four persons — Saroj Nath Yogi, Krishna Kumar Pathak, Gaurav Goswami and Arshad Ali — arrested on July 15 were those who were trying to perform religious rituals after the incident (July 12) in order to disturb communal harmony.
Saroj, Krishna, and Gaurav were allegedly trying to perform a puja while Arshad was allegedly trying to offer namaz on the premises. Sources said the eight people who allegedly offered namaz on July 12 were yet to be traced.
The misleading news on social media names three out of the four people arrested on July 15, the note said.
Apart from these four, 16 persons were booked on July 16 for disturbing law and order and two others were taken into custody for reciting Hanuman Chalisa and raising slogans to disturb the harmony.
Rajesh Srivastava, the Additional Deputy Commissioner of Police, said the investigation was still on and the police were scanning the CCTV in the mall for footage of the incident. "I can't comment on the news reports appearing in the media outlets but the investigation is on and we would soon come out with details of the persons who offered namaz on the premises," the officer told The Hindu.
Protests held
The mall, which is run by prominent UAE-based businessman Yusuf Ali MA, was inaugurated by Chief Minister Yogi Adityanath last week. Two days after the event, eight persons allegedly offered namaz on the premises, whose video went viral on July 13.
It led to protests by Hindutva organisations which even targeted the CM for allowing a Muslim-owned organisation to start a business in the city. They alleged that 80% of the workforce would be drawn from the minority community.
Responding to the charges the mall management which had lodged an FIR against unidentified persons for offering namaz on the premises, issued a new statement saying that 80% of its workforce comprises Hindus while the rest belong to other religions.
"We hire people on the basis of merit and not on the basis of their religious and caste affiliations. It is sad that a reputed organisation is being targeted by some people for their vested interests," said Jaykumar Gangadhar, regional director of Lulu India Shopping Malls Private Limited.
In the statement, Mr. Gangadhar said nobody was allowed to practise religious rituals on the premises.
"The mall management has lodged an FIR against those who tried to offer namaz. We request everybody to allow us to do our business peacefully," the statement said.
Source: The Hindu
Please click the following URL to read the text of the original story:
https://www.thehindu.com/news/national/other-states/lucknow-police-denies-non-muslims-offered-namaz-in-mall/article65655620.ece
------
Mathura mosque-temple dispute: Civil court to hear suit next on July 21
JULY 19, 2022
Advocate Singh had filed an application seeking that a court commission be ordered to survey the mosque premises to investigate signs of Hindu temples having predated the mosque
In the ongoing Shahi Idgah Mosque-Shri Krishna Janmabhoomi dispute, a civil court in Mathura on Monday continued hearing submissions from both sides on whether it should first hear the plea for a court-appointed commission's survey of the mosque or the application challenging the maintainability of the suit itself.
The court was hearing a suit filed by advocate Mahendra Pratap Singh, seeking that the property on which the Shahi Idgah Mosque is built be transferred to Shri Krishna Janmabhoomi Temple authorities. In this suit, Mr. Singh had filed an application seeking that a court commission be ordered to survey the mosque premises to investigate signs of Hindu temples having predated the mosque.
However, the masjid management committee, has filed an application under Order VII Rule 11 of the Code of Civil Procedure, challenging the maintainability of Mr. Singh's suit.
Advocate Tanveer Ahmed, secretary of the masjid management committee and its lawyer, said, "We have presented several High Court and Supreme Court judgments that mandate that maintainability should be heard first."
Mr. Singh said, "A district court in Mathura has already heard these submissions in an identical suit and decided that the plea for a court-commissioned survey should be disposed of as soon as possible. So, we have argued that our application should be heard first."
The court is now set to take up the matter for the next hearing on July 21.
The Shahi Idgah Mosque in Mathura is now defending at least six separate suits filed by Hindu parties claiming ownership of the land of the mosque on behalf of the Shri Krishna Janmabhoomi Temple adjacent to it.
The plaintiffs have argued that the birthplace of Lord Krishna lies underneath the mosque and that the mosque was built allegedly after demolishing and displacing Hindu idols from the site.
HC hears case
The matter pertaining to one of these suits also came up for hearing before the Allahabad High Court, which on Monday asked the concerned civil court in Mathura to expeditiously hear the matter.
This case was related to the suit filed by one Manish Yadav, which had also sought an investigation of the mosque premises in a bid to prove its alleged Hindu religious character. With the suit pending, he had moved the High Court to expedite the hearing in his suit.
After hearing submissions, the Allahabad High Court ordered the concerned court to hear the suit and the challenge to its maintainability expeditiously, preferably within three months from being served a copy of its order.
Source: The Hindu
Please click the following URL to read the text of the original story:
https://www.thehindu.com/news/national/other-states/mathura-mosque-temple-dispute-civil-court-to-hear-suit-next-on-july-21/article65655426.ece
------
Former councillor murdered in tussle over mosque in Bengaluru, nephew held
JULY 19, 2022
The Chamarajpet police arrested 32-year-old Mateen Khan, who was on the run after allegedly stabbing his uncle, former councillor Ayub Khan, to death over a row on July 13.
The accused moved around in an autorickshaw and changed hideouts frequently to escape from the police. However, a special team of police tracked him down at Kengeri on Monday and arrested him.
According to the police, the accused stabbed Ayub, who was also a realtor and president of Khudadaad mosque for the last 15 years. Nazima Khanum, wife of Ayub and also former councillor of K.R. market ward, in her complaint to the Chamarajpet police, alleged that Mateen had been eyeing the president's post of the mosque.
On July 13, Mateen allegedly stabbed Ayub when he was returning from evening prayer. The accused also recorded a video and circulated it on social media that he was innocent and that he murdered his uncle in self-defence.
The accused has been taken into custody and the police are investigating to ascertain if there are other reasons for the murder and if there are any possible involvement of others in the crime.
Source: The Hindu
Please click the following URL to read the text of the original story:
https://www.thehindu.com/news/national/karnataka/accused-held-in-former-councillors-murder-case/article65654571.ece
------
Maharashtra: One dead in clash between Hindus and Muslims in Dhule district
A Muslim man died during a clash in Maharashtra's Dhule district on Sunday, The Indian Express reported.
The deceased person has been identified as Munaf Gaffar Maniyaar. His son Asrar was seriously injured in the clash, according to ABP Majha.
The clash took place after two girls were allegedly molested by a group of persons.
"Two persons, Sagar Khairnar and Nilesh Bhadane, were molesting two minor girls," a witness told The Indian Express. "So Asrar tried to stop them. This made Khairnar and Bhadane angry and they took Asrar to an under-construction property."
They allegedly thrashed Asrar with iron rods. Sagar Khairnar's father, Anil Khairanar and two others – Satish Jadhav and Yogesh Khairnar – joined the brawl. When Maniyaar intervened, he was hit on the head.
Maniyaar's relatives on Sunday refused to accept his body and demanded the arrest of those involved.
Superintendent of Police Pravin Patil said that five persons have been arrested for murder. "The law and order situation is under control and adequate police force has been deployed in the area," he said.
Source: Scroll
Please click the following URL to read the text of the original story:
https://scroll.in/latest/1028534/maharashtra-one-dead-in-clash-between-hindus-and-muslims-in-dhule-district
------
Pakistan
Enhanced Engagement with the Taliban is Needed, Says Pakistani Diplomat to International Community
By Saqalain Eqbal
Monday, 18 Jul 2022
Mansoor Ahmad Khan, Pakistan's ambassador to Afghanistan, has called on the international community to enhance its engagement with the Taliban's caretaker government to escape the impending threats of economic meltdown, exacerbated by widespread hunger and unemployment.
"It is important that tools of economic sanctions should not be used against the Afghan population. The Afghan foreign reserves should be handed over to Afghanistan so that it can be spent for the benefits and welfare of the people," he stated in an interview with the Associated Press of Pakistan.
The unblocking of Afghanistan's $9 billion in foreign reserves, according to the ambassador, has been a crucial factor in reducing the burden on the impoverished people of Afghanistan.
The Pakistani diplomat stated that increased global engagement and cooperation was a "must" for Afghanistan to achieve long-term peace and stability.
In reaction to the Taliban's commitment to not allowing Afghan soil to be used against other countries and terrorists, the Pakistani ambassador in Afghanistan said, "We welcome this commitment. We believe that it is a very assuring commitment."
According to a United Nations High Commissioner for Refugees (UNHCR) report, almost 24 million Afghans, including nearly 13 million children, depend on humanitarian assistance. While World Food Programme (WFP) has stated that poverty and hunger have unprecedentedly hit Afghanistan.
"Efforts of all the countries in must be towards helping Afghanistan in becoming a productive member of the international community," he stated while commending Afghanistan's neighboring countries.
He also expressed gratitude towards the Taliban leaders for facilitating talks with the Tehreek-e-Taliban Pakistan (TTP) aka the Pakistani Taliban, saying "we are grateful for the facilitation provided by the Afghan government and their leaders."
Source: Khaama Press
Please click the following URL to read the text of the original story:
https://www.khaama.com/enhanced-engagement-with-the-taliban-is-needed-says-pakistani-diplomat-to-international-community-37384/
------
SC To Hear Petition on 'Pakistan Tehreek-i-Insaf Hate Campaign' Against SC, EC, Armed Forces
Nasir Iqbal
July 19, 2022
ISLAMABAD: The Supreme Court on Monday ordered its registrar office to place a petition moved against the Pakistan Tehreek-i-Insaf (PTI) leadership — over an alleged hate campaign targeting national institutions, including the armed forces, the apex court and the Election Commi­ssion of Pakistan — for open hearing.
Justice Syed Mansoor Ali Shah, who heard an appeal in his chambers, removed the objections raised by the registrar office while returning the petition and ordered the matter to be fixed before the court.
The SC office had questioned the filing of the petition directly with the apex court under Article 184(3) of the Constitution, ins­t­ead of first approaching the forums below it.
The petition, moved by Advocate Qausain Faisal through his counsel Hassan Raza Pasha, pleaded that the private respondents, their official spokespersons and other members of the PTI be restrained from making any public or private statements.
SCBA distances itself from additional secretary's 'political statement' seeking general elections
The petition also sought court directions for the appointment of a commission to assess the impact and damage of the alle­ged organised hate campaign and suggest legal steps and proceedings to determine individual liability as well as collective responsibility and to stop the negative effects of such campaign against national security institutions, which has adversely affected Pakistan's relations with friendly countries.
The petition cited the federation through the interior secretary, the PTI and its chairman Imran Khan and former ministers Fawad Chaudhry and Dr Shireen Mazari, among others, as respondents.
The petition also sought directives for Pakistan Telecommunication Authority, Pakistan Electronic Media Regulatory Authority, Federal Investigation Autho­rity, law enforcement agencies and Elec­tion Commission of Pakistan to stri­ctly control the publication of alleged organised hate campaign immediately and strictly deal with the violators.
The petition argued that it was a matter of public knowledge that after his ouster as prime minister, Imran Khan had been issuing alleged unfounded, provocative, highly defamatory and derogatory statements in public interviews, political rallies or other means, in print, electronic and social media.
The alleged hate campaign, the petition argued, was designed and calculated to tarnish the public image and severely harm the good reputation of institutions like the superior judiciary, armed forces and ECP. "This [hate campaign] will destabilise and weaken these institutions and demoralise individuals representing these institutions," the petition feared, adding that these key national institutions were directly responsible for the vital task of national security, administration of justice, law and order and the protection of political rights of the citizens of Pakistan.
SCBA clarification
Also on Monday, the Supreme Court Bar Association clarified the issuance of a political statement from its platform, saying the association had nothing to do with it since any statement or decision of the SCBA was always prepared after consultation between its president, secretary and other office-bearers and the executive committee. "Obviously, the any statement by the additional secretary does not fall within his domain," it said.
Soon after the by-election results in Punjab, SCBA additional secretary Chau­dhry Riasat Ali Gondal had issued a statement saying the "government had lost majority and the only path to progress is general elections".
In their fresh statement, issued with the signature of its secretary Waseem Mumtaz Malik, SCBA clarified that the previous missive was based solely on the personal opinion of the additional secretary and the association strongly rejected any impressions and claims that it had any partisan agenda or supported a particular political segment/party.
Source: Dawn
Please click the following URL to read the text of the original story:
https://www.dawn.com/news/1700466/sc-to-hear-petition-on-hate-campaign-against-institutions
------
Pakistan to get $4 billion from friendly countries to shore up reserves: Finance Minister Miftah Ismail
JULY 17, 2022
Depleting reserves, a widening current account deficit and the rupee's depreciation against the dollar have left the nation facing a balance-of-payments crisis.
Pakistan is likely to get $4 billion from friendly countries this month to bridge a gap in foreign reserves highlighted by the International Monetary Fund, Finance Minister Miftah Ismail has said, two days after the cash-strapped nation reached a deal with the global lender for the revival of a $6 billion loan facility.
Mr. Ismail on Saturday referred to the shortfall in foreign reserves highlighted by the International Monetary Fund (IMF), Dawn newspaper said.
"As per the IMF, there is a $4 billion gap," the minister said.
"We will, God willing, fill this gap in the month of July," he said.
"We think that we will get $1.2bn in deferred oil payment from a friendly country. We think that a foreign country will invest between $1.5bn to $2bn in stocks on a G2G (government-to-government) basis, and another friendly country will perhaps give us gas on deferred payment and yet another friendly country will make some deposits," he said without naming the friendly nations.
Pakistan on Thursday reached a preliminary staff-level agreement with the IMF for the revival of the $6 billion loan facility.
The agreement paves the way for the release of the much-awaited $1.18 billion loan tranche that had been on hold since earlier this year.
The board is also considering adding $1 billion to a $6 billion programme agreed in 2019, Dawn newspaper reported.
Depleting reserves, a widening current account deficit and the rupee's depreciation against the dollar have left the nation facing a balance-of-payments crisis.
Without the IMF deal, which should open up other avenues for external finance, Ismail said the country could have headed towards default.
He said the country would also get around $6 billion from multilateral lenders this fiscal year, including $3.5 billion from the Asian Development Bank and $2.5 billion from the World Bank.
He said $400 million to $500 million was also expected from the Asian Infrastructure Investment Bank while the Islamic Development Bank was also likely to increase the funding.
He hoped the rupee would strengthen against the dollar soon after the IMF agreement was finalised, which was expected in the current month.
Besides, he said the government was aiming to curb energy imports to $2.7 billion this month from $3.7 billion last month, which was also expected to take some pressure off the local currency, as per the Dawn report.
Source: The Hindu
Please click the following URL to read the text of the original story:
https://www.thehindu.com/news/international/pakistan-to-get-4-billion-from-friendly-countries-to-shore-up-reserves-finance-minister-miftah-ismail/article65650815.ece
------
Pakistan, China mull extending CPEC to Afghanistan
Jul 19, 2022
Pakistan and China are mulling the possibility of extending the China-Pakistan Economic Corridor (CPEC) to Afghanistan, a development that may prove to be a security concern for India.
On Monday, Pakistan Foreign Secretary Sohail Mahmood met China's Special Envoy on Afghanistan Ambassador Yue Xiaoyong.
"The two sides exchanged views on the political and security situation in Afghanistan, humanitarian assistance by Pakistan and China to Afghanistan, and other matters of mutual ..
"In the context of regional connectivity, both sides exchanged views on the extension of CPEC to Afghanistan to promote economic development and prosperity," the statement added.
CPEC is a part of China's most ambitious project 'Belt and Road Initiative', aimed at renewing the country's historic trade routes in the coastal countries of south-east Asia.
In 2015, China announced the CPEC project which is worth USD 46 billion. Beijing aims to expand its influence in Pakistan and across Central and South Asia in order to counter the influence of the United States and India.
The CPEC would link Pakistan's southern Gwadar port in Balochistan on the Arabian Sea to China's western Xinjiang region. It also includes plans to create road, rail, and oil pipeline links to improve connectivity between China and the Middle East.
After the Taliban seized control over Afghanistan, the spokesperson of the Islamic group Zabiullah Mujahid said they "desire" to join the CPEC. This wish comes even as dozens of terrorist groups operating from Afghanistan target the multi-bi ..
Source: Economist Times
Please click the following URL to read the text of the original story:
https://economictimes.indiatimes.com/news/international/world-news/pakistan-china-mull-extending-cpec-to-afghanistan/articleshow/92974237.cms
-------
PM Shehbaz urges ECP to announce 'long-delayed' judgement in PTI prohibited funding case
July 19, 2022
Prime Minister Shehbaz Sharif on Tuesday urged the Election Commission of Pakistan (ECP) to announce the "long-delayed" judgement in the prohibited funding case, previously referred to as the foreign funding case, against the PTI.
"For long has Imran Niazi been given a free pass despite his repeated and shameless attacks on state institutions. Impunity given to him has hurt the country," he tweeted.
The case, which was filed by Akbar S Babar, has been pending since Nov 14, 2014. Babar, who was a founding member of the PTI but is no longer associated with it, had alleged serious financial irregularities in the party's funding from Pakistan and abroad.
The ECP had reserved its verdict last month.
The premier's remarks come days after the PTI clinched a sweeping victory on 20 seats in the Punjab by-elections. Subsequently, in an address to supporters yesterday, PTI chairman Imran Khan criticised the ECP for being biased and demanded Chief Election Commissioner (CEC) Sikander Sultan Raja's resignation over his alleged favouring of the PML-N in electoral battles.
Imran also claimed that his party won the by-polls despite the use of state machinery as he insisted that early elections were still the only solution to the country's economic problems.
Following Imran's address, PML-N Vice President Maryam Nawaz demanded that the ECP issue its verdict in the foreign funding case soon. "There is irrefutable evidence against you (Imran) which has to be revealed inevitably."
She insisted that Imran's criticism of the ECP was not due to rigging, which she said did not even take place. "It is the fear of the foreign funding case," she said.
The foreign funding case
Last month, the ECP had reserved its verdict in the prohibited funding case — previously referred to as the foreign funding case — against the PTI, which has not been issued yet.
The petitioner, Babar, had alleged serious financial irregularities in the party's funding from Pakistan and abroad. The PTI had, however, denied any wrongdoing, and maintains the funding is not from prohibited sources.
On January 4, the ECP's scrutiny committee, formed in March 2018 to examine the PTI's foreign funding in one month, finally submitted its report after 95 hearings and nearly four years.
The report, based on eight volumes of record requisitioned through the State Bank of Pakistan, proved that the PTI leadership had committed gross violations of funding laws by allowing the collection of millions of dollars and billions of rupees without any source and details from foreigners, including Indian nationals and foreign companies.
The report, a copy of which is available with Dawn, had also mentioned a refusal by the party to divulge details of large transactions and the panel's helplessness to get details of PTI's foreign accounts and the funds collected abroad.
According to the report, the party under-reported an amount of Rs312 million over a four-year period, between FY2009-10 and FY2012-13. Year-wise details show that an amount of over Rs145m was under-reported in FY2012-13 alone.
It also called into question the certificate signed by the PTI chairman, submitted along with the details of PTI's audited accounts.
Source: Dawn
Please click the following URL to read the text of the original story:
https://www.dawn.com/news/1700495/pm-shehbaz-urges-ecp-to-announce-long-delayed-judgement-in-pti-prohibited-funding-case
------
Security beefed up in Islamabad amid threat alerts
By Shakeel Anjum
July 19, 2022
ISLAMABAD: In the wake of threat alerts, the Federal Capital Police have heightened the security in and around the capital.
In this regard, extra forces, including police commandos and Rangers were deployed at sensitive points and buildings in Red Zone, especially to provide protection to the foreign missions, the IGP Office said.
Besides, the search and combing operations were also conducted in areas marked by the intelligence agencies. These areas included Bhara Kahu, Nelore, Tarnol, Noon, Sihala, Bani Gala, Koral, Lui Bhir and Shahzad Town.
Police searched 150 houses, probed 100 suspects and checked 25 bikers. Moreover, they recovered one 12-bore gun and one 30-bore pistol.
The IGP Islamabad said that the purpose of the search and combing operations was to heighten the security in the Federal capital. All zonal officers were directed to continue operations in their respective areas.
Source: The News
Please click the following URL to read the text of the original story:
https://www.thenews.com.pk/print/974767-security-beefed-up-in-ict-amid-threat-alerts
------
Africa
Moment of truth as Muslim-Muslim Presidential ticket tests Nigeria's unity
July 19, 2022
Right now,the choice of presidential and Vice Presidential candidates for the 2023 general elections in Nigeria is the number one horror afflicting the psyche of Nigerians.
It is so much so that if a nation wide public opinion were to be conducted right now, the tendency that majority of Nigerians would tick-off the box concerning the tension arising from the presidential candidate of the ruling party at the center, APC Asiwaju Bola Ahmed Tinubu's choice of Kashim Shetima as running mate for the 2023 presidential contest as their biggest concern in this present time is very high.
That is most especially if the opinion poll were to be conducted amongst members of the Christian and Muslim faiths to whom it has become a supremacy battle more than members of the political class.
And the distress is not only from the ruling party at the centre, APC.
To a lesser degree,the main opposition party,PDP's decision to jettison the presidency rotation principle that the party had practiced since 1999, and throw it open to all the zones which has enabled its 2019 presidential candidate ,Turaki Atiku Abubakar to clinch it; is also a source of prickly heat and discontentment amongst voters,especially in the south-east and south-south zones of the country which have been the traditional stronghold of the party.
While the irritations caused by what critics see as an volte-face by the PDP is less caustic,the Muslim-Muslim ticket being presented by the APC is justifiably on the lips of every Nigerian-both politically conscious and religion sensitive.
While some deem the Muslim-Muslim presidential candidacy as a non issue,a lot see it as toxic and corrosive,depending on their religion and ethnic biases.
This is as opposed to resorting to partisanship which used to be the main criteria for supporting or opposing presidential and vice presidential candidates.
In fact,as the issue of religion has been dragged into the political mix ,following the introduction of a Muslim-Muslim ticket for the presidency by Tinubu and Shettima,and since the faith composition of Nigerians is more or less a balanced equation of 50/50', who becomes president of Nigeria,now matters to all of us .
Hence it is being discussed amongst a vast majority of Christians and Muslims alike in churches and mosques as well.
Before now,choosing a vice presidential candidate was just a routine chore for presidential candidates.And the equation was simple because it was always about walking the fine lines of religion and ethnicity.
While the framers and writers of 1999 constitution of the federal republic of Nigeria were conscious of the religious and ethnic fault lines which have now widened into a gulf,they did not factor it into or incorporate it in our country's statutes book expressly,so that crossing the line via a Muslim-Muslim or Christian-Christian ticket would be an outright violation and contravention of the laws of land.
Instead of incorporating it into the constitution,it was not codified, but only recognized and treated as a mere understanding.
It is in pursuance of that balance that the religious sensitivities of Nigerians who are sharply divided along the lines of the two predominant faiths- Christianity and lslam, that when a Christian emerges as a presidential candidate,a muslim was chosen as the vice presidential candidate,and vice versa.
That was the case when after independence,and our country was operating a parliamentary system, Abubakar Tafawa Balewa became prime minister.And to strike a balance,Nnamdi Azikiwe became Governor General.
It did not matter that the office of the former was executive,while that of the latter was merely ceremonial.
Some Nigerians still romanticize that period of parliamentary system of government 1960-66 which they fondly refer to with nostalgia as the 'golden age' of Nigeria that they would love our beloved country to return,by literally pushing back the hands of time.
That aspiration is underscored by the fact that back in those days,there was healthy competition amongst the four regions in our country and development,progress and prosperity of the people in respective the regions reflected the amount of vigor and acumen applied in harnessing and managing the natural resources endemic in each of them.
That is because Nigeria was basically a natural resource exporting country to Europe and the rest of the world.
As such,the north was doing its utmost best to grow and harvest Cotton that was grown in Funtua area of katsina state that was feeding the textile miles in kaduna, the headquarter of the region.And that engagement was creating employment and generating revenue for the government via taxes.
Groundnut farming and processing into vegetable /edible oil was also flourishing in the northern region as it is also native to the zone and therefore a veritable employment creator via the factories and another major source of tax income.
A similar scenario was also present in the eastern region where oil palm was its main stay,and coal from the mines endemic in the area sustained the economy that was booming in and around Enugu,the headquarter of the region.
The western region with cocoa as its main cash crop,and which was the commodity that attracted the highest premium,was the most buoyant.
Owing to its high market value in the international market,cocoa farmers were prosperous and practically all the forests in the western region were being cultivated for cocoa to boost the income of the region.
And the Return- On-Investment ,ROI was quite significant.
Hence the western region became head and shoulder above other regions in terms of progress through advancement in education- free education,in terms of provision of infrastructure-first television station in black Africa,a stadium,the tallest building in Nigeria at that time-Cocoa house etc,found home in lbadan,the headquarter of the region.
In Midwest region where rubber palm was the major cash crop,tapping rubber for latex in the form of lumps was the major occupation of the people until crude oil was discovered in Oloibiri ,modern day Bayelsa state in 1958 which changed the landscape of our country from a producing to a consuming country one .
And Benin-city,the capital of Midwest,was the center of activities and it was complimented by Warri that was also brimming with fishery and other marine activities as well as logging/woodworks due to its coastal location and rain forest ecology.
As can be seen from the narrative above,before the discovery of oil/gas,all Nigerians in the four (4) regions had their hands on the plough,working tirelessly to boost the productivity and income of the country.
I guess that is why the period is referred to as the 'golden age' because we were a producing country before we became a consuming country when oil/gas was discovered. And it is an unfortunate situation which Labor Party, Presidential Candidate,Peter Obi has smartly converted to his campaign mantra which is that he will:Turn Nigeria From A Consuming To A Producing Country.
In a manner that is sort of perverse and gutting,the availability of oil/gas in our country has become 'oil curse' instead of a booster to our original production outlook through farming and processing of cash crops earlier highlighted.
That is what the United Arab Emirates,UAE has done with its oil/gas in Abu Dhabi,while Dubai remains a trading and tourism haven,just as Ras Al Khaimah and the rest of the emirates that make up the seven (7) emirates nation, Ajman, Fujairah, Sharjah and Umm Al Quwain concentrate efforts on harnessing resources endemic in their locations and of which they have comparative advantage in producing.
Why did l decide to dredge up the past,readers may be wondering?
Well,the aim is to put in perspective the fact that,not until the parliamentary system bequeathed to us by the British colonialist when their rule over us was ending in 1960, was jettisoned and replaced with presidential system in 1979 by the military,all was well with Nigeria.
And to remind us that our country has the potential of becoming like the UAE,because it is endowed with all the ingredients that it has taken to make that Middle East country that is regarded as a wonder of the world, become like Paris and New York combined.
Back in the days,the regional capitals of Nigeria-Kaduna,lbadan,Enugu and Benincity were the centers of political and economic powers dispersed across the country as all the regions had autonomy and the local political leaders were making their own laws reflective of the peculiar dynamics of their people's culture ,such as ethnic and religious orientations and inclinations.
Since ,only defense,foreign and internal affairs were mainly left in the purvey of the federal government with a prime minister incharge, government at the center was centrifugal and it was centripetal in the regions,as such prime ministerial or governor-generalship was not that attractive to warrant the type of do or die attitude now invested in becoming president and Vice President of Nigeria currently sucking up all the oxygen in the political space and threatening to asphyxiate our beloved country.
And it is not mere happenstance that the most prominent political leaders at that time,Sir Ahmadu Bello of northern region and Chief Obafemi Awolowo of western region chose to become premiers of their respective regions instead of moving to the centre to become prime minister of Nigeria.
As evidence of the ordinariness of the central government,Alhaji Abubakar Tafawa Balewa,from Bauchi state who was the second in prominence in the political hierarchy in the north was assigned by sir Ahmadu Bello to serve as prime minister.So invariably the best hands were reserved in the regions and the second best were dispatched to the center which was at that time,lagos- the seat of the federal government.
The exception to that rule was,Dr Nnamdi Azikiwe who was the most prominent leader from the east and instead of becoming the premier in the manner that Ahmadu Bello and Obafemi Awolowo had become premiers of their respective regions,conceded the premiership of eastern region to sir Micheal Okpara and opted to become the Governor General of Nigeria,a ceremonial role which he desired as a centrist.
What informed the decision of the military and their acolytes in the intellectual world as well as the establishment to switch from the parliamentary system that the British handed over to us and which was modeled after what they practice,has remained intriguing to me,and l guess to those keen on understanding the political evolution of Nigeria.
Having amalgamated the northern and southern protectorates in 1914,the British that had garnered huge administrative experience over a period in excess 50 years of superintending over Nigeria,knew that to a large extent that,the system that worked for their home country,UK was ideal for us.
The underlying reason for such belief would be that the United Kingdom that is made up of four major ethnic groups- English,Welsh,Scottish and Irish to form United Kingdom,UK was in more ways than one,similar to Nigeria comprised of multiple ethnic nationalities with three main tribes -Hausa/Fulani,Yoruba and lgbo as the three main ethnic groups.
As such the colonialist probably reckoned that the system that had worked for them for centuries was the best for us.
And given the similarities in ethnic composition of the nationalities that have been united to form one country,Nigeria,they appeared to have been right in their assessment and decision to imbue us with their tested and proven system.So for the first six (6) years,1960-66,Nigeria experienced its 'golden age' until the military truncated the process via the 1966 coup detat,a counter coup six (6) months after and the descent into civil disturbances that culminated into a civil war in 1967 that lasted till 1970.
Even under autocratic administrations,when those that ruled by gun,instead of rule of law,were in charge,religious and ethnic balance was observed because it was critical for the sustenance of the survival of our country as one entity.
That is why General Ibrahim Babangida,a Muslim from Niger State had Admiral Augustus Aikhomu,a Christian from Edo state as his chief of staff Supreme Headquaters which is a military regime equivalent of Vice President in a democratic setting.
And the tradition or trend continued when multi party democracy got reintroduced in Nigeria in 1979 after a long military interregnum that commenced in 1967.
Religious sensitivity did not wane,even after then leaders of Nigeria,perhaps in a brain wave or in a flight of fancy decided to jettison the parliamentary system bequeathed by the British colonialist and opted to experiment with American style presidential system of government,hence Shehu Shagari,a Hausa/Fulani from Sokoto state paired with Alex Ekwueme,a Christian from Anambra state to form the federal government in 1979 and in 1999, Olusegun Obasanjo, a Christian from Ogun state was joined by Atiku Abubakar from Adamawa state, a Muslim as President and Vice President.
If indeed,the switch from
parliamentary to presidential is an experiment as l had presumed,having learnt or experienced first hand it's ugly consequences-high cost and over centralization and concentration of power in an individual throwing ethnic and religious issues-what are we waiting for to return to the good old days of parliamentary system when there was regional autonomy or form our own hybrid system which could be a mixture of both presidential and parliamentary systems based on our reality.
At least two countries in Africa,Ghana and Rwanda operate hybrid constitutions.
That is evidenced by the fact that the national constitutions of both countries are neither parliamentary or presidential.
Is Nigeria facing its own moment of truth ?
Should we not seriously address the elephant in the room which are the sticky points in the 1999 constitution of the federal republic of Nigeria?
In due course,I will return to the question of wether or not,as a country,we did not steer our ship of state into the wrong course by switching from parliamentary to presidential system of government in 1979.But having put things in context by reflecting on the past experience in our dear country,allow me dissect the curved ball which APC Presidential candidate,Asiwaju Bola Ahmed Tinubu's choice of Kashim Shetima seem to have thrown to himself such that it may make or mar his chance of becoming the next occupant of Aso Rock Villa and even the survival of our country as a nation.
The commonest argument in favor of a Muslim-Muslim ticket is that there is no Vice Presidential material amongst northern Christians.
The counter argument to that is that the incumbent Vice President,professor Yemi Osinbajo was a political feather weight before he stepped into the role in 2015. Why was that not an issue ? Clearly, the reason that Tinubu did not pick a southern Christian as running mate is much more deeper than not finding a heavy weight Christian as being speculated in some quarters.
After all,there are a couple of serving Christian governors, ex governors and two former secretaries to federal government,one ex and the other serving, that are heavy weights to choose from.
So,my take is that the northern Muslims do not consider northern Christians as part of the north,just as they also do not consider southern Muslims as prosper Muslims.
Therein lies the dilemma.
This is also why state of origin and birth has remained an issue as Nigerians are not free to adopt a state where they have lived,worked and even born as their state,so that they can vote and be voted for,as it obtains in the USA where former president Bill Clinton served as governor in the state of Arkansas and his wife Hillary later served as senator representing the state of New York.
The same applies to the Bush family that originally hail from Texas,but Jeb Bush,one of the sons of president George Bush of blessed memory,served as the governor of the state of Florida.
What the scenario playing out in our country where people of same country,but of different creeds are not accorded equal opportunities indicates,is that there may be segregation,and even apartheid in Nigeria.
Hence after over one hundred (100) years of amalgamation (1914) of the northern and southern protectorates by the British colonialists,northern and southern Nigeria have failed to blend.
Back in the days,the motto/mantra of NATIONAL PARTY OF NIGERIA,NPN ,then ruling party (1979-1983) was:One Nation,One Destiny.
With the polarization of our country between extreme lines of religious divide in the run up to 2015 general elections and a situation that has persisted thereafter,can a Muslim-Muslim presidential ticket in 2023 which is a clear exclusion of members of the other faith in the multi ethnic and religious country,be said to be reflective of the slogan: one nation,one destiny?
While Islamic clerk sheik Ahmed Gumi belief about the APC and its presidential candidates resort to Muslim-Muslim ticket is that , "It has nothing to do with religion. Its pure vote-getting strategy and nothing more. It now depends on the voter to choose from a wide range of choices."
Babachir Lawal, former Secretary to the Government of the Federation, SGF has a counterpoise to the point of view of the renown Islamic cleric.
"The northern governors and some northern Muslim elite must have persuaded him that they will never vote for a ticket that has a northern Christian on it.And he has agreed with them.But if he thinks a Muslim-Muslim ticket will win him the northern Muslim votes,he should have a rethink.
They will massively vote for one of their sons because it is in their nature to do so"
And Ohanaze -apex lgbo socio-cultural organization through a press statement by its vice president-general , chief Damien Afam Okeke-Ogene has also warned that a Muslim Muslim ticket in 2023 election is a serious threat to the unity and corporate existence of Nigeria.He put it this way:
"APC presidential candidate choice of muslim — muslim ticket is not only ill-timed but also a total disregard to the diversity of the country and noted that this has undermined efforts of well meaning Nigerians over the years to bridge religious differences and promote ethnic harmonious co-existence."
While acknowledging the cataclysm triggered by his choice of a fellow Muslim as running mate,the APC presidential candidate,Bola Tinubu,in a press statement justified his decision thus:
"Both sides of the debate have impressive reasons and passionate arguments supporting their position.
Both arguments are right in their own way.But neither is right in the way that Nigeria needs at the moment.
As president,I hope to govern this nation toward uncommon progress."
But Christian APC members in the north do not agree with their presidential candidate,Tinubu.
And they did not mince words when they stormed Aso Rock Villa seat of presidential power in their numbers to register their dissent to Muslim-Muslim presidential ticket to president Mohamadu Buhari.They bared they mind thus:
"Mr. President, since the return of democracy in 1999 in Nigeria,the tradition has been a Muslim-Christian or Christian-Muslim paring by all political parties.And this has to a large extent,ensured religious harmony in the country.
"However, the move by our party to adopt a Muslim-Muslim ticket is most insensitive and the height of discrimination against Christians in our country.
This is on the heels that other political parties indeed reflected the religious balance in the composition of their presidential team."
Clearly, Nigerians from all sides of the political divides-ethnic and religious are speaking out against what appears like APC Abracadabra.
And from the excerpt from his media statement earlier highlighted ,Tinubu is not oblivious of the fact that he is in a dilemma with respect to his choice,but he hopes to prevail via dexterous political maneuvering.
But would he triumph this time ?
It is noteworthy that at other times,the interest of Nigerians on the choice of presidential candidates and their running mates would be influenced only by political parties affiliations.
Today, it is the faith of both candidates for the office of the president and Vice President of Nigeria that is a priority and being Muslim-Muslim is creating a ruckus simply because it is considered toxic by both Muslims and Christians alike who cherish harmonious co-existence that can only be achieved via equitable distribution of political power in a multi religion and multi ethnic country like ours.
Our forebears recognized the need,and entrenched the values through Federal Character principle enshrined in the 1999 constitution.
But Tinubu's gambit of a Muslim- Muslim ticket implies that he has elected to discountenance the precautions taken by authors of the 1999 constitution to avoid the crisis of exclusion that has gripped the country since the ascension of APC to power at the center in 2015 reflected by the continued denigration or neglect of the federal character principle that is meant to be the glue holding the nation together in a manner that all the members of the union would have a sense of belonging.
It is commonsensical or a no-brainer to figure out that the violation of the federal Character principle entrenched in the 1999 constitution via exclusion of some tribes from appointment into strategic public offices and the reported monopolization of strategic public office positions by members of mr president's tribe and religion that have manifested in the proliferation of separatist or secessionist groups like the proscribed Independent Peoples of Biafra IPOB led by Nnamdi Kanu in the eastern flank of our country and Odua Nation promoter, Sunday Igboho in the south west zone,as well as other fringe groups in the middle belt region currently threatening the continued existence of our beloved country as one nation.
The demon of disharmony in our country would certainly be fed fat and inter tribal and religious conflicts exacerbated, if politics is allowed to be mixed with religion in a manner that APC and its presidential candidate are about to do which is a dangerous brew and ill wind which would blow no one any good.
Interestingly,the presidential system of government that is being operated in Nigeria since 1979 is modeled after the United States of America,USA's system.
Unlike the USA constitution which is a four (4) page document that has been in operation since 1787 when it was first written and operationalized a year after, and of which 33 amendments have been proposed with 27 approved and incorporated into the constitution after going through rigorous process of vetting:our law makers are yet to effect major amendments in the 1999 constitution.
That is despite the fact that most Nigerians have rejected the constitution which they regard as being made by military diktat as it is a product of the military which handed over 1979 and the 1999 constitutions,of which the latter is an improvement on the former and to some critics,even a sort of mere addendum.
The issues of rotation of power between north and south zones which is currently at a gentleman agreement level,and therefore subject to manipulation; the nebulous minimum educational qualifications to become president which is malleable,and the lack of clarity about the unviable nature and therefore requires clear prohibition of a Muslim-Muslim or Christian-Christian tickets at the federal government level or in states where the dominant religion is not above 70% currently about to trigger a political fiasco; are issues bedeviling our country because they are not codified or incorporated into the constitution as amendments in the way that Americans do.
In my view,if our leaders really want to fix Nigeria,the next national assembly has its work cut out for it,as the initiatives outlined above are simple and critical panacea ,remedies or cures for the incongruities that we have discovered in the course of operating the 1999 in these past twenty three (23 )years that it has been our country's statutes book.
Nigeria can borrow a leaf or two from Canada and Switzerland where the French speaking and other ethnic minorities in those climes share equal rights in the constitution with the majority English speaking,including rotation of presidency amongst unequal parties,particularly in Switzerland.
In conclusion,l recently came across a whatsapp message with the photo of a little Caucasian girl crying.
On top of the image was the question to the crying girl:are you Hindu,Christian or Muslim? She answered: I am hungry.
The message ends with the admonition: MAKE HUMANITY YOUR RELIGION.
Remove Hindu and Caucasian girl from the picture, and replace with a Nigerian girl to create a local context; then pose the similar question: are you Christian or Muslim? To a distressed average Nigerian girl in Sokoto,the heartland of Hausa/Fulani where Muslims are predominant; and do the same in Abeokuta in Yoruba land, populated mainly by people of Christian faith; then replicate it in Aba in Abia state peopled by the lgbos that are mainly Christians: l can bet that the answer from the anguished girl would be: l am hungry.
Not l am Muslim or Christian.
Clearly, hunger which spares no one based on religion and starvation is increasingly becoming the lot of most Nigerians right now as a result of the amplification of our religious differences by politicians for unmerited advantage leading to conflicts that have displaced farmers and dramatically disrupted lives and livelihoods.What they tend not to realize is that the so called advantages are temporary and often come back to haunt them in the manner that some are currently refugees as they are cut off from their homesteads due to insecurity.
Take for instance the injection of Boko Haram into politics along with it's more virulent variant ISWAP, herdsmen militia in the north and known and unknown gun men in the south east and the calamities those avoidable brigandage are wreaking on politicians.Today some of them can not go home to their constituents for fear that they may be killed by the monsters that they literally bred.
So,why don't our politicians try to be religion and tribe neutral and focus more on the proposed programs and projects that would lift majority of Nigerians out of poverty and put them on the path to prosperity?
I will demur from citing Nigerian Bureau Of Statistics,NBS data to validate my assertion that hunger is ravaging our fellow compatriots, as such we must pay more attention to how to pull the masses out of hunger.
That is due to the fact that l am convinced that we all know without being told that life in Nigeria has become brutish and hellish owing to the mismanagement of our multiple ethnic and religion relationships.
As the Central theme or advocacy of the earlier referenced whatsapp message prods us:
Make humanity your religion.
How we in Nigeria can imbibe that message: MAKE HUMANITY YOUR RELIGION should be a raison detre or a sort of desiderata in our country.
lt is a necessary first step towards liberating our country from the shackles of religion and ethnic idiosyncrasies currently hobbling our country's quest for nationhood.
That should be the mission of our politicians,not how to divide the country along ethnic and religious lines which the Muslim-Muslim presidential ticket of the APC candidates Bola Ahmed Tinubu and Kashim lbrahim Shetima tend to portend.
I have made a case in the past that it is about time that our political leaders applied the strategy of expanding the pie or value to be negotiated by putting all political positions that is to be shared on the table upfront.
Nigerians would be less agitated or distressed,if they know in advance what they would get in the political calculus while negotiating power sharing arrangements between the north and south,Muslims and Christians alike.
My advocacy for a change in the political power sharing formula is inspired by the reality that the presidency rotation principle adopted since the return of multi party democracy since 1999,has become obsolete,therefore unimplementable in equitable manner.
And the reasons are two folds.The first is that it is mainly due to the changing political landscape which has seen the south holding on to the presidency much longer than anticipated resulting in the loss of faith in the system by the north in particular.
Take for instance,the president Umaru Yar'adua/goodluck Jonathan presidency which ended abruptly in 2010 due to the sudden passage of Yar'adua compelling Jonathan to complete that term and commence his own tenure in 2011 which got terminated in 2015.
Secondly,also take a look at the current eight (8) years tenure of president Muhammadu Buhari which kicked-off in 2015 and will be expiring in may next year.
Then think about the likelihood of the north remaining in power beyond 2023, when the northerners vote massively for the PDP candidate,Atiku Abubakar,who is one of their own.
It is a reality that the APC initially acknowledged by ditching Rotimi Amaechi and Yemi Osinbajo who were initially the front runners for the presidency when the party was inclined to allow power to return to the south.But its attempt to field Ahmed Lawan,the current senate president as it's presidential candidate to serve as a counter force to PDP's Atiku Abubakar ascendancy into Aso Rock Villa next year was checkmated by APC governors from the north who aligned with Tinubu's quest ,for the selfish reason that after Tinubu's eight (8)years,power would return to the north and much faster than,if Ahmad Lawan were to become president for eight (8)years,and power returns to the south for another eight (8) years.
This implies that the governors interested in the presidency would have to wait for sixteen (16) years with Lawan as president as opposed to eight (8) years,if Tinubu were to become president.
Thus Ahmed Lawan's ambition to be president in 2023 became a casualty as Tinubu's hurricane-like political force torpedoed it like a ferocious and subversive submarine craft,by wining the 6-8 June presidential primaries of the APC against the run of place.
After one month of assessment of its best options,following its victory on June 8 ,the Tinubu camp that was probably unprepared for their victory,hence the name of a vice presidential candidate was not already in the breast pocket of the candidate as he was entering the primaries contest on 6th June,was eventually able to hash out the name of Kashim lbrahim Shetima as his running mate.
But instead of dousing the flame that Tinubu's victory at the APC party primary election which was like a lightening rod had ignited,appointing a running mate has raised the crisis to Code Red or something akin to pouring gasoline/petrol into a burning fire.
And no one can tell how far the conflagration would go in further widening the fault lines in our beloved country into a gulf and even a serious chasm amongst the good people of Nigeria that are blessed with multiple ethnic and religious orientations of which there is one parentage- Abraham- father of Isaac and Ismail the originators of Judaism , Christianity and Islam.
Why can Nigeria not have a sort of peaceful interrelationships arrangement in the Middle East known as:
The Abraham Accords Declaration, which states:
"We believe that the best way to address challenges is through cooperation and dialogue and that developing friendly relations among States advances the interests of lasting peace in the Middle East and around the world."
According to Wikipedia,
"The Abraham Accords are a joint statement between the State of Israel, the United Arab Emirates, and the United States, reached on August 13, 2020. Subsequently, the term was used to refer collectively to agreements between Israel and the United Arab Emirates and Bahrain."
Arising from that agreement,amongst other positive developments,Israeli high technology firms are currently operating in Jebel Ali ports in Dubai jointly developing softwares with the UAE and there is currently direct flight between Saudi Arabia and Israel.
That simply amplifies the fact that with determination,the seemingly impossible can become possible.
For long,l have lived with the morbid fear that religion is like a keg of gunpowder which is laid underneath our country Nigeria that could one day inadvertently be ignited and result in a combustion of catastrophic consequences.
But,l had reckoned that the unfortunate catastrophe may happen in the form of a heinous crime of beheading of a member or members of the opposite religions by fanatics resulting in reprisal actions between Muslims and Christians.
Thankfully,our law enforcement agencies -DSS ,police,army etal have been able to do a great job of mitigating that risk.And l always heaved a sigh of relief each time such dastardly criminal acts occurred and things did not get unhinged with aggrieved people taking the laws into their hands.
But the introduction of a Muslim-Muslim ticket for the presidency of Nigeria in 2023 was unimaginable to me.More so because it was contemplated in 2015 and dropped because it was felt that it was just too hot to handle.
So,l never contemplated,how much more engage in any scenario building around it.
Suddenly,it is in our face.
And hell appears to have been let loose via the raging verbal fire works.
I pray it stays that way until reason eventually prevails when elders in the room truly earn the title by stepping up to the plate.
Before then, good lord, take control.
Magnus onyibe, an entrepreneur, public policy analyst ,author, development strategist, alumnus of Fletcher School of Law and Diplomacy, Tufts University, Massachusetts, USA and a former commissioner in Delta state government, sent this piece from lagos.
To continue with this conversation, pls visit www.magnum.ng
Source: Vanguar
Please click the following URL to read the text of the original story:
https://www.vanguardngr.com/2022/07/moment-of-truth-as-muslim-muslim-presidential-ticket-tests-nigerias-unity/
------
Muslim-Muslim conversation is win-win for APC
19th July 2022
Last week, the presidential standard bearer, and erstwhile national leader of the All Progressives Congress, Asiwaju Bola Tinubu, chose the former governor of Borno State, Kashim Shettima, as his running mate in the forthcoming election in February 2023. The big deal is the furore it has generated, and continues to generate because both candidates are Muslims. Before the choice was made, conversation had filled the airwaves on the propriety of fielding presidential and vice presidential candidates of the same faith for a major political party. Equity, fairness and the peculiar Nigerian malaise dictate that such a move would be an electoral suicide for the party that does it. The voices of dissent to Tinubu's choice of a running mate have been coming both from within and outside the APC. It could even be said that discordant voices from within the party have been more vociferous than the ones from outside. A number of people have since resigned their membership in disgust. Pressure is continuing to be mounted at the senior level in the APC hierarchy to step down the nomination of Shettima, so as to make a way for a Christian candidate in order to rectify what they see as a gargantuan error.
Consequently, Tinubu can only stick to his choice at the risk of further defections from the APC ranks. That, of course, is an outlandish claim. The former Lagos State governor would be unfit for command were he to kowtow to such blackmail. Opposition to what has become known in the media as a "Muslim-Muslim" ticket therefore goes on unabated, and will probably continue to reverberate until the election. Many have written off Tinubu and the chances of the APC winning based on this alone. Was it not Mark Twain who said, "Reports of my death have been greatly exaggerated?" Well, reports of a looming disaster for the APC in the forthcoming election as a consequence of fielding a "Muslim-Muslim" ticket have not only been greatly exaggerated, they have been blown out of all proportions. It has become a paroxysm designed to generate more heat than light. While some of the naysayers may have some valid points, many of them are simply crying wolf, sadly for them, and Nigeria, the country they profess to love so much.That said, it is worth digging into the effect of religion as a political phenomenon, not just for this election, but also from a wider perspective for clarity.
First, religion is a hot-button political issue in Nigeria, only because the political elite are wont to use it in negotiations for power, and in their odious attempt to outmanoeuvre each other on the electoral battlefield. Still, there are regional variations to the impact of religion that the public should take cognisant of. Most people in the southern part of Nigeria tend to be less fanatical about religion than their counterparts in the northern part. For instance, it is commonplace to find a household, especially in the South-West, with multiple religious beliefs happily coexisting under the same roof; as between grandfather and son, husband and wife, son and daughter, father and son, etc. Problems only bubble up when the exercise of a religious belief makes its way onto the public space. As far is the North-South divide goes, there is generally a confusion between being a Muslim, and being Islamic. Being a Muslim is a belief, a way of life and, above all, the way one chooses to relate to fellow citizens who are non-Muslims. Being Islamic is about tenacity to faith and the thought process that flows with that. This is what makes it possible for one to identify as Muslim without necessarily being Islamic. Being a Muslim has never been an issue in the southern part of Nigeria. On the contrary, being Islamic has always been an issue in the northern part of Nigeria. It is what makes it a fertile ground for Boko Haram and other religious extremist groups to flourish. Muslims are, in the main, tolerant, empathetic, and non-violent. Islam (i.e. political Islam) is the opposite. It has little or no capacity to absorb difference. In fact, it is vehemently opposed to pluralism. This is what underlines the battle for the soul of Nigeria on the terrain of religion.
What we are witnessing in respect of the ongoing "Muslim-Muslim" conversation is in fact, a debate between liberal values and political Islam. It is therefore a shame that mainstream Christian leaders have not been more forthright in their defence of the idea of a "Muslim-Muslim" ticket than a handful of them have done thus far. The Christian Association of Nigeria, for instance, ought to have come out in a vigorous defence of the APC's inalienable right to field any combination of religious adherents for high office. Championing such a cause in this moment, is in their enlightened self-interest, as it allows them to occupy the moral high ground, and it will also put paid to the argument for good. Remember, the shoe will soon be on the other foot. You only occupy the moral high ground more pointedly, when in defence of the other lot. The right time for that is now. That said, the real reason the "Muslim-Muslim" conversation benefits the APC is because on the day of election, no matter how high they may try, those wishing to make religion the focus of attention for the voters will fail. Religion will not be on the ballot; the economy will. By all economic indices such as inflation, interest rate, unemployment, dilapidated infrastructure and hospitals, education manpower etc, the APC government has failed to deliver tangible results.
Other measurable yardsticks include increased terrorist bombings, high random kidnapping, increased petrol and gas shortages, electricity failure, and official corruption. On top of these, ethnic animosity and division among Nigerians, judicial corruption, and household debt, all continue to go up, not down. The President, Major General Muhammadu Buhari(retd.), almost gave the game away the other day, on TV, when he admitted to being anxious to quit the stage for the comfort of his village, Daura, in Katsina State. In any other political environment, any party with such a poor record of achievement in office would stand no chance of ever being re-elected. However, ironically, thanks to the media, PDP and various opposition groups, all the issues guaranteed to influence voters' choice are being drawn out. Instead, the country is gripped with mendacious issues of religion and Tinubu's choice for Vice President. This is bad news for the PDP, in particular, as the main challenger for the presidency. Tinubu's choice of Shettima as a running mate has turned out to be a masterstroke in that sense. When a similar scenario came up in an American election in 1992, the opposition chief strategist, James Carville, exclaimed in exasperation, "Let's focus our energies on the economy; it's the economy, stupid!" Right now in Nigeria, the APC will coast to victory in a landslide next year, as long as the conversation stays on religion and the "Muslim-Muslim" ticket.
Source: Punch
Please click the following URL to read the text of the original story:
https://punchng.com/muslim-muslim-conversation-is-win-win-for-apc/
------
Muslim-Muslim ticket: Winning elections, parties' first concern, say Muslim professionals
By
Tosin Oyediran
19th July 2022
A lawyer, Abdulwaheed Olowonjaye, who also is the Political Awareness Group Chairman, an association of Muslim professionals and technocrats in Nigeria with key interest in good governance, in this interview with TOSIN OYEDIRAN delves into the issue of Muslim-Muslim presidential ticket from the purview of history, democracy, religion, tribalism among several others
Would you consider trading the two political currencies – tribalism and religion – for competence in the vice-president selection processes in contemporary times?
As a professional, I will never trade any tendency, parameter, or bias over competence. Wherever the competent hand belongs, so be it. What matters most to us is eligibility first, then qualification, and, of course, competence. There is no certification when it comes to practical politics.
Otherwise, I would have mentioned certification. The constitution has addressed eligibility and qualification, but competence is what is left for the political party, the technocrats in society, and even the electorate to look into. So, I, on behalf of PAG, would give preference to competence over any other thing.
I believe that the Federal Character exists for a reason. Putting it into consideration, would you still go by your earlier preference?
I would still go by my postulation that competence comes before anything else. Why and when is the federal character there? The federal character protects all. You know, democracy is a game of the majority, but of course, the minority would also have their say, but how would they?
One of the mechanisms towards guaranteeing the minorities' say is the Federal Character, in it is a fundamental human right that we call the Charter of Rights, used in the entire world, even if you are a singular person or in a nation governed by the military. Then, we all subscribe to the fact that the Charter of Rights shall subsist whether under military, democracy or whatever.
That is what brings about orderliness in the world we live in and that is what separates us from the animal kingdom.
So also, Federal Character, if it is not abused, if we are looking for competence in each of the six geopolitical zones in Nigeria, there is hardly any position you want someone to occupy that you will not find numerous there.
If this is the case, then we now have to devise some means of zoning or taking turns; that is, if a zone has the presidency, his running mate must come from elsewhere, the Senate president from another, and so on. The federal character is not an abuse of competency but rather a protection of the rights of the minorities.
Now, what do you think of the confirmed All Progressives Congress's Muslim-Muslim ticket (Tinubu-Shettima)?
My understanding is that the APC did not explicitly state that its ticket would be Muslim-Muslim. The primary was keenly contested by all. Indeed, it was a product of circumstance, and each issue should be treated based on the surrounding circumstances that brought about it.
This is quite similar to the circumstances we used to have in the past, as like during the Awolowo, Gowon and the likes' era when we used to have Christian-Christian partnership; so also do we still have it in different cases and places in contemporary times in our country. I see it as what circumstances gave us.
As large as the APC is well-spread across the six zones, would you say there is no northern Christian APC card-carrying member worthy of getting the VP slot, or is it a strategic move by the ruling party?
They are in their hundreds and even thousands. I am aware that there are bonafide Christians carrying APC membership tickets from the North.
However, they are an infinitesimal minority. So, whatever decisions that are to be made, for instance, if it were to be when entering the election year, minorities don't win in democracy; it is the majority that wins.
Democracy favours the majority. Should the credibility of this assertion be discarded? There are some names and groups to reckon with in the Nigerian political sphere that insist that the All Progressives Congress has dug its grave with the Muslim-Muslim ticket move. What is your take on this, sir?
You know, in a democracy, it is all about the participants. That is the reason the constitution frowns upon disenfranchising any individual. Everybody is eligible to partake, but if the wise choose not to vote, then they can be ruled by the fools.
Hence, when we say competence, the majority is a plausible factor worth considering alongside if not before competency. The most competent among those who are available defines the competence in democracy and when it comes to voting. So, whatever is available within the political party will dictate what that party will reckon with, considering the competency and considering the numbers, because democracy is a game of numbers.
So the APC has not dug its own grave in any way, sir?
The first issue is to win before any other thing, because if you do not win, there is no idea you have, no matter how beautiful it is, you cannot bring it into actuality. So, winning comes first.
The truth is that Bola Tinubu, the APC standard bearer is from the South-West and he is a Muslim. Therefore, the deputy cannot come from the same zone as the standard bearer. It has to come from the North; Tinubu is from the South.
…In the North, where there are Christians too?
There are Christians in the North, but barring any other data that may be made available tomorrow, the percentage, as statistics shows today, is not more than 10%. How well will it be for Bola Tinubu to choose from 10% Christians to convince the 90% Muslims? That cannot work and it is the truth.
He has to pick from the 90%, appeal to the 10% that I do not relegate you or disregard your existence. Let's just do this project together. When we get to power, we shall give you your rights.
What bothers a political party is – how do I win? At times, it may not only be the number but an opportunity that comes your way. The saying goes, "Opportunity comes but once."
What I am trying to say is that, in the case of Bola Tinubu, we are having a very perfect Muslim-Christian union already. The wife is a pastor, and Tinubu himself is an Alhaji, and their union has been in existence for over 30 years now, and it is a very perfect one. So, our Christian brothers and sisters should entertain no fear.
Tinubu said he picked Senator Kashim Shettima based on competence, but Christians are saying competence is not restricted to Islam. What is your view?
Competence is a relative word. It is like the students determining what question an examiner should ask them, that is not possible. If Tinubu believes Shettima is the needed help, then so be it.
We believe numerous Muslims and Christians are competent. However, not all that are competent are qualified. The genesis of the security challenges in the country is not far from the region from which Shettima was chosen, and that is going to serve a purpose in convincing the people there that they are still part of the country. Just like what Obasanjo did by 'picking' Jonathan to douse the tension in the region.
The PDP, for instance, decided their competency based on whom they believed should fulfil what their competency test is, maybe not religion now, maybe not zone, the party knows.
Is there any recreation of history worthy of note going on? Does it not seem like a déjà vu of the Abiola/Kingibe1993 partnership which was unanimously declared victorious before its annulment? Do you think Asiwaju's proposed ticket shares any similarity?
Asiwaju was one of the disciples of MKO Abiola, and he was one of those that supported him after its annulment with his resources and the like. They shared the same school of thoughts. He believes in what MKO rose up to bring about good governance. Asiwaju took his time, studied it, and he was slow and steady following the trend of events till God gave him the chance to contest.
A former Secretary General of the Federation, Babachir Lawal, said the APC presidential candidate, Asiwaju Bola Tinubu, bowed to the wish of northern governors by picking a Muslim, what are your thoughts on this?
Lawal was one of the committee members set up to look for who the best running mate should be, and among the eleven names submitted, Shettima was one of them. "He (Lawal) cannot go against what he was informed of and involved in the process."
Irrespective of the number, Shettima's name was on the list, whether the first, middle, or last, the members of the committee have no talking sense or no right to oppose what they have done. What they have to do is to defend it as much as they can.
Currently, the president; House of Representatives Speaker; Senate president are all Muslims. Some people believe that the APC is becoming an Islamic party. What do you say to that?
The main reason no one can say that is because Osinbajo is a main factor, being a powerful and relevant member of the current administration as a Vice-Principal as well as a senior pastor in the Redeemed Christian Church of God.
The election that produced the president of the country differs from that which produced the Senate President and the House of Reps Speaker.
Nigerians at large, in all the 36 states and the Federal Capital Territory, voted for the President, while the lawmakers, after Nigerians voted for them conducted a kind of election in the Red Chamber, from which Femi Gbajabiamila emerged as the Speaker in the lower chamber and Ahmed Lawan in the upper chamber.
They weren't the only ones who came from the six regions to contest. So, it is quite different—and the National Assembly is made up of both Muslims and Christians.
Nigerians voted for these lawmakers, and by extension, they, in turn, chose their own leaders, which we, as ordinary citizens, do not need to worry about.
Source: Punch
Please click the following URL to read the text of the original story:
https://punchng.com/muslim-muslim-ticket-winning-elections-parties-first-concern-say-muslim-professionals/
------
Arab World
Grand Mosque distributes 12m liters of Zamzam water to Hajj pilgrims
JULY 19, 2022
A total of 12 million liters of Zamzam water was distributed at the Grand Mosque during this year's Hajj period, according to official figures. The General Presidency for the Affairs of the Two Holy Mosques said via Twitter that the water was distributed over a period of 15 days.
Abdulrahman Al-Zahrani, who manages the Zamzam water department at the mosque, said the total comprised 990,000 liters distributed in the form of 3 million 330ml bottles and 11 million liters from more than 25,000 water containers, each with a capacity of 40 liters, Arab news reported.
The containers, distributed throughout the Grand Mosque and its courtyards, were refilled five times a day. Al-Zahrani said 1,150 workers helped to distribute the bottles, while 80 smart carts and water-dispensing robots were also employed around the mosque to ensure the pilgrims kept hydrated.
All of the carts and bags used to carry the water, were frequently washed and sterilized to ensure good health standards, he added. The same sanitation protocols were applied to the water pumps, which were supervised by 150 workers, he said. As a further safety measure, employees of the Zamzam water laboratory tested more than 70 samples a day to ensure the water pumped to the Grand Mosque was potable.
Al-Zahrani said technology would increasingly be used in the management and distribution of Zamzam water, in line with the 2024 plan for the presidency – headed by Sheikh Abdulrahman Al-Sudais – and the wider Saudi Vision 2030. The volume of Zamzam water distributed during the Hajj period was about the same as provided during Ramadan, taking the total for the year to 24 million liters.
Source: Daily Times
Please click the following URL to read the text of the original story:
https://dailytimes.com.pk/968612/grand-mosque-distributes-12m-liters-of-zamzam-water-to-hajj-pilgrims/
------
Saudi Arabia and Japan reaffirm close bilateral ties
July 19, 2022
TOKYO: Saudi Foreign Minister Prince Faisal bin Farhan and Japanese Foreign Minister Yoshimasa Hayashi held bilateral talks on Tuesday in Tokyo, further strengthening the cooperation between Japan and Saudi Arabia.
Hayashi expressed his gratitude to Saudi Arabia for its condolences sent after the passing for slain former Prime Minister Shinzo Abe.
"Japan places extreme importance on its relations with Saudi Arabia," Hayashi said. "I welcome the cooperation between our countries, such as the telephone call between Prime Minister Kishida and his royal highness Crown Prince Mohammed Bin Salman."
Hayashi also expressed his gratitude for the stable supply of crude oil from Saudi Arabia, and requested for continued cooperation in stabilizing the international crude oil market and for additional production increase.
The Japanese FM said that he looks to further promote cooperation in various fields such as clean energy, including renewable energy, and other areas including climate change, infrastructure, tourism, and culture under the "Saudi-Japan Vision 2030."
In response, Prince Farhan stated that the strategic partnership between Japan and Saudi Arabia is solid and that he would like to continue to work closely together, including in cooperation towards stabilizing the international crude oil market.
The Japanese foreign minister said the Kishida administration supports Saudi Arabia's efforts in economic and social reforms. "I hope that the bilateral ties will be further strengthened," he added.
Prince Farhan expressed his deep condolences for the passing of Abe, describing him as a true leader and friend to Saudi Arabia.
The Saudi foreign minister said that the Kingdom wants to further strengthen its relationship with Japan through cooperation in various fields.
The two ministers discussed the need for collaboration by the international community and for the strengthening of the functions of the entire United Nations, including the United Nations Security Council reform, in the wake of Russia's invasion of Ukraine.
They also exchanged views on the situation in Asia, such as responding to North Korea, including its nuclear and missile issue and the abduction issue, and concurred to continue to work together. Both sides also exchanged views on the situation in the Middle East, including the situation in Iran and Yemen.
Source: Arab News
Please click the following URL to read the text of the original story:
https://www.arabnews.com/node/2124946/saudi-arabia
------
Saudi authorities order doubling of admission rates for in-demand university subjects
July 18, 2022
RIYADH: Admission rates for students in a number of faculties at Saudi universities, including engineering, technology, business and medicine, are set to double compared with 2020 levels, education authorities have announced.
The Council of Universities Affairs, chaired by Hamad Al-Sheikh, the minister of education, said on Sunday that the aim of the decision is to improve educational outcomes and help meet the needs of labor markets.
Universities will also be required to reduce the acceptance rate for disciplines "not compatible with the labor market" by at least 50 percent, the council said. The mandated increases and reductions will apply for five years, beginning with the coming academic year, and will be reassessed after three years.
These and other decisions announced by the council are designed to help prepare students for the labor market in more efficient and effective ways, and ensure that they can compete with other graduates locally and globally.
The council also told universities to gather data, to be published in a semi-annual report published on the university's website, about employment rates among their graduates in all disciplines, the salary levels of working graduates, and whether or not their jobs are related to their field of study. This decision reflects the importance of competition between universities and their efforts to align academic programs with the requirements of local and international labor markets, according to the council.
The changes follow a broader liberalization of the Saudi higher education sector. In 2019, the Council of Ministers approved a law granting "disciplined independence" to universities, which allowed them to develop their own academic, financial and administrative regulations in accordance with state-approved public policies. These policies are implemented by the council, which is a Saudi government institution that organizes university affairs and approves education policies and strategies in the Kingdom.
The council said that the first phase of the new regulations will apply to King Saud, King Abdulaziz, and Imam Abdulrahman bin Faisal universities. It added that they will allow universities to financially benefit from the development of various revenue streams, including "scientific research or consulting services for other internal or external bodies."
Source: Arab News
Please click the following URL to read the text of the original story:
https://www.arabnews.com/node/2124696/saudi-arabia
------
Saudi authorities record more than 80 environmental violations in Asir
July 18, 2022
ABHA: The National Center for Vegetation Development and Combating Desertification has recorded more than 83 environmental violations on land dedicated to vegetation cover and national parks in Asir.
It recorded the violations via specialized patrols protecting and monitoring Asir's forests and parks, equipped to impose penalties and enforce executive regulations.
The recorded violations included fires lit in undesignated areas, with a fine of SR1,000 ($266) for the first offense, multiplying for subsequent offenses, and burning trees and bushes, with a fine that starts at SR20,000 for the first offense and multiplying up to SR40,000.
Source: Arab News
Please click the following URL to read the text of the original story:
https://www.arabnews.com/node/2124781/saudi-arabia
------
OIC condemns terrorist attack in Somalia
July 18, 2022
JEDDAH: The General Secretariat of the Organization of Islamic Cooperation has strongly condemned the terrorist bombing that targeted a hotel in Jowhar, near the presidential palace of Hirshabelle State in Somalia.
The attack killed several people and wounded others, including government officials, and destroyed nearby buildings.
OIC Secretary-General Hussein Ibrahim Taha expressed his condolences and sympathy to the families of the victims and the Somali government and people, wishing a speedy recovery to all the injured.
He reiterated the OIC's solidarity with Somalia in its efforts to maintain security and fight terrorism.
The UAE also condemned the terrorist attack.
Source: Arab News
Please click the following URL to read the text of the original story:
https://www.arabnews.com/node/2124831/saudi-arabia
------
Saudi students win 6 prizes at biology and chemistry Olympiads
July 18, 2022
RIYADH: The Saudi Biology National Team have won two prizes at the 33rd World Biology Olympiad in Armenia.
In a statement, Amal Al-Hazzaa, acting secretary-general of the King Abdulaziz and his Companions' Foundation for Giftedness and Creativity, or Mawhiba, said that 237 students from 64 countries took part in the event which ran from July 10 to 18.
Yazan Al-Maghrabi, a Jeddah-based student, won a silver medal while Nawaf Al-Mitairi from the Eastern Province was awarded a certificate of merit.
Al-Hazzaa thanked the government for supporting students to participate in these international events.
Meanwhile, Saudi science students have stunned the competition at the International Chemistry Olympiad 2022, taking four prizes over the week-long event.
Students from the King Abdulaziz and His Companions Foundation for Giftedness and Creativity (Mawhiba) picked up a silver medal, two bronze medals and a certificate of recognition at the event, which ran from July 10 to 18.
The International Chemistry Olympiad, which is held annually in July, involves a five-hour theory test among other tests. The competition strengthens student connections and cooperation, as well as promoting the exchange of educational and scientific experiences around the world.
This was the Kingdom's 12th participation in the international competition, with its students picking up four prizes after facing competition from 326 students from 84 countries.
Prior to competing, the students received 2,700 hours of training from a selection of Saudi and international coaches as part of a collaboration between Mawhiba and the Ministry of Education.
Muhammad Al-Hadlaq, a second-grade student from the Riyadh Education Department, was awarded a silver medal.
Hussain Shaker Al-Saffar and third-grade student Ali Al-Yousef, both from the Eastern Education Department, received bronze medals. Abdullah Al-Mamtn was presented with a certificate of recognition.
Dr. Amal Al-Hazaa, acting Secretary-General of Mawhiba, congratulated everyone who contributed to the achievements, including the students' families, schools, and teachers — as well as the Kingdom's leadership — for providing the best means of education that allowed the students to thrive.
Source: Arab News
Please click the following URL to read the text of the original story:
https://www.arabnews.com/node/2124691/saudi-arabia
------
At least 22 killed, 33 injured in car crash in southern Egypt
July 19, 2022
CAIRO: At least 22 people were killed and 33 injured in a car crash on Tuesday near Egypt's southern province of Minya, authorities said.
The crash took place in the early morning when a passenger bus hit a stopped truck on a highway linking the capital of Cairo to the country's south, local authorities in Minya said in a statement.
Authorities said in a statement the truck was changing tires on the roadside when the bus hit it in the city of Malawi in Minya province, about 220 kilometers (137 miles) south of Cairo.
Ambulances rushed to the scene to transfer the injured to hospitals in Minya.
Traffic accidents kill thousands every year in Egypt, which has a poor transportation safety record. Crashes are mostly caused by speeding, bad roads or poor enforcement of traffic laws.
Source: Arab News
Please click the following URL to read the text of the original story:
https://www.arabnews.com/node/2125086/middle-east
------
URL: https://newageislam.com/islamic-world-news/gil-tamari-israeli-television-journalist-mecca/d/127516
New Age Islam, Islam Online, Islamic Website, African Muslim News, Arab World News, South Asia News, Indian Muslim News, World Muslim News, Women in Islam, Islamic Feminism, Arab Women, Women In Arab, Islamophobia in America, Muslim Women in West, Islam Women and Feminism