New Age Islam News Bureau
10 Apr 2019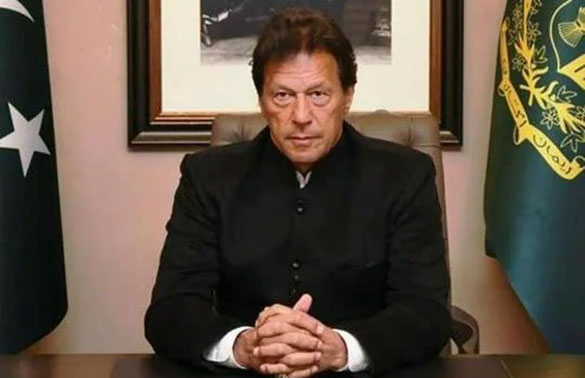 Pakistani Prime Minister Imran Khan said he thinks there may be a better chance of peace talks with India if Prime Minister Narendra Modi's BJP wins the general elections.
---------
• Imran Khan Sees Better Chance of Peace Talks with India If BJP Wins Election
• Rs30m Schools' Fund Diverted to Samiul Haq's Seminary
• Hundreds of Bangladeshi 'Extremists' To Surrender: Police
• Jokowi's Ideological Shift Has Not Gone Unnoticed
• 'He's Doing A Great Job': Trump Embraces Egypt's Autocratic President
• Tory Islamophobes Team Up Against Javid to Block His Premiership Bid
• Saudi Cabinet Welcomes IRGC Terrorist Designation by US
• Israeli PM Netanyahu Wins National Election: CH 12 TV
• Libya's Tripoli Gov't Orders Arrest of 'Sleeper Cells'
India
• Imran Khan Sees Better Chance of Peace Talks with India If BJP Wins Election
• Mirwaiz's Appearance before NIA Paves Ways for Thorough Probe into JK Terror Funding
--------
Pakistan
• Rs30m Schools' Fund Diverted to Samiul Haq's Seminary
• Pakistan Issues 2200 Visas to Sikh Pilgrims on the Eve of Baisakhi Celebrations
• Pakistan's FIA seeks cancellation of 26/11 mastermind Zakiur Rehman Lakhvi's bail
• Pakistan Premier: 'No Use' for Armed Militias Anymore
• Without reforms, Pakistan's growth rate to remain at 2.5pc till 2024: IMF
• Fazl fails to win over Nawaz against government
--------
South Asia
• Hundreds of Bangladeshi 'Extremists' To Surrender: Police
• Hizbut Tahrir echoes anti Bangladesh propaganda
• 13 militants killed in coalition airstrikes in Southeast of Afghanistan
• Coalition forces drone crashes in Helmand province of Afghanistan
• Taliban militant surrender to Afghan police after killing his commander in Faryab
• Afghan Special Forces destroy Taliban prison, arms and explosives depots in Kunduz
• Taliban storm checkpoints kill 20 Afghan troops
• Bangladesh, Myanmar border talks begin in Naypyidaw
--------
Southeast Asia
• Jokowi's Ideological Shift Has Not Gone Unnoticed
• Maldives Ruling Party Pledges Probe into Chinese Deals after Landslide Win
• Indonesia, Malaysia share top position in global Muslim tourism index
• Don't let pride stand between us, Mahfodz tells PAS and Umno
• 'People Power' Not Enough to Delegitimize 2019 Election: TNI
--------
North America
• 'He's Doing A Great Job': Trump Embraces Egypt's Autocratic President
• Man inspired by ISIS planned truck attack near DC, say US prosecutors
• Trump will fail to provide nukes to Saudi Arabia: Scholar
• US: Man planning attack near DC 'inspired by Daesh'
--------
Europe
• Tory Islamophobes Team Up Against Javid to Block His Premiership Bid
• UN Refugee Chief Warns New Zealand Massacre The Result Of Toxic Politics, Media
• Macron urges Iran's Rouhani to avoid 'escalation' of tensions
• Amnesty to join legal fight against UK arms sales to Saudi amid Yemen atrocities
• UK Announces Major Funding To Tackle Hate Crime In Latest Crackdown On Extremism Threat
• Tax collected on frozen Libyan assets could be recycled for IRA terror victims
• Terrorist Planned to Target Mosque in UK's First Far-Right Suicide Bomb Plot
--------
Arab World
• Saudi Cabinet Welcomes IRGC Terrorist Designation by US
• Turkey, Qatar Criticize US Designation of IRGC as Terror Group
• Trump's recognition of Golan Heights as Israeli flouts intl. law: Aoun
• Suicide bombers attack Syrian army post, several dead
• At least 9 people killed in car bomb attacks in Syria's Raqqah
• Iraq receives more T-90 battle tanks from Russia to boost ground force
• Twin bombings in Egypt's Sinai Peninsula leave 8 dead
• Arab Coalition strikes Houthi targets in Yemen's capital
--------
Mideast
• Israeli PM Netanyahu Wins National Election: CH 12 TV
• Netanyahu, Gantz Both Claim Victory In Israeli Polls
• Over dozen Saudi mercenaries killed, injured in Yemeni army offensives
• Israel using lethal gases against March of Return protesters: Gaza Health Ministry
• Iran decries 'illegal' US designation of Guards, retaliates with terrorism listing
• Arab Coalition strikes Houthi targets in Yemen's Sanaa
• AP report reveals Houthis blocked shipment of cholera vaccines for almost a year
--------
Africa
• Libya's Tripoli Gov't Orders Arrest of 'Sleeper Cells'
• UN postpones conference in Libya due to fighting
• Pro-Haftar Forces Target S. Libya's Capital
• WHO: At least 47 killed in last 3 days in Libya clashes
• Italy keeps troops in Libya despite Khalifa advance
• Somalia: Govt, AU Forces Arrest 9 Al-Shabab Militants in Southern Region
• Boko Haram hits Nigerian city after thousands flee military operation
• Boko Haram: Airforce hits hard on Islamic State terrorists in Borno
• We have rescued Nigeria from Boko Haram – Buhari boasts in Abu Dhabi
Compiled by New Age Islam News Bureau
URL: https://www.newageislam.com/islamic-world-news/imran-khan-sees-better-chance/d/118284
--------
Imran Khan sees better chance of peace talks with India if BJP wins election
Apr 10, 2019
Pakistani Prime Minister Imran Khan said he thinks there may be a better chance of peace talks with India if Prime Minister Narendra Modi's BJP wins the general elections.
Khan said that if the next Indian government were led by the opposition Congress party, it might be too scared to seek a settlement with Pakistan over Kashmir.
"Perhaps if the BJP wins, some kind of settlement in Kashmir could be reached," Khan told a small group of foreign journalists in an interview.
He said Modi, like Israeli Prime Minister Benjamin Netanyahu, was electioneering based on "fear and nationalist feeling".
The BJP's pledge this week to propose stripping decades-old special rights from the people of Jammu and Kashmir, which prevent outsiders from buying property in the state, was a major concern, though it could also be electioneering, Khan said.
Khan did appear to offer India an olive branch, saying that Islamabad was determined to dismantle all Pakistan-based militias in the country, and that the government had full support from Pakistan's powerful army for the programme. Those to be dismantled include groups involved in Kashmir.
Khan said Kashmir was a political struggle and there was no military solution.
Relations between Pakistan and India reached a crisis point in February after a suicide bombing killed 40 Indian paramilitary police in Kashmir.
Islamabad denied responsibility for the February 14 attack, which was claimed by Pakistan-based militant group Jaish-e-Mohammed, but the bombing prompted India to carry out a cross border air strikes against a militant training camp in Pakistan.
The parliamentary election is being held in phases in India and does not finish until May 19. The results will be declared on May 23.
https://www.hindustantimes.com/india-news/imran-khan-sees-better-chance-of-peace-talks-with-india-if-bjp-wins-election/story-Y8EPSKUfhOIUGNqA0VPKBK.html
--------
Rs30m schools' fund diverted to Samiul Haq's seminary
Mohammad Ashfaq
April 10, 2019
PESHAWAR: The Khyber Pakhtunkhwa government has diverted Rs30 million funds meant for the development of public sector higher secondary schools in the province to Maulana Samiul Haq's Darul Uloom Haqqania seminary in Nowshera, sources claim.
The government had allocated Rs1.7 billion in the current fiscal year for providing higher secondary schools with basic facilities.
Sources told Dawn that of those funds, Rs695 million was diverted to Swat district two months ago before the government gave away another Rs30 million to the Darul Uloom Haqania, leaving little for the schools' development.
They said the government had so far released Rs900 million to the elementary and secondary education department for the Standardisation of Government Higher Secondary Schools project.
The sources said of the Rs695 million funds diverted to Swat, Rs116 million would be spent on higher secondary schools, while the rest had gone to road and irrigation schemes.
The provision of funds to Darul Uloom Haqqania by the previous PTI government for its development had caused uproar.
The Standardisation of Government Higher Secondary Schools initiative was launched in the 2015-16 financial year.
Under it, the government had selected 200 schools across the province for providing them with necessary facilities at the cost of Rs9.8 billion.
The scheme provides for the establishment of separate labs for physics, chemistry and biology subjects, construction of examination halls and additional classrooms, beautification of the schools, supply of electricity and water, and construction of washrooms.
Until now, work on only 72 of the selected schools has been completed at a cost of Rs3.7 billion, sources said.
Sources said the previous PTI government had allocated Rs460 million for Darul Uloom Haqqania's development before releasing Rs28 million in July 2018.
They said as the seminary asked for more funds, the government diverted the higher schools' budgetary allocations for the purpose.
The officials of the education department expressed ignorance about the development and said the money would've been diverted by the planning and development department in the recent re-appropriation of funds.
An official said the P&D department didn't cut the money out of Rs900 million funds already released to the education department for higher secondary schools.
He said the P&D department hadn't informed the education department about the funds diversion to the Nowshera seminary.
The official said usually, the P&D department 'avoided' informing the relevant department about the 'cutting down' of the unreleased funds.
Adviser to the chief minister on elementary and secondary education Ziaullah Bangash had expressed ignorance 10 days ago when asked about the funds' diversion.
"Let me get details (of the matter) from the quarters concerned and get back," he had told Dawn.
However, Mr Bangash neither took this correspondent's call on Tuesday nor did he respond to a text message sent to his cellphone number.
https://www.dawn.com/news/1475035/rs30m-schools-fund-diverted-to-samiul-haqs-seminary
--------
Hundreds of Bangladeshi 'extremists' to surrender: Police
09 Apr 2019
DHAKA: Hundreds of Bangladeshi left-wing "extremists" will lay down their arms Tuesday (Apr 9) in what police say is the largest surrender of its kind in decades in the South Asian nation.
More than 600 insurgents were expected to turn in homemade weapons and firearms to Bangladesh's home minister and police chief at a formal ceremony at a sports stadium, officials said.
"The government will work to help rehabilitate them so they can return to society," Sheikh Rafiqul Islam, police chief in the restive northwestern district of Pabna, said.
Bangladesh's western regions have been wracked with conflict since the 1970s until quite recently, with left-wing movements including Maoist outfits and tribal groups fighting the state from jungle redoubts.
Bangladesh describes them as "extremists" and blames them for the assassinations of political figures and journalists, as well as deadly attacks on the armed forces and police.
Their resistance waned with the formation of Bangladesh's elite police unit in the mid-2000s, which forced the various insurrection movements into retreat through a brutal crackdown.
Rights groups have accused the Rapid Action Battalion police unit of extrajudicial killings of left-wing figures in the country's west and northwest.
Islam said the surrender would be the largest since 1997, when several thousand tribal fighters from the jungle-clad Chittagong hill tracts bordering Myanmar laid down their arms in a peace deal with the government.
Two years later, 400 other militants surrendered and were appointed to Bangladesh's reserve police force.
Two months ago, roughly 100 methamphetamine traffickers turned themselves in under an amnesty struck with local authorities.
The government announced a no-holds-barred war on drugs last year to purge Bangladesh of drugs, killing dozens of alleged dealers and methamphetamine kingpins.
Their main target was to curb the smuggling of yaba, a cheap and addictive methamphetamine pill trafficked to the country by the hundreds of millions.
Police said 24 "godfathers" were among the traffickers who surrendered in Teknaf, a key border gateway for smuggling yaba into Bangladesh from Myanmar.
https://www.channelnewsasia.com/news/asia/hundreds-of-bangladeshi-extremists-to-surrender-police-11426422
--------
Jokowi's ideological shift has not gone unnoticed
Endy Bayuni
April 10, 2019
Bidding for his reelection in the April 17 presidential race, the incumbent Joko "Jokowi" Widodo has focused his attention more on winning the hearts and minds of conservative voters, reflected among other means by his choice of running mate and giving concessions to the military.
Jokowi, a socialist by ideology, squares off with Prabowo Subianto, a former army general, who counts mostly on conservative voters to get him into office. Given society's increasing trend toward conservatism, both candidates are now scrambling for votes from this segment.
Jokowi's apparent ideological shift may be more for expediency to ensure victory, but voters from his traditional support base to the left of the political spectrum fear it could have major policy implications for his next administration.
Many have declared through social media memes that they will not vote, making clear they did not endorse the shift, but that they would not give their vote to the challenger who is even further to the right, embracing hard-line Islamic groups.
In the final weeks before polling day, most surveys show Jokowi is ahead by a double-digit margin. One or two surveys say his lead is in the alarming level of a single digit.
Amid growing concern that high absenteeism could turn the election results around, Jokowi's camp has been campaigning hard in the last few days to get the vote out on voting day.
"Cast your vote and then go on holiday," Jokowi has been repeatedly telling voters. Others use harsher words to intimidate people to vote, even knowing that voting is voluntary.
Voting day is a national holiday and with Good Friday on April 19, also a national holiday, many people are planning to take an extended holiday, and some are even contemplating leaving town for the entire week. They include disilusionned voters who would have voted for Jokowi.
As things stand at the moment, Jokowi appears to be unbeatable, even more so with his apparent shift to the right. Incumbency confers advantages that Jokowi did not have when he, as Jakarta governor, contested the presidential race for the first time in 2014, also against Prabowo.
This time, Jokowi has a track record to show for while Prabowo does not. His die-hard supporters would argue it is excellent, but for most voters it is good enough; not too disastruous for them to want to replace him. Then-president Susilo Bambang Yudhoyono had a lackluster record in 2004-2009, but won by a landslide in his reelection bid in 2009.
On the economy, Jokowi has delivered a yearly growth rate above 5 percent, good enough to sustain the economy, reducing the poverty rate to a historic low, keeping inflation low at 3 to 4 percent and bringing down the unemployment level to 5.6 percent. His universal national healthcare services and 12-year free schooling policies, as well as subsidies for the poor, have endeared him to the poor and the low-middle class. His massive infrastructure programs are beginning to deliver the services that should further facilitate growth in the coming years.
With the candidates racing to be seen as more nationalist, Jokowi is ahead with his "resource nationalism". During his term, the government acquired a majority stake at PT Freeport Indonesia, which controls the largest gold reserves in the the world in Papua, from American mining giant Freeport McMoran. He ensured Indonesia's appropriation of the Rokan oil field, Indonesia's largest, from Chevron Indonesia, and the huge Mahakam gas field from Total Indonesie.
Jokowi's vision for his second term does not depart much from his current policies. Predictably, he has campaigned for continuity, and for endorsement of his existing policies and vision.
Lacking the track record, Prabowo has struggled to come up with a better alternative. He and his team have ended poking at some of the weaknesses and flaws in Jokowi's policies, rather than trying to present a real alternative.
Jokowi's shift to the right of the political spectrum is clearly part of his strategy to win the race, inevitable perhaps, amid increasing conservatism.
His choice of Ma'ruf Amin as running mate upset his traditional supporters who recall that this is the same man who condemned former Jakarta governor Basuki Tjahaja Purnama, and a close friend of Jokowi, to prison for blasphemy through his testimony in court. Jokowi has retained the services of Yusril Izha Mahendra, who chairs the conservative Islamist Crescent Star Party (PBB), as constitutional law advisor. It was upon Yusril's advice that Jokowi announced the plan to release Abu Bakar Ba'syir, the mastermind of several terrorist attacks in the name of Islam, in January. Jokowi backtracked after protests at home and abroad.
Jokowi's decision to increase the retirement age for military officers to 58 years, and then to allow them take up posts in the civil service, raised the specter of the return to the dual function role of the Indonesian Military in both defense and politics, not unlike the Soeharto years.
How far to the right of the political spectrum is Jokowi shifting? Will he be able to resist pressures from Muslim conservatives and the military who want to have more say in his next government?
Almost assured of election victory, Jokowi's political fate is now very much in the hands of those on the left of the political spectrum. If there are enough of them too angry to vote because of his shift to the right, they could well deliver victory to Prabowo.
https://www.thejakartapost.com/academia/2019/04/10/jokowis-ideological-shift-has-not-gone-unnoticed.html
--------
'He's doing a great job': Trump embraces Egypt's autocratic president
April 10, 2019
President Donald Trump while meeting with President Abdel-Fattah el-Sissi of Egypt in the Oval Office of the White House, in Washington. (Tom Brenner/The New York Times)
Written by Mark Landler
President Donald Trump welcomed Egypt's president, Abdel-Fattah el-Sissi, to the White House on Tuesday, and bestowed on his ally what he most eagerly sought: a ringing endorsement of his strongman rule.
El-Sissi, 64, a former general who took power in a military coup in 2013, is seeking to amend the Egyptian Constitution to allow him to run for two more six-year terms, which would keep him in power until 2034.
When Trump was asked about the amendments, he professed not to know anything about them, but declared: "I can just tell you he's doing a great job. Great president."
El-Sissi's visit came on the same day that another key ally of Trump's in the Middle East, Prime Minister Benjamin Netanyahu of Israel, was facing voters in a tight election. In the weeks leading up to that vote, the president tried to shore up Netanyahu's fortunes with a series of gestures, chief among them US recognition of Israel's sovereignty over the Golan Heights.
It also came as Trump called a third ally, Crown Prince Mohammed bin Salman of Saudi Arabia, who has been under a cloud since reports that he ordered the killing in October of a Saudi dissident journalist, Jamal Khashoggi.
Trump and Crown Prince Mohammed discussed Saudi Arabia's "critical role" in stabilizing the region, the campaign to isolate Iran and "the importance of human right issues," according to a White House statement.
For Egypt's leader, Trump offered only the trappings of an Oval Office welcome, though one with flashing cameras and looming boom mics. Back home, where el-Sissi has methodically stifled dissent and tightened his grip on power, that could prove more than enough validation.
"The single and only reason for President Sissi to visit the White House right now is to obtain a strong endorsement from President Trump to stay in power," said Amy Hawthorne, deputy director of research at the Project on Middle East Democracy.
Before their session, Trump said the two men would discuss trade and counterterrorism. He said nothing publicly about Egypt's human rights record, which was always checkered but has deteriorated under el-Sissi, who has brutally suppressed the Muslim Brotherhood and turned Egypt into a society in which a person can be arrested over an objectionable Facebook post. Trump's daughter Ivanka also met with el-Sissi to discuss the empowerment of women.
Donald Trump said nothing about several Americans currently detained in Egypt. Earlier in the day, Secretary of State Mike Pompeo raised the issue with el-Sissi, according to the State Department.
For his part, el-Sissi said relations between Egypt and the United States had never been stronger. "All the credit goes to you, Mr. President," he said through a translator. "Thank you very much for your support on all fronts."
In fact, some analysts said, the U.S. alliance with Egypt is at an awkward moment. Trump has focused most of his energy in the region on assembling an Israeli and Persian Gulf alliance against Iran.
"When you think of Trump's agenda in the Middle East, Egypt doesn't offer that much," said Brian Katulis, an expert on Egypt and senior fellow at the Center for American Progress. "What's interesting to me is that Trump — who is always asking 'What's in it for us?' — is even doing this meeting."
Moreover, Egypt, which still receives roughly $1.3 billion a year in U.S. military aid, recently agreed to buy 20 fighter jets from Russia, potentially exposing individual Egyptians to US sanctions.
Trump's decision on the Golan Heights rankled Egyptian officials, as did his earlier order to move the U.S. Embassy in Israel from Tel Aviv to Jerusalem. Both moves run counter to the spirit of the peace treaty between Egypt and Israel, brokered 40 years ago by President Jimmy Carter.
They could also make it harder for el-Sissi to voice wholehearted public support for the Israeli-Palestinian peace plan being drafted by Trump's son-in-law and senior adviser, Jared Kushner.
The administration has said it would present the plan sometime after the Israeli elections, but the White House, like the Israeli public, will have to await the results of Tuesday's vote to determine whether Netanyahu or his opponent Benny Gantz, are able to form a governing coalition.
There is less suspense in Egyptian politics these days. Analysts said el-Sissi's constitutional amendments, which also include a provision that would expand the military's role, have drawn no public enthusiasm. But the electoral system is set up so that they can prevail with a simple majority even if voter turnout is low.
To coincide with el-Sissi's visit, his critics began an online petition Tuesday to oppose the amendments. The website was quickly blocked inside Egypt; the government has previously blocked several other independent or critical websites or online publications.
But the petition remained accessible outside Egypt and the website counter indicated that more than 67,000 people had endorsed it — a number that could not be confirmed.
President Barack Obama kept el-Sissi at a distance. But it was his second White House invitation from Trump, who has obviously established a rapport with him. At a meeting in Saudi Arabia in May 2017, the two lavished praise on each other, with Trump even declaring: "Love your shoes. Boy, those shoes."
Some of Trump's affection may be explained by his general affinity for strongmen. At a recent speech to Republican supporters, the president recalled an exchange he claimed to have had with President Xi Jinping of China, who, like el-Sissi, pushed for an extension of his term.
Trump said he referred to Xi as a king, which prompted the Chinese leader to demur that he was only a president.
"I said, 'No, you're president for life, and therefore you're king,' " Trump said he replied.
If el-Sissi succeeds in his drive to extend his term, he would serve as Egypt's president until the age of 80 — unless he changes the Constitution again.
https://indianexpress.com/article/world/hes-doing-a-great-job-trump-embraces-egypts-autocratic-president-5667946/
--------
Tory Islamophobes team up against Javid to block his premiership bid
Apr 9, 2019
A row over institutionalized Islamophobia in Britain's ruling Conservative party has deepened as supporters threaten to block a potential bid by interior minister Sajid Javid to become next British prime minister.
The Buzzfeed News reported on Tuesday that an account on Twitter had released online discussions from some 20 self-professed Conservative party members on how they could prevent Javid becoming prime minister.
The information showed that Tory supporters have attacked Javid on Facebook for his Muslim background, as they vowed to do anything they can, including backing another candidate against their will, to prevent any potential leadership bid Javid might make. "Britain is not ready for a Muslim PM, that would be taking the absolute piss out of the country," read one of the posts on Facebook by a man who said he had joined the Conservatives to help install a leader who really believed in Britain's split from the European Union.
A woman wrote that Javid "will protect his own" if he became prime minister, adding that the British Pakistani Muslim politician "was sworn in on the Koran."
The posts come amid an ongoing debate about a surge in Islamophobic views in the Conservative party. Activists have repeatedly accused senior Tory politicians of trying to pander to the far-right and extremist groups by targeting Muslims in their rhetoric.
The Conservative Muslim Forum swiftly reacted to the report on online hate attacks against Javid, saying the comments published on Facebook were "outrageous".
" ... what is it about the Conservative party and the way that it's projecting itself that leads people like these bigots to believe that they have a home within the Conservative party?" said chairman of the Forum Mohammed Amin.
https://www.presstv.com/Detail/2019/04/09/593014/UK-Conservative-Party-Islamophobia-row-Javid
--------
Israeli PM Netanyahu wins national election: CH 12 TV
10 April 2019
Prime Minister Benjamin Netanyahu has won the Israeli national election, securing a record fifth term in office, TV Channel 12 said on Wednesday.
With 96 percent of the votes counted, Netanyahu's right-wing Likud won 37 of Knesset seats, against 36 for centrist Blue and White, headed by Netanyahu's rival, former general Benny Gantz.
Though neither party captured a ruling majority in the 120-member Knesset, the results, published eight hours after voting ended on Tuesday, put Netanyahu in a strong position to form a coalition government with right-wing factions.
https://english.alarabiya.net/en/News/middle-east/2019/04/10/Israeli-PM-Netanyahu-wins-national-election-CH-12-TV.html
--------
Libya's Tripoli gov't orders arrest of 'sleeper cells'
Walid Abdullah
09.04.2019
TRIPOLI
Libya's Tripoli-based Government of National Accord (GNA) on Tuesday issued arrest warrants for persons suspected of aiding an ongoing attack on the capital by forces loyal to military commander Khalifa Haftar.
Mohamed Zayed, a member of the GNA's Presidential Council, told Libya's Panorama television channel that Prime Minister Fayez al-Sarraj had ordered the arrest of suspected "sleeper cells" operating in and around Tripoli.
Last week, Haftar, who is affiliated with a rival government based in the country's east, announced the launch of an ambitious campaign to capture the capital, where the GNA is headquartered.
By Monday, however, Haftar's campaign appeared to have lost momentum, with pro-GNA forces recapturing two military bases near Tripoli that had been briefly seized by Haftar's forces.
The two sides have also continued to trade blows over three strategic airports located on the capital's outskirts.
Libya has remained beset by turmoil since 2011, when a bloody NATO-backed uprising led to the ouster and death of President Muammar Gaddafi after four decades in power.
Since then, the country's stark political divisions have yielded two rival seats of power: one in eastern Libya, with which Haftar is associated, and another in Tripoli, which enjoys UN support.
https://www.aa.com.tr/en/africa/libya-s-tripoli-govt-orders-arrest-of-sleeper-cells-/1446963
--------
India
Mirwaiz's appearance before NIA paves ways for thorough probe into JK terror funding
April 9, 2019
Appearance of separatist leader Mirwaiz Umar Farooq before the NIA has paved the way for a thorough probe into charges of terror funding and conspiracy against the Hurriyat leader, officials said Tuesday. Mirwaiz appeared before the National Investigation Agency for the second consecutive day on Tuesday for questioning in connection with a case related to funding of terror groups and separatist organisations in Jammu and Kashmir.
"Appearance of Mirwaiz before the NIA proves the government's determination to establish that Kashmiri separatist leaders will have to be held accountable to the law of the land. It has paved the way for thorough investigation into charges of terror funding and conspiracy against the Hurriyat leader," a home ministry official said. The questioning of Mirwaiz by the NIA has been considered a significant development as he had been trying to evade the questioning by the probe agency by resorting to various stratagems. These include by not responding initially to the NIA summons at all, and later saying he was ready to be examined by NIA in Srinagar.
"However, eventually he had to follow the summons and travel to New Delhi to answer questions from the NIA. This is in line with the government's firm stance that separatist leaders cannot claim immunity and that they will be held accountable for laws of the land," the official said. The NIA had conducted raids in February 2019 on allegations of terror funding and money laundering on the premises of Mirwaiz and other Hurriyat leaders like Yasin Malik and son of SAS Geelani, Naseem Geelani.
They are part of Joint Resistance Leadership who frequently organise protests, stone pelting and shutdowns in the valley, disrupting normal life, impacting students and daily wage earners, businesses and tourism. The investigation against Naseem Geelani and others is proceeding as per law.
Recently, legal hurdles had been cleared for resumption of trial in Jammu against Yasin Malik in the case of terrorist attack by JKLF militants in 1990 on IAF personnel which led to the death of four persons.
"Yasin Malik had exploited the provisions in law to inordinately delay the trial. But relentless efforts by the home ministry have finally resulted in Malik's arrest and transfer to Jammu jail. His plea for transfer of trial from Jammu to Srinagar has also been quashed," another official said.
https://indianexpress.com/article/india/kashmir-separatist-mirwaiz-nia-probe-jk-terror-funding-5666820/
--------
Pakistan
Pakistan issues 2200 visas to Sikh pilgrims on the eve of Baisakhi celebrations
Apr 9, 2019
NEW DELHI: Pakistan has issued 2200 visas to Sikh pilgrims from India to participate in the annual Baisakhi celebrations from
12-21 April 2019.
Pakistan high commission here said in a statement that under the framework of the Pakistan-India Protocol on Visits to Religious Shrines of 1974, a large number of Sikh pilgrims from India visit Pakistan to observe various religious festivals/occasions every year.
Pakistan's high commissioner Sohail Mahmood said that the gesture to issue these visas was reflective of the ``reverence attached to Baisakhi, both in its religious and cultural dimensions''.
``Besides marking the start of the new Sikh year, Baisakhi is the time to harvest the rabi crop. We extend our profound greetings and felicitations to all our brothers and sisters celebrating this auspicious occasion and wish the visiting pilgrims a spiritually fulfilling journey,'' said Mahmood.
The 2200 visas issued by the Pakistan high commission are in addition to the visas granted to Sikh pilgrims participating in the event from other countries.
During their visit to Pakistan, the Yatrees would visit the holiest shrines of Panja Sahib, Nankana Sahib, and Kartarpur Sahib.
``The issuance of these pilgrimage visas is in line with the Government of Pakistan's efforts to facilitate visits to religious shrines and strengthen people-to-people exchanges. This also reflects the commitment of the Government of Pakistan to faithfully implement the 1974 Protocol on Visits to Religious Shrines. Pakistan remains committed to preserving sacred religious places and extending all possible facilitation for the visiting pilgrims of all faiths,'' said the Pakistan mission in its statement.
https://timesofindia.indiatimes.com/india/pakistan-issues-2200-visas-to-sikh-pilgrims-on-the-eve-of-baisakhi-celebrations/articleshow/68799280.cms
--------
Pakistan's FIA seeks cancellation of 26/11 mastermind Zakiur Rehman Lakhvi's bail
Apr 9, 2019
ISLAMABAD: Pakistan's top investigative agency has approached the Islamabad high court (IHC) to seek the cancellation of the bail of LeT operations commander Zakiur Rehman Lakhvi, the mastermind of the 2008 Mumbai terror attack.
The federal investigation agency (FIA) has filed an appeal in the IHC seeking cancellation of the post-arrest bail of Lakhvi.
Hearing the appeal, a division bench of the IHC on Tuesday asked authorities to provide the record of the Mumbai attack case in two weeks.
The record of the case is currently with an Islamabad-based anti-terrorism court (ATC) which was holding trial of Lakhavi and other accused arrested in the case.
Seven LeT suspects - Lakhvi, Abdul Wajid, Mazhar Iqbal, Hamad Amin Sadiq, Shahid Jamil Riaz, Jamil Ahmed and Younis Anjum - are facing charges of abetment to murder, attempted murder, planning and executing the Mumbai attack since 2009.
The ATC on December 18, 2014, granted the post-arrest bail to Lakhvi and set him free. Lakhvi has been living in an undisclosed location since then.
The FIA in its appeal argued that it has enough evidence against Lakhavi and his post-arrest bail should be cancelled so that he can be re-arrested and probed.
"In the present case, the learned trial judge (of ATC) after the terrorist attack in Islamabad courts (of March 2013) refused to visit Adiala Jail for a long time due to security reasons," the FIA said in its appeal against the ATC judge's order, Dawn reported.
"Even the prosecutors of this case have been receiving threats through cell phones during the proceedings which were duly conveyed to the concerned authorities. The witnesses are also not secured, and reluctant to depose against the accused persons in the given situation," it added.
The court after hearing the argument from the FIA and Lakhvi's lawyer ordered to provide the record of the case in two weeks.
Some 166 people were killed in the attack carried out by 10 LeT men. Nine of the attackers were killed by police while lone survivor Ajmal Kasab was caught and hanged after he was handed down death sentence by the court.
Full report at:
https://timesofindia.indiatimes.com/world/pakistan/pakistans-fia-seeks-cancellation-of-26/11-mastermind-zakiur-rehman-lakhvis-bail/articleshow/68792294.cms
--------
Pakistan Premier: 'No Use' for Armed Militias Anymore
By Jeffrey Gettleman
April 9, 2019
ISLAMABAD, Pakistan — His country nearly went to war with a neighboring enemy six and a half times its size. Militants lurk in religious schools and in the countryside.
And with inflation soaring and debt ballooning, his finance team is scrambling, desperate to secure a multibillion-dollar rescue package to avoid economic collapse.
But Imran Khan, Pakistan's prime minister, is apparently feeling confident about his first eight months in office — so much so that he invited a group of foreign journalists for an informal, hourlong chat on Tuesday in Islamabad, the capital.
While he seemed subdued, with puffy circles under his eyes, Mr. Khan also sought to project resolve — particularly about ridding Pakistan of the militants it once tolerated.
"We have decided, for the future of our country — forget the outside pressure — we will not allow armed militias to operate anymore,'' he said.
"The Pakistan Army created them,'' he said, referring to the 1980s when Pakistan and the United States backed Muslim insurgents in Afghanistan against Soviet forces.
But, he added, "there is no use for these groups anymore.''
Mr. Khan, 66, sat in a brightly lit drawing room on a gold-painted chair. He wore a long white shalwar kameez with the sleeves crisply pressed and spoke about corruption, poverty and trying to make peace with the Taliban.
He reminisced about traveling the world as an international cricket star and expressed alarm about India's shift toward Hindu nationalism and the rising crimes against India's Muslims.
India used to be "a very open society,'' he said. "I never thought that I would see what is happening in India right now. Muslim-ness is being attacked.''
In August, Mr. Khan took over as the elected leader of one of the world's most troubled countries. And he did with a shadow over him.
Many observers said that the election was deeply flawed and that Mr. Khan had been secretly helped by Pakistan's powerful military, which cleared a path for him by harassing and threatening his political opponents. In many ways, he was a curious choice.
Pakistan is a conservative Muslim nation, and Mr. Khan, by contrast, was once an international playboy and celebrity athlete. He befriended notables like Princess Diana in a high-flying life that could not be more different from the lives of most Pakistanis, though in recent years he has mellowed and turned more toward Islam.
In office, Mr. Khan has struggled to right the economy and get the security forces to more effectively crack down on militant groups that shelter in Pakistan.
Mr. Khan promised that this new crackdown would go far deeper than previous ones criticized as cosmetic. The government, for instance, plans to send 200,000 teachers to religious schools across the country to teach secular subjects like English and math. The intention, Mr. Khan's aides said, was to deradicalize students.
His government sees the stakes as high. An international watchdog group, the Paris-based Financial Action Task Force, is on the brink of blacklisting and sanctioning Pakistan. If that happened, Pakistan would face greater difficulties in obtaining the financial bailouts and loans it has sought.
"We can't afford to be blacklisted,'' he said on Tuesday.
But Mr. Khan has also won praise for his seemingly coolheaded and statesmanlike behavior during the recent crisis with India, which he helped de-escalate by releasing a captured Indian pilot and emphasizing peace. He seemed quite cognizant that the last thing Pakistan needed was a war.
On Feb. 26, around 3:30 a.m., Mr. Khan said he was awakened by a phone call. A top military official told him that Indian warplanes had just crossed the border and conducted airstrikes on Pakistani soil.
Pakistan and India have been bitter enemies since 1947 when Britain decolonized the Indian subcontinent and created two nations: the mostly Hindu India, and the mostly Muslim Pakistan. The two have warred several times.
This time, the spark was a suicide bombing in the disputed territory of Kashmir that killed dozens of Indian soldiers. India blamed Pakistan for supporting the militant group behind the attack and vowed revenge.
After learning that the Indian bombs had fallen into an empty ravine around Balakot (India said the bombs had struck a terrorist training camp), Mr. Khan said Pakistan opted for a measured response and bombed an empty area just across the Indian border.
"They hit our trees, so we thought we'd hit their stones,'' he said.
When asked whether he or the country's military establishment controls Pakistan, Mr. Khan said that they work closely. Independent analysts don't disagree, but many Pakistanis still see Mr. Khan as the army's puppet.
Even some of Mr. Khan's own ministers have said that they worry the relationship could sour if Mr. Khan, famous for self-confidence and unpredictability, crosses the army bosses.
But in this case, after Pakistani forces shot down an Indian fighter jet and captured the pilot, Mr. Khan and the military seemed to agree the best response was to release the pilot, which eased tensions.
"I've played down the whole thing,'' he said.
Now Mr. Khan is back to wrestling with the economy.
Pakistan has struggled for years with high unemployment, extremely low rates of tax collection, runaway corruption, and sluggish exports. The country's trade deficit had swelled to $33 billion when Mr. Khan took office in August.
He blames Pakistan's economic problems on his predecessors, especially the Sharif family, his political rivals.
"You can't have the ruling elite siphoning off money and taking it abroad,'' he said. "If you don't hold them accountable, the country has no future.''
With barely enough foreign reserves to cover the country's monthly import bills, Mr. Khan's government knows it needs a large bailout from the International Monetary Fund, but those often come with painful austerity conditions. His finance team has been reluctant to turn to the I.M.F. but now promises that a deal will be announced in the coming weeks.
On the streets, discontent is rising. People grumble about rising prices. Mr. Khan's government is trying to slow down demand to keep the trade deficit from growing even bigger.
But his government's decisions to raise levies on fuel and collect more taxes from ordinary Pakistanis, even if necessary for the economy's long-term health, have made people even angrier. Economic growth is forecast to slow further, leading to even more joblessness.
Nonetheless, Mr. Khan said, "my first priority is to take 100 million people out of poverty.''
Pakistani analysts say his priority is genuine but question how Mr. Khan can possibly pay for it.
"I've been pretty consistent of my criticism of the P.M. going back a long time,'' said Mosharraf Zaidi, a newspaper columnist. "One thing that I cannot criticize him for is the core purpose of his being in public life, which is compassion."
As far as India, Mr. Khan could not resist a few digs. He said that India's prime minister, Narendra Modi, had opted for airstrikes to please a domestic audience — India begins holding elections on Thursday.
But he added that Mr. Modi's government might actually be the best possible option for settling the Kashmir conflict, because right-wing Hindus would support Mr. Modi in achieving it.
Full report at:
https://www.nytimes.com/2019/04/09/world/asia/imran-khan-pakistan.html
--------
Without reforms, Pakistan's growth rate to remain at 2.5pc till 2024: IMF
Khaleeq Kiani
April 10, 2019
ISLAMABAD: As Finance Minister Asad Umar leads a delegation to Washington to finalise a three-year bailout programme, the International Monetary Fund (IMF) on Tuesday forecast Pakistan's growth to fall to 2.9 per cent and 2.8pc during the current and next fiscal year unless its programme was accepted.
The delegation led by finance minister including State Bank of Pakistan Governor Tariq Bajwa, Finance Secretary Younas Dagha, Economic Affairs Division Secretary Noor Ahmed and senior officials from these institutions would attend the spring meetings (April 9 – 14) of the IMF and the World Bank and finalise a bailout package to stabilise macroeconomic fundamentals on the sidelines.
Before leaving for Washington, the minister had said the proposed IMF programme would be finalised on the sidelines of the spring meetings which will be followed by a fund staff mission's visit to Islamabad in the third week of the current month to formally sign the agreement.
Finance ministry's spokesperson was not available for comment but Information Minister Fawad Chaudhry said that Mr Umar is currently in Washington to hold talks with IMF to negotiate terms of agreement — which he said are in the final stages — but another round of talks will be held in a few days in which the loaning plan will be finalised. He added that the tax amnesty scheme will be formally launched after the finance minister's return to Islamabad.
In its flagship World Economic Outlook (WEO), the IMF projects mid-term growth prospects for Pakistan to remain subdued at 2.5pc by 2024. The next year growth rate forecast by the fund was generally in line with 2.7pc growth projected by the World Bank a day earlier. However, the WB had forecast 3.6pc growth for the current fiscal year compared to 2.9pc estimated by the IMF.
The fund attributed negative outlook to fuel prices and macroeconomic challenges and the impact of the slowdown in global economy. The fund projected consumer price index in Pakistan at 7.6pc during the current fiscal year, slowing down to 7pc next fiscal year and then stabilising to 5pc by 2024.
On the other hand, Pakistan's current account deficit was estimated at 5.2pc of the GDP during the current year falling to 4.3pc next year before surging again to 5.4pc by 2024. Yet, the unemployment rate was anticipated to stay largely flat at 6.1pc during the current year, 6.2pc next year and remain in the same band by 2024.
The government has already shared its stabilisation and growth strategy along with all the macroeconomic data with the IMF that is believed to have become the basis of Pakistan's economic outlook over the programme period and beyond.
'Growth in MENAP region to remain subdued'
The WEO notes that the medium-term outlook for the Middle East, North Africa, Afghanistan, and Pakistan (MENAP) region was largely shaped by the outlook for fuel prices, needed adjustment to correct macroeconomic imbalances in certain economies and geopolitical tensions.
"In Pakistan, in the absence of further adjustment policies, growth is projected to remain subdued at about 2.5pc, with continued external and fiscal imbalances weighing on confidence", the IMF said.
Elsewhere in the region, activity is weighed down by the expected impact of sanctions in Iran, civil strife in Syria and Yemen, and rising debt-service costs and tighter financial conditions in Lebanon. The report explained that growth in MENAP region was expected to decline to 1.5pc in 2019, before recovering to about 3.2pc by 2020.
The outlook for the region is weighed down by multiple factors, including slower GDP growth in Saudi Arabia, ongoing macroeconomic adjustment challenges in Pakistan, US sanctions in Iran, and civil tensions and conflict across several other economies, including Iraq, Syria, and Yemen, where recovery from the collapse associated with the war is now expected to be slower than previously anticipated.
Convergence prospects are bleak for some emerging market and developing economies. Across sub-Saharan Africa and the MENAP region, 41 economies, accounting for around 10pc of the global GDP in purchasing-power-parity terms and close to one billion in population, are projected to grow by less than advanced economies in per capita terms over the next five years, implying that their income levels are set to fall further behind those economies.
Higher oil prices have been the main driver of this widening income gaps, estimated to have boosted the current account balance of oil exporters by about 3.5pc of their GDP. Symmetrically, the current account deficits of some Asian net oil importers (such as India, Indonesia, and Pakistan) have widened, reflecting their higher oil import bills. Among major current account surplus and deficit countries and regions, the current account surplus of China declined considerably, to 0.4pc of GDP, while the US current account deficit is unchanged at 2.3pc, and the surplus of the Euro area declined marginally to 3pc.
The report said escalation of US-China trade tensions, macroeconomic stress in Argentina and Turkey, disruptions to the auto sector in Germany, tighter credit policies in China and financial tightening alongside the normalisation of monetary policy in the larger advanced economies have all contributed to a significantly weakened global expansion, especially in the second half of 2018 caused a slower than projected global growth.
Full report at:
https://www.dawn.com/news/1475102/without-reforms-pakistans-growth-rate-to-remain-at-25pc-till-2024-imf
--------
Fazl fails to win over Nawaz against government
APRIL 10, 2019
Jamiat Ulema-i-Islam-Fazl (JUI-F) chief Maulana Fazlur Rehman on Tuesday failed to seek the support of former prime minister Nawaz Sharif for the launch of an anti-government movement.
Former Sindh governor Muhammad Zubair, speaking to a private television, said that the top priority of the Pakistan Muslim League-Nawaz was to get rid of the legal cases, and not to launch a campaign against the government.
The JUI-F chief's latest attempt to launch an anti-government movement fell flat after he called on former prime minister Nawaz Sharif at the latter's residence in Lahore to inquire after his health.
Rehman, while talking to journalists later, said: "The agenda of the meeting was limited to inquiring about his [Nawaz Sharif's] health, but we also discussed our shared concerns on towering inflation, which is affecting the common man, and the troubled economy.
He said he had been in touch with other political leaders, including Asif Ali Zardari. He added that he will also call on Zardari in the next few days as believes that "internal connections [among opposition parties] should remain intact".
Moreover, he said that the National Accountability Bureau (NAB) is an institution of revenge. "You should not expect accountability or justice from NAB. I think we need to take some strict decisions when it comes to NAB," Fazl told reporters following the meeting, which lasted for two hours and focused on problems being faced by Pakistan. While criticizing the government, Rehman described the current regime as an "installed" one. He added that the ruling regime has no knowledge of the ideology of Pakistan, the ground realities of the country and the economy.
He repeated that the JUI-F has completed 10 'million march' against the government and that they are ready for a decisive one.
Earlier on Sunday, Rehman had said that his party was fully active and ready to bring down the government. "We have already mobilised our workers by holding a 'million march' in the country and are planning a decisive one, towards Islamabad, after which the PTI government will not survive," he had said while speaking to the media at the residence of a senior party colleague in Kandhkot-Kashmore.
He had echoed the concern of the PPP about the 18th Constitutional Amendment and criticised what he called the government's moves to abrogate the Amendment. He had warned that such an act would be tantamount to "treason".
Full report at:
https://dailytimes.com.pk/375049/fazl-fails-to-win-over-nawaz-against-government/
--------
South Asia
Hizbut Tahrir echoes anti Bangladesh propaganda
April 8, 2019
Notorious militancy outfit Hizbut Tahrir (HT) has now joined the anti-Bangladesh propaganda and has declared solidarity with Al Jazeera and militancy funder Bangladeshi sacked military officer Shahid Uddin Khan. In a statement issued recently, Hizbut Tahrir has not only defended a derogatory article published by Al Jazeera, which was based on bogus information provided by Shahid Uddin Khan, it also has warned the journalists in Bangladesh to stop supporting the government of Sheikh Hasina and friendly nations of Bangladesh such as United Stated and India.
It may be mentioned here that, few months back, Hizbut Tahrir had circulated posters demanding withdrawal of cases lodged against photographer Shahidul Alam. Now it has come in defence of sacked military officer Shahid Uddin Khan and Al Jazeera, proving its affiliations with these individuals and terror-network.
Who is Shahid Uddin Khan?
Terror network Al Jazeera had all the enthusiasm in giving coverage to a notorious man named Lt Col (sacked) Shahid Uddin Khan (Army No: BA002428, Course: 8-BMA, Commission Date: 10-06-1983), who along with his wife Farjana Anjum and daughters had smuggled out millions of dollars from Bangladesh and invested in various business ventures in United Arab Emirates and United Kingdom.
Militancy connection of Shahid Uddin Khan:
During the January 17, 2019 raid at the resident of this sacked army officer, printed propaganda materials of ISIS were recovered by CTTC. Moreover CTTC also seized documents showing Shahid Uddin Khan funding this notorious jihadist outfit. Three separate cases have already been lodged against Colonel (sacked) Shahid Uddin Khan and his accomplices with Cantonment Police Station in Dhaka.
According to a credible source, Shahid Uddin Khan has hands behind a number of recent terrorist attacks in Britain. Moreover, he has been enthusiastically funding anti-Semitism in UK as well as conversion of non-Muslims into Islam.
Britain accepted illegal money from Shahid Uddin Khan:
Shahid Uddin Khan smuggled out millions of dollars from Bangladesh to various countries including United Kingdom. In 2009, he invested one million Pounds in the United Kingdom in exchange of obtaining immigrant status under visa Tier 1, vide VAF No. 511702. The investment was made in the name of Shahid's wife Farzana Anjum.
United Kingdom never enquired about the legality of the money Shahid and his family had invested, although it is learnt from various sources in Bangladesh that the family had never taken any permission from the Bangladesh Bank for repatriating such a huge amount of money.
Shahid Uddin Khan plotting coup:
According to information obtained from one of the key cohorts of Shahid Uddin Khan, this sacked military officer has been desperately trying to stage a coup in Bangladesh with the help of some of his friends. His motive is to establish Caliphate by ousting a democratically elected government. As per the existing laws of the United Kingdom, no foreign immigrant is allowed to use the British soil for such notoriety.
Shahid Uddin Khan investing dirty money in Britain:
Shahid Uddin Khan, his wife Farjana Anjum and daughters have already invested millions of pounds in the United Kingdom in real estate sector. Despite the Financial Action Task Force assessing the UK as having "a well-developed and robust regime" to tackle money laundering, the country's real estate market is nevertheless recognized as being a conduit for money laundering.
British company structures which hide the identity of those behind them were branded a disgrace by the whistle-blower Howard Wilkinson, who in 2018, brought to light an alleged 200 billion euro ($228 billion) money laundering scandal involving Danske Bank.
He said, "The role of the United Kingdom is an absolute disgrace. Limited liability partnerships and Scottish liability partnerships have been abused for absolutely years".
Britain's National Crime Agency (NCA) has said it is investigating the use of UK-registered companies and a number of so-called professional enablers in connection with the widening scandal.
Britain suspended Golden Visa:
In December 2018 it was announced that Britain will suspend its top tier investor visas, which require 2 million pounds ($2.55 million) in investment, as part of a drive to crack down on organized crime and money laundering.
From Russian oligarchs and Middle Eastern oil barons to newly-minted Asian entrepreneurs and corrupt individuals, the wealthy have flocked to London over the past two decades, snapping up everything from opulent homes to soccer clubs.
The influx of super-rich has brought tens of billions of pounds in investment and helped London preserve its position as one of the world's top two global financial capitals, though the government has been concerned by the provenance of some of the wealth.
The Tier 1 Investor's Visa:
Shahid Uddin Khan and his family entered in the United Kingdom under Tier 1 Investor's Visa and obtained immigration. The tier 1 investor visas, which offered non-European Union residents over three years entry in return for 2 million pounds in investment in United Kingdom bonds, share capital or loan capital in UK companies, has already been suspended from midnight on December 7, 2018.
Britain's National Crime Agency, which tackles serious and organized crime, said in September 2018 that it was stepping up efforts to tackle dirty money funneled into or through the United Kingdom by "corrupt elites".
It said it planned to extend the use of Unexplained Wealth Orders (UWOs), one means by which the assets of corrupt "politically exposed persons" or those with links to serious crime can be seized.
But unfortunately, the case of Shahid Uddin Khan, his wife Farjana Anjum and daughters had never been investigated.
https://www.weeklyblitz.net/news/hizbut-tahrir-echoes-anti-bangladesh-propaganda/
--------
13 militants killed in coalition airstrikes in Southeast of Afghanistan
09 Apr 2019
At least thirteen militants have been killed in separate airstrikes conducted by coalition forces in southeastern Paktika and Ghazni provinces.
The 203rd Thunder Corps in a statement said at least eight militants were killed in a coalition airstrikes conducted in Malik Shahi and Ganchi areas of Barmal district.
The statement further added that a vehicle and a compound of the militants were also destroyed during the same airstrikes.
At least five militants were killed separate airstrikes conducted in Miadadwal area of Andar district and Gari area of Nawa district, the 203rd Thunder Corps added.
Full report at:
https://www.khaama.com/13-militants-killed-in-coalition-airstrikes-in-southeast-of-afghanistan-03676/
--------
Coalition forces drone crashes in Helmand province of Afghanistan
10 Apr 2019
An unmanned aerial vehicle of coalition forces has crashed in southern Helmand province of Afghanistan.
According to informed military sources, the drone crashed earlier today after experience engine failure.
"One of our unmanned aircraft experienced engine failure and crashed in Helmand province today. We are working to recover it," the sources said.
Full report at:
https://www.khaama.com/coalition-forces-drone-crashes-in-helmand-province-of-afghanistan-03683/
--------
Taliban militant surrender to Afghan police after killing his commander in Faryab
09 Apr 2019
A Taliban militant surrendered himself to Afghan police forces after killing his commander in northern Faryab province of Afghanistan.
A spokesman for the Ministry of Interior Nasrat Rahimi said the incident took place late on Monday in northern Faryab province.
Rahimi further added that a Taliban militant identified as Qari Jan Mohammad alias Anzala who was involved in anti-government armed activities for the past three years, shot dead his group leader Wahdat late on Monday afternoon and surrendered himself to police forces in Faryab.
The anti-government armed militants including Taliban have not commented regarding the incident so far.
Full report at:
https://www.khaama.com/taliban-militants-surrender-to-afghan-police-after-killing-his-commander-in-faryab-03681/
--------
Afghan Special Forces destroy Taliban prison, arms and explosives depots in Kunduz
09 Apr 2019
The Afghan Special Forces have destroyed a Taliban prison and depots containing weapons, munitions, and explosives in northern Kunduz province.
The 209th Shaheen Corps in a statement said the raid was condcuted late on Monday night in the vicinity of 4th police district of Kunduz city.
The statement further added that the raid was conducted Special Forces of the Afghan army and Afghan intelligence.
Several improvised explosive devices and equipment used in suicide vests were also destroyed during the operation, the 209th Shaheen Corps added in its statement.
The anti-government armed militants including Taliban have not commented regarding the operation so far.
Full report at:
https://www.khaama.com/afghan-special-forces-destroy-taliban-prison-arms-and-explosives-depots-in-kunduz-03680/
--------
Taliban storm checkpoints kill 20 Afghan troops
April 10, 2019
KABUL: Taliban fighters stormed army checkpoints in southern Afghanistan near the Pakistani border overnight, killing 20 troops, an official said on Tuesday.
Eight other security forces were also wounded in Monday night's attack in Shorabak district, Mohammad Yousof Younosi, a provincial council member in Kandahar, said.
An official from the provincial governor's office, who was not authorised to speak with the media, confirmed the attack and said there were casualties among the Afghan forces, but couldn't provide exact figures.
Qari Yusouf Ahmadi, a Taliban spokesman, claimed responsibility for the attack and said the group's fighters also seized weapons and ammunition.
In northern Sari Pul province, at least five members of the country's security forces were killed when the Taliban attacked a joint army and police base, said Zabihullah Amani, the provincial governor's spokesman.
He said that seven other forces were wounded in Monday night's attack in Sangcharak district.
There was no immediate comment from the Taliban. Amani said four insurgents were also killed in the ensuing clashes.
In northern Samangan province, an Afghan army officer shot and killed two of his fellow soldiers and later fled to join the Taliban, said Sayed Hashim Bayan, the provincial police chief's spokesman.
He said the shooter seized a Humvee and some ammunition before making his getaway around noon on Monday.
The Taliban praised the soldier's actions and confirmed he joined their ranks in Dari Suf district. An Afghan contractor who was believed to have been killed in a car bomb near Kabul is alive, the US military said on Tuesday.
Colonel David Butler, a spokesman for US Forces- Afghanistan, said the Afghan contractor was initially believed to have been killed along with three other US service members in the blast near Bagram air base close to Kabul.
It was only later that they found out the contractor was alive.
The blast, which the Taliban claimed responsibility for, also wounded three US service members.
Violence has been relentless in Afghanistan even though Taliban militants have held several rounds of talks with US officials about a peace settlement. The talks began late last year, raising hopes for an end to the conflict.
Monday's attack was one of the deadliest against US personnel in recent months. In November, a roadside bomb blast killed three US service members near the central Afghan city of Ghazni.
The war has taken a much larger toll on Afghan security forces and civilians.
Full report at:
https://www.dawn.com/news/1475125/taliban-storm-checkpoints-kill-20-afghan-troops
--------
Bangladesh, Myanmar border talks begin in Naypyidaw
April 9th, 2019
A five-day border conference between Border Guard Bangladesh (BGB) and Myanmar Police Force (MPF) has begun at Naypyidaw in Myanmar.
The formal meeting of the conference was held at Royal ACE Hotel in Myanmar's administrative capital from 9am to 12pm on Monday.
The conference will end on April 10, said an official release of BGB.
Director General of BGB Major General Md Shafeenul Islam led the 11-member Bangladesh delegation, which includes representatives from the Prime Minister's Office and home and foreign ministries, while Police Brigadier General Myo Than, chief of police general staff of Myanmar, led the 17-member Myanmar delegation at the conference.
Preventing smuggling of illegal drugs, especially yaba pills, end of firing at frontiers, trespassing and tackling terrorism in the border areas, and other issues of mutual interest will be discussed during the conference.
They will also discuss other matters, battalion and regional flag meetings and organizing the first meeting of Border Liaison Office (BLO), the released added.
Sharing information on border security at the right time, coordinated joint patrolling between Myanmar and Bangladesh, various steps for increasing mutual trust and other topics will also be discussed in a cordial environment, it said.
On the occasion of the border conference, BGB Director General Major General Md Shafeenul Islam made courtesy calls on Myanmar Home Ministry's Deputy Minister Major General Aung Thu and Chief of Myanmar Police Force Police Lieutenant General Aung Win Oo on Monday.
Full report at:
https://www.dhakatribune.com/bangladesh/foreign-affairs/2019/04/09/bangladesh-myanmar-border-talks-begin-in-naypyidaw
--------
Southeast Asia
Maldives ruling party pledges probe into Chinese deals after landslide win
April 09, 2019
MALE: Maldives former president Mohamed Nasheed, whose party won a landslide in the archipelago's parliamentary election, on Tuesday pledged to conduct a thorough probe into deals with China.
Nasheed's Maldivian Democratic Party (MDP) is set to secure 65 seats in the 87-member parliament, giving it a clear majority to push for reforms including imposing the country's first income tax and instituting a minimum wage for the first time.
President Ibrahim Mohamed Solih, who is also from the MDP and unseated pro-China leader Abdulla Yameen in September, had urged voters to back his call for an investigation the scale of debts to China, which the party fears could run as high as $3 billion and risks sinking the economy.
The Indian Ocean island chain has been caught in a battle for influence between India and China, which invested millions of dollars during Yameen's rule as part of its Belt and Road plan, designed to improve Beijing's global trade reach.
Yameen denies any wrongdoing in relation to the Chinese debt.
Nasheed, the country's first democratically elected leader between 2008 and 2011 before being forced to step down in a police mutiny, said the result was "a clear mandate to implement" the party's pledges.
"Some of the first bills that the new parliament must consider is the pending legislation to fully empower the presidential commission on stolen assets, and deaths and disappearances," MDP leader Nasheed told Reuters in the capital Male.
"The government continues to scrutinize the deals signed by the previous government, many of which, we fear, were subject to large scale corruption. We must allow the government to examine these deals with forensic detail."
Final provisional results for the election will officially be confirmed on Wednesday, an Elections Commission official told Reuters.
The MDP is just one seat shy of the three-quarters quorum required to amend the constitution in the People Majlis or parliament. This is the first time a party has had such a majority since the first multi-party elections in 2008. The MDP previously ruled in coalition.
The new parliament is expected to be inaugurated in May.
Last month, Yameen spent more than a month in police custody over a graft scandal aimed at siphoning money from the islands' tourism board. He was released on bail on March 28 in time for the last week of campaigning, and denies the charges.
http://www.arabnews.com/node/1480366/world
--------
Indonesia, Malaysia share top position in global Muslim tourism index
Riza Roidila Mufti
April 9, 2019
Indonesia and Malaysia shared the top position in the 2019 Global Muslim Travel Index (GMTI), which was released by Mastercard-CrescentRating recently.
Last year, Indonesia was placed second behind Malaysia. This year, they both scored 78 in the index.
There is no second position this year. Trailing behind is Turkey in third position, Saudi Arabia in fourth position and United Arab Emirates in fifth position.
CrescentRating CEO Fazal Bahardeen said in a press statement issued on Tuesday that Indonesia had invested a lot in infrastructure over the last few years to make its destinations friendly to Muslim travelers.
"In terms of basic infrastructure such as the availability of halal food and Muslim-friendly facilities, we see a lot of improvement. It also has better connectivity," added Bahardeen, saying Indonesia had also invested in Muslim tourism and promoted itself through digital marketing.
He, however, stressed that Indonesia still had a lot of work to do to maintain its position and develop its Muslim-friendly tourism destinations.
"Indonesia still has a lot to do to promote its destinations. It has conducted general promotions, but it has to have a specific target for the Muslim market," said Bahardeen.
The GMTI report ranks 130 Muslim traveler destinations globally. In defining the ranking, it assesses four key factors -- access, communication, the environment and service.
Tourism Minister Arief Yahya said Indonesia's improved position was a result of policies implemented since 2015. Indonesia was placed sixth in 2015, fourth in 2016, third in 2017 and second last year. "It took five years to reach this position," Arief added.
Mastercard-CrescentRating estimates that there were 140 million international Muslim visitors across the globe last year. The number is projected to increase to 230 million by 2026, with an estimated US$300 billion being poured into the coffers of the global tourism industry.
Full report at:
https://www.thejakartapost.com/news/2019/04/09/indonesia-malaysia-share-top-position-in-global-muslim-tourism-index.html
--------
Don't let pride stand between us, Mahfodz tells PAS and Umno
10 April 2019
By Danial Dzulkifly
RANTAU, April 10 — Umno and PAS members must set ego aside and cooperate for the benefit of Malays and Islam, Datuk Mahfodz Mohamed said last night.
The PAS Dewan Ulama member claimed the two parties' cooperation was not just for their own political interests.
"Please do not think this is only a partnership of Umno and PAS. But it is for the purpose of empowering Islam, defending the Malay community and the sovereignty of the Malay rulers," he said during a ceramah in Kampung Sendayan.
He went on to claim that Malays and Islam are now regularly insulted.
"Such attempts have become more brazen as they know the Malays won't fight back," he alleged.
Mahfodz acknowledged that the alliance with Umno was not easy for PAS grassroots to accept due to decades of enmity.
However, he asserted that the members were loyal and fully behind the party leaders' decision to ally with Umno.
He claimed Pakatan Harapan parties could not be trusted to preserve the Malays and Islam's position.
Full report at:
https://www.malaymail.com/news/malaysia/2019/04/10/dont-let-pride-stand-between-us-mahfodz-tells-pas-and-umno/1741565
--------
'People Power' Not Enough to Delegitimize 2019 Election: TNI
APRIL 09, 2019
Jakarta. A high-ranking officer in Indonesia's military has downplayed rumors that some powerful political figures might try to challenge the outcome of the April 17 elections – when 190 million voters will choose a president, vice president and members of the state and regional legislatures – if the results do not go their way.
Lt. Gen. Joni Supriyanto, the newly appointed chief of the general staff of the Indonesian Military (TNI), told the Jakarta Globe on Friday that there has never been a case in the country's history when the people did not recognize the results of an election.
"The people of Indonesia are much smarter nowadays, more modern, but they are also more patriotic," Joni, who previously served as chief of the TNI's Jakarta Command, said in an interview at the military headquarters in Cilangkap, East Jakarta.
The three-star general said he believes Indonesians have grown "mature enough in democracy."
"And who has ever challenged the Constitutional Court's rulings?" he added.
By law, any electoral disputes can be brought before the Constitutional Court. In the 2014 presidential election, the losing presidential nominee Prabowo Subianto – who is running again this year – initially refused to concede defeat to Joko "Jokowi" Widodo. Instead, his campaign team filed a string of election dispute cases in the Constitutional Court.
The impasse lasted for nearly three months until just three days before the presidential inauguration on Oct. 20, 2014, when Prabowo held a 20-minute meeting with Jokowi at the house of Prabowo's father, the late New Order economic architect Soemitro Djojohadikusumo, on Jalan Kertanegara in South Jakarta, to concede the election and congratulate the then-newly appointed president.
Polarization and Identity Politics
Polarization between the Jokowi and Prabowo camps during the election campaign has been so strong that people draw parallels between it and the 2016 Jakarta gubernatorial election, one of the most divisive ever. The popular Basuki "Ahok" Tjahaja Purnama, backed by the ruling Indonesian Democratic Party of Struggle (PDI-P), which also backs Jokowi, was defeated through clever manipulation of identity politics by his opponents, including the infamous charge against him that he had committed blasphemy against Islam.
Ahok was not just defeated in the election, he was also sentenced to jail for two years after he was convicted of blasphemy.
As political tension heats up again in the world's third-largest democracy, the spotlight is on the General Elections Commission (KPU) and Election Supervisory Board (Bawaslu). Apart from their respective roles of election organizer and election watchdog, they must also deal with criticism from powerful figures in the country who cast doubt on their neutrality.
"The KPU has done well," said Joni, who assumed his new position on Jan. 25. He applauded the KPU's efforts to devise a campaign schedule that cleverly prevents the supporters of Prabowo and Jokowi from meeting on the streets, and thus avoid violent clashes.
Joni, who previously also served as special staff for the Army Chief of Staff, said the potential for clashes between the two supporter camps in Jakarta is very real, but so far, the KPU has done a sterling job in minimizing it.
People Power
Joni said the threat by senior opposition leader Amien Rais to launch a "people power" protest at the slightest hint of voter fraud during the presidential election – rather than appealing to the Constitutional Court – was an empty one.
The former speaker of the People's Consultative Assembly (MPR) had wanted to draw similarities between his threat of "people power" now with the real people power of 1998 that managed to topple the authoritarian New Order regime of President Suharto.
Joni, who also served as deputy head of the TNI's Strategic Intelligence Agency (BAIS), said unlike in 1998, the economy is in good shape and people can express their political aspirations in free elections. "People are free in politics," he added.
Nevertheless, he said the TNI has made preparations for the worst that can happen in the aftermath of the elections. "We have prepared detailed contingency plans, for anything that could happen, including worst-case scenarios."
Chief Security Minister Wiranto said in March that more than 453,000 members of the police and military would be deployed to secure the elections.
Full report at:
https://jakartaglobe.id/context/people-power-not-enough-to-delegitimize-2019-election-tni
--------
North America
Man inspired by ISIS planned truck attack near DC, say US prosecutors
9 April 2019
A Maryland man who prosecutors say was inspired by ISIS extremist group plotted to ram a stolen U-Haul truck into as many pedestrians as possible at a popular convention and tourist destination just outside the nation's capital, federal prosecutors said Monday.
The allegation was made in a court filing Monday as prosecutors in Maryland urged a judge to keep the defendant, 28-year-old Rondell Henry, detained on a charge of driving a stolen vehicle across state lines.
The police arrested him on March 28 after officers saw him leap over a security fence near where he had parked the truck.
"I was just going to keep driving and driving and driving. I wasn't going to stop," the document quotes Henry as telling the authorities who questioned him.
The six-page motion describes Henry as harboring hatred for "disbelievers" over the last two years and looking to emulate ISIS militants he saw on beheading videos and fighting overseas.
Henry, a computer engineer by trade, walked off his job in the middle of the day last month and stole a U-Haul van from a storage location in Virginia after determining that his four-door sedan "would not cause the catastrophic damage that he desired."
After considering different locations, including Dulles International Airport, Henry settled on National Harbor - a complex of restaurants, retail and hotels, prosecutors say.
The court filing says Henry had no escape plan and instead intended to die while driving into pedestrians at National Harbor, telling authorities that he wanted to create "panic and chaos" similar to a 2016 truck attack in Nice, France that killed dozens. It wasn't immediately clear if Henry had a lawyer. It also wasn't clear if and when prosecutors might add additional charges that accuse Henry of giving material support to a foreign terror organization.
https://english.alarabiya.net/en/News/world/2019/04/09/US-Man-inspired-by-ISIS-planned-truck-attack-near-DC.html
--------
Trump will fail to provide nukes to Saudi Arabia: Scholar
Apr 9, 2019
US President Donald Trump is in favor of providing nuclear weapons to Saudi Arabia but would be able to push through his plan because it is opposed by the Europe, American writer and retired professor James Petras says.
The administration of US President Donald Trump has reportedly approved six authorizations that allow American companies to secretly provide Saudi Arabia with nuclear technology or technical assistance.
According to a document, issued by the Department of Energy and seen by Reuters on Wednesday, the US firms had requested their government to keep their approvals secret.
Trump's efforts to secure a nuclear energy deal with Saudi Arabia have however sparked concern in Congress, especially after the murder of Saudi journalist Jamal Khashoggi in Istanbul last year.
"There's a very strong opposition to the US supplying nuclear material to the Saudis because of their unreliability to the US as far as its role in the Middle East," Professor Petras said during an interview with Press TV on Tuesday.
"Trump is very much in favor of providing nuclear arms [to the Saudis]. He has 'invented terrorist guards' in Iran. He has been very upset by the close relations between Iraq and Iran. So the Saudis are coming in with substantial loans or aids to Iraq as a way of trying to disrupt this working relationship between Iraq and Iran," he added.
"I am not sure that Trump would be able to push through this nuclear program because it is opposed by the every country in Europe, and I think it has about a 50-50 chance of supplying the Saudi government with it," he noted.
Saudi Arabia's insistence that it should be allowed to produce its own nuclear fuel, rather than import it under strict conditions, has also raised concern among industry experts and some in Congress.
US lawmakers first became wary of the plans when the Saudis refused to accept limits preventing them from developing a nuclear weapon.
Congress has been re-evaluating the US-Saudi relationship since Khashoggi's death, with lawmakers blaming Saudi Crown Prince Mohammed bin Salman for the killing.
Skepticism in Congress over whether Saudi Arabia can be a trusted partner has grown since the gruesome murder.
Khashoggi relocated to the United States in June 2017 and began writing for The Washington Post in September of that year. He was killed at the Saudi consulate in Istanbul on October 2, 2018 by agents of the Saudi government.
US lawmakers have increased their critical scrutiny of the Saudi nuclear program, especially whether the Trump administration is doing enough to prevent proliferation of nuclear weapons.
A bipartisan resolution introduced in the Senate in February demanded that the use of any US nuclear power technology in Saudi Arabia must be accompanied by safeguards to ensure Saudi Arabia cannot enrich uranium or reprocess spent fuel.
"The last thing America should do is inadvertently help develop nuclear weapons for a bad actor on the world stage," said Democratic Senator Jeff Merkley, one of the resolution's sponsors.
Full report at:
https://www.presstv.com/Detail/2019/04/09/593029/Trump-will-fail-to-provide-nukes-to-Saudi-Arabia
--------
US: Man planning attack near DC 'inspired by Daesh'
Umar Farooq
09.04.2019
WASHINGTON
A Maryland man was charged Monday for stealing a van, which he allegedly planned to drive into a crowd of pedestrians in a Daesh-inspired attack.
Rondell Henry, 28, of Germantown was charged by the U.S. Attorney's Office for the District of Maryland for stealing a U-Haul van in Alexandria, Virginia, before driving it to Dulles International Airport in the same state.
Henry allegedly claimed to have been inspired by the Daesh terror group, according to a detention memo from the U.S. government.
The memo said Henry tried to enter the airport and breach security. But after failing to do so, he drove to National Harbor, a convention and tourist destination in Maryland just outside of Washington, D.C. There, he broke into a boat to spend the night in hiding.
The following morning, police tracked down the stolen van and the suspect, arresting him.
Henry had planned on conducting an attack similar to the 2016 truck attack in Nice, France, for which Daesh claimed responsibility. That attack killed 86 people, with one third of the victims Muslim, according to The New York Times.
"For two years, Henry has harbored 'hatred' for those who do not practice the Muslim faith," the government memo said, according to the U.S. Attorney's Office.
A detention hearing is scheduled for Tuesday in U.S. District Court in Greenbelt, Maryland.
"We continue to gather evidence as well as review evidence already obtained as part of this ongoing investigation," U.S. Attorney Robert K. Hur said in a statement.
Full report at:
https://www.aa.com.tr/en/americas/us-man-planning-attack-near-dc-inspired-by-daesh/1446161
--------
Europe
UN refugee chief warns New Zealand massacre the result of toxic politics, media
April 09, 2019
UNITED NATIONS: The UN refugee chief said Tuesday he has never seen "such toxicity, such poison" in politics, the media, social media and every day conversation focused on refugees, migrants and foreigners.
UN High Commissioner for Refugees Filippo Grandi said the March 15 attack on a mosque in Christchurch, New Zealand that killed 50 Muslim worshippers was the result "of that toxic language of politics."
Grandi urged countries everywhere to take "a leaf from the exemplary response of the people and the leadership of New Zealand" in responding to the "toxic trends" by restating the values that underpin global solidarity and "reaffirm that our societies will not be really prosperous, stable and peaceful if they do not include all."
An Australian white supremacist, Brenton Harrison Tarrant, who has been charged with the mosque killings which included many immigrants, livestreamed the shootings and sent out a lengthy manifesto. New Zealand Prime Minister Jacinda Ardern has said the world has been stuck in a vicious cycle of extremism which must end, and she will never utter his name and give his views the oxygen he wanted.
Grandi told the Security Council "there is unprecedented stigmatization of refugees and migrants," and responses are increasingly inadequate.
He said he has worked with refugees for over three decades and has seen "much solidarity, even heroism in some of the responses that are provided on the ground" to help them.
And "that solidarity is still very strong" in many parts of the world, from African villages to the border between Bangladesh and Myanmar, to communities in Latin American helping Venezuelans, Grandi said.
"But also in these 3 1/2 decades I have never seen such toxicity, such poison in the language of politics, in media, in social media, even in everyday discussions and conversations around this issue — toxicity that focuses sadly, tragically, often, on refugees, on migrants, on foreigners," he said. "That should be of concern to us all."
Grandi added that "many politicians believe that — and I think they are proven right — that doing this expands their consensus."
But he said this is wrong and unfair to people "that are fleeing because they seek safety from war, from persecution."
He said the mosque attacks in New Zealand showed this has become an issue of security and stability for all countries — and governments need to address the issue of language on social media and in politics.
"It is an issue if left unchecked may have very grave consequences, not only for our work but for the world in general," Grandi warned.
http://www.arabnews.com/node/1480331/world
--------
Macron urges Iran's Rouhani to avoid 'escalation' of tensions
10 April 2019
French leader Emmanuel Macron on Tuesday urged his Iranian counterpart Hassan Rouhani to avoid an escalation of tensions after Washington blacklisted Iran's elite Revolutionary Guards as a terrorist organization.
In a telephone conversation, Macron urged Rouhani to "avoid any escalation or destabilization of the region," the French presidency said in a statement.
President Donald Trump called the unit -- which has some 125,000 troops and vast interests across the Iranian economy -- Tehran's "primary means of directing and implementing its global terrorist campaign."
It was the first time that the United States has branded part of a foreign government a terrorist group.
In response, Rouhani on Tuesday accused the United States of being the real "leader of world terrorism."
Full report at:
https://english.alarabiya.net/en/News/world/2019/04/10/Macron-urges-Iran-s-Rouhani-to-avoid-escalation-of-tensions.html
--------
Amnesty to join legal fight against UK arms sales to Saudi amid Yemen atrocities
Apr 9, 2019
Amnesty International says it is joining a fresh legal fight to end Britain's weapons sales to Saudi Arabia, as the kingdom continues to kill Yemeni women and children in its years-long war against the impoverished southern neighbor.
"Amnesty International, Human Rights Watch and Rights Watch UK will this week join the appeal against the UK's continuing arms exports to Saudi Arabia in a fresh legal challenge," the London-based organization said in a statement on Monday.
The case, brought by Campaign Against the Arms Trade (CAAT) at the Court of Appeal in London, seeks to stop the arms sales to Saudi Arabia by questioning their legality, arguing that the weapons are being used to kill civilians in Yemen.
Since the bombing of Yemen began in March 2015, the UK has licensed £4.7 billion worth of arms to the Saudi regime, including £2.7 billion worth of licenses for aircraft, helicopters and drones as well as £1.9 billion in licenses for grenades, bombs and missiles.
The aggression initially consisted of a bombing campaign but was later coupled with a naval blockade and the deployment of ground forces to Yemen. Tens of thousands of Yemenis have so far been killed and thousands more injured.
In November 2018, Save the Children international rights group estimated that 85,000 Yemeni children may have died from extreme hunger or disease caused by the war.
The United Nations Office for the Coordination of Humanitarian Affairs (UNOCHA) has recorded more than 325 Saudi attacks on schools, health facilities, markets, roads, bridges and even water points across Yemen.
Yet in March, as the conflict entered its fifth year, British Foreign Secretary Jeremy Hunt defended London's weapons sales to Riyadh in an article for Politico.
Lucy Claridge, Amnesty International's Director of Strategic Litigation, said Saudi Arabia has put millions of Yemenis at serious risk of famine as a result of a "relentless bombing campaign that has been made possible by British arms and equipment."
"How many more people must die before the UK Government admits it is in the wrong? By selling billions of pounds worth of arms to Saudi Arabia, ministers are signing a death warrant for the people of Yemen," she wrote.
The UK's refusal to cease arms deals with Riyadh comes at a time when other arms suppliers to the kingdom have either halted their deals – like the Netherlands, Belgium (Flemish region) and Greece -- or introduced restrictive measures -- like Austria, Ireland, Sweden and Switzerland.
The High Court in London originally heard CAAT's argument in February 2017 but dismissed it, ruling that the government was entitled to continue authorizing the arms exports.
Full report at:
https://www.presstv.com/Detail/2019/04/09/592981/Amnesty-UK-Saudi-arms-sales-CAAT-legal-case-Yemen
--------
UK announces major funding to tackle hate crime in latest crackdown on extremism threat
Nicky Harley
April 9, 2019
The UK is furthering its crackdown on extremism with a massive funding boost to tackle hate crime in communities.
The Home Office announced it will invest £346,000 into projects to combat hate crimes and protect victims.
It comes as the UK government revealed a dramatic rise in far right extremists.
This week it published its white paper on tough new measures to tackle online hate crimes.
Now, this additional funding will be given to five groups through its Hate Crime Community Project Fund to tackle issues in neighbourhoods.
The fund was launched three years ago to help groups fights hate crimes in their areas.
Minister for Countering Extremism, Baroness Williams, said the government is committed to fighting intolerance.
"The Government is committed to tackling hate crime in all of its forms," she said.
"No one should be the subject of verbal or physical abuse simply because of their identity or their beliefs.
"I am delighted to award funding to these innovative projects, so communities can engage local people to ensure intolerance has no place in our society."
Charity Protection Approaches, which tackles identity-based crimes, has been given the funding to provide training for frontline staff and raise awareness on how to report hate crimes in east London.
It comes as the group's latest research, published last month, revealed that there had been a growth in negative social trends which it predicts will lead to a rise in hate crime violence if not addressed.
Protection Approaches project manager Andy Fearn said the fund would enable it to create a "pioneering project to breakdown the barriers" preventing communities from reporting crimes.
Children's charity Barnado's has been awarded funding to raise awareness of disability hate crime in schools.
Barnado's project manager Marisa Moon said: "This funding will allow us to help young people understand the impact of disability hate crime, the consequences of identity related bullying, and reduce the number of child victims across secondary school and community settings."
Other beneficiaries include the East European Resource Centre, which helps victims in Eastern European communities, Nottingham BID, which aims to tackle hate crime in late night venues, and the Proud Trust, which is working with the authorities and rail operators to combat LGBT hate crimes on trains.
The Government launched the fund in 2016, as part of the Hate Crime Action Plan, and committed £900,000 over three years to provide grants for local community organisations to help tackle all forms of the crime.
Last month the Home Secretary Sajid Javid also announced he was doubling the funding to provide more security for places of worship.
He has pledged £1.6m to help reassure communities and safeguard mosques and other places of worship.
It comes after the mosque attack in Christchurch last month which killed 50 people and the life sentence handed to Darren Osborne who drove into a crowd of worshippers near London's Finsbury Park mosque in 2017.
The Home Secretary Sajid Javid said: "Nobody should ever fear persecution of their faith and it's vital we stand together to reject those who seek to spread hatred and divide us.
"I know many Muslim communities are feeling vulnerable and anxious. But they should seek comfort from knowing we are doing everything to tackle hate and extremism.
"That's why we are doubling next year's places of worship fund - providing physical protection as well as peace of mind."
Full report at:
https://www.thenational.ae/world/europe/uk-announces-major-funding-to-tackle-hate-crime-in-latest-crackdown-on-extremism-threat-1.847014
--------
Tax collected on frozen Libyan assets could be recycled for IRA terror victims
Claire Corkery
April 9, 2019
The British government has been criticised for not giving tax collected from frozen Libyan assets to victims of IRA attacks.
Tax collected on £12 billion of assets seized after the collapse of Muammar Qaddafi's regime could be used to compensate victims of Semtex bombings carried out by the Irish terror group.
The Libyan dictator supplied Semtex to the Provisional IRA in the mid-1980s, which led to a number of deadly bombings.
MPs claim that the government has been levying significant amounts of tax on the assets, citing "a chain of revealing correspondence" between the Foreign Office, the Treasury and the UK tax authority – HMRC.
A UN sanction in 2011 ordered Libyan-held cash, property and securities across the world to be frozen to prevent their theft or misuse during the civil war that overthrew Colonel Qaddafi.
The government has yet to officially acknowledge whether it has been collecting tax on the assets but MPs say that several licences have been issued to make funds from the assets available. No details have been released to explain what or to whom the licences were issued.
The Northern Ireland Affairs Committee, which published a report on compensation for victims of IRA Semtex attacks, is recommending the government enter direct negotiations with Libyan authorities to seek compensation.
The committee said that "continued inaction" on the part of the government had led to many victims, such as those affected by the 1996 Docklands bombing in London, not receiving any compensation from Libya.
"My committee is disappointed our government has been less successful in securing compensation for UK victims of (Muammar) Gaddafi-sponsored IRA Semtex attacks than other governments have been for their nationals," Chairman Dr Andrew Murrison said in the report.
"We now find that HMRC may have been scooping up big tax receipts from frozen Libyan assets, a small part of which could help victims pending reparations being negotiated with the Libyan government."
The report added that the government had been "opaque" about how much tax had been collected.
he committee have demanded an explanation as to why the government has chosen not to finance a victims' reparations fund if tax is being collected.
Responding to the report, the government said it took the issue "extremely seriously" and wanted to find a just solution for victims of Libyan-sponsored IRA terrorism.
"In accordance with international law, when assets are frozen, they continue to belong to the sanctioned individual or entity. Sanctions can only be lifted by the EU or UN," the spokesperson said in a statement.
Full report at:
https://www.thenational.ae/world/europe/tax-collected-on-frozen-libyan-assets-could-be-recycled-for-ira-terror-victims-1.846976
--------
Terrorist planned to target mosque in UK's first far-right suicide bomb plot
Nicky Harley
April 9, 2019
A British man admitted to wanting to become the country's first far-right suicide bomber in a plot to blow up a mosque in revenge for the 2017 Manchester terror attack.
Steven Bishop, 41, was obsessed with the Manchester Arena attack, in which a suicide bomber killed 22 people, and the death of its youngest victim Saffie Roussos, 8.
Using encrypted apps and forums on the dark web, he bought bomb-making equipment and manuals last year.
Similar forums were also used by New Zealand's Christchurch terrorist prior to his mosque attacks last month which left 50 people dead.
The UK extremist, who is an alcoholic and drug addict from Thornton Heath, south London, was caught after he made chilling remarks about his plans to a support worker.
He confessed to buying an app which would encrypt his phone and said he was going to commit a suicide attack on the Baitul Futuh Mosque in Morden, near his address, using a home-made bomb.
Counter-terrorism police raided his home last October and found a suitcase in a shed containing the materials for an improvised detonator and a recipe for making explosives.
A remote-control firework firing system was delivered to his house after his arrest.
Detectives discovered that just days before his arrest Bishop searched online for articles on the Manchester bombing and for "Saffie Rose memorial".
He also viewed videos about the Manchester, London Bridge and Paris terrorist attacks.
Bishop then posted on Facebook: "Don't worry something bad is going to happen soon mark my words."
Commander Clarke Jarrett head of the Metropolitan Police's Counter-Terrorism Command said: "From our investigation it was clear Bishop stockpiled a quantity of fireworks and other component parts with the intention of creating a device that he was intending to use to target a mosque.
"Thanks to the diligence of his key worker in alerting us we were able to intervene before he could progress with his plans any further and crucially, nobody came to any harm.
"Given Bishop was focused upon a mosque, and in light of recent events in New Zealand, we also know that Muslim and other faith communities may be feeling particularly concerned and vulnerable.
"Specialist officers continue to provide support and protective security advice to mosques, and indeed all places of worship across the UK on how to best keep their buildings and visitors safe."
Bishop pleaded guilty on the first day of his trial at Kingston Crown Court in London on Monday to possession of an explosive substance with intent to endanger life or cause damage to property.
Earlier, he admitted possessing information likely to be useful to a person preparing an act of terrorism, after a handwritten note on how to make explosives was found at his home.
At an earlier hearing, prosecutors described him as a "dangerous and unpredictable man who has a violent past".
Full report at:
https://www.thenational.ae/world/europe/terrorist-planned-to-target-mosque-in-uk-s-first-far-right-suicide-bomb-plot-1.846833
--------
Arab World
Turkey, Qatar criticize US designation of IRGC as terror group
April 10, 2019
JEDDAH: Turkey and Qatar on Tuesday objected to US President Donald Trump's decision to designate Iran's Islamic Revolutionary Guard Corps (IRGC) as a terrorist group.
"The United States issued this one-sided decision in the context of sanctions and pressure on Iran," Turkish Foreign Minister Mevlut Cavusoglu said during a joint press conference with his Qatari counterpart Mohammed bin Abdulrahman Al-Thani.
"We do not support Iran's Revolutionary Guards in Syria, but no country can declare another country's armed forces a terrorist organization. We also do not support unilateral decisions." Such measures "would lead to instability in the region," Cavusoglu said.
Al-Thani said disagreements over the Iranian army's behavior, or that of any other army, should not be solved by imposing sanctions.
Trump on Monday said he had officially decided to include the IRGC on the US list of terrorist organizations, marking the first time that America formally labels another nation's military as a terrorist group.
In response, Iran's Supreme National Security Council decided to include the US Central Command, which is responsible for American military activities in the Middle East and Central Asia, on Iran's list of terrorist organizations.
http://www.arabnews.com/node/1480316/middle-east
--------
Trump's recognition of Golan Heights as Israeli flouts intl. law: Aoun
Apr 9, 2019
Lebanese President Michel Aoun has strongly condemned US President Donald Trump's recognition of the occupied Syrian Golan Heights as sovereign Israeli territory, describing the measure as in blatant violation of international law and conventions.
"This threatens not only the sovereignty of a brotherly country and brotherly nation, but also the sovereignty of the Lebanese state, which possesses land gradually annexed by Israel, particularly in the Shebaa Farms, Kafrshuba hills and the northern section of Ghajar [village]," Aoun said at a joint press conference with his Bulgarian counterpart Rumen Radev in Beirut on Tuesday.
The Lebanese president then urged the Israeli regime to fully comply with UN Security Council Resolution 1701, which brokered a ceasefire in the war of aggression Israel launched against Lebanon in 2006 and calls on Tel Aviv to respect Beirut's sovereignty and territorial integrity.
Aoun also urged Bulgaria to stand by Lebanon in the face of repeated Israeli attacks, and support the Arab country's right to extract crude oil and natural gas within its territory and territorial waters.
"We support Lebanon's efforts for balance, dialogue and peaceful solutions to crises in the [Middle East] region. We also appreciate the Lebanese model of ethnic, racial and religious tolerance," Radev said for his part.
On March 25, Trumped signed a proclamation, formally recognizing Israel's sovereignty over Golan Heights. The announcement came as Israeli Prime Minister Benjamin Netanyahu visited the White House.
Syrian Ministry of Foreign Affairs and Expatriates, in a statement, called the US decision a "blatant attack on the sovereignty and territorial integrity" of Syria.
"The liberation of the Golan by all available means and its return to the Syrian motherland is an inalienable right," according to the statement carried by Syria's official news agency SANA, which added, "The decision ... makes the United States the main enemy of the Arabs."
The Arab League condemned the move, saying that "Trump's recognition does not change the area's status."
Turkish Foreign Minister Mevlut Cavusoglu said it was impossible for Turkey to accept the US decision on the Golan Heights.
Full report at:
https://www.presstv.com/Detail/2019/04/09/593022/Trumps-recognition-of-Golan-Heights-as-Israeli-flouts-intl-law-Aoun
--------
Suicide bombers attack Syrian army post, several dead
9 April 2019
Suicide bombers disguised as farmers struck an army position in western Syria on Tuesday in an attack that killed three people and all the militants, state-run media said.
The attack north of Hama city adds to pressures on Russian-Turkish agreements that have contained the war in northwestern Syria, the last major foothold of the insurgency against President Bashar al-Assad.
There was no immediate claim of responsibility. The Syrian Observatory for Human Rights, which monitors the eight-year-long war, said 10 people were killed and the attack was carried out by a jihadist group in a "demilitarized" zone set up under the Turkish-Russian agreement.
State media said the militants were dressed as local farmers when they hit the position near Taybat al-Imam around 3 am (midnight GMT). A tank supporting them was destroyed.
"The clash between the guards at the position and the terrorists resulted in three martyrs and the killing of all members of the terrorist group," state media cited a military source as saying.
Russia and Turkey struck an agreement last September that staved off a major government offensive into Idlib and adjacent areas of Hama and Aleppo provinces through the creation of the demilitarized zone.
But militant groups that hold sway in the Idlib region have further tightened their grip in recent months, and Russia remains keen to help Assad take back the territory.
Last week, Damascus said its ally Russia had started to feel that its patience was running out over the northwest. However, Moscow had told Damascus that Turkey was still determined to implement the agreement reached in September.
Full report at:
https://english.alarabiya.net/en/News/middle-east/2019/04/09/Three-killed-as-suicide-bombers-attack-Syrian-army-position.html
--------
At least 9 people killed in car bomb attacks in Syria's Raqqah
Apr 9, 2019
At least nine civilians, including children, have been killed and a number of others wounded after two explosives-laden vehicles exploded in Syria's northern city of Raqqah.
Syrian state-run television announced on Tuesday that the blasts were carried out in Basel Street earlier in the day, adding that a mine also went off at the same time near the vehicles.
It added that the terror attacks against civilians had been carried out by remnants of the Takfiri Daesh terrorist group, which has received a complete defeat in the Arab country and has lost all the strongholds and territories once controlled.
Additionally on Tuesday, suspected members of the Takfiri Ansar al-Tawheed group attacked an army checkpoint in Taybat al-Imam, north of Hama city in the northwestern parts of the Arab country.
Terrorists detonated their explosive vests as they came very close to the checkpoint. The explosions both killed all the terrorists and at least three soldiers of the Syrian army.
Full report at:
https://www.presstv.com/Detail/2019/04/09/593018/Syria-Raqqah-car-bomb-Daesh-Hama
--------
Iraq receives more T-90 battle tanks from Russia to boost ground force
Apr 9, 2019
A high-ranking Iraqi military commander says the country's army has received a new batch of advanced T-90 battle tanks from Russia under a major deal struck between Moscow and Baghdad in July 2017.
Major General Walid Khalifa, the Commander of the Army's 9th Armored Division, told the Arabic-language National Iraqi News Agency (NINA) on Tuesday that the fourth batch of the armored fighting vehicles had arrived in the country, and were delivered to the Iraqi Defense Ministry.
He, however, did not provide any information about the exact number of the battle tanks.
Khalifa noted that Iraqi army troops are prepared to operate the tanks after having received training at the hands of Russian experts.
The T-90 is a third-generation Russian battle tank built upon the time-proven Soviet T-72 design.
It is among the best-selling tanks in the world, and known for its firepower, enhanced protection and mobility.
The T-90 features a smoothbore 2A46M 125mm main gun, which can fire both armor-piercing shells and anti-tank missiles.
The advanced tank also features sophisticated armor, ensuring all-round protection of the crew and critical systems, including explosive reactive armor and active infrared jammers to defend it from inbound rocket-propelled grenades, anti-tank missiles and other projectiles.
Indian, Algerian and Azerbaijani militaries have purchased hundreds of T-90 battle tanks in past years. Kuwait, Vietnam and Egypt have also expressed strong interest in buying the tank.
Full report at:
https://www.presstv.com/Detail/2019/04/09/593026/Iraq-receives-more-T90-battle-tanks-from-Russia-to-boost-ground-force
--------
Twin bombings in Egypt's Sinai Peninsula leave 8 dead
Adam Moro
09.04.2019
CAIRO
Eight people were killed on Tuesday, including at least four policemen, by twin attacks in Egypt's Sinai Peninsula.
"A suicide bomber blew himself up near a security force that was on patrol in the city of Sheikh Zuwaid," the Interior Ministry said in a statement.
In addition to the bomber, six people were killed in the attack, including four policemen and a six-year-old child, according to the ministry.
Shortly afterward, a second attack reportedly occurred near the Rafah police station, killing one person and injuring another.
For the past year, Egyptian security forces have waged extensive operations against what they describe as "terrorist groups" based in Sinai.
Full report at:
https://www.aa.com.tr/en/africa/twin-bombings-in-egypt-s-sinai-peninsula-leave-8-dead/1447073
--------
Arab Coalition strikes Houthi targets in Yemen's capital
April 10, 2019
JEDDAH: The Arab Coalition in Yemen said it had struck Houthi targets in the capital Sanaa, Saudi TV reported early Wednesday.
A Houthi workshop manufacturing unmanned drones and a launchpad where hit in the attack, said the Coalition, who is tasked with supporting the internationally recognized government of Yemen against the Iranian-backed Houthi militia who control the capital.
Civilians had been asked to keep away from targeted places for their own safety.
The Houthis sent an unmanned drone toward the major southern Saudi city of Khamis Mushait on Sunday. The drone was shot down by Saudi air defenses without causing any casualties.
Full report at:
http://www.arabnews.com/node/1480351/saudi-arabia
--------
Mideast
Netanyahu, Gantz both claim victory in Israeli polls
9 April 2019
Prime Minister Benjamin Netanyahu and his main challenger Benny Gantz both claimed victory after Israel's general elections on Tuesday as exit polls showed the two were neck and neck.
The exit polls from Israel's three main television stations appeared to show Netanyahu better placed to form a coalition with the help of smaller right-wing parties, but the final outcome was far from clear.
Final official results were not expected until early on Wednesday.
Two Israeli TV stations showed Gantz's Blue and White Party with a narrow lead over the Likud. Channel 12 TV had Blue and White with 37 seats to Likud's 33 seats, while Kan TV put Blue and White ahead 37-36. Channel 13 had the two parties deadlocked with 36 seats apiece.
Because both parties are far short of a majority in the 120-seat parliament, they would have to search for smaller ideological allies to cobble together a majority.
The Kan and Channel 13 polls projected Likud and its hard-line allies controlling a slight majority of seats, while a Channel 12 showed them with 60 seats apiece.
Early on Wednesday, Gantz addressed a raucous crowd. "Elections have losers and elections have winners. And we are the winners," he told supporters.
He vowed to change the tone of Israel's divisive political system and "be the prime minister of everyone, not just the ones who voted for me."
Claiming to represent the largest party, Gantz urged President Reuven Rivlin to give him the opportunity to form the next government. As president, Rivlin is responsible for choosing the prime minister after consulting with party leaders and deciding who has the best chance of cobbling together a coalition.
Netanyahu, who was set to address his supporters later Wednesday, said in a statement that his right-wing bloc won a "clear victory."
Israeli exit polls are notoriously imprecise, meaning the final results could still swing in either direction. Official results weren't expected until Wednesday morning.
Yohanan Plesner, a former lawmaker and head of the nonpartisan Israel Democracy Institute, called the close and conflicting exit polls "an unprecedented situation."
"We've had elections before where he didn't know the results but here it is even messier," he said.
The final results will depend on the performance of several small parties, including the Arab Balad party and the ultranationalist "New Right," that were on the cusp of winning the needed 3.25% of the votes to enter parliament. If any of them fail to cross the threshold, the makeup of the next coalition could be dramatically affected.
https://english.alarabiya.net/en/News/middle-east/2019/04/09/Netanyahu-Gantz-both-claim-victory-in-Israeli-polls.html
--------
Over dozen Saudi mercenaries killed, injured in Yemeni army offensives
Apr 9, 2019
Over a dozen Saudi-sponsored militiamen loyal to Yemen's former president Abd Rabbuh Mansur Hadi have been killed when Yemeni army soldiers and fighters from allied Popular Committees launched separate offensives against their positions in the kingdom's border region of Asir.
An unnamed Yemeni military source told the Arabic-language al-Masirah television network that Yemeni troops and their allies fired a domestically-manufactured Zelzal-1 (Earthquake-1) ballistic missile at a gathering of Saudi mercenaries outside al-Rabu'ah town of the region on Tuesday evening, leaving several of them dead and injured.
Earlier in the day, Yemeni forces and their allies had staged an ambush against Saudi-paid militiamen in the al-Alab border crossing of the same Saudi region, killing 15 of them in the process, the media bureau of the Houthi Ansarullah movement reported.
Separately, a number of Saudi mercenaries were killed and injured when Yemeni troopers and fighters from Popular Committees carried out an offensive in Yemen's northern province of al-Jawf.
The developments came on the same day that Saudi mercenaries lobbed more than ten mortar shells at residential neighborhoods in the al-Hawak district of the western Yemeni coastal province of Hudaydah.
There were no immediate reports about possible casualties and the extent of damage caused.
Saudi Arabia and a number of its regional allies launched the devastating campaign against Yemen in March 2015, with the goal of bringing the government of Hadi back to power and crushing the Houthi Ansarullah movement.
According to a report by the Armed Conflict Location and Event Data Project (ACLED), a nonprofit conflict-research organization, the Saudi-led war has so far claimed the lives of about 56,000 Yemenis.
Full report at:
https://www.presstv.com/Detail/2019/04/09/593007/Yemeni-snipers-shoot-dead-15-Saudi-mercenaries-in-Saudi-Arabias-Asir
--------
Israel using lethal gases against March of Return protesters: Gaza Health Ministry
Apr 9, 2019
The spokesman for the Ministry of Health in the Gaza Strip says the number of Palestinian protesters injured during anti-occupation protests along the fence separating the besieged enclave and the occupied territories clearly points to the fact that the Tel Aviv regime is dogged to either kill or maim the demonstrators.
"The Israeli occupation forces' use of lethal force against civilians in the east of Gaza Strip has resulted in the martyrdom of 271 citizens and the injury of 16,500 others," Ashraf al-Qidra said on Tuesday.
He noted that Israeli military forces had used various types of live bullets, in addition to unconventional coded gas bombs that cause serious or permanent injuries.
Qidra further highlighted that the Israeli regime has developed its repressive methods using live bullets and tear gas canisters as a tool for killing and maiming Palestinian protesters.
Palestinians have held weekly rallies on the Gaza border to protest the siege on the enclave and demand the right for refugees to return to their homes they fled during the 1948 creation of Israel.
More than 270 Palestinians have been killed by Israeli forces ever since anti-occupation protest rallies began in the Gaza Strip on March 30, 2018. Over 16,000 Palestinians have also sustained injuries.
The Gaza clashes reached their peak on May 14 last year, on the eve of the 70th anniversary of Nakba Day (Day of Catastrophe), which coincided this year with the US embassy relocation from Tel Aviv to occupied East Jerusalem al-Quds.
On June 13, 2018, the United Nations General Assembly adopted a resolution, sponsored by Turkey and Algeria, which condemned Israel for Palestinian civilian deaths in the Gaza Strip.
The resolution, which had been put forward on behalf of Arab and Muslim countries, garnered a strong majority of 120 votes in the 193-member assembly, with 8 votes against and 45 abstentions.
The resolution called on UN Secretary General Antonio Guterres to make proposals within 60 days "on ways and means for ensuring the safety, protection, and well-being of the Palestinian civilian population under Israeli occupation," including "recommendations regarding an international protection mechanism."
Full report at:
https://www.presstv.com/Detail/2019/04/09/592988/Israel-using-lethal-gases-against-Marches-of-Return-protesters-Gaza-Health-Ministry
--------
Iran decries 'illegal' US designation of Guards, retaliates with terrorism listing
9 April 2019
Iran warned on Monday that Washington's designation of its Islamic Revolutionary Guard Corps as a terrorist organization could endanger peace and stability in the Middle East and beyond, state TV reported.
Tehran also took retaliatory action by naming the United States Central Command (CENTCOM) as a terrorist organization and the US government as a sponsor of terror.
"This unwise and illegal measure is a major threat to regional and international stability and peace ... Iran labels the American regime as a supporter of terrorism," Iran's Supreme National Security Council said in a statement.
US President Donald Trump designated Iran's Guards a foreign terrorist organization on Monday - an unprecedented step that will raise tensions in the Middle East.
Iranian authorities have said that the US decision is a great mistake that will endanger US interests in the region, where Iran is involved in proxy wars from Syria to Lebanon.
Iranian Foreign Minister Mohammad Javad Zarif said on Twitter that the move was aimed at securing the re-election of Israeli Prime Minister Benjamin Netanyahu on Tuesday.
"Another misguided election-eve gift to Netanyahu," and another "dangerous US misadventure in the region," Zarif tweeted.
Iranian Revolutionary Guards commanders have repeatedly said that US bases in the Middle East and US aircraft carriers in the Gulf are within range of Iranian missiles.
Full report at:
https://english.alarabiya.net/en/News/middle-east/2019/04/09/Iran-decries-illegal-US-designation-of-Guards-retaliates-with-terrorism-listing.html
--------
Arab Coalition strikes Houthi targets in Yemen's Sanaa
10 April 2019
The Arab Coalition in Yemen struck Houthi targets in the capital Sanaa, spokesperson Colonel Turki al-Malki said on Wednesday.
The coalition said the strikes targeted a Houthi drones manufacturing plant and a store containing launch pads. There were no immediate reports of any casualties or damage.
According to al-Malki, the strikes are an extension of military operations that targeted and destroyed an integrated network of logistical capabilities and facilities for Houthi drones, as well as locations where foreign experts are present.
Al-Malki reiterated the coalition's commitment to prevent the Houthi militias from using these advanced capabilities, and to take all the necessary measures to protect civilians as well as vital areas from the threat of drones.
Full report at:
https://english.alarabiya.net/en/News/gulf/2019/04/10/Arab-Coalition-strikes-Houthi-targets-in-Yemen-s-Sanaa.html
--------
AP report reveals Houthis blocked shipment of cholera vaccines for almost a year
9 April 2019
In July 2017, a UN chartered plane carrying half a million doses of cholera vaccine to Yemen was not given permission to land by the Houthi militias until almost a year later, an AP report revealed.
Meanwhile, the outbreak continued to get worse, producing more than one million suspected cases.
UN officials believed they had the go-ahead to bring in cholera vaccines. Half a million doses were loaded onto a plane in the African republic of Djibouti.
At the last minute, hard-liners in the Houthi-controlled Health Ministry told the UN they would not allow the plane to land.
UN officials blamed the canceled flight on the difficulties in distributing vaccines during an armed conflict. But officials with knowledge of the episode told the AP that the real reason was that the Houthi militias who control northern Yemen refused to allow the vaccines to be delivered, after spending months demanding that the UN send ambulances and other medical equipment for their military forces as a condition for accepting the shipment.
A spokesman for the UN's World Health Organization said at the time that delivering vaccines "has to make sense" in terms of the conditions on the ground, adding that the vaccine doses intended for Yemen would likely be re-routed to places that "might need them more urgently."
UN officials sent the shipment to South Sudan in central Africa, where the disease had recently erupted. The cholera outbreak in South Sudan left 436 dead but was declared over by early 2018, largely due to the introduction of vaccines during the outbreak's early stages.
The outbreak in Yemen went on unabated.
The cancellation of the shipment was just one of the setbacks that aid agencies faced in battling the cholera epidemic, which has killed nearly 3,000 Yemenis.
Relief workers and government officials said they have seen repeated indications that insiders in the Houthi-controlled north have skimmed off money and supplies for cholera vaccines and treatment and sold them on the black market. In some cases, treatment centers for people who had contracted cholera existed only on paper even though the UN had disbursed money to bankroll their operations, according to two aid officials familiar with the centers.
The AP's examination of the efforts to fight the disease in Yemen drew on confidential documents and interviews with 29 people, including aid officials previously based in the country and officials from health ministries run by both the Houthi rebels and the internationally recognized government in the south. Almost all of these individuals—including six relief and health officials who say the Houthis were responsible for cancellation of the 2017 vaccine shipment—spoke on condition of anonymity because of fear of retaliation.
"The Houthis are taking advantage of UN weakness," the official said. "Corruption or aid diversion and all of this are because of the UN's weak position." Relief workers know that if the UN speaks out, the official said, "their visas will be denied and they would not be allowed back in the country."
When UN officials tried to rush in oral vaccines to halt the spread, some Houthi officials claimed vaccines were ineffective. A few messages circulated on social media asserting that vaccines could be harmful to children. Four aid officials and a former Houthi health official said that some rebel leaders suggested that the vaccination plan was a plot by the US and Israel to use Yemenis as guinea pigs.
A former senior official in the Houthi Health Ministry said the concerns over the vaccines' safety were a pretext. Militia leaders had a list of demands and tried to bargain with UN officials for money and equipment, he said.
During weeks of negotiations over the vaccine program, the militiamen demanded that UN officials send X-ray machines and other items they could use to treat their wounded fighters on the front lines, according to the former health ministry official and three aid officials.
Cholera spread across Yemen in late 2016 and throughout much of 2017 and 2018. It ebbed late last year, but has again picked up in 2019. A new surge in the disease has produced roughly 150,000 reported cholera cases and nearly 300 deaths since the start of this year. The first cholera vaccine drives in Yemen didn't start until May 2018 in the south, aid and health officials told the AP.
Ali al-Walidi, the deputy health minister in southern Yemen, and Youssef al-Hadri, the spokesman of the Houthi-run Health Ministry in the north, both deny there were delays in getting cholera vaccines into Yemen at the start of the outbreak.
Al-Hadri said claims that the Houthis blocked the shipment of vaccines into Yemen are false.
"This is all baseless, and I challenge the agencies to say this officially," he said.
Discussing importance of vaccines
In that timeframe, Houthi officials held a succession of meetings throughout much of 2017 and into 2018 to consider the science and policy questions relating to vaccines. In the spring of 2018, after science panels approved bringing cholera vaccines into rebel territory, Health Minister Mohammed Salem Bin Hafez gave UN officials the go-ahead to bring in nearly 900,000 doses of cholera vaccine, according to documents obtained by the AP.
Then two of his deputies, both of them well-connected within the Houthi leadership, said the shipment couldn't proceed, asserting that there were still more bureaucratic hurdles before the vaccines' "safety and security" could be assured, according to the documents.
As a non-Houthi, Bin Hafez didn't have the power to overrule the decisions of the two deputies who supposedly were working under him. He wrote a letter to the prime minister of the Houthi-controlled government, Abdel-Aziz Bin Habtour, detailing how the delivery of vaccines had been once again been put off.
"I am washing my hands of the consequences of these irresponsible actions," Bin Hafez's letter said. He told the prime minister that he was "putting the matter between your hands" in the hope the government would "take the necessary measures to use aid in a proper way and create proper work conditions for international and local aid agencies."
A month later, Bin Hafez left his post and fled Houthi territory.
Abdel-Aziz al-Daylami, one of the Health Ministry deputies that Bin Hafez blamed for holding up the delivery of vaccines, denied that he had stopped the shipment.
"No, there was no rejection, but we had reservations," he told the AP. "We thought that the vaccines would be useless" if they were deployed without more efforts to ensure clean water and reliable sanitation systems.
Full report at:
https://english.alarabiya.net/en/News/gulf/2019/04/09/AP-report-reveals-Houthis-blocked-shipment-of-cholera-vaccines-for-almost-a-year-.html
--------
Africa
UN postpones conference in Libya due to fighting
Apr 10, 2019
The United Nations (UN) has postponed a conference in Libya that had been meant to discuss the possibility of holding elections in the country, as fighting between rival domestic forces continues near the capital Tripoli and elsewhere.
UN special envoy for Libya Ghassan Salame announced on Tuesday that the two-day conference — which had been due in the southwestern town of Ghadames on April 14-15 — would not be held according to schedule because of the fighting.
"We cannot ask people to take part in the conference during gunfire and airstrikes," Salame said, adding that the meeting would take place "as soon as possible," without specifying a date.
Libya has an internationally-recognized government seated in Tripoli, the so-called Government of National Accord (GNA). But the GNA has been unable to exercise state powers over the entire Libyan territory, where militia groups have been active since an uprising against the then-dictator Muammar Gaddafi in 2011.
Another major power faction that lays a claim to power is based in the city of Tobruk, in Libya's east. It has its own quasi-army, led by self-styled General Khalifa Haftar.
Last week, Haftar ordered his forces to advance on the capital, in what seems to be an attempt to unseat the GNA.
On their way to Tripoli, Haftar's forces have overtaken several oil fields and towns, but have faced stiff resistance from forces loyal to the GNA near Tripoli, where they have been stopped. The situation is deadlocked, and fighting continues despite international calls for an end to hostilities.
The GNA has carried out airstrikes against the positions of Haftar's forces, which call themselves the Libyan National Army (LNA). The LNA also conducted one airstrike against the Tripoli airport on Tuesday.
Later that day, the GNA called the attack on the airport a "war crime" and a violation of "all national laws and international agreements," and ordered the military prosecutor's office to issue arrest warrants for Haftar and those collaborating with him, according to Al Jazeera.
The news network said Fayez al-Sarraj, the prime minister of the Tripoli-based government, has instructed prosecutors to prepare the arrest warrants.
Sarraj and Haftar had previously participated in UN-brokered reconciliation talks. The offensive on Tripoli has dampened chances for peace and risks plunging the country into civil war.
https://www.presstv.com/Detail/2019/04/10/593047/Libya-UN-conference-elections-Haftar
--------
Pro-Haftar forces target S. Libya's capital
Walid Abdullah
09.04.2019
TRIPOLI
Fierce clashes erupted in Libya's Ain Zara area in the south of capital Tripoli between forces loyal to Libya's Tripoli-based Government of National Accord (GNA) and those loyal to Khalifa Haftar, who commands forces based in the country's east, according to eyewitnesses.
Described as the fiercest since the clashes began, the recent clashes, erupted Tuesday evening when, the internationally-recognized, GNA forces attempted to recapture from Haftar forces some sites it lost along the last two days.
The clashes have witnessed using all sorts of weapons and erupted in a residential area, the witnesses said.
Many of the families based in the Ain Zara area could not leave their houses due to the fierce military clashes, according to the witnesses, who added that, the Haftar-led forces have captured some streets in the area.
The number od casualties over the clashes have not been announced yet.
For its part, the Haftar forces announced they have advanced in the neighborhoods of Ain Zara, announcing their control over the Al-Fitra Street and the headquarters of the 42nd Battalion affiliated with the GNA.
Earlier clashes between forces loyal to Libya's Tripoli-based GNA and those loyal to Haftar, who commands forces loyal to a rival government based in the country's east, continued Tuesday, according to local sources.
"GNA warplanes are now targeting pro-Haftar forces deployed in Tripoli's southern Sog al-Khmies district," a local military source told Anadolu Agency.
"The air raids, however, have failed to cause damage due to the use by pro-Haftar forces of anti-aircraft batteries," the source added, speaking on condition of anonymity as he was not authorized to speak to media.
According to local media reports, GNA forces are also targeting Haftar's supply lines linking Tripoli to the city of Ghariyan (located roughly 100 kilometers south of the capital), which pro-Haftar forces are reportedly using as a forward base.
Earlier Tuesday, warplanes affiliated with Haftar's forces struck Tripoli's international airport without causing casualties, local witnesses said.
Late last week, Haftar announced the launch of an ambitious campaign to capture Tripoli, where the GNA is headquartered.
By Monday, however, the campaign appeared to have lost momentum, with pro-GNA forces recapturing two military bases near the capital after they were briefly seized by Haftar's forces.
The two sides have also continued to trade blows over three strategic airports near Tripoli.
Libya has remained beset by turmoil since 2011, when a bloody NATO-backed uprising led to the ouster and death of President Muammar Gaddafi after four decades in power.
Full report at:
https://www.aa.com.tr/en/africa/pro-haftar-forces-target-s-libyas-capital/1447291
--------
WHO: At least 47 killed in last 3 days in Libya clashes
Bayram Altug
09.04.2019
At least 47 people were killed and 181 others wounded over last three days in Libya clashes, the World Health Organization (WHO) said on Tuesday.
Last Thursday, Khalifa Haftar, a military commander based in eastern Libya, launched military operations with an ambitious campaign to capture the capital Tripoli, where the Government of National Accord is headquartered. After initial success, however, the campaign on Monday appeared to have lost momentum.
Addressing a news conference at UN Geneva office, Tarik Jasarevic, a spokesman of the WHO, said among those killed were two doctors rushing to the aid of people seriously wounded.
He underlined that attacks on health institutions and employees are a violation of international human rights law.
Babor Baloch, a spokesperson for UN High Commission for Refugees, said there were 5,700 refugees and irregular migrants in the official detention centers in Libya, adding that the number can hike when those held in unofficial detention centers are taken into account.
Libya has remained beset by turmoil since 2011, when a bloody NATO-backed uprising led to the ouster and death of President Muammar Gaddafi after four decades in power.
Full report at:
https://www.aa.com.tr/en/africa/who-at-least-47-killed-in-last-3-days-in-libya-clashes/1447052
--------
Italy keeps troops in Libya despite Khalifa advance
April 09, 2019
ROME: Italy on Tuesday confirmed that it would keep its military missions in Tripoli and Misrata despite the advance of strongman Khalifa Haftar's forces on the Libyan capital.
Miasit, launched in January 2018, will "continue in order to make assistance activities in Libya more incisive and efficient", the Italian defence ministry said in a statement.
UN chief Antonio Guterres has appealed for an immediate halt to fighting in Libya after Haftar's forces claimed an airstrike on Tripoli's only functioning airport.
Thousands have fled violence in the capital city, according to the United Nations, since Haftar launched a surprise assault last week which has left dozens dead.
Italy's Bilateral Mission of Assistance and Support in Libya "supports Libyan authorities in their pacification and stabilisation activities in the country and against human trafficking, smuggling and threats to security."
No figures were provided for the current deployment but the mission has previously included around 100 troops in Tripoli and 300 in Misrata, about 200 kilometres (130 miles) to the east.
Troops from former colonial power Italy are involved in "training and technical and infrastructure assistance for Libyan security forces," in Tripoli, the statement said.
In Misrata, the troops provide security and assistance to a hospital within a military academy for the UN-backed Government of National Accord.
The oil-rich northern African country has been rocked by violent power struggles between an array of armed groups since the NATO-backed overthrow of dictator Moamer Kadhafi in 2011.
Full report at:
http://www.arabnews.com/node/1480051/middle-east
--------
Somalia: Govt, AU Forces Arrest 9 Al-Shabab Militants in Southern Region
8 APRIL 2019
The African Union Mission in Somalia (AMISOM) forces said Monday they have arrested nine al-Shabab militants during a security operation backed by Somali troops in southern region.
The AU mission said the operation, which was carried out on Sunday in near Sabiid Anole town in Lower Shabelle, about 40 km south of Mogadishu, saw al-Shabab commander and explosive expert arrested.
"The militants were in possession of IED (improvised explosive device) making materials which they intended to use to build explosives," said the AU mission.
It said the fighting erupted after the allied forces came under attack by the terrorists but did not indicate the number of al-Shabab militants who were killed during the fighting.
"All suspects are currently being interrogated by the relevant authorities," said the AMISOM. The arrests came a week after the strategic bridge of Sabiid was liberated by the allied forces.
Meanwhile, AMISOM also confirmed the arrest of an al-Shabab terrorist who has been extorting money from civilians at checkpoints in Qoryooley.
The AU mission vowed to continue supporting the Somali security forces to restore peace in all regions of Somalia.
Full report at:
https://allafrica.com/stories/201904090217.html
--------
Boko Haram hits Nigerian city after thousands flee military operation
APR 10, 2019
KANO, NIGERIA - Boko Haram fighters attacked the northeast Nigerian city of Damaturu for the first time since late 2014, residents said, after troops forced thousands to flee a village across the state border because of a planned military offensive.
Two locals in the Yobe state capital said suspected Islamic State-linked Boko Haram fighters were behind the attack, which began late afternoon.
"Boko Haram jihadists launched an attack on Damaturu at about 5:45 p.m. (1645 GMT), firing guns and throwing explosives," Adamu Sani, a trader in the city's Maisandari area, told AFP.
"Residents and businesses all closed as we fled into the city to avoid being caught up in the attack. While fleeing into the city, I saw truckloads of soldiers heading to Maisandari."
Hashimu Idris, a civil servant, added: "Everybody is indoors. We pray the soldiers push them back otherwise it will be another disaster in the city.
"This is the first attack on the city since 2014."
Boko Haram fighters loyal to the faction headed by Abubakar Shekau launched a dawn raid on Damaturu on Dec. 1, 2014. More than 150 people, including 38 police, were killed.
That raid followed a bomb attack on June 18 that year that killed some 21 soccer fans watching a World Cup match at a public viewing center.
The previous October, 30 people, all of them thought to be soldiers, were killed in a gun and bomb attack on police buildings in Damaturu.
The latest attack followed the evacuation of some 2,000 people from Jakana village, some 90 km (55 miles) from Damaturu on the road to Maiduguri, in neighbouring Borno state.
The National Emergency Management Agency (NEMA) said troops escorted the residents to the Bakassi camp for internally displaced people (IDPs) in Maiduguri "for their own safety.
NEMA northeast coordinator Abulkadir Ibrahim said the move was "a result of ongoing operations to flush out insurgents in the area.
Jakana residents said they were given no notice. One of them, Modu Kaka, said: "The soldiers came this morning and told us to assemble and began herding us into trucks.
"We left all our possessions in Jakana and we are now dependent on food aid."
Bakassi is one of several IDP camps housing tens of thousands of displaced people, who live in squalid shelters and rely on food handouts from aid agencies.
An unnamed military official said the evacuation was in preparation for a "big operation" against Islamic State West Africa Province (ISWAP), the IS-linked faction of Boko Haram.
Jakana lies on a known crossing route for ISWAP fighters moving between their camps in the Benisheikh forest area of Borno and their hideouts in the Buni Yadi area of Yobe.
In January ISWAP sent letters to Jakana and Mainok residents asking them to vacate their homes for an impending raid on the military.
The jihadis have in the last few weeks been under assault from intensive air and ground offensives from coalition forces involving Nigeria, Chad and Cameroon against militant camps in Lake Chad, according to military sources and militia groups.
"We know they are going to use their traditional route to escape," the military source said.
Boko Haram's decade-long insurgency has killed more than 27,000 people in the northeast with 1.8 million still displaced from their homes.
Full report at:
https://www.japantimes.co.jp/news/2019/04/10/world/boko-haram-hits-nigerian-city-thousands-flee-military-operation/#.XK2UtfczbIU
--------
Boko Haram: Airforce hits hard on Islamic State terrorists in Borno
April 9, 2019
By John Owen Nwachukwu
The Nigerian Air Force, NAF, says its Air Task Force, ATF, of Operation LAFIYA DOLE has degraded an Islamic State of West Africa Province (ISWAP) Terrorists' hideout in Northern Borno.
NAF's spokesman, Air Commodore Ibikunle Daramola, who disclosed this in a statement in Abuja, said the operation was conducted on Monday.
Daramola said the ATF also neutralised some of the ISWAP fighters at Tumbun Zarami in the Northern part of Borno.
"This was accomplished through air strikes conducted on Monday, April 8, as part of the ongoing air campaign of Operation YANCIN TAFKI, which is aimed at flushing out ISWAP elements from islands on the fringes of the Lake Chad.
"A Nigerian Air Force (NAF) Intelligence, Surveillance and Reconnaissance (ISR) platform, on a routine reconnaissance mission, observed significant presence of ISWAP fighters in the settlement, with several structures and equipment spotted beneath the thick vegetation of the area.
"Accordingly, the ATF scrambled two NAF Alpha Jets to attack the location, recording successful strikes on the terrorists' structures and neutralising several of their fighters," he said.
Full report at:
https://dailypost.ng/2019/04/09/boko-haram-airforce-hits-hard-islamic-state-terrorists-borno/
--------
We have rescued Nigeria from Boko Haram – Buhari boasts in Abu Dhabi
April 10, 2019
By Wale Odunsi
President Muhammadu Buhari on Tuesday in Dubai, stated that his government has succeeded in rescuing Nigeria from Boko Haram insurgents.
He spoke at a town hall meeting with members of the Nigerian Community in the United Arab Emirates (UAE).
Buhari, who also pledged more government investments in research, technology as well educational institutions, promised that the prudent economic management, diversification of production and revenue bases of the administration in the last four years will be sustained.
''The Next Level is to consolidate whatever we have done till 2023 and it makes common sense that in order to manage any outfit, whether a nation, state or organisation, you have to secure it.
''We all know how many local governments Boko Haram were occupying. People from the North-east know that they are not holding any local government today.
"They were holding 17 out of the 774 local governments before we came in 2015; they are not holding any now,'' the President said.
At the interactive session, the Nigerian leader noted that a key objective of his administration which had yielded positive results, in the last four years, was the campaign for the nation to return to agriculture.
''What we did was to encourage agriculture, and fertiliser was made available at half the price.
''We encouraged people to go back to land. The response was excellent. We have virtually achieved food security; we have stopped the importation of rice.
''The money we have saved in foreign exchange is in hundreds of millions of dollars, not even in naira. We are putting that into infrastructure,'' he noted.
Responding to a question about the pace of anti-corruption war, the President said: ''Whoever calls me Baba-go-slow, I'm very conscious of historical antecedents. You know what happened to me the last time…people [now] have to be proven guilty before they are locked up.''
Full report at:
https://dailypost.ng/2019/04/10/rescued-nigeria-boko-haram-buhari-boasts-abu-dhabi/
--------
URL: https://www.newageislam.com/islamic-world-news/imran-khan-sees-better-chance/d/118284
New Age Islam, Islam Online, Islamic Website, African Muslim News, Arab World News, South Asia News, Indian Muslim News, World Muslim News, Women in Islam, Islamic Feminism, Arab Women, Women In Arab, Islamophobia in America, Muslim Women in West, Islam Women and Feminism