New Age Islam News Bureau
14 Apr 2018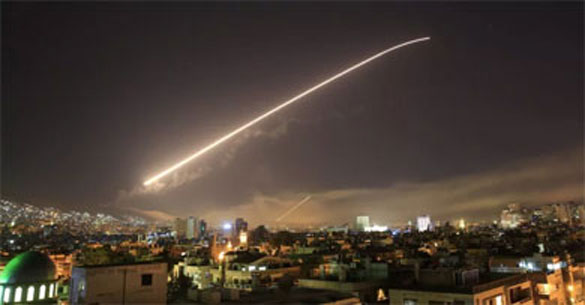 The Damascus sky lights up missile fire as the U.S. launches an attack on Syria targeting different parts of the capital early Saturday, April 14, 2018Hassan Ammar/AP
----
• Imarat Shariah and AIMPLB Call Protest Rally in Bihar to 'Save Religion, Save Country'
• Lok Sabha Polls Will See 'Islam Vs Bhagwan', 'Pakistan Vs India': BJP MLA
• U.S., Britain and France Strike Syria over Suspected Chemical Weapons Attack
• Pakistan Avoids Islamists Showdown Over Anti-Blasphemy Row with Ruling Party
• Hefazat: Mongol Shobhajatra Is Haram
• Do Recent Border Protests Mark Turning Point For Hamas?
India
• Imarat Shariah and AIMPLB Call Protest Rally in Bihar to 'Save Religion, Save Country'
• Lok Sabha Polls Will See 'Islam Vs Bhagwan', 'Pakistan Vs India': BJP MLA
• JuD Chief Hafiz Saeed Uses Kathua Gangrape Case to Peddle Hatred against India
• Sushma, Afghanistan defence minister talk on terror
vKathua Rape, Murder Case — A Father's Anguish: 'She Did Not Know Right From Left… What Hindu, Muslim?'
--------
North America
• U.S., Britain and France Strike Syria over Suspected Chemical Weapons Attack
• Canada Mosque Shooter Says He Was Motivated By Trudeau Welcoming Refugees
• Key quotes from Trump's address on Syria
• US 'confident' Assad regime behind Douma attack
--------
Pakistan
• Pakistan Avoids Islamists Showdown Over Anti-Blasphemy Row with Ruling Party
• Pakistan's Living Sufi Saints Flex Their Political Muscle
• Nawaz Disqualified Due To Friendship with Modi: Hafiz Saeed
• PM, COAS to visit Riyadh in wake of Yemen missile attacks
• Security forces arrest six terrorists from different areas of Balochistan: ISPR
• Punjab govt capitulates to 'wanted' cleric's demands
• Imran says SC rulings paving way for 'new' Pakistan
• Security forces arrest six terrorists from Balochistan
--------
South Asia
• Hefazat: Mongol Shobhajatra Is Haram
• Taliban Kill 10 Security Personnel In Afghanistan
• Blast rips through Taliban leader's house leaving 9 dead, 5 wounded
• Rohingya Crisis: Myanmar says ICC has no jurisdiction
• 60 leaders of Taliban's Quetta Council ready to join peace, claims Gen. Raziq
• Despite UN warnings, Myanmar vows early Rohingya return
• Village Blaze Destroys More Than 60 Hindu Homes in Myanmar's Maungdaw District
• Six Bangladeshis among seven killed in Saudi Arabia fire
--------
Mideast
• Do Recent Border Protests Mark Turning Point For Hamas?
• Palestine: Drone Footage Captures "Great March of Return"
• Israel in 'direct combat' with Iran after Syria raid: Hezbollah
• New clashes on Gaza-Israel border after deadly violence
• Saudi Arabia demands UN to hold Iran responsible for Houthi missile attacks
• Israeli forces kill 1, injure 700 Palestinians in Gaza
--------
Arab World
• Syria Intercepts 'Significant' Number of Over 100 Missiles
• Missile Strikes Against Syria Terrible, Dangerous For All World Countries: Iraq FM
• Qatar Openly Celebrates Wedding of 'Most Dangerous' Terror Sponsor's Son In Doha
• Saudi crown prince Mohammed bin Salman visit presented 'true picture of Islam': OIC
• ISIL Suffers Heavy Casualties in Clashes with Syrian Army, Hezbollah in Homs
--------
Southeast Asia
• Bitcoin Declared Halal by Indonesian Islamic Scholar
• Regular Meetings Can Help Resolve Religious Controversies, Say Muslim and Christian Community Leaders
• Fear of 'Chinese rule' entrenched in Malaysia, but Malay mindset has changed: Muhyiddin
• Govt always empowers Islamic development agenda, says Najib
• PPP ready to counter hate speech against Jokowi: Chairman
--------
Africa
• Nigeria Marks Four-Year Anniversary of Chibok Kidnap
• Arab States Diplomatic Crisis Spreads To Somalia after Tensions with UAE
• Libya army official denies news of Haftar's replacement
• Uganda studies Israeli request to take in 500 refugees
• Head of Libya's Tobruk assembly accepts invite to talks
--------
Europe
• Paris Trial Shows Faltering Evolution of a Jihadist Cell
• Islamophobia In Paris And London – How It Differs And Why
• Teachers' Union Demands Action on 'Prejudiced' Parents Withdrawing Children from Islam Lessons
• Putin warns Macron against 'dangerous' Syria actions
• France aims to relaunch Syria peace process after 'legitimate' strikes
Compiled by New Age Islam News Bureau
URL: https://www.newageislam.com/islamic-world-news/imarat-shariah-aimplb-call-protest/d/114938
--------
Imarat Shariah and AIMPLB Call Protest Rally in Bihar to 'Save Religion, Save Country'
Mohammed Wajihuddin
Apr 14, 2018
Probably for the first time in post-Independence India, a call has gone out to Muslims to congregate with an 'Islam in Danger' slogan.
Imarat Shariah (House of Shariah), which is headquartered in Phulwarisharief in Patna, and the All India Muslim Personal Law Board (AIMPLB) have jointly organized a mega protest titled Deen Bachao, Desh Bachao (Save Religion, Save Country) on April 15 at Patna's Gandhi Maidan. A number of senior clerics and community leaders are expected to unambiguously vocalise the sentiment that under the BJP government, neither the Muslims's deen (religion) nor the desh (country) is safe.
Having held a series of marches and demonstrations of burqa-clad women across the country against the triple talaq bill, the Muslim Board has teamed up with the Imarat Shariah to draw up a bigger action plan, clubbing the country's law and order issue and threats to the Constitution with the perceived danger to Islam. Incidentally, Imarat Shariah was founded in 1921 to guide Muslims on Sharia-related issues in Bihar, Jharkhand and Orissa.
"We waited for four years, hoping the BJP would learn to run the country while upholding its constitutional obligations. Our personal laws which are part of the Muslim faith are under attack. We are forced to tell the countrymen that, along with the country, Muslims's religion is also under threat," said AIMPLB's general secretary Maulana Wali Rahmani.
Rahmani who is also ameer-e-shariat or chief of the Imarat Shariah added that 'Deen Bachao, Desh Bacho' meet is a wakeup call, especially for Muslims. "We want to convey the message that if you don't wake up now, there will not be enough space and opportunity to act later. There are a number of issues on the RSS agenda which this government will try to implement. After the ban on triple talaq will come the Uniform Civil Code and ban on azaan through loudspeakers…They have a long list," he explained.
To ensure that Muslims turn up in huge numbers, the vast networks of Imarat Shariah, AIMPLB, madrassas and masjids have been used. Most of the attendees—the organisers expect no less than three lakh—will come from different districts of Bihar and Jharkhand and some from Orissa as well. Bihar has been divided into different halqas (regions) under the supervision of a madrassa. "Each madrassa has been tasked to mobilise a crowd from over two dozen villages and each village has hired its own buses. Everyone is paying for their travel and food. Some donations have been sent to Imarat Shariah too to make arrangements in Patna," said Maulana Muntazir Qasmi of Madrassa Arfia at village Sangram near Jhanjharpur in Madhubani district.
Imarat Shariah's general secretary Maulana Aneesur Rahman Qasmi denied that any opposition party was backing the massive rally. "Leaders of political parties may come but no politician will speak. This time we will speak and political leaders will listen," he said.
A Mumbai-based cleric recalled that around three decades ago, then president of the Jamiatul Ulema-e-Hind, Maulana Asad Madni, had given a call to Mulk Bachao, Millat Bachao (Save Country, Save Community) rally at Delhi's Ramlila Maidan. "Maulana Madni wanted to save the community and managed to get into Rajya Sabha after the meet. I don't know if any of the organisers here have hopes of a Rajya Sabha nomination," said the cleric.
https://timesofindia.indiatimes.com/india/muslim-groups-call-protest-rally-to-save-religion-save-country/articleshow/63754484.cms
--------
Lok Sabha Polls Will See 'Islam Vs Bhagwan', 'Pakistan Vs India': BJP MLA
Apr 13, 2018
BALLIA (UP): The 2019 Lok Sabha elections would be fought on the lines of "Islam versus Bhagwan" and "Pakistan versus India", BJP UP MLA Surendra Singh has said, days after he defended his colleague accused of raping a teenage girl.
The saffron party legislator from Bairia had stirred a row on April 11 when he defended MLA Kuldeep Singh Sengar who allegedly raped a 17-year-old girl last year.
"Tell me who will rape a mother of three? He is being falsely implicated," he had told reporters on the sidelines of an event.
Last night during a public meeting here, Singh said, "The 2019 poll are going to be on the lines of Pakistan versus Bharat... Islam versus Bhagwan and so the respected people of the country you have to decide whether it will be Islam which will win or Bhagwan."
"(You have to) decide if it is the dishonest that will be victorious or (Narendra) Modi's sincerity," he said.
The lawmaker said that this time if the BJP won the people of the country would rejoice and if the opposition managed to make its government, drums and trumpets would be played in Pakistan.
"People have to decide if they are with Bhagwan or Islam," Singh said.
"It will be Bharat 'bhakti' will take on 'vibhakti' (divisive forces)," he said.
Singh had earlier said that once India becomes a "Hindu rashtra" only those Muslims would stay in the country who assimilate in the Hindu culture.
"There are a very few Muslims who are patriotic. Once India becomes a Hindu 'rashtra' (Hindu nation), Muslims who assimilate in our culture will stay in India. Those who will not, are free to take asylum in any other country," he had said.
https://timesofindia.indiatimes.com/india/lok-sabha-polls-will-see-islam-vs-bhagwan-pakistan-vs-india-bjp-mla/articleshow/63746251.cms
--------
U.S., Britain and France Strike Syria Over Suspected Chemical Weapons Attack
APRIL 13, 2018
WASHINGTON — The United States and European allies launched airstrikes on Friday night against Syrian research, storage and military targets as President Trump sought to punish President Bashar al-Assad for a suspected chemical attack near Damascus last weekend that killed more than 40 people.
Britain and France joined the United States in the strikes in a coordinated operation that was intended to show Western resolve in the face of what the leaders of the three nations called persistent violations of international law. Mr. Trump characterized it as the beginning of a sustained effort to force Mr. Assad to stop using banned weapons, but only ordered a limited, one-night operation that hit three targets.
"These are not the actions of a man," Mr. Trump said of last weekend's attack in a televised address from the White House Diplomatic Room. "They are crimes of a monster instead."
Shortly after the attack, the Syrian presidency posted on Twitter, "Honorable souls cannot be humiliated."
The strikes risked pulling the United States deeper into the complex, multisided war in Syria and raised the possibility of confrontation with Russia and Iran, both of which were supporting Mr. Assad with military forces. Within 90 minutes, the Russian ambassador to the United States warned of "consequences" for the allied attacks.
Sources: Strike locations from the Pentagon. Control areas from Conflict Monitor by IHS Markit (as of April 9, 2018).
"We are prepared to sustain this response until the Syrian regime stops its use of prohibited chemical agents," he said.
But Defense Secretary Jim Mattis, who had urged caution in White House deliberations leading up to the strike, told reporters on Friday night that there were no more attacks planned unless Mr. Assad again uses gas on his own people.
"We confined it to the chemical weapons-type targets," Mr. Mattis said. "We were not out to expand this; we were very precise and proportionate. But at the same time, it was a heavy strike."
The assault was twice the size and hit two more targets than a strike that Mr. Trump ordered last year against a Syrian military airfield. Launched from warplanes and naval destroyers, the burst of missiles and bombs struck Syria shortly after 4 a.m. local time on Saturday.
They hit three of Mr. Assad's chemical weapons facilities: a scientific research center in greater Damascus that was used in the production of weapons, and two chemical weapons facilities west of Homs, one of which was used for the production of the nerve agent sarin and the other was part of a military command post, said Gen. Joseph F. Dunford Jr., the chairman of the Joint Chiefs of Staff.
Residents of Damascus, the capital, woke to the sounds of multiple explosions shaking the city before the dawn call to prayer.
Syrian state television said government air defense systems were responding to "the American aggression" and aired video of missiles being fired into a night sky. It reported that 13 missiles had been shot down by Syrian air defenses near Al-Kiswa, a town south of Damascus. American officials said they could not yet confirm that.
Mr. Trump called on Syria's patrons in Russia and Iran to force Mr. Assad to halt the use of poison gas in the seven-year-old civil war that has wracked his country.
"To Iran and to Russia I ask: What kind of a nation wants to be associated with the mass murder of innocent men, women and children?" he said. "The nations of the world can be judged by the friends they keep. No nation can succeed in the long run by promoting rogue states, brutal tyrants and murderous dictators."
Russia responded with sharp words. "We warned that such actions will not be left without consequences," Anatoly Antonov, the ambassador to the United States, said in a statement. "All responsibility for them rests with Washington, London and Paris."
Taking umbrage at Mr. Trump accusing President Vladimir V. Putin in his speech of not living up to a promise to disarm Syria of its chemical weapons, Mr. Antonov added, "Insulting the president of Russia is unacceptable and inadmissible."
In choosing to strike, it appeared that Mr. Trump's desire to punish Mr. Assad for what he called a "barbaric act" — and to make good on his tweets promising action this week — outweighed his desire to limit the American military involvement in the conflict, at least in the short term.
The strikes marked the second time that Mr. Trump has attacked Syria to punish the government after it was accused of using chemical weapons. The White House had sought to create a response that would be more robust than the attack in April 2017, when the United States fired 59 Tomahawk cruise missiles at a Syrian air base that was back in use a day later.
Unlike last year, France and Britain joined the United States in retaliating for the suspected chemical attack last Saturday in the town of Douma, outside Damascus, but Germany refused to take part, even though Chancellor Angela Merkel called the use of chemical weapons "unacceptable."
Prime Minister Theresa May of Britain said Syria had left the allies no choice. "This persistent pattern of behavior must be stopped — not just to protect innocent people in Syria from the horrific deaths and casualties caused by chemical weapons, but also because we cannot allow the erosion of the international norm that prevents the use of these weapons," she said.
But she also emphasized the limits of the operation's goals, reflecting the reluctance in London as well as Washington to become too immersed in the fratricidal war in Syria.
"This is not about intervening in a civil war," she said. "It is not about regime change. It is about a limited and targeted strike that does not further escalate tensions in the region and that does everything possible to prevent civilian casualties."
Defense officials said that Tomahawk cruise missiles were launched from at least three American warships, while B-1 bombers dropped long-range missiles on targets. French and British warplanes also fired long-range missiles, while a British submarine launched cruise missiles.
Early reaction to the strikes from Capitol Hill appeared to break down along party lines, with Republicans expressing support for the president and Democrats questioning whether Mr. Trump has a well-thought-out strategy for what happens after the military action is over.
"President Trump's decision to launch airstrikes against the Syrian government without Congress's approval is illegal and — absent a broader strategy — it's reckless," said Senator Tim Kaine, Democrat of Virginia, who has long argued that presidents should request permission from Congress before taking military action.
Representative Nancy Pelosi of California, the House Democratic leader, said that "one night of airstrikes is not a substitute for a clear, comprehensive Syria strategy."
Representative Steve Scalise of Louisiana, the House Republican majority whip, wrote in a statement: "President Trump is right to assert that the Assad regime's evil acts cannot go unanswered."
A fact-finding mission from the Organization for the Prohibition of Chemical Weapons was to begin investigating the episode on Saturday in Douma, which had been held by rebels before the suspected attack. The mission's job was only to determine whether chemical weapons had been used, not who had used them.
Medical and rescue groups have reported that the Syrian military dropped bombs that released chemical substances during an offensive to take the town. A New York Times review of videos of the attack's aftermath, and interviews with residents and medical workers, suggested that Syrian government helicopters dropped canisters giving off some sort of chemical compound that suffocated at least 43 people.
At the United Nations, Nikki R. Haley, the American ambassador to the world body, accused the Syrian government of using banned chemical arms at least 50 times since the country's civil war began in 2011. State Department officials said the United States was still trying to identify the chemical used on April 7.
Leaders in Syria, Iran and Russia denied that government forces had used chemical weapons, and accused rescue workers and the rebels who had controlled Douma of fabricating the videos to win international sympathy.
On Friday, Maj. Gen. Igor Konashenkov, a spokesman for the Russian Defense Ministry, said images of victims of the purported attack had been staged with "Britain's direct involvement." He provided no evidence.
Karen Pierce, Britain's ambassador to the United Nations, called those allegations "bizarre" and "a blatant lie."
Mr. Mattis had sought to slow down the march to military action as allies compiled evidence of Mr. Assad's role that would assure the world the strikes were warranted. Mr. Mattis also raised concerns that a concerted bombing campaign could escalate into a wider conflict between Russia, Iran and the West.
Before the strikes, the United States had mostly stopped aiding Syria's rebels, like those who were in Douma, who want to topple Mr. Assad's government. The Pentagon's most recent efforts in Syria have focused on the fight against Islamic State militants in the country's east, where it has partnered with a Kurdish-led militia to battle the jihadists. It is the roughly 2,000 American troops there that Mr. Trump has said he wants to bring home.
In his televised address on Friday night, Mr. Trump sought to repeat his desire to disentangle the United States from the Middle East at some point. "It's a troubled place," he said. "We will try to make it better, but it is a troubled place. The United States will be a partner and a friend, but the fate of the region lies in the hands of its own people."
Russian forces and Iranian-backed militias also are deployed around Syria to help fight the rebellion — including the Islamic State and other extremist groups — that has surged against Mr. Assad since the conflict started.
Last year's American attack on Syria came after a chemical attack on the village of Khan Sheikhoun killed scores of people. Mr. Trump ordered a cruise missile strike against the Al Shayrat airfield in central Syria, where the attack had originated. The base was damaged, but Syrian warplanes were again taking off from there a day later.
Still, the response set Mr. Trump apart from President Barack Obama, who declined to respond with military force after a chemical weapons attack in August 2013 killed hundreds of people near Damascus, even though Mr. Obama had earlier declared the use of such weapons a "red line."
Mr. Obama ultimately backed off a military strike and reached an agreement with Russia to remove Syria's chemical weapons arsenal. That agreement was said to have been carried out, although a series of reported chemical attacks since have raised doubts about its effectiveness.
Helene Cooper and Thomas Gibbons-Neff reported from Washington, and Ben Hubbard from Beirut, Lebanon. Rick Gladstone contributed reporting from the United Nations, and Michael D. Shear from Washington.
https://www.nytimes.com/2018/04/13/world/middleeast/trump-strikes-syria-attack.html?mtrref=www.google.co.in&gwh=BDDEAB80C7B31C69DD1F8C70235EAD42&gwt=pay
--------
Pakistan avoids Islamists showdown over anti-blasphemy row with ruling party
April 13, 2018
LAHORE – Pakistani Islamists who brought traffic in major cities to a standstill on Thursday have temporarily called off national protests after a long round of negotiations with the government of Punjab province.
Life in Lahore, the most populous city of the South Asian country, became virtually paralyzed when Khadim Hussain Rizvi of Tehreek-i-Labbaik Pakistan (TLP) ordered his workers to "come out on streets" after days of government's silence.
The 51-year-old cleric is leading the religio-political party that backs strict blasphemy laws in one of the world's most dangerous countries for religious minorities. Christians, Hindus, Sikhs, Buddhists and others make up around 3 percent of Pakistan – the sixth most populous state in the world. Pakistan has the second largest number of Muslims in the world after Indonesia.
Following Rizvi's call, thousands of protesters easily managed to took control of key entry and exit points of the Punjab capital city, blocking all kinds of vehicular movement on major highways.
Within few hours, the city's arteries were choked Thursday evening as the protesters starting from the shrine of famous Sufi saint Data Ganja Baksh spread nationwide.
Demonstrations were held in Sialkot, Sahiwal, Gujranwala, Kasur, Multan, Faisalabad, Rawalpindi, and Peshawar amid heightened security in capital Islamabad, where the same protesters had staged a sit-in last November which ended after the country's law minister was forced to resign in the wake of a controversial amendment made in Elections act.
Zahid Hamid of the ruling Pakistan Muslim League was accused by the protesters of blasphemy after a reference to the Prophet Muhammad was left out of a revised version of the electoral oath. He called it a clerical error. The protesters in turn agreed not to issue a fatwa, or Islamic religious ruling, against the minister.
The tense situation, however, turned normal by Friday morning after the authorities agreed to fulfill the terms of the so-called 'Faizabad agreement' that was brokered by the country's military last year.
One of the TLP demands is that a report prepared by a senator-led commission be made public.
The political faction of Tehreek-e-Labbaik Ya Rasool Allah (TLYRA), seeks public support for Section 295-C of the Pakistan Penal Code, which deals with blasphemy committed against the Islamic Prophet.
Its founder, Khadim Rizvi who has been confined to a wheelchair since 2006 ever since an accident, earlier continued to raise his voice for the release of Mumtaz Qadri – the elite police commando who was hanged for gunning down former Punjab Governor Salmaan Taseer in Islamabad's uptown market in January 2011.
The staunch follower of Imam Ahmed Raza Khan Barelvi, the 19th century founder of the Barelvi sect of Islam, made his first entry into mainstream politics in the by-polls of NA120, the elected constituency of former prime minister Nawaz Sharif which fell vacant after his disqualification amid Panama Papers investigations.
After Friday's episode, the civilian government – which is still led by Sharif's party – is once again being criticized for backing down in the crisis, which also raises new questions about the hardline pressure on the political establishment currently engaged in infighting ahead of 2018 elections.
Last November, the clashes between TLP protesters and Islamabad Police left at least six people dead and some 200 injured.
Earlier this month, Rizvi and other clerics were declared proclaimed offenders in a terrorism case relating to Islamabad clashes.
Ijaz Ashrafi, a central leader of TLYR, says they will continue the protest till the government gives way on all their demands, including freeing arrested protesters and reverse changes made to blasphemy laws introduced during the dictatorial regime of General Ziaul Haq in 1986.
The government is awaiting court orders, according to provincial spokesman Malik Ahmed Khan.
Interior Minister Ahsan Iqbal, who is on a tour to China, termed TLP's protest "pointless", saying that such demonstrations were ruining Pakistan's image internationally.
Many in the country, where Beijing is in a process to restore the ancient silk route in South Asia through the $46 billion China-Pakistan Economic Corridor (CPEC), believe this movement in the name of religion is further dividing Pakistani society.
While majority of people discourage the idea of using brute force against the protesters, the TLP says they "fear letting anyone disrespects the Prophet more than anything".
http://santiagotimes.cl/2018/04/13/pakistan-avoids-islamists-showdown-over-anti-blasphemy-row-with-ruling-party/
--------
Hefazat: Mongol Shobhajatra is haram
April 14, 2018
'Adult men and women wearing indecent clothing and paint on their face and dancing together to the rhythm of drums while carrying giant dolls and animal masks – this Hindu ritual is being forced upon Muslims by the state'
Leaders of the Islamic group Hefazat-e-Islam have said the Mongol Shobhajatra procession observed on the morning of Pohela Boishakh is 'haram,' or forbidden in Islam.
Hefazat's Dhaka unit Vice-President Junaid Al Habib said: "Mongol Shobhajatra is not a Muslim culture. If the government wants to push this on Muslims, the Qwomi madrasas will be forced to take to the streets."
He was speaking at a protest in front of the Baitul Mukarram National Mosque on Friday. Hefazat organized the protest to condemn the killing of civilians in Afghanistan by NATO forces.
On Thursday, Hefazat Secretary General Junaid Babunagari issued a statement saying: "In the name of celebrating the Bangla new year, observing a procession with animal replicas is against the faith and practices of Muslims.
"Adult men and women wearing indecent clothing and paint on their face and dancing together to the rhythm of drums while carrying giant dolls and animal masks – this Hindu ritual is being forced upon Muslims by the state."
"This is absolutely forbidden in the eyes of Islam," he said in the statement.
'Conspiracy to separate CHT from Bangladesh'
Hefazat's central Nayeb-e-Amir and Dhaka unit President Nur Hossain Kashemi said: "The people of faith are prepared to protect the independence and sovereignty of this country. We will not let a conspiracy separate the Chittagong Hill Tracts from Bangladesh."
"After the fall of Russia, the United States has been attacking Muslim countries one by one. They are blaming Muslims for terrorism. Islam is a religion of peace and welfare. It does not approve of terrorism. United States is the perpetrator of state terrorism. They must leave Afghanistan at once," he said.
Organizing Secretary Azizul Haque said: "The tribals of CHT have appealed to the United Nations to make CHT a separate nation. We want to say, we will not give one inch of Bangladeshi soil to anyone."
Junaid Al Habib said: "If Rohingyas are kept in Teknaf, Myanmar is not safe. If they are sent to Bhashan Char then Myanmar is safe. We understand the conspiracy here."
"Those who have proposed moving the Rohingya to Bhashan Char and creating a Christian state with the tribals, we want to tell them: if Bangladeshi citizens walk over to CHT, not one tribal will remain alive."
https://www.dhakatribune.com/bangladesh/2018/04/14/hefazat-mongol-shobhajatra-haram/
--------
Do recent border protests mark turning point for Hamas?
April 13, 2018
GAZA CITY, Gaza Strip — Many questions remain concerning Hamas' endorsement of the recent protests that broke out March 30 along the Israeli-Gaza border. Mass demonstrations resumed April 13 for the third Friday in a row, and at least 33 Palestinians have been killed by Israeli fire in the clashes in the past two weeks.
The recurring protests — which Hamas dubbed the Great Return March and are slated to continue until Nakba Day on May 15 — were spearheaded by the Coordination Committee for the Great Return March and planned as peaceful demonstrations.
The pertinent question, however, is what are Hamas' motives for backing these protests? Is it a long-term strategy or merely a short-term tactic?
The Islamic movement has long advocated armed resistance against Israel and criticized the nonviolent resistance style as futile. In a March 29 statement, however, Hamas urged its supporters in the besieged enclave to come out en masse to protest peacefully.
The coordination committee includes various Palestinian factions, mainly Hamas, the Islamic Jihad and the Popular Front for the Liberation of Palestine as well as independent civil and human rights figures and activists.
The committee aims to turn the march into an ongoing and sustainable action that will culminate in the 70th anniversary of the Palestinian Nakba May 15, the day the US administration is expected to carry out its plan to move its embassy from Tel Aviv to Jerusalem.
Committee member and Hamas leader Ismail Radwan told Al-Monitor that the main goal of the march is to remind the world of the need to implement the UN Resolution No. 194, providing for the Palestinian refugees' return to the lands from which they were expelled in 1948.
Meanwhile, political analyst Talal Awkal told Al-Monitor, "By backing the return march, Hamas is also pushing a political agenda. It seeks to present itself to the world as a more moderate party using peaceful resistance to uphold its cause." Awkal believes that Hamas is reinventing itself by pursuing a new strategy based on nonviolent action to open channels for dialogue and forge diplomatic relations with various countries of the world, including the United States, in line with its new political charter. The document, issued in May 2017, reads, "Hamas adopts a policy of opening up to various countries in the world, namely Arab and Islamic countries. Hamas seeks to build balanced relations based on reconciling the requirements of the Palestinian cause and the interests of the Palestinian people."
Awkal said that with these protests, Hamas wants to embarrass Israel at the international level by portraying it as the party using excessive violence against Palestinians, regardless of whether the resistance is armed or peaceful. Hamas did not respond in kind to the Israeli military's shooting at protesters.
Since the start of the demonstrations, 33 protesters have been killed and 2,850 others wounded by Israeli bullets along the eastern border of Gaza.
In a March 30 statement, UN Secretary-General Antonio Guterres expressed sympathy for the families of the Palestinian victims and called for an independent and transparent investigation into the incidents.
Radwan said, "Hamas supports all forms of resistance and has become more receptive to the practice of peaceful resistance on a permanent basis. But this does not mean stopping the armed resistance or halting developing of its military equipment."
Ahmed Youssef, a former adviser to Hamas' former political bureau chief Ismail Haniyeh, told Al-Monitor, "Until recently, Hamas had long believed that the popular peaceful resistance was useless in the face of Israel, as opposed to the armed resistance, which it sees as a strategic choice. This mindset, however, has started to change with the Great March of Return."
Youssef believes that this change of heart is due to Hamas becoming aware of the positive impact of the peaceful popular resistance, which has resonated with the international community and brought the Palestinian issue back to the headlines of the global media.
Ahmed Awad, a professor of political science at al-Quds University in the city of Abu Dis, told Al-Monitor that Hamas' support for the marches indicates that it is looking to the peaceful resistance movement that emerged in the West Bank in 2005 under the Palestinian Authority. He said, "It is clear that Hamas is trying to emulate the peaceful protests of the West Bank in a bid to narrow the gap with Fatah and its leader Mahmoud Abbas, who upholds the option of peaceful resistance as opposed to the armed one."
Fatah spokesman Atef Abu Seif concurred, saying, "This march paves the way for the re-establishment of the concept of national unity." He called on Hamas to make it part of its strategic vision rather than just a passing tactic.
"I believe the peaceful resistance was able to embarrass Israel internationally and gain more sympathy to the Palestinian cause, without the need to fire a single shot against Israel," Abu Seif told Al-Monitor, asserting that Fatah fully supports the march and calling on Hamas to cooperate with the PA to integrate the demonstrations into a unified national vision.
Awad believes that Hamas is seeking an intellectual rapprochement with Fatah, paving the way for joining the PLO, the sole legitimate representative of the Palestinian people at the international level. However, he said, this new image of nonviolence could contradict the principles of most of Hamas' rank and file as well as its veteran supporters, who have long believed in armed resistance against Israel.
Youssef countered, "Hamas found out that the nonviolent resistance resonates better with its base and that it is the best way to face the occupation at this time of military calm between Israel and Hamas."
https://www.al-monitor.com/pulse/originals/2018/04/hamas-changes-tactics-peaceful-protests-against-israel-gaza.html
--------
India
JuD Chief Hafiz Saeed Uses Kathua Gangrape Case To Peddle Hatred against India
April 14, 2018
Using Kathua gangrape case as fresh ammo to propagate hatred against India, terror organisation Jamat-Ud-Dawah chief Hafiz Saeed in a recent video message sought to evoke strong reactions over the killing of a 'Kashmiri Muslim' girl.
In the video, Saeed says, "What was the crime of the 8-year-old Kashmiri girl Was being a Muslim the crime for innocent martyrs Why is it that the United Nations and Human Rights organisations are silent on such atrocities"
He further questioned, "The girl was Muslim, does that mean this crime is justified"
Reportedly, Saeed has so far maintained silence on the rape and murder case of an 8-year-old girl in Pakistan's Punjab province days ago.
Addressing a gathering at the Chauburji Chowk in Lahore, Hafiz Saeed called the 'Kashmir freedom' struggle a movement of protection and completion of Pakistan.
Further adding,"The countrywide massive campaign would be launched to support Kashmiris and wide-ranging unity will be formed to pressurise rulers to raise voice for Kashmir internationally."
https://www.indiatoday.in/india/story/jud-chief-hafiz-saeed-uses-kathua-gangrape-case-to-peddle-hatred-against-india-1212069-2018-04-14
--------
Sushma, Afghanistan defence minister talk on terror
Apr 14, 2018
NEW DELHI: External affairs minister Sushma Swaraj and Afghanistan defence minister Tariq Shah Bahrami discussed on Friday the recent initiatives of the Afghanistan government for internal reconciliation and also efforts to combat terrorism, which they said received support from "safe havens and sanctuaries beyond Afghanistan".
According to a statement issued by MEA, Swaraj conveyed India's support for the efforts of the government and the people of Afghanistan for building a peaceful, secure, stable, united, inclusive and prosperous nation. India, it said, remained committed to its New Development Partnership according to the priorities of Afghanistan. The Afghan defence minister is visiting India for the Defexpo.
Full report at:
https://timesofindia.indiatimes.com/india/sushma-afghanistan-defence-minister-talk-on-terror/articleshow/63754872.cms
--------
Kathua rape, murder case — A father's anguish: 'She did not know right from left… what Hindu, Muslim?'
by Arun Sharma
April 13, 2018
"Did she think in terms of Hindu and Musalman?" he asks, over the phone from somewhere in the hills of Sanasar.
As the brutal rape and murder of his eight-year-old daughter becomes a political tool in Jammu and Kashmir, the Bakherwal nomad and his family quietly packed their bags and set off on a 600-km journey with their livestock up into the hills, like they do every summer.
Speaking to The Indian Express, the 35-year-old cries, "If they had to take revenge, they could have picked someone else. She was an innocent child. Usey apney haath aur paun mein pata nahin tha, ki mera daayan haath kaun sa hai aur baayan haath kaun sa hai. Kabhi usney yeh nahin samjha ki Hindu kya hota hai aur Musalmaan kya hota hai (She couldn't tell her arms from her legs, couldn't tell which hand was right and which left. She never thought who was a Hindu, who a Muslim)."
She was the youngest of their three children. The boys are in Classes 11 and 6, and during the family's time in Kathua, went to schools in neighbouring villages.
The 35-year-old adopted the girl from his sister when she was one, after he lost two other children, to an accident. "The girl would give company to her mother when we would all be away," he says.
He recalls how she helped her mother with the chores, and how fond she was of animals, including the family's horses, their two newborn lambs, and a dog she fed daily. "Whenever I went out of the house, she insisted on accompanying me."
But a visit to Samba town with her mother in the first week of January, where she got clothes stiched for a cousin's wedding, would be the last time she left home on a trip. On January 10, four days before the function, she was abducted. The clothes she was wearing were recovered before her body was.
This summer, her mother had insisted, they would get the eight-year-old admitted to a "private academy". "Humney yeh nahin socha tha ki hum apni bachchi ko doctor banayenge, teacher banayenge. Humney itni badi soch rakhi nahin thi. Humney to yeh socha tha ki padh jayegi to apney ko dekh legi, apna waqt guzaar legi, rehney ka tariqa aa jayega. Khoobsorat thi, kisi achchey ghar mein chali jaayegi (We never thought we would make her a doctor, a teacher. We didn't have such big ambitions. We thought that if she studied, she could look after herself, learn how to live well. She was so pretty, we thought she would find a good groom)… We never thought we would lose her to beasts before that."
Nothing like this had ever happened to any of the nomads in Kathua, during the generations they have been coming to the region, the father adds. "Our daughters would go to schools in the area and we would live with our Hindu neighbours like brothers and sisters… We would even visit each other's home and attend their wedding functions."
Things had started changing in the past few years, the 35-year-old adds. "The accused incited people against us, making wild allegations, that we smuggle cows from Jammu to Kashmir for sale, that we sell drugs, that our cattle damage their standing crops… that our settlement would create problems for Hindus. However, we had no such thing in mind."
The father especially blames ex-revenue official Sanji Ram who, after retirement, took over the role of an elderly at the village where they stayed for the winter. He accuses Sanji Ram of threatening them. "They would not allow us to even walk on the road passing through the village… They would not hand over our goat or sheep that strayed over."
Still, they never expected such a crime. "I thought Sanji Ram was just angry over some of our cattle damaging crops. Nuksaan hoga, humein thappad marengey, FIR laga dengey, ya phir zurmana bharna padega. Humney nahin socha tha ki itni ghinoni harkat karengey yeh (At the most, we thought we would face losses, they would hit us, slap FIRs on us, make us pay fines. We never thought they could do something like this)."
It breaks his heart to think his daughter was tortured in the devasthan (prayer hall) nearby, that he passed by every day. "Policemen, including SPO Deepak Khajuria (one of the accused), would be always outside it. We never thought of searching inside the prayer hall itself as we knew it to be a pious place."
Moving with his family, their 200-250 sheep and goat, besides over a dozen horses, to Kargil, where they will spend the summer, he adds, "Humari sab se wadi adalat woh Allah ki adalat hai, jisme har kisi ka faisla hota hai. Humney usi adalat pe chorh diya hai. Jo mera Rabh karega, bas (Our highest court is that of Allah, in which everyone is put on trial. We have left the matter to that court, whatever my Allah will decide is final)."
And he is hopeful, the father adds. "You can see it for yourself, whoever does a crime, leaves a trail." He points to the fact that the accused dumped his daughter's body in the village itself. "If they had taken her elsewhere, how would we have ever come to know?"
The accused could have never imagined the matter would become this big either, the 35-year-old adds. "They must have thought I am the weakest target and will, at the most, go to the police station… Rab kisi ko nahin chodta. Haq aur nahaq, jaayaz aur naajayaz ko dekh raha hai woh (The God does not spare anyone. What is right and wrong, He watches everything)."
He hasn't lost his faith in humanity either, the father adds. Expressing satisfaction with the J&K Police probe as "fair and impartial", he says it's only a handful who have been protesting against it, making the point that the state Chief Minister and investigating officials are Muslims. Most Hindus and Muslims of the region, he insists, condemn the murder and want the accused punished.
"We would have come on the roads seeking justice if this had happened to a Hindu girl," he adds. "Humanity comes first, before one's religion as a Hindu or Muslim."
Full report at:
http://indianexpress.com/article/india/kathua-rape-murder-case-a-fathers-anguish-she-did-not-know-right-from-left-what-hindu-muslim-5135412/
--------
North America
Canada mosque shooter says he was motivated by Trudeau welcoming refugees
13 Apr 2018
The man who shot and killed six men at a Canadian mosque told police that his attack was motivated by Justin Trudeau's message of welcome to refugees following Donald Trump's travel ban on seven Muslim-majority countries.
Alexandre Bissonnette pleaded guilty last month to six charges of first degree murder and now faces up to 150 years in prison for the attack in which 19 other people were injured.
In video footage of his police interrogation shown during a sentence hearing on Friday, Bissonnette told officers that he had grown increasingly preoccupied by the the threat of terrorism.
But the former social sciences student said the final motivation for his attack was Trudeau's response to Trump's travel ban, when he became convinced his family would be threatened if more refugees came to Canada.
"I was, like, sure that they were going to come and kill my parents also, and my family," he said.
A day after Trump's travel ban unleashed chaos and uncertainty at airports across the US and the world, Trudeau made international headlines with a series of tweets highlighting the contrast with his own government's stance.
"To those fleeing persecution, terror & war, Canadians will welcome you, regardless of your faith. Diversity is our strength #WelcomeToCanada," he tweeted on January 29, 2017.
The following day, Canada announced it would offer temporary residence to those left stranded by Trump's ban.
"I was watching TV and I learned that the Canadian government was going to take more refugees who couldn't go to the United States, and they were coming here," Bissonnette told police.
"I saw that and I, like, lost my mind. I don't want us to become like Europe. I don't want them to kill my parents, my family," he said. "I had to do something, I couldn't do nothing. It was something that tortured me."
Bissonnette said that he became obsessed with the 2014 attack in which an Islamist gunman killed a soldier at the national war memorial and then stormed parliament, and the 2016 truck attack that killed 86 people in the French resort city of Nice.
He also told police he had struggled with depression, and hoped medication would quell his anxiety.
"I haven't felt well for months and months and months and I don't know what to do," he told the officer during the interrogation.
He had previously researched the Quebec City Islamic cultural center online and knew its prayer schedule when he drove to it on 29 January 2017, armed with a rifle and handgun.
More than 50 people were at the mosque when the shooting began during evening prayers. The attack, which lasted less than three minutes, killed six men and injured 19 others.
After the shooting, Bissonnette was apprehended by officers six miles from the mosque.
Over the last week, the court saw for the first time the methodical nature of Bissonnette's attack on the mosque, in which he paused a number of times to reload his semi-automatic Glock handgun and shoot injured people on the ground. Video footage also shows the quick reactions of mosque attendees sheltering children and what prosecutors called the "heroism" of Azzeddine Soufiane, a grocer who was killed by Bissonnette as he attempted to tackle the gunman.
https://www.theguardian.com/world/2018/apr/13/canada-mosque-shooter-alexandre-bissonnette-trudeau-trump-refugees-travel-ban
--------
Key quotes from Trump's address on Syria
April 14, 2018
President Donald Trump late Friday announced the launch of a joint US-British-French operation targeting Syria's "criminal" regime in retaliation for a suspected chemical attack that he called a "significant escalation" in the crisis.
Here are key excerpts from Trump's televised address to the nation, which lasted just under eight minutes:
Operation under way
"My fellow Americans -- a short time ago, I ordered the United States armed forces to launch precision strikes on targets associated with the chemical weapons capabilities of Syrian dictator Bashar al-Assad."
"A combined operation with the armed forces of France and the United Kingdom is now under way. We thank them both."
Crimes of a monster
"Last Saturday, the Assad regime again deployed chemical weapons to slaughter innocent civilians -- this time in the town of Douma, near the Syrian capital of Damascus. This massacre was a significant escalation in a pattern of chemical weapons use by that very terrible regime."
"The evil and the despicable attack left mother and fathers, infants and children thrashing in pain and gasping for air. These are not the actions of a man. They are crimes of a monster instead."
Strong deterrent
"The purpose of our actions tonight is to establish a strong deterrent against the production, spread and use of chemical weapons."
"Establishing this deterrent is a vital national security interest of the United States. The combined American, British and French response to these atrocities will integrate all instruments of our national power -- military, economic, and diplomatic."
"We are prepared to sustain this response until the Syrian regime stops its use of prohibited chemical agents."
Message to Russia, Iran
"To Iran and to Russia, I ask: what kind of nation wants to be associated with the mass murder of innocent men, women and children?"
"The nations of the world can be judged by the friends they keep. No nation can succeed in the long run by promoting rogue states, brutal tyrants, and murderous dictators."
Russia must decide
"In 2013, President Putin and his government promised the world that they would guarantee the elimination of Syria's chemical weapons. Assad's chemical attack -- and today's response -- are the direct result of Russia's failure to keep that promise."
"Russia must decide if it will continue down this dark path, or if it will join with civilized nations as a force for stability and peace."
Syria's fate in its own hands
"America does not seek an indefinite presence in Syria under no circumstances."
"No amount of American blood and treasure can produce lasting peace and security in the Middle East."
Full report at:
https://nation.com.pk/14-Apr-2018/key-quotes-from-trumps-address-on-syria
--------
US 'confident' Assad regime behind Douma attack
14 April 2018
The U.S. is "confident" the Syrian regime carried out a suspected chemical attack in the outskirts of Damascus last weekend, the White House said Friday.
"We're confident that Syria had responsibility in this chemical weapons attack, but we also hold Russia responsible for their failure to stop chemical weapons attacks from taking place," spokeswoman Sarah Huckabee Sanders told reporters.
Diplomatic tensions have run high following an attack on the Syrian city of Douma in Eastern Ghouta last Saturday night.
The White Helmets, a civil defense agency, blamed the Bashar al-Assad regime for the alleged chemical attack, which it said killed 78 civilians and injured hundreds of others.
The Organization for the Prohibition of Chemical Weapons (OPCW) has dispatched a fact finding team to Syria that is expected to begin work Saturday. The OPCW mission will be focused on determining whether a chemical attack took place, but will not work to determine culpability.
Sanders insisted the U.S. has "a very high confidence that Syria was responsible".
"Once again Russia's failure to stop them and their continued dis-action on this front has been part of the problem," she said.
Full report at:
http://www.worldbulletin.net/america-canada/201046/us-confident-assad-regime-behind-douma-attack
--------
Pakistan
Pakistan's living Sufi saints flex their political muscle
Apr 14, 2018
The family of Pakistan's most revered Muslim saint, Pir Pagara, "the turbaned holy man", is criss-crossing Sindh province rallying his several million disciples ahead of national elections set for July.
In his hometown of Pir Jo Goth, inside a walled stronghold enclosing the saint's pink-brick palace and gold-domed shrine, Rashid Shah Rashidi, son of the current Pir Pagara, pledges to give electricity and sewerage to a delegation of barefoot followers in exchange for votes.
Doubting their commitment to the deal, he accuses them of disloyalty. They deny the charge, raise their arms and shout: "Blessings on the turbaned one!"
Pakistan has been embroiled in political turbulence since Nawaz Sharif was removed as prime minister on charges of corruption last year. The sacking, most analysts believe, was instigated by the army and weakened the country's fragile democracy. The military has ruled Pakistan directly or indirectly for most of its 70-year history, often helped by the support of traditional rural power brokers. Mr Rashidi's family and others will wield huge influence in upcoming elections.
His father, Sibghatullah Shah, 62, current holder of the title of Pir Pagara, has the largest following of all the hereditary Sufi saints or pirs, whose families for centuries have controlled swaths of what is now Pakistan. Pir Jo Goth, a town of 100,000 or so people in south-east Pakistan, about 140km from the Indian border, is the family seat.
Despite the rise of Islamic conservatism and the emergence of a nascent urban middle class, pirs still hold sway in rural areas, particularly in Punjab and Sindh.
Share this graphic
A cohort of saints, many of whom claim descent from medieval mystics credited with introducing Islam to southern Asia, have long been elected to Pakistan's federal and provincial assemblies. Some of them have served in senior government positions, including as prime minister and foreign minister.
The political influence of hereditary holy men in Pakistan is also evident in the presence in parliament of dozens of makhdooms, who claim descent from the Prophet Mohammed, and proxies of saints who do not stand for election themselves.
Pir Pagara is away from home canvassing for the family's political party, Pakistan Muslim League-Functional, which won 1m votes at the last election in 2013, while Mr Rashidi is working his constituency hoping for election to the national assembly, the lower house of parliament.
The holy man's power stems from his "dargah [shrine] system", said Mr Rashidi, 39, a sort of quasi-welfare or patronage apparatus. His followers make donations worth millions of dollars each year to the shrine. The money, he added, is used to clothe and feed the poorest followers.
Disciples flocking to the shrine venerate the saint as the "shadow of God on earth". On holy days, he appears on a palace balcony, wearing a bejewelled cloak and conical crown, revealing himself to hundreds of thousands of mureeds, disciples.
"Pir Pagara is Pakistan's pope," Mr Rashidi said. "Some 20 per cent of his followers are willing to die for him."
The party has five seats in the national assembly and nine in the provincial assembly. The saint's brother is a federal minister. "A nod from an influential pir can sway the votes of devotees who owe their unquestionable allegiance to his wish," said Adeel Malik, a research fellow at Oxford university.
Mr Malik points out that roughly the same number of pirs sit in Pakistan's assemblies as did in the early 20th century in this part of pre-partition India during British rule. He says 43 hereditary saints are currently elected to parliament, 16 per cent of the house. "It's likely they will maintain their representation," he added.
The Turbaned Holy Man's disciples are reputed to be fanatically loyal. According to local officials, at past elections Pir Pagara's heavies punished villagers who voted for political opponents by beating them and burning their houses.
On the orders of Mr Rashidi's great-grandfather, 80,000 Hurs, as Pir Pagara's disciples are known, took part in a full-scale insurgency against British rule during World War II. It lasted several years, only petering out after the saint was hanged in 1943.
These days they are less warlike, Mr Rashidi said, though tens of thousands of Hurs serve in their own army reserve battalion. Tasked with protecting Pakistan's south-eastern border, they fought in wars against India in 1965 and 1971.
Despite the shrine's mass of disciples and strong military connections, Pir Pagara's power has been challenged by local rivals and modernity.
Other Sindhi political dynasties, particularly the family of Benazir Bhutto, a former prime minister assassinated in 2007, have increased their electoral clout at his expense, says Aftab Nabi, a retired provincial police chief who is writing a book about Pir Pagara.
Improved access to information and social media across Pakistan have also loosened the grip of what some now see as "not spiritual but very rich feudal holy men", he added.
The pirs can no longer be complacent and must work to maintain political support, says Hina Rabbani Khar, a former foreign minister and MP from southern Punjab. "It helps being a saint but if you're not worth your salt you won't be elected," she added.
In the Sindhi city of Sukkur, 45 kilometres north-east of Pir Jo Goth, Mr Rashidi visited a middle-class Hur household to ensure its loyalty at the election. "The pirs are not democratic," a teenaged son of the house whispered to the FT. "Young people want to be free from them."
https://www.ft.com/content/b7503f38-358e-11e8-8eee-e06bde01c544
--------
Nawaz disqualified due to friendship with Modi: Hafiz Saeed
Apr 14, 2018
LAHORE: Hafiz Saeed opined on Friday that Nawaz Sharif was disqualified by the country's top court due to his friendship with Indian Prime Minister Narendra Modi, accusing the ex-premier of committing treachery with the people of occupied Kashmir.
Speaking at a demonstration staged at Chauburji Chowk, the Jamaat-ud-Dawa (JuD) chief said, "Former PM Nawaz Sharif was disqualified due to disloyalty with Kashmiris' blood, and friendship with Indian Prime Minister Narendra Modi. Any party or personality would be disqualified that committed treachery with Kashmiris."
"Modi's friends have no right to govern Pakistan. Those persons would be disqualified who have no agenda of Kashmir's freedom in their politics," he warned.
He urged PM Shahid Khaqan Abbasi to learn from the disqualification imposed on Sharif, asking him to help the innocent Kashmiris. "PM Abbasi should take a lesson from disqualification of Nawaz Sharif. If the rulers remained in ignorance, they will not only harm Kashmir but also Pakistan," Saeed said.
COUNTRYWIDE PROTESTS:
Countrywide demonstrations were staged on Friday against the killings of innocent and unarmed Kashmiris on the call of JuD. Funeral prayers in absentia of Kashmiri martyrs were offered in different cities. Clerics delivered the Friday sermons on the Kashmir issue. Resolutions were also passed against Indian state terrorism in the occupied valley.
In Lahore, a big demonstration was staged at Chauburji Chowk against the massacre of unnamed Kashmiris. Students, traders, doctors, teachers and hundreds of people from all walks of life joined the protest.
The JuD ameer called Kashmir freedom struggle a movement of protection and completion of Pakistan. He said, "The countrywide massive campaign would be launched to support Kashmiris and wide-ranging unity will be formed to pressurize rulers to raise voice for Kashmir internationally."
He accused India of worst cruelty and barbarity. "Kashmiri children are facing Indian Army with stones. It's our duty to help Kashmiris."
Full report at:
https://www.pakistantoday.com.pk/2018/04/13/nawaz-disqualified-due-to-friendship-with-modi-hafiz-saeed/
--------
PM, COAS to visit Riyadh in wake of Yemen missile attacks
Apr 14, 2018
ISLAMABAD: Prime Minister (PM) Shahid Khaqan Abbasi and the Chief of the Army Staff (COAS) General Qamar Javed Bajwa will visit Saudi Arabia today on a day-long trip.
The two leaders will witness exercises of the 34-country Islamic Military Alliance (IMA) headquartered in the Kingdom of Saudi Arabia (KSA) capital, besides having an important meeting with the custodian of the two holy mosques King Salman bin Abdul Aziz and Crown Prince Muhammad bin Salman. They will also have lunch with the Saudi King in Riyadh.
The leaders from Pakistan are visiting Saudi Arabia for the first time after Pakistan dispatched troops to the Kingdom for training Saudi forces, two months ago. The exercises and visit by Pakistan's civil and military leadership have added significance in the wake of recent missile attacks from Yemen's Hothi rebels.
They will also discuss the recent security situation in the wake of the Yemen missile attacks.
Full report at:
https://www.pakistantoday.com.pk/2018/04/13/pm-coas-to-visit-riyadh-in-wake-of-yemen-missile-attacks/
--------
Security forces arrest six terrorists from different areas of Balochistan: ISPR
Apr 14, 2018
QUETTA: Security forces on Friday arrested six terrorists involved in targeting a team of polio workers and the police force from different areas of Balochistan, said the Inter-Services Public Relations (ISPR).
Intelligence-based operations (IBOs) conducted in Chaman, Saryab and Pishin areas of Balochistan led to the arrest of terrorists who had targeted polio teams in Yaru Bazaar and the police force in Dera Murad Jamali.
According to the military's media wing, a cache of arms and ammunition including explosives, detonators, rockets, mines and improvised explosive device (IEDs) were recovered.
https://www.pakistantoday.com.pk/2018/04/13/security-forces-arrest-six-terrorists-from-different-areas-of-balochistan-ispr/
--------
Punjab govt capitulates to 'wanted' cleric's demands
Apr 14, 2018
LAHORE: The Punjab government has capitulated to the demands of the Tehreek-e-Labbaik Pakistan (TLP) after a handful of supporters of TLP leader Khadim Hussain Rizvi— a proclaimed offender in at least 14 cases— took to streets on Thursday.
TLP leader Rizvi, who had been holding a sit-in at Lahore's Data Darbar since April 2, to pressurise the government into accepting his demands had ordered his supporters to come out on streets after the TLP deadline to the government ended.
Subsequently, the situation spilled over with the TLP members blocking major roads and highways in various cities, including Lahore, Rawalpindi and Faisalabad.
Following the protests, the government agreed to hold negotiations with the TLP which led to a breakthrough and a settlement was reached to end the protest.
Making an announcement to end the protest in the early morning on Friday, TLP Chairperson Pir Afzal Qadri said the government has agreed to fulfill the terms of the Faizabad agreement that was brokered last year. He further claimed that the government had agreed to drop the cases registered against TLP leaders and workers.
The time and the nature of the settlement have raised several questions over the intentions of the government as it accepted all the conditions of a religious faction led by a convict. According to analysts, the provincial government accepting all demands of the party just after an 11-hour protest hints at government's attempt to gain political mileage out of the issue.
According to the draft of the agreement signed between the two parties, the copy of Raja Zafarul Haq report will be made public; a notification would be issued regarding the use of loudspeakers; an inquiry board would be formed to probe into the Faizabad incident that would also two members of the TLP." Additionally, the agreement stated that Rana Sanaullah would have to appear before seven clerics to affirm his faith.
It may be noted here that the TLP chief, Rizvi, had been declared proclaimed offender by the Islamabad High Court (IHC) after he repeatedly failed to appear before the court in cases pertaining to the Faizabad sit-in. Moreover, the police had also failed to arrest the cleric with the Punjab government spokesperson admitting that the government was finding it hard to arrest the cleric.
Commenting on the curious development, activist Jibran Nasir said the government has accepted the demands of TLP just seeking its own interest in wake of upcoming general elections.
Speaking to Pakistan Today, he said that this the government has lost a lot in this agreement with Rizvi. "The government in fact paved Rizvi's way to hold public rallies ahead of general elections," he said, adding that the repercussions will be faced by the state in future.
Pakistan Today tried to approach various government representatives over the issue, but all attempts remained in vain. Punjab government Spokesperson Malik Muhammad Ahmad Khan remained busy in a meeting in Islamabad, while Law Minister Rana Sanaullah and Zaeem Hussain Qadri's mobile phones were powered off.
However, speaking to a local newspaper, Malik Ahmad Khan had said that the only sticking point was court orders which had put the legality of the agreement under question and declared TLP leaders proclaimed offenders. This area would require directives from the court and the government would take up the matter with the court. The rest has been agreed upon and the ball is now in the court of the TLP, he went on to add.
Online ads: the Sadiqabad Police in Rawalpindi on Friday registered a case against the security personnel for launching crackdown against the Tehreek-e-Labaik Pakistan (TLP) protestors at Faizabad Interchange.
In this connection, Muhammad Hafizullah Jan, a resident of People's Colony, approached the police on April 12 and registered a case against the police personnel under sections 324, 302 and 427. However, there was no political leader, police and high ups of the paramilitary forces nominated in the application.
Full report at:
https://www.pakistantoday.com.pk/2018/04/13/punjab-govt-capitulates-to-wanted-clerics-demands/
--------
Imran says SC rulings paving way for 'new' Pakistan
Syed Irfan Raza
April 14, 2018
ISLAMABAD: Opposition leaders termed the decision announced by the Supreme Court on Friday regarding the period of disqualification under Article 62(1)(f) a historic verdict, completely in line with the Constitution and urged the government to accept it graciously instead of confronting the judiciary.
Addressing a large public gathering at Daska city's congested Fawara Chowk, Pakistan Tehreek-i-Insaf (PTI) chairman Imran Khan said all verdicts of the Supreme Court against the corrupt leadership of the country were paving the way for a "new" Pakistan.
Mr Khan said he saluted the apex court for taking bold decisions.
Terming Nawaz Sharif's ouster from politics a great blessing for the nation, he said they were building a new Pakistan with the support of the oppressed. He added that a new, better and golden regime would soon begin in the country.
Mr Khan vowed to continue the PTI's struggle against the corrupt by advocating speedy justice to everyone with the sole aim of bringing prosperity everywhere in the country.
He said justice would be brought to everyone and every stolen penny would be recovered from the plunderers, including senior leaders of the ruling party.
He said now it was the PTI's turn to be in government, with the power of the masses. People disappointed by corrupt politicians had their hopes in the PTI and were ready to reject the same old faces of corruption, he added.
Earlier, addressing a public gathering at Wazirabad, Mr Khan pledged that the PTI would pave the way for great progress and prosperity, eliminating poverty and unemployment in the process.
Leader of the Opposition in the National Assembly Syed Khursheed Shah while speaking to reporters outside the Parliament House in Islamabad said that the apex court had issued a verdict in accordance with the Constitution. He said Articles 62 and 63 were bestowed by former dictator Ziaul Haq, but Nawaz Sharif had endorsed them himself.
He said the Pakistan Peoples Party (PPP) had repeatedly asked Mr Sharif to let parliament decide the fate of politicians. He said that in the past the provisions had been abused by dictators and democratic forces wanted to amend the clauses. However, the former prime minister did not listen and went to the Supreme Court instead.
The opposition leader said Nawaz Sharif had himself in the past supported Article 62 and was now caught in his own trap. Articles 62 and 63 could have been eliminated through the 18th Amendment but Mr Sharif did not agree with the PPP.
He said Mr Sharif should now accept the verdict and not engage in further confrontation with the judiciary.
Responding to a question, Mr Shah said parliament could revisit the controversial articles if the issue was brought to the floor of the house.
In a tweet, PPP chairman Bilawal Bhutto-Zardari supported the Supreme Court's decision but maintained that the fate of politicians should be decided by people. Unfortunately, he said, Nawaz Sharif had brought it upon himself for not supporting the PPP in amending the two articles.
Muttahida Qaumi Movement-Pakistan leader Khawaja Izharul Hassan in a statement urged Nawaz Sharif to accept the decision of the Supreme Court.
Jamaat-i-Islami emir Sirajul Haq hailed the decision and called upon the National Accountability Bureau (NAB) to reopen the 150 mega corruption cases as soon as possible. In a statement, he said the decision was necessary to ensure clean and transparent politics.
Full report at:
https://www.dawn.com/news/1401523/imran-says-sc-rulings-paving-way-for-new-pakistan
--------
Security forces arrest six terrorists from Balochistan
APRIL 14, 2018
Security forces on Friday arrested six terrorists involved in targeting a team of polio workers and the police force from different areas of Balochistan, said the Inter-Services Public Relations (ISPR).
Intelligence-based operations (IBOs) conducted in Chaman, Saryab and Pishin areas of Balochistan led to the arrest of terrorists who had targeted polio teams in Yaru Bazaar and the police force in Dera Murad Jamali.
According to the military's media wing, a cache of arms and ammunition including explosives, detonators, rockets, mines and improvised explosive device (IEDs) were recovered.
https://dailytimes.com.pk/227889/security-forces-arrest-six-terrorists-from-balochistan/
--------
South Asia
Taliban kill 10 security personnel in Afghanistan
April 13, 2018
Taliban militants attacked Afghan security posts in the western province of Herat on Thursday, killing nine soldiers and one police officer, a district governor said on Friday.
The attack occurred in Herat's Shindand district, said the district's governor, Shukrullah Shaker. Four people were wounded, he said.
The Taliban, seeking to restore strict Islamic rule after their 2001 defeat by U.S.-led troops, did not immediately comment.
The attack happened just days after a blast in Shindand killed at least six people, including four children.
Earlier on Thursday, Taliban militants stormed a district in Ghazni province, killing more than a dozen people including the district's governor before retreating.
Fighting in Afghanistan traditionally increases in the spring when warmer weather melts snow blocking mountain passes, increasing the mobility of the insurgents.
https://nation.com.pk/13-Apr-2018/taliban-kill-10-security-personnel-in-afghanistan
--------
Blast rips through Taliban leader's house leaving 9 dead, 5 wounded
Apr 14 2018
An explosion ripped through the house of a local Taliban leader in northern Baghlan province of Afghanistan, leaving at least nine people dead and five others wounded.
The 209th Shaheen Corps of the Afghan Military in the North said the incident took place in the vicinity of Dand-e-Shahabuddin area of Baghlan.
The source further added that several Taliban insurgents had gathered inside the house of Taliban leader Gul Ahmad in Wardak village when the incident took place.
According to Shaheen Corps, at least nine Taliban insurgents were killed and five others were wounded in the explosion.
The anti-government armed militant groups frequently use explosives materials for the roadside bombings and car bombings to target the government staff and security personnel.
However, in majority of such incidents the ordinary civilians are targeted besides such bombings incur casualties to the security personnel and in some cases the Taliban militants themselves are killed or wounded.
A total of 10,453 civilian casualties – 3,438 people killed and 7,015 injured – were documented in the 2017 Annual Report released last month by the UN Assistance Mission in Afghanistan (UNAMA) and the UN Human Rights Office.
Full report at:
https://www.khaama.com/blast-rips-through-taliban-leaders-house-leaving-9-dead-5-wounded-04872/
--------
Rohingya Crisis: Myanmar says ICC has no jurisdiction
April 14, 2018
Myanmar has expressed "serious concern" over an attempt at the International Criminal Court to open a probe into mass deportations of Rohingya Muslims, dismissing the claims and saying the court has no jurisdiction.
Some 700,000 people from the stateless Muslim minority fled Myanmar's Rakhine state to Bangladesh following Rohingya insurgent attacks on border guard posts in August last year.
Myanmar says it was defending itself from the rebel Arakan Rohingya Salvation Army but harrowing testimony from refugees in Bangladesh of rape, extrajudicial killing and arson has prompted accusations of ethnic cleansing and genocide.
On Monday, the chief prosecutor for the International Criminal Court in The Hague asked judges to rule whether the body has jurisdiction to open a probe into the more than 670,000 Rohingya who have been "intentionally deported across the international border into Bangladesh".
Myanmar responded yesterday in a statement from the ministry that oversees civilian leader Aung San Suu Kyi's state counsellor office.
The statement highlights the legal thorniness around the possible probe by arguing that Myanmar is not a party to the Rome statute that countries must sign on to as ICC member states.
"Nowhere in the ICC Charter does it say that the Court has jurisdiction over States which have not accepted that jurisdiction," Myanmar's statement says.
Bangladesh is a member, however, and chief prosecutor Fatou Bensouda said in her filing that her office does have the authority to investigate.
She contends the crime of deportation is like a cross-border shooting and "not completed until the bullet (fired in one state) strikes and kills the victim (standing in another state)".
A pre-trial chamber of judges is currently reviewing her request but no decision has been made.
Myanmar's government said the prosecutor is attempting to override its sovereignty and rejected the claims in the filing.
Full report at:
https://www.thedailystar.net/frontpage/rohingya-crisis-icc-has-no-jurisdiction-over-probe-1562563
--------
60 leaders of Taliban's Quetta Council ready to join peace, claims Gen. Raziq
Apr 13 2018
The provincial police chief of southern Kandahar province Gen. Abdul Raziq claims that sixty top leaders of Taliban's Quetta Council are prepared to join peace process led by the Afghans.
Speaking during a press conference in Kandahar, Gen. Raziq claimed that he has reached to an agreement regarding the peace process with at least sixty top leaders of Taliban's Quetta Council.
Gen. Raziq further added that the Taliban leaders are prepared to join peace process and will be resettled in Safe Zones in Kandahar province once they join the reconciliation.
He also added that the Taliban leaders who have showed willingness to join peace process, are among the top leaders of the group, who have served or actively serving in the senior ranks of the Taliban, ranging from ministerial to brigade levels.
According to Gen. Raziq, the Taliban leaders who are prepared to join peace process, are willing to participate in the upcoming parliamentary and district councils elections.
The Taliban group has not commented regarding the claims of Gen. Raziq so far.
This comes as the Taliban group has so far refrained from participation in direct peace talks with the Afghan government and insists on direct talks with the US.
Full report at:
https://www.khaama.com/60-leaders-of-talibans-quetta-council-ready-to-join-peace-claims-gen-raziq-04869/
--------
Despite UN warnings, Myanmar vows early Rohingya return
April 13, 2018
Rohingya refugees will be allowed to return to Myanmar "as soon as possible", a minister said, despite a stillborn repatriation process and UN warnings that the safety of returnees could not be guaranteed.
Win Myat Aye, Myanmar's social welfare minister, made the comments in Dhaka late Thursday after visiting one of the Bangladesh camps struggling to provide for some of the one million Rohingya Muslims to have fled the country.
"We can overcome many difficulties we are facing," he told reporters after a meeting with Bangladeshi officials. "I am very sure we can start repatriation process as soon as possible."
Myanmar has repeatedly said it is ready for repatriation, but no date has been given for the return, and scepticism is rife in Bangladesh and elsewhere that a stalled refugee return plan will ever be implemented.
Bangladesh and Myanmar agreed in November to repatriate three-quarters of a million Rohingya by the end of the year but the deal has been delayed indefinitely, with each side blaming the other for a lack of preparation.
Win Myat Aye had met with Rohingya leaders at the giant Kutupalong camp near Cox's Bazar, where a group of refugees tried to stage a protest during his visit.
Wednesday was the first time a Myanmar cabinet member has visited the overcrowded camps since a military crackdown that began last August in response to a spate of insurgent attacks, forcing some 700,000 of the Muslim minority to flee across the border.
They joined around 300,000 refugees already living there after previous bouts of violence.
Myanmar has so far approved fewer than 600 names from a list of more than 8,000 refugees provided by Bangladesh.
Last month a top Bangladesh cabinet minister, A.M.A Muhith, said it was unlikely the refugees would ever return, accusing Myanmar of deliberately obstructing the process.
UN agencies have warned that any repatriation deal could place returning Rohingya in further danger and that conditions on the ground are not conducive for a voluntary, safe and dignified return.
Ursula Mueller, assistant secretary general for the UN's Office for the Coordination of Humanitarian Affairs, visited northern Rakhine this month and said Myanmar still needs to address "critical issues of freedom of movement, social cohesion, livelihoods, and access to services".
Bangladesh foreign minister A.H. Mahmood Ali, who led repatriation talks for his country, told reporters Thursday that the two sides were committed to implementing the refugee deal.
Full report at:
https://nation.com.pk/13-Apr-2018/despite-un-warnings-myanmar-vows-early-rohingya-return
--------
Village Blaze Destroys More Than 60 Hindu Homes in Myanmar's Maungdaw District
2018-04-13
More than 60 houses in a predominantly Hindu village in the Maungdaw district of Myanmar's Rakhine state were gutted by fire on Thursday in an apparent act of negligence, a local community leader told RFA's Myanmar Service.
The blaze left more than more than 600 residents of Ngakura village homeless, said Ni Maul, a Hindu social worker and local community leader.
Maungdaw township's administrator has provided rice and other food to the victims, and a Hindu civil society organization has gone to the village to provide on-the-ground assistance, he said.
"It occurred because of someone's negligence," Ni Maul said about the fire. "More than 600 people are staying at the village school."
RFA could not reach Maungdaw authorities for comment.
Maungdaw, along with neighboring Buthidaung and Rathedaung townships, was the focal point of a brutal crackdown by the Myanmar military against Rohingya Muslims that began late last August following a deadly attack by a Muslim militant group.
Thousands of Rohingya, who comprise the majority ethnic group in Maungdaw, were killed in the violence, and nearly 700,000 others fled to safety in neighboring Bangladesh where they live in sprawling displacement camps.
Hindus and other non-Muslims residing in northern Rakhine at the time of the crackdown have accused members of the Arakan Rohingya Salvation Army (ARSA), the militant group that conducted attacks on police outposts northern Rakhine on Aug. 25, of invading their villages and driving out or killing residents.
Local Hindus, including Ni Maul, and the Myanmar government in late September said ARSA militants detained nearly 100 people from several Hindu villages in the Kha Maung Seik village tract on the same day that the attacks occurred, killed most of them, and dumped their corpses in mass graves.
The militants also forced the young Hindu women to convert to Islam and took them to a Muslim refugee camp in Bangladesh.
Other Hindus fled to Bangladesh or to other parts of Rakhine state to escape the violence.
As part of a repatriation program for those who fled to Rakhine state during the violence, Bangladesh in February sent Myanmar a list of 8,032 refugees who indicated that they wanted to return voluntarily to Rakhine state.
So far, Myanmar officials have verified some 500 Rohingya refugees as eligible for return as well as about 400 Hindu refugees who also fled to Bangladesh from northern Rakhine and had been approved for return prior to the issuance of the list, Myint Thu, permanent secretary of Myanmar's Ministry of Foreign Affairs, told RFA last week.
Full report at:
https://www.rfa.org/english/news/myanmar/village-blaze-destroys-more-than-60-hindu-homes-in-myanmars-maungdaw-district-04132018161213.html
--------
Six Bangladeshis among seven killed in Saudi Arabia fire
2018-04-14
Six Bangladeshis are among at least seven killed in a fire at a residential building occupied by expatriate workers in the Saudi Arabian capital Riyadh.
The Bangladesh Embassy there has confirmed the Bangladeshi casualties.
Labour Counsellor Sarwar Alam told bdnews24.com the fire started at the building in Al Nourah University's residential area around 7am local time on Friday.
The victims were taken to King Saud Medical City, Shafiqul Islam, an undersecretary at the embassy, told bdnews24.com.
He said the deceased Bangladeshis were 'Robin', 22, from Narsinghdi, 'Himel', 28, from Gazipur, 'Mazid', 50, from Narayanganj, 'Iqbal', 34, from Kishoreganj, 'Zubayer', 45, from Sylhet, and 'Soleman' from Dhaka.
But a colleague of the victims said all seven Bangladeshis living in a room were killed in the fire.
Md Alamin said the fire broke out when a gas cylinder exploded in the room on the first floor of the three-storey building.
The fire broke out in the building at Al-Tuwaiq neighbourhood, injuring eight others, GDN Online news portal reported.
There were 45 labourers in the camp when the blaze broke out at the entrance of the building before spreading to their accommodation, the GDN Online said, citing Riyadh Civil Defence spokesperson Major Mohammed Al-Hammadi.
The Saudi department of civil defence twitted some photos of the scene and said the number of occupants was higher than the capacity.
Full report at:
https://bdnews24.com/bangladesh/2018/04/13/bangladeshis-reported-among-seven-killed-eight-injured-in-saudi-arabia-fire
--------
Mideast
Palestine: Drone footage captures "Great March of Return"
Apr 14, 2018
Palestinians continued the 'March of Return' protests along Gaza's eastern border near Khan Younis on Friday.
Drone footage shows the scale of the protests, with injured protesters being carried off into ambulances, and smoke from flaming tires rising into the sky.
The Gazan health ministry said that at least 968 people were wounded by gunfire and tear gas on Friday. Since the protests began three weeks ago, at least 28 Palestinians have been killed by Israeli forces.
Israel does not release figures and rejects suggestions that it uses excessive force. The six-week long 'Great March' is a demand to what Palestinian protesters say is their right to return to land which has now been claimed by Israel.
http://www.presstv.com/Detail/2018/04/14/558436/Palestine-Drone-footage-captures-Great-March-of-Return
--------
Israel in 'direct combat' with Iran after Syria raid: Hezbollah
April 13, 2018
Israel's strike on a Syrian airbase this week has put it in direct confrontation with regional foe Iran, the head of Lebanon's Tehran-backed Hezbollah movement said on Friday.
"The Israelis committed a historic mistake... and put themselves in direct combat with Iran," Hassan Nasrallah warned in a televised address.
Seven Iranian personnel were killed in Monday's early-morning strike on the T-4 airbase in Syria, but Tehran had not specified which units the fighters belonged to.
On Friday, Nasrallah said the casualties were elite Iranian Revolutionary Guards and said it was the first time in Syria's long-running conflict that they were intentionally hit by Israel.
"This is unprecedented in seven years: that Israel directly targets Iran's Revolutionary Guard," Nasrallah said.
"This is a turning point for the region, and what came before is not what will come after," he warned.
Israel is believed to have carried out numerous raids inside Syria since 2013 but it rarely admits to them publicly, although it does say it wants to curb Iranian influence in Syria.
It declined to comment on accusations by the Syrian and Russian governments that it was behind the T-4 strike.
Russian, Iranian and Hezbollah fighters have a presence at the base, according to the Britain-based Syrian Observatory for Human Rights.
The Observatory said a total of 14 fighters, including Iranians, died in the strike. No Russians were reported to have died.
The strike came just two days after a suspected chemical gas attackwhich killed more than 40 people in a rebel-controlled town outside the Syrian capital.
The alleged use of poison gas prompted US President Donald Trump and other Western leaders to threaten military action against Syria — something Nasrallah shrugged off on Friday.
"Let the whole world know that Trump's Hollywood-style tweets and threats have not, and will not, scare Syria, Iran, Russia, or the region's resistance movements and peoples," he said.
Nasrallah echoed Syrian and Russian government denials that President Bashar al-Assad's forces were behind the attack.
Full report at:
https://nation.com.pk/13-Apr-2018/israel-in-direct-combat-with-iran-after-syria-raid-hezbollah
--------
New clashes on Gaza-Israel border after deadly violence
April 14, 2018
GAZA CITY - Clashes erupted as thousands protested for a third consecutive Friday along Gaza's border with Israel amid violence in which Israeli forces have killed 34 Palestinians and wounded hundreds of others.
The numbers of protesters were smaller than in previous weeks, though still substantial and with Gaza's health ministry reporting dozens more Palestinians wounded and one killed by Israeli gunfire.
Islam Herzallah, 28, died in hospital after being shot by Israeli troops east of Gaza City, the ministry said.
Clashes between stone-throwing Palestinians and Israeli soldiers took place in multiple spots along the border while tear gas and plumes of black smoke from burning tyres filled the air in some areas.
More than 500 people were wounded, including 122 from gunfire, according to Gaza's health ministry, with the other injuries including those from tear gas.
Two journalists were wounded by gunfire, the Palestinian journalists' syndicate said, a week after a Gazan journalist was killed.
Israel's army estimated the number of people "rioting" at 10,000 and alleged there were attempts to damage and breach the border fence, while it said firebombs and explosive devices were used.
Palestinians also sought to pull away barbed wire set up by Israeli forces to keep them away from the fence, an AFP journalist said.
The military said soldiers responded "with riot dispersal means and are firing in accordance with the rules of engagement."
It distributed a photo of "a terrorist wielding an item suspected of being an explosive device," but an AFP journalist who witnessed the event said it was a firework that did not explode.
Dozens of Israeli flags were burned, as were photos of Israeli Prime Minister Benjamin Netanyahu, US President Donald Trump and Saudi Crown Prince Mohammed bin Salman, seen by protesters as cooperating with Israel.
The protests since March 30 have posed a challenge to Israel, which has dismissed criticism of its use of live fire, saying its rules of engagement are necessary and will not change.
Israeli Defence Minister Avigdor Lieberman said Friday "there are fewer riots on our border," adding that "our resolve is well-understood on the other side."
In the northern Gaza Strip, Sumaya Abu Awad, 36, attended the protest with her three daughters and son.
"I am not afraid of death because there is no life in Gaza already," she said.
The protests, planned to last six weeks, are calling for Palestinian refugees to return to their former homes, now inside Israel. Israelis say that amounts to calling for the country's destruction.
The first two Fridays saw tens of thousands gather at five locations along the border with Israel.
Smaller numbers have approached the fence, throwing stones and rolling burning tyres towards soldiers who took up positions on the other side.
Israel accuses Hamas, the Islamist movement that runs Gaza and with whom it has fought three wars since 2008, of using the protests as cover to carry out violence.
It has pledged to stop attacks, damage to the fence and infiltration bids, and says there have been attempts at all three.
But Palestinians say protesters are being shot while posing no threat to soldiers, and United Nations Secretary-General Antonio Guterres and the European Union have called for an independent investigation.
The dead from last Friday included a journalist, Yasser Murtaja, who witnesses said was wearing a press vest at the time he was shot.
Israel claimed he was a paid member of Hamas, but produced no evidence.
The company Murtaja co-founded had been vetted for US government funding, while an international journalists federation said he was harassed and beaten by Hamas police in 2015.
Rights groups have strongly criticised Israeli forces while pointing to unverified videos that have spread online of Gazans appearing to be shot, including one seeming to show a Palestinian targeted as he ran away from the fence while holding a tyre.
"The Israeli authorities must put an immediate end to the excessive and lethal force being used to suppress Palestinian demonstrations in Gaza," Amnesty International said Friday.
Hamas officials had said in recent days they wanted this week's protest to see less bloodshed and hoped to keep momentum building for May 14, when the United States is expected to move its Israel embassy from Tel Aviv to Jerusalem.
The embassy move has deeply angered the Palestinians, who see the Israel-annexed eastern sector of Jerusalem as the capital of their future state.
Organisers have reiterated their call for peaceful protests.
The official end date of the protests is May 15, when Palestinians mark the Nakba, or "catastrophe," commemorating the more than 700,000 who fled or were expelled during the 1948 war surrounding Israel's creation.
Full report at:
https://nation.com.pk/14-Apr-2018/new-clashes-on-gaza-israel-border-after-deadly-violence
--------
Saudi Arabia demands UN to hold Iran responsible for Houthi missile attacks
13 April 2018
Saudi Arabia on Friday submitted a request to the UN Security Council demanding to hold Iran responsible for the Houthi missile attacks on its territory.
The statement said gaps in the inspection system in Yemen have enabled Iran to supply the Houthi militia with the missiles.
The Kingdom's statement noted that the Security Council's inability to act gave the green light to Iran and the Houthis.
The systematic blocking of Houthi missiles by the Saudi air defense proves the continued involvement of the Iranian regime in arming the militias in qualitative capacities in clear and explicit defiance and violation of UN resolution 2216 and resolution (2231) in order to threaten the security of Saudi Arabia and the wider regional and international security.
The firing of ballistic missiles at populated cities and villages is contrary to international humanitarian law.
https://english.alarabiya.net/en/News/gulf/2018/04/13/Saudi-Arabia-demands-UN-to-hold-Iran-responsible-for-Houthi-missile-attacks.html
--------
Israeli forces kill 1, injure 700 Palestinians in Gaza
Apr 13, 2018
At least one Palestinian has been shot dead and hundreds of others injured by Israeli regime forces in the besieged Gaza Strip during the third consecutive week of protests against the Israeli occupation.
Clashes broke out between Palestinians and Israeli troops near Gaza's fence on Friday as thousands of protesters gathered for the third round of protests as part of a six-week rally dubbed "The Great March of Return," which began on March 30.
The Tel Aviv regime's forces fired live bullets and tear gas at the demonstrators, Palestinian news agency Safa reported.
Gaza's Health Ministry spokesman Ashraf al-Qudra said some 701 people, including medical staff and journalists, were injured and suffocated due to inhaling tear gas fired by Israeli forces.
The ministry said Islam Hirzallah, 28, succumbed to his injuries in the eastern Gaza Strip.
Qudra added that a number of paramedics suffered from suffocation as Israeli troops targeted the ambulances and medics east of Gaza City with tear gas.
During the protest, Palestinians ripped Israeli flags and photos of Israeli Prime Minister Benjamin Netanyahu, Israel's Minister of Military Affairs Avigdor Lieberman and US President Donald Trump.
Thirty-five Palestinians have been killed by Israeli forces in the first two weeks of the rallies.
Last Friday, the United Nations human rights office called on Israel to refrain from using excessive force against the demonstrators.
In the Gaza Strip, almost 1.3 million of the small territory's two million inhabitants are refugees demanding their right to return to their pre-1948 homes.
Full report at:
http://www.presstv.com/Detail/2018/04/13/558404/Israel-Palestinian-protesters-Gaza
--------
Arab World
Syria intercepts 'significant' number of over 100 missiles
Apr 14, 2018
US, Syrian and Russian military officials say more than 100 cruise missiles were fired at Syria during early Saturday airstrikes by the United State, France and Britain.
The Russian Defense Ministry said Syria shot down a "significant number" of the missiles, and made it clear that Russia's missile defense systems were not involved in intercepting the missiles.
"More than 100 cruise missiles and air-to-land missiles were fired by the US, Britain and France from the sea and air at Syrian military and civilian targets," the ministry said in a statement quoted by RIA Novosti news agency.
Reuters quoted an unnamed Syrian official as saying that a third of the missiles fired in the aggression were shot down. The source also said the targeted sites had earlier been evacuated upon Russia's warning.
"We have absorbed the strike," he said. "We had an early warning of the strike from the Russians ... and all military bases were evacuated a few days ago."
"Around 110 missiles" were fired at Syrian targets in Damascus and its outskirts, the Syrian Army spokesperson in an official announcement on Syrian state TV.
Lebanon's Hezbollah movement praised the Syrian air defense for confronting "tripartite aggression".
Shortly after the attack, a group of Syrian people gathered at Umayyad Square in central Damascus to protest the air raids on their homeland. The protesters carried Russian, Iranian, Syrian and Hezbollah flags.
The Syrian presidency posted a video that appeared to show President Bashar al- Assad arriving for work after the attack.
Syria's Foreign Ministry denounced the strikes as a "brutal, barbaric aggression" aimed to block a probe by the Organization for the Prohibition of Chemical Weapons, a global watchdog.
"The timing of the aggression coincides with the arrival of OPCW mission to Syria to investigate the alleged chemical attack in Douma, and mainly aims at hindering the mission's work and preempting its results," it said in comments carried by state news agency SANA.
The ministry said it was an "attempt to block the exposure of their lies and fabrications".
The attack, it said, will not have any impact on the Syrian army's resolve to press the fight against militants and restore control of the entire country.
"The barbaric aggression ... will not affect in any way the determination and insistence of the Syrian people and their heroic armed forces," SANA cited an official source in the ministry as saying.
"This aggression will only lead to inflaming tensions in the world" and threatens international security, it added.
The agency had earlier slammed the attack as "a flagrant violation of international law, a breach of the international community's will, and it is doomed to fail."
SANA reported that the joint operation was targeting military installations around Damascus and near the central city of Homs.
It said three civilians were wounded in the Homs attacks but did not give a toll for Damascus or mention any combatant casualties.
http://www.presstv.com/Detail/2018/04/14/558439/Syria-Russia-Donald-Trump
--------
Missile strikes against Syria terrible, dangerous for all world countries: Iraq FM
Apr 13, 2018
Iraqi Foreign Minister Ibrahim al-Jaafari has warned against any missile strikes against Syria, stressing that the repercussions of such a military aggression against the conflict-plagued Arab country would be "disastrous" for the entire world.
"An airstrike on Syria would be horrendous and regretful, and a catastrophic defeat in the real sense of the word. It will put all world countries in jeopardy," Jaafari stated following the meeting of Arab foreign ministers in the Saudi capital city of Riyadh on Friday.
He added, "While we were asleep last night, the whole Syrian people, especially women and children, were shivering with fear over the possibility of a foolish assault."
The top Iraqi diplomat further pointed to US threats of missile attacks against Syria, saying, "Such clumsy policies will have their own outcomes. We won't allow these foolish moves to be repeated again."
US President Donald Trump has vowed to respond to an alleged use of chemical weapons against the city of Douma, located about 10 kilometers northeast of the capital Damascus, with missile strikes. Washington and its allies were quick to blame the Syrian government for the suspected attack without any evidence. Syria has firmly denied any links to the attack.
Russia, an ally of Syrian President Bashar al-Assad, has pledged to retaliate if the Pentagon does carry out strikes for the "bogus" chemical gas attack.
Syria has been gripped by foreign-backed militancy since March 2011. The Syrian government says the Israeli regime and its Western and regional allies are aiding Takfiri militant groups that are wreaking havoc in the country.
Elsewhere in his remarks, the Iraqi foreign minister stated that there is no cooperation between Baghdad and Ankara for a joint military operation against Kurdistan Workers' Party (PKK) militants.
"This is not on the ground yet, but we understand that the principle of good neighborliness or 'no harm' prohibits a state using its territory to harm its neighbors," Jaafari said.
Turkey, along with the European Union and the United States, has declared the PKK a terrorist group and has banned it. The militant group has been seeking an autonomous Kurdish region since 1984.
A shaky ceasefire between the PKK and the Turkish government collapsed in July 2015. Attacks on Turkish security forces have soared ever since.
Over the past few months, Turkish ground and air forces have been carrying out operations against the PKK positions in the country as well as in northern Iraq and neighboring Syria.
Full report at:
http://www.presstv.com/Detail/2018/04/13/558389/Missile-strikes-against-Syria-terrible-dangerous-for-all-world-countries-Iraq-FM
--------
Qatar openly celebrates wedding of 'most dangerous' terror sponsor's son in Doha
14 April 2018
In another instance of a known terror financier being out in the public, Qatari press and media outlets published photographs and congratulations of Abdulrahman al-Nuaimi with his son during his wedding recently in Doha.
Nuaimi was designated as terrorist by the US government in December 2013 and the UN in September 2014 for providing financial support to terrorist organizations in the region.
The US Department of the Treasury described Nuaimi, 64, as providing millions of dollars to Al Qaida in Iraq.
Nuaimi was Qatar's former head of its national Football association and was the founder and board member of the Qatar-based Eid Charity that was listed as a terrorist entity by the Anti-Terror Quarter of Saudi Arabia, UAE, Bahrain in Egypt last year.
Nuaimi was among the ten named under Qatar's terror list released in March.
In details published by Qatari newspaper Al-Raya on Wednesday, congratulations were in order from the media outlet on the wedding of Nuaimi's son of. "Dr. Abdulrahman bin Omair al-Jaber al-Nuaimi celebrates his son's wedding this evening, Congratulations," read the blurb under photos showing the wedding.
Al Arabiya took a look at several social media accounts belonging to Nuaimi's sons, a number of pictures emerged from the wedding showing a number of prominent Qatari personalities. Among the guests at the wedding was Abdullah al-Sulaiti, who identifies himself as an "adviser in the oil industry and writer with Qatari newspaper al-Raya, former editor-in-chief of Qatari newspaper al-Sharq".
The British government has recently listed Nuaimi, the current head of the Geneva-based al-Karama Center for Human Rights, on their sanctions list for suspected funding of militant groups. Britain's decision came 10 months after Qatar's Nuaimi was placed on the US embargo list, a British government spokesman said.
Full report at:
https://english.alarabiya.net/en/News/gulf/2018/04/14/Qatar-openly-celebrates-wedding-of-most-dangerous-terror-sponsor-s-son-in-Doha.html
--------
Saudi crown prince Mohammed bin Salman visit presented 'true picture of Islam': OIC
April 13, 2018
JEDDAH: Yousef bin Ahmad Al-Othaimeen, secretary-general of the Organization of Islamic Cooperation (OIC), said that the visit of Crown Prince Mohammed bin Salman to Britain, the US, France and Spain provided a true picture of Islam and Muslims and helped to remove negative stereotypes.
He congratulated King Salman and the crown prince on the achievements of the tour on the political, economic and intellectual levels.
He highlighted the crown prince's remarks in all his media interviews on the purity of Islam from extremism and Muslims from terrorism. He noted what the crown prince said in France about Saudi Arabia having great regional weight and its membership of three blocs: The GCC, the Arab League and the OIC.
Al-Othaimeen said that Saudi Arabia established the OIC to support the Palestinian cause and Islamic issues. The OIC is the second largest international organization after the UN. It is based in Saudi Arabia and includes 57 Islamic member states.
http://www.arabnews.com/node/1284371/saudi-arabia
--------
ISIL Suffers Heavy Casualties in Clashes with Syrian Army, Hezbollah in Homs
Apr 13, 2018
The Syrian Army ad Hezbollah fighters launched another big attack against ISIL East of Al-Sukhnah in a bid to retake the points along the Deir Ezzur Highway.
According to a Syrian military source in Damascus, the Syrian Army and their allies killed scores of ISIL terrorists, and retook several points that were lost to the terrorist group near al-Sukhnah last week.
The Russian attack choppers also joined the battle to deliver several strikes against the terrorists.
The Syrian military and their allies are still on the offensive at the moment; however, some forces may be redirected to Southeastern Homs, where ISIL is currently attempting to capture the strategic air defense base near Muhasah.
In a relevant development on Wednesday, the army men engaged in a tough battle with ISIL in Humeimeh region in Eastern Homs, killing and wounding a large number of the terrorists.
Full report at:
http://en.farsnews.com/newstext.aspx?nn=13970124000638
--------
Southeast Asia
Bitcoin declared halal by Indonesian Islamic scholar
13 April 2018
A recent study conducted by an Islamic scholar at Blossom Finance in Indonesia has claimed that the Bitcoin cryptocurrency is permissible under Islamic Sharia Law.
On Friday, the price of Bitcoin went up by more than $1,000 with some analysts claiming that the study helped peak the currency's status, reported The Independent.
According to the article, scholar Muhammad Abu-Bakar "explored the functionality of bitcoin and other cryptocurrencies to determine whether they fit with Islam's strict definitions of money."
Based on the findings of the study, the ever-volatile cryptocurrency could potentially now be open to investments by a population of more than 1.6 billion Muslims globally.
Blossom Finance CEO Matthew Martin said: "Several recent fatawah issued by prominent Muslim scholars offered incomplete or contradictory opinions on the topic."
"With all the confusion out there, we wanted to offer clear guidance supported by solid research that benefits both laypeople and practitioners of Islamic finance," he added.
According to Abu-Baker, since Bitcoin is a legal currency in Germany it is qualified as an Islamic coinage in that country.
https://english.alarabiya.net/en/business/technology/2018/04/13/Bitcoin-declared-halal-in-Islam-Indonesian-study-shows.html
--------
Regular Meetings Can Help Resolve Religious Controversies, Say Muslim and Christian Community Leaders
APR 13, 2018
Low De Wei
SINGAPORE - Regular informal meetings between representatives of Muslim and Christian communities can help resolve controversies or incidents easily, leaders from the two groups said after a gathering on Friday (April 13).
Former Nominated MP Zulkifli Baharudin organised a lunch and discussion between leaders of the Cornerstone Community Church, including its founder-pastor Yang Tuck Yoong, and members of the Ba'alwie Mosque, among others.
The church was in the news recently following alleged anti-Islamic comments made on March 13 by American preacher Lou Engle, who had been invited here to speak at a Christian conference organised by Cornerstone.
A report published on March 25 by online media outfit Rice Media quoted Mr Engle as telling the conference that "Muslims are taking over the south of Spain" and that he had dreamt he would "raise up the church all over Spain to push back a new modern Muslim movement".
The Ministry of Home Affairs (MHA) said it was investigating the incident and would take "firm action" if it was found that Mr Engle had in fact made statements undermining religious harmony.
"These sorts of things can be easily resolved. Even the members, leaders of the Muslim community have said to me that we could have easily resolved (the issue) by meeting together," Pastor Yang told reporters, adding that he did not know whether Mr Engle has agreed to the police's request to return to Singapore.
The meeting on Friday followed an April 4 gathering with Muslim community leaders and Singapore's Mufti, Dr Fatris Bakaram, during which Pastor Yang issued a written and personal apology for the remarks made by Mr Engle.
Ba'alwie Mosque's imam,Habib Hassan Al-Attas, who hosted the lunch and gave the church leaders a tour of the mosque and its collection of old Qu'rans and religious texts of other faiths, said:
"I am very honoured and very happy that the pastor and the group came to the mosque... This is Singapore. We are multiracial and it is open to all walks of life. (It is) very important for us to always be together, because together we can be strong."
The gathering was also attended by Mr Zulkifli Adnan, the Malaysian High Commissioner to Singapore; Mr Mohamed Abdullah Alhabshee, the husband of President Halimah Yacob; and former senior parliamentary secretary Hawazi Daipi.
Mr Zulkifli Baharudin, a friend of Pastor Yang since their days at the National University of Singapore, said he initiated the lunch meeting in hope that such personal exchanges would allow religious disputes to be settled more amicably.
"It's not something we can avoid completely, these things will happen in future… The only guarantee is that when they do happen, there is enough goodwill among us. But goodwill starts from personal relationships," he said.
Full report at:
http://www.straitstimes.com/singapore/regular-meetings-can-help-resolve-religious-controversies-say-muslim-and-christian
--------
Fear of 'Chinese rule' entrenched in Malaysia, but Malay mindset has changed: Muhyiddin
14 APRIL, 2018
KUALA LUMPUR ― Malaysia's Malay community, which had been told that the ruling United Malays National Organisation (Umno) is their sole saviour, have started to change their decades-old view rooted in fear of a Chinese takeover if another coalition takes federal power, said opposition leader Muhyiddin Yassin.
Mr Muhyiddin, a former Umno deputy president who is now president of opposition party Parti Pribumi Bersatu Malaysia (PPBM), admitted that he had in the past told the Malay community that only Umno can look out for their interests.
"This is what has been entrenched in the minds of the Malays ― that the only saviour is Umno. Without Umno, the Malays will die.
"Well, when I was on that side too, I put those kind of things in their minds because we wanted them to continue to support Umno," he said in an interview with weekly paper The Edge published on Saturday (April 14).
Mr Muhyiddin said opposition pact Pakatan Harapan (PH) was now telling Malay voters that Umno is not the "sole fighter for the Malay cause", as PH is capable of fighting for the Malay cause as much as for non-Malays.
He claimed that the federal opposition has been pounding its way in the Malay heartlands, where those from Felda settlements and those in places with strong presence of opposition party Parti Islam SeMalaysia ― Kedah, Terengganu and Kelantan ― had turned up for the federal opposition's events.
"The Malay mindset has shifted in a significant way and they are no longer scared that if BN loses, cina perintah (Chinese rule), Kit Siang will be the prime minister. How could Kit Siang become the prime minister?," he said, referring to veteran opposition leader Lim Kit Siang.
He pointed out that PH had already nominated PPBM chairman Mahathir Mohamad as prime minister and Parti Keadilan Rakyat (PKR) president Wan Azizah Wan Ismail as deputy prime minister, and PKR's Anwar Ibrahim as the eighth prime minister if PH wins power.
"How could DAP rule? They only have 34 seats, it doesn't reflect majority support. It is only one party, and without the other races, nobody can form the government," he said.
Mr Muhyiddin also said the PPBM party is not "racist", also explaining that the decision on the party's formation was based on studies that found that the failure to capture Malay voters had hampered the federal opposition's bid to form the federal government.
"Because when we formed the party, I made a very important decision when I asked them, what will this party be? Multiracial or Malay-Muslim based?
"Why? Because we have done studies. The reason why the opposition loses all the time is because they have not been able to win the Malay hearts. The Malay votes were not forthcoming. Even with 52 per cent of the popular vote, they couldn't make it," he said.
"Nobody says that you are a racist party, because we are not racist. This is the strategy and it is working very well. So, wherever you go, you can see Bersatu coming in," he added.
PPBM was officially founded in September 2016.
PPBM youth chief Syed Saddiq Syed Abdul Rahman had earlier this month told Malay Mail that the party was different from Malay nationalist Umno and the Islamist PAS, arguing that the party has non-Bumiputera and non-Muslim members holding leadership positions.
He said non-Bumiputera makes up roughly five per cent of the estimated 200,000 PPBM membership, and that non-Bumiputera associate members can be appointed to leadership positions within the party.
Full report at:
http://www.todayonline.com/world/fear-chinese-rule-entrenched-malaysia-malay-mindset-has-changed-muhyiddin
--------
Govt always empowers Islamic development agenda, says Najib
April 13, 2018
KUALA LUMPUR, April 13 — Malaysia's commitment to upholding the status of Islam as the federal religion can be seen in the government's serious and systematic efforts in administering the country based on the framework of Maqasid Syariah and the approach of Wasatiyah.
Prime Minister Datuk Seri Najib Razak said this was because the government had always empowered the Islamic agenda in the country's development.
"This include the latest government's pledge to produce 125,000 professional huffaz in five years and to upgrade the status of Darul Al-Quran in Kuala Kubu Baru to Al-Quran University," he said in his message in conjunction with Israk and Mikraj 1439H, which will be celebrated tomorrow.
In the message, which was posted on his blog www.najibrazak.com, the prime minister said the pledge was a high-level commitment between ulama and umara (religious scholars and leaders) in administering and prospering the nation in line with the concept of "baldatun thayyibatun wa rabbun ghafur" (good nation, blessed by Allah the Most Forgiving) as mentioned in the Quran.
"It is also in line with the hadith from the Prophet Muhammad PBUH as narrated by Abu Nu'aim which means "there are two types of people who, if they are righteous, the people are righteous, and if they are bad, the people are bad, they are the ulama and umara"," he said.
Najib said the hadith showed the importance for ulama and umara to play their roles accordingly in discharging their responsibilities entrusted by Allah in administering the country.
Hence, he said the people must choose leaders and form a government that would always uphold the religion and ensure people's wellbeing so that peace and prosperity enjoyed today could be preserved.
Citing the miracle of Israk and Mikraj, Najib said the country, together with the people, were also on a great journey towards achieving the National Transformation 2050 (TN50) initiative, which would preserve the strong solidarity bridge among members of the society.
"The implementation of this TN50 can be seen not only through the material development achievement index, as it also revolves around the development of a civilisation," he said.
Najib said the Israk and Mikraj also reminded Muslims of the idealism and struggles of Prophet Muhammad (PBUH), which should be learned and used as a guidance in implementing good governance in the country.
"Last but not least, let's strive for a greater country together and adopt best practices in everyday life.
"To all Muslims, let us observe this great event so that we can be "khaira ummah" (the best nation).
"Have a blessed Israk and Mikraj 1439H," he said.
Full report at:
http://www.themalaymailonline.com/malaysia/article/govt-always-empowers-islamic-development-agenda-says-najib
--------
PPP ready to counter hate speech against Jokowi: Chairman
April 13, 2018
Underscoring its support for President Joko "Jokowi" Widodo's re-election bid in the 2019 election, the United Development Party (PPP) has said it is ready to counter any hate speech based on ethnic, religious, racial or social group affiliation (collectively referred to in Indonesia by the acronym SARA) that may be directed at the President by political opponents.
PPP chairman Romahurmuziy expressed as much at the second Ulema National Working Meeting (Munas) in Semarang on Friday.
"Pak Jokowi is still often portrayed as a leader who is pro-China and communist and anti-Islam. Ulemas [attending the Munas] have their own perspectives about labels attached to Pak Jokowi. They all agree most of those labels are libellous. What matters now is how we can counter such hate speech and give support [to Jokowi]," said Romarhurmuziy.
Romahurmuziy said the 2019 presidential election would be a re-match between Jokowi and his strongest contender, Prabowo Subianto.
"Therefore, we, from PPP, call on all political parties and societal elements to hold a presidential election that is civilized, dignified and free from SARA-related hate speech," said Romahurmuziy.
When asked whether he would nominate himself as Jokowi's running mate, Romahurmuziy refused to answer. "It is up to the party's ulemas to make a decision on that matter," he said.
The Munas in Semarang discussed the requirements of figures deemed suitable to run alongside Jokowi as vice-presidential candidates.
Full report at:
http://www.thejakartapost.com/news/2018/04/13/ppp-ready-to-counter-hate-speech-against-jokowi-chairman.html
--------
Africa
Nigeria marks four-year anniversary of Chibok kidnap
April 14, 2018
Nigeria on Saturday marked four years since Boko Haram abducted more than 200 schoolgirls from the remote town of Chibok, with renewed calls for their release and that of thousands of others seized in the bloody conflict.
A total of 219 girls were taken from the Government Girls Secondary School in the remote town in Borno state on the evening of April 14, 2014 and have become an enduring symbol of the Islamist insurgency.
Four years on, 112 are still being held.
On Friday night, about 100 people attended a vigil in Nigeria's biggest city, Lagos, under a busy flyover whose pillars are now adorned with brightly painted murals of the missing girls.
"We are here to show (the) government that we are still missing our sisters," Zakaria Galang, a brother of one of the students who is yet to return, told AFP.
Further events are planned in the capital, Abuja, on Saturday.
'All hope is not lost'
Nigeria's president in 2014, Goodluck Jonathan, was heavily criticised for his response to the abduction but the man who replaced him, Muhammadu Buhari, has had more success.
Since 2016, 107 girls have been found, released or escaped as part of a government deal with Boko Haram and the administration has said back-channel talks are ongoing for further releases and a possible end to the wider conflict.
Another activist, Habiba Balogun, said she hoped that would happen after nearly nine years of violence that has left at least 20,000 dead and made more than 2.6 million homeless.
"The government has said that they are ready to negotiate; they want to bring this nightmare to an end," she said.
Buhari pledged to the Chibok girls' parents that their daughters "will never be forgotten or abandoned to their fate" despite the time that had passed.
The former military ruler has repeatedly claimed Boko Haram was virtually defeated but while there have been clear army gains, security threats remain.
In February, fighters loyal to a Boko Haram faction headed by Abu Mus'ab al-Barnawi seized 112 schoolgirls and one boy from the town of Dapchi, in Yobe state.
One hundred and seven were returned in mid-March. Five reportedly died, while one girl -- the only Christian in the group -- is still being held.
Buhari said the return of so many students from Dapchi and Chibok "should give confidence that all hope is not lost" and showed the government was "doing its very best".
There had been "unexpected setbacks" in talks because of infighting within Boko Haram .
But he added: "We will continue to persist, and the parents should please not give up. Don't give up hope of seeing our daughters back home again."
'Meaningful action'
Boko Haram has used kidnapping as a weapon of war during the conflict, seizing women and girls to act as sex slaves or suicide bombers, and men and boys to fight.
UNICEF said this week more than 1,000 children had been verified as abducted in northeast Nigeria since 2013, although the real figure is estimated to be much higher.
Amnesty International's Nigeria director, Osai Ojigho, said the Chibok abduction was a small part of a bigger issue.
The government needed to deliver "meaningful action on behalf of all these victims of Boko Haram 's crimes".
"Far more support must also be provided for past victims," she said, proposing a register for abducted people.
The International Crisis Group meanwhile said the copycat abduction in Dapchi showed more needed to be done to protect schoolchildren in the restive region.
"The abductions illustrate that Boko Haram remains a menace to swathes of northeast Nigeria," it added in a report published on Thursday.
"They throw into doubt the government's claim to have defeated the movement; instead, insurgents may be newly emboldened to keep fighting.
"The kidnappings cast a pall over education, particularly of girls, and thus the prospects for socio-economic development of the region."
https://nation.com.pk/14-Apr-2018/nigeria-marks-four-year-anniversary-of-chibok-kidnap
--------
Arab states diplomatic crisis spreads to Somalia after tensions with UAE
Apr 13, 2018
Tensions have been escalating between Somalia and the United Arab Emirates (UAE) after Mogadishu abandoned a military deal with Abu Dhabi and seized millions of dollars from an Emirati plane.
The developments come after months of tensions inside Somalia over the government's neutral position with regard to the ongoing diplomatic crisis between a Saudi-led quartet and Qatar, AFP reported on Friday.
The first signs of tensions between Somalia and the UAE emerged in March after the Dubai-based DP World granted a 19-percent stake to Ethiopia in the Berbera port in breakaway Somaliland, which Somalia has not recognized as independent.
Given a historic animosity between Somalia and Ethiopia, Somali lawmakers adopted a resolution accusing the Emirati firm of having "intentionally violated the sovereignty of Somalia."
On Sunday, Somali security forces stormed onto a UAE civilian airplane at the international airport in Mogadishu and seized $9.6 million in cash from the aircraft.
"The security forces noticed the suspicious bags and handed them over to the concerned departments," Somalia's security ministry said in a statement.
The UAE, in response, accused the Somali security forces of holding those on the plane "at gunpoint," noting that the money had been allocated to support the Somali army.
"The current Somali government... is creating unnecessary tensions with a friend and an ally who supported the stability and security of Somalia during its hardest phases," UAE Foreign Minister Anwar Gargash tweeted.
On Wednesday, Somalia's Defense Ministry announced it was taking over the command of hundreds of Somali troops who had been trained and paid by Emirati officials at a UAE-run military camp in Mogadishu.
"As a government, our responsibility is to take care of our armed forces and pay their wages and not to delegate that responsibility to others. We thank the UAE for the training and relentless support it provided," Defence Minister Mohamed Mursal said.
Last June, Saudi Arabia, Egypt, Bahrain, and the United Arab Emirates abruptly cut diplomatic ties with Qatar and imposed an economic embargo on the country, accusing it of supporting terrorism, a claim Doha strongly rejected.
The four later presented Qatar with a list of 13 demands for it to meet before ending the blockade, including reducing its relations with Iran, closing a Turkish military base in Qatar and shutting down its Al Jazeera television.
Doha rejected those demands as an attack on its sovereignty and interference in its domestic affairs.
With close geographic, political, economic and cultural ties with the Persian Gulf, observers warn the Horn of Africa is facing heightened instability as countries come under pressure to pick sides while Arab powers jockey for political influence.
On Monday, Somali Parliament Speaker Mohamed Osman Jawari resigned after a dispute with President Mohamed Abdullahi Mohamed mainly over the perception that they backed opposite sides in the Arab states' diplomatic crisis.
Somalia has not had an effective central government since the overthrow of president Siad Barre's military regime in 1991. Somali government forces have been battling al-Shabab militants since 2006.
The militants controlled Mogadishu between 2007 and 2011, when they were driven out of the capital with help from the African Union troops. A period of relative calm started in Mogadishu afterward.
Full report at:
The group launches regular attacks on government, military and civilian targets.
http://www.presstv.com/Detail/2018/04/13/558425/Somalia-UAE-Persian-Gulf
--------
Libya army official denies news of Haftar's replacement
13 April 2018
Head of the Libyan General Staff Abdul Razek al-Nadori has denied reports that he was promoted to chief-of-staff (Libya's highest military post), replacing General Khalifa Haftar, who is currently undergoing medical treatment in France.
Al-Nadori's denial came in a Friday statement issued by Malik al-Sharif, a spokesman for the military governor of Libya's eastern city of Marj.
The statement was issued shortly after news began circulating that al-Nadori had replaced Haftar as chief-of-staff after the latter had suffered a stroke.
"The head of the general staff of the armed forces [al-Nadori] has denied reports that a decision was issued appointing him as commander-in-chief of the armed forces," the statement read.
According to a website affiliated with state-run French International Radio, Haftar is currently receiving medical treatment at a military training hospital on the outskirts of Paris.
"Libyan officials can no longer deny Haftar's deteriorating health condition," the website reported.
On Thursday, Libyan officials told the Associated Press that Haftar's health condition was "stable".
One day earlier, French broadcaster France 24 had reported that Haftar had been taken to France for treatment after having lost consciousness while visiting Jordanian capital Amman.
Full report at:
http://www.worldbulletin.net/africa/201037/libya-army-official-denies-news-of-haftars-replacement
--------
Uganda studies Israeli request to take in 500 refugees
13 April 2018
Uganda has revealed Friday that Israel has requested that Kampala take in 500 Eritrean and Sudanese refugees.
Addressing journalists in Kampala, State Minister for Relief and Disaster Preparedness and Refugees Musa Ecweru said: "The state of Israel working with other refugee managing organizations has requested Uganda to allow about 500 Eritreans and Sudanese refugees to relocate to Uganda."
He added that all applicants shall have to undergo a rigorous vetting process to ascertain their suitability for grant of asylum in Uganda.
"The eligibility committee is standing by just to receive the first batch and we'll process them through the assessment and those who will meet our criteria will certainly be granted asylum immediately," said Ecweru.
Last summer, Netanyahu vowed to deport "infiltrators" from Africa -- a pledge that has since become a rallying cry amid his far-right supporters in the run-up to polls slated for next year.
Netanyahu's government, however, has come under immense international pressure to halt its "discriminatory" treatment of African asylum-seekers following revelations that deportees would be sent to Rwanda and Uganda.
In February, an Israeli appeals court ruled that Eritreans who deserted military service in their home country and came to Israel had grounds to be considered asylum seekers.
According to Isreali media, the court stated that there was a well-founded fear of persecution because of political opinion ascribed to them by the authorities in Eritrea as a result of desertion from military service.
Israel has until now refused to process the vast majority of asylum seeker applications.
In early April, Israel cancelled plans to deport thousands of African migrants and asylum-seekers after reaching an agreement with the UNHCR, the UN's main refugee agency.
Under the deal, Israel would have sent 16,250 African migrants to western countries, while thousands more would have been granted temporary (five-year) residency in Israel.
However hours after announcing the deal, Prime Minister Benjamin Netanyahu suspended the deal.
Israel is currently home to some 40,000 asylum seekers, including 27,500 from Eritrea and 7,800 from Sudan, according to UNHCR figures.
Since 2012, Israel has deported roughly 20,000 African migrants and asylum-seekers who had entered the country illegally.
Full report at:
http://www.worldbulletin.net/africa/201035/uganda-studies-israeli-request-to-take-in-500-refugees
--------
Head of Libya's Tobruk assembly accepts invite to talks
13 April 2018
Aguila Saleh, the speaker of Libya's Tobruk-based House of Representatives (HoR), has accepted an invitation to talks from Khaled al-Meshri, the newly-appointed head of Libya's Supreme Council of State.
On Wednesday, al-Meshri called on Libyan political forces to set aside their narrow differences with a view to resolving the country's ongoing political crisis.
In a statement issued one day later, HoR spokesman Abdullah Belihaq said Saleh had "welcomed the invitation" to take part in negotiations.
The talks are aimed at reaching consensus over proposed amendments to a UN-brokered political agreement signed in the Moroccan city of Skhirat in late 2015.
Libya has suffered a protracted political crisis since 2011, when a bloody NATO-backed uprising ended with the ouster and death of President Muammar Gaddafi after more than four decades in power.
Since then, the country's stark political divisions have yielded two rival seats of power -- an interim government in Al-Bayda and an internationally-recognized government in Tripoli -- along with a host of heavily-armed militia groups.
Full report at:
http://www.worldbulletin.net/africa/201015/uganda-studies-israeli-request-to-take-in-500-refugees
--------
Europe
Paris Trial Shows Faltering Evolution of a Jihadist Cell
By ADAM NOSSITER
APRIL 13, 2018
PARIS — Besides having gone to Syria, or having encouraged others to go, according to prosecutors, the five men who stood trial on terrorism charges this week in Paris all had one thing in common: They came from Lunel.
Whitewashed, sunstruck and Mediterranean, and hard hit by mass unemployment, Lunel, a southern town of about 25,000, earned the dubious distinction of having sent more recruits per capita to Syria than any other at the height of the jihad that washed over France. It became a symbol of the peril that France suddenly found lurking within.
The trial this week became a symbol of a different sort, underscoring how much France is still dealing with the aftermath of that peril, even as the courtroom spectacle offered a murky window on the faltering evolution of a jihadist cell.
By turns defensive, rueful and apologetic, two of the defendants who testified either covered their tracks spectacularly well or were as they appeared: struggling young men imbued with a deep sense of failure, discrimination and exclusion.
"I wanted to seem like a know-it-all," one of the defendants, Jawad Salih, 34, told the judge, Céline Ballerini. "Really, I was nothing."
The trial of the Lunel cell is one of dozens of anti-terrorist cases have been prosecuted in France in recent years — some 200 since 2012, according to Sharon Weill, an expert on terrorism trials at Sciences Po in Paris.
The French law under which the Lunel defendants are being prosecuted — "conspiracy of wrongdoers with a terrorist aim" — is "very broad," Ms. Weill said.
To be prosecuted you simply "need to join a group with this terror aim," Ms. Weill said.
"But the plan doesn't need to be executed," she said. "The idea was to create a very large net."
France is prosecuting suspected terrorists, whether they have made the jump to Syria or not, "super-vigorously," said Nadim Houry of Human Rights Watch. "It's full throttle."
The country, he said, now has "one of the more expansive counterterrorism laws in Europe, and in the last few years they have only added to it."
That prosecutorial energy reflects the public preoccupation with terrorism and the extent to which France still feels itself under threat.
"We are fighting against Salafism, that is to say extremism, religious fundamentalism," President Emmanuel Macron said in a television interview this week. "I want to be very clear about this: This is a problem in our country."
Yet, if anything, the trial this week confirmed that it is French society's marginals, the unemployed and the psychologically unstable, who are particularly prone to sudden bursts of radical Islamization — and not its Muslim pious.
The continuing debate in France between these two explanations for jihad has not been resolved, but real-life incidents consistently throw up more examples of the former than the latter.
And so it was at this week's trial.
"The ambience was very much in favor of the Islamic State," one of the defendants, Hamza Mosli, 29, who lost two younger brothers in Syria, testified.
Having sprung to prominence, Lunel was invaded by journalists around that time, even as officials and citizens professed shock and disbelief that 20 sons of the town had left for jihad, at least eight having died. The imam at the mosque was censured for not taking a firmer stand against the departures.
Under the radar, virulent proselytizing had been taking place, particularly around a much-frequented fast-food restaurant, and amid shared videos of decapitations.
All of the men were arrested in January 2015 in the wake of the Charlie Hebdo killings in Paris.
"The radicalization I was in was very violent, very deep," Mr. Salih said.
The investigators had heard him telling a friend, "Those guys at Charlie Hebdo, right on," Mr. Salih said. "You cut their throats. Of course, my brother. They insulted the Prophet," he was heard saying.
"I went from a middling kind of Islam, to Salafism" — a strict orthodoxy present in many French mosques — "to this tendency of which you are speaking," said Mr. Salih, bending his head.
He spoke fluently and without hesitation, and appeared more like an aging university student than a dangerous radical.
"I'm not in the least proud of what I was in that period," Mr. Salih said. "I was astonished at what I had become. Really, I was someone who was always known for being quite helpful."
There were repeated references to close psychiatric counseling following his arrest.
"I had started to educate myself about what was going on in Syria," Mr. Salih said. "It all happened progressively."
Divorced, childless, jobless, "your life was empty, sad," one of the judges remarked. So why had he not gone to Syria himself?
Mr. Salih stood before the judge and began to snuffle quietly. "It was because of my attachment to my country," he said. "I am French. I really feel French. And so, I was torn."
His lawyer suggested that "cowardice" also played a role, and Mr. Salih acknowledged the word unhesitatingly. "Happily, I didn't leave," he said.
Mr. Mosli shared top billing as a fellow instigator, and he spoke of his inability to find a job in Lunel, and a "deep sense" that he was being discriminated against as a Muslim. "I couldn't find a company that would take me," he said.
His unemployment appeared to play a role in his radicalization since, as he explained, "I had more time" to attend the mosque, steep himself in news from Syria, and disseminate gruesome videos. "I was impregnated with all of that at that time," said Mr. Mosli, tall, well spoken and careful in his choice of words.
"I feel like I'm missing the train," the police heard him tell a friend, as he watched siblings and other companions leave for Syria.
"It was a bit of my role to clarify things," he acknowledged, for the other jihad-leaning youth in Lunel.
Pleading for leniency, Mr. Mosli told the court that he had been subjected to "a kind of group effect. It was a certain ambience," he argued. "And I didn't have proper judgment."
Prosecutors and judge were not convinced.
Mr. Mosli was sentenced on Friday to seven years for having "played a key role in the decisions of some to leave," Ms. Ballerini said.
Mr. Salih received a sentence of five years, also for encouraging departures to Syria. Two others who had spent a brief time in Syria received similar sentences, and one was acquitted.
https://www.nytimes.com/2018/04/13/world/europe/paris-trial-lunel-ihadist-cell.html?mtrref=www.google.co.in&gwh=DB3AF6F1B2A61BAB6FC6F5443C82595A&gwt=pay
--------
Islamophobia in Paris and London – how it differs and why
April 13, 2018
Islamophobia in France and Britain has intensified in recent years, particularly in the wake of terrorist incidents, such as the 2015 Charlie Hebdo attack in Paris and the London Bridge attack. This led British prime minister, Theresa May, and French president, Emmanuel Macron, to meet in January 2018 to agree a shared approach to counter-terrorism.
In many respects, France and Britain face similar challenges. They are both in Western Europe and have significant Muslim populations. It's estimated there are 5.7m Muslims in France and just over 2.7m in the UK. But our research shows that Islamophobia operates differently in each country.
In an effort to shed light on the complexities of Islamophobia, our research into anti-Muslim acts focuses on where Islamophobia happens in France and the UK – mainly in Paris and London. Data from 2015 from the associations Collectif contre l'islamophobie en France (CCIF) in France and Tell MAMA in the UK reveal the specific contexts of Islamophobia.
In both countries, most anti-Muslim acts take place in the two capital cities, but the distribution of Islamophobic acts varies. In Paris, anti-Muslim acts take place more in the Parisian centre and they decrease progressively the further out from the centre you go. This creates a contrast between the centre and the suburbs.
This is different to London, where there are similar numbers of Islamophobic incidents in both inner and outer London. Many anti-Muslim acts take place on buses and trains, or in transport hubs. The phenomenon is therefore spatially more diffuse, because anti-Muslim acts occur mainly in everyday spaces.
Latifa, who took part in our research in London, explained to us that:
A man walking onto the bus decided to lean over me, and directed a few derogatory Islamophobic comments calling me 'ISIS terrorist' – he was actually touching me.
In France, the majority of Islamophobic acts take place in public institutions such as a town hall, a school or a hospital. In Paris, most anti-Muslim acts are based around personal discrimination. One of the people we interviewed in France, Kenza explained:
One of my friends arrived in the school, while the director snatched her veil in front of everyone. I always have this image in my head, seeing her climbing up the stairs ashamed.
The reason why most discrimination takes place in public institutions is largely due to the impact of a 2004 French law which bans the headscarf in state-funded schools, in the name of laïcité or secularism. Some civil servants – whether they know the law or not – believe that they have the right to extend its scope to all the users of diverse public institutions and not only schools. While the wearing of the niqab, or full face veil, has been banned in public in France since 2010, headscarves are not. As a result, Islamophobia in France is more institutionalised.
Different victims and perpetrators
In both France and the UK, the main victims are veiled Muslim women and in France, many of them are students. Victims in the UK tend to have a South Asian background, while in France they tend to be from North Africa. This connects with the immigration history and colonial past of each country.
White men are the main perpetrators of anti-Muslim acts in the UK. In France, it is equally likely to be a man or a woman. Some French women – notably French feminists – resist the wearing of the veil, and consider that a hijabi woman cannot be a feminist. In the UK, Islamophobia is often related to white men's domination over ethnic and religious minority women.
The role of the state
Our findings consider the role of the state in fostering where and how Islamophobia happens. The French republican model sees all citizens as French and does not differentiate between people on the basis or race or religion. This could partly explain why there are fewer Islamophobic acts reported in France as it is challenging to make a claim based on religious intolerance or racial discrimination when such divisions are not easily recognised by the French state.
The UK tends to promote an approach that is built around multiculturalism and the promotion of diverse ethnic and religious communities. Unfortunately, some resist this multicultural approach and are racist against those who they feel do not "belong" in the UK. These factors are also likely to shape how Muslim communities engage in politics and participate in society.
Full report at:
https://theconversation.com/islamophobia-in-paris-and-london-how-it-differs-and-why-94793
--------
Teachers' Union Demands Action on 'Prejudiced' Parents Withdrawing Children from Islam Lessons
13 Apr 2018
The government should take measures to stop parents withdrawing their children from some lessons where they have to study Islam or visit mosques, the Association of Teachers and Lecturers (ATL) has said.
Parents are allowed to pull their children from some Religious Education (RE) lessons that conflict with their personal views. However, a motion passed by the ATL claims the power is being abused by "prejudiced" parents.
The teachers argued that studying Islam, as well as other religions, is key to preparing pupils for adult life in the UK.
The motion at the union's conference was proposed by London teacher Richard Griffiths, who said removing children because of genuine religious beliefs was "very rare", according to The Times.
Furthermore, such cases are "very different to the cases of parents with certain prejudices including Islamophobia and antisemitism who wish to remove their children from certain lessons or visits to places of worship that would significantly hinder the ability of the school to prepare a child for life in modern Britain".
Last year Derek Holloway, a senior Church of England official, also said some parents should lose the right to withdraw their children from RE, claiming the right "gives comfort to those who are breaking the law and seeking to incite religious hatred".
Mr. Griffiths also appeared to link missing the Islam lessons to so-called "hate crimes", referring a recent investigation into reported offences involving race and ethnicity between 2015 and 2017, which have increased.
Kim Knappett, the union's vice president, added that she had seen a letter from a parent requesting their child was removed from Religious Studies. The letter was reportedly so "foul" she thought the authorities needed to be informed.
The ATL motion urged the union to work with others to "determine the nature and extent of the selective use of the right of withdrawal".
A Department for Education spokesman said: "Good quality religious education can develop children's knowledge of the values and traditions of Britain and help foster understanding among different faiths and cultures.
Full report at:
http://www.breitbart.com/london/2018/04/13/teachers-union-action-prejudice-parents-withdrawing-kids-islam-lessons/
--------
Putin warns Macron against 'dangerous' Syria actions
13 April 2018
Russian President Vladimir Putin on Friday warned his French counterpart Emmanuel Macron during a telephone call against any "dangerous actions" in Syria, the Kremlin said.
"The most important thing is to refrain from ill-considered and dangerous actions that would constitute a gross violation of the UN Charter and would have unpredictable consequences," the office of the president said in a statement after the call.
Macron on Thursday said he had "proof" the Syrian regime had used chemical weapons on the former rebel outpost of Douma and would announce his response "in due course".
"Vladimir Putin emphasized the advisability of conducting a thorough and objective investigation, until the completion of which it is not advised to voice any accusations against anyone," the Kremlin statement said.
Moscow has repeatedly claimed the chemical attack was staged by rebels to provoke further intervention in the conflict by the West.
Macron seeks to 'intensify talks'
Meanwhile, Macron told his Putin during the call that he wanted to "intensify" talks on bringing peace to Syria.
"The president of the Republic said he wanted the dialogue between France and Russia to continue and intensify in order to bring peace and stability to Syria," Macron's office said after the call, which came as the West ponders possible strikes on Syria in retaliation for a suspected chemical attack.
Macron, who had made the use of chemical weapons a "red line" not to be crossed, bemoaned Russia's use this week of its veto to block a UN Security Council resolution on setting up an investigation into the attack that would name those responsible.
The veto had prevented a "united" front on putting in place a mechanism "to prevent the regime being a repeat offender," Macron said.
Full report at:
https://english.alarabiya.net/en/News/world/2018/04/13/Putin-warns-Macron-against-dangerous-Syria-actions.html
--------
France aims to relaunch Syria peace process after 'legitimate' strikes
April 14, 2018
PARIS: France wants to start working "right now" on resuming the political process aimed at ending the conflict in Syria, officials said Saturday after Western powers carried out what it called "legitimate" military strikes against the regime of President Bashar Assad.
"A plan for ending the crisis must be found, with a political solution. We are ready to start working right now with all countries who want to participate," Foreign Minister Jean-Yves Le Drian said at a press conference.
Speaking alongside Defense Minister Florence Parly, he said the strikes carried out overnight by France, Britain and the US were "legitimate" in retaliation for the suspected chemical weapons attack in the rebel-held Syrian enclave of Douma last week.
"A chemical escalation in Syria is not acceptable," Le Drian said, calling the strikes "proportional and targeted."
Parly said the Western powers targeted "the main research center" and two production sites of "a clandestine chemical program" operated by the Syrian government.
"We've hit their capacity to develop, perfect and produce chemical weapons," Parly said.
"The goal is simple: stop the regime from using chemical weapons again," she said.
France provided warships in the Mediterranean Sea as well as sending in fighter jets stationed at bases in France.
Full report at:
http://www.arabnews.com/node/1284466/middle-east
--------
URL: https://www.newageislam.com/islamic-world-news/imarat-shariah-aimplb-call-protest/d/114938
New Age Islam, Islam Online, Islamic Website, African Muslim News, Arab World News, South Asia News, Indian Muslim News, World Muslim News, Women in Islam, Islamic Feminism, Arab Women, Women In Arab, Islamophobia in America, Muslim Women in West, Islam Women and Feminism