New Age Islam News Bureau
23 Jun 2017
• Imams, Bishops and Faith Leaders in Walk of Hope in Penang
• Most Terrorists in US Are Right Wing, Not Muslim
• Pakistan's Continuing Ambivalence over Islamic Military Alliance
• Muslim-Majority Arab Countries Join Yoga Day Celebrations
• Millions of Iranians Stage Anti-Israel Rallies on Int'l Quds Day
Southeast Asia
• Imams, Bishops and Faith Leaders in Walk of Hope in Penang
• FT Mufti Apologises For Muslim Prejudice against Downtrodden
• Philippines says Islamist fighters trapped in corner of besieged town
• Top anti-terror cop says IS plans in East Asia impossible
--------
North America
• Most Terrorists in US Are Right Wing, Not Muslim
• Trump, New Saudi Crown Prince Share Hardline Views on Iran
• FBI probing Michigan airport stabbing as 'terrorism'
• Judge in US blocks deportation of more than 100 Iraqis
• You can't disconnect terrorism from Islam, Couillard says in wake of Flint attack
--------
Pakistan
• Pakistan's Continuing Ambivalence over Islamic Military Alliance
• Christian Man in Lahore Arrested Over Allegations of Blasphemy
• Car bomb explosion in Quetta killed 9 including 4 policemen
• Turkey reiterates support for Pakistan's stance on Kashmir
• Implications of Iranian drone's incursion in Pakistan
• US-Pak cooperation imperative for peace in region: FO
• Hamdard vows to keep spirit of Pak movement alive
• PPP, MQM destroyed Karachi: JI
--------
Arab World
• Muslim-Majority Arab Countries Join Yoga Day Celebrations
• Arab States Send Qatar 13 Demands to End Crisis, Official Says
• Russia Says 'Highly Likely' ISIS Leader Baghdadi Is Killed
• Iraqi PM says Mosul 'liberation' will be declared in a few days
• Shock and Anger in Mosul after IS Destroys Historic Mosque
• Whistle-Blower: Saudi Arabia, UAE Plotting to Stage Coup in Qatar
• Terrorists Sustain Heavy Defeat in Failed Offensive in Damascus
• Syrian Army Inches Closer to Jordanian Borders
• 18 Israeli Fighter Jets Deployed in S. Arabia to Prevent Coup
• Syrian Ground, Air Forces Shatter ISIL Positions, Moves in Eastern Hama
• Egypt to extend state of emergency for three months
• HRW urges new Saudi crown prince to end rights violations, pursue reforms
--------
Mideast
• Millions of Iranians Stage Anti-Israel Rallies on Int'l Quds Day
• Saudi Forces Eliminate Dozens of Houthis after Foiled Attack near Border
• Iranophobia Aimed At Diverting Attention from Israel: Houthi Leader
• Deal with Saudi Arabia prerequisite to end conflict with Palestine: Israel
• Khamenei ordered missile strikes on IS targets in Syria
• Blast damages wall next to NATO military area in Turkey: media
• US airstrike kills al-Qaeda leader in key Yemen province
• IRGC disbands terror outfit in western Iran
• Judiciary chief: Don't test Iran's defensive power
--------
Europe
• Islamophobic Attacks in Manchester Soar Above 500% Post Arena Attack
• Christians, Muslims, Jews Break Bread In Interfaith Morocco Initiative
• Prince Charles Pays respects to Finsbury Park Muslim Community
• French government outlines tough anti-terror law
• Paris Champs-Elysées attacker had gun licence despite being on terror watchlist
--------
India
• Dy SP, Mohammed Ayub Pandit Lynched By Mob outside Srinagar's Jamia Mosque
• Terror, US Aid to Pak to Figure in Modi-Trump Talks
• Pakistan's BAT attack in J&K: 2 Indian soldiers martyred, two attackers killed
• Pakistan Army says Kulbhushan Jadhav has filed mercy plea with its chief
• Muslim Youth League protests against LDF liquor policy
--------
South Asia
• Death Toll in Afghan Blast Rises to 34, At Least 60 Injured
• Gunmen Attack Logar Mosque amid Reports Hizb-e-Islami Ex-Commander Killed
• Gunned Down Bangladeshi Cattle Trader Dragged To Indian Territory by BSF
• Myanmar forces kill three people in raid
• All options on table for jailed terrorists, says Afghan government
• Myanmar's Muslims mark Ramadan out in the cold
--------
Africa
• Nigeria: Police Academy Violating Rights of Muslim Cadets, Group Alleges
• Suicide blast at police station in Somali kills 7
• Nigerian Shiites to hold major rallies Friday
• Mali: The Stoning That Didn't Happen, and Why it Matters
Compiled by New Age Islam News Bureau
URL: https://www.newageislam.com/islamic-world-news/imams-bishops-faith-leaders-walk/d/111653
--------
Imams, bishops and faith leaders in walk of hope in Penang
Predeep Nambiar
June 23, 2017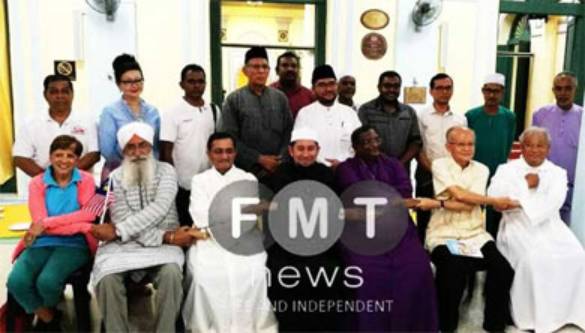 Religious leaders and social activists come together in solidarity at the Masjid Lebuh Acheh.
-----
GEORGE TOWN: The city's trishaw peddlers, tourists and passersby stopped and watched in awe as leaders of different faiths walked hand-in-hand during a "spiritual tour" of Pitt Street here, commonly known as Street of Harmony. The group of nearly 50 people were led on a tour to diverse places of worship by Acheen Street Mosque chairman Mujahid Yusof Rawa and award-winning activist Anwar Fazal.
Many took out their cameras to witness leaders of different faiths walk hand-in-hand as they stopped at different mosques, temples and churches.
Most notable in the group were Roman Catholic Bishop of Penang Rev Sebastian Francis, College General major seminary Rev Gerard Theraviam, and St George The Martyr Church Bishop Rev Charles Samuel, who donned their clerical outfits for the event. Others present were also equally stunning in their traditional attires, such as Cheah Kongsi representative Cheah Swee Huat and Sikh representative Sukhindarpal Singh. Also present were Penang's peranakan association vice-president Lillian Tong.
The group walked along the street for about 1km, visiting a church, a Chinese temple, a Hindu temple and a mosque. Also in the group were 12 students from Deakin University, Melbourne, who are under attachment with a company in Penang. The group started from the St George The Martyr Church, then walked to the Goddess of Mercy Temple, Lord Ganesh shrine, the Sri Maha Mariamman Temple, then to the Kapitan Keling Mosque, before ending at the Acheen Street Mosque.
The group also stopped at Hock Teik Cheng Sin Taoist temple and visited Chinese clan houses in between.
During the 90-minute walk, they were given a guided tour of the city's different places of worship by Anwar Fazal, Penang's leading social activist.
'Integrated spiritual centre of the universe'
In between the walk, Anwar stopped to look at a banner containing a poem of the late Indian president APJ Abdul Kalam.
Anwar said the poem epitomised the essence of George Town.
Kalam describes George Town's street of harmony as the "integrated spiritual centre with a message to the universe".
At the Acheen Street Mosque, the group was given a complete tour by well-known syarie lawyer Muner Farid.
He taught the group how a Muslim would pray and the unique features of the 210-year-old mosque.
Mosque chairman and organiser of the walk Mujahid Yusof Rawa gave a moving talk on living in a multiracial society.
He said the walk represented the Malaysian hope of living in a multiethnic, multireligious society.
'Salam is the best word'
Mujahid also focused on the word 'salam', which he said was the best thing one could give another.
"There is no better greeting than the words of 'peace be upon you and the blessing of Allah on you'.
"The word 'salam' in Arabic connotes everything that brings goodness, peace and blessings. The Holy Quran has mentioned this in chapter An Nisa:86.
"…We should protect every human soul and every place of worship and spread the word of 'salam' and let's consider this our crusade and jihad to maintain the diversity and plurality and as we do that we are protecting the signs of God (Maidah:32)," Mujahid told the group.
Later, Bishop Francis reminded all present that God had called on everyone to be messengers of peace, joy, hope and justice.
"So, we share together this evening with the people of Penang, the people of the world, the passion, obedience to God.
"Passion for all God's people, and for all creation. May peace be upon all of us."
The group then had a traditional buka puasa session with the congregation of the Acheen mosque.
http://www.freemalaysiatoday.com/category/nation/2017/06/23/imams-bishops-and-faith-leaders-in-walk-of-hope-in-penang/
--------
Most terrorists in US are right wing, not Muslim
June 22, 2017
U.S. President Donald Trump was elected vowing to get tough on "radical Islamic terrorism." He has tried to implement a travel ban barring people from six Muslim-majority nations from entering the U.S. and has tweeted frequently about Islamist terrorist attacks around the world. On Thursday, a new report claimed the president has his facts muddled.
A joint project by the Investigative Fund at the Nation Institute, a nonprofit media center, and Reveal from the Center for Investigative Reporting has found that within the past nine years, right-wing extremists plotted or carried out nearly twice as many terrorist attacks as Islamist extremists. Of the 115 right-wing incidents, police only foiled 35 percent. Compare this to the 63 Islamist terrorism cases, where police foiled 76 percent of the planned attacks.
Right-wing extremists were not only more successful, they were often more deadly, too. From 2008 to 2016, a third of right-wing attacks involved fatalities, compared to 13 percent of Islamist attacks. It should be noted, however, that Islamist extremists killed more people overall, with a death toll of 90 people compared to 79.
In a statement pointing out the higher rate of successful, right-wing terrorist attacks, the Investigative Fund said: "This project quantifies just how irrational Trump and the GOP's fixation on 'radical Islamic terrorism' as the greatest security threat is."
"Fixation" might be the right word. The president has yet to acknowledge the problem of right-wing violence, remaining uncharacteristically silent after an Islamophobic attack on a mosque in London that left one man dead. (Trump tweeted about the three incidents of Islamist terrorism that have hit the U.K. capital in recent months.)
Part of the problem, the Investigative Fund and Reveal suggest, are the people that Trump has advising him. Lt. Gen. Michael Flynn, the president's former national security adviser, had said that "fear of Muslims is rational," and that he doesn't "see Islam as a religion." Trump advisor Steve Bannon has referred to Islam as a "religion of submission," and is believed to have been a strong advocate for the ban on certain nationalities entering the U.S. (As the former head of Breitbart News, Bannon boasted that the organization was "the platform for the alt-right.")
The new administration, says Reveal and the Investigative Fund, is therefore unlikely to change the culture whereby federal authorities disproportionately focus on potential Islamist extremists. Of the incidents' the two organizations registered, federal authorities handled 91 percent of the Islamist ones and just 60 percent of the right-wing ones.
https://www.rawstory.com/2017/06/most-terrorists-in-us-are-right-wing-not-muslim/
--------
Pakistan's Continuing Ambivalence over Islamic Military Alliance
June 23, 2017
Pakistan has to resist pressure to join misadventures
Pakistan's policy regarding the Saudi led Islamic Military Alliance (IMA) remains ambivalent. The Prime Minister agreed to join the alliance which excluded Shia majority countries like Iran, Iraq and Syria long before there was any clarity about its precise purpose. Problems were created for Pakistan when Saudi leadership openly targeted Iran in the recently held summit in Riyadh. Beside Iran being a neighbor, the second largest Shia community outside Iran lives in Pakistan and is well represented in the country's civil and military institutions. What has added to Pakistan's problems is that its former COAS is heading the IMA. On Wednesday, while explaining the government's position before a Senate Committee, Sartaj Aziz said Raheel Sharif could not be recalled because he had joined the alliance in his personal capacity. Within hours, FO was to clarify that the Adviser was 'misquoted ' as Gen(rtd) Raheel Sharif had been duly issued an NOC to head the alliance as required under rules.
In a nuanced statement that was meant to reassure the Saudis while simultaneously satisfy the Parliament, FO maintained that Pakistan's participation in different activities of the alliance will be decided in consultation with Parliament. In other words Pakistan would remain a part of the IMA though it may not participate in all its activities. Sartaj Aziz also assured the Senate that Pakistan will remain neutral in Saudi-Qatar row while its troops stationed in Saudi Arabia will not take part in any activity aimed at another Muslim country as this would not be in consonance with the National Assembly's resolution on Yemen conflict adopted in April 2015
Nawaz Sharif has meanwhile congratulated Prince Mohammed bin Salman on being appointed crown prince, expressing hopes that under his leadership Saudi Arabia will make progress. The new crown prince being the architect of the kingdom's anti-Iran policy, there is a possibility of more pressures to be exerted on Pakistan in days to come to join hands with the Saudi government in its misconceived adventures. Pakistan has to resist demands of the sort in case they are made.
https://www.pakistantoday.com.pk/2017/06/23/a-continuing-ambivalence-over-islamic-military-alliance/
--------
Muslim-majority Arab countries join yoga day celebrations
June 22, 2017
Muslim-majority countries Egypt and the UAE joined the world in celebrating the third International Yoga Day with a large number of people performing yogic asanas which have gained popularity in the two Arab countries over the years.
In Egypt, the most populous Arab country, a large number of people gathered before Iftar at the Baron Palace, a distinctive historic Indian-inspired mansion in Heliopolis, to practice yoga with professional trainers.
In his speech during the celebration, India's Ambassador to Egypt Sanjay Bhattacharyya thanked the local authorities and Ministry of Antiquities for their support in organising the event.
He said Indian Embassy chose this year to hold the event at the Baron Palace as it is the only building in Egypt with architecture which is similar to Indian temples.
"We have been changing the venues of the celebrations for the past years. The first time was at the India House (in Zamalek), last year it was at Al-Azhar Park and this year we thought to bring it to India," the ambassador said.
He said the celebration was held later in the day and not early in the morning due to the holy month of Ramazan. Muslims observe fast during the day time in Ramazan.
Besides Cairo, the Indian Embassy is organising another IDY celebrations at the beachfront of Sheraton Montazah Hotel, Alexandria and at Nadi Moini, Gama al-Adima, Ismailia.
Although yoga is part of India's intangible cultural heritage, it has emerged as a global brand and is now being practiced internationally, including in Arab countries.
During the past few years, schools and centres that teach yoga in Egypt have increased to about 50, the Indian envoy said.
Yoga is one of the major classes offered by the Maulana Azad Centre for Indian Culture in Cairo and it is attended by a large number of people from different governorates in Egypt.
"I have been practicing yoga for years and I am so happy that there is a yoga championship in Egypt," said 27-year-old yoga trainer Amina Ihab, who participated in the yoga championship last month and received the first award in the category of above 18 years old.
"I think that now Egyptians became more understandable for yoga, which is the science of the right living. It changes the body shape and benefit the soul," she added.
Another winner of the championship, Egyptian-Lebanese Dani Koury, said the reason behind the increasing number of women yoga practitioners – which exceeds men in Egypt – may be due to wrong promotions by some centres or schools.
"Yoga is for all people and all ages. However, some people have commercially promoted yoga as a light sport for women, which made men more shy of doing a sport which is being described as for women. But yoga has different positions some of them are tough and it suits all people," said Khoury, who is preparing himself to be a yoga instructor.
Ibrahim Mamoud, 23, said that for him yoga is a very important healing process.
"It is not just for flexibility in your body or your soul, it is healing. It is very important as it keeps you healthy and young and makes you believe in yourself and that everything is possible," said Mahmoud, who has been practicing yoga for the last two years.
One year ago, Amany Yasser, 40, with her three daughters and mother went as a family to MACIC to learn yoga.
"Yoga is very interesting. We travelled different places across Egypt to practice it as part of the centre's events," said Yasser, who is the winner of the First Award of the below 50 category.
Yasser's five-year-old daughter Laila Nader Abdel Rahman is the youngest yoga practitioner at the MACIC while her mother Laila Mahmoud Helmi, 72, is the oldest.
Helmi, who won the First Award of the yoga championship of the above 50 category, said she found that yoga improves body flexibility, self-confidence and character.
In the UAE capital Abu Dhabi, over 4,000 people participated in a yoga session where various yoga associations exhibited their different styles.
The highlight of the programme was the ushering of the main event with 'Laughter Yoga' which injected a good deal of happiness among the Emiratis dignitaries, diplomats and nationals of several countries. A 25-minutes film on Yoga Harmony with Nature was also screened.
Indian Ambassador Navdeep Suri thanked Sheikh Nahayan Mabarak Al Nahayan, Minister of Culture and Knowledge Development and Sheikha Lubna bint Khalid Al Qasimi, UAE Minister of State for Tolerance, for gracing the International Day of Yoga celebrations in the month of Ramazan.
"Yoga embodies unity of mind and body; thought and action; restraint and fulfilment; harmony between man and nature; a holistic approach to health and well-being," Sheikh Nahayan said in his speech.
He also noted that India and the UAE have enjoyed a long and fulfilling relationship.
"We are all thankful for the opportunity presented by this celebration for promoting the friendship and understanding that exists between our two countries," he said.
Sheikha Lubna highlighted yoga's importance as a force promoting tolerance, acceptance, and peace in the world.
She hoped International Day of Yoga will bring inner and outer peace, and lead the way toward more tolerant societies.
She drew a parallel between the holy month of Ramazan, efforts of her Ministry of Tolerance and the message of harmony and peace conveyed by International Day of Yoga.
http://indianexpress.com/article/world/muslim-majority-arab-countries-join-yoga-day-celebrations-4717287/
--------
Millions of Iranians Stage Anti-Israel Rallies on Int'l Quds Day
Jun 23, 2017
Iranians across the country, including in the capital Tehran, alongside other people around the world are holding massive anti-Israel rallies on the last Friday of Ramadan in opposition to the continued occupation of the Palestinian land by Israel.
The International Quds Day was started by the late Founder of the Islamic Republic, Imam Khomeini, in 1979 as a way of expressing solidarity with the Palestinians and underscoring importance of the holy Quds to Muslims.
The International Quds Day is an annual event opposing Israel's occupation of Beitul-Muqaddas. Anti-Zionist rallies and demonstrations are held on the last Friday of Ramadan in Muslim and Arab countries around the world, and especially in Iran.
In Tehran, demonstrators chant slogans in condemnation of the Zionists' crimes in the occupied Palestinian lands.
The fasting people are carrying placards, and chanting 'Down with the US' and 'Down with Israel'.
Demonstrators are also stressing their readiness for defending the Palestinian cause.
They are also shouting protest against the silence shown by the international community and the so-called advocates of human rights against the crimes committed in the occupied lands.
http://en.farsnews.com/newstext.aspx?nn=13960401001197
--------
Southeast Asia
FT mufti apologises for Muslim prejudice against downtrodden
June 22, 2017
KUALA LUMPUR, June 22 — Federal Territories Mufti Datuk Zulkifli Mohamad Al-Bakri today apologised on behalf of Muslims who have maligned the homeless, the transgenders, sex workers and former convicts.
He issued the apology on Facebook following a visit to the Pusat Komuniti Ikhlas welfare centre in Chow Kit, Kuala Lumpur today.
"What heart will not be touched after seeing them, who are despised by society, jostling to greet us. Their faces clearly showed how excited and moved they were by our presence," he wrote.
"We as representatives of the ummah sincerely apologise for the discomfiting attitudes of some Muslims against these communities."
The FT mufti said they then held a dialogue session with the group at the welfare centre and performed evening prayers together.
Pusat Komuniti Ikhlas conducts outreach and rehabilitation efforts for drug users out of its centre in KL.
http://www.themalaymailonline.com/malaysia/article/ft-mufti-apologises-for-muslim-prejudice-against-downtrodden
--------
Philippines says Islamist fighters trapped in corner of besieged town
June 23, 2017
Islamist militants holed up in a southern Philippines town have been cornered and their firepower is flagging, the military said on Thursday, as the five-week battle for control of Marawi City raged on.
Despite signs that the insurgents are now on the back foot, Southeast Asian governments are worried that the siege could be just the prelude to further violence as the ultra-radical Islamic State group tries to establish a foothold in their region.
Jolted by the May 23 attack on Marawi, Indonesia, Malaysia and the Philippines have launched joint patrols to control the movement of militants across their archipelagic region and their foreign ministers gathered in Manila on Thursday for talks.
Malaysia is worried that militants who are flushed out of Marawi City by the fighting may try to cross from the Philippines to its eastern state of Sabah.
"We fear that they may enter the country disguised as illegal immigrants or foreign fishermen," said Eastern Sabah Security Command (Esscom) chief Wan Abdul Bari Wan Abdul Khalid, according to state news agency Bernama.
It said Esscom had drawn up a "wanted" list that included two militants who spearheaded the attempt to capture Marawi.
They are Abu Sayyaf group leader Isnilon Hapilon, who was proclaimed by Islamic State last year as its "emir" of Southeast Asia, and Abdullah Maute, whose followers accounted for a large number of the estimated 400-500 fighters who overran part of the town, killing Christians and taking dozens of civilians hostage.
The fighting in Marawi broke out on May 23.
Military spokesman Lieutenant Colonel Jo-Ar Herrera said on Thursday the number of militants holding out in Marawi had dwindled to "a little over 100".
Lieutenant Colonel Christopher Tampus said: "Their area has been reduced to 1 km square only." Tampus' troops are blocking escape routes across bridges spanning a river to the west of the militants.
"Our forces are coming from the east and the north and we are blocking the three bridges," he said.
Tampus told reporters that the militants were still using snipers who were firing from "strategic nests" in schools and mosques, and homemade bombs were hampering the progress of Philippine troops as they advanced house by house.
He said he had seen at least five civilians dressed in black who appeared to have been forced to stand in the street as human shields.
Full report at:
http://nation.com.pk/international/22-Jun-2017/philippines-says-islamist-fighters-trapped-in-corner-of-besieged-town
--------
Top anti-terror cop says IS plans in East Asia impossible
Adam Abu Bakar
June 23, 2017
KUALA LUMPUR: The Islamic State's (IS) plans to establish a "wilayah" (territory) comprising Malaysia and six other Asian countries will remain a distant dream for the militant group, says Malaysia's top anti-terrorism officer Ayob Khan Mydin Pitchay.
He said authorities had been actively monitoring the group's sympathisers including their communication channels on social media.
Ayob, the principal assistant director at the Special Branch's counter-terrorism division in Bukit Aman, said the police's monitoring of IS-related activities was meticulous, including staying alert for possible spread of terror propaganda on apps such as Whatsapp and Telegram.
"It'll be impossible for IS to establish a 'territory'. As it is, police are nabbing those who keep IS material or spread messages on Whatsapp, and charging them in court," Ayob told FMT.
Singapore's The Straits Times (ST) yesterday quoted several terrorism analysts who cited social media chatter from IS sympathisers about plans to include Singapore, Indonesia, the Philippines, Thailand, Myanmar and Japan as part of an "East Asian wilayah".
This comes as the terror group retreats from their strongholds in the Middle East including from Mosul, Iraq, one of the cities where the IS leadership had made their home for some three years.
Experts have warned that such plans may have created a new East Asian flashpoint in the global fight against terror.
Malaysia has so far charged more than 120 terror suspects and sympathisers in court, with about half of them being convicted. Some 40 militants or IS sympathisers are also detained under the Prevention of Crime Act, while 18 others detained under the Prevention of Terrorism Act.
Ayob said police were aware of the revelation about a plan for a "territory" in this region.
He said similar intelligence had been obtained in the wake of the arrests of several Indonesians in Perak on June 13.
He said plans for a "territory" were discussed using Whatsapp and Telegram discussion groups.
"Some of those in the groups are IS sympathisers from Indonesia, the Philippines, Turkey and Malaysia.
Full report at:
http://www.freemalaysiatoday.com/category/nation/2017/06/23/top-anti-terror-cop-says-is-plans-in-east-asia-impossible/
--------
North America
Trump, new Saudi crown prince share hardline views on Iran
Jun 23, 2017
WASHINGTON - Saudi Arabia's new crown prince and likely next king shares US President Donald Trump's hawkish view of Iran, but a more confrontational approach toward Tehran carries a risk of escalation in an unstable region, current and former US officials said.
Iran will almost certainly respond to a more aggressive posture by the United States and its chief Arab ally in battlefields where Riyadh and Tehran are engaged in a regional tussle for influence.
Saudi King Salman made his son Mohammed bin Salman next in line to the throne on Wednesday, handing the 31-year-old sweeping powers, in a succession shake-up.
Prince Mohammed, widely referred to as "MbS," has ruled out any dialogue with arch rival Iran and pledged to protect his conservative kingdom from what he called Tehran's efforts to dominate the Muslim world. In the first meeting between Trump and MbS at the White House in March, the two leaders noted the importance of "confronting Iran's destabilizing regional activities." But that could have unintended consequences, said some current and former US administration officials.
The greatest danger for the Trump administration, a longtime US government expert on Middle East affairs said, was for the United States to be dragged deeper into the secular conflict playing out across the Middle East, a danger that could be compounded by Trump's delegation of responsibility for military decisions to the Pentagon.
If the administration gives US commanders greater authority to respond to Iranian air and naval provocations in the Gulf and Strait of Hormuz, things could easily spiral out of control, the official said.
US-backed forces fighting in Syria are also in close proximity with Iranian-backed forces supporting Syrian President Bashar al-Assad. US military jets twice this month shot down Iranian-made drones threatening US and coalition forces in southeastern Syria. The United States also supports the Saudi-led coalition's war in Yemen through refueling, logistics and limited intelligence assistance.
"If we were to witness an incident at sea between an Iranian and a US vessel in the Gulf, at a time of immense distrust and zero communication, how likely is it that the confrontation would be defused rather than exacerbated?" said Rob Malley, vice president for policy at the International Crisis Group.
"If there's a more bellicose attitude towards Iran, Iran is likely to respond," said Malley, a former senior adviser on Middle East affairs under President Barack Obama.
Eric Pelofsky, who dealt with Middle East issues at the White House under Obama, said the administration had "labored pretty hard to avoid a direct clash between Saudi Arabia and Iran on the high seas," in part because it would expand the Yemen conflict and there were questions "about what the outcome of such an encounter might be."
But Luke Coffey, director of the Foreign Policy Center at the Heritage Foundation, a conservative think tank, doubted Iran would retaliate in a major way.
"Iran has very limited ability or options to retaliate against US forces in the region without suffering an overwhelming US response," Coffey said.
"I think Tehran knows this so they will stick to low-level tactics like harassing US ships in the Gulf. This will be just enough to be annoying but not enough to be considered 'retaliating,'" he said.
MbS was the driving force behind the Saudi-led campaign in Yemen against Iran-allied Houthi rebels, launched in March 2015. He also appears to have orchestrated this month's breach with neighbor Qatar, which was accused by Riyadh and three other Arab states of cozying up to Iran, funding terrorism or fomenting regional instability. Qatar denies the allegations.
"There's a danger that his foreign policy instincts, that do tend to be aggressive, especially toward Iran, but also toward extremism, might end up distracting from what he wants to get done economically," said a former Obama administration official, referring to "Vision 2030," MbS's signature economic and social reform agenda.
Malley, who has met MbS, said his attitude toward Iran "stems from his strongly felt conviction that for too long the kingdom has been a punching bag, a passive witness to Iranian action, true or assumed, in Iraq, Syria, Yemen, Bahrain and Saudi Arabia's own eastern province."
"His view is that Saudi Arabia absorbed those blows and now there's no reason to absorb them anymore," Malley said.
That dovetails neatly with Trump who has said Iran promotes evil and is a key source of funding and support for militant groups. MbS has also developed a close relationship with Trump's influential son-in-law, Jared Kushner, who at 36 is close in age to him.
MbS's "desire to confront or even defeat Iran has appeal in the White House, where the crown prince has done an admirable job forging a relationship with the Kushners, who are of his generation," said the US official.
Kushner and his wife, Ivanka Trump, had dinner with MbS when the US president visited Riyadh last month, the first stop on Trump's maiden international visit.
Another senior administration official told Reuters that while Washington did not have advance warning of MbS's promotion, it could see it coming. "This is why the president has tried to foster good relations with him," the official said.
Qatar's emir congratulates Saudi crown prince on his promotion
Qatar's ruler, whose country is facing a boycott by some of its neighbors over allegations of supporting terrorism, has congratulated Mohammed bin Salman on his appointment as crown prince of Saudi Arabia, the state news agency QNA said.
QNA said the emir, Sheikh Tamim bin Hamad al-Thani, sent a cable to Prince Mohammed "wishing him success ... for the good of the kingdom under the wise leadership of the Custodian of the Two Holy Mosques ... and for more progress for brotherly relations between the two brotherly countries".
Iran tells Riyadh to free Iranian fishermen
Iran urged regional rival Saudi Arabia on Thursday to free three Iranian fishermen, pay compensation for shooting dead a sailor and punish those behind an "irresponsible act", the semi-official Fars news agency reported.
Iranian media reported last week that Saudi border guards had opened fire on Iranian fishing boats in the Gulf, killing a fisherman. The Saudi Information Ministry said it had detained three members of Iran's Revolutionary Guards in the incident.
"The fishermen were not armed ... Saudi guards killed one of the sailors by opening fire on the boats," Fars quoted a statement published by Iran's Interior Ministry.
"Those detained fishermen should be freed ... compensation should be paid for the one killed and those involved in the irresponsible act should be punished."
Riyadh has said the vessel, seized last Friday, was carrying explosives and those captured intended to conduct a "terrorist act" in Saudi territorial waters.
The Iranian interior ministry statement denied the Saudi claim, saying the three fishing boats had legal documents and departed Iran's southern port of Bushehr for fishing but lost their way.
"Shooting at fishing boats is against the humanitarian and Islamic norms," it said.
"One group of the fishermen could steer their boat back onto the main course, but the two other boats were driven towards the shared sea borders with Saudi Arabia, unaware of their situation or unable to control the vessels," it said.
http://nation.com.pk/international/23-Jun-2017/trump-new-saudi-crown-prince-share-hardline-views-on-iran
--------
FBI probing Michigan airport stabbing as 'terrorism'
Jun 23, 2017
A knife attack on a Michigan airport police officer on Wednesday by a man yelling "Allahu Akbar" is being investigated as an act of terrorism, the FBI said.
The stabbing at Bishop International Airport, in the city of Flint, comes amid a wave of jihadist-inspired attacks in Europe, most recently a foiled bomb assault at a train station in Belgium.
US officials identified the suspected assailant, who is in custody and cooperating with investigators, as a 49-year-old Canadian resident from Quebec named Amor Ftouhi.
"We're investigating this incident today as an act of terrorism," FBI special agent David Gelios told a news conference, detailing Ftouhi's actions on Wednesday morning based on security camera footage.
Ftouhi was seen lingering with luggage around the airport's non-secured public areas, including at a second-floor restaurant and a bathroom, before pulling out a 12-inch serrated-blade knife, yelling "Allahu Akbar" -- "God is greatest" in Arabic -- and stabbing an officer in the neck, police said.
During the attack, Ftouhi "referenced killings in Syria, Iraq, and Afghanistan," according to a press release from the US Attorney's Office for the Eastern District of Michigan.
He also expressed "hatred for the United States" during questioning in custody, Gelios said.
"He was cooperative and has talked to us about what his motivations were," he added.
The injured officer was identified as Jeff Neville, a 16-year airport police force veteran.
Neville wrestled Ftouhi to the ground during the assault until others could arrest him, police said. He was hospitalized and is in a stable condition.
"Lieutenant Neville never stopped fighting until I handcuffed this person," airport police chief Christopher Miller said.
No passengers were harmed in Wednesday's assault, Bishop International officials said. The airport was evacuated and remained closed until 5 pm (2100 GMT).
Ftouhi faces charges of committing an act of violence at an airport, and is expected to appear at a federal court in Flint.
US Attorney General Jeff Sessions said in a statement that an attack on law enforcement would be "investigated and prosecuted to the fullest extent of the law."
"President Trump has prioritized the safety of all law enforcement officers, and this Department of Justice is committed to that goal," he said.
US, Canada probe attack
Ftouhi's Canadian citizenship led to joint operations in Canada and the US, as authorities probed the incident.
Canadian media reported that police searched Ftouhi's home in Montreal and made three arrests in connection with the attack.
Police had cordoned off the four-story building where Ftouhi reportedly lives, in the Rosemont area of Montreal.
Local television footage showed three people, their faces concealed by blankets, being led away by Canadian gendarmes and provincial police officers.
"We are investigating all of the details," said Canada's Public Safety Minister Ralph Goodale. "Obviously Canada condemns this heinous and cowardly attack."
Since the US investigation is ongoing, "it is impossible for us to confirm or identify any suspects whatsoever," added Montreal police spokesman Benoit Boisselle.
Ftouhi legally entered the United States in Lake Champlain, New York on June 16, Gelios said.
"We're trying to develop further information as to his timeline and where he went after he entered the United States," he said.
'Understanding and tolerance'
Flint is near the Detroit area, home to a large Muslim-American community. Michigan Governor Rick Snyder responded to news of a possible link to terrorism by sounding a note of caution.
Full report at:
http://nation.com.pk/international/22-Jun-2017/fbi-probing-michigan-airport-stabbing-as-terrorism
--------
Judge in US blocks deportation of more than 100 Iraqis
23 June 2017
A US district court judge in Michigan has temporarily blocked the deportations of more than 100 Iraqi nationals until a decision is reached over who has jurisdiction over the matter, according to court documents filed on Thursday.
Judge Mark Goldsmith issued an order staying the removal of the Iraqis convicted of various crimes after they argued they could face persecution or torture in Iraq because of their status as religious minorities, the documents say.
The US government has argued that under US law, the district court does not have jurisdiction over the case, which can only be reviewed by an appeals court.
https://english.alarabiya.net/en/News/middle-east/2017/06/23/Judge-in-US-blocks-deportation-of-more-than-100-Iraqis.html
--------
You can't disconnect terrorism from Islam, Couillard says in wake of Flint attack
Jun 22, 2017
Quebec Premier Philippe Couillard is facing criticism from Muslim community leaders after saying there is a link between Islam and terrorism.
Couillard made the comments Thursday in Quebec City. He was asked by a reporter whether he was concerned Quebec Muslims could face a backlash following the arrest of a Montrealer in connection with an attack earlier this week at a Michigan airport.
On Wednesday, U.S. authorities identified Amor Ftouhi, 49, as the suspect in the stabbing of a police officer at Flint's Bishop International Airport.
The FBI is treating the attack as an act of terrorism and said the suspect shouted "Allahu akbar" as he drew his knife, which is Arabic for "God is great."
"Unfortunately, you cannot disconnect this type of event — terrorism — from Islam in general," Couillard said.
Canadian named as suspect in Michigan airport knife attack
More on the suspect and the investigation in Montreal
He pointed to remarks made recently by French President Emmanuel Macron, whom he said was "very eloquent about this when addressing the Muslim community in France."
"He told them 'It's also your responsibility to act on the theological front to explain to your people that this is not part of the religion — that it's contrary to the teachings of the religion,'" Couillard said.
The comments represent a departure for the premier, who normally calls for unity in the wake of such events.
In the same exchange with reporters, Couillard said that, with respect to "any intolerance, any discrimination, you know where we stand."
"We are completely against that and against any generalization to the broader community," he said.
In an attempt to explain himself, he said there were "very bad moments in our history linked to the Christian religions."
"Inquisitions, religious wars in Europe — horrible. But the religion was able to distance itself from that and come back to its principles. I expect the same will happen."
Linking Islam to terror 'wrong,' Muslim leaders say
Couillard's remarks were poorly received by prominent figures within Montreal's Muslim community.
While agreeing that Islam, like all religions, has a responsibility to fight extremism, Hassan Guillet, spokesperson for the Council of Imams of Quebec, said drawing a connection between Islam and terrorism is wrong.
"Islam is a religion and terrorism is a crime," he said.
Mehmet Deger, president of the Dorval Mosque in Montreal's West Island, echoed Guillet's view, saying such acts are in no way linked to Islam.
Muslim community in Michigan condemns 'despicable' knife attack
Hate crimes against Muslims in Canada up 60 per cent, StatsCan reports
"This is not Islam's fault," he said. "Islam has nothing to do with such acts."
Deger said Muslims "condemn such acts all the time" and are themselves often the targets of terror attacks.
When he was asked for comment on Ftouhi's arrest, Montreal Mayor Denis Coderre was more circumspect.
Full report at:
http://www.cbc.ca/news/canada/montreal/quebec-flint-couillard-muslisms-1.4173300
--------
Pakistan
Christian Man in Lahore Arrested Over Allegations of Blasphemy
June 23, 2017
A Christian bicycle mechanic in Lahore was arrested on June 15 over allegations of blasphemy after he became involved in a dispute regarding payment for services rendered to a customer, police said Thursday.
Human rights activist Napoleon Qayyum told Dawn that Ashfaq Masih ─ a resident of Mariam Colony in Green Town, Lahore ─ was working at a repair shop in the Bagarhian suburb of the city when Muhammad Ishfaq, a resident of the same area, had his bicycle repaired by him.
The two became embroiled in a heated argument when Masih demanded Rs35-40 for his services and Ishfaq requested that Masih reduce the price as he is a poor man, Qayyum said.
The disagreement escalated when Masih refused to lower the fee, reminding the bicycle owner that he was a poor man himself and needed the money as well, according to the rights activist.
After a crowd gathered to witness the incident, unidentified individuals levelled accusations of blasphemy against Masih, prompting further escalation of the already-tense situation, Qayyum claimed.
Police, who were called to the scene, arrived and arrested Masih, shifting him to the Green Town police station.
Station House Officer (SHO) of Green Town police station Wasim Akhtar confirmed to Dawn that a blasphemy case had been registered against Masih on June 15 after his arrest.
The Pak Center for Law and Justice is investigating the case.
https://www.dawn.com/news/1341120/christian-man-in-lahore-arrested-over-allegations-of-blasphemy
--------
Car bomb explosion in Quetta killed 9 including 4 policemen
June 23, 2017
Explosion near Inspector General of Police Ehsan Mehboob's office in Quetta has killed 9 people, including 4 policeman, and over a dozen have been injured. Four are said to be in critical condition, including a girl around 10 years of age.
According to initial reports from police, "a suicide bomber was driving a car full of explosives towards the IG office and when he was stopped at the check post, and there he exploded."
The car is said to have been destroyed and windows of nearby buildings smashed due to the intensity of the blast.
Security teams have cordoned off the area and started an investigation.
The bomb disposal squad has been called to the site and investigations are under way, a police spokesperson said.
Balochistan government spokesman Anwar-ul-Haq Kakar said that the explosion took place at around 9:00 am when the police officers were checking the suspected car. He also said, "There were already intelligence reports that an attack would take place near Eid, we had increased security."
No one has claimed responsibility yet, but Tehreek-e-Taliban Pakistan and ISIS have previously targeted the province.
Minister of Interior Chaudary Nisar has condemned the incident and asked the authorities to submit a report. Expressing grief and sorrow over the loss of precious lives in the incident, he prayed for the early recovery of the injured.
Meanwhile, Punjab Chief Minister Shahbaz Sharif and Chief Minister Balochistan Nawab Sanaullah Khan Zehri have strongly condemned the bomb blast in Quetta.
In their messages, they expressed grief and sorrow over the loss of precious lives in the bomb blast.
Balochistan Chief Minister directed the concerned authorities to provide better medical facilities to the injured people.
According to police, extra security measures had being taken for 'Juma tul wida' (the last friday in ramzan) and Eid ul Fitr.
Full report at:
http://nation.com.pk/national/23-Jun-2017/explosion-near-ig-office-in-quetta-leave-2-dead-10-injured
--------
Turkey reiterates support for Pakistan's stance on Kashmir
23-Jun-17
ISLAMABAD: Turkish Prime Minister Binali Yaldarim on Thursday reiterated his support for Pakistan's stance on Held Kashmir, a statement issued by the Inter-Services Public Relations (ISPR) said. Chief of Army Staff General Qamar Javed Bajwa, who is on an official visit to Turkey, thanked the premier on Turkish support to Pakistan on various international fora. According to the military's media wing, both discussed matters related to regional security and commonality of challenges facing the two brotherly countries.
PM Yaldarim appreciated the positive role that Pakistan plays in the region as well as in the larger Muslim world. "Pakistan and Turkey share same stance on many issues and Pakistan supports Turkey's position on Cyprus as well as its efforts against terrorism of all hue and colour," the army chief said.
A day earlier, Turkish President Recep Tayyip Erdogan told the visiting army chief that Muslim countries can contribute towards global peace and stability. "Islamic countries can contribute immensely towards global peace and stability and OIC [Organisation of Islamic Conference] offers a platform to do that through conflict resolution and dialogue," Erdogan remarked, and acknowledged sacrifices made by Pakistan and contributions by Pakistan Army in fight against terrorism and militancy. He went on to say that Pakistan plays a very important role towards that end and multi-faceted cooperation between the two brotherly countries will have a positive influence. The two noted that Turkey and Pakistan can always count on each other's unconditional and sincere support.
Full report at:
http://dailytimes.com.pk/pakistan/23-Jun-17/turkey-reiterates-support-for-pakistans-stance-on-kashmir
--------
Implications of Iranian drone's incursion in Pakistan
June 23, 2017
An Iranian drone (reportedly on a spying mission) was shot down by a Pakistan Air Force JF-17 Thunder fighter jet in the country's restive Balochistan province. According to Pakistan's Foreign Office, the Iranian unmanned aircraft was destroyed on 19 June in Panjgur area. The debris of the drone was found in Parom area of Panjgur district.
Pakistan has already shared the information about striking down of this drone with the Iranian authorities indicating that the drone was struck down by our security forces as it was unmarked and there was no prior information on its flight.
This was the second Iranian drone to be shot down within twenty four hours. The US had downed an Iranian drone in Syria. The Iranian manufactured UAV was being operated by pro-regime forces in southern Syria early Tuesday.
The relationship between Pakistan and Iran has been tense in the near past. Iran's army chief recently warned that Tehran would strike militant safe haven inside Pakistan ─ remarks that drew a strong protest from Islamabad ─ after 10 Iranian border guards were killed by militants allegedly from across the border earlier this year.
This is a far cry from the time Iran was the first country to recognize Pakistan after it gained independence in 1947. Unfortunately, Pakistan has been made a theatre of Shia Sunni proxy war between Saudi Arabia and Iran. The recently formed 39 nations' alliance by Saudi Arabia is clearly anti-Iran but Pakistan has refused to be dragged into taking sides. Tehran on the other hand, is unhappy with Islamabad because General Raheel Sharif, the former Chief of Staff of Pakistan Army has been appointed the head of the Arab coalition forces.
Miscreants are operating on both sides of the Iran-Pakistan border and engage in cross border terrorism leading to apprehensions on both sides.
The advent of the China Pakistan Economic Corridor (CPEC) has led to misgivings by India as well as Iran. To dilute the importance of Pakistan's deep sea port Gawadar, the starting point of CPEC, India has invested in the developing of Iran's Chabahar Port. India has also constructed a highway from Afghanistan to the Chabahar Port so that Afghanistan and Central Asian States use the Chabahar Port instead of Gawadar.
In order to sabotage CPEC, India is busy fomenting trouble in Balochistan. It is fanning ethnic disturbances in Balochistan by recruiting local disgruntled youth in Balochistan and is urging them to rise and demand their freedom. The arrest of Indian Naval officer Commander Kulbhoshan Jadhav from Balochistan was a major victory of Pakistan intelligence agencies.
Commander Jadhav was operating from Iranian port of Chabahar and it is difficult to comprehend that Iranian intelligence was not aware of his nefarious activities.
Iran gets irritated whenever terror attacks emanate from Pakistan's side of the border but remains oblivious of terror attacks on Pakistan originating from Iranian soil.
Terrorists are no body's friends and if they are creating any problems at borders they should be dealt with through proper channels. Instead, Iran is indulging in espionage on Pakistan through its UAVs and threatening Pakistan with dire consequences.
The Muslim Ummah is already divided. The Gulf countries have drawn clear lines of demarcation with Qatar and Iran on one side while Saudi Arabia, UAE, Egypt and others are on the other side of the divide.
With the deep fissures appearing in the Islamic Ummah, only the terrorist and the enemies of Islam will be rejoicing. We have managed to create division within ourselves and made the enemy stronger by our own follies and prejudices.
Islam is a rapidly enlarging faith and its growth is much to the chagrin of the west, which would like to put impediments in the development forces. By falling prey to our internal machinations and indulging in browbeating of each other, we are aiding and abetting the enemy.
The separatists in Balochistan, egged on by India, whose spy agency RAW has been recruiting, training and arming Baloch insurgents. Since the Baloch also reside in Iran, there are certain key elements of Iranian Baloch, who would like to jump on the bandwagon and strive for the creation of a greater Balochistan,
In the prevailing milieu, it would be pertinent for sanity to prevail. Donald Trump, who recently visited the Kingdom of Saudi Arabia, may have acted as a catalyst in the Saudi led sanctions and embargo against fellow Gulf State Qatar but the Islamic world should take cognizance of the fact that Trump signed multi billion dollars deal with Saudi Arabia and in the next instance finalized a dollars twelve billion deal for the sale of the nearing obsolence F-15 Eagles fighter aircraft with Qatar. Trump must be laughing up his sleeve at the naiveté of the Gulf States.
With Libya, Syria, Iraq, Yemen and Afghanistan embroiled in conflict, the need of the hour is creating understanding and ethos in the Islamic world.
If Iran is joining India in taking on Pakistan, it is making a huge mistake. Pakistan is not an easy prey. It has the capacity to retaliate very strongly but that would be detrimental to peace in the region.
A week after Iranian Foreign Minister Javad Zarif visited Pakistan and appeared to have helped re-establish diplomatic and security cooperation between the two countries over border management, the top Iranian military commander threatened to launch cross-border attacks inside Pakistan against so-called militant safe havens. Major General Mohammad Baqeri's extraordinary comments have elicited a sharp reaction from Islamabad and yesterday's summoning to the Foreign Office of Iranian Ambassador Mehdi Honardoost may be the start of a fresh series of accusations and recriminations between the two countries. It is not yet clear if the proposals agreed upon during Mr. Zarif's visit have been implemented — both sides had agreed to ramp up border cooperation while Pakistan has pledged to send more troops to the boundary to help fight cross-border smuggling, crime and militancy. What is clear is that Major General Baqeri's comments are utterly unacceptable. Simultaneously, the incursion of Iranian surveillance drones within Pakistan must cease forthwith.
For Pakistan, the path forward must be to lay emphasis on two aspects of the bilateral relationship.
First, Pakistan has an inherent interest in a stable and peaceful relationship with Iran and a violence-free border. Over the years, both sides have built up a number of complaints, mostly as a result of the border between the two countries being a vast, poorly governed space with local populations often at odds with their respective states and other countries having an obvious interest in interfering on both sides of the frontier. However, despite the occasional incident, the Pak-Iran relationship has never been as troubled as Pakistan's border with Afghanistan and India or the Line of Control in Kashmir. Surely, then, both Pakistan and Iran can find ways to cooperate over border management and curb incidents of violence.
Full report at:
https://www.pakistantoday.com.pk/2017/06/23/implications-of-iranian-drones-incursion-in-pakistan/
--------
US-Pak cooperation imperative for peace in region: FO
June 23, 2017
ISLAMABAD: The Foreign Office on Thursday underscored the need for continued cooperation between the United States and Pakistan for peace and security in the region.
"Pakistan attaches importance to its relationship with the US. We firmly believe that continued close cooperation between our two countries is critical for promoting peace and security in the region and beyond," FO spokesman Nafees Zakaria said at his weekly media briefing.
Replying to a question about a Reuters report that the Trump administration was mulling a tougher line towards Pakistan, the spokesman refused to directly comment on the contents of the report, but observed that the bilateral relationship was important and there was a need for remaining engaged.
It is said that the Trump administration wants to force Pakistan into addressing its concerns about terrorism. Among the actions being considered by the US against Pakistan are expansion in drone attacks, withholding aid and downgrading Pakistan's status as a major non-Nato ally. But no definitive measures have been decided yet, according to the report.
US concerns about Pakistan's fight against terrorism precede Trump presidency. The concerns were reiterated during the visit of US National Security Adviser Lt Gen McMaster to Pakistan in April, which was the first high level visit by a senior Trump administration official. Gen McMaster had, during his meetings in Pakistan, "stressed the need to confront terrorism in all its forms". In media interviews during his trip, the general had said it was in Pakistan's interest to go after terrorist groups less selectively than in the past.
Mr Zakaria rejected US concerns and said: "On terrorism, I would like to point out that our counter-terrorism operations are driven by our own national interest and are directed against all terrorists without discrimination and distinction. It remains our firm resolve not to let our soil be used against any country. We are determined to that end."
The US State Department's budget proposals for fiscal 2018 indicate a major cut in funds for Pakistan from its Foreign Military Financing (FMF) programme as they recommend a reduction from $255 million in the current fiscal to just $100m in 2018. The Trump administration has further proposed to the State Department to convert the FMF for Pakistan into a loan guarantee.
The spokesman refused to comment on the proposed cut saying it was premature. The budget request, he noted, would undergo vigorous debate and scrutiny by the US Congress.
Chinese Foreign Minister Wang Yi is visiting Pakistan on Saturday in an effort to defuse tensions between Pakistan and Afghanistan.
"The Chinese foreign minister will be visiting over the weekend. Both sides will discuss all issues of mutual interest, including the regional situation," the spokesman said.
He said China was an important partner in efforts to bring peace and stability in Afghanistan. He recalled that China and Pakistan were working closely under the initiatives like the Quadrilateral Coordination Group and the Heart of Asia Istanbul process, which were aimed at bringing lasting peace and stability in Afghanistan.
The Chinese foreign minister will later travel to Afghanistan.
Full report at:
https://www.dawn.com/news/1341244/us-pak-cooperation-imperative-for-peace-in-region-fo
--------
Hamdard vows to keep spirit of Pak movement alive
June 23, 2017
KARACHI - Hamdard Laboratories (Waqf) Chairperson Sadia Rashid, in a statement issued here on Thursday, has said that Shaheed Hakim Mohammed Said was the torch-bearer of Pakistan movement, and he started this movement in order to re-create the passion, enthusiasm and sincerity of Pakistan Movement in the Pakistani nation.
"Hamdard has been taking this movement forward so that the nation could keep in mind the significance of 27th Ramazan, 1366 Hijri – 14th August 1947, on which day the country was gifted by Allah," she added.
Osama Qureshi, Managing Director and CEO, Hamdard Laboratories (Waqf), said that in order to keep the memory of Ramazan 27th, August 14th 1947 fresh, Hamdard had decided to celebrate this event in a different and befitting manner, and in this regard it had launched a new campaign on print, electronic and social media to highlight the importance of creation of Pakistan in these sacred moments, to have the blessings of Allah Almighty and to create a new determination in Pakistanis for national reconstruction. "Hamdard congratulates the nation on this happy occasion," he added.
http://nation.com.pk/karachi/23-Jun-2017/hamdard-vows-to-keep-spirit-of-pak-movement-alive
--------
PPP, MQM destroyed Karachi: JI
June 23, 2017
KARACHI - Jamaat-e-Islami Karachi Chief Hafiz Naeemur Rehman has said that Pakistan People Party (PPP) and Muttahida Quami Movement (MQM) both destroyed Karachi and now seeking victory in the PS-114 by-election. Hafiz expressed these views while addressing an Iftar party held by JI Admin Society at Green Flag School. JI candidate for PS-114 by polls Zahoor Ahmed Jadon and other leaders including Imran Saeed, Ameer Zone, Sarfaraz, Raja Arif Sultan, Saleem Butt were also present on the occasion.
Criticising PPP, Hafiz said that the during the last nine years the ruling provincial government failed to provide any relief to the people and at the time of by election had rapidly initiated development work in the provincial assembly constituency seeking victory. If the provincial rulers do have any worries about people miseries then why did they not started any development work in the last four years questioned JI Karachi Chief adding that all efforts were being made by the PPP to get its candidate victorious in the by-polls.
He said that PPP and MQM both looted Karachi by both hands and responsible for the destruction of city. Welfare of the people has not remained the agenda of these both parties as its leadership remained silent over the illegal activities and robbery of the private power company K-Electric, he added.
PPP and MQM supported unfair moves of K-Electric and kept silent over the massive illegal billing said Hafiz adding that JI from the day first took bold step against the private power company and drive against K-Electric is underway for the recovery of the looted money. JI leader urged the people to reject the parties who have failed to deliver and vote JI candidate.
Full report at:
http://nation.com.pk/karachi/23-Jun-2017/ppp-mqm-destroyed-karachi-ji
--------
Arab World
Arab states send Qatar 13 demands to end crisis, official says
June 23, 2017
Four Arab states boycotting Qatar over alleged support for terrorism have sent Doha a list of 13 demands including closing Al Jazeera television and reducing ties to their regional adversary Iran, an official of one of the four countries said.
The list, compiled by Saudi Arabia, the United Arab Emirates (UAE), Egypt and Bahrain as the price for ending the worst Gulf Arab crisis in years, also demands the closing of a Turkish military base in Qatar, the official told Reuters.
Qatar must also announce it is severing ties with terrorist, ideological and sectarian organizations including the Muslim Brotherhood, Islamic State, al Qaeda, Hezbollah, and Jabhat Fateh al Sham, formerly al Qaeda's branch in Syria, he said, and surrender all designated terrorists on its territory,
The countries give Doha 10 days to comply, failing which the list becomes 'void', the official said without elaborating. The demands were handed to Qatar by Kuwait, which is mediating in the dispute, said the official, who spoke on condition of anonymity. The four Arab countries accuse Qatar of funding terrorism, fomenting regional instability and cozying up to revolutionary theocracy Iran. Qatar has denied the accusations.
U.S. President Donald Trump has taken a tough stance on Qatar, accusing it of being a "high level" sponsor of terrorism, but he has also offered help to the parties in the dispute to resolve their differences.
Turkey has backed Qatar during the three-week-old crisis. It sent its first ship carrying food aid to Qatar and dispatched a small contingent of soldiers and armored vehicles there on Thursday, while President Tayyip Erdogan spoke with Saudi Arabia's leaders on calming tension in the region.
http://nation.com.pk/international/23-Jun-2017/arab-states-send-qatar-13-demands-to-end-crisis-official-says
--------
Russia says 'highly likely' ISIS leader Baghdadi is killed
22 June 2017
There is a high degree that ISIS leader Abu Bakr al-Baghdadi has been killed by an airstrike carried out by the Russian Air Force in Syria in late May, the Russian Foreign Ministry said Thursday.
"It is highly likely that ISIS leader [Abu Bakr] al-Baghdadi was eliminated in an airstrike of the Russian Air Force on a militant command post in a southern suburb of the city of Raqqa in late May," Russian Deputy Foreign Minister Oleg Syromolotov told Sputnik News, citing data provided by the Russian Defense Ministry.
Baghdadi's death is now being verified through "various channels," Syromolotov said.
However, Russian Foreign Minister Sergey Lavrov said he could not give a solid proof that Baghdadi was eliminated.
The Russian Defense Minister said on June 16 that the ISIS leader might have been killed during an ISIS military council meeting by a Russian airstrike on May 28 south of the militant group's stronghold of Raqqa in Syria.
Meanwhle, the Iraqi Prime Minister Haider al-Abadi said on Thursday that the "liberation" of the city of Mosul from ISIS will be announced in a few days.
Full report at:
https://english.alarabiya.net/en/News/middle-east/2017/06/22/Russia-says-highly-likely-ISIS-leader-Baghdadi-is-killed-.html
--------
Iraqi PM says Mosul 'liberation' will be declared in a few days
22 June 2017
The "liberation" of the city of Mosul from ISIS will be announced in a few days, Iraqi Prime Minister Haider al-Abadi said on Thursday, according to Baghdad-based Sumaria TV.
"It's a matter of a few days and we will announce the total liberation of Mosul," Abadi told reporters in Baghdad, according to al-Sumaria.
https://english.alarabiya.net/en/News/middle-east/2017/06/22/Iraqi-PM-says-Mosul-liberation-will-be-declared-in-a-few-days-.html
--------
Shock and anger in Mosul after IS destroys historic mosque
June 23, 2017
MOSUL - The leaning al-Habda minaret that has towered over Mosul for 850 years lay in ruins on Thursday, demolished by retreating Islamic State militants, but Iraq's prime minister said the act marked their final defeat in the country's second city.
"In the early morning, I climbed up to my house roof and was stunned to see the Hadba minaret had gone," Nashwan, a day- labourer living in Khazraj neighbourhood near the mosque, said by phone. "I felt I had lost a son of mine."
His words echoed the shock and anger of many over the destruction of the Grand al-Nuri Mosque along with its famous minaret, known affectionately as "the hunchback" by Iraqis.
The demolition came on Wednesday night as Iraqi forces closed on the mosque, which carried enormous symbolic importance for Islamic State. Its leader Abu Bakr al-Baghdadi used it in 2014 to declare a "caliphate" as militants seized swathes of Syria and Iraq.
His black flag had been flying on the 150-foot (45-metre) minaret since June 2014, after Islamic State fighters surged across Iraq, seizing vast swathes of territory.
Russia said on Thursday there was high degree of certainty Baghdadi was now dead, according to RIA news agency. Moscow said last week its forces may have killed him, but Washington could not corroborate and Western and Iraqi officials were skeptical.
Baghdadi has left the fighting in Mosul to local commanders and is believed to be hiding in the border area between Iraq and Syria.
Some analysts said the destruction of the mosque could in fact speed operations to drive Islamic State out of what had been its chief Iraqi stronghold. Prime Minister Haider al-Abadi went further.
"Blowing up the al-Hadba minaret and the al-Nuri mosque amounts to an official acknowledgement of defeat," he said on his website.
The insurgents chose to blow up the mosque rather than see the flag taken down by US-backed Iraqi forces battling through the maze of narrow alleys and streets of the Old City, the last district still under control of Islamic State in Mosul.
In the dawn light, all that remained was the base projecting from shattered masonry. A video on social media showed the minaret collapsing vertically, throwing up a pall of sand and dust.
Defense analysts agreed the decision to destroy the mosque could indicate that the militants are on the verge of collapse.
"They had said they would fight until their last breath defending the mosque," Baghdad-based security expert Safaa al-A'sam told Reuters. "The fact is that they are no longer capable of standing in the face of Iraqi government forces."
The assailants will be freer in their attacks as they don't have to worry about damaging the mosque anymore, he said.
The minaret was built with seven bands of decorative brickwork in complex geometric patterns also found in Persia and Central Asia. Its tilt and the lack of maintenance made it particularly vulnerable to blasts.
US Army Colonel Ryan Dillon, spokesman for the US-led international coalition assisting in the Iraqi effort to defeat Islamic State, said Iraqi security forces were continuing to push into remaining ISIS-held territory,"
"There are two square kilometers left in West Mosul before the entire city is liberated," he told Reuters by phone.
"SYMBOL OF IDENTITY"
The United Nations' education organization UNESCO said the Minaret and mosque "stood as a symbol of identity, resilience and belonging" and deplored their destruction.
Baghdadi proclaimed himself "caliph", or ruler of all Muslims, from the mosque's pulpit on July 4, 2014.
The fall of Mosul would in effect mark the end of the Iraqi half of the "caliphate", though Islamic State would still hold territory west and south of the city. US-backed militias are closing on Islamic State's Syrian stronghold of Raqqa.
The mosque was named after Nuruddin al-Zanki, a noble who fought the early crusaders from a fiefdom that covered territory in modern-day Turkey, Syria and Iraq. It was built in 1172-73, shortly before his death, and housed an Islamic school.
The mosque's military and religious history embodies the spirit of Mosul, a conservative city which supplied the armed forces with officers since modern Iraq was created, about 100 years ago, and until the fall of Saddam Hussein, after the 2003 US-led invasion which empowered the Shia majority.
The Sunni city balked at its loss of influence and some joined the insurgency against the new rulers of the country. When Islamic State swept into Mosul in June 2014, they were welcomed by those who saw the takeover as promising an end to harsh treatment by Shia-led security forces.
The Mosque's destruction occurred during the holiest period of the Islamic holy month of Ramadan, its final 10 days.
Full report at:
http://nation.com.pk/international/23-Jun-2017/shock-and-anger-in-mosul-after-is-destroys-historic-mosque
--------
Whistle-Blower: Saudi Arabia, UAE Plotting to Stage Coup in Qatar
Jun 22, 2017
Mujtahid on his Twitter page wrote that UAE's Mohammad bin Zayyed and Saudi Arabia's Mohammad bin Salman had been plotting to wage a coup in Qatar.
According to the scenario, the Saudi and UAE forces were planning to stage a coup in Qatar by occupying that country in cooperation with Blackwater security forces and give control of the country to a sheikh from Al Thani family who would support Saudi Arabia and the UAE.
He noted that but they cancelled their plot in the last moment after the US interference.
Mujtahid said that according to the plot, the Qatari forces were to stay for a while in Najran in Southern Saudi Arabia in a bid to make them lose contact with the Centcome in Qatar, but they were to be sent there on an errand and treated with respect.
In the meantime, the Saudi and Emirati forces were supposed to enter Doha in the Qatari army uniforms and pretend that they are Qatari troops who had been stationed in Southern Saudi Arabia. Concurrently the UAE naval forces would arrive in Qatar with the help of US Blackwater company forces and take control of all sensitive and important centers, he added.
He noted that the scenario of the military coup and ousting the Qatari emir was cancelled due to the US opposition despite their high preparedness for implementing the plot. "It was said that the CIA had monitored the plot in detail and had opposed it."
Mujtahid continued that Bin Salman and Bin Zayed had trusted (US President) Donald Trump's Tweets without realizing that Pentagon and other security centers would not accept such plans. "The Pentagon also conducted a joint military maneuver with Qatari forces in order to abort the coup."
He reiterated that the Qatari troops at the Southern border of Saudi Arabia are regarded the best military forces of that country and the plot organizers believed that their absense in Qatar would weaken Qatar's defense system and make their mission easier.
Bahrain, Saudi Arabia, the United Arab Emirates and Egypt cut off diplomatic ties with Qatar early June, and suspended air and sea communication one week after the Arab Islamic American Summit in Riyadh, accusing Doha of supporting terrorist organizations and destabilizing the situation in the Middle East.
Later, Libya, Maldives, Mauritius and Mauritania joined that list of nation to break off diplomatic relations with Doha.
Jordan and Djibouti have also announced that Amman and Djibouti decided to reduce their diplomatic status after studying reasons behind the tension between Cairo, Riyadh, Abu Dhabi and Manama with Qatar.
Qatar protested the unjustified decision of Bahrain, Saudi Arabia, Egypt and the United Arab Emirates to cut ties with the country.
"We regret the decision to sever relations," the the Qatari Foreign Ministry said in a statement, adding that "these measures are unjustified, they are based on assertions without foundation."
Full report at:
http://en.farsnews.com/newstext.aspx?nn=13960401000990
--------
Terrorists Sustain Heavy Defeat in Failed Offensive in Damascus
Jun 22, 2017
The army soldiers engaged in clashes with Jeish al-Islam terrorists in the farms overlooking Abdolmanaf'e gas station in the Eastern Ghouta of Damascus, inflicting a large number of casualties on the militants who wanted to occupy several military points in the region.
Also, other Syrian army units repulsed Jeish al-Islam's massive offensive on their positions in Hawsh al-Zawaherah region in Eastern Damascus.
During the clashes, the terrorists' field commander named Abu Walid Juma'a was killed.
Meantime, the army forces heavily clashed with al-Nusra terrorists who had attacked their new position in Falitah heights in Western Qalamoun, and warded off their offensive.
Also, a field source reported that the Syrian troops targeted the al-Nusra's moves and positions in the Western parts of Falitah heights with artillery and missile fire, destroying one of their military vehicles and one of their bases in the region.
In a relevant development in the province on Wednesday, the Syria army carried out special military operations against the terrorists in the last regions under militants" control and managed to take full control of several areas in rapid advances.
"The Syrian army's military operations were kicked off from three directions, including in Jobar district and with the aim of impose overall dominance over the district," a military source said.
Meantime, the Syrian army forces moved towards Ain Terma in the second phase and towards the towns of Arabeen and Zumalka in the third phase.
The Syrian fighter jets as well as missile and artillery units hit hard the terrorists' military positions in these regions.
Full report at:
http://en.farsnews.com/newstext.aspx?nn=13960401000944
--------
Syrian Army Inches Closer to Jordanian Borders
Jun 22, 2017
The army units targeted the al-Nusra's moves in Dara'a al-Balad and the nearby areas as well as the village of al-Madourah in al-Lajah region in Sweida with artillery and missile fire, killing over 12 terrorists and wounding several others.
They also launched offensive on militants' positions in the village of Maliheh al-Atash, Dara'a al-Balad and Salman hills in Sweida, inflicting tens of losses on al-Nusra terrorists.
Meantime, a military source reported that the Syrian army has inched closer to the Syria-Joran borders by advancing from Dara'a towards the West.
Also, Jordan's Khaberni news website quoted the opposition sources as confirming the Syrian army's deployment near the borders.
In a relevant development on Wednesday, the Syrian army continued to push terrorists back from more regions in Dara'a, and killed a senior commander of the Free Syrian Army (FSA).
The army units advanced deep into the Dara'a al-Balad camp and captured the school complex and gas station of the camp after heavy clashes with al-Nusra Front terrorists.
Meantime, the Syrian air force also heavily pounded the terrorists' military positions in Dara'a al-Balad and al-Atisheh.
Commander of Tahrir Houran Brigade affiliated to the Free Syrian Army Issa al-Mosalemeh was killed in clashes with the army.
A military source pointed to the Syrian army's strategic advances in Dara'a and dominance over the air defense battalion and Tal al-Thalileh, and said that if the Syrian army reinforces its positions in these two areas and advances towards the borders with Jordan, it will be able to disconnect the Western and Northwestern parts of Dara'a from the Eastern and Northeastern parts of the province and lay siege on the terrorists from every direction.
Full report at:
http://en.farsnews.com/newstext.aspx?nn=13960401000853
--------
18 Israeli Fighter Jets Deployed in S. Arabia to Prevent Coup
Jun 22, 2017
Saudi King Salman bin Abdulaziz announced on Wednesday his decision to replace Crown Prince Mohammed bin Nayef bin Abdulaziz with his own son, Mohammed bin Salman.
After the decision was announced, the Israeli air force sent 18 of its fighter jets, including F16I, F15CD and F16CD, along with two Gulfstream aircraft, two tanker airplanes and two C130 planes, special for electronic warfare, to Saudi Arabia at the demand of the new crown prince bin Salman to block his cousin (bin Nayef)'s possible measures.
According to a royal decree, Mohammed bin Salman, 31, was also named deputy prime minister, and shall maintain his post as defense minister, the official Saudi Press Agency (SPA) reported on Wednesday.
Saudi media announced that King Salman has called for a public pledge of allegiance to the new crown prince in the holy city of Mecca on Wednesday night.
The SPA also confirmed that 31 out of 34 members of Saudi Arabia's succession committee chose Mohammed bin Salman as the crown prince.
Just days ago, the Saudi king stripped Nayef of his powers overseeing criminal investigations and designated a new public prosecution office to function directly under the king's authority.
In a similar move back in 2015, the Saudi king had appointed his nephew, then deputy crown prince Mohammed bin Nayef as the heir to the throne after removing his own half-brother Prince Muqrin bin Abdulaziz Al Saud from the position.
Under the new decree, King Salman further relieved Mohammed bin Nayef of his duties as the interior minister. He appointed Prince Abdulaziz bin Saud bin Nayef as the new interior minister and Ahmed bin Mohammed Al Salem as deputy interior minister.
Mohammed Bin Salman is already in charge of a vast portfolio as chief of the House of Saud royal court and chairman of the Council for Economic and Development Affairs, which is tasked with overhauling the country's economy.
The young prince was little known both at home and abroad before Salman became king in January 2015.
However, King Salman has significantly increased the powers of Mohammed, with observers describing the prince as the real power behind his father's throne.
The power struggle inside the House of Saud came to light earlier this year when the Saudi king began to overhaul the government and offered positions of influence to a number of family members.
In two royal decrees in April, the Saudi king named two of his other sons, Prince Abdulaziz bin Salman and Prince Khaled bin Salman, as state minister for energy affairs and ambassador to the United States, respectively.
Late April, media source disclosed that Mohammad bin Salman has literally bribed the new US administration by paying $56m to Donald Trump.
According to reports, bin Salman is paying off the US to buy its support for finding a grip over the crown.
"Since Uncle Sam's satisfaction is the first step for the Saudi princes to get on the crown, paying off Washington seems to be a taken-for-granted fact," Rami Khalil, a reporter of Naba' news website affiliated to the Saudi dissidents wrote.
He added that since the Justice Against Sponsors of Terrorism Act (JASTA) is like a sword over the head of the al-Saud, they have no way out but to bribe the US, noting that the Yemen quagmire is also another reason for Riyadh to seek Washington's support.
Also, a prominent Yemeni analyst said earlier this month that the US has been paid several trillion dollars by Saudi Arabia to protect its crown, adding that Riyadh has recently bribed Washington's support for the Yemen war with $200bln.
"Washington has asked for more money to defend the Saudi regime and Riyadh has recently paid $200bln to the US for the costs of its support for the war in Yemen," Saleh al-Qarshi told FNA.
"This is apart from the huge amounts of money that Saudi Arabia pays to the US treasury for protecting its crown," he added.
According to al-Qarshi, former Saudi Intelligence Chief Turki al-Feisal revealed last year that his country has bought the low-profit US treasury bonds to help the US economy.
As the defense minister, Mohammed bin Salman has faced strong international criticism for the bloody military campaign he launched against neighboring Yemen in 2015 amid his rivalry with bin Nayef, the then powerful interior minister.
Saudi Arabia has been striking Yemen since March 2015 to restore power to fugitive president Mansour Hadi, a close ally of Riyadh. The Saudi-led aggression has so far killed at least 14,000 Yemenis, including hundreds of women and children.
The World Health Organization (WHO) in Yemen also announced that more than a thousand Yemenis have died of cholera since April 2017 as Saudi Arabia's deadly campaign prevented the patients from travelling abroad for treatment and blocked the entry of medicine into the war-torn country, continues hitting residential areas across Yemen.
Despite Riyadh's claims that it is bombing the positions of the Ansarullah fighters, Saudi bombers are flattening residential areas and civilian infrastructures.
According to several reports, the Saudi-led air campaign against Yemen has drove the impoverished country towards humanitarian disaster.
Full report at:
http://en.farsnews.com/newstext.aspx?nn=13960401000674
--------
Syrian Ground, Air Forces Shatter ISIL Positions, Moves in Eastern Hama
Jun 22, 2017
The army units attacked ISIL positions and moves in the Petrol Line and Tabarat al-Dibeh regions in Eastern Hama, killing and wounding a large number of terrorists and smashing their weapons and military equipment.
They also launched missile attacks on ISIL moves at night in the Southeastern parts of the village of Aqarib, inflicting heavy damage on the militants.
Meantime, the Syrian and Russian fighter jets launched 3 airstrikes on ISIL bases in the two villages of Qalib al-Thor and Abu Hanaya in Eastern Hama, destroying 2 positions of the terrorists.
A military source also reported that by military operations in Eastern Hama, the army is trying to cut the ISIL supply lines towards al-Sha'er and Job al-Jarrah regions in Eastern Homs.
Also on Wednesday, the Russian and Syrian fighter jets in a joint military operation pounded ISIL's military positions and movements in Eastern Hama and inflicted heavy losses on them.
The Russian warplanes pounded the positions of ISIL deep inside Badieh (desert) in Eastern Hama which resulted in the death and injury of tens of ISIL terrorists and destruction of their military vehicles and equipment.
The Syrian air force warplanes strongly pounded ISIL's movements in the direction of the oil pipeline and Tabareh al-Dibeh in Eastern Hama.
This is while the terrorists' military bases and movements also came under airstrikes by the Syrian fighter jets along Sheikh Halal-Rasm al-Timeh axis which resulted in the death of a number of ISIL terrorists.
In Northern Hama, the army troops engaged in clashes with the terrorists who had attacked al-Mosaseleh checkpoint and inflicted heavy losses on the terrorists before thwarting their invasion.
The Syrian army also pushed ahead with its anti-ISIL military operations in Eastern Hama, forcing the Takfiri terrorists to withdraw from more regions.
After liberating Rasm al-Ammoun and Rasm al-Tineh, the Syrian army resumed military operations in the Eastern parts of Hama on Sunday, hitting ISIL's centers North of the terrorist group's strategic stronghold, Aqayrabat.
Full report at:
http://en.farsnews.com/newstext.aspx?nn=13960401000525
--------
Egypt to extend state of emergency for three months
22 June 2017
Egypt's President Abdel Fattah al-Sisi extended a state of emergency declared after twin church bombings in April by militants, in a decree issued in the official gazette on Thursday.
The renewed three-month state of emergency will start on July 10, according to the decree.
Parliament approved the initial state of emergency in April after the two church bombings claimed by ISIS that killed at least 45 people.
The militant group said it was behind the bombings in the cities of Tanta and Alexandria, and it threatened further attacks against Egypt's Coptic Christian minority.
Militants also claimed a Cairo church bombing in December that killed 29 people.
Full report at:
https://english.alarabiya.net/en/News/middle-east/2017/06/22/Egypt-to-extend-state-of-emergency-for-three-months.html
--------
HRW urges new Saudi crown prince to end rights violations, pursue reforms
Jun 22, 2017
Human Rights Watch (HRW) has called on newly-appointed Saudi Crown Prince Mohammed bin Salman to put an end to the country's longstanding human rights violations and make a commitment to rights reforms.
"Saudi Arabia should go beyond portfolio shuffling and ensure that leadership changes bring meaningful steps to end the repression so many Saudi men and women have suffered over the years," HRW Middle East Director Sarah Leah Whitson said on Thursday.
"If the new crown prince wants to achieve his vision for economic progress, he should take immediate and concrete steps to improve human rights protections," she added.
On Wednesday, Saudi King Salman bin Abdulaziz Al Saud issued a royal decree to replace Crown Prince Mohammed bin Nayef bin Abdulaziz Al Saud with his own son.
HRW noted that the new crown prince has not made any commitment to pursue rights reforms since he took office as defense minister and deputy crown prince in early 2015, and that his ambitious Vision 2030 to diversify Saudi Arabia's economy does not consider key human rights reforms such as inclusion of women's role in the economy.
Saudi women face harsh restrictions in different spheres. The country's male guardianship system requires every woman to have a male guardian – a father, brother, husband, or even a son.
Saudi Arabia is the only country in the world that prohibits women from driving. The absolute ban is based on a fatwa (religious order) imposed by the country's Wahhabi clerics. If women get behind the wheel in the kingdom, they may be arrested, sent to court and even flogged.
The HRW report also pointed out that the new crown prince has "initiated and is responsible" for the Saudi war on Yemen which has led to a "humanitarian catastrophe" in the country, and noted that the Riyadh regime has carried out "scores of apparently unlawful attacks, including potential war crimes, and repeatedly hit schools, markets, homes, and hospitals."
The war has killed over 12,000 civilians, left much of Yemen in ruins and empowered the Takfiri terror groups operating in the impoverished country.
As part of the recent reshuffling, King Salman has further relieved Mohammed bin Nayef of his duties as the interior minister. He appointed Prince Abdulaziz bin Saud bin Nayef as the new interior minister and Ahmed bin Mohammed al-Salem as deputy interior minister.
The rights group criticized the Saudi Interior Ministry for taking the lead in longstanding violation of the basic rights in the country, including free expression, association, and assembly and imposing restrictions for rights activists and women.
The report expressed concern over the country's 2013 counterterrorism law that authorizes the arrests of terrorism suspects without prosecution as well as access to their private banking and communications information without judicial supervision.
HRW also slammed Saudi authorities for arresting and prosecuting "nearly all activists" associated with the Saudi Civil and Political Rights Association (ACPRA) over "vague charges" and said, "Saudi Arabia's reshuffled prosecution service should immediately end prosecutions of human rights activists."
"Saudi leaders should realize that they can't transform the country's economy and society without granting women rights on par with men and allowing Saudis to openly criticize government policies and call for human rights," Whitson pointed out.
The new crown prince who is already in charge of a vast portfolio as chief of the House of Saud royal court and chairman of the Council for Economic and Development Affairs was little known both at home and abroad before Salman became king in January 2015.
However, King Salman has significantly increased the powers of Mohammed, with observers describing the prince as the real power behind his father's throne.
Mohammed bin Salman, according to analysts, appears to have orchestrated the Persian Gulf diplomatic crisis, which has seen a Saudi-led bloc of countries cutting ties with Qatar and imposed an economic siege on the country.
Full report at:
http://217.218.67.231/Detail/2017/06/22/526208/Saudi-Arabia-HRW-crown-prince-rights-violations
--------
Mideast
Saudi forces eliminate dozens of Houthis after foiled attack near border
22 June 2017
Saudi forces have eliminated dozens of Iran-backed Houthi militias near the border city of Jazan after the latter attempted an attack, which was foiled, Al Arabiya's sister news channel Al-Hadath reported Thursday.
Military equipment belonging to the Houthis were also destroyed near Al-Khoba village in the southwestern Jazan near Yemen.
https://english.alarabiya.net/en/News/gulf/2017/06/22/Saudi-forces-eliminate-dozens-of-Houthis-after-foiled-attack-near-border.html
--------
Iranophobia aimed at diverting attention from Israel: Houthi leader
Jun 23, 2017
Leader of Yemen's Ansarullah movement Abdul-Malik Badreddin al-Houthi has slammed the ongoing efforts to divert attention from Israel's hostile policies by inciting Iranophobia among regional countries.
In a live televised speech to the Yemeni people on the occasion of International Quds Day early Friday, Houthi hailed Iran and Syria for supporting the regional resistance movements and underlined the need for a united front against Israel.
Some US allies in the region, including Saudi Arabia, have repeatedly accused Iran of supporting terrorism, with Saudi Crown Prince Mohammed bin Salman pledging that his country "will work to have the battle in Iran."
Iran has vehemently denied the allegations, stressing that Tehran uses its defense program as a deterrent endeavor to contribute to the regional stability and security and the fight against terror.
The Ansarullah leader, whose country has been fighting a deadly war waged by a Saudi-led coalition since March 2015, noted that Israel's positions with regard to some Arab countries, including Saudi Arabia, imply a level of unity and common interest between Tel Aviv and those states.
Israel seeks a deal with Arab countries, including Saudi Arabia, as a prerequisite for any agreement to resolve the decades-long conflict with the Palestinians.
On Thursday, Israel's minister of military affairs Avigdor Lieberman underlined the need for "a full regional agreement" with what he called "all moderate Sunni states, including Kuwait and Saudi Arabia."
Citing unnamed Arab and American sources, The Times reported last week that Saudi Arabia and the Israeli regime were in clandestine talks to establish official economic relations for the first time since the entity was created on the Palestinian territories some 69 years ago.
Separately on Thursday, Israel's Transportation and Intelligence Minister Yisrael Katz called on Saudi King Salman bin Abdulaziz Al Saud to invite Israeli Prime Minister Netanyahu to Riyadh to establish full diplomatic relations.
He further called for creating "an access vis-a-vis Iran" jointly with the Saudis.
The Israeli regime also signaled that it welcomes Saudi King Salman's Wednesday decree to replace Crown Prince Mohammed bin Nayef bin Abdulaziz Al Saud with his own son Mohammed bin Salman.
Full report at:
http://217.218.67.231/Detail/2017/06/23/526211/Yemen-Iran-Israel-Houthi-Ansarullah-saudi-Arabia
--------
Deal with Saudi Arabia prerequisite to end conflict with Palestine: Israel
Jun 22, 2017
Israel's minister of military affairs has called for a deal with Arab countries, including Saudi Arabia, as a prerequisite for any agreement to resolve the decades-long conflict with the Palestinians.
In a speech at the annual Herzilya security conference near Tel Aviv on Thursday, Avigdor Lieberman underlined the need for "a full regional agreement" with what he called "all moderate Sunni states, including Kuwait and Saudi Arabia."
"The agreement with the Palestinians is a byproduct" of the accord with the Arab countries, Lieberman said.
"The only light at the end of the tunnel is a complete regional agreement. Full diplomatic and economic relations. Not under the table, but on the table," he added.
The Israeli minister further highlighted the profit of the deal for Tel Aviv, saying, "This would mean an additional revenue of $45 billion for Israel. That's the potential."
Citing unnamed Arab and American sources, The Times reported last week that Saudi Arabia and the Israeli regime were in clandestine talks to establish official economic relations for the first time since the entity was created on the Palestinian territories some 69 years ago.
Forming economic connections between to two, which would be gradual, could begin by allowing Israeli companies to open shops in the Arab kingdom, or granting El Al Israel Airlines Ltd. permission to fly over Saudi airspace, the report said.
Separately on Thursday, Israel's Transportation and Intelligence Minister Yisrael Katz called on Saudi King Salman bin Abdulaziz Al Saud to invite Israeli Prime Minister Netanyahu to Riyadh to establish full diplomatic relations.
Speaking at the Herzliya conference, Katz asked King Salman to send newly appointed crown prince Mohammed bin Salman Al Saud to the occupied territories, saying, "He (the heir to the Saudi throne) is a dynamic person. He is an initiator. And he wants to break through."
He further called for creating "an access vis-a-vis Iran" jointly with the Saudis.
'Abbas after fueling Israel-Hamas conflict'
Elsewhere in his remarks, Lieberman accused Palestinian President Mahmoud Abbas of trying to spark a fresh conflict between Tel Aviv and the Gaza-based Palestinian resistance movement Hamas by cutting payments for electricity and other services in the blockaded coastal enclave.
"Abu Mazen (Abbas) didn't make a one-time cut," Lieberman said, noting, "In my opinion the strategy is to hurt Hamas and also to drag Hamas into a conflict with Israel."
Recently, the Abbas-led Palestinian Authority has cut payments to Israel to supply electricity to Gaza, prompting the regime to stop deliveries.
'Syria responsible for Hezbollah moves'
Meanwhile, the hardline Israeli minister warned Syria against what he described as attempts by Iran and the Lebanese Hezbollah resistance movement to open a front against the occupying regime.
Full report at:
http://217.218.67.231/Detail/2017/06/22/526161/Israel-Saudi-Arabia-Avigdor-Lieberman
--------
Khamenei ordered missile strikes on IS targets in Syria
June 23, 2017
TEHRAN - Iran's Supreme Leader Ayatollah Ali Khamenei ordered weekend missile strikes on Islamic State targets in Syria, Revolutionary Guards said, contradicting a previous report that they were authorised by the country's security council.
The Guards fired six mid-range surface to surface missiles from western Iran into Syria's Deir al Zour province on Sunday night, the first attack of its kind carried out by the Islamic Republic in years.
The Guards statement, published on Wednesday by Sepah News, ran counter to a statement by President Hassan Rouhani who said earlier that the strikes were authorised by the Supreme National Security Council, which includes the heads of the three branches of government as well as the head of the Guards and other ministers. Senior Guard commanders said on Monday that the missile strikes were intended to send a message to "terrorists" who carried out attacks in Tehran two weeks ago as well as their regional and international supporters, a reference to Saudi Arabia and the United States.
Khamenei's personal directive for the missile strikes, as reported by the Guards, highlighted their symbolic importance.
The complex attacks in Tehran included shootings and at least one suicide bombing at the Iranian parliament and the mausoleum of Ayatollah Ruhollah Khomeini, the founder of the Islamic Republic, south of the capital. Eighteen people were killed.
Islamic State claimed responsibility for these attacks but senior Iranian officials pointed a finger at Saudi Arabia, the Islamic Republic's biggest regional rival.
Tensions between mostly Iran and Saudi Arabia have ramped up in recent months as both countries compete for power and influence across the region. The two countries support opposite sides in the conflicts in Syria and Yemen.
Field operatives from the Quds Force, the branch of the Guards responsible for operations outside Iran's borders, gathered intelligence on the targets inside Syria before the strike, the Guards' statement said.
Full report at:
http://nation.com.pk/international/23-Jun-2017/khamenei-ordered-missile-strikes-on-is-targets-in-syria
--------
Blast damages wall next to NATO military area in Turkey: media
June 23, 2017
An explosion damaged a wall next to a NATO military area in Turkey's western coastal city of Izmir on Thursday, Turkish media reported, but there were no reports of casualties.
State-run Anadolu news agency said the blast occurred around 7.50 am (0450 GMT) in the Aegean city's central Konak district and it reported an eyewitness as saying it happened right after a military vehicle had passed the area.
The explosion destroyed part of a wall between the cemetery and the military area and shattered windows in nearby buildings, the agency said.
Police sealed off the area while they investigated the cause of the blast, according to broadcaster CNN Turk.
Full report at:
http://nation.com.pk/international/22-Jun-2017/blast-damages-wall-next-to-nato-military-area-in-turkey-media
--------
US airstrike kills al-Qaeda leader in key Yemen province
22 June 2017
The US military said on Thursday it carried out an air strike in Yemen that killed Abu Khattab al Awlaqi, the emir for al Qaeda in the Arabian Peninsula's Shabwa province, along with two other militants.
"Al Awlaqi was a senior leader responsible for planning and conducting terrorist attacks against civilians," the US military's Central Command said in a statement.
"He had significant influence throughout AQAP's terrorist stronghold, had ties and access to the group's other senior leaders, and was implicated in planning and leading efforts to exacerbate instability in southern Yemen."
https://english.alarabiya.net/en/News/gulf/2017/06/22/US-airstrike-kills-al-Qaeda-leader-in-key-Yemen-province.html
--------
IRGC disbands terror outfit in western Iran
Jun 23, 2017
Iran's Islamic Revolution Guards Corps (IRGC) has disbanded a terrorist group in the western Iranian province of Kurdistan.
Reporting on Friday, the IRGC's Sepah News outlet said forces with the Hamzeh Seyyed al-Shohadah Base of the Corps' Ground Forces had engaged the terrorists earlier in the day.
Three terrorists were killed in the operation and one was arrested. Some weapons and ammunition were also confiscated.
The IRGC said the terrorists "had intended to conduct terrorist activities and create instability" in Iran.
On June 7, terrorists attacked Iran's Parliament and the Mausoleum of the late founder of the Islamic Republic, Imam Khomeini, killing 17 people. The Takfiri Daesh terrorist group claimed responsibility for the attacks.
According to the IRGC, the perpetrators had infiltrated the country via Kurdistan and Kermanshah, another western Iranian province.
After the attacks, the IRGC traced the assaults back to its planning and command centers in the northeastern Syrian province of Dayr al-Zawr within 11 days. It then staged a missile attack against positions where Daesh commanders and members were meeting in Dayr al-Zawr, killing dozens of the terrorists in retaliation for the Tehran attacks.
Full report at:
http://217.218.67.231/Detail/2017/06/23/526221/Iran-IRGC-Kurdistan-terrorist-outfit
--------
Judiciary chief: Don't test Iran's defensive power
Jun 22, 2017
Judiciary Chief Ayatollah Sadeq Amoli Larijani says Iran's missile attack on Daesh positions in Syria demonstrated the Islamic Republic's resolve to battle terrorism.
On Sunday, the Islamic Revolution Guards Corps (IRGC) pounded Daesh headquarters in Syria's Dayr al-Zawr with ballistic missiles fired from western Iran.
The strike was a "display of a corner of Iran's defensive capability and the Islamic Republic's power and firm determination to fight terrorism," Amoli Larijani said on Thursday.
He said he hoped "terrorists and their international and regional sponsors have properly received this clear message that their despicable efforts to destabilize a country which enjoys the highest level of security in the region will be met with serious and crushing responses."
Amoli Larijani warned Takfiri and other terrorist groups not to test Iran 's defensive power, because it would cost them "very dearly".
The remarks came a day after the IRGC said in a statement that the missile attack was conducted in coordination with General Staff of the Armed Forces and with the order of Leader of the Islamic Revolution Ayatollah Seyyed Ali Khamenei, who is the commander-in-chief of the Iranian armed forces.
The IRGC fired six medium-range missiles at Daesh targets in Dayr al-Zawr, which killed more than 170 Takfiri terrorists, including a number of commanders and senior elements, and inflicted heavy damage on their equipment and systems, it added.
The missile attack was in retaliation for the June 7 terror attacks in Tehran, where gunmen mounted assaults on Iran's Parliament and the mausoleum of late founder of the Islamic Republic Imam Khomeini, killing 18 people and injuring over 50 others. Daesh claimed responsibility for the incident.
On Tuesday, Iranian Defense Minister Brigadier General Hossein Dehqan said the missile strike was just a small part of the Islamic Republic's reaction to the "indiscriminate" attacks by the terror group on the Iranian soil.
Full report at:
http://217.218.67.231/Detail/2017/06/22/526190/Iran-Syria-Daesh
--------
Europe
Islamophobic attacks in Manchester soar above 500% post arena attack
Jun 23, 2017
Islamophobic attacks soared more than 500% in Greater Manchester after the suicide bombing at an Ariana Grande concert last month, police have said, reported Guardian.
There were 224 reports of anti-Muslim hate crimes in the month after the attack compared with 37 in the same period in 2016, official figures show.
Greater Manchester Police (GMP) revealed the 505% rise in Islamophobic incidents as officers said they would take tough action to curb the increase in hate-fuelled incidents.
The figures came as police across Britain increased protection for Muslim communities after the Finsbury Park mosque attack in the early hours of Monday.
Rob Potts, assistant chief constable of GMP, said hate crime in the region had returned to normal levels in recent days – but warned that the true number of incidents could be even higher due to under-reporting.
He said: "Greater Manchester has a diverse population, with people from different faiths and backgrounds and this is something that we are proud of, it's what makes us the city we are. We will not tolerate hatred or discrimination of any kind.
"When a major tragedy occurs such as the attacks in Manchester and London, it is sadly not unusual for there to be a spike in the amount of hate crimes, specifically against race and religion, but thankfully they do decrease again quickly."
The home secretary, Amber Rudd, has pledged extra policing resources "for as long as it is needed" to reassure Muslim communities after the Finsbury Park attack, in which one man died and 11 were injured.
Figures released by GMP show religious hate crimes, including Islamophobia, leapt from 92 to 366 since the arena attack that killed 22 and wounded 220 others on 22 May.
Race hate crimes have jumped 61%, to 778 incidents, compared with the same four weeks last year. The figures show smaller increases in attacks targeting disability and sexual orientation.
But the biggest increase was in anti-Muslim hate crime, the figures show. The nature of the incidents are not detailed but are thought to include a mosque in Oldham that was hit with a firebomb hours after the Manchester bombing.
A 14-year-old pupil at Manchester Islamic High School for Girls was also targeted days after the arena attack when a passerby shouted: "When are you going to stop bombing people?".
Headteacher Mona Mohamed told BBC Radio 4's Today programme that the teenager was "very upset and hurt" but chose to keep quiet as advised by the school.
"What's the point of reacting?" she said. "That's not the way we're going to tackle terrorism. Terrorism is not part of Islam. We're Muslim and to us Islam is peaceful."
Sondes Malek, a British Libyan teacher at the school, added that most pupils had enjoyed a lot of support from non-Muslims.
Potts added: "We continue to monitor the levels of hate crimes that are reported and it is essential that we remind people about the importance of reporting when a hate crime happens to you, or you see it happening.
"Hate crime is often under reported for a number of reasons, but we want people to have the confidence in coming forward as no one should be the subject of hate and intolerance."
Tell Mama, which records Islamophobic crime, this week reported a UK-wide increase in incidents.
The Metropolitan police say the volume of hate crime they record as Islamophobic attacks has increased sharply in the past four years.
The force recorded 343 incidents in the 12 months to March 2013; 1,109 in the 12 months to March 2016; and 1,260 in the 12 months to March 2017.
http://nation.com.pk/international/22-Jun-2017/islamophobic-attacks-in-manchester-soar-above-500-post-arena-attack
--------
Christians, Muslims, Jews Break Bread In Interfaith Morocco Initiative
JUNE 22, 2017
When Moroccan students got together to explore the rich cultural legacy the Jewish community contributed to the North African country, they named their association Mimouna, the name of a Moroccan Jewish tradition which marks the end of Passover with inviting Muslim neighbors for shared meals.
They never guessed they'd end up creating such meals themselves.
Together with the International Fellowship of Christians and Jews (IFCJ) and Jeunesse Chabad Maroc the students provided 1,500 needy Muslim families with meals in Marrakesh to help them celebrate Eid al-Fitr, which marks the end of Ramadan. The collaboration also included a festive interfaith dinner at the Slat al Azama synagogue in the Jewish quarter of Marrakech.
IFCJ Vice president Yael Eckstein was present at the event and stated that, since WWII, Morocco had set an example among North African societies for its treatment of Jews. She said she is honored to stand with the people of Morocco.
"We can overcome divisions and intolerance", said Eckstein, "by building bridges of empathy."
This is not the only example of the children of Abraham coming together around the dinner table this time of year.
In Cairo, Copts, who comprise the largest Christian minority in the Middle East, had set up tables outside their homes and invited Christians and Muslims alike to enjoy a meal as the sun sets and fasting Muslims are able to eat and drink.
Dawoud Riyad, who is Coptic, set up the tables near his Cairo home and invited Tarek Ali, a local resident, to celebrate together.
"They invited me and my kinds, and I was surprised", said Ali, "with no difference between sheikhs, Christians, or Muslims."
"We're all brothers and friends", said Riyad and pointed to another neighbor, "I've raised this man's son (alongside my own son) and he's Muslim."
Full report at:
http://www.jpost.com/Christian-News/Children-of-Abraham-break-bread-together-497619
--------
Prince Charles Pays respects to Finsbury Park Muslim Community
By Constance Renton
June 22, 2017
After touring the floral tributes, Prince Charles met with moved indoors to meet with community and religious leaders, including the mosque's imam, Mohamed Mahmoud. He has been widely praised ever since video showing him shielding the suspect from harm and preaching calm until police arrived on the scene of the attack went viral.
Prince Charles spoke of feeling "deeply impressed" by Mahmoud and his deep commitment to his community and justice, calling his actions on Monday night "remarkable."
"Thank goodness we have wonderful leaders," he said.
Charles described feeling joy in being present "despite the very sad, unfortunate circumstances."
He then announced that he bore a message from Her majesty, Queen Elizabeth II:
"She has specifically asked me to tell you how shocked she was by what happened, particularly as the victims were worshippers who had been attending Ramadan prayers – and her Majesty's thoughts and prayers are with you all.
He then added his own message, saying "I can only but join my particular thoughts and prayers to her Majesty's on this occasion, and to say that for many years I have taken a great interest in the Muslim community in this country."
The suspect, 47-year-old, Darren Osborne, remains in custody on suspicion of attempted murder and acts of terrorism.
Full report at:
https://www.moroccoworldnews.com/2017/06/220820/prince-charles-pays-respects-finsbury-park-muslim-community/
--------
French government outlines tough anti-terror law
Jun 23, 2017
The government of French President Emmanuel Macron has proposed the outlines of a controversial anti-terrorism law that would end the state of emergency in France but incorporate several of the tough measures under the emergency into permanent law.
The proposed law was presented at the first meeting of Macron's newly-reshuffled cabinet on Thursday.
France has in the past couple of years been the target of frequent terrorist attacks, together killing more citizens than sporadic attacks in other European countries. A series of terrorist raids in November 2015 alone killed some 130 people and led the government of the then-President Francois Hollande to introduce a state of emergency to expand the powers of security forces.
The state of emergency has since been extended five times and is expected to be extended by Macron until November 1, when the new anti-terrorism law would be prepared.
Just on Monday, a man drove a car laden with gas canisters into a police van in the French capital, Paris. No one was injured in the attack, but the driver, who had been on a terrorist watchlist and who was himself killed, had intended to cause an explosion.
The proposed law would give French authorities greater powers to act to protect an event or location thought to be at risk of an attack without first seeking permission from courts. The draft law would also allow places of worship thought to be promoting extremism to be shut down for up to six months.
The planned measures have been criticized by civil rights groups, which say the draconian measures would be trampling on civil liberties.
Amnesty International has also said the new law could be abused to disallow legitimate protests.
But Macron's government has insisted the law is necessary to stop terrorist attacks.
"If we want to effectively ensure the security of our citizens, we must be able to take a certain number of measures," Interior Minister Gerard Collomb has said.
Macron, who himself won the presidential election in France on May 7 by a wide margin, received an even bigger mandate by the French electorate on June 18, when his newly established party won the majority of the seats in the parliament as well.
Full report at:
http://217.218.67.231/Detail/2017/06/23/526228/France-Macron-antiterrorism-law-state-of-emergency
--------
Paris Champs-Elysées attacker had gun licence despite being on terror watchlist
Jun 23, 2017
Questions arose Tuesday over how a known terrorist, who rammed a car laden with weapons and gas canisters into a police van on Paris's Champs-Elysees, was able to hold a firearms license.
Adam Djaziri, a 31-year-old who had been on a terror watch list since 2015, was killed on Monday as his car smashed into the police van on the French capital's most famous avenue.
Two handguns and a Kalashnikov-style assault rifle were found in the car, while a weapons stash was discovered at the home of the attacker.
A source close to the inquiry said a letter had been found in which Djaziri claimed allegiance to Daesh terror group leader Abu Bakr al-Baghdadi.
Djaziri's father, who has been detained, told AFP his son practiced shooting as a sport, and a source close to the probe said he had nine registered weapons including pistols and an assault rifle.
In the letter, Djaziri boasted that he was playing a "double game" by amassing weapons for an attack by posing as a shooting enthusiast, the source said.
The head of the French Shooting Federation said police officers had visited Djaziri's shooting club to enquire about him -- implying that his keen interest in guns had raised suspicions.
The attempted attack comes as France remains under a state of emergency after a wave of terrorist assaults that have left more than 230 people dead since 2015.
As the month-old government of President Emmanuel Macron prepares to unveil a tougher new anti-terrorism law, Prime Minister Edouard Philippe expressed dismay that Djaziri was able to have a gun permit.
"What I know at this stage is that the first weapons permit was given before this individual was flagged up," he said in an interview with BFM television and RMC radio, but he added that "no one can be satisfied -- and certainly not me" that Djaziri was able to possess dangerous weapons after being put on a watchlist.
Interior Minister Gerard Collomb in an interview with Le Figaro newspaper to appear on Wednesday explained that under current law the authorities cannot systematically take away a weapons permit from someone who is on a watch list, but he vowed to take another look.
"I have asked my services to conduct a new review of the people monitored for radicalization to see who might be likely to legally possess a weapon," he said.
French Shooting Federation chief Philippe Crochard said Djaziri had been licensed for six years, and a source close to the probe said the attacker had requested a renewal of his permit in February.
Djaziri's ex-wife, brother and sister-in-law were detained late on Monday after police questioned them at the family home in Plessis-Pate, south of Paris.
Raised in a strictly Salafist Muslim family, Djaziri had no criminal record but caught the attention of authorities after making several trips to Turkey -- a route used by many European fighters heading to Syria -- which he said were for work.
Turkish authorities have warned their European counterparts about suspected terrorists on several occasions, asking more effective ways on intelligence sharing and preventing radicalized people from departing to Turkey from Europe. But in spite of warnings, the suspects were let go by their native countries without informing Turkey.
In several cases, European security agencies also failed to act upon intelligence shared by Turkey, and the suspects carried out attacks. In one instance, Turkey had warned France twice about Omar Ismail Mostefai, one of the Bataclan attackers, before the incident occurred, but there was no response from French authorities, according to a Turkish official.
Djaziri died of "cardiorespiratory arrest" probably caused by the effects of inhaling the smoke which filled his vehicle after the collision, a source close the probe told AFP.
The assailant's car burst into flames and police pulled the driver from the smoke-filled vehicle.
There were no other casualties from the attempted attack.
Since the large-scale Paris attacks in November 2015 and last year's Nice truck attack, France has suffered a string of smaller assaults mainly targeting security forces.
Few details have emerged of France's new anti-terrorism law due to be unveiled Wednesday.
But a draft leaked to the daily Le Monde has sparked concern among civil liberties campaigners who worry it could make some emergency measures permanent, such as the ability to conduct searches at any time of day or night and to restrict suspects to a certain geographic area.
On Tuesday evening President Emmanuel Macron reached out to France's Muslim community, being the first head of state in 10 years to attend the annual dinner breaking the Ramadan fast held by the French Council of the Muslim Faith (CFCM).
Full report at:
https://www.dailysabah.com/europe/2017/06/22/paris-champs-elyses-attacker-had-gun-licence-despite-being-on-terror-watchlist
--------
India
Dy SP, Mohammed Ayub Pandit Lynched By Mob outside Srinagar's Jamia Mosque
Jun 23, 2017
SRINAGAR: A police officer was stoned to death Friday morning by an irate mob in Srinagar that believed he had shot at a group of people who caught him taking photographs outside Jamia Masjid.
Police identified the officer as deputy superintendent of police Mohammed Ayub Pandit. He was on duty when the mob attacked him, a police spokesman said.
Police sources said that Pandit was seen taking pictures of people coming out of Jamia Masjid in Nowhatta area around 3 am on Friday. They said that when people tried to catch Pandit and stop him from taking photos, he allegedly fired several shots from his pistol, injuring three people.
Soon after, a group of young men began to beat the police officer. That group then quickly swelled into an irate mob that stripped the officer before killing him by hitting him with stones.
The incident occurred even as devotees were immersed in the special Shab-e-Qadr prayers inside Jamia Masjid.
"The official was killed by the mob while he was performing his duties. It's a very sad and unfortunate incident," Vaid said.
Soon after the incident, intense clashes erupted between police and youth outside the Jamia mosque, eyewitnesses told TOI. Police reinforcements were rushed to the area and the authorities announced restrictions on people's movement in seven police station areas of the city.
http://timesofindia.indiatimes.com/india/mob-lynches-police-official-near-jamia-mosque-after-crowd-thought-he-fired-shots-injuring-3/articleshow/59279893.cms
--------
Terror, US aid to Pak to figure in Modi-Trump talks
Jun 23, 2017
NEW DELHI: Ahead of PM Narendra Modi's visit to the US, the government hinted on Thursday that the PM would raise terrorism emanating from Pakistan and US military aid to Islamabad in his meeting with President Donald Trump.
Asked if Modi was going to discuss the issue of cross-border terrorism with Trump, MEA spokesperson Gopal Baglay said India's concerns regarding it were very well known and that it was logical to assume that matters relating to regional and global security would be discussed. "Terrorism that emanates from there (Pakistan) affects not only India, but other countries in South Asia and the world over," he said.
"We do talk to our friends and partners on how to counter terrorism, cross-border terrorism and international terrorism," he said. On whether India will apprise the US about its concerns over US military aid to Pakistan being diverted for anti-India activities, Baglay did not give a direct reply, but said such concerns were conveyed whenever there was an occasion.
In response to reported suggestions by UN secretary general Antonio Guterres that he was engaged in bringing about a dialogue between India and Pakistan, Baglay reiterated that bilateral issues between the two nations would have to be decided bilaterally. "I have seen the reply which has been reported in the media. Essentially the secretary general asked a question in response to a question... Bilateral issues have to be decided bilaterally and the UN secretary general has been made aware of that position," Bagley said.
Addressing reporters at his first press conference at the world body's headquarters since assuming office in January, Guterres recently said he was engaged in bringing about a dialogue between India and Pakistan to resolve the Kashmir issue.
Full report at:
http://timesofindia.indiatimes.com/india/terror-us-aid-to-pak-to-figure-in-modi-trump-talks/articleshow/59278077.cms
--------
Pakistan's BAT attack in J&K: 2 Indian soldiers martyred, two attackers killed
Jun 22, 2017
NEW DELHI: The Army killed two "armed intruders" to foil yet another Pakistani BAT (border action team) operation in the Poonch district along the volatile Line of Control in Jammu and Kashmir on Thursday afternoon. Two soldiers of the Maratha Light Infantry, Naik Jadhav Sandip Sarjerao and Sepoy Mane Savan Balku, laid down their lives in the operation.
An "area domination patrol" of the Army was underway in the Krishna Ghati sector along the LoC when it was attacked by the armed intruders around 600 meters inside Indian territory at around 2 pm.
"While the fierce firefight was in progress, in which two of our soldiers were martyred, Pakistan Army posts in the sector also opened heavy fire on our posts," said an officer.
"While the body of one armed intruder can still be seen lying in the open, the BAT managed to drag back the body of the other under covering fire. The cross-border exchange of heavy firing is still underway in the sector," he added.
Read this story in Gujarati
The BAT operation, which took place just about 200 metres from the Indian post there on Thursday, is the third such incident in the Poonch region this year. BAT cross-border raids are usually undertaken by a group of around six to seven regular Pakistan Army soldiers with a few terrorists after systematic reconnaissance of vulnerable spots and studying the deployment and patrolling patterns of Indian troops along the LoC.
On May 1, two Indian soldiers were beheaded and another injured by a Pakistani BAT after it had sneaked into Indian territory under the cover of heavy shelling in the same Krishna Ghati sector in Poonch district. India had vowed to exact revenge for the "barbaric" mutilation of the bodies during this well-planned BAT raid and ambush over 200 meters deep inside Indian territory.
Since then, the Indian Army has been exerting military pressure on the Pakistan Army with "pre-emptive and punitive fire assaults" to "pro-actively dominate" the 778-km long LoC and destroy "locations" across the border that aid infiltration attempts as part of the overall counter-terrorism strategy, as was reported by TOI earlier.
The Indian director-general of military operations, Lt-General A K Bhatt, has also warned his Pakistani counterpart about the growing number of BAT camps located around 10-12 km from the LoC in Pakistan-occupied-Kashmir.
Full report at:
http://timesofindia.indiatimes.com/india/pakistans-bat-attack-in-jk-2-indian-soldiers-martyred-two-attackers-killed/articleshow/59272734.cms
--------
Pakistan Army says Kulbhushan Jadhav has filed mercy plea with its chief
June 23, 2017
More than a month after the International Court of Justice at The Hague asked Pakistan not to execute former Indian Navy officer Kulbhushan Jadhav, the Pakistan Army Thursday said he has filed a mercy petition with its Army chief Qamar Javed Bajwa.
The Pakistan Army said Jadhav's appeal to the military appellate court has been rejected, and if the Army chief also rejects his plea, he has the option of appealing to Pakistan's President. They also released a second "confessional" video in which Jadhav — according to the Pakistan Army spokesperson — is "accepting his acts of terrorism and espionage".
In India, the official spokesperson of the Ministry of External Affairs said, "The developments bring out once again the lack of transparency and farcical nature of proceedings against Jadhav on concocted charges, continued violation of his legal and consular rights and an attempt to introduce prejudice in the proceedings in the ICJ."
"Pakistan has never disclosed even to the ICJ Jadhav's purported appeal to a military tribunal in Pakistan and has effectively prevented his parents from pursuing the appeal and the petition filed by Jadhav's mother. The details and circumstances of the alleged mercy petition by Jadhav are not clear and even the fact of its existence is doubtful, shrouded as the proceedings against Jadhav have been in opacity," the spokesperson said.
A statement tweeted by Pakistan Army spokesperson Maj General Asif Ghafoor read: "Jadhav, the serving Indian naval officer who has been sentenced to death on charges of espionage, sabotage and terrorism, has made a mercy petition to the Chief of Army Staff."
"In his plea, Commander Jadhav has admitted his involvement in espionage, terrorist and subversive activities in Pakistan and expressed remorse at the resultant loss of many precious innocent lives and extensive damage to property due to his actions. Seeking forgiveness for his actions, he has asked the Chief of Army Staff to spare his life on compassionate grounds," the Pakistan Army's press release said.
This comes against the backdrop of the ICJ at The Hague asking India and Pakistan to make their pleas by September and December respectively, so that it can decide on the case. ICJ President Ronny Abraham met representatives from both countries last week, and gave India time till September 13 to file its "memorial" (plea). Pakistan has been given time till December 13.
On May 18, providing interim relief to New Delhi, the ICJ had stayed the execution of Jadhav till the court gives its final decision after the completion of proceedings. Jadhav, 46, who is in Pakistan's custody since March last year, had been sentenced to death by a military court on April 10 on charges of espionage and subversive activities.
Within hours of the verdict, India had called it "the first step in ensuring justice", and one which was a "matter of great relief" for people of the country. The verdict had accepted India's contention on all counts, including ICJ's "jurisdiction" citing violation of the Vienna Convention on Consular Relations, which had been challenged by Pakistan at the court hearing on May 15. It also accepted New Delhi's argument about the "urgency" of the matter, which had also been contested by Islamabad citing the 150-day clemency period.
India had also forwarded a mercy petition filed by Jadhav's mother, though the fate of that petition is unclear. India has not been granted consular access to Jadhav, and has maintained that it does not have any information about Jadhav's well-being.
In his "confessional" statement, Jadhav claimed he was tasked with disrupting the China-Pakistan Economic Corridor and asked to cultivate Baloch nationalists.
He claimed in the video that he was stationed in Chabahar under the "fictitious name Hussein Mubarak Patel" and ran a business there called "Kaminda Trading company". He further claimed it was a "discreet non-embassy based operation" exclusively meant to conduct meetings with Baloch insurgents and terrorists. The aim of these meetings, he claimed, was to see that the aims and targets of R&AW to conduct the "various terrorist activities within Balochistan are conveyed properly to the insurgents and any kinds of requirements by them are conveyed back to the RAW officials".
He detailed his meeting with then R&AW chief Alok Joshi, and also made claims about planning attacks on Pakistan's consulate in Zahedan. He also claimed that about USD 40,000 was paid to Baloch "sub-nationals" for carrying out such activities.
In the video, purportedly recorded in April this year, he further claimed, "During my judicial proceedings, which were held under the field general court martial, l was accorded a defence council by the officials here who were conducting the entire proceedings. Today, having spent time in Pakistan, I feel very ashamed and l genuinely seek pardon of the acts and sins and crimes I have committed here against the nation and the people of Pakistan."
Full report at:
http://indianexpress.com/article/india/pakistan-army-says-kulbhushan-jadhav-has-filed-mercy-petition-with-its-chief-qamar-javed-bajwa-4717495/
--------
Muslim Youth League protests against LDF liquor policy
JUNE 23, 2017
Activists of the Muslim Youth League (MYL) will take out a march to the Secretariat in Thiruvananthapuram on July 6 in protest against the new liquor policy of the State government.
At a news conference here on Thursday MYL State general secretary P.K. Firoz said that the LDF election manifesto promising that everything would be set right now showed that the slogan was apparently meant for bar owners in the State. The government should restore the UDF liquor policy and implement prohibition in a phased manner, he said.
Full report at:
http://www.thehindu.com/news/cities/kozhikode/muslim-youth-league-protests-against-ldf-liquor-policy/article19131534.ece
--------
South Asia
Death Toll in Afghan Blast Rises to 34, At Least 60 Injured
June 23, 2017
At least 29 people were killed in a suicide bombing in Afghanistan's southern Helmand province on Thursday.
The bombing targeted Afghan troops and government employees waiting to collect their salaries ahead of Eidul Fitr, officials said.
Hayatullah Hayat, the provincial governor in Helmand, said most of the casualties were civilians. The explosion near the Kabul Bank in the provincial capital of Lashkar Gah also wounded at least 60 people, he said.
No group immediately claimed responsibility for the attack but Helmand has been at the centre of bitter battles between the Afghan Taliban and Afghan security forces, aided by Nato troops.
The insurgents, believed to control nearly 80 per cent of the province's countryside, have increasingly been pressing a push onto Lashkar Gah and its environs in efforts to take the city.
In recent weeks, the Afghan Taliban have overrun Helmand's key Sangin district, where both British and US troops had fought for years to keep them at bay.
Esmatullah, an Afghan border policeman, who was at the scene of the explosion, said the noise from the blast was deafening. He said many are missing in the ensuing chaos as witnesses, survivors and ambulances struggled to ferry first the most seriously wounded to hospital.
"We are taking children to the hospital," said Esmatullah, who like many Afghans uses only one name.
Twelve-year-old Hosnia, was crying outside the bank as she searched for her father who had brought her to buy shoes ahead of the Muslim holiday.
"I couldn't find anyone, my brother and my father," she said. "My father told me he will take me to buy shoes. We came here and then there was the explosion."
Helmand is considered a key region because it is one of the largest opium producing provinces for the Taliban, who charge opium traffickers a hefty tax to move their contraband to market. Corrupt government officials also benefit from the production and trade of opium, the raw material used to make heroin.
Afghanistan is the world's largest opium-producing country, producing more than all other opium-producing countries combined, according to a United Nations estimate.
Meanwhile, a militant attack the previous night inside a mosque in the country's east killed two members of the local council.
Salim Sallhe, spokesman for the provincial governor in eastern Logar, said gunmen opened fire at worshippers during prayers at a mosque in Baraki district on Wednesday night. Two other local officials were wounded by the gunfire.
Sallhe said police are investigating. No group claimed the attack but Taliban spokesman, Zabihullah Mujahid, denied the insurgents were behind the shooting.
http://nation.com.pk/international/22-Jun-2017/coordinated-suicide-attacks-on-bank-in-helmand
--------
Gunmen Attack Logar Mosque amid Reports Hizb-e-Islami Ex-Commander Killed
Jun 22 2017
A group of gunmen attacked a mosque in the central Logar province of Afghanistan late on Wednesday night amid reports a former commander of Hezb-e-Islami has been killed.
The provincial government media office in a statement confirmed the attack on the mosque in Mohammad Agha district.
The statement further added that a group of armed militants stormed into a mosque in Surkhabad area, leaving at least two prayer participants dead.
According to the provincial government, a tribal elder identified as Sher Agha Kochi was among those killed and two others were wounded.
In the meantime, the local officials in Mohammad Agha district said Kochi was a former commander of Hezb-e-Islami a local influential tribal elder.
No individual or group has so far claimed responsibility behind the attack.
Logar is among the relatively volatile provinces in central Afghanistan where the Taliban insurgents are actively operating in a number of its remote districts.
Full report at:
http://www.khaama.com/gunmen-attack-logar-mosque-amid-reports-hezb-e-islami-ex-commander-killed-03003
--------
Gunned Down Bangladeshi Cattle Trader Dragged To Indian Territory by BSF
June 22, 2017
The victim had gone to the Ratnai border in Baliadangi to illegally smuggle in cattle from India
A cattle trader was gunned down near the Indian border in Thakurgaon and dragged into Indian territory by the BSF.
BGB sources say Latifur Rahman, the victim, had gone to the Ratnai border in Baliadangi to illegally smuggle in cattle from India on Thursday. He was spotted by BSF troops posted in Sonamati camp. The BSF opened fire, injuring Latifur.
Latifur was then dragged to the BSF camp.
BGB 30 Battalion Commanding Officer Lt Col Khademul Bashar confirmed the matter and said a letter has been sent to the BSF demanding the wounded Latifur be repatriated.
Full report at:
http://www.dhakatribune.com/bangladesh/nation/2017/06/22/cattle-trader-dragged-india-bsf/
--------
Myanmar forces kill three people in raid
June 23, 2017
Myanmar security forces killed three people while clearing a suspected Rohingya insurgent training camp in the mountains in the troubled northwestern state of Rakhine, the state-run Global New Light of Myanmar daily said yesterday.
The authorities conducted "area clearance operation" over the last two days, uncovering a tunnel, homemade weapons, huts, rations, utensils and other items used by the militants in the training, the newspaper said.
More than a million Muslim Rohingya live in apartheid-like conditions in Rakhine, where many majority Buddhists consider them interlopers from Bangladesh. The insurgent group was not immediately available for comment.
The insurgents attacked border guard posts in October, provoking a military crackdown in which hundreds were killed, more than 1,000 houses burned down and 75,000 people forced to flee to Bangladesh.
The United Nations has established a fact-finding mission to investigate crimes against humanity allegedly committed by the security forces during the counter-offensive. The administration of Nobel Peace Prize laureate Aung San Suu Kyi has rejected the allegations and opposes the mission.
Full report at:
http://www.thedailystar.net/world/southeast-asia/myanmar-forces-kill-three-people-raid-1424377
--------
All options on table for jailed terrorists, says Afghan government
Jun 22 2017
The Afghan government officials are saying that all options are on table for the jailed terrorists as the Taliban group has stepped up efforts for the release of the group's members serving in the jails.
A presidential spokesman Shah Hussian Murtazawi told reporters in Kabul today that all options are on the table, insisting that the government will not comprise with the jailed terrorists.
This comes as the Taliban group released a video of the kidnapped American University lecturers on Wednesday, demanding the release of its prisoners from Pul-e-Charkhi prison in Kabul and Bagram jail in return for the release of the two lecturers.
The group had earlier warned of consequences if the government approves the execution of the Taliban and Haqqani network members.
Earlier, reports had emerged suggesting that the Afghan government has signed the execution orders of several Taliban and Haqqani network members in response to the deadly attacks in Kabul city.
The vehicle bombing near the Embassy of Germany and coordinated suicide attack on a funeral in Kabul earlier this month and late in May left more than 150 people dead and hundreds more wounded.
Full report at:
http://www.khaama.com/all-options-on-table-for-jailed-for-jailed-terrorists-says-afghan-government-03004
--------
Myanmar's Muslims mark Ramadan out in the cold
23, 2017
YANGON: Huddled under umbrellas to escape a thundering monsoon downpour, dozens of Muslims stood in line at a Yangon mosque for a small portion of rice and curry to break their Ramadan fast.
Many would have normally prayed at Islamic schools that for six decades — most of them spent under Myanmar's former military government — doubled as a place for Muslims to come together for worship.
But last month the madrassas in eastern Yangon were closed down by a Buddhist nationalist mob, one of a growing number of raids by resurgent hardliners intent on silencing the maligned minority.
"We have faced more discrimination over the last few years," said Hussein, who used to pray at the schools.
Nearby old bearded men used wooden paddles to stir steaming vats of daal, which was portioned into metal tiffins with rice and handed to waiting families.
Muslims only make up some 3-4% of Myanmar's population, including the Rohingya minority from western Rakhine State, but the religion traces its roots in the country back centuries.
Now many are feeling unwelcome in their own homeland.
"When I was young there was no discrimination. We were very friendly (with Buddhists), so we would eat at their homes and they would eat at ours," added Hussein, who like many of Myanmar's Muslims only goes by one name.
"Now we live in this country and we are not free to practice our religion."
Aung Htoo Myint, secretary of the mosque in Yangon's poor Thaketa township, said they had struggled to accommodate the hundreds forced to join their congregation after Islamic schools were shuttered.
Many from the mainly Muslim neighbourhood braved the monsoon rains to pray together in the street when this year's holy month of Ramadan began, but local authorities swiftly banned those gatherings as well.
They have since launched legal proceedings against three people who attended a prayer session, arguing the gathering threatened "stability and the rule of law".
Rising nationalism
Bo Gyi, a teacher at the madrassas, said they had been given no details of when the schools would reopen or what would happen to the 300 children who studied there.
"We have written letters to the president and Yangon chief minister as well," he said, but there has been no reply.
Myanmar has faced growing criticism for how it treats Muslims, who now encounter restrictions on who they can marry and even how many children they can have under the country's 2015 Race and Religion laws.
Tensions have simmered since 2012 when sectarian violence erupted in Rakhine, killing around 200 people, mostly Rohingya Muslims, and driving tens of thousands into displacement camps.
The young civilian government of Aung San Suu Kyi has struggled to contain anti-Muslim sentiment since militants claiming to represent the Rohingya attacked police posts late last year.
Since then the hardliners have become increasingly vocal, shutting down Islamic events, forming a political party to stand in the 2020 elections and clashing with Muslims on Yangon's streets.
Police have arrested ringleaders behind the violence, while the country's top Buddhist body has banned prominent ultra-nationalist group Ma Ba Tha — which responded by simply changing its name.
But ordinary Muslims fear they are now becoming targets in their own country.
Haroon, 57, who has spent his whole life in Yangon where he works selling chapatis, says he is increasingly worried about the nationalists.
Full report at:
http://www.freemalaysiatoday.com/category/world/2017/06/23/myanmars-muslims-mark-ramadan-out-in-the-cold/
--------
Africa
Nigeria: Police Academy Violating Rights of Muslim Cadets, Group Alleges
21 JUNE 2017
By Bashir Liman
Jos — Muslim Youth Society of Nigeria (MYSC) says the Police Academy,Wudil in Kano state, has been violating the rights of Muslim cadets since its inception in 2013 for not allowing them holidays over Sallah.
In a statement, the group's president Nasir Ahmad noted that the constitution of the Federal Republic of Nigeria prohibits discrimination against any individual on the ground of their religion or social status.
He said since 2013, Muslims Cadet have never been allowed to home to celebrate Sallah with their families while each year, during Christmas their Christian counterparts are allowed to on long vocation.
The statement further alleged that often times during examination, the management fixed exams for cadets during Friday Juma'at prayers which denied Muslims cadets to attend prayers.
The group urged the Inspector-General of Police, Ibrahim Kpotun Idris to look into the said matter and proffer solution, adding that the right of the religion of Muslims cadet should also be respected like that of their Christian counterparts
http://allafrica.com/stories/201706220998.html
--------
Suicide blast at police station in Somali kills 7
Jun 23, 2017
MOGADISHU - At least seven people are dead and a dozen wounded after a suicide car bomb blast at a police station in Somalia's capital, police and an ambulance service said Thursday.
The bomber was trying to drive into the Waberi district's police station gate but detonated against the wall instead, Capt. Mohamed Hussein told The Associated Press.
Ambulance sirens echoed across Mogadishu, with dozens of soldiers at the scene. Aamin Ambulance Service said it had transported seven bodies and 12 wounded. The Somalia-based al-Shabab extremist group claimed responsibility for the attack, according to the SITE Intelligence Group, which monitors such groups.
Al-Shabab often targets high-profile areas in Mogadishu. On Tuesday, at least 15 people were killed when a suicide car bomber posing as a milk delivery van detonated at a district headquarters in Mogadishu. Most of the victims were civilians.
Al-Shabab claimed responsibility.
The extremist group has vowed to step up attacks after the recently elected government launched a new military offensive against it. The group also faces a new military push from the United States after President Donald Trump approved expanded operations, including airstrikes.
Full report at:
http://nation.com.pk/international/23-Jun-2017/suicide-blast-at-police-station-in-somali-kills-7
--------
Nigerian Shiites to hold major rallies Friday
June 22, 2017
The Islamic Movement in Nigeria, IMN, is set to hold major rallies Friday, to commemorate the International Quds Day.
The group, led by Ibraheem Zakzaky, has been in the forefront of observing the Quds Day, which holds on the last Friday of Ramadan.
The IMN in a statement by its spokesperson, Ibrahim Musa, called "on all people of conscience to join in commemorating this annual event by lending a voice to the oppressed people of Palestine, while condemning the Israeli atrocities on them".
In past years, processions by the group often resulted in clashes with Nigerian security forces.
The statement said the event is scheduled to take place in over 24 cities across the country.
"The Day is commemorated based on conscience and not only on religious consideration as victims of Zionism and illegal occupation of Palestine include Muslims and Christians alike. Moreover pro-Palestinian protest marches such as this are organized in all parts of the world including Europe and America to mark the International Quds Day.
"The third holiest mosque in Islam, Masjid al Aqsa is under the occupation of the Zionist Israeli regime following the illegal occupation of Palestine by Israel. The holy mosque of al-Aqsa is the place through which the holy Prophet of Islam Muhammad (SAW) undertook his night journey when he ascended to the heavens as mentioned in the holy Quran.
"The illegal state of Israel had unleashed terror on the innocent but strong-hearted people of Palestine for the past 60 years, killing unarmed men, women and children, demolishing their houses and placing thousands in illegal detention and torture.
"All these are taking place before the very eyes of the world but for reasons best known to them, the international community is simply looking the other way as this state terrorism is taking place with what could best be described as genocide against the people of Palestine," IMN said.
It also called on the Nigerian government to " immediately and unconditionally " release the leader of the IMN, Mr. El-Zakzaky.
Full report at:
http://www.premiumtimesng.com/news/more-news/234789-nigerian-shiites-hold-major-rallies-friday.html
--------
Mali: The Stoning That Didn't Happen, and Why it Matters
21 JUNE 2017
By Ferdaous Bouhlel, Yvan Guichaoua And Jean-Hervé Jézéquel
Most media accounts depict an unequivocal reign of terror under Islamist rule in northern Mali. That's inaccurate in some important ways.
On 17 May, AFP reported that an unmarried couple had been stoned to death by Islamists near Aguelhoc in northern Mali. Details were provided: between "11 and 21 persons" had attended the stoning which was filmed; there were four executioners; "everybody was calm". The next day, RFI confirmed the events.
Both of the news pieces relied on testimonies of "notables" and "elected officials" from the region, where Islamist militancy remains intense despite a substantial foreign military presence. The story gained global attention and was covered by major media outlets including Le Monde and The Guardian.
However, local journalists and others on Twitter soon raised concerns about its veracity. They confirmed that a young woman accused of having a relationship out of wedlock was kidnapped by armed men on 16 May, but could not ascertain what happened next. As researchers working on the region for several years, we also mobilised our network of well-informed friends and contacts, but could not get confirmation of a stoning.
The story of execution had been plausible since a similar event happened in 2012. But this time it turned out to be wrong. A week after the original AFP wire, rumours spread that the young woman had in fact been released and sent home. Jama'ah Nusrah al-islam wal-muslimin (JNIM), the dominant jihadi movement in the region, denied any stoning had taken place and warned the media against the fabrication of fake news.
Finally, on 29 May, AFP withdrew its original report, saying that a sentence of stoning had been pronounced but not executed. RFI revised its claim soon after too.
This unfortunate diffusion of false news may seem like one more minor case of news organisations failing to check their facts. But it actually tells us a lot about how news in northern Mali is produced and invites reflection.
Seeking the truth in northern Mali
The episode stresses how complicated it is to gather information about northern Mali. AFP and RFI work from Bamako and Paris, respectively 1,500 km and 4,500 km away from the town of Kidal, where the reported events unfolded. Researchers operate from similar distances for the same security reasons.
The consequence of this is that journalists and researchers rely on indirect sources of information that are far from perfect and then do their best to triangulate them. It can often be difficult to tell whether two accounts are distinct or if they derive from the same source of information, since the same story can circulate through networks under multiple guises.
These constraints on access to information demand extreme prudence. This was severely lacking in AFP and RFI's reporting. They took the word of "notables" and "elected officials" for granted and ignored more sceptical voices.
This is particularly problematic in northern Mali given that the region is replete with communal feuds. There is much antagonism, for example, between members of the Imghad community who are part of an armed pro-government coalition, and members of the Ifoghas tribe to which JNIM leader Iyad Ag Ghaly belongs.
The timing of the stoning story is also important. It came as some civil society activists and politicians were calling for negotiations with Islamist leaders - calls that were abruptly rejected by authorities. It also immediately preceded French President Emmanuel Macron's visit to Mali in which he met with French troops and re-affirmed France's pledge to fight terrorism.
In this context, it is to be expected that contacts on the ground may be biased. The only way to overcome this is to ensure sources of information come from different parts of the political spectrum.
Behind the media narratives
The false stoning episode doesn't just reveal the practical difficulties of wartime reporting. It also exemplifies how aspects of everyday life in zones of Mali where jihadi movements operate are systematically overlooked. The mishandling of the story illustrates a broader trend of Western, but also African, mainstream media misrepresenting the complex relationship between the radical groups and local populations.
Most media accounts depict an unequivocal reign of terror under Islamist rule in northern Mali. But field interviews reveal a more ambiguous situation in which egregious violence by radical groups coexists with a non-violent governance agenda and willingness to deliver services.
In central Mali, jihadi movements forcibly gather local population to preach. They also regularly assassinate those perceived to be collaborating with state officials and foreign armed forces. But at the same time, these groups provide mobile justice courts in places where judges have long been absent. They advocate for the suppression of land rights that benefit a tiny and contested aristocracy. They offer much-needed protection to cattle herders during seasonal migrations. And the simplified marriage procedures they impose allow youths to escape elder's control over marital engagements.
This is not to deny appalling violence against civilians, especially women. Although the vast majority of people killed by jihadi groups are men, gender violence - including abduction and forced marriage in places like Gao in 2012 - should not be underestimated.
It is important to note though, that women have sometimes resisted. In Kidal in 2012, for instance, women protested against the decision of Iyad Ag Ghaly's former group, Ansar Eddine, to impose strict rules on their travel. Here again, the relationship between Sahelian women and jihadi movements is not fully encapsulated in a singular narrative of domination and violence.
In the Lake Chad area, several organisations - including The International Crisis Group - have documented that a significant number of young Kanuri women have voluntarily joined Boko Haram in order to find a suitable husband or benefit from new economic opportunities. For some women living in particularly impoverished rural areas, joining the jihadi insurgency may be more attractive, at least to start, than their daily routine in the strict patriarchy of rural villages.
Crimes and punishments
When we asked local friends and contacts about the kidnapped woman, their narratives did not indulge in the emotional, outraged narratives seen in the media. Instead, they mostly pondered the rationale of the kidnappers and the risks the woman was incurring within legal Islamic parameters.
Although many versions of the story circulated, all had two elements in common: first, the woman's husband was detained in Algeria for some criminal offence; second, she had a baby from her lover. The main questions on our sources' minds were: Was the woman de jure or de facto divorced from her detained husband? Was she still breastfeeding her baby?
These questions, among others, matter for an eventual sentence to be pronounced by an Islamic judge in an alleged adultery case. Whether to inflict physical punishment on the woman was framed as a legal discussion, not as the unilateral whim of blood-thirsty sociopaths.
The above legal questions relate to broader discussions regarding punishments under Shariah Law - specifically those which are mandated and fixed by God and are applicable in cases of fornication, apostasy etc. Questions over these penalties (known as had, plural hudud) were debated at length in 2012 when allied Islamist movements occupied Mali's three main northern regions: Al-Qaeda in the Islamic Maghreb (AQIM) in Timbuktu; the Movement for Unity and Jihad in West Africa (MUJAO) in Gao; and Ansar Eddine in Kidal.
At that time, judiciary decisions were delegated to local Islamic judges (cadis). Crucially, there were many differences in the application of hudud across these three regions. For instance, there were multiple cases of amputations for robbery in Timbuktu and Gao. But in Kidal, Ansar Eddine agreed with local Islamic judges that sentences would be maintained in line with local customs that historically prefer detention over physical punishment.
Despite this, a stoning did occur in Aguelhoc in 2012. Why this happened requires more research. According to a good number of testimonies gathered locally (including among people politically opposed to Iyad Ag Ghaly), the stoning was decided by a Mauritanian cadi without Iyad Ag Ghaly knowing about it. The same sources say that Iyad Ag Ghaly later disapproved the stoning. It is unclear who the cadi recognised as his legitimate leader, as northern Mali was then under the influence of different Emirs.
Such complexities and variations between regions supposedly governed by the same Shariah provisions demands additional investigation. Why would hudud, a pillar of political and social legitimation across jihadi movements, be suspended in some places but not others? Is it to do with the organisational structure of the armed groups, the population's agency, or something else? Either way, the jihadi occupation of 2012 proved to be large-scale social experiment, which generated intense debate over the codified use of violence as a governing instrument.
Full report at:
http://allafrica.com/stories/201706220240.html
--------
URL: https://www.newageislam.com/islamic-world-news/imams-bishops-faith-leaders-walk/d/111653
New Age Islam, Islam Online, Islamic Website, African Muslim News, Arab World News, South Asia News, Indian Muslim News, World Muslim News, Women in Islam, Islamic Feminism, Arab Women, Women In Arab, Islamophobia in America, Muslim Women in West, Islam Women and Feminism